Inbox and Environment News: Issue 485
February 28 - March 6, 2021: Issue 485
Narrabeen-Warriewood Creeks Currently Weed Choked And Full Of Mud
Residents report the weeds in the creeks at Narrabeen through to Warriewood are appalling and the water is running with mud, said to be from Mona Vale roadworks. They are calling for council to look after these creekline corridors. This photo was sent in by a resident this week. The weed with big yellow flowers is Ludwigia peruviana.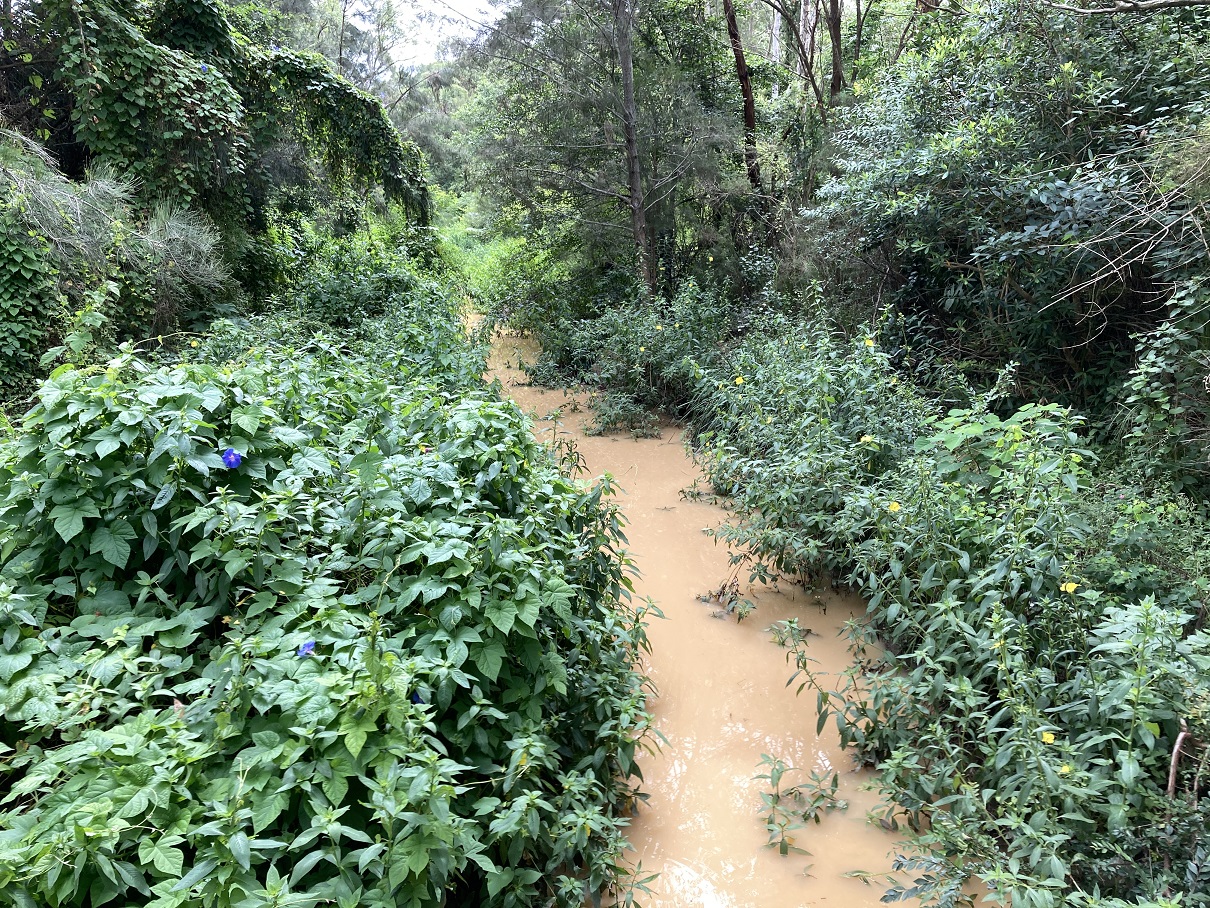 Ludwigia (Ludwigia peruviana), also known as Peruvian primrose, water primrose, primrose willow, is an invasive shrub. It thrives in moist, wetland environments and has a dramatic impact on the aquatic environment. Ludwigia is fast growing and produces thousands of sticky seeds. Ludwigia can choke waterways and dominate all aquatic vegetation within a short timeframe. Dense stands can interfere with the natural flow of the waterway. The thick canopy reduces the amount of light entering the water and decreases water temperature. This ultimately affects the native aquatic flora and fauna communities.

It is an introduced weed, native to South America, from Mexico through to Chile. In Australia, ludwigia is only known to exist in creek and wetland areas of the Sydney region, including Narrabeen creeklines, where it is killing these and their surrounds.
Seeds germinate in spring in the mud along the waters edge, on the mats of floating vegetation 'islands' and in shallow water. Rapid growth is experienced throughout summer. Seedlings produce a large taproot, anchoring it to the soil. Plants do not flower for two years following germination. They then flower annually, late summer and autumn.
Each fruit capsule contains 1000–4000 seeds with about 80% viability. Seeds are able to germinate in as little as 4 days in shallow clear water, while floating or in mud.
Small ludwigia plants can be manually pulled or hoed from the ground. Remove as much of the root as possible. Larger infestations may be slashed and burnt.
Newport Beach Clean Up: Sunday February 28th, 2021
SUNDAY, 28 FEBRUARY 2021 FROM 10:00 am to 12.30
Free · Bert Payne Park, Newport Beach
Come and join us for our Newport beach clean up. We'll meet at Bert Payne Park, just south of clubhouse. We have clean and washed gloves, bags and buckets. We'll clean up the grass area to try and catch the litter before it hits the beach as well as cleaning the beach, trying to remove as much plastic, cigarette butts and rubbish as possible. We're a friendly group of people and everyone is welcome to this family friendly event (just leave political, religious and business messages at home so everyone feel welcome). It's a nice community - make some new friends and do a good deed for the planet at the same time. Send us a message if you are lost. Please invite family and friends and share this event.
This is a Covid safe event so everyone must please stay 1,5 meters apart if you are not in the same household.
Why All This Red & White Plastic Tape Along The Narrabeen Creek Path?
Trad, short for Tradescantia fluminensis and formerly called Wandering Jew, is a weed from Brazil. It smothers seedling trees and other native plants. Every tiny broken stem can take root.
The tape on trees and sticks marks where Trad stems infected with leaf smut, a kind of fungus, were planted on Wednesday February 24, 2021. Photographs will record if it spreads as hoped. The tape on sticks helps us later find where it was planted.
The CSIRO has imported this smut, found on Trad growing in Brazil. Pittwater Natural Heritage Association, in partnership with CSIRO, is trialling this means of controlling Trad in the Pittwater area. It's already used In Victoria and New Zealand.
Biocontrol is a way of dealing with a weed by using a fungus or an insect that ONLY lives on that weed. (NO, not another Cane Toad). The smut should spread by spores and kill or reduce the vigour of the healthy Trad. It may take up to a year to become established.
Pittwater Natural Heritage Association Trad Eradication Update, February 2021
Council's Green Electricity Switch A Winner For The Environment And The Budget
Council states this week it has made the switch to 100 per cent renewable-sourced electricity, cutting an estimated $1.9 million from its bills over the next seven years and shaving nine years off its commitment to swap to green alternatives.
The supply agreement with
Infigen Energy
will see Council powering all its 382 sites and street light network with renewable-sourced electricity, primarily from wind turbines at Infigen's Bodangora site near Wellington, NSW.
Mayor Michael Regan said securing 100 per cent renewable-sourced electricity was a vital initiative in helping Council achieve its Environment & Climate Change Strategy goals.
"This is a quadruple win: a win for the environment, a win for Council's budget, a win for ratepayers and a win for the rural economy," Cr Regan said on Thursday, February 25th, in updating the community.
"The shift to renewables will save about $1.9 million in ratepayer money over the next seven years which can be diverted to important services, and slashes Council's carbon footprint by about 80 per cent or around 20,000 tonnes of carbon dioxide every year – equal to the yearly emissions of 2,800 homes."
"Our Environment and Climate Change Strategy commits Council to reducing its carbon emissions by 60 per cent by 2040. We also committed to all suitable sites being powered by renewable electricity by 2030.
"We're proud to hit these targets many years earlier than expected and deliver savings with it.
"Electricity consumption was Council's biggest contributor to carbon pollution, so this was a big step towards reaching our goal of net zero carbon emissions by 2045."
Mayor Regan said while the renewable sources are mostly wind-generated, they also include energy generated by solar and stored in batteries, and will include the NSW
Wallgrove big battery
.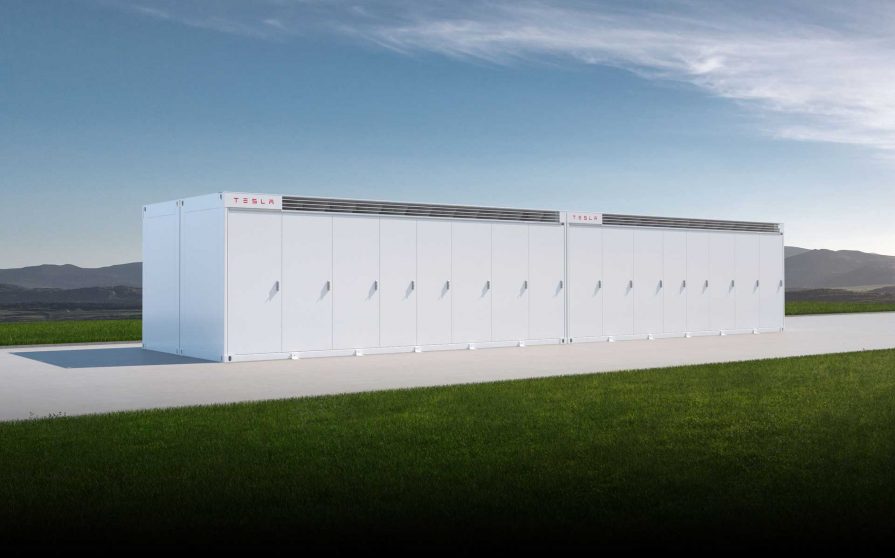 TESLA battery in Wallgrove, NSW. ARENA image

Council, in following through on this initiative, joins the lead of other progressive Australian organisations switching to renewables including the Commonwealth Bank, Westpac, Telstra, Sydney Opera House, University of NSW, University of Newcastle, Monash University and University of Melbourne.
Further - About Infigen Energy
Infigen is a generator and retailer of electricity in Australia. Within this market, our strategy is to provide Australian businesses with firm supplies of competitively priced clean energy.
They achieve this by combining their portfolio of Owned and Contracted Renewable Energy Assets with their three fast start firming assets, the Smithfield Open Cycle Gas Turbine (OCGT), the South Australia Battery and, starting mid 2020, the South Australia Gas Turbines. These fast start assets allow them to manage the intermittency risks related to our renewable energy production.
NB: There's a report running further down this Issue's Environment page, 'Against the odds, South Australia is a renewable energy powerhouse. How on Earth did they do it?' penned by Flinders University scholars, that lends insight into what's happened and is happening in SA.
Infigen Energy's
strategic focus is the National Electricity Market ("NEM"), an electricity market which includes New South Wales, Victoria, South Australia, Tasmania, Queensland and the Australian Capital Territory. The NEM was formed in 1998 and, with over 40,000km of transmission lines, is one of the largest electricity grids in the world. The network serves approximately 8.9 million residential customers and 1.1 million business customers. Total grid load is approximately 200TWh per year, served from approximately 55GW of installed generation.
Their Position on Climate Change
We are targeting Net Zero by 2025.
We are leading Australia to a clean future, today. Our emissions intensity is just 5% of the average of Australia's National Electricity market. But we believe more is possible. We are targeting the full offset of all our Scope One and Scope Two emissions by 2025.
We support the Paris Agreement.
We believe that companies, customers and investors should plan for the long term, managing their businesses in a way that limits global warming to less than 2 degrees Celsius. That's why we support the Paris Agreement and have aligned our business strategy with the achievement of its goals.
We believe that environmental management does not end with carbon emissions.
We are advocates for sustainable development and environmental conservation in all aspects of our operations. We monitor and manage resource efficiency, water usage, effluent and waste, biodiversity and heritage conservation.
Weed Of The Week: Morning Glory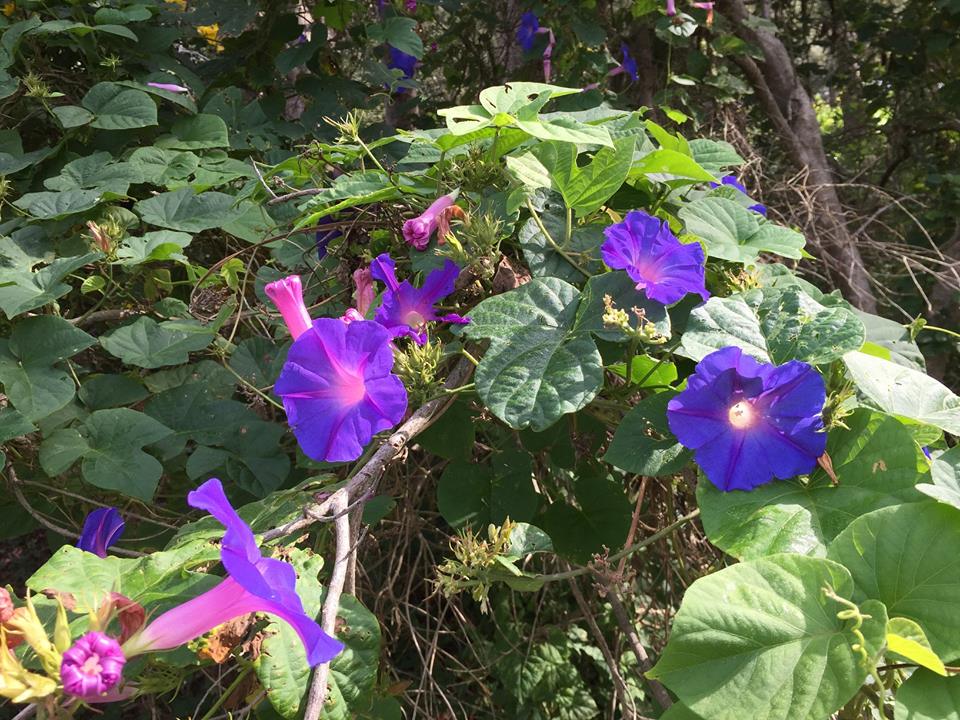 Morning Glory. This one spreads by running along the ground and putting out roots as it goes, then racing up towards the light. A beautiful strangler of native plants - pull out, don't forget the root system.
Common morning glory is mainly a weed of agricultural areas and disturbed sites. It also invades bushland and riparian areas and can be a serious environmental weed in warm moist areas where it chokes out native plants.
Common morning glory is an annual plant with trailing, hairy stems. The leaves are up to 10 cm wide and long, with a pointed tip and heart shaped base. They are sometimes divided into 3 lobes. The funnel-shaped flowers are present all year round. They are purple, violet blue or white with a pale throat and are up to 4 cm in diameter.
Native Plant Of The Week: Flannel Flower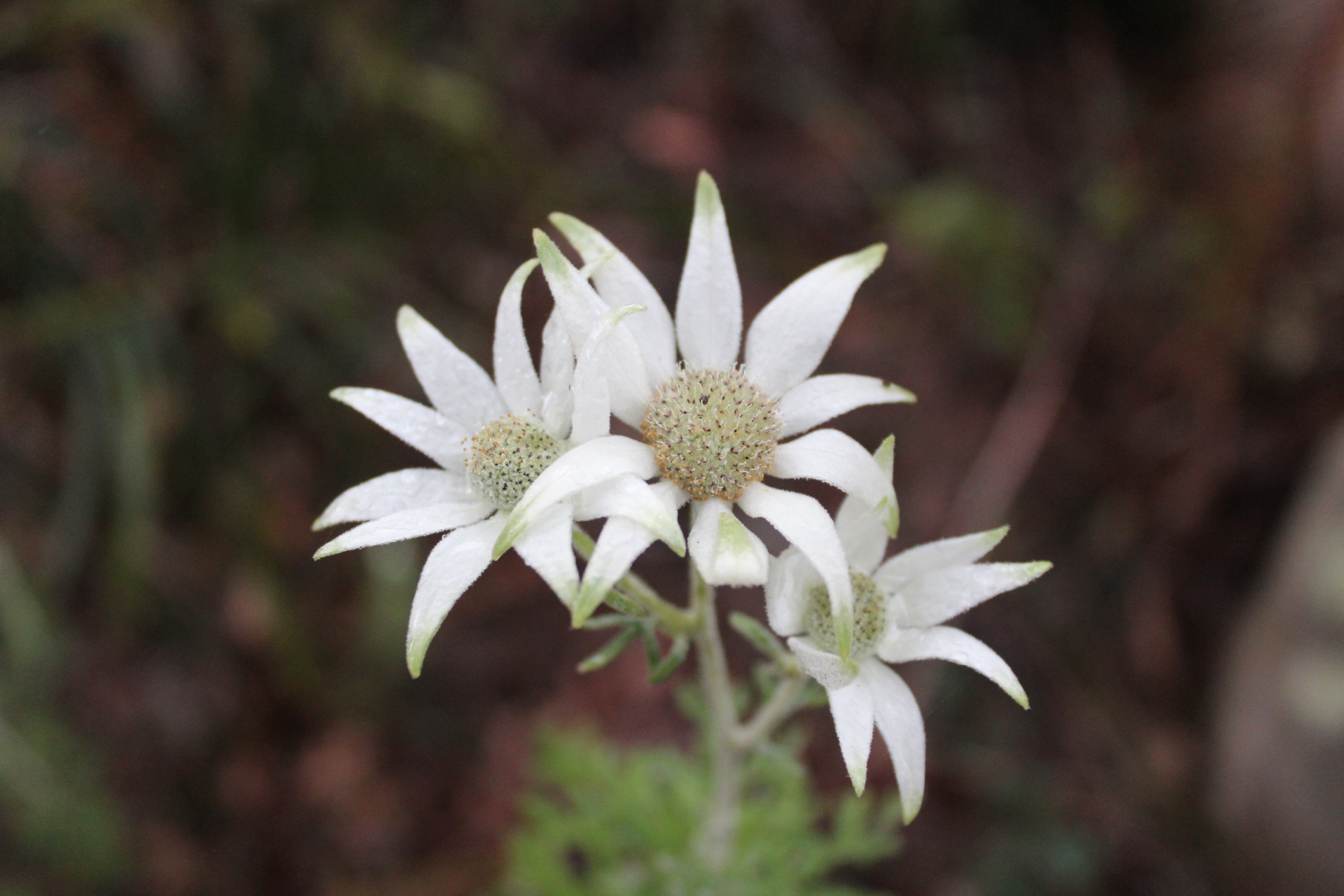 Actinotus helianthi is commonly called Flannel Flower due to the soft woolly feel of the plant. A selection of Actinotus helianthi is sold under the named cultivar 'Federation Star', as it was the chosen New South Wales floral emblem for the Centenary of Federation (1901-2001).
A common species of flowering plant native to the bushland around Sydney. It was named and first described by the French botanist Jacques Labillardière in his Novae Hollandiae Plantarum Specimen the first general flora of Australia. According to historian Edward Duyker Labillardière could not have collected the type specimen personally and might have received it from Jean-Baptiste Leschenault de La Tour botanist on the expedition of Nicolas Baudin or another early French visitor to New South Wales.
Despite its appearance, it is not a member of the daisy family but rather a species of the Apiaceae (formerly Mackinlayaceae) family, the same family as the carrot. Its generic name, meaning "furnished with rays", is derived from the Greek stem aktin-/ακτιν- "ray" or "spoke of a wheel" or "sunbeam", while its specific epithet is derived from its resemblance to the genus Helianthus.
The flannel flower is an iconic Sydney plant and has been used in imagery and art since colonial times.
In St Bede's Church in the Sydney suburb of Drummoyne, the early 20th century work The Waratah Window by Alfred Handel depicts Australian native flowers, including the waratah, emblem of the state of New South Wales, and flannel flowers, Christmas bells and wattles. Flannel flowers are the emblem of the Sydney Bush Walkers' club established in 1927, and the former Warringah Council.
Plants may be propagated by seed or cutting and grow in a well-drained sunny position, and are suitable for use in a rockery or cottage garden. The Mount Annan Botanic Garden has been involved in selecting and breeding cultivars for the home garden and the cut flower industry.
The flannel flower is generally a herbaceous shrub growing up to 50 cm (18 in) high, although rare specimens can be found to be 1.5 m (5 feet) high. The stem, branches and leaves of the plant are a pale grey in colour, covered in downy hair (rather like flannel in texture). The attractively lobed leaves are up to 10 cm (4 in) long and 7 cm (3 in) wide, with daisy-shaped flowerheads around 5 or occasionally 8 cm (2–3 in) in diameter. The bracts are cream to white in colour. Flowering occurs in spring and may be profuse after bushfires.
Flannel flowers grow in sandstone heathland in coastal New South Wales and Queensland, and are commonly seen around the Sydney basin in Spring and Summer. Sourced from ANB, Wikipedia and PON notes.
New Nature Bill Won't Protect Endangered Birds BirdLife Australia States
BirdLife Australia states Proposed new nature bill won't protect endangered birds unless significantly expanded
Morrison Government releases draft bill in response to the Samuels Review of the EPBC Act, Australia's national threatened species legislation.
BirdLife Australia says it is a tentative step in the right direction but the low environmental standards the bill proposes will not stop birds like the Swift Parrot from hurtling towards extinction.
The Morrison Government bill to reform Australia's national environment laws introduced today will need to be significantly expanded in order to actually protect nature, said BirdLife Australia today.
The Environment Protection and Biodiversity Conservation Amendment (Standards and Assurance) Bill 2021 is a move in the right direction in that it provides a framework for national environmental standards.
However especially when combined with the accompanying bill to devolve powers to state governments introduced last year, the standards and the oversight proposed fall far short of what Professor Graeme Samuel recommended in his review of the EPBC Act last year.
"Australia is facing an extinction crisis." said Samantha Vine, BirdLife Australia's Head of Conservation, "We need strong nature laws to help us prevent extinction of unique Australian wildlife like the Swift Parrot or Carnaby's Black-Cockatoo but these proposals will not get the job done."
BirdLife Australia welcomes that the Government recognises that there must be national environmental standards, but argue that these should be at least as strong as those proposed in Graeme Samuel's review.
"The set of standards the government have proposed are as weak as the laws we already have and could be in place for two years before they are reviewed." Ms Vine said.
"With the population of the Critically Endangered Swift Parrot rapidly declining to the point where there may only be effectively 300 breeding birds left, two years of inadequate protection of their remaining habitat may be the death knell from which the species may never recover."
"The Assurance commissioner proposed in the legislation must also be a lot stronger in order to be able to take real action when projects do not meet their conditions or decision making goes against the public interest.
"The Samuels Review was very clear that the current EPBC Act is not working and that just cherry picking a couple of recommendations were not going to change things for the better. When coupled with the bill to hand off environmental approval powers to the states that is currently before the Senate, the Morrison Government's proposals will weaken the protection of the act for our most vulnerable species.
BirdLife is calling for strong standards and a regulator with the powers to actually ensure compliance. The proposed schedules do not justify support for the streamlining Bill as they do not address the preconditions that Samuel has recommended.
"It is a tentative, faltering start towards what's needed but these bills won't get the job done." Said Samantha Vine. "They are not going to prevent extinctions. Australia's birds need something better."
New Shorebirds WingThing For Youngsters Available To Download
A Shorebirds WingThing educational brochure for kids (A5) helps children learn about shorebirds, their life and journey. The 2021 revised brochure version was published in February 2021 and is available now. You can download a file copy here.
If you would like a free print copy of this brochure, please send a self-addressed envelope with A$1.10 postage (or larger if you would like it unfolded) affixed to: BirdLife Australia, Shorebird WingThing Request, 2-05Shorebird WingThing/60 Leicester St, Carlton VIC 3053.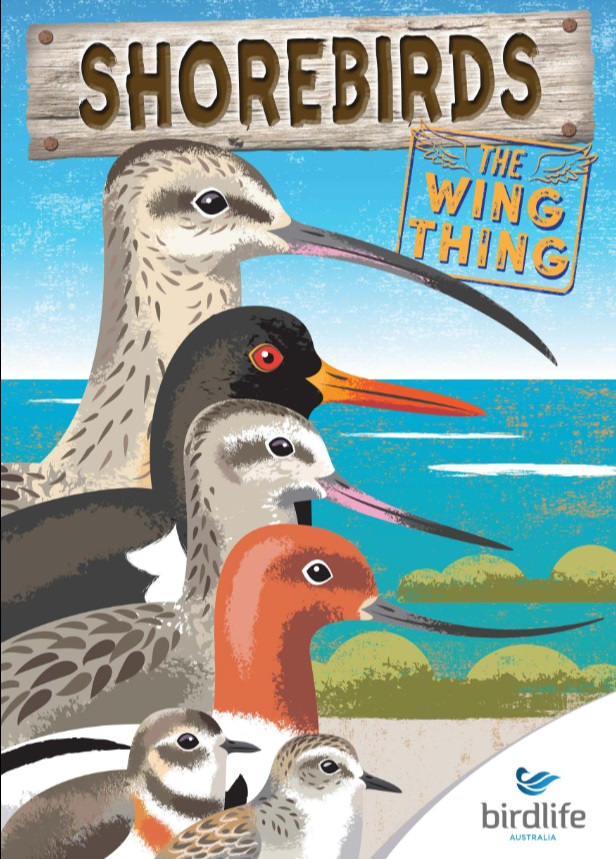 Birds In Our Back Yard: Last Week Of Summer 2021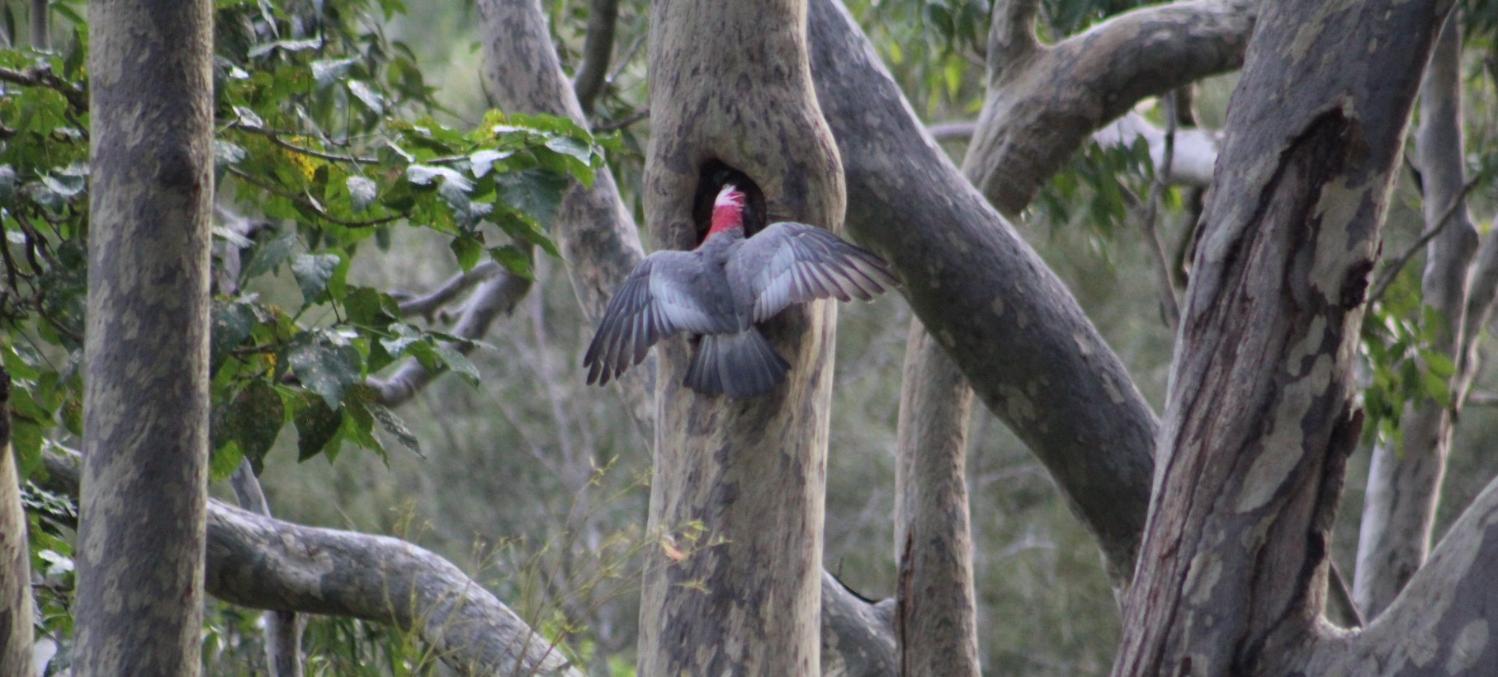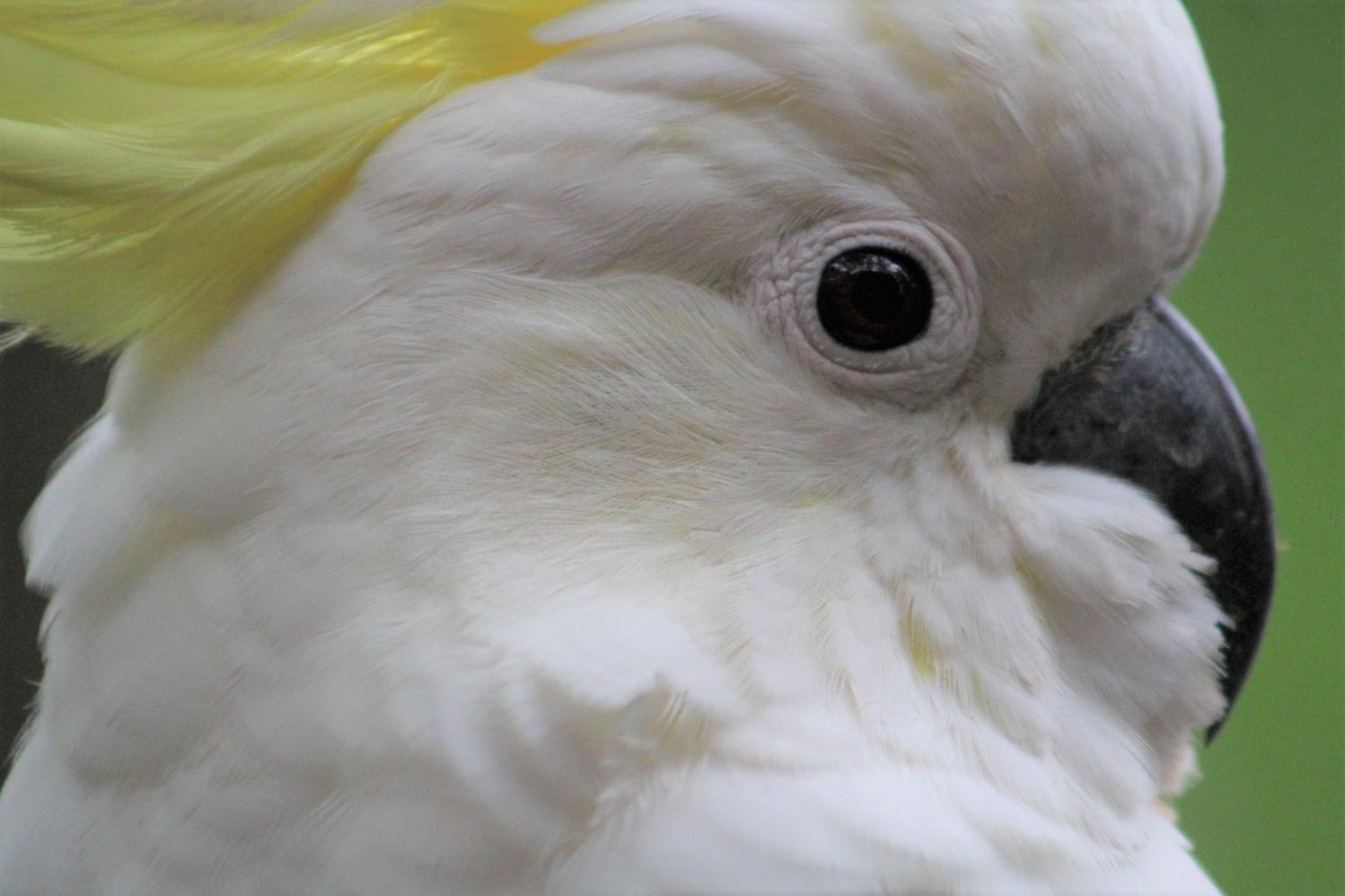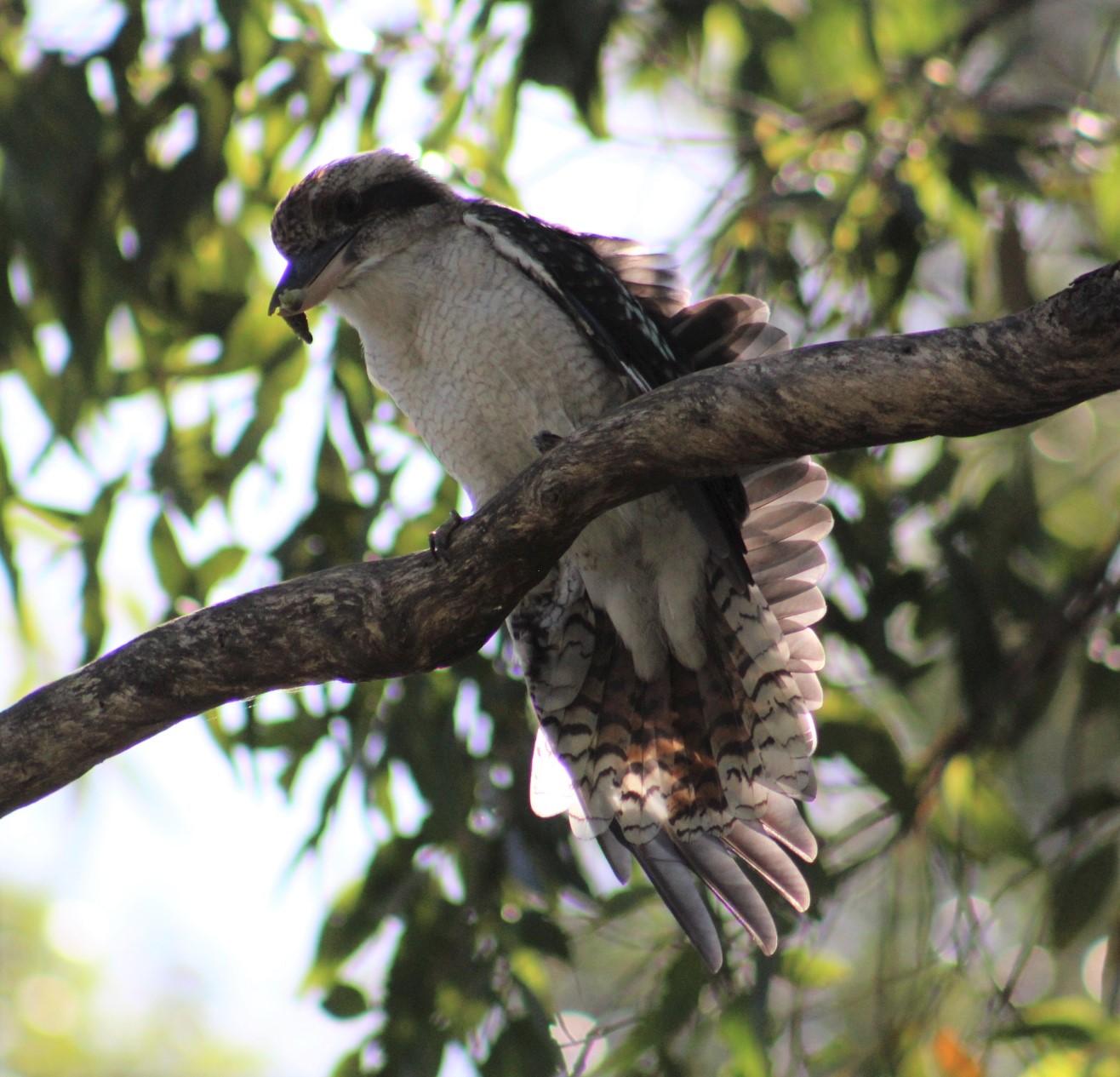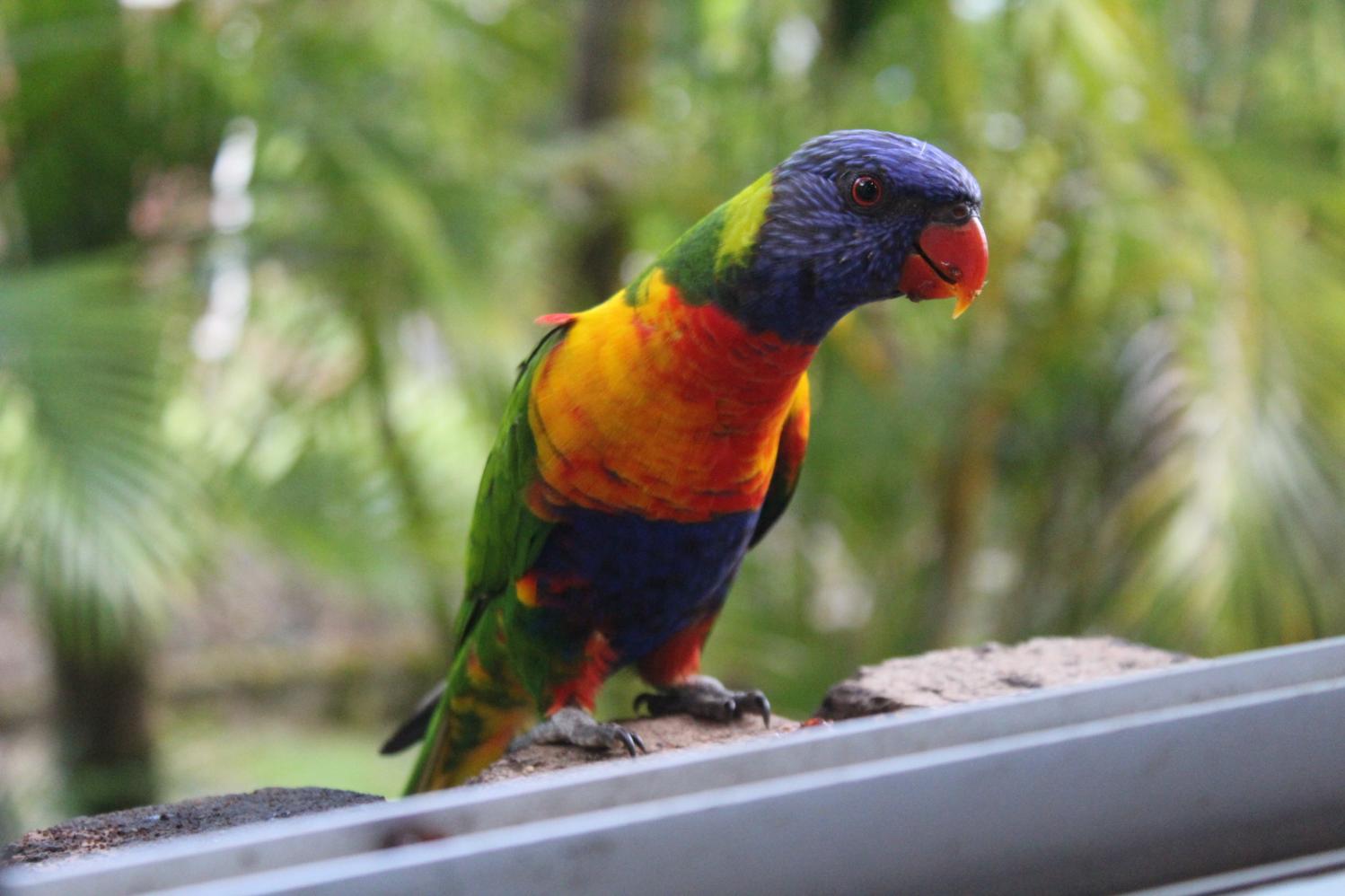 Bushcare In Pittwater
For further information or to confirm the meeting details for below groups, please contact Council's Bushcare Officer on 9970 1367
BUSHCARE SCHEDULES
Where we work Which day What time
Avalon
Angophora Reserve 3rd Sunday 8:30 - 11:30am
Avalon Dunes 1st Sunday 8:30 - 11:30am
Avalon Golf Course 2nd Wednesday 3 - 5:30pm
Careel Creek 4th Saturday 8:30 - 11:30am
Toongari Reserve 3rd Saturday 9 - 12noon (8 - 11am in summer)
Bangalley Headland 2nd Sunday 9 to 12noon
Bayview
Winnererremy Bay 4th Sunday 9 to 12noon
Bilgola
North Bilgola Beach 3rd Monday 9 - 12noon
Algona Reserve 1st Saturday 9 - 12noon
Plateau Park 1st Friday 8:30 - 11:30am
Church Point
Browns Bay Reserve 1st Tuesday 9 - 12noon
McCarrs Creek Reserve Contact Bushcare Officer To be confirmed
Clareville
Old Wharf Reserve 3rd Saturday 8 - 11am
Elanora
Kundibah Reserve 4th Sunday 8:30 - 11:30am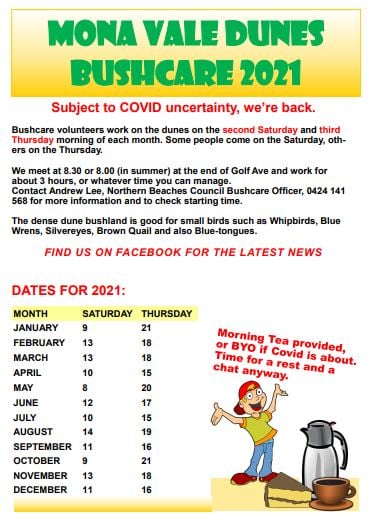 Mona Vale
Mona Vale Beach Basin 1st Saturday 8 - 11am
Mona Vale Dunes 2nd Saturday +3rd Thursday 8:30 - 11:30am
Newport
Bungan Beach 4th Sunday 9 - 12noon
Crescent Reserve 3rd Sunday 9 - 12noon
North Newport Beach 4th Saturday 8:30 - 11:30am
Porter Reserve 2nd Saturday 8 - 11am
North Narrabeen
Irrawong Reserve 2nd Saturday 2 - 5pm
Palm Beach
North Palm Beach Dunes 3rd Saturday 9 - 12noon
Scotland Island
Catherine Park 2nd Sunday 10 - 12:30pm
Elizabeth Park 1st Saturday 9 - 12noon
Pathilda Reserve 3rd Saturday 9 - 12noon
Warriewood
Warriewood Wetlands 1st Sunday 8:30 - 11:30am
Whale Beach
Norma Park 1st Friday 9 - 12noon
Western Foreshores
Coopers Point, Elvina Bay 2nd Sunday 10 - 1pm
Rocky Point, Elvina Bay 1st Monday 9 - 12noon

Gardens And Environment Groups And Organisations In Pittwater
NSW State Water Strategy: Have Your Say
The NSW Government has commenced consultation on NSW's first ever statewide 20-year water strategy to strengthen regional and metropolitan water services.
Minister for Water, Property and Housing Melinda Pavey said the recent drought, which followed on quickly from the Millennium Drought highlighted that water resources are coming under increasing pressure from a combination of population growth, changing industry and community needs and a more variable climate.
"The Government does long-term strategic planning for transport, land use and infrastructure, but this is the first time we've done it for water," Mrs Pavey said.
"We have just come through one of the most extreme droughts on record, one many regional communities are still recovering from.
"Too many times in the past, once the drought breaks, the urgency and will to improve drought resilience and water security evaporates. We are not going to let that happen this time and will keep the momentum going as we continue to reform water management in NSW.
"We must manage scarcer water resources through diversifying supply, including the building of new infrastructure, use of recycling and storm water harvesting and the use of new technology and innovation."
One in three people in Australia live in NSW, and the population is projected to grow by around 2.1 million over the next 20 years. The population in regional NSW is also projected to grow by more than 300,000 people with much of that growth in regional centres.
The draft strategy will help ensure a safer and stronger NSW.
Mrs Pavey said the draft strategy sets out the Government's key priorities and guiding principles that will inform future decisions on water management, and work in tandem with 12 Regional Water Strategies and two metropolitan strategies currently being developed.
"We want to hear from the community on how we can better secure safer water for our cities, towns, industry and the environment."
The draft NSW Water Strategy is on public exhibition from 15 February
to 28 March
for the community to have their say. All feedback will inform the final strategy which will include an implementation plan and will be released by mid 2021.
Senate Inquiry Into Environment Protection And Biodiversity Conservation Amendment (Regional Forest Agreements) Bill 2020
Status: Accepting submissions
Date Referred: 18 February 2021
Submissions Close: 19 March 2021
This is in relation to the December 9th, 2020 introduced by
Senator the Hon. Bridget McKenzie, Nationals Party Member,
and read for a second time on that same date
of ''
A Bill for an Act to amend the Environment Protection and Biodiversity Conservation Act 1999, and for related purposes''
Senator the Hon. Bridget McKenzie in explanatory notes states that ''The Bill's amendments will clarify that forestry operations covered by a Regional Forest Agreement are exempted from Part 3 of the EPBC Act.''
And that;
''This Bill will affirm and clarify the Commonwealth's intent regarding Regional Forest Agreements to make it explicitly clear that forestry operations in a Regional Forest Agreement region are exempt from Part 3 of the EPBC Act, and that compliance matters are to be dealt with through the state regulatory framework.
Requiring native forestry operations to seek EPBC Act approval would create operationally unviable delays in planned harvesting operations

that have already been subjected to significant environmental planning and approvals and create congestion in the approvals pipeline.
This is achieved by removing the ambiguity of what it means to be "undertaken in accordance with a Regional Forest Agreement" (subsection 38(1) of the EPBC Act), which a recent Federal Court decision (Friends of Leadbeater's Possum Inc v VicForests (No 4) [2020] FCA 704 has shown is not explicit with respect to the Commonwealth's intended meaning.



Furthermore, the operation of subsection 38(1) is just one of several legal questions considered by Justice Mortimer's judgment and subsequent appeal. There is no guarantee that the appeal will deal with the substantive question about the operation of subsection 38(1).
The Independent review of the EPBC Act Interim Report (Samuel 2020) recommended addressing this uncertainty:
"During the course of this Review, the Federal Court found that an operator had breached the terms of an RFA and should therefore be subject to the ordinary controlling provisions of the EPBC Act. Legal ambiguities in the relationship between EPBC Act and the RFA Act should be clarified, so that the Commonwealth's interests in protecting the environment interact with the RFA framework in a streamlined way." (page 10), and
"The EPBC Act recognises the RFA Act, and additional assessment and approvals are not required for forestry activities conducted in accordance with an RFA (except where forestry operations are in a World Heritage property or a Ramsar wetland). These settings are colloquially referred to as the 'RFA exemption', which is somewhat of a misnomer." (page 60).
The Interim Report also made it clear that under a regional model of empowering the states, the oversight functions would be the responsibility of the states through accredited frameworks (as occurs with Regional Forest Agreements):
"For projects approved under accredited arrangements, the accredited regulator would be responsible for ensuring that projects comply with requirements, across the whole project cycle including transparent post-approval monitoring, compliance and enforcement. The Commonwealth should retain the ability to intervene in project-level compliance and enforcement where egregious breaches are not being effectively enforced by the accredited party." (page 55).
''The Commonwealth must act urgently to resolve this uncertainty to ensure that the tens of thousands of jobs that depend on Australia's native forestry operations are not exposed to the sort of crisis now facing Victoria's native hardwood sector. This amendment Bill will achieve this outcome.''
It seeks to:
Part 1—Amendments
Environment Protection and Biodiversity Conservation Act 1999
1 Subsection 38(1)
Omit "that is undertaken in accordance with an RFA".
Regional Forest Agreements Act 2002
2 Subsection 6(4)
Omit "that is undertaken in accordance with an RFA".
The
Friends of Leadbeater's Possum Inc v VicForests (No 4) [2020]
case c
onfirmed injunctions related to 66 coupes (or logging areas) in forests that are home to threatened Great Glider and the critically endangered Victorian State emblem - Leadbeater's Possum. This decision will keep these iconic creatures a step further back from extinction.
Importantly Justice Mortimer also identified unlawful logging by VicForests was planned in those 66 areas and had occurred already in a further 26 already logged areas.
In the future, if VicForests wants to log in those coupes, not only will it have to apply to the Commonwealth for approval to log threatened species habitat, VicForests will also have to return to the Federal Court to ask for the injunction to be lifted. And then, it will have to find a buyer for the wood.
Danya Jacobs, Senior Lawyer from Environmental Justice Australia (EJA) summarised it in August 2020; "This case proved that a state agency unlawfully logged 26 areas home to species at risk of extinction which are meant to be protected by both state and federal law – and planned to unlawfully log another 66."
You can make a submission via the link above.
First reading: Text of the bill as introduced into the Parliament
Third reading: Prepared if the bill is amended by the house in which it was introduced. This version of the bill is then considered by the second house.
As passed by both houses: Final text of bill agreed to by both the House of Representatives and the Senate which is presented to the Governor-General for assent.
World First Germination Method Maps A Road To Recovery For Critically Endangered Orchids
A partnership between the NSW Government Saving our Species program and research scientists from the Royal Botanic Gardens Victoria has developed a world-first germination method to secure the future of three critically endangered orchids.
NSW Government Saving our Species Senior Project Officer Lucinda Ransom said with many of NSW's native orchids at risk of extinction, the success of the Royal Botanic Gardens Victoria germination trial paves the way for conservation of threatened orchids in NSW and around the world.
"There are almost 80 threatened orchid species in NSW. Without intervention, many of these beautiful species won't survive for future generations to enjoy," said Ms Ransom.
Royal Botanic Gardens Senior Research Scientist Dr Noushka Reiter said that orchids are notoriously difficult to germinate, with each species of orchid relying on a particular type of fungi in order to germinate.
"Identifying these fungi and the conditions under which they germinate the orchid seed has been the biggest challenge to these germination trials," said Dr Reiter
"After two years of research, we've finally identified the germination techniques and specific mycorrhizal fungi required for propagation of these three critically endangered orchids– the Variable Midge-orchid (Genoplesium insigne), Corunastylis sp. Charmhaven and Wyong Sun-orchid (Thelymitra adorata)", said Dr Reiter.
Royal Botanic Gardens Research Assistant Richard Dimon said the success of the germination trial will help to create insurance populations for these critically endangered orchids.
"This is the first time that these orchids have been grown symbiotically with their mycorrhizal fungi successfully anywhere in the world," said Mr Dimon.
"It's very exciting because we believe these methods will lead to saving several other endangered orchids from extinction" said Mr Dimon.
The Saving our Species program is working with local landholders to conduct an annual monitoring program, erect fencing around sensitive locations, undertake erosion control and conduct slashing at the appropriate times of year to support the plant through its life cycle.
"We've been working hard on the ground in Lake Macquarie and the Central Coast to protect these rare and cryptic orchids in their native habitat," said Ms Ransom.
"These actions have more than doubled the number of these three orchid species across several locations. This is a great demonstration of how research, partnerships and practical on-ground actions, when implemented together, can make a big difference for these incredibly rare and beautiful orchids," said Ms Ransom.
Royal Botanic Gardens, Victoria are growing 200 individuals of each orchid species on behalf of Saving our Species. These will be used for seed orcharding, pollinator studies and to supplement existing populations.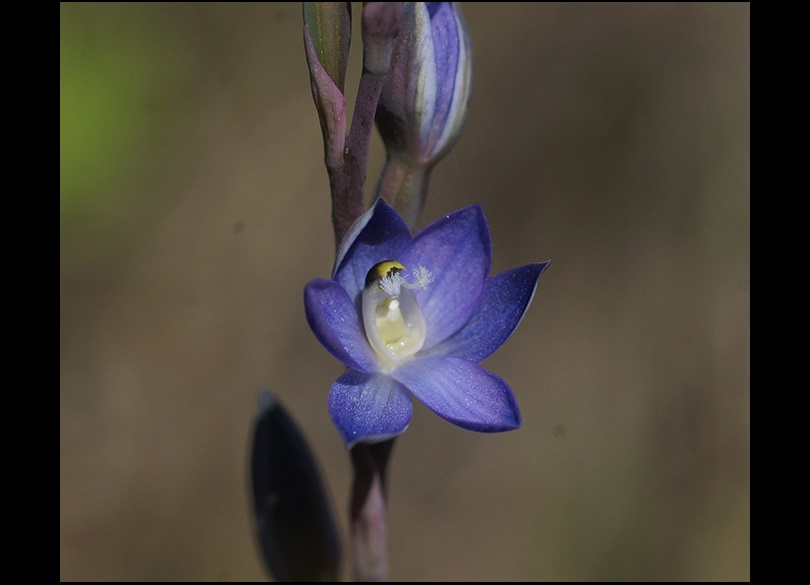 Wyong sun orchid (Thelymitra adorata), Wallarah Credit: B Towle
NSW Government Plan To Protect And Preserve Bushfire Affected Biodiversity
The NSW Government has released the NSW Wildlife and Conservation Bushfire recovery - Medium Term Response Plan to help biodiversity recover over the next five years following the devastating 2019-20 bushfires.
Environment Minister Matt Kean said the plan ensures species and ecosystems are prepared to not only recover from last year's fires but fire threats are also considered in future policy making.
"We know from the best available science, that due to a changing climate, bushfires are likely to become more severe and more frequent. This plan will help us to protect and support our State's unique and precious biodiversity for the long term," Mr Kean said.
The plan includes the NSW Government:
developing conservation plans for threatened species and communities facing the most significant fire impacts
establishing new breeding and propagation programs for priority threatened species
continuing to implement comprehensive post-fire feral animal and weed control
monitoring species, ecosystems and landscapes over the long-term
building the capacity of the wildlife rescue and rehabilitation sector and fire combat agencies to respond to future fire events
increasing opportunities for Aboriginal people to practice cultural fire management and manage fire-affected sites.
The government's statement says the plan also highlights the tremendous amount of work done in the immediate aftermath of the bushfires and responds to the recommendations arising from the NSW Bushfire Inquiry – particularly those relating to wildlife, conservation and Aboriginal land management.
Native animals such as the smoky mouse have survived (despite 90% of its habitat being burnt), captive-bred threatened regent honey eaters have been released in the Hunter Valley and programs to help the mountain pygmy-possum in Kosciuszko National Park.
Ongoing efforts to secure the irreplaceable Wollemi pine west of Sydney including declaring it the State's first Asset of Intergenerational Significance are included.
"It is encouraging to see threatened species returning to the fire grounds across New South Wales, with more than 200 species including the koala, and greater glider supported at more than 330 sites," Mr Kean said.
Additionally, the NSW National Parks and Wildlife Service (NPWS) has added 125 roles to continue effective fire management control, with a further 160 positions currently being recruited.
The plan also identifies key environmental assets, including threatened plant and wildlife populations at risk from future fires, and working with the NSW Rural Fire Service to include them in the NSW Bushfire Risk management framework.
Renewable Energy Sector Board To Boost Local Manufacturing And Jobs
Local jobs and manufacturing opportunities in the renewable energy industry are set to boom following the launch of the State's first Renewable Energy Sector Board , unveiled by the NSW Government this week, Tuesday February 23rd.
Energy Minister Matt Kean said the Renewable Energy Sector Board will play a key role in delivering on the NSW Government's commitment to boost opportunities for local jobs and industry – particularly in the regions.
"We have brought all the key players to the table to make sure we don't miss any opportunities to support local jobs and industry as we modernise the State's energy infrastructure over the coming decades," Mr Kean said.
"My brief to the Board is do not leave any stone unturned. This is a once in a generation opportunity to secure the economic and employment benefits under our Electricity Infrastructure Roadmap for our local industries, workers and consumers."
The Board will look at everything from material sourcing and supply to contracting arrangements, and explore ways to give NSW manufacturers a competitive advantage in emerging 'green' supply industries. It will be joint chaired by Daniel Walton from the Australian Workers' Union and Craig Memery from the Public Interest Advocacy Centre, and brings together 12 representatives from across the sector.
Joint Chairperson Daniel Walton, from the Australian Workers' Union said we need to deliver policies that both create new jobs and support existing workers.
"These new policies should drive genuine accountability and replace the 'tick and flick' culture of procurement which has favoured overseas suppliers in recent decades," Mr Walton said.
"This Board will play a critical role in maximising the use of locally produced and supplied goods. This will both sustain and boost jobs for local workers and foster opportunities for apprentices and trainees in the renewable energy industry."
Joint Chairperson Craig Memery, from the Public Interest Advocacy Centre, said we need to make sure the sector is competitive to deliver choice for consumers and drive down electricity prices.
"We want to make sure our local workers and industries reap the economic benefits of the transition to cheap, reliable and renewable electricity, and we'll be looking at ways to do this in the best interests of NSW electricity customers," Mr Memery said.
The Board, which will provide its first report to the Minister by the end of March 2021 and will meet at least once every six months, was a key component of the NSW Government's landmark energy legislation that passed through the NSW Parliament in November 2020.
NSW Renewable Energy Sector Board members
Daniel Walton, National Secretary, Australian Workers' Union
Craig Memery, Policy Team Leader, Energy + Water Consumers' Advocacy Program, PIAC
Mark Cain, Chief Executive, Australian Steel Institute
John Coyle, Director, Varley Group
Anna Freeman, Policy Director – Energy Generation, Clean Energy Council
Lynne Gallagher, Chief Executive Officer, Energy Consumers Australia
Grahame Kelly, General Secretary, CFMEU (Mining and Energy Division)
James Hay, Chief Executive, Energy Corporation of NSW
Paul Italiano, Chief Executive Officer, TransGrid
Justin Page, Secretary NSW & ACT, Electrical Trades Union
Matthew Robertson, National Strategy & Market Development Manager, BlueScope Steel Australia
Stacey Sleeman, Chief Financial Officer & Company Secretary, Tomago Aluminium
Rod Stowe, former NSW Fair Trading Commissioner
Cory Wright, State Secretary, Australian Manufacturing Workers' Union
Pacific Highway Road Construction Company Fined $30K For Pollution
The NSW Environment Protection Authority (EPA) has fined Pacific Highway upgrade construction company Laing O'Rourke $30,000 for alleged mismanagement of concrete waste and pollution of a watercourse.
During an EPA inspection of a Pacific Highway Upgrade concrete batch plant on 23 July 2020, south of New Italy, officers found evidence of concrete overflowing from an earthen bund into the surrounding environment.
EPA officers also discovered concrete contaminated wastewater discharging into the local environment. This concrete contaminated wastewater was also found to be flowing down a natural drainage line, leading to a watercourse.
Laing O'Rourke Australia Construction Pty Ltd is the holder of an Environment Protection Licence for the construction of the Woolgoolga to Ballina section of the Pacific Highway Upgrade project. The concrete batch plant inspected by the EPA was operated by a contractor on behalf of the licensee.
The EPA issued two $15 000 penalty notices to Laing O'Rourke for water pollution and failing to manage the storage of the concrete waste in a competent manner.
EPA Acting Director Regional Operations Brett Nudd said uncontrolled concrete waste can be harmful to the environment.
"Concrete waste can increase the pH of surrounding waters and has the potential to harm aquatic life and pollute water for animals and ecosystems that rely on it," Mr Nudd said.
"Licensees are required to capture and store concrete waste-water and solids in a secure bunded area to help protect the local environment."
The concrete batch plant area is being rehabilitated with the location now covered by recycled soil material generated from the road construction activities.
Penalty notices are one of a number of tools the EPA can use to achieve environmental compliance, including formal warnings, licence conditions, notices and directions, mandatory audits, legally binding pollution reduction programs, enforceable undertakings and prosecutions.
For more information about the EPA's regulatory tools, see the EPA Compliance Policy http://www.epa.nsw.gov.au/legislation/prosguid.htm.
Bird Missing For 172 Years Rediscovered In Borneo Rainforest
by BirdLife International
Mr. Muhammad Suranto and Mr. Muhammad Rizky Fauzan, both locals in Indonesia's South Kalimantan Province, were gathering forest products in an area not far from where they live when they accidentally stumbled upon an unfamiliar bird species. They caught and released it after taking some photographs.
The friends contacted local birdwatching groups BW Galeatus and Birdpacker, who suspected the bird might be the missing Black-browed Babbler Malacocincla perspicillata. After consultations with expert ornithologists from Indonesia and around the region, their prediction was confirmed.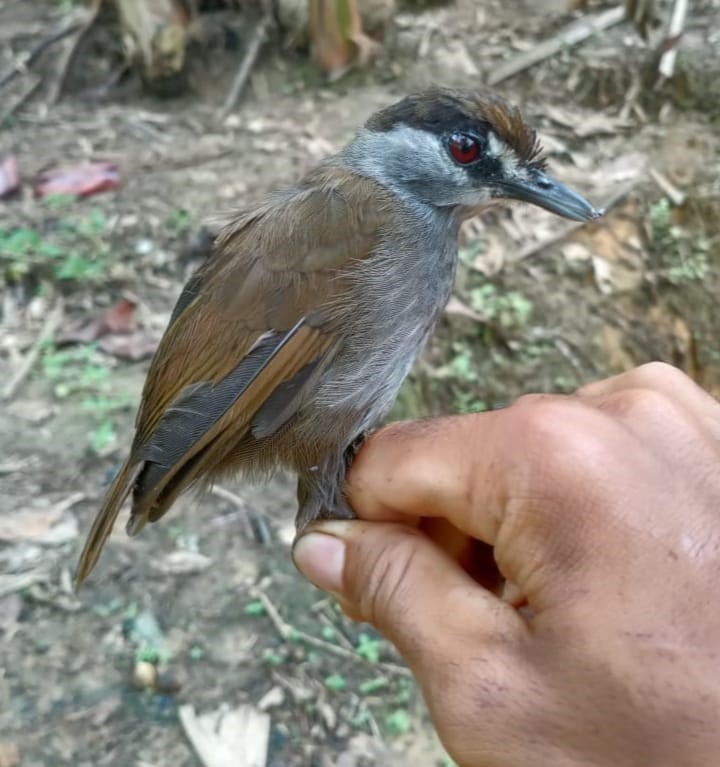 Black-browed Babbler Malacocincla perspicillata
"It feels surreal to know that we have found a species of bird presumed by experts to be extinct. When we found it, we didn't expect it to be that special at all – we thought it was just another bird that we simply have never seen before," said Rizky Fauzan.
The Black-browed Babbler was described by the noted French ornithologist Charles Lucien Bonaparte in 1850. His description was based on a specimen collected sometime in the 1840s by German geologist and naturalist Carl A.L.M. Schwaner, during his expeditions to the East Indies. Since then, no other specimen or sightings have been reported, and the origin of the 'type specimen' has been shrouded in mystery. Even the island from which it was taken was unclear: widely assumed to be Java, it was only in 1895 that Swiss ornithologist Johann Büttikofer pointed out that Schwaner was in Borneo at the time of his discovery.
"The sensational finding confirms that the Black-browed Babbler comes from south-eastern Borneo, ending the century-long confusion about its origins," said Mr. Panji Gusti Akbar of Indonesian bird conservation group Birdpacker, lead author of a
paper published today outlining details of the rediscovery
.
"We now also know what the Black-browed Babbler really looks like – the photographed bird showed several differences from the only known specimen, specifically the colour of the iris, bill and leg. These three parts of a bird's body are known to lose their tint and are often artificially coloured during the taxidermy process. The discovery also confirms that this species remains extant despite the massive deforestation and habitat conversion in this little-known part of Borneo. There is therefore a very high possibility of it being severely threatened by habitat loss."
Co-author Mr. Teguh Willy Nugroho (a staff member of Sebangau National Park in Kalimantan and founding member of BW Galeatus), observed that the remarkable discovery demonstrated the importance of networks of local people, birdwatchers and professional scientists in gathering information on Indonesia's biodiversity – especially some of the country's least known species. This can be important in remote areas of the country that are not easily accessible to scientists.
"I think it is amazing that we managed to document one of the most remarkable zoological discoveries in Indonesia, if not Asia, largely through online communication in the midst of the coronavirus pandemic, which had hampered us from visiting the site," Teguh noted.
The dramatic rediscovery of the Black-browed Babbler demonstrates how poorly known Indonesia's sprawling avifauna is, the largest in Asia – with more than 1,700 species found across the archipelago's numerous, little-surveyed islands.
"It's sobering to think that when the Black-browed Babbler was last seen, Charles Darwin's Origin of Species hadn't even been published and the now extinct Passenger Pigeon was still among the world's commonest birds," said Mr. Ding Li Yong, Flyways Coordinator for BirdLife Asia and co-author of the study. "Who knows what other riches lie deep within Borneo's fabled rainforests – especially in the Indonesian part of the island – and the paramount need to protect them for future generations."
A further publication detailing the bird's ecology is currently being prepared by the authors, while plans are ongoing to revisit the site where the species was discovered when conditions permit.
Full details of the rediscovery published today by the Oriental Bird Club, a UK-based bird conservation charity,
can be found here
.
Shorebird Identification Booklet
The Migratory Shorebird Program has just released the third edition of its hugely popular Shorebird Identification Booklet. The team has thoroughly revised and updated this pocket-sized companion for all shorebird counters and interested birders, with lots of useful information on our most common shorebirds, key identification features, sighting distribution maps and short articles on some of BirdLife's shorebird activities.
The booklet can be downloaded here in PDF file format: http://www.birdlife.org.au/documents/Shorebird_ID_Booklet_V3.pdf
Paper copies can be ordered as well, see http://www.birdlife.org.au/projects/shorebirds-2020/counter-resources for details.
Download BirdLife Australia's children's education kit to help them learn more about our wading birdlife
Shorebirds are a group of wading birds that can be found feeding on swamps, tidal mudflats, estuaries, beaches and open country. For many people, shorebirds are just those brown birds feeding a long way out on the mud but they are actually a remarkably diverse collection of birds including stilts, sandpipers, snipe, curlews, godwits, plovers and oystercatchers. Each species is superbly adapted to suit its preferred habitat. The Red-necked Stint is as small as a sparrow, with relatively short legs and bill that it pecks food from the surface of the mud with, whereas the Eastern Curlew is over two feet long with a exceptionally long legs and a massively curved beak that it thrusts deep down into the mud to pull out crabs, worms and other creatures hidden below the surface.
Some shorebirds are fairly drab in plumage, especially when they are visiting Australia in their non-breeding season, but when they migrate to their Arctic nesting grounds, they develop a vibrant flush of bright colours to attract a mate. We have 37 types of shorebirds that annually migrate to Australia on some of the most lengthy and arduous journeys in the animal kingdom, but there are also 18 shorebirds that call Australia home all year round.
What all our shorebirds have in common—be they large or small, seasoned traveller or homebody, brightly coloured or in muted tones—is that each species needs adequate safe areas where they can successfully feed and breed.
The National Shorebird Monitoring Program is managed and supported by BirdLife Australia.

This project is supported by Glenelg Hopkins Catchment Management Authority and Hunter Local Land Services through funding from the Australian Government's National Landcare Program. Funding from Helen Macpherson Smith Trust and Port Phillip Bay Fund is acknowledged.
The National Shorebird Monitoring Program is made possible with the help of over 1,600 volunteers working in coastal and inland habitats all over Australia.
The National Shorebird Monitoring program (started as the Shorebirds 2020 project initiated to re-invigorate monitoring around Australia) is raising awareness of how incredible shorebirds are, and actively engaging the community to participate in gathering information needed to conserve shorebirds.
In the short term, the destruction of tidal ecosystems will need to be stopped, and our program is designed to strengthen the case for protecting these important habitats.
In the long term, there will be a need to mitigate against the likely effects of climate change on a species that travels across the entire range of latitudes where impacts are likely.
The identification and protection of critical areas for shorebirds will need to continue in order to guard against the potential threats associated with habitats in close proximity to nearly half the human population.
Here in Australia, the place where these birds grow up and spend most of their lives, continued monitoring is necessary to inform the best management practice to maintain shorebird populations.
BirdLife Australia believe that we can help secure a brighter future for these remarkable birds by educating stakeholders, gathering information on how and why shorebird populations are changing, and working to grow the community of people who care about shorebirds.

To find out more visit: http://www.birdlife.org.au/projects/shorebirds-2020/shorebirds-2020-program
Aussie Bread Tags Collection Points
Collecting bread tags enables us to provide wheelchairs that change the life of disabled people in need, as well as keeping the tags out of landfill to help to preserve the environment.
Bread Tags for Wheelchairs was started in South Africa in 2006 by Mary Honeybun. It is a community program where individuals and organisations collect bread tags, which are sold to recyclers. The money raised pays for wheelchairs for the less fortunate which are purchased through a local pharmacy. Currently about 500kg of bread tags are collected a month in South Africa, funding 2-3 wheelchairs.
We have been collecting bread tags nationally in Australia since September 2018 and now have more than 100 collection points across the country. In February 2019 we started local recycling through Transmutation - Reduce, Reuse and Recycle in Robe, SA, where our tags are recycled into products such as door knobs and bowls. Tags from some states are still sent to South Africa where a plastics company called Zibo recycles them into seedling trays.
These humble bits of polystyrene can make a real difference so get your friends, family, school, workplace and church involved. Ask school tuck shops and boarding school kitchens, child care centres, aged care facilities, hospitals, cafes and fast food outlets to collect for you - they get through a lot of bread!
All the information and signage for collecting or setting up a public collection point is
on our website
.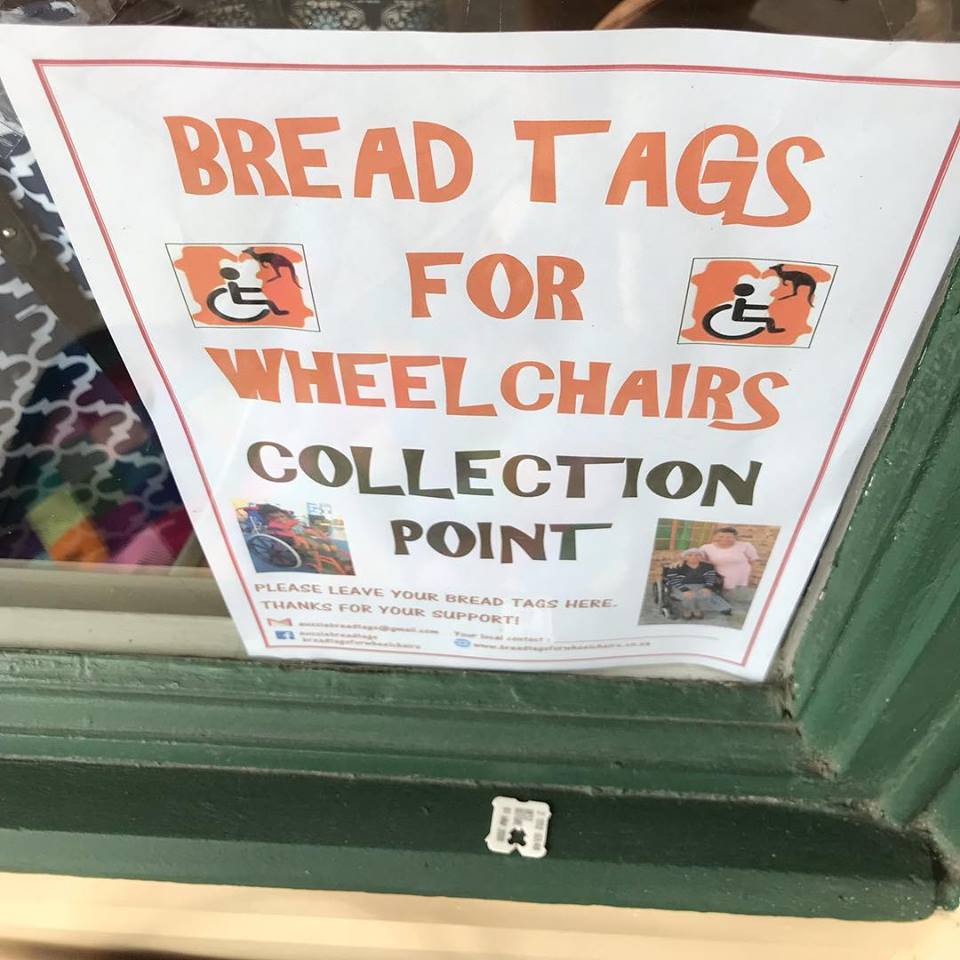 Australia's Eucalypt Of The Year Is Back For 2021!
Australia's biggest annual celebration of eucalypts opened this week (February 24)! Across the country over the next month, gardens, museums, councils and businesses will be holding events to honour their local eucalypts in the run up to National Eucalypt Day.
Voting for 2021's Eucalypt of the Year opens today, giving the public the opportunity to celebrate their own personal favourites with the winning species to be announced on
National Eucalypt Day (23 March)
by Eucalypt Australia. The inaugural National Eucalypt Day photography competition is also open and this year's growing calendar of events will also include a photography competition and guided tours by some of Australia's top eucalypt experts.
Nothing says Australia quite like a gum tree. Synonymous with the landscape of our beautiful country, there are eucalypts on every corner of the continent – from the towering Mountain Ash of south eastern Australia, to the dry hardy Desert Bloodwood of the outback and the majestic Snow Gums of the Australian Alps.
National Eucalypt Day is held every year to celebrate and promote Australia's eucalypts and what they mean to our lives and hearts. National Eucalypt Day events are an opportunity to explore our eucalypts and their value to our biodiversity and culture.
People can vote for their favourite eucalypt on the Eucalypt Australia website.
Voting closes on the 20th March.
Tell us how you voted on social media by tagging @EucalyptAus using the hashtag #EucalyptoftheYear
It's not too late to organise a eucalypt celebration
Events are still being added to the National Eucalypt Day program. The Eucalypt Australia website has a form if you have one to include!
National Eucalypt Day Photography Competition
Photographers of all abilities are invited to take part in a photographic celebration of our incredible eucalypt diversity.
The winning photographer will take away $300 and two runners up will receive $100 each.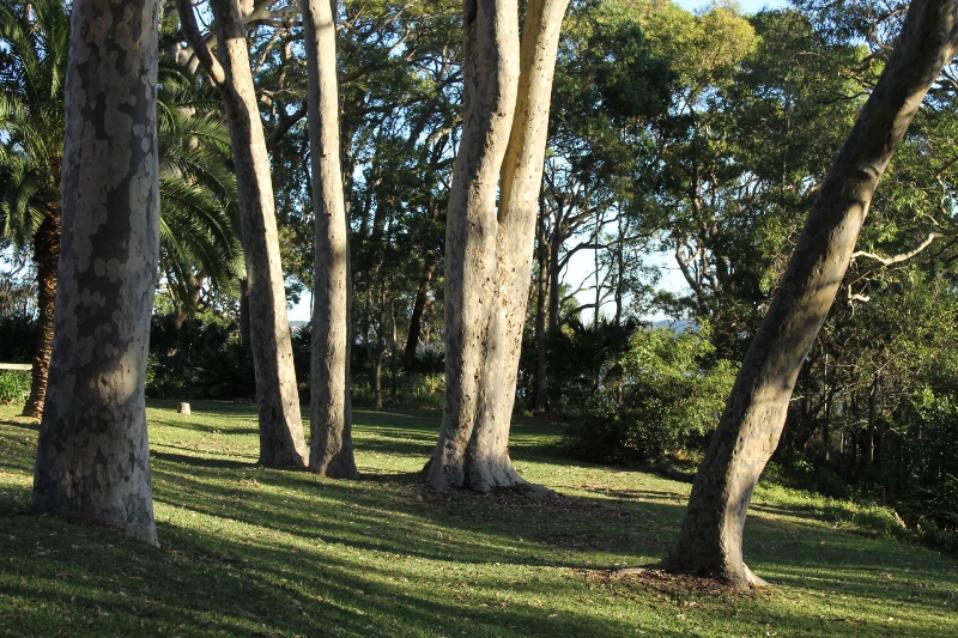 Surf Life Saving NSW State Championships:
2021 NSW Age Championships - Day 1 & 2
Surf Life Saving NSW reports that it was smiles all round, and a few tears, for some of the state's littlest surf lifesavers after two days of fierce competition at the 2021 NSW Championships. For many, it was their first taste of competing at a major carnival with water events held at Swansea Belmont SLSC and the beach sand events at Redhead SLSC.
Avalon Beach SLSC competitors doing their best - SLS NSW photo
After contending with very challenging conditions on day one, the surf dialled down a notch to allow the Under 9, 10 and 11 age groups to get through a full program of teams events on day two.
As expected, the dominance of Sydney clubs Newport and last year's title winner North Curl Curl, was evident with some great racing on display.
Jocelyne Melbourn from North Curl Curl braved the big surf to win the U10 Surf Race then backed up on day two to take the U10 Surf Team medal with Grace Lawry, Emma Windsham and Evie Davis. The girls also nailed the U10 Board Relay event to stamp their mark on the age group. The U11 Female Board Rescue was another gold their way.
Sadie Maggs from Newport SLSC was always the one to watch in the U11 girls and the pocket rocket did not disappoint, taking out the U11 Ironwoman title along with gold in the Board Race.
"I have two older brothers who compete. My brother started off really liking the Iron race and he taught my whole family. We train as a really big group at Newport, catching waves almost everyday. That race was all about the sprint up the beach and not messing up on the shorey," said Sadie.
In one of the most exciting finishes of the carnival, last year's winners of the Board Relay from Cudgen Headland SLSC came from behind in the last leg with an incredible sprint up the beach to win the U11s, beating Newport who led for the entire race. The ecstatic trio of Isabella Arghyros, Charli Mills and Jarrah Onley said the extra work on their transitions and keeping the power on up the beach paid off.
"We got off to an alright start and Izzy caught up and did a sprint up the beach that won it for us," said Jarrah.
"I didn't think I was going to catch up to the Newport girl," said Isabella. "I just really wanted to get first again because State is a big deal and I just really wanted to do well.
"We want to thank Newport because they pushed us so hard this year," said Charli.
Looks like you all had a great time and some good fun. Video below
Other Wildlife Noises You Can Hear At Night: Frogs!
We forgot the frogs - and we should know this, we have a pond in our front yard and often hear them calling at night. Across from us are a creek and wetland and, after rain, the sound of frogs all croaking away is loud enough to make the whole night air sound as though it is full of frogs.
So, to add to our list of Wildlife Noises You Can Hear At Night In Pittwater: for youngsters, we add frogs!
We've already shared a few insights into this little frog, a Peron's tree frog (Litoria peronii) - so what other frogs may you hear singing away at night in Pittwater?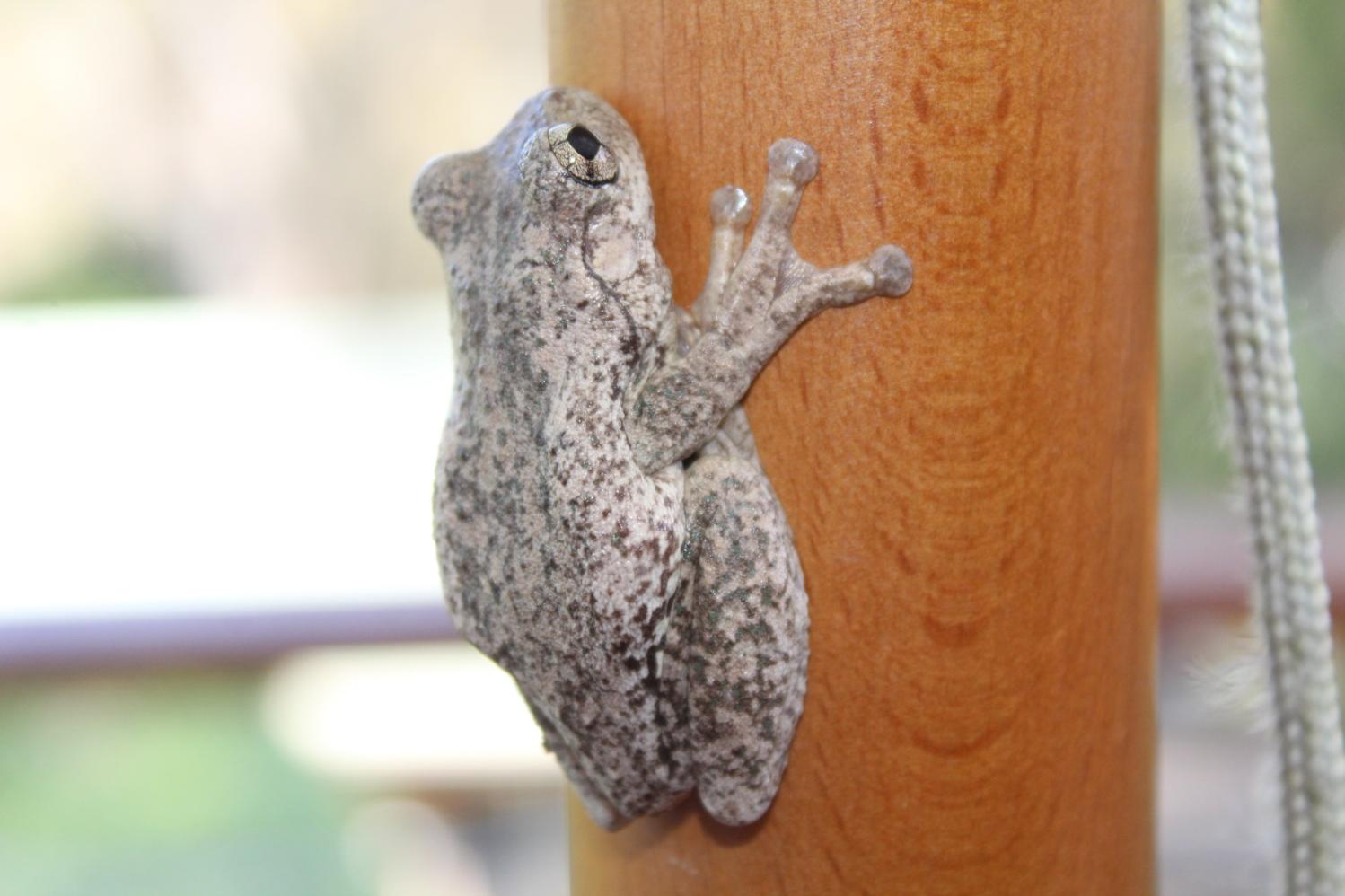 If you live in Ingleside, Warriewood or Narrabeen you may hear a
Great Burrowing Frog - these were found here in 2013. T
he Giant Burrowing Frog was photographed sitting in undergrowth near the creek in Ingleside Chase Reserve.
Only eight previous sightings of the frog in Pittwater have been recorded, with the last one in the late 1990s according to Dr Arthur White, a local frog specialist.
The Giant Burrowing Frog is a large slow-moving frog growing up to 10 centimetres in length. Its slowness makes it very vulnerable to predators. It gets its name from its oversized feet and muscular back legs which it uses to dig down into the earth and build burrows for breeding.
The Great Burrowing Frog usually spawns in a small water-filled burrow or under thick vegetation in dams, ditches, and slow flowing streams. The tadpoles hatch and escape when the water rises to flood the burrow.

The wetlands are also home to the
Striped marsh Frog (
Limnodynastes peronii),
Spotted Grass Frog (
Limnodynastes tasmaniensis),
Dwarf Tree Frog (
Litoria fallax) and
Common Eastern Froglet (
Ranidella signifera).
The striped marsh frog or brown-striped frog
(Limnodynastes peronii) is a predominantly aquatic frog native to coastal Eastern Australia. It is a common species in urban habitats and one you may find setting up home in your backyard pond.
They will inhabit ponds, roadside ditches, creeks, dams, flooded areas and any other available water body. They are tolerant of polluted water. Males call while floating in water from a hidden area in vegetation. They make a "tok" or "whuck" call, similar to a hen clucking, during all months of the year (particularly spring-autumn). This call is familiar to anyone in Sydney who has a garden pond.

Females may reach a length of 75 millimetres (3.0 in) and males 70 millimetres (2.8 in). They are a shade of brown on the dorsal surface. This colour can be light or dark; they can also be a red-brown on the dorsal surface. There are distinct darker stripes running down the frogs back (giving this species its name), there is normally a paler mid-dorsal stripe running down the back. There is a black "mask" that runs from the nostril, through the eye and down to the shoulder. This "mask" is followed by a thick light golden line that runs underneath the "mask" and terminates at the end of the mouth.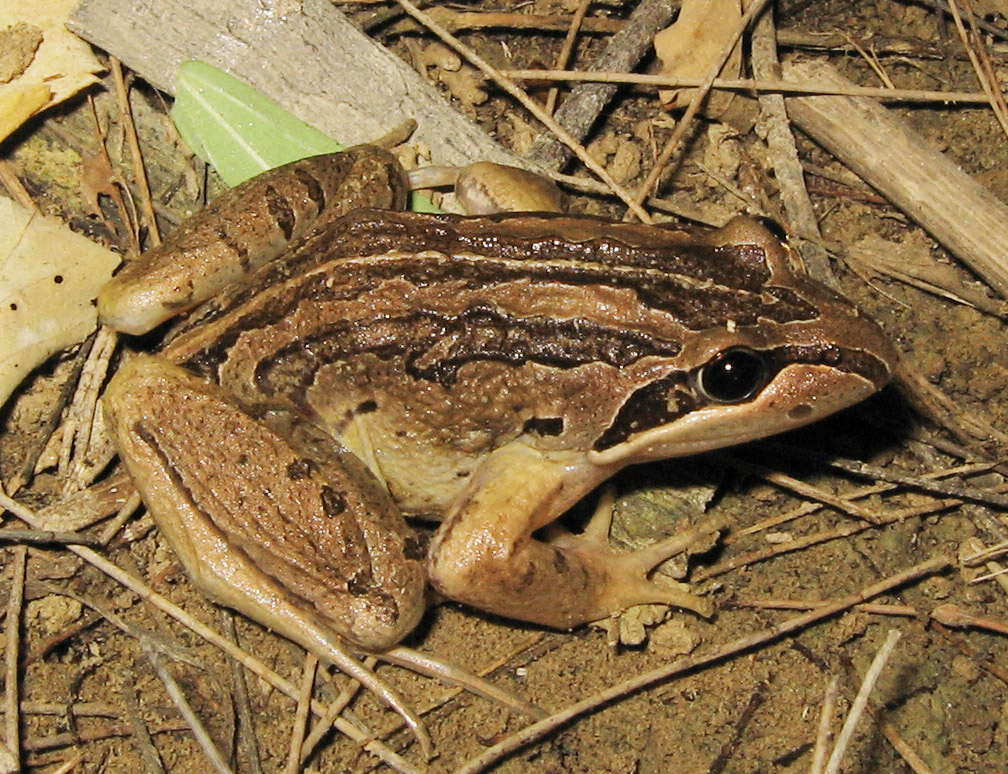 (Limnodynastes peronii). Photo courtesy Liquid Ghoul

Breeding males develop thick arms, these are used in "wrestling" matches with other frogs. The throat of males is yellow in colour, their belly is white.

The spotted grass frog or spotted marsh frog
(
Limnodynastes tasmaniensis
) is a terrestrial frog native to Australia. It is distributed throughout all of New South Wales and Victoria, eastern South Australia, the majority of Queensland, and eastern Tasmania.
This frog reaches 45 mm in length. Its colour ranges from light brown to olive-green, with large, irregular shaped, green or brown spots on its back. Occasionally it will have a thin, pale cream, yellow or bright orange stripe running from snout to vent. There is a raised pale stripe running from below the eye to the base of the arm. The arms and legs are spotted like the back, and the belly is white.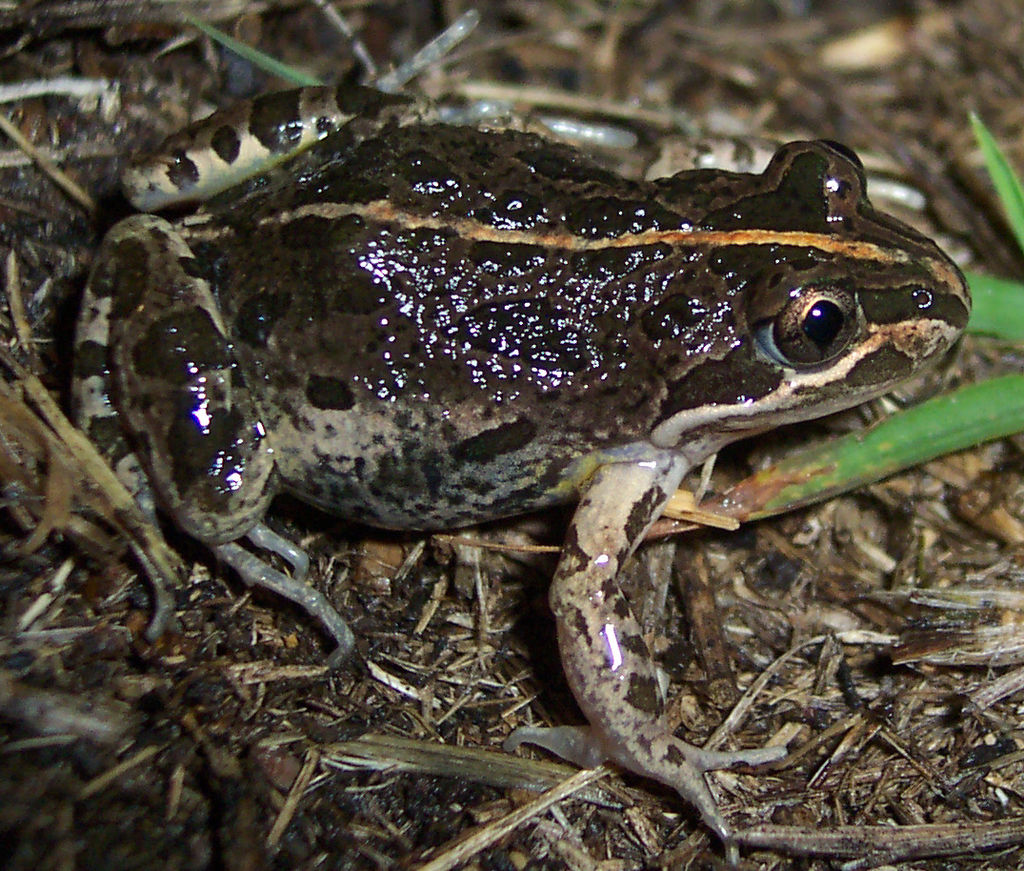 A Spotted Grass Frog demonstrating an orange mid-dorsal stripe. Photo courtesy Tnarg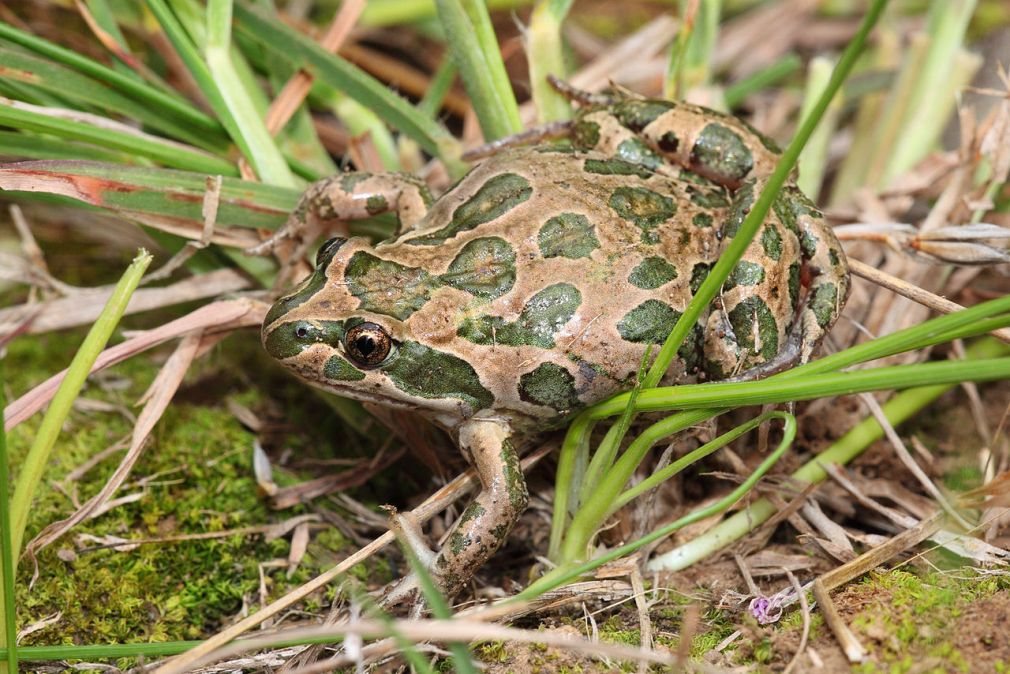 Spotted Marsh Frog demonstrating larger blotches. Photo courtesy Banjamint444

This frog is common throughout Australia and is one of the first species to inhabit new dams and ditches. This species is associated with most habitats, including permanent or temporary dams, roadside ditches, ponds, flooded grassland and slow moving creeks, in urban areas, farmland, woodland, coastal areas and arid areas. The frog is usually found in grass or under other cover, near a still water source.
The males calling and the breeding will occur pretty much all year round, finishing during summer. The call of this frog varies from a staccato machine gun sounding burst to a single 'Tok' sound, depending on the call race, which varies geographically. The machine gun call is the northern call race, throughout NSW and QLD. The 'tok' call is the southern call race, which occurs in southern VIC and TAS.
The eastern dwarf tree frog or eastern sedge-frog (Litoria fallax),
is a small and very common tree frog found on the eastern coast of Australia, from around Cairns, Queensland, to around Ulladulla, New South Wales. Individual frogs of this species are often found elsewhere, having been accidentally relocated by transported fruit boxes, commonly bananas as they live in banana trees in the north. Confirmed sightings of breeding pairs have confirmed their survival in Victoria's cooler climate.
This is a small species of frog; females can reach a maximum size of 25–30 mm, while males may only reach 20 mm when fully grown. It is of variable colour (depending upon temperature and colour of surrounding environment), ranging from fawn to light green on top, and occasionally has black flecks on its back. A white line begins under the eye, and joins the white stomach. A brown line begins from the nostril, and continues across the eye, and between the green (or fawn) and white sections on the top and bottom of the body. This species' toe discs are only slightly larger than the toes, and toes are 75% webbed. Some individuals will have an orange posterior thigh. The tadpoles are bigger than the adult frogs, with a size of 30 mm.
This frog is associated with a wide variety of habitats, including coastal swamps, lagoons, dams, ditches, and garden ponds in forest, heathland, wallum country, and cleared farmland.
Breeding occurs at small ponds or dams, which have ample reeds or other emergent vegetation. This species will often breed in temporary water. Its call is a short, high pitched, wr-e-e-ek ip-ip, repeated three or four times. They emit their calls from a single submandibular vocal sac. The males call during the spring and summer seasons, often before and after heavy rain.
About 200-300 eggs are laid at each amplexus, and clumps of spawn contain up to 35 eggs. The minimum tadpole lifespan is 118 days, at a consist temperature of 20 °C. Metamorphosis occurs from January to March, the metamorphs resemble the adults and are very small, only 9–13 mm in length.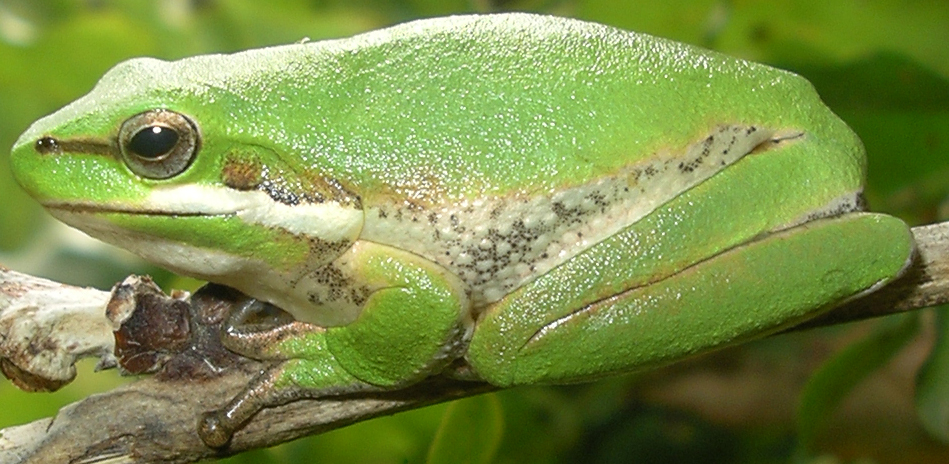 Litoria fallax.
Photo courtesy Liquid Ghoul
The common eastern froglet (Crinia signifera)
is a ground-dwelling frog, of the family Myobatrachidae.
This is a small frog (3 centimetres), of brown or grey colour of various shades. The frog is of extremely variable markings, with great variety usually found within confined populations. A dark, triangular mark is found on the upper lip, with darker bands on the legs. A small white spot is on the base of each arm. The dorsal and ventral surfaces are very variable. The dorsal surface may be smooth, warty or have longitudinal skin folds. The colour varies from dark brown, fawn, light and dark grey. The colour of the ventral surface is similar to the dorsal surface, but mottled with white spots.
The common eastern froglet will call within a large chorus of males close to a still water source, or slow flowing creek. The call of the male is a crik-crik-crik, this is heard all year round, during wet and dry conditions. An average of about 200 eggs are laid in small clusters attached to submerged vegetation, the tadpoles and eggs survive in 14–15 °C water. Tadpoles are normally brown and reach about 36mm in length. Development is relatively short, however it is dependent on environmental conditions. At a temperature of 15 °C development can range from 6 weeks to more than 3 months. Metamorph frogs are very small, about 8 mm.
The diet of the species consists of small insects, much smaller in comparison to their size to most frogs.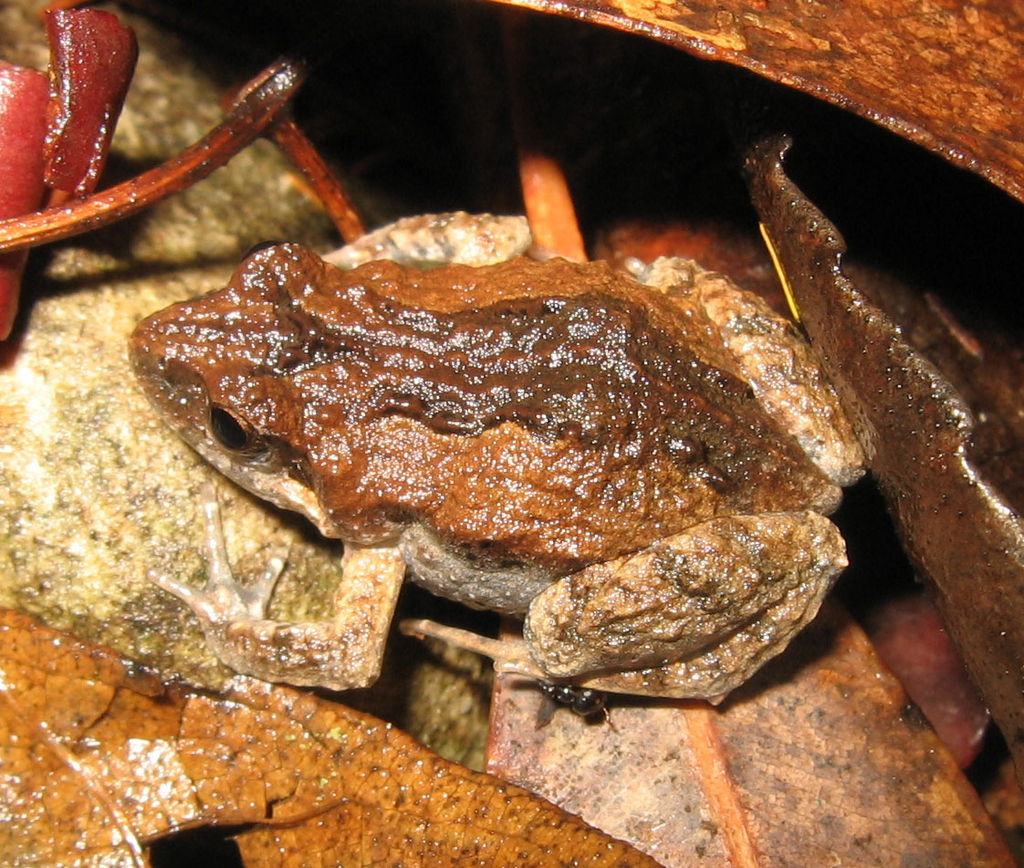 Crinia signifera. Photo courtesy Retama

Warriewood wetlands, alike Narrabeen Lagoon, Careel Bay and Bayview,
form just part of the ways local creeks are keeping our wetlands and their surrounds
healthy and why we may hear frogs at night
.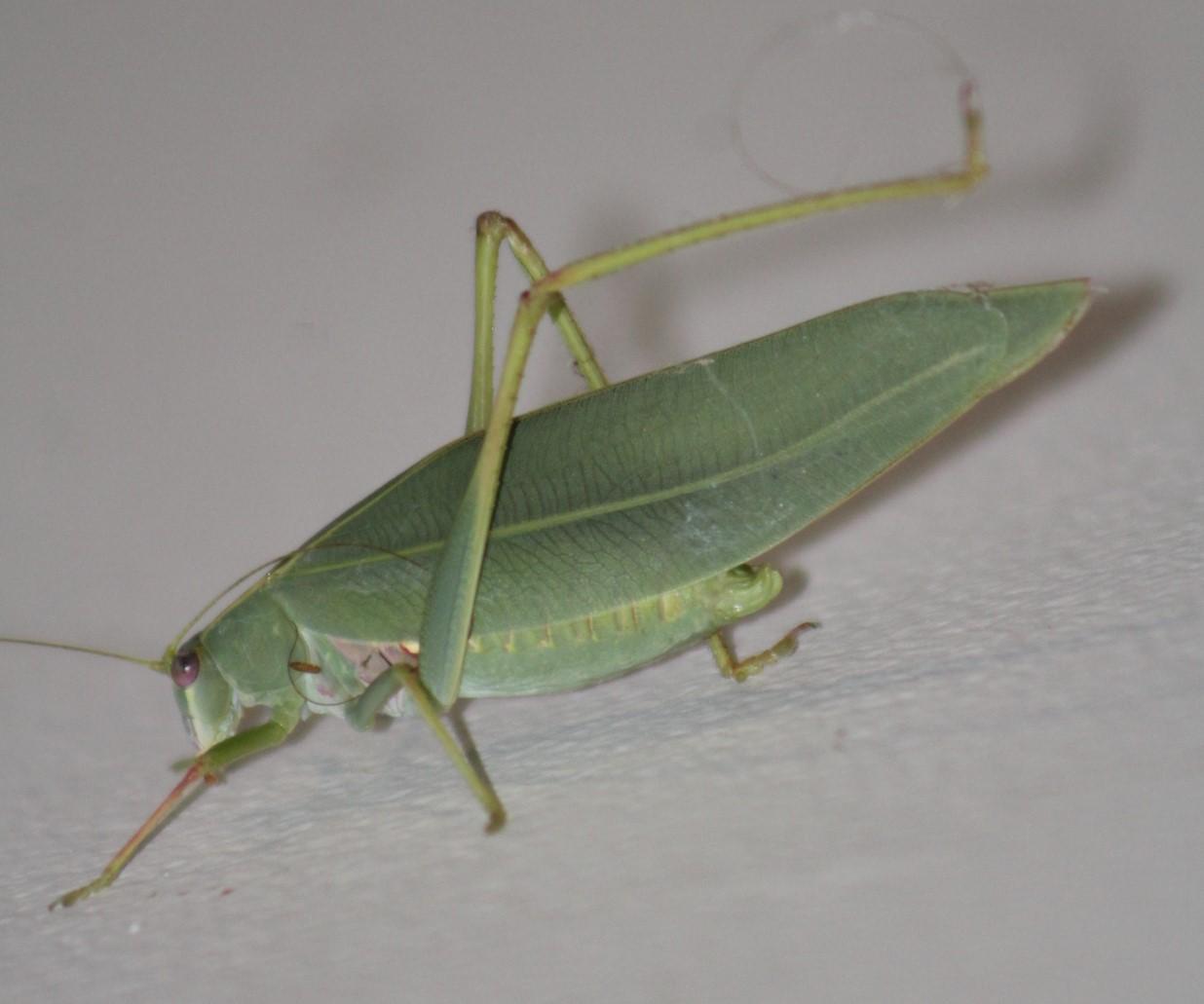 Biggest Names In Australian Surfing To Compete In The 2021 Vissla Central Coast Pro.
Wednesday, 24 February 2021
By Surfing NSW
The Vissla Central Coast Pro will bookend a massive Australian 2021 World Surf League (WSL) Qualifying Series (QS) season, when it lands in Avoca Beach.
The elite six-day WSL QS 3000 rated event will form the final stop on the Vissla NSW Pro Surf Series and will take place in Avoca Beach from the 2 March – 7 March 2021.
The four-event series will see three QS 1000 rated events (Maroubra, Great Lakes and Port Stephens) and one men's and women's QS 3000 (Central Coast).
The Vissla Central Coast Pro will also comprise of the women's Sisstrevolution Central Coast Pro division.
Current WSL Championship Tour surfers Ryan Callinan, Julian Wilson, Ethan Ewing, Adrian Buchan, Owen Wright, Sally Fitzgibbons, Macy Callaghan, Keely Andrew and Isabella Nichols are currently all slated to compete in the event.
In 2020, the WSL revealed a new format for 2021, which included creating distinct seasons between the QS (the regionalised development tier), the Challenger Series (the global battleground for Championship Tour qualification) and the Championship Tour (the world's best surfers competing for the World Title).
The new tour structure will provide a more streamlined and affordable career pathway for WSL athletes by allowing up-and-coming surfers to develop closer to home without financially over-leveraging themselves. Athletes will compete on their regional QS tour in hopes of qualifying for the Challenger Series (CS), and ultimately the Championship Tour, which will reduce the economic pressure on surfers and their sponsors, as well as provide increased opportunities to celebrate local stars.
The QS will run from January through to July 2021 and determine who has qualified for the CS, which will run from August through to December 2021. Each region will have an allocation of surfers that can qualify for the CS through their regional tour. Athletes will be able to roll over points from 2020 QS events into the current season. Australia/Oceania will receive an allocation of ten men's and eight women's spots onto the Challenger Series based on the regional QS rankings.
Parliamentary Secretary for the Central Coast and Member for Terrigal Adam Crouch is elated to see a world-class event return to the region.
"This QS 3000 ranked event provides an even greater opportunity for professional surfers to earn points and is the only event of its kind in Australia," Mr Crouch said. "With hundreds of competitors and spectators expected to descend on Avoca, this six-day event will boost our local businesses, accommodation, restaurants and retail following what has been a really difficult 2020."
Central Coast Council Administrator, Mr Dick Persson AM said the Central Coast is thrilled to be one of the host locations for this prestigious series.
"These are world-class events and I encourage locals and visitors to head to Avoca Beach, and all of the host locations, to witness these incredible athletes in action in a beautiful setting," Mr Persson said.
Having grown up surfing on the Central Coast, but now residing on the Gold Coast, World Championship Tour surfer Macy Callaghan is excited to return to her local region to compete for the first time in close to five years.
"I can't wait to return to the region where I grew up surfing to compete in this event," said Callaghan. "The Vissla NSW Pro Surf Series played a huge part in helping me to qualify for the Championship Tour and I'm super excited to be back competing on one of the beaches I grew up surfing throughout my childhood."
Surfing NSW CEO Luke Madden thinks that the Vissla Central Coast Pro and the entire Vissla NSW Pro Surf Series has proven itself as one of the premier competitive surfing legs anywhere in the world.
"The Vissla NSW Pro Surf Series has given multiple CT surfers the added momentum to get their campaigns off to a flying start at the beginning of the year," said Madden. "Over the years we've seen people like Morgan Cibilic, Ethan Ewing, Macy Callaghan, Wade Carmichael and even internationals like Yago Dora compete in this leg of QS events and we can't wait to see the 2021 series finish with a bang on the Central Coast."
WSL Asia Pacific Tour Manager Will Hayden-Smith shared Madden's anticipation at seeing who would claim the top positions on the QS rankings following the Vissla Central Coast Pro.
"Finishing this string of QS events with a 3000 is really exciting," Hayden-Smith said. "The Avoca event will be a really important one in the context of the competitors' careers. Doing well at a 3000 can go a long way to cementing yourself a spot on the Challenger Series which is the main aim for all of the competitors. The other exciting aspect of this event is the number of elite Championship Tour competitors that have entered and will use the event as a warmup to the Aussie CT leg. Some of surfing's biggest names will descend on Avoca which is not only a great opportunity for the spectators but the young up and coming competitors who may get the opportunity to surf against one of their heroes."
All events will be webcast through worldsurfleague.com, surfingnsw.com.au and the WSL App.
For more information on these events head to worldsurfleague.com, surfingnsw.com.au or the free WSL App.
2021 Vissla NSW Pro Surf Series Event Schedule
Event 1: Great Lakes Pro, Boomerang Beach, Tuesday 16 – Friday 19 February 2021.
Event 2: Port Stephens Pro, Birubi Beach, Sunday 21 – Tuesday 23 February 2021.
Event 3: Mad Mex Maroubra Pro, Maroubra Beach, Friday 26 – Sunday 28 February 2021.
Event 4: Vissla Central Coast Pro, Avoca Beach, Tuesday 2 – Sunday 7 March 2021.
The 2021 Vissla NSW Pro Surf Series will be proudly supported by the NSW Government through its tourism and major events agency, Destination NSW. The series will also be proudly supported by Vissla, Randwick City Council, Central Coast Council, Mid Coast Council, Port Stephens Council, Mad Mex, Sisstrevolution, Middle Rock Holiday Park, Moby's Beachside Retreat, Avoca Beach Hotel, WSL and Surfing NSW.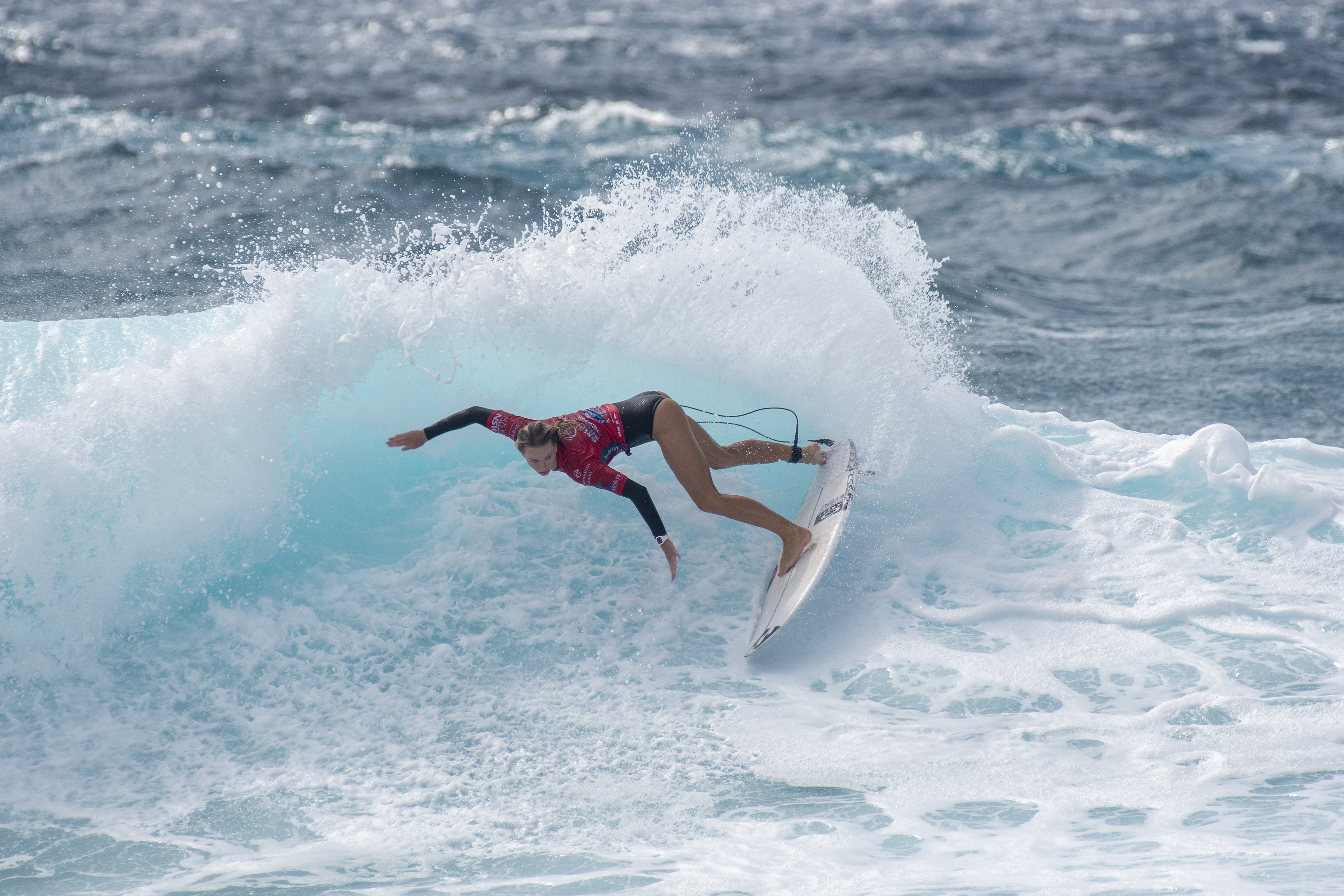 ABOVE: Having grown up surfing on the Central Coast, but now residing on the Gold Coast, World Championship Tour surfer Macy Callaghan is excited to return to her local region to compete for the first time in close to five years. Photo by Ethan Smith / Surfing NSW
Welcome To Pittwater High School
Published February 24, 2021 by Pittwater HS
Pittwater High is comprehensive and co-educational and an integral part of the Pittwater Community. It has an established reputation for academic, cultural and sporting excellence with a tradition of outstanding achievement in musical performance and sailing. Our purpose is to sustain a school culture in which students are actively engaged in learning in an environment of continuous improvement. We aim to develop the knowledge skills and values of each child in a happy and supportive environment. The school's natural park-like environment is exceptional. Facilities are well resourced and maintained and include a multi-purpose centre, tennis courts, networked computer laboratories, a large oval and playing fields, and specialist facilities for agriculture and horticulture.
Meet The Next Generation Of Creators And Innovators:
Student Showcases Reflect Student Responses To Contemporary Issues
The 400 best inventions, designs, performances, writings and artworks of 2020 HSC students are on display across five exhibitions for the public to enjoy.
Education Minister Sarah Mitchell today met students who have works in the SHAPE, Encore, OnSTAGE and ARTEXPRESS exhibitions at the Powerhouse Museum, where 42 HSC technology projects are going on display this Saturday.
Ms Mitchell said the showcases this year were unique because they reflected the unprecedented challenges and disruptions that 2020 HSC students faced, from bushfires, floods and drought, to COVID-19 and personal experiences.
"Those experiences are reflected by students in their creative and design work – whether that be a quilt depicting arid drought landscapes, or a portable oxygen device particularly poignant in the context of COVID-19, or an innovative new design to assist blind and visually impaired community members," she said.
"These works are incredible - some already have patents taken out - and I encourage everyone to take the opportunity to head to an exhibition to experience the works.
"The works on display across these exhibitions are mature, thoughtful and highlight the tremendous capacity for critical thinking, innovation and creativity in NSW schools. Congratulations to the 400 students exhibited."
Powerhouse Museum chief executive Lisa Havilah said it was exciting to see the innovation and creative thinking shown in the work of technology students.
"Shape 2020 sees students responding to contemporary issues that we all face, creating work that is focused on improving our everyday lives. We are proud to partner with NESA to showcase the talent of this next generation of designers," Ms Havilah said.
ARTEXPRESS is now showing at metro and regional galleries in NSW and features the work of more than 270 visual arts students across the state.
The exhibitions are also in regional areas, with ARTEXPRESS holding regional showings.
OnSTAGE, CALLBACK and ENCORE will be available online this year, giving all schools across the State access to the depth and breadth of talent from 66 students in HSC Drama, Dance and Music, respectively.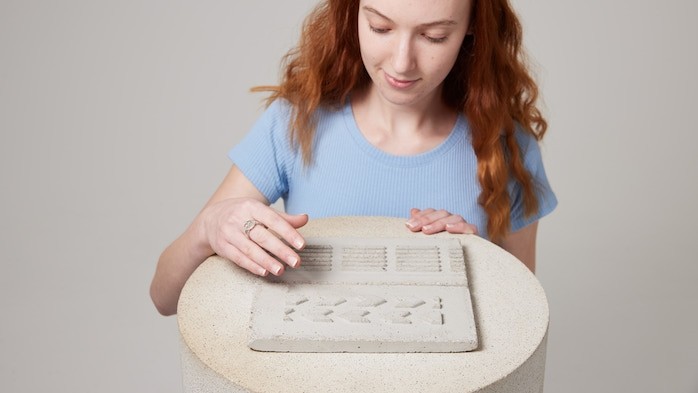 Excellence: Wyndham College student Genevieve Bryant's work is on display as part of the Shape HSC showcase. Photo: Dan Boud.
Jordan Turns His Passion For Fitness Into A Rewarding Career
Winston Hills local Jordan Stack is leading by example when it comes to helping others reach their fitness goals, having secured employment in the industry after completing a Certificate III in Fitness and shedding 70 kilograms.
After embarking on his own fitness journey several years ago, Jordan is now completing a
Certificate IV in Fitness
at TAFE NSW Meadowbank, while sharing his knowledge and expertise as a group fitness coach at Fit Camp Transformation Centre and Jetts Northmead.
"I've really enjoyed studying at TAFE NSW and I'd encourage others who are deaf or hearing impaired to do the same – the teachers have been incredibly accommodating and helpful, and the extra support is always there if you need it," Jordan said.
"The practical and theoretical knowledge I've gained throughout the course has been invaluable, and having gone through my own weight loss journey, I understand the hard work involved and how important it is to take it one step at a time.
"Being a fitness coach is so rewarding – there's nothing better than seeing smiles on people's faces when they finish class and helping individuals to reach their goals."

Research by Fitness Australia shows the vital role the gym plays in the lives of Australians, with consumers reporting that going to the gym or their local fitness studio was one of the activities they missed most during COVID-19 lockdowns.
TAFE NSW Head Teacher of Health and Recreation Sandra Apostolou said it had been an honour to play a part in supporting Jordan's journey from TAFE NSW to the workplace.
"Jordan is a reflection of the life-changing opportunity TAFE NSW provides students wishing to pursue a career in the field they're passionate about," Ms Apostolou said.
"The hands-on training and personalised support TAFE NSW provides helps students set themselves up for success and empowers them to pursue a rewarding career, no matter their circumstances."
NSW Youth Advisory Council 2021 Applications Now Open
What is the NSW Youth Advisory Council?
The NSW Youth Advisory Council (YAC) plays an important role in advising the NSW Government on issues that are relevant to young people across the state.
Membership of the YAC is open to all children and young people between 12 and 24 years of age residing in NSW. Applications are sought from diverse locations, backgrounds and life experiences.
The 12 member YAC provides a direct avenue of communication between young people and the NSW Government.
The YAC meets regularly throughout the year to provide advice to the relevant Minister, and the NSW Advocate for Children and Young People, on issues, policies and laws that affect children and young people in NSW.
Who is eligible to apply for the Youth Advisory Council?
All young people living in NSW from 12 to 24 years of age may apply. Applications are sought from diverse locations, backgrounds and life experiences.
What is required of me?
Council members meet once every 4-6 weeks throughout the year to discuss a range of topics and monitor and evaluate polices and legislation affecting children and young people.
Members also consult with children and young people, community groups and government agencies on issues concerning children and young people; and conduct forums, approved by the Minister on issues relevant to children and young people.
Tips for completing your application
Once you start your application you will need to complete it in one go, so you might like to prepare your answers in a word document and then copy and paste them into the application when you are ready. Make sure you answer all questions. The whole application process should take no longer than 10 minutes.
The main questions to prepare for are:
Question: What do you think are the important issues affecting children and young people in NSW? Please explain why you think these issues are important. (As a guide, your answers should be no more than 250 words.)
Question: What life experiences have you had which would assist you in contributing to the Council's work?
Question: Details of any current or past voluntary or community activities you have been involved in.
We'll ask a few questions about you and your background.
Applications close March 14th.
Applications Now Open For Y NSW Youth Parliament
Applications are now open for the YMCA NSW (Y NSW) Youth Parliament: the state's premier youth political empowerment program.
Aimed at young people in years 10, 11 and 12 or equivalent age, Y NSW Youth Parliament provides a platform for young people to have their voices heard through legislative debate and decision making.
Y NSW is seeking representatives from all 93 NSW State Electorates to participate.
Y NSW CEO Susannah Le Bron said it was exciting to be back following the program's suspension in 2020 due to the pandemic.
"COVID-19 has brought the direct impact of political decisions on young people's lives and futures sharply into focus," Mrs Le Bron said.
"There's never been a more important time for young people to stand up and be heard, and the Y is incredibly proud as an organisation to bring these voices directly to the seat of power in NSW."
Youth Parliament consists of an eight-day camp where participants are split in committees and develop policy positions ahead of four days of debate on the floor of NSW Parliament. Following the event, passed bills are formally presented to the NSW Government.
Since its beginning in 2002, approximately six pieces of Y NSW Youth Parliament youth legislation have been passed into NSW Law, including the recent Domestic Violence Disclosure Scheme.
Former NSW Youth Parliament participant, Hamani Tanginoa, encouraged young people across the state to apply.
"Youth Parliament is an amazing opportunity for young people to have their voices heard and get their ideas on the board. If they're looking to do more representation in their community or to get into politics it's a perfect first step to get their name out there," he said.
"It helped me get a spot on the NSW Youth Advisory Council and support from past participants helped me secure the Youth Premier position in 2019. Youth Parliament kept the fire burning, and since then I've been able to continue speaking out on issues young people are facing on TV and in printed media."
Applications are open now and will close March 12 at 5pm.
Young people will be notified of the outcome of their application on March 22 ahead of an online introduction to the program on April 26 and finally, Residential Camp from July 3 to Saturday 10 July.
NSW Youth Week 2021: 16 To 24 April
Youth Week began as a NSW Government initiative in 1989, and has since grown to be a celebration of young people in every state and territory across the country.
It is organised by young people, for young people, in communities across NSW and Australia. Following the success of the NSW Youth Week program, Youth Week became a National event in 2000. National Youth Week is jointly supported by the Australian Government, State and Territory Governments and Local Governments.
National Youth Week is an opportunity for young people to:
share ideas
attend live events
have their voices heard on issues of concern to them
showcase their talents
celebrate their contribution to the community
take part in competitions
have fun!
The NSW Government invites all Local Councils in NSW to jointly fund Youth Week activities in their area.
As part of their funding agreement with the NSW Government, Councils agree to involve young people in all aspects of Youth Week, including the planning, development and management of activities.
Youth Week is managed at a state level by the Youth Week Coordinator (located in the Youth Strategy and Participation Unit, Participation and Inclusion, Department of Family and Community Services) in conjunction with the NSW Youth Week Committee. The Committee is responsible for providing advice on the management and operation of Youth Week in NSW.
Express Yourself Exhibition 2021
The talent and creativity of more than 40 HSC Visual Art students on the Northern Beaches will be on display for the annual Express Yourself exhibition at the Manly Art Gallery & Museum (MAG&M) from February 19th until March 28th 2021.
The winners of the $3,000 Manly Art Gallery & Museum Society Youth Art Award and $5,000 Theo Batten Bequest Youth Art Award will be announced on Friday 19th of February. These two awards are granted annually to students featured in the exhibition.
Artist statements will be displayed alongside the artworks describing the inspirations and influences that informed the works and the students' creative journeys.
Visitors are encouraged to vote for their favourite artwork in the KALOF People's Choice Award which is announced at the end of the exhibition period.
Express Yourself is also part of Art Month Sydney, March 2021.
Exhibition: 19 February - Sunday 28 March 2021, 10am - 4pm daily (excluding Mondays)
Teachers' preview: Friday 19 February, 5 - 6pm. Bookings essential via Council's website
Art Walk and Talk: Saturday 27 February, 3 – 4pm: Artists walk through the exhibition and discuss their works with the curator. Bookings essential via Council's website.
Tomorrow's Canberra (In 1972)
Made available February 26, 2021 by the NFSA
From the Film Australia Collection. Made by the Commonwealth Film Unit 1972. Directed by Fred Schepisi. Of particular interest to those involved in urban planning, this film describes the general development of Canberra as Australia's national capital and as an inland metropolis. It portrays the Canberra of the late 1960s and outlines the planning techniques and systems used to put into effect programs for the development of "the Canberra of tomorrow". The film takes the viewer through the city, showing the pattern of current development, and gives as insight into discussions between personnel of Canberra's planning and development authority - the National Capital Development Commission - and advisory committees and associated departments regarding projects such as the Parliamentary Triangle and Tuggeranong.
NB: this first article is interesting as it identifies what many of our other fellow independent news services echoed this week, alongside us. Pittwater Online News is in no danger of being shut down due to lack of funds as we meet its costs out of our own pockets. We do not actively seek funding from any source, including advertisers, and we are content to do so for the present - it's all the 'work' entailed that takes so much time we may get weary of, as that too is done on a volunteer basis and takes huge chunks of time each week - well over 100 hours for some of us.
Worth noting is that we do have a Facebook platform page, used as a Noticeboard for items 'between Issues' - it generates around 45 thousand people reached each month as an average, although some 'posts' will reach over 60 thousand within 24 hours - those about an entangled whale we need to look out for example; and a reflection of what kind of community we live in and where we actually are. It was also used during the recent Covid lockdown to post updates on a daily basis and was great for that too.
FB is not a driver of revenue for us, it is simply a digitised Noticeboard - much alike your page here.
All that 'news' aside - this article and that which follows it branches into social studies/society at present, so worth running for you this Issue, to read, or pass by/skim.
Whale Sharks Show Remarkable Capacity To Recover From Injuries Including Partial Fin Re-Growing
A new study has for the first time explored the rate at which the world's largest fish, the endangered whale shark, can recover from its injuries. The findings reveal that lacerations and abrasions, increasingly caused through collisions with boats, can heal in a matter of weeks and researchers found evidence of partially removed dorsal fins re-growing.
This work, published in the journal Conservation Physiology, comes at a critical time for these large sharks, that can reach lengths of up to 18 metres. Other recent studies have shown that as their popularity within the wildlife tourism sector increases, so do interactions with humans and boat traffic. As a result, these sharks face an additional source of injury on top of natural threats, and some of these ocean giants exhibit scars caused by boat collisions. Until now very little was known about the impact from such injuries and how they can recover.
"These baseline findings provide us with a preliminary understanding of wound healing in this species" says lead author Freya Womersley, a PhD student with University of Southampton based at the Marine Biological Association, UK. "We wanted to determine if there was a way of quantifying what many researchers were anecdotally witnessing in the field, and so we came up with a technique of monitoring and analysing injuries over time."
The unique spot markings of whale sharks allow researchers across the world to identify individuals and monitor regional populations, making use of websites such as WildBook where people can upload photos of their shark sightings. For this study, the research team examined photographs taken by citizen scientists, researchers and the whale shark tourism industry in two sites in the Indian Ocean where the sharks frequently gather, and used these markings to standardise between images. This method allowed the team to compare photographs taken without specialist equipment over time and increased the amount of data available to assess and monitor how individual wounds changed.
"By using our new method, we were able to determine that these sharks can heal from very serious injuries in timeframes of weeks and months" says Freya. "This means that we now have a better understanding of injury and healing dynamics, which can be very important for conservation management."
The study also highlighted whale sharks' capability to re-grow a partially amputated first dorsal fin, which, to the authors' knowledge, is the first time a shark has ever been scientifically reported exhibiting this phenomenon. Of further interest, their unique spot markings were also observed forming over previously injured spots, which suggests that these beautiful markings are an important feature for this species and persist even after being damaged.
These healing capabilities suggest that whale sharks may be resilient to impacts caused by humans, but the authors of this work note that there may be many other less recognisable impacts of injuries to these animals, such as reduced fitness, foraging capacity and altered behaviours; so injuries need to be prevented where possible. They also found variation within healing rates, with lacerations, typical of propeller injuries, taking longer to heal than other kinds of wounds, highlighting the need for further research to determine the influence of environmental and more nuanced individual factors on injury healing.
Careful management of whale shark aggregation sites, which occur seasonally at a number of coastal regions around the world, is essential to ensure the sharks are protected while spending time in areas of high human activity. If sharks are encountered with injuries in these locations, research such as this can help local teams estimate how old the injury is and make assessments about where and how it might have been inflicted based on knowledge of whale shark movements and tendency to return to the same locations.
Recent research published in Nature found that 71% of pelagic sharks have declined over the last 50 years, and highlighted the need to enforce stricter protections for this important group of ocean inhabitants.
Freya concludes, "Whale sharks have been experiencing population declines globally from a variety of threats as a result of human activity. Therefore, it is imperative that we minimise human impacts on whale sharks and protect the species where it is most vulnerable, especially where human-shark interactions are high.
"There is still a long way to go in understanding healing in whale sharks, and in shark species in general, but our team hope that baseline studies such as this one can provide crucial evidence for management decision makers that can be used to safeguard the future of whale sharks."
Freya Womersley, James Hancock, Cameron T Perry, David Rowat.
Wound-healing capabilities of whale sharks (Rhincodon typus) and implications for conservation management.
Conservation Physiology, 2021; 9 (1) DOI:
10.1093/conphys/coaa120
Facebook And Google Monies Must Go To Newsrooms Not Boardrooms States MEAA
The Media, Entertainment & Arts Alliance stated this week that the deals under negotiation will provide a welcome new revenue stream for Australian media, but they will be pointless if the funds from the digital giants are not reinvested in the production of news content. In a release the MEEA stated that media companies negotiating commercial deals with Facebook and Google for the payment of news content must ensure that the monies generated are allocated to journalism.
The union is also calling for targeted assistance to any small, independent, regional, community or freelance media organisations that are unable to access funding either through negotiation or the News Media Bargaining Code. This must also be extended to AAP, the statement says.
"We have seen no guarantees from the big media companies that money raised from the digital platforms will be spent on journalism," said MEAA Media President Marcus Strom.
"If some of this the Facebook and Google's massive Australian revenue is now to be returned to media companies, there must be a corresponding commitment that the money is spent on news content not dividends or corporate bonuses. The media companies must provide transparency about how they intend to allocate these funds.
"The entire rationale for the News Media Bargaining Code which has led to the digital giants voluntarily agreeing to compensate media companies for content was the impact they have had on public interest journalism over the past decade.
"Almost 5000 Australian journalism jobs have been lost in that time because revenue which once supported journalism has been sucked up by the digital giants."
Mr Strom said MEAA was also concerned that small and independent outlets, including websites run by freelancers, could miss out in the rush by the big companies to finalise deals with Facebook and Google to avoid arbitration under the Code
"The modified Code now being considered by Parliament has the potential of reinforcing the current narrow base of Australian media ownership if there are not other measures to support media diversity.
"As Parliament debates these new laws this week, there must be a commitment to stable funding to the public broadcasters, tax incentives to support public interest journalism, and to supporting rural, suburban and regional media, along with freelancers.
"The News Media Bargaining Code alone will not be the salvation of Australian journalism. A range of other reforms are essential to foster a vibrant and diverse media ecosystem, and to encourage new entrants."
Placemaking NSW Advisory Committee: Helen Coonan Steps Down
Helen Coonan will be stepping down as Chair of the Placemaking NSW independent advisory committee with immediate effect, following her interim appointment as the Executive Chair of Crown Resorts, the NSW Department of Planning, Industry and Environment announced on February 18th, 2021.
On July 16, 2020 the NSW Government announced the formation of a new independent advisory committee to guide the creation of great places across NSW.
The Placemaking NSW Advisory Committee, chaired by former Federal Minister Helen Coonan,

was

to provide strategic advice on the management of precincts including The Rocks, Darling Harbour and Sydney Olympic Park, and provide guidance on the work of the Hunter and Central Coast Development Corporation (HCCDC).
Planning and Public Spaces Minister Rob Stokes said then the coordinated oversight will deliver better outcomes for the people of NSW.
"This is an exciting opportunity to bring together the best private sector expertise with the foremost experts in the Department to set a strategic vision that delivers places that drive growth and investment opportunities, and delight the people who inhabit them right across NSW," Mr Stokes said.
"The new advisory committee will support our ongoing efforts to streamline the planning, development and activation functions that enable the creation of great public, community, residential and commercial spaces."
The Placemaking NSW Advisory Committee was then to be made up of 7 members, and capitalise on the expertise and experience of the former Sydney Olympic Park Authority and Place Management NSW boards.
Advisory Committee Chair Helen Coonan said last July the committee will help inject new life and ideas into the management and operation of Placemaking NSW.
"The Advisory Committee is a splendid opportunity to provide strategic advice and support to the Government's vision for a more proactive and integrated approach to placemaking across the arc of planning delivery, precinct management, design, public spaces and place excellence," Ms Coonan said.
Advisory Committee members included: Helen Coonan (Chair); David Borger; Bridget Smyth; Tony McCormick; Romilly Madew; Sam Romaniuk; Alex O'Mara.
On February 18th, 2021 it was announced she would be stepping down.
The NSW Department of Planning, Industry and Environment said in a statement:

Helen will be missed. During her years at the helm of the former Sydney Harbour Foreshore Authority, latterly Place Management NSW, Helen actively and passionately championed some of our most precious precincts and public spaces.




In a relatively short time, Helen and the Board have also made some great strides in helping us on our journey towards our vision to create great places and inject new life and ideas into the management and operation of Placemaking NSW.




In the interim, David Borger will serve as acting Chair of the Placemaking NSW independent advisory committee until a new Chair is confirmed

. The advisory committee will continue to support our ongoing efforts to streamline the planning, development, and activation functions that enable the creation of great public, community, residential and commercial spaces.
CSIRO Secures Licence To Develop Medicinal Cannabis
CSIRO, Australia's national science agency, will develop new medicinal cannabis products to help people with a variety of conditions including multiple sclerosis and chronic pain.
Under a new licence, CSIRO will support the burgeoning local industry and partner with local manufacturers to drive the development of new cannabis therapeutics, in a move that will create new jobs in Australia.
The global market for medicinal cannabis is projected to be worth USD $44 billion by 2024.
CSIRO Scientist, Adjunct Professor Peter Duggan, said the licence placed CSIRO at the forefront of research into the development of new cannabis medicines.
"Around the world, researchers are exploring the potential for medicinal cannabis to help with conditions such as epilepsy and the nausea and vomiting associated with chemotherapy treatment, multiple sclerosis and chronic pain," Professor Duggan said.
"We had been able to do early-stage work with cannabis, but the new licence will enable us to develop cannabis-derived cannabinoid medicines using innovative extraction, refinement and formulation techniques."
CSIRO is currently the only independent research institute in Australia able to develop drug manufacturing protocols in the medicinal cannabis space.
This work will bridge the gap between the growing of plants and the manufacture of medicines, with the researchers developing the manufacturing protocols and preparing the first prototype products before transferring the technology to manufacturers for large scale production.
The use of cannabis for medicinal purposes is highly regulated in Australia.
However, in December the Therapeutic Goods Administration (TGA) approved over-the-counter pharmacy sales of a low dose form of cannabidiol (CBD), one of the key components of cannabis that can help with a range of medical conditions.
Medicinal cannabis products, in the form of oils, capsules, oral sprays, lozenges or other drug formats, can also be prescribed through the TGA's Special Access Scheme.
Peter Crock, CEO of industry leading medicinal cannabis company, Cann Group, and Chair of Medicinal Cannabis Industry Australia (MCIA), said there were over 20 medicinal cannabis companies currently listed on the ASX, and a growing number of licenced cultivators and manufacturers now in Australia.
"Cann Group has worked closely with CSIRO over the past three years and has been pleased with the results," Mr Crock said.
"With this independent license CSIRO will be able to play a key role in helping establish a vibrant industry in Australia.
"Research that creates new and enhanced medical products and improves manufacturing processes is important if we want Australia's medicinal cannabis industry to be competitive in a global market."
Coffs Harbour To Host Iconic Rally Championship
Motorsport fans from across the country will make tracks to Coffs Harbour later this year when some of the world's best rally drivers compete to claim the coveted FIA Asia Pacific Rally Championship, thanks to vital support from the NSW Government.
Deputy Premier John Barilaro and Member for Coffs Harbour Gurmesh Singh today announced the NSW Government will partner with Motorsport Australia to bring the hotly anticipated rally to the North Coast from 26 to 28 November 2021.
"Staging another world class rally in Coffs Harbour is well overdue, after bushfires and COVID forced the cancellation of the event two years in a row," Mr Barilaro said.
"The NSW Nationals are building a safer and stronger regional NSW by securing world-class events for country cities, showcasing our incredible regions to the world.
"This is an example of what can happen when you have a council which is prepared to work with the government and stakeholders to bring world-class events to regional NSW."
Mr Singh said the iconic event will be a great opportunity to secure Coffs Harbour as the motorsport capital of the world.
"This exciting event will bring the Coffs Harbour community together and put the city back on the map as the perfect location for Rally Australia events," Mr Singh said.
"It is fantastic to see the Asia Pacific Rally Championships will be taking place on our shores and I am proud to be able to support this important event."
Coffs Harbour Mayor Councillor Denise Knight said the Coffs Coast has long been recognised as a destination for rally fans and events.
"I'm thrilled to be welcoming a new top-class rallying event back to the Coffs Coast in 2021," Ms Knight said.
"While there have been changes in recent times to the location of the World Rally championships, the sport's long history in the region means it has always had a special place in the community's heart."
Motorsport Australia President Andrew Fraser said he was delighted at the prospect of international rallying returning to Coffs Harbour.
"The Coffs Coast has been a big part of the Australian rally scene in recent years and we know this 2021 event will be another fantastic event for the region," Mr Fraser said.
"There's no doubt that the community of Coffs knows how to put on a world-class rally and we are really excited to be hosting this event, which will see a great mix of competitors from both Australia and overseas later in 2021."
$20 Million For World-Class Events In Country Towns
Major sporting, music and cultural events are coming to regional NSW and existing shows will be bigger and better than ever via a new NSW Government funding program that will help showcase towns internationally and boost local economies.
Deputy Premier John Barilaro announced the
$20 million Regional Events Acceleration Fund
, which opens today, will provide grants to boost major events in regional areas, creating valuable jobs for locals.
"We have proven our ability to stage major events that accommodate large crowds in a COVID safe environment and now is the right time to bring entertainment to the bush and provide much needed stimulus to local economies," Mr Barilaro said.
"This funding will deliver major events that will create valuable jobs, keeping money local, as well as giving people the chance to see their favourite teams or performers in their hometown.
"By helping organisers to host bigger and better events we are giving regional communities greater access to entertainment and the opportunity to attend events they would otherwise have to travel to metropolitan areas to experience.
"The NSW Nationals are creating a safer and stronger regional NSW by creating valuable jobs and boosting the local economy, while keeping people COVID safe."
Applicants can apply for a minimum of $100,000 to help bring major sporting, lifestyle, food and beverage, music, art and cultural events to regional NSW that provide national and international exposure.
Event organisers can also apply for between $50,000 and $200,000 for activities that enhance events, including extra seating, temporary fencing, accessibility infrastructure, additional stages at festivals, pop-up camping sites or temporary car parks.
The $20 million Regional Events Acceleration Fund is part of the NSW Government's $2 billion Regional Growth Fund, which is delivering infrastructure and programs that generate economic opportunities, create jobs and improve everyday living in the bush.
Applications
for the Regional Events Acceleration Fund open on Tuesday 23 February 2021 and
close at 5pm on Friday 17 December 2021
,
or when funding is fully committed.
Event organisers, regional NSW councils, not-for-profit organisations, sporting bodies and Aboriginal Land Councils are eligible to apply.
New NSW Standard For SafeWork Investigations
The NSW Government has launched a new service standard for handling workplace incidents in order to improve transparency and communication with impacted parties.
Minister for Better Regulation, Kevin Anderson, said the new service standard,
SafeWork NSW's Incident response and investigations
, details a service commitment to people directly involved in a workplace incident, including the person injured, the next of kin and duty holders.
"Investigations into workplace fatalities, injuries, illnesses and other safety risks are complex and it takes time for SafeWork NSW to determine whether the investigation will lead to a prosecution and legal proceedings," Mr Anderson said.
"The service standard provides clarity around the progress and status of investigations, so that victims, families and colleagues aren't kept in the dark.
"This document also clearly outlines each stage of the investigation and formalises the regular, pro-active communication you can expect to receive from SafeWork."
The new customer service standard will be discussed at today's meeting of the Family and Injured Worker Support Group, a 12 member group established by the NSW Government.
The group gives injured workers and those who have lost loved ones an opportunity to help shape the NSW Government's response to workplace incidents and provide feedback about how it can enhance its support services to affected people.
"This group will determine whether the document does its job when it comes to improving how SafeWork handles workplace incidents," Mr Anderson said.
We will continue working alongside the group to make positive changes to how we operate."
More information
New Dating Techniques Reveal Australia's Oldest Known Rock Painting And It's A Kangaroo
A two-metre-long painting of a kangaroo in Western Australia's Kimberley region has been identified as Australia's oldest intact rock painting.
Using the radiocarbon dating of 27 mud wasp nests, collected from over and under 16 similar paintings, a University of Melbourne collaboration has put the painting at 17,500 and 17,100 years old.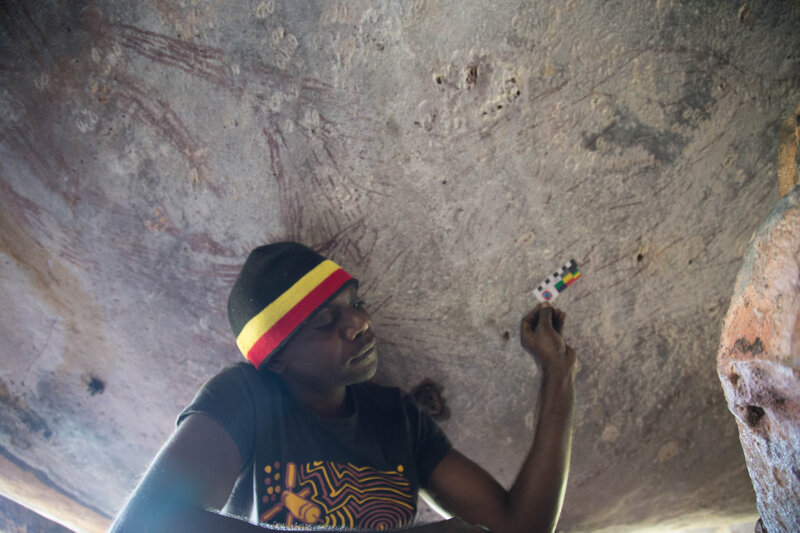 Traditional owner, Ian Waina, recording the estimated 17,300 year old painting of a kangaroo found in a hard-to-access rock cluster in the northeast Kimberley region. Image: Peter Veth, Balanggarra Aboriginal Corporation

"This makes the painting Australia's oldest known in-situ painting," said Postdoctoral Researcher Dr Damien Finch who pioneered the exciting new radiocarbon technique.
"This is a significant find as through these initial estimates, we can understand something of the world these ancient artists lived in. We can never know what was in the mind of the artist when he/she painted this piece of work more than 600 generations ago, but we do know that the Naturalistic period extended back into the Last Ice Age, so the environment was cooler and dryer than today."
The Kimberley-based research is part of Australia's largest rock art dating project, led by Professor Andy Gleadow from the University of Melbourne. It involves the Balanggarra Aboriginal Corporation, the Universities of Western Australia, Wollongong, and Manchester, the Australian National Science and Technology Organisation, and partners Rock Art Australia and Dunkeld Pastoral.
Published today in Nature Human Behaviour, Dr Finch and his colleagues detail how rock shelters have preserved the Kimberley galleries of rock paintings, many of them painted over by younger artists, for millennia -- and how they managed to date the kangaroo rock painting as Australia's oldest known in-situ painting.
The kangaroo is painted on the sloping ceiling of a rock shelter on the Unghango clan estate in Balanggarra country, above the Drysdale River in the north-eastern Kimberley region of Western Australia.
Earlier researchers looked at the stylistic features of the paintings and the order in which they were painted when they overlapped, and were able to work out from there that the oldest style of painting is what's known as the Irregular Infill Animal or the Naturalistic period, which often features life-size animals. This kangaroo is a typical example of paintings in this style.
Dr Finch said it was rare to find mud wasp nests both overlying and underlying a single painting. For this painting they were able to sample both types to establish the minimum and maximum age for the artwork.
"We radiocarbon dated three wasp nests underlying the painting and three nests built over it to determine, confidently, that the painting is between 17,500 and 17,100 years old; most likely 17,300 years old."
Dr Sven Ouzman, from University Western Australia's School of Social Sciences and one of the project's chief investigators, said the rock painting would unlock further understanding of Indigenous cultural history.
"This iconic kangaroo image is visually similar to rock paintings from islands in South East Asia dated to more than 40,000 years ago, suggesting a cultural link -- and hinting at still older rock art in Australia," Dr Ouzman said.
Cissy Gore-Birch, Chair of the Balanggarra Aboriginal Corporation, said partnerships were important to integrate traditional knowledge with western science, to preserve Australia's history and cultural identity.
"It's important that Indigenous knowledge and stories are not lost and continue to be shared for generations to come," Ms Gore-Birch said. "The dating of this oldest known painting in an Australian rock shelter holds a great deal of significance for Aboriginal people and Australians and is an important part of Australia's history."
The next step for the researchers, who are aiming to develop a time scale for Aboriginal rock art in the Kimberley, is to date further wasp nests in contact with this and other styles of Kimberley rock art to establish, more accurately, when each art period began and ended.
Damien Finch, Andrew Gleadow, Janet Hergt, Pauline Heaney, Helen Green, Cecilia Myers, Peter Veth, Sam Harper, Sven Ouzman, Vladimir A. Levchenko.
Ages for Australia's oldest rock paintings.
Nature Human Behaviour, 2021; DOI:
10.1038/s41562-020-01041-0
Sewage Study Shows Which Countries Like To Party Hard: The Dutch, Aussies, Kiwis And Americans
Despite deaths and hospitalisations linked to many new psychoactive substances (NPS), an international wastewater study led by the University of South Australia shows just how prevalent 'party pills' and 'bath salts' are in different parts of the world.
In a new paper published in Water Research, the world's most comprehensive wastewater analysis of NPS shows the pattern of designer drug use in the 2019/2020 New Year in 14 sites across Australia, New Zealand, China, The Netherlands, Spain, Italy, Norway and the United States.
UniSA analytical chemist Dr Richard Bade says samples were collected over the New Year in each country and shipped to South Australia for analysis.
More than 200 synthetic drugs across all countries were monitored and 16 substances found.
"Of the eight countries studied, only Norway showed no traces of NPS," he says.
New psychoactive substances (NPS) are a range of drugs that have been designed to mimic established illicit drugs, such as cannabis, cocaine, MDMA and LSD.
"The Netherlands recorded the highest usage, followed by Australia, New Zealand and the United States. Spain, Italy and China had the lowest incidence of designer drug use in cities participating in the study."
N-ethylpentylone, which is known to cause fatalities, was seen in Australia, New Zealand and the US. It has previously been detected in forensic samples and at music festivals in Australia and New Zealand.
Another designer drug called mephedrone (often referred to as drone, M-CAT, White Magic and meow meow), was found only in Australia and New Zealand, with the latter country recording a 20-fold spike in usage on New Year's Eve.
"It is a very powerful drug that produces effects similar to those of cocaine and MDMA and is popular among ecstasy and simulant users in Australia and NZ," Dr Bade says.
The Netherlands recorded traces of six of 10 quantifiable drugs. Seven additional recreational drugs were also identified in the samples after screening.
Of these, ketamine (a human and veterinary anaesthetic) and its metabolite, norketamine, were found in every country.
A newer drug on the market -- eutylone -- was seen in Australia, New Zealand, the US and The Netherlands. Warnings were issued in 2020 that this designer drug was being incorrectly marketed as MDMA in New Zealand due to its visual similarity to the latter. High doses of it have been linked to intense and particularly dangerous side effects.
Traces of mitragynine, a drug involved in almost half of NPS-related deaths in 2019, were found only in the United States.
Another synthetic opioid, acetyl fentanyl, was also restricted to US wastewater samples. It is also linked to high fatalities in that country.
Of all the drugs, methcathinone was detected in seven countries, followed by N- ethylpentylone and 3-MMC (in three countries each).
"What makes the NPS so dangerous is that they were originally sold as legal alternatives to conventional illicit drugs such as ecstasy and cannabis, suggesting they were safe when, in fact, there was very little information about their toxicity," Dr Bade says.
"Governments soon intervened after hospitalisations and fatalities were linked to these class of drugs with some countries enforcing blanket bans. However, despite these bans, NPS are still synthesised, transported and consumed across the world, often with fatal consequences."
Dr Bade says he hopes that wastewater samples will help complement hospital, legal and forensic data, along with global surveys, to identify which designer drugs are the most dangerous in the community.
Richard Bade, Jason M. White, Jingjing Chen, Jose Antonio Baz-Lomba, Frederic Been, Lubertus Bijlsma, Daniel A. Burgard, Sara Castiglioni, Noelia Salgueiro-Gonzalez, Alberto Celma, Andrew Chappell, Erik Emke, Ruud Steenbeek, Degao Wang, Ettore Zuccato, Cobus Gerber.
International snapshot of new psychoactive substance use: Case study of eight countries over the 2019/2020 new year period.
Water Research, 2021; 193: 116891 DOI:
10.1016/j.watres.2021.116891
Queensland Farmers' Federation (QFF) Partners With Airbnb
The Queensland Farmers' Federation (QFF) has partnered with Airbnb to sow the seeds of opportunity and grow the state's emerging agritourism sector through world-class farm stays and exciting new farm experiences.
This collaboration aims to bring valuable tourism dollars to regional Australia and help farmers diversify their income by sharing where Queensland's high quality food, fibre and foliage comes from and how it is produced.
QFF CEO Dr Georgina Davis said the partnership was a positive step in raising Queensland's profile as an agritourism destination in Australia, estimating the sector was worth around $5 billion to the state economy by 2030.
"Agritourism provides opportunities for farmers to expand their businesses and market their produce through alternative channels, while gathering valuable feedback from consumers," Dr Davis said.
"Consumers desire to better understand where their food comes from, learn how it is produced and experience the ultimate in low food miles. Agritourism has an important role in creating a more direct connection between primary producers and the end consumer."
Airbnb's Head of Public Policy for Australia Derek Nolan said guests were always looking to explore their own backyard through unique, authentic experiences that immerse them in regional communities.
"Farm stays are a terrific way to both help farmers diversify their income, as well as put their communities on the tourism map. Farmers can also develop unique experiences on Airbnb, which is an exciting way to further grow their tourism business alongside the accommodation they offer," Mr Nolan said.
"Experiences are one-of-a-kind activities hosted by experts and a great way to creatively give visitors another way to connect with rural life."
As part of this new partnership, Airbnb will run interactive webinars designed to help farmers become farm stay or experience hosts on Airbnb, as well as providing them with a bespoke guide to help them play a role in growing sustainable tourism in their region.
Together the agriculture and tourism sectors will further unlock the potential for agritourism in the state, add value beyond the farm gate and share the incredible and diverse regions that our farmers call home.
_____________________________________________________________________
Queensland government unfairly picking irrigation water winners peak organisation states
The Queensland Farmers' Federation (QFF) has serious concerns the state government is unfairly picking winners within the agriculture sector by further restricting the number of farmers who can access an election commitment to provide a 50 per cent price reduction for horticulture irrigation water users.
While QFF welcomed the government's announcement to reduce water prices for the state's irrigators by at least 15 per cent, the peak agricultural body has questioned the decision to offer different discounts to different commodities and customers of different water providers.
QFF CEO Dr Georgina Davis said it was wrong to favour one agricultural commodity, or regional community over another by selectively providing favourable pricing.
"The Queensland Government is determined to rewrite the accepted definition of horticulture and exclude sugar cane, cotton, nuts, flowers, turf (grass), and nursery growers from receiving the announced price reduction," Dr Davis said.
"While some fruit and vegetable growers will also be prevented from accessing cheaper water because they are not serviced by government water supply corporations Sunwater and Seqwater which could cause competitive disadvantages within the sector and result in market distortions."
"The government's poor decision is exacerbated by expected irrigation water price increases from 1 July 2021, meaning many farmers will be no better off even if they qualify for the 50 per cent discount, as they manage the ongoing effects of drought and COVID-19."
"Uncertainty also exists around how the government and its corporations plan to administer two levels of discounts in a transparent and robust manner, which is likely to be extremely difficult and expensive."
Dr Davis said QFF was calling on the Queensland Government to extend the 50 per cent discount to all horticulture growers and all irrigation customers of Sunwater, Seqwater, Local Management Authorities (LMA) and other water providers.
"While it may have State Budget implications, the greater discount would provide a welcome boost to all of Queensland's irrigated agricultural industries and achieve the government's aim of facilitating more crops, more jobs and more value."
Disclaimer: These articles are not intended to provide medical advice, diagnosis or treatment. Views expressed here do not necessarily reflect those of Pittwater Online News or its staff.