November 1 - 7, 2020: Issue 472
Trad Biocontrol release in Pittwater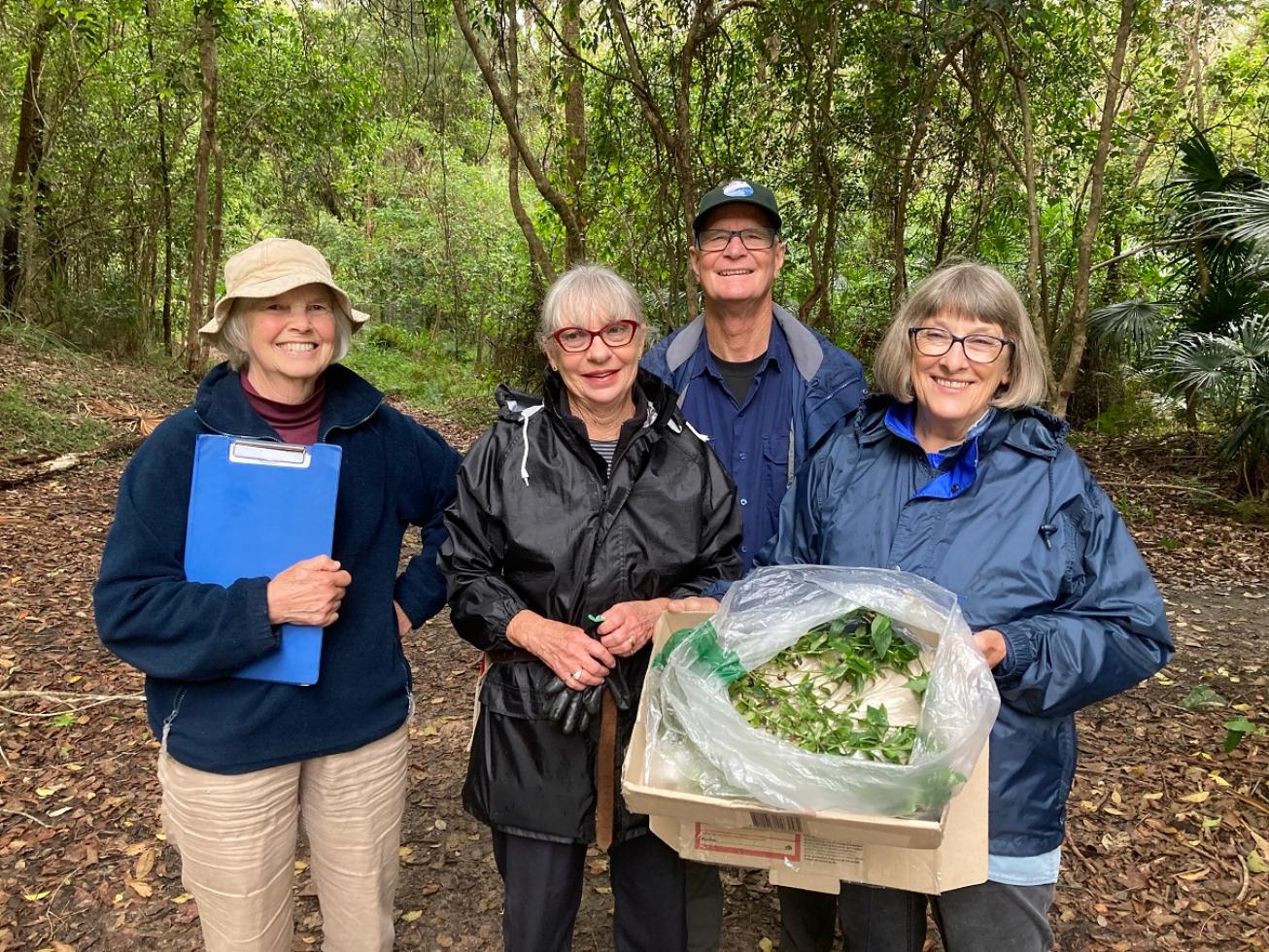 At the track to the Irrawong Waterfall: Marita Macrae, Julie Bennett, David Palmer, Edna Blanchard
For a few years members of the Pittwater Natural Heritage Association have been following the research and development of Australia's national science agency CSIRO new biocontrol agent called "leaf smut" in a bid to help save rainforests across Australia from an invasive South American weed.
Wandering trad (Tradescantia fluminensis) has become a significant environmental weed in parts of eastern Australia where it forms dense carpets on forest floors, smothering native vegetation and clogging waterways. Many residents will have seen it around Pittwater.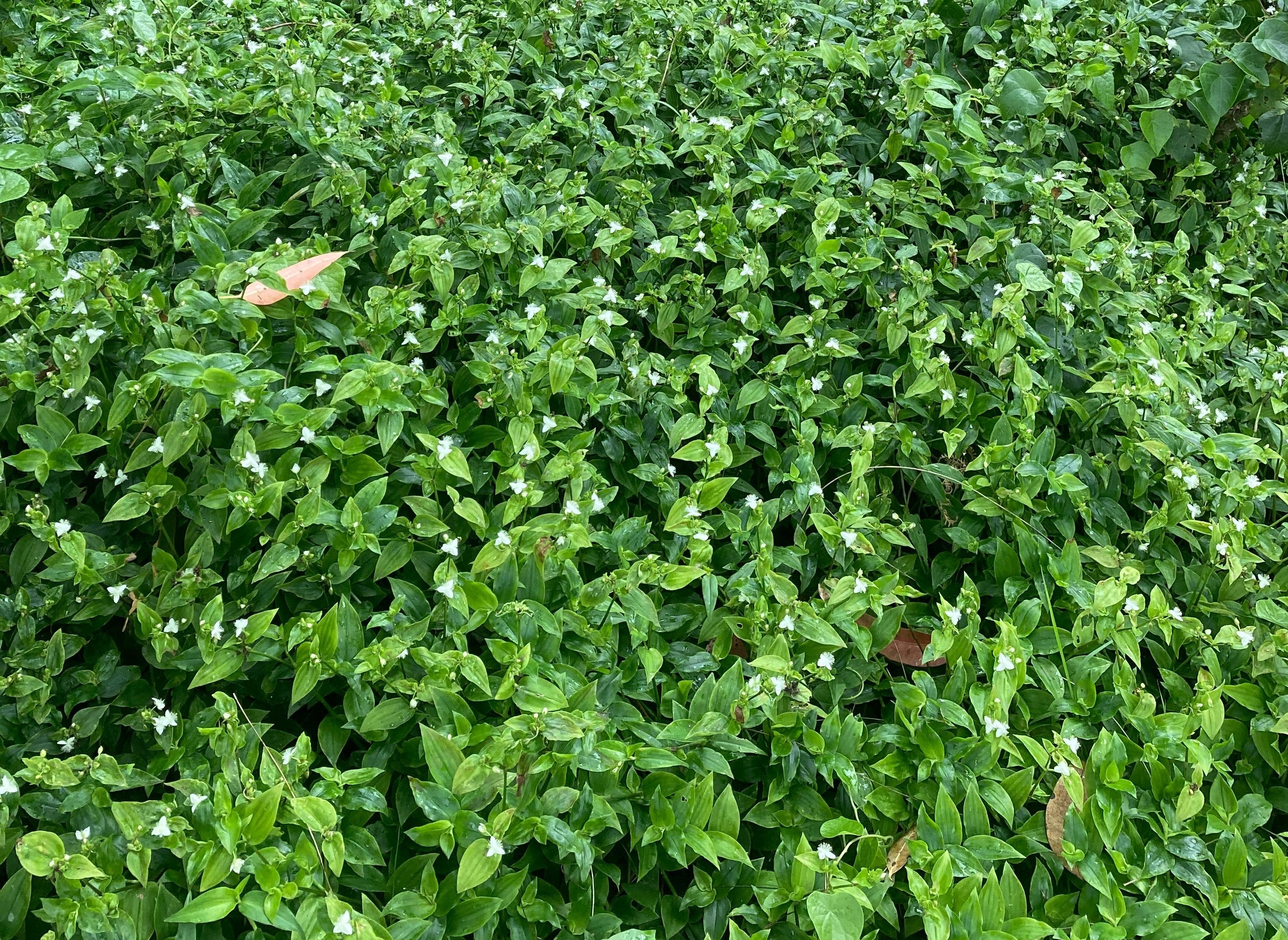 healthy Trad has white flowers. Both Trad and the leaf fungus are native to Brazil

CSIRO senior research scientist Dr Louise Morin said weeds like wandering trad had a significant economic, environmental and social impact in Australia.
"Weeds are one of the biggest threats to Australia's unique environment – in many areas across Australia they are damaging native vegetation, which threatens whole ecosystems including native wildlife," Dr Morin said.
"Last year Australia spent almost $30 million protecting the natural environment from weeds. In the agriculture sector, weeds cost the industry more than $4.8 billion per year."
"The fungus is spread through spores and needs the leaves of the wandering trad to survive – if there is no wandering trad to infect, the fungus dies," Dr Morin said. "We know from decades of research in this field, that specialised fungi, like the leaf smut, have specific genes that enable them to successfully infect and cause disease only on single or a narrow range of plant species. "So we look at plants that are related to wandering trad including native plants to make sure the fungus will only infect the weed."
Wandering trad has infested native forests across eastern Australia, from eastern parts of NSW and south-east Queensland, to the Dandenong Ranges in Victoria where the biocontrol agent was first released in 2019.
CSIRO field biologist Dr Ben Gooden, who is coordinating the rollout of the biocontrol program across Australia, said highly targeted and tested biocontrol agents like the fungus were a more environmentally sustainable option than other available tools.
"Scientifically tested biocontrol agents like this fungus provide a longer term, environmentally sustainable way of controlling weeds like wandering trad, without harming Australian plants or animals," Dr Gooden said.
"Currently, the only tools available to the community and local councils against the weed are hand-pulling and chemical herbicides, which only bring short-term control and have the unintended consequence of killing native plants and disrupting complex rainforest ecosystems."
Release of biocontrol agents are approved by the Australian Department of Agriculture and Water.
Wandering Trad, is a nightmare weed of bush and gardens. Its thick growth smothers other plants and its brittle stems defy the attempts of weeders to remove it, as the tiniest broken piece can regrow.
Last Wednesday, October 28th, 2020, members of PNHA placed pieces of Trad infected with the fungus Kordiana were planted among healthy Trad beside the track to the Irrawong waterfall at Narrabeen, in McCarrs Creek Reserve Church Point and in Bangalley Head Reserve near the track on Whale Beach Rd.
The fungus may take a while to spread to healthy Trad. The effect will be to suppress its growth by damaging its leaves rather than kill it completely. This release is just the first of many to come.
Don't worry, it's not another Cane Toad. It has been carefully tested by the CSIRO and only infects Trad and not its close native relative Commelina which has blue flowers.
Background
The leaf-smut fungus Kordyana brasiliensis was first released in the field in Australia for the biological control (biocontrol) of wandering trad in March 2019.
This agent was discovered on wandering trad during surveys in Brazil performed by researchers at the Universidade Federal de Viçosa. This exploratory research was part of the biocontrol program for this weed in New Zealand, led by Landcare Research.
CSIRO has been involved in research on wandering trad biocontrol since 2014. The risk assessment that was the basis of the application to seek permission for the release of the leaf-smut fungus in Australia was financially supported by CSIRO and the Australian Government's National Environmental Science Programme administered by the Department of the Environment and Energy.
Research to develop optimal protocols for field release of the fungus and subsequent releases in the Dandenong Ranges region of Victoria in partnership with the community have been co-funded by CSIRO and the Commonwealth Department of Industry, Innovation and Science and supported by the Community Weeds Alliance of the Dandenongs. These activities have been part of a broader project seeking biocontrol solutions for sustainable management of environmental weeds, which also includes Cape ivy (Delairea odorata) and angled onion (Allium triquetrum) and ends in October 2020.
A new project from July 2020 to June 2023, co-funded by CSIRO and the New South Wales Government through its Environmental Trust, will be facilitating stakeholders' releases of the fungus across the range of wandering trad in New South Wales. The project will also monitor the impact of the fungus on the weed and flow-on indirect impact on other vegetation at several sites during that period.
Contact Dr Ben Gooden, Ben.Gooden@csiro.au if you would like to join the war against Trad.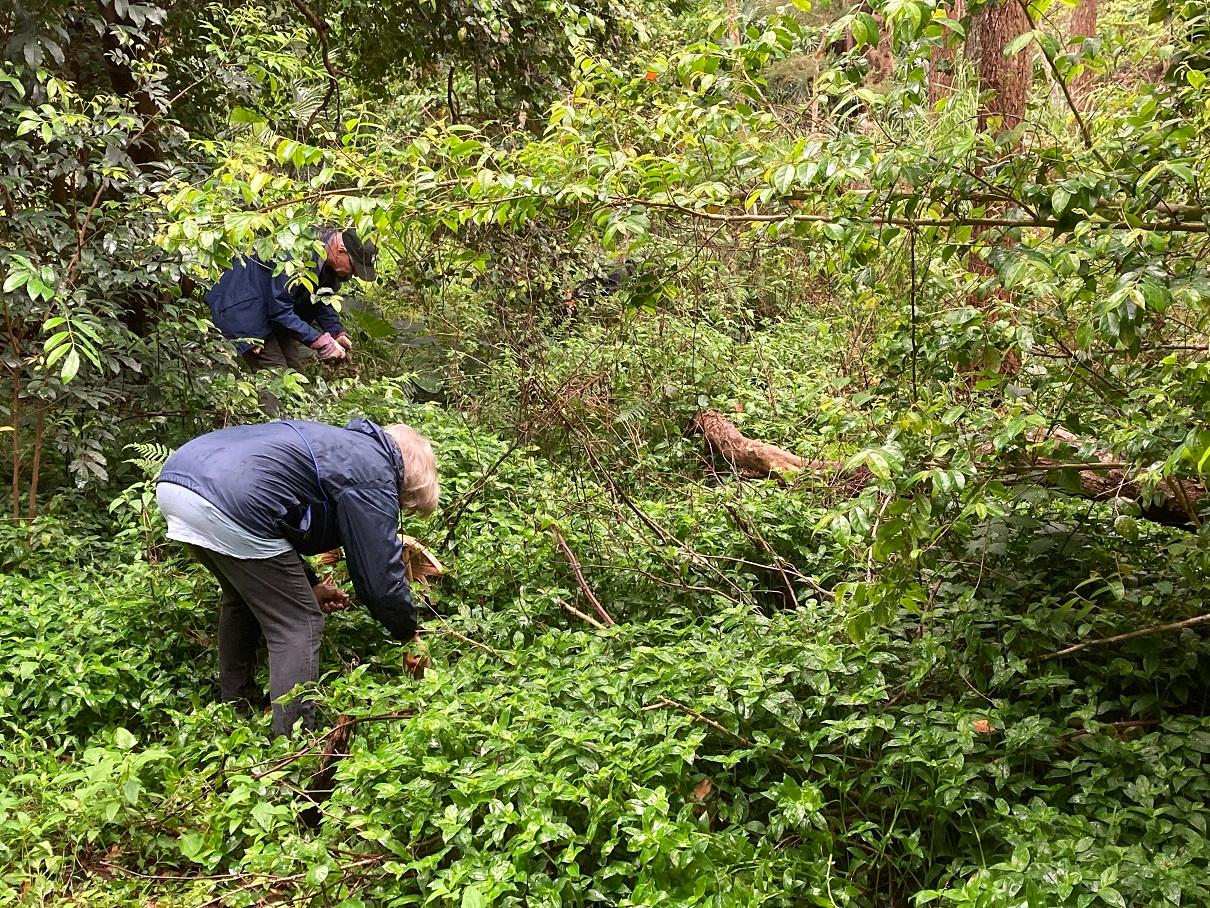 Planting infected stems of Trad amongst healthy Trad beside the boardwalk