inbox and environment news: Issue 484
February 21 - 27, 2021: Issue 484
Time Of Burran
Gadalung Marool (hot and dry) January - March
The behaviour of the male kangaroos becomes quite aggressive in this season, and it is a sign that the eating of meat is forbidden during this time. This is a health factor; because of the heat of the day meat does not keep, and the likelihood of food poisoning is apparent. The blooming of the Weetjellan (Acacia implexa) is an important sign that fires must not be lit unless they are well away from bushland and on sand only, and that there will be violent storms and heavy rain, so camping near creeks and rivers is not recommended.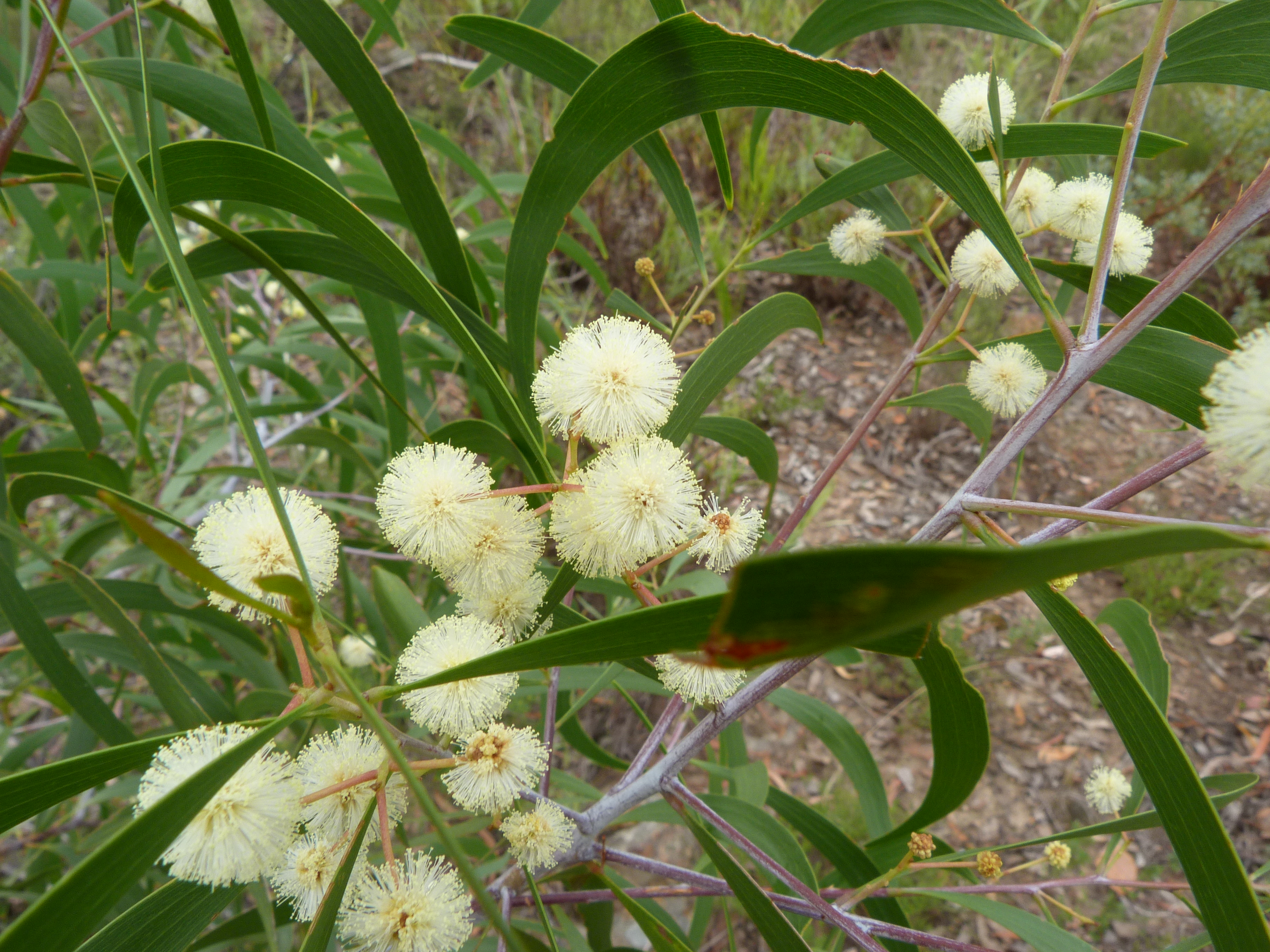 Acacia implexa, commonly known as lightwood or hickory wattle, is a fast-growing Australian tree, the timber of which was used for furniture making. The wood is prized for its finish and strength. The foliage was used to make pulp and dye cloth. The Ngunnawal people of the ACT used the bark to make rope, string, medicine and for fish poison, the timber for tools, and the seeds to make flour.
It is widespread in eastern Australia from central coastal Queensland to southern Victoria, with outlying populations on the Atherton Tableland in northern Queensland and Tasmania's King Island. The tree is commonly found on fertile plains and in hilly country it is usually part of open forest communities and grows in shallow drier sandy and clay soils.
Acacia implexa flowers - photo by Donald Hobern.
Bangalley Head Landcare Bushcare Neglect Resolved
Courtesy and with thanks to Cr. Kylie Ferguson and Council
Thank you for forwarding the concerns of the Bangalley Head Landcare Group regarding weeds impacting Bangalley Reserve (the Reserve), in particular at the Reserve entrance off Whale Beach Road.
Staff are currently finalising a contract with a bush regeneration provider for the ongoing management of the Reserve. Once the contract is finalised, which we anticipate to be in early March, the contractor will commence the target weeding of the Whale Beach Road entrance to the Reserve. Works will include the control and suppression of exotic vines as a priority. The road edge shall see concentrated efforts to remove the annual weed plume along with the treatment and removal of lpomoea, Lantana and Ehrharta grass.
Additionally, the walking track edge will be included in the monthly visits to ensure edges are kept clean and free of all weed species. Once this contract has been established, staff are confident that the weed issues that have been raised by Bangalley Head Landcare Group will be adequately addressed.
Council is very appreciative of all the work undertaken by our bushcare volunteers across the Northern Beaches. Andrew Jennings, bushland Management Officer will contact Bangalley Head Landcare Group to see if they require any additional support once the contractor starts the work at this site.
The invasive weed Morning Glory strangles and kills all in its path, including at the site named above.
Newport Beach Clean Up: Sunday February 28th, 2021
SUNDAY, 28 FEBRUARY 2021 FROM 10:00 am to 12.30
Free · Bert Payne Park, Newport Beach
Come and join us for our Newport beach clean up. We'll meet at Bert Payne Park, just south of clubhouse. We have clean and washed gloves, bags and buckets. We'll clean up the grass area to try and catch the litter before it hits the beach as well as cleaning the beach, trying to remove as much plastic, cigarette butts and rubbish as possible. We're a friendly group of people and everyone is welcome to this family friendly event (just leave political, religious and business messages at home so everyone feel welcome). It's a nice community - make some new friends and do a good deed for the planet at the same time. Send us a message if you are lost. Please invite family and friends and share this event.
This is a Covid safe event so everyone must please stay 1,5 meters apart if you are not in the same household.
Pittwater Natural Heritage Association (PNHA) Pittwater Nature #4 Is Now Available
This Issue (February 2021) contains:
The Pittwater River and the Barrenjoey sandspit
How Tumbledown Dick hill Duffys Forest endangered bushland has been moved there from a site at Belrose
The Sydney Wildlife Mobile Unit looks after native animals
Plant Families 101: the Solanaceae /Nightshade Family.
Prey and Predators on Bilgola Plateau
Two birds that nest in hollows.
Cicadas emerge at night.
Dollarbirds: Image Chelsey Baker.
Upcoming Activities For Friends Of Narrabeen Lagoon Catchment:

Sun 21 February 2021: 7.30 am Walk & Weed along the Narrabeen Lagoon catchment transverse walk.
Start at Oxford Falls walk for 3 1/2 hours, weed for 30min, continue 30min walk and car pool back to start.
Bring gloves and long handled screwdriver if available.
Walk grade: medium.
Bookings essential. Conny 0432 643 295
https://www.narrabeenlagoon.org.au/
Friends of Narrabeen Lagoon Catchment are pleased to announce the next forum will be held on 22 Feb 2021 at 7 pm .
Presenter: Jayden Walsh
Jayden is a keen observer of nature and has some stunning photographs and information to share.
The focus will be on wildlife that lives near the Narrabeen Lagoon and that, if you are fortunate, you may see when on the Narrabeen Lagoon walkway.
For details on how to book for this event are on the website. At: https://www.narrabeenlagoon.org.au/Forums/forums.htm
Bushcare In Pittwater
For further information or to confirm the meeting details for below groups, please contact Council's Bushcare Officer on 9970 1367
BUSHCARE SCHEDULES
Where we work Which day What time
Avalon
Angophora Reserve 3rd Sunday 8:30 - 11:30am
Avalon Dunes 1st Sunday 8:30 - 11:30am
Avalon Golf Course 2nd Wednesday 3 - 5:30pm
Careel Creek 4th Saturday 8:30 - 11:30am
Toongari Reserve 3rd Saturday 9 - 12noon (8 - 11am in summer)
Bangalley Headland 2nd Sunday 9 to 12noon
Bayview
Winnererremy Bay 4th Sunday 9 to 12noon
Bilgola
North Bilgola Beach 3rd Monday 9 - 12noon
Algona Reserve 1st Saturday 9 - 12noon
Plateau Park 1st Friday 8:30 - 11:30am
Church Point
Browns Bay Reserve 1st Tuesday 9 - 12noon
McCarrs Creek Reserve Contact Bushcare Officer To be confirmed
Clareville
Old Wharf Reserve 3rd Saturday 8 - 11am
Elanora
Kundibah Reserve 4th Sunday 8:30 - 11:30am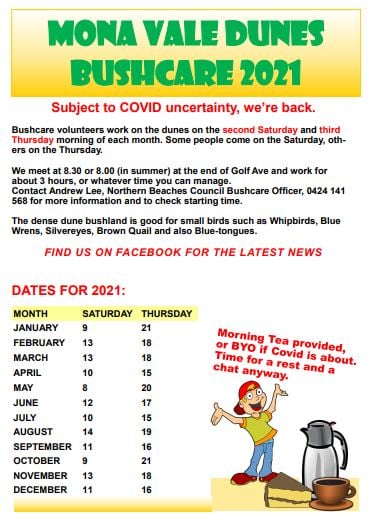 Mona Vale
Mona Vale Beach Basin 1st Saturday 8 - 11am
Mona Vale Dunes 2nd Saturday +3rd Thursday 8:30 - 11:30am
Newport
Bungan Beach 4th Sunday 9 - 12noon
Crescent Reserve 3rd Sunday 9 - 12noon
North Newport Beach 4th Saturday 8:30 - 11:30am
Porter Reserve 2nd Saturday 8 - 11am
North Narrabeen
Irrawong Reserve 2nd Saturday 2 - 5pm
Palm Beach
North Palm Beach Dunes 3rd Saturday 9 - 12noon
Scotland Island
Catherine Park 2nd Sunday 10 - 12:30pm
Elizabeth Park 1st Saturday 9 - 12noon
Pathilda Reserve 3rd Saturday 9 - 12noon
Warriewood
Warriewood Wetlands 1st Sunday 8:30 - 11:30am
Whale Beach
Norma Park 1st Friday 9 - 12noon
Western Foreshores
Coopers Point, Elvina Bay 2nd Sunday 10 - 1pm
Rocky Point, Elvina Bay 1st Monday 9 - 12noon

Gardens And Environment Groups And Organisations In Pittwater
Senate Inquiry Into Environment Protection And Biodiversity Conservation Amendment (Regional Forest Agreements) Bill 2020
Status: Accepting submissions
Date Referred: 18 February 2021
Submissions Close: 19 March 2021
This is in relation to the December 9th, 2020 introduced by
Senator the Hon. Bridget McKenzie, Nationals Party Member,
and read for a second time on that same date
of ''
A Bill for an Act to amend the Environment Protection and Biodiversity Conservation Act 1999, and for related purposes''
Senator the Hon. Bridget McKenzie in explanatory notes states that ''The Bill's amendments will clarify that forestry operations covered by a Regional Forest Agreement are exempted from Part 3 of the EPBC Act.''
And that;
''This Bill will affirm and clarify the Commonwealth's intent regarding Regional Forest Agreements to make it explicitly clear that forestry operations in a Regional Forest Agreement region are exempt from Part 3 of the EPBC Act, and that compliance matters are to be dealt with through the state regulatory framework.
Requiring native forestry operations to seek EPBC Act approval would create operationally unviable delays in planned harvesting operations

that have already been subjected to significant environmental planning and approvals and create congestion in the approvals pipeline.
This is achieved by removing the ambiguity of what it means to be "undertaken in accordance with a Regional Forest Agreement" (subsection 38(1) of the EPBC Act), which a recent Federal Court decision (Friends of Leadbeater's Possum Inc v VicForests (No 4) [2020] FCA 704 has shown is not explicit with respect to the Commonwealth's intended meaning.



Furthermore, the operation of subsection 38(1) is just one of several legal questions considered by Justice Mortimer's judgment and subsequent appeal. There is no guarantee that the appeal will deal with the substantive question about the operation of subsection 38(1).
The Independent review of the EPBC Act Interim Report (Samuel 2020) recommended addressing this uncertainty:
"During the course of this Review, the Federal Court found that an operator had breached the terms of an RFA and should therefore be subject to the ordinary controlling provisions of the EPBC Act. Legal ambiguities in the relationship between EPBC Act and the RFA Act should be clarified, so that the Commonwealth's interests in protecting the environment interact with the RFA framework in a streamlined way." (page 10), and
"The EPBC Act recognises the RFA Act, and additional assessment and approvals are not required for forestry activities conducted in accordance with an RFA (except where forestry operations are in a World Heritage property or a Ramsar wetland). These settings are colloquially referred to as the 'RFA exemption', which is somewhat of a misnomer." (page 60).
The Interim Report also made it clear that under a regional model of empowering the states, the oversight functions would be the responsibility of the states through accredited frameworks (as occurs with Regional Forest Agreements):
"For projects approved under accredited arrangements, the accredited regulator would be responsible for ensuring that projects comply with requirements, across the whole project cycle including transparent post-approval monitoring, compliance and enforcement. The Commonwealth should retain the ability to intervene in project-level compliance and enforcement where egregious breaches are not being effectively enforced by the accredited party." (page 55).
''The Commonwealth must act urgently to resolve this uncertainty to ensure that the tens of thousands of jobs that depend on Australia's native forestry operations are not exposed to the sort of crisis now facing Victoria's native hardwood sector. This amendment Bill will achieve this outcome.''
It seeks to:
Part 1—Amendments
Environment Protection and Biodiversity Conservation Act 1999
1 Subsection 38(1)
Omit "that is undertaken in accordance with an RFA".
Regional Forest Agreements Act 2002
2 Subsection 6(4)
Omit "that is undertaken in accordance with an RFA".
The
Friends of Leadbeater's Possum Inc v VicForests (No 4) [2020]
case c
onfirmed injunctions related to 66 coupes (or logging areas) in forests that are home to threatened Great Glider and the critically endangered Victorian State emblem - Leadbeater's Possum. This decision will keep these iconic creatures a step further back from extinction.
Importantly Justice Mortimer also identified unlawful logging by VicForests was planned in those 66 areas and had occurred already in a further 26 already logged areas.
In the future, if VicForests wants to log in those coupes, not only will it have to apply to the Commonwealth for approval to log threatened species habitat, VicForests will also have to return to the Federal Court to ask for the injunction to be lifted. And then, it will have to find a buyer for the wood.
Danya Jacobs, Senior Lawyer from Environmental Justice Australia (EJA) summarised it in August 2020; "This case proved that a state agency unlawfully logged 26 areas home to species at risk of extinction which are meant to be protected by both state and federal law – and planned to unlawfully log another 66."
You can make a submission via the link above.
First reading: Text of the bill as introduced into the Parliament
Third reading: Prepared if the bill is amended by the house in which it was introduced. This version of the bill is then considered by the second house.
As passed by both houses: Final text of bill agreed to by both the House of Representatives and the Senate which is presented to the Governor-General for assent.
EPA Statement-Update On Forestry Regulation: FCNSW Set To Log Bushfire Devastated South Coast
The Environment Protection Authority (EPA) has been advised by Forestry Corporation of NSW (FCNSW) that they will shortly revert to operating under the standard forestry rules,

meaning logging in new compartments will not use special site specific conditions put in place to protect burnt forests, following the 2019/20 bushfires.
Based on expert advice and the literature, the EPA is of the view that site specific conditions are the most effective way of managing the environmental risks associated with harvesting in landscapes that have been so extensively and severely impacted by fire.
The EPA has been working to negotiate updated site specific conditions based on current knowledge of the impact of the fires, and to identify and implement a long-term approach to manage the risks posed by timber harvesting in the post-fire landscapes of coastal NSW.
FCNSW has now withdrawn from those discussions around logging on the South Coast.
The EPA expects to receive advice from FCNSW regarding additional voluntary measures they intend to apply to manage the impacts of logging operations. These will not be enforceable by the EPA under the current rules.
The EPA's site specific conditions previously applied in addition to the Integrated Forestry Operations Approvals (IFOA), maximise the protection of unburnt or lightly burnt forest and limit harvesting intensity to assist wildlife and biodiversity recovery efforts.
Designed following consultation with experts and government agencies, they aim to mitigate the environmental risks caused by the bushfires and are tailored for the specific impacts on plants, animals and their habitats, soils and waterways at each site.
The EPA has been working with FCNSW to ensure these controls are implemented and effective.
The EPA has increased its regulatory presence on the ground at all stages of logging operations and is working closely with community, industry, Aboriginal and environment groups, concerned about the impact of logging on the environment, their communities and their regional economies.
In response to the decision of FCNSW, the EPA will further increase its regulatory oversight of future logging operations.
The EPA has a statutory objective to protect, restore and enhance the quality of the environment in NSW having regard to the need to maintain ecologically sustainable development. Where the EPA identifies non-compliance, it will take appropriate regulatory action.
FCNSW is authorised by the NSW Government to undertake forestry operations under the
Forestry Act 2012,
and must comply with the
IFOA rules
.
Media Statement – Update On Vales Point Power Station
The EPA will seek public submissions on the proposal from Delta Electricity to extend its current exemption for Vales Point Power Station from a specific category for emissions standards for a further five years.
The current exemption expires on 1 January 2022.
The application will be carefully considered and assessed in accordance with the EPA's statutory obligations under
section 45 of the POEO Act.
The EPA believes public feedback is of benefit although consultation is not required under the Protection of the Environment Operations Act 1997.
The submission process is being finalised.
$16.5 Million For More Green Space
More than $16 million from the NSW Government's COVID-19 stimulus fund will help deliver more quality green public space on Crown land across Greater Sydney.
Minister for Planning and Public Spaces Rob Stokes said the new Greater Sydney Crown Land Open Space Activation Program would fund upgrades to Crown land and community facilities.
"The last 12 months has taught us the importance of green open space and creating public places where people can safely meet, congregate and relax," Mr Stokes said.
"It makes good sense that by improving Crown land and public infrastructure we can make better use of the assets we already have to create more open space for the community to enjoy.
"These projects will also support local jobs and economies with work for tradespeople and materials suppliers."
In addition to the funding, Crown land will be reviewed to identify sites for future activation.
Local councils will be invited to participate in partnership opportunities for activation and ongoing management of shortlisted sites for activation, which will include new or improved public parkland reserves, foreshore precincts and civic spaces such as town squares.
The program will also complement the Sydney Green Grid, which was bolstered by a $3 million metropolitan green space program launched in July to create more walking trails, bike paths and picnic spots that would build links between green spaces throughout Sydney.
An additional $500,000 over the next two years will be used to protect sensitive nature reserves being impacted by unauthorised activities such as four-wheel driving, dirt bike riding and rubbish dumping.
Mr Stokes said the funding will contribute to the installation of fencing, bollards, cabling, gates and signage on reserves where these activities have caused environmental damage.
"This funding will help local councils trying to manage hotspots where these inappropriate activities occur. Fencing and gates will also help manage bushfire risk by keeping reserves free of accumulated rubbish," Mr Stokes said.
The projects are among a range of stimulus projects being funded on Crown land sites across Greater Sydney, with others including:
$2 million to upgrade the Hungry Point walking track at Cronulla including construction of a coastal viewing platform;
$1.5 million towards restoration of a former railway tunnel at Glenbrook in the Blue Mountains so it can be reactivated as a recreational trail;
$1.5 million to help Penrith City Council restore a historic former police cottage at Emu Plains;
$1.5 million to undertake essential maintenance work on the historic Meadowbank Bridge and its pedestrian path and cycleway;
$1.5 million to remove dilapidated cottages from the Georges River foreshore at Illawong to restore the land to public open space;
$1.135 million for maintenance and repair work at the former Prince Henry Hospital site at Little Bay including heritage-listed structures;
$1 million to restore the heritage-listed South Head Signal Station at Vaucluse;
$500,000 for improvement works at Bidjigal Reserve in Baulkham Hills including bushland restoration and upgrades to walking trails, signage and stormwater infrastructure;
$250,000 to clean up and assess land at Northmead for contamination on the site of a mechanical workshop.
Contamination Assessment For Empire Bay Marina
An assessment will be conducted at the Empire Bay Marina to examine the site's contamination levels and help inform future actions.
Parliamentary Secretary for the Central Coast Adam Crouch said a detailed assessment has been commissioned by the Department of Planning, Industry and Environment – Crown Lands.
"The NSW Government was forced to revoke the Empire Bay Marina licence in September 2020 due to ongoing safety and environmental concerns, and a failure by the licence holder to rectify issues despite repeated requests," Mr Crouch said.
"Crown Lands is issuing a factsheet to keep local residents informed every step of the way on what has occurred to date, and what is planned for the future."
Minister for Water Property and Housing Melinda Pavey said the detailed assessment would determine the type, extent and level of contamination on the site and advise on requirements for site remediation.
"This contamination assessment, together with building assessments, will help inform next steps," Mrs Pavey said.
"The Marina structures and building are in poor condition and unsafe and have been fenced off to the public. Residents are advised not to enter the site."
Crown Lands has instructed boat owners to remove their vessels from the marina prior to the contamination assessment getting underway.
"Central Coast Ferries has committed to moving their vessel to an alternative mooring location. There will be no disruption to the regular ferry service," Mrs Pavey said.
"If boat owners fail to vacate the marina the Department will be required to take compliance action which would involve fines of up to $1,100 for individuals and $2,200 for corporations and the impounding of vessels."
Crown Lands will maintain responsibility for the control and management of the marina site until a decision is made about its future.
NRAR Responds To Incident In Lake Albert
In January of this year, the Natural Resources Access Regulator (NRAR) received a complaint in relation to an alleged unlawful structure in Lake Albert, Wagga Wagga.
Following the complaint, NRAR commenced a thorough investigation and issued a penalty notice to a private citizen from the Wagga Wagga region.
Gregory Abood, Director Water Regulation (West) at NRAR, says he is happy to see this matter resolved.
"As soon as we received this complaint, we commenced a thorough investigation, which we've now concluded. We understand the importance of Lake Albert to the community of Wagga Wagga and worked hard to finalise this matter," Mr Abood said.
"Water laws exist to protect and preserve our natural ecosystems, but this can only happen when we all follow the rules.
"Unlawful water take and diverting a water source is a serious offence that can threaten supplies for other communities and the environment."
Mr Abood concluded by stating NRAR takes allegations of noncompliance seriously because communities across NSW have said they want fair, transparent and enforceable water compliance.
To see the work NRAR does, go to its public register on the NRAR website
industry.nsw.gov.au/nrar
. Go to 'Reports and data', then 'NRAR Public Register'.
World First Gene Program To Help Koalas
A team of University of Sydney scientists is taking the fight to protect koalas to a new level with a world first 'genetic sequencing' program that could protect the species from disease and other threats.
Backed by more than $1 million of Commonwealth and NSW government combined funding, the research team will build a first of its kind genome sequencing program - unique to threatened species management around the world.
Federal Minister for the Environment Sussan Ley and NSW Minister for Environment and Energy Matt Kean today met Professor Kathy Belov (one of the two lead researchers who gained world acclaim for being the first to map the koala genome in 2018) at University of Sydney to see some of the first steps in the breakthrough program.
"Scientists will be able to determine the genetic strength of populations, the unique DNA variants that provide resistance to diseases such as chlamydia, and a range of other traits," Minister for the Environment Sussan Ley said today.
"This is breakthrough science that has never been applied to a native species population at this scale, and it will play an important role in strengthening the koala population.
"The Morrison and Berejiklian governments committed more than $1 million to the first stage of the program that will map the 20,000 'functioning important genes' in each of some 400 koalas.
NSW Minister for Environment and Energy Matt Kean said the ground-breaking genomic research, to be led by Professor Belov and population biologist Dr Carolyn Hogg, will be critical in guiding future conservation efforts.
"We know the number one threat to koalas is the loss and fragmentation of habitat, but koalas are also at risk from threats such as disease and climate change," Mr Kean said.
"We need to pull out all stops to support thriving and resilient koala populations across NSW and mapping genetic variations will give us the information we need to develop better conservation programs."
The Commonwealth is investing $348,450 for the genome sequences of koalas from Queensland and Victoria along with a researcher to develop the genome library in 2020, while NSW is contributing $674,000 to sequence genomes of koalas from NSW populations.
Amazon Web Services (AWS), through its Open Data Sponsorship Program, is covering the costs of the storage and transfer of the data for The University of Sydney while they are participating in the program, so that it can be accessed and analysed in the cloud by researchers around the world.
The project, which will genetically map a bank of samples already in hand and build it over coming years through the national koala monitoring program and Koala recovery plan to be finalised this year, builds on the world-first sequencing of the koala genome in recent years led by the University of Sydney and Australian Museum.
"As humans we are all the same species but variation in our genes determine who we are, traits like hair colour or eye colour and even our responses to infectious diseases," Professor Belov said.
"Levels of genetic diversity in a population determine how well populations can adapt and respond to change, whether that be disease, behaviour or climate.
"Historically koala populations have moved freely across the east coast but as populations become fragmented the importance of maintaining genetic diversity has increased.
"We want to also preserve the genetic variation that has been built up over years of evolutionary pressure and to use this knowledge to develop breeding and translocation strategies that could strengthen koala populations.
"Koalas are complicated in that, while they are a single species, they have become adapted to different environments, some are more adapted to heat, some are more resilient to disease and it is important to be able to understand the underlying genetic variation that drives these processes.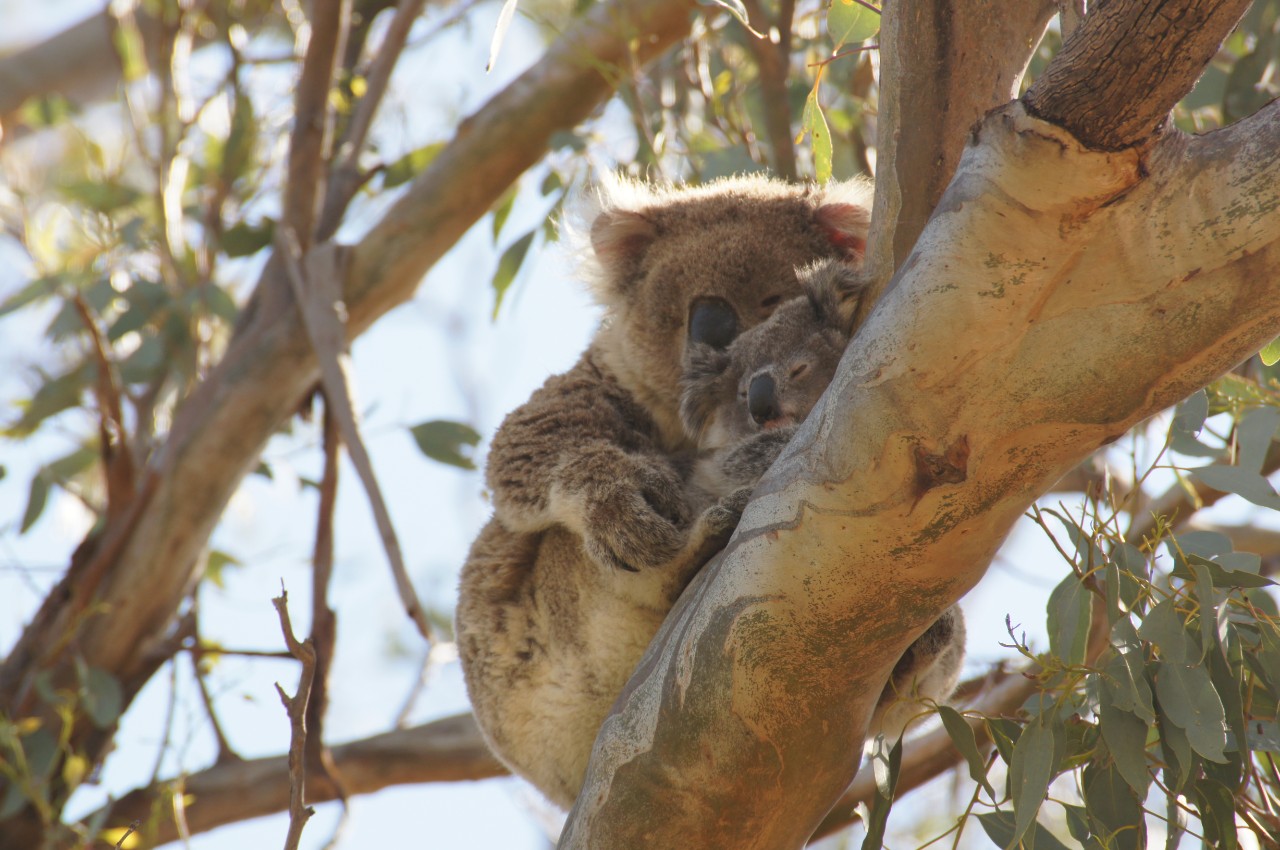 Koalas - photo by Mathew Crowther
Shorebird Identification Booklet
The Migratory Shorebird Program has just released the third edition of its hugely popular Shorebird Identification Booklet. The team has thoroughly revised and updated this pocket-sized companion for all shorebird counters and interested birders, with lots of useful information on our most common shorebirds, key identification features, sighting distribution maps and short articles on some of BirdLife's shorebird activities.
The booklet can be downloaded here in PDF file format: http://www.birdlife.org.au/documents/Shorebird_ID_Booklet_V3.pdf
Paper copies can be ordered as well, see http://www.birdlife.org.au/projects/shorebirds-2020/counter-resources for details.
Download BirdLife Australia's children's education kit to help them learn more about our wading birdlife
Shorebirds are a group of wading birds that can be found feeding on swamps, tidal mudflats, estuaries, beaches and open country. For many people, shorebirds are just those brown birds feeding a long way out on the mud but they are actually a remarkably diverse collection of birds including stilts, sandpipers, snipe, curlews, godwits, plovers and oystercatchers. Each species is superbly adapted to suit its preferred habitat. The Red-necked Stint is as small as a sparrow, with relatively short legs and bill that it pecks food from the surface of the mud with, whereas the Eastern Curlew is over two feet long with a exceptionally long legs and a massively curved beak that it thrusts deep down into the mud to pull out crabs, worms and other creatures hidden below the surface.
Some shorebirds are fairly drab in plumage, especially when they are visiting Australia in their non-breeding season, but when they migrate to their Arctic nesting grounds, they develop a vibrant flush of bright colours to attract a mate. We have 37 types of shorebirds that annually migrate to Australia on some of the most lengthy and arduous journeys in the animal kingdom, but there are also 18 shorebirds that call Australia home all year round.
What all our shorebirds have in common—be they large or small, seasoned traveller or homebody, brightly coloured or in muted tones—is that each species needs adequate safe areas where they can successfully feed and breed.
The National Shorebird Monitoring Program is managed and supported by BirdLife Australia.

This project is supported by Glenelg Hopkins Catchment Management Authority and Hunter Local Land Services through funding from the Australian Government's National Landcare Program. Funding from Helen Macpherson Smith Trust and Port Phillip Bay Fund is acknowledged.
The National Shorebird Monitoring Program is made possible with the help of over 1,600 volunteers working in coastal and inland habitats all over Australia.
The National Shorebird Monitoring program (started as the Shorebirds 2020 project initiated to re-invigorate monitoring around Australia) is raising awareness of how incredible shorebirds are, and actively engaging the community to participate in gathering information needed to conserve shorebirds.
In the short term, the destruction of tidal ecosystems will need to be stopped, and our program is designed to strengthen the case for protecting these important habitats.
In the long term, there will be a need to mitigate against the likely effects of climate change on a species that travels across the entire range of latitudes where impacts are likely.
The identification and protection of critical areas for shorebirds will need to continue in order to guard against the potential threats associated with habitats in close proximity to nearly half the human population.
Here in Australia, the place where these birds grow up and spend most of their lives, continued monitoring is necessary to inform the best management practice to maintain shorebird populations.
BirdLife Australia believe that we can help secure a brighter future for these remarkable birds by educating stakeholders, gathering information on how and why shorebird populations are changing, and working to grow the community of people who care about shorebirds.

To find out more visit: http://www.birdlife.org.au/projects/shorebirds-2020/shorebirds-2020-program
Aussie Bread Tags Collection Points
Collecting bread tags enables us to provide wheelchairs that change the life of disabled people in need, as well as keeping the tags out of landfill to help to preserve the environment.
Bread Tags for Wheelchairs was started in South Africa in 2006 by Mary Honeybun. It is a community program where individuals and organisations collect bread tags, which are sold to recyclers. The money raised pays for wheelchairs for the less fortunate which are purchased through a local pharmacy. Currently about 500kg of bread tags are collected a month in South Africa, funding 2-3 wheelchairs.
We have been collecting bread tags nationally in Australia since September 2018 and now have more than 100 collection points across the country. In February 2019 we started local recycling through Transmutation - Reduce, Reuse and Recycle in Robe, SA, where our tags are recycled into products such as door knobs and bowls. Tags from some states are still sent to South Africa where a plastics company called Zibo recycles them into seedling trays.
These humble bits of polystyrene can make a real difference so get your friends, family, school, workplace and church involved. Ask school tuck shops and boarding school kitchens, child care centres, aged care facilities, hospitals, cafes and fast food outlets to collect for you - they get through a lot of bread!
All the information and signage for collecting or setting up a public collection point is
on our website
.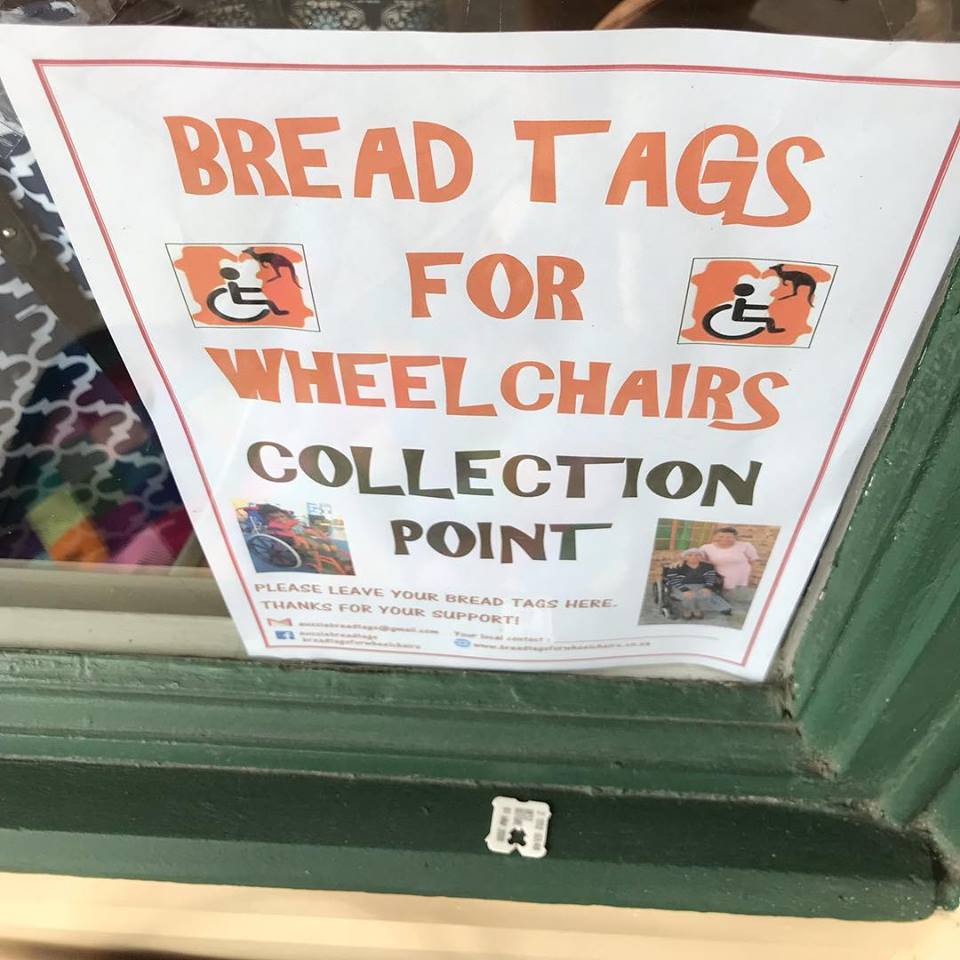 Touchdown! NASA's Mars Perseverance Rover Safely Lands On Red Planet
February 18in US/19 AEST, 2021: date depending on where you are on planet earth - report from and courtesy NASA
The largest, most advanced rover NASA has sent to another world touched down on Mars Thursday, after a 203-day journey traversing 293 million miles (472 million kilometres). Confirmation of the successful touchdown was announced in mission control at NASA's Jet Propulsion Laboratory in Southern California at 3:55 p.m. EST (12:55 p.m. PST).
Packed with ground-breaking technology, the Mars 2020 mission launched July 30, 2020, from Cape Canaveral Space Force Station in Florida. The Perseverance rover mission marks an ambitious first step in the effort to collect Mars samples and return them to Earth.
"This landing is one of those pivotal moments for NASA, the United States, and space exploration globally -- when we know we are on the cusp of discovery and sharpening our pencils, so to speak, to rewrite the textbooks," said acting NASA Administrator Steve Jurczyk. "The Mars 2020 Perseverance mission embodies our nation's spirit of persevering even in the most challenging of situations, inspiring, and advancing science and exploration. The mission itself personifies the human ideal of persevering toward the future and will help us prepare for human exploration of the Red Planet."
About the size of a car, the 2,263-pound (1,026-kilogram) robotic geologist and astrobiologist will undergo several weeks of testing before it begins its two-year science investigation of Mars' Jezero Crater. While the rover will investigate the rock and sediment of Jezero's ancient lakebed and river delta to characterize the region's geology and past climate, a fundamental part of its mission is astrobiology, including the search for signs of ancient microbial life. To that end, the Mars Sample Return campaign, being planned by NASA and ESA (European Space Agency), will allow scientists on Earth to study samples collected by Perseverance to search for definitive signs of past life using instruments too large and complex to send to the Red Planet.
"Because of today's exciting events, the first pristine samples from carefully documented locations on another planet are another step closer to being returned to Earth," said Thomas Zurbuchen, associate administrator for science at NASA. "Perseverance is the first step in bringing back rock and regolith from Mars. We don't know what these pristine samples from Mars will tell us. But what they could tell us is monumental -- including that life might have once existed beyond Earth."
Some 28 miles (45 kilometres) wide, Jezero Crater sits on the western edge of Isidis Planitia, a giant impact basin just north of the Martian equator. Scientists have determined that 3.5 billion years ago the crater had its own river delta and was filled with water.
The power system that provides electricity and heat for Perseverance through its exploration of Jezero Crater is a Multi-Mission Radioisotope Thermoelectric Generator, or MMRTG. The U.S. Department of Energy (DOE) provided it to NASA through an ongoing partnership to develop power systems for civil space applications.
Equipped with seven primary science instruments, the most cameras ever sent to Mars, and its exquisitely complex sample caching system -- the first of its kind sent into space -- Perseverance will scour the Jezero region for fossilized remains of ancient microscopic Martian life, taking samples along the way.
"Perseverance is the most sophisticated robotic geologist ever made, but verifying that microscopic life once existed carries an enormous burden of proof," said Lori Glaze, director of NASA's Planetary Science Division. "While we'll learn a lot with the great instruments we have aboard the rover, it may very well require the far more capable laboratories and instruments back here on Earth to tell us whether our samples carry evidence that Mars once harboured life."
Paving the Way for Human Missions
"Landing on Mars is always an incredibly difficult task and we are proud to continue building on our past success," said JPL Director Michael Watkins. "But, while Perseverance advances that success, this rover is also blazing its own path and daring new challenges in the surface mission. We built the rover not just to land but to find and collect the best scientific samples for return to Earth, and its incredibly complex sampling system and autonomy not only enable that mission, they set the stage for future robotic and crewed missions."
The Mars Entry, Descent, and Landing Instrumentation 2 (MEDLI2) sensor suite collected data about Mars' atmosphere during entry, and the Terrain-Relative Navigation system autonomously guided the spacecraft during final descent. The data from both are expected to help future human missions land on other worlds more safely and with larger payloads.
On the surface of Mars, Perseverance's science instruments will have an opportunity to scientifically shine. Mastcam-Z is a pair of zoomable science cameras on Perseverance's remote sensing mast, or head, that creates high-resolution, color 3D panoramas of the Martian landscape. Also located on the mast, the SuperCam uses a pulsed laser to study the chemistry of rocks and sediment and has its own microphone to help scientists better understand the property of the rocks, including their hardness.
Located on a turret at the end of the rover's robotic arm, the Planetary Instrument for X-ray Lithochemistry (PIXL) and the Scanning Habitable Environments with Raman & Luminescence for Organics & Chemicals (SHERLOC) instruments will work together to collect data on Mars' geology close-up. PIXL will use an X-ray beam and suite of sensors to delve into a rock's elemental chemistry. SHERLOC's ultraviolet laser and spectrometer, along with its Wide Angle Topographic Sensor for Operations and eNgineering (WATSON) imager, will study rock surfaces, mapping out the presence of certain minerals and organic molecules, which are the carbon-based building blocks of life on Earth.
The rover chassis is home to three science instruments, as well. The Radar Imager for Mars' Subsurface Experiment (RIMFAX) is the first ground-penetrating radar on the surface of Mars and will be used to determine how different layers of the Martian surface formed over time. The data could help pave the way for future sensors that hunt for subsurface water ice deposits.
Also with an eye on future Red Planet explorations, the Mars Oxygen In-Situ Resource Utilization Experiment (MOXIE) technology demonstration will attempt to manufacture oxygen out of thin air -- the Red Planet's tenuous and mostly carbon dioxide atmosphere. The rover's Mars Environmental Dynamics Analyzer (MEDA) instrument, which has sensors on the mast and chassis, will provide key information about present-day Mars weather, climate, and dust.
Currently attached to the belly of Perseverance, the diminutive Ingenuity Mars Helicopter is a technology demonstration that will attempt the first powered, controlled flight on another planet.
Project engineers and scientists will now put Perseverance through its paces, testing every instrument, subsystem, and subroutine over the next month or two. Only then will they deploy the helicopter to the surface for the flight test phase. If successful, Ingenuity could add an aerial dimension to exploration of the Red Planet in which such helicopters serve as a scouts or make deliveries for future astronauts away from their base.
Once Ingenuity's test flights are complete, the rover's search for evidence of ancient microbial life will begin in earnest.
"Perseverance is more than a rover, and more than this amazing collection of men and women that built it and got us here," said John McNamee, project manager of the Mars 2020 Perseverance rover mission at JPL. "It is even more than the 10.9 million people who signed up to be part of our mission. This mission is about what humans can achieve when they persevere. We made it this far. Now, watch us go."
A primary objective for Perseverance's mission on Mars is astrobiology research, including the search for signs of ancient microbial life. The rover will characterize the planet's geology and past climate and be the first mission to collect and cache Martian rock and regolith, paving the way for human exploration of the Red Planet.
Subsequent NASA missions, in cooperation with ESA, will send spacecraft to Mars to collect these cached samples from the surface and return them to Earth for in-depth analysis.
The Mars 2020 Perseverance mission is part of NASA's Moon to Mars exploration approach, which includes Artemis missions to the Moon that will help prepare for human exploration of the Red Planet.
JPL, a division of Caltech in Pasadena, California, manages the Mars 2020 Perseverance mission and the Ingenuity Mars Helicopter technology demonstration for NASA.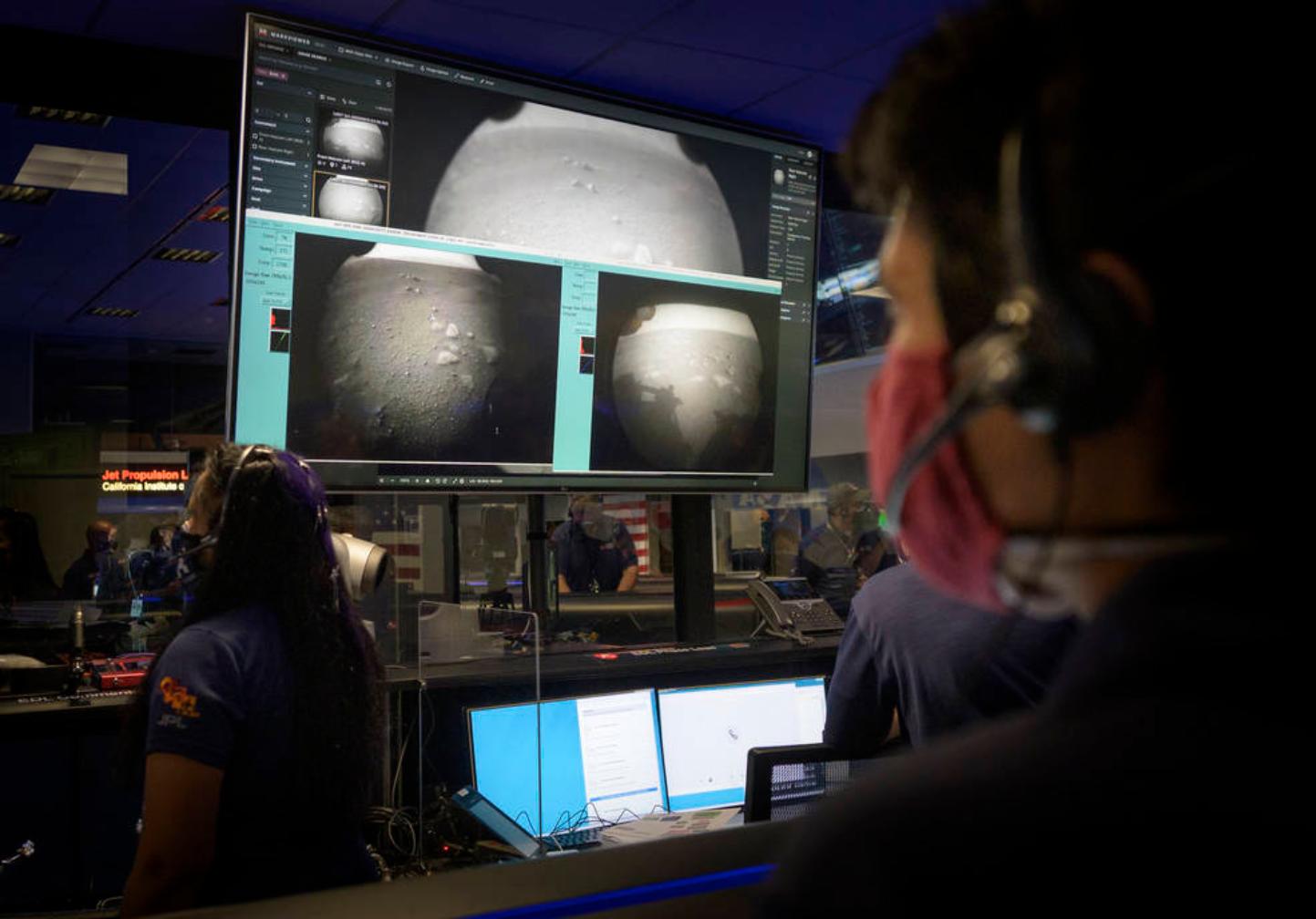 Members of NASA's Perseverance Mars rover team watch in mission control as the first images arrive moments after the spacecraft successfully touched down on Mars, Thursday, Feb. 18, 2021, at NASA's Jet Propulsion Laboratory in Pasadena, California. A key objective for Perseverance's mission on Mars is astrobiology, including the search for signs of ancient microbial life. The rover will characterize the planet's geology and past climate, pave the way for human exploration of the Red Planet, and be the first mission to collect and cache Martian rock and regolith. Credits: NASA/Bill Ingalls
David Bowie – Life On Mars? (Official Video)
Council Receives 44.5K Grant For Events For Youth By Youth
Young people will be supported to build life skills, access employment opportunities and nurture their wellbeing and mental health thanks to being party to a portion of the $1.5 million in NSW Government grants announced earlier in February 2021.
Northern Beaches Council has been allocated $44,600.00 for 'Events by Youth for Youth' (Working Title) described as
'Events for Youth by Youth is an opportunity for young people to learn project management and be mentored by industry professionals and the Library and Youth team. Mentorship will upskill, inspire and empower young people to run events to improve access, inclusion, and subsequent wellbeing.'



Minister for Families, Communities and Disability Services Gareth Ward said 35 projects have received up to $50,000 each through the Youth Opportunities program.
"We want all young people to be engaged and active members of their communities and these grants foster exciting new initiatives to make that happen," Mr Ward said.
"Young people are our State's greatest asset and we are working hard to equip them with the skills and knowledge they need to make our communities stronger and better places to live."
Among the successful projects this year are programs to empower disadvantaged youth, an initiative to promote work experience opportunities for young people with disability and projects focusing on positive mental health.
Minister for Mental Health, Regional Youth and Women Bronnie Taylor said more than half of the successful projects are based in regional and rural NSW.
"Rural communities know it's vital to engage with young people as they are the future leaders in their regions," Mrs Taylor said.
"These projects will give young people the tools they need to navigate a range of issues so that they can build resilience and thrive."
Since the NSW Government established the Youth Opportunities program in 2012, almost $13.3 million has been invested in 282 projects.
NSW Youth Advisory Council 2021 Applications Now Open
What is the NSW Youth Advisory Council?
The NSW Youth Advisory Council (YAC) plays an important role in advising the NSW Government on issues that are relevant to young people across the state.
Membership of the YAC is open to all children and young people between 12 and 24 years of age residing in NSW. Applications are sought from diverse locations, backgrounds and life experiences.
The 12 member YAC provides a direct avenue of communication between young people and the NSW Government.
The YAC meets regularly throughout the year to provide advice to the relevant Minister, and the NSW Advocate for Children and Young People, on issues, policies and laws that affect children and young people in NSW.
Who is eligible to apply for the Youth Advisory Council?
All young people living in NSW from 12 to 24 years of age may apply. Applications are sought from diverse locations, backgrounds and life experiences.
What is required of me?
Council members meet once every 4-6 weeks throughout the year to discuss a range of topics and monitor and evaluate polices and legislation affecting children and young people.
Members also consult with children and young people, community groups and government agencies on issues concerning children and young people; and conduct forums, approved by the Minister on issues relevant to children and young people.
Tips for completing your application
Once you start your application you will need to complete it in one go, so you might like to prepare your answers in a word document and then copy and paste them into the application when you are ready. Make sure you answer all questions. The whole application process should take no longer than 10 minutes.
The main questions to prepare for are:
Question: What do you think are the important issues affecting children and young people in NSW? Please explain why you think these issues are important. (As a guide, your answers should be no more than 250 words.)
Question: What life experiences have you had which would assist you in contributing to the Council's work?
Question: Details of any current or past voluntary or community activities you have been involved in.
We'll ask a few questions about you and your background.
Applications close March 14th.
Applications Now Open For Y NSW Youth Parliament
Applications are now open for the YMCA NSW (Y NSW) Youth Parliament: the state's premier youth political empowerment program.
Aimed at young people in years 10, 11 and 12 or equivalent age, Y NSW Youth Parliament provides a platform for young people to have their voices heard through legislative debate and decision making.
Y NSW is seeking representatives from all 93 NSW State Electorates to participate.
Y NSW CEO Susannah Le Bron said it was exciting to be back following the program's suspension in 2020 due to the pandemic.
"COVID-19 has brought the direct impact of political decisions on young people's lives and futures sharply into focus," Mrs Le Bron said.
"There's never been a more important time for young people to stand up and be heard, and the Y is incredibly proud as an organisation to bring these voices directly to the seat of power in NSW."
Youth Parliament consists of an eight-day camp where participants are split in committees and develop policy positions ahead of four days of debate on the floor of NSW Parliament. Following the event, passed bills are formally presented to the NSW Government.
Since its beginning in 2002, approximately six pieces of Y NSW Youth Parliament youth legislation have been passed into NSW Law, including the recent Domestic Violence Disclosure Scheme.
Former NSW Youth Parliament participant, Hamani Tanginoa, encouraged young people across the state to apply.
"Youth Parliament is an amazing opportunity for young people to have their voices heard and get their ideas on the board. If they're looking to do more representation in their community or to get into politics it's a perfect first step to get their name out there," he said.
"It helped me get a spot on the NSW Youth Advisory Council and support from past participants helped me secure the Youth Premier position in 2019. Youth Parliament kept the fire burning, and since then I've been able to continue speaking out on issues young people are facing on TV and in printed media."
Applications are open now and will close March 12 at 5pm.
Young people will be notified of the outcome of their application on March 22 ahead of an online introduction to the program on April 26 and finally, Residential Camp from July 3 to Saturday 10 July.
NSW Youth Week 2021: 16 To 24 April
Youth Week began as a NSW Government initiative in 1989, and has since grown to be a celebration of young people in every state and territory across the country.
It is organised by young people, for young people, in communities across NSW and Australia. Following the success of the NSW Youth Week program, Youth Week became a National event in 2000. National Youth Week is jointly supported by the Australian Government, State and Territory Governments and Local Governments.
National Youth Week is an opportunity for young people to:
share ideas
attend live events
have their voices heard on issues of concern to them
showcase their talents
celebrate their contribution to the community
take part in competitions
have fun!
The NSW Government invites all Local Councils in NSW to jointly fund Youth Week activities in their area.
As part of their funding agreement with the NSW Government, Councils agree to involve young people in all aspects of Youth Week, including the planning, development and management of activities.
Youth Week is managed at a state level by the Youth Week Coordinator (located in the Youth Strategy and Participation Unit, Participation and Inclusion, Department of Family and Community Services) in conjunction with the NSW Youth Week Committee. The Committee is responsible for providing advice on the management and operation of Youth Week in NSW.
High Schoolers To Study Skills Of The Future
Real estate, robotics and entrepreneurship are just some of the 20 new virtual Vocational Education and Training (VET) courses to be made available to every NSW Government high school by 2022.
As part of the Curriculum Review, the NSW Government committed to providing opportunities for credit towards qualifications in apprenticeships in high demand areas such as engineering and robotics. The virtual courses are the first stage of delivering on this commitment.
In addition to existing face-to-face VET, Year 11 and 12 students will have the opportunity to study teacher-led, digitally-enabled virtual TAFE NSW courses that will give them in-demand skills for the workplace. These courses will form part of their HSC and contribute to their ATAR.
Premier Gladys Berejiklian said the new courses are part of the NSW Government's Curriculum Reform.
"We want to ensure NSW students receive world-class skills training to prepare them for the jobs of the future," Ms Berejiklian said.
"These courses will help students build skills across emerging industries such as advanced manufacturing, technology and engineering."
The new virtual VET courses, specifically designed for high school students with digitally-enabled and interactive lessons, cover a range of future-focussed industry sectors including cyber security, big data, accounting, gaming, community and health services.
Minister for Skills and Tertiary Education Geoff Lee said the NSW Government is committed to meeting skill shortages and enhancing access to exciting industries.
"These new virtual courses are a win-win for students. Not only does it make them instantly employable, they also have the choice to pursue further education in fields with plenty of career opportunities," Mr Lee said.
"Demand for jobs like cyber security specialists is huge and growing, and these courses are designed to help meet that need. From 2022, a student interested cyber security will have access to this new online course to get started in the fast-growing tech sector."
Minister for Education and Early Childhood Learning Sarah Mitchell said developing these online courses was also about making VET more available in regional NSW.
"These are exciting areas for young people to be studying and puts them in the best place to find a job in dynamic industries. Students with a keen interest in future-focussed courses will be able to link up with others, no matter where they go to school across NSW," Ms Mitchell said.
Students will graduate with a nationally recognised VET qualification that forms part of their HSC and contributes to an ATAR.
Online Courses Added To Summer Skills Program
The Summer Skills program has been expanded to include seven TAFE NSW online short courses targeting school leavers from last year.
An expansion of fee-free Summer Skills training courses is now available for school leavers with new online courses on offer, as part of the JobTrainer initiative.
Minister for Skills and Tertiary Education Geoff Lee said the Summer Skills program, launched in November 2020, has expanded to include seven TAFE NSW online short courses targeting school leavers from last year.
"In designing the Summer Skills program, the NSW Government has ensured the training on offer is aligned to local industry needs," he said.
"We need to provide the opportunities that help school leavers find their feet in these uncertain times. That's why we're delivering practical and fee-free training opportunities commencing this summer. Online learning is a terrific way to upskill at your own pace,"
Mr Lee said all the courses come from the $320 million committed to delivering 100,000 fee-free training places as part of the NSW Government's contribution to the JobTrainer initiative.
"There are more than 100,000 fee-free training places available through TAFE NSW and approved providers for people across NSW to reskill, retrain and redeploy to growth areas in a post COVID-19 economy.
"I encourage anyone impacted by the pandemic to see what training options are available in 2021."
Enrolments are open for Summer Skills training in:
Cyber Concepts;
Introduction to working in the health industry;
Construction materials and Work Health and Safety;
Mental health;
Business administration skills;
Introductory to business skills; and
Digital security basics.
Visit the NSW Summer Skills webpage for full details on all available fee-free courses on offer and their eligibility as part of the NSW Summer Skills program, and visit the JobTrainer webpage for more information.
NSW JobTrainer provides fee-free* training courses for young people, job seekers and school leavers to gain skills in Australia's growing industries. Explore hundreds of qualifications and register your interest today.

Express Yourself Exhibition 2021
The talent and creativity of more than 40 HSC Visual Art students on the Northern Beaches will be on display for the annual Express Yourself exhibition at the Manly Art Gallery & Museum (MAG&M) from February 19th until March 28th 2021.
The winners of the $3,000 Manly Art Gallery & Museum Society Youth Art Award and $5,000 Theo Batten Bequest Youth Art Award will be announced on Friday 19th of February. These two awards are granted annually to students featured in the exhibition.
Artist statements will be displayed alongside the artworks describing the inspirations and influences that informed the works and the students' creative journeys.
Visitors are encouraged to vote for their favourite artwork in the KALOF People's Choice Award which is announced at the end of the exhibition period.
Express Yourself is also part of Art Month Sydney, March 2021.
Exhibition: 19 February - Sunday 28 March 2021, 10am - 4pm daily (excluding Mondays)
Teachers' preview: Friday 19 February, 5 - 6pm. Bookings essential via Council's website
Art Walk and Talk: Saturday 27 February, 3 – 4pm: Artists walk through the exhibition and discuss their works with the curator. Bookings essential via Council's website.
Here And There
Published February 19, 2021 by NFSA
From the Film Australia Collection. Made by the Cinema Branch c1930. A brief travelogue of Victoria, featuring the Grampians, Buchan Caves, Ballarat, Phillip Island and Lorne.
The Dark Side Of Mobile Living Movements
By Ben Knight, UNSW, February 2021
Campervans and caravans are in right now, but the reality of mobile living is often not quite what it seems.
Travel might be restricted, but that hasn't stopped a growing community from taking their work, and their home, on the road. Inspired in part by Grey Nomads, these new digital nomads are embracing van life and everything it has to offer.
"The pandemic has untethered many people from physically having to go to work if they can run everything from a laptop. So they're weighing up their resources with what sort of lifestyle they want," says Dr Hazel Blunden, Research Fellow at the Social Policy Research Centre, UNSW Arts, Design & Architecture.
But while there are many motivations behind the rise of mobile living, it often comes down to money, Dr Blunden says. Purchasing a van is often just a way for aspiring homeowners locked out of the market to take back some control over their living situation.
"If you can't afford a mortgage, or don't want to take on huge debt, you could choose to live this way, with the benefits of mobility and travel," Dr Blunden says. "For people on lower incomes, in particular, it can be a viable option to purchase a vehicle, which is typically a lower cost than buying a house or even renting."
While living in a van may come with a lot of freedom, life on the road isn't always easy. Many who embark on the mobile living journey eventually look for more stable housing options.
"I think you'll find after a while when the van starts to break down or begins to feel cramped, you hear people say they would like to buy some land or move into a house, and so they're looking for something more permanent," Dr Blunden says.
Van life might look appealing on Instagram, but for some, the reality is far from glamourous. Photo: Unsplash.
Maintaining the van can also be more costly than anticipated when factoring in running costs such as repairs. Those who live in a vehicle are also not usually eligible to receive government assistance.
"The only way you can get rent assistance is if you're in a residential lease, so living in a van is not a lease, and you're not eligible," Dr Blunden says. "You are also required to provide a permanent address if you're a job seeker – you're not supposed to be living in a van, and you're certainly not supposed to be moving to areas with higher unemployment."
While campervan sales might be going through the roof right now, Dr Blunden warns there is a less glamorous side to mobile living.
"There is a negative side to mobile living when people are forced to live in their vehicles. For example, many homeless people live in their cars, or women escaping from domestic and family violence live in caravan parks.
"For many people, living in a vehicle is not a hipster lifestyle choice – it's a necessity."
The researcher says that while a van may offer an alternative living option, it is not a genuine affordable housing option for those who need it.
"For some, it's an affordable living choice, but I wouldn't call it an affordable housing choice," she says.
"We find that some campgrounds and caravan parks are acting as a poorer alternative to social housing. We urgently need new investment in social housing, rather than forcing people into these sorts of situations."
Dr Blunden says there is a risk of glamorising mobile living movements at the expense of the underlying housing affordability issue.
"It's a big problem in Australia, and we keep kicking the can down the road all the time," Dr Blunden says. "We know that young people are already less likely to be able to purchase a home and we know homeownership has trended downwards among all households, and especially amongst 25-44-year-olds since the late 1990s."
While there's been a short-term surge in first home buying on the back of historically low-interest rates, house prices continue to rise despite the pandemic, Dr Blunden says.
"Young people, in particular, should feel quite strongly about this because, without intervention, it's not getting better in the medium to long-term."
The price for entry into homeownership is often massive debt. Census data shows a steep reduction in households that fully own their own home down to only 31% in the 2016 census – a drop of 10% from the 1996 rates.
"The dominant business model now is to keep people pretty much in a state of constant debt – whether it is a big mortgage, credit cards or Afterpay."
According to Dr Blunden, successive governments have not been interested in properly looking at housing affordability, such as dismantling negative gearing.
"Two-thirds of Australians own their own home, so there's a political calculus where two-thirds of people want to see their asset appreciate, but there's this one-third of Australians who don't own anything and are suffering.
"What we should be doing is building more social housing, which we haven't adequately invested in for a long time. We could also set aside some affordable housing in new developments through standardising inclusionary zoning requirements. We could increase means-tested housing for sale schemes."
Dr Blunden warns that the situation will only become direr if housing affordability is not adequately addressed.
"We're seeing a lot of very tight markets now with more people moving to the regions and using superior purchasing power to buy or rent – places where low-income people are already finding it hard to find rental properties, let alone buy a home."
"There is a risk that we might see more people living in these sorts of campervan arrangements not because they want to, but because it might be their only option."
High Quality Aged Care Needed To Meet Australians' Expectations
A new research paper by the Caring Futures Institute at Flinders University highlights the need for comprehensive change in aged care and the Australian community's strong commitment to achieve it.
The research paper was published today by the Royal Commission into Aged Care Quality and Safety ahead of its Final Report, due by 26 February 2021. The Final Report will set out the Royal Commissioners' recommendations for fundamental reform of aged care.
The Flinders University research uses data from three national surveys conducted for the Royal Commission during 2020. The findings are presented in Research Paper 20 – Australia's aged care system: the quality of care experience and community expectations.
Flinders University found, using data collected from aged care recipients, that the share of people who feel their care needs are always met is only 24% in residential care, and only 20% in home care. These results are for all key aspects of care, including whether care recipients feel appropriate action is taken to address their complaints. The share of care recipients who feel their needs are at least 'mostly' met across all key aspects of care was just 58% for residential care and 50% for home care.
In a separate survey, the authors found most Australian adults view aged care as a vital social service, with all key aspects of care considered important or very important by the vast majority. People with a greater understanding of aged care tend to have slightly greater appreciation of the importance of all aspects of care. Females and older people are also the most likely to consider all aspects of care to be important or very important. There were only small differences between the views of people born in Australia and those born in other countries.
The community's strong desire for older people to be cared for appropriately was also reflected by the majority of current taxpayers agreeing they would be willing to pay more to support aged care. These taxpayers were, on average, willing to pay up to an additional 3.1% income tax per year to ensure all Australians have access to high quality aged care.
In addition to showing the need for change and Australians' commitment to achieve it, the surveys delivered a set of baseline data from which to evaluate aged care reform and public expectations in the future.
The research paper was prepared for the information of the Royal Commissioners and the public. Any views expressed in the paper are not necessarily the views of the Commissioners. To read the Royal Commission's research papers, please visit the Royal Commission's
publications page
.
Ensuring Senior Australians Are Vaccinated Against COVID-19
Tens of thousands of aged care residents in Australia will soon receive their first vaccine dose against COVID-19 next week.
The Australian Government is ensuring those who are particularly vulnerable to the worst effects of the coronavirus receive the earliest protection, so priority is being given to residential aged care facility staff and residents.
The vaccination program will begin in every state and territory and will include regional and rural aged care facilities. It is anticipated that the roll out to aged care facilities will take approximately six weeks.
Minister for Health and Aged Care, Greg Hunt, said the vaccine implementation plan for residential aged care aimed to administer vaccines to more than 240 aged care facilities in the first week.
"Vaccination for residents and staff will be made available through residential aged care facilities where they live or work, and it will be administered through an in-reach workforce provider," Minister Hunt said.
"Healthcare Australia will be providing the vaccination workforce in New South Wales and Queensland, and Aspen Medical will be responsible for the other states and territories.
"The Primary Health Network in each region will be supporting the Commonwealth deliver to each of the aged care facilities in their area and the process is expected to draw from the extensive experience in delivering influenza vaccines to aged care residents."
Residential aged care facilities will be grouped, up to a maximum of eight facilities within a 30 kilometre radius to ensure efficient delivery of the vaccine.
Vaccination for home and community aged care recipients and staff will occur in the community, and these people will receive information relevant to their situation shortly.
It's anticipated that people aged over 70 years who do not reside in residential aged care facilities, along with in-home and community aged care staff, will be able to go to specified central locations or medical facilities to receive their COVID 19 vaccination, as the time comes for their vaccination.
Minister for Senior Australians and Aged Care Services, Richard Colbeck, said the Australian Government would be responsible for leading the implementation of the COVID-19 vaccination program in the aged care sector.
"We are consulting with relevant peak bodies and state and territory governments, but the responsibilities are clearly delineated so all parties understand their role in this critical and complex program," Minister Colbeck said.
"The New South Wales, Victorian and the South Australian governments will maintain responsibility for vaccinating residents and staff of the public sector residential aged care and disability care facilities in their state.
"It is vital residents and families understand what information is available to them as the vaccine strategy is rolled out. I would encourage residents and family members to ask if they need help understanding the vaccine program and how it will affect them.
"Importantly, the vaccine providers will be providing information about the vaccine and seeking consent from aged care residents or their substitute decision maker, to ensure they understand the risks and benefits of receiving the vaccine."
Everyone responsible for providing the vaccine in aged care settings will be required to have completed the relevant training, including on the use of multi-dose vials, cold storage and infection control.
In the coming weeks, the vaccination program will reach more than 2,600 residential aged care facilities, more than 183,000 residents and 339,000 staff.
Additional Reform To Protect Older Australians In Care
The Australian Government today reinforces its commitment to protecting the health and wellbeing of older Australians with landmark reform to keep seniors safer.
The Aged care legislation amendment (Serious Incident Response Scheme and other measures) Bill 2020 will ensure tangible steps toward the prevention of incidence of abuse and neglect of older Australians in care.
The SIRS legislation will also provide a range of broader powers for the Aged Care Quality and Safety Commissioner, consistent with the Regulatory Powers Act.
It follows the passing of the Aged Care Legislation Amendment (Improved Home Care Payment Administration No.2) Bill 2020 aimed at improving the way home care subsidies are paid to providers for care recipients.
Minister for Senior Australians and Aged Care Services Richard Colbeck said the measures reaffirmed the Government's commitment to prioritising the needs of ageing Australians.
"The Commonwealth continues to build on and strengthen the aged care sector as we anticipate the final recommendations from the Royal Commission later this month," Minister Colbeck said.
"As the Royal Commission has carried out its important work, we have continued to reform the sector.
"Importantly, these latest measures offer security and peace-of-mind for all older Australians in residential and in-home care settings and for their families.
"The Commonwealth Government is listening and acting to ensure the needs of older Australians are met while Labor continues to deliver nothing but spin and rhetoric."
Minister Colbeck said the SIRS is intended to drive quality and safety improvements to residential aged care at the individual service and broader system level.
Residential aged care providers will be required to manage all incidents, with a focus on the safety and wellbeing of consumers and reduce preventable incidents from reoccurring.
The SIRS will expand the responsibilities of residential aged care providers in relation to identifying, recording, managing, resolving and reporting assaults and a broader range of serious incidents in residential aged care.
Reporting under the SIRS will include a range of new matters such as sexual misconduct, neglect, psychological abuse, inappropriate use of restraint, and unexpected death amongst others.
Significantly, the SIRS will lift the current exemption on the reporting of resident-on-resident incidents, where the perpetrator has an assessed cognitive impairment.
The first stage of the SIRS will start on 1 April.
Minister Colbeck said consumers expect continuity of care and safeguards across an end-to-end aged care system, which is why the Government has already committed to a prevalence and feasibility study of a SIRS in home and community care settings.
The study is being undertaken by KPMG and is expected to be finalised by late June and will inform Government decisions on a SIRS for home and community care.
Minister Colbeck said the Government is delivering record investment across the aged care system - from $13.3 billion in 2012-13 under Labor, growing to $24.3 billion in 2020-21 under the Morrison Government.
It is estimated that funding for aged care will grow to more than $27 billion by 2023-24.
"Senior Australians are increasingly choosing to remain in their own homes for longer and the Government is committed to supporting this choice," Minister Colbeck said.
Since the 2018-19 Budget, the Government has invested an additional $5.5 billion for an additional 83,105 home care packages.
Home care packages are estimated to increase from 60,308 in 2012–13 when we came to Government, to 195,597 during 2020–21.
Oldest Skink Named After Flinders Professor
Some of Australia's most famous animals -- wombat, platypus, kangaroos and the extinct marsupial tiger thylacine -- have been traced back to their fossil ancestors in remarkable finds in central South Australia.
Now a remote expedition to a large inland salt lake in 2017 has sifted through remains unearthed in Namba Formation deposits to describe a tiny new skink, an ancestor of Australia's well-known bluetongue lizards -- to be named in honour of world-renown Flinders University lizard researcher Professor Mike Bull.
The new species, unveiled in the Royal Society's Open Science today, is described as Australia's oldest -- a 25 million-year-old skink named Proegernia mikebulli after the late Flinders University Professor Mike Bull.

The late Professor Mike Bull with Sir David Attenborough during filming of the BBC's Life in Cold Blood.

It was found by Flinders University and South Australian Museum palaeontologists and volunteers at a rich fossil site on Lake Pinpa located on the 602,000 square hectare Frome Downs Station, seven hours drive north of capital city Adelaide.
Following the crusted shoreline of a salt lake, the team homed in on a cross section of sediments where fossil excavations of ancestors of koala, a predatory bird, and fragments of a thylacine were previously unearthed. Remains of prehistoric fish, platypus, dolphins and crocodilians have also been found nearby.
"It was 45?C in the shade that day and hard work digging through the clay, but it was definitely worth it once the tiniest of bone fragments turned out to be those of the oldest Australian skink," says lead author palaeo-herpetologist Dr Kailah Thorn, who conducted the research at Flinders University as part of her PhD.
The once-verdant interior of Australia is considered the cradle of Australia's unique fauna and in particular its reptile diversity.
"Fossil lizards are often too small to be identified when you're in the field. Lizard skulls are made of more than 20 individual bones that all disarticulate when they fossilise," says Dr Thorn, who now works as curator of the Edward de Courcy Clarke Earth Sciences Museum at the University of Western Australia.
The discovery of the tiny fossil lizards in an area the size of one million soccer fields was enabled by building an understanding of the geology of the region, and targeting fossiliferous bands of silt to thoroughly sieve and sort back at the lab, she explains.
"These lizard fossils owe their discovery to the patient sorting of tiny bones," says lead author, vertebrate palaeontologist Flinders University Associate Professor Trevor Worthy. "A teaspoon holds hundreds of tiny bones -- all revealed in translucent splendour under a microscope."
"Once every 30 spoons something else is found among the fish -- usually a tiny mammal tooth. But the 2017 discovery of the oldest skink was a golden moment for a palaentologist," he says.
When researchers placed the fossil in the evolutionary tree of lizards, it was found to be an early member of the Australian skink subfamily Egerniinae -- the group now encompassing bluetongues, sleepy lizards (shinglebacks), land mullets and spiny-tailed skinks.
The newly described lizard Proegernia mikebulli is named after the late Flinders University Professor Mike Bull, who passed away suddenly in late 2016.
Inspired generations of Australian herpetologists, Professor Bull's wide-ranging research career centred on social skinks from the Egerniinae subfamily, their behaviour, parasites, and conservation.
"Our colleague Professor Bull's long-term ecological studies of sleepy lizards were a massive contribution to biology," says co-author Matthew Flinders Professor Mike Lee (Flinders University / SA Museum).
"The fossil record is essentially data from a long-term natural ecological study, so its fitting that this fossil lizards is named after in honour of Mike."
K. M. Thorn, M. N. Hutchinson, M. S. Y. Lee, N. J. Brown, A. B. Camens, T. H. Worthy
. A new species of Proegernia from the Namba Formation in South Australia and the early evolution and environment of Australian egerniine skinks.
Royal Society Open Science, 2021; 8 (2): 201686 DOI:
10.1098/rsos.201686
NSW COVID-19 Vaccine Program To Begin On Monday
More than 35,000 critical staff in NSW will be among the first in Australia to receive the COVID-19 vaccine when the rollout begins on Monday, 22 February 2021.
The initial three-week vaccination phase will see all hotel quarantine workers given the Pfizer vaccine – including all workers within quarantine hotels, those screening arrivals at the airport, health staff, cleaners, NSW Police officers and security guards.
Health care workers who have the greatest exposure to potential COVID-19 patients will also be included in the first round of jabs, which will be rolled out progressively. These workers include COVID-19 clinic workers, emergency department workers, NSW Ambulance clinical workforce including patient transport workers, COVID ward workers, critical care workers including support staff and COVID pathology lab staff.
The vaccines will be administered in three initial vaccination hubs at Westmead, Liverpool and Royal Prince Alfred Hospitals.
Premier Gladys Berejiklian said vaccinating our quarantine workers is an important milestone in our response to the COVID-19 pandemic.
"We know the biggest risk for an outbreak in Australia is through returning international travellers staying in the hotel quarantine system," Ms Berejiklian said.
"With more than 3,000 people arriving in Sydney from overseas each week, priority is being given to quarantine workers to mitigate the risk of an outbreak, and protect those protecting us."
Health Minister Brad Hazzard said the Therapeutic Goods Administration (TGA) has determined both the Pfizer and AstraZeneca vaccines to be safe and effective for use.
"There is no silver bullet that will return us to pre-pandemic normality, which is why vaccination and continued COVID-safe behaviour is so important," Mr Hazzard said.
"The NSW community has been outstanding helping our health workers to contain the virus, and I am sure we will see similar community support for the vaccine rollout."
Dr Kerry Chant said while she welcomes the commencement of the vaccine rollout and its focus on our quarantine and border workers, we must all continue to be vigilant.
"High testing rates give us the best chance of finding new cases in the community, so even after the vaccine rollout starts, it is vital people still get tested," Dr Chant said.
"Remember to keep coming forward for testing even with the mildest of symptoms, wear a mask on public transport, socially distance and maintain good hygiene."
More information will be provided in the coming weeks about further rollouts of both the Pfizer and AstraZeneca vaccines.
First Humans In Tasmania Must Have Seen Spectacular Auroras
Drilling a 270,000-year old core from a Tasmanian lake has provided the first Australian record of a major global event where the Earth's magnetic field 'switched '- and the opportunity to establish a precedent for developing new paleomagnetic dating tools for Australian archaeology and paleosciences.
"This is the first study of this kind in Australia since pioneering studies in the 1980s," said author Dr Agathe Lisé-Provonost, a McKenzie Fellow from the School of Earth Sciences at the University of Melbourne.
"Just two lakes in north-east Australia previously provided such "full-vector" record, where both the past directions and the past intensity of the Earth magnetic field are obtained from the same cores."
Published in the journal Quaternary Geochronology, Chronostratigraphy of a 270-ka sediment record from Lake Selina, Tasmania: Combining radiometric, geomagnetic and climatic dating, details how drilling into the 5.5 metre long Lake Selina core established that 41,000 years ago, people in Tasmania must have seen spectacular auroras when the Earth's magnetic field flipped, and for a few thousand years, north was south and south was north.
"During the geomagnetic 'excursion', the strength of the Earth's magnetic field almost vanished," said Dr Lisé-Provonost.
"This would lead to a big increase in cosmic and solar particles bombarding our planet because the magnetic field normally acts like a shield.
"We don't know when the next geomagnetic excursion will happen, but if one was to occur today, satellites would be rendered useless, smartphone navigation apps would fail, and there would be major disruptions of power distribution systems."
Research leading to that discovery got underway in 2014 when the author travelled to a small sub-alpine lake in western Tasmania with a team led by Associate Professor Michael-Shawn Fletcher, where a makeshift floating platform rigged to two inflatable rafts was used to drill down into the sediment.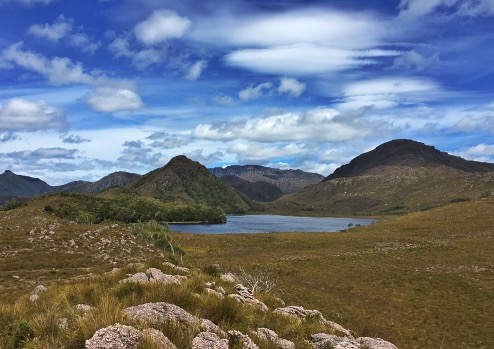 A small sub-alpine lake in western Tasmania has helped establish that 41,000 years ago Australia experienced the Laschamp geomagnetic excursion and that Tasmanian Aboriginals would've seen it. Image: Associate Professor Michael-Shawn Fletcher.

With the core containing a climate, vegetation, and paleomagnetic record of the area, the team looked to first accurately date its layers finding evidence of the ecosystem changes that occurred as Tasmanian Aboriginals arrived 43,000 years ago and managed the land over thousands of years. Abrupt changes that occurred since the arrival of Europeans 200 years ago are also evidenced.
"Magnetic particles are eroded from rocks, making their way to a lake by wind or water, and settle down on the lake bottom," said Dr Lisé-Provonost.
"The magnetic particles act like tiny compass needles, aligning with the Earth's magnetic field. As these particles accumulate and become buried, they become locked in place, leaving a history of the Earth's magnetic field. The deeper we drill, the further back in time we go."
It's hoped the research will lead the way for more studies of the past geomagnetic field behaviour from Australian lakes and other geological materials such as lava flows, cave deposits and fired archaeological artefacts, for developing new paleomagnetic dating tools and improving models of the Earth's magnetic field to, one day, maybe predict the next geomagnetic excursion.
The research team will now go even further back in time recovering the climate history of Tasmania, with analysing sediments from the 816,000 year-old meteorite impact at Darwin Crater.
Agathe Lisé-Pronovost, Michael-Shawn Fletcher, Quentin Simon, Zenobia Jacobs, Patricia S. Gadd, David Heslop, Andy I.R. Herries, Yusuke Yokoyama, Aster team.
Chronostratigraphy of a 270-ka sediment record from Lake Selina, Tasmania: Combining radiometric, geomagnetic and climatic dating.
Quaternary Geochronology, 2021; 62: 101152 DOI:
10.1016/j.quageo.2021.101152
Small 'Window Of Opportunity' For Best Recovery After Stroke
An international study has shown, for the first time, that the capacity of the human brain to recover and rewire itself peaks around two weeks after a stroke and diminishes over time.
The finding, published today in the Neurorehabilitation and Neural Repair journal, is the result of a study in London and Adelaide that followed the recovery of 60 stroke patients up to one year after their stroke.
Lead author Dr Brenton Hordacre, from the University of South Australia, says the multi-site study showed conclusive evidence that the brain only has a small window of opportunity to more easily repair itself after stroke.
"Earlier animal studies suggested this was the case, but this is the first time we have conclusively demonstrated this phenomenon exists in humans," Dr Hordacre says.
The researchers scanned the brains of stroke survivors as they recovered over 12 months. They found that in the initial days following an ischemic stroke (caused by a blocked artery to the brain), the brain has a greater capacity to modify its neural connections and its plasticity is increased.
"It is during this early period after stroke that any physiotherapy is going to be most effective because the brain is more responsive to treatment.
"Earlier experiments with rats showed that within five days of an ischemic stroke they were able to repair damaged limbs and neural connections more easily than if therapy was delayed until 30 days post stroke."
The researchers used continuous transcranial magnetic stimulation (cTBS) to repetitively activate different hemispheres of the motor cortex to measure brain plasticity.
The Adelaide laboratory tested the stroke damaged motor cortex, which is the main area that controls movement. The London laboratory tested the non-stroke damaged hemisphere which is also important to help recovery.
"Our assessments showed that plasticity was strongest around two weeks after stroke in the non-damaged motor cortex. Contrary to what we expected, there was no change in the damaged hemisphere in response to cTBS."
Dr Hordacre says the findings confirm the importance of initiating therapy as soon as possible after a stroke.
Current evidence indicates that less than eight minutes of daily therapy is dedicated to upper limb recovery within the first four weeks of a stroke.
"Delivering more treatment within this brief window is needed to help people recover after stroke.
"The next step is to identify techniques which prolong or even re-open a period of increased brain plasticity, so we can maximise recovery," Dr Hordacre says.
Brenton Hordacre, Duncan Austin, Katlyn E. Brown, Lynton Graetz, Isabel Pareés, Stefania De Trane, Ann-Maree Vallence, Simon Koblar, Timothy Kleinig, Michelle N. McDonnell, Richard Greenwood, Michael C. Ridding, John C. Rothwell.
Evidence for a Window of Enhanced Plasticity in the Human Motor Cortex Following Ischemic Stroke.
Neurorehabilitation and Neural Repair, 2021; 154596832199233 DOI:
10.1177/1545968321992330
Psychotherapy For Panic Disorder Shows Positive Long-Term Effects
Psychotherapy for panic disorder produces good results, and the effects are lasting. That is the result from a large long-term study from Lund University in Sweden. Two years after treatment were 70 per cent of the patients clearly improved and 45 per cent were remitted.
Panic disorder is one of the most common causes of mental illness in Sweden and worldwide. Approximately 2 per cent have panic disorder. When untreated, the condition is associated with emotional distress and social isolation. Panic attacks often debut in adolescence or early adulthood and many of those affected drop out of education, jobs, and can't fulfil their life dreams.
"Many people adapt to their panic disorder by various restrictions in their daily living," says psychologist Thomas Nilsson, who conducted the study, with 221 participants over 10 years, together with research colleague Martin Svensson.
"Treatment is crucial as the disorder often leads to a downward spiral in which the margin for everyday life activities becomes increasingly narrow."
The researchers studied not only the short and long-term effects of therapy but also how treatment outcome was affected by offering the patients to choose their treatment. The options were two forms of therapy, specifically designed to treat panic disorder -- a psychodynamic psychotherapy (PDT) and a cognitive behavioural therapy (CBT). One half of the patients were allowed to choose their form of therapy and the other half were randomly assigned to one or the other.
The researchers' hypothesis was that the patients offered a choice between two validated treatments would benefit from receiving their chosen form of therapy. In previous research this has been the case, and psychologists generally take patient preferences into account in treatment decision. Therefore, the researchers were surprised by the result: patients' who had chosen PDT tended to have better outcomes than those who were randomly assigned to the same treatment. However, the exact opposite applied to patients in CBT: those who were randomly assigned to CBT tended to have better outcomes than those who had actively chosen that form of treatment. So far the researchers can only speculate on the reasons for this.
"Perhaps those who chose psychodynamic therapy had a more accurate perception of what they needed," says Svensson, while pointing out that more studies are required.
However, the most important finding from the study was that both treatments had both positive and lasting results. Two years after treatment 70 per cent of the patients was clearly improved and 45 per cent were remitted.
"The patients felt better in many ways. For instance depressive symptoms, that often accompany panic disorder, were significantly reduced and quality of life improved," says Svensson.
These findings are impressive given that both treatments were as brief as 12 weeks.
Martin Svensson, Thomas Nilsson, Sean Perrin, Håkan Johansson, Gardar Viborg, Fredrik Falkenström, Rolf Sandell.
The Effect of Patient's Choice of Cognitive Behavioural or Psychodynamic Therapy on Outcomes for Panic Disorder: A Doubly Randomised Controlled Preference Trial
. Psychotherapy and Psychosomatics, 2020; 1 DOI:
10.1159/000511469
Disclaimer: These articles are not intended to provide medical advice, diagnosis or treatment. Views expressed here do not necessarily reflect those of Pittwater Online News or its staff.