Inbox and Environment News: Issue 490
April 18 - 24, 2021: Issue 490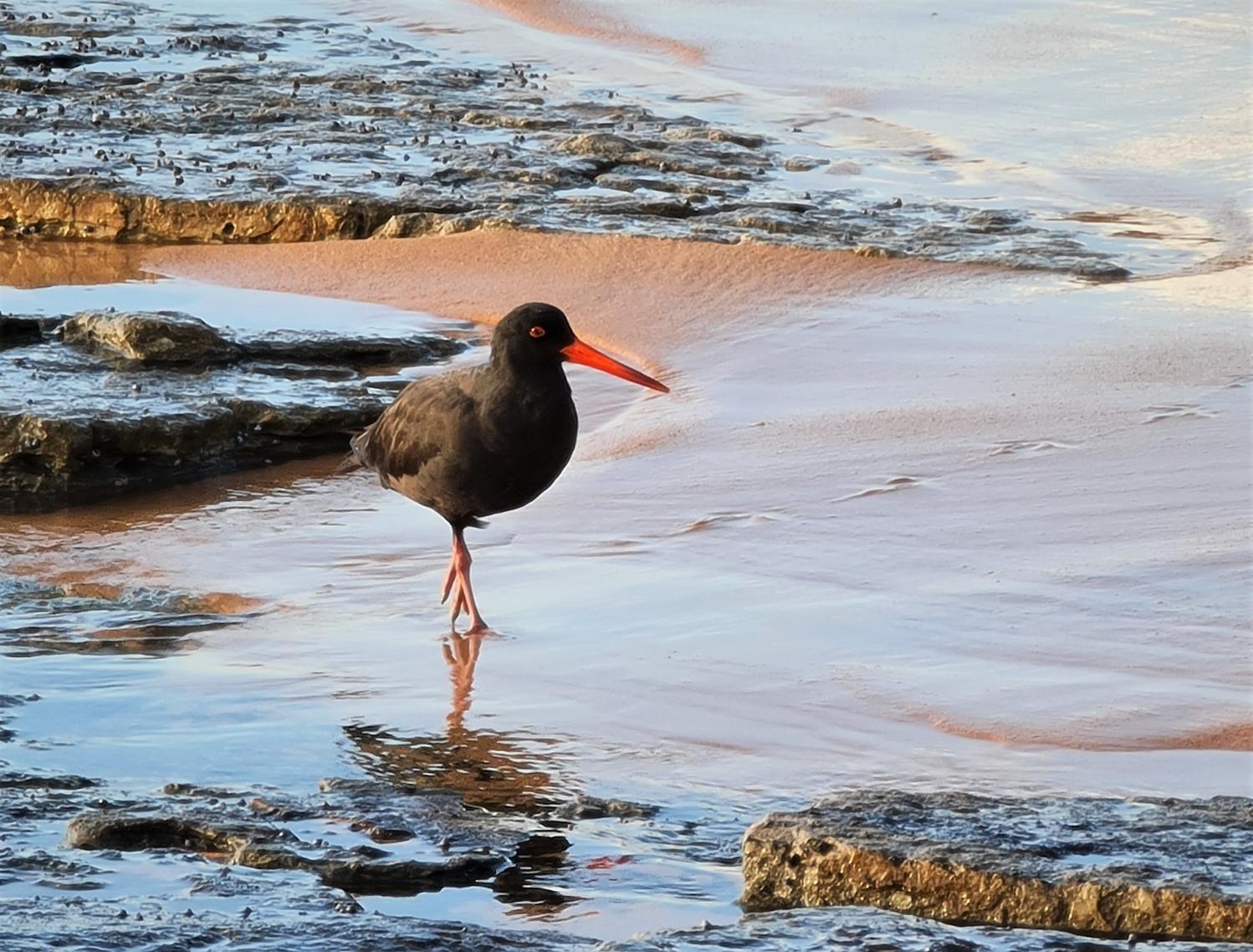 The Sooty Oystercatcher pair are back at Turimetta Beach and North Narrabeen rock platform - photo by Joe Mills, April 7th, 2021
Avalon Golf Course Bushcare Needs You
We're so short of helpers we've had to cancel for the time being. Meanwhile the weeds will go gangbusters.
We used to meet on the second Wednesday afternoon of each month. Could you come if we worked on another day or time? say a morning, or on a weekend day?
Contact Geoff Searl on 0439 292 566 if you'd like to help. He'd love to hear from you.
We have fun using the Tree Popper, here with our supervisor from Dragonfly Environmental. We can lever out quite big Ochnas, aka Mickey Mouse plant from Africa. We want to bring back the bush, not let the weeds win!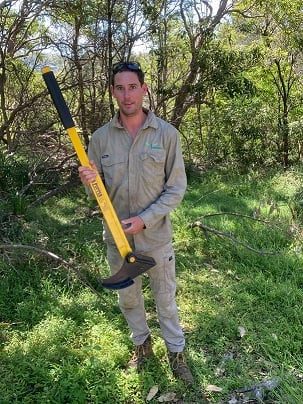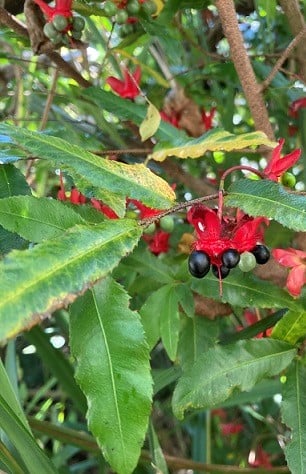 Ochna or Mickey Mouse plant has yellow flowers in spring, then lots of green berries that turn black when ripe. Seedlings come up in hundreds. Ochna has a very strong taproot but the steady pressure of the Tree Popper lifts the plant out of the ground easily. The alternative control is repeated scraping and painting with Roundup, very slow and time consuming. If you have an Ochna you cant remove, you can enjoy the flowers, then PLEASE prune it so that berries can't develop.
Offshore Petroleum And Greenhouse Gas Storage Amendment Bill: Have Your Say
April 8, 2021:

The Australian Government
The Australian Government has considered and endorsed an enhanced framework for decommissioning offshore oil and gas infrastructure.
We are now preparing to implement the framework through legislative and policy changes. An implementation plan is expected to be released soon.
As part of the implementation, the government is seeking feedback on the draft Offshore Petroleum and Greenhouse Gas Storage Amendment (Titles Administration and Other Measures) Bill 2021.
The Bill aims to strengthen and clarify Australia's offshore oil and gas regulatory framework.
The proposed Bill will:
expand existing trailing liability provisions
increase oversight of changes in titleholder ownership and control
increase regulatory scrutiny of the suitability of companies operating, or looking to operate, within Australia's offshore petroleum regulatory regime
expand information gathering powers to enable scrutiny
The Bill makes the legislative changes necessary to give effect to the enhanced framework. The Bill also gives effect to the relevant recommendations of the independent review into the circumstances leading to the administration and liquidation of Northern Oil and Gas Australia (the Walker Review).
Consultation closes on Friday 23 April 2021.
Ant Lion
About 3cm long, this is an adult Ant Lion, near Avalon Beach. In its earlier life in its pitfall trap it fed on ants and other small insects. Using its strong jaws it could grip the prey, suck out its vital juices and fling the carcass up out of the trap.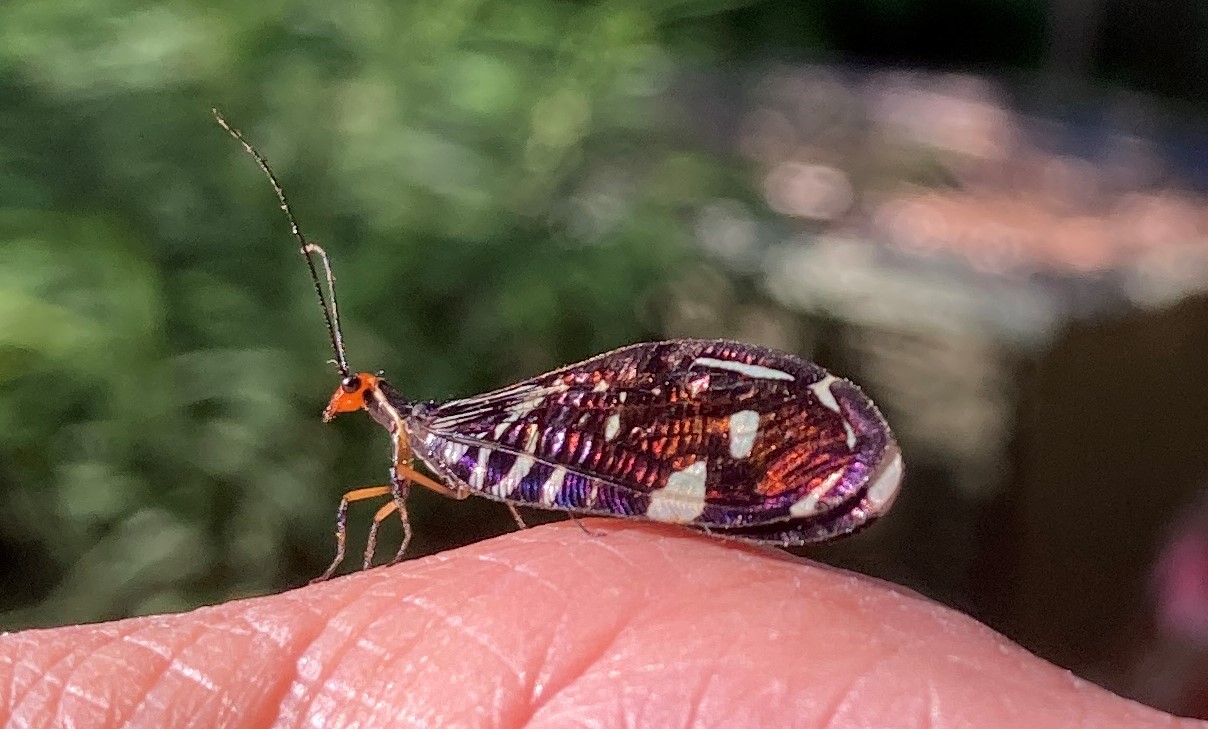 The pitfall trap: cleverly constructed with very fine sand at the angle of repose. As soon as an ant steps onto it, down it slides into the jaws of the antlion, invisible jaws open at the bottom of the pit.
Photos and text courtesy Pittwater Natural Heritage Association (PNHA)
Mona Vale Village Park Trees Now 'Unwired'
Wires on Mona Vale trees: going, going, GONE!!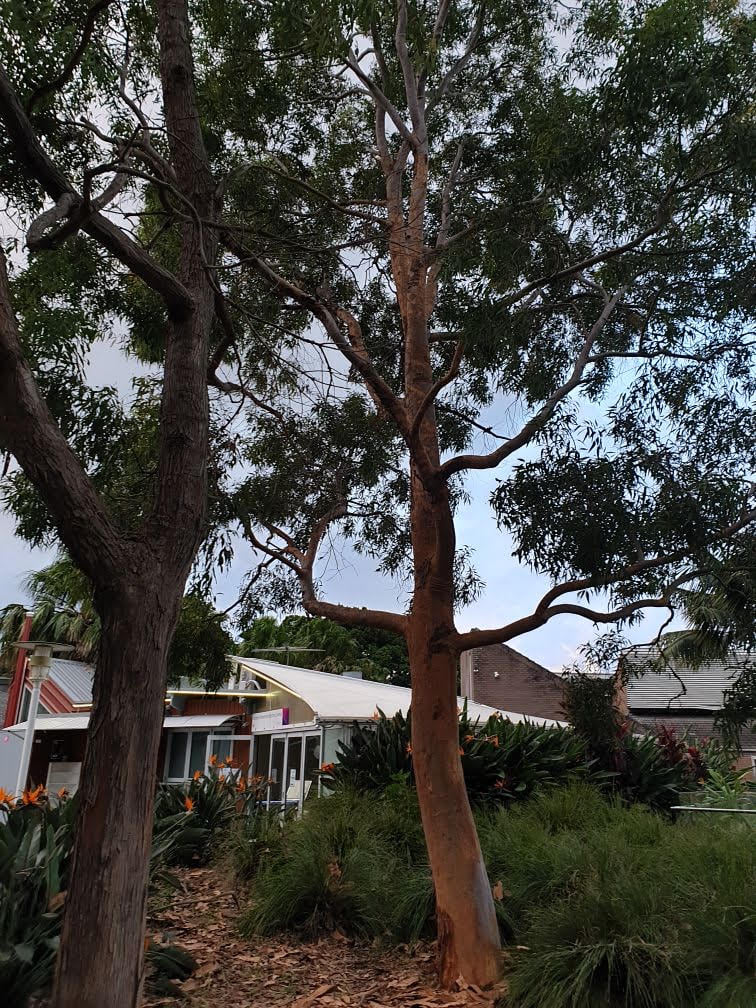 Mona Vale Dunes Bushcare Restoration Update + PNHA Autumn 2021 Newsletter
April 15, 2021: Pittwater Natural Heritage Association (PNHA)
The first to be planted on our Mona Vale Dunes Australian Government Communities Environment grant project site: White Correas on the cleared area. These were desperate to get out of their pots and into the sand. Lovely foliage and starry white flowers.
Our big planting day on this site is coming up soon - May 2021 - watch this space if you want to help out
.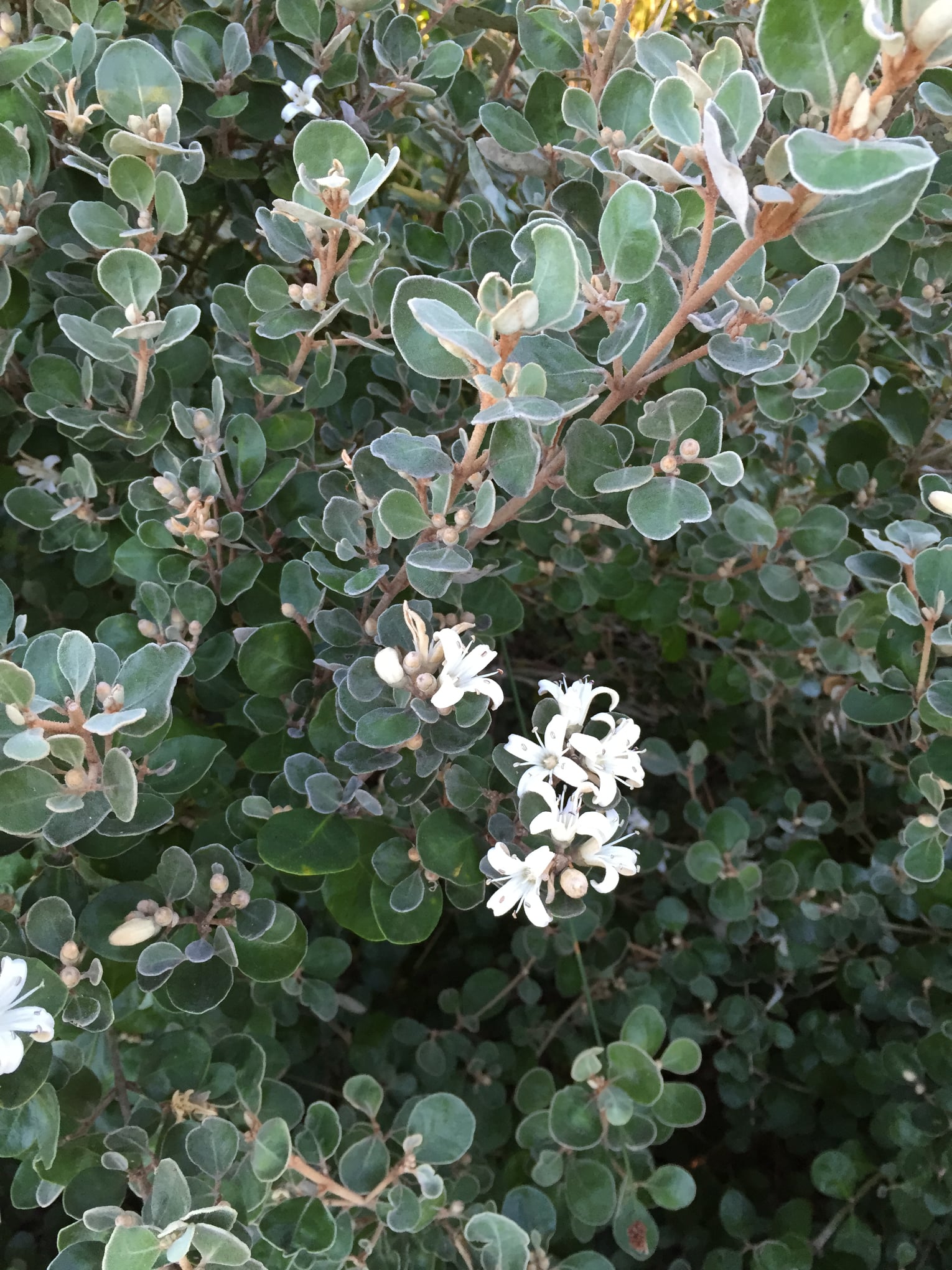 The most challenging weed here is Green Cestrum, a poisonous shrub with tufts of yellow flowers and then berries. It suckers when cut down, and is deep rooted. A real survivor but gradually disappearing here. The project has to be completed by end of June this year.
On the south side of the track to the beach from Golf Avenue, Northern Beaches Council and PNHA are providing funds for maintenance weeding. This is where in June 17 2006 PNHA and other volunteers planted 775 tubestock of local coastal natives donated by PNHA to the project (a NSW Environmental Trusts grant) to restore native vegetation on the dunes. The planting was a great success, but weeds now here are Turkey Rhubarb and Coastal Morning Glory.

Autumn Edition of PNHA Newsletter - Issue 87
PNHA Newsletter 87 is now on line. News: Grant projects and more, Caterpillars on Native Grape, (Pale Brown Hawkmoth Theretra latreillii is one), more Trad biocontrol released along Narrabeen Creek.
Our famous PNHA Cards are now available at Avalon's Beachside Bookshop shop 24, 11 Avalon Pde
. Thanks very much to Libby for kindly stocking these for us at only $2.00 each. Blank cards for every occasion, with photos of Pittwater landscapes, flora and fauna. Example: Plateau Park Waratah by Ken Hughes.
Membership of Pittwater Natural Heritage Association Landcare Group is open to all who share our aims of caring for the natural environment of the Pittwater area and working to enhance and protect it. You can find a Membership Application form on our website
http://pnha.org.au/join/
or contact us on
pnhainfo@gmail.com
for one to be sent to you.
Cost $20 per year, $10 unwaged.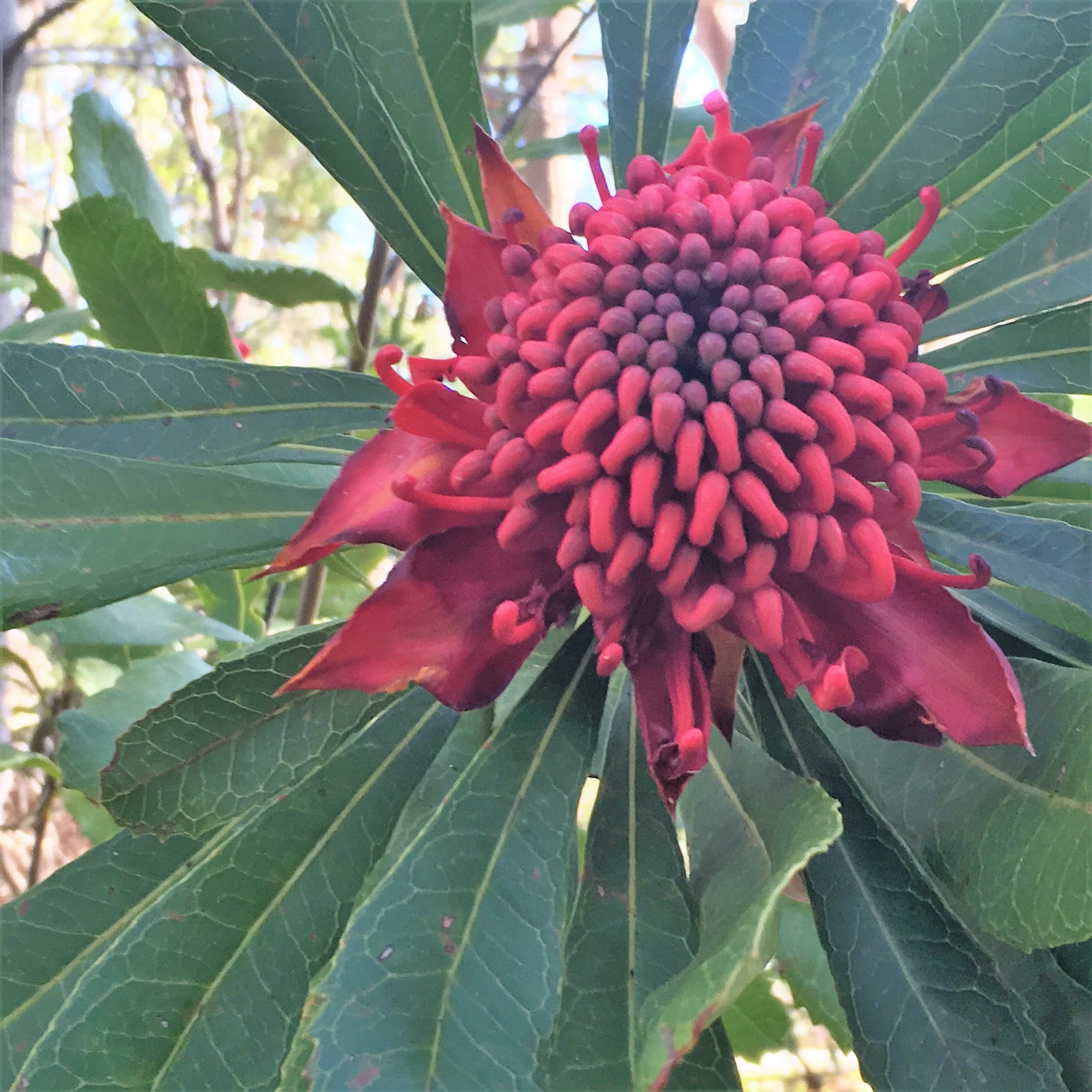 Friends Of Narrabeen Lagoon Catchment: Next Forum + May Activities
Zoom Meeting- 7pm May 31st, 2021
Aboriginal Art and Occupation Sites of the Northern Beaches
Eric Keidge (Field Officer, NPWS) and Bob Conroy (formerly with NPWS) will be giving a presentation on their knowledge and experience in identifying, recording and protecting some of the Aboriginal art and occupation sites in the Northern Beaches area, including the Narrabeen Lagoon Catchment.
With due respect to those Aboriginal people past and present (and future) who identify with this area, the presentation will make reference to collaboration and special projects undertaken with the Aboriginal Heritage Office and the Metropolitan Local Aboriginal Land Council\, There will also be information given about site dating and significance.
Register to participate
in this Zoom session and you might find your future walks in Narrabeen Lagoon Catchment more interesting than before because you can see evidence of the rich Aboriginal heritage located here.
When you register, you will be emailed a link by which you can join the Zoom session at 7pm on May 31. Don't miss it! Register now by emailing: email@narrabeenlagoon.org.au
Paddle: Narrabeen Lagoon's Secret Creeks - Sunday May 9
From the Western Basin to the outlet to the sea, you'll see it all. On this leisurely paddle you can swim the lagoon from a clean, sandy beach or take a plunge in the ocean or nearby rock pool. Discover the unexpected creeks that flow into the lagoon, including astonishing Deep Creek, with its migratory birds from as far away as Russia. Visit an island, experience the exotic wildlife - pelicans, black swan, maybe a fish will jump in your boat! Hear about the Aboriginal history and what's being done to protect the remaining bushland.
Led by former president of Friends of Narrabeen Lagoon Catchment Tony Carr. Kayak hire $108pp.
Full day. Easy, with lots of stops. Suit first timers, tuition given. Location Northern Beaches - good public transport connections. 45 mins from the CBD.
To register: Phone 0417 502 056 (Tony Carr)
Explorative Walk in Catchment: 10am Saturday May 15
Meet at 10am in Morgan Road and walk from there to the corner of Narrabeen Lagoon Catchment.
Bookings essential: Contact Conny on 0432 643 295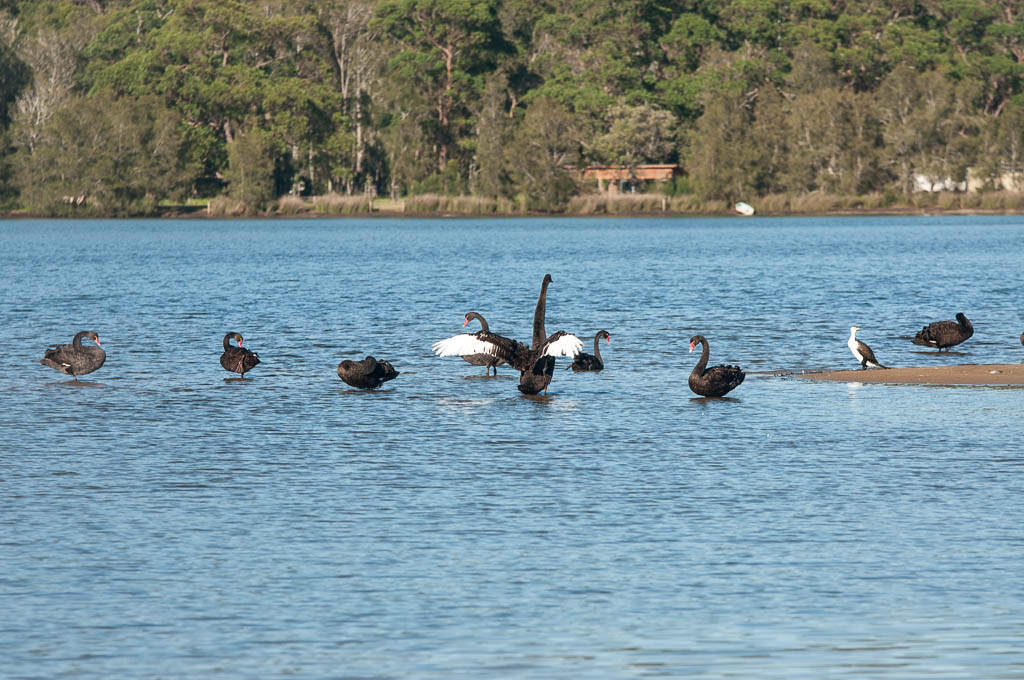 Northern Beaches Clean Up Crew: Update
March 28, 2021 Clean at Narrabeen:
The Narrabeen lagoon crew today picked up over 2000 items from the lagoon, including a lobster cage, a vacuum cleaner pipe, a bunch of plastic flowers, two sandwich board signs, ones petrol leaf blower, one battery charger, three chairs, one kayak paddle, one tennis racket, two bricks and lots of plastic bottles, glass bottles, food wraps, straws, plastic cutlery, Styrofoam and cigarettes. Thank you to everyone who came and gave up their Sunday morning to make this world a little nicer place to live in for all beings. We're forever grateful to all of you. We're all "The Crew".
Northern Beaches Clean Up Crew meets the last Sunday of every month to clean up a beach or lagoon on Sydney's northern beaches. See our event tab for our next clean up spot. It's a family friendly and welcoming group and feel comfortable coming by yourself too - many friendships have started in this group. (Please leave political, religious and business messages at home, so the group can stay inclusive and welcoming towards everyone.) We provide you with buckets, gloves, bags and sunscreen. Please bring water in a reusable water bottle if it's a hot day. Hope to meet you soon!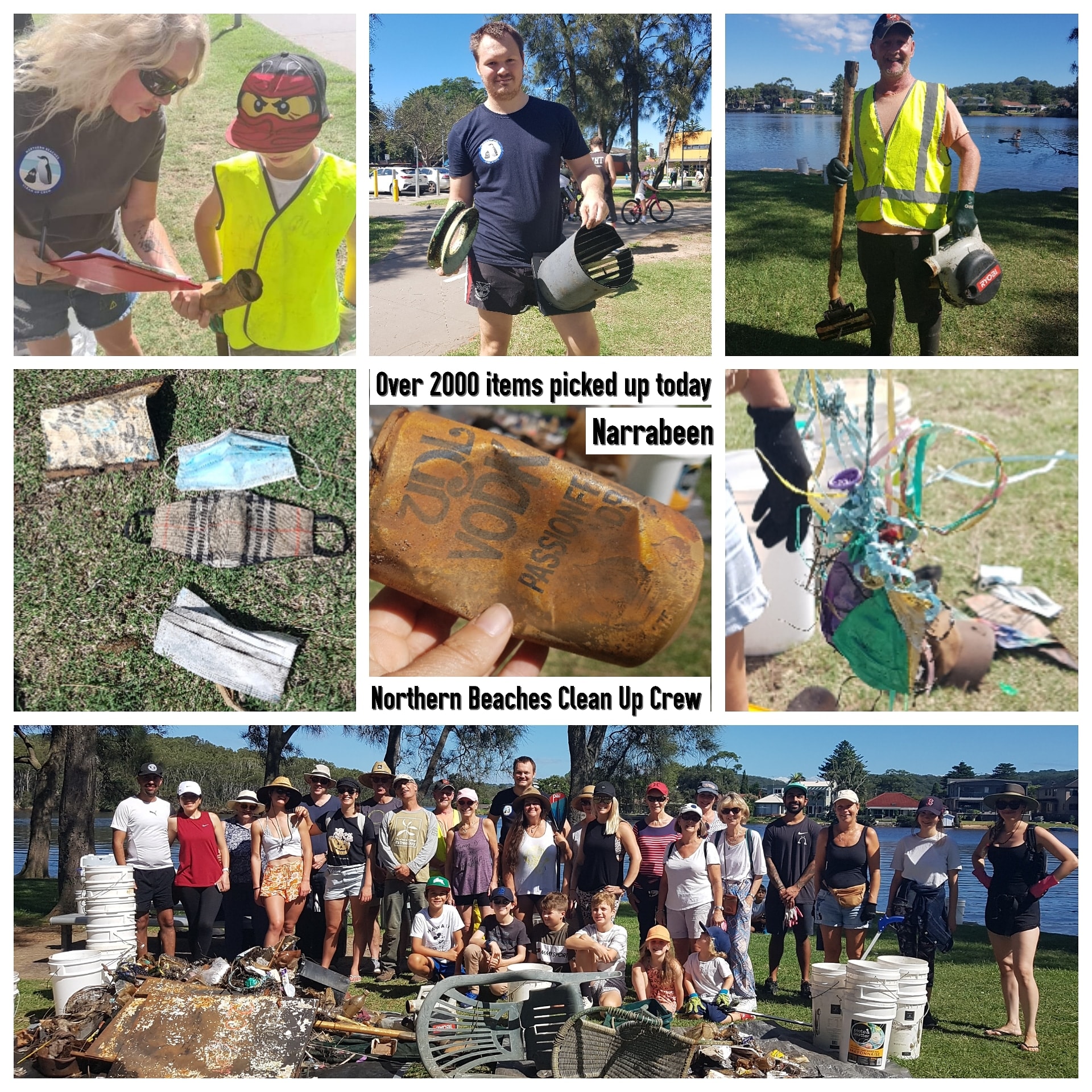 Sculptural Trees: 100 Year Old Angophora Kept In Local Park
Here's an idea spotted during our Autumn School Holidays break while visiting Lane Cove/Greenwich. This tree is now Art as well as an adventure playground for local children.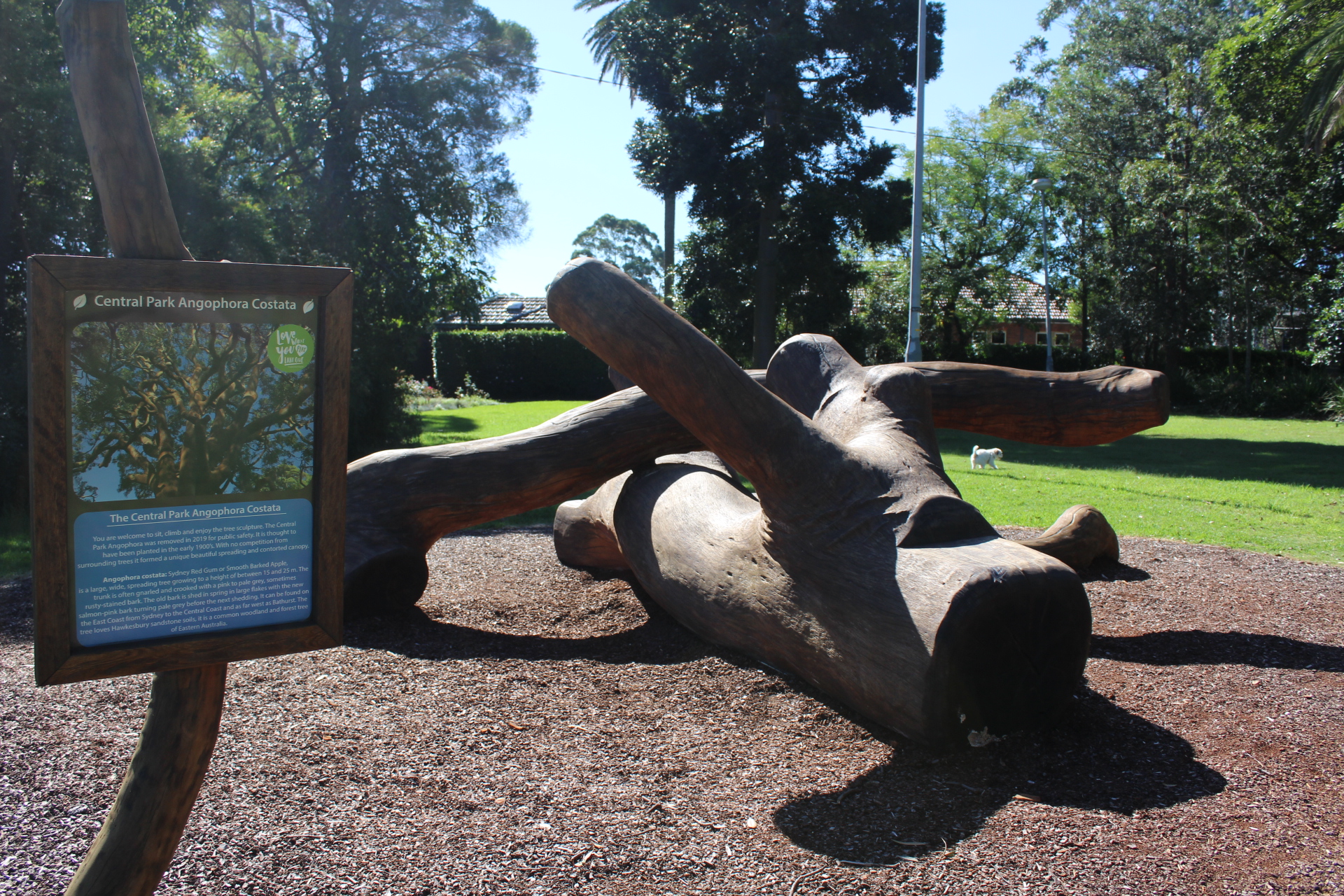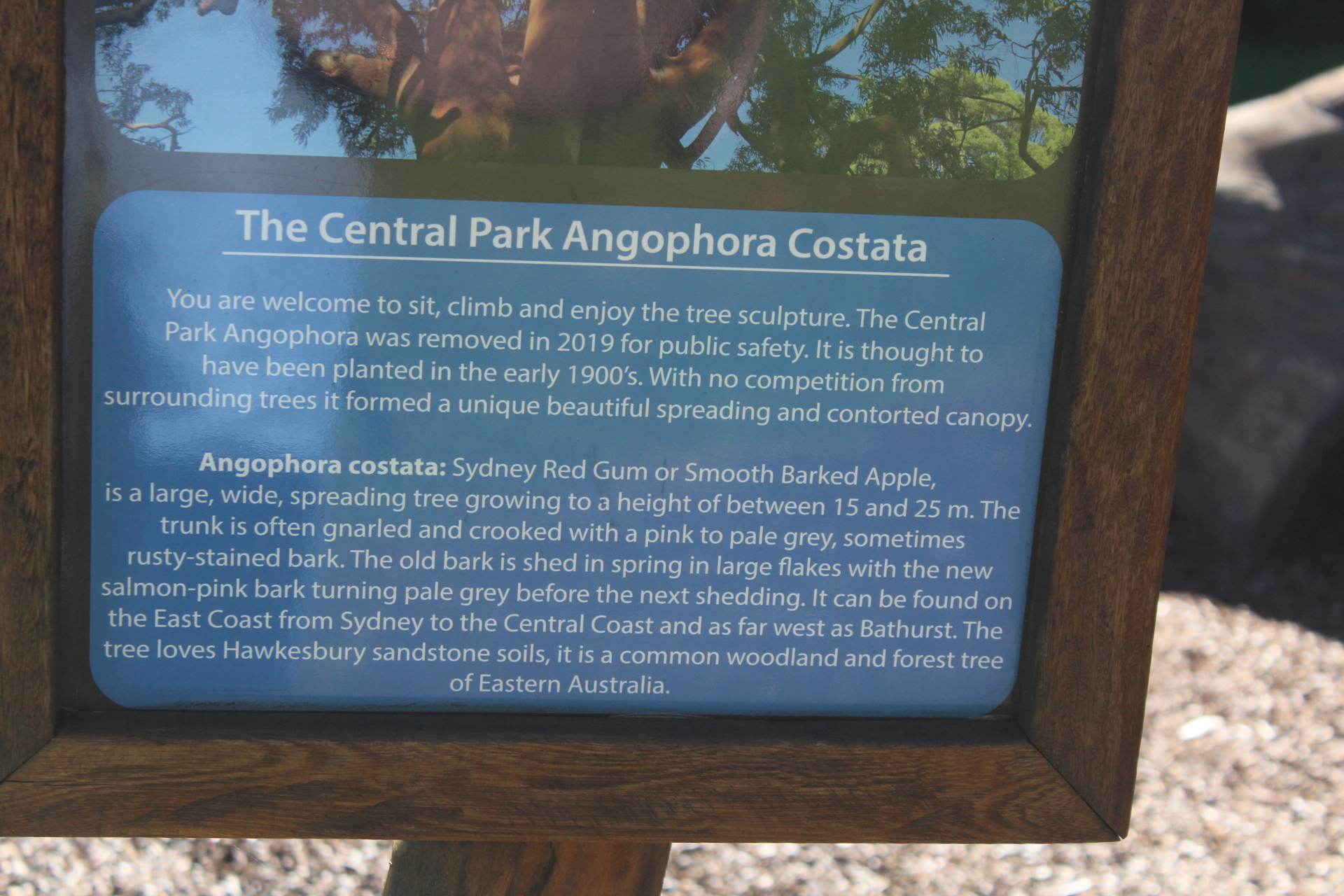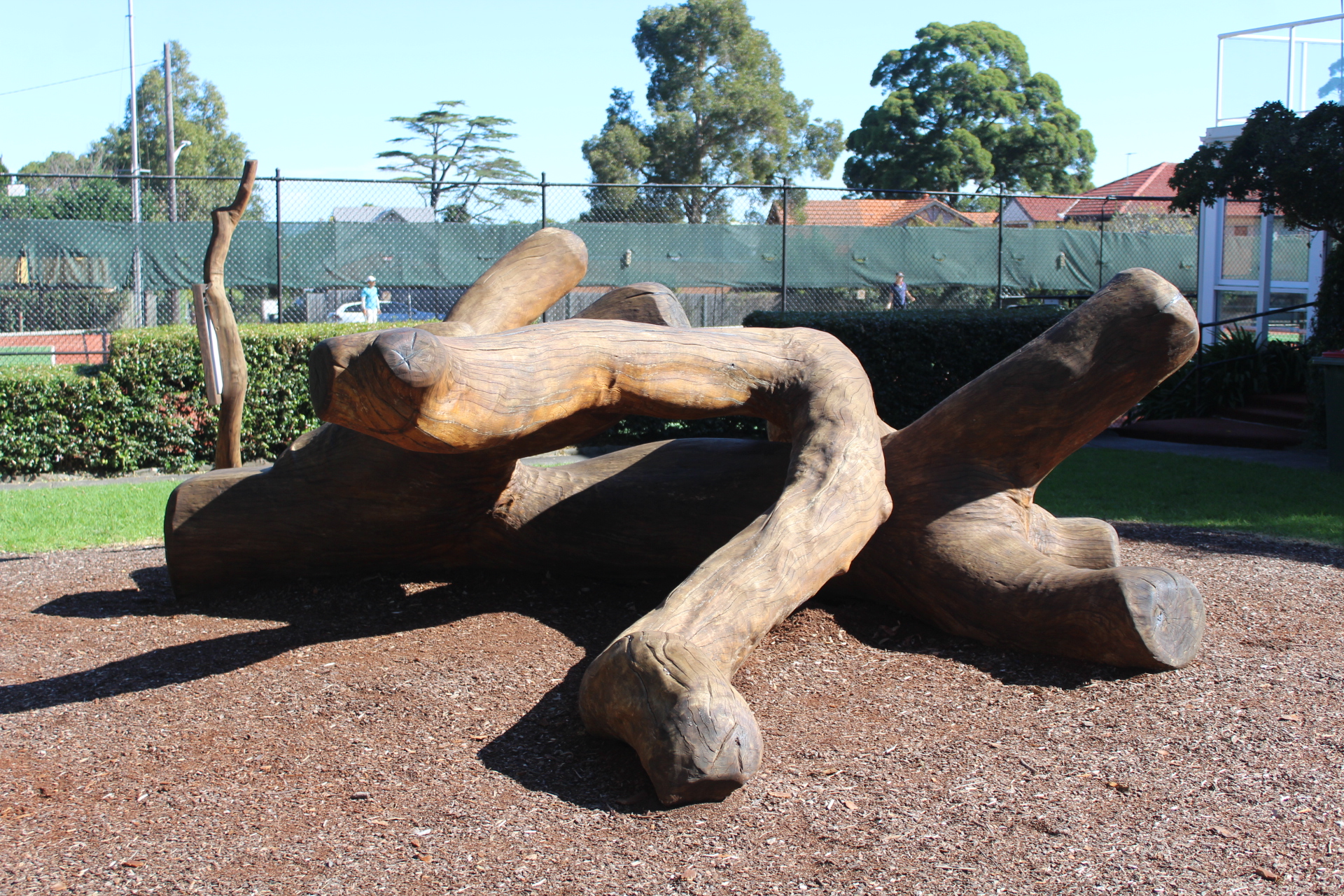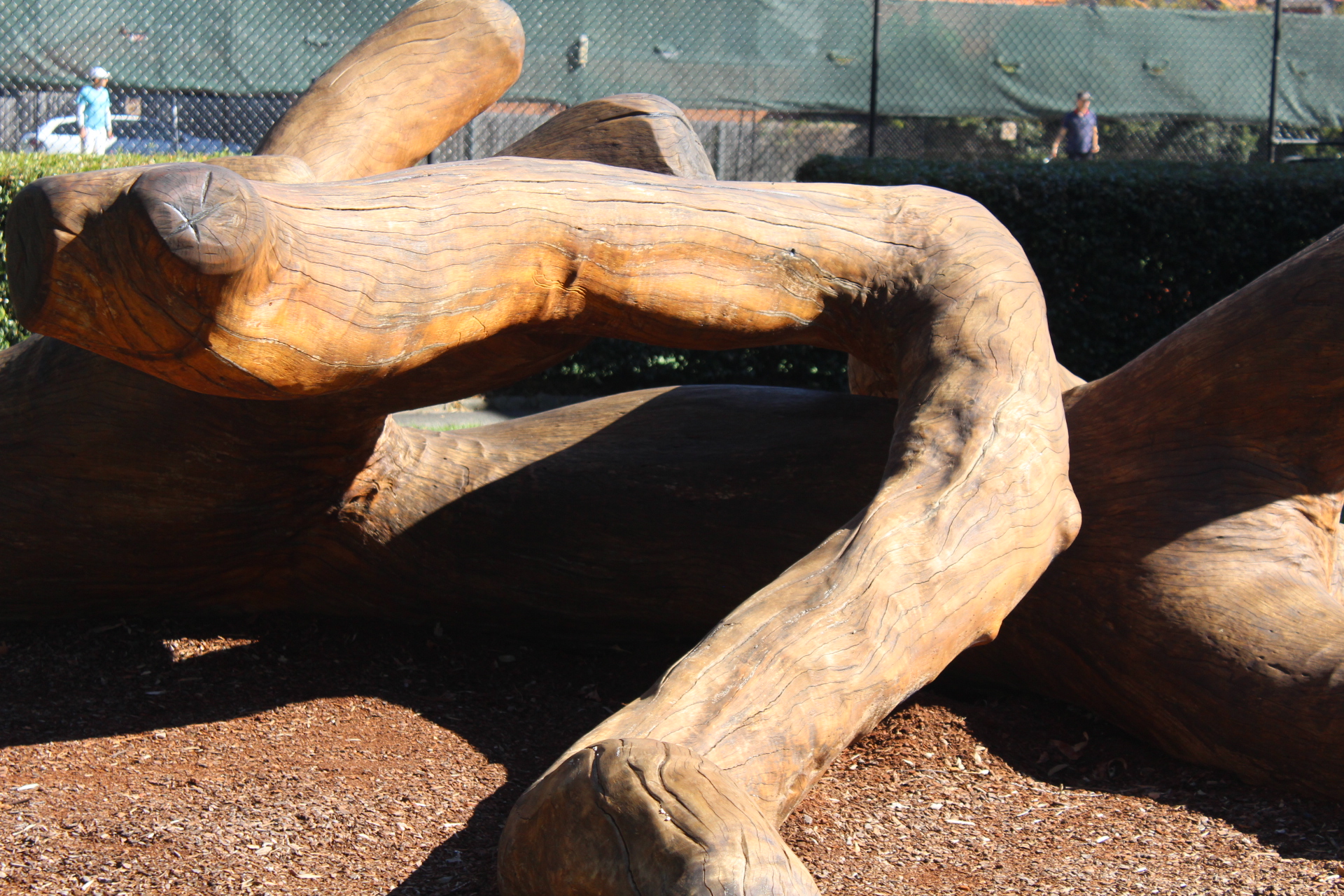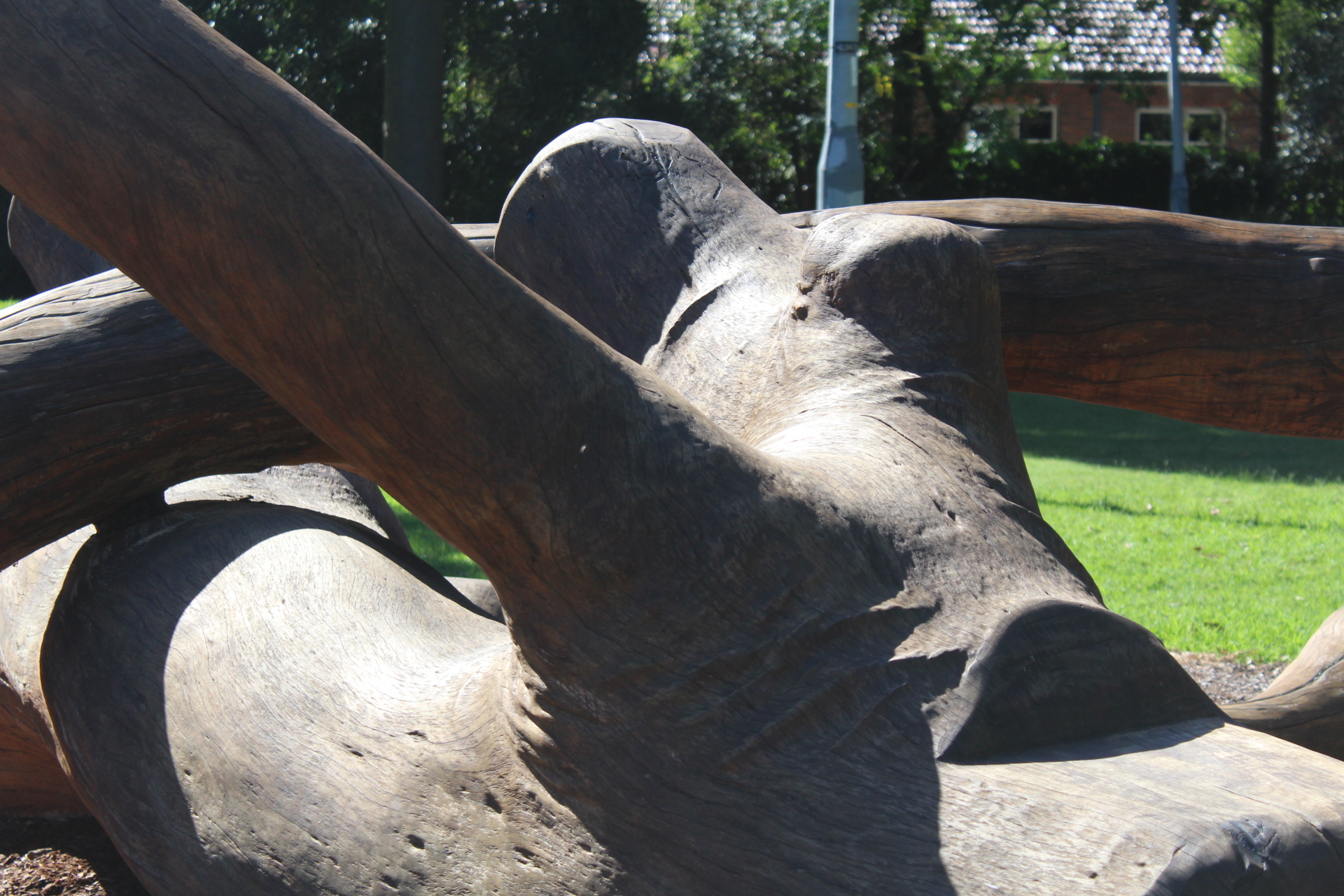 Avalon Community Garden
Avalon Community Garden's primary purpose is to foster, encourage and facilitate community gardening in Pittwater on a not-for-profit basis.
The garden was started in 2010 by a group of locals who worked in conjunction with the support of Barrenjoey High School to develop a space that could be used by the local community, to grow
vegetables, herbs, plants and flowers, and practice sustainable gardening techniques to benefit its members and the community overall.
The garden has been very successful and has grown and developed since its inception, in terms of its footprint, infrastructure, variety of produce and diversity of members. The garden welcomes new members all year round. Levels of contribution range from multiple times a week, to once a month. Your contribution is always welcome, and it is acknowledged people will have varying levels of commitment.
We encourage you to join and start enjoying the following benefits associated with community gardening:
They provide benefits for individuals and for the community as a whole. Community gardens provide education on gardening, recycling and sustainable use of natural resources.
They develop community connections and provide a means of engaging youth, children, the elderly and the disabled and otherwise marginalised individuals in mutually enjoyable and rewarding activities, thus helping to develop more functional and resilient communities.
People involved in community gardens say they improve wellbeing by increasing physical activity and reducing stress, providing opportunities to interact meaningfully with new friends, give time for relaxation and reflection as well as an opportunity to improve their interconnectedness with nature.
To get involved take a look around the site, join the Facebook group and come along and visit on a Sunday morning between 10 and 12 at the garden within Barrenjoey High School on Tasman Road, North Avalon.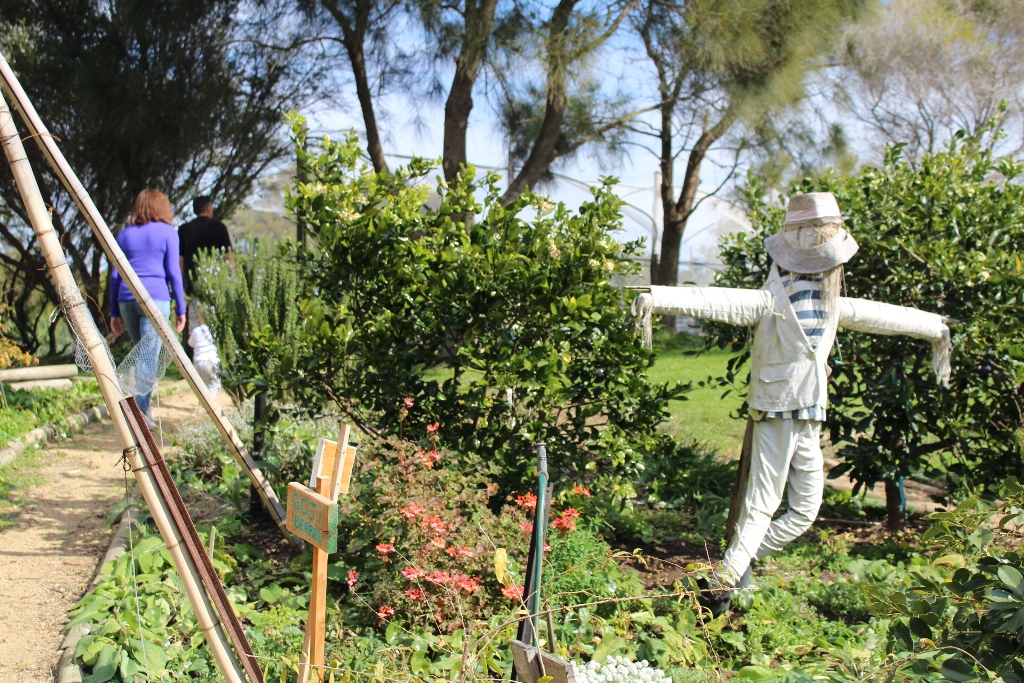 BirdLife Australia Autumn Survey Time
Gazing at Gang-gangs, marvelling at Magpies or smiling at some Spinebills?
Join our Birds in Backyards surveys this Autumn and let us know who is visiting your garden. 20 mins and some information about your garden helps to understand our local birds and gives us invaluable insight into their daily lives.
Register here
for a free webinar on Wednesday March 10 at 7pm (AEDT). We will take you through how to do a survey as well as how to explore Birdata to learn more about your local bird life. We will also give you some tips and tricks on identifying birds in your garden.
To do a
Birds in Backyards survey
, spend 20 minutes in one spot where you can view birds - your backyard, local park, school, or other favourite outdoor place. Simply count how many you see of each bird species you see using that space and tell us about what the outdoor space is like. Then to enter your survey data, register
your free Birdata account
, read the instructions
for the web
or
app
or watch the
video
. If you download the Birdata app you can take your smartphone or tablet outside with you to do your count.
What if I don't know much about birds?
If you are unsure where or how to start, or even feel like you don't know the first thing about birds only that you love to see them, then fear not! The Birdata web portal and app automatically gives you a list of 30 birds from your region to get you started.
What if I only have super common or introduced birds?
That is really useful! We want to know about the birds you don't see just as much as the ones you do. So if your list is only small, all introduced birds or full of birds you don't think are very 'exciting', that is still important information for us. All surveys are important so please give it a go.
Your surveys are used by
BirdLife  Australia
and the Urban Bird team to track the health of our urban birds, and to monitor the impact of our gardens, outdoor spaces and even our own behaviours on bird populations. We can learn a lot from Birds in Backyard surveys, like how different types of gardens can attract different types of birds, and which features birds may be avoiding or are negatively affected by. In 2021
your surveys will also be used in the very first Urban Bird Index for BirdLife Australia's State of Australia's Birds Report.
Importantly, your surveys contribute to the on-ground conservation work we undertake with our volunteers, branches and partners – from local planting and habitat improvement projects up to national advocacy and campaigns. We also use the survey data in seminars and workshops conducted by staff, or for our projects such as the
Powerful Owl Project
.
Read about how the surveys you do in your gardens are helping in our post-fire conservation work here.
How often should I survey?
Each quarter we launch a seasonal survey.
By dividing the year up into seasons we can track changes in bird communities at the same four times each year.
Our Autumn survey period runs throughout March and April
- but you can still submit surveys at any time. You can do as many surveys as you like, as often as you like! Some people like to just participate once a quarter (or four times a year) in our seasonal surveys, while others like to count their birds more frequently.
There are a few important interactions you can share with us if you see them. Keep an eye out for:
Breeding behaviours - If you see a bird carrying nesting materials, sitting on a nest or feeding chicks, let us know. Select the option under 'Breeding Activity' that best matches your observation (remember to keep your distance though from birds who are breeding. We don't want to disturb any nests. Be sure to limit your observations and don't get close enough to scare a bird off it's nest.)
Aggressive interactions – Let us know if you have observed any species initiate interactions with other birds and whether this interaction could be classed as aggressive – you can do this in the sighting details tab using the specific species interactions option.
Have you seen any birds feeding on the native plants in your garden? If so – who was dining on what? – you can tell us in the notes section when you record the species you have observed under "sighting details"
Have any birds been dabbling in some Oscar-worthy acting? – tell us about the weird and wonderful things your backyard birds have been up to you using the notes section in the sighting details tabs.
Don't forget you can also win great prizes. We will be giving away Birds in Backyards prize packs and even some extra special goodies throughout 2021, but to win you have to enter your surveys. Follow us on social media for more details.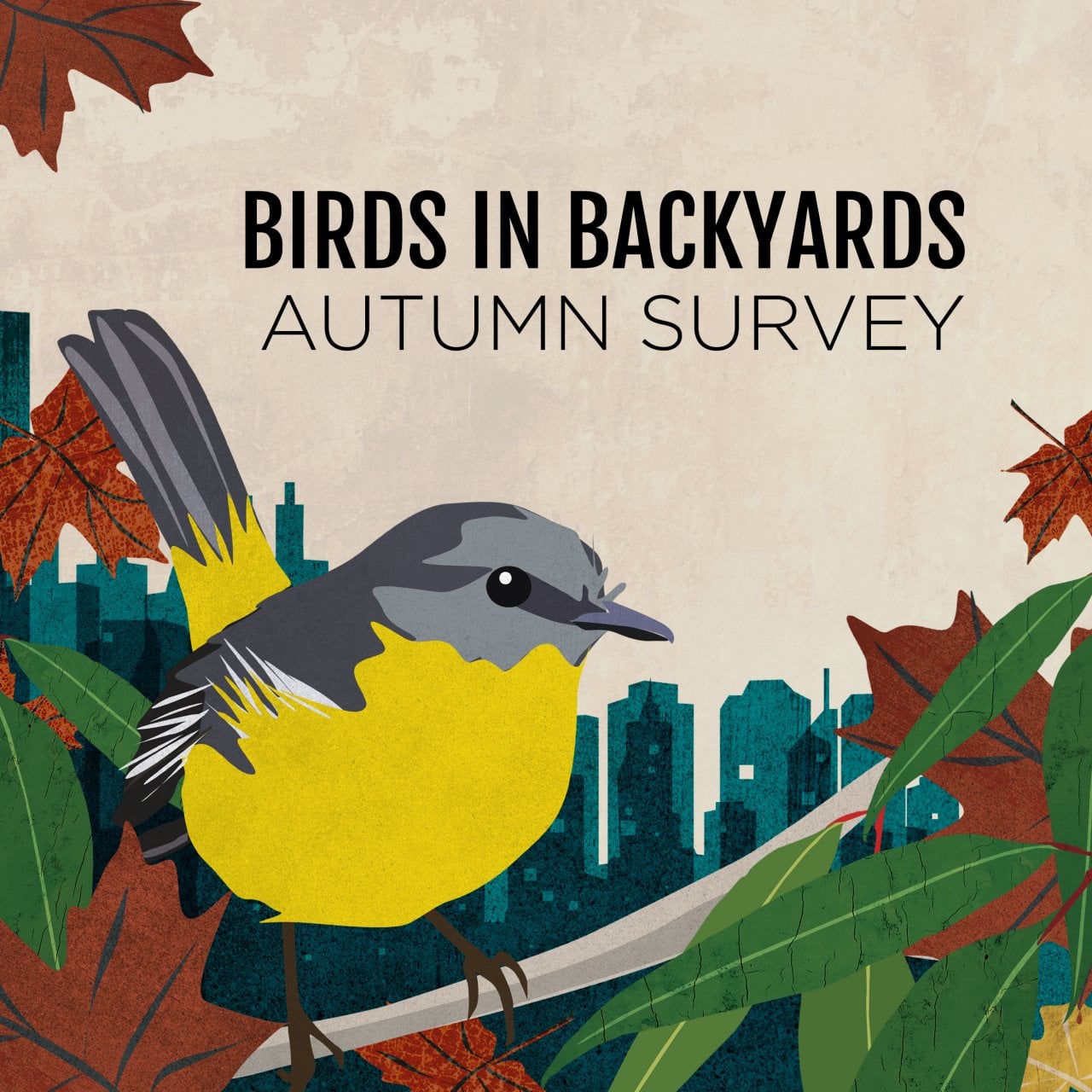 Four Corners Reveals Morrison's Gas Plan Driven By Ideology Not Logic
Lock the Gate Alliance has renewed its call for the Morrison Government to stop wasting public money to prop up polluting and dangerous gas projects following criticism of the plan by energy experts aired overnight.
Four Corners, in its April 12th edition
'Fired Up'
has reported Federal Energy Minister Angus Taylor and his department not only ignored the advice from the likes of the Australian Energy Market Operator, but that the independent experts may have been pressured to fall into step with the government's ideologically driven gas-fuelled agenda.
"It is extremely concerning our elected politicians are not listening to the energy experts, and are instead pushing outdated and polluting gas and fracking onto the Australian public," said Lock the Gate Alliance spokesperson Naomi Hogan.
"It's galling that without an ounce of independent justification, the Morrison Government wants to sacrifice so much country to new gasfields, fracking, and pipelines, laying waste to farmland, water, and rural communities.
"It's high time Federal Government politicians dumped their flawed plan to waste public money on paying for the gas industry's pipelines and fracking rigs, and they should start by dropping the proposed changes to NAIF that will enable public funds for gas."
Coonamble farmer Anne Kennedy said it was a travesty the Morrison Government was willing to sacrifice food and fibre growing land and the water beneath it for the polluting, temporary gas industry.
"The Morrison Government had so many other industries it could have funnelled money into if it wanted to help the nation recover from the Covid-19 crisis. Unfortunately, it chose one that harms our rural communities and our ability to produce food and access secure water, while actually harming our economy," she said.
"I have given the government so much science and evidence over 12 years - really solid reports, and I naively thought they'd listen.
"Australians will be rightly shocked and appalled to learn there was not a shred of evidence supporting the Morrison Government's ideological obsession with polluting gas.
"The government must back down from its diabolical coal seam gas and fracking plans before it is too late."
Mullaley farmer Margaret Fleck said "Farmers in our region are now being approached by a gas pipeline company who has stated publicly they are after federal funding in order to proceed to development.
"This pipeline is a threat to hundreds of properties across the region, and there is no way that we can accept the Federal Government throwing away public funds on a project that will do so much damage.
"We have suffered enough after years of drought. We are now experiencing the first good season in many years. We would like to be able to enjoy that without the constant threat of high pressure gas pipelines and coal seam gasfields being superimposed on our agricultural businesses. It is a direct threat to food security as it would hamper our ability to grow food and fibre for the nation and earn valued export income."
Barilaro Can't Blow Smoke Over Upper Hunter Eyes As Mangoola Tries To Expand
The latest planned coal project expansion to come before NSW's Independent Planning Commission is symptomatic of the State Government's failure to address unacceptable cumulative impacts on the region's air quality, according to Lock the Gate Alliance.
The IPC recently reopened submissions concerning the Mangoola Continued Operations Project, located in the Wybong Valley, in response to information received from government agencies about the cumulative trend of air quality and mounting community complaints in Muswellbrook.
The pending decision on the project comes at a time when numerous politicians from other regions of the state are descending on the Upper Hunter and making inaccurate and unhelpful comments as parties jostle for votes at the upcoming by-election.
Wybong Valley local and ex-coal miner Michael White said he was extremely disappointed by Deputy Premier John Barilaro's comments dismissing Upper Hunter Valley locals' concerns over air quality.
"It was like seeing someone deny the existence of climate change. The data is there, but Mr Barilaro is simply refusing to accept it," he said.
"When you look at the data for 2018, before the bushfires temporarily made air quality worse, there were already eight locations in the Hunter, six of which were in the Upper Hunter, that had annual PM10 readings exceeding the national environmental standards for ambient air quality.
"Coal mines have clearly contributed to this."
Mr White also said, in its submission to the IPC the Department had to rely on an air pollution inventory from nine years ago when discussing PM2.5 levels and that no more characterisation studies had been undertaken despite several new mine expansions since.
"Since 2012 there have been many new and expanded coal mines in the Upper Hunter, yet the department still expects us to believe the primary driver of air pollution in the region is woodsmoke for heating.
"The NSW Environment Protection Authority in 2015 found off road diesel emissions associated with coal mining to blame for a significant portion of PM2.5 in the Hunter Valley.
"It is a great scandal that we do not have a federal or state off-road diesel emissions standard."
Lock the Gate Alliance NSW spokesperson Georgina Woods said, "Asthma rates are higher in Muswellbrook than the rest of the Hunter, and adolescent asthma and deaths from respiratory illness are significantly higher in the Hunter than elsewhere in NSW.
"Is Mr Barilaro ignoring the health data because he's shying away from taking a tough line with multinational mining companies?
"We're calling for the IPC to reject the proposed Mangoola expansion given the added air pollution it will produce, and for the government to overhaul its Draft Clean Air Strategy to clamp down on air pollution by coal mines."
Draft NSW Clean Air Strategy: Public Consultation
The Department of Planning, Industry and Environment is seeking public comments on the draft NSW Clean Air Strategy until April 23rd 2021.
The aim of the
draft NSW Clean Air Strategy
is to support liveable communities, healthy environments and the NSW economy by reducing the adverse effects of air pollution on NSW communities.
Extensive consultation has previously been carried out including the Clean Air Summit in 2017 which was attended by more than 300 stakeholders. The Government is already delivering on actions to support clean air such as those announced at the summit.
What is the NSW Clean Air Strategy?
The draft NSW Clean Air Strategy presents the whole of NSW Government approach to improving air quality and minimising adverse effects on human health. The priorities in the draft Strategy are better preparedness for pollution events, cleaner industry, cleaner transport, engines and fuels, healthier households and better places. Under the Clean Air Strategy, the NSW Government will continue to lead by example.
Actions in the draft Strategy reflect the substantial and growing body of evidence on air pollution and its health impacts and costs in New South Wales.
When will the NSW Clean Air Strategy be finalised?
At the close of the public exhibition period, we will consider all submissions on the draft Strategy and recommend changes to the Strategy as necessary. We will provide the Minister for Energy and Environment with the final strategy, all the submissions and the submissions report.
NSW Government will then consider the final strategy. Once approved, the final strategy will be published on
this website
, and stakeholders, including those who made a submission on the draft strategy, will be notified.
How can I comment on the draft NSW Clean Air Strategy?
Have your say
Public exhibition is from 18 March
to 23 April 2021.
You can provide your written submission in any of the following ways:
Make a submission online by using the online form
here.
Post your written submission to:
Manager Air Policy, EES-CCS
Locked Bag 5022
Parramatta NSW 2124
Make sure you include the following information at the top of your email or written submission:
first name
last name
organisation you represent (if applicable)
email address
postcode.
Department of Planning, Industry and Environment (the Department) is committed to transparent processes and open access to information. The Department may draw upon the contents of submissions and quote from them or refer to them in publications. The Department will treat submissions as public and may publish copies on the Department website (contact details will be redacted), unless you indicate that you wish your complete submission or certain content to remain confidential.
Inquiry Into Declining Numbers Of Macropods
Have your say now - submissions are now open for the Inquiry into declining numbers of kangaroos and other Macropods such as wallabies and wallaroos.
Submissions close April 26, 2021
1. That Portfolio Committee No 7 – Planning and Environment inquire into and report on the health and wellbeing of kangaroos, and other macropods, in New South Wales, and in particular:
(a) historical and long-term health and wellbeing indicators of kangaroos, and other macropods, at the local, bioregional and state levels, including the risk of localised extinction in New South Wales,
(b) the accuracy with which kangaroo, and other macropod, numbers are calculated when determining population size, and the means by which the health and wellbeing of populations is assessed,
(c) threats to kangaroo, and other macropod, habitat, including the impact of:
(i) climate change, drought and diversion and depletion of surface water sources,
(ii) bushfires,
(iii) land clearing for agriculture, mining and urban development,
(iv) the growing prevalence of exclusion fencing which restricts and disrupts the movement of kangaroos,
(d) current government policies and programs for kangaroo management, including:
(i) the method used for setting quotas for kangaroo culling,
(ii) the management of licences to cull kangaroos,
(iii) temporary drought relief policies and programs,
(e) current government policies and programs in regards to 'in pouch' and 'at foot joeys' given the high infant mortality rate of joeys and the unrecorded deaths of orphaned young where females are killed,
(f) regulatory and compliance mechanisms to ensure that commercial and non-commercial killing of kangaroos and other macropods is undertaken according to the Biodiversity Conservation Act 2016 and other relevant regulations and codes,
(g) the impact of commercial and non-commercial killing of kangaroos and other macropods, including the difficulty of establishing numbers killed by landholders since the removal of the requirement for drop tags, and
(h) current and alternative measures to provide an incentive for and accelerate public and private conservation of kangaroos and other macropods.
2. That the committee report by the first sitting day in September 2021.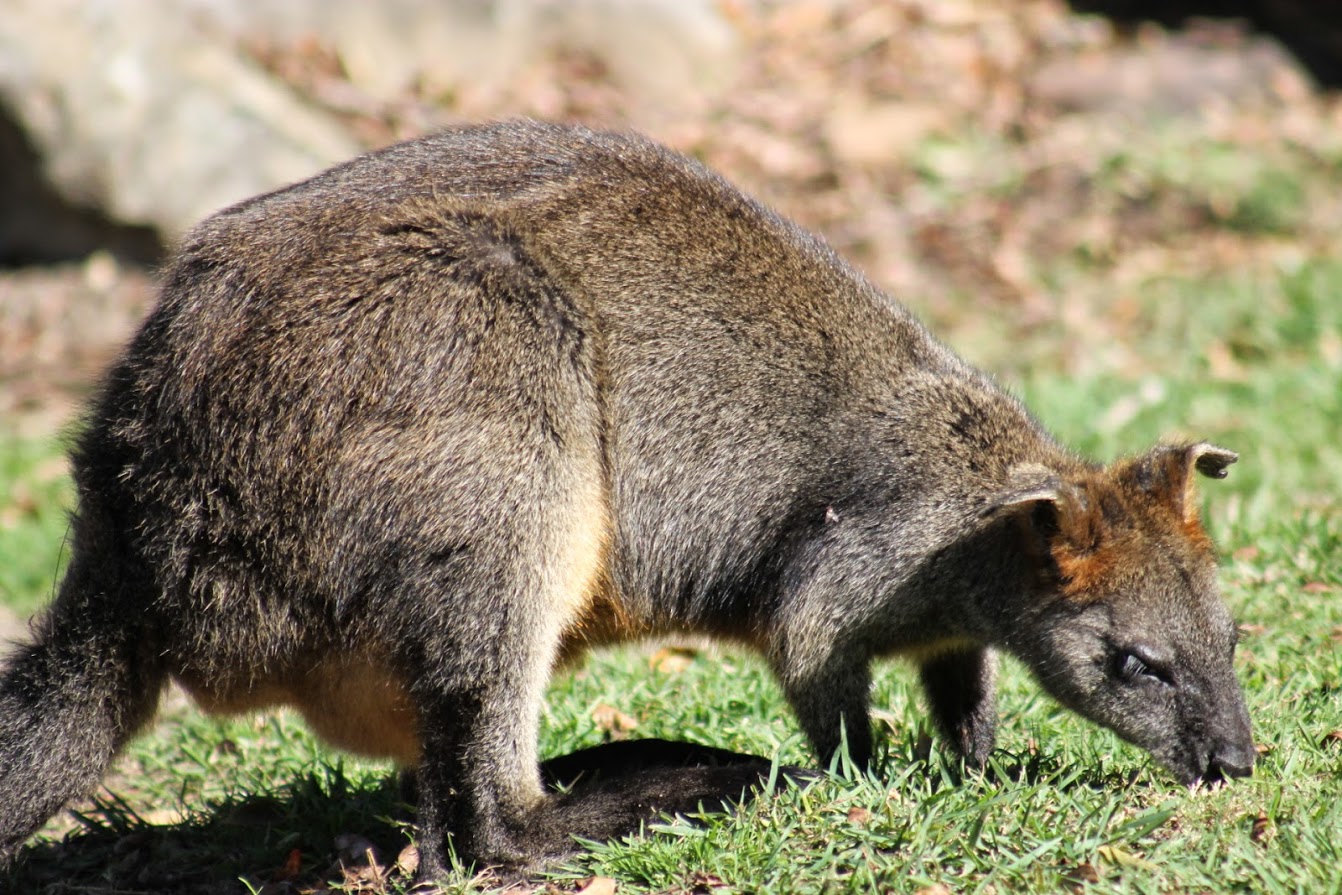 A J Guesdon photo
Bushcare In Pittwater
For further information or to confirm the meeting details for below groups, please contact Council's Bushcare Officer on 9970 1367
BUSHCARE SCHEDULES
Where we work Which day What time
Avalon
Angophora Reserve 3rd Sunday 8:30 - 11:30am
Avalon Dunes 1st Sunday 8:30 - 11:30am
Avalon Golf Course 2nd Wednesday 3 - 5:30pm
Careel Creek 4th Saturday 8:30 - 11:30am
Toongari Reserve 3rd Saturday 9 - 12noon (8 - 11am in summer)
Bangalley Headland 2nd Sunday 9 to 12noon
Bayview
Winnererremy Bay 4th Sunday 9 to 12noon
Bilgola
North Bilgola Beach 3rd Monday 9 - 12noon
Algona Reserve 1st Saturday 9 - 12noon
Plateau Park 1st Friday 8:30 - 11:30am
Church Point
Browns Bay Reserve 1st Tuesday 9 - 12noon
McCarrs Creek Reserve Contact Bushcare Officer To be confirmed
Clareville
Old Wharf Reserve 3rd Saturday 8 - 11am
Elanora
Kundibah Reserve 4th Sunday 8:30 - 11:30am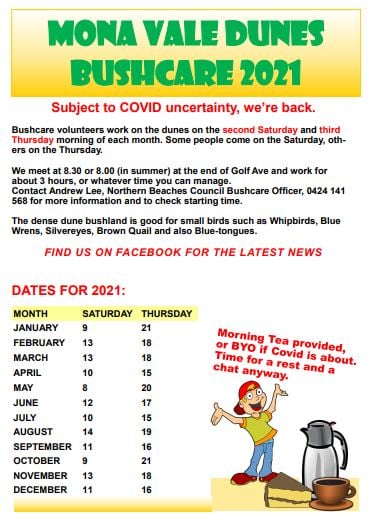 Mona Vale
Mona Vale Beach Basin 1st Saturday 8 - 11am
Mona Vale Dunes 2nd Saturday +3rd Thursday 8:30 - 11:30am
Newport
Bungan Beach 4th Sunday 9 - 12noon
Crescent Reserve 3rd Sunday 9 - 12noon
North Newport Beach 4th Saturday 8:30 - 11:30am
Porter Reserve 2nd Saturday 8 - 11am
North Narrabeen
Irrawong Reserve 2nd Saturday 2 - 5pm
Palm Beach
North Palm Beach Dunes 3rd Saturday 9 - 12noon
Scotland Island
Catherine Park 2nd Sunday 10 - 12:30pm
Elizabeth Park 1st Saturday 9 - 12noon
Pathilda Reserve 3rd Saturday 9 - 12noon
Warriewood
Warriewood Wetlands 1st Sunday 8:30 - 11:30am
Whale Beach
Norma Park 1st Friday 9 - 12noon
Western Foreshores
Coopers Point, Elvina Bay 2nd Sunday 10 - 1pm
Rocky Point, Elvina Bay 1st Monday 9 - 12noon

Gardens And Environment Groups And Organisations In Pittwater
New Shorebirds WingThing For Youngsters Available To Download
A Shorebirds WingThing educational brochure for kids (A5) helps children learn about shorebirds, their life and journey. The 2021 revised brochure version was published in February 2021 and is available now. You can download a file copy here.
If you would like a free print copy of this brochure, please send a self-addressed envelope with A$1.10 postage (or larger if you would like it unfolded) affixed to: BirdLife Australia, Shorebird WingThing Request, 2-05Shorebird WingThing/60 Leicester St, Carlton VIC 3053.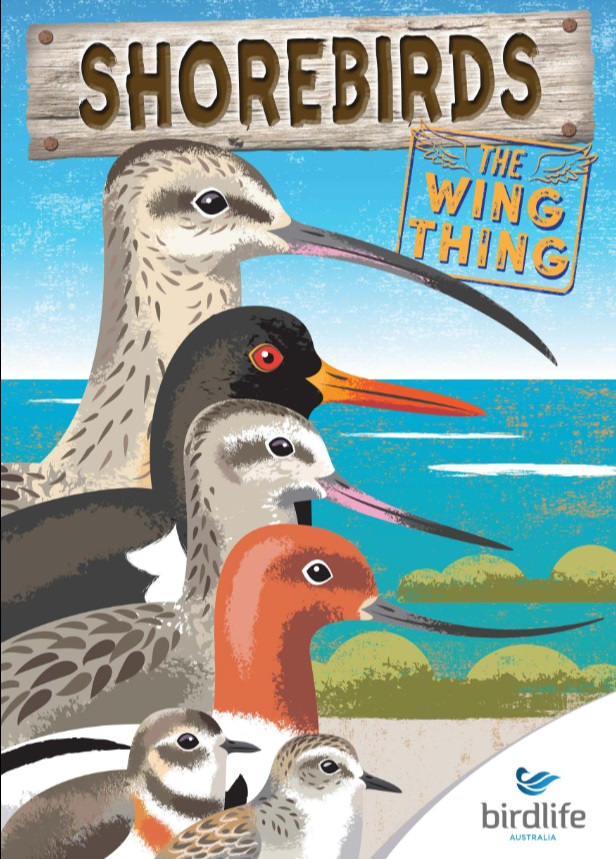 Shorebird Identification Booklet
The Migratory Shorebird Program has just released the third edition of its hugely popular Shorebird Identification Booklet. The team has thoroughly revised and updated this pocket-sized companion for all shorebird counters and interested birders, with lots of useful information on our most common shorebirds, key identification features, sighting distribution maps and short articles on some of BirdLife's shorebird activities.
The booklet can be downloaded here in PDF file format: http://www.birdlife.org.au/documents/Shorebird_ID_Booklet_V3.pdf
Paper copies can be ordered as well, see http://www.birdlife.org.au/projects/shorebirds-2020/counter-resources for details.
Download BirdLife Australia's children's education kit to help them learn more about our wading birdlife
Shorebirds are a group of wading birds that can be found feeding on swamps, tidal mudflats, estuaries, beaches and open country. For many people, shorebirds are just those brown birds feeding a long way out on the mud but they are actually a remarkably diverse collection of birds including stilts, sandpipers, snipe, curlews, godwits, plovers and oystercatchers. Each species is superbly adapted to suit its preferred habitat. The Red-necked Stint is as small as a sparrow, with relatively short legs and bill that it pecks food from the surface of the mud with, whereas the Eastern Curlew is over two feet long with a exceptionally long legs and a massively curved beak that it thrusts deep down into the mud to pull out crabs, worms and other creatures hidden below the surface.
Some shorebirds are fairly drab in plumage, especially when they are visiting Australia in their non-breeding season, but when they migrate to their Arctic nesting grounds, they develop a vibrant flush of bright colours to attract a mate. We have 37 types of shorebirds that annually migrate to Australia on some of the most lengthy and arduous journeys in the animal kingdom, but there are also 18 shorebirds that call Australia home all year round.
What all our shorebirds have in common—be they large or small, seasoned traveller or homebody, brightly coloured or in muted tones—is that each species needs adequate safe areas where they can successfully feed and breed.
The National Shorebird Monitoring Program is managed and supported by BirdLife Australia.

This project is supported by Glenelg Hopkins Catchment Management Authority and Hunter Local Land Services through funding from the Australian Government's National Landcare Program. Funding from Helen Macpherson Smith Trust and Port Phillip Bay Fund is acknowledged.
The National Shorebird Monitoring Program is made possible with the help of over 1,600 volunteers working in coastal and inland habitats all over Australia.
The National Shorebird Monitoring program (started as the Shorebirds 2020 project initiated to re-invigorate monitoring around Australia) is raising awareness of how incredible shorebirds are, and actively engaging the community to participate in gathering information needed to conserve shorebirds.
In the short term, the destruction of tidal ecosystems will need to be stopped, and our program is designed to strengthen the case for protecting these important habitats.
In the long term, there will be a need to mitigate against the likely effects of climate change on a species that travels across the entire range of latitudes where impacts are likely.
The identification and protection of critical areas for shorebirds will need to continue in order to guard against the potential threats associated with habitats in close proximity to nearly half the human population.
Here in Australia, the place where these birds grow up and spend most of their lives, continued monitoring is necessary to inform the best management practice to maintain shorebird populations.
BirdLife Australia believe that we can help secure a brighter future for these remarkable birds by educating stakeholders, gathering information on how and why shorebird populations are changing, and working to grow the community of people who care about shorebirds.

To find out more visit: http://www.birdlife.org.au/projects/shorebirds-2020/shorebirds-2020-program
Aussie Bread Tags Collection Points
Collecting bread tags enables us to provide wheelchairs that change the life of disabled people in need, as well as keeping the tags out of landfill to help to preserve the environment.
Bread Tags for Wheelchairs was started in South Africa in 2006 by Mary Honeybun. It is a community program where individuals and organisations collect bread tags, which are sold to recyclers. The money raised pays for wheelchairs for the less fortunate which are purchased through a local pharmacy. Currently about 500kg of bread tags are collected a month in South Africa, funding 2-3 wheelchairs.
We have been collecting bread tags nationally in Australia since September 2018 and now have more than 100 collection points across the country. In February 2019 we started local recycling through Transmutation - Reduce, Reuse and Recycle in Robe, SA, where our tags are recycled into products such as door knobs and bowls. Tags from some states are still sent to South Africa where a plastics company called Zibo recycles them into seedling trays.
These humble bits of polystyrene can make a real difference so get your friends, family, school, workplace and church involved. Ask school tuck shops and boarding school kitchens, child care centres, aged care facilities, hospitals, cafes and fast food outlets to collect for you - they get through a lot of bread!
All the information and signage for collecting or setting up a public collection point is
on our website
.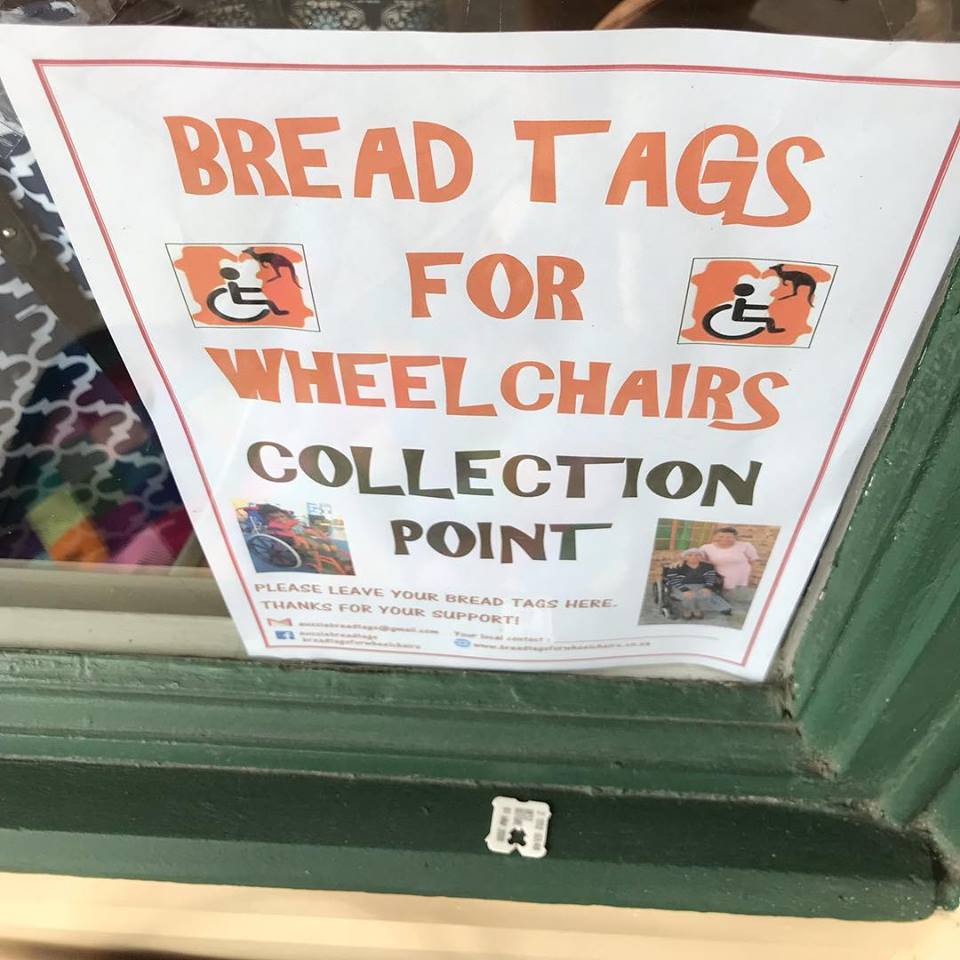 Northern Composure Unplugged 2021: Voting Time!
Watch this year's Northern Composure Unplugged entrants battle it out online during National Youth Week and vote for your favourite! Performances were filmed live at Glen Street Theatre and each participant had 1 song filmed and recorded.
Public voting has kicked off, sit back and tune into the playlist of the unplugged entrants. Once you're done, please vote for your favourite for the Audience Choice Award.
Vote for your favourite performance by Sunday 25 April 2021, 11:59pm via http://bit.ly/NCU2021
Star Jump This Youth Week
Northern Beaches Council Mayor Michael Regan is supporting the PCYC NSW Star Jump Challenge. Unfortunately Mr. Regan has a foot injury so he put his jumping on hold and instead is taking a star jump stance. Everyone in the PCYC Northern Beaches school holiday program had a lot of fun jumping around him with Star Jump Challenge mascot, Twinkle.
Star Jump every day of Youth Week this April 16 - 24 and raise much needed funds to support PCYC's brand new mental health program!
Join the challenge and sign up to jump or donate at www.starjumpchallenge.org.au
Balgowlah Boys Campus Videographer Wins Inaugural Excelsia & Sydney Film School Award: Congratulations Luke!
Luke O'Donnell, photographer and videographer from Balgowlah Boys Campus - Northern Beaches Secondary College participated in the inaugural short film competition, run through the Excelsia and Sydney Film School.
The Excelsia & Sydney Film School Award is a Scholarship Film Festival for Australian High School Students.
Entrants had to submit a 3 minute short film expressing thematic content around the nature of morality, existence, spirituality, philosophy, reality and truth. His film "Until The End" has won the competition, and a scholarship to study the Bachelor of Screen Production.
Excelsia stated;
'Thank you to all our entrants and the creativity they have expressed through their projects. The team are delighted with the finalists for the inaugural Excelsia & Sydney Film School Award and have the bar set high for following years. We had a mix of narrative, animation, experimental and documentary films among our submissions. The emerging voices we have seen through these films brings exciting energy for the future of our industry.

Congratulations to Luke O'Donnell, the winner of the first Excelsia & Sydney Film School Award for his film 'Until the End'
Luke has written a blurb for his film on his You Tube page which reads;
''This year, I was fortunate enough to participate in a short film competition, run by Excelsia College and Sydney Film school. Entrants had to submit a 3 minute short film expressing thematic content around the nature of morality, existence, spirituality, philosophy, reality and truth. My film "Until The End" was lucky enough to win the competition, and a $60,000 scholarship to study the Bachelor of Screen Production, and I am so glad I can share it with you here :)'

"Until the End" is a film predicated upon a longing for the past. It recalls the fleeting nature of existence within the human experience and seeks to lament the true reality of relationships which often mean so much to us.

The film communicates the inherent desire for the restoration of human relationships, even when this desire may appear to be futile. The different cinematic techniques portray the emotions of the characters, and ultimately their position in the world. Through our identification with the characters, we develop empathy for their struggles, recalling the innocence of youth and its belief in the existence of a universal morality.

More holistically, the film reveals how deeper and more meaningful connections with others add richness and depth to human existence, even if it is fleeting, and attempts to deliver a simple yet meaningful didactic message that, despite the uncertainty concomitant in our relationships with others, human connection is essential to cognitive maturity and through it we grow.''
Cast and Crew:
Written and Directed by Luke O'Donnell
Audio recorded by Kyan Paltoft
"Sophie" played by Nicola Bartholomew
"Tom" played by Gordon Carroll
Congratulations Luke! Everyone here is STOKED for you.
For those who haven't seen it yet:
Avalon Dancer Winner Of Telstra Ballet Dancer Awards: Congratulations Nathan!
The Telstra Ballet Dancer Awards are an important component of Telstra's partnership with The Australian Ballet. Each year they allow Telstra to spotlight and support Australia's bright young talent and support them as they grow.
The Telstra Ballet Dancer Awards was created in 2003 to support the rising stars of The Australian Ballet.

The awards continue to be an incredible barometer for talent, with seven former winners progressing to eventually become Principal Artists of The Australian Ballet.
This year's cohort of nominees included Soloist Nathan Brook; Soloist Imogen Chapman; Coryphée Jasmin Durham; Corps de Ballet Dancer Serena Graham; Coryphée Corey Herbert and Corps de Ballet Dancer Cameron Holmes. A nomination is a huge honour for these dancers as it recognises their hard work and huge potential as determined by their peers.
As part of an increase in Telstra's sponsorship, the winner of the Telstra Rising Star Award will receive a prize of $25,000. The Telstra People's Choice Award was also be back this year, with an increased prize of $15,000.
Winners of the Telstra Rising Star Award were selected by a panel of judges from both The Australian Ballet, the media and Telstra. The winner of both Awards was announced at the Sydney Opera House on the opening night of New York Dialects on Friday 6th of April.
Telstra was proud to announce the winner for 2020, who took out both the People's Choice Award and the Rising Star Award, as soloist Nathan Brook. Congratulations Nathan!

Nathan was born and raised in Avalon Beach. He started dance classes at the age of seven after his parents recognised that, no matter what the music, Nathan was always dancing. He trained at Lamont Dance School in Avalon Beach, with Aryana Lamont, until the age of 14, when he moved to Melbourne to attend The Australian Ballet School.
After graduating, Nathan joined Queensland Ballet's Young Artist Program, where he had the opportunity to perform in George Balanchine's Serenade© and Sir Kenneth McMillan's Romeo and Juliet. He joined Queensland Ballet proper in 2015, touring with the company to Lausanne, London and Shanghai. Nathan joined the corps de ballet of The Australian Ballet in 2016; he was promoted to coryphée in 2018 and soloist in 2019.

Nathan is the youngest of three boys. Growing up on the beach, both his older brothers became competitive surf boat rowers; Nathan prefers to scuba dive.

Below is his response to being named the winner.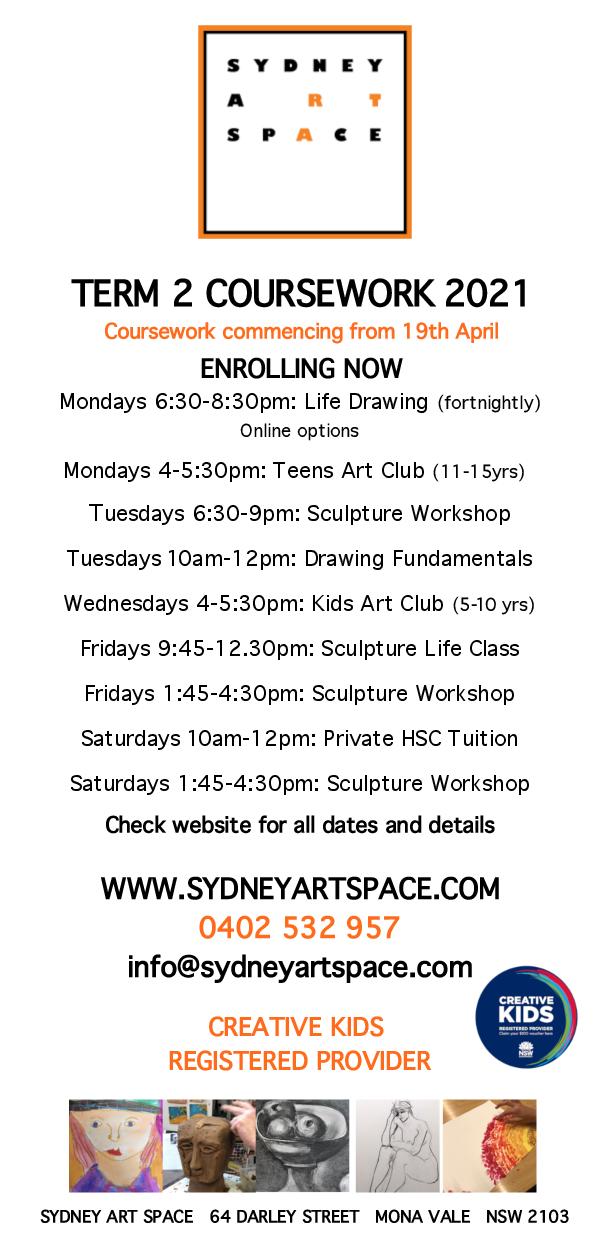 AUSSIES Wrap – Day 1 Youth Championships – 16 April
More than 700 young surf life savers from the U14 and U15 age groups gathered from across the country, with Maroochydore and Mooloolaba Beaches hosting the first day of competition.
In the U14's it was Cooks Hills' Alexander Walker who had the crowd on their feet, claiming the triple crown with gold in the U14 Ironman, Swim and Board.
"It's incredible, it is so overwhelming it is such an amazing feeling to have completed the triple," Walker said.
"The team at Cooks Hill and everyone is just so friendly, and we all work together at training to help each other improve as athletes and it is just a great atmosphere. It was great to come out here today and do it for them," he said.
In the U15 Male Ironperson Newport's Conner Maggs has commenced his club's campaign with a bang securing silver and then following that up with gold in the U/15 Male Surf Race.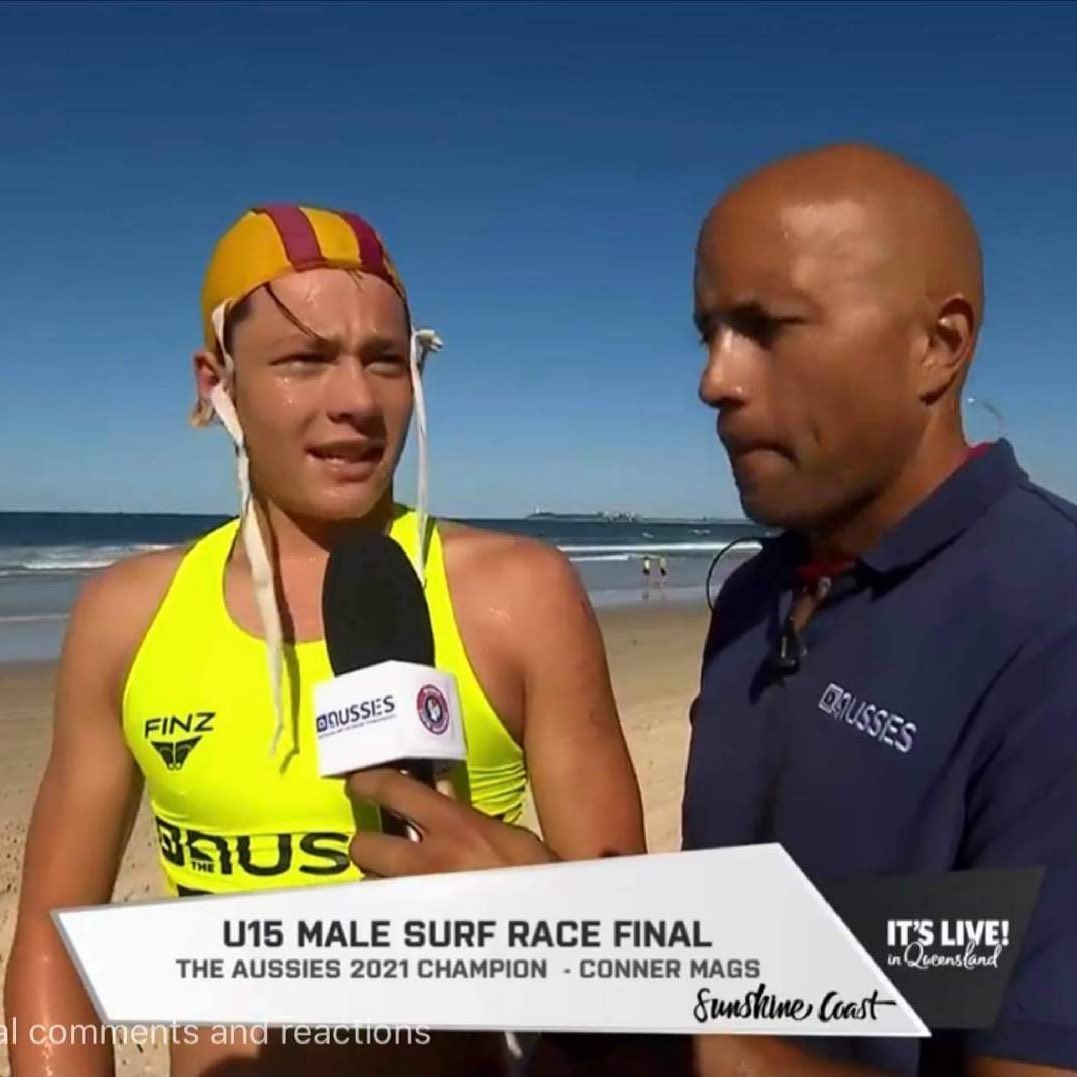 In the U14 Ironwoman final, a close run up the beach saw North Curl Curl's Dominique Melbourn claim her first Australian gold medal after taking silver earlier in the day in the swim race.
"It's such an unreal experience and I'm so lucky to have achieved the Australian title," Dominique said.
"It's surf and anything can happen, so I wasn't confident until the end – but once I got down that last wave I got pretty excited.
"The club is really a team environment and we all work together so well, pushing each other through training. But nothing pushes us more than our coach Michael Clues.
"He's such a determined coach and he just wants the best out of us and as it's shown so far this weekend he's definitely done that," she said.
Former NSW Ironman legend and proud Wanda man Nathan Smith is helping usher through the next generation, with one of the Club's stars Fletcher Warn taking out the U15 Ironman crown.
"Shout out to Nathan Smith and Greg Pierce for entering all the kids, none of this would have happened without you guys so thank you very much," Warn said.
"To win it is just incredible. That was one of the scariest moments I have ever been in, I can't, I pulled up onto the wave and I was like oh no cause I know he could run fast, so I had to get off and just run to get there."
Jayda Kempton from Burleigh Heads Mowbray Park SLSC won the U15 Female Surf Race, a win that took her a bit by surprise.
"I'm a bit shocked actually – I went in to just have a go and I had no expectations to do as well as I did so I'm super happy," Kempton said.
In the beach arena at Maroochydore the crowd was on it's feet for the teams from Coogee, taking out both the U15 Female Beach Relay and the U15 Mixed Beach Relay Aussies titles and a Bronze medal in the U15 Male Beach Relay.
Eden Levitt from Coogee SLSC also took out a Bronze in the U15 Female Sprint and said she had no doubt in her mind that the two Beach Relay teams could get the Gold.
"Definitely two, I trust the relay team a lot, but it's all experience it's all new for all of us, there's a lot to learn and A lot more to go," Levitt said.
The local crew from Maroochydore took out the U15 Male Beach Relay ahead of Metropolitan Calounrda and Coogee with their coach saying the crew practiced changeovers multiple times to make sure they got it right.
"It's exceptional for the young lads, they raced their hearts out and in such amazing competition awesome stringing a run together like that," the Maroochydore coach said.
"The practiced over and over and over on the wrong side, upside down and forward and backwards and they've done it."
The Australian Surf Life Saving Championships will be held on the Sunshine Coast from 16-24 April, with more than 5,900 competitors going head-to-head across three beaches and nine action packed days of competition.
Results
For a full list of today's results, click here.
Live stream
To watch today's livestream, featuring the U14 and U15 Surf, Board and Ironperson Finals, click here.
Event Updates
For any updates and changes to schedules and timetables please download the Team App and join – Aussies 2021 to stay up to date with all the latest changes.
For further details about the Aussies and any other information head to – https://sls.com.au/aussies/
Nine New Champions Crowned At The 2021 Billabong Oz Grom Cup
April 11, 2021 at Park Beach, Coff Harbour
Nine new champions were crowned today at the 2021 Billabong Oz Grom Cup pres. by Coopers Surf Australia following a giant day of action in playful two-foot surf.
Lennix Smith (Barrack Point, NSW) wrapped up his final year in the 2021 Billabong Oz Grom Cup pres. by Coopers Surf Australia with a bang, taking out the 16-and-Under Boys division. Smith surfed impeccably over the course of the event, consistently posting mammoth scores for mature manoeuvres and the final was no exception with the Illawarra natural-footer finishing the final with a solid 15.67 two-wave heat total.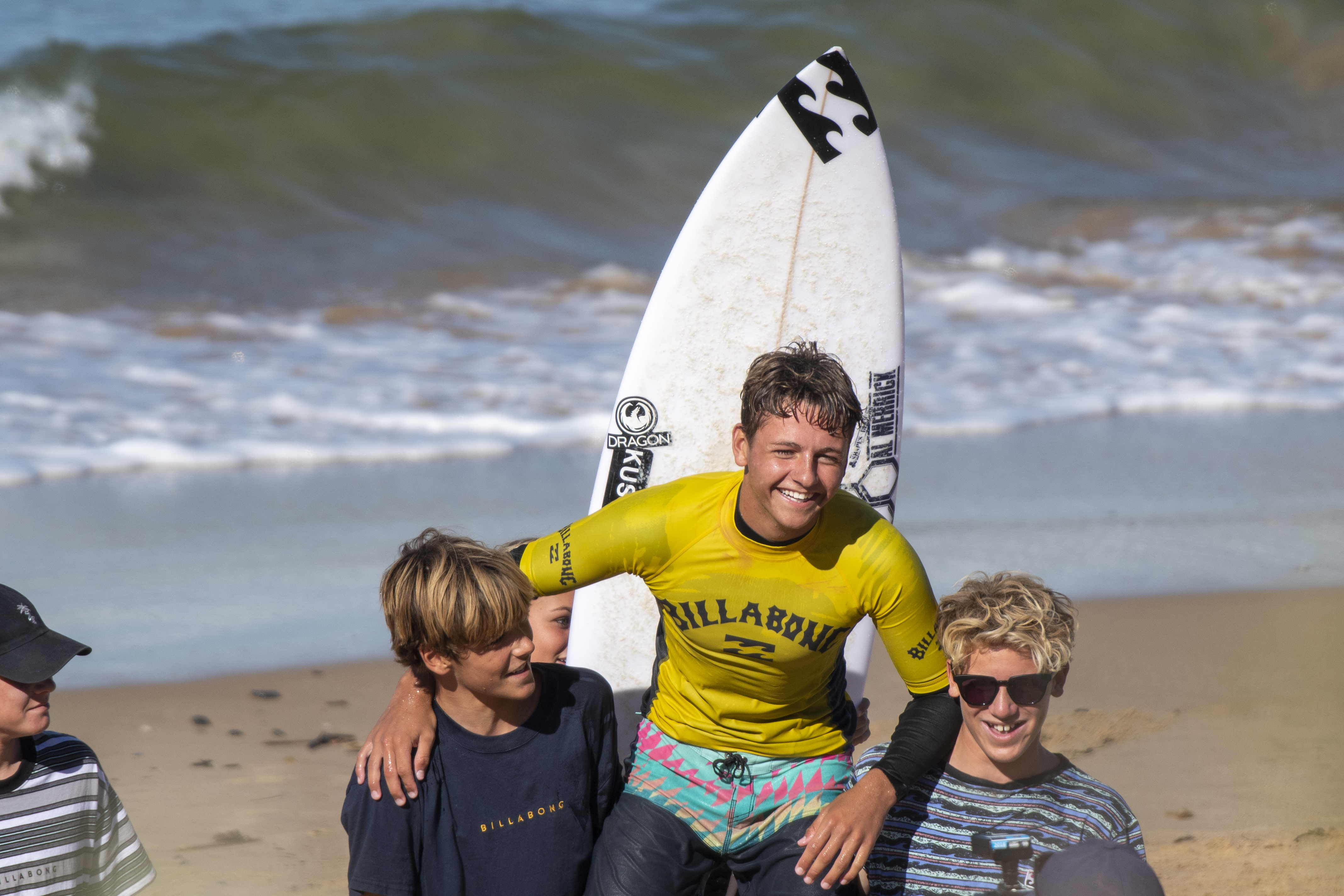 Lennix Smith (Barrack Point, NSW) wrapped up his final year in the 2021 Billabong Oz Grom Cup pres. by Coopers Surf Australia with a bang taking out the 16-and-Under Boys division. photo by Ethan Smith / Surfing NSW
Charlotte Mulley (Burleigh Waters, Qld) surfed like a seasoned veteran who had honed their backhand on the long righthanders of the Gold Coast as she claimed victory in the 16-and-Under Girls division. Mulley nailed a chain of massive backhand snaps to finish the heat with a 17.23 two-wave total and take the win ahead of Oceanna Rogers (Shellcove, NSW) who claimed the runner-up position.
Sierra Kerr (USA) capped off a stellar Billabong Oz Grom Cup campaign, taking victory in the 14-and-Under Girls division. Despite a slow start in the final, Kerr was able to maintain composure in the dying moments of the heat and notch up a near-perfect 9.33 wave score for a chain of powerful snaps and carves – that appeared eerily similar to the same style as her Dad (former Championship Tour surfer Josh Kerr) – to jump from third position into the winner's chair.
Following on Sierra Kerr's victory, Samuel Lowe (Port Kembla, NSW) became the second child of a former WSL Championship Tour star to take a win. Samuel appeared to channel his father Michael's performance at the 2004 Quiksilver Pro at Snapper Rocks as he found a handful of beautifully tapered righthanders to post a massive 9.00 wave score and gain the upper-hand against some fancied opposition, including perennial standout Fletcher Kelleher (Freshwater, NSW).
Following the recent Rip Curl Newcastle Cup that wrapped up yesterday, Ocean Lancaster (Newcastle, NSW) made sure he did his best to continue representing Novocastrian surfing abroad, smashing the 12-and-Under Boys division. Lancaster dominated the impressive final, executing a barrage of gigantic snaps and carves to finish the heat with a 17.07 two-wave heat total.
Ocean Lancaster. photo by Ethan Smith / Surfing NSW
Pipi Taylor (Peregian Beach, Qld) did the Sunshine Coast proud as she took out the 12-and-Under Girls division. Taylor posted a respectable 9.10 total to take the win ahead of her fancied opponents.
Lucas Deffenti (Miami, Qld) showed he is a star on the rise as he took out the highly contended 10-and-Under Boys division. Deffenti stood out in the final, effortlessly linking a chain of giant snaps and carves to post a 15.23 two-wave total and earn the top spot on the dais.
Leihani Kaloha Zoric (Byron Bay, NSW) claimed her second Billabong Oz Grom Cup title, taking out the 10-and-Under Girls division. Zoric surfed well beyond her years in the final exchange, nailing an array of beautiful snaps and carves to finish with a giant 16.34 two-wave heat total.
Pheonix Talbot (Yamba, NSW) will be heading back to Yamba with his head held high after an impressive victory in the 8-and-Under Mixed division with a heat total of 10.60. The victory confirmed Talbot's nous in Coffs beachbreak conditions, with the young up-and-comer taking out the same division in the Woolworths Surfer Groms Comp event back in late 2020.
The prestigious five-day event – now in its eighth year – ran from the 7th – 11th April and catered for over 200 competitors in nine different divisions.
Former champions include 2016 World Junior Champion and current WSL World Championship Tour surfer Macy Callaghan who claimed her respective division in the event's inaugural year. Since then, the event has been won by a range of Australia's best and most promising junior surfers.
In addition to all the action in the ocean, the final days of the event were webcast through Surfing NSW's social channels.
All event presentations were hosted at the Hoey Moey.
Boys and Girls divisions for the event included 8-and-Under Mixed, 10-and-Under, 12-and-Under, 14-and-Under and 16-and-Under.
The Billabong Oz Grom Cup pres. by Coopers Surf Australia is proudly supported by Billabong, Coopers Surf Australia, Coffs Harbour Boardriders, Coffs Harbour City Council, Park Beach Plaza, Hoey Moey and Surfing NSW.
Locana Cullen. photo by Ethan Smith / Surfing NSW
Event results:
16-and-Under Boys
1 – Lennix Smith (Barrack Point, NSW)
2 – Eden Hasson (Port Stephens, NSW)
3 – Ty Richardson (Palm Beach, Qld)
4 – Kyan Falvey (Cabarita, NSW)
16-and-Under Girls
1 – Charlotte Mulley (Burleigh Waters, Qld)
2 – Oceanna Rogers (Shell Cove, NSW)
3 – Holly Wishart (Gerringong, NSW)
4 – Imojen Enfield (Port Macquarie, NSW)
14-and-Under Boys
1 – Samuel Lowe (Port Kembla, NSW)
2 – Fletcher Kelleher (Manly, NSW)
3 – Joshua Marsh (Barrack Point, NSW)
4 – Landen Smales (Peregian Beach, Qld)
14-and-Under Girls
1 – Sierra Kerr (USA)
2 – Shyla Short (Austinmer, NSW)
3 – Juniper Harper (Lennox Head, NSW)
4 – Ruby Trew (Manly, NSW)
12-and-Under Boys
1 – Ocean Lancaster (Newcastle, NSW)
2 – Hunter Anderson (Moffatt Beach, Qld)
3 – Ben Zanatta Creagh (Dee Why, NSW)
4 – Caden Francis (Palm Beach, Qld)
12-and-Under Girls
1 – Pipi Taylor (Peregian Beach, Qld)
2 – Avalon Vowels (Scotts Head, NSW)
3 – Charli Hatley (Currumbin, Qld)
4 – Lucy Darragh (Gerringong, NSW)
10-and-Under Boys
1 – Lucas Deffenti (Miami, Qld)
2 – Locana Cullen (Avalon, NSW)
3 – Luca Martin (Coffs Harbour, NSW)
4 – Jaggar Phillips (Maroubra, NSW)
10-and-Under Girls
1 – Leihani Kaloha Zoric (Byron Bay, NSW)
2 – Talia Tebb (Kincumber, NSW)
3 – Malia Watson (Tweed Heads, NSW)
4 – Henley Smith (Suffolk Park, NSW)
8-and-Under Mixed
1 – Pheonix Talbot (Yamba, NSW)
2 – Sage Lewis (Sandy Beach, NSW)
3 – Jaya Suhendra (Byron Bay, NSW)
4 – Bali Dobson (Byron Bay, NSW)
Woodland Babies – Special Scenes Of Six Bird Species In The Capertee Valley
Published April 12, 2021 by BIBY TV
These delightful woodland "babies" (aka fledglings or juveniles) of the species Jacky Winter (Microeca fascinans), Restless Flycatcher (Myiagra inquieta), Hooded Robin (Melanodryas cucullata), White-winged Chough (Corcorax melanorhamphos), Noisy Friarbird (Philemon corniculatus) and Speckled Warbler (Pyrrholaemus sagittatus) were filmed during three visits (late November 2020, early January 2021 and early February 2021) to the stunning Capertee Valley (NSW). This geological marvel is not only Australia's largest enclosed valley or canyon (in fact, widest in the world), it is also recognised internationally as an Important Bird Area (IBA). Fragmented or remnant Box Gum Woodland (an EEC - Endangered Ecological Community) and adjoining wilderness areas provide refuge for several threatened or declining bird species. Moreover, decades of tree-planting (largely for the critically endangered Regent Honeyeater) has extended or recreated woodland vegetation on various (often covenanted) private properties.
The filming site is one such property and one of the first in the planting program. As such, it is reaping the benefits of maturing planted trees (1995 – 2013), original woodland and open forest bordering Wollemi National Park, a magnificent old paddock tree (Yellow Box) looming over its offspring, remnant stands (e.g. on a small hill) and natural regrowth of trees, shrubs and native grasses in once denuded paddocks. The retention of standing and fallen dead timber also contributes to habitat quality. Many BIBY TV productions showcase the success of this revegetation (enter "Capertee Valley" into the search function on this channel). Again, this video is just a small window onto the way birds survive and thrive at this location. It's particularly heartening to observe that the six species here (and many others) forage and nest in both existing and restored woodland (and often in transition zones, such as the lightly-timbered house area). The opening photo and scene at the 3.14 mark give a glimpse of relatively natural woodland, while the final photo reveals a regeneration area.
Except for the Speckled Warbler section, the footage includes parent(s) and/or carers (in the case of the communal breeders, White-winged Choughs). The starring "babies" range from recently fledged (see early Jacky Winter scenes, White-winged Chough and Noisy Friarbird) to an older juvenile that closely resembles its parents (i.e. Speckled Warbler). Most of the families had two visible offspring; only the Speckled Warbler and Noisy Friarbird seemed to be without a sibling. Five out of six families were filmed across one to three days during a specific visit (i.e. late Nov for choughs, early Feb for warbler, and early Jan for robins, flycatchers and friarbirds). Only the Jacky Winter section includes "follow-up" footage (i.e. early Jan and early Feb). We are quite sure it's the same family because of the short walking distance between the second filming location and the nesting/fledging area. We can though happily report sightings of older juveniles of other species in subsequent months. Given the "Vulnerable" status of Hooded Robins in NSW, it was especially cheering to see at least one of the youngsters in March 2021.
Credits: Bird footage and editing – Darren Broughton; Landscapes and text – Thalia Broughton
Twelve Aged Care Consumer Peaks Propose Aged Care Reform Plan
Twelve leading aged care consumer organisations, led by the Council on the Ageing (COTA) Australia, have issued a detailed joint response to the Final Report of the Aged Care Royal Commission, identifying the key reforms the Federal Government must implement in the upcoming Federal Budget to ensure its response to the Royal Commission gets off to a flying start.
In their joint statement the consumer organisations set out the package of urgent reforms the Morrison government must deliver in the next 12-18 months to build a high quality aged care system that's grounded in human rights and which treats older people with respect for their diversity and capacities, ensures greater control over their care and support, and delivers appropriate, safe and timely services, and fair value for their dollar.
Key among the suite of actions that the signatory organisations want to see initiated in the next year are increased transparency from aged care providers, minimum staffing levels, wage increases for workers, stronger powers and a more versatile toolkit for an independent quality regulator, and a new rights-based Aged Care Act.
"The last thing Australians deserve is the government kicking the can down the road on many of the key changes we need," says Ian Yates AM, Chief Executive of COTA Australia, on behalf of the group.
"The Government cannot get away with cherry picking a few recommendations now but saying it will consider the rest later. That will not wash with the many hundreds of thousands of older Australians who are looking to this government to deliver them hope that they, and their families, will enjoy a radically better aged care system than the one we have today.
"The government must not delay reform. We are sending a clear message to the Morrison Government that older Australians expect action now."
Drawing on the Royal Commission's final report, the joint statement lays out new arrangements for the governance of aged care that will strengthen aged care's independence, funding, quality control, provider integrity and accountability, while also securing greater consumer influence in the system by the wide diversity of older Australians.
Critically, they recommend an Implementation Task Force to drive the reforms with an Independent Chair, and independent members as well as senior government officials.
"Much can be achieved in the next year to give older Australians genuine self-determination, hold providers accountable for failure to deliver quality care, to treat those who need support with dignity and respect, and to enable and reward excellence," said National Seniors Australia CEO Professor John Mc Callum.
Other immediate actions called for in the Statement include:
Immediately increase home care and home support funding; ensure a maximum 30-day wait period for home care by no later than December 2022; and implement a single Care at Home program that provides individualized care by 2023.
Require providers to publish real-time data on staffing, quality performance, financial information, and consumer experience.
Abolish the Aged Care Approvals Round/bed licenses and give older people control of their residential care funding and put some competitive pressure on poor providers.
Establish an Independent Pricing Authority just for aged care.
Initiate a program of independent Care Finders to help navigate aged care, better information and more advocacy services.
Develop a comprehensive workforce development plan to ensure we have the right numbers and mix of better paid, better skilled, consumer-focused and continuously improving workers.
Provide much greater support for family and friend Carers including a major increase in accessible respite care and a network of Carer Hubs,
Require a commitment to respecting diversity throughout aged care - in standards, in training, in accountability and in access pathways and service design, inclusive of Aboriginal and Torres Strait Islander, CALD, LGBTI and rural communities and people living with dementia, with a mandatory Diversity Framework and Action Plans.
Provide equitable access to health services including dental care, medication reviews, mental health services, allied health, and restorative care and reablement.
Legislate a commitment to ensuring the lived experience of older people using care services is given real weight in accreditation, reviews, quality measurement, recruitment and every aspect of the aged care system.
Develop a funding model that grows with needs and ensures sufficient taxpayer funding, balanced with consumer contributions that are fair, sustainable and simple to understand and administer.
Commit to a timetable detailing when reforms will be commenced and implemented, and to codesigning them with older Australians.
"In the coming year, the Morrison Government can give older Australians more choice, control and transparency in aged care than they have ever been allowed before," says Mr Yates.
"We recognise that the government faces significant challenges in implementing the Royal Commission's recommendations in full, including the need for major budget funding and a major increase in workforce. But these must be met. This is Australia's 'line in the sand' moment for giving us the aged care system we deserve and expect."
The complete Joint Statement can be read here:
Profound Loss Of Pleasure Related To Early-Onset Dementia
April 12, 2021: University of Sydney
People with early-onset dementia are often mistaken for having depression and now Australian research has discovered the cause: a profound loss of ability to experience pleasure -- for example a delicious meal or beautiful sunset -- related to degeneration of 'hedonic hotspots' in the brain where pleasure mechanisms are concentrated.
The University of Sydney-led research revealed marked degeneration, or atrophy, in frontal and striatal areas of the brain related to diminished reward-seeking, in patients with frontotemporal dementia (FTD).
The researchers believe it is the first study to demonstrate profound anhedonia -- the clinical definition for a loss of ability to experience pleasure -- in people with FTD.
Anhedonia is also common in people with depression, bipolar disorder and obsessive-compulsive disorder and can be particularly disabling for the individual.
In the study, patients with FTD -- which generally affects people aged 40-65 -- displayed a dramatic decline from pre-disease onset, in contrast to patients with Alzheimer's disease, who were not found to show clinically significant anhedonia.
The results point to the importance of considering anhedonia as a primary presenting feature of FTD, where researchers found neural drivers in areas that are distinct from apathy or depression.
The findings were published today in the leading neuroscience journal, Brain.
The paper's senior author, Professor Muireann Irish from the University of Sydney's Brain and Mind Centre and School of Psychology in the Faculty of Science, said despite increasing evidence of motivational disturbances, no study had previously explored the capacity to experience pleasure in people with FTD.
"Much of human experience is motivated by the drive to experience pleasure but we often take this capacity for granted.
"But consider what it might be like to lose the capacity to enjoy the simple pleasures of life -- this has stark implications for the wellbeing of people affected by these neurodegenerative disorders.
"Our findings also reflect the workings of a complex network of regions in the brain, signalling potential treatments," said Professor Irish, who also recently published a paper in Brain about moral reasoning in FTD.
"Future studies will be essential to address the impact of anhedonia on everyday activities, and to inform the development of targeted interventions to improve quality of life in patients and their families."
Siobhán R Shaw, Hashim El-Omar, Daniel Roquet, John R Hodges, Olivier Piguet, Rebekah M Ahmed, Alexis E Whitton, Muireann Irish.
Uncovering the prevalence and neural substrates of anhedonia in frontotemporal dementia.
Brain, 2021; DOI:
10.1093/brain/awab032
Better Housing Campaign
National Seniors is campaigning for better housing options for seniors.
Housing is an important issue and our research found that 36 per cent of people aged 50 and over live in a home that was not suitable for them as they age and that only 38 per cent of older people have taken steps to prepare themselves for getting older.
Join up to our campaign
here
and learn more about how you can help build a better housing future.
Glasscraft: Artisans Of Australia
Published April 12, 2021 by NFSA
From the Film Australia Collection. Made by Film Australia 1984. Directed by Paul Humfress.
Like his father and grandfather, Kevin Little works with stained glass.
This film gives a detailed description of the process of restoring damaged glass panels in the East Window at the Garrison Holy Trinity Church, Millers Point, Sydney.
Designed by Henry Ginn in 1844, the first official Garrison Church is a small Gothic Revival stone building. Kevin Little vividly displays the time-honoured skills required for the authentic restoration of an ecclesiastical window. He guides the viewer through damage assessment and removal of window, glass selection, painting, staining, firing, leading up, polishing and installation of the restored window.
Dementia Action Now – Call To Address Recommendations
The Royal Commission identified dementia as a core focus of the reform of Australia's aged care system, but what's it going to do?
That's the understandable question being asked by dementia advocacy and education organisation, Dementia Australia.
At a Parliamentary Friends of Dementia event recently held at Parliament House in Canberra, Dementia Australia CEO Maree McCabe called on politicians to prioritise dementia when addressing recommendations in the Royal Commission into Aged Care Quality and Safety's Final Report.
"With 472,000 Australians living with dementia, 70% of them living in the community and of those in residential aged care 70% having a moderate to severe form of cognitive impairment, there needs to be a significant commitment to dementia care made by the federal government in words and in action," Ms McCabe said.
"The frustrations and fears felt by people living with dementia and carers are valid. They have contributed in good faith, for many years to reviews and inquiries and now have entrusted their lived experience expertise to the Royal Commission.
"Dementia is a progressive, terminal disease. People living with dementia cannot put their symptoms on pause while waiting for change. They are devastated that to date little action has been taken."
"Within the 148 recommendations are 14 key areas with a specific focus on dementia. We welcome these recommendations and now call on the federal government to demonstrate they are serious about making quality dementia care core business for aged care in Australia," Ms McCabe said.
Recommendations broadly cover the need for clearer support pathways; assessing the impact of dementia-specialist support; introducing new regulations on chemical and physical restraint; calling for a review of aged care standards as they relate to quality dementia care; fast-tracking a national aged care worker registration program and specifying that, as a condition of approval of aged care providers; and all workers engaged by providers who are involved in direct contact with people seeking or receiving services in the aged care system undertake regular training about dementia care.
Other recommendations focus on the importance of carers, the impact of quality indicators and a need to clarify roles and responsibilities across the sector.
Ms McCabe adds, "If you get dementia care right you get it right for everyone."
Dementia Australia says it has provided the federal government with a plan on what is needed to deliver quality dementia care and to respond to the Final Report:
Dementia Support Pathways

: An integrated and specialist service response with a single access point, that is a centralised, national telephone and online service that sits alongside My Aged Care.

Transformed Dementia Workforce Capability

: An integrated approach to build dementia capability and expertise of the aged care workforce by mandating minimum levels of dementia education. Developing dementia practice leaders will support the application of this learning as well as promote practice change. This will ensure the aged care workforce has the necessary skills, knowledge and capability to provide quality care and support to people living with dementia.

Dementia-Friendly Design

: Developing and embedding a set of robust, evidence-based and practice-informed dementia-friendly standards. This will enable physical environments that support people living with dementia to be as independent as possible.
"We urge the government to demonstrate their commitment to the 472,000 Australians living with dementia and the 1.6 million people involved in their care," Ms McCabe said.
Creative Ageing Framework A Work Of Art
Painting for people living with dementia is one program highlighted in the NSW Government's new framework to help boost health and wellbeing for older people.
Minister for Seniors Geoff Lee said the NSW Creative Ageing Framework promotes productive ageing and healthy lifestyles by tapping into seniors' creativity.
"We're encouraging seniors to undertake creative pursuits as a way to challenge themselves, stay socially connected and embrace lifelong learning," Mr Lee said.
"Whether it be joining a library, storytelling, painting, dancing or using digital media, creative activities like these help keep us mentally and physically healthy".
Minister for the Arts Don Harwin said the framework assists with partnerships between the arts and culture sector and organisations that support older people.
"We want to connect seniors to the bold, rich and diverse experiences that can be enjoyed by audiences and participants of programs within the arts and culture sector," Mr Harwin said.
"The framework will also raise awareness of the benefits of creative ageing programs and highlight the contributions of older artists".
The Museum of Contemporary Art's (MCA) creative ageing program 'Artful', aims to empower people living with dementia – the greatest cause of disability in Australians aged over 65 – by creating life-enriching experiences.
"Meaningfully engaging people living with dementia with contemporary art encourages mental and physical stimulation and self-expression," MCA Director, Elizabeth Ann Macgregor OBE, said.
The Ministerial Advisory Council on Ageing (MACA) helped develop the framework and said it's a timely addition amidst the COVID-19 pandemic.
"Depression and loneliness are two of the biggest risk factors in older people's lives, and we commend the NSW Government on this initiative," MACA Chair, Kathryn Greiner AO, said.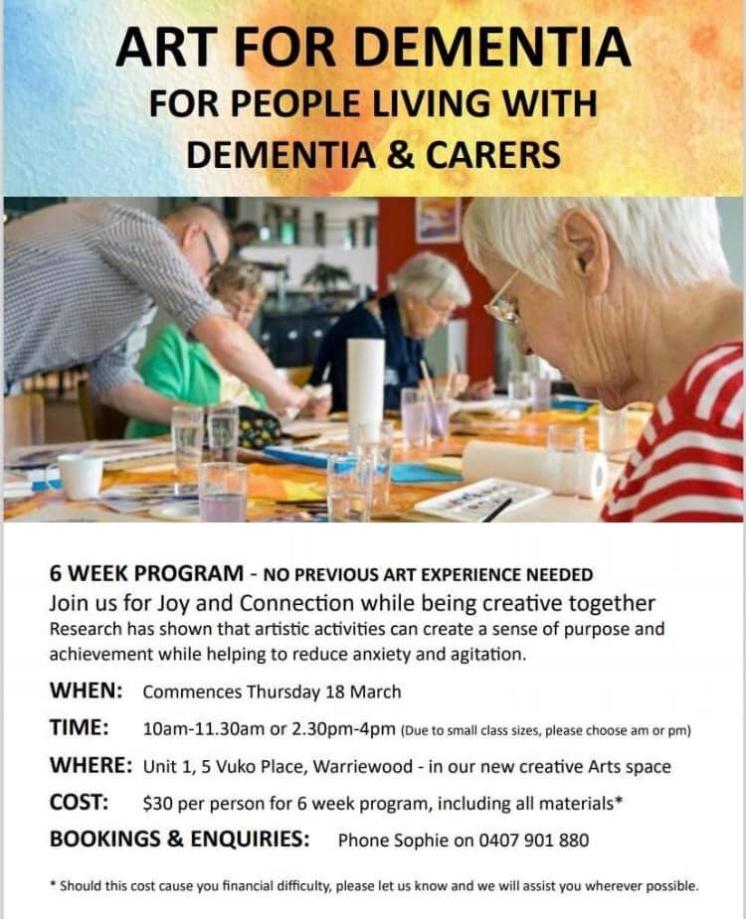 'I Was 44 Years Old When Diagnosed With Parkinson's Disease': Parkinson's Awareness Month
Report by Emi Berry, UNSW
Darren's diagnosis took two years, but a new Parkinson's disease detection method developed by UNSW researchers could enable an early and accurate diagnosis. In its current form, the new detection method takes five hours.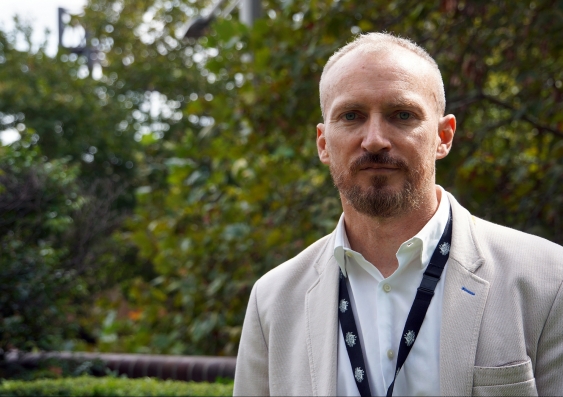 Darren Collins was 44 years old when diagnosed with young-onset Parkinson's disease. It took almost two years of tests, doctor and specialist appointments before reaching a diagnosis. Image: Emi Berry
April is Parkinson's (PD) Awareness Month.
Every day, 38 Australians are told they have PD. Currently, 100,000 Australians are diagnosed with the neurodegenerative disease which affects an individual's movement and balance. Symptoms vary from person to person but may include impulse control disorder, hallucinations, fatigue, pain and sleep difficulties.
While PD tends to be associated with elderly individuals, the sobering fact is, 20% of sufferers are under the age of 50 and 10% are diagnosed before they turn 40. It is the second most common neurological disease in Australia after dementia.
As there are no specific biomarkers to definitively diagnose PD, clinicians rely on a combination of signs and symptoms which include tremors and responsiveness to specific treatments. This means that PD diagnosis can arrive late in the progression of the disease when motor neurons have already been damaged. When younger individuals present with symptoms and their specialists are not expecting PD, the diagnosis may also be missed or delayed. Up until now, the only way to definitively diagnose PD is at autopsy.
Darren Collins was 44 years old when he was diagnosed with young-onset PD. His symptoms started to occur at least two years prior. It took almost two years of tests, doctor and specialist appointments before reaching a diagnosis. During this time, his condition gradually worsened.
As a former army medic, Mr Collins had some understanding that PD could affect people at a younger age but was shocked to learn the percentage of young-onset PD sufferers.
"Currently, my condition manifests itself primarily as an asymmetric, unilateral tremor on my right side. I first noticed the slightest of tremors in my right hand, mainly my ring and little finger in 2013. The tremors have increased in intensity and frequency. Also, I have developed an unusual gait when walking, as if I'm stepping over a log with my right foot. This is accompanied by an extended right arm swing," said Mr Collins.
Mr Collins said apart from the physical manifestations of the condition, his greatest challenge is dealing with the psychological (depression) and social aspects (confidence and relationships).
"I'm very conscious of my appearance in public and if I notice people staring at the tremors, it often exacerbates the condition through anxiety and causes the tremors to increase. This impacts my confidence in everyday situations, social interactions, work interactions and public speaking. I have developed an almost constant 'tennis elbow' pain in my right forearm due to my habit of sitting on my hand to hide the tremors in public.
"I've been refused entry and service in pubs. In all instances, I have managed to convince the staff I have a condition, yet the need to explain myself and my appearance is both embarrassing and tiring," explained Mr Collins.
UNSW breakthrough in PD research
A recent breakthrough in PD research by a team at UNSW Sydney means early and accurate diagnosis for the disease, which will lead to better outcomes for PD patients.
The research team that includes Dr Emma Sierecki and Dr Yann Gambin, have created a new diagnostic method for PD that combines a single-molecule counting technique with a rapid amplification analysis to detect alpha-synuclein – a promising biomarker for the disease. Alpha-synuclein is a sticky protein that clumps in the brains of people with PD. This diagnostic method will allow clinicians to detect PD at an early stage before the onset of clinical signs. The method requires five hours of amplification followed by 10 minutes of measurement time in its current form.
"Our work follows on the recent developments in the field of PD detection. After years of unsatisfying results, the scientific community is finding evidence that the presence of alpha-synuclein aggregates actually correlates with PD diagnosis. This has reignited the interest in developing early diagnostic analysis as protein build-up occurs years before symptoms appear," explained Dr Sierecki.
"So far, we have results from cerebrospinal fluid, which is obtained following a lumbar puncture, a minor but not routine operation. Our current efforts aim at using blood as a sample to make it more accessible. Even though people may be prepared to get a lumbar puncture to have a definitive PD diagnosis, it is not a good protocol to follow clinical trials for example, where patients are required to provide samples often. We are also exploring other samples such as urine or skin."
'Having a biomarker for PD is an important milestone for PD research, but it is only the beginning' - Dr Emma Sierecki
Mr Collins said so far, his PD journey has been minor in comparison to other sufferers, and he feels fortunate. However, the research at UNSW provides hope for the PD community.
"The UNSW research in developing an early and reliable test to detect and definitively diagnose PD is a massive development. The two years I spent between the tremors first appearing, to the appointment at Westmead Hospital when I was told I had PD was an extremely anxious and frustrating period. Quick, definitive diagnosis will lead to earlier interventions and peace of mind," said Mr Collins.
Dr Sierecki said there is hope for people who have not yet been diagnosed with PD. Early diagnosis also means therapeutic intervention can commence sooner, delaying and potentially preventing the apparition of more developed symptoms.
"Parkinson's disease is a progressive disorder that is not linked to a single, well-identified cause. There is still much to understand about the origin and progression of the disease and the diversity. Having a biomarker for PD is an important milestone for PD research, but it is only the beginning."
This research is supported by a grant from the Shake It Up Australia Foundation and the Michael J. Fox Foundation.
Poor Air Quality In Australian Classrooms Detrimental To Kids' Wellbeing And Learning
Australian schools need better ventilation to improve student health and productivity, says new UNSW research.
Many Australian school kids could be learning in classrooms with poor indoor air quality that exceeds safety guidelines.
A team from the UNSW Sydney's School of Built Environment found concentrations of carbon dioxide (CO₂) in classrooms peaked significantly higher than the 850-ppm threshold prescribed by the National Construction Code due to a lack of proper ventilation.
The study
also showed that low ventilation rates raise the concentration of other contaminants in a classroom environment, such as emissions from the building materials and furniture and particulate matter from indoor/outdoor sources.
Poor indoor air quality and high indoor air temperatures in classrooms are critical problems worldwide. This is only worsened when ventilation rates are insufficient to remove excessive heat or pollutants.
The lead author of the study, Associate Lecturer Dr Shamila Haddad, said children are particularly vulnerable to the impacts of poor air quality.
"Poor indoor air quality in classrooms is a critical problem given that students spend a substantial amount of their daytime in the classroom," Dr Haddad said. "Pollutant exposure during developmental stages may produce lifelong issues such as respiratory infections and upper and lower airways disorders."
Ventilation, not just air-conditioning
Poor air quality in the classroom doesn't just affect student health and wellbeing but also learning capacity through concentration loss, tiredness and fatigue.
"High concentration of CO₂ released by the occupants of the classroom can lead to fatigue, concentration loss, and poor learning performance. Elevated CO₂ concentrations can cause headache, sleepiness, and tiredness." Dr Haddad said.
"If we want to improve productivity in the classroom, we need to revise the shortcomings of the building itself to enhance health, wellbeing and comfort.
"Improving indoor thermal and environmental quality is as important as improving the teaching material in the classroom."
Previous research conducted by UNSW Professor Mat Santamouris found CO₂ levels of up to 4000ppm in classrooms, more than four times the recommended threshold.
"Under these conditions, both the teacher and the students are sleepy and tired, and their learning capacity is reduced tremendously," Professor Santamouris said.
"School kids aren't just little adults...they need specific environmental conditions to be comfortable."
While each state in Australia has its guidelines for indoor air quality in schools, school classroom ventilation typically relies upon natural and manual airing, which is not always possible. Often, windows are closed to avoid discomfort caused by external noise from people, traffic and construction and extreme weather to prevent drafts.
However, without adequate ventilation, high concentrations of pollutants build up inside the school, and microbes are likely to circulate the environment.
"Adequate ventilation and indoor air quality in classrooms cannot be achieved by split-type air-conditioners without the supply of fresh air leading to an accumulation of contaminants," Dr Haddad said.
"A good ventilation system inside classrooms, on the other hand, can ensure good air quality and thermal comfort, which can enhance learning capacity and also protect students against the transmission of airborne diseases, like COVID-19."
"Improving indoor thermal and environmental quality is as important as improving the teaching material in the classroom."
During the study, the research team installed a demand-controlled ventilation system inside a classroom to monitor air quality and pollutants. The system uses real-time feedback to regulate indoor air quality in line with safe recommended levels by adjusting the ventilation rate in response to occupancy numbers and pollutant concentration.
Once the air quality exceeds the school classrooms' recommended thresholds, the ventilation system supplies fresh air and flushes out polluted air based on measured air quality in the classroom.
"Demand controlled ventilation with air extraction removes excessive heat and stale air and allows fresh cool air to enter the classroom and maintain indoor air quality and thermal comfort," Dr Haddad said.
"It utilises both natural and mechanical ventilation systems and provides an effective opportunity for controlling indoor air quality in school buildings by adjusting airflow rates based on indoor air quality measures such as CO₂, Total Volatile Organic Compound (TVOC) and thermal comfort parameters."
The demand control ventilation system is more reliable than natural ventilation and is more efficient and cheaper to run than other conventional ventilation systems that use open-loop controls with constant ventilation rates, Dr Haddad said.
Child-based design guidelines for schools
Dr Haddad said the study supports a growing case for developing specific health guidelines that consider the combination of indoor- based ventilation and thermal comfort needed specifically for schools.
"School kids aren't just little adults, due to several reasons, namely age-dependent morphological, physiological, and psychological factors," Dr Haddad said. "They need specific environmental conditions to be comfortable."
"This study provides evidence-based findings, which can be taken forward to develop a new set of child-based design guidelines for future school buildings...where students' thermal comfort and satisfaction, health and energy consumption measures are undertaken."
North Shore Parole Officers Share Their Stories In Podcast
Parole officers from across Sydney reveal what it's like to work with offenders one-on-one in a ground-breaking new podcast, Behind the Walls.
Hosted by crime author Michael Duffy, the six-part series features first-hand accounts from 30 correctional officers about what really happens behind the walls of prisons and doors of parole offices in NSW.
One such interview is with Grace Wong, who works at Hornsby Community Corrections where staff supervise parolees and offenders on community-based court sentences.
"We do get a lot of clients who walk through the door with histories of childhood trauma, sexual abuse, exposure to violence at an early age and domestic violence," Ms Wong said.
"I think a lot of the trauma that clients go through and their abuse history contributes to the reasons why they end up in our system. There are some really sad stories that walk through the door."
Community Corrections officers work one-on-one with offenders, helping them to address the reasons why they commit crime and how they can stop it. This includes developing management plans, regular monitoring and referral to necessary services and programs.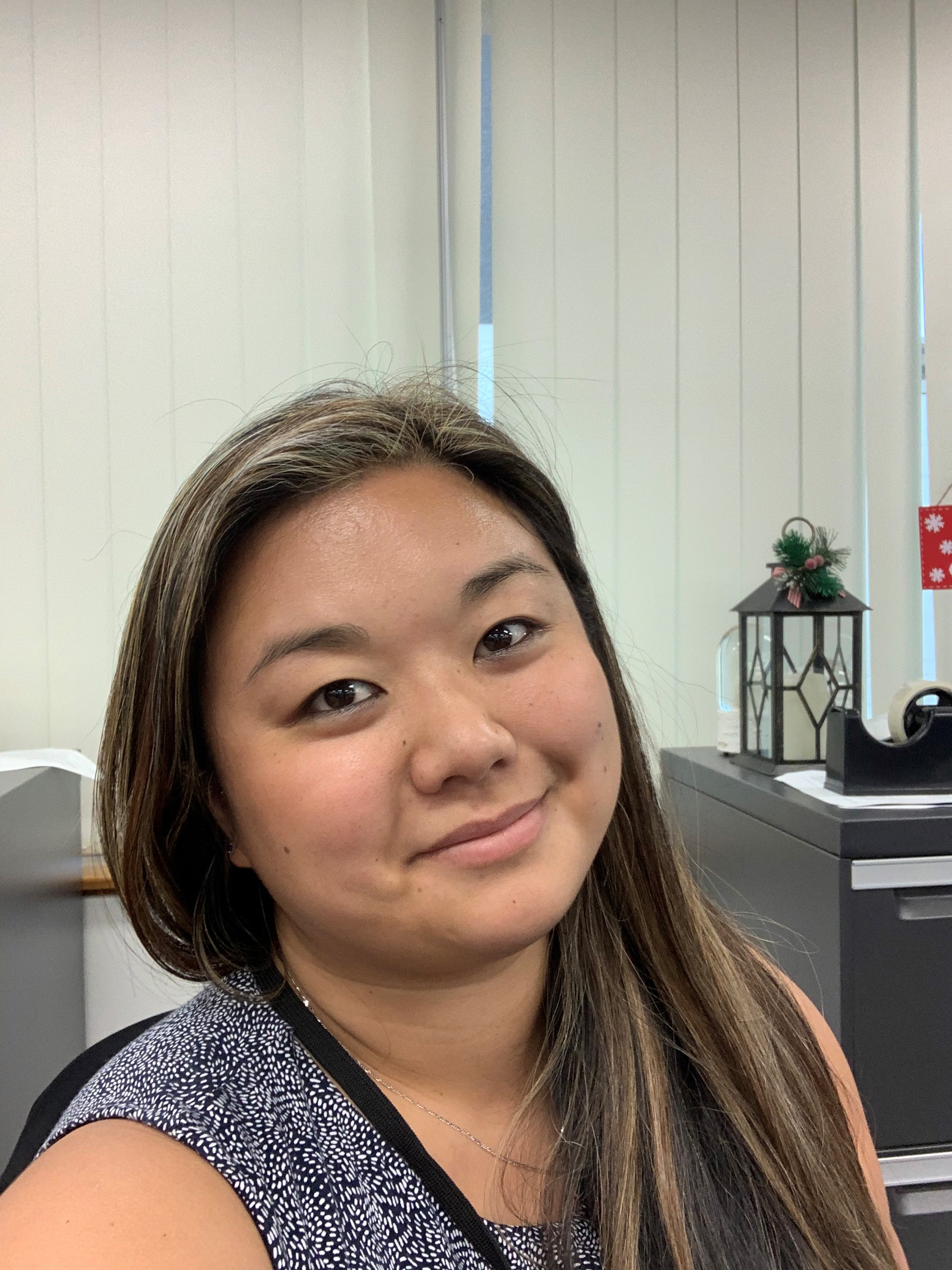 Grace Wong, Hornsby Community Corrections. Photo courtesy CSNSW
St Leonards Community Corrections officer Jessie Slattery-McDonald told the podcast that while interventions could assist a person to lead a more pro-social life, sometimes that wisdom only comes with age.
"I feel like we can do everything we can, but if someone is not ready to change in themselves, that's where it gets difficult," Ms Slattery-McDonald said.
"Whereas you can have someone that has been repeat offending for 30, 40 odd years and they finally get to a point where they're like, 'I don't want to do this anymore'. They're seeing that there's no benefit whatsoever.
"The 18-25 age group is hard because they tend to have a slight arrogance, they are a little bit invincible. They don't really see an issue, particularly if some of them are still living at home.
"So they're not working, they're just hanging out and they don't really see the consequences of their actions.
"It's when they've got more responsibilities, they're getting older, they're not achieving what their peers might be, and they kind of realise that there's no point doing what they're doing."
Episode six, Behind the Walls: Parole was released on Thursday April 16 and is available for free on all good podcast apps. It is the final episode in the ground-breaking six part series about working in prisons and parole.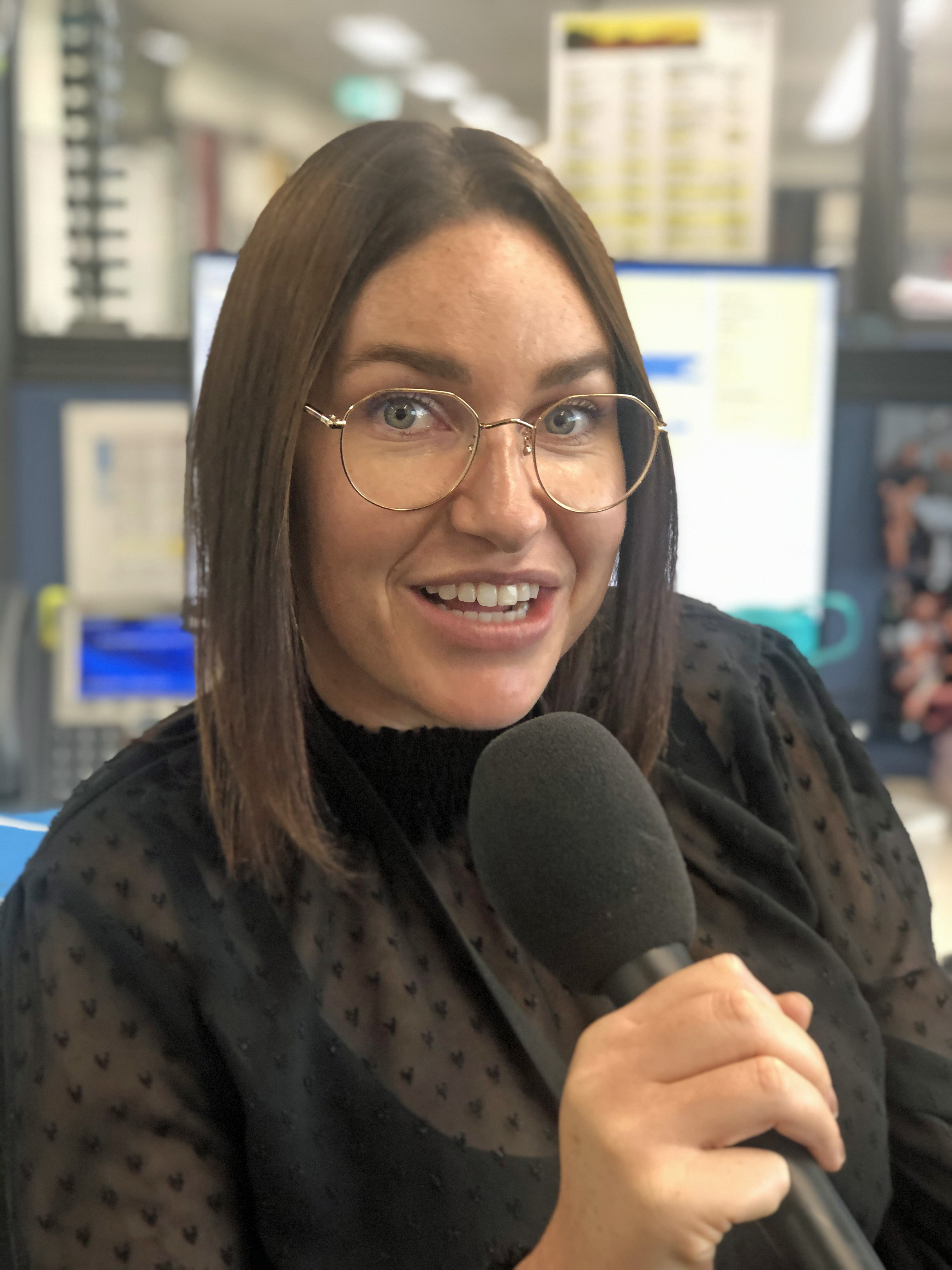 Jessie Slattery-McDonald,
St Leonards Community Corrections.
Photo courtesy CSNSW
World's Smartest Computer Recruited For Future NSW Transport
The world's smartest computer could be used to tackle Sydney's complex transport problems, including updating schedules in real time if there is crowding on the network.
Minister for Transport and Roads Andrew Constance said a new partnership between the NSW Government and
Australian company Q-CTRL
will look at how quantum computing technology can create and manage a more resilient transport network.
"This is a rare opportunity for some of our leading transport innovators and quantum computing experts to come together to tackle complex transport network management and congestion problems," Mr Constance said.
"Future applications of the technology could include mapping all transport modes and crowd movements simultaneously in real time, and automatically updating the schedule to solve disruption issues.
"We could see all trains, busses, ferries, trams and motorways essentially 'talking to each other' to find out where customers are and deploy resources where needed. It could be used for massive public events, like New Year's Eve or Vivid Festival."
Q-CTRL Founder and CEO Professor Michael Biercuk said Quantum computers are an emerging technology that replaces the traditional 'binary' computing concepts used in most computers today, and instead uses quantum physics to tackle tough computational challenges in a fraction of the time.
"This technology could completely transform the computing tools available to Transport for NSW in the next few years. The possibilities are endless," Professor Biercuk said.
The quantum computing research project is one of several initiatives being launched as part of the Future Transport Technology Roadmap.
Plastic Planet: Tracking Pervasive Microplastics Across The Globe
Really big systems, like ocean currents and weather, work on really big scales. And so too does your plastic waste, according to new research from Janice Brahney from the Department of Watershed Sciences. The plastic straw you discarded in 1980 hasn't disappeared; it has fragmented into pieces too small to see, and is cycling through the atmosphere, infiltrating soil, ocean waters and air. Microplastics are so pervasive that they now affect how plants grow, waft through the air we breathe, and permeate distant ecosystems. They can be found in places as varied as the human bloodstream to the guts of insects in Antarctica.
Understanding how microplastics move through global systems is essential to fixing the problem, said Brahney. Her new research focuses on how these invisible pieces of plastic get into the atmosphere, how long they stay aloft, and where in our global system we can expect to find hotspots of microplastic deposition.
Plastics enter the atmosphere ... not directly from garbage cans or landfills as you might expect ... but from old, broken-down waste that makes its way into large-scale atmospheric patterns. Roads are a big source of atmospheric plastics, where vehicle tires churn and launch skyward the tiny pieces through strong vehicle-created turbulence. Ocean waves, too, are full of insoluble plastic particles that used to be food wrappers, soda bottles, and plastic bags. These "legacy plastic" particles bob to the top layer of water and are churned by waves and wind, and catapulted into the air.
Another important source for the re-emission of plastics is dust produced from agricultural fields. Plastics are introduced to the soil when fertilizers from waste treatments operations are used (virtually all microplastics that are flushed with wastewater remain with the biowaste after the treatment process). Wind can also be a factor near population centres, whisking broken-down plastic particles into the air.
Once in the atmosphere, plastics could remain airborne for up to 6.5 days -- enough time to cross a continent, said Natalie Mahowald, co-author on the paper. The most likely place for plastic deposition from the atmosphere is over (and into) the Pacific and Mediterranean oceans, but continents actually receive more net plastics from polluted ocean sources than they send to them, according to the models. The U.S., Europe, Middle East, India and Eastern Asia are also hotspots for land-based plastic deposition. Along the coasts, ocean sources of airborne plastic become more prominent, including America's west coast, the Mediterranean and southern Australia. Dust and agriculture sources for airborne plastics factor more prominently in northern Africa and Eurasia, while road-produced sources had a big impact in heavily populated regions the world over.
This study is important, said Brahney, but it is just the beginning. Much more work is needed on this pressing problem to understand how different environments might influence the process ... wet climates versus dry ones, mountainous regions versus flatlands. The world hasn't slowed its production or use of plastic, she said, so these questions become more pressing every passing year.
Janice Brahney, Natalie Mahowald, Marje Prank, Gavin Cornwell, Zbigniew Klimont, Hitoshi Matsui, Kimberly Ann Prather.
Constraining the atmospheric limb of the plastic cycle
. Proceedings of the National Academy of Sciences, 2021; 118 (16): e2020719118 DOI:
10.1073/pnas.2020719118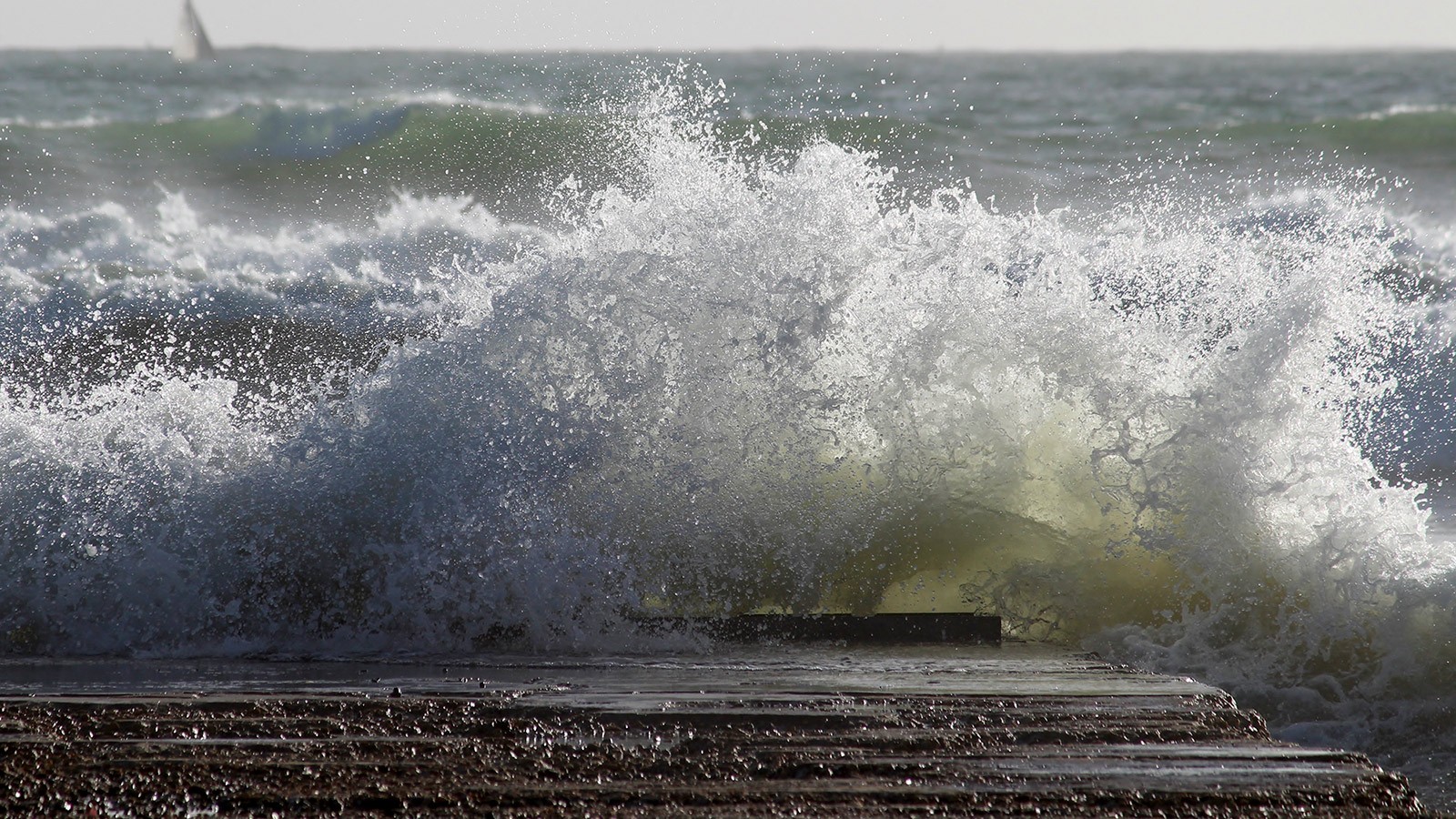 Introduced Honeybee May Pose Threat To Native Bees
A Curtin University study has found the introduced European honeybee could lead to native bee population decline or extinction when colonies compete for the same nectar and pollen sources in urban gardens and areas of bush.
Published in the Biological Journal of the Linnean Society, the research found competition between the native bees and the introduced European honeybee could be particularly intense in residential gardens dominated by non-native flowers, and occurred when the bees shared the same flower preferences.
Under these conditions, it would appear that European honeybees, being very abundant, and effective foragers, with the ability to exploit a wide range of flowers, can outcompete native bees for nectar and pollen resources.
Lead author, Forrest Foundation Scholar Miss Kit Prendergast, from Curtin's School of Molecular and Life Sciences said the research was conducted over two years in urban gardens and areas of native vegetation on the Swan Coastal Plain at Perth, Western Australia and revealed a complex relationship between native and introduced bees.
"Not all native bee species were impacted, but when native bees preferred many of the same flower species as honeybees or were of larger body size, meaning they needed more food, this was when honeybees had a negative impact on native bees," Miss Prendergast said.
"This occurs due to resource competition, where honeybees were more successful at exploiting food resources from flowers, leaving not enough nectar and pollen to support native bee populations.
Unlike native bees, honeybees occur in colonies of tens of thousands of individuals, and are better at telling other colony members where flower patches are. This communication is done by using a combination of movement and vibrations known as the "waggle dance" and using scent.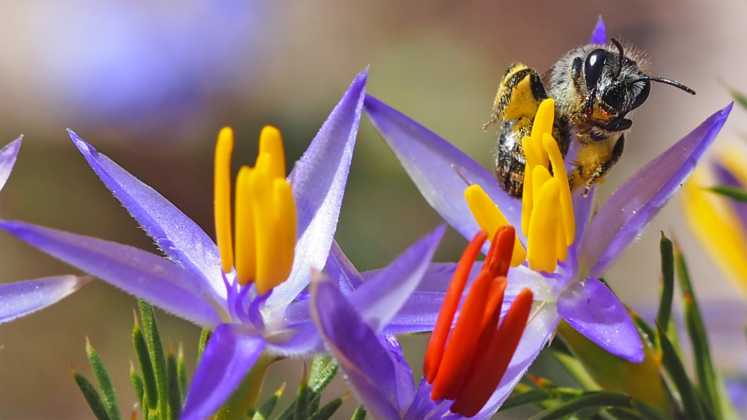 Leioproctus on Calectasia narragara. Picture: Kit Prendergast

"Competition from honeybees was particularly fierce in residential gardens where there are lower proportions of the native wildflowers that our native bees have co-evolved to forage on," Miss Prendergast said.
"This impact of competition with a super-abundant, domesticated and feral introduced bee, when combined with pressures from habitat loss as a result of increasing urbanisation and agriculture, especially livestock agriculture, places some native bee species at risk of becoming endangered or even extinct."
Miss Prendergast said planting more flowering plants, particularly those preferred by vulnerable species of native bees, could help prevent them from declining in number. Controlling the density of honeybees would also be critical in reducing the pressure on vulnerable native bees.
"Native bees are an integral and important part of any ecosystem, including in the Southwest Australian biodiversity hotspot in which our research was conducted," Miss Prendergast said.
"European honeybees have been introduced around the world and pose an added threat to many native bee species already at risk of declining numbers or even extinction due to increasing urbanisation."
Kit S Prendergast, Kingsley W Dixon, Philip W Bateman.
Interactions between the introduced European honey bee and native bees in urban areas varies by year, habitat type and native bee guild.
Biological Journal of the Linnean Society, 2021; DOI:
10.1093/biolinnean/blab024
Secret Genetic Switch In Zebrafish Key To Heart Regeneration
Scientists have discovered a critical new gene in zebrafish that helps them repair damaged heart muscle.
Researchers at the Victor Chang Cardiac Research Institute (VCCRI) and UNSW Sydney have identified a genetic switch in zebrafish that turns on cells, allowing them to divide and multiply after a heart attack and resulting in the complete regeneration and healing of damaged heart muscle in these fish.
It's already known that zebrafish can heal their own hearts, but how they performed this incredible feat remained unknown until now. In research published this month in
Science
, the team drilled down into a critical gene known as Klf1 that previously had only been identified in red blood cells. For the first time they discovered it played a vital role in healing damaged hearts.
VCCRI Scientist and UNSW Conjoint Senior Lecturer, Dr Kazu Kikuchi, who led this world-first research, said he was astonished by the findings.
"Our research has identified a secret switch that allows heart muscle cells to divide and multiply after the heart is injured. It kicks in when needed and turns off when the heart is fully healed. In humans, where damaged and scarred heart muscle cannot replace itself, this could be a game-changer," Dr Kikuchi explains.
"With these tiny little fish sharing over 70 per cent of human genes, this really has the potential to lead to new drug developments and save lives down the track."
The gene works by making remaining uninjured heart muscle cells more immature and changing their metabolic wiring. This allows them to divide and make new cells.
When the gene was removed, the zebrafish heart lost its ability to repair itself after an injury such as a heart attack, which pinpointed it as a crucial self-healing tool.
Professor Bob Graham, Head of the Institute's Molecular Cardiology and Biophysics Division, says they hope to utilise this world-first discovery, made in collaboration with the Garvan Institute of Medical Research, to transform the treatment of heart attack patients and other heart diseases.
"The team has been able to find this vitally important protein that swings into action after an event like a heart attack and supercharges the cells to heal damaged heart muscle. It's an incredible discovery," says Prof Graham.
"The gene may also act as a switch in human hearts. We are now hoping further research into its function may provide us with a clue to turn on regeneration in human hearts, to improve their ability to pump blood around the body."
Importantly, the team also found that the Klf1 gene played no role in the early development of the heart and that its regenerative properties were only switched on after a heart injury.
Professor Graham added: "This is clear evidence that the regeneration you get after a heart injury is not the same as what happens during the development of the heart but involves an entirely different pathway; an issue that has been debated for years."
The UNSW-affiliated authors on the Science paper include Conjoint Senior Lecturer Dr Kazu Kikuchi, Associate Professor Ozren Bogdanovic, Adjunct Lecturer Daniel Hesselson, and Conjoint Lecturer David Humphreys.
Disclaimer: These articles are not intended to provide medical advice, diagnosis or treatment. Views expressed here do not necessarily reflect those of Pittwater Online News or its staff.