inbox and environment news: Issue 489
March 28 - April 17, 2021: Issue 489
CSIRO's Dish To Support One Of The First Commercial Moon Landings
March 25, 2021
The iconic Parkes radio telescope, owned and operated by Australia's national science agency, CSIRO, will help businesses to literally reach for the Moon by providing ground station support for one of the first commercial lunar landings later this year.
CSIRO has signed a new five-year agreement with Houston-based aerospace company Intuitive Machines to support multiple lunar missions, including their first flight under NASA's Commercial Lunar Payload Services (CLPS) initiative.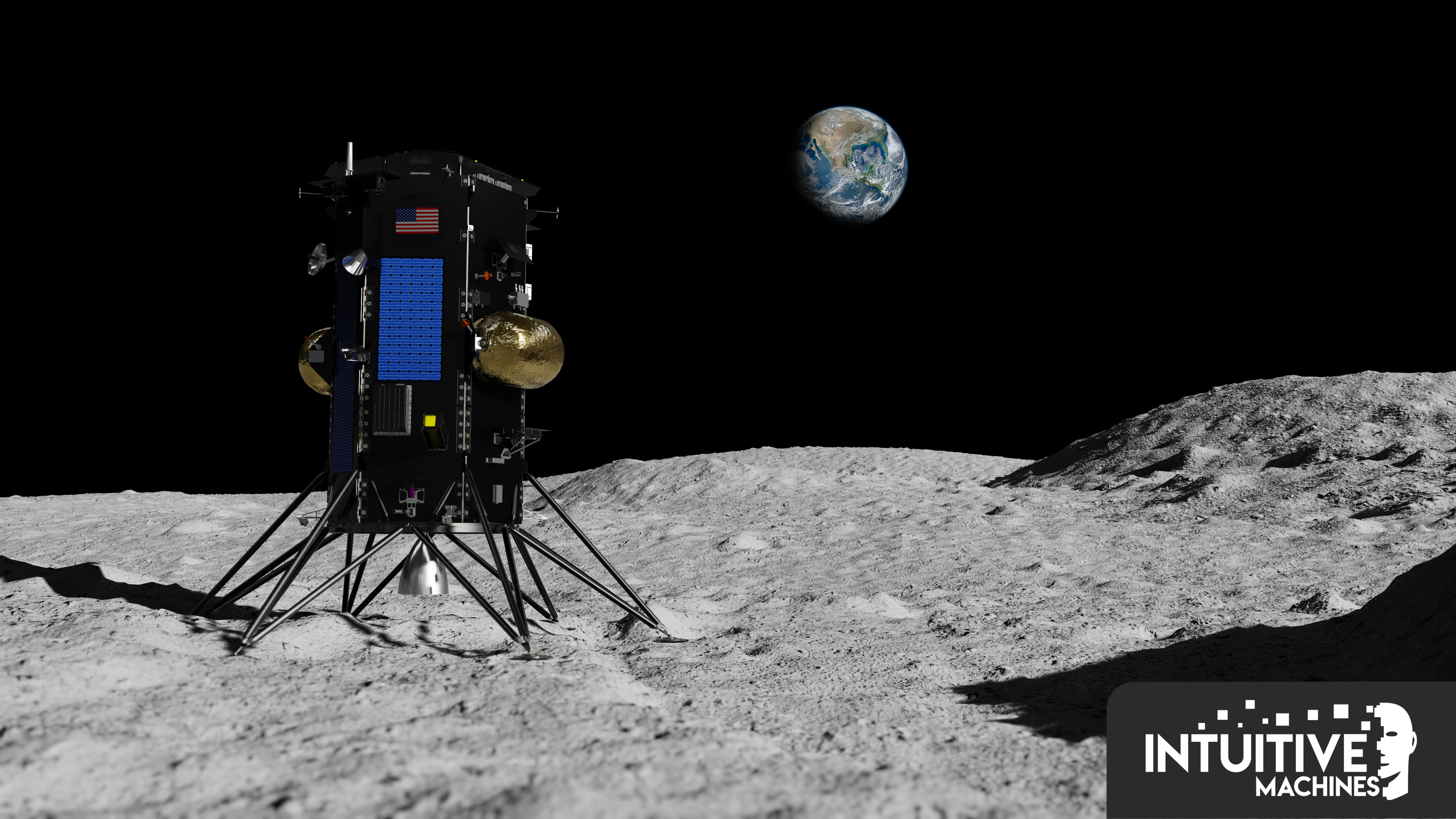 Intuitive Machines' Nova-C lander will deliver cargo and experiments to the lunar surface. © Intuitive Machines
The Parkes telescope, also known as Murriyang, is valuable for spacecraft tracking due to its large dish surface and advanced data acquisition systems, which are used primarily for astronomy research.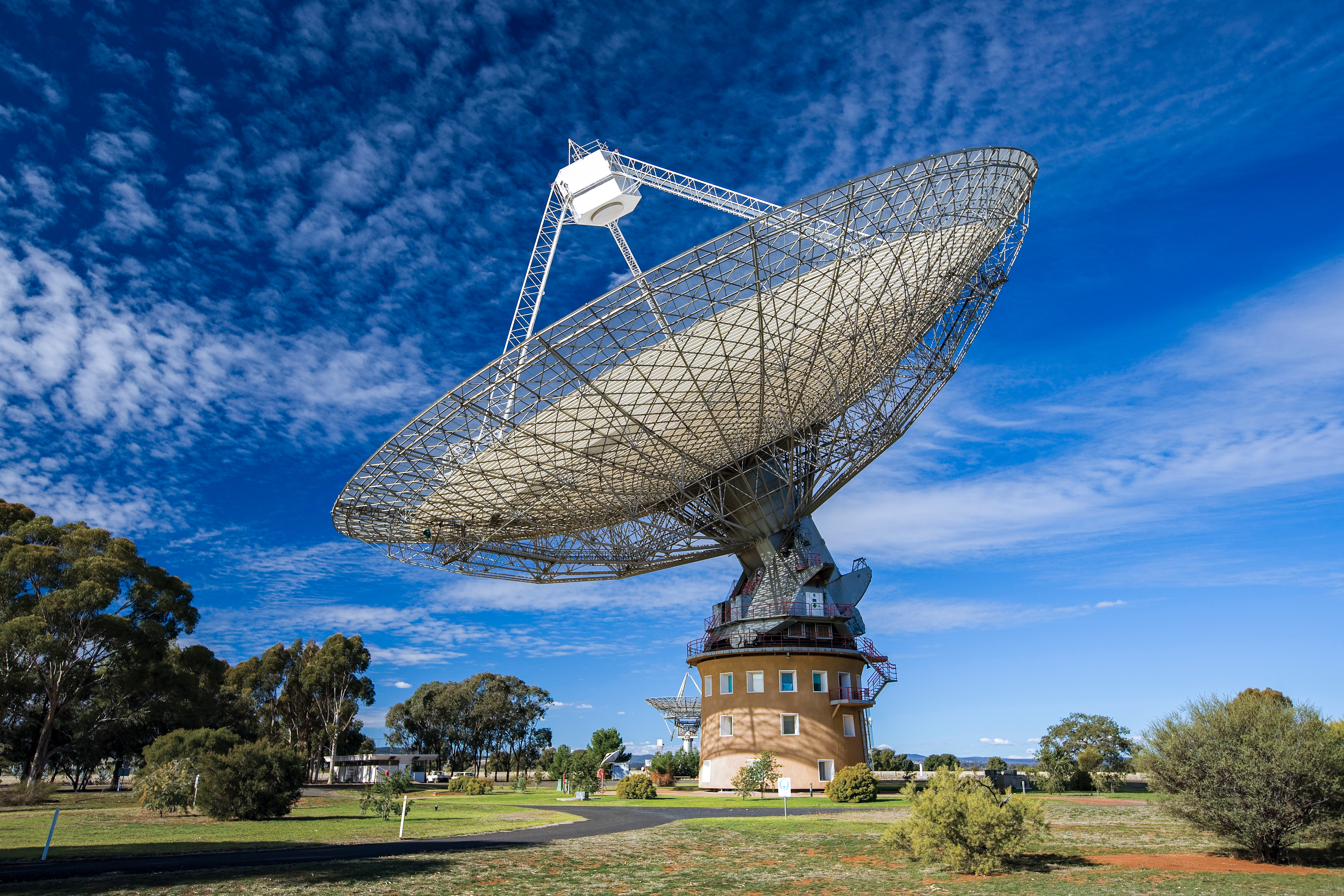 CSIRO's Parkes telescope. Photo credit: CSIRO
The 64-metre telescope will be the largest and most sensitive receiving ground station for Intuitive Machines' upcoming missions, maximising the return of the scientific and engineering data for the lunar exploration program.
CSIRO Chief Executive Dr Larry Marshall said the partnership was an exciting new chapter for the iconic Dish, with the partnership tapping into CSIRO's expertise and proven track record supporting spacecraft programs.
"It was 50 years ago that Australia played a critical role in the original Moon mission, but innovation never sleeps, so we're proud to support the latest innovations heading to the Moon's surface," Dr Marshall said.
"Australia is growing a vibrant space industry, underpinned by our unique strengths in agriculture, mining, and materials, and because we know innovation thrives on collaboration, we're supporting the entire international space community."
CSIRO's Acting Chief Scientist Dr Sarah Pearce said CSIRO was proud to have its world class scientific facilities be part of the global team that will help Intuitive Machines and NASA deliver science instruments to the Moon.
"Along with NASA's Honeysuckle Creek station near Canberra, the Parkes radio telescope helped share the Apollo 11 Moon landing with more than 600 million people around the world. And now we are proud to support the first companies extending their reach to the Moon's surface, advancing knowledge that can benefit life both on Earth and, one day, on the Moon," Dr Pearce said.
"Australia is growing a vibrant and respected space industry, underpinned by world-class national infrastructure and a long history in enabling space exploration. This is another example of Australian capability supporting the international space community."
Intuitive Machines will launch its Nova-C Moon lander on a SpaceX Falcon 9 rocket towards the end of 2021, delivering commercial cargo and five NASA experiments to investigate the local geography and test technology required for future human exploration.
CLPS initiative companies are responsible for all aspects of delivering their cargo to the Moon, including spacecraft tracking and communication.
NASA urged CLPS providers to utilise ground station capabilities outside of NASA's Deep Space Network, the ground station network supporting the Agency's many interplanetary space missions.
Intuitive Machines Vice President for Control Centers Dr Troy LeBlanc said being the first commercial company to land on the Moon is a huge communications challenge.
"We require the technical support and expertise of the team at CSIRO's Parkes radio telescope to provide mission tracking and data downlink services," Dr LeBlanc said.
"CSIRO's Parkes telescope adds significant data downlink capability to Intuitive Machines' robust Lunar Telemetry, Tracking and Command Network.
"The successful use of the Network for these initial missions will underpin the return of humans to the Moon and ultimately sustainable presence under the Artemis program."
Director of CSIRO Astronomy and Space Science Dr Douglas Bock said the agreement with Intuitive Machines recognises CSIRO's experience operating large, complex spacecraft tracking and radio astronomy infrastructure.
"Our Parkes radio telescope began supporting space missions in 1962, when it tracked the first interplanetary space mission, Mariner 2, as it flew by the planet Venus," Dr Bock said.
"Most recently, the telescope received data from Voyager 2 as it entered interstellar space, supporting the Canberra Deep Space Communication Complex – which we also manage for NASA.
"Operating as a ground station for space missions complements the astronomy research conducted with the telescope and helps to maintain its capabilities as a world-class research instrument."

The Parkes radio telescope will track Intuitive Machines' spacecraft on its way to the Moon. © Intuitive Machines
About CSIRO
CSIRO is Australia's national science agency and innovation catalyst. We solve the greatest challenges through innovative science and technology. Our collaborative research turns science into solutions for food security and quality; clean energy and resources; health and wellbeing; resilient and valuable environments; innovative industries; and a secure Australia and region.
About Intuitive Machines
Intuitive Machines is a premier provider and supplier of space products and services that enable sustained robotic and human exploration to the Moon, Mars and beyond. We drive markets with competitive world-class offerings synonymous with innovation, high quality, and precision. Whether leveraging state-of-the-art engineering tools and practices or integrating research and advanced technologies, our solutions are insightful and have a positive impact on the world.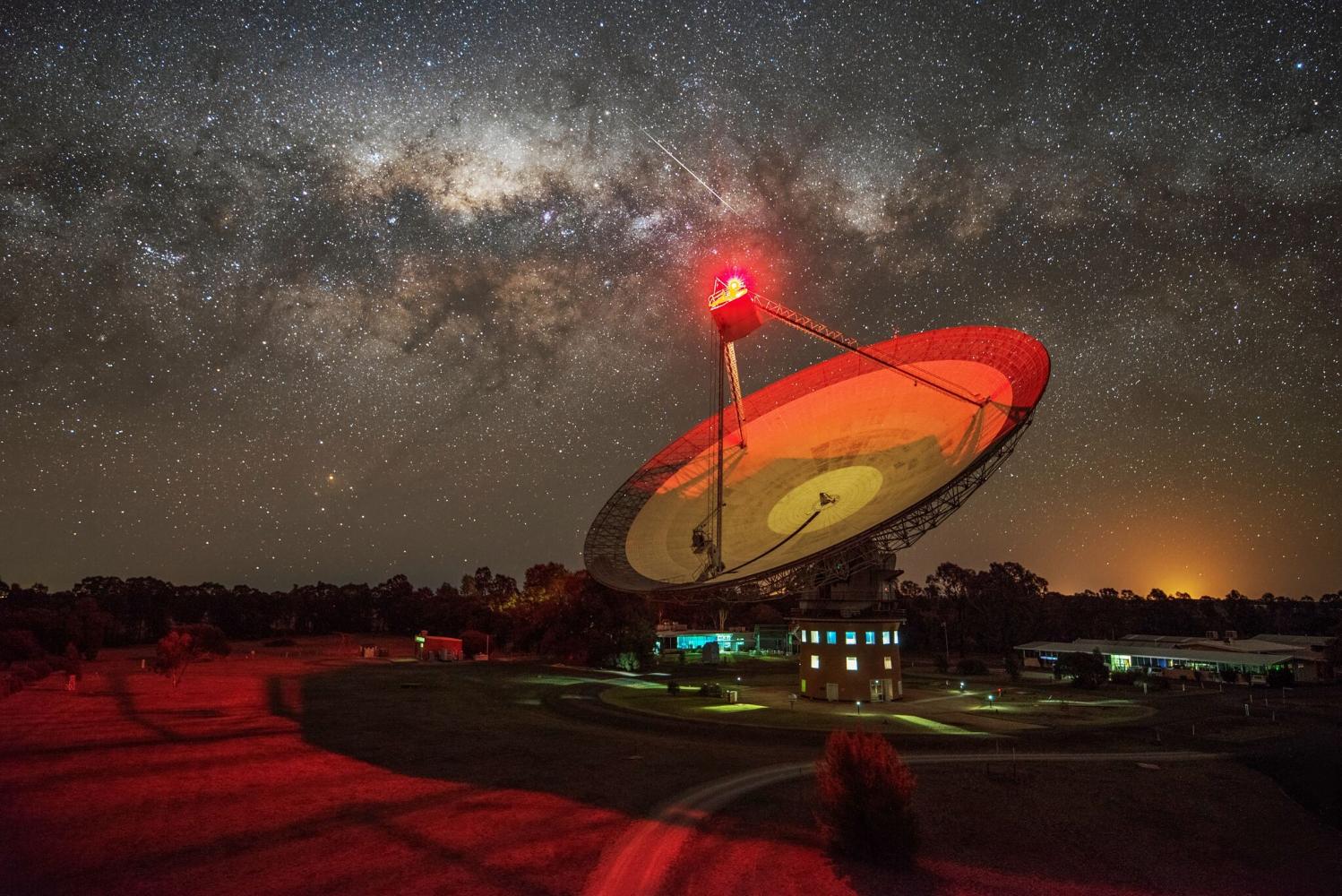 CSIRO's Parkes telescope against the Milky Way. Image credit: CSIRO
Unveiling Of The Bashir Coat Of Arms
On March 1st 2021 Her Excellency the Honourable Margaret Beazley AC QC and Mr Wilson hosted the Unveiling of the Coat of Arms of former Governor Professor The Honourable Dame Marie Bashir AD CVO, followed by an afternoon tea, on the Arcade at Government House, Sydney.
Speech by Her Excellency the Honourable Margaret Beazley AC QC, Governor of New South Wales:
Bujari gamarruwa, diyn babana gamarada Gadigal ngura.
'G'day' in the language of the Gadigal people, the Traditional Owners of the land on which Government House stands. I pay my respects to their Elders past, present and emerging, and extend that respect to all Aboriginal and Torres Strait Islander peoples.
Dame Marie, what an honour it is for me to welcome you back to the House, on this 20th anniversary of your swearing-in, along with members of your family and former officials and staff. I am also pleased to welcome stone masons Jasper, Robert and Paul from Public Works.
I suspect most of us here have heard visitors to this building exclaim "if only these walls could talk". Today is a reminder that they do!
From today these walls will speak of the first female Governor of New South Wales.
Dame Marie, this three-dimensional representation of your Coat of Arms will speak to generations to come of your life, passion and service.
The shield at its centre speaks of your dedication to medicine and the marginalised, symbolised by the Rod of Caduceus. The open book tells of your enthusiasm for learning and education, and those harps side ring out proclaiming your passion for music. I am fond of that sheaf of wheat at the bottom, a lovely reminder of your childhood in Narrandera. What a significant moment it was for our State when that girl from the bush became Governor of New South Wales!
Then there is the red rampant lion at the top, a symbol of government and authority as well as strength and courage.
There is more symbolism of course and we will hear more about that later. But I do want to highlight the motto.
Dame Marie – these were the things that you said mattered most – Friends, Family, Faith. Today your family and friends are by your side. When your painted Coat of Arms was unveiled in 2014, you explained Faith as "Faith in humanity – hope in other words."[1]
Although these walls will speak of your contributions for centuries to come, our greatest legacies don't live on in stone but in the hearts of others and in lives, institutions and systems changed for the better – to use an old fashioned term - change for the commonwealth of all.
I recall you being interviewed at the time of your retirement from this role. A gentleman from the Sydney Morning Herald asked you about your advice for Governors. You said:
"Walk and work amongst the people - that's where the joy is. The pomp and circumstance is beautiful but the real joy is seeing people get things done."[2]
The advice rings true.
Thank you to all those involved in getting this Coat of Arms done – to our Estate Manager, Dayn, and to our masons from Public Works, Jasper, Robert and Paul. This has been quite a process with the approval of the concept sketch in November 2018, the careful picking of sandstone which came from a pit in Harris Street Pyrmont, several versions of a clay model, with final approval in July 2020, and then the expert process of cutting and carving this work and then installing it here on the Arcade.
Let the walls speak!
I am now delighted to officially unveil the sandstone Coats of Arms of the 37th Governor of New South Wales, Professor the Honourable Dame Marie Bashir AD CVO.
[1] Sydney Morning Herald – Marie Bashir's final week as NSW Governor. The unveiling of the portrait and Coat of Arms was 22 September 2021, the article was published on 24 September 2014
[2] ibid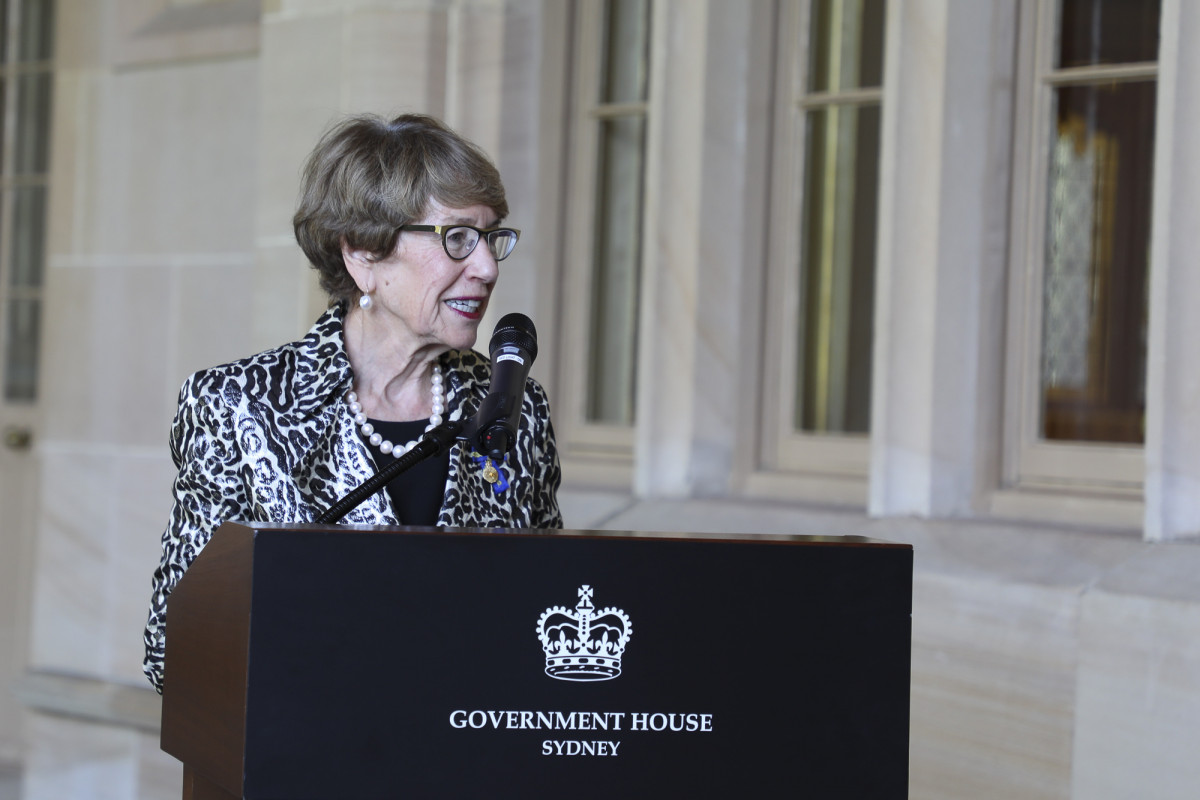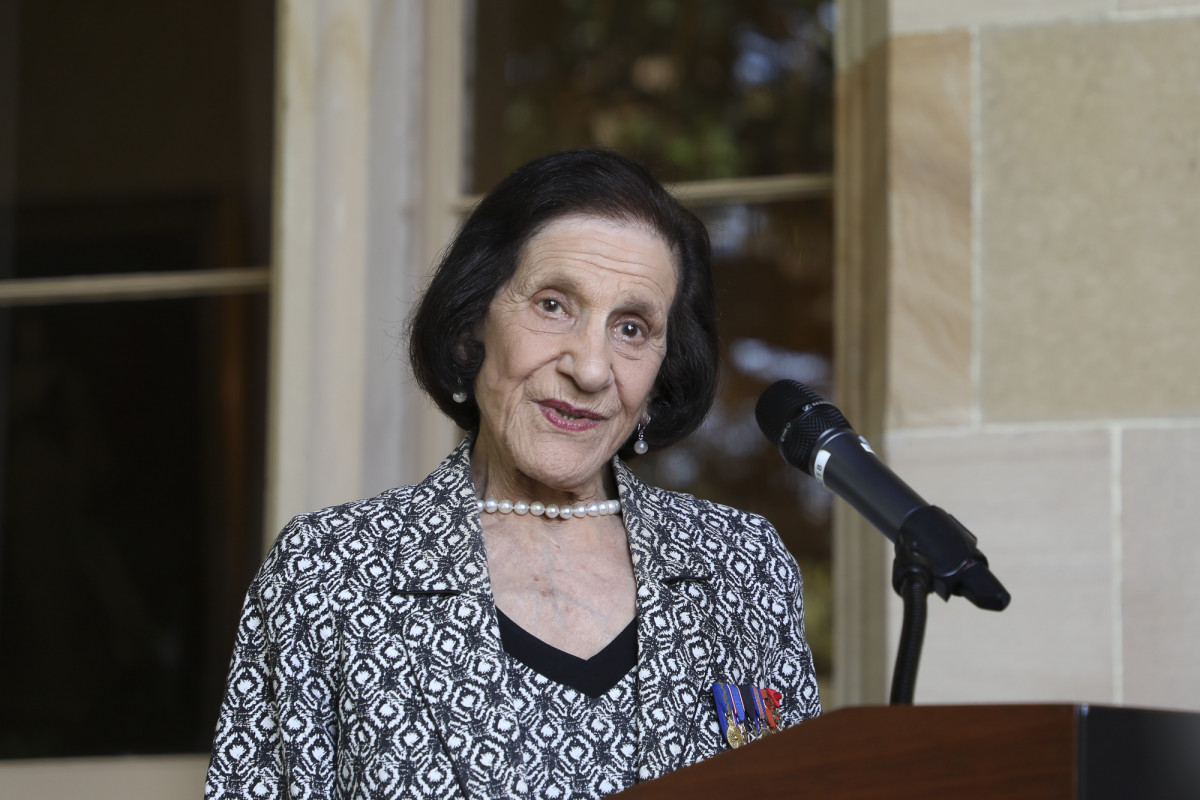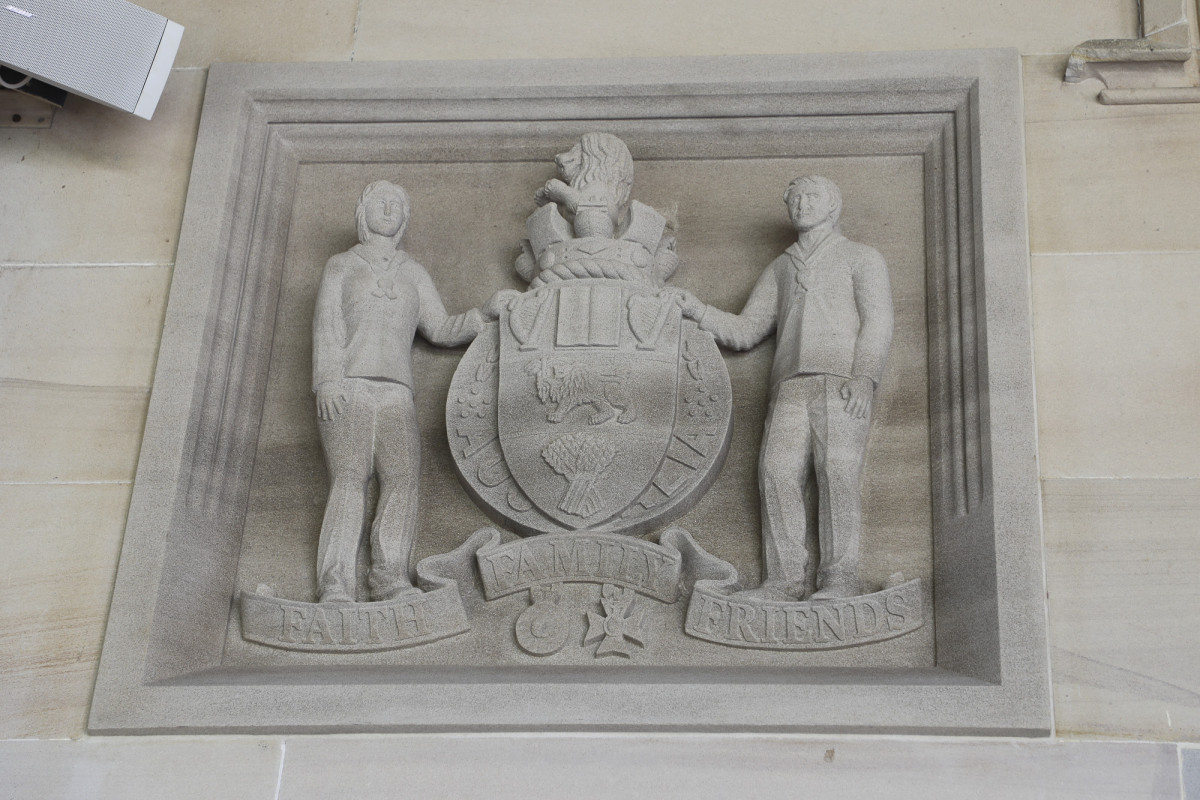 Photos supplied by Government House Sydney
Below runs a video explaining the parts of this Coat of Arms
Mens Essentials Series: Event 1
Hosted by Meditation for Men, the Men's Essentials Series consists of monthly workshops in an inclusive and friendly environment. The Men's Essential Series promotes collaboration and partnership connecting local businesses to engage, educate and network with men of our northern beaches community. Each monthly event also raises awareness and critical funds for crisis support and suicide prevention with ticket proceeds donated to Lifeline Northern Beaches.
Tickets $20-40 at: https://events.humanitix.com/mens-essentials-series
Tour the brewery and sample amazing craft beer. Presented by MODUS OPERANDI BREWING COMPANY at Mona Vale
Learn the critical areas to be maintained and checked on a vehicle. Presented by JAX TYRES and AUTO MONA VALE.
Learn how to grow food sustainably and using the best methods. Presented by VEGEPOD.
WIN! Over $1,000 in prizes to be won, including a Vegepod, 5 Week

Meditation for Men Meditation Course and more.
Ticket proceeds are donated to our community partner, Lifeline Northern Beaches.
In response to COVID-19, Lifeline are receiving over 3,000 calls a day (that's a 25% increase) – A CALL EVERY 30 SECONDS.
Thanks to you, Lifeline can continue to operate and deliver our core services to the public as we create connection with people in crisis and empower individuals and communities to be safe from suicide. Together we are saving lives.
Thank you to our event partners, Modus Operandi Brewing Company, Jax Tyre and Auto Mona Vale and Vegepod.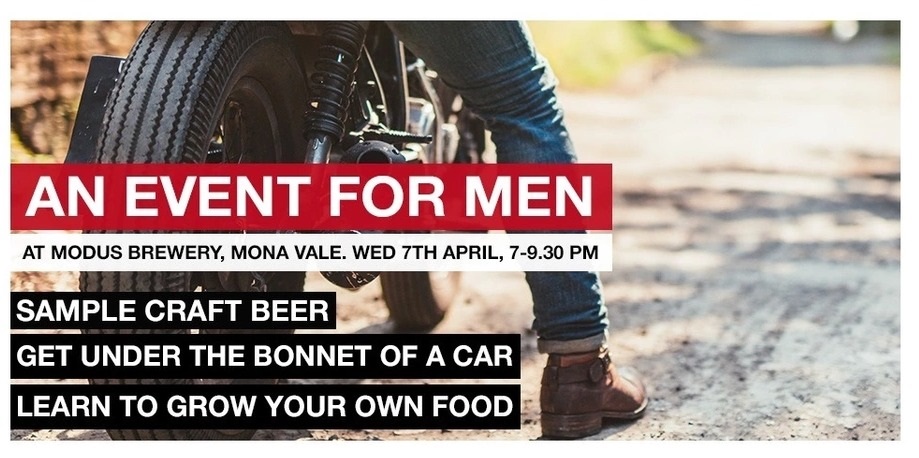 Royal Easter Show 2021 Showcases A Whole World Of Animals
Have you seen all the great animals you can visit at this year's Royal Easter Show? This (apart from show bags and fairy floss) was always my favourite part of each year's show. I managed to get some tickets for my nieces and their cousins a bit over a week ago now - they like all the rides (and the show bags) - but they also love animals and even collect toy animals.
One of my favourite animal displays are the horses. Did you know that the Sydney Royal Horse Show is the largest of its kind attracting over 5,500 entries exhibiting the most prestigious horses in Australia and New Zealand?
There's a competitive event every day of the Show with classes including: Breeds, Hacks, Light and Heavy Harness, Showjumping, Campdraft, Polo, Rodeo, Pony Club, Tentpegging and Heavy Horse Obstacle Vaulting. You can see that every day of the Royal Easter Show in the big stadium and in the arena. Youngsters are getting involved in the Youth Polocrosse this year too. Originating in NSW in 1939, Polocrosse is an action-packed team sport enjoyed by all age groups. This year Junior Polocrosse teams will compete in four exhibition matches, combining the skills of polo with the speed of lacrosse. Using long-handled racquets, the aim is to scoop up the ball and get it into the goal. With only three players on the field for each team, the pace is fast.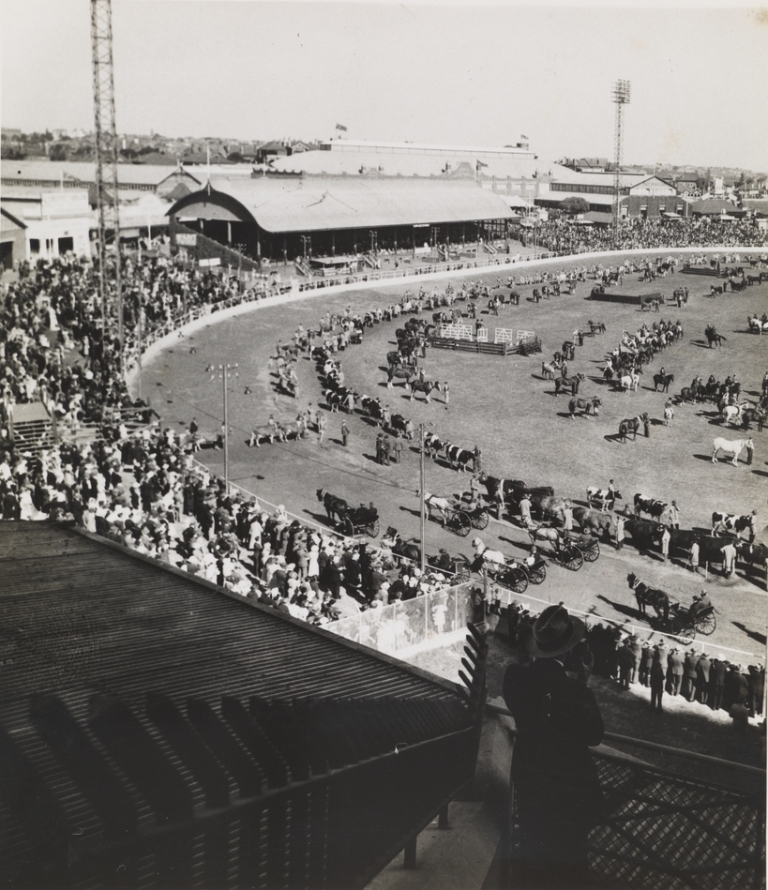 Grand parade, Easter Show, circa 1925 to 1955, from album: Hood Collection part II : [Royal Agricultural Society Showground: Easter Shows, Sheep Shows, Highland gatherings, etc. (and including other agricultural industry scenes)] courtesy State Library of NSW, the Mitchell Library. Image No.: a359002h
Visiting the Pet Pavilion is pretty amazing too as it 'shows' you all the animals people keep as pets - everything from mice to birds and even frogs can be seen, however, it's the puppies and kittens we love.
For those who don't spend time on a farm there's the 10 Shake Farmyard Nursery. Here you will find 10 Shake Farmyard Nursery - an open-plan indoor paddock with over 500 free-range animals you can pat. Here you'll see playful ducklings on their waterslide, piglets, geese, donkeys and much more or maybe have a go at feeding the friendly chickens, sheep and goats that come to visit you.
If you want to find out more about being on a farm you can visit the Junior Farm Hands. Here you can grind grain, dig for vegetables and move animals around your farm. RAS Junior Farm Hands activities give little ones the opportunity to try their hand as a farmer and even take a turn in the tractor - don't leave the Food Farm without collecting your very own tractor licence!
Follow the link to download your Junior Farm Hands Activity booklet.

While finding out all about farming you may want to pop into the District Exhibits - this is like a mini-tour through our very own countryside. These spectacular constructions of vegetables, fruit and other produce are one of the highlights of The Sydney Royal Easter Show. These giant displays are a cooperative work by growers that reflect the diversity and excellence of their regional produce. Each consists of more than 10,000 pieces of fresh produce from five agricultural districts throughout NSW and South East Queensland.
Kids Street is designed for tiny tots to pre-teens, with a recharge spot for mum and dad too, featuring a selection of carnival games, hot food, coffee, and a specially marked pram parking zone. Located at GIANTS Stadium Concourse, all rides are available for only 4 coupons each (yes, I got them some rides coupons too - saves waiting around, we hope!).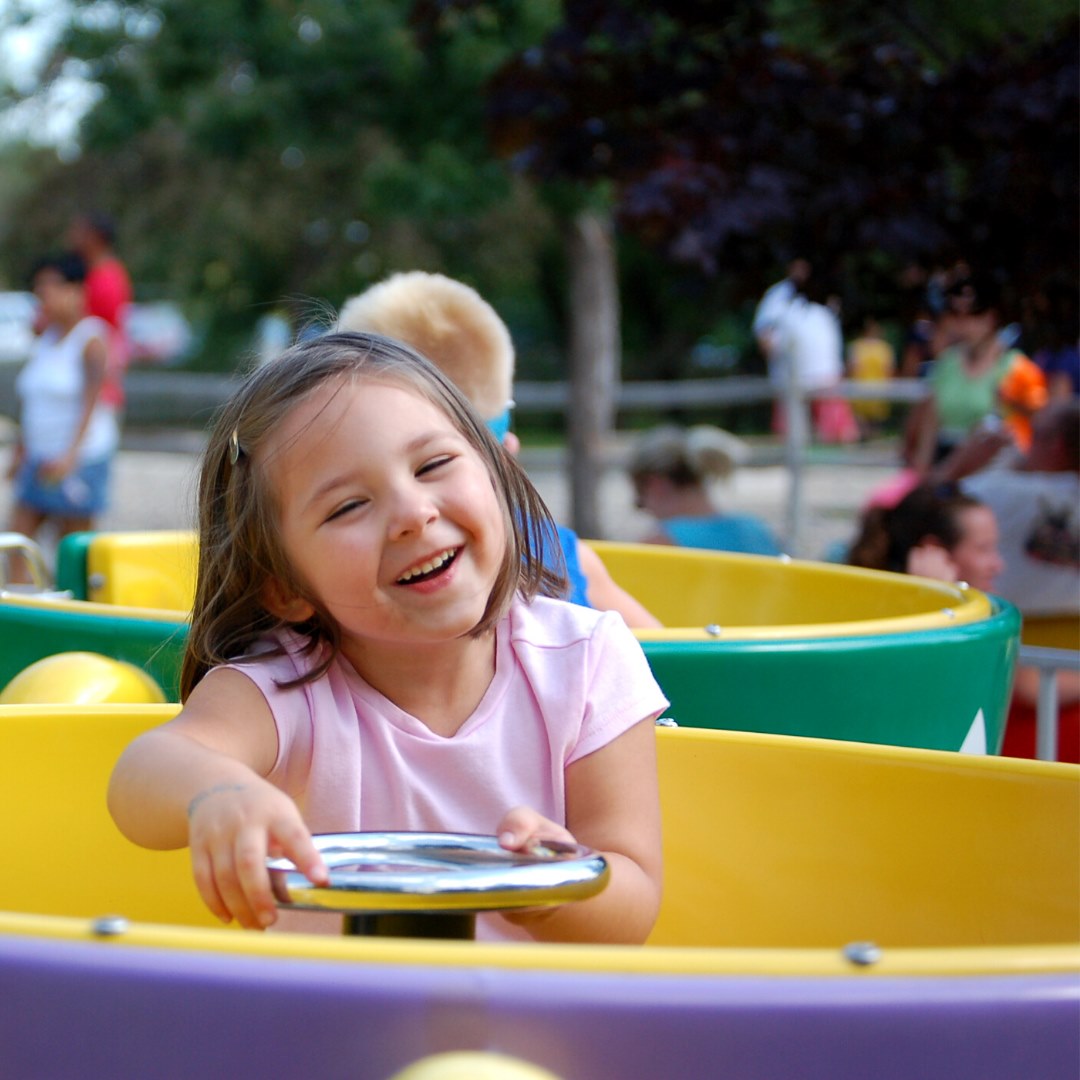 But, let's get to the showbags - did you know these began over 100 years ago as 'sample' bags?
Originating at the Sydney Royal Easter Show sometime between 1909 and 1914, possibly by kiddie-favourites Gravox, the bags were originally given away by brands hoping to launch their wares by providing free samples of products. Food samples were handed out, and these were to evolve into 'sample bags'. By the late 1920s (1927), as the cost of producing bags became too much for companies, they began being sold.

So - what's good value or just great fun this year?
There's some great samples in the lollies department of course - we like getting Bertie Beetles at the RAS as you often can't get them elsewhere. They have a good deal this year with 3 bags for $8.00, while stocks last. What's included:
1x Bertie Beetle Red Showbag $2.90
1x Bertie Beetle Blue Showbag $4.00
1x Bertie Beetle Platinum Showbag $9.60
But the best deal is always the Ag Bag - Inside the Home and Lifestyle Pavilion, while available. This one is $25 but you get around $80 worth of stuff in it and after visiting the Farm, this one may appeal as it's filled with Australian made products. What's more, the RASF Ag Bag is a fundraising bag - All proceeds go back to rural & regional community projects. Australian-made contents donated by Australian-owned companies. For more information on the work of the RASF visit www.rasf.org.au
What's included in 2021:
1x SunRice Microwave Brown Rice 250g $2.50
1x SunRice Brown Rice Chips (assorted Flavours) 150g $5.00
1x Selector Magazine 300g $8.50
1x Manildra - The Healthy Baker Flour 1kg $3.00
1x Manildra - Recipe Booklet $6.00
1x Manildra - "Stay Safe" Hand Sanitizer 50ml $6.00
1x Freedom Foods - Australia's Own Barista Almond Milk 1lr $4.50
1x Rinoldi - Vetta Pasta 500g $2.25
1x Kurrajong Kitchen - Lavosh Original Poppy & Sesame Seed Bites 100g $3.00
1x Carman's Kitchen - Brownie Cholc Aussie Oat Bar $0.84
1x Maxiblock - Kinder Sunscreen Lotion SPF50 100 g + Flyer $10.95
1x Karma Rub - Liquid Magnesium Rub 2.5ml x 4 & Liquid Night Cream 10ml x 1 Sachets $5.00
1x Slim Secrets - Protein Choc Fudge Brownie 100g $3.80
1x Royston Petrie Seeds - Spinach N.Z. Warrigal Greens $3.50
1x NSW Landcare - Everlasting Daisy Seeds Sticks $2.50
1x Seasol - Seaweed Concertrate Sachet 45g $1.00
1x Oz-Pet - Litter Scooper $5.00
1x Albury Enviro Calico Bag $5.00
1x "I Love Aussie Farmers" Sticker $0.60
1x "I Love Australia Made" Sticker $1.00
1x CanAssist Brochure & tea bags $0.06
1x RAMPH Mental Health Brochure
1x Birdsnest Voucher - get $20 off when you spend $75 or more online
1x Rich Glen Olive Estate Voucher - get a free Poppy's Favourite Dressing ($10) when you spend $60 or more online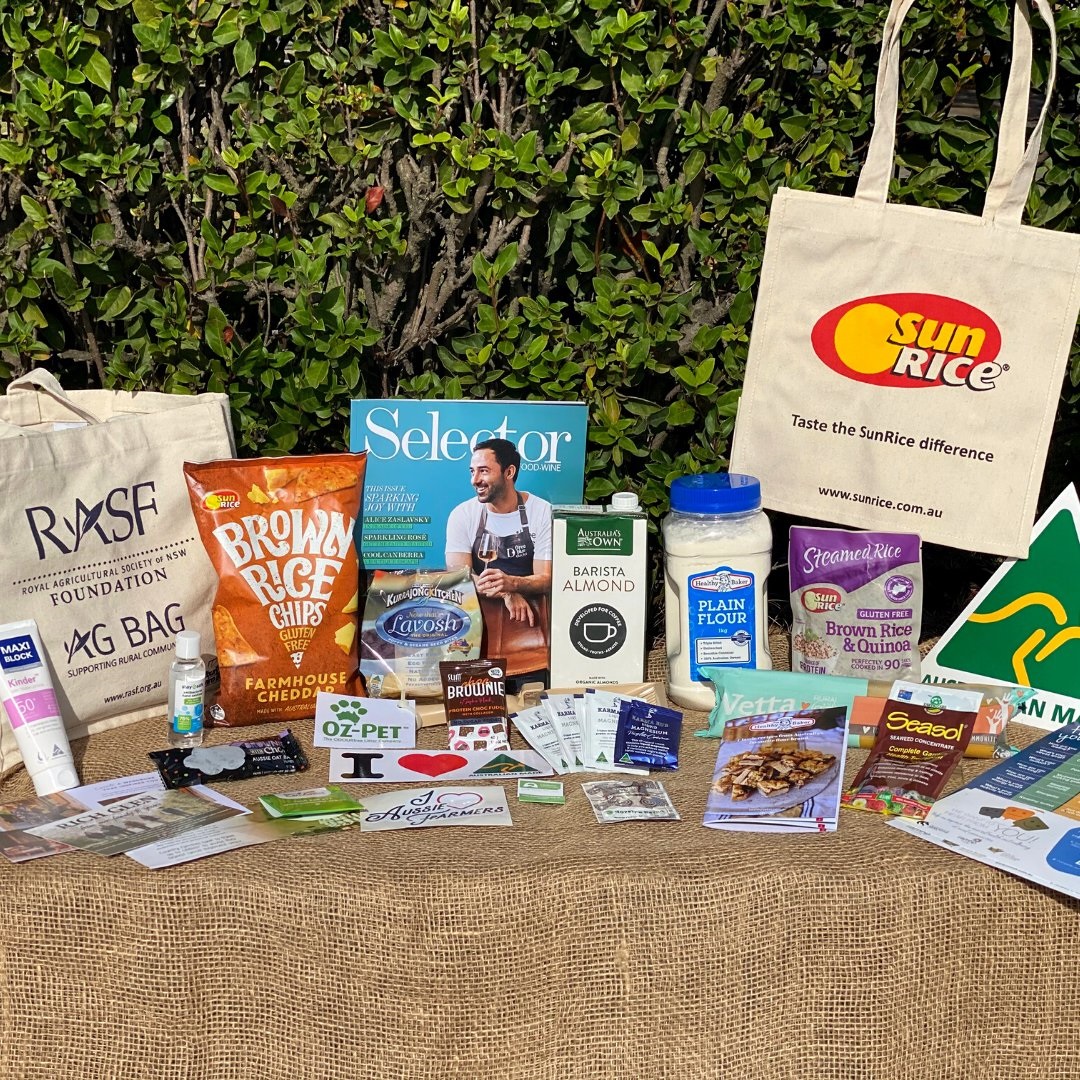 Ok, so that one may not interest you as much as the ones for youngsters, BUT, isn't it great to see and know how many different foods and products are made right here?
We were looking at the 2021 Sydney Royal Easter Show Prizes for cheeses, just announced, and that too is a great insight into what wonderful tastes come from right here, where you live. I can tell you, having spent some time visiting other places far from Australia, nothing compares to the quality and great clean tastes we have here.
Apart from the lollies bags there's some good value for boys and girls in other bags, if you really really are sure you want or need one of these and don't already have all of this at home already. The Voltron show bag, until they all go, looks good for those who are fans of Voltron.
Voltron - $20
Stand Numbers: BAG004, BAG009, BAG011, BAG014, BAG015, #18, #20, #21
What's included:
1x Voltron Backpack $24.95
1x Voltron Cap $12.95
1x Voltron Drink Bottle $8.95
1x Voltron Sticker Patches $2.95
1x Voltron Playing Cards $4.95
1x Voltron Badges $4.95
1x Voltron Tote Bag $3.95
1x Voltron Lanyard $7.95
1x Voltron Flag $9.95
Total Retail Value: $81.55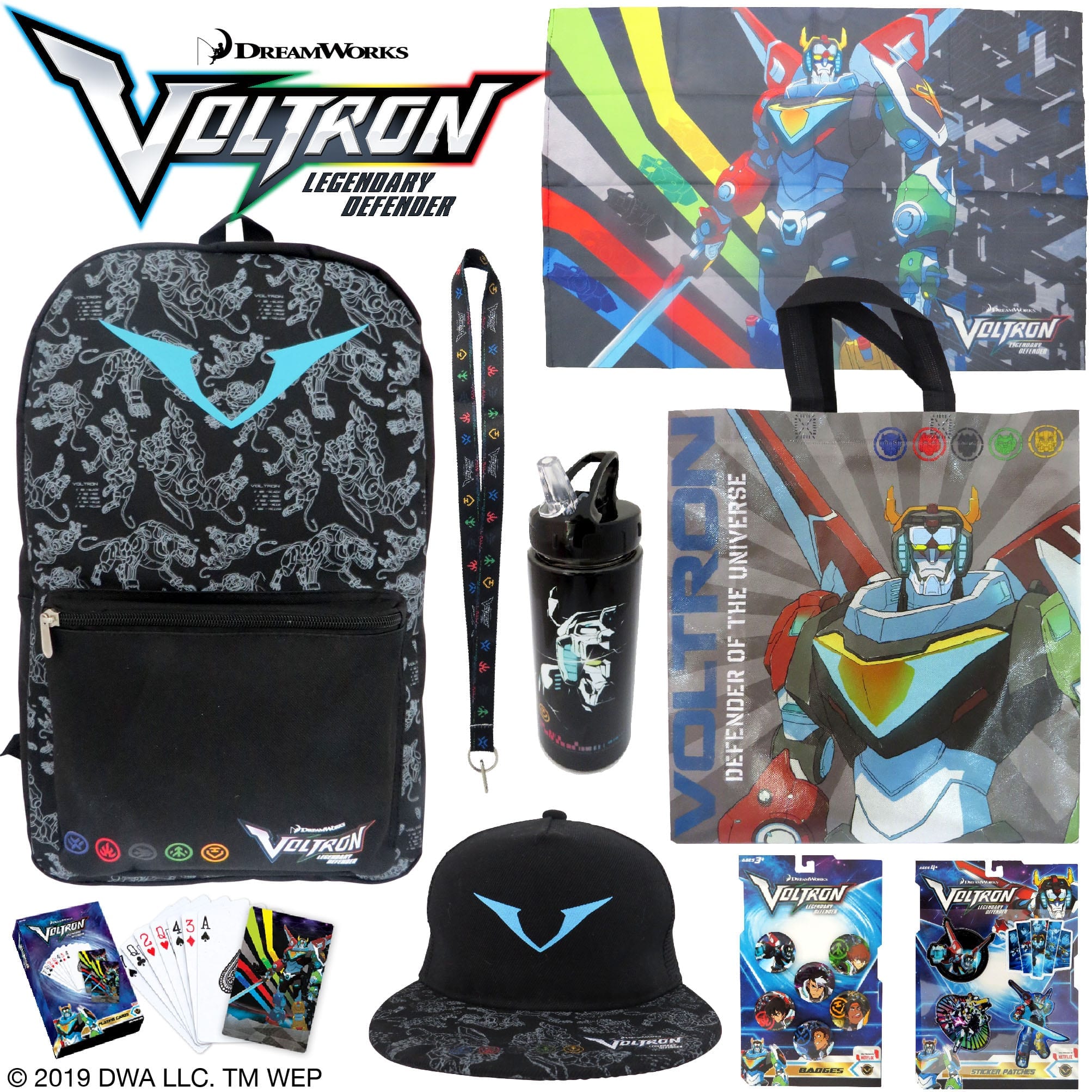 Another good value one, which may appeal to little girls, is the Unicorn show bag.
Unicorn $30
Stand Numbers: BAG004, BAG009, BAG011, BAG014, BAG015, #18, #20, #21
What's included:
1x Unicorn Duffle Bag $19.95
1x Unicorn Coin Purse $4.95
1x Unicorn Hair Extension $4.95
1x Unicorn Jewellery Set $9.95
1x Unicorn Stationery Set $7.95
1x Unicorn Keychain $2.95
1x Unicorn Body Glitter $7.95
1x Unicorn Tote Bag $4.95
1x Unicorn Lipstick $3.95
1x Unicorn Trinket Boxes $6.95
1x Unicorn Stuffed Toy $9.95
Total Retail Value: $84.45
If you do get to go to the Show this year I do hope you will spend some time looking at the farm exhibits - this is one of the few opportunities city kids get to see what life is like on the land and the show itself is all about the country coming to the city, that's where it all began - as the Agricultural Society of New South Wales in July 1822 which means that next year, this great 'show' will be 200 years old.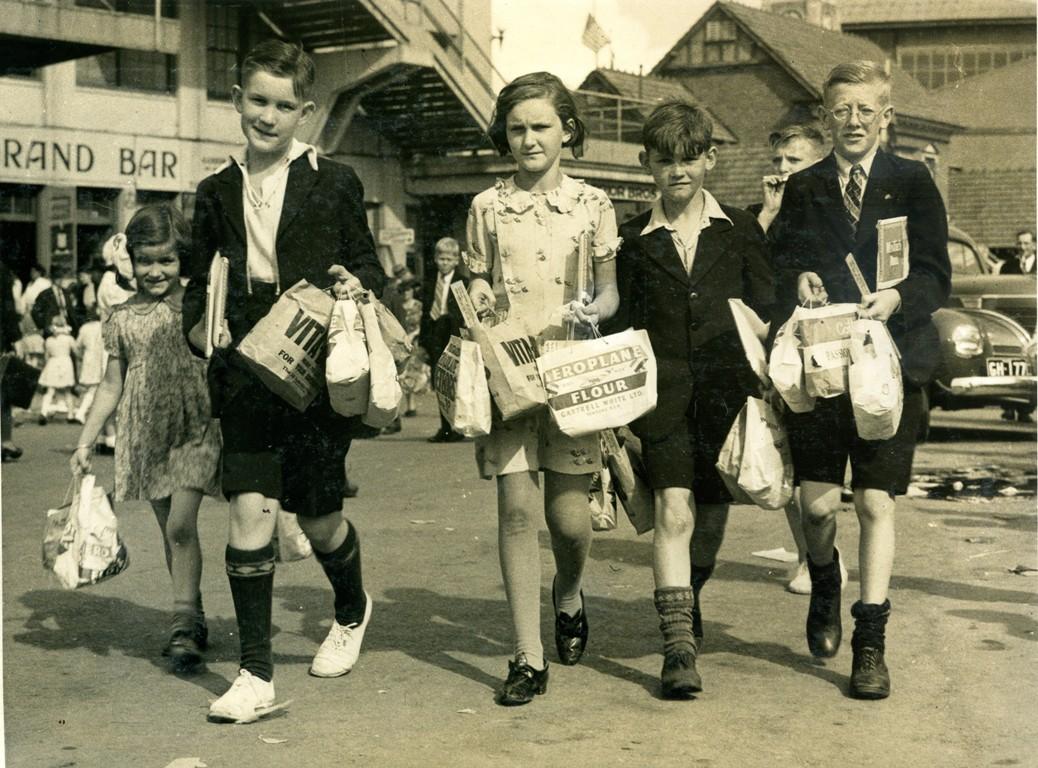 Sydney Royal Easter Show - children with their Show Bags, circa 1938. Courtesy National Library of Australia
Deluge Of DNA Changes Drives Progression Of Fatal Melanomas
Melbourne researchers have revealed how melanoma cells are flooded with DNA changes as this skin cancer progresses from early, treatable stages through to fatal end-stage disease.
Using genomics, the team tracked DNA changes occurring in melanoma samples donated by patients as their disease progressed, right through to the time the patient died. This revealed dramatic and chaotic genetic changes that accumulated in the melanoma cells as the cancers progressed, providing clues to potential new approaches to treating this disease.
The research, published in Nature Communications, was led by Professor Mark Shackleton, Professor Director of Oncology at Alfred Health and Monash University; Professor Tony Papenfuss, who leads WEHI's Computational Biology Theme and co-heads the Computational Cancer Biology Program at Peter MacCallum Cancer Centre; and Dr Ismael Vergara, a computational biologist at WEHI, Peter Mac and the Melanoma Institute Australia.
Genomics has been used to track DNA changes in melanoma samples donated by patients whose disease recurred and progressed after treatment.
The research revealed that end-stage melanomas acquired dramatic and chaotic genetic changes that are associated with aggressive disease growth and treatment resistance.
Understanding the genetic changes that drive melanoma growth and treatment resistance could lead to new approaches to treating this cancer.
Tracking a devastating cancer
Melanoma -- the third most commonly diagnosed cancer in Australia -- is caused by damaging changes occurring in the DNA of skin cells called melanocytes, usually as a result of exposure to ultraviolet (UV) radiation from sunlight. These genetic changes enable uncontrolled growth of the cells, forming a melanoma. As the melanoma cells keep dividing, some accumulate even more DNA changes, helping them to grow even faster and spread, said Professor Shackleton.
"At early stages, melanomas can be cured with surgery. However, they sometimes recur and progress to more aggressive forms. While there are excellent new therapies in these contexts, for some patients this progressing disease is difficult to treat," he said.
"We used DNA sequencing to document genetic changes that occurred as melanomas recurred and progressed in patients."
The team obtained genome sequencing data from tumours that had been donated by these patients and fed it into a mathematical model. This revealed that, as melanomas progress, they acquire increasingly dramatic genetic changes that add substantially to the initial DNA damage from UV radiation that caused the melanoma in the first place, said Professor Papenfuss.
"Early-stage primary melanomas showed changes in their DNA from UV damage -- akin to mis-spelt words in a book. These changes were enough to allow the melanoma cells to grow uncontrollably in the skin," he said.
"In contrast, end-stage, highly aggressive melanomas, in addition to maintaining most of the original DNA damage, accumulated even more dramatic genetic changes. Every patient had melanoma cells in which the total amount of DNA had doubled -- a very unusual phenomenon not seen in normal cells -- but on top of that, large segments of DNA were rearranged or lost -- like jumbled or missing pages in a book. We think this deluge of DNA changes 'supercharged' the genes that were driving the cancer, making the disease more aggressive.
"The genomes in the late-stage melanomas were completely chaotic. We think these mutations occur in a sudden, huge wave, distinct from to the gradual DNA changes that accumulate from UV exposure in form earlier-stage melanomas. The melanoma cells that acquire these chaotic changes seem to overwhelm the earlier, less-abnormal, slower growing cells," Professor Papenfuss said.
New insights into melanoma
Professor Shackleton said the research provided an in-depth explanation of how melanomas change as they grow and may also provide clues about how melanoma could be treated.
"We mapped sequential DNA changes to track the spread of the disease in individual cases, creating 'family trees' of melanoma cells that grew, spread and changed over time in each patient. In early-stage melanomas in the skin, the DNA changes were consistent with UV-damage, while the changes we saw in later-stage melanoma were totally wild, and associated with increased growth and spread of the disease, and evasion of the body's immune defences. We could also link some DNA changes to the development of treatment resistance," he said.
The research also revealed key cancer genes that may contribute to the growth and spread of the melanoma.
"Many patients' late-stage melanomas had damage to genes known to control cell growth and to protect the structure of DNA during cell growth and division. When these genes don't work properly, cell growth becomes uncontrolled and the DNA inside cells becomes even more abnormal -- it's a snowball effect. The findings also suggest that therapies which exploit these damaging changes might be useful for treating late-stage melanoma," Professor Shackleton said.
The study included tumour samples from Peter Mac's Cancer tissue Collection After Death (CASCADE) program -- in which patients volunteer to undergo a rapid autopsy following their death.
"Our whole team would like to extend our sincere gratitude to the patients and their families whose participation in CASCADE made this research possible. We hope that the insights we have gained will lead to better treatments for people with melanoma," Professor Shackleton said.
The research was supported by the Lorenzo and Pamela Galli Charitable Trust, the Australian NHMRC, Pfizer Australia, veski, the Victorian Cancer Agency, a European Commission Horizon 2020 grant, the Victorian Institute of Forensic Medicine, Tobin Brothers Funerals, the Peter MacCallum Cancer Foundation, Bioplatforms Australia, the Melanoma Institute of Australia, Cancer Council of Victoria, the Victorian Cancer Biobank, the Melbourne Melanoma Project and the Victorian Government.
Ismael A. Vergara, Christopher P. Mintoff, Shahneen Sandhu, Lachlan McIntosh, Richard J. Young, Stephen Q. Wong, Andrew Colebatch, Daniel L. Cameron, Julia Lai Kwon, Rory Wolfe, Angela Peng, Jason Ellul, Xuelin Dou, Clare Fedele, Samantha Boyle, Gisela Mir Arnau, Jeanette Raleigh, Athena Hatzimihalis, Pacman Szeto, Jennifer Mooi, Daniel S. Widmer, Phil F. Cheng, Valerie Amann, Reinhard Dummer, Nicholas Hayward, James Wilmott, Richard A. Scolyer, Raymond J. Cho, David Bowtell, Heather Thorne, Kathryn Alsop, Stephen Cordner, Noel Woodford, Jodie Leditschke, Patricia O'Brien, Sarah-Jane Dawson, Grant A. McArthur, Graham J. Mann, Mitchell P. Levesque, Anthony T. Papenfuss, Mark Shackleton.
Evolution of late-stage metastatic melanoma is dominated by aneuploidy and whole genome doubling
. Nature Communications, 2021; 12 (1) DOI:
10.1038/s41467-021-21576-8
How Australian Bushfire Smoke Travelled Around The World: Record-Breaking Aerosol Levels
It's not just how hot the fires burn -- it's also where they burn that matters. During the recent extreme fire season in Australia, which began in 2019 and burned into 2020, millions of tons of smoke particles were released into the atmosphere. Most of those particles followed a typical pattern, settling to the ground after a day or week; yet the ones created in fires burning in one corner of the country managed to blanket the entire Southern hemisphere for months. A pair of Israeli scientists managed to track puzzling January and February 2020 spikes in a measure of particle-laden haze to those fires, and then, in a paper recently published in Science, they uncovered the "perfect storm" of circumstances that swept the particles emitted from those fires into the upper atmosphere and spread them over the entire Southern Hemisphere.
Particles reaching the stratosphere -- the upper layer of the atmosphere -- most often get there through volcanic eruptions. The ash emitted in the more extreme eruptions dims the sun and cools the planet, as well as producing spectacular sunsets. Prof. Ilan Koren of the Weizmann Institute of Science's Earth and Planetary Science Department, who conducted the study together with his former student, Dr. Eitan Hirsch, now the Head of the Environmental Sciences Division at the Israel Institute for Biological Research in Ness Tziona, had noticed an extreme increase in a satellite-based measure of particle loading in the atmosphere called AOD -- or aerosol optical depth.
In January 2020, those measurements, plotted in standard deviations, showed a deviation three times the normal -- some of the highest readings ever obtained, higher even than those from Mt. Pinatubo in 1991. But the timing did not coincide with any volcanic activity. They wondered if fires might be to blame, even though it is rare for the smoke from fires to escape the lower layer of atmosphere known as the troposphere in significant amounts. The troposphere extends from the ground to a height of several kilometres, and if smoke particles manage to rise that high, they hit an inversion layer called the tropopause that acts as a sort of ceiling between the troposphere and the stratosphere.
Working backwards and using data from several satellites, including, in addition to AOD, LIDAR readings that revealed how the particles were distributed vertically in "slices" of atmosphere, the two were able to prove that the source of the spikes was bushfires -- specifically those burning in South-eastern Australia. Further analysis of satellite data revealed the broad band of haze in the stratosphere spreading to cover the Southern hemisphere, peaking from January to March and persisting through July; reaching all the way around and back to Australia's west coast.
How did these smoke particles penetrate through the tropopause ceiling and why did they come from these fires and not the others? One clue, says Hirsch, lay in another, distant forest fire that had occurred several years ago in Canada. Then, too, high AOD levels had been recorded. Both of these fires occurred in high latitudes, away from the equator.
The height of the troposphere shrinks at these latitudes: Over the tropics its upper ceiling can reach up to 18 km above the surface, while somewhere above the 45th parallel -- North and South, it takes a sudden step down to around 8-10 km in height. So the first element enabling the particles' trans-layer flight was simply having less atmosphere to cross.
Pyrocumulus clouds -- clouds fuelled by the fires' energy -- were considered as a means of transporting smoke to the stratosphere. However, when inspecting the satellite data, Hirsch and Koren noticed that pyrocumulus clouds formed only over a small fraction of the fires' duration, and they were mostly seen over fires burning on the central part of the coast. In other words, these clouds could not explain the large amounts found to be transported to the stratosphere, and an additional mechanism for lifting smoke downwind from the sources was missing.
This brings up the second element: the weather patterns in the strip known as the mid-latitude cyclone belt that runs through the southern end of Australia, one of the stormiest regions on the planet. The smoke was first advected (moved horizontally) by the prevailing winds in the lower atmosphere to the Pacific Ocean, and then some of it converged into the deep convective clouds there and was lifted in the clouds' core into the stratosphere. An interesting feedback mechanism known as "cloud invigoration by aerosols" can further deepen the clouds. In a previous study, the authors had shown that in conditions such as the pristine environment over the Southern Ocean, the convective clouds are "aerosol limited." The elevated smoke levels could thus act as cloud condensation nuclei, allowing the clouds to develop deeper and thus increasing the number of clouds that able to penetrate the tropopause and inject the smoke in the stratosphere.
Up in the stratosphere, the particles found themselves in a different world than the one they had just left. If below they were at the mercy of mixing and churning air currents, up on top the air moves in a steady, linear fashion. That is, there was one strong current, and it was moving them eastwards over the ocean to South America and back over the Indian Ocean toward Australia, and slowly settling around the entire hemisphere. "People in Chile were breathing particles from the Australian fires," says Hirsch. By sailing on an endless air current, these particles remained airborne for much longer than lower atmosphere smoke particles.
"For people on the ground, the air may have just seemed a bit hazier or the sunsets a bit redder. But such a high AOD -- much, much higher than normal -- means sunlight was getting blocked, just as it does after volcanic eruptions," says Koren. "So the ultimate effect of that smoke on the atmosphere was cooling, though we still do not know how much influence that cooling and dimming may have had on the marine environment or weather patterns.
"There are always fires burning in California, in Australia and in the tropics," he adds. "We might not be able to stop all of the burning, but we do need an understanding that the precise locations of those fires may grant them very different effects on our atmosphere."
Prof. Ilan Koren's research is supported by the de Botton Center for Marine Science; the Sussman Family Center for the Study of Environmental Sciences; the Dr. Scholl Foundation Center for Water and Climate Research; the Ben May Center for Chemical Theory and Computation; Scott Eric Jordan; the Yotam Project; the estate of Emile Mimran; and the European Research Council. Prof. Koren is the incumbent of the Beck / Lebovic Chair for Research in Climate Change.
Eitan Hirsch, Ilan Koren.
Record-breaking aerosol levels explained by smoke injection into the stratosphere.
Science, 2021 DOI:
10.1126/science.abe1415
Christmas Island Reptile-Killer Identified
Native reptile populations on Christmas Island have been in severe decline with two species, Lister's gecko and the blue-tailed skink, entirely disappearing from the wild. While previously the main driver for this decline is likely predation by invasive species and habitat destruction, a silent killer is now threatening to wipe the species out entirely.
Those bred in captivity on the Australian Territory in the Indian Ocean have also been mysteriously dying, leaving the two species -- which number only around 1000 each -- in danger of extinction. Veterinary scientists from the University of Sydney, the Australian Registry of Wildlife Health and the Taronga Conservation Society Australia have now discovered the cause of these deaths: a bacterium, Enterococcus lacertideformus (E. lacertideformus).
The bacterium was discovered in 2014 after captive reptiles presented with facial deformities and lethargy, and some even died. Samples were collected and analysed using microscopy and genetic testing.
The researchers' findings, published in Frontiers in Microbiology, will inform antibiotic trials on the reptiles to see if the infection can be treated.
The bacterium grows in the animal's head, then in its internal organs, before eventually causing death. It can be spread by direct contact -- including through reptiles' mouths, or via reptiles biting one another -- often during breeding season fights.
"This means that healthy captive animals need to be kept apart from infected ones and should also be kept away from areas where infected animals have been," said Jessica Agius, co-lead researcher and PhD candidate in the Sydney School of Veterinary Science.
Ms Agius and the research team not only identified the bacterium, they decoded its genetic structure using whole genome sequencing.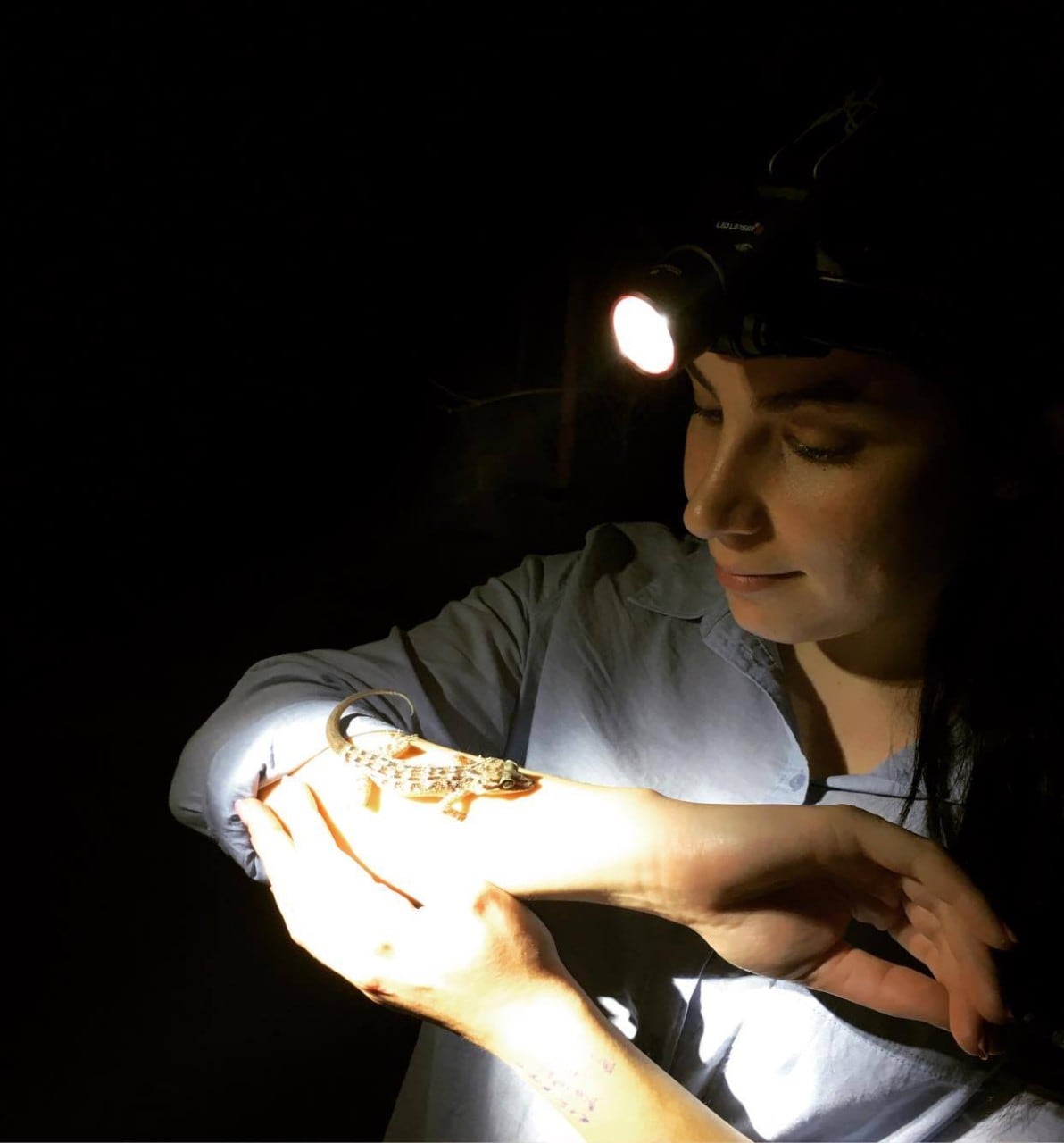 PhD researcher Jessica Agius spotlighting critically endangered lizards in the field on Christmas Island to find out if they are infected with Enterococcus lacertideformus. Credit: Jessica Agius.

Specific genes were identified that are likely to be associated with the bacterium's ability to infect its host, invade its tissues and avoid the immune system.
"We also found that the bacterium can surround itself with a biofilm -- a 'community of bacteria' that can help it survive," Ms Agius said.
"Understanding how E. lacertideformus produces and maintains the biofilm may provide insights on how to treat other species of biofilm-forming bacteria."
The search of the genetic code suggested that the killer bacterium was susceptible to most antibiotics.
Professor David Phalen, research co-lead and Ms Agius' PhD supervisor, said: "This suggests that infected animals might be successfully treated. That's what we need to determine now."
In another effort to protect the endangered reptiles on Christmas Island, a population of blue-tailed skinks has been established on the Cocos Islands. Ms Agius played a critical role in the translocation, testing reptiles on the Cocos Islands to make sure that they were free of E. lacertideformus.
"It's critical we act now to ensure these native reptiles survive," Ms Agius said.
Jessica Esther Agius, David Norton Phalen, Karrie Rose, John-Sebastian Eden.
Genomic Insights Into the Pathogenicity of a Novel Biofilm-Forming Enterococcus sp. Bacteria (Enterococcus lacertideformus) Identified in Reptiles.
Frontiers in Microbiology, 2021; 12 DOI:
10.3389/fmicb.2021.635208
Scientists Stunned To Discover Plants Beneath Mile-Deep Greenland Ice
In 1966, US Army scientists drilled down through nearly a mile of ice in northwestern Greenland -- and pulled up a fifteen-foot-long tube of dirt from the bottom. Then this frozen sediment was lost in a freezer for decades. It was accidentally rediscovered in 2017.
In 2019, University of Vermont scientist Andrew Christ looked at it through his microscope -- and couldn't believe what he was seeing: twigs and leaves instead of just sand and rock. That suggested that the ice was gone in the recent geologic past -- and that a vegetated landscape, perhaps a boreal forest, stood where a mile-deep ice sheet as big as Alaska stands today.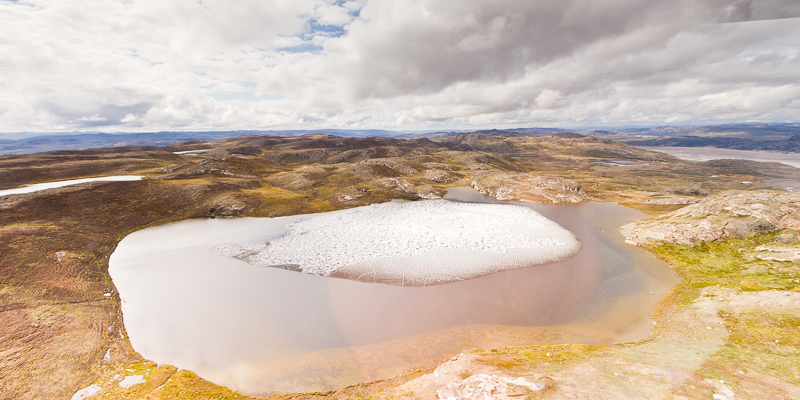 Most of Greenland is covered with ice today. But a new study shows that within the last million years it melted off and became covered with green tundra, perhaps like this view of eastern Greenland, near the ocean. The research provides strong evidence that Greenland is more sensitive to climate change than previously understood—and at risk of irreversibly melting. (Photo: Joshua Brown)

Over the last year, Christ and an international team of scientists -- led by Paul Bierman at UVM, Joerg Schaefer at Columbia University and Dorthe Dahl-Jensen at the University of Copenhagen -- have studied these one-of-a-kind fossil plants and sediment from the bottom of Greenland. Their results show that most, or all, of Greenland must have been ice-free within the last million years, perhaps even the last few hundred-thousand years.
"Ice sheets typically pulverize and destroy everything in their path," says Christ, "but what we discovered was delicate plant structures -- perfectly preserved. They're fossils, but they look like they died yesterday. It's a time capsule of what used to live on Greenland that we wouldn't be able to find anywhere else."
The discovery helps confirm a new and troubling understanding that the Greenland ice has melted off entirely during recent warm periods in Earth's history -- periods like the one we are now creating with human-caused climate change.
Understanding the Greenland Ice Sheet in the past is critical for predicting how it will respond to climate warming in the future and how quickly it will melt. Since some twenty feet of sea-level rise is tied up in Greenland's ice, every coastal city in the world is at risk. The new study provides the strongest evidence yet that Greenland is more fragile and sensitive to climate change than previously understood -- and at grave risk of irreversibly melting off.
"This is not a twenty-generation problem," says Paul Bierman, a geoscientist at UVM in the College of Arts & Sciences, Rubenstein School of Environment & Natural Resources, and fellow in the Gund Institute for Environment. "This is an urgent problem for the next 50 years."
The new research was published March 15 in the Proceedings of the National Academy of Sciences.
The material for the new PNAS study came from Camp Century, a Cold War military base dug inside the ice sheet far above the Arctic Circle in the 1960s. The real purpose of the camp was a super-secret effort, called Project Iceworm, to hide 600 nuclear missiles under the ice close to the Soviet Union. As cover, the Army presented the camp as a polar science station.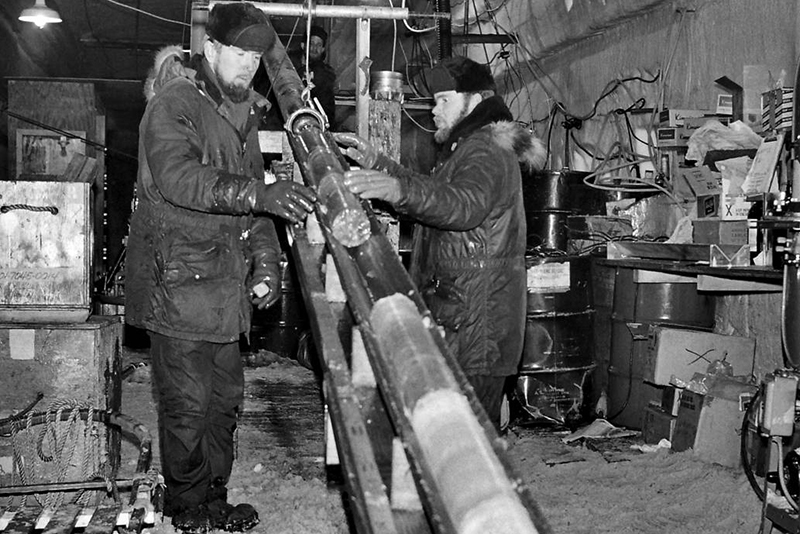 The military mission failed, but the science team did complete important research, including drilling a 4560-foot-deep ice core. The Camp Century scientists were focused on the ice itself -- part of the burgeoning effort at the time to understand the deep history of Earth's ice ages. They, apparently, took less interest in a bit of dirt gathered from beneath the ice core. Then, in a truly cinematic set of strange plot twists, the ice core was moved from an Army freezer to the University of Buffalo in the 1970s, to another freezer in Copenhagen, Denmark, in the 1990s, where it languished for decades -- until it surfaced when the cores were being moved to a new freezer.
More about how the core was lost, rediscovered in some cookie jars, and then studied by an international team gathered at the University of Vermont in 2019 can be read here:
Secrets Under the Ice
.
For much of the Pleistocene -- the icy period covering the last 2.6 million years -- portions of the ice on Greenland persisted even during warmer spells called "interglacials." But most of this general story has been pieced together from indirect evidence in mud and rock that washed off the island and was gathered by offshore ocean drilling. The extent of Greenland's ice sheet and what kinds of ecosystems existed there before the last interglacial warm period -- that ended about 120,000 years ago -- have been hotly debated and poorly understood.
The new study makes clear that the deep ice at Camp Century -- some 75 miles inland from the coast and only 800 miles from the North Pole -- entirely melted at least once within the last million years and was covered with vegetation, including moss and perhaps trees. The new research, supported by the National Science Foundation, lines up with data from two other ice cores from the center of Greenland, collected in 1990s. Sediment from the bottom of these cores also indicate that the ice sheet was gone for some time in the recent geologic past. The combination of these cores from the center of Greenland with the new insight from Camp Century in the far northwest give researchers an unprecedented view of the shifting fate of the entire Greenland ice sheet.
The team of scientists used a series of advanced analytical techniques -- none of which were available to researchers fifty years ago -- to probe the sediment, fossils, and the waxy coating of leaves found at the bottom of the Camp Century ice core. For example, they measured ratios of rare forms -- isotopes -- of both aluminium and the element beryllium that form in quartz only when the ground is exposed to the sky and can be hit by cosmic rays. These ratios gave the scientists a window onto how long rocks at the surface were exposed vs. buried under layers of ice. This analysis gives the scientists a kind of clock for measuring what was happening on Greenland in the past. Another test used rare forms of oxygen, found in the ice within the sediment, to reveal that precipitation must have fallen at much lower elevations than the height of the current ice sheet, "demonstrating ice sheet absence," the team writes. Combining these techniques with studies of luminescence that estimate the amount of time since sediment was exposed to light, radiocarbon-dating of bits of wood in the ice, and analysis of how layers of ice and debris were arranged -- allowed the team to be clear that most, if not all, of Greenland melted at least once during the past million years -- making Greenland green with moss and lichen, and perhaps with spruce and fir trees.
And the new study shows that ecosystems of the past were not scoured into oblivion by ages of glaciers and ice sheets bulldozing overtop. Instead, the story of these living landscapes remains captured under the relatively young ice that formed on top of the ground, frozen in place, and holds them still.
In a 1960's movie about Camp Century created by the Army, the narrator notes that "more than ninety percent of Greenland is permanently frozen under a polar ice cap." This new study makes clear that it's not as permanent as we once thought. "Our study shows that Greenland is much more sensitive to natural climate warming than we used to think -- and we already know that humanity's out-of-control warming of the planet hugely exceeds the natural rate," says Christ.
"Greenland may seem far away," says UVM's Paul Bierman, "but it can quickly melt, pouring enough into the oceans that New York, Miami, Dhaka -- pick your city -- will go underwater."
Andrew J. Christ, Paul R. Bierman, Joerg M. Schaefer, Dorthe Dahl-Jensen, Jørgen P. Steffensen, Lee B. Corbett, Dorothy M. Peteet, Elizabeth K. Thomas, Eric J. Steig, Tammy M. Rittenour, Jean-Louis Tison, Pierre-Henri Blard, Nicolas Perdrial, David P. Dethier, Andrea Lini, Alan J. Hidy, Marc W. Caffee, John Southon. A multimillion-year-old record of Greenland vegetation and glacial history preserved in sediment beneath 1.4 km of ice at Camp Century. Proceedings of the National Academy of Sciences, 2021; 118 (13): e2021442118 DOI: 10.1073/pnas.2021442118
Babies Prefer Baby Talk, Whether They're Learning One Language Or Two
It can be hard to resist lapsing into an exaggerated, singsong tone when you talk to a cute baby. And that's with good reason. Babies will pay more attention to baby talk than regular speech, regardless of which languages they're used to hearing, according to a study by UCLA's Language Acquisition Lab and 16 other labs around the globe.
The study found that babies who were exposed to two languages had a greater interest in infant-directed speech -- that is, an adult speaking baby talk -- than adult-directed speech. Research has already shown that monolingual babies prefer baby talk.
Some parents worry that teaching two languages could mean an infant won't learn to speak on time, but the new study shows bilingual babies are developmentally right on track. The peer-reviewed study, published today by Advances in Methods and Practices in Psychological Science, found bilingual babies became interested in baby talk at the same age as those learning one language.
"Crucially for parents, we found that development of learning and attention is similar in infants, whether they're learning one or two languages," said Megha Sundara, a UCLA linguistics professor and director of the Language Acquisition Lab. "And, of course, learning a language earlier helps you learn it better, so bilingualism is a win-win."
In the study, which took place at 17 labs on four continents, researchers observed 333 bilingual babies and 384 monolingual babies, ranging in age from 6 to 9 months and 12 to 15 months. UCLA's lab was the only one to provide data on bilingual babies who grew up hearing both English and Spanish. Sundara and Victoria Mateu, a UCLA assistant professor of Spanish and Portuguese, observed babies who were 12 to 15 months old.
Each baby would sit on a parent's lap while recordings of an English-speaking mother, using either infant-directed speech or adult-directed speech, played from speakers on the left or the right. Computer tracking measured how long each baby looked in the direction of each sound.
"The longer they looked, the stronger their preference," Mateu said. "Babies tend to pay more attention to the exaggerated sounds of infant-directed speech."
Infants' interest in English baby talk was very fine-tuned, the study noted. Bilingual parents indicated the percent of time English was spoken at home compared to Spanish. The more English the bilingual babies had been exposed to, the stronger their preference for infant-directed speech compared to adult-directed speech. However, even babies with no exposure to English preferred the English baby talk to the grown-up talk, Mateu said.
Baby talk is found across most languages and cultures, but English has one of the most exaggerated forms, Sundara said.
"Baby talk has a slower rate of speech across all languages, with more variable pitch, and it's more animated and happy," she said. "It varies mainly in how exaggerated it is."
Led by Krista Byers-Heinlein, a psychology professor at Concordia University in Montreal, the study involved labs in the United States, Canada, Europe, Australia and Singapore. The study's global reach strengthened the results, Sundara said.
"When you do language research, you want to know that the results aren't just some quirk of the language you're studying," she said.
According to the study, 6- to 9-month-old babies who had mothers with higher levels of education preferred baby talk more than babies whose mothers had less education.
"We suspect that perhaps the mothers with higher education levels spoke more to the babies and used infant-directed speech more often," Mateu said.
This study is one of the first published by the
ManyBabies Consortium
, a multi-lab group of researchers. Byers-Heinlein believes the unusual international, multilingual collaboration creates a model for future studies that include a similar breadth of languages and cultures.
"We can really make progress in understanding bilingualism, and especially the variability of bilingualism, thanks to our access to all these different communities," she said.
As the research continues, parents can babble to their babies in one language or two, and rest easy knowing they won't cause any confusion.
Authors Krista Byers-Heinlein et al.
A multi-lab study of bilingual infants: Exploring the preference for infant-directed speech.
Advances in Methods and Practices in Psychological Science, 2021
[abstract]
Penguin Haemoglobin Evolved To Meet Oxygen Demands Of Diving
Call it the evolutionary march of the penguins.

More than 50 million years ago, the lovable tuxedoed birds began leaving their avian relatives at the shoreline by waddling to the water's edge and taking a dive in the pursuit of seafood.
Webbed feet, flipper-like wings and unique feathers all helped penguins adapt to their underwater excursions. But new research from the University of Nebraska-Lincoln has shown that the evolution of diving is also in their blood, which optimized its capture and release of oxygen to ensure that penguins wouldn't waste their breath while holding it.
Relative to land-dwelling birds, penguin blood is known to contain more haemoglobin: the protein that picks up oxygen from the lungs and transports it through the bloodstream before dropping it off at various tissues. That abundance could partly explain the underwater proficiency of, say, the emperor penguin, which dives deeper than any bird and has been documented holding its breath for more than 30 minutes while preying on krill, fish and squid.
A gentoo penguin takes a plunge at Omaha's Henry Doorly Zoo and Aquarium. Gentoos are the fastest underwater swimmers among all penguin species, reaching speeds of more than 20 miles per hour.Photo: Craig Chandler | University Communication

Still, the particulars of their haemoglobin -- and how much it actually evolved to help penguins become fish-gobbling torpedoes that spend up to half of their lives underwater -- remained open questions. So Nebraska biologists Jay Storz and Anthony Signore, who often study the haemoglobin of birds that survive miles above sea level, decided to investigate the birds most adept at diving beneath it.
"There just wasn't a lot of comparative work on blood-oxygen transport as it relates to diving physiology in penguins and their non-diving relatives," said Signore, a postdoctoral researcher in Storz's lab.
Answering those questions meant sketching in the genetic blueprints of two ancient haemoglobins. One belonged to the common ancestor of all penguin species, which began branching from that ancestor about 20 million years ago. The other, dating back roughly 60 million years, resided in the common ancestor of penguins and their closest non-diving relatives -- albatrosses, shearwaters and other flying seabirds. The thinking was simple: Because one haemoglobin originated before the emergence of diving in the lineage, and the other after, any major differences between the two would implicate them as important to the evolution of diving in penguins.
Actually comparing the two was less simple. To start, the researchers literally resurrected both proteins by relying on models that factored in the gene sequences of modern haemoglobins to estimate the sequences of their two ancient counterparts. Signore spliced those resulting sequences into E. coli bacteria, which churned out the two ancient proteins. The researchers then ran experiments to evaluate the performance of each.
They found that the haemoglobin from the common ancestor of penguins captured oxygen more readily than did the version present in the blood of the older, non-diving ancestor. That stronger affinity for oxygen would mean less chance of leaving behind traces in the lungs, an especially vital issue among semi-aquatic birds needing to make the most of a single breath while hunting or traveling underwater.
Unfortunately, the very strength of that affinity can present difficulties when haemoglobin arrives at tissues starved for the oxygen it's carrying.
"Having a greater haemoglobin-oxygen affinity sort of acts like a stronger magnet to pull more oxygen from the lungs," Signore said. "It's great in that context. But then you're at a loss when it's time to let go."
Any breath-holding benefits gained by picking up extra oxygen, in other words, can be undone if the haemoglobin struggles to relax its iron-clad grip and release its prized cargo. The probability that it will is dictated in part by acidity and carbon dioxide in the blood. Higher levels of either make haemoglobins more likely to loosen up.
As Storz and Signore expected, the haemoglobin of the recent penguin ancestor was more sensitive to its surrounding pH, with its biochemical grip on oxygen loosening more in response to elevated acidity. And that, Signore said, made the haemoglobin more biochemically attuned to the exertion and oxygen needs of the tissues it served.
"It really is a beautiful system, because tissues that are working hard are becoming acidic," he said. "They need more oxygen, and haemoglobin's oxygen affinity is able to shift in response to that acidity to provide more oxygen.
"If pH drops by, say, 0.2 units, the oxygen affinity of penguin haemoglobin is going to decrease by more than would the haemoglobin of their non-diving relatives."
Together, the findings indicate that as penguins took to the seas, their haemoglobin evolved to maximize both the pick-up and drop-off of available oxygen -- especially when it was last inhaled five, or 10, or even 20 minutes earlier. They also illustrate the value of resurrecting proteins that last existed 20, or 40, or even 60 million years ago.
"These results demonstrate how the experimental analysis of ancestral proteins can reveal the mechanisms of biochemical adaptation," Storz said, "and also shed light on how organismal physiology evolved in response to new environmental challenges."
The researchers received support from the National Institutes of Health and the National Science Foundation.
Jay Storz (left), Willa Cather Professor of biological sciences, and postdoctoral researcher Anthony Signore with penguins at Omaha's Henry Doorly Zoo and Aquarium. Storz, Signore and their colleagues resurrected two ancient versions of hemoglobin, demonstrating how the blood of penguins evolved to help them better hold their breath while hunting for seafood. Photo: Craig Chandler | University Communication

Anthony V. Signore, Michael S. Tift, Federico G. Hoffmann, Todd. L. Schmitt, Hideaki Moriyama, Jay F. Storz.
Evolved increases in haemoglobin-oxygen affinity and the Bohr effect coincided with the aquatic specialization of penguins.
Proceedings of the National Academy of Sciences, 2021; 118 (13): e2023936118 DOI:
10.1073/pnas.2023936118
New Evidence In Search For The Mysterious Denisovans
An international group of researchers led by the University of Adelaide has conducted a comprehensive genetic analysis and found no evidence of interbreeding between modern humans and the ancient humans known from fossil records in Island Southeast Asia. They did find further DNA evidence of our mysterious ancient cousins, the Denisovans, which could mean there are major discoveries to come in the region.
In the study published in Nature Ecology and Evolution, the researchers examined the genomes of more than 400 modern humans to investigate the interbreeding events between ancient humans and modern human populations who arrived at Island Southeast Asia 50,000-60,000 years ago.
In particular, they focused on detecting signatures that suggest interbreeding from deeply divergent species known from the fossil record of the area.
The region contains one of the richest fossil records (from at least 1.6 million years) documenting human evolution in the world. Currently there are three distinct ancient humans recognised from the fossil record in the area: Homo erectus, Homo floresiensis (known as Flores Island hobbits) and Homo luzonensis.
These species are known to have survived until approximately 50,000-60,000 years ago in the cases of Homo floresiensis and Homo luzonensis, and approximately 108,000 years for Homo erectus, which means they may have overlapped with the arrival of modern human populations.
The results of the study showed no evidence of interbreeding. Nevertheless, the team were able to confirm previous results showing high levels of Denisovan ancestry in the region.
Lead author and ARC Research Associate from the University of Adelaide Dr João Teixeira, said: "In contrast to our other cousins the Neanderthals, which have an extensive fossil record in Europe, the Denisovans are known almost solely from the DNA record. The only physical evidence of Denisovan existence has been a finger bone and some other fragments found in a cave in Siberia and, more recently, a piece of jaw found in the Tibetan Plateau."
"We know from our own genetic records that the Denisovans mixed with modern humans who came out of Africa 50,000-60,000 years ago both in Asia, and as the modern humans moved through Island Southeast Asia on their way to Australia.
"The levels of Denisovan DNA in contemporary populations indicates that significant interbreeding happened in Island Southeast Asia.
"The mystery then remains, why haven't we found their fossils alongside the other ancient humans in the region? Do we need to re-examine the existing fossil record to consider other possibilities?"
Co-author Chris Stringer of the Natural History Museum in London added:
"While the known fossils of Homo erectus, Homo floresiensis and Homo luzonensis might seem to be in the right place and time to represent the mysterious 'southern Denisovans', their ancestors were likely to have been in Island Southeast Asia at least 700,000 years ago. Meaning their lineages are too ancient to represent the Denisovans who, from their DNA, were more closely related to the Neanderthals and modern humans."
Co-author Prof Kris Helgen, Chief Scientist and Director of the Australian Museum Research Institute, said: "These analyses provide an important window into human evolution in a fascinating region, and demonstrate the need for more archaeological research in the region between mainland Asia and Australia."
Helgen added: "This research also illuminates a pattern of 'megafaunal' survival which coincides with known areas of pre-modern human occupation in this part of the world. Large animals that survive today in the region include the Komodo Dragon, the Babirusa (a pig with remarkable upturned tusks), and the Tamaraw and Anoas (small wild buffalos).
"This hints that long-term exposure to hunting pressure by ancient humans might have facilitated the survival of the megafaunal species in subsequent contacts with modern humans. Areas without documented pre-modern human occurrence, like Australia and New Guinea, saw complete extinction of land animals larger than humans over the past 50,000 years."
Dr Teixeira said: "The research corroborates previous studies that the Denisovans were in Island Southeast Asia, and that modern humans did not interbreed with more divergent human groups in the region. This opens two equally exciting possibilities: either a major discovery is on the way, or we need to re-evaluate the current fossil record of Island Southeast Asia."
"Whichever way you choose to look at it, exciting times lie ahead in palaeoanthropology."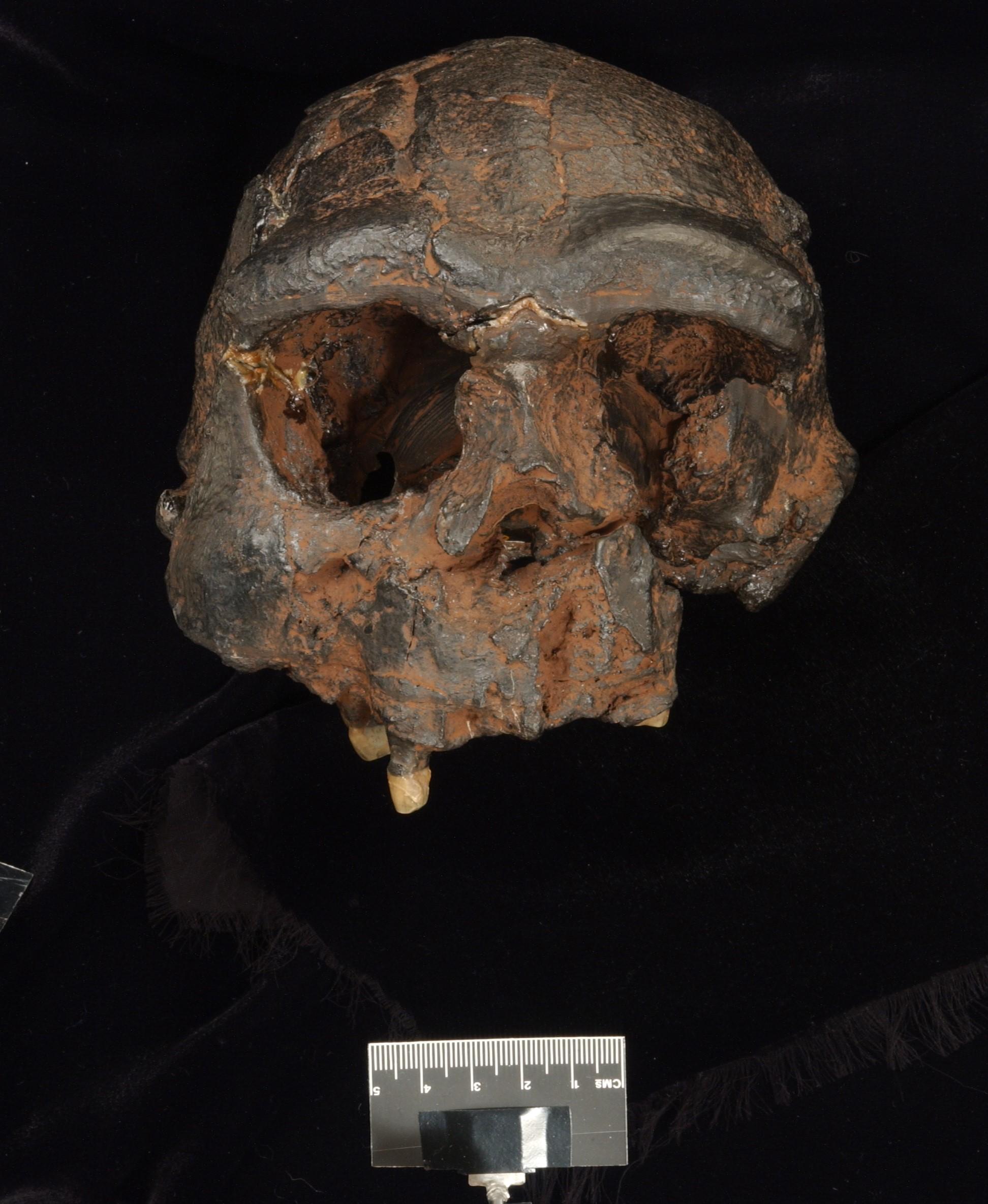 Replica Homo erectus skull from Java - supplied by Trustees of Natural History Museum.
João C. Teixeira, Guy S. Jacobs, Chris Stringer, Jonathan Tuke, Georgi Hudjashov, Gludhug A. Purnomo, Herawati Sudoyo, Murray P. Cox, Raymond Tobler, Chris S. M. Turney, Alan Cooper, Kristofer M. Helgen.
Widespread Denisovan ancestry in Island Southeast Asia but no evidence of substantial super-archaic hominin admixture.
Nature Ecology & Evolution, 2021; DOI:
10.1038/s41559-021-01408-0
Disclaimer: These articles are not intended to provide medical advice, diagnosis or treatment. Views expressed here do not necessarily reflect those of Pittwater Online News or its staff.