Inbox and Environment News: Issue 488
March 21 - 27, 2021: Issue 488
SLEEPING OUT.
A Storm At Night.
Wailing comes the south breeze, heralding the gale,
The awning on my balcony is cracking like a sail,
Cracking like a topsail, while beneath the din
My heart is singing to the tune of "No, I won't go in!"
White-maned horses gallop in the bay beneath;
The trumpet blast has maddened them, the bit between their teeth;
Now the rain has caught them with a whiplash hiss—
And who would shut himself away from pageantry like this?
Watching drowsy-warm, 'twixt ranked verandah bars
The charging, massed cloud-cavalry come blotting out the stars,
Streaming manes and pennons swept across the sky—
I ponder, "Some would rather sleep, perhaps, but never I!"
Just beyond the rain's reach, safe I wait what comes
To shrieking bugle-blasts of wind and thunder's rolling drums,
Purring in my white bed, huddled soft and warm,
While on the whole horizon flares the splendour of the storm.
—Dorothea Mackellar, Pittwater, 1933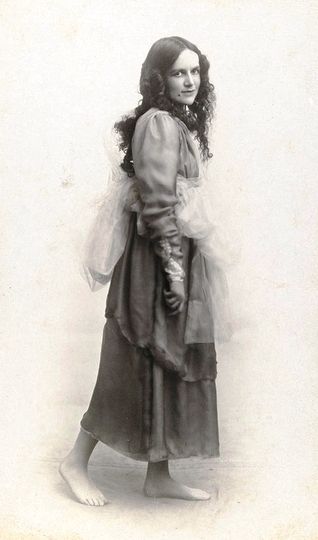 Dorothea Mackellar in 1918
Dorothea Mackellar Poetry Competition 2021 Entries Now Open
2021 OPTIONAL THEME: "RICH AND RARE"
''Our poets are encouraged to take inspiration from wherever they may find it, however if they are looking for some direction, competition participants are invited to use this year's optional theme to inspire their entries."
In 2021, the Dorothea Mackellar Memorial Society has chosen the theme "Rich and Rare." As always, it is an optional theme, so please write about whatever topic sparks your poetic genius.
For a copy of the wonderful theme poster, please click here.
HOW TO ENTER
*PLEASE NOTE: If you're registering as an individual student, put your HOME address in your personal details and not your SCHOOL'S address! The address you list is where your participation certificate will be posted!*
ONLINE SUBMISSION
(primary school and secondary school, anytime during the competition period)
Teacher/parent - registration completed online (invoice will be emailed within 2 weeks of registration)
Log in to your page.
Enter student details and submit poem(s) (cut and paste or type in poem content direct to the webpage) PLEASE DO NOT UPLOAD POEMS AS ATTACHMENTS AS THAT FUNCTION IS FOR POSTAL ENTRIES ONLY.
Repeat step 3 for every student/individual poem.
PLEASE SEE HERE FOR A DETAILED PDF ON ENTRY INSTRUCTIONS FOR TEACHERS AND PARENTS.
USEFUL TIPS
Have a read of the judges' reports from the previous year. They contain some very helpful advice for teachers and parents alike!
It is recommended for schools to appoint a coordinator for the competition.
Only a teacher/parent can complete the registration form on behalf of the student/child.
Log-in details: username is the email address and a password of your choice.
Log-in details can be given to other teachers/students for poem submission in class/at home.
Log-in as many times as necessary during the competition period.
Teachers can view progress by monitoring the number and content of entries.
Individual entries are accepted if the school is not participating or a child is home schooled. Parent needs to complete the registration form with their contact details. Please indicate 'individual entry' under school name and home postal address under school address.
Invoice for the entry fee will be sent to the registered email address within 2 weeks.
'Participation certificate only' option available for schools where pre-selection of entries has been carried out. Poems under this option will not be sent to judges, students will still receive participation certificate for their efforts.
Please read the Conditions of Entry before entering. Entries accepted: March 1 to June 30, results announced during early September.
Visit: https://www.dorothea.com.au/How-to-Enter-awards
Full Steam Ahead For Iconic Locomotive 3801
A defining part of Australia's steam train history returned to the rails last weekend after more than a decade.
Minister for Regional Transport and Roads Paul Toole said the widely adored steam locomotive 3801 is returning to passenger service after a $3.5 million dollar NSW Government funded overhaul, offering customers a unique view of our steam rail history.
"From this weekend, 3801 will offer customers the chance to go back in time with regular one-hour shuttle rides departing from Central Station," Mr Toole said.
"No other steam engine in Australia has captured the imagination of rail enthusiasts and the public as much as 3801, so this is an exciting opportunity for people across NSW to take a trip on the State's most iconic steam locomotive.
"This starts a new chapter in the life of the historic and much loved locomotive.
"I would like to thank the volunteers and staff who have worked closely with Transport Heritage NSW in the past decade to make this all possible."
In the next few months 3801 will also make trips to the Southern Highlands, Albury, Wagga Wagga, Junee, the Blue Mountains and towns in western and northern NSW, sharing the magic of the steam era right across the state.
When 3801 first launched in 1943, it instantly changed the image of the NSW Railways with its streamlined art-deco style.
3801 made its first journey from Central Station in 1943 and operated as an express passenger locomotive and later as a freight locomotive until being formally withdrawn from service in 1962.
It became famous for being the only steam locomotive to have travelled to all mainland Australian states and territories.
For more information on the 3801 and the regional tour visit HERE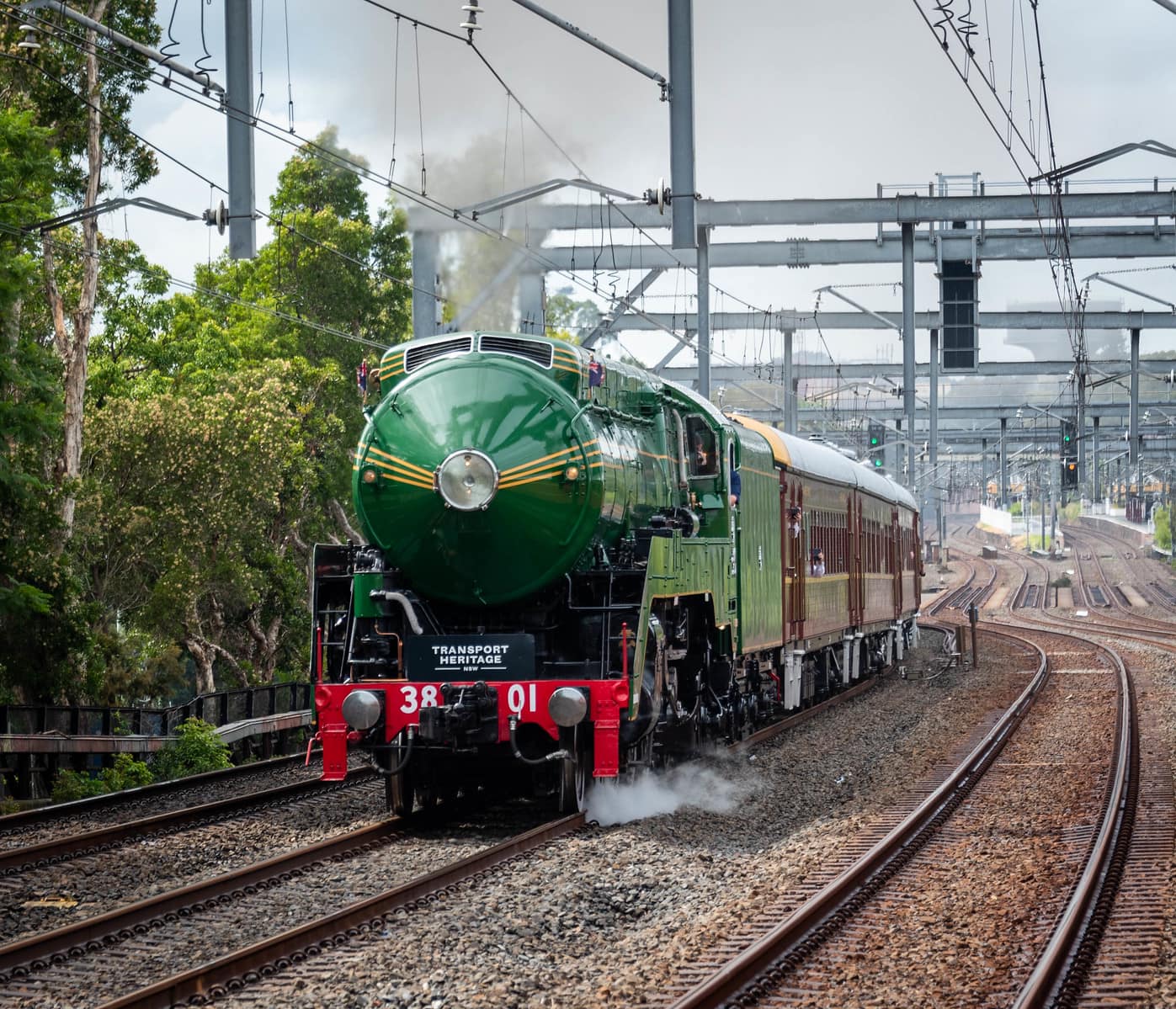 World-Class Standard For Vocational Education And Training
March 18, 2021
The NSW Government will embark on a new reform as part of accepting and implementing all five recommendations from the Gonski-Shergold Review of the NSW Vocational Education and Training (VET) sector.
The NSW Government has committed to:
Establishing Careers NSW
Establishing a new form of tertiary education known as NSW Institute of Applied Technology (IAT)
Advocating for VET student loans, similar to the Higher Education Contribution Scheme (HECS), to be established. Work will continue with the Federal Government on the scheme
Improving the quality of vocational education made available in high schools
Consulting with industry experts on VET course curriculums.
Premier Gladys Berejiklian thanked Mr David Gonski AC and Professor Peter Shergold AC who led the extensive review into the VET sector.
"Mr Gonski and Professor Shergold have provided the government with new and innovative recommendations to ensure our training industry remains at the cutting edge and is relevant to a post COVID-19 economy," Ms Berejiklian said.
"The government's record $107 billion spend in infrastructure has created a huge demand for tradies but we also need to upskill the workforce for emerging industries like 3D printing, robotics and other technology industries.
"If we are serious about having the best skilled workforce in the world, we have to do things a bit differently.
"The exciting new model of education will see industry and universities partner with TAFE at Meadowbank and Kingswood campuses to ensure NSW is set up to take advantage of the changing workforce requirements."
The NSW Government will use the report's findings to advocate for the Commonwealth's VET Student Loan scheme to be expanded to put VET study on an even financial playing field with university studies.
The IAT will be a new model of tertiary education that will fully integrate the theoretical study of university with the practical training of vocational education. Students will be able to study flexibly for example, a student can complete a Certificate IV in year one, progress to a diploma in year two and have the option of achieving a Bachelor in Applied Technology in year three.
Minister for Skills and Tertiary Education Geoff Lee said the recommendations will elevate the NSW VET system to an enviable standard.
"Our VET sector has already led the way in training frontline workers who have safeguarded our economy from the effects of a global pandemic and today's announcement will further bolster the sector to a world-class standard."
"The report highlights the skills industry needs are evolving and our VET sector must continue to evolve and remain accessible to ensure the people of NSW continue to undertake vocational education to drive NSW forward."
Mr David Gonski AC said the recommendations were developed with a number of stakeholders.
"Consultation was undertaken with academics, industry associations, government and non-government school sectors and training providers to provide a holistic review of the challenges the sector is facing," Mr Gonski said.
Professor Peter Shergold AC said the recommendations will also seek to enhance the status and improve the quality and accessibility of vocational education in high schools.
"Furthering the relevance and breadth of VET available in high schools is a significant step towards getting students interested in pursuing a vocational career," Professor Shergold said.
Today's announcements are in addition to the establishment of Careers NSW announced yesterday.
Support To Help Young People In Online Or Digital Employment Services Into Work
March 17, 2021
The Australian Government is providing more opportunities for thousands of young Australians to get into work and training.
Until 30 June 2022, the Australian Government's Youth Advisory Sessions initiative will help connect up to 15,000 young people with youth employment specialists.
This assistance will help them remain connected to the labour market and encourage them to stay motivated and resilient when looking for work.
Minister for Employment, Skills, Small and Family Business, Senator the Hon Michaelia Cash, says these specialists will help young people aged 15 to 24 stay connected to the workforce.
"We know young people have been hit hard by the COVID-19 pandemic, and we want to help as many of them as possible to find work," Minister Cash said.
"That's why we're providing access to free Youth Advisory Sessions to help young people stay engaged and supported."
Assistant Minister for Youth and Employment Services, the Hon Luke Howarth MP, said up to three one-hour advisory sessions are free for young people with a Transition to Work provider.
"We want to ensure that young people are supported, can access help to stay motivated, and are ready to take up job opportunities as the economy continues to recover," Assistant Minister Howarth said.
"These sessions will also help young people identify jobs in industries locally, and who are expecting the most employment growth in the medium term."
These sessions are part of the $21.9 million Faster Connections and Greater Support for Young People measure, which was unveiled in the 2020-21 Budget.
"The Australian Government is providing unprecedented support for young people who are looking for work, including the $4 billion JobMaker Hiring Credit and the $1.2 billion Boosting Apprenticeship Commencement wage subsidy," Minister Cash said.
Attending a Youth Advisory Session (YAS) can help you:
improve your job search skills
write a resume that will get you noticed
prepare for a great interview
connect with education, training and other support services
For more information on Youth Advisory Sessions, visit jobactive.gov.au/YAS
New Skipper For Breakers In Fire Double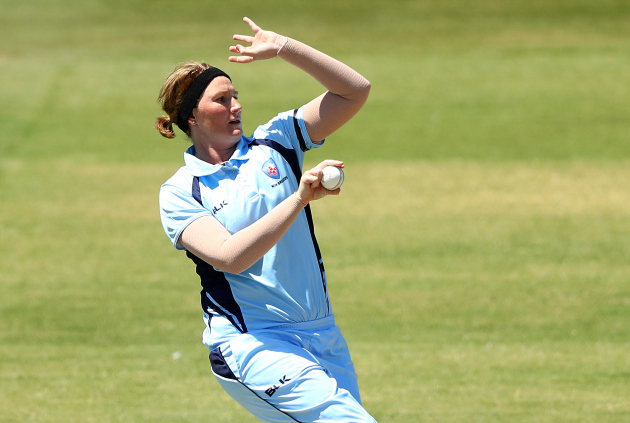 All-rounder Sammy-Jo Johnson has been named to lead NSW just six games into her Breakers career, taking the reigns from Alyssa Healy who is on international duty.

Johnson, 28, who is from northern NSW but had until this summer played all her senior cricket for Queensland and the Brisbane Heat, will captain a 13-player squad in crucial matches against her former side at North Sydney Oval on Friday and Sunday.
With Healy, Rachael Haynes, Ash Gardner and Hannah Darlington all part of the Australian squad in New Zealand, there are four changes to the Breakers contingent that beat the ACT in back to back matches earlier this month.
Experienced all-rounder Lisa Griffith, keeper/batter Maddy Darke and rising star Phoebe Litchfield all re-join the squad, while Dubbo's exciting fast bowling prospect Emma Hughes is in line to make her Breakers debut.
Powerful hitting opening bowler Johnson becomes NSW's 30th women's captain and said she felt privileged to have been given the honour.
"I have played a lot of cricket in Queensland but I'm very proud to finally be wearing the Baggy Blue because that was a childhood dream," Johnson said.
"I'm extremely excited about the opportunity to lead this team and it's something I will treasure.
"These next two matches against Queensland are really important and I believe this squad has the talent and belief to play the brand of cricket we as the Breakers wish to showcase.
"If we put that on the park the results will hopefully lead to us having the opportunity to fight for the trophy in the final."
The Breakers (17 points) currently sit third on the WNCL ladder with three consecutive wins, a tie, three bonus points and two losses from their opening six games. They trail second placed Tasmania by just two points but the Breakers have a game in hand.
Queensland are just a point adrift of NSW in fourth.
NSW Breakers squad for fixtures against the QLD Fire (Friday 19 March and Sunday 21 March) at North Sydney Oval:
Sammy-Jo Johnson (C)
Erin Burns
Stella Campbell
Lauren Cheatle
Maddy Darke
Lisa Griffith
Emma Hughes
Anika Learoyd
Phoebe Litchfield
Lauren Smith
Hayley Silver-Holmes
Rachel Trenaman
Tahlia Wilson
Support Staff:
Dom Thornely (Head Coach)
Ben Sawyer (Assistant Coach)
Mark McInnes (Assistant Coach)
Katie Ryan (Physio)
Sean Hardy (Strength and Conditioning)
Follow all the action via cricket.com.au, with Sunday's game also set to be available on Kayo.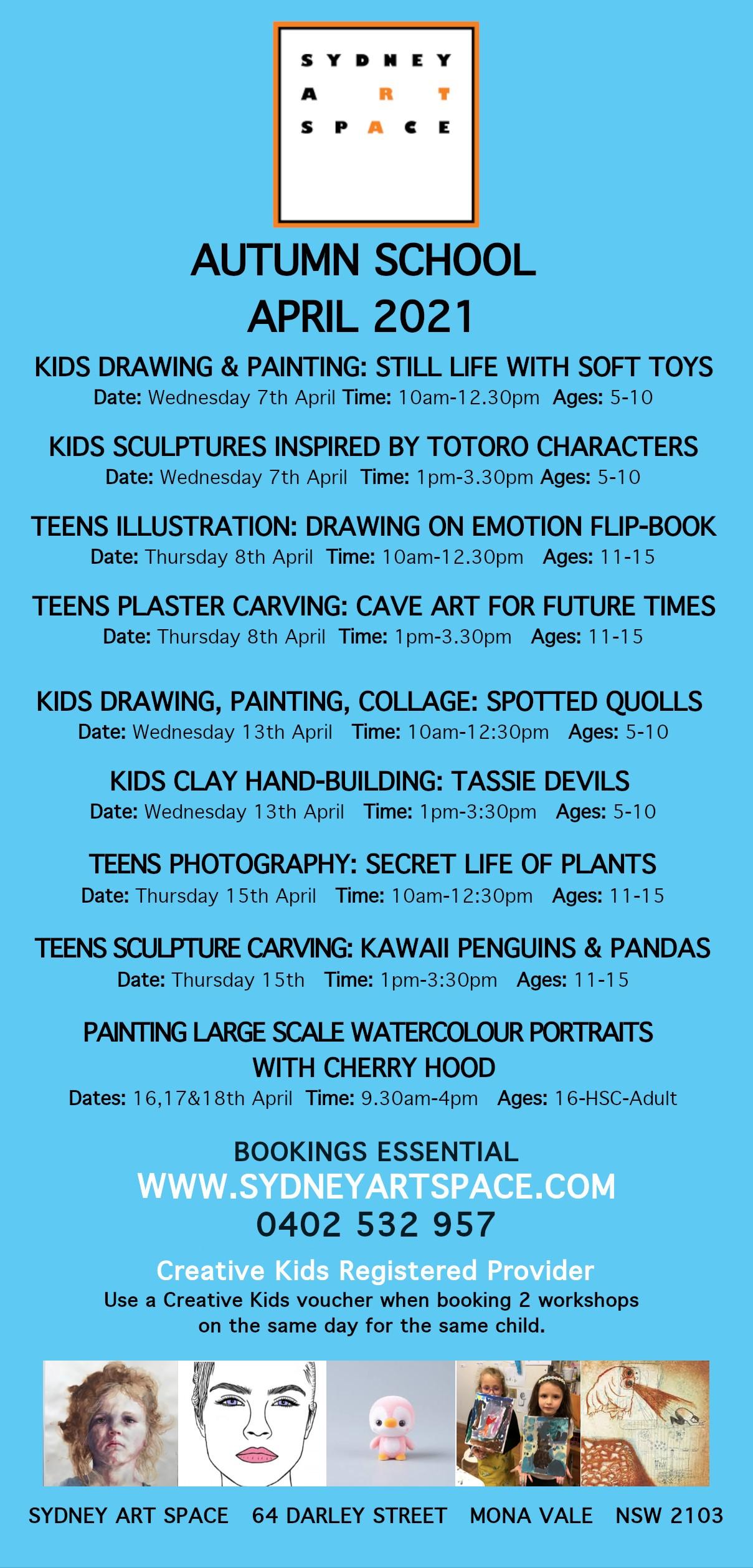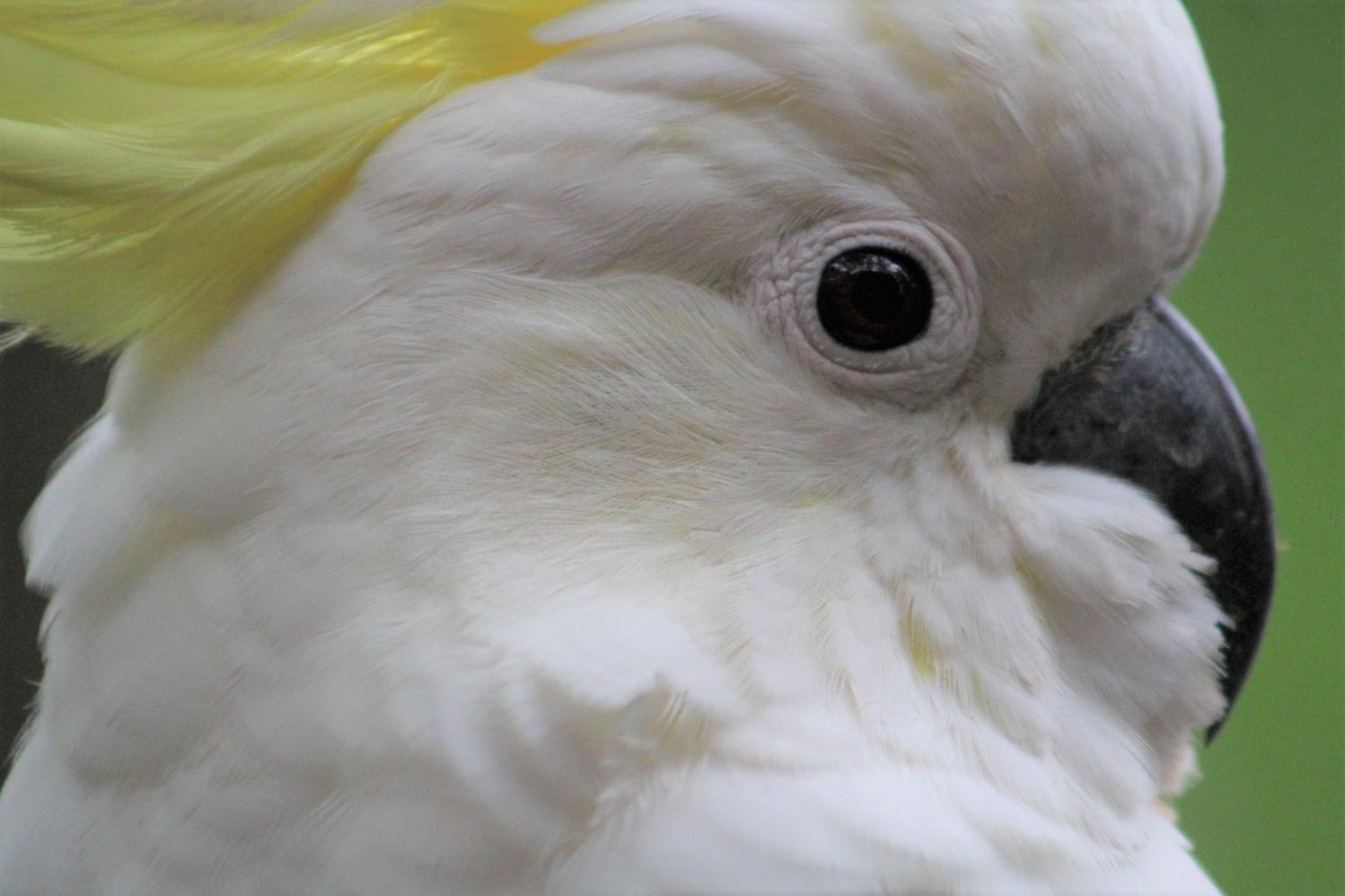 COVID-19 Is A "Serious Risk" To 80% Of Older Australians
At least 80 per cent of Australians aged over 70 years are at high risk of serious illness or death if they contract COVID-19, according to a new study led by the University of South Australia.
People with high blood pressure, heart disease, diabetes and cancer are more vulnerable to poor outcomes if they contract COVID-19 and having more than one of these conditions increases the risks.
The study, published in the Australian Journal of General Practice, involved 103,422 Department of Veterans' Affairs (DVA) clients. It revealed that more than 80 per cent had at least one risk factor for COVID-19, half of them had two risk factors, and 20 per cent had more than three risk factors, including immune-related diseases and diabetes.
Of the older Australians living in the community – who comprised 88 per cent of the study participants – the most common condition was high blood pressure followed by heart disease. Those living in residential aged care (RAC), had slightly lower rates of high blood pressure but had higher rates of heart disease, respiratory conditions, and kidney disease.
Lead author Associate Professor Nicole Pratt, Deputy Director of the Quality Use of Medicines and Pharmacy Research Centre at UniSA, says the findings align with evidence from other countries where patients have been admitted to hospital with COVID-19.
"In the US for example, 70 per cent of older patients admitted for COVID-19 in the past year had high blood pressure, 43 per cent had diabetes and 29 per cent suffered from cardiopulmonary diseases," Assoc Prof Pratt says.
"A quarter of the older Australians that we studied live with an autoimmunity condition like cancer or may be taking medicines that suppress their immune systems and one in five has diabetes. These conditions carry a far higher risk for COVID-19 than some other conditions."
The latest statistics released by the Federal Government show that of the 904 Australians who have died of COVID-19, 94 per cent of them are aged 70 years and older.
Since the study was completed, the Government has started rolling out the Pfizer and AstraZeneca vaccines to Australia's most vulnerable and frontline workers, including 30,000 aged care residents and staff across the country.
"Our findings highlight the urgent need for older Australians to get vaccinated as soon as they are eligible," Assoc Prof Pratt says.
Ageism Is A Global Challenge: UN
Every second person in the world is believed to hold ageist attitudes – leading to poorer physical and mental health and reduced quality of life for older persons, costing societies billions of dollars each year, according to a new United Nations report on ageism.
The report released today by WHO, Office of the High Commissioner for Human Rights (OHCHR), United Nations Department of Economic and Social Affairs (UN DESA) and United Nations Population Fund (UNFPA), calls for urgent action to combat ageism and better measurement and reporting to expose ageism for what it is – an insidious scourge on society.
The response to control the COVID-19 pandemic has unveiled just how widespread ageism is – older and younger people have been stereotyped in public discourse and on social media. In some contexts, age has been used as the sole criterion for access to medical care, lifesaving therapies and for physical isolation.
"As countries seek to recover and rebuild from the pandemic, we cannot let age-based stereotypes, prejudice and discrimination limit opportunities to secure the health, well-being and dignity of people everywhere," said Dr Tedros Adhanom Ghebreyesus, WHO Director-General. "This report outlines the nature and scale of the problem but also offers solutions in the form of evidence-based interventions to end ageism at all stages."
Ageism seeps into many institutions and sectors of society including those providing health and social care, in the workplace, media and the legal system. Healthcare rationing based solely on age is widespread. A systematic review in 2020 showed that in 85 per cent of 149 studies, age determined who received certain medical procedures or treatments.
Both older and younger adults are often disadvantaged in the workplace and access to specialized training and education decline significantly with age. Ageism against younger people manifests across many areas such as employment, health, housing and politics where younger people's voices are often denied or dismissed.
"Ageism towards younger and older people is prevalent, unrecognized, unchallenged and has far-reaching consequences for our economies and societies," said Maria-Francesca Spatolisano, Assistant Secretary-General for Policy Coordination and Inter-Agency Affairs in the Department of Economic and Social Affairs. "Together, we can prevent this. Join the movement and combat ageism."
Ageism has serious and wide-ranging consequences for people's health and well-being. Among older people, ageism is associated with poorer physical and mental health, increased social isolation and loneliness, greater financial insecurity, decreased quality of life and premature death. An estimated 6.3 million cases of depression globally are estimated to be attributable to ageism. It intersects and exacerbates other forms of bias and disadvantage including those related to sex, race and disability leading to a negative impact on people's health and well-being.
"The pandemic has put into stark relief the vulnerabilities of older people, especially those most marginalized, who often face overlapping discrimination and barriers – because they are poor, live with disabilities, are women living alone, or belong to minority groups," said Natalia Kanem, Executive Director, United Nations Population Fund. "Let's make this crisis a turning point in the way we see, treat and respond to older people, so that together we can build the world of health, well-being and dignity for all ages that we all want."
Ageism costs our societies billions of dollars. In the United States of America (USA), a 2020 study showed ageism in the form of negative age stereotypes and self-perceptions led to excess annual costs of US$63 billion for the eight most expensive health conditions. This amounts to US$1 in every US$7 spent on these conditions for all Americans over the age of 60 for one year (see note to editors).
Estimates in Australia suggest that if 5 per cent more people aged 55 or older were employed, there would be a positive impact of AUD$48 billion on the national economy annually. There are currently limited data and information on the economic costs of ageism and more research is needed to better understand its economic impact, particularly in low- and middle-income countries.
"Ageism harms everyone – old and young. But often, it is so widespread and accepted – in our attitudes and in policies, laws and institutions – that we do not even recognize its detrimental effect on our dignity and rights said Michelle Bachelet, United Nations High Commissioner for Human Rights. "We need to fight ageism head-on, as a deep-rooted human rights violation."
The report notes that policies and laws that address ageism, educational activities that enhance empathy and dispel misconceptions, and intergenerational activities that reduce prejudice all help decrease ageism.
All countries and stakeholders are encouraged to use evidence-based strategies, improve data collection and research and work together to build a movement to change how we think, feel and act towards age and ageing, and to advance progress on the
UN Decade of Healthy Ageing
.
Warringah - Pittwater Headquarters Rural Fire Brigade Life Membership
At tonight's General Meeting, Headquarters Brigade awarded an outstanding 50 year continuous service to one of our HQ Life Members.
Allan Brett
has been a member of HQ since he joined the Bushfire Service (Now NSW Rural Fire Service) in 1971. AB has been instrumental in helping Warringah/Pittwater RFD go from strength to strength and has had an operational role in every local, Statewide and Interstate emergency since joining. We as a brigade are lucky to have such a wealth of knowledge here to help us.
Congratulations Allan and here's to another 50 years.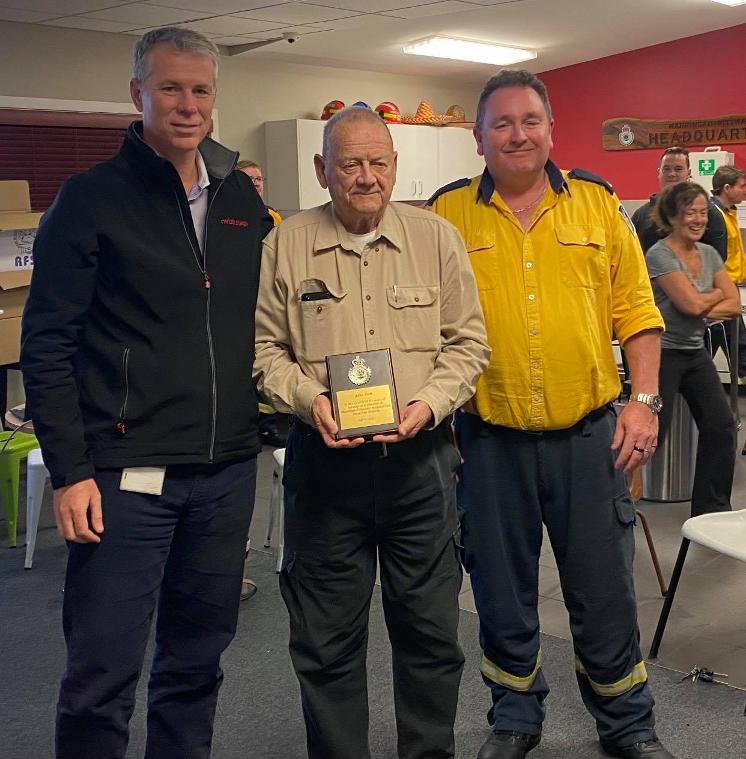 Assistance To Pay Your Aged Care Costs
March 19 2021
It's now easier to get help if you need assistance to pay your aged care costs.
You may get help if you can't pay your aged care costs and you're either:
in residential or respite care
getting a home care package.
You can claim for financial hardship assistance if all of the following apply:
If you get a Home Care Package, your care must have started on or after 1 July 2014.
Sleep Maximises Vaccine Effectiveness
With the roll out of COVID-19 vaccines now underway, University of South Australia sleep experts are urging people to reprioritise their sleep, as getting regular and sufficient sleep is known to boost your immune system.
In Australia, four in every ten people suffer from a lack of sleep. Globally, around 62 per cent of adults feel that they don't sleep well when they go to bed.
UniSA sleep and fatigue researcher, Dr Raymond Matthews, says sleep is an essential factor for maintaining good health and wellbeing, especially during the pandemic.
"At the moment, we're all very focussed on staying healthy – sanitising our hands and keeping socially distanced – but what many people forget is that sleep plays an essential role in our overall health," Dr Matthews says.
"Sleep plays a vital role in our body's immune system. When we get enough sleep, our white blood cells can more efficiently fight invading bacteria or viruses. But when we cut back on sleep, the reverse happens, our white blood cells are reduced, and we end up with a compromised immune system.
"For example, one laboratory study, restricted sleep of healthy participants to four hours a night for six nights before administration of an influenza vaccine. Up to 10 days later, the sleep-deprived individuals possessed half the number of vaccine antibodies than the non-sleep-deprived controls.
"Understanding the importance of sleep is critically important, especially now, as Australia starts to administer COVID-19 vaccines.
"We're urged to get at least eight hours of sleep a night, but with the daily pressures of work, school, and family life, it's often too easy to sacrifice.
"If you're struggling to get a good night's sleep, there are things you can do:
choose light, rather than heavy meals in the evening
keep your bedroom dark, cool and quiet
avoid bright light in the evening – especially light from phones and devices – and make sure you get enough sunlight in the morning
exercise during the day
avoiding cigarettes, caffeine, and alcohol.
"Having a relaxing a bedtime routine can help. This could include turning the TV off earlier, or reading a book in bed, but really, it's whatever makes you feel calm and comfortable.
"Of course, if you find you just can't sleep, sometimes it's best to get up and do something relaxing until you start to feel tired.
"These times are no doubt challenging, but sound sleep is something we should all prioritise, especially during COVID-19."
WHO Global Report On Ageism Right At Home In Australia
COTA Australia says the WHO Global report on Ageism released today, which highlights the prevalence of ageism globally and makes key recommendations for how to combat it, is as relevant in Australia as it is anywhere else in the world.
The report finds that 1 in 2 people worldwide are ageist against older people and that this impacts on older people's life span, income, poorer physical and mental health, slower recovery from disability and cognitive decline.
"This report also shows just how pervasive ageism is in our society. We see it in our workplaces, in our health care system and of course we've seen it rife throughout the COVID-19 pandemic." Ian Yates, Chief Executive of COTA Australia said.
"When older people are undervalued, we all miss out, as individuals, as communities, and as an economy. The hidden costs of ageism and age discrimination in employment, health care and other areas is enormous, and the WHO Report calls for more research, education and legislation to understand and combat this scourge.
"We would all benefit from living in a nation that fully harnesses the experience and contributions of all its people, including all older people. Our economy would grow significantly, and people's health and well-being would increase across the lifespan.
"Making and end to ageism a global priority through the UN, WHO and other international agencies is overdue, but very welcome. It underscores the need for both cultural and policy change to put an end to ageism right across the globe.
COTA is a leading member of the Every Age Counts coalition, a national campaign which aims to tackle ageism against older people in Australia, which the is praised by the WHO Report..
"Every person has a role to play in stopping ageism. We need governments, businesses, civil organisations and every single person in the country to put an end to ageism, starting now."
Viewpoint On Sydney
Published by NFSA March 15, 2021
From the Film Australia Collection. Made by Film Australia 1975. Directed by Arch Nicholson.
The city of Sydney, New South Wales, as seen through the eyes of European migrants. People see cities with different eyes. While most cities in the world have big buildings and lots of people there are many facets of city life that may appeal or be repellents - especially to the newcomer. This series of films on Australian capital cities presents the views of migrants who have settled down to live in them. What they see and what they say about Australia's main cities is of interest and value to both the native born city dweller and to the intending migrant.
Aged Care Respite Services Bolstered For Culturally Diverse Groups
Older Australians from culturally and linguistically diverse communities across the country are set to access more tailored respite care.
The Federal Government will fund an additional $9.67 million per year over two years through the Commonwealth Home Support Program (CHSP).
Minister for Senior Australians and Aged Care Services, Richard Colbeck, said the funding would support culturally and linguistically diverse senior Australians to live independently and safely in their own homes and local communities and provide respite for carers.
"Forty aged and disability care providers will deliver the additional centre‑based respite services to older Australians from multicultural communities, including those from Chinese, Italian, Greek, Polish, Russian and Indian backgrounds, to name a few," Minister Colbeck said.
"Importantly, the Government is directing the extra funding to those areas in most need across the country – where there are service gaps and the highest level of demand."
Centre‑based respite services can include group activities to help ease isolation and encourage social interaction, group excursions, and meals. Carers and family members can take part in the activities or leave the older person in the care of the provider.
"Social isolation was – and is – a very real problem for older Australians during the pandemic," Minister Colbeck said.
"Language barriers and cultural differences have made it even harder for people from diverse backgrounds.
"It's important the additional services on offer focus on tailored support and programs that are suited to the needs of these seniors, and the needs of their communities."
To access services, older Australians will need to contact My Aged Care on 1800 200 422 and arrange for a formal assessment of their care needs.
Service providers are required to be as responsive as possible to requests from older Australians and their carers for short-term or non-ongoing respite.
Phantom Of The Opera Coming To Opera House: Tickets On Sale In April
Sydney Opera House will be cloaked in the magic and mystery of Broadway's longest running musical, The Phantom of the Opera, when it opens in September.
The NSW Government has secured an eight-week season of the global sensation for the Harbour City through its tourism and major events agency, Destination NSW.
The Phantom will be played by Australian star Josh Piterman who was playing the role in London when the pandemic closed theatres globally.
Minister for Jobs, Investment, Tourism and Western Sydney Stuart Ayres said the musical would play an important role in the state's ongoing road to recovery.
"Musicals and theatre productions are a major contributor to the NSW visitor economy, which is why we have been working with Health and the live performance community to get this important sector back up and thriving.
"The Phantom of the Opera is a cultural icon and we anticipate that this upcoming season at Sydney Opera House will attract more than 10,000 visitors who stay more than 25,000 nights and spend close to $6.14 million.
"We are delighted to have secured this significant coup for Sydney, which also reinforces our vision of positioning Sydney and NSW as the premier events destination of the Asia Pacific," Mr Ayres said.
Minister for the Arts Don Harwin said it would be the first time a professional season of the musical had been performed on an Australian stage since 2009.
"The Phantom of the Opera has captivated audiences worldwide since it opened in London's West End in 1986 and then Broadway in 1988 - evidenced by the many accolades it has won including four Olivier Awards and seven Tony Awards.
"Whether you are a musical theatre fan or occasional theatregoer, The Phantom of the Opera is a must-see favourite, and we are incredibly excited to welcome visitors to Sydney for its sought after Australian return," Mr Harwin said.
Composer Andrew Lloyd Webber and Producer Cameron Mackintosh said, "We are thrilled to be bringing this exciting new production to Australia. The show has already proved a sensational box office success on National tours across the UK and the US.
"It is a great delight to us both that a new production which has a totally original take on our beloved Phantom has been embraced with as much enthusiasm as the brilliant original."
Opera Australia, in association with The Really Useful Group, will present Cameron Mackintosh's spectacular new production of
The Phantom of the Opera at the Joan Sutherland Theatre, Sydney Opera House, from 2 September to 29 October 2021
.
Tickets go on sale in April 2021.
AvPals 2021
Avpals are pleased to announce that our very popular group training seminars are resuming at the Newport Community Centre from the beginning of Term ONE in 2021.
Details of these courses
APPEAR HERE
and we invite you to join up as soon as possible. You can also read much more about the term's courses
HERE.
We now offer the option to reserve and pay online using our secure credit card facility. Due to the additional Covid 19 restrictions above and beyond the government's requirements, we have severely rationed the numbers that can attend.
World Frog Day Heralds Bumper Season For Local Frogs
This World Frog Day (Saturday March 20) it's worth celebrating a bumper Spring and Summer for frogs. And now, with all this rain, you can still hear them croaking from every front yard or nearby creek
Doctor Joanne Ocock, Project Officer with the National Parks and Wildlife Service said native frogs have a range of strategies to deal with dry and wet cycles.
"All the frogs in our area need water to lay eggs and allow tadpoles to develop into new frogs, but not all have the same strategy for surviving when the water starts to dry up.
"There is not one secret formula for surviving as a frog in the Central West and North West Plains, it is inevitable that the dry will happen and they all approach it in different ways.
"Frogs like the barking marsh frog or salmon-striped frog, lose water through their skin quickly so need to stay close to damp areas. They survive dry times by sheltering near remaining waterholes or creeks, down muddy cracks and in the middle of wetland reeds and rushes.
"Tree frogs are the ones people see more often around the house, like the Peron's tree frog or green tree frog. These frogs have a slightly different skin type so don't lose water as easily. They also make sure to shelter in places with low wind exposure and high humidity, like a drainpipe. This means they can roam further from water and survive for long periods until the rains come again.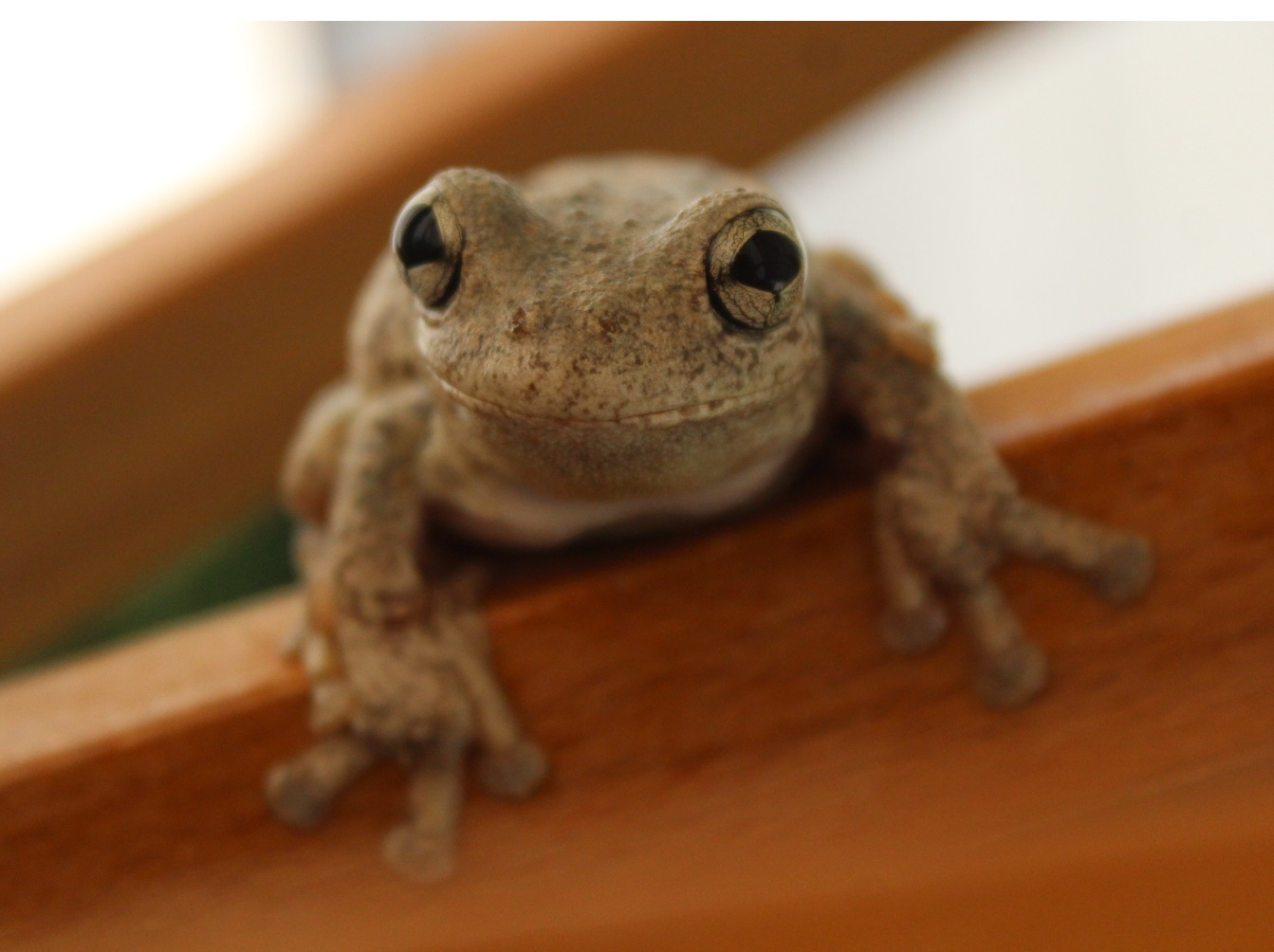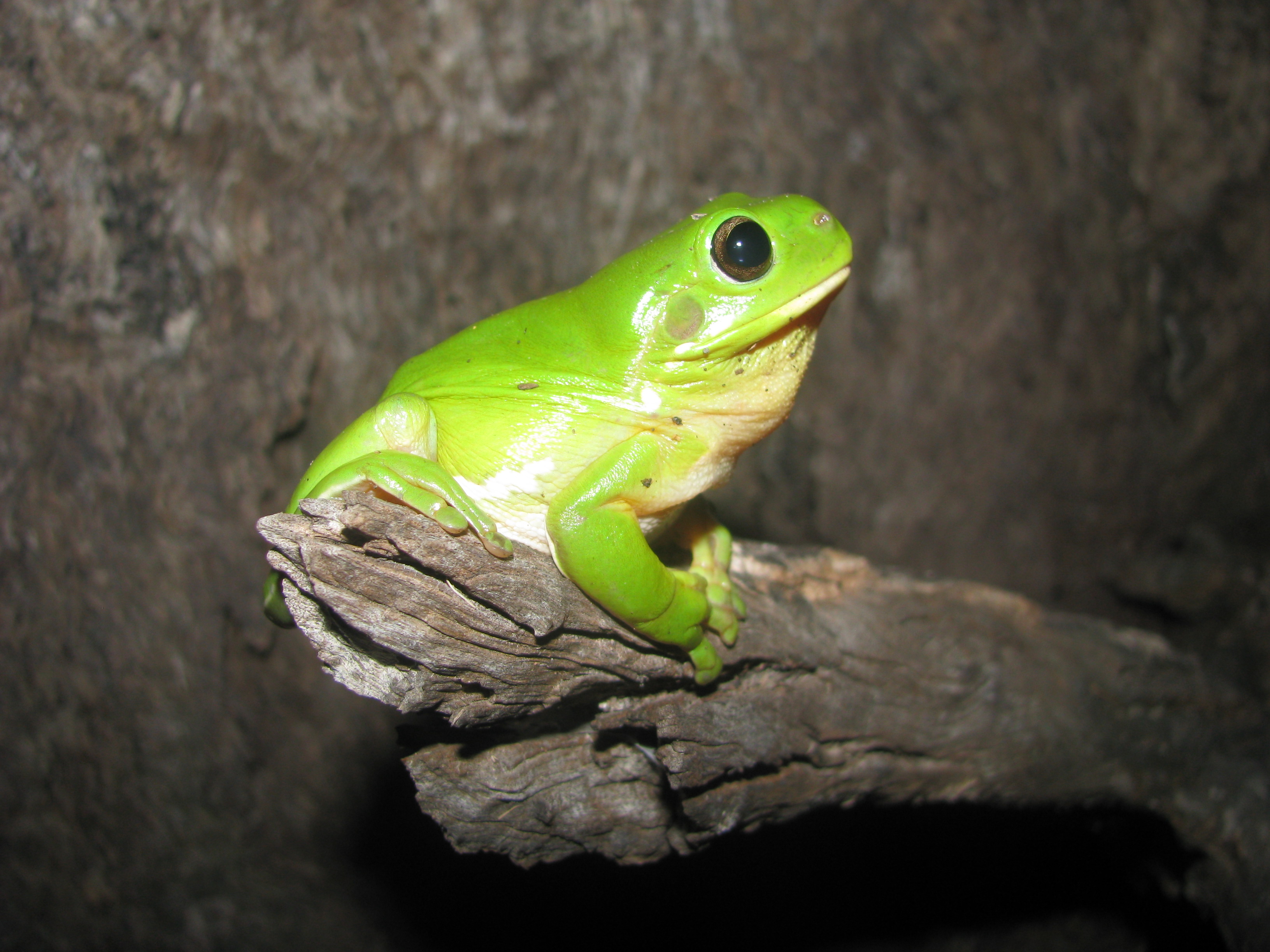 "But the most extreme strategy is employed by the frogs who burrow underground and make a cocoon from layers of their own skin!
"Frogs like the water-holding frog and striped burrowing frog, then wait out the dry for up to two years in a type of hibernation called aestivation when all bodily functions virtually shut down. Once they sense the rains have returned, the frog will eat the cocoon and dig its way back out, ready to soak up some water have a feed and get back to business. Until it dries out again.
"The Central West and North West Plains are somewhat unique in the high numbers of each type of frog occurring here. This is due to the range of habitats from creeks and streams, rivers, lakes, wetlands and temporarily flooded depressions, providing perfect habitat for all sorts of frogs.
"Get out and explore your local national park. Stop and listen for frogs, especially at dusk. You'll hear a different chorus from those at your back window and will start to appreciate the variety of frogs in your local area," Dr Ocock said.
Not quite sure what you are hearing? The Australian Museum runs a fantastic identification app https://www.frogid.net.au/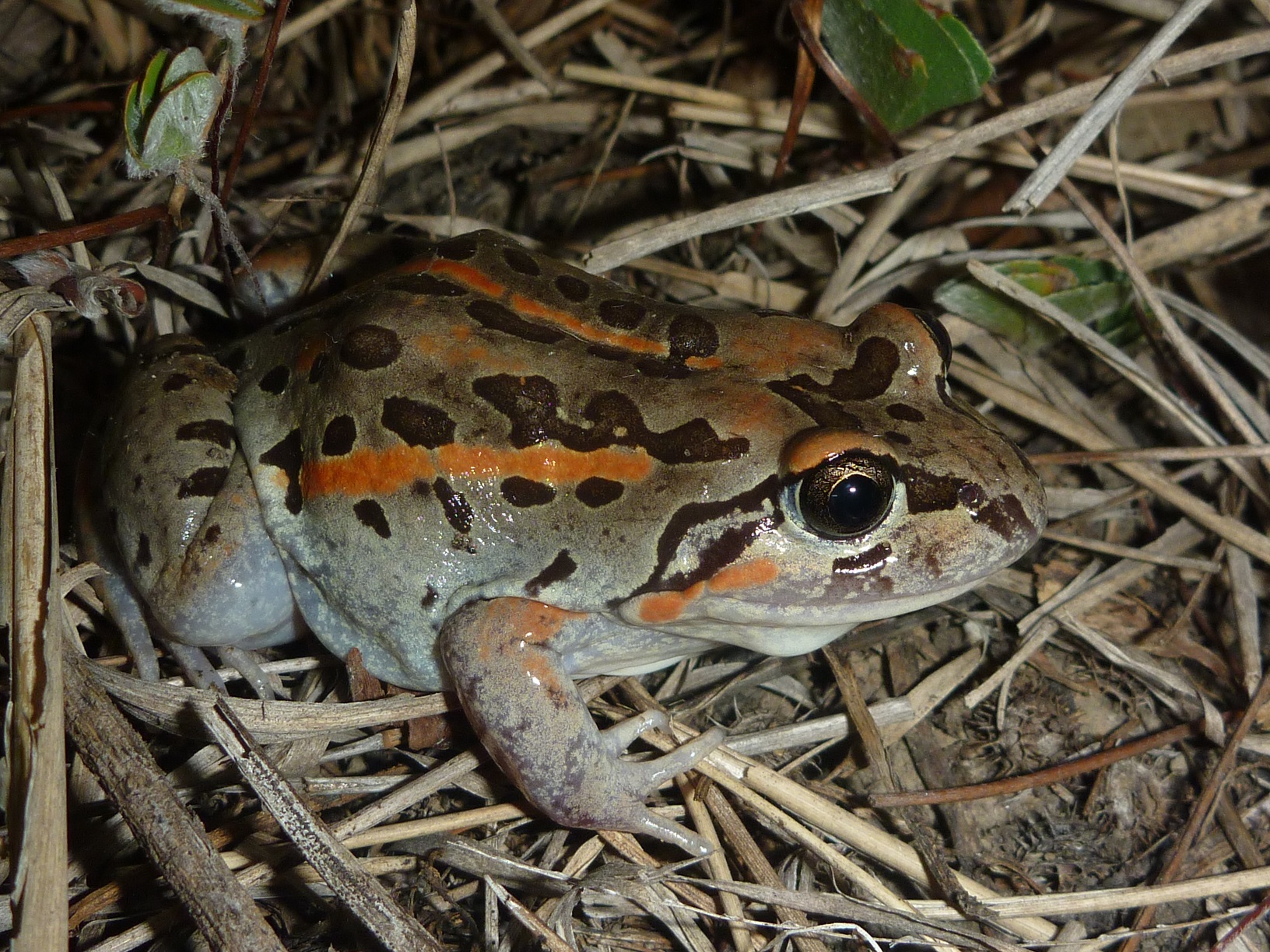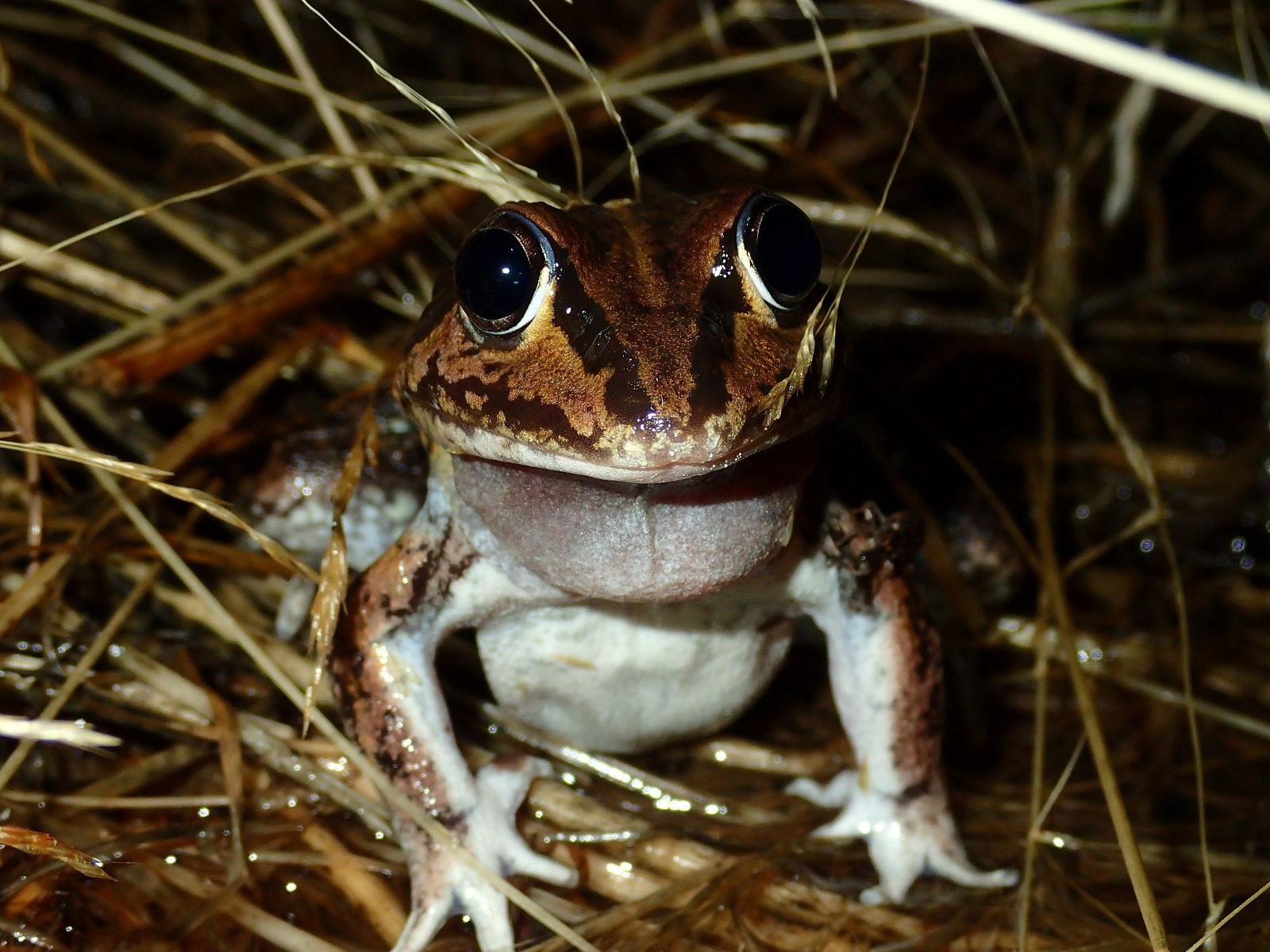 Images: Litoria caerulea Green tree frog, Limnodynastes salmini Salmon-striped frog by and Striped burrowing frog Litoria alboguttata - all by Dr. Ocock Perons Tree frog by A J Guesdon
Royal Easter Show 2021 Showcases A Whole World Of Animals
Have you seen all the great animals you can visit at this year's Royal Easter Show? This (apart from show bags and fairy floss) was always my favourite part of each year's show. I managed to get some tickets for my nieces and their cousins a bit over a week ago now - they like all the rides (and the show bags) - but they also love animals and even collect toy animals.
One of my favourite animal displays are the horses. Did you know that the Sydney Royal Horse Show is the largest of its kind attracting over 5,500 entries exhibiting the most prestigious horses in Australia and New Zealand?
There's a competitive event every day of the Show with classes including: Breeds, Hacks, Light and Heavy Harness, Showjumping, Campdraft, Polo, Rodeo, Pony Club, Tentpegging and Heavy Horse Obstacle Vaulting. You can see that every day of the Royal Easter Show in the big stadium and in the arena. Youngsters are getting involved in the Youth Polocrosse this year too. Originating in NSW in 1939, Polocrosse is an action-packed team sport enjoyed by all age groups. This year Junior Polocrosse teams will compete in four exhibition matches, combining the skills of polo with the speed of lacrosse. Using long-handled racquets, the aim is to scoop up the ball and get it into the goal. With only three players on the field for each team, the pace is fast.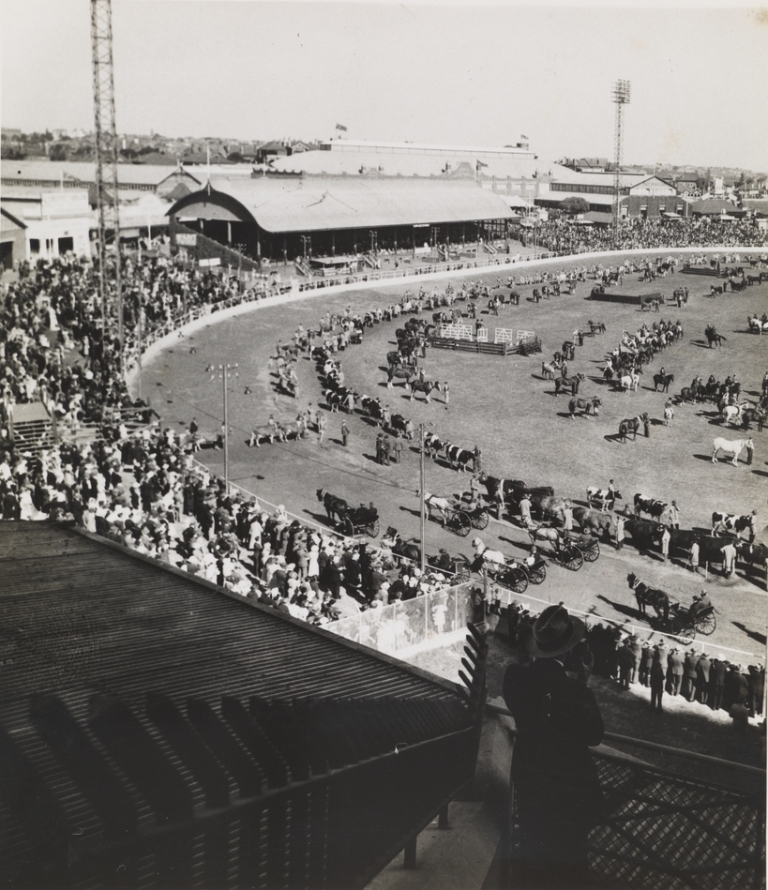 Grand parade, Easter Show, circa 1925 to 1955, from album: Hood Collection part II : [Royal Agricultural Society Showground: Easter Shows, Sheep Shows, Highland gatherings, etc. (and including other agricultural industry scenes)] courtesy State Library of NSW, the Mitchell Library. Image No.: a359002h
Visiting the Pet Pavilion is pretty amazing too as it 'shows' you all the animals people keep as pets - everything from mice to birds and even frogs can be seen, however, it's the puppies and kittens we love.
For those who don't spend time on a farm there's the 10 Shake Farmyard Nursery. Here you will find 10 Shake Farmyard Nursery - an open-plan indoor paddock with over 500 free-range animals you can pat. Here you'll see playful ducklings on their waterslide, piglets, geese, donkeys and much more or maybe have a go at feeding the friendly chickens, sheep and goats that come to visit you.
If you want to find out more about being on a farm you can visit the Junior Farm Hands. Here you can grind grain, dig for vegetables and move animals around your farm. RAS Junior Farm Hands activities give little ones the opportunity to try their hand as a farmer and even take a turn in the tractor - don't leave the Food Farm without collecting your very own tractor licence!
Follow the link to download your Junior Farm Hands Activity booklet.

While finding out all about farming you may want to pop into the District Exhibits - this is like a mini-tour through our very own countryside. These spectacular constructions of vegetables, fruit and other produce are one of the highlights of The Sydney Royal Easter Show. These giant displays are a cooperative work by growers that reflect the diversity and excellence of their regional produce. Each consists of more than 10,000 pieces of fresh produce from five agricultural districts throughout NSW and South East Queensland.
Kids Street is designed for tiny tots to pre-teens, with a recharge spot for mum and dad too, featuring a selection of carnival games, hot food, coffee, and a specially marked pram parking zone. Located at GIANTS Stadium Concourse, all rides are available for only 4 coupons each (yes, I got them some rides coupons too - saves waiting around, we hope!).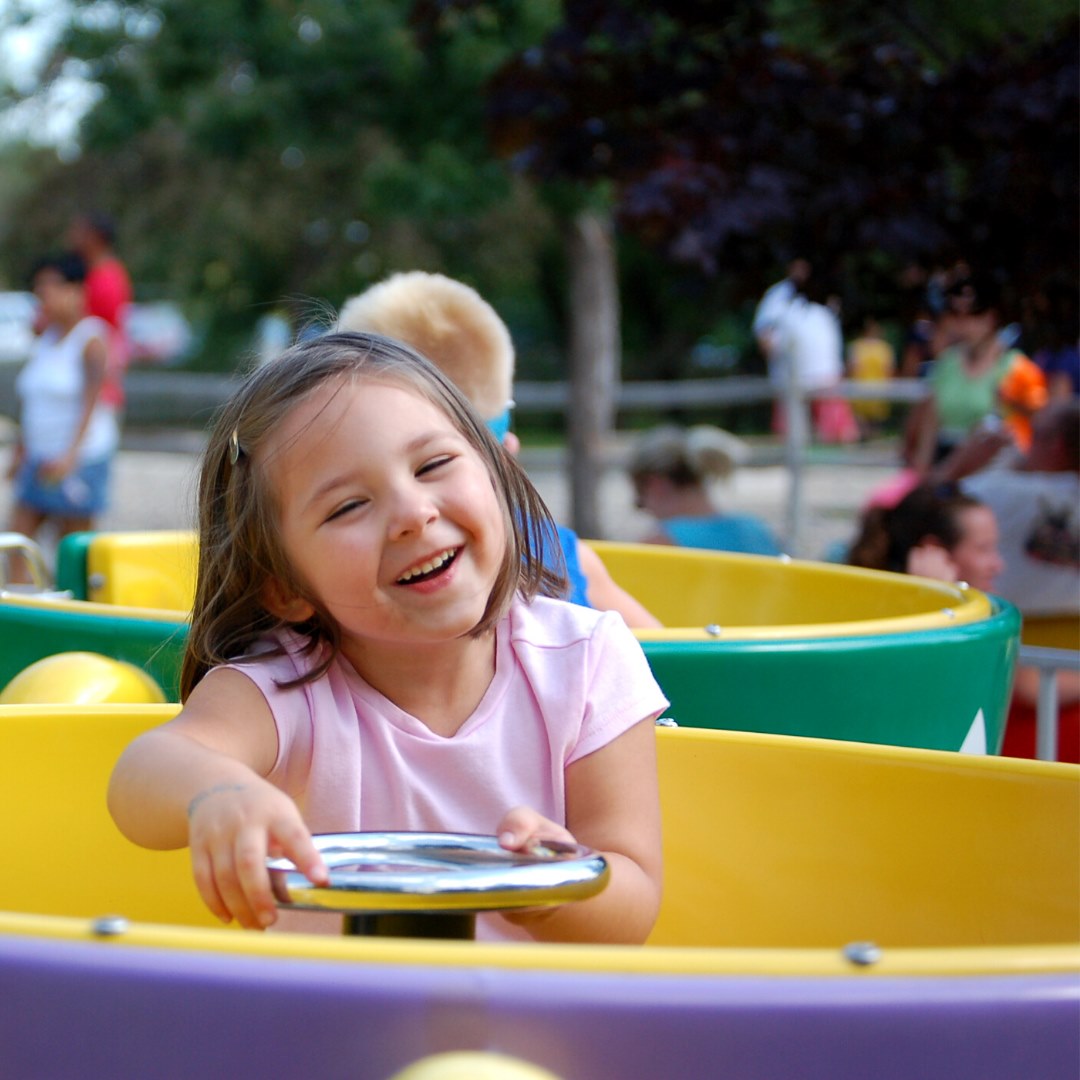 But, let's get to the showbags - did you know these began over 100 years ago as 'sample' bags?
Originating at the Sydney Royal Easter Show sometime between 1909 and 1914, possibly by kiddie-favourites Gravox, the bags were originally given away by brands hoping to launch their wares by providing free samples of products. Food samples were handed out, and these were to evolve into 'sample bags'. By the late 1920s (1927), as the cost of producing bags became too much for companies, they began being sold.

So - what's good value or just great fun this year?
There's some great samples in the lollies department of course - we like getting Bertie Beetles at the RAS as you often can't get them elsewhere. They have a good deal this year with 3 bags for $8.00, while stocks last. What's included:
1x Bertie Beetle Red Showbag $2.90
1x Bertie Beetle Blue Showbag $4.00
1x Bertie Beetle Platinum Showbag $9.60
But the best deal is always the Ag Bag - Inside the Home and Lifestyle Pavilion, while available. This one is $25 but you get around $80 worth of stuff in it and after visiting the Farm, this one may appeal as it's filled with Australian made products. What's more, the RASF Ag Bag is a fundraising bag - All proceeds go back to rural & regional community projects. Australian-made contents donated by Australian-owned companies. For more information on the work of the RASF visit www.rasf.org.au
What's included in 2021:
1x SunRice Microwave Brown Rice 250g $2.50
1x SunRice Brown Rice Chips (assorted Flavours) 150g $5.00
1x Selector Magazine 300g $8.50
1x Manildra - The Healthy Baker Flour 1kg $3.00
1x Manildra - Recipe Booklet $6.00
1x Manildra - "Stay Safe" Hand Sanitizer 50ml $6.00
1x Freedom Foods - Australia's Own Barista Almond Milk 1lr $4.50
1x Rinoldi - Vetta Pasta 500g $2.25
1x Kurrajong Kitchen - Lavosh Original Poppy & Sesame Seed Bites 100g $3.00
1x Carman's Kitchen - Brownie Cholc Aussie Oat Bar $0.84
1x Maxiblock - Kinder Sunscreen Lotion SPF50 100 g + Flyer $10.95
1x Karma Rub - Liquid Magnesium Rub 2.5ml x 4 & Liquid Night Cream 10ml x 1 Sachets $5.00
1x Slim Secrets - Protein Choc Fudge Brownie 100g $3.80
1x Royston Petrie Seeds - Spinach N.Z. Warrigal Greens $3.50
1x NSW Landcare - Everlasting Daisy Seeds Sticks $2.50
1x Seasol - Seaweed Concertrate Sachet 45g $1.00
1x Oz-Pet - Litter Scooper $5.00
1x Albury Enviro Calico Bag $5.00
1x "I Love Aussie Farmers" Sticker $0.60
1x "I Love Australia Made" Sticker $1.00
1x CanAssist Brochure & tea bags $0.06
1x RAMPH Mental Health Brochure
1x Birdsnest Voucher - get $20 off when you spend $75 or more online
1x Rich Glen Olive Estate Voucher - get a free Poppy's Favourite Dressing ($10) when you spend $60 or more online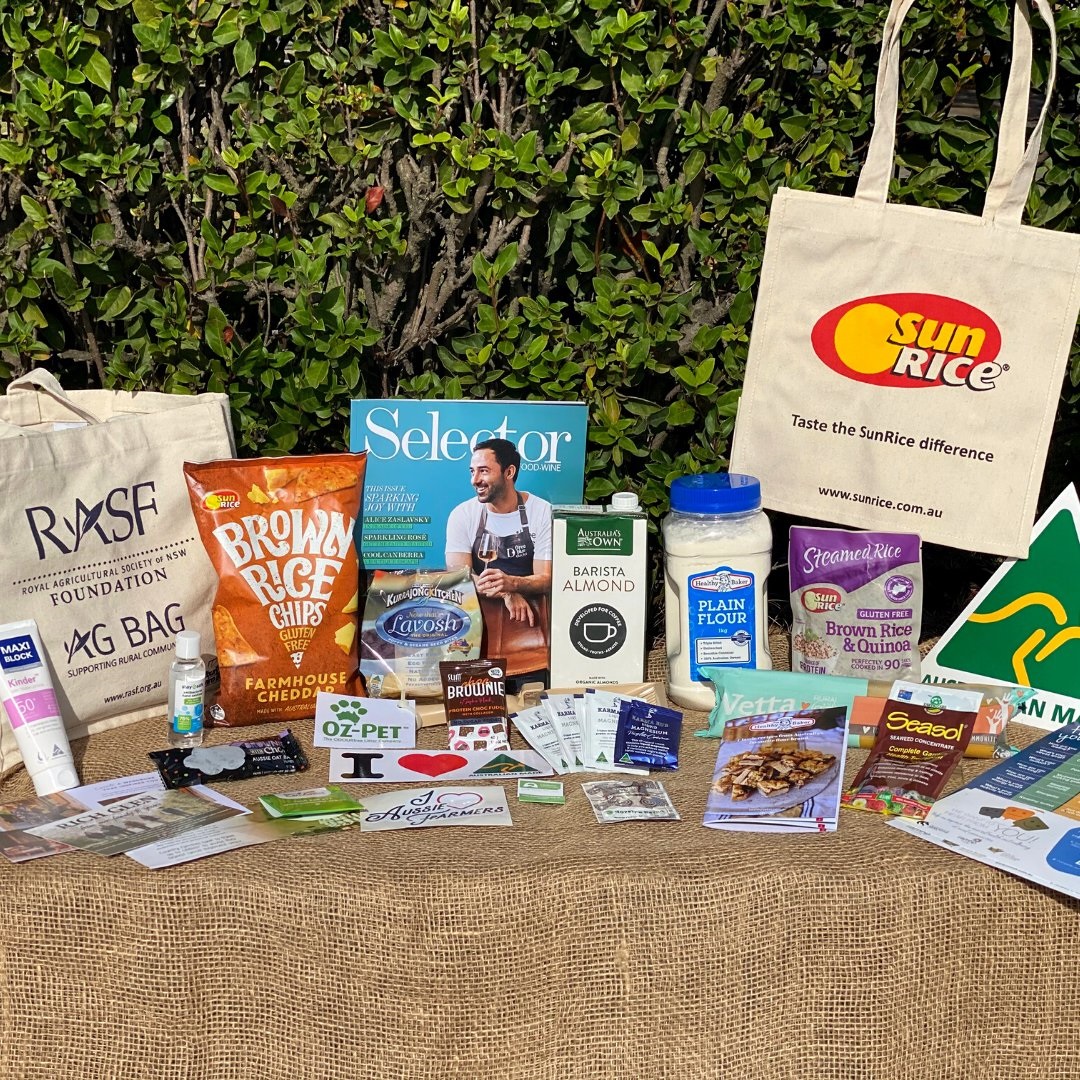 Ok, so that one may not interest you as much as the ones for youngsters, BUT, isn't it great to see and know how many different foods and products are made right here?
We were looking at the 2021 Sydney Royal Easter Show Prizes for cheeses, just announced, and that too is a great insight into what wonderful tastes come from right here, where you live. I can tell you, having spent some time visiting other places far from Australia, nothing compares to the quality and great clean tastes we have here.
Apart from the lollies bags there's some good value for boys and girls in other bags, if you really really are sure you want or need one of these and don't already have all of this at home already. The Voltron show bag, until they all go, looks good for those who are fans of Voltron.
Voltron - $20
Stand Numbers: BAG004, BAG009, BAG011, BAG014, BAG015, #18, #20, #21
What's included:
1x Voltron Backpack $24.95
1x Voltron Cap $12.95
1x Voltron Drink Bottle $8.95
1x Voltron Sticker Patches $2.95
1x Voltron Playing Cards $4.95
1x Voltron Badges $4.95
1x Voltron Tote Bag $3.95
1x Voltron Lanyard $7.95
1x Voltron Flag $9.95
Total Retail Value: $81.55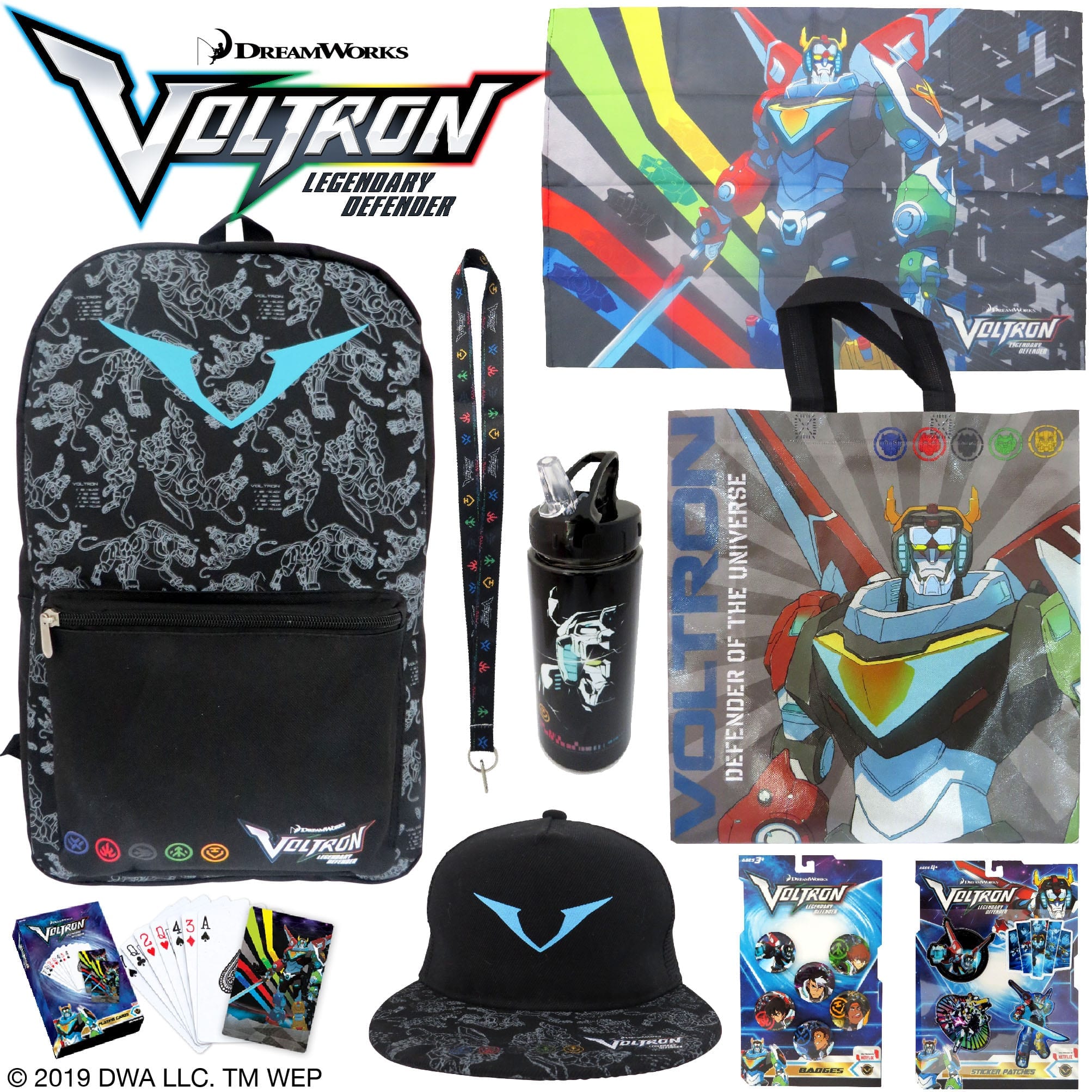 Another good value one, which may appeal to little girls, is the Unicorn show bag.
Unicorn $30
Stand Numbers: BAG004, BAG009, BAG011, BAG014, BAG015, #18, #20, #21
What's included:
1x Unicorn Duffle Bag $19.95
1x Unicorn Coin Purse $4.95
1x Unicorn Hair Extension $4.95
1x Unicorn Jewellery Set $9.95
1x Unicorn Stationery Set $7.95
1x Unicorn Keychain $2.95
1x Unicorn Body Glitter $7.95
1x Unicorn Tote Bag $4.95
1x Unicorn Lipstick $3.95
1x Unicorn Trinket Boxes $6.95
1x Unicorn Stuffed Toy $9.95
Total Retail Value: $84.45
If you do get to go to the Show this year I do hope you will spend some time looking at the farm exhibits - this is one of the few opportunities city kids get to see what life is like on the land and the show itself is all about the country coming to the city, that's where it all began - as the Agricultural Society of New South Wales in July 1822 which means that next year, this great 'show' will be 200 years old.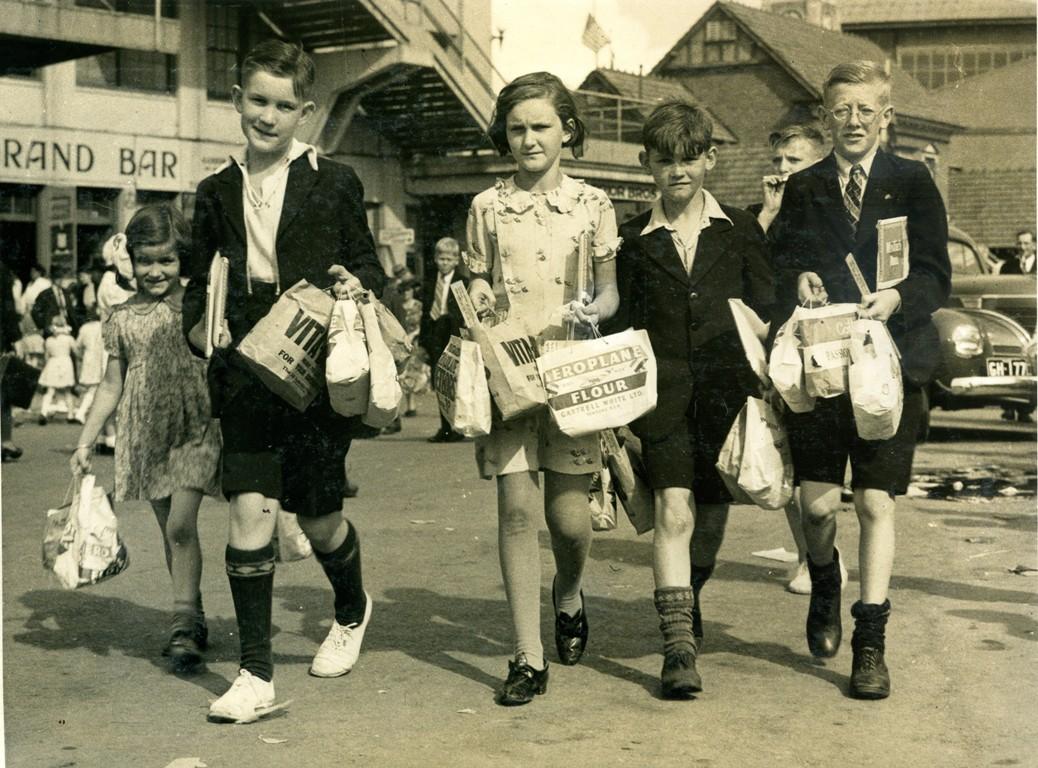 Sydney Royal Easter Show - children with their Show Bags, circa 1938. Courtesy National Library of Australia
New Titles Added To TROVE
The titles listed below have recently been digitised and made available in Trove. The year range listed for the item is an indication of what's currently available in Trove, and not always the full year range the item was published.
NOTA - News Of The Area (Hawks Nest & Tea Gardens, NSW) 1970-1999
Nowra Colonist (NSW) 1899-1904
The Telegraph and Shoalhaven Advertiser (NSW) 1879-1881
Windsor & Richmond Gazette (NSW) 1888-1961
Box Hill Reporter (Vic) 1925-1930
The Reporter (Box Hill, Vic) 1889-1925
The Brunswick and Coburg Leader (Vic) 1914-1921
Mildura Telegraph and Darling and Lower Murray Advocate (Vic) 1913-1920
Dampier Herald (Kununoppin, WA ) 1928 - 1937
Cathedral Chronicle (Geraldton, WA ) 1931 - 1954
Corrigin Chronicle and Kunjin-Bullaring Representative (WA) 1925 - 1943
Weekly Judge (Perth, WA) 1919-1931
New City At Aerotropolis To Be Named Bradfield
The NSW Government plans to call Sydney's new 'hi-tech' city at Bringelly 'Bradfield', in honour of the engineer who helped shape Sydney.
The city centre will be built on the doorstep of the Western Sydney International (Nancy-Bird Walton) Airport. It will grow into Sydney's third city, to take its place alongside the other great city centres of Sydney and Parramatta.
Bradfield was selected after the community was asked to have a say, with a panel settling on the final decision to honour John Bradfield's enduring city-shaping impact on Sydney, including his major contribution the Sydney Harbour Bridge.
NSW Premier Gladys Berejiklian said Bradfield will define Australia's first 22nd Century City, which will be a key driver of economic growth and deliver up to 200,000 jobs across the Western Parkland City.
"Bradfield was a renowned engineer who designed and oversaw the construction of both the Sydney Harbour Bridge and Sydney's original railway network," Ms Berejiklian said.
"The name Bradfield is synonymous with delivering game-changing infrastructure and it sets the right tone for the area we have referred to as the 'Aerotropolis Core' until now.
"This area will be transformed into a thriving city centre, home to advanced manufacturing, research, science and education and we want Bradfield to be as iconic as the existing major city centres of Sydney and Parramatta.
"What are paddocks now will be a thriving, bustling city centre offering the best job opportunities anywhere in Australia."
Minister for Western Sydney Stuart Ayres said the area to be named Bradfield is more than 100 hectares and sits north of the existing suburb of Bringelly. It is at the heart of the Western Sydney Aerotropolis and will eventually lend its name to surrounding areas.
"The number of suggestions the community put forward to 'Name the Place' was overwhelming and we are thrilled with the level of participation and interest this project attracted," Mr Ayres said.
"We thank everyone for having their say and want to assure the community the remaining suggestions will be considered as names for streets, parks and other landmarks in the new city centre.
"I look forward to Bradfield being the first name that people think of when starting a new job, creating a new business, learning a new skill and investing in NSW."
John Bradfield's Grandson Jim Bradfield has welcomed the announcement.
"It is a great honour that my grandfather's name continues to be associated with major infrastructure developments in and around Sydney," Mr Bradfield said.
"We hope his achievements will inspire generations to come, and help shape the future of our urban landscape."
The name Bradfield was a popular community suggestion in the 'Name the Place' process and will now be put to the Geographical Names Board of NSW.
The NSW Government has 18 Foundation Partner commitments, including with Suez, Siemens, Hitachi, Sydney Water and Northrup Grumman, and continues to formalise relationships with a number of other partners, including FedEx, Romar Engineering and Quickstep in the creation of the innovative ecosystem at the Aerotropolis.
Major Milestone For Prince Of Wales Hospital Redevelopment
Construction of the $780 million Prince of Wales Hospital Integrated Acute Services Building has reached its highest point, marking a key milestone for Randwick's new health and innovation precinct
.
Premier Gladys Berejiklian said the new state-of-the-art hospital building is a key feature of the $1.5 billion Randwick Health & Innovation Precinct, which includes an investment of more than $1 billion from the NSW Government.
"This new hospital building will deliver first class healthcare services to support the community as it grows, while opening up opportunities for ground-breaking health and education partnerships," Ms Berejiklian said.
"The community will also benefit from a real economic boost, with around 600 new jobs created through the building's construction alone, and potential for thousands more flow-on jobs over the project's lifetime."
Health Minister Brad Hazzard said the NSW Government has partnered with the University of New South Wales to deliver contemporary clinical spaces to provide the best possible healthcare for patients into the future.
"This partnership will give the precinct a competitive edge on the global stage for health advancements, research and education," Mr Hazzard said.
"Together we will bring innovative treatments and medical advancements from the bench top to the bedside to improve health outcomes for our community."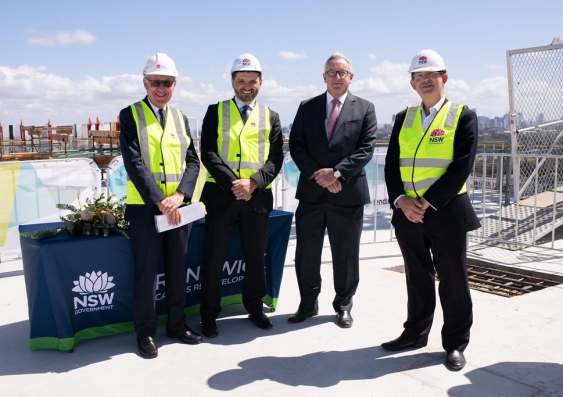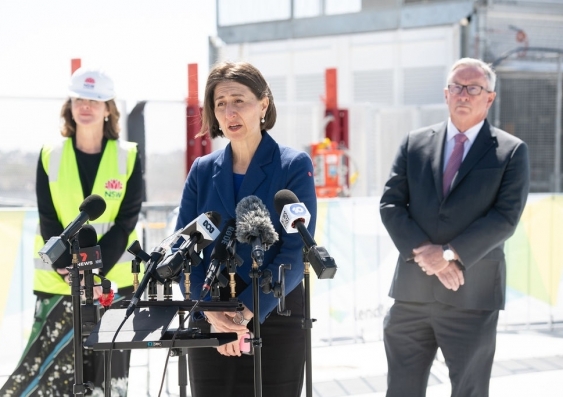 UNSW Chancellor David Gonski, Dean of UNSW Medicine & Health, Professor Vlado Perkovic, NSW Minister for Health and Medical Research, Brad Hazzard and UNSW President and Vice-Chancellor Professor Ian Jacobs attend the topping out ceremony for the new Integrated Acute Services Building. NSW Premier Gladys Berejiklian says the state-of-the-art building will open up opportunities for ground-breaking health and education partnerships with UNSW.

Professor Jacobs said the physical and working integration which will take place in the new building is significant.
"This is a monumental day for our shared vision with NSW Health. We are excited to see how our collaboration and expertise will create a research and innovation environment that will improve health care in Sydney and NSW," he said.
The building will include a new emergency department, extra inpatient beds, a new helipad, intensive care unit, aged care services, a new psychiatric emergency care centre and shared operating theatres for the campus when it opens in 2022.
The Randwick Health and Innovation Precinct is the realisation of a 60-year objective of UNSW to bring the health and university campuses closer together – and it will be the largest co-located health precinct in NSW.
The building will include a new emergency department, extra inpatient beds, a new helipad, intensive care unit, aged care services, a new psychiatric emergency care centre and shared operating theatres for the campus when it opens in 2022.
Under the next phase of the Randwick Campus Redevelopment within the precinct, Sydney Children's Hospital Stage 1 and the Children's Comprehensive Cancer Centre are on track to be completed in 2025 and UNSW Health Translation Hub is scheduled to open in late 2026.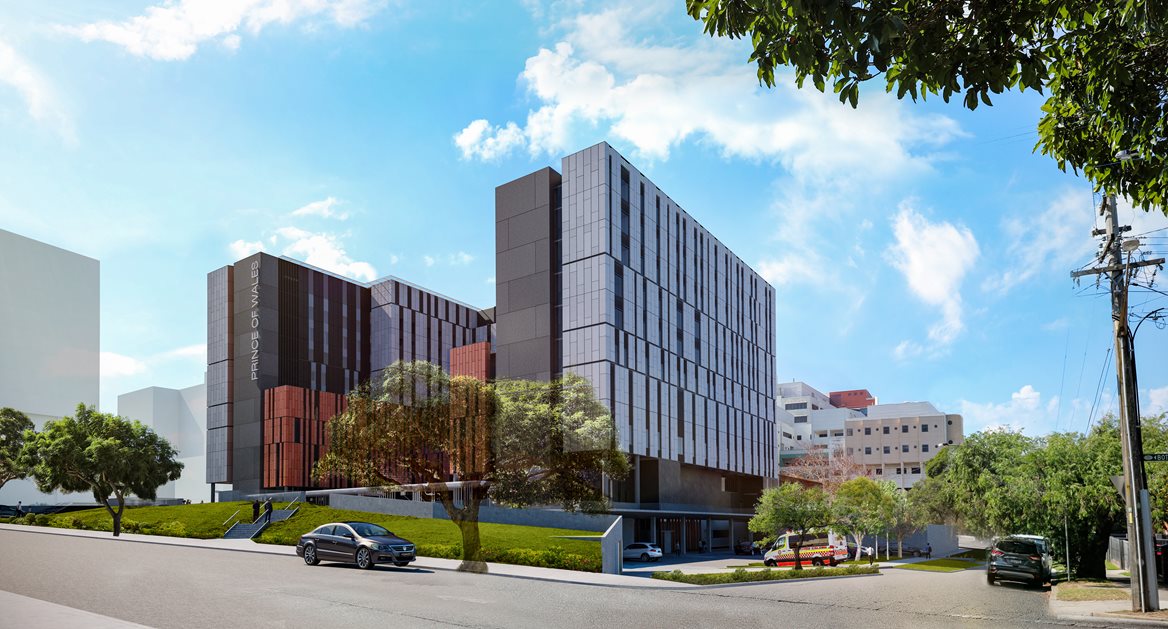 Standard Digital Camera And AI To Monitor Soil Moisture For Affordable Smart Irrigation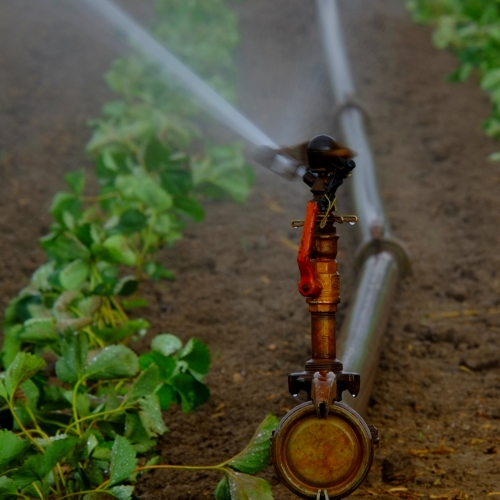 Researchers at UniSA have developed a cost-effective new technique to monitor soil moisture using a standard digital camera and machine learning technology.
The United Nations predicts that by 2050 many areas of the planet may not have enough fresh water to meet the demands of agriculture if we continue our current patterns of use.
One solution to this global dilemma is the development of more efficient irrigation, central to which is precision monitoring of soil moisture, allowing sensors to guide 'smart' irrigation systems to ensure water is applied at the optimum time and rate.
Current methods for sensing soil moisture are problematic -- buried sensors are susceptible to salts in the substrate and require specialised hardware for connections, while thermal imaging cameras are expensive and can be compromised by climatic conditions such as sunlight intensity, fog, and clouds.
Researchers from The University of South Australia and Baghdad's Middle Technical University have developed a cost-effective alternative that may make precision soil monitoring simple and affordable in almost any circumstance.
A team including UniSA engineers Dr Ali Al-Naji and Professor Javaan Chahl has successfully tested a system that uses a standard RGB digital camera to accurately monitor soil moisture under a wide range of conditions.
"The system we trialled is simple, robust and affordable, making it promising technology to support precision agriculture," Dr Al-Naji says.
"It is based on a standard video camera which analyses the differences in soil colour to determine moisture content. We tested it at different distances, times and illumination levels, and the system was very accurate."
The camera was connected to an artificial neural network (ANN) a form of machine learning software that the researchers trained to recognise different soil moisture levels under different sky conditions.
Using this ANN, the monitoring system could potentially be trained to recognise the specific soil conditions of any location, allowing it to be customised for each user and updated for changing climatic circumstances, ensuing maximum accuracy.
"Once the network has been trained it should be possible to achieve controlled irrigation by maintaining the appearance of the soil at the desired state," Prof Chahl says.
"Now that we know the monitoring method is accurate, we are planning to design a cost-effective smart-irrigation system based on our algorithm using a microcontroller, USB camera and water pump that can work with different types of soils.
"This system holds promise as a tool for improved irrigation technologies in agriculture in terms of cost, availability and accuracy under changing climatic conditions."
Ali Al-Naji, Ahmed Bashar Fakhri, Sadik Kamel Gharghan, Javaan Chahl.
Soil color analysis based on a RGB camera and an artificial neural network towards smart irrigation: A pilot study.
Heliyon, 2021; 7 (1): e06078 DOI:
10.1016/j.heliyon.2021.e06078
New Lease For Sydney Harbour Trust Sites
March 16, 2021: The Hon Sussan Ley MP, Minister for the Environment
Senator Andrew Bragg, Senator for NSW
With $40.6 million already being rolled out to restore historic Sydney Harbour Federation Trust buildings, the Federal Government has confirmed a future leasing strategy that will ensure the protection of public ownership and access.
The proposed structure will help ensure visitor access to more facilities as they visit the Harbour Trust's historic sites and establish operating frameworks that support the future viability of the Harbour Trust. The leasing structure is contained within legislation being introduced in the house this week to establish the Harbour Trust as an ongoing entity.
Minister Ley said that following the Government's landmark review of the Harbour Trust in 2020, there had been extensive consultation with the Harbour Trust Board, local stakeholders and the State Government to map an integrated approach that will maximise future public access.
"We are ensuring the ongoing future of the Harbour Trust and delivering on our commitment to keep its wonderful sites in public hands," Minister Ley said.
"Under the proposed leasing arrangements, commercial leases for appropriate sites will have a maximum term of 35 years with leases of longer than 25 years subject to a disallowance by Parliament.
"This addresses both community concerns and allows the Harbour Trust the framework it needs to develop commercial partnerships that can enhance public access."
Before proposing a lease beyond 25 years, the Harbour Trust must:
Develop a statement of reasons explaining why it considers the proposal is consistent with the objectives for Harbour Trust sites of public access and amenity, and the conservation of heritage
Consult with the community on the proposal, and seek advice from its Community Advisory Committee
Reflect community feedback in the statement of reasons submitted to Parliament.
Senator for NSW Senator Andrew Bragg said there was growing sense of optimism among all parties about the future of the Harbour Trust and the ongoing protection of its former Defence sites on Sydney Harbour.
"The local community is passionate about these sites and with very good reason," Senator Bragg said.
"We have worked closely with all parties to reach a position that protects public access and ensures the Harbour Trust will be able to work with communities and the State Government's master plan to encourage more people to enjoy its wonderful sites."
Sydney Harbour Headland Preservation Group President, Jill L'Estrange, said that the new leasing arrangements represented collaboration with the community and a positive step for the Harbour Trust.
"The HPG Committee thanks the Minister for her willingness to engage with and listen to the community voice in respect of the proposed amendments. HPG is of the opinion that the Minister's willingness to consult has resulted in an outcome which is both beneficial to the community and to the future of the Harbour Trust."
Chair of the Harbour Trust Joseph Carrozzi said: "We welcome the Government's strong engagement with the Harbour Trust and the community. On the eve of the 20th anniversary of the legislation's Royal Assent, this legislation reflects a terrific outcome which secures the future of our sites and their use for community's benefit."
Punishment For 'Chip Tube' Smuggler Of Native Species
The Hon Sussan Ley MP, Minister for the Environment
The Hon Jason Wood MP, Assistant Minister for Customs, Community Safety and Multicultural Affairs
The Hon. Lily D'ambrosio, Victorian Minister for Energy, Environment, and Climate Change
A brazen attempt to export lizards in potato chip tubes has resulted in a sentence of 3 years and 6 months imprisonment, with a non-parole period of 2 years and 4 months for a Malaysian national on an expired visa.
26-year-old Chek Wei Javill Chin was this month sentenced in the NSW District Court after being arrested on October 9, 2019 for exporting and attempting to export regulated native specimens.
A joint operation between Department of Agriculture, Water and Environment's (the department) Environmental Crime Investigators, the Victorian Department of Environment, Land, Water and Planning (DELWP) and New South Wales Police Force Criminal Groups Squad's Strike Force Raptor between December 2017 and August 2018 found that Chin had attempted to export a range of regulated native species bound in socks and bags hidden inside containers with food, toys, clothing and shoes to Hong Kong.
Minister for the Environment Sussan Ley said the joint agency operation which led to the successful arrest and sentencing of Chin was another strong message for wildlife smugglers.
"We are focussed on bringing down smuggling syndicates and prosecuting individuals," Minister Ley said.
"This is a cruel trade, one that inflicts pain and often death to the animals involved, and one which poses a real risk to biodiversity.
"My Department will continue to engage in joint operations with Australian Border Force, DELWP, and NSW Police to keep maximum pressure on those who engage in this trade."
Assistant Minister for Customs, Community Safety and Multicultural Affairs Jason Wood said that the sentencing should stand as a stark warning to those who wish to participate in the cruel trade.
"This man was linked to numerous packages containing lizards and other native reptiles bound and hidden inhumane and harmful ways." Assistant Minister Wood said.
"Illegal wildlife trade is a growing multibillion-dollar global trade that poses serious conservation and biosecurity risks for Australia, we will continue working together to bring it to an end."
Through surveillance footage and fingerprints left on the parcels Chin was linked to the posting of 21 packages which contained an array of Australian native species such as Leaf-tailed and Knob-tailed geckos, Lace Monitors, Shingleback and Blue-tongue Lizards, King Eastern-water Dragons and a Stimson's python.
The Victorian Minister for Energy, Environment and Climate Change the Hon Lily D'Ambrosio said this was a horrific case of animal cruelty which could not be tolerated.
"Wildlife smuggling is a lucrative crime and the Victorian Government, through the Conservation Regulator, places a high priority on investigating and prosecuting criminals who seek to profit from this cruel trade."
"This investigation wouldn't have been possible without the help of our partner agencies - Australia Post, Australian Border Force, RSPCA Victoria, Crime Stoppers Victoria, The City of Melbourne, Victoria Police - and information from the Victorian public."
This sentence comes after a 35-year-old Malaysian national was deported last year after receiving a sentence of imprisonment for 12 months on four counts of attempting to export live regulated native specimens.
The woman was arrested and charged in relation to four of the seized parcels found during the investigation in to Chin.
She served her sentence in Western Australia before being released from custody into ABF detention and was deported on 11 September 2020.
Illegal wildlife trafficking has an immeasurable impact on Australia's diverse biodiversity along with the animals themselves.
Under the Environment Protection and Biodiversity Conservation Act 1999 it is an offence to export a regulated native specimen without a permit. Each wildlife offence carries a maximum penalty of 10 years imprisonment or a $210,000 fine.
First World Report On Hearing Calls For Action On A Hidden Public Health Burden
The Australian Hearing Hub at Macquarie University's North Ryde Campus has today launched the first ever World Health Organization (WHO) World Report on Hearing.
Macquarie University researchers, in collaboration with members of the Australian Hearing Hub, Australian WHO World Hearing Forum members, and the Hearing Health Sector Alliance are encouraging policy makers and wider society to put the report into action.
The landmark report
Hearing Care for All: Screen, Rehabilitate, Communicate
aims to raise awareness among policymakers and the public of the rising global prevalence of hearing loss to make ear and hearing care a key public health priority.
The World Report on Hearing estimates that a fifth of people live with hearing loss, making it the third ranked cause of years lived with disability. Hearing loss is expected to increase to impact a quarter of the global population by 2050 with growing and ageing populations.
The cost of hearing loss is high: $1,230 billion dollars is lost globally due to unaddressed hearing loss. In Australia, the cost is about $20 billion, mostly due to lost productivity and health system costs.
The WHO is calling for ear and hearing care to be a priority for policy makers to address with all age groups, with the report providing a framework of how to address key issues.
While Australia is regarded as a world leader in research and the development of implantable hearing solutions and support services for children and adults with hearing loss, there remain significant areas of ear and hearing care need among older adults and Indigenous Australians. Amongst these groups hearing issues are highest but access and uptake of, ear and hearing care remains low.
Professor Catherine McMahon, Director of the HEAR (Hearing Education Application Research) Centre at Macquarie University has worked closely with the WHO and brought the expertise of Australian leaders in this field to the forefront to develop the first World Report on Hearing.
"The WHO Report presents a once in a generation opportunity to bring national and global policy maker attention to the importance of detecting ear disease and hearing loss early and pathways to treatment, by ensuring this is included within national health plans and primary health checks," says Professor McMahon.
Professor McMahon is due to present a summary of the World Report on Hearing to the Australian Government and highlight priority areas to address in Australia.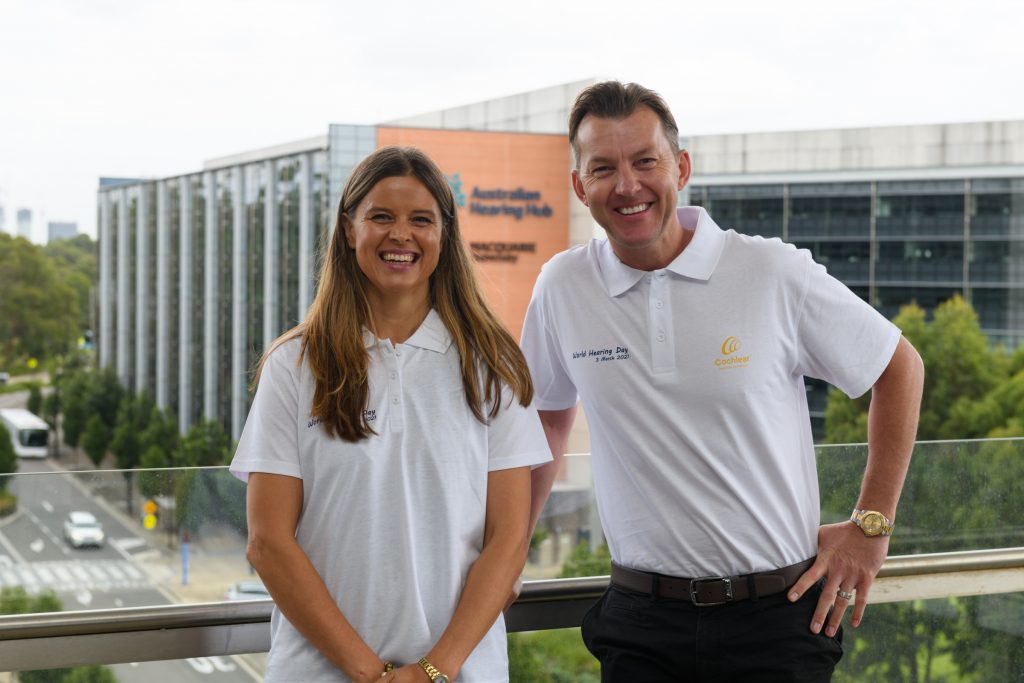 Professor Cath McMahon from Macquarie University's Department of Linguistics, and Cricket Legend Brett Lee at the launch of the World Report on Hearing

About the Australian Hearing Hub (AHH)
Macquarie University is a world-class research, treatment and innovation institution – a dynamic environment which drove the creation of the AHH. The AHH brings some of the country's leading hearing and healthcare organisations together to collaborate across critical issues in hearing health. Pioneering partnerships unite researchers, educators, clinicians and innovators with expertise in linguistics, audiology, speech pathology, cognitive and language sciences, psychology, nanofabrication and engineering sciences.
Major partners in the AHH include Cochlear Limited, whose world headquarters are located adjacent to the AHH, and the world-recognised research organisation the National Acoustic Laboratories (NAL). Other key partners included the Royal Institute for Deaf and Blind Children (RIDBC) and its associated cochlear-implant program, the Sydney Cochlear Implant Centre (SCIC) and The Shepherd Centre.
The AHH is an initiative of the Australian Government that was established as part of the Education Investment Fund.
World Hearing Forum Australian Members:
Audiology Australia
Aussie Deaf Kids
Centre of Research Excellence in Ear and Hearing health of Aboriginal and Torres Strait Islander Children
Cochlear
Deafness Forum
Ear Science Institute
HEAR (Hearing Education Application Research) Centre at Macquarie University
Devastatingly Pervasive: 1 In 3 Women Globally Experience Violence - Younger Women Among Those Most At Risk: WHO
reported violence of all kinds against women and girls," said UN Women Executive Director Phumzile Mlambo-Ngcuka. "Every government should be taking strong, proactive steps to address this, and involving women in doing so", she added.
Though many countries have seen increased reporting of intimate partner violence to helplines, police, health workers, teachers, and other service providers during lockdowns, the full impact of the pandemic on prevalence will only be established as surveys are resumed, the report notes.
Inequities are a leading risk factor for violence against women
Violence disproportionately affects women living in low- and lower-middle-income countries. An estimated 37% of women living in the poorest countries have experienced physical and/or sexual intimate partner violence in their life, with some of these countries having a prevalence as high as 1 in 2.
The regions of Oceania, Southern Asia and Sub-Saharan Africa have the highest prevalence rates of intimate partner violence among women aged 15-49, ranging from 33% - 51%. The lowest rates are found in Europe (16–23%), Central Asia (18%), Eastern Asia (20%) and South-Eastern Asia (21%).
Younger women are at highest risk for recent violence. Among those who have been in a relationship, the highest rates (16%) of intimate partner violence in the past 12 months occurred among young women aged between 15 and 24.
Violence against women must be prevented
Violence – in all its forms – can have an impact on a woman's health and well-being throughout the rest of her life – even long after the violence may have ended. It is associated with increased risk of injuries, depression, anxiety disorders, unplanned pregnancies, sexually-transmitted infections including HIV and many other health problems. It has impacts on society as a whole and comes with tremendous costs, impacting national budgets and overall development.
Preventing violence requires addressing systemic economic and social inequalities, ensuring access to education and safe work, and changing discriminatory gender norms and institutions. Successful interventions also include strategies that ensure essential services are available and accessible to survivors, that support women's organisations, challenge inequitable social norms, reform discriminatory laws and strengthen legal responses, among others.
"To address violence against women, there's an urgent need to reduce stigma around this issue, train health professionals to interview survivors with compassion, and dismantle the foundations of gender inequality," said Dr Claudia Garcia-Moreno of WHO. "Interventions with adolescents and young people to foster gender equality and gender-equitable attitudes are also vital."
Countries should honour their commitments to increased and strong political will and leadership to tackle violence against women in all its forms, through:
Sound gender transformative policies, from policies around childcare to equal pay, and laws that support gender equality,
A strengthened health system response that ensures access to survivor-centred care and referral to other services as needed,
School and educational interventions to challenge discriminatory attitudes and beliefs, including comprehensive sexuality education,
Targeted investment in sustainable and effective evidence-based prevention strategies at local, national, regional and global levels, and
Strengthening data collection and investing in high quality surveys on violence against women and improving measurement of the different forms of violence experienced by women, including those who are most marginalised.
The report, Global, regional and national estimates for intimate partner violence against women and global and regional estimates for non-partner sexual violence against women was developed by WHO and the UNDP-UNFPA-UNICEF-WHO-World Bank Special Programme of Research, Development and Research Training in Human Reproduction (HRP) for the United Nations Inter-Agency Working Group on Violence Against Women Estimation and Data.
The Working Group includes representatives from WHO, UN Women, UNICEF, UNFPA, the United Nations Office on Drugs and Crime (UNODC) and the United Nations Statistics Division (UNSD) to strengthen the measurement and monitoring and reporting of violence against women, including for the purposes of monitoring the related indicators of the Sustainable Development Goals (SDGs).
National data collection on intimate partner violence has increased significantly since the previous 2010 estimates, although challenges remain with data quality and availability. Sexual violence, in particular, remains one of the most taboo and stigmatizing forms, and hence continues to be vastly underreported.
Financial support for the analysis and report was provided by the Foreign, Commonwealth and Development Office of the United Kingdom.
Lifetime prevalence of intimate partner violence among women aged 15-49 among the United Nations SDG regional and subregion classifications, the rates were as follows:
Least Developed Countries – 37%
Oceania – 51% Melanesia; 41% Micronesia; 39% Polynesia
Southern Asia - 35%
Sub-Saharan Africa - 33%
Northern Africa – 30%
Western Asia – 29%
Northern America – 25%
Australia and New Zealand – 23%
Latin American and the Caribbean – 25%
Northern Europe –23%
South-Eastern Asia – 21%
Western Europe – 21%
Eastern Asia – 20%
Eastern Europe – 20%
Central Asia – 18%
Southern Europe – 16%
Disclaimer: These articles are not intended to provide medical advice, diagnosis or treatment. Views expressed here do not necessarily reflect those of Pittwater Online News or its staff.