Inbox and Environment News: Issue 487
March 14 - 20, 2021: Issue 487
March Indexation Delivers Increased Payments
More than five million Australians will receive an increase to their social security payments from 20 March 2021 when indexation takes effect.
Minister for Families and Social Services Anne Ruston said that the increases would help recipients keep up with changes in living costs.
"Indexation is one of the regular mechanisms we have built in to our social security safety net to make sure rates reflect the prices payment recipients see at the supermarket and at the bowser," Minister Ruston said.
The increase comes on top of the additional support the Morrison Government provided through the pandemic.
"The fourth and final Economic Support Payment started being paid on 1 March – delivering an extra $250 to over five million Australians," Minister Ruston said.
"For pensioners alone, those four payments over the last 12 months total $7 billion.
"Between these Economic Support Payments and the latest indexation, we are delivering more support to Australians who need it most."
The rates for 2.6 million Age Pensioners
as well as 750,000 people on the Disability Support Pension and 295,000 Carer Payment recipients
will increase by $8.40 a fortnight to $952.70 for singles, and $12.60 a fortnight to $1,436.20 for couples
combined. These rates include Pension Supplement and Energy Supplement which are payable to all pensioners in Australia.
In addition the base rates for the 1.4 million JobSeeker Payment recipients and 244,000 Parenting Payment Single recipients will also increase.
The rate for JobSeeker Payment for recipients aged 22 and over without children will increase by $5.10 a fortnight to $579.60 for singles, and $4.60 a fortnight to $523.30 for each member of a couple including the Energy Supplement.
The rate for Parenting Payment Single recipients will increase by $7.10 a fortnight to $812.20 including the Pension Supplement and Energy Supplement.
Rent Assistance and other supplementary payments will also increase. In addition, increases to a range of income and assets test limits mean that recipients will be able to have higher income and assets before their payment is impacted.
Pending the passage of legislation, the rate of JobSeeker Payment, Parenting Payment and other working age payments will increase again on 1 April 2021, boosting the rate by an extra $50 a fortnight.
Full details of the new rates and thresholds are available at www.dss.gov.au/about-the-department/benefits-payments
$1.3 Billion Boost For Australian Households
Around $1.3 billion will land in eligible Australians' bank accounts from this week, as the Government delivers a fourth Economic Support Payment.
As part of the COVID-19 Response Package introduced last year, a further two Economic Support Payments were announced for delivery in December 2020 and March 2021.
Minister for Government Services Stuart Robert said the Economic Support Payment of $250 will be automatically paid to individuals living in Australia who received an eligible payment or held a concession card on 26 February 2021.
'There's nothing you need to do to receive this payment,' Minister Robert said.
'The vast majority of payments will arrive in bank accounts by mid-March. The payment will appear in your Centrelink online account on myGov or the Centrelink app generally 48 hours before it goes into your bank account.
'Families who claim Family Tax Benefit as a lump sum will get the payment with their lump sum after they've confirmed their income for the 2020-21 financial year.'
Treasurer Josh Frydenberg said the payments provide an immediate financial boost to eligible families, pensioners, carers, veterans and concession cardholders.
'Combined, the four Economic Support Payments are expected to inject around $12 billion into the Australian economy,' Mr Frydenberg said.
'As we move towards a more optimistic and stronger recovery this year, this latest payment will provide further support to millions of low income households recovering from the impacts of COVID19.'
Minister for Social Services Anne Ruston said the extra support is being paid to around 5.1 million eligible Australians from this week.
'These payments will support lower income Australians who aren't currently receiving additional assistance through the Coronavirus Supplement,' Minister Ruston said.
New Study Links Protein Causing Alzheimer's Disease With Common Sight Loss
Newly published research has revealed a close link between proteins associated with Alzheimer's disease and age-related sight loss. The findings could open the way to new treatments for patients with deteriorating vision and through this study, the scientists believe they could reduce the need for using animals in future research into blinding conditions.
Amyloid beta (AB) proteins are the primary driver of Alzheimer's disease but also begin to collect in the retina as people get older. Donor eyes from patients who suffered from age-related macular degeneration (AMD), the most common cause of blindness amongst adults in the UK, have been shown to contain high levels of AB in their retinas.
This new study, published in the journal Cells, builds on previous research which shows that AB collects around a cell layer called the retinal pigment epithelium (RPE), to establish what damage these toxic proteins cause RPE cells.
The research team exposed RPE cells of normal mouse eyes and in culture to AB. The mouse model enabled the team to look at the effect the protein has in living eye tissue, using non-invasive imaging techniques that are used in ophthalmology clinics. Their findings showed that the mouse eyes developed retinal pathology that was strikingly similar to AMD in humans.
Dr Arjuna Ratnayaka, a Lecturer in Vision Sciences at the University of Southampton, who led the study said, "This was an important study which also showed that mouse numbers used for experiments of this kind can be significantly reduced in the future. We were able to develop a robust model to study AMD-like retinal pathology driven by AB without using transgenic animals, which are often used by researchers the field. Transgenic or genetically engineered mice can take up to a year and typically longer, before AB causes pathology in the retina, which we can achieve within two weeks. This reduces the need to develop more transgenic models and improves animal welfare."
The investigators also used the cell models, which further reduced the use of mice in these experiments, to show that the toxic AB proteins entered RPE cells and rapidly collected in lysosomes, the waste disposal system for the cells. Whilst the cells performed their usual function of increasing enzymes within lysosomes to breakdown this unwanted cargo, the study found that around 85% of AB still remained within lysosomes, meaning that over time the toxic molecules would continue to accumulate inside RPE cells.
Furthermore, the researchers discovered that once lysosomes had been invaded by AB, around 20 percent fewer lysosomes were available to breakdown photoreceptor outer segments, a role they routinely perform as part of the daily visual cycle.
Dr Ratnayaka added, "This is a further indication of how cells in the eye can deteriorate over time because of these toxic molecules collecting inside RPE cells. This could be a new pathway that no-one has explored before. Our discoveries have also strengthened the link between diseases of the eye and the brain. The eye is part of the brain and we have shown how AB which is known to drive major neurological conditions such as Alzheimer's disease can also causes significant damage to cells in retina."
The researchers hope that one of the next steps could be for anti-amyloid beta drugs, previously trialled in Alzheimer's patients, to be re-purposed and trialled as a possible treatment for age-related macular degeneration. As the regulators in the USA and the European Union have already given approval for many of these drugs, this is an area that could be explored relatively quickly.
The study may also help wider efforts to largely by-pass the use of animal experimentation where possible, so some aspects of testing new clinical treatments can transition directly from cell models to patients.
This research was funded by the National Centre for the Replacement Refinement & Reduction of animals in research (NC3Rs). Dr Katie Bates, Head of Research Funding at the NC3Rs said:
"This is an impactful study that demonstrates the scientific, practical and 3Rs benefits to studying AMD-like retinal pathology in vitro."
Savannah A. Lynn, David A. Johnston, Jenny A. Scott, Rosie Munday, Roshni S. Desai, Eloise Keeling, Ruaridh Weaterton, Alexander Simpson, Dillon Davis, Thomas Freeman, David S. Chatelet, Anton Page, Angela J. Cree, Helena Lee, Tracey A. Newman, Andrew J. Lotery, J. Arjuna Ratnayaka.
Oligomeric Aβ1-42 Induces an AMD-Like Phenotype and Accumulates in Lysosomes to Impair RPE Function
. Cells, 2021; 10 (2): 413 DOI:
10.3390/cells10020413
Master Luthier Visitor
A relative of one of the owners of this news service visited this week for a catch-up - he is Milton Thorne and is one of Australia's premier guitar makers and considered a Master Artisan by many. He has made over 700 individually crafted guitars, all built to cater to an individuals own 'sound' and could write a thesis to provide insights into this craft - everything from the wood chosen, to the Engineering and Technical side must be taken into account.
Milton shared some great insights on earlier Narrabeen music scenes (where he once had a workshop in Park Street prior to moving up to Ingleside) and some of the work that went into the unusual guitars he has built. He started on building boats though, and in Engineering.
Although pretty much 'retired' now Milton, when in production, took around one week to finish a guitar. When he commenced, almost five decades ago, these fetch around $1000.00 each. Nowadays the minimum price for one of these unique guitars commands five times that price, especially the 12 strings ones.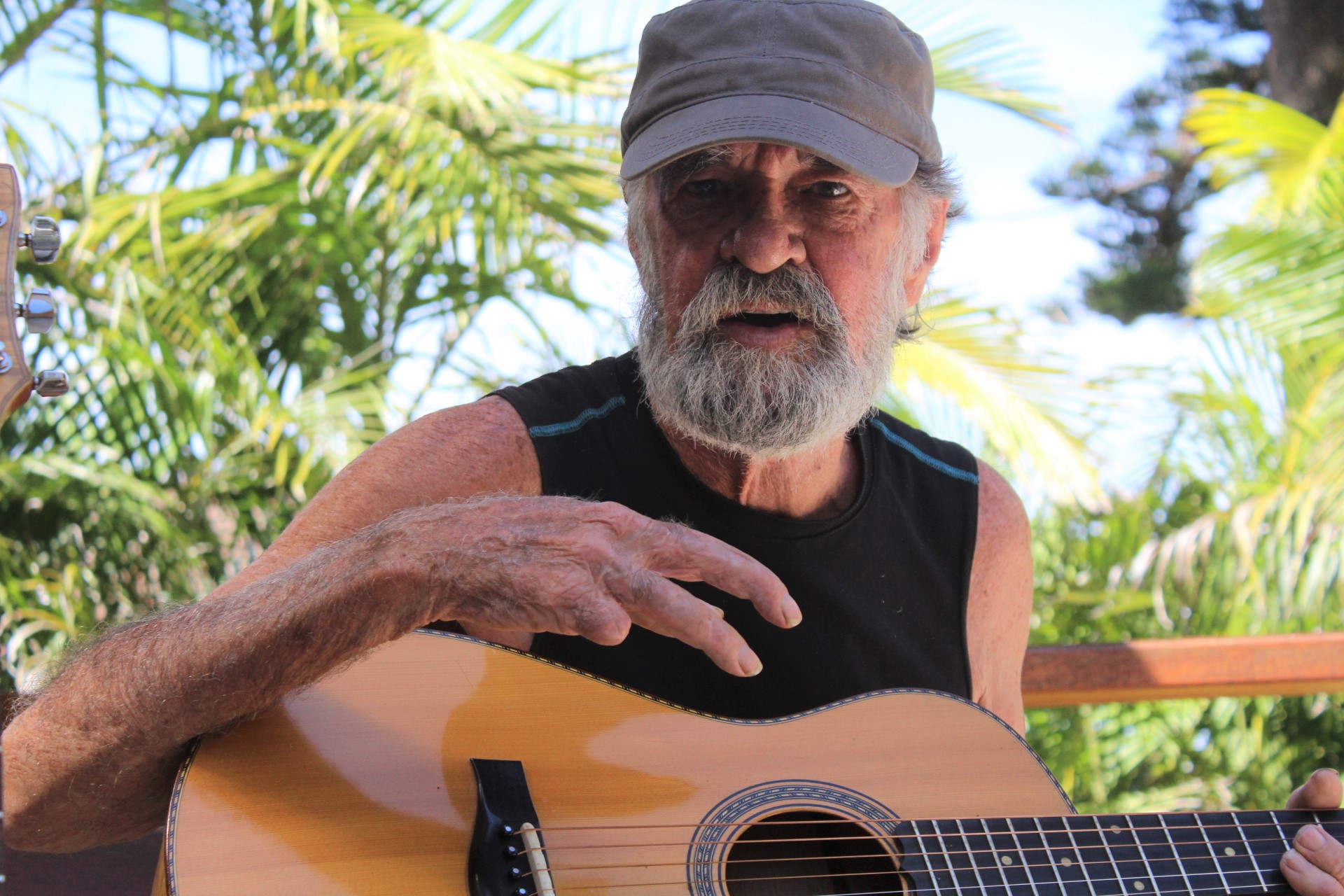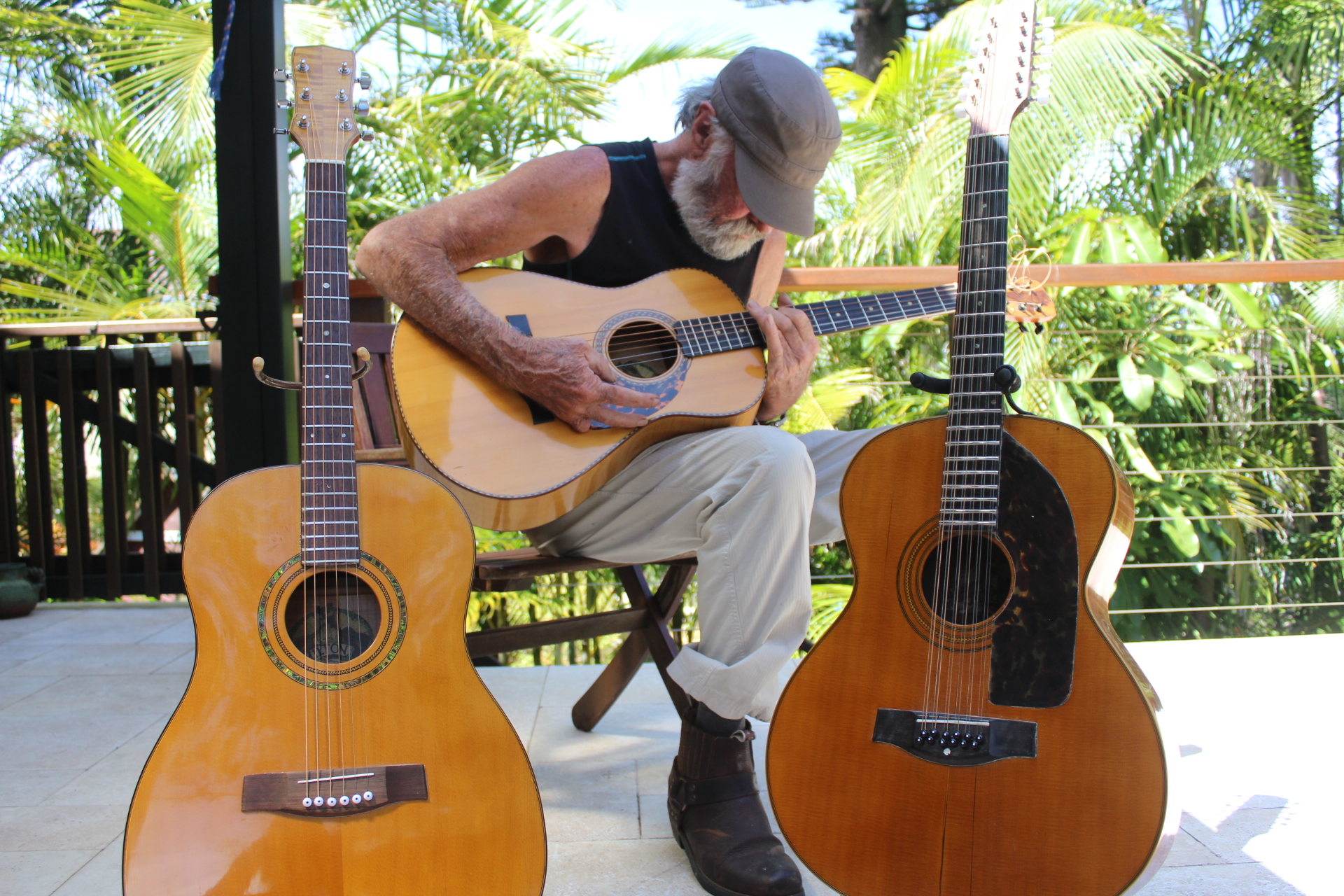 Milton Thorne, March 8, 2021 - A J Guesdon photos
But what is a 'luthier'?
A luthier is a craftsperson who builds and repairs string instruments that have a neck and a sound box.
The word "luthier" is originally French and comes from the French word for lute. The term was originally used for makers of lutes, but it came to be used already in French for makers of most bowed and plucked stringed instruments such as members of the violin family (including violas, cellos, and double basses) and guitars. Luthiers do not make harps or pianos though; these require different skills and construction methods because their strings are secured to a frame.

Two important luthiers of the early 19th century connected with the development of the modern classical guitar are Louis Panormo and Georg Staufer. Antonio Torres Jurado is credited with developing the form of classical guitar still in use today. Christian Frederick Martin of Germany developed a form that evolved into the modern steel-string acoustic guitar.

The purported "inventor" of the violin is Andrea Amati. Amati was originally a lute maker, but turned to the new instrument form of violin in the mid-16th century. He was the progenitor of the famous Amati family of luthiers active in Cremona, Italy until the 18th century. Andrea Amati had two sons. His eldest was Antonio Amati (circa 1537–1607), and the younger, Girolamo Amati (circa 1561–1630). Girolamo is better known as Hieronymus, and together with his brother, produced many violins with labels inside the instrument reading "A&H". Antonio died having no known offspring, but Hieronymus became a father. His son Nicolò (1596–1684) was himself an important master luthier who had several apprentices of note.
Antonio Stradivari
Antonio Stradivari (1644 – 18 December 1737) is perhaps among the most well-known luthiers. He was an Italian luthier and a craftsman of string instruments such as violins, cellos, guitars, violas and harps. The Latinized form of his surname, Stradivarius, as well as the colloquial Strad are terms often used to refer to his instruments. It is estimated that Stradivari produced 1,116 instruments, of which 960 were violins. Around 650 instruments survived, including 450 to 512 violins.

Antonio's parents were Alessandro Stradivari, son of Giulio Cesare Stradivari, and Anna Moroni, daughter of Leonardo Moroni. They married on 30 August 1622, and had at least three children between 1623 and 1628: Giuseppe Giulia Cesare, Carlo Felice, and Giovanni Battista. The baptismal records of the parish of S. Prospero then stop, and it is unknown whether they had any children from 1628 to 1644. This gap in the records may be due to the family leaving Cremona in response to war, famine, and plague in the city from 1628 to 1630, or the records may have been lost due to clerical reforms imposed by Joseph II of Austria in 1788. The latter explanation is supported by the word Cremonensis (of Cremona) on many of Stradivari's labels, which scholars/historians state suggests that he was born in the city instead of merely moving back there to work. Antonio was born in 1644, a fact deducible from later violins. However, there are no records or information available on his early childhood, and the first evidence of his presence in Cremona is the label of his oldest surviving violin from 1666.

Some researchers believe there is a closer educational association between Antonio Stradivari and Francesco Rugeri than has previously been recognised. Despite the long-held belief that Antonio Stradivari was the pupil of Nicolò Amati, there are important discrepancies between their work. Some researchers believe early instruments by Stradivari bear a stronger resemblance to Francesco Rugeri's work than Amati's. Additionally, the utilisation of a small dorsal pin or small hole, invariably used not just by Nicolò Amati but all of his recognized pupils—with the exception of Antonio Stradivari, adds further evidence that Stradivari may have learnt his craft apart from Amati. This pin or hole was fundamental in the graduation of the thickness of the plates and was obviously a technique passed on through generations of pupils of the Amati. This dorsal pin is also not found in any of the instruments of the Rugeri family, suggesting Antonio Stradivari may have actually learnt his craft from Francesco Rugeri, although both were influenced by Amati.

Stradivari purchased a house now known as No. 1 Piazza Roma (formerly No. 2 Piazza San Domenico) around 1680 for the sum of 7000 lire, 2000 of which he paid at the time of the purchase. The house was paid for in full by 1684. The residence was just doors away from those of several other violin-making families of Cremona, including the Amatis and Guarneris. Stradivari probably worked in the loft or attic, and stayed in this house for the rest of his life.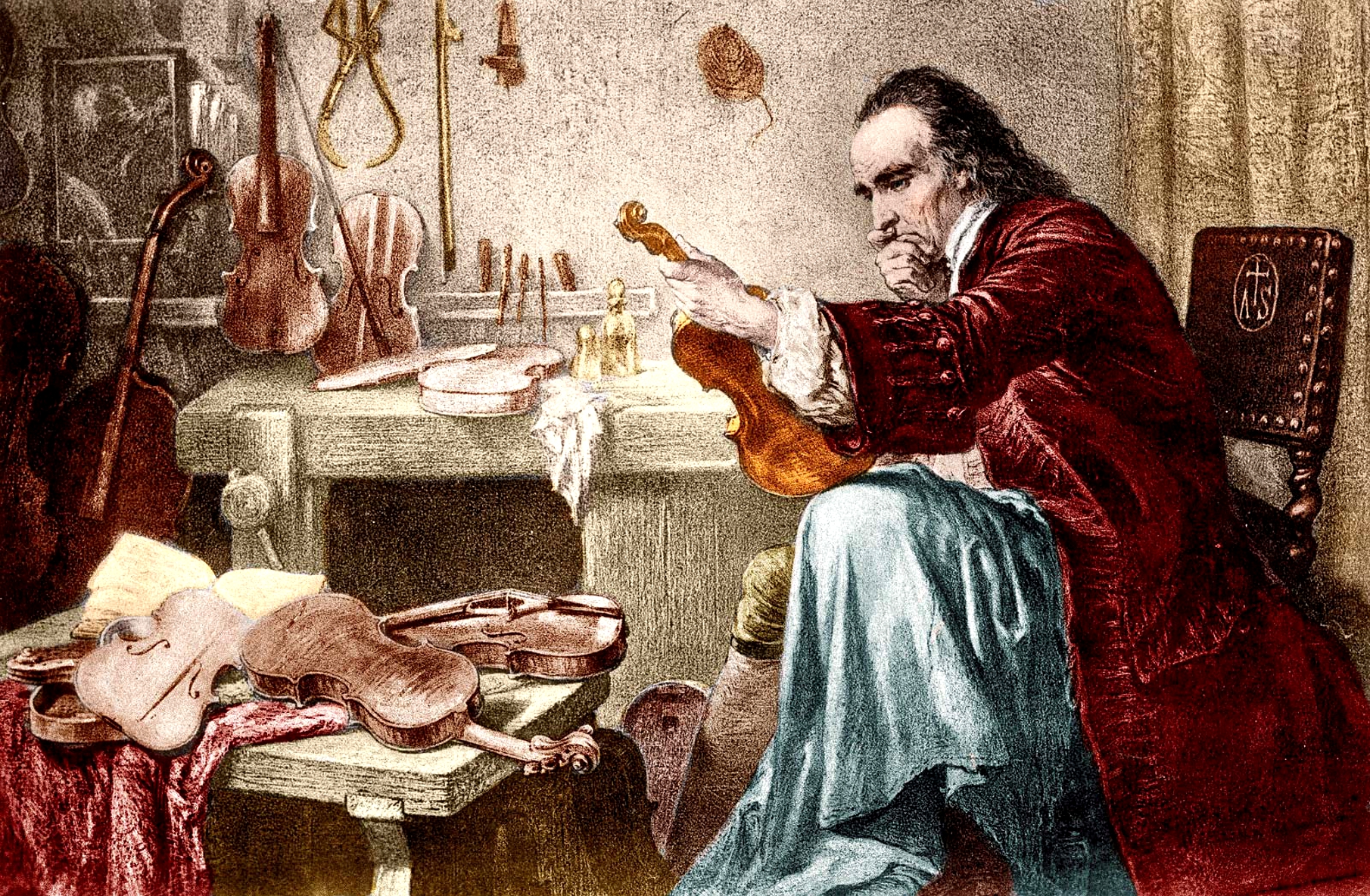 A romanticised print of Antonio Stradivari examining an instrument - Unknown author - per Oberndorfer, Anne Faulkner (1921). What we hear in music. Camden, NJ: Educational dept

Stradivari's early career is marked by wide experimentation, and his instruments during this period are generally considered of a lesser quality than his later work.[41] However, the precision with which he carved the heads and inserted the purfling quickly marked him as one of the most dextrous craftsmen in the world, a prime example of this being the 1690 "Tuscan" violin. Pre-1690 instruments are sometimes termed "Amatisé" but this is not completely accurate; it is largely because Stradivari created many more instruments later on that people try to connect his early work with Amati's style.
In the early 1690s, Stradivari made a pronounced departure from this earlier style of instrument-making, changing two key elements of his instruments. First, he began to make violins with a larger pattern than previous instruments; these larger violins usually are known as "Long Strads". He also switched to using a darker, richer varnish, as opposed to a yellower varnish similar to that used by Amati. He continued to use this pattern until 1698, with few exceptions. After 1698, he abandoned the Long Strad model and returned to a slightly shorter model, which he used until his death. The period from 1700-1725 is often termed the "golden period" of his production. Instruments made during this time are usually considered of a higher quality than his earlier instruments. Late-period instruments made from the late 1720s until his death in 1737 show signs of Stradivari's advancing age. These late instruments may be a bit less beautiful than the Golden Period instruments, but many nonetheless possess a fine tone. Heavier and looser craftmanship of the late Stradivari output can be seen in the 1734 'Habeneck'.
Stradivari's instruments are regarded as amongst the finest bowed stringed instruments ever created, are highly prized, and are still played by professionals today. Only one other maker, Giuseppe Guarneri del Gesù, commands a similar respect among violinists.
Some violinists and cellists use Stradivari instruments in their work. Cellos: Yo-Yo Ma uses the Davidov Stradivarius, Julian Lloyd Webber employs the Barjansky Stradivarius, and, until his death in 2007, Mstislav Rostropovich played on the Duport Stradivarius. Violins; The Soil of 1714 is owned by virtuoso Itzhak Perlman. The Countess Polignac is currently played by Gil Shaham. The Vienna Philharmonic uses several Stradivari instruments that were purchased by Austria's central bank Oesterreichische Nationalbank and other sponsors: Chaconne, 1725; ex-Hämmerle, 1709; ex-Smith-Quersin, 1714; ex-Arnold Rosé, ex-Viotti, 1718; and ex-Halphen, 1727. Viktoria Mullova owns and plays the Jules Falk. Joshua Bell owns and plays the Gibson ex-Huberman.
The London sales of The Mendelssohn at £902,000 ($1,776,940) in 1990 and The Kreutzer for £947,500 in 1998 constitute two top-selling Stradivari. A record price paid at a public auction for a Stradivari was $2,032,000 for the Lady Tennant at Christie's in New York, April 2005. On 16 May 2006, Christie's auctioned Stradivari's 1707 Hammer for a new record of US$3,544,000. On 2 April 2007, Christie's sold a Stradivari violin, the 1729 Solomon, Ex-Lambert, for more than $2.7 million to an anonymous bidder in the auction house's fine musical instruments sale. Its price, US$2,728,000 including Christie's commission, far outdid its estimated value: $1 million to $1.5 million. On 14 October 2010, a 1697 Stradivari violin known as "The Molitor" was sold online by Tarisio Auctions for a world-record price of $3,600,000 to violinist Anne Akiko Meyers: at the time its price was the highest for any musical instrument sold at auction. On 21 June 2011, the Lady Blunt Stradivarius, a 1721 violin, was auctioned by Tarisio to an anonymous bidder for almost £10 million, with all proceeds going to help the victims of the 2011 Tōhoku earthquake and tsunami. This was over four times the previous auction record for a Stradivari violin.
The collection of the New Jersey Symphony Orchestra had the largest number of Stradivari in its string section, purchased in 2003 from the collection of Herbert R. Axelrod, until it decided to sell them in 2007. A collection assembled by Rodman Wanamaker in the 1920s contained as many as 65 stringed instruments by such masters as Stradivari, Gofriller, Baptiste and Giuseppe Guarneri. Included was The Swan, the last violin made by Stradivari, and soloist instrument of the great Cuban 19th-century virtuoso Joseph White.
The collection, known as The Cappella, was used in concerts with the Philadelphia Orchestra and Leopold Stokowski before being dispersed after Wanamaker's death.
The Vienna Philharmonic uses four violins and one cello. The Metropolitan Museum of Art has three Stradivari violins dated 1693, 1694 and 1717. The National Music Museum, in Vermillion, South Dakota, has in its collection one of the known Stradivari guitars, one of eleven known violas da gamba, later modified into a cello form, one of two known choral mandolins, and one of six Stradivari violins that still retain their original neck. In the interests of conservation, the Messiah Stradivarius violin—on display in the Ashmolean Museum in Oxford, England—has not been played at all in recent years.

The Sabionari is one of the known five guitars made by Stradivari that still exist; the neck of a sixth guitar, dated 1675, has also survived and is currently exhibited with the other Stradivarian relics in Cremona. Beside the Sabionari, another two guitars were made in the 17th century: the Giustiniani, 1681, and the Hill, dated 1688.

The Sabionari is the only one that can still be played though.
A letter written in 1854 by the owner of the time, Filippo Benetti, a bookseller from Ferrara to a new buyer, the landowner Vincenzo Tioli from Bologna, informs that the guitar had been previously sold by the Stradivari family descendants to Giovanni Sabionari (from whom the guitar takes its name), the year of the sale is not provided.
In 1888 the Sabionari guitar was presented by a new owner F. Donati to the International Music Exhibition in Bologna. In 1934 a dealer in Bologna (Italy) sent a letter and some photos to the Stradivarius Museum in Cremona to sell the guitar but they couldn't find an agreement. In 1948 the Sabionari guitar was sold to the Domenichini family, Italy.
This is how it sounds.
Antonio Stradivari 1679 'Sabionari' Guitar; Krishnasol Jiménez Plays Bartolotti
Angelo Michele Bartolotti - Suite G minor - Sarabande (Published in Rome in 1655 and dedicated to Christina, Queen of Sweden)
Recorded in 2015 in Cremona - Museo del Violino - Auditorium Giovanni Arvedi
References
The Sabionari Stradivarius guitar at:

http://www.sabionari.com/

Wikipedia

Friends of Stradivarius
Funding Boost For Councils For Youth Week 2021
Children and young people across the state will enjoy more opportunities to engage and participate in their communities thanks to a funding boost from the NSW Government ahead of Youth Week.
Minister for Families, Communities and Disability Services Gareth Ward said local councils will receive a share in $335,000 to help run events in their communities.
"Now more than ever it is so important for our young people to stay connected. COVID-19 has presented so many challenges and Youth Week gives young people an outlet to avoid social isolation," Mr Ward said.
"Youth Week provides young people a chance to share ideas, attend events, voice their concerns, showcase their talents and connect with others."
The NSW Government will support local councils across the state to run locally led community events, including an additional $76,000 provided to rural and remote councils to encourage even more young people from these areas to participate.
Councils will jointly fund events in their communities and young people will be involved in all aspects of planning, development and management of activities.
Minister for Local Government Shelley Hancock said councils play an important role in creating the next generation of leaders and Youth Week events are an opportunity for young leaders to get involved.
"Events will be organised by young people, for young people," Mrs Hancock said.
"Young people will have a say on what activities are important and beneficial to them and will develop skills they can carry into their adulthood."
In 2019, an estimated 73,900 young people participated in over 740 events held during the week.
The theme of NSW Youth Week 2021 is "Together more than ever" and will be celebrated from 16 to 24 April.
NSW Youth Advisory Council 2021 Applications Now Open
What is the NSW Youth Advisory Council?
The NSW Youth Advisory Council (YAC) plays an important role in advising the NSW Government on issues that are relevant to young people across the state.
Membership of the YAC is open to all children and young people between 12 and 24 years of age residing in NSW. Applications are sought from diverse locations, backgrounds and life experiences.
The 12 member YAC provides a direct avenue of communication between young people and the NSW Government.
The YAC meets regularly throughout the year to provide advice to the relevant Minister, and the NSW Advocate for Children and Young People, on issues, policies and laws that affect children and young people in NSW.
Who is eligible to apply for the Youth Advisory Council?
All young people living in NSW from 12 to 24 years of age may apply. Applications are sought from diverse locations, backgrounds and life experiences.
What is required of me?
Council members meet once every 4-6 weeks throughout the year to discuss a range of topics and monitor and evaluate polices and legislation affecting children and young people.
Members also consult with children and young people, community groups and government agencies on issues concerning children and young people; and conduct forums, approved by the Minister on issues relevant to children and young people.
Tips for completing your application
Once you start your application you will need to complete it in one go, so you might like to prepare your answers in a word document and then copy and paste them into the application when you are ready. Make sure you answer all questions. The whole application process should take no longer than 10 minutes.
The main questions to prepare for are:
Question: What do you think are the important issues affecting children and young people in NSW? Please explain why you think these issues are important. (As a guide, your answers should be no more than 250 words.)
Question: What life experiences have you had which would assist you in contributing to the Council's work?
Question: Details of any current or past voluntary or community activities you have been involved in.
We'll ask a few questions about you and your background.
Applications close March 14th.
Beauty In The Genes: Mother And Daughter Open Beauty Salon
A dynamic mother and daughter duo has launched a joint beauty salon in Yamba, featuring Australian and local organic products.
In early 2020, Daisy Lloyd was considering her career pathway options after a gap year. 
Her mother, Natalie Le Breton, saw a Certificate III in Beauty Services offered at TAFE NSW Maclean. With a shared interest in beauty, they decided to enrol and study the course together.  
While studying, the duo recognised a business opportunity in Yamba and started making plans to open their own beauty salon. Ngara Beauty Yamba officially launched in December 2020. 
"As a mature-aged student and a school leaver, our TAFE NSW teacher made studying less intimidating and really guided us through the course," said Ms Le Breton.
"Daisy has already completed a lash extension short course at TAFE NSW Grafton to expand our services." 
"We have always been really close, and we have a great understanding of each other's strengths and weaknesses. Since opening, Daisy has taken over our social media, and I've been banned from posting." 
TAFE NSW Teacher of Beauty Kassie Austen says Beauty services is a thriving industry bouncing back quickly post Covid-19. 
"Our students finish their qualifications with the skills to successfully start their own businesses. We see graduates opening salons, as well as offering home services or renting salon space while they establish their client base," Ms Austin said.
"Natalie and Daisy are a wonderful example of the opportunities available in the beauty industry right now, regardless of where you are in your career journey."  
According to the Australian Industry and Skills Committee, strong growth is expected in the beauty industry with an increase of 20% in beauty therapists by 2024, despite a 50% reduction in beauty therapists in 2020].
For more information on Beauty Services, visit www.tafensw.edu.au or phone 131 601.
Express Yourself Exhibition 2021
The talent and creativity of more than 40 HSC Visual Art students on the Northern Beaches will be on display for the annual Express Yourself exhibition at the Manly Art Gallery & Museum (MAG&M) from February 19th until March 28th 2021.
The winners of the $3,000 Manly Art Gallery & Museum Society Youth Art Award and $5,000 Theo Batten Bequest Youth Art Award will be announced on Friday 19th of February. These two awards are granted annually to students featured in the exhibition.
Artist statements will be displayed alongside the artworks describing the inspirations and influences that informed the works and the students' creative journeys.
Visitors are encouraged to vote for their favourite artwork in the KALOF People's Choice Award which is announced at the end of the exhibition period.
Express Yourself is also part of Art Month Sydney, March 2021.
Exhibition: 19 February - Sunday 28 March 2021, 10am - 4pm daily (excluding Mondays)
Teachers' preview: Friday 19 February, 5 - 6pm. Bookings essential via Council's website
Art Walk and Talk: Saturday 27 February, 3 – 4pm: Artists walk through the exhibition and discuss their works with the curator. Bookings essential via Council's website.
Experts Recreate A Mechanical Cosmos For The World's First Computer: The Antikythera Mechanism
March 12, 2021
Researchers at UCL have solved a major piece of the puzzle that makes up the ancient Greek astronomical calculator known as the Antikythera Mechanism, a hand-powered mechanical device that was used to predict astronomical events.
Known to many as the world's first analogue computer, the Antikythera Mechanism is the most complex piece of engineering to have survived from the ancient world. The 2,000-year-old device was used to predict the positions of the Sun, Moon and the planets as well as lunar and solar eclipses.
Published in Scientific Reports, the paper from the multidisciplinary UCL Antikythera Research Team reveals a new display of the ancient Greek order of the Universe (Cosmos), within a complex gearing system at the front of the Mechanism.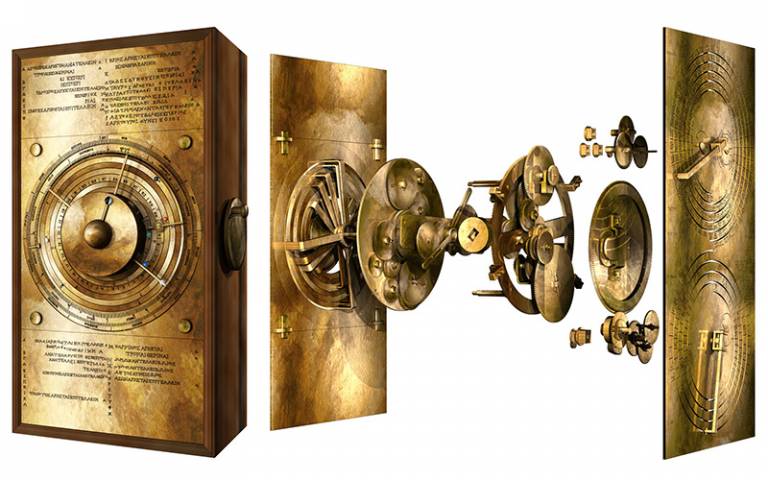 Lead author Professor Tony Freeth (UCL Mechanical Engineering) explained: "Ours is the first model that conforms to all the physical evidence and matches the descriptions in the scientific inscriptions engraved on the Mechanism itself.
"The Sun, Moon and planets are displayed in an impressive tour de force of ancient Greek brilliance."
The Antikythera Mechanism has generated both fascination and intense controversy since its discovery in a Roman-era shipwreck in 1901 by Greek sponge divers near the small Mediterranean island of Antikythera.
The astronomical calculator is a bronze device that consists of a complex combination of 30 surviving bronze gears used to predict astronomical events, including eclipses, phases of the moon, positions of the planets and even dates of the Olympics.
Whilst great progress has been made over the last century to understand how it worked, studies in 2005 using 3D X-rays and surface imaging enabled researchers to show how the Mechanism predicted eclipses and calculated the variable motion of the Moon.
However, until now, a full understanding of the gearing system at the front of the device has eluded the best efforts of researchers. Only about a third of the Mechanism has survived, and is split into 82 fragments -- creating a daunting challenge for the UCL team.
The biggest surviving fragment, known as Fragment A, displays features of bearings, pillars and a block. Another, known as Fragment D, features an unexplained disk, 63-tooth gear and plate.
Previous research had used X-ray data from 2005 to reveal thousands of text characters hidden inside the fragments, unread for nearly 2,000 years. Inscriptions on the back cover include a description of the cosmos display, with the planets moving on rings and indicated by marker beads. It was this display that the team worked to reconstruct.
Two critical numbers in the X-rays of the front cover, of 462 years and 442 years, accurately represent cycles of Venus and Saturn respectively. When observed from Earth, the planets' cycles sometimes reverse their motions against the stars. Experts must track these variable cycles over long time-periods in order to predict their positions.
"The classic astronomy of the first millennium BC originated in Babylon, but nothing in this astronomy suggested how the ancient Greeks found the highly accurate 462-year cycle for Venus and 442-year cycle for Saturn," explained PhD candidate and UCL Antikythera Research Team member Aris Dacanalis.
Using an ancient Greek mathematical method described by the philosopher Parmenides, the UCL team not only explained how the cycles for Venus and Saturn were derived but also managed to recover the cycles of all the other planets, where the evidence was missing.
PhD candidate and team member David Higgon explained: "After considerable struggle, we managed to match the evidence in Fragments A and D to a mechanism for Venus, which exactly models its 462-year planetary period relation, with the 63-tooth gear playing a crucial role."
Professor Freeth added: "The team then created innovative mechanisms for all of the planets that would calculate the new advanced astronomical cycles and minimise the number of gears in the whole system, so that they would fit into the tight spaces available."
"This is a key theoretical advance on how the Cosmos was constructed in the Mechanism," added co-author, Dr Adam Wojcik (UCL Mechanical Engineering). "Now we must prove its feasibility by making it with ancient techniques. A particular challenge will be the system of nested tubes that carried the astronomical outputs."
Tony Freeth, David Higgon, Aris Dacanalis, Lindsay MacDonald, Myrto Georgakopoulou, Adam Wojcik. A Model of the Cosmos in the ancient Greek Antikythera Mechanism. Scientific Reports, 2021; 11 (1) DOI: 10.1038/s41598-021-84310-w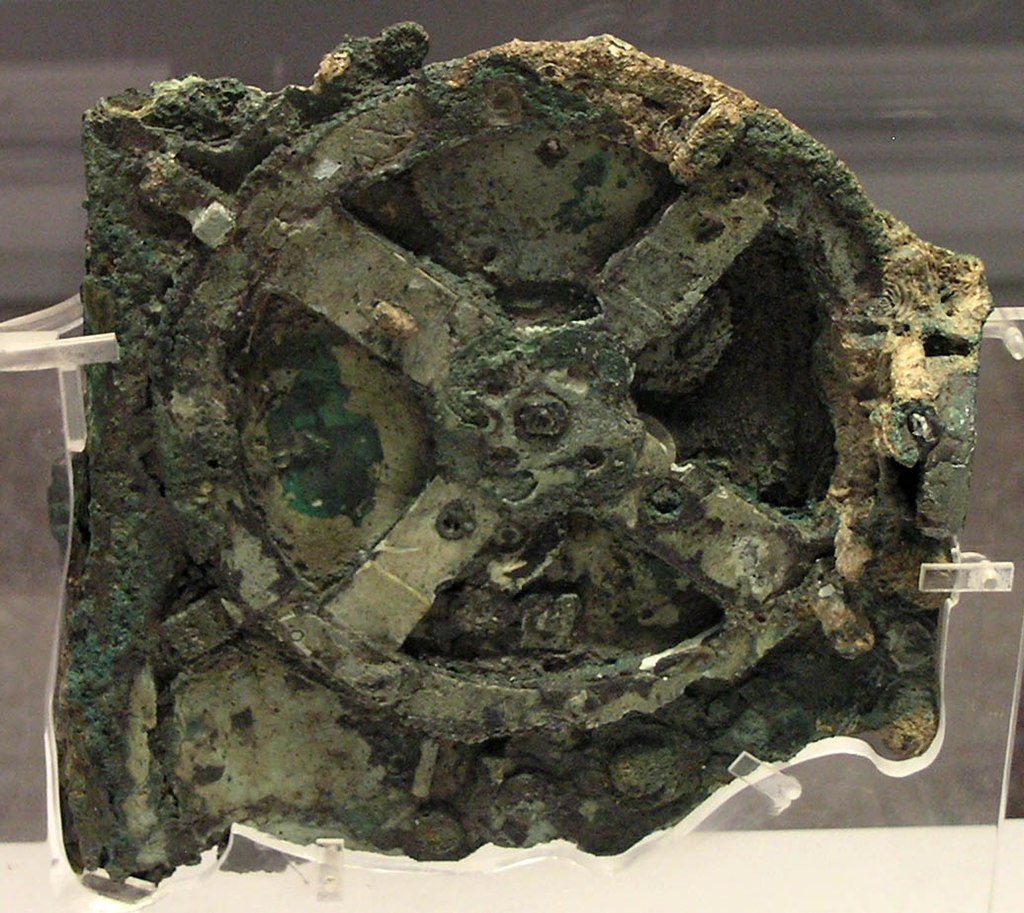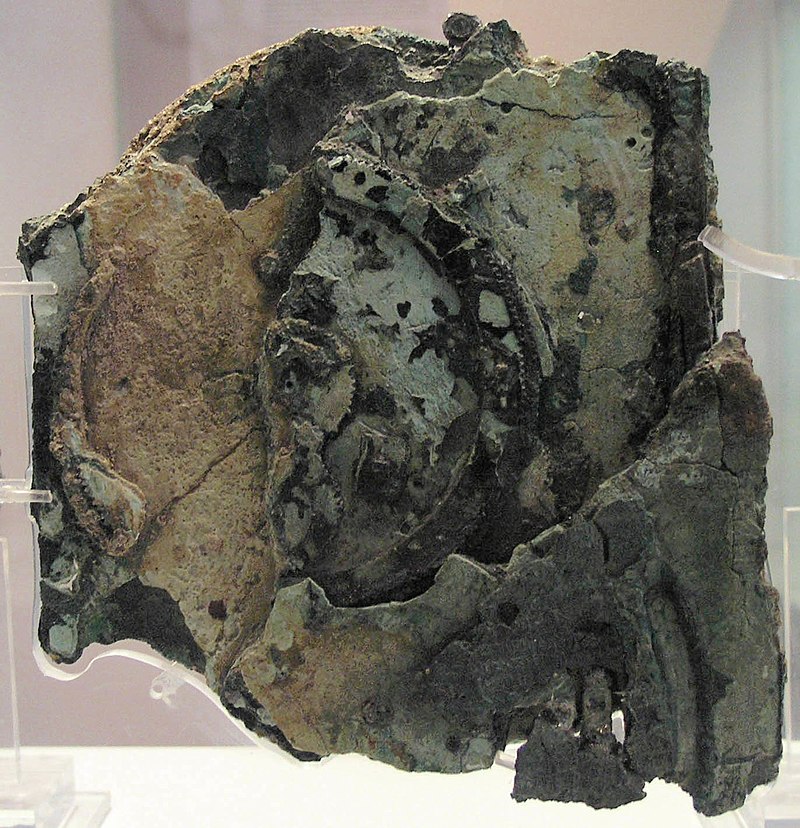 Main w:en:Antikythera mechanism fragment (fragment A at top and Fragment A (rear) of the Antikythera mechanism). The mechanism consists of a complex system of 30 wheels and plates with inscriptions relating to signs of the zodiac, months, eclipses and pan-Hellenic games. The study of the fragments suggests that this was a kind of astrolabe. The interpretation now generally accepted dates back to studies by Professor w:en:Derek de Solla Price, who was the first to suggest that the mechanism is a machine to calculate the solar and lunar calendar, that is to say, an ingenious machine to determine the time based on the movements of the sun and moon, their relationship (eclipses) and the movements of other stars and planets known at that time. Later research by the Antikythera Mechanism Research Project and scholar Michael Wright has added to and improved upon Price's work.
The mechanism was probably built by a mechanical engineer of the school of Posidonius in Rhodes. Cicero, who visited the island in 79/78 B.C. reported that such devices were indeed designed by the Stoic philosopher Posidonius of Apamea. The design of the Antikythera mechanism appears to follow the tradition of Archimedes' planetarium, and may be related to sundials. His modus operandi is based on the use of gears. The machine is dated around 89 B.C. and comes from the wreck found off the island of Antikythera. National Archaeological Museum, Athens, No. 15987.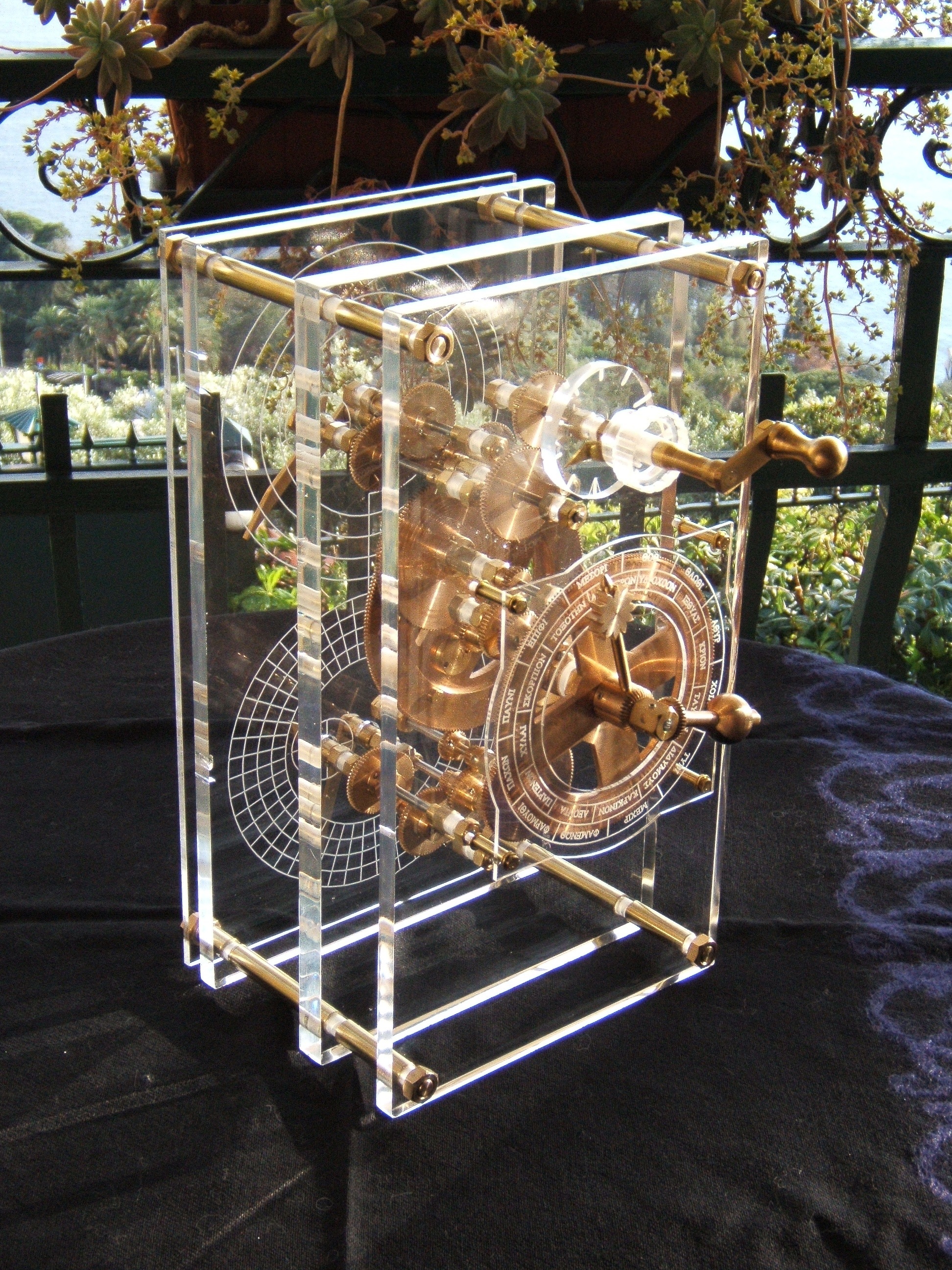 Antikythera model front panel - Mogi Vicentini, 2007

NSW Chief Health Officer Awarded The Highest Honour In 2021 Women Of The Year Awards
March 10, 2021
NSW Chief Health Officer Dr Kerry Chant has been named NSW Premier's Woman of the Year, the highest honour in the NSW Women of the Year Awards held in Sydney today.
Premier Gladys Berejiklian congratulated Dr Chant on the accolade after winning her category, NSW Woman of Excellence Award.
"Throughout the COVID-19 pandemic, Dr Chant has been a familiar face, offering vital health information for our state in addition to years of service to the health sector," Ms Berejiklian said.
"Dr Chant is a role model, especially for women, and has absolutely excelled in her chosen field to affect lasting change."
Minister for Women Bronnie Taylor congratulated Dr Chant on the incredible job she has done protecting the state throughout the pandemic.
"Dr Kerry Chant is an inspiration for all women, her leadership and dedication to her job ensured NSW was kept safe. Her work has been applauded around the world," Mrs Taylor said.
Minister Taylor said The NSW Women of the Year Awards are a highlight of Women's week and congratulated all winners in 2021.
"These incredible women come from all walks of life but the one thing they have in common is that they are inspiring achievers for their communities," Mrs Taylor said.
2021 Women of the Year Award winners are:
NSW Premier's Woman of the Year Award – Dr Kerry Chant
Woman of Excellence Award – Dr Kerry Chant
Regional Woman of the Year Award – Grace Brennan
Cancer Institute NSW Aboriginal Woman of the Year Award – June Riemer
Aware Super NSW Community Hero of the Year Award – Jean Vickery
Harvey Norman NSW Young Woman of the Year Award – Dr Samantha Wade
The One To Watch Award – Molly Croft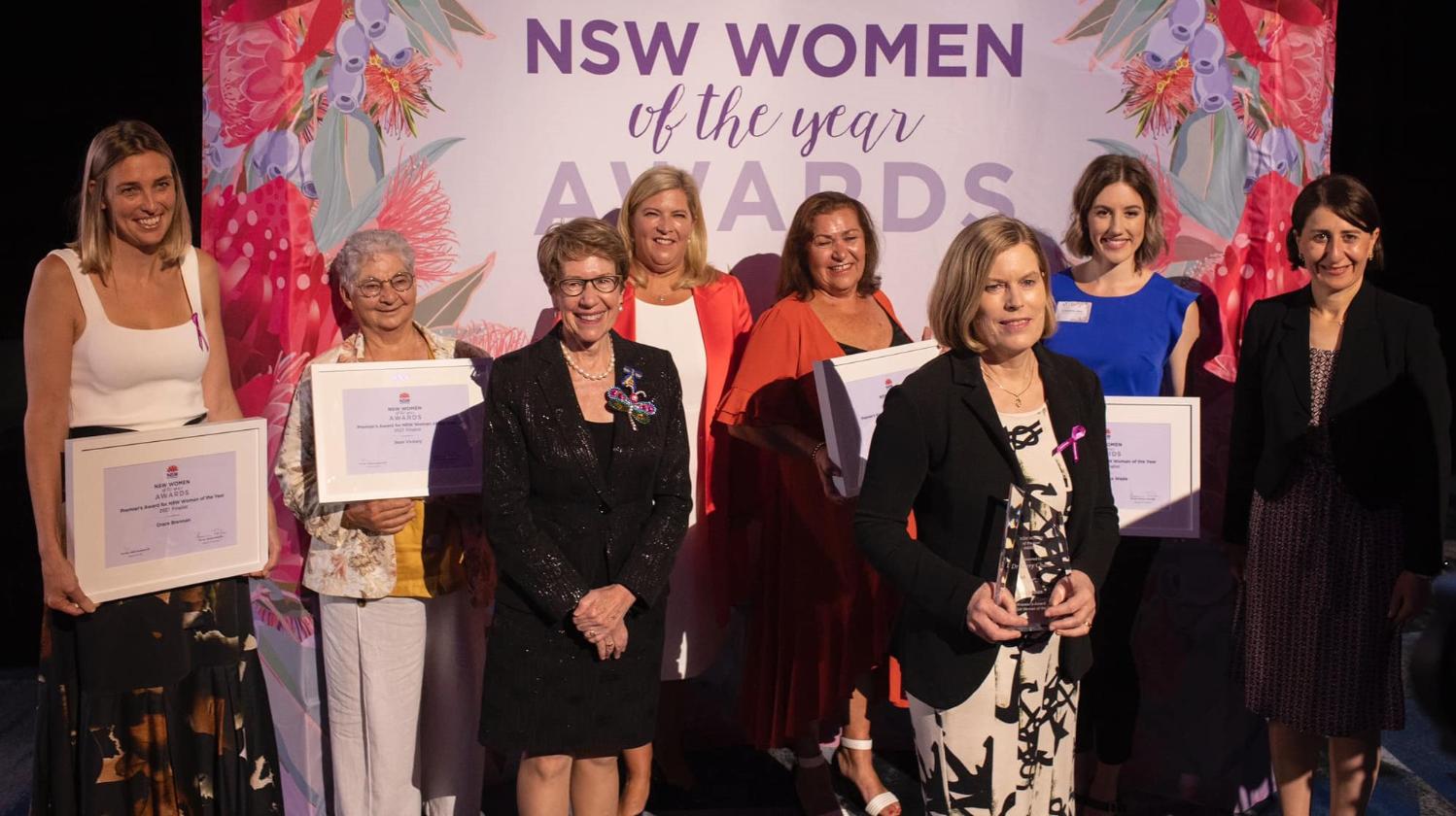 The COVID Recession Hit Women Hardest: New Grattan Report
March 7, 2021 by Danielle Wood
The COVID recession hit women much harder than men, and will compound women's lifetime economic disadvantage, according to a new Grattan Institute report.
Women's work: the impact of the COVID recession on Australian women shows that women copped a triple-whammy:
they lost more jobs than men – almost 8 per cent at the peak of the crisis, compared to 4 per cent for men;
they shouldered more of the increase in unpaid work – including supervising children learning remotely – taking on an extra hour each day more than men, on top of their existing heavier load; and
they were less likely to get government support – JobKeeper excluded short-term casuals, who in the hardest-hit industries are mostly women.
The faster-than-expected economic recovery and school re-openings have helped improve the outlook for women, but unemployment and underemployment remain too high, especially for vulnerable groups such as single parents, who are mostly women.
Women who became unemployed or left work in the recession face longer-term impacts on their wages and career progression because the COVID hit compounds the effects of other career breaks. Six months out of work can add another $100,000 to the average $2 million lifetime earnings gap between men and women with children in Australia.
Released to coincide with International Women's Day, the report urges governments to inject more money into services sectors, childcare, and aged care, and to rewrite the 'rescue and recovery' playbook before the next economic crisis.
'Many Australians – particularly women – suffered more than they needed to in the COVID recession because elements of the government response were inadequate or ill-directed,' Grattan CEO and lead author Danielle Wood says.
'Policy makers seemed oblivious to the fact that this recession was different to previous crises – women now make up almost half the workforce, and they are overwhelmingly employed in the industries that were hit hardest by the government-imposed lockdowns, such as hospitality, tourism, and higher education.'
Between February and May last year, the construction sector lost less than 5 per cent of its work hours but got more than $35 billion of government assistance, whereas the hospitality sector lost more than 47 per cent of its work hours but got only about $1.3 billion of direct government assistance.
The report calls on governments to ensure that any further stimulus goes well beyond the construction sector and includes at least temporary expansions of social programs and services. The Federal Government should also make a longer-term investment in childcare to support women's workforce participation and the economic recovery.
'We can "build back better" after this crisis, but only if governments learn the lessons from the COVID recession,' Ms Wood says. 'Australia needs a new recession playbook, so women aren't overlooked or forced to fall further behind.'
Homelessness In Older Women
Older women—those aged 55 and over— was the fastest growing cohort of homeless Australians between 2011 and 2016, increasing by 31%. It is likely this trend will continue given the ongoing shortage of affordable housing, the ageing population and the significant gap in wealth accumulation between men and women across their lifetimes.
These women's circumstances vary with respect to their assets, income and capacity to work. A range of preventative, innovative and cost-effective solutions are vital to reduce the risk of homelessness for older women and to ensure that long-term, sustainable options assist the most vulnerable cohorts.
The Age Discrimination Commissioner, the Hon. Dr Kay Patterson AO is working with the property and finance industries, government departments, housing organisations and others interested to develop innovative solutions to assist this rapidly growing group of women.
The following background paper outlines issues faced by many older women, and aims to generate discussion and encourage the development of solutions to reduce women's risk of homelessness as they age.
Publications
Successful Trial Shows Way Forward On Quieter Drone Propellers
Researchers have published a study revealing their successful approach to designing much quieter propellers.

The Australian research team used machine learning to design their propellers, then 3D printed several of the most promising prototypes for experimental acoustic testing at the Commonwealth Scientific and Industrial Research Organisation's specialised 'echo-free' chamber.
Results now published in Aerospace Research Central show the prototypes made around 15dB less noise than commercially available propellers, validating the team's design methodology.
RMIT University aerospace engineer and lead researcher Dr Abdulghani Mohamed said the impressive results were enabled by two key innovations -- the numerical algorithms developed to design the propellers and their consideration of how noise is perceived in the human ear -- as part of the testing.
"By using our algorithms to iterate through a variety of propeller designs, we were able to optimise for different metrics such as thrust, torque, sound directivity and much more. We also formulated a new metric, which involves how the human ear perceives sound, and propose to use that in future designs," he said.
"Our method for optimising design can be applied to small propellers used on drones to much larger ones used for future urban air mobility vehicles -- or air taxis -- designed to carry human passengers."
The team, which also included Melbourne-based aerospace company XROTOR, explored how various manipulations of propeller blade noise affected how it was perceived by the human ear.
Mohamed said this modulation had the potential to be used as an important design metric for future propellers.
"The modulation of high frequency noise is a major factor in the human perception of rotor noise. Human ears are more sensitive to certain frequencies than others and our perception of sound also changes as we age," he explained.
"By designing to such metrics, which take into account human perception, we can design less annoying propellers, which one day may actually be pleasant to hear."
XROTOR Managing Director, Geoff Durham, said it was exciting to see prototype testing show the new designs could significantly reduce the sound impact of drones.
"Not only were the designs appreciably quieter to the human ear, but the propellers had a higher thrust profile against standard market propellers at the same throttle signal input," he said.
The RMIT research team also included Dr Woutijn Baars, Dr Robert Carrese, Professor Simon Watkins and Professor Pier Marzocca. The prototypes were 3D printed at RMIT's Advanced Manufacturing Precinct.
Woutijn J. Baars, Liam Bullard, Abdulghani Mohamed.
Quantifying modulation in the acoustic field of a small-scale rotor using bispectral analysis.
Aerospace Research Central, 2021 DOI:
http://dx.doi.org/10.2514/6.2021-0713
Researchers Develop Improved Recycling Process For Carbon Fibres
In recent years there has been an increased focus on the circular economy and a heightened demand for products made of recyclable materials, however many materials can only be recycled so many times before they begin to wear out.
This is the case with carbon fibre reinforced polymer (CFRP) composites, non-biodegradable materials which, until now, have lacked a viable recycling method.
CRFP composites are present in products such as wind turbines, aeroplane parts, vehicles such as cars and ships, and everyday technology such as laptops and mobile phones.
They are typically disposed of in landfills or by incineration, which pose significant threats to both the environment and public health.
The vast majority of existing recycling methods also cause a major reduction in the mechanical and physical properties of the recovered material, weakening its core functionality.
Researchers from the University of Sydney's School of Civil Engineering have developed an optimised method for recycling CFRP composites while maintaining 90 percent of their original strength.
"Globally and in Australia there has been a march towards better recycling processes, however there is often the belief that a material can be recycled an infinite amount of times -- this simply isn't the case. Most recycling processes diminish mechanical or physical properties of materials," said the study's lead researcher Dr Ali Hadigheh.
"Until now, it has been impossible to continuously recycle products made of carbon fibres. Given that most recycling involves shredding, cutting or grinding, fibres are worn out, decreasing a future product's viability," said Dr Hadigheh.
"This presents a huge challenge and threat to our environment, as it has led to the production of virgin carbon fibre which contributes significantly to greenhouse gas emissions.
"To combat this issue and to support a true circular economy, we developed an efficient and cost-effective method for recycling carbon fibre, which is present in tablets through to BMWs."
"To do this we used a two phased, optimised process. The first step is called "pyrolysis," which breaks down a material using heat, but significantly chars the materials which prevents it from developing a good bond with a resin matrix. The second process, oxidation, uses high temperatures to remove this char.
"Pyrolysis and oxidation alone are not enough to preserve carbon fibres and these processes have existed for some time already. To ensure a high quality recovery and economic efficiency, thermal decomposition of CFRPs need to be guided by analysing the energy required to initiate a chemical reaction in the composit, and separate carbon fibres from the surrounding resin matrix.
"What makes our method so successful is that we have added specific parameters -- such as temperature, heating rate, atmosphere or time spent being oxidised and heated -- that preserve the functionality of carbon fibre."
"We embarked on the project with the aim of producing high grade, low cost structural materials made from recycled carbon fibre composites, for use in industries from aerospace and automotive through to sporting goods and renewable energy and construction."
In 2010, the global production of fibre reinforced polymers (FRP) was approximately 6 million tonnes with a projected growth of 300 percent in the next decade. With this projection, the consumption of FRPs will exceed 18 million tonnes by 2025, with an end-product value of AUD $80 billion.
"The 2016 Australian National Waste Report concludes that the use of composite materials is creating future challenges to recycling. Plainly put, if we do not develop efficient and cost-effective methods to recycle carbon fibre composites, we risk damaging the environment significantly," said Dr Hadigheh.
The United States, Japan and China lead the world in carbon fibre manufacturing. The researchers hope to increase the capacity of the Australian industry and work with manufacturers of wind turbines and commercial aircraft, as well as producers of sporting goods, and the construction, automotive and ship-building industries.
S.A. Hadigheh, Y. Wei, S. Kashi.
Optimisation of CFRP composite recycling process based on energy consumption, kinetic behaviour and thermal degradation mechanism of recycled carbon fibre.
Journal of Cleaner Production, 2021; 292: 125994 DOI:
10.1016/j.jclepro.2021.125994
Research Shows We're Surprisingly Similar To Earth's First Animals
The earliest multicellular organisms may have lacked heads, legs, or arms, but pieces of them remain inside of us today, new research shows.

According to a UC Riverside study, 555-million-year-old oceanic creatures from the Ediacaran period share genes with today's animals, including humans.
"None of them had heads or skeletons. Many of them probably looked like three-dimensional bathmats on the sea floor, round discs that stuck up," said Mary Droser, a geology professor at UCR. "These animals are so weird and so different, it's difficult to assign them to modern categories of living organisms just by looking at them, and it's not like we can extract their DNA -- we can't."
However, well-preserved fossil records have allowed Droser and the study's first author, recent UCR doctoral graduate Scott Evans, to link the animals' appearance and likely behaviours to genetic analysis of currently living things. Their research on these links has been recently published in the journal Proceedings of the Royal Society B.
For their analysis, the researchers considered four animals representative of the more than 40 recognised species that have been identified from the Ediacaran era. These creatures ranged in size from a few millimetres to nearly a meter in length.
Kimberella were teardrop-shaped creatures with one broad, rounded end and one narrow end that likely scraped the sea floor for food with a proboscis. Further, they could move around using a "muscular foot" like snails today. The study included flat, oval-shaped Dickinsonia with a series of raised bands on their surface, and Tribrachidium, who spent their lives immobilised at the bottom of the sea.
Paleontologist Scott Evans studying fossils in the Australian outback. (Droser Lab/UCR)

Also analysed were Ikaria, animals recently discovered by a team including Evans and Droser. They were about the size and shape of a grain of rice, and represent the first bilaterians -- organisms with a front, back, and openings at either end connected by a gut. Evans said it's likely Ikaria had mouths, though those weren't preserved in the fossil records, and they crawled through organic matter "eating as they went."
All four of the animals were multicellular, with cells of different types. Most had symmetry on their left and right sides, as well as noncentralized nervous systems and musculature.
Additionally, they seem to have been able to repair damaged body parts through a process known as apoptosis. The same genes involved are key elements of human immune systems, which helps to eliminate virus-infected and pre-cancerous cells.
These animals likely had the genetic parts responsible for heads and the sensory organs usually found there. However, the complexity of interaction between these genes that would give rise to such features hadn't yet been achieved.
"The fact that we can say these genes were operating in something that's been extinct for half a billion years is fascinating to me," Evans said.
The work was supported by a NASA Exobiology grant, and a Peter Buck postdoctoral fellowship.
Going forward, the team is planning to investigate muscle development and functional studies to further understand early animal evolution.
"Our work is a way to put these animals on the tree of life, in some respects," Droser said. "And show they're genetically linked to modern animals, and to us."
Scott D. Evans, Mary L. Droser, Douglas H. Erwin.
Developmental processes in Ediacara macrofossils.
Proceedings of the Royal Society B: Biological Sciences, 2021; 288 (1945): 20203055 DOI:
10.1098/rspb.2020.3055
Northern Hemisphere Summers May Last Nearly Half The Year By 2100
Without efforts to mitigate climate change, summers spanning nearly six months may become the new normal by 2100 in the Northern Hemisphere, according to a new study. The change would likely have far-reaching impacts on agriculture, human health and the environment, according to the study authors.
In the 1950s in the Northern Hemisphere, the four seasons arrived in a predictable and fairly even pattern. But climate change is now driving dramatic and irregular changes to the length and start dates of the seasons, which may become more extreme in the future under a business-as-usual climate scenario.
"Summers are getting longer and hotter while winters shorter and warmer due to global warming," said Yuping Guan, a physical oceanographer at the State Key Laboratory of Tropical Oceanography, South China Sea Institute of Oceanology, Chinese Academy of Sciences, and lead author of the new study in Geophysical Research Letters, AGU's journal for high-impact, short-format reports with immediate implications spanning all Earth and space sciences.
Guan was inspired to investigate changes to the seasonal cycle while mentoring an undergraduate student, co-author Jiamin Wang. "More often, I read some unseasonable weather reports, for example, false spring, or May snow, and the like," Guan said.
The researchers used historical daily climate data from 1952 to 2011 to measure changes in the four seasons' length and onset in the Northern Hemisphere. They defined the start of summer as the onset of temperatures in the hottest 25% during that time period, while winter began with temperatures in the coldest 25%. Next, the team used established climate change models to predict how seasons will shift in the future.
The new study found that, on average, summer grew from 78 to 95 days between 1952 to 2011, while winter shrank from 76 to 73 days. Spring and autumn also contracted from 124 to 115 days, and 87 to 82 days, respectively. Accordingly, spring and summer began earlier, while autumn and winter started later. The Mediterranean region and the Tibetan Plateau experienced the greatest changes to their seasonal cycles.
If these trends continue without any effort to mitigate climate change, the researchers predict that by 2100, winter will last less than two months, and the transitional spring and autumn seasons will shrink further as well.
"Numerous studies have already shown that the changing seasons cause significant environmental and health risks," Guan said. For example, birds are shifting their migration patterns and plants are emerging and flowering at different times. These phenological changes can create mismatches between animals and their food sources, disrupting ecological communities.
Seasonal changes can also wreak havoc on agriculture, especially when false springs or late snowstorms damage budding plants. And with longer growing seasons, humans will breathe in more allergy-causing pollen, and disease-carrying mosquitoes can expand their range northward.
Going to extremes
This shift in the seasons may result in more severe weather events, said Congwen Zhu, a monsoon researcher at the State Key Laboratory of Severe Weather and Institute of Climate System, Chinese Academy of Meteorological Sciences, Beijing, who was not involved in the new study.
"A hotter and longer summer will suffer more frequent and intensified high-temperature events -- heatwaves and wildfires," Zhu said. Additionally, warmer, shorter winters may cause instability that leads to cold surges and winter storms, much like the recent snowstorms in Texas and Israel, he said.
"This is a good overarching starting point for understanding the implications of seasonal change," said Scott Sheridan, a climate scientist at Kent State University who was not part of the new study.
It is difficult to conceptualise a 2- or 5-degree average temperature increase, he said, but "I think realising that these changes will force potentially dramatic shifts in seasons probably has a much greater impact on how you perceive what climate change is doing."
Jiamin Wang, Yuping Guan, Lixin Wu, Xiaodan Guan, Wenju Cai, Jianping Huang, Wenjie Dong, Banglin Zhang.
Changing Lengths of the Four Seasons by Global Warming.
Geophysical Research Letters, 2021; DOI:
10.1029/2020GL091753
Disclaimer: These articles are not intended to provide medical advice, diagnosis or treatment. Views expressed here do not necessarily reflect those of Pittwater Online News or its staff.