Inbox and Environment News: Issue 483
February 14 - 20, 2021: Issue 483
Time Of Burran
Gadalung Marool (hot and dry) January - March
The behaviour of the male kangaroos becomes quite aggressive in this season, and it is a sign that the eating of meat is forbidden during this time. This is a health factor; because of the heat of the day meat does not keep, and the likelihood of food poisoning is apparent. The blooming of the Weetjellan (Acacia implexa) is an important sign that fires must not be lit unless they are well away from bushland and on sand only, and that there will be violent storms and heavy rain, so camping near creeks and rivers is not recommended.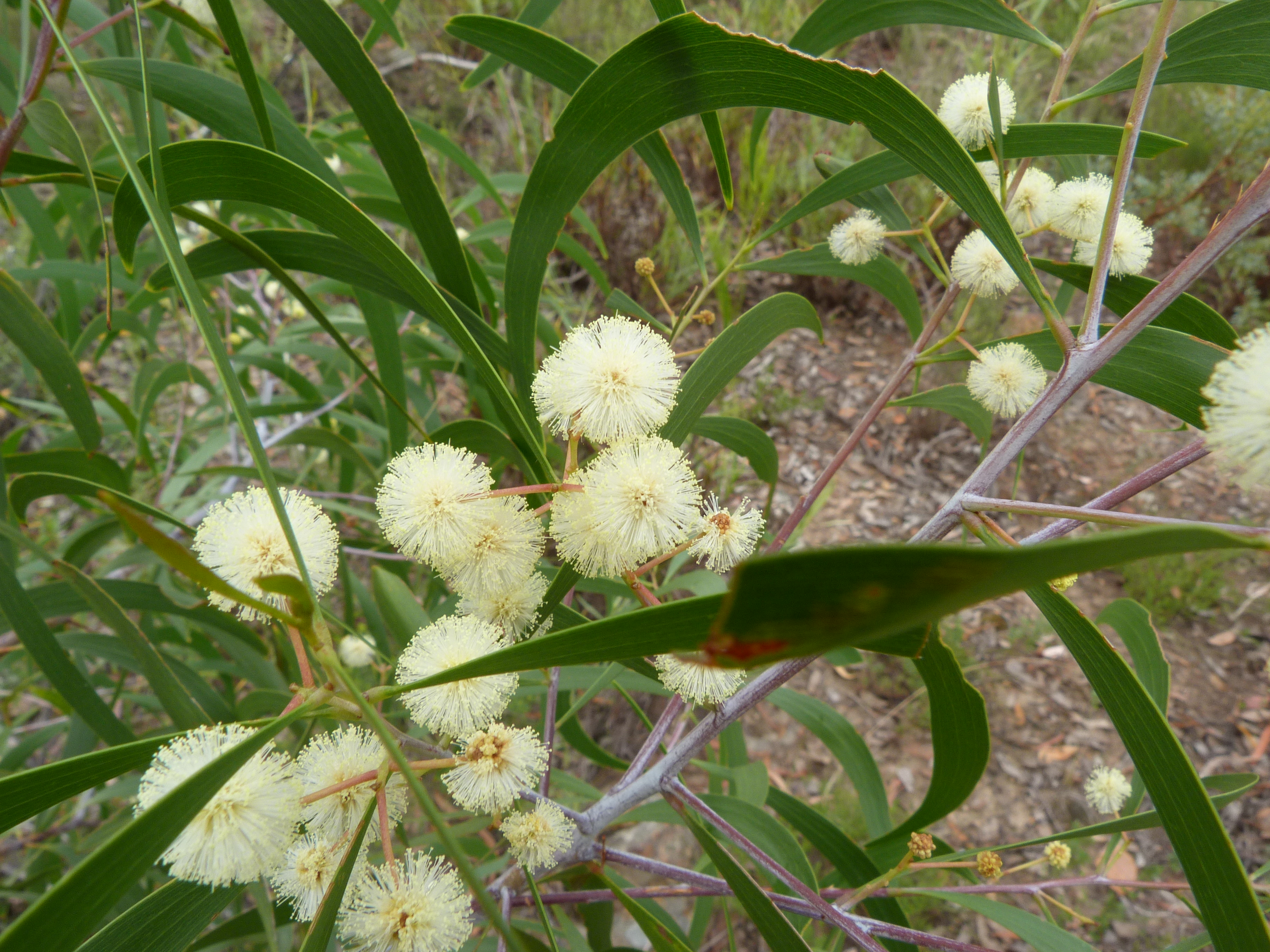 Acacia implexa, commonly known as lightwood or hickory wattle, is a fast-growing Australian tree, the timber of which was used for furniture making. The wood is prized for its finish and strength. The foliage was used to make pulp and dye cloth. The Ngunnawal people of the ACT used the bark to make rope, string, medicine and for fish poison, the timber for tools, and the seeds to make flour.
It is widespread in eastern Australia from central coastal Queensland to southern Victoria, with outlying populations on the Atherton Tableland in northern Queensland and Tasmania's King Island. The tree is commonly found on fertile plains and in hilly country it is usually part of open forest communities and grows in shallow drier sandy and clay soils.
Acacia implexa flowers - photo by Donald Hobern.
Flight2Light 2021: 'How To'
Bush Blitz, is partnering with the Australasian Dark Sky Alliance to raise awareness of the impacts of light pollution on the night time environment.
The Flight2Light event aims to educate Australians about light pollution, the impact it has on wildlife and the simple ways they can reduce light pollution.
You can get involved in Flight2Light from the 6th-19th Feb 2021
Check at Bush Blitz for information about how to register to take part in this nation wide event, receive a participation certificate and the satisfaction of helping our environment.
Pittwater Natural Heritage Association (PNHA) Pittwater Nature #4 Is Now Available
This Issue (February 2021) contains:
The Pittwater River and the Barrenjoey sandspit
How Tumbledown Dick hill Duffys Forest endangered bushland has been moved there from a site at Belrose
The Sydney Wildlife Mobile Unit looks after native animals
Plant Families 101: the Solanaceae /Nightshade Family.
Prey and Predators on Bilgola Plateau
Two birds that nest in hollows.
Cicadas emerge at night.
Dollarbirds: Image Chelsey Baker.
Upcoming Activities For Friends Of Narrabeen Lagoon Catchment:

Sun 21 February 2021: 7.30 am Walk & Weed along the Narrabeen Lagoon catchment transverse walk.
Start at Oxford Falls walk for 3 1/2 hours, weed for 30min, continue 30min walk and car pool back to start.
Bring gloves and long handled screwdriver if available.
Walk grade: medium.
Bookings essential. Conny 0432 643 295
https://www.narrabeenlagoon.org.au/
Friends of Narrabeen Lagoon Catchment are pleased to announce the next forum will be held on 22 Feb 2021 at 7 pm .
Presenter: Jayden Walsh
Jayden is a keen observer of nature and has some stunning photographs and information to share.
The focus will be on wildlife that lives near the Narrabeen Lagoon and that, if you are fortunate, you may see when on the Narrabeen Lagoon walkway.
For details on how to book for this event are on the website. At: https://www.narrabeenlagoon.org.au/Forums/forums.htm
Council's Waste Reduction Events
This
webpage HERE
, lists all the great waste reduction events being hosted by Council.
Events listed include:
DIY Beeswax Food Wraps - at the Tramshed Community Centre, Narrabeen
Living Smart Short Course; Learn about the many ways you can reduce plastic and waste in your household, business or workplace -Tramshed Community Centre, Narrabeen
Reusable Nappies Webinar
Avalon Car Boot Sale
Bushcare In Pittwater
For further information or to confirm the meeting details for below groups, please contact Council's Bushcare Officer on 9970 1367
BUSHCARE SCHEDULES
Where we work Which day What time
Avalon
Angophora Reserve 3rd Sunday 8:30 - 11:30am
Avalon Dunes 1st Sunday 8:30 - 11:30am
Avalon Golf Course 2nd Wednesday 3 - 5:30pm
Careel Creek 4th Saturday 8:30 - 11:30am
Toongari Reserve 3rd Saturday 9 - 12noon (8 - 11am in summer)
Bangalley Headland 2nd Sunday 9 to 12noon
Bayview
Winnererremy Bay 4th Sunday 9 to 12noon
Bilgola
North Bilgola Beach 3rd Monday 9 - 12noon
Algona Reserve 1st Saturday 9 - 12noon
Plateau Park 1st Friday 8:30 - 11:30am
Church Point
Browns Bay Reserve 1st Tuesday 9 - 12noon
McCarrs Creek Reserve Contact Bushcare Officer To be confirmed
Clareville
Old Wharf Reserve 3rd Saturday 8 - 11am
Elanora
Kundibah Reserve 4th Sunday 8:30 - 11:30am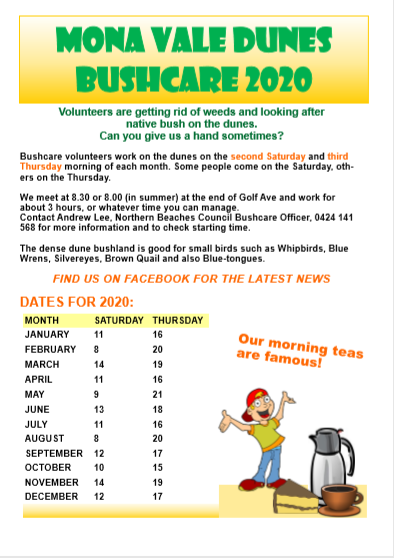 Mona Vale
Mona Vale Beach Basin 1st Saturday 8 - 11am
Mona Vale Dunes 2nd Saturday +3rd Thursday 8:30 - 11:30am
Newport
Bungan Beach 4th Sunday 9 - 12noon
Crescent Reserve 3rd Sunday 9 - 12noon
North Newport Beach 4th Saturday 8:30 - 11:30am
Porter Reserve 2nd Saturday 8 - 11am
North Narrabeen
Irrawong Reserve 2nd Saturday 2 - 5pm
Palm Beach
North Palm Beach Dunes 3rd Saturday 9 - 12noon
Scotland Island
Catherine Park 2nd Sunday 10 - 12:30pm
Elizabeth Park 1st Saturday 9 - 12noon
Pathilda Reserve 3rd Saturday 9 - 12noon
Warriewood
Warriewood Wetlands 1st Sunday 8:30 - 11:30am
Whale Beach
Norma Park 1st Friday 9 - 12noon
Western Foreshores
Coopers Point, Elvina Bay 2nd Sunday 10 - 1pm
Rocky Point, Elvina Bay 1st Monday 9 - 12noon

Gardens And Environment Groups And Organisations In Pittwater
Sydney Water Convicted And Fined $185,000 For Sewage Overflow
Sydney Water Corporation has been convicted and penalised a total of $185,000, following prosecution by the NSW Environment Protection Authority (EPA), for failing to adequately clean up sewage pollution at a creek and in bushland at Bangor in Sydney's south.
On 14 September 2018, approximately 57,000 litres of untreated sewage was discharged from a Sydney Water maintenance hole at Bangor. The incident caused environmental harm to the unnamed creek and surrounding environment.
In the NSW Land and Environment Court, Justice Rachel Pepper convicted Sydney Water of one offence of breaching its environment protection licence and one offence of failing to comply with a clean-up notice issued to Sydney Water by the EPA. Sydney Water pleaded guilty to both offences.
Sydney Water was required under its environment protection licence and under a clean-up notice to take action to minimise the impact of the sewage overflow as soon as practicable. However, failures in Sydney Water's management in the aftermath of the sewage overflow meant that the clean-up was delayed.
Justice Pepper found that due to failures in Sydney Water's instructions and communication the clean-up of the raw sewage was not completed for more than four weeks. This likely permitted the ongoing pollution of the unnamed creek and the local aquatic environment.
Justice Pepper said that Sydney Water's actions were reckless and that its response to the pollution was "a wholly dilatory and inadequate clean-up effort".
Sydney Water was ordered to pay $100,000 of the $185,000 penalty to Sutherland Shire Council for the Watercourse Rehabilitation and Bush Regeneration Project at Engadine.
Acting Director Regulatory Operations Jacinta Hanemann said the EPA welcomed the decision and that it was vital that pollution incidents were cleaned up promptly.
"Untreated sewage can pose a risk to human health and can have significant environmental impacts on waterways and local ecosystems," Ms Hanneman said.
Sydney Water was also ordered to pay the EPA's investigation costs of $10,758 plus legal costs and to publicise its convictions in the Sydney Morning Herald, Daily Telegraph and a local newspaper as well as on social media.
Including the above matters, since mid-2019 has successfully prosecuted Sydney Water for seven offences against the environment protection legislation. Additional EPA prosecutions against Sydney Water for alleged environmental offences are currently before the Courts.
Penalty notices are one of a number of tools the EPA can use to achieve environmental compliance including formal warnings, official cautions, licence conditions, notices and directions and prosecutions. In this instance the EPA issued a penalty notice. The notice recipient may pay the penalty notice, seek a review, or elect to have the matter determined by a court.
Misuse Of Mouse Baits Leads To Poisoning
The NSW Environment Protection Authority (EPA) is urging people to carefully follow instructions when using pesticides, or risk poisoning or other serious health conditions.
The reminder comes after several recent poisonings from the
product Mouseoff
, which contains zinc phosphide, resulted in hospitalisations in Western NSW Local Health District.
Mouseoff is clearly labelled as a high-risk commercial product, used for rodent control, and only approved to be used in agricultural and/or industrial and commercial settings.
EPA Executive Director Regulatory Operations Carmen Dwyer said the EPA had commenced an investigation into the potential supply of Mouseoff to customers for domestic use.
"We're aware there's a mouse plague in many parts of the state however, a recent poisoning case serves as a warning that commercial or agricultural pesticides should not be used in a domestic setting.
"Our message to users is a simple one – follow the product instructions carefully. Before using any bait, it's vital that consumers check that their product is suitable for domestic use. We are very concerned about keeping the community safe and well."
Director of Western NSW Public Health Unit Priscilla Stanley said "phosphine gas released from mouse baits containing zinc phosphide can be dangerous. It can cause suffocation in enclosed or poorly ventilated spaces. Symptoms include vomiting, abdominal pain, diarrhoea, fever, cough, shortness of breath and chest tightness".
Anyone suffering from symptoms are advised to contact the Poisons Information Centre on 13 11 26.
The EPA regulates the use of herbicides and pesticides in NSW, including those used in agriculture, on public land and in commercial and domestic premises, through the Pesticides Act 1999.
Under the Pesticides Act and Pesticides Regulation, users are required to check the product label carefully before using and comply with the directions for use on the label.
Anyone with a concern, or knowledge of an incident involving pesticide misuse in their local area, should contact the EPA's Environment Line on 131 555.
____________________________________________________
NB: using pesticides on rodents can result in the death of wildlife that find and eat these carcasses. Please find alternative ways of getting rid of mice and rats.
Rat Poisons Are Killing Our Wildlife: Alternatives
BirdLife Australia is currently running a campaign highlighting the devastation being caused by poison to our wildlife. Rodentcides are an acknowledged but under-researched source of threat to many Aussie birds. If you missed BirdLife's rodenticide talk but would like to know more, share data and comment on the use of rodenticides in Australia please visit: https://www.actforbirds.org/ratpoison
Owls, kites and other birds of prey are dying from eating rats and mice that have ingested Second Generation rodent poisons. These household products – including Talon, Fast Action RatSak and The Big Cheese Fast Action brand rat and mice bait – have been banned from general public sale in the US, Canada and EU, but are available from supermarkets throughout Australia.
Australia is reviewing the use of these dangerous chemicals right now and you can make a submission to help get them off supermarket shelves and make sure only licenced operators can use them.
There are alternatives for household rodent control – find out more about the impacts of rat poison on our birds of prey and what you can do at the link above and by reading the information below.
Let's get rat poison out of bird food chains.
The Australian Pesticides and Veterinary Medicines Authority (APVMA) – is currently asking Australians for their views on how rodent poisons are regulated.
Have your say by making a submission here.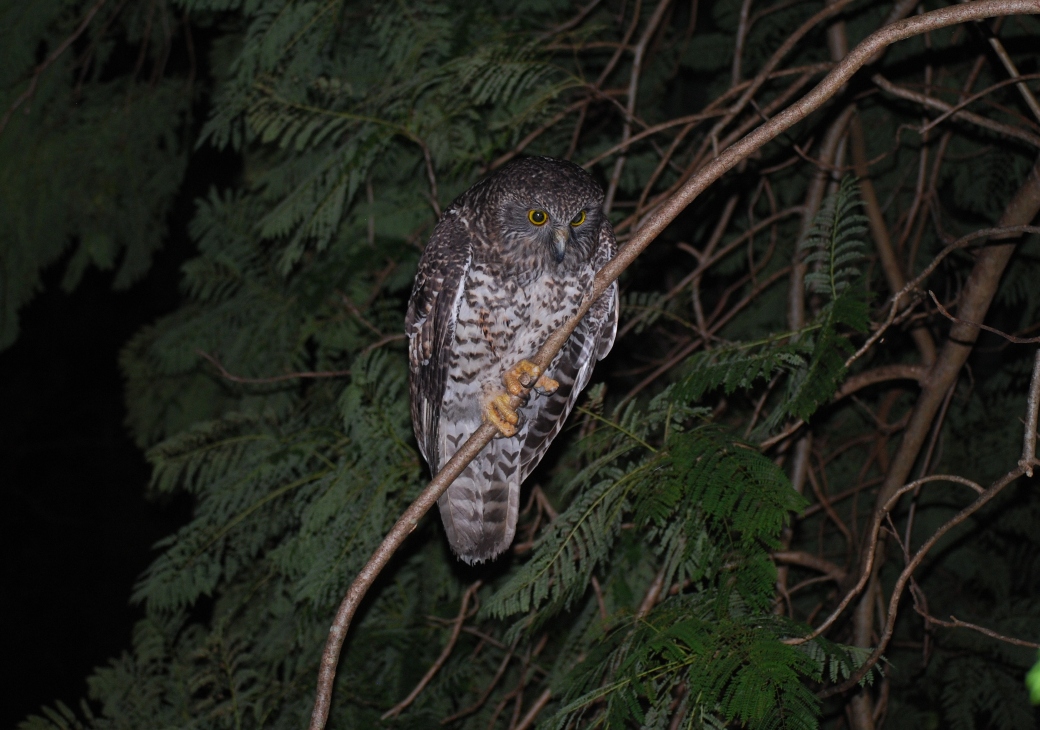 Powerful Owl at Clareville - photo by Paul Wheeler
Pesticides that are designed to control pests such as mice and rats cane also kill our wildlife through either primary or secondary poisoning. Insecticides include pesticides (substances used to kill insects), rodenticides (substances used to kill rodents, such as rat poison), molluscicides (substances used to kill molluscs, such as snail baits), and herbicides (substances used to kill weeds).
Primary poisoning occurs when an animal ingests a pesticide directly – for example, a brushtail possum or antechinus eating rat bait. Secondary poisoning occurs when an animal eats another animal that has itself ingested a pesticide – for example, a greater sooty owl eating a rate that has been poisoned or an antechinus that had eaten rat bait.
Rodenticides are the most common and harmful pesticides to Australian wildlife. Though no comprehensive monitoring of non-target exposure of rodenticides has been conducted, numerous studies have documented the harm rodenticides do to native animals. In 2018, an Australian study found that anticoagulant rodenticides in particular are implicated in non-target wildlife poisoning in Australia, and warned Australia's usage patterns and lax regulations "may increase the risk of non-target poisoning".
Most rodenticides work by disrupting the normal coagulation (blood clotting) process, and are classified as either "first generation" / "multiple dose" or "second generation" / "single dose", depending on how many doses are required for the poison to be lethal.
These anticoagulant rodenticides cause victims of anticoagulant rodenticides to suffer greatly before dying, as they work by inhibiting Vitamin K in the body, therefore disrupting the normal coagulation process. This results in poisoned animals suffering from uncontrolled bleeding or haemorrhaging, either spontaneously or from cuts or scratches. In the case of internally haemorrhaging, which is difficult to spot, the only sign of poisoning is that the animal is weak, or (occasionally) bleeding from the nose or mouth. Affected wildlife are also more likely to crash into structures and vehicles, and be killed by predators.
An animal has to eat a first generation rodenticide (e.g. warfarin, pindone, chlorophaninone, diphacinone) more than once in order to obtain a lethal dose. For this reason, second generation rodenticides (e.g. difenacoum, brodifacoum, bromadiolone and difethialone) are the most commonly used rodenticides. Second generation rodenticides only require a single dose to be consumed in order to be lethal, yet kill the animal slowly, meaning the animal keeps coming back. This results in the animal consuming many times more poison than a single lethal dose over the multiple days it takes them to die, during which time they are easy but lethal prey to predators. This is why second generation poisons tend to be much more acutely toxic to non-target wildlife, as they are much more likely to bioaccumulate and biomagnify, and clear very slowly from the body.
Species most at risk from poisons
Small Mammals
Small mammals including possums and bandicoots often consume poisons such as snail bait, or rat bait that has been laid out to attract and kill rats, mice, and rabbits. Poisons such as pindone are often added to oats or carrots, and lead to a slow, painful death of internal bleeding. Australian possums often consume rat bait such as warfarin, which causes extensive internal bleeding, usually resulting in death.
There is a very poor chance of survival. Possums are also known to consume slug bait, which results in a prolonged painful death mainly from neurological effects. There is no treatment.
Small mammals can also be poisoned by insecticides. Possums, for example, can ingest these poisons when consuming fruit from a tree that has been sprayed with insecticide. Rescued by a WIRES carer, the brushtail possum joey pictured below was suffering from suspected insecticide poisoning. Though coughing up blood, luckily the joey did not ingest a lethal dose as he survived in care and was later released.
Large Mammals
Despite their size, large mammals including wallabies, kangaroos and wombats can also fall victim to pesticide poisoning. Wallabies and kangaroos have been known to suffer from rodenticide poisoning, while poisons often ingested by wombats include rat bait from farm sheds, and sodium fluroacetate (1080) laid out to kill pests such as cats and foxes.
Australian mammals are also impacted by the use of insecticides. DDT, although a banned substance, has been reported as killing marsupials.
Birds
Birds have a high metabolic rate and therefore succumb quickly to poisons. Australian birds of prey – owls (such as the southern boobook) and diurnal raptors (such as kestrels) – can be killed by internal bleeding when they eat rodents that have ingested rat bait. A 2018 Western Australian study determined that 73% of southern boobook owls found dead or were found to have anticoagulant rodenticides in their systems, and that raptors with larger home ranges and more mammal-based diets may be at a greater risk of anticoagulant rodenticide exposure.
Insectivorous birds will often eat insects sprayed with insecticides, and a few different species of birds may be affected at the same time. Unfortunately little can be done and death most often results.
Organophosphates are the most widely used insecticide in Australia. Birds are very susceptible to organophosphates, which are nerve toxins that damage the nervous system, with poisoning occurring through the skin, inhalation, and ingestion. Organophosphates can cause secondary poisoning in wild birds which ingest sprayed insects. Often various species of insectivorous birds are affected at the same time as they come down to eat the dying insects. After a bird is poisoned, death usually occurs rapidly. Raptors have also been deliberately or inadvertently poisoned when organophosphates have been applied to a carcass to poison crows.
Organochlorine pesticides (OCPs) are persistent, bio-accumulative pesticides that include DDT, dieldrin, heptachlor and chlordane. OPC's have been used extensively in the agriculture industry since the 1940s. Some of the more common product names include Hortico Dieldrin Dust, Shell Dieldrex and Yates Garden Dust. Although no OCP's are currently registered for use in the home environment in Australia, many of these products still remain in use on farms, in business premises and households. OCP poisons remain highly toxic in the environment for many years impacting on humans, animals, birds and especially aquatic life. They can have serious short-term and long-term impacts at low concentrations. In addition, non-lethal effects such as immune system and reproductive damage of some of these pesticides may also be significant. Birds are particularly sensitive to these pesticides, and there have even been occasions where the deliberate poisoning of birds has occurred. Tawny frogmouths are most often poisoned with OCP's. The poisons are stored in fat deposits and gradually increase over time. At times of food scarcity, or during any stressful period, such as breeding season or any changes to their environment, the fat stores are metabolised, and with it, the poison load in their blood streams reaches acute levels, causing death.
Although herbicides, or weed killers, are designed to kill plants, some are toxic to birds. Common herbicide glyphosate (Roundup) will cause severe eye irritation in birds if they come into contact with the spray. Herbicides also have the impact of removing food plants that birds, or their insect food supply, rely on. Birds can also readily fall victim to snail baits, either via primary or secondary poisoning.
Reptiles and Amphibians
As vertebrate species, reptiles and amphibians are also at risk of pesticides. Though less is known about the effects of pesticides on reptiles and amphibians, these animals have been known to fall victim to pesticide poisoning. Blue-tongue lizards, for example, often consume rat bait and die of internal bleeding. A 2018 Australian study also found that reptiles may be important vectors (transporters) of rodenticides in Australia.
How to keep pests away and keep wildlife safe
Remember, pesticides are formulated to be tasty and alluring to the target species, but other species find them enticing, too. It is safest for wildlife, pets and people for us to not use any pesticides, and prevent or deter the presence of pests practically, rather than attempt to eliminate them chemically.
Tips to prevent and deter wildlife deaths from poisoning:
Deter rats and mice around your property by simply cleaning up; removing rubbish, keeping animal feed well contained and indoors, picking up fallen fruits and vegetation, and using chicken feeders removes potential food sources.
Seal up holes and in your walls and roof to reduce the amount of rodent-friendly habitat in your house.
Replace palms with native trees; palm trees are a favourite hideout for black rats, while native trees provide ideal habitat for native predators like owls and hawks which help to control rodent populations.
Set traps with care in a safe, covered spot, away from the reach of children, pets and wildlife. Two of the most effective yet safe baits are peanut butter and pumpkin seeds.
To control slugs, terracotta or ceramic plant pots can be placed upside down in the garden or aviary. Slugs and snails will seek the dark, damp area this creates, and can be collected daily. They can then be drowned in a jar of soapy water. You can also sink a jar or dish into the soil and fill it with beer. The slugs are attracted to the yeast in the beer, fall in and then drown.
If turning to pesticides as a last resort:
Use only animal-safe slug baits.
Place tamper-proof bait stations out of reach of wildlife.
Avoid using loose whether pellets or poison grain, present the highest risk, the latter being particularly attractive to seed-eating birds and to many small mammal species.
Read the label and use as instructed.
Avoid products containing second generation products difenacoum, brodifacoum, bromadiolone and difethialone, which are long-lasting and much more likely to unintentionally poison wildlife via secondary poisoning.
Cover individual fruits when spraying fruit trees with insecticides.
Poisons kill dogs too
Because of their poisonous nature, pesticides pose a risk to animals and people alike, including pets and children. Roaming pets like cats and dogs are most at risk of being poisoned, with one 2016 study at the Norwegian University of Life Sciences finding that one in five dogs had rat poison in its body, and a 2011 study by the Humane Society in the United States finding that 74% of their pet poisoning cases are due to second-generation anticoagulants such as rat baits.
It is best to avoid the use of all pesticides, or otherwise use them sparingly, carefully and only after researching each poison and its correct usage. Always supervise pets and children, keep poisons locked out of their reach, and be vigilant in public spaces where pesticides may have accumulated, e.g. poisons can accumulate in streams or puddles where herbicides have recently been sprayed.
If you suspect your pet has been poisoned, seek veterinary help immediately.
If you suspect your child or another adult has been poisoned, do not induce vomiting and call the NSW Poisons Information Centre on 13 11 26 for 24/7 medical advice, Australia-wide.
References
Lohr, M. T. & Davis, R. A. 2018, Anticoagulant rodenticide use, non-target impacts and regulation: A case study from Australia, Science of The Total Environment, vol. 634, pp. 1372-1384.
Lohr, M. T. 2018, Anticoagulant rodenticide exposure in an Australian predatory bird increases with proximity to developed habitat, Science of The Total Environment, Volume 643, pp.134-144.
Lohr, M. T. 2018, Anticoagulant Rodenticides: Implications for Wildlife Rehabilitation, conference paper, Australian Wildlife Rehabiliation Conference, awrc.org.au
Olerud, S., Pedersen, J. & Kull, E. P. 2009, Prevalence of superwarfarins in dogs – a survey of background levels in liver samples of autopsied dogs. Norwegian University of Life Sciences, Faculty of Veterinary Medicine and Life Sciences, Department of Sports and Family Animal Medicine, Section for Small Animal Diseases.
Healthy Wildlife, Healthy Lives, 2017, Rodenticides and Wildlife, healthywildlife.com.au
Society for the Preservation of Raptors Inc. 2019, Raptor Fact Sheet: Eliminate Rats and Mice, Not Wildlife!, raptor.org.au/factsheetpests.pdf
W.I.R.E.S. Poisons and baits don't just kill rats.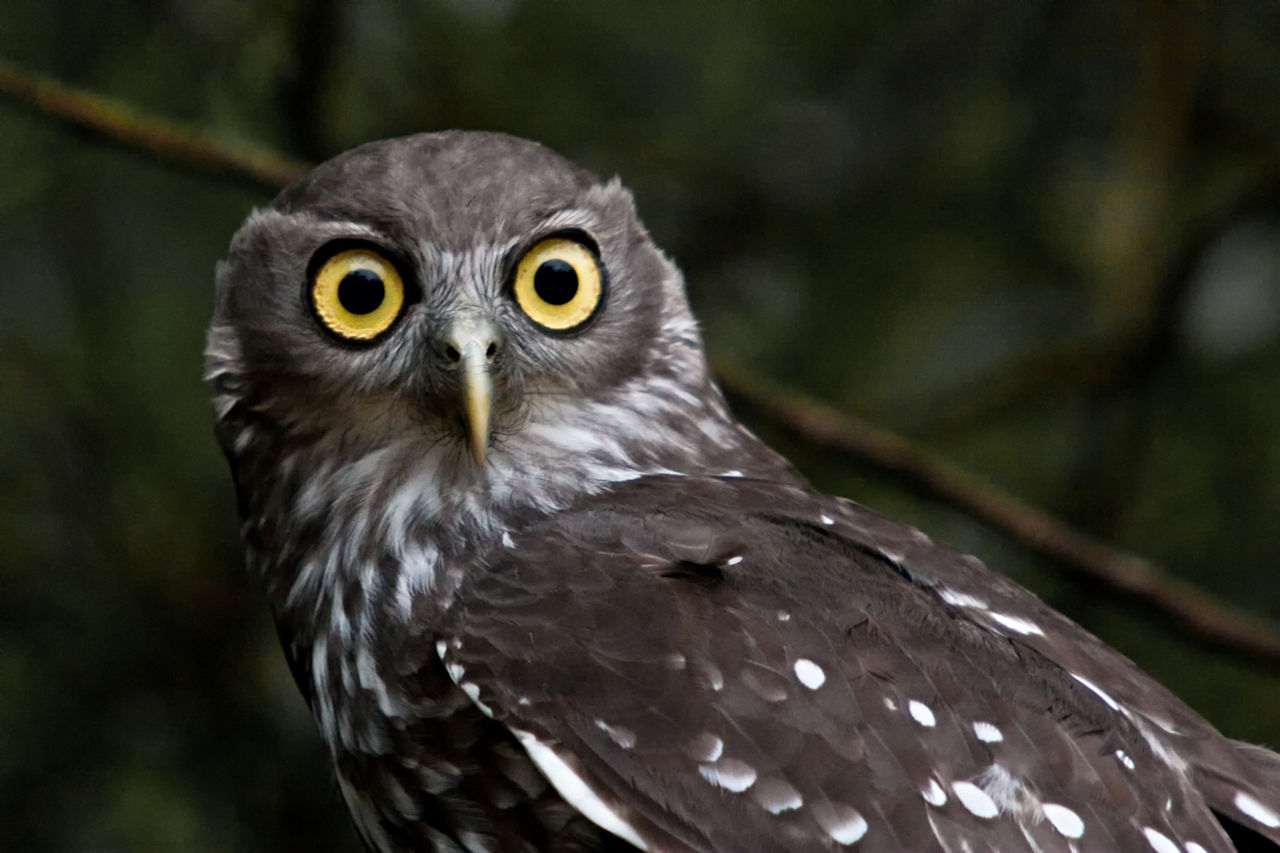 Barking Owl (Ninox connivens connivens)- photo by Julie Edgley - this nocturnal animal will eat mice and so become a victim of poisons through them
Bents Basin State Conservation Area: Have Your Say
Closes March 7, 2021
National Parks and Wildlife Service is seeking feedback on the draft plan of management for Bents Basin State Conservation Area and Gulguer Nature Reserve.
The Bents Basin State Conservation Area and Gulguer Nature Reserve Draft Plan of Management is currently on public exhibition.
Once adopted, the plan will replace the Bents Basin State Conservation Area statement of management intent and the Gulguer Nature Reserve statement of management intent, which were approved in 2014.
Key management directions in this plan include:
strategies for the protection of natural values
strategies to improve the management of Aboriginal cultural heritage and shared heritage values
strategies to improve visitor experiences and manage increasing use.
The draft visitor facilities concept plans, including details of visitor facility upgrades, are also available for comment.
You can provide your written submission in any of the following ways:
Post your written submission to:
Manager Planning
Evaluation and Assessment
Locked Bag 5022
Parramatta NSW 2124
Email your submission to: npws.parkplanning@environment.nsw.gov.au
Make a submission online by using the online form here
Volunteers Needed For Great Inland Glossy Count: February 2021
Postponed from late last year the NSW Saving our Species program is now calling for community volunteers to become 'cockatoo counters' and help be part of the Great Inland Glossy Count this February.
National Parks and Wildlife Service Senior Project Officer Adam Fawcett said the count was set to go and anyone can be a part of it.
"Bird lovers, citizen scientists or anyone with an interest in this beautiful threatened species, are needed to survey glossy black cockatoo populations at three key sites around inland NSW.
"Listed as vulnerable in New South Wales, glossies are easily spotted with their distinctive red markings and this cockatoo count will help our scientists understand more about this threatened bird," he said.
This is the second time the Great Inland Glossy Count has occurred. In 2019 seventy volunteers participated and counted over 700 glossy black cockatoos across inland NSW.
The count is part of a wider project to conserve the species at three key sites: the Pilliga Forests, Goonoo National Park and Goobang National Park and surrounding landscapes.
The dates for the 2021 surveys of what is fast becoming an annual cockatoo count are:
13 February – Pilliga Forests

20 February – Goonoo National Park

27 February – Goobang National Park and surrounds
"We are hoping to get 100 volunteers this year and what a great opportunity to get out to some of our amazing national parks and state forests, sit back and watch a threatened species in its natural habitat," Mr Fawcett said.
Volunteers will need to pre-register using the Department of Planning Industry and Environment's Volunteer Portal and will be required to follow COVID safety guidelines.
Family members are encouraged to register to volunteer together and will be stationed at one dam on their chosen weekend to count glossy black cockatoos as they come into known watering holes.
"We are asking volunteers to setup at their survey site an hour or so before dusk and wait as glossy black cockatoos fly in for water.
"The only requirements are the ability to make your way to a dam allocated by the Saving our Species team and to bring a pair of binoculars, a comfy chair and a notepad.
"Many of our seasoned participants make quite an event out of the evening, with cheese platters and other goodies a regular feature. It is a pretty amazing when you get a large flock of this threatened species coming into a waterhole to drink and we love that we are able to give people this opportunity to get involved in threatened species conservation," Mr Fawcett said.
The project is funded by the NSW Government's Saving our Species program and the NSW Environmental Trust, and is led by Central West Local Land Services in partnership with National Parks and Wildlife Service, NSW Forest Corporation, Dubbo Field Naturalists, Australian Wildlife Conservancy and the land owners and managers within these areas.
Shifting Attitudes To Recycling Sees 5 Billion Drink Containers Returned
EPA Executive Director Liesbet Spanjaard has praised recyclers across the state with Return and Earn reaching an incredible 5 billion containers returned since the scheme commenced in 2017.
With two out of three eligible containers consumed in NSW now being returned, over 460,000 tonnes of material has been recycled through the scheme and $500 million has been returned to the NSW community.
Return and Earn also continues to be an increasingly important fundraising avenue for charities and community groups with $18.2 million having been paid via donations and fees from hosting return points.
"The NSW Government is incredibly proud of Return and Earn's growth and success and I am delighted to see the NSW community throw their support behind it," Ms Spanjaard said.
"This initiative is an important part of our commitment to creating a sustainable future and moving towards a circular economy where waste is a valuable resource.
"As well as the environmental benefits of reducing litter and increasing recycling, Return and Earn has generated economic benefits by putting money in the pockets of the people of NSW, by directly employing over 700 people across the state and by serving as a valuable source of revenue for community groups."
Return and Earn's success can be largely attributed to a high level of community support with 75 per cent of adults in NSW having participated in the scheme.
"The partnership between the NSW Government, Exchange for Change, and Tomra Cleanaway has allowed us to deliver a reliable, transparent scheme, with a strong focus on community engagement," Ms Spanjaard, said.
"We quickly earned the confidence and trust of our community and this is translating into action as participation in the scheme continues to grow.
"When waste is seen as a resource that can generate environmental, social and economic benefits, it encourages people and community groups to tap into the potential of the bottles and cans they might have otherwise just thrown away.
"This is all part of what helps change attitudes and drive action to increase recycling across NSW."
Shorebird Identification Booklet
The Migratory Shorebird Program has just released the third edition of its hugely popular Shorebird Identification Booklet. The team has thoroughly revised and updated this pocket-sized companion for all shorebird counters and interested birders, with lots of useful information on our most common shorebirds, key identification features, sighting distribution maps and short articles on some of BirdLife's shorebird activities.
The booklet can be downloaded here in PDF file format: http://www.birdlife.org.au/documents/Shorebird_ID_Booklet_V3.pdf
Paper copies can be ordered as well, see http://www.birdlife.org.au/projects/shorebirds-2020/counter-resources for details.
Download BirdLife Australia's children's education kit to help them learn more about our wading birdlife
Shorebirds are a group of wading birds that can be found feeding on swamps, tidal mudflats, estuaries, beaches and open country. For many people, shorebirds are just those brown birds feeding a long way out on the mud but they are actually a remarkably diverse collection of birds including stilts, sandpipers, snipe, curlews, godwits, plovers and oystercatchers. Each species is superbly adapted to suit its preferred habitat. The Red-necked Stint is as small as a sparrow, with relatively short legs and bill that it pecks food from the surface of the mud with, whereas the Eastern Curlew is over two feet long with a exceptionally long legs and a massively curved beak that it thrusts deep down into the mud to pull out crabs, worms and other creatures hidden below the surface.
Some shorebirds are fairly drab in plumage, especially when they are visiting Australia in their non-breeding season, but when they migrate to their Arctic nesting grounds, they develop a vibrant flush of bright colours to attract a mate. We have 37 types of shorebirds that annually migrate to Australia on some of the most lengthy and arduous journeys in the animal kingdom, but there are also 18 shorebirds that call Australia home all year round.
What all our shorebirds have in common—be they large or small, seasoned traveller or homebody, brightly coloured or in muted tones—is that each species needs adequate safe areas where they can successfully feed and breed.
The National Shorebird Monitoring Program is managed and supported by BirdLife Australia.

This project is supported by Glenelg Hopkins Catchment Management Authority and Hunter Local Land Services through funding from the Australian Government's National Landcare Program. Funding from Helen Macpherson Smith Trust and Port Phillip Bay Fund is acknowledged.
The National Shorebird Monitoring Program is made possible with the help of over 1,600 volunteers working in coastal and inland habitats all over Australia.
The National Shorebird Monitoring program (started as the Shorebirds 2020 project initiated to re-invigorate monitoring around Australia) is raising awareness of how incredible shorebirds are, and actively engaging the community to participate in gathering information needed to conserve shorebirds.
In the short term, the destruction of tidal ecosystems will need to be stopped, and our program is designed to strengthen the case for protecting these important habitats.
In the long term, there will be a need to mitigate against the likely effects of climate change on a species that travels across the entire range of latitudes where impacts are likely.
The identification and protection of critical areas for shorebirds will need to continue in order to guard against the potential threats associated with habitats in close proximity to nearly half the human population.
Here in Australia, the place where these birds grow up and spend most of their lives, continued monitoring is necessary to inform the best management practice to maintain shorebird populations.
BirdLife Australia believe that we can help secure a brighter future for these remarkable birds by educating stakeholders, gathering information on how and why shorebird populations are changing, and working to grow the community of people who care about shorebirds.

To find out more visit: http://www.birdlife.org.au/projects/shorebirds-2020/shorebirds-2020-program
Aussie Bread Tags Collection Points
Collecting bread tags enables us to provide wheelchairs that change the life of disabled people in need, as well as keeping the tags out of landfill to help to preserve the environment.
Bread Tags for Wheelchairs was started in South Africa in 2006 by Mary Honeybun. It is a community program where individuals and organisations collect bread tags, which are sold to recyclers. The money raised pays for wheelchairs for the less fortunate which are purchased through a local pharmacy. Currently about 500kg of bread tags are collected a month in South Africa, funding 2-3 wheelchairs.
We have been collecting bread tags nationally in Australia since September 2018 and now have more than 100 collection points across the country. In February 2019 we started local recycling through Transmutation - Reduce, Reuse and Recycle in Robe, SA, where our tags are recycled into products such as door knobs and bowls. Tags from some states are still sent to South Africa where a plastics company called Zibo recycles them into seedling trays.
These humble bits of polystyrene can make a real difference so get your friends, family, school, workplace and church involved. Ask school tuck shops and boarding school kitchens, child care centres, aged care facilities, hospitals, cafes and fast food outlets to collect for you - they get through a lot of bread!
All the information and signage for collecting or setting up a public collection point is
on our website
.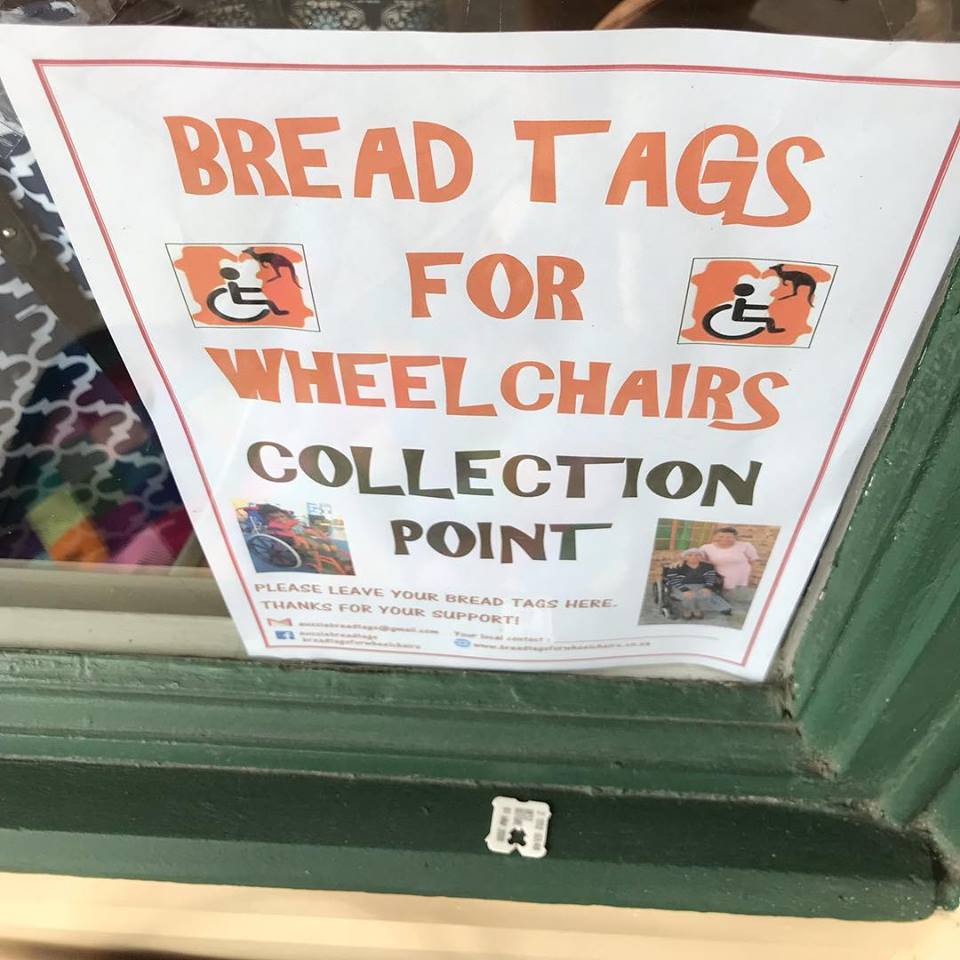 Cicadas And Crickets Still Singing In Pittwater: Late Summer Bush Songs
Have you noticed that the deafening noise of a million million Black Prince cicadas we had just a few weeks ago is not so noisy now? We had so many at our place as we have a lot of spotted gum trees - it was so LOUD some days I had to close the doors to stop my ears ringing. Durinmg the past few weeks they're a lot quieter though - I think it may be because all the currawongs and magpies are feeding them to their newly fledged youngsters - they LOVE cicadas.
This year we have seen: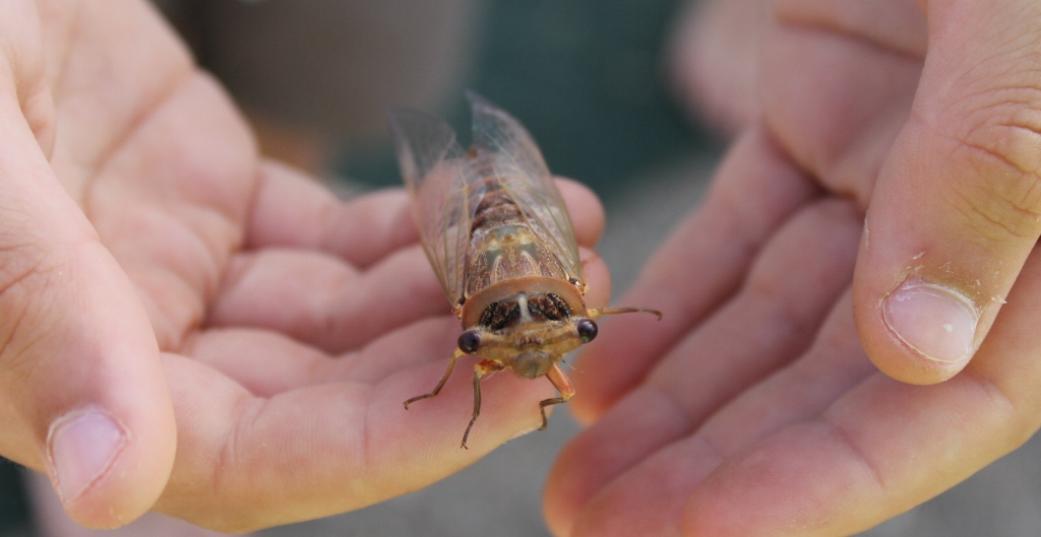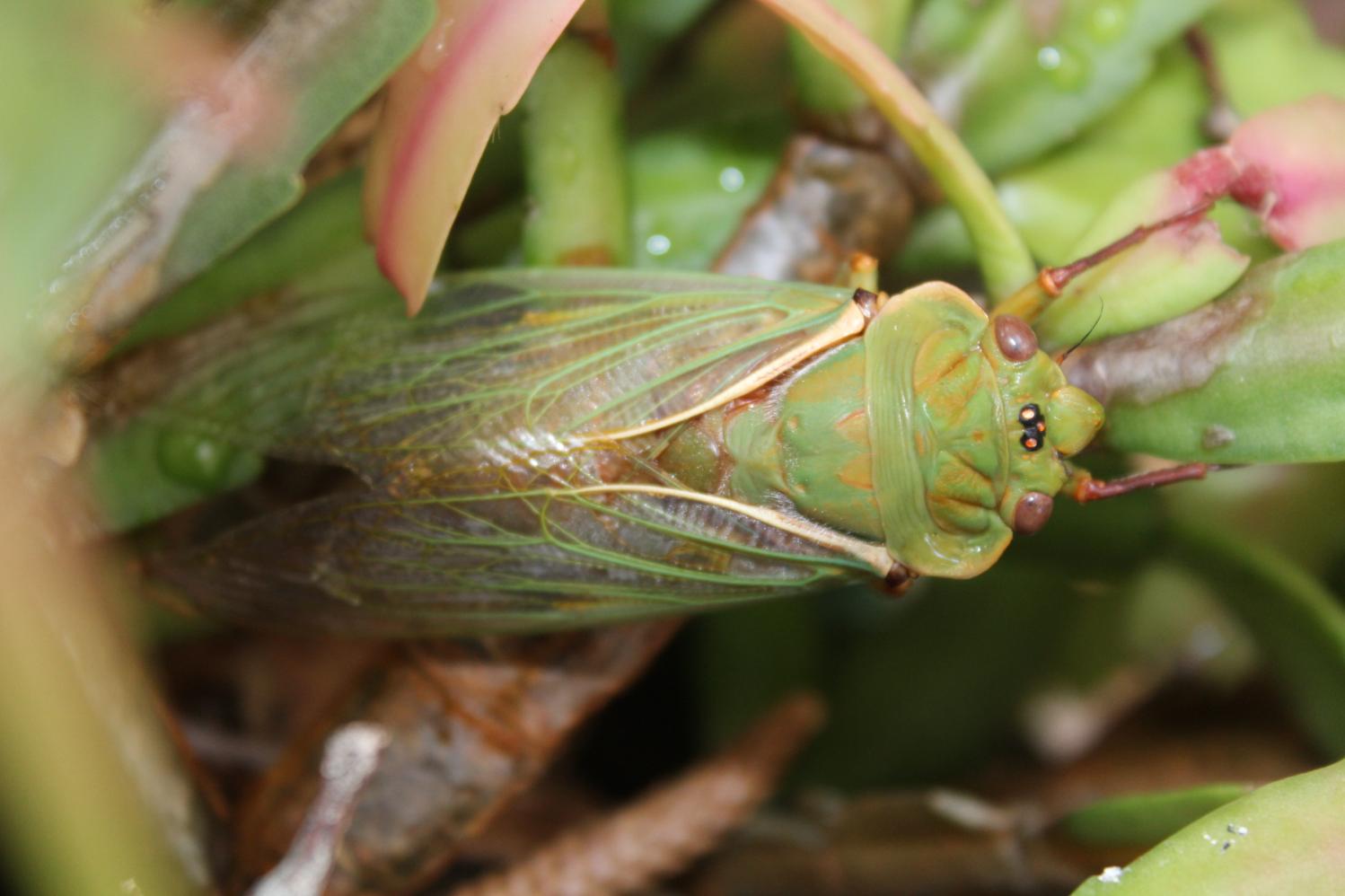 Greengrocer Cicada
(
Cyclochila australasiae
)
Have you heard all the crickets singing at night?
There seems to be a lot of crickets this year, so many so that this one came onto my desk here one night during this week and then spent about 10 minutes jumping around all over the place.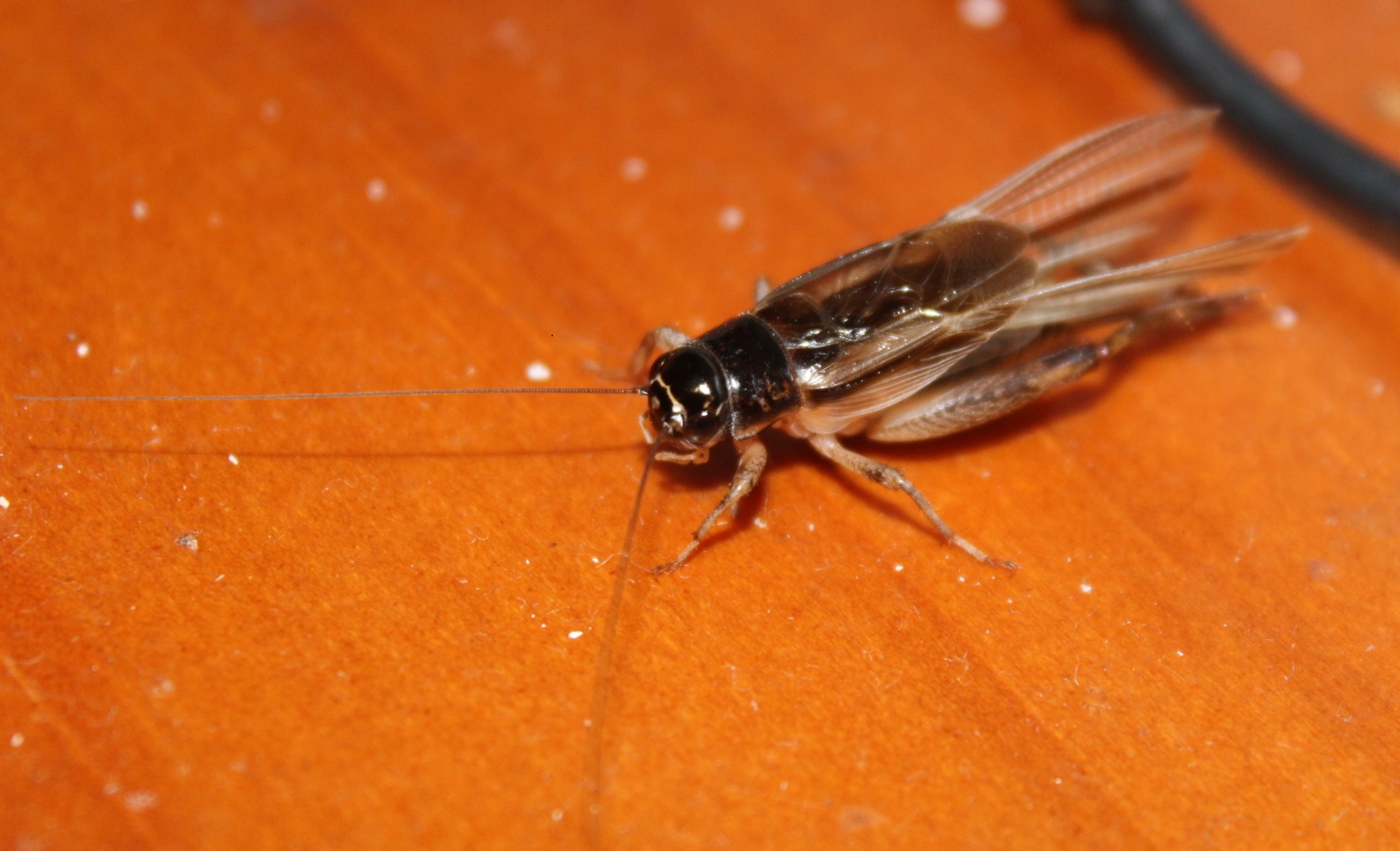 Crickets live all over Australia and you have probably heard them - but maybe not seen one. The most common is the Black Field Cricket. Only the male of this species 'chirp' by rubbing their wings together. They do it to attract females, to woo them, and to warn off other male competitors. They grow to about 2.5cm long. Black Field Crickets lay their eggs around April. A female can lay up to 1,500 to 2,000 eggs and she lays them from late Summer to late Autumn. These eggs remain dormant over the Winter and hatch in Spring.
Young crickets, known as nymphs, grow slowly through 9 to 10 nymph stages as they gradually develop into adults. Juvenile Black Field Crickets are similar in appearance to adults but lack wings and have a distinctive white band around their middle.
Normally, Black Field Crickets are mostly a ground living insect, but will take to the air when numbers are too great and food becomes scarce. Crickets usually live outside but may come inside to get away from waterlogged ground after rains, or when the weather turns very cold.
Normally, crickets feed on decaying plant material and insect remains, and are prey to birds, mice, frogs, possums and many other creatures. They are an important animal in the food chain. You can tell a Short-Horned grasshopper from a cricket by the size of their antennae. Crickets have longer antennae than these grasshoppers. Most grasshoppers also feed on plant material, whereas crickets are omnivores. Also crickets are mainly nocturnal, whereas Short-Horned grasshoppers are active during the day.
Black Field Crickets are good buddies to have in your garden as they will help aerate your soil, which helps water penetrate into it.
Did you know?; Crickets have 'ears' in their legs just below their knees. The ear drums, one on each foreleg, are sensitive membranes which act as receivers of differences in pressure and can help crickets find a mate, be forewarned about predators or locate prey.
The most common crickets in backyards are the House Cricket, Mole Cricket and Black Field Cricket. The King cricket is large and flightless and can devour funnel web spiders with its enormous, terrifying-looking mouth parts. It's usually only found in rainforests. You can recognise crickets and grasshoppers by their 'song' which they make by rubbing parts of each wing together.
Photos by A J Guesdon, information courtesy of Backyard Buddies - more great stuff at: www.backyardbuddies.org.au
THE CICADA ORCHESTRA.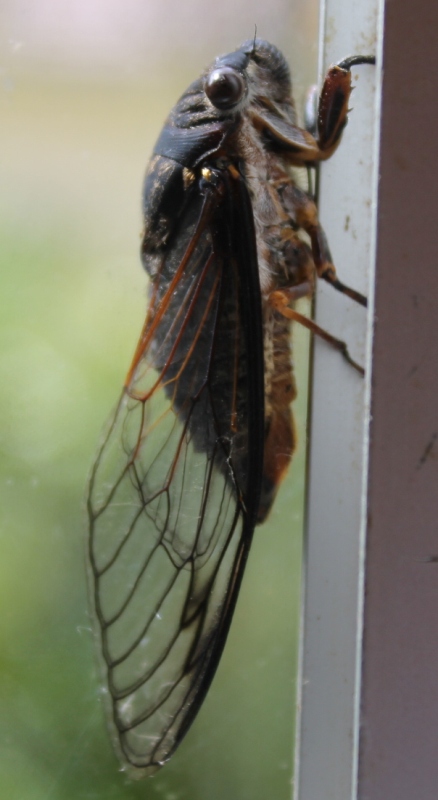 When the gum leaves all hang drooping,
And every bird is still,
There comes from each leafy covert,
A droning loud and shrill.
'Zum, zum, zum, I'm a Floury Baker!
Hark to my double-drum;
I can drone by the hour with ceaseless power,
And a zum, zum, zum, zum, zum.'
The hot air seems to quiver
Beneath that steady drone,
And aching heads grow wearier,
With that ceaseless monotone;
"Zum, zum, zum, I'm a real Greengrocer!
Hark to my double drum;
I can make it go for an hour or so,
With a zum, zum, zum, zum."
When the still, hot day is over,
And the west wind drops at length,
The loud cicada chorus Wakens to double strength:
"Zum, zum, zum, I'm a Yellow Monday!
Hark to my double drum;
I can make it drone in its monotone,
With a zum, zum, zum, zum, zum.'
As the slow, slow hours are dragging
Through the hush of a still, hot night;
The full bush band keeps playing,
Right up to the morning light.
"Zum, zum, zum, I'm a Black Prince gorgeous!
Hark to my double drum;
All the long night through I shall play to you,
With a zum, zum, zum, zum, zum."
From the first grey light of the morning,
Till the sun sinks down in the west,
And all through the long night-watches,
The droning knows no rest:
"Zum, zum, zum, I'm a Floury Baker;
Zum, zum, zum, I'm a fat Greengrocer;
Zum, zum, zum, I'm a Yellow Monday;
Zum, zum, zum,
I'm a Black Prince gorgeous.
And each has a double drum.
So with ceaseless tone we just drone, drone, drone,
With a zum, zum, zum, zum, zum."
The Children's Page. (1926, November 18). The Catholic Press(NSW : 1895 - 1942), p. 46. Retrieved from http://nla.gov.au/nla.news-article106276154
Bird Bath Visitors
Do you have a bird bath in your yard? We do - they're great for seeing all the birds come to have a drink or have a bath. We also hear frogs at night as there is a little pond we sat the bird bath in - lovely watery sounds of feathers and splish- splashing - we have to give it a clean at the end of every day and fill it back up with fresh cool water.
This is what we've seen in our bird bath the past few weeks and months: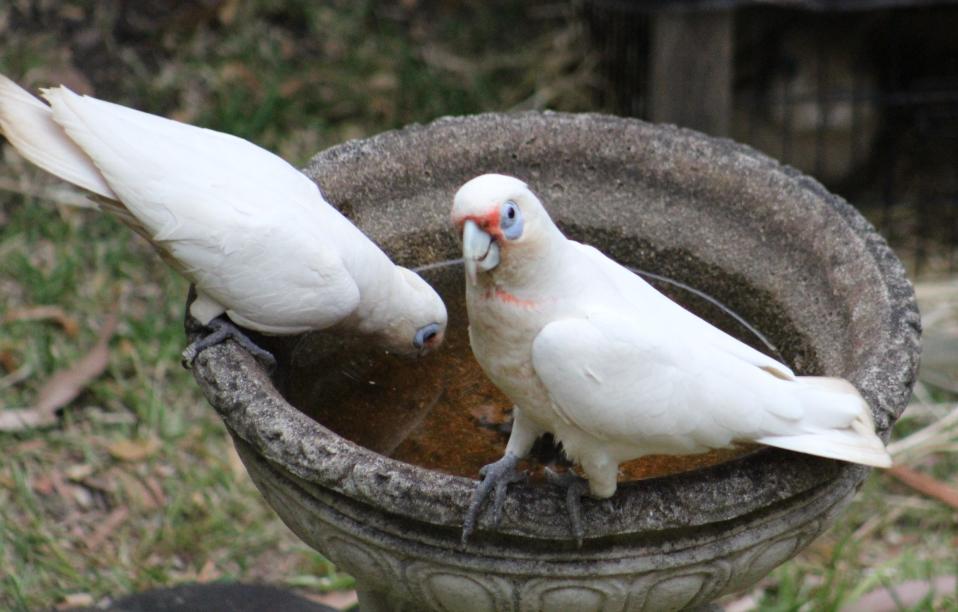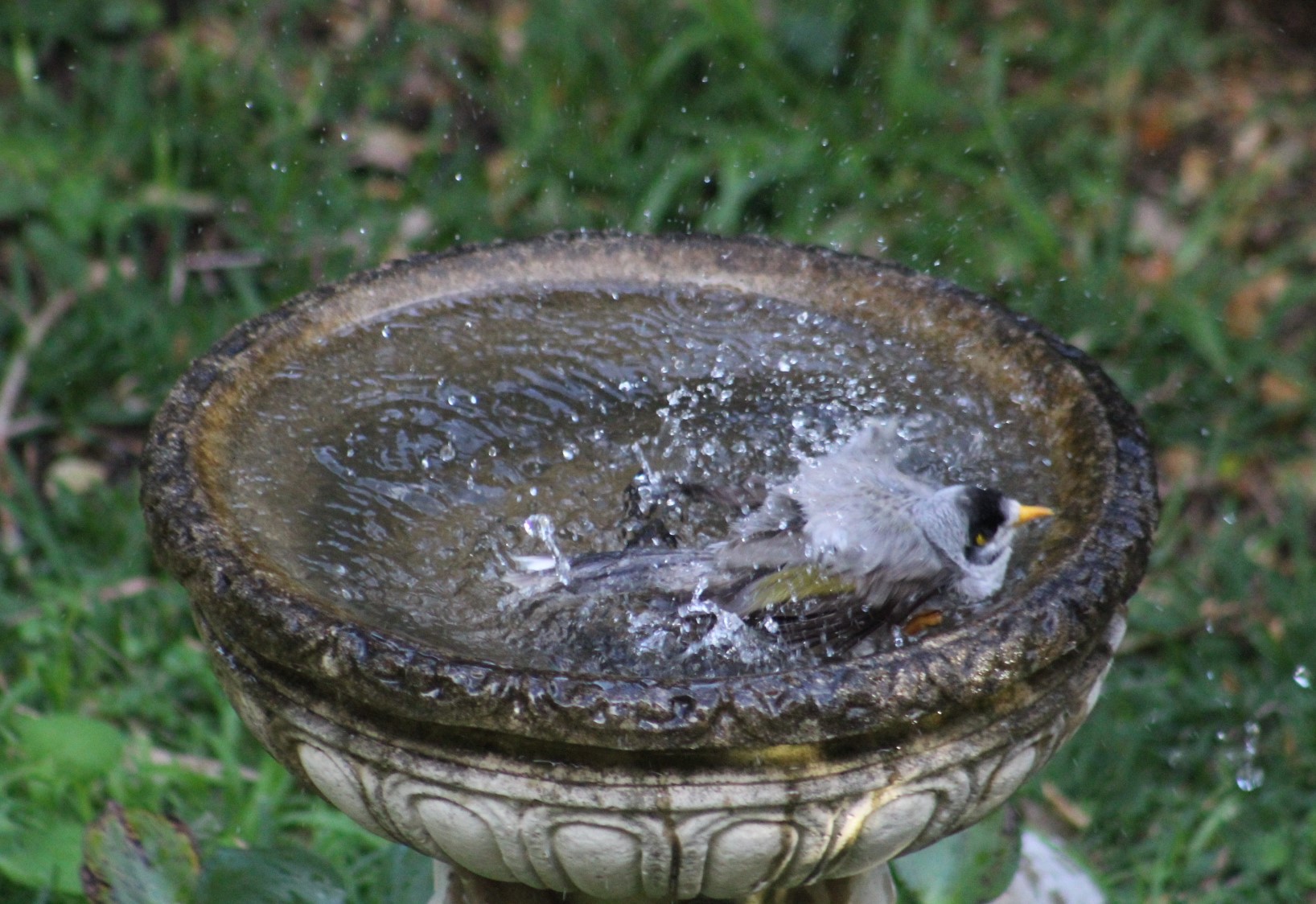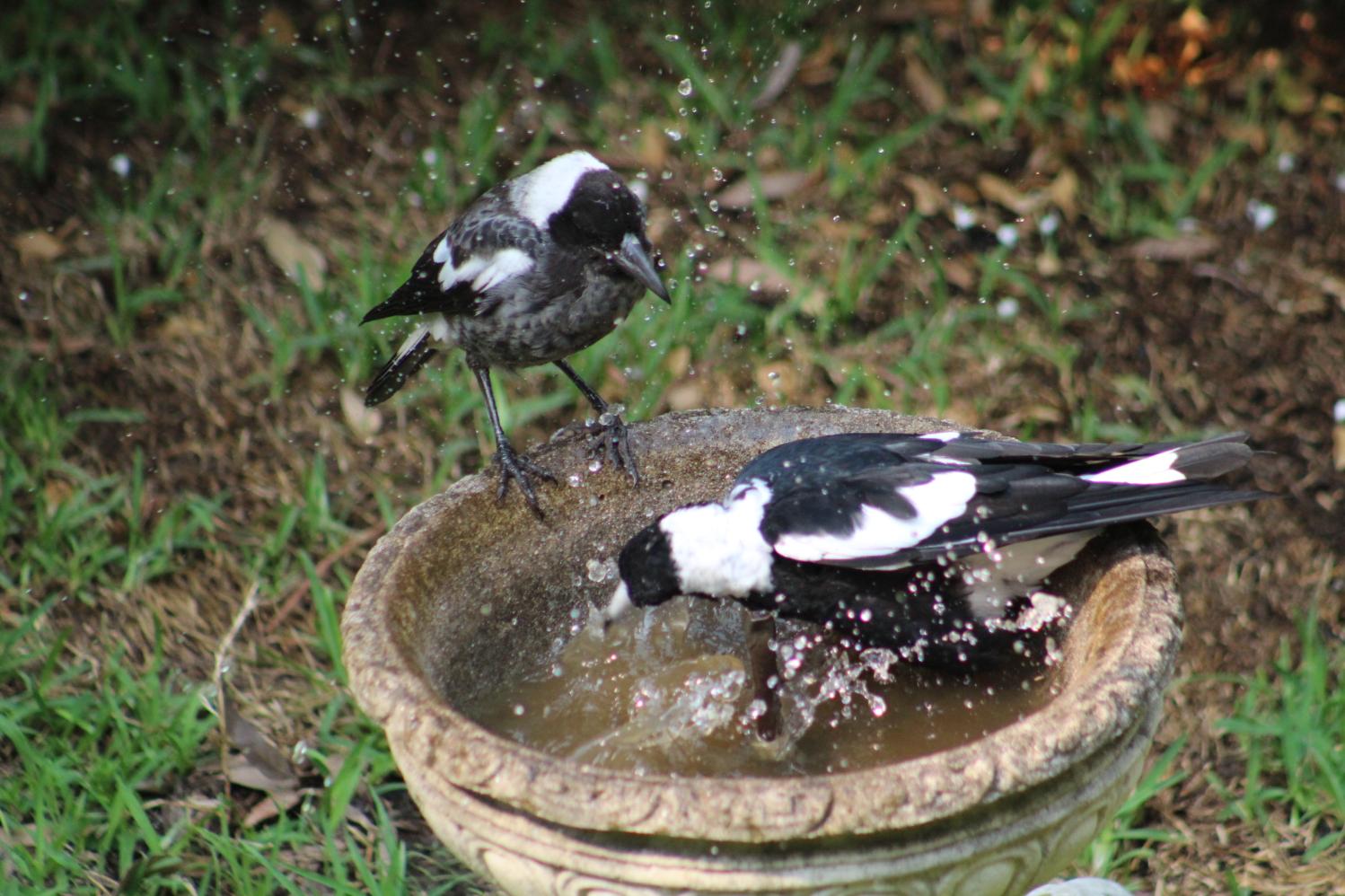 Dementia Care In Australia "Does Not Meet Human Rights"
By Cate Swanell,
Medical Journal of Australia, Published online: 1 February 2021
AUSTRALIA "does not currently meet the human rights of people with dementia to timely and accessible health services of appropriate quality or to participation in health care decisions", according to members of the National Institute for Dementia Research Special Interest Group in Rehabilitation and Dementia.
Writing in the
Medical Journal of Australia
today, the authors wrote that Australian services for people with dementia are "fragmented, challenging to navigate and hard to access".
"Dementia is the leading cause of disability, the second leading cause of death in Australians aged over 65 years, and the leading cause of death in women in Australia," they wrote.
"In 2020, it is estimated that Australia will spend $8.1 billion on health care and $3.8 billion on social services for people with dementia, with a further $6.1 billion in lost productivity and earnings.
Australia's last National Framework for Action on Dementia (2015-2019) has lapsed. Despite the National Framework, "it can be difficult for people with dementia to obtain a diagnosis, there are limited health and social services for early dementia, including post-diagnostic support, and existing services are often poorly coordinated".
"Services face workforce shortages and gaps in worker knowledge and skills related to dementia," the authors wrote.
Variable delivery of best-practice dementia care by memory clinics, acute hospitals, primary care, and community and residential aged care was a barrier to quality care, "perhaps because the role of each of these is unclear".
The authors identified principles which should apply to models of service delivery for dementia. The models should:
have an overarching objective to maintain positive health and wellbeing of people with dementia, their care partners and families;
recognise dementia as a disability, consistent with the World Health Organization Convention on the Rights of Persons with Disabilities, and promotes autonomy, social participation and rehabilitation;
take into account the cognitive disability of people with dementia in accessing support and being a partner (along with their families) in planning care through supported decision making;
be delivered by a multidisciplinary workforce with knowledge and skills around dementia;
be accessible for all people with dementia and care partners;
be ongoing, cost-effective and economically sustainable;
be needs-based, not capped according to central budgets;
be integrated for seamless experience for people with dementia and care partners, within and across primary, acute and subacute health care, aged care and social services; and
be evidence-based.
The authors also identified models of service delivery for dementia, including the self-directed approach; case management; primary care chronic disease management; shared and stepped care; a specialist team approach; and, navigator and care pathways.
"None of the models of service delivery that we identified in Australia or overseas appear to sufficiently meet the principles above," the authors wrote.
"There is no clear recognition that dementia is both a social and a medical issue.
"Recognition of dementia as a disability is only apparent in the self-directed care model. The models also do not sufficiently consider the needs of the person with dementia and care partners together. Barriers to all the current models are the poor dementia knowledge and the tendency to stigmatise people with dementia by many health and aged care professionals."
The authors called for the development of a new National Framework which "should include the development of a model of service delivery that considers accessible pathways to diagnosis and effective and seamless ongoing support of health and wellbeing throughout the course of dementia".
2021 Australian Masters Games Entries Now Open
Entries are now open for the 2021 edition of the Australian Masters Games, and this years first entrants are already in.

Running October 9th to 16th in Perth, this year's Masters Games are a good opportunity (and excuse) to go west young ladies and gentlemen!
This years first Entrants:
After a 43 year hiatus, Alan, with much encouragement from his wife Denise, picked up his bow again and has not looked back. This wonderful Victorian couple were the first entrants for the 2021 Australian Masters Games and are excited to be heading West in October, not only to participate but also to see their daughter who resides here in Perth.
"This year will be extra special because we are visiting Perth where our daughter lives and we haven't seen her in a long time. So, we were excited to book!" said Denise.
Alan (69) has taken part in two Australian Masters Games (Tasmania and Adelaide), the World Masters Games in New Zealand and the European Masters Games in Italy. Denise (58) also competed in the European Masters Games in 2019 in Italy but this will be Denise's first Australian Masters Games.
"We love the Games, the social atmosphere is incredible. The Games go beyond just sports and really brings a festival like ambience to the week. We love meeting new people and connecting with old friends."
"The Games also provide us with the opportunity to stay fit and healthy, to see a different part of Australia and sometimes the world, where we can compete in the sport we love and then travel around and embrace a holiday. It's a win win for us!' said Denise.
For Denise sport was not something she was all that comfortable with, saying she was more of a bookworm than an athlete, but after some motivation from Alan she picked up a bow and gave Archery a chance – she was a natural. For Alan, taking a long break hasn't affected his skills and he has since taken home many medals competing in Masters Games around the world.
"It's not about being the fittest or the fastest, you don't need to be any particular age, there are people there from 30 to 80 or older. For most participating, they are there to have a good time" said Denise and Alan.
Alan and Denise say that being part of a sporting club as well as taking part in competitions is not only good for their physical health but their mental health too. It gives them something to look forward to, to train for and something to do together as a couple.
The Australian Masters Games provides an opportunity to get back into sport, reconnect with old friends and make new ones, and explore more of your Aussie backyard. This year's Games will be no different, with an extensive sport and social program planned and delivered with an iconic West Australian twist.
Retirement Income Review Under The Spotlight
The future of retirement income policy – including pensions, superannuation and thee role of housing – will come under the spotlight as the nation's decision-makers and policy experts canvass the implications of the Retirement Income Review at the Council on the Ageing's National Policy Forum on 26 February.
A keynote address by Treasurer John Frydenberg
A lunchtime debate between Minister for Superannuation Jane Hume and Shadow Minister Stephen Jones
Be the first appearance of the entire Retirement Income Review panel since its findings were released, with Chair Mike Callaghan AM and members Carolyn Kay and Dr Deborah Ralston
Other expert speakers include Professor John Piggott AO, Director, Centre of Excellence in Population Ageing Research; Professor Hazel Bateman, UNSW; David Knox from the Mercer Retirement Index; and Jeremy Cooper, Challenger and former Chair of the Superannuation Review
COTA Chief Executive Ian Yates says the Forum will explore evidence-based solutions to sustaining our retirement system that guarantee all Australians adequacy, equity and dignity as they age.
"COTA's National Policy Forum will kick off a multi-partisan discussion that doesn't just re-hash the findings of the Retirement Income Review but looks to the pressing question of what comes next. Based on evidence not pre-determined positions.
"The issue of retirement income has been highly politicised over the last few years, sadly to the detriment of rational debate on one of the biggest long term policy challenges of our time," says Mr Yates.
"A diverse range of experts from across the political spectrum are bringing their ideas to the table; not just on superannuation, but also housing, the age pension, tax concessions, equity release and all the policies and mechanisms that make up our retirement income system.
"This is an important event which will has been designed for industry and policy professionals who want to get on top of the debates that will shape the ageing and superannuation sectors over coming years, starting with this year's Federal Budget."
COTA's 2021 National Policy Forum: Retirement Incomes will be held on Friday 26 February at the National Press Club. The event will also be accessible online. Tickets are available at
https://cota.org.au/npf2021
National Press Club Address
The National Press Club is the place where newsmakers and interesting people come to speak. From Prime Ministers, visiting international figures, religious leaders and innovators, to political, business and community leaders.
Elizabeth Farm - The Old And The New
Published February 9, 2021 by NSW State Archives
Elizabeth Farm was built in 1793 by John and Elizabeth Macarthur. It is described as "a simple rectangular cottage, resembling a typical rural English farmhouse. It had four box-like rooms with a steeply pitched shale roof and was whitewashed with small sashed-windows on either side of the door.
As with most of the early Colonial architecture it made few concessions to the Australian climate....Elizabeth Farm, which was both a family home and a farm, was the site for the first experiments with Merino wool in Australia."
In the 1820s John Macarthur undertook extensive renovations "extending and improving the cottage to make it more suited to his wealth and prominence in the Colony. He altered the entire profile of the house..."
Find out more in this film from our Collection.
This film was digitised as part of a special project to preserve 'at risk' audio-visual archives. It was produced in 1987 for the Heritage Council of NSW Copyright NSW Film Corporation. It is a Promotional film from the Department of Environment and Planning.
Surfing In The Sixties - Mona Boys
Published February 2nd, 2021 by Walk Cycle Sydney
Surfing documentary about the surfing community of Mona Vale, on Sydney's Northern Beaches in the mid 1960s. The surfing footage of the 1960s was filmed by Russell Sheppard. It features a host of excellent surfers, as well as internationally acclaimed Midget Farrelly and Nat Young. Also featured is Bruce Channon, editor of two surfing magazines and photographer and writer Bruce Usher.
Construction Apprentice Began Her Studies During HSC
February 10, 2021

A Chester Hill local is gearing up to work on major infrastructure projects across Sydney after landing an apprenticeship with international construction company Multiplex straight after graduating from high school.
Kaitlyn Doan, 18, used her final years of high school to launch her career in the construction industry by studying a Certificate II in Construction Pathways at TAFE NSW Miller while she completed the HSC at Prairiewood High School.
She will now begin working on the $1 billion Westmead Redevelopment precinct, which is set to be the state's largest hospital redevelopment project in history.
Kaitlyn said she was excited to help cement western Sydney's future by working on some of the region's biggest infrastructure projects.
"My TAFE NSW teachers were able to connect me to people at Multiplex when they delivered a talk in one of our classes. I was thrilled to find out I had been offered an apprenticeship with them all thanks to the support of my teachers," Kaitlyn said.
"The course helped me build practical skills and industry-specific knowledge so now I am able to take a year off my apprenticeship," Kaitlyn said.
With carpentry currently facing a major skills shortage and wage subsidy funding by the federal government designed to help more apprentices into jobs, there has never been a better time to enrol in a construction course at TAFE NSW.
Multiplex Construction Manager Troy Rakecki said the Multiplex program is geared towards forging a career pathway for apprentices.
"Our apprentices are trained as future site supervisors so as well as being supported to develop in their chosen trade, they are given exposure to a variety of other trades and come away with a really well-rounded understanding of the different components that make up a construction site."
TAFE NSW Carpentry teacher, Rodney Watts, said now was the time for school leavers to consider taking on a trade apprenticeship.
"TAFE NSW has over 25,000 employer connections, which allows our students to not only connect with industry but be well-positioned for job opportunities as soon as they graduate," Mr Watts said.
"Western Sydney is currently facing a construction boom with various housing developments, the airport and hospital redevelopments well underway. It's the perfect time to secure an apprenticeship."
To enrol in a construction course at TAFE NSW, visit www.tafensw.edu.au, or call 131 601.
Picture: Kaitlyn Doan completed a Certificate II in Construction Pathways at TAFE NSW Miller
Online Courses Added To Summer Skills Program
The Summer Skills program has been expanded to include seven TAFE NSW online short courses targeting school leavers from last year.
An expansion of fee-free Summer Skills training courses is now available for school leavers with new online courses on offer, as part of the JobTrainer initiative.
Minister for Skills and Tertiary Education Geoff Lee said the Summer Skills program, launched in November 2020, has expanded to include seven TAFE NSW online short courses targeting school leavers from last year.
"In designing the Summer Skills program, the NSW Government has ensured the training on offer is aligned to local industry needs," he said.
"We need to provide the opportunities that help school leavers find their feet in these uncertain times. That's why we're delivering practical and fee-free training opportunities commencing this summer. Online learning is a terrific way to upskill at your own pace,"
Mr Lee said all the courses come from the $320 million committed to delivering 100,000 fee-free training places as part of the NSW Government's contribution to the JobTrainer initiative.
"There are more than 100,000 fee-free training places available through TAFE NSW and approved providers for people across NSW to reskill, retrain and redeploy to growth areas in a post COVID-19 economy.
"I encourage anyone impacted by the pandemic to see what training options are available in 2021."
Enrolments are open for Summer Skills training in:
Cyber Concepts;
Introduction to working in the health industry;
Construction materials and Work Health and Safety;
Mental health;
Business administration skills;
Introductory to business skills; and
Digital security basics.
Visit the NSW Summer Skills webpage for full details on all available fee-free courses on offer and their eligibility as part of the NSW Summer Skills program, and visit the JobTrainer webpage for more information.
NSW JobTrainer provides fee-free* training courses for young people, job seekers and school leavers to gain skills in Australia's growing industries. Explore hundreds of qualifications and register your interest today.
T.Rex: 20th Century Boy
"20th Century Boy" is a song by T. Rex, written by Marc Bolan, released as a stand-alone single. The song was recorded on 3 December 1972 in Toshiba Recording Studios in Tokyo, Japan at a session that ran between 3:00 p.m. and 1:30 a.m., according to biographers. The backing vocals, hand claps, acoustic guitar and saxophones were recorded in England when T. Rex returned to the country after their tour. The single version of the track fades out at three minutes and thirty-nine seconds; however, the multi-track master reveals that the song ended in nearly a full three minutes' worth of jamming. A rough mix of the full-length version can be found on the Bump 'n' Grind compilation.
"20th Century Boy"'s lyrics are, according to Marc Bolan, based on quotes taken from notable celebrities such as Muhammad Ali. This can be seen through the inclusion of the line "sting like a bee", which is taken from one of Ali's 1969 speeches.
Although the lyrical content of a lot of Marc Bolan's songs is ambiguous, analysis of the multi-track recordings of "20th Century Boy" reveals the first line of the song to be "Friends say it's fine, friends say it's good/Everybody says it's just like Robin Hood," and not the often misquoted "...just like rock 'n' roll."
Marc Bolan, songwriter, musician, record producer, and poet, was the lead singer of the band T. Rex and was one of the pioneers of the glam rock movement of the 1970s. He first played guitar in sc hool as part of "Susie and the Hula Hoops", a trio whose vocalist was a 12-year-old Helen Shapiro. During lunch breaks at school, he would play his guitar in the playground to a small audience of friends.
The familiar riff the song opens with you may have heard in the 2010 film Get Him to the Greek, as well as the films, Rocksmith, Guitar Hero 5 and Rock Band 3 and in the movies Lords of Dogtown, The Truman Show, Velvet Goldmine, Somewhere, and Drift. His music still sells and this song, along with 'Children of the Revolution' remains a favourite for many.
This is T.Rex / Marc Bolan performing 20th Century Boy live in Germany. NB: it's LOUD!

For those who prefer produced non-live sounds, a remastered versions run below this.
A Billion Years In 40 Seconds: University Of Sydney Video Reveals Our Dynamic Planet
Geoscientists have released a video that for the first time shows the uninterrupted movement of the Earth's tectonic plates over the past billion years.
The international effort provides a scientific framework for understanding planetary habitability and for finding critical metal resources needed for a low-carbon future.
It reveals a planet in constant movement as land masses move around the Earth's surface, for instance showing that Antarctica was once at the equator.
The video is based on new research published in the March 2021 edition of Earth-Science Reviews.
Co-author and academic leader of the
University of Sydney EarthByte geosciences group
, Professor Dietmar Müller, said: "Our team has created an entirely new model of Earth evolution over the last billion years.
"Our planet is unique in the way that it hosts life. But this is only possible because geological processes, like plate tectonics, provide a planetary life-support system."
Lead author and creator of the video Dr Andrew Merdith began work on the project while a PhD student with Professor Müller in the School of Geosciences at the University of Sydney. He is now based at the University of Lyon in France.
Co-author, Dr Michael Tetley, who also completed his PhD at the University of Sydney, told Euronews: "For the first time a complete model of tectonics has been built, including all the boundaries"
"On a human timescale, things move in centimetres per year, but as we can see from the animation, the continents have been everywhere in time. A place like Antarctica that we see as a cold, icy inhospitable place today, actually was once quite a nice holiday destination at the equator."
Co-author Dr Sabin Zahirovic from the University of Sydney, said: "Planet Earth is incredibly dynamic, with the surface composed of 'plates' that constantly jostle each other in a way unique among the known rocky planets. These plates move at the speed fingernails grow, but when a billion years is condensed into 40 seconds a mesmerising dance is revealed.
"Oceans open and close, continents disperse and periodically recombine to form immense supercontinents."
Earth scientists from every continent have collected and published data, often from inaccessible and remote regions, that Dr Andrew Merdith and his collaborators have assimilated over the past four years to produce this billion-year model.
It will allow scientists to better understand how the interior of the Earth convects, chemically mixes and loses heat via seafloor spreading and volcanism. The model will help scientists understand how climate has changed, how ocean currents altered and how nutrients fluxed from the deep Earth to stimulate biological evolution.
Professor Müller said: "Simply put, this complete model will help explain how our home, Planet Earth, became habitable for complex creatures. Life on Earth would not exist without plate tectonics. With this new model, we are closer to understanding how this beautiful blue planet became our cradle."
Andrew S. Merdith, Simon E. Williams, Alan S. Collins, Michael G. Tetley, Jacob A. Mulder, Morgan L. Blades, Alexander Young, Sheree E. Armistead, John Cannon, Sabin Zahirovic, R. Dietmar Müller
. Extending full-plate tectonic models into deep time: Linking the Neoproterozoic and the Phanerozoic
. Earth-Science Reviews, 2021; 214: 103477 DOI:
10.1016/j.earscirev.2020.103477
Rare Blast's Remains Discovered In Milky Way's Centre
Astronomers may have found our galaxy's first example of an unusual kind of stellar explosion. This discovery, made with NASA's Chandra X-ray Observatory, adds to the understanding of how some stars shatter and seed the universe with elements critical for life on Earth.
This intriguing object, located near the centre of the Milky Way, is a supernova remnant called Sagittarius A East, or Sgr A East for short. Based on Chandra data, astronomers previously classified the object as the remains of a massive star that exploded as a supernova, one of many kinds of exploded stars that scientists have catalogued.
Image credit: X-ray: NASA/CXC/Nanjing Univ./P. Zhou et al. Radio: NSF/NRAO/VLA

Using longer Chandra observations, a team of astronomers has now instead concluded that the object is left over from a different type of supernova. It is the explosion of a white dwarf, a shrunken stellar ember from a fuel-depleted star like our Sun. When a white dwarf pulls too much material from a companion star or merges with another white dwarf, the white dwarf is destroyed, accompanied by a stunning flash of light.
Astronomers use these "Type Ia supernovae" because most of them mete out almost the same amount of light every time no matter where they are located. This allows scientists to use them to accurately measure distances across space and study the expansion of the universe.
Data from Chandra have revealed that Sgr A East, however, did not come from an ordinary Type Ia. Instead, it appears that it belongs to a special group of supernovae that produce different relative amounts of elements than traditional Type Ias do, and less powerful explosions. This subset is referred to as "Type Iax," a potentially important member of the supernova family.
"While we've found Type Iax supernovae in other galaxies, we haven't identified evidence for one in the Milky Way until now," said Ping Zhou of Nanjing University in China, who led the new study while at the University of Amsterdam. "This discovery is important for getting a handle of the myriad ways white dwarfs explode."
The explosions of white dwarfs is one of the most important sources in the universe of elements like iron, nickel, and chromium. The only place that scientists know these elements can be created is inside the nuclear furnace of stars or when they explode.
"This result shows us the diversity of types and causes of white dwarf explosions, and the different ways that they make these essential elements," said co-author Shing-Chi Leung of Caltech in Pasadena, California. "If we're right about the identity of this supernova's remains, it would be the nearest known example to Earth."
Astronomers are still debating the cause of Type Iax supernova explosions, but the leading theory is that they involve thermonuclear reactions that travel much more slowly through the star than in Type Ia supernovae. This relatively slow walk of the blast leads to weaker explosions and, hence, different amounts of elements produced in the explosion. It is also possible that part of the white dwarf is left behind.
Sgr A East is located very close to Sagittarius A*, the supermassive black hole in the centre of our Milky Way galaxy, and likely intersects with the disk of material surrounding the black hole. The team was able to use Chandra observations targeting the supermassive black hole and the region around it for a total of about 35 days to study Sgr A East and find the unusual pattern of elements in the X-ray data. The Chandra results agree with computer models predicting a white dwarf that has undergone slow-moving nuclear reactions, making it a strong candidate for a Type Iax supernova remnant.
"This supernova remnant is in the background of many Chandra images of our galaxy's supermassive black hole taken over the last 20 years," said Zhiyuan Li, also of Nanjing University. "We finally may have worked out what this object is and how it came to be."
In other galaxies, scientists observe that Type Iax supernovae occur at a rate that is about one third that of Type Ia supernovae. In the Milky Way, there have been three confirmed Type Ia supernova remnants and two candidates that are younger than 2,000 years, corresponding to an age when remnants are still relatively bright before fading later. If Sgr A East is younger than 2,000 years and resulted from a Type Iax supernova, this study suggests that our galaxy is in alignment with respect to the relative numbers of Type Iax supernovae seen in other galaxies.
Along with the suggestion that Sgr A East is the remnant from the collapse of a massive star, previous studies have also pointed out that a normal Type Ia supernova had not been ruled out. The latest study conducted with this deep Chandra data argue against both the massive star and the normal Type Ia interpretations.
These results have been published today in The Astrophysical Journal, and a preprint is available online. The other co-authors of the paper are Ken'ichi Nomoto of The University of Tokyo in Japan, Jacco Vink of the University of Amsterdam in The Netherlands, and Yang Chen, also of Nanjing University.
NASA's Marshall Space Flight Center manages the Chandra program. The Smithsonian Astrophysical Observatory's Chandra X-ray Center controls science from Cambridge Massachusetts and flight operations from Burlington, Massachusetts.
Ping Zhou, Shing-Chi Leung, Zhiyuan Li, Ken'ichi Nomoto, Jacco Vink, Yang Chen.
Chemical abundances in Sgr A East: evidence for a Type Iax supernova remnant.
The Astrophysical Journal, 2021 [
abstract
]
What's Driving 'Brain Fog' In People With COVID-19
One of the dozens of unusual symptoms that have emerged in COVID-19 patients is a condition that's informally called "COVID brain" or "brain fog." It's characterized by confusion, headaches, and loss of short-term memory. In severe cases, it can lead to psychosis and even seizures. It usually emerges weeks after someone first becomes sick with COVID-19.
In the February 8, 2021, issue of the journal Cancer Cell, a multidisciplinary team from Memorial Sloan Kettering reports an underlying cause of COVID brain: the presence of inflammatory molecules in the liquid surrounding the brain and spinal cord (called the cerebrospinal fluid). The findings suggest that anti-inflammatory drugs, such as steroids, may be useful for treating the condition, but more research is needed.
"We were initially approached by our colleagues in critical care medicine who had observed severe delirium in many patients who were hospitalized with COVID-19," says Jessica Wilcox, the Chief Fellow in neuro-oncology at MSK and one of the first authors of the new study. "That meeting turned into a tremendous collaboration between neurology, critical care, microbiology, and neuroradiology to learn what was going on and to see how we could better help our patients."
Recognising a Familiar Symptom
The medical term for COVID brain is encephalopathy. Members of MSK's Department of Neurology felt well-poised to study it, Dr. Wilcox says, because they are already used to treating the condition in other systemic inflammatory syndromes. It is a side effect in patients who are receiving a type of immunotherapy called chimeric antibody receptor (CAR) T cell therapy, a treatment for blood cancer. When CAR T cell therapy is given, it causes immune cells to release molecules called cytokines, which help the body to kill the cancer. But cytokines can seep into the area around the brain and cause inflammation.
When the MSK team first began studying COVID brain, though, they didn't know that cytokines were the cause. They first suspected that the virus itself was having an effect on the brain. The study in the Cancer Cell paper focused on 18 patients who were hospitalized at MSK with COVID-19 and were experiencing severe neurologic problems. The patients were given a full neurology workup, including brain scans like MRIs and CTs and electroencephalogram (EEG) monitoring, to try to find the cause of their delirium. When nothing was found in the scans that would explain their condition, the researchers thought the answer might lie in the cerebrospinal fluid.
MSK's microbiology team devised a test to detect the COVID-19 virus in the fluid. Thirteen of the 18 patients had spinal taps to look for the virus, but it was not found. At that point, the rest of the fluid was taken to the lab of MSK physician-scientist Adrienne Boire for further study.
Using Science to Ask Clinical Questions
Jan Remsik, a research fellow in Dr. Boire's lab in the Human Oncology and Pathogenesis Program and the paper's other first author, led the analysis of the fluid. "We found that these patients had persistent inflammation and high levels of cytokines in their cerebrospinal fluid, which explained the symptoms they were having," Dr. Remsik says. He adds that some smaller case studies with only a few patients had reported similar findings, but this study is the largest one so far to look at this effect.
"We used to think that the nervous system was an immune-privileged organ, meaning that it didn't have any kind of relationship at all with the immune system," Dr. Boire says. "But the more we look, the more we find connections between the two." One focus of Dr. Boire's lab is studying how immune cells are able to cross the blood-brain barrier and enter this space, an area of research that's also important for learning how cancer cells are able to spread from other parts of the body to the brain.
"One thing that was really unique about Jan's approach is that he was able to do a really broad molecular screen to learn what was going on," Dr. Boire adds. "He took the tools that we use in cancer biology and applied them to COVID-19."
The inflammatory markers found in the COVID-19 patients were similar, but not identical, to those seen in people who have received CAR T cell therapy. And as with CAR T cell therapy, the neurologic effects are sometimes delayed. The initial inflammatory response with CAR T cell treatment is very similar to the reaction called cytokine storm that's often reported in people with COVID-19, Dr. Wilcox explains. With both COVID-19 and CAR T cell therapy, the neurologic effects come days or weeks later. In CAR T cell patients, neurologic symptoms are treated with steroids, but doctors don't yet know the role of anti-inflammatory treatments for people with neurologic symptoms of COVID-19. "Many of them are already getting steroids, and it's possible they may be benefitting," Dr. Wilcox says.
"This kind of research speaks to the cooperation across the departments at MSK and the interdisciplinary work that we're able to do," Dr. Boire concludes. "We saw people getting sick, and we were able to use our observations to ask big clinical questions and then take these questions into the lab to answer them."
Dr. Boire is an inventor on a patent related to modulating the permeability of the blood-brain barrier and is an unpaid member of the scientific advisory board of EVREN Technologies.
This work was funded by National Institutes of Health grant P30 CA008748, the Pew Charitable Trusts, the Damon Runyon Cancer Research Foundation, and the Pershing Square Sohn Cancer Research Alliance GC239280. It was also supported by the American Brain Tumor Association Basic Research Fellowship, the Terri Brodeur Breast Cancer Foundation Fellowship, and the Druckenmiller Center for Lung Cancer Research.
Jan Remsik, Jessica A. Wilcox, N. Esther Babady, Tracy A. McMillen, Behroze A. Vachha, Neil A. Halpern, Vikram Dhawan, Marc Rosenblum, Christine A. Iacobuzio-Donahue, Edward K. Avila, Bianca Santomasso, Adrienne Boire.
Inflammatory Leptomeningeal Cytokines Mediate COVID-19 Neurologic Symptoms in Cancer Patients
. Cancer Cell, 2021; 39 (2): 276 DOI:
10.1016/j.ccell.2021.01.007
Mean Or Nice?; These Traits Could Make Or Break A Child's Friendships
Not all friendships are created equal. Some friends get along; others struggle to avoid conflict. Conventional wisdom holds that the tenor of a friendship with someone who is nice differs from that with someone who is mean, such that the former discourages negative interactions whereas the latter aggravates them. Although it is logical to assume that children who are mean have friendships characterized by growing strife and that children who are nice report little of the same, these assumptions have not yet been tested in the real-world friendships of children.
Researchers from Florida Atlantic University's Charles E. Schmidt College of Science are the first to conduct a longitudinal study to examine the extent to which being "nice" (prosocial behaviour) and being "mean" (relationally aggressive behaviour) shape changes in friend perceptions of their relationship. Using a longitudinal framework, researchers examined over time associations between individual attributes and perceptions of relationship quality in 120 same-gender friendships among children in fourth, fifth and sixth grades.
The researchers examined whether one friend's nice and mean behaviours anticipate changes in the other friend's perceptions of relationship negativity (expressions of anger, conflict, and annoyance) across a period of one to three months. Being mean was defined as classmate reports of relational aggression, including the intentional use of exclusion and gossip to harm others. Being nice was defined as classmate reports of prosocial behaviour, including providing assistance and treating others fairly. Findings from the study were published in the Journal of Research on Adolescence.
The results confirm the widespread assumption that one child's behavioural traits drive the other child's friendship experiences. Children with mean friends described increases in relationship negativity over time, whereas children with nice friends reported that relationship negativity declined. It is perhaps not surprising that relational aggression forecast greater negativity. Being mean is antithetical to expectations of how friends should behave and is likely viewed as a violation of trust. No one wants to be treated ill by a friend. Less obvious is the finding that one friend's nice behaviour and forecast decreases in the other friend's perception of negativity in the relationship. Prosocial behaviours assuage hurt feelings, meet needs for support, and increase the rewards of companionship, all of which should inhibit expressions of negativity. Prosocial children may also be adept at conflict resolution, which can help them defuse problems before they erupt into conflict.
"These findings matter because friendship difficulties threaten socio-emotional adjustment in children as well as their ability to maintain friendships," said Brett Laursen, Ph.D., lead author and a professor of psychology in FAU's Charles E. Schmidt College of Science, FAU Broward Campuses.
"We have long known that negative interactions with friends contribute to subsequent increases in psychological distress and difficulties at school. Friends who don't get along are soon former friends. Children who cannot seem to keep friends report increases in depression and victimisation. Conversely, prosocial behaviours are tied to the ability to make new friends and keep old ones. Put simply, behavioural tendencies that threaten friendships threaten well-being. Behavioural tendencies that protect friendships promote child adjustment."
Researchers focused on the late primary and early high school years, a period when children spend increasing amounts of time with friends and when the closeness and significance of friendships grow commensurately. They studied stable reciprocated friendships -- both children nominated one another as friends at both time points. Both friends rated negativity within the friendship at each time point. Classmates rated each child in terms of their prosocial behaviour and relationally aggressive behaviour.
Olivia Valdes, Lauren Shawcross, Brett Laursen.
Being nice and being mean: Friend characteristics foreshadow changes in perceptions of relationship negativity.
Journal of Research on Adolescence, 2021; DOI:
10.1111/jora.12604
Glycosylation: New Methods For Exploring The 'Dark Matter' Of Biology
New tools and methods have been described by WEHI researchers to study an unusual protein modification and gain fresh insights into its roles in human health and disease.
The study -- about how certain sugars modify proteins -- was published today in Nature Chemical Biology. Led by WEHI researcher Associate Professor Ethan Goddard-Borger, this work lays a foundation for better understanding diseases like muscular dystrophy and cancer.
The 'dark matter' of biology
Glycosylation is the process by which proteins are modified with sugars. About 90 per cent of proteins on the surface of human cells -- and half of the cells' total proteins -- are modified with sugars. These modifications can range from the addition of a single sugar, to long complex polymer chains. They've been described as the 'dark matter' of biology because their distribution, variability and biological functions are, for the most part, not well understood.
Associate Professor Goddard-Borger said his team, and the glycobiology field more generally, are making concerted efforts to build a better understanding of the roles that glycosylation plays in health and disease.
"There are a whole range of diseases that feature aberrant cellular glycosylation -- a change in 'normal' glycosylation patterns," he said.
"These changes may yield new therapeutic strategies, however a better understanding of what constitutes 'normal' glycosylation is required before we can further develop drugs targeting protein glycosylation."
"It's a scenario that is akin to the 'dark matter' of the universe: we know that all of this protein glycosylation exists in the body, but we don't fully appreciate its composition and function."
Shedding light on a sweet process
Glycosylation usually occurs on the nitrogen or oxygen atoms of a protein. However, it can also occur on carbon atoms through the process of 'tryptophan C-mannosylation'. This latter protein modification is particularly poorly understood and so the WEHI team set out to develop tools and methods to shed light on this aspect of the biological 'dark matter'.
"We've developed methods that will enable researchers to easily install this unusual modification on nearly any protein they want, allowing them to investigate its effect on protein stability and function," Associate Professor Goddard-Borger said.
"In this work, we've shown that a common feature of tryptophan C-mannosylation is that it stabilises proteins. Diverse, unrelated proteins all appear to be more stable once modified. However, we've also demonstrated for the first time that some proteins' functions can be modulated by tryptophan C-mannosylation'. There is clearly much left to learn about this process and now we have the means to perform these studies."
Mapping the prevalence of tryptophan C-mannosylation
Associate Professor Goddard-Borger said the tools developed by his team also enable the abundance of this poorly understood protein modification to be determined in healthy and diseased tissues, which will fortify efforts by scientists around the world to map and understand protein glycosylation in health and disease.
"The methods we describe combine state-of-the-art mass spectrometry techniques with recombinant antibody tools generated at WEHI," he said.
"We've reported some really unexpected results regarding the prevalence of this modification in healthy brain tissue. At present, we are extending this to map the modification across most tissues in the body to better understand the biology of this weird and wonderful form of protein glycosylation, as well as its role in cancer and muscular dystrophies."
This research was funded by the Brian M Davis Charitable Foundation, the Australian National Health and Medical Research Council and the Victorian Government.
Alan John, Michael A. Järvå, Sayali Shah, Runyu Mao, Stephane Chappaz, Richard W. Birkinshaw, Peter E. Czabotar, Alvin W. Lo, Nichollas E. Scott, Ethan D. Goddard-Borger.
Yeast- and antibody-based tools for studying tryptophan C-mannosylation.
Nature Chemical Biology, 2021; DOI:
10.1038/s41589-020-00727-w
Happy Childhood No Guarantee For Good Mental Health
It's well understood that a difficult childhood can increase the likelihood of mental illness, but according to new research from the University of South Australia, a happy and secure childhood does not always protect a child from developing a mental illness later in life.
Conducted in partnership with the University of Canberra, the finding is part of a study published in Current Psychology, which examined how early childhood experiences relate to different developmental pathways, and how these might be associated with poor mental health.
Given that both positive and negative childhood experiences were found to manifest as anxiety or other mental health disorders into adulthood, researchers believe that it's our ability to adapt -- or rather not adapt -- to unexpected scenarios that might be influencing mental health.
In Australia, almost 50 per cent of the population will experience mental illness at some point in their lives, with an estimated 314,000 children aged 4-11 (almost 14 per cent) experiencing a mental disorder.
The national recurrent expenditure on mental health-related services is estimated at $9.9 billion or about $400 per person.
While the study reaffirmed that people who had adverse and unpredictable early life experiences had elevated symptoms of poor mental health (including depression and paranoia), it also found that children who grew up in stable and supportive environments were also at risk of experiencing symptoms of anxiety in adulthood.
Lead researcher, and PhD candidate, UniSA's Bianca Kahl, says the study highlights the indiscriminate nature of mental illness and reveals key insights about potential risk factors for all children.
"As the prevalence of mental health conditions expands, it's imperative that we also extend our knowledge of this very complex and varied condition," Kahl says.
"This research shows that mental health conditions are not solely determined by early life events, and that a child who is raised in a happy home, could still grow up to have a mental health disorder.
"There's certainly some missing factors in understanding how our childhood environment and early life experiences might translate into mental health outcomes in adulthood.
"We suspect that it's our expectations about our environments and our ability to adapt to scenarios when our expectations are not being met, that may be influencing our experiences of distress.
"If, as children, we learn how to adapt to change, and we learn how to cope when things do not go our way, we may be in a better position to respond to stress and other risk factors for poor mental health.
"Testing this hypothesis is the focus of the next research study."
Bianca L. Kahl, Phillip S. Kavanagh, David H. Gleaves.
Testing a life history model of psychopathology: A replication and extension.
Current Psychology, 2020; DOI:
10.1007/s12144-020-01062-y
Healthy Oceans Need Healthy Soundscapes
Rain falls lightly on the ocean's surface. Marine mammals chirp and squeal as they swim along. The pounding of surf along a distant shoreline heaves and thumps with metronomic regularity. These are the sounds that most of us associate with the marine environment. But the soundtrack of the healthy ocean no longer reflects the acoustic environment of today's ocean, plagued with human-created noise.
A global team of researchers set out to understand how human-made noise affects wildlife, from invertebrates to whales, in the oceans, and found overwhelming evidence that marine fauna, and their ecosystems, are negatively impacted by noise. This noise disrupts their behaviour, physiology, reproduction and, in extreme cases, causes mortality. The researchers call for human-induced noise to be considered a prevalent stressor at the global scale and for policy to be developed to mitigate its effects.
The research, led by Professor Carlos M. Duarte, distinguished professor at King Abdullah University of Science and Technology (KAUST), and published in the journal Science, is eye opening to the global prevalence and intensity of the impacts of ocean noise. Since the Industrial Revolution, humans have made the planet, the oceans in particular, noisier through fishing, shipping, infrastructure development and more, while also silencing the sounds from marine animals that dominated the pristine ocean.
"The landscape of sound -- or soundscape -- is such a powerful indicator of the health of an environment," noted Ben Halpern, a co-author on the study and director of the National Center for Ecological Analysis and Synthesis at UC Santa Barbara. "Like we have done in our cities on land, we have replaced the sounds of nature throughout the ocean with those of humans."
The deterioration of habitats, such as coral reefs, seagrass meadows and kelp beds with overfishing, coastal development, climate change and other human pressures, have further silenced the characteristic sound that guides the larvae of fish and other animals drifting at sea into finding and settling on their habitats. The call home is no longer audible for many ecosystems and regions.
The Anthropocene marine environment, according to the researchers, is polluted by human-made sound and should be restored along sonic dimensions, and along those more traditional chemical and climatic. Yet, current frameworks to improve ocean health ignore the need to mitigate noise as a pre-requisite for a healthy ocean.
Sound travels far, and quickly, underwater. And marine animals are sensitive to sound, which they use as a prominent sensorial signal guiding all aspects of their behavior and ecology. "This makes the ocean soundscape one of the most important, and perhaps under-appreciated, aspects of the marine environment," the study states. The authors' hope is that the evidence presented in the paper will "prompt management actions ... to reduce noise levels in the ocean, thereby allowing marine animals to re-establish their use of ocean sound."
"We all know that no one really wants to live right next to a freeway because of the constant noise," commented Halpern. "For animals in the ocean, it's like having a mega-freeway in your backyard."
The team set out to document the impact of noise on marine animals and on marine ecosystems around the world. They assessed the evidence contained across more than 10,000 papers to consolidate compelling evidence that human-made noise impacts marine life from invertebrates to whales across multiple levels, from behaviour to physiology.
"This unprecedented effort, involving a major tour de force, has shown the overwhelming evidence for the prevalence of impacts from human-induced noise on marine animals, to the point that the urgency of taking action can no longer be ignored," KAUST Ph.D. student Michelle Havlik said. The research involved scientists from Saudi Arabia, Denmark, the U.S. and the U.K., Australia, New Zealand, the Netherlands, Germany, Spain, Norway and Canada.
"The deep, dark ocean is conceived as a distant, remote ecosystem, even by marine scientists," Duarte said. "However, as I was listening, years ago, to a hydrophone recording acquired off the U.S. West Coast, I was surprised to hear the clear sound of rain falling on the surface as the dominant sound in the deep-sea ocean environment. I then realised how acoustically connected the ocean surface, where most human noise is generated, is to the deep sea; just 1,000 m, less than 1 second apart!"
The takeaway of the review is that "mitigating the impacts of noise from human activities on marine life is key to achieving a healthier ocean." The KAUST-led study identifies a number of actions that may come at a cost but are relatively easy to implement to improve the ocean soundscape and, in so doing, enable the recovery of marine life and the goal of sustainable use of the ocean. For example, simple technological innovations are already reducing propeller noise from ships, and policy could accelerate their use in the shipping industry and spawn new innovations.
Deploying these mitigation actions is a low hanging fruit as, unlike other forms of human pollution such as emissions of chemical pollutants and greenhouse gases, the effects of noise pollution cease upon reducing the noise, so the benefits are immediate. The study points to the quick response of marine animals to the human lockdown under COVID-19 as evidence for the potential rapid recovery from noise pollution.
Using sounds gathered from around the globe, multimedia artist and study co-author Jana Winderen created a
six-minute audio track
that demonstrates both the peaceful calm, and the devastatingly jarring, acoustic aspects of life for marine animals. The research is truly eye opening, or rather ear opening, both in its groundbreaking scale as well as in its immediacy.
Coauthor and multimedia artist Jana Winderen lowers a microphone into the Barents Sea, one of many locations where she took underwater recordings. Image supplied.

Carlos M. Duarte, Lucille Chapuis, Shaun P. Collin, Daniel P. Costa, Reny P. Devassy, Victor M. Eguiluz, Christine Erbe, Timothy A. C. Gordon, Benjamin S. Halpern, Harry R. Harding, Michelle N. Havlik, Mark Meekan, Nathan D. Merchant, Jennifer L. Miksis-Olds, Miles Parsons, Milica Predragovic, Andrew N. Radford, Craig A. Radford, Stephen D. Simpson, Hans Slabbekoorn, Erica Staaterman, Ilse C. Van Opzeeland, Jana Winderen, Xiangliang Zhang, Francis Juanes.
The soundscape of the Anthropocene ocean
. Science, 2021; 371 (6529): eaba4658 DOI:
10.1126/science.aba4658
Disclaimer: These articles are not intended to provide medical advice, diagnosis or treatment. Views expressed here do not necessarily reflect those of Pittwater Online News or its staff.