Inbox and Environment News: Issue 480
January 24 - 30, 2021: Issue 480
Time Of Burran
Gadalung Marool (hot and dry) January - March
The behaviour of the male kangaroos becomes quite aggressive in this season, and it is a sign that the eating of meat is forbidden during this time. This is a health factor; because of the heat of the day meat does not keep, and the likelihood of food poisoning is apparent. The blooming of the Weetjellan (Acacia implexa) is an important sign that fires must not be lit unless they are well away from bushland and on sand only, and that there will be violent storms and heavy rain, so camping near creeks and rivers is not recommended.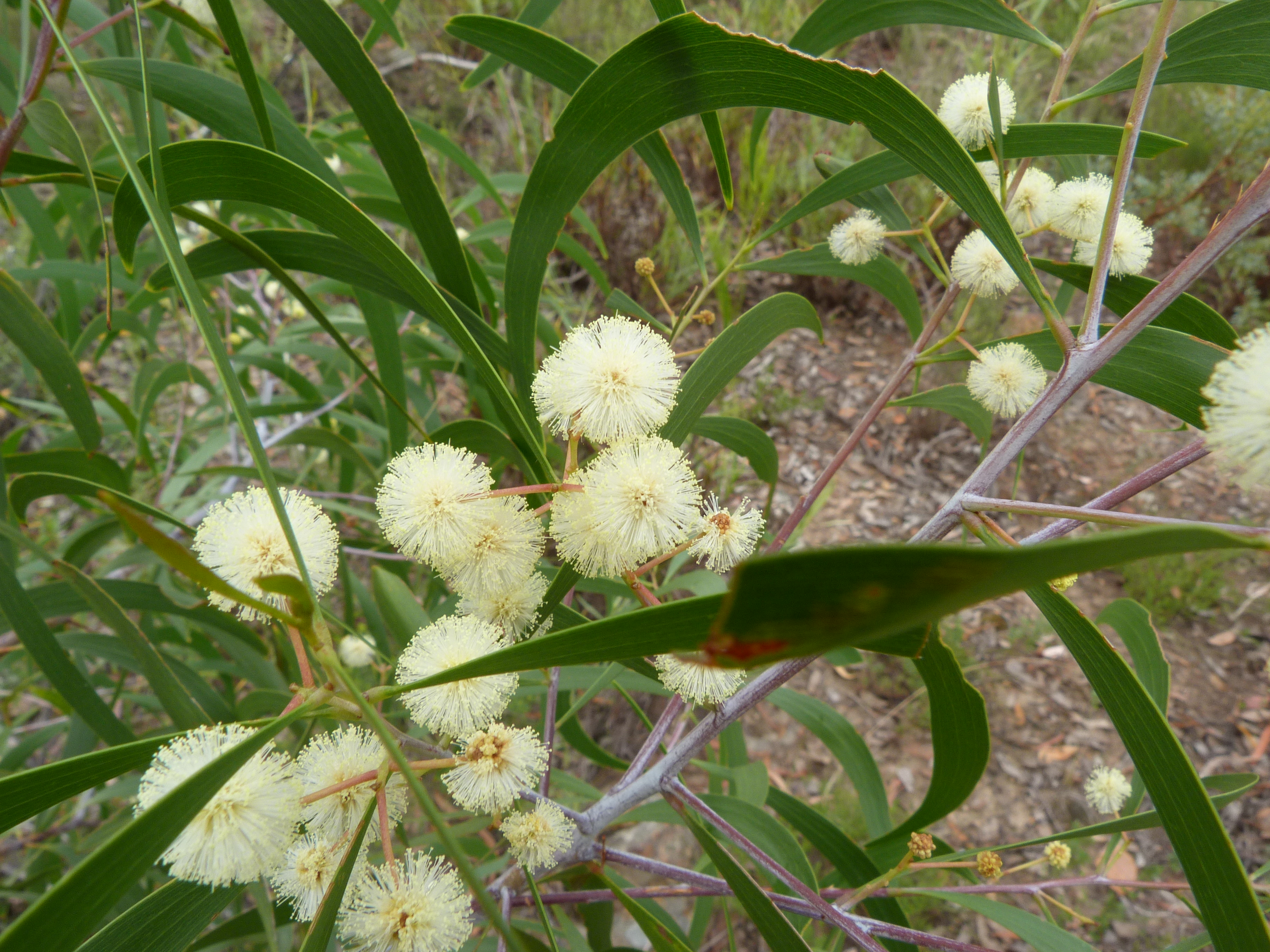 Acacia implexa, commonly known as lightwood or hickory wattle, is a fast-growing Australian tree, the timber of which was used for furniture making. The wood is prized for its finish and strength. The foliage was used to make pulp and dye cloth. The Ngunnawal people of the ACT used the bark to make rope, string, medicine and for fish poison, the timber for tools, and the seeds to make flour.
It is widespread in eastern Australia from central coastal Queensland to southern Victoria, with outlying populations on the Atherton Tableland in northern Queensland and Tasmania's King Island. The tree is commonly found on fertile plains and in hilly country it is usually part of open forest communities and grows in shallow drier sandy and clay soils.
Acacia implexa flowers - photo by Donald Hobern.
Petrophile pulchella, known as conesticks, is a common shrub of the family proteaceae found in eastern Australia. It is found growing on shallow sandstone soils, often in open forest or heathlands near the coast. It is also occasionally seen on the adjacent ranges.
Photo by Selena Griffith, January 18, 2021
Channel-Billed Cuckoos Fledglings 2021
Channel-billed Cuckoos (Scythrops novaehollandiae) have been particularly prolific this year and now their offspring can be seen in the trees - fortunately there seems to be around a gazillion Black Prince cicadas (Psaltoda plaga) to feed them. A pair was seen in Pittwater Spotted Gums at dusk on Monday January 18th 2021 being fed by a pair of Pied Currawongs (Strepera graculina).
Everywhere you look at present there are fledgling birds and most that live on insects seem to be in twin numbers this year - why? Perhaps because there is an abundance of food for insectivorous birds or ??? ...
Marita Macrae (PNHA) tells us; 'This large cuckoo spends our colder months in northern Australia, New Guinea and Indonesia, returning south to breed, arriving in Sydney about the middle of September. A lot of the racket they make is to distract their host birds from attending to their nest, so the female can quickly deposit an egg, or three. Wattlebirds and Currawongs can raise a brood of their own in early spring before these cuckoos arrive, ensuring there will be future hosts. Come the middle of March, adult and juvenile cuckoos head for warmer climes once more.'
Photos by A J Guesdon, January 18, 2021.
The Sydney Edible Garden Trail Gets Physical In 2021
The Sydney Edible Garden Trail is an event aimed at encouraging and inspiring edible gardeners in street gardens, home gardens and public spaces across Sydney.
Backyard growers, school and community gardens, large and small, will be opening their gardens to the public during the weekend of March 20 and 21, 2021, to celebrate the myriad of ways that Sydney residents are creating food security, saving money and the environment, while enjoying the health benefits of home-grown fruit and vegetables.
Costa Georgiadis of ABC Gardening Australia is on board with live feeds from the number of gardens in the lead up to the main event.
We're on the lookout for private, community and school gardens to register as part of the trail. Gardens can register directly on our website up until 31 January 2021.
Check out some of the gardens already on board the trail - https://sydneyediblegardentrail.com/gardens/
The Trail will be showcasing sustainable practices such as mulching for water conservation, recycling and composting to increase soil fertility and reduce landfill, planting to encourage bees, home food production to increase food security, and organic growing techniques to reduce chemical use.
The Trail will be held over 2 weekends:
27-28 February 2021 - A virtual event. Costa Georgiadis, of ABC Gardening Australia will be hosting live feeds from a number of gardens for this virtual event.
20-21 March 2021 - A physical self-guided trail with backyard growers, school and community gardens, large and small, opening their gardens to the public.
The Trail is a ticketed event with profits going back into the community in the form of grants to local schools and community groups to support edible gardens. We believe this is a great way to grow and invest in sustainable communities. To see some of the grant recipients from our 2020 event please go to our website: https://sydneyediblegardentrail.com/2020-grant-recipients/
For more info on the background to the event, ticket prices and garden registration, please visit our website: www.sydneyediblegardentrail.com.
Costa and the Team - image supplied
Surfers For Climate
A sea-roots movement dedicated to mobilising and empowering surfers for continuous and positive climate action.
Surfers for Climate are coming together in lineups around the world to be the change we want to see.
With roughly 35 million surfers across the globe, our united tribe has a powerful voice.
Add yours to the conversation by signing up here.
Surfers for Climate will keep you informed, involved and active on both the local and global issues and solutions around the climate crisis via our allies hub.
Help us prevent our favourite spots from becoming fading stories of waves we used to surf.
Together we can protect our oceans and keep them thriving for future generations to create lifelong memories of their own.
Ross River Fever In Pittwater: What You Can Do To Beat Those Mosquitoes
Recent damp and humid weather is bringing out the mozzies, LOTS of mozzies - a reminder that Ross River Fever and Barmah Forest virus are now in our area and there are a few tips you can follow to keep you and your family safe:
1. It is important that if you're spending a lot of time outdoors in these areas, especially close to wetlands and bush land areas at dawn and dusk when mosquitoes are most active, that you take action to reduce the risk of being bitten. Cover up with long sleeved shirts and long pants and apply an insect repellent. Choose a repellent that contains either DEET (diethlytoluamide), picaridin, or oil of lemon eucalyptus. Apply it to all exposed skin to ensure there is a thin even coat – a dab "here and there" doesn't provide adequate protection.
2. You can also reduce the incidences of mosquitoes breeding by removing any shallow dishes of water or, if you have these out to feed wildlife and birds, regularly change the water so the stagnant water climate for them to breed is removed. Outbreaks can occur when local conditions of rainfall, tides and temperature promote mosquito breeding, so if we have rain followed by a warm day, check any receptacles in your garden and make sure they are emptied of water.
3. It is also a good idea to ensure you're not being bitten while asleep - repair any flyscreens that are damaged, or install them where absent. There are also a range of plants you can incorporate into your garden that repel mosquitoes and attract mosquito eating insects, such as dragonflies, or birds, possums, frogs and bats that will also reduce their numbers by eating them.
4. Similarly, if you're out and about in our wetland areas not chasing off or disturbing the wildlife that lives there, such as turtles or ducks, with ducklings just a few days old known to eat mosquitoes, will help. They eat them - we need this wildlife.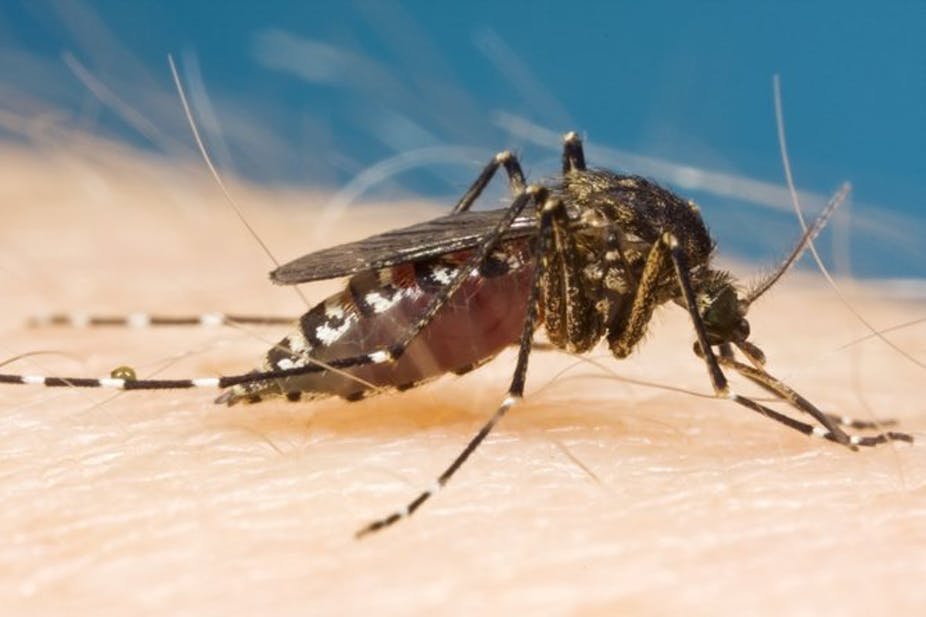 The saltmarsh mosquito, Aedes vigilax, transmits Ross River virus in many coastal regions of Australia. Photo: Mr Stephen Doggett (Medical Entomology, Pathology West - ICPMR Westmead)
Discussion On February 11, 2021: Environmental Issues On Our Northern Beaches
Right now, climate damage and habitat destruction are putting our coasts and communities at risk. From sea level rise and coastal erosion, to land clearing and unsustainable development, our beautiful region faces a number of environmental challenges.
That's why we're bringing your local federal Member of Parliament and other experts together to discuss the environmental issues facing Sydney's Northern Beaches – and how together, we can keep our coasts and communities healthy for generations to come. Will you join us?
What: Healthy coasts, healthy communities: an online panel discussion
When: Thursday 11 February, from 7-8pm AEDT
Where: Online on Zoom. RSVP for the link.
Join our stellar lineup of speakers, including:
Layne Beachley AO – 7-time world champion surfer and environmental campaigner
Dr Vanessa Pirotta – wildlife scientist and science communicator
Jason Falinski MP – federal member for Mackellar
Plus Lynne Malcolm – ABC presenter and former host of All in the Mind podcast – as our MC for the night.
Once you've RSVP'd to the event you'll have an opportunity to submit a question to any of the panel speakers. With such a wealth of knowledge and expertise behind them, we're sure you'll have lots to ask!
Hosted by the Australian Conservation Foundation
Upcoming Activities For Friends Of Narrabeen Lagoon Catchment:

Sun 21 February 2021: 7.30 am Walk & Weed along the Narrabeen Lagoon catchment transverse walk.
Start at Oxford Falls walk for 3 1/2 hours, weed for 30min, continue 30min walk and car pool back to start.
Bring gloves and long handled screwdriver if available.
Walk grade: medium.
Bookings essential. Conny 0432 643 295
https://www.narrabeenlagoon.org.au/
Friends of Narrabeen Lagoon Catchment are pleased to announce the next forum will be held on 22 Feb 2021 at 7 pm .
Presenter: Jayden Walsh
Jayden is a keen observer of nature and has some stunning photographs and information to share.
The focus will be on wildlife that lives near the Narrabeen Lagoon and that, if you are fortunate, you may see when on the Narrabeen Lagoon walkway.
For details on how to book for this event are on the website. At: https://www.narrabeenlagoon.org.au/Forums/forums.htm
Bushcare In Pittwater
For further information or to confirm the meeting details for below groups, please contact Council's Bushcare Officer on 9970 1367
BUSHCARE SCHEDULES
Where we work Which day What time
Avalon
Angophora Reserve 3rd Sunday 8:30 - 11:30am
Avalon Dunes 1st Sunday 8:30 - 11:30am
Avalon Golf Course 2nd Wednesday 3 - 5:30pm
Careel Creek 4th Saturday 8:30 - 11:30am
Toongari Reserve 3rd Saturday 9 - 12noon (8 - 11am in summer)
Bangalley Headland 2nd Sunday 9 to 12noon
Bayview
Winnererremy Bay 4th Sunday 9 to 12noon
Bilgola
North Bilgola Beach 3rd Monday 9 - 12noon
Algona Reserve 1st Saturday 9 - 12noon
Plateau Park 1st Friday 8:30 - 11:30am
Church Point
Browns Bay Reserve 1st Tuesday 9 - 12noon
McCarrs Creek Reserve Contact Bushcare Officer To be confirmed
Clareville
Old Wharf Reserve 3rd Saturday 8 - 11am
Elanora
Kundibah Reserve 4th Sunday 8:30 - 11:30am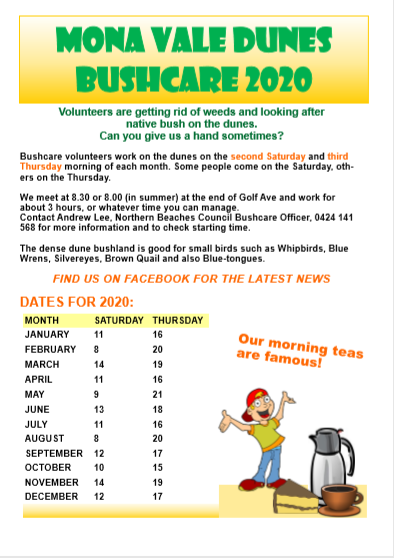 Mona Vale
Mona Vale Beach Basin 1st Saturday 8 - 11am
Mona Vale Dunes 2nd Saturday +3rd Thursday 8:30 - 11:30am
Newport
Bungan Beach 4th Sunday 9 - 12noon
Crescent Reserve 3rd Sunday 9 - 12noon
North Newport Beach 4th Saturday 8:30 - 11:30am
Porter Reserve 2nd Saturday 8 - 11am
North Narrabeen
Irrawong Reserve 2nd Saturday 2 - 5pm
Palm Beach
North Palm Beach Dunes 3rd Saturday 9 - 12noon
Scotland Island
Catherine Park 2nd Sunday 10 - 12:30pm
Elizabeth Park 1st Saturday 9 - 12noon
Pathilda Reserve 3rd Saturday 9 - 12noon
Warriewood
Warriewood Wetlands 1st Sunday 8:30 - 11:30am
Whale Beach
Norma Park 1st Friday 9 - 12noon
Western Foreshores
Coopers Point, Elvina Bay 2nd Sunday 10 - 1pm
Rocky Point, Elvina Bay 1st Monday 9 - 12noon

Gardens And Environment Groups And Organisations In Pittwater
Draft Horse Riding Plan For South East Wollemi National Park
The National Parks and Wildlife Service (NPWS) is encouraging people to have their say on proposed horse-riding opportunities in south east Wollemi National Park before submissions close on 14 March 2021.
NPWS Director David Crust said that following strong local community interest over many years, the Service has developed a draft management plan that proposes a number of recreational trails in the Wheeny Creek – Mountain Lagoon area.
"This draft plan proposes how we will assess, rationalise and formalise horse-riding trails in this area," said Mr Crust.
"There is a long history of horse riding in the Wheeny Creek – Mountain Lagoon area and under this draft plan riders continue to have a strong connection to this landscape.
"We're proposing to formalise a series of low-impact riding trails that essentially follow existing park management trails.
"Doing so will minimise impacts on threatened species and the conservation values of the area, as well as tie into our existing trail maintenance program.
"The draft plan will ensure we have management arrangements in place to support unique and enjoyable horse-riding opportunities for the community.
"The plan refers only to a 28,000-hectare section of Wollemi National Park, an area in the south east that was not heavily impacted by last summer's bushfires.
"We welcome feedback on the plan and encourage members of the public and interest groups to make a submission via formal channels so all comments can be recorded and considered," said Mr Crust.
The public exhibition period for the plan has been extended and submissions now close 14 March 2021.
To read the Draft Horse Riding Management Plan: South East Wollemi National Park and to find out more:
NPWS Hawkesbury-Nattai Area, Bowmans Cottage, 370 Windsor Street, Richmond – by appointment via email to: npws.hawkesburynattai@environment.nsw.gov.au
Hawkesbury City Council, 366 George Street, Windsor
NPWS Glenbrook, end Bruce Road, Glenbrook - by appointment via email to: npws.hawkesburynattai@environment.nsw.gov.au
Blue Mountains Heritage Centre, end Govetts Leap Road, Blackheath (9.00am to 4.30pm daily)
If you would like to make a submission please follow the instructions via our website.
Improved Access To McBrides Beach In Booti Booti National Park
Visitors can now enjoy a short stroll to the remote and beautiful McBrides Beach in Booti Booti National Park with the completion of a new walking track.
NSW National Parks and Wildlife Service (NPWS) Hunter Central Coast A/Director Anthony Signor said the ever-popular McBrides Beach now has safe pedestrian access from the carpark on Cape Hawke Drive down to the beach.
"The new 600 metre track to the beach, which includes a small number of steps and a watercourse crossing, is suitable for a range of ages and fitness levels," said Mr Signor.
"Since the track opened in late December, it has been hugely popular with an average of 50 to 100 people using the new track to access the beach each day.
"Following the extreme wet weather over the past few weeks, we have re-surfaced the last 260 metres of the track with gravel, meaning McBrides Beach now has safe, all-weather pedestrian access.
"This work is part of the Government's $149.6 million 'Improving Access to National Parks' program, a state-wide investment to improve national park walking trails to make them safer and more accessible.
"An added benefit of the walking track is better protection for areas of Littoral Rainforest on Cape Hawke, nationally listed as a Critically Endangered Ecological Community, as well as Aboriginal cultural sites occurring in the area around McBrides Beach," said Mr Signor.
People are reminded to be COVID-19 safe and abide by public health requirements when visiting national parks.
For more information on national park access visit: National Parks and Wildlife Service.
Aerial of McBrides Beach - Image by John Spencer

'Dinosaur Tree' Declared Asset Of Intergenerational Significance (NSW)
The NSW Government has announced the Wollemi pines, in the Blue Mountains World Heritage Area, will be the first site in the State to be declared an Asset of Intergenerational Significance.
The declaration is a legally recognised mechanism to bolster existing measures that protect the species for future generations.
Premier Gladys Berejiklian said the historic declaration recognises the extraordinary global significance of the Wollemi pines, with some of the adult trees estimated to be up to a thousand years old.
"This declaration enables us to take existing protections up another notch, and set specific legislative requirements including a dedicated fire management strategy to secure the survival of the species for generations to come," Ms Berejiklian said.
"Prior to their discovery in 1994, Wollemi pines were only known to us in fossil records with fossil evidence pointing to the species' existence up to 90 million years ago."
Just over 12 months ago, teams from the NSW Rural Fire Service (RFS) and National Parks and Wildlife Service (NPWS) undertook an extensive operation to protect the Wollemis from extinction when the secret site came under threat from the devastating summer bushfires.
The declaration follows a $6 million investment by the NSW Government to embed ecological risk in the fire management framework and bolster bushfire protections for important ecological sites as part of the Government's response to the NSW Bushfire Inquiry.
Environment Minister Matt Kean said the site is the first to be declared under new provisions in the National Parks and Wildlife Act that will enhance conservation for the most precious and rare jewels in our national parks crown.
"The Wollemi pines are often described as a living fossil, having been around when dinosaurs roamed the Earth," Mr Kean said.
"Despite the incredible efforts by the NPWS and RFS teams last summer, several hundred juvenile trees in the protected site were impacted and are yet to resprout.
"That's why we need to act now to put long-term protections in place that reduce the risk of fire exposure and allow the slow-growing juvenile trees to thrive."
The declaration paves the way for special regulations to enhance the Wollemi pines' legal protection including requiring a dedicated fire management strategy, ecological monitoring, and ongoing conservation management.
Other places which will be considered for declaration as Assets of Intergenerational Significance include those containing the most important remaining populations of threatened species, as well as important cultural heritage sites.
See below - from Issue 434, January 2020:
Davidson Rural Fire Brigade's 'Arduous' Firefighters
Davidson Rural Fire Brigade: November 22, 2019

Did you know there is more to firefighting than firetrucks? In addition to deploying crews on trucks, today we also deployed a crew of 4 'Arduous' certified volunteer firefighters to the Gospers Mountain fire, north west of Sydney. These crews use firefighting techniques without water, in areas usually only accessible by foot or helicopter insertion.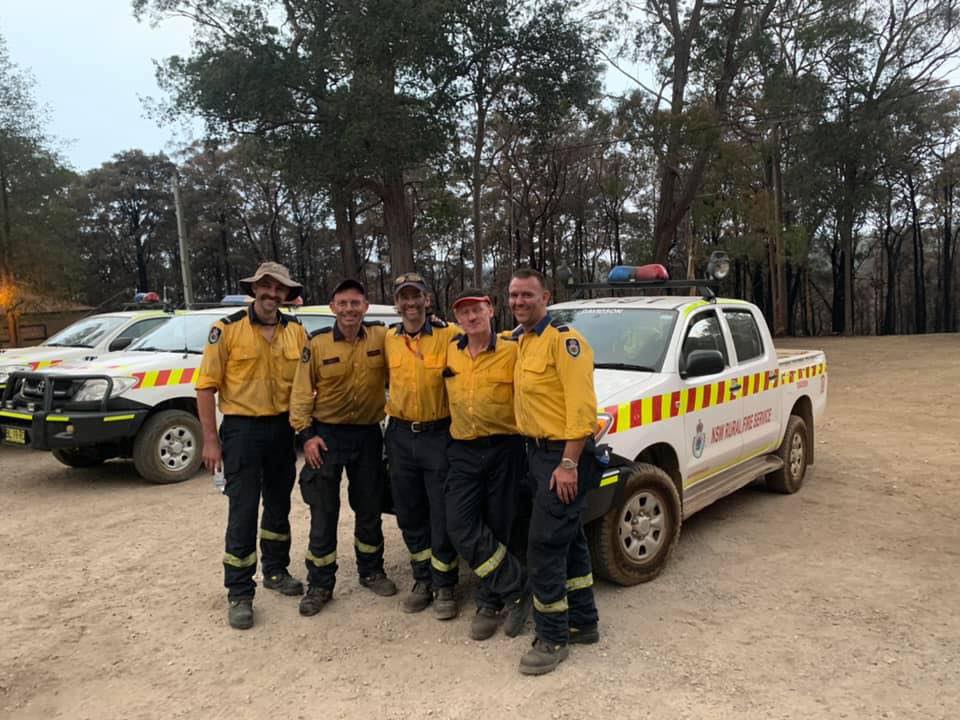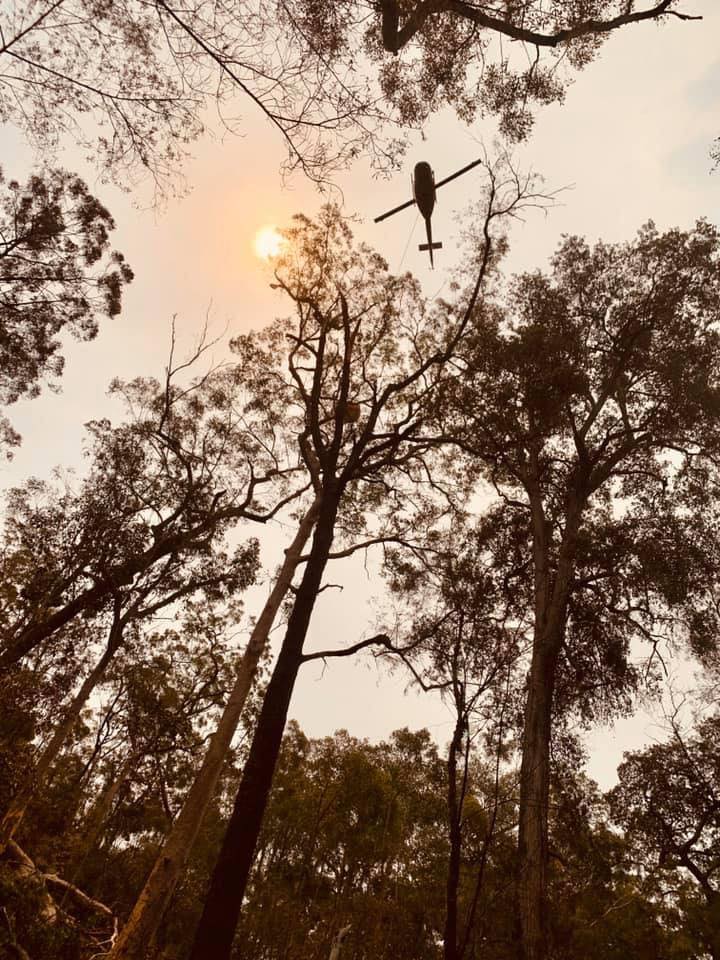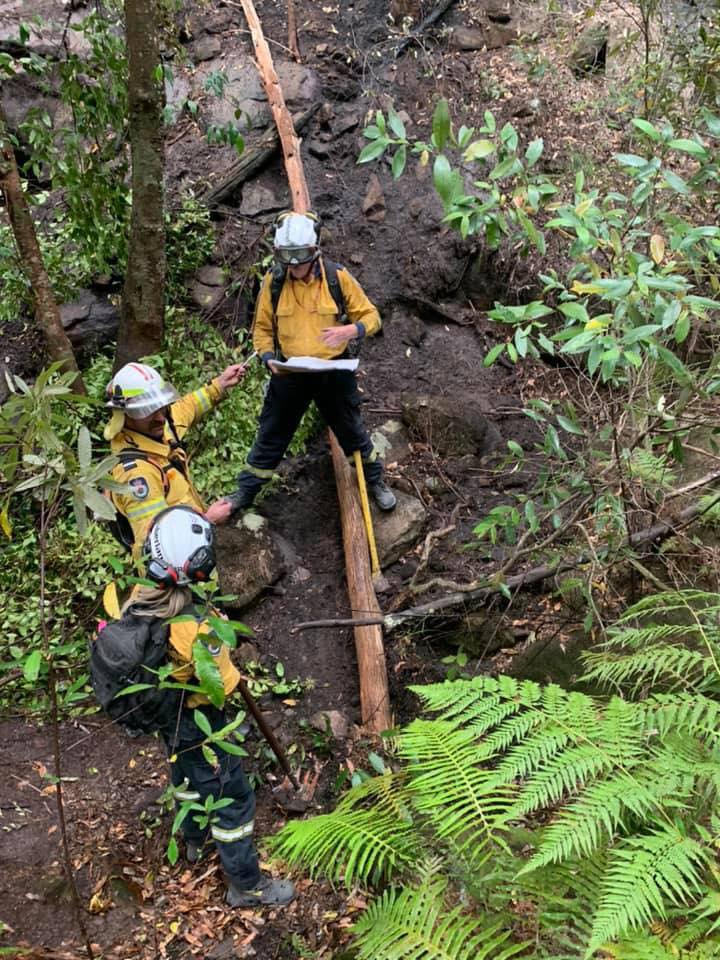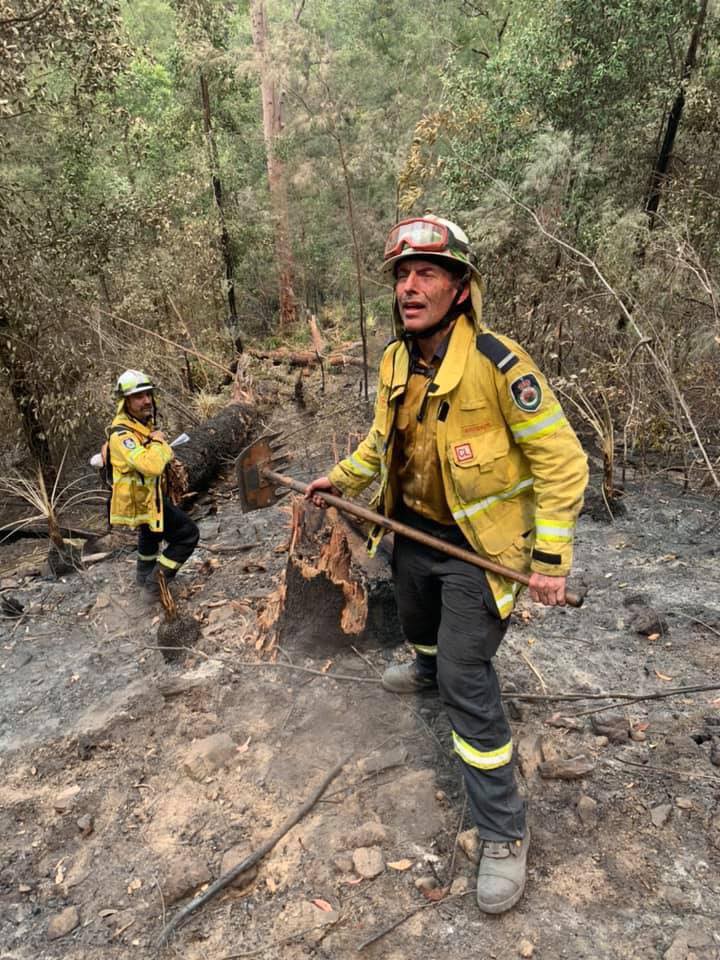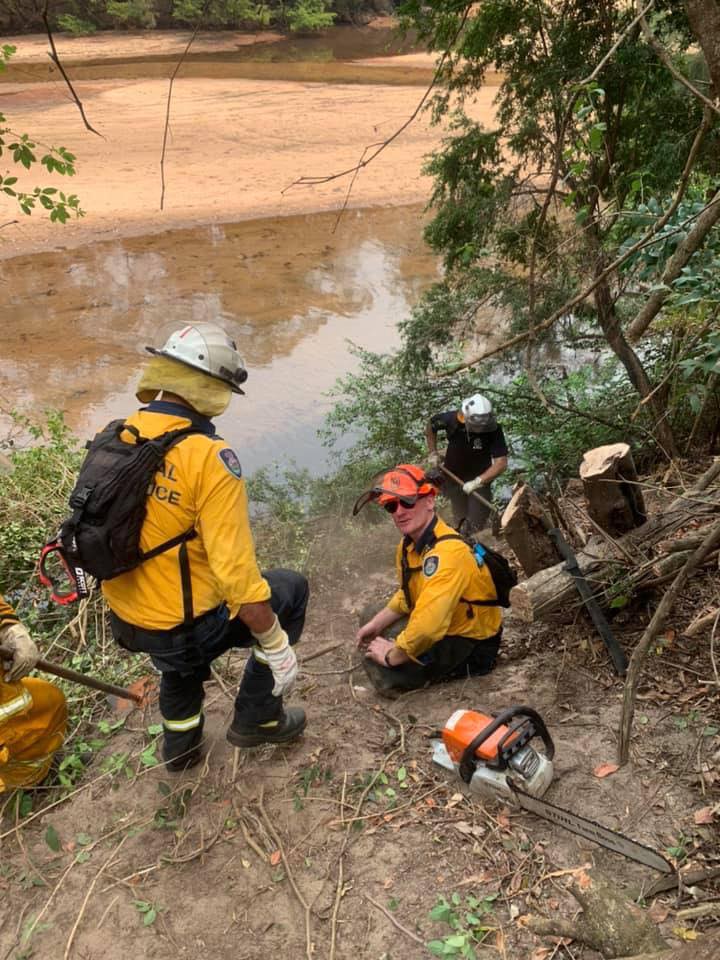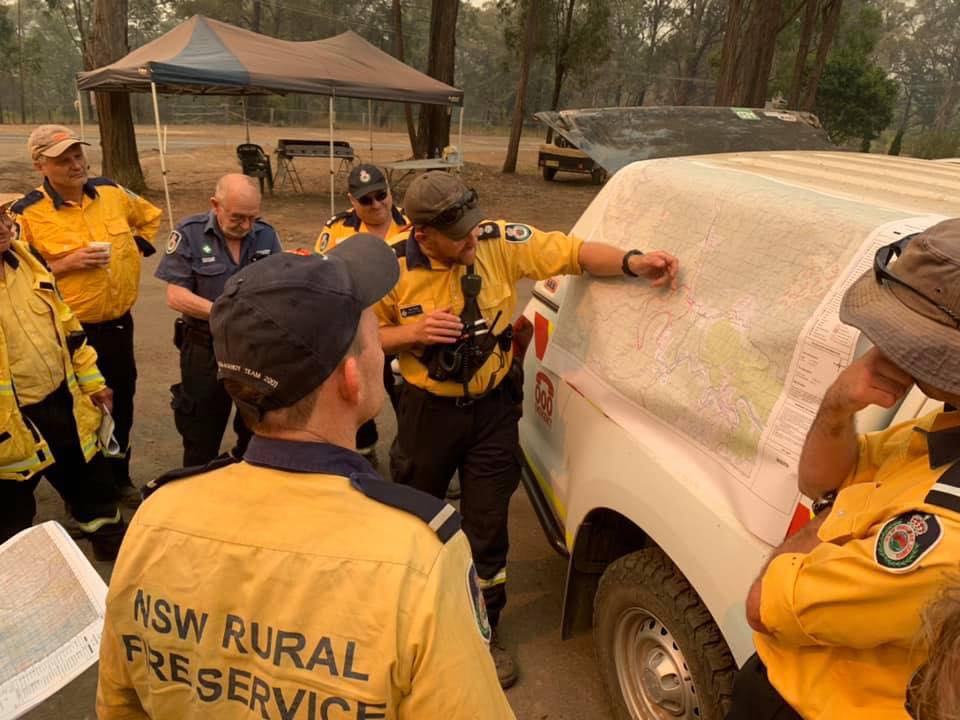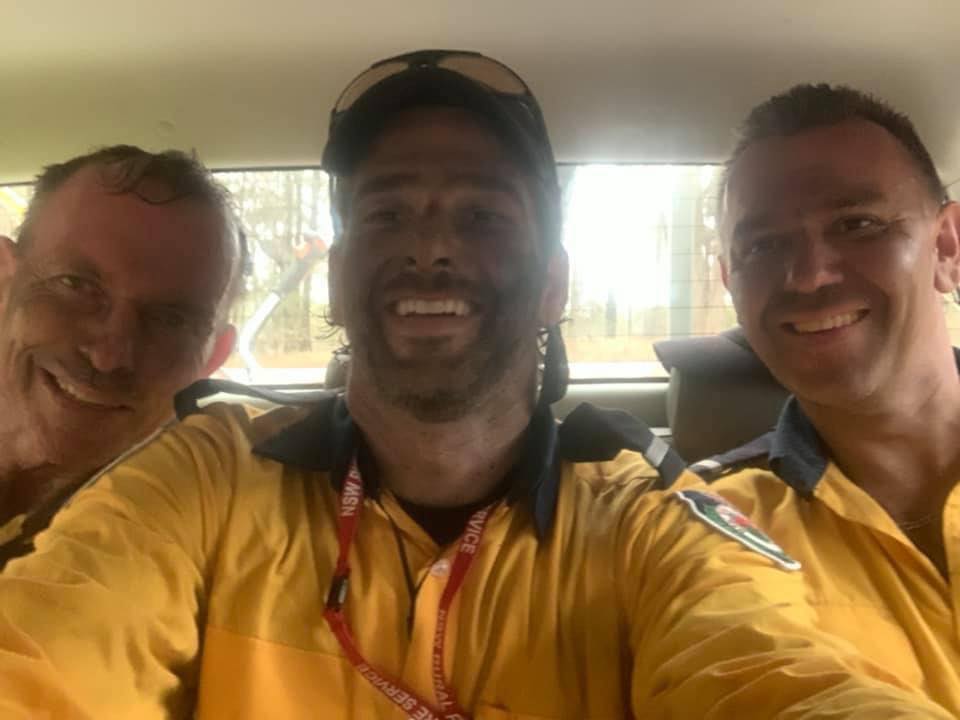 Fire Fighting Mission Saves Prehistoric Pines
January 15, 2020: NSW Government, Department of Environment
A specialist team of remote area firefighters have helped to save the prehistoric Wollemi Pines from this season's bushfires, confirmed Environment Minister Matt Kean.
Mr Kean said the Wollemi Pines survived the dinosaurs and now they look like they'll survive these bushfires thanks to the work of the NSW National Parks and Wildlife Service (NPWS) firefighters and the NSW Rural Fire Service.
"Wollemi National Park is the only place in the world where these trees are found in the wild and, with less than 200 left, we knew we needed to do everything we could to save them," Mr Kean said.
"The pines, which prior to 1994 were thought to be extinct and whose location is kept secret to prevent contamination, benefited from an unprecedented environmental protection mission."
The operation included large air tankers laying fire retardant and specialist firefighters being winched into the remote site from helicopters to set up an irrigation system in the gorge to increase moisture content of the ground fuels.
In advance of the fire, NPWS firefighters were again winched into the site to operate the irrigation system and as the fire approached, helicopters water bucketed the fire edge to reduce its impact on the groves of trees.
Mr Kean said the NSW Government has done a detailed scientific assessment and, while some trees are charred, the species has survived this summer's fires.
"The 2019 wildfire is the first ever opportunity to see the fire response of mature Wollemi Pine in a natural setting, which will help us refine the way we manage fire in these sites long-term."
Mr Kean said the full impact of the fire may not be known for some time so we need to do everything we can to ensure their long-term protection which really depends on maintaining confidentiality around the trees' location and ensuring the public's cooperation in not attempting to visit the sites.
"Illegal visitation remains a significant threat to the Wollemi Pines survival in the wild due to the risk of trampling regenerating plants and introducing diseases which could devastate the remaining populations and their recovery.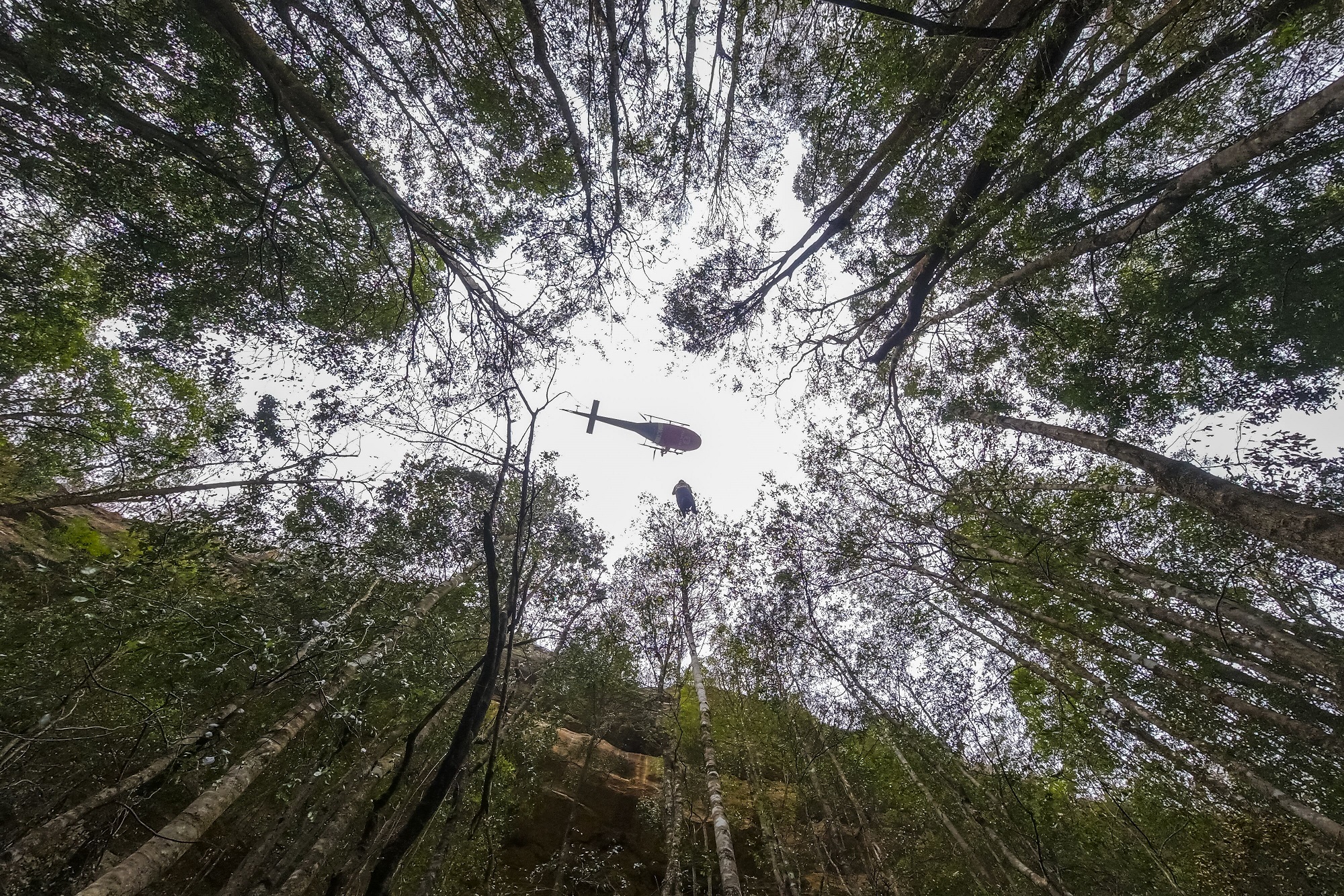 Wollemi pine (Wollemia nobilis) trees savers - Photo: J Plaza/DPIE

Wollemi pine (Wollemia nobilis) trees savers - Photo: J Plaza/DPIE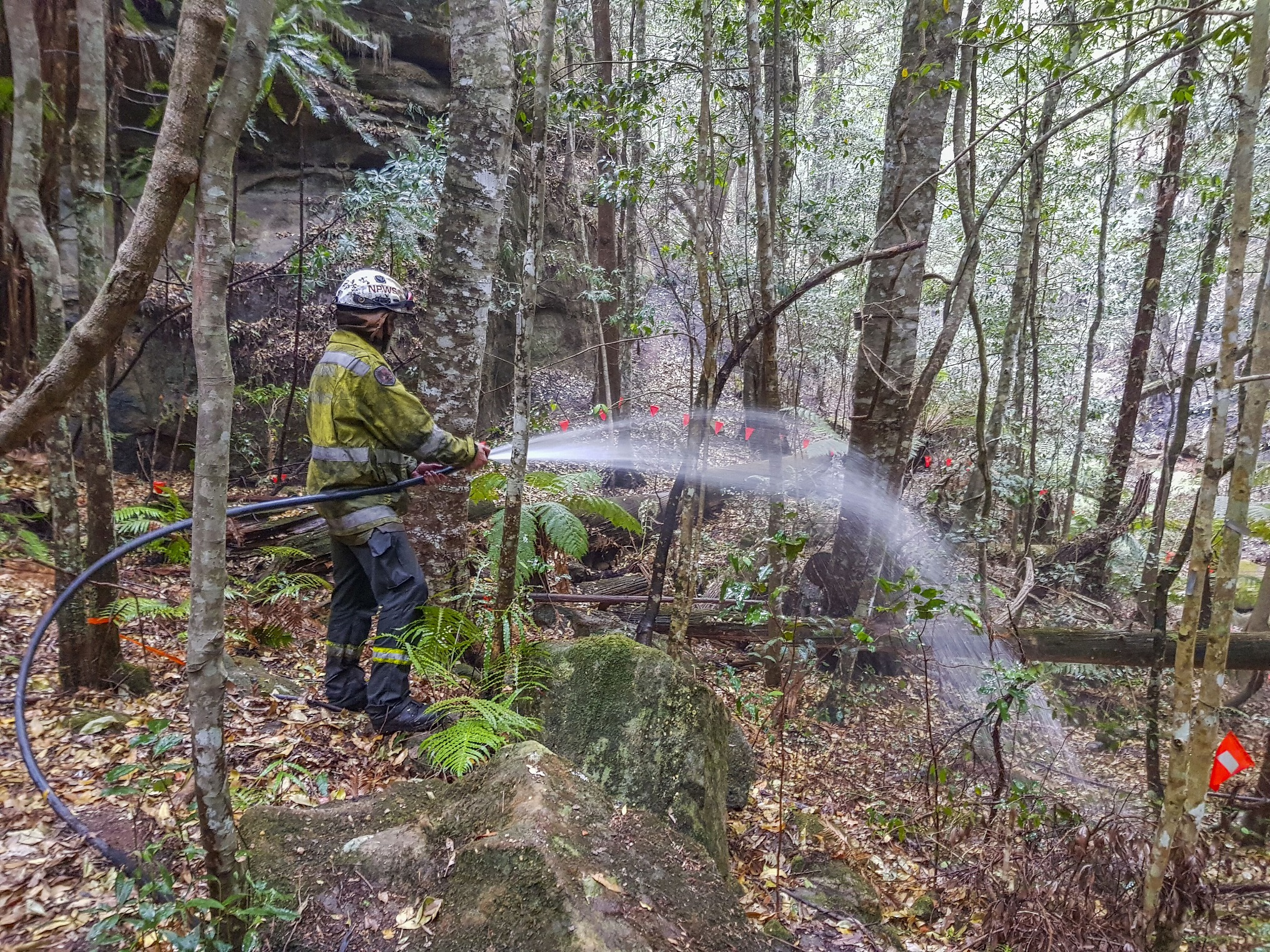 Wollemi pine (Wollemia nobilis) trees savers - Photo: J Plaza/DPIE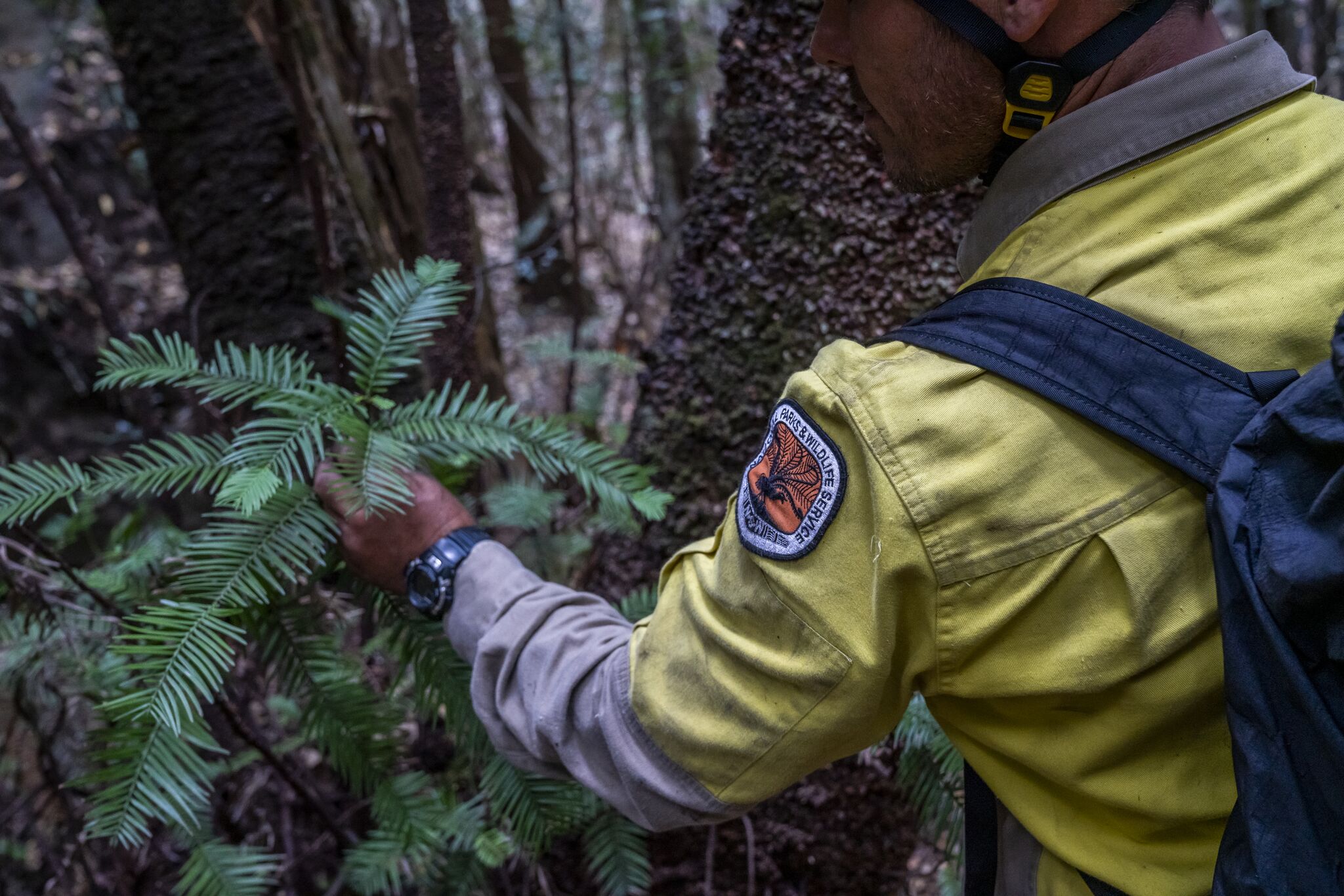 Wollemi pine (Wollemia nobilis) trees savers - Photo: J Plaza/DPIE
Shorebird Identification Booklet
The Migratory Shorebird Program has just released the third edition of its hugely popular Shorebird Identification Booklet. The team has thoroughly revised and updated this pocket-sized companion for all shorebird counters and interested birders, with lots of useful information on our most common shorebirds, key identification features, sighting distribution maps and short articles on some of BirdLife's shorebird activities.
The booklet can be downloaded here in PDF file format: http://www.birdlife.org.au/documents/Shorebird_ID_Booklet_V3.pdf
Paper copies can be ordered as well, see http://www.birdlife.org.au/projects/shorebirds-2020/counter-resources for details.
Download BirdLife Australia's children's education kit to help them learn more about our wading birdlife
Shorebirds are a group of wading birds that can be found feeding on swamps, tidal mudflats, estuaries, beaches and open country. For many people, shorebirds are just those brown birds feeding a long way out on the mud but they are actually a remarkably diverse collection of birds including stilts, sandpipers, snipe, curlews, godwits, plovers and oystercatchers. Each species is superbly adapted to suit its preferred habitat. The Red-necked Stint is as small as a sparrow, with relatively short legs and bill that it pecks food from the surface of the mud with, whereas the Eastern Curlew is over two feet long with a exceptionally long legs and a massively curved beak that it thrusts deep down into the mud to pull out crabs, worms and other creatures hidden below the surface.
Some shorebirds are fairly drab in plumage, especially when they are visiting Australia in their non-breeding season, but when they migrate to their Arctic nesting grounds, they develop a vibrant flush of bright colours to attract a mate. We have 37 types of shorebirds that annually migrate to Australia on some of the most lengthy and arduous journeys in the animal kingdom, but there are also 18 shorebirds that call Australia home all year round.
What all our shorebirds have in common—be they large or small, seasoned traveller or homebody, brightly coloured or in muted tones—is that each species needs adequate safe areas where they can successfully feed and breed.
The National Shorebird Monitoring Program is managed and supported by BirdLife Australia.

This project is supported by Glenelg Hopkins Catchment Management Authority and Hunter Local Land Services through funding from the Australian Government's National Landcare Program. Funding from Helen Macpherson Smith Trust and Port Phillip Bay Fund is acknowledged.
The National Shorebird Monitoring Program is made possible with the help of over 1,600 volunteers working in coastal and inland habitats all over Australia.
The National Shorebird Monitoring program (started as the Shorebirds 2020 project initiated to re-invigorate monitoring around Australia) is raising awareness of how incredible shorebirds are, and actively engaging the community to participate in gathering information needed to conserve shorebirds.
In the short term, the destruction of tidal ecosystems will need to be stopped, and our program is designed to strengthen the case for protecting these important habitats.
In the long term, there will be a need to mitigate against the likely effects of climate change on a species that travels across the entire range of latitudes where impacts are likely.
The identification and protection of critical areas for shorebirds will need to continue in order to guard against the potential threats associated with habitats in close proximity to nearly half the human population.
Here in Australia, the place where these birds grow up and spend most of their lives, continued monitoring is necessary to inform the best management practice to maintain shorebird populations.
BirdLife Australia believe that we can help secure a brighter future for these remarkable birds by educating stakeholders, gathering information on how and why shorebird populations are changing, and working to grow the community of people who care about shorebirds.

To find out more visit: http://www.birdlife.org.au/projects/shorebirds-2020/shorebirds-2020-program
Aussie Bread Tags Collection Points
Collecting bread tags enables us to provide wheelchairs that change the life of disabled people in need, as well as keeping the tags out of landfill to help to preserve the environment.
Bread Tags for Wheelchairs was started in South Africa in 2006 by Mary Honeybun. It is a community program where individuals and organisations collect bread tags, which are sold to recyclers. The money raised pays for wheelchairs for the less fortunate which are purchased through a local pharmacy. Currently about 500kg of bread tags are collected a month in South Africa, funding 2-3 wheelchairs.
We have been collecting bread tags nationally in Australia since September 2018 and now have more than 100 collection points across the country. In February 2019 we started local recycling through Transmutation - Reduce, Reuse and Recycle in Robe, SA, where our tags are recycled into products such as door knobs and bowls. Tags from some states are still sent to South Africa where a plastics company called Zibo recycles them into seedling trays.
These humble bits of polystyrene can make a real difference so get your friends, family, school, workplace and church involved. Ask school tuck shops and boarding school kitchens, child care centres, aged care facilities, hospitals, cafes and fast food outlets to collect for you - they get through a lot of bread!
All the information and signage for collecting or setting up a public collection point is
on our website
.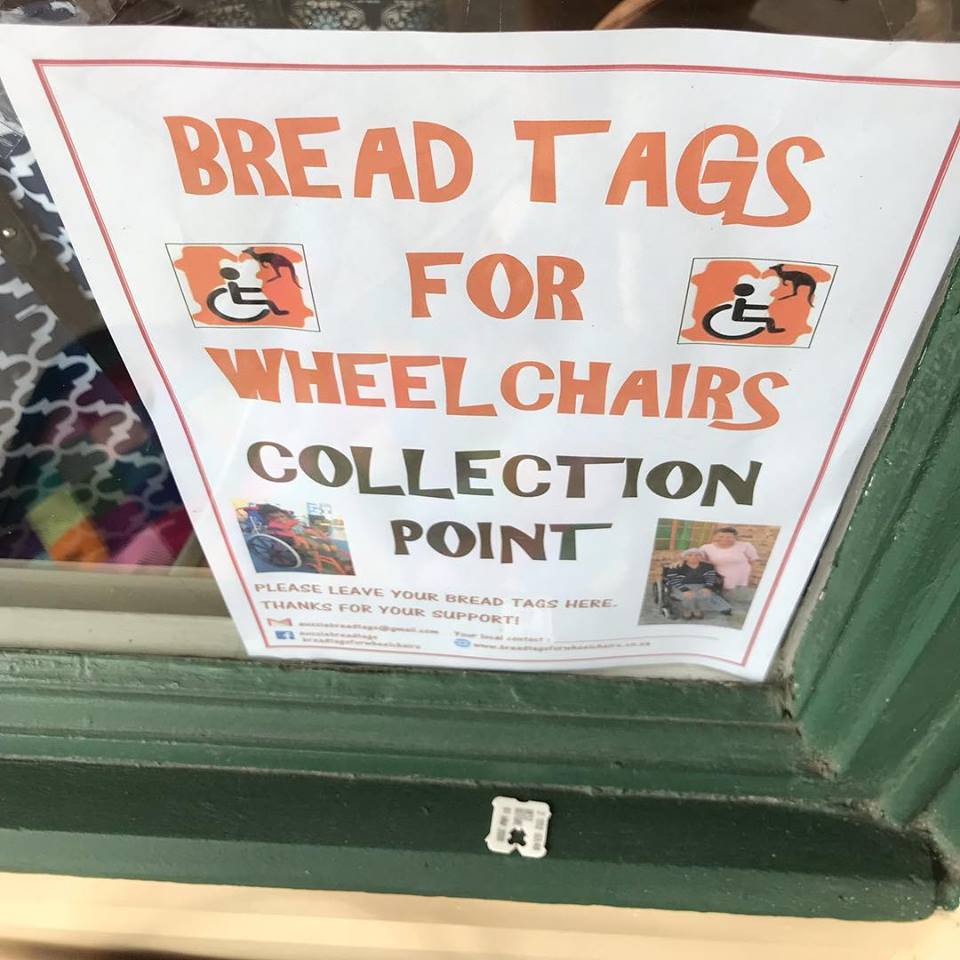 Express Yourself Exhibition 2021
The talent and creativity of more than 40 HSC Visual Art students on the Northern Beaches will be on display for the annual Express Yourself exhibition at the Manly Art Gallery & Museum (MAG&M) from February 19th until March 28th 2021.
The winners of the $3,000 Manly Art Gallery & Museum Society Youth Art Award and $5,000 Theo Batten Bequest Youth Art Award will be announced on Friday 19th of February. These two awards are granted annually to students featured in the exhibition.
Artist statements will be displayed alongside the artworks describing the inspirations and influences that informed the works and the students' creative journeys.
Visitors are encouraged to vote for their favourite artwork in the KALOF People's Choice Award which is announced at the end of the exhibition period.
Express Yourself is also part of Art Month Sydney, March 2021.
Exhibition: 19 February - Sunday 28 March 2021, 10am - 4pm daily (excluding Mondays)
Teachers' preview: Friday 19 February, 5 - 6pm. Bookings essential via Council's website
Art Walk and Talk: Saturday 27 February, 3 – 4pm: Artists walk through the exhibition and discuss their works with the curator. Bookings essential via Council's website.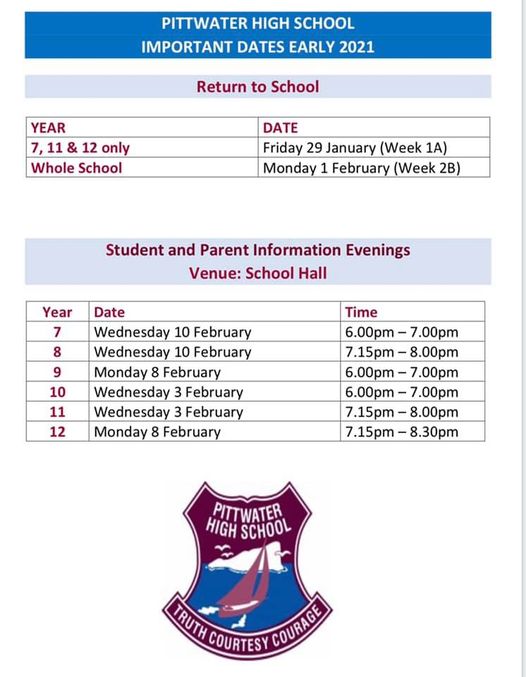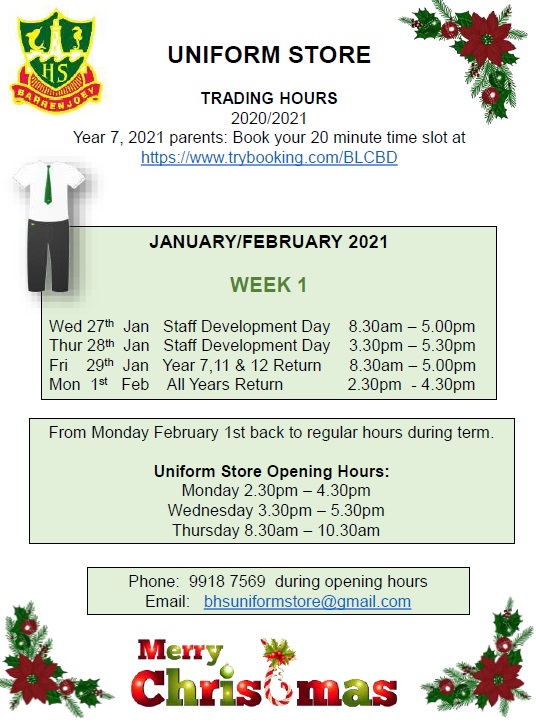 ATAR Not Needed To Get Into Engineering
As school leavers across the state contemplate the next steps in their education journey, an Auburn local has proved that an ATAR is not the only way to get into university.
18-year-old Wajeeha Batool (pictured right) studied a TAFE NSW Certificate IV in Tertiary Preparation, where she received a score of 100 per cent and topped the state for both her calculus and chemistry Tertiary Entrance Score (TES) exams.
She has now been offered a place at university where she will study a Bachelor of Engineering Mechatronics (Honors) thanks to TAFE NSW.
The Certificate IV in Tertiary Preparation provides students with a TES and is an alternative pathway into higher education that does not require an ATAR.
Wajeeha settled in Australia from Pakistan in 2019 and said the course allowed her to hone in on the subjects she enjoyed studying instead of having to repeat year 12.
"The way the tertiary preparation course is designed and delivered made it easy for me to understand and motivated me particularly because I was able to choose the subjects I wanted to study," Wajeeha said.
It's a great time for Wajeeha to pursue a career in this field, with a 2018 Graduate Outcomes Survey report concluding that 83.1 per cent of engineering students gained full-time employment after their course. [1]
"I've always been interested in how things work, and I want females to feel empowered to grow in fields such as engineering," Wajeeha said.
TAFE NSW Team Leader of Career Pathways and Employability Skills, Louis Maule, said the Certificate IV in Tertiary Preparation was perfect for mature aged students or school leavers to fast track their way into university.
"Whether you didn't get the marks you were after or you didn't sit the HSC, the course is designed to pathway students into higher education without needing to do the HSC," Mr Maule said.
"TAFE NSW students like Wajeeha are shining examples of the success students receive when they study what they love.
Students will be able to study a Diploma or higher qualification after completing the Tertiary Preparation course, so the options are limitless."
To enrol in Certificate IV in Tertiary Preparation Certificate, visit www.tafensw.edu.au or call 131 601.
[1] https://www.createdigital.org.au/new-data-outlook-engineering-graduates-job/
How TAFE NSW Empowered Rubi To Support A Community's Healing
A TAFE NSW graduate delivering a youth empowerment program for Kiama teens has urged locals to prioritise their health and wellbeing in what has been a difficult year for local young people.
SENTRAL Youth Services youth worker Rubi Curran delivers the award-winning Empower with Rubi, an eight-week program for girls aged 15 and 16 at Kiama High School that offers life skills and strategies.
Ms Curran, who earned a Certificate IV in Mental Health and a Diploma of Counselling at TAFE NSW Wollongong, said the program played a critical role in helping local youth navigate the challenging emotional terrain of adolescence.
Communities across the South Coast have been deeply impacted by a number of youth suicides in recent months, an issue Kiama Municipal Council, through SENTRAL Youth Services, is aiming to support the community in addressing.
"It's a very difficult time to be a young person," Ms Curran said.
Rubi encourages young people to check in with their own mental health but also that of their friends. "Asking if someone is ok is really important but it's also important to encourage someone to seek professional help should the answer to that question be 'no' or if you notice changes, even small changes, in people." This is one of the skills that Rubi coaches young people in during the Empower with Rubi program.
The Empower with Rubi program is offered to selected Year 10 female students at Kiama High School and covers information on health and wellbeing, healthy relationships, sexual, drugs and alcohol and mental health.
"It's about providing a safe space where participants feel supported, build confidence and ask questions they may not be able to ask at school," Ms Curran said.
"To see how much these young women grow in that eight weeks is so rewarding and I try to be that older sister, that role model they may not have in their lives."
Ms Curran's former teacher and TAFE NSW Health, Wellbeing and Community Services Head of Skills Team, Anne Barrow, said as awareness grew about the importance of mental health, so too did job opportunities.
The Australian Government has forecast more than 50,000 job openings in the mental health field between 2018 and 2023, she said.
"Mental health is a growing area for job opportunities, especially in the current environment where there's so much focus on it," Ms Barrow said. "TAFE NSW provides the practical skills and experience for students to have a career in this richly rewarding area."
Ms Barrow said TAFE NSW is offering a Diploma of Mental Health, a Certificate IV in Mental Health and a Diploma of Counselling for semester one, 2021.
To find out more about studying mental health at TAFE NSW, phone 13 16 01 or visit www.tafensw.edu.au.
Photo at right: Rubi Curran.
New State Library Of NSW Exhibition Showcases Defining Images Of 2020
From catastrophic weather events to a global pandemic and Black Lives Matters protests – the defining images of 2020 captured by Sydney Morning Herald photographers will go on public display for the first time at the State Library of NSW, from Saturday January 16th.
Now in its 10th year, the annual Photos1440 exhibition features more than 200 published and unpublished images, including award-winning photography from Herald chief photographer Nick Moir and Gold Walkley winner Kate Geraghty.
According to State Librarian John Vallance: "If anyone thinks we can do without great press photographers, think again – then visit this stunning exhibition. You will see immediately why photography is so important to the State Library's mission to document our lives."
"This year, the show looks back over a whole decade. Come and examine our lives in pictures. We have COVID safe measures in place to help protect the health and safety of everyone who comes through our doors."
Dramatic scenes of firefighters fleeing a firestorm, the wreckage of the MH17 plane crash strewn amongst sunflowers and a poignant frame of Newmarch House resident Alice Bacon, who was the 100th COVID-19 victim in Australia, are among the powerful and evocative images on show.
Mags King, The Sydney Morning Herald's Managing Photo Editor and exhibition curator said: "Our photographs are more than the first draft of history; they're powerful gut punches that force everyone from politicians and philanthropists to mums and dads to sit up and take notice. They demand a visceral response."
"This year's Photos1440 showcases some of the most poignant, powerful, spectacular and quiet moments that we have had the privilege to witness. In particular, the images from the past 12 months capture the stories that have unified – and divided – us all.
This year, whilst some of us were in lockdown, Herald photographers continued to work under trying circumstances wearing PPE and working within COVID-19 guidelines. We hope that this exhibition moves people but it is really all about sharing the stories."
Photos1440
is a free exhibition at the State Library of NSW from 16 January to 25 April 2021.
All visitors are required to wear masks
. Please read the Library's
Special Conditions of Entry
before visiting.
Brain Pressure Disorder That Causes Headache And Vision Problems On Rise
A new study has found a brain pressure disorder called idiopathic intracranial hypertension is on the rise, and the increase corresponds with rising obesity rates. The study is published in the January 20, 2021, online issue of Neurology®, the medical journal of the American Academy of Neurology. The study also found that for women, socioeconomic factors like income, education and housing may play a role in their risk.
Idiopathic intracranial hypertension is when the pressure in the fluid surrounding the brain rises. It can mimic the symptoms of a brain tumour, causing chronic, disabling headaches, vision problems and in rare cases, vision loss. It is most often diagnosed in women of childbearing age. Treatment is often weight loss. In some cases, surgery may be required.
"The considerable increase in idiopathic intracranial hypertension we found may be due to many factors but likely mostly due to rising obesity rates," said study author William Owen Pickrell, Ph.D., M.R.C.P., of Swansea University in Wales in the United Kingdom and a member of the American Academy of Neurology. "What is more surprising from our research is that women who experience poverty or other socioeconomic disadvantages may also have an increased risk independent of obesity."
For the study, researchers used a national healthcare database in Wales to analyse 35 million patient years of data over a 15-year period, between 2003 and 2017. They identified 1,765 people with idiopathic intracranial hypertension during that time. Of the group, 85% were women. Researchers recorded body mass index measurements for study participants. Body mass index is calculated by dividing weight by height. For every one person with the disorder, researchers compared three people without it who were matched for gender, age and socioeconomic status.
The socioeconomic status of each person with the disorder was determined by where they live, using a national scoring system that considers factors like income, employment, health, education and access to services. People in the study were then divided into five groups ranging from those with the fewest socioeconomic advantages to those with the most.
Overall, researchers found a six-fold increase in the number of cases of the disorder over the course of the study. In 2003, for every 100,000 people, 12 were living with the disorder, compared to 76 people in 2017. Also, in 2013, for every 100,000 people, two were diagnosed during that year, compared to eight people in 2017.
Researchers found that the increasing number of people living with the disorder corresponded to rising obesity rates in Wales during the study, with 29% of the population being obese in 2003 compared to 40% in 2017.
"The worldwide prevalence of obesity nearly tripled between 1975 and 2016, so while our research looked specifically at people in Wales, our results may also have global relevance," said Pickrell.
There were strong links for both men and women between body mass index and risk of the disorder. For women, there were 180 cases per 100,000 people during the study for those with high body mass index compared to 13 women with a body mass index considered to be ideal. For men, there were 21 cases per 100,000 among those with a high body mass index compared to eight cases for those with an ideal body mass index.
Researchers also found that for women only, socioeconomic factors were linked to risk. There were 452 women in the group with the fewest socioeconomic advantages compared to 197 in the group with the most. The women in the group with the fewest had a 1.5 times greater risk of developing the disorder than women in the group with the most, even after adjusting for body mass index.
"Of the five socioeconomic groups of our study participants, women in the lowest two groups made up more than half of the female participants in the study," said Pickrell. "More research is needed to determine which socioeconomic factors such as diet, pollution, smoking or stress may play a role in increasing a woman's risk of developing this disorder."
A limitation of the study was that researchers identified the socioeconomic status of participants by the regions in which they lived instead of obtaining individual socioeconomic information for each participant.
Latif Miah, Huw Strafford, Beata Fonferko-Shadrach, Joe Hollinghurst, Inder Ms Sawhney, Savvas Hadjikoutis, Mark I Rees, Rob Powell, Arron Lacey, W Owen Pickrell.
Incidence, Prevalence and Healthcare Outcomes in Idiopathic Intracranial Hypertension: A Population Study.
Neurology, January 20, 2021 DOI:
10.1212/WNL.0000000000011463
Research Establishes Antibiotic Potential For Cannabis Molecule
Synthetic cannabidiol, better known as CBD, has been shown for the first time to kill the bacteria responsible for gonorrhoea, meningitis and legionnaires disease.

The research collaboration between The University of Queensland and Botanix Pharmaceuticals Limited could lead to the first new class of antibiotics for resistant bacteria in 60 years.
The UQ Institute for Molecular Bioscience's Associate Professor Mark Blaskovich said CBD -- the main nonpsychoactive component of cannabis -- can penetrate and kill a wide range of bacteria including Neisseria gonorrhoeae, which causes gonorrhoea.
"This is the first time CBD has been shown to kill some types of Gram-negative bacteria. These bacteria have an extra outer membrane, an additional line of defence that makes it harder for antibiotics to penetrate," Dr Blaskovich said.
In Australia, gonorrhoea is the second most common sexually-transmitted infection and there is no longer a single reliable antibiotic to treat it because the bacteria is particularly good at developing resistance.
The study also showed that CBD was widely effective against a much larger number of Gram-positive bacteria than previously known, including antibiotic-resistant pathogens such as MRSA (methicillin-resistant Staphylococcus aureus) or 'golden staph'.
Dr Blaskovich said cannabidiol was particularly good at breaking down biofilms -- the slimy build-up of bacteria, such as dental plaque on the surface of teeth -- which help bacteria such as MRSA survive antibiotic treatments.
Dr Blaskovich's team at the Centre for Superbug Solutions mimicked a two-week patient treatment in laboratory models to see how fast the bacteria mutated to try to outwit CBD's killing power.
"Cannabidiol showed a low tendency to cause resistance in bacteria even when we sped up potential development by increasing concentrations of the antibiotic during 'treatment'."
"We think that cannabidiol kills bacteria by bursting their outer cell membranes, but we don't know yet exactly how it does that, and need to do further research.
The research team also discovered that chemical analogs -- created by slightly changing CBD's molecular structure -- were also active against the bacteria.
"This is particularly exciting because there have been no new molecular classes of antibiotics for Gram-negative infections discovered and approved since the 1960s, and we can now consider designing new analogs of CBD within improved properties."
Vince Ippolito, the President and Executive Chairman of Botanix, said the research showed vast potential for the development of effective treatments to fight the growing global threat of antibiotic resistance.
"Congratulations to Dr Blaskovich and his team for producing this significant body of research -- the published data clearly establishes the potential of synthetic cannabinoids as antimicrobials," Mr Ippolito said.
"Our Company is now primed to commercialise viable antimicrobial treatments which we hope will reach more patients in the near future. This is a major breakthrough that the world needs now."
Dr Blaskovich said collaborating with Botanix has sped up the research, with Botanix contributing formulation expertise that has led to the discovery that how cannabidiol is delivered makes a huge difference in its effectiveness at killing bacteria.
The collaboration has enabled Botanix to progress a topical CBD formulation into clinical trials for decolonisation of MRSA before surgery.
"Those Phase 2a clinical results are expected early this year and we hope that this will pave the way forward for treatments for gonorrhoea, meningitis and legionnaires disease.
"Now we have established that cannabidiol is effective against these Gram-negative bacteria, we are looking at its mode of action, improving its activity and finding other similar molecules to open up the way for a new class of antibiotics."
Mark A. T. Blaskovich, Angela M. Kavanagh, Alysha G. Elliott, Bing Zhang, Soumya Ramu, Maite Amado, Gabrielle J. Lowe, Alexandra O. Hinton, Do Minh Thu Pham, Johannes Zuegg, Neil Beare, Diana Quach, Marc D. Sharp, Joe Pogliano, Ashleigh P. Rogers, Dena Lyras, Lendl Tan, Nicholas P. West, David W. Crawford, Marnie L. Peterson, Matthew Callahan, Michael Thurn.
The antimicrobial potential of cannabidiol.
Communications Biology, 2021; 4 (1) DOI:
10.1038/s42003-020-01530-y
New Discovery In Breast Cancer Treatment
Researchers at the University of Adelaide have found new evidence about the positive role of androgens in breast cancer treatment with immediate implications for women with oestrogen receptor-driven metastatic disease.
Published today in Nature Medicine, the international study conducted in collaboration with the Garvan Institute of Medical Research, looked at the role of androgens -- commonly thought of as male sex hormones but also found at lower levels in women -- as a potential treatment for estrogen receptor positive breast cancer.
In normal breast development, estrogen stimulates and androgen inhibits growth at puberty and throughout adult life. Abnormal estrogen activity is responsible for the majority of breast cancers, but the role of androgen activity in this disease has been controversial.
Androgens were historically used to treat breast cancer, but knowledge of hormone receptors in breast tissue was rudimentary at the time and the treatment's efficacy misunderstood. Androgen therapy was discontinued due to virilising side effects and the advent of anti-estrogenic endocrine therapies.
While endocrine therapy is standard-of-care for estrogen receptor positive breast cancer, resistance to these drugs are the major cause of breast cancer mortality.
Professor Wayne Tilley, Director of the Dame Roma Mitchell Cancer Research Laboratories, and Associate Professor Theresa Hickey, Head of the Breast Cancer Group, who led the study say the need for alternative treatment strategies has renewed interest in androgen therapy for breast cancer.
However, previous studies had produced conflicting evidence on how best to therapeutically target the androgen receptor for treatment of breast cancer, which caused widespread confusion and hampered clinical application.
Using cell-line and patient-derived models, a global team, including researchers at the University of Adelaide and the Garvan Institute, demonstrated that androgen receptor activation by natural androgen or a new androgenic drug had potent anti-tumour activity in all estrogen receptor positive breast cancers, even those resistant to current standard-of-care treatments. In contrast, androgen receptor inhibitors had no effect.
"This work has immediate implications for women with metastatic estrogen receptor positive breast cancer, including those resistant to current forms of endocrine therapy,'' said Associate Professor Theresa Hickey.
Professor Tilley added: "We provide compelling new experimental evidence that androgen receptor stimulating drugs can be more effective than existing (e.g. Tamoxifen) or new (e.g. Palbociclib) standard-of-care treatments and, in the case of the latter, can be combined to enhance growth inhibition.
Moreover, currently available selective androgen receptor activating agents lack the undesirable side effects of natural androgens, and can confer benefits in women including promotion of bone, muscle and mental health.
Associate Professor Elgene Lim, a breast oncologist and Head of the Connie Johnson Breast Cancer Research Lab at the Garvan Institute, said: "The new insights from this study should clarify the widespread confusion over the role of the androgen receptor in estrogen receptor driven breast cancer. Given the efficacy of this treatment strategy at multiple stages of disease in our study, we hope to translate these findings into clinical trials as a new class of endocrine therapy for breast cancer."
Dr Stephen Birrell, a breast cancer specialist and pioneer in androgens and women's health who was part of the Adelaide based team, pointed out that this seminal finding has application beyond the treatment of breast cancer, including breast cancer prevention and treatment of other disorders also driven by estrogen.
Chloe Marshall, 33, has a breast cancer recurrence while pregnant with her second child. She said that endocrine therapy has terrible side effects and there was an urgent need for better options to prevent and treat breast cancer recurrence.
"I was diagnosed with a hormone positive breast cancer in July 2017 and subsequently found out I carried the BRACA gene,'' she said.
"I underwent a double mastectomy and neo adjuvant chemotherapy followed by two years of hormone suppressive treatment. The hormone suppressive treatment that I experienced was one of the hardest parts of having cancer. The impact it has on your mind/life/body is incredibly challenging.
"Now, three years later, I find myself with a recurrent cancer while 25 weeks pregnant. The thought of having hormone suppressive treatment for a further five to ten years is overwhelming.
"I think this study will help patients like myself have hope that there is another answer to life after the cancer diagnosis."
An international Phase 3 registration clinical trial (sponsored by VERU, Inc) evaluating Enobosarm, an androgen receptor activating agent, in patients with androgen receptor and estrogen receptor positive metastatic breast cancer who failed endocrine therapy and a CDK 4/6 inhibitor (e.g. palbociclib), will commence in the second quarter of 2021.
This work was funded by grants from the National Health and Medical Research Council of Australia, the National Breast Cancer Foundation, Cancer Australia, Movember, The Hospital Research Foundation and the US Department of Defense Breast Cancer Research Program.
Watch a video explainer about the new study below.
Theresa E. Hickey, Luke A. Selth, Kee Ming Chia, Geraldine Laven-Law, Heloisa H. Milioli, Daniel Roden, Shalini Jindal, Mun Hui, Jessica Finlay-Schultz, Esmaeil Ebrahimie, Stephen N. Birrell, Suzan Stelloo, Richard Iggo, Sarah Alexandrou, C. Elizabeth Caldon, Tarek M. Abdel-Fatah, Ian O. Ellis, Wilbert Zwart, Carlo Palmieri, Carol A. Sartorius, Alex Swarbrick, Elgene Lim, Jason S. Carroll, Wayne D. Tilley.
The androgen receptor is a tumor suppressor in estrogen receptor–positive breast cancer.
Nature Medicine, 2021; DOI:
10.1038/s41591-020-01168-7
Cosmic Beasts And Where To Find Them
Two giant radio galaxies have been discovered with South Africa's powerful MeerKAT telescope. These galaxies are thought to be amongst the largest single objects in the Universe. The discovery has been published today in Monthly Notices of the Royal Astronomical Society.
Whereas normal radio galaxies are fairly common, only a few hundred of these have radio jets exceeding 700 kilo-parsecs in size, or around 22 times the size of the Milky Way. These truly enormous systems are dubbed 'giant radio galaxies'.
Despite the scarcity of giant radio galaxies, the authors found two of these cosmic beasts in a remarkably small patch of sky.
Dr Jacinta Delhaize, a Research Fellow at the University of Cape Town and lead author of the work, said: "We found these giant radio galaxies in a region of sky which is only about 4 times the area of the full Moon. Based on our current knowledge of the density of giant radio galaxies in the sky, the probability of finding two of them in this region is less than 0.0003 per cent."
"This means that giant radio galaxies are probably far more common than we thought!"
Dr Matthew Prescott, a Research Fellow at the University of the Western Cape and co-author of the work, said, "These two galaxies are special because they are amongst the largest giants known, and in the top 10 per cent of all giant radio galaxies. They are more than 2 Mega-parsecs across, which is around 6.5 million light years or about 62 times the size of the Milky Way. Yet they are fainter than others of the same size."
"We suspect that many more galaxies like these should exist, because of the way we think galaxies grow and change over their lifetimes."
Why so few radio galaxies have such gigantic sizes remains something of a mystery. It is thought that the giants are the oldest radio galaxies, which have existed for long enough (several hundred million years) for their radio jets to grow outwards to these enormous sizes. If this is true, then many more giant radio galaxies should exist than are currently known.
The giant radio galaxies were spotted in new radio maps of the sky created by the MeerKAT International Gigahertz Tiered Extragalactic Exploration (MIGHTEE) survey. It is one of the large survey projects underway with South Africa's impressive MeerKAT radio telescope, a precursor to the Square Kilometre Array (SKA), which is due to become fully operational in the mid-2020s.
Dr Ian Heywood, a co-author at the University of Oxford, said "The MeerKAT telescope is the best of its kind in the world. We have managed to identify these giant radio galaxies for the first time because of MeerKAT's unprecedented sensitivity to faint and diffuse radio light."
Dr Delhaize adds, "In the past, this population of galaxies has been hidden from our 'sight' by the technical limitations of radio telescopes. However, it is now being revealed thanks to the impressive capabilities of the new generation of telescopes."
Construction of the highly anticipated trans-continental SKA telescope is due to commence in South Africa and Australia in 2021, and continue until 2027.
Science commissioning observations could begin as early as 2023, and it is hoped that the telescope will reveal larger populations of radio galaxies than ever before and revolutionise our understanding of galaxy evolution.
J Delhaize, I Heywood, M Prescott, M J Jarvis, I Delvecchio, I H Whittam, S V White, M J Hardcastle, C L Hale, J Afonso, Y Ao, M Brienza, M Brüggen, J D Collier, E Daddi, M Glowacki, N Maddox, L K Morabito, I Prandoni, Z Randriamanakoto, S Sekhar, Fangxia An, N J Adams, S Blyth, R A A Bowler, L Leeuw, L Marchetti, S M Randriamampandry, K Thorat, N Seymour, O Smirnov, A R Taylor, C Tasse, M Vaccari.
MIGHTEE: are giant radio galaxies more common than we thought?
Monthly Notices of the Royal Astronomical Society, 2021; 501 (3): 3833 DOI:
10.1093/mnras/staa3837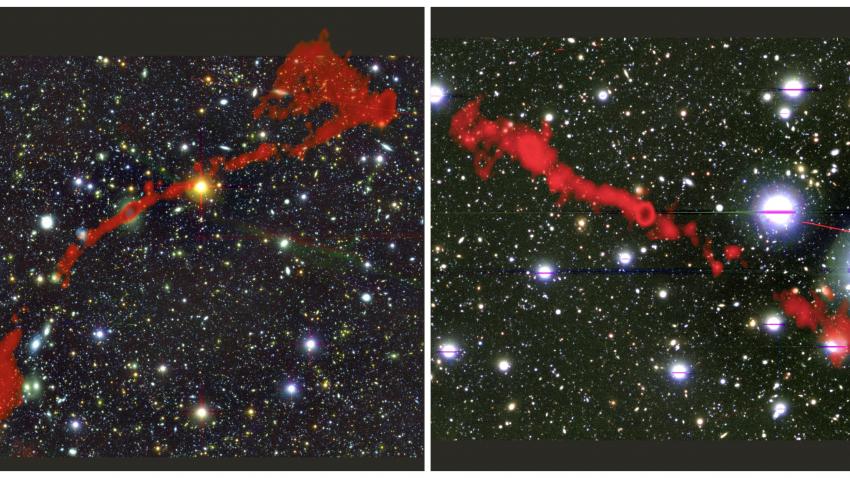 Two giant radio galaxies found with the MeerKAT telescope. In the background is the sky as seen in optical light. Overlaid in red is the radio light from the enormous radio galaxies, as seen by MeerKAT. Left: MGTC J095959.63+024608.6. Right: MGTC J100016.84+015133.0.
Credit I. Heywood (Oxford/Rhodes/SARAO)
Licence type; Attribution (CC BY 4.0)
Disclaimer: These articles are not intended to provide medical advice, diagnosis or treatment. Views expressed here do not necessarily reflect those of Pittwater Online News or its staff.