Inbox and Environment News: Issue 473
November 8 - 14, 2020: Issue 473
Parra'dowee Time
November-December
Goray'murrai—Warm and wet, do not camp near rivers
This season begins with the Great Eel Spirit calling his children to him, and the eels which are ready to mate make their way down the rivers and creeks to the ocean.
It is the time of the blooming of the Kai'arrewan (Acacia binervia) which announces the occurrence of fish in the bays and estuaries.
Acacia binervia, commonly known as the coast myall, is a wattle native to New South Wales and Victoria.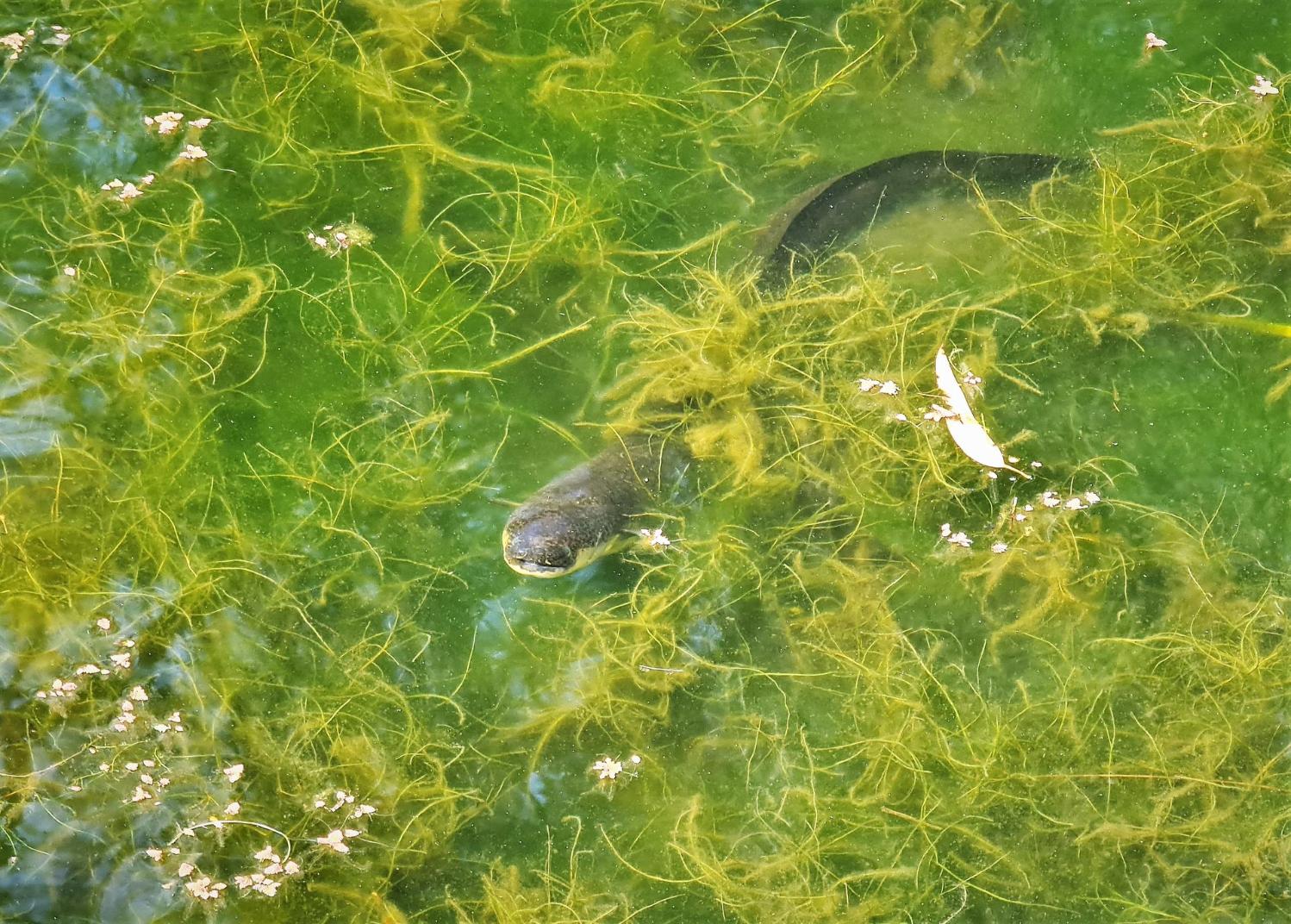 Eel in Warriewood Wetlands, October 2020 - photo by
Joe Mills
Bark Shedding Time - Pittwater Spotted Gums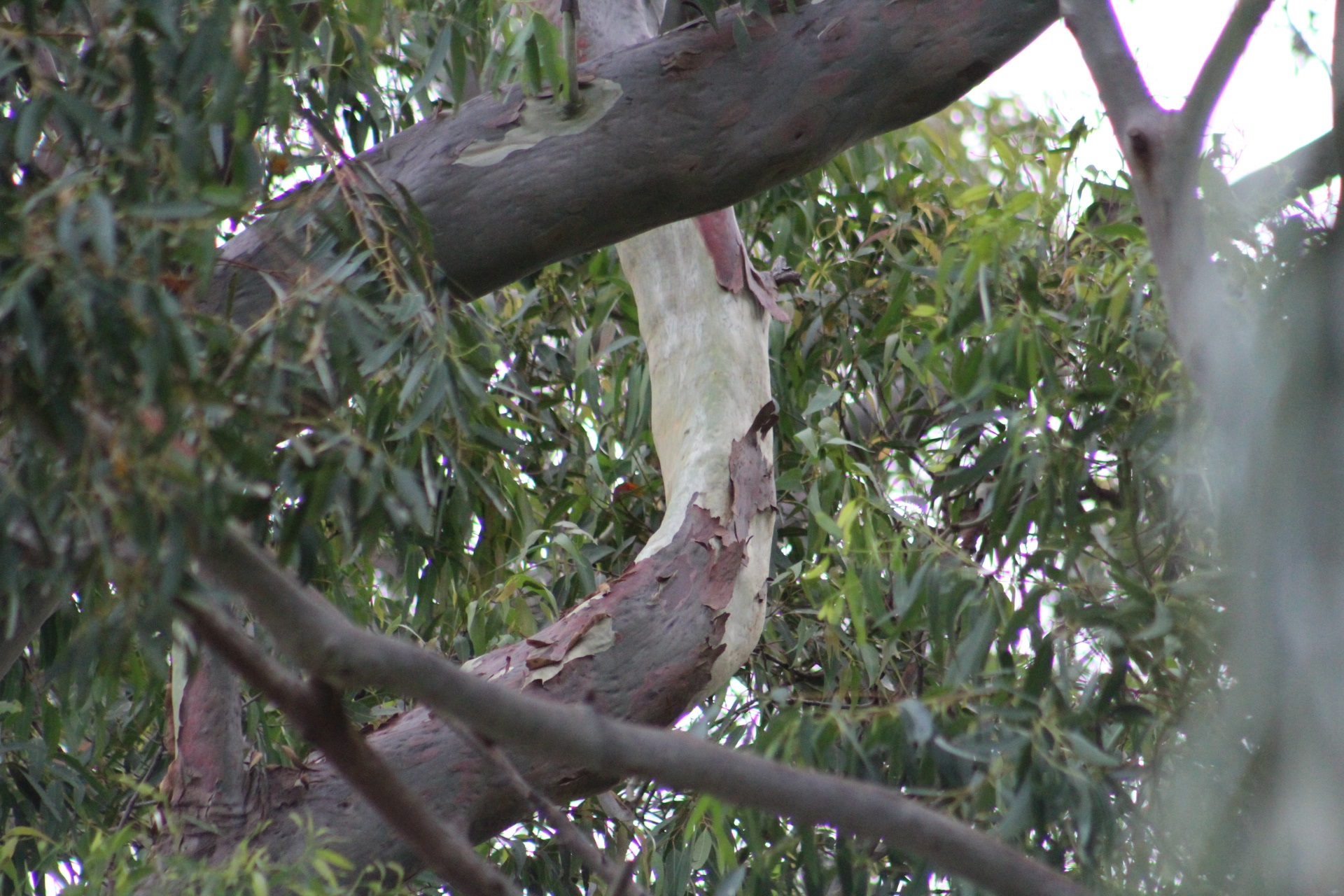 photo taken this week - by A J Guesdon.
Watch Out On The Pittwater Estuary Water Zones & Beaches: Seals Are About
Residents have filmed and photographed the seals living at Barrenjoey as far south as Rowland Reserve and over at Clareville beach in recent days and ask that people keep an eye out for them and ensure they are kept safe from boat strikes and dogs are kept off the beaches they're not supposed to be on.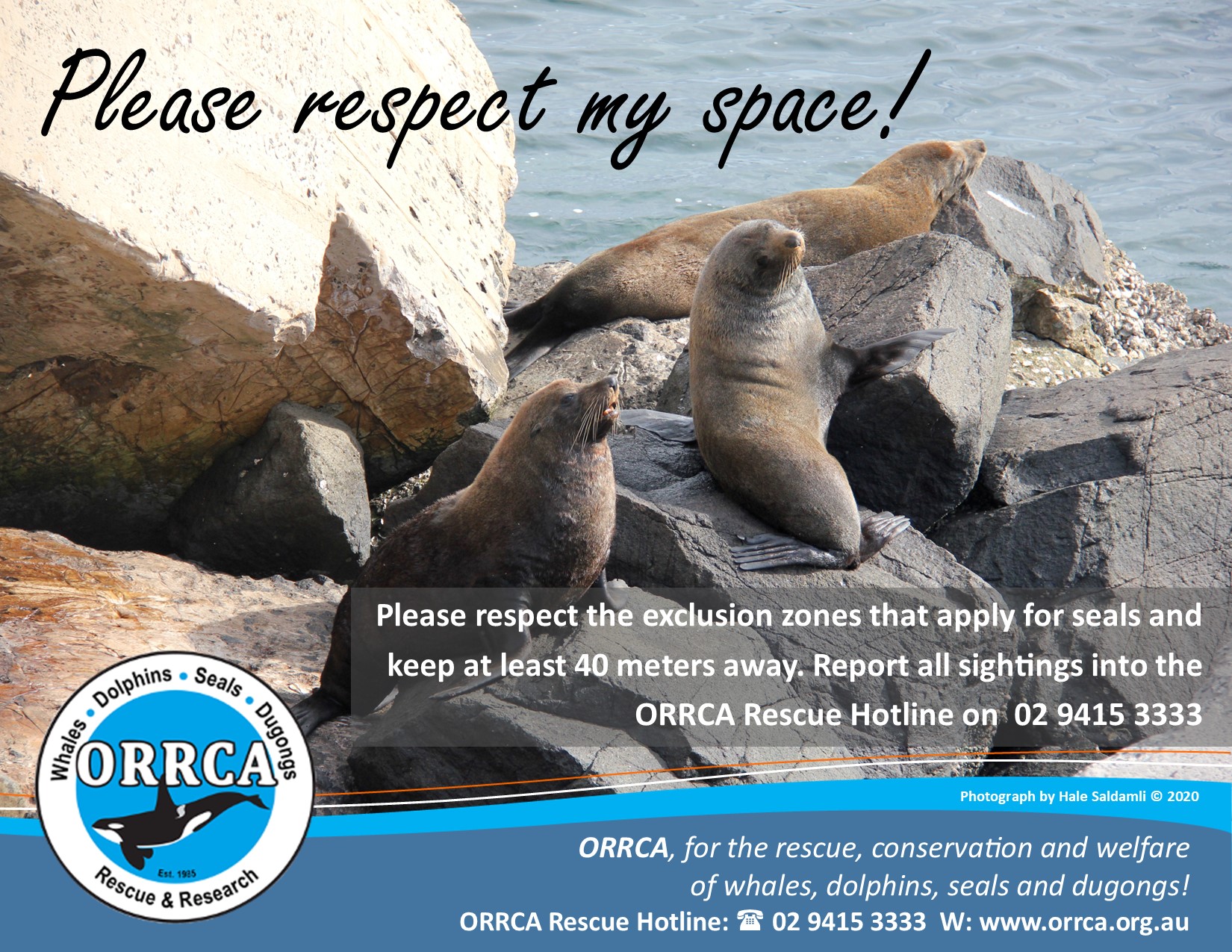 Galahs in our yard: looking for nesting sites - photographed this week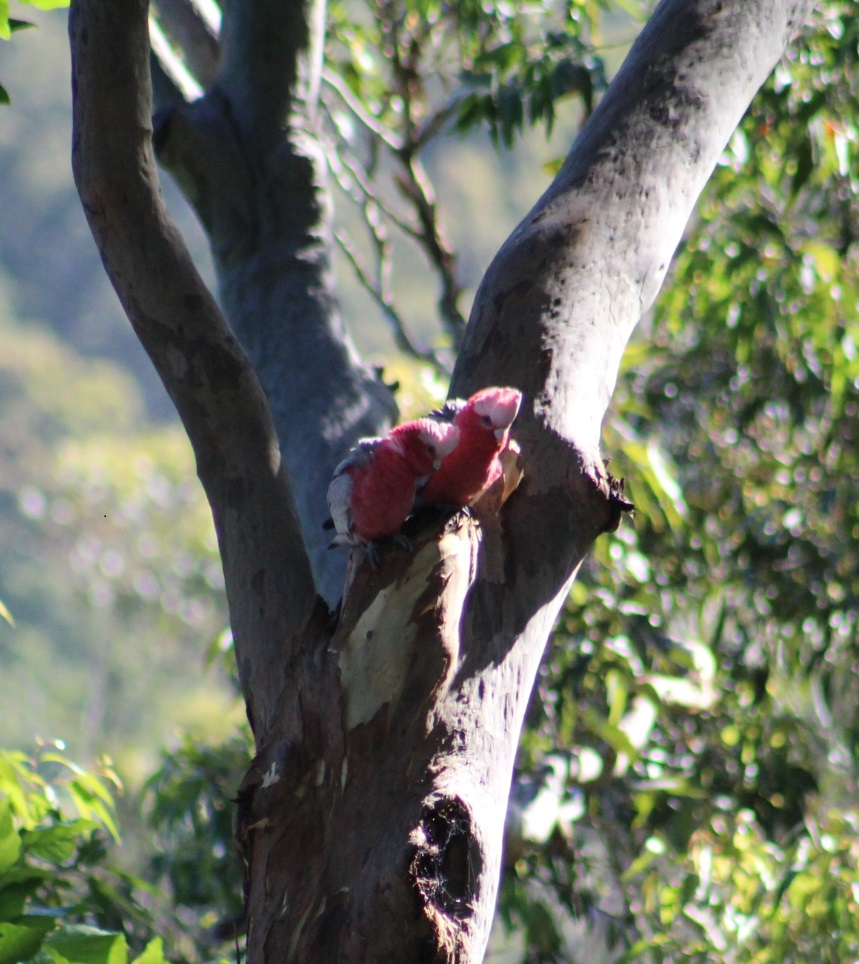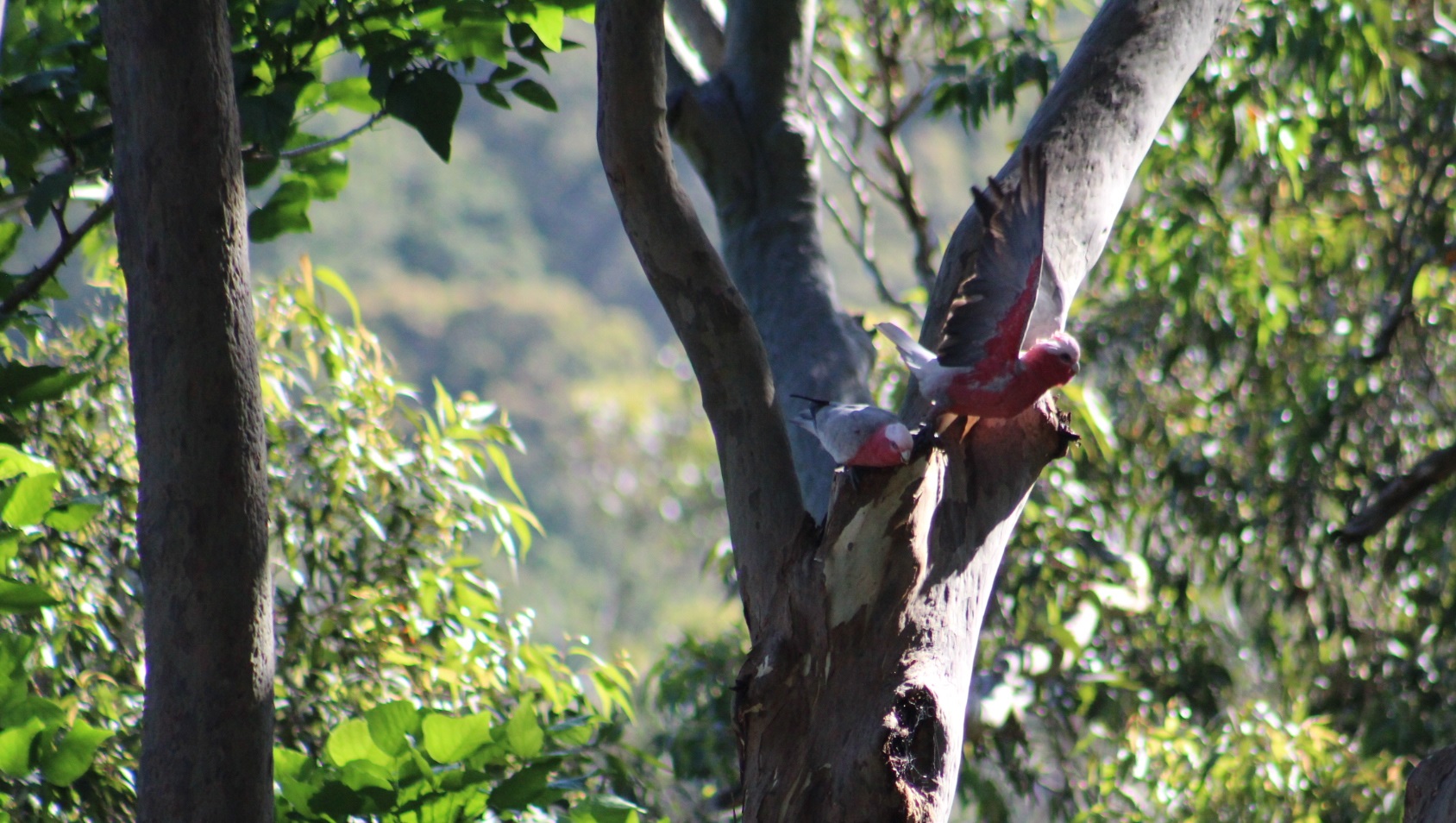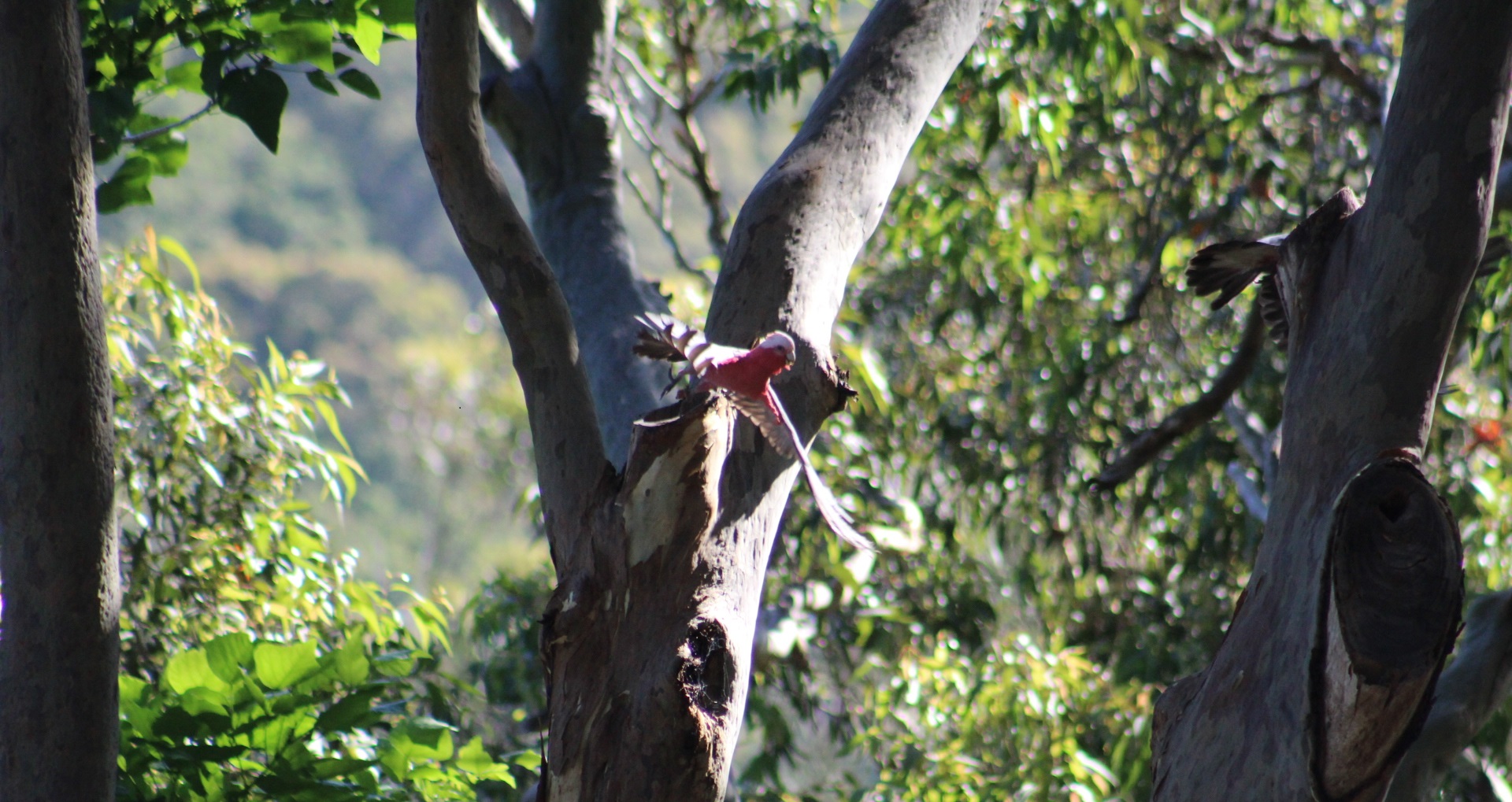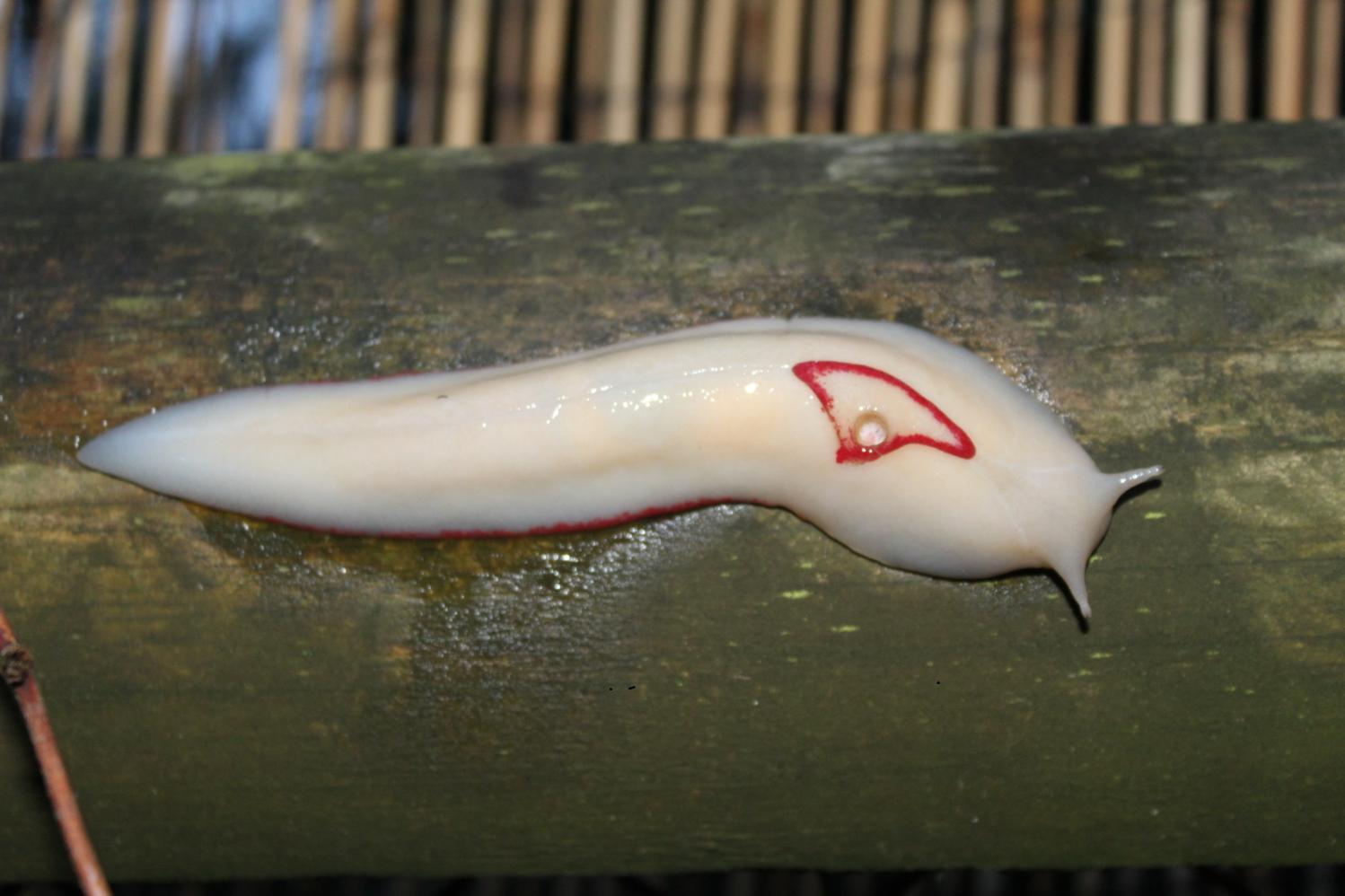 This slug (Triboniophorus graeffei) feeds on microscopic algae on smooth bark eucalypts, and algae on other smooth surfaces, leaving a narrow wiggly track. The Red Triangle Slug is Australia's largest native land slug. The distinctive red triangle on its back contains the breathing pore. This one was photographed in the Pittwater Online backyard this week amid all the rain we've had.
More at: australianmuseum.net.au/learn/animals/molluscs/red-triangle-slug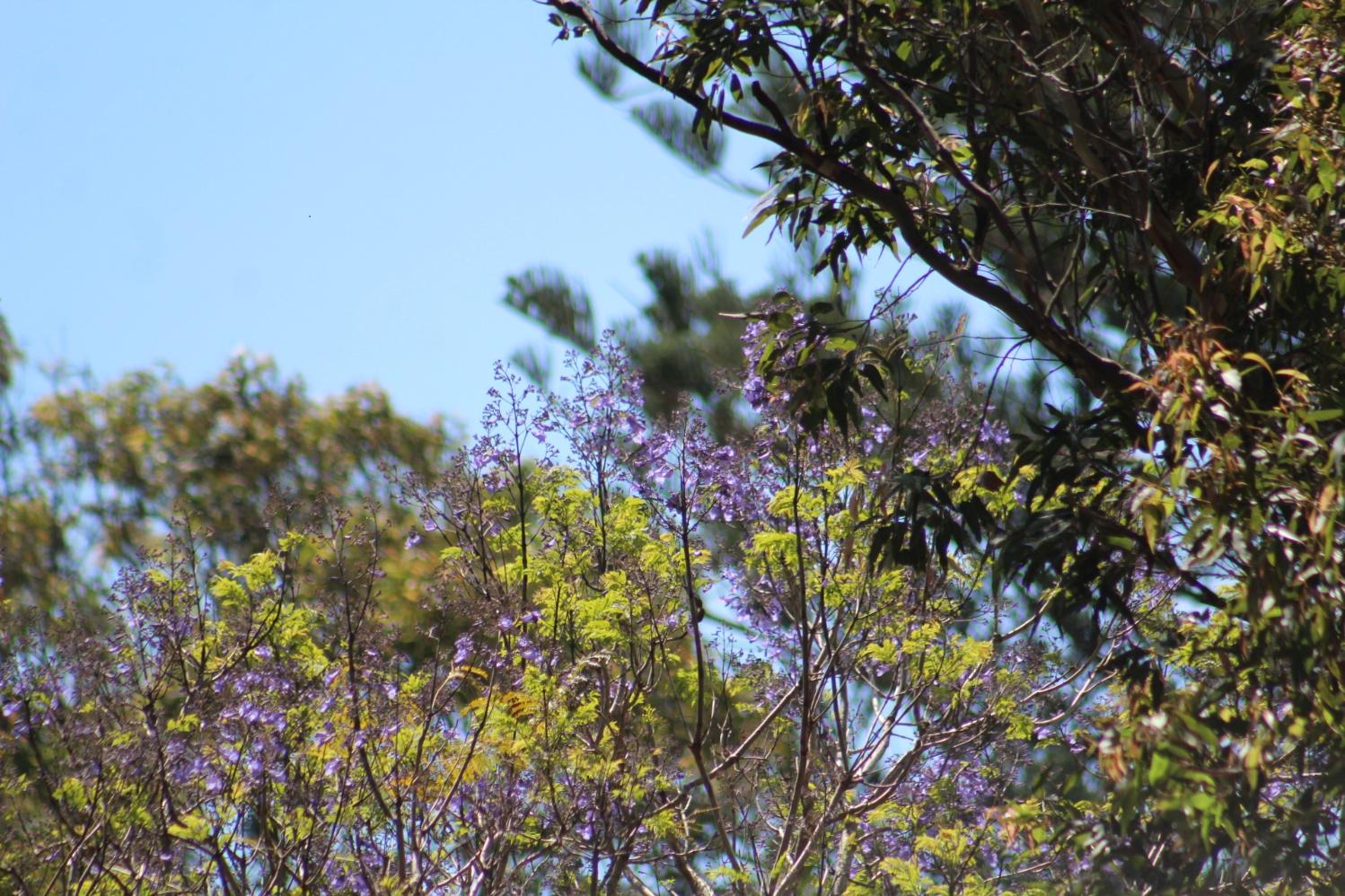 Those lilac flushes of Jacaranda are appearing across Pittwater - although not a native tree, these bright spots certainly gladden the eye and spirit.
First Christmas Bells Of The Year
photo by Selena Griffith, November 7, 2020
Blandfordia nobilis, commonly known as Christmas bells or gadigalbudyari in Cadigal language, is a flowering plant endemic to New South Wales. It is a tufted, perennial herbs with narrow, linear leaves and between three and twenty large, drooping, cylindrical to bell-shaped flowers. The flowers are brownish red with yellow tips. It is one of four species of Blandfordia known as Christmas bells.
Blandfordia nobilis was first formally described in 1804 by English botanist James Edward Smith who published the description in Exotic Botany from dried specimens sent from Sydney by the colonial surgeon, John White. The type specimen was collected from Port Jackson about the year 1800. Blandfordia nobilis was first published in 1804 by English botanist James Edward Smith, and it still bears its original name. The specific epithet (nobilis) is a Latin word meaning "well-known", "celebrated" or "noble".
This photo of a stem of Christmas Bells was taken by a lady who lives here and loves to go for long walks through the bush in our area - bright, aren't they?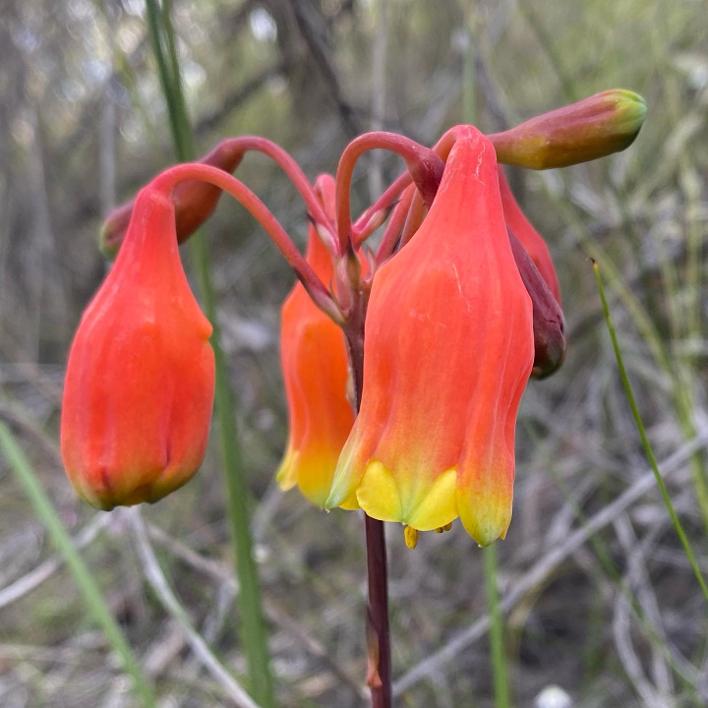 2020 BirdLife Australia Photography Awards Winners
Earlier this week an email from BirdLife Australia announced the results of the 2020 BirdLife Australia Photography Awards are now live on the official Awards website.
A huge congratulations to prize winners and short-listed entrants! All the entries were outstanding. With a record smashing 6207 entries the judges didn't have an easy task!
Most importantly, thanks to the volume of entries BirdLife Australia will be able to donate a sizeable amount of the funds raised by the Awards to support BirdLife Australia's Preventing Extinctions Grey Range Thick-billed Grasswren project to help bring this critically endangered bird back from the brink.
Great news!
The 2021 Awards will open again mid-year with a new special theme: Plovers! So get those cameras and get some gorgeous photos for your chance to win.
Happy Birding!
The Coast
Radio Northern Beaches
A new program about all things native and natural on the Northern Beaches of Sydney launched on local community radio station, Radio Northern Beaches, at 11am on Friday, 6 November.
The Coast, hosted by Pittwater resident and journalist, Wendy Frew, covers environmental and sustainability issues, and includes interviews with local residents, ecologists, bird watchers, animal rescuers, and many others.
The program explores everything from native flora and fauna and invasive pests, to waste reduction and recycling.
In the first season of The Coast, several episodes focus on unique nature reserves on the Northern Beaches, such as Bangalley Headland and the Warriewood Wetlands. The program also takes a look at the health of our beaches, and the impact of private and public transport on our wildlife.
Wendy Frew has a long career in journalism here and overseas. She is a former Environment Reporter for the Sydney Morning Herald, and winner of the 2007 Peter Hunt Eureka Prize for Environmental Journalism. She was also the inaugural editor of the BBC's Australian online news service, and the founding editor of UTS research magazine Brink.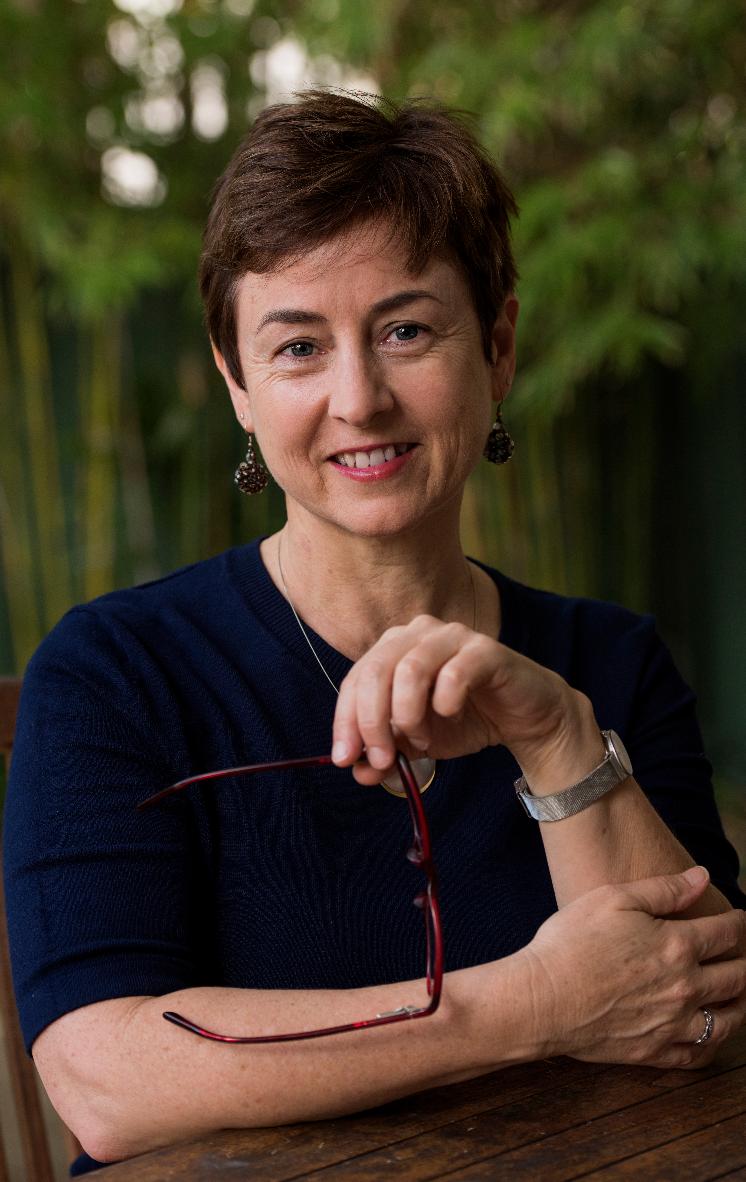 Draft Bush Fire Management Policy
Council has developed a policy to manage the risk of bush fire across the Northern Beaches in conjunction with fire agencies and the community.
The draft policy provides a framework with a focus on four areas of risk management, fire management, community engagement and land use planning and development control.
Mayor Michael Regan said the draft policy represents an opportunity to apply a consistent guide to bush fire management across the whole Northern Beaches area.
"Last summer's horrifying bush fires in Australia showed how critical good planning and preparation can be in the face of hotter and dryer conditions.
"We have significant exposure to bush fires on the Northern Beaches and this policy recognises the importance of a coordinated effort to reduce risk and manage emergencies when they happen.
"With climate change resulting in increasingly frequent and more severe bush fire conditions, this policy seeks to ensure we have the right mechanisms in place, and using best practice, to reduce the risk for our community.
"The threat of bush fires can never be completely eliminated, and our policy reiterates the need for Council, fire authorities and landowners to all play a part in the protection of life and property.
"With summer approaching, all landowners are encouraged to prepare their properties now and ensure they have a survival plan in place. The Rural Fire Service has some excellent resources available online to support residents in their preparations."
In framing the draft policy, research into how other government agencies tackle bush fire management was considered, as well as taking into account best practice and relevant state and federal bush fire management frameworks and legislation, particularly the Rural Fires Act 1997.
The draft policy also considers the 76 recommendations of the NSW Bush Fire Inquiry and draft propositions from the Royal Commission into Natural Disaster Arrangements. Council is continuing to respond to these inquiries and working with our state partners as further changes develop.
The draft Policy will apply to all bushland managed by Council and to all private lands within the Northern Beaches Local Government Area (LGA).
The Policy is on public exhibition until Wednesday 2 December.
The community is encouraged to provide feedback.
FrogID Week
FrogID Week is on this week and we need the entire FrogID community to get involved! Every recording contributes to the annual 'audioshot' of Australian frogs, and helps measure the health of our frogs and environment.
This year, there is a competition for the FrogID user who submits the highest submissions of verified frogs during FrogID Week. The 'Top Frogger' will win a Bunnings gift card valued at $500, as well as a video conference opportunity with FrogID Lead Scientist, Dr Jodi Rowley!
Thanks to your FrogID submissions from all across Australia, the FrogID team have produced seven scientific papers so far. This month, FrogID research revealed that Australian frogs indeed have accents, and their accents change across the country, and even over time. They also used FrogID data to take a closer look at just how much frogs restrict their calling to night-time, and found that most Australian frogs actually call during the day, some at surprisingly high rates!
All the research produced by the FrogID project is a reminder of how your records are providing information about frogs on scales never before possible. Last month, the team revealed how your FrogID records are providing an early understanding of frogs persisting after the Black Summer bushfires, but this picture is not yet complete. Your continued use of FrogID is very important this year, more than ever.
Whether you're at a nearby creek, pond, nature reserve, or your own backyard – every recording of a frog call contributes to the research. So far, FrogID has identified more than 250,000 frog calls and identified 199 of the known 242 Australian frog species. During FrogID Week last year, over 5,000 frog records from 71 species were counted! The best way to stay up to date with this year's FrogID Week information, stats, and exciting discoveries, is by following FrogID on social media.
With La Niña underway and the likelihood of above average rainfall across much of Australia, we hope more frogs will be breeding and calling this year. Head outside each day of FrogID Week and help FrogID find calling frogs – together, we can build our understanding and better protect our frog species.
Safe frogging, everyone!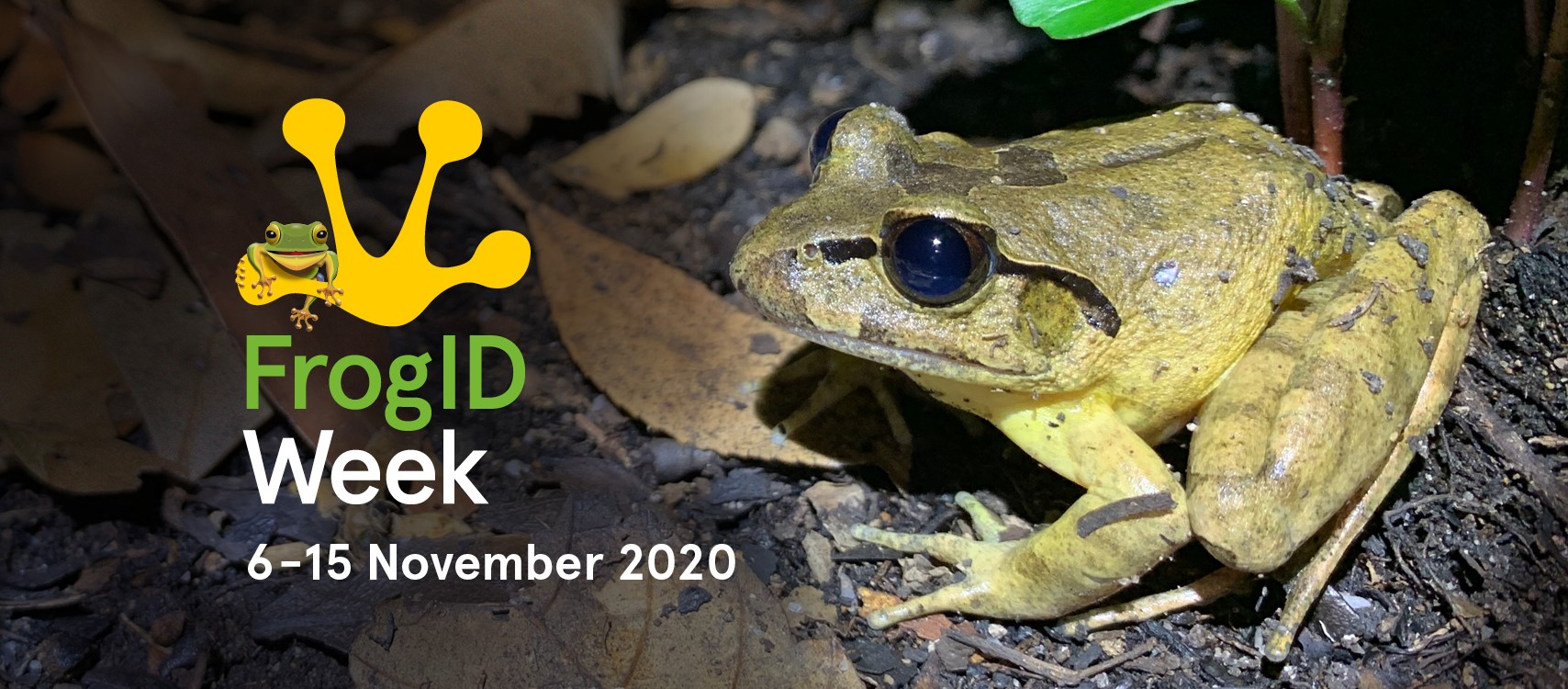 Image: Southern Barred Frog (Mixophyes balbus) by Jodi Rowley.
Can You Help Restore Our Environment? R&R Grants Open
If your community or government group could rehabilitate or conserve our natural environment, then apply for Environmental Restoration & Rehabilitation grant of up to $150,000.
NSW Environmental Trust Director Grants Tina Bidese is pleased to announce new program conditions.
"For the first time, all applicants will need to address at least one of these two new immediate priorities for the Environmental Trust: supporting threatened species recovery, and/or addressing climate change impacts on the natural environment – either mitigation or adaptation.
"Also, we're now offering 2 grant streams – for new and experienced grantees – with new applicants eligible for up to $100,000, and experienced applicants for up to $150,000," Ms Bidese said.
Experienced applicants are previous R&R grantees.
Additionally, for the first time this year a small amount of extra funding is available to each successful applicant to cover costs of a media and communications package (up to $4000), project monitoring (up to 10% of the grant value), and financial audit (up to $1000 for non-government and community applicants).
This extra support will help optimise and promote project outcomes, while also injecting money into the broader local community.
Potential project areas could be bush regeneration, weed management, capacity building, signage and educational resources, erosion control, fencing, ecological/cultural burning, formalisation of tracks, habitat creation structures, pest animal management, employment of project staff, revegetation, seed production areas/orchards and threatened species management.
Community organisations must be not-for-profits in order to apply, and could be community groups, incorporated associations, incorporated non-profit organisations, non-commercial cooperatives, companies limited by guarantee or non-government organisations. See
guidelines
for further detail.
Eligible government organisations include state government agencies and/or statutory committees, councils, regional organisations of councils, other local government-controlled organisations and universities (only eligible to apply for funding for projects on their own land).
The Serpentine Bilgola Shared Space Consult
Submissions close: Sunday November 22, 2020
Over the next 12 months Council will be trialling a walking and cycling-friendly link within The Serpentine, Bilgola, which also forms Section 2 of the Newport to Avalon Pedestrian and Cycle Link.
The changes include:
more space for cycling with cycle lanes on the uphill sections of The Serpentine
a 10 km/h posted speed limit
planter boxes, pavement paintings and marked parking bays.
This new safe cycling route supports the Move - Northern Beaches Transport Strategy 2038's aim to double active travel trips for households, commuters and school students. The project also supports various objectives outlined in the Northern Beaches Bike Plan, Walking Plan and Road Safety Plan.
Council hope to commence construction in November ready for the trial to start in December. This project is funded by the NSW Government's Streets as Shared Spaces program and Northern Beaches Council.
The consultation period has been extended and will now close Sunday 22 November. Council will also check in with the community to monitor how the trial is going at various stages over the next 12 months.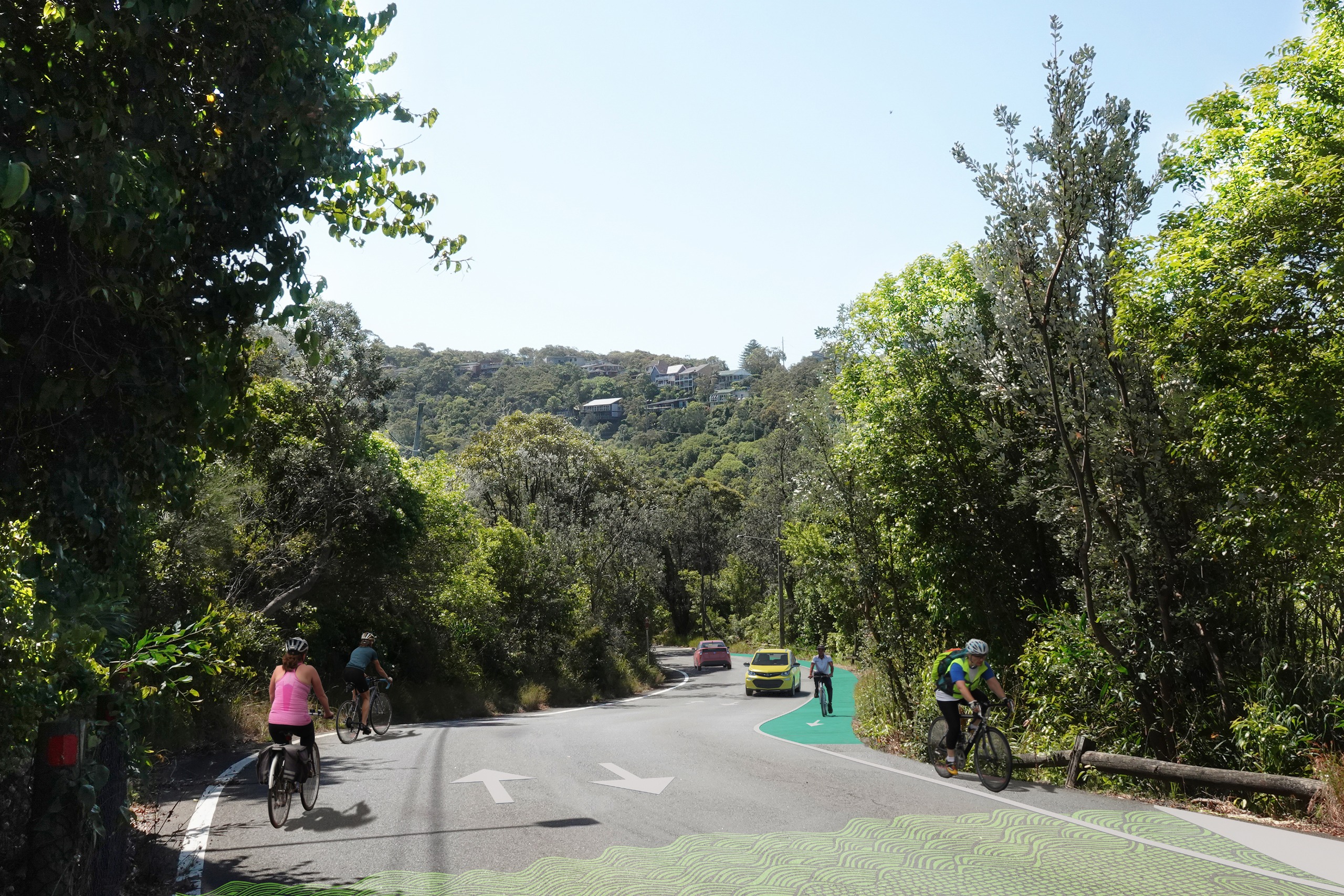 Artist impression of changes in one section

Newport - Avalon Pedestrian & Cycle Link Section 1
Submissions close: Sun December 6, 2020
This section commences at the northern end of Newport Beach carpark, adjacent to Neptune Road and finishes at The Serpentine, Bilgola Beach.
A key theme identified during stage 1 consultation for this section was to minimise impact on vegetation where possible.
Council have now revised the plans and reduced the width of the path to 3 metre (originally 3.5m) to reduce vegetation loss.
Construction is expected to begin in mid 2021.
Newport - Avalon Pedestrian & Cycle Link
Submissions close: Sun December 6, 2020
This section of the Newport to Avalon Pedestrian and Cycle link commences at the northern intersection of The Serpentine and Barrenjoey Road and finishes at Avalon Parade, Avalon.
Following ongoing consultation with the community Council revised the design to protect the local environment and maintain the existing amenity of the area.
The design now features:
2.5 meter wide shared path from The Serpentine to Surfside Avenue (originally 3.5 meters wide)
new path on Surfside Avenue (Eastern side) crossing to the western side and continuing into Avalon Parade
Council are also no longer proceeding with formalisation of the South Avalon Headland Carpark or the concrete path along the eastern edge of the carpark.
Wild Idea Incubator 2021: Do You Have A Great Idea?
The state's most innovative and environmentally focused entrepreneurs have been recognised as finalists in the Wild Idea Incubator program of 2020.
Now in its second year, the program was co-designed by the NSW Government's Saving our Species (SoS) program, Odonata, a not-for-profit entity supporting biodiversity impact solutions, and the NAB Foundation, to encourage new business ideas aimed at supporting Australia's biodiversity.
This year's finalists include:
Majell Backhausen, Simon Harris and Hilary McAllister: For Wild Places
Georgi and Bruce Ivers: Trees for Australia
David Flood and Kate Torgernsen: Beyond the Fairway – Golf Embracing Nature
Mark Gardener: Farm Level Environmental Profit and Loss Reporting
Aimee Bowman and Holly Newman: Planet Warrior Education
Camille Goldstone-Henry: Xylo Systems, a collaborative conservation reporting tool.
SoS Principal Manager of Partnerships, Tania Reid, said there was a 300 per cent increase in entries into the Wild Idea Incubator this year.
"Not even a global pandemic could stop these entrepreneurs from developing big ideas to make their mark in the biodiversity and conservation movement at a time where environmental solutions have never mattered more," she said. "This has been a six-month journey to grow unique business ventures, and all participants have benefited from mentoring and networking opportunities.
"From environmental education programs, to monitoring threatened species using drone data, we saw a huge variety of business ideas that all have the potential to make a profound and lasting positive impact on Australia's natural environment.
"The 2019 Wild Idea finalists are already making a difference in conservation and realising their business goals. David Brook's Wildbnb is now a major provider of habitat boxes in the Northern Rivers; Jessie Panazzaolo's Lonely Conservationists is now an international network; and Edgar Greste and Susannah Kable's are producing the SoS Business of Biodiversity podcast through their Grow Love Project.
"We can't wait to see where this year's finalists are in 12 months' time – we are really excited to watch their journeys unfold."
The six Wild Idea 2020 finalists were selected by a panel of prominent contributors in the conservation space and are now participating in an intensive four-month coaching program to finesse their business concepts and strategies.
NAB Associate Director of Natural Value, James Bentley said: "events of 2020 have put the spotlight on the macroeconomic risks of escalating biodiversity loss. However, whilst the costs are stark, ultimately, we need an army of eco-entrepreneurs to unleash practical solutions. We are delighted with the finalists and hope they inspire others to follow in their footsteps."
The finalists will do a final pitch of their finished project and announce launch details in February.
Odonata Chief Executive Officer, Sam Marwood, said this week: "
If you have a business idea that can help nature we encourage you to pursue it and sign up for the 2021 program
."
Bushcare In Pittwater
For further information or to confirm the meeting details for below groups, please contact Council's Bushcare Officer on 9970 1367
BUSHCARE SCHEDULES
Where we work Which day What time
Avalon
Angophora Reserve 3rd Sunday 8:30 - 11:30am
Avalon Dunes 1st Sunday 8:30 - 11:30am
Avalon Golf Course 2nd Wednesday 3 - 5:30pm
Careel Creek 4th Saturday 8:30 - 11:30am
Toongari Reserve 3rd Saturday 9 - 12noon (8 - 11am in summer)
Bangalley Headland 2nd Sunday 9 to 12noon
Bayview
Winnererremy Bay 4th Sunday 9 to 12noon
Bilgola
North Bilgola Beach 3rd Monday 9 - 12noon
Algona Reserve 1st Saturday 9 - 12noon
Plateau Park 1st Friday 8:30 - 11:30am
Church Point
Browns Bay Reserve 1st Tuesday 9 - 12noon
McCarrs Creek Reserve Contact Bushcare Officer To be confirmed
Clareville
Old Wharf Reserve 3rd Saturday 8 - 11am
Elanora
Kundibah Reserve 4th Sunday 8:30 - 11:30am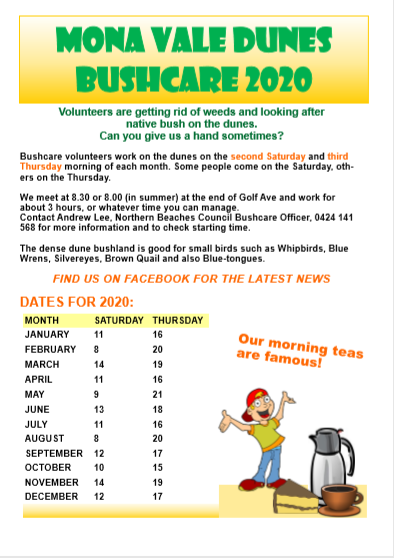 Mona Vale
Mona Vale Beach Basin 1st Saturday 8 - 11am
Mona Vale Dunes 2nd Saturday +3rd Thursday 8:30 - 11:30am
Newport
Bungan Beach 4th Sunday 9 - 12noon
Crescent Reserve 3rd Sunday 9 - 12noon
North Newport Beach 4th Saturday 8:30 - 11:30am
Porter Reserve 2nd Saturday 8 - 11am
North Narrabeen
Irrawong Reserve 2nd Saturday 2 - 5pm
Palm Beach
North Palm Beach Dunes 3rd Saturday 9 - 12noon
Scotland Island
Catherine Park 2nd Sunday 10 - 12:30pm
Elizabeth Park 1st Saturday 9 - 12noon
Pathilda Reserve 3rd Saturday 9 - 12noon
Warriewood
Warriewood Wetlands 1st Sunday 8:30 - 11:30am
Whale Beach
Norma Park 1st Friday 9 - 12noon
Western Foreshores
Coopers Point, Elvina Bay 2nd Sunday 10 - 1pm
Rocky Point, Elvina Bay 1st Monday 9 - 12noon

Gardens And Environment Groups And Organisations In Pittwater
Discovery Triples Greater Glider Species In Australia
November 6, 2020
Australian scientists have discovered one of Australia's best-loved animals is actually three different species.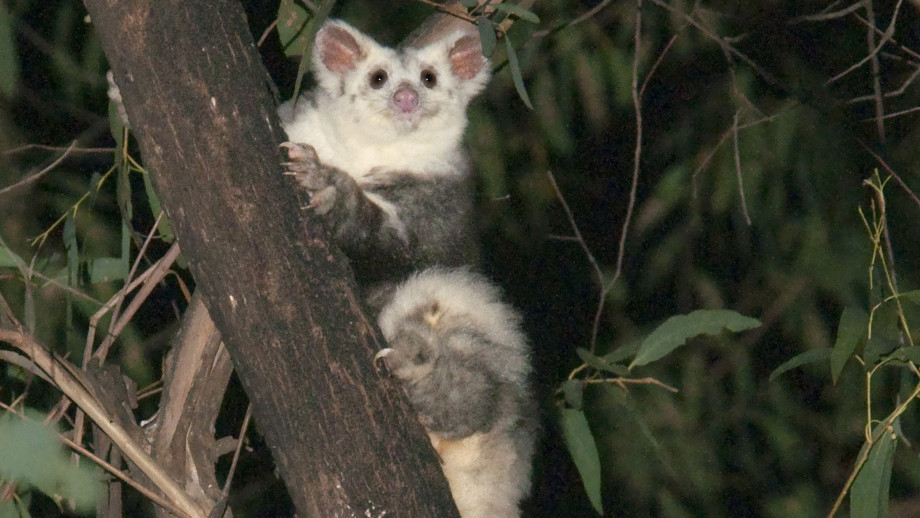 A team of researchers from James Cook University (JCU), The Australian National University (ANU), the University of Canberra and CSIRO analysed the genetic make-up of the greater glider - a possum-sized marsupial that can glide up to 100 metres.
JCU's PhD student Denise McGregor and Professor Andrew Krockenberger were part of a team that confirmed a long-held theory that the greater glider is actually multiple species.
As a part of her PhD project to understand why greater gliders varied so much across their range, Ms McGregor discovered that the genetic differences between the populations she was looking at were profound.
"There has been speculation for a while that there was more than one species of greater glider, but now we have proof from the DNA. It changes the whole way we think about them," she said.
"Australia's biodiversity just got a lot richer. It's not every day that new mammals are confirmed, let alone two new mammals," Professor Krockenberger said.
"Differences in size and physiology gave us hints that the one accepted species was actually three. For the first time, we were able to use Diversity Arrays (DArT) sequencing to provide genetic support for multiple species."
Greater gliders, much larger than the more well-known sugar gliders, eat only eucalyptus leaves and live in forests along the Great Dividing Range from northern Queensland to southern Victoria. Once common, they are now listed as 'vulnerable', with their numbers declining.
Dr Kara Youngentob, a co-author from ANU, said the identification and classification of species are essential for effective conservation management.
"This year Australia experienced a bushfire season of unprecedented severity, resulting in widespread habitat loss and mortality. As a result, there's been an increased focus on understanding genetic diversity and structure of species to protect resilience in the face of climate change," she said.
"The division of the greater glider into multiple species reduces the previous widespread distribution of the original species, further increasing conservation concern for that animal and highlighting the lack of information about the other greater glider species."
She said there have been alarming declines in greater glider populations in the Blue Mountains, NSW and Central Highlands, Victoria and localised extinctions in other areas.
"The knowledge that there is now genetic support for multiple species, with distributions that are much smaller than the range of the previously recognised single species, should be a consideration in future conservation status decisions and management legislation," Dr Youngentob said.
The research is published in Scientific Reports.
Greater Glider photo by Denise Taylor
Tick Population Booming In Our Area
Residents from Terrey Hills and Belrose to Narrabeen and Palm Beach report a high number of ticks are still present in the landscape. Local Veterinarians are stating there has not been the usual break from ticks so far and each day they're still getting cases, especially in treating family dogs.
To help protect yourself and your family, you should:
Use a chemical repellent with DEET, permethrin or picaridin.
Wear light-colored protective clothing.
Tuck pant legs into socks.
Avoid tick-infested areas.
Check yourself, your children, and your pets daily for ticks and carefully remove any ticks using a freezing agent.
If you have a reaction, contact your GP for advice.
Shorebird Identification Booklet
The Migratory Shorebird Program has just released the third edition of its hugely popular Shorebird Identification Booklet. The team has thoroughly revised and updated this pocket-sized companion for all shorebird counters and interested birders, with lots of useful information on our most common shorebirds, key identification features, sighting distribution maps and short articles on some of BirdLife's shorebird activities.
The booklet can be downloaded here in PDF file format: http://www.birdlife.org.au/documents/Shorebird_ID_Booklet_V3.pdf
Paper copies can be ordered as well, see http://www.birdlife.org.au/projects/shorebirds-2020/counter-resources for details.
Download BirdLife Australia's children's education kit to help them learn more about our wading birdlife
Shorebirds are a group of wading birds that can be found feeding on swamps, tidal mudflats, estuaries, beaches and open country. For many people, shorebirds are just those brown birds feeding a long way out on the mud but they are actually a remarkably diverse collection of birds including stilts, sandpipers, snipe, curlews, godwits, plovers and oystercatchers. Each species is superbly adapted to suit its preferred habitat. The Red-necked Stint is as small as a sparrow, with relatively short legs and bill that it pecks food from the surface of the mud with, whereas the Eastern Curlew is over two feet long with a exceptionally long legs and a massively curved beak that it thrusts deep down into the mud to pull out crabs, worms and other creatures hidden below the surface.
Some shorebirds are fairly drab in plumage, especially when they are visiting Australia in their non-breeding season, but when they migrate to their Arctic nesting grounds, they develop a vibrant flush of bright colours to attract a mate. We have 37 types of shorebirds that annually migrate to Australia on some of the most lengthy and arduous journeys in the animal kingdom, but there are also 18 shorebirds that call Australia home all year round.
What all our shorebirds have in common—be they large or small, seasoned traveller or homebody, brightly coloured or in muted tones—is that each species needs adequate safe areas where they can successfully feed and breed.
The National Shorebird Monitoring Program is managed and supported by BirdLife Australia.

This project is supported by Glenelg Hopkins Catchment Management Authority and Hunter Local Land Services through funding from the Australian Government's National Landcare Program. Funding from Helen Macpherson Smith Trust and Port Phillip Bay Fund is acknowledged.
The National Shorebird Monitoring Program is made possible with the help of over 1,600 volunteers working in coastal and inland habitats all over Australia.
The National Shorebird Monitoring program (started as the Shorebirds 2020 project initiated to re-invigorate monitoring around Australia) is raising awareness of how incredible shorebirds are, and actively engaging the community to participate in gathering information needed to conserve shorebirds.
In the short term, the destruction of tidal ecosystems will need to be stopped, and our program is designed to strengthen the case for protecting these important habitats.
In the long term, there will be a need to mitigate against the likely effects of climate change on a species that travels across the entire range of latitudes where impacts are likely.
The identification and protection of critical areas for shorebirds will need to continue in order to guard against the potential threats associated with habitats in close proximity to nearly half the human population.
Here in Australia, the place where these birds grow up and spend most of their lives, continued monitoring is necessary to inform the best management practice to maintain shorebird populations.
BirdLife Australia believe that we can help secure a brighter future for these remarkable birds by educating stakeholders, gathering information on how and why shorebird populations are changing, and working to grow the community of people who care about shorebirds.

To find out more visit: http://www.birdlife.org.au/projects/shorebirds-2020/shorebirds-2020-program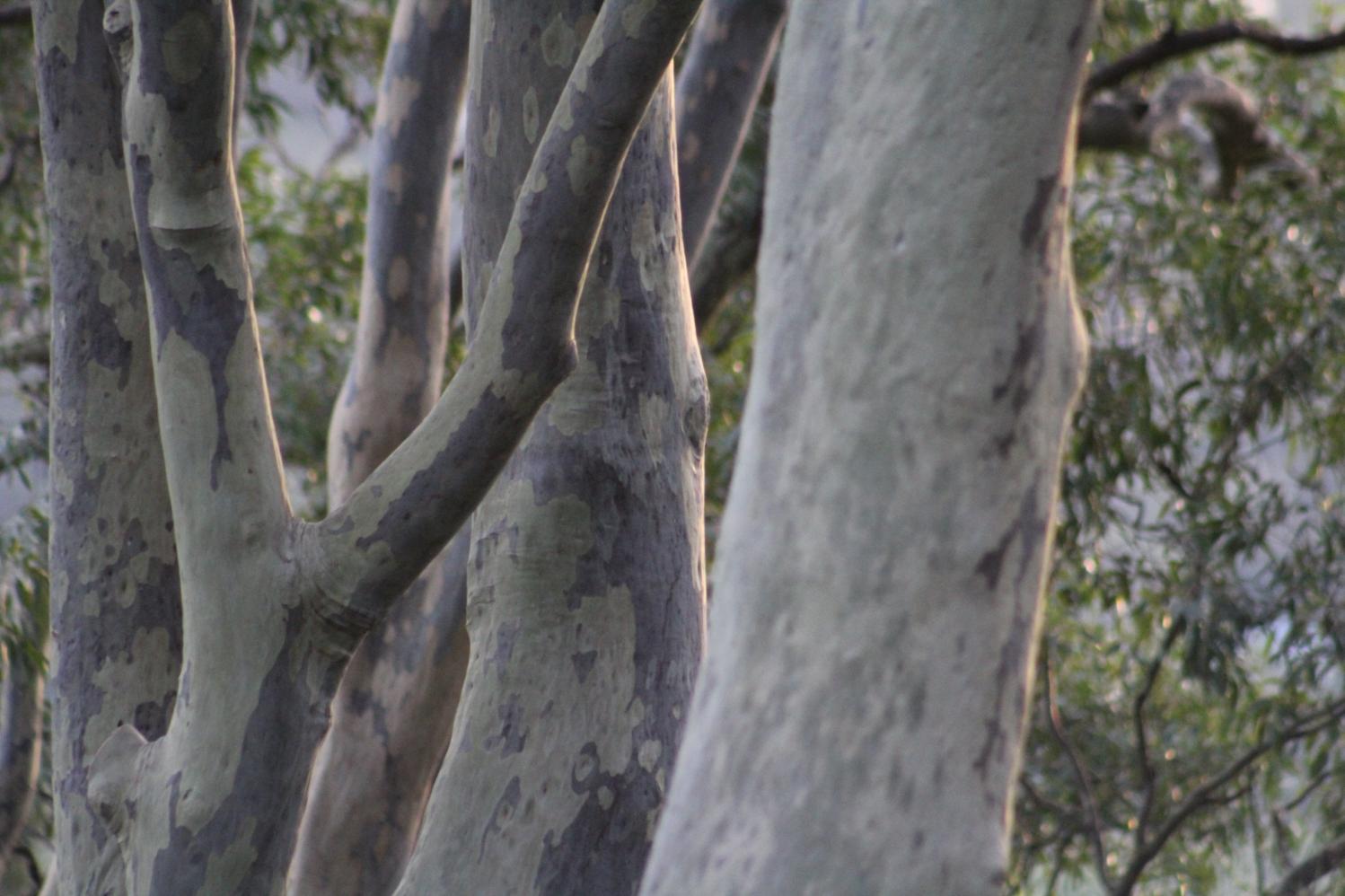 Aussie Bread Tags Collection Points
Collecting bread tags enables us to provide wheelchairs that change the life of disabled people in need, as well as keeping the tags out of landfill to help to preserve the environment.
Bread Tags for Wheelchairs was started in South Africa in 2006 by Mary Honeybun. It is a community program where individuals and organisations collect bread tags, which are sold to recyclers. The money raised pays for wheelchairs for the less fortunate which are purchased through a local pharmacy. Currently about 500kg of bread tags are collected a month in South Africa, funding 2-3 wheelchairs.
We have been collecting bread tags nationally in Australia since September 2018 and now have more than 100 collection points across the country. In February 2019 we started local recycling through Transmutation - Reduce, Reuse and Recycle in Robe, SA, where our tags are recycled into products such as door knobs and bowls. Tags from some states are still sent to South Africa where a plastics company called Zibo recycles them into seedling trays.
These humble bits of polystyrene can make a real difference so get your friends, family, school, workplace and church involved. Ask school tuck shops and boarding school kitchens, child care centres, aged care facilities, hospitals, cafes and fast food outlets to collect for you - they get through a lot of bread!
All the information and signage for collecting or setting up a public collection point is
on our website
.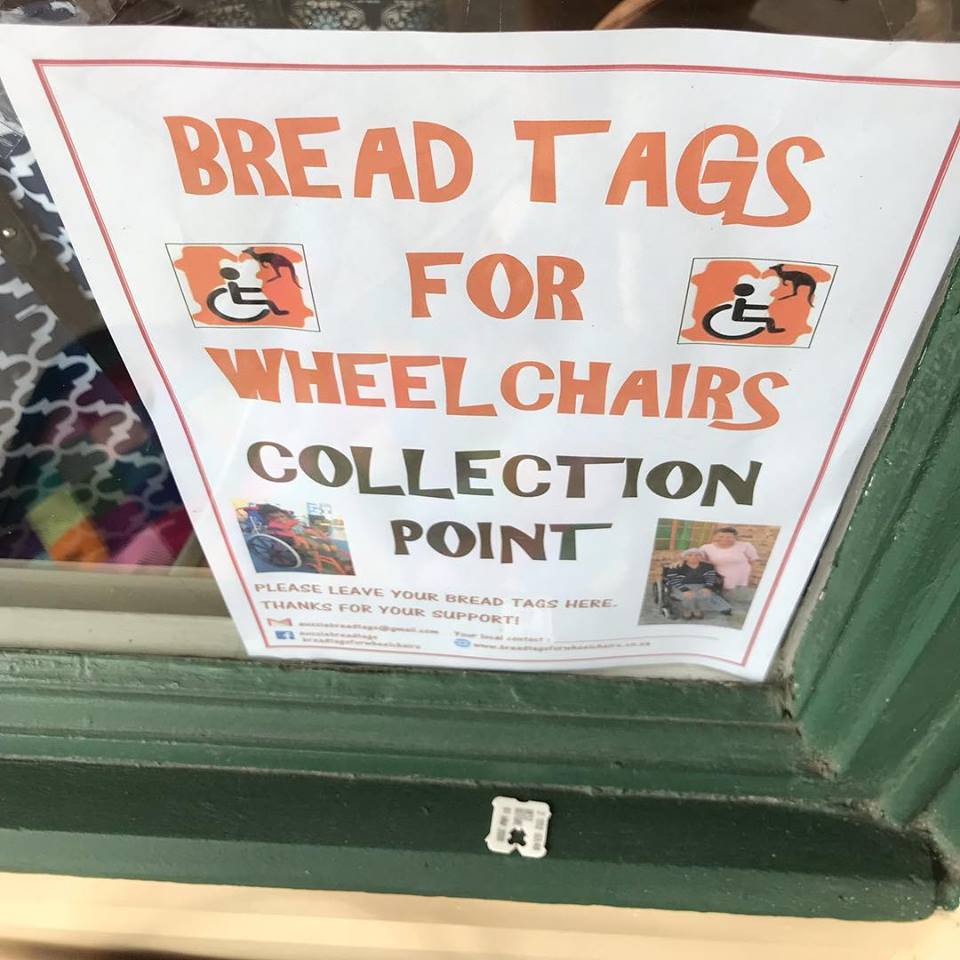 Drones As Stinger Spotters
Researchers from James Cook University in Cairns have demonstrated, for the first time, the potential for off-the-shelf drones to be used to detect deadly box jellyfish
.
The research, published today in the journal PLOS One, focused on Chironex fleckeri -- a large jellyfish capable of killing a human in under three minutes and considered the most venomous animal in the world.
"Chironex fleckeri is found in waters off northern Australia from October to May, when its liking for shallow, calm, coastal waters can put it on a collision course with swimmers," said PhD candidate and project lead Olivia Rowley.
"Drone surveillance could help make our beaches safer, and reduce our reliance on time-consuming drag netting by life savers."
Ms Rowley and colleagues from the Australian Institute of Tropical Health and Medicine set out to establish the reliability of lower-cost domestic drones in detecting these large, near-transparent jellyfish.
"The attraction of these devices is that they are more affordable, easily transported, and easier to use," Ms Rowley said.
"They don't require as much training and licensing as the higher-end versions and a large number of surf lifesaving clubs, particularly in Australia, already have them in their kit for rip identification, and crocodile and shark spotting."
The researchers tested the drones' accuracy as jellyfish spotters in waters near Weipa on Cape York Peninsula. They deployed 70-metre nets, and then recorded drone footage before pulling in the nets and counting and measuring any jellyfish.
During the experiment the drone pilot kept records of jellyfish spotted during each flight. These records were later compared with the netted numbers, and with the accuracy achieved in a lab-based review of the footage.
The researchers confirmed that reviewing footage after the flights led to significantly high detection rates. They also quantified the effects of weather conditions such as cloud cover and wind on the drones' success rate.
"This has huge implications. Most, if not all, beaches worldwide, from Japan to Europe and beyond, have issues with very harmful jellyfish and presently there is no way of telling if animals are there until someone gets stung," Ms Rowley said.
"This project really highlights the capacity for drones as early warning systems. Using drones is fast, effective and cheap and helps keep those on the front line out of the water and out of harm's way."
The next stage of the project will see this research trialled with Surf Life Saving hubs along the Queensland coast. The trials are funded by the Australian Lions Foundation and will begin in the next month.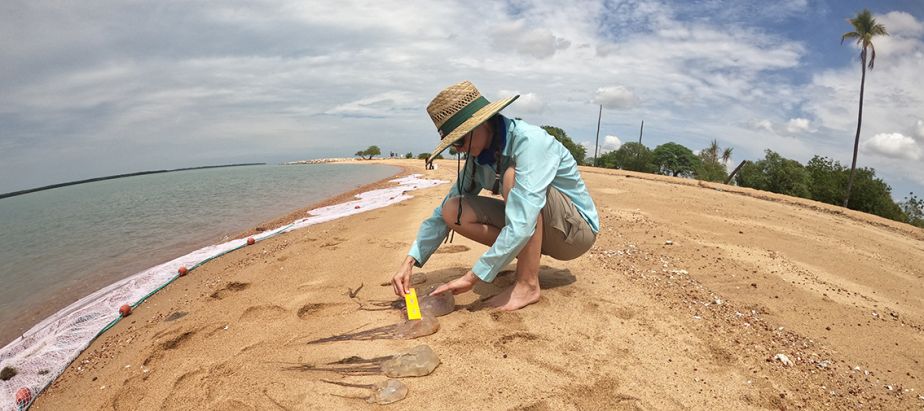 After the drone search scientists counted and measured all Chironex Fleckeri netted in the research zone. James Cook University Photo

Olivia C. Rowley, Robert L. Courtney, Sally A. Browning, Jamie E. Seymour.
Bay watch: Using unmanned aerial vehicles (UAV's) to survey the box jellyfish Chironex fleckeri.
PLOS ONE, 2020; 15 (10): e0241410 DOI:
10.1371/journal.pone.0241410
Buffalo Fly Faces Dengue Nemesis
Few beef producers in the temperate climate of southern Australia will have encountered the parasitic buffalo fly (Haematobia irritans exigua), a scourge of the cattle industry in the country's tropical and subtropical north -- but maintaining this state of affairs, and also lifting a burden off the northern industry, has become a race against time, and climate.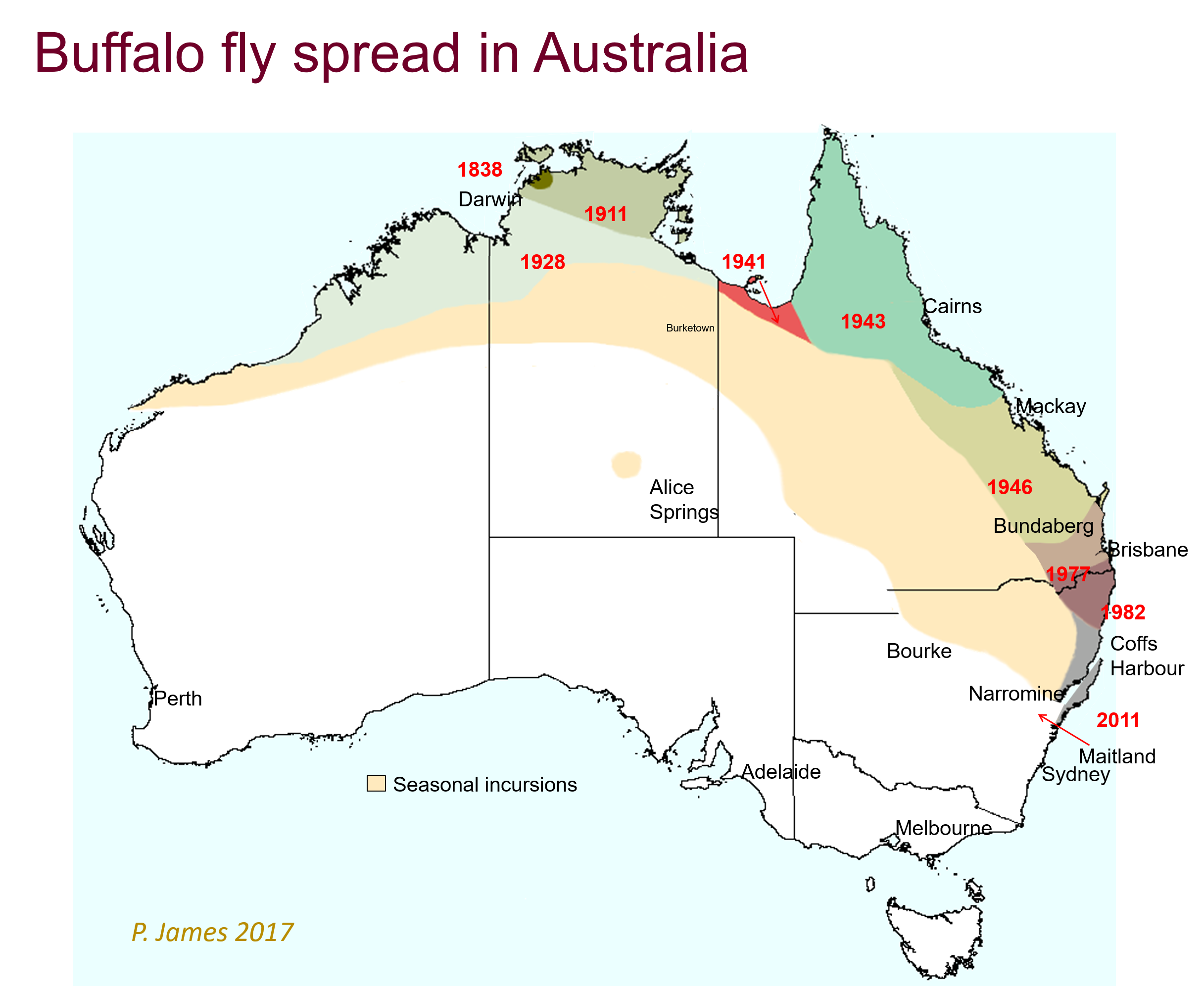 Buffalo fly spread in Australia - credit Peter James

Buffalo fly is a serious animal health and production challenge, costing the northern Australian cattle industry almost $100 million a year in treatments and lost production. But control of the pest with insecticides is running into increasing resistance, plus there is a need to protect Australian beef's 'clean green' reputation and so minimise the need for pesticides.
Over the past century the buffalo fly has been creeping southwards through Queensland to northern New South Wales and modelling shows that, aided by climate change, it could reach as far south as South Australia and south-west Western Australia by 2030. The blood-sucking fly causes large, painful sores and distressed animals can be distracted from feeding enough to seriously affect growth.
The only obstacle in its path is a joint university, industry and Queensland Government biological control project using the insect-infecting bacterium, Wolbachia -- the same agent that has been used so successfully to suppress mosquito-transmitted dengue fever in humans.
The project is led by Dr Peter James from the Queensland Alliance for Agriculture and Food Innovation (QAAFI) at The University of Queensland, who explains the key is using the Wolbachia bacterium to break the fly's breeding cycle. If this can be sustained it presents an opportunity to both suppress the buffalo fly population in the north and stop its spread southwards.
The buffalo fly is a formidable foe, having been introduced from Asia into the Northern Territory in the late 1830s, but the chink in its armour is it weakens in cold weather. Its populations tend to shrink into localised pockets. Dr James says if Wolbachia can be used to further stress the buffalo fly in winter, then a local eradication strategy starts to become a real possibility.
But there are some considerable technical challenges still to overcome. Because the bacterium is spread vertically from mother to offspring, not transferred sideways amongst flies, buffalo flies have to be artificially infected by microinjection. With mosquitoes, this is usually done by microinjection into the eggs. That approach hasn't been able to be used for buffalo fly because the eggs are extremely hard: "When we started micro-injecting eggs, as is done with mosquitoes, we were blunting needles and damaging the eggs like you wouldn't believe. Needles were even breaking," says Dr James.
"So from there we looked at micro-injecting adult flies or pupae, the idea being the bacterium would still spread through the insect and get into the germinal tissue of the females."
He says the main thing is to establish the bacterium in the population because once flies are infected, three control scenarios open up. While Wolbachia is a maternally transmitted bacterium, through eggs, male flies can still be used to manipulate this.
If a Wolbachia infected male mates with a healthy female the eggs will be infertile and so no offspring. Conversely, if a healthy male mates with an infected female the mating will be successful with eggs and offspring produced, but they will be carrying Wolbachia and help to spread it through the buffalo fly population. Dr James says the advantage of this is that it saves researchers having to otherwise breed and release millions of infected or sterile flies.
"But Wolbachia also has a whole lot of other impacts on fly population fitness. We have shown that just the presence of the bacterium can shorten the buffalo flies' lifespan, reduce the number of eggs laid, and the number of pupae that hatch. There are probably also other fitness penalties that we haven't yet identified. If you start to add up all these impacts, that can be a heavy load on survivability.
"And this is where the winter factor comes. In many areas the buffalo fly only just hangs on in low numbers through winter so even Wolbachia's effect on population fitness could be enough to wipe out these populations if the bacterium is deployed strategically."
A second approach is to use Wolbachia to block transmission of the Stephanofilaria nematode transmitted by buffalo flies and associated with the development of buffalo fly lesions on the cattle. Similar to the way that Wolbachia blocks transmission of dengue virus, zika virus and a number of other viruses transmitted by mosquitoes, it has also been shown to block transmission of some nematodes closely related to Stephanofilaria. Spread of Wolbachia through the buffalo fly population could block the nematode and alleviate lesion development
A third option being explored is to breed and release sterile males.
"Again, the idea is to use the sterile males strategically by releasing them into those overwintering areas that are already in a weakened state. This could stop or slow the build-up of buffalo fly in the next season or stop the southerly spread or even provide the basis of local eradication strategies."
Dr James says the challenge now is to improve the consistency and persistence of Wolbachia infection. Since the Wolbachia project started in 2017 researchers have achieved the first big challenge of taking different Wolbachia strains from mosquitoes and also fruit fly and introducing them into a whole new species, the buffalo fly: "Wolbachia has been carried across generations in a number of instances, but we have yet to produce a stably infected strain," he explains.
"But we have reached the stage where we can start finessing the approach. For example we have a project looking at ways to immunosuppress the fly to favour Wolbachia infection.
"We've built up a reasonable toolbox so I am confident we are close to providing sustainable biological control that will deliver economic animal welfare relief to the northern cattle industry, and save the southern industry from ever having to endure the same burden."
Mukund Madhav, Geoff Brown, Jess A. T. Morgan, Sassan Asgari, Elizabeth A. McGraw, Peter James.
Transinfection of buffalo flies (Haematobia irritans exigua) with Wolbachia and effect on host biology.
Parasites & Vectors, 2020; 13 (1) DOI:
10.1186/s13071-020-04161-8
Program Helps Skill Up School Leavers Over Summer
The NSW Government's Skilling for Recovery program offers fee-free training places for school leavers, young people and job seekers.
Hundreds of fee-free training courses are now available for school leavers, young people and job seekers, as part of the NSW Government's Skilling for Recovery initiative.
Premier Gladys Berejiklian said the courses came from the $320 million committed to delivering 100,000 fee-free training places across the state.
"There are more than 100,000 fee-free training places available for people in NSW as the workforce looks to reskill, retrain and redeploy in a post-COVID-19 economy," Ms Berejiklian said.
"It doesn't matter if you are a school leaver or looking for a new career path, I encourage everyone impacted by the pandemic to see what training options are available to them."
Minister for Skills and Tertiary Education Geoff Lee said enrolments were now open for in-demand skills leading to career pathways in areas such as aged care, nursing, trades, IT, community services, logistics and accounting.
"We are not training for the sake of training, we are training for real jobs with real futures and equipping the people of NSW with the skills they need to thrive in a post-pandemic economy," Mr Lee said.
"There are hundreds of providers right around NSW who are ready to deliver this important training."
As part of this Skilling for Recovery initiative, school leavers have the unique opportunity to experience a range of skills to find out what suits their passions using the Summer Skills program.
Minister for Education Sarah Mitchell said some Year 12 school leavers were still deciding what they wanted to do next.
"In designing the Summer Skills program, the NSW Government has ensured the training on offer is aligned to local industry needs," Ms Mitchell said.
"We need to provide opportunities that help the 2020 Year 12 school leaver cohort to find their feet during these uncertain times. That's why we're delivering practical, bite-sized and fee-free training opportunities this summer."
The Summer Skills offered will cover a range of industries including agriculture, construction, conservation, fitness, engineering, coding, communication and digital literacy.
You can find further details of the courses on offer as part of Skilling for Recovery and the Department of Education Summer Skills program on the respective websites.
New Study Reveals Poisoning Exposures In Australian Schools
New research from the University of Sydney has found poisoning exposures in children and adolescents while at school are relatively common and appear to be increasing, highlighting the need for more robust prevention measures.
The authors state that by focusing on improved safety strategies, the incidence of poisonings in schools could decrease.
Published today in the Archives of Disease in Childhood, it is the most up-to date study to investigate poisonings in schools in New South Wales, Australian Capital Territory and Tasmania, with data revealing the types of exposures and substances involved.
The researchers studied cases reported to the New South Wales Poisons Information Centre (NSWPIC) over a 4 and-a-half-year period (January 2014 to June 2018). NSWPIC is Australia's largest Poisons Information Centre, taking 50 percent of the nation's poisoning calls.
Injury and poisoning are major causes of hospitalisation and death in children globally. Poisoning is the third leading source of hospitalised childhood injury in Australia and is largely preventable.
"The study found 1751 calls relating to exposures at school made to the Poisons Information Centre, with 61 percent concerning accidental exposures, 12 percent concerning deliberate self-poisonings and 12 percent from medication dosing errors," said senior author Dr Rose Cairns from Sydney School of Pharmacy, in the Faculty of Medicine and Health, and senior poisons specialist at the NSW Poisons Information Centre.
"Most self-poisoning exposures were from over-the-counter products such as paracetamol, and most accidental exposures occurred from stings and bites, exposures to plants and in science class.
"Poisoning exposures at school appear to be increasing, with 81 calls per quarter in 2014-2016, and 129 calls per quarter in 2017-2018.
"Children are at risk of different types of poisoning depending on their age and developmental stage. Younger children are at risk of accidental exposures, while adolescents are at risk of self-harm poisonings. Deliberate self-poisoning (self-harm exposures/overdose) is increasing in children and adolescents in Australia, and elsewhere," Dr Cairns said.
The median age was 12 years old and exposure peaked in children 14 years
55 percent of cases were male
Deliberate self-poisoning was predominantly reported in girls (79 percent)
More than 25 percent of poisoning cases were hospitalised, with deliberate self-poisoning exposures being the most common reason (92 percent), recreational exposures (57 percent) and other intentional exposures (33 percent)
Accidental exposures (15 percent) and medication errors (11 percent) had low hospital referral rates
Over-the-counter medicines such as paracetamol and ibuprofen were most commonly taken in self-poisoning incidents
Medication errors occurring at school accounted for nearly 12 percent of cases with the most common medications involved being methylphenidate and clonidine (ADHD medications), and paracetamol. Where recorded, 150 cases involved a dosing error with a medication prescribed for the child involved, while 40 cases were prescription medication administered to the wrong child
Science class poisoning exposures accounted for 19 percent of accidental exposures, and a range of substances were involved. Copper sulfate was responsible for approximately one-quarter of all science class exposures, of which 45 percent resulted in hospitalisation. Most science class exposures were accidental.
Accidental exposures, dares, pranks and recreational exposures occurred more frequently in boys
Poisons calls were not just about medicines, but included everything from insect bites, mushrooms and hand sanitiser, to glow sticks, soap and disinfectant.
Strategies needed to stop preventable poison exposures
"Many of these poison exposures were likely preventable, so we need to focus on strategies for prevention and school-based initiatives and programmes to make the school environment safer for students," said Dr Cairns.
"A better understanding of reasons for poisonings, and circumstances surrounding exposures, is key to guiding public health strategies for poisoning prevention.
"For accidental poisoning exposures schools could undertake a risk assessment of common chemistry experiments and reinforce the use of personal protective equipment in class. This includes the provision of well-fitting goggles to prevent eye exposures.
"In the case of deliberate self-poisonings, schools could look to increase teacher training for identifying and responding to mental health problems, anti-bullying strategies, more school counsellors, regulation of social media use, and mental health first aid training for teachers. The increased funding for school counsellors and psychologists announced in September is a step in the right direction.
"Despite there being policies and procedures regarding medication handling in Australian schools, medication administration errors were common over the study period. While low risk, our study highlights the importance of medication skills training by school staff to ensure correct administration of medications to students. Some medicines are self-administered by students during school time, so increased counselling by prescribers may also help, or consideration of dosing regimens that avoid medication during school hours.
"This is particularly important as Australian studies have found that the prescribing of medicines in children and adolescents, particularly of psychotropics, has increased substantially and it was these medicines where the dosing errors occurred most frequently.
"Poisonings can occur in any setting, including at home and at school. While we often focus on poisoning prevention initiatives to improve safety in the home, we need to recognise that children spend a large portion of their waking hours at school, so it's important to consider simple ways we can decrease poisoning exposures in this setting."
Jennifer Ly, Jared A Brown, Nicholas A Buckley, Rose Cairns.
Paediatric poisoning exposures in schools: reports to Australia's largest poisons centre.
Archives of Disease in Childhood, 2020; archdischild-2020-319919 DOI:
10.1136/archdischild-2020-319919
Radical Diagnostic Could Save Millions Of People At Risk Of Dying From Blood Loss
Engineers at Monash University in Australia have developed a fast, portable and cheap diagnostic that can help deliver urgent treatment to people at risk of dying from rapid blood loss.
In a world-first outcome that could save more than two million lives globally each year, researchers have developed a diagnostic using a glass slide, Teflon film and a piece of paper that can test for levels of fibrinogen concentration in blood in less than four minutes.
Fibrinogen is a protein found in blood that is needed for clotting. When a patient experiences traumatic injury, such as a serious car accident, or major surgery and childbirth complications, fibrinogen is required in their blood to prevent major haemorrhaging and death from blood loss.
Typically, heavily bleeding patients must be transported to a hospital or emergency centre where they undergo diagnostic tests before being treated. These tests are time consuming and costly as they require expensive equipment, specialised/trained personnel and can take up to half an hour.
This new development by researchers at Monash University's Department of Chemical Engineering and BioPRIA (Bioresource Processing Institute of Australia), in collaboration with Haemokinesis, removes the need for centralised hospital equipment to detect, monitor and treat fibrinogen levels -- something never achieved until now.
Additionally, this diagnostic can be upscaled into a point-of-care tool and placed in ambulances and other first responder vehicles, in regional and remote locations, and in GP clinics. It takes just four minutes to complete.
Findings were published in the journal ACS Sensors.
Professor Gil Garnier, Director of BioPRIA, said this diagnostic will allow emergency doctors and paramedics to quickly and accurately diagnose low levels of fibrinogen in patients, giving them faster access to life-saving treatment to stop critical bleeding.
"When a patient is bleeding heavily and has received several blood transfusions, their levels of fibrinogen drop. Even after dozens of transfusions, patients keep bleeding. What they need is an injection of fibrinogen. However, if patients receive too much fibrinogen, they can also die," Professor Garnier said.
"There are more than 60 tests that can measure fibrinogen concentration. However, these tests require importable machinery on hospital table tops to use. This means that critical time has to be spent transporting heavily bleeding patients to a hospital -- before they even undergo a 30 minute diagnosis."
PhD candidate in the Department of Chemical Engineering and research co-author, Marek Bialkower, said the implications for this diagnostic are significant.
"Our diagnostic can eliminate the preparation time, labour and transportation difficulties of traditional techniques used in the hospital, Mr Bialkower said.
"It can diagnose hypofibrinogenemia in critically bleeding patients anywhere in the world, and can drastically reduce the time to treatment needed for fibrinogen replacement therapy. The test can take less than four minutes, about five times faster than the current gold standard methods."
The test works by placing a pre-mixed droplet of a blood sample and an enzyme solution onto a solid surface, allowing it to clot, and then dropping a paper strip on top. The further that blood moves down the strip of paper, the lower the fibrinogen concentration.
The diagnostic can work with a variety of blood conditions. Furthermore, diluting blood samples not only increases the test's sensitivity, but also eliminates the effect of interfering substances in the blood.
Hypofibrinogenemia (insufficient fibrinogen to enable effective clotting) in critical bleeding is common. More than 20 per cent of major trauma patients have hyperfibrinogenemia.
Dr Clare Manderson, Research Fellow in the Monash Department of Chemical Engineering and co-author of the study, said the early diagnosis of hypofibrinogenemia could stop bleeding in these patients and save their lives.
"The development of the world's first handheld fibrinogen diagnostic is a game changer for the millions of people who die each year from critical blood loss. It will also ease pressure on emergency departments knowing that this life-saving treatment can be delivered on site and in quick time," Dr Manderson said.
"Our capacity to develop this diagnostic using cheap and readily available materials means it can be easily commercialised for use across the world."
Professor Gil Garnier and Marek Bialkower (BioPRIA, Department of Chemical Engineering) led this research titled: 'Paper diagnostic for direct measurement of fibrinogen concentration in whole blood'. They were supported by Dr Clare Manderson and Dr Heather McLiesh (BioPRIA, Department of Chemical Engineering), and Associate Professor Rico Tabor (School of Chemistry).
The research was funded by an ARC Linkage grant and Haemokinesis, which owns the intellectual property.
Marek Bialkower, Clare A. Manderson, Heather McLiesh, Rico F. Tabor, Gil Garnier.
Paper Diagnostic for Direct Measurement of Fibrinogen Concentration in Whole Blood.
ACS Sensors, 2020; DOI:
10.1021/acssensors.0c01937
Disclaimer: These articles are not intended to provide medical advice, diagnosis or treatment. Views expressed here do not necessarily reflect those of Pittwater Online News or its staff.