Inbox and Environment News: Issue 470
October 18 - 24, 2020: Issue 470
Nutrition Key To Health For Senior Australians
Senior Australians have been encouraged to maintain a healthy diet as the COVID-19 pandemic changes the way we live, work, study and socialise.
As part of National Nutrition Week, Minister for Aged Care and Senior Australians, Richard Colbeck, has urged people of all ages to eat well to boost their immunity and overall health.
He said this is particularly important for senior and vulnerable Australians.
"Eating well is at the foundation of our individual health but this can be challenging for many people during such difficult times," Minister Colbeck said.
"The Australian Government maintains the Australian Dietary Guidelines which provide evidence-based advice about the amount and kinds of food we need to eat for health and wellbeing.
"By following the dietary patterns recommended in the guidelines, we will get enough nutrients essential for good health.
"It will also help reduce our risk of chronic health problems such as heart disease, type 2 diabetes, some cancers and obesity down the track."
Only one in 20 (5.4 per cent) of Australian adults and one in 17 (6.0 per cent) children aged 2-17 years meet the recommendations in the Australian Dietary Guidelines for fruit and vegetable consumption.
Minister Colbeck praised the efforts of meal delivery services like Meals on Wheels, which plays a crucial role in supporting the health and wellbeing of over 200,000 older Australians across 592 service locations.
"With the impact of the pandemic, the care and wellbeing of senior Australians has been a priority this year, and meals services and food security have become even more important," he said.
More than 10 million meals every year are delivered with the support of more than 76,000 Meals on Wheels volunteers.
The Government provided an additional $59.3 million to enable more prepared meals, food staples and essential daily items to be delivered to seniors in need.
Meal deliveries are available through Commonwealth Home Support Programme (CHSP).
"National Nutrition Week is a great opportunity for people to think about the foods they eat and ensuring they maintain a healthy and regular diet," Minister Colbeck said.
For more information about the Australian Dietary Guidelines,
see here
.
More information about meal deliveries is available by contacting Commonwealth Home Support Package meal providers directly, or through My Aged Care on 1800 200 422.
What Keeps You Awake At Night?
Did you know that 1 in 4 older people are at risk of dropping dead at night? National Seniors Chief Advocate Ian Henschke asks why and discovers what can be done.
I sometimes joke that apart from being Chief Advocate with National Seniors I'm also president of HA. HA is the acronym for Hypochondriacs Anonymous, a condition that is often associated with insomnia.
Unlike the 4 in 10 older people who experience insomnia my latest problem isn't one that keeps me awake at night, quite the opposite, it has me dropping off during the day and apparently nearly dropping dead at night.
It's called sleep apnoea* and I was diagnosed by my wife.
She often wakes to see me sleeping on my back, snoring loudly. Then hears me stop breathing. It lasts so long she panics and nudges me in the ribs telling me to roll over. I remember nothing in the morning.
My GP referred me to a sleep clinic at a local private hospital where I was wired up for overnight observation. Sensors were placed all over me and a microphone pointed at my head to record nocturnal noises. The data collected resulted in an official sleep apnoea diagnosis and I was told I would benefit from using a CPAP machine.
CPAP stands for Continuous Positive Airway Pressure. You wear a mask at night and an electric pump pushes air into your nasal passages to keep the airways open. But I couldn't bring myself to use one. I told myself CPAP was CRAP. I wasn't going to bed wearing a mask.
There had to be another way.
I learnt if I lost weight it might help. I started running regularly. I tackled my chocolate addiction, buying the standard block instead of the giant one. I cut down on caffeine and the booze. My beloved told me my snoring was less of a problem but then came COVID - less exercise and bad diet.
Then unexpectedly I received an email asking for human lab rats for an anti-apnea drug study. It started a month ago with a night in the sleep laboratory wired up like a Christmas tree to make sure I still had the problem. I did.
After a series of tests, I was sent home with two bottles of pills, a diary and device to put under the mattress to track my sleep activity. So far not so good. I'm waking almost every morning between 4 and 5 then going for a wee walk and back to bed. But I'm sticking with it; another month to go.
If you're reading this and wondering if you have it, then check out the classic symptoms.
Do you have excessive daytime sleepiness?
Loud snoring, snorting and gasping at night?
Dry mouth with morning headaches?
Poor concentration, memory problems and irritability?
If untreated, it can result in hypertension, depression, vascular disease, congestive heart failure, heart attack, type 2 diabetes, stroke, and even premature death!
I'm surprised they didn't mention dementia and male impotence but I'm sure it's implicated. It's also associated with a higher incidence of car and truck crashes and industrial accidents.
More information about sleep apnoea and other sleep disorders
here
.
* Obstructive sleep apnoea is present when the airway at the back of the mouth repeatedly partly or completely obstructs during sleep. Your breathing is reduced or may stop altogether. The oxygen level then falls and you wake up briefly to start breathing again. With sleep apnea your breathing during sleep is reduced or may stop altogether. The oxygen level then falls and you wake up briefly to start breathing again. These episodes may happen many times across a night. Some people know that their breathing is not normal all night, but may be unaware that they have a problem. Fortunately, good treatments are available and help patients to lead a normal, active life.
Waiting Lists Point To Post-Covid Hospital Crisis:
AMA Public Hospital Report Card 2020
A new AMA analysis shows that public hospital performance around the nation was deteriorating even before the COVID-19 pandemic, painting a gloomy picture for waiting lists and health outcomes once restrictions are lifted and elective surgery recommences.
The AMA Public Hospital Report Card 2020 shows increasing numbers of patients presenting to emergency departments, longer waiting lists for treatment, and a rate of government funding growth that is too low to provide patients with timely access to treatment. This is all leading to a perfect storm when patients begin to seek treatment for non-COVID conditions.
"Australia has one of the best-performing health systems in the world, and the care provided by our public hospitals is something we can all be proud of," AMA President, Dr Omar Khorshid, said.
"However, our hardworking and dedicated public hospital staff are coming under increasing pressure, and funding levels are inadequate.
"This Report Card shows that access to public hospital treatment in many jurisdictions is deteriorating, and waiting times are getting worse, even though public hospital staff continue to work hard to reduce patient length of stay, so beds can be used by the next patient.
"More than 8.3 million patients presented to public hospital emergency departments around Australia in 2018-19. More than three million of them needed urgent care, but more than a third of them were not treated on time.
"More than half of all emergency patients who needed to be subsequently admitted to hospital waited longer than four hours to be transferred to an available ward bed.
"More patients were added to elective surgery waiting lists in 2018-19 than were admitted for surgery, and the national median waiting time was the worst since 2001-02.
"Elective surgery waiting list statistics are worse than the official data suggests, because they do not include the time that patients wait to see an outpatient specialist before being added to the official waiting list. If this additional waiting period were to be added, the statistics would be far more realistic, and more sobering.
"Inadequate funding and bed block on public hospital wards delays patient care and puts patients at risk of complications, poorer outcomes and higher public hospital costs.
"The COVID-19 pandemic has meant that many elective surgeries have been put on hold, people have put off regular health checks, including cancer screening and diagnostic testing.
"This is likely to increase the backlog of patients who need urgent treatment because the opportunity for early intervention has been missed.
"This Report Card shows that public hospitals do not have the idle capacity or sufficient funding growth to rapidly expand the volume of public hospital care for those who will urgently need it. This needs to change.
"At the same time, the balance between public hospitals and private hospitals, underpinned by Government-subsidised private health insurance, is becoming increasingly precarious.
"Even before COVID-19, health fund membership was declining as wages growth remained stubbornly flat and premium increases forced many young people out of the health insurance market.
"This Report Card confirms the importance of preserving the additional hospital capacity in the private hospital sector – our public hospitals are in no shape to take on even more."
The AMA is calling on the Federal Government to act quickly to preserve and improve the quality and quantity of health care delivered in our public hospitals by:
providing adequate funding to cover the predicted increase in demand for public hospital services,
recognising the impact of COVID-19 on State Government budgets and the limits on their ability to fund growth in public hospital services,
acting immediately to address the ongoing fall in private health insurance membership to preserve the capacity of the public hospital system to provide care to those who need it most,
supporting general practice to deliver high quality primary and preventive care in order to prevent avoidable hospital admissions.
In 2018-19, more than 8.3 million patients presented to public hospital emergency departments – a 4.2 per cent increase on the previous year.
More than three million emergency patients were categorised as Urgent– requiring treatment within 30 minutes – but more than one in three waited for longer than clinically recommended.
Urgent patients were less likely to be treated within 30 minutes in 2018-19 than they were in 2013-14.
In 2018-19, only one in two patients (53 per cent) who needed resuscitation left emergency within four hours.
The total number of available public hospital beds in Australia in 2017-18 dropped by 122 below 2016-17 levels. Public hospital bed ratios per 1,000 population for the high utilization cohort aged over 65 years declined in 2017-18 for the 26th consecutive year to 16.0 – the lowest level since 1991-92.
The national median wait time for all elective surgery in 2018-19 was 41 days – the worst performance since 2001-02.
Budget Allocations For The Hard Of Hearing
The Australian Government will implement key initiatives from the Roadmap for Hearing Health, investing $21.2 million over five years.
Addressing a meeting of the Hearing Health Sector Alliance today, Minister for Regional Health, Mark Coulton, said the Government's investment reflects its ongoing commitment to improving access to hearing support services for vulnerable Australians.
"With more than 3.6 million Australians currently affected by hearing loss and that number expected to reach 7.8 million by 2060, it is vital we have the services and support that allow them to best live to their potential," Minister Coulton said.
"That's why the Government is investing in and reforming its hearing services to improve access and quality of services for all Australians.
"With numerous efforts already underway, including development of paediatric standards and increasing screening in remote areas, we today announce the implementation of key initiatives from the Roadmap for Hearing Health."
Minister Coulton said the announced Roadmap initiatives focused on making Australians well aware of the importance of hearing health and ensuring services reach those who need them, especially the vulnerable.
"Targeted activities to improve outcomes for Indigenous children and efforts to upskill the aged care workforce will see better outcomes for some of the most in need," he said.
"Regional Australians will be pleased to hear about specific measures to ensure their access to services continues and improves with funding for a rural workforce audit and summit and implementation of new tele-audiology standards to allow this tool to bridge the gap between rural Australians and necessary hearing tests.
"We expect the $5 million awareness campaign to help break down the stigmas that surround hearing loss and to encourage more Australians to get their hearing checked.
"We know how important early identification is in minimising further damage and increased awareness will certainly help."
Minister Coulton said the initiatives announced in the Budget followed work by members of the Hearing Health Sector Alliance to develop the Roadmap.
"Members of the Hearing Health Sector Alliance played a central in role in developing the Roadmap and it is particularly pleasing to be able to discuss its implementation with them today," Minister Coulton said.
"The Commonwealth will continue to work with states and territories to deliver further elements of the Roadmap."
Hearing Health Sector Alliance Chair, Dr Tony Coles, welcomed the announcement, saying it was important the Government was funding the five key priority areas by the Hearing Health Sector Alliance and included in the Roadmap for Hearing Health.
"We're delighted this funding will assist more Australians protect their hearing health, fund research into hearing loss, and support those who need greater access to audiological services.
"With one in six Australians experiencing hearing loss, and links between hearing loss, falls, depression and anxiety, cognitive impairment and dementia, it is important for Australians to protect their hearing and to gain a greater understanding to prevent, treat and manage hearing loss," Dr Coles said.
"The Hearing Health Sector Alliance is looking forward to working collaboratively with the Federal Government to implement these important initiatives as part of the Roadmap for Hearing Health, which will improve hearing outcomes for all Australians."
Roadmap initiatives announced in the Federal Budget are:
$5 million hearing health awareness campaign
$7.3 million for research to develop a sound evidence base for effective treatment, service delivery, and prevention of hearing loss
$5 million for improvements in and early identification of hearing and speech difficulties for Aboriginal and Torres Strait Islander children
$2 million for initiatives in the aged care sector to improve the capability of the aged care workforce to support people with hearing loss.
$400,000 for development and adoption of new tele audiology standards for hearing services.
$200,000 to support rural service delivery through a workforce audit and a rural hearing workforce summit.
Celebs Wish Class Of 2020 'Good Luck'
From football stars to musicians and actors, Australian celebrities are putting their star power behind our HSC students.
With HSC written exams set to commence in a few days away, some of our best known Australians have sent their good luck messages to the Class of 2020.
Education Minister Sarah Mitchell said that 2020 had thrown up plenty of challenges and our HSC students had met them with the help of their school, family and friends.
Now the broader community wanted students to know they had got this.
"This is about reminding students that as they take on the final chapter of the HSC, all of NSW is behind them. From today students will hear from actors, TV personalities, local musicians and sporting stars," Ms Mitchell said.
"Some will share their tips and advice for staying healthy and focused, while others share how they have overcome adversity – all with the aim of letting students know they can do this.
"With the start of written exams only days away, my message to students is to continue to take care of your wellbeing, reach out for support or advice if you need it and keep active. We are all behind you."
Messages of support
"Enjoy this milestone, look around and remember there's a team of people, your family, your friends, your teachers who have got you to this point." – Sally Fitzgibbons, World #1 Australian professional surfer.

"Good luck to all you amazing students of 2020. Go get 'em!" – Claudia Karvan, Australian actress, producer and scriptwriter.

"I wish you all nothing but the best for the future, sending you lots of love." – Australian fashion model, Samantha Harris.
Hear from the stars getting behind the Class of 2020 on Twitter and Facebook, visit the Stay Healthy HSC hub for tips and advice for students and their families.
Surfing NSW Launches New Creative Kids Program
Tuesday 13 October 2020
Surfing NSW is pleased to announce the launch of the Surfing NSW Creative Kids program.
The program is a new six-week course where participants will learn the basics of surf photography, filming and content creation as well as tips to build a portfolio and get their work seen.
The program will develop a creative skillset for high-school-aged participants through a series of online modules.
All classes are covered by the $100 Creative Kids voucher (available to download from Service NSW). In addition, all participants will receive a prize pack from our sponsors Havaianas, discounts on equipment from AquaTech as well as money-can't-buy experiences with some of the most renowned photographers and filmers in surfing.
Over the course of the program, Surfing NSW will aim to provide all students with skills that they will be able to grow and use to best capture their love of the ocean and showcase each of their unique perspectives.
Surfing NSW CEO Luke Madden is elated to get the Surfing NSW Creative Kids program up-and-running.
"The Surfing NSW Creative Kids program is an initiative that I'm extremely passionate about and I believe that budding photographers and hobbyists will be able to learn a lot about how they can create decent imagery and film pieces."
The first module in the Surfing NSW Creative Kids is ready to be watched right now and modules continue to drop every week over the next six weeks.
Participants can join any time and are free to binge-watch all six episodes at their convenience.
For more information on the Surfing NSW Creative Kids please check out surfingnswcreativekids.com or email creativekids@surfingnsw.com.au
The Surfing NSW Creative Kids program is supported by Havaianas, AquaTech, Australian Skin Cancer Clinics, Service NSW and Surfing NSW.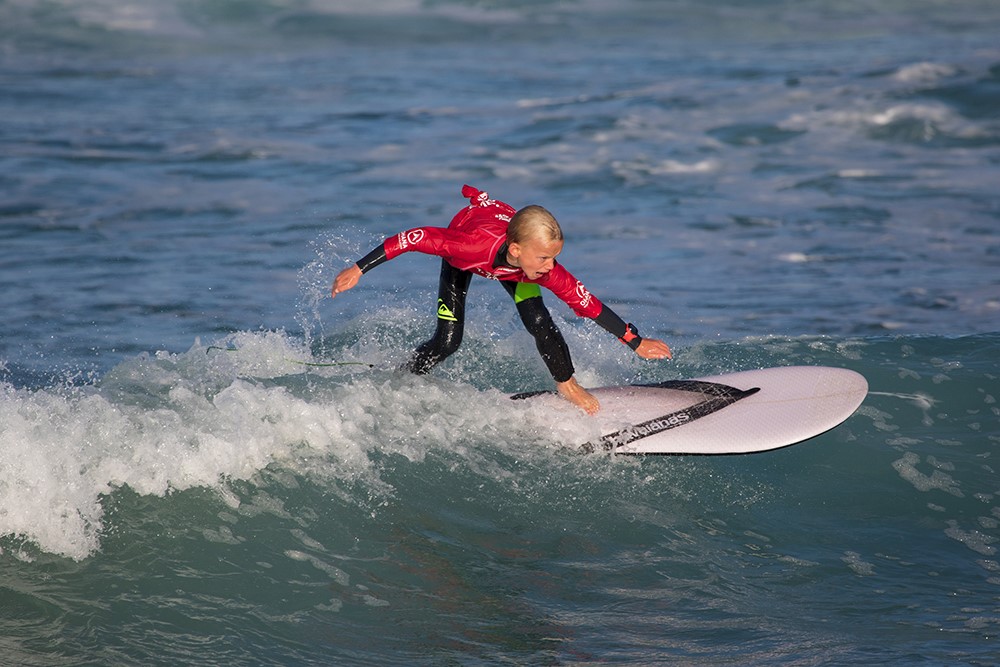 Photo: Ethan Smith / Surfing NSW
Waves Of Wellness
Waves of Wellness offer free weekly learn-to-surf lessons that are paired with wellness discussions on the beach. It's for men aged 16+ and is launching again in Warriewood later this month (October 30, 2020). Many people have greatly benefited from this program, so if you know of anyone who could gain from it, get them to register here: https://www.wowsandnsurf.com/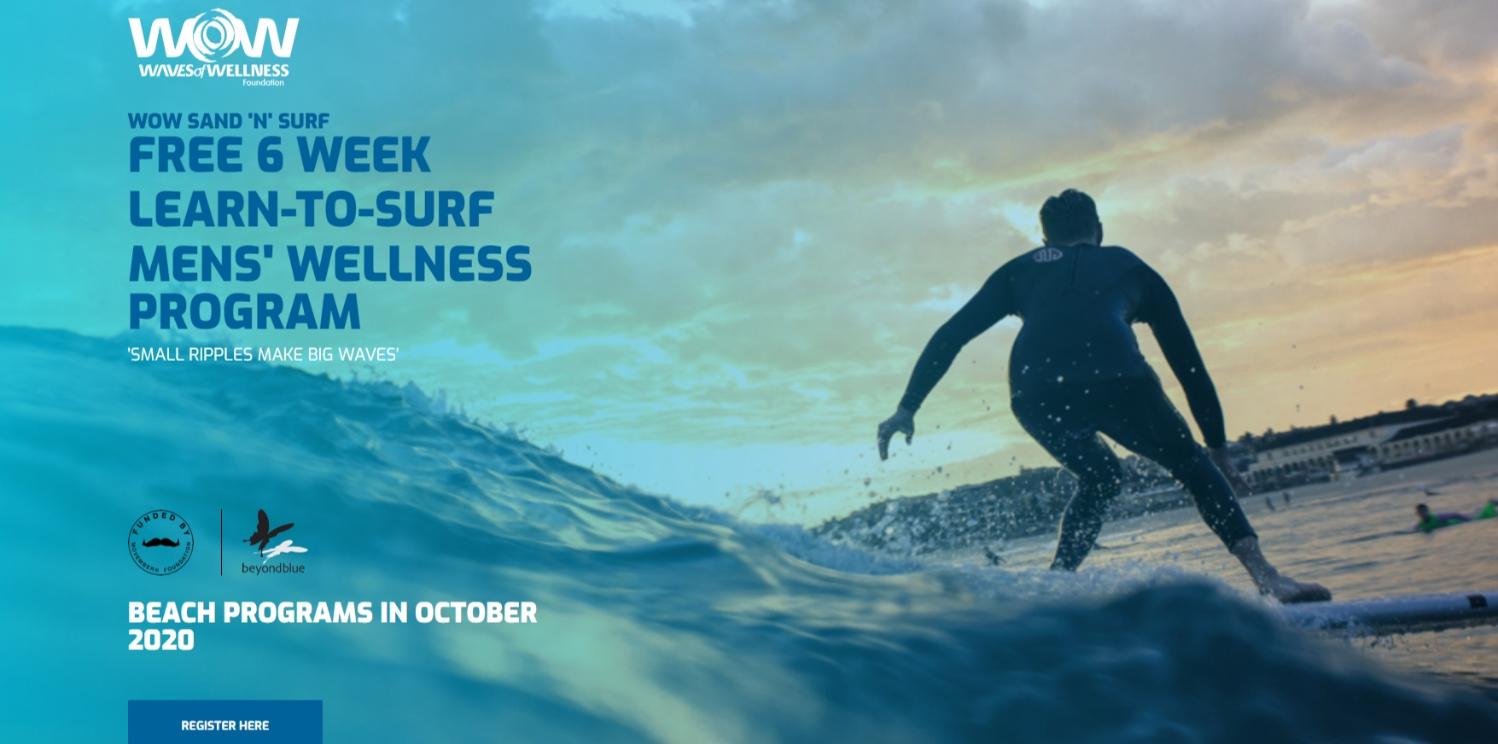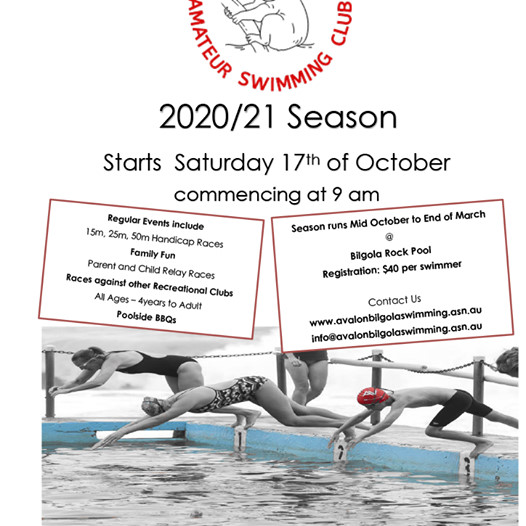 Avalon Bilgola Amateur Swimming Club 2020/2021 Season
We swim down at Bilgola Rock Pool during the summer months on Saturday mornings. Races start at 9:00 am, entries close 8:45 am, with events for all the family. We have a 100/200/400m event then 3 handicap (15/25/50m) events in Freestyle and 2 of the other strokes or 2x50m Relay each morning.
We cater for all standards of swimmers, from the social swimmer to those who enjoy some fun Competition. Being handicap events everyone has a chance of winning with a big emphasis placed on the point-score.
Our registration fee is $40 per member.
Aussie Back Yard Bird Count 2020
How to get involved
The Aussie Bird Count is a great way to connect with the birds in your backyard no matter where your backyard happens to be — a suburban backyard, a local park, a patch of forest, down by the beach, or the main street of town.
You can count as many times as you like over the week, we just ask that each count is completed over a 20-minute period. The data collected assists BirdLife Australia in understanding more about the birds that live where people live.
Register here: https://aussiebirdcount.org.au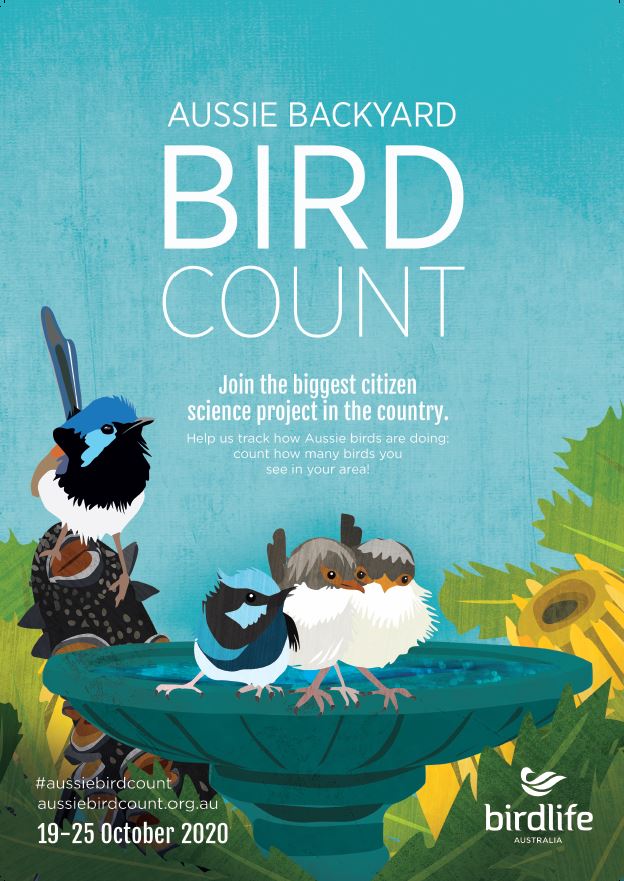 New Look SAILING Champions League: Asia Pacific 2021 Season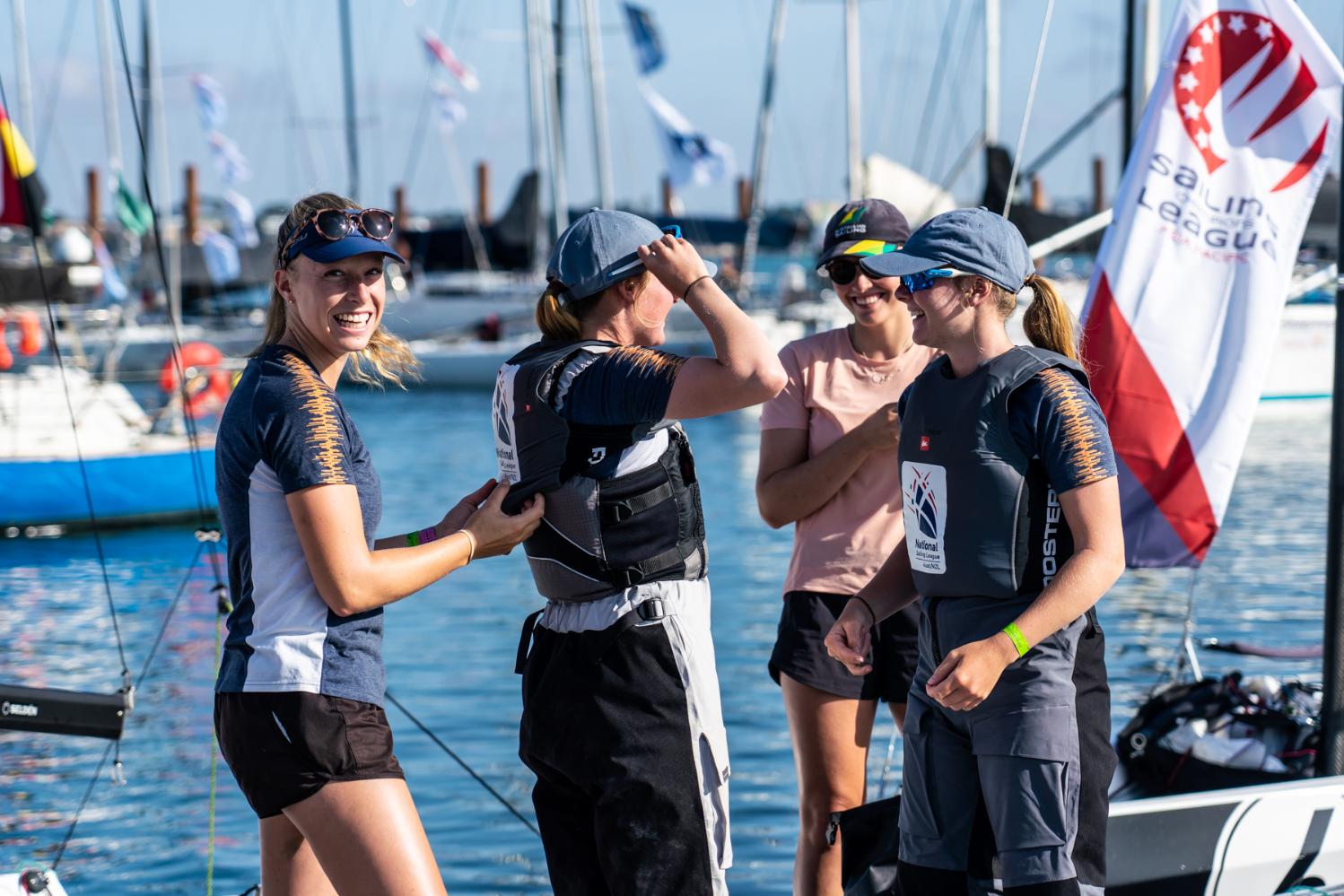 RBYC team getting ready for the 2020 Southern Qualifier - photo by Beau Outteridge
Asia Pacific organisers are delighted to announce the 2021 season format and a raft of changes to simplify the competition and bring gender equity to the league.
For next year's schedule of racing on supplied RS21 keelboats there will be two divisions only – Open and Youth (under 22) and all teams must be 50/50 female and male, with a maximum four crew per boat.
Asia Pacific League director Mark Turnbull says, "For our third season we will implement gender parity based on our own views plus World Sailing's findings and recommendations from their Women in Sailing Strategic View conducted in 2019. We see teams of two male and two females representing their clubs as the way forward, which will again deliver great racing and simply make for better events."
The 2021 circuit will include two qualifying regattas - Southern and Northern - at great venues with dates and details plus the Notice of Race available shortly. Qualifiers will culminate in a new 'Finals Week' concept on Sydney Harbour, from April 13-17, 2021 at a location where the public can spectate and engage with the sailors. "This fulfils the international league's goal to host grandstand-style high-rotation races close to shore, making the sport more accessible," Turnbull says.
Geelong, home of the Festival of Sails' sailing extravaganza over the Australia Day long weekend, will host the opening qualifier in January 2021 for southern clubs, from Victoria, Tasmania, South Australia and Western Australia.
The Northern Qualifier, on Sydney Harbour in March will be open to entries from the ACT, New South Wales, Queensland and the Northern Territory.
Dates for the Southern and Northern Qualifier will be confirmed shortly via https://sailing-championsleague.asia/ and the league's social media channels.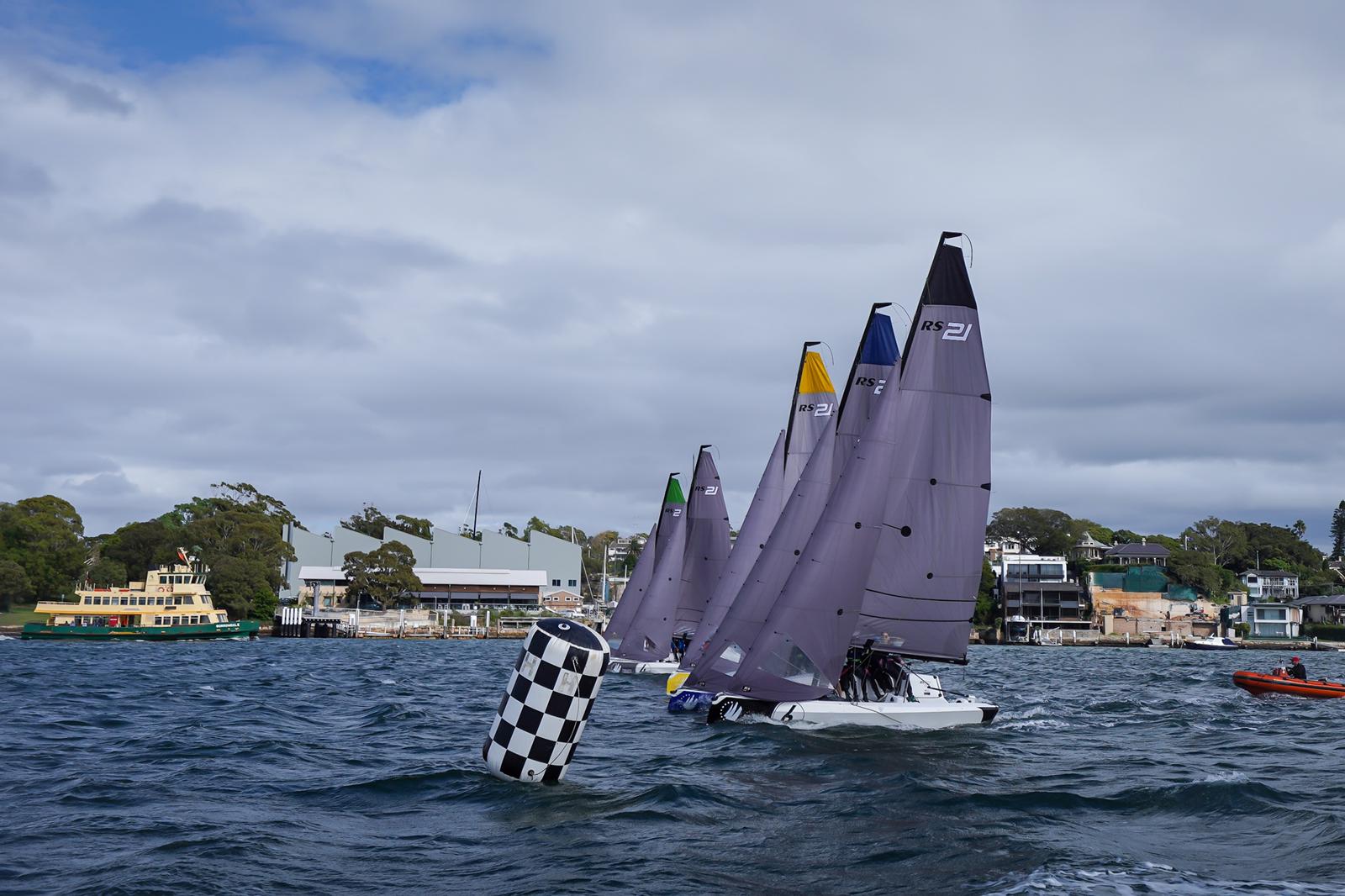 2020 SCL Northern Qualifier start off Woolwich - photo by Beau Outteridge

In the 2021 April school holidays, Sydney Harbour will be the spectacular backdrop for the SAILING Champions League: Asia Pacific Finals Week. The Youth Final (U22), to be held on April 13-14, will lead into the ultimate Open Final at the same venue across April 15-17. This format allows the U22 teams to compete in the Open Final.
The top eight qualifying Australian crews from both the Southern and Northern Qualifier (U22 and Open) will meet up with eight invited clubs from Asia and the Pacific at Finals Week, to determine the Asia Pacific U22 and Open champions. From these Asia Pacific Finals the top Australian, top Asian and top Pacific teams in U22, Women's and Open qualify to represent their club at the 2021 SAILING Champions League: World Finals in Europe.
Turnbull adds, "While we eagerly await the start of our summer sailing season and the 2021 league events, I encourage people to tune in live to the 2020 SAILING Champions League - Final in Europe, between October 15-18. Details at sailing-championsleague.com.
"Due to coronavirus and the cancellation of most of this year's Asia Pacific events, sadly we aren't represented among the Final line-up, and miss out on the chance to defend the region's 2019 win at St Moritz, thanks to a brilliant effort by the Royal Sydney Yacht Squadron's team. We are optimistic the 2021 SAILING Champions League: Asia Pacific season can proceed as scheduled and we will be back on the world stage next year," said Turnbull.
"Standby for 2021 event locations, dates and Notices of Race, but in the meantime start thinking about your team of four and encourage your club to get behind the concept of 'rock-up and race', club versus club competition on new one design keelboats."
For you or your club to be a part of the SAILING Champions League: Asia Pacific register your interest directly by contacting mark@nationalsailingleague.com.au.
Northern Qualifier video wrap-up thanks to Beau Outteridge.
By Lisa Ratcliff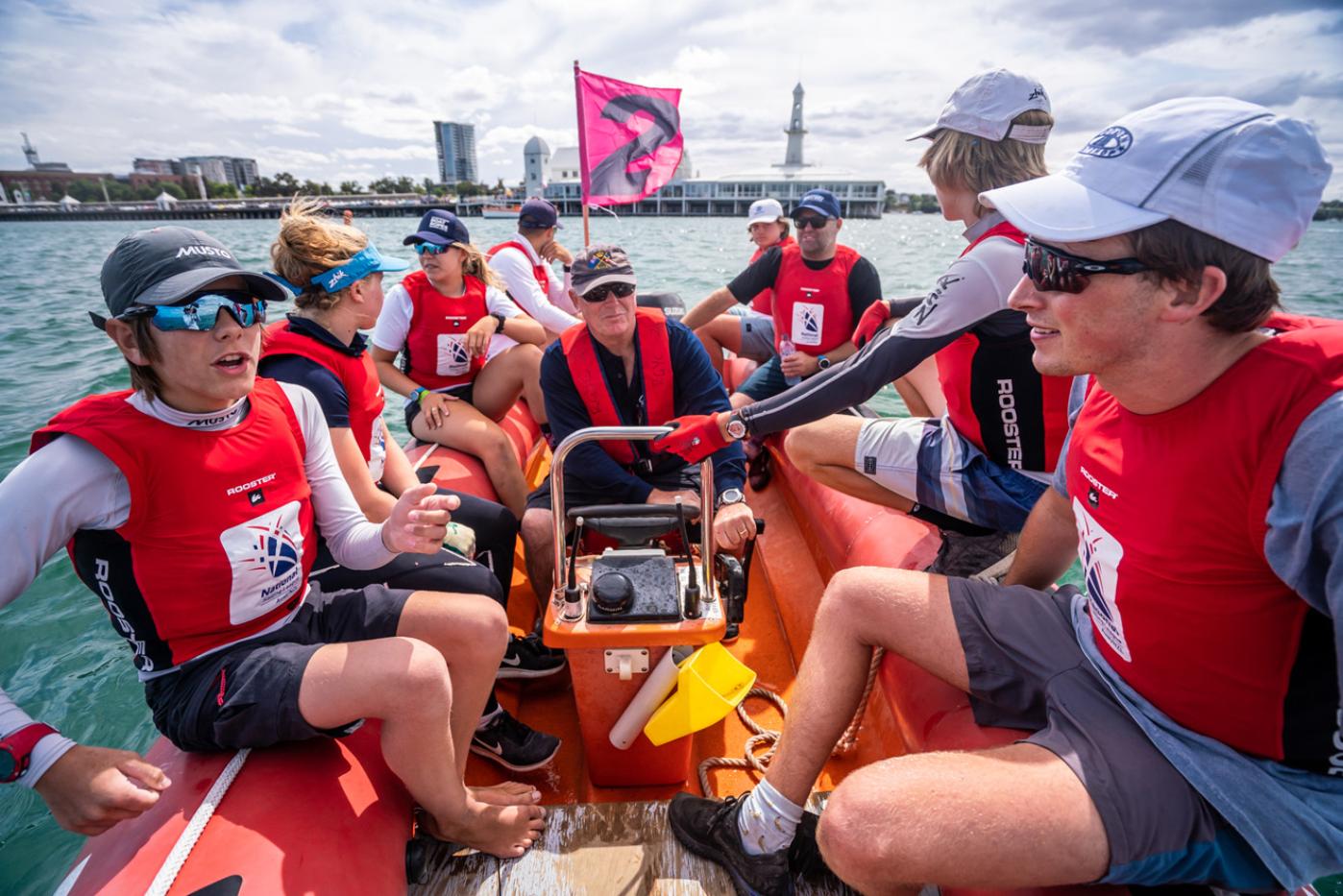 SCL Southern Qualifier 2020 busy changeover - photo by Beau Outteridge
New 10 Year Strategy To Support 850,000 Carers
The NSW Government's new 10-year strategy released during National Carers Week will ensure the states 850,000 carers will receive better support and recognition to improve their financial and physical wellbeing.
Minister for Families, Communities and Disability Services Gareth Ward said the strategy aims to help carers overcome the challenges involved with caring for loved ones. "National Carers Week is a significant time to recognise and celebrate the outstanding contribution unpaid carers make to our communities," Mr Ward said.
"Under the strategy, the NSW Government will make it easier for carers to access information and services, reduce financial stress and look after their own health and wellbeing."
This includes a new landing page for carers on the Service NSW website and an awareness campaign, It's Caring, to help carers self-identify and seek help.
Action plans, released every two years, will set out the steps NSW Government agencies and the sector are taking to better support and recognise carers.
In NSW, carers provide care and support to a family member or friend who has a disability, mental illness, alcohol or drug dependency, long-term health condition or the elderly.
Carers NSW CEO Elena Katrakis said the strategy will provide an important framework and direction for supporting carers over the next 10 years and help to overcome the many challenges carers face.
"Carers are providing more hours of care than ever before and this new strategy will make it easier for carers to access the information and support that they need to continue their vital caring roles," Ms Katrakis said.
Osteoarthritis Biomarker Could Help 300 Million People Worldwide
Using new state-of-the-art imaging techniques to identify signs of osteoarthritis (OA), UniSA scientists are learning more about changes at the molecular level which indicate the severity of cartilage damage.
A study led by PhD student Olivia Lee and her supervisor Associate Professor Paul Anderson using mass spectrometry imaging (MSI) has mapped complex sugars on OA cartilage, showing different sugars are associated with damaged tissue compared to healthy tissue.
The finding will potentially help overcome one of the main challenges of osteoarthritis research -- identifying why cartilage degrades at different rates in the body.
"Despite its prevalence in the community, there is a lot about osteoarthritis that we don't understand," Prof Anderson says.
"It is one of the most common degenerative joint diseases, yet there are limited diagnostic tools, few treatment options and no cure."
Existing OA biomarkers are still largely focused on bodily fluids which are neither reliable nor sensitive enough to map all the changes in cartilage damage.
By understanding the biomolecular structure at the tissue level and how the joint tissues interact in the early stages of osteoarthritis, UniSA researchers say any molecular changes could be targeted to help slow the progression of the disease with appropriate medication or treatment.
Osteoarthritis affects an estimated 2.2 million Australians and more than 300 million people worldwide, with those aged over 45 most at risk. Being female, overweight, and having existing joint injuries increases the risk of getting OA.
In Australia, $3.75 million is spent on joint replacements alone for osteoarthritis patients each year, and other indirect costs related to lost work productivity and loss of wellbeing are estimated to be more than $23 billion a year.
In a recent paper published in the International Journal of Molecular Sciences, Lee and her colleagues from UniSA's Musculoskeletal Biology Research Laboratory and the Future Industries Institute explore how advances in mass spectrometry imaging (MSI) to detect OA are promising.
"To date, diagnosing osteoarthritis has relied heavily on x-rays or MRI, but these provide limited information and don't detect biomolecular changes that signal cartilage and bone abnormalities," Lee says.
"By contrast, alternative imaging methods such as MSI can identify specific molecules and organic compounds in the tissue section."
MSI has already demonstrated its strengths in identifying biomarkers for different types of cancer, and UniSA researchers are hopeful it can achieve the same for early diagnosis of osteoarthritis.
Yea-Rin Lee, Matthew T. Briggs, Mark R. Condina, Hamish Puddy, Paul H. Anderson, Peter Hoffmann, Julia S. Kuliwaba.
Mass Spectrometry Imaging as a Potential Tool to Investigate Human Osteoarthritis at the Tissue Level.
International Journal of Molecular Sciences, 2020; 21 (17): 6414 DOI:
10.3390/ijms21176414
Grief And Trauma Support For Australia's Aged Care Sector
The Australian Government is investing $12.4 million in a Grief and Trauma Response Package to ensure support is available for those affected by COVID-19 across the aged care sector.
This is part of the $171.5 million COVID-19 response plan for aged care support programs announced in August 2020.
Minister for Aged Care and Senior Australians, Richard Colbeck, said services would be established as quickly as possible to ensure people were able to access the support they need.
"The Australian Government understands the serious emotional and psychological effects that COVID-19 has had on people receiving aged care services and their loved ones, as well as those providing care within aged care residential facilities," Minister Colbeck said.
"The package will provide direct support to aged care residents and their families through improved advocacy assistance, grief and bereavement counselling and for aged care residents, home care recipients and their families.
"It will also ensure aged care staff have access to training in trauma-informed care, including advice on self-care, and post‑COVID‑19 support for aged care residents living with dementia and those experiencing adverse physical, social and psychological impacts."
The three organisations charged with delivery of the services will provide a national response, as well as surge responses in COVID-19 hot spots, as required.
The Australian Centre for Grief and Bereavement will provide specialist information and support to residential aged care and home care recipients and their families who have been affected by COVID-19;
Phoenix Australia – Centre for Posttraumatic Mental Health will deliver a sector-wide trauma-informed care package that provides trauma training and resources for aged care residents, their families and aged care staff, including through the establishment of a dedicated website; and
Dementia Support Australia will implement a proactive engagement program to help alleviate the impacts of lockdown on aged care residents living with dementia.
Additional funding has also been provided to the Older Persons Advocacy Network (OPAN) to continue their enhanced advocacy and information support to people during the COVID-19 pandemic.
Departmental case managers supporting aged care providers, the Victorian Aged Care Response Centre, and the Older Person's Advocacy Network (OPAN) will ensure support from these new services is available to families from affected facilities.
The Grief and Trauma Response Package will be evaluated and monitored to ensure services are effective in meeting the needs of aged care recipients, their families and aged care staff.
Resources will be provided in a number of languages, and counselling support will be accessible through the Translation and Interpretation Service (TIS) and Australian Sign Language (Auslan), as required.
Cancer-Killing T Cells 'Swarm' To Tumours; Attracting Others To The Fight
When immune system T cells find and recognise a target, they release chemicals to attract more T cells which then swarm to help subdue the threat, shows a new study published today in eLife.
The discovery of this swarming behaviour, and the chemical attractants that immune cells use to direct swarms towards tumours, could one day help scientists develop new cancer therapies that boost the immune system. This is particularly important for solid tumours, which so far have been less responsive to current immunotherapies than cancers affecting blood cells.
"Scientists have previously thought that cancer-killing T cells identified tumours by randomly searching for them or by following the chemical trails laid by other intermediary immune cells," says lead author Jorge Luis Galeano Niño, a PhD graduate at UNSW Sydney. "We wanted to investigate this further to see if it's true, or whether T cells locate tumours via another mechanism."
Using 3D tumour models grown in the laboratory and in mouse models, the team showed that cancer-killing T cells can home-in on tumour cells independently of intermediary immune cells. When the T cells find and recognise a tumour, they release chemical signals, which then attract more T cells that sense the signals through a receptor called CCR5, and cause a swarm. "These cells coordinate their migration in a process reminiscent of the swarming observed in some insects and another type of immune cell called neutrophils, which help the body respond to injury and pathogens," Galeano Niño says.
After confirming their results using computer modelling, the team genetically engineered human cells called chimeric antigen receptor (CAR)-T cells and showed they also swarm toward a 3D glioblastoma tumour grown in the laboratory.
CAR-T cells are currently being used to treat certain types of blood cancer. But the new findings suggest that it might also be possible to train these cells to attack solid tumours.
"Although this is fundamental research and at an early stage, the swarming mechanism could be exploited in the future to target CAR-T cells to solid tumours, potentially leading to enhanced immunotherapies that are more effective at infiltrating and destroying these types of tumours," says senior author Maté Biro, EMBL Australia Group Leader at the Single Molecule Science node, UNSW.
"It will also be important to determine whether silencing the swarming mechanism could be beneficial in dampening overzealous T-cell responses following transplant surgery, in autoimmune conditions, or associated with viral infections," he adds.
Jorge Luis Galeano Niño, Sophie V Pageon, Szun S Tay, Feyza Colakoglu, Daryan Kempe, Jack Hywood, Jessica K Mazalo, James Cremasco, Matt A Govendir, Laura F Dagley, Kenneth Hsu, Simone Rizzetto, Jerzy Zieba, Gregory Rice, Victoria Prior, Geraldine M O'Neill, Richard J Williams, David R Nisbet, Belinda Kramer, Andrew I Webb, Fabio Luciani, Mark N Read, Maté Biro.
Cytotoxic T Cells swarm by homotypic chemokine signalling
. eLife, 2020; 9 DOI:
10.7554/eLife.56554
Computational Approach To Optimise Culture Conditions Required For Cell Therapy
Cellular therapy is a powerful strategy to produce patient-specific, personalised cells to treat many diseases, including heart disease and neurological disorders. But a major challenge for cell therapy applications is keeping cells alive and well in the lab.
That may soon change as researchers at Duke-NUS Medical School, Singapore, and Monash University, Australia have devised an algorithm that can predict what molecules are needed to keep cells healthy in laboratory cultures. They developed a computational approach called EpiMogrify, that can predict the molecules needed to signal stem cells to change into specific tissue cells, which can help accelerate treatments that require growing patient cells in the lab.
"Computational biology is rapidly becoming a key enabler in cell therapy, providing a way to short-circuit otherwise expensive and time-consuming discovery approaches with cleverly designed algorithms," said Assistant Professor Owen Rackham, a computational biologist at Duke-NUS, and a senior and corresponding author of the study, published today in the journal Cell Systems.
In the laboratory, cells are often grown and maintained in cell cultures, formed of a substance, called a medium, which contains nutrients and other molecules. It has been an ongoing challenge to identify the necessary molecules to maintain high-quality cells in culture, as well as finding molecules that can induce stem cells to convert to other cell types.
The research team developed a computer model called EpiMogrify that successfully identified molecules to add to cell culture media to maintain healthy nerve cells, called astrocytes, and heart cells, called cardiomyocytes. They also used their model to successfully predict molecules that trigger stem cells to turn into astrocytes and cardiomyocytes.
"Research at Duke-NUS is paving the road for cell therapies and regenerative medicine to enter the clinic in Singapore and worldwide; this study leverages our expertise in computational and systems biology to facilitate the good manufacturing practice (GMP) production of high-quality cells for these much needed therapeutic applications," said Associate Professor Enrico Petretto, who leads the Systems Genetics group at Duke-NUS, and is a senior and corresponding author of the study.
The researchers added existing information into their model about genes tagged with epigenetic markers whose presence indicates that a gene is important for cell identity. The model then determines which of these genes actually code for proteins necessary for a cell's identity. Additionally, the model incorporates data about proteins that bind to cell receptors to influence their activities. Together, this information is used by the computer model to predict specific proteins that will influence different cells' identities.
"This approach facilitates the identification of the optimum cell culture conditions for converting cells and also for growing the high-quality cells required for cell therapy applications," said ARC Future Fellow Professor Jose Polo, from Monash University's Biomedicine Discovery Institute and the Australian Research Medicine Institute, who is also a senior and corresponding author of the study.
The team compared cultures using protein molecules predicted by EpiMogrify to a type of commonly used cell culture that uses a large amount of unknown or undefined complex molecules and chemicals. They found the EpiMogrify-predicted cultures worked as well or even surpassed their effectiveness.
The researchers have filed for a patent on their computational approach and the cell culture factors it predicted for maintaining and controlling cell fate. EpiMogrify's predicted molecules are available for other researchers to explore on a public database:
http://epimogrify.ddnetbio.com
.
"We aim to continue to develop tools and technologies that can enable cell therapies and bring them to the clinic as efficiently and safely as possible," said Asst Prof Rackham.
"The developed technology can identify cell culture conditions required to manipulate cell fate and this facilitates growing important cells in chemically-defined cultures for cell therapy applications," added Dr Uma S. Kamaraj, lead author of the study and a graduate of Duke-NUS' Integrated Biology and Medicine PhD Programme.
Uma S. Kamaraj, Joseph Chen, Khairunnisa Katwadi, John F. Ouyang, Yu Bo Yang Sun, Yu Ming Lim, Xiaodong Liu, Lusy Handoko, Jose M. Polo, Enrico Petretto, Owen J.L. Rackham.
EpiMogrify Models H3K4me3 Data to Identify Signalling Molecules that Improve Cell Fate Control and Maintenance
. Cell Systems, 2020; DOI:
10.1016/j.cels.2020.09.004
Which Is More Creative; The Arts Or The Sciences?
International expert in creativity and innovation, UniSA's Professor David Cropley, is calling for Australian schools and universities to increase their emphasis on teaching creativity, as new research shows it is a core competency across all disciplines and critical for ensuring future job success.
Conducted in partnership with visiting PhD researcher Kim van Broekhoven from Maastricht University in the Netherlands, the research explores the nature of creativity in determining if specific differences exist between creativity in the sciences and creativity in the arts.
The researchers found that creativity in science, technology, engineering and mathematics (STEM) is very similar to creativity in the arts, indicating that a holistic approach to teaching creativity in schools and universities, would benefit all.
UniSA's Professor David Cropley says the study provides a valuable insight into how education systems might assess and foster students' creative capabilities.
"The big change for education systems would be moving away from a rather fragmented and haphazard approach to teaching creativity, to a much more holistic and integrated approach," Prof Cropley says.
"To prepare the next generation for the future, we need to understand the gaps in the market -- the human skills that computers, artificial intelligence and automation cannot achieve -- and this is where creativity fits.
"Until this research, we didn't know whether creativity in STEM was the same as creativity in anything, or if there was something unique about creativity in STEM. If creativity was different in STEM -- that is, it involved special attitudes or abilities -- then we'd need to teach STEM students differently to develop their creativity.
"As it turns out, creativity is general in nature -- it is essentially a multi-faceted competency that involves similar attitudes, disposition, skills and knowledge, all transferrable from one situation to another.
"So, whether you're in art, maths or engineering, you'll share an openness to new ideas, divergent thinking, and a sense of flexibility.
"This is great news for teachers, who can now confidently embrace and integrate heightened levels of creativity across their curriculum for the benefit of all students -- whether STEM or arts based."
The study surveyed 2277 German undergraduate students aged 17 to 37 (2147 enrolled in science, technology, engineering and mathematics (STEM) courses; and 130 enrolled in art courses), to explore how creativity differed in terms of self-expression thoughts and perceptions.
In 2020, the World Economic Forum identified creativity to be as important as artificial intelligence in the jobs of the future.
Professor Cropley is currently working with Geelong Grammar School (VIC), Trinity College (SA), and Glenunga International High School (SA) to further embed creativity into their schools.
Coordinator of Creativity and Innovation, Centre for Creative Education at Geelong Grammar School, Dr Tim Patston, says we cannot underestimate the importance of creativity in a digital world.
"Students in the 21st century must be open to the amazing diversity of possibilities available to them in further education and careers when they leave school. And, while every student will create their own unique path, a solid and common grounding that embraces creativity is essential," Dr Patston says.
"Working with the University of South Australia, we've been able to truly embrace creativity as a core competency to ensure that our students not only succeed, but flourish."
Kim van Broekhoven, David Cropley, Philipp Seegers.
Differences in creativity across Art and STEM students: We are more alike than unalike.
Thinking Skills and Creativity, 2020; 38: 100707 DOI:
10.1016/j.tsc.2020.100707
People Can Do More Than Use Less Plastic To Help Save The Great Barrier Reef
Many Australians do not know what they can individually do to make a difference to the health of the World Heritage-listed Great Barrier Reef (GBR), according to a survey led by QUT researchers.
The researchers found most Australians are not making a connection between climate change and reef health and say there is more individuals could do on this front, both in the home and to influence government policies.
Senior Research Fellow Dr Angela Dean conducted the online survey of 4,285 Australians with Professor Kerrie Wilson, Director of QUT's Institute for Future Environments, and Dr Robyn Gulliver from the University of Queensland.
The resulting paper, "Taking action for the Reef?" -- Australians do not connect Reef conservation with individual climate-related actions, has been published in Conservation Letters: a journal of the Society for Conservation Biology.
"While there are many threats to reef health, including poor water quality stemming from land-based runoff, cyclones and crown-of-thorns starfish, climate change represents the greatest threat to our Great Barrier Reef," said Dr Dean.
"Record-breaking marine heatwaves over the past 10 years have seen an increasing frequency and severity of mass coral bleaching events.
"Yet while many Australians express appreciation and concern for the GBR, they don't necessarily know how to take the next steps to help the Reef."
The research team asked survey participants the question "what types of actions could people like you do that would be helpful for the GBR?"
"Just 4 per cent mentioned a climate action and 12.3 per cent wanted to help but couldn't think of anything they could do on a personal level," said Professor Wilson
"Only one in 25 respondents identified at least one specific action that related to climate change. Almost one third listed donating money and the most common group of responses related to pollution, especially plastics."
Professor Wilson said the vast majority of those surveyed referenced reducing their plastic consumption over using less energy in the home.
"Only a handful of people considered that they could make a difference by doing things like driving less, reducing their use of air-conditioning and sourcing electricity from renewable retailers," she said.
"As for what we call public-sphere actions, many more respondents suggested policies such as banning sunscreens or stopping commercial fishing, rather than any climate-related civic action such as lobbying governments or donating to charities working on reducing emissions."
Dr Dean added because everyone can support action on climate change, everyone in Australia can help the Reef, no matter where they live.
"Some people might choose to focus on actions at home, reducing electricity use or changing to renewable energy sources," Dr Dean said.
"But perhaps more important is sharing our support for protecting the Reef and encouraging Governments step up to show leadership and action on climate change."
Angela J. Dean, Robyn E. Gulliver, Kerrie A. Wilson.
"Taking action for the Reef?"-Australians do not connect Reef conservation with individual climate-related actions
. Conservation Letters, 2020; e12765 DOI:
10.1111/conl.12765
The Black Hole Always Chirps Twice: New Clues Deciphering The Shape Of Black Holes
A team of gravitational-wave scientists led by the ARC Centre of Excellence for Gravitational Wave Discovery (OzGrav) reveal that when two black holes collide and merge, the remnant black hole 'chirps' not once, but multiple times, emitting gravitational waves -- intense ripples in the fabric space and time -- that inform us about its shape. Today the study appears in Communications Physics (published by Nature).
Black holes are one the most fascinating objects in the Universe. At their surface, known as the 'event horizon', gravity is so strong that not even light can escape from them. Usually, black holes are quiet, silent creatures that swallow anything getting too close to them; however, when two black holes collide and merge together, they produce one of the most catastrophic events in Universe: in a fraction of a second, a highly-deformed black hole is born and releases tremendous amounts of energy as it settles to its final form. This phenomenon gives astronomers a unique chance to observe rapidly changing black holes and explore gravity in its most extreme form.
Although colliding black holes do not produce light, astronomers can observe the detected gravitational waves -- ripples in the fabric of space and time -- that bounce off them. Scientists speculate that, after a collision, the behaviour of the remnant black hole is key to understanding gravity and should be encoded in the emitted gravitational waves.
In the article published in Communications Physics (Nature), a team of scientists led by OzGrav alumnus Prof. Juan Calderón Bustillo -- now 'La Caixa Junior Leader -- Marie Curie Fellow' at the Galician Institute for High Energy Physics (Santiago de Compostela, Spain) -- has revealed how gravitational waves encode the shape of merging black holes as they settle to their final form.
Graduate student and co-author Christopher Evans from the Georgia Institute of Technology (USA) says: 'We performed simulations of black-hole collisions using supercomputers and then compared the rapidly changing shape of the remnant black hole to the gravitational waves it emits. We discovered that these signals are far more rich and complex than commonly thought, allowing us to learn more about the vastly changing shape of the final black hole'.
The gravitational waves from colliding black holes are very simple signals known as 'chirps'. As the two black holes approach each other, they emit a signal of increasing frequency and amplitude that indicates the speed and radius of the orbit. According to Prof. Calderón Bustillo, 'the pitch and amplitude of the signal increases as the two black holes approach faster and faster. After the collision, the final remnant black hole emits a signal with a constant pitch and decaying amplitude -- like the sound of a bell being struck'. This principle is consistent with all gravitational-wave observations so far, when studying the collision from the top.
However, the study found something completely different happens if the collision is observed from the 'equator' of the final black hole. 'When we observed black holes from their equator, we found that the final black hole emits a more complex signal, with a pitch that goes up and down a few times before it dies,' explains Prof. Calderón Bustillo. 'In other words, the black hole actually chirps several times.'
The team discovered that this is related to the shape of the final black hole, which acts like a kind of gravitational-wave lighthouse: 'When the two original, 'parent' black holes are of different sizes, the final black hole initially looks like a chestnut, with a cusp on one side and a wider, smoother back on the other,' says Bustillo. 'It turns out that the black hole emits more intense gravitational waves through its most curved regions, which are those surrounding its cusp. This is because the remnant black hole is also spinning and its cusp and back repeatedly point to all observers, producing multiple chirps.'
Co-author Prof. Pablo Laguna, former chair of the School of Physics at Georgia Tech and now Professor at University of Texas at Austin, pointed out 'while a relation between the gravitational waves and the behaviour of the final black hole has been long conjectured, our study provides the first explicit example of this kind of relation'.
Juan Calderon Bustillo, Christopher Evans, James A. Clark, Grace Kim, Pablo Laguna, Deirdre Shoemaker.
Post-merger chirps from binary black holes as probes of the final black-hole horizon
. Communications Physics, 2020; 3 (1) DOI:
10.1038/s42005-020-00446-7
Disclaimer: These articles are not intended to provide medical advice, diagnosis or treatment. Views expressed here do not necessarily reflect those of Pittwater Online News or its staff.