Inbox and Environment News: Issue 469
October 11 - 17, 2020: Issue 469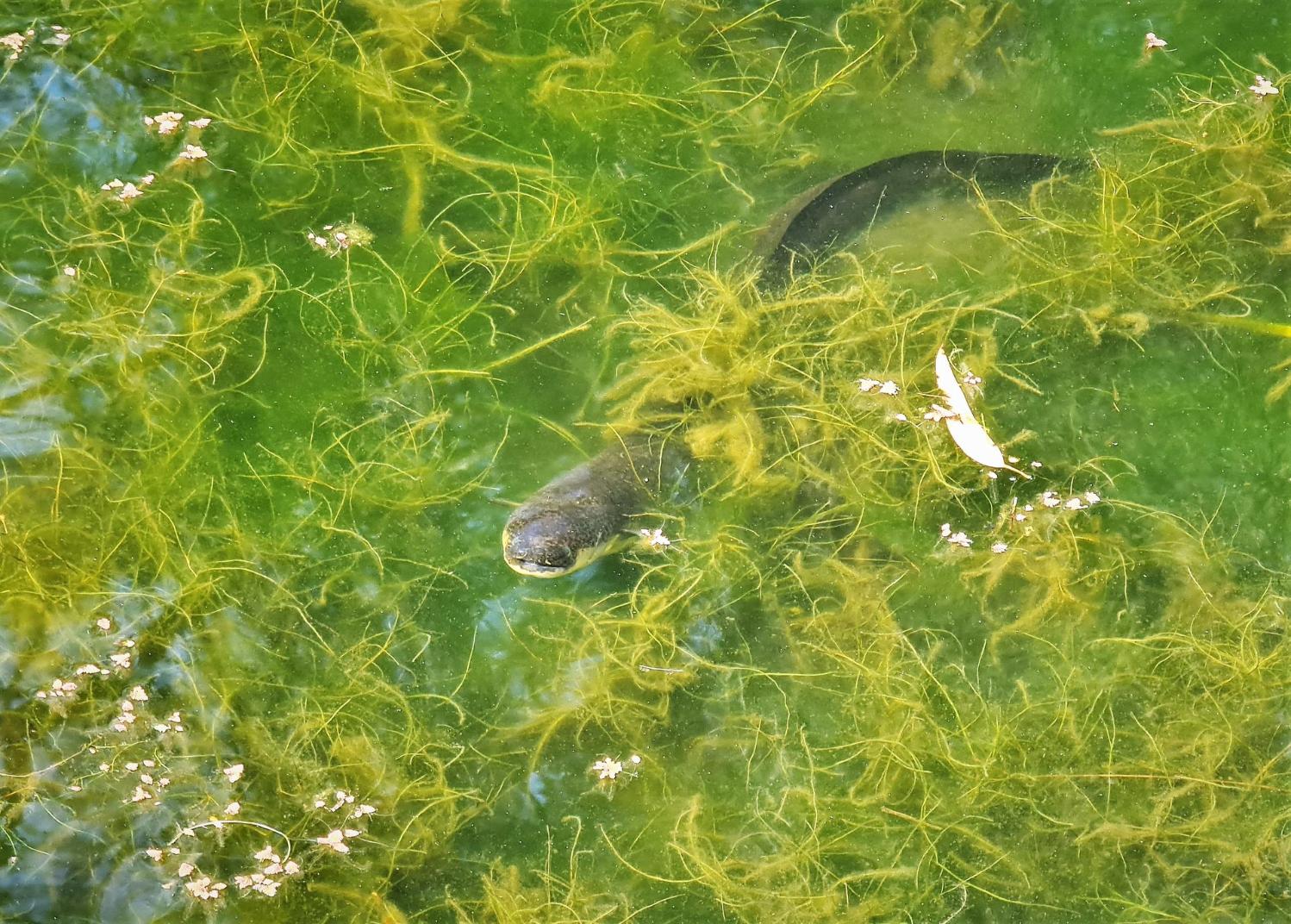 Eel in Warriewood Wetlands, October 2020 - photo by
Joe Mills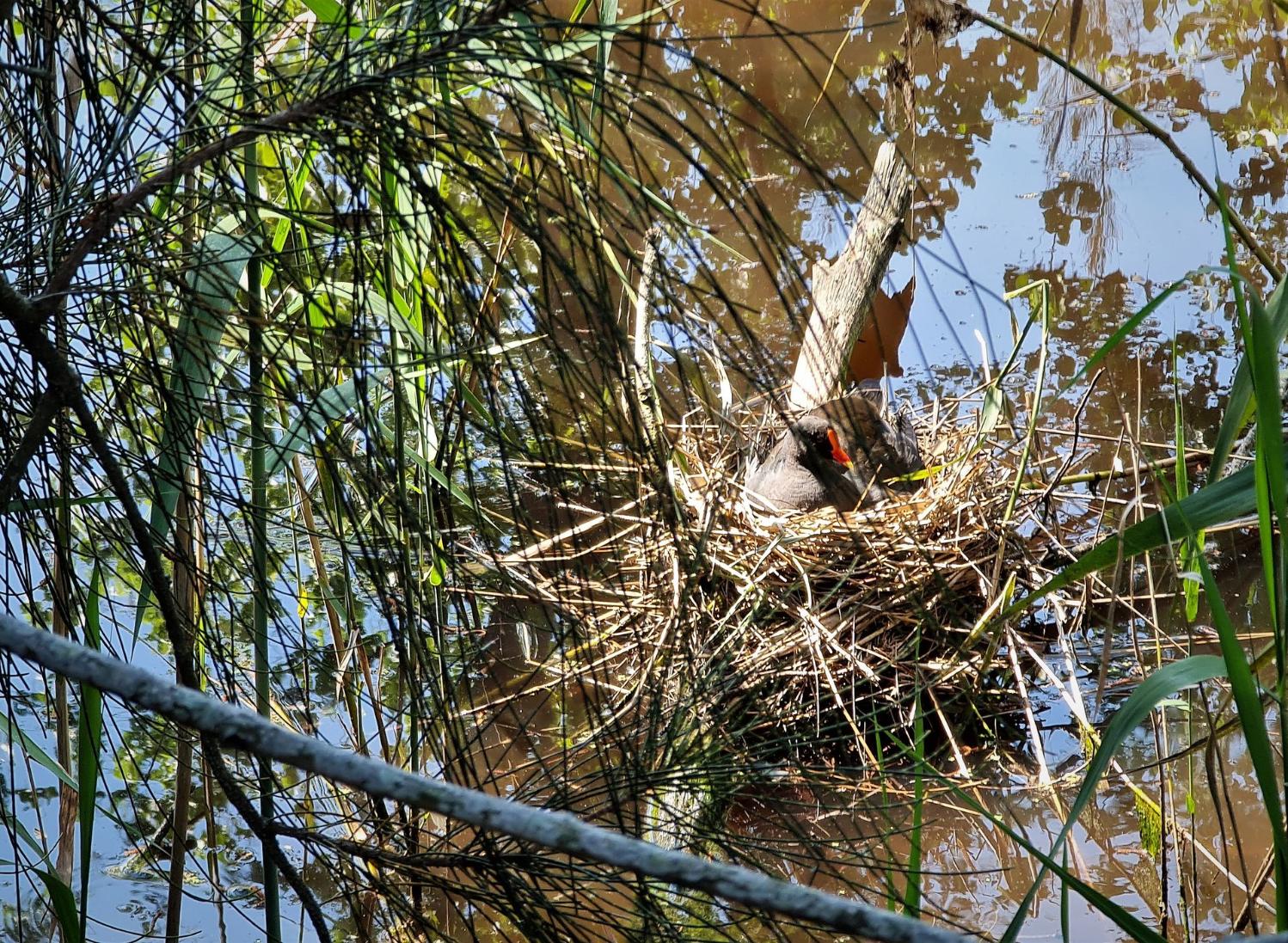 Dusky Moorhen, Gallinula tenebrosa, nesting in Warriewood Wetlands, October 2020 - photo by Joe Mills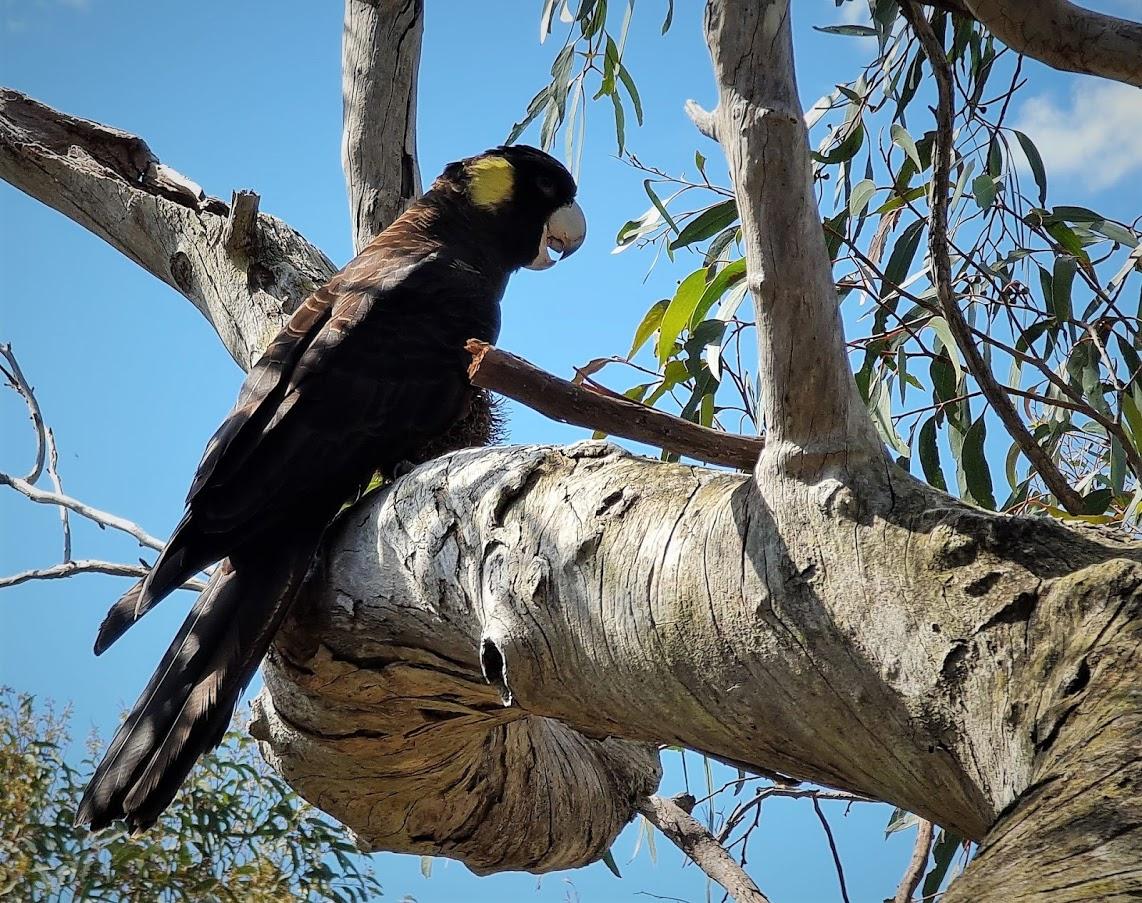 Yellow-tailed black cockatoo, Calyptorhynchus funereus, above Lovett Bay, October 2020 - photo by Joe Mills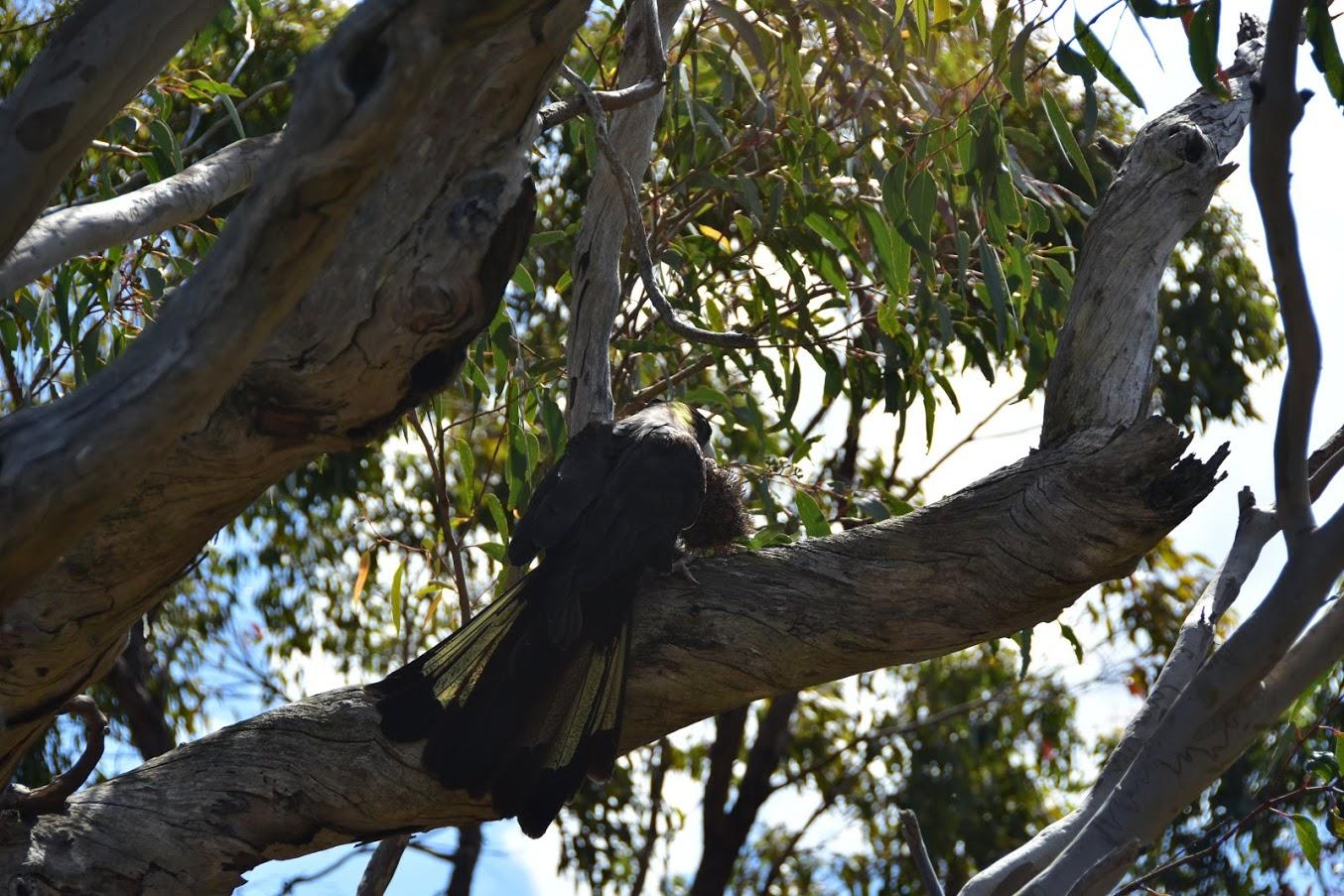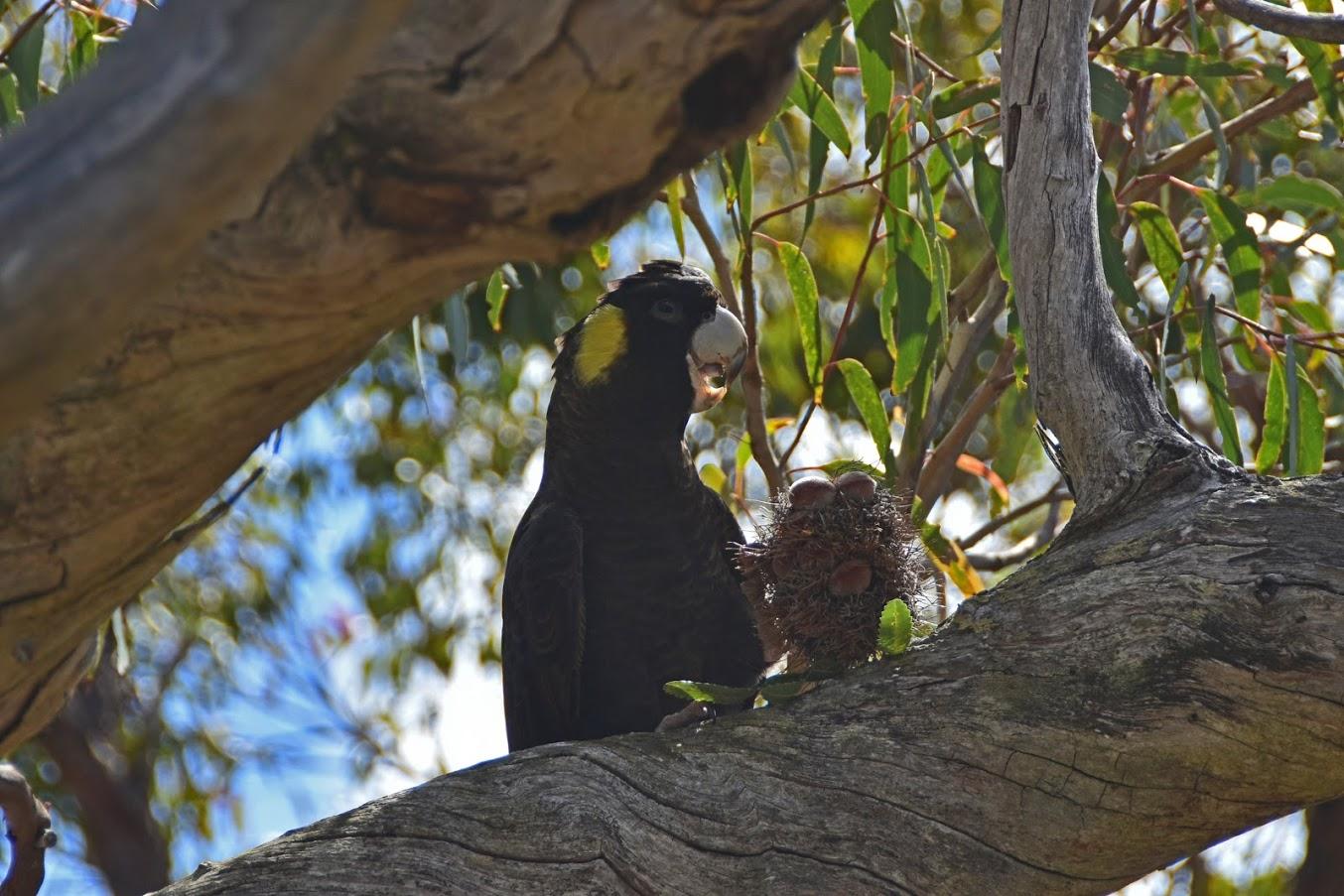 Yellow-tailed black cockatoo,
Calyptorhynchus funereus
, above Lovett Bay, October 2020 - photos by
Kevin Murray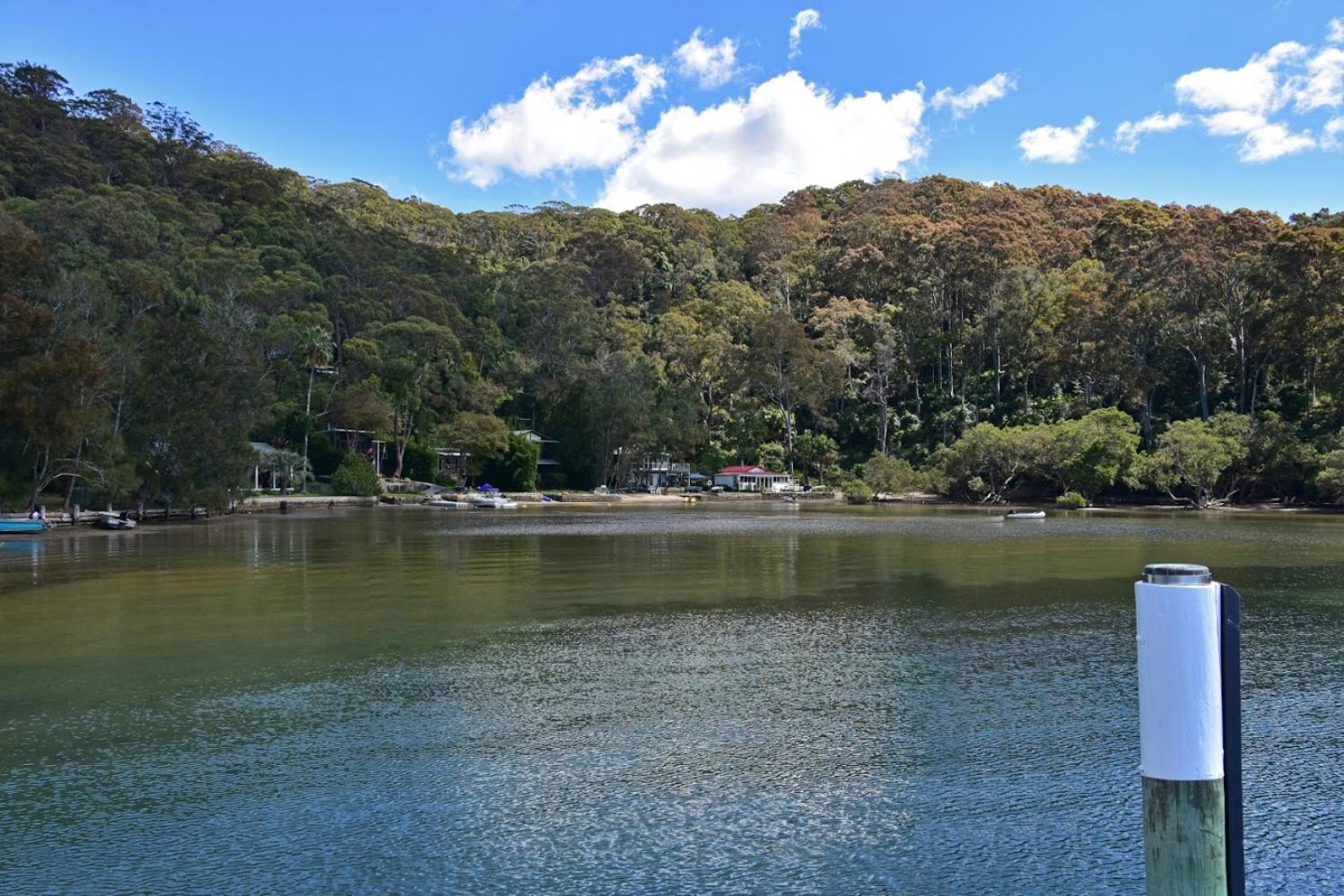 Elvina Bay, Pittwater, October 2020 - photo by Kevin Murray
More of Joe and Kevin's great photographs from walks taken during the first week of October will run next Issue
.
Aussie Back Yard Bird Count 2020
How to get involved
The Aussie Bird Count is a great way to connect with the birds in your backyard no matter where your backyard happens to be — a suburban backyard, a local park, a patch of forest, down by the beach, or the main street of town.
You can count as many times as you like over the week, we just ask that each count is completed over a 20-minute period. The data collected assists BirdLife Australia in understanding more about the birds that live where people live.
Register here: https://aussiebirdcount.org.au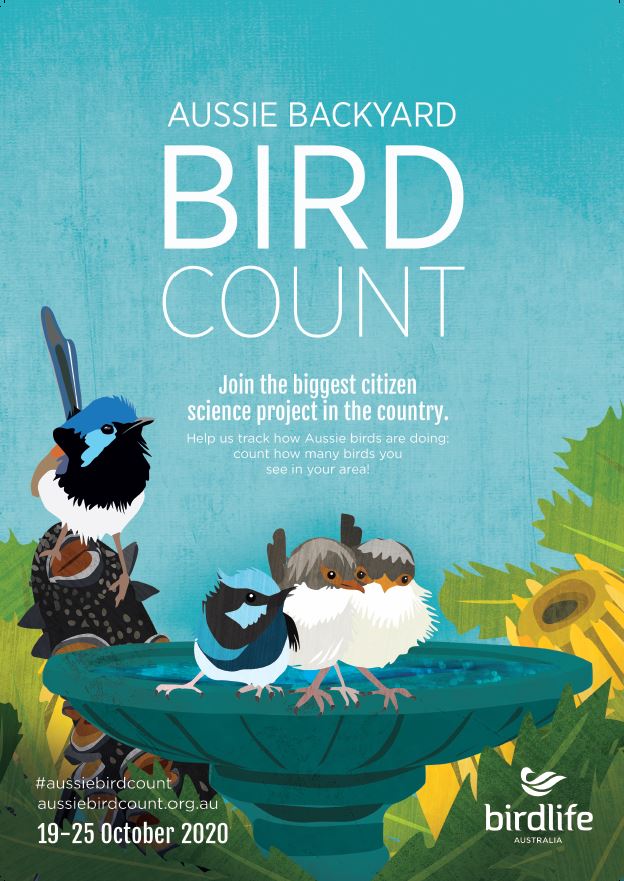 600+ School Strike For Climate Events Take Place In Biggest-Ever National Action Against Gas
Friday September 25th, 2020
New national YouGov polling shows over 6 in 10 Australian voters support student demands of no public funding for gas or other fossil fuels (61%). Almost two thirds believe Australia should rely on renewables not fossil fuels to power us in the future (65%), including nine in ten Gen Z voters (92%).
THOUSANDS OF STUDENTS and supporters joined forces on Friday September 25th to demand that the Federal Government fund their future, not the gas industry, with hundreds of actions taking place across the country.
The September 25th: #FundOurFutureNotGas day of action saw over 600 powerful, Covid-safe actions around Australia.
With last year's school strikes ranking amongst some of the largest protests in Australia's history, this year with Covid-19 restrictions students have had to find new ways to have their voices heard, with powerful socially distanced actions, Instagram livestreams, banner drops, "climate classrooms" on the lawns of State Parliament, and art installations.
School strikers are calling for the Federal Government to spend economic stimulus money on clean energy to create thousands of jobs, rather than propping up the failing gas industry that puts our climate and economy at risk.
Brisbane student Neha Pauly, Year 11, said: "Students here in Queensland want Scott Morrison to invest COVID-19 recovery funds into renewable energy, creating thousands of jobs that would also help tackle climate change. Giving billions of taxpayer dollars to the polluting gas industry is putting the interests of the gas industry ahead of the public interest," she said.
"In the lead up to the Queensland election we are also calling on all our state MPs to rule out public funding for gas and commit to clean energy jobs for Queenslanders. We are the Sunshine State, we need to make the most of it!"
Anjali Sharma, 16, one of the lead organisers of Friday's Melbourne Day of Action, said that the Federal Government's lack of action on climate change was forcing young people in Melbourne to continue to protest, but in Melbourne online given the city's lockdown laws.
"Although the pandemic has brought the world to a halt, it certainly hasn't brought the climate crisis to a halt and that is why we cannot stop protesting this and demanding that the government prioritise our futures over anything else," she said.
Although Covid-Safe measures restricted the Sydney protest in Martin Place, 20 students attended with placards sending a clear message about which way future voters will be expressing their intention to see a shift from fossil fuels to clean energy. From Bronte to Marrickville small groups and individuals are sending another 'sign of the times' to the Federal and State governments.
The students' actions have been endorsed by institutions representing 3 million Australians, including 25 union bodies, and businesses such as Patagonia and Ben & Jerrys.
The poll of 1015 people, conducted between 14-16 September, to a nationally representative sample of Australian voters found t
he majority of Australian voters believe that Australia should rely on renewable energy sources to power the country in the future (65%), rather than fossil fuels such as coal and gas (20%). Younger voters are the strongest supporters of Australia moving to rely on renewables, including nine in ten Gen Z voters (92%) and three quarters of Millennials (74%). Whilst support is lower among older voters, the majority of Baby Boomers (60%) and Gen X (55%) still support the move to rely on renewables over fossil fuels.
Just over six in ten voters (61%) support student demands for the government to not use public funds for gas, and instead take urgent action on issues such as guaranteeing Aboriginal and Torres Strait Islander land rights, creating jobs that focus on tackling climate change and backing renewable energy projects.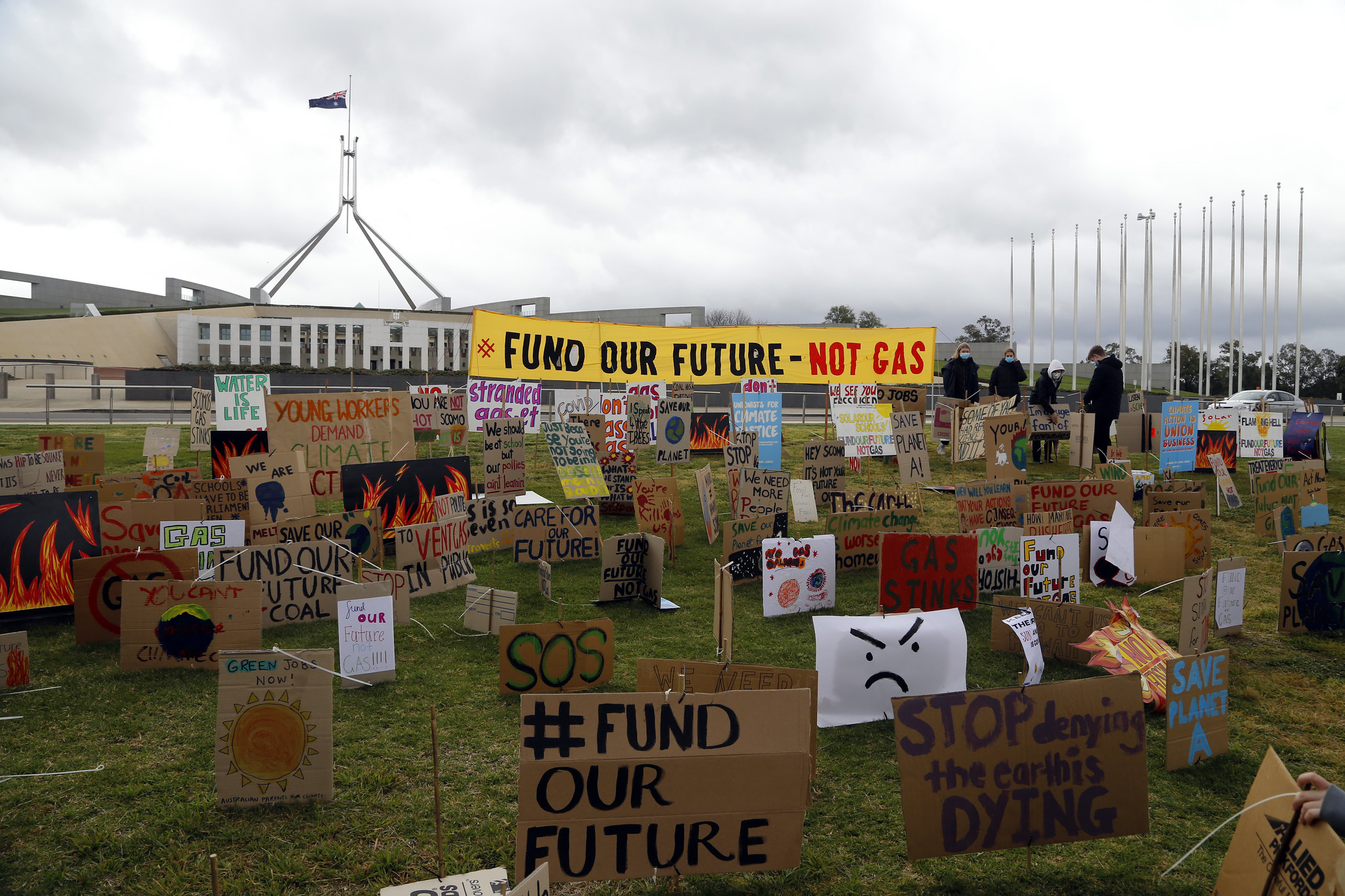 Sept 25 - Canberra, Parliament House - photo courtesy School Strike 4 Climate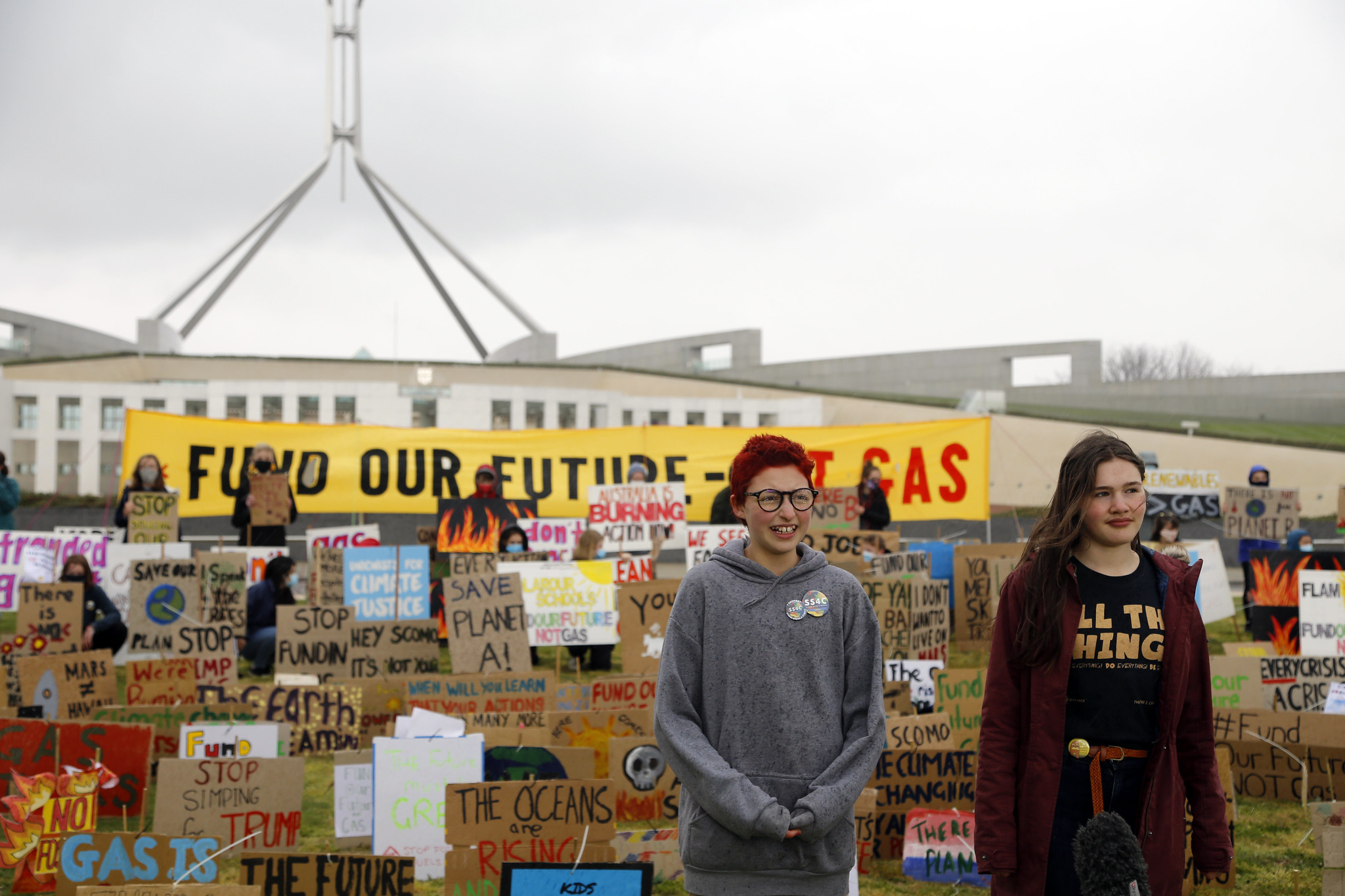 Sept 25 - Canberra, Parliament House - photo courtesy School Strike 4 Climate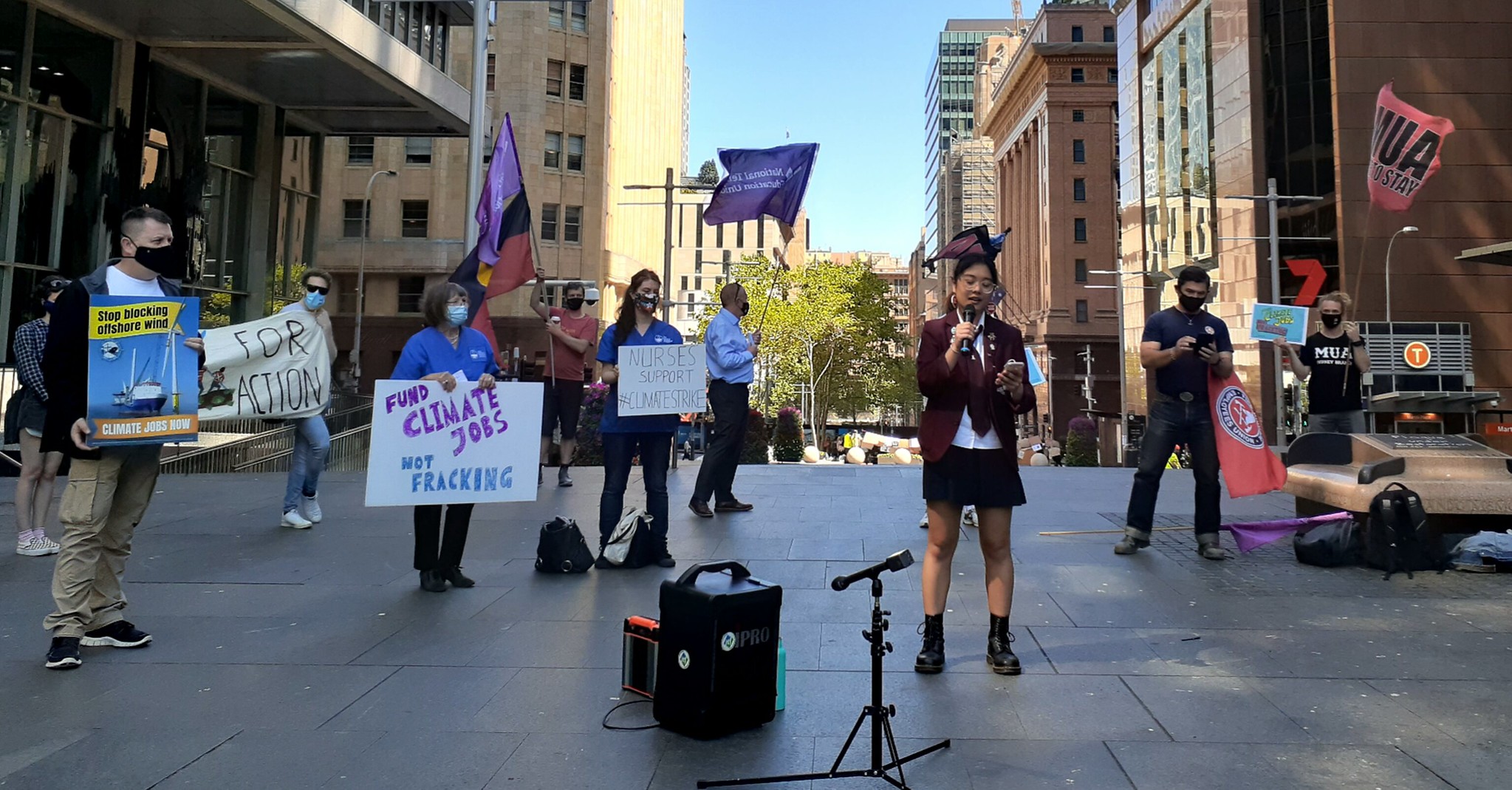 Martin Place, September 25th - photo courtesy School Strike 4 Climate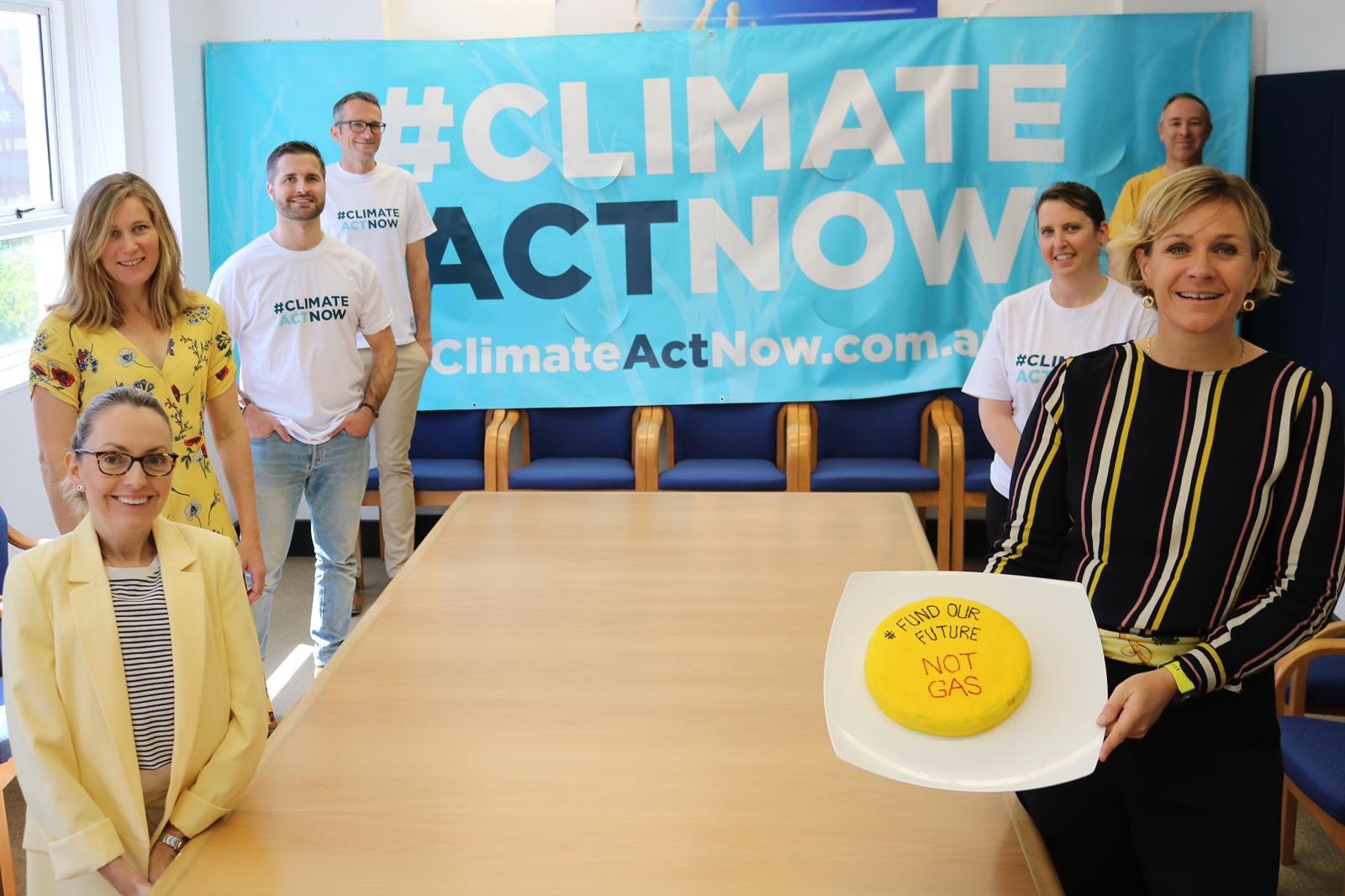 Sept. 25- Zali Steggall Electorate Office, Warringah NSW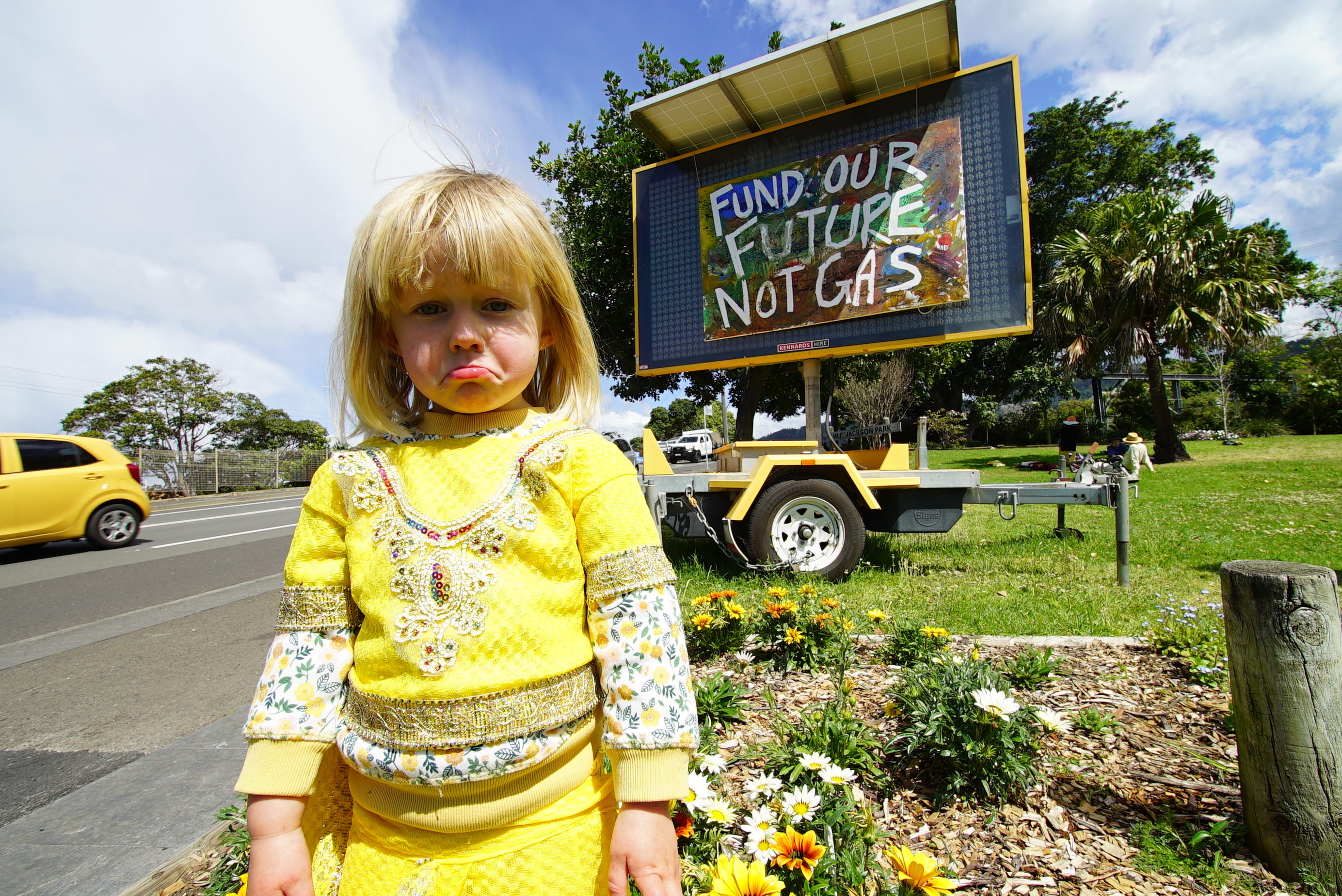 Coledale Austinmer Thirroul Bulli School Strike - photo courtesy School Strike 4 Climate
Farmers And Traditional Owners Will Continue To Fight Santos Coal Seam Gasfield
September 30, 2020
Farmers and Gomeroi Traditional Owners fighting the Santos Narrabri coal seam gasfield will ramp up the battle to protect their lands and precious water resources despite today's disastrous IPC decision.
They have taken aim at the Berejiklian and Morrison Governments who they say have failed to listen to the community and protect groundwater from coal seam gas.
Gomeroi woman Polly Cutmore said, "Our people don't want this gasfield and we are here to tell the government, Santos and their investors that will keep on fighting it. The Pilliga is Gomeroi land and Santos is not welcome there. We will never stop fighting to protect the Pilliga and protect Gomeroi country from coal seam gas."
Coonamble stock and station agent David Chadwick said, "The Commission has made the wrong decision and they have made it based on bad laws and bad politics that promote coal seam gas. This decision puts the groundwater resources we rely on in the firing line of this destructive coal seam gas industry.
"The Morrison Federal Government and Berejiklian State Government were both so hell-bent on this polluting gasfield going ahead. Clearly that kind of pressure has drowned out the community's clear rejection of the industry and the warnings of scientists about the threat it poses to our groundwater.
"The National Party in particular has utterly betrayed its traditional supporter base. The appalling display of contempt by the Nationals for the communities the party claims to represent is untenable.
"The Commission has made a terrible mistake and has condemned our region to having to keep fighting this destructive industry. Which we will.
"Coal seam gas is mother nature's melanoma, and to pursue this sunset industry over agriculture and food production is just unbelievable.
"It is up to every Australian to stop this contempt for communities held by governments and gas companies. Our livelihoods depend on it."
Lock the Gate spokesperson Georgina Woods said, "Responsibility for this disaster lies squarely with the government. Planning Minister Rob Stokes gave the Commission a few short months to consider a huge range of complex issues and the views of over 11,000 people that made submissions.
"Information about leaks and spills occurring right now in the Queensland coal seam gasfields were ignored by the Commission and requests for independent expert advice about groundwater and greenhouse emissions were refused because of the impossible timeline imposed on the Commission by Minister Stokes.
"Experts warned the commission that this gasfield threatens underground water supplies, farmland, and the stressed koalas of the Pilliga, that it will create dangerous amounts of greenhouse pollution and fuel climate change, that Santos' modelling and assessment were flawed and superficial.
Mullaley farmer Robyn King said she and Narrabri locals opposed to the project would not give up.
"This is the fight of our lives and we can't afford to give it up. We owe it to the generations that come after us to stop Santos from wrecking this region," she said.
"We will not sit back and passively accept this politically-influenced decision."
Background and going forward:
Originally proposed by Santos in 2011, the Narrabri Gas Project was

formally supported by the NSW Department of Planning in May 2020

,

despite receiving 22,484 (98%) submissions opposing the project

, the largest number of objections ever received by a NSW development.
The project involves Santos

drilling 850 coal seam gas wells on 1,000 hectares

of a 95,000 hectare site that spans across the Pilliga forest - a sacred place for Gomeroi/Gamilaraay people - and nearby grazing land.
If built, it is estimated

the total greenhouse gas emissions produced by the project could be 127.8 million tonnes of carbon dioxide

equivalent.
The

CSG wells would be drilled through a recharge aquifer for the Great Artesian Basin

, known as the Pilliga Sandstone.
The

risk of drawdown and inter-aquifer leakage in the Namoi alluvium is considerable

, and likely to be greater than what has currently been modelled by Santos.

Santos' project would be a trojan horse for other unconventional gas projects due to the existence of 'zombie licences

' covering a huge area of north west NSW from Dubbo to the QLD border. Despite National Party members voting to have these licences permanently cancelled, the NSW Government has failed to act, meaning the licences could be re-activated.

In the Pilliga, Santos has already been fined for contaminating an aquifer with uranium and other heavy metals and for a spill of 10,000L of wastewater that caused a forest 'dead-zone' which is still un-remediated more than a decade later

.

Wastewater could produce up to 840,000 tonnes of salty waste with still no known disposal solutio

n. Santos

would be required to dispose of this waste within 150km of the projec

t radius.

Santos has downplayed the risks of bushfire in the Pilliga forest caused by gas flaring

, with

local RFS units saying they'll refuse to send volunteers into the gas field to fight fires if the project goes ahead

.
Zombie PELS: Farmers' Worst Fears Confirmed As Gas Companies Seek To Raise Expired Permits From The Dead
October 9, 2020
North west NSW farmers say their worst fears are being realised as gas companies announce plans to raise so-called "zombie-PELs" from the dead in response to the Independent Planning Commission's decision to greenlight the Santos Narrabri gasfield.
The day after the IPC published its decision on the Narrabri gasfield, Comet Ridge, a joint partner with Santos that owns zombie licences PEL 6, PEL 427, and PEL 428, released a statement to the ASX welcoming the approval and announcing it "anticipates a return to exploration and approval" of two of its three dormant licences in the north west.
Zombie PELs are petroleum licences that have expired, but have not been formally extinguished by the NSW Government. There are 12 of these licences that stretch across 56,000km2 between the Queensland border, Dubbo, Moree, the Warrumbungles, and the Upper Hunter.
National Party members voted to have these licences extinguished last year, yet the NSW Government failed to act, meaning the licences can be re-activated.
The move by gas companies also comes after the Morrison Government labeled the entire Gunnedah Basin as a target for its plans to sink taxpayer money into propping up five polluting gasfields across the country.
"It's what we feared would happen if the Narrabri gasfield was approved, and it's shattering news to hear these gas companies and the Morrison Government are so eager to put our land, water and communities at risk," said Mulalley farmer Margaret Fleck, whose property is included in PEL 12, owned by Santos' joint venture partner Carbon Minerals.
Carbon Minerals itself released a statement earlier this year flagging investment in its zombie PELs in the north west.
"A huge area of land across north west NSW is now at serious risk of being transformed into industrial gasfields, as we have seen in the Surat Basin in Queensland," Ms Fleck said.
"This means we could face the same problems as farmers further north - drained and contaminated groundwater, huge areas of land cleared and pockmarked with unconventional gas wells, and the need for companies to dump mammoth amounts of toxic CSG waste."
Lock the Gate Alliance NSW spokesperson Georgina Woods said the Berejiklian-Barilaro Government should have stamped out these licences long ago, just like it had done with CSG licences closer to the coast.
"These companies have sat on these licences for years, creating uncertainty for farmers and communities who just want to get on with their lives without the threat of destructive CSG hanging over their heads," she said.
"Many of these companies have failed to comply with NSW law by simply sitting on these licences and doing nothing with them for so many years, so the government has every opportunity to cancel them and give farming communities some certainty.
"Local members representing these farming communities should listen to the concerns of their constituents and ensure the government permanently slays these zombie licences."
Federal Environment Poised To Ignore Whitehaven's Criminal History After New Entity Created
October 8, 2020
Correspondence from Environment Minister Sussan Ley's Department has indicated Whitehaven Coal's full history of environmental crimes may not be taken into account during the federal assessment of its Vickery coal mine simply because Whitehaven created a subsidiary company called Vickery Coal. In a letter sent to the Lock the Gate Alliance, Minister Ley's Department states Vickery Coal's history will be taken into account, but does not make the same commitment for its parent Whitehaven.
That's despite the fact Vickery Coal is a wholly owned subsidiary of the company, and the fact Whitehaven only changed Vickery Coal to the proponent of the project two years ago, part way through the assessment process.
The letter was released just as Whitehaven was once again fined this week for environmental breaches - this time at its Werris Creek coal mine near Quirindi for allowing an uncontrolled release of water from a sediment dam during heavy rains.
This latest penalty means that during the last eight years, Whitehaven, or its subsidiaries, have been fined on more than 10 occasions at its north west NSW coal mines and have been prosecuted three times, including two prosecutions that are currently underway (full list here).
These fines and other enforcement outcomes, from March 2012 to August 2020 amount to a total of $100,000. Whitehaven Coal reported a record net profit after tax of $564.9 million for FY2019 alone.
"It's clear that Whitehaven has engaged in a pattern of behaviour across all of its mining operations flagrantly disregarding environmental laws and conditions," Lock the Gate Alliance NSW coordinator Georgina Woods said .
"A multitude of fines, which amount to slight slaps on the wrist for Whitehaven, have done nothing to change this company's behaviour. The company is also now being prosecuted by two different government agencies for serious environmental crimes.
"If this was an average Australian citizen who had committed these crimes, they would be looking at gaol time - they certainly wouldn't be given a free pass to build another coal mine.
"The Minister must not make herself selectively blind to this history because of corporate trickery and name-switching." Ms Woods stated
Boggabri local Sally Hunter said, "Sussan Ley's Department seems to be at risk of falling for Whitehaven's attempt to have its vast criminal history ignored. That simply does not pass the pub test.
"If a name change allows them to avoid proper scrutiny, then it makes a mockery of our federal law which is intended to stop repeat offenders and environmental vandals like Whitehaven from being allowed to create more havoc with new operations.
"We are calling on Minister Ley to do what is right by the farmers and communities of the north west and consider the full gamut of Whitehaven's atrocious crimes when assessing Vickery.
"By anyone's standard, this should amount to a rejection of this destructive, water draining coal mine proposal."
Watch Out On The Pittwater Estuary Water Zones & Beaches: Seals Are About
Residents have filmed and photographed the seals living at Barrenjoey as far south as Rowland Reserve and over at Clareville beach in recent days and ask that people keep an eye out for them and ensure they are kept safe from boat strikes and dogs are kept off the beaches they're not supposed to be on.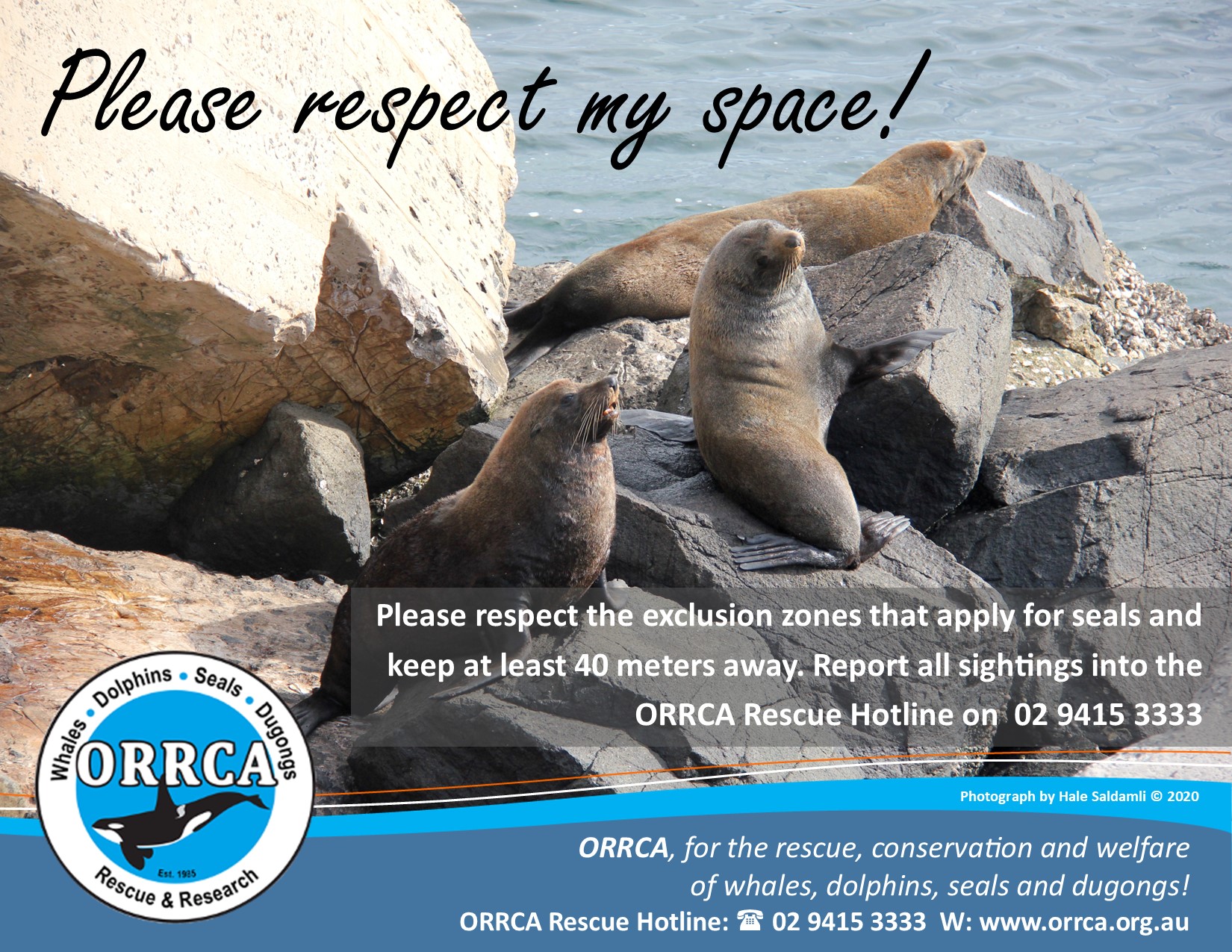 Katandra Season 2020
Katandra Bushland Sanctuary on Lane Cove Rd Ingleside is now open every Sunday until October 25, 10am-4pm. Visitors to this lovely bushland have recently seen Powerful and Boobook Owls, Swamp Wallabies and Lyrebirds. Visitors, please make a small donation towards management of this Crown Land reserve. More details: http://www.katandra.org/home.htm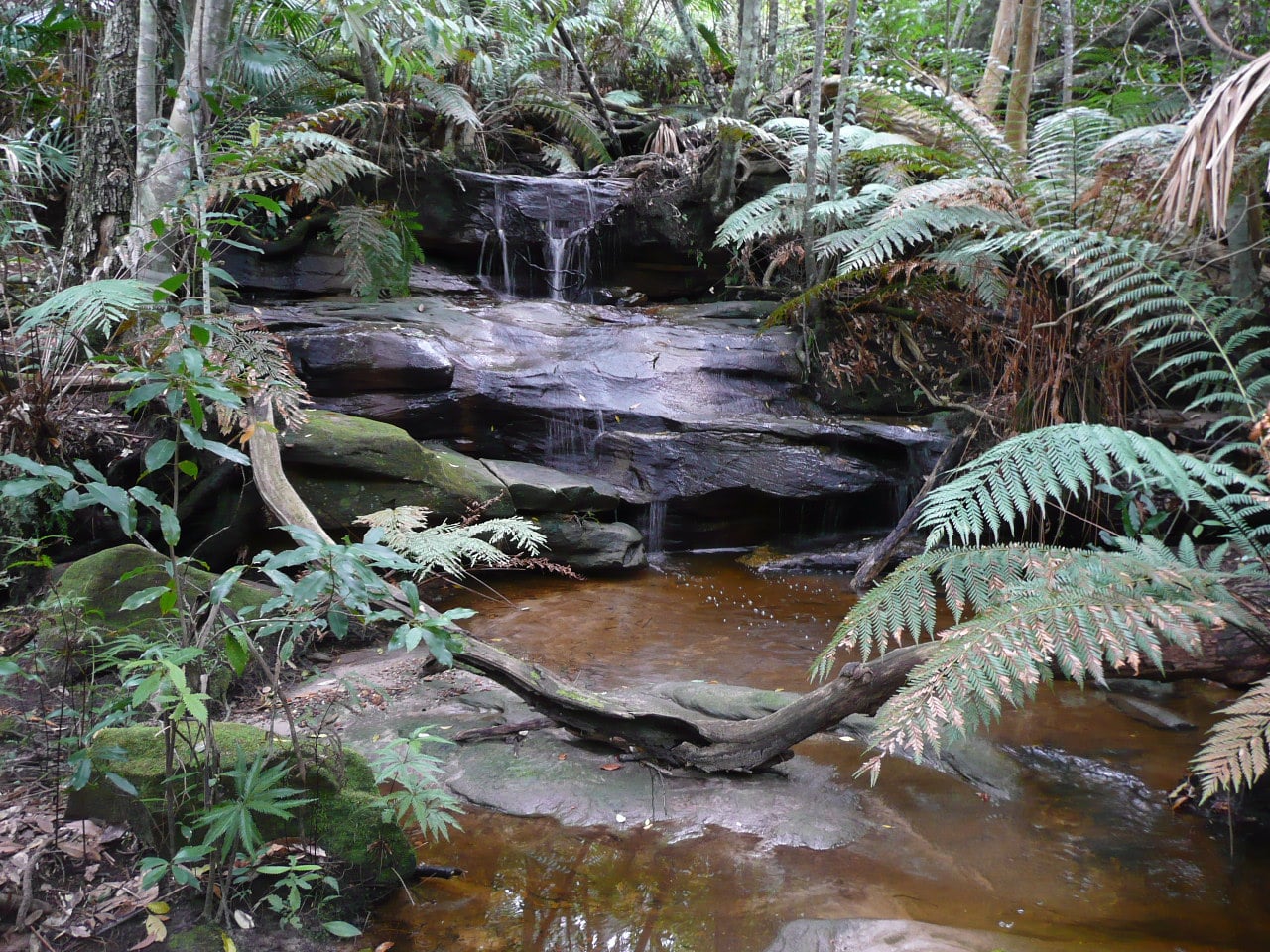 Several creeks flow down the escarpment - photo by Marita Macrae
Bushcare In Pittwater
For further information or to confirm the meeting details for below groups, please contact Council's Bushcare Officer on 9970 1367
BUSHCARE SCHEDULES
Where we work Which day What time
Avalon
Angophora Reserve 3rd Sunday 8:30 - 11:30am
Avalon Dunes 1st Sunday 8:30 - 11:30am
Avalon Golf Course 2nd Wednesday 3 - 5:30pm
Careel Creek 4th Saturday 8:30 - 11:30am
Toongari Reserve 3rd Saturday 9 - 12noon (8 - 11am in summer)
Bangalley Headland 2nd Sunday 9 to 12noon
Bayview
Winnererremy Bay 4th Sunday 9 to 12noon
Bilgola
North Bilgola Beach 3rd Monday 9 - 12noon
Algona Reserve 1st Saturday 9 - 12noon
Plateau Park 1st Friday 8:30 - 11:30am
Church Point
Browns Bay Reserve 1st Tuesday 9 - 12noon
McCarrs Creek Reserve Contact Bushcare Officer To be confirmed
Clareville
Old Wharf Reserve 3rd Saturday 8 - 11am
Elanora
Kundibah Reserve 4th Sunday 8:30 - 11:30am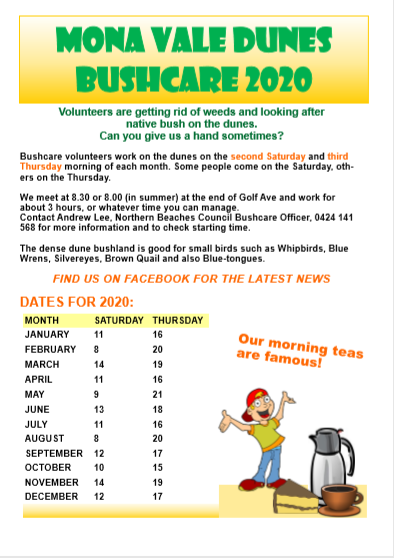 Mona Vale
Mona Vale Beach Basin 1st Saturday 8 - 11am
Mona Vale Dunes 2nd Saturday +3rd Thursday 8:30 - 11:30am
Newport
Bungan Beach 4th Sunday 9 - 12noon
Crescent Reserve 3rd Sunday 9 - 12noon
North Newport Beach 4th Saturday 8:30 - 11:30am
Porter Reserve 2nd Saturday 8 - 11am
North Narrabeen
Irrawong Reserve 2nd Saturday 2 - 5pm
Palm Beach
North Palm Beach Dunes 3rd Saturday 9 - 12noon
Scotland Island
Catherine Park 2nd Sunday 10 - 12:30pm
Elizabeth Park 1st Saturday 9 - 12noon
Pathilda Reserve 3rd Saturday 9 - 12noon
Warriewood
Warriewood Wetlands 1st Sunday 8:30 - 11:30am
Whale Beach
Norma Park 1st Friday 9 - 12noon
Western Foreshores
Coopers Point, Elvina Bay 2nd Sunday 10 - 1pm
Rocky Point, Elvina Bay 1st Monday 9 - 12noon

Gardens And Environment Groups And Organisations In Pittwater
Tick Population Booming In Our Area
Residents from Terrey Hills and Belrose to Narrabeen and Palm Beach report a high number of ticks are still present in the landscape. Local Veterinarians are stating there has not been the usual break from ticks so far and each day they're still getting cases, especially in treating family dogs.
To help protect yourself and your family, you should:
Use a chemical repellent with DEET, permethrin or picaridin.
Wear light-colored protective clothing.
Tuck pant legs into socks.
Avoid tick-infested areas.
Check yourself, your children, and your pets daily for ticks and carefully remove any ticks using a freezing agent.
If you have a reaction, contact your GP for advice.
New Shorebird Identification Booklet
The Migratory Shorebird Program has just released the third edition of its hugely popular Shorebird Identification Booklet. The team has thoroughly revised and updated this pocket-sized companion for all shorebird counters and interested birders, with lots of useful information on our most common shorebirds, key identification features, sighting distribution maps and short articles on some of BirdLife's shorebird activities.
The booklet can be downloaded here in PDF file format: http://www.birdlife.org.au/documents/Shorebird_ID_Booklet_V3.pdf
Paper copies can be ordered as well, see http://www.birdlife.org.au/projects/shorebirds-2020/counter-resources for details.
Download BirdLife Australia's children's education kit to help them learn more about our wading birdlife
Shorebirds are a group of wading birds that can be found feeding on swamps, tidal mudflats, estuaries, beaches and open country. For many people, shorebirds are just those brown birds feeding a long way out on the mud but they are actually a remarkably diverse collection of birds including stilts, sandpipers, snipe, curlews, godwits, plovers and oystercatchers. Each species is superbly adapted to suit its preferred habitat. The Red-necked Stint is as small as a sparrow, with relatively short legs and bill that it pecks food from the surface of the mud with, whereas the Eastern Curlew is over two feet long with a exceptionally long legs and a massively curved beak that it thrusts deep down into the mud to pull out crabs, worms and other creatures hidden below the surface.
Some shorebirds are fairly drab in plumage, especially when they are visiting Australia in their non-breeding season, but when they migrate to their Arctic nesting grounds, they develop a vibrant flush of bright colours to attract a mate. We have 37 types of shorebirds that annually migrate to Australia on some of the most lengthy and arduous journeys in the animal kingdom, but there are also 18 shorebirds that call Australia home all year round.
What all our shorebirds have in common—be they large or small, seasoned traveller or homebody, brightly coloured or in muted tones—is that each species needs adequate safe areas where they can successfully feed and breed.
The National Shorebird Monitoring Program is managed and supported by BirdLife Australia.

This project is supported by Glenelg Hopkins Catchment Management Authority and Hunter Local Land Services through funding from the Australian Government's National Landcare Program. Funding from Helen Macpherson Smith Trust and Port Phillip Bay Fund is acknowledged.
The National Shorebird Monitoring Program is made possible with the help of over 1,600 volunteers working in coastal and inland habitats all over Australia.
The National Shorebird Monitoring program (started as the Shorebirds 2020 project initiated to re-invigorate monitoring around Australia) is raising awareness of how incredible shorebirds are, and actively engaging the community to participate in gathering information needed to conserve shorebirds.
In the short term, the destruction of tidal ecosystems will need to be stopped, and our program is designed to strengthen the case for protecting these important habitats.
In the long term, there will be a need to mitigate against the likely effects of climate change on a species that travels across the entire range of latitudes where impacts are likely.
The identification and protection of critical areas for shorebirds will need to continue in order to guard against the potential threats associated with habitats in close proximity to nearly half the human population.
Here in Australia, the place where these birds grow up and spend most of their lives, continued monitoring is necessary to inform the best management practice to maintain shorebird populations.
BirdLife Australia believe that we can help secure a brighter future for these remarkable birds by educating stakeholders, gathering information on how and why shorebird populations are changing, and working to grow the community of people who care about shorebirds.

To find out more visit: http://www.birdlife.org.au/projects/shorebirds-2020/shorebirds-2020-program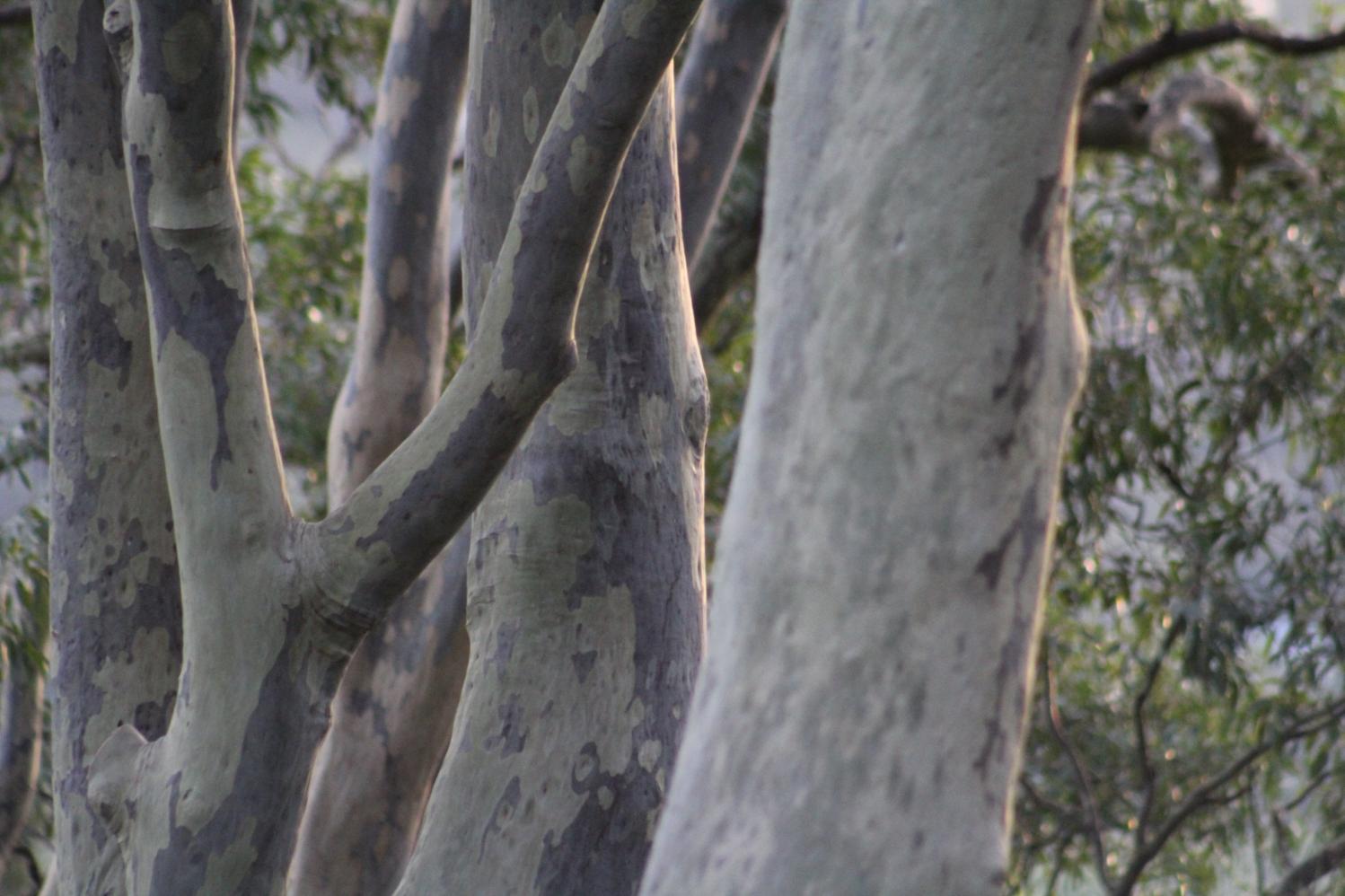 Aussie Bread Tags Collection Points
Collecting bread tags enables us to provide wheelchairs that change the life of disabled people in need, as well as keeping the tags out of landfill to help to preserve the environment.
Bread Tags for Wheelchairs was started in South Africa in 2006 by Mary Honeybun. It is a community program where individuals and organisations collect bread tags, which are sold to recyclers. The money raised pays for wheelchairs for the less fortunate which are purchased through a local pharmacy. Currently about 500kg of bread tags are collected a month in South Africa, funding 2-3 wheelchairs.
We have been collecting bread tags nationally in Australia since September 2018 and now have more than 100 collection points across the country. In February 2019 we started local recycling through Transmutation - Reduce, Reuse and Recycle in Robe, SA, where our tags are recycled into products such as door knobs and bowls. Tags from some states are still sent to South Africa where a plastics company called Zibo recycles them into seedling trays.
These humble bits of polystyrene can make a real difference so get your friends, family, school, workplace and church involved. Ask school tuck shops and boarding school kitchens, child care centres, aged care facilities, hospitals, cafes and fast food outlets to collect for you - they get through a lot of bread!
All the information and signage for collecting or setting up a public collection point is
on our website
.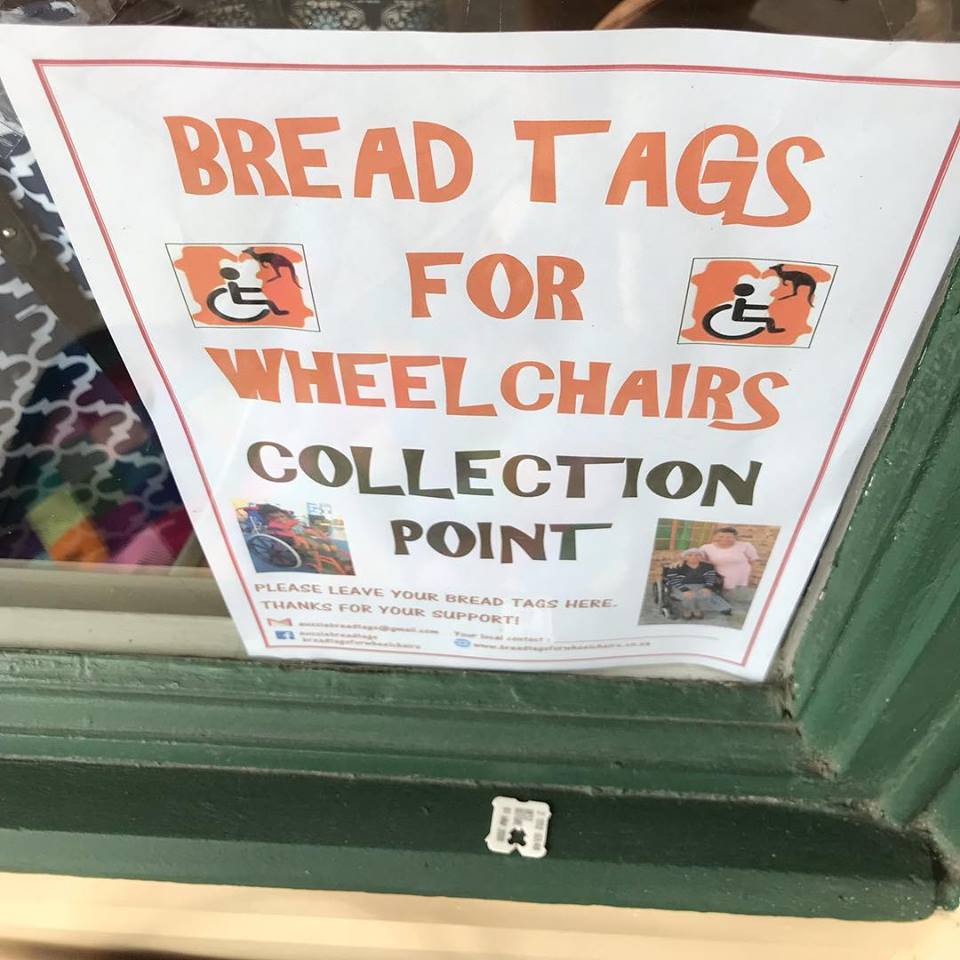 Spring School Holidays Bush Walk
During the school holidays I took my nieces on a few walks and let them use my camera to take a few photos - they enjoyed this so much, much much better than taking photos with their phones, that they are going to keep doing this and I even found some cameras they can use underwater, because they like going in the water, which they will be able to use there too.
When I came home to Pittwater I looked up what the plants we saw along the way were so they too would know what they are called. As some of these can also be seen growing in the bush around us here, I share three of their flower photos and what was found out about them.
This is a purple pea or 'Happy wanderer' (Hardenbergia violacea):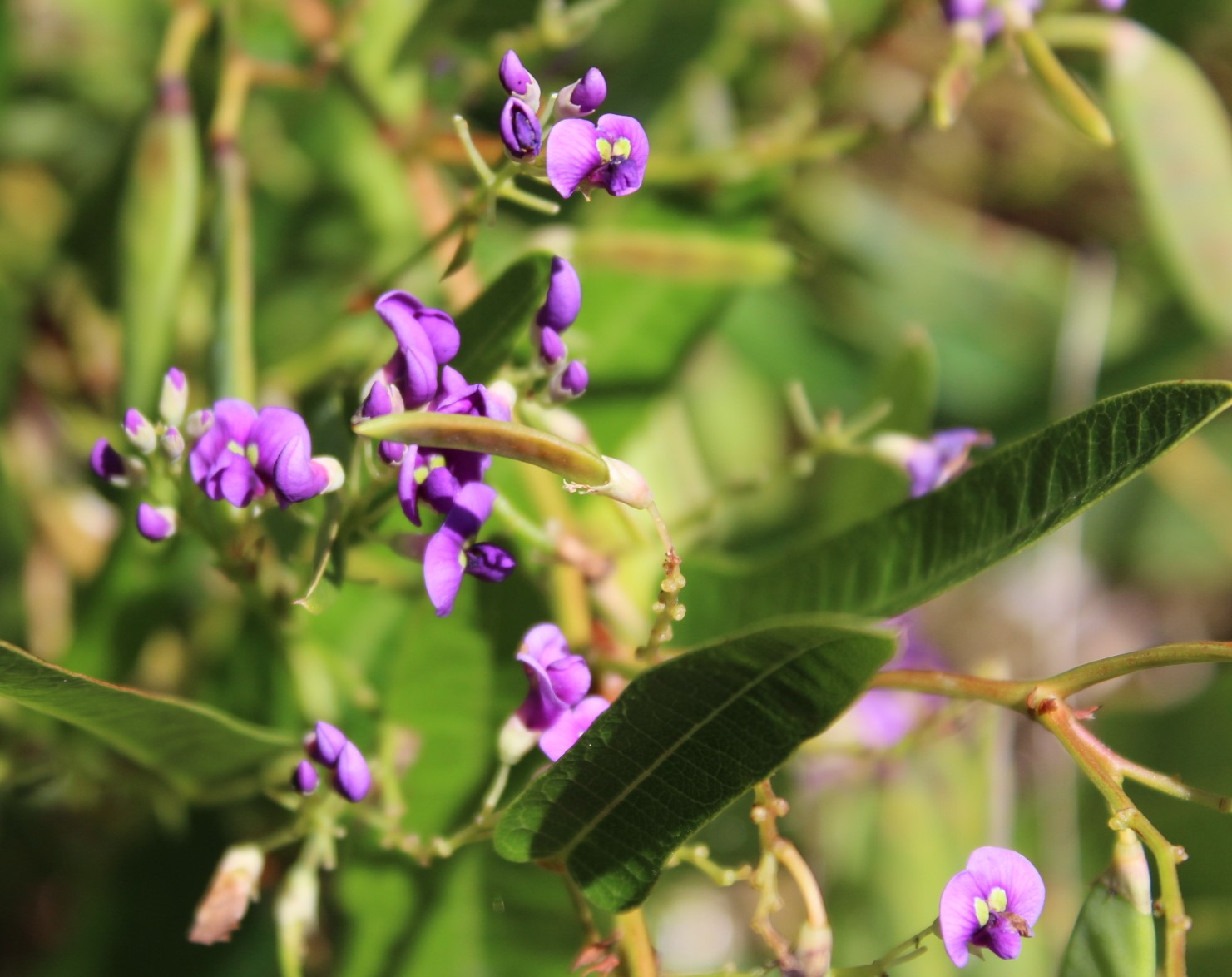 The Hardenbergia Happy Wanderer is a fast growing climber that produces leathery, dark green leaves and masses of purple, pea like flowers from winter to spring. It also attracts native butterflies, bees and birds. Hardenbergia violacea is a species of flowering plant in the pea family Fabaceae, native to Australia from Queensland to Tasmania. It is known in Australia by the common names 'false sarsaparilla', 'purple coral pea', 'happy wanderer', 'native lilac' and 'waraburra'. The seeds are naturally dispersed by ants.
Hardenbergia violacea, as 'false sarsaparilla', has been used by indigenous Australians as a drink and a medicine for thousands of years. 'Leaves and stems provide a cure-all and a general tonic reputed to relieve colds, flu, coughs, bronchitis, arthritis, rheumatism, stomach aches and diabetes. The new leaves can be sucked to ease a sore throat'; use with horehound for 'good blood medicine' (Wreck Bay Community & Renwick, 2000:37).
The leaves were also used as tea substitute in the early days of New South Wales settlement by people emigrating here.
The term 'Hardenbergia' means this plant was named after Franziska Countess von Hardenberg, a 19th century Austrian noblewoman, patron of botany and a sister of Baron von Hügel, who collected plants in Western Australia in 1833. The word 'Violacea' is from Latin meaning 'violet colour', and referring to the typical colour of the flower.
This purple-pink (lilac) flower is called 'Indigofera australis', the Australian indigo or Austral indigo, (family Fabaceae), and it is an attractive species of leguminous shrub in the genus Indigofera.
Indigofera australis:
The genus name Indigofera is Neo-Latin for "bearing Indigo". Australis, from the Latin, means not "Australian" but "southern", referring to the geographical distribution of the species. This is a lovely ornamental shrub which is also a good plant for wildlife, being a good nectar and food source for butterflies, birds and other animals. Australian indigenous peoples crushed the leaves and added these to water to kill or stun fish and eels – a quick way to slow down fast fish if you want to eat these for dinner!
The yellow bush pea with the spiky leaves we saw is called 'Dillwynia sericea' – 'Showy Parrot Pea':
This flower is a native of Queensland, New South Wales and Victoria, and prefers light soils in an open, sunny or shady position and is drought and frost resistant. An evergreen shrub to 1 metre in height with stiff hairy stems, 2cm needle-like leaves and bright yellow pea flowers, streaked with red, it flowers in Spring and Summer.
Remember how I said there were lots of yellow bush peas in Australia? – in fact there are more than 1500 pea-flowered species, encompassing a diversity of life-forms from herbs and shrubs to vines and trees. Peas can be found in virtually every habitat!
Pretty cool!!
Ok: let's find out about three of the birds we saw!
These are Australian Wood Ducks: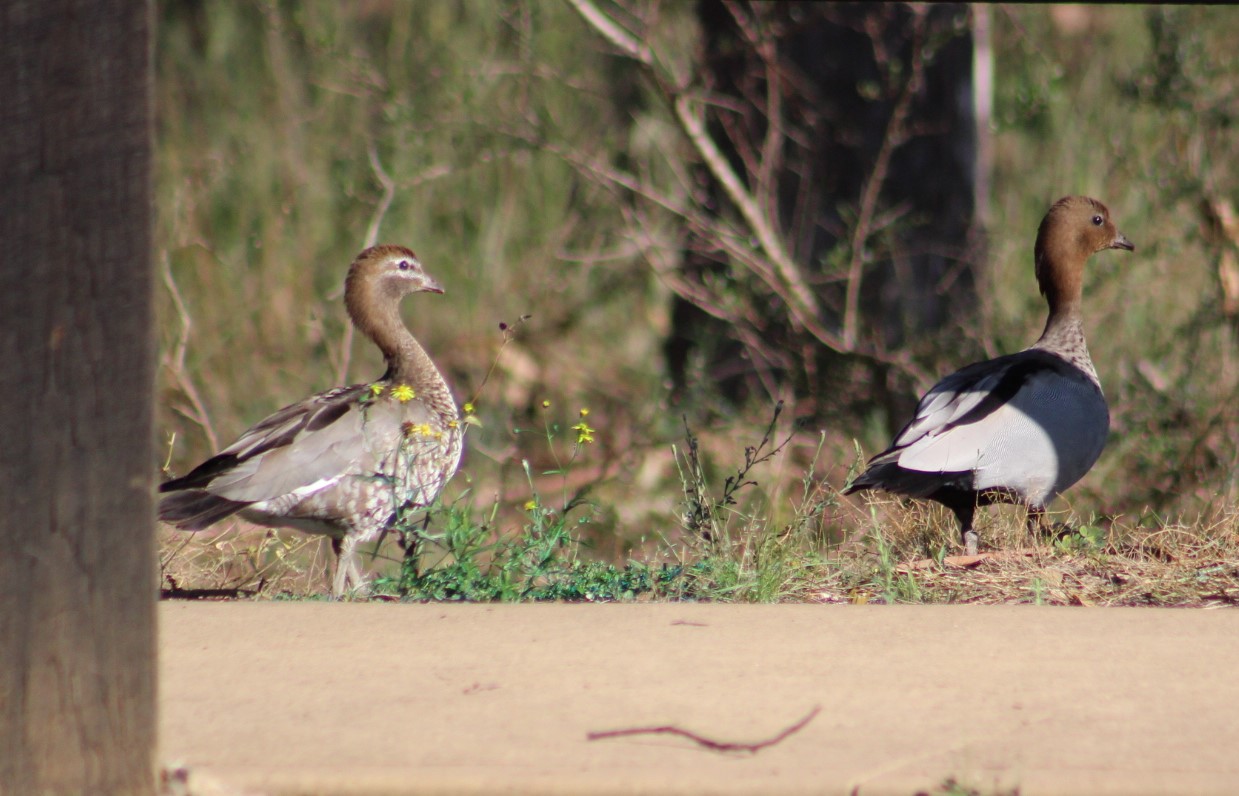 The Australian wood duck, maned duck or maned goose is a dabbling duck found throughout much of Australia. It is the only living species in the genus Chenonetta. The Australian Wood Duck is a medium-sized 'goose-like' duck with a dark brown head and a pale grey body with two black stripes along the back. Males have the darker head and a small dark mane, with a speckled brown-grey breast and a black lower belly and undertail.
The two we saw were a pair that may go on to have ducklings! This is a Wood Duck family I photographed at Newport, in Crystal Bay, in the Spring of 2012: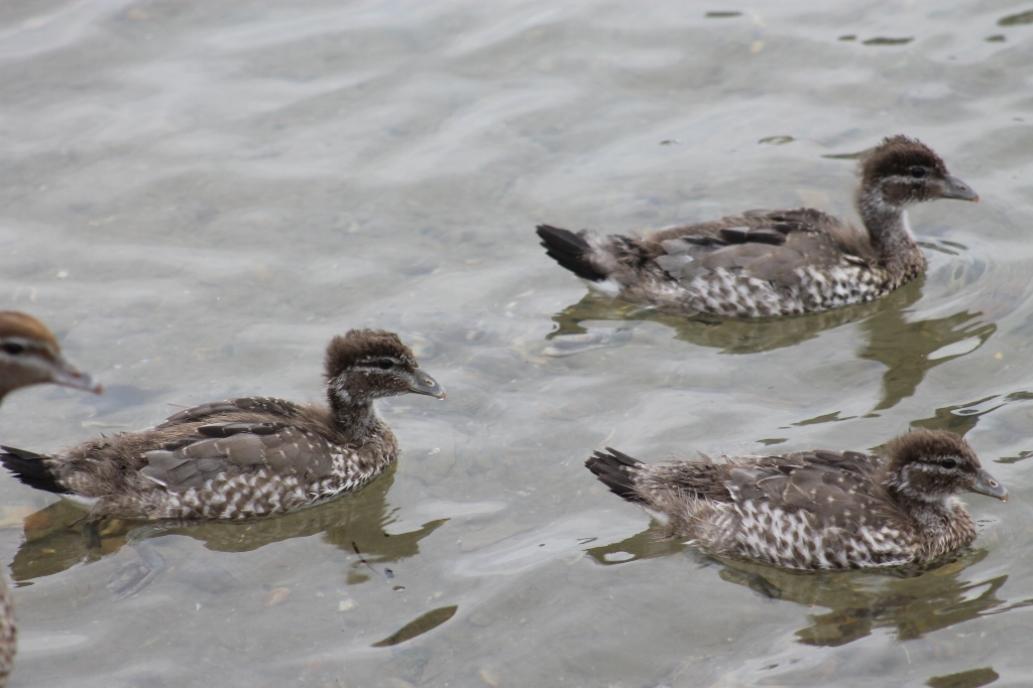 Ducklings.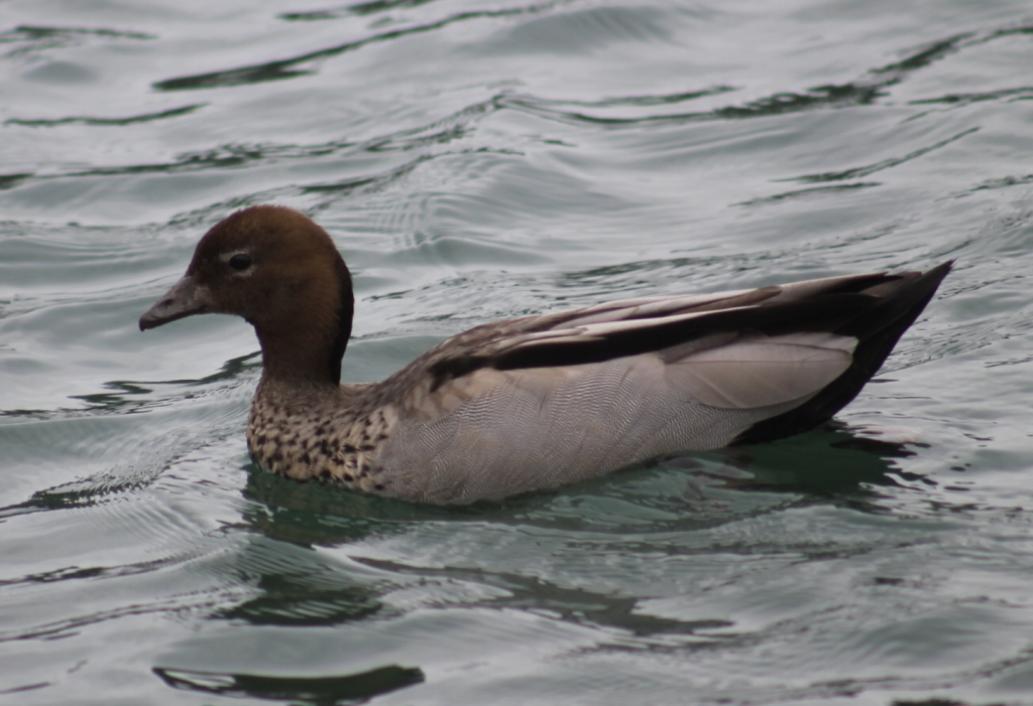 Australian Wood Duck - Male.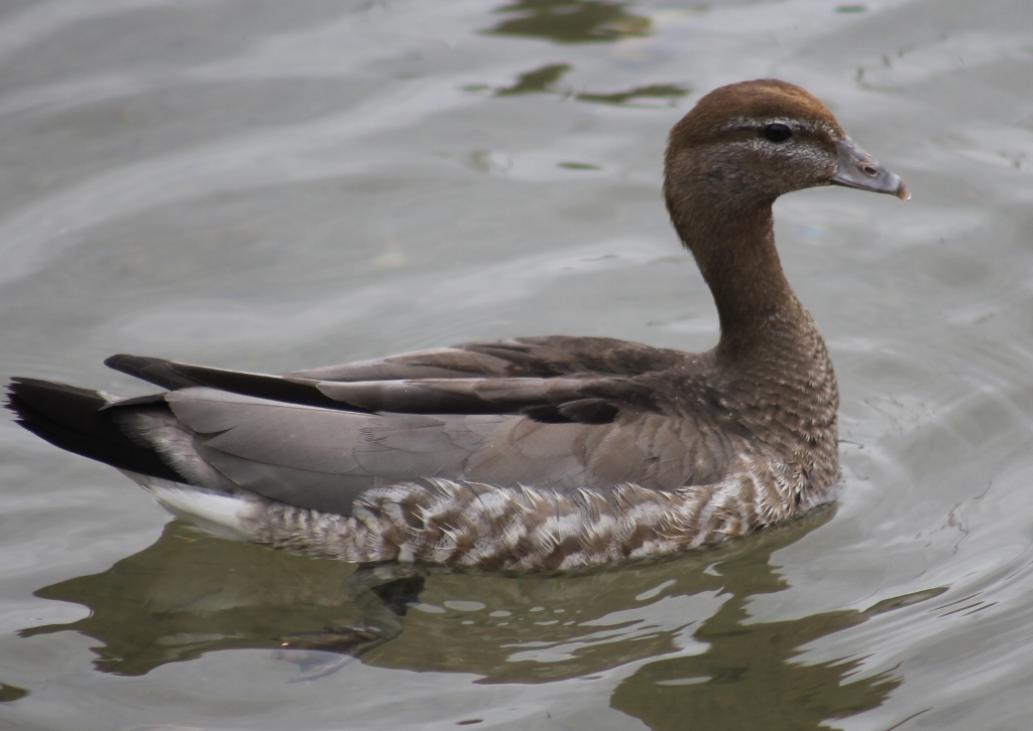 Australian Wood Duck - Female.
This is an Australian Miner bird having a look at a nest in one of the gum trees outside of grandma's house – I took this photo after you two went home one day – just to show you what a birds' nest looks like. This one is formed from mud and wrapped around the tree branches – it probably is the nest for a small wren bird, like the fairy wren – they build these kinds of mud-nests – which means the Miner bird is just being a sticky-beak! No pun intended: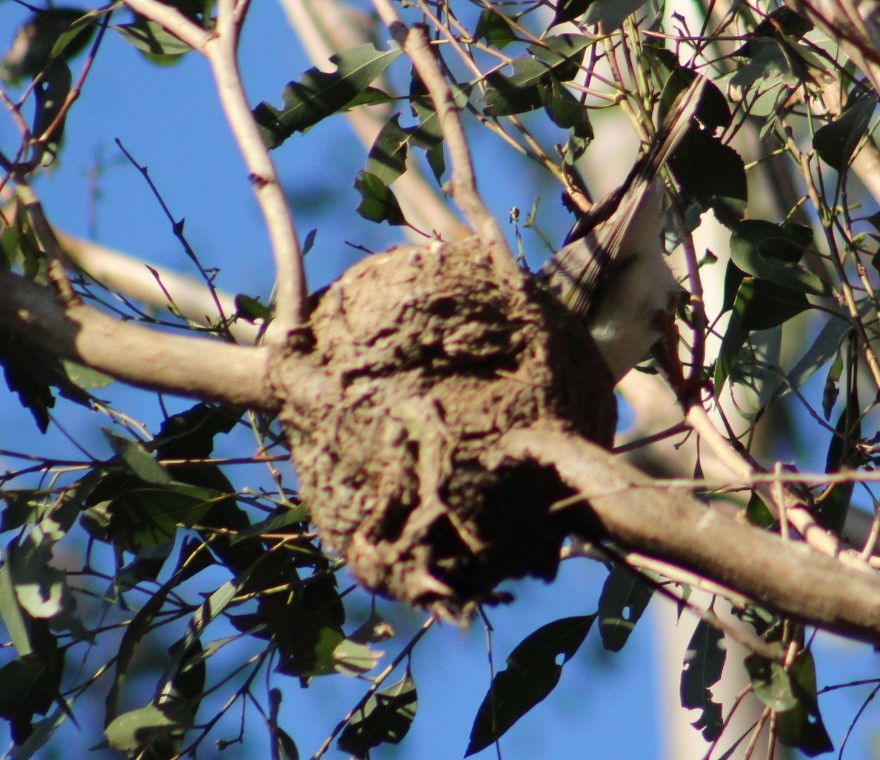 This birds' nest is made from twigs nestled into the tree branches though – see the difference?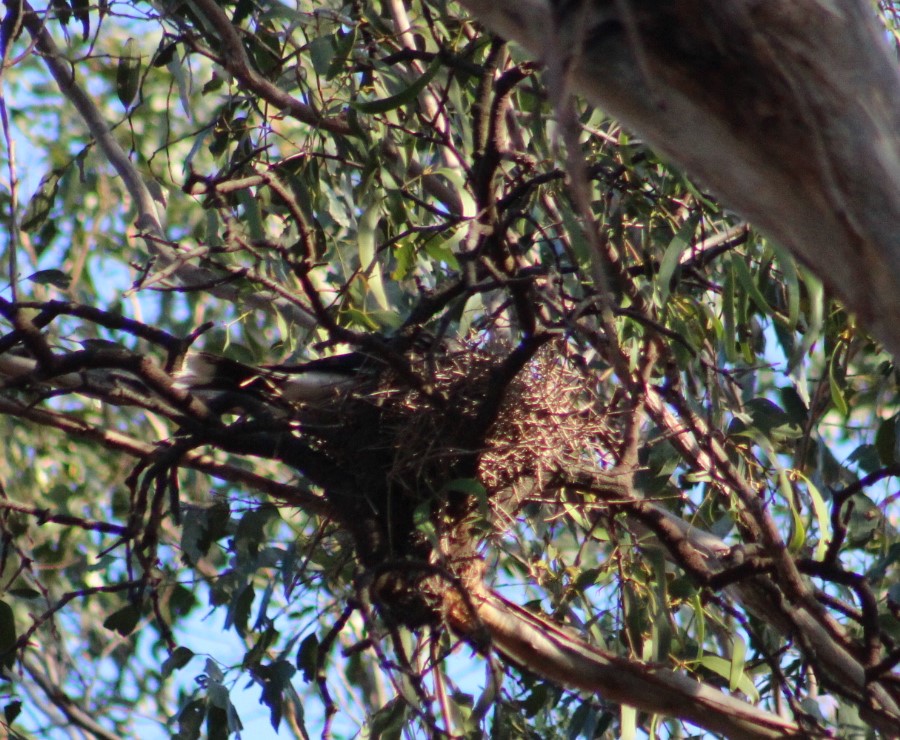 I also heard two different kinds of owls, and saw one at dawn one morning, and heard the lovely little chirrups of bats – owls and bats like to nest in hollow trees; so their nests can be harder to see – you need to listen for them calling to know where they may live.
Ok – a third bird – this one we were trying to get a photo of and could see flying fast past us, and hear calling from the upper canopy of the trees, is an Eastern Rosella, (Platycercus eximius) which is native to southeast of the Australian continent and to Tasmania. As we had some trouble trying to get that one on our first walk I sat outside after and waited for them to turn up again so I could get this photo for my nieces: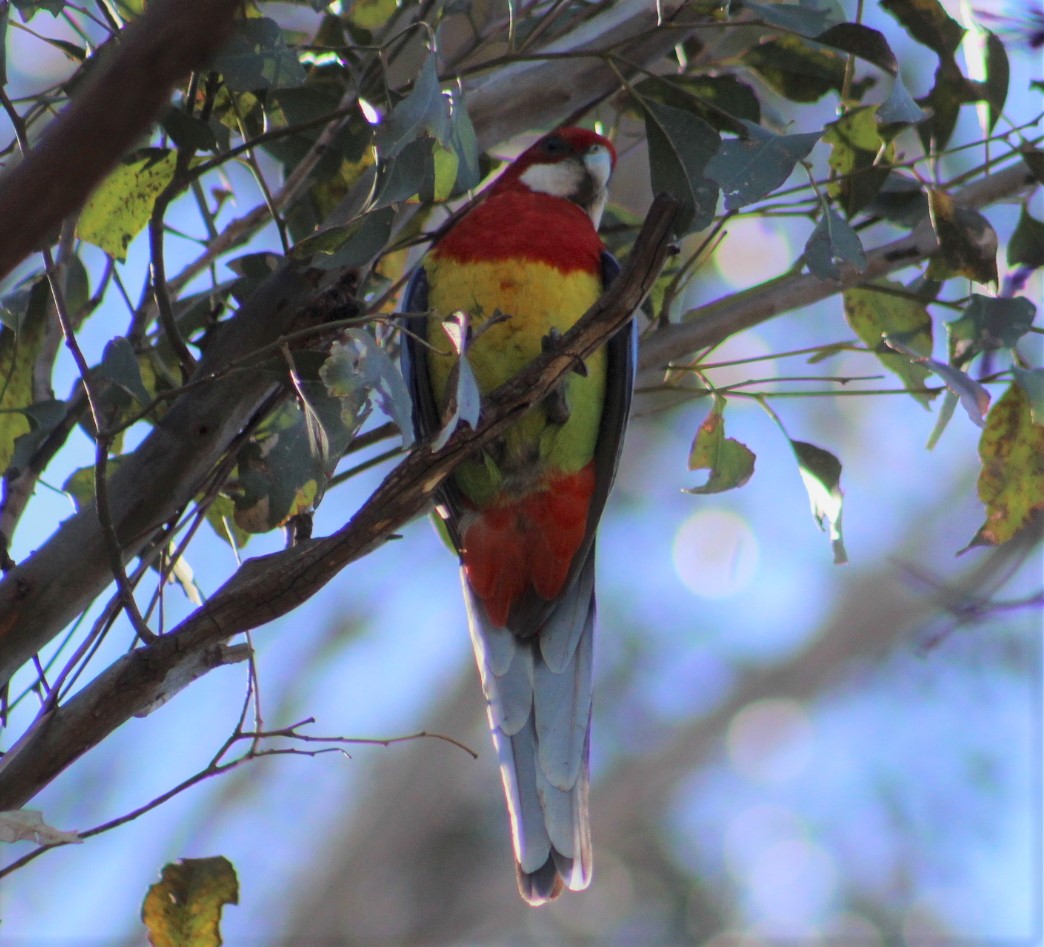 Eastern Rosellas are medium-sized colourful parrots with distinctive white cheek patches. It has a red head, neck and breast, with yellowish to greenish upper parts, a yellow underbody and a yellow-green to blue-green rump, with a red undertail. The shoulders are bright blue.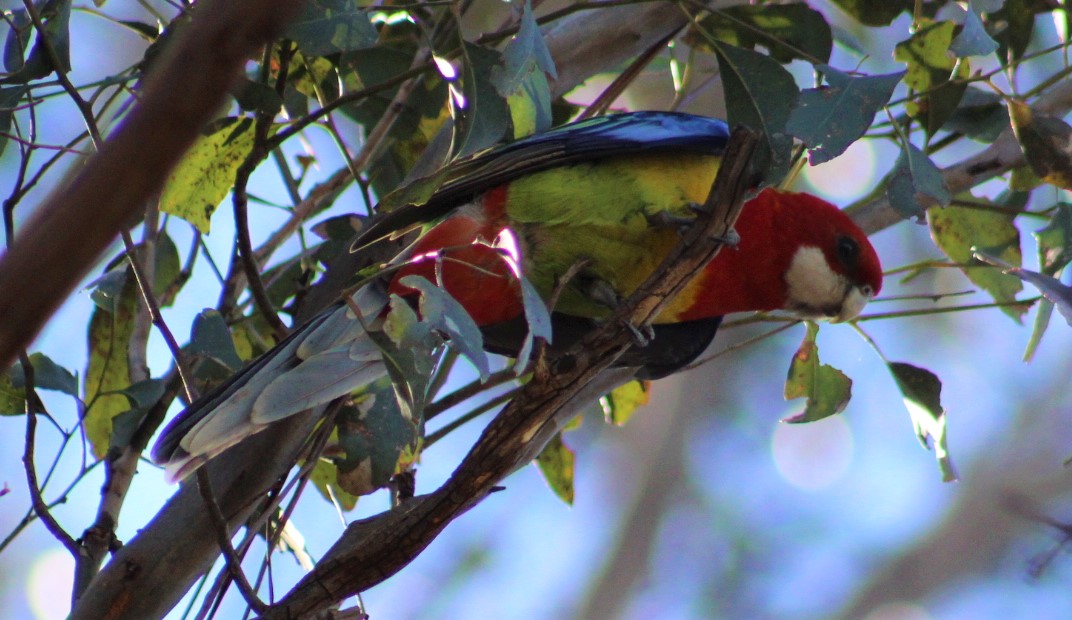 The Rosella is named in Indigenous dreamtime legends as among the first of birds to have sung here, and signifies true love or lifelong commitment in the Jenolan Caves region and is called 'Bur-oo-lit' in the Kutthung, or Kattang, dialect of Australian Aborigines living along the southern bank of the Karuah river and the south shore of Port Stephens, New South Wales. The name 'rosella' stems from early settler's naming of a bird common to the Rose Hill area of Sydney.
We also saw a blue-tongued goanna - it was hiding in amongst the plants of the garden when we got back - you can just see him or her here among the leaves: Isn't it amazing what you can find to see when you just walk around listening and looking closely?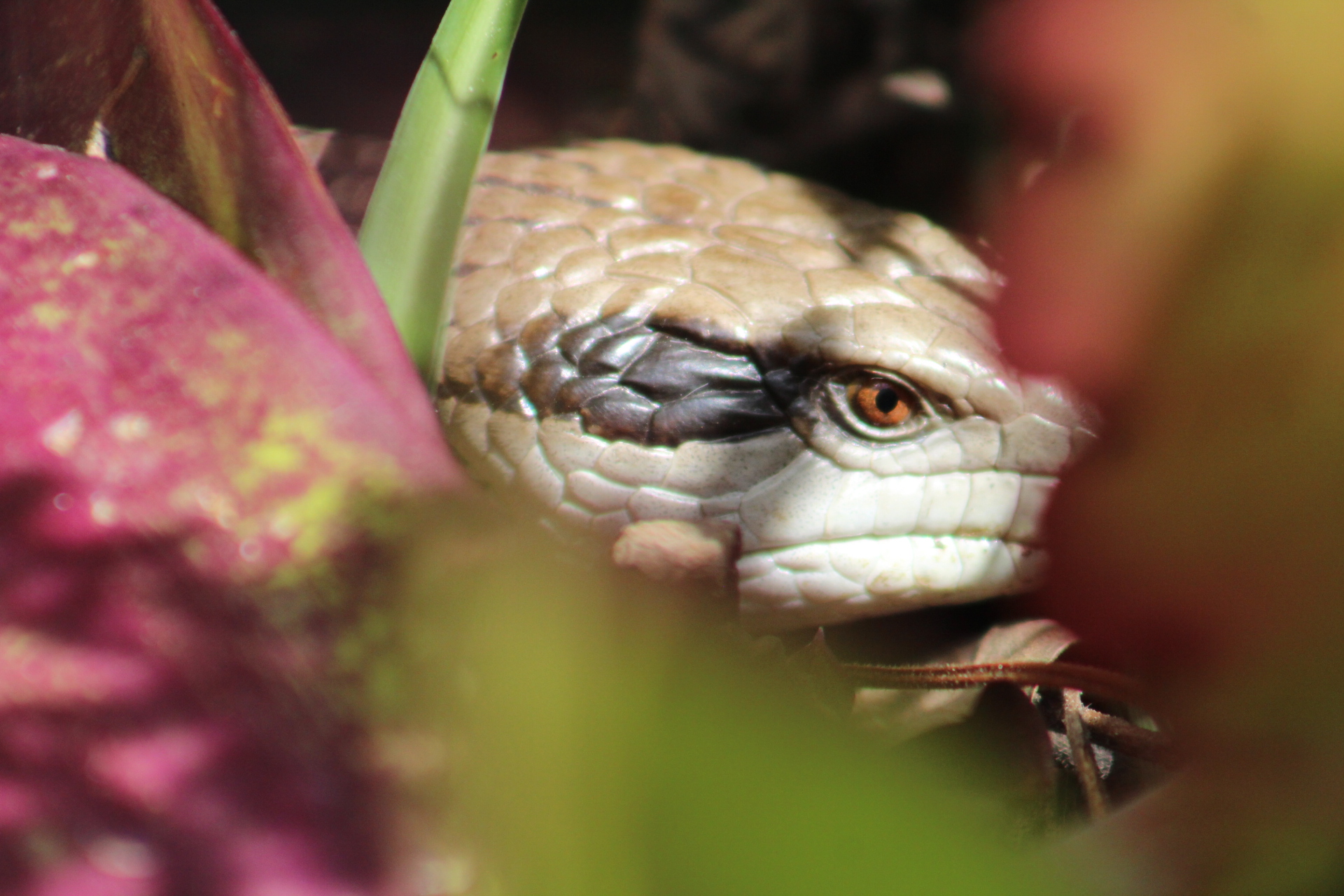 COVID-19 Report Identifies Immediate Areas For Action
October 1, 2020
Aged Care Royal Commissioners, the Honourable Tony Pagone QC and Lynelle Briggs AO, have handed a special report on the COVID-19 pandemic in aged care to the Governor-General. The report is the result of a hearing into Aged Care Quality and Safety into the impact of COVID-19 on aged care, which was held in Sydney in August 2020.
The COVID-19 pandemic has been the greatest challenge Australia's aged care sector has faced. Those who have suffered the most have been the residents, their families and aged care staff. This report makes six recommendations, among them, a requirement that the Australian Government report to the Australian Parliament
no later than 1 December 2020
on the progress of their implementation. The report identifies four areas for
immediate action
to support the aged care sector:
First

, the Australian Government should fund providers to ensure there are adequate staff available to deal with external visitors to enable a greater number of more meaningful visits between people receiving care and their loved ones.

Second

, the Australian Government should create Medicare Benefits Schedule items to increase the provision of allied health and mental health services to people living in residential aged care during the pandemic to prevent deterioration in their physical and mental health.

Third,

the Australian Government should publish a national aged care plan for COVID-19 and establish a national aged care advisory body.

Finally

, the Australian Government should require providers to appoint infection control officers and should arrange for the deployment of accredited infection prevention and control experts into residential aged care homes.
When the Royal Commission was established in 2018, nobody could have foreseen that the aged care sector would be in the grip of this pandemic as the Royal Commissioners approached the end of their work. The Royal Commissioners have responded with the release of this report in advance of their Final Report, to be delivered to the Governor-General on 26 February 2021.
When the Royal Commissioners announced their COVID-19 inquiry in May, there were outbreaks in three aged care facilities in Sydney. By the time the hearing began in August, a major outbreak in aged care facilities in Melbourne was under way.
It is appropriate to release this special report now because, although no-one knows how long the pandemic will last, aged care residents continue to suffer and, tragically, more may die as a result of COVID-19. There is too much at stake to apportion blame at this time. However, the public needs to know what lessons have been, and can still be, learnt.
Recommendations
Recommendation 1 - Implementation
The Australian Government should report to Parliament by no later than
1 December 2020 on the implementation of these recommendations.
Recommendation 2 – Visitors and quality of life
The Australian Government should immediately fund providers that apply for funding to ensure there are adequate staff available to allow continued visits to people living in residential aged care by their families and friends.
Recommendation 3 – Allied health
The Australian Government should urgently create Medicare Benefits Schedule items to increase the provision of allied health services, including mental health services, to people in aged care during the pandemic. Any barriers, whether real or perceived, to allied health professionals being able to enter residential aged care facilities should be removed unless justified on genuine public health grounds.
Recommendation 4 – An aged care plan and advisory body
The Australian Government should establish a national aged care plan for COVID-19 through the National Cabinet in consultation with the aged care sector.
This plan should:
establish a national aged care advisory body
establish protocols between the Australian Government and the States and Territories based on the NSW Protocol but having regard to jurisdictional differences
maximise the ability for people living in aged care homes to have visitors and to maintain their links with family, friends and the community
establish a mechanism for consultation with the aged care sector about use of Hospital in the Home programs in residential aged care
establish protocols on who will decide about transfers to hospital of COVID-19 positive residents, having regard to the protocol proposed by Aged and Community Services Australia
ensure that significant outbreaks in facilities are investigated by an independent expert to identify lessons that can be learnt. The results of any such investigations should be promptly disseminated to the sector.
Recommendation 5 – Infection control expertise and personal protective equipment
All residential aged care homes should have one or more trained infection control officers as a condition of accreditation. The training requirements for these officers should be set by the aged care advisory body we propose.
The Australian Government should arrange with the States and Territories to deploy accredited infection prevention and control experts into residential aged care homes to provide training, assist with the preparation of outbreak management plans and assist with outbreaks.
A Stronger Aged Care System With A Focus On Quality Care
Record investment of more than $2.7 billion will continue to drive aged care reform and ensure the needs of senior Australians are prioritised.
Minister for Aged Care and Senior Australians, Richard Colbeck, said the 2020-21 Budget showcased the Australian Government's determination to strengthen our aged care system and keep our loved ones safe.
A $1.6 billion investment into home care packages is the centrepiece of this year's funding for senior Australians, as the Federal Government continues to respond to the recommendations of the Royal Commission into Aged Care Quality and Safety.
"The Australian Government is listening, acting and working to ensure older Australians are kept safe and quality of care is retained," Minister Colbeck said.
"Funding for aged care has grown from $13 billion in 2012–13 to nearly $24 billion this year, and will reach over $27 billion by 2023–24 representing an increase by $8 billion over the forward estimates compared to last year's Budget."
A record 23,000 additional home care packages – the largest allocation to date - will all be delivered at a cost of $1.6 billion this financial year.
This is on top of the 6,105 packages announced in July 2020 at a cost of $325.7 million.
It takes Government investment to almost 30,000 packages, valued at more than $1.9 billion, to be delivered in 2020.
The additional places will continue to drive down the number of people in the Home Care National Prioritisation System following a 20 per cent decrease in the year to March 2020.
The number of people receiving a home care package for the same period increased by 38 per cent and the latest commitment will ensure faster access for those who need it most.
"These packages offer a real choice for people who are seeking support in the home," Minister Colbeck said.
It takes the total investment in home care packages to $4.6 billion or more than 73,105 packages since the 2018-19 Budget.
The Government has increased packages from 60,308 at 30 June 2013 to 155, 625 at 30 June this year and an estimated 185, 597 by 30 June 2021.
Additionally, more than $746 million from this Budget brings the Australian Government's commitment to deliver the COVID-19 Aged Care Response Plan to a total of $1.6 billion.
This includes $245 million for facilities to provide for increased staffing costs – including managing visitations and infection control training - and a six-month extension of a 30 per cent increase to the viability and residential care homeless supplement, paid to aged care providers at a cost of $27.4 million.
More than $12.5 million will support aged care recipients and families who have been impacted by COVID-19 outbreaks, including enhanced advocacy services and increased availability of grief and trauma support services.
An investment of $10 million has also been directed to the Community Visitors Scheme which fosters friendship and companionship with older people receiving aged care services in these uncertain times.
The Australian Government also wants to support older Australians and their families who have chosen to take their loved ones out of residential aged care during the pandemic, with $71.4 million in short term supports.
The 2020-21 Budget also includes the provision of $408.5 million for initiatives including:
Dementia training and support ($11.3m)
Implementation of the aged care workforce strategy ($10.3m)
Keeping young people out of residential aged care ($10.6m)
Preparatory work for a new funding model to support better care ($91.6m)
Support for the Royal Commission ($4.1m)
Support through the Business Improvement Fund ($35.6m)
Commonwealth Disability Support for Older Australians ($125.3m)
Investment in the Serious Incident Response Scheme ($29.8m); and
Developing the single in home support program for older people at home ($4.6m).
Minister Colbeck said in response to the COVID-19 special report from the Royal Commission, an additional $29.8 million will be invested toward the Serious Incident Response Scheme, marking another important step towards keeping seniors in care safe.
The Government is also focused on the delivery of a more personalised aged care sector, investing $10.8 million to attract and enhance the skills and leadership qualities of aged care nurses.
"A strong aged care sector, with a high quality and skilled workforce will provide older Australians with the care they rightly deserve and give all Australians confidence that our elderly are cared for with kindness, respect and dignity," Minister Colbeck said.
Additionally, the Australian Government is taking strong steps to help young people living with a disability in age care to find a more appropriate care setting.
Funding of $10.6 million will support a new team of coordinators to help younger people in or at risk of entering aged care to navigate the state and federal systems and locate more age appropriate care and services.
"This Budget also continues the Government's work in reforming how residential aged care is funded. The next step towards the new Australian National Aged Care Classification system is preparing the way to enable independent assessments which will deliver more accurate funding to meet the care needs of residents."
Work continues to develop a single in-home support program.
The Australian Government is also driving the implementation of the 2018 Aged Care Workforce Strategy to deliver a strong and capable workforce, by providing the Aged Care Workforce Industry Council with an additional $10.3 million.
Eligible aged care service providers will be able to access assistance through the $35.6 million Business Improvement Fund to secure a stronger and more viable aged care sector for Australia.
The Fund will help providers experiencing financial difficulties to undertake business improvement activities.
Minister Colbeck said the Budget allocations underlines the Morrison Government's commitment as we anticipate the final report from the Royal Commission next year.
"One of the first acts of Scott Morrison as Prime Minister was to call the Royal Commission into Aged Care Quality and Safety.
"The Government has acted its Interim and COVID-19 reports and it anticipates its final recommendations when they are handed down in February.
"A strong aged care sector, with a high quality and skilled workforce will provide older Australians with the care they rightly deserve and give all Australians confidence that our elderly are cared for with kindness, respect and dignity."
Singing Together While Apart - The Silver Swan

Cantiamo
continues
their Singing Together While Apart series.
This one is the beautiful piece, The Silver Swan, by Orlando Gibbons.
Budget - Missed Opportunity For Older Australians
National Seniors Australia says the budget announcement of 23,000 home care packages is a start but spread out over four years barely addresses the waiting list of almost 100,000 people.
The country's peak consumer organisation for older Australians was also hoping for more measures to address the failures from the aged care sector as exposed by the Royal Commission into Aged Care, Quality and Safety.
National Seniors Chief Advocate Ian Henschke says the budget is a missed opportunity to address the home care waiting list.
"The government's announcement of an additional 23,000 packages over four years means fewer than an extra 6,000 people a year will get a home care package," Mr Henschke said.
"The waiting list has been described by our very own CEO, Professor John McCallum as a 'running sore' and this announcement is a band aid which barely covers the wound."
Mr Henschke also says the budget is disappointing in failing to solve the systemic problems in residential aged care.
"Creating more training for aged care staff and providers is a good start but we don't know how many employees will benefit from the $11.3 million announcement."
"What we were hoping to see were more measures to make aged care providers more accountable."
While welcoming the two payments of $250 to aged pensioners and Commonwealth Senior Health Card holders, Mr Henschke says the pension remains too low to live on especially for those paying rent.
"In our budget submission we called for an increase in Commonwealth Rent Assistance (CRA), sadly this has been ignored.
"So too was our campaign to have the Pension Loan Scheme (PLS) interest rate of 4.5% lowered," Mr Henschke said.
"This is a missed opportunity to help older Australian access their home equity to help have a better life, stimulate the economy and assist in paying for their own care."
Acknowledging the earlier cuts to deeming rates (used to deem what a pensioner earns on their savings), Mr Henschke expressed disappointment that the upper deeming rate of 2.25% remains.
"All we got tonight was just a re announcement of the earlier measures to bring down the upper rate, but no one I know is getting a savings return of 2.25%."
Many self-funded retirees will benefit from the two bonus payments totalling $500 if they are Commonwealth Seniors Health Card holders and they will also continue to benefit from the halving of the superannuation draw down rate for this financial year.
"We welcomed the reduction of the superannuation draw down rate earlier in the year," Mr Henschke said.
"What we'd like to see now, is the government's response to the Retirement Income Review which was called to address systemic problems in the retirement income system which have now been exposed by COVID-19."
Budget Delivers Some Good News For Older Australians, But Other Things Are Missing
Australia's peak body of older Australians, Council on the Ageing (COTA) Australia, has welcomed a number of significant Federal Budget initiatives in pensions and aged care, but expressed concern about the plight of mature age and older workers who received no targeted support despite being equally vulnerable to long term unemployment as a result of the COVID induced recession.
COTA Australia Chief Executive, Ian Yates, said older Australians will be very pleased to see an additional 23,000 home care packages at a cost of $1.6 billion, a record increase.
However, he said they would be disappointed that there is still no commitment and plan to get waiting times down to 30 days and ensure no one is prematurely forced into residential care.
"The new home care packages are a substantial step forward and to be applauded, as are the supporters of our 'Safer at Home' campaign who lobbied for this", Mr Yates said, "but we still have a way to go and more will need to be done in the May 2021 Budget,"
Mr Yates said COTA also welcomed other aged care initiatives, including:
$29.8 million to implement the Serious Incident Response Scheme to provide better protection for residents in aged care;
$91.6 million over four years to create an independent assessment service for the new residential care assessment and funding tool;
$35.6 million over two years to extend the Business Improvement Fund, to help restructure residential aged care; and
Commitments to upskilling aged care workers in dementia and funding the Aged Care Workforce Industry Council, which now needs to deliver leadership in workforce reform.
"Pensioners will be very pleased about additional pension supplements of $250 in December and $250 in March, a positive response by government to our strong lobbying for additional help to pensioners at a time that the indexation formula did not deliver an increase in the pension rate," Mr Yates said.
"However, we are disappointed that there is no increase in the inadequate Commonwealth Rent Assistance maximum rate, and that older unemployed people will still have their savings plundered by the Liquid Assets Test at the very time they should have retirement savings protected."
Mr Yates said COTA "welcomed the huge range and depth of economic stimulus measures that are the centrepiece of this Budget, including the support targeted at getting young people employed".
"But we are disappointed there is no parallel support to keep older Australians in work.
"They are equally vulnerable to redundancy, age discrimination and being locked out of the workforce, and we are fearful this will be exacerbated by the failure to match youth subsidies," he said.
Mr Yates said COTA welcomes the measures to improve the transparency and accountability of super funds by establishing the YourSuper comparison website, which will allow members to make more informed decisions about where their superannuation savings will earn the best return; and also the implementation of the "super follows you" recommendation so that less people will end with multiple accounts.
"However we note that the government has not made other announcements in response to the Retirement Income Review, and again call on government to release this independent, once in a generation review of our retirement income system, so that we can all share the rich data it provides on what's working and what's not adequate, so we can discuss positive ways forward to strengthen pensions and superannuation," he said.
COTA also welcomes the announcement of an extra $1 billion in loan funds to support development of affordable housing, and the abolition of Capital Gains tax on 'granny flat' arrangements provided there is a formal legal agreement in place to protect the interests of the older person.
Waves Of Wellness
Waves of Wellness offer free weekly learn-to-surf lessons that are paired with wellness discussions on the beach. It's for men aged 16+ and is launching again in Warriewood later this month (October 30, 2020). Many people have greatly benefited from this program, so if you know of anyone who could gain from it, get them to register here: https://www.wowsandnsurf.com/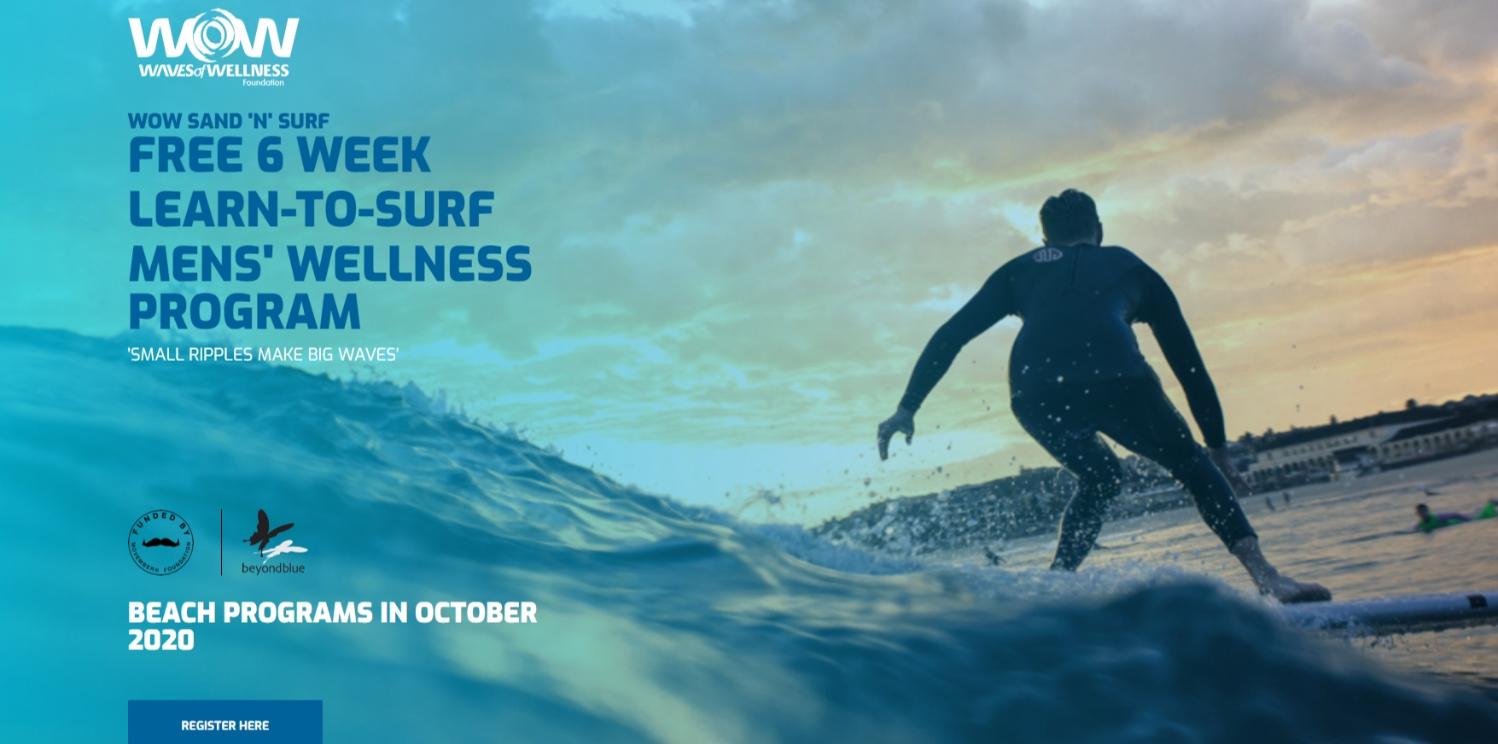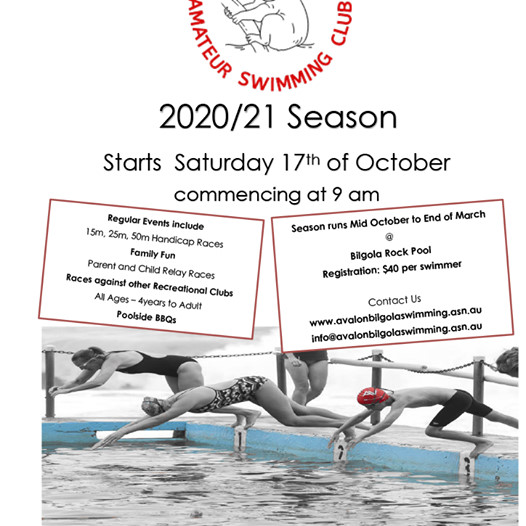 Avalon Bilgola Amateur Swimming Club 2020/2021 Season
We swim down at Bilgola Rock Pool during the summer months on Saturday mornings. Races start at 9:00 am, entries close 8:45 am, with events for all the family. We have a 100/200/400m event then 3 handicap (15/25/50m) events in Freestyle and 2 of the other strokes or 2x50m Relay each morning.
We cater for all standards of swimmers, from the social swimmer to those who enjoy some fun Competition. Being handicap events everyone has a chance of winning with a big emphasis placed on the point-score.
Our registration fee is $40 per member.
Aussie Back Yard Bird Count 2020
How to get involved
The Aussie Bird Count is a great way to connect with the birds in your backyard no matter where your backyard happens to be — a suburban backyard, a local park, a patch of forest, down by the beach, or the main street of town.
You can count as many times as you like over the week, we just ask that each count is completed over a 20-minute period. The data collected assists BirdLife Australia in understanding more about the birds that live where people live.
Register here: https://aussiebirdcount.org.au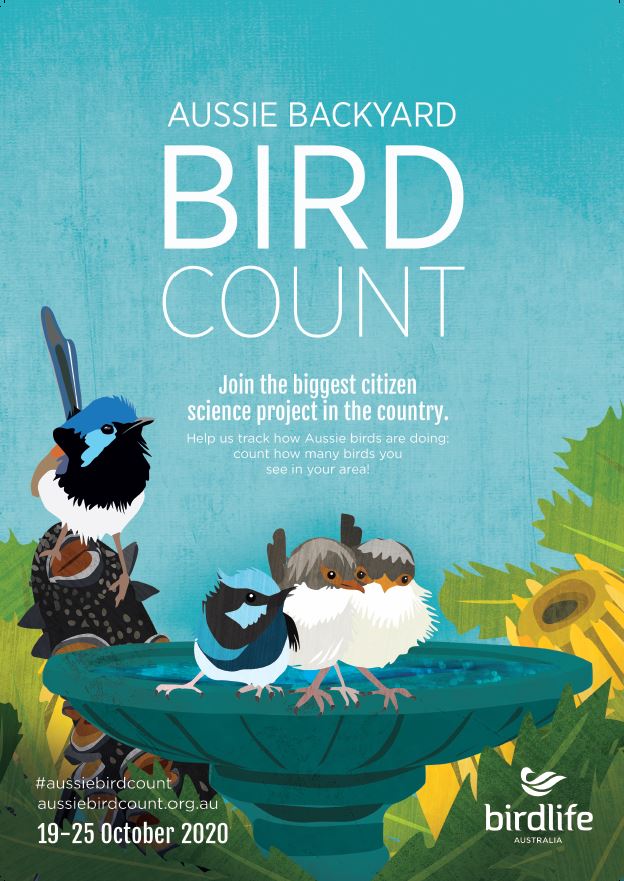 Snowball Fight From 124 Years Ago
Lyon France 1896 - A black-and-white film capturing a group of men and women having a snowball fight in France in 1896 has been brought back to life in full colour for a 21st century audience.
The footage, which was originally filmed by the famous Lumière brothers Auguste and Louis, was speed-adjusted by the YouTube channel Nineteenth century videos back to life before being colourised by Joaquim Campa, 42, from Barcelona.
The original French film Bataille de boules de neige, also known as Snowballing, was a short silent film which depicted a group of individuals playing in the snow on a city street in Lyon.
Joining The Two Halves Of The Sydney Harbour Bridge
Video by NSW State Archives
On August 19, 1930 at 10pm the two halves of the Sydney Harbour Bridge were joined. The two half arches were fabricated from steel in workshops before being loaded onto barges and towed into position. The arches were then lifted up by two 580 tonne electrically operated creeper cranes. The arch spans 503m and the summit is 134m above sea level. Steel decking was then hung from the arches over the next nine months.
The bridge was officially opened on March 19, 1932.
These images are from our collection:
* NRS-12685 - Sydney Harbour Bridge Photographic Albums http://ow.ly/ycOD50BDNXg
Forest High Students In A League Of Their Own
October 9, 2020
An idea to take lunchtime football beyond the school oval has paid off for Year 12 students at The Forest High School.
Securing a state-of-the-art stadium to play a game of lunchtime football is no easy feat, but that's exactly what Jude Dolan and his peers at The Forest High School did for the final decider in The Wednesday League.
The grassroots football tournament, made popular by broadcasting its matches online with expert commentary featuring Simon Hill, Derek Rae and Peter Drury, played its final match at Bankwest Stadium in Parramatta.
"Playing the final game at the stadium had been a true goal of mine since the league's inception, and it was thanks to the ultimate aid of Bankwest as major sponsors themselves that I was able to take The Wednesday League to this new height," Jude wrote in an article for Student Voices.
"I found success by channelling my ambition and giving each of my wildest imaginations a try. I had optimistic partnership ambitions. I contacted Peter Drury and Derek Rae for commentary and reached an agreement with Rebel Sport."
The students had big dreams when they came up with the idea of the league and learnt a lot of new skills as they prepared for game day at the western Sydney stadium.
"Weeks of preparation went into the big match day. After confirming the stadium as host in early September, we worked on the operational side of things, the media, and everything else I needed to learn and do ahead of such an arena event," Jude said.
"A few sleepless nights and many free periods got the day over the line in the end and I am proud to have organised such a day."
And Jude is now looking ahead to see how The Wednesday League can continue and expand in the future.
"I cannot wait to take The Wednesday League into its next chapter and beyond. The thought of growing my idea as far as it possibly can excites me day in, day out."
The full game with expert commentary from Simon Hill streams online tonight from 7pm. Find out more on The Wednesday League Facebook page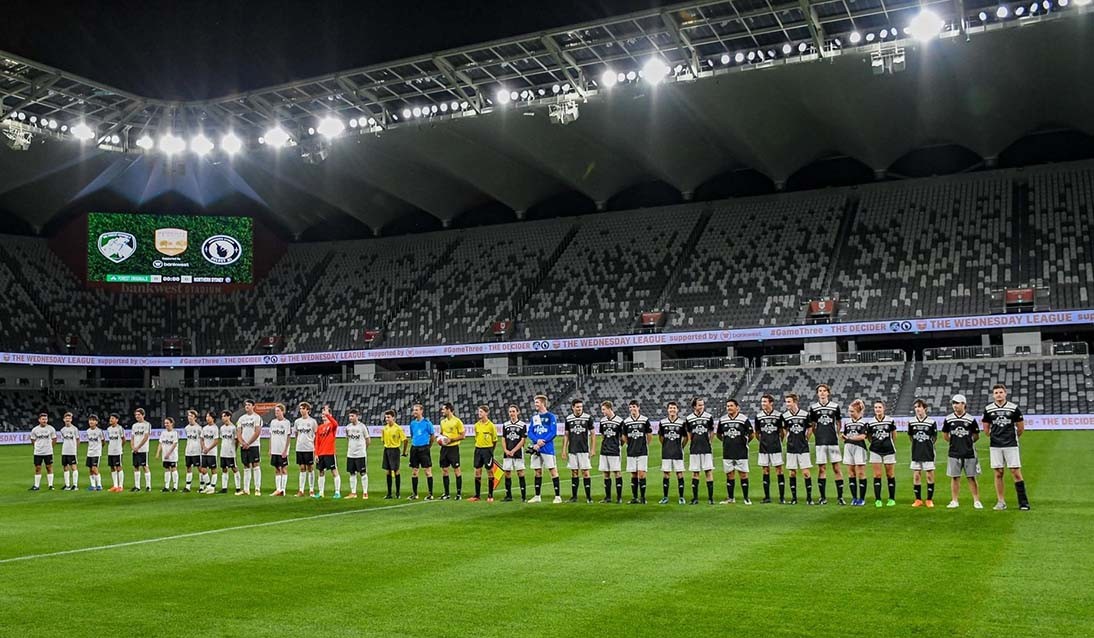 Bankwest Stadium hosted the decider in The Wednesday League.

Balgowlah Boys Campus: Building The Scaffold For Success
October 6, 2020
Explicit teaching has led to a significant and sustained lift in student outcomes at Balgowlah Boys Campus. Students from Balgowlah Boys Campus share their journey of learning improvement with NSW Department of Education Secretary Mark Scott.
Explicit teaching has been the "core" strategy that has underpinned more than a decade of sustained improvement from "a full range of students" at Northern Beaches Secondary College Balgowlah Boys campus.
Principal Paul Sheather and Deputy Principal Ben Seldon spoke with Secretary Mark Scott on the CESE What works best podcast about the school's approach to explicit teaching, particularly in the area of English.
The school has gained attention over the past decade for its excellent academic results, most notably in English.
"We noticed quite a few years ago coming back after HSC marking, that the boys were lacking the specific language that was required to achieve high outcomes in the HSC," Mr Seldon said.
Teachers map out learning outcomes and collaboratively work to develop explicit models to help students understand what is expected in their learning.
"As classroom teachers we need to be very specific, like maths teachers, very explicit in talking through how you put sentences together," Mr Seldon explained.
Teachers create a simple sentence scaffold that allows students to create very complex sentence structures and develop and replicate that writing skill over several years of learning, helping keep students engaged.
The strategy has proven successful with Balgowlah Boys High sitting within the top 10 for Band 6 results in HSC English over the past four years.
Mr Scott said Balgowlah Boys had "a remarkable and sustained life in educational outcomes over the past decade or 15 years".
"It wasn't just a sugar-hit effect where you had a good year or two; you lifted it and you've sustained it over time," he noted.
Mr Sheather said that reflected the school's decision to introduce explicit teaching practices beyond the English faculty with teachers across the school delivering a consistent process in all classrooms.
"Teachers in all faculties are now working in collaborative groups to hone their skills in being able to develop the best possible model, and their skillset enables them to deconstruct and deliver it in the classroom," Mr Sheather said.
"That's enabled us to ensure that with a growing school, the new and less experienced teachers across the school gain this skillset and ability to model in their faculty area."
Hear more about Balgowlah Boys Campus approach to explicit teaching and listen to students speak about their success in learning on the What works best podcast.
Resources are available online for teachers to explore the What works best themes in more detail.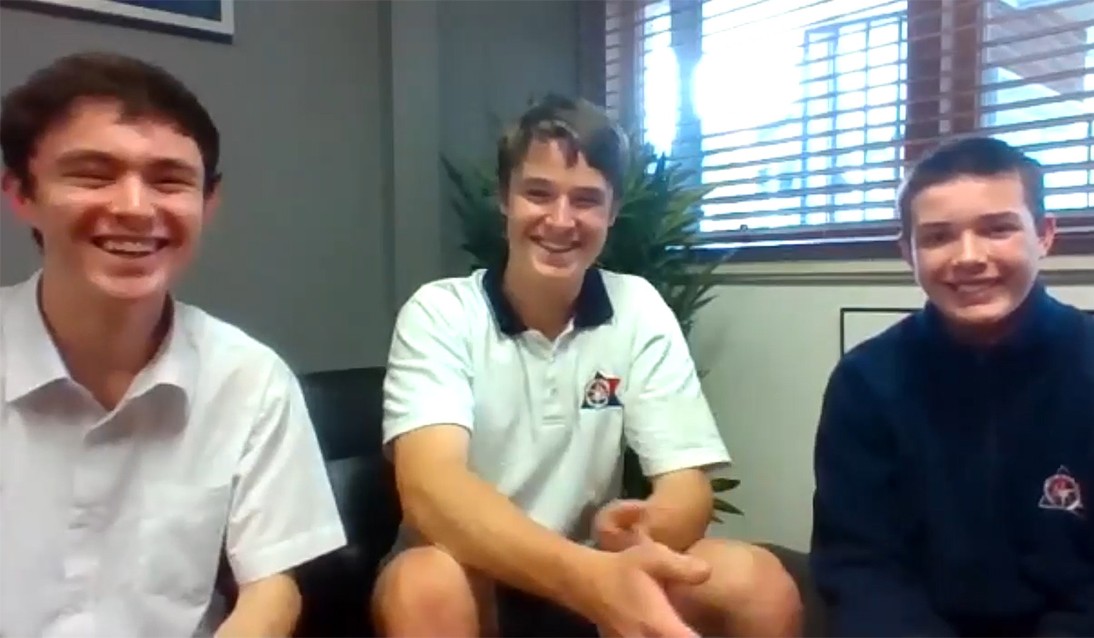 Triplets Try To Transform The World
October 8, 2020
Three sisters dreaming of making a difference have created a platform for young people to share their stories.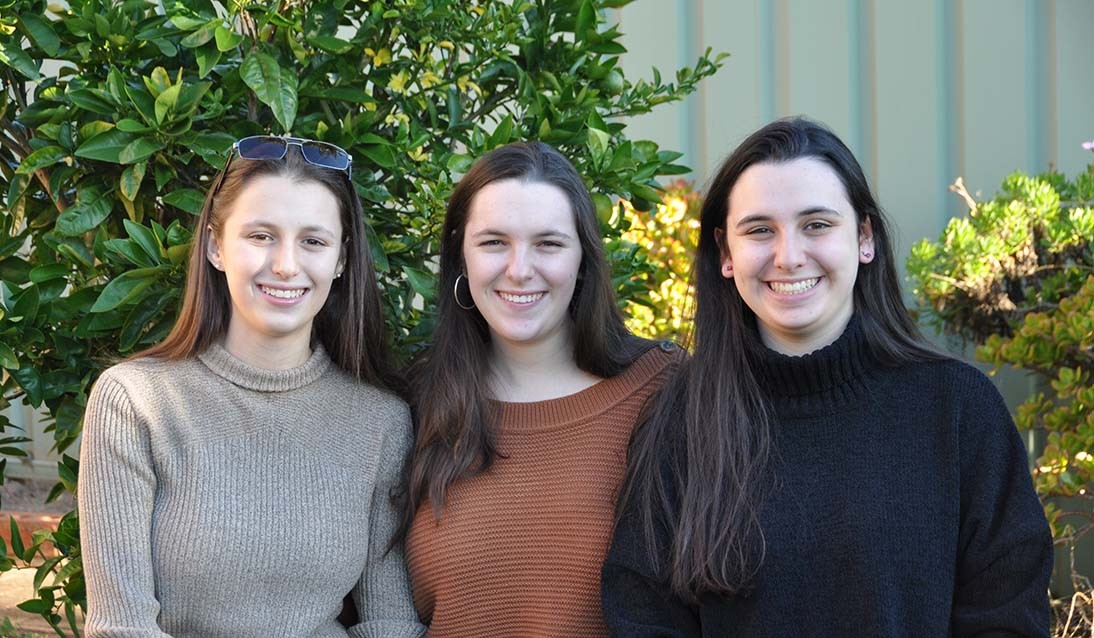 Making a difference: Marina, Luiza and Juliana.
Triplet sisters Luiza, Marina and Juliana Knijnik have a vision for their generation to change the world.
The Caringbah High School students created an online magazine, Woke!, after winning a grant from their local council.
The magazine focuses on social justice issues and invites students to write articles on topics that matter to them. The sisters who are about to enter Year 12 have shared their story on Student Voices.
"Since launching we have heard from young people from all walks of life and cultures, about their hopes, fears, passions and world issues," they said.
"We have been fortunate enough to interview some amazing young people from Australia and across the globe who are changing their communities, countries and even the world."
The online magazine has published 65 articles to more than 12,000 readers.
But it hasn't been without its challenges balancing study, sport and social life with the work required to run an online platform.
And sometimes the teenagers feel like some adults aren't taking them seriously.
"There are so many times when we have been met with scorn, disbelief and unwillingness to help."
Yet the trio are not deterred as they believe in the power of sharing stories to ignite change in society.
"We want to be the spark that can set the world aflame. Because one person can make a difference, you can make a difference. One voice can start a ripple effect."
Sports Coach Defies Fashion Stereotypes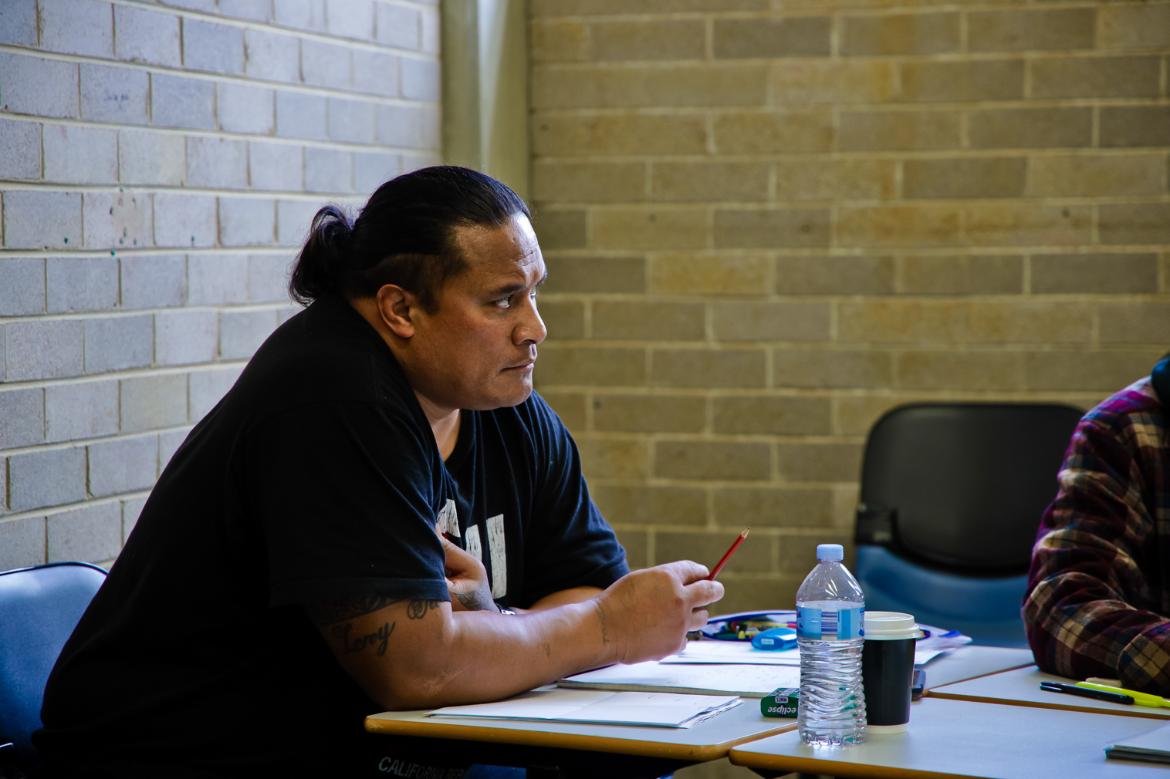 A Bankstown sports coach is challenging stereotypes in the fashion industry by harnessing a TAFE NSW fashion course to help his community launch a clothing business.
Setaleki 'Seta' Teuhema is a basketball coach at Kings School who, after becoming tired of buying new sport shorts that ripped constantly, used the lockdown period to enrol in a Certificate III in Applied Fashion Design and Technology at TAFE NSW Lidcombe so he could repair his own sportswear.
What started as a hobby for 46-year-old Seta (pictured above) as now transformed into an international business idea for his community back in Tonga.
Seta aid "I never realised how much we need practical, hands-on skills like sewing simple garments, especially in a climate like this where material face masks are the new normal."
"I'm planning to return to my home country of Tonga in the near future to teach Basketball and I want to help my community learn how to sew and feel confident mending their own clothes and sports gear with the skills I have acquired," he said.
Seta also learnt how to make face masks in line with NSW Health Guidelines and use natural dyes like beetroot juice and coffee to colour the masks in his TAFE NSW class.
Seta is taking advantage of the clothing retail industry, which is estimated to be worth $16.5 billion in Australia alone.
TAFE NSW Head Teacher of Fashion, Fiona Lloyd, said the course was great for people looking to get a head start in the industry.
"The Certificate III in Applied Fashion Design and Technology offers students an introduction to the exciting world of fashion, which will challenge them to reconsider the way they think about the design process," Ms Lloyd said.
"Students learn hands-on skills like how to design, construct a garment, patternmaking, fabric identification as well as an introduction to computer aided design."
To enrol or enquire about the fashion courses offered at TAFE NSW, visit https://www.tafensw.edu.au or call 131 601.
Earn While You Learn: Ned's Running Start To A Career In Council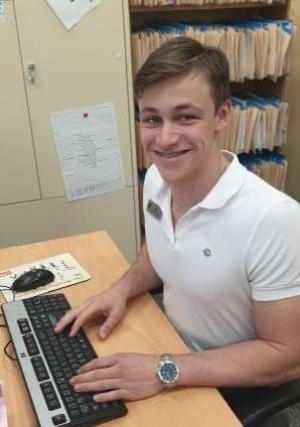 A Narrandera high school student who has enjoyed a hands-on position in local government for two years has thanked TAFE NSW for helping him "earn and learn".
Ned McLeod, 17, is in the second year of a business administration school-based traineeship with Narrandera Shire Council, a unique arrangement where students work on-the-job one day a week, study at TAFE NSW one day a week, and attend school for the remaining three days.
Ned hopes the practical skills and experience he has gained gives him the competitive edge to transition into a full-time job with the council when he completes his HSC next month.
"I did work experience with council in year 10 and they mentioned the traineeship to me … the idea of leaving school with a qualification seemed really appealing," Ned said.
"It's really helping me build up a strong work ethic and to be qualified faster. To have the opportunity to get workplace skills before leaving school is a huge advantage and I just want to see where it takes me."
The born-and-bred local hopes to be offered a full-time position at council after completing his HSC and eventually train to become a town planner.
He said the chance to learn a different side of the industry through a Certificate III in Business Administration at TAFE NSW Narrandera, and then apply it to the job, was also invaluable.
"Town planning is just so interesting and I like the idea you can do a job that helps shape the future of your community," Ned said.
Narrandera Shire Council general manager George Cowan praised the school-based traineeships concept and said TAFE NSW Narrandera was a lifeline for the local business community.
"Ned is a decent young guy and he's done very well in the structure here," Mr Cowan said.
"None of this would have happened without having access to TAFE NSW locally and having the Connected Learning Centre here has been a real boon to the local business community."
To find out more about studying a school-based apprenticeship or traineeship at TAFE NSW, speak to your school career advisor, phone 13 16 01 or visit www.tafensw.edu.au/ambition
Smooth Sailing: How TAFE NSW Helped Adam Anchor His Career In New Waters
A former Moruya jeweller has anchored his career in new waters, pursuing his passion for maritime with the help of TAFE NSW.
More than two decades after studying to be a jeweller at TAFE NSW Enmore Design Centre, father-of-two Adam Rehardt decided to nail his colours to a new mast, completing a Certificate II in Maritime Operations under the guidance of TAFE NSW Moruya teacher and legendary local seaman Captain Col Tritton.
Mr Rehardt is volunteering at Marine Rescue NSW to build up his sea hours as he sails towards a full-time career in maritime.
The Australian maritime sector has an estimated annual revenue of $6.88 billion, according to the Australian Industry and Skills Committee, with the industry's 7700 professionals averaging a gross weekly salary of $2123.
Mr Rehardt worked as a jeweller in his family store, The Moruya Jeweller, before purchasing the business from his father in 2007. The born-and-bred local closed the store in 2019 and completed a Certificate II in Maritime Operations and TAFE NSW Moruya.
"I've always been around the ocean and into scuba and free diving, and I'm also very passionate about the environmental side of the ocean," he said. "I was looking through a TAFE NSW brochure one day and saw the maritime course and just enrolled on the spot.
"To learn under Captain Col was awesome; the course was so hands-on and has a thirst for passing on as much knowledge as he can so that I can relaunch my career.
"He helped me get a voluntary position at Marine Rescue NSW, which allows me to drive a multitude of vessels in different situation and to also give back to the community."
Mr Rehardt hopes to use his training and experience to secure a maritime position with NSW National Parks and Wildlife Service.
Captain Tritton, who has almost 50 years' ocean experience as a Navy diver, Customs official and with the Water Police, said the Certificate II in Maritime Operations allowed graduates to take a commercial vessel up to 15 miles out to sea.
"This is a commercial ticket which means that graduates can find work in a number of areas, including on charter boats doing fishing trips or whale watching tours," Captain Tritton said.
"Adam was a fantastic student and it's great to see him furthering his experience and contributing to the community through Marine Rescue NSW."
To find out more about studying Maritime Operations at TAFE NSW, phone 13 16 01 or visit www.tafensw.edu.au.
Readers may recall when Alwyn Doolan walked through Pittwater - visit: Alwyn Doolan's Message Stick Walk Brings Reconciliation Ideals To Pittwater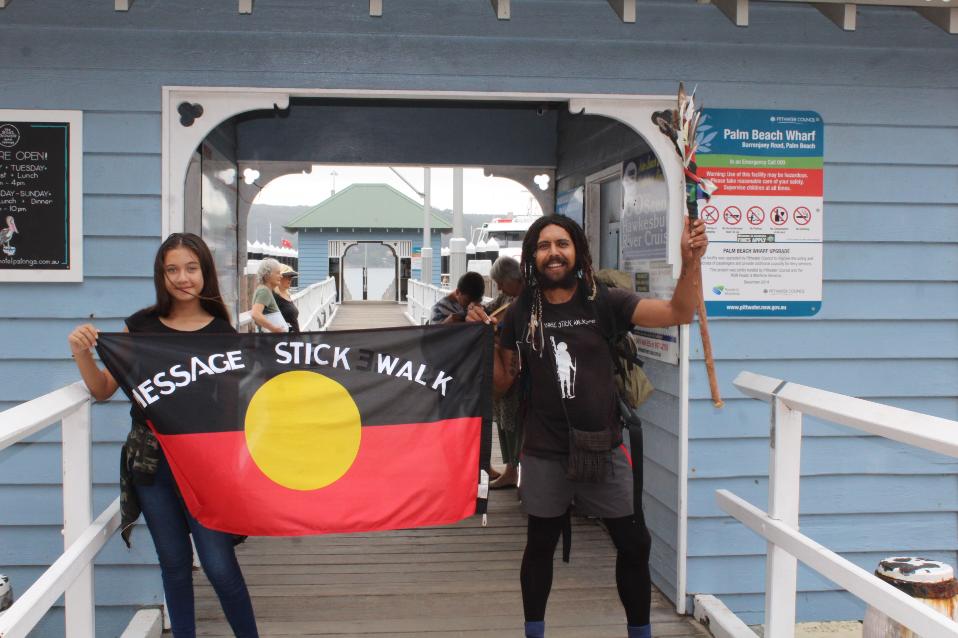 At Palm Beach Alwyn was greeted by young Taimana and walked with The Message Stick Walk flag. A J Guesdon photo.
Taking The STING Out Of MND
Melbourne researchers are working towards a potential treatment to slow the progression of motor neuron disease (MND), offering hope to people with this debilitating and incurable illness.
The research team have uncovered how inflammation in MND is triggered. Pinpointing the molecules involved in this pathway could be a first step towards a new treatment for MND.
They found that by blocking an immune sensor called STING, they could dramatically prevent inflammation from MND patient cells, paving the way for a new class of drugs to be developed for people with neurodegenerative disorders, such as MND.
The discovery, published today in Cell, was led by Walter and Eliza Hall Institute researchers Associate Professor Seth Masters and Dr Alan Yu, with colleagues from the University of Melbourne and Hudson Institute.
Halting the inflammatory response
MND is an incurable condition in which the nerve cells controlling the muscles that enable us to move, speak, swallow and breathe, fail to work. One in 10,000 Australians will be diagnosed with MND in their lifetime and the average life expectancy from diagnosis is just two years.
Most people suffering from MND have an accumulation of a protein called TDP-43 within cells of the central nervous system. This build-up is associated with an inflammatory response that precedes major symptoms of MND.
Institute researchers investigated how the disease-causing inflammation is triggered in MND, said Associate Professor Masters. "This unexpectedly identified that an immune sensor called STING is activated downstream of TDP-43. Fortuitously, our team had already studied the role of STING in other inflammatory diseases and are now working out how to block it."
The team then used new inhibitors -- drug-like compounds -- to block different components of this inflammatory pathway.
"Using cells from patients with MND that we can turn into motor neurons in a dish, we showed that blocking STING dramatically prevented inflammation and kept the cells alive longer. This is an exciting first step before taking these inhibitors into the clinic for treatment for MND.
Vital first step towards a treatment
Associate Professor Masters said his research had also established activation of STING in people who had passed away due to MND.
"We are now aiming to validate a biomarker of the pathway earlier in the disease progression. Once this neuroinflammatory biomarker is validated, we will better understand which patients will benefit the most from treatments targeting the pathway," he said.
"With this knowledge, there is the potential to develop a treatment for patients with MND.
"Interestingly, our preclinical models suggest that although the anti-inflammatory drugs that inhibit STING did not prevent disease onset, they did slow the degenerative progression of disease."
Hope for people with MND and other neurodegenerative disorders
Associate Professor Masters said this discovery offered hope for people diagnosed with the debilitating condition.
"We are hopeful this research could lead to a treatment for people with established MND, who currently have very few treatment options and a life expectancy post diagnosis of just two to five years," he said.
"While it isn't a cure, we hope it might extend life expectancy and dramatically improve the quality of life for people diagnosed with MND."
Associate Professor Masters said a future treatment might also be effective in slowing the progression of other neurodegenerative disorders.
"We are hoping to develop a new class of drugs that would act as STING inhibitors to stop the progression of neurodegenerative disorders, such as MND, Frontotemporal Dementia and Parkinson's disease."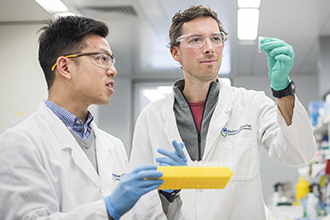 Dr Alan Yu and Associate Professor Seth Masters (photographed prior to COVID-19 restrictions).
Chien-Hsiung Yu, Sophia Davidson, Cassandra R. Harapas, James B. Hilton, Michael J. Mlodzianoski, Pawat Laohamonthonkul, Cynthia Louis, Ronnie Ren Jie Low, Jonas Moecking, Dominic De Nardo, Katherine R. Balka, Dale J. Calleja, Fiona Moghaddas, Erya Ni, Catriona A. McLean, Andre L. Samson, Shiraz Tyebji, Christopher J. Tonkin, Christopher R. Bye, Bradley J. Turner, Genevieve Pepin, Michael P. Gantier, Kelly L. Rogers, Kate McArthur, Peter J. Crouch, Seth L. Masters.
TDP-43 Triggers Mitochondrial DNA Release via mPTP to Activate cGAS/STING in ALS.
Cell, 2020; DOI:
10.1016/j.cell.2020.09.020
$750 Million RPA Hospital Redevelopment Fast-Tracked
The $750 million redevelopment of Royal Prince Alfred Hospital has been brought forward by one year, after the NSW Government accelerated the project.
Premier Gladys Berejiklian said early and enabling works are expected to begin in the next six months on the major redevelopment which will be a game-changer for staff and patients.
"The $750 million investment will ensure the hospital continues to serve Sydney's growing community into the future," Ms Berejiklian said.
"Innovation will be the cornerstone of the redevelopment, incorporating new models of care including an expansion of rpavirtual, which has treated more than 4000 patients at home and in Special Health Accommodation."
Treasurer Dominic Perrottet said the acceleration of the project will create thousands of jobs, which is crucial to the state's COVID-19 Recovery Plan.
"People in NSW are going through extremely tough times and we are facing some of the biggest economic challenges of our lifetime. This is yet another major construction project the NSW Government is fast-tracking to bolster jobs and re-charge our economy," Mr Perrottet said.
The RPA redevelopment will deliver a new hospital building and refurbishment of existing spaces, including more adult inpatient beds and expanded emergency department, intensive care unit, medical imaging services, operating theatres, and maternity, birthing and neonatal services.
Health Minister Brad Hazzard said the $750 million redevelopment will provide the extra capacity and infrastructure required to support the RPA staff in their ongoing efforts to provide the highest quality contemporary healthcare.
"The redevelopment will enhance the world-class clinical care RPA is so well known for, along with new opportunities for teaching, research and innovation," Mr Hazzard said.
"By fast-tracking this project the NSW Government is ensuring RPA continues to deliver world leading patient and family-centred healthcare."
The NSW Government began the transformation of this site with the Professor Marie Bashir Centre, which opened in 2014, and the long-awaited new car park that opened in 2018, in addition to supporting the Chris O'Brien Lifehouse.
The new hospital building is expected to open to patients in 2026-27.
Plans For The New $780 Million John Hunter Hospital Building Unveiled
The concept design for the new, seven-storey acute services building for the John Hunter hospital and John Hunter Children's hospital has been unveiled, marking a milestone for the NSW Government's $780 million health precinct.
Premier Gladys Berejiklian said the John Hunter Health and Innovation Precinct would drive significant economic growth in the Greater Newcastle region, generating jobs in construction and health.
"John Hunter hospital is one of the busiest hospitals in NSW and this investment will provide enhanced health facilities ensuring the region has a world-class hospital to cater to its growing population," Ms Berejiklian said.
"Construction of the precinct will support more than 3,000 jobs over the life of the project helping stimulate the economy, a key component of the NSW Government's COVID-19 recovery plan."
Health Minister Brad Hazzard said the redevelopment will significantly increase critical care capacity, with a 60 per cent increase in the Intensive Care Unit capacity and almost 50 per cent more theatres, interventional suites and procedural spaces.
"The Precinct will drive innovative collaborations between the health, education and research sectors, ultimately improving patient outcomes for communities in the Hunter region," Mr Hazzard said.
The new acute services building will include:
a new emergency department
critical care services (adult and paediatric)
operating theatres, interventional and imaging services
birthing suite and inpatient maternity unit
neonatal intensive care and special care nursery
larger and redeveloped inpatient units and
rooftop helipad.
Stage 1 of an interim Emergency Department expansion has also been completed early as part of NSW Government's COVID-19 response.
"I'm also pleased the Emergency Department expansion was delivered five months ahead of schedule, providing an additional 12 dedicated paediatric treatment areas and additional capacity to deal with the pandemic, with Stage 2 scheduled for completion early next year," Mr Hazzard said.
Parliamentary Secretary for the Hunter, Catherine Cusack, said the new acute services building will serve the Hunter region for many years to come.
"This is a great opportunity to share the future vision of the Precinct, which will transform health care in the Hunter, bringing expanded, enhanced health services closer to home," Ms Cusack said.
Early works on the new acute services building are expected to commence in 2021 with main works construction scheduled to commence in 2022.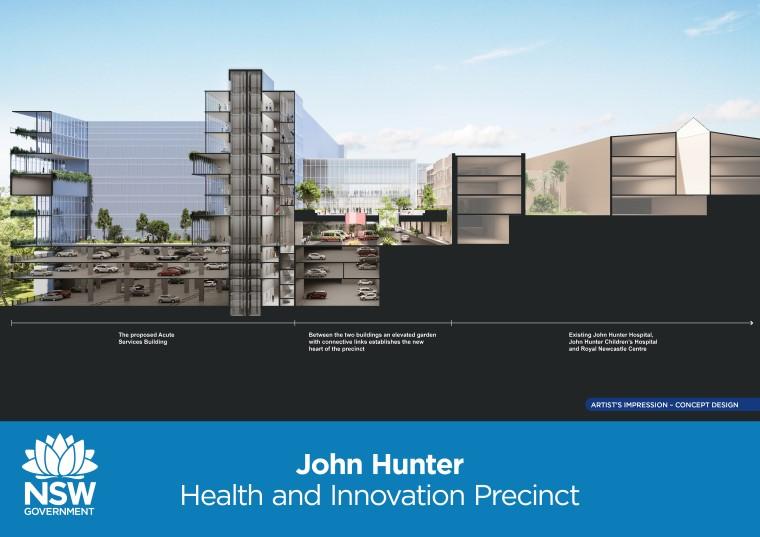 John Hunter hospital concept design showing cross-section of acute services building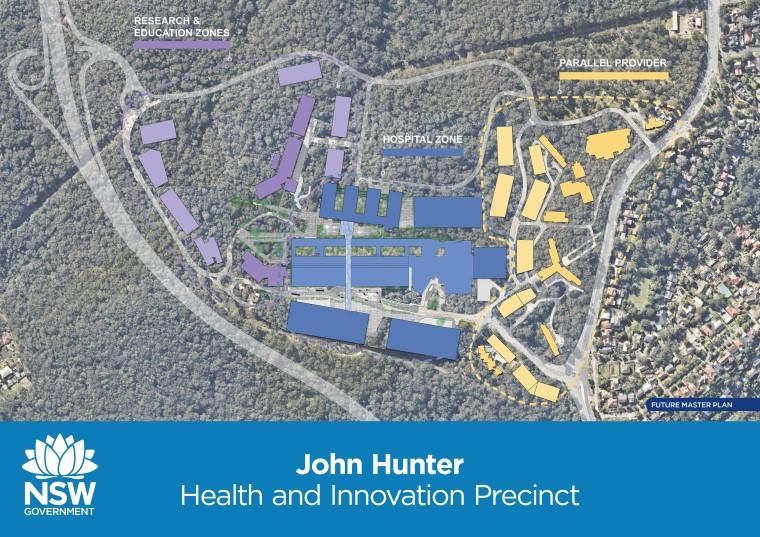 John Hunter hospital concept design showing future master plan
Nitrous Oxide Emissions Pose An Increasing Climate Threat
Rising nitrous oxide (N2O) emissions are jeopardizing the climate goals of the Paris Agreement, according to a major new study by an international team of scientists.
The growing use of nitrogen fertilizers in the production of food worldwide is increasing atmospheric concentrations of N2O -- a greenhouse gas 300 times more potent than carbon dioxide (CO2) that remains in the atmosphere for more than 100 years.
Published today in the journal Nature, the study was led Auburn University, in the US, and involved scientists from 48 research institutions in 14 countries -- including the CSIRO and the University of East Anglia (UEA) in the UK -- under the umbrella of the Global Carbon Project and the International Nitrogen Initiative.
The aim was to produce the most comprehensive assessment to date of all global sources and sinks of N2O. Their findings show N2O emissions are increasing faster than any emission scenario developed by the Intergovernmental Panel on Climate Change (IPCC), consistent with greenhouse gas scenarios that lead to global mean temperature increases well above 3°C from pre-industrial levels. The Paris Agreement aims to limit warming to less than 2°C but ideally no more than 1.5°C.
The study points to an alarming trend affecting climate change: N2O has risen 20 per cent from pre-industrial levels -- from 270 parts per billion (ppb) in 1750 to 331ppb in 2018 -- with the fastest growth observed in the last 50 years due to emissions from human activities.
Prof Hanqin Tian, director of the International Center for Climate and Global Change Research at Auburn University's School of Forestry and Wildlife Sciences, co-led the study.
"The dominant driver of the increase in atmospheric nitrous oxide comes from agriculture, and the growing demand for food and feed for animals will further increase global nitrous oxide emissions," said Prof Tian. "There is a conflict between the way we are feeding people and stabilizing the climate."
Like CO2, N2O is a long-lived greenhouse gas and is also currently the most significant human-induced agent depleting the stratospheric ozone layer, which protects Earth from most of the Sun's harmful ultraviolet radiation
Lead UK author Dr Parvadha Suntharalingam, of UEA's School of Environmental Sciences, said: "This study presents the most comprehensive and detailed picture to date, of N2O emissions and their impact on climate.
"This new analysis identifies the factors driving the steadily increasing atmospheric levels of N2O, and highlights the urgent need to develop effective mitigation strategies if we are to limit global warming and meet climate goals."
The study presents a comprehensive global N2O inventory that incorporates both natural and human-related sources, and accounts for the interaction between nitrogen additions to the earth system and the biochemical processes that control N2O emissions. It covers 21 natural and human-related sectors between 1980 and 2016.
Human-induced emissions, which are dominated by nitrogen additions to croplands, increased by 30 per cent over the past four decades to 7.3 teragrams of nitrogen per year.
The analysis also reveals an emerging N2O-climate 'feedback' resulting from interactions between nitrogen additions to crops for food production and global warming, further enhancing emissions derived from agriculture.
The study found that the largest contributors to global N2O emissions come from East Asia, South Asia, Africa and South America. Emissions from synthetic fertilizers dominate releases in China, India and the US, while emissions from the application of livestock manure as fertilizer dominates releases in Africa and South America. The highest growth rates in emissions are in emerging economies, particularly Brazil, China and India, where crop production and livestock numbers have increased.
However, N2O emissions in Europe decreased in agriculture and the chemical industry. This was due to a combination of factors, including voluntary measures to remove N2O from flue gases in the Nylon industry and the introduction of an emissions trading scheme, as well as agriculture in many Western European countries moving to more efficient use of fertilizer to reduce environmental impacts such as pollution of groundwater and surface water. Policies on nitrogen fertilizer usage were also introduced.
Study co-leader Dr Josep 'Pep' Canadell, of the Commonwealth Scientific and Industrial Research Organisation (CSIRO) in Australia, is executive director of the Global Carbon Project. He said: "This new analysis calls for a full-scale rethink in the ways we use and abuse nitrogen fertilizers globally and urges us to adopt more sustainable practices in the way we produce food, including the reduction of food waste.
"These findings underscore the urgency and opportunities to mitigate nitrous oxide emissions worldwide to avoid the worst of climate impacts."
Hanqin Tian, Rongting Xu, Josep G. Canadell, Rona L. Thompson, Wilfried Winiwarter, Parvadha Suntharalingam, Eric A. Davidson, Philippe Ciais, Robert B. Jackson, Greet Janssens-Maenhout, Michael J. Prather, Pierre Regnier, Naiqing Pan, Shufen Pan, Glen P. Peters, Hao Shi, Francesco N. Tubiello, Sönke Zaehle, Feng Zhou, Almut Arneth, Gianna Battaglia, Sarah Berthet, Laurent Bopp, Alexander F. Bouwman, Erik T. Buitenhuis, Jinfeng Chang, Martyn P. Chipperfield, Shree R. S. Dangal, Edward Dlugokencky, James W. Elkins, Bradley D. Eyre, Bojie Fu, Bradley Hall, Akihiko Ito, Fortunat Joos, Paul B. Krummel, Angela Landolfi, Goulven G. Laruelle, Ronny Lauerwald, Wei Li, Sebastian Lienert, Taylor Maavara, Michael MacLeod, Dylan B. Millet, Stefan Olin, Prabir K. Patra, Ronald G. Prinn, Peter A. Raymond, Daniel J. Ruiz, Guido R. van der Werf, Nicolas Vuichard, Junjie Wang, Ray F. Weiss, Kelley C. Wells, Chris Wilson, Jia Yang, Yuanzhi Yao.
A comprehensive quantification of global nitrous oxide sources and sinks.
Nature, 2020; 586 (7828): 248 DOI:
10.1038/s41586-020-2780-0
Study Confirms Genetic Link In Cerebral Palsy
An international research team including the University of Adelaide has found further evidence that rare gene mutations can cause cerebral palsy, findings which could lead to earlier diagnosis and new treatments for this devastating movement disorder.
In the study published in the journal Nature Genetics researchers employed gene sequencing to examine the DNA of 250 cerebral palsy families, and compared this to a control group of almost 1800 unaffected families. They then demonstrated the impact rare gene mutations can have on movement control using a fruit fly model.
The findings have important clinical implications. They will provide some answers to parents, as well as guide healthcare and family planning such as counselling for recurrence risk -- often quoted as around 1 per cent but could be as high as 10 per cent when factoring in genetic risks.
Co-author of the research, Emeritus Professor Alastair MacLennan, AO, at the University of Adelaide, says the new study confirms the pioneering work of the Australian Collaborative Cerebral Palsy Research Group based at the Robinson Research Institute at the University of Adelaide.
"Cerebral palsy is a non-progressive developmental movement disorder impacting motor function, which affects approximately one in every 700 births in Australia and a similar number worldwide.
Symptoms range from mild to severe and can include intellectual disability," Emeritus Professor MacLennan said.
"Historically, cerebral palsy was considered largely the result of perinatal asphyxia -- decreased oxygen to the baby's brain at birth, however this has only been in found in 8-10 per cent of cases.
"Eliminating other known causes, including premature birth and trauma at birth, this leaves a large number of cases -- as many as 40 per cent in some studies -- with an unknown origin."
Researchers at the University of Adelaide over many years have advocated that cerebral palsy is often caused by rare genetic variations (or mutations) which disrupt a child's control of movement and posture.
"Where previous studies have indicated underlying genetic causes in cerebral palsy, this study is the largest to date and includes in-depth statistical modelling and new controls to overcome limitations of earlier research," Emeritus Professor MacLennan said.
Co-author Professor Jozef Gecz, Channel 7 Children's Research Foundation Chair for the Prevention of Childhood Disability and Head of Neurogenetics at the University of Adelaide, says as a conservative estimate, 14 per cent of cerebral palsy families in the study had an excess of damaging genetic mutations and inherited recessive gene variations.
"Genes don't like to change; as soon as a gene is altered in any way you disturb its programming, and it can no longer perfectly perform what it's designed to do," said Professor Gecz, who is South Australia's Scientist of the Year 2019.
"Our US collaborators were able to disturb the same genes in fruit fly as found in humans, and in three out of four instances it severely altered the movement of either fruit fly larvae or adults or both.
"The gene mutations were mostly spontaneous new variants occurring in the sperm or an egg of the parents, who are otherwise not affected."
In some cases, identification of specific gene variations in individuals in the study led to new recommendations for patient health management, including treatments that would not have been initiated otherwise.
"As little as 30 years ago we were very limited in treatments for cerebral palsy, and the outlook for anyone diagnosed was grim," said Professor Gecz.
"As we come to recognise the role of genetics in cerebral palsy, we open the door for new treatments, earlier diagnosis and intervention, which could lead to greatly improved quality of life."
Other benefits of the study include a potential reduction in litigation, and evidence for further research to identify other damaging genetic variants in human DNA.
"The more we understand about the role of genetics in causing cerebral palsy, the closer we get to learning how to prevent it," Professor Gecz said.
Sheng Chih Jin, Sara A. Lewis, Somayeh Bakhtiari, Xue Zeng, Michael C. Sierant, Sheetal Shetty, Sandra M. Nordlie, Aureliane Elie, Mark A. Corbett, Bethany Y. Norton, Clare L. van Eyk, Shozeb Haider, Brandon S. Guida, Helen Magee, James Liu, Stephen Pastore, John B. Vincent, Janice Brunstrom-Hernandez, Antigone Papavasileiou, Michael C. Fahey, Jesia G. Berry, Kelly Harper, Chongchen Zhou, Junhui Zhang, Boyang Li, Jennifer Heim, Dani L. Webber, Mahalia S. B. Frank, Lei Xia, Yiran Xu, Dengna Zhu, Bohao Zhang, Amar H. Sheth, James R. Knight, Christopher Castaldi, Irina R. Tikhonova, Francesc López-Giráldez, Boris Keren, Sandra Whalen, Julien Buratti, Diane Doummar, Megan Cho, Kyle Retterer, Francisca Millan, Yangong Wang, Jeff L. Waugh, Lance Rodan, Julie S. Cohen, Ali Fatemi, Angela E. Lin, John P. Phillips, Timothy Feyma, Suzanna C. MacLennan, Spencer Vaughan, Kylie E. Crompton, Susan M. Reid, Dinah S. Reddihough, Qing Shang, Chao Gao, Iona Novak, Nadia Badawi, Yana A. Wilson, Sarah J. McIntyre, Shrikant M. Mane, Xiaoyang Wang, David J. Amor, Daniela C. Zarnescu, Qiongshi Lu, Qinghe Xing, Changlian Zhu, Kaya Bilguvar, Sergio Padilla-Lopez, Richard P. Lifton, Jozef Gecz, Alastair H. MacLennan, Michael C. Kruer.
Mutations disrupting neuritogenesis genes confer risk for cerebral palsy.
Nature Genetics, 2020; 52 (10): 1046 DOI:
10.1038/s41588-020-0695-1
Moon's Magnetic Crust Research Sees Scientists Debunk Long-Held Theory
New international research into the Moon provides scientists with insights as to how and why its crust is magnetised, essentially 'debunking' one of the previous longstanding theories.
Australian researcher and study co-author Dr Katarina Miljkovic, from the Curtin Space Science and Technology Centre, located within the School of Earth and Planetary Sciences at Curtin University, explained how the new research, published by Science Advances, expands on decades of work by other scientists.
"There are two long term hypotheses associated with why the Moon's crust might be magnetic: One is that the magnetisation is the result of an ancient dynamo in the lunar core, and the other is that it's the result of an amplification of the interplanetary magnetic field, created by meteoroid impacts," Dr Miljkovic said.
"Our research is a deep numerical study that challenges that second theory -- the impact-related magnetisation -- and it essentially 'debunks' it. We found that meteoroid impact plasmas interact much more weakly with the Moon compared to the magnetisation levels obtained from the lunar crust.
"This finding leads us to conclude that a core dynamo is the only plausible source of the magnetisation of the Moon's crust."
To carry out her portion of the research, Dr Miljkovic provided the team with numerical estimates of the vapour formation that occurred during large meteoroid impact bombardment on the Moon approximately 4 billion years ago.
"When we look at the Moon with the naked eye, we can see these large craters caused by ancient meteoroid impacts. They are now filled with volcanic maria, or seas, causing them to look darker on the surface," Dr Miljkovic said.
"During these impact events, the meteoroids hit the Moon at a very high speed, causing displacement, melting, and vaporisation of the lunar crust.
"My work calculated the mass and thermal energy of the vapour emitted during these impacts. That was then used as input for further calculations and investigation of the behaviour of the ambient magnetic field at the Moon, following these large impact events.
"Basically, we made a much more inclusive, high fidelity and high-resolution investigation that led to debunking of the older hypothesis."
The study's lead researcher Dr Rona Oran, a research scientist in the Department of Earth, Atmospheric and Planetary Sciences (EAPS) at the Massachusetts Institute of Technology (MIT), said the impact simulations, combined with plasma simulations, harness the latest developments in scientific codes and computing power and allowed the team to perform the first simulations that could realistically capture and test this long-proposed mechanism.
Using such tools was key to allowing the team to look at many different scenarios, and in this way to rule out this mechanism under any feasible conditions that could have existed during the impact. This refutation could have important implications to determine what did magnetise the Moon, and even other objects in the solar system with unexplainable magnetised crusts.
"In addition to the Moon, Mercury, some meteorites, and other small planetary bodies all have a magnetic crust. Perhaps other equivalent mechanical dynamo mechanisms, such as those we now believe to have been in operation on the Moon, could have been in effect on these objects as well," Dr Oran said.
Rona Oran, Benjamin P. Weiss, Yuri Shprits, Katarina Miljković, Gábor Tóth.
Was the moon magnetized by impact plasmas?
Science Advances, 2020; 6 (40): eabb1475 DOI:
10.1126/sciadv.abb1475
Disclaimer: These articles are not intended to provide medical advice, diagnosis or treatment. Views expressed here do not necessarily reflect those of Pittwater Online News or its staff.