January 27 - February 2, 2019: Issue 391
Alwyn Doolan's Message Stick Walk Brings Reconciliation ideals to pittwater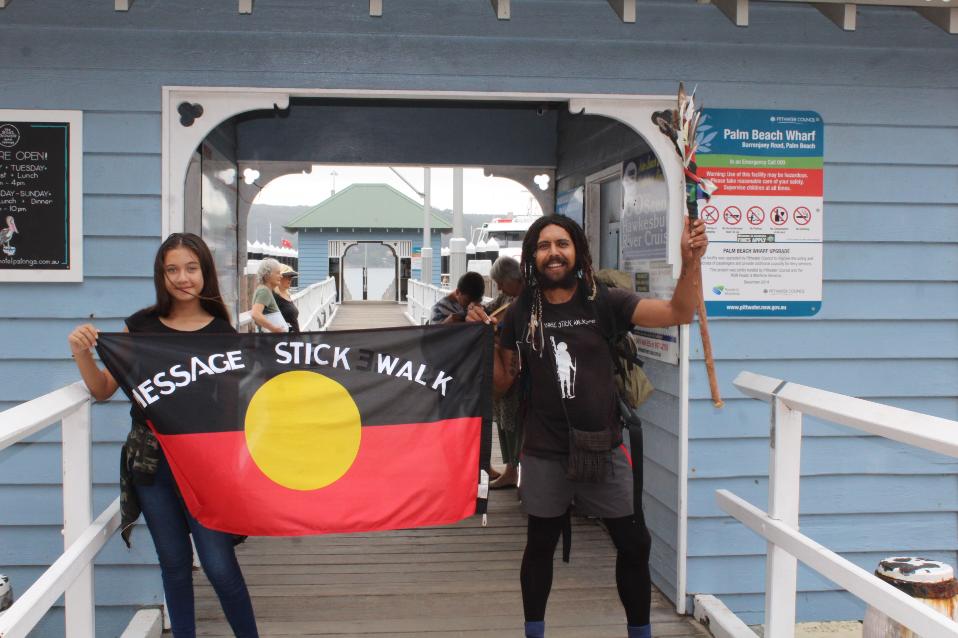 At Palm Beach was greeted by young Taimana and walked with The Message Stick Walk flag.
Descendants of Bungaree Neil Evers and Laurie Bimson greeted Alwyn Doolan at Pittwater Park, Palm Beach on Thursday afternoon with a traditional Welcome to Country and Smoking Ceremony.

Alwyn is a Gooreng Gooreng Wakka Wakka man walking from Bamaga (Cape York) to Canberra. The Message Stick Walk is to inspire younger generations to own their future, to take Responsibility, to take Opportunities, to Choose options that will uplift them. Part of this is raising awareness of reconciliation by engaging with as many communities as he can along the way.
Alwyn will eventually be seeking audience with the Prime Minister and the Australian Governments cabinet to submit a Notice upon Treaty Re-Negotiations with First Nations People.
In Pittwater Park he spoke about the Message Sticks he is gathering along the way and the objects of his walk.
A message stick is a form of communication traditionally used by Indigenous Australians. It is usually a solid piece of wood, around 20–30cm in length, etched with angular lines and dots.
Traditionally, message sticks were passed between different clans and language groups to establish information and transmit messages. Each message stick has marks that are distinctive to the particular group or nation sending the message and often marks identifying the relationship of the carrier to their group. This way it could be identified and authenticated by neighbouring groups and by translators when the message stick was taken long distances and passed by hand from one tribe to another.
Message sticks were also traditionally regarded as objects that granted its carrier a version of diplomatic immunity, guaranteeing safe passage and entry into the lands of other tribes, even when entering 'enemy territory'.
The messages transmitted by message sticks included announcements of ceremonies, invitations to corroborees, notices, requests, disputes, warnings, meetings, marriage arrangements, notification of a family member passing, requests for objects, and trade negotiations.
The message contained in these tools of communication could be understood by Aboriginals from many different regions of Australia, despite the fact that they had different languages and dialects. One of the message sticks in the Dandiiri Maiwar Exhibition at the Queensland Museum and Science explained one example of this as:
Bishop Gilbert White of Carpentaria described how he delivered a message stick on behalf of an Aboriginal boy in Darwin to a boy in Daly Waters. Bishop White asked the boy from Darwin to explain the message. The boy read the message symbols which requested headbands and boomerangs from Daly Waters. The Bishop delivered the message stick and asked the recipient to tell him what the message was. The boy interpreted the message stick exactly as the boy from Darwin had explained it.
Alfred Howitt wrote in 1889 of the Wurundjeri people of the Melbourne area:
The oldest man (Headman) having made such a message stick hands it to the old man nearest to him, who inspects it and, if necessary, adds further marks and gives corresponding instructions. Finally, the stick having passed from one to the other of the old men present is handed to the messenger, who has received his verbal message in connection with it. If any duration of time is connected with the message, or if an enumeration of stages or camps is made, a method is used (see Australian Aboriginal enumeration) [to explain this].
Alwyn spoke about how each place he goes into he feels he is being guided and finding his step is on the old paths, many of which are now the roads that have overlaid these ways through country.
So far Alwyn has walked around 5000 kilometres in eight and a half months. He plans to go to Victoria and Tasmania as part of the journey. By August 2020, when he will join in the First Nations People Yarning Circle at Uluru, he will have walked for two years and covered more than 7000 kilometres.
This from his Message Stick Walk Facebook page:
Let's create the choices
Let's create the changes
Let's take responsibility
Let's take opportunities
Keep our spirit alive
Keep our fire burning
Keep being strong
Keep being proud
Make HEALING Great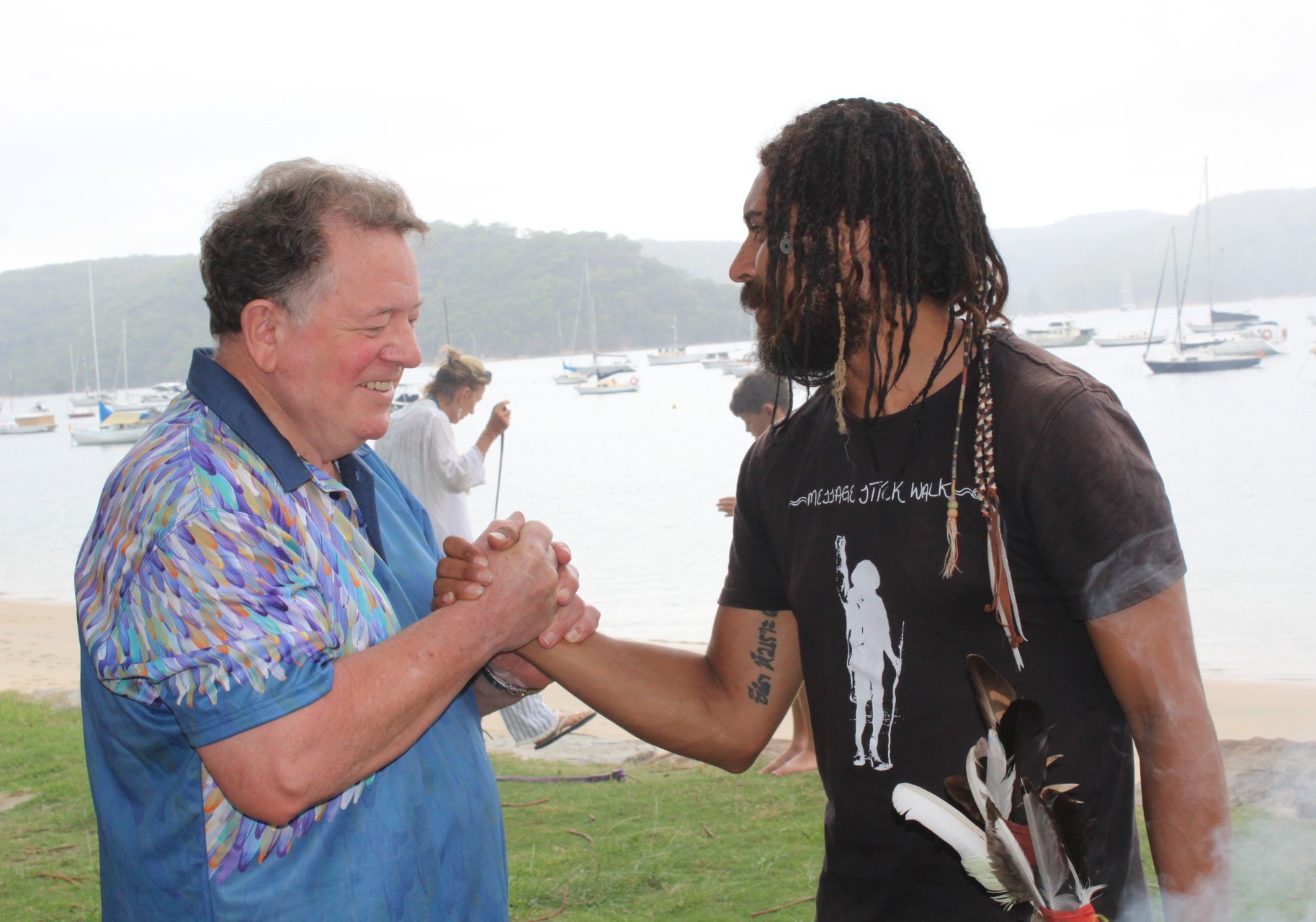 Neil Evers greets Alwyn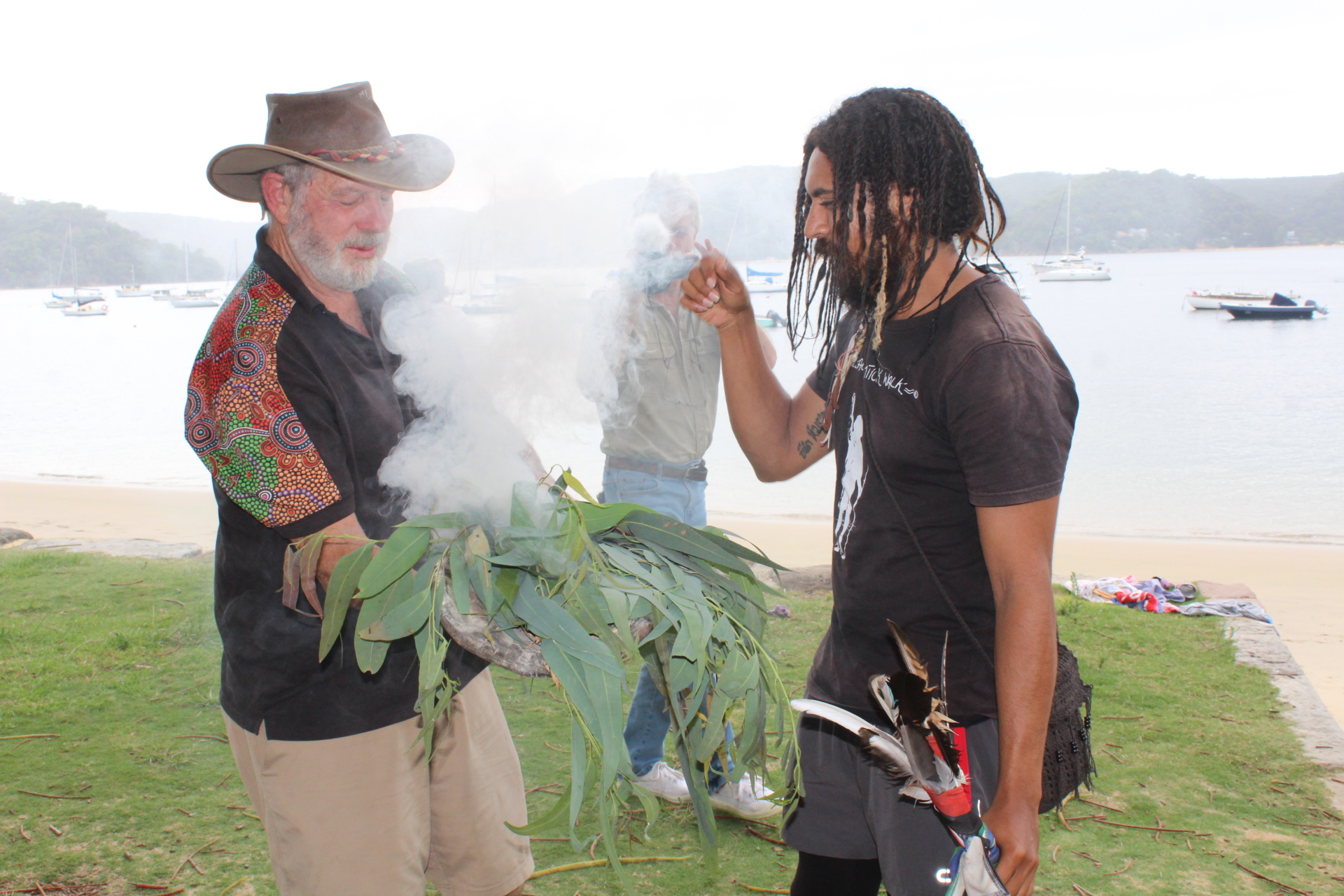 Laurie Bimson - Smoking Ceremony
The video put together by Pittwater's John Illingsworth (Pittwater Pathways) captures what else he spoke of at Pittwater Park.
You can follow Alwyn's journey at: https://www.facebook.com/Mssgstickwalk/