August 12 - 18, 2018: Issue 371
Avalon Beach SLSC Annual Report and AGM 2017- 2018
Avalon Beach SLSC Season Highlights 2017-18
Video by Asheley Cardiff, incoming President of Avalon Beach SLSC
Avalon Beach SLSC held their Annual General Meeting on Sunday July 29th. The event was well attended with invited guests Rob Stokes, MP for Pittwater, and Michael Regan, Mayor of the Northern Beaches Council, speaking to Members.
Big congratulations to our newest Life Member Terry Barber. So well deserved.
Also to our new Club President Ashley Cardiff.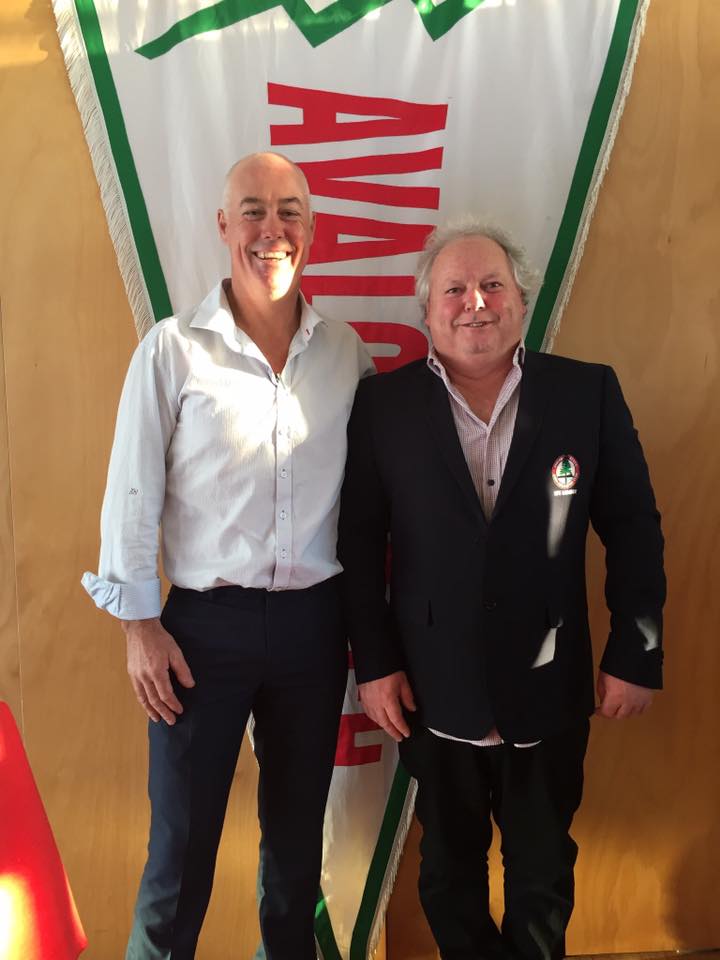 New Club President Ashley Cardiff and new Life Member Terry Barber
Outgoing President Richard Cole has done an outstanding job
Congratulations to Jason Brown and Rick Mitchell both awarded Distinguished Service to Avalon Beach Surf Club. Well deserved.
Invited guests who spoke were local MP Rob Stokes and NBC Mayor Michael Regan.
Congratulations to the following Club members who received the Premier's Volunteer Recognition Award, presented by The Hon. Rob Stokes at our AGM.
40 years: Peter Akehurst, Geoff Searl, Ross Bidencope.
25 years: Wilson Gamble, Mark Heffernan, Mark Head, Kevin Veale, Duncan Herbert, Damian Geyle, Colin Campbell, William Wall, Warren Young, Stephan Jacek, Rick Mitchell, Pete Carter, Richard McEvoy, Terry Barber, Jason Brown, Daryl Johnson, Jean Harper.
Launched in 2015, the Premier's Volunteer Recognition Program recognises the contribution volunteers make towards strengthening our communities.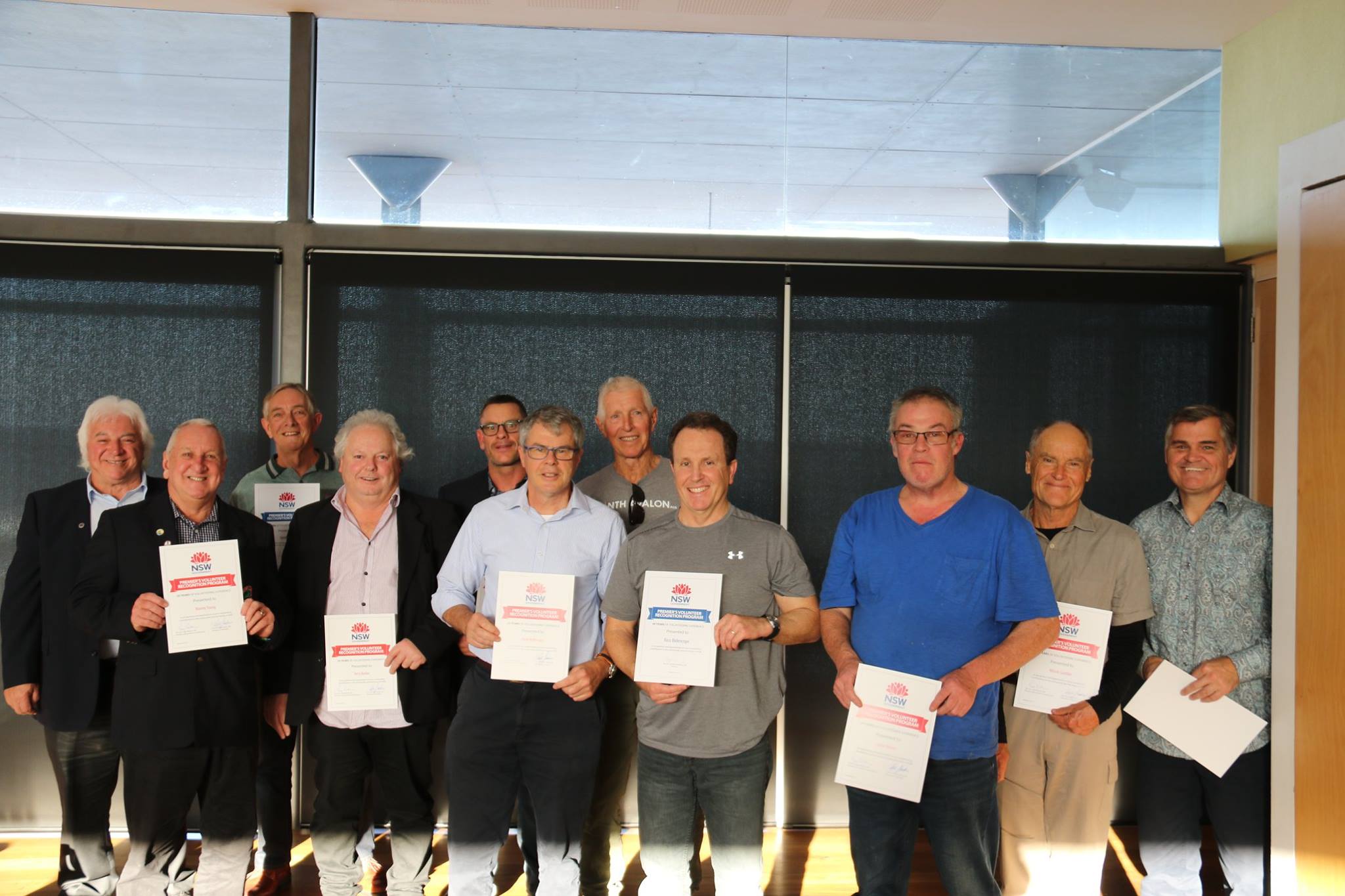 Richard Cole stood down as President - replaced by Ashley Cardiff
Jeff Nesbitt stood down as Deputy President - replaced by Richard Cole
Steve Broderick stood down as Director of Education - replaced by Michael King
Dave Roberts stood down as Director of Junior Activities - replaced by Tom Waters
Presidents Report
A Club is just a group of people who come together for a common pursuit. They do not necessarily share the same background, the same income bracket, age, political leanings, education or social standing, but they do share a similar interest or goal. Sometimes
when people come together in this way, something special happens; the whole becomes greater than the individual parts. A spirit or type of fortitude develops that lifts people beyond their normal capabilities. It inspires ordinary people to do extraordinary things. That is what I see in the surf lifesaving movement and what I see here at Avalon Beach Surf Life Saving Club. Ordinary people who are members of this Club knowingly put themselves in danger to save the life of a complete stranger, or they spend countless hours on a beach looking out to sea just in case someone gets into trouble, or they push themselves way out of their comfort zone because they are a young Nipper who is pretty scared of the big waves but they go out anyway, or they spend days and weeks organising a free event that unites our whole community, or they give up their nights and weekends to teach others how to save a life because they know that it just might make the difference to someone, somewhere, or they are a young boat crew who drive themselves beyond what they thought they could achieve and endure and win an Australian title. This spirit does not happen without inspiring leaders, people like
our Patrol Captains and Age Managers, our trainers and our boat sweeps and coaches and event managers and committee members. This is a spirit that I see all around me in this Club, and it is getting stronger wherever you look.
This year we again achieved our primary mission with no lives lost at Avalon Beach during patrol hours. We had 32 rescues, 23 first aid treatments (which seems a bit low) and 365 preventative measures. We completed the highest ever total number of patrol hours (8787, compared to last year's 6495). By any measure, that is a lot of hours spent by our volunteer members keeping our beach safe. We had
the highest ever number of active and youth members and trained more Bronze Medallions and SRCs than ever before. We had the most successful Nippers team ever at the SLSNSW Championships and the largest and most successful surf boat team ever at Branch, ASRL, SLSNSW and Aussies including two gold medals. We also had our highest ever annual revenue, making over $500,000 for the first time and a near record profit. I am pleased to report that the Club is in great shape.
Our Nippers were a tremendous success this year, with a well organised team, great spirit on the beach and the best ever results at the State Carnival. Our surf sports team also returned from the Aussies with the best ever results including two gold medals to the Bandits (Reserve Female) and Chanels (U19 Female) surf boat teams and a silver and bronze in the female Masters for the Antiques and DBs. With the Avocados representing Australia in the Trans-Tasman Cup and extraordinary results from State, Branch and ASRL, it was a stand out year for our boaties. Most importantly, it was our biggest ever team who went all the way to Perth for the Aussies and
there is a terrific momentum and spirit to all their endeavours.
Our small but dedicated Masters team also had a solid year with some inspiring new members such as Ashley Brown who will hopefully draw in more new talent. Our IRB competition team developed some new rookie teams and concluded the season with a State gold medal in the 45+ teams.
We ran some wonderful community events including the Lion Island Challenge, Carols at the Beach and our Surf and Around the Bends Swims. Our first ever Gala Day was a tremendous success which really brought the Club together. This is something that we can all be proud of: we have a One Club policy at Avalon Beach and I believe this is evident in everything we do. It is wonderful to see all the sections of our Club supporting each other and being stronger as a result. It is terrific to see the Club being in a position to be able to provide support to other community organisations such as One Eighty and supporting the response to important community issues such as youth emotional health.
There were some terrific social events at the Club, including a Life Member and Long Service Lunch, Season Launch, Nipper sleepovers, Presentation Night, various dinner and drink events as well as the regular Friday and Sunday afternoon sessions at the bar. We had a sensational live music program which featured local talent on the first Sunday afternoon of each month. A huge thank you to Nick Sampson, Matt Mayall, Nathan Wellings, Pete Carter and all the boaties for continuing to manage our very successful Bangalley Bar.
Financially we made a healthy profit this year. Our revenue is up significantly from last year and is continuing to climb strongly year on year. Our venue hire is up significantly, and our membership is steady when many clubs are facing falling memberships. We have a very talented and committed management team and all indicators point towards a bright future.
Training new education awards and remaining proficient in them is vital to the continual improvement of our skills and rescue capabilities. This year we trained 59 new Bronze Medallion candidates, 49 SRCs, 16 Provide First Aid certificates, 9 ART, 3 Silver Medallion Beach Management, 2 Silver Medallion Advanced First Aid, 4 Silver Medallion IRB Drivers and 7 IRB Crew. Michael King and Rick Mitchell achieved their Bronze Medallion assessor's certificates, as well as training many of our new bronzies. Dave Roberts achieved his Training Officer Award for Bronze Medallion. There was a record number of both SRCs and Bronze medallions trained this
year and a total of 166 awards which is very close to the most ever in a single year. Thank you and congratulations to all our
dedicated trainers for the huge amount of time and effort put into this extremely important aspect of our Club.
This year the BoM worked hard throughout the year and achieved the following:
• Progressive implementation of our Strategic Plan
• Draft Club By-Laws
• An improved financial position
• Implementation of detailed budgeting and tracking of finances
• The Gala Day initiative
• Transfer of accounting systems to Xero
• Equipment upgrades including:
- a patrol trailer
- 2 new IRBs
- a new surf boat
- 2 new IRB motors
- 8 new digital radios and charger docking station
- A spinal board
- New surf boat oars
- Refurbishment of 2 defibrillators (donated by Edcon Steel)
- A new ice machine for the bar
- 22 Bennett soft boards
- New Oxy Viva and 2 new first aid kits
- Sealing of concrete to ground floor areas
- New flagpole
This season we lost one of our finest members, Steve Parkes. Steve had a terrible motorcycle accident in 2014 and never recovered. Steve was my Patrol Captain and our Club Captain. He joined our Club in 2006 and soon became an Age Manager for the U7s, and then Education Officer for Nippers. He achieved his Bronze Medallion in 2006, Silver in 2008 and Gold in 2009. He ran our Patrol Competition, was awarded the President's award in 2010 and was Patrol Captain of the Year in 2013. He was our Club Captain from 2010 until 2014 when he had his accident. Steve was a wonderful trainer and leader, and he led by example. He was respected by everyone I know for his endless and understated dedication and commitment. He tirelessly served his community and gave his time willingly. He was a gentleman, in every sense of the word. He had a great approach to life and a great way with people. He took his role seriously, but never too seriously. Steve's ashes were scattered at Avalon Beach and there was a celebration of his life at the clubhouse on 19th August 2017. Steve will be greatly missed but never forgotten.
In October 2017, 10 Avalon Beach Surf Clubbies, including some of our newest Bronzies, demonstrated CPR and rescue techniques at the International Convention Centre's "Grand Ballroom" in Darling Harbour, entertaining 900 doctors of Haematology. Mike Stanley-Jones led the team in planning and preparing for the event and coordinated with the event organiser. The team raised over $4,000 for the Club.
Congratulations to patrol B3 who won SLSSNB Rescue of the Month in November 2017. This patrol was made up largely of new Bronze medallion holders who demonstrated their skills by successfully rescuing four Asian men caught in a rip after Market Day. This remarkable newly formed team demonstrates that an excellent trainer and leader (Patrol Captain and trainer Mike Stanley-Jones), can take a group with no lifesaving experience whatsoever and create a fully formed, capable, operational patrol team within one year.
A huge congratulations to all our Club award winners this year. I was delighted to present the President's award this year to Michael King. Michael has achieved over 550 patrol hours since receiving his Bronze Medallion in 2001, is a Patrol Captain and trainer who trained two Bronze squads this season, as well as running proficiencies and helping out at all our events. The Norman Cook Award for the Most Outstanding Club Member this year was very well deserved by Bernadette McKay. Bernadette patrolled more than 45 hours this season, helped out at all our major events, assisted with Club registrations for both senior and junior clubs, was an Age Manager and trainer for our SRC squad putting 49 kids through their SRC certificate, ran the Nippers canteen, was Nippers Competition Manager, is a member of our Board of Management and was treasurer for both senior and junior clubs this year, which is a massive job and requires a daily commitment processing payments, putting together budgets and compiling the Club accounts. She also moved
our accounting system from MYOB to Xero and instigated detailed budgeting and tracking of Club accounts. Bernadette demonstrated an extraordinary commitment to the Club this year, which she has consistently displayed for many years.
Thank you once again to all our sponsors who have supported us throughout the year. They are listed throughout this report, but a special thank you to LJ Hooker Avalon Beach, Secure Parking, Johnson Bros Mitre 10 and Avalon Beach RSL for their long-term support. Welcome to Aveo who have signed up to a three year agreement to provide invaluable support to our Carols at the Beach event. Many thanks also to Voss Store for our new Boaties apparel. Active Tree Services made an extraordinary contribution by providing the funds to enable the purchase of a new surf boat. We couldn't be the Club that we are without the support from our sponsors, so please support them by using their services if you have the opportunity.
Whilst the majority of the Board of Management are remaining in their current roles, there is going to be some change next year. Renewal and managed change is important to keep bringing in fresh ideas and maintain high levels of enthusiasm.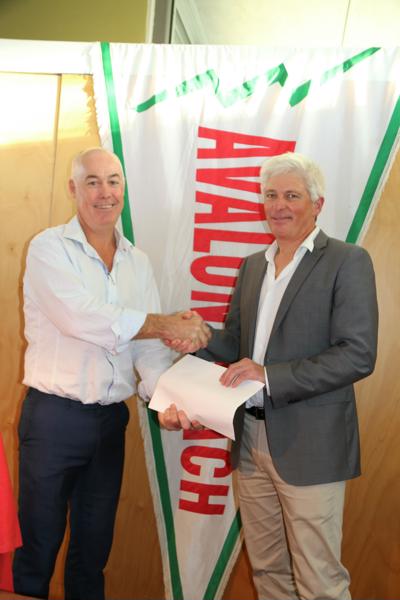 Steve Broderick will be stepping down from the Chief Instructor role after one year in the job, and we thank Steve for the effort he put into this challenging role. Dave Roberts will be handing over the reins of Nippers President but remaining as Competition Manager. Dave has done an excellent job managing our Nippers team with his enthusiastic can-do attitude. Thank you to Dave and his team for another fantastic year for our juniors. Also standing down from our Board is our long serving Board member Jeff Nesbitt. Jeff has been on the Board since 2007, a year he also won the President's award. Jeff won the Norman Cook Award for most outstanding member in 2016. He has held the role of Deputy Director of Lifesaving and Education and Deputy President. Jeff has been an age manager for
many years, but is probably best known for his role as a trainer, spending countless hours every year training Bronze squads, ART and other awards, as well as the thankless job of getting our active members proficient every year. We are not sure how we will manage without him, but we can only be tremendously grateful for the vast amounts of time, energy, expertise and wisdom that Jeff has contributed to the running of this Club.
I will be standing down as President, but I look forward to remaining on the Board of Management in a different position. It has been a genuine honour and privilege to lead this Club for the past three years. I would like to personally thank all the members of our Club for their support. I would like to thank every single member of our Board of Management and all our Club Officers for their extraordinary commitment to the Club. We have some robust discussions in our board meetings, but we also have a lot of laughs and there is a huge amount of respect for every person around that table. Thank you in particular to Louise Lindop and Leanne Austin, who have provided wisdom, guidance, professional rigour and a reliable sounding board throughout my term. I would also like to thank my wife Cilla and long-suffering family Christopher, Julia, Fergus and Claudia, who are all active members of the Club, for their tremendous support over the past three years.
Thank you to Ashley Cardiff who has nominated for the role of President next year. I am very grateful to have such a laudable successor and wish him all the best in the role.
This Club is an exceptional community institution, with a remarkable member group who continue to inspire me every day. I look forward to continuing to contribute to our Club, albeit in a different role.
Richard Cole
President
Full Avalon Beach SLSC 2017-2018 Annual report available here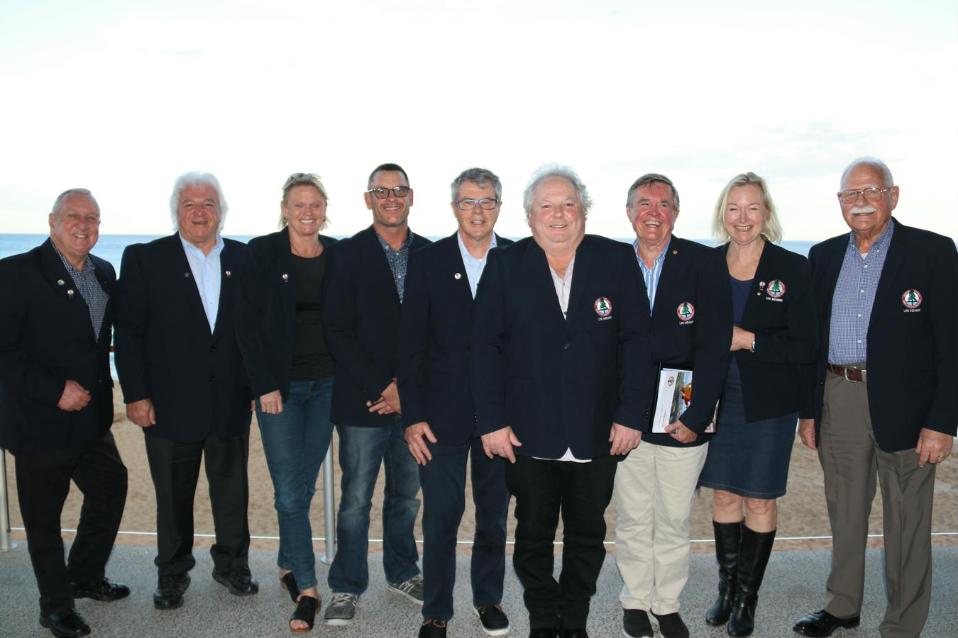 Avalon Beach SLSC Life Members at 2018 AGM
Further
Avalon Beach SLSC's Surfboat Division 2017-2018 Season
Avalon Beach SLSC's U14 Girls Beach Relay Team 2018
Anzac Day In Pittwater 2017: Pittwater RSL and Avalon Beach RSL Commemorative Dawn and 11 A.M. Services: Address given by Jason Falinski MP for Mackellar - Photos by Sandra May, Julie Hegarty, Sally Mayman, Rebecca Fitzgerald and Alison Guesdon
Pittwater Athletes Excel At 2017 World Masters Games In New Zealand - on the sand, in the water and on the water!+ Front Page Issue 310

Avalon Beach SLSC And Avalon Surfing Mums Biggest Morning Tea with a "bring a teacup with a story" theme: Donations still welcomed - find out more - Photos courtesy Christine Hopton OAM - Report and Photos by Leanne Austin, 2017
Lifesavers Launch Into IRB Season 2017: by Surf Life saving NSW Bungan, Newport and Avalon Beach SLSC's among finalist placers in Round 1 - report includes great action pictures by Richard Black and Richard Cole, President Avalon Beach SLSC + Front Page Issue 311
Surf Lifesaver Treats Rock Fall Victim at Palm Beach: Nick Sampson, one of our resident volunteers reminds us skills learnt in surf clubs save lives elsewhere and that SLS NSW offers First Aid Courses to the public
Singapore Nippers Initiative Supported By Avalon Beach SLSC
IRB Season Heats Up (Round 3 - including finals of Round 2) by Surf Life Saving NSW
NSW IRB (Inflatable Rescue Boat) Premiership Series 2017: Round 4 by Surf Life Saving NSW
Surf Life Saving Sydney Northern Beaches Branch Awards Of Excellence: 2016-2017 Season
Newport SLSC IRB Under 23 Team Win Bronze In 2017 State Championships - a Bronze for Bungan SLSC too
Avalon Beach SLSC 2017 Annual General Meeting - Two new Life Members by Rogers Sayers, ABSLSC Publicity Officer
Early Pittwater Surfers: Avalon Beach I - 1956: The Carnival That Introduced The Malibu Surfboard And Being Able To Surf Across A Wave Face - In autumn 2014 a report on the Arrival Of The Mal - 1956 Surf Boards, the Avalon Beach Historical Society Meeting with speakers David Lyall and Bob Head, who witnessed a revolution in riding waves here, recorded the introduction of the Mal. Through Roger Sayers and courtesy of Reg Wood, an insight into that 1956 Avalon Beach SLSC carnival adds more to that record of how seeking to highlight the great work of surf lifesaving in conjunction with the Melbourne Olympics brought with it a giant wave of a surfing change
Board Riders All Class At State Champs: Palm Beach SLSC Wins Point Score by Surf Life Saving NSW
Lion Island Challenge 2017 hosted by Avalon Beach SLSC
Bilgola SLSC's 'Billy Boat Carnival' 2017
Surf Life Saving Sydney Northern Beaches And Palm Beach SLSC Host Fast Fives On Palm Beach: November 11, 2017
Pittwater Ocean Swim Series 2017-2018: Bilgola December 10th, Newport January 7th, Avalon January 14th, Mona Vale January 21st, The Big Swim January 28th
Avalon Beach SLSC Fun Gala Day 2017, Launching 'DIGGER' IRB, Life Members' Ken Davo And Don Imo 90th Birthdays by Roger Sayers

Newport SLSC Hosts Round 2 Of The SLS SNB Surf Boat Premiership 2017-18
A Late Spring Stroll Through Kosciuszko National Park: The Main Range Walk by Geoff Searl + Front Page Issue 339
Carols at the Beach 2017 Hosted by Avalon Beach SLSC
Summer in Pittwater 2018 by Warren Young OAM
SLSSNB Branch Begins 2018 Branch Championships: Masters, Boats, Belles & Outstanding Junior Lifesavers: Avalon Beach Boat Crews and Masters
Avalon Beach SLSC Launches A New Surf Boat - The Roland Luke
Front Page Issue 348: Avalon Beach Avocados Win Their Trans Tasman Test Debut + NSW Wins the Surf Boat Interstates + More
2018 Surf Life Saving Sydney Northern Beaches Branch Championships Results for Surf Boats and Masters
2018 Interstate Surfboat Championships, Trans-Tasman Test And Navy ASRL Open: Results, Winners Snaps and Wraps - Reports by Surf Life Saving NSW and Navy ASRL. Photos by Avalon Beach SLSC, Surf Life Saving NSW, Navy ASRL, Julie Hegarty and Bill Sheridan, 2018

Youngsters Gearing Up For State Champs 2018 Glory: Surf Life Saving NSW + Front Page Issue 350
2018 NSW Surf Life Saving Championships Masters and Opens Competitions: Newport Cleans Up Competition in Opens
Avalon Beach Ocean Swims 2018: Includes the Around the Bends Challenge
Aussies 2018: A Mass Exodus West! - local surf boat crews moving across the Nullabor
Aussies 2018: Outstanding Local results
Front Page Issue 357: End of Patrol Season 2017-2018 - Avalon Beach SLSC's Outstanding U14 Girls Beach Relay Team
Ducks Away As Lifesavers Gear Up For IRB Season 2018: Bilgola and Mona Vale Entering For First Time by SLS NSW
IRB Season 2018 Throttles Up At Stockton Beach: Round 1 Results + Bungan Beach SLSC Christens New IRB - The Col Rae
Rubber Ducky Racers Soar At Round 2: 2018 NSW IRB Premiership Season by Surf Life Saving NSW
Caves Beach Claim 2018 IRB Premiership Series: by Surf Life Saving NSW
Surf Life Saving Sydney Northern Beaches Awards of Excellence 2018: all the recognitions + a lot else!
2018 NSW Sharkskin IRB State Championship: Avalon Beach and Newport SLSC's among Medal winners + Front Page issue 367
24 Hour Row For One Eighty and Gotcha4Life: happening at Av. Surf Club on 18/08/2018 - Local businesses who want to support or sponsor this great initiative can contact Melissa Wellings at mel_wellings@hotmail.com donate at: https://avalonrowers24hr.raisely.com/