February 4 - 10, 2018: Issue 346

Surf Life Saving Sydney Northern Beaches Begins Branch Championships Weekends: Masters, Boats, Belles And
Outstanding
Junior Lifesavers
Sydney Northern Beaches Surf Life Saving
Junior Lifesaver Of The Year
Sydney Northern Beaches Surf Life Saving Director Member Services Tracey Hare-Boyd said the standard of finalists in this year's
Junior Lifesaver of the Year competition
for the outstanding under 14 male and female lifesavers was
exceptional.
''Last year we had clear winners. This year it was really close,'' she said.
The Finalists this year were Samuel Capell, Heather O'Sullivan (Newport SLSC), Thomas Dorahy, Emma Rouse (Warriewood SLSC), Callum Fitzgibbon, Olivia Gillespie (Narrabeen Beach SLSC) , Emma Spencer (Collaroy SLSC), Ethan Griffin, Sari Miller (Dee Why SLSC), Isaac Crews, Sophia Spencer (North Curl Curl SLSC) Douglas Carroll, Mali Spijker (South Curl Curl SLSC), Lachlan Cameron,
Caoimhe Daly (Freshwater SLSC), Pieter Marais, Chloe Mason (North Steyne SLSC) and
Emma Worner, Edward Shelbourne (Manly LSC).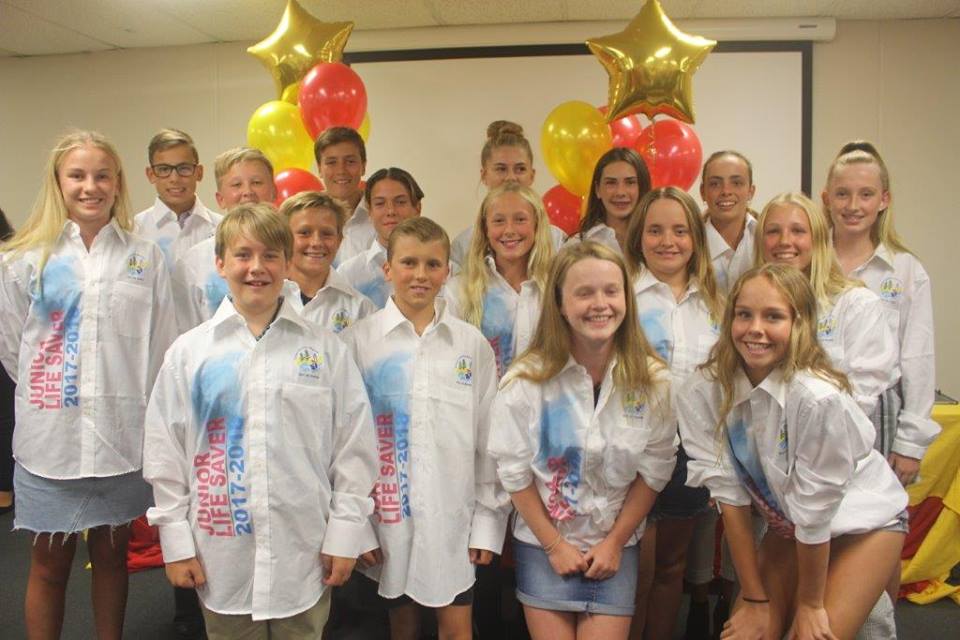 Picture: The finalists at SNB headquarters on Friday night. Photo courtesy SLS SNB
The two SLS Sydney Northern Beaches Junior Lifesaver of the Year winners for 2018 were announced on Friday evening
at SNB headquarters.
The winners were
Douglas Carroll (South Curl SLSC) and
Caoimhe Daly (Freshwater SLSC).
Emma Worner and Edward Shelbourne, both of Manly LSC, were highly commended.
Caoimhe has been a member of Freshwater for eight years. ''I really love the family aspect of the surf club and how close we all are at Freshie,'' she said.
"What I would really like to see is more people my age carrying through to the older years.''
Douglas joined South Curly as a six-year-old. ''I really wanted to aspire within the club and took the opportunity to nominate for this event,'' he said.
"I really like the beach aspect of it (surf club) and just the fact that I can help people saves lives and help save lives in general. I really like being on patrol.''
Douglas and Caoimhe now advance to the SLSNSW Junior Lifesaver of the Year competition in April.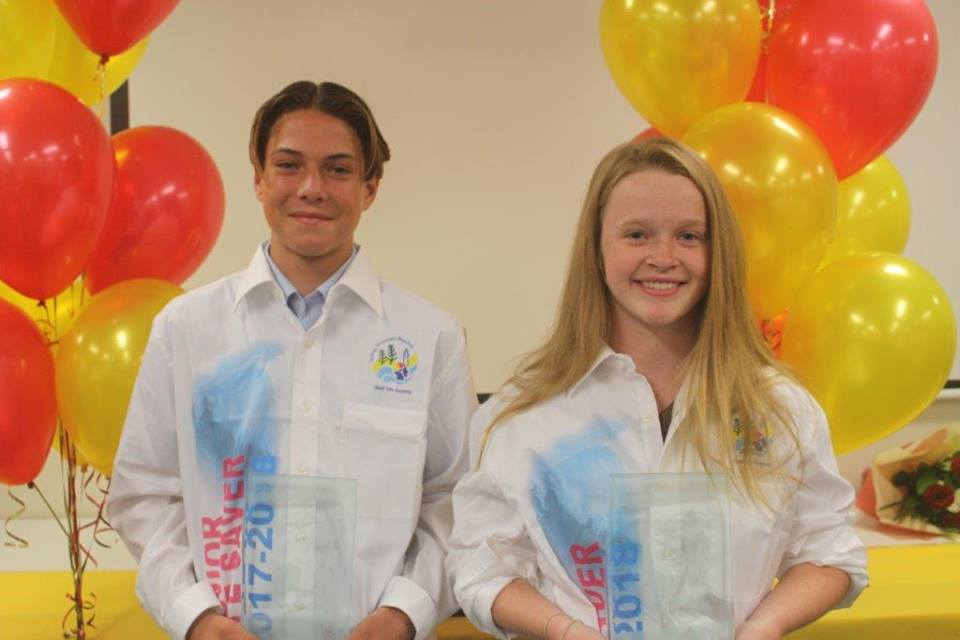 Picture: Douglas and Caoimhe at the SNB JLOTY announcement on Friday night.
Photo courtesy SLS SNB
Emma Worner and Edward Shelbourne have known each other since they first joined Manly LSC as Nippers.
Both Emma and Edward also love their surf sports and will be competing at the Westfield Junior Branch Championships at Collaroy today Sunday February 4th.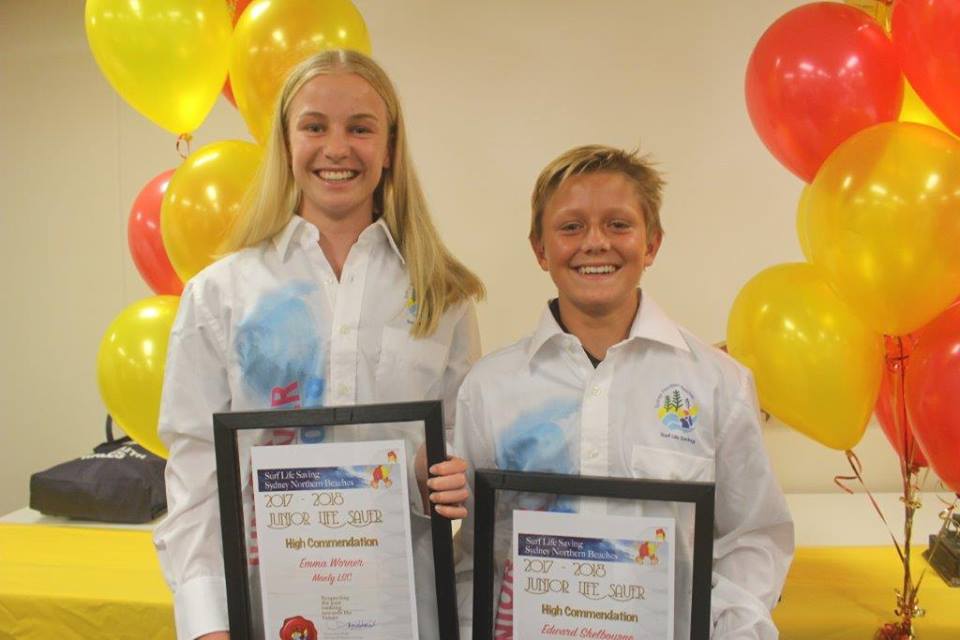 Picture: Emma and Edward at the JLOTY presentation at SNB headquarters on Friday night.
Photo courtesy SLS SNB
Branches are invited to submit one female and one male nomination for the 2017/2018 SLSNSW Junior Lifesaver of
the Year Award.
Successful applicants attend the Junior Lifesaver of
the Year Development Camp held at The Collaroy Centre on Sydney's Northern Beaches from Monday 16th to the
Thursday the 19th April 2018, during the Autumn SchoolHolidays.
The announcement of the Male and Female Junior Lifesaver of the Year will be at the completion of the program
around midday on Thursday 19
th April 2018. The two winners (and parents or guardians) will be invited to attend the
SLSNSW Awards of Excellence where an official presentation will be made. This attendance will be subsidised by
SLSNSW.
The criteria for selection will be based on the nominee's achievements in the following areas:
Contribution to Surf Life Saving

Demonstration of leadership roles in club activities

Contribution made to the club

Awards received in Surf Life Saving and the community

Involvement in community events outside of Surf Life Saving

Awareness of club events and current affairs

Initiative applied to club and community activities

Promotion of Surf Life Saving to the community

Attendance record at club activities

Encouragement of new members

Demonstration of surf lifesaving knowledge and skills
The Development Camp aims to further develop members by creating an awareness of the diversity of Branch and
State activities, by supporting personal development and goal setting, and by positively recognising members. Best of
all, it is an opportunity to meet young surf lifesavers from across New South Wales and be part of a fun experience.
The SLSA National Awards of Excellence will be held on Saturday 27th October 2018 (The Art Gallery, NSW).

Warriewood Angels
January 29, 2018:

Warriewood SLSC
Our under 19 girls, the Angels were invited to take part in an exhibition race on Australia Day at Circular Quay in front of a massive audience.
A lot has been happening with the boaties over the last few weeks.
We had 2 crews, the Rustys and Crustys, complete the world's longest surf boat marathon of 190kms from Batemans Bay to Eden.
Our Open Womens crew, the Wahines, has been competing in Ocean Thunder, the premier surf boat competition in Australia.
Our 2 new younger crews, the Devils in the under 23 males and the Angels in the under 19 females, had their first carnivals in January. The Devils won a race in only their second carnival at Manly on Australia Day. We had all 5 crews competing at Manly and Freshwater over the long weekend.
Our under 19 girls, the Angels were invited to take part in an exhibition race on Australia Day at Circular Quay in front of a massive audience.
We will be starting learn to row and social rowing in the next week or so.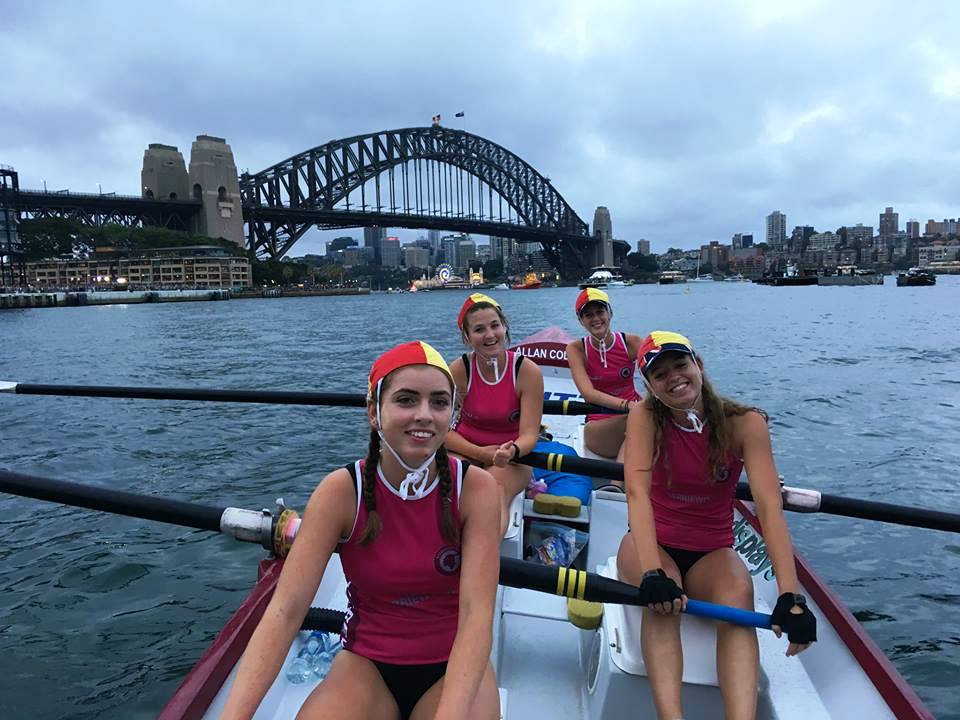 Photo courtesy Warriewood SLSC
The 2018 Bill Buckle Subaru
Masters Branch Championships
Water Events: Saturday 3rd February 2018 at Collaroy
The SLS
Sydney Northern Beaches Branch Championships commenced yesterday at Collaroy with teams from local clubs converging on that long stretch of sand that reaches from Collaroy to Narrabeen. The Branch Championships are seen as a great run into the SLS NSW State Championships
which will be held at Blacksmiths Beach from the 24th February 2018 to 11th March 2018 - venue, Swansea Belmont SLSC and the Aussies, the Australian Titles, this year to be held at Scarborough, WA beginning April 14th.
Scheduled at the end of their surf sports calendar, the
SNB Branch Championships
is the branch's biggest event, run over successive weekends and encompassing all age divisions and aspects of what keeps members able to save lives on our beaches.
Collaroy SLSC, Freshwater SLSC, Palm Beach SLSC, Mona Vale SLSC, Newport SLSC, Warriewood SLSC, Manly LSC and Avalon SLSC have very strong Masters teams with passionate surf sports members, many of whom
finish
among the medals at State and National level each season in water, sand and boat events.
Northern Beaches Branch Championships 2018
Saturday, 3rd February at Collaroy
Sunday, 4th February at Collaroy
Saturday, 10th February at Collaroy
Sunday 11th February at North Narrabeen
ALL Beach events (Juniors, Masters, Opens)
Results from the Masters Water events won't be confirmed until early this week - a few have been spread - more when available:
Gold in the 150 years Swim Teams. First time Avalon has won in this event for many years.
Gold in the Ironman in their age groups. 45 yrs - 49yrs for Ashley Brown and 60-64 yrs for Chris McGuckin.
Silver by a whisker in the board rescue. Photo finish gave it to Freshwater for the gold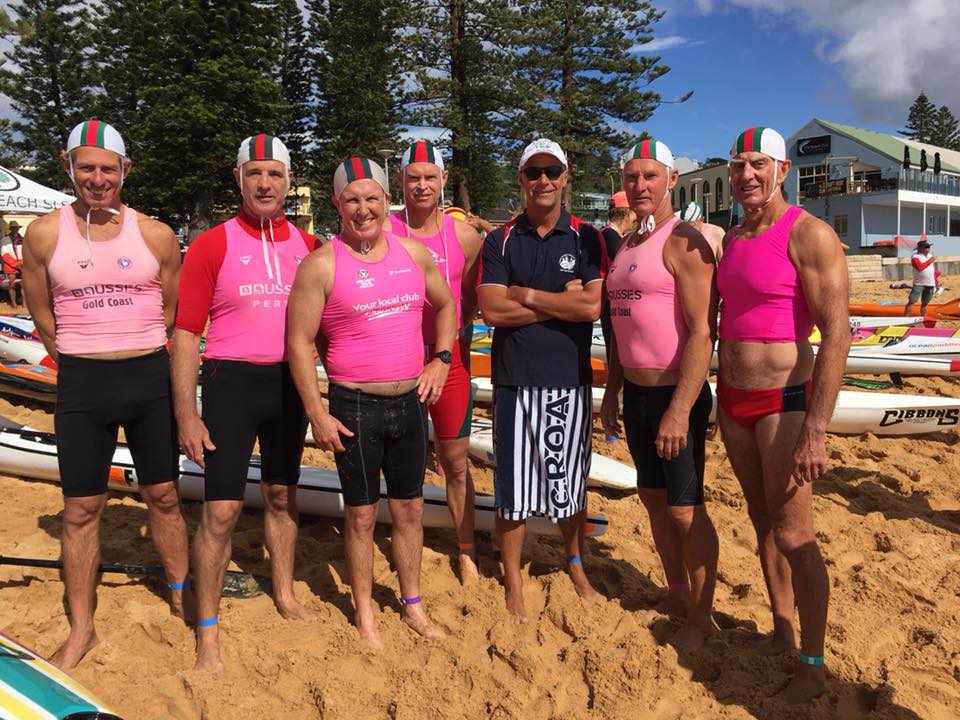 The team.
The other big event that's been happening over the season is the Ocean Thunder Pro Surf Boat series where the Palmy Army have been making their mark, as well as branch carnivals, like the Young Guns at Collaroy where the Palm Beach U19's Pickles (Rohan Costello, Josh McGuiness, Daniel Johnston and Alexander Smith - sweep Stephen Cox). The Avalon Beach Avocados also won the under 23 female final at that carnival. In December the Avocados
were announced
as Australian representatives in the Trans Tasman 2018, a role the ABSLSC U23's Mens Pinkies won and then won in 2016 and
Newport's Pistol Shrimps
took out with great style in 2017.
President of Avalon Beach SLSC Richard Cole confirmed this week that most of the Avalon Boaties will be heading west for the Aussies - the club is also naming and launching a new surf boat this morning and naming a new sponsor - more on that next week!
Rowing at Long Reef - Dee Why in the
2017/18 Ocean Thunder Pro Surf Boat Series
Events that started in November, Palm Beach SLSC's womens crew, under the name of Exeter Plumbing, were on 24 points after winning all three of the initial rounds/Events.
The Beach Club Collaroy Gold crew were on 19 points, one ahead of Currumbin, taking out the Event 3 mens win.
"It would be really nice to win it (title) again but even better if we could take out the fourth round. I don't think any crew has won four rounds at Thunder,''
Palmy Boat Captain Peter Spence said after Event Three.
Yesterday, Saturday February 3rd, the Palmy ladies became Overall series winners - the crew, also known as the Patriots; Lucy Day, Verity Boulton, Peter Spence (sweep), Papa Hipango and Elly Reynolds. The Palm Beach SLSC Boat Division
excelled at Aussies in 2016
and will be looking forward to the 2018 Aussies after rows were cancelled last year due to safety concerns. The Palmy crew didn't get that Event 4 win but they did take out the series!
Go PALMY!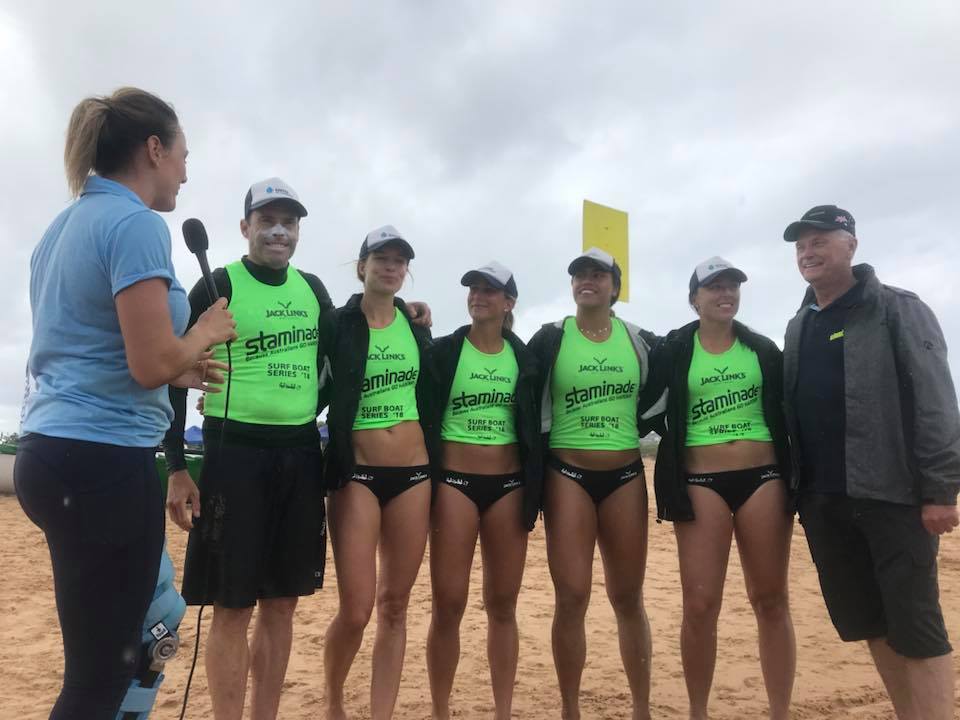 Overall winners at the 2017/18 Ocean Thunder Pro Surf Boat Series
The Collaroy mens crew triumphed too, also known as the Garricks, won the Final in Event 4 and the Overall win!
The Garricks crew are Phil Massingham (Sweep), Will Hosking, Sam Newsom, Alex Nicolson, and Angus Campbell.

If you missed it you can catch all the action on
Monday 5 Feb 2018 at 07.00 - 9.00am on Fox Sports 503.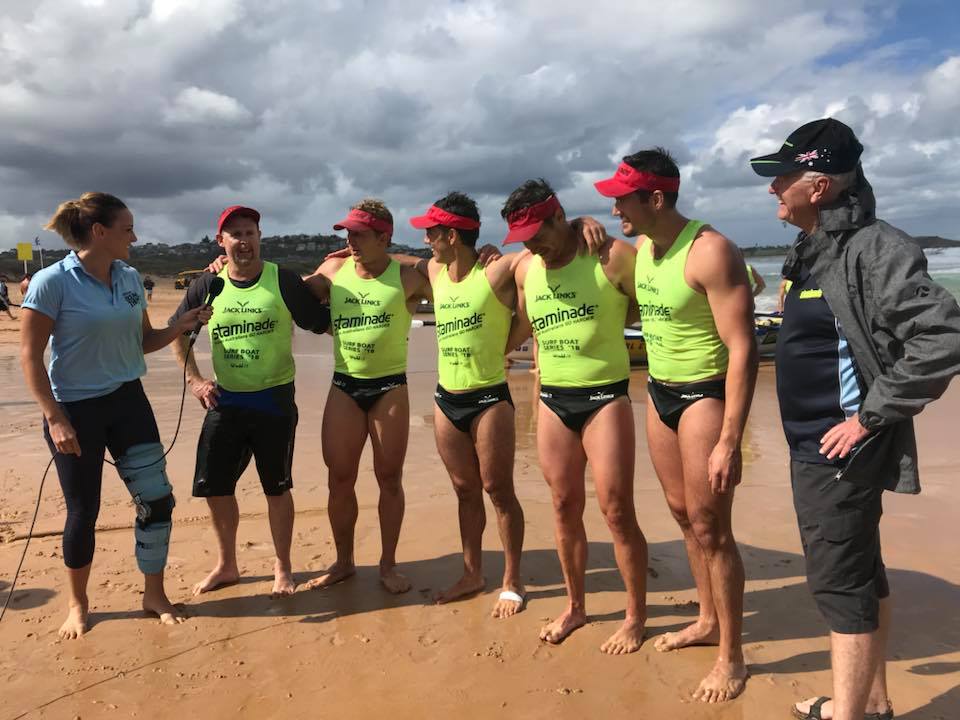 Mens event 4 & Overall series winners

Another Palmy womens crew, sweep Stephen Cox, were in the womens final, as were a crew from Warriewood SLSC, sweep Matt Sheridan, and a crew form North Narrabeen, sweep Don McManus. North Narrabeen SLSC is where Don first began sweeping crews on the Sydney Northern Beaches - and all before the Branch was actually named Surf Life Saving Sydney Northern Beaches.
Prior to 1960 clubs up here were overseen by the Sydney Branch. Manly Warringah Branch was formed 1st May 1960, with a Board of Examiners, in anticipation of the new Branch being elected in December 1959. Mr. Alan Fitzgerald, the then President of the North Steyne SLSC, was elected first president. He held this office for eight years.
The first Branch Championships were staged at Newport Beach in January 1961.

Which brings us back to today, and yesterday's water events for Masters as part of the SLS SNB 2018 Branch Championships, and a very fitting full-stop in these local legends and mentors for all younger members who know that growing great Australians, keeping fit while you're having fun and living up to the surf life saving motto of 'Vigilance and Service' is what it's all about: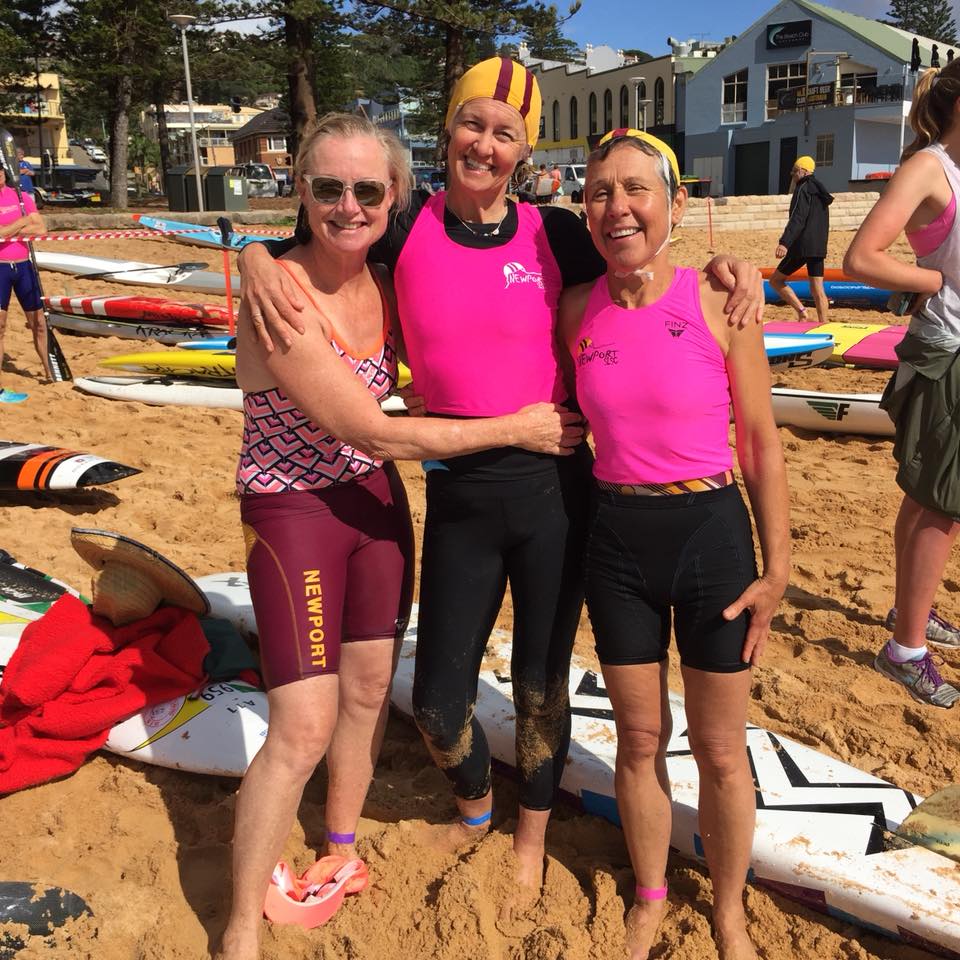 Photos by and courteys SLS SNB, Richard Cole, President Avalon Beach SLSC, Ocean Thunder Pro Surf Boat Series and Christine Hopton OAM.