September 17 - 23, 2017: Issue 330
Board Riders All Class At State Champs: Palm Beach SLSC wins Point Score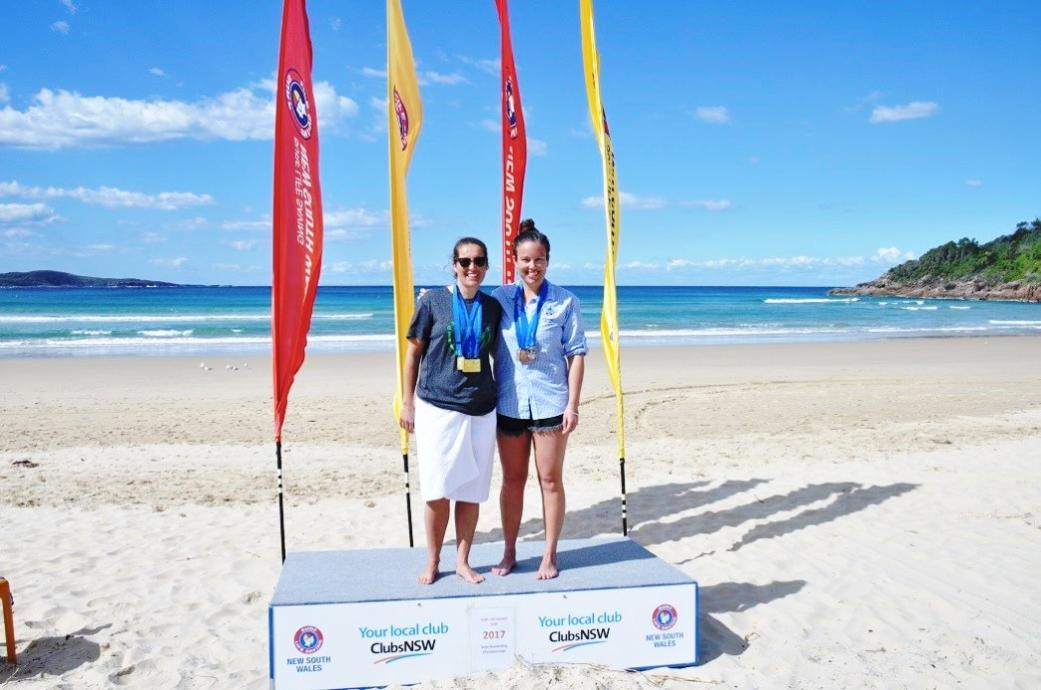 Sophie Wade (Palm Beach SLSC) and Sofie Boyd (Cudgen Headland SLSC)

Sophie Wade (Palm Beach SLSC) had a competition to remember taking home four gold medals with victory in both the Open Long and Short Board events to go with victory in the 30-39 Female events.
Sofie Boyd won U17's Female Title and
silver in the Open Short Board.
Board Riders All Class At State Champs
Wednesday 13 September 2017
Mother Nature didn't always co-operate but that didn't stop the 100 competitors who braved the surf at the NSW Board Riding Championships last weekend from making the most of the challenging conditions as they eyed off state glory.
Originally slated to be held at Birubi Point a powerful swell necessitated the event's relocation to make the most of the more favourable conditions at One Mile Beach throughout the 3-day-competition.
Open to competitors aged 12-70, the NSW Board Riding Championships was an opportunity for the best surfers within the Surf Life Saving movement to temporarily throw off their patrol uniforms and show off their skills on the board.
And they didn't disappoint.
Across the competition there were a number of outstanding performances in both the short board, and long board events.
In the juniors Molly Sheppard (MacMasters Beach) and Joel Barry (Shelly Beach) were crowned the male and female champions of the U13s.
Samantha Babister (Wanda) and Kyle O'Sullivan took out the U14s while Darci Air (Thirroul) and Finn Askew (Tacking Point) did enough to impress the judges in the U15s.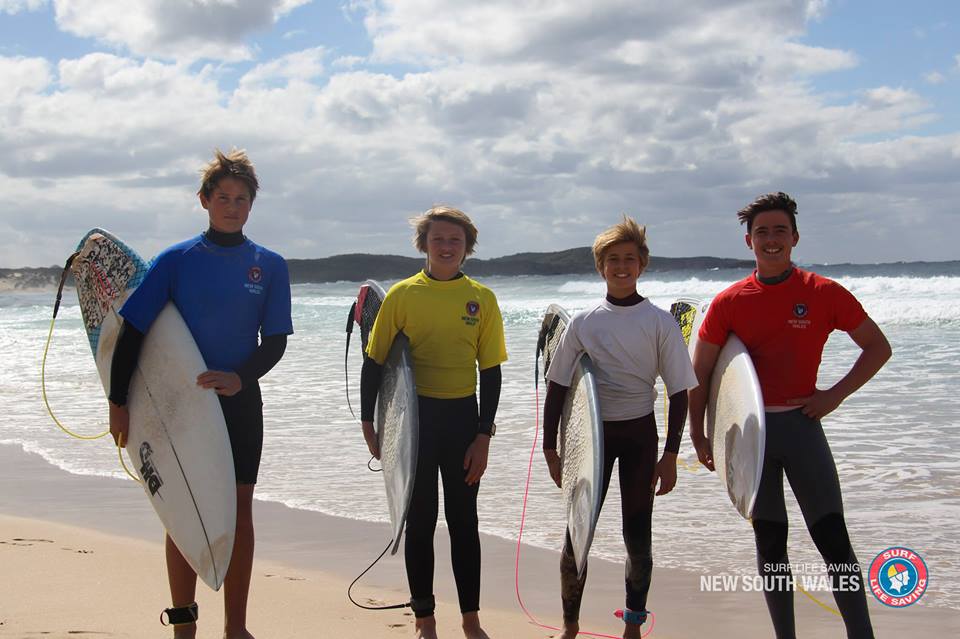 There was joy for the Far North Coast in the U17s with Cudgen Headland's Sofie Boyd taking out the Female title, while her club mate Kai Onley having his own success in the Male event picking up silver behind Tyler Nott (Wanda).
It was a family affair in the U19s as Coogee brothers Joe (gold) and Jack (bronze) Beale earned a place on the podium alongside Kieran Braddish (Umina).
The Opens was a closely fought competition with several of the youngster stepping up to make their presence felt alongside their experienced counterparts.
Sophie Wade (Palm Beach) had a competition to remember taking home four gold medals with victory in both the Open Long and Short Board events to go with victory in the 30-39 Female events. Sofie Boyd continued her strong competition picking up silver in the Open Short Board.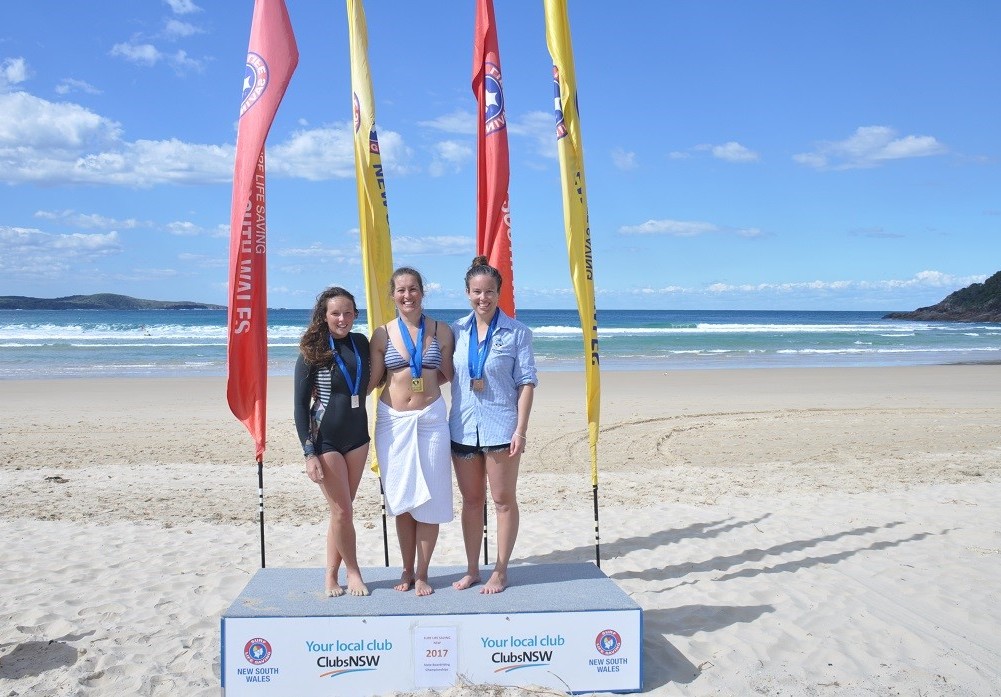 Open Female Short Board L to r: Taylor Durrant (Cabarita Beach- bronze), Sophie Wade (Palm Beach- gold) Sofie Boyd (Cudgen -silver)

In the Male Open Long Board, Anthony Carroll (Bondi Surf Bathers) claimed gold which sat very comfortably next to his wins in the 40-49 age group. Trent Roberts (Stockton) did enough to hold off Kai Onley (Cudgen Headland) in the Short Board event.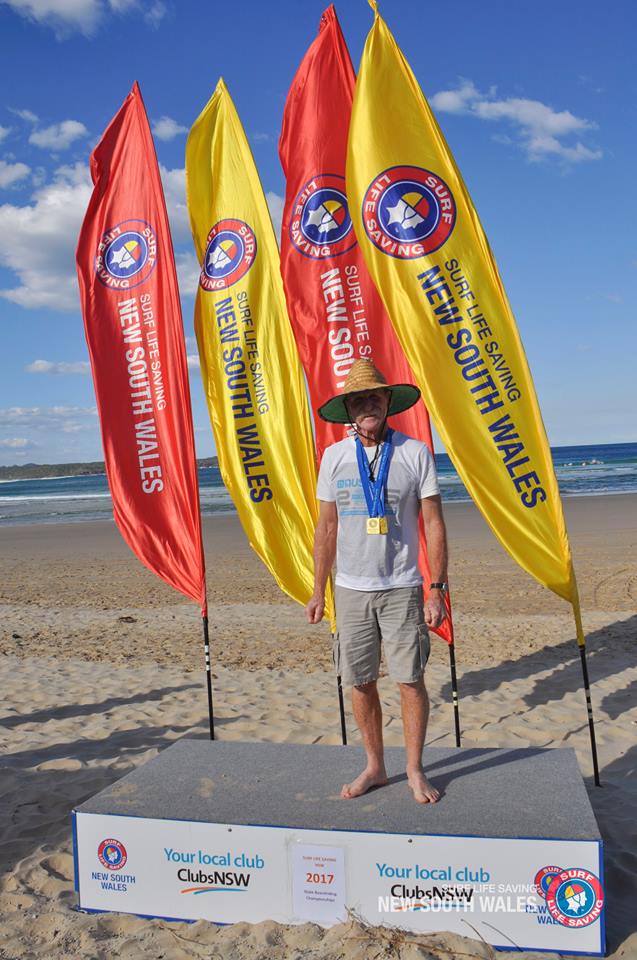 The Masters competitors showed their class with a number of strong performances from a number of athletes including Andrew Parker (Fingal Beach), Emma Larssen (Cronulla), Adriaan van der Wallen (Palm Beach), and Kenneth Broomfield (North Avoca) among others. Surf Life Saving NSW Surf Sports Manager Rob Pidgeon believed that despite all the challenges, the 2017 NSW Board Riding Championships can be hailed a success.
"It was a highly entertaining and enjoyable 3-day-competition that was fought in good spirits, and while ideally we would have loved to be able to stage it at Birubi Point everyone was accepting of the challenging conditions and the rationale behind moving the competition," said Mr Pidgeon.
"The club, officials, and competitors all came together to ensure that the logistics of moving was handled as smoothly and efficiently as possible. I would like to take this opportunity to thank both Port Stephens Council who provided support for the event, and Birubi SLSC who despite the frustrations of not being able to host it on their own break were incredibly generous with their hospitality.
"Throughout the weekend the lifesavers certainly proved adept on the board and it was a great opportunity to showcase their skills in a different discipline ahead of what promises to be another bumper season of surf sports," he concluded.
By Surf Life Saving New South Wales
2017
NSW

Board Riding Championships

Rank Club Points

1 Palm Beach SLSC (NSW) 44

2 Wanda SLSC Inc 26

3 Bondi Surf Bathers LSC 23

4 Cudgen Headland SLSC 21

5 Maroubra SLSC 20

6 Fingal Beach SLSC 17

7 Stockton SLSC 16

8 Queenscliff SLSC 14

8 Cronulla SLSC 14

9 Wamberal SLSC Inc. 13

9 Thirroul SLSC 13

9 MacMasters Beach SLSC 13

10 North Avoca SLSC 12

11 Coogee SLSC (NSW) 10

12 Cabarita Beach SLSC 9

13 North Cronulla SLSC 8

14 North Bondi SLSC 7

14 Sawtell SLSC Inc 7

15 Bronte SLSC 6

15 Shelly Beach SLSC 6

16 Umina SLSC Inc 5

16 Caves Beach SLSC 5

16 Swansea Belmont SLSC 5

16 Era SLSC 5

17 Avalon Beach SLSC 4

17 Soldiers Beach SLSC 4

17 North Narrabeen SLSC Inc. 4

18 North Entrance SLSC 3

18 Kiama Downs SLSC 3

18 The Entrance SLSC 3

19 Cooks Hill SLSC 2

20 Collaroy SLSC 0

20 North Steyne SLSC Inc. 0

20 South Maroubra SLSC 0

20 Dixon Park SLSC 0

20 North Curl Curl

SLSC 0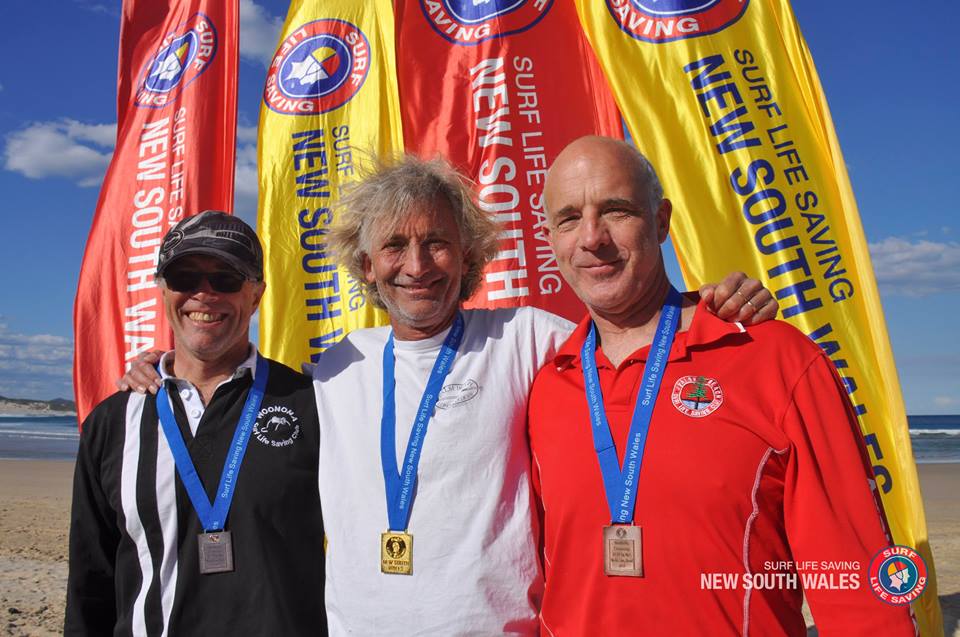 Left to right: Rob Hatton (Woonona), Adriaan van der Wallen (Palm Beach), Grant Salmon (Avalon Beach)
Palm Beach SLSC and Avalon Beach SLSC member Adriaan van der Wallen excelled at the 2017 NSW State SLSC Surfing Titles; Silver in the Open Longboard against Harries (Bondi Rescue), Silver in the Masters Shortboard and Gold in Masters Longboard.
Avalon Beach SLSC's Grant Salmon Bronze in Masters Longboard.