February 18 - 24, 2018: Issue 348

2018 Surf Life Saving Sydney Northern Beaches Branch Championships Results:
Surf Boats and Masters
All eyes were on South Curl Curl men's open surf boat crew on Saturday at Elouera. They represented Australia in the Trans Tasman Tests against New Zealand crew Red Beach. The South Curly crew showed good form in the Ocean Thunder series and finished third at the SNB Branch Championships at Collaroy last Saturday.
The Avalon Beach Avocados (under 23 female) were chosen as the Australian Pathway crew and will race against New Zealand's Orewa Aces. It's a big three days for the Team Navy ASRL Open carnival.
Sydney Northern Beaches Branch also has four crews representing the NSW Interstate team. Palm Beach Patriots (open female), Newport Sea Cucumbers (reserve men), Avalon Beach Bandits (reserve women) and Queenscliff Red Rockets (under 19 female) have the honour of representing NSW on Friday.
NSW Surfboat Interstate Team Announced
Wednesday 7 February 2018

With a strong win in last year's event, the NSW Team will be pushing hard to go back-to-back at this years Interstate Surfboat Championships.
North Cronulla makes up three of the crews alongside Bulli's dominant Open Men and Palm Beach's Open Women, Avalon Beach Reserve Women, Newport Reserve Men and Queenscliff's U19 Women.
Its business as usual for Bulli Gelcon, Palm Beach Patriots and North Cronulla Funky crews who have been selected for their third consecutive year to represent NSW proving that consistency is key, especially with the point score selection carnivals held.
Greg Heard (Queenscliff) will be managing the team again this year along side Assistant Team Manager Lachlan Payne (Gerringong).
"The athletes are excited to be pulling on the sky blue cap to continue the recent successes of the NSW surf boat team," said Mr Heard.
The Interstate Surfboat Championships kicked off on Friday 16 February 2018 at Elouera SLSC, Sydney with all 8 divisions.
Shane Geloven, Sweep
Dean Roberts, Stroke
Heath Mercer, 2nd Stroke
Ben Lowe, 2nd Bow
Fraser Worthington, Bow
Open Women - Palm Beach Patriots
Peter Spence, Sweep
Verity Boulton, Stroke
Lucy Day, 2nd Stroke
Paparangi Hipango, 2nd Bow
Elly Reynolds, Bow
Reserve Men - Newport Sea Cucumbers
Rob Emerson, Sweep
Thomas Howes, Stroke
Tim Gunns, 2nd Stroke
Scott Quin, 2nd Bow
Tom Holland, Bow
Reserve Women - Avalon Beach Bandits
Peter Carter, Sweep
Ash Norman, Stroke
Rachel Strong, 2nd Stroke
Rebecca Elliott, 2nd Bow
Ellie Mackay, Bow
U23 Men - North Cronulla Funky
Mark McDonald, Sweep
Jackson Ford, Stroke
Tom Mailey, 2nd Stroke
Matt Workman, 2nd Bow
Matt Hammond, Bow
U23 Women - North Cronulla Micks Juggernaughts
Michael Hawkins, Sweep
Maddi McKinnery, Stroke
Layne Holloway, 2nd Stroke
Libby Holloway, 2nd Bow
Lauren Chadwick, Bow
U19 Men - North Cronulla Young Guns
Michael Hawkins, Sweep
Hugo Langton, Stroke
Ben Jessop, 2nd Stroke
Logan Barling, 2nd Bow
Will Fleming, Bow
U19 Women - Queenscliff Red Rockets
Damien Daley, Sweep
Sophie Berry, Stroke
Camryn Scott, 2nd Stroke
Willow Doyle, 2nd Bow
Lucy McIntyre, Bow
Julia Altenburger, Stroke
Congratulations to the Avalon Beach Avocados Trans Tasman Development Team
who took out their races in fine style on Saturday February 17th.
They went out and completely dominated the NZ girls today representing Australia as the U23 Development crew. Winning 3/3 races our Avalon girls did the country proud by helping bring home the Trans Tasman Cup. Australia won in a clean sweep!

Congratulations too to South Curly Open Men's Boat Crew ; Mike Egan, Jordan Thurlow, Chris Hughes and Trent Rogers, sweep Rob Lowery - well rowed!
Congratulations as well to the winners of the 2018 Interstates - NEW SOUTH WALES!
NSW won on countback against arch rivals, Queensland.
1st - NSW
2nd - QLD
3rd - SA
4th - WA
5th - VIC
6th - TAS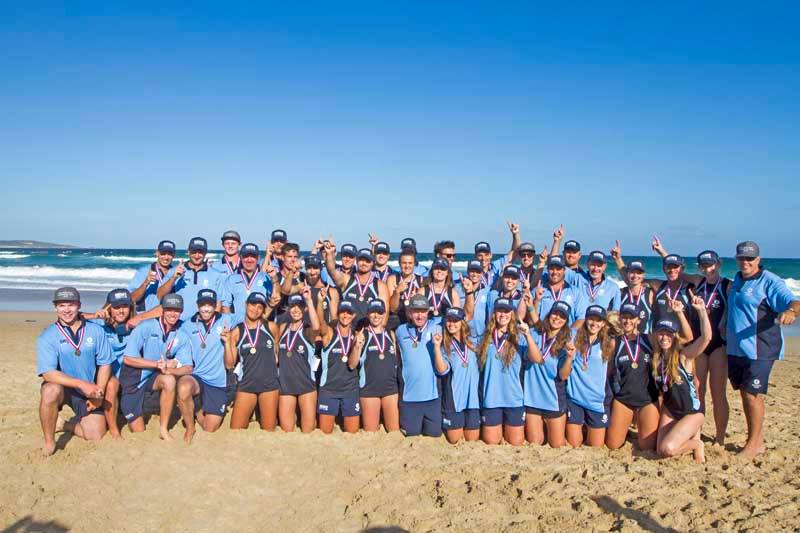 The NSW Interstates Team - photo by Bill Sheridan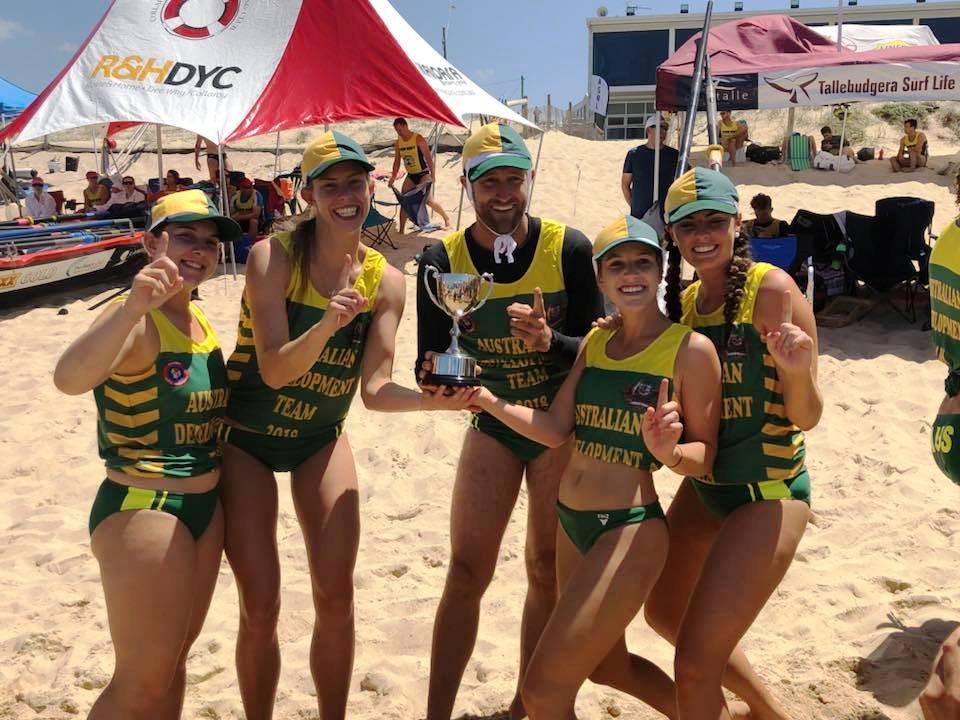 Avalon Beach SLSC's Avocados - U23 Women - Sweep Nathan Wellings, Bow Ellie Di Biagio, 2nd Bow Lauren Petersen, 2nd Stroke Chloe Scott, Stroke Amelia Barber. Photo courtesy Avalon Beach SLSC
2018 SNB Branch Championships Results: Surf Boats
1. Avalon Beach Chanels.
2. South Curl Curl B's
3. Queenscliff Red Rockets
4. Mona Vale Assisted Drifters
5. North Curl Curl Team A
1. Palm Beach Pickles Ricks
2. Queenscliff 10 Dollar Steaks
4. South Curl Curl Stickers
5. Avalon Beach Puddlemakers
1. Newport Whiprps
2. Palm Beach Peas
3. Avalon Beach Avocados
4. Nth Narrabeen Nuggets
5. South Curly Girlys
6. Palm Beach Pussycats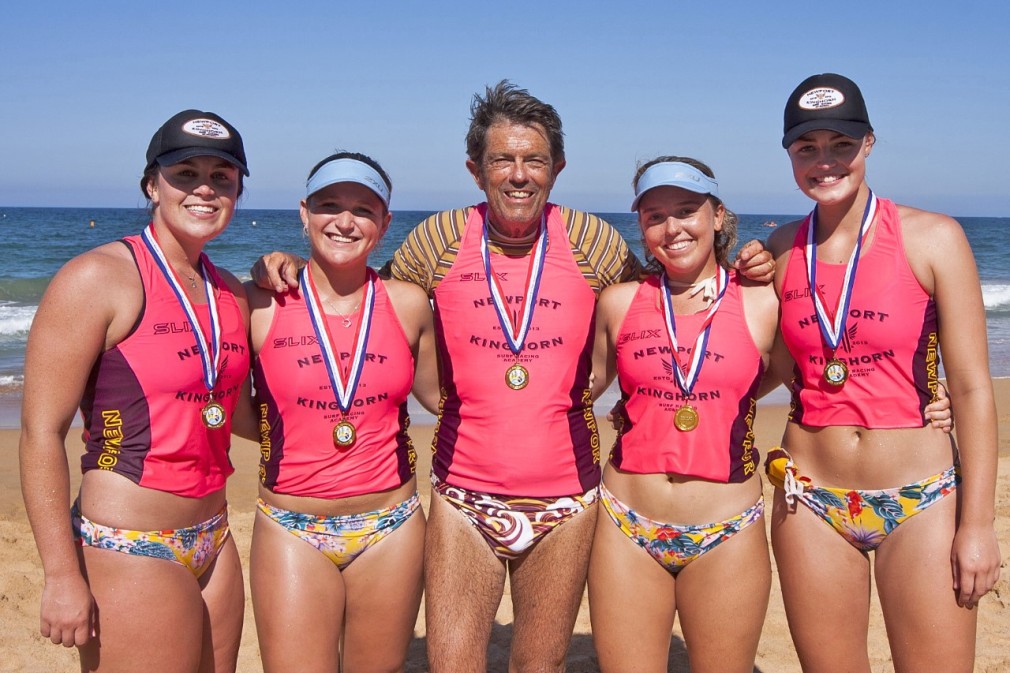 6. Queenscliff Realty Kings
1. North Narrabeen Broad Beans
2. Palm Beach Patriots
3. Queenscliff All Butt One
4. Palm Beach Pumas
5. Avalon Beach Amigos
6. Dee Why Team A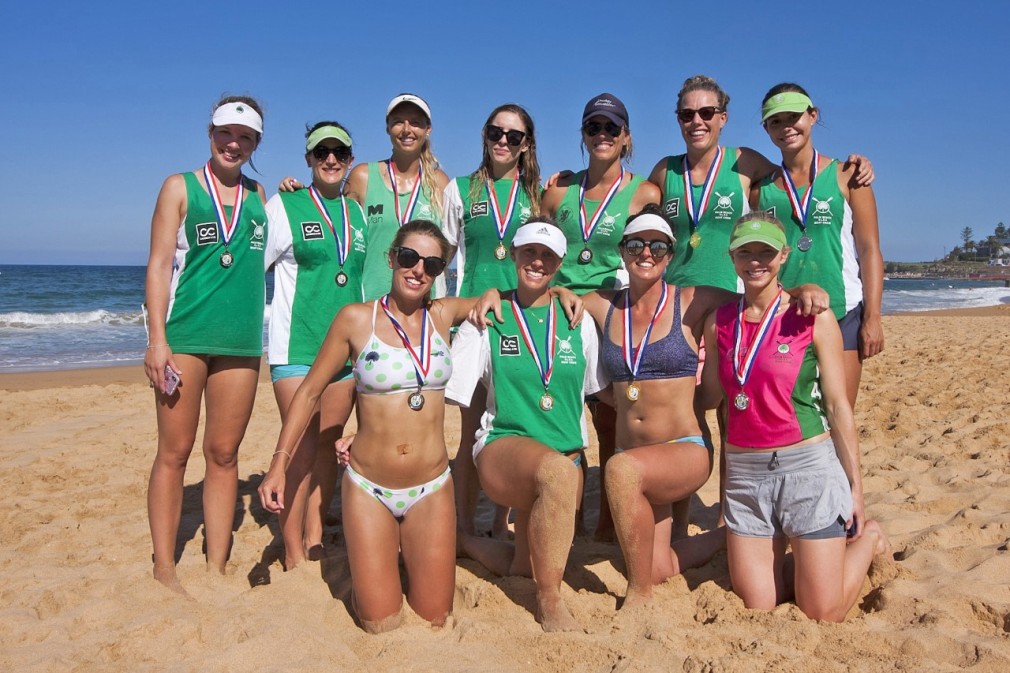 Palm Beach SLSC Womens Winners
1. Palm Beach Pigeons
2. Mona Vale Rocks
3. South Curl Curl Deathriders
4. North Steyne Nomads
5. Newport Hellfish
6. Long Reef Garricks
1. Avalon Beach Bandits
2. Palm Beach Pineapples
3. Palm beach Part Timers
4. Collaroy Nippers
5. North Narrabeen Baquetes
6. Whale Beach Flying Fish
2. North Narrabeen Smokos
4. South Curly Sneaky Nuts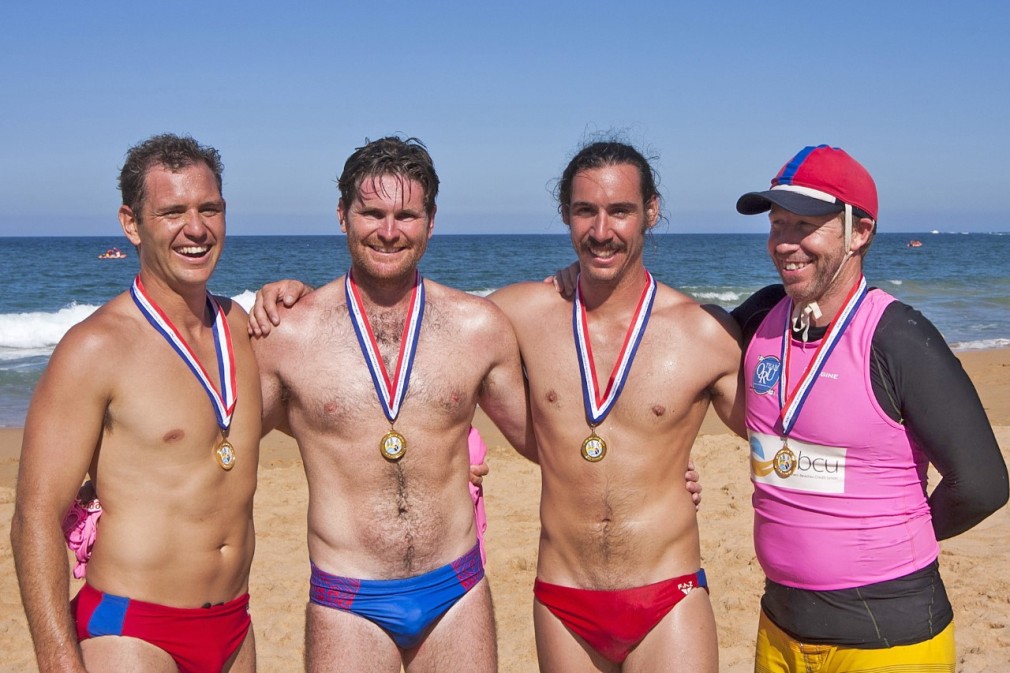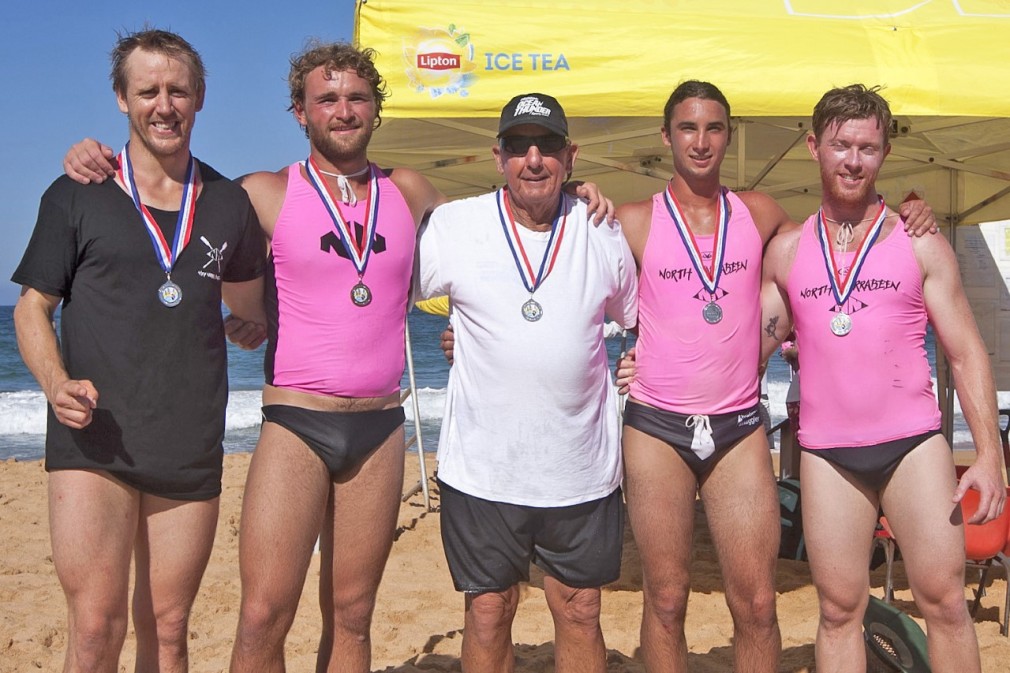 1. Queenscliff All Butt One
Masters Female 160 years.
1. Avalon Beach DB's
2. Long Reef MS Mits
1. Avalon Beach Towballs.
2. Manly Ferries
1. Nth Narrabeen Darts.
2. Nth Curl Curl Team A
1. Avalon Beach Antiques
2. Warriewood Rustys.
1. Bilgola Older
2. Nth Steyne Tigers
3. Avalon Beach Cogs
4. Avalon Clown Show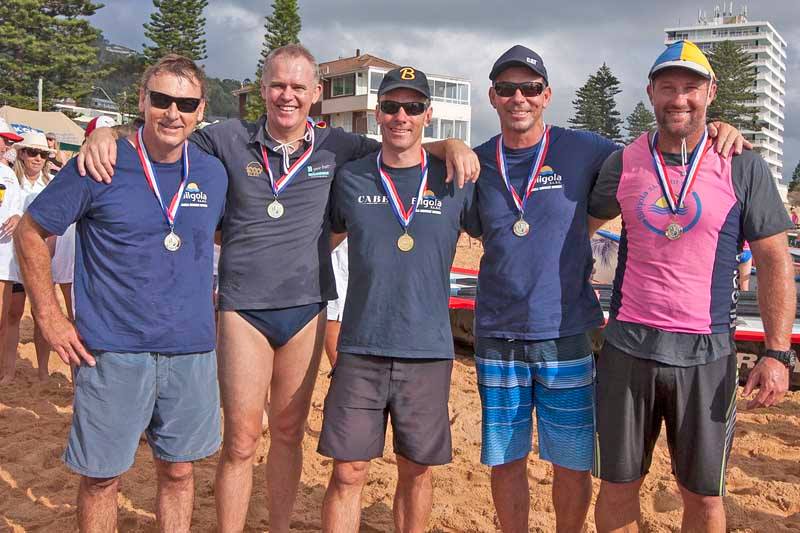 Bilgola Older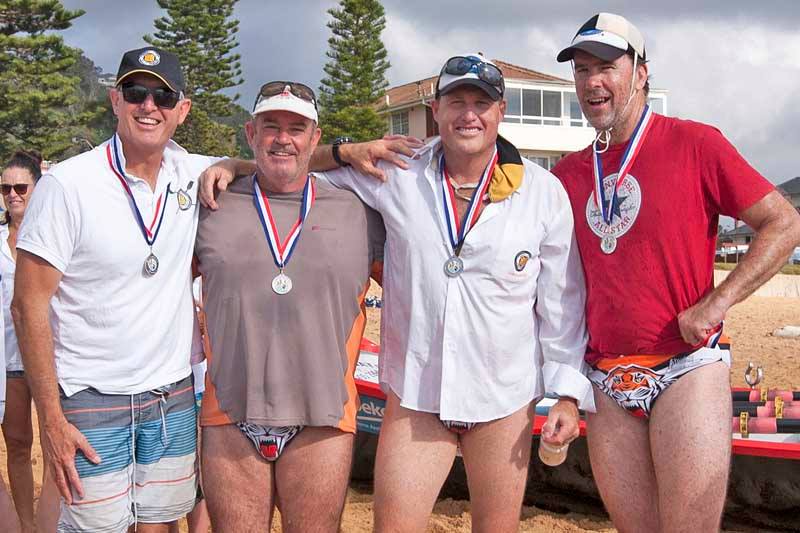 North Steyne Tigers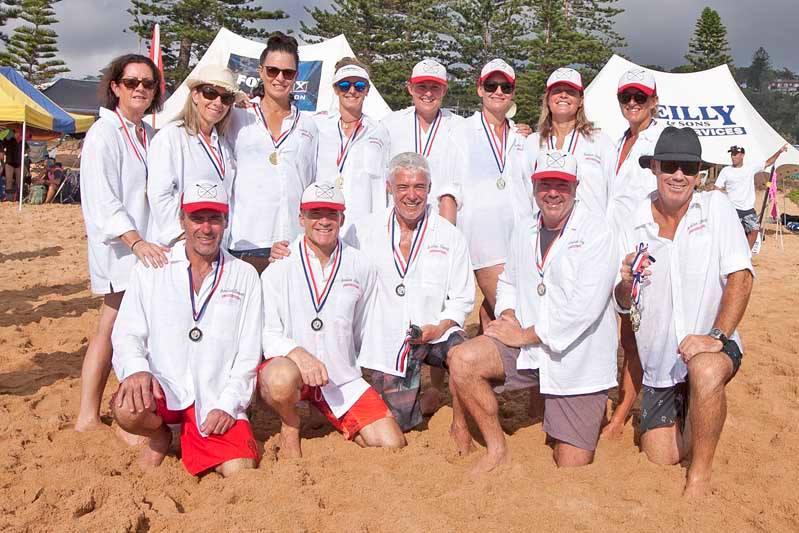 Back: Avalon Beach Antiques and Avalon Beach DB's
Front: Avalon Beach Cogs and Avalon Clown Show
1. North Steyne Pacemakers.
1. Long Reef Vets
1. Queenscliff Mouldy Muffins
2. Warriewood Crustys
3. Freshwater 240 years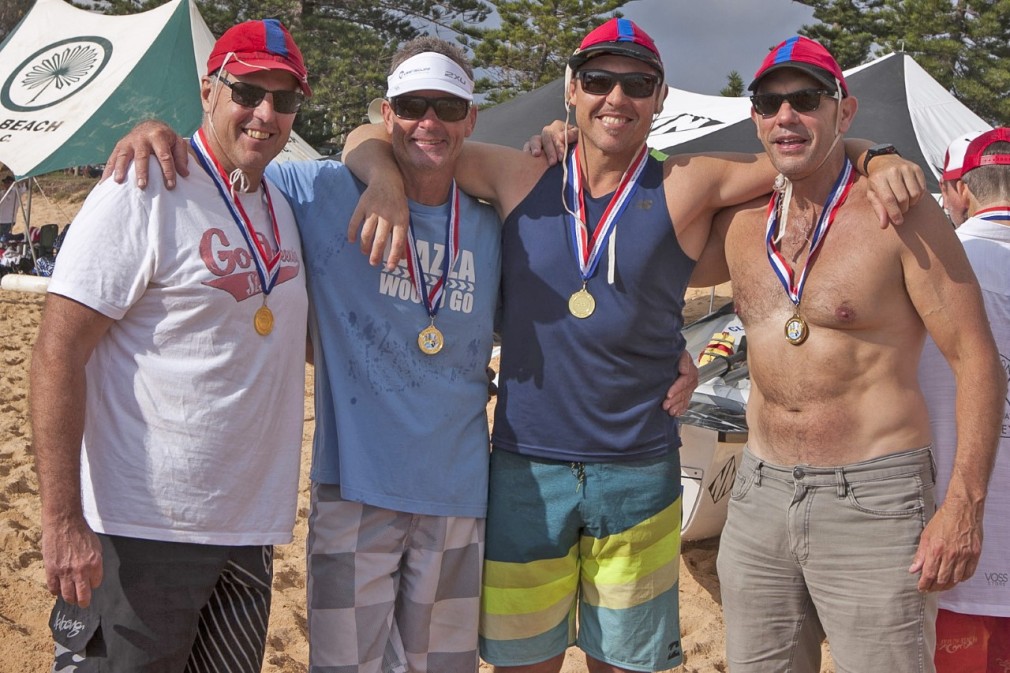 Queenscliff Mouldy Muffins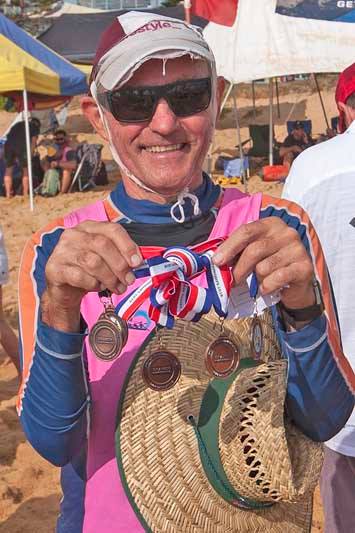 1. South Curl Curl
2. Palm Collaroy Beach
3. Collaroy.
4. Queenscliff
5. Avalon Beach.
6. Mona Vale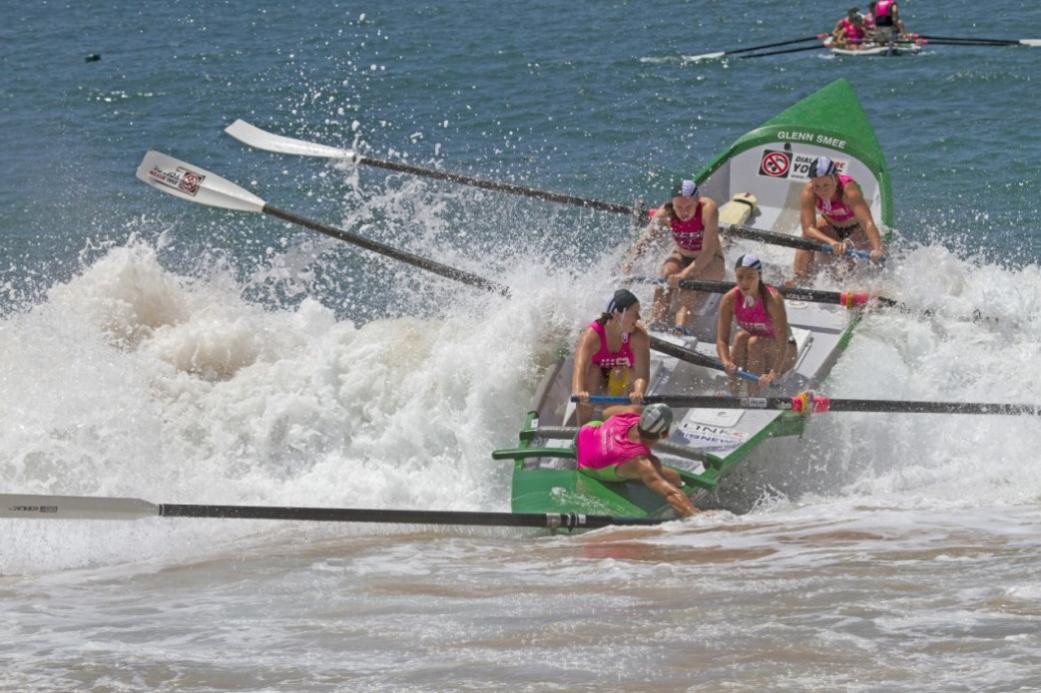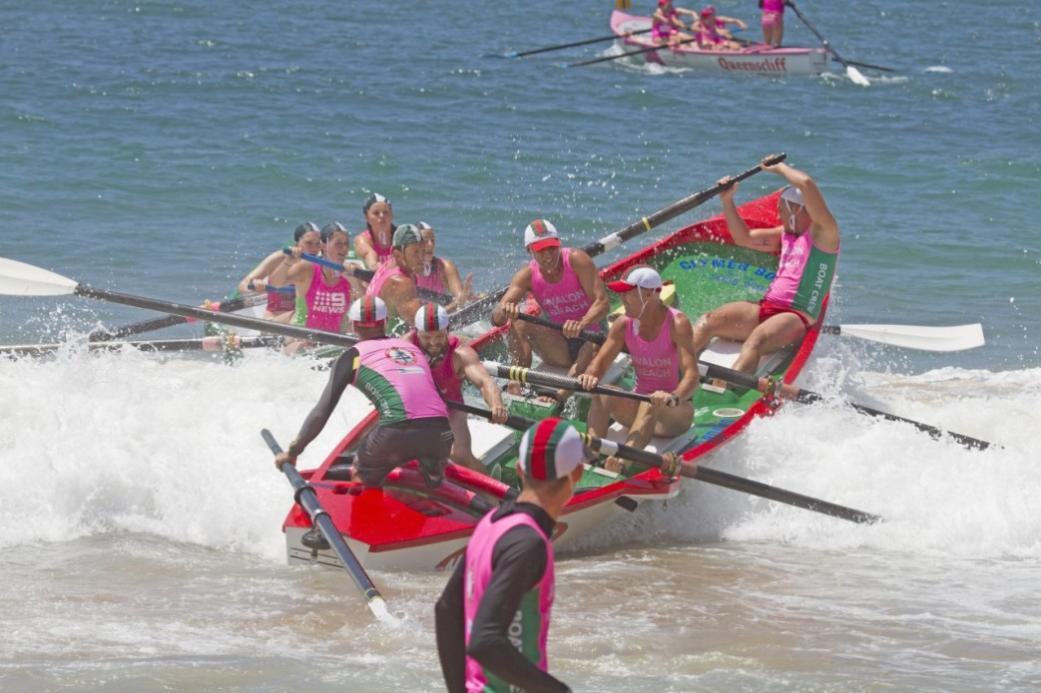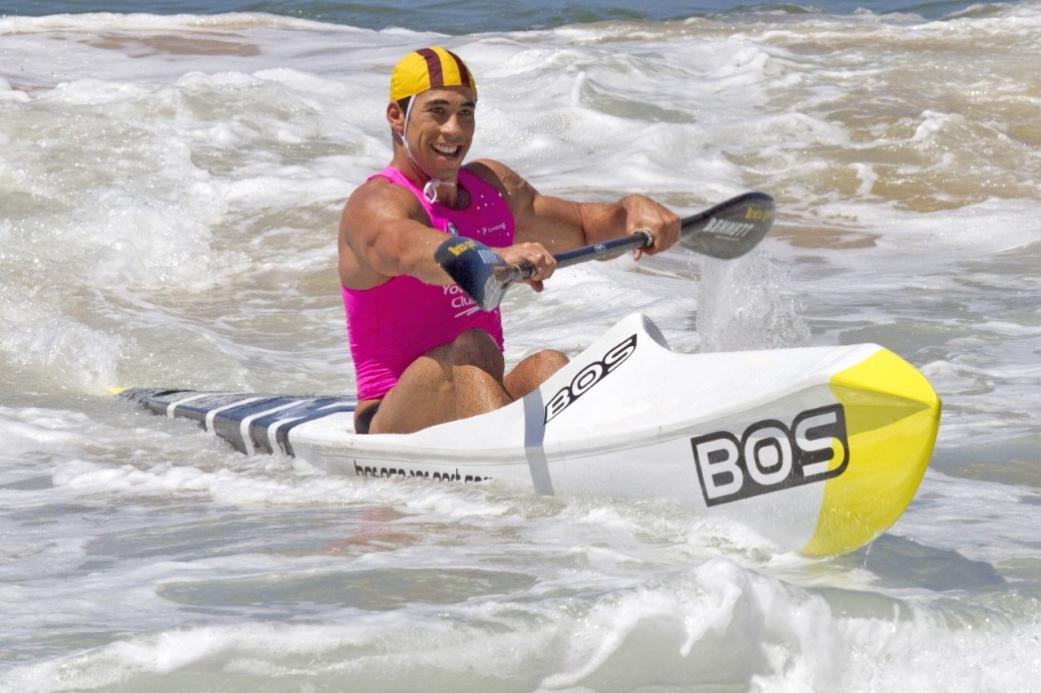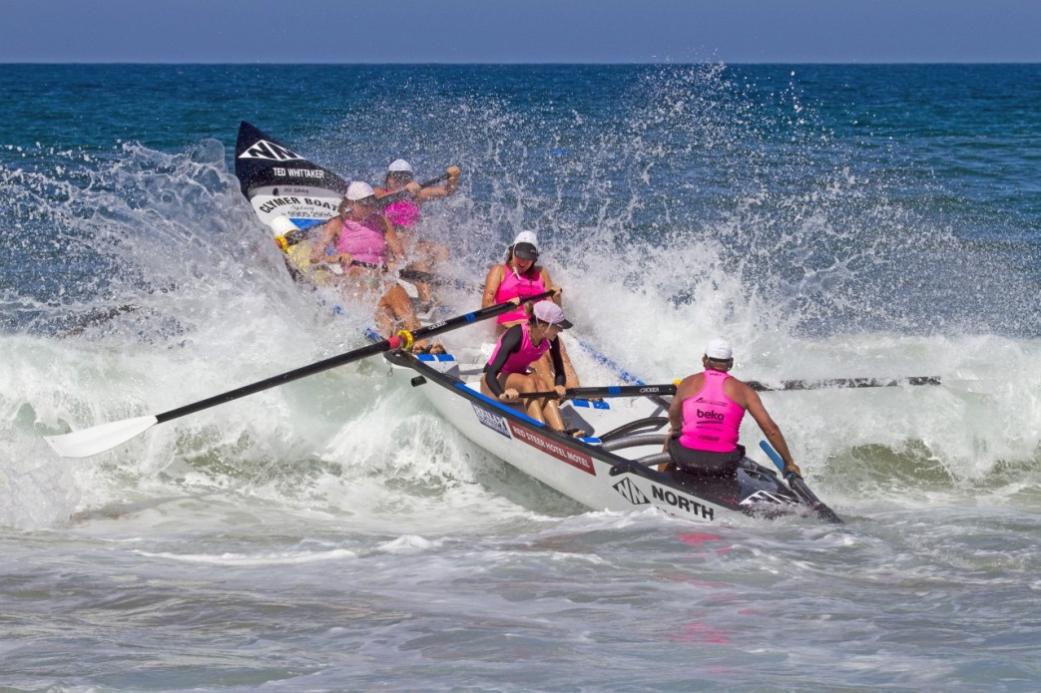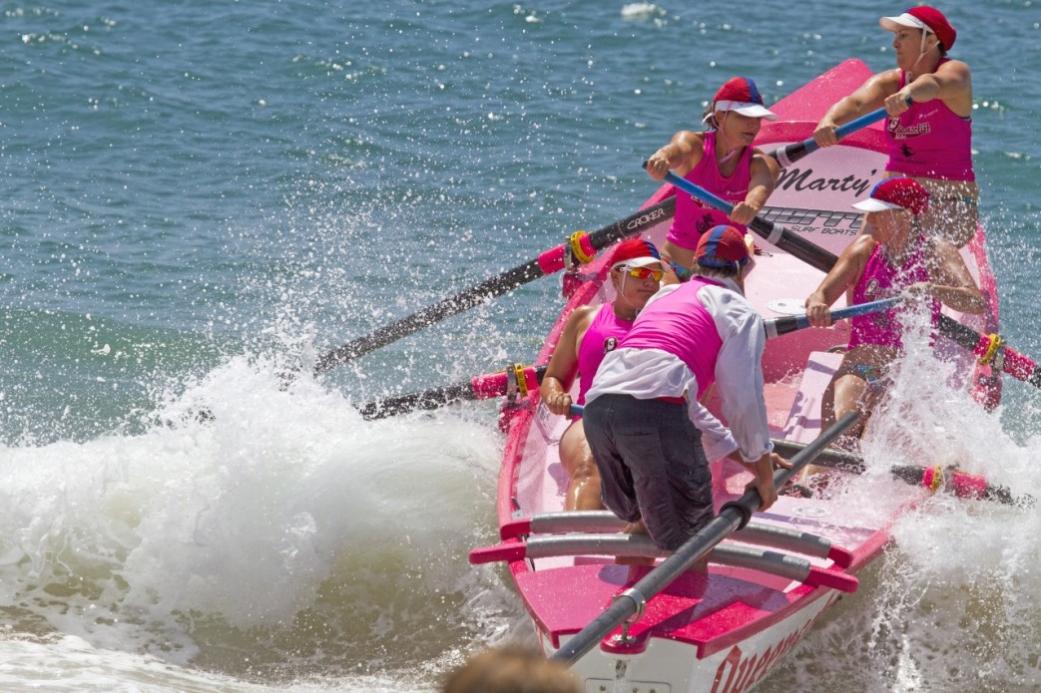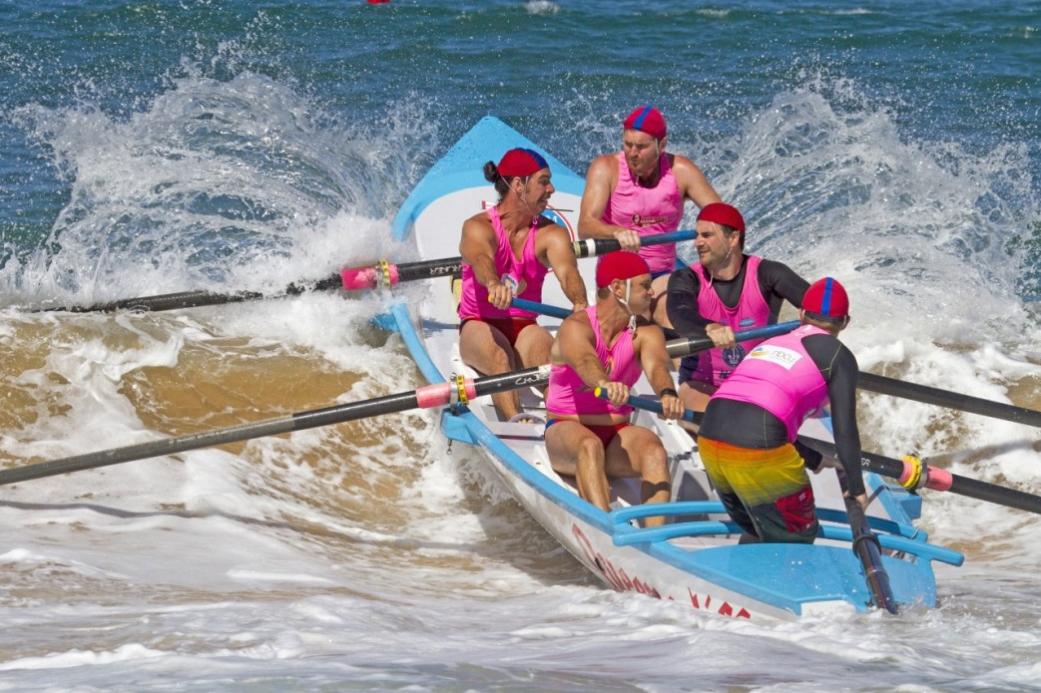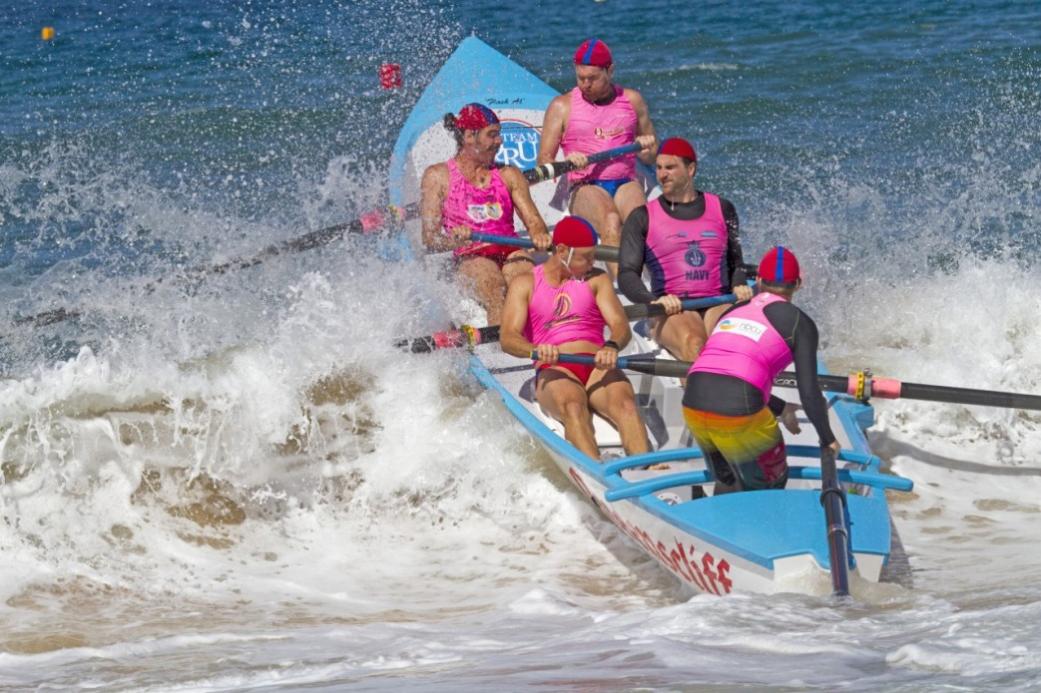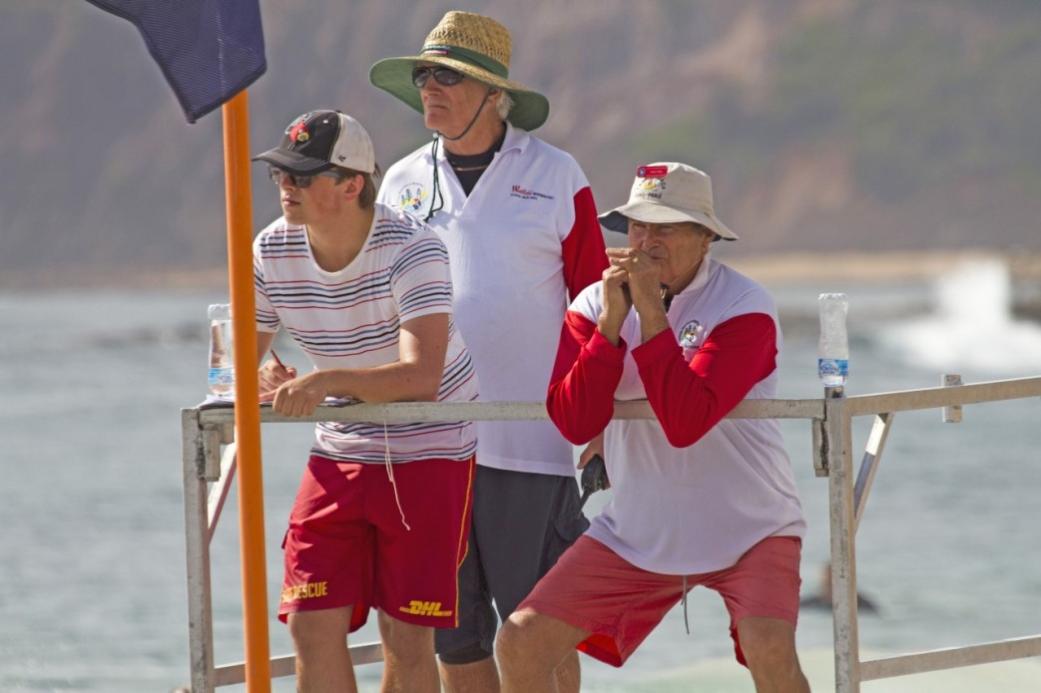 Sydney Northern Beaches Branch Championships
Masters
Results - February 3rd And 11th
30-34: Ayman Haggag (Dee Why), Glenn Coltman (Nth Curl Curl)
40-44: Sigi Hill (Freshwater), Jamie Ryan (Nth Narrabeen)
45-49: Ashley Brown (Avalon), Chris Tyrell (Freshwater), Josh Ferrett (Queenscliff), Jeremy Ferguson (Dee
Why), Simon Harper (Mona Vale)
50-54: Andrew de Vries (Freshwater), Darren Warrener (Avalon)
55-59: Mark Houston (Manly), Ross Birch (Nth Steyne)
60-64: John Platt (Manly), Phil Bird (Queenscliff)
65-69: Alan Burns (Freshwater)
70+: Danny White (Queenscliff), Doug Ferris (Palm Beach)
30-34: Trina Evans (Manly)
35-39: Jen Spencer (Warriewood), Kim Henderson (Nth Curl Curl), Melanie Thomas (Manly)
50-54: Linda Wiadrowski (Freshwater)
55-59: Lisa Critoph (Mona Vale), Di Van ooi (Palm Beach)
110 Years: Queenscliff
130 Years: Freshwater, Mona Vale A, Dee Why, Nth Narrabeen, Mona Vale B
150 Years: Avalon, Newport, Manly, Palm Beach
170 Years: Manly, Queenscliff, Dee Why
130 Years: Manly, Mona Vale
150 Years: Mona Vale, Freshwater
170 Years: Palm Beach, Newport
30-34: Glenn Coltman (Nth Curl Curl),
40-44: Sigi Hll (Freshwater), Peter Wells (Narrabeen)
45-49: Ashley Brown (Avalon), Simon Phin (Freshwater), Saul Brown (Palm Beach), Craig Manning (Mona Vale)
50-54: Anthony Viecelli (Manly), Peter Ingles (Manly), Adriaan van der Wallen (Palm Beach), David Spencer
(Mona Vale), David Jones (Nth Curl Curl)
55-59: Nick Carroll (Newport)
60-64: Chris McGuckin (Avalon), Paul Storman (Freshwater), Phil Bird (Queenscliff), Tim Platt (Nth Steyne)
70+: Danny White (Queencliff)
35-39: Kim Henderson(Nth Curl Curl), Melanie Thomas (Manly)
40-44: Mel Brock (Manly)
45-49: Kris Monnock (Mona Vale)
55-59: Linda Wiadrowski (Freshwater), Karen Begg (Palm Beach)
60+: Annabel Chapman (Palm Beach)
130 Years: Manly (Gibb/Ellison/Busse), Queenscliff (Bird/Maker/Allum), Nth Curl Curl (Coltman/Slater/ Stuart),
Freshwater (Kirkby/Phin/Tyrell), Mona Vale (Spencer/Munro/Sims), Nth Narrabeen (Ryan/Byrnes/Marshall)
150 Years: Queenscliff A(Dean/Nankervis/Hart), Queenscliff B(Henderson/Hayes/Ferrett), Manly A (Hood/
Edmonds/Ingle), Manly B (Morgan, McGrath, Joyce), Narrabeen (Wells, Townsend, Grimes)
170 Years: Newport (Carroll/Flood/Ansiewicz), Dee Why A(Marshall/Crittle/Wiley), Manly
(Houston/Viecelli/Platt), Avalon (Warrener/ McGuckin/ Richardson), Queenscliff(White/Stennett/Lai), Dee Why B
(Sharkey/Quinn/ Hannam)
110 Years: Manly (Macleod/Moon/Brockwell)
130 Years: Mona Vale A (Monnock/Tocquer/Stokes), Mona Vale (Bray/Layard/Critoph)
150 Years: Manly (Watts/Ingle/Davies), Freshwater (McConnell/Dyer/Wiadrowski)
170 Years: Palm Beach (Begg/Chapman/Van ooi), Newport (Alston/Hopton/Nailler)
30-34: Chris Allum (Queensciff), Glen Coltman (Nth Curl Curl)
35-39: Jim Morrison (Mona Vale)
40-44: Bryce Munro (Mona Vale), Sam Hart (Queenscliff), Chris Maher (Queenscliff)
45-49: John Thomson (Manly), Simon Phin (Freshwater), Nick Edmonds (Manly), Nick William (Manly), Claude
Busse (Manly)
50-54: Anthony Viecelli (Manly), Dave Slennett (Queenscliff), Chris Morgan (Manly), Michael McGrath (Manly),
Grant Henderson (Queenscliff), Jeremy Lai (Queenscliff)
55-59:Mark Byrnes (Nth Narrabeen), Geoff Crittle (Dee Why), Nick Carroll (Newport), Peter Grimes (Narrabeen),
Joseph Badoui (Manly)
60-64: Steve Bennett (Freshwater), Kevin Flood (Newport), Marty Quinn (Dee Why), Tony Way (Palm Beach),
Steve Davis (Freshwater)
70 +: Peter Sledge (Palm Beach), Rob Berry (Palm Beach)
35-39: Kim Henderson (Nth Curl Curl), Mel Thomas (Manly), Jen Spencer (Warriewood)
40-44: Mel Brock (Manly), Sophie Stokes (Mona Vale)
45-49: Kris Monnock (Mona Vale), Paula Tocquer (Mona Vale)
50-54: Lisa Layard (Mona Vale)
55-59: Chris Hopton (Newport), Karen Begg (Palm Beach)
60-64: Annabel Chapman (Palm Beach)
30-34: Chris Allum/Sam Hart (Queenscliff)
35-39: Munro/Morrison (Mona Vale)
40-44: Thompson/Gibbs (Manly), Maher/Halliday (Queenscliff), Carey/Whittaker (Queenscliff),
Morton/Wegenaar (Nth Curl Curl)
45-49: Slater/Heaton(Nth Curl Curl), Phin/Kirkby (Freshwater), Van der Wallen/Brown (Palm Beach),
Edmonds/Williams (Manly), Byrnes/Marshall(Nth Narrabeen)
50-54: Viecelli/Ingle (Manly), Henderson /Slennett (Queenscliff), Lai/Clare-Nazer (Queenscliff)
55-59: Crittle/Hatfield (Dee Why A), Sharkey/Wylie (Dee Why B)
60-64: Bennett/Davis (Freshwater), Quinn/Marshall (Dee Why)
40-44: Crawford/Davies (Manly)
45-49: Tocquer/Monnock (Mona Vale)
110 Years: Queenscliff (Allum/Carey/Clare-Nazer), Mona Vale (Munro/Morrison/Sims), Nth Curl Curl (Heaton/
Slater/Coltman)
130 Years: Manly (Gibbs/Ingle/Ellison), Queenscliff (Maher/Hart/Halliday), Manly (Thomson/Edmonds/Morgan),
Nth Narrabeen (Byrnes/Tyson/Marshall)
150 Years: Queenscliff (Slennett/Henderson/Lai), Manly (McGrath/William/Viecelli), Freshwater (Kirkby/Phin/
Bennett), Manly (Badoui/Busse/Boris), Narrabeen (Grimes/Wells/Townsend), Palm Beach (Van der Wallen/
Wiadrowski/Brown)
170 Years: Dee Why A (Crittle/Hatfield/Wylie), Newport (Carroll/Flood/Borg), Dee Why B
(Marshall/Quinn/Sharkey), Queenscliff (Townsend/Bird/ Whittaker), Manly (Bochner/Haskins/Platt), Palm Beach
(Webster/Sledge/Way)
110 Years: Manly (Crawford/Davies/Brock)
130 Years: Mona Vale (Tocquer/Monnock/Stokes)
170 Years: Palm Beach (Chapman/Nelson/Begg)
30-34: Glenn Coltman (Nth Curl Curl)
40-44: Peter Wells (Narrabeen), Laurence McCoy (Newport), Kurt Wegenaar (Nth Curl Curl), Tim Woolnough
(Mona Vale), Andrew Webster (Palm Beach)
45-49: Peter Ingle (Manly), Ashleigh Brown (Avalon), Chris Pendray (Freshwater), Glenn Slater (Nth Curl Curl),
Matt Heaton (Nth Curl Curl), Saul Brown (Palm Beach)
50-54: Michael Kirkby (Freshwater), Adriaan Van der Wallen (Palm Beach), David Spencer (Mona Vale), Warren
Hannam (Dee Why), Glen Borg (Newport), Grant Salmon (Avalon)
55-59: Nick Carroll (Newport), Andrew Stuart (Nth Curl Curl), Craig Hood (Manly), Peter Sharkey (Dee Why),
Mark Anciewicsz (Newport), Ross Bidencope (Avalon)
60-64: Kevin Flood (Newport), Phil Bird (Queenscliff), Chris McGuckin (Avalon), Marty Quinn (Dee Why), Steve
Davis (Freshwater), Tim Platt (North Steyne)
65-69: Bob Richardson (Avalon)
70+: Doug Ferris (Palm Beach), Danny White (Queenscliff)
35-39: Kim Henderson (North Curl Curl), Jen Spencer (Warrewood), Melanie Thomas (Manly), Beata Bray (Mona
Vale)
40-44: Sophie Stokes (Mona Vale), Mel Brock (Manly)
45-49: Kris Monnock (Mona Vale)
50-54: Lise Layard (Mona Vale), Hilary Ingle (Manly), Jane McLeod (Manly)
55-59: Gina McConnell (Freshwater), Karen Begg (Palm Beach), Chris Hopton (Newport), Lisa Critoph (Mona
Vale)
60-64: Annabel Chapman (Palm Beach)
40-44: Freshwater (Hill/Kirkby), Nth Curl Curl (Wegenaar/Stuart), Mona Vale ) (Munro/Manning)
45-49: Freshwater (Deurics/Tryrell), Avalon (Brown/Warrener), Palm Beach (Van der Wallen/Brown), Nth Curl
Curl (Slater/Heaton), Manly (Busse/Haskins)
50-54: Manly (Viecelli/Ingles), Dee Why (Wylie/Hannam)
55-59: Newport (Carroll/ Anciewicsz), Manly (Hood/Houston), North Steyne (Neighbour/Birch)
60-64: Freshwater (Davis/Storman), Avalon (McGuckin/Richardson)
70+: Queenscliff (Kwanten/White)
35-39: Mona Vale (Bray/Critoph)
40-44: Mona Vale (Monnock/Stokes)
55-59: Palm Beach (Chapman/Begg), Freshwater (McConnell/Wiadrowski)
130 Years: North Curl Curl (Stuart/Heaton/Coltman), Manly (Thomson/Busse/Williams), D/H Queenscliff (Lai/
Allum/Nankervis)/Mona Vale (Spencer/Manning/Munro), Freshwater (Hill/Tyrell/Block), Narrabeen
150 Years: Freshwater (Phin/Kirkby/Pendray), Manly (Viecelli/Edmonds/Ingle), Avalon (Brown/Pinhero/Salmon),
Newport (Flood/McCoy/Carroll), Dee Why, North Curl Curl
170 Years: Manly (Hood/Platt/Haskins), Queenscliff (Bird/Hayes/Dean), Dee Why (Quinn/Sharkey/Hannam),
Avalon (McGuckin/Richardson/Warrener), Palm Beach (Way/Van de Wallen/Wiadrowski), Nth Steyne (Birch/
Mathew/Platt)
110 Years: Manly (Moon/Brock/Davies)
130 Years: Mona Vale A (Monnock/Stokes/Layard), Mona Vale B (Gipoph/Tocquer,/Bray)
150 Years: Manly (Ingle, McLoud, Watts)
170 Years: Freshwater (McConnell/Gamble/Wiadrowski), Palm Beach (Begg/Van ooi/Chapman), Newport
(Maille/Alston/Hopkins)
30-34: Ayman Haggag (Dee Why)
40-44: Sigi Hill (Freshwater), Andrew Webster (Palm Beach), Jamie Ryan (Nth Narrabeen), Bob Richardson
(Avalon)
45-49: Chris Tyrell (Freshwater), Glenn Slater (North Curl Curl), Ashley Brown (Avalon), Saul Brown (Palm
Beach), Simon Phin (Freshwater), Jeremy Ferguson (Dee Why)
50-54: Andrew de Vries (Freshwater), Adriaan van der Wallen (Avalon), Warren Hannam (Dee Why)
55-59: Cam Wylie (Dee Why), Mark Anciewicsz (Newport), Mark Houston (Manly), Ross Birch (Nth Steyne)
60-64: Paul Storman (Freshwater), John Platt (Manly), Tim Platt (Nth Steyne)
70+: Dany White (Queenscliff)
35-39: Kim Henderson (Nth Curl Curl), Trina Evans (Nth Narrabeen), Beata Bray (Mona Vale)
45-49: Kris Monnock (Mona Vale), Lisa Critoph (Mona Vale)
55-59: Gina McConnell (Freshwater), Karen Begg (Palm Beach), Di Van Ooi (Palm Beach)
60+: Annabel Chapman (Palm Beach)
35-39: Steve Hatch (Newport), Joseph Iemma (Queenscliff), Mark Lancaster (Palm Beach), Ben Anderson (Palm
Beach)
40-44: Rubin Ruzicka (Newport), Ben Hargy (Warriewood), Andrew Webster (Palm Beach), Jayson Elkins
(Queenscliff), Gero Farruggio (Queenscliff)
45-49: Adam Gee (Warriewood), James Leggett-Budden (Warriewood)
50-54: Michael Gedz (Queenscliff), Brian Dolly (Queenscliff), Steve Hoy (Queenscliff), Glen Bauder
(Warriewood), Greg Gardner (Queenscliff), Simon Dorahy (Queenscliff)
55-59:Nigel Kassulke (Manly), Steve Nelson (Queenscliff), Ross Collins (Queenscliff), Greg McHugh (Newport),
Ian Johnston (Queenscliff), Mark Neighbour (Nth Steyne), Tim Gates (Palm Beach) DH
David Shearsby (Queenscliff), Paul Mathew (Nth Steyne), Tim Platt (Nth Steyne), Tony Way (Palm Beach)
65-69: Ted Smithies (Newport), Martin Lynch (Newport)
35-39: Katrina Evans (Nth Narrabeen), Melanie Thomas (Manly)
40-44: Sophie Stokes (Mona Vale), Karen Ingram (Mona Vale), Gemma Eastwood (Newport), Sarah Sherlock
(Palm Beach)
45-49: Kris Monnock (Mona Vale), Annabel Nelson (Queenscliff), Gabrielle Davis (Queenscliff)
50-54: Robyn Henderson (Queenscliff), Philippa Wight (Collaroy), Michelle Hoy (Queenscliff), Lise Layard (Mona
Vale), Suzanne Brown (Queenscliff), Melissa Way (Queenscliff)
55-59: Merrilee Linegar (Queenscliff), Linda Burrell (Queenscliff), Carol Forlonge (Bilgola), Karen Begg (Palm
Beach), Caroline Yarnell (Nth Steyne)
60-64: Kathryn Watts (Manly), Kerry Armstrong (Collaroy), Annabel Chapman (Palm Beach)
140 Years: Queenscliff (Iemma/Johnston/Dorahy/Elkins)
170 Years: Warriewood (Gee/Hargy/Bauder/Leggatt-Budden), Queenscliff (Dolly/Bird/Hoy/Collins)
200 Years: Queenscliff (Gardner/Gedz/Shearsby/Nelson), Newport, Palm Beach (Gates/Anderson/Way/Webster)
140 Years: Queenscliff (Brown/Way/Hoy/Burrell)
170 Years: Mona Vale
200 Years: Queenscliff (Linegaar/Nelson/Henderson/Davies), Palm Beach (Sherlock/Begg/Chapman, Ray),
Collaroy (Kawasaki/Armstrong/Wight/Hart)
35-39: Mark Lancaster (Palm Beach), Ben Anderson (Palm Beach)
40-44: Ben Hargy (Warriewood), Andrew Webster (Palm Beach), Jayson Elkins (Queenscliff), Gero Farruggio
(Queenscliff)
45-49: Adam Gee (Warriewood), James Leggett-Budden (Warriewood)
50-54: Michael Gedz (Queenscliff), Greg Gardner (Queenscliff), Brian Dolly (Queenscliff), Glen Bauder
(Warriewood)
55-59: Steve Nelson (Queenscliff), Greg McHugh (Newport), Ian Johnston (Queenscliff), Tim Gates (Palm
Beach), Mark Neighbour (Nth Steyne
60-64: Tim Platt (Nth Steyne), Paul Mathew (Nth Steyne)
65-69: Martin Lynch (Newport), Ted Smithies (Newport)
35-39: Katrina Evans (Nth Narrabeen), Melanie Thomas (Manly)
40-44: Karen Ingram (Mona Vale), Gemma Eastwood (Newport), Sophie Stokes (Mona Vale), Sarah Sherlock
(Palm Beach)
45-49: Kris Monnock (Mona Vale), Annabel Nelson (Queenscliff), Gabrielle Davis (Queenscliff)
50-54: Robyn Henderson (Queenscliff), Philippa Wight (Collaroy), Lise Layard (Mona Vale), Miho Kawasaki
(Collaroy), Fiona Rae (Palm Beach), Melissa Way (Queenscliff)
55-59: Merrilee Linegar (Queenscliff), Karen Begg (Palm Beach), Carol Forlonge (Bilgola), Linda Burrell
(Queenscliff)
60-64: Annabel Chapman (Palm Beach), Kerry Armstrong (Collaroy)
30-34: Quentin Reeve (Palm Beach)
35-39: Ben Anderson (Palm Beach)
40-44: Kurt Wegenaar (Nth Curl Curl), Gero Farruggio (Queenscliff), Andrew Webster (Palm Beach)
55-59: Tim Gates (Palm Beach)
35-39: Melanie Thomas (Manly), Katrina Evans (Nth Narrabeen)
40-44: Sarah Sherlock (Palm Beach)
50-54: Hilary Ingle (Manly), Miho Kawasaki (Collaroy), Suzanne Brown (Queenscliff), Melissa Way (Queenscliff)
55-59: Caroline Yarnell (Nth Steyne)
60-64: Tim Platt (Nth Steyne), Tony Way (Palm Beach)
60-64: Kathryn Watts (Manly), Kerry Armstrong (Collaroy), Annabelle Chapman (Palm Beach)
160 Years: Avalon Beach Towballs, Manly Ferries
180 Years: North Narrabeen Darts, North Curl Curl Team A
200 Years: Bilgola Older, North Steyne Tigers, Avalon Beach Clogs, Avalon Beach Clown Show
220 Years: Queenscliff Mouldy Muffins, Warriewood Crustys, Freshwater 240 Years
260 Years: Long Reef Vets
240 Years Mixed: North Steyne Pacemakers
120 Years: Queenscliff All Butt One
160 Years: Avalon Beach DBs, Long Reef MS Mits
200 Years: Avalon Beach Antiques, Warriewood Rustys
40-49: Guyren Smith (Newport) 109, Timothy Culbert (Manly) 101
30-39: Melanie Thomas (Manly) 101.25, Rhani-lee Payne (Manly) 81
40-49: Janet Proudfoot (Newport) 109.25
50-59: Deborah Foote (Nth Steyne) 113.5
Photos by Bill Sheridan, 2018