April 30 - May 6, 2017: Issue 310
Pittwater Athletes Excel at 2017 World Masters Games in New Zealand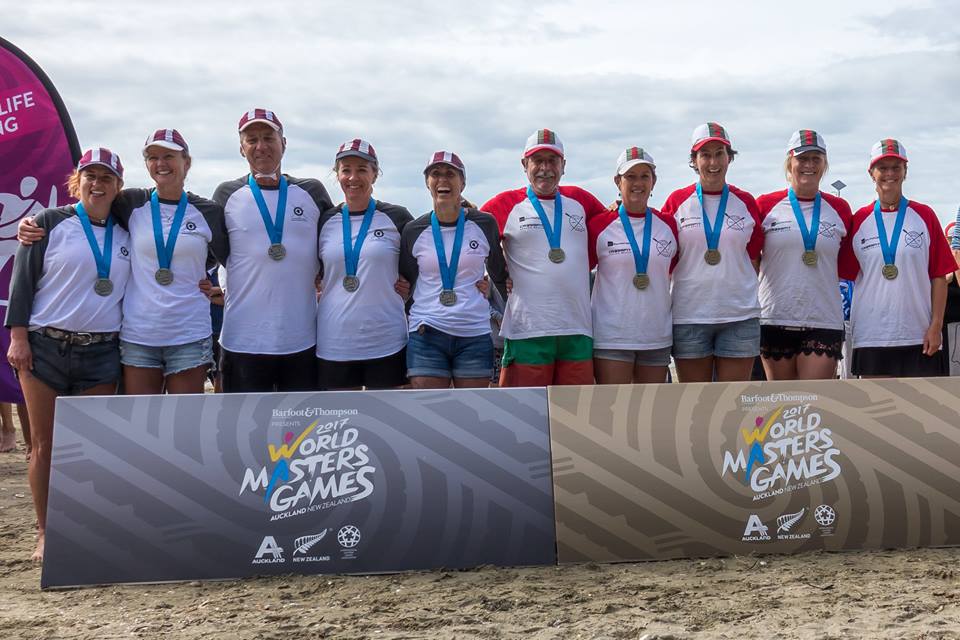 Warriewood SLSC's Rustys and Avalon Beach SLSC's Antinques- Silver and Gold at 2017WMG.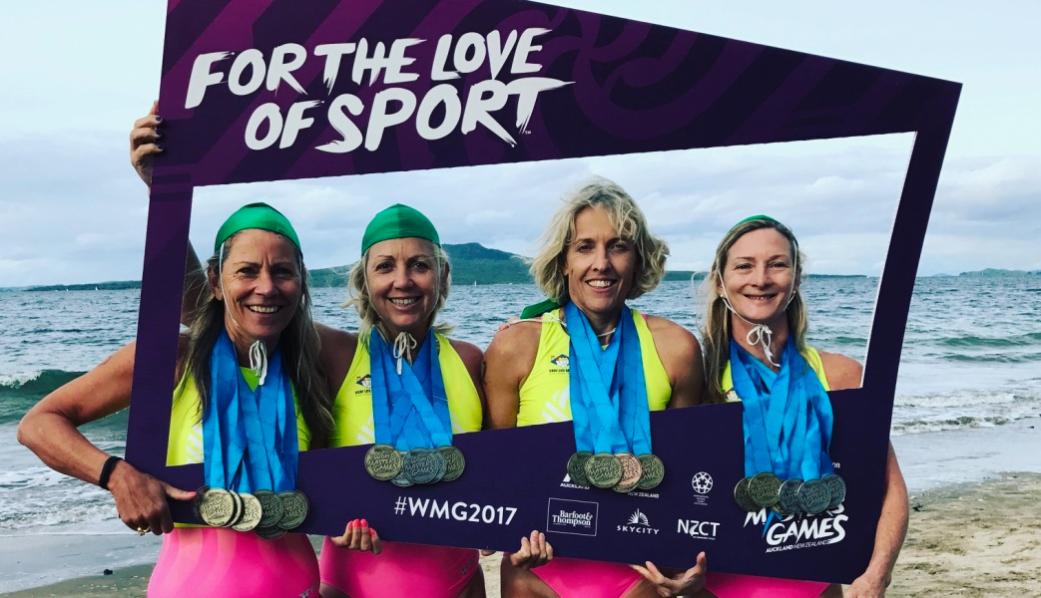 Palm Beach SLSC's Golden Girls: Annabelle Chapmane, Di van Ooi, Fi Rae and Karen Begg.
The World Masters Games 2017 have and are taking place in Auckland New Zealand from 21-30 April 2017. This is an international sporting competition for athletes of masters age, comprising up to 30 sports played over 10 days. The multisport festival is for anyone who loves to combine sport with pleasure.
The World Masters Games is the world's largest multi-sport event. Held every four years, it is the pinnacle sporting event for masters competitors worldwide. In supporting the Olympic Games ethos of 'sport for all', the goal of the World Masters Games is to encourage participation in sport throughout life. Competition and camaraderie are equally celebrated.
Every four years, the International Masters Games Association, the representative body of masters sport worldwide, grants to one special city the rights to host the next Games. The first ever Games were held in Toronto, Canada in 1985. Since then seven other cities have embraced the global event including Sydney in 2009 and Torino in 2013.
Two of the philosophies of the Masters Games are to promote friendship and understanding, along with competition, between mature sports people regardless of age, gender, race, religion, or sport status. This unique spirit will be very much alive in 2017 when Auckland, New Zealand becomes the latest home to this hugely exciting global sporting event.
The 2017 World Masters Games have had Surf Life Saving Sports among the list of Sports that begins with Archery and goes to Weight Lifting.
Last weekend Avalon Beach SLSC's Antiques and Warriewoods Rustys - sweeps Rick Millar and Russell Lamb, won gold and silver in the Womens 200+
The Antiques crew for these games was Beverly Tilbury (bow). Ameila Butler (2nd bow). Tracey McSullea (2nd stroke) Kate Munro (stroke) Rick Millar Sweep.

We spoke to the team late this week as, anyone who follows this great surf boat team from Avalon Beach SLSC, woudl notice there are a few variations in this gold medal winning team.
"The crew decided earlier that we would like to compete in the masters games in NZ in April 2017, "
The trouble was that our Sweep ( Nathan Wellings) and our Stroke ( Donna Wishart) had already made plans for The weekend the competition was to be held.
It was decide to ask Tracey McSullea , who hadn't rowed for 2 years, and was one of the original Antiques, and our previous sweep Rick Millar if they could fill in. Lucky for us they both said yes.
Further challenges were raised in that the crew going to NZ could not train as a crew until after the Australian Titles, after the main crew had finished their Aussie Campaign. After the Aussies this then left the NZ crew 6 training session before they competed, not the ideal preparation.
The problems we were facing were
1.Tracey who has not competed or trained for 2 years only had 6 training sessions in the boat.
2.Had to move the second stoke of the last 2 years(Kate Munro) to stroke, different side of the boat, big change, big effort from her.
3.Avalon Beach crews row with round rowlocks, as we had to borrow a NZ boat and oars, and they don't have round rowlocks, we had to have 6 session using Square rowlocks, big change.
When we arrived in NZ we found that 2 of our main competitors were the current Australian champions and the current NZ champions.
There were to be 3 races based upon a point score. We knew we had to win at least 2 races, already a big ask.
In the first race we just managed to win beating the Australian crew ( Warriewood ) by the smallest of margins with the NZ crew 3rd. In the second race , we managed to win again beating the NZ crew by about a boat length with the Warriewood crew 4th.
In the 3rd race our lack of fitness, and the changes we had to make, started to tell and we finished 3rd behind Warriewood and the NZ crew, but we had enough point for us to be declared the world champions."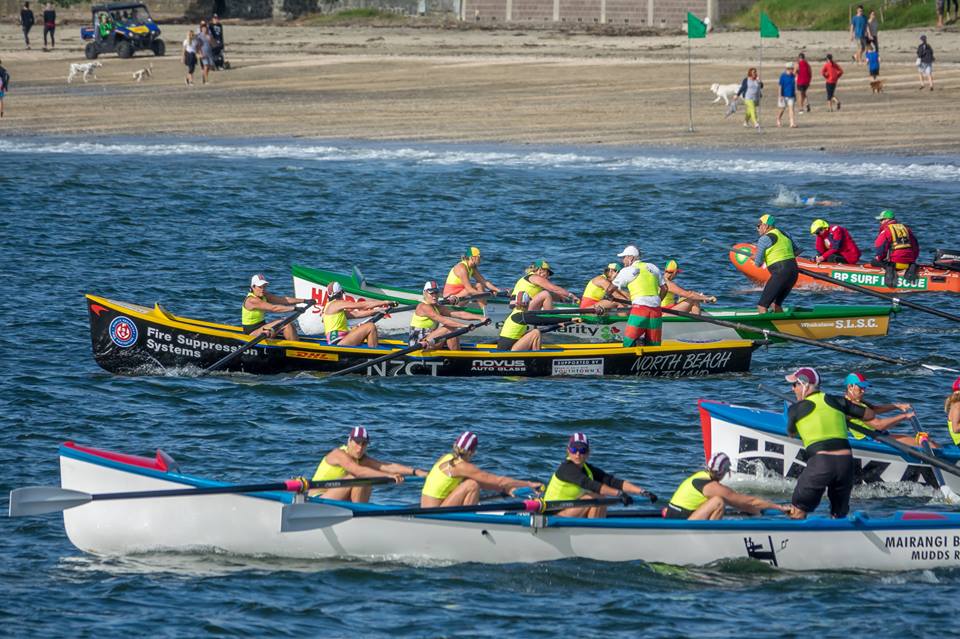 The Antiques and Warriewood's Rusty's weren't the only ones to excel at the 2017 World Masters Games.
A few more Results
Men - Ages total 240+ - Surf Boats. Final: 1st Manly Masters Australia, 2nd Long Reef Vets Australia ,3rd Crown Busters New Zealand
Women - Ages total 160+ - Surf Boats. Final: 1st Batemans Bay Phoenix Australia
On the sand Warriewood rounded out what can only be considered a golden season with yet more gold:
45-49 - Beach Sprint - Men. Final: 1st Adam Gee Australia, 2nd John Minto Australia, 3rd David Jones-Prichard Australia
Men - Ages total 170+ - Beach Relay. Final- 1st Warriewood Australia, 2nd Nobbys Relay Australia, 3rd Lyall Bay Land Crabs New Zealand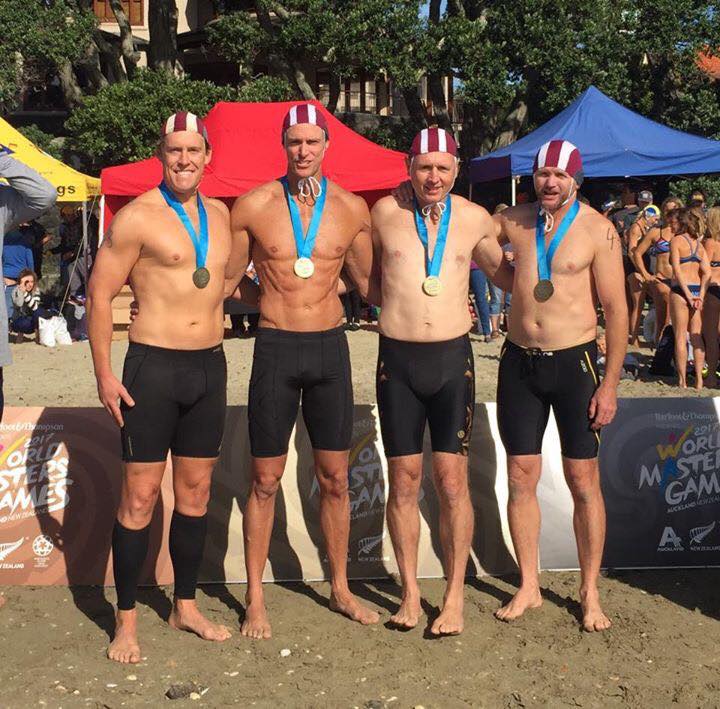 Local ladies weren't being left out of the bling either, in the 60-64 - Beach Sprint - Women. Final the placings were; 1st Kathryn Watts Australia, 2nd Patricia Ford Australia, 3rd Annabelle Chapman Australia.
Palm Beach SLSC's Masters Division brought home a swag of medals including these results from Takapuna - 10 gold medals, 7 silver, 7 bronze
Karen Begg: Silver - flags, 2k run, board, ski and Bronze - sprint, ocean woman. Fi Rae capped off her season with Gold - board, ski, and Bronze - run-swim-run, ocean woman (iron woman), Di van Ooi has brought home Silver - run-swim-run, oceanwoman, surf swim. Annabelle Chapman has won Gold - flags, board, ski, ocean woman, Bronze - swim, run-swim-run, 1 k run, sprint.
Tony won Bronze in the 1k run and came a respectable 4th - board and ski and 5th - sprint
Teams: Surf teams - gold - Di, Fi, Annabelle, (Karen won gold in a sub team for Lyall Bay, Wellington) Board relay - gold - Fi, Annabelle, Karen Ski relay - gold - Fi, Annabelle, karen Ocean woman (Taplin) - fi, Annabelle, Di.
Local Surf Life Savers haven't had all the glory - members of Palm Beach Sailing Club have brought home some results too. Final placings for World Master Games in NZ - Weta Single Handed.
The Games saw some great sailors including New Zealands John Bilger and Rex Sellers in the Weta Single Handed category taking first and fourth overall and Gold in the Masters and Great GrandMasters.
A few sailors from Sydney's Palm Beach Sailing Club mixed it up with these legends. Martin Cross and Rod Waterhouse managed to split John and Rex finishing second and third overall and taking Gold and Silver in the GrandMasters. Not to be outdone Peter Martin took Gold in the Apprentice Masters and John McCormick took Bronze in the Great GrandMasters.
It's a great result from a small multihull sailing club from Sydney's northern beaches that managed to take three Golds from the World Masters Games held in Sydney in 2009 on Hobie 16s. - By Anthony Duchatel
Overall - all divisions: 2nd - Martin Cross, 3rd - Rod Waterhouse, 6th - Peter Martin, 21st - John McCormick
Apprentice Master: 1st - Peter Martin "Gold"
Grand Master: 1st - Martin Cross "Gold", 2nd - Rod Waterhouse "Silver".
Great Grand Master: 3rd - John McCormick "Bronze"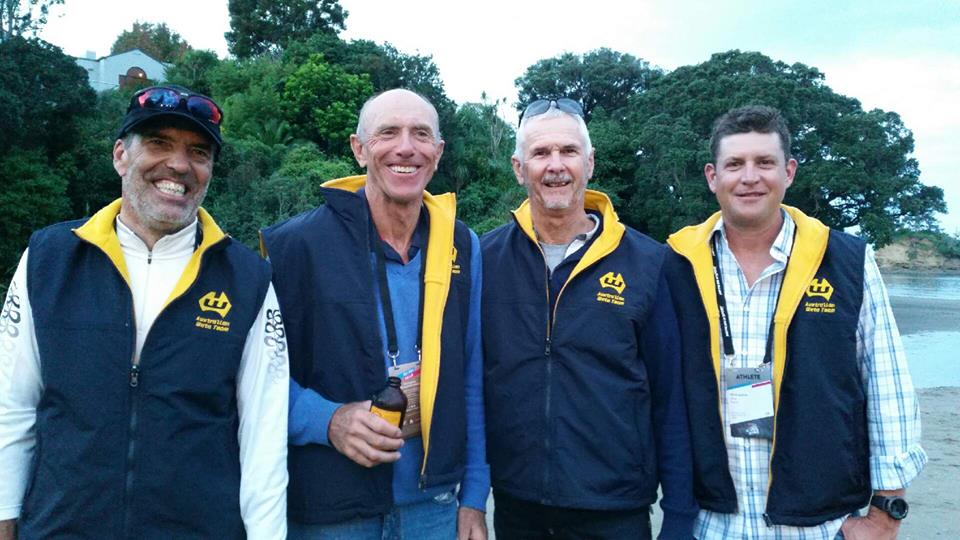 Martin Cross, Rod Waterhouse, John McCormick and Peter Martin at Waiake Beach.

Congratulations to all !!! You have certainly upheld and extended the name of PittWATER!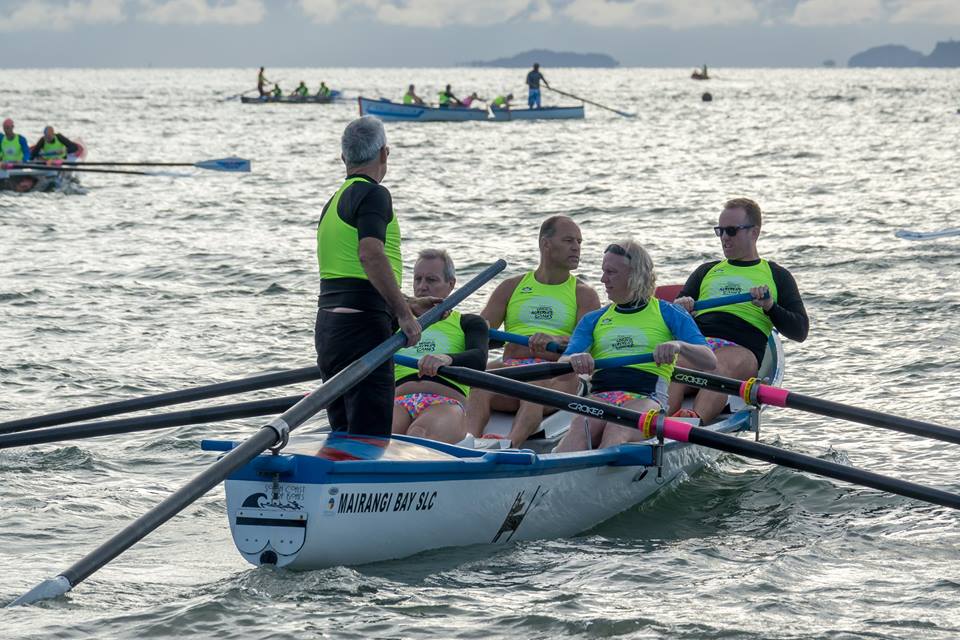 Russell Lamb's Men's Masters crew - no slouches either!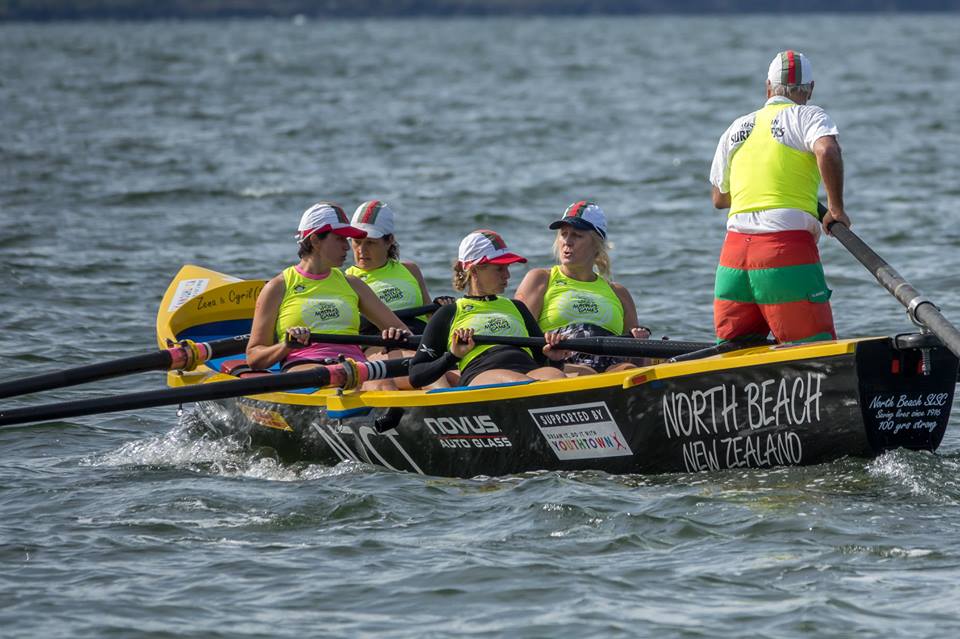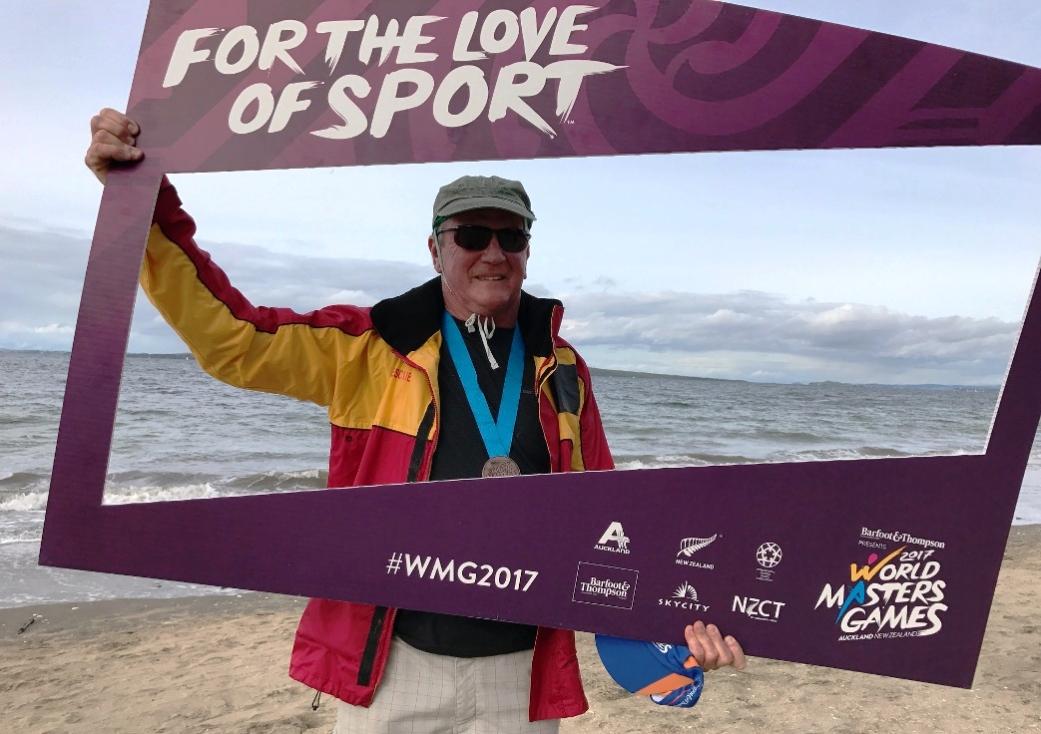 Photos courtesy John Lamb, brother of Russell, and Adam Gee support crew, 2017