November 19 - 25, 2017: Issue 338
Newport SLSC Hosts Round 2 Of The SLS SNB Surf Boat Premiership 2017-18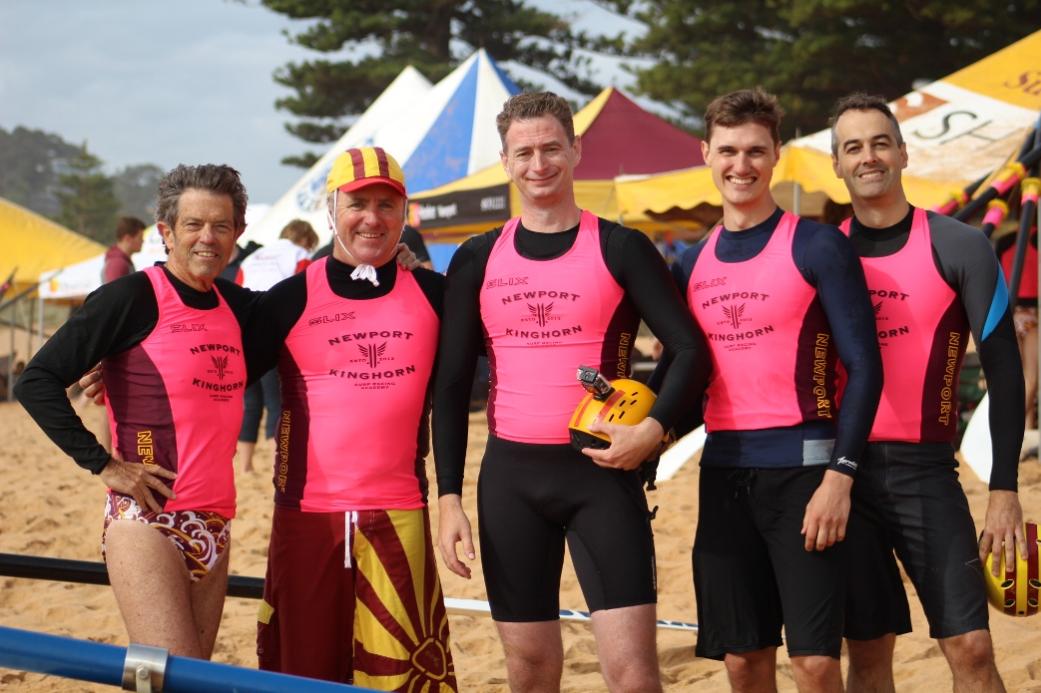 Newport SLSC's Sweeps for the 2017-2018 Season - L to R: Michael King, Rob Emerson, Jay Borthwick, Josh Hayward and John Clark
Challenging conditions faced rowers and sweeps in Round 2 of the Surf Life Saving Sydney Northern Beaches 2017-18 Surf Boat Premiership, so much so that some sweeps pulled their crews as conditions worsened and Officials put in place safety measures to assist those that raced in the divisions run.
Crews met with waves to drench you by going out and many were pushed sideways coming in, ensuring some sweeps steered their crews to the south of the beach to bring them back to the sand. Those sweeps who took crews out and brought them back in are a testament to the skill and experience inherent in this sport and those individuals.
Newport, the host club, put in a strong effort with their growing boat division even stronger this season.
Newport SLSC Surf Boat Division
Newport found it's first surfboat, a ship's lifeboat washed up on Bilgola beach in 1910-11. Warringah Shire Council provided Newport and the other four major clubs (NTH Narrabeen, Freshwater, Dee Why and Collaroy) with an 18 ft 'banana boat' and these were launched in 1915.
Since then, there would have been very few seasons when Newport hasn't had a boat crew racing.
The current crews are-
Open Men, 'Hellfish'. Josh Hayward (sweep), Alex Brown, Hugh Pender, Jake Butcher, Lucas Wilson
Reserve men, 'Sea Cucumbers, Rob Emerson (sweep), Tom Howse, Tom Holland, Tim Gunns, Scott Quin
u23 men, John Clark (sweep), Dan Lewis, Nathan Doyle, Max Holland, James Quin
u19 boys 'Vipers' Jay Borthwick (sweep), James Allen, Fin Harris, Oliver May, Zac Alford
u23 women 'Wahoo' Michael King (sweep), Tara Doyle, Abby Ballesty, Meagan Barr, Zoe King
Reserve women, Rob Emerson (sweep) Tash Grice, Mel Brown, Piret May
Australian Champions- u18 boys, Moana Beach, SA, 1982. Michael King (sweep), John Milham, Jeff Robinson, Wayne Fursland, Danny Headon
2015 Lifesaver Relay - Michael King, James Brook, Ellis James, Lachlan Brook, Alex Brown
World Champions.
Open Women 2000 and 2002. Michael King, Eliza Bryant, Marnie Bryant, Elle Pannowitz, Haidee Stephen
NSW Champions.
Open Women 1999 M K, Kirsten Todd, Haidee Stephen, Karen Jones, Elle Pannowitz
Open Women, 2000, MK, Eliza Bryant, Marnie Bryant, Elle Pannowitz, Haidee Stephen
Open Men, 2005, MK, Andrew Moore, Sam Wallrock, Scott LeLievre, Jason Cooper
U19 women, 2017. MK, Tara Doyle, Abby Ballesty, Sarah Bocconfuso, Cassie Grice
Australian Representatives
2017 u23 women. MK, Zoe King, Piret May, Celestine May, Katy Hulton
Some action from yesterday runs below - album available
HERE
for particpants.