Inbox and Environment News: Issue 466
September 13 - 19, 2020: Issue 466
Construction Of The Pacific Highway From Mooney Point To Gosford (1928)
Pittwater Online News has been working on putting together some History pages on the first roads in this area during the past two years. We commenced with Roads TO Pittwater, then the two main roads IN Pittwater and we're now coming to the end of all those associated with housing subdivisions within each Pittwater suburb, especially the Street Names - some of these roads were named to honour those who owned these big plots of acreage, or historical people, or even just family members; a daughter or son, while others were given indigenous names or named for plants that grew where they were.
Ultimately they were all required to be built so that people could access their little block of land and build a home they could get to and from easily.
A few insights on Bayview launches this Issue and two more are to come - Church Point and Western Offshores (not too many there but worth putting them in) and Narrabeen (a big one there as it was the southern 'gateway' to Pittwater from earliest times).
It's very interesting stuff and it's been great tracking down all the old photographs, descriptions of places, families and family stories and looking at how orchards became homes and dirt tracks became sealed roads - especially because you are currently living through and all witnesses to history itself with the upgrades of Mona Vale road - one of those that is a TO Pittwater road and was once called the 'Gordon Road' because it led to Gordon.
There's a Mona Vale Road Upgrade Project Update running this Issue - if you want to have a look.
Visit: Mona Vale Road East Upgrade Project: Construction Update – September 2020
Below runs a video that gives you a few insights into roads constructions; in this case the Pacific Highway which some of you may have travelled on when heading north towards the Central Coast, or south to places like Gordon, Killara and Chatswood.
This video shows the different and similar machines currently being used to build the new Mona Vale road - only they're the old versions of these construction tools. It's not of great quality, but we hope you enjoy seeing how this was done almost 100 years ago.
School Formals To Go Ahead
Year 12 students across NSW will be able to celebrate finishing school with COVID-19 safe graduation ceremonies and formals being allowed to take place during Term 4.
Premier Gladys Berejiklian said Year 12 students have shown incredible resilience during the pandemic and deserved to celebrate an important life milestone.
"We will always rely on the health advice, which recommends
COVID safe
formals and graduation ceremonies take place from 12 November 2020 after the final HSC exam," Ms Berejiklian said.
"Students are currently preparing for the HSC and deserve to have events to look forward to after their exams."
Minister for Education Sarah Mitchell said Year 12 students have been working incredibly hard under difficult circumstances.
"Last week I made it clear that I wanted to find a way to allow students to celebrate the end of their schooling and I'm thrilled that this is now a reality," Ms Mitchell said.
"Schools will be able to use the guidance provided by Health to develop a COVID-19 safe plan for their celebrations. I know that students will be excited to have their formals as something they can look forward to after their exams."
Chief Health Officer Dr Kerry Chant said it is important the events take place after HSC exams to reduce the risk of COVID-19 impacting on exams or preparations.
Year 12 students requiring a
COVID-19 test
should tell their GP or testing clinic they are currently doing their HSC. This will ensure their test results are prioritised, minimising any disruption to their schooling and study.
The NSW Government will also provide COVID safe guidance to students wanting to participate in schoolies under the
current restrictions
and health advice.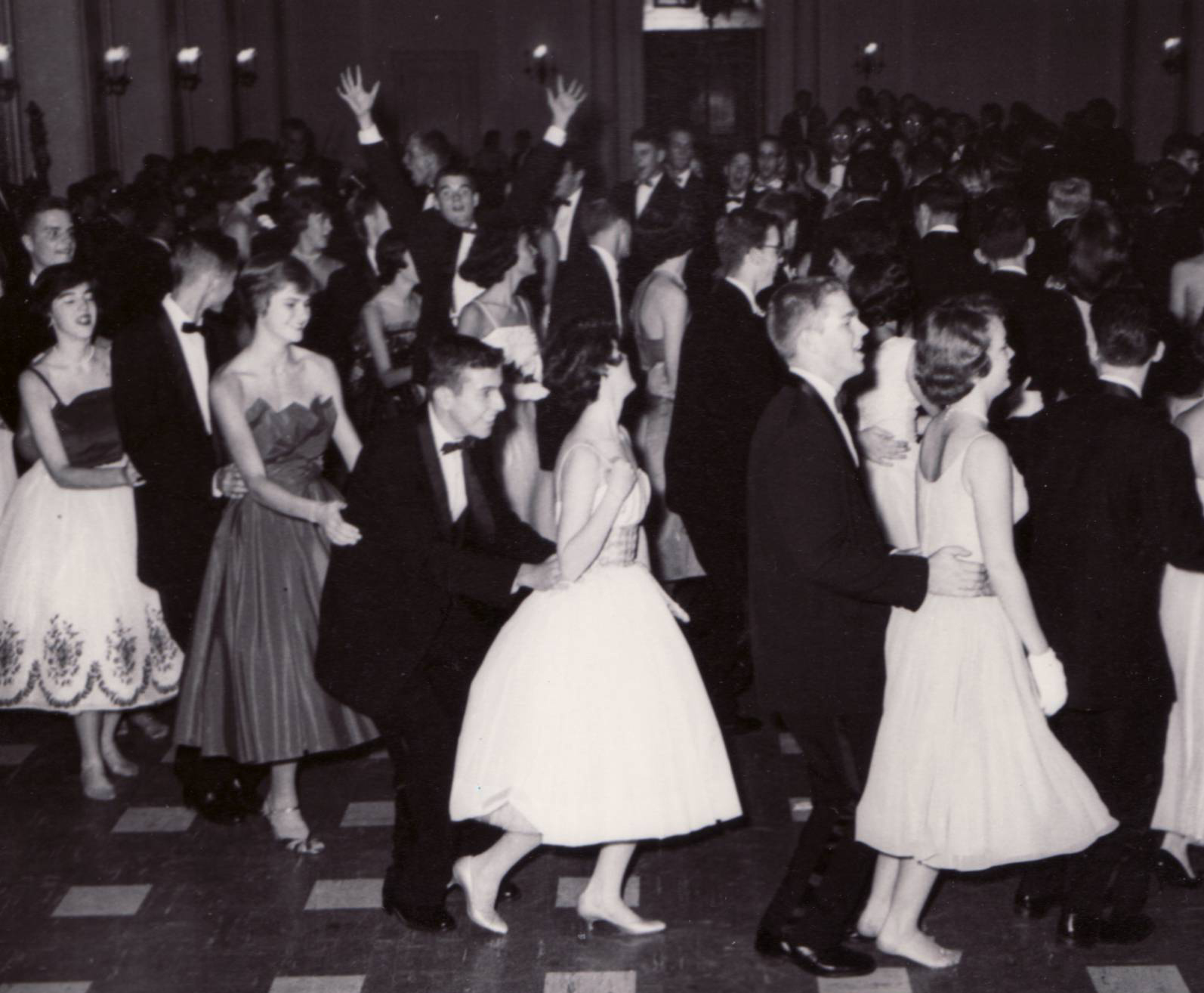 Over 50 Artists Join Great Southern Nights Music Event
Australian artists will perform over 1000 COVID-Safe gigs across Sydney and regional NSW in November 2020.
The event will support the NSW Government's COVID-19 Recovery Plan to help kickstart the entertainment, hospitality and tourism industries.
All 1000 individual gigs will take place across eight different areas and regions of NSW, including:
Blue Mountains
Central Coast
Country NSW
Hunter
North Coast
Outback NSW
South Coast
Sydney.
The Presets, Tones And I, Julia Stone, Tash Sultana and Missy Higgins are among the Australian artists performing.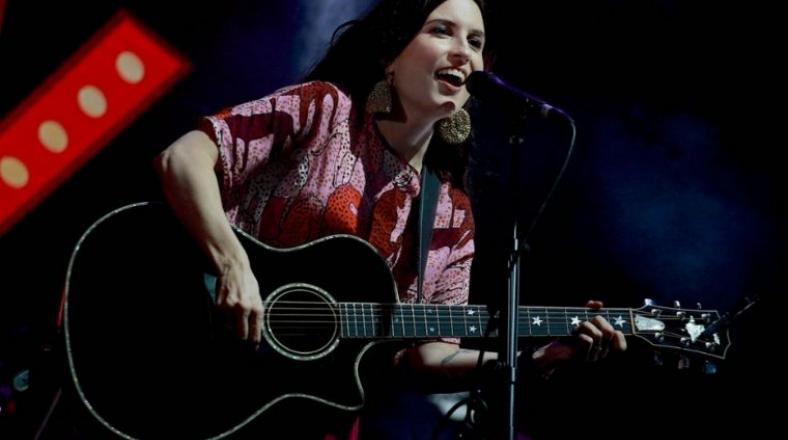 Minister for Jobs, Investment, Tourism and Western Sydney Stuart Ayres said artists and the live-music industry have shown overwhelming support for the program.
"The calibre of artists who have put their hand up to be part of the inaugural Great Southern Nights event is fantastic. We're stoked that many artists have asked to play in regional NSW," Minister Ayres said.
"Great Southern Nights will make a real difference for communities recovering from drought, bushfires and COVID-19."
Great Southern Nights is an NSW Government initiative in partnership with the Australian Recording Industry Association (ARIA).
Spirit Of Barrenjoey Competition At BHS
During Term 3 of 2020, the Barrenjoey High School SRC held a competition open to all students about Barrenjoey Spirit.
''We wanted to encourage students to think about the positives of the Barrenjoey environment, even during the difficult times as a result of COVID-19.''
There were 13 entries to the competition, including students from Year 7 to Year 12. The quality of the entries was very high. The SRC received amazing photos, impressive artworks, some thoughtful essays, wonderful videos and even a song called 'Barrenjoey Sound'.
A panel of three expert judges – Principal Mr Bowsher, long time parent/teacher/artist Mr Guy Hawson and 2020 School Captain Zoe Coles – were greatly impressed by the efforts and talents of the competition entrants. After careful deliberation, the following awards were given:
First Prize: $200 – Alannah, Year 12

, with an artwork consisting of a series of images and text that reflect deeply on Barrenjoey Spirit. It combines the local environment with ideas of what Barrenjoey students struggle with as teenagers, showing that Barrenjoey is a place where this insecurity and hiding parts of ourselves, but also a place of learning, maturing and overcoming adversity to connect with each other and our environment.

Junior Runner Up Prize: $50 – Stella and Summer, Year 8

, for their surfboard artwork and accompanying video that incorporate many elements of Barrenjoey life.

Senior Runner Up Prize: $50 – The Rions from Year 11

, with their song and video 'The Barrenjoey Sound'.

Highly Commended Awards go to Riley in Year 7

for his fabulous drawing that brings together a number of ideas about Barrenjoey Spirit, and

Cora and Sophia in Year 8

for their video interviewing students and teachers about their views on Barrenjoey Spirit.
Below runs these mentioned videos and this is a sample of Alannah's work: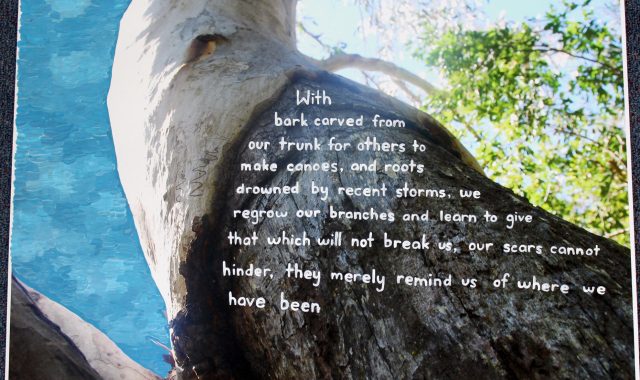 Spirit Of Barrenjoey Competition - Summer And Stella
Spirit Of Barrenjoey Competition - THE BARRENJOEY SOUND The Rions
Spirit Of Barrenjoey Competition- Cora And Sophia

Narrabeen Sports High School News
The
Wednesday Sports Bush Regeneration class
are showing that they are at one with nature!
They have been busy moving mulch and planting vegetable seedlings that will be moved to our new vegetable garden beds next week when we are expecting a visit from a gardening expert.
Next week's visitor from Kimbriki will show us how to make a self watering garden bed to transplant these seedlings into.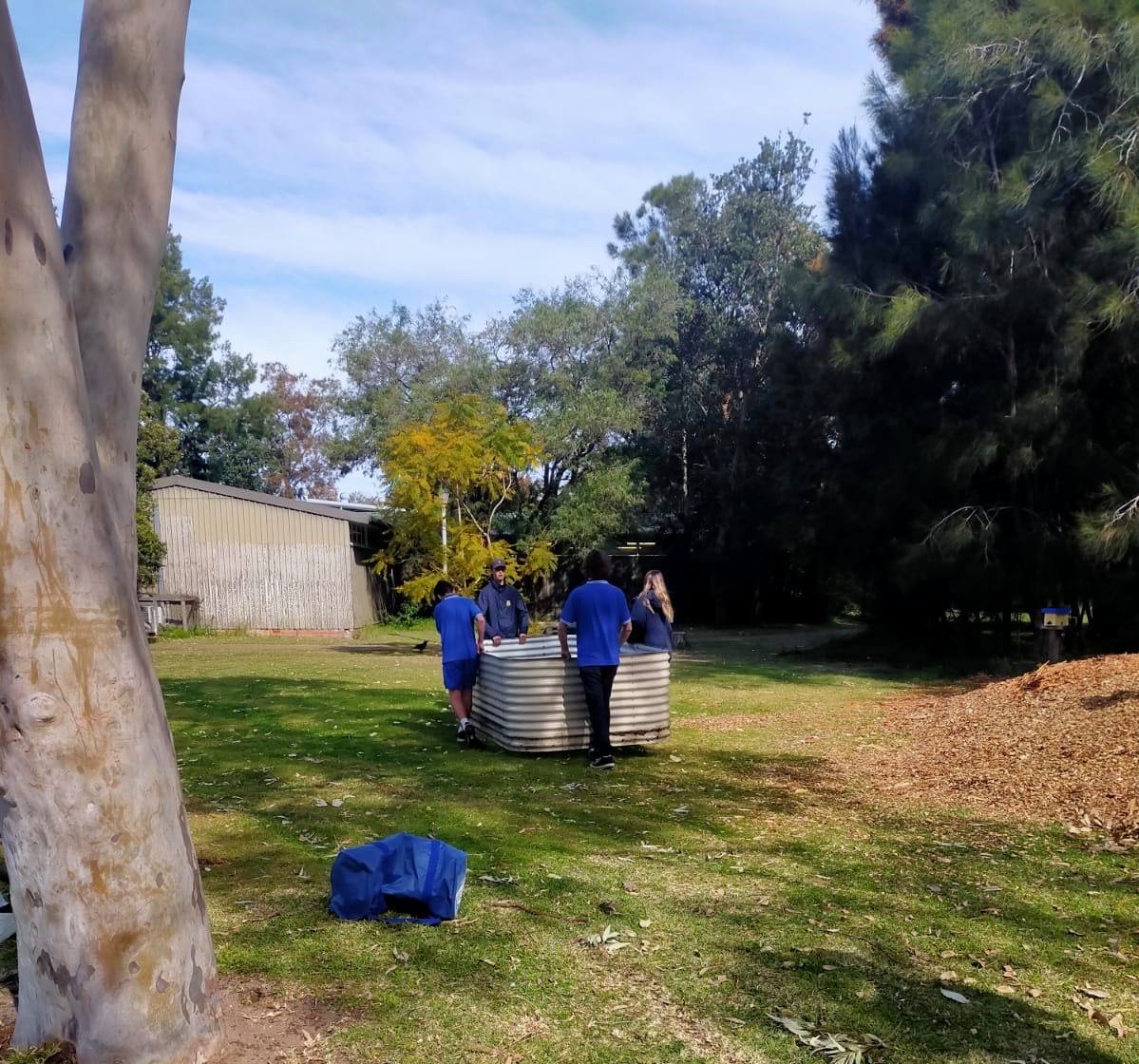 Taking Challenge Day indoors and out.
Organised by our hardworking High Potential Gifted and Talented (HPGT) Committee, this year's Challenge day was a lot of fun as well as a big challenge!
Running over two periods, the HPGT committee had designed a series of complex challenges to test a number of skills in these Year 7 students. This included looking at their critical thinking, ability to collaborate as well as team building skills; all known to be great predictors of an ability to take innovative approaches to problem solving.
All students involved had an absolute blast. Thank you to the HPGT committee for making such fun and innovative challenges.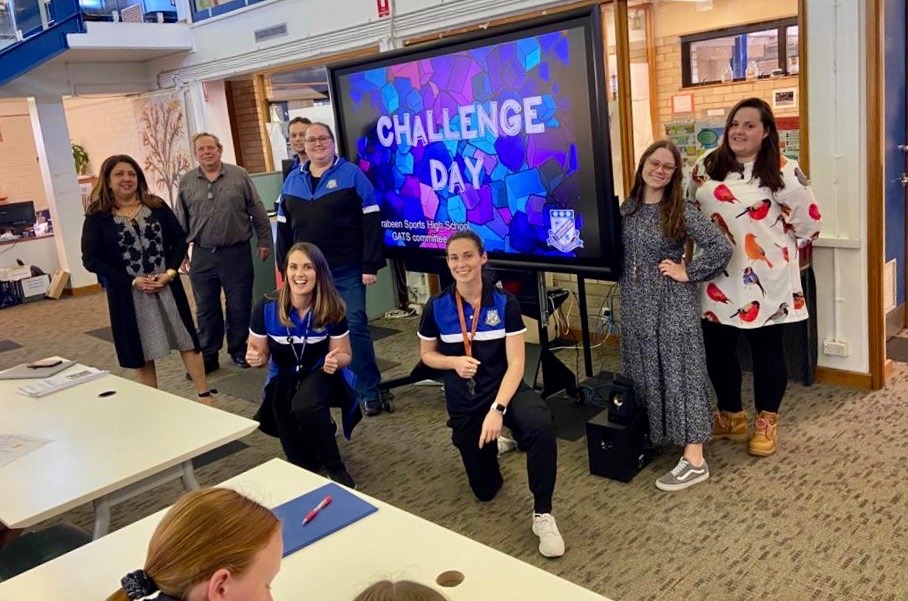 Some of our Year 10 students have started work experience and we are really enjoying seeing them 'on the job' as they send through photos of their work!
Lily was lucky enough to get work experience with BOS Oceansport and she is learning how to build surf skis.
So far we are getting really positive feedback from not only our students, but also from the organisations who have given students these exciting work experience opportunities.
Great to see Narrabeen Sports High School students being embraced by our great Northern Beaches community.
Our Academy surf students have without doubt, the best classroom in the world. We have loved watching these students learn from their amazing coaches and we wanted to show a sneak peak of what goes on during Academy Surf.
A wonderful group of students and equally wonderful coaches!
It can definitely be useful to have in house experts.
Three of our Year 12 Construction students get some practical, hands on experience in our own back yard.
They are laying a concrete slab at our school gate under the watchful eye of Mr Ashby. Some good learning on the job experience!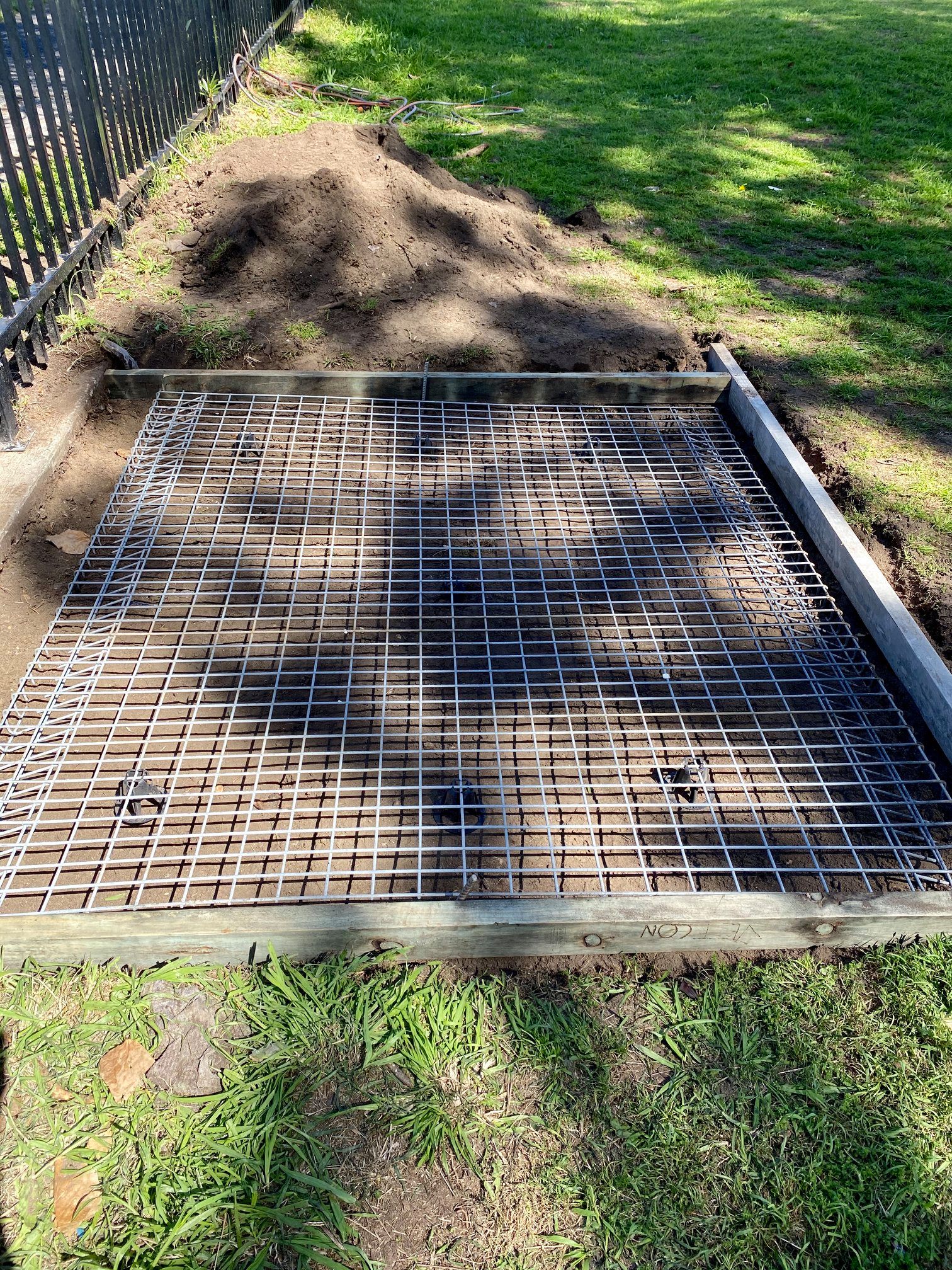 Another proud moment for teacher Mr Moore as he presents a Duke Of Edinburgh Silver award to a student.
This time the hard working recipient is Year 12 student Tom who completed a number of very involved activities to attain his Silver.
As well as volunteering at a youth group, Tom selected cookery as his 'Skill' section, and went on to produce some very impressive dishes!
He completed expeditions to Turon and Yengo National Parks and set some very strict physical recreation goals for his chosen sport of AFL.
We are all very proud of Tom's achievement. Anyone who has ever been involved in the Duke of Edinburgh scheme will have a full appreciation of the level of commitment needed to reach Silver. And what is Tom doing now? He's going for Gold of course!
The Schools Recommendation Schemes (SRS) are one way that institutions make early offers of admission to students currently in Year 12. They do this by using criteria other than (or in addition to) the ATAR.
SRS applications will close on September 20
and we urge any Year 12 student considering this scheme to log onto the Year 12 (2020) Careers Information Google Classroom.
Our Careers Advisor, Ms Morris, is constantly updating this classroom to make sure students at Narrabeen Sports High School never need to miss an opportunity.
Good Luck SRS hopefuls!
Pittwater High School News
Cake Decorators Extraordinaire
On Friday September 11 teachers judged Ms Crundwell's Year 9 Food Tech's Cake Decorating entrants.
Feast your eyes on these! ; too good to eat?? Perhaps - all winners? - YES!!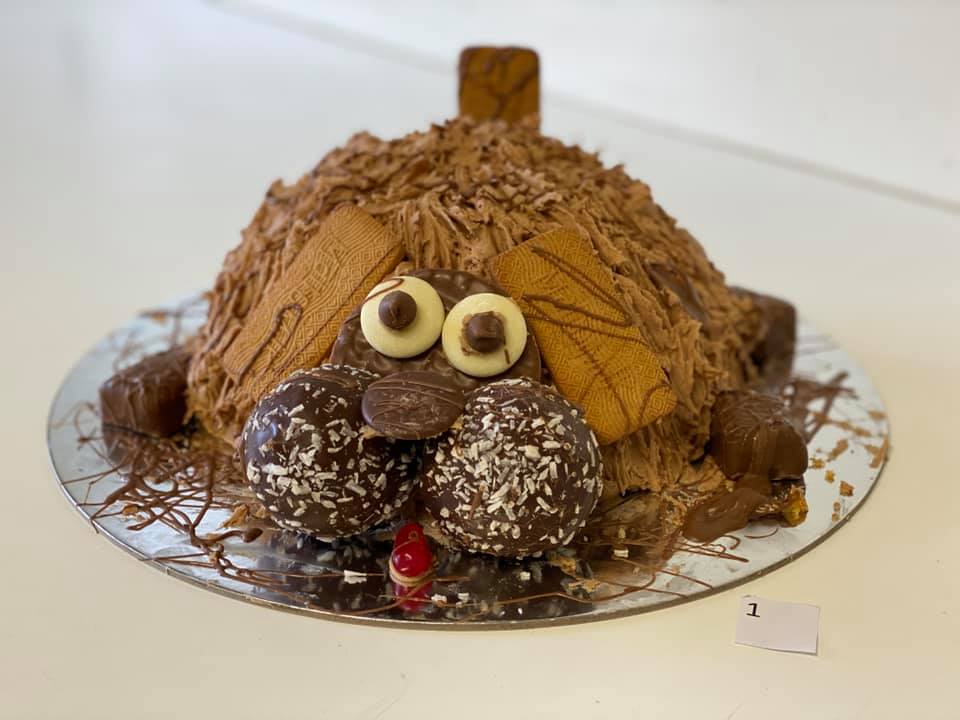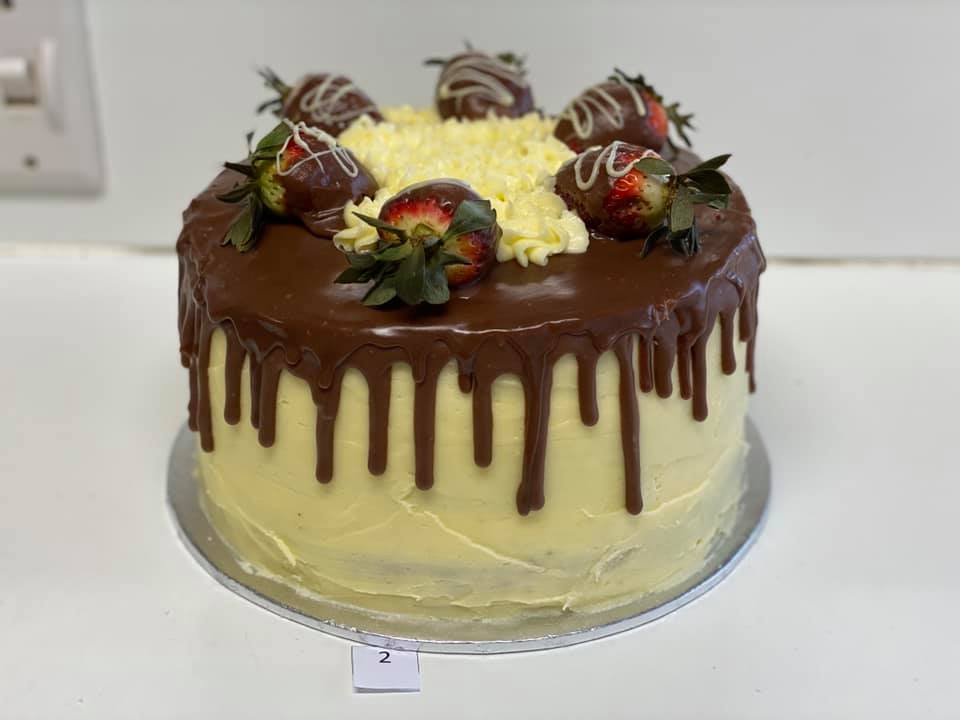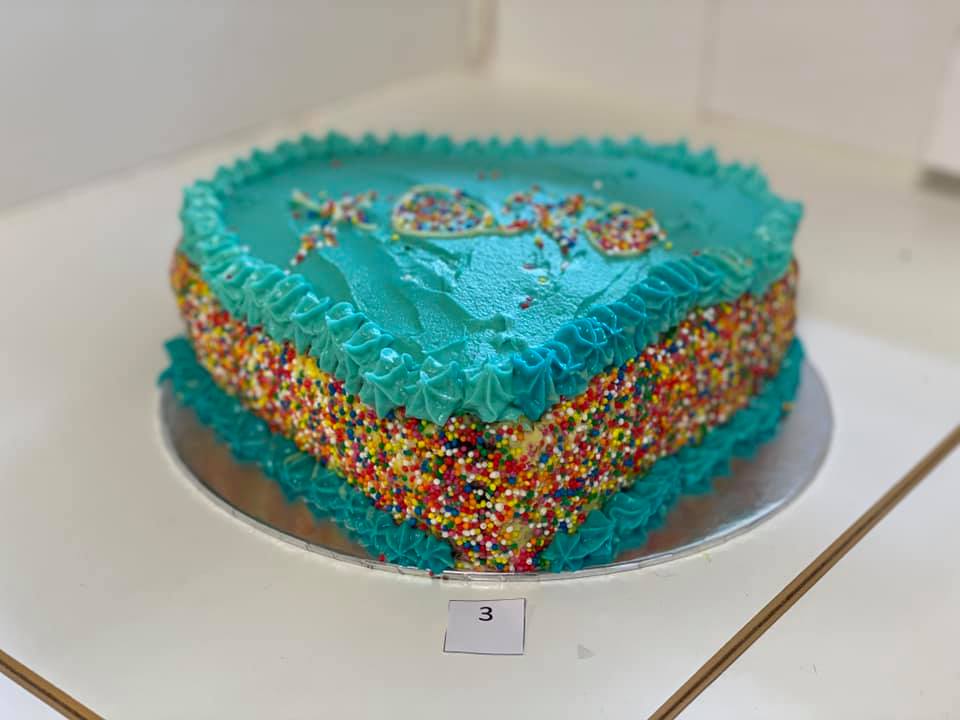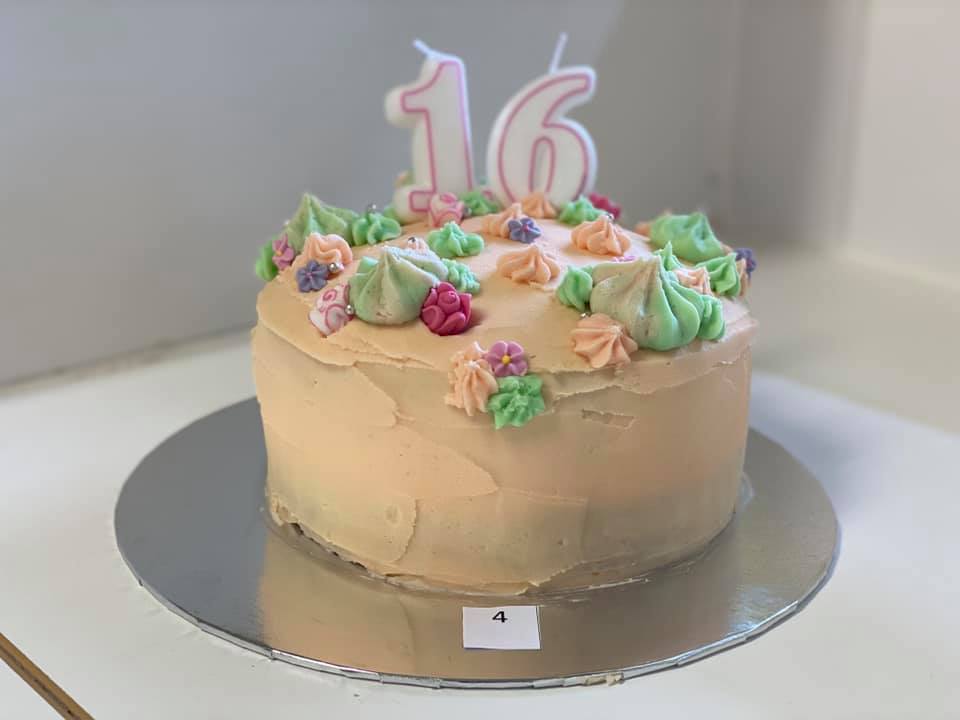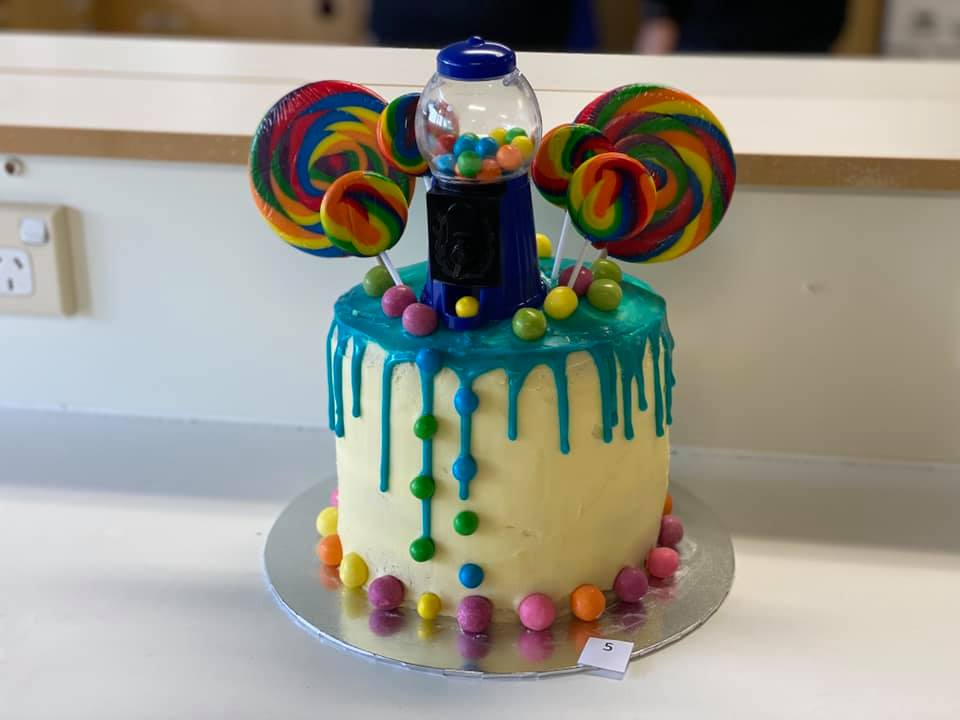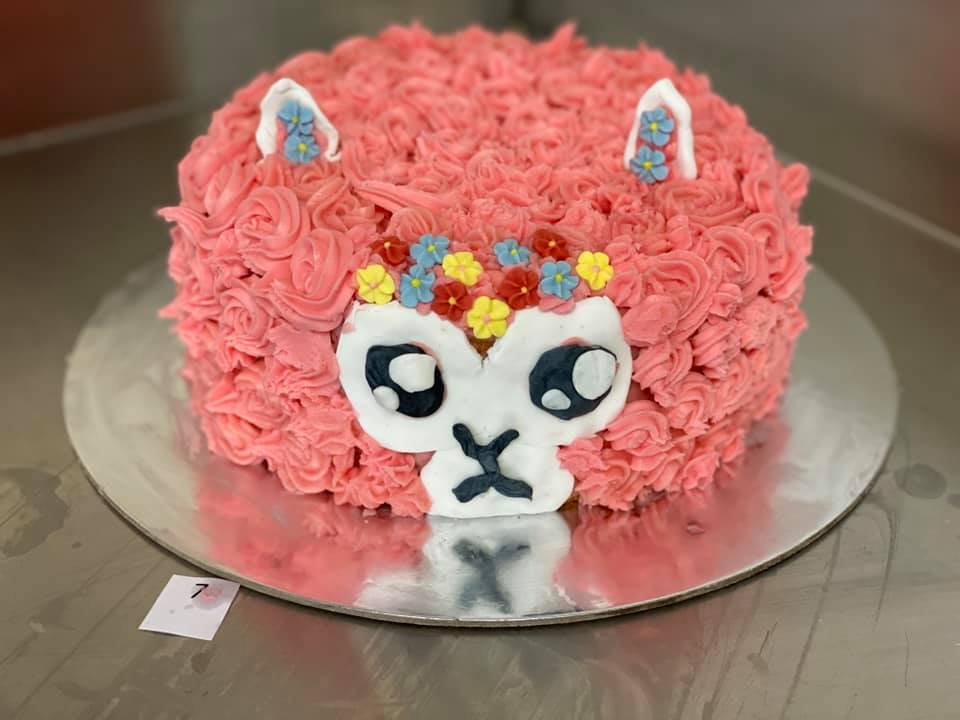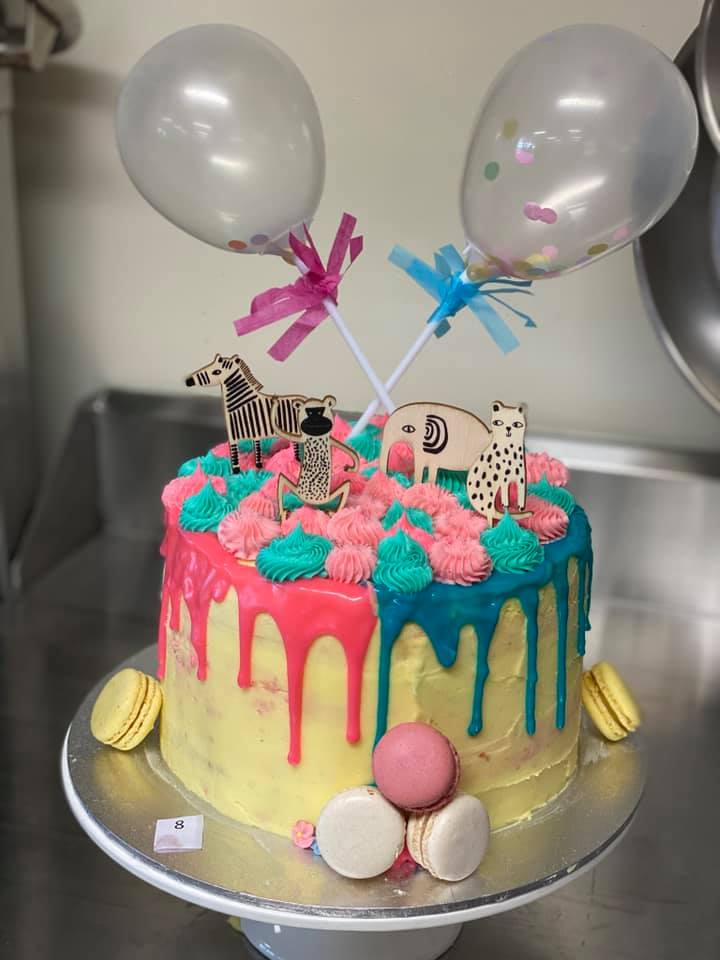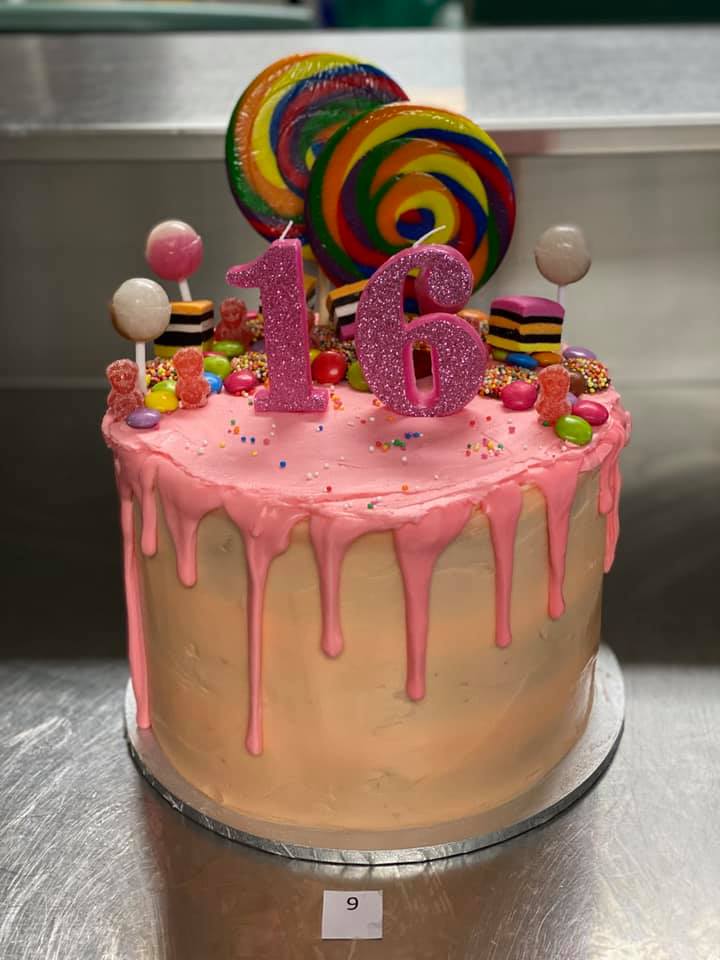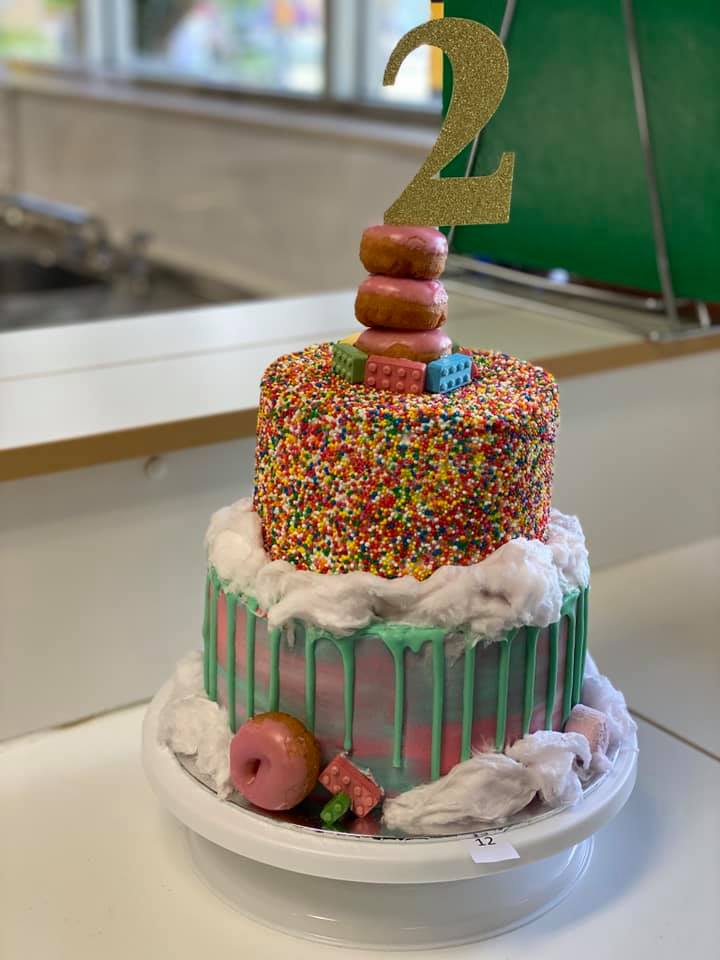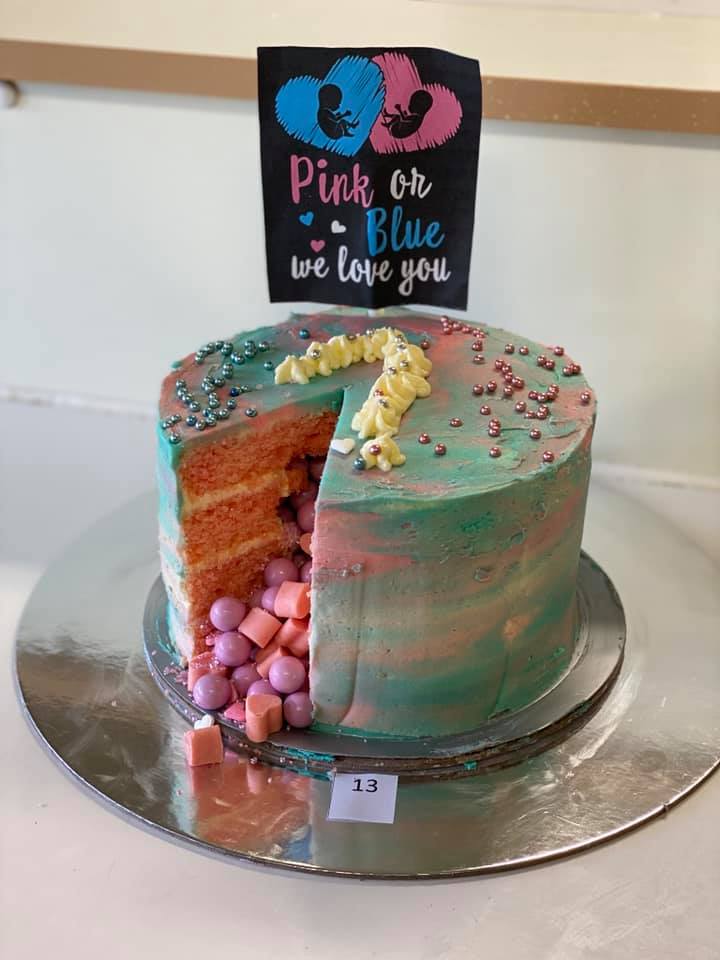 While learning about the skeletal system, year 8 science classes have been challenged with designing a unique prosthetic limb with fully functional joints using the 3D printing program, Tinkercad.
There have been some fabulous and creative designs so far! Here are a few from Miss Savage's classes.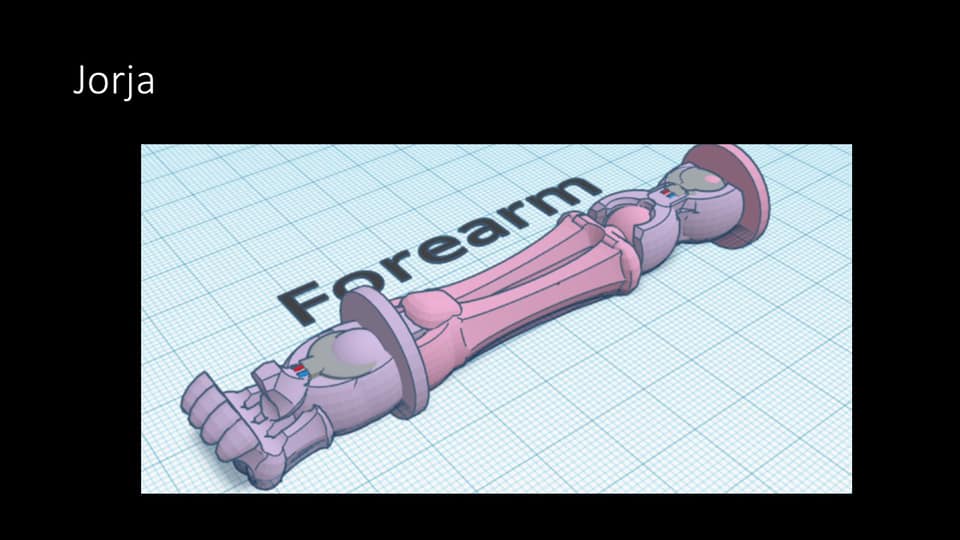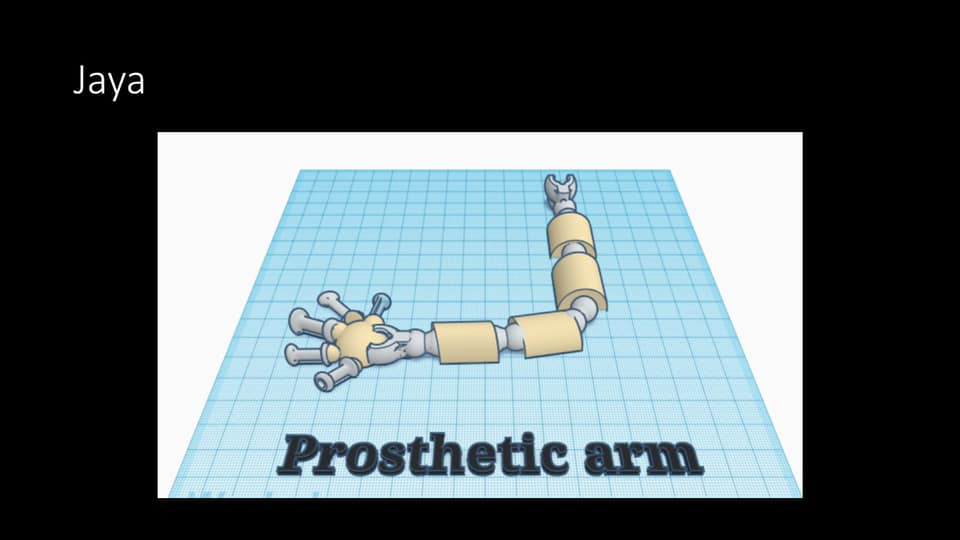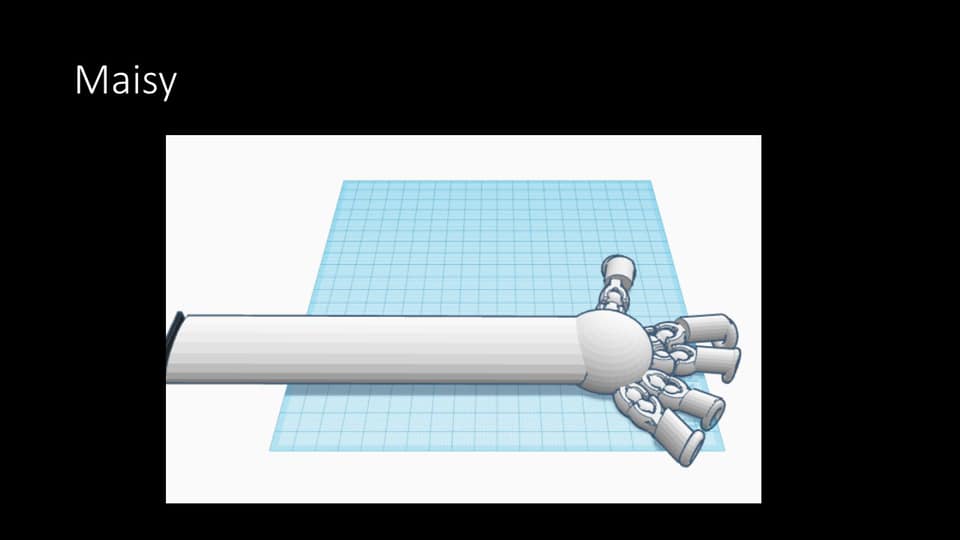 Industrial Technology Multimedia HSC class
The Industrial Technology Multimedia HSC class 2020 have compled their HSC major projects. Students worked on a variety of projects including a combination of animation and live action films.
Mr Hamed has provided the link to the school's YouTube channel, see below. You can view these amazing, finished projects. One example runs below.
Well done Year 12! Smashed it again!!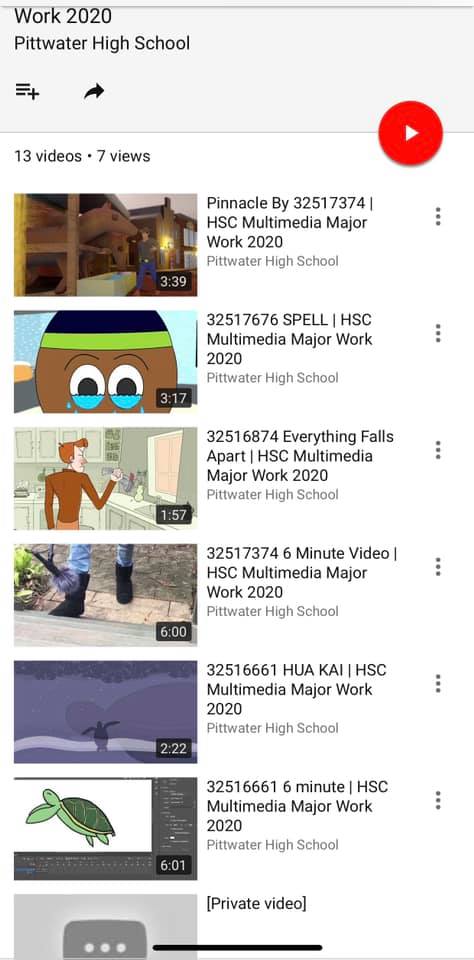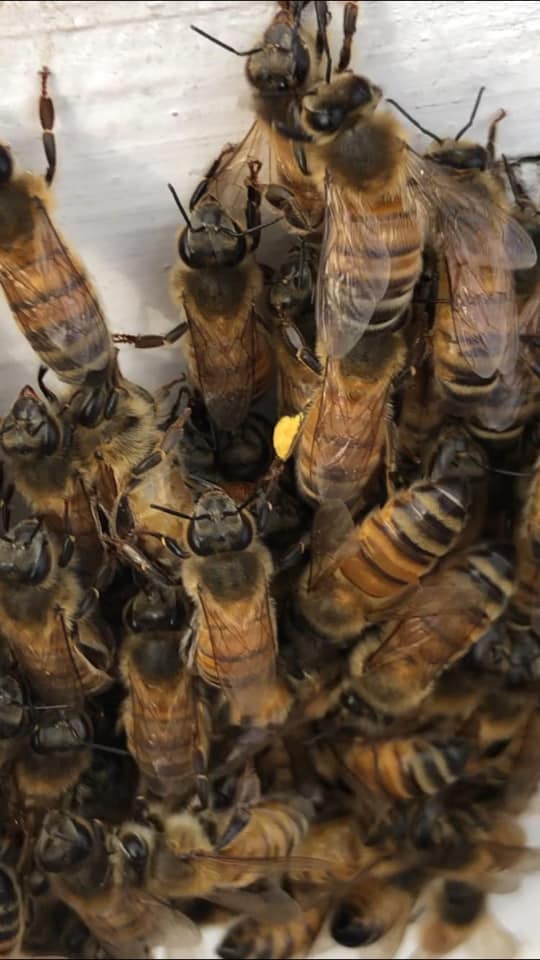 Year 8 Agriculture students added an additional level to our "flow hive" Bee Hive this week, under the coaching of Ms Madsen and Ms Enyingwa. The bees now have space to grow their hive and produce lots of honey with all the spring pollen around!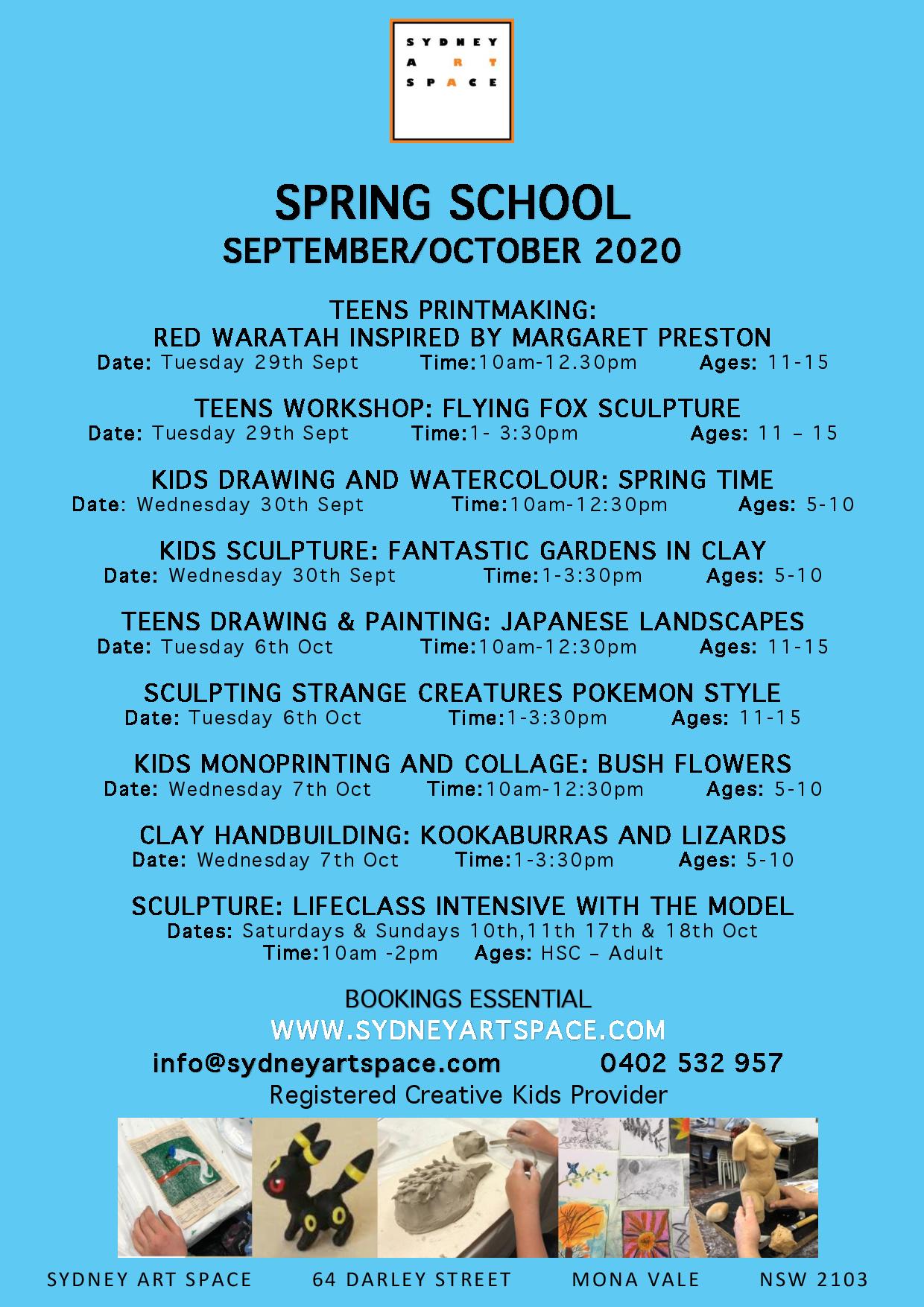 Up To $1.5 Million Is Available For New Youth Opportunities Projects To Commence In 2021
The Youth Opportunities program provides one-off, time-limited grants between $10,000 and $50,000 to not-for-profit organisations and local councils for youth-led and youth-driven community projects that have a positive youth development focus.
Funded projects from previous rounds have focused on giving young people the opportunity to develop a range of skills, including life skills and healthy behaviours; leadership, communication and teamwork; event management and planning; and providing volunteering opportunities that link young people to further education and training.
Since the program was launched in 2012, Youth Opportunities has provided $11.8 million in funding to 247 projects across NSW.
Youth Opportunities grant applications
Organisations seeking project funding from the Youth Opportunities program
are to involve young people at every stage of the project – from identifying the need, through to design, project delivery and final review.
Projects which are genuinely youth-led and youth-driven
are those initiated by young people in response to what they have said they need
. We are seeking applications which address young people's identified needs in an innovative way and increase young people's connections to the community.
Organisations must speak with young people and involve them in developing the project proposal prior to submitting an application.
Applicants are advised to read the
Program Guidelines PDF
, 584.95 KB carefully before completing an application for funding.
These Guidelines and more are available to download HERE.
Applications are now OPEN
Applications must be completed and submitted via the SmartyGrants online system by 5:00pm on Monday, 28 September 2020
. The SmartyGrants online system automatically shuts off at 5:00pm on this day, Monday 28 September 2020. It does not allow for extensions to be granted.
"Great White Sighting In Pittwater": Art By Sea
(about: Art by Sea celebrates our natural environment with sustainable art by locals). Take a stroll along the pathway from Bayview to Church Point and cast your gaze further afield.
Visit: https://www.instagram.com/artbyseaau - more soon!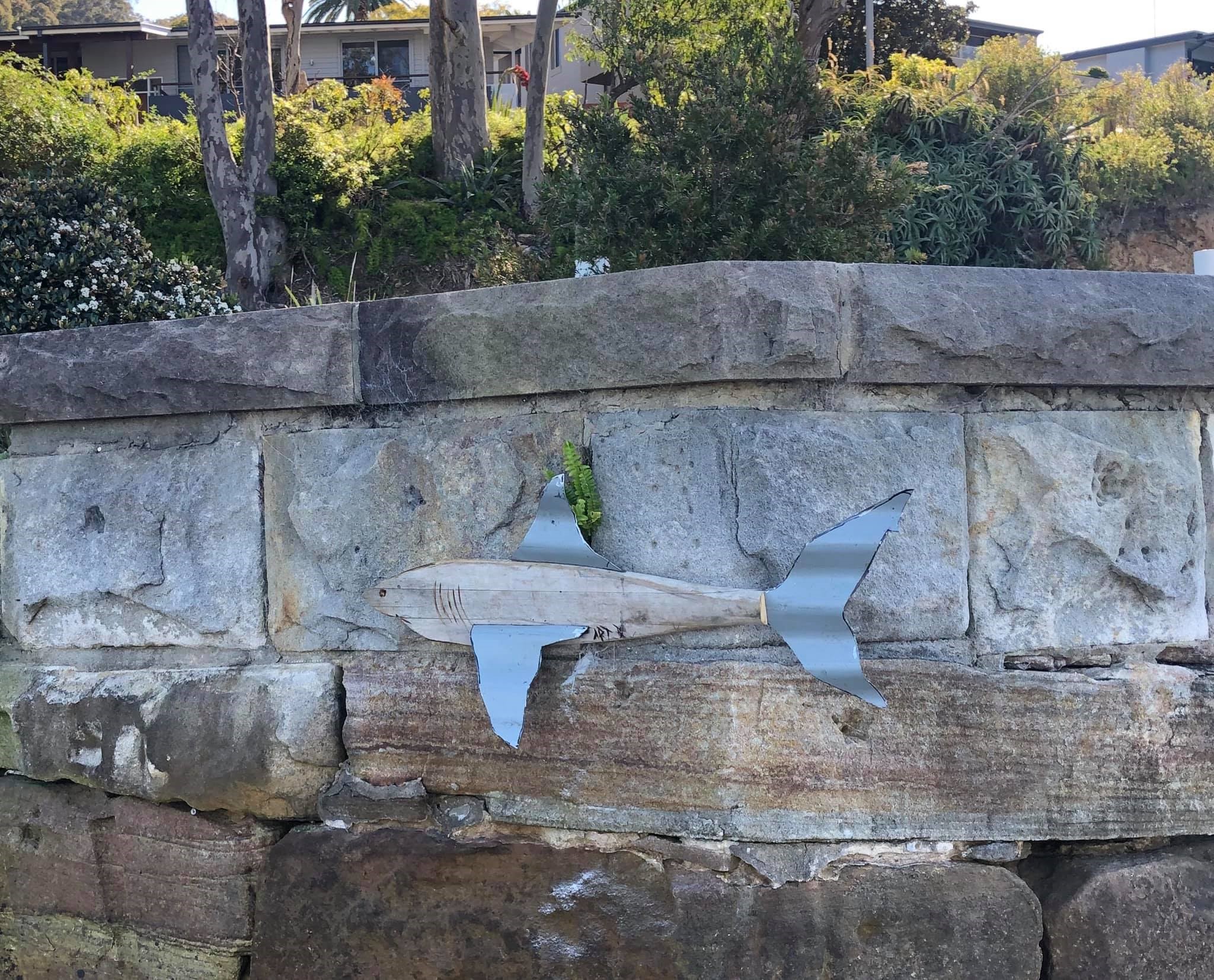 Students To Help Shape Future Of Education
NSW public school students have a unique opportunity to have their say on the future of education with the formation of the Minister's Student Council.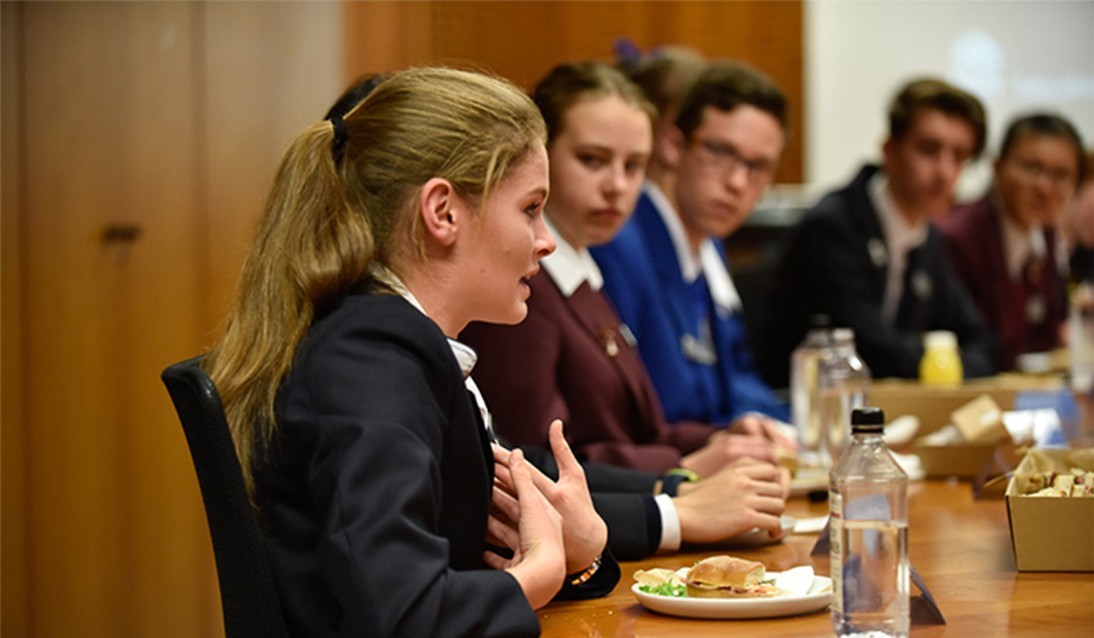 The Minister's Student Council will give NSW public school students a seat at the table alongside department and NSW Government decision makers.
The Minister for Education and Early Childhood Learning, Sarah Mitchell, last month announced the formation of the student council to give students a direct influence on education and school policy.
The student council will be the peak forum for interaction between NSW public school students, the Department of Education and the NSW Government.
The council will be created from the ground up by students.
The first student involvement in the council will be a steering committee tasked with designing the council, its elections and governance, and how it will engage students from all backgrounds right across the state.
The first Minister's Student Council will begin in 2021.
A new online
Student voices hub
was also launched last month, giving all NSW students a platform to share their views and creativity with the wider community.
Opportunity: Students Encouraged To Apply For Award In Fisheries Conservation Research
Research students are being encouraged to apply for a NSW Department of Primary Industries (NSWDPI) award which recognises excellent research of high value to the management of fisheries resources and aquatic habitats in NSW.
Dr Natalie Moltschaniwskyj, DPI Director of Fisheries Research said the John Holliday award is a fantastic tribute to one of the pioneers of fisheries conservation in NSW, supporting fisheries scientists of the future.
"The John Holliday Student Conservation Award is named in honour of the late Dr John Holliday, a former Senior Conservation Manager who dedicated 26 years to aquaculture and fish conservation issues for DPI," Dr Moltschaniwskyj said.
"The John Holliday Student Conservation Award is offered by DPI to encourage research students to share their research findings on a range of topics that could be beneficial to the management of fisheries in NSW.
"Dr Holliday made a huge contribution to the work undertaken here and successfully pioneered the Department's involvement in aquaculture and fish conservation issues, and I encourage students to submit their applications and be recognised for their own research work," Dr Moltschaniwskyj said.
The 2020 award is open to all research students who are enrolled at an Australian university and are undertaking fisheries-orientated research work in NSW.
The winning entrant will receive $3,000 cash and a Certificate of Achievement.
Entrants are judged by a panel, including the DPI's Director Fisheries Research, Director Aquatic Environment and a representative from a NSW conservation group.
To enter, students will need to submit an electronic copy of a concise report summarising their research to date, and which is relevant to one of the following DPI's current priority programs: Promote the sustainable growth of commercial and recreational fishing and aquaculture; Protect and enhance NSW aquatic resources and environment.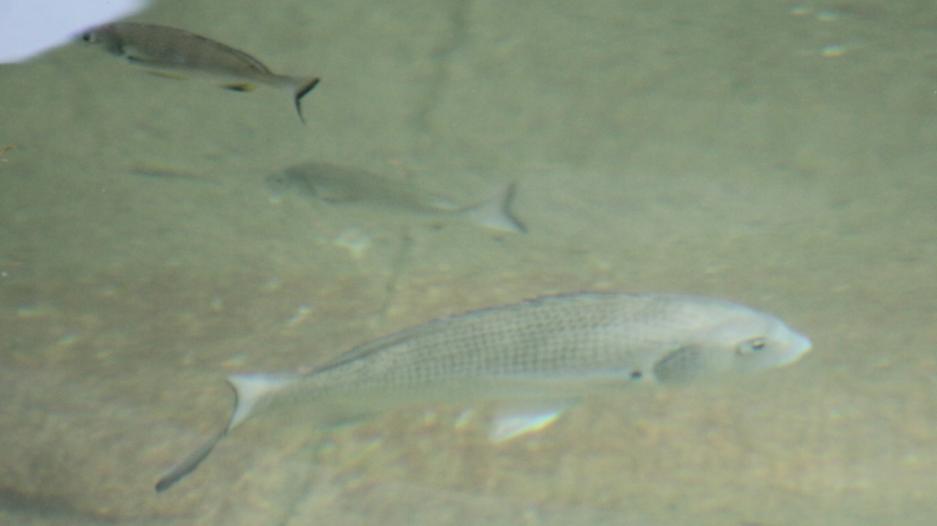 Year 11 And HSC
Updated: 26 August 2020 by NESA
The 2020 HSC is going ahead with
COVID safe exam
protocols to protect everyone involved - students, supervisors and markers.
NESA is committed to supporting the
health and wellbeing
of Year 11 and 12 students throughout their journey and has exam contingency plans in place to deal with a wide range of potential COVID 19 scenarios.
Even if things change, you will still be able to receive your HSC.
Fast track COVID-19 test results
HSC students can fast-track their COVID-19 test results.
To do this you must:
say you are a HSC student when taking a test
ensure the nurse or doctor doing the test marks your referral 'urgent — HSC'
self-isolate until a negative result is received
show your school the negative result
call the contact number provided by the clinic if results are not received within 36 hours.
Your health is number one. We know it's not an ordinary year. So, please take it one day at a time focussing on looking after yourself, submitting your assessments, and studying for your exams. Support to manage exam stress is available via the
Stay Healthy HSC campaign
. Use #StayHealthyHSC to get involved on social media.
Find out
what to do
if your school is closed, you are unwell or required to self-isolate on the day of a HSC exam.
The introduction of protocols for COVID-safe exams follow the changes made earlier in the year to the requirements for the 2020 HSC requirements, including changes to performance and practical exams for:
Other changes also include:
Allowing principals to decide on the number, type and weighting of school-based assessments for the HSC and Year 11 school-based assessment. NESA's principles of assessment continue to apply. The deadline for schools to submit HSC assessment results and other marks is 23 September.
Increasing the number of times Year 12 students yet to meet the HSC minimum standard can sit the minimum standard online tests.
Cancelling the requirement for NESA mandated VET work placements.
HSC written examinations commence on Tuesday, 20 October 2020 and conclude on Wednesday, 11 November 2020.
After last HSC written examination the HSC Assessment Ranks are released to students via Students Online for 4 weeks.
HSC results are released on Friday, 18 December 2020 and HSC Results Inquiry Centre opens.
HSC testamurs will be mailed in January 2021.
It is more important than ever to recognise student talent and achievement in the 2020 HSC. Some HSC showcase nomination and selection processes have changed due to COVID-19:
The criterion for selection to a showcase is to represent outstanding examples demonstrating the philosophy, content and outcomes of the syllabus.
The final selection of performances, projects and submitted works is a curatorial decision made in collaboration with NESA.
NESA is exploring options for presenting showcases in 2021.
Western Sydney University Offering Free Online HSC Study Sessions
Free Online HSC Study Sessions
Tuesday 6 October – Friday 9 October 2020.
Our
free online HSC Study Sessions
are led by highly qualified and experienced educators who will give you the skills and knowledge to maximise your HSC results.
Each workshop is an invaluable addition to your school studies, as you will develop a solid understanding of HSC exam techniques, subject knowledge, and HSC preparation skills. Workshops will include:
2-HOUR INTERACTIVE WEBINAR:
Content analysis (including workbook)
Tips and strategies across all modules/topics
Detailed exploration of key syllabus areas
4-HOUR PRACTICE EXAM AND DECONSTRUCTION:
Sample 2-hour practice exam
Interactive webinar with a detailed analysis of each question, including provisions of annotations and exemplar responses/solutions
Advanced English
Biology
Business Studies
Chemistry
Family and Community Studies
Geography
Mathematics Standard 2
Legal Studies
Modern History
2 Unit Advanced Mathematics
Physics
PDHPE
Standard English
Attend online sessions on subject syllabus and curriculm that you want to review
Find out about HSC exam tips that will help you with your studies
Practice on exam papers with experienced HSC markers
Register your interest to attend HSC Study sessions - Tuesday 6 October – Friday 9 October 2020.
'Help Harvest NSW' Launched To Help Secure Ag Workers To Bumper Harvest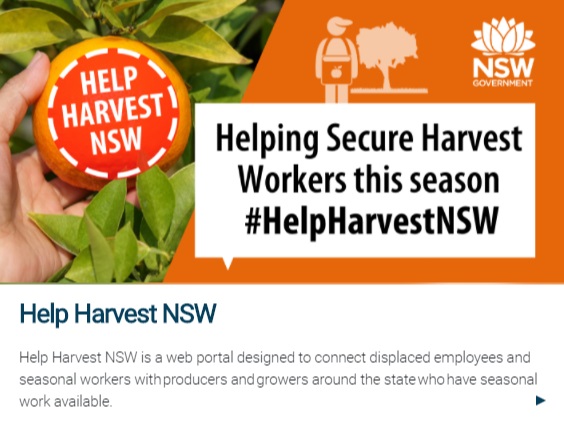 Farmers will be able to capitalise on what is predicted to be the best harvest in many years, with the launch today of a new one-stop resource which will help the agriculture industry overcome a COVID-induced labour shortage and get unemployed Australians into critical work.
Minister for Agriculture Adam Marshall announced the launch of the 'Help Harvest NSW' website today, which will connect unemployed Australians with farm work opportunities across the State as part of the NSW Government's COVID Recovery Plan.
With NSW at the forefront of this year's big winter crop comeback after drought and horticulture about six weeks from harvest, Mr Marshall said it was critical to act now as there would be a shortage of between 3,500 and 5,000 workers needed in the state
.
"Farmers are desperate to find contractors and employees willing to work to make the most of the bumper harvest we're about to have," Mr Marshall said.
"A high volume of primary industries labour generally comes from overseas and due to COVID-19 international travel restrictions there simply isn't the number of farm workers the ag industry needs at the moment.
"The Help Harvest NSW website will help to overcome this challenge by connecting job-seeking Australians with agricultural work opportunities in NSW.
"I want to see more Aussies climb off the couch and get out into the regions where there's plenty of good paying work on until the end of the year.
"At a time when we are just beginning to emerge from drought, our State's farmers cannot afford to miss out on the financial uplift that comes from a strong harvest."
With higher than average unemployment due to COVID-19, Mr Marshall said that 'Help Harvest NSW' was a way to get the State's workforce moving again.
"Never before and never again will Australians have a better chance to take up farm work, earn a decent wage and see first-hand our beautiful regions where the food we buy every day from the supermarket is produced," Mr Marshall said.
"My message to the increasing number of people looking for a job at the moment is this: get off your bum and get into agriculture – we need you.
"Take a look at Help Harvest NSW and see what job opportunities are around the corner."
Book Of The Month September 2020: Conrad Martens : The Man And His Art
by Sir Lionel Lindsay(1874-1961). Publication date 1920. Published by Angus & Robertson, Sydney.
Stay Healthy During The HSC
In any 'normal' year the HSC requires dedication and focus as well as the support of friends and family.
This year hasn't exactly panned out to be a 'normal' year, with announcements about changes to the HSC due to COVID-19.
Despite all the goings-on, students across NSW are continuing to study for their HSC with focus and determination, and we at NESA are here to help.
This year we are partnering with mental health organisation ReachOut to deliver news, information, guidance and advice to support all HSC students.
You'll hear from experts, teachers, parents and other students as well as some inspiring spokespeople. This year we are planning to lighten your mental load with practical tips and tricks for staying active, connected and in charge of your wellbeing.
ReachOut's Study Hub has heaps of info about taking a proactive approach to your mental health or where to go if you need more support. ReachOut's Forums are great for sharing what's going on for you and get ideas about the best ways to feel happy and well.
So follow and use #StayHealthyHSC for regular health and wellbeing updates and information.
View our range of social media images, posters and flyer to help you get involved and share the Stay Healthy HSC message with your community.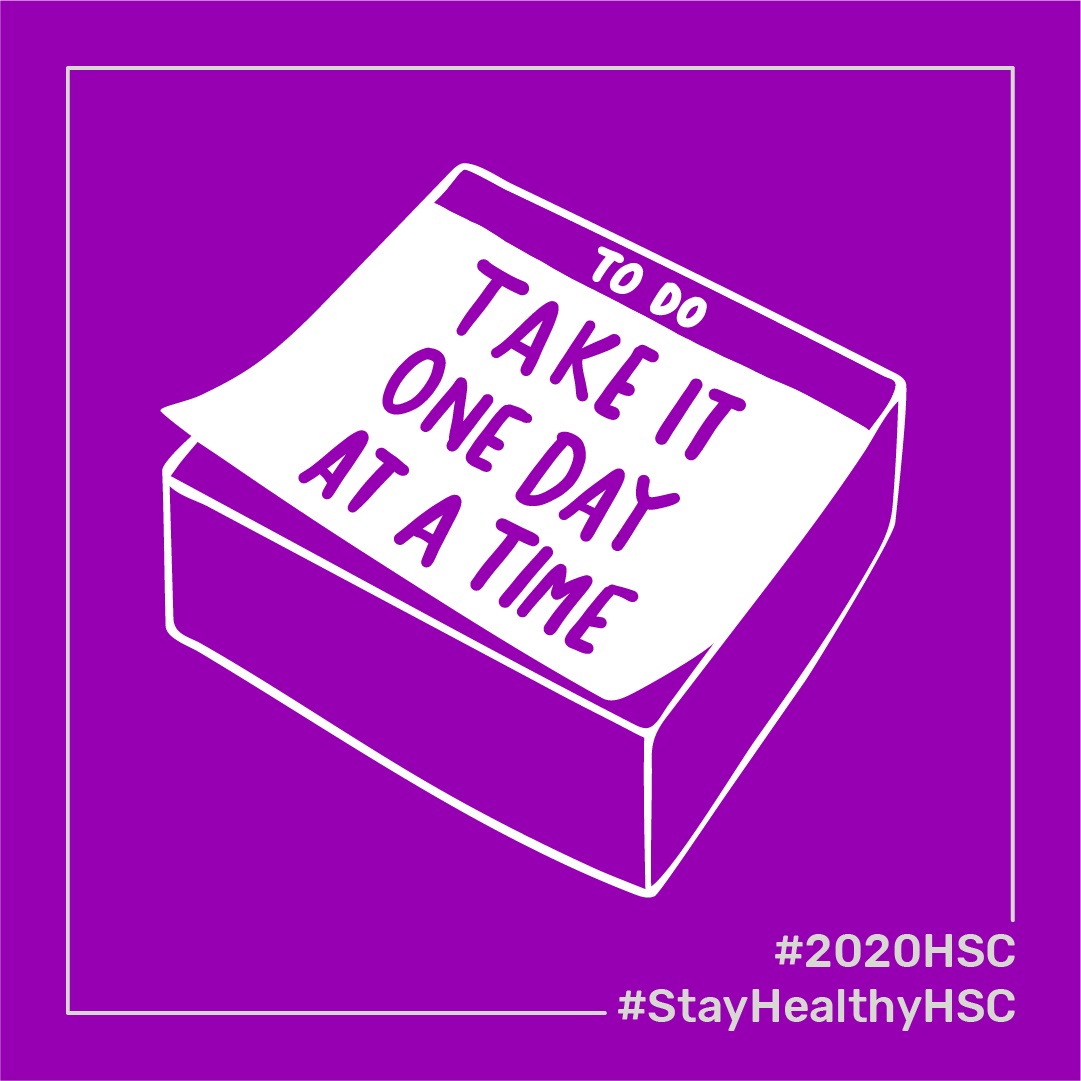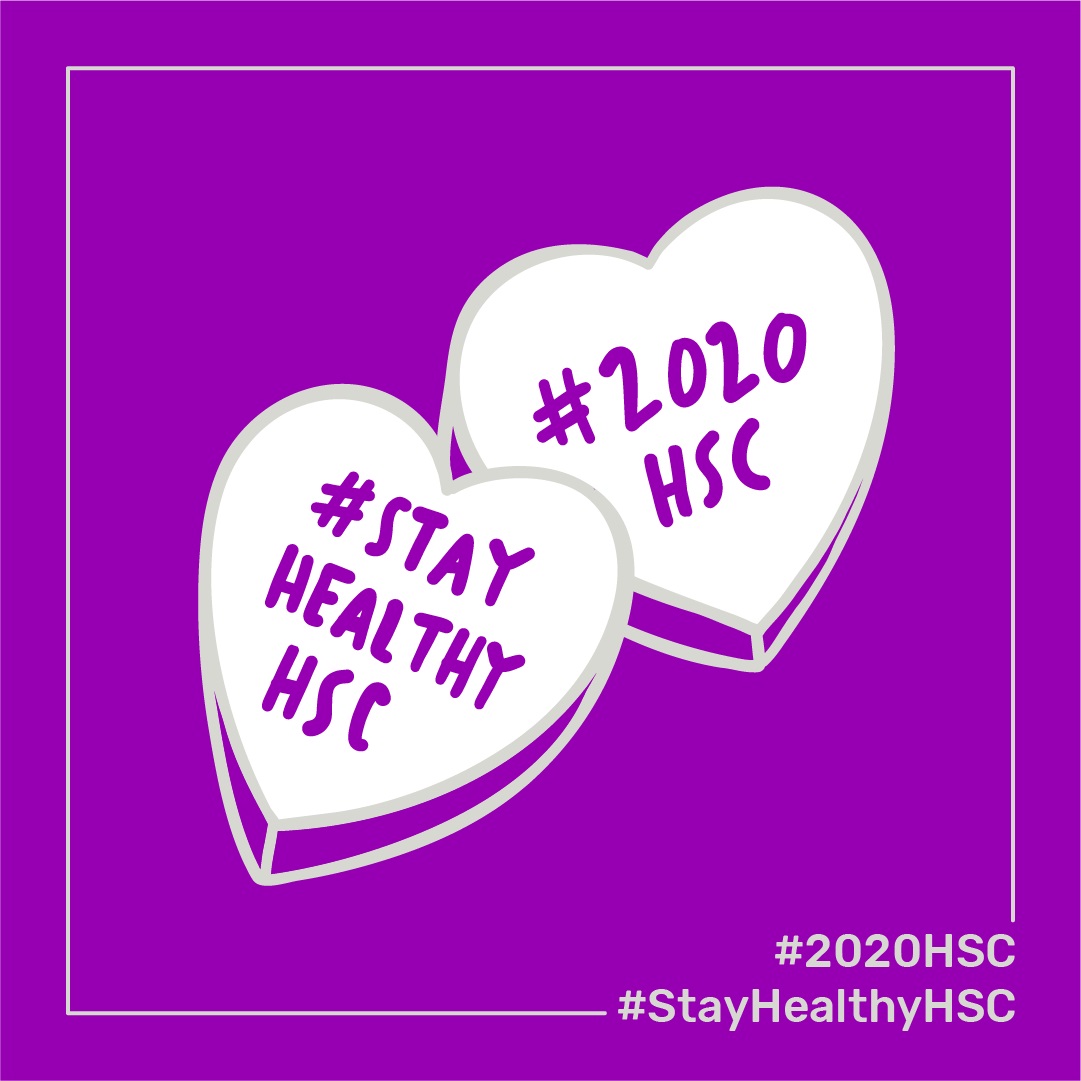 New Glove-Like Device Mimics Sense Of Touch
What if you could touch a loved one during a video call -- particularly in today's social distancing era of COVID-19 -- or pick up and handle a virtual tool in a video game?
Pending user tests and funding to commercialise the new technology, these ideas could become reality in a couple of years after UNSW Sydney engineers developed a new haptic device which recreates the sense of touch.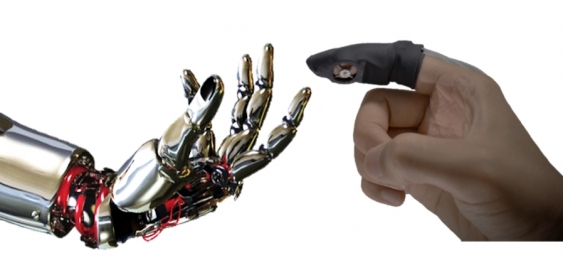 UNSW Engineering researchers have developed a new soft skin stretch device (SSD) which can be integrated into fabric, such as the finger glove pictured which is contrasted with a stylised robotic hand. Image: UNSW Engineering

Haptic technology mimics the experience of touch by stimulating localised areas of the skin in ways that are similar to what is felt in the real world, through force, vibration or motion.
Dr Thanh Nho Do, Scientia Lecturer and UNSW Medical Robotics Lab director, is senior author of a study featuring the new device.
His research team featured lead author and PhD candidate Mai Thanh Thai, Phuoc Thien Phan, Trung Thien Hoang and collaborator Scientia Professor Nigel Lovell, Head of the Graduate School of Biomedical Engineering.
Dr Do said the sense of touch was something many people took for granted to perform everyday tasks.
"When we do things with our hands, such as holding a mobile phone or typing on a keyboard, all of these actions are impossible without haptics," he said.
"The human hand has a high density of tactile receptors and is both an interesting and challenging area to encode information through haptic stimulation, because we use our hands to perceive most objects every day.
"There are many situations where the sense of touch would be useful but is impossible: for example, in a telehealth consultation a doctor is unable to physically examine a patient. So, we aimed to solve this problem."
The UNSW study about the new haptic device was published in the Institute of Electrical and Electronics Engineers (IEEE) Access journal recently.
Dr Do said the researchers were so excited about their new haptic technology that they had applied to patent it.
"Our three-way directional skin stretch device (SSD), built into the fingertips of the wearable haptic glove we also created, is like wearing a second skin -- it's soft, stretchable and mimics the sense of touch -- and will enable new forms of haptic communication to enhance everyday activities," he said.
"What's also special about our new technology is that it's scalable and can be integrated into textiles for use in various potential applications such as telehealth, medical devices, surgical robots and training, augmented and virtual reality, teleoperation and industrial settings.
"The device aims to solve a common problem in emerging systems -- such as assistive devices, remote surgery, self-driving cars and the guidance of human movements -- where visual or auditory feedback can be slow, unintuitive and increase the cognitive load."
Why haptic technology needs to improve
The study's lead author Mai Thanh Thai said existing technology had great difficulty recreating the sense of touch with objects in virtual environments or located remotely.
"Visual or auditory cues are easy to replicate, but haptic cues are more challenging to reproduce. In a virtual environment, we can see objects but we are unable to feel them as if we were directly touching them," Mr Thai said.
"It is almost impossible to enable a user to feel something happening in a computer or smartphone using a haptic interface, such as commercially available smart glasses.
"Vibration is the most common haptic technology today and is built into many electronic devices, such as the Taptic Engine attached to the back of a trackpad in laptops, which simulates a button clicking.
"But haptic feedback with vibration becomes less sensitive when used continuously or when users are in motion, leading to desensitisation and impaired device functionality."
How the new haptic device works
Dr Do said the researchers' new technology overcame issues with existing haptic devices by introducing a novel method to recreate an effective haptic sensation via soft, miniature artificial "muscles."
"Our soft, wearable haptic glove enables people to feel virtual or remote objects in a more realistic and immersive way. The inbuilt soft artificial muscles generate sufficient normal and shear forces to the user's fingertips via a soft tactor, enabling them to effectively reproduce the sense of touch," he said.
"It works like this: imagine you are in Australia while your friend is in the United States. You wear a haptic glove with our integrated three-way directional SSDs in the fingertips and your friend also wears a glove with integrated 3D force sensors.
"If your friend picks up an object, it will physically press against your friend's fingers and their glove with 3D force sensors will measure these interactions.
"If these 3D force signals are sent to your haptic glove, then the integrated three-way directional SSDs will generate these exact 3D forces at your fingertips, enabling you to experience the same sense of touch as your friend."
Implications of the new technology
Dr Do said the ability to effectively reproduce the sense of touch via the new wearable haptic device would have a wide range of benefits; for example, during today's COVID-19 pandemic when people were relying on video calls to stay connected with loved ones.
"Unlike existing haptic devices, our technology is soft, lightweight, and thin and therefore, we hope users will be able to integrate it into what they're wearing to provide realistic haptic experiences in settings including rehabilitation, education, training and recreation," he said.
"Our technology could enable a user to feel objects inside a virtual world or at a distance; for example, a scientist could feel a virtual rock from another planet without leaving their lab, or a surgeon could feel a patient's organ tissues with surgical tools without directly touching them."
Dr Do estimated the new technology could become available in the next 18 months to three years -- if plans to commercialise the device were realised.
"The next step is to conduct user evaluations to validate how effective our device is, because the main scope of our current research has been on the design, fabrication and characterisation of the new technology," he said.
"In addition, we plan to implement the device in various haptic applications such as haptic motion guidance, navigational assistance for older people and those with low vision, tactile textual language, and 3D force feedback display for use in surgical robots, prosthesis and virtual and augmented reality."
Mai Thanh Thai, Trung Thien Hoang, Phuoc Thien Phan, Nigel Hamilton Lovell, Thanh Nho Do. S
oft Microtubule Muscle-Driven 3-Axis Skin-Stretch Haptic Devices.
IEEE Access, 2020; 8: 157878 DOI:
10.1109/ACCESS.2020.3019842
Australian Telescope Finds No Signs Of Alien Technology In 10 Million Star Systems
A radio telescope in outback Western Australia has completed the deepest and broadest search at low frequencies for alien technologies, scanning a patch of sky known to include at least 10 million stars.
Astronomers used the Murchison Widefield Array (MWA) telescope to explore hundreds of times more broadly than any previous search for extraterrestrial life.
The study, published today in Publications of the Astronomical Society of Australia, observed the sky around the Vela constellation. But in this part of the Universe at least, it appears other civilisations are elusive, if they exist.
The research was conducted by CSIRO astronomer Dr Chenoa Tremblay and Professor Steven Tingay, from the Curtin University node of the International Centre for Radio Astronomy Research (ICRAR).
Dr Tremblay said the telescope was searching for powerful radio emissions at frequencies similar to FM radio frequencies, that could indicate the presence of an intelligent source.
These possible emissions are known as 'technosignatures'.
"The MWA is a unique telescope, with an extraordinarily wide field-of-view that allows us to observe millions of stars simultaneously," she said.
"We observed the sky around the constellation of Vela for 17 hours, looking more than 100 times broader and deeper than ever before.
"With this dataset, we found no technosignatures -- no sign of intelligent life."
Professor Tingay said even though this was the broadest search yet, he was not shocked by the result.
"As Douglas Adams noted in The Hitchhikers Guide to the Galaxy, 'space is big, really big'."
"And even though this was a really big study, the amount of space we looked at was the equivalent of trying to find something in the Earth's oceans but only searching a volume of water equivalent to a large backyard swimming pool.
"Since we can't really assume how possible alien civilisations might utilise technology, we need to search in many different ways. Using radio telescopes, we can explore an eight-dimensional search space.
"Although there is a long way to go in the search for extraterrestrial intelligence, telescopes such as the MWA will continue to push the limits -- we have to keep looking."
The MWA is a precursor for the instrument that comes next, the Square Kilometre Array (SKA), a 1.7 billion Euro observatory with telescopes in Western Australia and South Africa. To continue the Douglas Adams references, think of the MWA as the city-sized Deep Thought and the SKA as its successor: the Earth.
"Due to the increased sensitivity, the SKA low-frequency telescope to be built in Western Australia will be capable of detecting Earth-like radio signals from relatively nearby planetary systems," said Professor Tingay.
"With the SKA, we'll be able to survey billions of star systems, seeking technosignatures in an astronomical ocean of other worlds."
The MWA is located at the Murchison Radio-astronomy Observatory, a remote and radio quiet astronomical facility established and maintained by CSIRO -- Australia's national science agency. The SKA will be built at the same location but will be 50 times more sensitive and will be able to undertake much deeper SETI experiments.
C. D. Tremblay, S. J. Tingay.
A SETI survey of the Vela region using the Murchison Widefield Array: Orders of magnitude expansion in search space.
Publications of the Astronomical Society of Australia, 2020; 37 [
abstract
]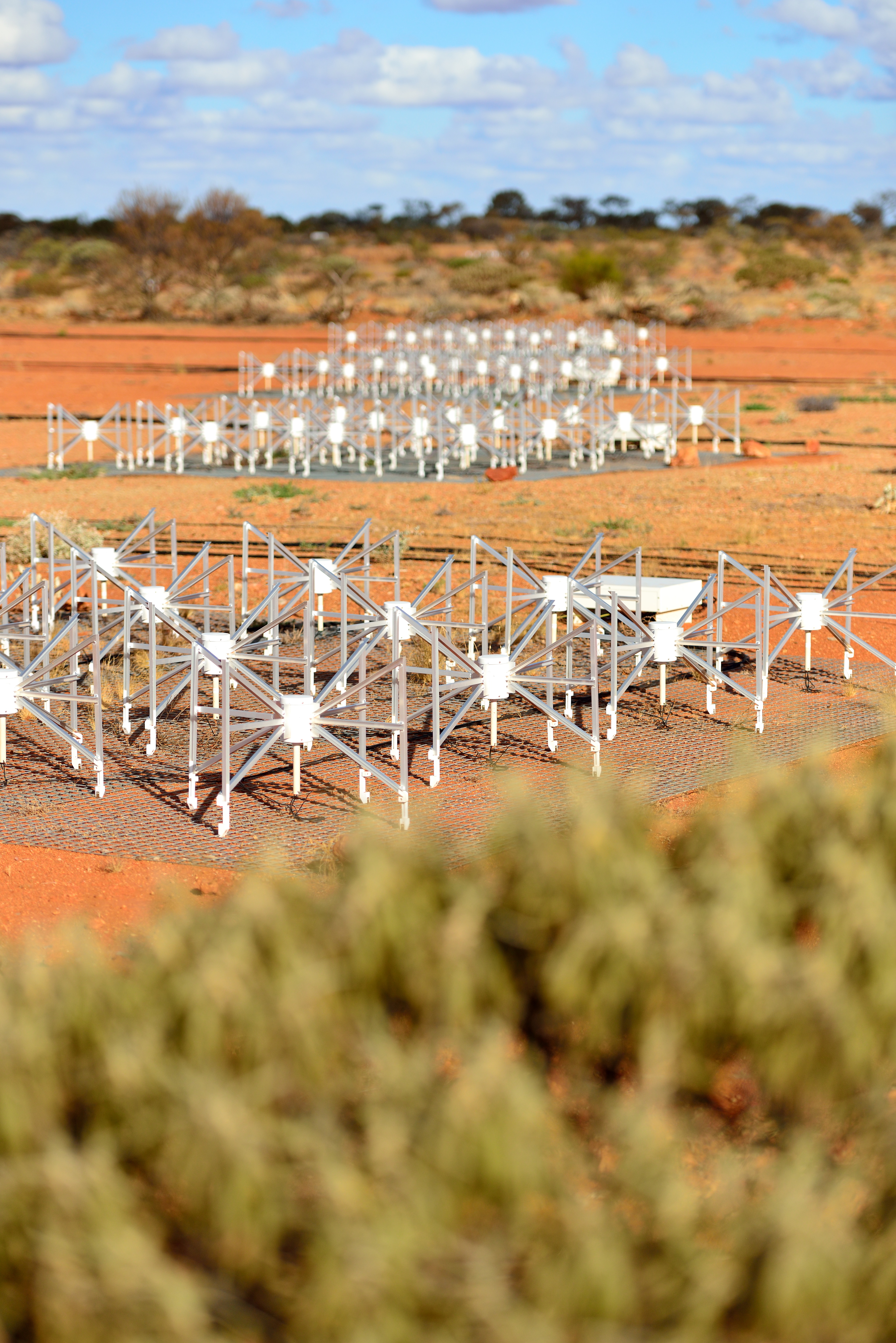 Dipole antennas of the Murchison Widefield Array (MWA) radio telescope in Mid West Western Australia. Credit: Dragonfly Media.
Over A Century Later The Mystery Of The Alfred Wallace's Butterfly Is Solved
An over a century-long mystery has been surrounding the Taiwanese butterfly fauna ever since the "father of zoogeography" Alfred Russel Wallace, in collaboration with Frederic Moore, authored a landmark paper in 1866: the first to study the lepidopterans of the island.
Back then, in their study, Moore dealt with the moths portion and Wallace investigated the butterflies. Together, they reported 139 species, comprising 93 nocturnal 46 diurnal species, respectively. Of the latter, five species were described as new to science. Even though the correct placements of four out of those five butterflies in question have been verified a number of times since 1886, one of those butterflies: Lycaena nisa, would never be re-examined until very recently.
In a modern-day research project on Taiwanese butterflies, scientists retrieved the original type specimen from the Wallace collection at The History Museum of London, UK. Having also examined historical specimens housed at the Taiwan Agricultural Research Institute, in addition to newly collected butterflies from Australia and Hong Kong, Dr Yu-Feng Hsu of the National Taiwan Normal University finally resolved the identity of the mysterious Alfred Wallace's butterfly: it is now going by the name Famegana nisa (comb. nov.), while two other species names (Lycaena alsulus and Zizeeria alsulus eggletoni) were proven to have been coined for the same butterfly after the original description by Wallace. Thereby, the latter two are both synonymised with Famegana nisa.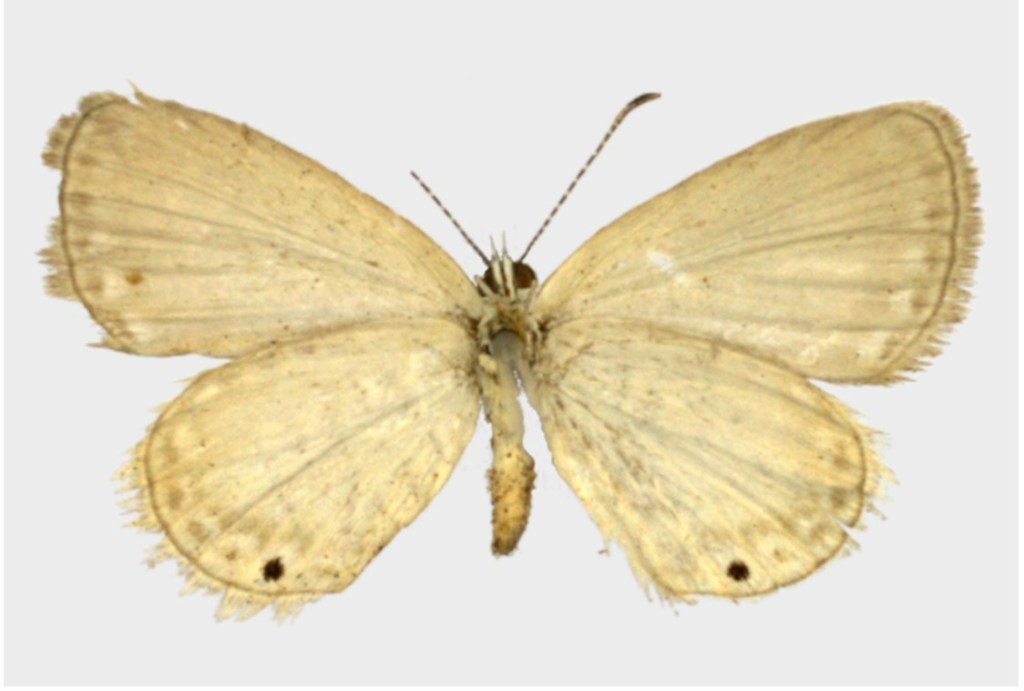 Type specimen of Famegana nisa, collected by Wallace in 1866 (upper side). Credit: Dr Yu-Feng Hsu (courtesy of NHM). License: CC-BY 4.0

Despite having made entomologists scratch their heads for over a century, in the wild, the Wallace's butterfly is good at standing out. As long as one knows what else lives in the open grassy habitats around, of course. Commonly known as 'Grass Blue', 'Small Grass Blue' or 'Black-spotted Grass Blue', the butterfly can be easily distinguished amongst the other local species by its uniformly greyish white undersides of the wings, combined with obscure submarginal bands and a single prominent black spot on the hindwing.
However, the species demonstrates high seasonal variability, meaning that individuals reared in the dry season have a reduced black spot, darker ground colour on wing undersides and more distinct submarginal bands in comparison to specimens from the wet season. This is why Dr Yu-Feng Hsu notes that it's perhaps unnecessary to split the species into subspecies even though there have been up to four already recognised.
Alfred Russel Wallace, a British naturalist, explorer, geographer, anthropologist, biologist and illustrator, was a contemporary of Charles Darwin, and also worked on the debates within evolutionary theory, including natural selection. He also authored the famed book Darwinism in 1889, which explained and defended natural selection.
While Darwin and Wallace did exchange ideas, often challenging each other's conclusions, they worked out the idea of natural selection each on their own. In his part, Wallace insisted that there was indeed a strong reason why a certain species would evolve. Unlike Darwin, Wallace argued that rather than a random natural process, evolution was occurring to maintain a species' fitness to the specificity of its environment. Wallace was also one of the first prominent scientists to voice concerns about the environmental impact of human activity.
Yu-Feng Hsu.
The identity of Alfred Wallace's mysterious butterfly taxon Lycaena nisa solved: Famegana nisa comb. nov., a senior synonym of F. alsulus (Lepidoptera, Lycaenidae, Polyommatinae).
ZooKeys, 2020; 966: 153 DOI:
10.3897/zookeys.966.51921
Analysis Of Australian Labradoodle Genome Reveals An Emphasis On The 'Oodle'
The creator of the Australian labradoodle set out to mix poodles and Labrador retrievers to develop a hypoallergic service dog. But, according to a new study by Elaine Ostrander at the National Institutes of Health, published September 10th in PLOS Genetics, the breed that developed from that cross is primarily poodle.
There are about 350 recognised dog breeds in the world today, many resulting from intense breeding programs that unintentionally created dogs at high risk for certain health problems. These high rates of disease were one motivating factor behind crossing two purebred dogs to create so-called "designer breeds," coupled with the desire to combine positive traits from the parental breeds.
The Australian labradoodle is one of the most popular designer breeds, and so researchers analyzed genetic variations at more than 150,000 locations along its genome to understand how the breed has developed over the past 31 years. The findings show that genetically, the Australian labradoodle is mostly poodle, with smaller genetic contributions from the Labrador retriever and certain types of spaniel. Breeders appear to have preferentially chosen dogs with a poodle-like coat, which is associated with what many people consider hypoallergenicity, and without strong preference for specific traits from Labrador retrievers.
The new study demonstrates that changes in very few genes, over a small number of generations, can define a new dog breed. The results of this genetic study may also inform the development of genetic tests that can be incorporated into thoughtful breeding programs to avoid some of the health problems that commonly afflict Australian labradoodles. Currently, Australian labradoodles supporters are lobbying to have the breed officially recognise by an international registry.
Muhammad Basil Ali, Jacquelyn M. Evans, Heidi G. Parker, Jaemin Kim, Susan Pearce-Kelling, D. Thad Whitaker, Jocelyn Plassais, Qaiser M. Khan, Elaine A. Ostrander.
Genetic analysis of the modern Australian labradoodle dog breed reveals an excess of the poodle genome.
PLOS Genetics, 2020; 16 (9): e1008956 DOI:
10.1371/journal.pgen.1008956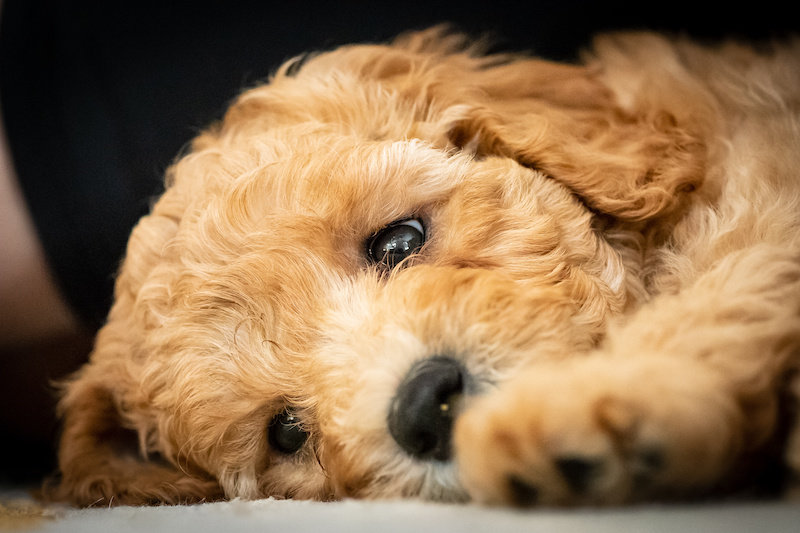 Australian labradoodle puppy (stock image). Credit: © Jacob / stock.adobe.com

Putting A Future Avocado 'Apocalypse' On Ice
The supply of smashed 'avo' is secure for generations after world-first research cryopreserved the tips of avocado shoots and then revived them to create healthy plants.
University of Queensland PhD student Chris O'Brien has developed the first critical steps to create a cryopreservation protocol for avocado which had never been achieved until now, despite more than 40 years of research.
"The aim is to preserve important avocado cultivars and key genetic traits from possible destruction by threats like bushfires, pests and disease such as laurel wilt -- a fungus which has the capacity to wipe out all the avocado germplasm in Florida," Mr O'Brien said.
"Liquid nitrogen does not require any electricity to maintain its temperature, so by successfully freeze avocado germplasm, it's an effective way of preserving clonal plant material for an indefinite period."
Cryopreservation is the technology used to freeze human biological material such as sperm and eggs at minus 196 degrees Celsius, and has been used to freeze other plants such as bananas, grape vines and apple.
Mr O'Brien has been working with UQ Centre for Horticultural Science's Professor Neena Mitter and Dr Raquel Folgado from The Huntington Library, Art Museum, and Botanical Gardens in California to perfect the technique.
He used clonal shoot tip material developed from tissue culture propagation technology which enables up to 500 true to type plants to grow from a single shoot-tip.
"At first I was just recovering brown mush after freezing the avocado tips," Mr O'Brien said.
"There was no protocol so I experimented with priming the tips with Vitamin C, and used other pre-treatments like sucrose and cold temperature to prepare the cells -- it was a question of trial and error to get the optimal mixture and correct time points."
The avocado shoot tips are placed on an aluminium foil strip, which allows for ultra-fast cooling and rewarming, then placed into a 'cryotube' before being stored in liquid nitrogen.
The frozen shoot tips can be revived in a petri dish containing a sucrose mixture to rehydrate.
"It takes about 20 minutes to recover them," Mr O'Brien said.
"In about two months they have new leaves and are ready for rooting before beginning a life in the orchard."
He has achieved 80 per cent success in regrowing frozen Reed avocado plants and 60 per cent with the Velvick cultivar.
Eighty revived avocado plants are now growing in a UQ glasshouse.
The recovered trees will be monitored for flowering times and fruit quality, with field trials planned with collaborators at Anderson Horticulture.
Professor Mitter said this was the first time the plants had experienced life outside the laboratory.
"I suppose you could say they are space-age avocados -- ready to be cryo-frozen and shipped to Mars when human flight becomes possible," she said.
"But it is really about protecting the world's avocado supplies here on earth and ensuring we meet the demand of current and future generations for their smashed 'avo' on toast."
C. O'Brien, J. C. A. Hiti-Bandaralage, R. Folgado, S. Lahmeyer, A. Hayward, J. Folsom, N. Mitter.
First report on cryopreservation of mature shoot tips of two avocado (Persea americana Mill.) rootstocks
. Plant Cell, Tissue and Organ Culture (PCTOC), 2020; DOI:
10.1007/s11240-020-01861-y
Disclaimer: These articles are not intended to provide medical advice, diagnosis or treatment. Views expressed here do not necessarily reflect those of Pittwater Online News or its staff.