Inbox and Environment News: Issue 464
August 30 - September 5, 2020: Issue 464
Time of Ngoonungi
The Time of Ngoonungi - Murrai'yunggory — cool, getting warmer (September-October) in the D'harawal calendar of Indigenous Weather Knowledge begins this week. This is the time of the gathering of the flying foxes. A magical time of the year when the flying foxes gather in the darkening skies over D'harawal Lands. They come in from the north-east, the north, the north-west and the west, and swirl over the Sydney area in a wonderful, sky-dancing display just after sunset, before setting off for the night-time feeding grounds to the south.
It is also a very important ceremonial time for the D'harawals, which begins with the appearance of the splashes of the bright red Miwa Gawaian (Telopea speciosissima - waratah) in the bushland.
Waratah (Telopea speciosissima) photos by Selena Griffith - photographed in our area at the end of this week (August 28, 2020). More in this Issue's Celebration of Springs' Early Weeks Pictorial.
Residents do not state where they have seen these glorious flowers as there are people who come to pick them and steal them for profit. Native plants are protected in New South Wales by the Biodiversity Conservation Act 2016 (BC Act). Under the BC Act it is an offence to pick, possess, buy or sell native plants listed in the Act for commercial purposes without a licence.
Visit: A Bunch Of Wildflowers: Historical Spring September Songs
The D'harawal Country and language area extends from the southern shores of Port Jackson (Sydney Harbour) to the northern shores of the Shoalhaven River, and from the eastern shores of the Wollondilly River system to the eastern seaboard.
Visit: Celebration Of Spring 2020 in our Bush Parks - photos by Selena Griffith
Also running this Issue: Environmental Destruction Growing In Pittwater - Bush Reserves Being Destroyed By Illegal Bike Tracks, Fauna Once Present Now Gone Through Off-Leash Dogs Being Where They Shouldn't Be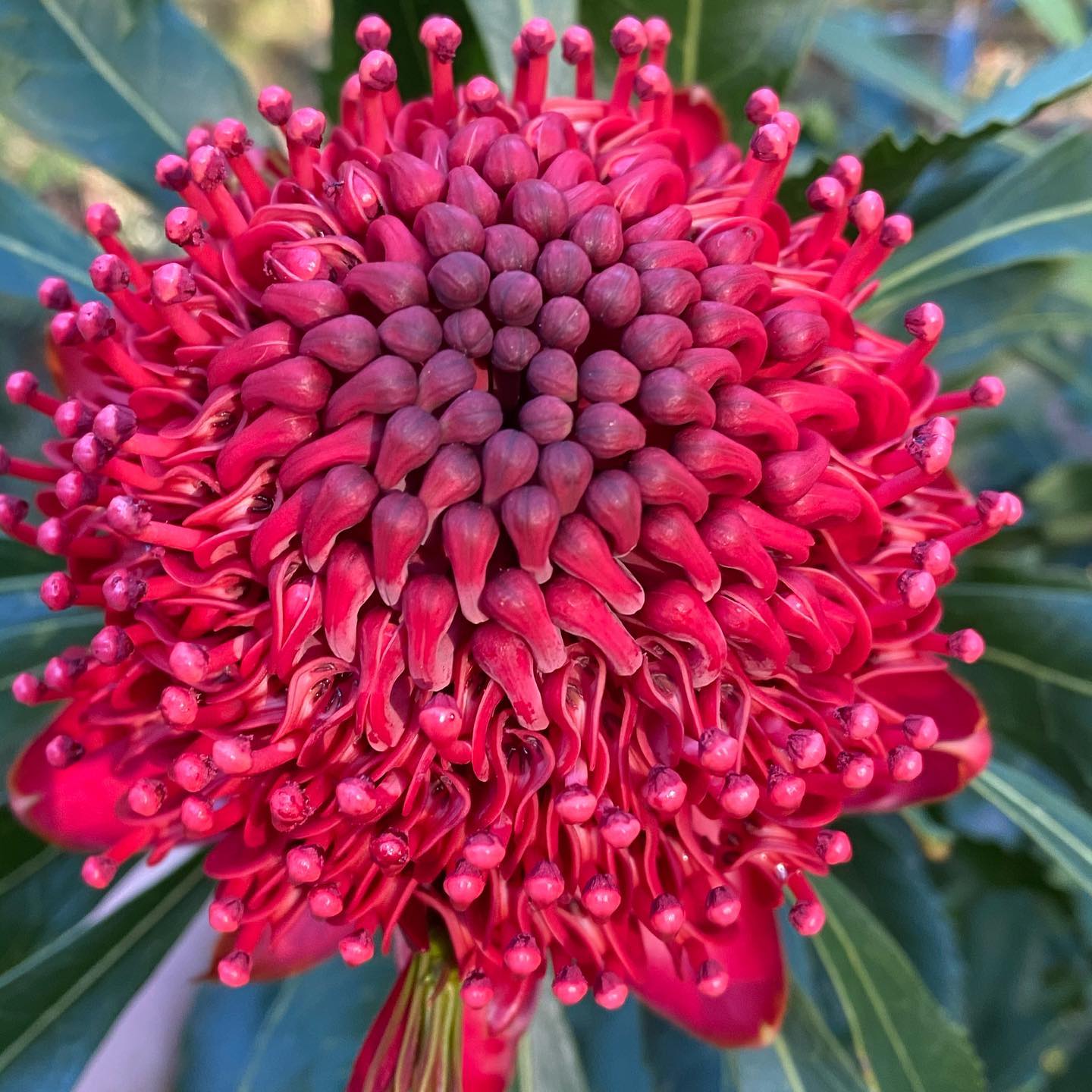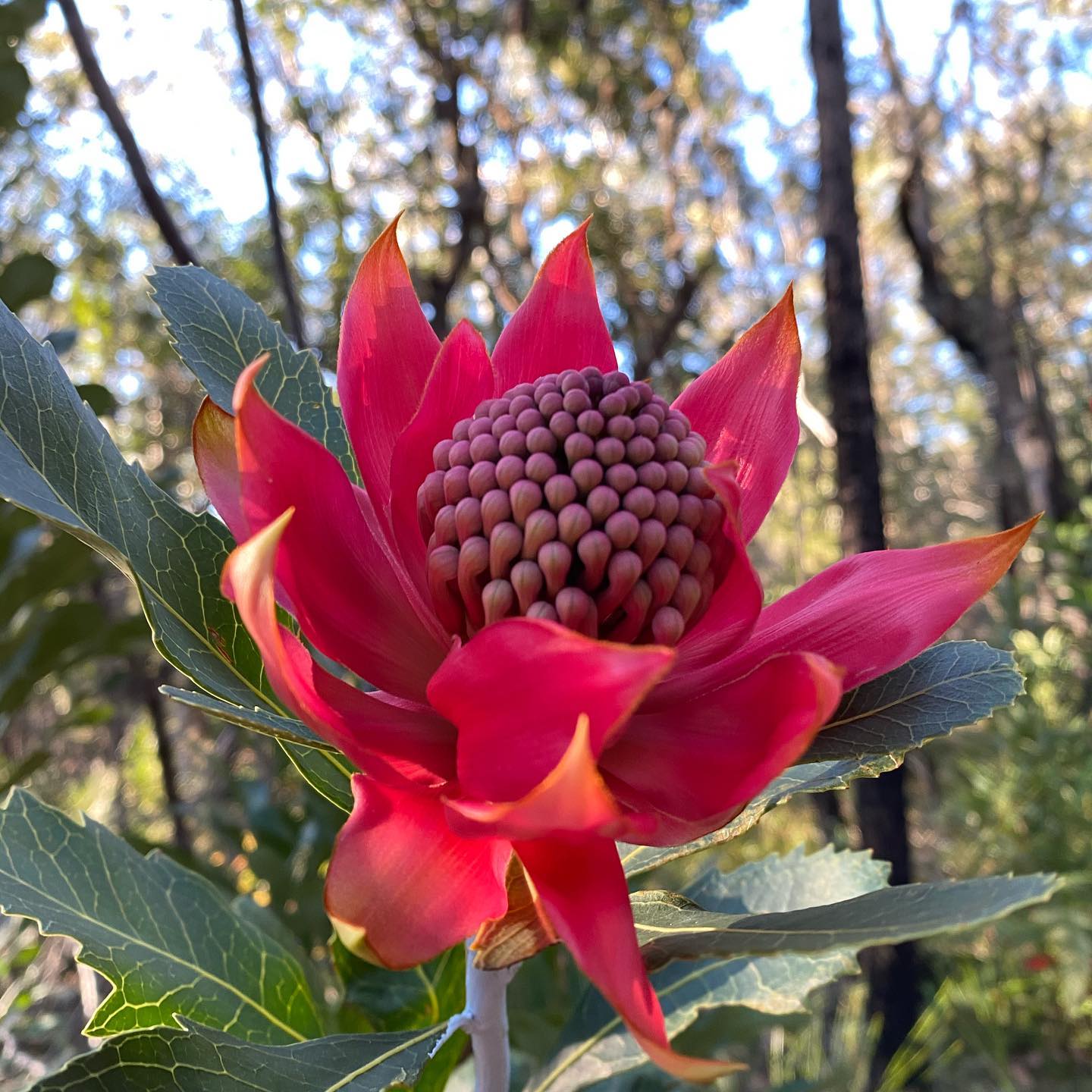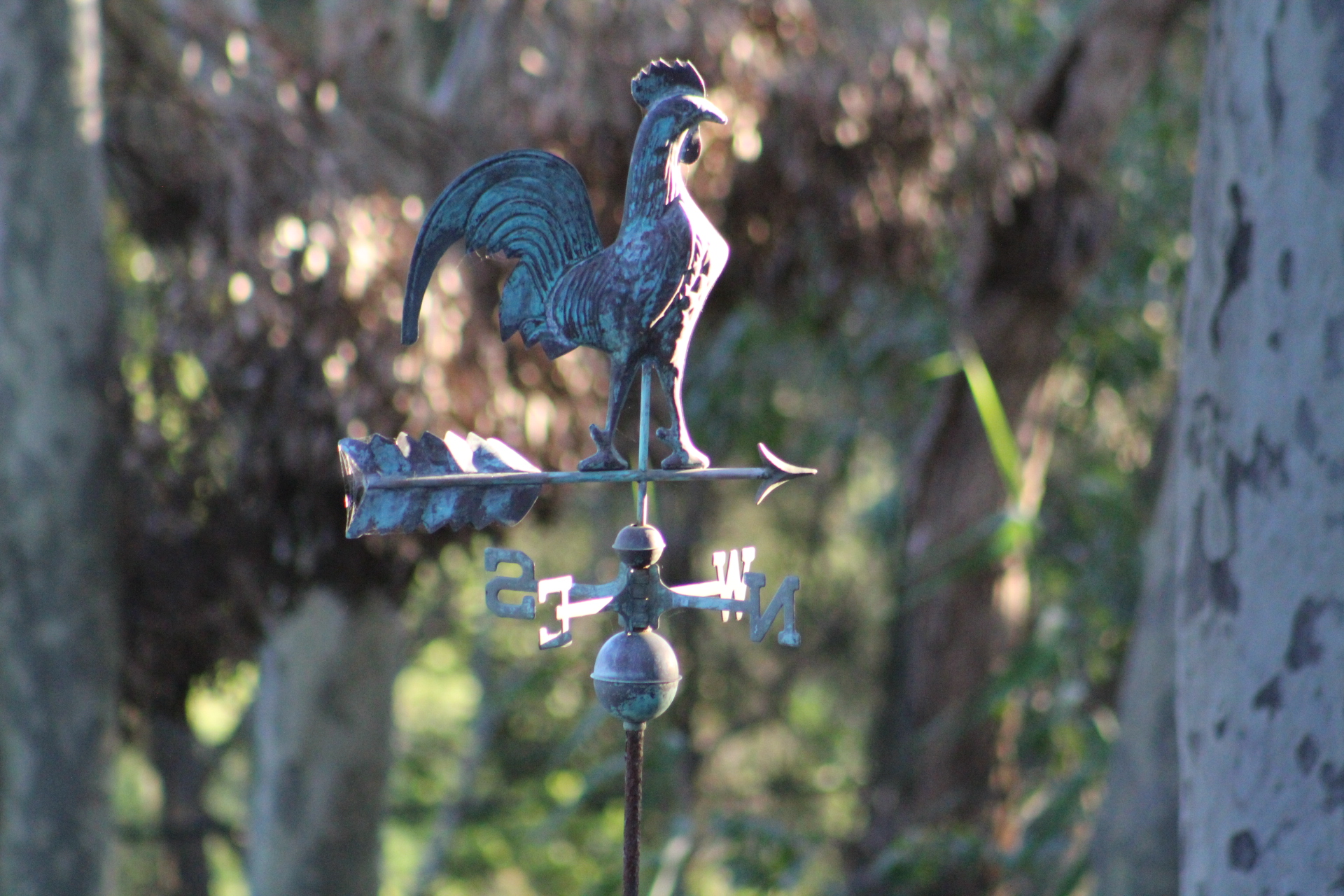 Council's Planning For Environmental Zones (Environmental Zones Review): Expressions Of Interest Now Open
Registrations close Monday September 7th 2020
Council is committed to demonstrating a clear process for establishing the principles and criteria for identifying land suitability and recommending future zoning.
As part of Planning our Sustainable Future, Council is undertaking a review of existing land use zones used in the four current Local Environment Plans (LEPs).
Council would like your involvement in the review of Environmental Zones (also known as E Zones).
The Environmental Zones Review will help establish which land areas are included in, or excluded from, Environmental Zones. It will also identify a criteria, proposed land uses and include mapping of proposed zones.
Council will be providing a range of opportunities for you to get involved and provide feedback during the review.
Register to be involved
Council are currently seeking expressions of interest to participate in focus groups as part of the Environmental Zones Review and seeking nominations to allow Council to undertake site inspections to better understand the application of current and potential zones.
Focus groups will be held online in late September to early October 2020.
Site inspections will be undertaken at several stages throughout the project, with the first round of inspections commencing in September 2020.
Expressions of interest close Monday September 7th 2020.
A shortlist of participants will be notified by email and will have the opportunity to nominate for a session. Specific dates and times will be provided at that time.
For further information, please contact Renee Coull on 8495 6260 or by email.
Register here: https://yoursay.northernbeaches.nsw.gov.au/planning-ezones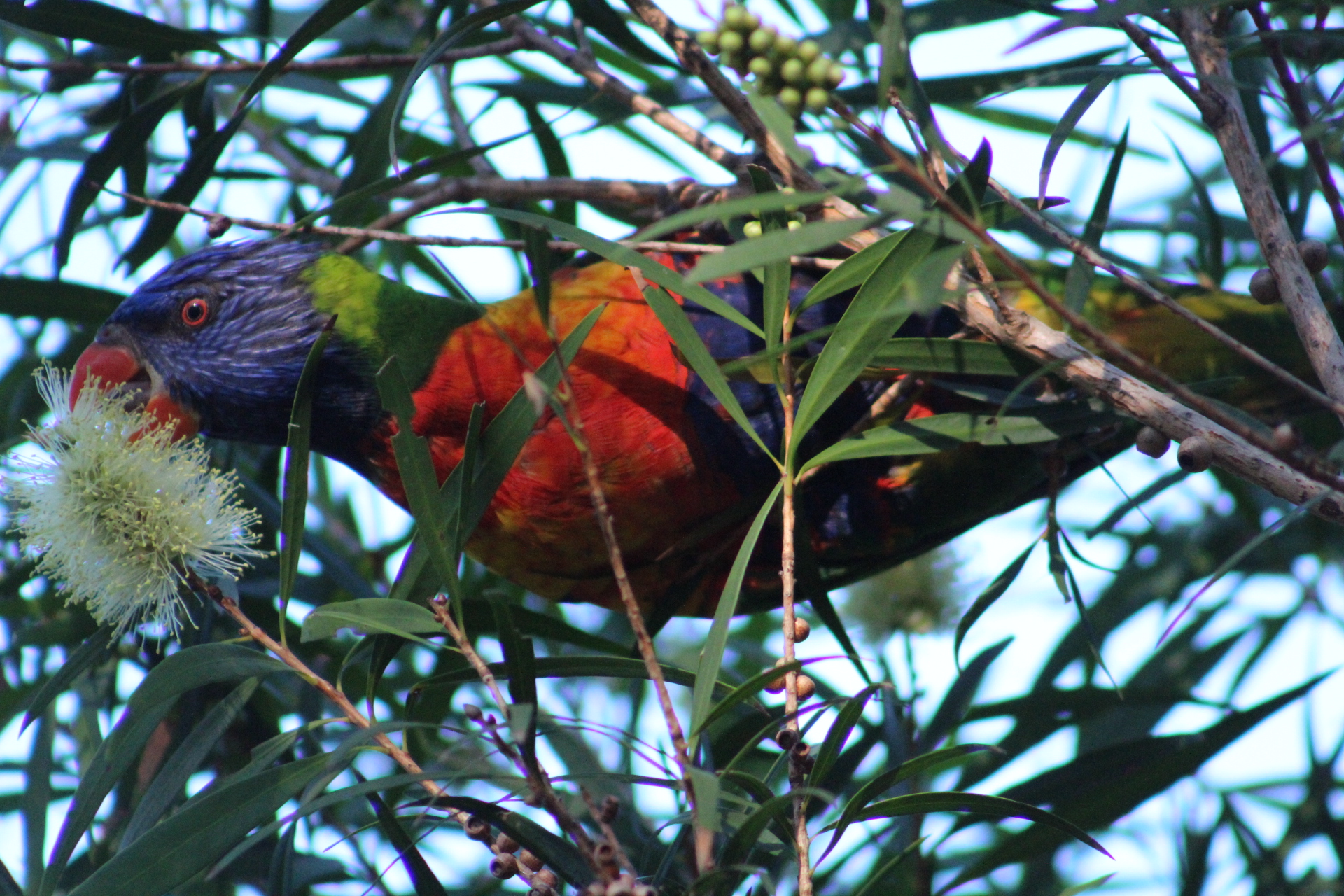 Council's Crown Reserve Land Categorisation: Seeking Your Input
Submissions Close Sunday October 4th, 2020
Council are proposing land categories for 35 Crown reserves as part of an obligation under the Crown Land Management (CLM) Act 2016. The CLM Act legislates that we are required to manage Crown land in the same manner as Community land, in accordance with the Local Government Act 1993.
This is an initial land categorisation process and only relates to current/existing use. It does not propose any change of use for the subject Crown reserves or indicate desired future use.
How to have your say
Council would like your thoughts on their proposed categorisation of these reserves.
To make commenting easier, they've presented the Proposed Crown Reserve Land Categories here in an interactive PDF document. You can also download the whole document here.
If you prefer, you can share your feedback in the submission form or via email council@northernbeaches.nsw.gov.au.
Feedback is also accepted in writing marked 'Crown reserve land categorisation' PO Box 82, Manly NSW 1655.
A few tips to get you started:
Do you know of other factors impacting on the categorisation of a particular reserve?
If you think another category would be more suitable, please let us know why.
Any proposed variation to land categories must be justified in line with the category objectives.
Following this process, Council can then prepare new or updated Plans of Management (PoM) for the affected reserves. The relevant community engagement requirements and process will be followed at that time.
Background

In NSW, Crown land is administered by the Department of Planning, Industry and Environment in accordance with the Crown Land Management (CLM) Act 2016, which came into effect on 1 July 2018. Following an extensive review of how Crown land is managed, the CLM Act was passed in order to create a more simplified management structure.
The CLM Act requires Crown reserves managed by Council to be managed in line with the Local Government Act (LG) Act 1993 in the same manner as Council Community land. The transition requires the affected Crown reserves to be managed via a plan of management (PoM). The first step is to assign the appropriate land categories.
The transition to managing Crown reserves in accordance with the LG Act is to occur by June 30th 2021.
On June 23rd 2020 Council resolved to undertake community consultation on the proposed land categories. Comments will be reported back to Council with a recommendation, along with a summary of community feedback. The Minister will be notified of Council's preferred categories and, following confirmation from the Minister, PoMs can be prepared.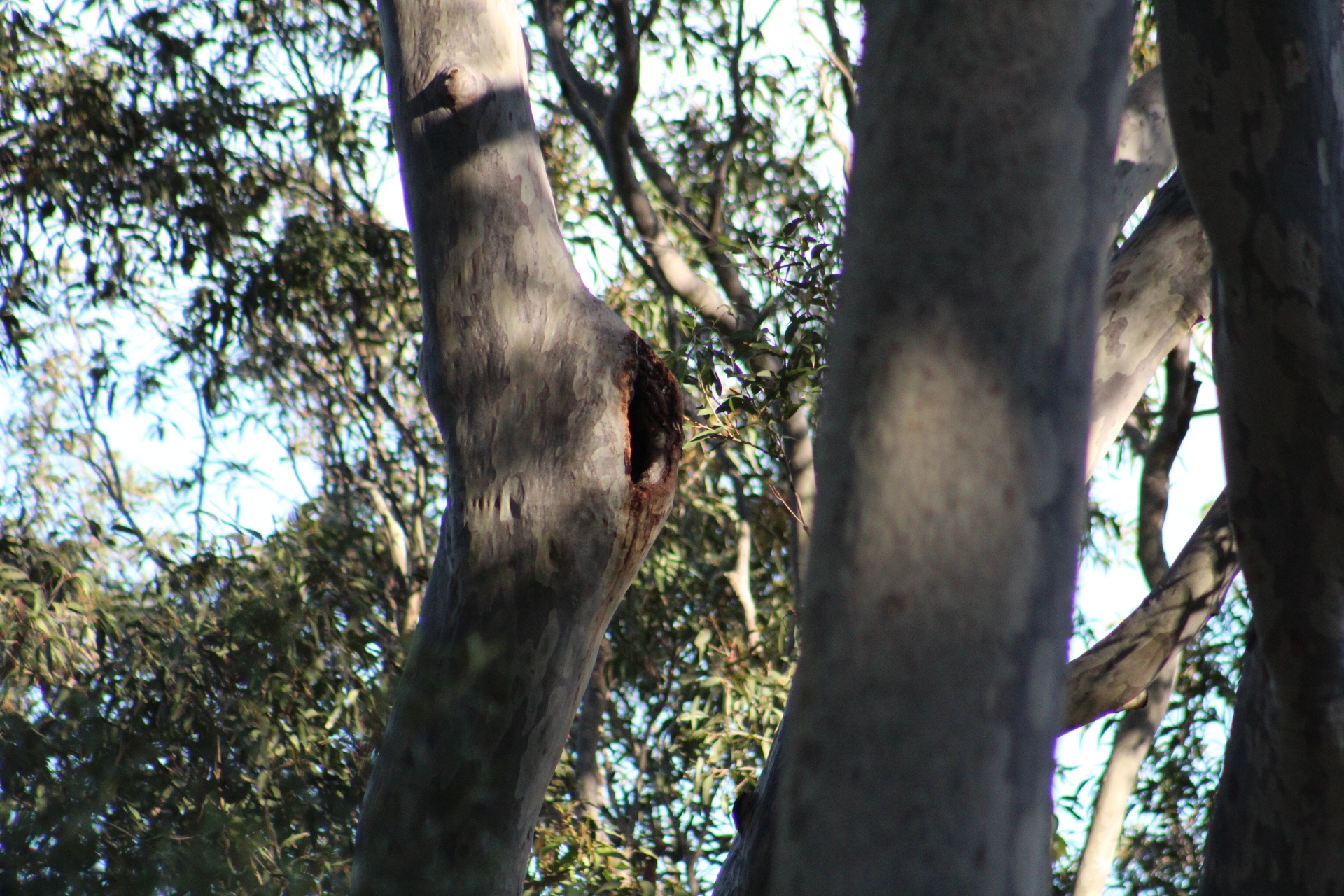 Kookaburras Nesting Again
The Kookaburra pair that frequent the Spotted Gums, and whose babies ran as a feature just a few months ago, have been visiting their preferred tree hollow this week; hopefully preparing this for new babies.
At present the whole tree-loving bird world is, without one glance at a watch but alike clockwork, pairing up or putting on grand displays of dance and song.
More next Issue!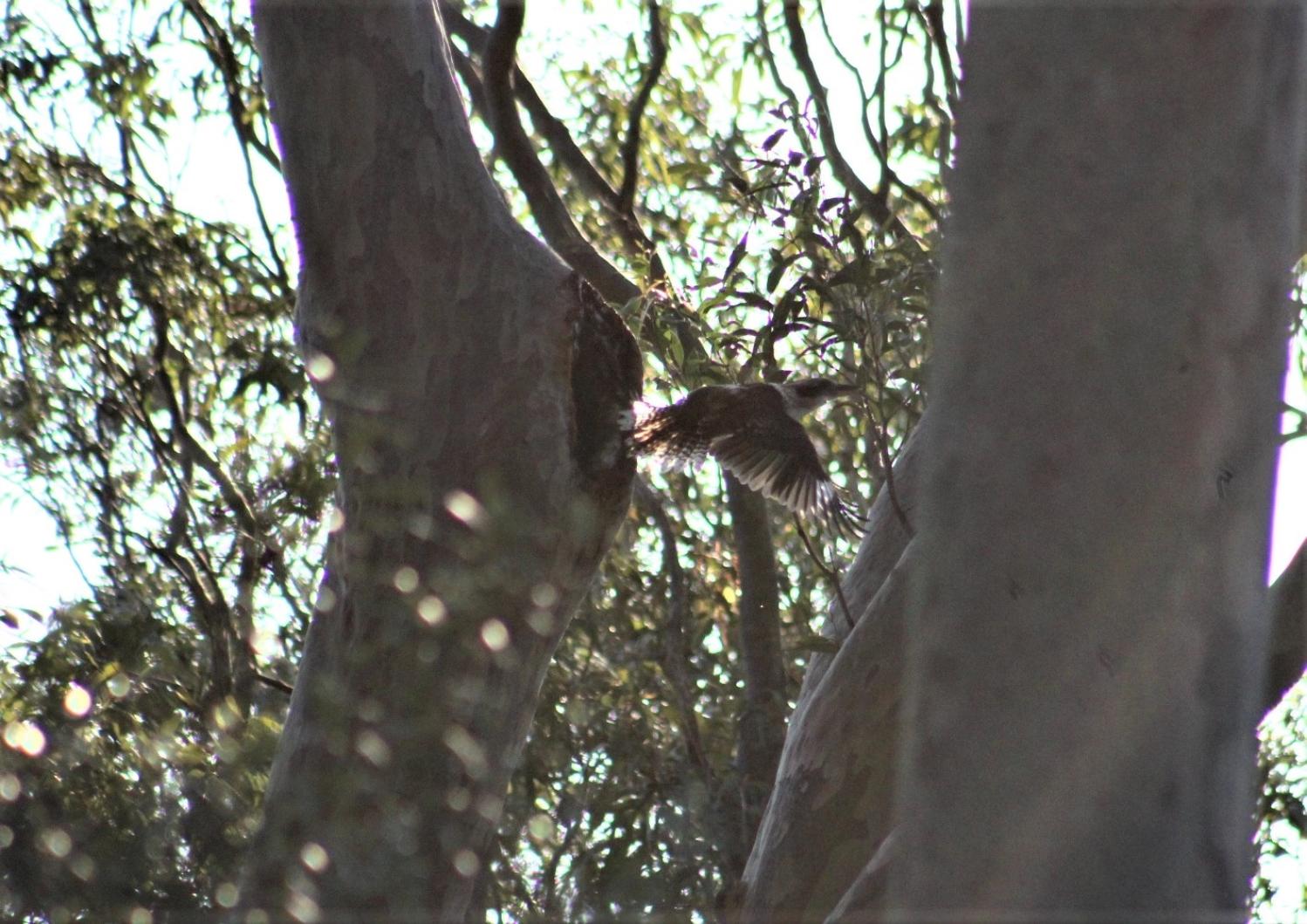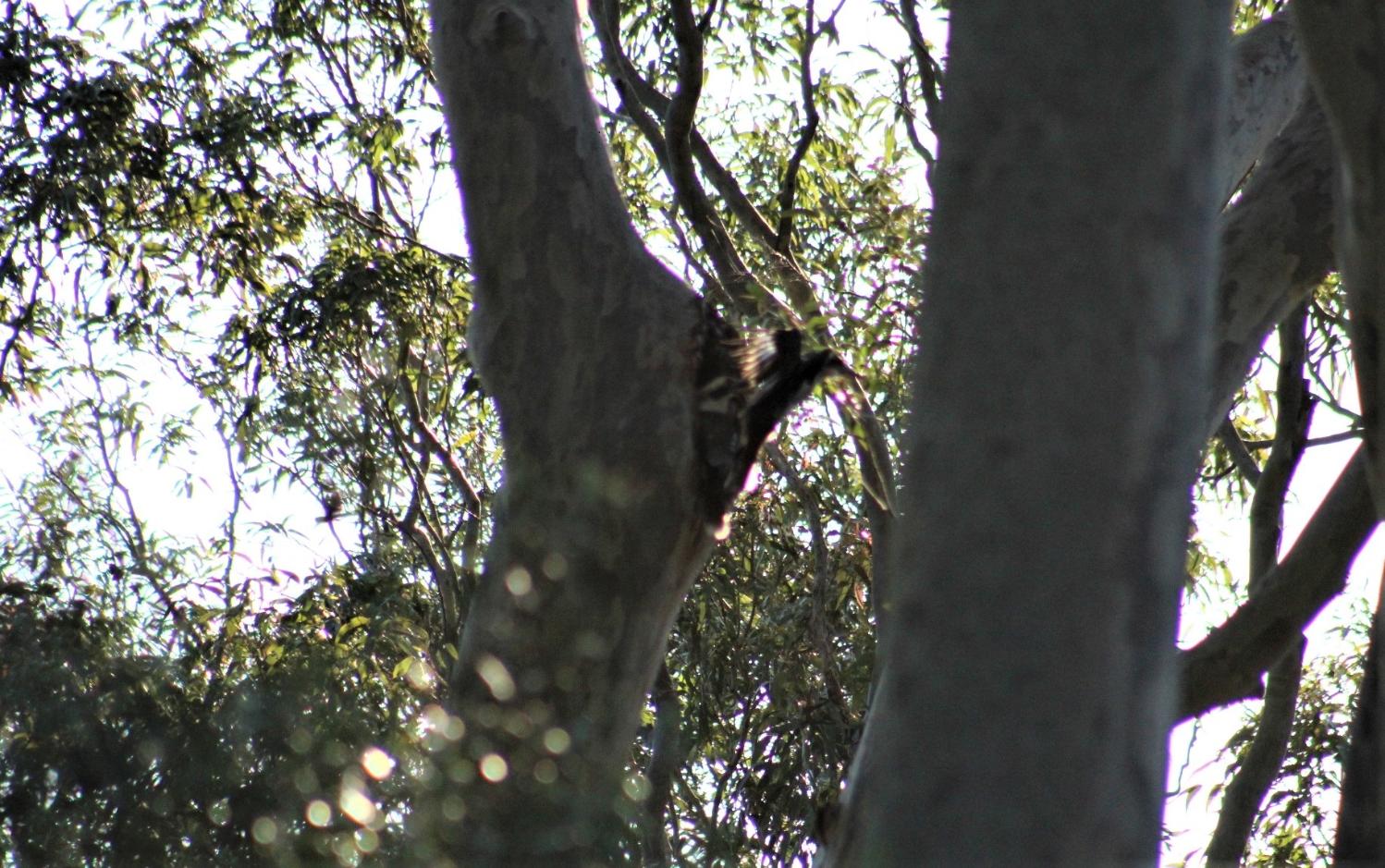 Fight With Whale By Mona Vale Lifesavers In October 1948
Mona Vale lifesavers spent a hectic 19 minutes this afternoon which they fought off a 60 foot whale and its calf which threatened to swamp their lifeboat. .The lifeboat was nearing Dee Why beach after a practice run when the whale and calf surfaced a few yards from the boat.
The whale played about the boat, spouting water over its occupants, and swishing Its tall dangerously close. It followed the boat as the four lifesavers rowed for their lives and the other two struck at the whale with oars. Thirty yards from the shore the whale and calf turned and disappeared out to sea.
Katandra Season 2020
Katandra Bushland Sanctuary on Lane Cove Rd Ingleside is now open every Sunday until October 25, 10am-4pm. Visitors to this lovely bushland have recently seen Powerful and Boobook Owls, Swamp Wallabies and Lyrebirds. Visitors, please make a small donation towards management of this Crown Land reserve. More details: http://www.katandra.org/home.htm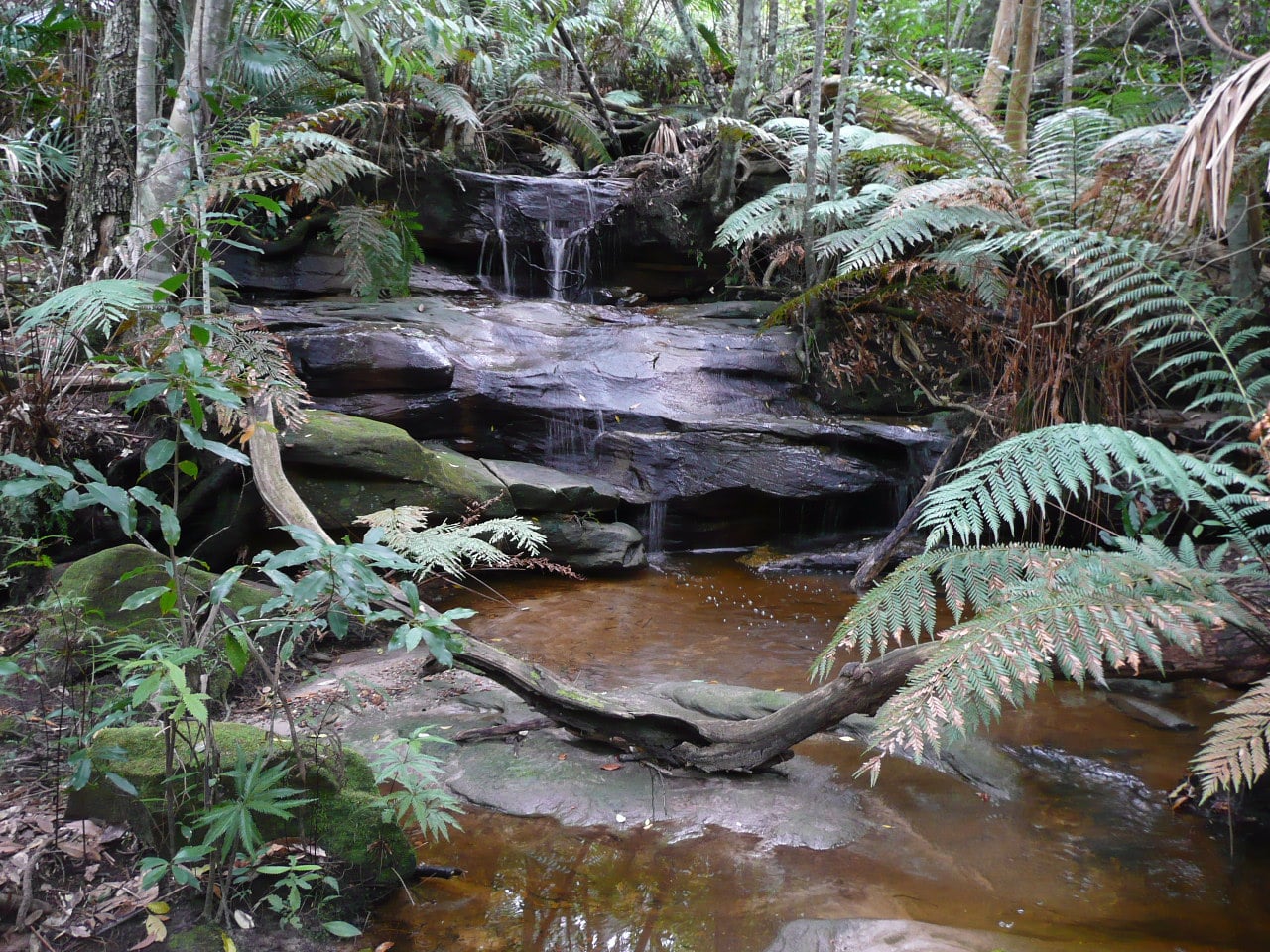 Several creeks flow down the escarpment - photo by Marita Macrae
The Forest Flora Of New South Wales: 1917
by Joseph Henry Maiden(1859-1925)
Publication date 1904-25.
Bushcare In Pittwater
For further information or to confirm the meeting details for below groups, please contact Council's Bushcare Officer on 9970 1367
BUSHCARE SCHEDULES
Where we work Which day What time
Avalon
Angophora Reserve 3rd Sunday 8:30 - 11:30am
Avalon Dunes 1st Sunday 8:30 - 11:30am
Avalon Golf Course 2nd Wednesday 3 - 5:30pm
Careel Creek 4th Saturday 8:30 - 11:30am
Toongari Reserve 3rd Saturday 9 - 12noon (8 - 11am in summer)
Bangalley Headland 2nd Sunday 9 to 12noon
Bayview
Winnererremy Bay 4th Sunday 9 to 12noon
Bilgola
North Bilgola Beach 3rd Monday 9 - 12noon
Algona Reserve 1st Saturday 9 - 12noon
Plateau Park 1st Friday 8:30 - 11:30am
Church Point
Browns Bay Reserve 1st Tuesday 9 - 12noon
McCarrs Creek Reserve Contact Bushcare Officer To be confirmed
Clareville
Old Wharf Reserve 3rd Saturday 8 - 11am
Elanora
Kundibah Reserve 4th Sunday 8:30 - 11:30am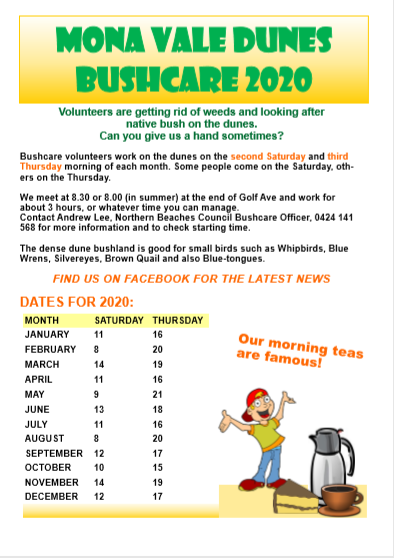 Mona Vale
Mona Vale Beach Basin 1st Saturday 8 - 11am
Mona Vale Dunes 2nd Saturday +3rd Thursday 8:30 - 11:30am
Newport
Bungan Beach 4th Sunday 9 - 12noon
Crescent Reserve 3rd Sunday 9 - 12noon
North Newport Beach 4th Saturday 8:30 - 11:30am
Porter Reserve 2nd Saturday 8 - 11am
North Narrabeen
Irrawong Reserve 2nd Saturday 2 - 5pm
Palm Beach
North Palm Beach Dunes 3rd Saturday 9 - 12noon
Scotland Island
Catherine Park 2nd Sunday 10 - 12:30pm
Elizabeth Park 1st Saturday 9 - 12noon
Pathilda Reserve 3rd Saturday 9 - 12noon
Warriewood
Warriewood Wetlands 1st Sunday 8:30 - 11:30am
Whale Beach
Norma Park 1st Friday 9 - 12noon
Western Foreshores
Coopers Point, Elvina Bay 2nd Sunday 10 - 1pm
Rocky Point, Elvina Bay 1st Monday 9 - 12noon

Gardens And Environment Groups And Organisations In Pittwater
Tick Population Booming In Our Area
Residents from Terrey Hills and Belrose to Narrabeen and Palm Beach report a high number of ticks are still present in the landscape. Local Veterinarians are stating there has not been the usual break from ticks so far and each day they're still getting cases, especially in treating family dogs.
To help protect yourself and your family, you should:
Use a chemical repellent with DEET, permethrin or picaridin.
Wear light-colored protective clothing.
Tuck pant legs into socks.
Avoid tick-infested areas.
Check yourself, your children, and your pets daily for ticks and carefully remove any ticks using a freezing agent.
If you have a reaction, contact your GP for advice.
Lyrebird Mimics Other Bird's Calls
Published August 28, 2020 by Bush Blitz
Lyrebirds are amazing mimics, they are the real life Mockingjay from the Hunger Games. Listen carefully to this Lyrebird call in the video below; what can you hear? We have identified some of those being mimicked, but see how many more you can identify?
NSW Government Releases Bushfire Inquiry Report
August 25, 2020
The NSW Government has released the independent NSW Bushfire Inquiry, which examined the causes, preparation and response to the devastating 2019-20 bushfires.
All 76 recommendations will be accepted in principle, with further work to be done on specific timelines to give communities assurance that changes will be made to keep them safe.
Any issues not covered in the report that are still relevant to the protection of property and life will also be further examined.
Resilience NSW, led by Commissioner Shane Fitzsimmons, has been tasked with coordinating and overseeing the implementation of the Inquiry's recommendations as the government finalises its approach.
Premier Gladys Berejiklian thanked former NSW Police Deputy Commissioner Dave Owens and Professor Mary O'Kane AC for their hard work on this report.
"The NSW Government has worked in lock-step with the RFS and Resilience NSW to ensure the state is as prepared as it can be to face the next fire season, but the learnings from this Inquiry will help us further improve our preparedness and response," said Ms Berejiklian.
"The NSW Government has already delivered more than $45 million in additional funding, announced in May 2020, to fast-track hazard reduction and deliver upgrades to our firefighting capability.
"This was a terrible bushfire season and we will look at all the steps we can take, especially in relation to helping people protect their property."
The findings of the report show that there is an opportunity to strengthen governance and responsibility, which we are in the process of addressing.
The report also acknowledges the significant contribution of both climate change and the vast expanse of the state's bushland towards these devastating fires.
Deputy Premier John Barilaro said all 76 recommendations in the Inquiry are based on the harsh lessons learnt from the catastrophic bushfires of last summer.
"Last bushfire season was unlike anything we have ever dealt with before and we need a government response to match," Mr Barilaro said.
"Things like strategic hazard reduction and better land management no matter the tenure are essential when it comes to keeping our communities safe."
Minister for Police and Emergency Services David Elliott said NSW is more prepared than ever before for the 2020-21 fire season.
"We have already begun implementing the Inquiry's recommendation to replace and retrofit the fleet, with 120 new trucks and 70 refurbished trucks to be rolled out before the end of the financial year," Mr Elliott said.
"I would like to thank all our emergency personnel and volunteers who made us all proud over this relentless bushfire season."
Read the Final Report of the NSW Bushfire Inquiry
Find out about the NSW Bushfire Inquiry and public submissions
Carol Kendall Award 2020 For Protecting Our Places
Congratulations to the NSW Environmental Trust's Aboriginal Programs Officer Maggie Bushel for winning the Environment, Energy and Science's (EES) Group's Carol Kendall Aw
ard 2020.
"Maggie is a proud Ngunnawal woman who has excelled in delivering the Environmental Trust's
Protecting our Places
(PoP) grants' program," Director Grants Tina Bidese said.
"For the past two years Maggie's enthusiasm, passion and commitment has been integral in the roll-out of the recently restructured PoP program."
PoP grants help manage significant Aboriginal cultural landscapes.
Uniquely, for the first 6-12 months, PoP participants focus on project planning and capacity-building, with regular communications and face-to-face workshops establishing clear workplans and building supportive relationships.
"It's an honour to receive an award in the name of Carol Kendall, who was tireless in campaigning for justice and recognition of Aboriginal people, particularly for the Stolen Generations – of whom she was one," Ms Bushel said.
"When Carol worked with National Parks, part of her role was reconnecting Aboriginal elders back to Country, while also working with members of the Stolen Generations."
Carol Kendall passed in early 2002, just before she was to receive an Order of Australia. She was renowned for her work around the Stolen Generations, campaigning for a national apology, and was widely respected as an Aboriginal Women's Heritage Coordinator with NSW National Parks and Wildlife Services.
The Carol Kendall award recognises outstanding achievement in the area of Aboriginal culture and heritage.
In addition to Maggie's outstanding work in delivering the POP program, she regularly advocates for increased Aboriginal employment opportunities through the Trust's programs and readily shares her knowledge on ways to better communicate and engage with the Trust's Aboriginal clients.
Established in 1998, the Trust promotes environmental outcomes through grants to the community, non-government organisations and government organisations. Its mission is to ensure that current and future generations can enjoy a thriving natural environment in New South Wales.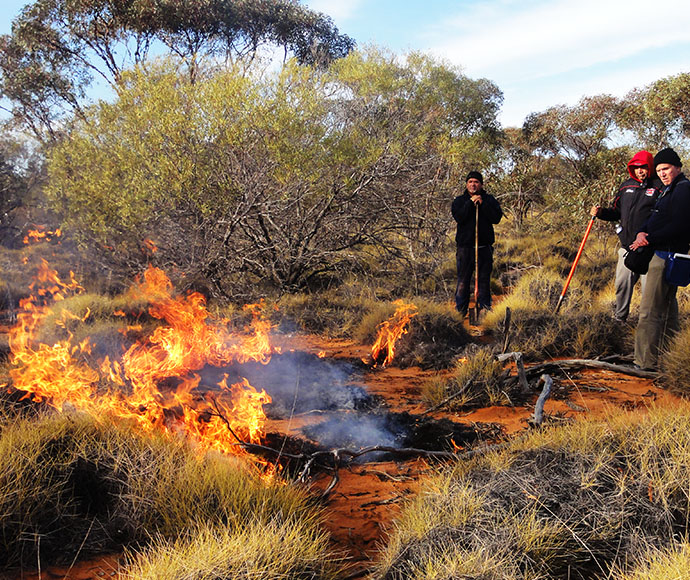 Guardians Indigenous Corporation - or MAGIC - reconnecting cultural practice to the land. Photo: Public Affairs/DPIE

Set For A Cycle? Tour De Gorge Is On!
Put your pedal to the gravel and get cycling, the annual Tour de Gorge ride near Coonabarabran is on again this year, with measures in place to keep participants Covidsafe.
National Parks and Wildlife Service Area Manager John Whittall said Tour de Gorge set to run on Saturday 5 September, is a great family event.
"This year's event will start at Pilliga Pottery and then take participants on a ride through the Pilliga Nature Reserve on some scenic trails which are not usually open for cycling.
"With families looking for safe outdoor activities during these unusual times, we are really pleased to be able to offer this event.
"It's $25 per person and riders have the option of a 12 kilometre course or a 50 kilometre course for the more adventurous.
"In line with Covid protocols all participants and supporters must sign in and practice social distancing.
"The briefing starts at 8.30am and all riders should be finished by 1pm.
"Being hosted at Pilliga Pottery, there's local stall holders, refreshments and meals from Blue Wren Café on offer throughout the day.
"So, bring your bike and enjoy some fresh air and hopefully sunshine, while you take in the beauty of the Pilliga," Mt Whittall said.
Council Fined For Alleged Unlawful Water Take
The state's independent water regulator has issued two penalty notices to Tamworth Regional Council for alleged breaches of NSW water laws.
The Natural Resources Access Regulator (NRAR) alleges that the council's water take from the Scott Road Drift Wells exceeded the allocation of one of its water access licences for the Peel Alluvium Water Source by more than 300 megalitres in the 2019-2020 water year.
This is an alleged breach of section 60C(2) of the Water Management Act 2000 – taking water for which there is no or insufficient allocation.
NRAR's Director Water Regulation (West-Murray Darling) Greg Abood said the regulator had thoroughly investigated the matter, weighing up the severity of the breach, the council's culpability and attitude toward the investigation, and the public interest.
"As a risk-based regulator we employ a graduated and proportionate approach to any alleged breaches of water laws," Mr Abood said.
"Although we considered the mitigating circumstances, the community expects public water utilities to comply with the law. It's even more critical in times of drought.
"Water allocations are in place to provide fair access to water for both licensed water users and the environment. This is why it is critical water users don't exceed them."
NRAR's investigators and compliance officers use drones and satellite-based technologies in proactive campaigns to detect non-compliances all over the state's 58 water sharing plan areas. NRAR's continually increasing use of technology is honing its effectiveness in upholding the Water Management Act 2000.
Nominations Open For Australian Biosecurity Awards
The search is on for the next round of biosecurity champions, with nominations now open for round two of the 2020 Australian Biosecurity Awards (ABAs).
Head of biosecurity, Andrew Tongue, said round two included new categories that demonstrate the diversity of biosecurity and the different roles we can all play.
"Australia has faced some tough challenges this year, but maintaining the nation's biosecurity system has remained a priority," Mr Tongue said.
"Our biosecurity system strengthens our country's long-term resilience by safeguarding our economy, food sources, unique environment and way of life.
"It is important to recognise individuals and groups who support our biosecurity and are committed to safeguarding Australia from pests and diseases.
"It is a shared responsibility and we all have a role to play.
"We will be presenting four new award categories for round two—Environmental Biosecurity, Community, Education and the Dr Kim Ritman Award for Science and Innovation.
"The Dr Kim Ritman Award for Science and Innovation was created in honour of Dr Kim Ritman's contributions as Australia's Chief Plant Protection Officer.
"The new categories recognise a wider range of stakeholders and the diverse parts of our biosecurity system, as well as emphasise the importance of biosecurity education.
"If you know a group, individual or organisation that deserves to be recognised for their biosecurity work, nominate them today."
The first round of 2020 ABAs were presented in March, with a range of winners from industry and government.
Round two of the ABAs will be presented at the National Biosecurity Forum in November.
Nominations close on Friday, October 2nd, 2020.
For more information and to put in a nomination, visit agriculture.gov.au/aba.
EPBC Refusal Protects Migratory Birds
August 28, 2020: The Hon Sussan Ley MP, Federal Minister for the Environment
I have moved to protect one of Australia's critically endangered migratory birds, the Eastern Curlew, by refusing a development proposal under the Environment Protection and Biodiversity Conservation Act.
Anscape Pty Ltd had referred plans to construct and operate the Turtle Cove Haven Retirement Village, and related infrastructure, at River Heads near Queensland's Hervey Bay.
After visiting the site and reviewing a thorough Departmental assessment, that included significant public consultation, I have accepted the Department's recommendation that the proposal be refused considering its likely adverse impact on the Eastern Curlew and the Great Sandy Straits Ramsar site.
It has been determined that the development would have presented an unacceptable risk to important roosting habitat for the critically endangered Eastern Curlew in an area which regularly supports ecologically significant proportions of its global population.
The Great Sandy Strait is a sand passage estuary between mainland Australia and Fraser Island, and one of only 66 internationally sanctioned Ramsar sites in Australia.
The Great Sandy Straits area is also important as a roosting and foraging ground for migratory shorebirds and hosts many species of fish, crustaceans, oysters, turtles, Dugongs, dolphins and whales.
The decision ends seven years of uncertainty in relation to the site and underlines our commitment to strong environmental protection.
It also reinforces our ongoing international commitment to the protection of migratory shore birds.
For more than 40 years, Australia has played an important role in international cooperation to conserve migratory birds in the East Asian – Australasian Flyway.
The government recognises that the conservation of important sites, both within Australia and along their migration routes, is essential to their survival.
Australia continues to work closely with regional neighbours and the state and territories to protect migratory birds and their habitats.
The refusal follows Australia's contribution last year at the World Heritage Committee meeting in Azerbaijan, when Australia played a key role in securing the World-Heritage listing of two critical migratory bird sanctuaries in China's territory in the Yellow Sea.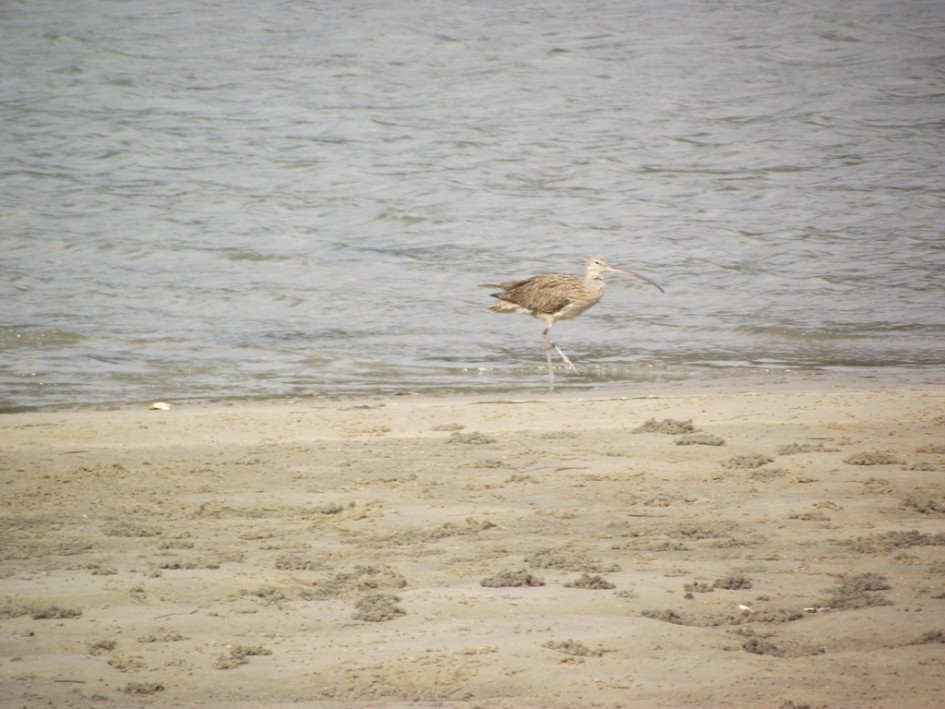 Eastern Curlew on Careel Bay foreshore, photo by A J Guesdon, 2011

$10 Million In Grants For Smart Recycling Solutions
August 20, 2020
The Federal Government is further investing in research that will transform Australia's waste recycling industry to improve the environment, grow the economy and create new jobs.
$10 million will be made available in the latest round of the Cooperative Research Centres Projects (CRC-P) grants program for projects that provide innovative solutions for the recycling and reuse of plastics, paper, glass and tyres.
Launching Round 10 today, Minister for Industry, Science and Technology Karen Andrews said this funding builds on the $20 million the Government invested in Round 8 to find smart solutions to managing Australia's waste crisis.
"Recycling our waste is more than an environmental imperative, it presents an opportunity for us to grow the economy and create new jobs," Minister Andrews said.
"This funding will help advance – and more importantly commercialise – new waste processing technologies.
"By bringing industry together with researchers we can develop solutions to environmental problems while creating products and processes that can be used here at home and potentially be exported to the world."
Minister for the Environment Sussan Ley said the research grants would play a key role in a $1 billion transformation of the waste industry, one that will contribute to a cleaner environment and thousands of new jobs.
"We are driving unprecedented investments in recycling infrastructure," Minister Ley said.
"Ideas that open up new processes and new markets for recycled products are going to be critical as we change the way we recycle materials for infrastructure, packaging and consumer products.
"Whether it is waste glass replacing virgin sand in concrete sound walls or waste plastic replacing virgin polymers in asphalt we are already seeing new technologies emerge and with support such as this Australia can play a lead role in reducing the pressure on the earth's resources."
The funding is part of the Australian Government's commitment to establish a timetable with the states and territories to ban the export of plastics, paper, glass and tyres. The ban will be phased in, starting with glass on 1 January 2021.
Projects that involve other problem materials, such as building waste, will also be eligible for funding in Round 10.
CRC-Ps can run for up to three years, with grants capped at $3 million. They must have at least two Australian industry partners, including one small or medium sized business.
Close date: October 1, 2020 05:00 PM AEST.
Further information on the CRC-Ps is available at http://www.business.gov.au/crc-p
Reef 2050 Long-Term Sustainability Plan Review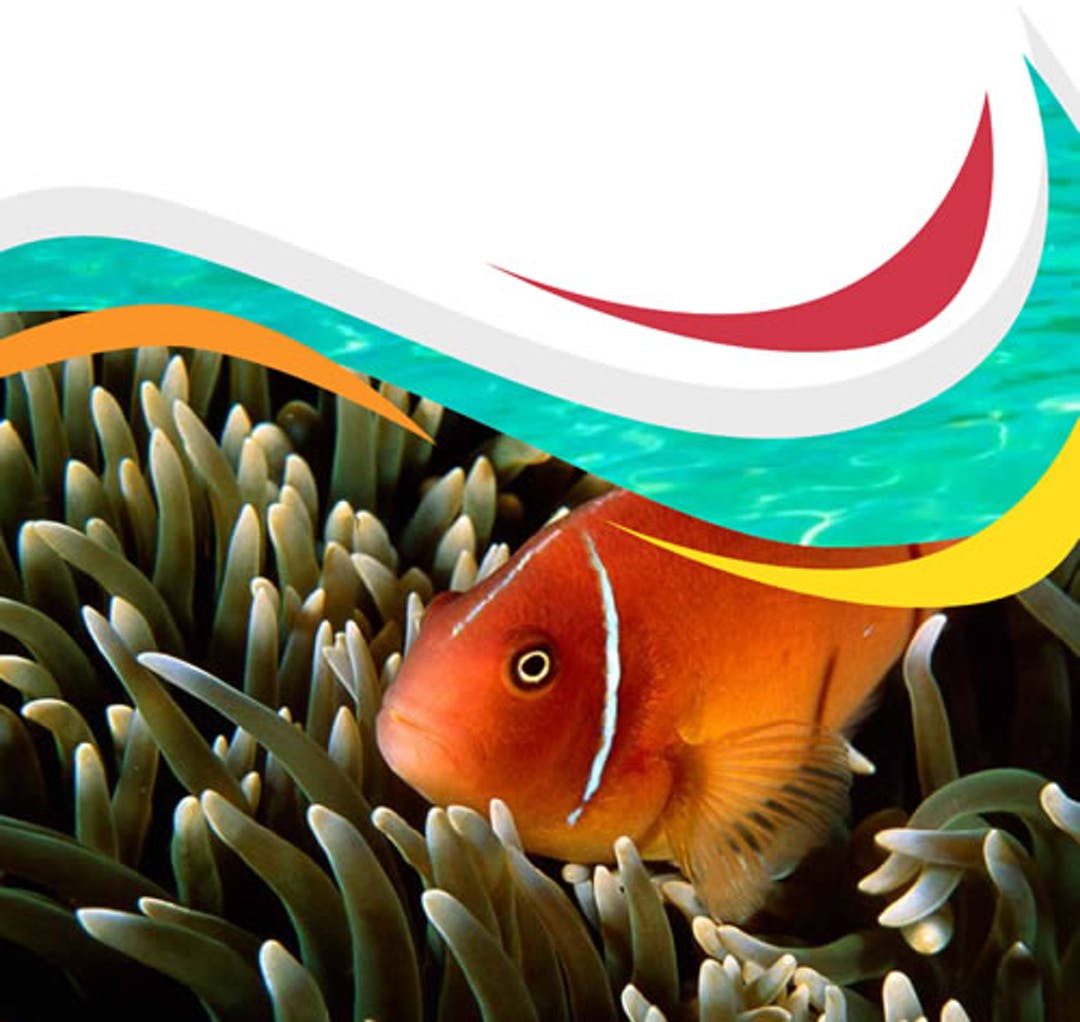 The Australian and Queensland governments are reviewing the Reef 2050 Long-Term Sustainability Plan, also known as the Reef 2050 Plan. This plan is Australia's long-term strategy to protect and manage the Great Barrier Reef.
The plan sets clear actions, management goals, objectives and outcomes. These drive and guide the short, medium and long-term management of the reef.
The review and drafting of the updated Plan is being conducted by:
Australian Government Department of Agriculture, Water and the Environment
Great Barrier Reef Marine Park Authority
Queensland Government Office of the Great Barrier Reef.
Scope of the review
The 2020 Review is the plan's first 5-yearly review. The Federal Government would like to hear your thoughts on the:
outcomes, objectives and management goals of the plan
priority work areas
strategic actions that deliver outcomes for the Reef.
The Government are seeking your views on the updated Reef 2050 Plan to ensure it contains the right priorities and actions to support the health and resilience of the Great Barrier Reef.
Share your feedback
You can now provide feedback. Your input will help us update the plan.
To have your say:
Submit your feedback by 11.59pm AEST Wednesday 30 September 2020.
Wildlife And Threatened Species Bushfire Recovery Expert Panel 7th Communique Released -
Tranche 1 Of The Australian Government's $12 Million Wildlife And Habitat Bushfire Recovery Program: Successful Projects List
August 21, 2020
The Minister for the Environment has asked the Threatened Species Commissioner, Dr Sally Box, to convene an Expert Panel to assist in prioritising recovery actions for native species, ecological communities, natural assets and their cultural values for Indigenous Australians, which have been affected by recent extreme fire events.
The Expert Panel will inform the further delivery of the Australian Government's response to the fire events, including priority emergency actions to support impacted animals, plants, and ecosystems, as well as medium and long term responses required to support the recovery of Australia's environment.
Wildlife and threatened species bushfire recovery Expert Panel – Terms of Reference
The Expert Panel will provide advice on critical interventions required to support the immediate survival of a affected animals, plants and ecological communities and to control pests, as well as assessing the scale of the bushfires on our environment to assist with the prioritisation of recovery efforts and the development of a strategy for building populations of native plants and animals up again and ensuring their resilience.
The Expert Panel may draw on other expertise as required, including from the National Environmental Science Program, the Threatened Species Scientific Committee and the Indigenous Advisory Committee.
The Expert Panel will support and promote collaboration and coordination across different government agencies, non-government organisations, scientific institutions and the private sector, so recovery efforts are coordinated and complementary.
The Expert Panel may also be requested to provide advice on particular project proposals.
WILDLIFE AND THREATENED SPECIES BUSHFIRE RECOVERY EXPERT PANEL COMMUNIQUÉ JULY 2020
Over the last two months the Wildlife and Threatened Species Bushfire Recovery Expert Panel has met several times via videoconference to discuss and provide advice on a range of bushfire related funding proposals and areas of ongoing research.
Assessing impacts and prioritising actions
The Expert Panel has been working in partnership with other scientists and the state and territory advisers to:
identify possible candidate species for captive breeding programs to provide an eventual boost to bushfire-impacted wild populations
further prioritise the ecological communities impacted by the 2019–20 fires for recovery action
develop species-specific guidance on priority actions needed to support the immediate survival and long-term recovery and resilience of fire-affected animals.
These projects will continue to be areas of focus for the Panel over the coming weeks.
The Expert Panel has also continued to provide advice on project proposals funded through a $2 million allocation to the Threatened Species Recovery Hub of the National Environmental Scientific Science Program for bushfire related scientific research.
This included 'On-ground Assessment Guidelines', which have been developed to support post-fire surveys of fire severity, habitat condition and threats, as well as the status of threatened species and ecological communities. These guidelines, which were developed by a team from the University of Melbourne led by Dr Darren Southwell, are now finalised and have been made available to state and territory governments, regional natural resource management agencies, non-government organisations, research institutes and grant recipients to support their on-going efforts to document the wildlife impacts of the 2019–20 bushfires. A copy of the report is available at: https://www.environment.gov.au/biodiversity/bushfire-recovery/research-and-resources
Providing advice on funding proposals
The Panel has considered and provided specialist advice to the Department on project proposals submitted under Tranche 1 of the Australian Government's $12 million Wildlife and Habitat Bushfire Recovery Program. Over the course of several meetings, members considered the grant applications and provided advice on how they aligned with the national bushfire recovery objectives. The 19 successful projects will receive a total of $6.9 million. Together, these projects will benefit 79 (66%) of the priority animals and 10 (50%) of the priority threatened ecological communities identified for urgent management intervention.
The projects will involve on-ground actions to support the recovery of priority species and surveys to understand the impact of the fires on their populations. This includes collecting Environmental DNA in water samples from fire-affected river basins to look for animals such as Platypus and Spotted Tree Frog, and scent-detection dogs to find endangered antechinus in the World Heritage listed Gondwana forests. A list of the successful projects is available at: https://www.environment.gov.au/biodiversity/bushfire-recovery/open-grant-program
The Expert Panel's attention has shifted to reviewing proposals submitted under Tranche 2, which closed on the 28 May. Tranche 2 called for proposals that focussed on priority plants and invertebrates, as well as priority vertebrates and ecological communities. There were many quality projects that could not be funded through Tranche 1 but will be re-considered along with Tranche 2 projects.
The Expert Panel has continued to consider and provide advice on proposals from state and territory governments for on-ground bushfire recovery actions, including from the Australian Capital Territory, Tasmanian and South Australian governments. Supported by Australian Government funding, these recovery actions include pest plant and animal control and assessment of impacts on threatened animals, such as the Broad-toothed Rat and Reik's Crayfish.
The Expert Panel has been impressed by the quality of the applications received to date, both through the open grants process and from the states and territories. The Panel notes that the portfolio of projects, and state agency actions, have made (and will continue to make) significant and strategic progress towards meeting the objectives of preventing extinction and ensuring the recovery of fire-affected species, ecological communities, and other biodiversity assets; and to the provision of critical knowledge to help inform future recovery and preventative actions.
The Panel will be meeting again in August 2020.
Dr Sally Box, Chair of the Wildlife and Threatened Species Bushfire Recovery Expert Panel.
Tranche 1 Projects Approved
Project description - Location - Applicant - Grant
Habitat Repair and Species Recovery on six South Endeavour Trust reserves
Project will help secure habitat recovery on four reserves that were very heavily impacted by the bushfires and protect the habitat values of two less affected reserves directly adjacent to heavily burnt bushland.
Location: NSW (Northern NSW, New England Tablelands, Alpine region). Applicant: The Trustee for South Endeavour Trust. Grant: $297,040
Threatened species assessment and recovery in burnt coastal wallum wetlands
Project will focus on acid wetlands in coastal wallum and dune systems. Activities include surveying threatened fish, frogs and crayfish; identifying critical habitat, and establishing captive breeding colonies of at-risk fish populations.
Location: South-eastern Queensland and northern New South Wales. Applicant: Griffith University, Partners: Mary River Catchment Coordinating Committee, Burnett-Mary Regional Group. Grant: $291,037
Building capacity for resilience & recovery of threatened ecological communities
A large-scale project that aims to develop adaptive fire management strategies to improve prospects for 8 priority ecological communities and 7 animal species, by integrating remote sensing, ground survey and citizen science with management.
Location: Eastern Australia, from Victoria to southeast Queensland (multiple locations). Applicant: University of New South Wales. Grant: $723,811
Securing threatened frogs from bushfire impact
Focusing on nine priority frog species, the project aims to assess the damage to habitat, implement mitigation works to support frog populations, and establish 'biobanks' for species at risk of extinction.
Location: NSW (from the north coast and tablelands to the southern forests). Applicant: University of Newcastle, Partners: Forestry Corp (NSW), NSW National Parks and Wildlife Service, South Australian Museum, Australian Museum, University of New England, Gaia Research. Grant: $751,982
Mapping fire-threatened fauna with scent detection dogs, cameras and live traps.
Using a range of techniques, the project aims to assess the fire impacts on the endangered Silver-headed and Black-tailed Dusky Antechinuses (carnivorous marsupial mice).
Location: Northern NSW and Queensland. Applicant: Queensland University of Technology, Partners: Gidarjil Development Corporation; Healthy Land and Water; Department of Environment and Science (Qld); Queensland Herbarium; NSW National Parks and Wildlife. Grant: $168,528.
Preventing extinction of the Kangaroo Island (KI) dunnart on private lands
This project will protect the largest remaining unburnt patch of Western KI bushland, benefitting the critically endangered KI dunnart and other priority species including KI echidna, bassian thrush, Southern emu-wren and KI Western whipbird. Project activities include feral animal control, disease control and development of a long-term fire management plan for the site.
Location: Kangaroo Island. Applicant: Kangaroo Island Land for Wildlife Association Incorporated, Partners: De Estrees Entomology, Birdlife Australia, Australian Wildlife Conservancy, ZoosSA, SA Department of Environment and Water. Grant: $413,807
Bushfire recovery of cryptic threatened birds in the eastern heathlands
A comprehensive, national assessment of fire-affected Mainland Ground Parrots and Eastern Bristlebirds across their known ranges to identify critical gaps in bushfire recovery efforts.
Location: Eastern Australia, from Victoria to Queensland (multiple locations). Applicant: BirdLife Australia. Grant: $170,200
Bungwalbin Reserves Bushfire Recovery for Wildlife and Habitat
Project will support feral pig and weed control in the Bungwalbin reserves in north-eastern NSW to aid the recovery of priority threatened species including the Spotted-tail Quoll, Long-nosed Potoroo, endangered coastal floodplain forest and lowland rainforest threatened ecological communities.
Location: NSW North Coast. Applicant: Workways Australia Ltd trading as Envite Environment (formerly known as Envite Incorporated), Partners: NSW National Parks and Wildlife Service, Bandjalang Native Title holders. Grant: $428,164
Assessing fire impacts on golden-tipped bats and other microbats
This project will assess how the fire impacted habitat for forest microbats, with a focus on the golden-tipped bat. Radio-tracking will be used to investigate how fire affects use of foraging and roosting habitat features, and test the benefits of roost supplementation.
Location: NSW North Coast and South East. Applicant: Western Sydney University. Grant: $246,900
Releasing Macquarie Perch and Restoring Fish Habitat in Bushfire Affected Areas
This project will undertake restoration of 20km of riparian habitat impacted by bushfires to improve habitat for turtle, fish and crayfish. The project will also collect mature Macquarie Perch to be used in a release breeding program at Buffalo River.
Location: Throughout Victoria, NSW and Queensland (multiple locations). Applicant: Landcare Australia Ltd., Partners: Native Fish Australia, OzFish. Grant: $384,550
Securing the Future of the Western Ground Parrot in Partnership
This project aims to support the ongoing survival of the Western Ground Parrot by establishing a new wild population in Western Australia.
Location: South Coast Region, WA. Applicant: BirdLife Australia, Partners: WA Department of Biodiversity, Conservation and Attractions; Friends of the Western Ground Parrot; South Coast Threatened Birds Recovery Team. Grant: $230,400
Saving the spinys: urgent actions to conserve the Euastacus freshwater crayfish
The project will support the recovery of the 22 priority Euastacus species (freshwater crayfish) affected by the bushfires, by identifying critical populations, exploring the feasibility of conservation translocations, and determining how to best conserve each species.
Location: Eastern Victoria, through NSW/ACT, to southern Queensland (multiple locations). Applicant: The Trustee for Nature Glenelg Trust. Grant: $654,500.
Conserving Victoria's unique alpine stonefly genus Thaumatoperla
The project will assess the impacts of the 2019-20 fires on the Alpine Stonefly, establish the distribution of the species, and identify priority actions to support recovery and conservation efforts.
Location: Victorian Alpine region. Applicant: La Trobe University, Partners: Falls Creek and Mt Buller-Mt Stirling Resort Managements. Grant: $271,370.
Determining landscape-scale impacts of fire on biodiversity using eDNA
This project will assess impacts of the recent bushfires on freshwater biodiversity and 14 Priority Matters across south-eastern Australia using environmental DNA (eDNA) sampling. This project will enable the identification of species and areas in urgent need of management.
Location: South-eastern Australia (ACT, NSW, Victoria) (multiple locations). Applicant: Monash University. Grant: $255,060
Aboriginal Bushfire Recovery Rangers
Aboriginal Rangers will undertake recovery activities on fire-affected areas within the Mid Coast Council region. Activities include: wildlife surveys, pest management, tree planting, installation of nest boxes, weed management, vegetation management (cultural burning) and erosion mitigation.
Location: Mid Coast Council, NSW. Applicant: Taree Indigenous Development and Employment Ltd. Grant: $355,857
Raising the Regent from the ashes
This project will support the post-fire recovery of the Regent Honeyeater, including by post-fire surveys (in both burnt and unburnt habitat), undertaking Noisy Miner control, and trialling the reintroduction of Needle-leaf Mistletoe in critical breeding habitat.
Location: NSW (multiple locations). Applicant: BirdLife Australia, Partners: Australian National University, Taronga Conservation Society Australia. Grant: $150,575
South Australian Glossy Black-Cockatoo Post-fire Recovery
This project will undertake emergency interventions to safeguard the Kangaroo Island Glossy Black Cockatoo. Recovery actions will include restoration of feeding and nesting habitat, protection of nestlings from nest predators and competitors, and monitoring of breeding success, flock movement and adult survival to guide our restoration efforts.
Location: Kangaroo Island. Applicant: Kangaroo Island Landscape Board (formerly known as Kangaroo Island Natural Resources Management Board), Partners: Kangaroo Island Glossy Black Cockatoo Recovery Team. Grant: $405,000.
Impacts of severe and extensive fire and interactions with feral herbivores
Focused on reptiles and the broad-toothed rat, the project will examine how fire and large feral herbivores impact on these populations and inform whether translocations and/or feral animal management could be needed.
Location: Australian Alps, East Gippsland, south-east NSW. Applicant: Deakin University. Grant: $328,131.
Introduced hollows for priority species impacted by wildfire in East Gippsland
The project will install hollows for a range of species, such as Greater Gliders, Yellow-Bellied Gliders, Glossy Black Cockatoos, Red-browed Treecreeper, Gang Gang Cockatoo, and create refuges for species that utilise fallen logs and timber, including Smoky Mice, Broad-toothed rat, Southern Water Skink and Glossy Grass Skink.
Location: Gippsland, Victoria. Applicant: Cmore Pty Ltd., Partners: Gunaikurnai Land and Waters Aboriginal Corporation. Grant: $336,090
Uni Of SA 3MT Winner Finds A Unique Way To Halt Construction Waste
August 28, 2020: University of South Australia News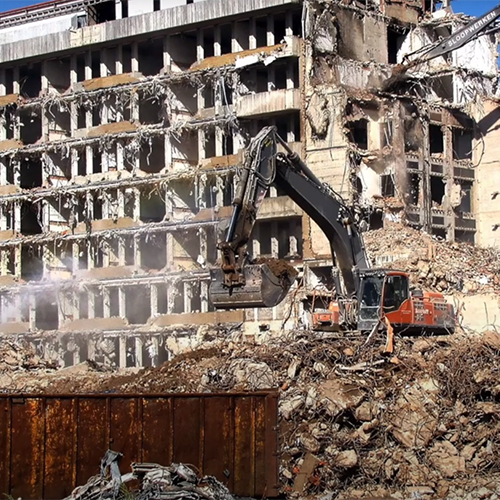 The picture tells the story more graphically than any statistic: 20 million tonnes of construction materials destined for landfill each year – comprising almost half of Australia's total waste.
But what if we found a way to stop that waste from being produced in the first place?
University of South Australia PhD student Gabriela Dias Guimaraes is intending to do just that by developing a computer framework that helps designers, architects and engineers to take waste into consideration at every step of a project.
The doctoral candidate from UniSA Creative won the judge's vote and $3000 at last night's UniSA Three Minute Thesis (3MT®) virtual final, presented in partnership with The Bob Hawke Prime Ministerial Centre, with her proposal to build a platform that calculates the end user waste component of all facets of construction.
Using her platform, from conception stage, designers will be able to estimate the environmental impact of each decision they make – from the specific materials used in a window frame, or the size of a drywall – and adjust their design accordingly.
"We all know there are strategies for waste recovery, including reusing and recycling, but these options involve transportation, energy, water and site space," Gabriela says.
"So instead of dealing with the waste generated in construction, why not try to prevent it in the first place?
"We know that a third of total construction and demolition waste is due to unexpected design changes or the wrong decisions made during the project phase, so this is an opportunity to correct that," she says.
Gabriela has already developed a conceptual framework that indicates waste sources and factors, as well as identifying materials which are less environmentally friendly.
"It's time we made all players in the building industry more accountable instead of passing on responsibility to the next stakeholder," Gabriela says.
Gabriela will now compete at the 2020 Virtual Asia-Pacific 3MT Competition on Thursday 1 October.
The judges awarded $1000 to runner-up Nicole Miller, a UniSA Clinical and Health Sciences PhD student whose research focuses on the benefits of outdoor learning for children.
Nature is an alien concept for many children raised in urban settings, but schools are realising the considerable benefits of outdoor learning, she explained in her presentation.
"Research shows that school children who spend time in nature reap mental health, cognitive and physical benefits, building their knowledge, fitness and improving their social skills," Nicole says.
Approximately 63 per cent of public primary schools across South Australia now have purpose-built outdoor spaces in their schoolyards and another 25 per cent are planning or constructing one.
"Sadly, not all outdoor spaces are being used to their full potential, due to several factors, including teachers lacking support, confidence and time to take their classrooms into nature."
As part of her thesis Nicole is creating a set of recommendations to help schools implement outdoor learning.
"If our classrooms incorporated more nature, we would go a long way towards improving children's health and wellbeing and create environmentally aware citizens for tomorrow," she says.
Dean of Graduate Studies, Professor Pat Buckley, says the 3MT finalists faced an extra challenge this year, presenting their research virtually instead of to a live audience.
"The presentations demonstrated the quality of research candidates at UniSA and the importance of the research they undertake," Prof Buckley says. "All gave impressive talks that spoke to the significance and real-world impact of their research and were delivered in a way that the 'at-home' audience could connect with and relate to."
Doodle Comer Swamp Nature Reserve Draft Plan Of Management: Public Consultation
The Doodle Comer Swamp Nature Reserve Draft Plan of Management is available for review and comment.
Public exhibition of the draft plan provides an important opportunity for members of the community to have a say in the future management of Doodle Comer Swamp Nature Reserve. Comments close 28 September 2020.
This plan has been prepared using a new format and presented as 2 separate documents:
The plan of management which is the 'legal' document that will be provided to the Minister for formal adoption. This is the document we are seeking your feedback on.
The planning considerations document supports the plan of management. It includes detailed information on park values (e.g. threatened species and cultural heritage) and threats to these values. A summary of this information is in the plan of management.
Doodle Comer Swamp Nature Reserve encompasses about half of the Doodle Comer Swamp, an ephemeral wetland listed in the National Directory of Important Wetlands and the largest wetland of its type in southern NSW. The catchment for Doodle Comer Swamp is unregulated and the wetland has an unaltered water flow regime, now uncommon in New South Wales inland wetlands and of high conservation value.
When inundated, Doodle Comer Swamp attracts large numbers of waterbirds that use the swamp for breeding and foraging. When dry, the wetland provides habitat for the threatened bush stone-curlew, listed as endangered in New South Wales. Other threatened animals found include brolga and superb parrot. The reserve contains several threatened ecological communities such as Inland Grey Box Woodland and Sandhill Pine Woodland.
Doodle Comer Swamp is part of the Country of the Wiradjuri speaking nation and is part of a larger network of swamps and lagoons across the Riverina that formed a significant part of the cultural landscape, sustaining the Wiradjuri with an extensive range of resources for thousands of years. A diverse range of Aboriginal sites exist in the reserve and surrounding area and in 2016 Doodle Comer was declared an Aboriginal place recognising these values and the wetland's special significance to Aboriginal culture.
What is a plan of management?
Parks and reserves established under the National Parks and Wildlife Act 1974 need to have a plan of management. The plan includes information on important park values and provides directions for future management. The plan of management is a legal document, and after the plan is adopted all operations and activities in the park must be in line with the plan. From time to time plans of management are amended to support changes to park management. Visit: Doodle Comer Swamp Nature Reserve Draft Plan of Management - PDF, 2.3MB
The National Parks and Wildlife Act sets out the matters that need to be considered when preparing a plan of management. These matters are addressed in the supporting Doodle Comer Swamp Nature Reserve Draft Plan of Management: Planning considerations document.
Why is a plan being prepared now?
Since the park`s reservation in 2011, it has been managed according to a statement of management intent. After a park's reservation and before the release of its plan of management, a statement of management intent is prepared outlining the management principles and priorities for the park's management. This statement documents the key values, threats and management directions for the park. It is not a statutory document and a plan of management will still need to be prepared according to the National Parks and Wildlife Act 1974.
Publication of a draft or final plan will replace the statement of management intent for the relevant parks covered.
What opportunities will the community have to comment?
The draft plan of management is on public exhibition until 28 September 2020 and anyone can review the plan of management and provide comments.
When will the plan of management be finalised?
At the end of the public exhibition period in September 2020 we will review all submissions, prepare a submissions report and make any necessary changes to the draft plan of management. The Far West Regional Advisory Committee and the National Parks and Wildlife Advisory Council will then review the plan along with the submissions and report, as required by the National Parks and Wildlife Act.
Once their input has been considered and any further changes made to the plan of management, we provide the plan to the Minister for Energy and Environment. The plan of management is finalised when the Minister formally adopts the plan under the National Parks and Wildlife Act. Once a plan is adopted it is published on the Department website and a public notice is advertised in the NSW Government Gazette.
How can I get more information about the draft plan?
For further information on the plan of management please contact the Park Management Planning Team at npws.parkplanning@environment.nsw.gov.au.
How can I comment on the draft plan?
Public exhibition for the plan of management is from 26 June 2020 until 28 September 2020. You are invited to comment on the draft plan by sending a written submission during this time.
Have your say
Public exhibition is from 26 June 2020 to 28 September 2020.
You can provide your written submission in any of the following ways:
Post your written submission to:
Manager Planning Evaluation and Assessment
Locked Bag 5022
Parramatta NSW 2124
Email your submission to: npws.parkplanning@environment.nsw.gov.au
Make a submission online by using the online form here
Tollingo Nature Reserve And Woggoon Nature Reserve Draft Plan Of Management: Public Consultation
The Tollingo Nature Reserve and Woggoon Nature Reserve Draft Plan of Management is available for review and comment.
Public exhibition of the draft plan provides an important opportunity for members of the community to have a say in the future management of Tollingo Nature Reserve and Woggoon Nature Reserve. Comments close 28 September 2020.
This plan has been prepared using a new format which is presented as two separate documents:
The plan of management which is the legal document that will be provided to the Minister for formal adoption. This is the document we are seeking your feedback on.
The planning considerations document supports the plan of management. It includes detailed information on park values (e.g. threatened species and cultural heritage) and threats to these values. A summary of this information is provided in the plan of management.
Tollingo Nature Reserve and Woggoon Nature Reserve are significant as two of the largest remaining mallee remnants in New South Wales. The largely intact old-age mallee vegetation is rare in the Central West, which is mostly used for agriculture. The reserves provide habitat for the endangered malleefowl and other native animals.
Tollingo Nature Reserve is shared Country for the Ngiyampaa and Wiradjuri people, while Woggoon Nature Reserve is within Wiradjuri traditional Country.
What is a plan of management?
Parks and reserves established under the National Parks and Wildlife Act 1974 need to have a plan of management. The plan includes information on important park values and provides directions for future management. The plan of management is a legal document, and after the plan is adopted all operations and activities in the park must be in line with the plan. From time to time plans of management are amended to support changes to park management.
The National Parks and Wildlife Act sets out the matters that need to be considered when preparing a plan of management. These matters are addressed in the supporting Tollingo Nature Reserve and Woggoon Nature Reserve Draft Planning Considerations document. This document may be updated from time to time, for example, to include new information on the values of the park (e.g. new threatened species), new management approaches (e.g. a new pest management technique) or new park programs. Visit Tollingo Nature Reserve and Woggoon Nature Reserve Draft Plan of Management - PDF 2.3MB
Why is a plan being prepared now?
This plan of management will replace the statement of management intent which was approved in 2014. Statements of management intent are non-statutory documents which summarise the key values and management directions for a park.
Since reservation in 1988 and 1974 respectively, Tollingo and Woggoon nature reserves have been managed according to a statement of management intent. After a park's reservation and before the release of its plan of management, a statement of management intent is prepared outlining the management principles and priorities for the park's management. This statement documents the key values, threats and management directions for the park. It is not a statutory document and a plan of management will still need to be prepared according to the National Parks and Wildlife Act 1974. Publication of a draft or final plan will replace the statements of management intent for the relevant parks covered.
What opportunities will the community have to comment?
The draft plan of management and planning considerations are on public exhibition until 28 September 2020 and anyone can provide comments.
When will the plan of management be finalised?
At the end of the public exhibition period in September 2020, National Parks and Wildlife Service (NPWS) will review all submissions, prepare a submissions report and make any necessary changes to the draft plan of management. The West Regional Advisory Committee and the National Parks and Wildlife Advisory Council will then review the plan along with the submissions and report, as required by the National Parks and Wildlife Act.
Once their input has been considered and any further changes made to the plan of management, we provide the plan to the Minister for Energy and Environment. The plan of management is finalised when the Minister adopts the plan under the National Parks and Wildlife Act. Once a plan is adopted it is published on the Department's website.
How can I get more information about the draft plan?
For further information on the plan of management please contact the NPWS Park Management Planning Team at npws.parkplanning@environment.nsw.gov.au
Where can I see a printed copy of the draft plan?
Hard copies are available for viewing at the following locations:
National Parks and Wildlife Service (NPWS) office, Camp Street, Forbes
Condobolin Library, 130 Bathurst Street, Condobolin
How can I comment on the draft plan?
Public exhibition for the plan of management is from 26 June until 28 September 2020. You are invited to comment on the draft plan by sending a written submission during this time.
Your privacy
Your submission will be provided to a number of statutory advisory bodies (including the relevant regional advisory committee and the National Parks and Wildlife Advisory Council). Your comments on the draft plan may include 'personal information'. the Department complies with the NSW Privacy and Personal Information Protection Act 1998 which regulates the collection, storage, access, amendment, use and disclosure of personal information. See our privacy webpage for details. Information that in some way identifies you may be gathered when you use our website or send us correspondence.
If an application to access information under the Government Information (Public Access) Act 2009 requests access to your submission, your views about release will be sought if you have indicated that you object to your submission being made public.
While all submissions count, they are most effective when we understand your ideas and the outcomes you want for park management. Some suggestions to help you write your submission are:
Write clearly and be specific about the issues that are of concern to you.
Note which part or section of the plan your comments relate to.
Give reasoning in support of your points – this makes it easier for us to consider your ideas and will help avoid misinterpretation.
Tell us specifically what you agree/disagree with and why you agree/disagree.
Suggest solutions or alternatives to managing the issue if you can.
Have your say
Public exhibition is from 26 June 2020 to 28 September 2020.
You can provide your written submission in any of the following ways:
Post your written submission to:
Manager Planning Evaluation and Assessment
Locked Bag 5022
Parramatta NSW 2124
Email your submission to: npws.parkplanning@environment.nsw.gov.au
Make a submission online by using the online form here
Limeburners Creek National Park, Goolawah National Park And Goolawah Regional Park: Public Consultation
Planning for the future –NSW National Parks and Wildlife Service is preparing a new plan of management for Limeburners Creek National Park, Goolawah National Park and Goolawah Regional Park.
These parks are in the traditional Country of the Dunghutti and Birpai Aboriginal Peoples. The parks play a fundamental role in the lives of local Aboriginal people, helping to maintain a tangible link to the past and enabling continued connections to Country.
The existing plan of management for Limeburners Creek National Park was written in 1998. The areas that are now Goolawah National Park and Goolawah Regional Park were formerly Goolawah State Park and Crown land. Initial community consultation about the Goolawah parks was undertaken in 2012, soon after they were transferred to National Parks and Wildlife Service.
Since this time large new areas have been added to the parks, including the intertidal zone on some of the beaches. There has also been a steady increase in visitors, and new recreational uses have become popular. Information about the values of the park has improved and new approaches to managing fire, pests and weeds have been developed.
Accommodating all of these visitors, maintaining the unique visitor experience and protecting the environment is challenging. Good planning is essential to manage increasing demand and provide sustainable visitor facilities and opportunities while minimising impacts and retaining the natural and low key nature of this beautiful stretch of coast. The development of a new combined plan of management will help to protect the parks' unique values and improve the effectiveness of how we manage the parks.
What opportunities will the community have to contribute to the development of a new plan of management?
Previous consultation, including a community forum, identified a range of issues important to the local community which will be considered in the new plan. It is now time to reach out and reconnect with our neighbours, stakeholders and local communities, as well as extending the invitation to the wider community of park users.
There are now 2 opportunities to be involved in the development of the plan of management for Goolawah Regional Park and Goolawah and Limeburners Creek national parks:
During the development of the draft plan - register your interest below to receive updates and be notified of further consultation dates. Complete the form to provide your ideas on what you believe are the most important values of the parks and how they should be managed in the future. Your input will be used to draft a plan that reflects community values and aspirations.
During public exhibition of the draft plan - there will be another opportunity to have your say when the draft plan of management is completed and put on public exhibition for 90 days. Anyone can submit comments on the draft plan during this time.
Register your interest
Complete the online form here to register your interest, provide initial input and be notified of further consultation dates. Tell us what is important to you about the parks and what you would like to see in the future. Comments close 30 October 2020.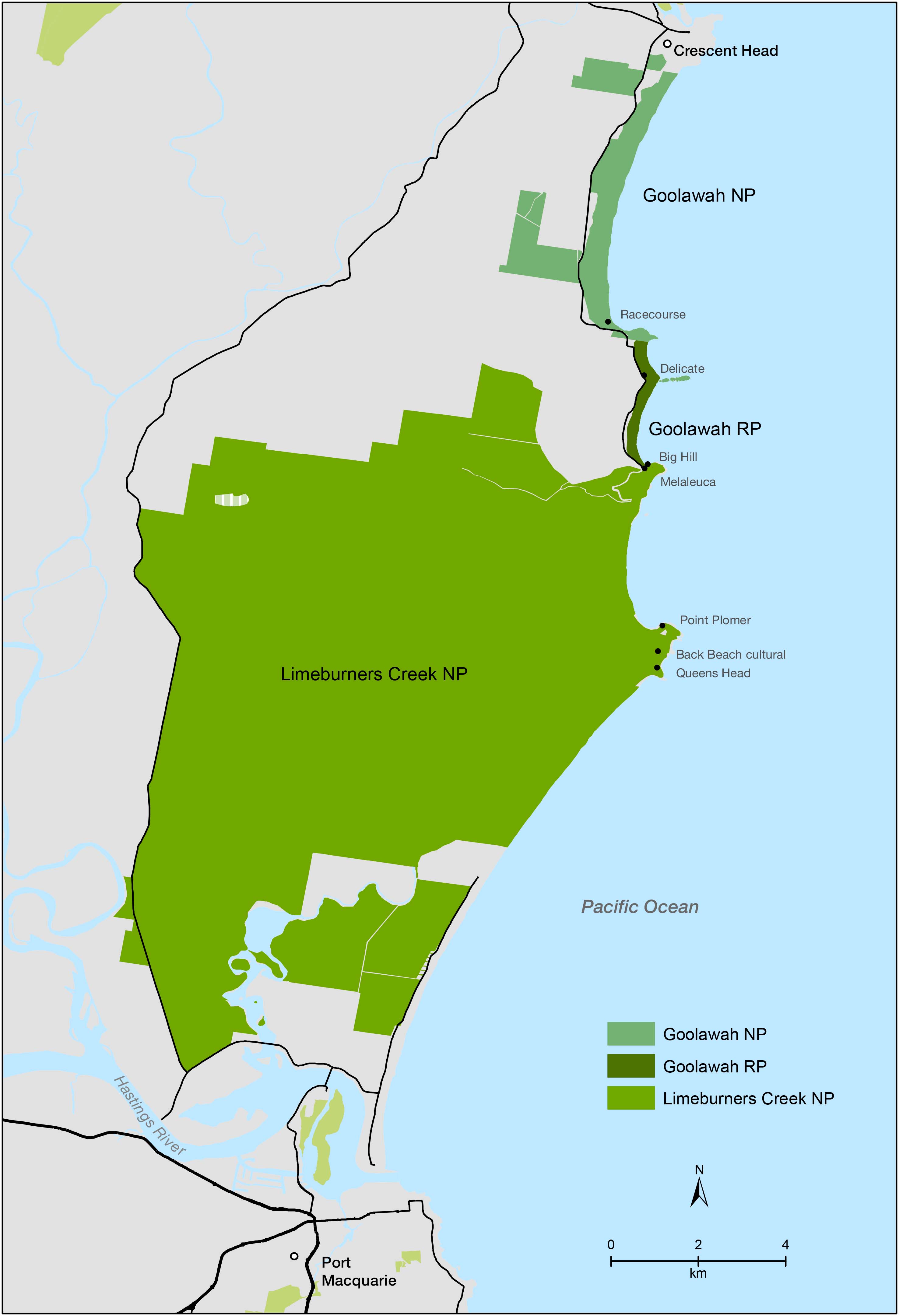 Limeburners Creek National Park, Goolawah National Park and Goolawah Regional Park engagement map Photo: DPIE

Echidna Season
Echidna season has begun. As cooler days approach, our beautiful echidnas are more active during the days as they come out to forage for food and find a mate. This sadly results in a HIGH number of vehicle hits.
What to do if you find an Echidna on the road?
Safely remove the Echidna off the road (providing its safe to do so).
Call Sydney Wildlife or WIRES
Search the surrounding area for a puggle (baby echidna). The impact from a vehicle incident can cause a puggle to roll long distances from mum, so please search for these babies, they can look like a pinky-grey clump of clay
What to do if you find an echidna in your yard?
Leave the Echidna alone, remove the threat (usually a family pet) and let the Echidna move away in it's own time. It will move along when it doesn't feel threatened.
If you find an injured echidna or one in an undesirable location, please call Sydney Wildlife on 9413 4300 for advice.
www.sydneywildlife.org.au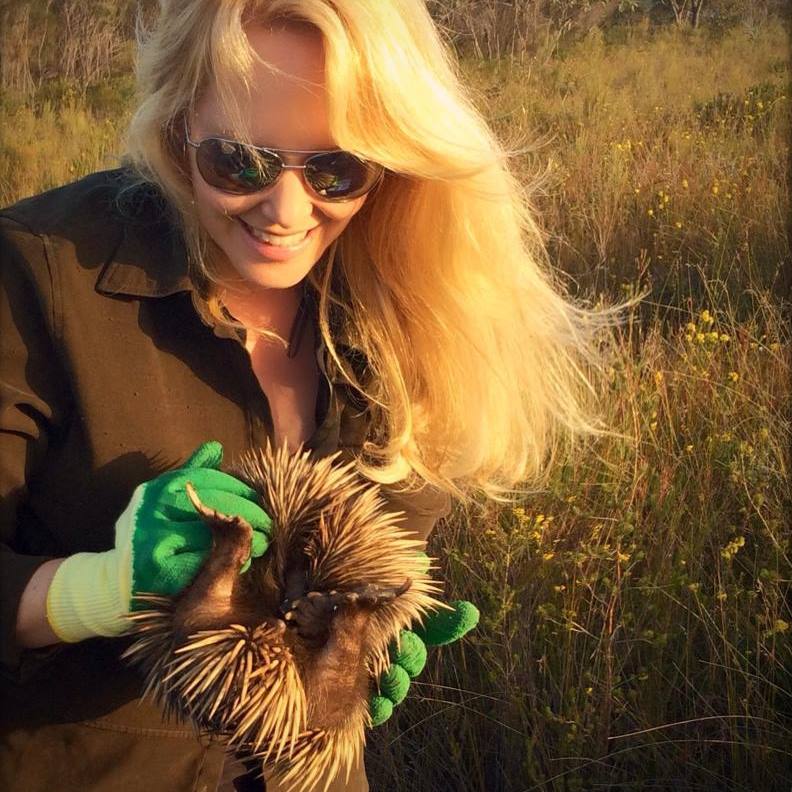 Lynleigh Greig, Sydney Wildlife, with a rescued echidna being returned to its home
New Shorebird Identification Booklet
The Migratory Shorebird Program has just released the third edition of its hugely popular Shorebird Identification Booklet. The team has thoroughly revised and updated this pocket-sized companion for all shorebird counters and interested birders, with lots of useful information on our most common shorebirds, key identification features, sighting distribution maps and short articles on some of BirdLife's shorebird activities.
The booklet can be downloaded here in PDF file format: http://www.birdlife.org.au/documents/Shorebird_ID_Booklet_V3.pdf
Paper copies can be ordered as well, see http://www.birdlife.org.au/projects/shorebirds-2020/counter-resources for details.
Download BirdLife Australia's children's education kit to help them learn more about our wading birdlife
Shorebirds are a group of wading birds that can be found feeding on swamps, tidal mudflats, estuaries, beaches and open country. For many people, shorebirds are just those brown birds feeding a long way out on the mud but they are actually a remarkably diverse collection of birds including stilts, sandpipers, snipe, curlews, godwits, plovers and oystercatchers. Each species is superbly adapted to suit its preferred habitat. The Red-necked Stint is as small as a sparrow, with relatively short legs and bill that it pecks food from the surface of the mud with, whereas the Eastern Curlew is over two feet long with a exceptionally long legs and a massively curved beak that it thrusts deep down into the mud to pull out crabs, worms and other creatures hidden below the surface.
Some shorebirds are fairly drab in plumage, especially when they are visiting Australia in their non-breeding season, but when they migrate to their Arctic nesting grounds, they develop a vibrant flush of bright colours to attract a mate. We have 37 types of shorebirds that annually migrate to Australia on some of the most lengthy and arduous journeys in the animal kingdom, but there are also 18 shorebirds that call Australia home all year round.
What all our shorebirds have in common—be they large or small, seasoned traveller or homebody, brightly coloured or in muted tones—is that each species needs adequate safe areas where they can successfully feed and breed.
The National Shorebird Monitoring Program is managed and supported by BirdLife Australia.

This project is supported by Glenelg Hopkins Catchment Management Authority and Hunter Local Land Services through funding from the Australian Government's National Landcare Program. Funding from Helen Macpherson Smith Trust and Port Phillip Bay Fund is acknowledged.
The National Shorebird Monitoring Program is made possible with the help of over 1,600 volunteers working in coastal and inland habitats all over Australia.
The National Shorebird Monitoring program (started as the Shorebirds 2020 project initiated to re-invigorate monitoring around Australia) is raising awareness of how incredible shorebirds are, and actively engaging the community to participate in gathering information needed to conserve shorebirds.
In the short term, the destruction of tidal ecosystems will need to be stopped, and our program is designed to strengthen the case for protecting these important habitats.
In the long term, there will be a need to mitigate against the likely effects of climate change on a species that travels across the entire range of latitudes where impacts are likely.
The identification and protection of critical areas for shorebirds will need to continue in order to guard against the potential threats associated with habitats in close proximity to nearly half the human population.
Here in Australia, the place where these birds grow up and spend most of their lives, continued monitoring is necessary to inform the best management practice to maintain shorebird populations.
BirdLife Australia believe that we can help secure a brighter future for these remarkable birds by educating stakeholders, gathering information on how and why shorebird populations are changing, and working to grow the community of people who care about shorebirds.

To find out more visit: http://www.birdlife.org.au/projects/shorebirds-2020/shorebirds-2020-program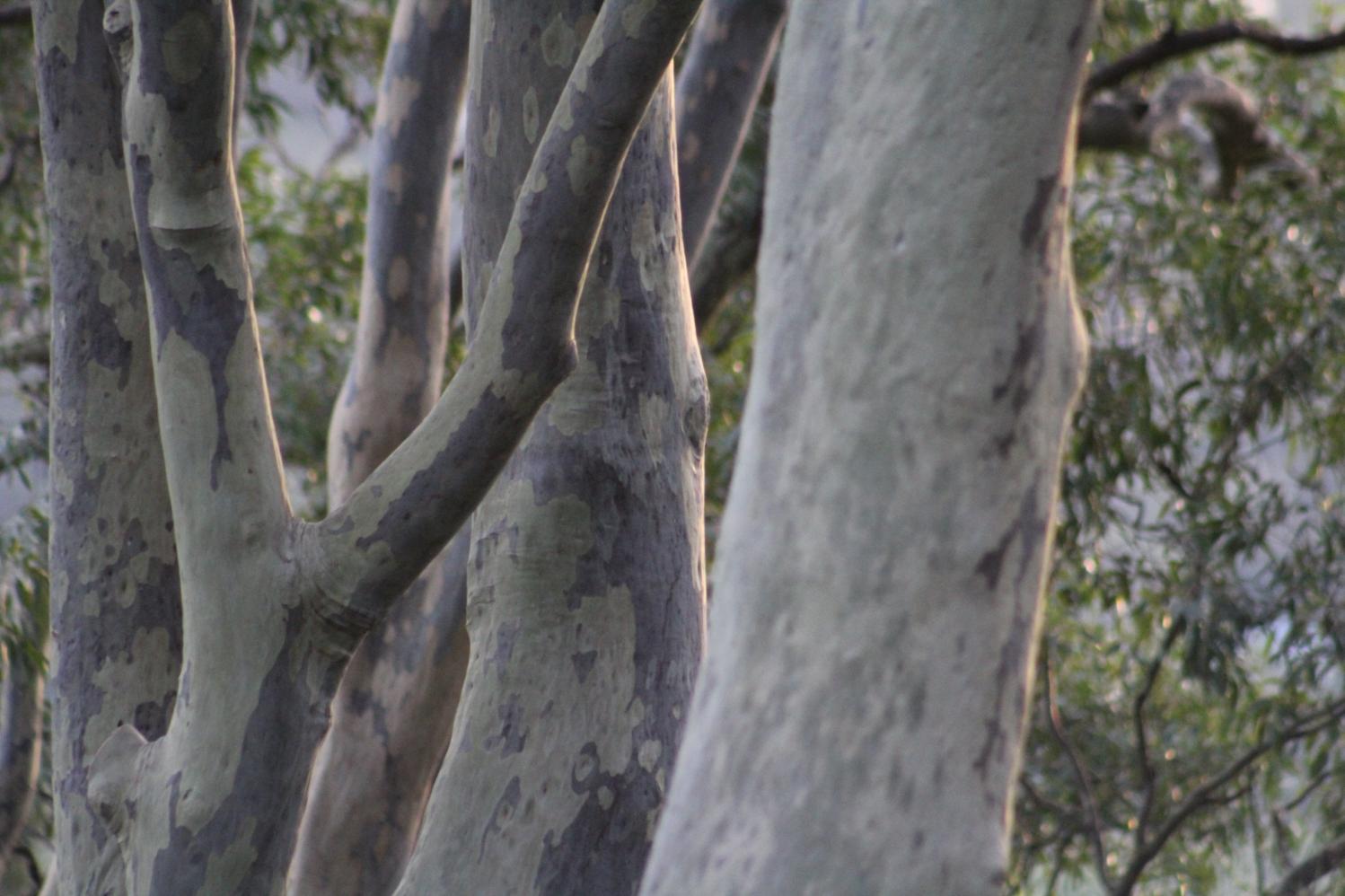 Aussie Bread Tags Collection Points
Collecting bread tags enables us to provide wheelchairs that change the life of disabled people in need, as well as keeping the tags out of landfill to help to preserve the environment.
Bread Tags for Wheelchairs was started in South Africa in 2006 by Mary Honeybun. It is a community program where individuals and organisations collect bread tags, which are sold to recyclers. The money raised pays for wheelchairs for the less fortunate which are purchased through a local pharmacy. Currently about 500kg of bread tags are collected a month in South Africa, funding 2-3 wheelchairs.
We have been collecting bread tags nationally in Australia since September 2018 and now have more than 100 collection points across the country. In February 2019 we started local recycling through Transmutation - Reduce, Reuse and Recycle in Robe, SA, where our tags are recycled into products such as door knobs and bowls. Tags from some states are still sent to South Africa where a plastics company called Zibo recycles them into seedling trays.
These humble bits of polystyrene can make a real difference so get your friends, family, school, workplace and church involved. Ask school tuck shops and boarding school kitchens, child care centres, aged care facilities, hospitals, cafes and fast food outlets to collect for you - they get through a lot of bread!
All the information and signage for collecting or setting up a public collection point is
on our website
.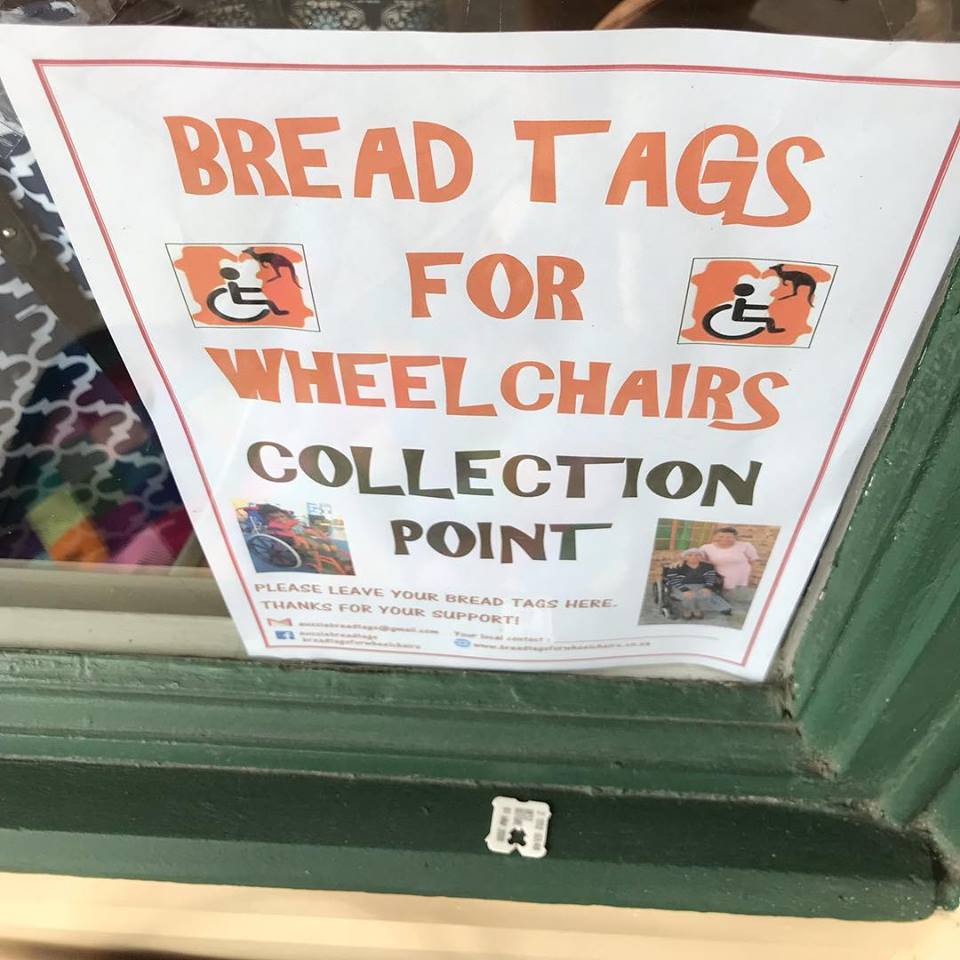 It's Insect Time: What Are Jewel Bugs?
Every morning this week, when getting up really early to investigate stories to share with you, a sweet smell of flowers has been in the air, telling us all Spring is arriving.
With Spring comes all the little insects - including the one we photographed for you - the Hibiscus Harlequin bug. Unfortunately this one was being taken by a spider: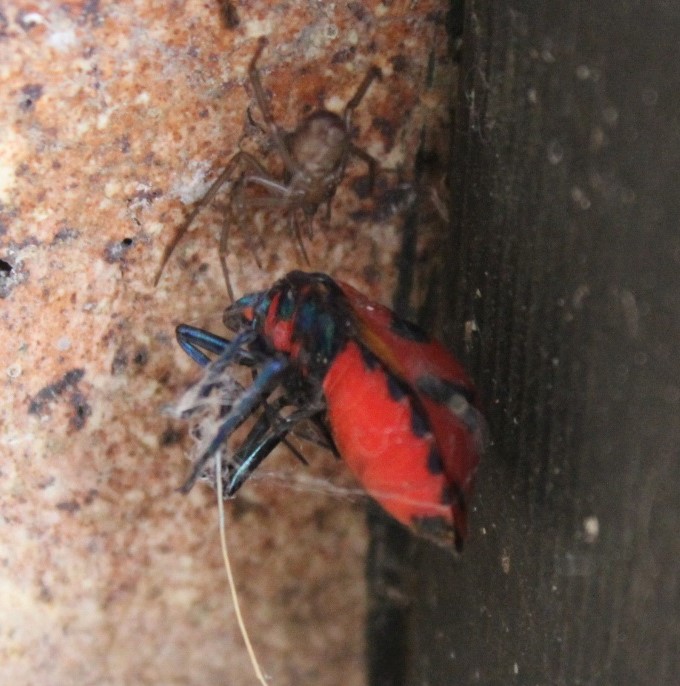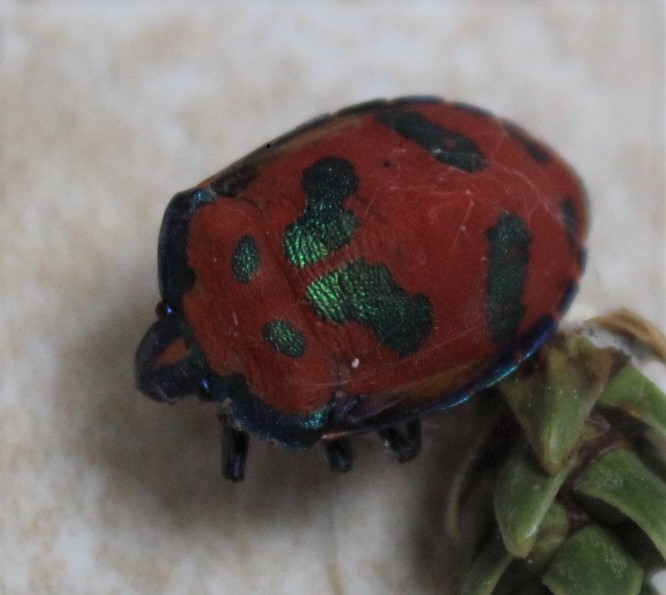 Tectocoris diophthalmus, commonly known as the Hibiscus Harlequin Bug or Cotton Harlequin Bug, is the sole member of the genus Tectocoris. It is a brightly coloured convex and rounded shield-shaped bug with a metallic sheen that grows to about 20 mm. Adult females are mostly orange and males are both blue and red or orange, while nymphs are typically metallic green and purple.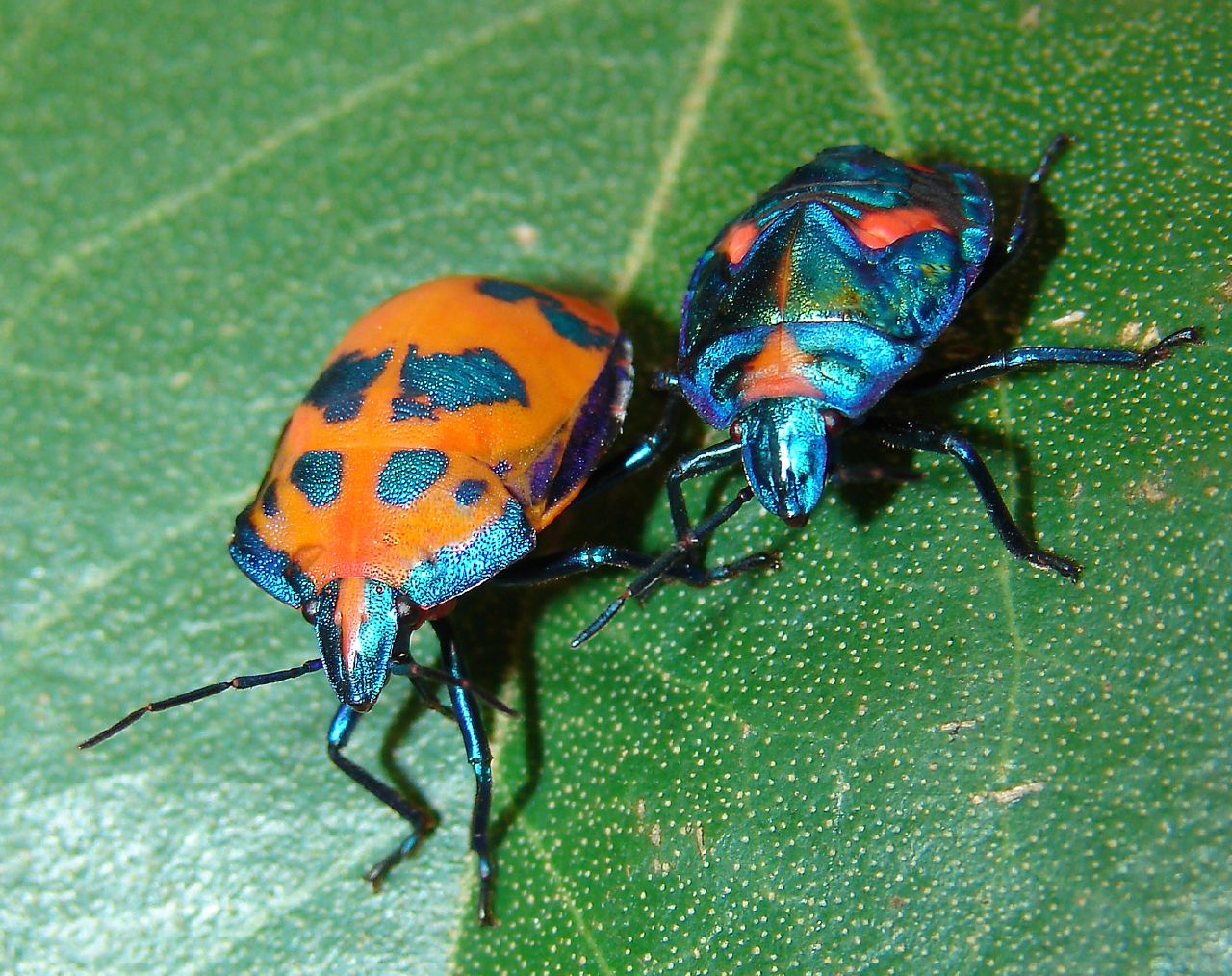 Harlequin Bugs. Adult female and nymph - photo by Louise (AussieGall)

The colours are quite variable, and experiments suggest that the variation in colour may reduce bird predation, especially on the immature stages. This extreme level of variation is such that different taxonomists have, since 1781, described this species under different new names at least 16 times, some of these supernumerary names remaining in use until 2006, when it was finally confirmed that they were all colour forms of a single organism.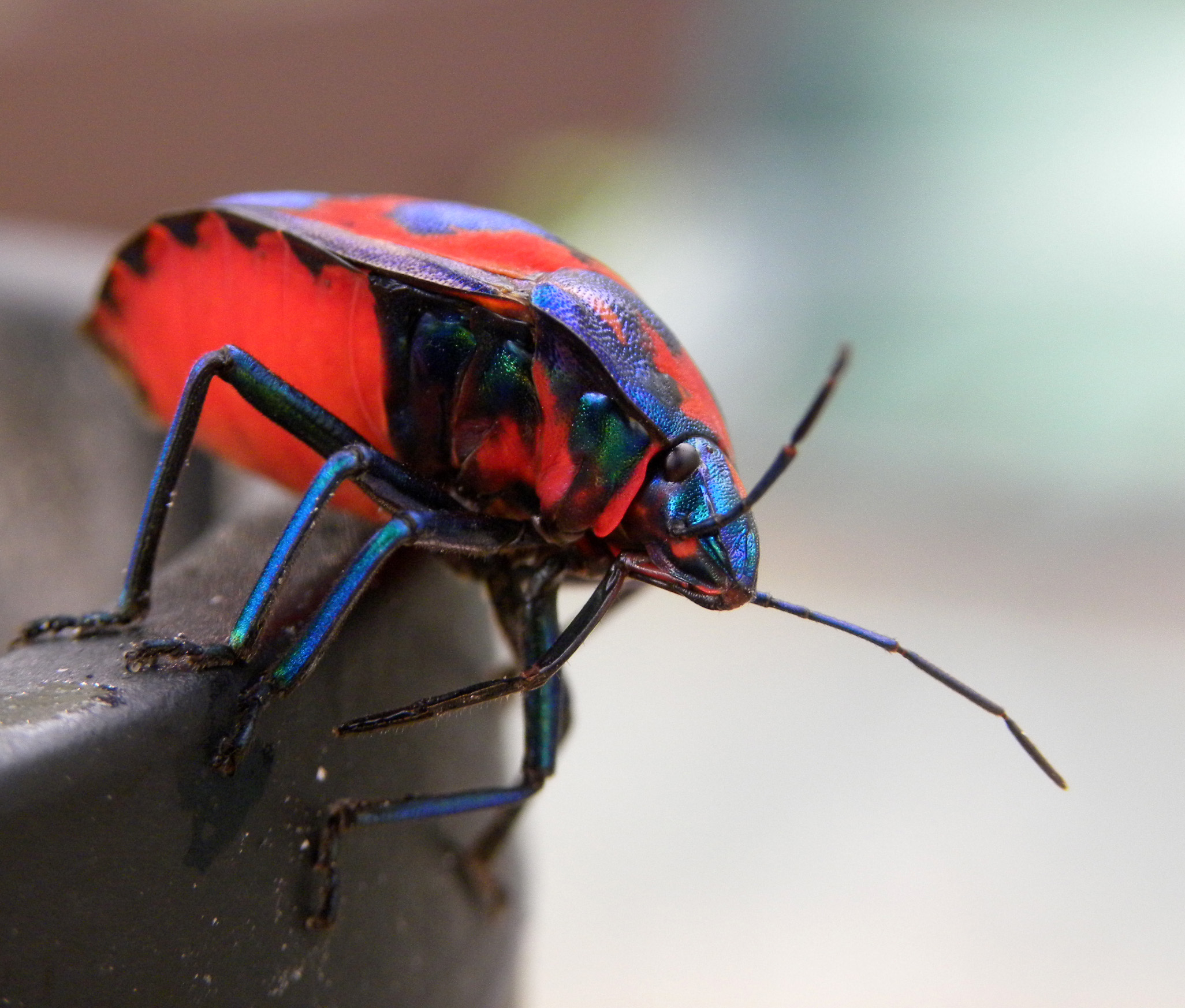 Hibiscus Harlequin Bug - Tectocoris diophthalmus. Photo by magdalena_b.

The Hibiscus Harlequin Bug sucks sap from hibiscus plants, bottle trees and related species. The Hibiscus Harlequin Bugs feed on many species of the family Malvaceae, as well as cultivated cotton. They will also feed on Illawarra flame tree flowers, grevillea and bottlebrush saplings. Its main foodplant is the native Beach Hibiscus (Hibiscus tiliaceus). It is also a minor pest of cultivated cotton, a member of the hibiscus family Malvaceae, leading to its other common name, the Cotton Harlequin Bug.
Females lay clusters of eggs around twigs and guard them until they hatch. The nymphs are often a different colour to the adults.
The Hibiscus Harlequin Bug is found in coastal dunes, rainforest, open forest and gardens in northern and eastern Australia, New Guinea and some Pacific islands.
Hibiscus tiliaceus is a common coastal plant in Eastern and Northern Australia, Oceania, Maldives, South Asia, and Southeast Asia. Although in Pittwater you will see the Swamp Hibiscus more.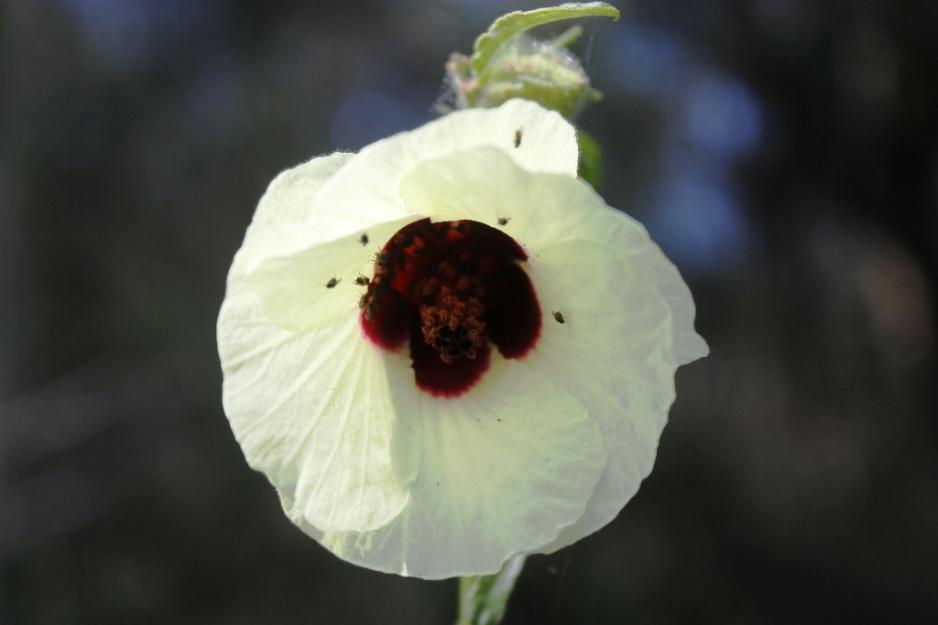 Native Hibiscus diversifolia – (Swamp Hibiscus) photo by A J Guesdon - these can be seen along the Narrabeen Lagoon trail walk as well as beside the estuary at Careel Bay.
The Queensland Museum lists Hibiscus Harlequin Bugs as a Jewel Bug (Family Scutelleridae).
Jewel Bugs have broad rounded bodies with an undivided shield covering the whole abdomen and get their common name from their bright colours. Jewel Bugs have the scutellum expanded to cover the whole abdomen and both pairs of wings, leading to their other common name, Shield-backed Bugs.
Australian jewel bugs suck plant sap and feed on a broad range of seeds, either while they are still attached to the plant, or after they have fallen to the ground. In Australia, some are known as Harlequin Bugs, a common name used for several other sorts of bugs elsewhere in the world. There are 25 Australian species of jewel bugs in the Family Scutelleridae.
A few example species of our jewel bugs are Scutiphora pedicellata. The species is found around the eastern coast of Australia in New South Wales, Queensland, South Australia, Tasmania, Victoria.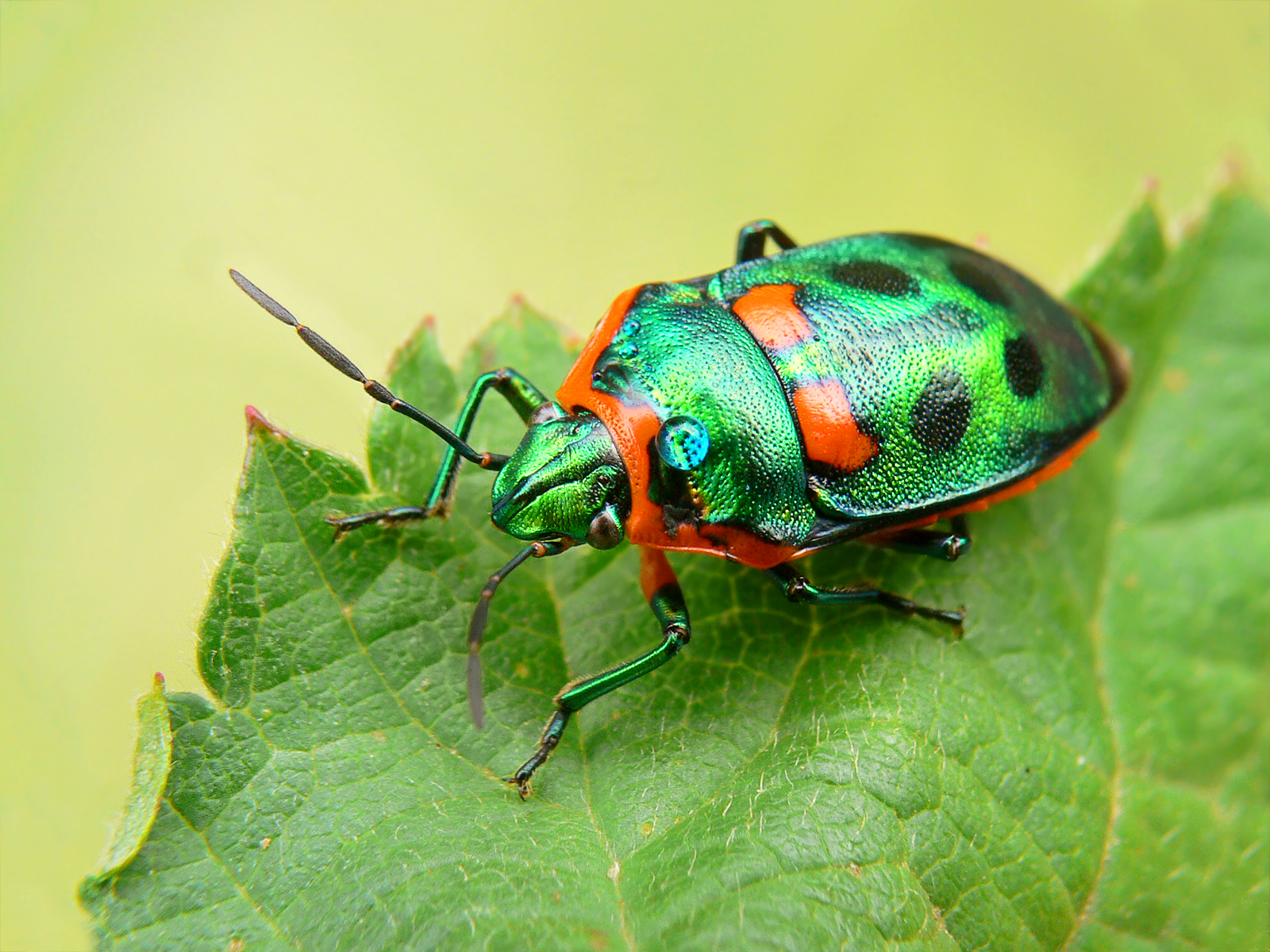 A Metallic Shield bug, Scutiphora pedicellata. Photo by Benjamint444
The Green Jewel Bug, Lampromicra senator, forms non-feeding clusters during hot dry periods especially along creeks, spreading out to feed on many plants from ferns and figs to Lantana when conditions improve. It occurs in tropical and subtropical Australia, extending as far south as Wollongong in New South Wales.
These are 9 to 14 mm in length. The Green Jewel Bug is extremely variable in coloration, ranging from metallic green to purplish-blue. Some specimens have an orange stripe across the shield-like scutellum.
Green Jewel Bug, Lampromicra senator, in Cairns, Queensland - photo by Summerdrought

Jewel bugs on a figtree leaf, Queensland - photo by Summerdrought

They're very beautiful and some may be in your garden right now. If you want to see some more there's a great website that lists more of these at: https://www.brisbaneinsects.com/brisbane_stinkbugs/MetallicShieldBug.htm
There is also, as Pittwater Online shared with you a few months, a bug community you can get involved in - a reminder and current focus runs below:

Snails And Slugs Backyard Species Discovery – A Virtual, Citizen Science Bush Blitz
Published August 28, 2020 by Bush Blitz
Dr. Kate chats to Dr. Kevin Bonham about how to find Snails and Slugs in your backyard or surrounding areas.
Bush Blitz is Australia's largest species discovery project—we help scientists document Australia's vast biodiversity by organising expeditions to remote locations. Due to COVID-19, Bush Blitz expeditions are on hold and, with many of us looking for fun things to do at home, Bush Blitz has organised a virtual expedition that everyone can join! While we can't promise you'll find a new species, you will discover some amazing plants and animals living in your own backyard, contribute valuable data to Australia's official databases and become a citizen scientist.
How does it work?
In a nutshell, we want you to photograph or record organisms in your local area and show us what you've found then our scientists will help identify your discoveries.
What you need to do
1. Record your observations:
- Look around your house, garden or other local area for an organism you'd like to know the name of—perhaps you think it is special or you just want to share what you've found with others. It can be anything that is/was living e.g. an insect, spider, frog, plant, fungus, lichen, or even an animal footprint or bone. It must be living in the wild (not a pet or something you planted) but can be an introduced species like a fox or a weed.
- Take a photo, video or sound recording of the organism, noting the date, time and location (if this isn't automatically recorded by your device). You can also use photos you've taken previously if you remember when and where they were taken.
2. Show us what you've found:
- Post your favourite photo/s on our Facebook https://www.facebook.com/BushBlitz or Instagram https://www.instagram.com/bushblitz/ channels. Make sure you include the hash tag #speciesdiscovery and tag us @bushblitz, and don't forget to give your location (region or nearest town) to help with identification.
- Sign up for an iNaturalist Australia account at https://inaturalist.ala.org.au/
- Join the Backyard Species Discovery project. Under the Community tab, go to Projects and search for 'Backyard Species Discovery'. At the top right of our 'About' information click on the 'Join' button.
- Upload your photos to iNaturalist. Click Upload, drag or drop your image, and enter details for Species name, Date and Location. Your observation will be identified more quickly if you can narrow down what you think it is e.g. plant, lizard etc. Add your observation to the Backyard Species Discovery project. This means that our Bush Blitz team and scientists will be able to see what you've found.
Ten Minute Histories: Binishells In Pittwater Schools
Dr Dante Bini graduated from the University of Florence, Italy, in 1962. He was influenced by the experimental work in building with concrete and the designs of Heinz Isler, Felix Candela, Frei Otto and Buckminster Fuller. Although interested in domes as a built form, for Bini the expensive and complex formwork required was prohibitive.
In trying to resolve this, Bini began exploring the potential of inflatable formwork, or what he would term 'Pneumoform'. His technique utilised an inflatable neoprene-coated nylon membrane overlaid with a network of steel springs and reinforcing bars. A thin layer of concrete was then poured over the membrane. In a process that took roughly one to three hours the membrane was then inflated, the entire mass of wet concrete, springs and reinforcement rising to the desired form. The Pneumoform used readily available materials, reduced waste, eliminated costly formwork and large site teams, and dramatically sped up the construction process.
Bini successfully demonstrated his technique in 1965 in Crespellano, Italy, with a 12-metre diameter, hemispherical concrete shell structure. The patented automated system was licensed across the globe with Binishells rapidly constructed in Brazil, Cuba, Saudi Arabia and the UK.
In 1971 the Department of Public Works New South Wales was seeking a fast and cost-effective construction technique to add desperately needed multipurpose centres, gymnasiums, libraries and other buildings across New South Wales schools. Ian Thomson from the NSW Government Architect's Office, travelled to Italy to meet Bini and explore the system. Clearly impressed, the Department of Public Works engaged Bini as an architectural consultant to design, direct and train its staff in all aspects of constructing the domes. Bini's considerable energy and charm burst on to the Sydney architecture scene, and he remained in Sydney for six years as a prominent figure advocating, developing new construction techniques, and lecturing at the University of Sydney.
In 1974, the Department of Public Works New South Wales began a comprehensive program of new school buildings using a radical concrete dome technology.
The first school project, Narrabeen North Public School library was a showpiece of the method's potential. Dr Bini subsequently installed his inflatable, concrete clad 'Binishells' to provide multi-function facilities in schools across the state but the three-dome complex was one of Bini's career favourites.
Dante Bini reflected on this his first Binishell project for NSW Schools;
'This should be a showcase project, I thought, as I conceived a spherical support for an asymmetrical opening of two intersecting domes. In a symbolic piece of design, the first two Binishells represented an opening shell that offered young students the pearls of knowledge contained in this new library.' (Heritage Inventory Form, Anne Warr and Jane Green. May 2019)
The North Narrabeen Public School binishell structure comprises 3 multi-use Binishell buildings, two of which interconnected domes designed as a library with the third being an administration office for the school. The binishells are 18 metres in diameter and are constructed of steel and concrete with glass windows. An internal steel reinforcing frame was installed after the original construction. (National Trust nomination September 2018)
The buildings were erected and opened in 1974 and were the first Binishells to be constructed by the Building Construction and Maintenance Branch of the Public Works Department. The library entrance incorporates a large concrete (?) ball under the eve evoking a pearl in a shell. The library reception desk is/was located at the centre of the conjunction of the two domes and has a mezzanine level used for reading recovery activities.The administration dome has facility for staff offices, a sick room, printing room, interview room storeroom and toilets. The first floor contained a large common staff room. This binishell is currently the before and after school care centre. (NSW Public Works Advisory, NSW Department of Education Binishell Strategy August 2018)
The domes are situated in a central position in the school grounds and are surrounded by a grove of mature native trees and landscaped mounds of lawn, a native landscape setting popular in the 1970s.(NSW Public Works Advisory, NSW Department of Education Binishell Strategy August 2018) [4.]
Binishells are reinforced concrete thin-shell structures that are lifted and shaped by air pressure. Between 1974 until 1978 the Department of Education constructed eight Binishells or shell complexes. The program included 18-metre diameter shells or shell complexes, generally used as libraries, and 36-metre diameter multipurpose centres, often used as gymnasiums.
Improvements to the original system included greater architectural flexibility, compliance to international building codes, simplification of the construction process and integration of latest material and passive heating/cooling technologies. Bini's legacy is considerable with 1,500 Binishells constructed in 23 countries.
Photos; 1: Binishells, North Narrabeen Public School - one of exterior, one of interior. Photos dated 10/9/75, the first Binishell project erected for NSW school.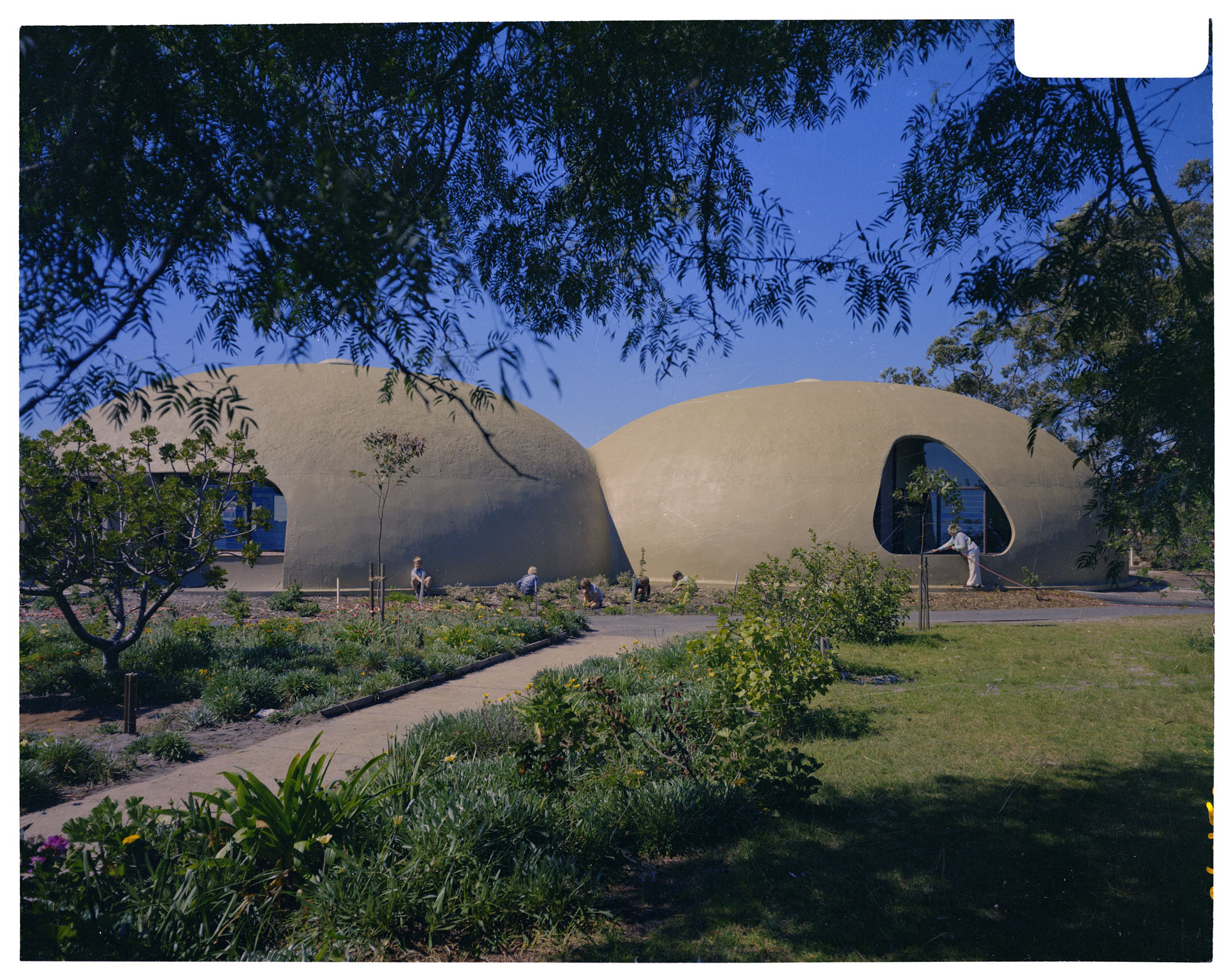 2: Binishell, Pittwater High School - Aerial photograph of Binishell at Pittwater High School, Pittwater - taken in February 1978.
The Pittwater High School dome collapsed on August 4th 1986. It had been preceded by the collapse of a dome at Fairvale High School in Fairfield west. The failure in the 36 metre diameter Binishell at Pittwater High School was later found to be due to errors in the curing process. As a result of the failures the 36 meter diameter Binishells throughout the state were also retrofitted with an internal steel reinforcing structure.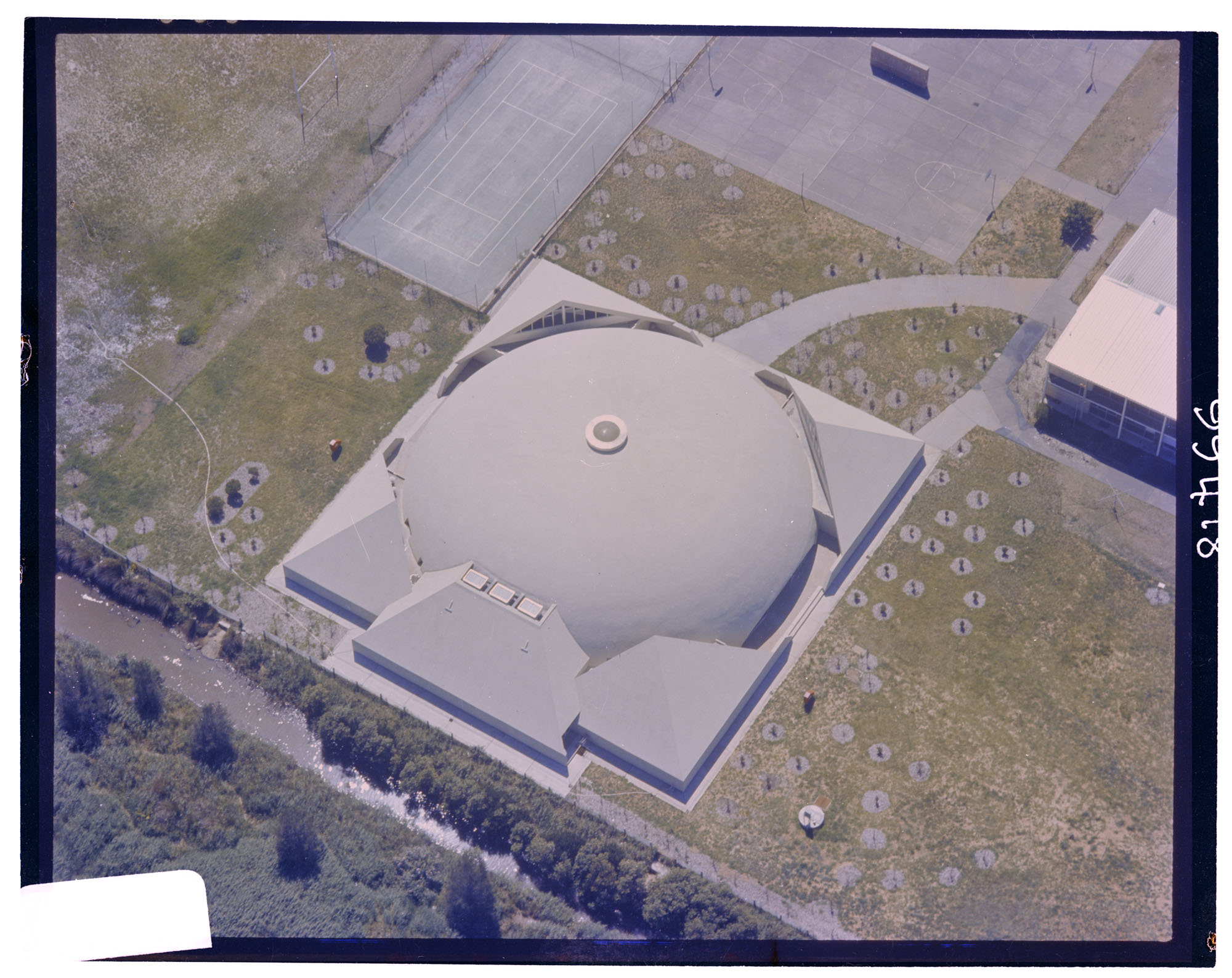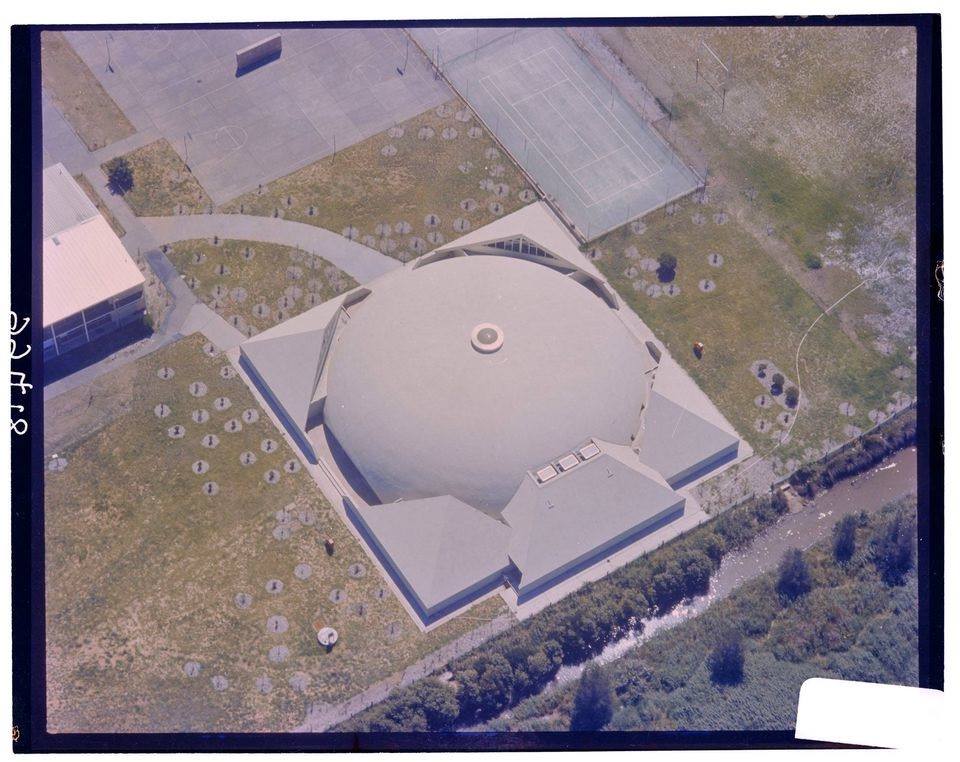 Pittwater HS Binishell flipped photo to show how was on site - courtesy Dave Murray
Other Building companies in Australia also undertook to build binishells - A V Jennings for example, now known as Jennings Industries.
In 1932, 35 year old Albert Victor Jennings was an experienced real estate agent working at his brother-in-law's agency in the growing suburb of Glenhuntly in Victoria. At that time, there were no new homes to sell as construction had stopped due to the Depression and many building industry workers were without jobs. In an effort to create work for himself, Jennings mortgaged his own Glenhuntly home and contents and raised a £700 overdraft to start his own homebuilding business. This was enough to pay wages by not enough to finance the building of homes, so Jennings decided to pre-sell homes from architect prepared plans instead of the traditional builder's approach of building and then selling. The decision proved to be a corner stone of Jennings' later sales policies.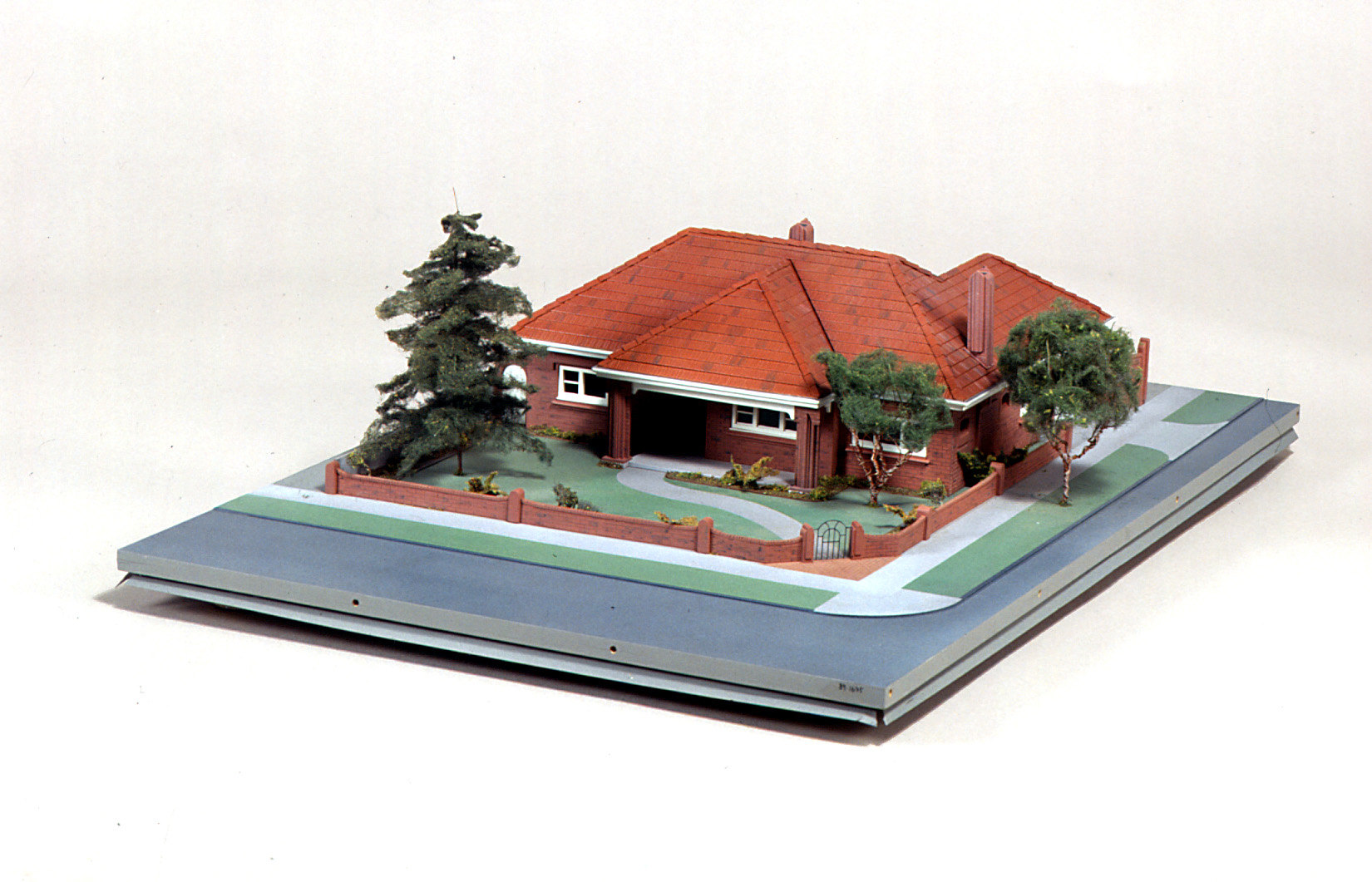 Architectural Model - A.V. Jennings House. Source: Museums Victoria. Copyright Museums Victoria / CC BY (Licensed as Attribution 4.0 International)

Working with architect Edgar Gurney and builder William Vine, A.V. Jennings established a company that continues to build houses across Australia. Mr. Jenning's house building philosophy was premised on a tradition of solidity, homeliness and value for money and exercised his belief that good family homes helped create happy and good Australian citizens. In 1969 he was knighted and the following year he was awarded the AIB medal although to many he would remain 'Bert'.
Jennings was responsible for other innovative projects in Australia, the Wrest Point Hotel Casino, opened in the suburb of Sandy Bay in Hobart, Tasmania, on February 10th 1973, was a Jennings project. The author recalls going there every weekend during construction time so her father, then State Manager in Tasmania for Jennings, could inspect that weeks' works without anyone else on site to tell him how well they had done that week - dad liked to look for himself!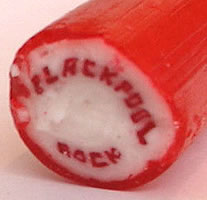 One of the highlights of these Sunday family weekend outings was calling into nearby Magnet Court afterwards (called this due to its traditional magnet shape; 'U'). Here dad bought us hot donuts, then a novel sweet in Australia, and a stick of Blackpool rock candy; which would take the rest of the day to eat - YUM!
These were bright pink or red on the outside and white inside with writing around the centre that could become bigger as you worked your way through it.
Blackpool is a large town and seaside resort on the Lancashire coast in North West England which became popular when it started to be fashionable to travel to the coast in the summer to improve well-being by swimming in salt water - something we like to do all Spriung and Summer long!

The Wrest Point Hotel Casino was designed by Sir Roy Grounds, (18 December 1905 – 2 March 1981) one of Australia's leading architects of the modern movement. The 18-story octagonal tower, at 64 metres, the building was, and still remains, the tallest building in Hobart, and includes a revolving restaurant at the top of the tower and lots of rooms for visitors to Hobart. Rooms at an Inn at this location actually started way before that - in 1839. The building was heritage listed in 2017.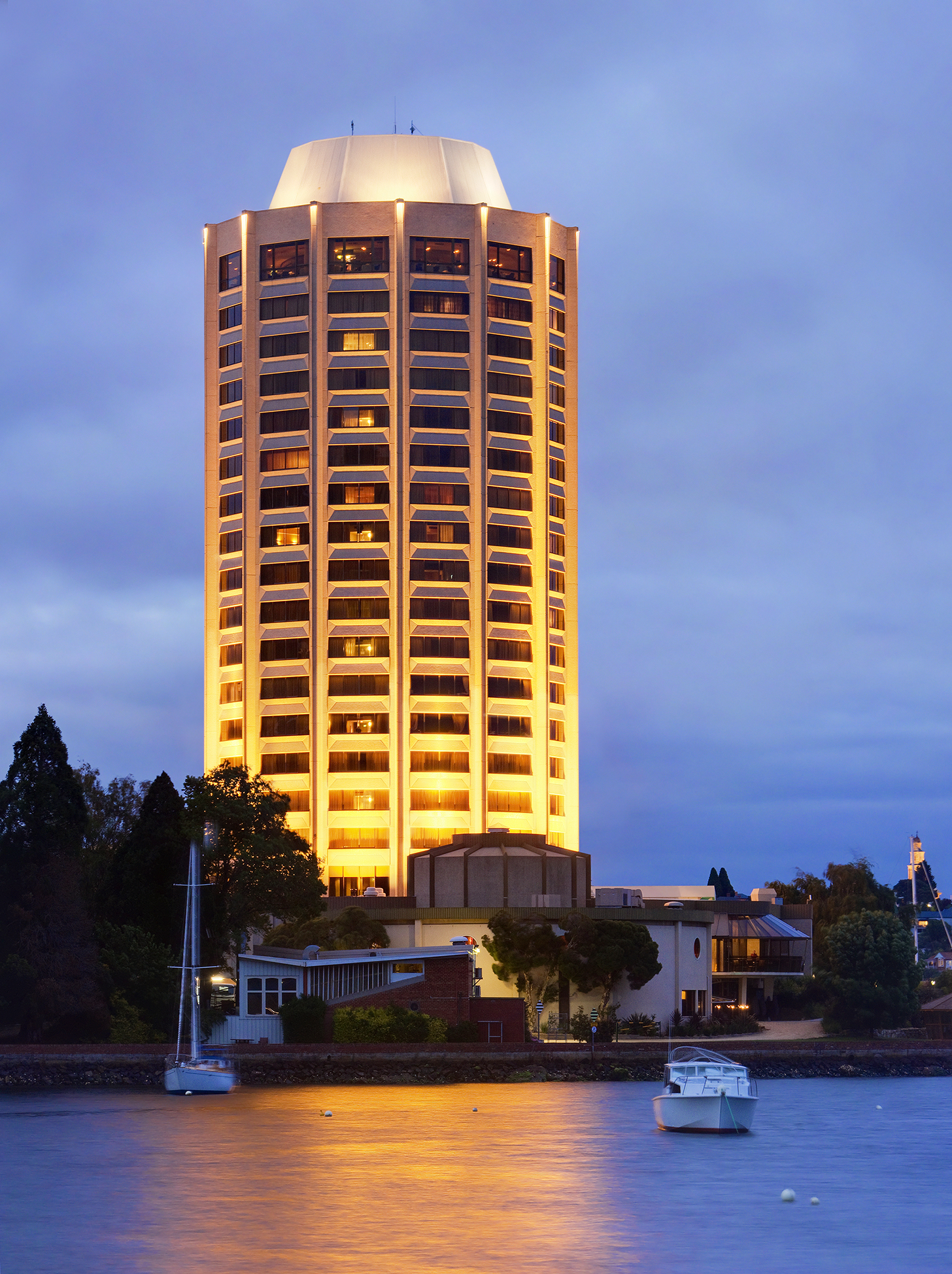 Wrest Point Casino at night - photo by J J Harrison
In the late 1970s, Jennings Industries Limited negotiated a licensing agreement with Dr Dante Bini and the result was fifteen Binishells built across New South Wales high schools, twelve of which remain. Mr. Bini and Jennings also beat the record for the largest Binishell complex in the world, with the construction, outside of Brisbane of the Space City Shopping Centre, unfortunately demolished (Jennings Industries 1978).

Australians continue to be innovative designers and builders of great school buildings and homes, with many of those who have created great places for great people living locally. One day, yopu too may be a Designer, Architect or Builder.
Visit the article Pittwater Online ran a few weeks back to see some of these new local homes in: 2020 New South Wales Architecture Awards: Three Winning Local Projects & Architects + More Beautiful New Local Homes
References:
Building With Air, Dante Bini, 2013, Butler Tanner Denis, UK, p.13
NSW Department of Public Works publication Construction of Binishell Reinforced Concrete Domes, NSW, Australia, 1978, p.7
Binishell Collection (Department of Education) - Retrieved from: HERE
The Binishell Collection (Department of Education) Draft for consideration - NSW Office of Environment and Heritage, retrieved from https://www.environment.nsw.gov.au/heritageapp/ViewHeritageItemDetails.aspx?ID=5066940

Willis, E. (2009) A.V. Jennings, Home Builder in Museums Victoria Collections https://collections.museumsvictoria.com.au/articles/1249

Pugnale, A., Bologna, A. Dante Bini's Form-Resistant Binishells. Nexus Netw J 19, 681–699 (2017). https://doi.org/10.1007/s00004-016-0323-7

TROVE - National Library of Australia
Student Inspires A Firie Tribute
A Port Macquarie student has inspired a new figure in the Hello Koalas Sculpture Trail.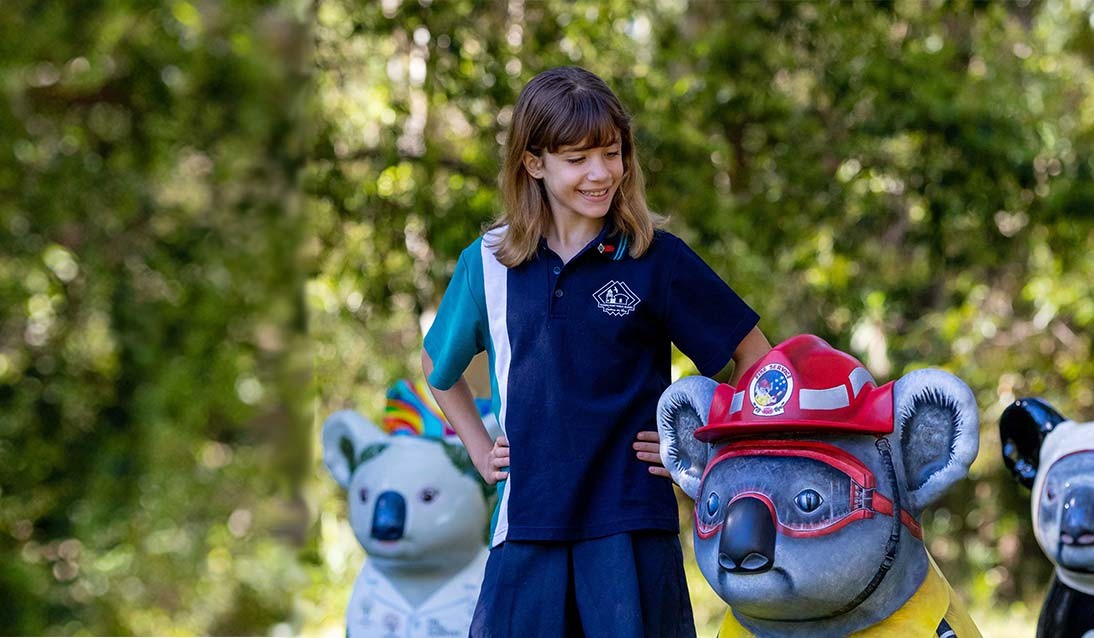 Tacking Point Public School student Jessica Miles with Frankie the Firefighter koala statue. Photo: Lindsay Moller
Students can make a real difference in the world.
That's what 12-year-old Jessica Miles has learned, knowing she played a part in the creation of the newest addition to Port Macquarie's award-winning Hello Koalas Sculpture Trail – Frankie Firefighter.
In January as bushfires came within a kilometre of her home, Jessica found herself thinking about the firefighters working to protect their community.
Over a family dinner, the Tacking Point Public School student raised the idea of building a sculpture to honour the men and women on the bushfire frontline and was greeted with support.
With an artwork from the Hello Koalas Sculpture Trail on their doorstep, Jessica's mother, Michelle, suggested she contact the organisers of the trail with her idea.
In a message to Hello Koalas via a Facebook post, Jessica wrote: "I've recently thought of an idea as Australia has been facing terror lately … The firefighters have risked their life and their time to protect us.
"In recognition of their bravery, I wanted to share an idea I had about making a koala in honour of the firefighters and to spread hope to Australia."
Last week Jessica was guest of honour when Frankie Firefighter – complete with the Rural Fire Service badge and fireman's jacket she had suggested – was finally unveiled.
Hello Koalas is a public art project created to bring joy, creativity and a sense of fun to the local area of Port Macquarie and to foster a sense of community and wellbeing. Visitors to Greater Port Macquarie can go on this trail or enjoy them wherever Hello Koalas sculptures weave their magic through touring exhibitions.

Established as a permanent exhibition in Port Macquarie in 2014, more Hello Koalas are added to the family each year, so there is always someone new to meet. The Hello Koalas Sculpture Trail features over 70 individually designed one-metre high Hello Koalas sculptures.

4th Annual Hello Koalas Festival 2020 26 & 27 September

The 4th Annual Hello Koalas Festival is scheduled for Saturday 26 & Sunday 27 September 2020, the first weekend of the school holidays in NSW.
This year they will be following the theme of "Search and Rescue" in collaboration with new Festival partner, Westpac Rescue Helicopter Service.
It's free to participate in the Treasure Hunt for 30 specially selected Hello Koalas sculptures but please register online on the form here so they know you are coming.
Participants will receive a Certificate of Achievement, with prizes to be won too for best photos and stories.
It's exciting for all ages – discovering beautifully painted koala sculptures dotted across the landscape and learning more about the koala and how we can all protect and preserve Australia's most iconic animal. Find out more here: https://www.hellokoalas.com/
COVID Cancels Schoolies Events In Queensland
Published Friday August 28th, 2020 at 10:15 AM -
JOINT STATEMENT: QLD Premier and Minister for Trade, The Honourable Annastacia Palaszczuk and Deputy Premier and Minister for Health and Minister for Ambulance Services, The Honourable Steven Miles
Schoolies Week events will not proceed this year.
Chief Health Officer Dr Jeannette Young has designated mass gatherings of young people over multiple days 'high risk'.
That means organised events including beachfront concerts will not be staged.
Premier Annastacia Palaszczuk said the decision is unfortunate but inescapable.
"The pandemic means we cannot have mass gatherings," the Premier said.
"Parents need to know their children's safety comes first.
"We do not want them contracting or spreading COVID-19."
The Premier said school-leavers should still celebrate their achievements and take advantage of being able to travel throughout the state.
"Schoolies Week doesn't have to be just one week," the Premier said.
"We are Good to Go across Queensland to some of the most beautiful places in the world right here in our own backyard."
Accommodation providers will be required to register guests as part of their COVID-safe plans.
Gatherings in residences including holiday units will be limited to no more than 10 people state-wide from November 21 to December 11.
Rules for restaurants, pubs and clubs are unchanged.
Deputy Premier and Minister for Health Steven Miles said those heading for end-of-year celebrations will need to make sure they are following the rules.
"No one is saying you can't celebrate the end of the school year," the Deputy Premier said.
"Go away with your mates by all means but, sadly, we all have to keep COVID in mind."
Chief Health Officer Dr Jeannette Young said Schoolies celebrations would be raised at the national meeting of health officers.
"This is not something that is unique to Queensland," Dr Young said.
"I feel terribly for this year's school leavers who have already been through so much.
"But that is the reality of keeping every family safe from this horrible disease."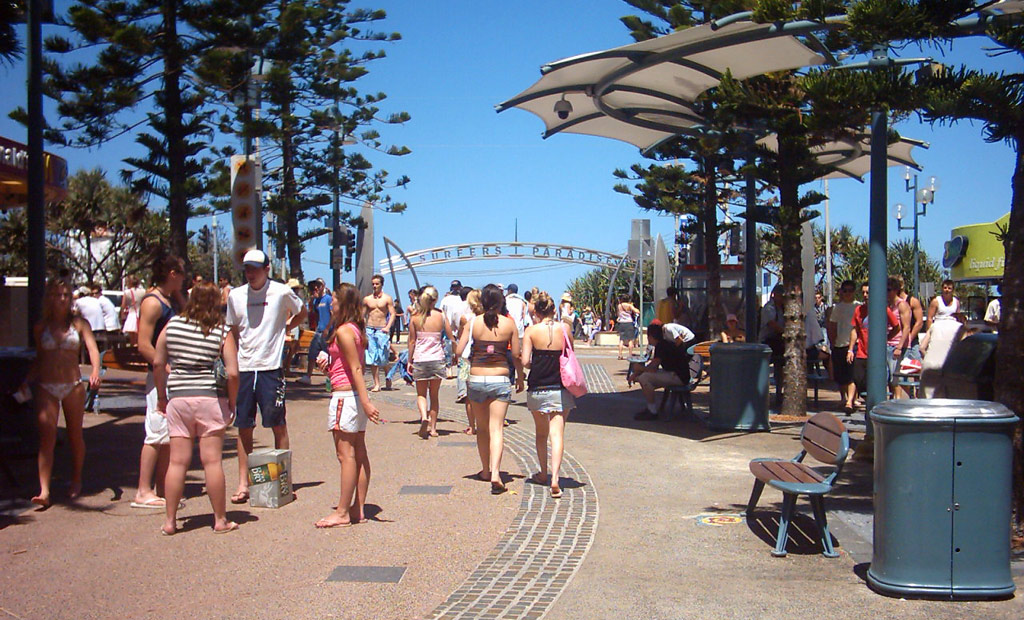 Opportunity: Students Encouraged To Apply For Award In Fisheries Conservation Research
Research students are being encouraged to apply for a NSW Department of Primary Industries (NSWDPI) award which recognises excellent research of high value to the management of fisheries resources and aquatic habitats in NSW.
Dr Natalie Moltschaniwskyj, DPI Director of Fisheries Research said the John Holliday award is a fantastic tribute to one of the pioneers of fisheries conservation in NSW, supporting fisheries scientists of the future.
"The John Holliday Student Conservation Award is named in honour of the late Dr John Holliday, a former Senior Conservation Manager who dedicated 26 years to aquaculture and fish conservation issues for DPI," Dr Moltschaniwskyj said.
"The John Holliday Student Conservation Award is offered by DPI to encourage research students to share their research findings on a range of topics that could be beneficial to the management of fisheries in NSW.
"Dr Holliday made a huge contribution to the work undertaken here and successfully pioneered the Department's involvement in aquaculture and fish conservation issues, and I encourage students to submit their applications and be recognised for their own research work," Dr Moltschaniwskyj said.
The 2020 award is open to all research students who are enrolled at an Australian university and are undertaking fisheries-orientated research work in NSW.
The winning entrant will receive $3,000 cash and a Certificate of Achievement.
Entrants are judged by a panel, including the DPI's Director Fisheries Research, Director Aquatic Environment and a representative from a NSW conservation group.
To enter, students will need to submit an electronic copy of a concise report summarising their research to date, and which is relevant to one of the following DPI's current priority programs: Promote the sustainable growth of commercial and recreational fishing and aquaculture; Protect and enhance NSW aquatic resources and environment.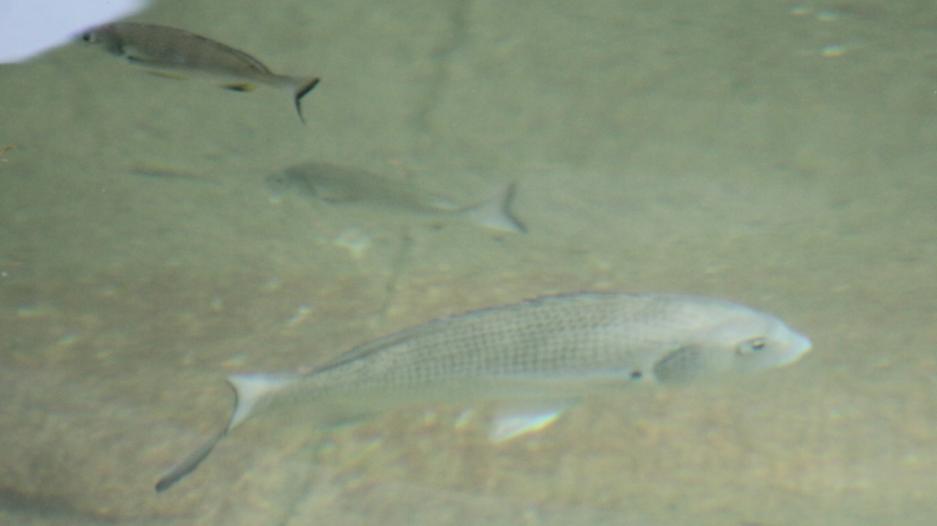 Schools Go Purple For Change
Public school communities across NSW were wearing their hearts on their sleeves on Friday, August 28th, celebrating their ongoing efforts to be safe places where every family belongs and their support for for inclusion and acceptance in our communities.
Wear It Purple Day is an annual event to raise awareness about sexuality and gender diversity. The Wear It Purple Day was founded in 2010 in response to global stories of real teenagers, real heartache and their very real responses.
This morning at Parkes High School in the state's central west, chalk messages of inclusion welcomed students in the playground.
They included the Wear It Purple Day theme, "we are the change", as well as statements such as "all are welcome" and "love yourself for everything you are".
At Burwood Girls High School in Sydney's inner-west, students sold purple bandanas to raise money for the charity.
Wallacia Public School near Penrith also joined the celebrations, with students and staff wearing shades of purple in their clothes and even their hair.
Wear It Purple Day supports the department's goal of ensuring every student is known, valued and cared for and commitment to valuing diversity.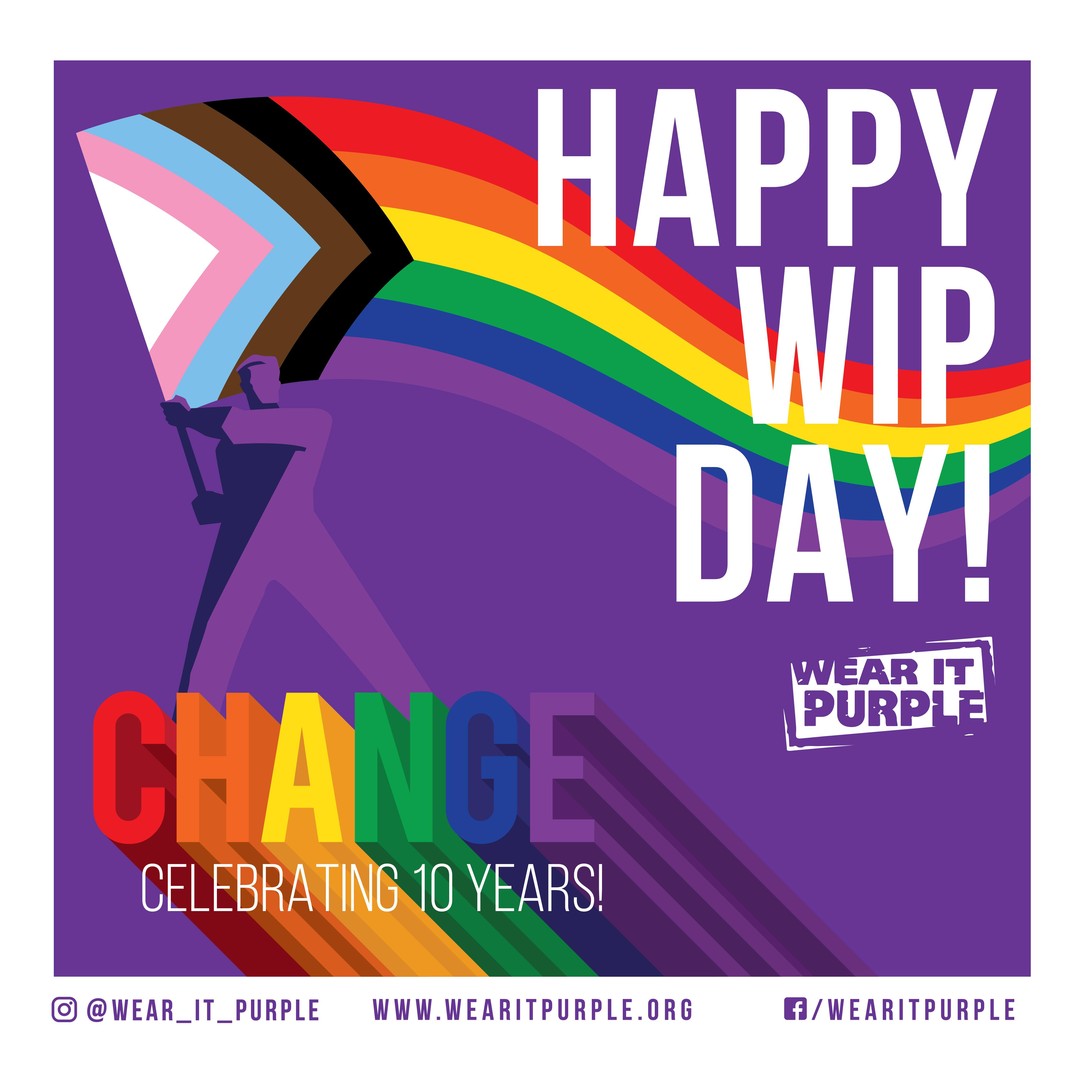 Year 11 And HSC
Updated: 26 August 2020 by NESA
The 2020 HSC is going ahead with
COVID safe exam
protocols to protect everyone involved - students, supervisors and markers.
NESA is committed to supporting the
health and wellbeing
of Year 11 and 12 students throughout their journey and has exam contingency plans in place to deal with a wide range of potential COVID 19 scenarios.
Even if things change, you will still be able to receive your HSC.
Fast track COVID-19 test results
HSC students can fast-track their COVID-19 test results.
To do this you must:
say you are a HSC student when taking a test
ensure the nurse or doctor doing the test marks your referral 'urgent — HSC'
self-isolate until a negative result is received
show your school the negative result
call the contact number provided by the clinic if results are not received within 36 hours.
Your health is number one. We know it's not an ordinary year. So, please take it one day at a time focussing on looking after yourself, submitting your assessments, and studying for your exams. Support to manage exam stress is available via the
Stay Healthy HSC campaign
. Use #StayHealthyHSC to get involved on social media.
Find out
what to do
if your school is closed, you are unwell or required to self-isolate on the day of a HSC exam.
The introduction of protocols for COVID-safe exams follow the changes made earlier in the year to the requirements for the 2020 HSC requirements, including changes to performance and practical exams for:
Other changes also include:
Allowing principals to decide on the number, type and weighting of school-based assessments for the HSC and Year 11 school-based assessment. NESA's principles of assessment continue to apply. The deadline for schools to submit HSC assessment results and other marks is 23 September.
Increasing the number of times Year 12 students yet to meet the HSC minimum standard can sit the minimum standard online tests.
Cancelling the requirement for NESA mandated VET work placements.
HSC written examinations commence on Tuesday, 20 October 2020 and conclude on Wednesday, 11 November 2020.
After last HSC written examination the HSC Assessment Ranks are released to students via Students Online for 4 weeks.
HSC results are released on Friday, 18 December 2020 and HSC Results Inquiry Centre opens.
HSC testamurs will be mailed in January 2021.
It is more important than ever to recognise student talent and achievement in the 2020 HSC. Some HSC showcase nomination and selection processes have changed due to COVID-19:
The criterion for selection to a showcase is to represent outstanding examples demonstrating the philosophy, content and outcomes of the syllabus.
The final selection of performances, projects and submitted works is a curatorial decision made in collaboration with NESA.
NESA is exploring options for presenting showcases in 2021.
Western Sydney University Offering Free Online HSC Study Sessions
Free Online HSC Study Sessions
Tuesday 6 October – Friday 9 October 2020.
Our
free online HSC Study Sessions
are led by highly qualified and experienced educators who will give you the skills and knowledge to maximise your HSC results.
Each workshop is an invaluable addition to your school studies, as you will develop a solid understanding of HSC exam techniques, subject knowledge, and HSC preparation skills. Workshops will include:
2-HOUR INTERACTIVE WEBINAR:
Content analysis (including workbook)
Tips and strategies across all modules/topics
Detailed exploration of key syllabus areas
4-HOUR PRACTICE EXAM AND DECONSTRUCTION:
Sample 2-hour practice exam
Interactive webinar with a detailed analysis of each question, including provisions of annotations and exemplar responses/solutions
Advanced English
Biology
Business Studies
Chemistry
Family and Community Studies
Geography
Mathematics Standard 2
Legal Studies
Modern History
2 Unit Advanced Mathematics
Physics
PDHPE
Standard English
Attend online sessions on subject syllabus and curriculm that you want to review
Find out about HSC exam tips that will help you with your studies
Practice on exam papers with experienced HSC markers
Register your interest to attend HSC Study sessions - Tuesday 6 October – Friday 9 October 2020.
'Help Harvest NSW' Launched To Help Secure Ag Workers To Bumper Harvest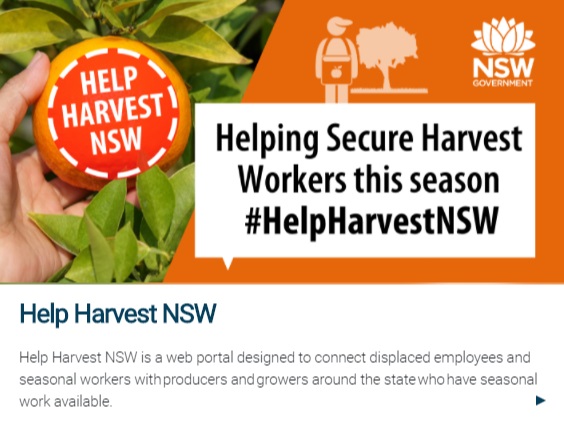 Farmers will be able to capitalise on what is predicted to be the best harvest in many years, with the launch today of a new one-stop resource which will help the agriculture industry overcome a COVID-induced labour shortage and get unemployed Australians into critical work.
Minister for Agriculture Adam Marshall announced the launch of the 'Help Harvest NSW' website today, which will connect unemployed Australians with farm work opportunities across the State as part of the NSW Government's COVID Recovery Plan.
With NSW at the forefront of this year's big winter crop comeback after drought and horticulture about six weeks from harvest, Mr Marshall said it was critical to act now as there would be a shortage of between 3,500 and 5,000 workers needed in the state
.
"Farmers are desperate to find contractors and employees willing to work to make the most of the bumper harvest we're about to have," Mr Marshall said.
"A high volume of primary industries labour generally comes from overseas and due to COVID-19 international travel restrictions there simply isn't the number of farm workers the ag industry needs at the moment.
"The Help Harvest NSW website will help to overcome this challenge by connecting job-seeking Australians with agricultural work opportunities in NSW.
"I want to see more Aussies climb off the couch and get out into the regions where there's plenty of good paying work on until the end of the year.
"At a time when we are just beginning to emerge from drought, our State's farmers cannot afford to miss out on the financial uplift that comes from a strong harvest."
With higher than average unemployment due to COVID-19, Mr Marshall said that 'Help Harvest NSW' was a way to get the State's workforce moving again.
"Never before and never again will Australians have a better chance to take up farm work, earn a decent wage and see first-hand our beautiful regions where the food we buy every day from the supermarket is produced," Mr Marshall said.
"My message to the increasing number of people looking for a job at the moment is this: get off your bum and get into agriculture – we need you.
"Take a look at Help Harvest NSW and see what job opportunities are around the corner."
Virtual Tour Takes UNSW Exhibition 360 Degrees Around The World
The Luminocity exhibition showcases the UNSW Built Environment design experience from humble beginnings to the global stage.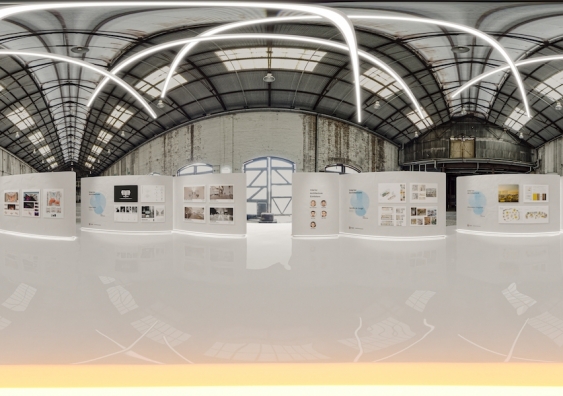 The 'mixed reality' exhibition uses advanced imaging and sensory technology to blend virtual components with real-life elements. Image: Supplied.
A team at UNSW are developing a virtual 360-degree tour that blends reality to reimagine iconic locations around the world. It's unlike anything you've seen before and will be one of the most exciting Open Day experiences this year, says exhibition co-curator Rina Bernabei.
"When people hear the words virtual exhibition, they might have quite a stagnant idea of what that is. But Luminocity is not just an online exhibition or a regular virtual tour; it is a truly immersive experience," the industrial designer from UNSW Built Environment says.
The virtual tour takes the visitor on an exploration of the design journey, beginning at the Red Centre Gallery at UNSW, before branching out to different locations across Sydney and the world where student projects from across all UNSW Built Environment degrees solve urban challenges, from the room to the region.
"What we show is that from this one building on campus, our ideas and our students launch all over the world to have global impact, and we're taking you on that tour," she says.
"So you might be on the top of a skyscraper in the middle of the city, then you might be out on an amazing parkland. So you're going to all these amazing different environments, and you really get an understanding of the scale and the impact of these projects in-situation."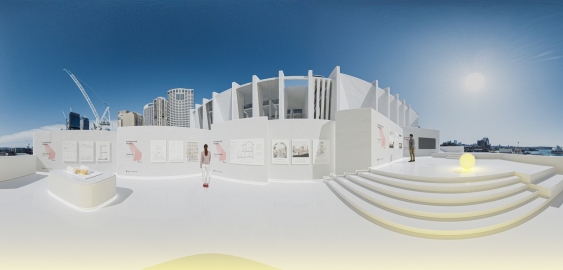 The interactive 360-degree virtual tour explores the impact of student projects in various locations around the world. Image: Supplied.
Ms Bernabei is working night and day, alongside co-curator Dr Russell Lowe, and VR developer and UNSW graduate James Hargrave, to bring the experience to life using the latest in virtual reality technology.
Dr Lowe, architect and computational designer, describes the exhibition itself as mixed reality. It uses advanced imaging and sensory technology to blend created virtual components with real-life elements to deliver an enhanced sensory experience.
"There are so many possibilities when it comes to mixed reality to do things that we could only imagine previously. You have one foot in the real world, and one foot in the imagined, but it is something that is going to open up a much broader and rich experience of life you control with your own hands."
He says COVID-19 is accelerating the timeline for virtual technologies and the need for virtual exhibitions, but that people will quickly realise the benefits.
"You're able to do so many things without constraints, such as time, location, weather, or cost," he says. "For us, it's hard for a physical exhibition to compete, and I can't see us going back when we can have Luminocity every day and open it up to a much wider audience."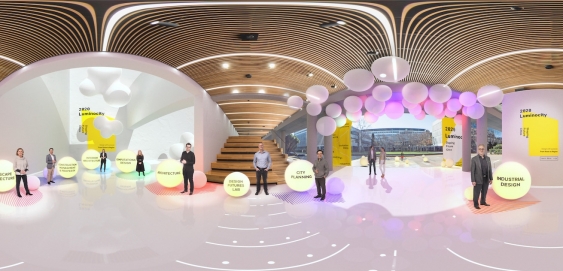 Not just an online exhibition: Luminocity is a truly immersive experience, curators say. Image: Supplied.
Ms Bernabei says the range of student projects themselves have also been brought to life in this digital experience and enriched in new ways.
"Not only can you look at the models like an actual exhibition, but you can really interact with them, you can manoeuvre around the models from all angles, you can watch videos that explore the design process and much more," she says.
"But I think perhaps the best aspect is that you'll meet and get to know the talented students behind the work, and hear them speak about their projects and their experience in their own words."
Dr Lowe says he hopes the exhibition will capture the imagination of future students.
"We want students to come to this exhibition, and not only see the fantastic work our students do, but see what UNSW is all about – leading the world in innovation like virtual reality and mixed reality, and making the best of situations," he says.
What: Luminocity exhibition
When: UNSW Open Day, Saturday 5 September.
Register for
UNSW Open Day
to enter the Luminocity exhibition on Saturday 5 September. UNSW Built Environment community and general public are invited to view the exhibition from Monday 7 September via the
UNSW Built Environment website
.
Western Sydney University And Industry Partner To Skill The Future Digital Workforce
Students from the Schools of Computer, Data and Mathematical Sciences and Business have led the first Western Hackathon as part of ServiceNow's NextGen Program.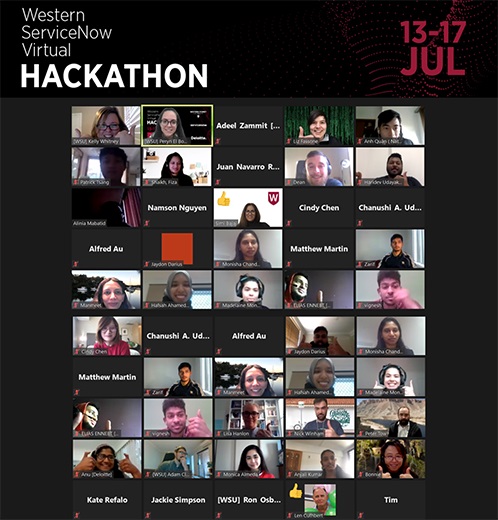 Developed to foster digital and business skills, the week-long training program asked students to create an application to 'Improve the student and staff experience' at Western using ServiceNow's Now Platform to build digital workflows.
Throughout the event the teams were supported by staff and mentors from Western Sydney University, ServiceNow and Deloitte.
The winning team – which included Haridev Udayakumar, Dean Giles and Namson Nguyen – designed a seamless digital process to transform how students connect with academic staff, and saw them each take home a $50 voucher.
"I hold a Bachelor of Electrical Engineering, and I am currently studying a Masters degree in IT, so this experience really helped me learn about Java Script and the ServiceNow platform, giving me news skills and much-needed experience for my career," said Haridev.
The University's Director of Employability and Graduate Success, Mr Chris Youness, noted the benefit of hackathon to hone practical learning opportunities.
"These events are fun but also critically important for students because it facilitates valuable exposure to the experiences and challenges they'll face when engaged in their industry of choice.
"We create these opportunities to enhance our students' professional capacities and skills, and improve career opportunities," said Mr Youness.
Alethea Murphy, ServiceNow Regional Director, Public Sector & Higher Education, said, "Australia's youngest workers have some of the best skills and qualifications as native digital communicators. University students hold critical skills to make work better for people.
"Through ServiceNow's NextGen Professional Program, we are extending Gen Z's consumer tech skills to include new digital workflow capabilities. The NextGen program includes technical training and certification, plus opportunities to gain employment and this means students are introduced to the workplace while they complete their studies."
Faez Ahmed, Senior Director, Global Education at ServiceNow also said: "Working with Universities to bring real-world scenarios to students is extremely beneficial and highly relevant in the current climate. I am looking forward to seeing the creativity of students at the Western Sydney University in solving challenges submitted by our customers and partners."
The University is pleased to continue to evolve the hackathon experience with ServiceNow and Deloitte, ensuring more students have the opportunity to work directly with key employers and industry leaders, to open up new skills and access job opportunities.
Art Of Ageing 2020 Exhibition Coming To Warringah Library In Spring
The Art of Ageing is an initiative under the NSW Ageing Strategy 2016–2020 to demonstrate the diversity and contributions of older people in NSW. Art of Ageing 2020 opened on March 3rd 2020. This exciting exhibition will tour to 45 sites across NSW and will be available at Warringah Library from September 29th to October 28th 2020.
The Art of Ageing is a photographic exhibition that celebrates the value, experience and contribution older people bring, and challenges out-dated perceptions of ageing.
The 2020 exhibition comprises of 24 images taken by talented NSW photographers. Each photograph is accompanied by a short story highlighting the subject's experiences and reflections on ageing.
Accomplished and unconventional perhaps best describes the many diverse individuals in this exhibition. These extraordinary people have carved out an interesting life for themselves that keeps them young. Let them inspire you to live life to the fullest.
You can view all of the photos in the online version by clicking into each of the frames
here.
Addressing ageism is a priority of the NSW Ageing Strategy. Ageism is negative stereotyping, prejudice, or discrimination against people based on their age, and it is experienced by many older people in NSW. Ageism takes form within individuals' attitudes, institutional and policy practices, as well as media representation that devalues and excludes older people.
During consultations undertaken for the NSW Ageing Strategy, older people expressed concerns that younger people do not value or respect them. This is consistent with research by the Australian Human Rights Commission, which found a high prevalence of negative attitudes and stereotyping of older people. The report linked these attitudes with the high rates of age discrimination older people experience.
The NSW Government is committed to addressing ageism by supporting initiatives that improve respect for and social inclusion of older people – particularly those that promote positive images of older people in the media, educate younger generations, provide opportunities for intergenerational connection and recognise older people's contributions to their communities.
The feedback received from the attendees to the previous exhibitions showed that it successfully challenged negative perceptions of ageing and older people, while inspiring a positive vision of ageing.
The photos capture a diverse range of unconventional and accomplished subjects - a retired panel beater, a regarded viticulturist, a diver with disability and an actor with a long list of credits.
The exhibition is the third in the series commissioned by the NSW Government and features works by talented photographers Kerri Ambler, Tina Milson, Julie Slavin, Tim White, Trevor Green and Tayla Martin.
One example available - Andrew Whitehead b. 1958
Well-recognised sculpture artist, Andrew Whitehead, works at his property near Urana producing incredible artworks that have been shipped around Australia and internationally, with 12 public artworks on display across the country.
'I began a mechanical apprenticeship at 40 years of age at the local shire where I worked for 10 years. That's where I learnt to weld. I started going to the back shed and building things. I entered my first sculpture in the Farm Art Show in Lockhart, 10 years ago, where I won. I pretty much entered every year since then.'
Speaking with Andrew, he stated that his career has only just started, 'I'm only about one-third of the way into my career.'
Visit the Online Exhibition of Art of Ageing 2020 at:
Westfield Warringah Mall, Shop 650, 145 Old Pittwater Road, Brookvale
29 Sept – 28 October 2020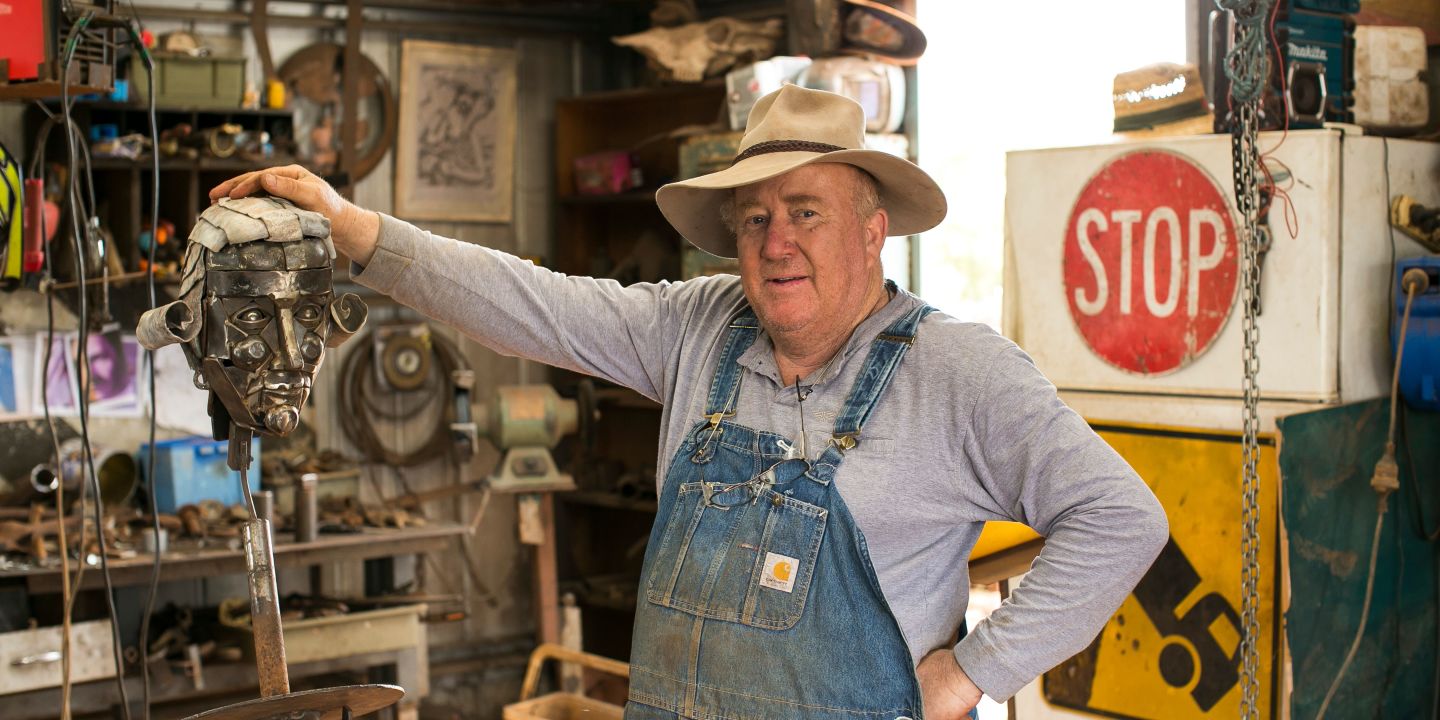 Photo: Andrew Whitehead by T Martin.
Book Of The Month September 2020: Conrad Martens : The Man And His Art
by Sir Lionel Lindsay(1874-1961). Publication date 1920. Published by Angus & Robertson, Sydney.
Stay Healthy During The HSC
In any 'normal' year the HSC requires dedication and focus as well as the support of friends and family.
This year hasn't exactly panned out to be a 'normal' year, with announcements about changes to the HSC due to COVID-19.
Despite all the goings-on, students across NSW are continuing to study for their HSC with focus and determination, and we at NESA are here to help.
This year we are partnering with mental health organisation ReachOut to deliver news, information, guidance and advice to support all HSC students.
You'll hear from experts, teachers, parents and other students as well as some inspiring spokespeople. This year we are planning to lighten your mental load with practical tips and tricks for staying active, connected and in charge of your wellbeing.
ReachOut's Study Hub has heaps of info about taking a proactive approach to your mental health or where to go if you need more support. ReachOut's Forums are great for sharing what's going on for you and get ideas about the best ways to feel happy and well.
So follow and use #StayHealthyHSC for regular health and wellbeing updates and information.
View our range of social media images, posters and flyer to help you get involved and share the Stay Healthy HSC message with your community.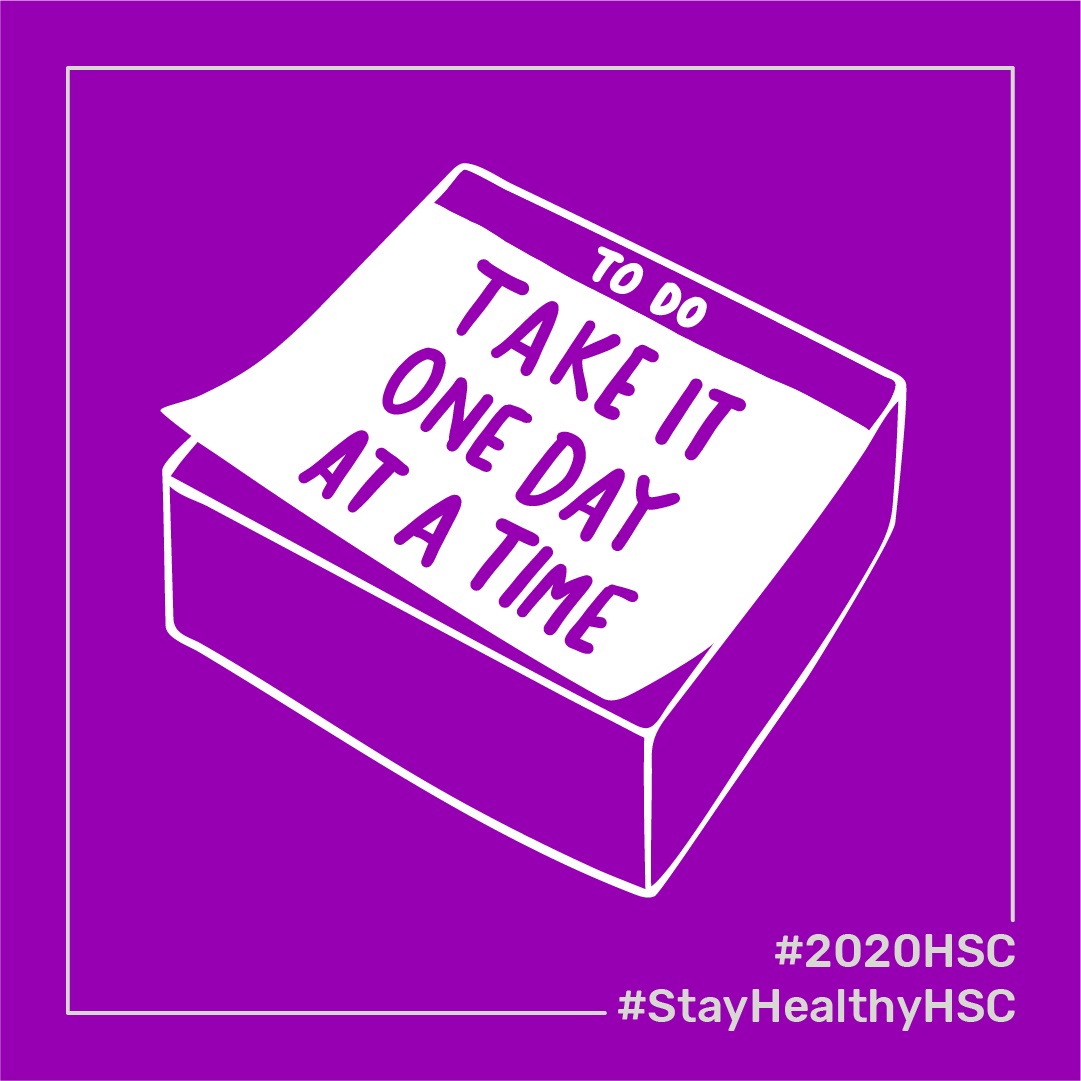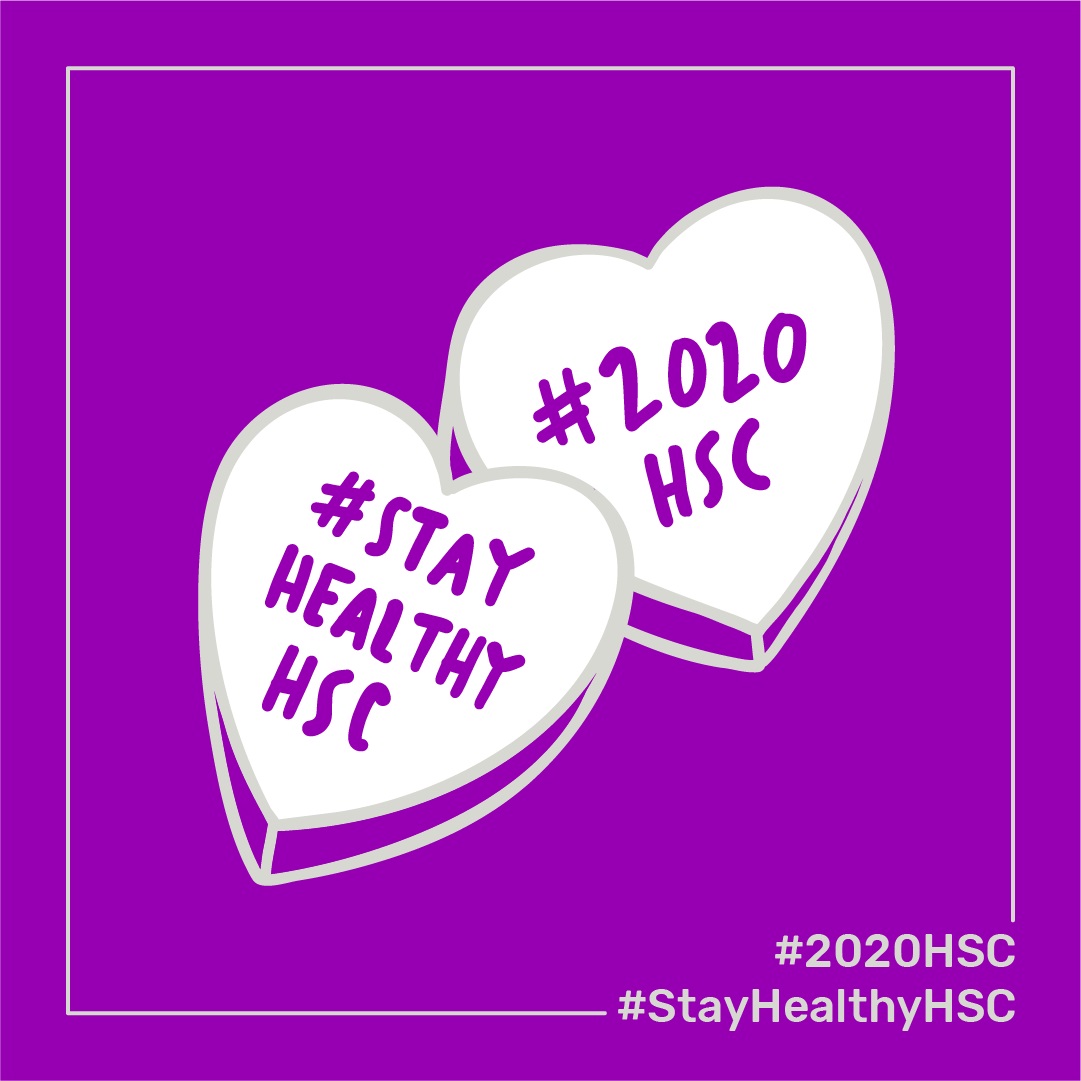 Ancient Star Explosions Revealed In Deep-Sea Sediments
A mystery surrounding the space around our solar system is unfolding thanks to evidence of supernovae found in deep-sea sediments.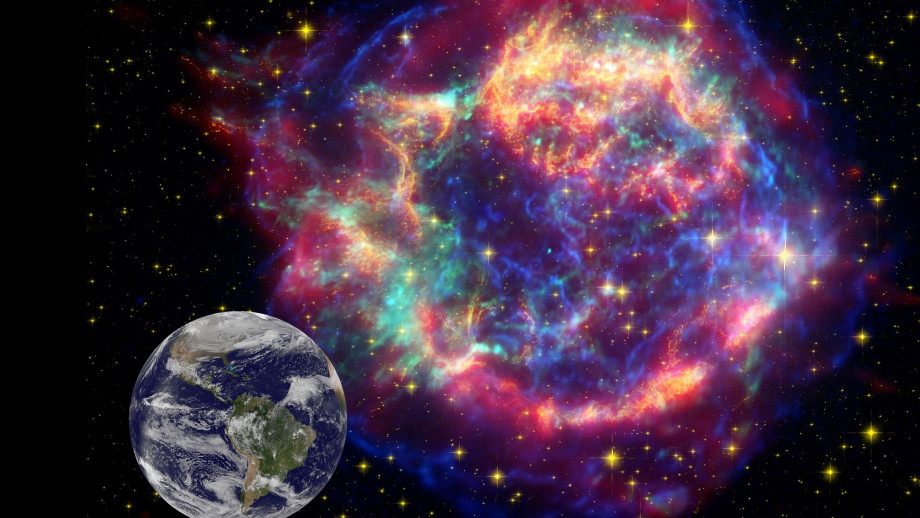 Professor Anton Wallner, a nuclear physicist at ANU, led the study which shows Earth has been travelling for the last 33,000 years through a cloud of faintly radioactive dust.
"These clouds could be remnants of previous supernova explosions, a powerful and super bright explosion of a star," Professor Wallner said.
Professor Wallner conducted the research at the ANU Heavy Ion Accelerator Facility (HIAF). He also holds joint positions at the Helmholtz-Zentrum Dresden-Rossendorf (HZDR) and Technical University Dresden (TUD) in Germany.
The researchers searched through several deep-sea sediments from two different locations that date back 33,000 years using the extreme sensitivity of HIAF's mass spectrometer. They found clear traces of the isotope iron-60, which is formed when stars die in supernova explosions.
Iron-60 is radioactive and completely decays away within 15 million years, which means any iron-60 found on Earth must have been formed much later than the rest of the 4.6-billion-year old earth and arrived here from nearby supernovae before settling on the ocean floor.
Professor Wallner previously found traces of iron-60 at about 2.6 million years ago, and possibly another at around 6 million years ago, suggesting earth had travelled through fallout clouds from nearby supernovae.
For the last few thousand years the solar system has been moving through a denser cloud of gas and dust, known as the local interstellar cloud, (LIC), whose origins are unclear. If this cloud had originated during the past few million years from a supernova, it would contain iron-60, and so the team decided to search more recent sediment to find out.
Sure enough, there was iron-60 in the sediment at extremely low levels -- equating to radioactivity levels in space far below Earth's natural background levels -- and the distribution of the iron-60 matched earth's recent travel through the local interstellar cloud. But the iron-60 extended further back and was spread throughout the entire 33,000 year measurement period.
The lack of correlation with the solar system's time in the current local interstellar cloud seems to pose more questions than it answers. Firstly, if the cloud was not formed by a supernova, where did it come from? And secondly, why is there iron-60 so evenly spread throughout space?
"There are recent papers that suggest iron-60 trapped in dust particles might bounce around in the interstellar medium," Professor Wallner said.
"So the iron-60 could originate from even older supernovae explosions, and what we measure is some kind of echo.
"More data is required to resolve these details."
Scientists from ANU, the Australian Nuclear Science and Technology Organisation, HZDR, the University of Vienna and the TU Berlin were involved in the study.
A. Wallner, J. Feige, L. K. Fifield, M. B. Froehlich, R. Golser, M. A. C. Hotchkis, D. Koll, G. Leckenby, M. Martschini, S. Merchel, S. Panjkov, S. Pavetich, G. Rugel, S. G. Tims.
60Fe deposition during the late Pleistocene and the Holocene echoes past supernova activity.
Proceedings of the National Academy of Sciences, 2020; 201916769 DOI:
10.1073/pnas.1916769117
Naming Sydney's Third City
The Western Sydney community will be given the chance to have their say on part of the naming of Sydney's third city, which will be the beating heart of the Western Sydney Aerotropolis.
The area to be named is more than 100 hectares of land that will become home to research, science and education facilities as part of the first stage of the Aerotropolis Core precinct. It is located north of Bringelly and needs a new name to reflect its new future.
Premier Gladys Berejiklian said the naming process to be carried out will find a unique name which will forever define Australia's first 22nd Century City on the doorstep of the Western Sydney International (Nancy-Bird Walton) Airport.
"Until now we have been referring to the area as the 'Aerotropolis Core', but with the city quickly moving from a vision to a reality now is the time for it to be given a real place name," Ms Berejiklian said.
"The area to be named is the parcel of land which will be the CBD of the Aerotropolis and we want its name to be as iconic as the existing major city centres of 'Sydney' and 'Parramatta'.
"Whatever it is ultimately called after the naming process, this part of Greater Sydney's third city will be a key driver of economic growth, jobs and opportunities across NSW and the nation for generations to come."
Minister for Jobs, Investment, Tourism and Western Sydney Stuart Ayres said as part of the naming process the community will be consulted and asked to nominate potential names for the new city.
"We want the community to help us come up with a list of names that reflect the area's heritage, recognise people who have contributed to NSW or honour significant figures with ties to Western Sydney," Mr Ayres said.
"A naming committee comprising of the Premier, myself, DPC Secretary Tim Reardon and Western Parkland City Authority Chair Jennifer Westacott will consider the options and make a final decision."
Suggest a name for Sydney's third city by Sunday 20 September 2020.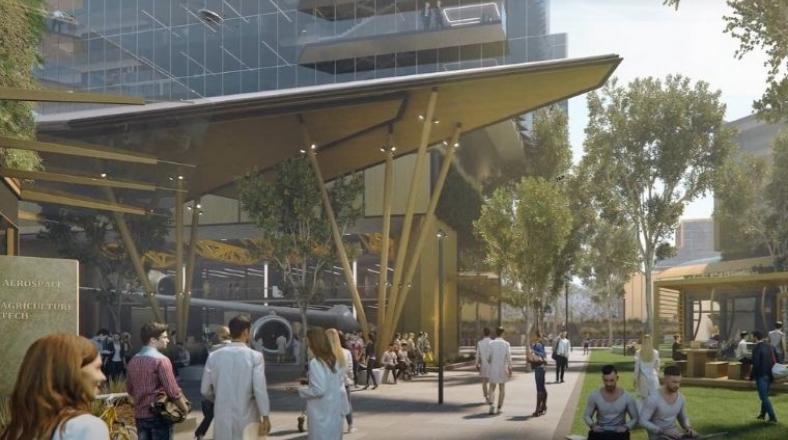 Fresh Tumour Biopsies In World-First Technique For Cancer Treatments
An innovative technique to improve cancer treatments using tumour biopsies less than 30 minutes after they're taken has been developed at The University of Queensland.
The 'Drug uptake in ex Vivo tumours' technique was developed after researchers found fresh patient tumour biopsies responded differently to treatments than the tissue cultures traditionally used.
Its inventor, UQ Diamantina Institute's Dr Fiona Simpson, said it could be used to show how long antibodies stayed active in patients, or when antibodies were taken into the tumour where they're destroyed.
"The technique will significantly help pharmaceutical and technology companies design future cancer drugs," Dr Simpson said.
"Until now, scientists have only looked at how cancer drugs interact with tissue culture, not fresh tumours.
"Applying medications to tissue culture doesn't always work because the immune system responds differently in a body.
"I thought it was pretty obvious that we should test cancer drugs on actual tumours, but people kept telling my research team that it wouldn't work!"
The technique includes a step-by-step process to help drug companies and researchers better understand how drugs interact with patients, and respond to targeted treatments.
"We've created a comprehensive process, including detailed videos on tumour extraction and drug-testing processes, for researchers around the world to use," she said.
"The technique is useful for all types of cancers, and we're very excited about its possibilities."
Shannon R. Joseph, Benedict Lum, Blerida Banushi, Rachael Barry, Benedict Panizza, Euan Walpole, Fiona Simpson.
Antibody/Ligand-Target Receptor Internalization Assay Protocol Using Fresh Human or Murine Tumor Ex Vivo Samples
. STAR Protocols, 2020; 100087 DOI:
10.1016/j.xpro.2020.100087
Macquarie University Dementia Researchers Discover World-First Gene Therapy That May Reverse Memory Loss From Alzheimers
Researchers from Macquarie University have discovered a world-first new treatment that reverses the effects of memory loss associated with Alzheimer's disease in a study of mice with advanced dementia.
The research, co-led by two brothers, Dr Arne Ittner and Professor Lars Ittner, from Macquarie University Dementia Research Centre, builds on their work begun in 2016 involving a ground-breaking gene therapy which uses an enzyme that is naturally present in the brain, known as p38gamma.
The researchers found that p38gamma, when activated, can modify a protein such that it prevents the development of Alzheimer's disease symptoms.
This latest finding, published in the September edition of the journal, Acta Neuropathologica
, has gone a step further and showed that the gene actually improved or restored much of the memory in advanced Alzheimer mice. Importantly, their findings also suggest that the gene therapy may be effective in other forms of dementia, including frontotemporal dementia which presents in much younger patients in their 40s and 50s.
Gene therapy is a process whereby genetic material is introduced into cells to replace abnormal genes or to make a beneficial protein.
Professor Lars Ittner, who is the Director of the Dementia Research Centre at Macquarie University, says, "When we set out to develop this gene therapy we expected it to halt progression of dementia, but we were not expecting to see that it not only halts it, it completely reverted the memory loss that was already there when we started therapy."
The team showed furthermore that the gene therapy is safe even at high doses and when applied long term, with no adverse events observed during the study.
Dr Arne Ittner, a lead author on the study, explains, "We need a better understanding of what happens to the molecules in the brain during dementia. Our work delivers a very powerful piece in this puzzle."
The next step will be to transition to testing safety and efficacy in humans. Macquarie University is currently undertaking a detailed assessment of the development and regulatory pathway required to evaluate the gene therapy in human patients. Partnerships with potential investors and pharmaceutical partners are also being actively explored.
"It will be exciting to see how over 10 years of basic research to understand the mechanisms of Alzheimer's disease will finally transition into clinical development to eventually benefit those most in need, people living with dementia," Professor Lars Ittner said.
"This provides hope, as there is a lot of therapy out there focussed on prevention, but not much for those already affected by the disease."
The two researchers predict that possible success of this new therapy could be within reach of humans in less than 10 years, "This could even be as close as a five year timeline for us to see the success we have seen in mice."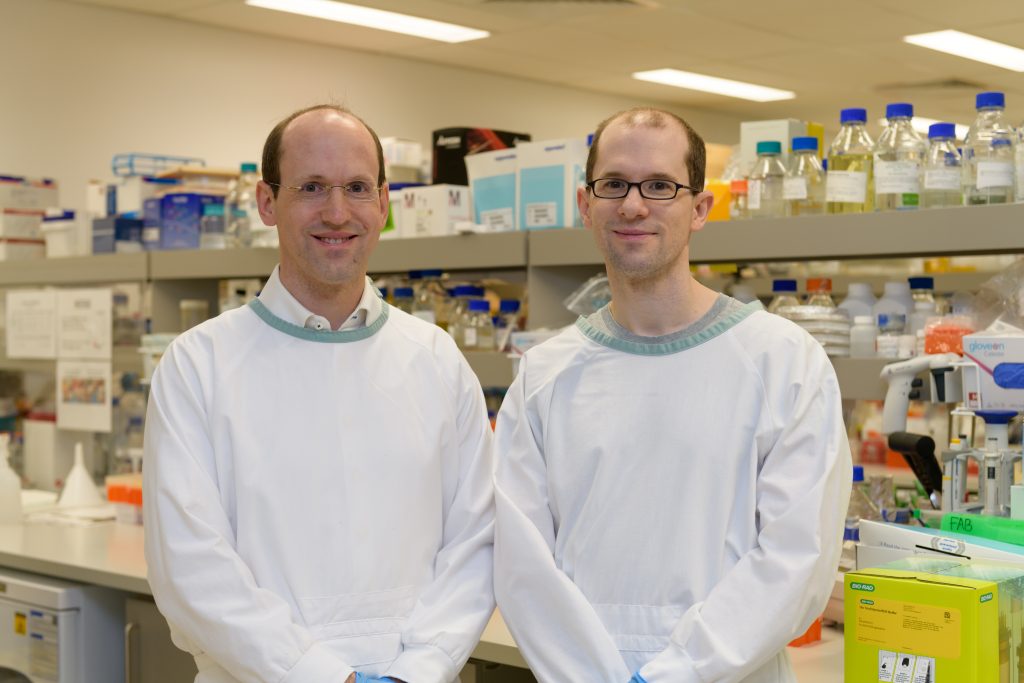 L to R: Professor Lars Ittner and Dr Arne Ittner, lead researchers from The Dementia Research Centre at Macquarie University

Disclaimer: These articles are not intended to provide medical advice, diagnosis or treatment. Views expressed here do not necessarily reflect those of Pittwater Online News or its staff.