July 26 - August 1, 2020: Issue 459
2020 New South Wales Architecture Awards: Three Winning local projects & architects + more beautiful new local homes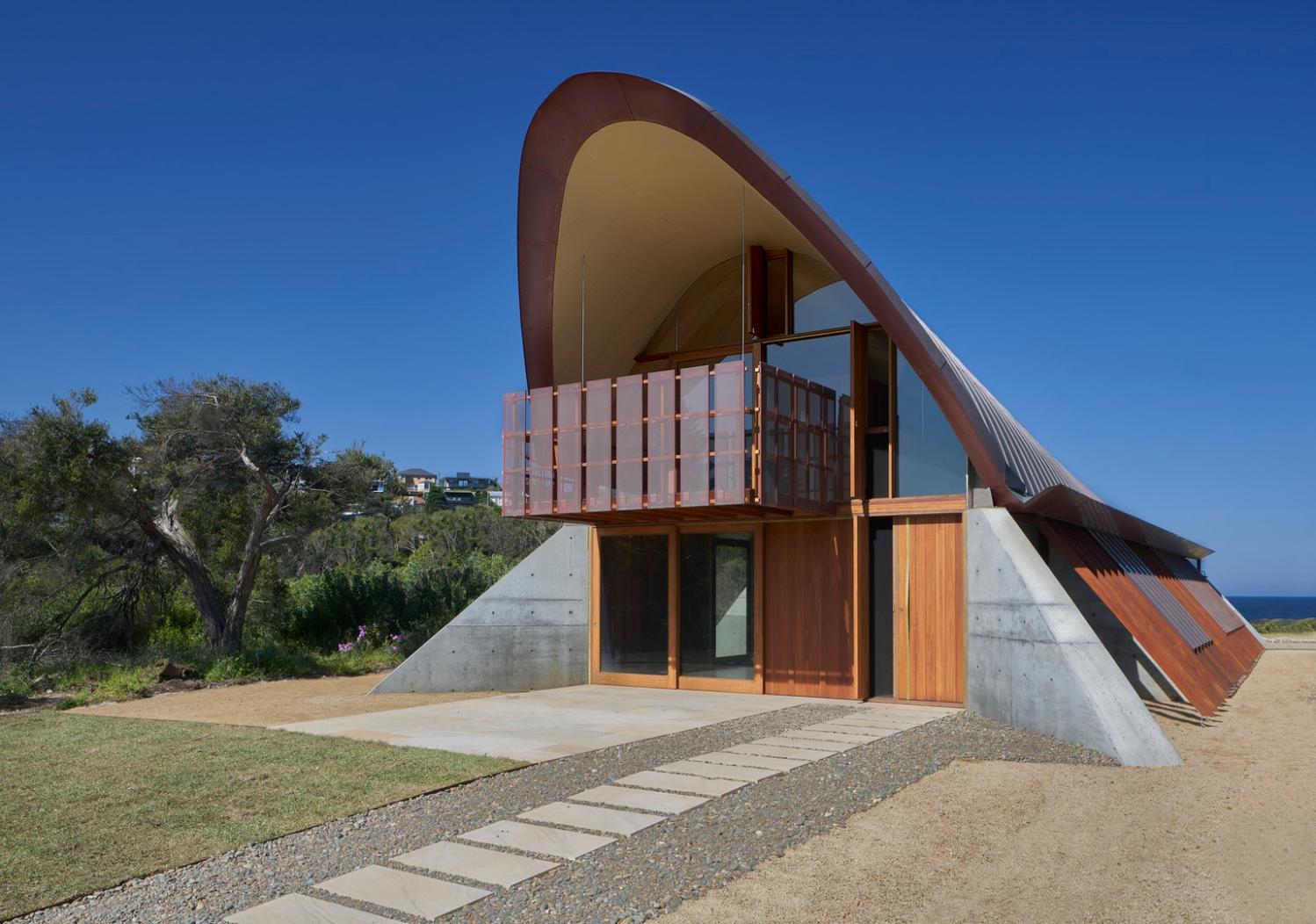 Basin Beach House - Photographer: Michael Nicholson
Three local homes and architects feature among the Winners of the 2020 New South Wales Architecture Awards, announced earlier this month, with a number of architect collaborations recognised amongst the top projects. Those that were recognised include:
RESIDENTIAL ARCHITECTURE - HOUSES (NEW)
Architecture Awards
Basin Beach House | Peter Stutchbury Architecture - at Mona Vale, Architect: Belinda Koopman
Palm Beach Blue | Benn + Penna Architecture - at Palm Beach
ENDURING ARCHITECTURE AWARD
Palm Garden House | Richard Leplastrier - at Bilgola Beach
The prestigious Enduring Architecture Award this year has gone to Richard Leplastrier for his Palm Garden House project. Built in 1974, the design of the unique home in Pittwater is centred on its relationship to the landscape.
"Palm Beach House has truly endured for the past 45 years and continues to sit harmoniously alongside nature. This simply expressed yet incredibly outstanding home is a hidden sanctuary that combines nature with domesticity and is something we should continue to look upon for inspiration and tranquillity," says NSW Chapter President Kathlyn Loseby.
In celebration of the state's best architecture, a total of 41 awards, comprising named awards and architecture awards, and 32 commendations, were presented across 13 categories.

Held on the evening of Friday 3 July, the NSW Chapter of the Australian Institute of Architects livestreamed the awards presentation, allowing the public to freely join what is normally a members-only event.
The evening's most recognised project was Phoenix Central Park by Durbach Block Jaggers with John Wardle Architects, taking out the NSW Architecture Medallion for its celebration of the union between architecture and artistic fields. The gallery and performance space, located in Chippendale, was also awarded the Sir Arthur G. Stephenson Award for Commercial Architecture and John Verge Award for Interior Architecture.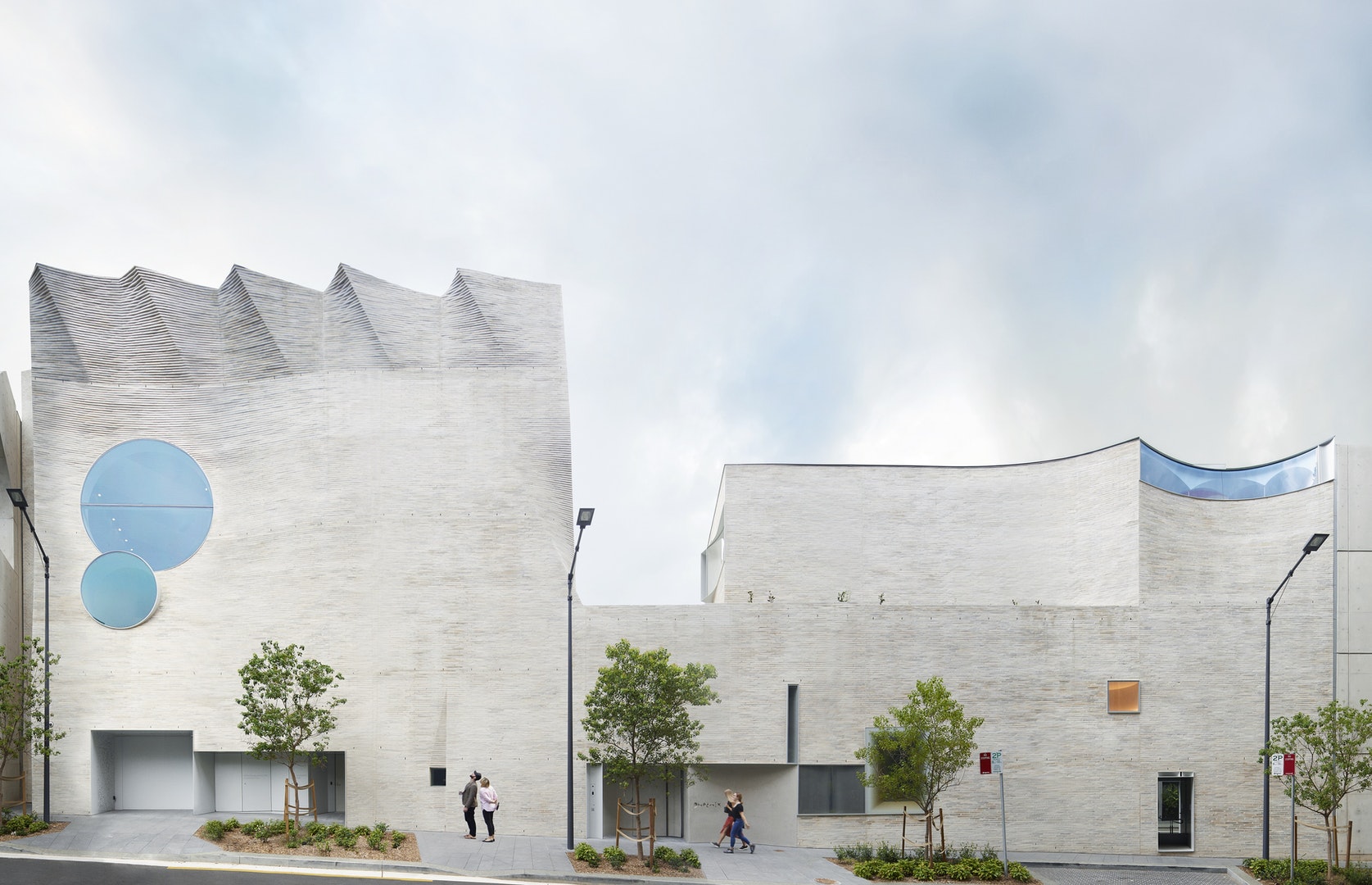 Phoenix Central Park - Photographer: Martin Mischkulnig

Phoenix Central Park is a gallery and performance space, the vision of a remarkable arts philanthropist, which is a partnership of architecture and artistic fields. The spaces are intended to work together, to have visual arts interwoven with the performing arts. John Wardle Architects designed the gallery in the east wing and Dubach Block Jaggers designed the performance space. The components are linked centrally by a courtyard and garden.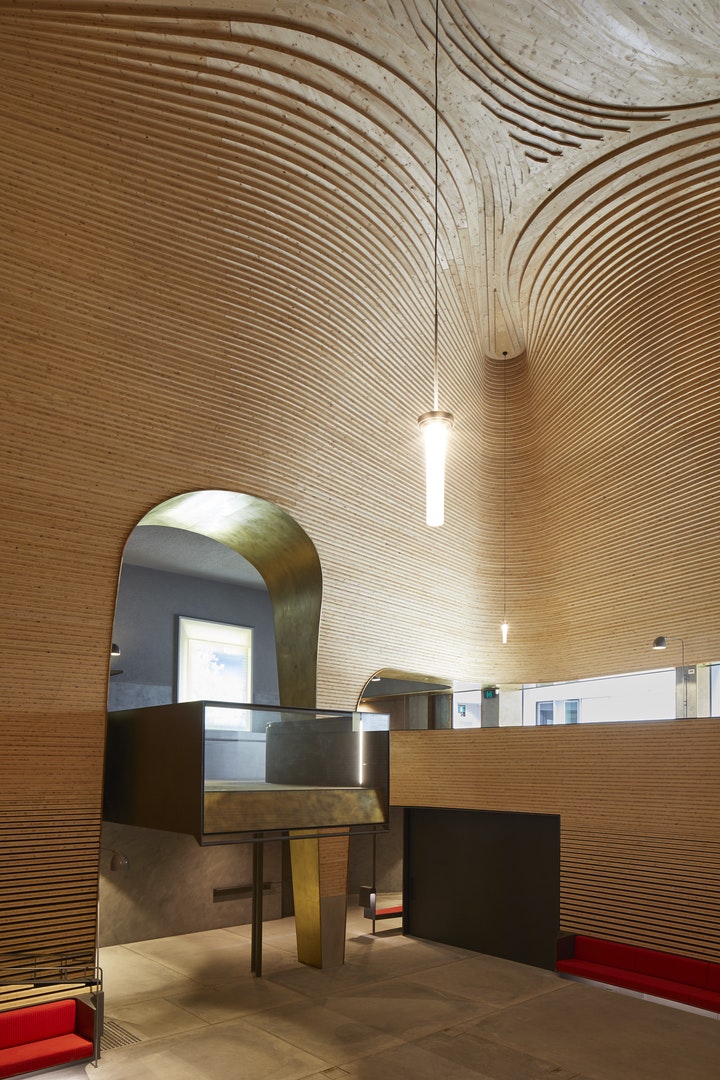 Phoenix Central Park - Photographer: Martin Mischkulnig

Inherently, both gallery and theatre need to be separated from the outside world to control light, humidity, temperature and acoustics. This allowed each architect to explore their own language of material and form. As such, gallery and theatre are in perpetual dialogue through their function and proximity. They are bound together by a continuous external skin of brickwork that encloses everything – a skin that was designed by both architects working together, iteratively, with conversation and debate, with irreverence, humour and respect.
Peter Poulet, chair of juries for this year's NSW Architecture Awards, says Phoenix Central Park is an outstanding project showing the best of collaborative outcomes and is also recognised for its strong use of material and form.
"Having been given an open invitation to design something exceptional, the architects have joined forces to seamlessly intersect design with the visual and performing arts. The single yet multifaceted and dynamic project creates an immersive experience for those inside while being a striking architectural marker on the outside," says Poulet.
The Lord Mayor's Prize went to the CBD and South East Light Rail by the huge team of Grimshaw with ASPECT Studios in collaboration with the City of Sydney, on behalf of Transport for NSW, supported by Randwick City Council. The highly collaborative project is recognised as one of the most significant transformations in the history of the city centre.
Another exemplary project was Verve Residences, a multi-residential Newcastle development by CKDS Architecture with Hill Thalis Architecture and Urban Projects. The project was awarded the Aaron Bolot Award for Residential Architecture – Multiple Housing, as well as the Blacket Prize for design excellence in a regional context.
According to Carolyn Mitchell, jury chair for the Residential Architecture – Multiple Housing category, Verve Residences sets a new standard for urban architecture in Newcastle.
"Verve Residences is paving the way for more socially and environmentally aware residential design in Newcastle. There are certainly many lessons to be taken from how the architects have gone about creating meaningful engagement between residents, as well as the community it sits within," says Mitchell.
Marrickville Library by BVN received multiple awards, including the prestigious NSW Premier's Prize, the Milo Dunphy Award for Sustainable Architecture, and an award for public architecture.
The project represents a vision for the future of public architecture, as a facilitator of community engagement, a positive contributor to and representation of its contextual fabric, and a celebration of its historic and natural environment. Situated on the site of the old Marrickville Hospital, the new Marrickville Library and pavilion reuses an important piece of the suburb's history to create a place for Marrickville's diverse community to meet, work, learn and play.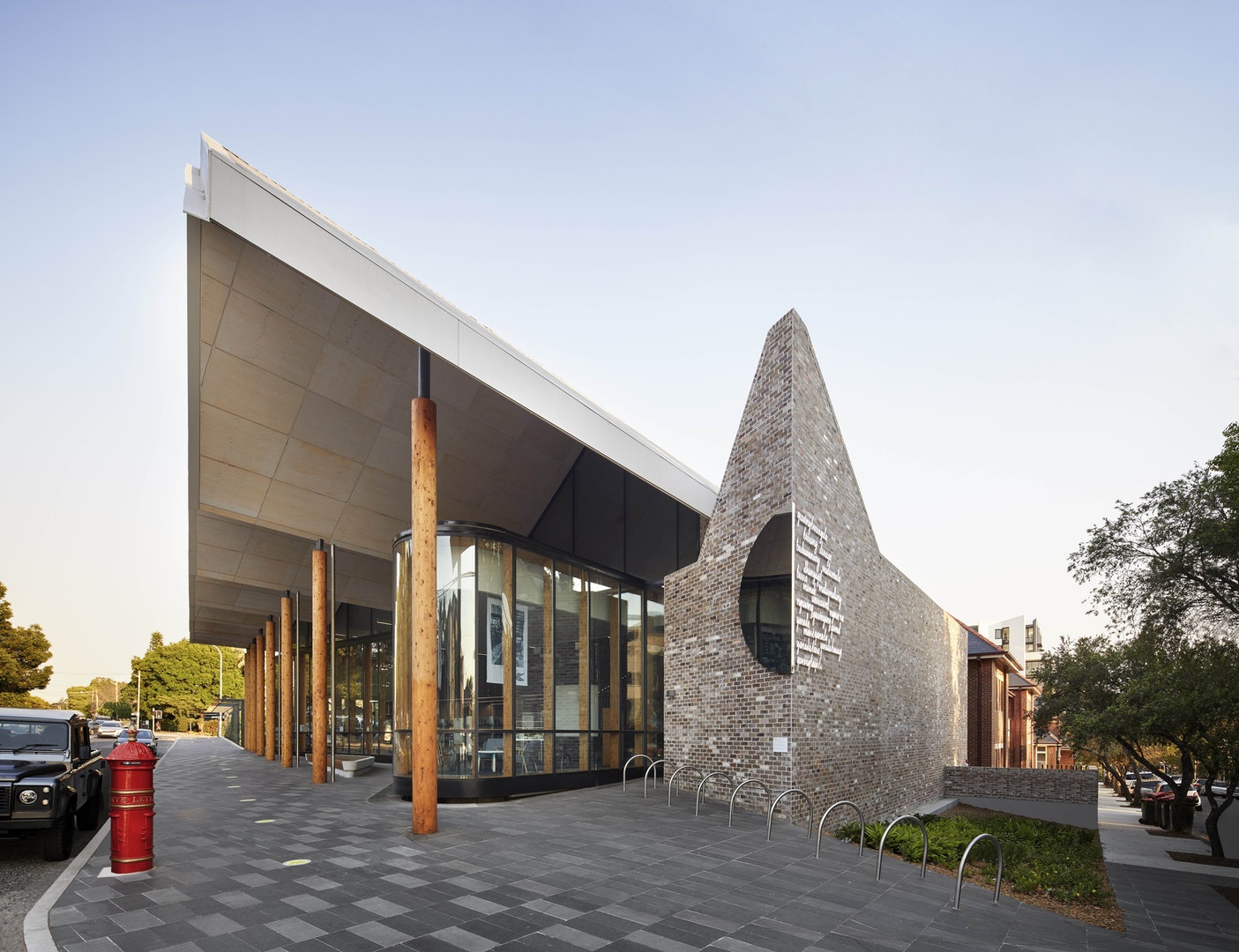 Marrickville Library - Photographer: Tom Roe

Marrickville Library - Photographer: Tom Roe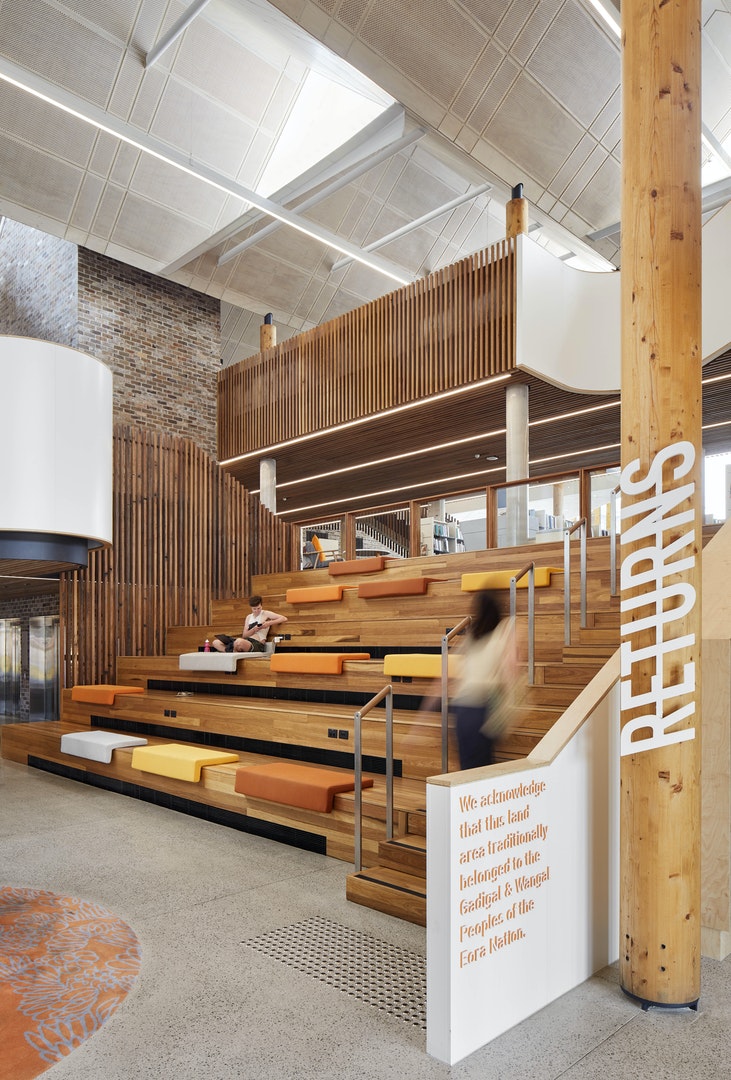 Marrickville Library - Photographer: Tom Roe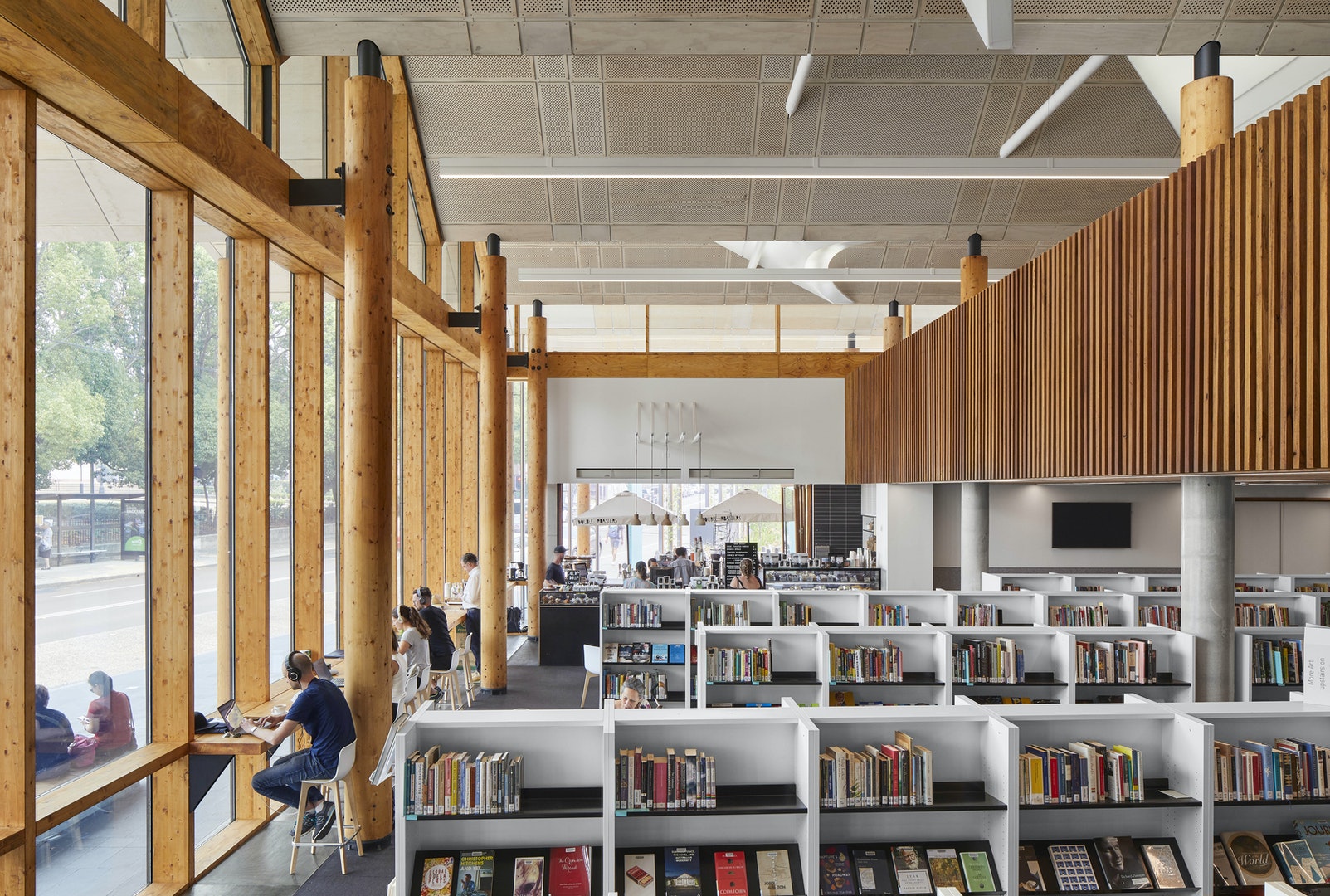 Marrickville Library - Photographer: Tom Roe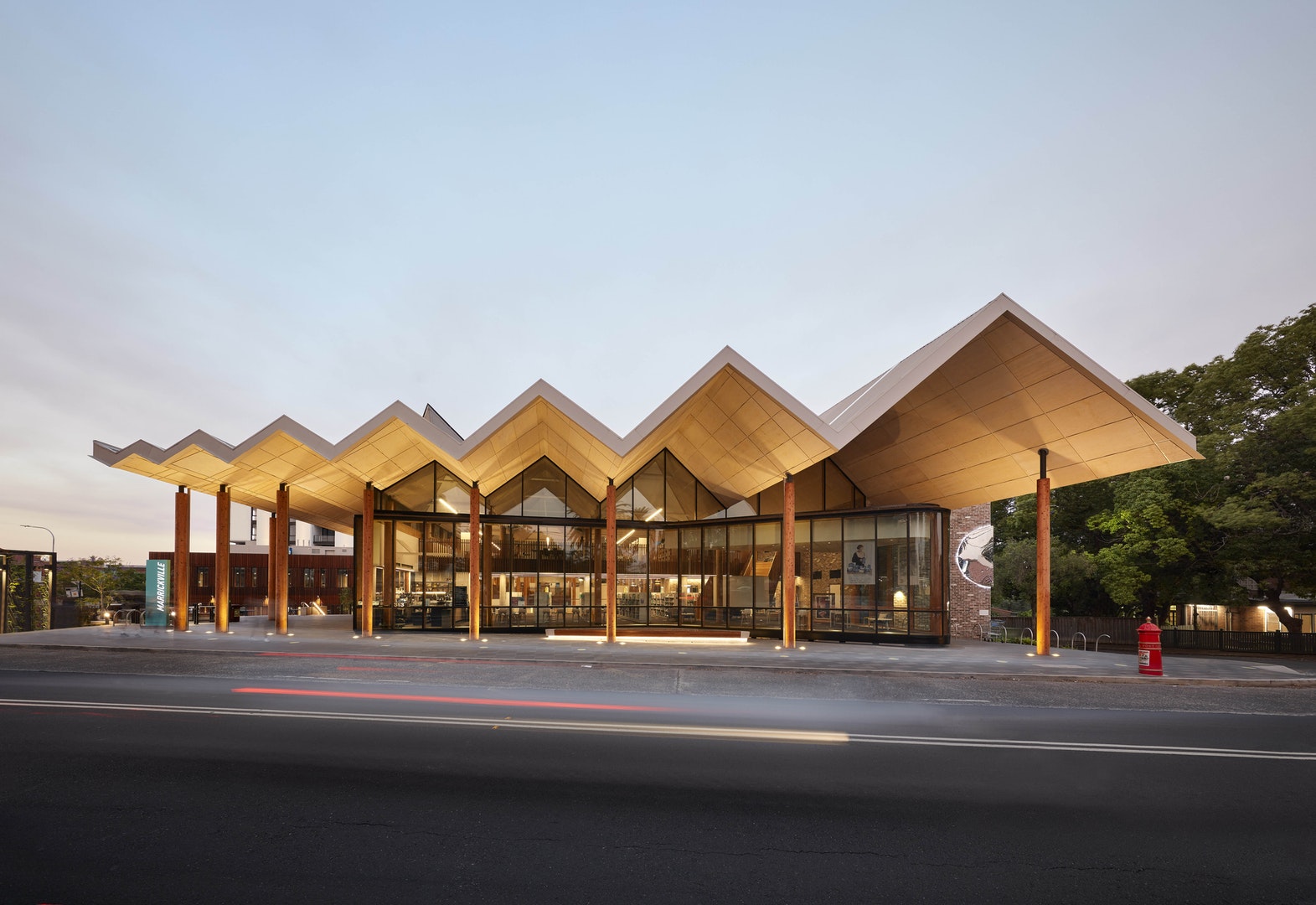 Marrickville Library - Photographer: Tom Roe

A new category in this year's program was the People's Choice Awards For Life in 2020, which was created by the NSW Chapter in response to the ways COVID-19 has altered our relationship to housing, workplaces and the public domain. This marked the first time the public was able to have its say.
The winners of the three categories, as voted by the public, are:
Isolation Oasis: Arkadia by DKO Architecture with Breathe Architecture and Oculus
We Are In This Together: Marrickville Library by BVN
Post-iso Party: Bankwest Stadium by Populous
"We have been delighted with the number of entries which shows the public's appetite for good design amongst the places we visit and inhabit," adds Loseby.
Projects that received a named award or architecture award will now progress to compete in the National Architecture Awards program. The shortlist will be announced by the Australian Institute of Architects in the coming months. The full list of winners can be found below.
A little about the the winners from our area:
RESIDENTIAL ARCHITECTURE - HOUSES (NEW)
Architecture Awards
Basin Beach House
Peter Stutchbury Architecture - Architect: Belinda Koopman - Home located at Mona Vale
As the occupant of a beachside enclave, Basin Beach House rests into its dune surroundings – the nature of the dune in motion gives rise to the building's reactive form; edge profiles are splayed, lowered and anchored. Material selection reflects those of the place and references a nearby ocean pool– sand/water/wood/silica – along with the introduction of a material prince: copper. Under the vaulted roof structure, ceilings are lined with lapped plywood, so light is both soaked and refracted across the rounded surface. Below, a network of elements are suspended, forming distinctive space – living and sleeping – the order is only obvious in plan. The house introduces the practicalities of essential living with the additions of comfort and permanence yet has a small footprint. Raw, elemental and essential, Basin Beach house embodies a singular space where the transition from outside to inside is barely delineated by glass.

Belinda Koopman, a director of Peter Stutchbury Architecture, works with close attention to the art of making, both as object and place.
Belinda's formative years were working with Ken Woolley and Ken Maher before establishing her own architectural practice, Koopman Architects. During this time Belinda also tutored in design and construction at UTS and has won multiple awards for housing. In 2008 Belinda studied Jewellery and Object Design at the Design Centre, Enmore. Belinda's "Night Sky" jewellery design won her a GIA Study Program 2011 in New York.
Belinda joined Peter Stutchbury Architecture in 2010, a place where making objects and places of beauty, small, medium and large are fundamental. Her focus has been on the construction and the detail design of residential works including Land House, Inlet House and Cabbage Tree House.
Peter Stutchbury was awarded the Australian Institute of Architects Gold Medal in 2015.
From March, 20, 2015:
'LYRICAL TECHNOLOGIST' WINS 2015 GOLD MEDAL FOR ARCHITECTURE
The Australian Institute of Architects' highest honour, the Gold Medal, has been awarded to NSW based architect Peter Stutchbury at a special ceremony tonight held at the Ian Potter Centre: NGV Australia.
In awarding the honour, Institute National President and Jury Chair David Karotkin praised Stutchbury for his ongoing contribution to the advancement of architecture through practice, teaching and participation in professional activities and organisations.
'In 34 years of practice, Stutchbury has mastered the art of creating architecture that speaks of the place it inhabits – buildings that are environmentally sustainable, culturally specific and locally embedded,' the jury said.
'Since establishing his own practice in 1981, Stutchbury and his firm have received 47 Institute awards(including two Robin Boyd Awards for Residential Housing), have won or been placed in approximately 20 national and international design competitions, have been published in around 200 books and publications, and have been exhibited in Australia, Europe, America and Asia.
'While the work of Peter Stutchbury Architecture is best known for its residential responses to unique Australian regional landscapes, Stutchbury's work is not limited to this genre.
'The firm's awarded projects include public works in urban environments and in recent years Stutchbury has successfully applied his meticulous, site-sensitive design approach in international locations as diverse as Japan, Vanuatu and Russia,' the jury reported.
A professor in architecture at the University of Newcastle, Stutchbury has been engaged in teaching throughout his career, including tenures as a guest professor at a number of international universities.
Stutchbury is a founding director of the Architecture Foundation Australia and has taught at the foundation's Glenn Murcutt International Architecture Master Class since its inception in 2001.
Stutchbury's most famous works include his two Robin Boyd Award for Residential Architecture winning projects, Springwater (2005) and Bay House (2003), Deepwater Woolshed and Invisible House, winner of a 2014 NSW Architecture Award for Residential Architecture.
1999 Gold Medallist and friend of Stutchbury, Richard Leplastrier, reflected on their relationship in the March 2015 edition of Architecture Australia.
'Since those early days we have spent much time together, raising our families concurrently, occasionally doing projects together and, most importantly, I think, teaching together…
'That the land underpins and informs one's architectural thinking has always been fundamental to this Gold Medallist. The contribution he has made in teaching alone substantiates his award, let alone the beauty of the work itself. '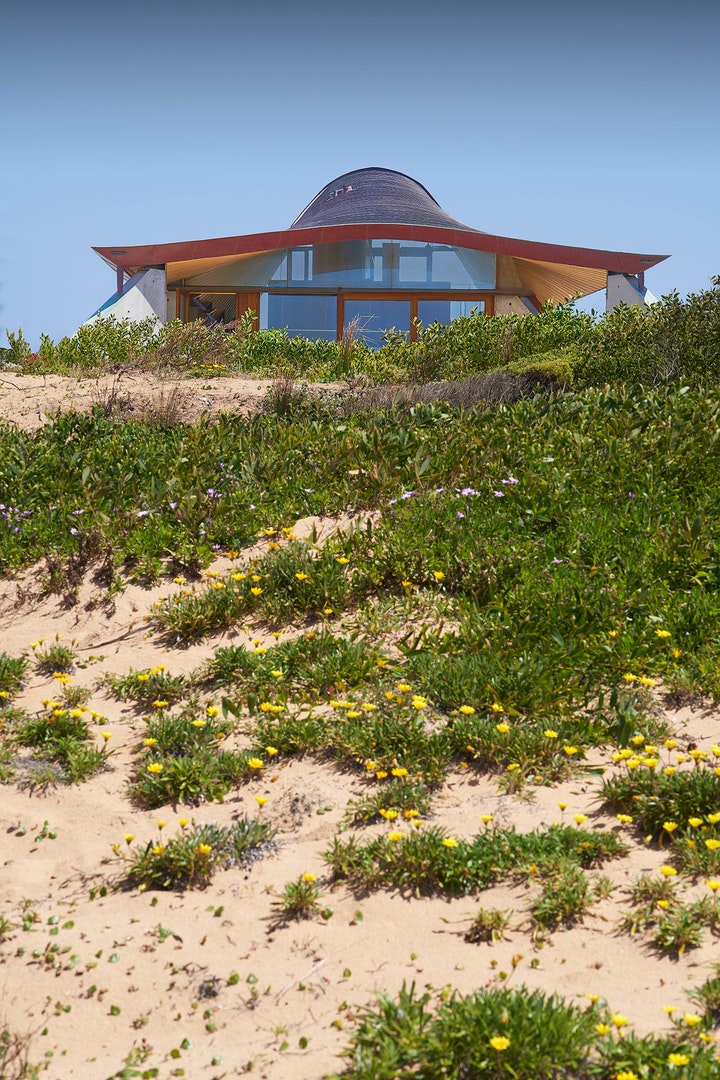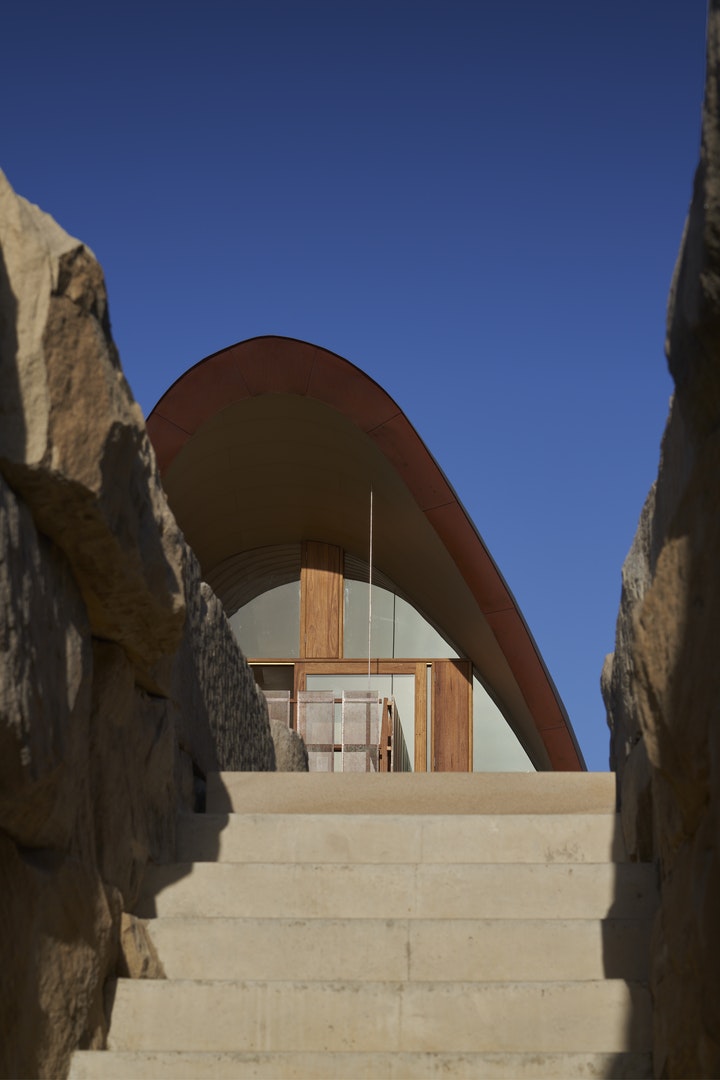 Basin Beach House - Photographer: Michael Nicholson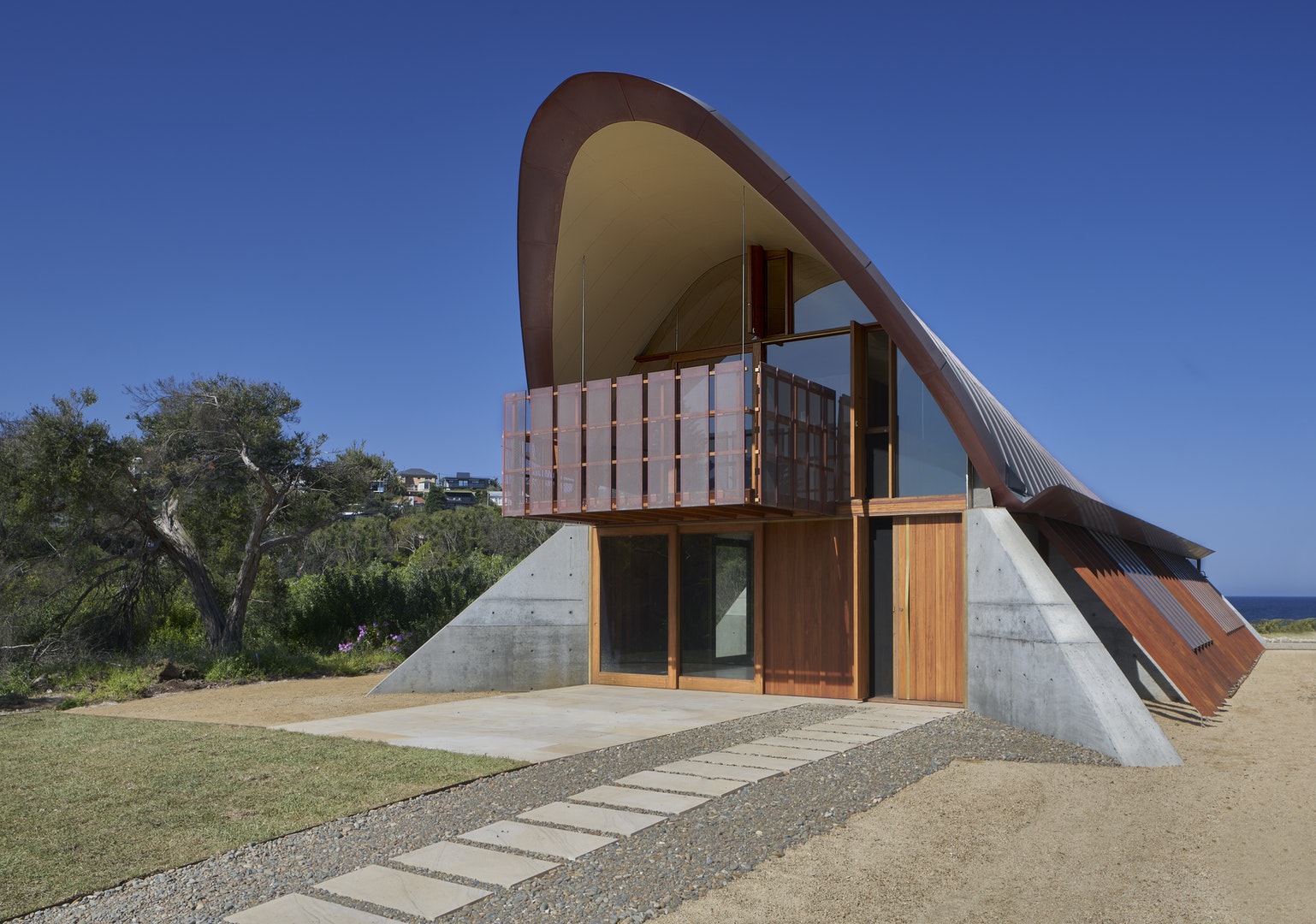 Basin Beach House - Photographer: Michael Nicholson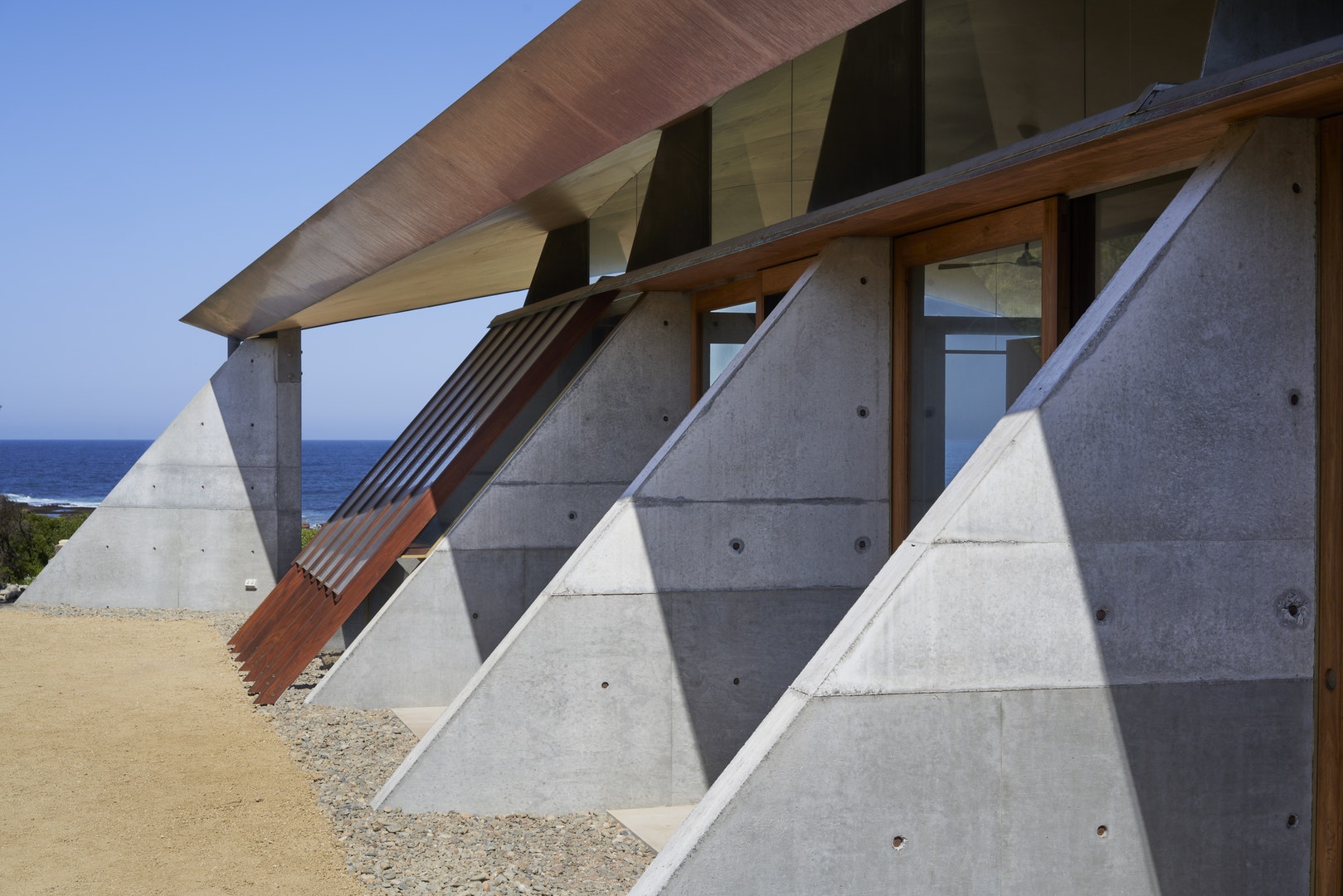 Basin Beach House - Photographer: Michael Nicholson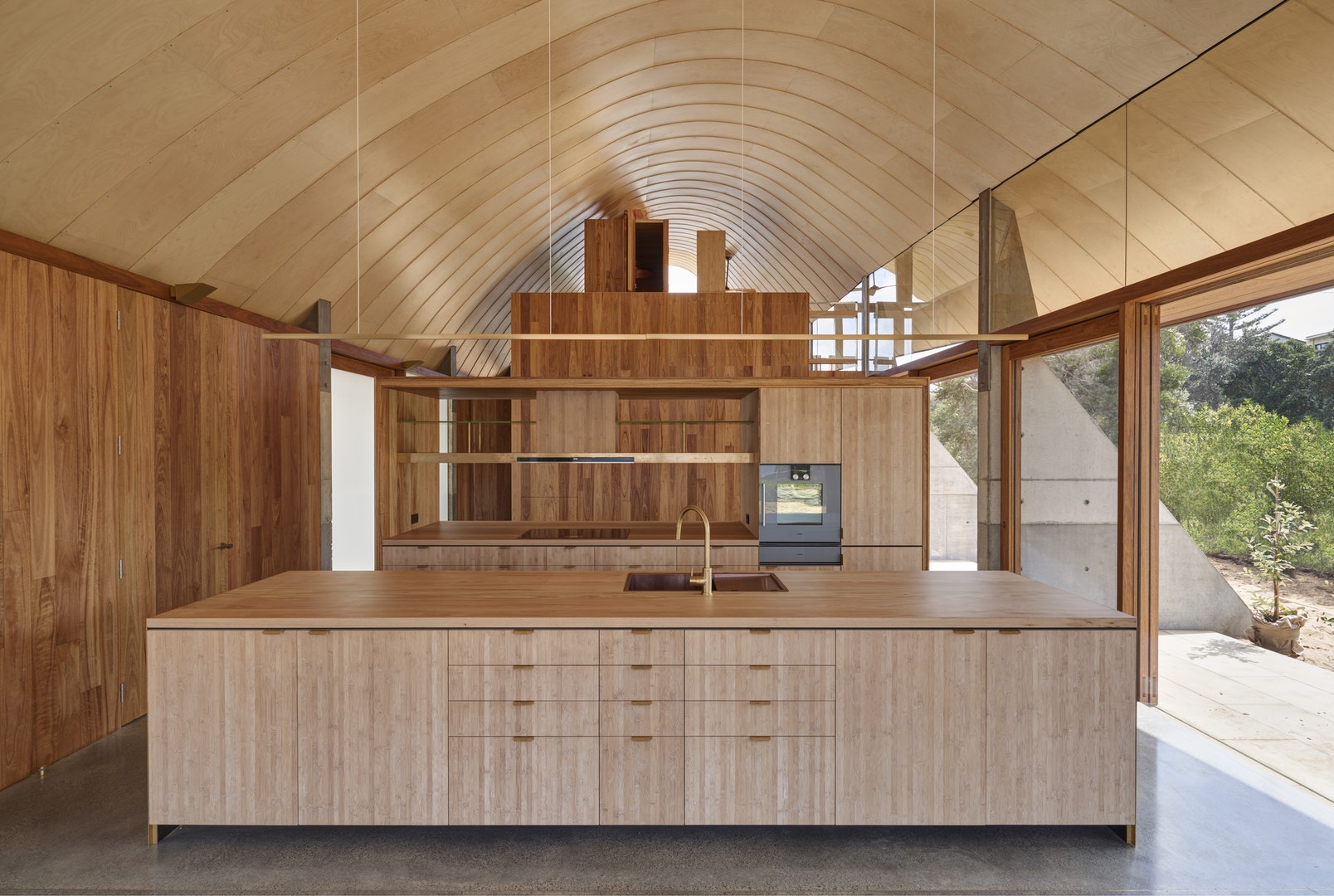 Basin Beach House - Photographer: Michael Nicholson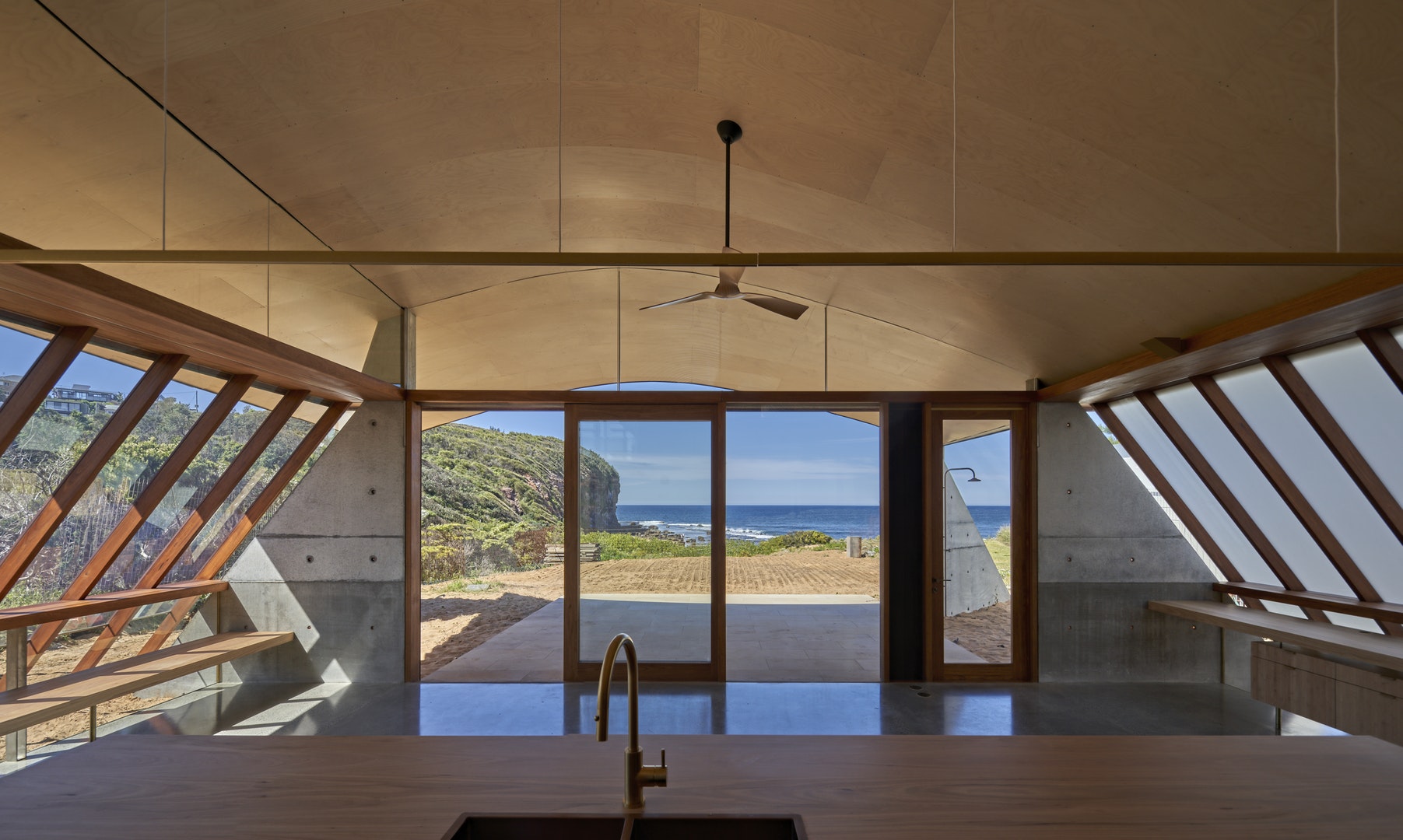 Basin Beach House - Photographer: Michael Nicholson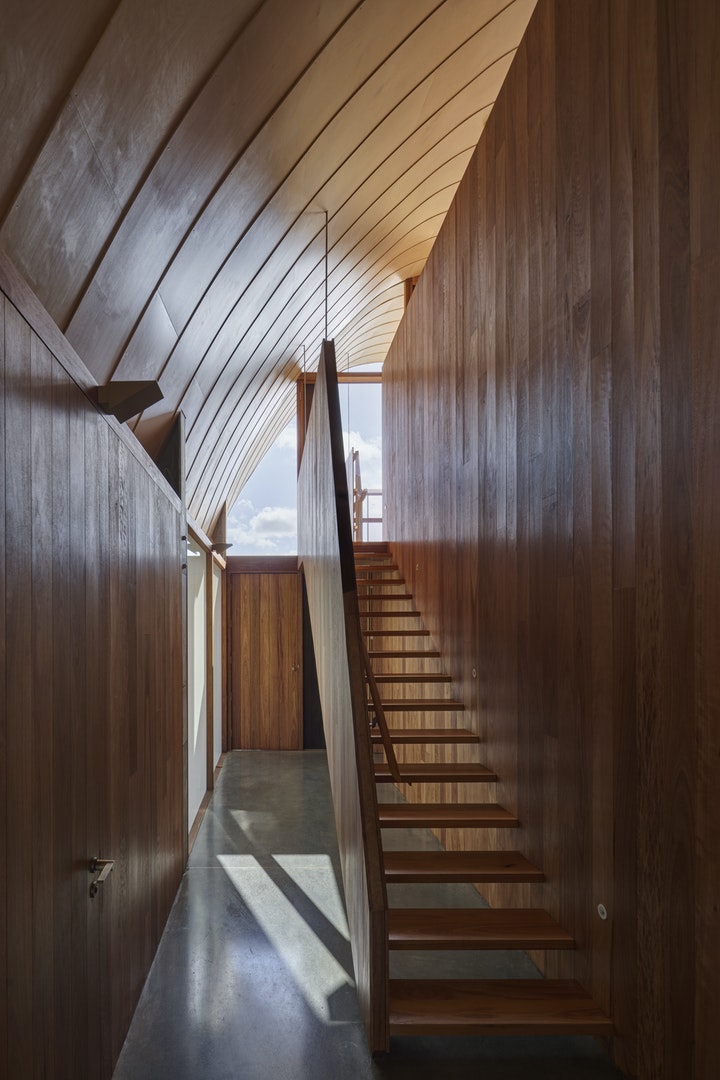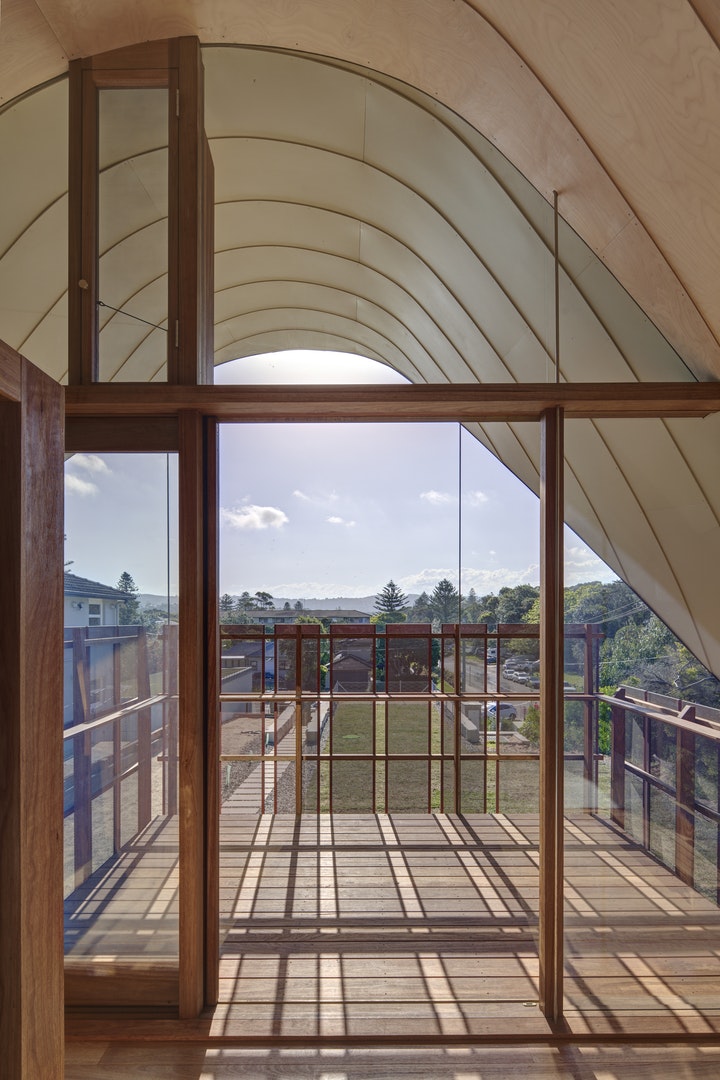 Basin Beach House - Photographer: Michael Nicholson

Palm Beach Blue
Benn + Penna Architecture - Home located at Palm Beach
Palm Beach Blue is a new house perched upon a steeply sloping site at Palm Beach, NSW. The project is a holiday home for a large intergenerational family, designed with the flexibility to accommodate a variety of occupants.
The project is best understood as drawing from the landscape, enabling the occupants to immerse themselves into their surrounds. The restrained architectural form and deliberately modest built imprint ensures the clients requirements for a comfortable and relaxed holiday experience don't conflict with the natural beauty of the site. In this sense, its our office's ambition that this design hopefully contributes to our society's understanding of how a relatively simple design can sit within the local environment, drawing from but not dominating it.
The clients have a long family history in the area and the new house replaces a cabin built by the family's previous generation that was typical of the post war era. Various fragments of the original cabin are retained, whilst others are reimagined to provide a subtle link with the past. Various fragments of the original cabin are retained, whilst others are reimagined to provide a subtle link with the past.
An existing stone terrace is retained and extended along the landscape contour, establishing a platform for the new house to stretch across the views whilst seemingly growing from the nearby cliff-face.

The main building mass contains the bedrooms, and is conceived as an elevated timber canopy, punctured by voids that channel light and air through the house whilst separating the bedrooms to provide additional privacy. Openings on this level are more discreet and playfully frame views both inside and outside the home.
The pale blue canopy façade, akin to the colour of the water below and the sky above, enables its silhouette to recede into this background.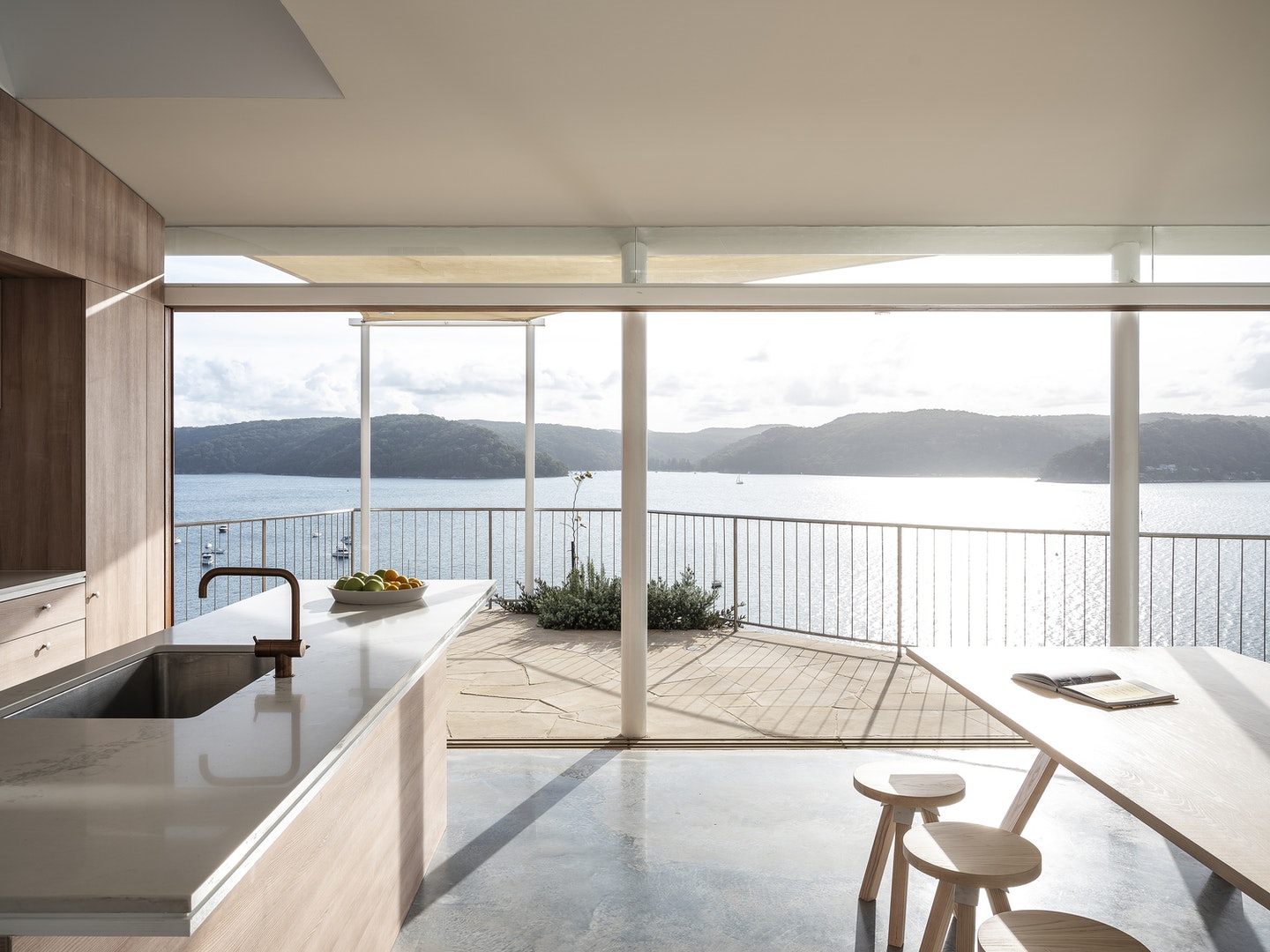 Palm Beach Blue - Photographer: Tom Ferguson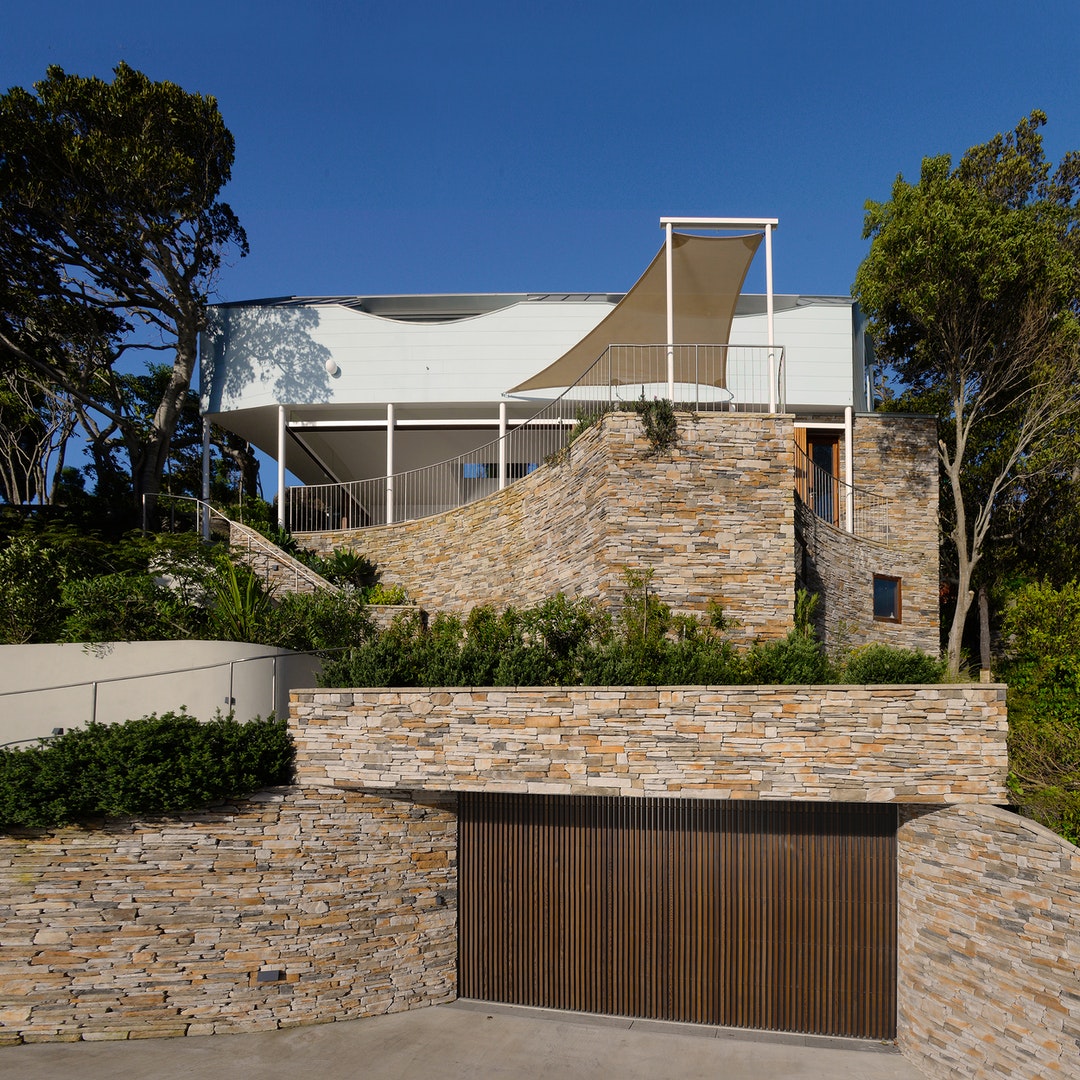 Palm Beach Blue - Photographer: Andrew Benn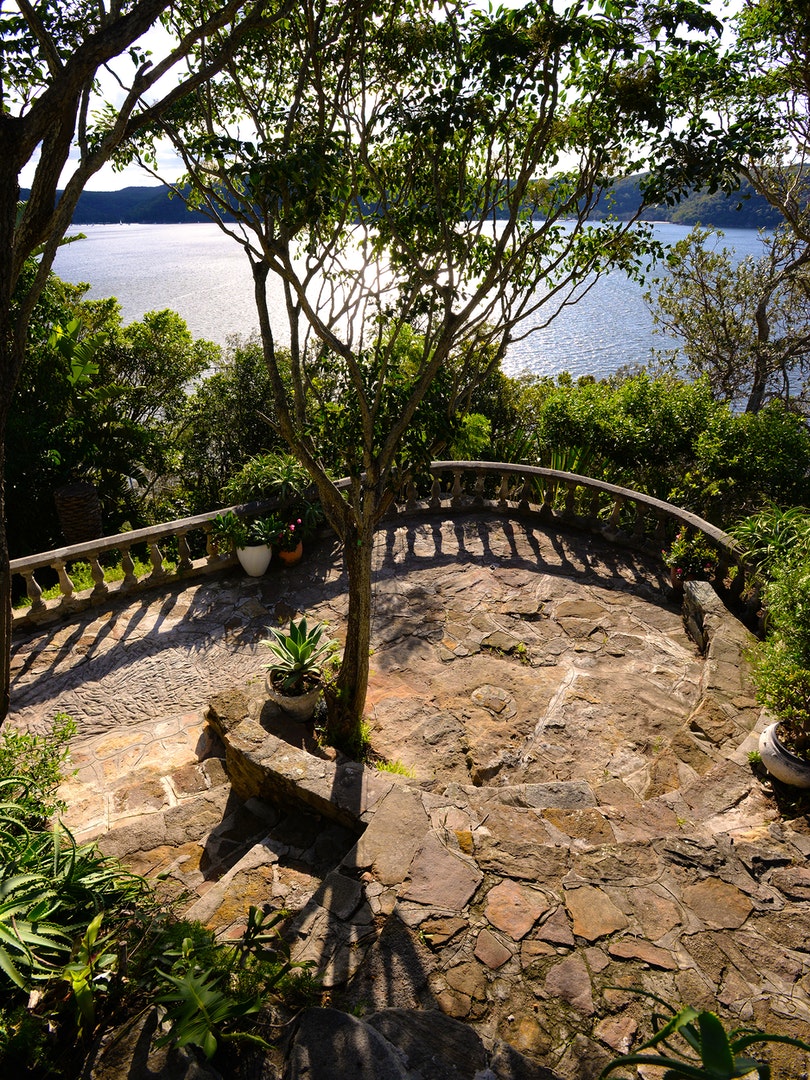 Palm Beach Blue - Photographer: Andrew Benn

Palm Beach Blue - Photographer: Andrew Benn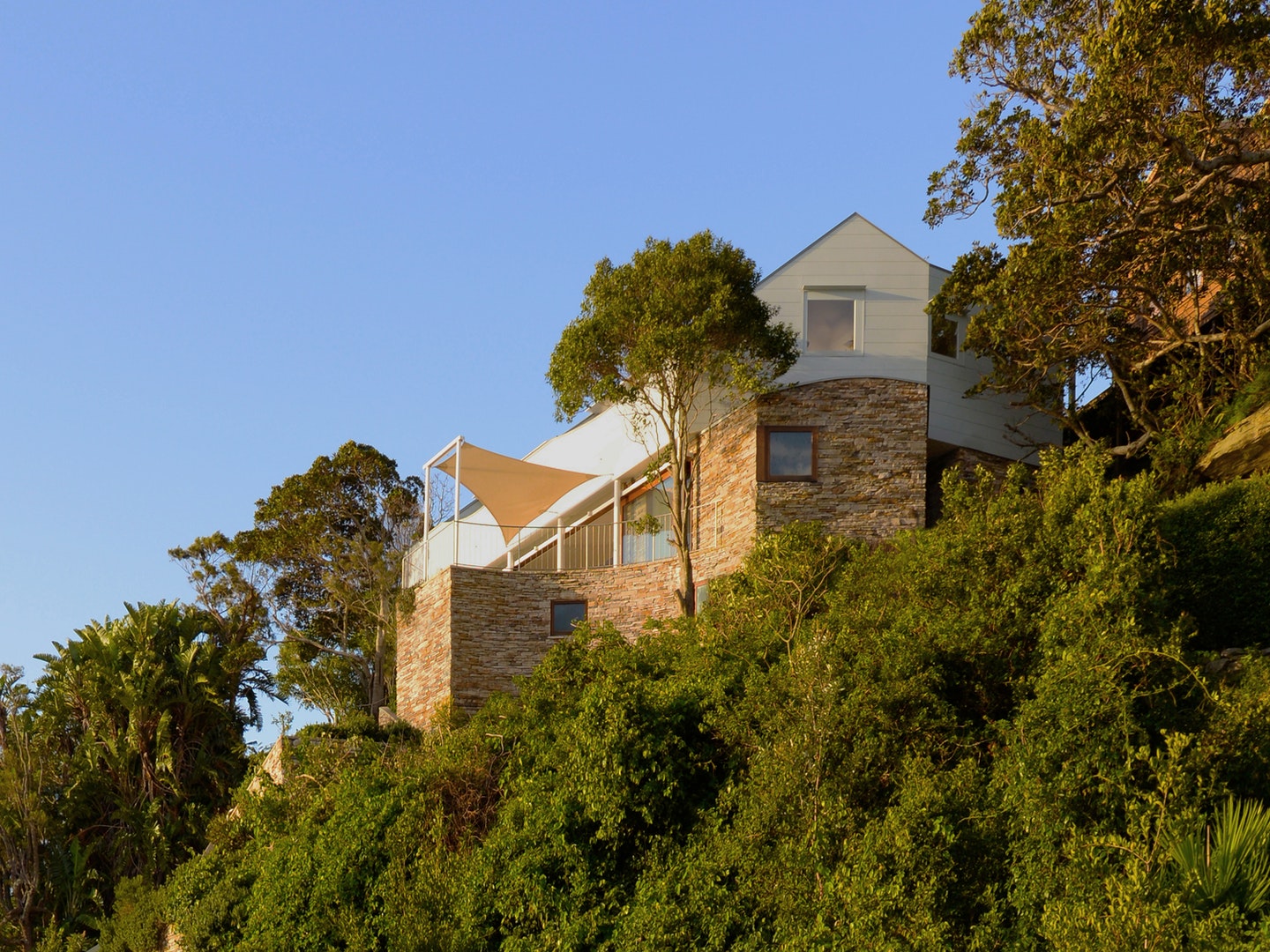 Palm Beach Blue - Photographer: Andrew Benn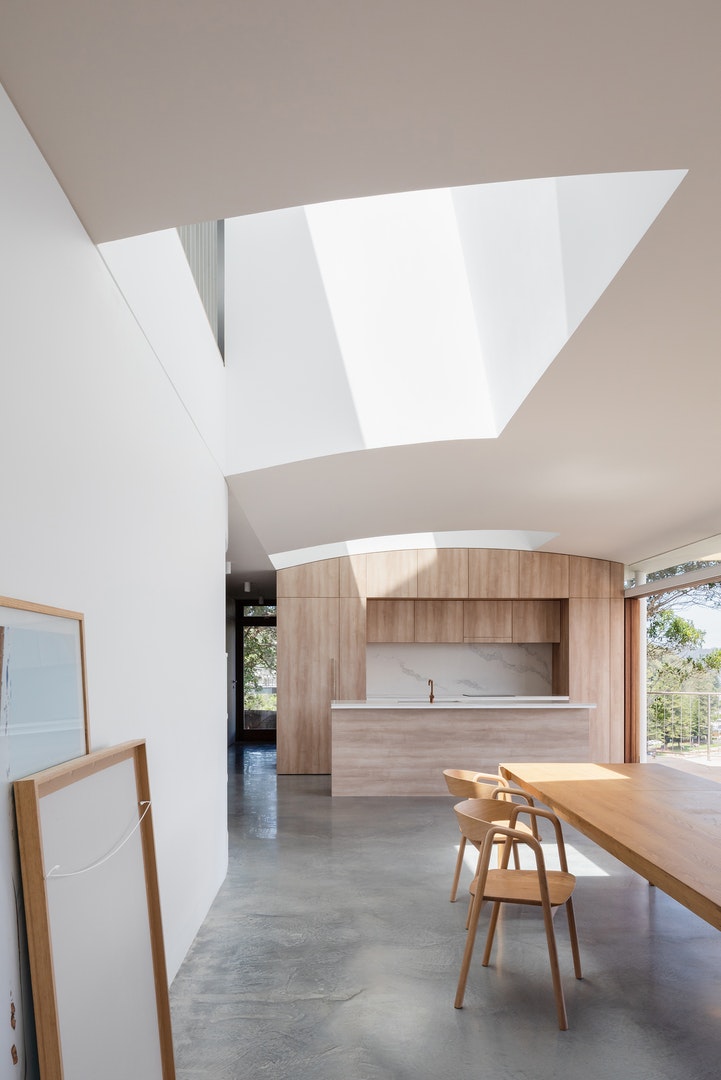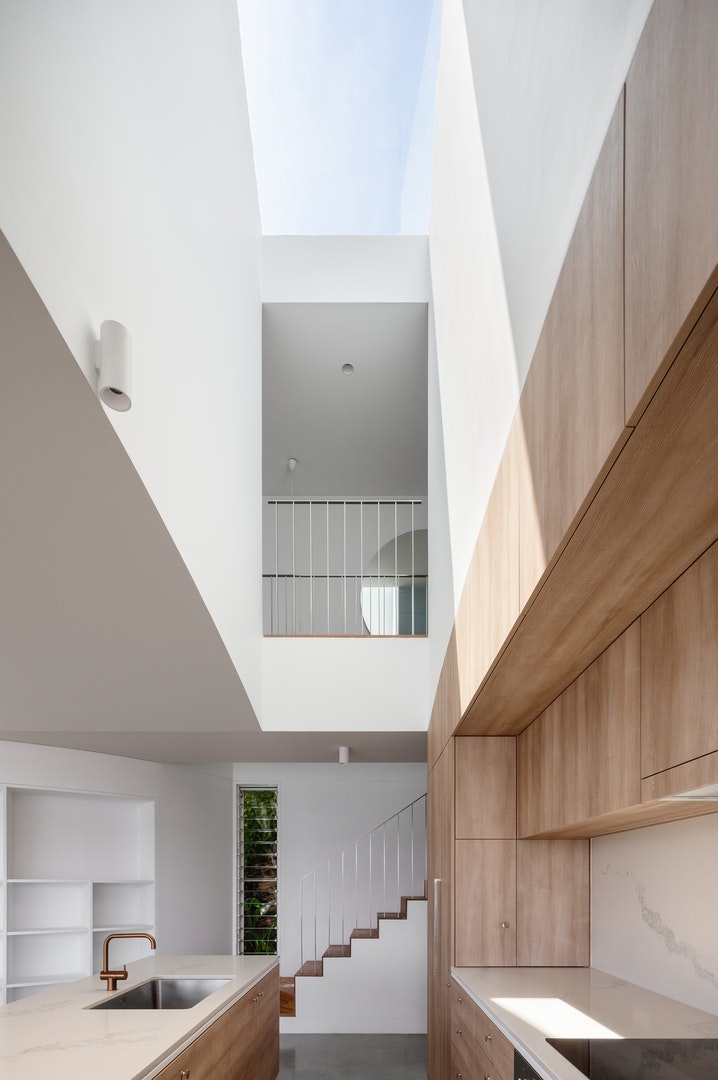 Palm Beach Blue - Photographer: Katherine Lu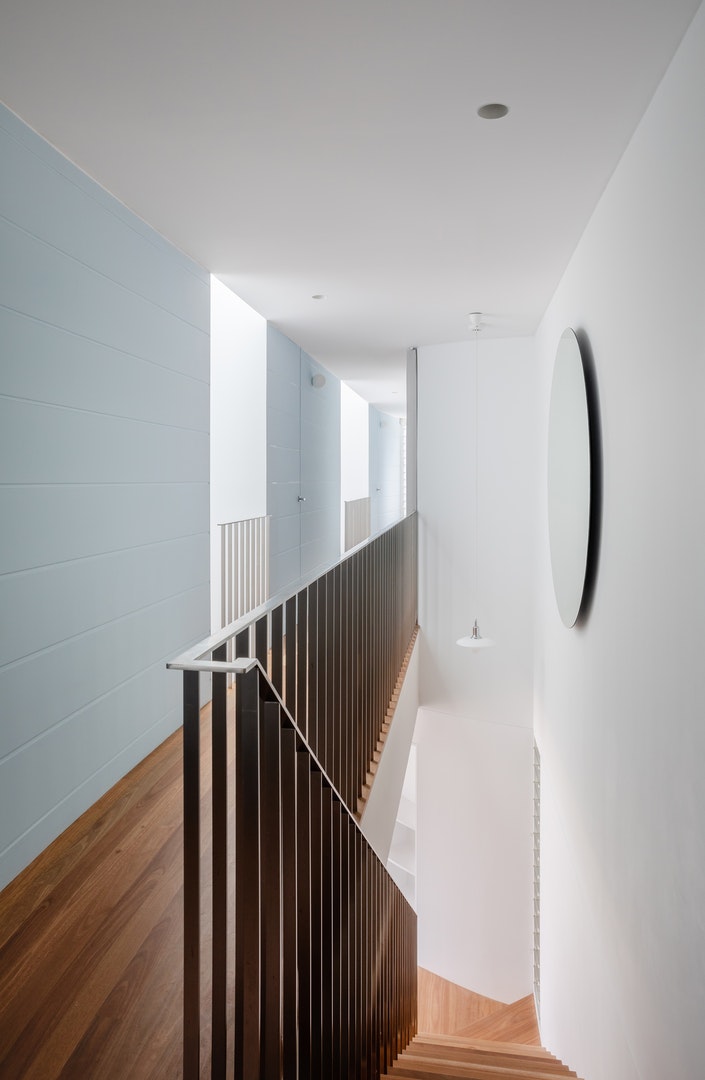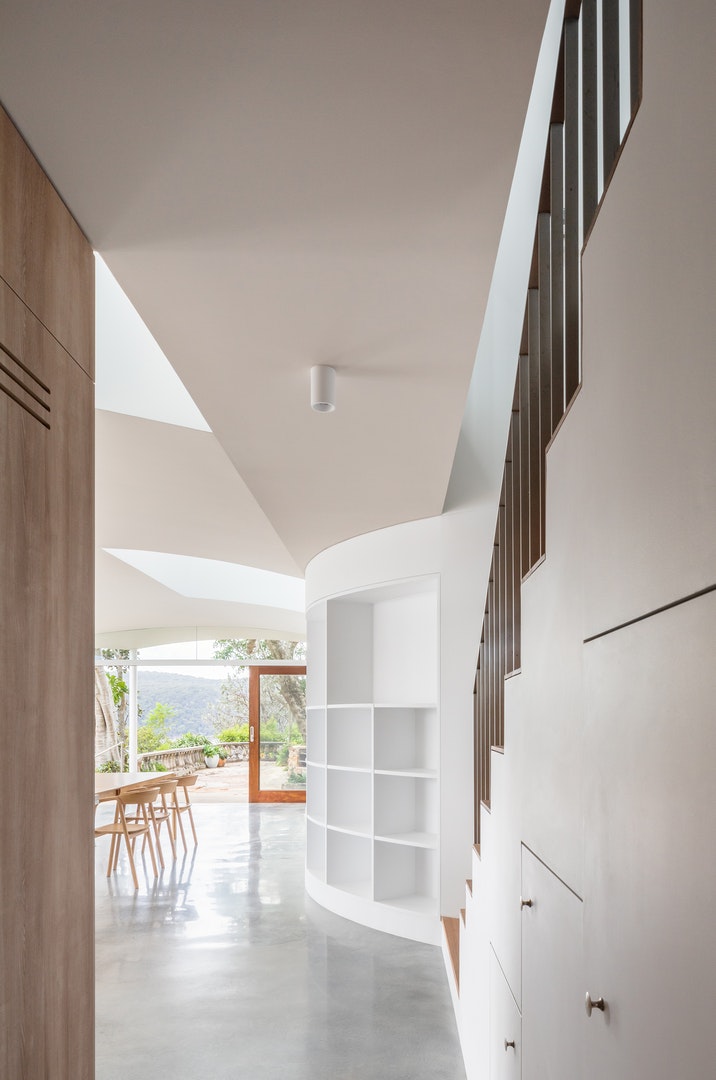 Palm Beach Blue - Photographer: Katherine Lu

Palm Beach Blue - Photographer: Tom Ferguson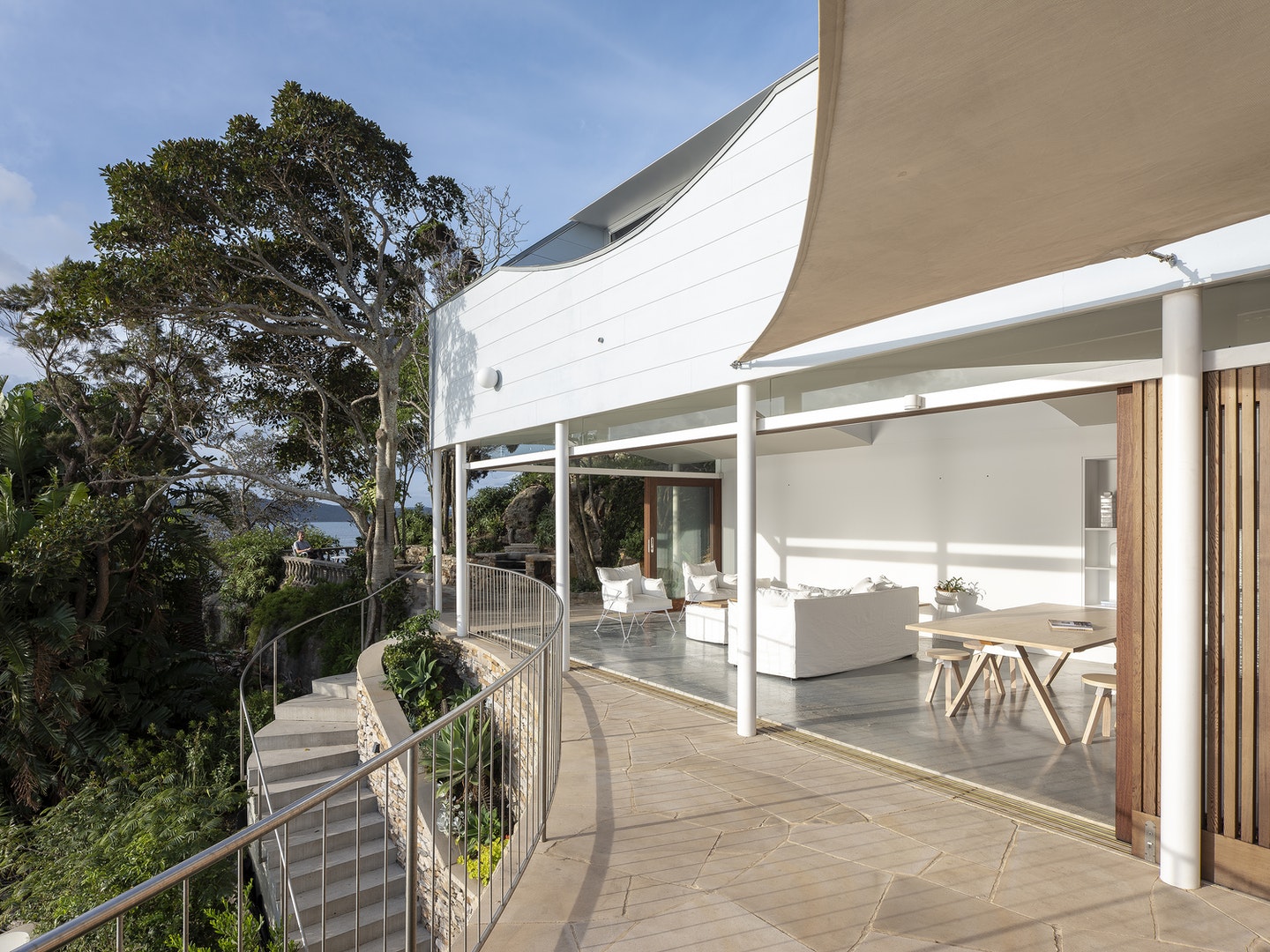 Palm Beach Blue - Photographer: Tom Ferguson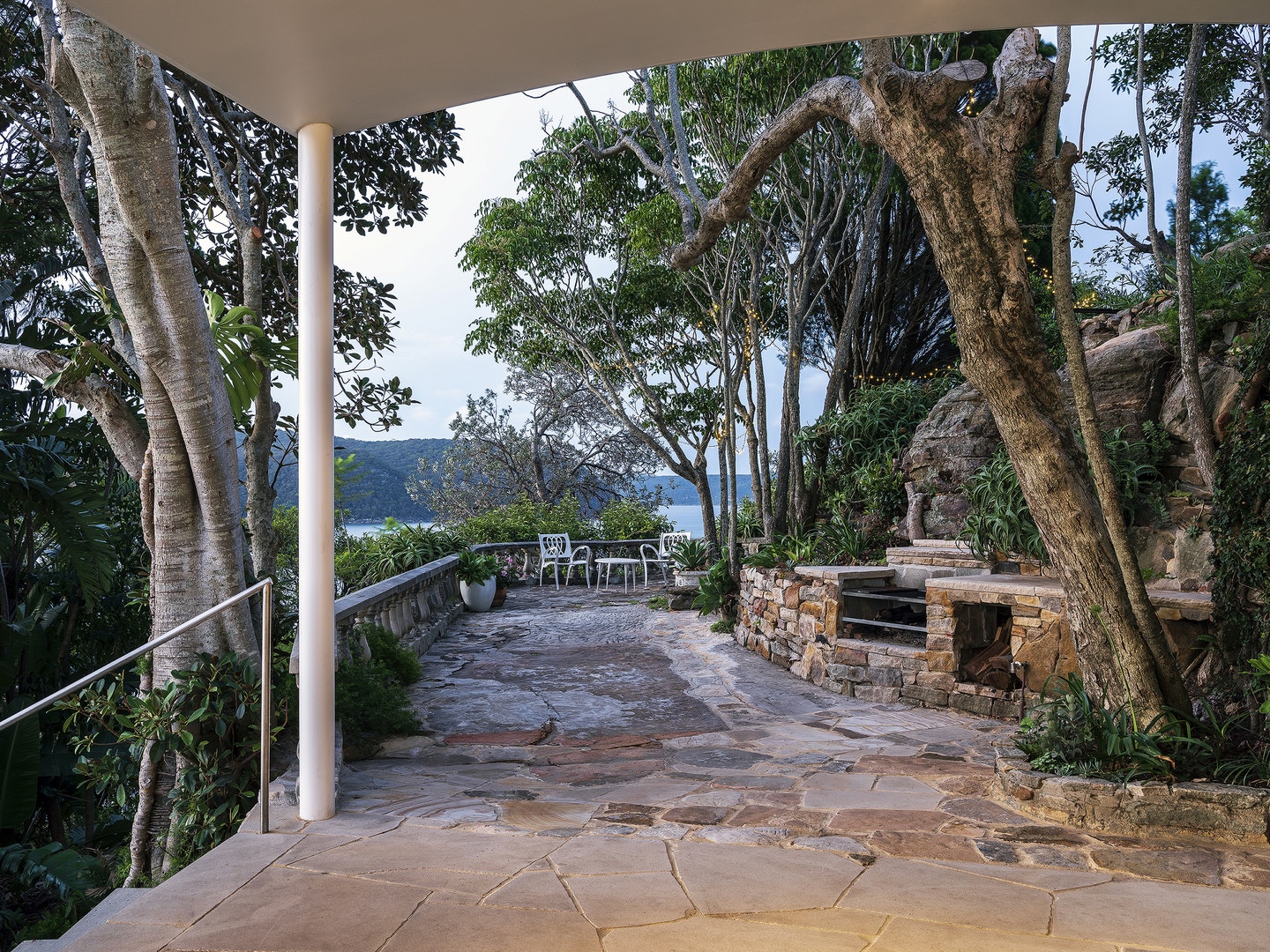 Palm Beach Blue - Photographer: Tom Ferguson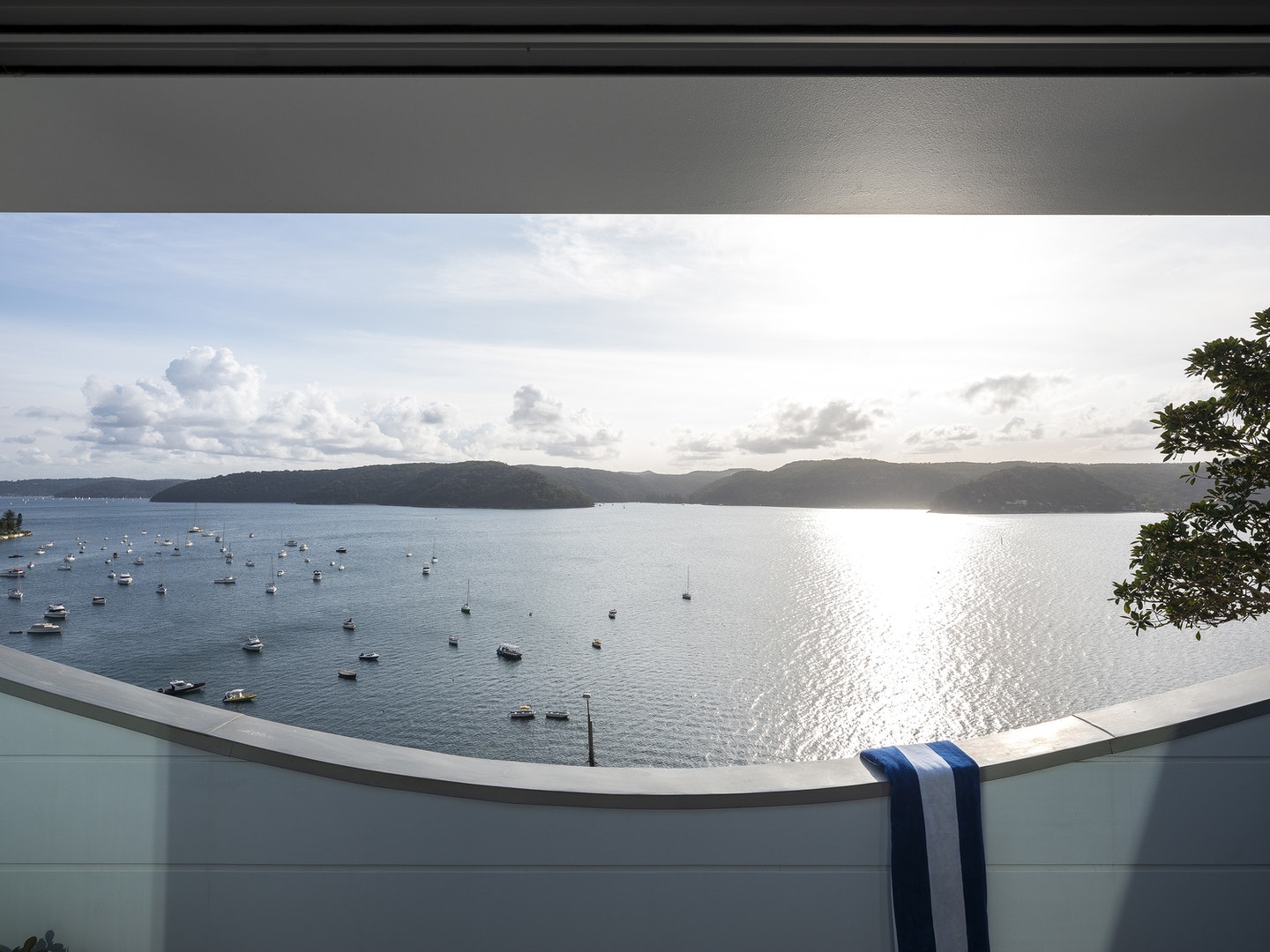 Palm Beach Blue - Photographer: Tom Ferguson

ENDURING ARCHITECTURE AWARD
Palm Garden House
Richard Leplastrier - Home Located at Bigola Beach
Professor Richard Leplastrier AO (born 1939, Melbourne, Australia) is an Australian architect and AIA Gold Medal recipient, he is also a Professor of Practice (Architecture) at the University of Newcastle, Australia.
After graduation from Sydney University in 1963, he worked in the Sydney office of Jørn Utzon from 1964 to 1966 assisting with documentation of the Sydney Opera House. He later studied at Kyoto University under Tomoya Masuda and worked in the office of Kenzo Tange in Tokyo. Leplastrier established his own practice in 1970 and works from his studio in Pittwater's Lovett Bay. He teaches master classes for beginning and established architects with his colleagues Glenn Murcutt and Peter Stutchbury.
He has contributed several unique and thoughtful ideas during preservation and development discussions around the Pittwater area. During the 1980s he raised the idea of resurrecting the creekline natural corridor which leads from Avalon Beach through Elba Lane up through Toongari and Nandina reserves and down past Avalon sailing club, linking the sea to the bay. He has strong opinions regarding the re-development and re-commercialisation of the Pasadena wharf the point of embarkation for commuters to Western Pittwater, submitting the 'lePlastrier plan' to the debate.
In 1996 he received the New South Wales Royal Australian Institute of Architects 'Special Jury Award'. He was awarded the Royal Australian Institute of Architects Gold Medal in 1999 and in 2004 was awarded the Spirit Of Nature Wood Architecture Award, presented in Finland. In 2009, he was awarded the Dreyer Foundation Prize of Honour 2009 for his commitment to sustainability. In 2011 he was made an Officer of the Order of Australia for distinguished service to architecture, particularly through the application of environmentally sensitive design, and as an educator and mentor

In opening the 2015 Artspot Exhibition at Avalon Recreation Centre Professor Leplastrier prefaced his official opening by engaging the audience with where they were:
"I have travelled overseas to talk with you here tonight, all the way from the Western Shores (of Pittwater) to discuss some interesting issues with you tonight.

One of the wonderful women who rang earlier said 'five minutes – is that ok?' – I said 'yeah, sure' – but I'd like to take a little bit longer than that if possible.

The first thing to say is, and I think it's important, Landscape makes People, Nature makes Culture, and then Culture informs Nature - and how does it do that?; it does it through Art.

And that puts it succinctly for me, and for most of us here, Art is always at the touching point of Culture and Society. I wish to God our politicians, especially in the federal sphere, would understand that.
Calls of 'hear, hear' from audience.
While I'm on the subject, don't be misled by Warringah Shire Council into coalescing all of our councils together – that would be a great mistake.

Local places of great beauty need local politicians and community associations to develop the best in them.
Applause from the audience.
The third thing I'd like to share briefly with you is about Avalon.

Avalon is one of the many fantastic places up this great necklace of beaches that runs from Manly to Barrenjoey – but Avalon is special – and why is that?

Well, if you get right above Avalon, 30 thousand feet, 40 thousand feet and look down, you'll understand this – it is the intersection of two very strong valleys. One of them comes along Central road and links to Pittwater, the smooth water, the other starts to the south and comes down through the golf course. Those two valleys intersect – and if they are valleys they have water in them, and the water would have intersected just about here, where our main intersection is – that's why there's a right angular intersection here at Avalon.

I thought it's really important for us to realise that we have to pull the connections of this place together. Not disparate, but bring them together – connection, nexus, come together – and if you look up on the southwest ridge above here you will find the most amazing aboriginal cave that was the centre of living for the indigenous people here. It looks to the smooth water, and to the rough water – it's brilliant.

Where are those connections in this place? Well they've been blitzed totally.

A friend told me on the phone yesterday that the drainage system for Avalon goes out through Careel Bay. What an amazing thing that is – in other words this central part of Avalon, where the waters come through and connect, connects to Careel Bay.

If you go for a walk along that stormwater channel done by traffic engineers, not by artists, then we have the possibility of making those reconnections.

So, I just want to say to you that the local art exhibitions, just like this, are the most important touchstones for any community because the artists are the Seers of a community. That's why it is so fantastic to have this tonight – and I have great pleasure in declaring this exhibition open."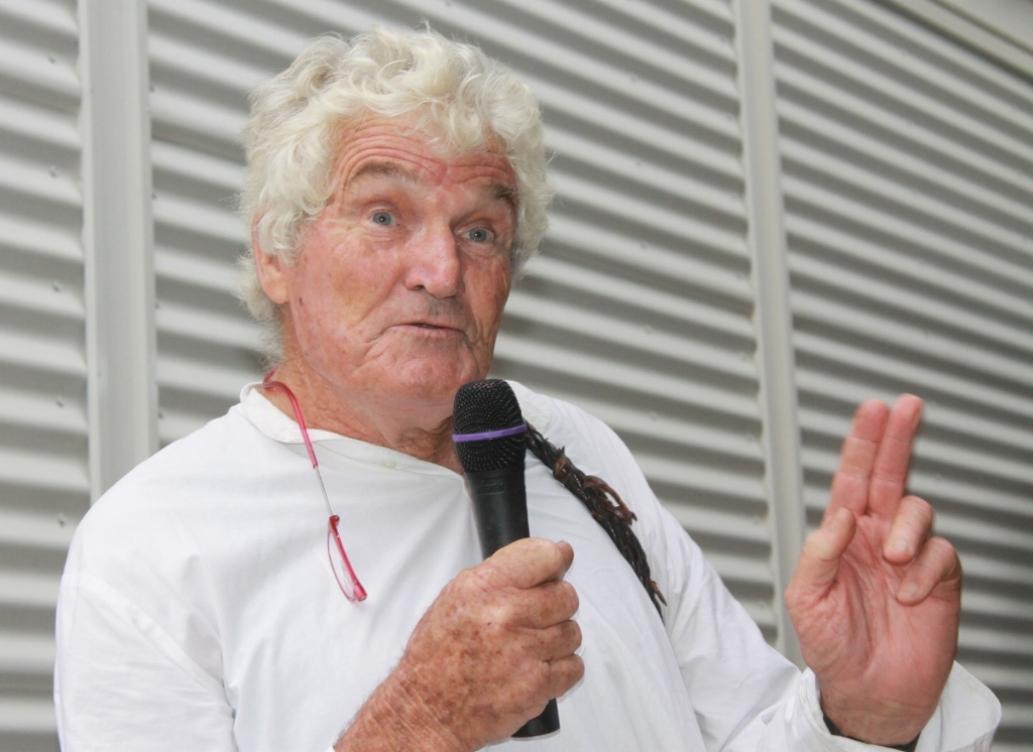 Richard Leplastrier opening 2015 Artspot Exhibition - photo by A J Guesdon
Palm Garden House, Bilgola Beach, Pittwater: 1974-76
The heart of this small home is a garden, in to which the house dissolves at its edges like a mirage. The roof over the main room and all canvas walls roll back revealing the carcass-like framework of the house and the primary roof of palm trees hanging over the building.
The building has only two rooms, which are linked by a long gallery with a roof resembling a pair of upturned rowing scull.
The plan form is generated by the greater landscape. The surrounding red earth wall stands for the background of the hills and the meniscus pond the horizon of the sea. The house has two linked skins, an outer of metal and inner of thin polished timber like a musical instrument.
Built by the architect and shipwright friends. - Words from 'Richard Leplastrier : Spirit of Nature Wood Architecture Award 2004' published by Rakennustieto Finland 2004.
Photos : Michael Wee from '70 | 80 | 90 Iconic Australian Houses' by Karen McCartney published by Murdoch Books, Sydney, 2011 - more images HERE.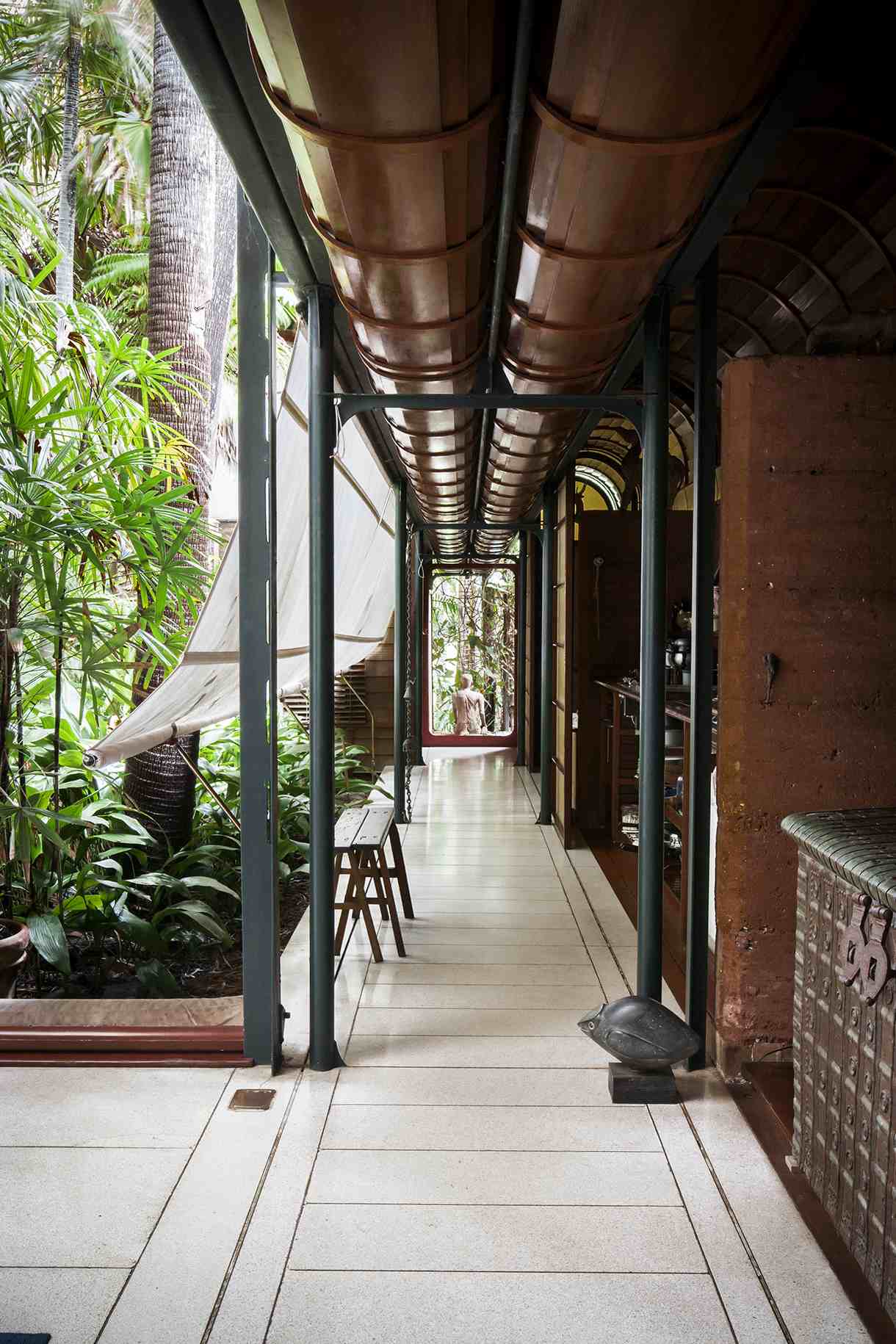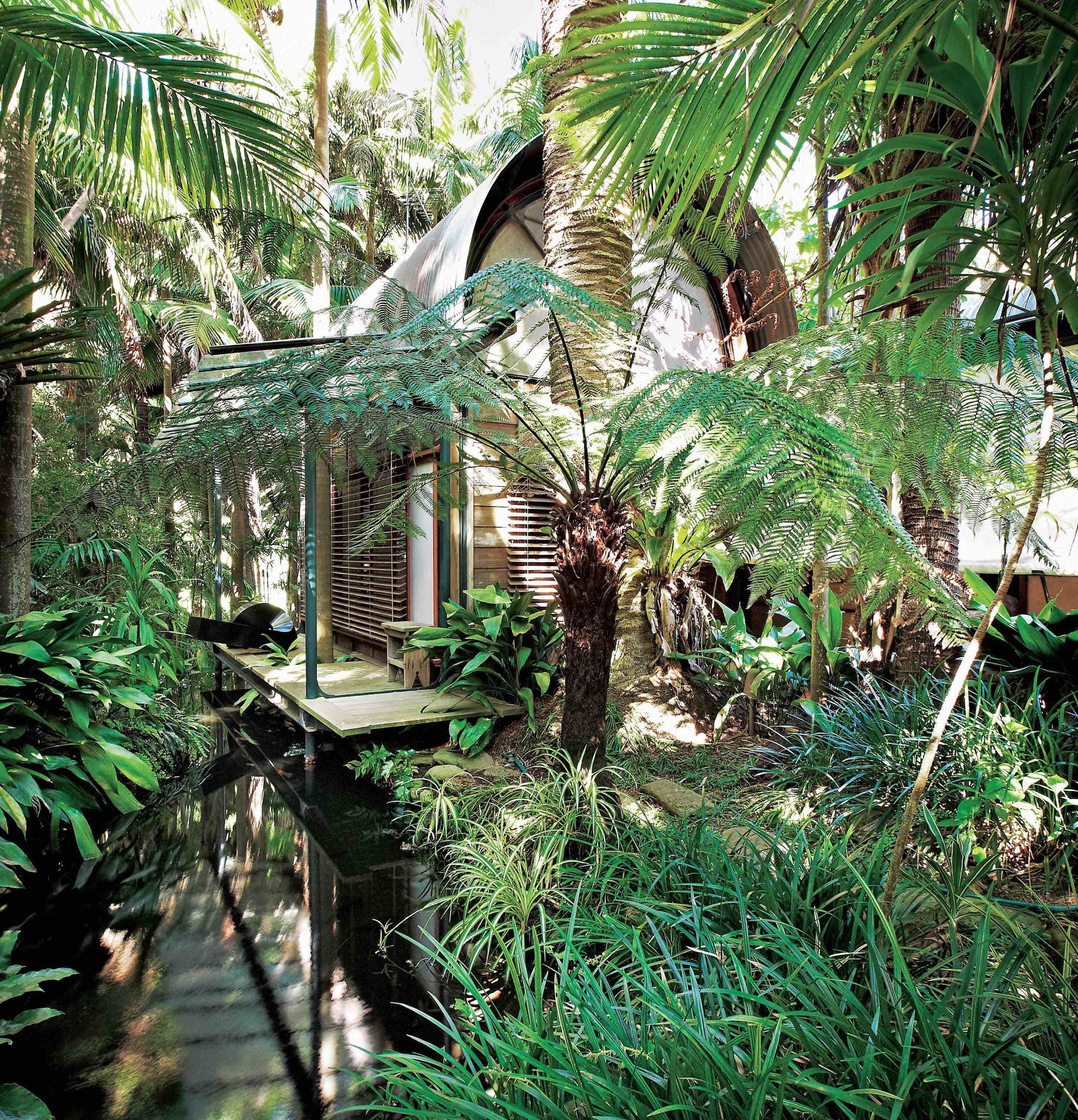 Also Nominated -
RESIDENTIAL ARCHITECTURE - HOUSES (NEW)
Bangalley
Casey Brown Architecture - North Avalon
Inspired by its location perched on a monolithic headland jutting out into the Pacific Ocean north of Sydney. Designed to respond to this dramatic environment with a rustic rugged exterior and a raw but highly crafted interior.
Briefed by a couple of journalist empty nesters to 'do the site justice' 'be part of nature' and 'last 100yrs'. A topographical response produced a series of steeped and staggered linked blocks or pavilions set carefully amongst the bolder strewn and twisted tea tree headland.
The buildings materiality is raw as the brief required, bricks in burnt grey/black colours externally and white internally create an ever changing play of patterns with the light as the sun moves around the building.
Central to the house is a finely crafted floating concrete stair featuring a brass sculptured screen by Caroline Casey who was also responsible for all the joinery and furnishings throughout the house.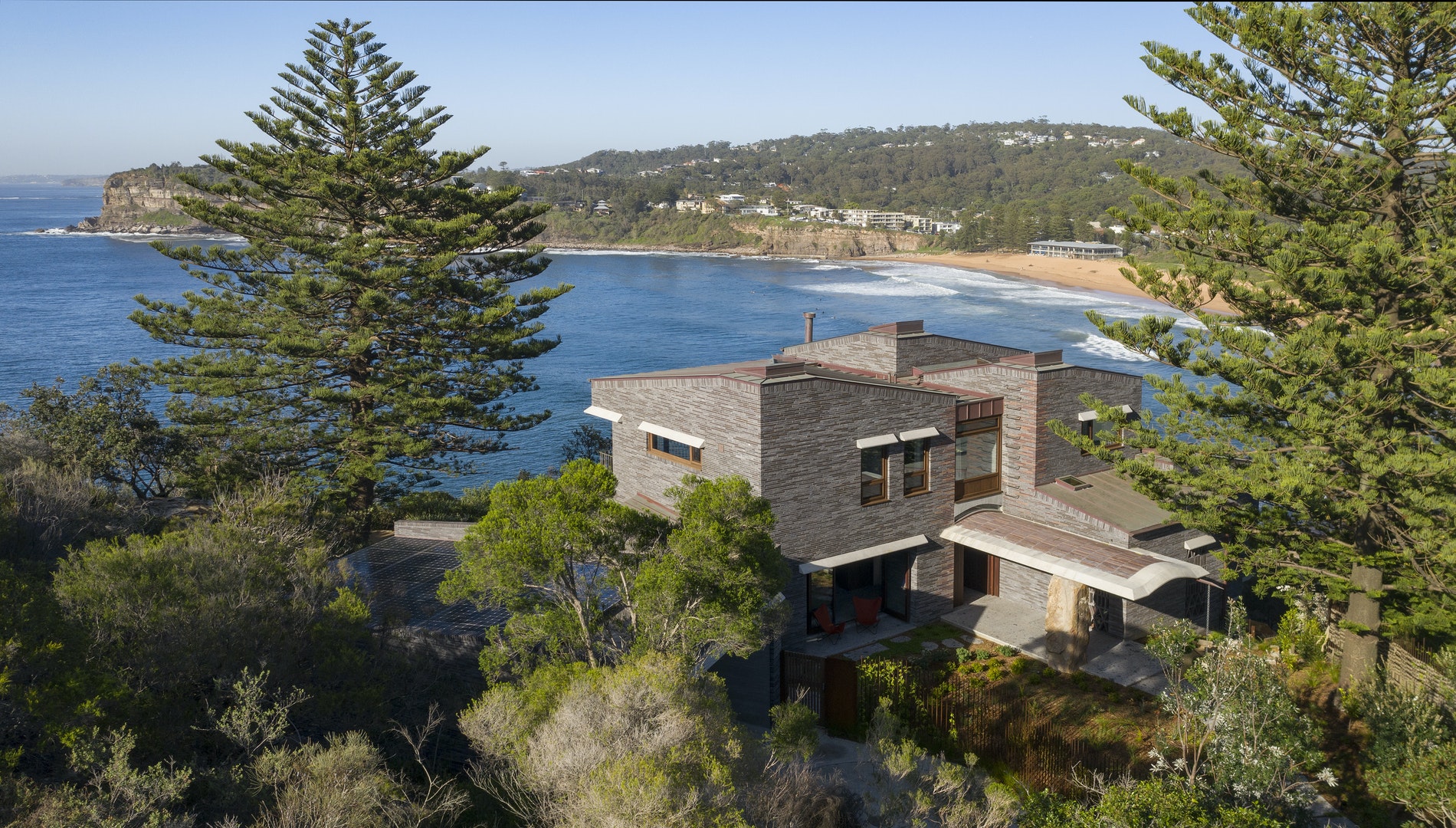 Bangalley House - Photographer: Charlie Baker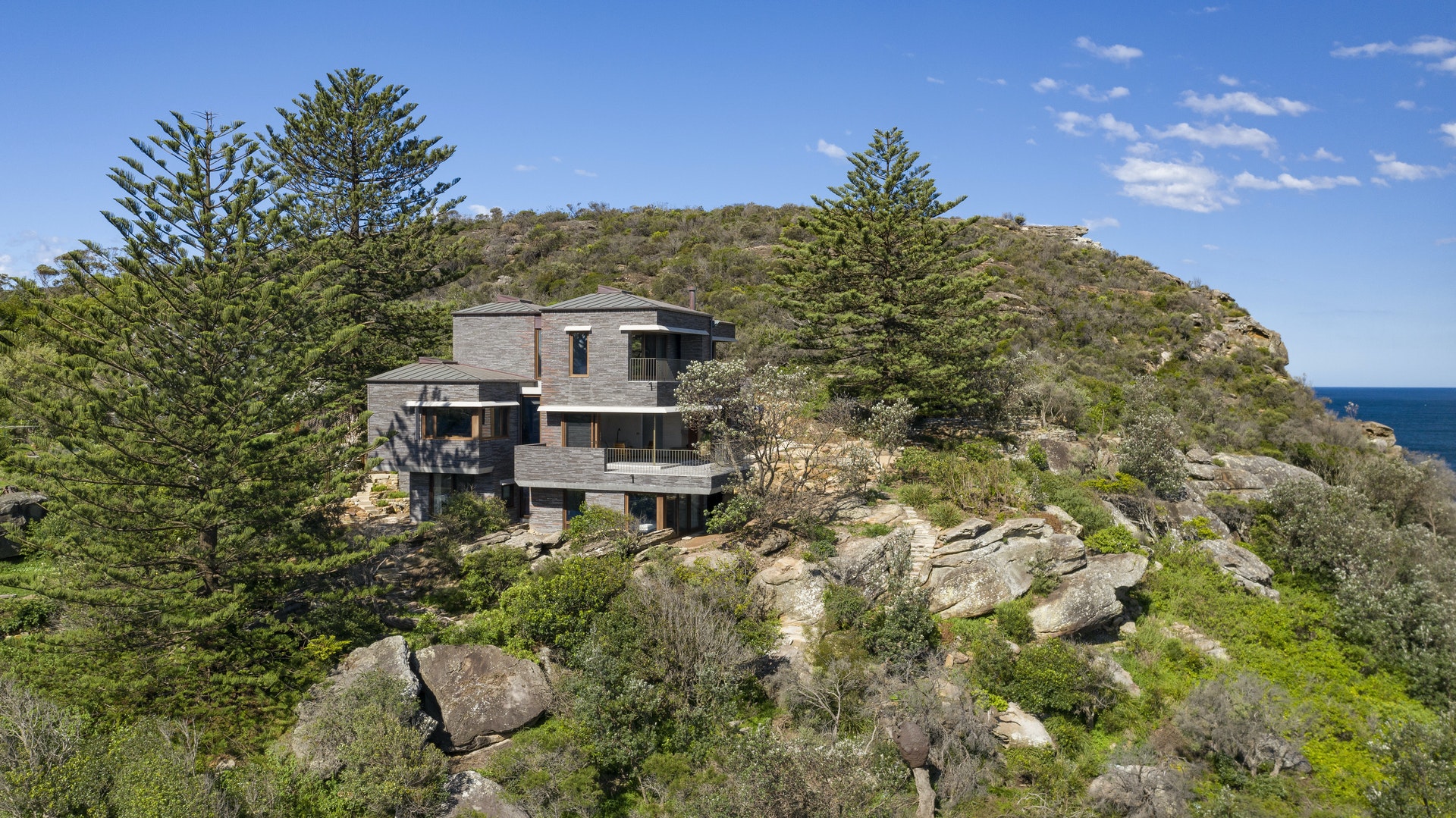 Bangalley House - Photographer: Charlie Baker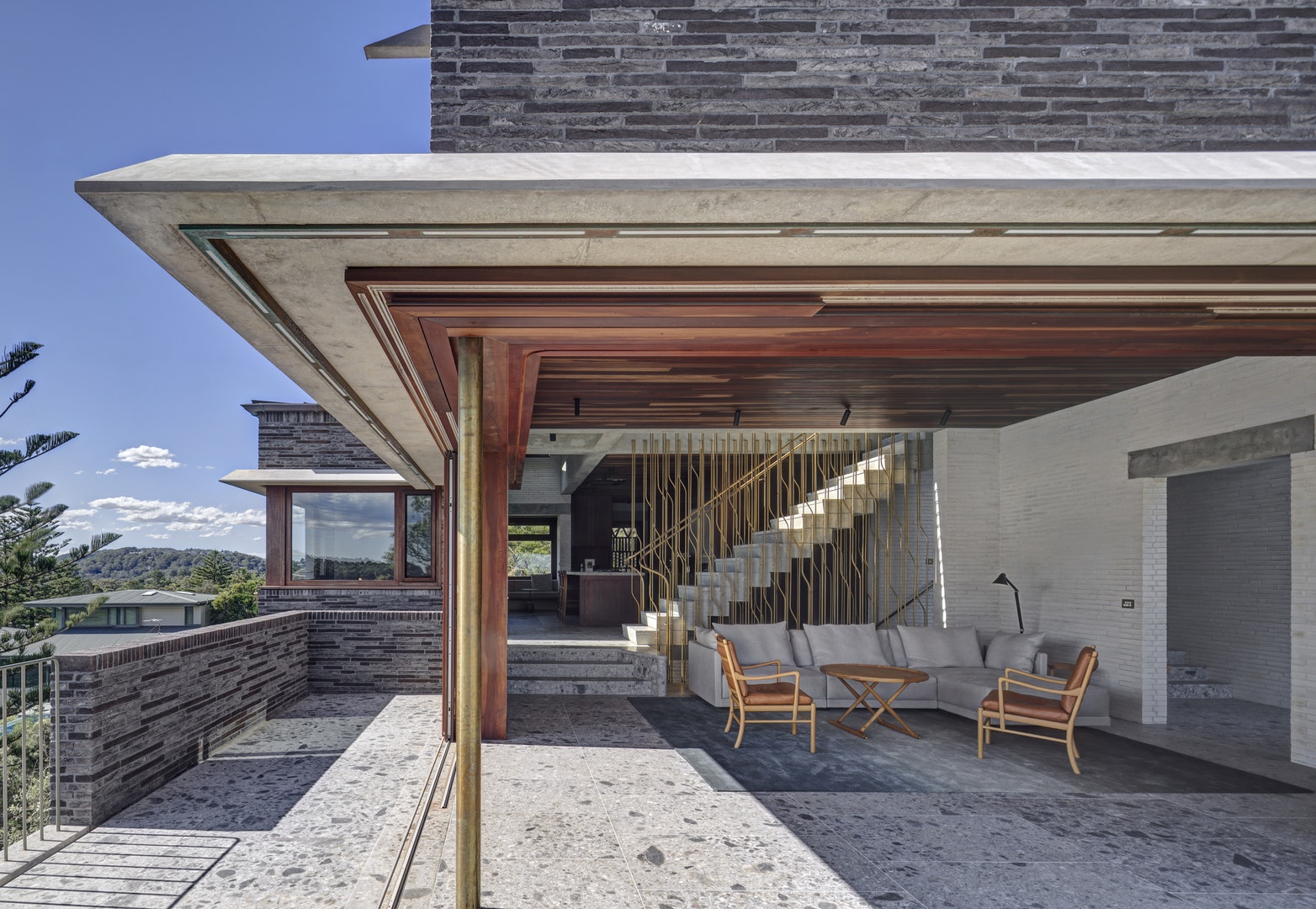 Bangalley House - Photographer: Michael Nicholson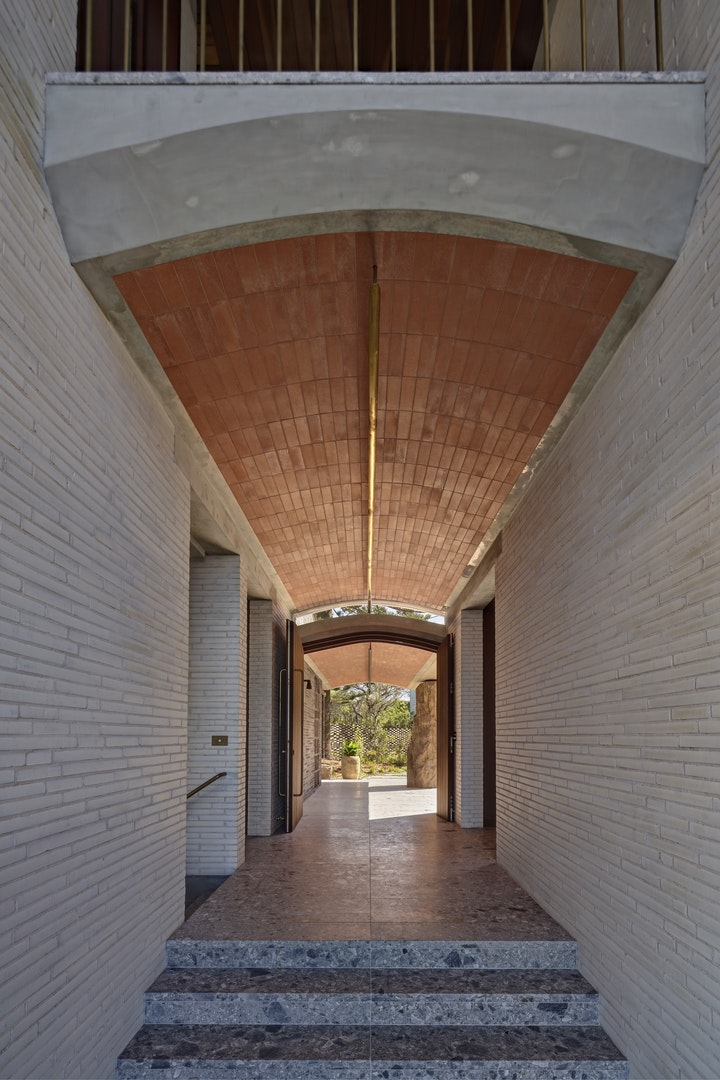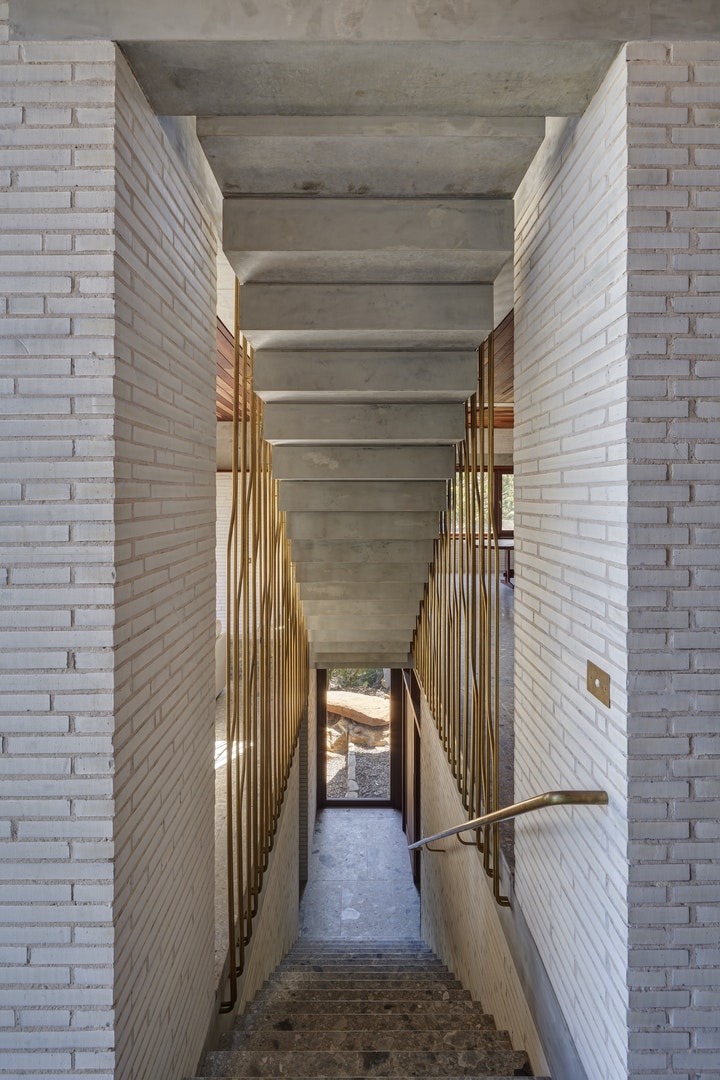 Bangalley House - Photographer: Michael Nicholson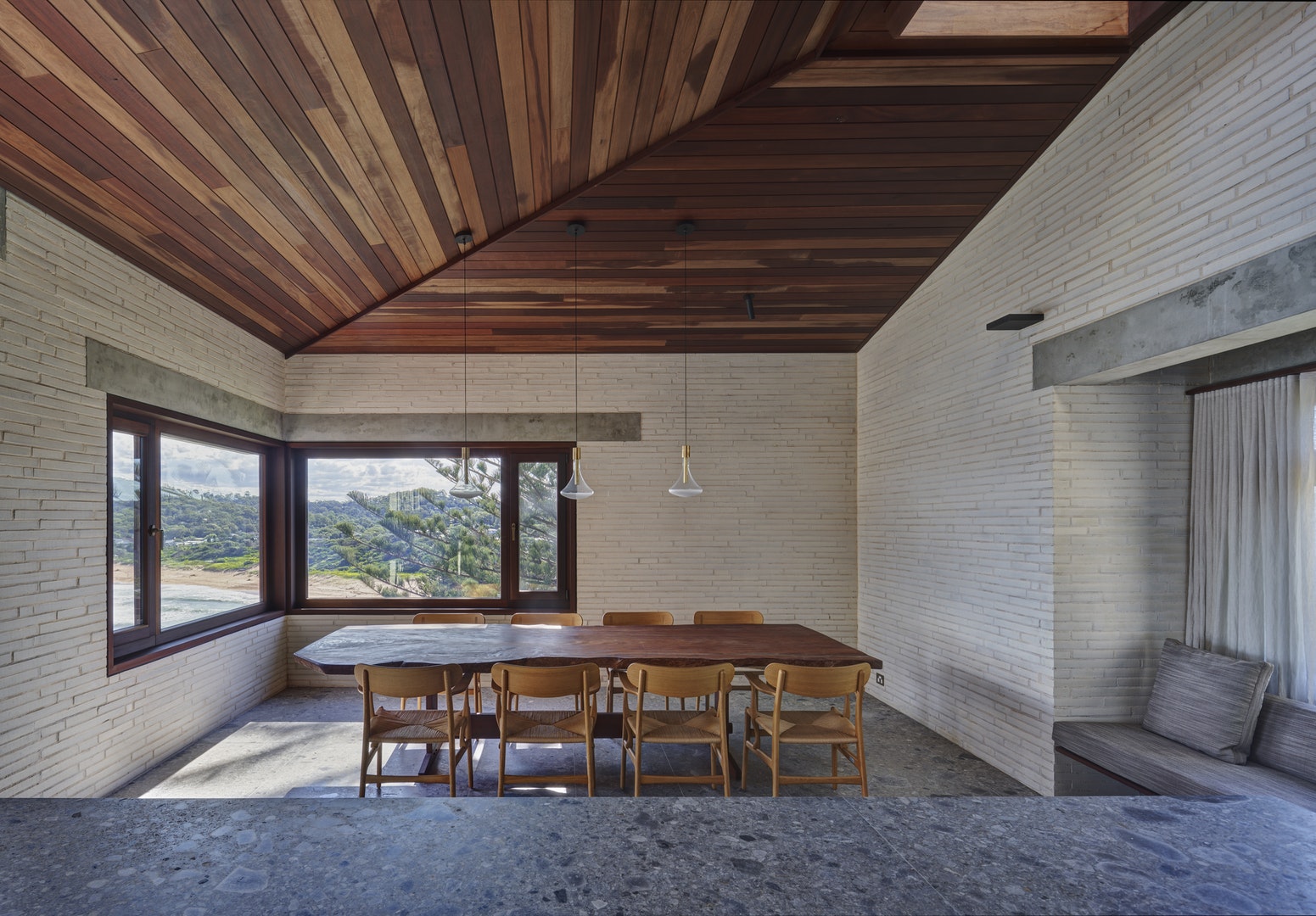 Bangalley House - Photographer: Michael Nicholson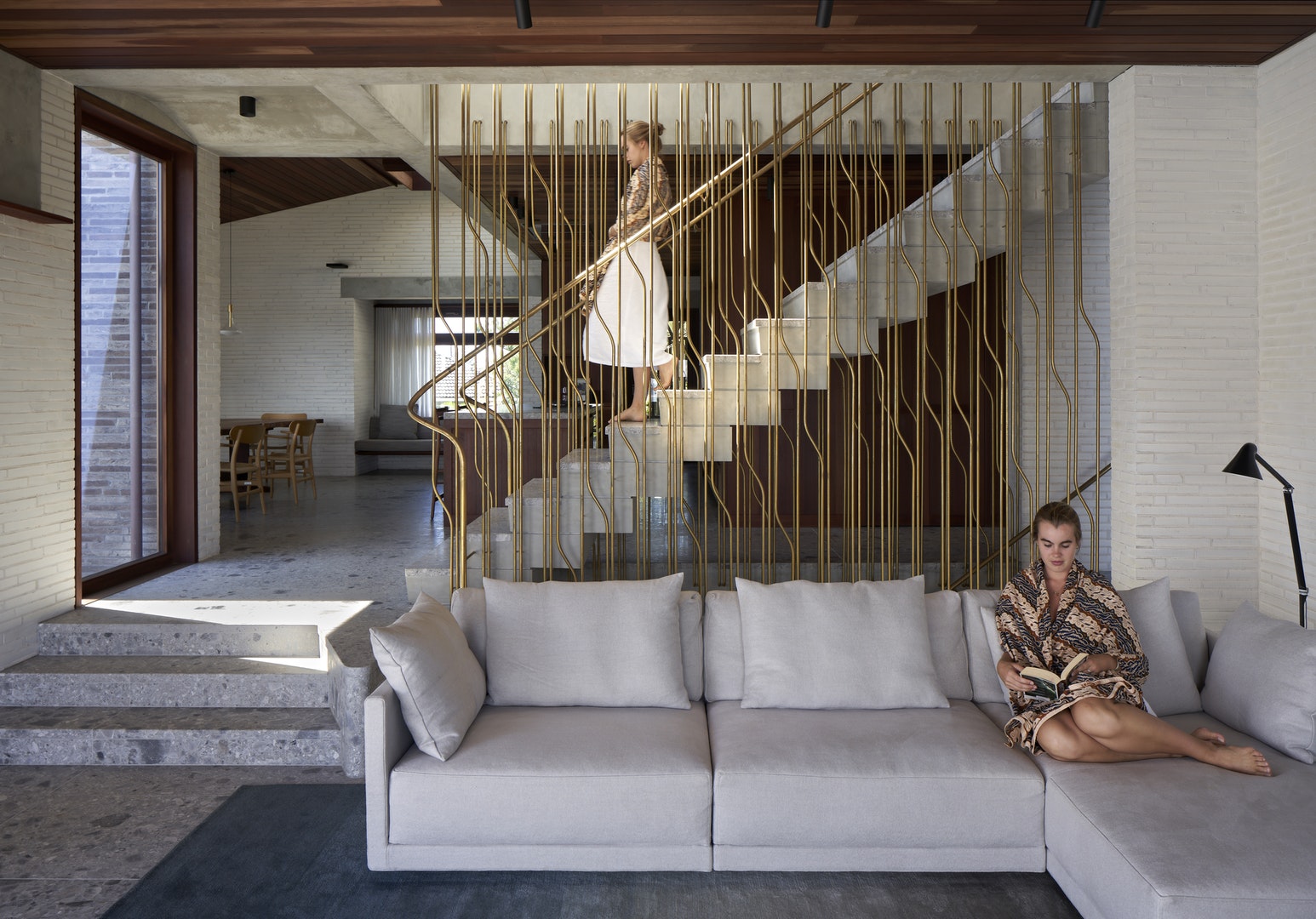 Bangalley House - Photographer: Michael Nicholson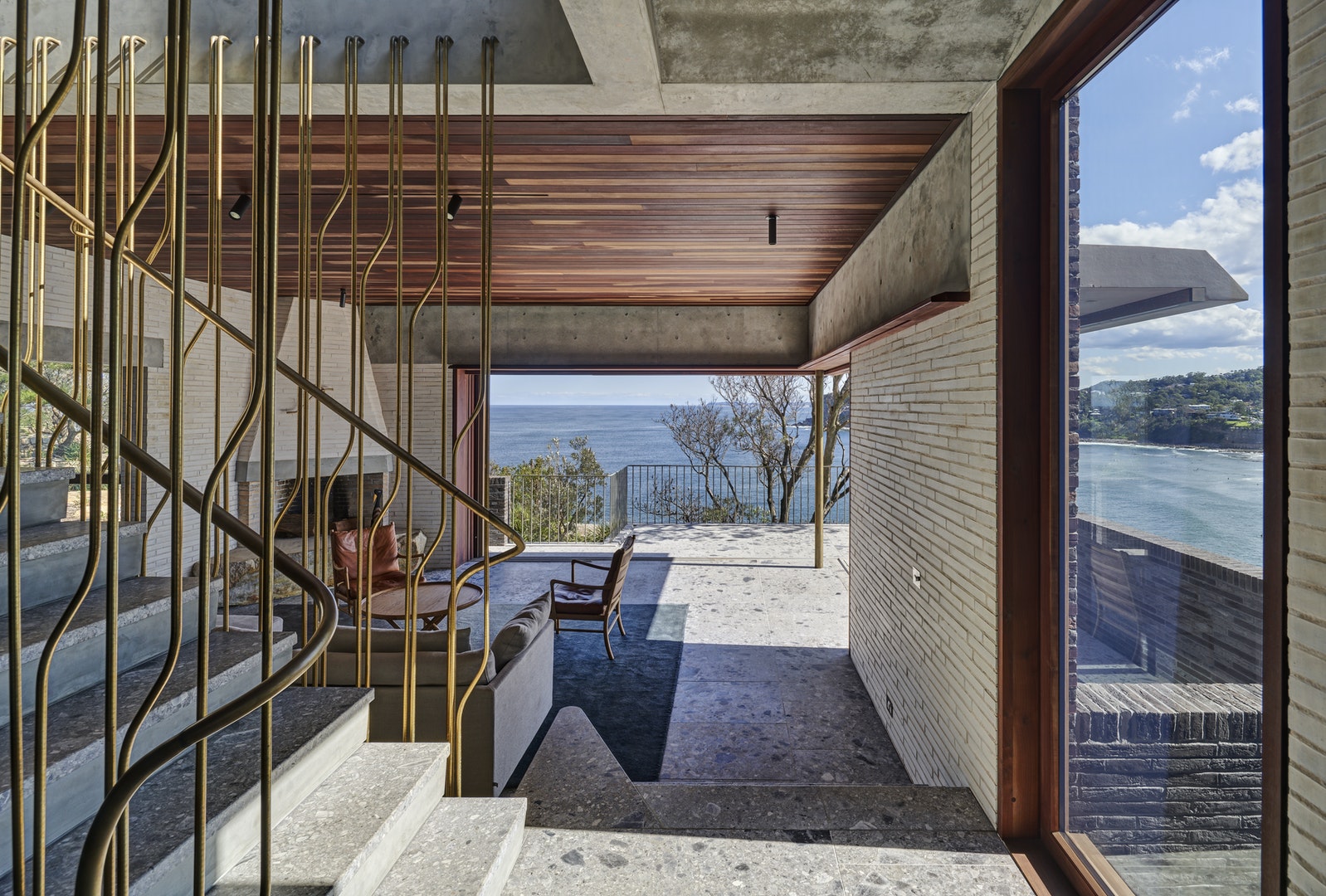 Bangalley House - Photographer: Michael Nicholson

Tree House
Matt Elkan Architect - Bayview
The Tree House is hidden within a shared bushland valley in Bayview on Sydney's Northern Beaches. It is a remarkable site for the steep topography, intact bushland, diverse ecology, and almost complete privacy.
The clients for the project drove a sustainable agenda, which was integrated at every level of the design and build process. One of the major considerations in the project was how to address the high level bushfire threat while also maintaining a connection between the house and its environment. The house is relatively small (<200m2), yet dense with high performing materials, details and systems.
At a broader level, the house seeks to engage with a series of increasingly relevant questions about how an Australian house can respond thoughtfully to the natural environment, given the growing number of natural threats and the rapidly expanding regulatory network controlling the way that buildings facing natural threats are constructed.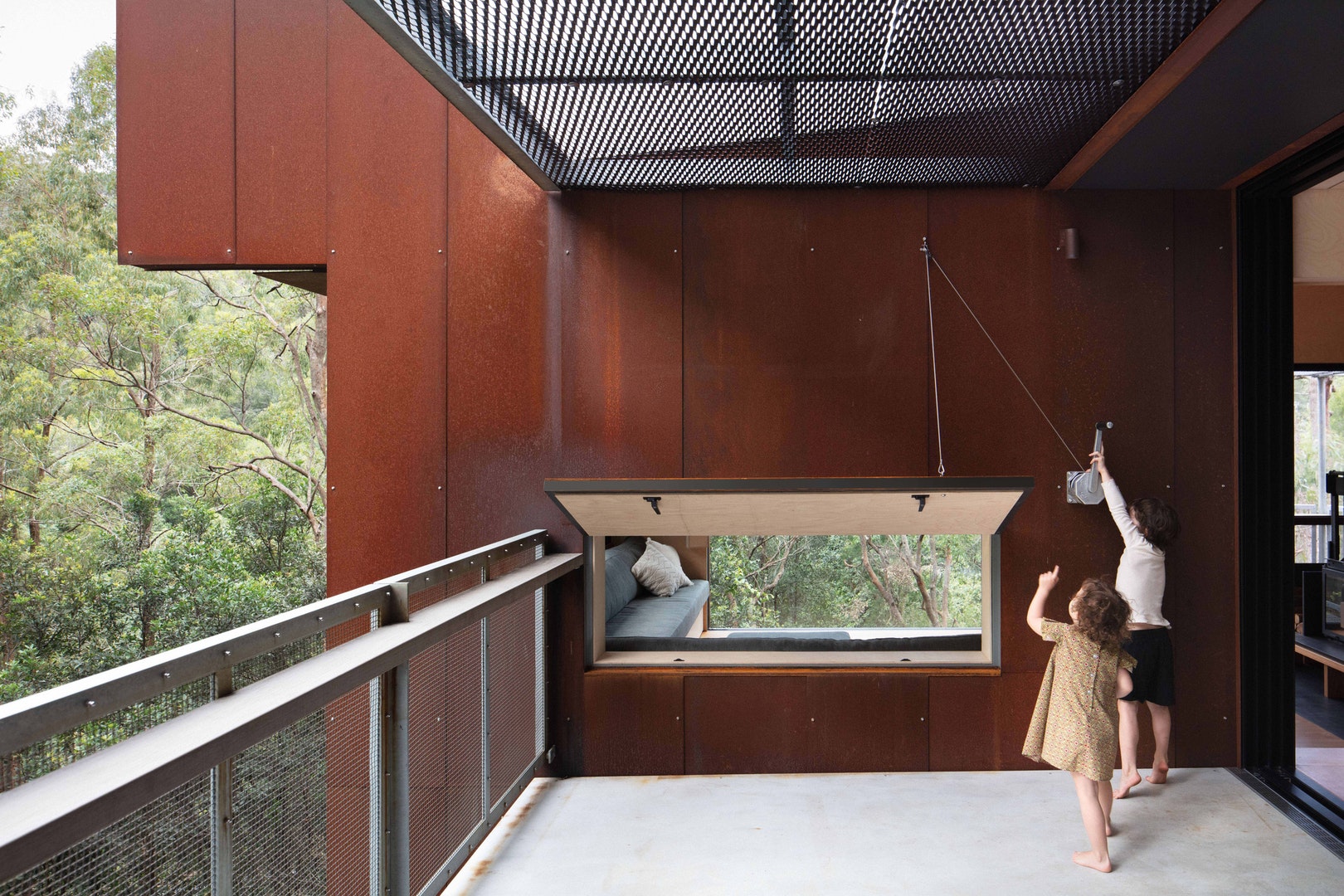 Tree House - Photographer: Clinton Weaver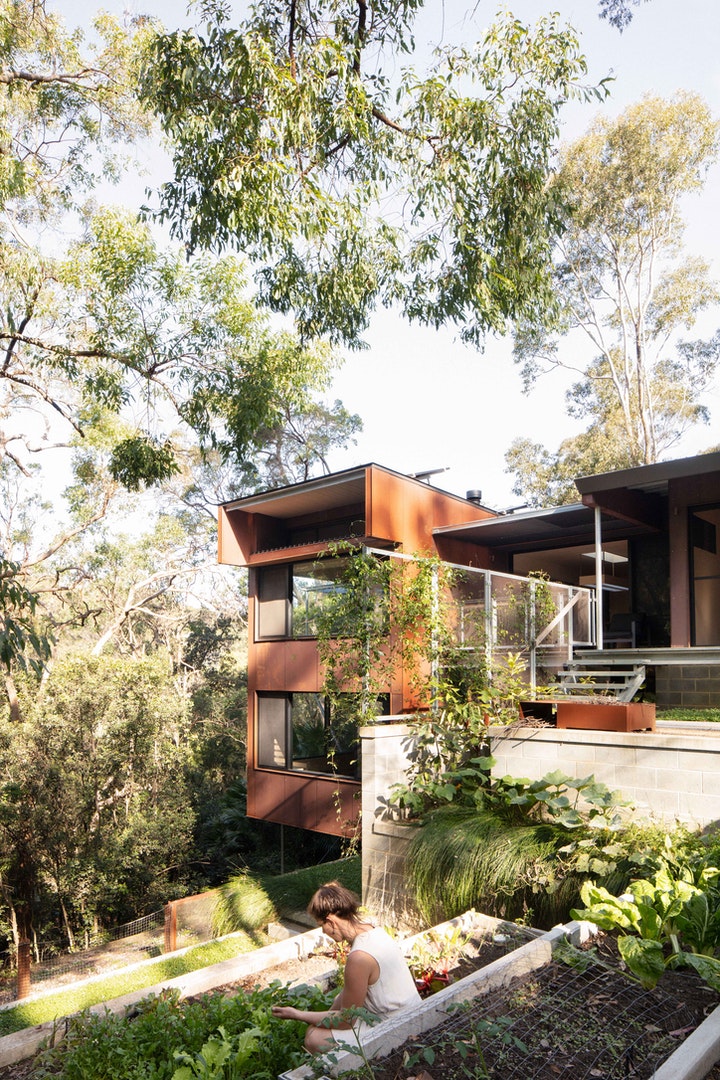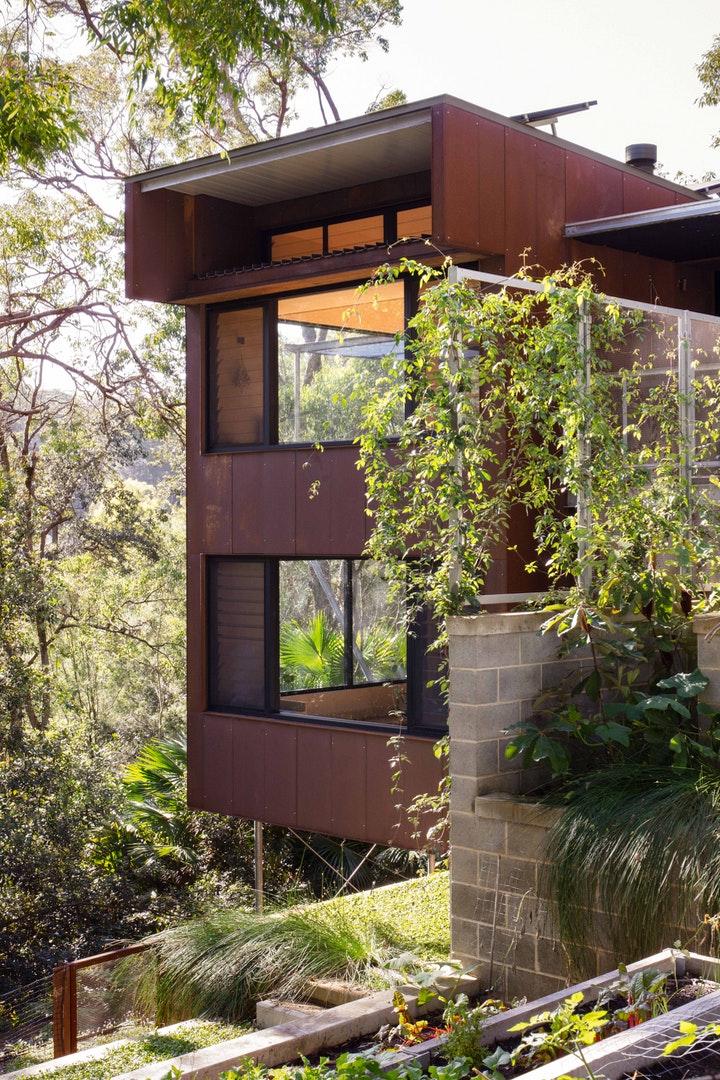 Tree House - Photographer: Clinton Weaver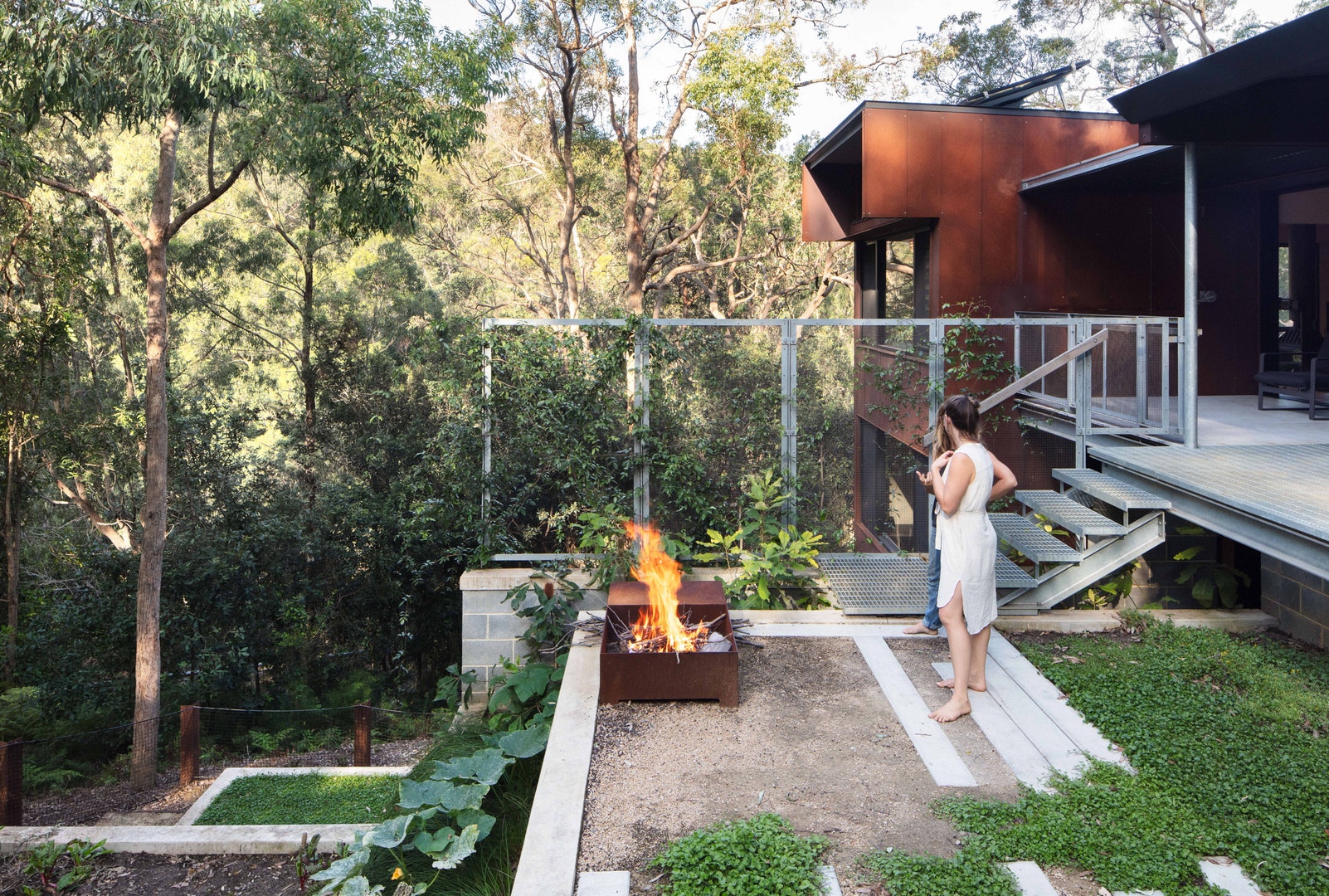 Tree House - Photographer: Clinton Weaver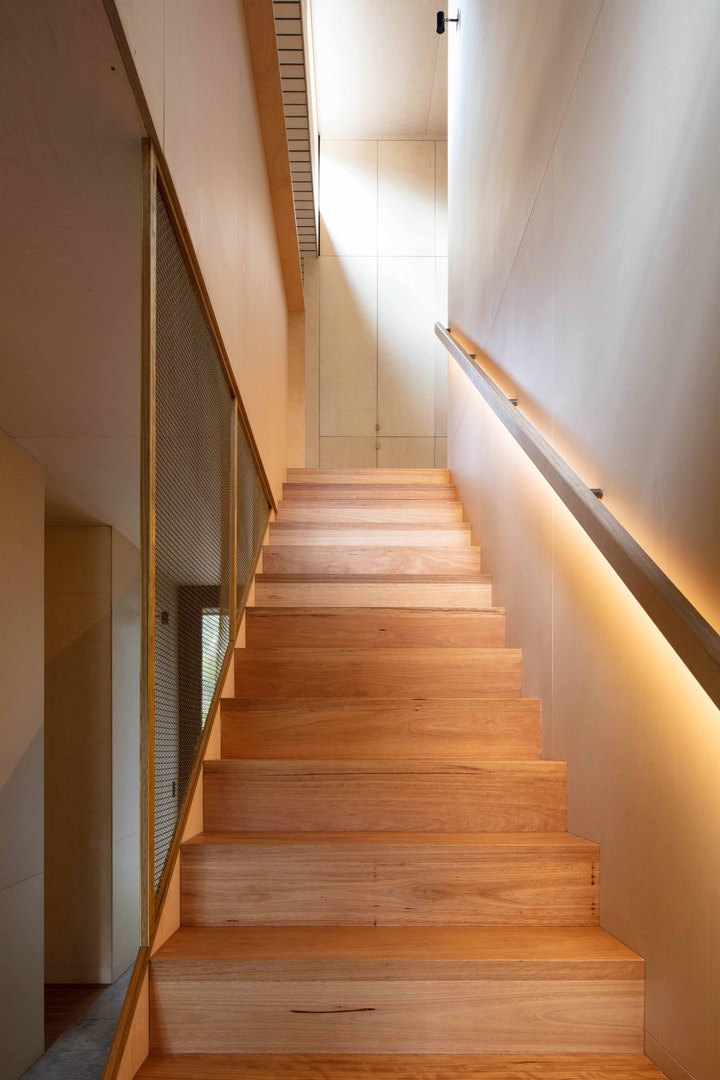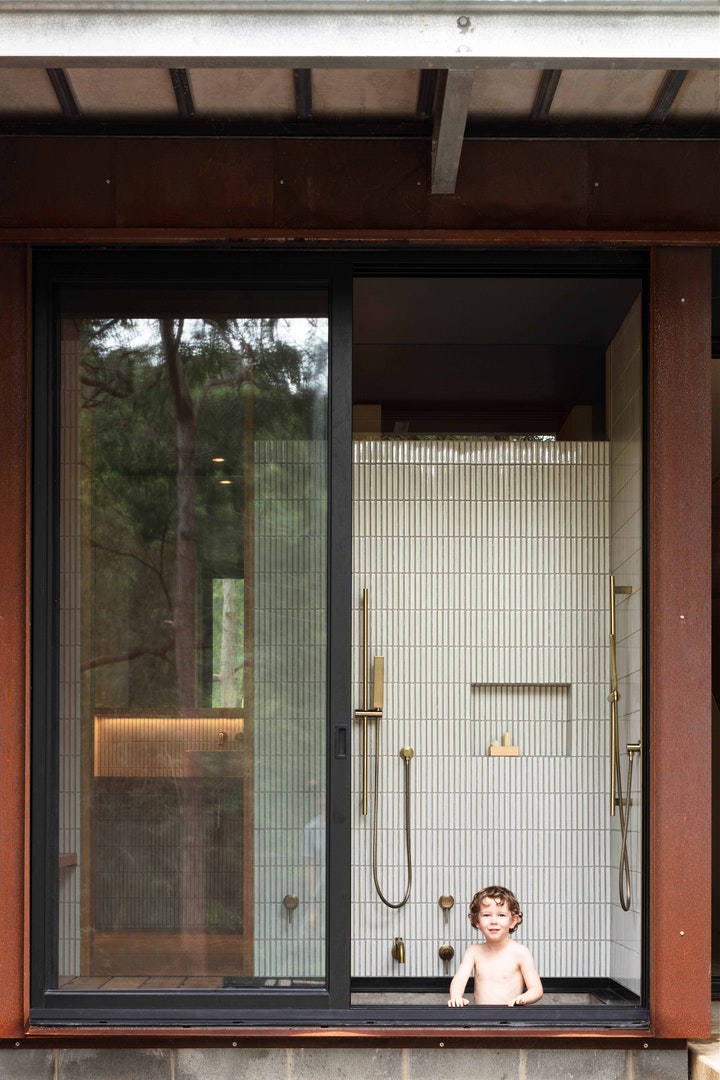 Tree House - Photographer: Clinton Weaver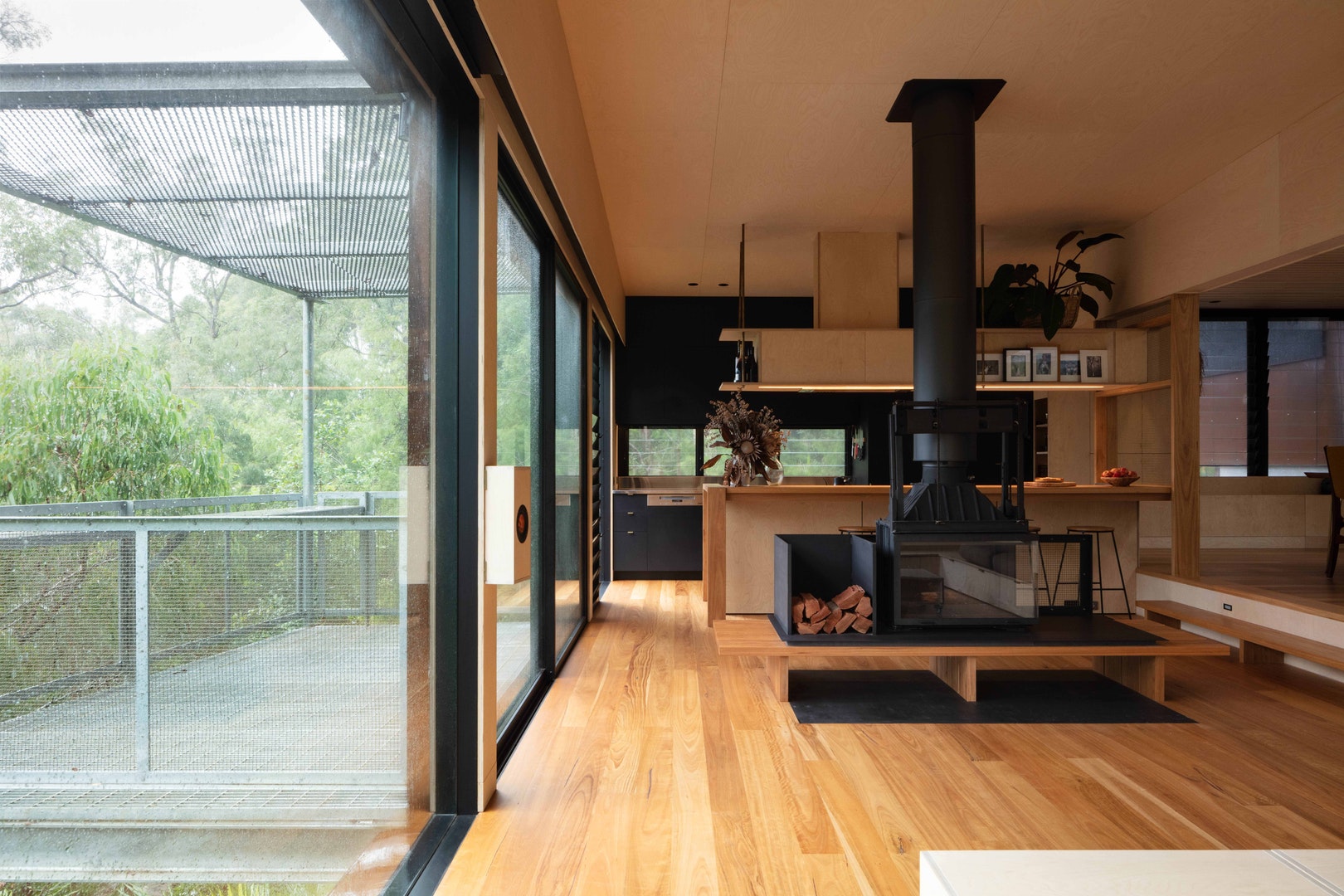 Tree House - Photographer: Clinton Weaver

Seaforth House
Jorge Hrdina Architects - Seaforth
Our architecture responds primarily to our client's needs and to the 'soul' of each unique, individual site and environment. Jorge Hrdina Architects approaches each design brief with the following considerations:
The functional requirements of the client brief, timing and cost structure. The architecture of the site; Out of the earth and into the light, an adaptation of the prevailing views, topography and climate, in such a way as to allow full interaction between building and nature.
Sweeping down to Middle Harbour to the waters of Sugarloaf Bay
the site rests with a small platform relief.
It is here that the house finds it's anchor and sanctuary
a shield from the formidable Westerly sun and winds.
Womb-like
the building creates the horizontal children's sunny garden and courtyard to the north.
All the while, the light glass façade allows for vistas to city skyline and harbour.
The lookout
a nest quality enhanced by the high floating canopy roof in dialogue with the undulating Castlecrag hills, across the river below.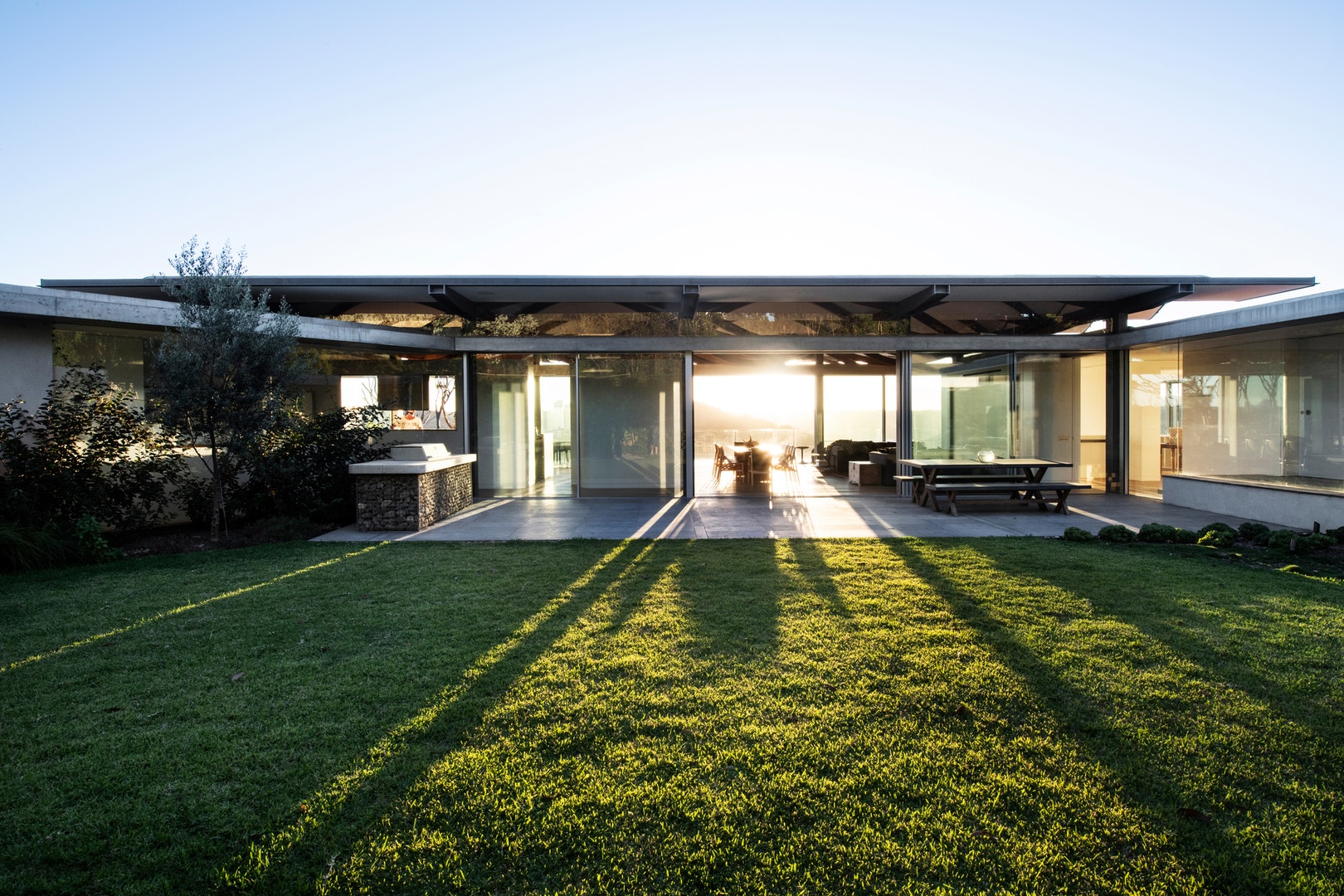 Seaforth House - Photographer: Brigid Arnott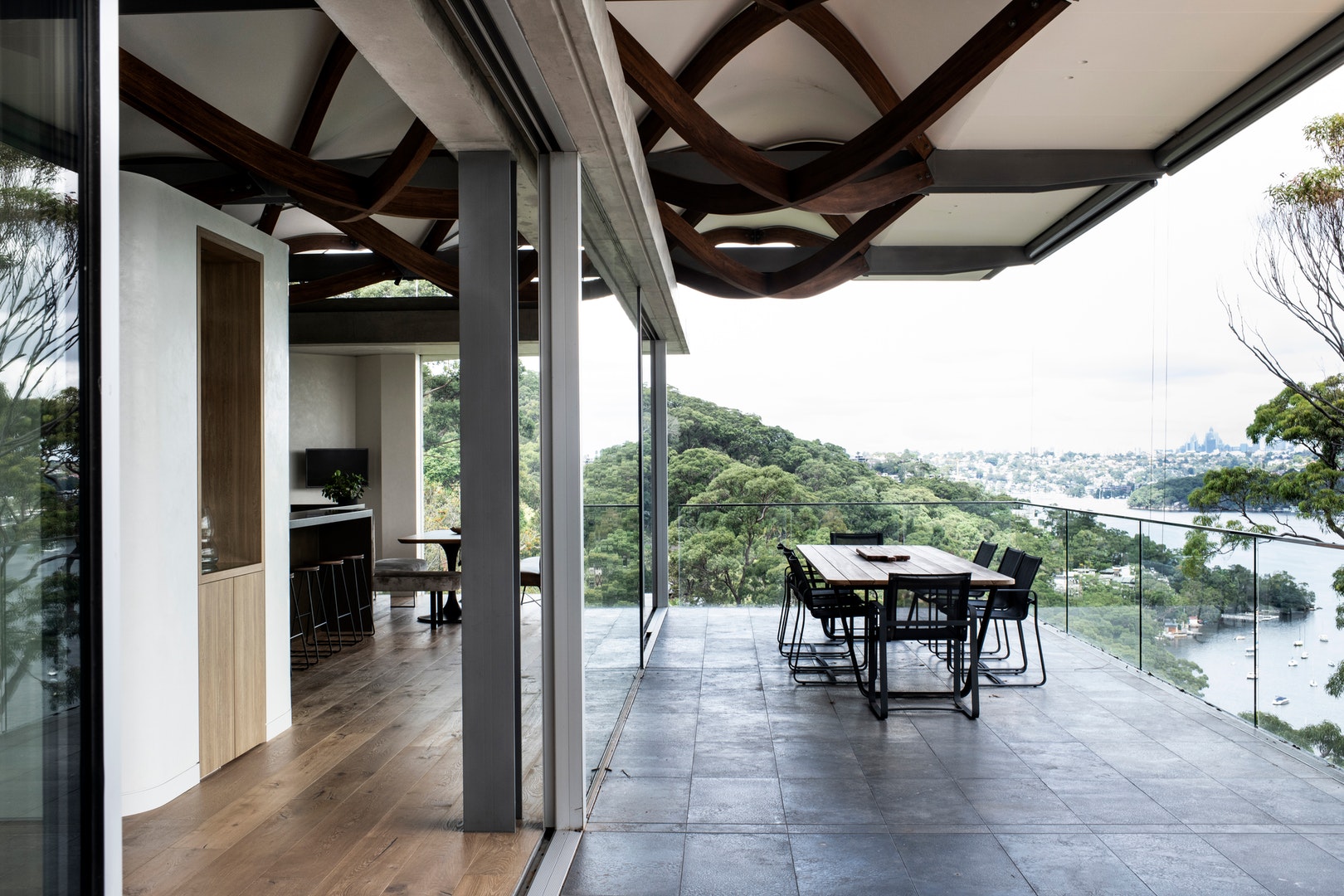 Seaforth House - Photographer: Brigid Arnott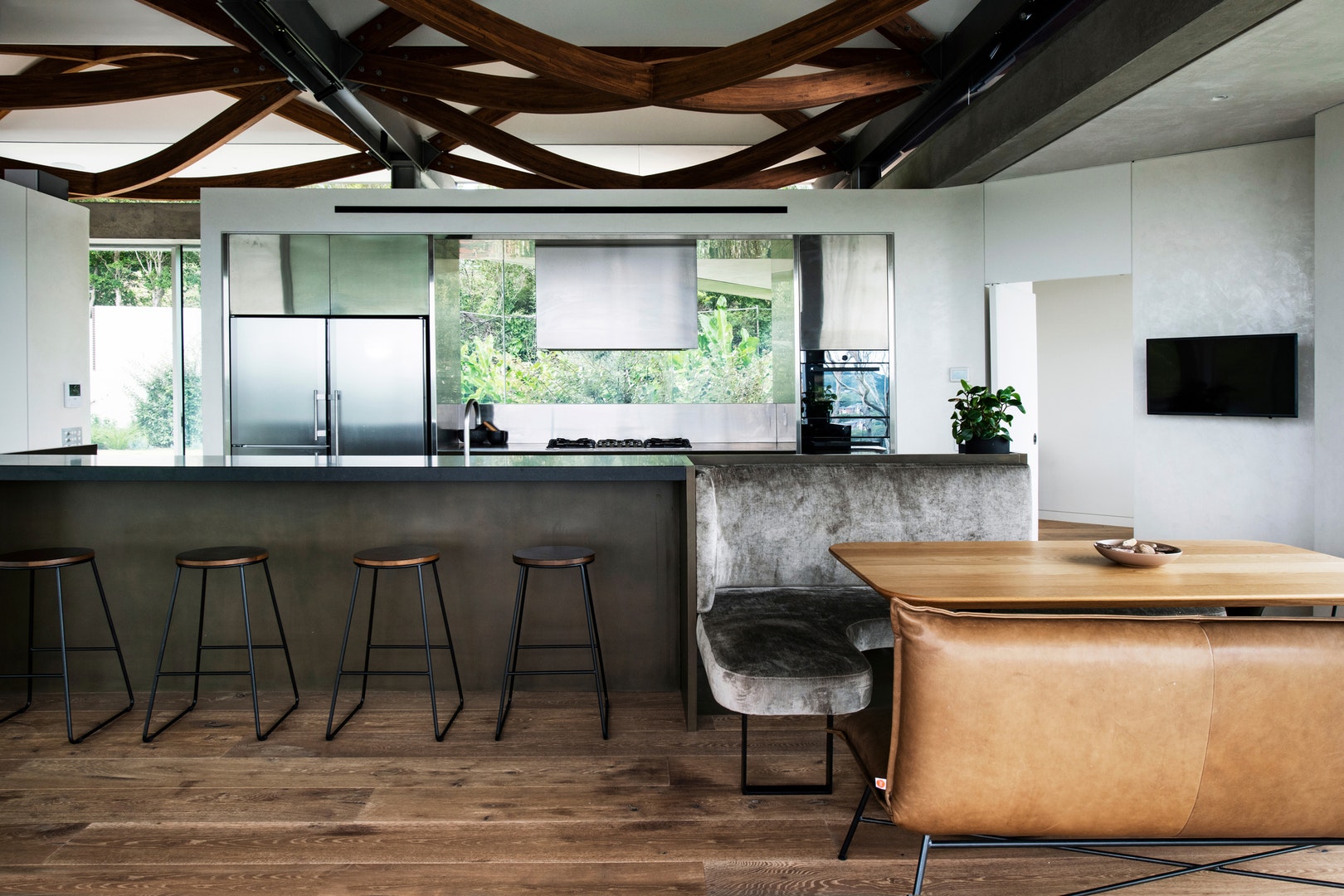 Seaforth House - Photographer: Brigid Arnott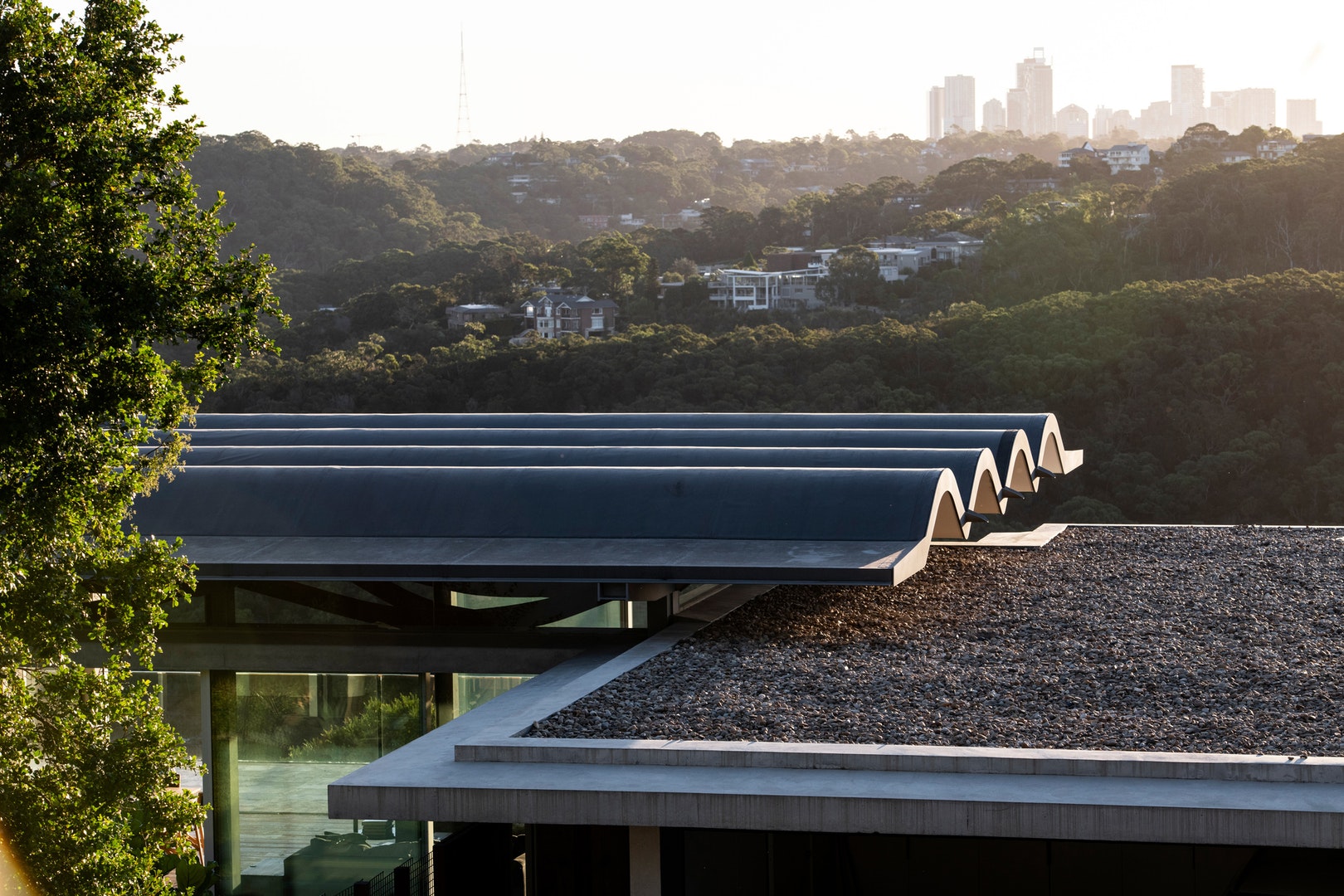 Seaforth House - Photographer: Brigid Arnott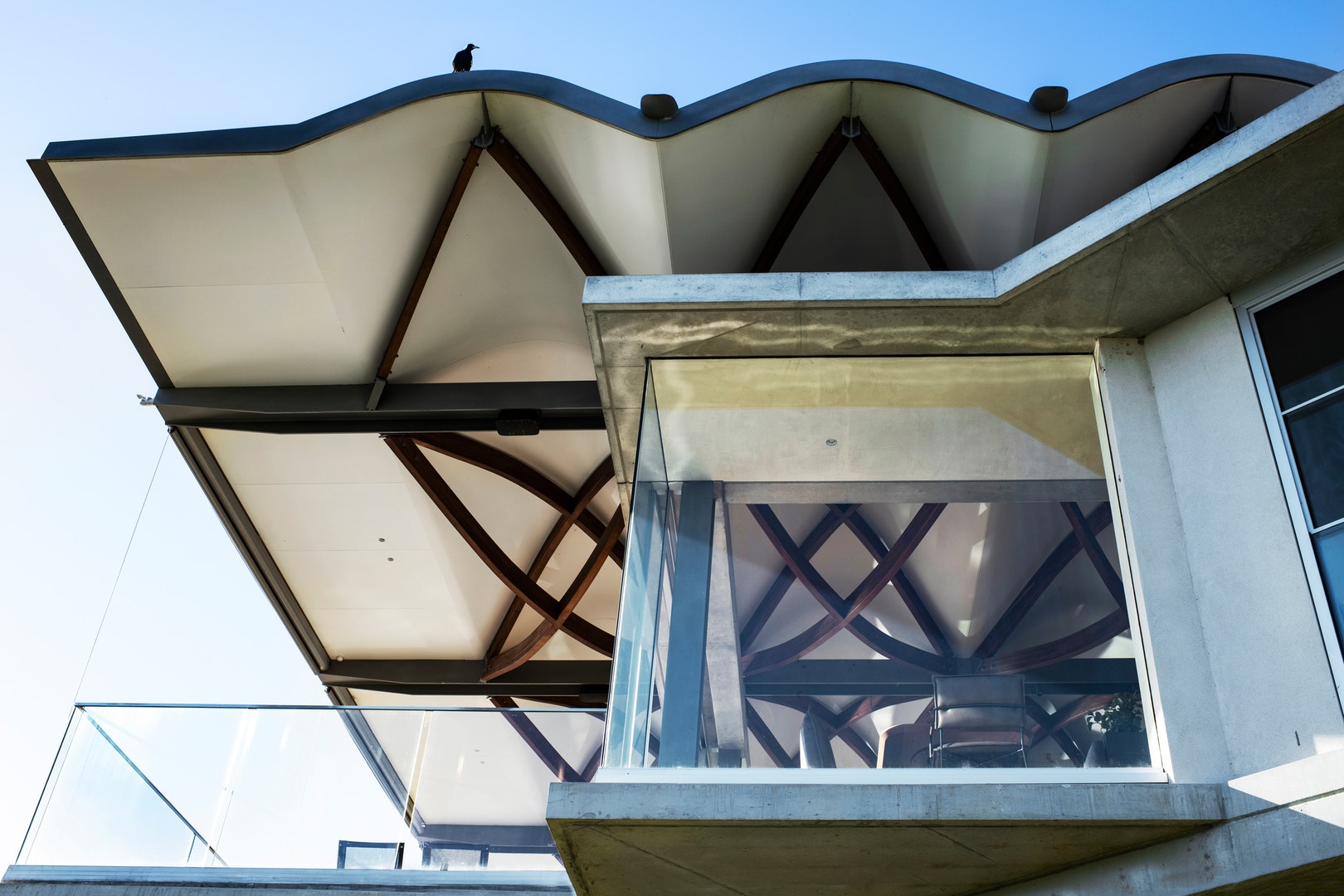 Seaforth House - Photographer: Brigid Arnott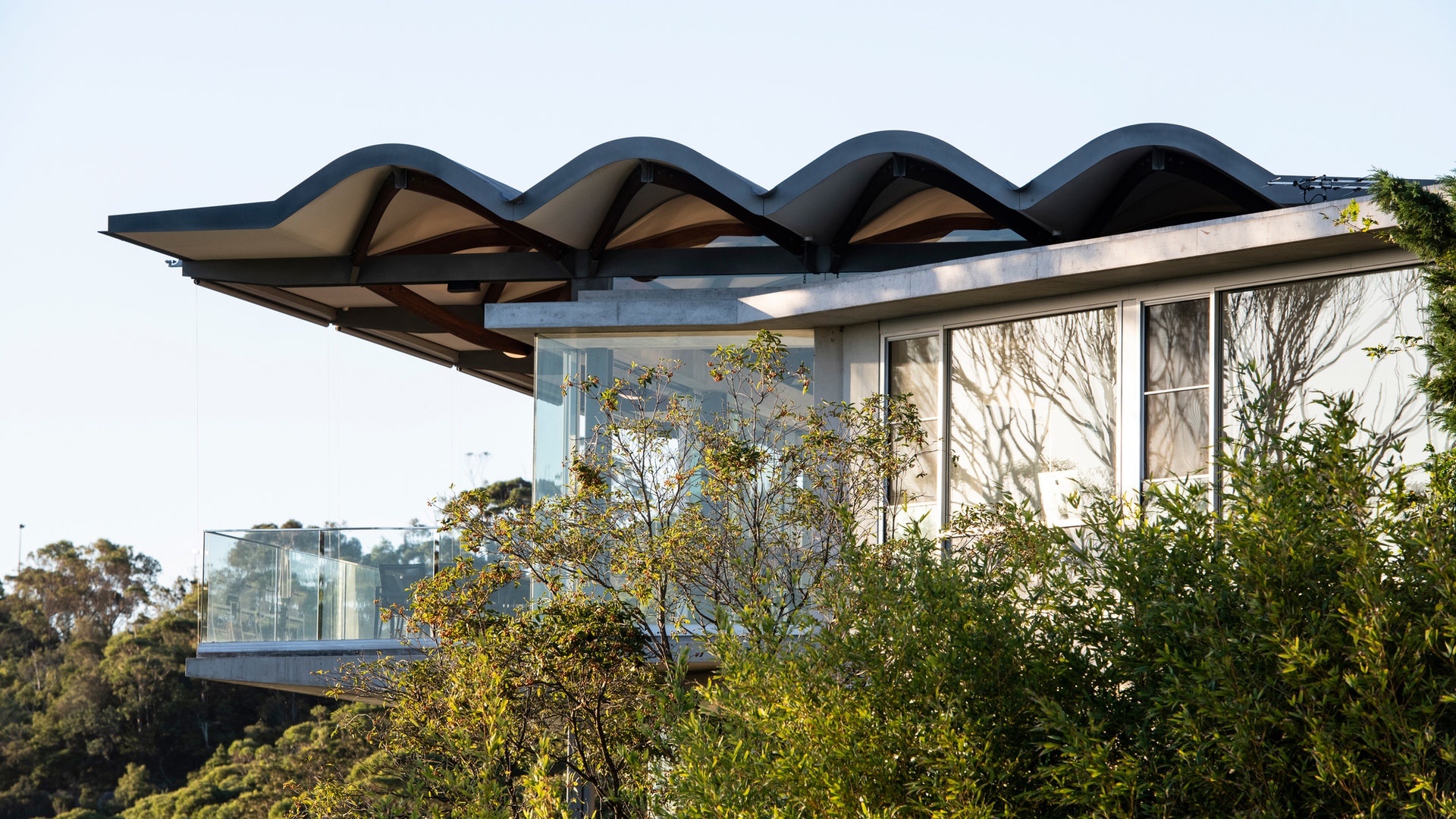 Seaforth House - Photographer: Brigid Arnott

2020 NSW Architecture Awards and Prizes - Winners
NSW ARCHITECTURE MEDALLION
Phoenix Central Park | Durbach Block Jaggers with John Wardle Architects
COMMERCIAL ARCHITECTURE
Sir Arthur G. Stephenson Award for Commercial Architecture
Phoenix Central Park | Durbach Block Jaggers with John Wardle Architects
Architecture Awards
Bankwest Stadium | Populous
Daramu House | Tzannes
Commendations
44A Foveaux Street | Hill Thalis Architecture and Urban Projects
Sixty Martin Place | Hassell
EDUCATIONAL ARCHITECTURE
William E Kemp Award for Educational Architecture
MLC School Senior Centre | BVN
Architecture Awards
Electrical Engineering Building | Hassell
University of New South Wales Sir John Clancy Auditorium | lahznimmo architects
Commendations
Bethlehem College Ashfield | Neeson Murcutt+ Neille
Meriden School – Lingwood Campus | Allen Jack+Cottier
HERITAGE
Greenway Award for Heritage
The Signal Box Restaurant | Derive Design
Architecture Award
Level 5 Ballarat House | Hill Thalis Architecture and Urban Projects
Commendations
Emanuel Synagogue | Lippmann Partnership
Wellington Street | SJB
INTERIOR ARCHITECTURE
John Verge Award for Interior Architecture
Phoenix Central Park | Durbach Block Jaggers with John Wardle Architects
Architecture Awards
Breezeway House | David Boyle Architect
Grant Pirrie House | Virginia Kerridge Architect
Hotel Rose Bay | Richards Stanisich
Commendations
AMP Angel Place Lobby Refurbishment | Hassell
Bismarck House | Andrew Burges Architects
CBA 'Axle' South Eveleigh | Woods Bagot with fjmt
Emanuel Synagogue | Lippmann Partnership
PUBLIC ARCHITECTURE
Sulman Medal for Public Architecture
Anzac Memorial Centenary Extension | Johnson Pilton Walker with the Government Architect NSW
Architecture Award
Marrickville Library | BVN
Commendations
Metro North West | Hassell with Turpin Crawford Studio and McGregor Westlake Architecture
Warrumbungle National Park Visitor Centre | TKD Architects
RESIDENTIAL ARCHITECTURE - HOUSES (ALTERATIONS AND ADDITIONS)
Hugh and Eva Buhrich Award for Residential Architecture – Houses (Alterations and Additions)
Bismarck House | Andrew Burges Architects
Architecture Awards
Grant Pirrie House | Virginia Kerridge Architect
JJ house | Bokey Grant Architects
Redwood | Chenchow Little
Waterloo House | Anthony Gill Architects
Commendations
Courtyard House | Joe Agius Architect
Exoskeleton House | Takt Studio
House RV | Plus Minus Design
Lindfield House | Polly Harbison Design
RESIDENTIAL ARCHITECTURE - HOUSES (NEW)
Wilkinson Award for Residential Architecture – Houses (New)
Glebe House | Chenchow Little
Architecture Awards
Basin Beach House | Peter Stutchbury Architecture
Breezeway House | David Boyle Architect
East Street | Kerstin Thompson Architects
Palm Beach Blue | Benn + Penna Architecture
Commendations
Bendalong House | Madeleine Blanchfield Architects
One Wingadal Place | Collins and Turner with Temple and Stockwell
The Seed House | fitzpatrick+partners
Tree House | Matt Elkan Architect
Upside Down Akubra House | Alexander Symes Architect
Wallis Lake House | Matthew Woodward Architecture
RESIDENTIAL ARCHITECTURE – MULTIPLE HOUSING
Aaron Bolot Award for Residential Architecture – Multiple Housing
Verve Residences | CKDS Architecture with Hill Thalis Architecture and Urban Projects
Architecture Awards
537 Elizabeth Street | Woods Bagot
Boomerang Tower | Bates Smart
Studio Apartments| Hill Thalis Architecture and Urban Projects
Waterloo Apartments | Chenchow Little
Commendations
Blackwattle Apartments | Turner
The Burcham | Allen Jack+Cottier
SMALL PROJECT ARCHITECTURE
Robert Woodward Award for Small Project Architecture
Marsden Park Amenities | CHROFI
Architecture Awards
Lawler Residence | Andrew Donaldson Architecture and Design
Sydney Park Amenities | Aileen Sage Architects with City of Sydney
Commendations
Summer Place | CHROFI
Wicks Park Amenities | Sam Crawford Architects
URBAN DESIGN
Lloyd Rees Award for Urban Design
Metro North West | Hassell with Turpin Crawford Studio and McGregor Westlake Architecture
Architecture Awards
Anzac Memorial Centenary Extension | Johnson Pilton Walker with Government Architect NSW
CBD and South East Light Rail | Grimshaw with ASPECT Studios in collaboration with the City of
Sydney, on behalf of Transport for NSW, supported by Randwick City Council
University of New South Wales Science and Engineering Precinct | Grimshaw
Commendation
Sixty Martin Place | Hassell
SUSTAINABLE ARCHITECTURE
Milo Dunphy Award for Sustainable Architecture
Marrickville Library | BVN
Architecture Awards
Arkadia | DKO Architecture with Breathe Architecture and Oculus
Warrumbungle National Park Visitor Centre | TKD Architects
Commendations
Axle South Eveleigh | fjmt
Daramu House | Tzannes
Wildlife Retreat at Taronga | Cox Architecture
COLORBOND® AWARD FOR STEEL ARCHITECTURE
Bankwest Stadium | Populous
Commendation
Upside Down Akubra House | Alexander Symes Architect
Blacket Prize
Verve Residences | CKDS Architecture with Hill Thalis Architecture and Urban Projects
Lord Mayor's Prize
CBD and South East Light Rail | Grimshaw with ASPECT Studios in collaboration with the City of Sydney, on behalf of Transport for NSW, supported by Randwick City Council
NSW Premier's Prize
Marrickville Library | BVN
ENDURING ARCHITECTURE AWARD
Palm Garden House | Richard Leplastrier
EMERGING ARCHITECT PRIZE
Matthias Hollenstein | Studio Hollenstein
NSW PEOPLE'S CHOICE AWARDS FOR LIFE IN 2020
Isolation Oasis: Arkadia by DKO Architecture with Breathe Architecture and Oculus
We are in this together: Marrickville Library by BVN
Post Iso Party: Bankwest Stadium by Populous
The Australian Institute of Architects is the peak body for the architectural profession, representing over 11,500 members across Australia and overseas. The Institute actively works to improve the quality of our built environment by promoting quality, responsible and sustainable design. Learn more about the Institute, visit: www.architecture.com.au