Inbox and Environment News Issue 462
August 16 - 22, 2020: Issue 462
Netball NSW Schools Cup 2020 Virtual Challenge Launch
August 13, 2020: Netball NSW
Have you and your school been missing the Netball NSW Schools Cup in 2020? So have we!
Netball NSW is excited to be launching registrations for a brand new School's competition, to keep us all connected in 2020. The Netball NSW Schools Cup 2020 Virtual Challenge is here!
The 2020 Virtual Challenge is FREE! And open to all schools in NSW. It was designed to help keep students and classes connected and active this year. The Virtual Challenge will run from Friday 28th August to Friday 6th November with new challenges released every week!
Schools Participation Coordinator, Kathryn Glover said, "The Schools team was disappointed we couldn't get the traditional Schools Cup competition off the ground due to COVID-19. We didn't want to let 2020 pass without providing a way for Netball NSW to connect with schools, allowing students of all abilities and interests to get involved in and engage with our sport.
"Our team had such a great time bringing the 2020 Virtual Challenge to life and can't wait to see how much fun classes from Schools across NSW have battling it out to become the overall winner," she said.
The 2020 Virtual Challenge will be spilt into Primary and Secondary schools with prizes also awarded for the top class in each of our eight regions. Classes from across NSW will complete and submit challenges every week. Each completed challenge will have a point value. The class with the most points at the end of the competition will win!
There are great prizes up for grab, head to our website to check them out!
The challenges will cover a range of areas and topics, from English to PE, Drama, Math, Geography and even Suncorp Super Netball themed challenges. There will also be bonus challenges classes can complete to accumulate more points and get ahead of the rest.
Is your class #UpForTheChallengeNNSW?
Register your class and read more about the competition via our website. At: https://nsw.netball.com.au/2020-virtual-challenge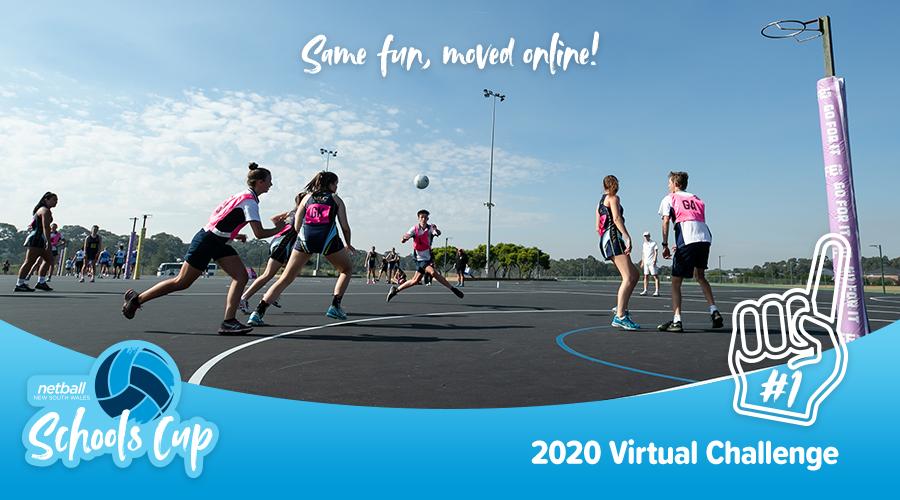 Basketballer Nets A Prize Commission
Westfields Sports High School 2019 HSC student Tomas Ramos with his works at ARTEXPRESS at the Armory.
When Sydney marks the 20th anniversary of the 2000 Olympics later this year, the works of a Westfields Sports High School 2019 HSC student will become synonymous with the occasion. Tomas Ramos has been commissioned to create a series of banners that are due to be installed this week and will be displayed throughout Sydney Olympic Park during the celebrations.
His first 'professional commission' came after his HSC major work was selected for ARTEXPRESS at the Armory, the largest of the exhibitions of artworks by HSC students.
Tomas's major work, 'More than an athlete' shows four sporting superstars who have used their status to further a political view.
The work includes an iconic image of Cathy Freeman carrying the Aboriginal flag during her lap of honour after winning gold in the 400m at the 200 Olympics.
It also features US basketballers LeBron James and Derrick Rose, who work in the area of social disadvantage, and American football player Colin Kaepernick, who chose to 'take the knee' during the playing of the US national anthem as a protest against racial inequality.
Tomas, a State level basketballer who hopes to secure a sports scholarship to the US later this year, said he was stunned by the reception to his work.
"On the opening night of the exhibition, as we were going in I saw copies of my artworks outside being used as the main advertising – they had big banners featuring my works and it was a good surprise," he said.
"A couple of weeks after I got a call and was asked about making the banners for the Olympics anniversary."
Tony Nesbitt, Sydney Olympic Authority Manager, Events and Activation, said Tomas' artwork 'More than an athlete' "resonated strongly" with the Sydney Olympic Park.
"In particular, the image of Cathy Freeman proudly bearing the Aboriginal flag during her victory lap spoke directly both to a key moment in the Park's history and our ongoing commitment to Reconciliation with Australia's First Peoples," Mr Nesbitt said.
He said Tomas had been commissioned to create six graphic designs - including the Cathy Freeman image from ARTEXPRESS at the Armory - that evoke key stories from "the best Games ever".
"Through this initiative, we continue our commitment to arts education in NSW by showcasing the talent of a public school HSC student to celebrate defining moments in Sydney Olympic Park's ongoing story."
Tomas said it felt good to gain a formal commission as an artist, particularly given the profile of the event.
As an aspiring professional athlete Tomas said although he wasn't born when Freeman won gold he had included her in his body of work because "I feel like she's iconic in Australian sport and she spoke out for Aboriginals".
"Most of the time when athletes try to speak out on anything to do with politics they get trashed by the media," Tomas said.
Through his artwork he wanted to highlight that some of sport's most bankable stars were using their position as a platform for change.
"I feel like everybody has a voice and they should speak out," he says, adding that the example of sportspeople such as Freeman and LeBron "gives you confidence in a way to show yourself and have a voice".
While his main ambition is to succeed as a professional basketballer the success of his art has given the shooting guard an alternative career path.
"The main thing I want to do is basketball, but if that doesn't work out I will study graphic design at college and maybe move on with that."
ARTEXPRESS at the Armory 2020 can be viewed virtually.
CSIRO Parkes Radio Telescope Added To National Heritage List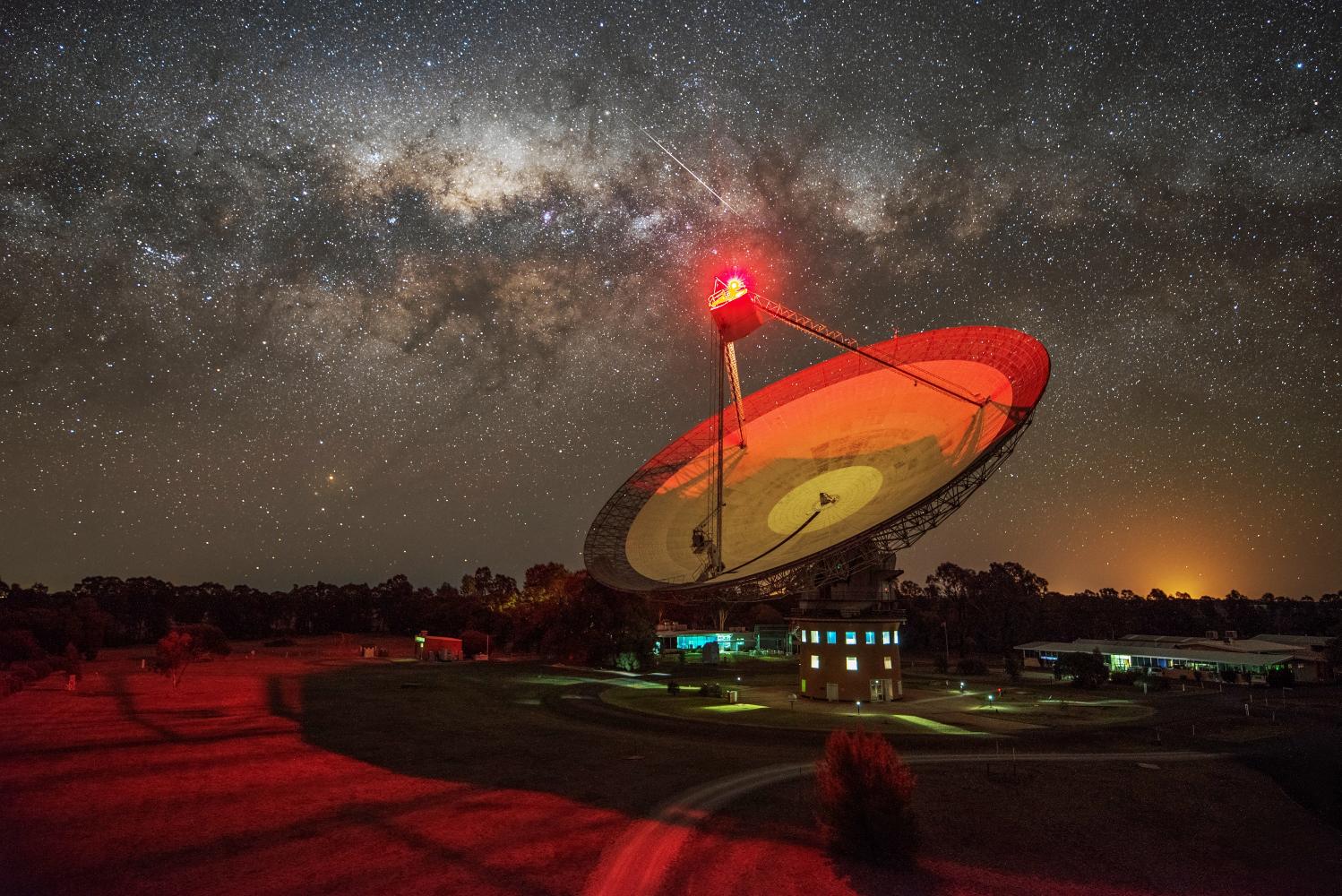 CSIRO's Parkes radio telescope Credit: CSIRO/A. Cherney
The iconic Parkes radio telescope, otherwise known as The Dish, has been officially recognised for its contribution to Australian astronomy and humankind's understanding of the Universe with its addition to the National Heritage List.

Minister for the Environment Sussan Ley made the announcement on Monday August 10th, 2020 that the telescope, owned and operated by Australia's national science agency – CSIRO, is the first functioning scientific instrument to be added to the list.
By the late 1940s and early 1950s it was clear that the days of improvisation in radio astronomy were over, and that the next steps had to be big ones. In turn, this implied that much planning and lots of money would be required. At the time the two strongest countries in radioastronomy were the UK and Australia.
Australia got off to a good start in radio astronomy just after the Second World War. Staff of the CSIRO Radiophysics Laboratory (later the Division of Radiophysics) made use of radio-receiving antennas and other equipment left over from war-time, and turned them from their original purpose of receiving man-made radio signals to studying the natural radio waves produced by objects in the cosmos. The equipment located on the coast at Dover Heights in Sydney was rough and ready, and often improvised (see Radio astronomy at Dover Heights). But by the late 1940s and early 1950s it was clear that the days of improvisation were over, and that the next steps had to be big ones. In turn, this implied that much planning and lots of money would be required.
The first proposal was to build a large air-warning antenna that would double as a radio telescope. The Radiophysics Laboratory had close links with the Royal Australian Air Force (RAAF): during the war it had worked for all three services (army, navy and air force) and just after the war it was advising the RAAF on radar and navigation equipment, including air-warning equipment. At the time it seemed that the best way to extend that technology would be to build larger radio-receiving antennas. Radiophysics staff began thinking in terms of dimensions of hundreds of feet. At one stage they proposed to build a wooden antenna, 100 feet in diameter, rotating on a track and costing all of A£365. A large antenna like this could be used for both air-warning and for radio astronomy. But the RAAF was even more strapped for cash than CSIRO, and had no money to put towards such a project.
In 1952 it became clear that CSIRO too had no chance of getting a large capital sum to fund such an instrument. Some way had to be found to squeeze it out of the existing Radiophysics budget. So a proposal was drawn up for a cylindrical antenna, lying on its back, 1 000 feet long and 200 feet wide, made up of five adjoining elements. Each element would be 200 feet square, lying on an east-west line and scanned by cable and winches in the north-south direction. The total cost was to be about A£125 000, spread over five years. But once again the answer was no.
Unlike Australia, the USA had been slow to take up radio astronomy after the Second World War. The leader of the Division of Radiophysics, Dr EG (Taffy) Bowen, had many contacts in science and industry in the USA, and he urged them to help the USA to take up radio astronomy, mainly by building a large radio-receiving antenna. The proposal fell on receptive ears. The Division of Radiophysics wrote a detailed specification for such an instrument and a program of scientific activities that it could be used for. It was tacitly understood that this telescope would go ahead at the California Institute of Technology, and that the Carnegie Corporation might provide up to US$5 million for it. [1.]
Given the UK were building the large 250-ft (77-m) telescope at Jodrell Bank, the Chief of the CSIRO Division of Radiophysics, Dr EG (Taffy) Bowen, proposed that Australia needed one as well.

"Radio Telescope"
LONDON, Sun.—A record-size "radio telescope" is to be built in Britain to explore the mysterious invisible "radio stars," whose existence was not suspected until scientists found they were sending out radio waves which could be picked up on the earth. "Radio Telescope" (1952, April 28). The Canberra Times (ACT : 1926 - 1995), p. 4. Retrieved from http://nla.gov.au/nla.news-article2853869
About the time that these plans for a telescope were being drawn up, the large American foundations such as Ford, Rockefeller and Carnegie were changing their emphasis in supporting science, giving less to the US and more to other parts of the world. Vannevar Bush (President of the Carnegie Corporation) and Alfred Loomis (a Trustee of both the Carnegie Corporation and the Rockefeller Foundation) suggested that the proposed large telescope be built in Australia, with financial assistance from the USA.
The Carnegie Corporation had accumulated US$250 000 that it was obliged, for certain reasons, to dispose of in the British Commonwealth, and the Corporation's trustees granted this money towards the construction of a telescope in Australia. This grant was followed by another donation from the Rockefeller Foundation.
The last hurdle was that the overseas bodies required that their own grants be met, dollar-for-dollar, by the Australian Government. The Australian Government rose to the occasion (the money actually came from other CSIRO sources) and contributed to not only the capital costs but the running costs as well. A year later the Rockefeller Foundation gave a further US$130 000. The telescope now had an assured future and work began on ideas of what a giant radio telescope should look like.
New Rockefeller Grant For Giant Telescope
MELBOURNE, Thursday, —The Rockfeller Foundation of New York has made a further donation of 107,000 dollars (about £48,150) to wards the cost of the giant radio telescope being built for the C.S.I.R.O. at Parkes. The donation was announced by the Minister-in charge of the C.S.I.R.O., Mr. Casey, to-day.
The foundation made its first donation of 250,000 dollars towards the cost of the telescope about four years ago. Since that time the total cost estimates have risen from £500,000 to £800,000.
The construction of the huge instrument is now well advanced and the whole project will be completed in 1961.
The main component is a steel dish-shaped bowl 210 ft. in diameter which will pick up radio signals from the outermost fringes of the universe. New Rockefeller Grant For Giant Telescope (1960, January 1). The Canberra Times (ACT : 1926 - 1995), p. 4. Retrieved from http://nla.gov.au/nla.news-article103073916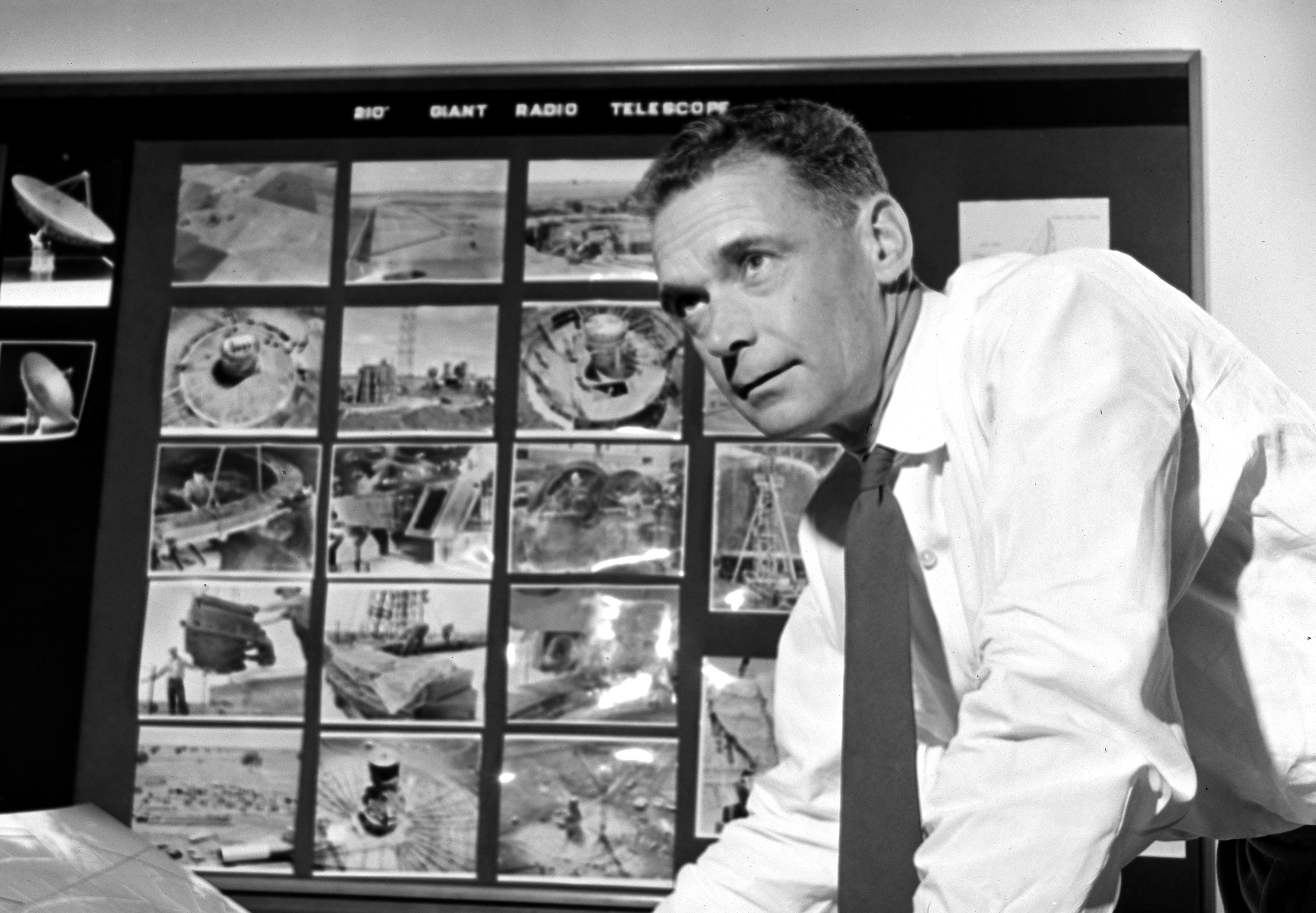 Dr E.G. 'Taffy' Bowen was CSIRO's Chief of the Division of Radiophysics and the driving force behind the Parkes radio telescope. Credit: CSIRO

In 1954 there was no-one in Australia capable of building the Parkes telescope or even doing the engineering design. So Joe Pawsey went to Britain for advice (it was thought to be cheaper than the USA). The first person consulted was Barnes Wallis (of 'dambusters' fame), who was then the Chief Engineer of Vickers. Wallis was quite excited by the challenge of the proposed telescope but warned that: the design of a giant radio telescope is a venture into the unknown.
Taffy Bowen was very conscious of the dangers of this new venture and was also very good at seeking expert advice. He formed a Technical Advisory Committee (TAC) to help select the consultants for the design study, to specify exactly what they had to do and to assess their recommendations. The TAC included a distinguished English engineer John Roderick, Professor of Civil Engineering at Sydney University and Arthur Wills, an experienced engineer at the Aeronautical Research Laboratories in Melbourne.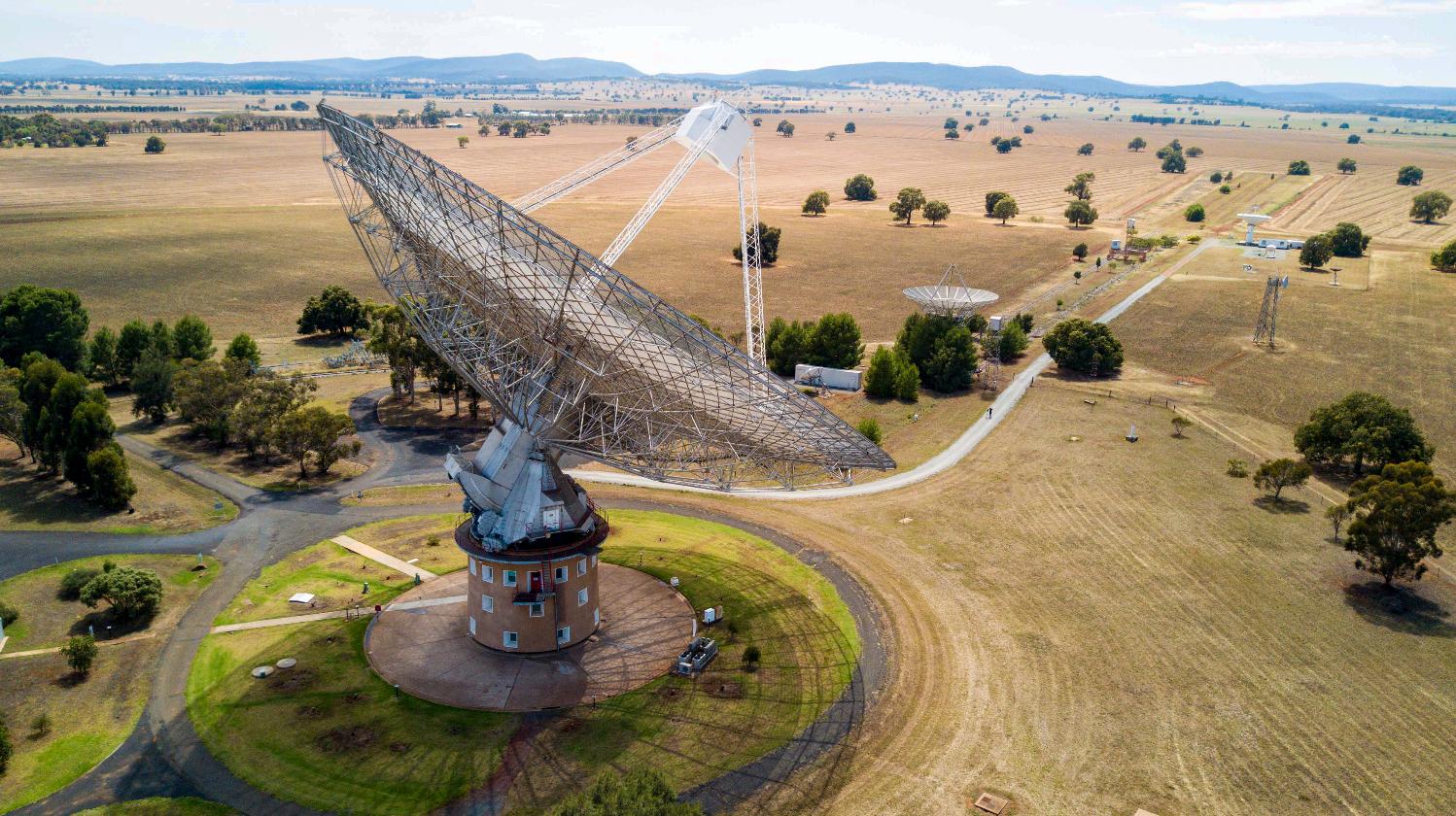 Art Of Ageing 2020 Exhibition Coming To Warringah Library In Spring
The Art of Ageing is an initiative under the NSW Ageing Strategy 2016–2020 to demonstrate the diversity and contributions of older people in NSW. Art of Ageing 2020 opened on March 3rd 2020. This exciting exhibition will tour to 45 sites across NSW and will be available at Warringah Library from September 29th to October 28th 2020.
The Art of Ageing is a photographic exhibition that celebrates the value, experience and contribution older people bring, and challenges out-dated perceptions of ageing.
The 2020 exhibition comprises of 24 images taken by talented NSW photographers. Each photograph is accompanied by a short story highlighting the subject's experiences and reflections on ageing.
Accomplished and unconventional perhaps best describes the many diverse individuals in this exhibition. These extraordinary people have carved out an interesting life for themselves that keeps them young. Let them inspire you to live life to the fullest.
You can view all of the photos in the online version by clicking into each of the frames
here.
Addressing ageism is a priority of the NSW Ageing Strategy. Ageism is negative stereotyping, prejudice, or discrimination against people based on their age, and it is experienced by many older people in NSW. Ageism takes form within individuals' attitudes, institutional and policy practices, as well as media representation that devalues and excludes older people.
During consultations undertaken for the NSW Ageing Strategy, older people expressed concerns that younger people do not value or respect them. This is consistent with research by the Australian Human Rights Commission, which found a high prevalence of negative attitudes and stereotyping of older people. The report linked these attitudes with the high rates of age discrimination older people experience.
The NSW Government is committed to addressing ageism by supporting initiatives that improve respect for and social inclusion of older people – particularly those that promote positive images of older people in the media, educate younger generations, provide opportunities for intergenerational connection and recognise older people's contributions to their communities.
The feedback received from the attendees to the previous exhibitions showed that it successfully challenged negative perceptions of ageing and older people, while inspiring a positive vision of ageing.
The photos capture a diverse range of unconventional and accomplished subjects - a retired panel beater, a regarded viticulturist, a diver with disability and an actor with a long list of credits.
The exhibition is the third in the series commissioned by the NSW Government and features works by talented photographers Kerri Ambler, Tina Milson, Julie Slavin, Tim White, Trevor Green and Tayla Martin.
One example available - Andrew Whitehead b. 1958
Well-recognised sculpture artist, Andrew Whitehead, works at his property near Urana producing incredible artworks that have been shipped around Australia and internationally, with 12 public artworks on display across the country.
'I began a mechanical apprenticeship at 40 years of age at the local shire where I worked for 10 years. That's where I learnt to weld. I started going to the back shed and building things. I entered my first sculpture in the Farm Art Show in Lockhart, 10 years ago, where I won. I pretty much entered every year since then.'
Speaking with Andrew, he stated that his career has only just started, 'I'm only about one-third of the way into my career.'
Visit the Online Exhibition of Art of Ageing 2020 at:
Westfield Warringah Mall, Shop 650, 145 Old Pittwater Road, Brookvale
29 Sept – 28 October 2020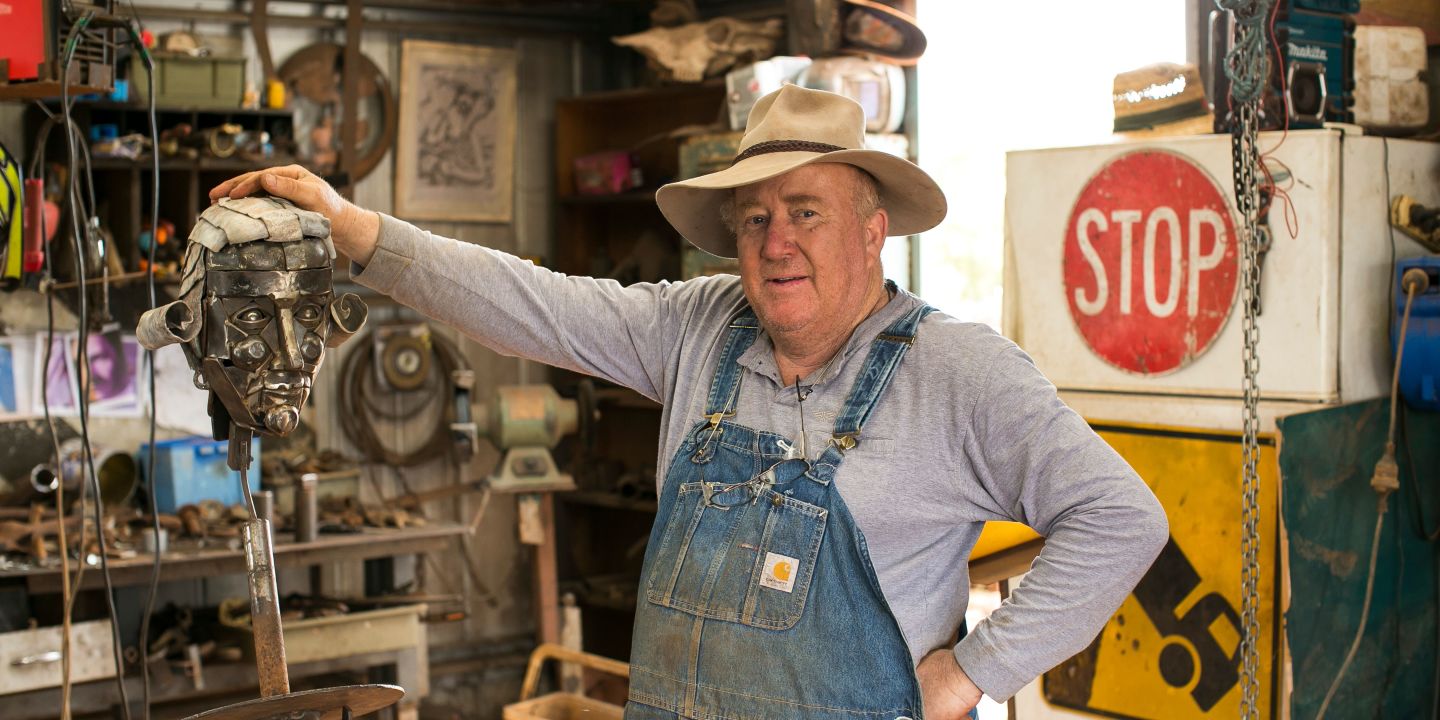 Photo: Andrew Whitehead by T Martin.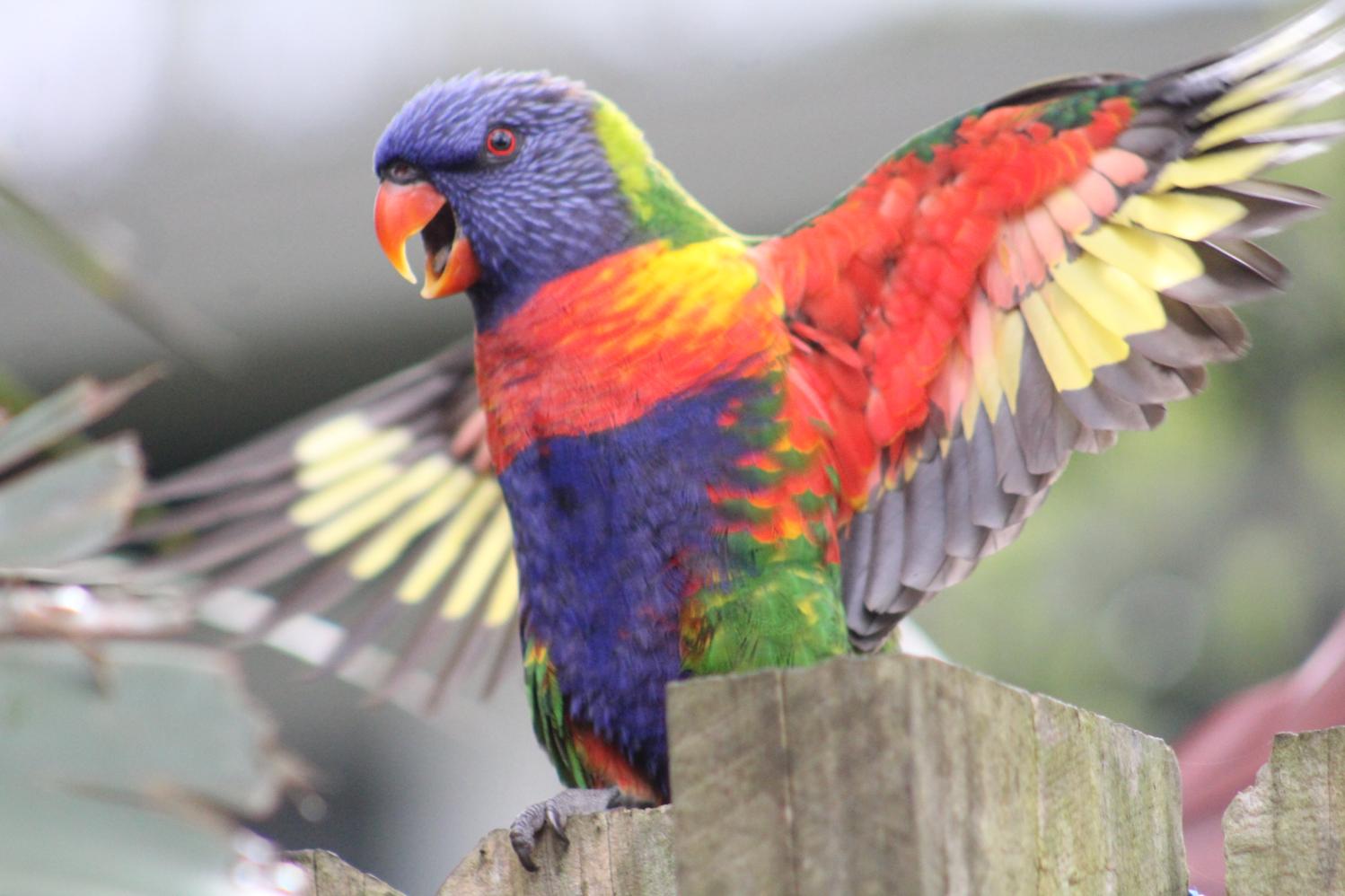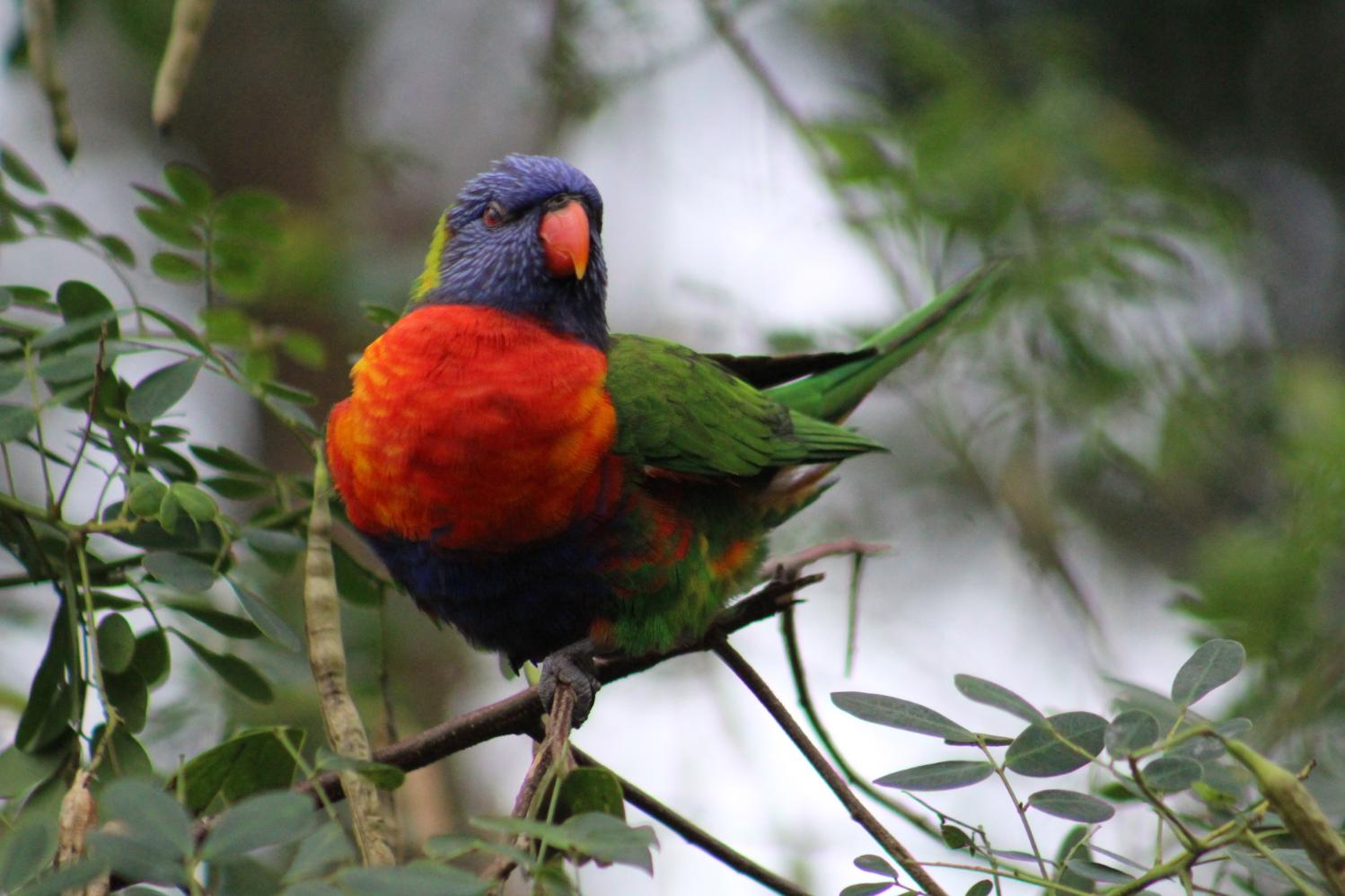 2 colourful birds inserted into the centre of your page this week for no apparent reason - courtesy of the Dept. of Why Not?
Addendum - Monday August 17, 2020: from the Dept. of Why Not?:
Reason: Breeding season is September to December for these wonderful birds. Rainbow lorikeets will generally mate for life, utilising hollows found in old-growth trees to nest. The female will incubate 1-3 eggs, they can lay up to 3 clutches a year.

This is a couple - the one doing the wing flaps is the male, being territorial, the female is the one making the 'dove eyes'.
If you look around you at present you see such displays and others, such as sea eagles doing aerial mating displays, or a similar mid-air 'tiff' between little corellas, for example, - all vying for the attention of a female. You are a witness to all this happening all around you. You too are present.
What a gift this time of year is.
Have a look around you. Connect.
Researchers Unlock Secrets Of The Past With New International Carbon Dating Standard
An international team of scientists have recalculated the curves used for radiocarbon dating – a key method for archaeology and environmental science – for the first time in seven years.
While loading the 16th century samples, Dr. Adam Sookdeo ensures the magazine sits securely on the tracks of the sample changer. Photo: Richard Freeman / UNSW.
Radiocarbon dating is set to become more accurate after an international team of scientists improved the technique for assessing the age of historical events and objects. The new curves will help scientists build up a more accurate picture of the past.
Three researchers at UNSW Sydney, in collaboration with international colleagues, measured 15,000 samples from objects dating back as far as 55,000 years ago, as part of a seven-year project.
They used the measurements to create new international radiocarbon calibration (IntCal) curves, which are fundamental across the scientific spectrum for accurately dating artefacts and making projections about the future.
"Radiocarbon dating has revolutionised the field of archaeology and environmental science. As we improve the calibration curve, we learn more about our history," says Professor Paula Reimer from Queen's University Belfast, head of the IntCal project.
"The radiocarbon calibration curves are key to helping answer big questions about the environment and our place within it."
Radiocarbon dating is vital to fields such as archaeology and geoscience to date everything from abrupt and extreme climate change to ancient human bones.
Archaeologists can use that knowledge to correctly restore historic monuments or study the demise of the Neanderthals, while geoscientists on the Intergovernmental Panel on Climate Change (IPCC) rely on the curves to accurately find out about past climate patterns and extremes in order to better understand and prepare for the future.
'Scientific workhorse' for the community
UNSW project lead Professor Chris Turney, who contributed to the new curves along with UNSW colleagues Dr Adam Sookdeo and Dr Jonathan Palmer, says dating the past is essential for improving our understanding of how the Earth evolved and how climatic variations impacted its inhabitants, including humans.
"Radiocarbon dating has been the workhorse of archaeological and environmental science," he says.
"We know the world faces many terrible environmental crises, but there still remains uncertainty surrounding the scale and timing of future impacts. A major reason for this is because scientific observations only go back a few hundred years at best. While the past obviously isn't a perfect analogue for the future, the last 55,000 years provides valuable insights into the carbon cycle, abrupt and extreme shifts in climate, extinction events, and human migrations around the planet."
Prof. Turney says analysing these key past events and processes can help us model our future.
"For example, ice core records show rapid warmings have occurred in the past over the polar regions. So one of the questions that radiocarbon can help answer is how do these changes translate to where people live today? By dating climate records preserved in lakes, peats and the oceans in lower latitudes, we can determine if any one region of the world warms earlier or faster than another, providing insights into the future.
"Radiocarbon dating helps us understand so many different aspects of the environment. This is especially important in Australia as the driest inhabited continent on the planet. For instance, as part of the ARC Centre of Excellence in Australian Biodiversity and Heritage (CABAH), we're looking at human migration and adaption in Australia during multiyear-long droughts known as megadroughts. Working with colleagues, we're interrogating fossil records of megafauna to try to understand when and why they went extinct. Radiocarbon dating helps the scientific community bring the timing of these different elements together, which gives us a better sense of where we might be going."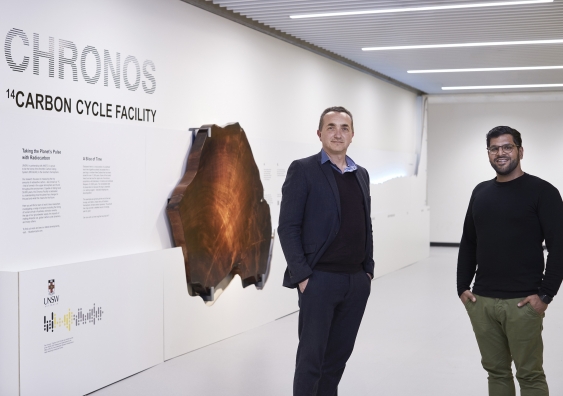 Professor Chris Turney and Dr Adam Sookdeo with a 12,000 year old section of ancient wood at the Chronos 14Carbon-Cycle Facility, UNSW Sydney. Photo: Richard Freeman / UNSW.
Three curves, 15,000 measurements
The curves are created based on collecting a huge number of archives which store past radiocarbon but can also be dated using other methods. Such archives include tree-rings from preserved logs in bogs, stalagmites found in caves, corals from the sea and cores drilled from lake and ocean sediments. In total, the new curves are based on almost 15,000 measurements of radiocarbon taken from objects as old as 55,000 years.
Previous versions of the radiocarbon calibration curve that were periodically compiled over the past 50 years were heavily reliant on measurements taken from blocks of wood containing 10 to 20 years of growth so they were big enough to be tested for radiocarbon. Advances in radiocarbon measurement mean the updated curves instead use tiny samples, such as tree-rings covering just single years, providing previously impossible precision and detail in the new calibration curves. Additionally, improvements in understanding of the carbon cycle have meant the curves have now been extended all the way to the limit of the radiocarbon technique, to 55,000 years ago.
Dr Adam Sookdeo, now in Prof. Turney's team, contributed nearly 12 per cent of all the measurements that fed into IntCal during his Ph.D. He looked at one time span from about 13,000 years ago that saw Northern Hemisphere temperatures plummet.
"My work is focused on reconstructing past climate change – through radiocarbon dating, we can figure out when these alterations happened, how long they lasted, and investigate the roles of the carbon cycle, the geomagnetic field and solar activity. This all helps us better project future climate conditions.
"For IntCal, we produced a lot of data and were able to redefine this time period really precisely, down to single years."
For example, Dr Sookdeo analysed tree rings from ancient New Zealand kauri trees to trace changes in the carbon cycle in the southern Pacific Ocean.
"These trees are effectively photosynthesizing old carbon that's coming up from the ocean. And so analysing them allows you to actually see changes in the rate at which old carbon dioxide is coming out of the oceans – which leads us to scary conclusion that it doesn't take much for the southern Pacific Ocean to go from being a carbon sink to a source," he says.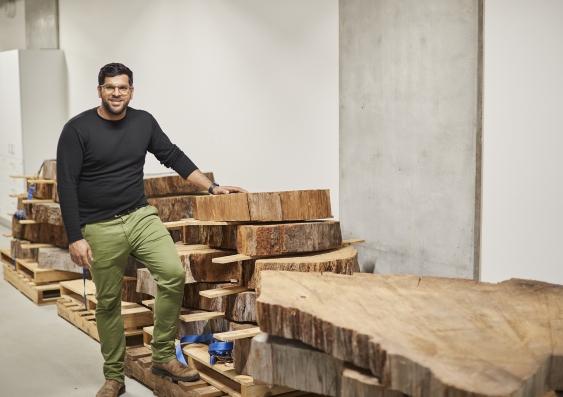 Dr. Adam Sookdeo stands in front of pieces of ancient Kauri trees that grew 12,000 years ago. They are part of a larger collection by Dr. Jonathan Palmer (not featured here). Photo: Richard Freeman / UNSW.
Radiocarbon dating – first developed in 1949 – is the most frequently used approach for dating the last 55,000 years and underpins archaeological and environmental science. It depends on two isotopes of carbon called stable 12C and radioactive 14C.
While a plant or animal is alive it takes in new carbon, so has the same ratio of these isotopes as the atmosphere at the time. But once an organism dies it stops taking in new carbon – so the stable 12C remains but the 14C decays at a known rate. By measuring the ratio of 14C to 12C left in an object, we can estimate the date of its death.
"If the level of atmospheric 14C were constant, this would be easy," Professor Chris Turney explains.
"However, it has fluctuated significantly through the past. In order to date organisms precisely scientists need a reliable historical record of its variation to accurately transform 14C measurements into calendar ages. The new IntCal curves provide this link."
The UNSW contribution to the research was completed at the
Chronos 14Carbon-Cycle Facility
that was officially opened in November 2019. The facility contains the only MIni CArbon Dating System (MICADAS) in the Southern Hemisphere.
"The UNSW Chronos facility enabled us to contribute to this key piece of research that the scientific community will rely on for years to come – and with new samples spanning periods of global environmental change, will allow us to make a major contribution to the next iteration of this international dataset too," Prof. Turney says.
The facility gives researchers exclusive access to subfossil and living trees from remote New Zealand Subantarctic Islands, ancient bones, peat and lake archives from the Antarctic, and other ancient carbon resources.
The new curves were a collaboration between 41 institutions across 14 countries. The full papers detailing the results are available online.
Seafood Study Finds Plastic In All Samples
A study of five different seafoods has found traces of plastic in every sample tested.
Researchers bought oysters, prawns, squid, crabs and sardines from a market in Australia and analysed them using a newly developed method that identifies and measures five different plastic types simultaneously.
The study -- by the University of Exeter and the University of Queensland -- found plastic levels of 0.04 milligrams (mg) per gram of tissue in squid, 0.07mg in prawns, 0.1mg in oysters, 0.3mg in crabs and 2.9mg in sardines.
"Considering an average serving, a seafood eater could be exposed to approximately 0.7mg of plastic when ingesting an average serving of oysters or squid, and up to 30mg of plastic when eating sardines, respectively," said lead author Francisca Ribeiro, a QUEX Institute PhD student.
"For comparison, 30mg is the average weight of a grain of rice.
"Our findings show that the amount of plastics present varies greatly among species, and differs between individuals of the same species.
"From the seafood species tested, sardines had the highest plastic content, which was a surprising result."
Co-author Professor Tamara Galloway, of Exeter's Global Systems Institute, said: "We do not fully understand the risks to human health of ingesting plastic, but this new method will make it easier for us to find out."
The researchers bought raw seafood -- five wild blue crabs, ten oysters, ten farmed tiger prawns, ten wild squid and ten wild sardines.
They then analysed them for the five different kinds of plastics that can be identified by the new method.
All of the plastics are commonly used in plastic packaging and synthetic textiles and are frequently found in marine litter: polystyrene, polyethylene, polyvinyl chloride, polypropylene and poly(methyl methacrylate).
In the new method, edible tissues are treated with chemicals to dissolve the plastics present in the samples. The resulting solution is analysed using a highly sensitive technique called Pyrolysis Gas Chromatography Mass Spectrometry which can identify the different kinds of plastic in the sample at the same time.
Polyvinyl chloride was found in all samples, while the plastic found in highest concentrations was polyethylene.
Microplastics are very small pieces of plastic that pollute much of the planet, including the sea where they are eaten by marine creatures of all types, from small larvae and planktonic organisms to large mammals.
Studies to date show that microplastics not only enter our diet from seafood, but also from bottled water, sea salt, beer and honey, as well the dust that settles on our meals.
The new testing method is a step towards defining what microplastic levels can be considered harmful and assessing the possible risks of ingesting microplastics in food.
Francisca Ribeiro, Elvis D. Okoffo, Jake W. O'Brien, Sarah Fraissinet-Tachet, Stacey O'Brien, Michael Gallen, Saer Samanipour, Sarit Kaserzon, Jochen F. Mueller, Tamara Galloway, Kevin V. Thomas.
Quantitative Analysis of Selected Plastics in High-Commercial-Value Australian Seafood by Pyrolysis Gas Chromatography Mass Spectrometry.
Environmental Science & Technology, 2020; 54 (15): 9408 DOI:
10.1021/acs.est.0c02337
Cricket Umpires Fumble On T20 Calls
The toughest call to make by a cricket umpire is a leg-before-wicket (LBW) decision and new research from QUT reveals the ability to judge correctly changes with the format of the game, with T20 matches the most likely to produce mistakes.
Joshua M. Adie, a PhD candidate in QUT's School of Exercise & Nutrition Sciences, has just published a new paper highlighting research conducted in partnership with Cricket Australia.
When in doubt, it's not out: Match format is associated with differences in elite-level cricket umpires' leg-before-wicket decisions was co-authored by QUT's Associate Professor Ian Renshaw and Professor Remco Polman, along with Dr Matthew B Thompson (Murdoch) and Associate Professor David L. Mann (Vrije Universiteit Amsterdam).
It can be viewed on the ScienceDirect open access website prior publication in the November issue of Psychology of Sport and Exercise.
As an uncertain cricket season approaches and the men's T20 World Cup postponed from October/November until next year, administrators of the game are still working out how to pivot and adapt to the COVID-19 sporting landscape.
In the world of Australian cricket, it is certain there will be more T20 matches in both the newly extended Big Bash League and the Women's Big Bash League. Mr Adie's research suggests that umpires have some room for improvement for LBW decisions in T20 cricket.
"In professional sport, players and spectators expect referees and umpires to make judgements under pressure with speed and precision. However, judgements can be shaped by a range of contextual factors including crowd noise and home advantage," said Mr Adie.
"The LBW law requires umpires to adjudicate whether the ball -- after hitting the batter -- would have gone on to hit the stumps.
"The umpire has to consider where the ball bounced and hit the batter, and did it hit their bat before hitting them, as well make as a predictive judgement as to where the ball would have travelled had it not hit the batter. If all these criteria are met, then the batter can be given 'out'.
"First though, they must judge whether the ball is a 'legal' delivery by determining whether the bowler's front foot landed. That's a lot to take in during the ultra-fast pace of a T20 match."
Mr Adie examined historical elite-level match data from four-day, one-day and T20 games supplied by Cricket Australia to gain a better understanding of LBW decision-making in real matches.
"The playing conditions of each format shape how players approach the game and present different challenges for umpires," he said.
"Batters in test cricket take a conservative approach to bat for as long as possible, while those playing T20 cricket typically opt for a more explosive approach to score runs as quickly as possible. Laws, player strategies and crowd sizes differ greatly across all forms of the game, yet the LBW law remains identical.
"Interestingly, we found that umpires' decision-making behaviour also changed between match types. Viewing the data from Cricket Australia, we found that overall, umpires' decisions were rated as correct an impressive 98.08% of the time. However, in T20 matches, they had a Hit rate of 86.15 per cent and a False Alarm rate of 2.04 per cent, compared to 96.20% and 0.87% in four-day matches. This meant that umpires were biased to say 'not out', especially in T20 which resulted in more errors.
"It could be that the significantly larger crowds and TV audiences in T20 cricket compared to Four-day matches are putting more pressure on umpires to give the batter the 'benefit of the doubt' and if that's the case then future studies could explore their influence in sports officiating.
"Another possibility is that because T20 cricket is heavily focused on entertainment in the form of explosive batting performances, umpires are being unconsciously more conservative for the sake of continuing entertainment, resulting in more 'miss' errors.
"Considering how incorrect decisions can change the outcome of a match, the future career prospects of participants (officials, players and coaches), and have financial repercussions for all, it is vital to know of and eliminate such errors in sports officiating wherever possible."
Joshua M. Adie, Ian Renshaw, Remco Polman, Matthew B. Thompson, David L. Mann.
When in doubt, it's not out: Match format is associated with differences in elite-level cricket umpires' leg-before-wicket decisions.
Psychology of Sport and Exercise, 2020; 51: 101760 DOI:
10.1016/j.psychsport.2020.101760
$200 Million Wyong Hospital Reaches High Point
A new, state-of-the-art hospital on the Central Coast is one step closer to completion with the six-storey clinical services building reaching its highest point.
Premier Gladys Berejiklian said the $200 million Wyong Hospital redevelopment would provide first-class healthcare services to the Central Coast.
"The $200 million Wyong Hospital Redevelopment will not only significantly increase health service capacity for the local community, it is also boosting employment for the region," Ms Berejiklian said.
"This redevelopment has created more than 800 construction jobs, with more than 650 of these workers living locally."
Health Minister Brad Hazzard said the redeveloped hospital would have 60 additional inpatient beds.
"The NSW Government is continuing to invest in public hospitals across the state, with more than 30% of the almost $2.7 billion allocated for health capital works in 2019-2020 going to regional and rural areas," Mr Hazzard said.
Parliamentary Secretary for the Central Coast and Member for Terrigal Adam Crouch said between 2016 and 2041 an additional 95,250 people are expected to call the Central Coast home.
"This $200 million transformation of Wyong Hospital will cater for our community's health care needs now and into the future. It builds on the hundreds of millions of dollars the NSW Government is investing in roads, schools and community infrastructure across the coast," Mr Crouch said.
The new clinical services building will include:
a new emergency department
a new intensive care unit
a new psychiatric emergency care centre
a new ambulatory paediatric unit
a new and expanded medical imaging department
a new and 28-bed medical assessment unit
additional 60 inpatient beds with future expansion space.
The redevelopment also includes a refurbishment of the existing hospital to provide more operating theatre capacity, an expanded medical day unit and an expanded transit lounge.
The new building will be complete in mid-to-late 2021 and the refurbishment will be finished in early 2022.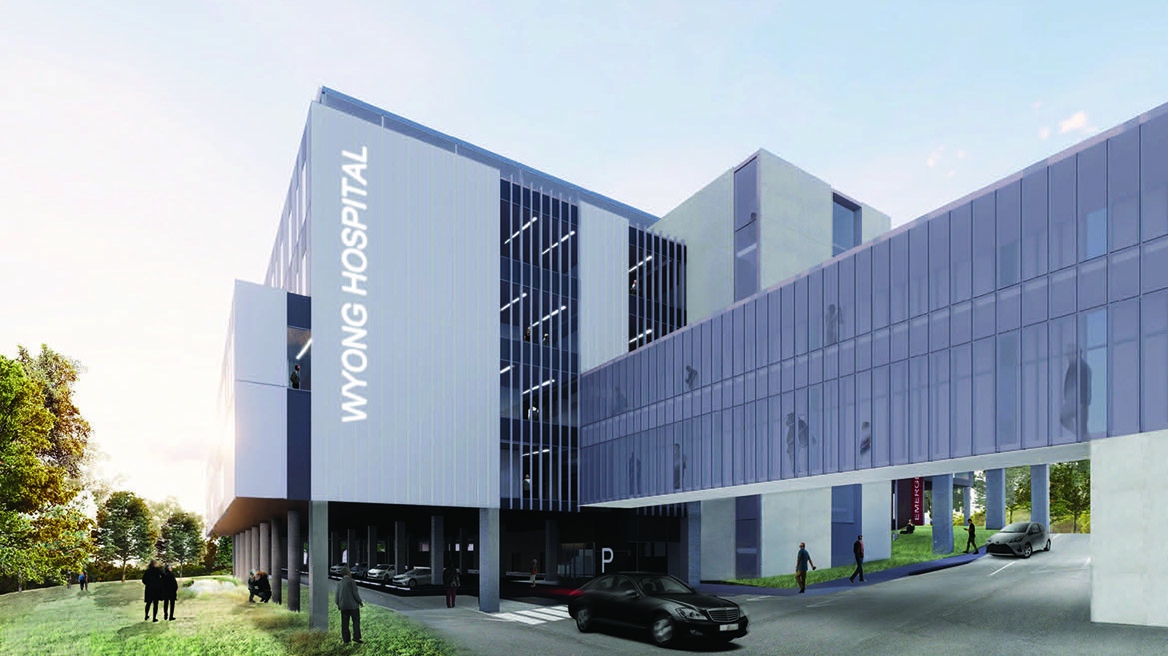 Disclaimer: These articles are not intended to provide medical advice, diagnosis or treatment. Views expressed here do not necessarily reflect those of Pittwater Online News or its staff.