August 16 - 22, 2020: Issue 462
Local Fishers Given 5,000 Reason to Wet a Line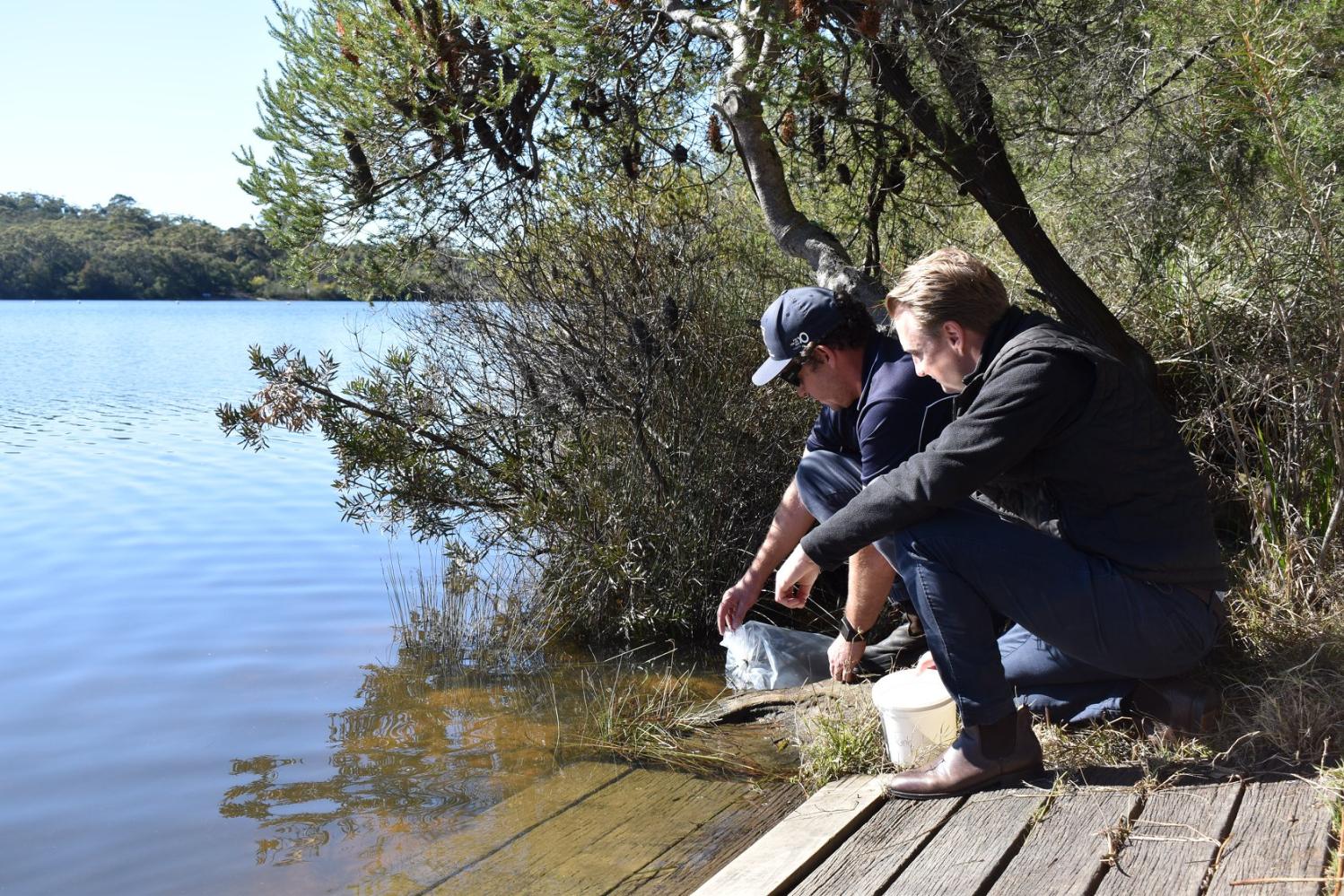 Thursday August 13, 2020

Member for Manly James Griffin was on hand today to witness 5,000 Australian Bass fingerlings take to their new home in Manly Dam as part of the NSW Government's annual Freshwater Fish Stocking Plan.
Mr Griffin said today's top-up was great news for keen fishers eager to cast a line in the region.
"The Australian Bass is an iconic fish species and it gives me great pleasure to see its numbers boosted in the Manly area," Mr Griffin said.
"While these ones might be small now, they can grow up to 65 centimetres long and weigh in at four kilograms, so our local anglers will be licking their lips at the chance to reel in such a prized catch.
"These fingerlings come from the NSW Government's hatcheries as part of our commitment to ensure that our waterways are full of healthy fish.
"Initiatives such as the Freshwater Fish Stocking Plan are important for the recreational fishing community because of the critical role they play in conservation, tourism and added economic benefits."
Mr Griffin said the 5,000 fingerlings stocked into Manly Dam are part of more than 50,000 which will be released into waterways across NSW this week.
"The NSW Department of Primary Industries (DPI) does an excellent job in making sure our State's recreational fishers have the chance to do what they love by breeding and releasing such mammoth numbers of fish stocks," Mr Griffin said.
"DPI has chosen Manly Dam because the expert team has deemed it to be among the best waterways in NSW to see these fingerlings flourish.
"While it is Australian Bass being released today, the Freshwater Fish Stocking Plan also sees Murray Cod, Golden Perch and other species stocked into rivers, lakes and dams across the State.
"Fishos should keep an eye out, because this is the first and certainly won't be the last stocking event the NSW Government does this season."
In 2019 500000 juvenile Eastern King Prawns were released into Narrabeen Lagoon as part of the NSW DPI Marine Fish Stocking Program which is aimed at boosting fish stocks for recreational fishers in NSW.
Other species stocked recently in NSW waterways include Yellowtail Kingfish and Dusky Flathead.
Fish stocking involves producing fish fry or fingerlings and releasing them into NSW waters. Fish stocking can provide many benefits such as creating new fisheries or augmenting existing ones and is recognised for its importance to the community in terms of quality recreational fishing, conservation outcomes, employment and subsequent economic benefits that have grown in response to the activity over many years.
Fish hatcheries run by DPI are found across the state, supplying fish for various stocking programs.
Fish stocking supports some of our most important inland fisheries including the Australian Bass fishery in Glenbawn dam, Murray Cod and Golden Perch fisheries in impoundments such as Copeton, Pindari, Burrinjuck and Blowering dams and our trout fisheries in the Snowy Mountains, Southern Highlands and Central and New England tablelands.
Both the Freshwater Fish Stocking Program and Marine Fish Stocking Program form part of the NSW DPI's programs. All fish stocking is conducted in accord with the NSW Marine Fish Stocking Fishery Management Strategy and NSW Freshwater Fish Stocking Fishery Management Strategy. The strategy ensures that the activity is conducted with appropriate environmental controls and generates quality recreational fishing outcomes for the people of NSW.

Anglers interested in seeing stocking numbers can access an interactive map on the DPI website https://www.dpi.nsw.gov.au/fishing/recreational/resources/stocking.