Inbox and environment news: Issue 458
July 19 - 25, 2020: Issue 458
North Avalon Beach Headland Changes Again: Storm Swell July 2020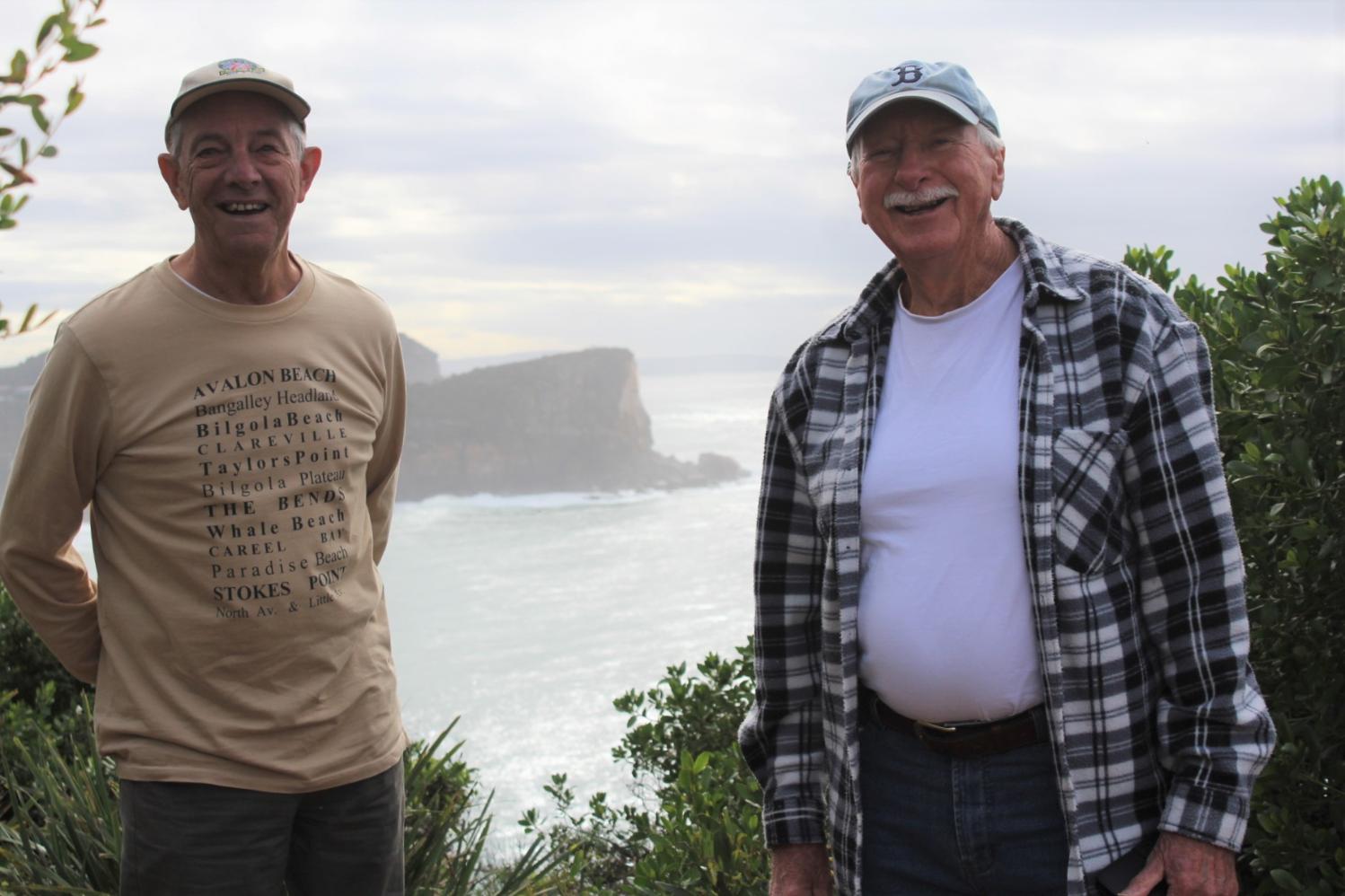 Historian Geoff Searl OAM, President of Avalon Beach Historical Society with fellow member and Historian Roger Sayers at the Avalon-Bilgola Lookout yesterday, Saturday July 18th, looking at latest change to North Avalon Beach headland.photo by A J Guesdon, 2020.
With swell hitting the New South Wales coast in waves measuring up to 11 metres, the large boulder of rock that fell from North Avalon Beach in August 2017 has succumbed to the sea on Friday, July 17th, finally toppling under a week long barrage of waves, some leaping cliff height high on impacting coastal rock shelves.
The latest history in the making change is one of many on record, dating back to the 1860's - more in this week's History page.
The low-pressure system sent powerful surf onto the coastlines, arriving on Tuesday, and has been the cause of the Bureau of Meteorology issuing Hazardous Surf Warning all week. By Saturday the unrideable waves became smoother, causing experienced surfers to find and ride the swell as the waves hollowed out on some beaches.
More photos from along our stretch of beaches in this week's Pictorial.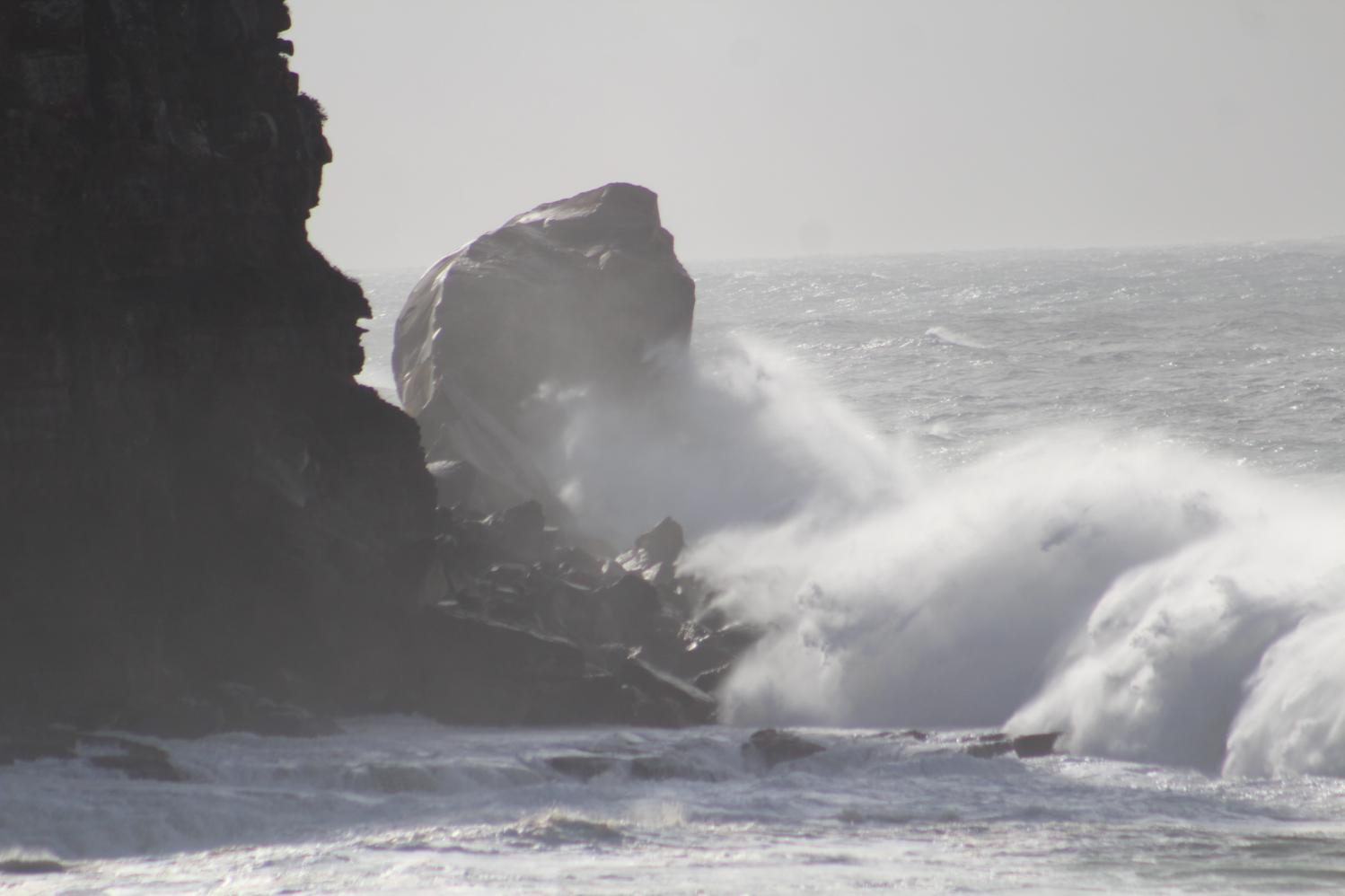 Before:
July 15, 2020: storm swell - more in this Issue's Pictorial 'Out & About'. A J Guesdon photos.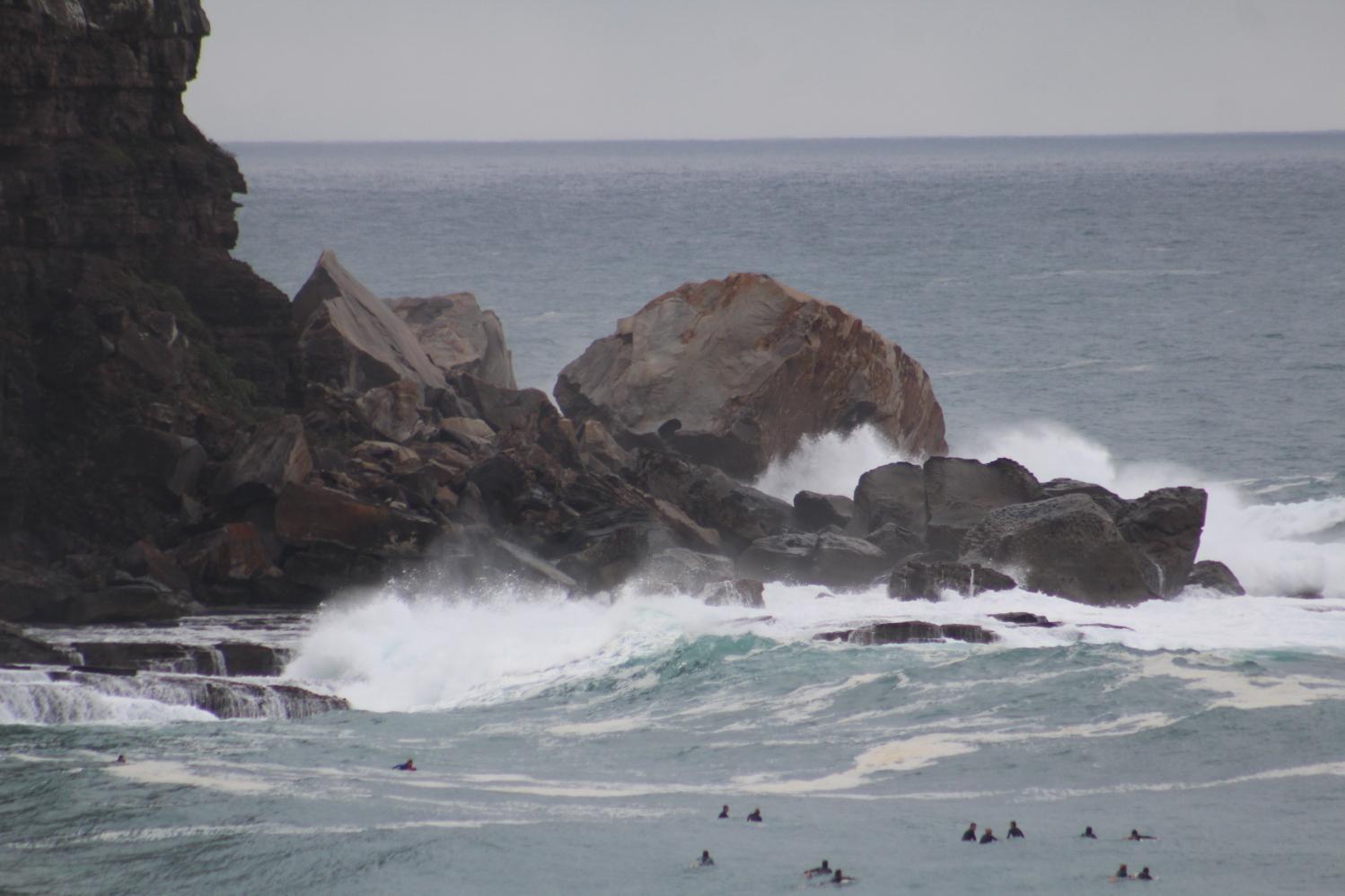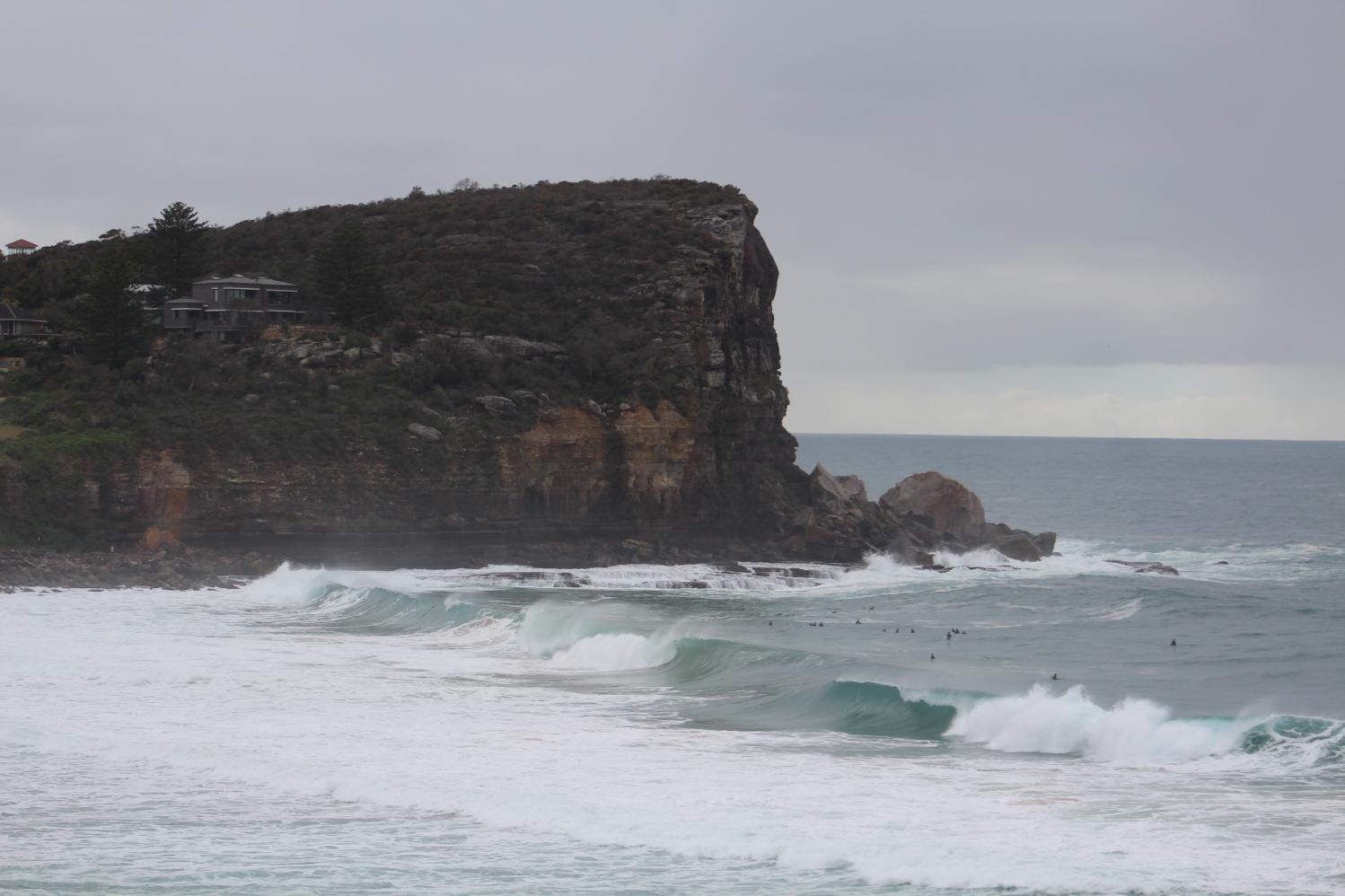 After:
July 18, 2020: storm swell - more in this Issue's Pictorial 'Out & About'. A J Guesdon photos.
Mona Vale Photography Competition
Local amateur photographers are being invited to enter a photo competition at Mona Vale Hospital, to have their work included on the walls of the new Geriatric Evaluation Management and Palliative Care facility.
Acting General Manager, Jennifer Parkin said it was a fantastic opportunity for staff and the community.
"Art can help deliver welcoming and dynamic spaces for the care and wellness of patients, carers, staff and the community and the competition provides a great opportunity to help brighten the walls of the new facility," Ms Parkin said.
"We have two great prizes on offer - first prize is a $250 Westfield voucher and second prize is a 2hr private session with professional photographer, Steve Turner," she said.
Judges are after the best photographic images that capture the local natural environment in Mona Vale and surrounds.
The successful entries will be displayed in the main corridors within the new facility when it opens.
The photography competition is open to staff, patients and family, volunteers, consumers, students, residents and community members.
Details on how to enter can be found on
this entry form
.
Entries close 5pm, 14 August 2020.
Construction of the new Geriatric Evaluation Management and Palliative Care Unit is expected to be completed in September 2020, with operational commissioning to follow.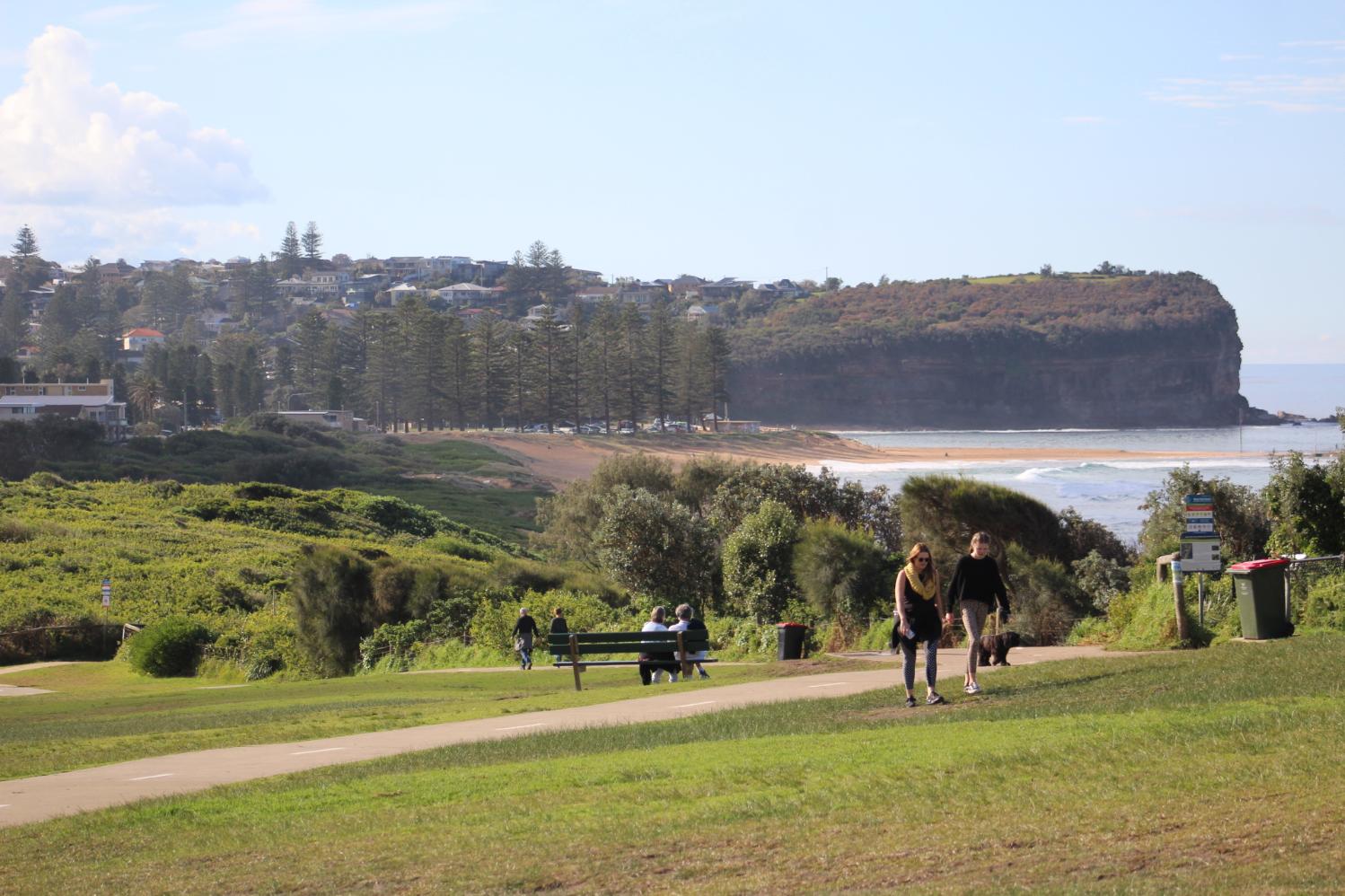 Blue Cinema Ep 1: SURFACE
Published July 8, 2020 by Hueys of the Blue
Welcome to the first episode. Seals, whales, dolphins and surf boats captured from above and from below the surface of the ocean, we hope you enjoy the first of many adventures with The Hueys Of The Blue to come!
Gang-Gang Cockatoos – Capertee Valley
Published by Birds in Backyards TV
This pair of Gang-gang Cockatoos (Callocephalon fimbriatum) was filmed in late June 2020 in the Capertee Valley (NSW). The footage shows them foraging for eucalypt seeds (by breaking open gum nuts). Their diet also includes acacia seed, fruit/seed of some introduced plants (such as Cotoneaster and Hawthorn) and insect larvae. The exact location was an open forest and woodland zone within a 140 acre conservation property that adjoins Wollemi National Park. Other bird species that can be heard include the Restless Flycatcher, Spotted Pardalote, Striated Pardalote, Fan-tailed Cuckoo, Fuscous Honeyeater, Willie Wagtail and Grey Shrike-thrush.
As you can see in the second photo, the filming site is somewhat elevated above the valley floor, at an altitude around 350m. The climate is glorious in winter with temperatures at least six degrees warmer than the highest parts of the nearby Blue Mountains. It makes perfect sense to us that most Gang-gang Cockatoos spend the hottest months in moist mountain forests and visit warmer slopes, lowlands and coastal areas in winter. Occasionally Gang-gang Cockatoos will stay at a particular altitude for longer. For instance, some non-breeding birds might forage in the lowlands year round while others may linger in the mountain forests after breeding when the winter is mild.
Perhaps the main reason for the altitudinal movement to higher country in spring/summer is the availability of nesting sites. Gang-gang Cockatoos need tall older eucalypts because they provide suitable hollows. Indeed, these charismatic cockatoos are listed as Vulnerable in NSW due to loss and degradation of feeding and breeding habitats, and a common parrot disease called Psittacine cirovirus. Although Gang-gang Cockatoos are not averse to visiting suburban parks and gardens (with sufficient trees), old growth forest is crucial to their survival. Of course, the more rugged highlands are usually part of the national parks system. However, this doesn't save them from climate change and too-frequent and/or too-intense bushfires.
It's probably no surprise that this species has also been called the Red-crowned or Red-headed Cockatoo or Parrot. So why the intriguing "Gang-gang"? It isn't completely clear (see Australian Bird Names by Fraser and Gray, 2019), but an Aboriginal origin is likely and it may well be onomatopoeic (i.e. represents their creaky voice). We also love the highly appropriate meaning of their scientific name; that is, "beautiful fringed head."
Stay Healthy During The HSC
In any 'normal' year the HSC requires dedication and focus as well as the support of friends and family.
This year hasn't exactly panned out to be a 'normal' year, with announcements about changes to the HSC due to COVID-19.
Despite all the goings-on, students across NSW are continuing to study for their HSC with focus and determination, and we at NESA are here to help.
This year we are partnering with mental health organisation ReachOut to deliver news, information, guidance and advice to support all HSC students.
You'll hear from experts, teachers, parents and other students as well as some inspiring spokespeople. This year we are planning to lighten your mental load with practical tips and tricks for staying active, connected and in charge of your wellbeing.
ReachOut's Study Hub has heaps of info about taking a proactive approach to your mental health or where to go if you need more support. ReachOut's Forums are great for sharing what's going on for you and get ideas about the best ways to feel happy and well.
So follow and use #StayHealthyHSC for regular health and wellbeing updates and information.
View our range of social media images, posters and flyer to help you get involved and share the Stay Healthy HSC message with your community.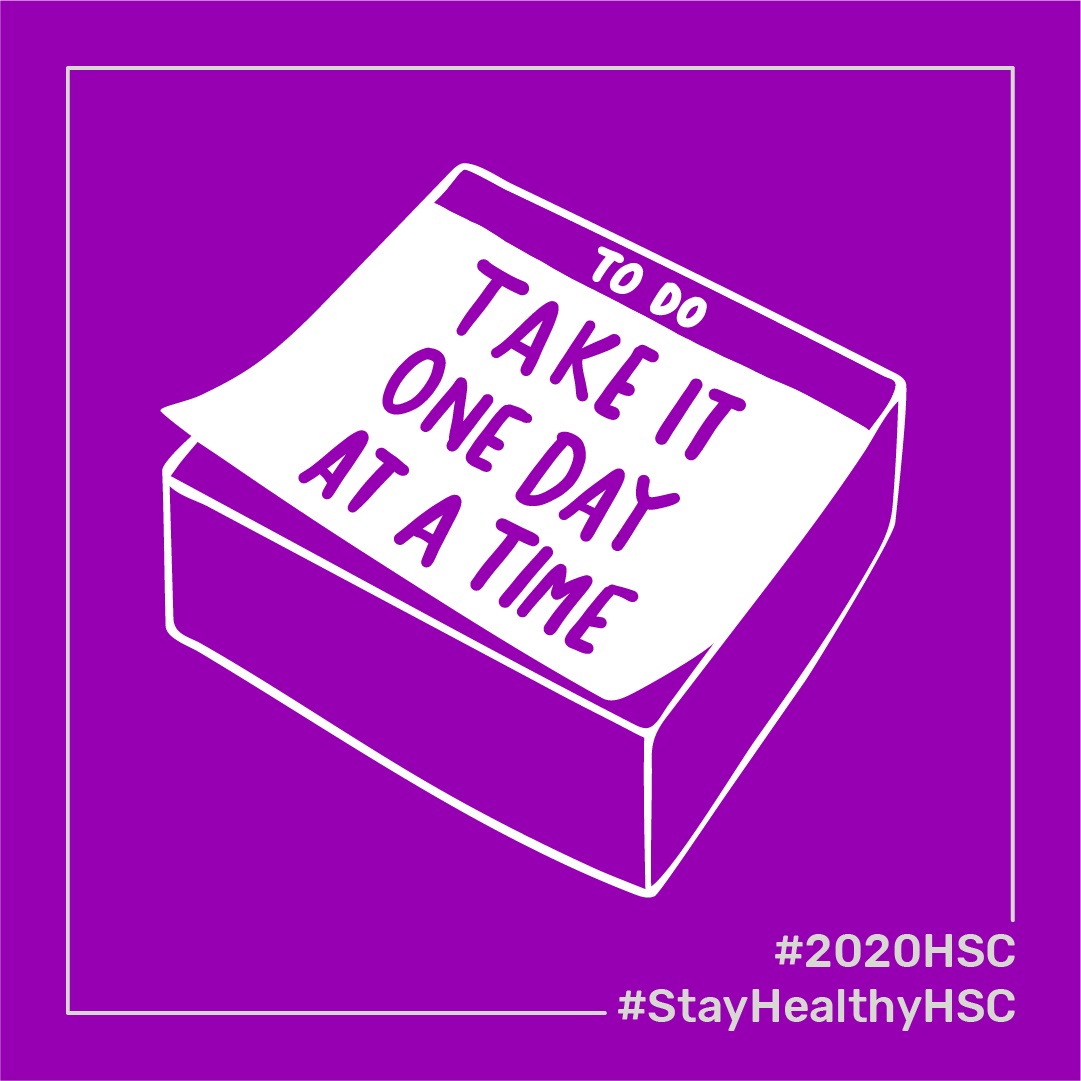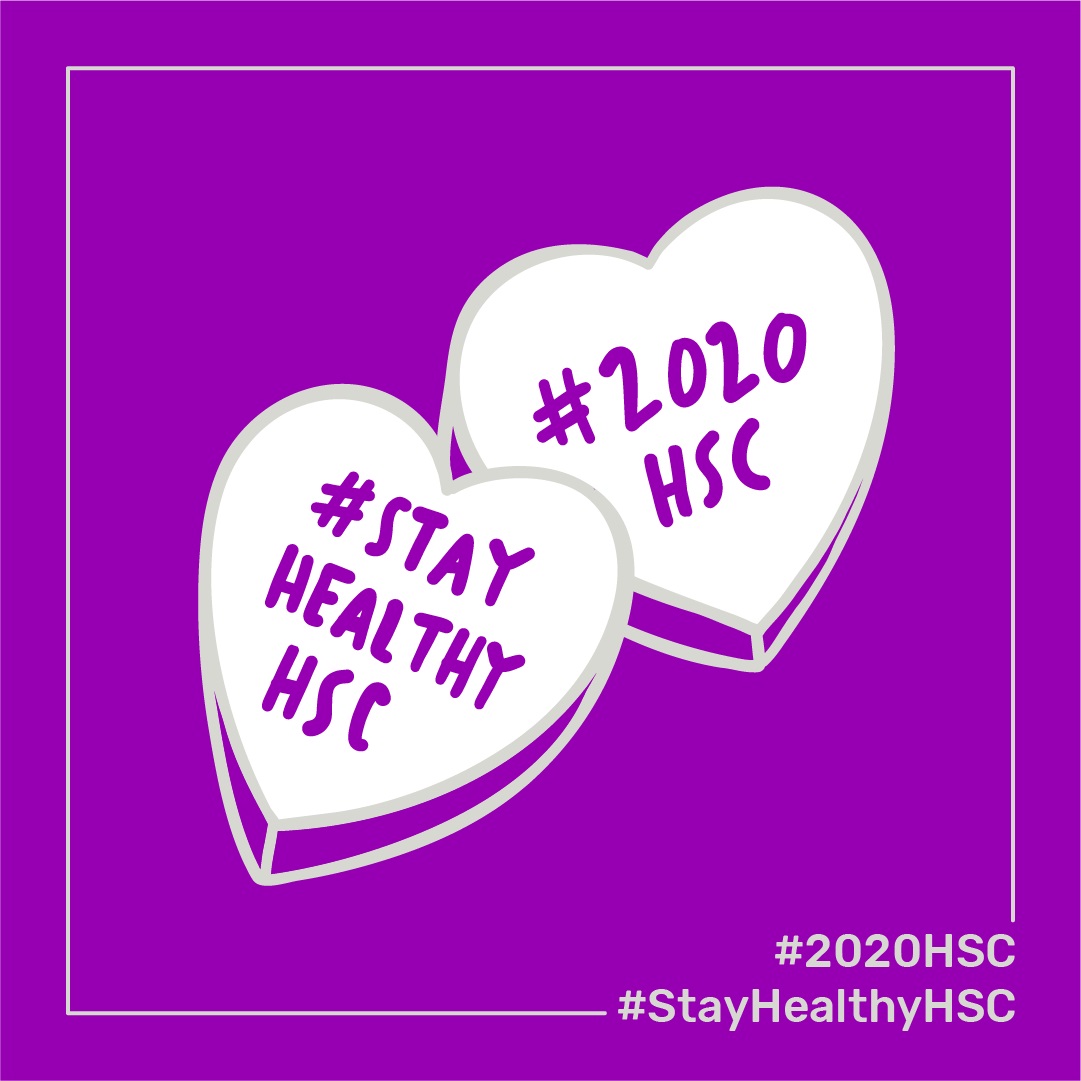 BirdLife Australia 2020 Photo Comp
The BirdLife Australia Photo awards are now open! Special theme this year is Fairy-wrens, Emu-wrens, and Grasswrens.
The Comp is

open til August 3rd

.
⁠For more on our judges, categories
This stunning image is of a pair of White-throated Grasswrens, by Laurie Ross.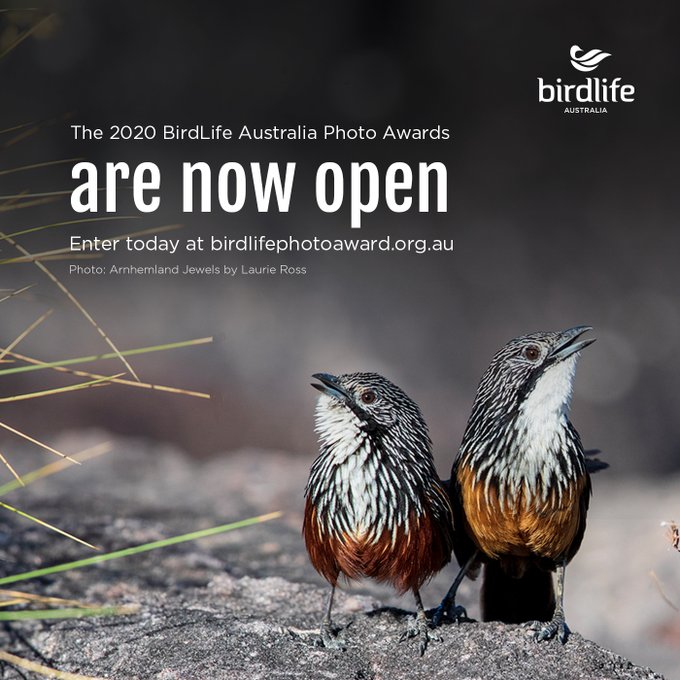 Researchers Solve A 50-Year-Old Enzyme Mystery
July 10, 2020: University of Queensland
Advanced herbicides and treatments for infection may result from the unravelling of a 50-year-old mystery by University of Queensland researchers.
The research team, led by UQ's Professor Luke Guddat, revealed the complete three-dimensional structure of an enzyme, providing the first step in the biosynthesis of three essential amino acids -- leucine, valine and isoleucine.
"This is a major scientific advance, which has been pursued globally by chemists for half a century," Professor Guddat said.
"This information provides new insights into an important enzyme -- acetohydroxyacid synthase -- a target for more than 50 commercial herbicides.
"It's also a potential target for new drugs to treat infections such as tuberculosis and invasive Candida infections."
Using advanced techniques such as cryo-electron microscopy and X-ray crystallography, the team deciphered the structure of the plant and fungal versions of the enzyme.
"We identified how this highly complex structure is assembled, which is the highly unusual shape of a Maltese Cross," Professor Guddat said.
"Coincidently, the Maltese Cross also features as a part of UQ's logo."
Professor Guddat said the discovery could have big implications for global agriculture.
"Sulfometuron is a herbicide that targets this enzyme, and was widely used in the 1990s for wheat crop protection throughout Australia," he said.
"But today it is completely ineffective due to the development of resistance.
"With this new insight, we will be able to make changes to existing herbicides, restoring options for future herbicide application."
Professor Guddat said the enzyme was only found in plants and microbes, not in humans.
"For this reason, the herbicides and drugs that it targets are likely to be safe and non-toxic to all mammals," he said.
"And another surprising finding of the research was the role that the molecule known as ATP plays in the regulation of the enzyme.
"Normally ATP plays a role in providing energy to all living cells," Professor Guddat said.
"However, here it is acting like a piece of glue to hold the structure together."
"They're fascinating findings for us, and we're excited for new opportunities for targeted design of next-gen herbicides and antimicrobial agents."
Thierry Lonhienne, Yu Shang Low, Mario D. Garcia, Tristan Croll, Yan Gao, Quan Wang, Lou Brillault, Craig M. Williams, James A. Fraser, Ross P. McGeary, Nicholas P. West, Michael J. Landsberg, Zihe Rao, Gerhard Schenk, Luke W. Guddat.
Structures of fungal and plant acetohydroxyacid synthases
. Nature, 2020; DOI:
10.1038/s41586-020-2514-3
Where Did The Asian Longhorned Ticks In The US Come From?
Asian longhorned ticks outside the U.S. can carry debilitating diseases. In the United States and elsewhere they can threaten livestock and pets. The new study, published in the journal Zoonoses and Public Health, sheds new light on the origin of these exotic ticks and how they are spreading across the United States.
"While additional samples from the tick's native range are needed to pinpoint more exactly the source of the U.S. introduction, our data suggest that they came from one or more locations in northeastern Asia -- either through a single introduction of at least three ticks or as multiple introductions from different populations," said lead author Andrea M. Egizi, a visiting professor in the Department of Entomology at Rutgers University-New Brunswick and a research scientist with the Monmouth County Tick-borne Diseases Laboratory hosted by the Rutgers Center for Vector Biology.
In 2017, Rutgers Center for Vector Biology and other researchers detected an infestation of the Asian longhorned tick (Haemaphysalis longicornis), which is native to East Asia, in New Jersey. It was the first time established populations of this species had been detected in the United States. Subsequent investigations found the tick to be widespread in the eastern U.S. Rutgers researchers discovered it has been present in New Jersey since at least 2013.
Although this species transmits serious illnesses to people and animals in other countries, experts don't know whether the tick populations in the United States will make people sick, according to the U.S. Centers for Disease Control and Prevention.
The species has two forms: one with males and females, and one with self-cloning females that lay eggs without needing to mate, a process called "parthenogenesis." The self-cloning form, free from the need to look for mates, are especially likely to thrive and spread. A single female can establish a fast-growing population.
This type entered Australia and New Zealand in the early 1900s, and now causes significant losses in the cattle industry.
Rutgers Center for Vector Biology researchers enlisted about 25 collaborators at 20 institutions to get samples of Asian longhorned ticks across the United States and internationally, and used gene sequencing to detect genetic similarities and differences between various populations.
Their findings indicate that at least three individual ticks, from self-cloning populations, were brought to the United States, which explains why all adult Asian longhorned ticks found in the U.S. so far have been female.
Overall, U.S. ticks are more likely to have come from an East Asian country (or countries) than from Australia and New Zealand.
As part of the study, the U.S. Department of Agriculture Animal and Plant Health Inspection Service, Veterinary Services found evidence that these ticks travelled within the United States on wildlife as well as through the transport of pets or livestock.
"One thing we uncovered is the ease with which pets, especially dogs, can accidentally help ticks cross international borders and state lines," said senior author Dina M. Fonseca, a professor and director of the Center for Vector Biology in the Department of Entomology in the School of Environmental and Biological Sciences. "Many countries require dogs to be treated for ticks and other parasites before entering the country, but the United States does not. We urge greater awareness of this issue to prevent future exotic tick introductions."
Rutgers-affiliated coauthors include Matthew Bickerton and James L. Occi, both entomology doctoral students.
Andrea Egizi, Leslie Bulaga‐Seraphin, Erika Alt, Waheed I. Bajwa, Joshua Bernick, Matthew Bickerton, Scott R. Campbell, Neeta Connally, Kandai Doi, Richard C. Falco, David N. Gaines, Telleasha L. Greay, Vanessa L. Harper, Allen C.G. Heath, Ju Jiang, Terry A. Klein, Lauren Maestas, Thomas N. Mather, James L. Occi, Charlotte L. Oskam, Jennifer Pendleton, Marissa Teator, Alec T. Thompson, Danielle M. Tufts, Rika Umemiya‐Shirafuji, Meredith C. VanAcker, Michael J. Yabsley, Dina M. Fonseca.
First glimpse into the origin and spread of the Asian longhorned tick, Haemaphysalis longicornis, in the United States.
Zoonoses and Public Health, 2020; DOI:
10.1111/zph.12743
Scientists Trace The Origin Of Our Teeth From The Most Primitive Jawed Fish
The origin of our teeth goes back more than 400 million years back in time, to the period when strange armoured fish first developed jaws and began to catch live prey. We are the descendants of these fish, as are all the other 60,000 living species of jawed vertebrates -- sharks, bony fish, amphibians, reptiles, birds and mammals. An international team of scientists led by Uppsala University (Sweden), in collaboration with the ESRF, the European Synchrotron (France), the brightest X-ray source, has digitally 'dissected', for the first time, the most primitive jawed fish fossils with teeth found near Prague more than 100 years ago. The results, published today in Science, show that their teeth have surprisingly modern features.
Teeth in current jawed vertebrates reveal some consistent patterns: for example, new teeth usually develop on the inner side of the old ones and then move outwards to replace them (in humans this pattern has been modified so that new teeth develop below the old ones, deep inside the jawbone). There are, however, several differences between bony fish (and their descendants the land animals) and sharks; for example the fact that sharks have no bones at all, their skeleton is made of cartilage, and neither the dentine scales nor the true teeth in the mouth attach to it; they simply sit in the skin. In bony fish and land animals, the teeth are always attached to jaw bones. In addition, whilst sharks shed their worn-out teeth entire, simply by detaching them from the skin, bony fish and land animals shed theirs by dissolving away the tooth bases.
This diversity raises many questions about the origin of teeth. Until now, researchers have focused on fossils of a group of ancient fish that lived about 430 to 360 million years ago, called the arthrodires, which were the only stem jawed vertebrates in which teeth were known. However, they struggled to understand how they could have evolved into the teeth of modern vertebrates, as arthrodire teeth are so different in position and mode of tooth addition in comparison to bony fish and sharks.
Scanning the most primitive jawed fishes
A team from Uppsala University, Charles University (Czech Republic), Natural History Museum in London (UK), National Museum in Prague (Czech Republic) and the ESRF, the European Synchrotron (France) set out to determine whether this peculiar type of dentition was really ancestral to ours, or just a specialised offshoot off the lineage leading towards modern jawed vertebrates.
With this aim, they turned to the acanthothoracids, another early fish group that are believed to be more primitive than the arthrodires and closely related to the very first jawed vertebrates. The problem with acanthothoracids is that their fossils are rare and always incomplete. The very finest of them come from the Prague Basin in the Czech Republic, from rocks that are just over 400 million years old, and were collected at the turn of the last century. They have proved difficult to study by conventional techniques because the bones cannot be freed from the enclosing rock, and have therefore never been investigated in detail.
The researchers used the unique properties of the ESRF, the world's brightest X-ray source and the synchrotron microtomography ID19's beamline, to visualise the internal structure of the fossils in 3D without damaging them. At the ESRF, an 844 metre-ring of electrons travelling at the speed of light emits high-powered X-ray beams that can be used to non-destructively scan matter, including fossils.
"The results were truly remarkable, including well-preserved dentitions that nobody expected to be there" says Valéria Vaškaninová, lead author of the study and scientist from Uppsala University. Follow-up scans at higher resolution allowed the researchers to visualize the growth pattern and even the perfectly preserved cell spaces inside the dentine of these ancient teeth.
Like arthrodires, the acanthothoracid dentitions are attached to bones. This indicates that bony fish and land animals retain the ancestral condition in this regard, whereas sharks are specialized in having teeth that are only attached to the skin -- in contrast to the common perception that sharks are primitive living vertebrates. Again, like arthrodires, the teeth of acanthothoracids were not shed.
More different from arthrodires than expected
In other ways, however, acanthothoracid dentitions are fundamentally different from those of arthrodires. Like sharks, bony fish and land animals, acanthothoracids only added new teeth on the inside; the oldest teeth were located right at the jaw margin. In this respect, the acanthothoracid dentitions look remarkably modern.
"To our surprise, the teeth perfectly matched our expectations of a common ancestral dentition for cartilaginous and bony vertebrates." explains Vaškaninová.
The tooth-bearing bones also carry small non-biting dentine elements of the skin on their outer surfaces, a character shared with primitive bony fish but not with arthrodires. This is an important difference because it shows that acanthothoracid jaw bones were located right at the edge of the mouth, whereas arthrodire jaw bones lay further in. Uniquely, one acanthothoracid (Kosoraspis) shows a gradual shape transition from these dentine elements to the neighboring true teeth, while another (Radotina) has true teeth almost identical to its skin dentine elements in shape. This may be evidence that the true teeth had only recently evolved from dentine elements on the skin.
"These findings change our whole understanding of the origin of teeth" says co-author Per Ahlberg, professor at Uppsala University. And he adds: "Even though acanthothoracids are among the most primitive of all jawed vertebrates, their teeth are in some ways far more like modern ones than arthrodire dentitions. Their jawbones resemble those of bony fish and seem to be directly ancestral to our own. When you grin at the bathroom mirror in the morning, the teeth that grin back at you can trace their origins right back to the first jawed vertebrates."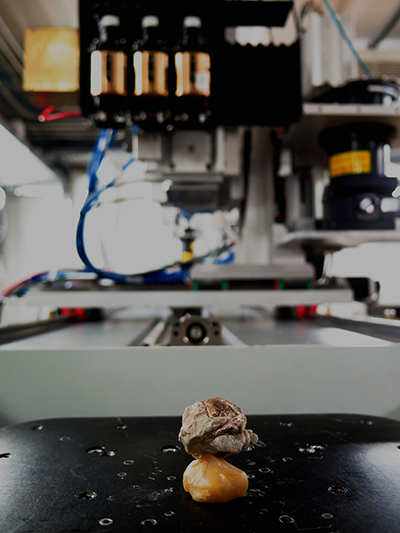 Fossil skull of Radotina mounted for precise high resolution spot scans at ID19 beamline. Credits: Boris Ekrt.

Valéria Vaškaninová, Donglei Chen, Paul Tafforeau, Zerina Johanson, Boris Ekrt, Henning Blom, Per Erik Ahlberg.
Marginal dentition and multiple dermal jawbones as the ancestral condition of jawed vertebrates.
Science, 2020 DOI:
10.1126/science.aaz9431
Socio-Economic And Environmental Impacts Of COVID-19 Quantified
July 10, 2020: University of Sydney
The first comprehensive study of the pandemic shows consumption losses amount to more than US$3.8 trillion, triggering full-time equivalent job losses of 147 million and the biggest-ever drop in greenhouse gas emissions.
The international group of researchers, using a global and highly detailed model, found that most directly hit was the travel sector and regions of Asia, Europe, the United States, with cascading multiplier effects across the entire world economy because of globalisation.
The loss of connectivity imposed to prevent the virus spreading triggers an economic 'contagion', causing major disruptions to trade, tourism, energy and finance sectors, while easing environmental pressures most in some of the hardest-hit areas.
This study focuses on 'live' data to 22 May (with the exception of air travel, for which only a 12-month forecast exists), differing from most assessments of the economic impacts of the pandemic based on scenario analyses and/or projections -- and it is the first to provide an overview of the combined economic, social and environmental impacts, including indirect effects, of the coronavirus.
The findings publish today in the international scientific journal PLOS ONE.
Consumption: US$3.8 trillion (4.2 percent ~ GDP of Germany)
Jobs: 147m (4.2 percent of the global workforce)
Income from wages and salaries: $2.1 trillion (6 percent)
Most directly hit: US, China (mainland), air transport and related tourism
Greenhouse gas emissions: 2.5Gt (4.6 percent) -- larger than any drop in human history*
Other atmospheric emissions -- PM2.5: Dangerously fine particulate matter emissions fall 0.6 Mt (3.8 percent); SO2 & NOx: Sulfur dioxide emissions from burning fossil fuels -- which has been linked to asthma and chest tightness -- and emissions from nitrogen oxide -- from fuel combustion, for example, driving cars -- fall 5.1 Mt (2.9 percent).
Corresponding author Dr Arunima Malik, from Integrated Sustainability Analysis (ISA) and University of Sydney Business School, said the experience of previous financial shocks showed that, without structural change, environmental gains were unlikely to be sustained during economic recovery.
"We are experiencing the worst economic shock since the Great Depression, while at the same time we have experienced the greatest drop in greenhouse gas emissions since the burning of fossil fuels began," Dr Malik said.
"In addition to the sudden drop in climate-change inducing greenhouse gasses, prevented deaths from air pollution are of major significance.
"The contrast between the socio-economic and the environmental variables reveals the dilemma of the global socio-economic system -- our study highlights the interconnected nature of international supply chains, with observable global spillover effects across a range of industry sectors, such as manufacturing, tourism and transport."
The University of Sydney Vice-Chancellor Dr Michael Spence said it was wonderful to see significant applications come to life through a collaborative platform seeded a decade ago with University of Sydney funding.
"Thanks to pioneering work here at Sydney in collaboration with other world leaders in footprinting, it's now possible to simulate the world economy quickly and accurately to see how society and the environment are impacted by changes in our consumption," Dr Spence said.
"This research was conducted in the cloud-based Global MRIO Lab and it is these sorts of global, multidisciplinary collaborations that will help us tackle the complex issues of our time."
Research Using the Global MRIO Lab
To chart the world economy and post-disaster impacts using global multi-regional input-output (MRIO) analysis or GMRIO, researchers worked in the open-source Global MRIO Lab. This customisable database is an extension of the Australian Industrial Ecology Lab (IE Lab) led by the University of Sydney.
The advancement of GMRIO has underpinned the increasing popularity and uptake of so-called consumption-based accounting, or footprinting, which avoids loopholes such as 'carbon leakage' where pollution is externalised to the producers, rather than consumers of goods and services. The Global MRIO Lab includes data from statistical agencies, including National Accounts and Eurostat and international trade data such as UN Comtrade. The lab is powered by supercomputers calculating the impacts of international trade along billions of supply chains extending to 221 countries.
Input-output (I-O) models were developed in the 1930s by Nobel Prize Laureate Wassily Leontief to analyse the relationships between consumption and production in the economy; I-O or multi-regional input-output (MRIO) models take account of actual data, from I-O records worldwide. Global MRIO or GMRIO models now not only extend to global value chains (GVCs) incorporating all orders of production but are also able to answer flexible and complex questions to a high degree of accuracy within a relatively short time lag. Once assembled, tables can be quickly updated, limited only by the timeliness of the data to hand.
Lead author Professor Manfred Lenzen, also from ISA and a recent co-author of the "Scientists' warning on affluence," said that the Australian-funded and University of Sydney-led innovation of the IO Labs had really catalysed new research efficiency in Australia. "Whilst the Labs were initially developed by a dedicated team from eight Universities and the CSIRO, supported by the Australian Bureau of Statistics, there are now hundreds of users, answering questions ranging from building sustainable cities, avoiding food waste, and carbon-footprinting tourism, to hedging against major disasters such as tropical cyclones," said Professor Lenzen.
For this study into COVID-19, 38 regions in the world were analysed and 26 sectors. In order to incorporate as much information as possible, co-authors were allocated countries with which they had language skills and familiarity, with data translated from sources in 12 languages ranging from Arabic to Hindi and Spanish.
The international team of researchers are from: University of Sydney; Edinburgh Napier University; University of Queensland; UNSW Sydney; Ministry of Finance of the Republic of Indonesia; National Institute for Environmental Studies & Research Institute for Humanity and Nature, Japan; Yachay Tech University, Ecuador; Duke University; Beijing Normal University.
* Previous significant drops in greenhouse gas emissions were during the global financial crisis in 2009 (0.46Gt) and as a result of land-use changes (under the Kyoto Protocol) in 1998 (2.02Gt).
Manfred Lenzen, Mengyu Li, Arunima Malik, Francesco Pomponi, Ya-Yen Sun, Thomas Wiedmann, Futu Faturay, Jacob Fry, Blanca Gallego, Arne Geschke, Jorge Gómez-Paredes, Keiichiro Kanemoto, Steven Kenway, Keisuke Nansai, Mikhail Prokopenko, Takako Wakiyama, Yafei Wang, Moslem Yousefzadeh.

Global socio-economic losses and environmental gains from the Coronavirus pandemic.

PLOS ONE, 2020; 15 (7): e0235654 DOI: 10.1371/journal.pone.0235654
Thomas Wiedmann, Manfred Lenzen, Lorenz T. Keyßer, Julia K. Steinberger.

Scientists' warning on affluence.

Nature Communications, 2020; 11 (1) DOI: 10.1038/s41467-020-16941-y
Whole Body Scans For Trauma Patients Saves Time Spent In Emergency Departments
July 13, 2020: University of South Australia
Ever sat in an ambulance or crowded emergency room with a loved one who has sustained serious injuries, waiting for a scan as precious life-saving minutes tick by?
This scenario is common in most hospitals around the world, leading to long queues and ramping issues with paramedics having to often care for critically ill patients in the interim.
A new study by a University of South Australia medical imaging student may have found a partial solution: imaging trauma patients with whole body CT (WBCT) scans which are a lot faster and more accurate than conventional radiology procedures.
In a recent paper published in the European Journal of Radiology, Elio Arruzza and his co-authors found that WBCT drastically cut the time spent in emergency departments as the procedure is far quicker than the traditional method of x-rays, ultrasound and selective CT scans of individual body regions.
WBCT is broadly defined as a CT scan of the head, cervical spine, chest, abdomen and pelvis.
The superior diagnostic accuracy of WBCT also makes it less likely that injuries are missed or even misdiagnosed, which happens with conventional imaging in up to 39 per cent of cases, Arruzza and his co-authors found.
However, WBCT imparts more radiation dose than other imaging procedures or non-WBCT, which clinicians, patients and families need to consider when weighing up the options.
In a meta-analysis of radiological procedures, Arruzza reviewed 14 studies comparing WBCT outcomes with conventional radiological procedures, or non-WBCT. While mortality rates, intensive care unit and hospital length stays were similar, time spent in emergency departments was significantly reduced.
"Our findings show that patients presenting with traumatic injuries can be diagnosed a lot faster with WBCT and therefore treated more quickly. This could in turn potentially reduce the impact of emergency department overcrowding, or ramping, which is a major problem in Adelaide and nationally," Arruzza says.
"Much like the saying 'time is brain' in terms of stroke patients, 'time is life' for trauma patients. With expected improvements in the technology, we not only expect faster times but lower radiation doses as well."
While the evidence suggests there is little difference in mortality rates between WBCT and non-WBCT, Arruzza says this is due to WBCT being reserved for critically ill patients.
"Less severely injured patients are still being scanned via the traditional x-ray, ultrasound and selective CT procedures so it is difficult to compare what their progress would be like if they received a full body scan," he says.
More than five million people die from traumatic injuries each year, accounting for nine per cent of global mortality and the leading cause of death among people under the age of 45.
About 60 per cent of trauma-related deaths occur within an hour after injury, compared to 30 per cent within 24 hours and the remainder over a longer period.
Elio Arruzza, Minh Chau, Janine Dizon.
Systematic review and meta-analysis of whole-body computed tomography compared to conventional radiological procedures of trauma patients
. European Journal of Radiology, 2020; 129: 109099 DOI:
10.1016/j.ejrad.2020.109099
The Effects Of Smartphone Use On Parenting
Parents may worry that spending time on their smartphones has a negative impact on their relationships with their children. However, a new comprehensive analysis published in the Journal of Child Psychology and Psychiatry found that this is unlikely to be the case.
In the analysis of data from 3, 659 parent-based surveys, the authors tested 84 different possibilities to assess whether smartphone use was associated with parenting, and they found little evidence. Accordingly, they explored whether the effect of phone use on parenting depended on whether it displaced time with family and was associated with family conflict.
At low levels of displacing time with family, more smartphone use was associated with better (not worse) parenting. The authors noted that, especially considering diverse family environments, smartphones play multiple roles in family life, and when not heavily impacting on family time, may have a positive role in parenting.
"The challenge with much of the technology-family literature is that is has mainly stemmed from an assumption of risk and problems. As a result, small and uneven findings can become the focus of media, policymakers, and parents," said
lead author Kathryn L. Modecki, PhD, of Menzies Health Institute Queensland, Griffith University, in Australia.
"This is an issue because it can cloud our insight as we focus on ways to meaningfully assist parents and families to enhance positive outcomes." Thus, Dr. Modecki and her colleagues used a transparent approach that mapped a myriad of ways that smartphones could link to family wellbeing. "We found very little evidence of problems and hope these data help move us towards more constructive and nuanced conversations around families' diverse experiences with technology, actual risks associated with parenting, and where we can best support," she said.
Kathryn L. Modecki, Samantha Low‐Choy, Bep N. Uink, Lynette Vernon, Helen Correia, Kylie Andrews.
Tuning into the real effect of smartphone use on parenting: a multiverse analysis.
Journal of Child Psychology and Psychiatry, 2020; DOI:
10.1111/jcpp.13282
Disclaimer: These articles are not intended to provide medical advice, diagnosis or treatment. Views expressed here do not necessarily reflect those of Pittwater Online News or its staff.