June 28 - July 4, 2020: Issue 456

Bushcare Is Back! Join Your Local Group And Exercise That Green Thumb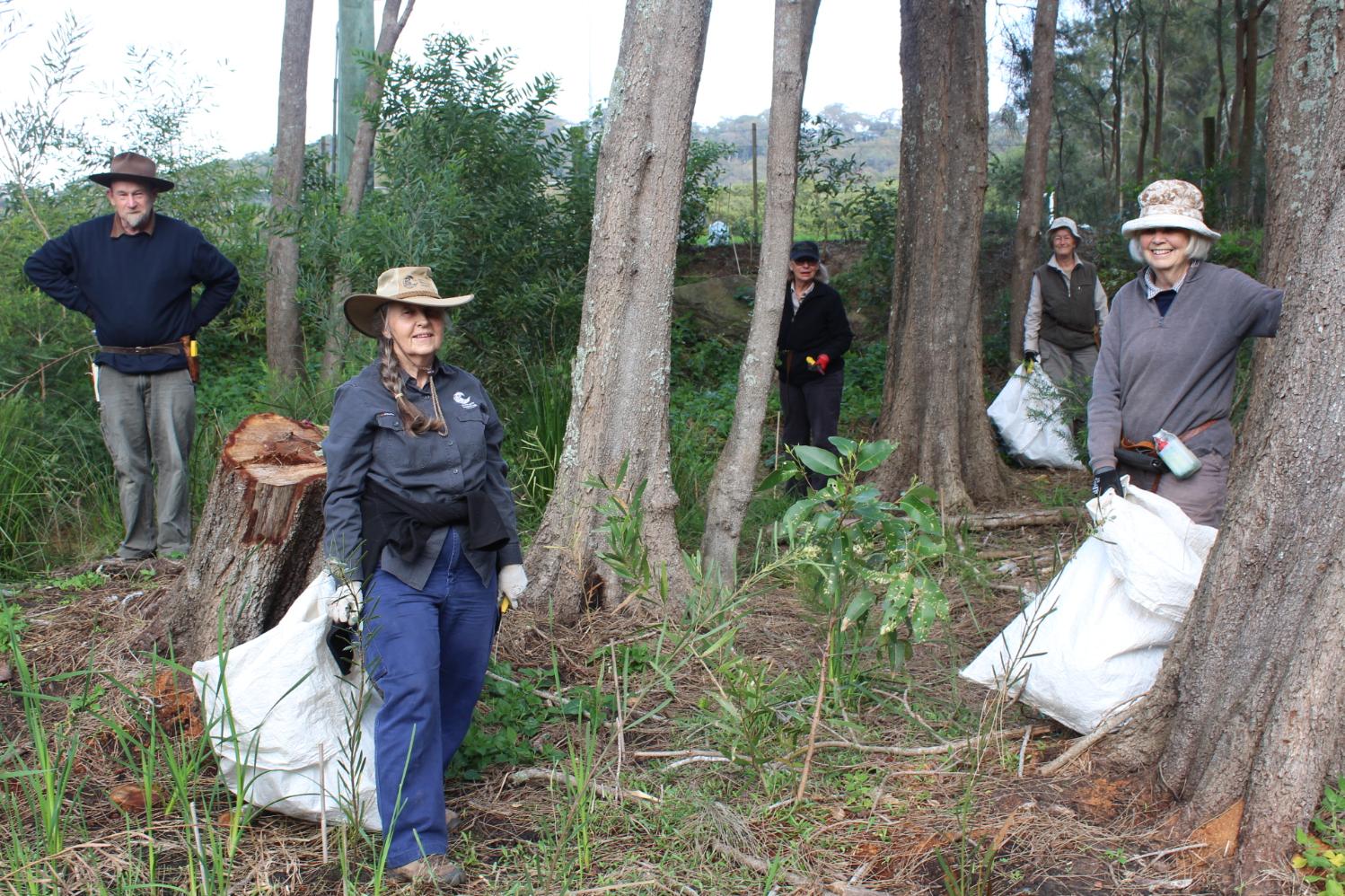 Careel Creek and Careel Bay vines out bushcare group yesterday, June 27, 2020 enjoying their first session back.
Bushcare Is Back !
Council announced a return for Bushcare Groups last week.
''While there has been a recent hiatus from Bushcare activities due to Covid -19, our friendly volunteers returned this week, with additional safety protocols in place.'' Council stated on June 18

''Becoming a Bushcare volunteer is easy and no experience is necessary - all you need is enthusiasm.

The Northern Beaches has close to 60 Bushcare sites, so there is sure to be a site near you.

Bushcare groups usually meet monthly for 2 to 3 hours to work in their local bushland reserves. Most groups meet on weekends, however there are also groups that meet throughout the week.

Tools are provided or you can bring your own, and one of our experienced supervisors will provide new volunteers the necessary training and guidance in bush regeneration techniques and plant identification.''
This Issue's Profile of the Week provides an overview of how you can get involved, from Manly to Palm Beach.
There are hundreds of volunteers who work at these different sites throughout the Northern Beaches. Most Bushcare groups work at set times through the year, for two or three hours each month.
No experience is needed. Council have activities to suit all levels of participation and all ages, as well as the community nursery program that enlists the help of dedicated volunteers who propagate thousands of indigenous plants (including rare species) each year. These plants can then be used by Bushcare volunteers or by council as part of the ongoing works program.
Tools, training and guidance in bush regeneration techniques are provided.
So if you're huddled at home, so cold you're convinced it's about to snow - the remedy may be to get out and get busy and invest a few hours of your time in a place worth preserving and maintaining - out with the introduced weeds, in with the plants that actually belong there - see your investment in your community grow - literally!
For more information on becoming a Bushcare volunteer, should you wish to skip this week's Profile overview of how you can get involved and where the sites are, head straight to Council's Bushcare webpage and delve deeper - get those green thumbs covered in dirt and feel great while doing so!
There's even an interactive map where you can find places close to your heart to get involved in.
Youngsters are also encouraged to get involved as our local Bushcare Program is child friendly. For those doing their Duke of Edinburgh Award, you too can invest a few hours in gaining valuable insights into what grows here and see plants they put in grow and regenerate whole areas.
Bushcare is all about community volunteers working with Council to conserve and rehabilitate publicly owned natural bushland. Bushcare groups aim to rehabilitate the bush from a weed infested or otherwise degraded plant community to a healthy community, composed of locally occurring native plants, encouraging the bush to 'bounce back' through natural processes.

Bush regeneration usually occurs in three main phases:
A: Primary clearance – a relatively short phase of (sometimes) heavy manual labouring work where the bulk of undisturbed weeds are removed. Cutting, stacking, lifting, digging and pulling are the main tasks. Much of this work is done standing and walking around.
B: Secondary or 'follow up' – a longer phase where regrowing weeds must be more carefully removed by digging or hand pulling. Most of this work is done close to the ground, crouching or sitting.
C: Maintenance – the longest phase where the site is progressively improved and protected. Nearly all this work is done at ground level.
What to Wear: Participants will need to wear long sleeved shirt, long pants, enclosed shoes and a hat.
How To Become A Bushcare Volunteer
Check out the bushcare site map and select a preferred site
Complete the online enquiry form
Council will get in contact with you and book you into one of our regular bushcare sessions
Complete an onsite induction with one of Council's qualified supervisors.
Start your first volunteer shift.
Community Nurseries
Council's community nursery program enlists the help of dedicated volunteers who propagate thousands of indigenous plants (including rare species) each year. These plants can then be used by Bushcare volunteers or by council as part of our ongoing works program.
Get involved at:
Manly Dam Community Nursery - Every Friday morning from 8.30am to 12.30pm
North Curl Curl Community Nursery - Every Monday from 9am to 12pm.
For further information contact the Bushcare Team on bushcare@northernbeaches.nsw.gov.au or call 9942 2766

Below runs some previous articles and links to current groups to get you inspired. There are a lot more in Past Features - suffice to say, if you live here there's a bushcare group in your neighbourhood you can get involved in. These are a great way to learn more about the environment we all live in, meet friendly people, stay fit and build community connections and a better community itself - it's a win-win thing!
"A society grows great when old men plant trees whose shade they know they shall never sit in."
Bushcare In Pittwater
BUSHCARE SCHEDULES
Where we work Which day What time
Avalon
Angophora Reserve 3rd Sunday 8:30 - 11:30am
Avalon Dunes 1st Sunday 8:30 - 11:30am
Avalon Golf Course 2nd Wednesday 3 - 5:30pm
Careel Creek 4th Saturday 8:30 - 11:30am
Toongari Reserve 3rd Saturday 9 - 12noon (8 - 11am in summer)
Bangalley Headland 2nd Sunday 9 to 12noon
Bayview
Winnererremy Bay 4th Sunday 9 to 12noon
Bilgola
North Bilgola Beach 3rd Monday 9 - 12noon
Algona Reserve 1st Saturday 9 - 12noon
Plateau Park 1st Friday 8:30 - 11:30am
Church Point
Browns Bay Reserve 1st Tuesday 9 - 12noon
McCarrs Creek Reserve Contact Bushcare Officer To be confirmed
Clareville
Old Wharf Reserve 3rd Saturday 8 - 11am
Elanora
Kundibah Reserve 4th Sunday 8:30 - 11:30am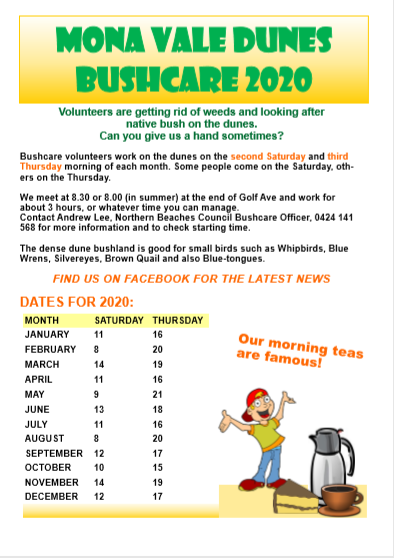 Mona Vale
Mona Vale Beach Basin 1st Saturday 8 - 11am
Mona Vale Dunes 2nd Saturday +3rd Thursday 8:30 - 11:30am
Newport
Bungan Beach 4th Sunday 9 - 12noon
Crescent Reserve 3rd Sunday 9 - 12noon
North Newport Beach 4th Saturday 8:30 - 11:30am
Porter Reserve 2nd Saturday 8 - 11am
North Narrabeen
Irrawong Reserve 2nd Saturday 2 - 5pm
Palm Beach
North Palm Beach Dunes 3rd Saturday 9 - 12noon
Scotland Island
Catherine Park 2nd Sunday 10 - 12:30pm
Elizabeth Park 1st Saturday 9 - 12noon
Pathilda Reserve 3rd Saturday 9 - 12noon
Warriewood
Warriewood Wetlands 1st Sunday 8:30 - 11:30am
Whale Beach
Norma Park 1st Friday 9 - 12noon
Western Foreshores
Coopers Point, Elvina Bay 2nd Sunday 10 - 1pm
Rocky Point, Elvina Bay 1st Monday 9 - 12noon

Gardens, Environment, Bushcare Groups And Organisations: Past Articles/Profiles