Inbox and Environment News: Issue 439
February 23 - 29, 2020: Issue 439
Fire-Ravaged School Gets The Best Garden On The Block And A BIG Day Out Courtesy Of Barrenjoey High School Band Night
February 18, 2020
Barrenjoey High School hosted a musical evening on Thursday this week with The Rions and Marvell playing to an Under 18's audience to raise funds for a Big Day Out for Mogo Public School students and staff at Nowra, which is what the students said they would like. Both bands have Barrenjoey High links, being current students or ex-students.
Max and Tom Marvell are Marvell – a singer/songwriting brother duo from here, while The Rions are Harley Wilson, Noah Blockley, Asher Mclean and Tom Partington. The Rions started in 2016 when the four boys were all in year 7. Initially just being Noah (the singer) and Harley (the guitarist) before Tom (the drummer) joined the two due to needing a drummer for their music assignment and later Asher after he moved to their school. A video by BHS P&C member Christy Bishop runs below, giving those that couldn't get there a snippet of the great sounds heard.

Mogo PS school is located on the Princes Highway ten kilometres south of Batemans Bay and six kilometres from Broulee. Although located on a busy highway at the southern end of the township, the school has extensive grounds along Mogo Creek. There are 58 students, with the school community extending from Tomakin, Mossy Point, Broulee to Mogo. There are two main buildings, one permanent classroom block housing the library and a primary class and the administration block, in addition to two demountables classrooms.
Over the Christmas-New Years break firefighters had to do all they could to save the schoolhouse. Six of the students also lost their homes.
Last week Mogo Public School students and staff received a morale boost when the Today Show and The Block rebuilt the school gardens, lost during bushfires which ravaged the town on New Year's Eve.
Acting principal Lyndall Schuchmann said the rebuilding of the gardens and chicken coop was a great community effort, bringing everyone together after a tough couple of months on the south coast.
'The children have been so excited and it's been wonderful how the whole community has come together to work on creating this great space,' she said.
'The students have been involved the whole way. They understand and appreciate that all of this is about people who are trying to do something good and make their lives better.'
Ms Schuchmann said many parents, grandparents, community members and local businesses had helped Tess and Luke Stuber (the most recent Block winners) and Block landscaper Dave Franklin to complete the garden.
It was unveiled on air during the Today Show last week.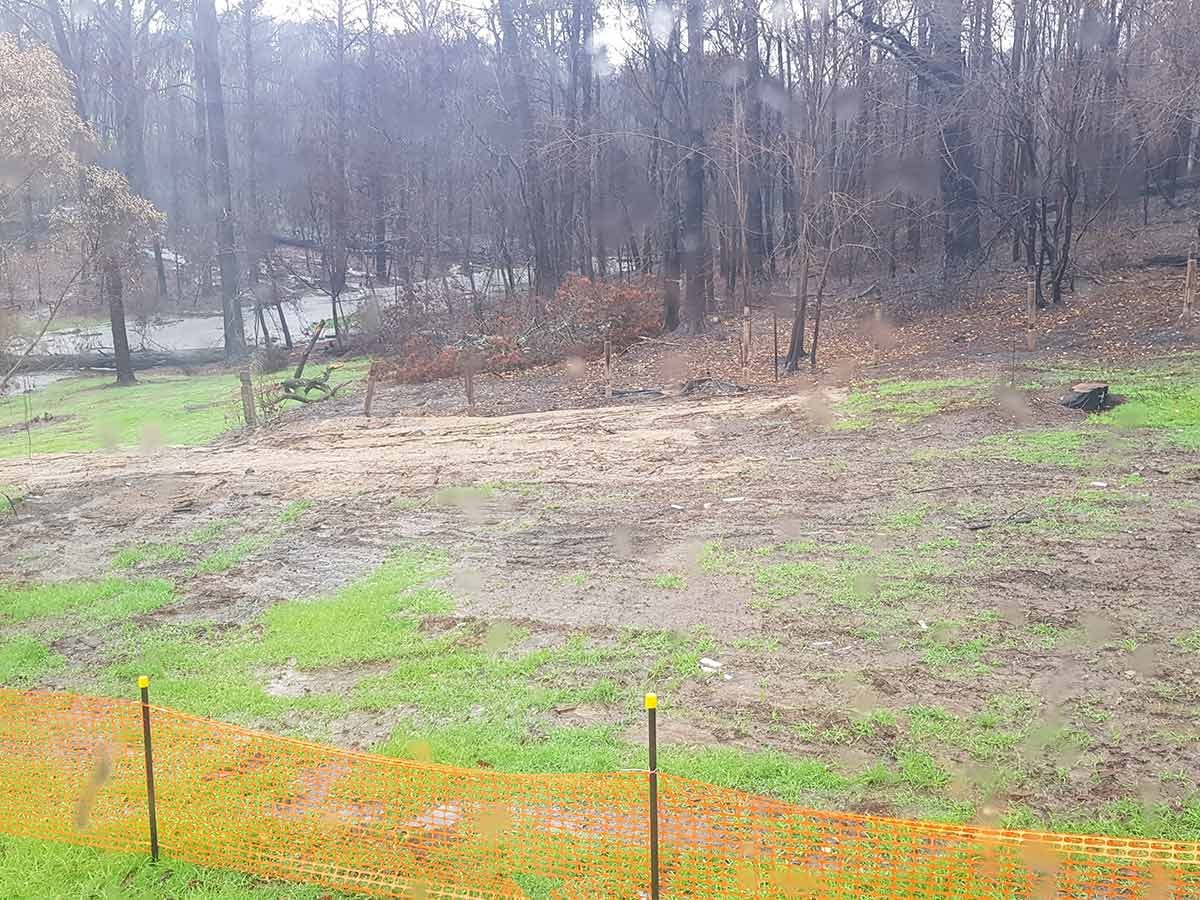 Fire destroyed the school garden
'It was lovely having so many people come in and help and understand the philosophy of this garden, which is all about giving back, Ms Schuchmann said.
'We feel so fortunate to have so many people that wanted to help us and we felt it was important that this garden is all about giving - giving edible plants for animals to Mogo Zoo, giving to the school canteen, and giving produce to the students and their families.'
Tess and Luke spent time in each classroom over the week, talking to the students about what was going on in the garden and challenging each class group to choose names for the new school chickens.
'We saw on the news how devastating the fires were and we really wanted to be able to get involved and to do something positive, so as soon as we were asked we said yes straight away,' said Tess.
'Everyone we have spoken to has a story of dealing with the fires and some are so devastating, and yet everyone has a smile on their face and is happy to donate their time, and local businesses are happy to donate materials to make this happen.'
Luke added that it was the very least he and Tess could do to lend a hand to build the garden.
'It's an amazing thing about the Aussie spirit and how people are here, some of whom have lost so much, already thinking about how they are going to give back through this garden,' Luke said.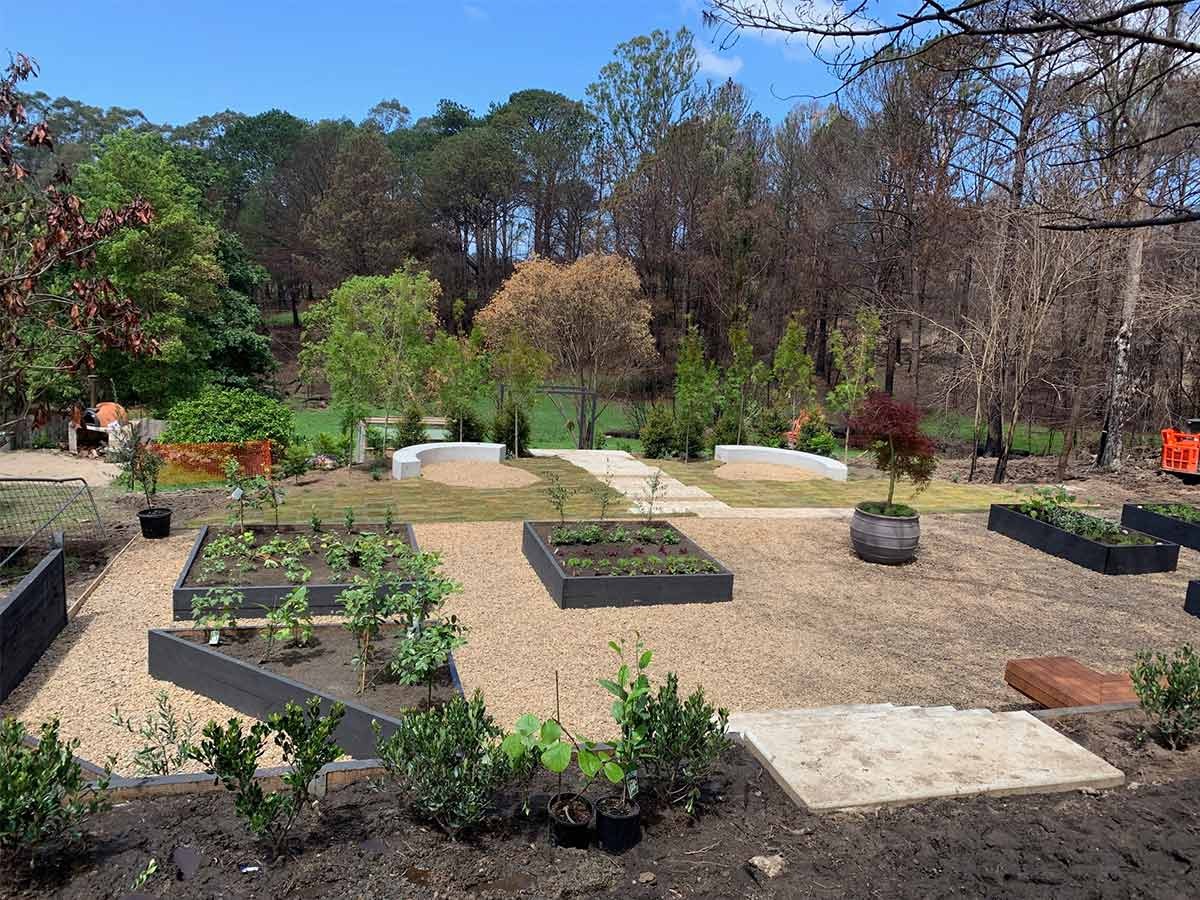 New gardens and play areas after the landscaping makeover.
'We just want to make the kids smile.'
Tess and Luke said with the help of the students they had settled on seven names for the new chickens: Tess, Lou Lou, Sparkles, Peggy, Bianca, Bella and Big Mumma.
'We feel very honoured that they named a couple after us, it was very sweet,' Luke said, adding that he hoped they would live a long and healthy life in their new coop.
Year 4 student Skye Nye said she enjoyed having Tess and Luke at the school during the week.
'It's like we're famous now too,' Skye said after being filmed and photographed with the celebrities.
'We're excited and I really like the garden and going out there.'
The fully landscaped garden area includes a fruit orchard, vegetable and herb gardens, a lawn area for the students to play, seating areas for informal classes, a new chicken coop, and an indigenous bush tucker garden developed in conjunction with the school's Aboriginal Education Officer, Kizzy Nye, and local rangers.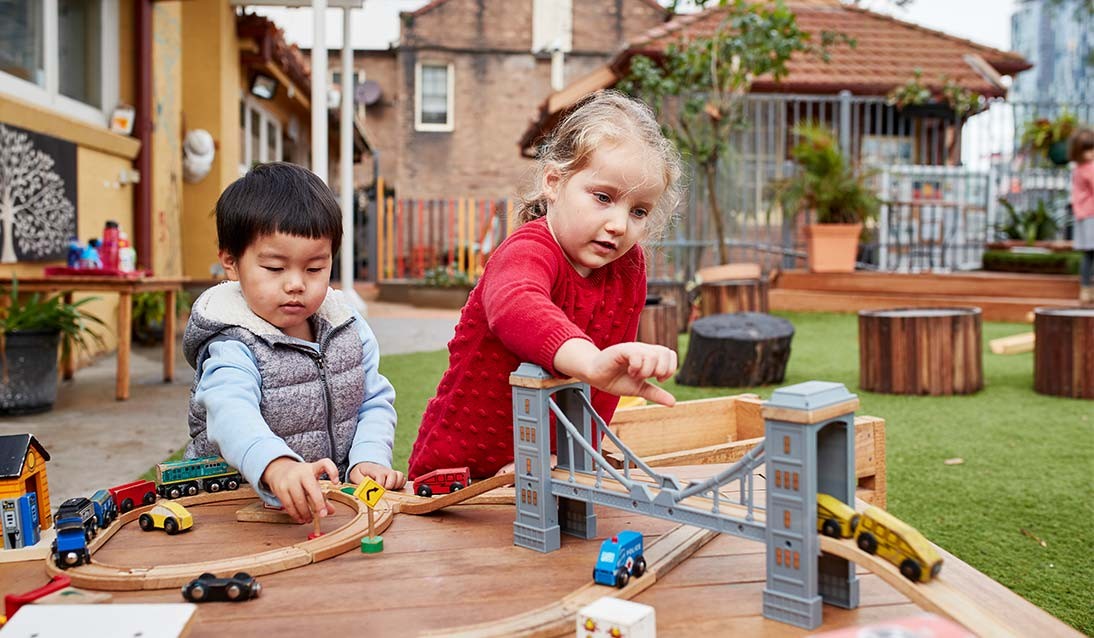 Principal Lyndall Schuchmann, left, with students and The Block winners, Luke and Tess Stuber.
Lifeline Classic 2020
Have you registered a team in the 2020 Lifeline Classic? There's still time! You can make a difference by simply paddling out.
On the shores of Queenscliff Beach on Sunday 29 March
, pro surfers and proud locals team up to take on the waves and raise money for a critical cause: suicide prevention.
The Lifeline Classic is our annual 'tag team' surfing comp – and it's the biggest fundraising event on our calendar. Last year, locals banded together to raise over $60,000, and had a ball while doing so. Our 2020 event is set to be bigger and better than ever!
Round up a team of four surfers. They can be colleagues, mates, family… anyone who's keen to hit the waves. Remember this is a fun, inclusive event for all surfers (even newbies!). There's no judgement, it's all about taking part!
Team up with a charity that saving lives, right in our own backyard. Every $27.96 raised answers a call to our 24/7 13 11 14 suicide and crisis prevention line.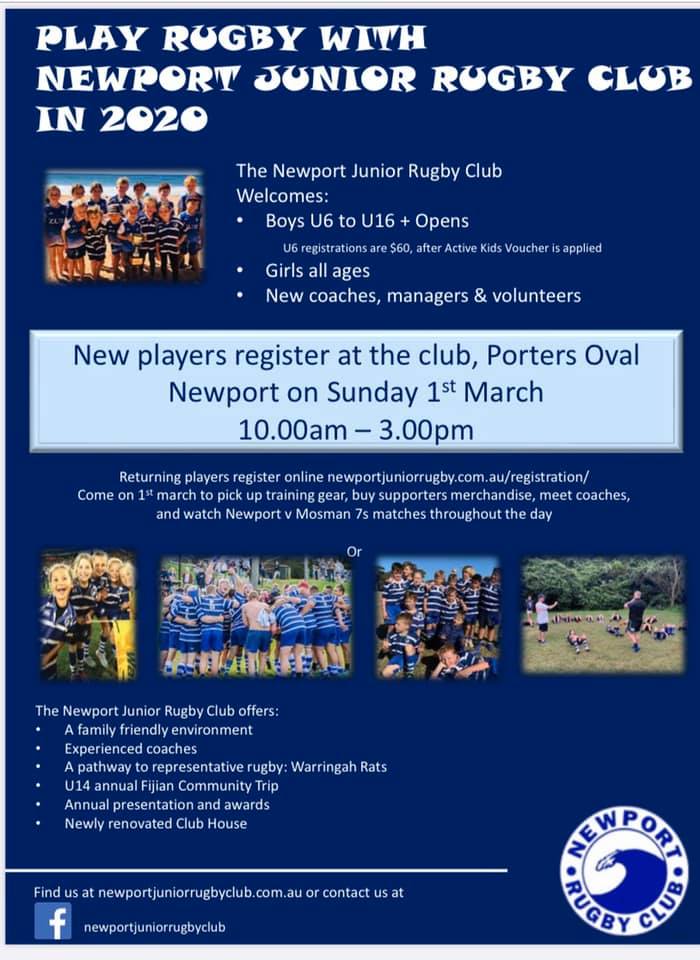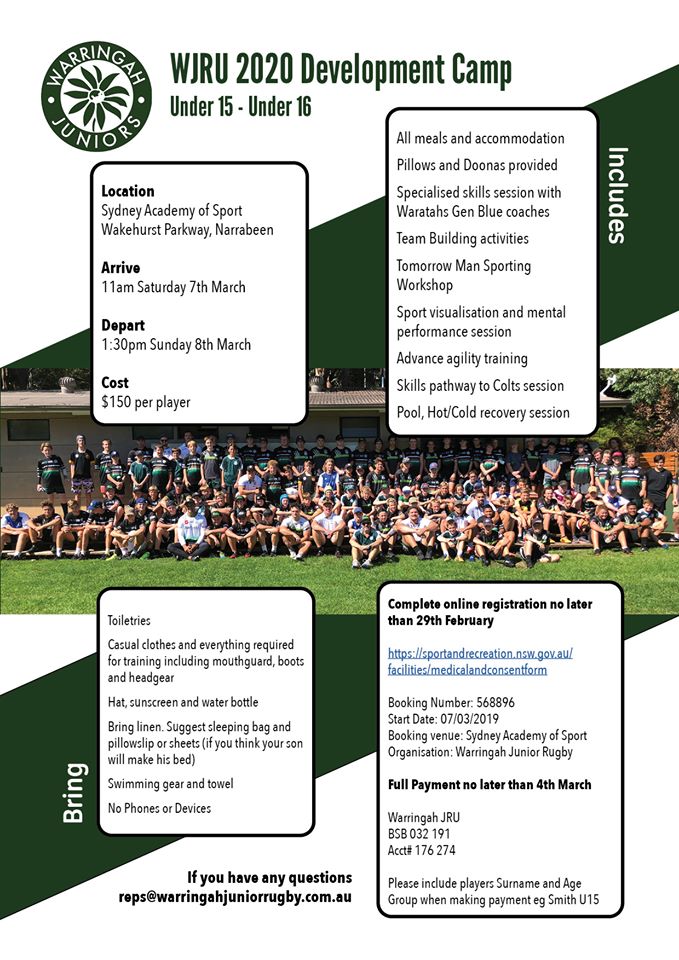 Ocean Friendly School Canteens Here
Did you know there are now 6 Ocean Friendly accredited school canteens in our area? These are single use plastic free, waste reducing and deliciously nutritious. Schools are setting sustainable standards for future generations.
Well done Wheeler Heights Public School, Bilgola Plateau Public School, Barrenjoey High School's Sandbar Cafe, St Johns Baptist Public School Balgowlah, St Cecilia's Catholic Primary School Balgowlah and Explore & Develop Brookvale.
Ocean Friendly - February 17, 2020
A video about one of these schools runs below:
Do You Know Any Budding Marine Biologists?
Applications are now open for year 11 and 12 students to experience life as a marine biologist for one week on Tasmania's Maria Island.
There are four free scholarships for Tasmanians and five for interstate students, as well as 15 non-scholarship places.
Learn more and apply here: http://bit.ly/37CgkhV
NB: This unit is offered via the University Connections Program at the University of Tasmania, and open to all year 11 and 12 students in Australia - closes 24/2/2020
This unit, A practical introduction to temperate marine biology, is an introduction to UTAS's Bachelor of Marine and Antarctic Science.
When you apply, you automatically go into the running to win one of nine scholarships to fully fund your marine biologist experience. Scholarship package includes:
Accommodation, airport transfers and return economy airfares from your nearest capital city to Hobart for our five interstate recipients
Transport from Hobart to Maria Island return, including ferry crossings
All catering while on Maria Island
Hire of all required diving and survey gear
Field excursion fee of $645 for the program A Practical Introduction to Temperate Marine Biology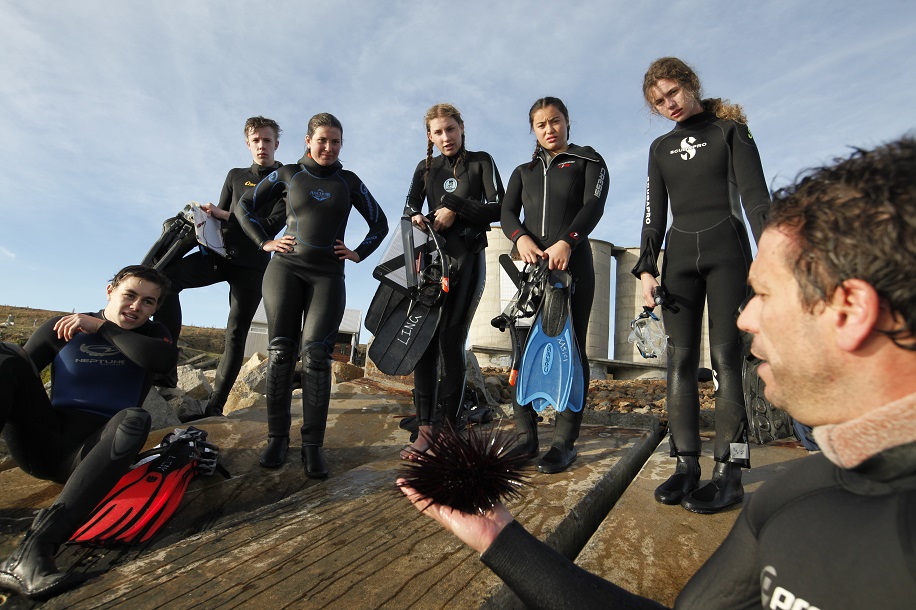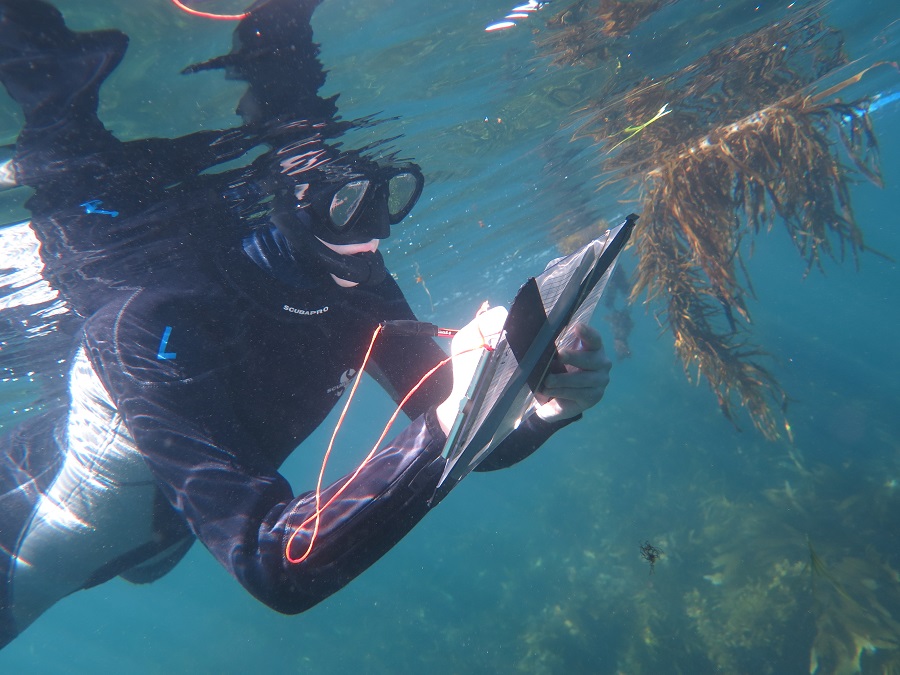 'How Do I Control My Oily Skin And Prevent Pimples?' A Dermatologist Explains: From The I Need To Know Series For Teenagers - Put Together By The Conversation
How can I control the excessive oil secretions on my face that leads to acne? Anonymous
Answered by Celestine Wong, Consultant Dermatologist, Monash Health
Pimples are the worst! They hurt, pop up overnight and can be impossible to hide.
You're right that oily skin is believed to be the most critical factor for causing acne.
But rest assured, there are a few things you can do to keep your oil at bay and control the likelihood of a break out.
Why am I so oily… all the time!
Before we start talking about how to avoid acne, let's chat about why oily skin causes acne.
Oily skin is caused by the overproduction of sebum by an overactive oil gland (also known as the pilosebaceous unit, which is just a fancy term for a hair follicle and its oil gland).
There are a few reasons we get acne, one being the pore of the oil gland can be blocked – this can be made worse by using certain types of makeup.
Some of our hormones during puberty drive sebum overproduction, hence acne-overload. Fun fact: anabolic steroids, typically used by bodybuilders, can trigger acne too.
Acne bacteria lives on the skin and its overgrowth around your oil glands can worsen inflammation and pus formation. This is what causes acne to hurt sometimes.
If there's a strong history of acne in your family, there's a good chance you might get it too.
It is also linked to medical conditions such as polycystic ovarian syndrome.
Trust me on this, a proper skin routine is everything
As a dermatologist, I recommend cleaning your face every morning and evening. If you wear make up, ALWAYS wipe it off before going to bed – no excuses!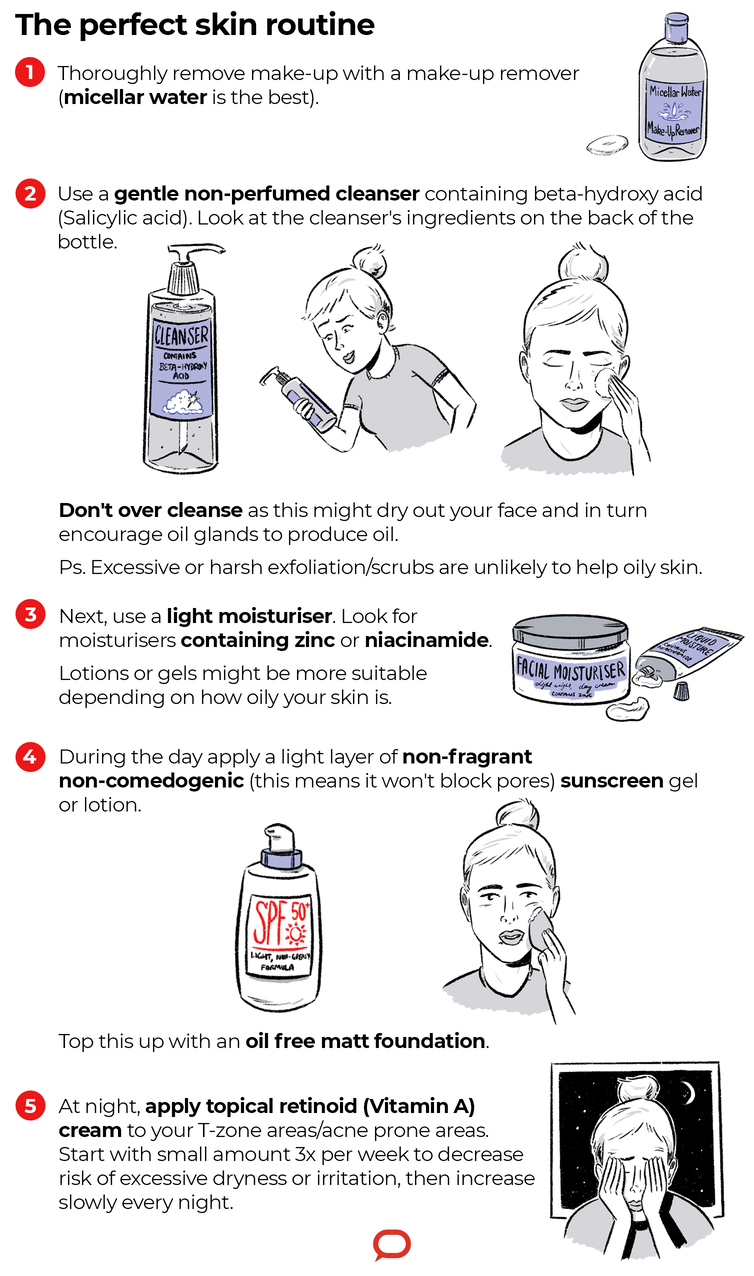 The Conversation, CC BY-ND
Using pore-clogging oil-based make up can worsen or cause acne. This can become worse if make up is not thoroughly removed!
If you want to hide your acne with make up, just be sure to use brands that contain good ingredients (I talk a bit more about this below).
A few tips to help keep your skin clear
Diet: Eat a healthy balanced diet containing low glycaemic index food groups with complex carbohydrates and omega-3 fatty acids. There might be a role for oral zinc supplements. It is best to avoid sugary, processed and refined food.
Make up and hair products: If you choose to wear make up, opt for mineral-based foundations, eg. La Roche Posay, Bare Minerals, Nude by Nature, Jane Iredale, Youngblood and Ultraceuticals. Wash your hair regularly with shampoo, especially if you're using hair products and if you have oily hair or scalp. Avoid using oil-based products on your face and beware of oil-based pomades and hair wax, especially near your forehead.
Regular use of a good quality broad spectrum SPF 30 and above ultralight sunscreen lotion: This reduces early onset wrinkles, pigmentation issues and in the long-term reduces your risk of developing sunspots and dangerous skin cancers.
Maintain a healthy weight and embrace exercise: Not only is this good for mental health (stress can lead to acne), it also reduces levels of acne-causing hormones.
About to leave the house and still feel oily?
I recommend using a blotting paper or oil-control film when this happens. They aren't too expensive – Target sells packs of 100 for A$5 – and can be bought at supermarkets and pharmacies.
You can also apply a thin layer of mattifying gel or a mineral-based loose powder foundation to reduce and absorb excess oil.
Some final words of advice
Use oil-free and non-comedogenic cleansers, moisturisers and make up. When picking a foundation opt for "oil free" liquid silicone (dimethicone or cyclomethicone) matte foundations over oil foundations
remember to thoroughly remove your make up with a make up remover
avoid touching, picking or scratching your pimples
if you feel your acne is particularly bad, make sure you see your GP or get a referral to see a dermatologist. It's always best to get on top of your acne and reduce risk of acne scarring.
___________________________________________________________
I Need to Know is an ongoing series for teens in search of reliable, confidential advice about life's tricky questions. If you're a teenager and have a question you'd like answered by an expert, you can: submit your question anonymously through Incogneato, or DM us on Instagram.
Please tell us your name (you can use a fake name if you don't want to be identified), age and which city you live in. Send as many questions as you like! We won't be able to answer every question, but we will do our best.
Insufficient Evidence Backing Herbal Medicines For Weight Loss
February 18, 2020: University of Sydney
Researchers from the University of Sydney have conducted the first global review of herbal medicines for weight loss in 19 years, finding insufficient evidence to recommend any current treatments.
Senior author Dr Nick Fuller said with overweight and obesity rates reaching epidemic proportions worldwide, many people are turning to herbal supplements as an alternative approach to maintain or lose weight.
"The problem with supplements is that unlike pharmaceutical drugs, clinical evidence is not required before they are made available to the public in supermarkets or chemists," said Dr Fuller from the University of Sydney's Boden Collaboration for Obesity, Nutrition, Exercise and Eating Disorders based at its Charles Perkins Centre.
The systematic review and meta-analysis, published in Diabetes, Obesity & Metabolism, analysed the latest international research in this area finding 54 randomised controlled trials comparing the effect of herbal medicines to placebo for weight loss in over 4000 participants.
Results of the review and metanalysis
The research team found that despite some of the herbal medicines showing statistically greater weight loss than placebo, weight loss was less than 2.5kg and therefore not of clinical significance.
"This finding suggests there is insufficient evidence to recommend any of these herbal medicines for the treatment of weight loss. Furthermore, many studies had poor research methods or reporting and even though most supplements appear safe for short-term consumption, they are expensive and are not going to provide a weight loss that is clinically meaningful," said Dr Fuller.
About herbal medicines for weight loss
The most recent data on the use of weight loss supplements, from a US study, showed that among people trying to lose weight 16 percent (12 percent of men and 19 percent of women) reported past-year use.
Herbal medicines, or 'herbal supplements' as they are commonly known, are products containing a plant or combinations of plants as the active ingredient. They come in various forms including pills, powders or liquids.
Common herbal supplements used for weight loss include green tea, garcinia cambogia, white kidney bean and African mango.
The authors write that between 1996 and 2006, 1000 dietary supplements for weight loss were listed on the Australian Register of Therapeutic Goods without evaluation of efficacy.
These substances can be sold and marketed to the public with sponsors (those who import, export or manufacture goods) only required to hold, but not necessarily produce, evidence substantiating their claims. The authors note that only 20 percent of new listings are audited annually to ensure they meet this requirement.
In some countries, the only requirement is that the supplement contains acceptable levels of non?medicinal substances.
"The growth in the industry and popularity of these products highlights the importance of conducting more robust studies on the effectiveness and safety of these supplements for weight loss," said Dr Fuller.
The review excluded studies where the herbal medicine did not include the whole plant, was comprised of plant oils or combined with other dietary supplements such as fibres and proteins. This analysis will be reported in a future paper.
Alison Maunder, Erica Bessell, Romy Lauche, Jon Adams, Amanda Sainsbury, Nicholas R. Fuller.
Effectiveness of herbal medicines for weight loss: A systematic review and meta‐analysis of randomized controlled trials.
Diabetes, Obesity and Metabolism, 2020; DOI:
10.1111/dom.13973
Mother Nature: Reshaping Modern Play Spaces For Children's Health
February 17, 2020: University of South Australia
A world first review of the importance of nature play could transform children's play spaces, supporting investment in city and urban parks, while also delivering important opportunities for children's physical, social and emotional development.
Conducted by the University of South Australia the systematic review explored the impacts of nature play on the health and development of children aged 2-12 years, finding that nature play improved children's complex thinking skills, social skills and creativity.
Led by UniSA masters student Kylie Dankiw and researcher Associate Professor Katherine Baldock, this study is the first to provide evidence that supports the development of innovative nature play spaces in childcare centres and schools.
"In recent years, nature play has become more popular with schools and childcare centres, with many of them re-developing play spaces to incorporate natural elements, such as trees, plants and rocks. But as they transition from the traditional 'plastic fantastic' playgrounds to novel nature-based play spaces, they're also looking for empirical evidence that supports their investments," Dankiw says.
"Our research is the first to rigorously, transparently and systematically review the body of work on nature play and show the impact it has on children's development. We're pleased to say that the findings indicate a positive connection between nature play and children's development.
"For early childhood educators, health practitioners, policymakers and play space designers, this is valuable information that may influence urban play environments and re-green city scapes."
Comprising a systematic review of 2927 peer-reviewed articles, the research consolidated 16 studies that involved unstructured, free play in nature (forest, green spaces, outdoors, gardens) and included natural elements (highly vegetated, rocks, mud, sand, gardens, forests, ponds and water) to determine the impact of nature play on children's health and development.
It found that nature play improved children's levels of physical activity, health-related fitness, motor skills, learning, and social and emotional development. It also showed that nature play may deliver improvements in cognitive and learning outcomes, including children's levels of attention and concentration, punctuality, settling in class (even after play), constructive play, social play, as well as imaginative and functional play.
"Nature play is all about playing freely with and in nature. It's about making mud pies, creating stick forts, having an outdoor adventure, and getting dirty," Dankiw says.
"These are all things that children love to do, but unfortunately, as society has become more sedentary, risk averse and time-poor, fewer children are having these opportunities.
"By playing in nature, children can build their physical capabilities -- their balance, fitness, and strength. And, as they play with others, they learn valuable negotiation skills, concepts of sharing and friendships, which may contribute to healthy emotional and social resilience."
Kylie A. Dankiw, Margarita D. Tsiros, Katherine L. Baldock, Saravana Kumar.
The impacts of unstructured nature play on health in early childhood development: A systematic review.
PLOS ONE, 2020; 15 (2): e0229006 DOI:
10.1371/journal.pone.0229006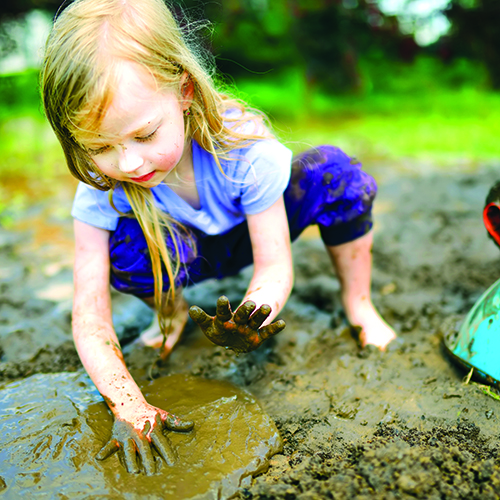 Rogue Cells At Root Of Autoimmune Disease
February 13, 2020: Garvan Institute of Medical Research
There are more than 100 different autoimmune diseases. But what unites them all is that they arise from an individual's own cells -- rare and mysterious immune cells that target not external viruses and bacteria but the body's own healthy organs and tissues.
For the first time, a team led by researchers at the Garvan Institute of Medical Research have pinpointed individual cells that cause autoimmune disease from patient samples. They also uncovered how these cells 'go rogue' by evading checkpoints that normally stop immune cells from targeting the body's own tissues.
The findings could have significant implications for the diagnosis and treatment of autoimmune disease, which affects one in eight individuals in Australia.
"Current treatments for autoimmune disease address only the symptoms, but not the cause. To make more targeted treatments that address disease development and progression, we first need to understand the cause," says Professor Chris Goodnow, co-senior author of the published work, Executive Director of the Garvan Institute and Director of the UNSW Sydney Cellular Genomics Futures Institute.
"We have developed a technique that allows us to look directly at the cells that cause autoimmune disease -- it's as though we're looking through a new microscope lens for the first time, learning more about autoimmune disease than was ever possible before."
The findings, published in the journal Cell today, are part of the visionary Hope Research program.
Tracing autoimmune disease to its origins
Because 'rogue' immune cells are so rare in a blood sample -- less than one in 400 cells -- studying them has been a challenge. Analysis to date has at best revealed 'averages' of the vast mix of cells in a patient's sample, says Dr Mandeep Singh, first author of the published paper.
"Using cellular genomics, we developed a method to 'zoom in' on these disease-causing immune cells in the blood samples of four patients with cryoglobulinemic vasculitis -- a severe inflammation of the blood vessels," says Dr Singh.
By first separating individual cells, and then separating their genetic material, the researchers isolated immune cells that produced 'rheumatoid factors' -- antibody proteins that target healthy tissues in the body and are associated with the most common autoimmune diseases, including rheumatoid arthritis.
Once isolated, the researchers then analysed the DNA and messenger RNA of each of these 'rogue' cells, scanning more than a million positions in the genome to identify DNA variants that may be at the root of disease.
The evolution of autoimmune disease
Through their analysis, the researchers discovered that the disease-causing immune cells of the vasculitis patients had accumulated a number of mutations before they produced the damaging rheumatoid factors.
"We identified step-wise genetic changes in the cells at the root of an autoimmune disease for the first time, tracing an 'evolutionary tree' of how normal immune cells develop into disease-causing cells," says co-senior author Dr Joanne Reed, who heads the Rheumatology and Autoimmunity Group at the Garvan Institute.
Remarkably, the researchers found that some of the first gene mutations that occurred in these rogue cells were known to drive lymphomas (cancerous immune cells).
"We uncovered 'lymphoma driver mutations', including a variant of the CARD11 gene, which allowed the rogue immune cells to evade immune tolerance checkpoints and multiply unchecked," explains Professor Goodnow, who first hypothesised that disease-causing autoimmune cells employ this cancer tactic in 2007.
Further, the researchers found that cells with the lymphoma driver mutations accumulated further mutations that caused the rheumatoid factors they produced to aggregate, or 'clump together', at lower temperatures.
"This explains the patients' cryoglobulinemic vasculitis, a severe condition that develops in some people with Sjögren's syndrome, systemic lupus, rheumatoid arthritis, or hepatitis C virus infection. In these individuals, rheumatoid factors in the blood aggregate at colder temperatures closer to the skin and also in the kidneys, nerves, and other organs, which damages blood vessels and often proves very difficult to treat," says Dr Reed.
New hope for personalised diagnosis and treatments
Not only have the research findings uncovered the root cause of an autoimmune disease -- the ability to identify and investigate specific immune cells at such resolution has vast potential for future treatments to target the cause of all autoimmune diseases.
"In our study, we uncovered specific mutations that mark early stages of autoimmune disease. If we can diagnose a patient at these stages, it may be possible to combine our knowledge of these mutations with new targeted treatments for lymphoma to intervene in disease progression or to track how well a patient is responding to treatments," says Dr Reed.
The researchers are now planning follow-up studies to investigate mutations of autoimmune cells in a range of other diseases, including lupus, celiac disease and type 1 diabetes.
"Identifying these rogue immune cells is a significant step forward for how we study autoimmune disease -- and crucially the first step to finding ways to eliminate them from the body entirely," says Professor Goodnow.
Mandeep Singh, Katherine J.L. Jackson, Jing J. Wang, Peter Schofield, Matt A. Field, David Koppstein, Timothy J. Peters, Deborah L. Burnett, Simone Rizzetto, Damien Nevoltris, Etienne Masle-Farquhar, Megan L. Faulks, Amanda Russell, Divya Gokal, Asami Hanioka, Keisuke Horikawa, Alexander D. Colella, Timothy K. Chataway, James Blackburn, Tim R. Mercer, David B. Langley, D. Margaret Goodall, Roy Jefferis, Muralikrishna Gangadharan Komala, Anthony D. Kelleher, Dan Suan, Maureen Rischmueller, Daniel Christ, Robert Brink, Fabio Luciani, Tom P. Gordon, Christopher C. Goodnow, Joanne H. Reed.
Lymphoma Driver Mutations in the Pathogenic Evolution of an Iconic Human Autoantibody
. Cell, 2020; DOI:
10.1016/j.cell.2020.01.029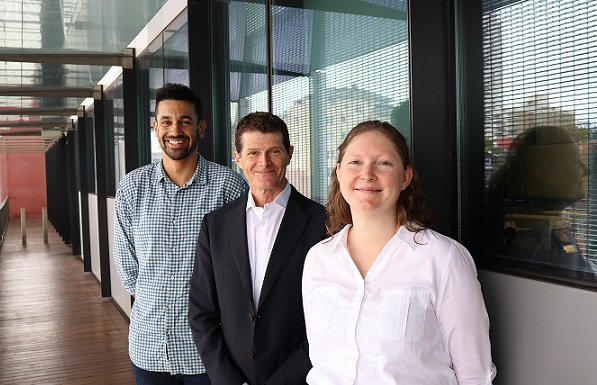 (L-R) Dr Mandeep Singh, Professor Chris Goodnow, Dr Joanne Reed
Ancient Plant Foods Discovered In Arnhem Land, Australia
February 18, 2020: University of Queensland
Australia's first plant foods -- eaten by early populations 65,000 years ago -- have been discovered in Arnhem Land.
Preserved as pieces of charcoal, the morsels were recovered from the debris of ancient cooking hearths at the Madjedbebe archaeological site, on Mirarr country in northern Australia.
University of Queensland archaeobotanist Anna Florin said a team of archaeologists and Traditional Owners identified 10 plant foods, including several types of fruits and nuts, underground storage organs ('roots and tubers'), and palm stem.
"By working with Elders and co-authors May Nango and Djaykuk Djandjomerr, the team was also able to explain how the plants were likely used at Madjedbebe," Ms Florin said.
"Many of these plant foods required processing to make them edible and this evidence was complemented by grinding stone technology also used during early occupation at the site."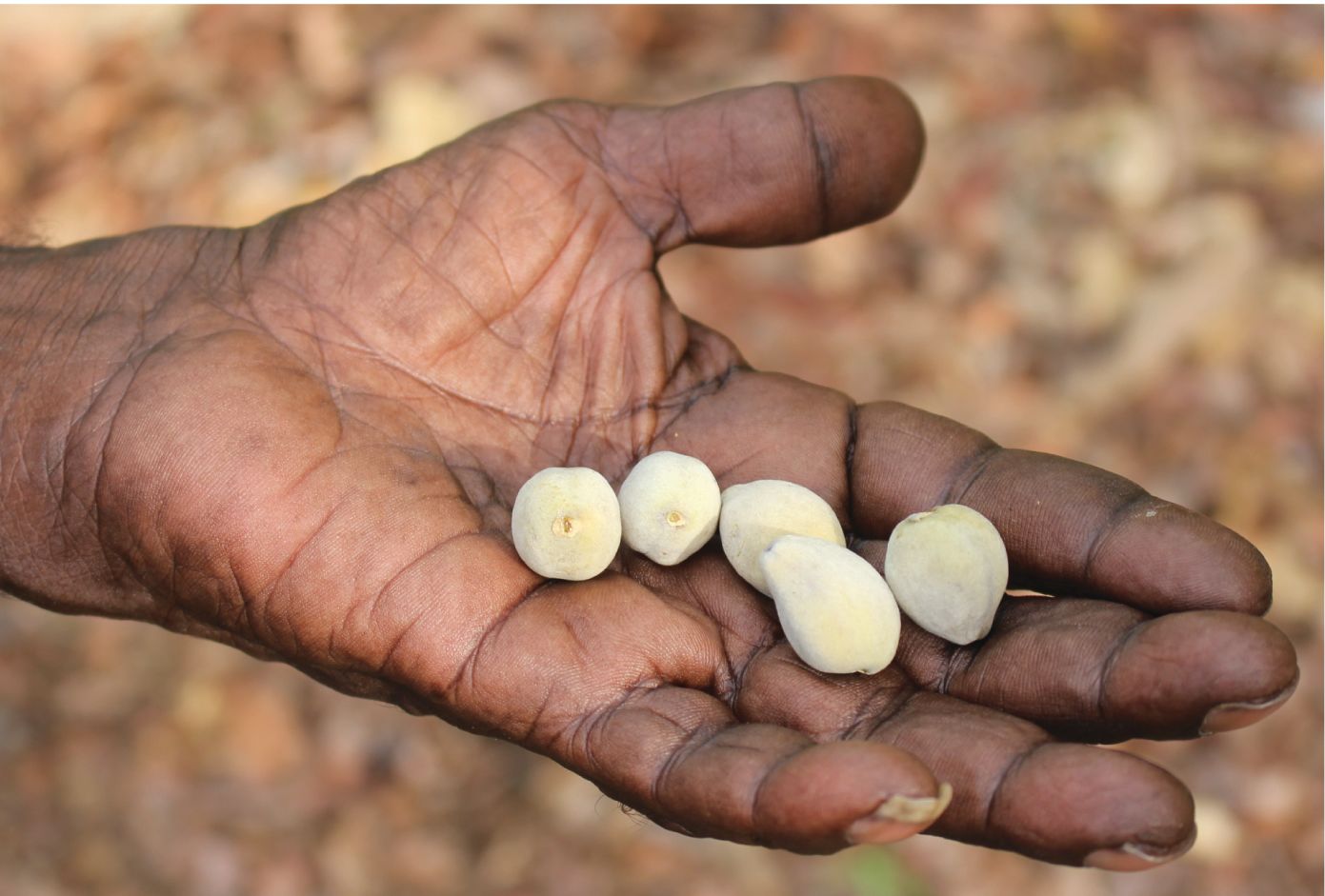 "The First Australians had a great deal of botanical knowledge and this was one of the things that allowed them to adapt to and thrive in this new environment.
"They were able to guarantee access to carbohydrates, fat and even protein by applying this knowledge, as well as technological innovation and labour, to the gathering and processing of Australian plant foods."
Madjedbebe is a sandstone rock shelter at the base of the Arnhem Land escarpment, and is Australia's oldest documented site.
Excavation director Professor Chris Clarkson from UQ's School of Social Science said he was surprised and delighted by the quantity of archaeobotanical evidence recovered from the site.
"Madjedbebe continues to provide startling insights into the complex and dynamic lifestyle of the earliest Australian Aboriginal people," Professor Clarkson said.
The oldest occupation layer at Madjedbebe also holds evidence for the oldest edge ground stone axes in the world, the earliest grindstone technology outside Africa, the early shaping of stone spearheads, many kilograms of ground ochre, and the first recorded use of reflective pigments in the world.
"The site is an important cultural place to Mirarr people today who strive to protect their heritage from numerous threats, including mining," Ms Florin said.
Justin O'Brien, CEO of Gundjeihmi Aboriginal Corporation which represents the Mirarr Traditional Owners, said that research on country -- working in meaningful partnership with Traditional Owners -- was a powerful way to share Mirarr's enduring culture with a broader audience.
S. Anna Florin, Andrew S. Fairbairn, May Nango, Djaykuk Djandjomerr, Ben Marwick, Richard Fullagar, Mike Smith, Lynley A. Wallis, Chris Clarkson.
The first Australian plant foods at Madjedbebe, 65,000–53,000 years ago.
Nature Communications, 2020; 11 (1) DOI:
10.1038/s41467-020-14723-0
Exposure To Cleaning Products In First 3 Months Of Life Increases Risk Of Childhood Asthma
February 18, 2020: Simon Fraser University
New research from the CHILD Cohort Study shows that frequent exposure to common household cleaning products can increase a child's risk of developing asthma.
Asthma is the most common chronic childhood disease and is the primary reason why children miss school or end up in hospital.
The study was published today in the Canadian Medical Association Journal. It found that young infants (birth to three months) living in homes where household cleaning products were used frequently were more likely to develop childhood wheeze and asthma by three years of age.
"Most of the available evidence linking asthma to the use of cleaning products comes from research in adults," said the study's lead researcher, Dr. Tim Takaro, a professor and clinician- scientist in the Faculty of Health Sciences at Simon Fraser University (SFU). "Our study looked at infants, who typically spend 80-90% of their time indoors and are especially vulnerable to chemical exposures through the lungs and skin due to their higher respiration rates and regular contact with household surfaces."
In the study, at three years of age, children living in homes where cleaning products were used with high frequency during their infancy were more likely to have:
Recurrent wheeze (10.8 percent, compared to 7.7 percent of infants in homes with low use of these products)
Recurrent wheeze with atopy, a heightened immune response to common allergens (3.0 percent, compared to 1.5 percent of infants in homes with low use of these products)
Asthma (7.9 percent, compared to 4.8 percent of infants in homes with low use of these products)
Other factors known to affect the onset of asthma, such as family history and early life exposure to tobacco smoke, were accounted for in the analysis.
"Interestingly, we did not find an association between the use of cleaning products and a risk of atopy alone," noted Dr. Takaro. "Therefore, a proposed mechanism underlying these findings is that chemicals in cleaning products damage the cells that line the respiratory tract through innate inflammatory pathways rather than acquired allergic pathways."
"We also found that at age three, the relationship between product exposure and respiratory problems was much stronger in girls than boys," he added. "This is an interesting finding that requires more research to better understand male versus female biological responses to inflammatory exposures in early life."
The study used data from 2,022 children participating in the CHILD Cohort Study and examined their daily, weekly and monthly exposure to 26 types of household cleaners, including dishwashing and laundry detergents, cleaners, disinfectants, polishes, and air fresheners.
"The risks of recurrent wheeze and asthma were notably higher in homes with frequent use of certain products, such as liquid or solid air fresheners, plug-in deodorizers, dusting sprays, antimicrobial hand sanitizers and oven cleaners," commented the paper's lead author, Jaclyn Parks, a graduate student in the Faculty of Health Sciences at SFU. "It may be important for people to consider removing scented spray cleaning products from their cleaning routine. We believe that the smell of a healthy home is no smell at all."
"The big takeaway from this study is that the first few months of life are critical for the development of a baby's immune and respiratory systems," concluded Parks. "By identifying hazardous exposures during infancy, preventive measures can be taken to potentially reduce childhood asthma and subsequent allergy risk."
Jaclyn Parks, Lawrence McCandless, Christoffer Dharma, Jeffrey Brook, Stuart E. Turvey, Piush Mandhane, Allan B. Becker, Anita L. Kozyrskyj, Meghan B. Azad, Theo J. Moraes, Diana L. Lefebvre, Malcolm R. Sears, Padmaja Subbarao, James Scott, Tim K. Takaro.
Association of use of cleaning products with respiratory health in a Canadian birth cohort.
Canadian Medical Association Journal, 2020; 192 (7): E154 DOI:
10.1503/cmaj.190819
Elissa M. Abrams.
Cleaning products and asthma risk: a potentially important public health concern.
Canadian Medical Association Journal, 2020; 192 (7): E164 DOI:
10.1503/cmaj.200025
New World Record For Conversion Of Solar Energy To Electricity Using Quantum Dots
February 18, 2020: University of Queensland
The development of next generation solar power technology that has potential to be used as a flexible 'skin' over hard surfaces has moved a step closer, thanks to a significant breakthrough at The University of Queensland.
UQ researchers set a world record for the conversion of solar energy to electricity via the use of tiny nanoparticles called 'quantum dots', which pass electrons between one another and generate electrical current when exposed to solar energy in a solar cell device.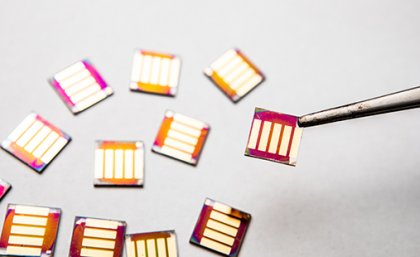 A UQ team have developed quantum dot solar cells that can be made into thin, flexible films and used to generate electricity even in low-light conditions

The development represents a significant step towards making the technology commercially-viable and supporting global renewable energy targets.
Professor Lianzhou Wang, who led the breakthrough, said: "Conventional solar technologies use rigid, expensive materials. The new class of quantum dots the university has developed are flexible and printable.
"This opens up a huge range of potential applications, including the possibility to use it as a transparent skin to power cars, planes, homes and wearable technology. Eventually it could play a major part in meeting the United Nations' goal to increase the share of renewable energy in the global energy mix."
Professor Wang's team set the world record for quantum dot solar cell efficiency by developing a unique surface engineering strategy. Overcoming previous challenges around the fact that the surface of quantum dots tend to be rough and unstable -- making them less efficient at converting solar into electrical current.
"This new generation of quantum dots is compatible with more affordable and large-scale printable technologies," said Professor Wang.
"The near 25 per cent improvement in efficiency we have achieved over the previous world record is important. It is effectively the difference between quantum dot solar cell technology being an exciting 'prospect' and being commercially viable.'
UQ Vice-Chancellor and President Professor Peter Høj AC extended his congratulations to the UQ team.
"The world needs to rapidly reduce carbon emissions and this requires us to invest much more in research to improve existing energy-generation technologies and develop entirely new ones," he said.
"Harnessing the power of fundamental technological and scientific research is a big part of this process -- and that's what we're focused on at UQ."
Mengmeng Hao, Yang Bai, Stefan Zeiske, Long Ren, Junxian Liu, Yongbo Yuan, Nasim Zarrabi, Ningyan Cheng, Mehri Ghasemi, Peng Chen, Miaoqiang Lyu, Dongxu He, Jung-Ho Yun, Yi Du, Yun Wang, Shanshan Ding, Ardalan Armin, Paul Meredith, Gang Liu, Hui-Ming Cheng, Lianzhou Wang.
Ligand-assisted cation-exchange engineering for high-efficiency colloidal Cs1−xFAxPbI3 quantum dot solar cells with reduced phase segregation
. Nature Energy, 2020; 5 (1): 79 DOI:
10.1038/s41560-019-0535-7
Professor Lianzhou Wang is an Australian Research Council Laureate Fellow based in the School of Chemical Engineering at UQ's Faculty of Engineering, Architecture, and Information Technology (EAIT) and Australian Institute for Bioengineering and Nanotechnology (AIBN)
The University of Queensland is a Global top 50 university, ranked 33rd in the world for Chemical Engineering
The National Renewable Energy Laboratory (NREL) in the US recognised UQ's world record for quantum dot solar cell efficiency, after verifying independent testing. Professor Wang's team achieved 16.6% efficiency – the previous world record in quantum dot solar cell category was 13.4%.
Disclaimer: These articles are not intended to provide medical advice, diagnosis or treatment. Views expressed here do not necessarily reflect those of Pittwater Online News or its staff.