Inbox and environment News: issue 437
February 9 - 15, 2020: Issue 437
Federal Government Ministry: February 2020
The Prime Minister announced on 6 February 2020, his intention to recommend to the Governor-General the following Ministry:
Prime Minister - The Hon Scott Morrison MP
Minister for the Public Service - The Hon Scott Morrison MP
Minister for Women - Senator the Hon Marise Payne
Minister Assisting the Prime Minister for the Public Service and Cabinet - The Hon Greg Hunt MP
Minister for Indigenous Australians - The Hon Ken Wyatt AM MP
Assistant Minister to the Prime Minister and Cabinet - The Hon Ben Morton MP
Deputy Prime Minister and Minister for Infrastructure, Transport and Regional
Development -
The Hon Michael McCormack MP
Minister for Agriculture, Drought and Emergency Management - The Hon David Littleproud MP
Minister for Communications, Cyber Safety and the Arts - The Hon Paul Fletcher MP
Minister for Population, Cities and Urban Infrastructure - The Hon Alan Tudge MP
Minister for Regional Health, Regional Communications and Local Government - The Hon Mark Coulton MP
Minister for Decentralisation and Regional Education - The Hon Andrew Gee MP
Assistant Minister for Road Safety and Freight Transport - The Hon Scott Buchholz MP
Assistant Minister to the Deputy Prime Minister - Kevin Hogan MP
Assistant Minister for Regional Development and Territories - The Hon Nola Marino MP
Treasurer - The Hon Josh Frydenberg MP
Minister for Population, Cities and Urban Infrastructure - The Hon Alan Tudge MP
Assistant Treasurer - The Hon Michael Sukkar MP
Minister for Housing - The Hon Michael Sukkar MP
Assistant Minister for Superannuation, Financial Services and Financial Technology - Senator The Hon Jane Hume
Minister for Finance
(Vice-President of the Executive Council)
(Leader of the Government in the Senate) -
Senator the Hon Mathias Cormann
Assistant Minister for Finance, Charities and Electoral Matters - Senator the Hon Zed Seselja
Minister for Agriculture, Drought and Emergency Management - The Hon David Littleproud MP
Minister for the Environment - The Hon Sussan Ley MP
Minister for Resources, Water and Northern Australia - The Hon Keith Pitt MP
Assistant Minister for Waste Reduction and Environmental Management - The Hon Trevor Evans MP
Assistant Minister for Forestry and Fisheries - Senator The Hon Jonathon Duniam
Minister for Foreign Affairs - Senator the Hon Marise Payne
Minister for Trade, Tourism and Investment
(Deputy Leader of the Government in the Senate) -
Senator the Hon Simon Birmingham
Minister for International Development and the Pacific - The Hon Alex Hawke MP
Minister Assisting the Minister for Trade and Investment - The Hon Andrew Gee MP
Assistant Minister for Regional Tourism - Senator the Hon Jonathon Duniam
Attorney-General
(Leader of the House) -
The Hon Christian Porter MP
Minister for Industrial Relations - The Hon Christian Porter MP
Minister for Health - The Hon Greg Hunt MP
Minister for Aged Care and Senior Australians - Senator the Hon Richard Colbeck
Minister for Youth and Sport - Senator the Hon Richard Colbeck
Minister for Regional Health, Regional Communications and Local Government - The Hon Mark Coulton MP
Minister for Home Affairs - The Hon Peter Dutton MP
Minister for Agriculture, Drought and Emergency Management - The Hon David Littleproud MP
Minister for Immigration, Citizenship, Migrant Services and Multicultural Affairs - The Hon David Coleman MP
Assistant Minister for Customs, Community Safety and Multicultural Affairs - The Hon Jason Wood MP
Minister for Education - The Hon Dan Tehan MP
Minister for Employment, Skills, Small and Family Business - Senator the Hon Michaelia Cash
Minister for Decentralisation and Regional Education - The Hon Andrew Gee MP
Assistant Minister for Vocational Education, Training and Apprenticeships - The Hon Steve Irons MP
Minister for Industry, Science and Technology - The Hon Karen Andrews MP
Minister for Energy and Emissions Reduction - The Hon Angus Taylor MP
Minister for Resources, Water and Northern Australia - The Hon Keith Pitt MP
Assistant Minister for Northern Australia - The Hon Michelle Landry MP
Minister for Defence - Senator the Hon Linda Reynolds CSC
Minister for Veterans' Affairs -
The Hon Darren Chester MP
Minister for Defence Personnel -
The Hon Darren Chester MP
(Deputy Leader of the House)
Assistant Defence Minister - The Hon Alex Hawke MP
Minister for Defence Industry - The Hon Melissa Price MP
Minister for Families and Social Services -
Senator the Hon Anne Ruston
(Manager of Government Business in the Senate)
Minister for the National Disability Insurance Scheme - The Hon Stuart Robert MP
Minister for Government Services - The Hon Stuart Robert MP
Assistant Minister for Children and Families - The Hon Michelle Landry MP
Assistant Minister for Community Housing, Homelessness and Community Services - The Hon Luke Howarth MP
2019 Federal Election Disclosure Returns Published Today
Monday, February 3rd, 2020
Disclosure returns lodged with the Australian Electoral Commission (AEC) by candidates, Senate groups and election donors following the 2019 federal election, held on Saturday 18 May 2019, are now released for public inspection.
The election disclosure returns are
available to view on the AEC's Transparency Register
– a sub-site of the existing AEC website. The Transparency Register allows users to more easily apply multiple filters to disclosure data and use improved sorting functionality. Users are also able to easily export filtered data or download the entire dataset should they wish to do so.
The returns cover receipts, electoral expenditure and discretionary benefits by candidates who contested the 2019 federal election. Of the 1,514 candidates who contested the federal election, a total of 1,438 lodged returns and, of these, 993 candidates lodged nil returns. In addition, eight Senate Group returns were lodged, four of which were nil returns. A further 28 donor returns were also lodged.
Note: Candidates and Senate groups that are endorsed by a political party were able to provide a nil disclosure and roll their reporting in as part of the political party return for the 2018-19 financial year, which will be available for public inspection on Monday 3 February 2020.
The Transparency Register
The AEC's Transparency Register currently displays federal election and by-election financial disclosure returns lodged by candidates, Senate groups and donors. The register replaces the previous election returns locator tool.
Annual financial disclosure returns for the 2017-18 financial year and earlier years will transfer to the new Transparency Register webpage from December this year.
Financial disclosure requirements
Candidates are required to disclose the total sum of all donations received and used to fund their campaign, along with details of donations received where those donations total more than $13,800 from a single source. Details of electoral expenditure and discretionary benefits are also required.
Officially endorsed candidates may submit a "nil return" and roll their reporting into the annual return for their party, due for release in February 2020, if those financial transactions were the responsibility of a party committee.
Donations totalling more than $13,800 made to an individual candidate or Senate group, and donations received by a donor totalling more than $13,800 from a single source that were used in turn to fund donations to an individual candidate or Senate group, must be reported by the donor.
NSW: Children's Brain Cancer Focus Of $7.1 Million Grants
Ground-breaking research into aggressive childhood brain tumours is a major recipient of a $7.1 million investment into cancer research announced by the NSW Government.
Health Minister Brad Hazzard said research has the potential to deliver a new care model, therapies and better outcomes for children with in-operable brain tumors.
"Despite significant advances in childhood cancer treatments, the prognosis for kids battling aggressive brain cancers worldwide remains bleak," Mr Hazzard said.
"The NSW Government, through the Cancer Institute NSW has invested more than $16 million over the last five years in paediatric cancer research.
"In addition, Australia's first Comprehensive Children's Cancer Centre will be built at the Sydney Children's Hospital by the NSW Government with an investment of $608 million.
"The latest funding boost for researchers will hopefully help get new treatments from the laboratory benchtop to the bedside much quicker, giving some hope to families."
Brain tumours are the most common form of solid tumours among children. Malignant brain tumours kill more children in Australia than any other disease.
Associate Professor David Ziegler of the Sydney Children's Hospital, Randwick received a Translational Program Grant of $3.75 million to develop new treatments for diffuse intrinsic pontine glioma (DIPG), presently an inoperable brain stem tumour in children.
"With this additional funding, we'll be looking at treatments like immunotherapy and drugs targeting specific genetic mutations to help our young patients," Professor Ziegler said.
Also announced as part of today's funding was $3.3 million in Cancer Research Fellowships supporting early and mid-career researchers.
Professor David Currow, Chief Cancer Officer and CEO of the Cancer Institute NSW, administered the funding. He said the Fellowships formed a vital part of NSW's research investment.
"Investing in our researchers at the beginning of their careers, helps ensure NSW remains at the forefront of cancer research, delivering better outcomes for all patients."
UNSW Problem Solvers Make Technology Accessible For Everybody
UNSW students and people with disabilities are working together on creative ways to make technology usable for more people.
Dr Lauren Kark, an Associate Professor in the Graduate School of Biomedical Engineering, received a Division of Equity Diversity & Inclusion Small Grant 2019.
A pilot program that inspires UNSW Engineering students to develop innovative technology for people with disability has been named 'best innovation' by the University's Division of Equity, Diversity & Inclusion.
The program, Connect Equip, gives students the opportunity to connect with people living with disability and co-design a tailored device that enhances their quality of life and participation in society.
Dr Lauren Kark, an Associate Professor in the Graduate School of Biomedical Engineering, was one of five recipients awarded a $5000 Small Grant by the Division of Equity, Diversity & Inclusion in 2019. The division's grant program launched last year aiming to encourage and support students and staff to foster a campus culture that promoted equity, diversity and inclusion.
Dr Kark started Connect Equip amid growing concern that technology was often unavailable and did not cater to the needs of people with disabilities.
"In a lot of my research, I work with people with disability, and I can see the frustration of wanting to participate but not being able to because they can't get their hands on the technology that they need to participate," she said.
Dr Kark identified that a major problem was the limited exposure some engineers had to people with a disability. "Many students graduate and go into the workforce designing technology intended to improve quality of life but have never encountered someone with a disability or chronic illness," she said.
'I work with people with disability, and I can see the frustration of wanting to participate but not being able to because they can't get their hands on the technology that they need to participate.'
Connect Equip aimed to change that by providing engineering students with the opportunity to work collaboratively with people with a disability and better understand their needs, design solutions and produce a prototype.
The pilot program was initially designed as an elective unit that engineering students could enrol in to receive course credit. In just 10 weeks, students co-designed 21 projects to enhance the lives of people with disability.
Connect Equip devices produced by students addressed a widening gap in the technology sector. Dr Kark said a lot of devices on the market were medical but Connect Equip aimed to design products that facilitated increased social participation in sporting, leisure and lifestyle activities.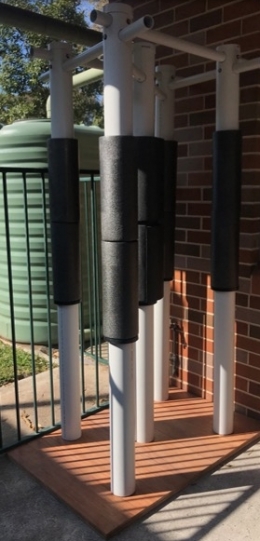 People can place themselves between the poles of the 'squeeze machine' and have pressure applied to their bodies by the black foam rollers.
Devices included the creation of 'squeeze machines' for people with autism, and portable squeeze gyms they could travel with. Some children with neurological processing disorders, such as autism, require deep physical pressure. Squeeze gyms provide the temporary pressure and the ideal level of heavy work to help them function effectively.
UNSW Engineering students worked in the gym with an exercise physiologist, modifying existing gym equipment to make it accessible and safe for people with disabilities and injuries.
"One group made something you can put onto a generic exercise bike to enable people with spinal cord injury or who've had a stroke to use their normal bikes rather than having to buy another custom-made bike," Dr Kark said.
Thriving under a tight budget, another group of students built a classroom device for only $50 that enabled students in wheelchairs to access whiteboards more effectively.
"The bulk of the wheelchair means students can't physically get close to the board, but also by their nature wheelchairs mean you're sitting, so you can't get up to the top of the board. Many students with disability in wheelchairs also don't have the muscle control required to interact with the board," Dr Kark said.
'We want to be open year-round so that people can request technology at any time of the year.'
"The students designed a special device that was weighted appropriately for the individual users and took advantage of the muscle control they had and made sure the muscle control they didn't have wasn't causing any accessibility issues," she said.
Professor Eileen Baldry, Deputy Vice-Chancellor, Equity, Diversity and Inclusion, said that "all five projects funded by the grants are wonderful".
"The EDI board had presentations from all five and found it so hard to decide which should be the overall winner. Connect Equip students captured the board's attention for their genuine partnership with people with disability," Professor Baldry said.
"The students recognised people with disabilities' expertise regarding their needs and what would make a difference for them. They then developed ingenious and affordable devices to assist in resolving whatever the particular issue was."
Sarah Anastopoulos, an engineering student who took part, said the experience humbled her and highlighted the importance of including people with disability in the production process.
"It doesn't matter how capable we are as engineers, we will never have the expertise that our end-user does when it comes to their own experiences, capabilities and needs," she said.
With the success of Connect Equip, Dr Kark said, there were plans to expand the program to an ongoing community service hub.
"We want to be open year-round so that people can request technology at any time of the year and students can work on these projects for the required period of time," she said.
With 21 effective projects already developed in 10 weeks, Dr Kark said, it was exciting to ponder what Connect Equip could achieve over a longer time.
Wasp Nests Used To Date Ancient Kimberley Rock Art
February 6, 2020: University of Melbourne
Mud wasp nests have helped establish a date for one of the ancient styles of Aboriginal rock art in the Kimberley.
University of Melbourne and ANSTO scientists put the Gwion Gwion art period around 12,000 years old.
"This is the first time we have been able to confidently say Gwion style paintings were created around 12,000 years ago," said PhD student Damien Finch, from the School of Earth Sciences at the University of Melbourne. "No one has been able present the scientific evidence to say that before."
One wasp nest date suggested one Gwion painting was older than 16,000 years, but the pattern of the other 23 dates is consistent with the Gwion Gwion period being 12,000 years old.
The rock paintings, more than twice as old as the Giza Pyramids, depict graceful human figures with a wide range of decorations including headdresses, arm bands, and anklets. Some of the paintings are as small as 15cm, others are more than two metres high.
The details of the breakthrough are detailed in the paper 12,000-year-old Aboriginal rock art from the Kimberley region, Western Australia, now published in Science Advances.
More than 100 mud wasp nests collected from Kimberley sites, with the permission of the Traditional Owners, were crucial in identifying the age of the unique rock art.
"A painting beneath a wasp nest must be older than the nest, and a painting on top of a nest must be younger than the nest," Mr Finch said. "If you date enough of the nests, you build up a pattern and can narrow down an age range for paintings in a particular style."
Lack of organic matter in the pigment used to create the art had previously ruled out radiocarbon dating. But the University of Melbourne and ANSTO scientists were able to use dates on 24 mud wasp nests under and over the art to determine both maximum and minimum age constraints for paintings in the Gwion style.
The project was initiated by Professor Andy Gleadow and Professor Janet Hergt, from the School of Earth Sciences, and started in 2014 with funding from the Australian Research Council and the Kimberley Foundation. It is the first time in 20 years scientists have been able to date a range of these ancient artworks.
"The Kimberley contains some of the world's most visually spectacular and geographically extensive records of Indigenous rock art, estimated to include tens of thousands of sites, only a small fraction of which have been studied intensively," said Professor Gleadow.
Professor Hergt said being able to estimate the age of Gwion art is important as it can now be placed into the context of what was happening in the environment and what we know from excavations about other human activities at the same time.
Dr Vladimir Levchenko, an ANSTO expert in radiocarbon dating and co-author, said rock art is always problematic for dating because the pigment used usually does not contain carbon, the surfaces are exposed to intense weathering and nothing is known about the techniques used thousands of years ago.
"Beeswax or resin have also been used -- usually on more modern samples," Dr Levchenko said.
"Although soil is full of carbon, most of it is easily degradable. However, charcoal is more likely to survive for longer periods. There is lots of black carbon in Australian soil because of bushfires."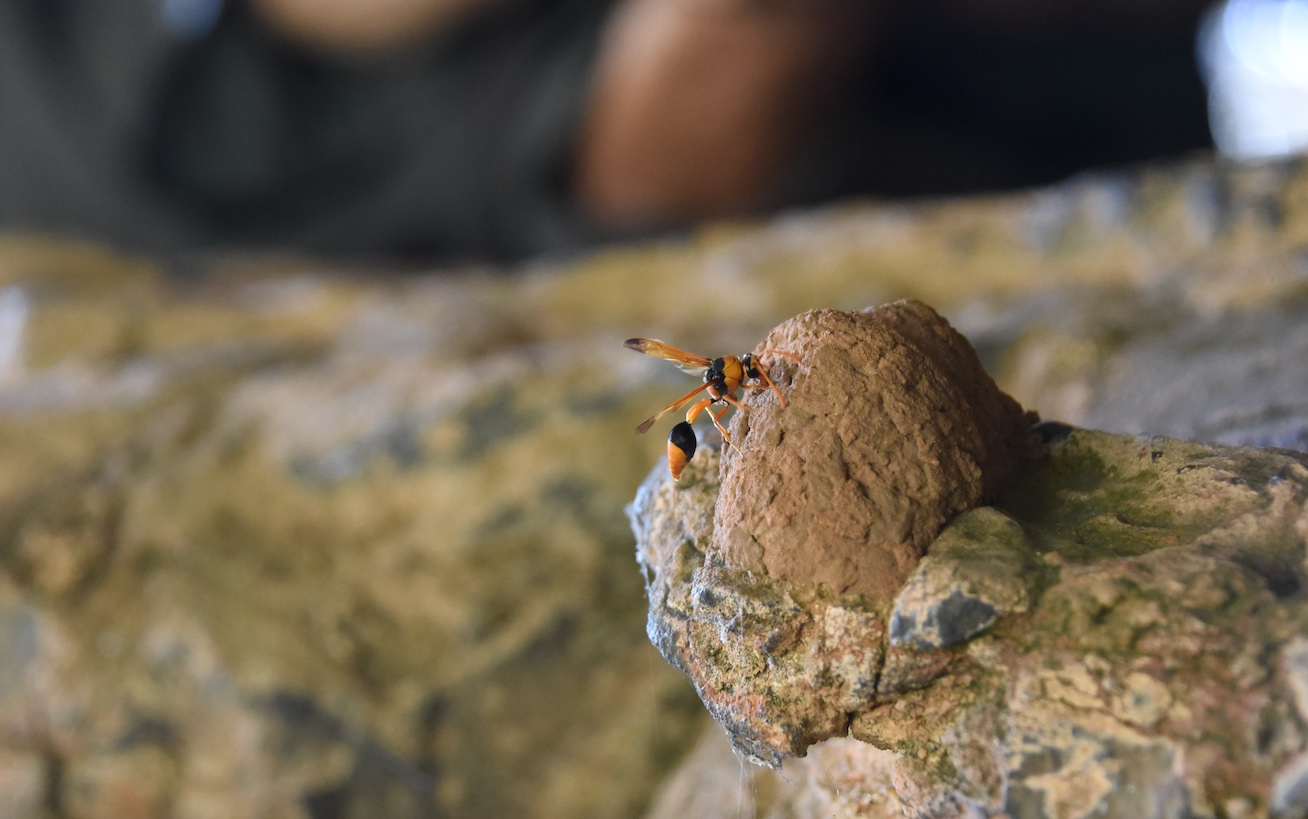 Wasp nests near the paintings have given scientists a major breakthrough on Kimberley rock art. Image: Damien Finch

Damien Finch, Andrew Gleadow, Janet Hergt, Vladimir A. Levchenko, Pauline Heaney, Peter Veth, Sam Harper, Sven Ouzman, Cecilia Myers, Helen Green.
12,000-Year-old Aboriginal rock art from the Kimberley region, Western Australia
. Science Advances, 2020; 6 (6): eaay3922 DOI:
10.1126/sciadv.aay3922
Top 5 Funniest Animal Outtakes
Published by BBC Earth, February 3rd, 2020
Wildcard Clubs Thrown In The Mix For Nudie Australian Boardriders Battle National Final
February 4th, 2020: By Surfing Australia
Five seriously strong Wildcard Clubs are set to shake up the nudie Australian Boardriders Battle National Final in Newcastle next weekend, on February 15th and 16th.
Reigning national champions Merewether Surfboard Club will yet again field a heavyweight lineup including the likes of World Surf League (WSL) stars Ryan Callinan and Morgan Cibilic. A 2020 Championship tour rookie, Cibilic is pumped to kick off his year surfing for the club he loves to represent.
"Nothing beats surfing for your club and we are such a proud club with a long and proud history of world champions and winners. I can't wait to give the national final a real shakeup on home turf. Hopefully, the forecast plays in our favour and produces solid waves," said Cibilic.
Some of the world's best current, former and up-and-coming World Surf League (WSL) stars will don the comp singlet to help their club in the quest for national glory. Names like Wade Carmichael, Adrian Buchan, Matt Wilkinson, Soli Bailey, Danny Wills, Kieran Perrow, Nikki Van Dijk, Macy Callaghan, Molly Picklum, Ethan Ewing, Connor O'Leary, Bede Durbidge and Kalani Ball, just to name a few.
Avoca Boardriders Club is another serious contender coming into the event as a wildcard club, bosting Adrian Buchan, Wade Carmichael and Matt Wilkinson on their team card and having won the National Final back in 2017.
nudie Australian Boardriders Battle National Final Wildcard Clubs:
Merewether SBC (NSW)
North Shelley BRC (NSW)
Avoca BRC (NSW)
Byron BRC (NSW)
Ulladulla BRC (NSW)
Newcastle Trials WINNER
nudie Australian Boardriders Battle National Final Qualified Clubs:
Noosa BRC (QLD)
Point Lookout BRC (QLD)
North Shore BRC (QLD)
Burleigh Heads BRC (QLD)
Queenscliff BRC (NSW)
Curl Curl United BRC (NSW)
Nth Narrabeen BRC (NSW)
Le Ba BRC (NSW)
Coffs Harbour BRC (NSW)
Kingscliff BRC (NSW)
Elouera BRC (NSW)
Bondi BRC (NSW)
Culburra BRC (NSW)
Margaret River BRC (WA)
Seaford BRC (SA)
South Arm BRC (TAS)
Torquay BRC (VIC)
Phillip Island BRC (VIC)
Now in its seventh season, the nudie Australian Boardriders Battle is the country's biggest grassroots boardriders event, involving more than 60 of Australia's best boardrider clubs and $110,000 in prize money.
The series is officially sanctioned by the World Surf League (WSL), which allows Australian WSL World Tour surfers (Men and Women) the opportunity to represent their local boardriders club at respective State qualifying events and the National Final.
Adding to the high stakes at the State qualifying events will be two speciality awards. The Oakley Prizm Performer will be awarded to the standout surfer, while the AirAsia Big Air will be presented to the surfer who does the biggest and best aerial manoeuvre at each event.
The 2019/20 nudie Australian Boardriders Battle is proudly supported by nudie, Oakley, Woolworths, Hyundai, BFGoodrich, Acciona, Destination NSW, City of Newcastle, AirAsia, 2XP, WSL, mySURFtv, Novotel Newcastle Beach, Andrew Peace Wines, Fox Sports and Surfing Australia.
2019/2020 nudie Australian Boardriders Battle Series Calendar:
ABB - EVENT 1 - Gold Coast, QLD - Aug 24, 2019
ABB - EVENT 2 - Trigg, WA - Sept 21, 2019
ABB - EVENT 3 - NSW Nth - Coffs Harbour, NSW - Oct 13, 2019
ABB - EVENT 4 - NSW Sth - Kiama, NSW - Oct 26, 2019
ABB - EVENT 5 - NSW Central - North Narrabeen, NSW - Nov 2, 2019
ABB - EVENT 6 - Phillip Island, VIC - Nov 9, 2019
ABB - EVENT 7 - Fleurieu Peninsula, SA - Nov 23, 2019
ABB - EVENT 8 - Clifton Beach TAS - Dec 14, 2019
National Final – Newcastle NSW - Feb 15-16, 2020
Curious Kids: How Do Magpies Detect Worms And Other Food Underground?
How do magpies detect worms and other food sources underground? I often see them look or listen, then rapidly hop across the ground and start digging with their beak and extract a worm or bug from the earth – Catherine, age 10, Perth.
Answered by Gisela Kaplan, Emeritus Professor in Animal Behaviour, University of New England
You have posed a very good question.
Foraging for food can involve sight, hearing and even smell. In almost all cases learning is involved. Magpies are ground foragers, setting one foot before the other looking for food while walking, called walk-foraging. It looks like this:
This is called walk-foraging. Gisela Kaplan, Author provided
Finding food on the ground, such as beetles and other insects, is not as easy as it may sound. The ground can be uneven and covered with leaves, grasses and rocks. Insects may be hiding, camouflaged, or staying so still it is hard for a magpie to notice them.
Detecting a small object on the ground requires keen vision and experience, to discriminate between the parts that are important and those that are not.
Magpie eyes, as for most birds, are on the side of the head (humans and other birds of prey, by contrast, have eyes that face forward).

A magpie's eyes are at the side of its head and it can only see something with both eyes if that is straight in front of the bird. Shutterstock/Webb Photography
To see a small area in front of them, close to the ground, birds use both eyes together (scientists call this binocular vision). But birds mostly see via the eyes looking out to the side (which is called monocular vision).
This picture gives you an idea of what a magpie can see with its left eye, what it can see with its right eye and what area it can see with both eyes working together (binocular vision).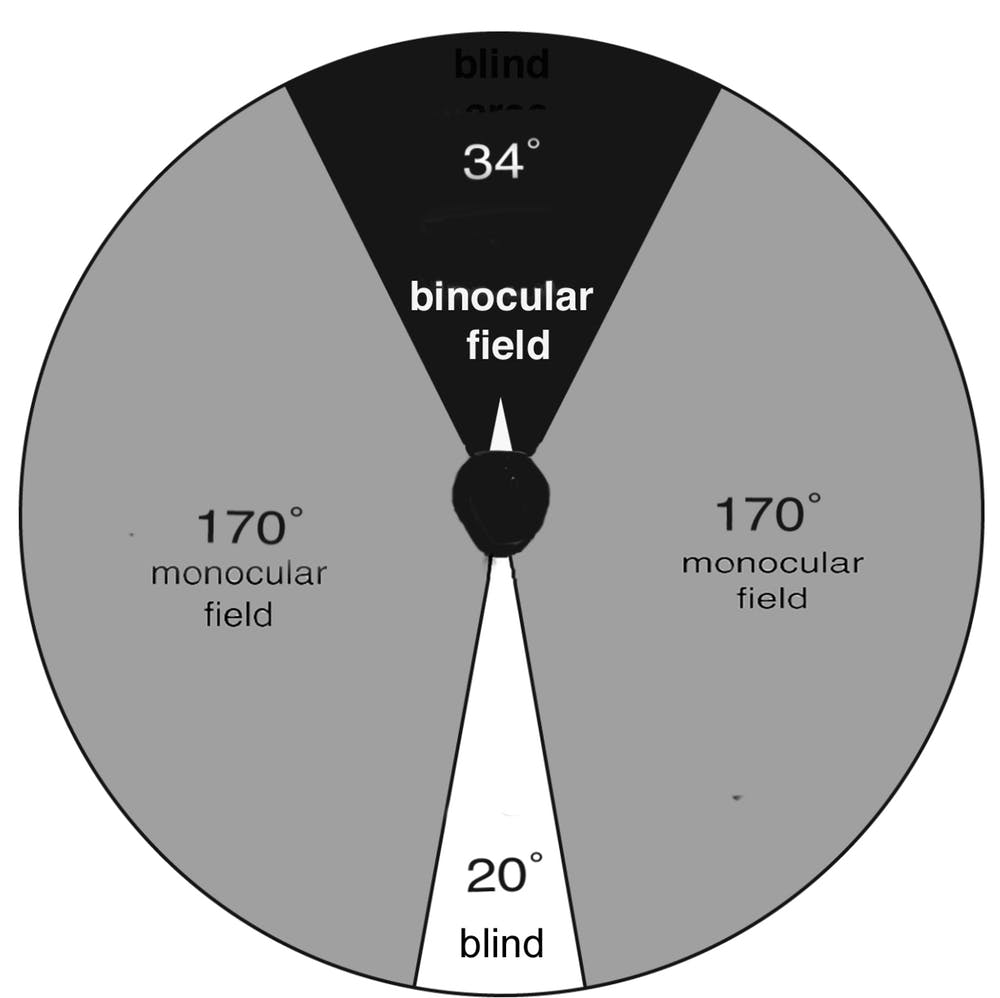 Here's how a magpie's field of vision works. Gisela Kaplan, Author provided
You asked about underground foraging. Some of that foraging can also be done by sight. Worms, for instance, may leave a small mound (called a cast) on the surface and, to the experienced bird, this indicates that a worm is just below.
Magpies can also go a huge step further. They can identify big scarab larvae underground without any visual help at all.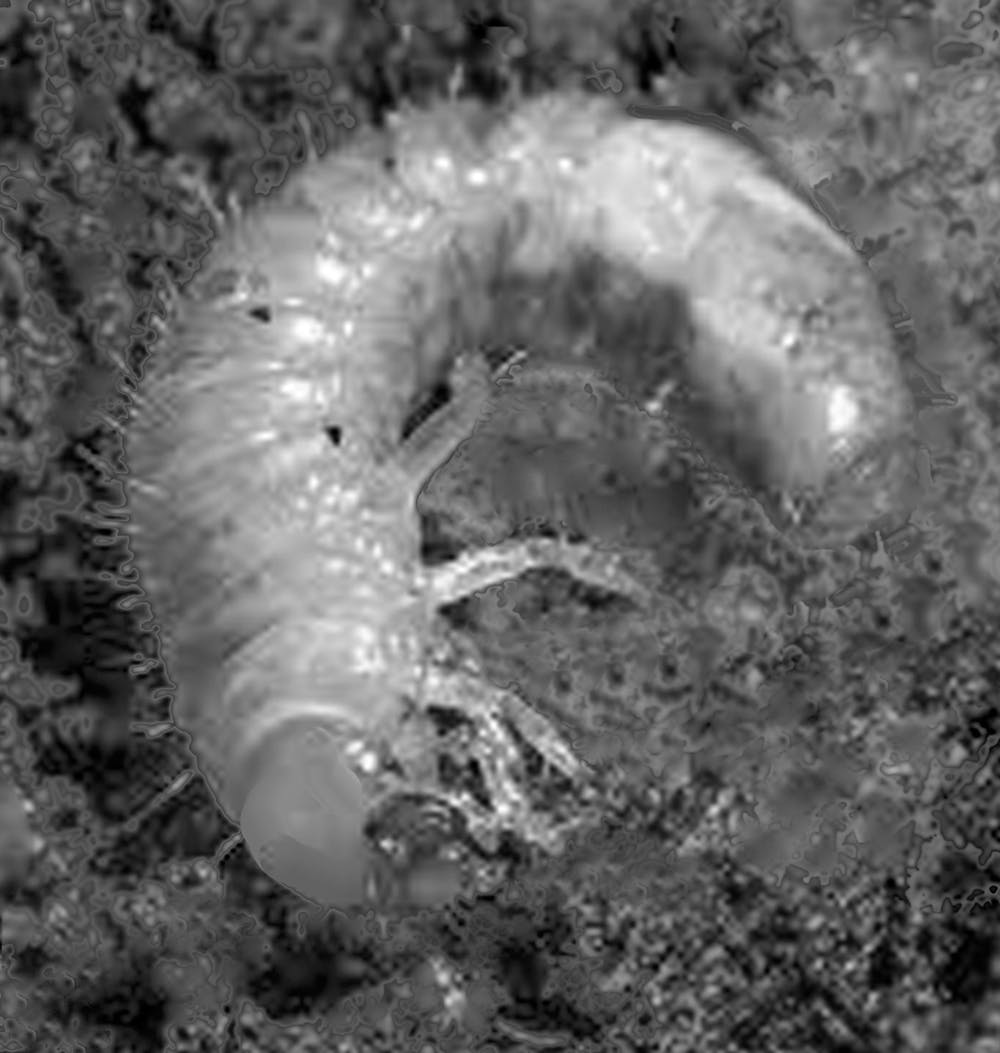 Here is a scarab larva. Gisela Kaplan, Author provided
Scarab larvae look like grubs. They munch on grassroots and can kill entire grazing fields. Once they transform into beetles (commonly called Christmas beetles) they can do even more damage by eating all the leaves off eucalyptus trees.
Here is the secret: magpies have such good hearing, they can hear the very faint sound of grass roots being chewed.
We know this from experiments using small speakers under the soil playing back recorded sounds of scarab beetle larvae. Magpies located the speaker every time and dug it up.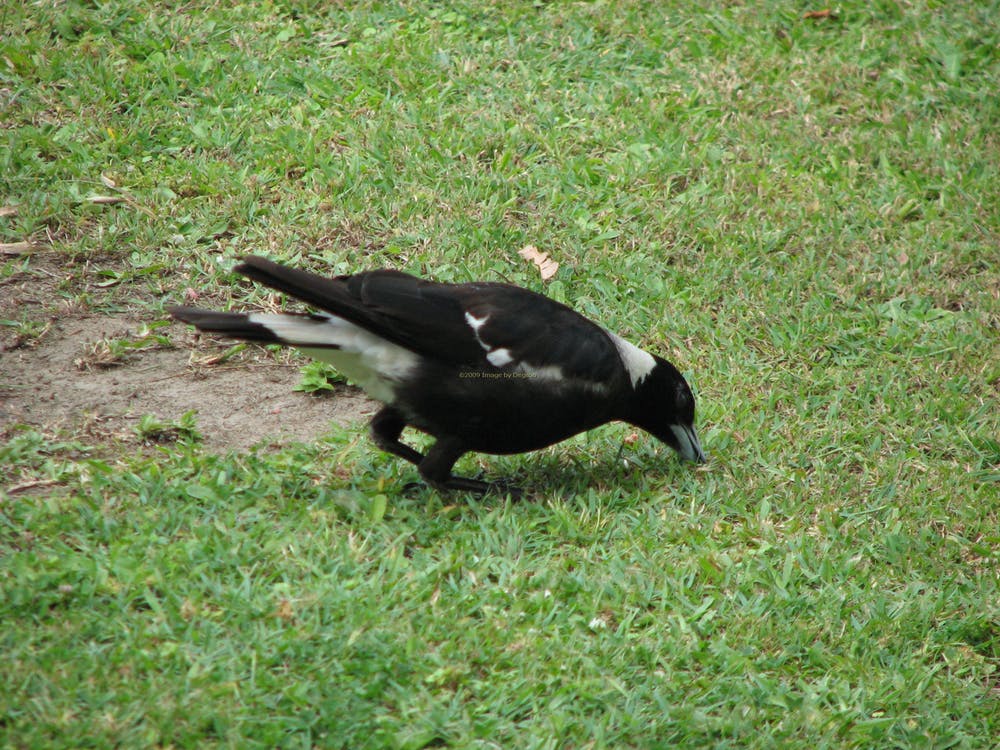 An Australian magpie digging for food in a lawn. Flickr/Lance, CC BY-NC-ND
So how do they do it? Several movements are involved.
To make certain that a jab with its beak will hit the exact spot where the juicy grub is, the magpie first walks slowly and scans the ground. It then stops and looks closely at the ground – seemingly with both eyes working together.
Then, holding absolutely still, the magpie turns its head so the left side of the head and ear is close to the ground for a final confirming listen.
Finally, the bird straightens up, then executes a powerful jab into the ground before retrieving the grub.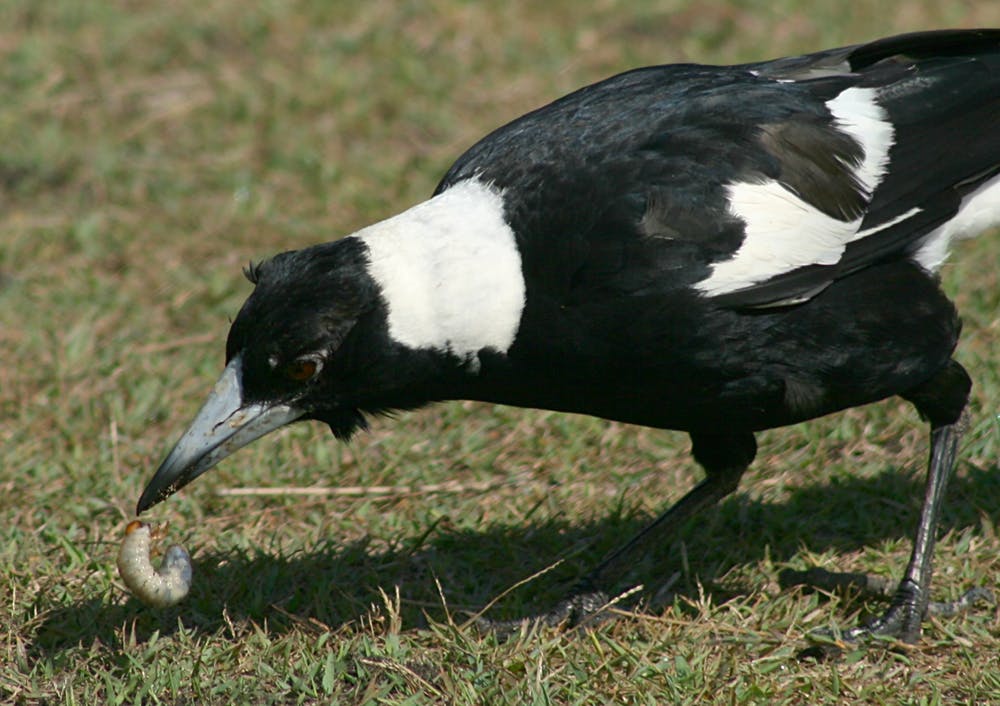 An Australian magpie digging for food gets a grub. Wikimedia/Toby Hudson, CC BY-SA
That is very clever of the magpies. Very few animals can extract food they can't see. Only great apes and humans were thought to have this ability. Clever magpies indeed. And farmers love them for keeping a major pest under control.
_______________________________________________________________
Hello, curious kids! Have you got a question you'd like an expert to answer? Ask an adult to send your question to curiouskids@theconversation.edu.au

Curious Kids is a series published by The Conversation - republished under a Creative Commons licence. To see all Curious Kids articles on The Conversation, visit here.
Explosive Find! Secret Wartime Tunnel Located Under Road In Royal National Park
February 3rd, 2020
A hidden underground slice of Australia's wartime history has been rediscovered by workers investigating road maintenance in the Royal National Park.
Transport for NSW Sydney Maintenance Director David Fishburn said the forgotten tunnel under one of the main access roads to the park is part of a network of small explosives chambers, prepared in 1942 in case of invasion during World War Two.
"We understand the chamber was dug under the road so that explosives could be hidden within it. In the case of an invasion, the explosives would have been detonated and the road destroyed to hinder the progress of enemy troops," Mr Fishburn said.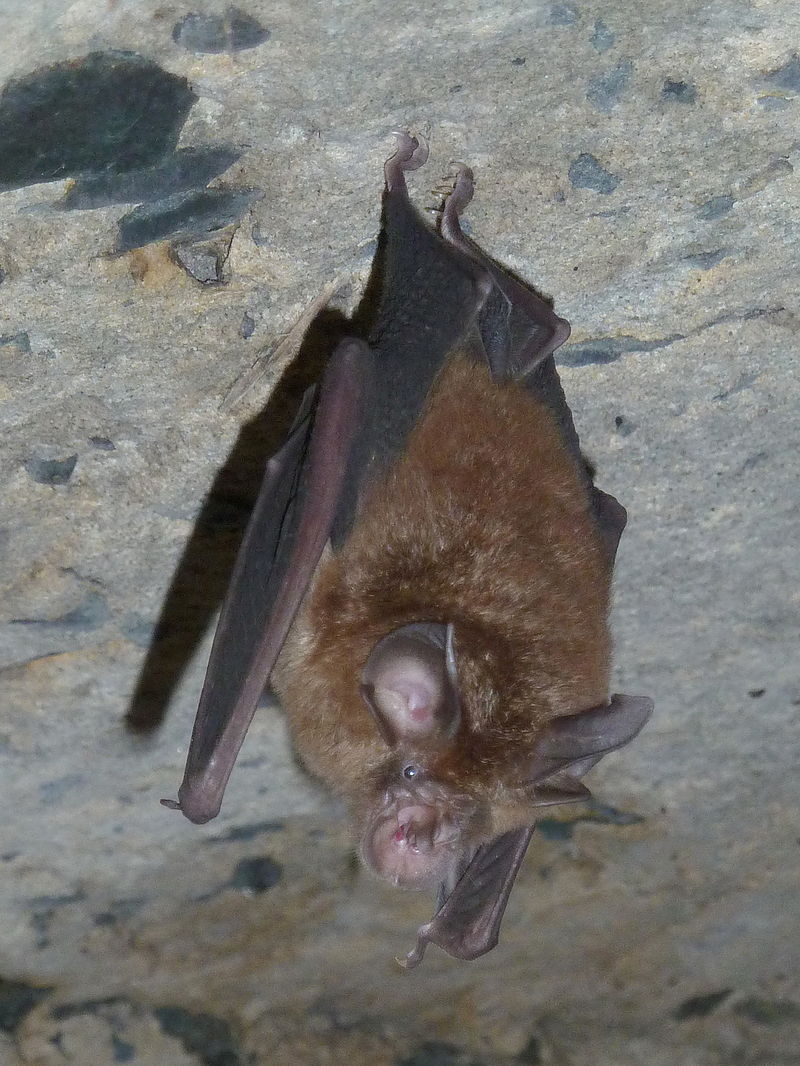 Eastern horseshoe bat, Rhinolophus megaphyllus - photo by Glen Fergus, Burringbar, New South Wales

"I can assure the public there are no longer explosives in the tunnel, which is now home to a colony of regionally significant microbats, known as the Eastern Horseshoe bat.
"Records of road blocks laid in 1942 identify four such tunnels within the Waterfall area, including this chamber, also known as an "adit", on McKell Avenue. It's believed there could still be around 40 others in the Illawarra region.
"The Royal National Park was considered an ideal location for the defence of the Sydney coastline in the Second World War."
Mr Fishburn said the discovery was made while workers were investigating planned slope stabilisation upgrades on the road.
"The chamber is about seven metres long and 1.2m high, only accessible by rope and lined with sandstone blocks, with additional timber supports which appear to be collapsing and eroding," Mr Fishburn said.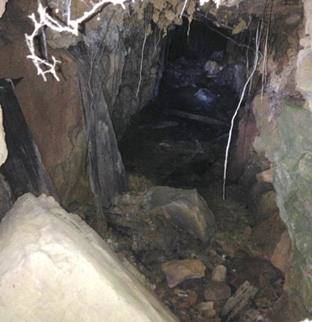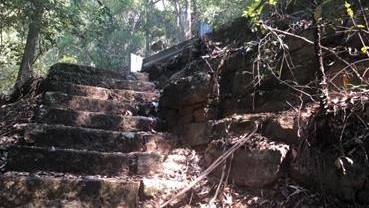 "When the adits were decommissioned, stone walls were to be built across the openings, but either this wasn't done, or the wall has collapsed away without trace."
The planned work will ensure the road remains stable for motorists for years to come, which could include the installation of rock bolts, drains and sealing the adit.
Transport for NSW and its contractor Ventia Boral Amey will work closely with environmental experts and a specialist ecologist to ensure any work minimises any impact on the bats.
Notes on historical context
During 1942, the threat of an invasion of Australia appeared imminent. 10 weeks after Japan's invasion of South-East Asia, Australia itself became the target of air and sea attacks, including a submarine entering Sydney Harbour.
Industry and society mobilised for a total defence effort. Australia's existing arms industry was expanded, and hundreds of annexes and factories established.
The NSW Department of Main Roads worked with military authorities to construct and strengthen roads around strategic locations, so they could carry military vehicles, but also be ready for immediate demolition in case of invasion.
As well as the small tunnels to help destroy access roads, new road blocks, tank traps, gun emplacements and runways were all built or planned in 1942.
In the Sutherland Shire, beaches were also protected by barbed wire, street signs and names were removed, land mines laid, boats were taken off the water so they couldn't be used by advancing attackers, and the National Park was used as training ground by local troops, including the 45th Battalion.
Evidence of military presence is seen in some other places in the area, including on the southern headland of Wattamolla where there is extensive erosion due to guns and traffic on the sand dunes and a camp site is apparent at Loftus Heights. However there are few signs remaining of the extensive military manoeuvres from 77 years ago.
Allied victories in the second half of 1942, in the Coral Sea, around Midway Island, at Milne Bay, at Guadalcanal and on the Kokoda Trail, halted the advance of Japanese forces in the South-West Pacific Area.
A Little About Our
Royal National Park
The Royal National Park is a protected national park that is located in Sutherland Shire in the Australian state of New South Wales, just south of Sydney. The 151-square-kilometre (58 sq mi) national park is about 29 kilometres (18 mi) south of the Sydney central business district near the localities of Loftus, Otford, and Waterfall.
It is the second oldest national park in the world after Yellowstone, which was established in the US in 1872. Founded by Sir John Robertson, Acting Premier of New South Wales, and formally proclaimed on 26 April 1879, its original name was National Park, but it was renamed in 1955 after Elizabeth II, Queen of Australia passed by in the train during her 1954 tour.
The park includes the settlements of Audley, Maianbar and Bundeena. There was once a railway line connected to the Eastern Suburbs & Illawarra Line but this closed and was converted to a heritage tramway operated by the Sydney Tramway Museum in Loftus.
Incidentally, the Sydney Tramway Museum is having an Open Day on Sunday, February 24th and you can get there on one of those old buses from the Sydney Bus Museum, which we ran a little about last Issue when they were in Mona Vale. The details are:
Vintage Bus to the Sydney Vintage Tramway Festival
Hosted by Sydney Bus Museum
Sunday, February 23, 2020 at 9:30 AM – 4 PM
Sydney Bus Museum
Old Leichhardt Tramshed, 25 Derbyshire Road, Leichhardt
Each year, the Sydney Tramway Museum marks the anniversary of the closure of Sydney's original tramway system with a gala day held on the Sunday closest to February 25.
This year, we will be taking our 1937 Leyland TD4 / Waddingtons double decker to Loftus. This wonderfully restored vehicle shows off the glory days of the NSW Department of Road Transport & Tramways, and ran alongside the trams for 24 years. It is resplendent in the red and cream livery of the 1930s DRTT, a pleasing contrast to the green and cream of the trams of the day.
Seats are limited to approximately 50 for a comfortable journey, and bookings are essential (link below).
We will start out from Leichhardt 9:30am, picking up at Central Station (Railway Square, Lee St before Stand K) at 9.50am. The bus will then proceed directly to the Tramway Museum with an anticipated arrival of 10.50am.
There, the Sydney Tramway Museum will be operating a varied array of trams from Sydney's transport history.​
Pack a picnic lunch to have in the pleasant surrounds of the Railway Square Waiting Shed before boarding the waiting double decker for a return jaunt back up the Princes Highway to Central Station and the Bus Museum at Leichhardt, setting down at Sydenham (Pacific Hwy and St Peters Station upon request. Departure from Loftus will be at 2:30pm, with an expected arrival at Central of 3.30pm and Leichhardt by 4:00pm.
Bookings are essential.
The Sydney Bus Museum will not be open on this day.
Double decker bus travel to & from Loftus and admission to the Sydney Tramway Museum including unlimited tram rides are included in your ticket:
FARES:
Adults: $30.00
Children (4-16): $15.00. Children under 4 free.
Concession: $15.00
Family (2 Adults & 2 Children): $75.00
Times are approximate and will be confirmed closer to the event:
Bus departs Sydney Bus Museum, Leichhardt: 9:30am
Bus departs Railway Square, Lee St, Stand K: 9:50am​
Bus arrives Sydney Tramway Museum: approx 10:50am
Bus departs Sydney Tramway Museum: 2:30pm
Bus sets down at Central Station: approx 3.30pm
Bus returns to Sydney Bus Museum, Leichhardt: approx 4pm.
To book: https://www.sydneybusmuseum.info/tramway-festival-bus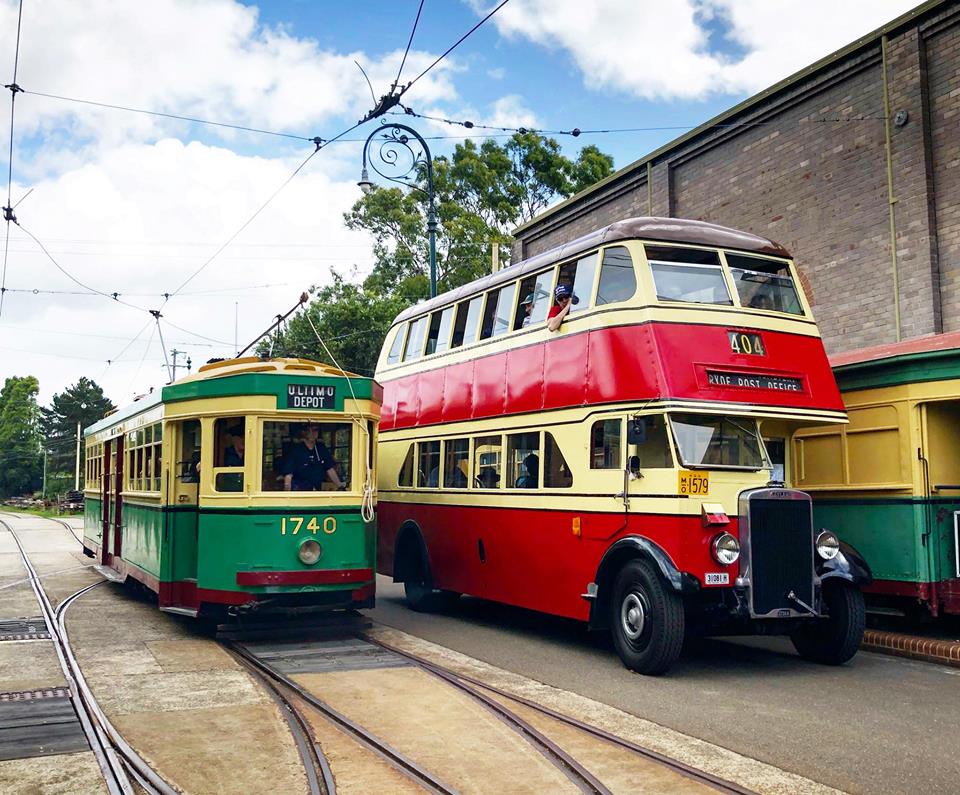 Some National Park information from the pages of the past during 1942 from someone who worked as a ranger there:
POPULAR NATIONAL PARK.
Veteran Ranger's Reminiscenses.
The unique distinction is claimed by the pioneer Farnell family that it is the only one which has had a mem-ber, from two succeeding generations, officially associated with the National Park ever since its establishment sixty-three years ago. This record, which is a rare one for that kind of public institution, works out in the following manner. The first trust of the park, which was appointed by the Government on April 26, 1879, included in its personnel Mr. James Squire Farnell. The latter was at one time both Premier of New South Wales and Minister for Lands. In 1888 James Farnell died, and the vacancy thus caused on the trust was filled by his son, Mr. Frank Farnell, who later became chairman of the trust.
During the trusteeship of the latter, who has been deceased for some years, his brother, Mr. Hilton Farnell, became an employee of the National Park. That was in 1904. Today, after thirty-eight years, Mr. Hilton Farnell keeps alive the continuity of association which was commenced by his father in 1879. This veteran ranger might well be described as the "oldest inhabitant" of the park. Actually his home is at Sutherland. During an interview with a "Propeller" representative, Mr. Farnell gave some interesting sidelights of his life and connections with what is the oldest national park in the southern hemisphere. He disclosed that he was born at Ryde, near the Parramatter River, seventy-one years ago.
An old soldier of both the past and present century, Mr. Farnell said that he went to the Boer War as a member of the historic New South Wales Citizens' Bushmen's Contingent. In the last world war he left Australia with the 13th Battery, 5th Brigade, Field Artillery.
He added: "I tried to enlist for the present show, but they reckoned I was too old."
To-day the veteran ranger still retains much of his Soldierly deportment of other days, particularly when he is seen garbed, at week-ends and holidays in the smart uniform of a ranger, with spick-and-span leggings. He has become one of the best-known figures in the park. When Mr. Farnell joined the staff in 1904 the great reserve was much different from what it is now, especially with regard to its improvements and public facilities. Its old gravel roads were much narrower, and their curves were more acute. However, they were good enough then for the new extinct horse-drawn buses, coaches, and four-in-hand drags.
Wattamolla and Garie' beaches were not the popular resort they are today. At Audley there was a long weather board accommodation house called "The Rest," which was succeeded by the present Allambie House. The veteran ranger remembers heavier rain at National. Park than that which fell two weeks ago.
He said: "About 30 years ago we had such a fall here that the. flooded river rose thirteen feet over, the Audley causeway dam. All the river flats were inundated. Later on there was a terrific down-pour near the head of the river, and the flood brought a tremendous load of sand and mud, which shallowed much of the lower part of the river. Before that happened you could take a boat about three miles farther up the: stream than you can to-day"
There have been bush fires, too, in the park ever since Mr. Farnell can first remember the place. In one summer the whole vast reserve was burned out, excepting a couple of thousand acres. Back in the horse and buggy era the wild life of the reserve, particularly native animals, was in greater numbers than nowadays.
"Thirty years ago," said Mr. Farnell, "there were quite a lot of wild koala bears around Audley, Deer Park, and South-west Arm. It was the natural habitat for them. However, they seemed to get some disease and died off. I remember when you could hear them grunting in the trees at night. There were also plenty of wallabies. Up at the stables (at Audley) we used to hand feed about seventeen rock wal-labies every night. In fact, there were so many that we had to build wire fences around the gardens to keep-them out. On the other hand, birds have kept up their numbers pretty well. And there are just as many snakes. The wallabies, and some kinds of birds, were thinned out with the advent of foxes in the park. We had dingoes here, too, in those times. I laid baits on a line of about forty miles through the park, and killed many dingoes and foxes that way. But we still have foxes in the park now."
No one knows the National Park more intimately than Mr. Farnell. He has at one time or another been into every nook and cranny of it. Figuratively, he knows every inch of it. For thirty years he regularly rode all over its tens of thousands of acres on horseback. On account of his keen sense of locality, and knowledge of the bushland, the veteran ranger is a regular acquisition to the local police when it comes to locating persons lost in the park. "When anybody be-came lost I could always tell where they would be found. In practically every case they would be located within a few hours, or at most the next morning, after spending a night in the bush," he added.
In conclusion it is of interest to note that the name of the Farnell family is perpetuated at more than one point in the National Park. For example, there is Farnell Avenue, which runs between the National Park railway station and the Princes Highway, and Farnell Bight, a small Bay fronting Deer Park on the Port Hacking side.
POPULAR NATIONAL PARK. (1942, April 9). The Propeller (Hurstville, NSW : 1911 - 1954), p. 2. Retrieved from http://nla.gov.au/nla.news-article235581528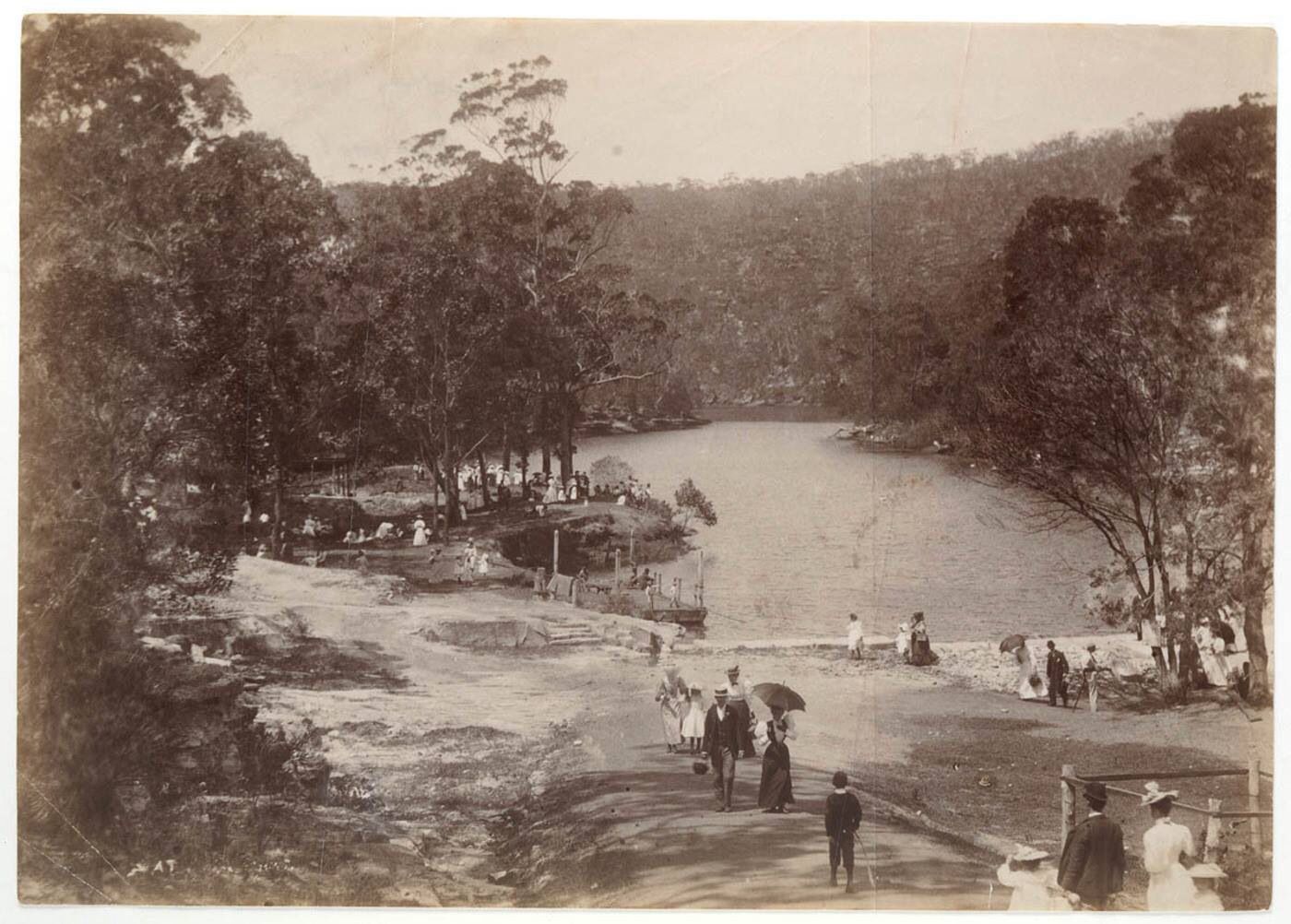 Audley weir, Royal National Park, circa 1880-90 - courtesy National Library of Australia
Australian Pancreatic Cancer Genome Initiative

Contributes To Global Cancer Genome 'Map'

A Garvan pancreatic cancer research initiative has contributed to the most comprehensive study of cancer genomes to date

.




A 'biobank' of pancreatic tumour samples, administered by the Garvan Institute of Medical Research, has contributed to the most comprehensive database of cancer genomes in the world to date.




The

Australian Pancreatic Cancer Genome Initiative

(APGI) contributed 175 genomes to the Pan-Cancer Project, a global effort that has created a resource of over 2600 cancer genomes of 38 different tumour types, published today in a special series in the journal

Nature

.




Researchers from Garvan, and across the globe, will use the database to study pancreatic and other cancers, bringing better diagnosis and treatments within reach.




"The Pan-Cancer Project delivered detailed genomic and clinical data from 37 countries to the fingertips of researchers globally," says Amber Johns, Project Manager of the APGI at the Garvan Institute. "We're proud to have contributed to such an extensive body of work."




Australia's initiative to 'map' pancreatic cancer

Pancreatic cancer is one of the most lethal forms of cancers, with a five-year survival rate of ~9%, but like many cancers is also vastly complex. By analysing the DNA of different pancreatic tumours samples, valuable insights into how pancreatic cancers develop, and what 'targets' could pave the way to better diagnostics and personalised treatments for the disease.




The APGI is a world-leading initiative and resource of pancreatic cancer samples and data, which is making this research possible. The Initiative is administered by the Garvan Institute, where patient recruitment and active research projects are conducted, and where over 4000 samples donated by pancreatic cancer patients are stored.




To date, the APGI has already provided valuable samples and data to over 150 research studies, many of which have resulted in high-impact publications.




"To see these samples contribute to the Pan-Cancer Project really pays homage to the patients who generously donated pancreatic cancer tissue samples for research," says Amber Johns. "Without them, none of this would have been possible."




Local data with global connection

Established in 2009, the APGI is a research enterprise of over 100 scientists, clinicians and allied health professionals involved in pancreatic cancer research and care, and forms Australia's contribution to the

International Cancer Genome Consortium

(ICGC).




Contributing the APGI's genomic data to the Pan-Cancer Project will now allow more researchers to uncover similarities in the genetics that underpin different cancers, says Professor David Thomas, Garvan Cancer Research Theme Leader and Director of The Kinghorn Cancer Centre.




"The cross-overs and relationships we continue to discover between all cancers is making it clear that we cannot 'pigeonhole' cancer research into different cancer types," says Professor Thomas. "Better access to cancer genome data, such as through the Pan-Cancer Project, will advance research and ultimately accelerate development of treatments. We look forward to contributing to this global progress through the scope of our research projects."



Orthorexia Nervosa: The Sinister Side Of Healthy Eating
'Raw-only'. 'Juice cleanse'. 'Toxin-free'. When does healthy eating become an unhealthy obsession?
Have you ever cancelled social plans to have stricter control over your meals?
What about feeling severe emotional distress after eating something you consider unhealthy?
These are both potential signs of the proposed 'healthy eating' disorder, orthorexia nervosa – an obsessive approach to healthy eating that can be harmful to a person's mental and physical health.
Dr Rebecca Reynolds, nutritionist, lecturer and researcher at UNSW Sydney, explains the key features of this little-known disorder – and what to look out for.
What is orthorexia nervosa?
Orthorexia nervosa is a proposed mental health condition that takes healthy eating to unhealthy extremes. The disorder involves an obsession with healthy eating that becomes detrimental to a person's psychological and/or physical wellbeing.
The idea of 'healthy' could be based on a person's own understanding of nutrition or an existing diet trend – even if they are not backed by science.
"Orthorexia isn't just looking after what you eat – it's taking this to a level where it has significant negative impacts on your life," says Dr Reynolds, who has been researching orthorexia specifically for three years.
These negative impacts could include constant anxiety at mealtimes, extreme shame when deviating from self-imposed eating rules, or feeling a sense of panic when watching people eat foods considered unhealthy.
"A person with orthorexia would be so consumed with eating healthily that it significantly impairs their normal functioning," Dr Reynolds explains.
Orthorexia is a proposed eating disorder, which means it hasn't been clinically recognised as a unique disorder yet. Researchers such as Dr Reynolds are trying to understand more about its causes and symptoms, including how it differentiates from other mental health conditions (such as anorexia nervosa and obsessive-compulsive disorder).
A fixation with eating foods that are considered 'clean' or 'pure' can be common in orthorexia. The term orthorexia itself is derived from the Greek word 'orthos', meaning 'correct' or 'right'.
While healthy eating is a positive habit to maintain, an obsession with pure eating can be damaging for mental and physical health.
"Diet trends that demonise certain foods or nutrients have contributed to the problem," says Dr Reynolds.
These diet trends can be closely tied to broader philosophies about how humans should be living and are often considered lifestyle movements.
The paleo diet, for example, aims to imitate the diet of our hunter-gatherer ancestors. It restricts the consumption of dairy products, legumes and grains. Similarly, a raw food diet asserts that eating a high proportion of raw food is healthier, with claims that cooked foods can contain harmful toxins.
"Cutting out entire food groups, foods or nutrients from your diet can result in malnutrition if you don't know the true nutrient content of the foods and drinks that you are having compared to what your body actually needs".
The rising popularity of 'clean eating' diet trends has occurred alongside the growth of Instagram.
"Social media is also partly to blame, with influencers and celebrities sometimes glorifying extreme diets," says Dr Reynolds.
"Stress in life and general lack of control can be other contributing factors."
When does healthy eating become unhealthy?
Orthorexia was proposed as a disorder almost 25 years ago by American physician, Dr Steven Bratman. Dr Bratman created a self-diagnosis test (
which can be accessed in full on his website
) to help indicate whether a person is too fixated on healthy eating.
It lists behaviours such as:
"When I eat any food I regard to be unhealthy, I feel anxious, guilty, impure, unclean and/or defiled; even to be near such foods disturbs me, and I feel judgmental of others who eat such foods."
"My personal sense of peace, happiness, joy, safety and self-esteem is excessively dependent on the purity and rightness of what I eat."
"I spend so much of my life thinking about, choosing and preparing healthy food that it interferes with other dimensions of my life, such as love, creativity, family, friendship, work and school."
As orthorexia nervosa is not yet a clinically recognised eating disorder, a clearly defined set of signs and symptoms has not been confirmed.
However, as researchers learn more about the disorder, they have developed various questionnaires to help determine if people may be going overboard with their healthy eating.
"Questions such as 'Do your thoughts constantly revolve around healthy nutrition and do you organise your day around it?' and 'Does your diet make it difficult for you to eat out, impacting your relationships?' appear on these questionnaires," Dr Reynolds says.
Researchers have also come up with draft diagnostic criteria for the condition.
"The
proposed criteria
include psychological preoccupation with self-defined 'healthy' eating – far beyond what is necessary for health. Physical symptoms such as malnutrition and weight loss may also be present, but this doesn't always occur."
Why isn't orthorexia clinically recognised?
However, crossover with other eating disorders, such as avoidant restrictive food intake disorder and anorexia nervosa, and other psychological disorders, such as obsessive-compulsive disorder, has made it difficult to set the parameters for orthorexia as a condition of its own.
"It takes time for something new to potentially become a distinct disorder that's recognised in diagnostic manuals," says Dr Reynolds.
The Diagnostic and Statistical Manual of Mental Disorders is the standard diagnostic manual used by practitioners in Australia. Binge Eating Disorder – one of the most prevalent eating disorders in Australia today – only became a stand-alone disorder in the most recent edition of the manual, published in 2013.
Knowing when to seek help
While it's important to maintain a healthy diet, balance is key.
"Obsession in any area of life is not healthy for the body or the mind, including with 'healthy' eating. Feeling really stressed out by a friend's invite to dinner because he is serving chickpeas or whatever, and then staying at home instead of going to his dinner, isn't ok," Dr Reynolds says.
NSW Government To Consolidate Over 500 Websites
The new NSW Government website will save customers time and money, and provide a more user-friendly experience.
The
Department of Customer Service
is collaborating across government to help agencies get ready to retire little-used sites or merge information to
nsw.gov.au
, which will become the centralised online home of the NSW Government.
A trial version of the refreshed nsw.gov.au website will go live at the end of February 2020. It will include information on drought relief, bushfire assistance, and births, deaths and marriages.
The website will be progressively upgraded and incorporate customer feedback. It will be closely modelled off the UK's one-stop-shop
www.gov.uk
website.
Minister for Customer Service Victor Dominello said the new website will provide customers with a more user-friendly website.
"People rightly expect a seamless digital experience when purchasing goods and services. It should be no different when dealing with the government," Mr Dominello said.
"The new one-stop-shop website will save people time and provide taxpayers with value for money by slashing tens of millions of dollars of costs over the next decade."
New Body To Tackle ADF And Veteran Suicides
Feb 5th, 2020: Prime Minister, Minister for Defence, Minister for Veterans and Defence Personnel
A powerful, new independent body will be created to investigate all suspected veteran and Australian Defence Force (ADF) suicides and causes to help save lives.
The Australian Government will establish a permanent National Commissioner for Defence and Veteran Suicide Prevention.
The National Commissioner will have the enduring power, scope and resources to investigate suicides and related issues as they arise, rather than being restricted by a one-off review looking at past practices.
Prime Minister Scott Morrison said the independent Commissioner would also have the power to compel witnesses to give evidence.
"This is about being forever vigilant for the care and well-being of our veterans," the Prime Minister said.
"Those veterans and all serving men and women protect our community and our freedoms. It is our duty to do the same for them.
"I have thought long and hard about the best response to this issue. I have spoken to veterans right across Australia and I have met with their families and also local, state and national organisations.
"I believe what we have developed addresses the needs of those veterans, their families and our serving men and women.
"We will be permanently vigilant about their welfare."
The National Commissioner for Defence and Veteran Suicide Prevention will be empowered to perform two roles:
The Commissioner will be an independent and permanent public accountability body, with the same powers of a Royal Commission to compel the production of evidence and summon witnesses, and make findings and recommendations to Government.
The Commissioner will also provide an ongoing investigative function of individual cases of suicide, working with each state and territory coronial office, making recommendations to Government.
The Government will invest an initial $40 million to support the Commissioner's work and this will be expanded to ensure they have whatever resources they need.
The Government will also establish an immediate, independent review of historical veteran suicide cases, conducted by the Commissioner, focusing on the impact of military service and veterans' post service experience.
An interim report will be delivered within 12 months. Families will be engaged in this process if they wish, with an opportunity to participate and tell their stories openly and safely.
The Australian Institute of Health and Welfare and the Australian Commission on Safety and Quality in Health Care, along with coronial and legal experts, will provide technical expertise in support of this work.
Minister for Veterans and Defence Personnel Darren Chester said the Commissioner would also deliver an Annual Veteran and Defence Suicide Death Report to the Parliament.
"This will be a transparent report directly to the Parliament on an annual basis on suicides within the defence and veteran community, including an update on the implementation and evaluation of measures to reduce suicide risk factors," Mr Chester said.
"The Government is committed to ensuring ADF members, veterans and their families have access to the right support, at the right time, especially those who are vulnerable or at risk."
Minister for Defence, Senator the Hon Linda Reynolds CSC said the Chief of the Defence Force and each Service Chief was committed to being open and transparent, to support improved health outcomes for ADF personnel and veterans.
"The mental health and wellbeing of our vets and Defence Force members is an issue of national and enduring importance.
"These comprehensive measures have been developed with a very clear focus on finding the most effective and practical ways of better identifying, preventing, understanding and acting on suicide and suicide risks among our vets and service men and women."
A Veteran Family Advocate will also be appointed to directly engage with the families of veterans, to improve the design of all veteran programs and services, including mental health supports and services.
"The new Veteran Family Advocate will focus on mental health and suicide prevention, and contribute to our understanding of risk factors relating to the wellbeing of veterans and their families, particularly during transition from the ADF," Mr Chester said.
"The Advocate will represent the views of veterans and their families by engaging and advocating to help shape policy and the administration of veteran benefits and support.
"We want to assure defence and veterans' families that help is available now and it can make a difference. Open Arms – Veterans and Families Counselling provides support and counselling to current ADF members, veterans and their families and can be contacted 24/7 on 1800 011 046."
Sugar Ants' Preference For Urine May Reduce Greenhouse Gas Emissions
February 6, 2020: University of South Australia
An unlikely penchant for urine is putting a common sugar ant on the map, as new research from the University of South Australia shows their taste for urine could play a role in reducing greenhouse gases.
Led by wildlife ecologist Associate Professor Topa Petit, the Kangaroo Island-based research found that sugar ants prefer urine over sugar -- the food source after which they're named -- nocturnally foraging on it to extract nitrogen molecules, some of which could end up in the greenhouse gas, nitrous oxide.
The Australian-first study compared the behaviours of sugar ants (Camponotus terebrans) as they were exposed to different concentrations of urine (human and kangaroo ~ 2.5 per cent urea), sugar water (20 per cent and 40 per cent), and urea in water (at 2.5 per cent; 3.5 per cent; 7 per cent and 10 per cent), finding that sugar ants were most attracted to higher concentrations of urea, mining them for long periods within a dry sand substrate.
While other ants are known to be attracted to urine, this is the first time that ants have been observed mining dry urine from sand, and for a long period of time.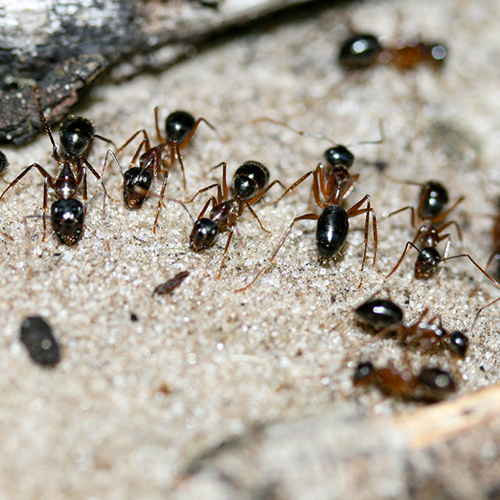 Assoc Prof Petit says the curious discovery could play a role in nitrogen cycling.
"When I first noticed the ants swarming to scavenge urine, it was purely by accident. But under research conditions we found that the ants determinedly mined urea patches night after night with greater numbers of ants drawn to higher urea concentrations," Assoc Prof Petit says.
"

Camponotus terebrans are undoubtedly looking for urea in urine because, similar to certain other ant species, a bacterium in their digestive tract allows them to process urea to get nitrogen for protein.




"This remarkable ability to extract urea from dry sand not only shows how sugar ants can survive in arid conditions, but also, how they might reduce the release of ammonia from urine, which leads to the production of nitrous oxide, a highly active greenhouse gas.

"
Nitrous oxide (NO2) is a greenhouse gas 300 times more potent than carbon dioxide. And while less abundant than carbon dioxide emissions, its presence in the atmosphere has increased substantially over the past decade, accelerated mostly by the widespread use of fertilisers.
Assoc Prof Petit says that while there is still a lot to learn about the foraging behaviours of sugar ants, the study shows a symbiotic relationship between ants and vertebrates such as kangaroos in dry environments, and evidence of the nitrogen cycle at work.
"The ability of sugar ants to thrive in dry, sandy environments and use sources of nitrogen that may not be available to other species is impressive. It may give them a competitive advantage by allowing them to feed more offspring and therefore increase their numbers," Assoc Prof Petit says.
"Researchers working on ants as bio-indicators on grazed and ungrazed lands should take ants' ability to process urea into account, because large amounts of urine will probably affect the assortment of ant species in the area. It would also be interesting to investigate how much ants may modify the urine ammonia volatilises from paddocks.
"This is not the last we will hear about these sugar ants -- they could open up a whole new field of research."
Sophie Petit, M. Bernard Stonor, John J. Weyland, Joan Gibbs, Bianca Amato.
Camponotus ants mine sand for vertebrate urine to extract nitrogen.
Austral Ecology, 2019; DOI:
10.1111/aec.12840
Disclaimer: These articles are not intended to provide medical advice, diagnosis or treatment. Views expressed here do not necessarily reflect those of Pittwater Online News or its staff.