Inbox and Environment News: Issue 438
February 16 - 22, 2020: Issue 438
Productivity Commission Report Exposes Falling Government Support For GPs And Their Patients: AMA
AMA President, Dr Tony Bartone, said today that the RoGS report shows that expenditure per person on general practice was $391 per person in 2018-19, which is a decrease in real terms from $395 per person in 2017-18.
"The needs of GPs and their patients are being left behind," Dr Bartone said.
"Per capita spending on general practice is falling at a time when GPs face a rapidly growing workload due to the ageing population and the increasing complexity of conditions, many of them chronic, that patients are experiencing.
"The Government says it continues to believe in the value of general practice, but this report shows that it is failing to back this up with the necessary investment.
"The funding shortfall has hit GPs and general practice hard because it came on top of an extended period of Government freezing of Medicare rebates, which threatened the viability and livelihoods of many practices.
"The Government must acknowledge the compounding effect of under-investment in general practice over many years and increase funding immediately."
Dr Bartone said that the Medicare Benefits Schedule (MBS) General Practice and Primary Care Clinical Committee (GPPCCC) last year released its draft report, which called for greater funding for general practice.
"The Government announced some welcome additional funding for general practice in last year's Budget, but it still falls woefully short of what is needed to support general practice to meet patient needs and demands in the coming years and decades," Dr Bartone said.
"General practice is the most cost-effective part of the health system. GPs keep people out of hospital.
"But the RoGS report shows that there were about 2.9 million presentations to public hospital emergency departments that could have and should have been handled by GPs. Significant investment is needed to allow general practice to take this pressure off overstretched hospitals.
"The RoGS report highlights the worth and effectiveness of general practice with an extremely high satisfaction rate with GP services. More than 90 per cent of patients reported that their GP listened closely to them, showed them respect, and spent enough time with them.
"The report also found that only 3.4 per cent of the population reported delaying or not visiting a GP in the previous 12 months due to cost, and over 80 per cent of patients felt that they could get a GP appointment within an acceptable timeframe. Almost 75 per cent of patients seeking urgent GP care could get an appointment within 24 hours."
Feel Like You're A Mozzie Magnet? It's True – Mosquitoes Prefer To Bite Some People Over Others
By Cameron Webb Cameron Webb is a Friend of The Conversation.
Clinical Lecturer and Principal Hospital Scientist, University of Sydney
It's always you, isn't it? The person busy swatting away buzzing backyard mosquitoes or nursing an arm full of itchy red lumps after a weekend camping trip.
You're not imagining it – mosquitoes really are attracted to some people more than others.
Why do mosquitoes need blood?
Only female mosquitoes bite. They do it for the nutrition contained in blood, which helps develop their eggs.
Mosquitoes don't just get blood from people. They're actually far more likely to get it from biting animals, birds, frogs and reptiles. They even bite earthworms.
But some mosquitoes specifically target people. One of the worst culprits is the Aedes aegypti species, which spreads dengue and yellow fever viruses.
Another that prefers humans are the Anopheles mosquitoes, responsible for spreading the parasites that cause malaria.
How do mosquitoes find us?
Most mosquitoes will get their blood from whatever is around and don't necessarily care if they're biting one person or another.
Although it's our blood they're after, there is no strong indicator they prefer a particular blood type over another. Some studies have suggested they prefer people with type O blood but that's unlikely to be the case for all types of mosquitoes.
Whether we're picked out of a crowd may come down to heavy breathing and skin smell.
When they need blood, mosquitoes can pick up on the carbon dioxide we exhale. Around the world, carbon dioxide is one of the most common "baits" used to attract and collect mosquitoes. If you're exhaling greater volumes of carbon dioxide, you're probably an easier target for mosquitoes.
When the mosquito gets closer, she is responding to a range of stimuli.
Perhaps it's body heat and sweat: exercise that increases body temperature and perspiration can attract mosquitoes.
Perhaps it's body size: studies indicate pregnant women are more likely to be bitten by mosquitoes.
How hairy are you? Mosquitoes may have a tough job finding a path through to your skin if there is an abundance of body hair.
More than anything else, though, it's about the smell of your skin. Hundreds of chemicals are sweated out or emitted by our body's bacteria. The cocktail of smells they create will either attract or deter mosquitoes.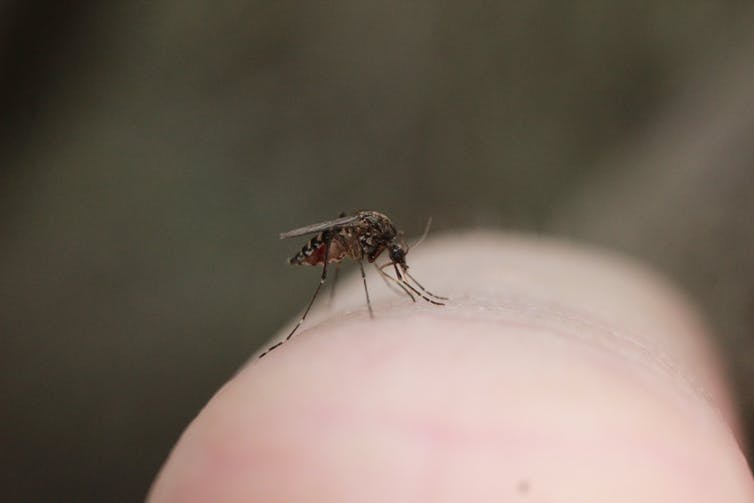 The saltmarsh mosquito is one of the biggest nuisance-biting pests in Australia. Dr Cameron Webb

It's not just who they bite but where
Mosquitoes could also have a preference for different parts of the body.
One study showed mosquitoes are more attracted to hands and feet than armpits, but that just turned out to be because of deodorant residues.
Mosquitoes may also be more attracted to our feet: studies have shown cheese sharing similar bacteria to that found between our toes attracts mosquitoes!
Who is to blame for this misery?
It's not your diet. There is no evidence that what you eat or drink will prevent mosquito bites. Some food or drink may subtly change how many mosquitoes are likely to bite you but it won't make that much difference.
Eating bananas or drinking beer has been shown to marginally increase the attraction of mosquitoes but the results aren't enough to suggest any dietary change will reduce your mosquito bites. That's why our supermarket shelves aren't full of "mozzie repellent" pills.
Your irresistibly to mosquitoes may not be your fault. Blame your parents. Studies have shown the chemicals responsible for the "skin smell" that attracts mosquitoes has a high level of heritability when twins are exposed to biting mosquitoes.
What can you do about it?
We have to be careful about generalisations. There are thousands of types of mosquitoes around the world and all will have a different preference for what or who to bite. And the attraction of individuals and the scenario that plays out in one part of the world may be much different in another.
Remember, it only takes one mosquito bite to transmit a pathogen that could make you sick. So whether you're a mosquito magnet or feeling a little invisible because you're not bitten so often, don't be complacent and use insect repellents.
This article was published first in the conversation,
read
the original article. Republished under a Creative Commons licence.
Australia To Host World Leaders At Innovation Summit
February 11, 2020: The Hon Greg Hunt MP, Minister for Health
Australia will host the Global Federation of Competitiveness Councils' (GFCC) Global Innovation Summit (the Summit) in Melbourne on 18 and 19 November 2020.
The Summit will bring together leaders and innovative thinkers from numerous countries, and across the business, industry, academia and government sectors.
Humanity, Technology and Health Frontiers will be the focus of the Summit, with the program covering topics such as genomics, robotics, 5G technology, private/public partnerships and artificial intelligence.
The GFCC is a global multi-stakeholder organisation represented in more than 30 nations. It promotes innovation, productivity and mutual learning between countries as a way of supporting the ongoing success of a range of sectors, including health.
Noteworthy leaders in the GFCC network Charles Holliday Jr. (Chairman, GFCC and Chairman of Royal Dutch Shell, plc.), Mehmood Kahn (Chairman, U.S. Council on Competitiveness and CEO, Life Biosciences) and Deborah Wince-Smith (President, GFCC and President and CEO, U.S. Council on Competitiveness) will travel to Australia to attend the Summit.
The Australian Government has committed $300,000 to support the delivery of the Summit.
The Summit will allow Australia to create new partnership opportunities and work with other global leaders to develop innovative health solutions to current and future problems.
Health and innovation are key priorities for our Government, including the recent commitment of $5 billion through the Medical Research Future Fund (MRFF) to support breakthrough medical research into new frontiers of science.
Areas of focus include the transformative platforms of stem cell research and genomics, being able to diagnose, treat, and help people recover with genuine precision medicine.
The Summit agenda will address Australia's future competitiveness with discussions on navigating the Australian context and opportunities for collaboration between countries.
'Women My Age Tend To Drink -- It's Normal'
February 11, 2020: Edith Cowan University
Women aged 50-70 are more likely than younger women to consume alcohol at levels that exceed low risk drinking guidelines -- and most think that's just perfectly fine.
New Edith Cowan University (ECU) research has found that despite the potential health risks of exceeding national drinking guidelines, many middle-aged and young-old women who consume alcohol at high risk levels tend to perceive their drinking as normal and acceptable, so long as they appear respectable and in control.
The study is a collaboration between ECU and Aalborg University, Denmark, led by Dr Julie Dare from ECU's School of Medical and Health Sciences. It investigated the social construction of alcohol use among 49 women aged 50 to 69 in Denmark and Australia.
According to Australian health authorities, drinking more than two standard drinks on any day increases the risk considerably of premature death over a woman's lifetime.
Key findings:
Women place more importance on appearing to be in control, behaving respectably, social pleasure and feeling liberated than the quantity of alcohol consumed or potential health risks.
While some women reported reducing their drinking due to health concerns, others suggested that positive health behaviours such as exercise served to 'neutralise' alcohol-related health risks.
Health advice and interventions relating to middle-aged and young-old women's drinking practices need to acknowledge that women may socially construct their drinking practices to prioritise matters other than biomedical impacts of alcohol.
Controlled and acceptable drinking
Dr Dare said the research highlighted the widespread use of alcohol in both samples of women in Australia and Denmark.
"Respondents from both countries indicated that alcohol use among women their age was normal and acceptable," she said.
One respondent observed:
"It has become part of the norm . . . it is something we do with our acquaintances, friends and families. That's just something we do" (D8, 59 years).
"However, the importance of 'staying in control' while drinking emerged as an important qualifier to the social acceptability of drinking," Dr Dare said.
Another respondent said:
"As long as they (women) don't make a fool of themselves, they don't want to go falling down and showing their knickers" (A9, 69 years).
"Health messaging of no more than two standard drinks per day and no more than four standard drinks on any single drinking occasion didn't seem to be relevant to women in this age group. There was a fair percentage drinking over that," Dr Dare said.
"In Australia, younger women are starting to drink less, their rates have declined, but the proportion of women aged 60 and older drinking at levels that exceed single occasion guidelines (more than 4 standard drinks on a single occasion) has increased. Similar trends are evident in Denmark and the United Kingdom."
While the study highlighted many similarities between Australian and Danish women, one interesting cultural difference was the way Australian women thought about alcohol in relation to stress.
"If the Australian women had some sort of distress in their lives they believed it was acceptable to drink. They were quite open about this saying 'I just had a bad day, I needed to have a drink'," Dr Dare said.
"Danish women were not the same. They reported it wasn't 'acceptable' to drink if they were upset. They believed that you shouldn't use alcohol as a crutch to cope," she said.
Julie Dare, Celia Wilkinson, Line Traumer, Kathrine H. Kusk, Marie‐Louise McDermott, Lynsey Uridge, Mette Grønkjær.
"Women of my age tend to drink": the social construction of alcohol use by Australian and Danish women aged 50–70 years
. Sociology of Health & Illness, 2019; 42 (1): 35 DOI:
10.1111/1467-9566.12991
1 In 15 Hospitalisations Could Be Prevented Through Early Health Interventions
Your likelihood of having a preventable hospitalisation varies by where you live, and your individual circumstances, according to a new report from the Australian Institute of Health and Welfare (AIHW).
The report, Disparities in potentially preventable hospitalisations across Australia 2012–13 to 2017–18, shows that 748,000 (1 in 15 or 6.6%) hospital admissions were classified as potentially preventable in 2017–18.
'Nationally, the rate of potentially preventable hospitalisations in 2017–18 was around 2,800 per 100,000 people. Rates were highest in the Northern Territory (around 5,800 per 100,000), and lowest in the Australian Capital Territory (around 2,150 per 100,000),' said AIHW spokesperson Mr. Richard Juckes.
Potentially preventable hospitalisations (PPH) are admissions to hospital that could potentially have been avoided through preventive care (such as vaccination), or appropriate disease management (such as treatment of infections or management of chronic conditions) in the community.
The most common cause (10%) of potentially preventable hospitalisations was chronic obstructive pulmonary disease (COPD). Vaccine-preventable pneumonia and influenza, and congestive cardiac failure accounted for the most days of hospital care.
People aged 65 years and over accounted for almost half (46%) of all potentially preventable hospitalisations, and children (aged 0–14) made up 13% (1 in 8).
The report shows Aboriginal and/or Torres Strait Islander people experienced potentially preventable hospitalisations at a rate 3 times as high as other Australians.
'There were about 45,000 potentially preventable hospitalisations for Indigenous Australians in 2017–18, an increase of 25% between 2012–13 and 2017–18,' Mr Juckes said.
PPH rates often increase with increasing remoteness and socioeconomic disadvantage. The gap between people living in very remote areas and major cities widened between 2012–13 and 2017–18. Similarly, the gap between people living in the lowest and highest socioeconomic areas widened for a number of conditions.
'Classifying a hospitalisation as "potentially preventable" does not mean that the hospitalisation itself was unnecessary, however, it indicates that management at an earlier stage may have prevented the patient's condition worsening to the point of hospitalisation,' Mr Juckes said.
'It's important to note that a higher rate of PPH doesn't always indicate a less effective health system, but PPH are useful for identifying variations between different groups, and understanding health inequalities.'
In the future, the use of linked data sets could allow for a better understanding of the complex relationships between PPH and disease prevalence, use of primary health care, use of medicines and health outcomes.
Don't 'Just Google It': 3 Ways Students Can Get The Most From Searching Online
February 12, 2020
by Renee Morrison
Lecturer in Curriculum Studies, University of Tasmania
Searching online has many educational benefits. For instance, one study found students who used advanced online search strategies also had higher grades at university.
But spending more time online does not guarantee better online skills. Instead, a student's ability to successfully search online increases with guidance and explicit instruction.
Young people tend to assume they are already competent searchers. Their teachers and parents often assume this too. This assumption, and the misguided belief that searching always results in learning, means much classroom practice focuses on searching to learn, rarely on learning to search.
Many teachers don't explicitly teach students how to search online. Instead, students often teach themselves and are reluctant to ask for assistance. This does not result in students obtaining the skills they need.
For six years, I studied how young Australians use search engines. Both school students and home-schoolers (the nation's fastest growing educational cohort showed some traits of online searching that aren't beneficial. For instance, both groups spent greater time on irrelevant websites than relevant ones and regularly quit searches before finding their desired information.
Here are three things young people should keep in mind to get the full benefits of searching online.
1. Search for more than just isolated facts
Young people should explore, synthesise and question information on the internet, rather than just locating one thing and moving on.
Search engines offer endless educational opportunities but many students typically only search for isolated facts. This means they are no better off than they were 40 years ago with a print encyclopedia.
It's important for searchers to use different keywords and queries, multiple sites and search tabs (such as news and images).
Part of my (as yet unpublished) PhD research involved observing young people and their parents using a search engine for 20 minutes. In one (typical) observation, a home-school family type "How many endangered Sumatran Tigers are there" into Google. They enter a single website where they read a single sentence.
The parent writes this "answer" down and they begin the next (unrelated) topic – growing seeds.
The student could have learnt much more had they also searched for
where Sumatra is
why the tigers are endangered
how people can help them.
I searched Google using the key words "Sumatran tigers" in quotation marks instead. The returned results offered me the ability to view National Geographic footage of the tigers and to chat live with an expert from the World Wide Fund for Nature (WWF) about them.
Clicking the "news" tab with this same query provided current media stories, including on two tigers coming to an Australian wildlife park and on the effect of palm oil on the species. Small changes to search techniques can make a big difference to the educational benefits made available online.
2. Slow down
All too often we presume search can be a fast process. The home-school families in my study spent 90 seconds or less, on average, viewing each website and searched a new topic every four minutes.
Searching so quickly can mean students don't write effective search queries or get the information they need. They may also not have enough time to consider search results and evaluate websites for accuracy and relevance.
My research confirmed young searchers frequently click on only the most prominent links and first websites returned, possibly trying to save time. This is problematic given the commercial environment where such positions can be bought and given children tend to take the accuracy of everything online for granted.
Fast search is not always problematic. Quickly locating facts means students can spend time on more challenging educational follow-up tasks – like analysing or categorising the facts. But this is only true if they first persist until they find the right information.
3. You're in charge of the search, not Google
Young searchers frequently rely on search tools like Google's "Did you mean" function.
While students feel confident as searchers, my PhD research found they were more confident in Google itself. One year eight student explained: "I'm used to Google making the changes to look for me".
Such attitudes can mean students dismiss relevant keywords by automatically agreeing with the (sometimes incorrect) auto-correct or going on irrelevant tangents unknowingly.
Teaching students to choose websites based on domain name extensions can also help ensure they are in charge, not the search engine. The easily purchasable ".com", for example, denotes a commercial site while information on websites with a ".gov"(government) or ".edu" (education) domain name extension better assure quality information.
Search engines have great potential to provide new educational benefits, but we should be cautious of presuming this potential is actually a guarantee.
The above article was published first in The Conversation, click here to read the original report. Republished under a creative commons licence.
Google Scholar
The above reminds a Pittwater Online staffer to remind you about the existence of Google Scholar - a great online tool for those engaged in university studies to find previously published studies, many of which are uploaded in full in PDF for you to explore/cite.
Simply put 'Google Scholar'into the search box and that will bring up the hyperlink for you to switch over and commence adding in your subject you wish to research. As always, the answer is in the question and the better the question, the more likely you are to return a succinct answer.
Give it a go - proved invaluable during study times and since!
Visit: scholar.google.com
Remember TROVE
When you want to do some research and add in instances of past reports, which will include 'how we spoke and thought', adding further context, explore old newspapers and articles and journals via TROVE - the National Library of Australia's Online resource of Books, images, historic newspapers, maps, Government Gazettes, archives and more. It's where Pittwater Online's history researcher has found many insights into our area, and around it, that had been forgotten or not known by professional historians and has benefited all as a result - and will add bonafide insights into your own subject matter and/or essays/studies.
It's worth remembering when utilising this resource that the NLA is continuing to digitise all the materials available so even of you think you have found all on a subject/focus point, it's worth checking again in case something new you haven't seen has been added in. Researchers used to travel for hours to libraries and go through thousands of items (photos and newspapers) and still not find what putting the right words into the search box now makes available - well worth an explore too.
Visit: trove.nla.gov.au
State Libraries & Museums Are Great: Digitised Accessible Materials
All our state libraries are also digitising their materials and making these available online. Wonderful old photos, journals and even online exhibitions are made available to you to provide those 'aha' moments where confirmation is found of a certain person actually being in a certain place at a certain time, for example, through finding a letter or poem of theirs, digitised, online. Obviously the brilliant State Library of New South Wales digitisation program may have more material related to our state, but if someone was born in South Australia, travelled to Western Australia, or married someone in Victoria, or gave family materials such as old photos and letters to the Museum of Victoria, for example, you will find materials related to Pittwater, or whatever search you're doing, far from home.
One point to note here is you can also find items related to here far from here - once again history research has turned photos, letters, diaries and journals in digital libraries in France and the Library of Congress maintained by the USA (Washington). If you are looking for images, specifically, click on the 'pictures' function and type in a few words such as 'Pittwater' and 'plane' and add a date '1910' for instance - and be surprised at what turns up - keep changing the date going forward to bring up more.
Those who visit the 'Old Books' page here, where old books are embedded, will be aware of the Internet archive called the 'Wayback Machine' where you may find old books, old studies, images - tons of more stuff - and a lot of Australian items too.
All these organisations have an online presence to help spread and engage others in knowledge sharing - that's why the World Wide Web was shared, for free, by its inventors for: to make knowledge and the community of sharing this available to all.
Tim Berners-Lee, a British scientist, invented the World Wide Web (WWW) in 1989, while working at CERN. The web was originally conceived and developed to meet the demand for automated information-sharing between scientists in universities and institutes around the world.

The first website at CERN – and in the world – was dedicated to the World Wide Web project itself and was hosted on Berners-Lee's NeXT computer. On 30 April 1993, CERN put the World Wide Web software in the public domain. Later, CERN made a release available with an open licence, a more sure way to maximise its dissemination. These actions allowed the web to flourish.
The Internet is a global network of networks while the Web, also referred formally as World Wide Web (www) is collection of information which is accessed via the Internet. Another way to look at this difference is; the Internet is infrastructure while the Web is service on top of that infrastructure. - Geeks for Geeks
UNSW Sydney Students To Represent Australia At $7m Robotics Comp
February 11, 2020
by Louise Templeton, UNSW
Students will compete against the world's brightest minds in robotics.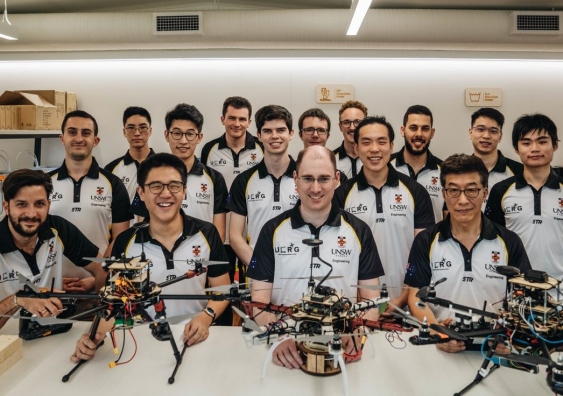 Dylan Sanusi-Goh (second from left) and Dr Mark Whitty (third from left) with the UNSW Engineering Competitive Robotics team
UNSW Engineering students will leave Sydney this weekend to compete for a share in over $7 million in sponsorship and prize money, at the Mohamed Bin Zayed International Robotics Competition (MBZIRC). MBZIRC is the world's richest robotics competition and will take place in Abu Dhabi 23-26 February.
MBZIRC aims to attract the world's brightest minds in intelligent robotics and push technological boundaries and applications in this field. The event will focus on the role of robotics and artificial intelligence in "smart city" solutions, and include construction and fire-fighting challenges.
Dylan Sanusi-Goh is a third-year mechatronics engineering student and operations manager for the UNSW Competitive Robotics team attending MBZIRC. He says the greatest challenge in preparing for the competition is managing the sheer complexity of tasks involved to get multiple autonomous vehicles to interact to achieve a goal.
The challenge
"We have to program our vehicles to see their environment, understand it and take actions as a result - with no human intervention," Mr Sanusi-Goh says.
The students are taking three unmanned aerial vehicles (UAVs, aka drones) and one unmanned ground vehicle (UGV) to compete in two of the competition's four challenges. They must code the robots to interpret colour, patterns and variable temperatures, then act accordingly.
The first challenge will require the UAVs and UGVs to locate, select, transport and assemble different types of bricks to build predefined structures in an outdoor environment, to simulate autonomous building construction. The second requires the robots to work together to autonomously assess and extinguish a series of simulated fires in an urban high-rise firefighting scenario.
Unmatched educational experience
Senior lecturer in mechatronics Dr Mark Whitty says the competition provides tremendous exposure to the latest robotics research for UNSW students.
"To compete at MBZIRC, students have to produce highly sophisticated software programming," Dr Whitty says.
"The competition will focus on multiple air and ground vehicles programmed to work together in given scenarios. Participation in the event gives the students excellent hands-on, practical experience in a highly competitive environment."
Dr Whitty says the scope of challenges in the 2020 competition has dramatically increased since MBZIRC was first held in 2017.
"The tasks back then involved straightforward technical manoeuvres, like picking up objects and placing them in another spot. This year, the exercises are more focused on real-world applications and the requirement for collaborative operations between multiple air and ground vehicles," he says.
"Dealing with real flames in a multi-storey building is hard enough for human firefighters, let alone autonomous robots. However, computing and sensing technology advancements, along with the availability of cost-effective, off-the-shelf drones, have simplified the hardware we use, so the teams can focus on creating the best software."
An example of a drone the UNSW team will take to Abu Dhabi
Practical insights into an engineering career
Mr Sanusi-Goh says the practical experience he has gained from his involvement with the competitive robotics group at UNSW Engineering has given him fantastic insights into what a robotics career might involve.
"A lot of students go through the coursework, not knowing what kind of jobs they can do once they're through university. But hearing about these competitions, and students solving these challenges, provides really good awareness about the types of jobs that can transpire from an engineering degree."
The UNSW team was the only all-Australian team to qualify for the competition, where 31 teams will compete from universities from 18 countries. In total, 68 teams tried out. The UNSW team is expected to be the only team made up of undergraduate students; most of their competitors will be PhD students and higher degree researchers.
Mr Sansui-Goh is not fazed by this.
"Our academic supervisors have been super-supportive, and we also have some former students acting as our industry mentors to help us prepare for Abu Dhabi," he says.
"Getting this level of exposure and experience at an undergraduate level is phenomenal."
The UNSW Competitive Robotics team members for MBZIRC 2020:
Lancelot Chen, 25, Mechatronics Engineering
Hideyoshi Cheong, 23, Electrical Engineering
Scott Fraser, 24, Mechatronics Engineering
James Horsley, 24, Mechanical Engineering
Sharif Issa, 27 , Mechanical Engineering
Mr Henry Phung, 22, Computer Science and Mechatronics Engineering
Mr Benjamin Rigby, 22, Computer Science Engineering
Mr Dylan Sanusi-Goh, 19, Computer Science and Mechatronics Engineering
Mr Michael Xu, 24, Aerospace and Materials Science Engineering
New Website Reveals History Of Australia's Most Significant Road
A book unearthing the history of Australia's most significant road, the Hume Highway, is now available as an interactive online portal to encourage travellers to explore off the beaten track.
The landmark publication The Old Hume Highway - History begins with a road charts the colonial history, fascinating yarns, colourful characters and important events that make the Hume Highway unique.
Minister for Roads Andrew Constance said the book, published by Transport for NSW, is one of the first official online historic guides of its kind.
"The portal provides easy-to-use interactive maps so anyone travelling on the Hume Highway knows where to stop and explore interesting landmarks such as historic bridges, fine colonial buildings and scenic parks, rivers and locations," Mr Constance said.
"The road was named a century after colonial-born Hamilton Hume and William H. Hovell made the first overland journey by white explorers from Sydney to the Victorian coast in 1824. Although it was still a rough and ready local track, in many places it was proclaimed a highway, and road engineering took almost another century to live up to the name.
"Much of the present highway is along the same route, from Ashfield in Sydney's inner west, stretching past Camden, Goulburn, Yass and Albury, as well as smaller townships that with the passing of time have experienced mixed fortunes.
Minister for Regional Roads Paul Toole said the new website will help drivers find hidden rural gems not far from the highway's alignment.
"This mobile-friendly site makes it easier to plan a holiday in the bush, leading drivers to destinations in our state that are waiting to be discovered by more people," Mr Toole said.
"The site opens up this rich collection to a new audience. The online edition marks 200 years since Governor Macquarie ordered work on a 'cart road' to the Goulburn area, running through Bong Bong (now Moss Vale and Sutton Forest) across to Arthursleigh and Greenwich Park."
The original book was released at the dedication of the Holbrook Bypass on 23 June 2013, which completed the duplication of the Hume Highway between Sydney and Melbourne.
This 'cart road' was one of the many sections later proclaimed as the 'Great Southern Road' in 1858, and then the 'Hume Highway' 70 years later.
The portal draws on the stories and insights of the historical societies along the route and official documents sourced from Transport for NSW and its predecessors RMS, RTA and DMR.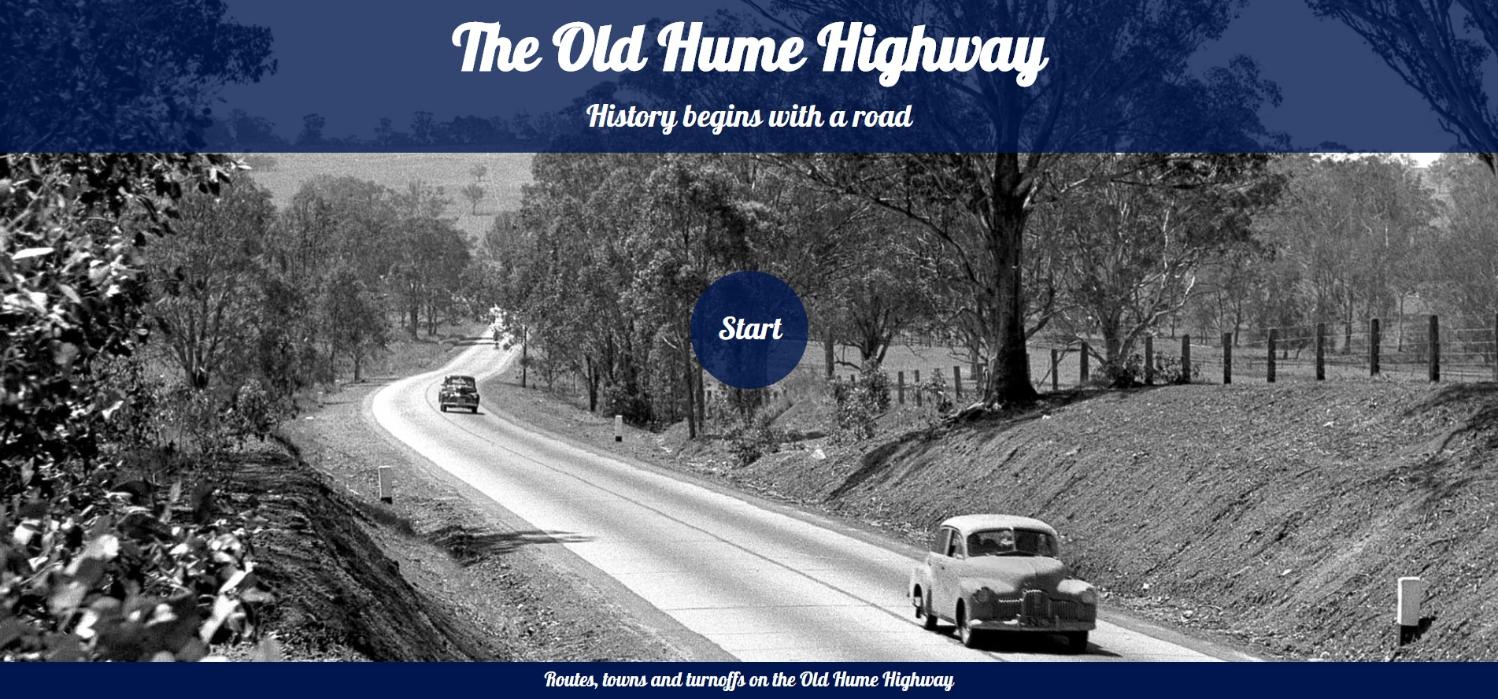 Getting Personal With The Penguins
February 2nd, 2020: Australian Antarctic Division
A summer of seabird research on a remote island off the coast of Antarctica is coming to a close for another year.
Two Australian Antarctic Division field biologists, Kim Kliska and Marcus Salton, have been living on Béchervaise Island for the past three months, continuing a long-term monitoring program, spanning three decades.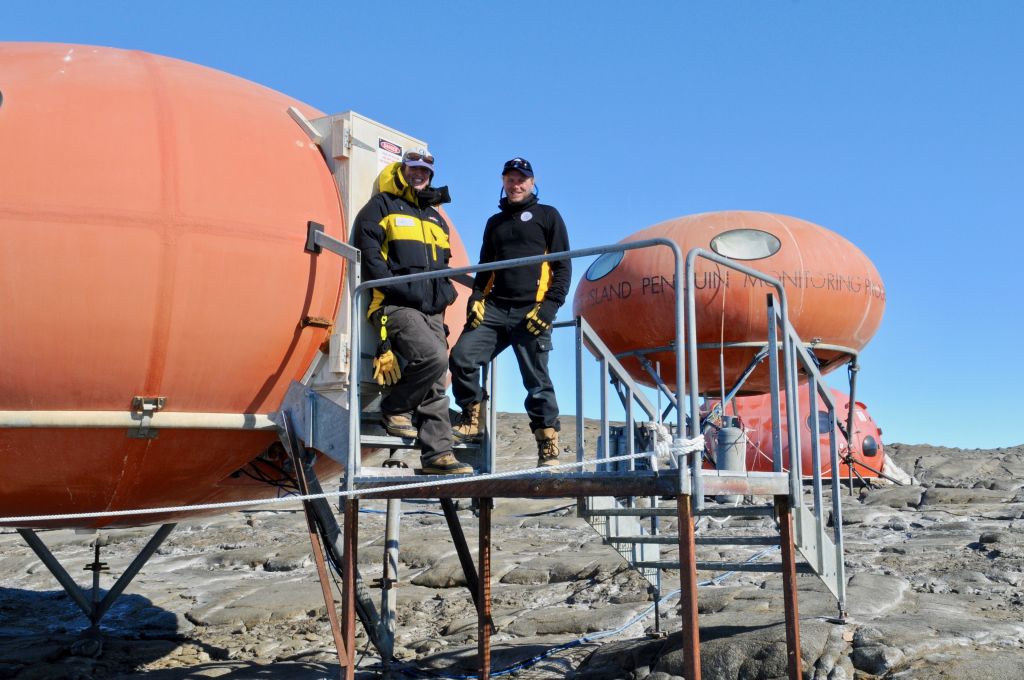 Field biologists Kim Kliska and Marcus Salton live in these field huts on Béchervaise Island while studying the Adélie penguin colony there (Photo: Mark Horstman)

Kim Kliska said Béchervaise Island is a hub for seabird life in East Antarctica.
"It's a fairly flat, open island, with quite a few sub-colonies of Adélie penguins. We also have skuas, snow petrels and Wilson's storm petrels breeding here as well," she said.
"For all the seabirds we're trying to understand how many are breeding for each species, and what their breeding success is."
"We want to know how many eggs they lay, how many chicks hatch and how many then fledge at the end of the season, giving us a really good indication of the population numbers."
Marcus Salton said the long-term monitoring program on Béchervaise Island is "unusual and unique" because it spans three decades.
"Thirty years is about the life span of a penguin, so we can start to look at things happening throughout that time, such as changes in breeding success and how that's linked to changes in their environment," he said.
Two specially-designed weighbridges at Béchervaise Island automatically weigh and identify penguins, recording data on foraging trip durations, time spent in the colony, and mass changes before and after feeding trips.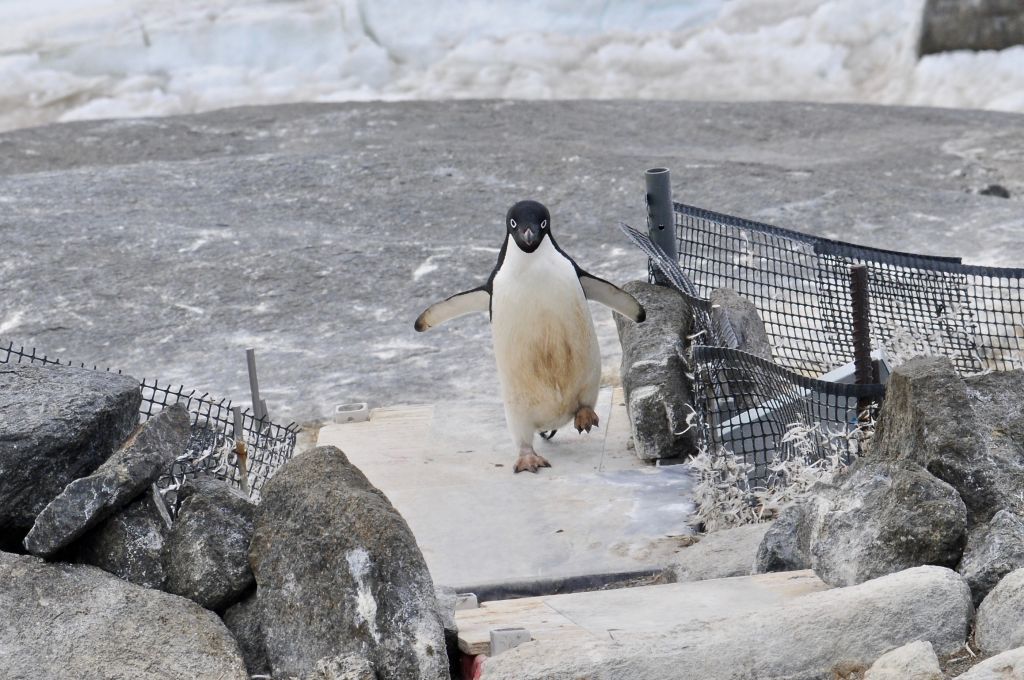 An Adélie penguin crosses the weighbridge (Photo: Mark Horstman)

"Even when we're not here we get a lot of information about individuals and over time we can look at how that's changing in relation to breeding success," Mr Salton said.
Penguins are an indicator species and this research on Adélie penguins is helping inform management of any krill fishing in the region.
"We can look at how much krill they're actually feeding their chicks. From that we can get an estimate on how much they're consuming, to ensure any krill fishing in the area leaves enough food for penguins too," said Ms Kliska.
The biologists also maintain automatic monitoring cameras that take daily photos of the penguin colonies.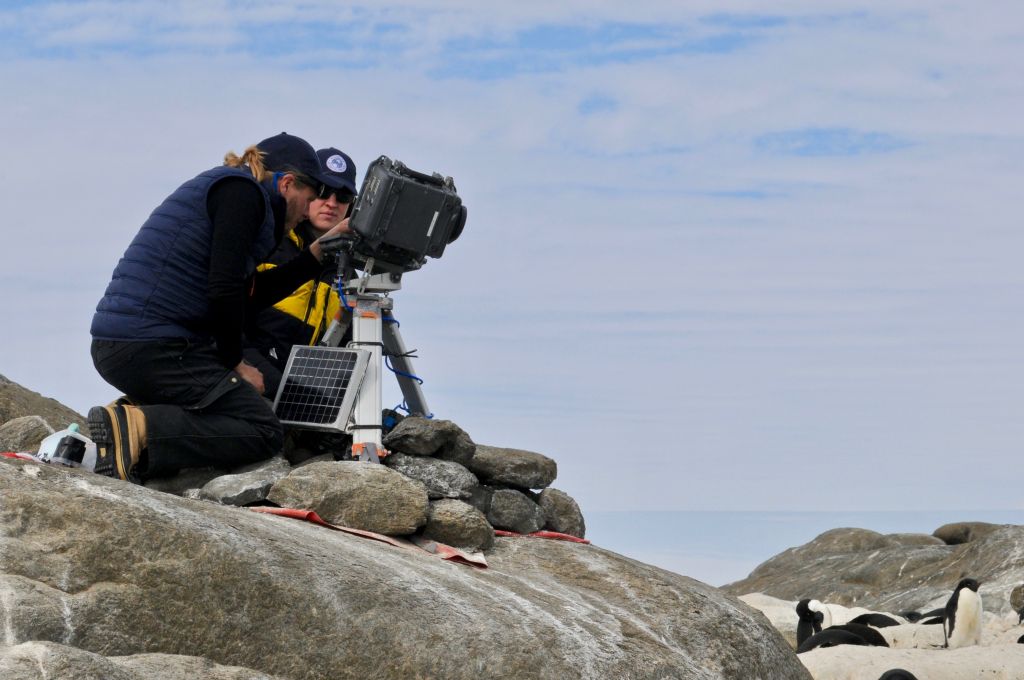 Field biologists Marcus and Kim at a remote monitoring camera (Photo: Mark Horstman)

But nothing beats the high quality information gained from physically counting penguins on the ground.
"We also weigh the chicks, collect samples to inform us about their diet, genetics and environmental contaminents, and attach devices to track the bird's foraging movements and behaviour," said Ms Kliska
The seabird research program, which also extends to the broader Mawson region, has found the most recent number of Adélie penguins at all the islands within 50 kilometres to the east and west of the station is 120,000 breeding pairs.
"Here at Bechervaise Island we've got about 1500 breeding pairs of Adelie's, so just a small proportion of the larger regional population," Mr Salton said.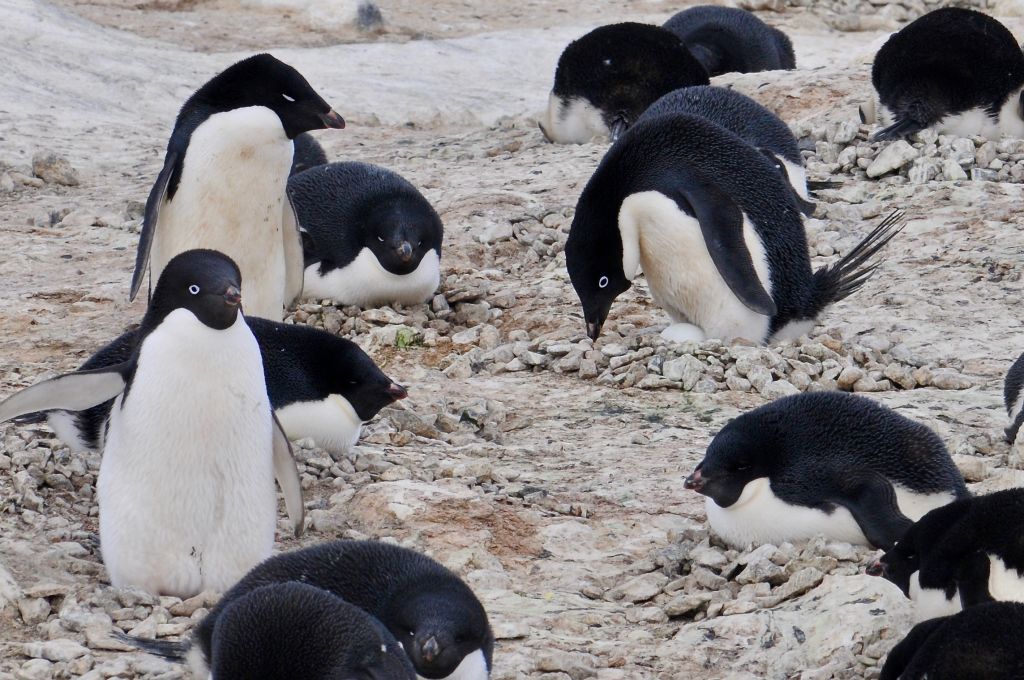 Nesting Adélie penguins at Béchervaise Island (Photo: Mark Horstman)

2020 Enrolled Nurse Scholarships Open
Aspiring nurses across NSW can now apply for the 2020 Enrolled Nurse Scholarships which cover course fees and guarantee a job upon completion.

NSW Chief Nursing and Midwifery Officer said applications are now open for scholarships to study nursing at 24 campuses across the state, including seven in Sydney and 17 across every regional Local Health District.
"If you're interested in a rewarding career as a nurse at one of our public health facilities or hospitals, don't miss this incredible opportunity," Ms Cross said.
"The scholarship includes course fees for a Diploma of Nursing and an opportunity to work as an Enrolled Nurse as part of our nursing team in NSW Health when you successfully complete the program.
"Our Enrolled Nurses work across a variety of NSW Health clinical settings including in acute medical and surgical units, operating theatres and mental health, caring for people when they need it most.
"We're particularly encouraging Aboriginal people to apply for the scholarships, to build the Aboriginal workforce across NSW and improve local health outcomes."
Ashley Gamble, a scholarship recipient who is now an Enrolled Nurse said her role is incredibly rewarding and she recommended the program to anyone interested in a career in nursing.
"I really love my role as an Enrolled Nurse. Every day you're challenged, every day you're learning, you're surrounded by people that are so knowledgeable and who are just willing to teach you," Ms Gamble said.
"It is the most rewarding experience you will ever have in your life."
The NSW Government is investing $2.8 billion to recruit 8,300 extra frontline staff over the next four years, including an additional 5000 nurses and midwives.
The scholarships run in partnership with TAFE NSW and the NSW Health Registered Training Organisation. To be eligible you must be an Australian citizen or permanent resident living in NSW.
To apply,
click here
.
Applications close on 19 February.
Ending The Pain Of Loneliness
February 13, 2020: by Rachel Gray, UNSW
UNSW researcher Dr Sophie Lewis says health professionals can often misdiagnose loneliness as depression.

UNSW social researcher Dr Sophie Lewis has been given an almost $400,000 grant to find out what loneliness means to people living with chronic health conditions.
"At the moment we don't have a good grasp on what contemporary loneliness is," Dr Lewis says.
The study is funded by a $381,875 Australian Research Council (ARC) Discovery Project grant and is expected to take three years to complete.
Dr Lewis says the heart of this study was sparked by what she saw as recurring feelings of loneliness among people with health problems such as obesity, diabetes, and chronic obstructive pulmonary disease COPD.
And it is the story of one woman living with obesity in a small town where she finds it difficult to socialise that has had the greatest impact on the social researcher.
"She stares at her wall a lot of her day," Dr Lewis says.
"The woman is homebound because of her physical immobility, pain, other health issues, but also embarrassment and shame that her doctor might ask her, 'Why haven't you lost any weight?'."
Dr Lewis says she has also heard from people who have revealed that their social world shrinks as their chronic conditions worsen.
"Then they become more disconnected and socially isolated, so the problem just gets worse," she says.
Loneliness has been linked to suicide, dementia, immunity problems, cardiac and other physical and mental conditions, particularly among the elderly, young adults, people living alone and males.
Dr Lewis says it's now suspected that people living with chronic health conditions are more susceptible to loneliness due to a range of issues such as discrimination, stigmatisation, immobility, pain, psychological distress and anxiety.
She says people with advanced-stage diabetes may have to undergo limb amputation, which can leave them feeling embarrassed about problems such as their reduced mobility.
"Likewise, a person with COPD requiring oxygen therapy may have limited mobility," she says. "And for people living with obesity, they may be stigmatised for an apparent inability to control their dietary intake."
These factors can all work against the person being able to make or maintain meaningful connections with others, she says.
The UNSW researcher says health professionals and community care workers often overlook or misdiagnose loneliness as an illness such as depression.
When the symptoms of loneliness are recognised, patients are often referred to counsellors, volunteer-help or web-based support groups.
But Dr Lewis says methods at this individual level are not enough.
She proposes tackling the issue by using a broader sociological approach.
"Many of the individual interventions have not worked because they place an expectation on the health professional to solve the problem as well as patient motivation," she says.
The researcher and her team are going to interview people with chronic conditions in places such as their homes, medical centres and the local supermarket in order to document their experiences of belonging and social connectedness.
The study's team will also chat to health and community care workers about the challenges they face in supporting their chronically ill patients.
Outcomes are expected to help health professionals better diagnose and treat loneliness, while also making general communities more aware and conscious of this at-risk group.
UNSW's Dr Sophie Lewis will lead the team of sociologists, psychologists and anthropologists from the University of Sydney, La Trobe University and UNSW's international partners at the University of Southampton in the UK, and the University of California in the US.
Although people living in metro and regional NSW and Victoria will be the focus of this study, the outcomes are expected to inform policy and practice across all of Australia.
"We can do better in supporting people and helping them feel more connected to their communities and to feel a sense of belonging," Dr Lewis says
"And it might not necessarily always be about health services, but about how can we connect people to community-based resources and services."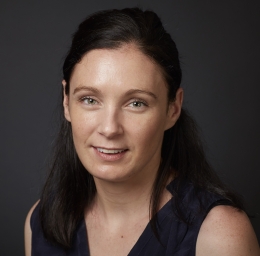 UNSW social researcher Dr Sophie Lewis.
Alliance Submission To The Retirement Income Review
Sustainability and eliminating disincentives to save are the keys to a better retirement, according to the Alliance for a Fairer Retirement System. It has just released its submission to the Retirement Income Review.
Alliance spokesperson, Ian Henschke says: "The Alliance supports the four principles proposed by the Panel: adequacy; equity; sustainability; and cohesion. But certainty is also a critical factor and must be included in any review."
"The cohort outside the current system includes the self-employed, those in the gig economy and older, retired Australians — none of these has the benefit of compulsory superannuation. Small business owners frequently rely on selling a business to fund retirement, yet not all business owners can sell their business. Those in the gig economy frequently suffer from fragmented employment, making savings a challenge. Non-compulsory saving can also prove difficult for many. It's vital, therefore, that policy settings take account of the impact on all retirees and not only those who have benefited from superannuation."
"There's also insufficient integration between the Age Pension and superannuation. Leakage from superannuation will increase the costs of the Age Pension. The longer money stays in superannuation, the more Age Pension costs can be reduced."
Age Pension rules are overly complicated. If simplified there'd be less opportunity to undermine savings behaviour leading to perverse outcomes."
In its submission the Alliance says the review should look at policies which encourage voluntary contributions to superannuation.
"Governments see concessions as a liability when in fact they're an asset resulting in more self-funded retirees and less reliance on the pension," Mr Henschke said.
In identifying the changing Australian workplace landscape, the Alliance points to the growing number of over 55s unable to find work, who go on Newstart and exhaust their retirement savings just to get by.
With the over 55 age cohort the largest demographic receiving Newstart, the Alliance wants the review to examine a more adaptable retirement income system which considers the relationship between age demographics, declining home ownership and the labour market.
The Alliance also wants the review to examine more flexible pension systems overseas such as New Zealand which allows pensioners to remain in the workforce without sacrificing their age pension.
The issue of adequacy of the retirement income system is also raised given that older Australian single women are the fastest growing demographic facing homelessness in Australia.
In identifying the equity of the system for the review panel, the Alliance has pointed out perverse disincentives for older Australians to save for their retirement.
For example, the current taper rate creates a 'sweet spot' for retirees to reduce their savings in order to receive the full Age Pension.
"That sweet spot is around $400,000 in savings which sees a pensioner couple earning $1,000 a month more than a couple with $800,000 in savings," said spokesperson Ian Henschke.
In its submission the Alliance says, "Pension rules encourage retirees to arrange their affairs to become residential property rich, but income poor."
The Alliance submission points out the disincentives to save also act as a threat to sustainability.
A lack of cohesion in policies affecting older Australians is another area the Alliance raised.
The example of different means tests for aged care and the Age Pension shows a "siloed approach" by different government departments such as Treasury and Health.
Complicating matters are what The Alliance calls "dense and labyrinthine" rules governing superannuation, aged care and the Age Pension, compounded by a lack of financial literacy.
"Australians are becoming more self-funded and should be encouraged, not discouraged to continue that way."
The Alliance for a Fairer Retirement System is a group formed to represent millions of senior Australians, shareholders, self-funded retirees and those planning a sustainable retirement. The Alliance's mission is to help improve the existing superannuation, Age Pension and broader retirement income systems.
How The Brain's Immune System Could Be Harnessed To Improve Memory
February 11, 2020: RMIT University
When it comes to memory, immune cells are known as the "bad cops" of the brain. But new research shows they could also be turned into "good cops" to power memory and learning.
Inflammation can send the brain's immune cells into damaging hyperdrive, and this has been linked to neurodegenerative diseases that affect memory, like dementia.
In the new study, researchers at RMIT University found that these same immune cells -- known as microglia -- can also be activated to have the reverse effect.
When the microglia were altered in rats, their performance in simple memory tasks improved by up to 50%, rather than deteriorating.
While the effect was temporary, the discovery suggests these cells could be targeted in the development of new therapies designed to enhance memory formation, with the hope of preventing cognitive decline as people grow older.
Worldwide, around 50 million people have dementia, with nearly 10 million new cases each year. In Australia, dementia and ageing-related cognitive decline affect 9% of people aged over 65.
Chief Investigator and senior author, Associate Professor Sarah Spencer, said the unexpected results of the study expanded our understanding of memory formation and the role of neuroinflammation in memory loss.
"Cognitive decline is a big problem for our ageing population, and we currently have very few treatments to treat or prevent it," Spencer said.
"Even in healthy adults, optimising how well we learn and remember can give us a substantial performance edge at work and socially.
"Our study has for the first time shown a link between changes in the immune cells of healthy brains and improved cognitive function.
"While it's early days and a lot more research is needed, we hope our findings may lead to new therapies that can stimulate these immune cells to boost memory and keep our brains powering as we age."
Activating memory with activated microglia
In the study, published in Journal of Neuroinflammation, the researchers worked with a unique type of rat to test the effect of microglia on cognitive function.
The study looked how the rats performed memory tasks when the immune cells were present and compared this with their performance when almost all the microglia were knocked out.
They found that removing almost all the microglia made no difference in memory tasks.
But when the microglia regenerated, this led to astounding results: researchers ran the same memory tests on the rats and they performed 25-50% better than normal rats.
Importantly, the regenerated microglia were a different shape -- similar to the "activated" shape that these cells have when dealing with inflammation.
"We are still exploring what makes these cells different when they repopulate the brain, but their shape tells us they may be more active than usual, potentially making the neurons more effective to encourage better memory," Spencer, an NHMRC Career Development Fellow at RMIT, said.
"The effect doesn't last. As the microglia go back to their usual shape, memory performance also goes back to normal.
"The next stage in the research is closely investigating these regenerated microglia to better understand the mechanisms at work, with the aim of finding ways to turn the temporary memory boost into a long-lasting effect."
Microglia-suppressing therapies are currently being tested in clinical trials in the US, as potential treatments for Multiple Sclerosis.
"With our new understanding of the role of microglia in memory, it may be possible in future to test the therapies originally designed for MS and assess their potential in improving cognitive function as well," Spencer said.
Spencer is a leading researcher in the Neurodevelopment in Health and Disease program at RMIT, a multi-disciplinary research group in the School of Health and Biomedical Sciences established to identify the determinants of healthy brain development, and early origins of neurological disease.
Simone N. De Luca, Alita Soch, Luba Sominsky, Thai-Xinh Nguyen, Abdulhameed Bosakhar, Sarah J. Spencer.
Glial remodeling enhances short-term memory performance in Wistar rats.
Journal of Neuroinflammation, 2020; 17 (1) DOI:
10.1186/s12974-020-1729-4
A Happy Partner Leads To A Healthier Future
Michigan State University research has found that those who are optimistic contribute to the health of their partners, staving off the risk factors leading to Alzheimer's disease, dementia and cognitive decline as they grow old together.
"We spend a lot of time with our partners," said William Chopik, assistant professor of psychology and co-author of the study. "They might encourage us to exercise, eat healthier or remind us to take our medicine. When your partner is optimistic and healthy, it can translate to similar outcomes in your own life. You actually do experience a rosier future by living longer and staving off cognitive illnesses."
An optimistic partner may encourage eating a salad or work out together to develop healthier lifestyles. For example, if you quit smoking or start exercising, your partner is close to following suit within a few weeks and months.
"We found that when you look at the risk factors for what predicts things like Alzheimer's disease or dementia, a lot of them are things like living a healthy lifestyle," Chopik said. "Maintaining a healthy weight and physical activity are large predictors. There are some physiological markers as well. It looks like people who are married to optimists tend to score better on all of those metrics."
The study, published in the Journal of Personality and co-authored by MSU graduate student Jeewon Oh and Eric Kim, a research scientist in the Department of Social and Behavioral Sciences at the Harvard T.H. Chan School of Public Health, followed nearly 4,500 heterosexual couples from the Health and Retirement Study for up to eight years. The researchers found a potential link between being married to an optimistic person and preventing the onset of cognitive decline, thanks to a healthier environment at home.
"There's a sense where optimists lead by example, and their partners follow their lead," Chopik said. "While there's some research on people being jealous of their partner's good qualities or on having bad reactions to someone trying to control you, it is balanced with other research that shows being optimistic is associated with perceiving your relationship in a positive light."
The research also indicated that when couples recall shared experiences together, richer details from the memories emerge. A recent example, Chopik explained, was Google's tearjerker Super Bowl ad, "Loretta," in which an elderly man uses his Google Assistant to help him remember details about his late wife.
"The things he was recollecting were positive things about his partner," Chopik said. "There is science behind the Google ad. Part of the types of memories being recalled were positive aspects of their relationship and personalities."
With all of its benefits, is optimism something that can be prescribed? While there is a heritable component to optimism, Chopik says there is some evidence to suggest that it's a trainable quality.
"There are studies that show people have the power to change their personalities, as long as they engage in things that make them change," Chopik said. "Part of it is wanting to change. There are also intervention programs that suggest you can build up optimism."
Across the board, everyone benefits from a healthy dose of optimism from their partner. For the glass-is-half-empty people, a partner can still quench their thirst. For the glass-is-half-full people? Their cup runneth over.
Jeewon Oh, William J. Chopik, Eric S. Kim.
The association between actor/partner optimism and cognitive functioning among older couples
. Journal of Personality, 2019; DOI:
10.1111/jopy.12529
Can A River Sing? ANU Researchers Say 'Absolutely'
A remarkable new project led by researchers at The Australian National University (ANU) will showcase the beauty of the Murray River, and help re-frame the discussion about the waterway's health.
Scientists and audio specialists have teamed up to travel the entire length of the river by kayak, starting in Kosciuszko National Park in southeast NSW and ending in South Australia.
They are capturing the river's sights and sounds as well as turning important data about the river into audio.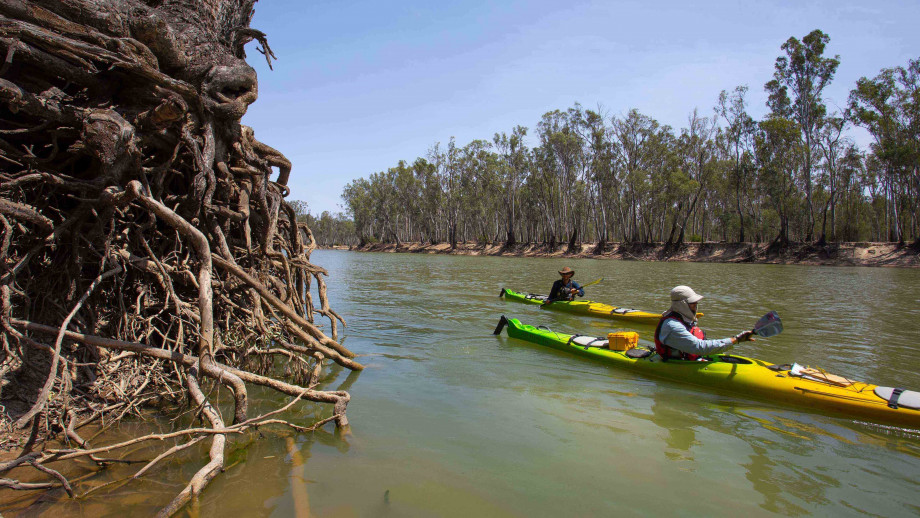 Honours student Xavier Anderson is one of those taking part in the expedition - now entering its final stages.
"It is rare to see a river all the way from source to sea. We've been through so many landscapes and have seen how the river connects to them all," Mr Anderson said.
"What's made it even more remarkable is the extreme conditions we've faced this summer as we've made our way down the river.
"We've been through dust storms, scorching temperatures, hiked through knee-deep snow, paddled in smoke and have battled against strong winds approaching the South Australian border."
Researcher Meredith Hope says they hope to "give the Murray a voice".
"The Murray-Darling system is the life-blood for millions of Australians," she said.
"It provides water to drink, grow food, provide transport and of course supports thousands of species in diverse eco-systems.
"But the health of the Murray River remains under pressure despite efforts to improve it.
"So to address this, our research team have been recording the river as they travel from source to sea over two-and-half months. And the sounds and sights we have captured are a powerful expression of the river's health.
"It's crucial that we communicate the huge importance of this system, celebrate its majestic wonder and continue efforts to preserve it."
The researchers will also create a soundscape of the river by translating publicly available data for sites right down the Murray - like flow rate, water temperature, salinity and depth - into sound for the first time.
They will also combine this "aural fingerprint" with the sounds and sights collected on the 2,500-kilometre kayaking expedition.
The intention is this will eventually form part of an interactive museum exhibition.
"This travelling exhibit will bring the river to the public," Ms Hope said.
"We really want to showcase the river's central role in regional Australia, and help people all over Australia connect with this extraordinary waterway."
Ms Hope says it's a vital mission.
"There is a risk that the Australian public may not support further investment in river health due to a lack of trust in government process and frustration at the cost involved," she said.
"'Out of the box' communication solutions are needed to cut through this negative political space."
The Helping the River Sing project is a collaboration between the ANU Fenner School of Environment Society and the ANU School of Music.
The group started their journey by hiking to the Murray's source in Kosciuszko National Park and then pack-rafting down the river on the snow-melt.
They'll finish at the Murray Mouth in South Australia on Sunday 16 February.
You can follow their progress online via Instagram, or the group's
blog
.
Oral Traditions And Volcanic Eruptions In Australia
February 10, 2020: Geological Society of America
In Australia, the onset of human occupation (about 65,000 years ago?) and dispersion across the continent are the subjects of intense debate and are critical to understanding global human migration routes. A lack of ceramic artifacts and permanent structures has resulted in a scarcity of dateable archaeological sites older than about 10,000 years.
Existing age constraints are derived largely from radiocarbon dating of charcoal and/or optically stimulated luminescence (OSL) dating of quartz grains in rock shelter sediments, and there is a need for independent age constraints to test more controversial ages. In southeastern Australia, only six sites (located in Tasmania, New South Wales, and South Australia) older than 30,000 years are considered definitively dated by 14C and/or OSL methods, with ages spanning 37,000-50,000 years.
The strong oral traditions of Australian Aboriginal peoples have enabled perpetuation of ecological knowledge across many generations and can likely provide additional archeological insights. Some surviving traditions allude to different geological events, such as volcanic eruptions, earthquakes, and meteorite impacts. It has been proposed that some of these traditions may have been transmitted for thousands of years.
The Newer Volcanic Province of southeastern Australia contains over 400 basaltic eruption centers, a number of which are thought to have erupted within the last 100,000 years, although precise ages remain elusive for most. Technological improvements over the last decade have firmly established applicability of the 40Ar/39Ar dating technique (which relies on the natural radioactive decay of 40K in minerals) to archeological timescales, enabling many of these younger volcanoes to be dated by this method.
Rare reported occurrences of archaeological evidence beneath volcanic ash deposits and lava flows, and the longevity of Aboriginal oral histories, presents an opportunity for novel investigation into the timing of human occupation of this region. In particular, oral traditions surrounding the Budj Bim Volcanic Complex (previously Mount Eccles) in western Victoria have been interpreted to reference volcanic activity.
This new study published in Geology presents a new 40Ar/39Ar eruption age of 36,900 ± 3,100 thousand years for the Budj Bim Volcanic Complex and an age of 36,800 ± 3,800 thousand years for the nearby Tower Hill Volcanic Complex; the latter is of archaeological significance due to the historical discovery of a stone axe from a sequence of volcanic ash deposits.
These ages fall within the range of 14C and OSL ages reported for the six earliest known occupation sites in southeastern Australia. The age of Tower Hill directly represents the minimum age for human presence in Victoria. If oral traditions surrounding Budj Bim do indeed reference volcanic activity, this could mean that these are some of the longest-lived oral traditions in the world.
Erin L. Matchan, David Phillips, Fred Jourdan, Korien Oostingh.
Early human occupation of southeastern Australia: New insights from 40Ar/39Ar dating of young volcanoes
. Geology, 2020; DOI:
10.1130/G47166.1
'Rule Breaking' Plants May Be Climate Change Survivors
February 10, 2020: University of Queensland
Plants that break some of the 'rules' of ecology by adapting in unconventional ways may have a higher chance of surviving climate change, according to researchers from the University of Queensland and Trinity College Dublin.
Dr Annabel Smith, from UQ's School of Agriculture and Food Sciences, and Professor Yvonne Buckley, from UQ's School of Biological Sciences and Trinity College Dublin Ireland, studied the humble plantain (Plantago lanceolate) to see how it became one of the world's most successfully distributed plant species.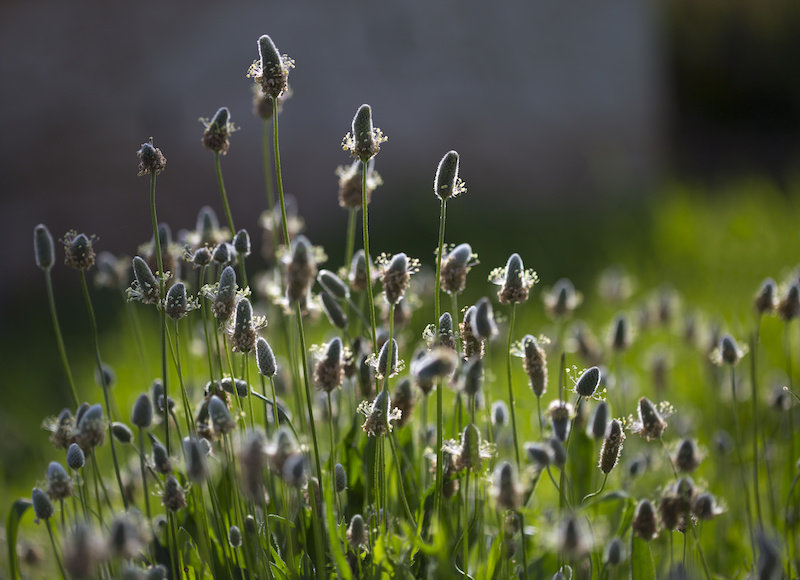 Plantago lanceolate (stock image). Credit: © Tetiana / Adobe Stock

"The plantain, a small plant native to Europe, has spread wildly across the globe -- we needed to know why it's been so incredibly successful, even in hot, dry climates," Dr Smith said.
The global team of 48 ecologists set up 53 monitoring sites in 21 countries, tagged thousands of individual plants, tracked plant deaths and new seedlings, counted flowers and seeds and looked at DNA to see how many individual plants have historically been introduced outside Europe.
What they discovered went against existing tenets of ecological science.
"We were a bit shocked to find that some of the 'rules of ecology' simply didn't apply to this species," Dr Smith said.
"Ecologists use different theories to understand how nature works -- developed and tested over decades with field research -- these are the so-called 'rules'.
"One of these theories describes how genetic diversity or variation in genes embedded in DNA are produced by changes in population size.
"Small populations tend to have little genetic diversity, while large populations with many offspring, such as those with lots of seeds, have more genetic diversity.
"Genetic diversity sounds boring, but actually it's the raw material on which evolution acts; more genetic diversity means plants are better able to adapt to environmental changes, like climate change.
"We discovered that, in their native range, the environment determined their levels of genetic diversity.
"But, in new environments, these rule breakers were adapting better than most other plants."
The team found the plantain's success was due to multiple introductions around the world.
Professor Buckley, who coordinates the global project from Trinity College Dublin Ireland, said the DNA analysis revealed that ongoing introductions into Australia, NZ, North America, Japan and South Africa quickly prompted genetic diversity,
It gave these 'expats' a higher capacity for adaptation," Professor Buckley said.
"In Europe plantains played by the rules, but by breaking it outside of Europe, it didn't matter what kind of environment they were living in, the plantains almost always had high genetic diversity and high adaptability."
Dr Smith said the finding was fascinating and critical, for two crucial reasons.
"It's important we now know that multiple introductions will mix genetic stock and make invasive plants more successful quite quickly -- an important finding given invasive species cause extinction and cost governments billions of dollars," she said.
"And secondly, research on invasive plants gives us clues about how our native plants might adapt to climate change.
Annabel L. Smith, Trevor R. Hodkinson, Jesus Villellas, Jane A. Catford, Anna Mária Csergő, Simone P. Blomberg, Elizabeth E. Crone, Johan Ehrlén, Maria B. Garcia, Anna-Liisa Laine, Deborah A. Roach, Roberto Salguero-Gómez, Glenda M. Wardle, Dylan Z. Childs, Bret D. Elderd, Alain Finn, Sergi Munné-Bosch, Maude E. A. Baudraz, Judit Bódis, Francis Q. Brearley, Anna Bucharova, Christina M. Caruso, Richard P. Duncan, John M. Dwyer, Ben Gooden, Ronny Groenteman, Liv Norunn Hamre, Aveliina Helm, Ruth Kelly, Lauri Laanisto, Michele Lonati, Joslin L. Moore, Melanie Morales, Siri Lie Olsen, Meelis Pärtel, William K. Petry, Satu Ramula, Pil U. Rasmussen, Simone Ravetto Enri, Anna Roeder, Christiane Roscher, Marjo Saastamoinen, Ayco J. M. Tack, Joachim Paul Töpper, Gregory E. Vose, Elizabeth M. Wandrag, Astrid Wingler, Yvonne M. Buckley.
Global gene flow releases invasive plants from environmental constraints on genetic diversity.
Proceedings of the National Academy of Sciences, 2020; 201915848 DOI:
10.1073/pnas.1915848117
Orb-Weaver Spiders' Yellow And Black Pattern Helps Them Lure Prey
February 11, 2020: British Ecological Society
Researchers from Australia, Singapore, Taiwan and the UK placed cardboard cut-out models of the golden orb-weaver, Nephila pilipes, onto real webs in the field. Testing different combinations of colours and patterns they discovered that both the yellow colour and the black and yellow mosaic pattern are essential for luring prey during the day.
The webs of Nephila pilipes also capture prey during the night, and the experiments demonstrated that the yellow colour alone was very effective at luring nocturnal insects.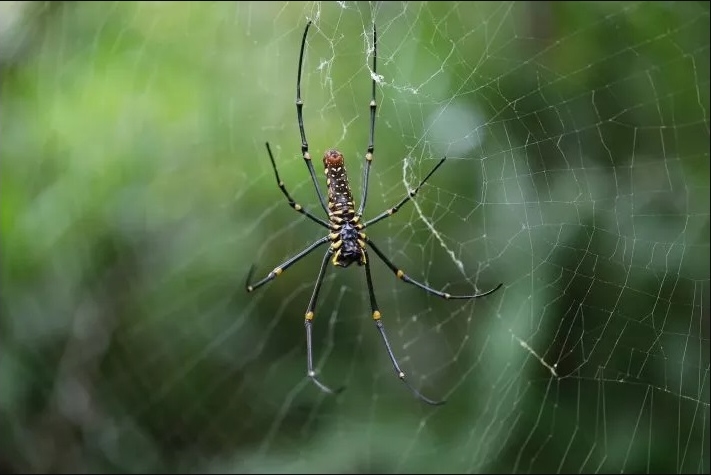 Golden orb-weaver. Nephila pilipes. Credit Bing Heng Lee

Orb-weaving spiders are found in different light conditions, and comparisons between many different species revealed a link between light environments and orb-weaver body colour patterns. Species that build their webs in well-lit environments are more likely to evolve the yellow mosaic colour pattern, found to be so effective at luring prey in these experiments.
However, this colour pattern rarely evolves in species that have little opportunity to lure prey, perhaps because they are concealed in a retreat or build their webs in dark caves.
Dr Po Peng, lead author of the study, said, "Our discoveries indicate that the effectiveness of colour-luring to attract prey might be a major driver for the yellow mosaic pattern being present in distantly related orb-weaver spiders."
The significance of the yellow colour may be due to yellow pollen and flower heads being common in flowers that signal to diurnal (active during the day) pollinators. Previous research has also found that some nocturnal (active at night) lepidoptera (moths and butterflies) can discriminate colours under dim light conditions and innately prefer yellow.
Orb weaving spiders comprise around 12,500 species, making up 28% of the 45,000 described spider species. The groups defining trait is that they construct webs which they sit in the middle of to forage for prey.
Nephila pilipes were used in these experiments as they are active both diurnally and nocturnally, making them excellent species to study visual prey lures. Flies and bees make up the majority of their diurnal prey; moths and butterflies make up the majority of their nocturnal prey.
The researchers conducted the field experiments at Huayan Mountain in Taiwan between 2008 -- 2009. They created five types of carboard models that looked like Nephila pilipes with their legs outstretched. One accurately mimicked the spiders' natural colouration. The second had blue spots rather than yellow to test the importance of colour. The third amalgamated the combined area of the yellow into one area to test the importance of the pattern. The fourth and fifth model types were entirely yellow and entirely black.
"To find paper with colour properties most similar to the body parts of N. pilipes, Szu-Wei Chen (co-author) and I did several tours over dozens of stationery stores collecting samples and measuring their reflectance." Said Po Peng.
In the field experiments the researchers removed a live spider from its web and randomly selected one of the models to be placed in the centre. They recorded the responses of insects to the cardboard spiders, collecting a combined 1,178 hours of video footage over day and night.
In this study the researchers only looked at the effects of the spiders' colour and pattern on luring prey and not how they're perceived by predators. "Previous studies suggest that the area of bright body parts is constrained by diurnally active, visually hunting predators" said Po Peng, "But our results indicated that the yellow mosaic pattern on nocturnal spiders does not represent a trade-off between prey attraction and predator avoidance." The effect of both colour and pattern on risk from predators or parasitoids is something the researchers feel warrants further investigation.
Po Peng, Devi Stuart‐Fox, Szu‐Wei Chen, Eunice J. Tan, Guan‐Lin Kuo, Sean J. Blamires, I‐Min Tso, Mark A. Elgar.
High contrast yellow mosaic patterns are prey attractants for orb‐weaving spiders.
Functional Ecology, 2020; DOI:
10.1111/1365-2435.13532
Disclaimer: These articles are not intended to provide medical advice, diagnosis or treatment. Views expressed here do not necessarily reflect those of Pittwater Online News or its staff.