Inbox and Environment News: Issue 461
August 9 - 15, 2020: Issue 461
Freshwater Campus Features As One Of Dept. Of Education Focus Stories In Education Week 2020
The article featured on social media and the Department of Educations'website as follows:
How The Pandemic Transformed A School
August 5, 2020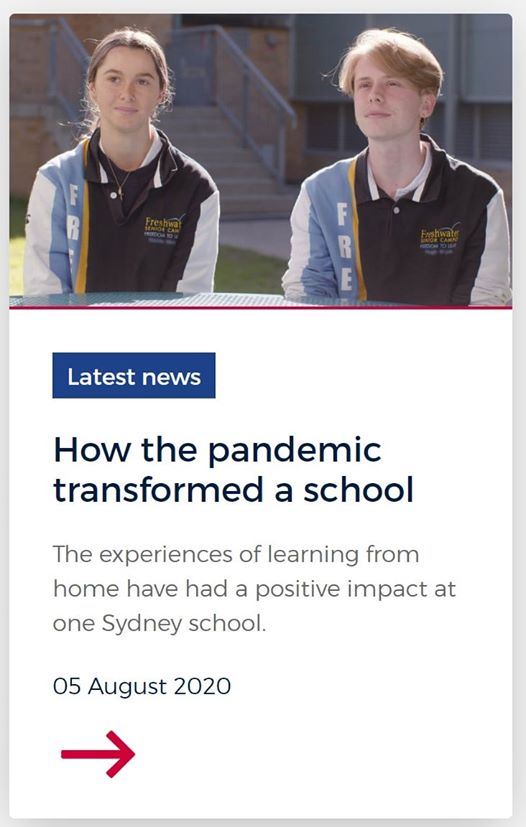 The experiences of learning from home have had a positive impact at one Sydney school.
The learning from home experience has transformed education at Northern Beaches Secondary College Freshwater Senior Campus and moved the school forward in its embrace of technology by five to 10 years.
That is the view of principal Frank Pikardt and mathematics head teacher Simon Boon who oversaw the move from classrooms to zoom rooms.
Mr Pikardt said with a student cohort of Year 11 and 12, it was extremely important when the pandemic forced school closures that students felt confident their learning would not be disrupted.
He said the mathematics faculty at the school had already been trialling greater use of technology in the classroom and the pandemic accelerated a planned roll-out.
"It's been such an interesting process for many of the teachers," he said. "In terms of using technology in the classroom I think it's accelerated us five to 10 years."
Mr Boon said ahead of the pandemic he had already been working with 'champion teachers' to trial a range of technologies for mathematics classes.
"Our plans were to move toward this model [but] the COVID-19 experience sped up our transition and transformed our teachers' classrooms because there was a need to do it at pace."
He said many teachers needed support to adapt and learn new skills when the shutdown happened.
Mathematics teacher Anthony Thompson admitted he was one of those "old-style teachers" that used pen, paper, and a whiteboard.
"When we were told we were going remote, steepest learning curve I've ever faced," he said.
Mr Thompson said once students returned to school he found the technology he had embraced for learning from home was still relevant.
He said he now recorded all his classes and students' questions and had them available for those who might miss a class or wanted to revise.
"If I have kids who are away due to illness or other appointments, they can now watch a video and they are there for the whole class as if they were there."
Mr Boon said better engagement in class was one of the main benefits of continuing to use the online technologies.
"[The online technology] had a transformative effect on our faculty and our whole school." Mr Boon said.
He said the change in teaching practice was evident across the school.
"Teachers are communicating online, reducing the amount of time they spend preparing materials, and are collaborating and sharing materials," he said.
"Because resources are prepared prior to class many students are looking forward to what they are learning and pre-learning.
"Students are connecting with each other out of class using those platforms. They can review the work and also because they are now digitising notes, students have less writing demands so can engage more in the actual lesson."
Freshwater Campus HSC student Hugh Bryan said the use of online recordings was a huge help in his studies.
"For maths especially now everything's just online if you need notes for something," he said.
"A lot of my other classes have that as well … that's really useful to have everything online so I can just get it when I need it."
New Multimedia Site Gives Students A Voice In Education
Friday August 7, 2020
A multimedia hub aimed at giving NSW students a platform where they can share their views and creativity with the wider community was launched today.
Research shows authentic participation by students in their education can have a positive impact on their wellbeing and learning.
The 'Student Voices' hub on the NSW Department of Education website features content written and performed "by students, for students" including news, opinions, videos, music, podcasts, and creative works.
The initiative breaks new ground in Australian education by providing students with a platform to communicate with each other; and a way to influence the future of their education.
Talking about the innovation in the media today, Minister for Education and Early Childhood Learning Sarah Mitchell said student perspectives and experiences shaped schools.
"[The student voices hub] will also provide students with opportunities to refine their writing and content creation skills, along with pitching their stories and ideas," she said.
The site is backed by research, co-funded by the NSW Department of Education, that shows authentic participation by students in their education has significant positive impacts on student wellbeing and learning.
The Student Voices hub will also provide students with real-world experience in media with students having the opportunity to work with experienced journalists and editors to refine their ideas and articles, giving them a real-world insight into publishing.
As part of the student voices channel development a network of student journalist teams across NSW will be established, who will be mentored to develop and write news articles about their communities and schools.
Content on the launch site includes articles about student initiatives such as two brothers who raise awareness of racism by wearing one white and one black sock every day; a short film by a team at Punchbowl Boys High School on responsible e-gaming; student reflections on what the 250th anniversary of the Endeavour landing means to them; and a podcast by Macksville HSC students about completing Year 12 in the age of COVID-19.
The site will also host monthly polls based on questions submitted by students across the state.
Visit the Student Voices hub for more articles.
At: https://education.nsw.gov.au/student-wellbeing/student-voices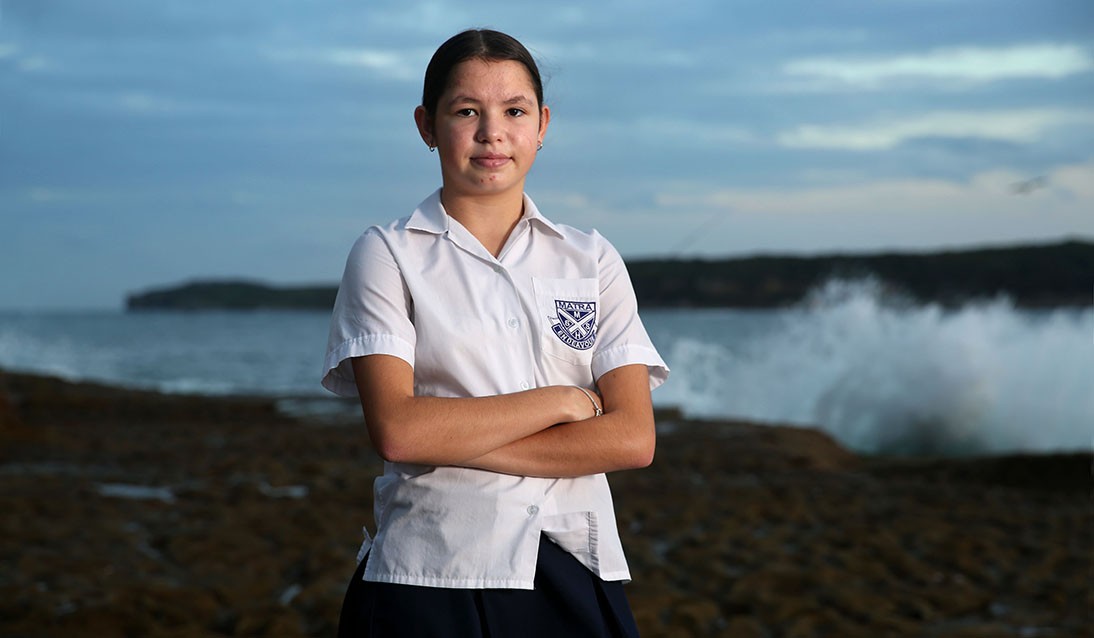 Budding Young Musos Take Out Awards
Monday August 3rd, 2020
Talented local duet Natalie Theodore and Julia Manias, known as Nat & Jules, have been voted winners of Northern Beaches Council's 2020 Northern Composure Unplugged competition.
With the ten finalists' performances professionally recorded and posted on the KALOF YouTube channel, the up-and-coming musicians received 1415 votes and over 6000 views.
Finalists were also assessed by a panel of music industry professionals, including Oli & Louis of popular band Lime Cordiale, former Hi-5 member Kellie Crawford, and one of Council's Youth Advisory Group members.
Northern Beaches Council Mayor, Michael Regan, said all 34 entries in this year's competition were to be praised for their exceptional talent and high level of professionalism.
"We can be very proud of our youth on the Northern Beaches, particularly gifted performing artists such as we've seen in this year's comp," Mayor Regan said.
"I would also like to thank everyone who watched their online performances and took time to vote."
Vocal and guitar duo Nat and Jules take home winnings of $500 cash, a $600 product voucher from Mona Vale Music, an Ocean Alley merchandise pack as well as a marketing and publicity package from Perfect Pitch.
The remaining placegetters and prizes are:
2nd – Sophie O'Neill, instrumentalist, $250 cash and Mona Vale Music voucher;
3rd – Jocelyn Fletcher, instrumentalist & voice, $100 cash and Mona Vale Music voucher;
People's Choice Award – Chloe Tyrrell, instrumentalist & voice, cash Mona Vale Music voucher and Ocean Alley merchandise pack;
Encouragement Award – Dhara Cullen, harpist, KALOF merchandise pack.
All finalists received a copy of their professionally-recorded performance to help them secure future performance opportunities and a gift pack.
Mona Vale Photography Competition
Local amateur photographers are being invited to enter a photo competition at Mona Vale Hospital, to have their work included on the walls of the new Geriatric Evaluation Management and Palliative Care facility.
Acting General Manager, Jennifer Parkin said it was a fantastic opportunity for staff and the community.
"Art can help deliver welcoming and dynamic spaces for the care and wellness of patients, carers, staff and the community and the competition provides a great opportunity to help brighten the walls of the new facility," Ms Parkin said.
"We have two great prizes on offer - first prize is a $250 Westfield voucher and second prize is a 2hr private session with professional photographer, Steve Turner," she said.
Judges are after the best photographic images that capture the local natural environment in Mona Vale and surrounds.
The successful entries will be displayed in the main corridors within the new facility when it opens.
The photography competition is open to staff, patients and family, volunteers, consumers, students, residents and community members.
Details on how to enter can be found on
this entry form
.
Entries close 5pm, 14 August 2020.
Construction of the new Geriatric Evaluation Management and Palliative Care Unit is expected to be completed in September 2020, with operational commissioning to follow.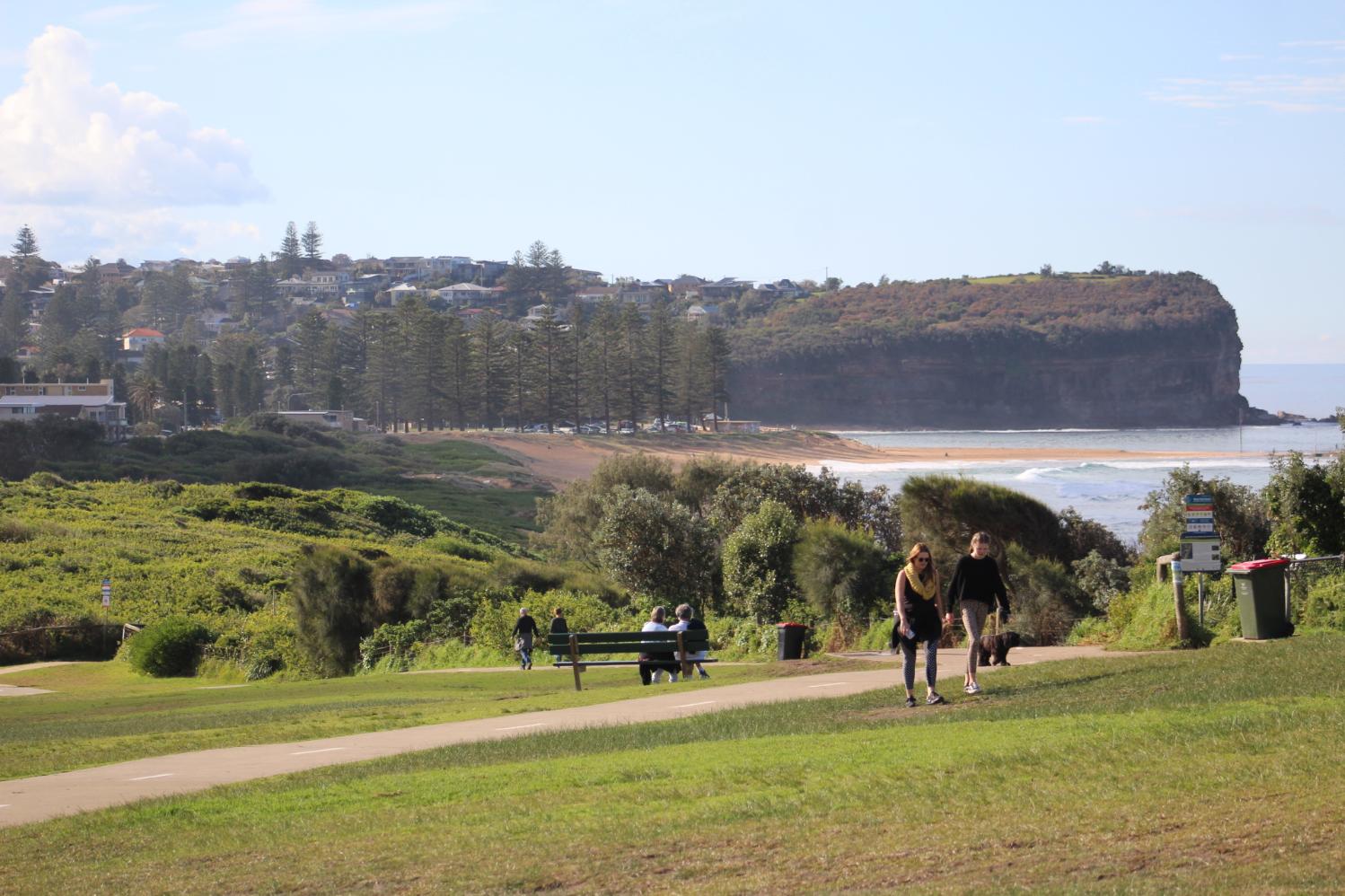 NASA Astronauts Safely Splash Down After First Commercial Crew Flight To Space Station
August 2nd, 2020: NASA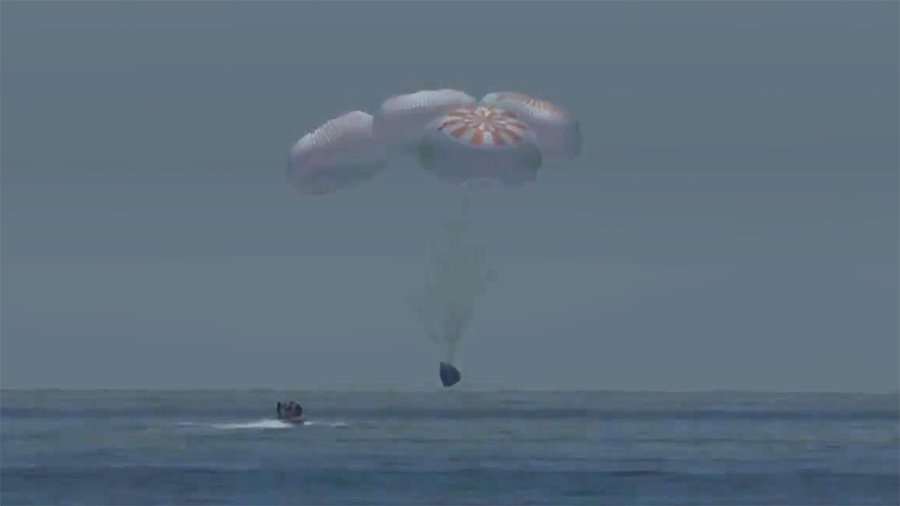 A SpaceX fast boat races toward the SpaceX Crew Dragon spacecraft moments before it splashed down in the Gulf of Mexico with NASA astronauts Bob Behnken and Doug Hurley aboard. Credit: NASA TV
Two NASA astronauts splashed down safely in the Gulf of Mexico Sunday for the first time in a commercially built and operated American crew spacecraft, returning from the International Space Station to complete a test flight that marks a new era in human spaceflight.
SpaceX's Crew Dragon, carrying Robert Behnken and Douglas Hurley, splashed down under parachutes in the Gulf of Mexico off the coast of Pensacola, Florida at 2:48 p.m. EDT Sunday and was successfully recovered by SpaceX. After returning to shore, the astronauts immediately will fly back to Houston.
"Welcome home, Bob and Doug! Congratulations to the NASA and SpaceX teams for the incredible work to make this test flight possible," said NASA Administrator Jim Bridenstine. "It's a testament to what we can accomplish when we work together to do something once thought impossible. Partners are key to how we go farther than ever before and take the next steps on daring missions to the Moon and Mars."
Behnken and Hurley's return was the first splashdown for American astronauts since Thomas Stafford, Vance Brand, and Donald "Deke" Slayton landed in the Pacific Ocean off the coast of Hawaii on July 24, 1975, at the end of the Apollo-Soyuz Test Project.
NASA's SpaceX Demo-2 test flight launched May 30 from the Kennedy Space Center in Florida. After reaching orbit, Behnken and Hurley named their Crew Dragon spacecraft "Endeavour" as a tribute to the first space shuttle each astronaut had flown aboard.
Nearly 19 hours later, Crew Dragon docked to the forward port of the International Space Station's Harmony module May 31.
"On behalf of all SpaceX employees, thank you to NASA for the opportunity to return human spaceflight to the United States by flying NASA astronauts Bob Behnken and Doug Hurley," said SpaceX President and Chief Operating Officer Gwynne Shotwell. "Congratulations to the entire SpaceX and NASA team on such an extraordinary mission. We could not be more proud to see Bob and Doug safely back home -- we all appreciate their dedication to this mission and helping us start the journey towards carrying people regularly to low Earth orbit and on to the Moon and Mars. And I really hope they enjoyed the ride!"
Behnken and Hurley participated in a number of scientific experiments, spacewalks and public engagement events during their 62 days aboard station. Overall, the astronaut duo spent 64 days in orbit, completed 1,024 orbits around Earth and traveled 27,147,284 statute miles.
The astronauts contributed more than 100 hours of time to supporting the orbiting laboratory's investigations. Hurley conducted the Droplet Formation Study inside of the Microgravity Science Glovebox (MSG), which evaluates water droplet formation and water flow. Hurley also conducted the Capillary Structures investigation, which studies the use of different structures and containers to manage fluids and gases.
Hurley and Behnken worked on numerous sample switch outs for the Electrolysis Measurement (EM) experiment, which looks at bubbles created using electrolysis and has implications for numerous electrochemical reactions and devices. Both crew members also contributed images to the Crew Earth Observations (CEO) study. CEO images help record how our planet is changing over time, from human-caused changes -- such as urban growth and reservoir construction -- to natural dynamic events, including hurricanes, floods, and volcanic eruptions.
Behnken conducted four spacewalks while on board the space station with Expedition 63 Commander and NASA colleague Chris Cassidy. The duo upgraded two power channels on the far starboard side of the station's truss with new lithium-ion batteries. They also routed power and Ethernet cables, removed H-fixtures that were used for ground processing of the solar arrays prior to their launch, installed a protective storage unit for robotic operations, and removed shields and coverings in preparation for the arrival later this year of the Nanoracks commercial airlock on a SpaceX cargo delivery mission.
Behnken now is tied for most spacewalks by an American astronaut with Michael Lopez-Alegria, Peggy Whitson, and Chris Cassidy, each of whom has completed 10 spacewalks. Behnken now has spent a total of 61 hours and 10 minutes spacewalking, which makes him the U.S. astronaut with the third most total time spacewalking, behind Lopez-Alegria and Andrew Feustel, and the fourth most overall.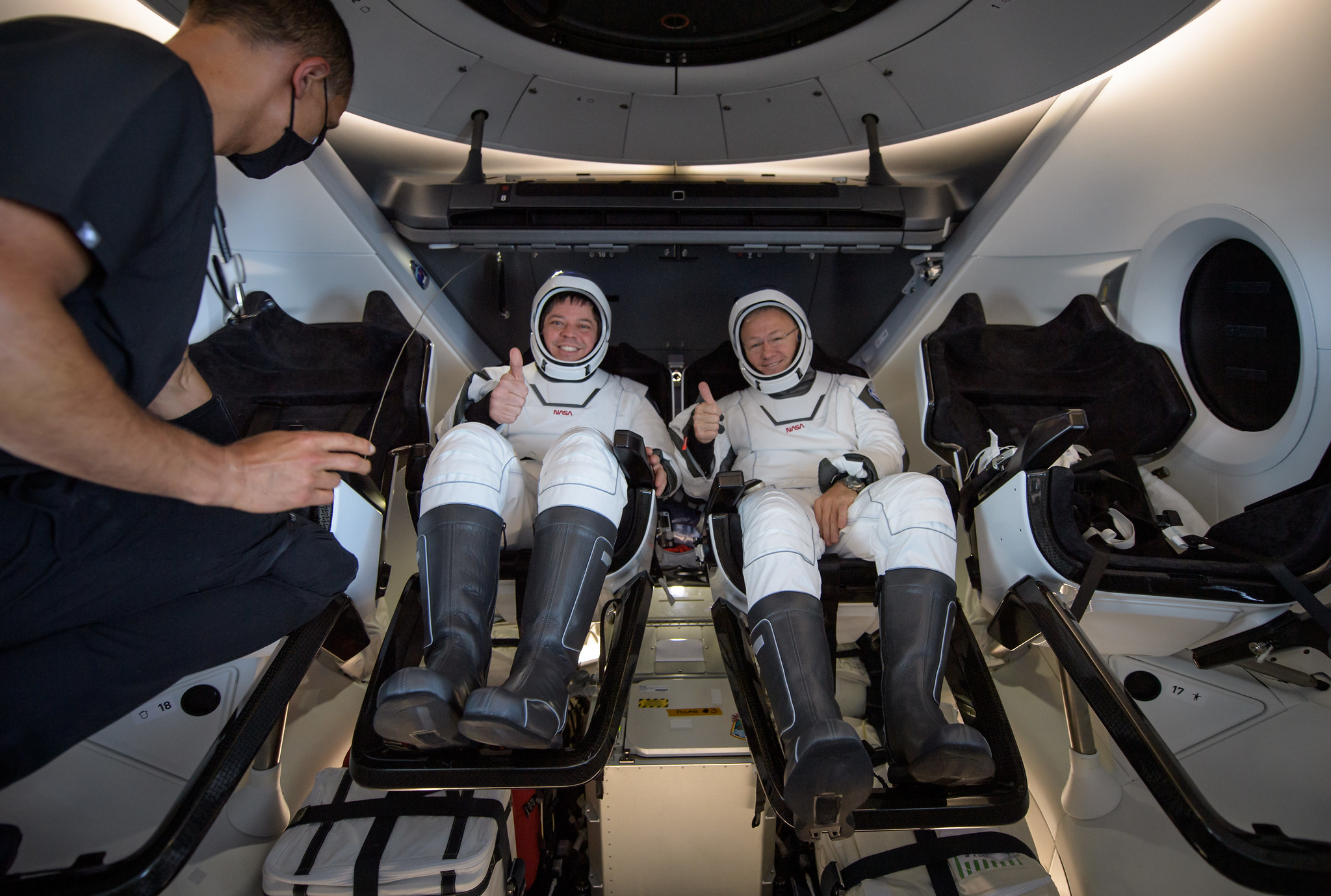 NASA astronauts Robert Behnken, left, and Douglas Hurley are seen inside the SpaceX Crew Dragon Endeavour spacecraft onboard the SpaceX GO Navigator recovery ship shortly after having landed in the Gulf of Mexico off the coast of Pensacola, Florida, Sunday, Aug. 2, 2020. The Demo-2 test flight for NASA's Commercial Crew Program was the first to deliver astronauts to the International Space Station and return them safely to Earth onboard a commercially built and operated spacecraft. Behnken and Hurley returned after spending 64 days in space. Credits: NASA/Bill Ingalls

The Demo-2 test flight is part of NASA's Commercial Crew Program, which has worked with the U.S. aerospace industry to launch astronauts on American rockets and spacecraft from American soil to the space station for the first time since 2011. This is SpaceX's final test flight and is providing data on the performance of the Falcon 9 rocket, Crew Dragon spacecraft and ground systems, as well as in-orbit, docking, splashdown, and recovery operations.
Crew Dragon Endeavour will return back to SpaceX's Dragon Lair in Florida for inspection and processing. Teams will examine the spacecraft's data and performance from throughout the test flight. The completion of Demo-2 and the review of the mission and spacecraft pave the way for NASA to certify SpaceX's crew transportation system for regular flights carrying astronauts to and from the space station. SpaceX is readying the hardware for the first rotational mission, called Crew-1, later this year. This mission would occur after NASA certification, which is expected to take about six weeks.
The goal of NASA's Commercial Crew Program is safe, reliable and cost-effective transportation to and from the International Space Station. This could allow for additional research time and increase the opportunity for discovery aboard humanity's testbed for exploration, including helping us prepare for human exploration of the Moon and Mars.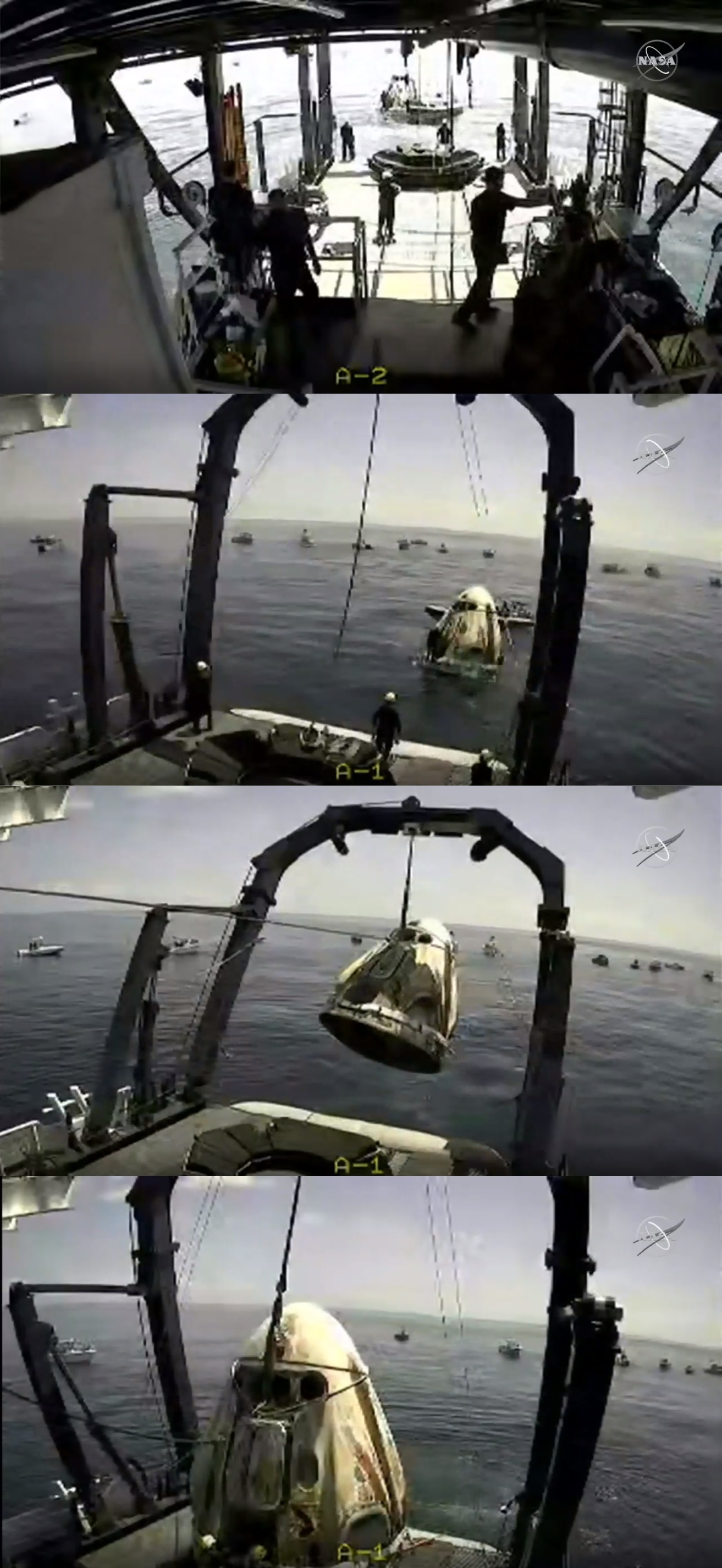 SpaceX's Crew Dragon, carrying NASA astronauts Robert Behnken and Douglas Hurley, splashes down in the Gulf of Mexico off the coast of Pensacola, Florida at 2:48 p.m. EDT Aug. 2, 2020, where the spacecraft is recovered by SpaceX and brought aboard the recovery ship 'Go Navigator.' Credits: NASA Television

UNSW Partners With Women In AI To Launch Inter-Varsity Tech Series
August 5, 2020 by Dawn Lo, UNSW
Female students need to be tech agile because women are twice as vulnerable as men to losing their jobs to automation, says a UNSW tech expert.
In today's economic climate, many companies are embracing technology to offset the impact of global uncertainties such as COVID-19. Big data is driving business growth in many instances, while 5G technology, cloud technology and digital transformation are expected to have significant effects in the next 12 to 18 months.
Institute for Public Policy research states that women are twice as vulnerable as men to losing their jobs to automation. It is a reality that prompted Dr Natalie Oh, Senior Lecturer at UNSW Business School, to launch the inter-varsity tech literacy program for female students.
"Universities need to help women better adapt to the changing requirements of the job market by providing them with the necessary knowledge, skills and opportunities. Through the inter-varsity tech literacy series, our aim is to deliberately target female students in business to reduce gender bias," says Dr Oh.
"This program aims to empower female youths with skills in technology that translate to all fields of business, so that they are better prepared to initiate their careers within an industry that continuously experiences disruptive innovation."
Dr Oh partnered with Angela Kim, the Australian ambassador for Women in AI to plan the program and help with the selection process. Four universities across NSW – UNSW, Macquarie University, University of Sydney and University of Technology Sydney – are taking part in the program, with the view of expanding interstate next year.
The program is structured into four virtual masterclasses and aims to help women defy gender inequality in the workforce by addressing the United Nation's Sustainable Development Goals (SDG):
Quality Education (SDG 4)
Gender Equality (SDG 5)
Reduce Inequality (SDG 10)
Partnerships for the goals (SDG 17)
Tech giants Salesforce, Microsoft, DXC Technology, Yellowfin and Gradient Institute are all key participants in the program aiming to provide students with practical tech knowledge such as tools for data visualisation, blockchain and artificial intelligence (AI) products.
"We aim to address this problem through technology literacy programs so that young women are educated across a spectrum of technologies without having to necessarily pursue a degree in information technology. The goal of this program is to make business female students more tech agile," Dr Oh says.
Why should women be more involved in the tech industry?
The aim of Women in AI is to provide empowerment to females looking to work in tech, with a clear focus on diversity and inclusion.
"One of the biggest risks when using AI is the unconscious bias being built into machine learning algorithms. As AI still needs human intervention and the majority of people working in AI are men, the process will naturally create algorithms from the male mindset. It is therefore essential to be aware of such biases and ethical components from the start of the design process and one way of achieving this is by including female input in machine learning," Ms Kim says.
Ethics is also important when assessing the integrity of AI.
"You have to assess and review if you are compliant with the product and check if it is diverse and inclusive. Satisfying such requirements will soon become mandatory in Australia and other countries for tech products. Tech organisations are cognisant of this and have been proactively encouraging more females to build a career in tech."
Has the gender gap in tech decreased?
The gender gap in the tech industry has not been bridged. The number of women interested in working in the industry has actually decreased, notes Ms Kim.
"As of December 2019, only 18 per cent of machine learning engineers who are specialising in AI production service creation were female," she says.
The gender gap is due to misconceptions about the skills needed to work in AI.
"People think you have to be a hardcore data person or be a language programmer. What they don't realise is that nowadays, nearly everything is automated. So, a lot less coding (or sometimes no coding) is needed. Also, by participating in workshops such as the inter-varsity tech literary series, this will help to break preconceived notions that females have about a career in tech."
Ms Kim also says that many women looking to start a family have also chosen not to advance their career in tech due to technology-based roles that often come with tight implementation, deployment schedules and a somewhat inflexible work arrangement.
"The number of women in pure tech roles has consistently decreased industry-wide due to the lack of flexible working arrangement such as practical job-sharing roles from corporates and tech companies," she says.
"Microsoft is a great example of a tech company that recently proposed a job-sharing model to be more inclusive. Through this model, two females can share one job and work part-time to balance other priorities they may have."
Companies also need to lead by example and adapt a top-down approach when demonstrating the importance of flexibility at work, she says. An example is how Peter Harmer, CEO of IAG, often works from home on Fridays to encourage females to have a more flexible work arrangement.
"With greater awareness about AI bias and ethics, people are starting to have a more holistic view of what the problem is. I think the future is positive, because more people are beginning to think that a career in technology is not only for males," Ms Kim says.
What do tech employers look for when recruiting?
What's important is understanding the logic behind the technology being used and the ability to be tech agile, says Dr Oh.
"Our aim is not for females to be proficient in just one application. We want them to be exposed to as many technologies as possible so that they can be confident that whenever they pick up new technologies that they can do this," Dr Oh says.
Rather than a particular skill set, Ms Kim says it's more about being tech literate and having the agility to learn and master new technology suites.
"Curiosity for technology is very important for people to succeed in the tech industry. You also need to have a very open mindset and be ready to continuously learn and adapt to new changes.
"You need to be willing to put in your hours to acquire a new skill as well. Have grit and be resilient. The more you're confident, the more you become fluent in technology."
Participants in the program have noted the benefits of the workshops and how it's changed their views of a career in tech.
"The inter-varsity tech literacy series has offered an invaluable opportunity to learn about some of the most innovative technologies provided by market-leading tech companies. The workshops offer a great blend of practical learning and interactive Q&As. Although I did not have a strong tech background, every workshop has empowered me to explore different areas within the tech field and learn how to apply my interests in technology and business," says Zoe Ong, Bachelor of Commerce/Information Systems student at UNSW Business School.
The program will conclude with The Grand Challenge on 29 October 2020 where teams will compete in a case challenge that focuses on the blend between business and technology. The winning team will have the opportunity to intern at one of the partnering tech organisations. Women in AI is also sponsoring the winning individual to travel to Paris and visit the Women in AI headquarters next year.
Popular High Blood Pressure Drug Linked To Increased Skin Cancer Risk In Older Australians
Hydrochlorothiazide use increases older people's risk of developing skin cancer, a study by UNSW Sydney scientists has shown – but the researchers warn against suddenly stopping the medicine.
Hydrochlorothiazide – one of the most prescribed high blood pressure drugs in Australia – has shown links to increased risks of developing skin cancer among older Australians, a new study by UNSW Sydney researchers shows.
The drug contains photosensitising properties, which can make skin more sensitive to the sun.
The findings are based on a big data analysis of skin cancer rates in a case-control study among older Australians. The results, published in
Basic & Clinical Pharmacology & Toxicology
, support similar findings from previous international studies.
"We found increased risk for developing malignant melanoma and squamous cell cancer of the lip (lip cancer) with hydrochlorothiazide use," says Dr Benjamin Daniels, lead author of the study and research fellow at UNSW Medicine's
Centre for Big Data Research in Health
(CBDRH).
A pharmacoepidemiologist, Dr Daniels studies the use and effects of drugs in specific population groups.
"For lip cancer, the risk also appears to be cumulative – that is, the longer that hydrochlorothiazide is used, the higher the risk of developing lip cancer."
High blood pressure – or hypertension – is a chronic illness affecting more than a third of Australians over the age of 18. It's usually defined as blood pressure levels above 140/90. If left untreated, hypertension can lead to serious health conditions, like stroke and heart disease.
Management of the illness generally requires prescribed medicine, like hydrochlorothiazide, alongside lifestyle changes, like eating a healthier diet and getting regular exercise.
"Hypertension is a condition that needs to be carefully managed," says Dr Daniels. "We don't want anyone to suddenly stop taking hydrochlorothiazide out of fear of developing skin cancer.
"The skin cancer risk is something for prescribers to be aware of. Doctors may want to consider conducting more skin checks for their patients or reinforcing advice around sun-smart behaviours that everyone should be aware of, like adequate protection when UV is higher than three and avoiding sun exposure during peak UV times."
To reflect this newly understood risk, the product information – that is, information that helps health professionals in prescribing medicine – has been updated for medicines containing hydrochlorothiazide.
"This [update] will help prescribers and patients to make informed choices about the benefits and risks of hydrochlorothiazide-containing medicines," a spokesperson from the Therapeutic Goods Administration (TGA) says. The TGA encourages anyone who has concerns about this issue to speak with their healthcare professional.
The data for this research was provided by the Department of Veterans' Affairs (DVA). It included de-identified information about cancer registrations, hospitalisations, and medicine dispensings for DVA healthcare card holders (aged 65 and over) who lived in NSW between 2004 and 2015.
The researchers compared hydrochlorothiazide use in people who had been diagnosed with lip cancer (45 cases) or malignant melanoma (659 cases) compared with those with neither diagnosis (13,300 controls). Variables like other medicine use and the ambient ultraviolet radiation (UVR) in their hometowns were taken into account.
"By informing physicians around the potential risk of skin cancer in Australia associated with this common treatment, we hope our findings can help improve the care of patients dealing with hypertension," says Dr Daniels.
Australia has one of the highest rates of skin cancer in the world, according to Cancer Council. Roughly two in three Australians will be diagnosed with a skin cancer by the time they're 70 years old.
While the link between hydrochlorothiazide and an increased risk of skin cancer has been found in recent research from the UK, Denmark and USA, this is the first time it's been shown in Australia.
"Our international collaborators were interested in us conducting a study here," says Dr Helga Zoega, senior author on the paper and UNSW Scientia Fellow. Both Dr Zoega and Dr Daniels work in the Medicines Policy Research Unit (MPRU) at CBDRH.
"The findings are particularly relevant for Australians, given the already high risk of developing skin cancer here."
The TGA spokesperson says "Pharmacoepidemiological research using linked Australian health datasets provides important insights into the safety of prescription medicines.
"The results of this study confirm that the risk of skin cancer seen in international studies is relevant to Australians using medicines that contain hydrochlorothiazide."
Despite the Australian dataset being localised to an older population group, the results support findings from international studies that assessed all ages.
"While our study population comprised older Australians, our results were very similar those from recent international research," says Dr Zoega.
"However, it would be great to get access to more data – ideally a younger population group – to broaden our findings."
The importance of big data
Access to linked health data made these findings possible, the researchers say.
"Our study is a great example of how routinely-collected, Australian health data can be used to improve Australian public health," says Dr Daniels.
"The DVA have been great to work with. They have been proactive about making their anonymised data available to researchers in order to improve health outcomes of their clients.
"Health data has the potential to benefit Australians. We hope more data like this will be available to health researchers in future."
New Molecule Reverses Alzheimer's-Like Memory Decline
August 4, 2020: Salk Institute
A drug candidate developed by Salk researchers, and previously shown to slow ageing in brain cells, successfully reversed memory loss in a mouse model of inherited Alzheimer's disease. The new research, published online in July 2020 in the journal Redox Biology, also revealed that the drug, CMS121, works by changing how brain cells metabolise fatty molecules known as lipids.
"This was a more rigorous test of how well this compound would work in a therapeutic setting than our previous studies on it," says Pamela Maher, a senior staff scientist in the lab of Salk Professor David Schubert and the senior author of the new paper. "Based on the success of this study, we're now beginning to pursue clinical trials."
Over the last few decades, Maher has studied how a chemical called fisetin, found in fruits and vegetables, can improve memory and even prevent Alzheimer's-like disease in mice. More recently, the team synthesised different variants of fisetin and found that one, called CMS121, was especially effective at, improving the animals' memory, and slowing the degeneration of brain cells.
In the new study, Maher and colleagues tested the effect of CMS121 on mice that develop the equivalent of Alzheimer's disease. Maher's team gave a subset of the mice daily doses of CMS121 beginning at 9 months old -- the equivalent of middle age in people, and after the mice have already begun to show learning and memory problems. The timing of the lab's treatment is akin to how a patient who visits the doctor for cognitive problems might be treated, the researchers say.
After three months on CMS121, at 12 months old, the mice -- both treated and untreated -- were given a battery of memory and behaviour tests. In both types of tests, mice with Alzheimer's-like disease that had received the drug performed equally well as healthy control animals, while untreated mice with the disease performed more poorly.
To better understand the impact of CMS121, the team compared the levels of different molecules within the brains of the three groups of mice. They discovered that when it came to levels of lipids -- fatty molecules that play key roles in cells throughout the body -- mice with the disease had several differences compared to both healthy mice and those treated with CMS121. In particular, the researchers pinpointed differences in something known as lipid peroxidation -- the degradation of lipids that produces free radical molecules that can go on to cause cell damage. Mice with Alzheimer's-like disease had higher levels of lipid peroxidation than either healthy mice or those treated with CMS121.
"That not only confirmed that lipid peroxidation is altered in Alzheimer's, but that this drug is actually normalising those changes," says Salk postdoctoral fellow Gamze Ates, first author of the new paper.
The researchers went on to show that CMS121 lowered levels of a lipid-producing molecule called fatty acid synthetase (FASN), which, in turn, lowered levels of lipid peroxidation. When the group analyzed levels of FASN in brain samples from human patients who had died of Alzheimer's, they found that the patients had higher amounts of the FASN protein than similarly aged controls who were cognitively healthy, which suggests FASN could be a drug target for treating Alzheimer's disease.
While the group is pursuing clinical trials, they hope other researchers will explore additional compounds that may treat Alzheimer's by targeting FASN and lipid peroxidation.
"There has been a big struggle in the field right now to find targets to go after," says Maher. "So, identifying a new target in an unbiased way like this is really exciting and opens lots of doors."
Gamze Ates, Joshua Goldberg, Antonio Currais, Pamela Maher.
CMS121, a fatty acid synthase inhibitor, protects against excess lipid peroxidation and inflammation and alleviates cognitive loss in a transgenic mouse model of Alzheimer's disease.
Redox Biology, 2020; 36: 101648 DOI:
10.1016/j.redox.2020.101648
dingoes Have Gotten Bigger Over The Last 80 Years And Pesticides Might Be To Blame
August 3, 2020: University of New South Wales
Dingoes have gotten around 6-9 per cent bigger over the past 80 years, new research from UNSW and the University of Sydney shows -- but the growth is only happening in areas where poison baiting is used.
The findings, published in the Biological Journal of the Linnean Society over the weekend, compared the sizes of dingoes that lived in three baited regions (Kalgoorlie, Pilbara and pastoral South Australia), with those from an unbaited region that stretched from Northern Territory to South Australia.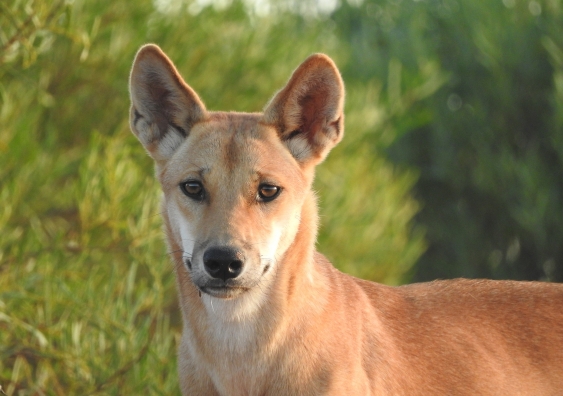 A growth spurt: dingoes have been getting bigger since the introduction of 1080 poison baiting. Photo: Peter Contos.

The scientists measured the skull size -- which is a marker of animal size -- of nearly 600 dingo specimens originating from the sites.
"Skulls from the baited regions grew by about four millimetres since poison baiting was introduced," says Michael Letnic, lead author of the paper and professor in conservation biology and ecosystem restoration at UNSW Science.
"This equates to roughly a kilogram in body mass."
While both male and female dingoes grew, female dingoes had the biggest growth spurt: their skulls increased by 4.5 millimetres, which is almost 9 per cent body mass. Male skulls grew by 3.6 millimetres, or 6 per cent body mass.
The question is: why are dingoes in poison-baited areas growing?
"The most likely theory is that dingoes who survive baiting campaigns have less competition for food," says co-author Associate Professor Mathew Crowther from the University of Sydney.
He explains that dingoes' primary prey, kangaroos, have been shown to increase in numbers when dingo populations are suppressed.
"With more food in abundance, dingoes' physical growth is less restricted."
The pesticide sodium fluoroacetate -- known as 1080 (pronounced 'ten eighty') -- is commonly used across Australia to control dingo and other pest populations.
A flavourless white powder, 1080 is usually stuck into meat baits and left in dingo hotspots, often via helicopter drops. Baiting was rolled out in Kalgoorlie, Pilbara and pastoral South Australia over the 1960s and 70s.
Dingoes from the unbaited region -- which included Indigenous-owned lands and conservation reserves -- saw no change in body size.
A predictable cycle
This is not the first time a pesticide has been linked to changes in animal bodies.
"Our interventions have consequences -- and they're actually quite predictable consequences," says Prof. Letnic.
"Whatever pressures we put on animal populations -- be it pesticides or not -- there will be side effects."
Scientists usually observe these impacts in invertebrate pests: for example, some insects -- like cockroaches -- are becoming more resistant to the insecticides used on them.
However, this study is one of the first to show that vertebrates, like dingoes, also change from pesticide use.
"Poison baiting campaigns could be favouring the survival of larger dingoes," says A/Prof. Crowther. "Smaller dingoes need less poison for a lethal dose, so are more likely to be killed by baiting. This leaves the larger dingoes to survive and breed."
As a result of their growing size, the 1080 dose required to kill a dingo in the baited regions has increased since the toxin was introduced.
"The reaction to this finding may be to add more poison to the baits, or to find a new poison," says Prof. Letnic. "But, eventually, the cycle will start again."
Looking for an explanation
The exact mechanisms at play are still unclear -- but a greater abundance of food post-baiting and dingoes adapting to the poison are likely the most influential factors.
Other factors that could have potentially led to the dingoes' growth, like climate change or interbreeding with dogs, seem unlikely.
"We only tested dingoes in areas that have very low dog hybridisation rates, making it highly unlikely that dog genetics are contributing to the size growth," says Prof. Letnic. Most dingo-dog hybridisation, he explains, occurs on the east coast of Australia.
The researchers also suggest that -- if anything -- a warming climate would decrease dingoes' body size, as cooler conditions favour larger animals.
Further studies that use a broader sample of dingoes from across Australia could help better understand the cause of the dingo body change.
In the meantime, the researchers hope to explore other ecological impacts of 1080 baiting.
"Baiting is changing dingoes, so it could be changing other animal populations," says Prof. Letnic.
"Animals respond to human interventions, whether directly or indirectly. The changes could well be adaptive, and we must think about that."
M Letnic, M S Crowther.
Pesticide use is linked to increased body size in a large mammalian carnivore
. Biological Journal of the Linnean Society, 2020; DOI:
10.1093/biolinnean/blaa084
Tiny Plants Crucial For Sustaining Dwindling Water Supplies
A global meta-analysis led by UNSW scientists shows tiny organisms that cover desert soils -- so-called biocrusts -- are critically important for supporting the world's shrinking water supplies.
Biocrusts are a rich assortment of mosses, lichens, cyanobacteria, and microscopic organisms such as bacteria and fungi that live on the surface of dryland soils. Drylands, collectively, are the world's largest biome.
"Biocrusts are critically important because they fix large amounts of nitrogen and carbon, stabilise surface soils, and provide a home for soil organisms," said lead author Professor David Eldridge from UNSW Science.
"But we still have a poor understanding of just how biocrusts influence hydrological cycles in global drylands.
"Accounting for biocrusts and their hydrological impacts can give us a more accurate picture of the impacts of climate change on dryland ecosystems and improve our capacity to manage those effects," Prof. Eldridge said.
Exploring more than 100 scientific papers
For the study, the team assembled and then analysed the largest ever global database of evidence on the effects of biocrusts on water movement, storage and erosion, focussing on drylands.
"Our emphasis was on dryland soils because biocrusts are often the dominant surface covering on these soils, particularly during dry times," Prof. Eldridge said.
A huge increase in the number of publications on biocrusts over the past decade had prompted the group to critically assess the links between water capture and storage, and landscape stability in drylands.
Co-author Dr Samantha Travers from UNSW Science helped retrieve and analyse data from more than 100 scientific papers published over the past 30 years.
"The global literature on biocrust effects on hydrology has often been conflicting, preventing us from making broadscale recommendations on how to manage them to manage water," Dr Travers said.
Importantly, the researchers showed that globally, the presence of biocrusts on the soil surface reduced water erosion by an average of 68%.
"Cyanobacteria in the crusts secrete organic gels and polysaccharides that help to bind small soil particles into stable surfaces. Mosses in the crusts also trapped water and sediment on the soil surface, preventing the removal of soil particles," Dr Travers said.
Although biocrusts reduced the infiltration of water into the soil, they tended to increase water storage in the uppermost layers.
"This upper layer is where most of the nutrients and microbes are found -- it is a critical zone for plant production and stability in dryland soils," Prof. Eldridge said.
"More water in the upper layers means greater productivity and stability."
Prof. Eldridge said we now had a better understanding of how biocrusts affect water relations in drylands.
"However, the effects depend on factors such as the type of crust and whether it is intact or disturbed," he said.
Three decades of biocrust research
Prof. Eldridge and his team have been studying the role of biocrusts on Australia's soils for more than 30 years.
The focus of the team's research is on drylands because they occupy almost half of Earth's land surface and support almost 40% of the global human population.
"Many people in drylands rely on pastoralism for their livelihoods, so the capture and use of water is critically important in these water-limited environments," Prof. Eldridge said.
"Anything that alters the hydrological balance in drylands has the potential therefore to affect millions of people, hence the importance of these tiny surface communities."
He said a major problem for sustainable management of drylands was overgrazing by livestock.
"Trampling by sheep and cattle breaks up the crust, destabilising the soil surface and leading to increased water erosion -- effects that are supported by our global analyses," he said.
"Preventing overgrazing by livestock is critical if we are to prevent the loss of biocrusts, but until recently, the magnitude of the effects have not been known.
"The results of this work will be incorporated into global water balance and soil loss models so that managers and governments have a better understanding of the implications of losing biocrusts on the world's dwindling water supplies," Prof. Eldridge said.
The study, published in Global Change Biology today, was a collaborative effort between UNSW Sydney, and scientists from the United States, Spain, Germany, Mexico and China.
The work is part of a larger global study, supported by the John Wesley Powell Center for Analysis and Synthesis to predict the impacts of climate change on biological crust communities.
The research team is now examining how global land use changes affect biocrust communities, and developing best management practices to restore biocrusts as we move towards a hotter and drier world.
David J. Eldridge, Sasha Reed, Samantha K. Travers, Matthew A. Bowker, Fernando T. Maestre, Jingyi Ding, Caroline Havrilla, Emilio Rodriguez‐Caballero, Nichole Barger, Bettina Weber, Anita Antoninka, Jayne Belnap, Bala Chaudhary, Akasha Faist, Scott Ferrenberg, Elisabeth Huber‐Sannwald, Oumarou Malam Issa, Yunge Zhao. T
he pervasive and multifaceted influence of biocrusts on water in the world's drylands.
Global Change Biology, 2020; DOI:
10.1111/gcb.15232
COVID-19 Study In Australia Confirms Low Transmission In NSW Educational Settings
August 4, 2020: University of Sydney
The rate of COVID-19 transmission in New South Wales (NSW) educational settings was extremely limited during the first wave of COVID-19, research findings published today in The Lancet Child and Adolescent Health have shown.
Researchers from the National Centre for Immunisation Research and Surveillance (NCIRS) and the University of Sydney released their preliminary findings from this work from January to April 2020.
The Lancet publication today contains detailed analysis on COVID-19 spread in 25 educational settings (15 schools and 10 childcare settings) in Term 1. Additional data from Term 2 and 3 are also available today.
Lead author Professor Kristine Macartney said the study showed transmission rates in NSW schools and early childhood education and care (ECEC) services were minimal, particularly between children and from children to adults.
"This is the first comprehensive population-based assessment of coronavirus transmission in educational settings worldwide," Professor Macartney said.
"COVID-19 transmission in schools appears to be considerably less than that seen for other respiratory viruses, such as influenza.
"This supports the previous findings that COVID-19 transmission in educational settings can be kept low and manageable in the context of an effective pandemic response that includes contact tracing and quarantine, and temporary school closures for cleaning if someone is found to be infected.
"It is also consistent with other data that show lower rates, and generally milder disease, in children than in adults.
"However, it is important to view these findings in the context of the NSW outbreak. Higher rates of transmission may occur in areas with higher levels of virus transmission in the community or with less rigorous public health and community response."
In Term 1 and 2 there have been 33 initial cases of COVID-19 confirmed at 31 of NSW's 7700 schools and ECEC services, with 25 sites in Term 1 and six during Term 2 affected.
In Term 1 and 2, a total of 16 students and 17 adult staff were the first cases who tested positive for the virus.
Out of 1333 close contacts in primary and high schools, just five (0.4%) possible secondary infections were recorded across Terms 1 and 2: one primary student, two high school students, one primary teacher and one high school teacher.
Initial cases were also seen in 11 ECEC services across Term 1 and 2, with 13 possible secondary infections recorded out of 636 close contacts.
All 13 secondary cases (7 children and 6 staff) were linked to an outbreak at a single ECEC service early in Term 1 that started initially in staff members. No secondary cases were identified in the other 10 ECEC services.
This observational study is continuing in Term 3 in NSW (July -- September). Data for Term 3 is preliminary but as at 3 August, there have been 11 cases (3 staff members and 8 students) with two secondary infections being recorded in one primary school and one ECEC service.
"We know anyone of any age can be infected and potentially spread the virus," Prof Macartney said.
"But understanding how the virus spreads in our context will assist modellers, policymakers, healthcare providers, and the public to understand the risk of COVID-19 in educational settings and help in decision making around school closures and re-openings."
Kristine Macartney, Helen E Quinn, Alexis J Pillsbury, Archana Koirala, Lucy Deng, Noni Winkler, Anthea L Katelaris, Matthew V N O'Sullivan, Craig Dalton, Nicholas Wood, D Brogan, C Glover, N Dinsmore, A Dunn, A Jadhav, R Joyce, R Kandasamy, K Meredith, L Pelayo, L Rost, G Saravanos, S Bag, S Corbett, M Staff, K Alexander, S Conaty, K Leadbeater, B Forssman, S Kakar, D Dwyer, J Kok, K Chant.
Transmission of SARS-CoV-2 in Australian educational settings: a prospective cohort study.
The Lancet Child & Adolescent Health, 2020; DOI:
10.1016/S2352-4642(20)30251-0
How Tumour Cells Evade The Immune Defense
Scientists are increasingly trying to use the body's own immune system to fight cancer. A new study by the University of Bonn and research institutions in Australia and Switzerland now shows the strategies tumor cells use to evade this attack. The method developed for this work contributes to a better understanding of the "arms race" between immune defense and disease. The results could help to improve modern therapeutic approaches. They have been published in the journal Immunity.
Cancer cells differ from healthy body cells -- in their appearance, their behaviour and the genes that are active in them. Often this does not go unnoticed: The immune system registers that something is wrong and dispatches its troops to fight the tumour. However, this response is often too weak to keep the cancer in check in the long term or even destroy it.
Researchers have therefore been trying for many years to strengthen the immune system's defensive reaction. They do this in a similar way to a policeman who puts his dog on the trail of an escaped criminal. In this case, the role of the sniffer dog is taken over by the cytotoxic T cells: They can detect and kill sick or defective cells. Each T cell is directed against a specific characteristic, also called antigen. For cancer therapy, the researchers are therefore looking for T cells in patients that detect tumour antigens. They can then for instance multiply these and inject them back into the patient. In this way they strengthen the patient's immune response against the cancer.
However, many tumours have unfortunately developed strategies that enable them to evade the immune system. "In our study, we investigated what these strategies look like and what this depends on," explains Dr. Maike Effern from the Institute of Experimental Oncology at the University Hospital Bonn. "We focused on skin cancer, namely melanoma cells."
Melanomas differ from healthy cells in several ways. For example, a whole range of different genes are active in them. Each of these is a potential antigen for T cells. But which is particularly suitable for triggering a strong and lasting immune response? To answer this question, the researchers invented a clever method in their experimental model: They attached a kind of label to various genes that are active in the development of melanoma cells and used them to produce antigens. They then released a group of T cells against the tumour cells, which recognised exactly this molecular label as a disease marker. The researchers then used this strategy to investigate how the cancer cells react to being pursued by the immune system. Depending on the gene tagged with such a label, they found significant differences.
Cancer cells hide from the immune system
"When the T cells were directed against genes responsible for melanoma-typical characteristics, we observed that the cancer cells changed their appearance and suppressed these genes over time," explains Effern's colleague Dr. Nicole Glodde. "So this is how they hide from the immune system."
In contrast, another gene investigated in the study is essential for the tumour's survival. This makes it not so easy to downregulate and thus hide. "In our view, this gene therefore has the potential to induce a very effective T cell response," Effern emphasises. "Our work potentially clears the way to more effective immune therapies," hopes Prof. Dr. Michael Hölzel, head of the Institute of Experimental Oncology at the University Hospital Bonn and member of the Cluster of Excellence ImmunoSensation at the University of Bonn. "The method we have developed also makes it possible to better understand the processes by which cancer cells slip under the radar of the immune system."
Maike Effern, Nicole Glodde, Matthias Braun, Jana Liebing, Helena N. Boll, Michelle Yong, Emma Bawden, Daniel Hinze, Debby van den Boorn-Konijnenberg, Mila Daoud, Pia Aymans, Jennifer Landsberg, Mark J. Smyth, Lukas Flatz, Thomas Tüting, Tobias Bald, Thomas Gebhardt, Michael Hölzel.
Adoptive T Cell Therapy Targeting Different Gene Products Reveals Diverse and Context-Dependent Immune Evasion in Melanoma
. Immunity, 2020; DOI:
10.1016/j.immuni.2020.07.007
Ancient Mountains Recorded In Antarctic Sandstones Reveal Potential Links To Global Events
A new analysis of sandstones from Antarctica indicates there may be important links between the generation of mountain belts and major transitions in Earth's atmosphere and oceans.
A team of researchers analysed the chemistry of tiny zircon grains commonly found in the Earth's continental rock record to determine their ages and chemical compositions. The team included scientists from the University of Wisconsin Oshkosh, Michigan Technological University and ETH Zurich in Switzerland.
The study was published recently in the international peer-reviewed journal Terra Nova, which features short innovative papers about the solid Earth and planetary sciences.
"Mountain building occurs in association with the plate tectonic motions of the continents," said Paulsen, the lead author on the paper. "Geologists have long recognised that the generation of significant mountainous relief has the potential to profoundly influence the chemistry of the Earth's oceans and atmosphere."
Yet there are significant questions about the patterns of mountain building in Earth's past, especially associated with the ancient rock record leading up to the explosion of life about 541 million years ago.
"Mountains tend to be worn down by water and wind that ultimately transports their sedimentary remains to the oceans, leaving an incomplete puzzle for geologists to fit together," said Deering, a coauthor on the paper. "However, there is increasing evidence that missing pieces of the puzzle are found in the sands of ancient beaches and rivers, which are essentially the remnants of mountains produced by weathering and erosion."
The researchers' findings, based on an analysis of a large sample of zircon grains from sandstone recovered in Antarctica, may signify key links in the evolution of the Earth's rock cycle and its atmosphere and oceans.
"We found two primary periods of increased average crustal thickness associated with volcanic chains along convergent plate boundaries, implying an increased proportion of higher mountains at these times," Paulsen said.
"Both episodes occurred during major reorganisation of the continents when they separated and drifted on the Earth's surface over time. They also overlap with snowball Earth glaciations -- when the whole Earth was frozen over -- and associated steps in oxygenation of the atmosphere, which may have been critical for the evolution of life. These correlations suggest an important causal link between plate tectonics and major transitions in Earth's atmosphere and oceans."
Timothy Paulsen, Chad Deering, Jakub Sliwinski, Snehamoy Chatterjee, Olivier Bachmann, Marcel Guillong.
Crustal thickness, rift‐drift and potential links to key global events.
Terra Nova, 2020; DOI:
10.1111/ter.12485
Disclaimer: These articles are not intended to provide medical advice, diagnosis or treatment. Views expressed here do not necessarily reflect those of Pittwater Online News or its staff.