February 2 - 8, 2020: Issue 436
Ella McFadyen's love of pittwater:
An Environment, Wildlife and children's Champion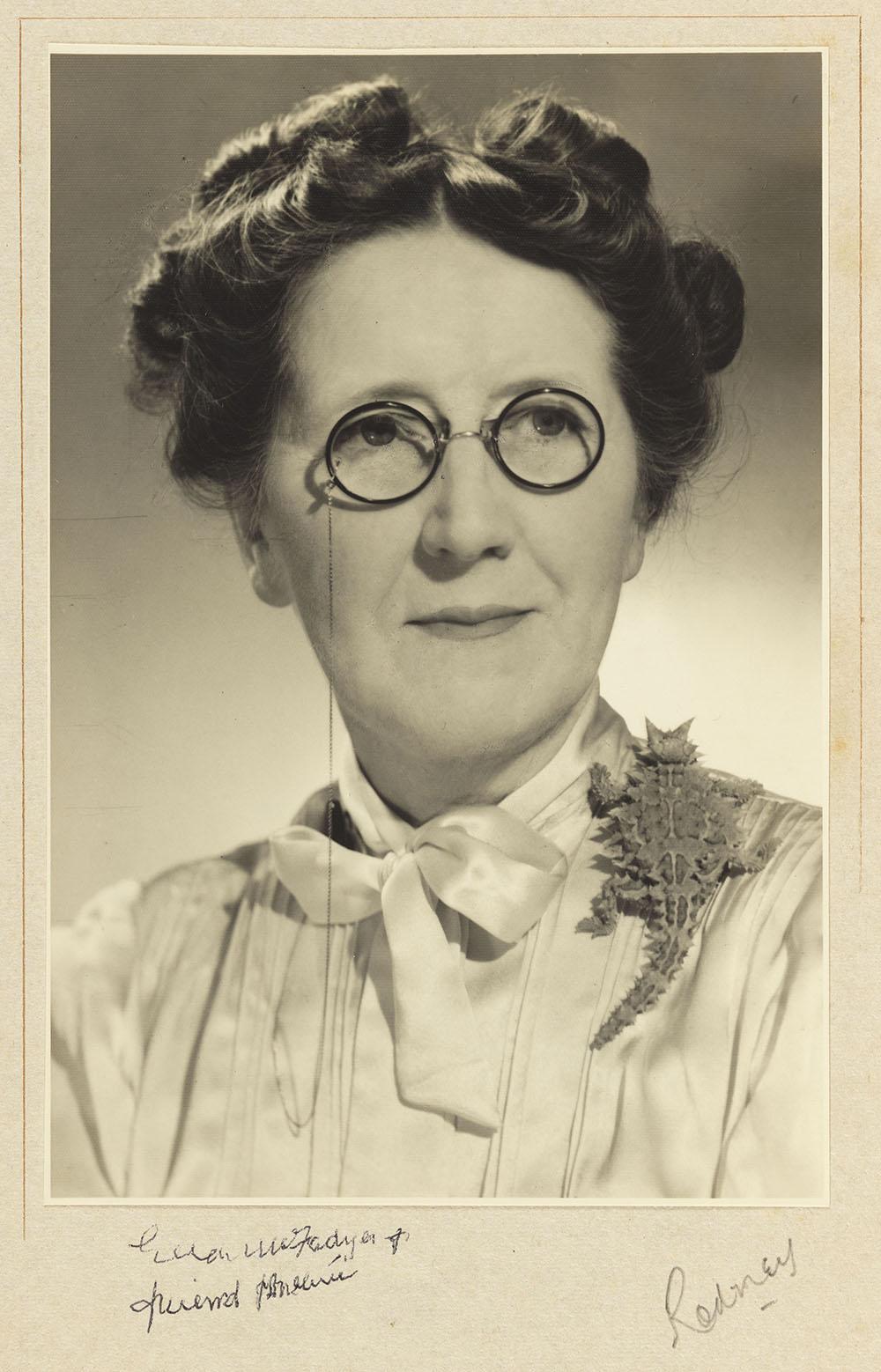 Ella McFadyen, 1940's, photo courtesy State Library of New South Wales
Although Ella McFadyen covered a lot of ground, literally and in the physical sense, during her time; travelling throughout rural New South Wales and Queensland, in the Pacific to the Solomons and New Guinea in 1925, to Cronulla for another 'break', one of the places she visited frequently as a Boomerang Walking Club member, and for respite, was Pittwater.
Ella McFadyen (1887-1976) was a journalist, editor, writer of books for children, poet and amateur photographer with a passion for the environment (and inspiring youngsters to be amongst this through forming the Boomerang Walking Clubs), a deep love for animals, and sharing insights about the natural world with children. She conducted the Children's Page of the Sydney Mail (as "Cinderella") until that publication finished in 1938 and also wrote for the Sydney Morning Herald Women's Thursday section, Australian Town and Country Journal and many other newspapers and magazines.
Her love of the great outdoors and Australia's wildlife, and sharing that with children, features in just about everything she did and wrote, while her passion for photography captured scenes and animals of here we may not recognise in some cases. Ella's words paid numerous tributes to our environment and bore witness to seeing the little things as much as the great landmarks that have not changed much since she first visited. Her responses to her child and young adult readers spoke of the peninsula and shared tidbits of information on everything from the flowers to the Seasons and weather and what can be found where.
Ella May McFadyen was born a second generation 'Australian' (or third generation if you take into account her mum was born here) on November 26th, 1887 at 'Burrundulla', John-street, Stanmore. Ella was one of five girls and two boys born to Donald and Mary McFadyen. Soon afterwards the family moved to 'Airlie' in Garfield street, Five Dock. The suburb of Five Dock was named, apparently, 'from the fact of there being five natural inlets or docks on the western bank' - or there were. The earliest documented reference to Five Dock is in the Sydney Gazette, February 3, 1805. In 1806, Governor King granted this bay to surgeon John Harris, who named it 'Five Dock Farm', and this comprised the entire bay, including the current-day suburbs of Five Dock, Abbotsford, Drummoyne, Chiswick, Russell Lea and Rodd Point.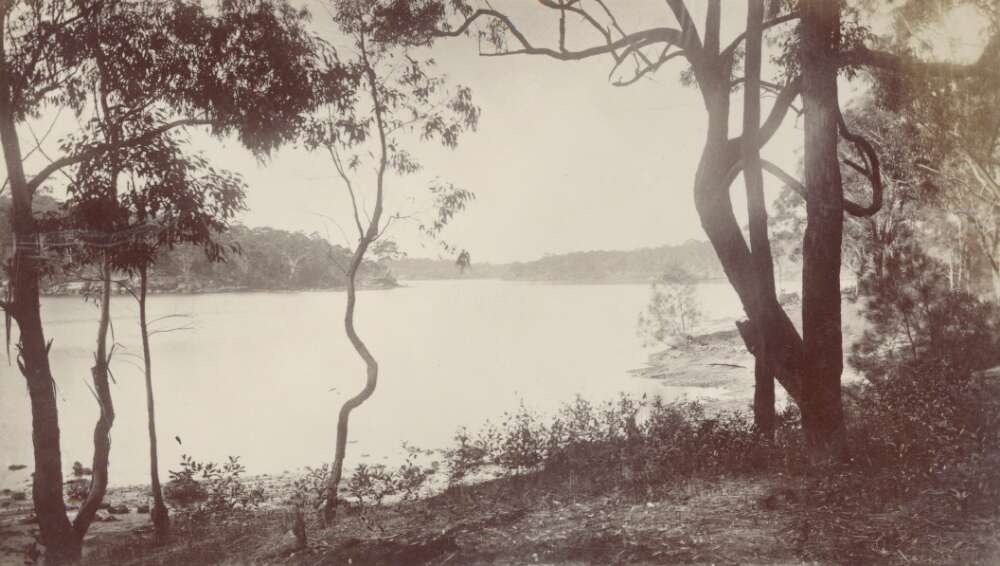 (1880). Parramatta River, Five Dock, Port Jackson, New South Wales, ca. 1880 Retrieved from http://nla.gov.au/nla.obj-140536671

The farm was eventually sold and broken up into smaller parcels of 30 to 60 acres and, being so close to town, began to be developed. By the 1890's, when the McFadyen family lived there, a tramway system had been installed making this area popular among those who had families who they wanted to have space and fresh air and who had to catch a tram to town to work.
While the family lived in Five Dock her two brothers were born as was another sister, while her youngest sister was born at Point Clare, Brisbane Water, in 1904, when the family moved there for a short time.
Her father was a businessman and did a far amount of travel as part of his job with photos which show some of the places, and buildings, he visited among the collection Ella McFadyen images held by the State Library of New South Wales. In her 1972 interview Ella describes going with her father in a motor car from Kempsey to Grafton for a trip (his work) and being the first to do so. [3.] A bit about him: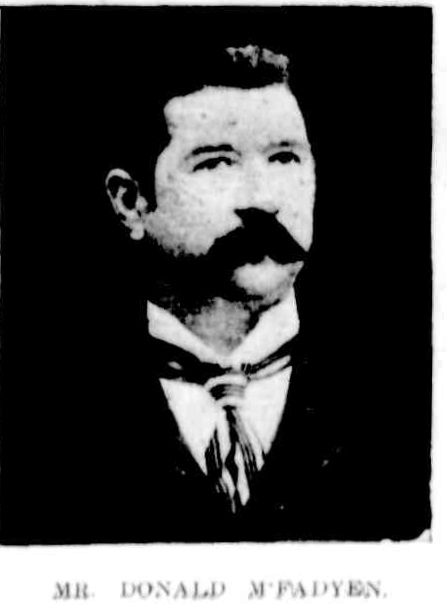 Ella's Father's photo from: The Produce Trade of Sydney.—Some Views of Sussex-street. (1903, August 12). Australian Town and Country Journal (Sydney, NSW : 1870 - 1907), p. 32. Retrieved from http://nla.gov.au/nla.news-article71484758

THE FRESH FOOD AND ICE CO.
The New Manager.
Mr. Donald M'Fadyen, who has been appointed manager of the Fresh Food and Ice Co., Ltd., in succession to Mr. Lance, was born at Morpeth on the Hunter River (N.S;W.), in July, 1863, and consequently is now close on 39 years of age. He came to Sydney 15 years later, and entered into the services of his uncle, Mr. J. R. M'Fadyen, who was then carrying on business In Sussex-street as a produce merchant. In 1881, three years after his arrival in Sydney, he joined the old South Coast and West Camden Co. (now known as the Farmers' Co-operative Co., Ltd.) as a junior clerk, and by degrees worked his way up to his present position as manager of the company.
During his 21 years service he has worked through the various departments connected with the business, and in February, 1899, was made general manager. The business connected with the company, It may perhaps be Interesting to note here, embraced every branch of agricultural product, but dairy produce forms the great bulk of the trade, The operations of the company are very extensive, as will be j seen by the fact that In April alone the turnover, so to speak, amounted to £55,643.
Mr. M'Fadyen has made a special study for many years of the export butter trade, and the administration of the company's affairs has naturally brought him in touch with the whole of the Australasian markets, and he has at different periods visited the several States in connection with the butter trade. At his special request the company sent a representative to England last year to supervise the distribution of the company's consignments in the home markets.
Mr. M'Fadyen takes over his new duties as manager of the Fresh Food and Ice Co. on July 1 next. The appointment to him is naturally the more pleasing seeing that he did not seek It. The high esteem in which Mr. M'Fadyen is held by his associates in the Farmers' Co-operative Co. may be perhaps best understood by the. following resolution passed by the directors at a recent meeting —
"That the board learns with regret of Mr. M'Fadyen's retirement from the Farmers' Co-operative Co., with which he has been associated for very many years, and to which he has In the position he has occupied, and at present occupies, given his able and loyal support: at the same time the board congratulates him upon his appointment to the very honourable and responsible position which he has accepted in one of. the largest firms of the State, and heartily wishes him every happiness and prosperity in his new career."
In addition to having had great experience in the commercial line of business, he was at one time connected with municipal matters. For eight years he was an alderman, and out of the eight four were spent in the chair as Mayor of Five Dock. MR. D. M'FADYEN. THE FRESH FOOD AND ICE CO. (1902, May 26). The Australian Star (Sydney, NSW : 1887 - 1909), p. 7. Retrieved from http://nla.gov.au/nla.news-article229059319
CONCERT AT FIVE DOCK.
In aid of the prize fund of the Public school a concert and cantata was given in the Five Dock Town Hall last night, under the presidency of the Mayor (Alderman McFadyen) in rendering the cantata, "Australia," the pupils were assisted by several friends. Among the contributors were Messrs. G, Cooper, Goulding, Lucas, and Messrs Colyer, Burness, and others. The concluding item of the concert was a quartet entitled "Good Night, Beloved." Mr. Sharpe accompanied the singers. CONCERT AT FIVE DOCK. (1894, December 5). The Sydney Morning Herald (NSW : 1842 - 1954), p. 8. Retrieved from http://nla.gov.au/nla.news-article13998089
MUNICIPAL DISTRICT OF FIVE DOCK.
NOTICE is hereby given that the undermentioned gentlemen have been duly elected as Aldermen and Auditors of the above Municipal District:—
As Aldermen.
East Ward—Donald McFadyen.
West Ward—Oliver Howard Watts.
North Ward—Travanion Stapleton Rodd,
As Auditors
Ernest Langford Sutton.
Charles Thomas Kennett.
J. H. LUCAS,
Mayor and Returning Officer. 1st February, 1898. MUNICIPAL DISTRICT OF FIVE DOCK. (1898, February 18). New South Wales Government Gazette (Sydney, NSW : 1832 - 1900), p. 1314. Retrieved from http://nla.gov.au/nla.news-article220948630
MUNICIPAL DISTRICT OF FIVE DOCK.
NOTICE is hereby given that Messrs. K. F. and F. A. Palmer have been appointed Valuers tor the municipal year 1901-1902.
D. McFADYEN,
Town Hall, Five Dock, Mayor.
5th February, 1901. MUNICIPAL DISTRICT OF FIVE DOCK. (1901, February 15). Government Gazette of the State of New South Wales (Sydney, NSW : 1901 - 2001), p. 1180. Retrieved from http://nla.gov.au/nla.news-article226375295
Ella's father was the son of John McFadyen who was born on the Isle of Coll, Argyll, Scotland in 1829 as had her great grandfather, Roderick, in 1801 and her great great grandfather Donald McFadyen in about 1773. In a 1972 interview Ella states that her grandfather spoke Gaelic and he and his wife, Margery (nee McPherson), would speak this in the house when they didn't want the children to know what they were speaking of.
Roderick McFadyen and his family came to New South Wales in 1856 as things weren't too good on the Isle of Coll and those living there were encouraged to emigrate to places such as Australia and Canada. John McFadyen was already 26 when he arrived here and took up farming with his brothers and sisters at Morpeth on the NSW Mid North Coast. Donald McFadyen was born at Morpeth on July 31st, 1863.
On her mother's side there was a strong Irish influence, her grandfather on her maternal side, was Thomas Wilson (1814 to 1871) while her great grandfather was a Tim Kelly who came to Australia aboard the ship, 'Isabella Watson' with the 99th regiment.
Her father bought a paddock at Five Dock which Ella described as then being a green place 'with just a few pegs to tell you where the new streets were to be'. Her childhood at Five Dock is described as having pets - including a pet wallaby!, horses, a vegetable garden and a swimming pool. Her love of drawing animals both from nature and at the Museum filled her days.
Her father's firm was one of the first to use electric lights and he told stories about using electric lighting to speed up the construction of the Garden Palace, which burnt down soon after. Her father also told stories of the Hunter River including rescuing a drowning cow and sustaining it on the second floor of the house, until the water subsided. Her father liked horses but not gambling. Her mother disliked horses and forbade the children to go near them.
Ella was home schooled by her Mother despite the old Five Dock Public School being just across from the McFadyen 'paddock'. She learned Latin and grammar and although ruminated over having mother as teacher credited her sound sense and use of 'Gardiner's analysis' as providing her with the correct use of words and as words became her career, of seven decades in length as a poet, wordsmith, story teller and editor, her mother did very well indeed. Ella remembers reading Shakespeare's 'Hamlet' when aged 10!

alike those on the Isle of Coll, Ella did not attend school but 'instead finding companionship in her dolls and the books her father scattered thoughtfully around the family home. In a sign of what was to come, she often spent her time reading, sketching birds at the local museum, looking through old diaries and notebooks, and pretending to publish newspapers…..'

[2.]


When Ella was almost 16 her mother fell in love with Brisbane Water - just across from Barrenjoey Headland, during a visit there during Autumn. It was at Brisbane Water that Ella's passion for writing prose and rhymes, previously created for her younger siblings, began to be shared with others. One about that place:
THE BROWN HAWK.
BY ELLA M'FADYEN.
The wind blows east, the wind blows west,
The wind blows over the pewit's nest.
Yes, the pewit's nest where the little ones lie cosily awaiting the day, so shortly to come, when they shall stretch their little wings and bid their home farewell.
Between the steep blue slopes of the hills and the tall line of old oaks that rim the shore the flat, with its grey-mossed orchards, lies all golden in the hazy afternoon light. Presently the sun will dip behind the high rampart of the hills, and the oaks stand out, pencilled finely against the sunset.
But the salt wind is singing softly about the pewit's nest and the big Brown Hawk is wheeling high in a sky of palest blue. From his height he can scan the far expanse of Brisbane Water, the points with their storm twisted trees, the roofs peeping out here and there, the misty gullies running up into the hills, and the grassy slopes catching their last glimpse of the sun.
With his great wing sweep, his fierce beak, bold brown eyes, and mighty talons, the hawk is a magnificent fellow, able indeed, thinks he, to hold his own among all the warring tribes of the. feathered world.
Far down by the channel he sees a fish eagle swooping to his prey, and landward, skimming low over the trees, a great crow makes his clumsy flight, attended by a train of chattering, abusive little birds. From time to time the big thief turns and charges his harassing but elusive foes, striking left and right with his heavy bill, but without effect.
The Brown Hawk is narrowing his circle of flight every turn, for the little pewits are exactly the supper to tempt his appetite. The parent birds, though, are ready to defend their home, and now they fly out upon him, fluttering about him, beating at him, even dashing in under his guard and plucking at his feathers.
Now the Brown Hawk is a thief if you like, but not a knavish thief. He is a gentleman of the road, and a fine one, with a professional pride in his calling. One may rob a pewit's nest and still do it artistically. While he would love nothing better than a battle royal for the spoils, these poor, distracted pewits are certainly not worthy of his prowess. So he merely ascends in a wide spiral flight, beating them down with his wings. It is a point of honour with the Brown Hawk never to seem in a hurry.
Higher and .higher soars the Brown Hawk, and far below him the garrulous blue jays cling to the swaying tips of the gums. The pewits are settling again on the nest when he drops straight, and swoops in upon them.
Up they fly in his face, and again he rises and wheels, repeating the graceful manoeuvre as though proud of the ease with which he could accomplish it. But the sun is drooping towards the blue ranges, already folded in their evening mantles, and supper must be had.
Then the Brown Hawk starts, actually swerves from his level poise, at the monstrous impertinence greeting his earthward gaze. Here is the crow— the base born, thievish outcast of the bird world, actually pointing his clumsy flight towards the pewit's nest.
In his indignation the Brown Hawk wheels in and drops sheer from his vantage point. Truly he is very indignant, else he had never neglected that first precaution of warfare.
But the crow is too intent upon the feast he has just espied to take advantage of his' foe's recklessness. He has no hesitation in attacking fiercely the frenzie :. , parent birds, dealing murderous blows to right and left as the devoted little creatures renew their desperate defence.
But the diversion they create serves the Brown Hawk well. Swiftly he soars, and dropping with fine precision, fixes his talons in his enemy's back, between the wings.
The crow is a giant of his tribe, and beating out now he contrives to thrust upwards at the Hawk's breast. The white feathers fall in a shower, and the Hawk looses his grip. It is only for a moment, but the crow gets in another deadly blow, a bludgeon stroke this time, with all his force. Then the Hawk beats up and drops, this time upon his enemy's head, and beak and claws get in their deadly work, ripping the thick sleek plumage till the scalp lies bare. This time the crow changes his tactics, ducking head down. The wind behind catches the wide wings and spread tail of the Hawk, toppling him forward.
Over and over, the birds fall together, thirty, forty feet, and when the crow steadies himself again with spread pinions, the lighter bird is still on top, and falls to, his talons red and dripping.
Already, though, the crow, sullen and dishevelled, has had enough. With a savage lunge, he wrenches free and veers out unsteadily across the bay. The pewits, watching with round, frightened eyes, weigh their chances, for the sun, a great globe of liquid orange, quivers on the upper rim of the smoky range.
Still the Hawk has his wounds, to avenge. With talons curved for the grip, he speeds out after the crow, who now turns to meet him with savage desperation. This time the crows scores, for the stiff wind blowing out here well-nigh disables the lighter bird. But the Brown Hawk is not to be baffled. He turns about, and, slowly at first, for he is spent, beats upwards in the teeth of the wind with heavy, labouring wings.
Along the shore the chattering and jeering of the smaller birds dies Into silence, broken only now and then by a drowsy twitter. The pewits nestle safely in, hushed to sleep by the soft evensong that the wind sings in the oaks, Still the Brown Hawk soars, a tiny speck in the pale, stainless blue.
Beneath, the bay glows rose-red in the sunset glow. Then in an instant the bright globe dips behind the range and its high ragged scarp flings a shadow, like a black cloak, upon the water.
With a low, sullen cry the crow flaps his black wings inshore. Right up into the heart of the shadow he flies, where only a dim thread of silver parts the dark bulk of the shore from the ink-black water.
Then from the invisible heights of heaven falls a tiny speck, sheer, clear, and swift, a speck that grows and shapes itself and takes life. The Brown Hawk fixes his talons in his enemy's head, shakes him from side to side, grips deep and deeper, the short, fierce beak rips and tatters — then he flings free and wheels upward into the heart of the glory, where rose and carmine, merge into molten gold, up and up where the eye dare no longer follow. . . . and down, down, falls a ragged, black bundle, over and over till the dark secretive water receives it with one momentary splash of silver. THE BROWN HAWK. (1908, November 18). The Sydney Mail and New South Wales Advertiser (NSW : 1871 - 1912), p. 1338. Retrieved from http://nla.gov.au/nla.news-article163230915
While living there she visited places along the waters in a little skiff and on one adventure found the stone in which Australian poet Henry Kendall had carved his name. Ella climbed a tree and took a photo of this using her little box camera and it was published in the Sydney Mail years before she joined that paper to run the two page Children's Page - known as 'Cinderella's Page' to generations of children and young adults. That little story and Henry Kendall rock photo taken by Ella:
KENDALL'S GLEN.
BY ELLA McFADYEN.
We left the road where it swerves upward through the orchards to Penang, and soon the mangroves aud ti-trees and wind-rustled swamp grass were left behind, and the bracken bristled up from the white sand track, all dimpled with the little hollows of the ant-lion.
The track leads down to the stone-paved ford, but we turned off past the old house beneath whose roof Kendall must many times have slept. Convict-built, of solid stone, and some 70 years old, it nestles among its grey orchard trees, and the sunlight draws warm tones from its weather-stained shingles and mellow-tinted stones.
Beyond Narara Creek our climb began up the rugged grey face of the range, till, breathless and weary, we halted upon a green tableland starred with flannel daisies and red Christmas bells, while from the slopes below us the coveted pink tops of the Christmas bush beckoned. Presently we came upon a little loitering stream, sunken under the sand here and there, only to reappear a few paces further on tumbling in a mimic cascade into little pools where the crayfish crawl and the dragonflies hover. Before us stretched a splendid panorama.
The stream led us to the abrupt, lichen-spotted lip of a rock-faced gully that dropped sheer at our feet. Over it the water leapt into music-haunted shadow, and the wind beat back on us a fine-spun veil of spray. A detour led us down steeply to the rocky floor of the gully till we stood beneath the fall—
that Silver singer far away
By folded hills and hoar.
Close by is the rough grey boulder with the clearly-cut inscription, 'H. KENDALL, 1874,' and below the letters 'G.L.F.'
Standing in that remote and hidden sanctuary, with the written music of the poet blending in one's ears with the voice of the water dripping down the moss-boarded ledges, one might well indulge the hope that as it has lain undesecrated these 35 years past, so may it lie aloof and ever sacred from the hands of that old vandal — Change.
I wonder if the leaves that screen
The rock-pool of the past
Are still as soft and cool and green As when we saw them last-!
I wonder if that tender thing.
The moss, has overgrown
The letters by the limpid stream —
Our names upon a stone !
KENDALL'S GLEN. (1909, May 5). The Sydney Mail and New South Wales Advertiser (NSW : 1871 - 1912), p. 29. Retrieved from http://nla.gov.au/nla.news-article164294203
This wasn't the first item published under Ella's name, but is one of the earlier images she photographed. Ella also credits her time at Brisbane Water as being the place she commenced finding things she could write about.
Ella began getting poems published and despite her mother's disapproval she persisted writing and was having stories and 'rhymes' published while still a teenager.
A few of her poems that date from prior to that photograph published above and were sent from from or penned at Ashfield. Ella's stories began appearing at this time too. These can be quite long, and were even serialised over a few Issues of the journals and newspapers they appeared in. Ella would later edit and then write books, so these shorter stories were great practice for that.
"When the first baby laughed for the first time, its laugh broke into a thousand pieces, and they all went skipping about, and that was the beginning of fairies." - Sir J. M. Barrie, Scottish journalist, writer, and dramatist (1860-1937)
"Fairies use flowers for their charactery."

-

William Shakespeare, English dramatist and poet (1564-1616)
The 'fairies' were not only another beautiful link with Nature they could also be prevailed upon to teach a little insight too:
The Boomerang Walking Club - pittwater days
'We were like the blacks; we wanted to live secretly, silently, have an unseen life'. [3.]
These rocky shores are a favourite haunt of our Boomerang Walking Club. LION ISLAND, AT THE MOUTH OF BROKEN BAY. (1933, November 22). Sydney Mail (NSW : 1912 - 1938), p. 47. Retrieved from http://nla.gov.au/nla.news-article165961286
For Queensland Readers a Boomerang Walking Club was formed for them too:
Boomerang Walkers
The annual meeting of the Boomerang Walking Club was held in the Young Women's Christian Association rooms, Adelaide Street. Miss Townson (president) occupied the chair. It was reported that enjoyable outings had been held to Seventeen Mile Rocks and upper reaches of the river, White's Hill, and Pine Mountain. Boomerang Walkers (1932, March 2). The Telegraph (Brisbane, Qld. : 1872 - 1947), p. 7 (FINAL). Retrieved from http://nla.gov.au/nla.news-article180053428
Her Readers and Letter Writers would share information about their own walks, including those taken here:
ACTIVITIES of the Boomerang Walking Club have been slowed down by the fact that some of our senior boys are on active service, and many of our senior girls too busy with war work at week-ends to join outings. The Junior section, known as Greenwoods, are eager to carry on, but I have been obliged to limit walks in the interest of work for our J.R.C. Fair. Last week's walk was postponed while I made two little garments for children, finished a patchwork quilt, and made a bunch of needle-caps, which sell at sixpence a pair for our war funds. It was worthwhile missing a walk to get this done, when warm clothes for children and comforts for sick soldiers are so much needed. I hope some of you are planning to send something for the stall, and when that is over we will have bush days again.
How many of you could Join an all day walk for a Sunday in May? Distance from eight, to ten miles, and rather easy going, with bush cookery at our midday meal. BOOMERANG CLUB. (1941, April 23). The Sydney Morning Herald (NSW : 1842 - 1954), p. 28. Retrieved from http://nla.gov.au/nla.news-article17725251
The poems inspired along these walks ran in other publications - these are two shared previously about Pittwater and Broken Bay:
The world she had been born into was vastly changed by the 1930's – even her beloved Pittwater was experiencing a building boom. And even though the Ku-Ring-Gai Chase National Park was there, and remains so, and there were paddocks still between the holiday villas and homes of year round residents, the masses of waratahs were disappearing from the eastern hills of Palm Beach and all bushlands south to Manly, and the quick bounding 'thud thud' sound through the bush of a soft padded wallaby or the call of a koala from the trees above, were not as frequent as they had been before.
Her farewell:
Cinderella's Page
Farewell, Old Days
Dear boys and girls,— And all friends who have kept the C.P. way with me, we have come to the end of a chapter, at the end of a day at the end of a year. When the sun rises on 1939 there will be no more 'Sydney Mail.'
But let us look forward. Changes have to come. Kipling said: 'All new things are sorrow,' and that is true of them at the first. But a seed has to fall before a new plant can grow. In the Big Scrub (where some of us have rambled together — remember?) on the slopes of the Rain Forest, when a great tree goes down with a crash it rends the green twilight and lets in the sky. Then things that needed the sun-light come to life and thrive, for the fertile soil has been waiting. If we keep our minds and hearts fertile with the old seed the C.P. has sown (you won't forget the 'Seed Plots,' will you?) then there will be friendship, loyalty, courage, gaiety, abounding interest in all the things we have ever loved, just waiting for that chance of new growth — the coming of the New Thing that is at first sorrow, but afterwards reveals the face of opportunity.
The Old Days Together
MY mind is crowded with pictures as I write. The tea-table at the party Alison Fraser gave when the C.P. was one year old, and I cut a cake with one candle and they gave me a little brooch I have always treasured, the fairy slipper in enamel against a heart rimmed with pearls. The boys and girls round the table that day are men and women now. . . . Wagga on a race day, flying cars filling the air with gold of suspended mica dust, against the green curtain of willows round Wollundry Lagoon, floored with azolla-weed turning from pale green to rosy red. Four little girls are with me, discussing the mystery of a parrot's egg we have found, and planning to give it to a certain long-suffering duck to hatch. The youngest little girl — the one who got excited and broke the egg — takes up an appointment at a great school in Armidale next year.
'MAC' and 'Macnore' are steering us round the bends of the Black Scrub track above Nerang, through a mountain mist that fills the Numinbah Valley almost to the top of the ragged hoop-pines by the roadside edge. 'First Correspondent' is with me on that Queensland holiday, and — had we known it — among the bags and bridles and the saddle and the tired drover's dog in the back seat, Cupid is tucked out of sight — a stowaway. . . . Tramping with Ben through Ten-Mile Hollow of a rainy midnight. How tall the red gymeah lilies were that spring, when we had waded the Mangrove Creek flood and climbed over Penang Moun-tain. . . . Marching with 'Toad' over Berry Mountain by the full moon, the weariness of 56 non-stop miles in our boots. 'Secretary Bird' came to our hotel next morning to see if we were alive and brought us Bundywalla oranges. Paterson River grows none sweeter.
SCRAMBLING for wildflower photographs with 'Mac' of the Boomerangs (not the former 'Mac') up the steepest trig. stations of the North Shore. . . . Camping out for New Year on Elusive River . . . groping out of Moss Vale in a black mist with 'Abeg-weit' at three of the morning, to spend the noon catching frogs below Fitzroy Falls. Tramping from Lindfield to Barrenjoey under the Easter moon all night, by the cliff road above the league-long loops of silvered surf. ... A tea with 'Puzzle' in a Melbourne tea-shop, when 'D.D.' was there. Now 'D.D.' has a name listed by book clubs and lives in Libya. 'Pandora,' who scrambled over Cambewarra hillsides with me, wrote last mail of rogue elephants in the Nilgiri Hills, India.
A WESTERN sunset shared with 'Mirran,' putting the car over the grassy flat to pick up motherless lambs, for the merinos had twins that year and no merino ewe can count above one. . . . Trudging from Tunglebung to Tabulam through rain that put 15 feet into the Clarence River, and Marjorie and I fighting off the young cattle that tried to ring us the whole three miles of the cut-road by the river. I rush the Kerrys, toreador-fashion, with a whirling rain-cape, and Marjorie, whose faith is grounded on a rock, stones the stubborn Herefords, and at length, wet and breath-less, we dash into the Rectory, and are received without a qualm and given tea and bread-and-honey by the fire.
A BLACK velvet night under the palms at Soraken, with moonlight insets patterning all the long perspective of the plantation floor. 'Bing Boy' is talking over his plans and the fireflies are flitting in the fern. . . . The day on Bungeroo Creek when I killed my first death adder with a sheath-knife and made a song about it. . . . A camp-fire 'Beetle' and I kept going one night of pouring rain. . . . The long room at Cooerwull House, looking out on the old stone mill, when we knitted and knitted and the plan for our Red Cross quilts was born. Jean Wetherall, such a little girl, coming to Warwick Building to pay the first personal visit of any C.P. member. I 'visited' Jean the other day when she turned on a radio talk and heard my voice in her own home. ... A day with 'Stout Fella' at Auchenflower. .... Feeding wallabies at Jenolan Caves. . . . Eating pawpaws atop of Kieta Hill. . . . The gecko who crawled into my camp-bed above the old Joadja Shale Mine. . . .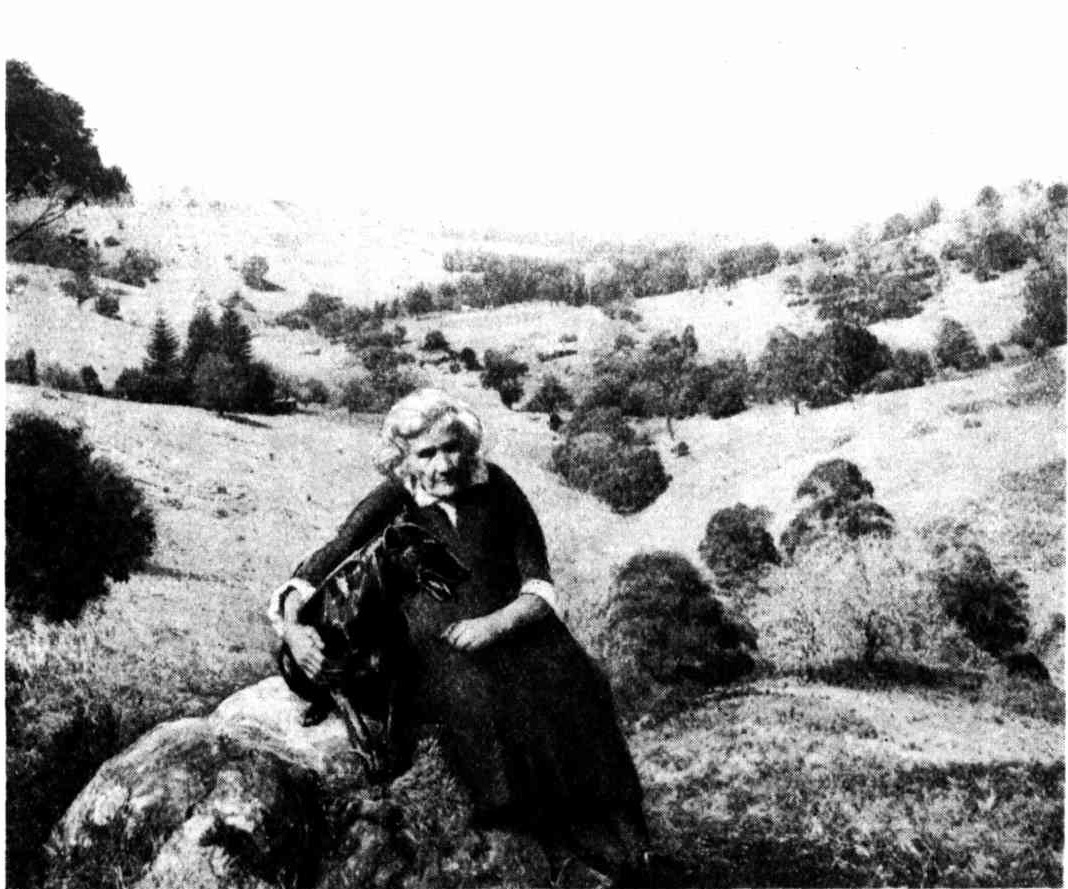 OUR HOSTESS, BUNDYWALLA — Snapshot by 'The Secretary Bird.' This old lady, one of the early settlers at Bundywalla, near Berry, entertained our Boomerang Club royally when we visited the district. Her home, typical of the old days, is hidden under the three pines to the left of the picture, in middle distance.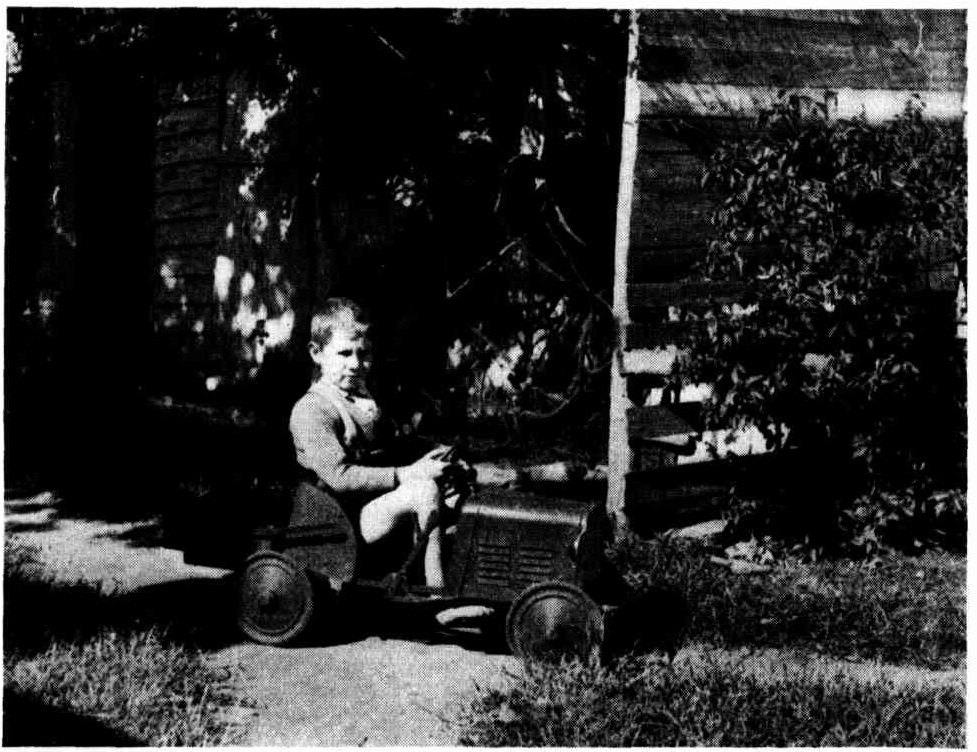 PETER AT THE WHEEL.
A last scene — the bush cave where we gathered a few evenings since. Friends with a wireless installation for their car brought us my little Christmas play, 'The Road to Bethlehem,' over the air. Then we had tea and the girls gave me a lovely pair of silken cushions subscribed by many and made by the clever fingers of 'Glass Slipper.' And we finished with 'Auld Lang Syne.' . . . Eighteen happy years that we could wish would go on and on, but that, as Browning reminds us,
A man's reach should exceed his grasp , or what's a heaven for?
Hail to the New!
DO this for me: Write to me, happy letters if you can, all about our old page and the things we have loved together, and about yourselves and your plans— just once more. I shall not be able to reply individually, but I want those letters to put in a big file for a treasure that I may keep. If you write on only one side of the paper it will be easier to file them.
And now Cinderella begins a new page on Thursday, January 5. You will find it in the Retail Section of the 'Sydney Morning Herald' on that day. Come to me, old friends, and let us make the new page as happy as the old. — Cinderella. Cinderella's Page (1938, December 28). Sydney Mail (NSW : 1912 - 1938), p. 47. Retrieved from http://nla.gov.au/nla.news-article166525375
The story behind the story here, according to Ella, as stated in her interview with Hazel de Berg, was that with WWII brewing, and Fairfax not wishing to invest in the new printing equipment, the 'Sydney Mail' was closed. There was not as much space dedicated for children's missives and her answers in the Sydney Morning Herald, however, Ella was also making recordings of her stories for radio and writing for other periodicals:
MRS. PEG AND DANDY AND NOBBY.
There will be thousands, particularly among the young people, who will learn with special pleasure that Miss Ella McFadyen, nature student, poet and fairy story teller, is again on the air. Her page in the late-lamented "Sydney Mail" made her a multitude of friends throughout New South Wales and Queensland among old and young. Now her "Pegman" series is being presented by radio to very young listeners every Tuesday and Thursday evening in Tiny Tots session. It will be a popular feature for sure. No child could realise how alive clothes pegs can be until they have listened to Miss McFadyen's "Pegman" fairy stories. Tuesday and Thursday 5.20 p.m. MRS. PEG AND DANDY AND NOBBY. (1939, April 25). Macleay Argus (Kempsey, NSW : 1885 - 1907; 1909 - 1910; 1912 - 1913; 1915 - 1916; 1918 - 1954), p. 2. Retrieved from http://nla.gov.au/nla.news-article234330253
She also was involved in war work:
JEAN BRANSDON, a member of the Boomerang Club, whose hobbies are natural history, photography, bushwalking, and camping. Jean has done some notable long-distance tramps with the Boomerangs and other groups.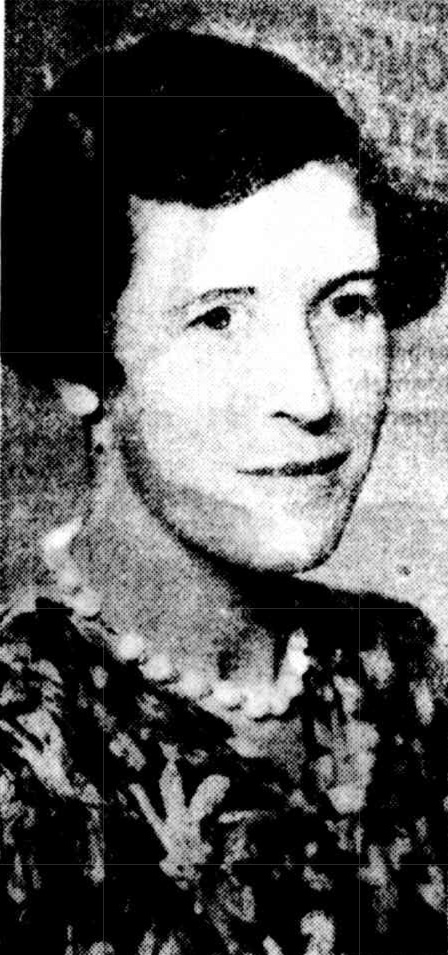 JEAN BRANSDON (Wollstonecraft) joined Elma Williams in Melbourne, and the girls toured Tasmania from Launceston, down the East Coast from St. Helens, and spent five days in camp at Lake St. Clair, where snow fell around their tent. Jean's snap-shots at Port Arthur and Eaglehawk Neck were highly successful, but abundant rain hindered camera work elsewhere. PROMENADE (1940, February 15). The Sydney Morning Herald (NSW : 1842 - 1954), p. 24. Retrieved from http://nla.gov.au/nla.news-article17671903
STITCH IN TIME.
It was Jean Bransdon (of our Boomerang Club) who suggested I go with her and her sister Anne to Middle Head Fort, where the Business Girls' Voluntary Service give Saturday morning aid to sew for the men in garrison. Betty Pryor, Olwen Thomas, and Win Watson are also Saturday helpers there, while a Friday group, expert in re-tailoring uniforms, works, under the supervision of Miss Shugg. We let out seams, took up sleeves, shifted or replaced buttons, and generally pressed and repaired the garments brought to us, and at midday dined (on army stew), with the Sergeants' Mess.
Other groups of the B.G.V.S. do similar work at Warwick Farm, Ingleburn. Walgrove, and Marrickville Drill Hall, while at the Showground they give clerical service in the evenings. Twelve of their number, are now learning to make camouflage nets in order to act as instructors to a waiting group of girls, who will give up their evenings and Saturday leisure to this urgent work.
ANNE BRANSDON, supervisor of the Saturday Group of the Business Girls' Voluntary Service, who make sewing repairs for the garrison at Middle Head. STITCH IN TIME. (1941, June 5). The Sydney Morning Herald (NSW : 1842 - 1954), p. 20. Retrieved from http://nla.gov.au/nla.news-article17743467
A Literary Life
As noted above, Ella was one of the original members of the Society of Women Writers NSW, formed in September 1925. Women were beginning to have more independence during the 'Roaring 20's - as noted in this rural newspaper - they were not restricted to their traditional roles:
Women Come into Their Own
Women are fast coming into their own, and proving that they can hold their own with the best of them. The lady member of the N.S.W. Legislative Assembly, Miss Preston Stanley has made her maiden speech and tho House decided it. is an acquisition.
Miss Stanley possesses a fertile brain, and long experience makes her at home in addressing any big gathering, so when she had before her an audience, mostly men, with just a limited number of ladies, she was never at a loss. She told the Assembly that in the old days when she watched Parliament from one of the galleries she used to wonder how so many 'old women' used to get into it, which goes to prove she is not lacking in observation.
Women are playing an important part in the world of journalism just now, and quite a number of them are delegates at the Empire Press Conference which is to be held in Melbourne it the end of the month. They are recognised as authorities on numerous matters, and many positions of note are held by them. As one writer points out, ''It is not. so long since the first chronicles of social happenings in the columns of an English newspaper.
Some of the younger generation can remember when the more important and exclusive of the journals opened their pages to women contributors on dress and fashion. Now press women ' stand on their own and the work which they accomplish Is well worthy of the papers of which they are valued members of the staff.'' Women Come into Their Own (1925, September 5). The Bathurst Times (NSW : 1909 - 1925), p. 7. Retrieved from http://nla.gov.au/nla.news-article118035435
Millicent Preston-Stanley was an Australian feminist, and politician who was the first female member of the New South Wales Legislative Assembly. In 1925 she became the second woman to enter government in Australia, representing the Eastern Suburbs as a member of the Nationalist Party, one of the historic predecessor parties to today's Liberal Party. After a failed bid in the 1921 election she persevered and picked the seat up in May 1925, and held the seat until September 1927.

The Empire Press Conference should not be underestimated in its 'forwarding of women's roles outside nurse, secretary etc. Of course - what happens when you get like minded women together to listen to others and talk with each other on what interests them? They figure out how to work together for the betterment of all. Especially when prefaced by:
WOMEN'S WORLD
Conducted by 'HOUSEWIFE '
Women and Journalism
Women are playing a very important part in the world of journalism just now. They are recognised as authorities on numerous matters and many positions of note are open, to them. Several women are included among the delegates to the Imperial Press Congress.
IT is not so very long since the first chronicling of a social happening in the columns of an English newspaper. Even some of the younger generation can remember when the more important and exclusive of the journals opened their pages to women contributors on dress and fashion. Now presswomen stand 'on their own', as it were, and the work which many of them accomplish is well worthy of the papers on the staffs of which they are valued members.
Take, for example, Mrs. A. Moore. She comes to us as delegate, and not merely as the wife of one. Under the euphonious pseudonym of 'Eve Adam' she represents the Sheffield 'Daily Telegraph,' the 'Review of Reviews.' and 'T.P.'s Weekly.' She has had wonderful experiences of political journalism in Persia, Mesopotamia, and' in the Balkans, as well as in Russia under both Tsarist and Soviet rules: while in 1913 she was on the staff of the Russian supplement of 'The Times.'
Mrs. Moore had indeed a stirring time just at the outbreak of the war, as she just managed to escape, from Belgrade on the night of October 7, 1915, just after the Germans had occupied the town. After, working with Sir Arthur P.-.gel, the Red Cross Commissioner at Nisch, she retreated with his party, almost the whole way on foot, as far as Mitrovitza, afterwards arriving at Salonika with the British Naval Mission. From Serbia she contributed to the 'Daily Chronicle,' and in other ways she has played a most important part in journalistic circles.
To read of the doings of a woman of this kind makes one realise what a wonderful part many of them played during the lime and stress of war. Mrs. Moore has just completed a volume dealing with celebrities of the Victorian era.
THE heartiest welcome is now being extended to the women of the Imperial Press party by the women of Sydney, both journalists and others. It will be found a liberal education lo talk to some of the visitors and to realise what they have done to raise the standard of women's work on the press. Mrs. Benson Infield, for instance, is a woman of many parts, and amongst her varied interests she is a director of the Southern Publishing Company, Ltd., of England. This naturally brings her into touch with all manner of interesting people. She is interested in half-a-dozen or more schemes, including the running of several hospitals, their success pointing to her business acumen. During the war she kept open house at Brighton for New Zealand soldiers, as some of her early life was spent in the South Island of the Dominion.
The wives of several of the delegates are filling important posts in the journalistic world, notably Viscountess Burnham, who is the president of the Society of Women Journalists in London. Referring to women and their work in the newspaper world, a well-known English writer (Sarah A. Tooley) says:
-—'In continuing our view of the entrance of women into trades and professions hitherto followed almost exclusively by men, journalism may be cited on account of the great increase during recent, decades of women writers for the public press. They have a wide field for specalisation. Never have women's home topics occupied so large a space as they do in the newspapers of to-day, or been treated in so practical and artistic a manner. To the old subjects of dress, the toilet, cookery and housekeeping, which appeared in the bygone miscellanies For my lady's boudoir, are added sport, philanthropy, social and political work, news of movements and essays to voice women's ideals and their newly awakened aspirations. Women are of necessity on the staff of every paper to meet new demands, and some hold editorial positions and have founded periodicals.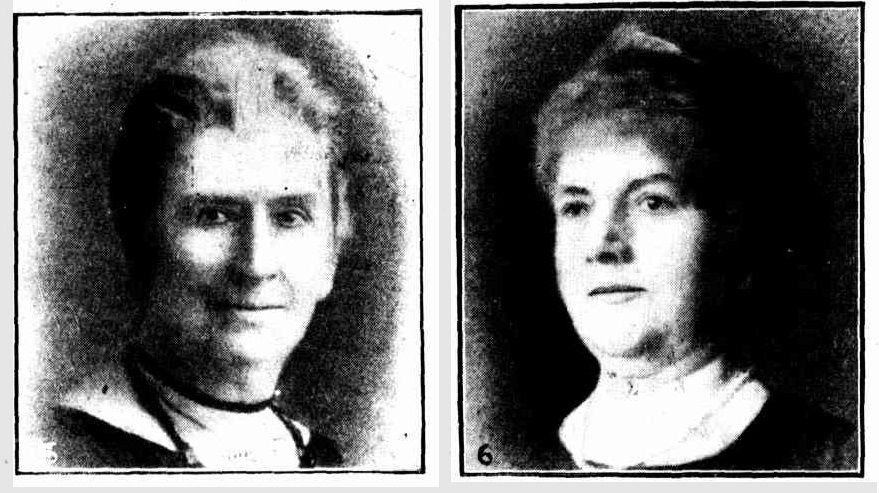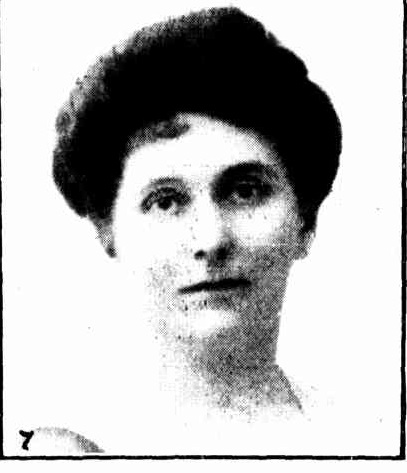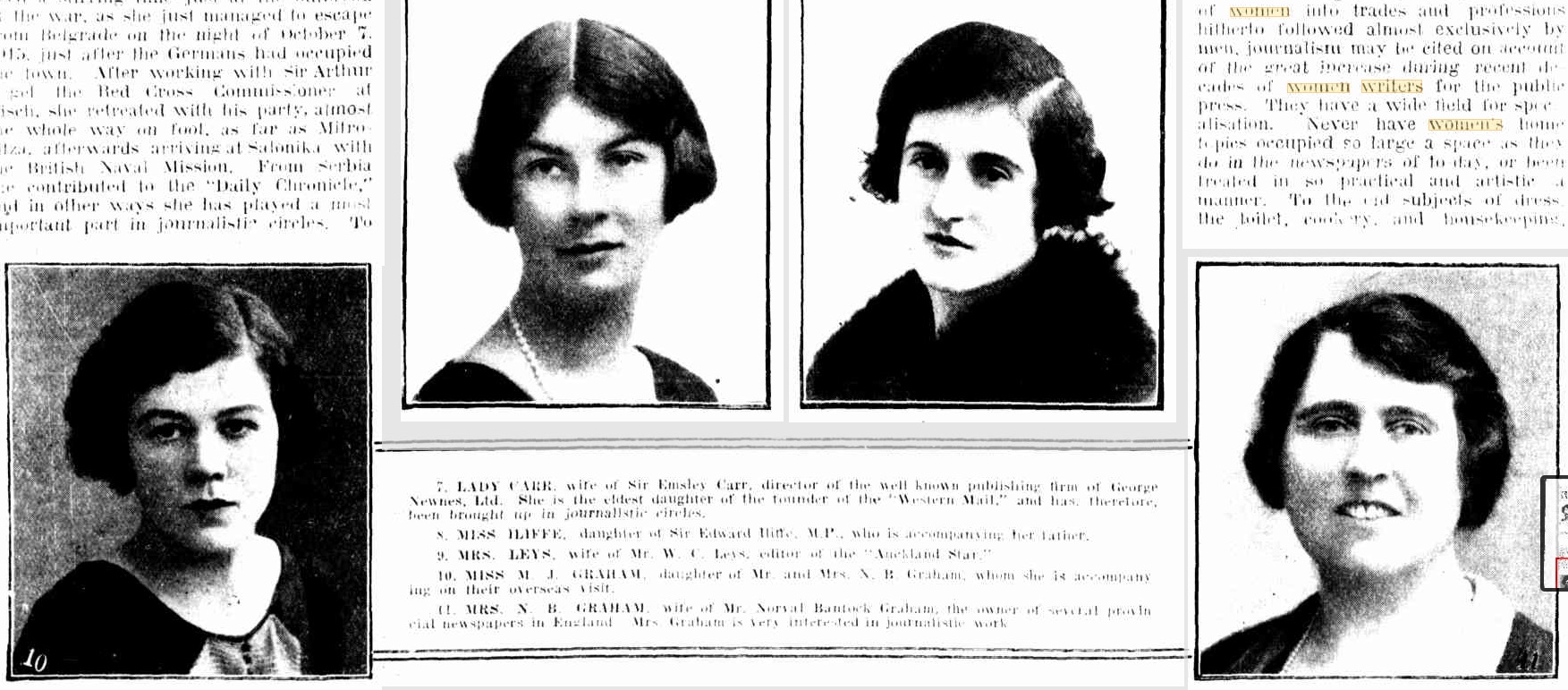 1. MRS. H. HORTON, wife of Mr. Henry Horton, of New Zealand. Her husband is the principal proprietor of two of the oldest-established papers in the Dominion. Mrs. Horton is a prominent worker in women's causes.
2. LADY VIOLET ASTOR, wife of Major the Hon. J. J. Astor, M.P., chairman of 'The Times'' company, London. She was married in 1916, and has three sons. She is the youngest daughter of the Earl of Minto.
3. LADY NEWNES, wife of Sir Frank Newnes, Bart., who controls so many of those papers in which women take the keenest interest. Lady Newnes is a daughter of the late Sir Albert de Rutzen, and was married in 1913.
4. MRS. CADBURY, wife of Air. Henry T. Cadbury, who is identified with the 'Daily News,' which was established by Charles Dickens in 1846.
5. LADY FENWICK, wife of Sir George . Fenwick, managing director of ' the 'Otago Daily Times' and 'Otago Witness,'': published in' Dunedin. She has lived in a journalistic atmosphere ever since her marriage. She is an active worker in all philanthropic movements in New Zealand. 6. LADY DAVIES, wife of Sir William Davies. She has all her interests in Cardiff, Wales, where she was born, but she has travelled extensively in Europe.
7. LADY CARR wife of Sir Kinsley Carr, director of the well known publishing line of George NewiieS, Ltd. She is the eldest daughter of the founder of the ''Western Mail,' and has, therefore, been brought up in journalistic circles.
8. MISS ILLIFFE, daughter of Sir Edward Iliffe, MP, who is accompanying her lather.
9. MRS. LEYS, wife of .Mr. W. Leys, editor of the 'Auckland Star.''
10. MISS M. J. GRAHAM, daughter of Mr. and Mrs. N. H. (.'rnhjin. whom she is accompanying on their overseas visit.
11. MRS. N. B. GRAHAM. wife of Mr. Norval Buntock Graham, the owner of several provincial newspapers in England. .Mrs. Graham is very interested in journalistic work.
The first women's daily paper was 'La Fronde,' founded in Paris by Madame Durant about 1897, and it was edited and written exclusively by women. IN China several papers have been written and edited by Chinese women, notably the 'Pekin Women's Paper,' which was edited by Mrs. Chang, one of the most remarkable women of her times. In Norway Miss Gina Krog founded 'Ny-jlaende,' the Norwegian women's paper, while there are at the moment women's papers flourishing all over the world. That women have triumphed in the journalistic sphere cannot be denied, and the work of Harriet Martineau and Frances Power Cobbe as leader-writers of a London daily will ever stand as a memorial to their ability and enterprise. It has to be remembered that women were not accepted some years back in such work without a good deal of suspicion. These have blazed the trail for their sisters to follow, and to-day women of the right type find a welcome waiting for them on the big newspapers. Indeed, if a woman be reliable, accurate, and enterprising she will be considered a valued member on any newspaper staff, and will grow grey in the service, provided, of course, that she still retains her spirit of enthusiasm and youth and is ready to march with the times.
Mrs. Emily Crawford is said to have been the first woman 'to hold a staff appointment of front rank as foreign correspondent for a daily paper. Her work in this department for several papers simultaneously is a brilliant record in the annals of journalism. It is said that the stirring, fascinating drama of the French capital was an open book to her for nearly a lifetime. She had danced at the Tuileries and witnessed the terrors of the siege of Paris and the Commune. One of her most brilliant journalistic feats was gaining admittance to the seances held in the French Parliament at Versailles immediately after the Franco-Prussian war and reporting the speeches from memory, notes were not permitted to be taken. She often sat for seven hours during the momentous debates. Mrs. Crawford's work was acknowledged by the French Government with the offer of the Legion of Honour, but she refused the distinction for herself, requesting that it might be given to her son.
AND so we welcome to-day those women who have come into our midst either as delegates to this important Press Conference or as the wives of those men who have come officially for the great event. Much interest attaches to Lady Violet Astor, the youngest daughter of the Earl of Minto. She takes a great deal of pleasure in acquainting herself with the overseas Empire, as her father was both Governor-General of Canada and Viceroy of India. She is a keen horsewoman, a rider to hounds, and an. excellent -angler. She also interests herself in social welfare matters pertaining 'to .women and children. Lady Apsley, who is accompanying lier husband, being at present with him in the Northern Territory, has been married only a year. Lady Carr, wife of Sir Emsley Carr, is also interested in welfare work, and takes a leading part in the management for Schools for Mothers, in South London.
Finally, there is Lady Davies, of Cardiff, Wales, who had given much of her time to social, philanthropic, and public movements. To them all the women of Sydney extend the hand of friendship. Many entertainments have been arranged in their honour. This morning a civic reception will be held at the Sydney Town Hall. In the afternoon' the. Governor and Lady de Chair will be 'at home' at the State Government House.
Other entertainments include a reception at the University on Thursday afternoon, and on Saturday the visitors will be entertained at a harbour .excursion by the Institute of Journalists. In the evening the delegates will be the guests of the chairman of the Australian section of the Empire Press Union (Mr. J. 0. Fairfax) and Mrs. Fairfax at their home, Fairwater, Double Bay. All we need is fine weather to impress our visitors. Let us hope that sunny New South Wales will live up to her reputation. Women's World (1925, September 2). Sydney Mail (NSW : 1912 - 1938), p. 27. Retrieved from http://nla.gov.au/nla.news-article160084482
ENTERTAINED BY WRITERS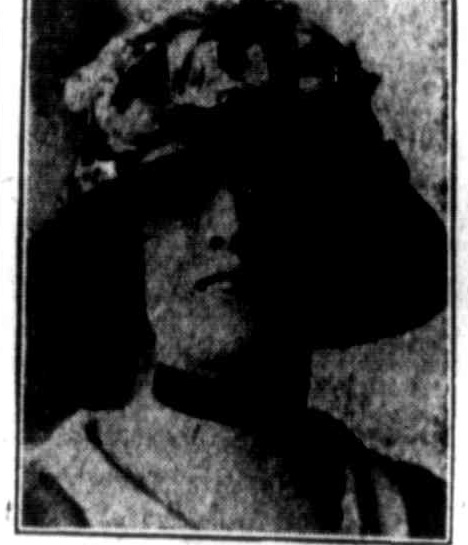 Lady Burnham, who was entertained by the Society of Women Writers at the Hotel Australia this morning. —Photo, by Monte-Luke. FOR WOMEN (1925, September 26). Evening News (Sydney, NSW : 1869 - 1931), p. 8. Retrieved from http://nla.gov.au/nla.news-article116065702
The first President of the NSW Society of Women Writers writes in October:
WOMEN'S COLUMN.
WOMEN WRITERS.
(BY FLORENCE BAVERSTOCK.)
As reported from Melbourne, Lady Burnham, during tho proceedings of the Press Conference, gave a most interesting account of English women Journalists and of the operations of the Society of Women Journalists, of which Viscountess Burnham herself is president. The Society exists to further in every likely way the interests of women who earn their living by their pen, and among the practical benefits available to members of the society are the services of an oculist, a physician, and a legal adviser, all of whom may be consulted without fee. Lady Burnham declared herself quite confident that her society was doing excellent work In the profession, and that members found it to be greatly to their advantage to belong to it. The status of presswomen, among other results, has been raised, and a fine spirit of comradeship has been developed among those workers in what is, after all, one of the most modern of the ways in which women earn their living.
To strike while the iron is hot means doing a thing at the right moment. Several women writers here felt that Lady Burnham's presence in Sydney was the time to form a society of the kind indicated above, and to ask the president of the English society to meet the promoters of the scheme, and to give our infant steps those lucky words which from the most ancient days until now have always been considered the conveyers of peace and prosperity. Lady Burnham wished the Society of Women Writers the best of luck in very cordial terms, and advised that all sisters of the pen wore in the right track in joining up into an entity which must be for the great benefit of all.
So this new organisation of Women has had an auspicious start, and everything points to a long and useful career. Viscountess Burnham and Mrs. Henson Infield, who also cordially agreed that such a society was dostlnod to benefit one and all who belong to It, consented to become the first life members of this association, which spreads a net with a finer mesh than the London Society of Women journalists, Inasmuch as many of the leading writers of stories, nature studies, and verse have joined its ranks. This Inclusion makes for a larger and more influential membership roll, and shows that spirit of unity animates all travellers by the various routes which lead to publication, whether they use the humble paths of the youthful reporter who describes a "very pretty wedding," or the higher walk of the verse writer who can produce lines with a thrill in them; of the woman who can tell a story that will move, and of the-nature student who brings all out-of-doors before us.
With a membership of over 80 names (which Lady Burnham thought "splendid"), the new society promises well, and another encourag-ing fact is that women of all ages have Joined. Very valuable will be tbo acquisition of so many young fresh minds with their bright intelligence and eager outlook on life. The older women can often help such with their experience and counsel. It is to the girls we must look to keep up the prestige of the profession of the pen, and that they are capable of doing it there can be no question. To belong to a regularly constituted coterie of workers with similar aims must help all and raise the statue of each member. In no sense a club, of which there are several useful and excellent examples already in Sydney, the new Society of Women Writers makes strong appeal to the spirit of comradeship already a growing factor among women doing similar work. WOMEN'S COLUMN. WOMEN WRITERS. (1925, October 17). The Sydney Morning Herald (NSW : 1842 - 1954), p. 10. Retrieved from http://nla.gov.au/nla.news-article16248987
From the outset Ella's work was noticed - Australia wide - she had such a clear, distinct voice:
ANOTHER AUSTRALIAN POETESS.
"Outland Born," and other verses, by Ella McFadven; Australian Authors' Agency, Melbourne.—This minor poet brings good credentials, for in republishing her fugitive verse she acknowledges indebtedness to editors near and far. She has a wealth of imagery, a fertile fancy, much technical skill, and in particular a virility which recalls Miss M. E. Nesbitt rather than the usual type of woman artist:—
He little loved—the wise old king,
To think on me, his heir,
I doubt me if he grudges now,
Who sleeps so silent there.
The crown that clips so close my brow.
The high, engilded chair.
Te dragged me from my quiet dreams
Of studentship and art;
Te thrust a sceptre in my hand—
I pray you steel my heart:
-put words of wisdom in my mouth.
That I may speak my part.
The old king's hands lie crossed and cold—
The new king wears his ring: , The kneeling masses stoop and sway,
The smoking censere swing:
Te pray for him who sleepeth sound— !
Nay, pray ye for the King!
The distinctively Australian verses contain one obvious, but pleasant, echo of Kendall:—

I wonder if in later days,
When sullen winter lowers.
Will we discover them with hands
Still filled with summer flowers ?
Oh, if within the virgin hush
Of some untrodden glen,
Our stolen hours immortal wait
To welcome us again

The scenes of Nature imagined, here are somewhat alien to the Adelaide mind. The red lantana flames along the dusty highway, the hillside is head-high with rustling cane, and the "bungalow" is either a misprint or a tree. "Lawyer-latticed twilight, if set in an examination paper, would probably plough many. Doubtless it refers to a dense growth of clinging scrub._ (But why that particular climbing plant is called a "lawyer" shall, in respect for the feelings of the legal profession, be enquired into no further!)
The author shows a creditable desire to enshrine Australian place-names in her verse, but they are not always graceful—"along the Howlong Hill," for example. Even the native names in the East are not euphonious, like Kapunda and Onkaparinga; there is a fine bit of word painting about "amethystine ecstasy across the still lagoon," but it is from "the Woy Woy lights" that the radiance comes. Perhaps Ella McFadyen's best work is the Kipling-like close of the ballad of the Pioneers (Botany Bay type):—.
We were first, then wherefore least?
From our-graceless biers,
Like a death's bead at your feet
It is the pioneers.
By our right of elder days,
By our toil and thirst.
By our hunger, by dispraise—
Branded and accursed—
By the fields our children till.
Won with toil of ours,
By the homestead on the hill.
Nestled in its flowers.
By the tokens broadcast sown
Over Sydneyside,
By the weary walls of stone.
Lying north-by Ryde.
By the bitter tracks we trod,
By our exiled years,
By our six-foot grant of sod,
We be pioneers.
ANOTHER AUSTRALIAN POETESS. (1911, December 9). Observer (Adelaide, SA : 1905 - 1931), p. 6. Retrieved from http://nla.gov.au/nla.news-article164740663

In 1911 the following 'Peg Man' poem was published - this was a game Ella and her brother used to play with their cousins on the banks of Macquarie River in those eras where children made their own toys and amusements:
THE PEGMEN.
BY ELLA M'FADYEN.
We made the Pegmen all ourselves
From some of mother's pegs,
With little bits of kindling wood
Tacked on for arms and legs.
We made them in the summertime,
When days are long for play,
And lesson hours are early done.
And Cliff came up to stay.

We made them tools of wood and tin,
To help their farm to keep,
We built them dams and shearing sheds,
And paddocks for their sheep.
Cliff made them crooked roads, where they
Could ride their wooden horse,
And where be scooped a gully out,
He made a bridge across.

I built the woolshed and the gates
With sticks and things I got,
And Dorry, though she's just a girl,
She helped us quite a lot.
Cliff begged some oilcloth for their boots
(Although they have no feet), '
And Dorry helped to make their clothes,
Because she sews so neat.
From here to Pegmen's run, you know
Is quite a longish way,
Across the paddock, where the ram
Chased Cliff and me one day,
It's lonely there when evening comes'.
Because the river moans,
And makes a little saddish sound
Among the crossing stones.
They aren't afraid. They work all day,
As honest Pegmen should,
Their hearts are oak, although their heads
Are only clothes-peg wood.
And then we water all the roads
Outside the Pegmen's run,
And send them racing through the mud—
Oh, that's what I call fun.
And if they tumble in the creek,
You simply fish them out —
They aren't like silly dolls you buy,
That people scold about.
So if you get the kindling wood,
With which the fires are lit, -
And ask your mummy for the pegs
As soon as they are split;
And if she's got some oilcloth left
From covering her shelves,
Why, then, perhaps you'd like to make
Some Pegmen for yourselves.
For if you live away from town,
And want to have some fun,
There's nothing half as good, you'll find
As games on Pegmen's run.
THE PEGMEN. (1911, September 13). The Sydney Mail and New South Wales Advertiser (NSW : 1871 - 1912), p. 44. Retrieved from http://nla.gov.au/nla.news-article164333162
These stories, begun decades before, would grow with more 'chapters' added, which were first run in newspapers and eventually led to them being published as very popular children's books with wonderful illustrations. The Pegmen Tales (1946) and Pegmen Go Walkabout (1947) and Little Dragons of the Never Never (1947), featured the adventures of two little horned dragons from the centre of Australia. Ella even had these lizards as pets and became so good at looking after them and other Australian lizards both Taronga Zoo and the Australian Museum sent several to her for care. As such, Ella was an early wildlife carer:
TAMING THE LIZARDS
Miss Ella McFndyon has a flair' for winning the confidence of wild creatures of the bush. She has even managed to tame and to breed the tiniest of lizards. At the request of the authorities of Sydney Zoo, Miss MacFadyen has made a special study of that innocent and harmless little creature, with the fierce guise and the alarming name, the Horned Dragon. This, by the way, is .the least libelous of of its names, for in Latin it is Moloch horridus, and in bush English it is Mountain Devil, Demon Lizard, and anything else ugly that its appearance seems to suggest. Miss McFadyen will talk of 'The Horned Dragons of the Never Never,' from 2FC at, 10.45 — 'Women's Session' — on Wednesday morning next, and the talk will be relayed to 2NC, 2NB, 2CR. Therefore country folk may be sure of .being able to hear Miss McFadyen's story. TAMING THE LIZARDS (1937, September 11). The Northern Champion (Taree, NSW : 1913 - 1954), p. 8. Retrieved from http://nla.gov.au/nla.news-article162159928
DELEGATE FROM LIZARD LAND
By ELLA McFADYEN
WHEN Chips, the Horned Dragon from the Never Never, reached me after his long overland journey, he was just six and a half inches of sad little lizard, thirsty and troubled from his horned head to the tip of his thorny tail. Caring for these desert lizards, when they are sick or unhappy, calls for special knowledge and a lot of attention, so Chips was sent to me to grow well again.
With the right care he was soon enjoying his bath, sunbake and meals, and putting on frequent changes of colour-bright yellow, earthy red, or lichen-green, as these little dandies of our sandy inland do, if they are in good health.
When I took Chips to the Junior Red Cross camp, as living material for our nature talks, I hardly expected that he would be elected camp mascot. Maybe it was the Bathurst air, or perhaps the tiny black ants on Mount Panorama were especially tasty, but he breakfasted heartily, and then spent the better part of each day in charming the young campers to a kindly interest in our harmless Australian lizards. These inoffensive creatures are too often hunted or killed, though they are most helpful in eating harmful insects. DELEGATE FROM LIZARD LAND (1947, January 29). The Sydney Morning Herald (NSW : 1842 - 1954), p. 4 (Playtime). Retrieved from http://nla.gov.au/nla.news-article27905983
What stands out about her books is they are still being enjoyed by youngsters today - when you can get your hands on a copy.
Pegman story available online: New South Wales. Department of Education. (August 1948). The school magazine of literature for our boys and girls Retrieved from http://nla.gov.au/nla.obj-775758110
WHY BABY REPTILES QUARREL
By ELLA McFADYEN
"NATURE has a reason- for everything. It is fascinating to find out why animals do certain things.
Some creatures, like sea-birds for instance, live together in large colonies, and others, like deer and wild cattle and wild horses, form large family groups under one leader, stronger and wiser and bolder than the rest. As a rule, however, Nature finds it better for her wild families to split up. Even with the herd animals just mentioned, there comes a time when the old leader is too feeble or too cranky for the good of the mob, and then a young fellow starts up, fights and defeats him, and takes on the leadership.
One reason why all the little animals of a family do not stay together is that an enemy might kill them all in one attack. If they have scattered, some are sure to escape. But the chief reason why families break up and go different ways is that Nature insists that young animals learn to do their own hunting, instead of depending too long on their parents.
Savage animals, like lions and tigers, turn against each other as they become older. You never find a family living together once it has grown up. "
Among sea creatures, like the oyster, tides and currents carry the eggs here and there. The creatures that bore into piles and damage wharves, or attach themselves to ships, are another example of Nature's plans for scattering the young. Before they are full-grown, their bodies have limbs for swimming, but as soon as they make fast to a place that suits t hem, they change and become borers, or adapt themselves for sticking.
Many of our harmless, peace loving lizards have children who spend their early life quarrelling. The Big Skinks, like the Blue-tongue, the Pink-tongue, and the Giant Skink or Land Mullet, soon become so gentle as pets that they will take food from your hand. But they have big appetites, and their legs do not keep pace with their growth, so it is only as youngsters that they scamper about much. That is the best time for them to travel. And that is the time when you will see them snatching food from each other and nipping each other's paws.
This, pretty little striped skink is a finger-length of baby Pink-tongue, about a fortnight old.
In the Nature article In "Playtime" on July 16, the word "gills" was inadvertently substituted for "plates." The sentence in question should read: "Instead of scales, they have bony plates, called denticles, embedded In their tough skins." WHY BABY REPTILES QUARREL (1947, July 30). The Sydney Morning Herald (NSW : 1842 - 1954), p. 5 (Playtime). Retrieved from http://nla.gov.au/nla.news-article18037323
Some covers: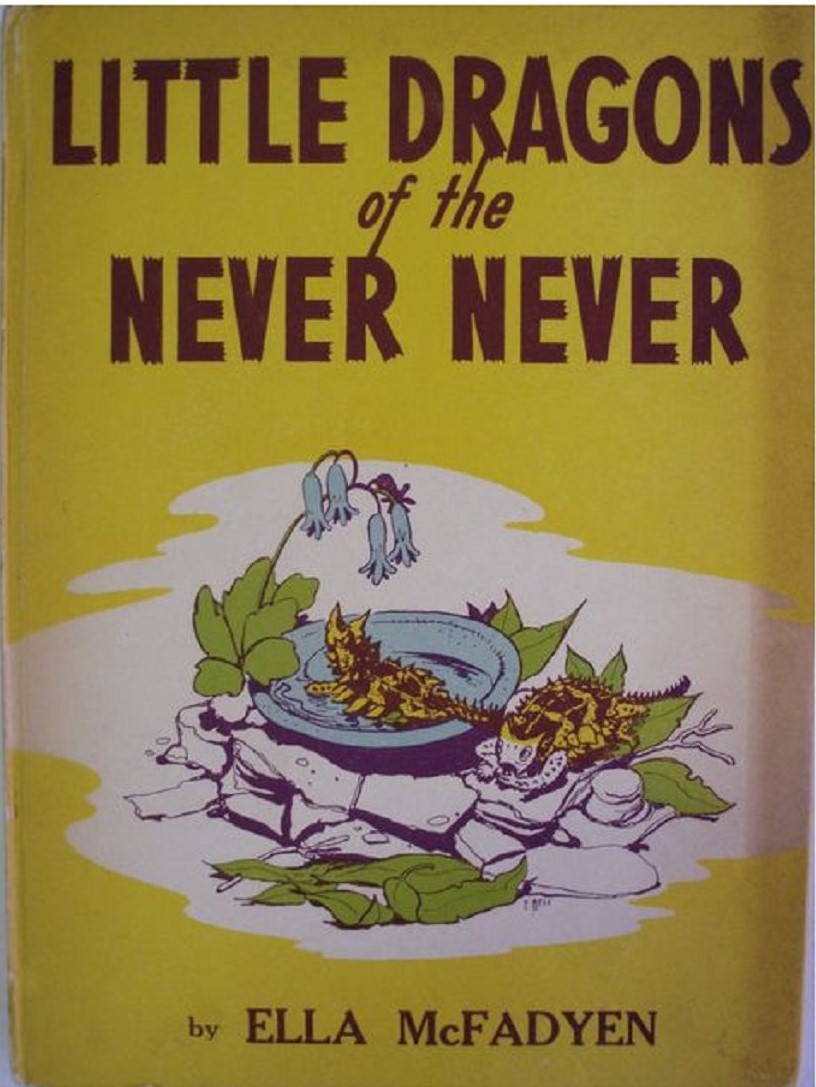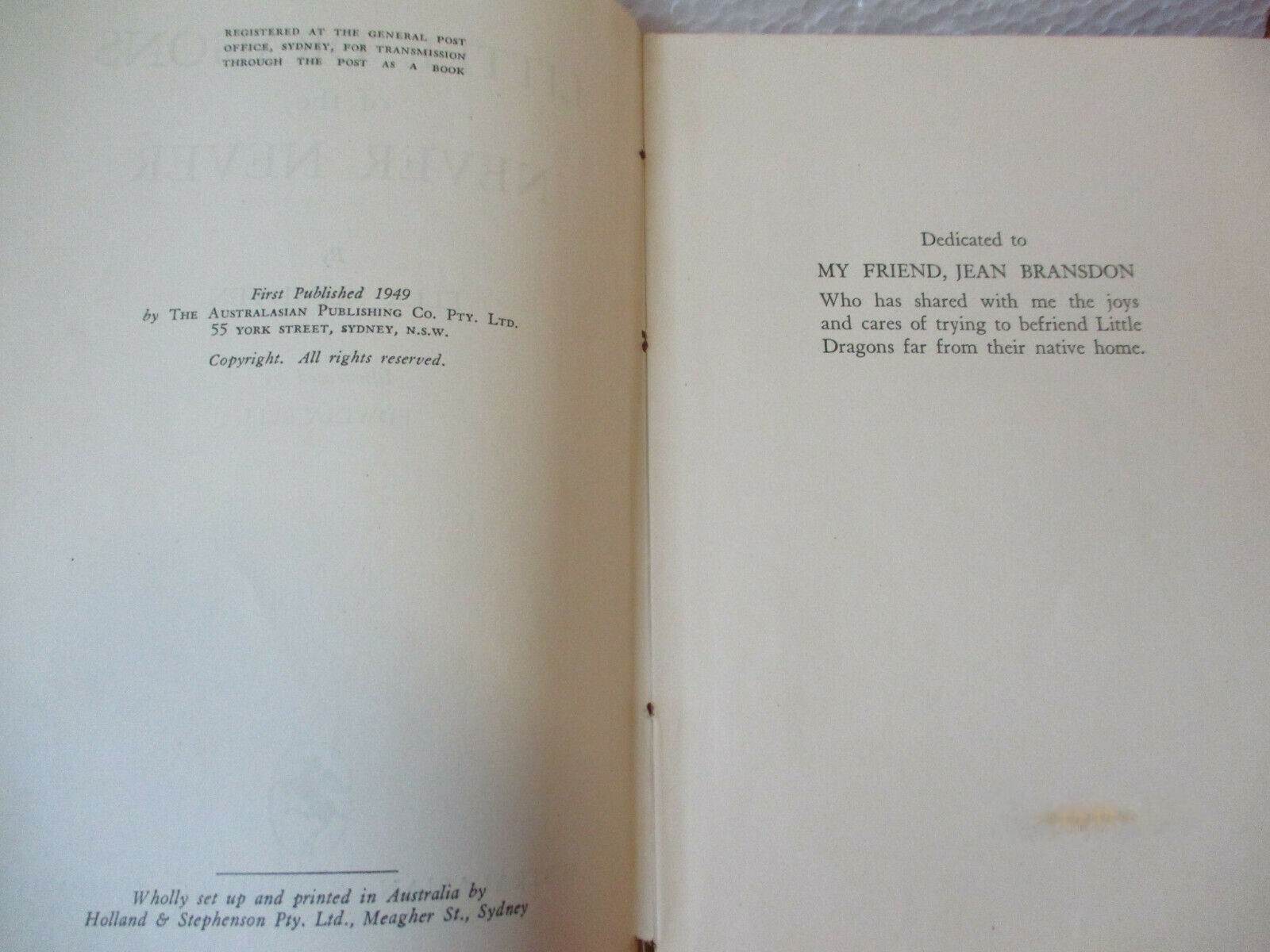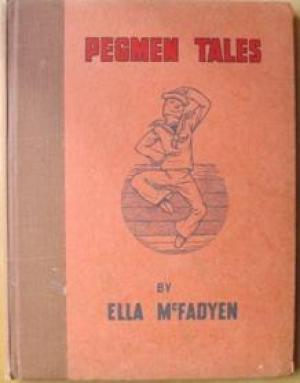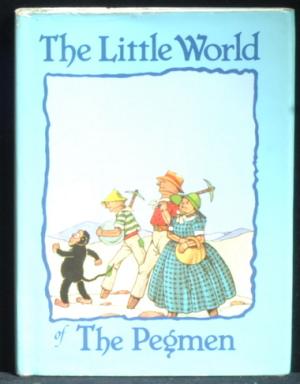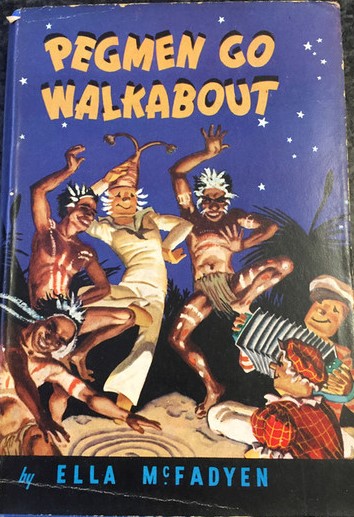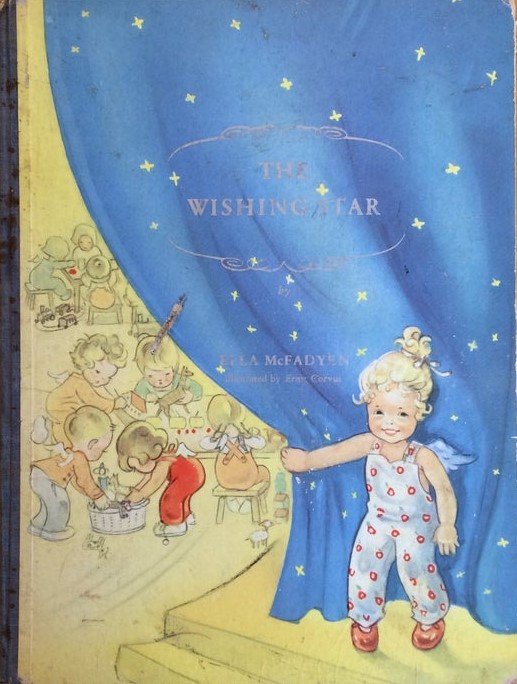 In the early 1920s she wrote the words for a series of part songs composed by Florence E. Axtens for use in schools. The songs she contributed to this series included "Till We Forget", "The Kangaroo", "Hush-a-Hush", "The Mosquito", "The Mountain Echo" and "Wattle Blossom".

Miss Florence E. Axten's Australian part-songs are rapidly becoming popular in the schools, and, woven around such themes as bellbirds, sheoaks, the kangaroo, and like favourites of the bush, they introduce a much-needed Australian colour into school music. Several of the lyrics for these simple little songs have been specially written by Miss Ella McFadyen ('Cinderella,' of the 'Sydney Mail') to subjects that, in some cases, were directly chosen by the children themselves. Miss Axtens is also the composer of 'Till We Forget,' successfully sung by Miss Rosa Alba on several occasions before her departure for Europe. Miss Alba has promised to introduce the song to audiences on 'the other side.' The melody and simplicity of the ballad have gained it appreciative notices, and several prominent musicians in Sydney predict for it a popular success. The words are by Miss McFadyen. Music & Drama (1922, March 22). Sydney Mail (NSW : 1912 - 1938), p. 13. Retrieved from http://nla.gov.au/nla.news-article169769989

" Till We Forget." Words by Ella M. McFadyen. Music by Florence E. Axtens. 10th April, 1922. 10227. Florence Ellen Axtens, 47 York-street, Sydney, N.S.W., and Ella May McFadyen, Lindfield, N.S.W. Children's part song: "Wattle Blossom." Words by "Cinderella" (Ella McFadyen). Music by Florence E. Axtens. 10th April, 1922. PROCEEDINGS UNDER THE COPYRIGHT ACT 1912. (1922, July 27). Commonwealth of Australia Gazette (National : 1901 - 1973), p. 1180. Retrieved from http://nla.gov.au/nla.news-article232526894
As the editor of the Australian Women's Digest wrote in 1949, McFadyen was the "high priestess" of camping, "a veritable walking encyclopedia on insects, birds and animals, with a slight bias towards eels and lizards."

McFadyen continued writing for children in her later years. She made regular contributions to the School Magazine, Junior Red Cross Record, nature magazines such as Wild Life and Walkabout, and the Fairfax press. She gave talks on radio, at schools and to the Zoological Society, and contributed play scripts to the ABC's Youth Education Department. She wrote Kookaburra Comedies (1950) and The Wishing Star (1956). [2.]
Ella created characters that lived in distinctively Australian landscapes, under Australian trees, in Broken Bay and Pittwater caves, in the swamps of the Never Never. These tributes were a part of that growing rise of Australian stories for Australian people and children that underlined Ella's involvement in the literary community of her day and her lifelong passion for nature writing and bushcraft. Her body of work is so large, and she was so prolific, several volumes would need to be published to collate them all into one coalesced work.
After the position at Sydney Mail finished, and her work for the Sydney Morning Herald was scaled back, she was offered a position reviewing manuscripts for one of her favourite publishers, Angus and Robertson, work she did until three years prior to passing away - another dream job! The first manuscript she reviewed was Dorothy Walls 'Blinky Bill', for which she produced a condensed version. This book, first published in 1933, gives us a timeline for her work with Angus and Robertson - which, if records showing she went on with them until 1972, shows an almost 40 year career with them too.
a Gum Tree in Heaven
In her 1972 interview with Hazel de Berg, towards the end of the tapes, Ella has clearly been asked how she would like to be remembered. She reflects on herself being just one link in the infinite connectedness of nature, reincarnation, her notion of heaven, the kindness of animals, sharing one instance where she witnessed one of the little lizards in her care moved aside to let another, sicker little one, eat. Sharing insights on Australian animals remained a constant throughout her life, as did her love and respect for the original custodians:
Her work as a 'Red Cross camp mother' continued - even helping children marvel at the bush and all its treasures here at Narrabeen, and staying true to her love of and connection with Australian rural areas and their children. Here too she was sharing her love of trees and their importance in our environment - she would share Aboriginal legends - and loved her time with the youngsters:
Ella's other great passion was for Australian trees, and eucalypts in particular. Although in her time they seemed to be inexhaustible, alike her laments for the diminishing banks of green trees around her when writing from Lindfield in the 1920's, you must wonder what she would think if revisiting today with so many cut from the skyline and parks - so many they may be numbered by trunks still standing in this generation - and suspect she would again write a lament for beauty sacrificed for dollars:
In her last words for Hazel de Berg Ella speaks of a wonderful red gum tree she adored on the point of Commodore Heights at West Head, just opposite Barrenjoey. Her words praise the view across to Lion Island, and how much she loved that island, Pittwater and Barrenjoey - she loved the sound of the casuarinas, and she loved the sight of the stately gums - and even wanted one for herself, in Heaven:
Called a Naturalist, a Poetess, an Editor, a Conservationist of old buildings (many old rural homes now long gone feature among her photographs - held by the State Library of NSW) as much as bush areas and bush animals, even a mother to the mothers and all their children during her work for the Junior Red Cross, a spiritual lady with a love for all animals and nature is how her legacy comes forward to now - someone who wanted to and expected to see Australian gum trees in heaven alike those she sought shade from in her visits to our area - we could also claim her as one of our own - who is, hopefully, having that longed for green boughed rest under that one gum tree planted in heaven for her: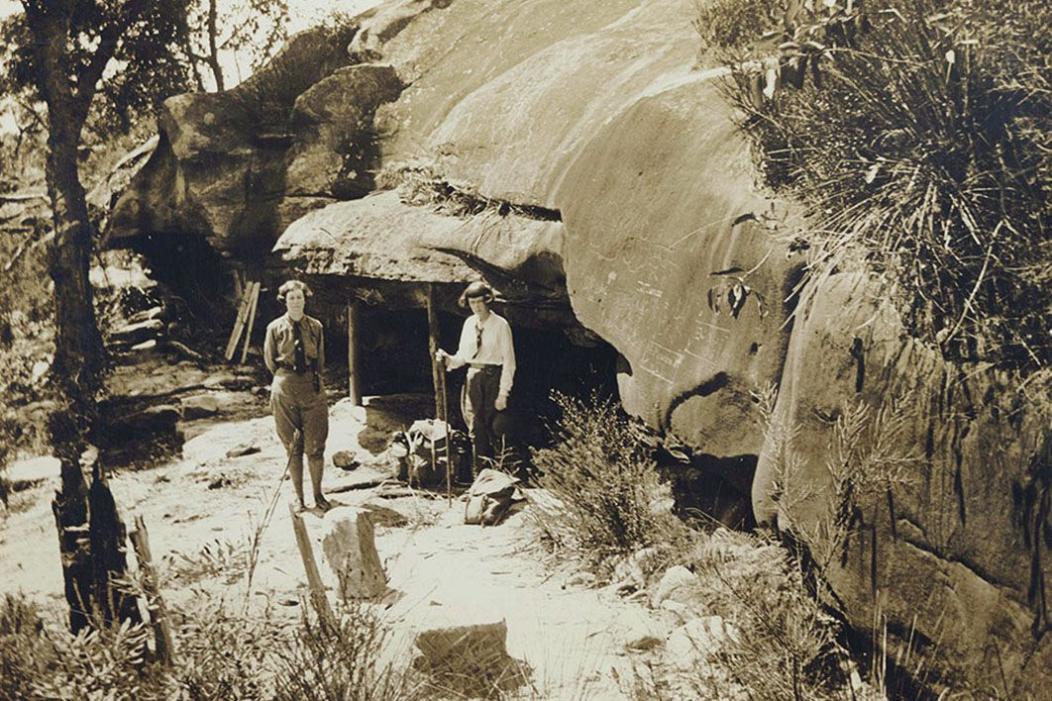 Ella McFadyen (left) and fellow Boomerang Walking Club member Jean Bransdon at West Head in the Hawkesbury River area, Sydney, 1932. photo courtesy State Library of New South Wales
References and Extras
''Where the bee sucks, there lurk

In a cowslip's bell, I lie.'
The Editor, William Robert Charlton introducing Ella in January 1920, as she commences overseeing that page:
From the December 1938 last Issue of the Sydney Mail: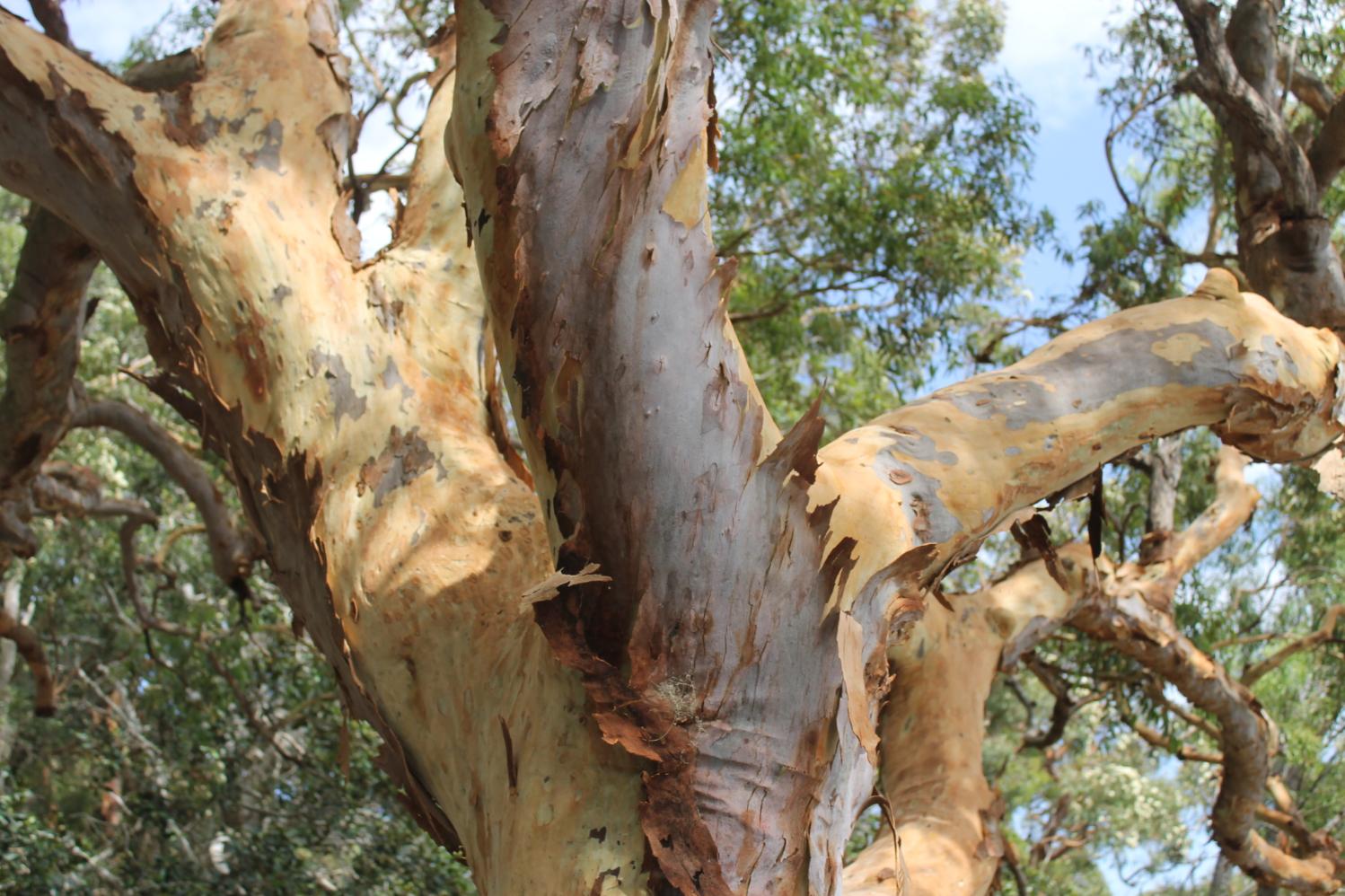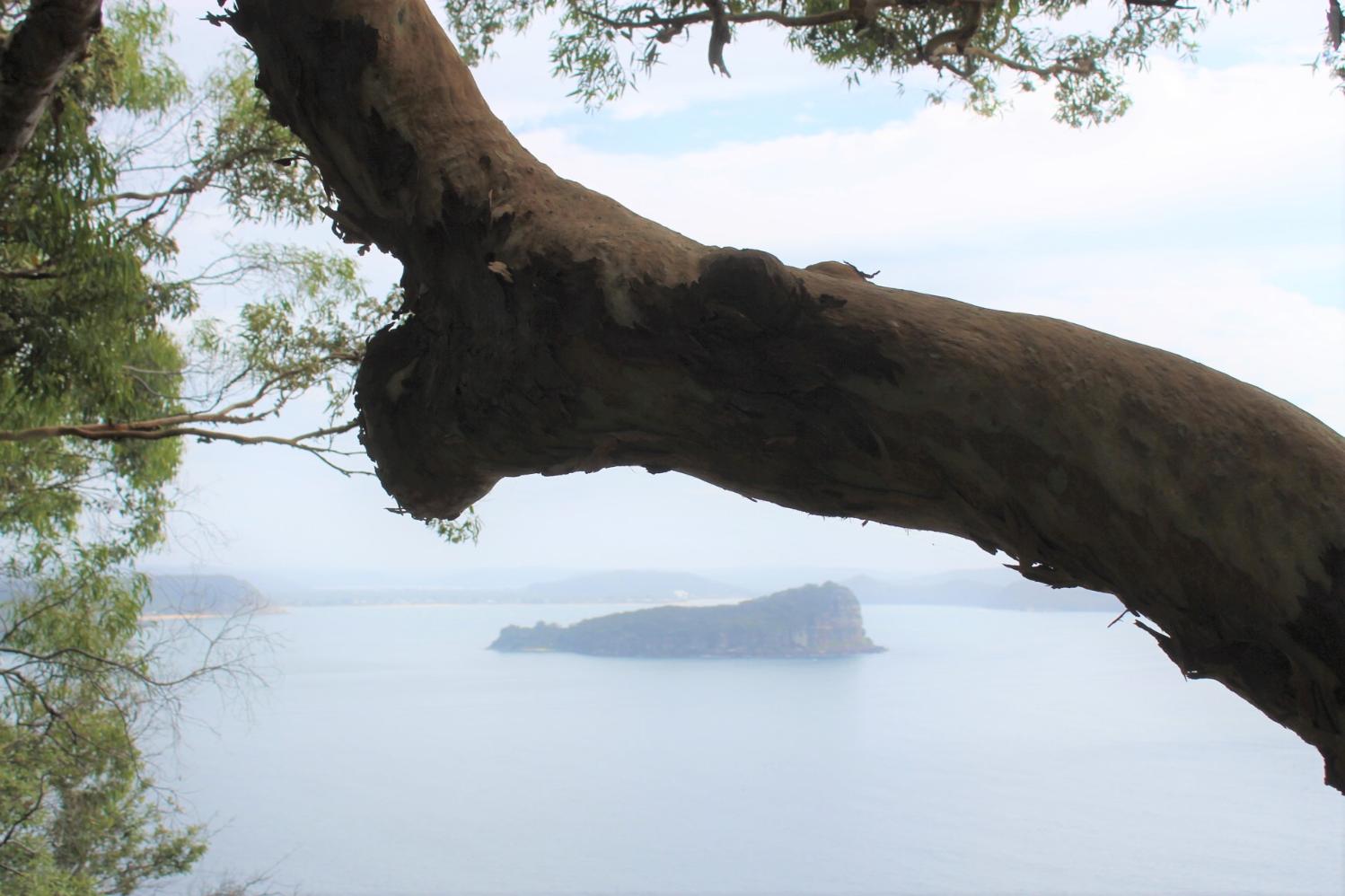 Ella McFadyen's Love Of Pittwater: An Environment, Wildlife and Children's Champion - threads collected and collated by A J Guesdon