Inbox and Environment News: Issue 443
March 22 - 28, 2020: Issue 443
Council: Temporary Suspension Of Bushcare Activities
Dear Bushcare Volunteers,
Due to the risk of Coronavirus (COVID-19) and acting on the advice and lead of NSW and Federal health authorities, Council has taken the precautionary decision to suspend all Bushcare volunteer programs effective immediately for a period of 4 weeks. This decision will be reviewed in two weeks' time.
This means there will unfortunately be no Bushcare Volunteer sessions until further notice.
The primary factor in this decision is your health and welfare as a volunteer and that of your supervisors.
We will be updating all of you on an ongoing basis as more information becomes available.
We plan to maintain our Bushcare Update on a regular basis, so if you would like to subscribe to the Bushcare Update, please let me know and I will add you to our database.
Thank you in advance for your understanding - we really appreciate how passionate you all are about our natural environment and valuable bushland.
We look forward to having the Bushcare program up and running again as soon as is safe and practical.
Michael Kneipp
Environmental Volunteers Coordinator
Northern Beaches Council
Weed Cassia Now Flowering: Please Pull Out And Save Our Bush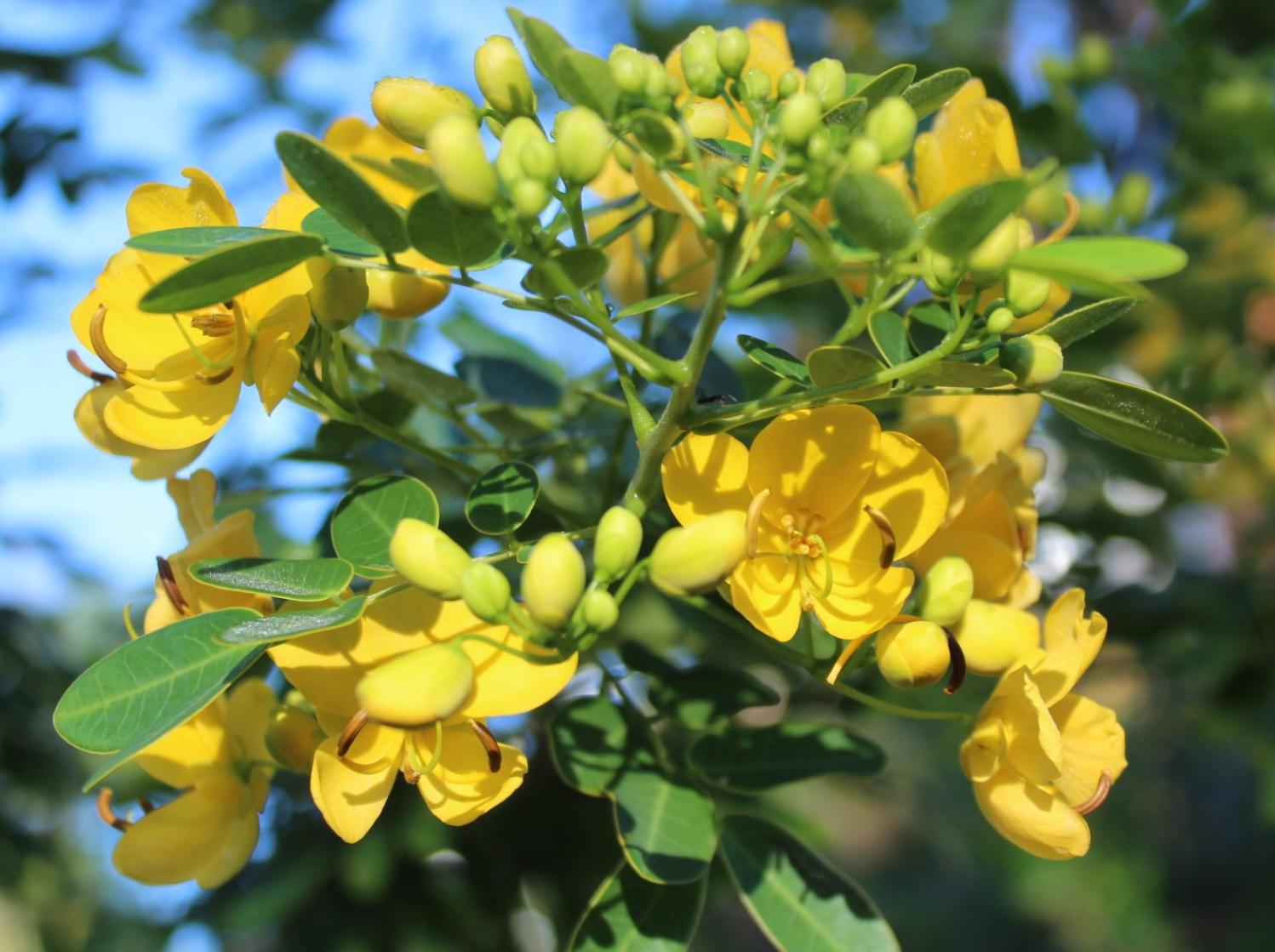 Cassia (Senna pendula). Also known as Senna and Arsenic Bush. Originating in South American, Cassia is a perennial sprawling multi-stemmed shrub or tree up to 5m tall.
This
weed
replaces native vegetation and establishes in a wide range of native plant communities, including coastal heath and scrubland, hind dunes and riparian corridors. The large seed pods are eaten by birds and other animals. You may be seeing this bright burst of yellow everywhere as it is c
urrently flowering -

please pull out and get rid of if you have in your garden

.
Currently Bearing Fruit - Lillipillis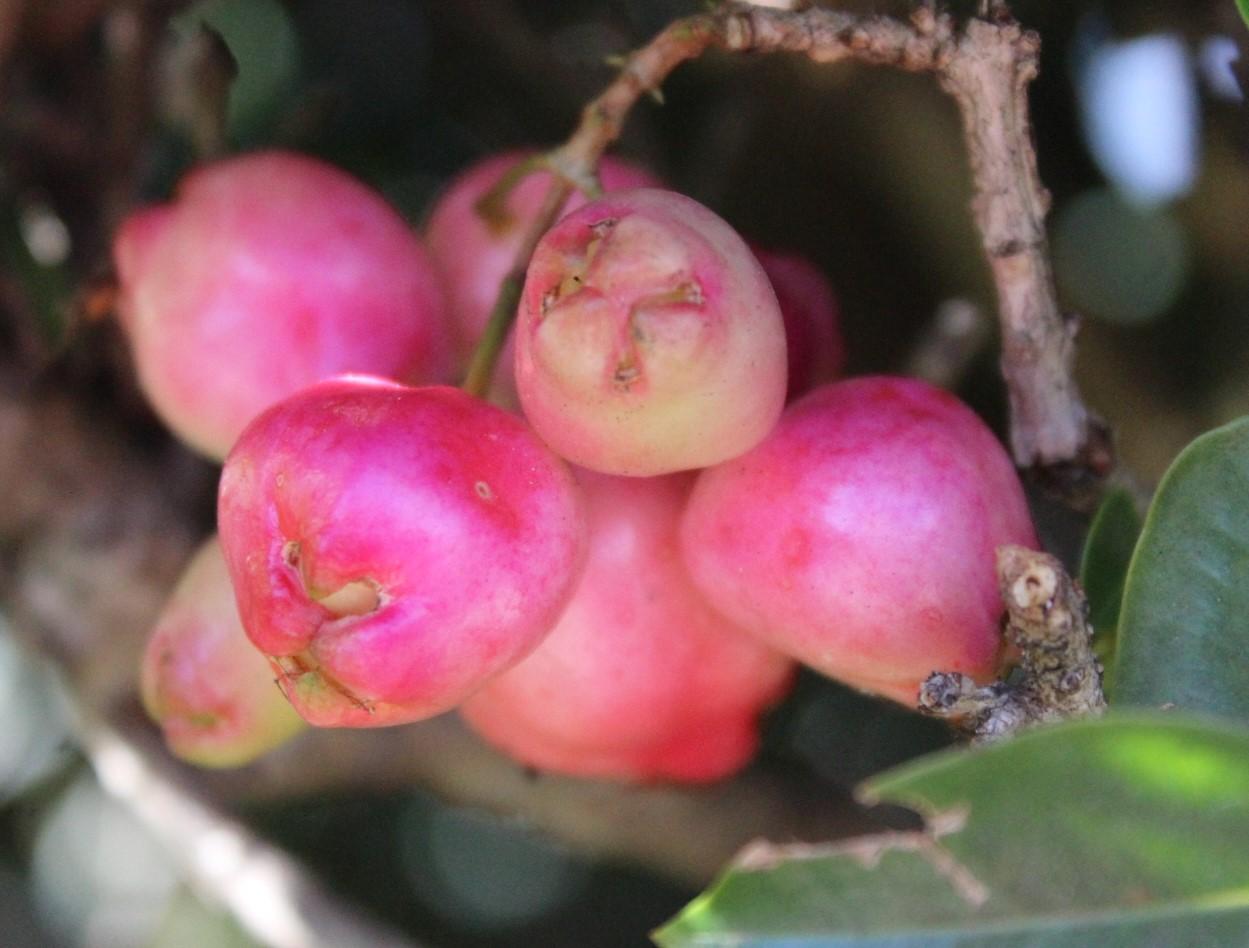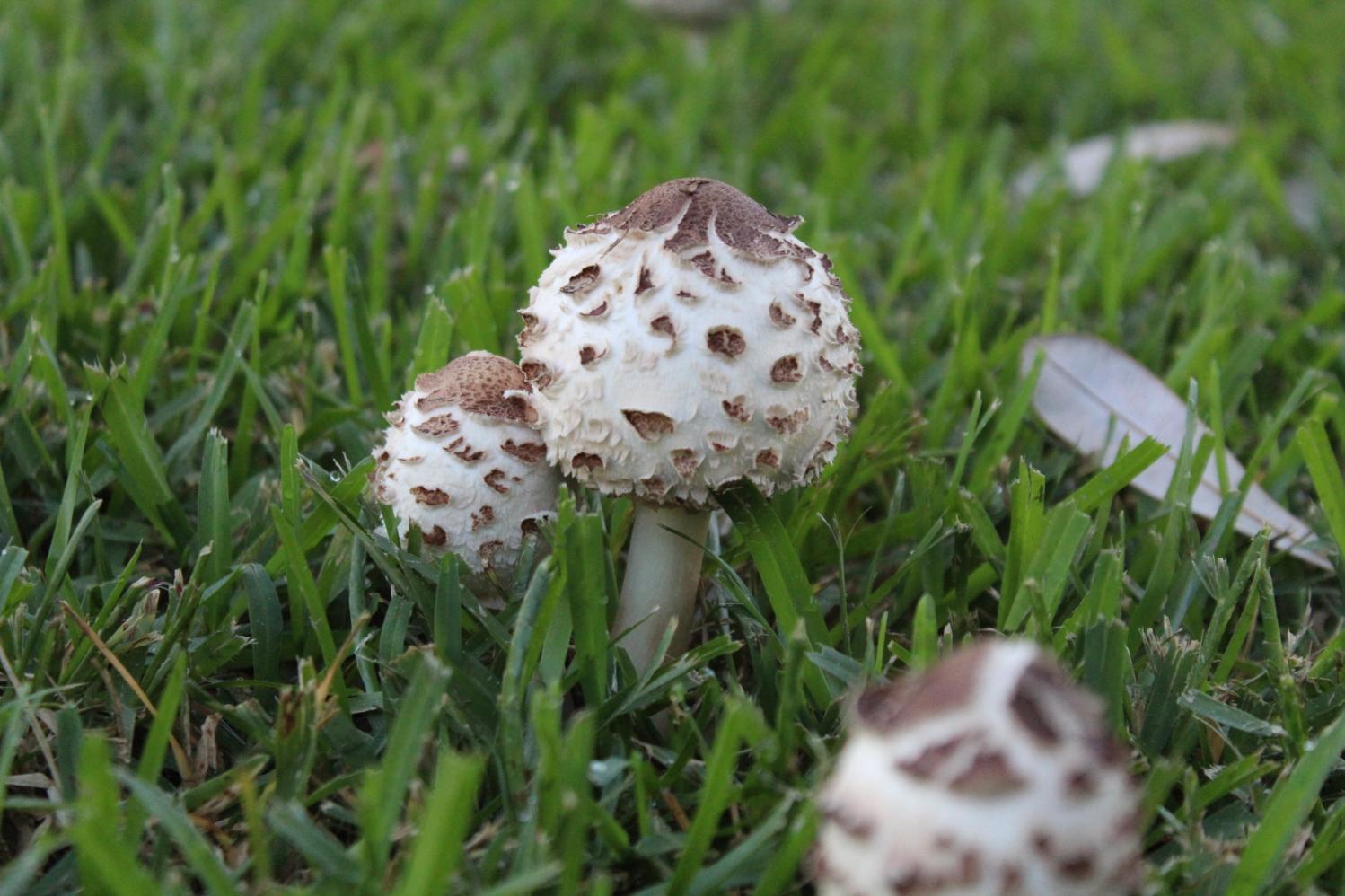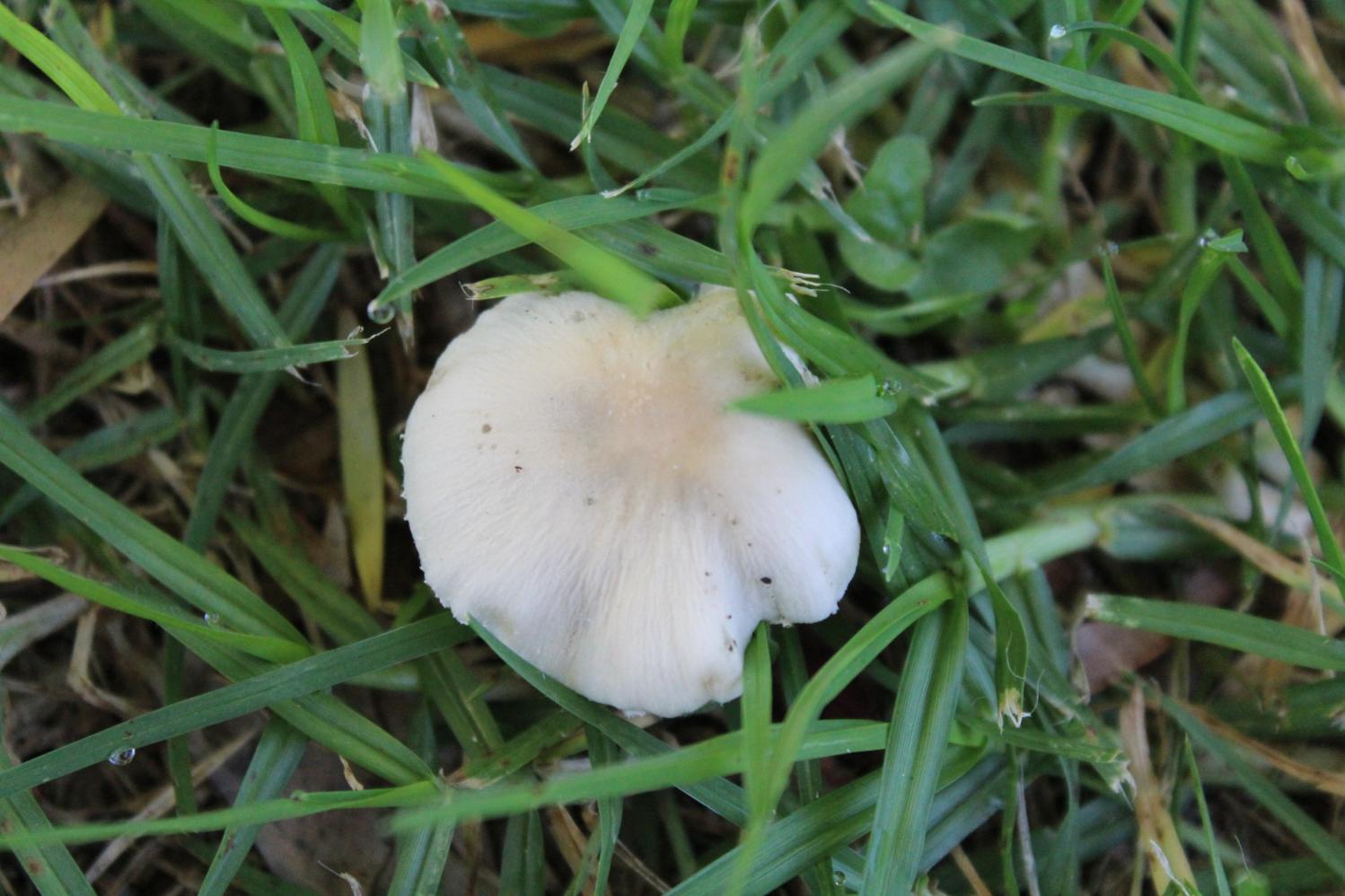 Snail - out and about on a dew drenched morning this week: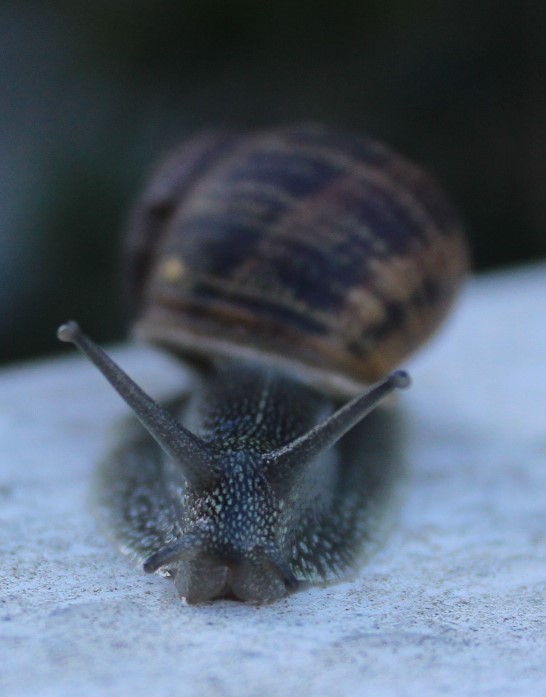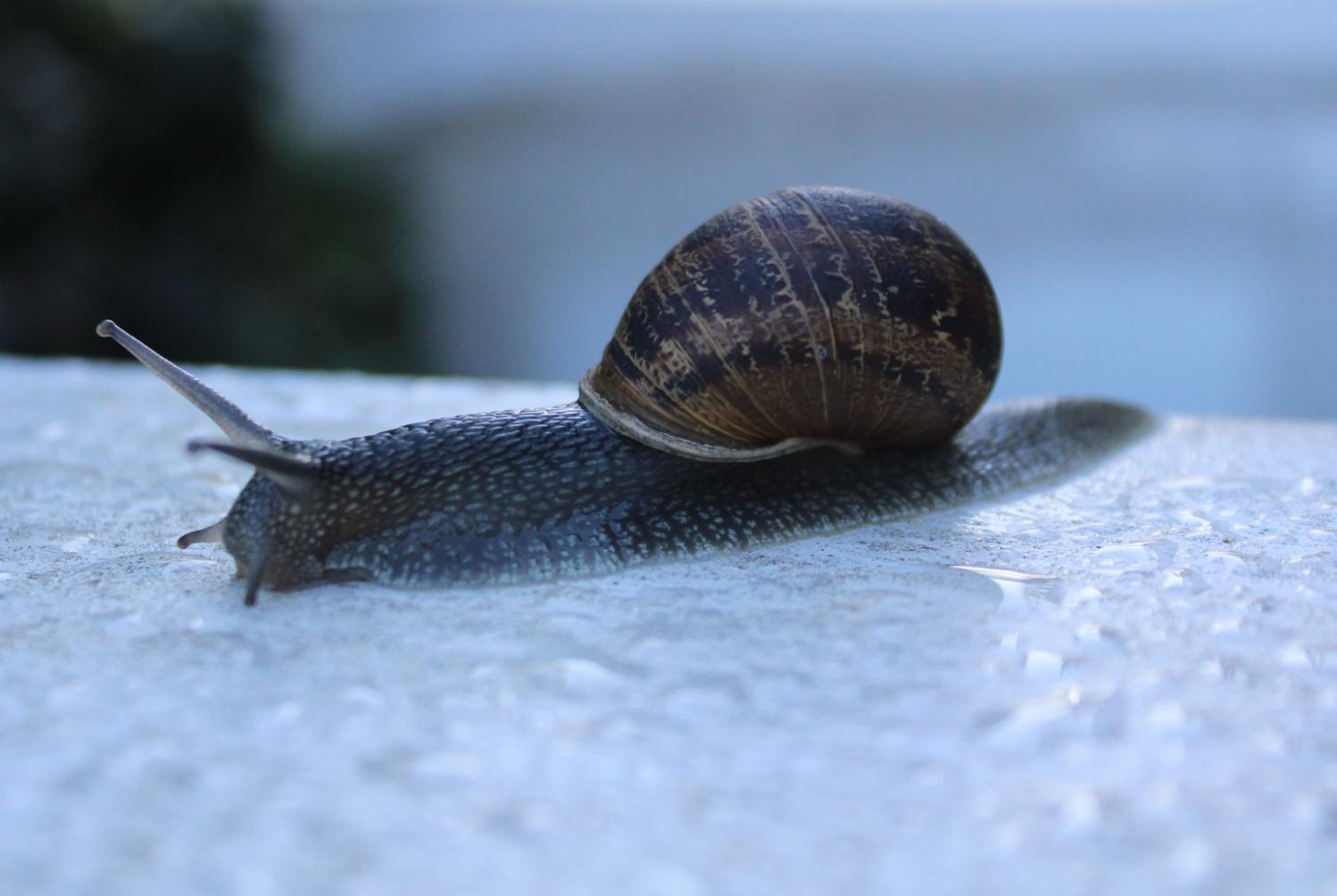 FoNLC - May 25 Forum Cancelled Due To Covid-19
Greetings to all our members and supporters,

Northern Beaches Council have closed all their meeting venues including the Coastal Environment Centre due to the risk of spreading Covid-19 at public gatherings.
Accordingly, we have decided to cancel our May 25 forum which was to have been on the Aboriginal Significance of Wheeler Creek Valley.
I will keep a record of those of you who already have tickets to this event, and will make sure you are in your current booking position when we reschedule this forum. I will email all ticket holders presently in case some are not on this list.
You will be pleased to know that Dennis Foley, who was planning to drive up from Canberra to speak at this forum, is graciously willing to re-schedule another forum with us to focus on Wheeler Creek Valley heritage when the situation regarding Covid-19 has stabilised.
We will let you know what is happening as soon as we are able to plan future events.
For the moment our bookings for forums on the last Mondays of August and November still stand and we will keep monitoring the situation to see what is possible to be organised closer to those dates.
Meanwhile, stay safe and take good care of your own health and that of your family, your friends and your neighbours.
Judith Bennett
Secretary, Friends of Narrabeen Lagoon Catchment
Website: www.narrabeenlagoon.org.au
Kookaburra Fledglings This Week: Bigger - Ready To Flap And Feed On Their Own Two Wings!
The
kookaburra fledglings in the Pittwater Spotted Gums
above were still quite vocal at the beginning of this week and could be heard among the pre-dawn calls of their parents and the adult couple that support and are part of this family unit. Kookaburra, the name is thought to be a loanword from Wiradjuri
guuguubarra
, a word that sounds like the bird's call, which you hear as it's beginning to get light and at the break of day.
By Friday, March 20th, 2020, their calls to the adults out finding food for them were not so constant and not so insistent - they were even seen getting a few bugs for themselves to eat.
After they begin to fly the fledglings are fed by the adults of the group for up to 13 weeks and instead of being forced out of the home territory, most stay to help their parents defend boundaries and protect further offspring.
Kookaburras eat lizards, snakes, insects, mice and even other small birds. They are social birds, and this newly fledgling pair have become accustomed to one delighted camera 'stalking' them over the past few weeks, but will still set to flight from the trees way above the ground when the furry small canine, also part of the camera contingent, starts yelling her head off at them.
Kookaburras will accept handouts from humans and will swoop on raw or cooked meat from barbecues left unattended. It is not advised to feed birds meat as this does not include calcium and other nutrients essential to maintain their health. Remainders of mince on the bird's beak can fester and cause serious health problems. As it's still quite warm, and insects of all kinds seem to be everywhere at present, as well as snakes
alike that seen being eaten last Issue
by one of these kookaburra fledglings - they don't need your help with a feed.
Sunday March 15 And Monday March 16, 2020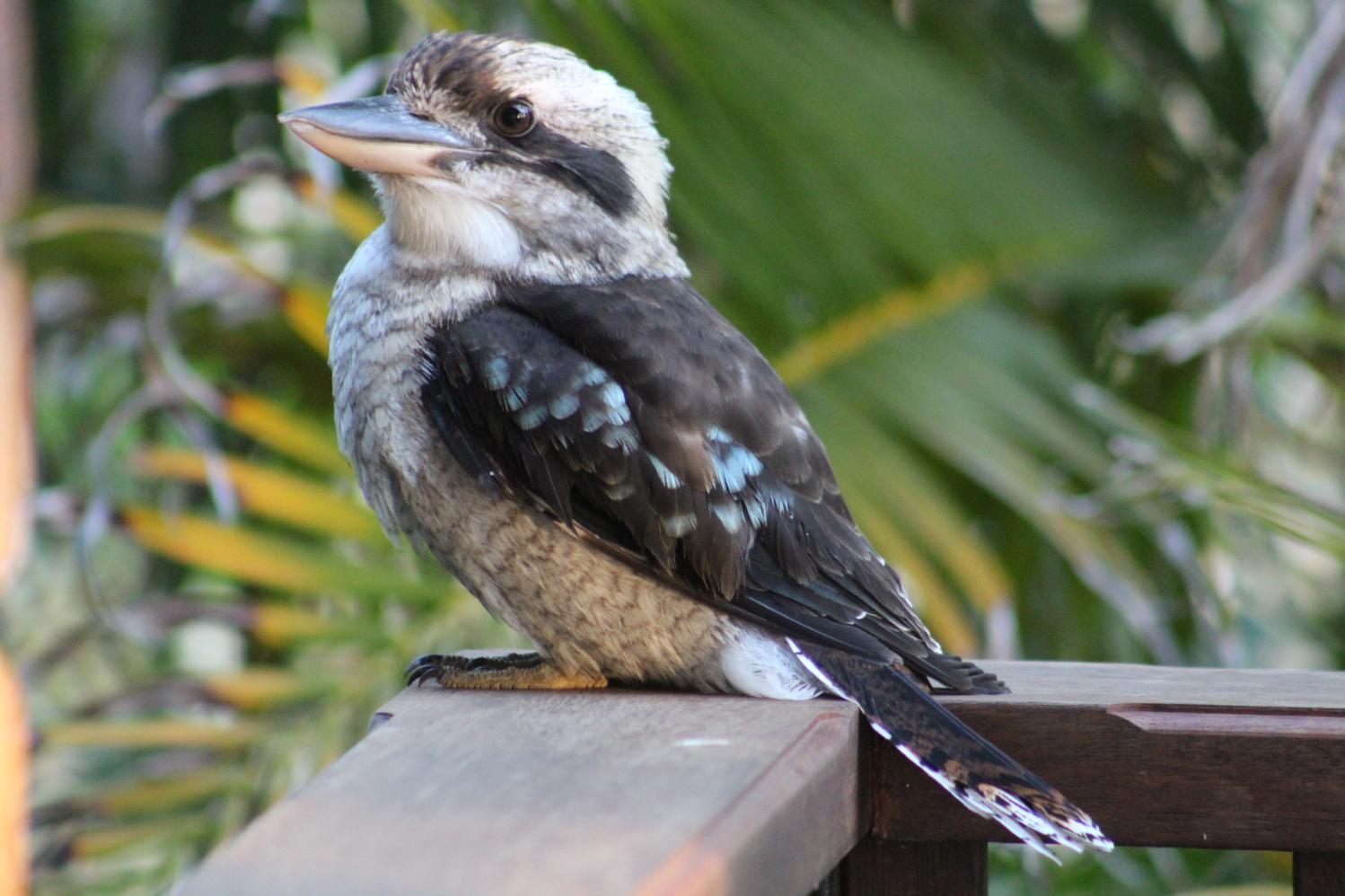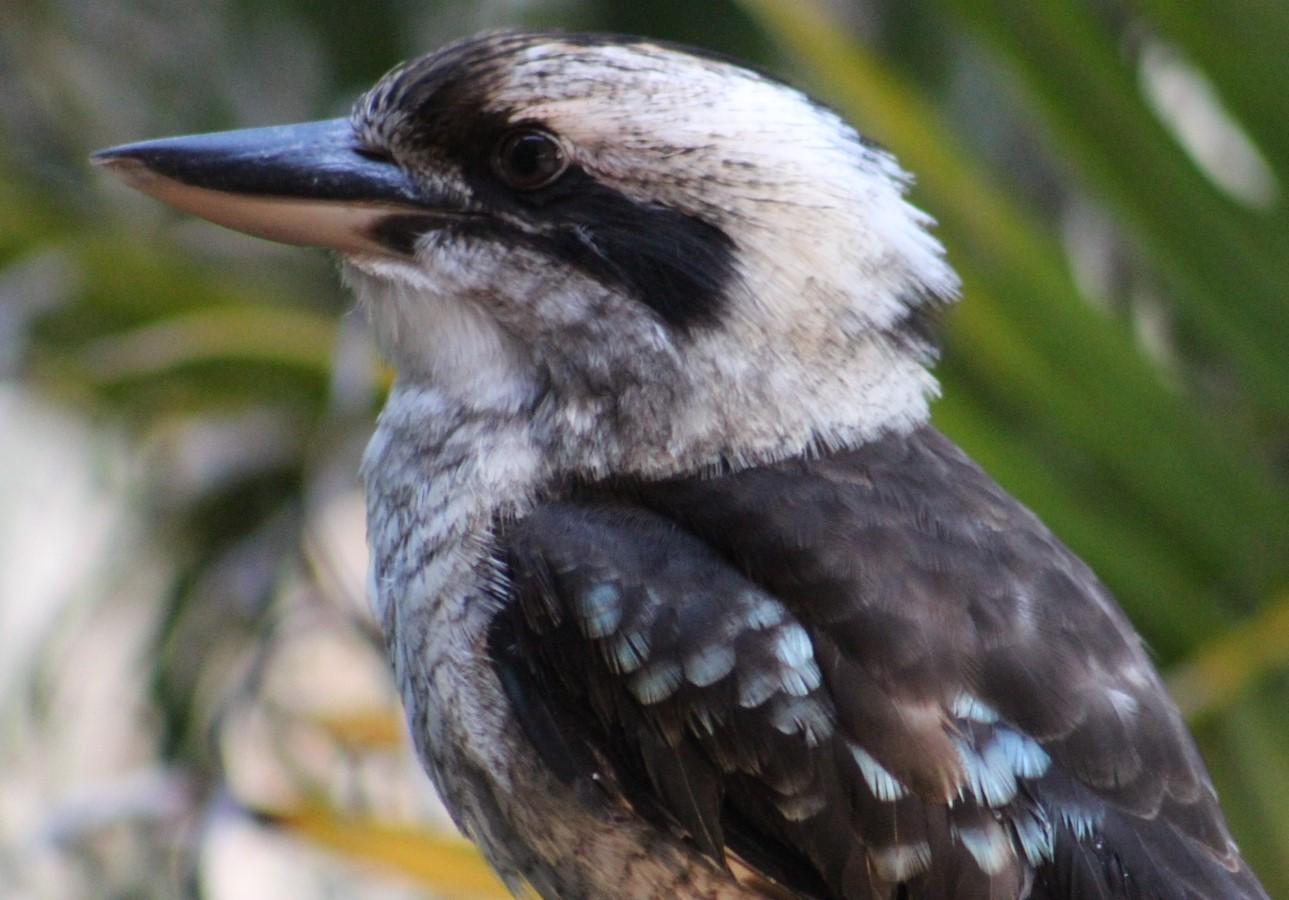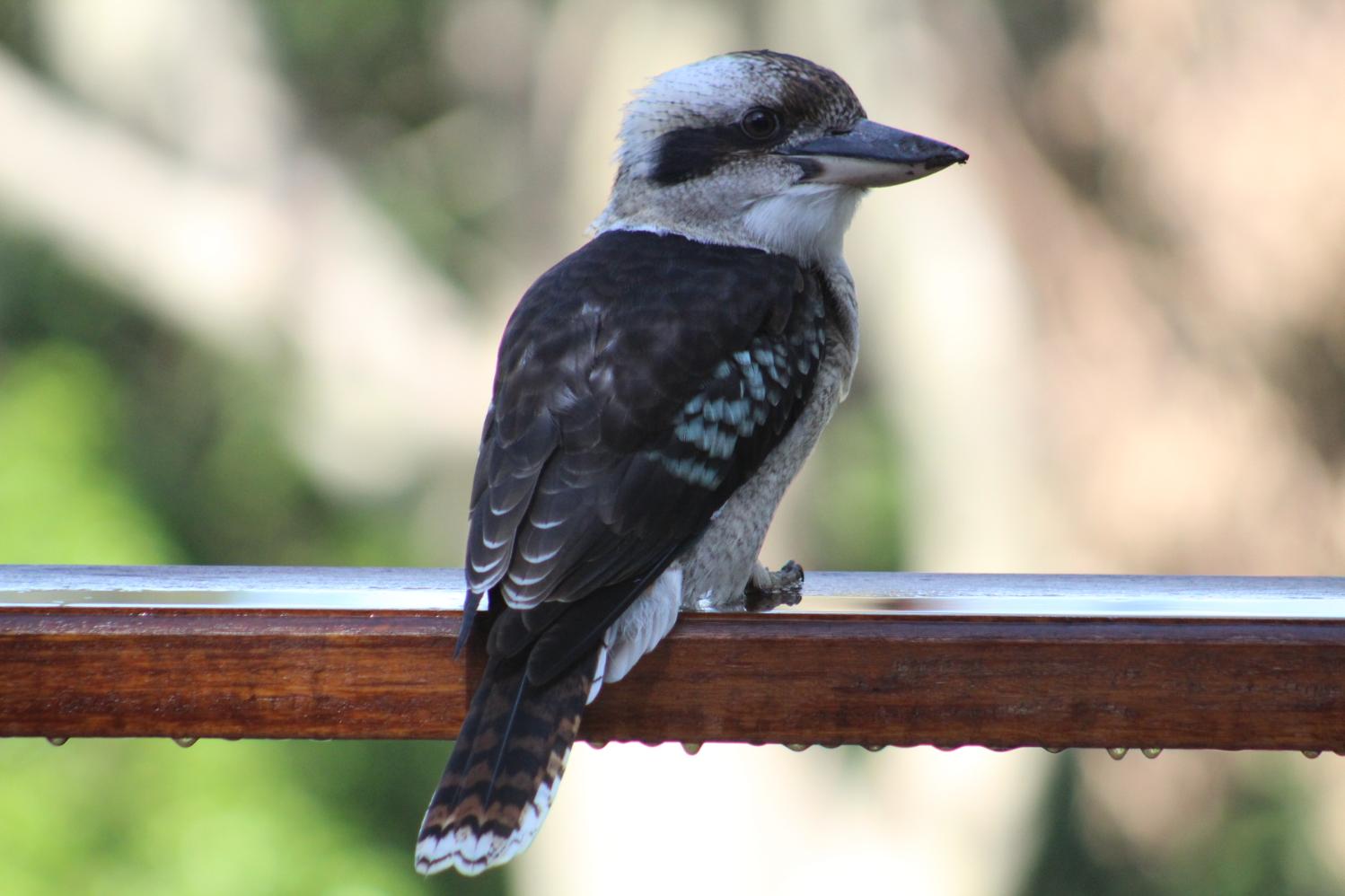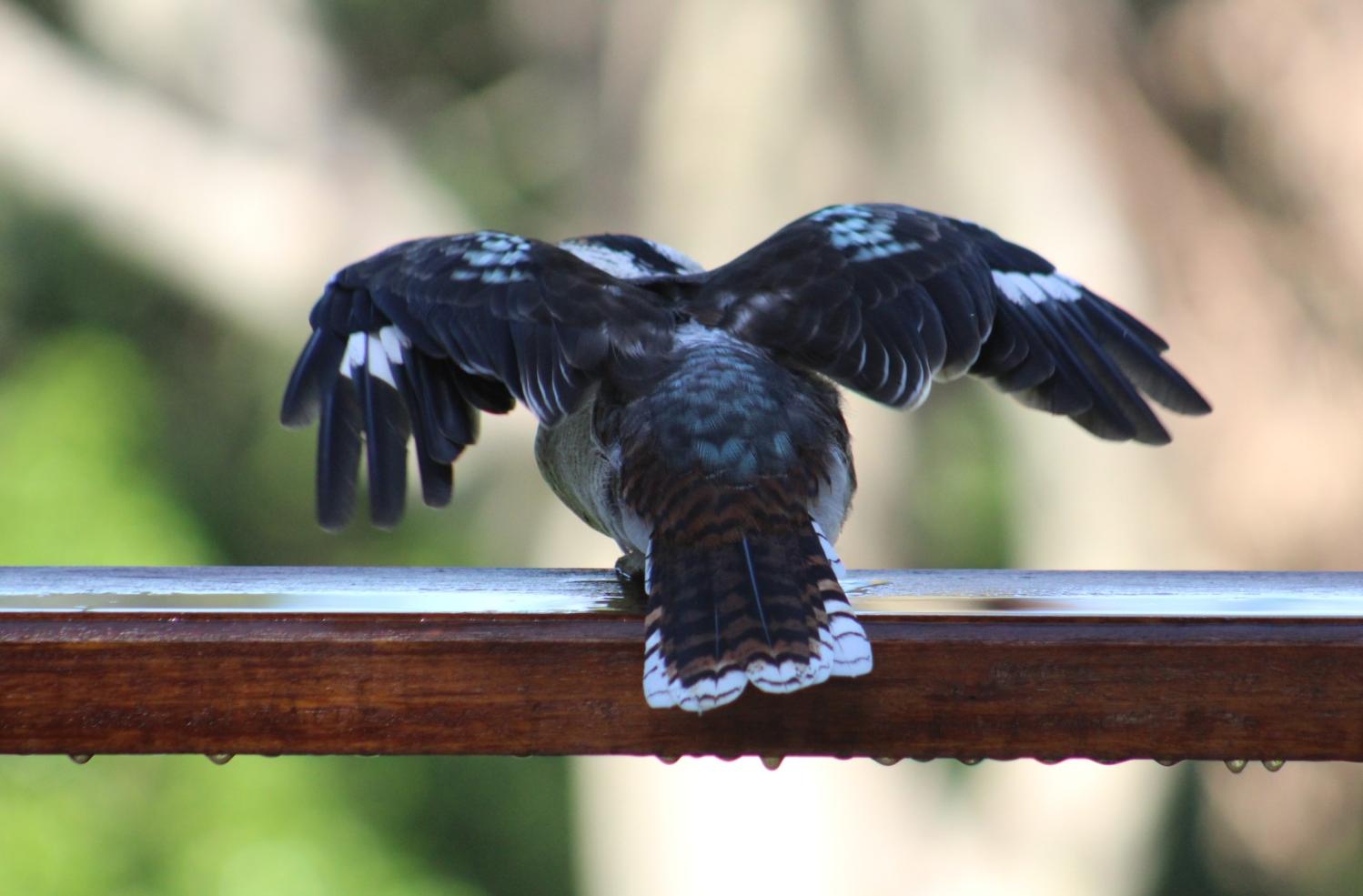 Morning Of March 20th, 2020 - Fledglings And Parents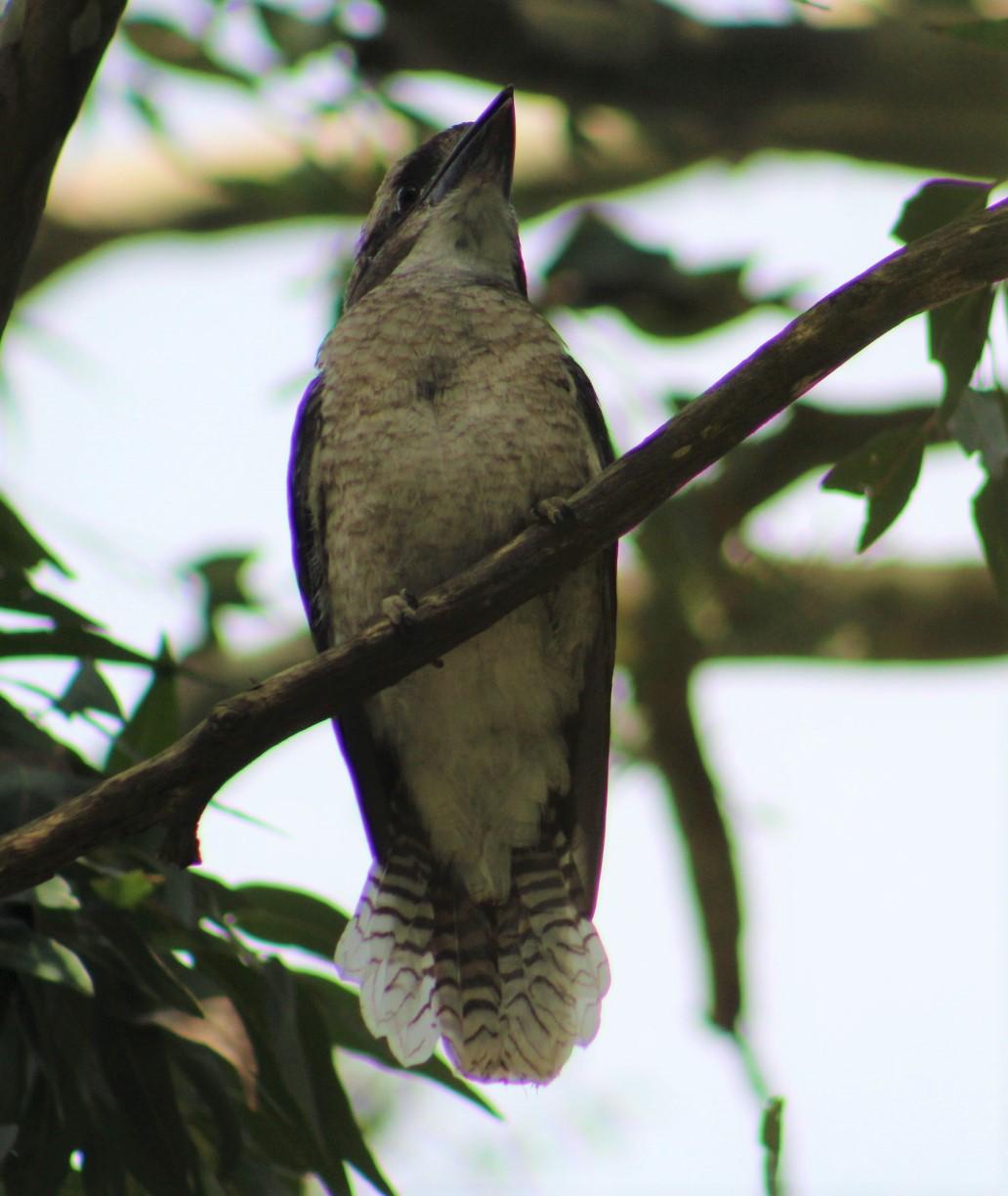 Late Afternoon - Friday March 20th, 2020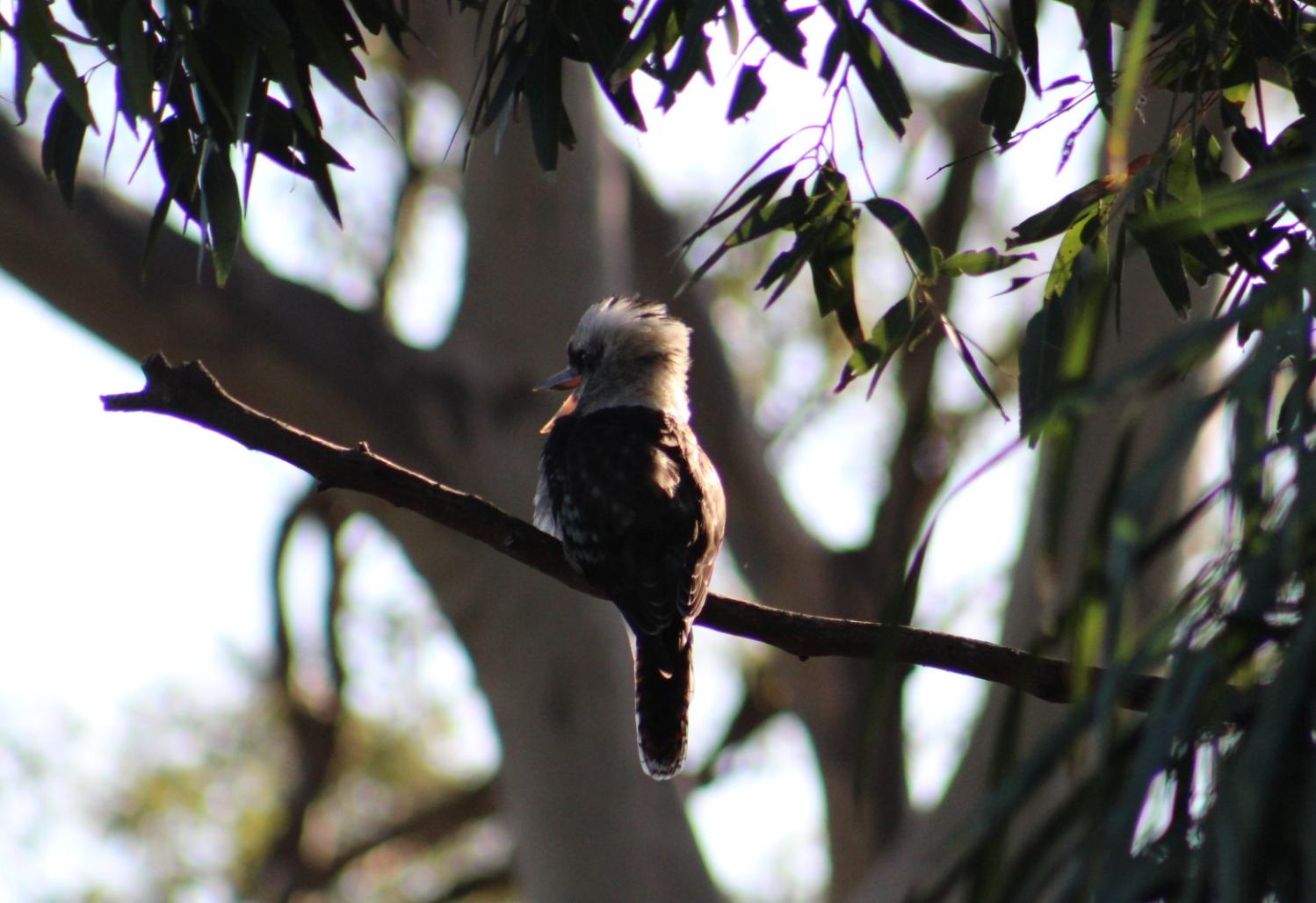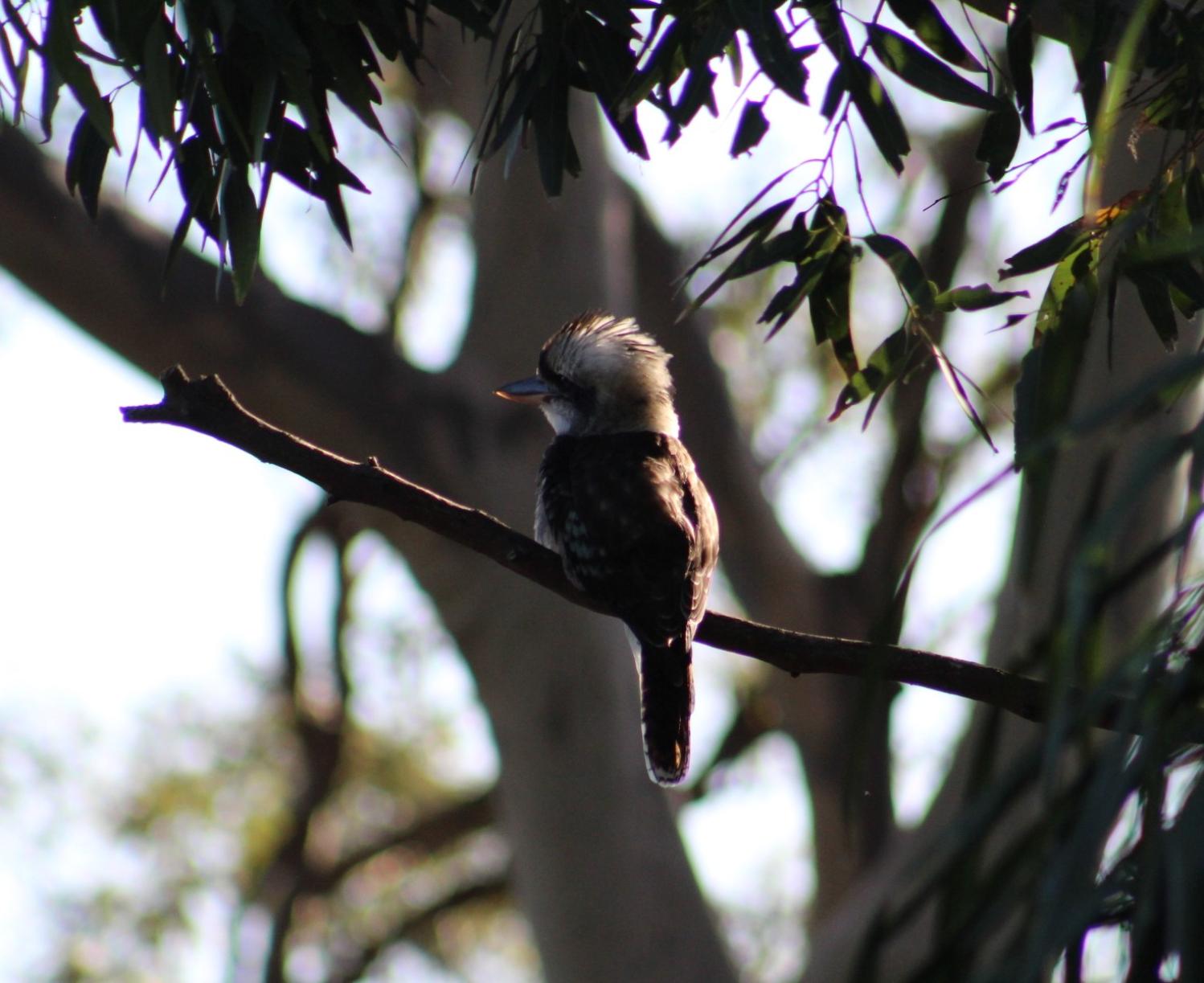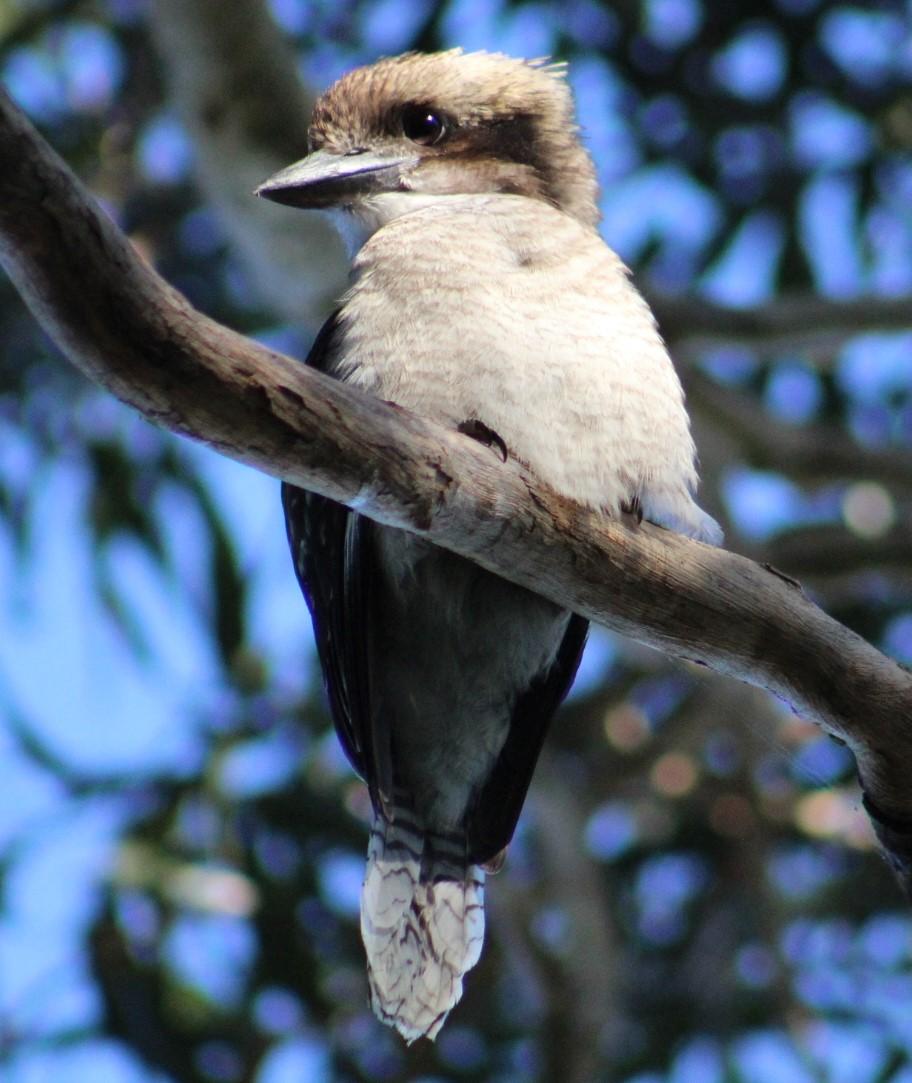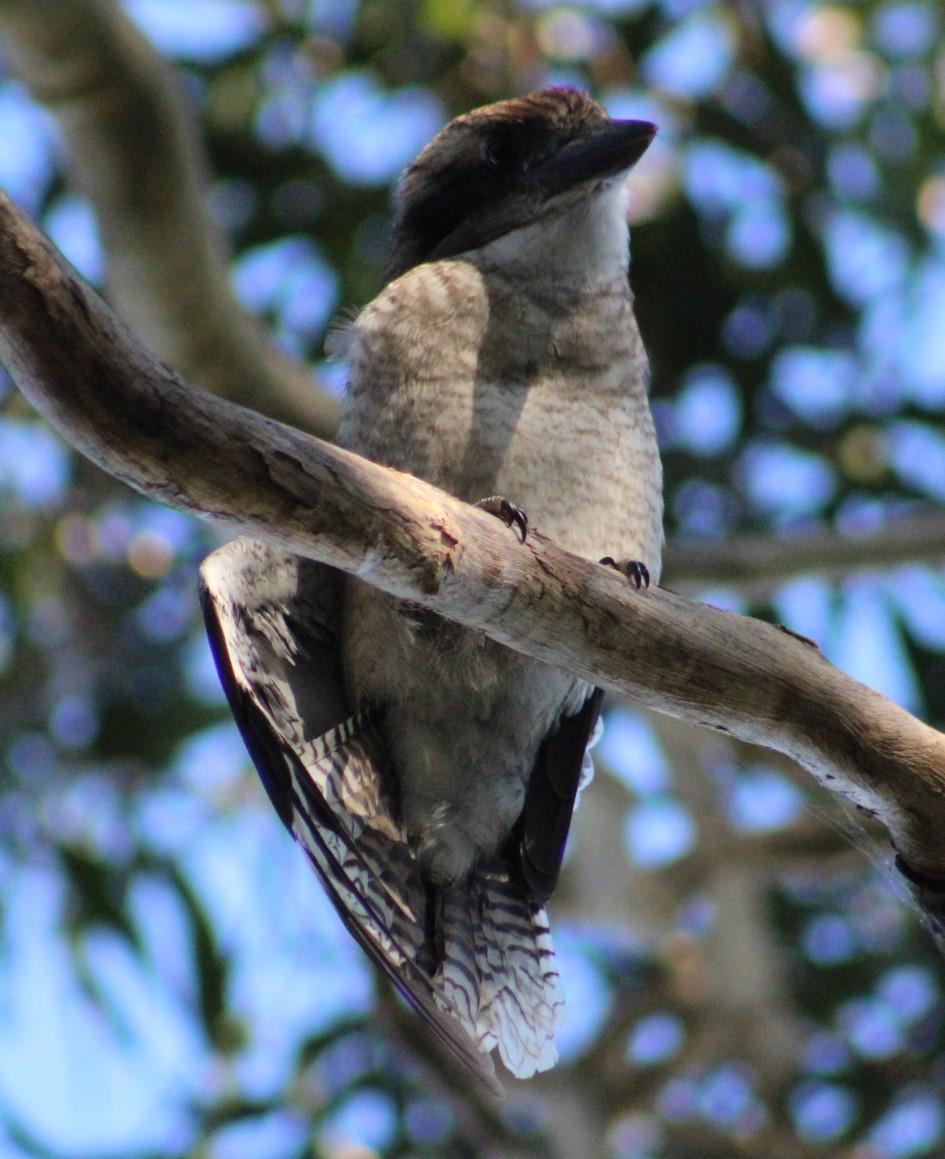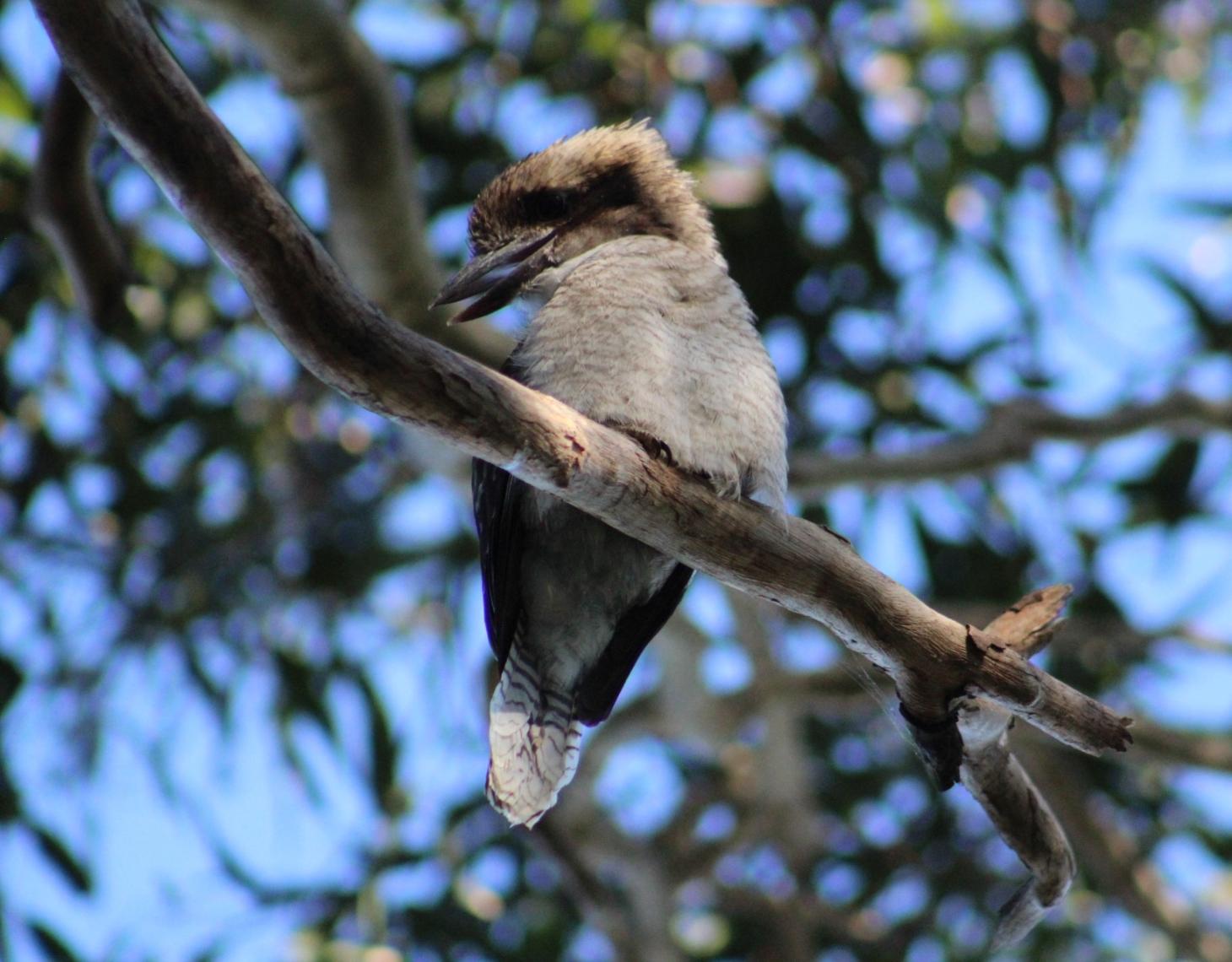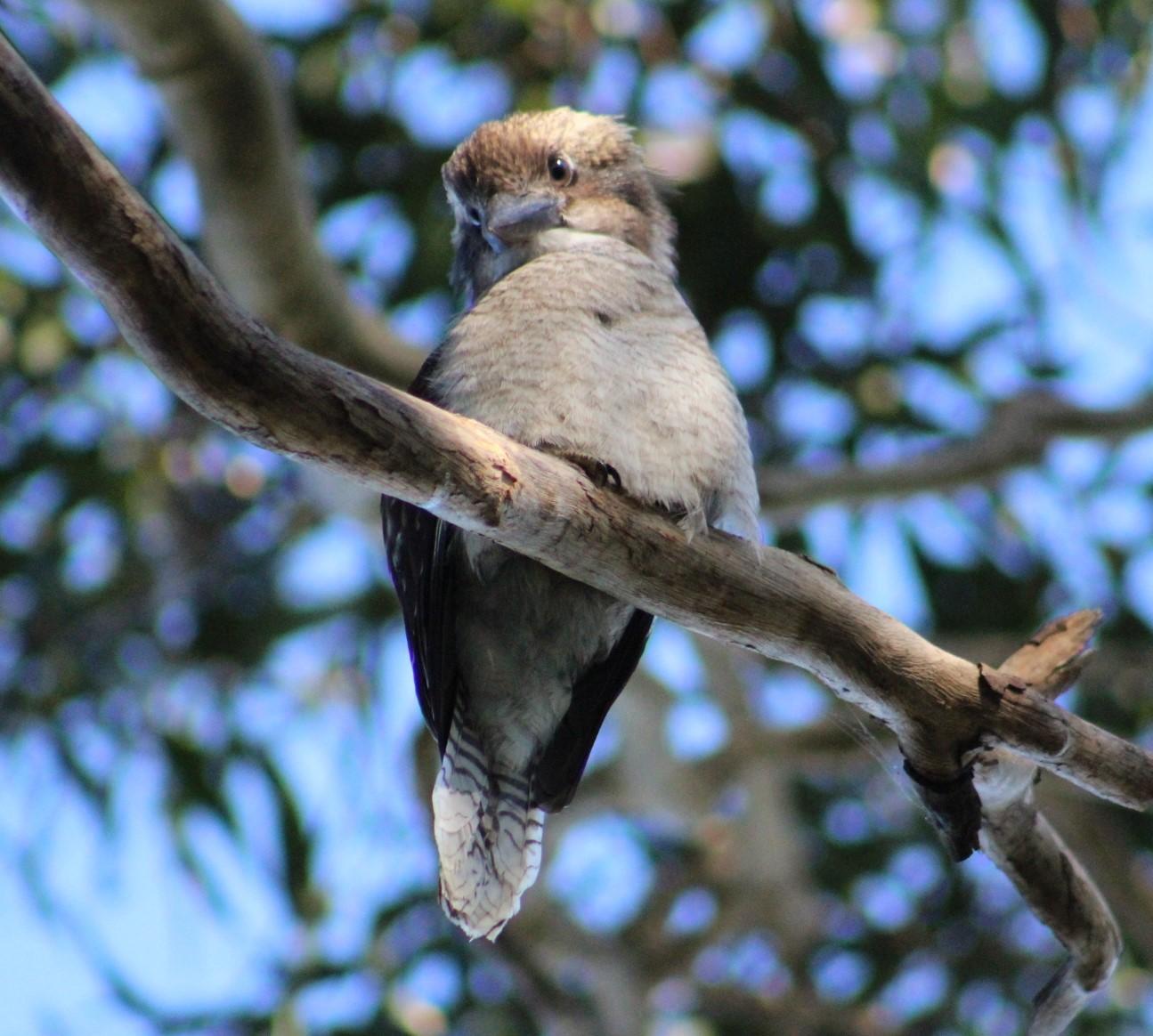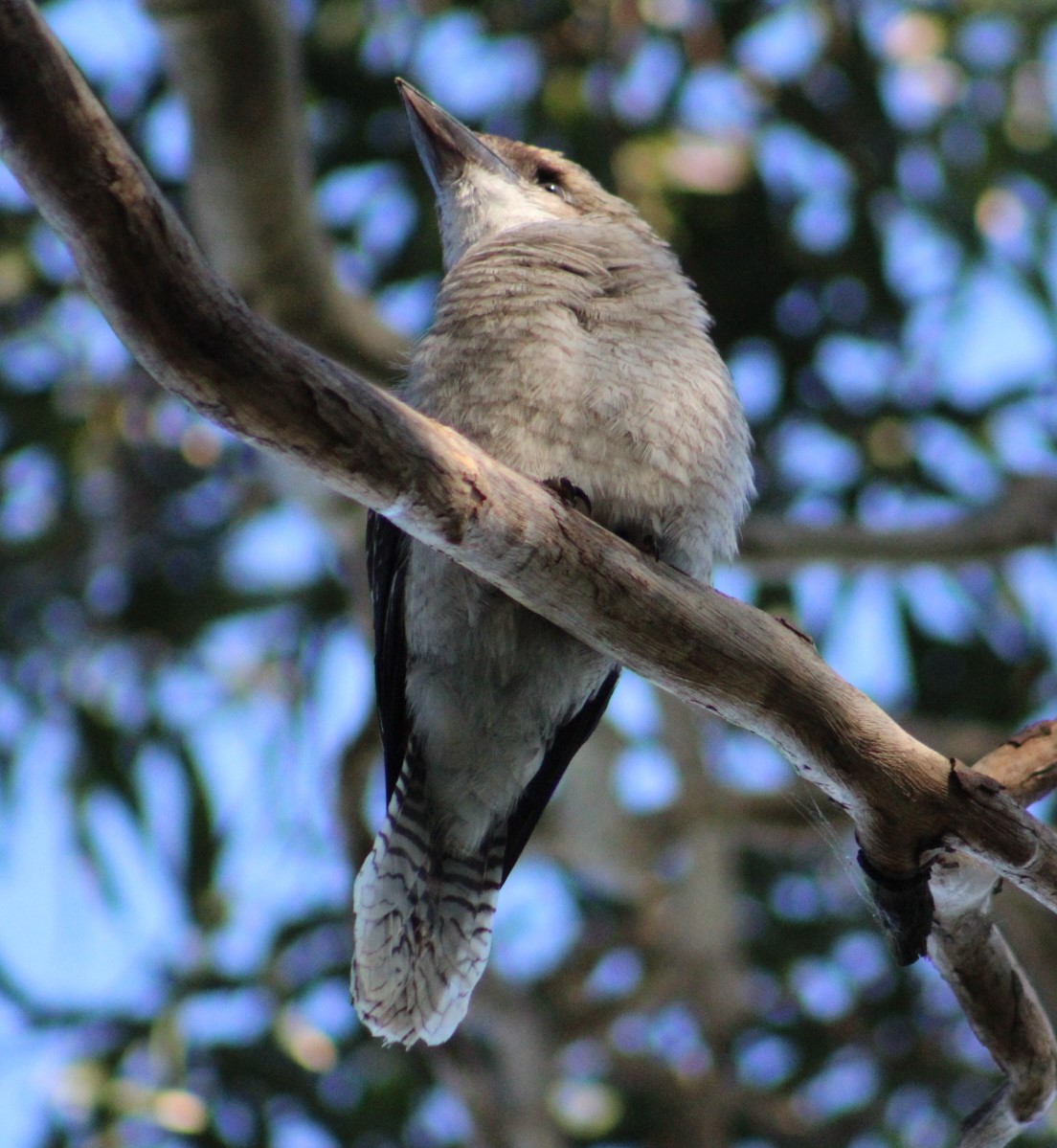 Saturday Afternoon, March 21, 2020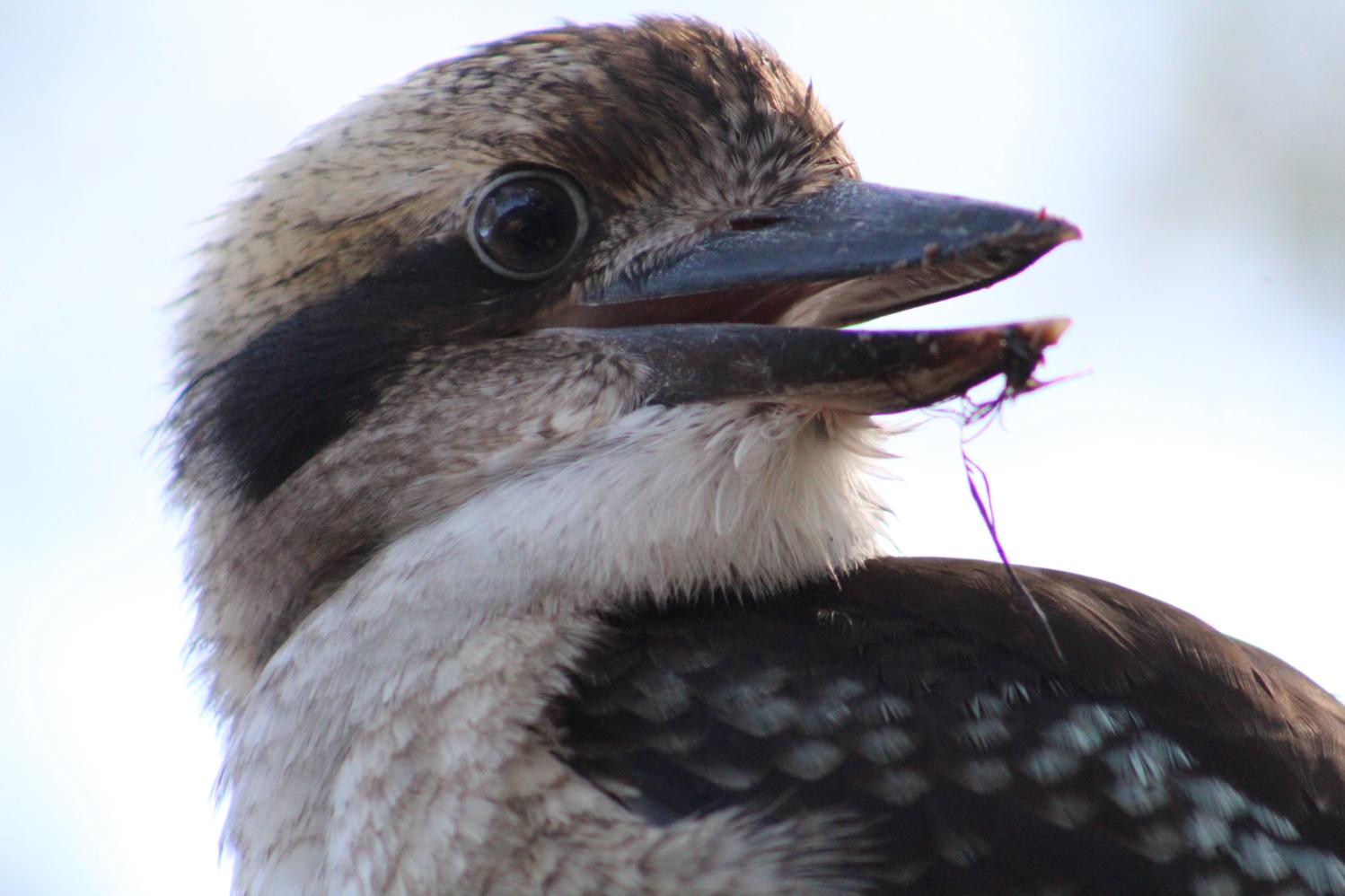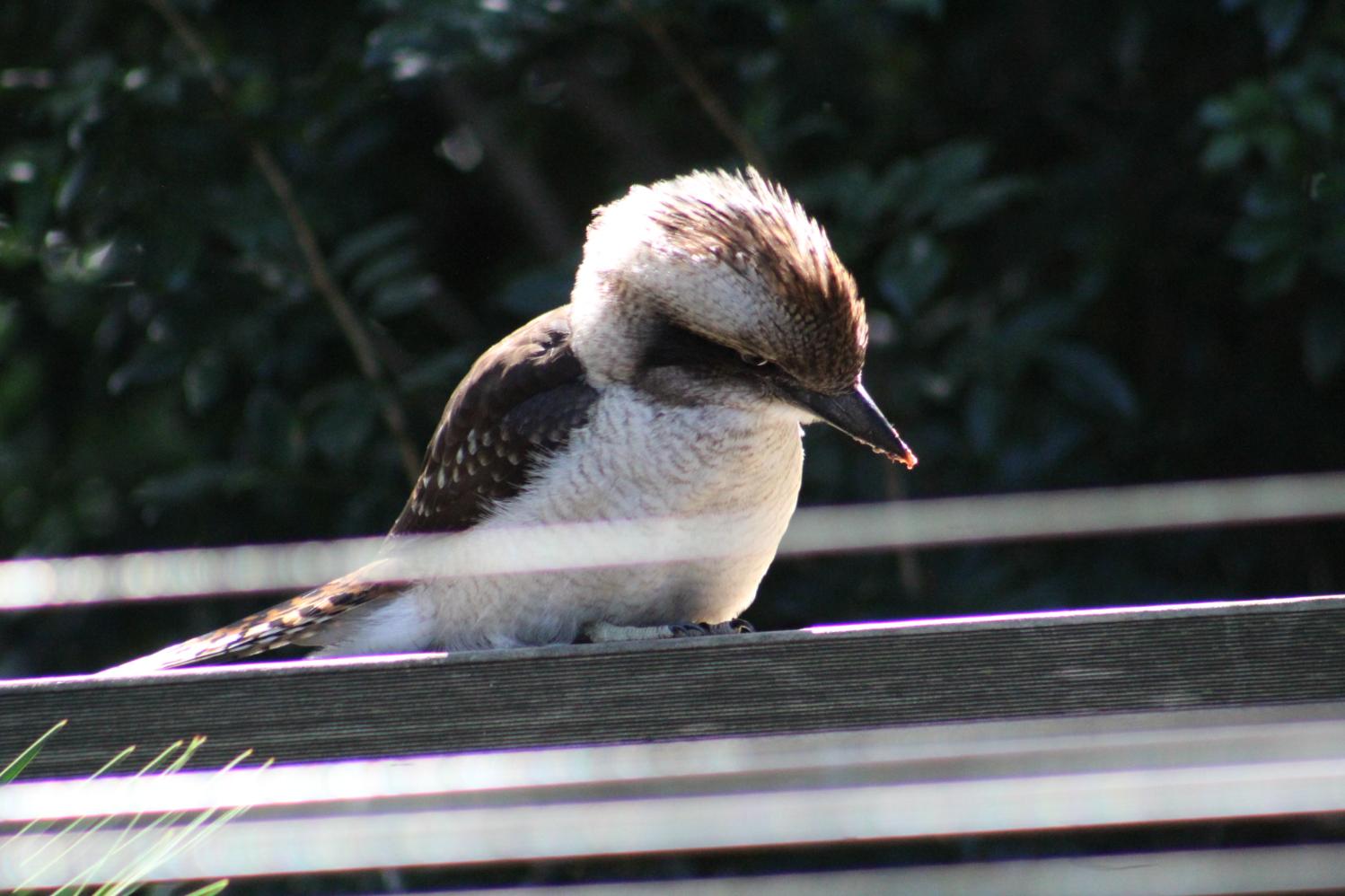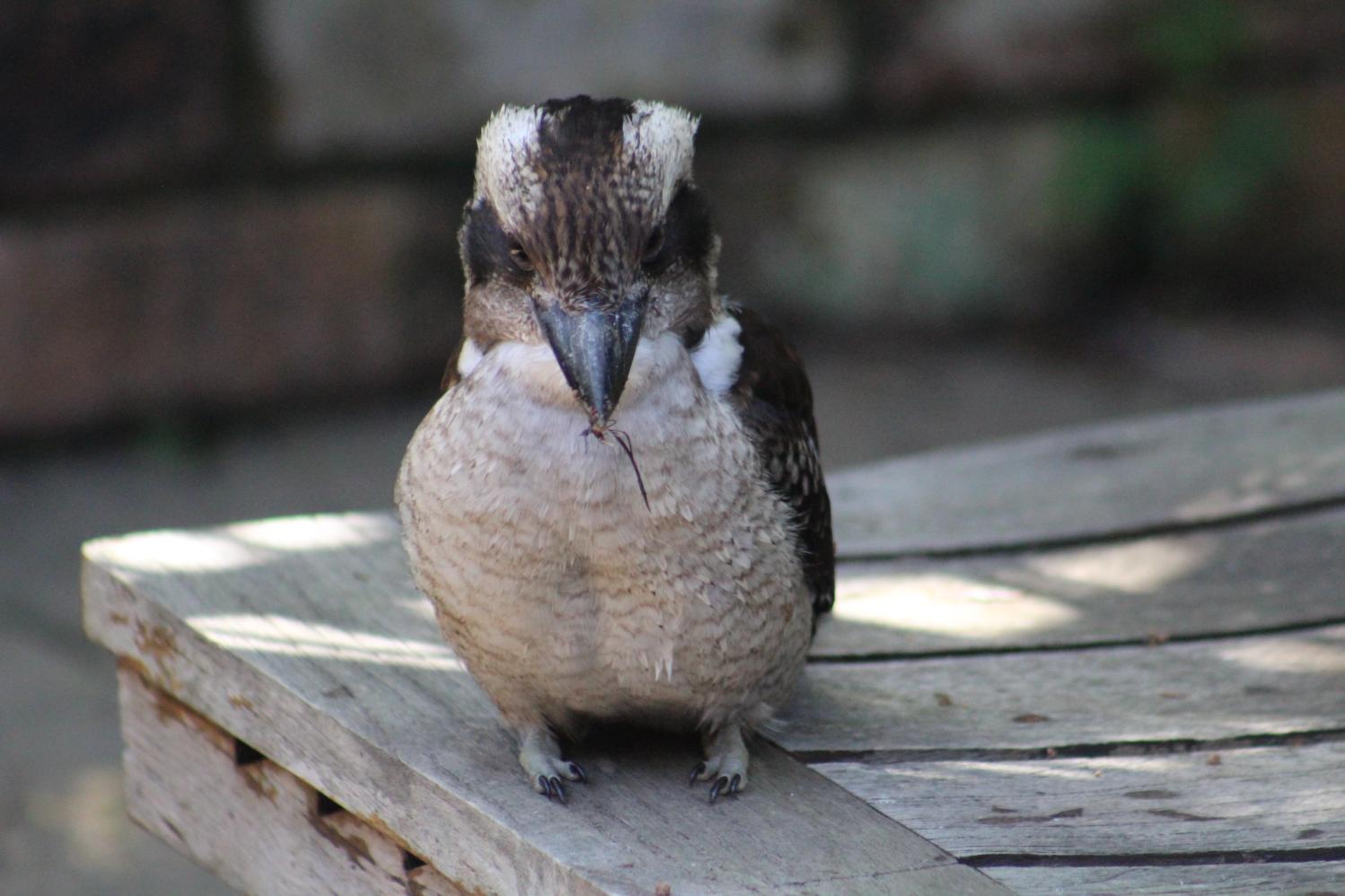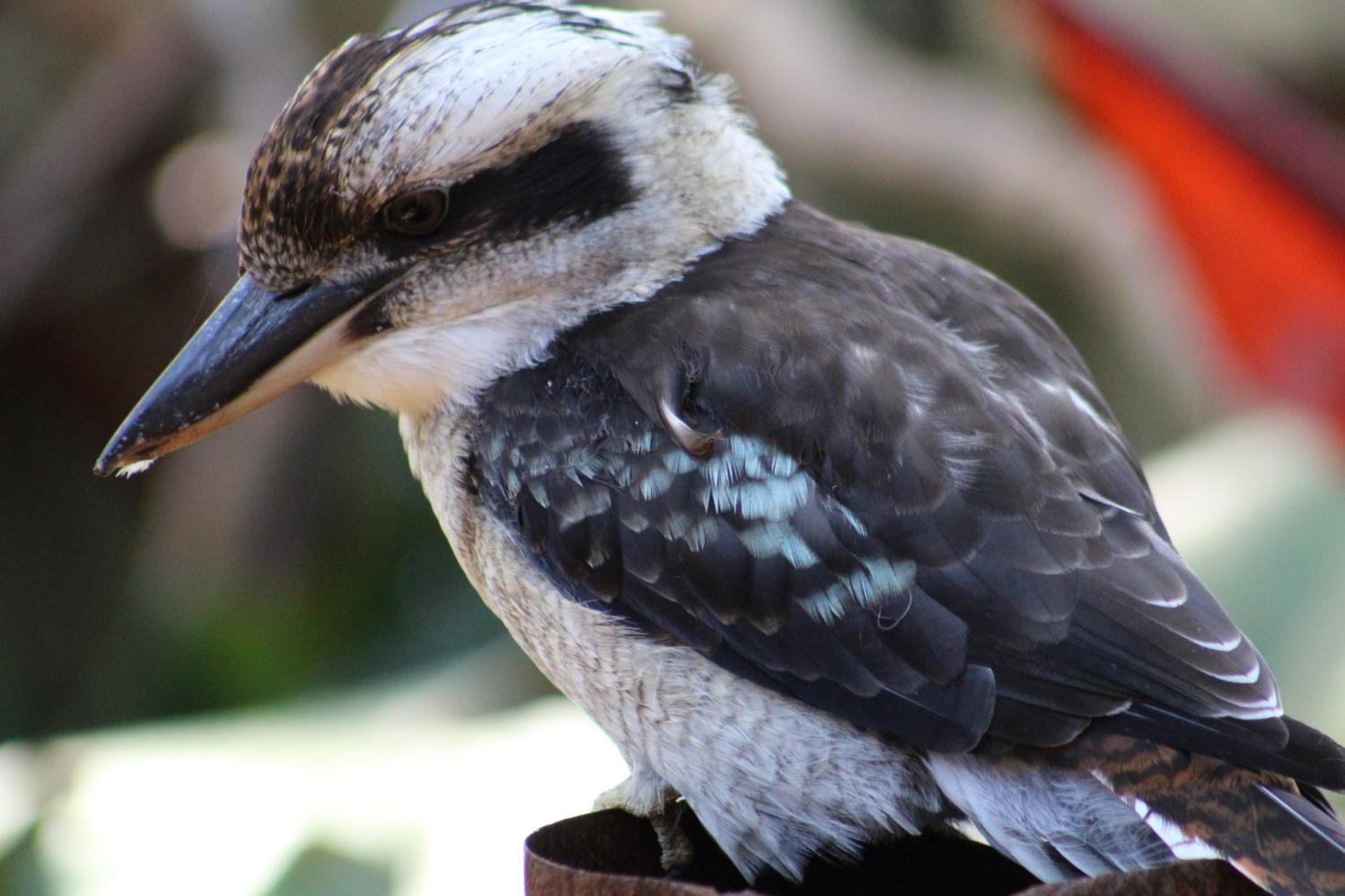 The Magpie Fledgling This Week
Monday afternoon, March 16th - eating what looked like a mouse: the parent magpie had just given the youngster this and was just out of range for the camera -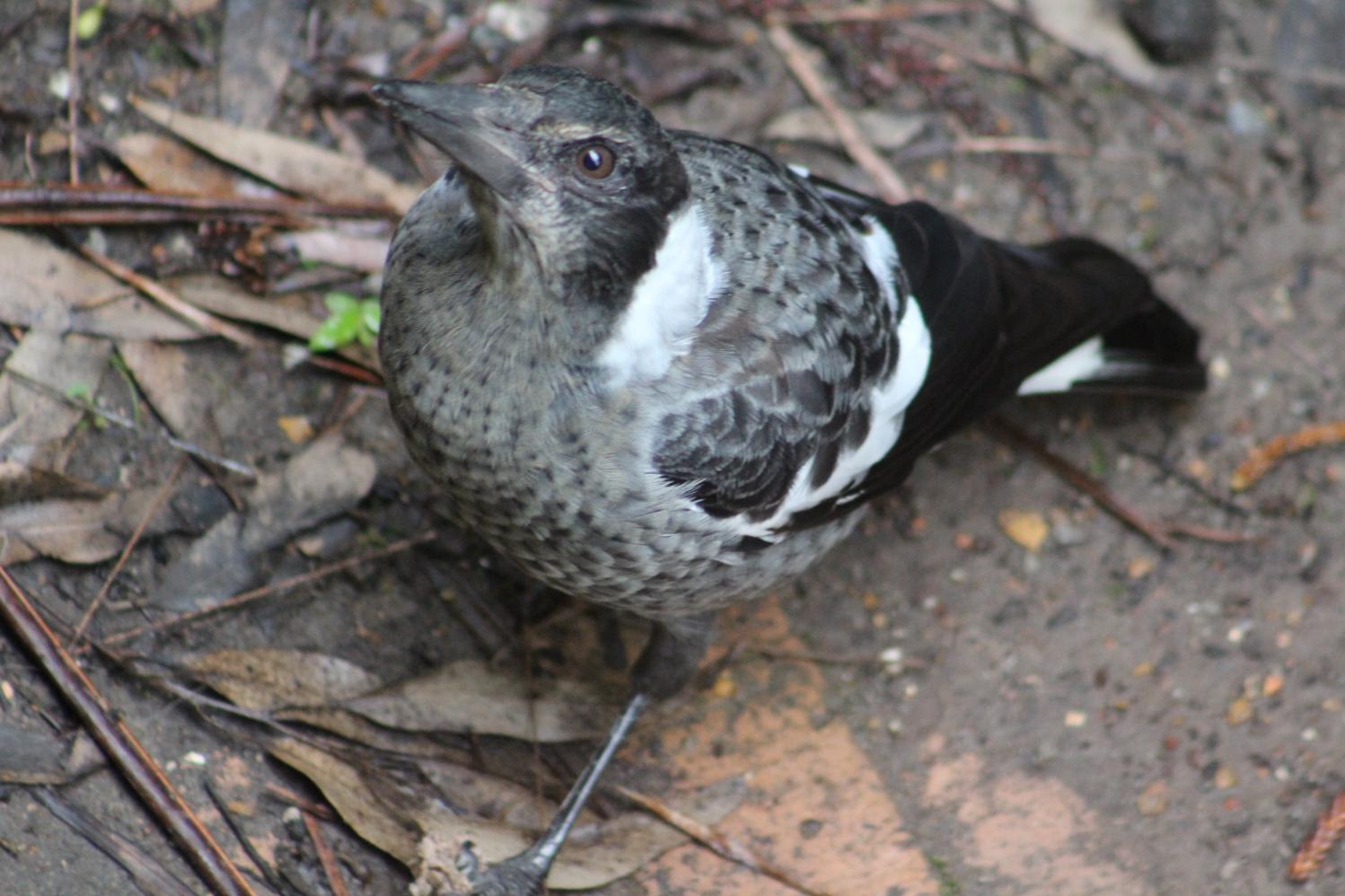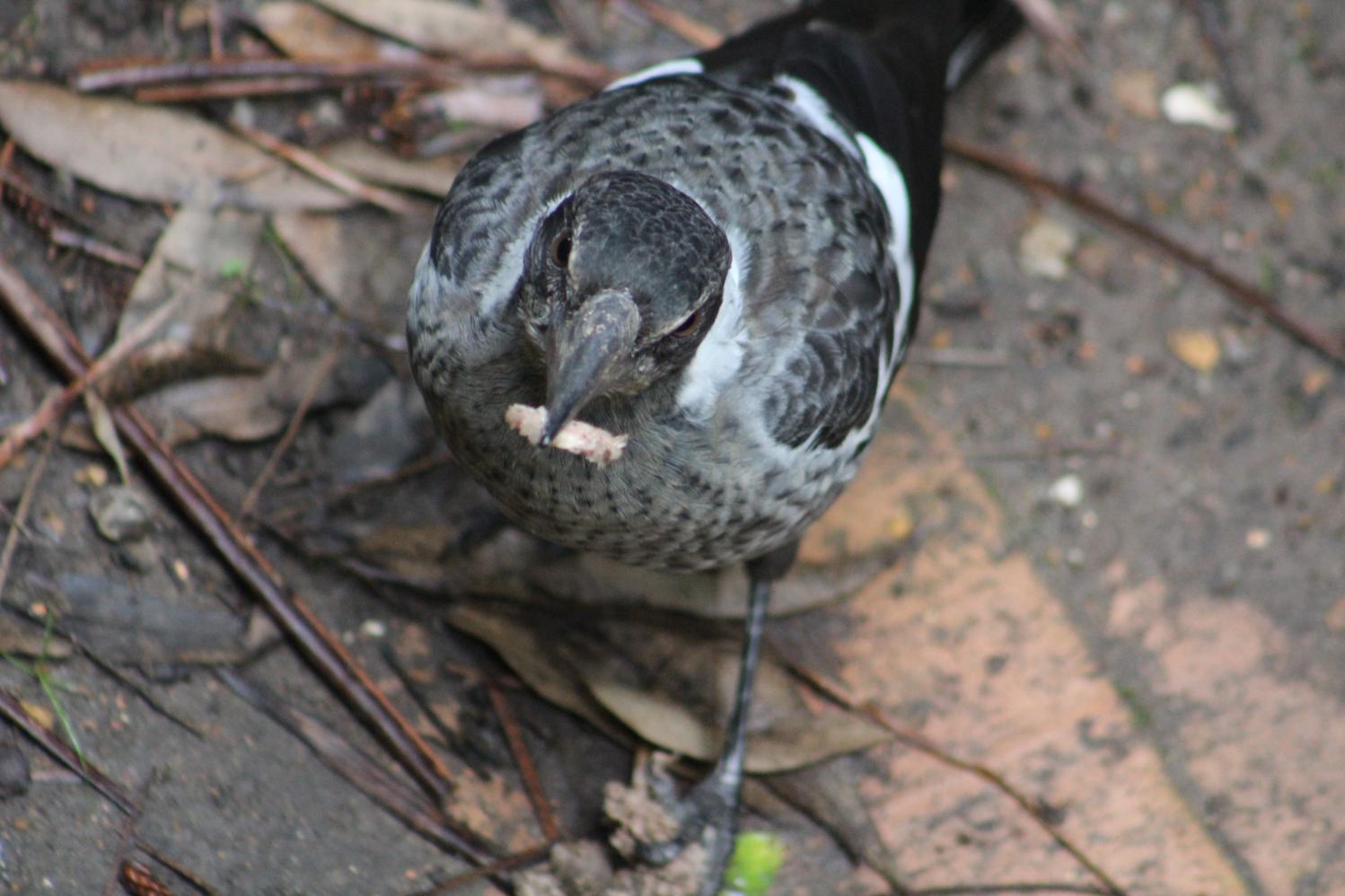 Pecking at ants and gum leaves and carolling: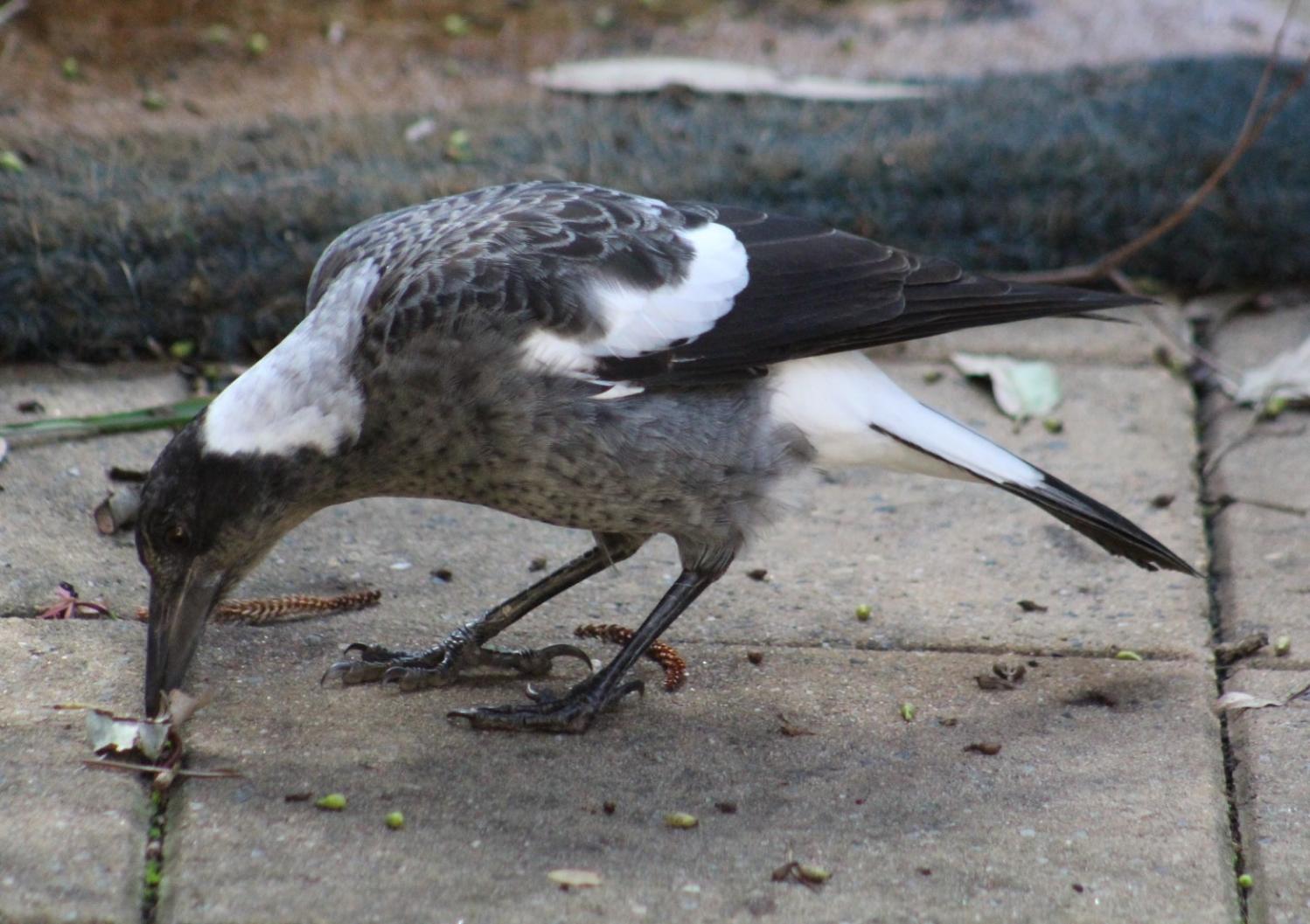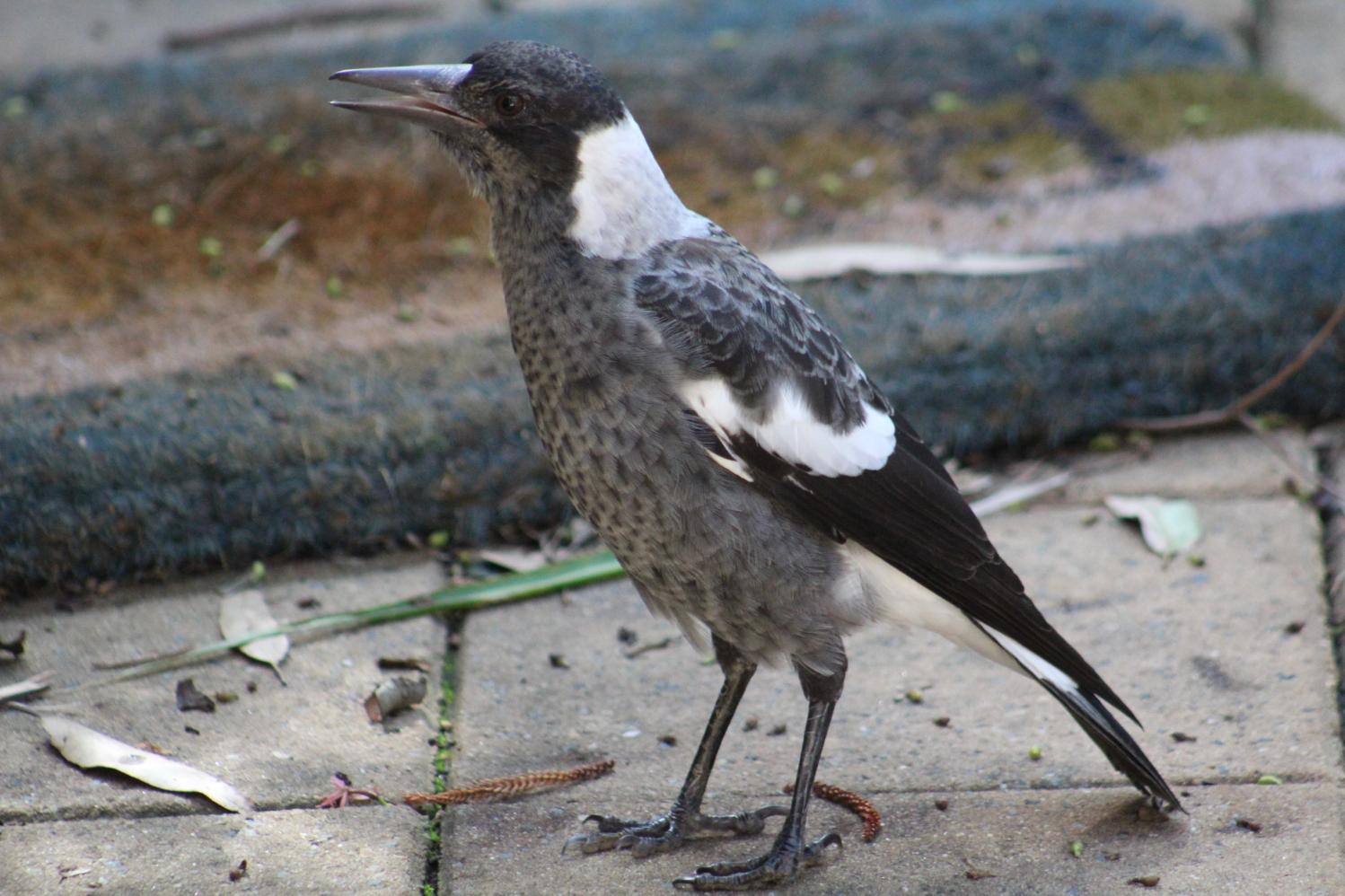 The Rainbow Lorikeets This Week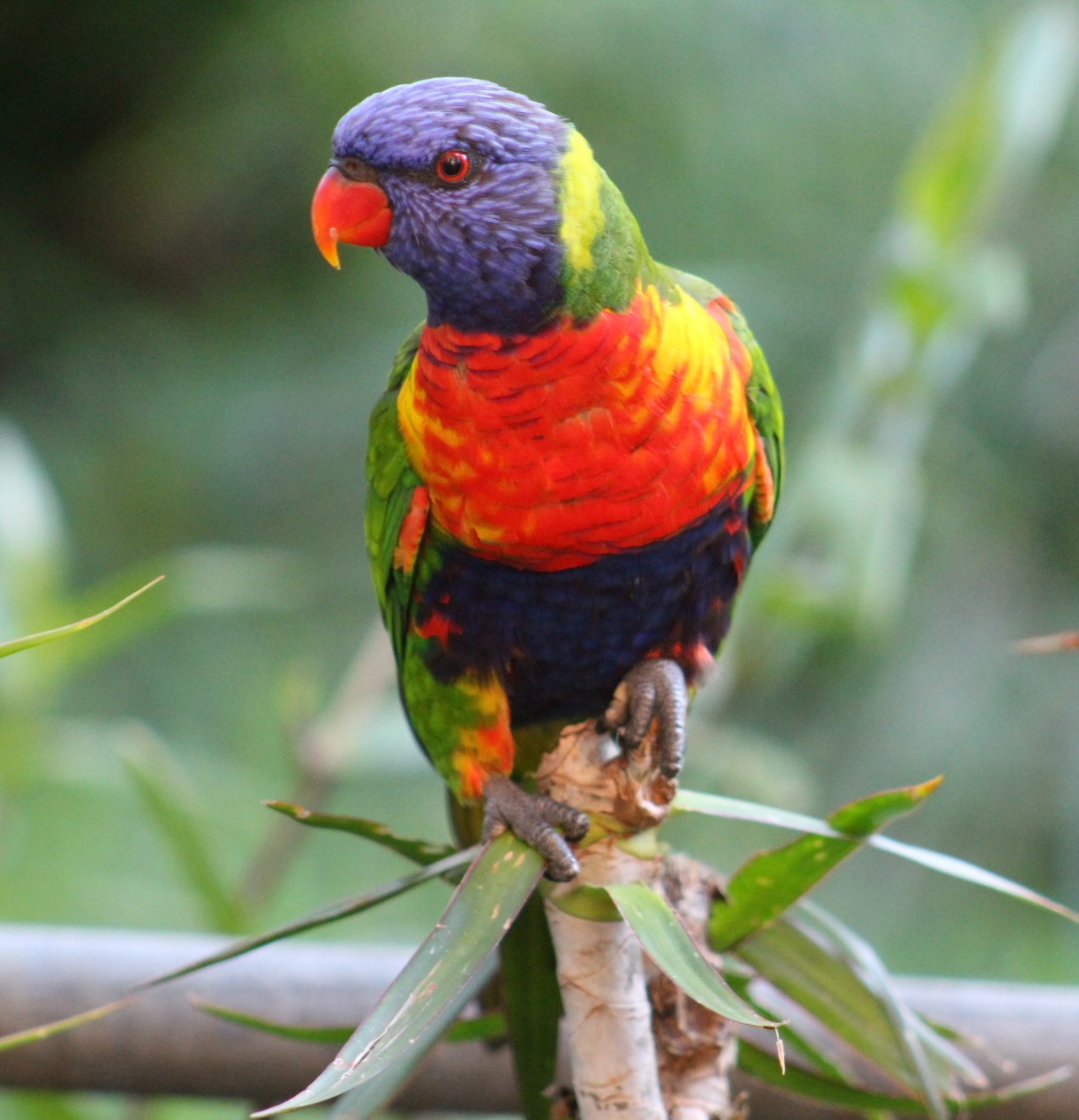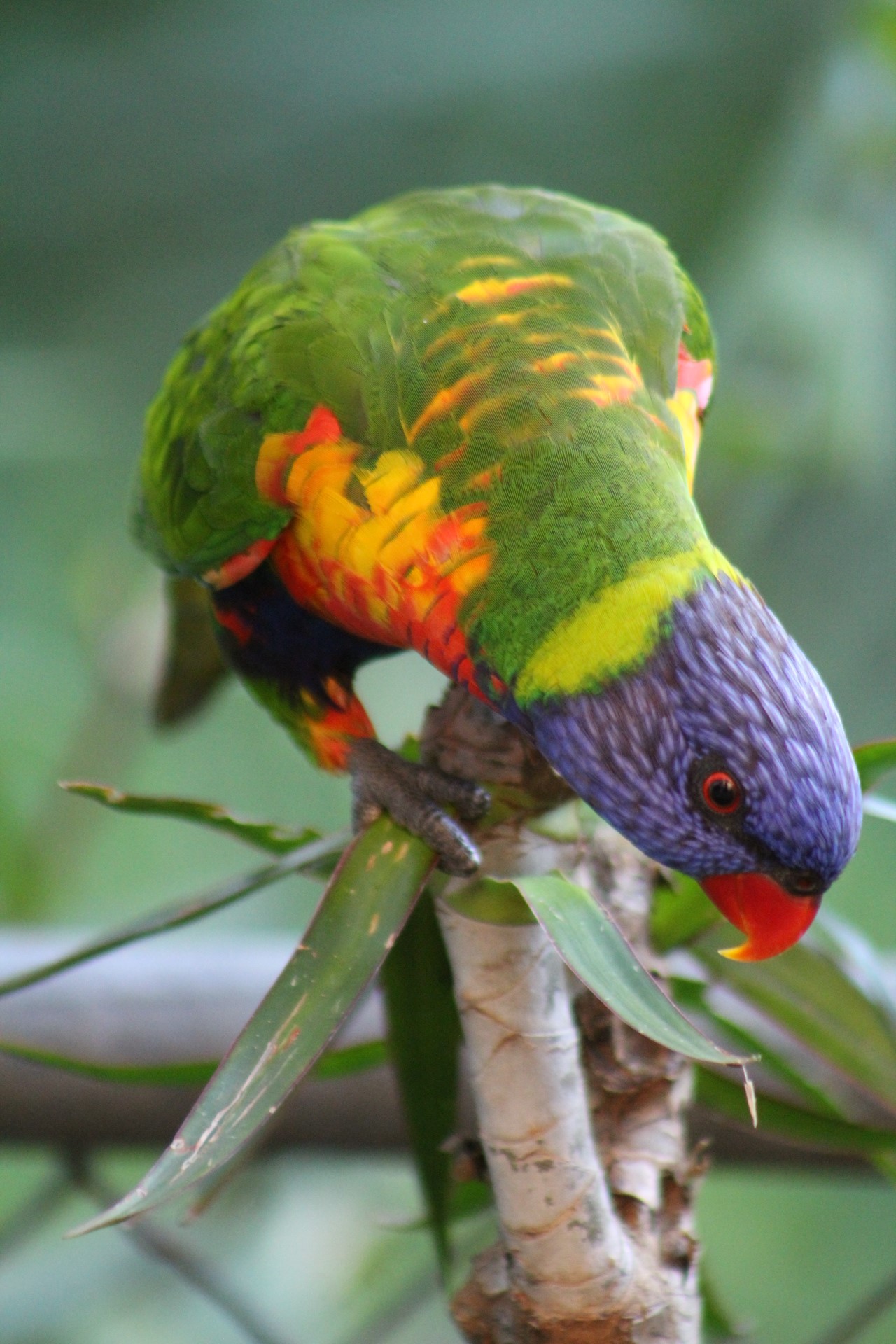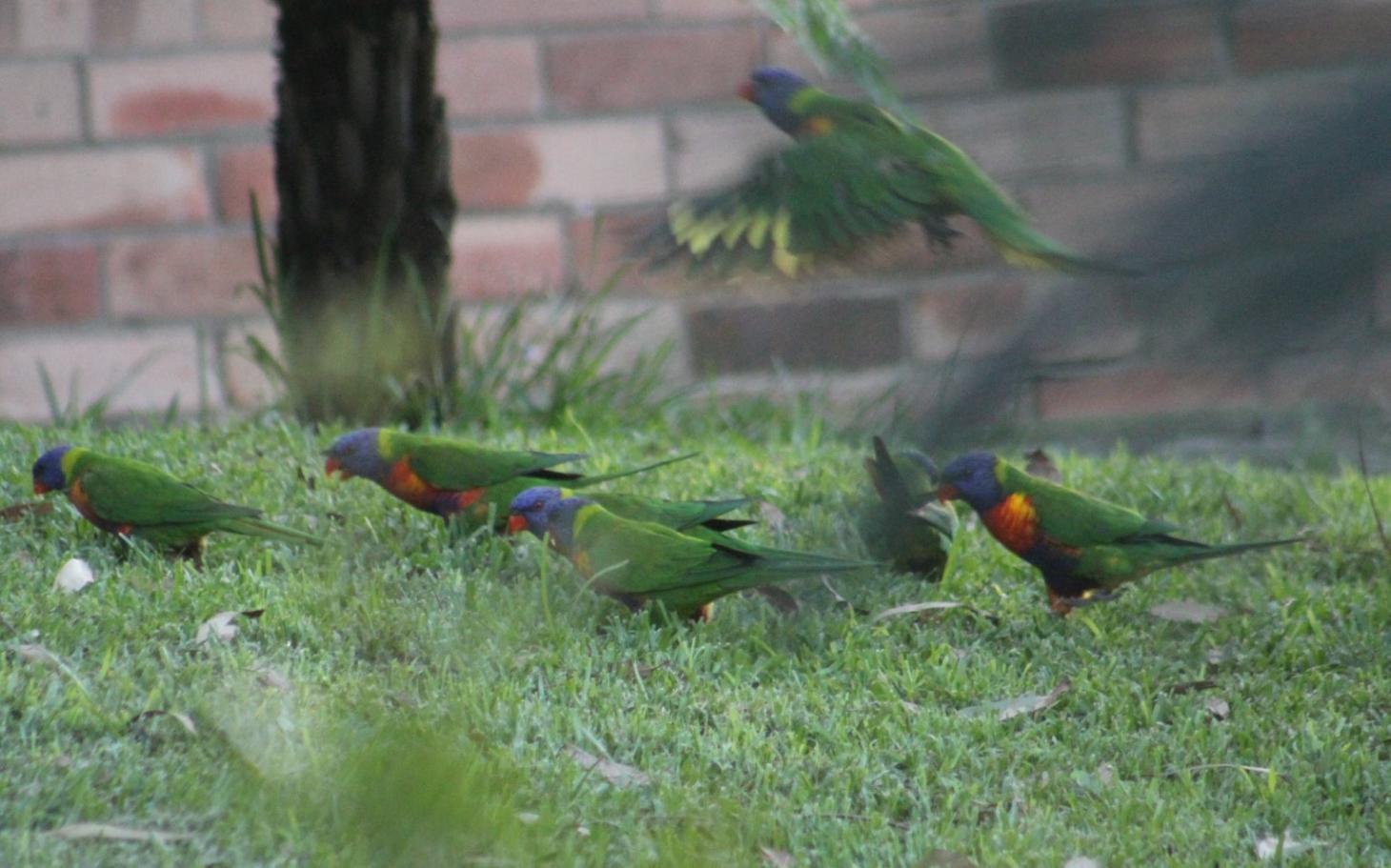 Permaculture Northern Beaches (PNB) is an active local group based on Sydney's Northern Beaches. We are an independent organisation registered as an association in NSW.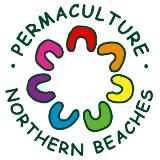 NB:

Northern Beaches Council have closed all their meeting venues due to the risk of spreading Covid-19 at public gatherings.
PNB hold monthly permaculture related events on the last Thursday of each month at the Tramshed Community Arts Centre, Lakeview Room., 1395A Pittwater Road, Narrabeen. Buses stop directly at the Centre and there is also car parking. Doors open at 7:15 pm. Meetings are February to November.
FUNGI - BUILDING MATERIALS, FOOD SOURCES, PACKAGING, MEDICINE, & MORE
Tramshed Community Centre
1395 Pittwater Road Narrabeen
Tonight Alicia Dudek will take us on a tour of all the ways that fungi can solve some of humanity's pressing problems. From mycelium-based building products to new sources of food and alternative proteins, mushrooms are a versatile option for sustainable building material, packaging, reducing waste and food.
You will have an overview of fungi as proteins, materials, medicines, food sources, and most importantly as an agent of Myco-bioremediation in the environment. Come along and learn all the ways that collaboration with fungi prepares us for the future.
Alicia Dudek is the founder of Mycoreality, a small business on the Northern Beaches focused on fungi.
Entry is by donation to cover costs. Organic teas, coffee is available on the night. We encourage you also to bring items for our swap table (food, seeds, plants, home and garden items).
MUSHROOM MASTER CLASS - GROW YOUR OWN MUSHROMS
Manly – location provided when booking
This five-hour master class will equip you to start mushroom growing in your own backyard straight away.
Fungi are amazing, an important source of protein and food and medicinal source. Nature's decomposers and regenerators are all important for your soils. and in becoming more self-reliant and sustainable. They can remove pollutants in water and soils, share nutrients between trees and regenerate the landscape.
Growing mushrooms naturally, will provide you with an important and delicious food source and protein; provide medicinal benefits; save you money and shopping at stores and help you become self-reliant and sustainable.
Enter the world of fungi at this master class with Alicia Dudek. Places are limited to 10 only. This is the first time this course has been run on the Northern Beaches. Don't miss out.
Back by popular demand, this course costs are $115 for PNB members and $130 for non-members. Please bring a plate of food to share for lunch.
INTERNATIONAL PERMACULTURE DAY
Join us on International Permaculture Day (IPD) when we celebrate globally Australia's best export - permaculture. PNB events to follow soon. Be part of your local permaculture community.
10:00am – 11:00am
Further info and updates:
Please Help Sydney Wildlife Rescue: Donate Your Cans And Bottles And Nominate SW As Recipient
You can Help Sydney Wildlife help Wildlife. Sydney Wildlife Rescue is now listed as a charity partner on the return and earn machines in these locations:
Pittwater RSL Mona Vale
Northern Beaches Indoor Sports Centre NBISC Warriewood
Woolworths Balgowlah
Belrose Super centre
Coles Manly Vale
Westfield Warringah Mall
Strathfield Council Carpark
Paddy's Markets Flemington Homebush West
Woolworths Homebush West
Caltex Concord road Concord West
Bondi Campbell pde behind Beach Pavilion
Westfield Bondi Junction car park level 2 eastern end Woolworths side under ramp
UNSW Kensington
Enviro Pak McEvoy street Alexandria.
Every bottle, can, or eligible container that is returned could be 10c donated to Sydney Wildlife.
Every item returned will make a difference by removing these items from landfill and raising funds for our 100% volunteer wildlife carers. All funds raised go to support wildlife.
It is easy to DONATE, just feed the items into the machine select DONATE and choose Sydney Wildlife Rescue.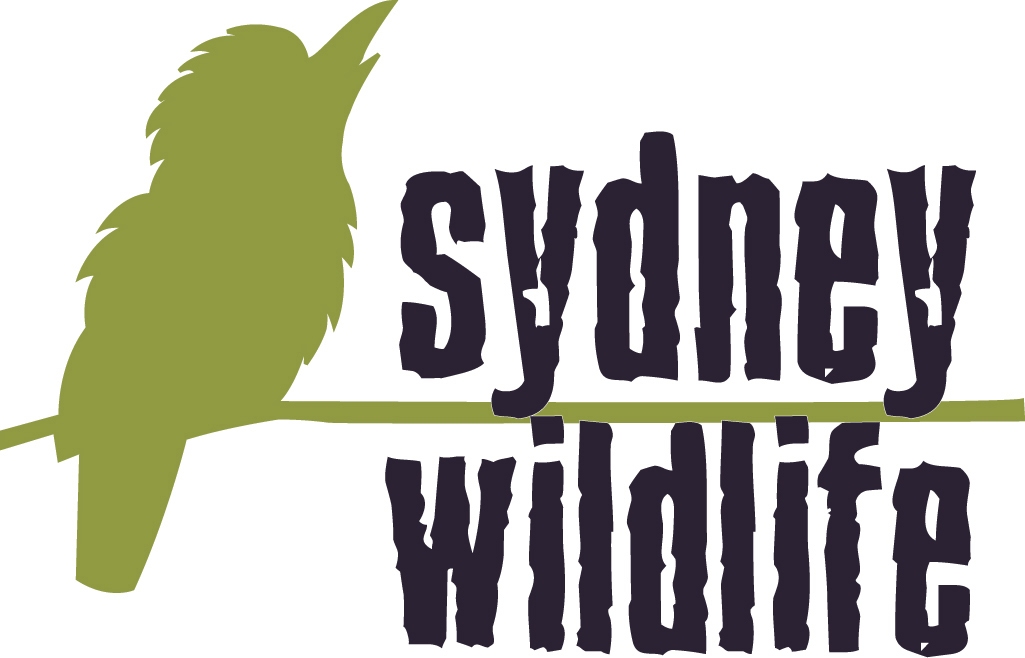 Friends Of Narrabeen Lagoon Catchment: Bushwalks 2020

Sun 26/4/2020 Cromer Circle
Cromer Circle with 1 hr for weeding grasses along the track of Aboriginal carvings. Fabulous views over the lagoon and its valleys, and viewing of carvings.
10am - 3pm. Limited numbers.
Sat 23/5/2020 Explorative Walk
9am explorative walk from Morgan Rd to N/W catchment corner.
Sun 21/6/2020 walk & weed.
Meet 9am at Deep Creek near dog training area; walk 1hr next to Deep Creek and contributory creek. Weeding 1hr—crofton weed, Ludwigia peruviana etc. Continue walk to Baha'i temple and carpool back ~ 2pm.
Bushcare In Pittwater
For further information or to confirm the meeting details for below groups, please contact Council's Bushcare Officer on 9970 1367
BUSHCARE SCHEDULES
Where we work Which day What time
Avalon
Angophora Reserve 3rd Sunday 8:30 - 11:30am
Avalon Dunes 1st Sunday 8:30 - 11:30am
Avalon Golf Course 2nd Wednesday 3 - 5:30pm
Careel Creek 4th Saturday 8:30 - 11:30am
Toongari Reserve 3rd Saturday 9 - 12noon (8 - 11am in summer)
Bangalley Headland 2nd Sunday 9 to 12noon
Bayview
Winnererremy Bay 4th Sunday 9 to 12noon
Bilgola
North Bilgola Beach 3rd Monday 9 - 12noon
Algona Reserve 1st Saturday 9 - 12noon
Plateau Park 1st Friday 8:30 - 11:30am
Church Point
Browns Bay Reserve 1st Tuesday 9 - 12noon
McCarrs Creek Reserve Contact Bushcare Officer To be confirmed
Clareville
Old Wharf Reserve 3rd Saturday 8 - 11am
Elanora
Kundibah Reserve 4th Sunday 8:30 - 11:30am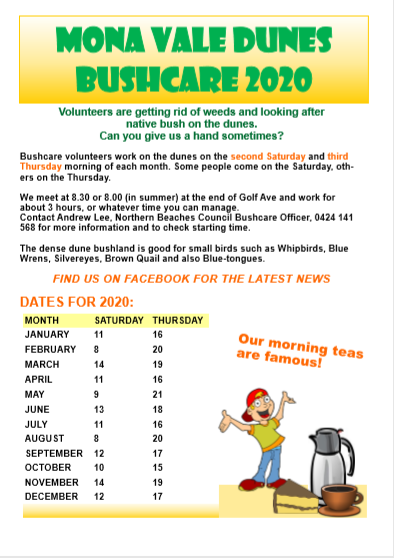 Mona Vale
Mona Vale Beach Basin 1st Saturday 8 - 11am
Mona Vale Dunes 2nd Saturday +3rd Thursday 8:30 - 11:30am
Newport
Bungan Beach 4th Sunday 9 - 12noon
Crescent Reserve 3rd Sunday 9 - 12noon
North Newport Beach 4th Saturday 8:30 - 11:30am
Porter Reserve 2nd Saturday 8 - 11am
North Narrabeen
Irrawong Reserve 2nd Saturday 2 - 5pm
Palm Beach
North Palm Beach Dunes 3rd Saturday 9 - 12noon
Scotland Island
Catherine Park 2nd Sunday 10 - 12:30pm
Elizabeth Park 1st Saturday 9 - 12noon
Pathilda Reserve 3rd Saturday 9 - 12noon
Warriewood
Warriewood Wetlands 1st Sunday 8:30 - 11:30am
Whale Beach
Norma Park 1st Friday 9 - 12noon
Western Foreshores
Coopers Point, Elvina Bay 2nd Sunday 10 - 1pm
Rocky Point, Elvina Bay 1st Monday 9 - 12noon

Gardens And Environment Groups And Organisations In Pittwater
NSW To Lead The Nation On Emissions Reduction
March 15, 2020: NSW Government
The NSW economy will see over $11.6 billion of private investment and 2,400 new jobs under Stage 1 of the NSW Government's plan to reach net zero emissions by 2050.
Energy and Environment Minister Matt Kean said the plan, the first of its kind in Australia, is all about reducing the State's emissions in ways that grow the economy.
"Where there are technologies that can reduce both our emissions and costs for households and businesses, we want to roll them out across the State. Where these technologies are not yet commercial, we want to invest in their development so they will be available in the decades to come," Mr Kean said.
"Almost two-thirds of the private investment under the plan will go to regional and rural NSW, creating job opportunities and diversifying local economies that are doing it tough after the drought and devastating bushfire season.
"Global markets are rapidly changing in response to climate change, with many of the world's biggest economies and companies committed to reach net zero emissions by 2050. NSW already leads the nation with its economic and investment plans and from today, NSW will lead the nation with its Net Zero Plan.
"Our actions are firmly grounded in science and economics, not ideology, to give our workers and businesses the best opportunity to thrive in a low-carbon world."
Under the plan, household electricity prices will fall, regional businesses will have access to new technologies and markets, industry will be supported to modernise their plant and increase productivity and consumers will have more information to help them make financially and environmentally sustainable choices.
The plan is financially supported by the landmark $2 billion bilateral agreement between the Commonwealth and NSW Government announced in January 2020.
Frabjous Days With Fuscous Honeyeaters – Capertee Valley
Published March 18, 2020 by BIBY TV
These Fuscous Honeyeaters (Ptilotula fusca) were filmed between early August and early October 2019 in the Capertee Valley (NSW). The precise location is a conservation property in the Glen Alice section of this geological wonder. Despite all the water scenes, 2019 was a drought year (like 2017 and 2018) with rainfall well under average. The year had a promising start however, with more than half the yearly total occurring in January. After an exceptionally low figure for February, March saw topped-up soil moisture and dams due to somewhat above average rain. But then the long dry period kicked in. Between early April and mid September it was alarmingly dry, with a likely total of less than 20mm across this time (based on own observations and nearby weather stations). If the birds of the valley had to rely on natural water sources, then options would have been limited as ephemeral creeks were largely dry and the Capertee River was a series of (shrinking) water holes. But at the filming site, the situation seemed more benign as all the usual storages (ex-farm dams and an old quarry) had some water. A bird bath and small pond evaporate quite quickly so we replenished them with tank water. Come mid September, there was cause for celebration, with hope-inducing around-average rainfall for this month. (The location photo was taken early October. In an average year the scene would be greener.) But our joy was short-lived. The October to December 2019 period was the driest on record for this time of year, with the hotter weather now evaporating exposed water more rapidly. Late October also brought the beginning of Australia's largest forest fire on record (Gospers Mountain fire), which was ignited by lightning not far from this property.
Across the period related to this video though, we were buoyed by an abundance of birdlife visiting the various water sources. Honeyeaters in general were especially numerous and active, with all species foraging for variety of foods (e.g. insects, lerps and nectar). While Fuscous Honeyeaters are often described as plain or dowdy, we think their subtle colouring is stunning in sunshine (and we had plenty due to the drought). Moreover, their rollicking calls were a wonderful soundtrack to our visits (particularly in August and July). We have included a continuous sound file across the three photos. (Other calls in that section are Little Corella, Australian Raven and Little Lorikeet). Just as our worry went up a notch over the lack of rain, mid September falls were a huge relief. In short, our Fuscous filming days could be described as rather frabjous! Now we are all facing another difficult challenge in the form of Covid-19. But the good news from the valley is that late summer 2020 rain has the river flowing, dams replenished and the greenest pasture we have ever seen. And thanks to the hardworking local brigades, supportive community, the NPWS and visiting fire-fighters, much of the valley was spared the ravages of fire, including this property.
You may notice slight differences between individual Fuscous Honeyeaters. Young Fuscous are usually duller or browner with less distinct plumes on their necks. Nonetheless, we have observed variations in colouring and plumes across adults too. Breeding adult birds have an entirely black bill, while juveniles and non-breeding adults have more yellow. (Juveniles also have a fleshy orange-yellow gape.) Eye colour also changes for breeding birds.
Baby Boom For The Bellinger River Snapping Turtle
March 16, 2020: Taronga Zoo
Taronga's zoo-based population of the critically endangered Bellinger River Snapping Turtle has received a significant boost with the hatching of 35 turtle babies this year.
Endemic to the Bellinger River on the mid north coast of NSW, this species of short-necked freshwater turtle was almost completely wiped out in 2015 when a novel virus infiltrated the river.
A NSW Government emergency response team was formed to investigate and coordinate the rescue of a group of healthy turtles to establish an insurance population. Taronga is working closely with NSW Department of Planning Industry and Environment (DPIE), Western Sydney University and Symbio Wildlife Park to save this species.
DPIE scientists managed to retrieve 16 healthy turtles from the river in 2015, which were later relocated to a special quarantine breeding facility at Taronga Zoo in Sydney.
"This is our fourth successful breeding season of the Bellinger River Snapping Turtle, and we now have nearly 100 of these turtles living at our quarantine facility at Taronga Zoo," says Adam Skidmore, a Taronga reptile keeper who cares for the species. "The hatchlings are doing really well – eating lots and growing – and we are really happy with their development."
"During the breeding season we check the nests daily,' says Adam. "We then remove the eggs, weigh and measure them and place them in our incubator. We then check on them daily and wait for them to hatch, which can take up to 70 days."
The Bellinger River Snapping Turtle recovery project is coordinated by the NSW's Government's Saving our Species (SoS) program. The project aims to release the healthy turtles bred at Taronga back to the Bellinger River. Threatened species officers from SoS have coordinated two release events to date, and are tracking and monitoring the progress of the turtles now living back in the Bellinger River.
"We have so far released 20 snapping turtles back into their natural environment and we are delighted to say their survival rate has been extremely high," said SoS Threatened Species Officer Gerry McGilvray.
"This species could have been wiped out if not for the rapid response from Saving our Species and its partners. Releasing animals bred in captivity at Taronga represents a big step on the path to securing this species in the wild."
Bellinger River Snapping Turtle - photo by Taronga Zoo
While On Turtles: Turtlely Cute Hatchlings Cause For Shellabration
In eggciting news, the first hatchlings have emerged from one of eight turtle nests being monitored along the NSW coast by volunteers from the NSW TurtleWatch program.
The nest was laid at Port Macquarie in December and the hatchlings found during a nest inventory last week.
NSW TurtleWatch Project Officer Holly West said northern NSW beaches can provide important nesting habitat for green and loggerhead turtles, listed as vulnerable and endangered, respectively, in NSW.
"People should keep their eyes out from now until May for turtle hatchlings on north coast beaches.
"Our volunteers are like expectant parents at this time of year, eagerly awaiting signs our efforts have paid off.
"When we see those indications of hatchlings emerging from the nest, it's an exhilarating feeling to think another lot of hatchlings have made it to the ocean.
"We did have some fears for the Port Macquarie nest after evidence of fox disturbance, but National Parks and Wildlife Service (NPWS) rangers undertook some preventative measures including installing predator mesh to deter digging.
"After a nest has hatched NPWS conduct a nest inventory that will give us vital information about the success of the nest. This information can be used to help future monitoring and conservation efforts. The Port Macquarie inventory revealed over 90% of hatchlings from more than 100 eggs made their way to the ocean.
"15 live hatchlings were uncovered during the excavation and released after sunset.
"This has been a great start for the NSW coast turtle hatching season and our volunteers stand watch over another 7 nests in the Tweed, Clarence Valley, Coffs Harbour and Port Macquarie areas.
"While we try to intervene as little as possible, we have worked with NPWS and council staff to give two nests a helping hand this year.
"
One green turtle laid eggs on Manly Beach and we have relocated all 144 eggs from this nest to the Coffs Coast as they would not have survived in Manly due to the cool temperatures experienced there.
"Another nest laid on the Tweed Coast over the Australia Day weekend had to be relocated as it was laid below the high tide line.
"Fingers crossed we get some successful hatchlings from these and all of our other nests," Ms West said.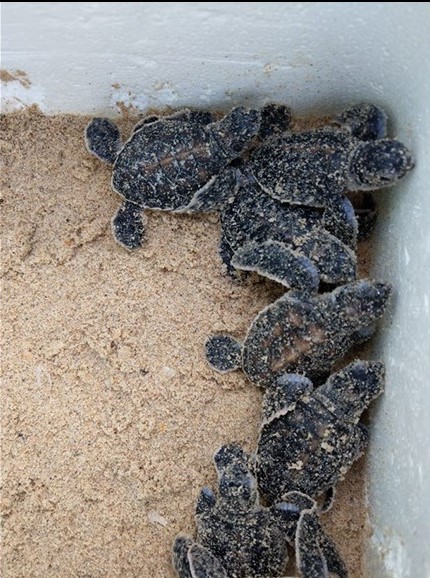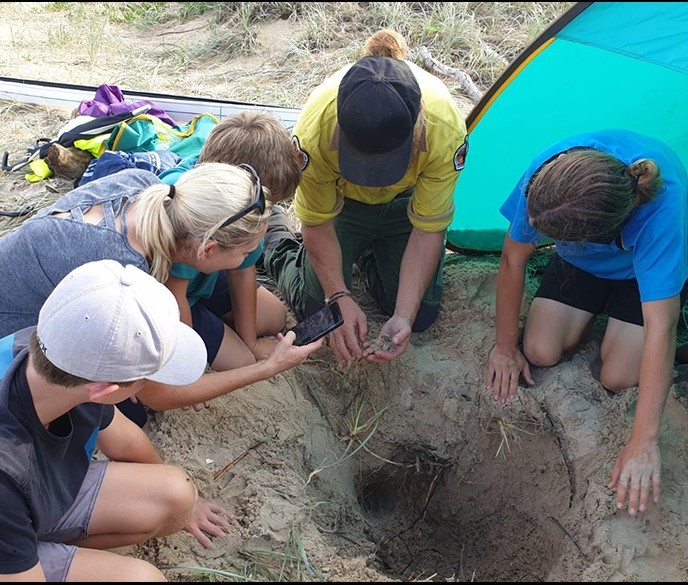 Turtle hatchling stragglers Photo: NSW TurtleWatch Ranger Shaun Kerrigan and TurtleWatch volunteers at a turtle nest Photo: NSW TurtleWatch

To help hatchlings please remember to keep our beaches free from marine debris, sea turtles dig in the dark so keep lights low and keep your eyes peeled for hatchlings while walking the beach. If you see a hatchling on the beach, please contact Australian Seabird Rescue immediately on 02 6686 2852 or environment line 1300 361 967
The NSW TurtleWatch program is an initiative of the Department of Planning, Industry and Environment's
Saving our Species Program
with
Australian Seabird Rescue
. It is a citizen science program involving volunteers collecting valuable data for marine turtles nesting in NSW and their potential threats.
WaterNSW Welcomes Land And Environment Court Decision
WaterNSW welcomes today's findings handed down in the NSW Land and Environment Court in relation to a case brought against two prominent irrigators in the Brewarrina region.
The Court found that Peter and Jane Harris illegally extracted water for irrigation from the Barwon River during June 2016 contrary to a condition of their joint water use and water supply approvals under section 91(G) of the Water Management Act 2000 (NSW).
In 2018 WaterNSW commenced legal proceedings against the pair for breaching a condition of their approvals associated with the water licence for Beemery Farm, a property on the Barwon River at Brewarrina. The proceedings were heard by the Court in February 2019.
Following their conviction Mr and Mrs Harris will be sentenced at a separate hearing on a date to be fixed by the Court. They have up to 28 days to appeal the decision.
WaterNSW brought the prosecution after extensive investigations into water management rule breaches in the Barwon-Darling region in north western NSW.
In the 18-month period from July 2016 to April 2018 during which WaterNSW held responsibility for compliance - now the function of the Natural Resource Access Regulator (NRAR) - WaterNSW conducted several detailed investigations, including two matters which resulted in WaterNSW commencing prosecutions in the Land and Environment Court.
WaterNSW CEO, David Harris, said of today's result:
"Today's convictions demonstrate the commitment and diligence WaterNSW brought to the role of ensuring that the rules for extracting water were enforced prior to that role being transferred to NRAR", he said.
"Today's result should also serve to reassure the broader community that water authorities are serious about managing water resources strictly according to the rules," he said.
Upgrade Works To Halt Water Releases From Toonumbar Dam
Water supply from Toonumbar Dam on the NSW North Coast will be interrupted for 2 weeks starting on the 20th of April while work proceeds to upgrade important elements of the dam system.
WaterNSW, the dam operator, will undertake work to replace two valves at Toonumbar Dam, which is situated on Iron Pot Creek about 30 kilometres west of Kyogle on the NSW North Coast.
The dam helps irrigate the Richmond Valley and supplies water to farmers along Iron Pot and Eden creeks. Previous plans to upgrade the valves had been delayed due to low dam levels caused by ongoing drought.
The work is scheduled to start from the 20 April 2020 and take 2 weeks to complete with construction to take place during standard construction hours on Monday to Friday from 7am to 6pm and Saturday 8am to 1pm. Residents and customers living downstream on Iron Pot Creek and Eden Creek may not have water supply during this period.
WaterNSW will provide early warning network (EWN) updates ahead of the outage and are committed to keeping the local community informed. This work is essential to ensure the efficient delivery of water to customers and to meet contemporary safety and engineering standards.
The works are being undertaken on WaterNSW lands in areas where there is no public access. Recreation areas at Toonumbar Dam are to remain open.
"We are working with local farmers and communities to try and reduce the impacts of these necessary upgrade works," said Ronan Magaharan, WaterNSW executive manager of assets.
"This work is essential to ensure the efficient delivery of water to customers and to meet contemporary safety and engineering standards."
To register for our early warning network and to receive alerts go to
waternsw.com.au/ewn
and for more information call the WaterNSW Helpdesk on 1300 662 077.
Keepit Dam To Deliver First Water In More Than A Year
One of the dam storages hit hardest by extreme drought – Keepit Dam in the Namoi valley – will make its first water release in more than a year.
The dam, which serves the Lower Namoi, has been all but dry since the summer of 2018-19 due to chronically low catchment rainfall and a near total absence of inflows.
On the back of substantial rain across the region in recent weeks, Keepit dam is currently above 12% of storage capacity, after being less than 1% throughout 2019.
From today WaterNSW will commence a small release (approximately 100 megalitres) for urgent stock and domestic supply for landholders located between the dam and the junction of the Peel and Namoi Rivers.
Releases will initially begin at a rate of 70 megalitres per day before being reduced, with the full release event scheduled to take place over approximately three days, according to WaterNSW executive manager system operations, Adrian Langdon.
"Landholders on a short section of the river downstream from Keepit Dam to the junction with the Peel River has not received flows from February rainfall," he said.
"These releases will assist with refreshing and replenishing river pools and will provide welcome stock and domestic water from the first releases out of this dam in many months.
"These river pools are in poor condition, so there is a risk of adverse environmental outcomes including fishkills, but advice from relevant agencies has been incorporated into the decision process. "
Dubbo Area Water User Convicted And Fined $18,900
A Dubbo area landholder has been fined a total of $18,900, ordered to remove an unlawful dam and ordered to pay prosecution costs of $30,000 in Dubbo Local Court this week.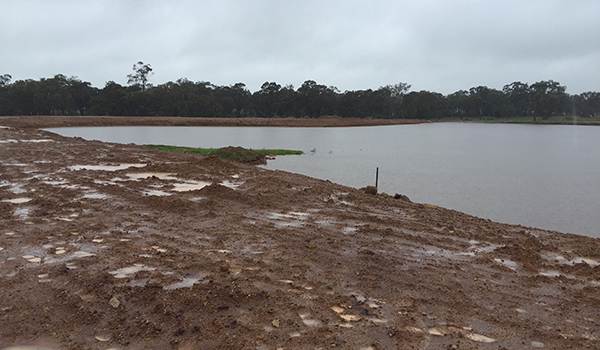 The landholder pleaded guilty to and was convicted of three charges brought by the Natural Resources Access Regulator (NRAR) relating to taking water without a licence, extending a dam without approval and failing to comply with directions, which included dewatering and removing the dam.
The landholder was fined $9,000 for the water take, $5,400 for the dam extension and $4,500 for failing to comply with a direction to dewater and remove the dam.
The first two offences took place between November 2015 and June 2018, and the third in March 2019.
Taking water without a licence contravenes section 60A(2) of the Water Management Act 2000; constructing a water supply work without approval is an offence under s91B(1) of the WM Act and failure to comply with a direction contravenes s336C of the Act.
This week NRAR also launched its 18th prosecution of a Hawkesbury landowner in Windsor Local Court, facing charges relating to unlawful water take from South Creek.
The landholder is facing six charges regarding taking water without a licence, using water in an unauthorised way, using an unauthorised pump, contravening an order to stop using the pump and not supplying information when requested.
The offences are alleged to have taken place in 2018 and 2019 and contravene sections 60A(2), s91A(1), s91G(2), s91B(1), Part 7, and s340A(1) of the Water Management Act 2000.
NRAR's Chief Regulatory Officer Grant Barnes praised NRAR's legal team, their colleagues in the Crown Solicitor's Office, and NRAR's investigators for their work ensuring that those who have flouted water laws are held to account.
"This is the 18th case NRAR has brought to prosecution, and there are several more cases in the wings," Mr Barnes said.
"The decision to take this action is not made lightly by NRAR, which weighs up the harm caused, culpability, public interest and attitude to compliance.
"With NSW still doing it tough in drought, having a strong and independent regulator is essential to protecting water supply and security. Bringing such cases to court is part of NRAR's tool kit for delivering a fair, transparent and enforceable water compliance system aimed at preventing unlawful water take."
NRAR's investigators and compliance officers travel all over the state's 58 water sharing plan areas, inspecting properties and assessing compliance with water users' licences and the Water Management Act 2000.
To make a confidential report on suspected water misuse, contact the NRAR Hotline on 1800 633 362 or email
nrar.enquiries@nrar.nsw.gov.au
. NRAR publishes monthly compliance activities and outputs reports. For more information about NRAR and what it does, visit
industry.nsw.gov.au/nrar
.
Sydney Water Fined $30,000 For Inadequate Clean-Up Of Sewer Overflows
The NSW Environment Protection Authority (EPA) has issued $30,000 in fines to Sydney Water Corporation for alleged breaches of their Environment Protection Licence in relation to the inadequate clean-up of sewage overflows which impacted waterways in Colebee and Caringbah South.
Approximately 126,000 litres of raw sewage was discharged from a leak in a sewer rising main impacting about 1.5 kilometres of an unnamed creek and Bells Creek at Colebee in western Sydney on 11 February 2019.
At Caringbah South, an unnamed creek and Port Hacking were affected by a sewage overflow on 3 March 2019 which impacted water quality.
The EPA's Director Regulatory Operations Giselle Howard said Sydney Water's Environment Protection Licence requires it to take all necessary actions as soon as possible in response to a sewage overflow to minimise the impact on the environment and public health.
"Untreated sewage can pose a risk to human health and have significant environmental impacts on waterways and land," Ms Howard said.
"For both incidents, the EPA alleges that Sydney Water failed to contain and clean-up the raw sewage as quickly as required."
Following a series of dry weather sewage overflows from its sewerage systems between November 2017 and September 2018, the EPA added special conditions to each of Sydney Water's 23 sewage treatment system environment protection licences, requiring an independent assessment of Sydney Water's overarching management and operational framework for responding to dry weather sewage overflows.
This program of works aims to improve environmental management practices at Sydney Water and in particular improve their response to sewage overflows.
Penalty notices are one of a number of tools the EPA can use to achieve environmental compliance, including formal warnings, licence conditions, notices and directions, mandatory audits, legally binding pollution reduction programs, enforceable undertakings and prosecutions.
Quarry Solutions Fined For Operating Without Environment Protection Licence
The Environment Protection Authority has fined North Coast company Quarry Solutions Pty Ltd $15,000 for allegedly operating without an environment protection licence.
Director Regulatory Operations, Regional North Karen Marler said that records obtained by the NSW EPA indicate that Quarry Solutions allegedly extracted more material than is permitted without a licence at the Doonbah Quarry near Woodburn and Evans Head in 2018.
"Quarry Solutions hold eight extractive activity licences with the EPA for works at other quarries and are therefore aware of licensing requirements. Furthermore, they were issued two Official Cautions in 2016 for the same offence.
"While no environmental harm was caused by the company's actions, it is important to obtain a licence to ensure environmental safeguards can be maintained and to ensure there is a level playing field for quarry operators," Mrs Marler said.
Quarry Solutions now has an environment protection licence in place for works at the Doonbah Quarry.
In considering its regulatory approach the EPA took into account factors including that Quarry Solutions cooperated with the EPA and that no environmental harm occurred and also that the company had received two Official Cautions for the same offence.
Quarries can extract smaller amounts up to 30,000 tonnes that produce lower potential environmental impacts without needing a licence.
New Research First To Relate Antarctic Sea Ice Melt To Weather Change In Tropics
March 16, 2020: University of California - San Diego
Arctic and Antarctic ice loss will account for about one-fifth of the warming that is projected to happen in the tropics, according to a new study led by Mark England, a polar climate scientist at Scripps Institution of Oceanography at the University of California San Diego, and Lorenzo Polvani, the Maurice Ewing and J. Lamar Worzel Professor of Geophysics at Columbia Engineering, England's doctoral supervisor.
While there is a growing body of research showing how the loss of Arctic sea ice affects other parts of the planet, this study is the first to also consider the long-range effect of Antarctic sea ice melt, the research team said.
"We think this is a game-changer as it shows that ice loss at both poles is crucial to understanding future tropical climate change," England said of the study funded by NASA and the National Science Foundation. "Our study will open a hitherto unexplored direction and motivate the science community to study the large effects that Antarctic sea ice loss will have on the climate system."
The years 2017 and 2018 set records for minimum sea ice extent in Antarctica. England and colleagues from Columbia University's School of Engineering, Colorado State University, and the National Center for Atmospheric Research in Colorado used computer simulations to see what scenarios play out near the equator if that decline continues through the end of the century. They found that Antarctic sea ice loss combines with Arctic sea ice loss to create unusual wind patterns in the Pacific Ocean that will suppress the upward movement of deep cold ocean water. This will trigger surface ocean warming, especially in the eastern equatorial Pacific Ocean. Warming there is a well-known hallmark of the El Niño climate pattern that often brings intense rains to North and South America and droughts to Australia and other western Pacific countries.
As that surface ocean water warms, it will also create more precipitation. Overall, the researchers believe the ice loss at both poles will translate to a warming of the surface ocean of 0.5℃ (0.9℉) at the equator and add more than 0.3 millimeters (0.01 inches) of rain per day in the same region.
This study joins several new analyses of the global impact of polar ice loss, including a January analysis by Scripps Oceanography physicist Charles Kennel suggesting that shrinking Arctic ice might change key characteristics of El Niño in the future.
Mark R. England, Lorenzo M. Polvani, Lantao Sun, Clara Deser. Tropical climate responses to projected Arctic and Antarctic sea-ice loss. Nature Geoscience, 2020; DOI: 10.1038/s41561-020-0546-9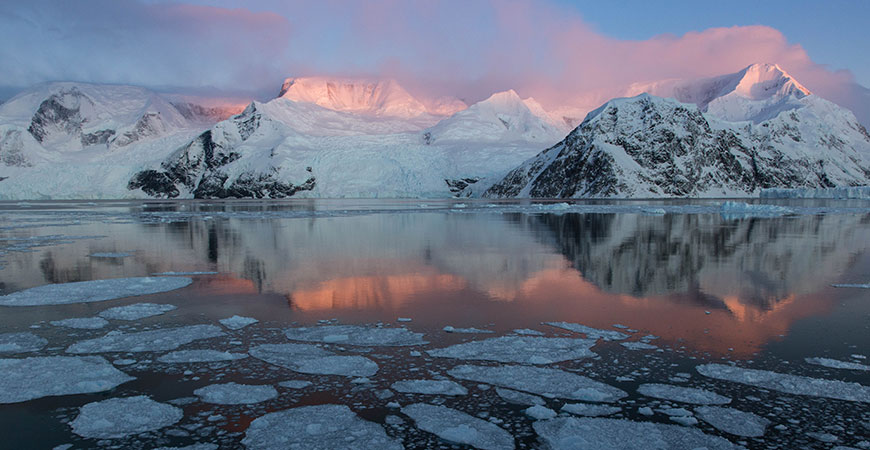 Pancake ice in Antarctica's Andvord Bay. Photo: Maria Stenzel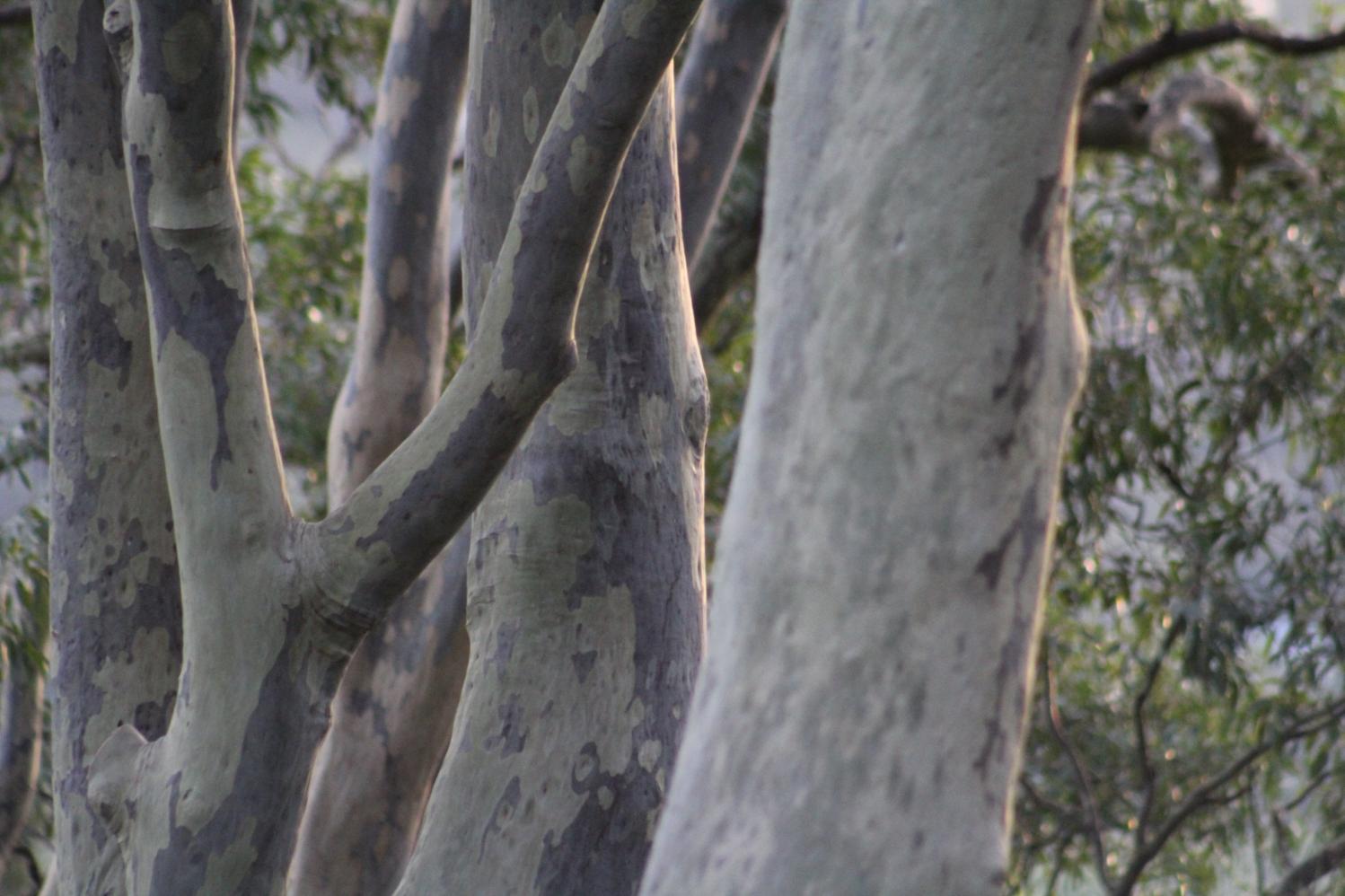 Aussie Bread Tags Collection Points
Collecting bread tags enables us to provide wheelchairs that change the life of disabled people in need, as well as keeping the tags out of landfill to help to preserve the environment.
Bread Tags for Wheelchairs was started in South Africa in 2006 by Mary Honeybun. It is a community program where individuals and organisations collect bread tags, which are sold to recyclers. The money raised pays for wheelchairs for the less fortunate which are purchased through a local pharmacy. Currently about 500kg of bread tags are collected a month in South Africa, funding 2-3 wheelchairs.
We have been collecting bread tags nationally in Australia since September 2018 and now have more than 100 collection points across the country. In February 2019 we started local recycling through Transmutation - Reduce, Reuse and Recycle in Robe, SA, where our tags are recycled into products such as door knobs and bowls. Tags from some states are still sent to South Africa where a plastics company called Zibo recycles them into seedling trays.
These humble bits of polystyrene can make a real difference so get your friends, family, school, workplace and church involved. Ask school tuck shops and boarding school kitchens, child care centres, aged care facilities, hospitals, cafes and fast food outlets to collect for you - they get through a lot of bread!
All the information and signage for collecting or setting up a public collection point is
on our website
.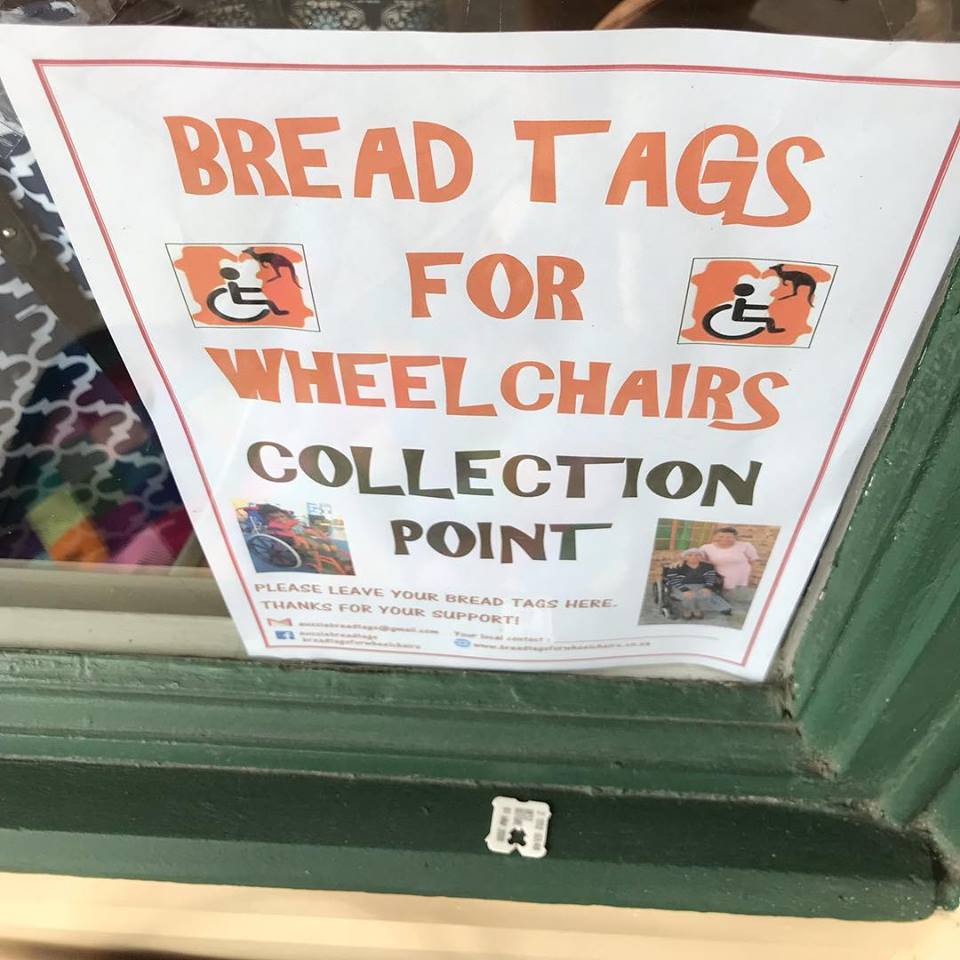 Zoos Victoria Now Live Streaming Animals: Bringing The Zoo To You
On Wednesday this week Zoos Victoria commenced live streaming videos of some of the animals they look after so people can see what's happening without having to leave home.
''We've set up a few live stream cameras from Melbourne Zoo and Werribee Open Range Zoo, so you can enjoy the zoo from anywhere.'' Zoos Victoria stated on a webpage dedicated to the live streaming setups.
'See Melbourne Zoo's three baby Snow Leopard cubs as they play under mum's watchful eye in their den. Enjoy the penguins as they go about their busy day; look up high and spot the giraffes as they spend most of the day eating; and check out the lazy lions of Werribee Open Range Zoo as they lord over their very own Pride Rock.
Can't see them? That's because our animals live in areas that are much bigger than what a camera can capture and they have the choice to wander wherever they please. Check back in later to spot them.' Zoos Victoria says.
Pittwater Online has embedded the Penguin Cam below but you can also visit the Snow Leopard Cub Cam, Giraffe Cam and Lion Cam - just click on the links we've place here and enjoy!
Dorothea Mackellar Poetry Awards 2020
It's been a few years since we reminded you of this one - but it's on again, entries close June 30th, and this may be the year you send yours in!
Named for a lady poet who had a lovely place at Lovett Bay and for whom our electorate is named - The Dorothea Mackellar Poetry Awards are back!
2020 OPTIONAL THEME: "WE USED TO LIVE THERE"
"Our poets are encouraged to take inspiration from wherever they may find it, however if they are looking for some direction, competition participants are invited to use this year's optional theme to inspire their entries."
In 2020, the Dorothea Mackellar Memorial Society has chosen the theme "We Used to Live There." Instantly a nostalgic feeling of home and belonging washes over you, but we're sure Australian students will surprise us with their interpretations. As always, it is an optional theme, so please write about whatever topic sparks your poetic genius.
For a copy of the wonderful theme poster, please click here.
About
In 1983, Mrs Maas (OAM PHF), with the support of volunteer judges Rosemary Dobson and Joan Phipson and local poet Anne Bell, orchestrated the foundation of the Dorothea Mackellar Memorial Society Inc. – the body that now hosts the Dorothea Mackellar Poetry Awards. It comprises a volunteer committee of community members from a wide range of backgrounds.
The poetry competition has grown from 300 entries in 1984 to tens of thousands of entries each year from school students across the nation. The competition also has a dedicated following from teachers whose support is integral to its continued success.
Jean Isherwood was also deeply touched by My Country and in 1983 set herself the task of painting a series of watercolours that she hoped would reflect the beauty described in the verses. This collection can be viewed at the Mackellar Centre.
THE DOROTHEA MACKELLAR SCULPTURE
The Dorothea Mackellar statue is now one of Gunnedah's most visited landmarks.
For the historians, the bronze statue was constructed in 1983 by a well know sculptor Dennis Adams and faces towards Kurrumbede and The Rampadells, the Mackellar family holdings in the early 20th century.
The parkland around the memorial has been developed and dedicated to the founder of the Dorothea Mackellar Memorial Society, Mrs Maas.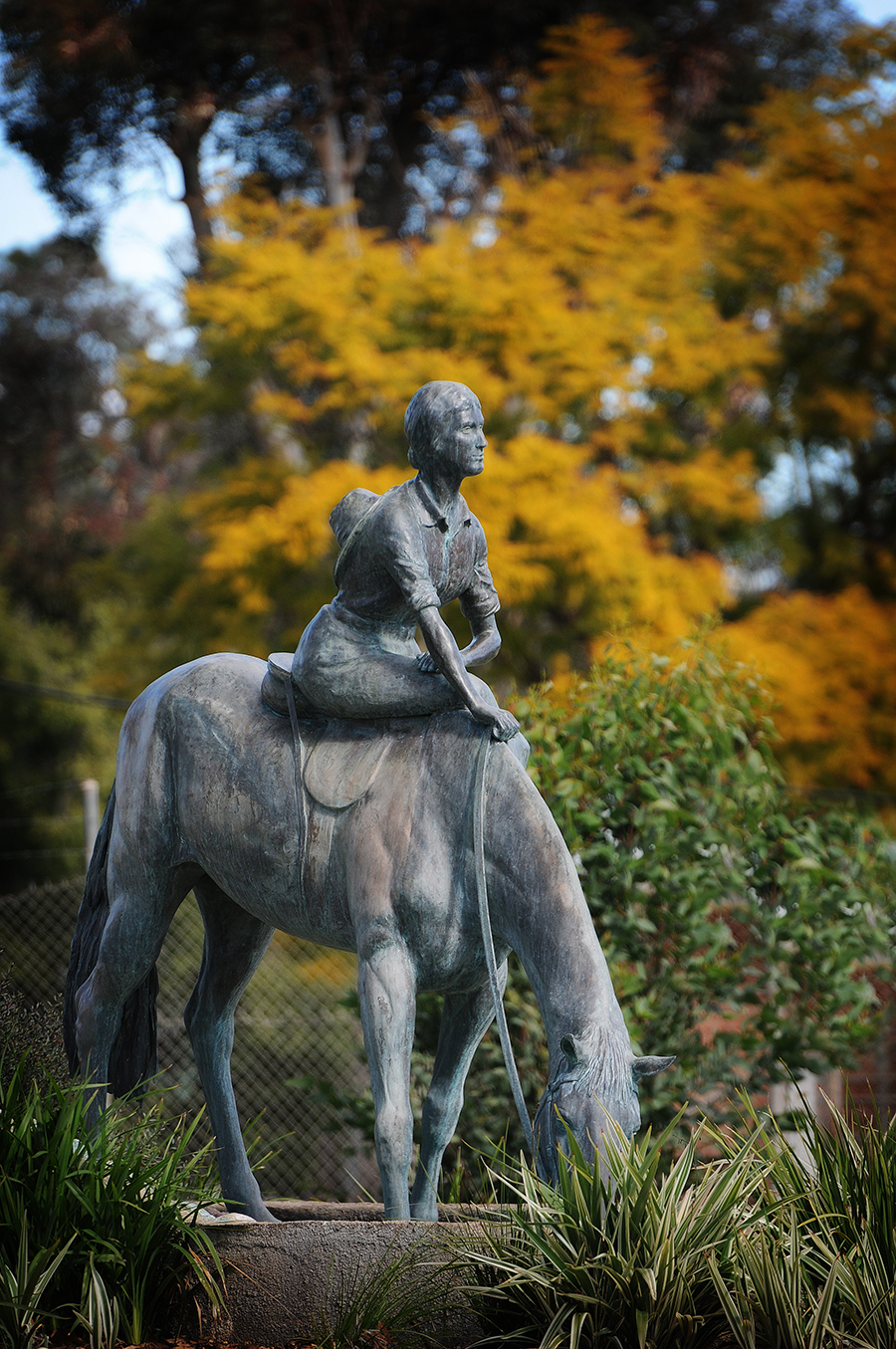 Dorothea Mackellar Statue
HOW TO ENTER
*PLEASE NOTE: If you're registering as an individual student, put your HOME address in your personal details and not your SCHOOL'S address! The address you list is where your participation certificate will be posted!*
ONLINE SUBMISSION
(primary school and secondary school, anytime during the competition period)
Teacher/parent - registration completed online (invoice will be emailed within 2 weeks of registration)
Log in to your page
Enter student details and submit poem(s) (cut and paste or type in poem content direct to the webpage) PLEASE DO NOT UPLOAD POEMS AS ATTACHMENTS AS THAT FUNCTION IS FOR POSTAL ENTRIES ONLY.
Repeat step 3 for every student/individual poem
SUBMISSION VIA MAIL (ADMINISTRATION FEE APPLIES- SEE CONDITIONS OF ENTRY FOR DETAILS)
(primary only)
PLEASE CONSIDER ONLINE ENTRY TO HELP US SAVE TIME AND REDUCE HUMANITY'S ENVIRONMENTAL FOOTPRINT.
Teacher/parent - registration completed online (invoice will be emailed within 2 weeks of registration)
Print out and complete entry form for/by each student. Entry form available here.
Print out poems (text must be in a easily distinguishable font – Arial, Times New Roman, hand-written poems not accepted)
Glue completed entry form to the back of each entry
Teacher to collate all entries, enclose entry fee or a confirmation of payment and mail to the Dorothea Mackellar Poetry Awards, PO Box 113, Gunnedah, NSW, 2380
Mailed entries are individually scanned and submitted online by the Awards' organisers. Please consider online entry to help us save valuable time during this hectic period and reduce our environmental footprint. We can all make a difference.
USEFUL TIPS
Have a read of the judges' reports from the previous year. They contain some very helpful advice for teachers and parents alike!
It is recommended for schools to appoint a coordinator for the competition.
Only a teacher/parent can complete the registration form on behalf of the student/child.
Log-in details: username is the email address and a password of your choice.
Log-in details can be given to other teachers/students for poem submission in class/at home.
Log-in as many times as necessary during the competition period.
Teachers can view progress by monitoring the number and content of entries.
Individual entries are accepted if the school is not participating or a child is home schooled. Parent needs to complete the registration form with their contact details. Please indicate 'individual entry' under school name and home postal address under school address.
Invoice for the entry fee will be sent to the registered email address within 2 weeks.
'Participation certificate only' option available for schools where pre-selection of entries has been carried out. Poems under this option will not be sent to judges, students will still receive participation certificate for their efforts.
Please read the Conditions of Entry before entering. Entries accepted: March 1 to June 30, results announced during early September.
NEED SOME INSPIRATION?
Check out our learning resources or browse the previous years' themes and winning entries.
For more, please visit: https://www.dorothea.com.au/How-to-Enter-awards
AWARD CATEGORIES AND PRIZES
Lower Primary (Years K – 3)
Winner: $300, trophy and prize pack
Runner-up: $150 and prize pack
Upper Primary (Years 4 – 6, Inc. Year 7 in SA)
Winner: $400, trophy and prize pack
Runner-up: $200 and prize pack
Assisted Learning Primary
Winner: $400, trophy and prize pack
Runner-up: $200 and prize pack
Entries to be submitted by the teacher, eligibility criteria:
students on assisted learning programs
students with English as a second language.
Junior Secondary (Years 7 – 9)
Winner: $500, trophy and prize pack
Runner-up: $300 and prize pack
Senior Secondary (Years 10 – 12)
Winner: $500, trophy and prize pack
Runner-up: $300 and prize pack
Assisted Learning Secondary
Winner: $500, trophy and prize pack
Runner-up: $300 and prize pack
Entries to be submitted by the teacher, eligibility criteria:
students on assisted learning programs
students with English as a second language.
Schools' Award
For schools that demonstrate effort, achievement and a high standard of entries, awarded at the judges' discretion.
Winner Primary: $1000, trophy and prize pack
Winner Secondary: $1000, trophy and prize pack
Prize Packs
Prize packs include a unique trophy and a wonderful collection of books from a number of publishing houses and local businesses.
Find out more at: www.dorothea.com.au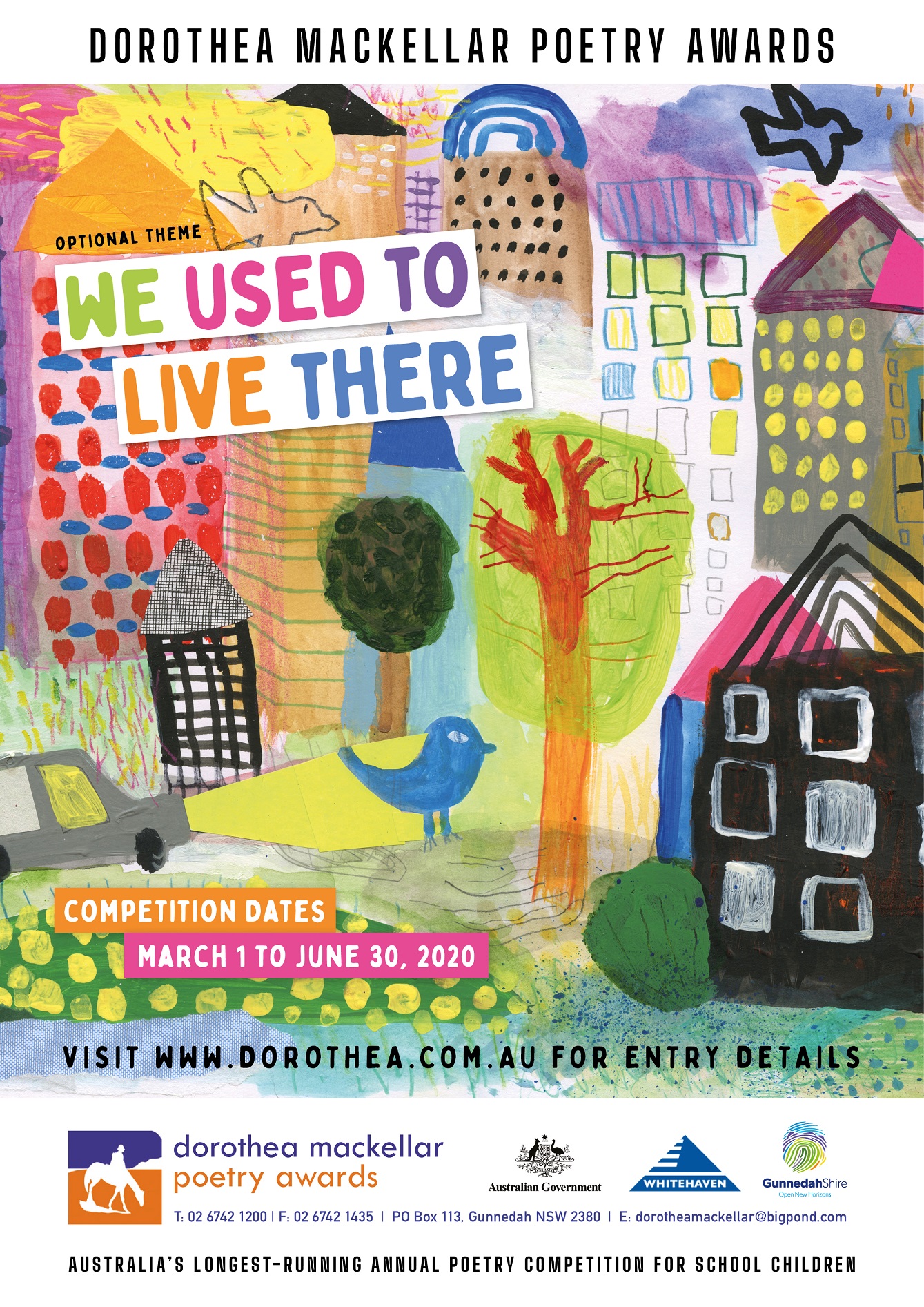 Temporary Library Closures
Council is taking measured precautions to keep our staff and community safe amid the evolving situation with Coronavirus (COVID-19).
In the interest of staff and community safety, we have made the difficult decision to temporarily close Glen Street, Forestville and Dee Why libraries from Wednesday 18 March.
Avalon Community Library will also be closed.
Warringah Mall, Manly and Mona Vale libraries will remain open
and return chutes are accessible.
Branches will be open from 9 - 11am for customers with a disability, older and vulnerable people and their carers
. From 11am, branches will be open to everyone.
Staff from closed libraries will be redeployed to operate a new Click and Collect library service to allow our members to keep borrowing and reading through this difficult time. Further details about this new service will be available shortly.
Our
Home Library Service
will also continue and will be offering an increased service for the most vulnerable in our community.
Council has also taken the decision to postpone all library programs until further notice. Our top priority is the health and safety of our staff and community. These are difficult circumstances and we appreciate your patience and understanding.
Parkinson's Disease Linked To Gene Targeted By Blue-Green Algae Toxin
March 16, 2020: University of Queensland
Scientists have discovered a possible link between Parkinson's disease and a gene impacted by a neurotoxin found in blue-green algae.
University of Queensland scientist Dr Jacob Gratten said the findings increased the understanding of the environmental risk factors of Parkinson's disease.
"We looked for a link between Parkinson's and changes in the human genome that control how genes are turned on and off, because these changes can be influenced by the environment," Dr Gratten said.
"We found a gene, previously not known to be linked to Parkinson's, which displayed reduced activity in people with the disease.
"This same gene is known to be targeted by a blue-green algae neurotoxin."
Blue-green algae is found in inland waterways and poses a health risk to people, domestic animals and stock that come into contact with the toxic algal blooms.
The research team at MRI-UQ made the discovery in collaboration with Professor George Mellick at Griffith University and colleagues from New South Wales and New Zealand.
Their findings are the culmination of more than a decade of scientific effort.
Neurotoxins released by blue-green algae reduce activity of the gene identified in the study.
Researchers predict this will lead to higher oxidative stress levels in nerve cells associated with Parkinson's disease, which can lead to cell death.
Dr Gratten said that while the study does not provide a direct link with Parkinson's, blue-green algae had previously been associated with other neurodegenerative diseases such as motor neuron disease.
"This gives us confidence that we're moving in the right direction towards understanding the environmental causes of Parkinson's disease," Dr Gratten said.
UQ geneticist Professor Peter Visscher, from the the Institute for Molecular Bioscience, who co-led the study, said Parkinson's disease affects 1 in 100 people over 60-years-old and that figure is projected to double by 2040 as the population ages.
"This disease destroys lives and devastates families, so we're determined to unlock the mystery behind Parkinson's," Professor Visscher said.
"More work is needed to confirm our findings, and to explore other possible explanations for the link between this gene and Parkinson's disease, such as pesticides."
Costanza L. Vallerga, Futao Zhang, Javed Fowdar, Allan F. McRae, Ting Qi, Marta F. Nabais, Qian Zhang, Irfahan Kassam, Anjali K. Henders, Leanne Wallace, Grant Montgomery, Yu-Hsuan Chuang, Steve Horvath, Beate Ritz, Glenda Halliday, Ian Hickie, John B. Kwok, John Pearson, Toni Pitcher, Martin Kennedy, Steven R. Bentley, Peter A. Silburn, Jian Yang, Naomi R. Wray, Simon J. G. Lewis, Tim Anderson, John Dalrymple-Alford, George D. Mellick, Peter M. Visscher, Jacob Gratten.
Analysis of DNA methylation associates the cystine–glutamate antiporter SLC7A11 with risk of Parkinson's disease.
Nature Communications, 2020; 11 (1) DOI:
10.1038/s41467-020-15065-7
COVID-19: The Immune System Can Fight Back
March 18, 2020: University of Melbourne
Melbourne researchers have mapped immune responses from one of Australia's first novel coronavirus (COVID-19) patients, showing the body's ability to fight the virus and recover from the infection.
Researchers at the Peter Doherty Institute for Infection and Immunity (Doherty Institute) -- a joint venture between the University of Melbourne and the Royal Melbourne hospital -- were able to test blood samples at four different time points in an otherwise healthy woman in her 40s, who presented with COVID-19 and had mild-to-moderate symptoms requiring hospital admission.
Published today in Nature Medicine is a detailed report of how the patient's immune system responded to the virus. One of the authors on the paper, research fellow Dr Oanh Nguyen said this was the first time that broad immune responses to COVID-19 have been reported.
"We looked at the whole breadth of the immune response in this patient using the knowledge we have built over many years of looking at immune responses in patients hospitalised with influenza," Dr Nguyen said.
"Three days after the patient was admitted, we saw large populations of several immune cells, which are often a tell-tale sign of recovery during seasonal influenza infection, so we predicted that the patient would recover in three days, which is what happened."
The research team was able to do this research so rapidly thanks to SETREP-ID (Sentinel Travellers and Research Preparedness for Emerging Infectious Disease), led by Royal Melbourne Hospital Infectious Diseases Physician Dr Irani Thevarajan at the Doherty Institute.
SETREP-ID is a platform that enables a broad range of biological sampling to take place in returned travellers in the event of a new and unexpected infectious disease outbreak, which is exactly how COVID-19 started in Australia.
"When COVID-19 emerged, we already had ethics and protocols in place so we could rapidly start looking at the virus and immune system in great detail," Dr Thevarajan said.
"Already established at a number of Melbourne hospitals, we now plan to roll out SETREP-ID as a national study."
Working together with University of Melbourne Professor Katherine Kedzierska, a laboratory head at the Doherty Institute and a world-leading influenza immunology researcher, the team were able to dissect the immune response leading to successful recovery from COVID-19, which might be the secret to finding an effective vaccine.
"We showed that even though COVID-19 is caused by a new virus, in an otherwise healthy person, a robust immune response across different cell types was associated with clinical recovery, similar to what we see in influenza," Professor Kedzierska said.
"This is an incredible step forward in understanding what drives recovery of COVID-19. People can use our methods to understand the immune responses in larger COVID-19 cohorts, and also understand what's lacking in those who have fatal outcomes."
Dr Thevarajan said that current estimates show more than 80 per cent of COVID-19 cases are mild-to-moderate, and understanding the immune response in these mild cases is very important research.
"We hope to now expand our work nationally and internationally to understand why some people die from COVID-19, and build further knowledge to assist in the rapid response of COVID-19 and future emerging viruses," she said.
Irani Thevarajan, Thi H. O. Nguyen, Marios Koutsakos, Julian Druce, Leon Caly, Carolien E. van de Sandt, Xiaoxiao Jia, Suellen Nicholson, Mike Catton, Benjamin Cowie, Steven Y. C. Tong, Sharon R. Lewin, Katherine Kedzierska.
Breadth of concomitant immune responses prior to patient recovery: a case report of non-severe COVID-19
. Nature Medicine, 2020; DOI:
10.1038/s41591-020-0819-2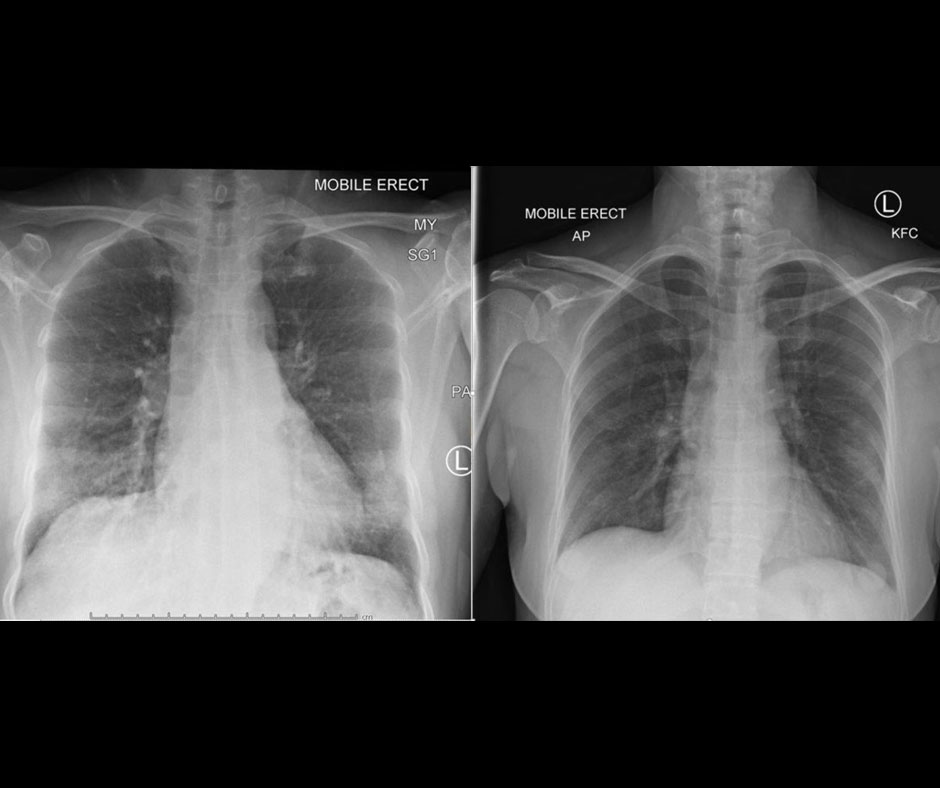 Researchers were able to dissect the immune response leading to successful recovery from COVID-19, which might be the secret to finding an effective vaccine. Image: Doherty Institute
New Coronavirus Stable For Hours On Surfaces
March 17, 2020: NIH/National Institute of Allergy and Infectious Diseases
The virus that causes coronavirus disease 2019 (COVID-19) is stable for several hours to days in aerosols and on surfaces, according to a new study from National Institutes of Health, CDC, UCLA and Princeton University scientists in The New England Journal of Medicine.
The scientists found that severe acute respiratory syndrome coronavirus 2 (SARS-CoV-2) was detectable in aerosols for up to three hours, up to four hours on copper, up to 24 hours on cardboard and up to two to three days on plastic and stainless steel. The results provide key information about the stability of SARS-CoV-2, which causes COVID-19 disease, and suggests that people may acquire the virus through the air and after touching contaminated objects. The study information was widely shared during the past two weeks after the researchers placed the contents on a preprint server to quickly share their data with colleagues.
The NIH scientists, from the National Institute of Allergy and Infectious Diseases' Montana facility at Rocky Mountain Laboratories, compared how the environment affects SARS-CoV-2 and SARS-CoV-1, which causes SARS. SARS-CoV-1, like its successor now circulating across the globe, emerged from China and infected more than 8,000 people in 2002 and 2003. SARS-CoV-1 was eradicated by intensive contact tracing and case isolation measures and no cases have been detected since 2004. SARS-CoV-1 is the human coronavirus most closely related to SARS-CoV-2. In the stability study the two viruses behaved similarly, which unfortunately fails to explain why COVID-19 has become a much larger outbreak.
The NIH study attempted to mimic virus being deposited from an infected person onto everyday surfaces in a household or hospital setting, such as through coughing or touching objects. The scientists then investigated how long the virus remained infectious on these surfaces.
The scientists highlighted additional observations from their study:
If the viability of the two coronaviruses is similar, why is SARS-CoV-2 resulting in more cases? Emerging evidence suggests that people infected with SARS-CoV-2 might be spreading virus without recognizing, or prior to recognizing, symptoms. This would make disease control measures that were effective against SARS-CoV-1 less effective against its successor.
In contrast to SARS-CoV-1, most secondary cases of virus transmission of SARS-CoV-2 appear to be occurring in community settings rather than healthcare settings. However, healthcare settings are also vulnerable to the introduction and spread of SARS-CoV-2, and the stability of SARS-CoV-2 in aerosols and on surfaces likely contributes to transmission of the virus in healthcare settings.
The findings affirm the guidance from public health professionals to use precautions similar to those for influenza and other respiratory viruses to prevent the spread of SARS-CoV-2:
Avoid close contact with people who are sick.
Avoid touching your eyes, nose, and mouth.
Stay home when you are sick.
Cover your cough or sneeze with a tissue, then throw the tissue in the trash.
Clean and disinfect frequently touched objects and surfaces using a regular household cleaning spray or wipe.
Neeltje van Doremalen, Trenton Bushmaker, Dylan H. Morris, Myndi G. Holbrook, Amandine Gamble, Brandi N. Williamson, Azaibi Tamin, Jennifer L. Harcourt, Natalie J. Thornburg, Susan I. Gerber, James O. Lloyd-Smith, Emmie de Wit, Vincent J. Munster.
Aerosol and Surface Stability of SARS-CoV-2 as Compared with SARS-CoV-1.
New England Journal of Medicine, 2020; DOI:
10.1056/NEJMc2004973
COVID-19 Appears Less Severe In Children
March 13, 2020: Wolters Kluwer Health
As outbreaks of COVID-19 disease caused by the novel severe acute respiratory syndrome coronavirus 2 (SARS-CoV-2) continue worldwide, there's reassuring evidence that children have fewer symptoms and less severe disease. That's among the insights provided by an expert review in The Pediatric Infectious Disease Journal, the official journal of The European Society for Paediatric Infectious Diseases. The journal is published in the Lippincott portfolio by Wolters Kluwer.
Like previous epidemic coronaviruses, "SARS-CoV-2 [seems] to cause fewer symptoms and less severe disease in children compared with adults," according to the review by Petra Zimmerman, MD, PhD, of the University of Fribourg, Switzerland and Nigel Curtis, FRCPCH, PhD, of The University of Melbourne, Australia. They summarise available evidence on coronavirus infections in children, including COVID-19.
"There is some suggestion that children are just as likely as adults to become infected with the virus but are less likely to be unwell or develop severe symptoms," Drs. Zimmerman and Curtis write. "However, the importance of children in transmitting the virus remains uncertain."
The Evidence on SARS-CoV-2 -- Focusing on Risks to Children
Coronaviruses are a large family of viruses that can cause infection and disease in animals. "Coronaviruses are capable of rapid mutation and recombination, leading to novel coronaviruses that can spread from animals to humans," Drs. Zimmerman and Curtis write. There are four coronaviruses that circulate in humans, mostly causing respiratory and gastrointestinal symptoms -- ranging from the common cold to severe disease.
Over the past two decades, there have been three major disease outbreaks due to novel coronaviruses: SARS-CoV in 2002, MERS-CoV in 2012, and now SARS-CoV-2 in 2019. Arising in the Chinese city of Wuhan, SARS-Cov-2 spread rapidly around the world and has been declared a pandemic by the World Health Organisation. "The term COVID-19 is used for the clinical disease caused by SARS-CoV-2," according to the authors. Transmission of SARS-CoV-2 appears similar to that of the related SARS and MERS coronaviruses, but with a lower fatality rate. SARS-CoV-2 can still cause serious and life-threatening infections -- particularly in older people and those with pre-existing health conditions.
What are the risks for children from SARS-CoV-2? It's a pressing question for paediatric infectious disease specialists and concerned parents alike. Children appear to have milder clinical symptoms than adults and to be at substantially lower risk of severe disease -- which was also true in the SARS and MERS epidemics.
In Chinese data from February 2020, children and adolescents accounted for only two percent of SARS-CoV-2 hospitalisations, Drs. Zimmerman and Curtis write. However, as children are less frequently symptomatic and have less severe symptoms they are less often tested, which might lead to an underestimate of the true numbers infected. Also, children are less frequently exposed to the main sources of transmission.
Again based on Chinese data, "Most infected children recover one to two weeks after the onset of symptoms, and no deaths had been reported by February 2020," the researchers add. Most reported infections with SARS-CoV-2 have occurred in children with a documented household contact. Children with COVID-19 may be more likely to develop gastrointestinal symptoms.
The experts also review the diagnostic findings (laboratory tests and imaging studies) of children with COVID-19 laboratory and imaging findings in children. Whole genome sequencing approaches have enabled rapid development of molecular diagnostic tests for SARS-CoV-2. For now, treatment is supportive; no specific antiviral medications are available.
Several approaches are being considered for development of new drugs and vaccines -- some targeting a "spike glycoprotein" involved in interactions between coronaviruses and cells. Until such treatment and preventive measures are available, the researchers emphasise the importance of the full range of strategies for controlling SARS-CoV-2 -- as for the "highly effective global public health response" that led to containment of the SARS epidemic.
Petra Zimmermann, Nigel Curtis.
Coronavirus Infections in Children Including COVID-19
. The Pediatric Infectious Disease Journal, March 12, 2020; DOI:
10.1097/INF.0000000000002660
Youth Law Australia: Providing Online Assistance To Children With Legal Problems
March 17, 2020: Kassi Klower, UNSW
Ensuring children have free access to legal assistance empowers and protects them.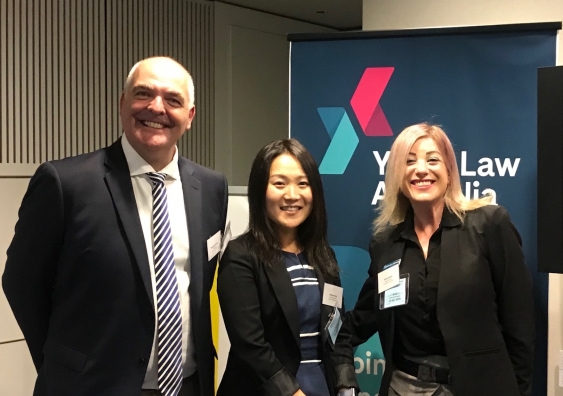 Youth Law Australia Director Matthew Keeley (left) and Principal Solicitor Ahram Choi (middle). Photo: supplied.
When 16-year-old Sarah* was removed from Australia by her mother and left in another country with no passport and threatened to be married against her will, she reached out to Youth Law Australia, a not-for-profit organisation that provides free, comprehensive and confidential legal advice online to people under the age of 25.
"This matter really stuck with me because of the level of assistance we provided [Sarah]. Her advocate in Australia was able to connect her to us and we were able to give her legal advice, practical guidance on how to stay safe, and engage a lawyer to provide her with representation and bring her back safely," says Ahram Choi, the Principal Solicitor for YLA.
Ms Choi says a high percentage of children and young people face legal issues. "The literature around legal need has identified that more than 50 percent of young people between 18 and 24 experience a legal problem every year, and we estimate about a quarter of young people under 18 experience a legal problem every year," she says.
"Not all community legal aid will be able to advise young people on things like their civil issues. It's definitely an underserviced area."
Previously called the National Children's and Youth Law Centre, YLA was established in 1993. In the last financial year, they provided advice on more than 1500 legal matters from children all over Australia submitted through their online portal, from school uniform breaches and cyber-bullying matters through to issues of forced marriage and child abuse.
The online model works because it responds to how young people reach out for help, says YLA Director Matthew Keeley. "If we truly believe in helping children, we have to be available to them through the channels they prefer. Currently that's 24/7, through web form, phone or email. With more resources we could introduce live chat, text and other modes, ensuring every child's communication needs or preferences are addressed," he says.
"When young people reach out for help and don't get it, they may [incorrectly] surmise there's no point, so engendering a culture of help-seeking and finding is at the core of what we do."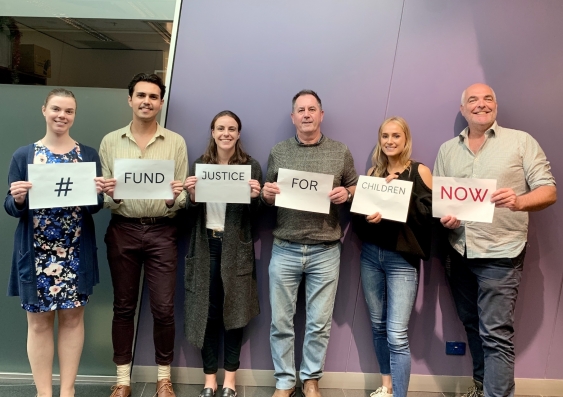 Youth Law Australia. Photo: supplied.
The law is often complicated, and children are particularly vulnerable in the legal system, so it is vital to explain the law in ways that make sense to them, says Mr Keeley. The centre educates and empowers them, putting them in a better position to protect themselves and increase their legal literacy.
If young people know "they can talk to a lawyer or counsellor, but also recognise that what has happened to them isn't just morally wrong or unfair, but it is legally wrong" then the Centre has fulfilled its aim, says Maree Selvaraj, former project officer for YLA.
It's important to ensure young people know they "have the right to seek a solution to that [legal] problem, regardless of age," Ms Selvaraj says.
Ms Selvaraj worked with the YLA TeachLaw program that produces learning materials for teachers to educate young people in schools about their legal rights and responsibilities.
YLA relies on the generosity of organisations and volunteers who donate resources and time to the centre. UNSW provides the centre with facilities. Being based at UNSW means they are uniquely positioned to be research collaborators with both the Faculty of Law and the Social Policy Research Centre. There is a healthy stream of student volunteers and interns applying to work for YLA, and pro bono organisations, solicitors and law firms also donate time to draft legal advice through the online portal.
YLA also has a long history of leading children's rights monitoring and reporting in Australia. They were integral in creating the National Children's Commissioner role, and often make submissions to law reform inquiries or parliamentary inquiries, and report to the United Nations.
The centre liaises with other child rights-focused organisations to improve policy and legal practice.
"We were very influential in the framing of the Enhancing Online Safety for Children Act in 2014 and 2015, for example. The practice we created here of generating cease-and-desist notices to online bullies and other abusers formed the basis of similar notices within the legislation, and shows how our legal practice, research and advocacy can come together to affect positive change," says Mr Keeley
For two decades, they have held leadership roles in the Child Rights Task Force, a delegation of NGOs that speak to the United Nations on Australia's compliance with the Convention on the Rights of the Child. Due to inadequate government funding, they have been forced to resign from leading the taskforce.
"Not being able to participate in children's rights implementation and advocacy to the level we should is a loss to the Australian community. Our unique insights and knowledge of the many legal problems confronting children all over Australia are now not able to be incorporated in those law reform and legal service planning contexts," says Mr Keeley.
"The thing that is most profound about this organisation is that we aim to be there for any child in Australia, on any legal matter, at any time. We make no discrimination of any kind as to jurisdiction, legal matter or type of person we will assist. No other legal service in Australia can say this."
*Name has been changed
To find out more about the services that Youth Law Australia provide, visit their website.
Thucydides and the plague of Athens - what it can teach us now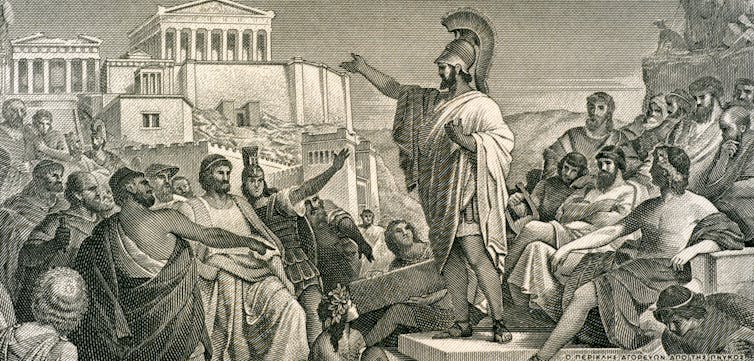 Chris Mackie
,
La Trobe University
The coronavirus is concentrating our minds on the fragility of human existence in the face of a deadly disease. Words like "epidemic" and "pandemic" (and "panic"!) have become part of our daily discourse.
These words are Greek in origin, and they point to the fact that the Greeks of antiquity thought a lot about disease, both in its purely medical sense, and as a metaphor for the broader conduct of human affairs. What the Greeks called the "plague" (loimos) features in some memorable passages in Greek literature.
One such description sits at the very beginning of western literature. Homer's Iliad, (around 700BC), commences with a description of a plague that strikes the Greek army at Troy. Agamemnon, the leading prince of the Greek army, insults a local priest of Apollo called Chryses.
Apollo is the plague god – a destroyer and healer – and he punishes all the Greeks by sending a pestilence among them. Apollo is also the archer god, and he is depicted firing arrows into the Greek army with a terrible effect:
Apollo strode down along the pinnacles of Olympus angered

in his heart, carrying on his shoulders the bow and the hooded

quiver; and the shafts clashed on the shoulders of the god walking angrily. …

Terrible was the clash that rose from the bow of silver.

First he went after the mules and the circling hounds, then let go

a tearing arrow against the men themselves and struck them.

The corpse fires burned everywhere and did not stop burning.
Plague Narratives
About 270 years after the Iliad, or thereabouts, plague is the centrepiece of two great classical Athenian works – Sophocles' Oedipus the King, and Book 2 of Thucydides' History of the Peloponnesian War.
Thucydides (c.460-400BC) and Sophocles (490-406BC) would have known one another in Athens, although it is hard to say much more than that for a lack of evidence. The two works mentioned above were produced at about the same time. The play Oedipus was probably produced about 429 BC, and the plague of Athens occurred in 430-426 BC.
Thucydides writes prose, not verse (as Homer and Sophocles do), and he worked in the comparatively new field of "history" (meaning "enquiry" or "research" in Greek). His focus was the Peloponnesian war fought between Athens and Sparta, and their respective allies, between 431 and 404 BC.
Thucydides' description of the plague that struck Athens in 430 BC is one of the great passages of Greek literature. One of the remarkable things about it is how focused it is on the general social response to the pestilence, both those who died from it and those who survived.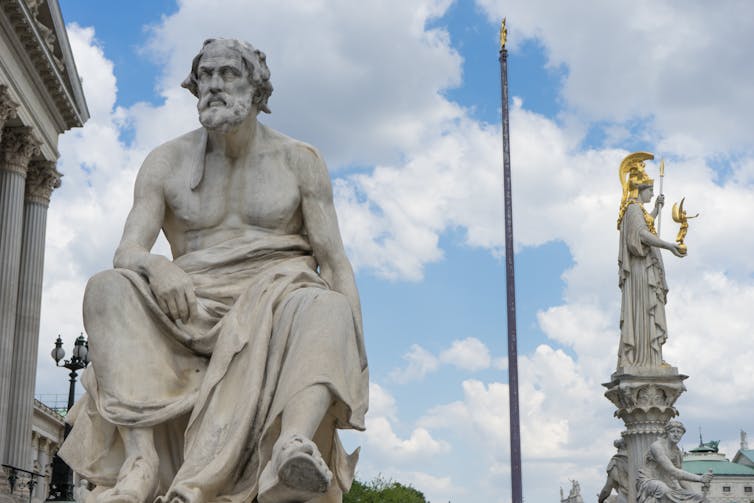 A Health Crisis
The description of the plague immediately follows on from Thucydides' renowned account of Pericles' Funeral Oration (it is important that Pericles died of the plague in 429 BC, whereas Thucydides caught it but survived).
Thucydides gives a general account of the early stages of the plague – its likely origins in north Africa, its spread in the wider regions of Athens, the struggles of the doctors to deal with it, and the high mortality rate of the doctors themselves.
Nothing seemed to ameliorate the crisis – not medical knowledge or other forms of learning, nor prayers or oracles. Indeed "in the end people were so overcome by their sufferings that they paid no further attention to such things".
He describes the symptoms in some detail – the burning feeling of sufferers, stomachaches and vomiting, the desire to be totally naked without any linen resting on the body itself, the insomnia and the restlessness.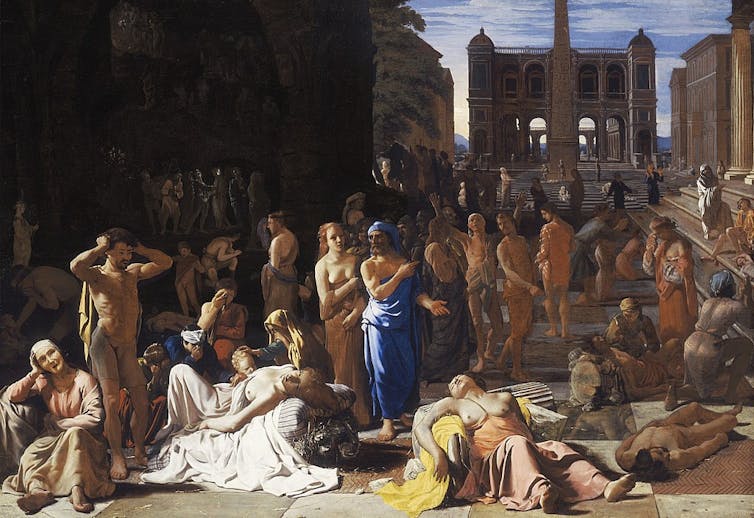 The next stage, after seven or eight days if people survived that long, saw the pestilence descend to the bowels and other parts of the body – genitals, fingers and toes. Some people even went blind.
Words indeed fail one when one tries to give a general picture of this disease; and as for the sufferings of individuals, they seemed almost beyond the capacity of human nature to endure.
Those with strong constitutions survived no better than the weak.
The most terrible thing was the despair into which people fell when they realized that they had caught the plague; for they would immediately adopt an attitude of utter hopelessness, and by giving in in this way, would lose their powers of resistance.
Lastly, Thucydides focuses on the breakdown in traditional values where self-indulgence replaced honour, where there existed no fear of god or man.
As for offences against human law, no one expected to live long enough to be brought to trial and punished: instead everyone felt that a far heavier sentence had been passed on him.
The whole description of the plague in Book 2 lasts only for about five pages, although it seems longer.
The first outbreak of plague lasted two years, whereupon it struck a second time, although with less virulence. When Thucydides picks up very briefly the thread of the plague a little bit later (3.87) he provides numbers of the deceased: 4,400 hoplites (citizen-soldiers), 300 cavalrymen and an unknown number of ordinary people.
Nothing did the Athenians so much harm as this, or so reduced their strength for war.
A Modern Lens
Modern scholars argue over the science of it all, not the least because Thucydides offers a generous amount of detail of the symptoms.
Epidemic typhus and smallpox are most favoured, but about 30 different diseases have been posited.
Thucydides offers us a narrative of a pestilence that is different in all kinds of ways from what we face.
The lessons that we learn from the coronavirus crisis will come from our own experiences of it, not from reading Thucydides. But these are not mutually exclusive. Thucydides offers us a description of a city-state in crisis that is as poignant and powerful now, as it was in 430BC.

Chris Mackie, Professor of Classics, La Trobe University
This article is republished from The Conversation under a Creative Commons license. Read the original article.
Australian Tiny Homes: Free Webinar
Australians have always found ways to create their vision of home on a small scale, whether by necessity or design. In this mini-webinar we'll explore how people have made homes in small spaces, and the materials that encouraged their dreams.
Book here for Tiny Homes webinar: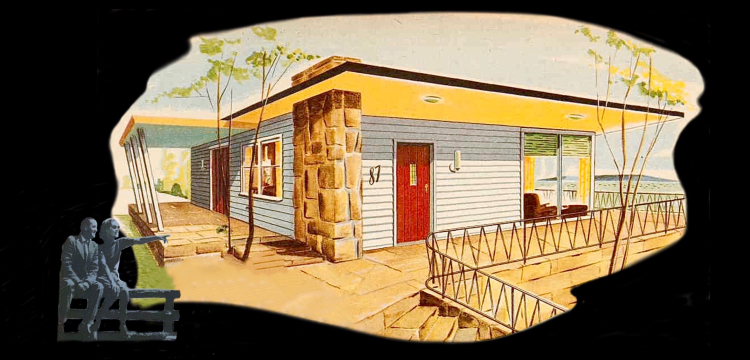 Plastic Building Bricks Could Survive In Ocean For Up To 1,300 Years
A LEGO brick could survive in the ocean for as many as 1,300 years, according to new research.
A study led by the University of Plymouth examined the extent to which items of the ever-popular children's toy were worn down in the marine environment.
By measuring the mass of individual bricks found on beaches against equivalent unused pieces and the age of blocks obtained from storage, researchers estimated that the items could endure for anywhere between 100 and 1,300 years.
They say it once again reinforces the message that people need to think carefully about how they dispose of everyday household items.
The research, published in the journal Environmental Pollution, focused on bricks of LEGO found washed up on the coastlines of South West England.
Over the past decade, voluntary organisations from Cornwall -- including Rame Peninsula Beach Care and the LEGO Lost at Sea Project -- have retrieved thousands of pieces and other plastic waste during regular beach cleans.
Previous studies have indicated that many of these could have either been lost during beach visits or entered the environment via the household waste process.
For this particular study, 50 pieces of weathered LEGO -- constructed of acrylonitrile butadiene styrene (ABS) and collected from beaches -- were washed and then weighed in labs at the University, with the size of the studs also being measured.
The chemical characteristics of each block were then determined using an X-ray fluorescence (XRF) spectrometer, with the results used to confirm the age of individual pieces based on the presence of certain elements no longer in use.
By pairing those items with unweathered sets purchased in the 1970s and 80s, researchers were able to identify levels of wear and -- as a result -- how long the pieces might continue to endure in the marine environment.
The study was led by Dr Andrew Turner, Associate Professor (Reader) in Environmental Sciences, who has previously conducted extensive research into the chemical properties of items washed up as marine litter.
He said: "LEGO is one of the most popular children's toys in history and part of its appeal has always been its durability. It is specifically designed to be played with and handled, so it may not be especially surprising that despite potentially being in the sea for decades it isn't significantly worn down. However, the full extent of its durability was even a surprise to us.
"The pieces we tested had smoothed and discoloured, with some of the structures having fractured and fragmented, suggesting that as well as pieces remaining intact they might also break down into microplastics. It once again emphasises the importance of people disposing of used items properly to ensure they do not pose potential problems for the environment."
Andrew Turner, Rob Arnold, Tracey Williams.
Weathering and persistence of plastic in the marine environment: Lessons from LEGO.
Environmental Pollution, 2020; 262: 114299 DOI:
10.1016/j.envpol.2020.114299
How Plants Sound The Alarm About Danger
Just like humans and other animals, plants have hormones. One role of plant hormones is to perceive trouble -- whether an insect attack, drought or intense heat or cold -- and then signal to the rest of the plant to respond.
A multicenter team led by current and former investigators from the Salk Institute is reporting new details about how plants respond to a hormone called jasmonic acid, or jasmonate. The findings, which were published in Nature Plants on March 13, 2020, reveal a complex communication network. This knowledge could help researchers, such as members of Salk's Harnessing Plants Initiative, develop crops that are hardier and more able to withstand assault, especially in an era of rapid climate change.
"This research gives us a really detailed picture of how this hormone, jasmonic acid, acts at many different levels," says Professor Joseph Ecker, co-corresponding author and Howard Hughes Medical Institute investigator. "It enables us to understand how environmental information and developmental information is processed, and how it ensures proper growth and development."
The plant used in the study was Arabidopsis thaliana, a small flowering plant in the mustard family. Because its genome has been well characterised, this plant is a popular model system. Scientists can take what they learn in A. thaliana and apply it to other plants, including those grown for food. Jasmonic acid is found not only in A. thaliana but throughout the plant kingdom.
"Jasmonic acid is particularly important for a plant's defence response against fungi and insects," says co-first author Mark Zander, a staff researcher in Ecker's lab. "We wanted to precisely understand what happens after jasmonic acid is perceived by the plant. Which genes are activated and deactivated, which proteins are produced and which factors are in control of these well-orchestrated cellular processes?"
The researchers started with plant seeds grown in petri dishes. They kept the seeds in the dark for three days to mimic the first few days of a seed's life, when it is still underground. "We know this growth stage is super important," says co-first author and co-corresponding author Mathew Lewsey, an associate professor at La Trobe University in Melbourne, Australia, who previously worked in Ecker's lab. The first few days in the soil are a challenging time for seedlings, as they face attacks from insects and fungi. "If your seeds don't germinate and successfully emerge from the soil, then you will have no crop," Lewsey adds.
After three days, the plants were exposed to jasmonic acid. The researchers then extracted the DNA and proteins from the plant cells and employed specific antibodies against their proteins of interest to capture the exact genomic location of these regulators. By using various computational approaches, the team was then able to identify genes that are important for the plant's response to jasmonic acid and, moreover, for the cellular cross-communication with other plant hormone pathways.
Two genes that rose to the top in their degree of importance across the system were MYC2 and MYC3. These genes code for proteins that are transcription factors, which means that they regulate the activity of many other genes -- or thousands of other genes in this case.
"In the past, the MYC genes and other transcription factors have been studied in a very linear fashion," Lewsey explains. "Scientists look at how one gene is connected to the next gene, and the next one, and so on. This method is inherently slow because there are a lot of genes and lots of connections. What we've done here is to create a framework by which we can analyse many genes at once."
"By deciphering all of these gene networks and subnetworks, it helps us to understand the architecture of the whole system," Zander says. "We now have this very comprehensive picture of which genes are turned on and off during a plant's defense response. With the availability of CRISPR gene editing, these kinds of details can be useful for breeding crops that are able to better withstand attacks from pests."
Another noteworthy aspect of this work is that all of the data from the research has been made available on Salk's website. Researchers can use the site to search for more information about genes they study and find ways to target them.
Mark Zander, Mathew G. Lewsey, Natalie M. Clark, Lingling Yin, Anna Bartlett, J. Paula Saldierna Guzmán, Elizabeth Hann, Amber E. Langford, Bruce Jow, Aaron Wise, Joseph R. Nery, Huaming Chen, Ziv Bar-Joseph, Justin W. Walley, Roberto Solano, Joseph R. Ecker.
Integrated multi-omics framework of the plant response to jasmonic acid.
Nature Plants, 2020; 6 (3): 290 DOI:
10.1038/s41477-020-0605-7
Children's Racial Discrimination Linked To Health Risks
School children who experience racial discrimination show higher risk markers for later cardiometabolic disease, including diabetes, heart disease or stroke, according to new research from The Australian National University (ANU) and the Murdoch Children's Research Institute (MCRI).
The first-of-its-kind study examined the link between Australian primary school students' experiences of racial discrimination and a range of cardiometabolic risk markers, including obesity, blood pressure and inflammation.
Lead researcher Associate Professor Naomi Priest, who is based at ANU and the MCRI, said cardiometabolic disease is a leading cause of adult morbidity and mortality globally.
"But the links between children's experiences of racial discrimination and their future risk of cardiometabolic diseases is an important yet underexplored area," she said. "This study addresses that.
"Racism and racial discrimination are everyday experiences for many Australian children and young people from Indigenous and minority ethnic groups.
"Findings from our study show that among primary school-aged children these experiences of racial discrimination can 'get under the skin' to influence overweight and obesity, blood pressure and markers of inflammation.
More than 120 students from Victoria participated in the study, which examined a range of cardiometabolic risk markers including body mass index (BMI), waist circumstance, weight-height ratio, blood pressure and a range of inflammatory markers.
Nearly half (47 per cent) of the children from Indigenous and minority ethnic groups (including Pacific Islander, Maori, Middle Eastern, African, Latin American, South Asian and South East Asian students) reported two or more experiences of racial discrimination.
"We found students who reported two or more experiences of racial discrimination had increased BMI, waist circumference, systolic blood pressure and some markers of inflammation.
"This reinforces the ongoing need to address racism and racial discrimination as important determinants of chronic disease risk and to address the inequitable burden of chronic disease experienced by those from Indigenous and minority ethnic groups."
"Addressing racism and racial discrimination remains a critical priority to ensure a just and fair society for all. This study reinforces it is also required to address population health and health inequities throughout life."
The study's findings are published in Brain, Behaviour, and Immunity.
Disclaimer: These articles are not intended to provide medical advice, diagnosis or treatment. Views expressed here do not necessarily reflect those of Pittwater Online News or its staff.