Inbox and Environment News: Issue 452
May 31 - June 6, 2020: Issue 452
Please Help Sydney Wildlife Rescue: Donate Your Cans And Bottles And Nominate SW As Recipient
You can Help Sydney Wildlife help Wildlife. Sydney Wildlife Rescue is now listed as a charity partner on the return and earn machines in these locations:
Pittwater RSL Mona Vale
Northern Beaches Indoor Sports Centre NBISC Warriewood
Woolworths Balgowlah
Belrose Super centre
Coles Manly Vale
Westfield Warringah Mall
Strathfield Council Carpark
Paddy's Markets Flemington Homebush West
Woolworths Homebush West
Bondi Campbell pde behind Beach Pavilion
Westfield Bondi Junction car park level 2 eastern end Woolworths side under ramp
UNSW Kensington
Enviro Pak McEvoy street Alexandria.
Every bottle, can, or eligible container that is returned could be 10c donated to Sydney Wildlife.
Every item returned will make a difference by removing these items from landfill and raising funds for our 100% volunteer wildlife carers. All funds raised go to support wildlife.
It is easy to DONATE, just feed the items into the machine select DONATE and choose Sydney Wildlife Rescue. The SW initiative runs until August 23rd.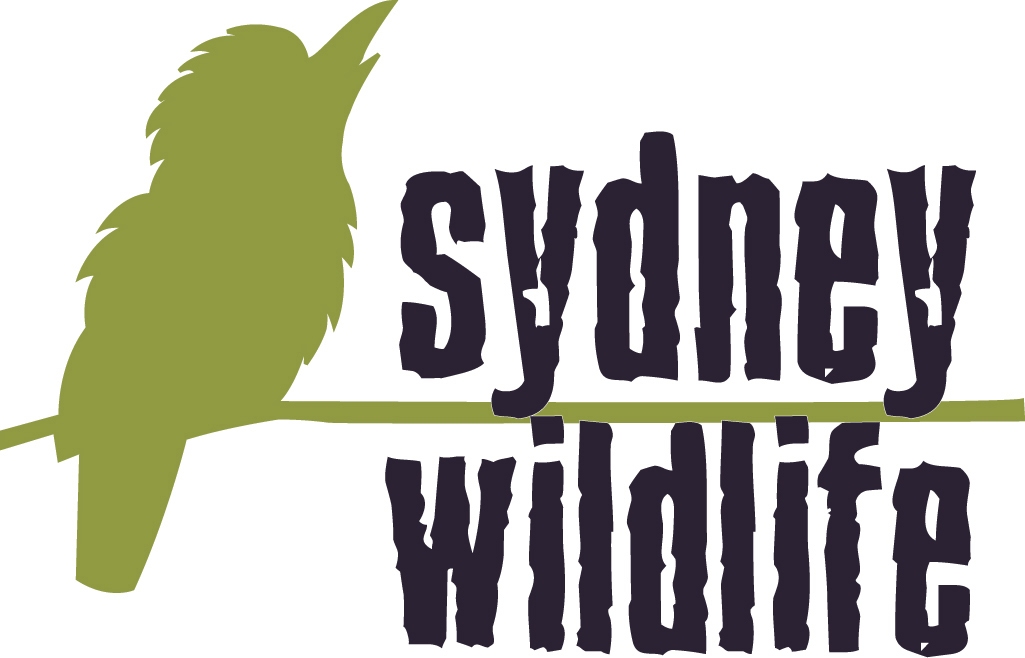 ORRCA Art 2020 And ORRCA Census Day 2020
ORRCA stands for the Organisation for the Rescue and Research of Cetaceans in Australia. Put simply, our primary focus is the rescue, preservation, conservation and welfare of Whales, Dolphins, Seals and Dugongs in Australian waters.
ORRCA operates a 24/7 Rescue Hotline for the public to report any injured or stranded whales, dolphins, seals and dugongs. Simply call 02 9415 3333.
We are the only volunteer wildlife rehabilitation group in New South Wales licensed to be involved with marine mammal rescue, rehabilitation and release. Our members come from all walks of life, age groups and nationalities.
ORRCA offers the community one of the most experienced and successful whale, dolphin, seal and dugong rescue teams in Australia. We are also proud that today, we have rescue trained teams in Western Australia and Queensland available to support local authorities should a marine mammal incident arise.
All members within ORRCA are volunteers
We operate as a non-profit organisation and have charity status.
It is because of the generosity of the public providing donations, and the love and passion of people wanting to get involved and learn about these amazing animals, that ORRCA exists on its own two flippers today.
Through our ever growing membership base of valued and dedicated volunteers and our highly commended rescue training workshops coupled with the strength and dedication of the Committee, ORRCA has achieved extraordinary things over the past 34 years.
ORRCA operates a 24/7 Rescue Hotline for the public to report any injured or stranded whales, dolphins, seals and dugongs. Simply call 02 9415 3333.
Visit: http://www.orrca.org.au/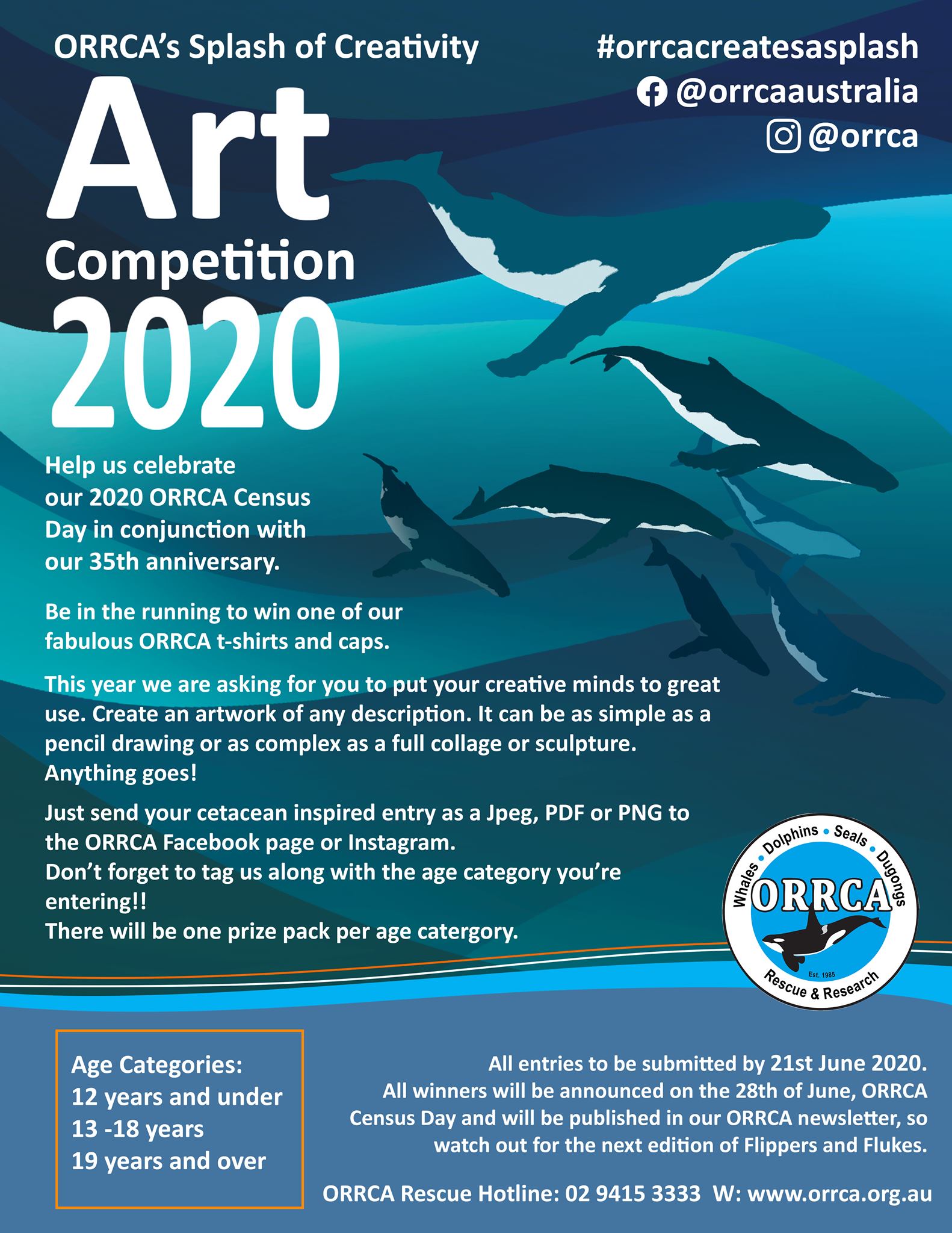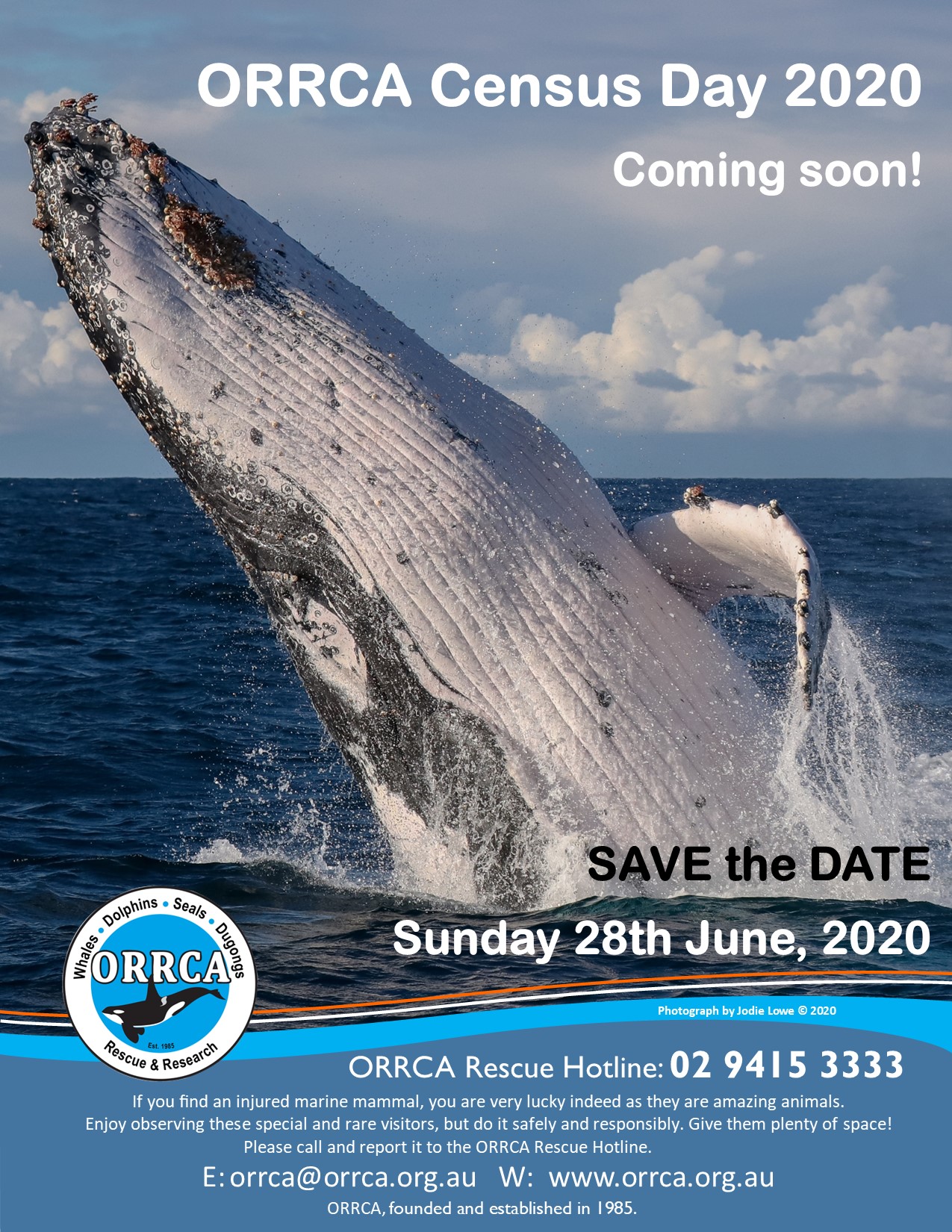 Federal Court Win For Leadbeater's Possum Signals Shift Towards Hope For Our Forests And All That Lives In Them
The Federal Court has ruled this week that state-owned timber company VicForests breached environmental laws by logging sections of the Central Highlands inhabited by the critically endangered Leadbeater's possum. The court found VicForests' operations at 26 logging coupes were in breach of the code of practice that governed forest management in Victoria.
Logging in native forests is governed by regional forest agreements (RFAs) between the state and federal governments. RFAs are exempt from the provisions of the Environment Protection and Biodiversity Conservation Act which protect native species.
However, the court found the Act applied to VicForests' operation because logging at the coupes was in breach of the code, and that its operations at a further 41 coupes were unlikely to comply.
All of the coupes are home to either the critically endangered Leadbeater's possum or the threatened greater glider.
"VicForests' conduct of forestry operations is likely to have had, or is likely to have, a significant impact on the greater glider as a species and/or the Leadbeater's possum as a species," Justice Debra Mortimer said in her judgement.
The Central Highlands RFA was signed on March 27, 1998 and in 2018 was extended to 2020. On March 30 2020 the Victorian government announced another extension until June 2030, despite the Summer of 2019/2020 bushfires holocaust.
The first hearings in the case were held in November and December 2017 before Justice Mortimer of the Federal Court.
The outcome of those hearings was that failure to conduct the mandated 5 yearly reviews did not extinguish exemption from the EPBC Act of logging under an RFA, as VicForests is not responsible for carrying out the reviews. But the Court also heard that compliance with state regulations and provisions was required and that non-compliance would mean that the exemption from the EPBC Act was not applicable.
In June 2019 Federal Environment Minister Sussan Ley announced Victoria's faunal emblem, the Leadbeater's possum, will keep its critically endangered listing. The decision was a blow to Victoria's native timber industry, which had been under significant environmental and political pressure since the possum was declared critically endangered in 2015, prompting the creation of special logging exclusion zones whenever a possum is detected.
An industry campaign, supported by then-deputy prime minister Barnaby Joyce, was pushing to reduce the 200-metre buffer zones, but the decision from Ms Ley thwarted that.
Environmental Justice Australia senior lawyer Danya Jacobs, who represented the Friends of the Leadbeater's Possum in the case, said this week the case is a landmark decision.
''When governments fail to properly protect threatened species, the community can harness the power of the law to hold them to account.
''We are incredibly proud to have represented FLBP who has worked tirelessly over the last few years in this David and Goliath battle to hold VicForests to account for its impact on federally listed threatened possums. We congratulate them on their courage and persistence in bringing this landmark case and everything they do to protect our forests and wildlife.
''This decision sets an important legal precedent applying federal threatened species protection law to the logging industry, which has operated under a special exemption from federal environment law for more than 20 years. It will have implications for native forest logging and threatened species protection around the country.
''This outcome will narrow that exemption and could also see the precautionary principle – that ensures serious or irreversible damage to threatened species is avoided wherever possible – applied in new situations to protect threatened species from harmful conduct.''
This quote from the judge says volumes of what this community led action has achieved:
"Not only do VicForests' forestry operations damage or destroy existing habitat critical to the survival of the two species, they also prevent new areas of forest from developing into such habitat in the future," – Justice Mortimer
''As the extinction crisis accelerates and threatened wildlife are under more pressure than ever before, it's vital that our environment laws work to protect what is left.'' Environmental Justice Australia stated in closing.
Leadbeater's possums are rarely seen as they are nocturnal, fast-moving, and occupy the upper story of some of the tallest forest trees in the world. They have an average body length of 33 cm with the tail included. They live in small family colonies of up to 12 individuals, including one monogamous breeding pair. Mating occurs only once a year, with a maximum of two joeys being born to each pair. All members sleep together in a nest made out of shredded bark in a tree hollow, anywhere from 6 to 30 metres above ground level and roughly in the centre of a territory of 3 hectares, which they defend actively. The society of Leadbeater's possums is matriarchal: each group is dominated by only one female Leadbeater's possum that is active in expelling outsiders. Other juvenile females are weaned off before they reach sexual maturity. In addition, female Leadbeater's possums are more aggressive in nature, often engaging in frequent fights with other females, including their own daughters. Due to the constant attacks, young females are forced to leave much earlier than their male brothers, which results in the extremely high male to female ratio of 3:1.
Solitary Leadbeater's possums have difficulty surviving: when young males disperse at about 15 months of age, they tend either to join another colony as a supernumerary member, or to gather together into bachelor groups while they wait to find a mate.
Births are usually timed for the beginning of winter (May and June) or late spring (October and November). Most litters are of one or two young, which stay in the pouch for 80 to 90 days, and first emerge from the nest following this. Young, newly independent Leadbeater's possums are very vulnerable to owls.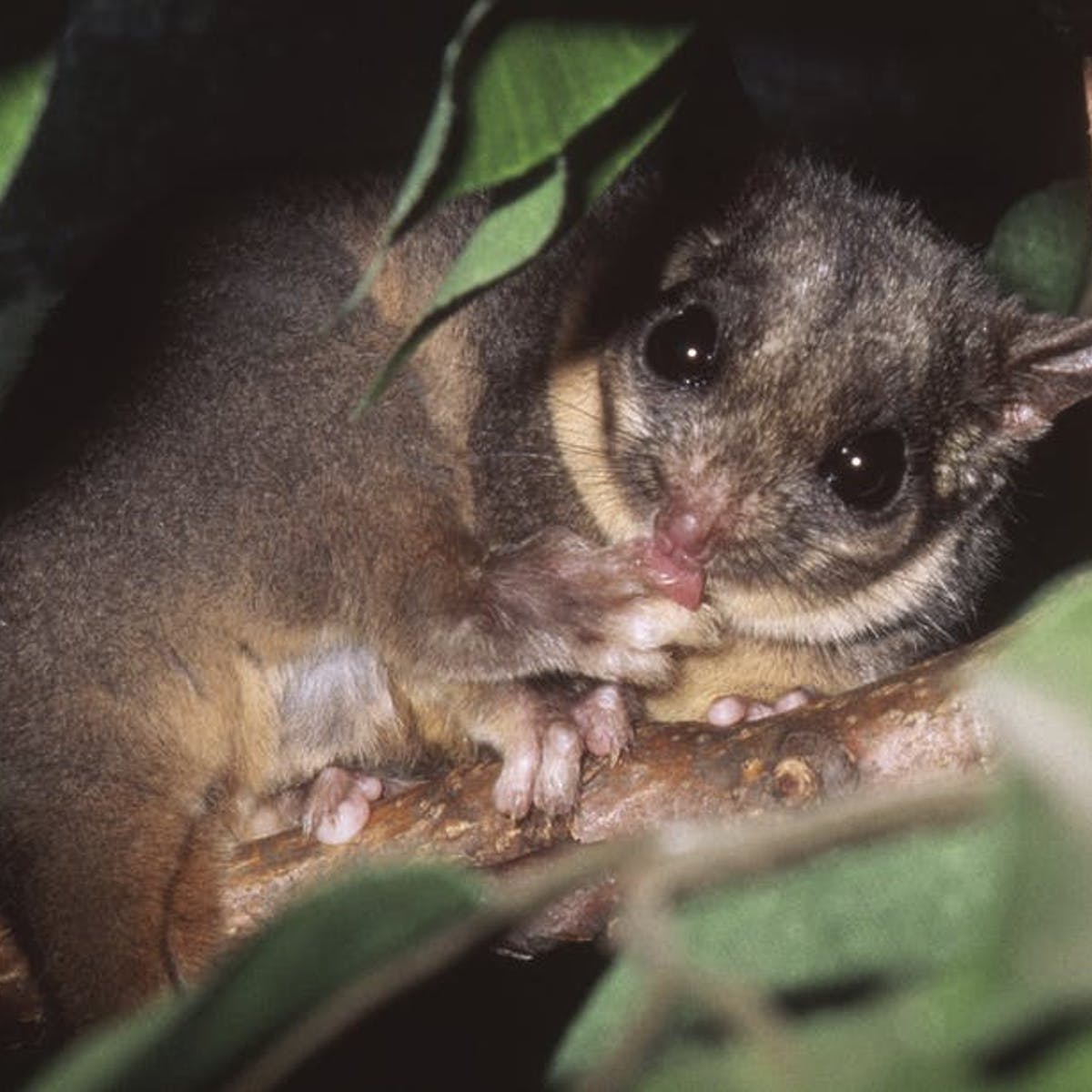 Leadbeater's possum. Photo: Prof. David Lindenmeyer

Professor David Lindenmayer (Australian National University) has argued that the need for nest boxes indicates that logging practices are not ecologically sustainable for conserving hollow-dependent species like the Leadbeater's possum. Studies have shown that clear-felling operations, such as the logging run in state forest between the Yarra Ranges National Park and Mount Bullfight Conservation Reserve in February 2006, led to the deaths of most possums in the area—"Adult animals have a strong affinity with their home range and are reluctant to move".
Salvage logging since the 2009 Victorian fires posed a further risk to this extremely diminished population with clear-felling also approved by VicForests in the few remaining unburnt areas, such as the Kalatha Creek area of Toolangi State Forest in 2010, a move opposed by the Yarra Ranges Shire Council.
In 2012 MyEnvironment challenged VicForests' operations in three planned coupes in the Toolangi forest in the supreme court. The basis of their claim being that "VicForests did not undertake adequate pre-logging surveys prior to logging in an area that we claim meets Leadbeater's habitat and therefore should not have been logged." The proposed logging was to supply (taxpayer subsidised) pulp to manufacture 'Reflex' copy paper—a product of Australian Paper owned by the Japanese company, Nippon Paper Group. During the case, film was recorded of a Leadbeater's possum in the contested coupe area. The case was lost by MyEnvironment due to inconsistencies in the wording of the Leadbeater's Possum Action Statement (10 years out of date) and the forestry prescriptions adhered to by VicForests. The group immediately appealed the decision by the presiding judge Justice Osborne, and the supreme court accepted there was a sound basis for an appeal to the original determination. A supreme court appeal was heard on June 24, 2013 before three judges and MyEnvironment was represented in court by Julian Burnside QC. The appeal was lost.
On June 27 2013 the Napthine led State government passed legislative changes to allow VicForests access to Victoria's forests for the next 25 years and to be self monitoring (this follows the success of other recent cases to prevent logging of remaining possum habitat). According to The Wilderness Society, "the Victorian government ... [is] virtually signing the death warrant of the remaining 500 or so Leadbeater's possums." These changes to the Sustainable Forests (Timber) Act 2004 will have implications not only for the Leadbeater's possum but to the biodiversity, carbon storage and water catchments of the forests.
On 22 April 2015, Greg Hunt, the Minister for the Environment, announced that the Leadbeater's possum would be listed as a "critically endangered" species under the EPBC Act.
The forestry industry and Barnaby Joyce advocate for the Leadbeater's possum to be taken off the critically endangered list.[37] Following uproar from the logging industry & the National Party it was soon placed under re-assessment. On the eve of an ABC 4 Corner episode on "Extinction" (24 June 2019) the then Environment Minister, Sussan Ley announced that it would be re-listed as "critically endangered".
Of its ash forest habitat, about 30% is protected, while the rest is allocated to logging.
Since 2004, the Friends of Leadbeater's Possum community group has been active in raising the animal's profile and lobbying for its conservation.
Rat Poisons Are Killing Our Wildlife: Alternatives
BirdLife Australia is currently running a campaign highlighting the devastation being caused by poison to our wildlife. Rodentcides are an acknowledged but under-researched source of threat to many Aussie birds. If you missed BirdLife's rodenticide talk but would like to know more, share data and comment on the use of rodenticides in Australia please visit: https://www.actforbirds.org/ratpoison
Owls, kites and other birds of prey are dying from eating rats and mice that have ingested Second Generation rodent poisons. These household products – including Talon, Fast Action RatSak and The Big Cheese Fast Action brand rat and mice bait – have been banned from general public sale in the US, Canada and EU, but are available from supermarkets throughout Australia.
Australia is reviewing the use of these dangerous chemicals right now and you can make a submission to help get them off supermarket shelves and make sure only licenced operators can use them.
There are alternatives for household rodent control – find out more about the impacts of rat poison on our birds of prey and what you can do at the link above and by reading the information below.
Let's get rat poison out of bird food chains.
The Australian Pesticides and Veterinary Medicines Authority (APVMA) – is currently asking Australians for their views on how rodent poisons are regulated.
Have your say by making a submission here.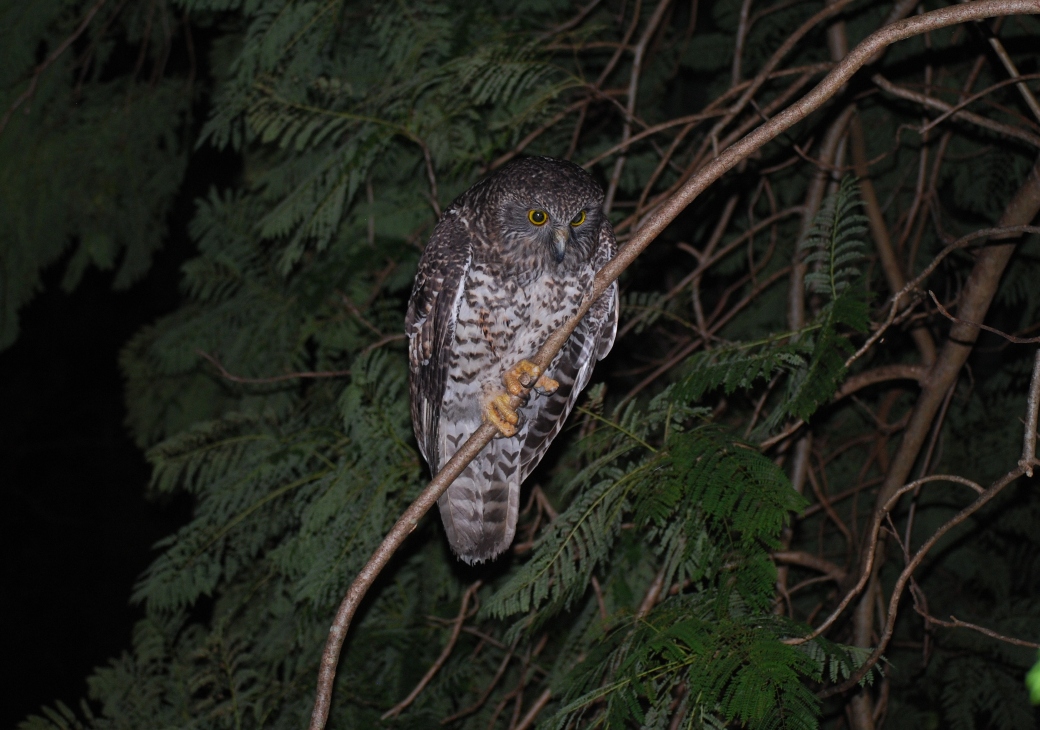 Powerful Owl at Clareville - photo by Paul Wheeler
Pesticides that are designed to control pests such as mice and rats cane also kill our wildlife through either primary or secondary poisoning. Insecticides include pesticides (substances used to kill insects), rodenticides (substances used to kill rodents, such as rat poison), molluscicides (substances used to kill molluscs, such as snail baits), and herbicides (substances used to kill weeds).
Primary poisoning occurs when an animal ingests a pesticide directly – for example, a brushtail possum or antechinus eating rat bait. Secondary poisoning occurs when an animal eats another animal that has itself ingested a pesticide – for example, a greater sooty owl eating a rate that has been poisoned or an antechinus that had eaten rat bait.
Rodenticides are the most common and harmful pesticides to Australian wildlife. Though no comprehensive monitoring of non-target exposure of rodenticides has been conducted, numerous studies have documented the harm rodenticides do to native animals. In 2018, an Australian study found that anticoagulant rodenticides in particular are implicated in non-target wildlife poisoning in Australia, and warned Australia's usage patterns and lax regulations "may increase the risk of non-target poisoning".
Most rodenticides work by disrupting the normal coagulation (blood clotting) process, and are classified as either "first generation" / "multiple dose" or "second generation" / "single dose", depending on how many doses are required for the poison to be lethal.
These anticoagulant rodenticides cause victims of anticoagulant rodenticides to suffer greatly before dying, as they work by inhibiting Vitamin K in the body, therefore disrupting the normal coagulation process. This results in poisoned animals suffering from uncontrolled bleeding or haemorrhaging, either spontaneously or from cuts or scratches. In the case of internally haemorrhaging, which is difficult to spot, the only sign of poisoning is that the animal is weak, or (occasionally) bleeding from the nose or mouth. Affected wildlife are also more likely to crash into structures and vehicles, and be killed by predators.
An animal has to eat a first generation rodenticide (e.g. warfarin, pindone, chlorophaninone, diphacinone) more than once in order to obtain a lethal dose. For this reason, second generation rodenticides (e.g. difenacoum, brodifacoum, bromadiolone and difethialone) are the most commonly used rodenticides. Second generation rodenticides only require a single dose to be consumed in order to be lethal, yet kill the animal slowly, meaning the animal keeps coming back. This results in the animal consuming many times more poison than a single lethal dose over the multiple days it takes them to die, during which time they are easy but lethal prey to predators. This is why second generation poisons tend to be much more acutely toxic to non-target wildlife, as they are much more likely to bioaccumulate and biomagnify, and clear very slowly from the body.
Species most at risk from poisons
Small Mammals
Small mammals including possums and bandicoots often consume poisons such as snail bait, or rat bait that has been laid out to attract and kill rats, mice, and rabbits. Poisons such as pindone are often added to oats or carrots, and lead to a slow, painful death of internal bleeding. Australian possums often consume rat bait such as warfarin, which causes extensive internal bleeding, usually resulting in death.
There is a very poor chance of survival. Possums are also known to consume slug bait, which results in a prolonged painful death mainly from neurological effects. There is no treatment.
Small mammals can also be poisoned by insecticides. Possums, for example, can ingest these poisons when consuming fruit from a tree that has been sprayed with insecticide. Rescued by a WIRES carer, the brushtail possum joey pictured below was suffering from suspected insecticide poisoning. Though coughing up blood, luckily the joey did not ingest a lethal dose as he survived in care and was later released.
Large Mammals
Despite their size, large mammals including wallabies, kangaroos and wombats can also fall victim to pesticide poisoning. Wallabies and kangaroos have been known to suffer from rodenticide poisoning, while poisons often ingested by wombats include rat bait from farm sheds, and sodium fluroacetate (1080) laid out to kill pests such as cats and foxes.
Australian mammals are also impacted by the use of insecticides. DDT, although a banned substance, has been reported as killing marsupials.
Birds
Birds have a high metabolic rate and therefore succumb quickly to poisons. Australian birds of prey – owls (such as the southern boobook) and diurnal raptors (such as kestrels) – can be killed by internal bleeding when they eat rodents that have ingested rat bait. A 2018 Western Australian study determined that 73% of southern boobook owls found dead or were found to have anticoagulant rodenticides in their systems, and that raptors with larger home ranges and more mammal-based diets may be at a greater risk of anticoagulant rodenticide exposure.
Insectivorous birds will often eat insects sprayed with insecticides, and a few different species of birds may be affected at the same time. Unfortunately little can be done and death most often results.
Organophosphates are the most widely used insecticide in Australia. Birds are very susceptible to organophosphates, which are nerve toxins that damage the nervous system, with poisoning occurring through the skin, inhalation, and ingestion. Organophosphates can cause secondary poisoning in wild birds which ingest sprayed insects. Often various species of insectivorous birds are affected at the same time as they come down to eat the dying insects. After a bird is poisoned, death usually occurs rapidly. Raptors have also been deliberately or inadvertently poisoned when organophosphates have been applied to a carcass to poison crows.
Organochlorine pesticides (OCPs) are persistent, bio-accumulative pesticides that include DDT, dieldrin, heptachlor and chlordane. OPC's have been used extensively in the agriculture industry since the 1940s. Some of the more common product names include Hortico Dieldrin Dust, Shell Dieldrex and Yates Garden Dust. Although no OCP's are currently registered for use in the home environment in Australia, many of these products still remain in use on farms, in business premises and households. OCP poisons remain highly toxic in the environment for many years impacting on humans, animals, birds and especially aquatic life. They can have serious short-term and long-term impacts at low concentrations. In addition, non-lethal effects such as immune system and reproductive damage of some of these pesticides may also be significant. Birds are particularly sensitive to these pesticides, and there have even been occasions where the deliberate poisoning of birds has occurred. Tawny frogmouths are most often poisoned with OCP's. The poisons are stored in fat deposits and gradually increase over time. At times of food scarcity, or during any stressful period, such as breeding season or any changes to their environment, the fat stores are metabolised, and with it, the poison load in their blood streams reaches acute levels, causing death.
Although herbicides, or weed killers, are designed to kill plants, some are toxic to birds. Common herbicide glyphosate (Roundup) will cause severe eye irritation in birds if they come into contact with the spray. Herbicides also have the impact of removing food plants that birds, or their insect food supply, rely on. Birds can also readily fall victim to snail baits, either via primary or secondary poisoning.
Reptiles and Amphibians
As vertebrate species, reptiles and amphibians are also at risk of pesticides. Though less is known about the effects of pesticides on reptiles and amphibians, these animals have been known to fall victim to pesticide poisoning. Blue-tongue lizards, for example, often consume rat bait and die of internal bleeding. A 2018 Australian study also found that reptiles may be important vectors (transporters) of rodenticides in Australia.
How to keep pests away and keep wildlife safe
Remember, pesticides are formulated to be tasty and alluring to the target species, but other species find them enticing, too. It is safest for wildlife, pets and people for us to not use any pesticides, and prevent or deter the presence of pests practically, rather than attempt to eliminate them chemically.
Tips to prevent and deter wildlife deaths from poisoning:
Deter rats and mice around your property by simply cleaning up; removing rubbish, keeping animal feed well contained and indoors, picking up fallen fruits and vegetation, and using chicken feeders removes potential food sources.
Seal up holes and in your walls and roof to reduce the amount of rodent-friendly habitat in your house.
Replace palms with native trees; palm trees are a favourite hideout for black rats, while native trees provide ideal habitat for native predators like owls and hawks which help to control rodent populations.
Set traps with care in a safe, covered spot, away from the reach of children, pets and wildlife. Two of the most effective yet safe baits are peanut butter and pumpkin seeds.
To control slugs, terracotta or ceramic plant pots can be placed upside down in the garden or aviary. Slugs and snails will seek the dark, damp area this creates, and can be collected daily. They can then be drowned in a jar of soapy water. You can also sink a jar or dish into the soil and fill it with beer. The slugs are attracted to the yeast in the beer, fall in and then drown.
If turning to pesticides as a last resort:
Use only animal-safe slug baits.
Place tamper-proof bait stations out of reach of wildlife.
Avoid using loose whether pellets or poison grain, present the highest risk, the latter being particularly attractive to seed-eating birds and to many small mammal species.
Read the label and use as instructed.
Avoid products containing second generation products difenacoum, brodifacoum, bromadiolone and difethialone, which are long-lasting and much more likely to unintentionally poison wildlife via secondary poisoning.
Cover individual fruits when spraying fruit trees with insecticides.
Poisons kill dogs too
Because of their poisonous nature, pesticides pose a risk to animals and people alike, including pets and children. Roaming pets like cats and dogs are most at risk of being poisoned, with one 2016 study at the Norwegian University of Life Sciences finding that one in five dogs had rat poison in its body, and a 2011 study by the Humane Society in the United States finding that 74% of their pet poisoning cases are due to second-generation anticoagulants such as rat baits.
It is best to avoid the use of all pesticides, or otherwise use them sparingly, carefully and only after researching each poison and its correct usage. Always supervise pets and children, keep poisons locked out of their reach, and be vigilant in public spaces where pesticides may have accumulated, e.g. poisons can accumulate in streams or puddles where herbicides have recently been sprayed.
If you suspect your pet has been poisoned, seek veterinary help immediately.
If you suspect your child or another adult has been poisoned, do not induce vomiting and call the NSW Poisons Information Centre on 13 11 26 for 24/7 medical advice, Australia-wide.
References
Lohr, M. T. & Davis, R. A. 2018, Anticoagulant rodenticide use, non-target impacts and regulation: A case study from Australia, Science of The Total Environment, vol. 634, pp. 1372-1384.
Lohr, M. T. 2018, Anticoagulant rodenticide exposure in an Australian predatory bird increases with proximity to developed habitat, Science of The Total Environment, Volume 643, pp.134-144.
Lohr, M. T. 2018, Anticoagulant Rodenticides: Implications for Wildlife Rehabilitation, conference paper, Australian Wildlife Rehabiliation Conference, awrc.org.au
Olerud, S., Pedersen, J. & Kull, E. P. 2009, Prevalence of superwarfarins in dogs – a survey of background levels in liver samples of autopsied dogs. Norwegian University of Life Sciences, Faculty of Veterinary Medicine and Life Sciences, Department of Sports and Family Animal Medicine, Section for Small Animal Diseases.
Healthy Wildlife, Healthy Lives, 2017, Rodenticides and Wildlife, healthywildlife.com.au
Society for the Preservation of Raptors Inc. 2019, Raptor Fact Sheet: Eliminate Rats and Mice, Not Wildlife!, raptor.org.au/factsheetpests.pdf
W.I.R.E.S. Poisons and baits don't just kill rats.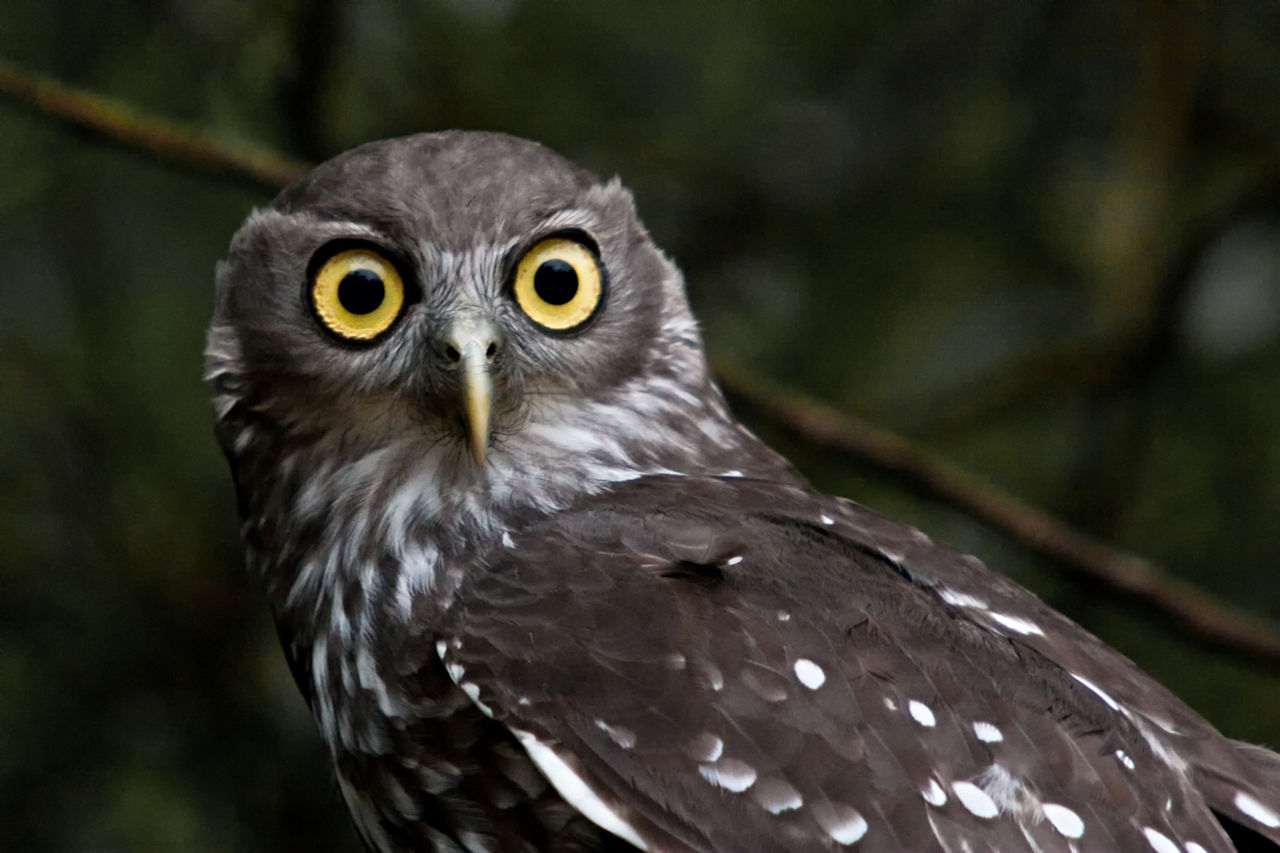 Barking Owl (Ninox connivens connivens)- photo by Julie Edgley - this nocturnal animal will eat mice and so become a victim of poisons through them

Thousands Of New Trees To Be Planted Across Greater Sydney
May 27, 2020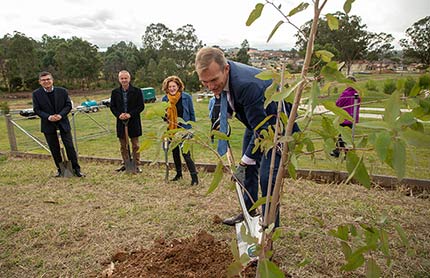 The NSW Government is investing nearly $5 million to plant thousands of new trees across Greater Sydney to expand the city's green canopy in partnership with Greening Australia and Landcare NSW.
Minister for Planning and Public Spaces Rob Stokes said the partnerships will see 172,000 new trees planted in Greater Sydney's parks, schools and communities over the next two-and-a-half years, with the first 32,000 to be planted by the end of 2020.
"We have connected with leading environmental organisations to increase our tree canopy cover, cool our communities and create great new green public spaces across the city," Mr Stokes said.
"New trees today mean more healthy shaded public spaces and beautiful tree-lined streets for communities to enjoy now and for years to come."
The NSW Government has signed two contracts totalling $4.77 million for:
100,000 trees to be planted across Greater Sydney, with a focus on Western Sydney with Landcare NSW; and
72,000 trees to be planted across parks and community spaces and schools across Greater Sydney with Greening Australia.
The two new partnerships will contribute to the NSW Government's ambitious target to plant one million trees by 2022.
Landcare NSW CEO Dr Adrian Zammit said the project will help support the development of green spaces across Greater Sydney.
"With the support of the Greater Sydney Landcare Network we will help grow native canopy to cool our city with Landcarers helping landowners and community members participate in tree planting activities.
"Our shared challenge is not only to get the trees in the ground but to monitor and provide education to ensure they survive."
Greening Australia's Nature in Cities Director Paul Della Libera said the 'Cooling the Schools' program will establish native habitats and help cool urban areas.
"By working together with schoolchildren across Greater Sydney to increase the tree canopy cover in their neighbourhoods, we can lower temperatures and create healthier communities for both people and wildlife. This is particularly important in urban areas given rising summer temperatures.
"We will be partnering with Western Sydney University to identify and prioritise the communities with the lowest canopy cover and greatest vulnerability to the urban heat island effect."
Echidna Season
Echidna season has begun. As cooler days approach, our beautiful echidnas are more active during the days as they come out to forage for food and find a mate. This sadly results in a HIGH number of vehicle hits.
What to do if you find an Echidna on the road?
Safely remove the Echidna off the road (providing its safe to do so).
Call Sydney Wildlife or WIRES
Search the surrounding area for a puggle (baby echidna). The impact from a vehicle incident can cause a puggle to roll long distances from mum, so please search for these babies, they can look like a pinky-grey clump of clay
What to do if you find an echidna in your yard?
Leave the Echidna alone, remove the threat (usually a family pet) and let the Echidna move away in it's own time. It will move along when it doesn't feel threatened.
If you find an injured echidna or one in an undesirable location, please call Sydney Wildlife on 9413 4300 for advice.
www.sydneywildlife.org.au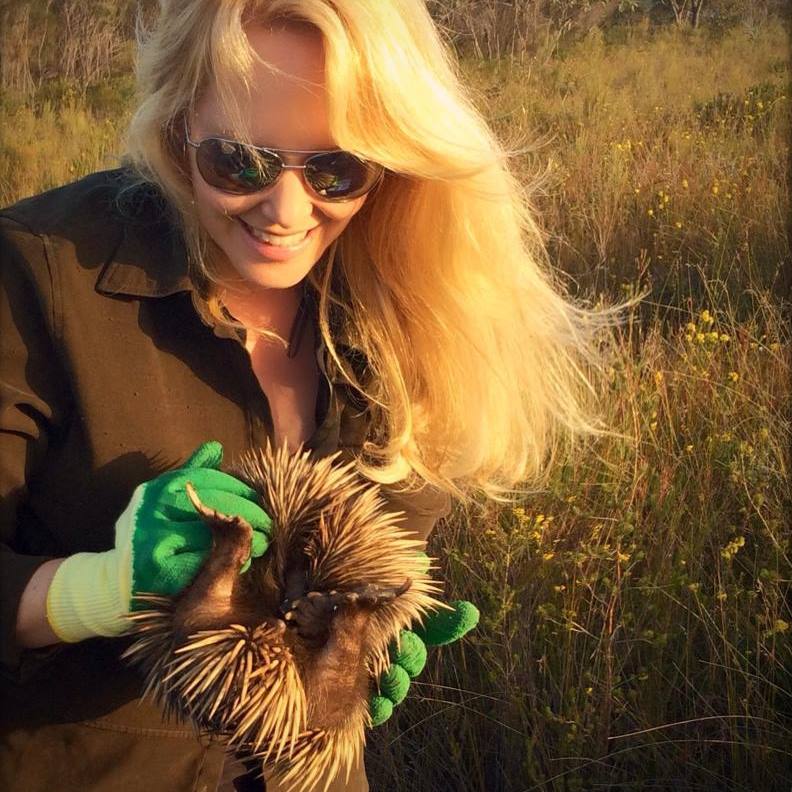 Lynleigh Greig, Sydney Wildlife, with a rescued echidna being returned to its home
Royal Commission Into National Natural Disaster Arrangements Commences:
Commonwealth Threatened Species Commissioner Dr Sally Box '327 Endangered Species Were In The Fires' Range'
Hundreds of animal and plant species have been impacted by Australia's devastating Black Summer bushfires, with some now at increased risk of extinction because of the ecological disaster.
More than 300 nationally-listed threatened species were in the path of the fires, the bushfires royal commission has been told.
"The impact of the 2019-20 bushfires on threatened species and other flora and fauna has been severe," Commonwealth Threatened Species Commissioner Dr Sally Box told the inquiry on Wednesday, May 27th.
An expert advisory panel has labelled the bushfires an ecological disaster.
"The fires covered an unusually large area and in many places they burnt with an unusually high intensity," Dr Box said.
"The entire known range of some species was burnt."
More than 1800 animals and plant species and ecological communities are listed as threatened nationally.
Of the total, 327 endangered species were in the range of the fire, 49 had more than 80 per cent of their habitat burnt and a further 65 had more than half of their known or likely range in the fire area.
The list includes plants, mammals, birds, frogs, reptiles, fish and invertebrates.
"So for some species that were considered threatened before the fires, the fires have now likely increased their risk of extinction," Dr Box said.
"But there are also many other fire-affected species that were considered secure before the fires, who have now lost much of their habitat and might be imperilled."
Dr Box said the expert panel, which considered both threatened and non-threatened species across a range of taxa, had so far identified more than 750 taxa that are in need of urgent management intervention, and that a large number of species will be considered for listing as threatened under the act, possibly numbering in the hundreds.
"There certainly are hundreds that have been impacted by the fires and need help.
The Commissioners are required to provide a final report by August 31st, 2020. Subscribe to the Royal Commission mailing list to be notified when the final report has been released.

Wildlife And Threatened Species Bushfire Recovery Expert Panel
May 6, 2020
The Minister for the Environment has asked the Threatened Species Commissioner, Dr Sally Box, to convene an Expert Panel to assist in prioritising recovery actions for native species, ecological communities, natural assets and their cultural values for Indigenous Australians, which have been affected by recent extreme fire events.
The Expert Panel will inform the further delivery of the Australian Government's response to the fire events, including priority emergency actions to support impacted animals, plants, and ecosystems, as well as medium and long term responses required to support the recovery of Australia's environment.
Wildlife and threatened species bushfire recovery Expert Panel – Terms of Reference
The Expert Panel will provide advice on critical interventions required to support the immediate survival of a affected animals, plants and ecological communities and to control pests, as well as assessing the scale of the bushfires on our environment to assist with the prioritisation of recovery efforts and the development of a strategy for building populations of native plants and animals up again and ensuring their resilience.
The Expert Panel may draw on other expertise as required, including from the National Environmental Science Program, the Threatened Species Scientific Committee and the Indigenous Advisory Committee.
The Expert Panel will support and promote collaboration and coordination across different government agencies, non-government organisations, scientific institutions and the private sector, so recovery efforts are coordinated and complementary.
The Expert Panel may also be requested to provide advice on particular project proposals.
MEMBERSHIP
Membership of the Expert Panel will be selected in order to provide expertise on key thematic and strategic priorities, including fire ecology, conservation biology and environmental decision-making. Representatives of bushfire-affected state and territory governments will be included to provide local knowledge and promote collaboration and coordination of fire-recovery activities across the country.
The Expert Panel will draw on other experts as required, including for example expertise in landscape restoration, species biology (terrestrial, freshwater, coastal), ecology, ex situ conservation (such as captive breeding and seed banking), heritage values, and Indigenous cultural heritage and ecological knowledge.
Dedicated webpage here: www.environment.gov.au/biodiversity/bushfire-recovery/expert-panel
TIMEFRAME AND MEETINGS
The Expert Panel will be appointed for an initial period of 6 months, with the possibility of extension, and will meet as required.
Member Organisation Area of Expertise
Dr Sally Box (Chair) Threatened Species Commissioner, Department of Agriculture, Water and the Environment Implementation of threatened species recovery policies and programs
Professor John Woinarski (Deputy Chair) Charles Darwin University Conservation biology
Professor Sarah Legge Australian National University Ecology, feral predator expertise
Dr Stephen van Leeuwen Indigenous Advisory Committee Indigenous perspectives, plant ecology, fire ecology
Dr Libby Rumpff University of Melbourne Environmental decision making and prioritisation
Assoc Professor Dale Nimmo Charles Sturt University Animal ecology, fire ecology, ecosystem resilience and disturbance
Dr Jenny Gray Zoos Victoria Captive breeding, wildlife care and rehabilitation, first response / critical response
Dr Dan Metcalfe CSIRO Land & Water Landscape ecology
Dr Dick Williams Charles Darwin University Plant ecology, fire regime/ ecology, vegetation dynamics and disturbance
From Communique Of April 17th:
Over the last three weeks the Wildlife and Threatened Species Bushfire Recovery Expert Panel has met several times via video and teleconference to finalise the provisional lists of plants and invertebrates requiring urgent management intervention.
471 plant and 191 invertebrate species have been identified as the highest priority for intervention taking into account information such as the geographic range of the species, the amount of their habitat impacted by fire, the species response to fire and where applicable, the effects of other stressors such as drought.
The plants span a variety of vegetation types and include rainforest trees and shrubs like Monga Waratah (Telopea mongaensis) and plants from subalpine vegetation, such as the Critically Endangered Bredbo Gentiana (Gentiana bredboensis). Some species, like the Forrester's Bottlebrush (Callistemon forresterae) are at imminent risk of extinction because all of their known range has been burnt and they are exposed to compounding pressures such as drought, high fire frequency, or disease.
Invertebrates most impacted include species of freshwater mussels, shrimps, burrowing crayfish, land snails, spiders, millipedes, bees, dragonflies, caddisflies, mayflies, bugs and butterflies. These species occur in Queensland, New South Wales, Victoria, South Australia and Western Australia. Assessing the impacts of fires on invertebrates was particularly challenging, because for many species there is so little known about where they live and how they respond to fire. As a result of these data limitations, an additional 147 species have been identified as priorities for further assessment and investigation. The Expert Panel believes these additional species have been impacted.
The Panel would like to acknowledge the contributions of everyone involved in the development of these lists – from the institutions who provided access to their databases and research, through to individual experts who shared their years of expertise to ground truth the results. The Panel would also like to extend a special thank you to Dr Rachael Gallagher for her work in coordinating and leading the finalisation of the priority plant list.
The release of these lists and the opening of tranche 2 of the open grants component of the Wildlife and Habitat Bushfire Recovery Program are significant milestones in the work of the Expert Panel and the broader bushfire recovery process. Along with the previously released lists of priority fire-affected wildlife and ecological communities, these lists will help guide priority management responses for priority action species at priority sites.
The Expert Panel acknowledges there are a broad range of actions that can support the recovery of impacted plants and invertebrates. A one size fits all approach is unlikely to help the recovery process. As part of the published invertebrate priority list, general actions that could support the recovery of impacted species have been identified – from rapid survey to assessing the extent of loss and location of remaining populations through to rescuing critical populations and aiding the critical habitat. For impacted plants, the Panel notes their traits can provide insight into the types of actions that could assist in recovery – from weed control to seed collection, irrigation and removal of herbivores.
The release of these lists is only the first step in determining the impacts the bushfires have had on plants and invertebrates. Further research and information gathering is needed to help fill the information gaps that proved problematic during the assessments, and the lists will be updated as information improves.
The provisional lists are available on the Department's bushfire recovery website: https://www.environment.gov.au/biodiversity/bushfire-recovery.
The Panel also considered an initial assessment by the Department of Agriculture, Water and the Environment of the impacts of the bushfires on wetlands listed under the Ramsar Convention on Wetlands of International Importance. Five of these wetlands had at least 5% of their extent within the 2019-20 bushfire preliminary analysis area. A further 34 Ramsar wetlands are within 50 km downstream of the fire area. The Panel provided advice on progressing the assessment of fire impacts on these internationally significant wetlands. Three wetlands have been identified as targets for further assessment – the Macquarie Marshes, the Gwydir Wetlands and the Gippsland Lakes Ramsar sites. The assessment will focus on how the bushfires have impacted and potentially changed the ecological character of these wetlands, as well as identifying potential management interventions.
The Government has announced an additional $2 million for scientific research through the Threatened Species Recovery Hub of the National Environmental Science Program to help guide wildlife recovery efforts and habitat rehabilitation following the bushfires. The Expert Panel will provide advice on research needs and project proposals and to this end endorsed five priority research areas: assessment of impacts on species and ecosystems, prioritisation of actions for those species, priorities in bushfire recovery for Indigenous Australians, monitoring and investigation and lessons for the future.
The Expert Panel acknowledges the impact the COVID-19 virus is having on the delivery of on-ground, ex situ recovery and research actions being undertaken in response to the bushfires. The delivery of the bushfire recovery package continues to be a priority. While on-ground recovery actions are continuing to be implemented in a modified format or are momentarily paused, there is also an opportunity for planning and preparing for when impacted areas can be accessed again and teams can go back out into the field.
The next Panel meeting will be in early May 2020.
Dr Sally Box, Chair of the Wildlife and Threatened Species Bushfire Recovery Expert Panel.
Revised Provisional List Of Animals Requiring Urgent Management Intervention
March 24, 2020
The provisional list of 119 animal species, released on 24 March 2020, is a revised version of the list released on 11 February 2020, which included 113 species as high priority for urgent management intervention. Since that date, improved spatial information and reports from field assessments have led to four bird, one mammal and three reptile species being added to the high priority list, and one fish species and one frog species being removed from the list. The list will continue to be revised as new information becomes available.
Four birds were added to the list: Gang-gang Cockatoo, South-eastern Glossy Black-Cockatoo, Kangaroo Island Western Whipbird, and Kangaroo Island Southern Emu-wren.
One mammal was added to the list: Mainland Dusky Antechinus
Three reptiles were added to the list: Oakview Leaf-tailed Gecko, Kate's Leaf-tail Gecko, Ringed Thin-tail Gecko
One fish species was removed from the list: Swan Galaxias
One frog species was removed from the list: Tyler's Toadlet
The provisional list now includes 17 bird, 20 mammal, 23 reptile, 16 frog, 5 invertebrate, 22 crayfish and 16 fish species. The priority animals were identified based on the extent to which their range has potentially been burnt, how imperiled they were before the fires (for example, whether they were already listed as vulnerable, endangered or critically endangered), and the physical, behavioural and ecological traits which influence their vulnerability to fire.
Download Technical Report and Supporting Information
Panel members
Dr Sally Box (Chair)
Threatened Species Commissioner
Australian Government
Professor John Woinarski
Charles Darwin University
National Environmental Science Program – Threatened Species Recovery Hub
Professor Sarah Legge
Australian National University
University of Queensland
National Environmental Science Program – Threatened Species Recovery Hub
Threatened Species Scientific Committee
Dr Stephen van Leeuwen
Indigenous Advisory Committee
Dr Libby Rumpff
University of Melbourne
National Environmental Science Program – Threatened Species Recovery Hub
Assoc Professor Dale Nimmo
Charles Sturt University
Dr Jenny Gray
Zoos Victoria
Dr Dan Metcalfe
CSIRO Land and Water
Dr Dick Williams
Charles Darwin University
Advisers
Representatives from fire-affected states and territories (NSW, VIC, WA, SA, QLD, Tasmania, ACT)
Eggs-Ellent Outcome For World Turtle Day
May 23, 2020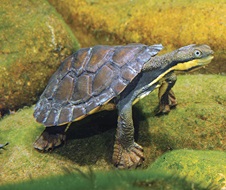 It's great news for the endangered Manning River Turtle with 20 hatching in captivity after eggs were rescued from the wild earlier this year.
Environment Minister Matt Kean said, "Who doesn't love a baby turtle, and on World Turtle Day, it is especially exciting to see these little hatchlings."
"What is extra special is that the Manning River Turtle is the godfather of Australian short-necked turtles and estimated to be over 55 million years old," Mr Kean said.
"This is a living fossil and this new generation of healthy turtles will help ensure that this ancient species remains part of our rich range of wild and wonderful creatures.
"It's quite special that this turtle lives in only one place on earth – the Manning River catchment on the NSW northern tablelands."
The Saving our Species program is working with the Australian Reptile Park and Aussie Ark to create an insurance population to ensure the turtles thrive.
Mr Kean said the hatchlings will be grown to a size where they are unlikely to be eaten by eels or large fish and then released back into the river at the same spot where their parents were collected.
Aussie Ark President Tim Faulkner said the Manning River Turtle needs substantial clean, flowing water and so we've created a specialised facility at the Australian Reptile Park to enable the population to build and thrive.
"Turtles play an essential role in our ecosystem and help keep our waterways clean, not to mention being an iconic presence."
The Saving our Species program will continue to work with Australian Reptile Park, Aussie Ark and Western Sydney University to undertake genetic research and further surveys in the hope of collecting more turtles to add to the insurance population.
For more information on the captive breeding program visit: Aussie Ark: Manning River helmeted turtle.
In text - Manning River helmeted turtle (Myuchelys purvisi) Photo: Gary Stephenson/DPIE
Herding Wild Buffalo And Cattle From Space
May 27, 2020
More than 1000 feral buffalo and unmanaged cattle roaming Northern Australia will be tagged and tracked as part of the world's largest satellite herd-tracking program, announced today by Australia's national science agency, CSIRO.
Coinciding with National Reconciliation Week this week, the $4 million, 3.5 year project aims to turn the destructive pests into economic, environmental and cultural opportunities for Indigenous communities across the region, as well as create new 'best practice' for managing large herds using space technology.
Satellite GPS-tracking tags will be attached to the animals' ears and deliver real-time, geographically-accurate insights into herd density, accessibility, and transport costs.
The animals will be tracked across a combined area of 22,314 square kilometres, taking in the Arafura swamp catchment in Arnhem Land in the Northern Territory, and Upper Normanby and Archer River on Cape York Peninsula in Queensland.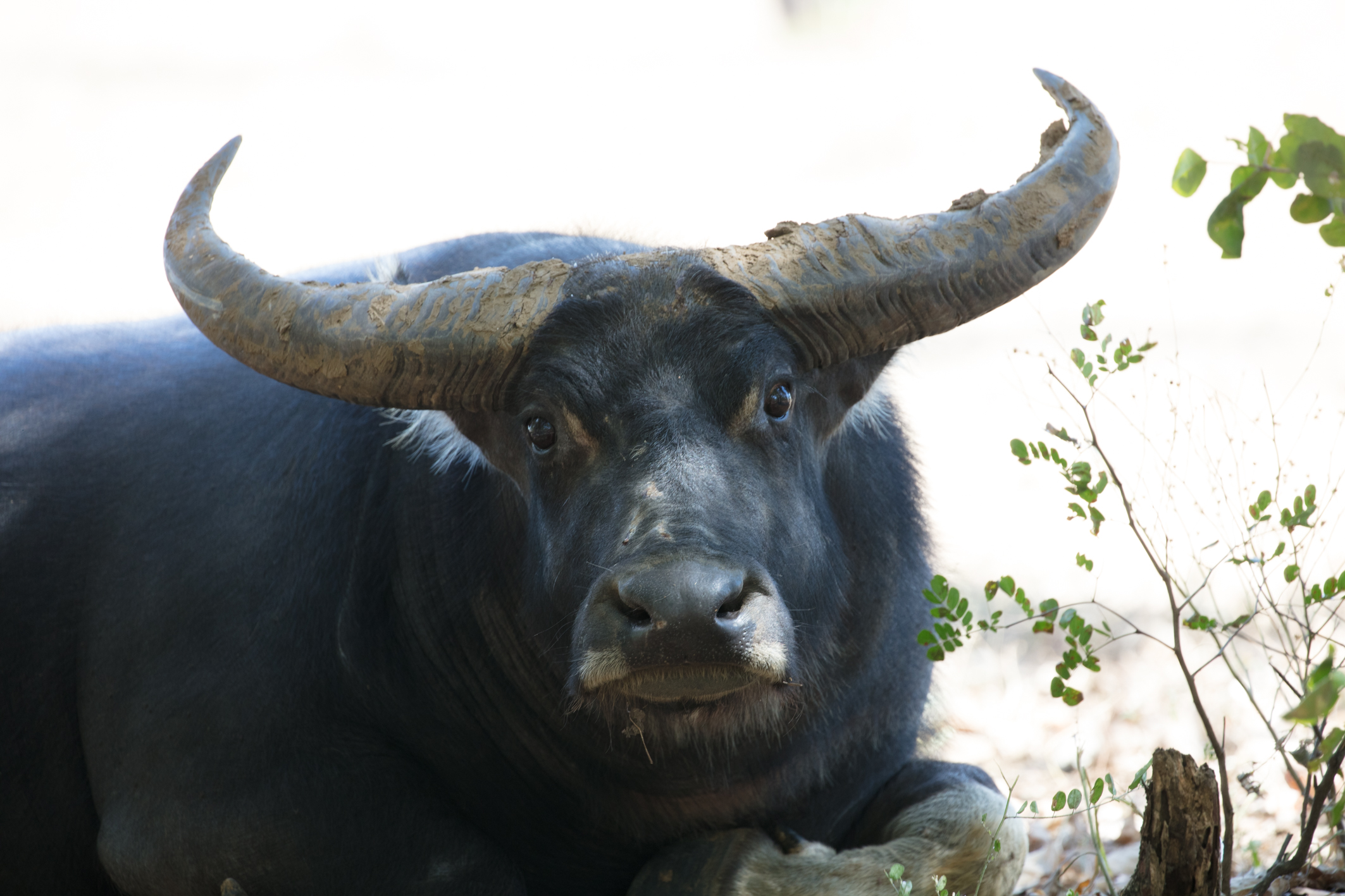 Water buffalo in Northern Australia. ©Credit Peter Cooke
CSIRO Chief Executive Dr Larry Marshall said the program demonstrated the opportunities for Australia in growing our own space capabilities and supply chains while also advancing reconciliation.
"Australia's burgeoning space industry is creating exciting new possibilities for innovative science and technology to solve our greatest challenges, like using satellites to manage our wide, open land in more culturally and environmentally sensitive ways," Dr Marshall said.
"This unique partnership is a reminder that the new frontier of space is an opportunity to learn from the mistakes of our past, and work alongside Aboriginal and Torres Strait Islander people to ensure that space-enabled technology is being put to best use to improve the land we all share."
The collaborative program will see CSIRO and Charles Darwin University develop the data management tools; James Cook University create the GPS-tracking ear tags; satellite company Kineis provide access to their satellite fleet and technical expertise; and the North Australian Indigenous Land and Sea Management Alliance Ltd (NAILSMA) drive efforts on the ground in partnership with Mimal Land Management Aboriginal Corporation, Aak Puul Ngangtam Ltd, and Normanby Land Management.
NAILSMA Chief Executive Ricky Archer said the program would create opportunities for economic development, landscape restoration and the protection of cultural sites.
"Using the information the ear tags generate, rangers and land managers can access more precise decision-making tools about where they focus efforts to reduce the impacts of buffalo and cattle grazing and eroding native flora and fauna," Mr Archer said.
"As our environment recovers, it will be more resilient in the face of fires, invasive plants and climate change, and we'll be able to protect sites of cultural significance to Indigenous Australians."
"Over the course of the project, we'll also be developing best-practice ethical mustering and handling guidelines so these animals can become part of the ethically-sourced meat industry, creating more jobs in our communities."
The project is being funded by Department of Agriculture, Water and the Environment under the National Landcare Program; Smart Farming Partnerships initiative.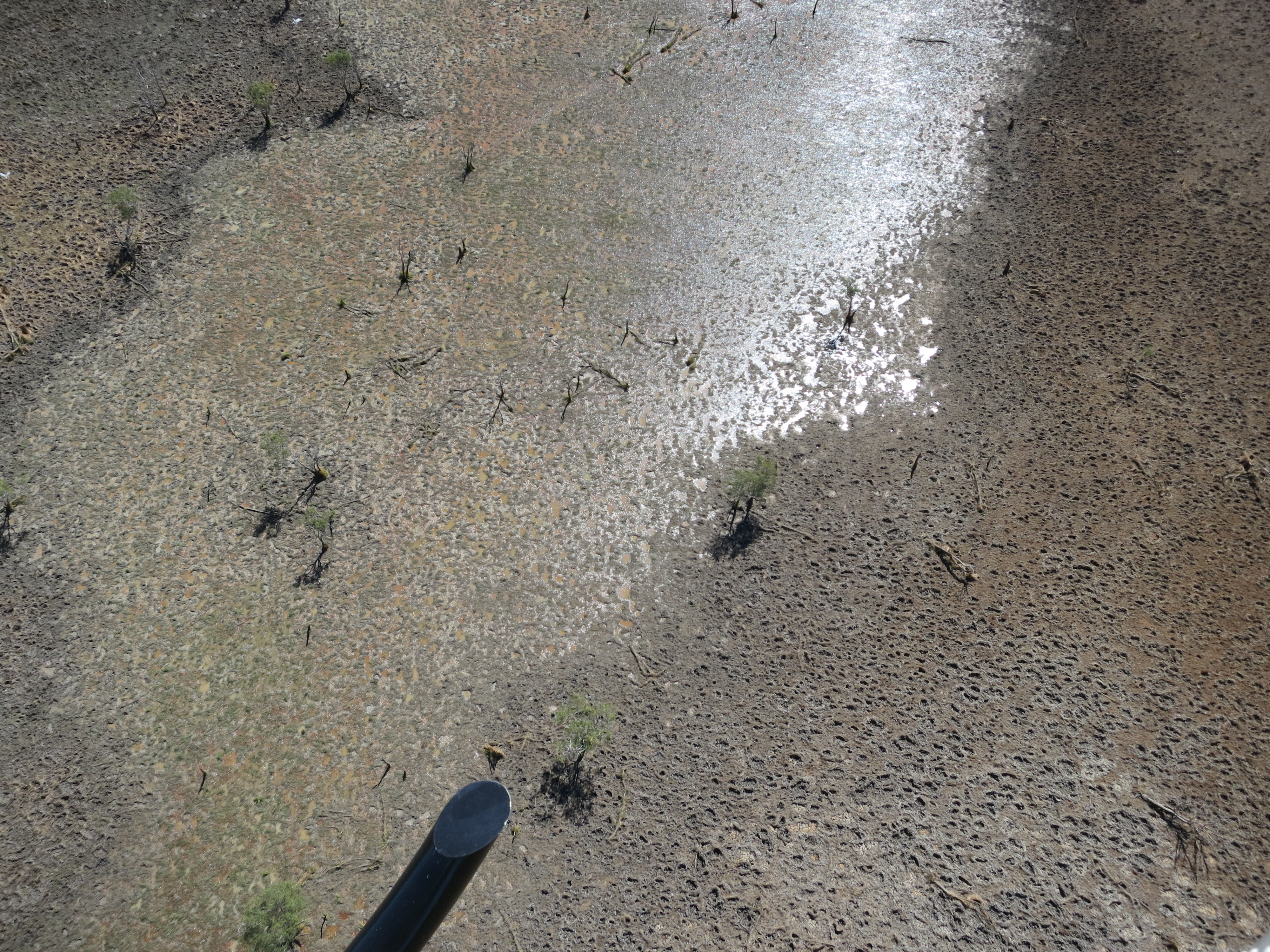 Environmental damage caused by water buffalo - Image credit: CSIRO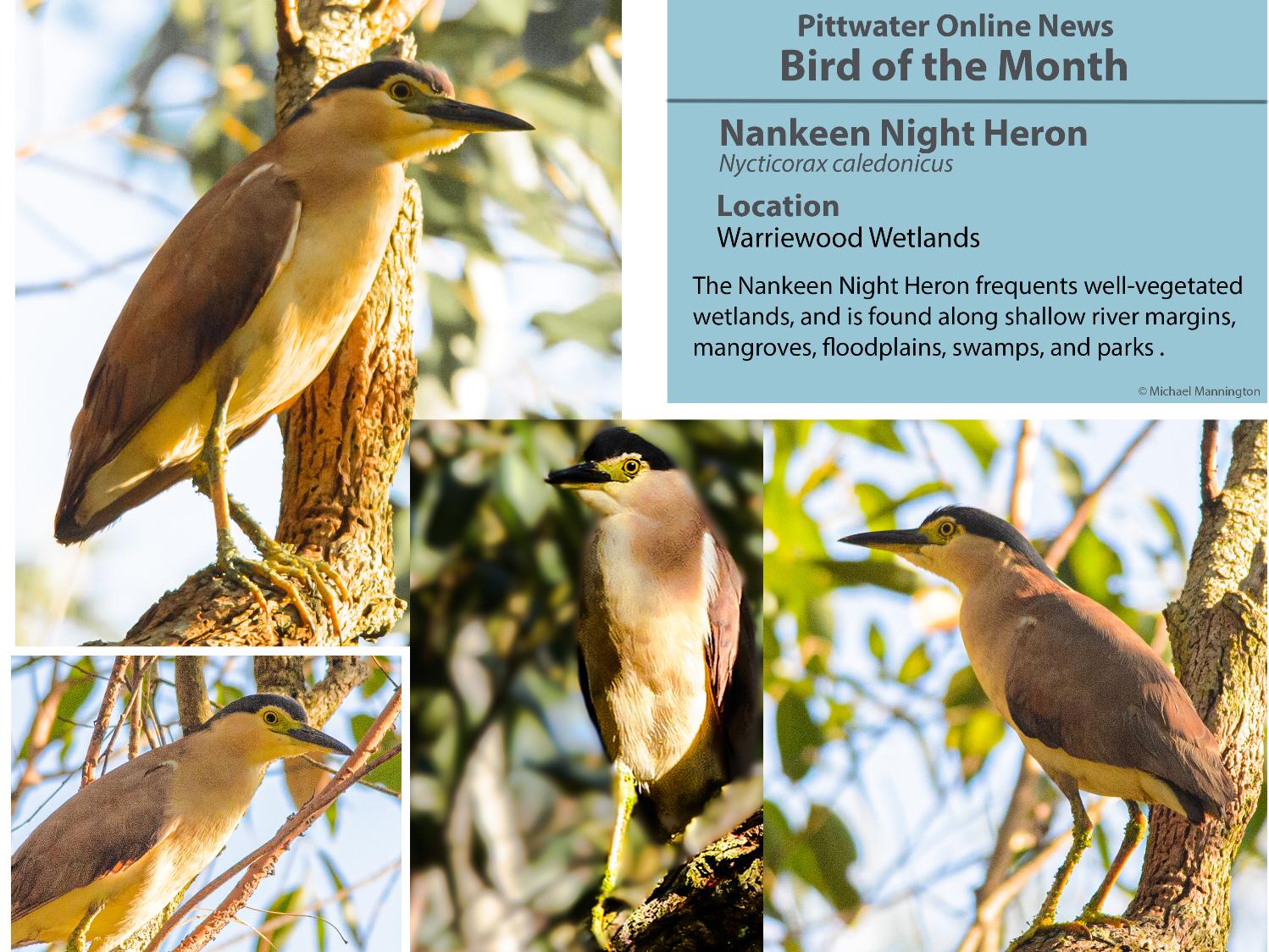 Bird of the Month photography by Michael Mannington of Community Photography and Pittwater Online News Features Photographer.
New Shorebird Identification Booklet
The Migratory Shorebird Program has just released the third edition of its hugely popular Shorebird Identification Booklet. The team has thoroughly revised and updated this pocket-sized companion for all shorebird counters and interested birders, with lots of useful information on our most common shorebirds, key identification features, sighting distribution maps and short articles on some of BirdLife's shorebird activities.
The booklet can be downloaded here in PDF file format: http://www.birdlife.org.au/documents/Shorebird_ID_Booklet_V3.pdf
Paper copies can be ordered as well, see http://www.birdlife.org.au/projects/shorebirds-2020/counter-resources for details.
Download BirdLife Australia's children's education kit to help them learn more about our wading birdlife
Shorebirds are a group of wading birds that can be found feeding on swamps, tidal mudflats, estuaries, beaches and open country. For many people, shorebirds are just those brown birds feeding a long way out on the mud but they are actually a remarkably diverse collection of birds including stilts, sandpipers, snipe, curlews, godwits, plovers and oystercatchers. Each species is superbly adapted to suit its preferred habitat. The Red-necked Stint is as small as a sparrow, with relatively short legs and bill that it pecks food from the surface of the mud with, whereas the Eastern Curlew is over two feet long with a exceptionally long legs and a massively curved beak that it thrusts deep down into the mud to pull out crabs, worms and other creatures hidden below the surface.
Some shorebirds are fairly drab in plumage, especially when they are visiting Australia in their non-breeding season, but when they migrate to their Arctic nesting grounds, they develop a vibrant flush of bright colours to attract a mate. We have 37 types of shorebirds that annually migrate to Australia on some of the most lengthy and arduous journeys in the animal kingdom, but there are also 18 shorebirds that call Australia home all year round.
What all our shorebirds have in common—be they large or small, seasoned traveller or homebody, brightly coloured or in muted tones—is that each species needs adequate safe areas where they can successfully feed and breed.
The National Shorebird Monitoring Program is managed and supported by BirdLife Australia.

This project is supported by Glenelg Hopkins Catchment Management Authority and Hunter Local Land Services through funding from the Australian Government's National Landcare Program. Funding from Helen Macpherson Smith Trust and Port Phillip Bay Fund is acknowledged.
The National Shorebird Monitoring Program is made possible with the help of over 1,600 volunteers working in coastal and inland habitats all over Australia.
The National Shorebird Monitoring program (started as the Shorebirds 2020 project initiated to re-invigorate monitoring around Australia) is raising awareness of how incredible shorebirds are, and actively engaging the community to participate in gathering information needed to conserve shorebirds.
In the short term, the destruction of tidal ecosystems will need to be stopped, and our program is designed to strengthen the case for protecting these important habitats.
In the long term, there will be a need to mitigate against the likely effects of climate change on a species that travels across the entire range of latitudes where impacts are likely.
The identification and protection of critical areas for shorebirds will need to continue in order to guard against the potential threats associated with habitats in close proximity to nearly half the human population.
Here in Australia, the place where these birds grow up and spend most of their lives, continued monitoring is necessary to inform the best management practice to maintain shorebird populations.
BirdLife Australia believe that we can help secure a brighter future for these remarkable birds by educating stakeholders, gathering information on how and why shorebird populations are changing, and working to grow the community of people who care about shorebirds.

To find out more visit: http://www.birdlife.org.au/projects/shorebirds-2020/shorebirds-2020-program
Bushcare In Pittwater
For further information or to confirm the meeting details for below groups, please contact Council's Bushcare Officer on 9970 1367
BUSHCARE SCHEDULES
Where we work Which day What time
Avalon
Angophora Reserve 3rd Sunday 8:30 - 11:30am
Avalon Dunes 1st Sunday 8:30 - 11:30am
Avalon Golf Course 2nd Wednesday 3 - 5:30pm
Careel Creek 4th Saturday 8:30 - 11:30am
Toongari Reserve 3rd Saturday 9 - 12noon (8 - 11am in summer)
Bangalley Headland 2nd Sunday 9 to 12noon
Bayview
Winnererremy Bay 4th Sunday 9 to 12noon
Bilgola
North Bilgola Beach 3rd Monday 9 - 12noon
Algona Reserve 1st Saturday 9 - 12noon
Plateau Park 1st Friday 8:30 - 11:30am
Church Point
Browns Bay Reserve 1st Tuesday 9 - 12noon
McCarrs Creek Reserve Contact Bushcare Officer To be confirmed
Clareville
Old Wharf Reserve 3rd Saturday 8 - 11am
Elanora
Kundibah Reserve 4th Sunday 8:30 - 11:30am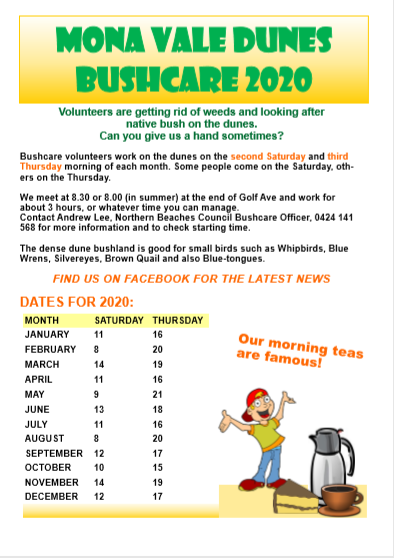 Mona Vale
Mona Vale Beach Basin 1st Saturday 8 - 11am
Mona Vale Dunes 2nd Saturday +3rd Thursday 8:30 - 11:30am
Newport
Bungan Beach 4th Sunday 9 - 12noon
Crescent Reserve 3rd Sunday 9 - 12noon
North Newport Beach 4th Saturday 8:30 - 11:30am
Porter Reserve 2nd Saturday 8 - 11am
North Narrabeen
Irrawong Reserve 2nd Saturday 2 - 5pm
Palm Beach
North Palm Beach Dunes 3rd Saturday 9 - 12noon
Scotland Island
Catherine Park 2nd Sunday 10 - 12:30pm
Elizabeth Park 1st Saturday 9 - 12noon
Pathilda Reserve 3rd Saturday 9 - 12noon
Warriewood
Warriewood Wetlands 1st Sunday 8:30 - 11:30am
Whale Beach
Norma Park 1st Friday 9 - 12noon
Western Foreshores
Coopers Point, Elvina Bay 2nd Sunday 10 - 1pm
Rocky Point, Elvina Bay 1st Monday 9 - 12noon

Gardens And Environment Groups And Organisations In Pittwater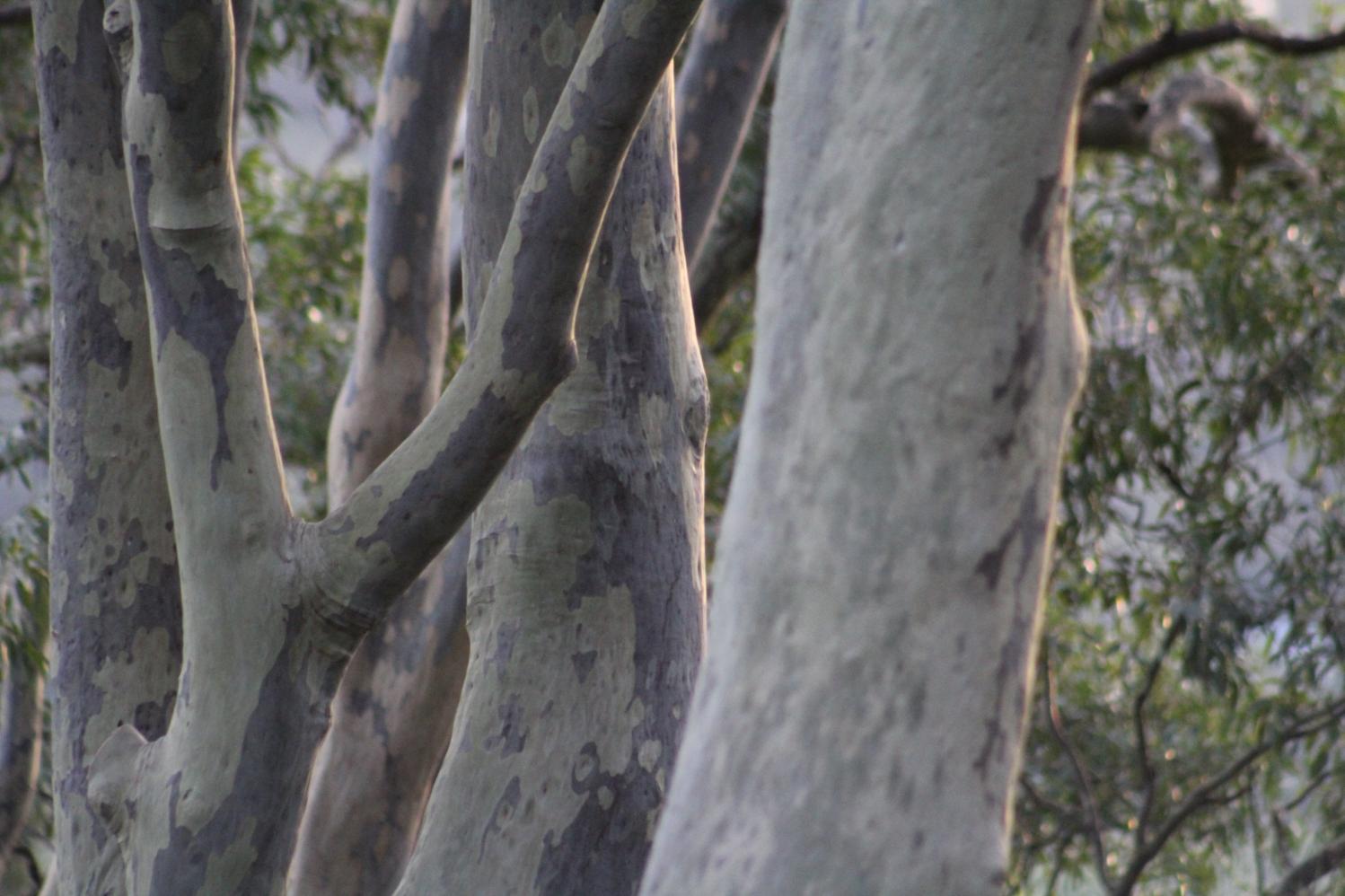 Aussie Bread Tags Collection Points
Collecting bread tags enables us to provide wheelchairs that change the life of disabled people in need, as well as keeping the tags out of landfill to help to preserve the environment.
Bread Tags for Wheelchairs was started in South Africa in 2006 by Mary Honeybun. It is a community program where individuals and organisations collect bread tags, which are sold to recyclers. The money raised pays for wheelchairs for the less fortunate which are purchased through a local pharmacy. Currently about 500kg of bread tags are collected a month in South Africa, funding 2-3 wheelchairs.
We have been collecting bread tags nationally in Australia since September 2018 and now have more than 100 collection points across the country. In February 2019 we started local recycling through Transmutation - Reduce, Reuse and Recycle in Robe, SA, where our tags are recycled into products such as door knobs and bowls. Tags from some states are still sent to South Africa where a plastics company called Zibo recycles them into seedling trays.
These humble bits of polystyrene can make a real difference so get your friends, family, school, workplace and church involved. Ask school tuck shops and boarding school kitchens, child care centres, aged care facilities, hospitals, cafes and fast food outlets to collect for you - they get through a lot of bread!
All the information and signage for collecting or setting up a public collection point is
on our website
.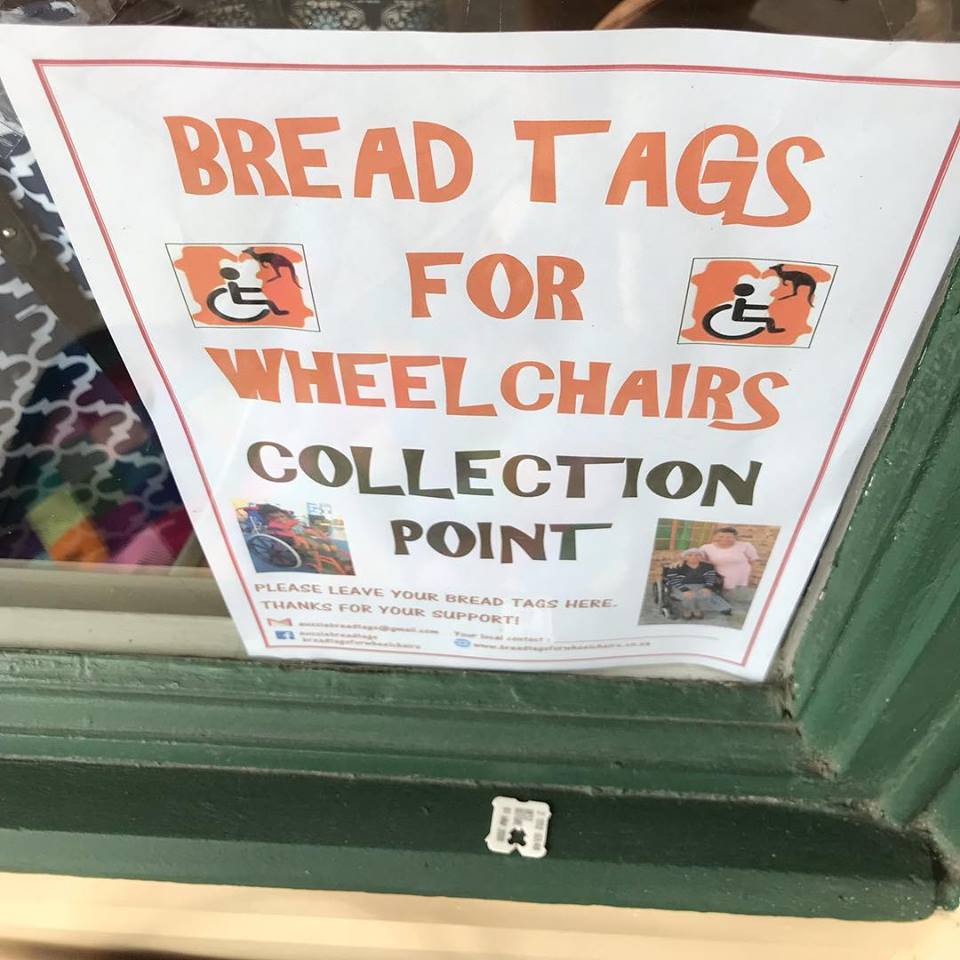 'Cosmic Ring Of Fire' 11 Billion Years Ago: How Did Structures In Early Universe Form?
Astronomers have captured an image of a super-rare type of galaxy -- described as a "cosmic ring of fire" -- as it existed 11 billion years ago.
The galaxy, which has roughly the mass of the Milky Way, is circular with a hole in the middle, rather like a titanic doughnut. Its discovery, announced in the journal Nature Astronomy, is set to shake up theories about the earliest formation of galactic structures and how they evolve.
"It is a very curious object that we've never seen before," said lead researcher Dr Tiantian Yuan, from Australia's ARC Centre of Excellence for All Sky Astrophysics in 3 Dimensions (ASTRO 3D). "It looks strange and familiar at the same time."
The galaxy, named R5519, is 11 billion light-years from the Solar System. The hole at its centre is truly massive, with a diameter two billion times longer than the distance between the Earth and the Sun. To put it another way, it is three million times bigger than the diameter of the supermassive black hole in the galaxy Messier 87, which in 2019 became the first ever to be directly imaged.
"It is making stars at a rate 50 times greater than the Milky Way," said Dr Yuan, who is an ASTRO 3D Fellow based at the Centre for Astrophysics and Supercomputing at Swinburne University of Technology, in the state of Victoria.
"Most of that activity is taking place on its ring -- so it truly is a ring of fire."
Working with colleagues from around Australia, US, Canada, Belgium and Denmark, Dr Yuan used spectroscopic data gathered by the WM Keck Observatory in Hawaii and images recorded by NASA's Hubble Space Telescope to identify the unusual structure.
The evidence suggests it is a type known as a "collisional ring galaxy," making it the first one ever located in the early Universe.
There are two kinds of ring galaxies. The more common type forms because of internal processes. Collisional ones form -- as the name suggests -- as a result of immense and violent encounters with other galaxies.
In the nearby "local" Universe they are 1000 times rarer than the internally created type. Images of the much more distant R5519 stem from about 10.8 billion years ago, just three billion years after the Big Bang. They indicate that collisional ring galaxies have always been extremely uncommon.
ASTRO 3D co-author, Dr Ahmed Elagali, based at the International Centre for Radio Astronomy Research in Western Australia, said studying R5519 would help determine when spiral galaxies began to develop.
"Further, constraining the number density of ring galaxies through cosmic time can also be used to put constraints on the assembly and evolution of local-like galaxy groups," he added.
Another co-author, Professor Kenneth Freeman from the Australian National University, said the discovery had implications for understanding how galaxies like the Milky Way formed.
"The collisional formation of ring galaxies requires a thin disk to be present in the 'victim' galaxy before the collision occurs," he explained.
"The thin disk is the defining component of spiral galaxies: before it assembled, the galaxies were in a disorderly state, not yet recognisable as spiral galaxies."
"In the case of this ring galaxy, we are looking back into the early universe by 11 billion years, into a time when thin disks were only just assembling. For comparison, the thin disk of our Milky Way began to come together only about nine billion years ago. This discovery is an indication that disk assembly in spiral galaxies occurred over a more extended period than previously thought."
Drs Yuan and Elagali, and Professor Freeman, worked with colleagues from the University of New South Wales, Macquarie University, and University of Queensland, all in Australia, together with others at the Cosmic Dawn Centre (DAWN) in Denmark, Texas A&M University in the US, York University in Canada, and Ghent University in Belgium.
Tiantian Yuan, Ahmed Elagali, Ivo Labbé, Glenn G. Kacprzak, Claudia del P. Lagos, Leo Y. Alcorn, Jonathan H. Cohn, Kim-Vy H. Tran, Karl Glazebrook, Brent A. Groves, Kenneth C. Freeman, Lee R. Spitler, Caroline M. S. Straatman, Deanne B. Fisher, Sarah M. Sweet.
A giant galaxy in the young Universe with a massive ring.
Nature Astronomy, 2020; DOI:
10.1038/s41550-020-1102-7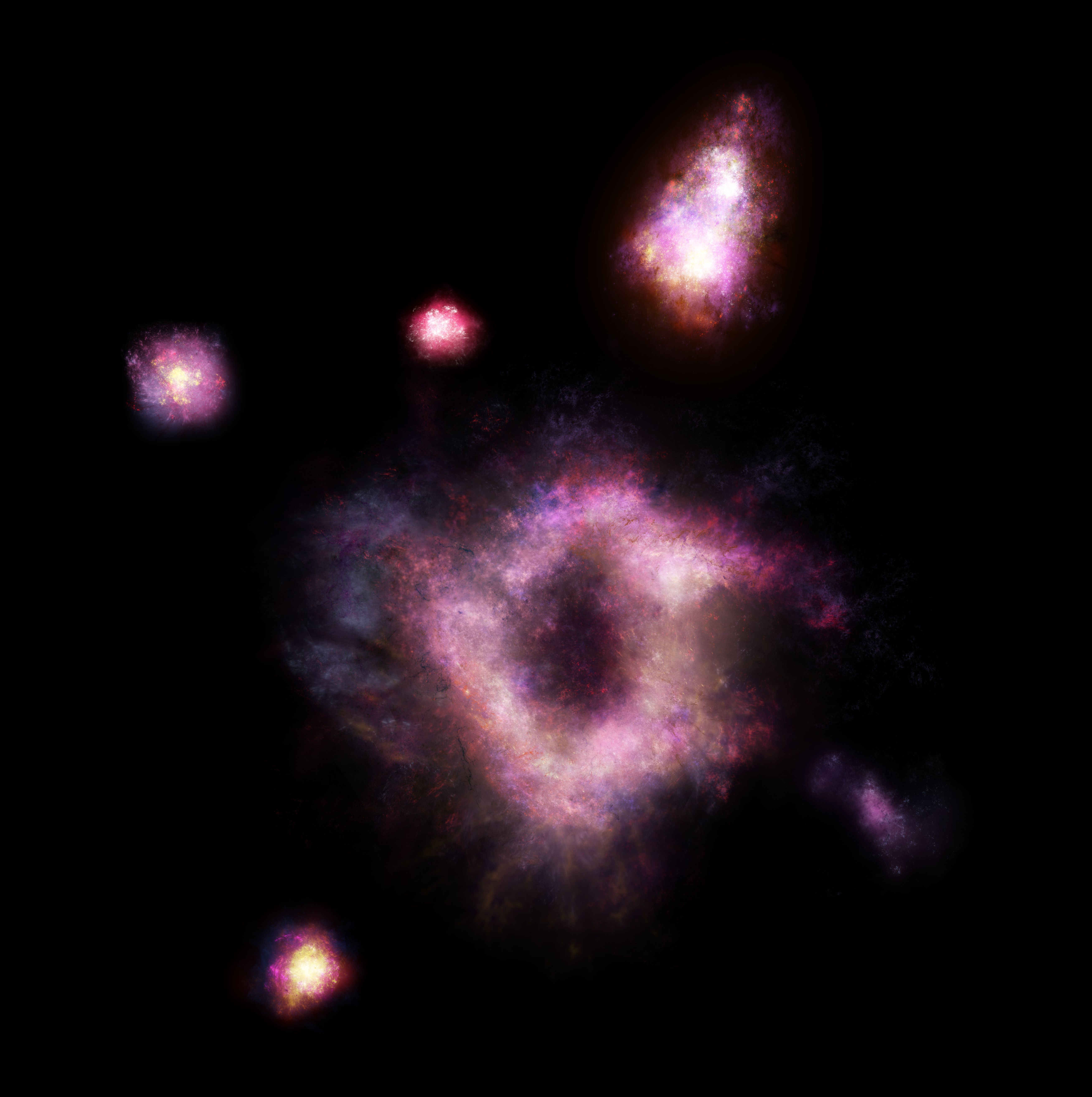 An artist's impression of how the ring galaxy formed. Credit: James Josephides, Swinburne Astronomy Productions

There Is No Escaping From Climate Change; Even In The Deep Sea
Even though the deeper layers of the ocean are warming at a slower pace than the surface, animals living in the deep ocean are more exposed to climate warming and will face increasing challenges to maintain their preferred thermal habitats in the future.
Reporting in the journal Nature Climate Change, an international team of scientists, led by the University of Queensland in Australia and involving Hokkaido University, analysed contemporary and future global patterns of the velocity of climate change across the depths of the ocean. Their metric describes the temporal rate and direction of temperature changes, as a proxy for potential shifts of marine biota in response to climate warming.
Despite rapid surface warming, the team found that global mean climate velocities in the deepest layers of the ocean (>1,000 m) have been 2 to nearly 4-fold faster than at surface over the second half of the 20th century. The authors point to the greater thermal homogeneity of the deep ocean environment as responsible for these larger velocities. Moreover, while climate velocities are projected to slow down under scenarios contemplating strong mitigation of greenhouse gas emissions (RCP2.6), they will continue to accelerate in the deep ocean.
"Our results suggest that deep sea biodiversity is likely to be at greater risk because they are adapted to much more stable thermal environments," says Jorge García Molinos, a climate ecologist at Hokkaido University's Arctic Research Center, who contributed to the study. "The acceleration of climate velocity for the deep ocean is consistent through all tested greenhouse gas concentration scenarios. This provides strong motivation to consider the future impacts of ocean warming to deep ocean biodiversity, which remains worryingly understudied."
Climate velocities in the mesopelagic layer of the ocean (200-1000 m) are projected to be between 4 to 11 times higher than current velocities at the surface by the end of this century. Marine life in the mesopelagic layer includes great abundance of small fish that are food for larger animals, including tuna and squid. This could present additional challenges for commercial fisheries if predators and their prey further down the water column do not follow similar range shifts.
The authors also compared resulting spatial patterns of contemporary climate velocity with those of marine biodiversity for over 20,000 marine species to show potential areas of risk, where high biodiversity and velocity overlap. They found that, while risk areas for surface and intermediate layers dominate in tropical and subtropical latitudes, those of the deepest layers are widespread across all latitudes except for polar regions.
The scientists caution that while uncertainty of the results increases with depth, life in the deep ocean is also limited by many factors other than temperature, such as pressure, light or oxygen concentrations. "Without knowing if and how well deep ocean species can adapt to these changes, we recommend to follow a precautionary approach that limits the negative effects from other human activities such as deep-sea mining and fishing, as well as planning for climate-smart networks of large Marine Protected Areas for the deeper ocean," says García Molinos.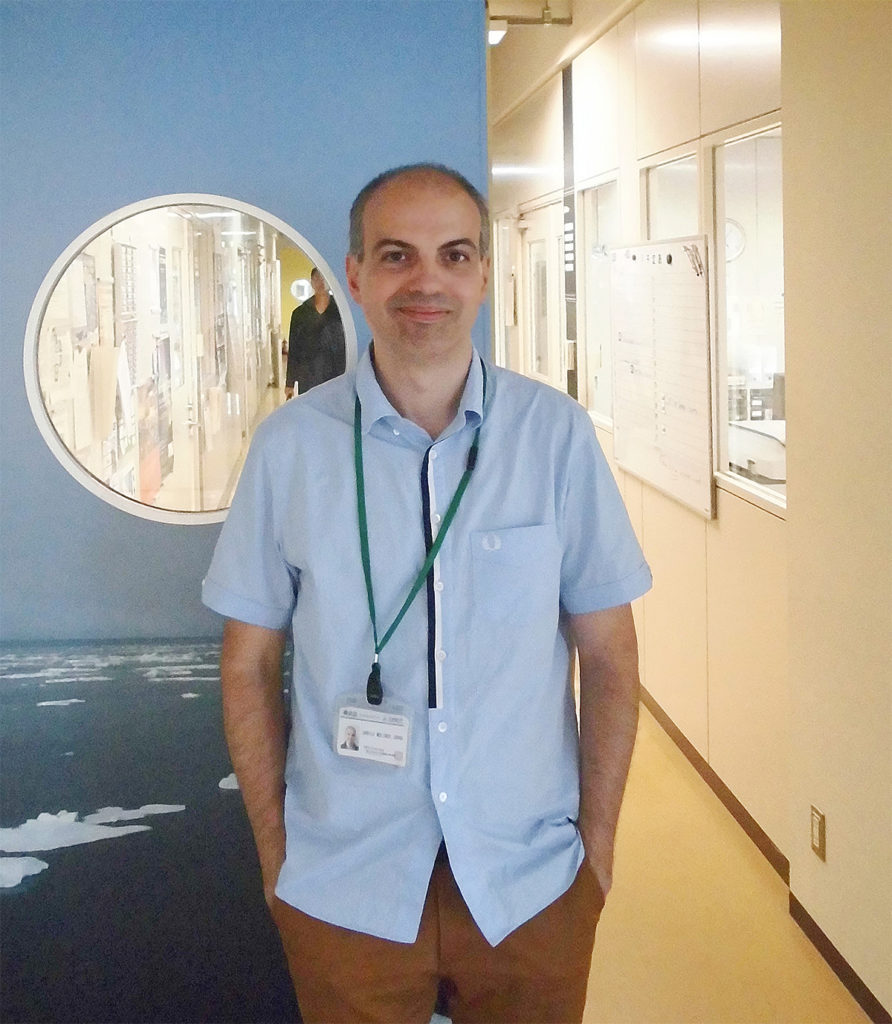 Jorge García Molinos at the Arctic Research Center of Hokkaido University

Isaac Brito-Morales, David S. Schoeman, Jorge García Molinos, Michael T. Burrows, Carissa J. Klein, Nur Arafeh-Dalmau, Kristin Kaschner, Cristina Garilao, Kathleen Kesner-Reyes, Anthony J. Richardson.
Climate velocity reveals increasing exposure of deep-ocean biodiversity to future warming
. Nature Climate Change, 2020; DOI:
10.1038/s41558-020-0773-5
Increased Fertility For Women With Neanderthal Gene
One in three women in Europe inherited the receptor for progesterone from Neanderthals -- a gene variant associated with increased fertility, fewer bleedings during early pregnancy and fewer miscarriages. This is according to a study published in Molecular Biology and Evolution by researchers at the Max Planck Institute for Evolutionary Anthropology in Germany and Karolinska Institutet in Sweden.
"The progesterone receptor is an example of how favourable genetic variants that were introduced into modern humans by mixing with Neanderthals can have effects in people living today," says Hugo Zeberg, researcher at the Department of Neuroscience at Karolinska Institutet and the Max Planck Institute for Evolutionary Anthropology, who performed the study with colleagues Janet Kelso and Svante Pääbo.
Progesterone is a hormone, which plays an important role in the menstrual cycle and in pregnancy. Analyses of biobank data from more than 450,000 participants -- among them 244,000 women -- show that almost one in three women in Europe have inherited the progesterone receptor from Neandertals. Twenty-nine percent carry one copy of the Neanderthal receptor and three percent have two copies.
Favourable effect on fertility
"The proportion of women who inherited this gene is about ten times greater than for most Neandertal gene variants," says Hugo Zeberg. "These findings suggest that the Neandertal variant of the receptor has a favourable effect on fertility."
The study shows that women who carry the Neandertal variant of the receptor tend to have fewer bleedings during early pregnancy, fewer miscarriages, and give birth to more children. Molecular analyses revealed that these women produce more progesterone receptors in their cells, which may lead to increased sensitivity to progesterone and protection against early miscarriages and bleeding.
The research was supported by the NOMIS Foundation and the Max Planck Society.
Svante Pääbo, Janet Kelso, Hugo Zeberg.
The Neanderthal Progesterone Receptor.
Molecular Biology and Evolution, 2020; DOI:
10.1093/molbev/msaa119
NSW Government Strategy For Seniors
The Department of Communities and Justice is seeking feedback from seniors and organisations in NSW to help develop the new NSW Ageing Strategy.
The NSW Ageing Strategy's vision is that people participate in, contribute to and be included in their communities.
The Department of Communities and Justice wants to hear from people over 50, as well as those who have older people in their lives.
You can provide feedback by completing the
survey here
.
Have your say by 30 June 2020.
New Research Shows The Value Of Grandparenting
National Seniors Australia has released new research on the grandparenting activities of older Australians revealing some interesting new findings.
The research was released as part of a major report called Australian Grandparents Care and follows a recent report into unpaid care.
The data has noted the impact COVID-19 has had on the care grandparents provide, by the hole it's left because of older Australians having to socially isolate and therefore being unable to look after their grandchildren.
National Seniors CEO Professor John McCallum describes grandparenting as being like 'intergenerational LEGO'. It meets many different needs and is a very flexible service.
"It links the generations strongly and this was taken apart during the COVID-19 shutdown and is being put back together as social restrictions ease."
Among the research findings were:
More than a quarter of older Australians were providing regular care for grandchildren
The average hours spent grandparenting were 12 hours per week with women working more hours than men
People providing grandparenting services were typically aged 60-79 years
Those grandparenting tended to be better off and healthier than others
Male grandparents were more likely to be in a partnership - only 7% of grandfathers doing grandparenting duties were single, compared to 43% of grandmothers
Overall women and men who were partnered were the most likely to be grandparenting
One quarter of those grandparenting were also caring for another person over the age of 12 years
A smaller group was identified as the 'sandwich group' who cared for both grandchildren and their own aged parents.
Some participants in the research gave positive descriptions of the grandparenting experience such as: 'love', 'joy', 'a privilege' and 'excitement'.
The research also found that people clearly distinguished grandparenting from actual parenting including descriptions such as: 'passing on wisdom', 'connectedness', 'financial savings for families', 'sharing life experiences' and 'feeling vital'.
However, there were some negative descriptions where respondents described: 'being used', 'obligated', 'having no choice', 'excessive demands', 'feeling undervalued', 'high personal sacrifice' and 'financial costs of caring'.
COVID-19 has also highlighted the significance of grandparenting because the shutdown prevented it and left major gaps in childcare and education.
"Grandparenting is an intergenerational gift to families and the nation," said Professor McCallum.
"It will become even more important as many families face financial hardship and the Government deals with the COVID-19 deficit."
Professor McCallum says grandparenting will remain one of the many ways older people can make social and economic contributions to new generations of Australians.
"Like LEGO it can be taken apart and reconnected as times change, for example, as we come out of the COVID-19 shutdown. If supported and sustained it will continue to provide very significant economic value."
Register For Aged Care Workers A Step Closer
The Australian Government is a step closer to establishing a registration scheme for aged care workers, ensuring all staff are suitable to work with senior and vulnerable Australians.
Minister for Aged Care and Senior Australians Richard Colbeck said a public consultation paper released today offered the opportunity to better regulate staffing across the sector.
"What we're looking for is a registration scheme that screens all aged care workers, without putting a red tape burden on them or service providers," Minister Colbeck said.
"We also want to make sure that workers are still able to move between sectors, employers, regions and states as circumstances change."
Currently, nurses and some allied health practitioners working in aged care such as physiotherapists and podiatrists, are required to maintain registration to practise under the National Registration and Accreditation Scheme for health practitioners.
"There is no centralised screening or checks in place for other direct care workers, such as personal care workers to provide assurance to the community around public safety for senior Australians receiving care," Minister Colbeck said.
"But their skills and character are equally important and can be a huge influence on the safety and quality of life of people receiving care, in both residential and in home care."
The consultation paper details the objectives of an aged worker screening or regulation scheme, key issues that the scheme could address and existing regulatory models in related sectors.
Feedback on the advantages and disadvantages of proposed features of a regulatory scheme can be provided via the online survey until 29 June.
A detailed options paper for consideration by the Government will be prepared once the consultation is complete.
A scheme may be introduced in stages, with full implementation possible as early as 2022.
The Morrison Government has also requested a proposal for the development of a model for a new aged care centre for growth and translational research.
The proposal request can be viewed on
AusTender
.
Following the acceptance of a model, tenders will be sought for a consortium to establish and operate the research centre from early 2021.
"The Government is working with the Aged Care Workforce Industry Council to reform the aged care workforce and ensure quality care for all senior Australians," Minister Colbeck said.
"This is important ground work to ensure the care and wellbeing of those people in our lives who we care about most and will reinforce the framework for a strengthened sector for the future."
Unaffordable Housing Is The Biggest Threat To A Comfortable Retirement
by Brendan Coates, Grattan Institue
Published in National Seniors Australia, 28 May 2020
There's no shortage of issues. But one that will need tackling is the threat worsening housing affordability and falling home ownership will present to the retirement incomes of many Australians.
Most Australians are comfortable in retirement, provided they own their homes
Most retirees today feel more comfortable financially than younger Australians who are still working. Retirees are less likely than working-age Australians to suffer financial stress such as not being able to pay a bill on time, and are more likely to be able to afford optional extras such as annual holidays.
In fact most people aged 65-84 today have as much or more income today than they did 20 years ago when working. And while the Age Pension is by no means generous, it does keep most low-income retirees out of poverty – provided that they own their home.
As for future retirees, Grattan Institute research shows that most working Australians today can look forward to a standard of living in retirement that's on par with their standard of living while working, and often higher. Retirement incomes also remain adequate for most Australians even when they work part-time or take significant career breaks, such as to care for children.
But we're failing retirees who rent
But not all Australians enjoy a comfortable retirement. Senior Australians who rent in the private market are much more likely to suffer financial stress than homeowners, or renters in public housing. Nearly half of retired renters are in poverty once housing costs are taken into account.
The explanation is simple: retirees spend a lot less on housing as they pay down their mortgage, but housing costs keep rising for retired renters. The typical homeowner aged over 65 spends just 5 per cent of their income on housing, compared to nearly 30 per cent for renters.
More retirees will rent in future
The proportion of retired renters in financial stress will increase because younger people on lower incomes are less likely to own their own home than in the past.
Between 1981 and 2016, home-ownership rates among 25-34 year-olds fell from more than 60 per cent to 45 per cent. Home-ownership has also fallen for middle-aged Australians.
And home ownership now depends on income much more than in the past: for 25-34 year-olds, home ownership among the poorest 20 per cent has fallen from 63 per cent to 22 per cent.
Today's younger Australians will become tomorrow's retirees. These trends suggest that by 2056 just two-thirds of retirees will own their homes, down from nearly 80 per cent today.
So what should the Federal Government do?
Boosting Rent Assistance should be the priority
The Government's first priority should be boosting Commonwealth Rent Assistance, which has not kept pace with rent increases over the past two decades.
Raising Rent Assistance by 40 per cent, or roughly $1,400 a year for singles, would cost just $300 million a year if it applied to pensioners, and another $1 billion a year if extended to younger renters as well.
And in future, Rent Assistance should be indexed to changes in rents typically paid by people receiving income support, so that its value is maintained.
Boosting Rent Assistance would do much more to reduce poverty in retirement per government dollar spent than the alternatives, including lifting the Age Pension.
A common concern is that boosting Rent Assistance would lead to higher rents. But that's unlikely: households would not be required to spend any of the extra income on rent, and most would not.
More social housing is needed, but not for everyone
Beyond boosting Rent Assistance, there is powerful case for more government funding of social housing, including for vulnerable older renters at risk of homelessness. It would also be an effective economic stimulus given COVID-19. But boosting social housing will be expensive: increasing the stock by 100,000 dwellings would require additional ongoing public funding of about $900 million a year, or upfront capital expenditure of $10-to-$15 billion.
It would be prohibitively expensive to provide enough social housing to accommodate all renting pensioners, let alone all working-age Australians on low incomes. So any boost to social housing should be reserved for people at greatest risk of long-term homelessness.
Include the home in the pension assets test
The Age Pension exacerbates the divide between the housing "haves" and "have nots" in retirement by favouring homeowners over renters. Once a person is retired, their home is treated differently to their other assets. Under current rules only the first $210,500 of home equity is counted in the Age Pension assets test; the remainder is ignored. Which is why $6 billion in pension payments go to people with homes worth more than $1 million.
It's time for more of the value of the family home to be included in the pension assets test. Counting more of the home above some threshold (such as $500,000) would be fairer and would save the budget up to $2 billion a year.
No pensioner would be forced to leave their home. Instead this change would primarily reduce inheritances. Pensioners with valuable homes could continue to live at home and receive the pension under the Government's pension loans scheme, which recovers debts only when homes are eventually sold.
A $500,000 threshold would ensure that homeowners would still have substantial equity to pass on to their beneficiaries. But it would ask people with high levels of wealth that would otherwise be passed on to heirs to use some of this wealth to support themselves in retirement.
Higher house prices also mean that Australians are spending more of their lifetime incomes buying a house and paying it off by the time they retire.
Yet few retirees draw down the value of their home to fund their retirement, either by downsizing or by borrowing against home equity.
Unless Australians are willing to draw on their home equity in retirement, rising house prices mean Australians will be left with lower living standards both while working and in retirement.
The recent expansion of the Pension Loans Scheme is a step in the right direction. Government policy should continue to encourage retirees to draw on their home equity to help fund their retirement.
Know Your Bones
CEO of Osteoporosis Australia, Greg Lyubomirsky says "bone health is an important part of your general health and anyone with risks for osteoporosis should be investigated."
He has urged people to try the online self-assessment, Know Your Bones developed by Osteoporosis Australia and the Garvan Institute of Medical Research.
"Simply visit the website, complete the assessment in your own time and a personal report is generated which will outline potential risks and can be taken to your doctor if required."
NSW Veterans' Strategy Survey
The NSW Government through the Office for Veterans Affairs is asking for feedback on issues faced by veterans and their families.
The NSW Government through the Office for Veterans Affairs (OVA) is asking for feedback on issues faced by veterans and their families, and how the government can better support them. The feedback will inform the first NSW Veterans' Strategy to be published later this year.
Veterans, their families and friends, ex-service organisations and those involved in providing veterans' services are encouraged to participate in the survey and contribute to the strategy.
You can provide your feedback via the online survey.
Have your say by Friday 17 July 2020.
Survey
28 May 2020 to 17 July 2020
12:01am to 11:59pm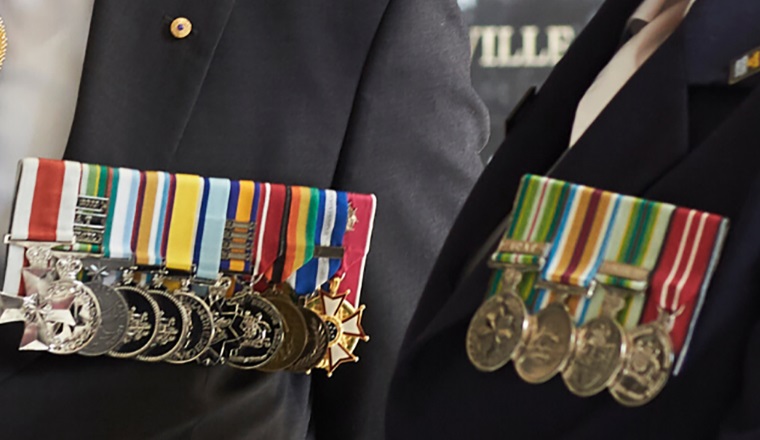 Those Were The Days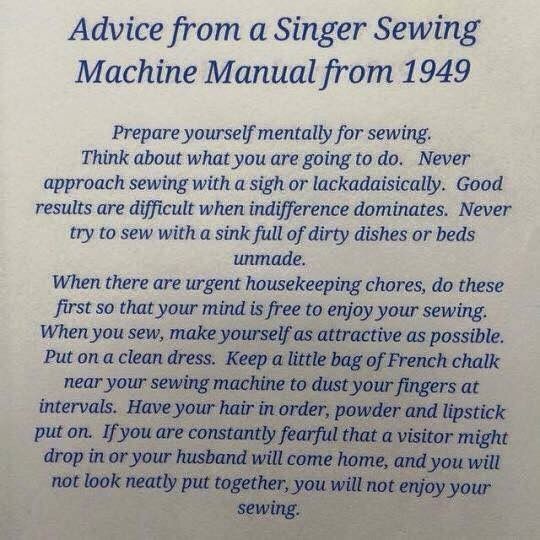 BirdLife Australia 2020 Photo Comp
The BirdLife Australia Photo awards are now open! Special theme this year is Fairy-wrens, Emu-wrens, and Grasswrens.
The Comp is

open til August 3rd

.
⁠For more on our judges, categories
This stunning image is of a pair of White-throated Grasswrens, by Laurie Ross.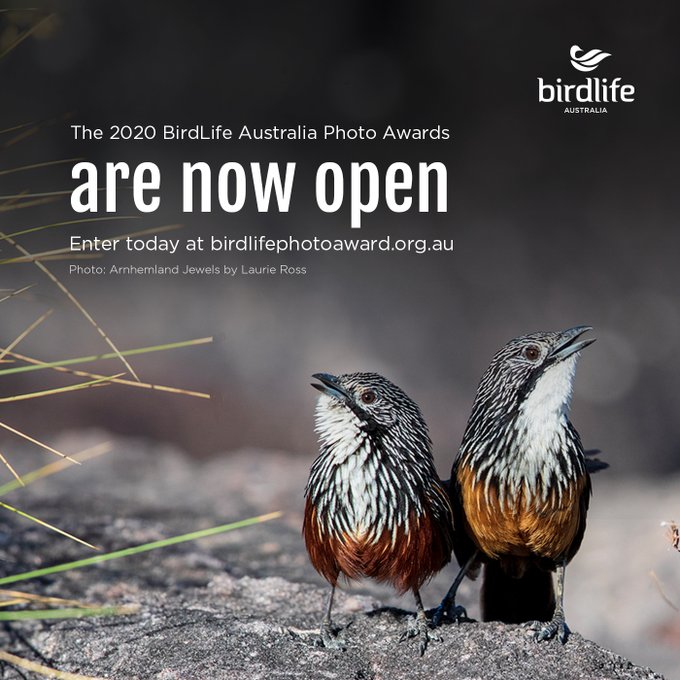 National Sorry Day Is An Australia-Wide Observance Held On
May 26 Each Year
From: Aboriginal Support Group - Manly Warringah Pittwater
The first National Sorry Day was held on May 26, 1998, which was one year after the tabling of a report about the removal of Aboriginal and Torres Strait Islander children from their families. The report, known as Bringing Them Home, acknowledged that Indigenous children were forcibly separated from their families and communities since the early days of European occupation in Australia. Governments and missionaries were responsible for this forced separation.
Systematic removal practices were implemented through various assimilation and "protection" policies by the late 19th century. Many Indigenous children were forcibly taken away from their families in the name of assimilation during the 1950's and 1960's. These children are known as the "Stolen Generations". They were brought up in institutions or fostered to non-Indigenous families. This removal was official government policy in Australia until 1969.
By the 1980's, welfare and community groups spoke out that governments' social welfare practices were discriminatory against Indigenous people. This forced a reappraisal of removal and placement practice during the 1980's. In 1980 the family tracing and reunion agency Link-Up (NSW) Aboriginal Corporation was established. Similar services now exist throughout Australia.
Australia's Prime Minister Kevin Rudd tabled a motion in parliament on February 13, 2008, apologising to Australia's Indigenous people, particularly the Stolen Generations and their families and communities, for the laws and policies that inflicted profound grief, suffering and loss. The apology included a proposal for a policy commission to close the gap between Indigenous and non-Indigenous Australians in matters such as life expectancy, educational achievement, and economic opportunity. This event is seen by many as a step forward in reconciliation.
As we can't do anything face-to-face with the community in isolation, please see the link below; nice to share for Sorry Day - a performance by local Northern Beaches Indigenous sisters.
Armchair Antarctica 5: Gentle Giants
Published May 30, 2020 by The Australian Antarctic Division
In this episode of #ArmchairAntarctica … dive with #Antarctic #whales, and eavesdrop on their intense low-frequency calls that travel underwater for hundreds of kilometres.
"I'm a fairly small human, and they're a fairly massive animal, and it was just mind-blowing being alongside this massive wall of blue." – Dr Virginia Andrews-Goff
Stay Healthy During The HSC
May 26, 2020: NESA
In any 'normal' year the HSC requires dedication and focus as well as the support of friends and family.
This year hasn't exactly panned out to be a 'normal' year, with announcements about changes to the HSC due to COVID-19.
Despite all the goings-on, students across NSW are continuing to study for their HSC with focus and determination, and we at NESA are here to help.
This year we are partnering with mental health organisation ReachOut to deliver news, information, guidance and advice to support all HSC students.
You'll hear from experts, teachers, parents and other students as well as some inspiring spokespeople. This year we are planning to lighten your mental load with practical tips and tricks for staying active, connected and in charge of your wellbeing.
ReachOut's Study Hub has heaps of info about taking a proactive approach to your mental health or where to go if you need more support. ReachOut's Forums are great for sharing what's going on for you and get ideas about the best ways to feel happy and well.
So follow and use #StayHealthyHSC for regular health and wellbeing updates and information.
View our range of social media images, posters and flyer to help you get involved and share the Stay Healthy HSC message with your community.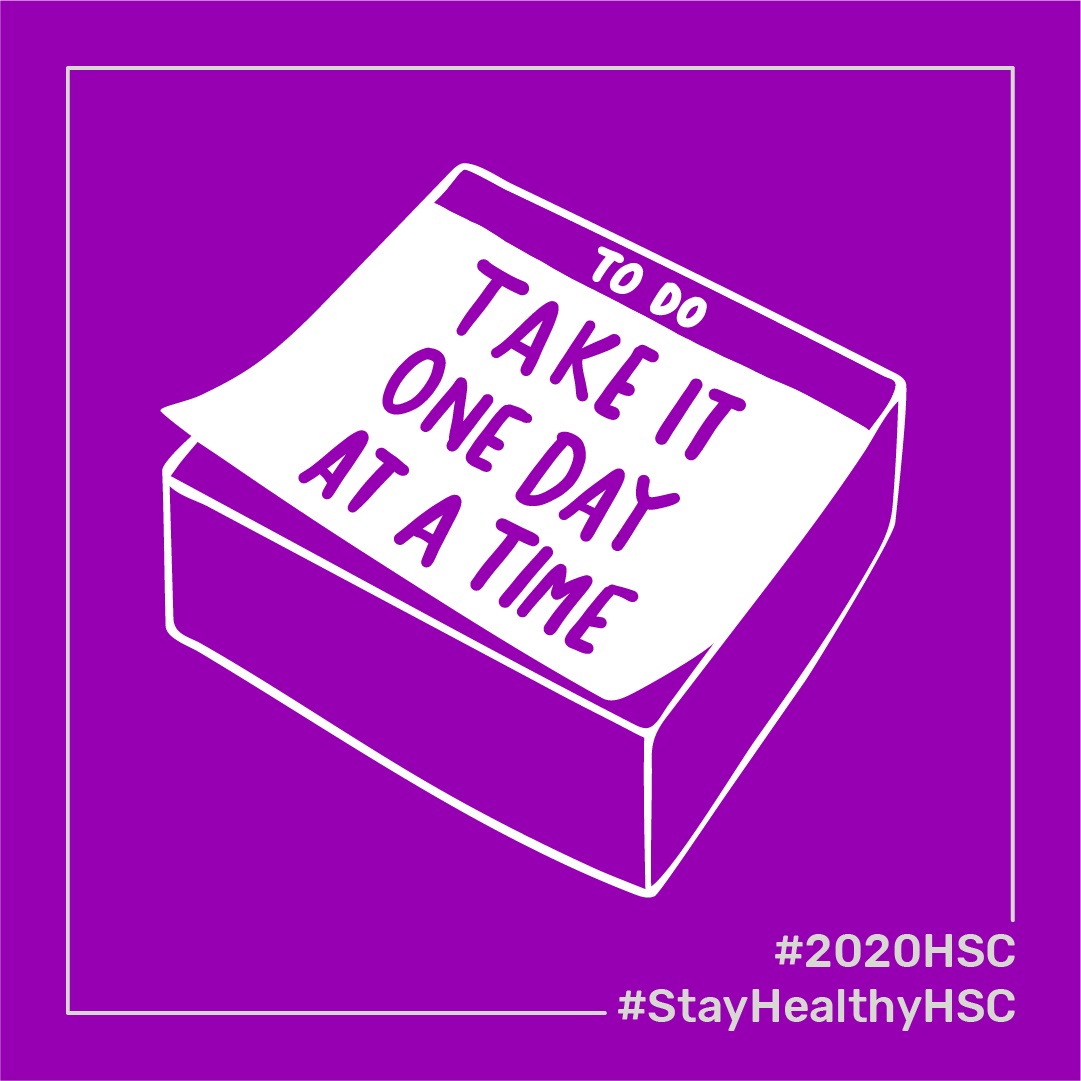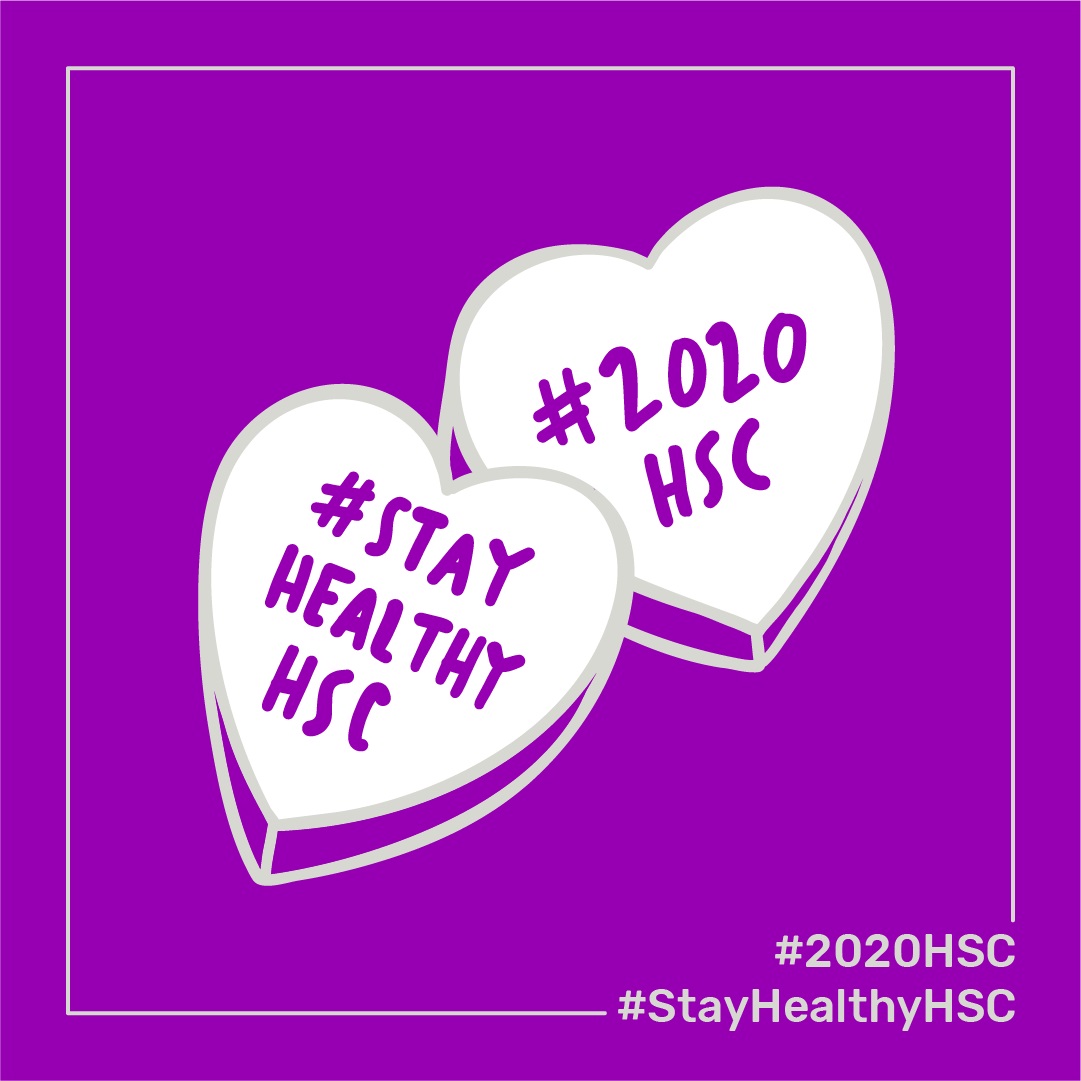 HSC Timetable Released For 2020 Exams
May 15, 2020

A HSC exam timetable announcement from the NSW Education Standards Authority.
The 2020 HSC written exam timetable was released today for the 75,000 students sitting the exams this year.
NESA Chief Executive Officer Paul Martin said the timetable would provide the certainty that students, teachers and parents have been looking for around the HSC.
"Students have known that the HSC would be going ahead and this timetable provides the certainty many have been seeking about when their exams will take place," Mr Martin said.
"This timetable starts five days later giving students some extra time at school after the Autumn holiday period while keeping to the original timeframe for releasing results.
"I want to reassure parents and students that the exams will be conducted in line with the expert health advice at the time of the exams, which are still five months away."
NSW schools are supporting the return of HSC students to the classroom from this week with HSC students receiving on average three to four days at school each week.
"I trust that now students have a definitive plan and timing for the exams that they can focus on achieving their best as they return to school," Mr Martin said.
120 written exams will start with English on 20 October and 51 oral language exams will start on 15 August.
Students will receive their HSC results on 18 December.
All 2020 HSC students can access their personalised exam timetables via their Students OnlineExternal link account from 10am today.
For more information:
contact the NESA COVID-19 support team
1300 138 323
Visit: https://educationstandards.nsw.edu.au/wps/portal/nesa/11-12/hsc/key-dates-exam-timetables/hsc-written-exam-timetable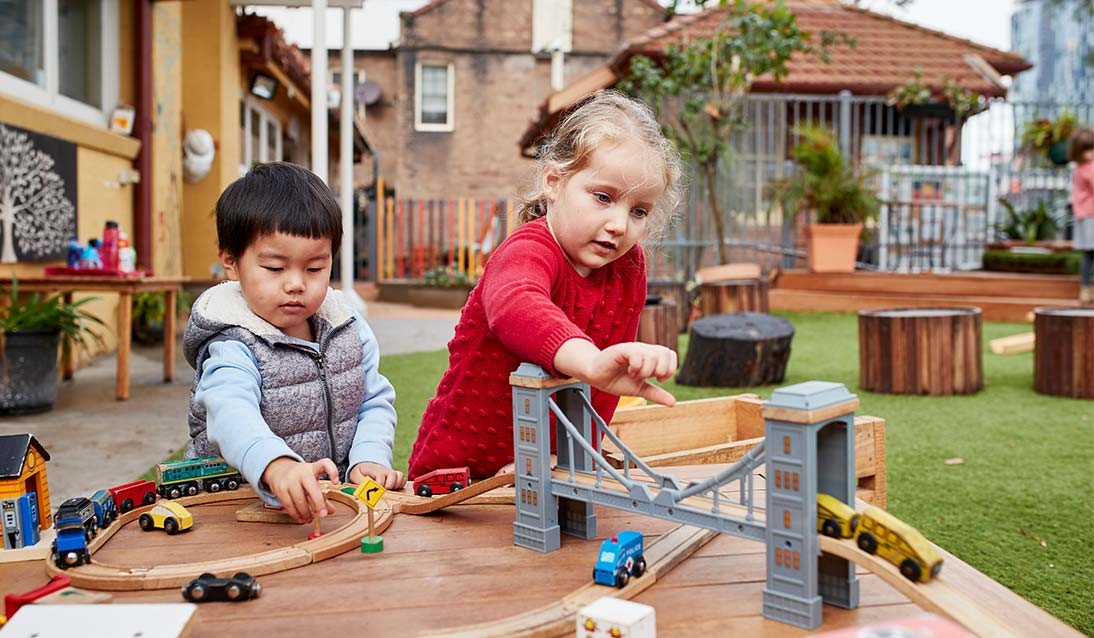 Applications Open For $15,000 Bert Evans Apprentice Scholarships
May 15, 2020
Applications are now open for the NSW Government's Bert Evans Apprentice Scholarships offering $15,000 to apprentices across NSW.
Minister for Skills and Tertiary Education Geoff Lee said the scholarships support apprentices who are experiencing financial or personal hardship, demonstrate a high aptitude for vocational education and are committed to their on and off the job training.
Mr Lee said up to 95 scholarships will be awarded to outstanding apprentices at a time when the state faces challenges from the COVID-19 pandemic.
"An apprenticeship is a great way to kick-start a career, and apprentices are vital to our state's growth, but we also understand it's not always easy to complete a qualification," Mr Lee said.
"We want to back our apprentices by giving them a helping hand to complete their training and gain a qualification so they can make a strong contribution in their jobs and in the lives of their families and communities.
"The response to the COVID-19 pandemic has meant many industries are experiencing a pause, so this scholarship could not come at a better time."
The scholarship program is named in honour of the late Bert Evans AO, a passionate advocate of vocational education for more than 30 years.
Find more information and lodge an application online or phone 13 28 11 to contact.
Digital-Only Local Newspapers Will Struggle To Serve The Communities That Need Them Most
May 29, 2020
by Chrisanthi Giotis, Postdoctoral Research Fellow, School of Communication, University of Technology Sydney
This week News Corp Australia announced the end of the print editions of 112 suburban and regional mastheads – about one-fifth of all of Australia's local newspapers. Of those, 36 will close and 76 become purely online publications.
Getting the chop entirely are small regional newspapers such as the Herbert Valley Express in far north Queensland (with a circulation of less than 3,000). Those going digital include free suburban papers such as Sydney's Manly Daily, established in 1906. (Until as recently as 2017 it came out five times a week. Since 2018 is has been published twice a week.)
Whether the online-only papers can survive remains to be seen. But our research at the Centre for Media Transition suggests it will be hard for them to match what local print editions offered communities.
Losing readers and advertisers
Like print media in general, local newspapers have been squeezed by readers and advertisers moving online. Most of the revenue, even for those with a cover price, has come from advertising. This has been eroded by the likes of Google and Facebook as well as localised classified sites such as Gumtree.
While this has has happened at slower pace than the loss of the "rivers of gold" for metropolitan newspapers, the "desertification" of local news has progressed steadily. In the decade to 2018, 106 local and regional newspapers closed in Australia, leaving 21 local government areas – 16 in regional areas – without a local newspaper.
Those that have survived have seen their staff slashed, with reporters expected to produce more "content" at the cost of doing the serious reporting that made local newspapers so valuable to their communities.
Local media 'keystones'
As Danish researcher Rasmus Kleis Nielsen notes in Local Journalism: The decline of newspapers and the rise of digital media (IB Taurus, 2016), local newspapers have been the "keystone" of "local news ecosystems".
No other local media comes close to the local coverage they provide. "Most of the many stories about local politics produced by the local paper never appear anywhere else," says Nielsen. Local radio and television have tended to piggyback on their work.
Without this reporting, local democracy suffers. Research in the United States shows local papers are essential to keep local government accountable.
Local news doesn't scale
Given declining revenue for traditional print, and the cost of printing, moving to digital-only platforms was perhaps inevitable.
But the COVID-19 pandemic accelerated the move by killing off advertising from local businesses such as restaurants and pubs. In April News Corp suspended the print runs of 60 local papers. Just three – the Wentworth Courier, Mosman Daily and North Shore Times, serving Sydney's most affluent suburbs – will resume, thanks to their lucrative property advertising.
Making the rest viable as digital-only local news services is going to be tricky for two reasons.
The first is to do with how online advertising works. The second is how readers in these areas relate to the news, and their willingness to pay for online news.
A key characteristic of the historical readership and advertising markets for local newspaper is their "bounded" nature. But the defining characteristics of online news and advertising is "scaleability".
Once all newspapers could largely dictate prices to advertisers. This was particularly the case with local papers, often the only game in town. But the game has changed. What they can charge for online advertising is a fraction of what they once could for print.
Most metro newspapers responded with plans to grow their readership by providing their content free online. The idea was that more readers would help maintain them as an attractive advertising platform.
This has generally not proved the winning strategy they had hoped. So papers from The Age to The Daily Telegraph have been moving to paywalls, enticing their print buyers to online subscriptions.
Unwillingness to pay
Our research suggests doing the same with non-metropolitan newspapers is likely to be harder. Readers in rural and regional areas are less willing than those in cities to pay for online news services.
As part of our report Regional News Media: State of Play published in 2019, we surveyed 266 people living in regional and rural areas, demographically representative of the population of country Australia.
Just 14% indicated willingness to pay for news online, with 49% saying they would not (and 37% unsure).
Willingness to pay for local news
Responses to the question: if the only way to receive news about your town or region (apart from the ABC) was to pay for it, would you?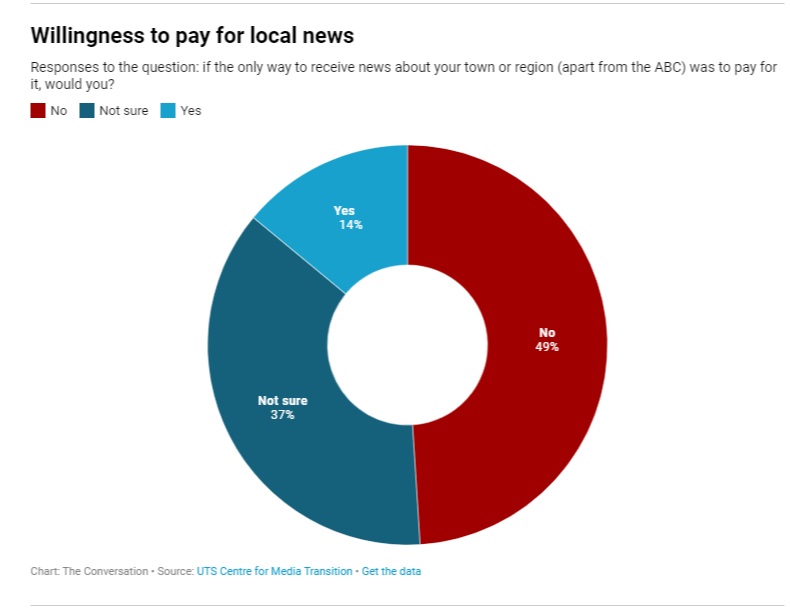 The News and Media Research Centre at the University of Canberra has found similar reluctance to pay. The results of its Digital News Report Australia 2019 show just 12% of regional news consumers had paid for online news, compared with 16% of urban news consumers. More detailed research produced for our report shows the difference is starkest for subscriptions.
Poorest communities hurt the most
That unwillingness to pay for online content may change if it's the only way to get local news. Attitudes to online subscriptions are shifting, and people do value local news. Research commissioned for the Australian Competition and Consumer Commission's Digital Platforms Inquiry found 71% of the population rated it as important as national news for social participation.
But the portents aren't great for quality local news coverage – particularly in regional areas. The likelihood is further desertification of the local news landscape, with poorer communities most affected.
This is confirmed by US research that shows the people with the least access to local news are often "the poorest, least educated and most isolated".
As Matthew Hindman of Harvard's Shorenstein Center on Media, Politics and Public Policy has noted: "Even the clearest local digital success stories employ only a few reporters – far less than the number laid off from the papers in their own cities.
"Worrisome, too, is the fact they have found the most traction in the affluent, social-capital rich communities that need them least."
This article was originally published in The Conversation, click here to read the original. Republished under a Creative Commons licence.
International film archives are streaming up a storm during lockdown. Australia's movie trove isn't even online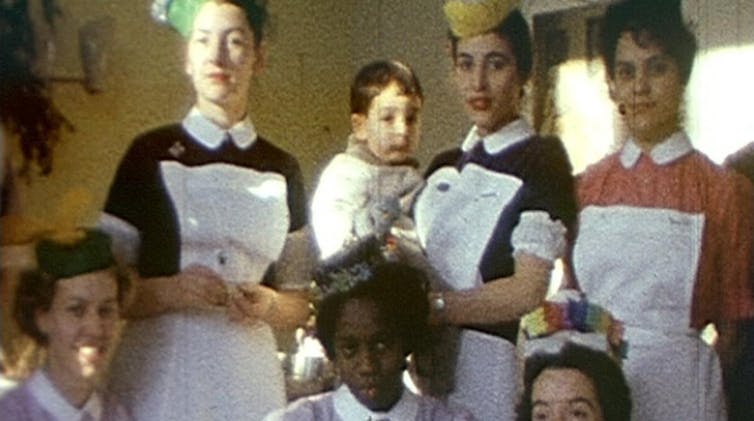 Victoria Duckett
,
Deakin University
Cineteca Milano is renowned for its silent film holdings. With a collection of more than 35,000 Italian and international films dating back to the 1890s, it was both coincidental and fortuitous that, in December 2019, the archive began digitalisation.
Part of a national digitalisation program, the Cineteca decided rather than merely deposit their digitised materials into the holdings of the Cineteca Nazionale in Rome, they would release films online.
Matteo Pavesi, the director of the Cineteca Italiana, tells me they wanted to "make our oldest archival materials visible; we wanted to publish these holdings for everyone to enjoy".
Since the Cineteca was shut in February, Cineteca's staff of six have been releasing 20 films a week on their free streaming service.
Pre-coronavirus, Cineteca Milano attracted around 300 users to its site each day.
In March, the online archive attracted more than 4 million users.
Saving History
Film archives began to be established in 1933 as archivists realised films needed to be safeguarded for their own sake, rather than for military or religious purposes.
Nitrate film used from the early 1890s through the mid-1950s, and magnetic tape used from the mid-1940s to the early 2000s, cannot survive the test of time. So, in addition to managing storage environments, archives preserve films digitally.
Commercial streaming services offer access to films, but they do not ensure this content is stored, saved and contextualised. They are not custodians of history or culture. Archives ensure recordings of the past remain meaningfully embedded in our contemporary life.
In a time when the audiovisual is our primary mode of communication, the archive as an institution protecting and championing our shared history is more important than ever.
Making History
Since the British Film Institute (BFI) shut its London doors on March 17, Bryony Dixon, their curator of silent film, tells me they have seen a 200% increase in online traffic.
Short, punchy films are popular, and Dixon says these early silent films are like TikTok: "designed to just go 'Here I am, I look at this'".
The BFI is also working to document the period of the COVID-19 crisis.
Britain on Lockdown asks the public to send in videos to chart the national development of the coronavirus crisis.
These Are The Hands is a short and emotive found-footage film using archival public health movies and contemporary footage of NHS staff. We see hands touching the newborn, the young, the aged, the disabled, and the sick. At every stage of our lives, the film reminds us health-care workers are essential.
These Are The Hands was released the day I spoke with Dixon.
"There won't be a dry eye in the house," she says. "It is very powerful."
A Quiet Archive
While use of these archives in Milan and London has increased under lockdown, Australia's National Film and Sound Archive (NFSA) has not seen a significant change.
Meg Labrum, general manager of collections, tells me in Europe people "appreciate, celebrate, use, know about their archive".
In Australia, she says the film archive is "a kind of interesting, slightly odd, cultural provider".
Although the NFSA has a significant collection in Canberra, it does not release 20 films a week like the Milan archive, nor does it boast a dedicated streaming service like the BFI.
The NFSA's online presence is focused on curation, rather than the delivery of streaming material. It frames small samples of screen content into topical themes and exhibitions. With rare exception, users cannot watch films, but they can (for example) listen to producers Jocelyn Moorhouse and Lynda House speak about the making of Muriel's Wedding.
Australia was once the end-of-the-line for global film distribution. Films sent around the globe for viewing would often remain in Australia – it made no financial sense to return bulky film reels to their country of origin. This means the NFSA has an internationally important collection, including items such as the most complete version of the French actress Sarah Bernhardt's Camille (1911).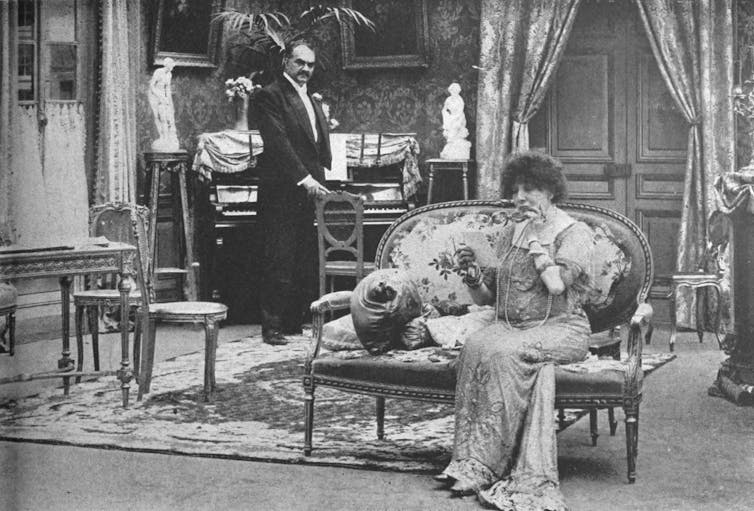 As a film historian, I am frustrated by licensing issues in Australia blocking our access to film heritage. Local copyright laws and an aversion to copyright risks have meant these legal issues seem to haunt the NFSA far more than they do in comparable institutions abroad.
---
Read more: Files can't wait: the future of the National Film and Sound Archive
---
With staff working from home, Labrum sees the COVID-19 crisis consolidating the NFSA's drive towards the digital: "an experiment […] testing just how far we can keep the collection open in a purely existing digital content context."
While not streaming films, the NFSA has nevertheless focused on digital preservation, continuing the digitisation of magnetic tapes during shutdown.
Films To The People
Two days after our interview, Dixon was put on furlough, her pay reduced by 20% and unsure about her future employment. For now, her team "split work. […] We'll cover a skeleton service".
But she remains optimistic about the impact of COVID-19 on the BFI and its operations.
The pandemic has "proved the worth of digitising material and putting it online in a massive way," she says.
"If it means that the people don't go to the films, we need to take the films to the people."
The increased traffic to the BFI and Cineteca Milano shows there is a want to engage with our film histories – coronavirus makes obvious how hampered Australians are in the access to ours.

Victoria Duckett, Senior Lecturer in Screen, Deakin University
This article is republished from The Conversation under a Creative Commons license. Read the original article.
Together In Art Kids Features Local Students Work
Congratulations to Dexter in 3ES of Avalon Public School whose work of art is featured in the Art Gallery of NSW Together in Art Kids exhibition.
Wonderful work!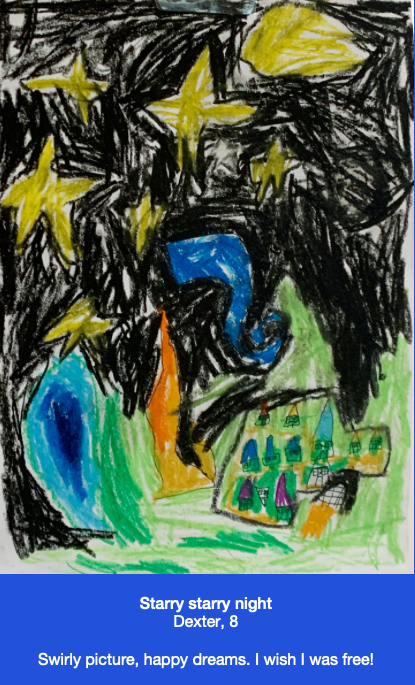 Together In Art Kids is an online art project designed to inspire and support young people by offering them the chance to participate in a shared creative endeavour. The project invites children aged 5 – 12 to use materials available in their home to create an artwork to a theme, which can then be photographed and submitted online.
Launched last month, the first instalment of the project was inspired by the theme 'Inner Worlds', chosen by first participating artist Del Kathryn Barton.
A curated online exhibition of 25 themed artworks can be viewed now on the newly launched Together In Art website, alongside a gallery of all 790 submissions.
Art Gallery of NSW deputy director and director of collections Maud Page said she is delighted and impressed by the imagination and talent displayed by the young artists.
"Due to the tremendous positive response to the first round of Together In Art Kids in Australia, we are excited to open the second round to international entrants and to be giving children living anywhere in the world a new avenue to express themselves creatively," said Page.
"We are thrilled to be working with multi-disciplinary artist Jumaadi to present the second iteration of this uplifting project and look forward to sharing more creative artworks with our global audience through Together In Art and on ABC platforms."
Entries for the
'Special to Me' theme
are open until 5pm on Sunday 12 July and the online exhibition will launch on Monday 27 July.
Together In Art Kids was the brainchild of ABC health expert and Coronacast podcast host Dr Norman Swan.
"This started as an idea prompted by kids' questions on Coronacast," said Dr Swan. "It's fantastic to see such an amazing and ongoing response."
Together In Art Kids is part of Together In Art, a new social project that affirms the power of art to connect people and opens the Art Gallery of NSW to the world.
How Cool To Be Back At School With All Your Buddies!
Balloons, happy socks and even a red carpet – these were just some of the ways NSW public schools celebrated the return of hundreds of thousands of students to their classrooms this week.
More than two months after parents were encouraged to keep students home to help battle the COVID-19 pandemic, teachers across the state were excited to welcome them back on Monday, with some even dressing up in costumes to mark the occasion.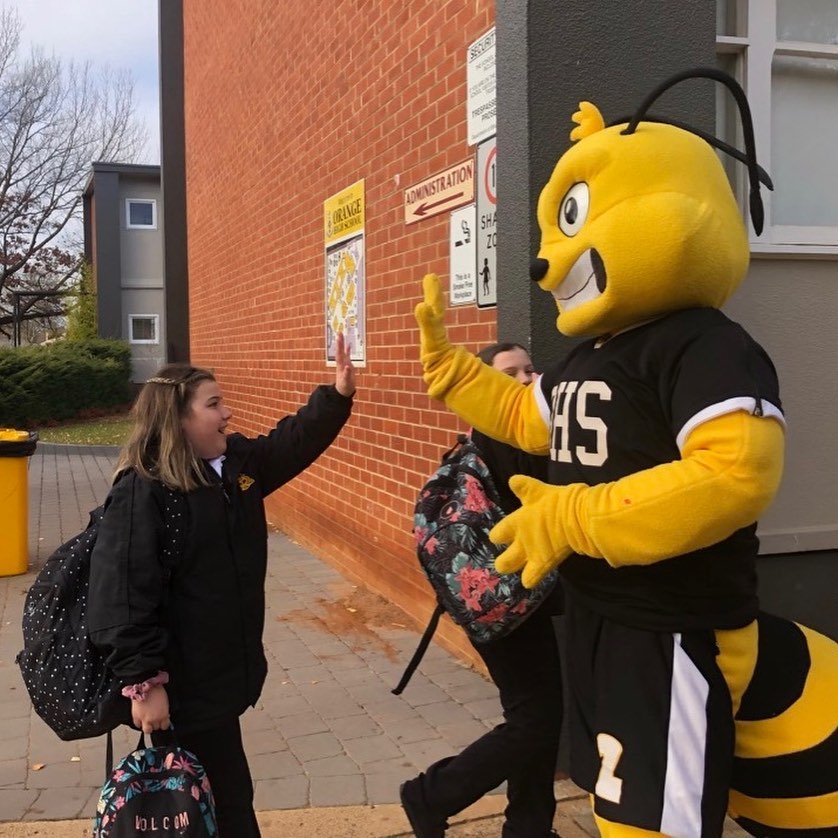 In the Illawarra, a red carpet greeted students returning to Corrimal Public School, while a giant balloon arch and staff wearing specially made T-shirts greeted students at the entrance to Windang Public School.
"It has been seven long weeks of remote learning for our students," Windang Public School principal Loreta Kocovska told the Illawarra Mercury.
"Today, we were absolutely delighted to welcome back our incredible students to full-time face-to-face learning.
"The staff organised a massive balloon arch in our school colours and all staff wore a specially made shirt with the quote:
'I will teach you in a room, I will teach you now on Zoom, I will teach you in a house, I will teach you with my mouse, I will teach you here or there, I will teach because I care
'," she said.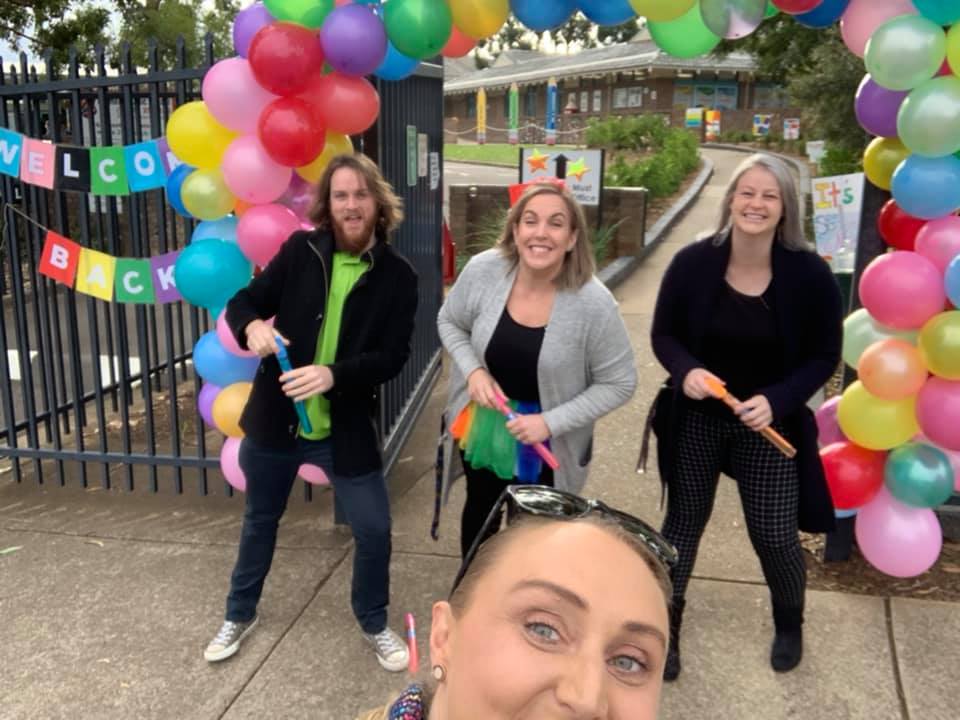 At Megalong Public School in the Blue Mountains, teachers eagerly took the students on a nature quest, sharing stories, descriptive poetry and using the bush eucalypt setting as inspiration for writing.
"Students are really enjoying spending class time outside in the fresh air, and the chance to learn in an outdoor classroom enriches their day," Megalong Public School principal Stephanie Scott said.
"What an exciting start, getting back to quality teaching and learning."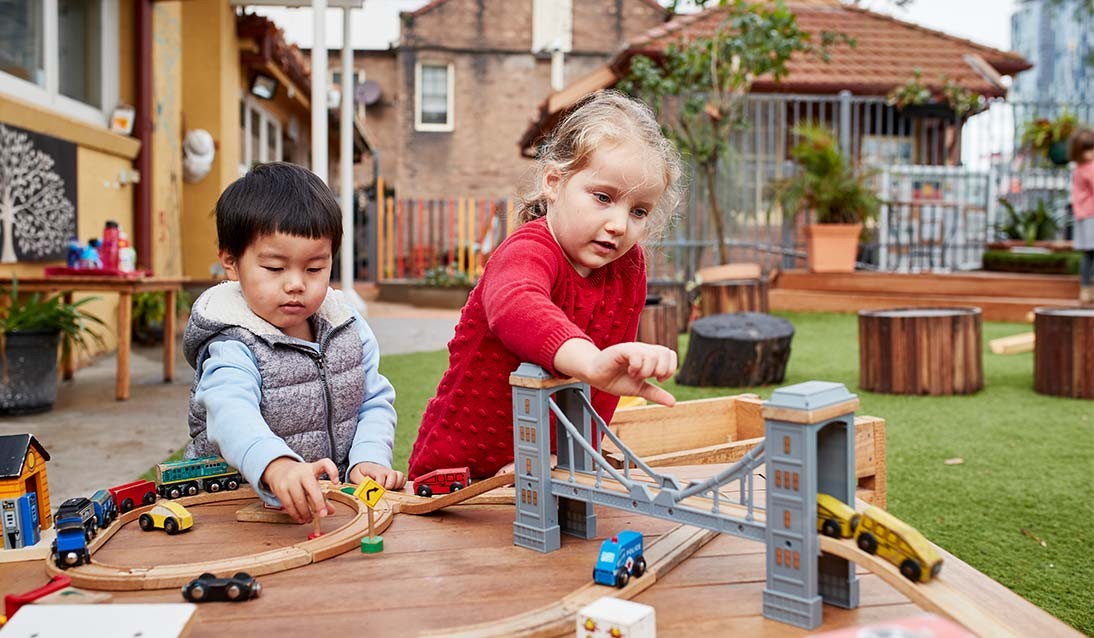 An outdoor classroom and nature walk for Megalong Public School students.

Also in the Blue Mountains, Katoomba High School welcomed back students and staff with a smoking ceremony to cleanse the past and welcome the present and the future.
Across Sydney, schools marked the occasion in various ways.
Bubbles and happy tunes awaited students at Balgowlah North Public School, whose Year 6 students were also there to greet their younger buddies in Kindergarten and Year 1.
Meanwhile, balloons and bubbles brought a smile to the faces of students returning to Elderslie Public School, where kindergarten students were bursting with excitement.
Smithfield Public School's Kindergarten students and teachers also had a great first day back. They made the most of the kite-flying weather by testing out their handmade kites.
Other schools asked their students to return to school wearing happy socks as an indication of just how happy they were to have them back in their classrooms.
Very very cool!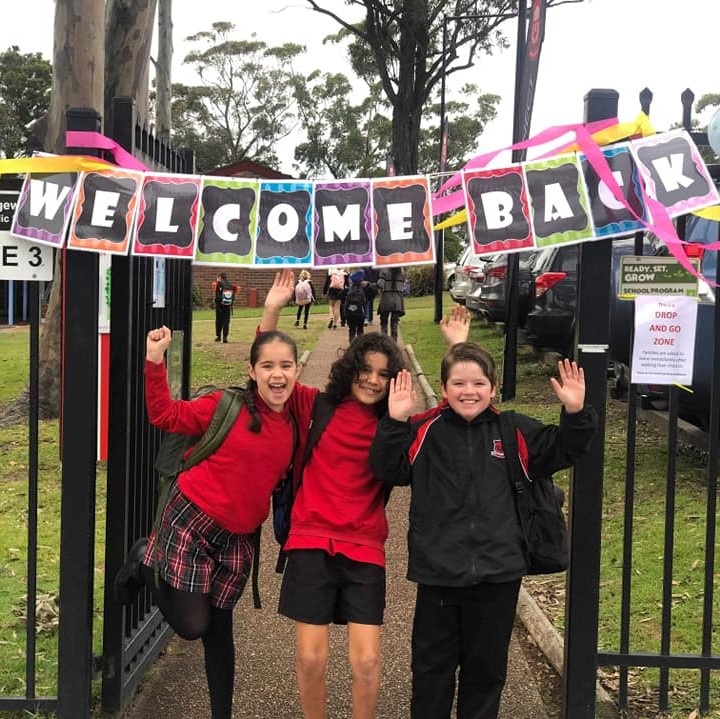 Ocean Warming's Impact On Antarctic Krill
May 18, 2020: University of Tasmania
Ocean warming is likely to alter the distribution and lifecycle of ecologically and commercially important Antarctic krill over the rest of this century, according to new IMAS-led research.
Published in the journal Nature Climate Change, the study looked at how krill growth habitat is likely to be affected by changes to ocean temperatures and the concentration of the species' preferred food, phytoplankton.
The research team found there would be a moderate impact across 85 percent of the Southern Ocean, with krill expected to move further south and shifts in the time of year when conditions are most favourable.
The research was led by IMAS PhD student Devi Veytia and included scientists from the Australian Antarctic Division, ACE CRC and the British Antarctic Survey.
Ms Veytia said the study's findings included a projected change in the seasonal distribution of krill habitat, particularly around northerly fishing grounds near the Antarctic Peninsula.
"Understanding how krill will respond to climate change and the ecological impacts of those changes is important to both conservation efforts and the management of the fishery, the largest in the Southern Ocean.
"Our study combined projections of sea surface temperatures and phytoplankton using climate change scenarios with an established krill growth model.
"We found that over the coming decades krill habitat quality can be expected to improve in spring, particularly further south and on the continental shelf.
"In summer, there was little net change, but good habitat redistributed, increasing at high and low latitudes and declining in mid-latitudes.
"Autumn saw the greatest decline in habitat quality and area, mainly in sub-Antarctic regions.
"In response, we expect krill habitat to move south into higher latitudes.
"At the same time there will be a change in the time of year when krill habitat is optimal, improving in spring, but declining in important regions during summer and autumn."
Ms Veytia said the shift in seasonal habitat quality, especially around the Antarctic Peninsula, could disturb the synchronisation between krill and the annual cycle of this important ecosystem.
"Synchronisation usually allows krill to capitalize on seasonally available food sources, allowing growth, reproduction and storing of reserves to survive the winter.
"A temporal shift in habitat quality could create a timing mismatch, potentially affecting krill reproduction and population dynamics.
"The commercial fishery, which is currently centred on the Antarctic Peninsula and south Scotia Sea, could also be affected, leading to shifts in the distribution and timing of the fishing effort.
"The geographical shift of krill habitat towards more southerly waters is also likely to have ecosystem impacts, particularly for land-based predators at sub-Antarctic islands that have limited capacity to follow their preferred food source," she said.
Devi Veytia, Stuart Corney, Klaus M. Meiners, So Kawaguchi, Eugene J. Murphy, Sophie Bestley.
Circumpolar projections of Antarctic krill growth potential.
Nature Climate Change, 2020; DOI:
10.1038/s41558-020-0758-4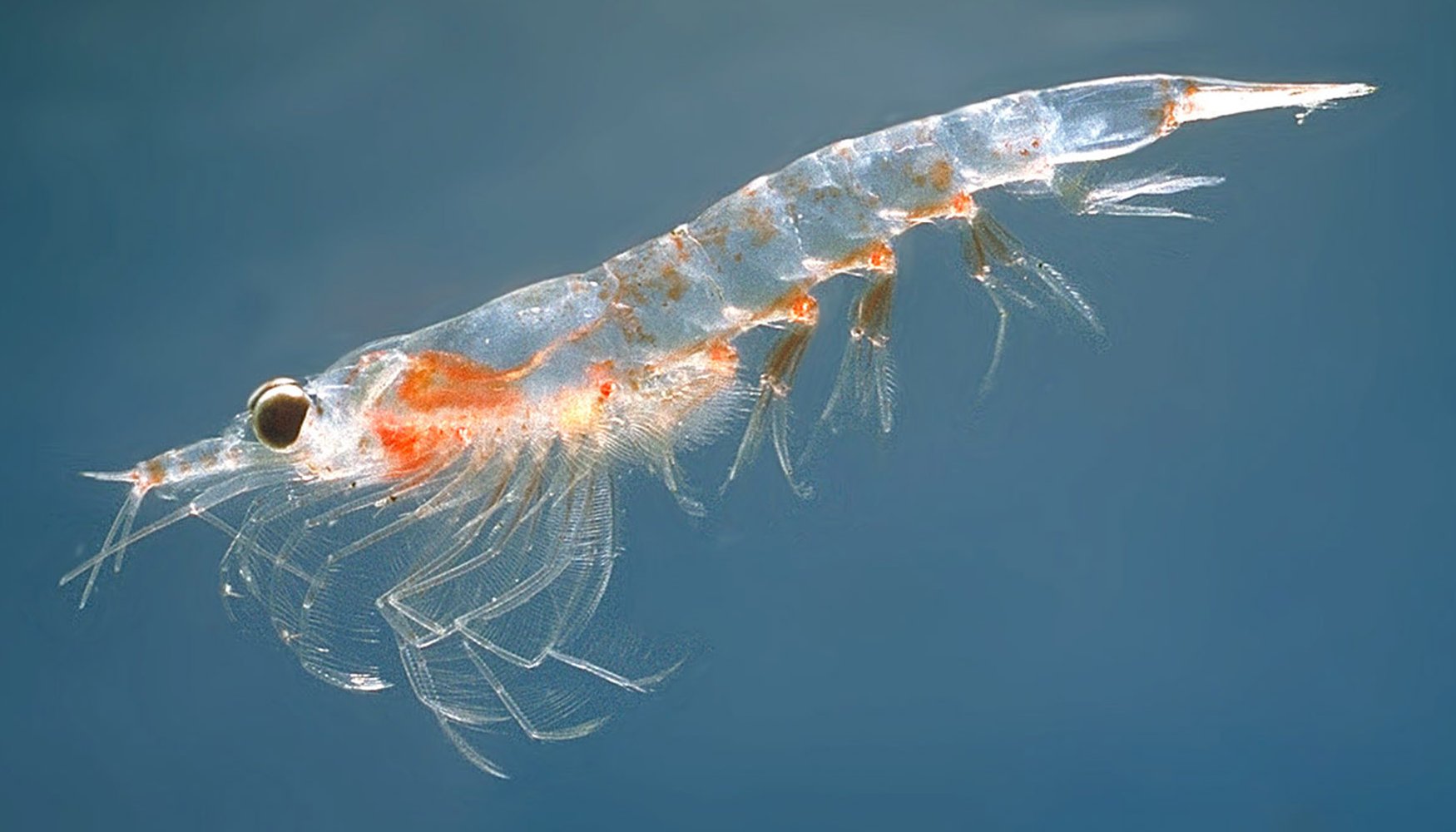 Miniature Rock Art Expands Horizons
Australian archaeologists have discovered some of the most detailed examples of rare, small-scale rock art in the form of miniature stencils in a rockshelter traditionally owned by the Marra people.
The research, published in the journal Antiquity, examined the unusual art found in the Yilbilinji rockshelter at Limmen National Park in the southwest Gulf of Carpentaria region of northern Australia.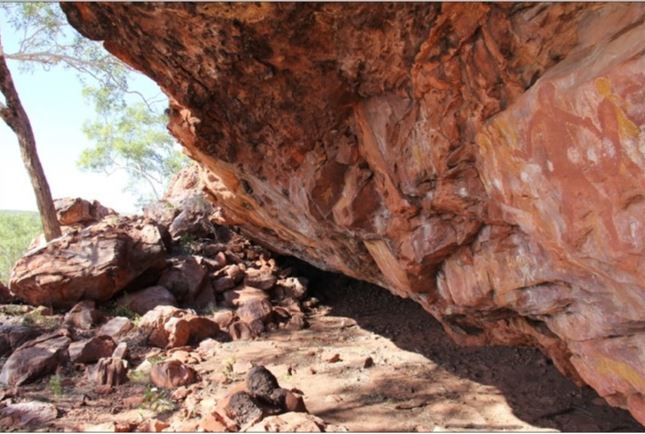 The Yilbilinji rock art site

Traditionally owned by the Marra Aboriginal people, the site was documented by the research team in 2017 and instantly stood out as unique.
"It's the size of the rock art that makes this site unusual and highly distinctive," says Flinders University archaeologist ARC Future Fellow Dr Liam Brady.
"Typically, stencilled rock art around the globe features full or life-sized dimensions such as human and animal body parts, objects (e.g. boomerangs), and even plant matter," says Associate Professor Brady.
"However, many of the stencils at Yilbilinji are tiny or miniature-sized, and too small to have been made using real-life body parts and full-size objects."
Only two other examples of this miniature stencilled form of rock art, both human figures, are known from anywhere in the world: one at Nielson's Creek in New South Wales, and one at Kisar Island in Indonesia.
The research team -- archaeologists, anthropologists, Marra rangers, and Limmen National Park rangers -- recorded a total of 17 images of these miniature stencils during a 2017 field trip.
The images depict a wide range of motifs including, human figures, animals (crab, long-necked turtles), kangaroo paws, wavy lines, boomerangs, and geometric shapes.
The researchers set out to find out how these unusual images were made. One clue came from the fact most of the miniature stencils were made with rounded and curved edges meaning they were probably made using something that could be easily moulded and stuck to the rock surface.
Another clue came from anthropological research in the region. Co-author and anthropologist Dr John Bradley, from the Monash Indigenous Centre, has worked with Aboriginal people in the study area for more than 40 years.
He remembers seeing beeswax used by people for a range of purposes such as an adhesive for repairing spears and harpoons. He also saw children shaping beeswax into objects and animals such as cattle, horses and cowboys.
"Using these clues, the researchers decided to test if beeswax could have been used to make the miniature stencils," he says.
"Our experiments involving heating and shaping beeswax into human figures, animals, objects, and geometric shapes, and then stencilling onto a rock slab confirmed beeswax was an excellent material for making miniature stencils."
"Whoever made these miniature stencils -- adults or children -- is open for debate, as is their meaning," says Matthew Flinders Fellow Professor Amanda Kearney.
"However, what is important here is that this discovery adds another dimension to the Australian and global rock art record," she says.
In fact, since this discovery was made, three additional stencils have been discovered in the area -- a human figure, an echidna and a freshwater turtle -- which further highlights the archaeological potential at Limmen National Park.
Glenn Durie, Manager of Aboriginal Partnerships, Northern Territory Parks and Wildlife, says the research with Marra Traditional Owners, archaeologists, and park rangers means this discovery could be among the first of many more in the area.
Liam M. Brady, John J. Bradley, Amanda Kearney, Daryl Wesley.
A rare miniature and small-scale stencil assemblage from the Gulf of Carpentaria: replication and meaning in Australian rock art
. Antiquity, 2020; 1 DOI:
10.15184/aqy.2020.48
New Australian Bricks Made From Plastic And Organic Waste
Revolutionary 'green' types of bricks and construction materials could be made from recycled PVC, waste plant fibres or sand with the help of a remarkable new kind of rubber polymer discovered by Australian scientists.
The rubber polymer, itself made from sulphur and canola oil, can be compressed and heated with fillers to create construction materials of the future, says a new paper unveiling a promising new technique just published in Chemistry – A European Journal.
"This method could produce materials that may one day replace non-recyclable construction materials, bricks and even concrete replacement," says organic chemistry researcher Flinders University Associate Professor Justin Chalker.
The powdered rubber can potentially be used as tubing, rubber coatings or bumpers, or compressed, heated then mixed with other fillers to form entirely new composites, including more sustainable building blocks, concrete replacement or insulation.

Cement is a finite resource and heavily polluting in its production, with concrete production estimated to contribute more than 8% of global greenhouse gases emissions, and the construction industry worldwide accounting for about 18%.
"This new recycling method and new composites are an important step forward in making sustainable construction materials, and the rubber material can be repeatedly ground up and recycled," says lead author Flinders PhD Nic Lundquist. "The rubber particles also can be first used to purify water and then repurposed into a rubber mat or tubing."
"This is also important because there are currently few methods to recycle PVC or carbon fibre," he says, with other collaborators from Flinders University, Deakin University and University of Western Australia.
Co-author and research collaborator Dr Louisa Esdaile says the important research looks at ways to repurpose and recycle materials, so that these materials are multi-use by design.
"Such technology is important in a circular economy," says Dr Esdaile, a special contributor to this month's Young Chemist issue of Chemistry – A European Journal (ChemEurJ).
The new manufacturing and recycling technique, labelled 'reactive compression molding,' applies to rubber material that can be compressed and stretched, but one that doesn't melt. The unique chemical structure of the sulfur backbone in the novel rubber allows for multiple pieces of the rubber to bond together.
The project started two years ago in the Chalker Laboratory as a third-year project by Ryan Shapter, with Flinders University PhD candidates Nicholas Lundquist and Alfrets Tikoalu and others contributing to the paper in this month's special Young Chemist issue of ChemEurJ.
'
Reactive compression molding post‐inverse vulcanisation: A method to assemble, recycle, and repurpose sulfur polymers and composites'
(May 2020) by N Lundquist, A Tikoalu, M Worthington, R Shapter, S Tonkin, F Stojcevski, M Mann, C Gibson, J Gascooke, A Karton, L Henderson, L Esdaile, JM Chalker in Chemistry – A European Journal. DOI:
10.1002/chem.202001841
Disclaimer: These articles are not intended to provide medical advice, diagnosis or treatment. Views expressed here do not necessarily reflect those of Pittwater Online News or its staff.