Inbox and Environment News: Issue 447
April 26 - May 2, 2020: Issue 447
Estuaries Are Warming At Twice The Rate Of Oceans And Atmosphere
April 14, 2020: University of Sydney
Estuaries on the south-east coast of Australia are warming at twice the rate of oceans and the atmosphere, a new study has found.
Researchers say the apparent accelerated impact from climate change on estuaries could adversely affect economic activity and ecological biodiversity in rivers and lakes worldwide.
Dr Elliot Scanes from the University of Sydney said: "Our research shows that estuaries are particularly vulnerable to a warming environment. This is a concern not only for the marine and bird life that rely on them but the millions of people who depend on rivers, lakes and lagoons for their livelihoods around the world."
The researchers say that changes in estuarine temperature, acidity and salinity are likely to reduce the global profitability of aquaculture and wild fisheries. Global aquaculture is worth $US243.5 billion a year and wild fisheries, much of which occurs in estuaries, is worth $US152 billion. More than 55 million people globally rely on these industries for income.
Professor Pauline Ross, who leads the research group in the School of Life and Environmental Sciences, said:
"Estuaries provide services of immense ecological and economic value. The rates of change observed in this study may also jeopardise the viability of coastal vegetation such as mangroves and saltmarsh in the coming decades and reduce their capacity to mitigate storm damage and sea-level rise."
The results are based on 12 years of recording temperatures in 166 estuaries along the entire 1100-kilometre stretch of the New South Wales coast in south-eastern Australia. In that time more than 6200 temperature observations were taken.
The data, which are
publicly available
, were taken by field officers of the NSW Department of Planning, Industry and the Environment and used in a marine research collaboration with the University of Sydney.
On average, the estuary systems experienced a 2.16-degree temperature increase, about 0.2 degrees each year.
Dr Elliot Scanes said: "This is evidence that climate change has arrived in Australia; it is not a projection based on modelling, but empirical data from more than a decade of investigation."
Studies on specific lake and river systems have found evidence of warming, such as along the North Sea, in Germany, in the Hudson River in New York and Chesapeake Bay, Maryland. This is the world's first long-term study that has considered a diverse range of estuary types on such a large scale.
It is published today in Nature Communications.
"This increase in temperature is an order of magnitude faster than predicted by global ocean and atmospheric models," Dr Elliot Scanes said.
According to the Australian Bureau of Meteorology, air and sea temperatures in Australia have increased by about 1 degree since 1910. And over the past decade, air temperatures have increase 1.5 degrees as compared to the 1961 to 1990 average.
"Our results highlight that air or ocean temperatures alone cannot be relied upon to estimate climate change in estuaries; rather, individual traits of any estuary need to be considered in the context of regional climate trends," Dr Elliot Scanes said.
"New models will need to be developed to help predict estuarine changes."
The study also found that acidification of estuaries was increasing by 0.09 pH units a year. There was also changes to the salinity of estuary systems: creeks and lagoons became less saline while river salinity increased.
Temperature increases in estuaries were also dependent on the type, or morphology of the system, the study found.
Professor Ross said: "Lagoons and rivers increased in temperature faster than creeks and lakes because they are shallower with more limited ocean exchange."
She said that this suggests industries and communities that rely on shallow estuaries for culture, income and food could be particularly vulnerable during global warming.
"This is of concern in other dry temperate zones like the Mediterranean and South Africa where many of the estuaries are similar to those studied here," she said.
The study suggests that estuaries that remain open may also soon begin to "tropicalise," and estuarine ecosystems could become colonised by tropical marine species and reflect a warmer environment.
Professor Ross said: "This research will help local fisheries and aquaculture to develop mitigation strategies as the climate changes."
Elliot Scanes, Peter R. Scanes, Pauline M. Ross.
Climate change rapidly warms and acidifies Australian estuaries.
Nature Communications, 2020; 11 (1) DOI:
10.1038/s41467-020-15550-z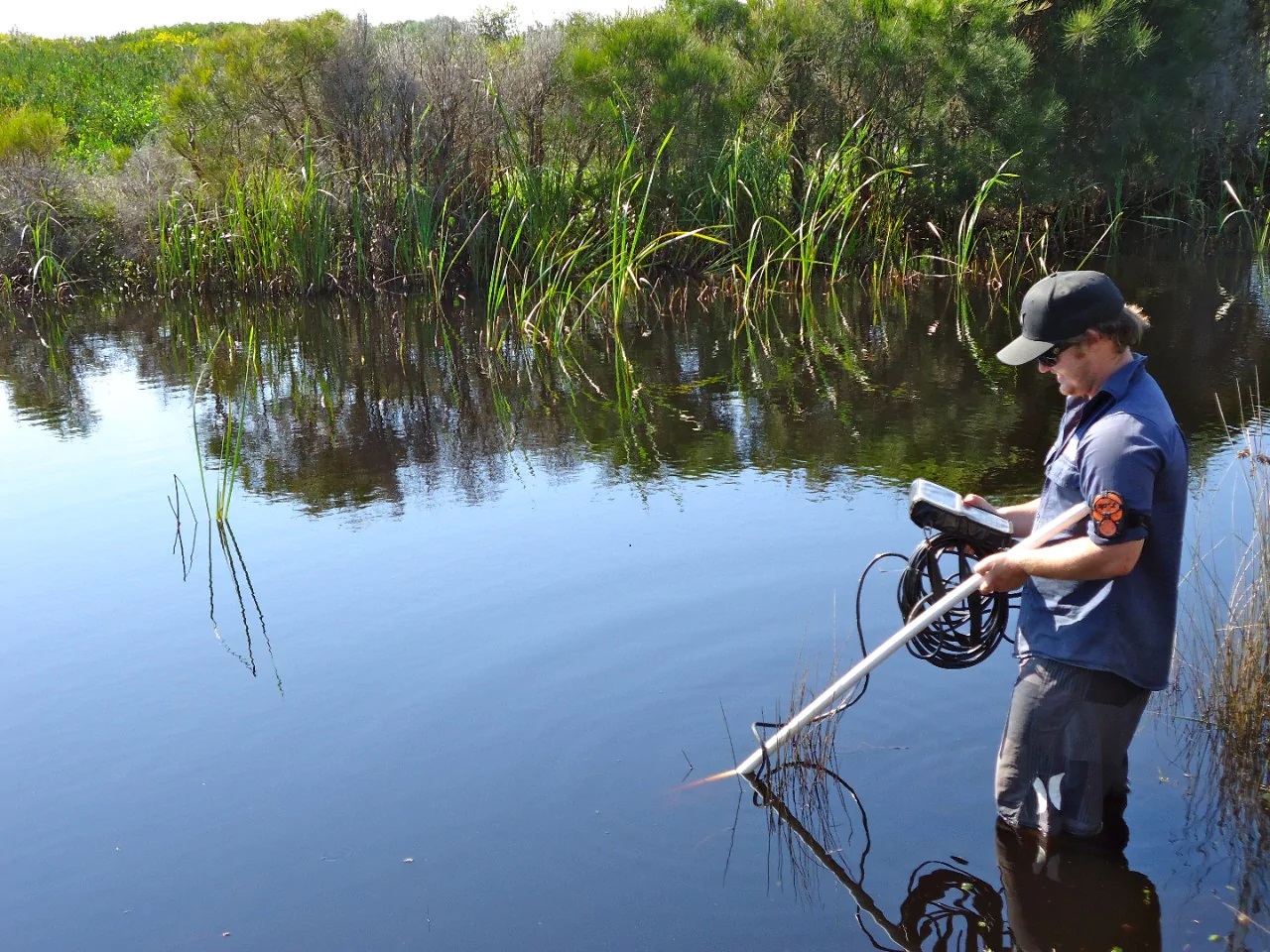 NSW Department of Planning, Industry and Environment officer collecting data at Bengello, near Batemans Bay. Photo courtesy NSW DPIE.
The data collection for this study was funded by NSW Department Planning, Industry and the Environment.
Origins Of Human Language Pathway In The Brain At Least 25 Million Years Old
Scientists have discovered an earlier origin to the human language pathway in the brain, pushing back its evolutionary origin by at least 20 million years.
Previously, a precursor of the language pathway was thought by many scientists to have emerged more recently, about 5 million years ago, with a common ancestor of both apes and humans.
For neuroscientists, this is comparable to finding a fossil that illuminates evolutionary history. However, unlike bones, brains did not fossilize. Instead neuroscientists need to infer what the brains of common ancestors may have been like by studying brain scans of living primates and comparing them to humans.
Professor Chris Petkov from the Faculty of Medical Sciences, Newcastle University, UK the study lead said: "It is like finding a new fossil of a long lost ancestor. It is also exciting that there may be an older origin yet to be discovered still."
The international teams of European and US scientists carried out the brain imaging study and analysis of auditory regions and brain pathways in humans, apes and monkeys which is published in Nature Neuroscience.
They discovered a segment of this language pathway in the human brain that interconnects the auditory cortex with frontal lobe regions, important for processing speech and language. Although speech and language are unique to humans, the link via the auditory pathway in other primates suggests an evolutionary basis in auditory cognition and vocal communication.
Professor Petkov added: "We predicted but could not know for sure whether the human language pathway may have had an evolutionary basis in the auditory system of nonhuman primates. I admit we were astounded to see a similar pathway hiding in plain sight within the auditory system of nonhuman primates."
Remarkable transformation
The study also illuminates the remarkable transformation of the human language pathway. A key human unique difference was found: the human left side of this brain pathway was stronger and the right side appears to have diverged from the auditory evolutionary prototype to involve non-auditory parts of the brain.
The study relied on brain scans from openly shared resources by the global scientific community. It also generated original new brain scans that are globally shared to inspire further discovery. Also since the authors predict that the auditory precursor to the human language pathway may be even older, the work inspires the neurobiological search for its earliest evolutionary origin -- the next brain 'fossil' -- to be found in animals more distantly related to humans.
Professor Timothy Griffiths, consultant neurologist at Newcastle University, UK and joint senior author on the study notes: "This discovery has tremendous potential for understanding which aspects of human auditory cognition and language can be studied with animal models in ways not possible with humans and apes. The study has already inspired new research underway including with neurology patients."
The study involved Newcastle University, Faculty of Medical Sciences, UK; Max Planck Institute for Cognitive and Brain Sciences, Germany; Birkbeck UCL Centre for NeuroImaging, UK; University of Texas MD Anderson Cancer Center, USA; University of Iowa, USA.
Fabien Balezeau, Benjamin Wilson, Guillermo Gallardo, Fred Dick, William Hopkins, Alfred Anwander, Angela D. Friederici, Timothy D. Griffiths, Christopher I. Petkov.
Primate auditory prototype in the evolution of the arcuate fasciculus.
Nature Neuroscience, 2020; DOI:
10.1038/s41593-020-0623-9
Exoplanet Apparently Disappears In Latest Hubble Observations
Now you see it, now you don't.
What astronomers thought was a planet beyond our solar system has now seemingly vanished from sight. Though this happens in science fiction, such as Superman's home planet Krypton exploding, astronomers are looking for a plausible explanation.
One interpretation is that, rather than being a full-sized planetary object, which was first photographed in 2004, it could instead be a vast, expanding cloud of dust produced in a collision between two large bodies orbiting the bright nearby star Fomalhaut. Potential follow-up observations might confirm this extraordinary conclusion.
"These collisions are exceedingly rare and so this is a big deal that we actually get to see one," said András Gáspár of the University of Arizona, Tucson. "We believe that we were at the right place at the right time to have witnessed such an unlikely event with NASA's Hubble Space Telescope."
"The Fomalhaut system is the ultimate test lab for all of our ideas about how exoplanets and star systems evolve," added George Rieke of the University of Arizona's Steward Observatory. "We do have evidence of such collisions in other systems, but none of this magnitude has been observed in our solar system. This is a blueprint of how planets destroy each other."
The object, called Fomalhaut b, was first announced in 2008, based on data taken in 2004 and 2006. It was clearly visible in several years of Hubble observations that revealed it was a moving dot. Until then, evidence for exoplanets had mostly been inferred through indirect detection methods, such as subtle back-and-forth stellar wobbles, and shadows from planets passing in front of their stars.
Unlike other directly imaged exoplanets, however, nagging puzzles arose with Fomalhaut b early on. The object was unusually bright in visible light, but did not have any detectable infrared heat signature. Astronomers conjectured that the added brightness came from a huge shell or ring of dust encircling the planet that may possibly have been collision-related. The orbit of Fomalhaut b also appeared unusual, possibly very eccentric.
"Our study, which analysed all available archival Hubble data on Fomalhaut revealed several characteristics that together paint a picture that the planet-sized object may never have existed in the first place," said Gáspár.
The team emphasises that the final nail in the coffin came when their data analysis of Hubble images taken in 2014 showed the object had vanished, to their disbelief. Adding to the mystery, earlier images showed the object to continuously fade over time, they say. "Clearly, Fomalhaut b was doing things a bonafide planet should not be doing," said Gáspár.
The interpretation is that Fomalhaut b is slowly expanding from the smashup that blasted a dissipating dust cloud into space. Taking into account all available data, Gáspár and Rieke think the collision occurred not too long prior to the first observations taken in 2004. By now the debris cloud, consisting of dust particles around 1 micron (1/50th the diameter of a human hair), is below Hubble's detection limit. The dust cloud is estimated to have expanded by now to a size larger than the orbit of Earth around our Sun.
Equally confounding is that the team reports that the object is more likely on an escape path, rather than on an elliptical orbit, as expected for planets. This is based on the researchers adding later observations to the trajectory plots from earlier data. "A recently created massive dust cloud, experiencing considerable radiative forces from the central star Fomalhaut, would be placed on such a trajectory," said Gáspár. "Our model is naturally able to explain all independent observable parameters of the system: its expansion rate, its fading, and its trajectory."
Because Fomalhaut b is presently inside a vast ring of icy debris encircling the star, colliding bodies would likely be a mixture of ice and dust, like the comets that exist in the Kuiper belt on the outer fringe of our solar system. Gáspár and Rieke estimate that each of these comet-like bodies measured about 125 miles (200 kilometers) across (roughly half the size of the asteroid Vesta).
According to the authors, their model explains all the observed characteristics of Fomalhaut b. Sophisticated dust dynamical modeling done on a cluster of computers at the University of Arizona shows that such a model is able to fit quantitatively all the observations. According to the author's calculations, the Fomalhaut system, located about 25 light-years from Earth, may experience one of these events only every 200,000 years.
Gáspár and Rieke -- along with other members of an extended team -- will also be observing the Fomalhaut system with NASA's upcoming James Webb Space Telescope in its first year of science operations. The team will be directly imaging the inner warm regions of the system, spatially resolving for the first time the elusive asteroid-belt component of an extrasolar planetary system. The team will also search for bona fide planets orbiting Fomalhaut that might be gravitationally sculpting the outer disk. They will also analyze the chemical composition of the disk.
András Gáspár, George H. Rieke.
New HST data and modelling reveal a massive planetesimal collision around Fomalhaut.
Proceedings of the National Academy of Sciences, April 20, 2020; DOI:
10.1073/pnas.1912506117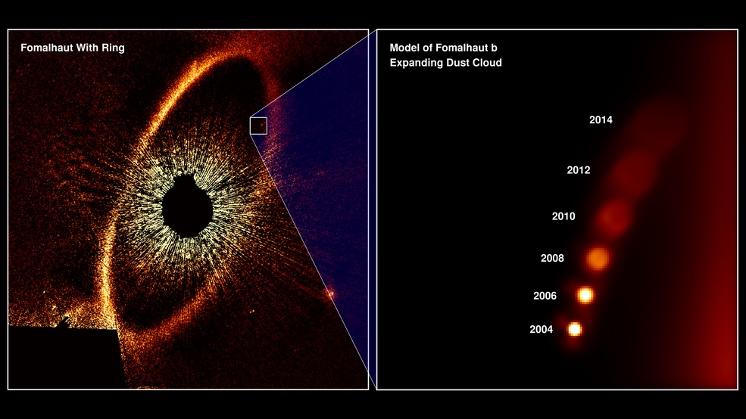 This diagram simulates what astronomers, studying Hubble Space Telescope observations, taken over several years, consider evidence for the first-ever detection of the aftermath of a titanic planetary collision in another star system. The color-tinted Hubble image on the left is of a vast ring of icy debris encircling the star Fomalhaut, located 25 light-years away. The star is so brilliant that a black occulting disk is used to block out its glare so that the dust ring can be photographed. In 2008, astronomers saw what they thought was the first direct image of a planet orbiting far from the star. However, by 2014, the planet candidate faded below Hubble's detection. The best interpretation is that the object wasn't ever a fully formed planet at all, but an expanding cloud of dust from a collision between two minor bodies, each about 125 miles across. The diagram at the right is based on a simulation of the expanding and fading cloud. The cloud, made of very fine dust particles, is currently estimated to be over 200 million miles across. Smashups like this are estimated to happen around Fomalhaut once every 200,000 years. Therefore, Hubble was looking at the right place at the right time to capture this transient event.
Credits: NASA, ESA, and A. Gáspár and G. Rieke (University of Arizona)
First Look Under Central Station
Major construction work is well underway at Central Station to deliver Sydney Metro, including the new Central Walk, as progress continues on major infrastructure projects across NSW.
As part of the biggest upgrade to Sydney's busiest railway station in decades, two new underground metro platforms are being built as well as the landmark Central Walk underground concourse, which will make it easier for customers to connect between light rail, suburban and inter-city trains, the new Sydney Metro and buses.
Transport Minister Andrew Constance said it's a great example of the construction industry keeping moving and keeping people in work despite difficult times.
"We are very fortunate that major Transport infrastructure projects like this continue to be delivered," Mr Constance said.
"The health and safety of all workers and the community are our key priorities as we continue to deliver major projects, and we have put in place strict protocols to protect the safety of our construction workforce.
"More than 5,000 people are currently working across the Sydney Metro City & Southwest project, and by the time the project opens, around 50,000 people will have worked on it.
"The upcoming Sydney Metro West project will support 10,000 direct and 70,000 indirect jobs while construction of the Metro North West Line created more than 20,000 jobs."
At Central, work to build the 27-metre deep metro station "box" is now 10 metres beneath the surface. About 6,000 tonnes of crushed rock is being excavated from the box every week.
"In an impressive feat of engineering, an 80 metre tunnel has also been built under Central Station to deliver Central Walk," Mr Constance said.
"This six metre wide construction tunnel runs parallel to Central Walk and allows excavated crushed rock to be removed without impacting trains and customers."
The construction tunnel has broken into Central's ghost platforms, which were built last century as part of the Eastern Suburbs Railway line for Bondi and the Illawarra but never completed.
Platforms 26 and 27 have sat unused since, but they will now house 17 new communications and power rooms to support the new Sydney Metro at Central.
More than 270,000 customers use the 114-year-old station on a normal day, with that number expected to increase to 450,000 in the next two decades.
Central Walk is expected to be open to customers in 2022 while Sydney Metro construction continues – with metro rail services extending from Chatswood through the city and beyond to Bankstown in 2024.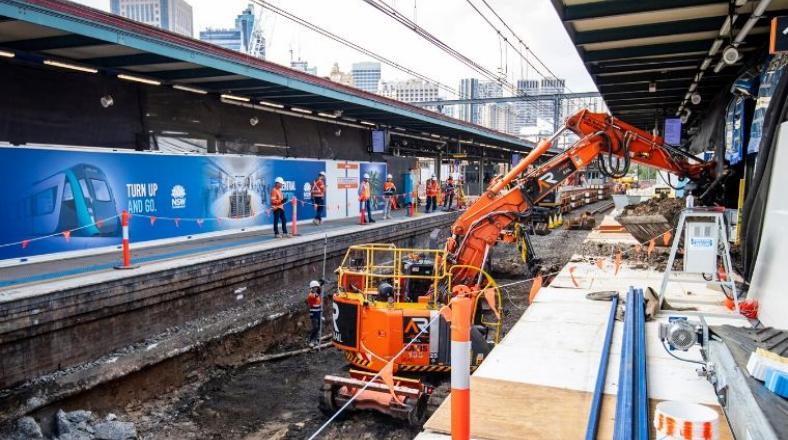 Self-Aligning Microscope Smashes Limits Of Super-Resolution Microscopy
University of New South Wales medical researchers have achieved unprecedented resolution capabilities in single-molecule microscopy to detect interactions between individual molecules within intact cells.
The 2014 Nobel Prize in Chemistry was awarded for the development of super-resolution fluorescence microscopy technology that afforded microscopists the first molecular view inside cells, a capability that has provided new molecular perspectives on complex biological systems and processes.
Now the limit of detection of single-molecule microscopes has been smashed again, and the details are published in the current issue of Science Advances.
While individual molecules could be observed and tracked with super-resolution microscopy already, interactions between these molecules occur at a scale at least four times smaller than that resolved by existing single-molecule microscopes.
"The reason why the localisation precision of single-molecule microscopes is around 20-30 nanometres normally is because the microscope actually moves while we're detecting that signal. This leads to an uncertainty. With the existing super-resolution instruments, we can't tell whether or not one protein is bound to another protein because the distance between them is shorter than the uncertainty of their positions," says Scientia Professor Katharina Gaus, research team leader and Head of UNSW Medicine's EMBL Australia Node in Single Molecule Science.
To circumvent this problem, the team built autonomous feedback loops inside a single-molecule microscope that detects and re-aligns the optical path and stage.
"It doesn't matter what you do to this microscope, it basically finds its way back with precision under a nanometre. It's a smart microscope. It does all the things that an operator or a service engineer needs to do, and it does that 12 times per second," says Professor Gaus.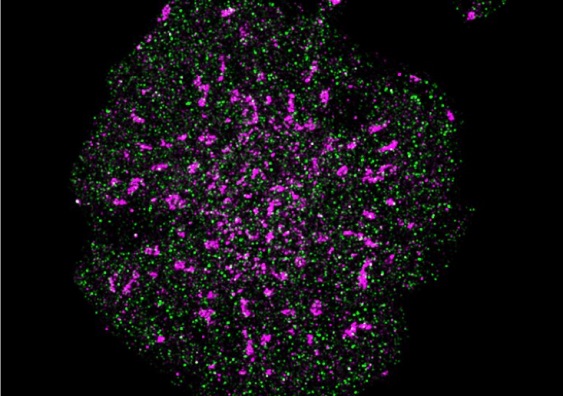 A T cell with precise localisation of T cell receptors (pink) and CD45 phosphatase (green). Image: Single Molecule Science

Measuring the distance between proteins
With the design and methods outlined in the paper, the feedback system designed by the UNSW team is compatible with existing microscopes and affords maximum flexibility for sample preparation.
"It's a really simple and elegant solution to a major imaging problem. We just built a microscope within a microscope, and all it does is align the main microscope. That the solution we found is simple and practical is a real strength as it would allow easy cloning of the system, and rapid uptake of the new technology," says Professor Gaus.
To demonstrate the utility of their ultra-precise feedback single-molecule microscope, the researchers used it to perform direct distance measurements between signalling proteins in T cells. A popular hypothesis in cellular immunology is that these immune cells remain in a resting state when the T cell receptor is next to another molecule that acts as a brake.
Their high precision microscope was able to show that these two signalling molecules are in fact further separated from each other in activated T cells, releasing the brake and switching on T cell receptor signalling.
"Conventional microscopy techniques would not be able to accurately measure such a small change as the distance between these signalling molecules in resting T cells and in activated T cells only differed by 4-7 nanometres," says Professor Gaus.
"This also shows how sensitive these signalling machineries are to spatial segregation. In order to identify regulatory processes like these, we need to perform precise distance measurements, and that is what this microscope enables. These results illustrate the potential of this technology for discoveries that could not be made by any other means."
Postdoctoral researcher, Dr Simao Pereira Coelho, together with PhD student Jongho Baek -- who has since been awarded his PhD degree -- led the design, development, and building of this system. Dr Baek also received the Dean's Award for Outstanding PhD Thesis for this work.
Simao Coelho, Jongho Baek, Matthew S. Graus, James M. Halstead, Philip R. Nicovich, Kristen Feher, Hetvi Gandhi, J. Justin Gooding, Katharina Gaus.
Ultraprecise single-molecule localization microscopy enables in situ distance measurements in intact cells.
Science Advances, 2020; 6 (16): eaay8271 DOI:
10.1126/sciadv.aay8271
Australia As A Renewable Energy Exporting Powerhouse
April 22, 2020: by Penny Jones, UNSW
Women in Engineering Ambassador Nicky Ison is helping Australia become the world's leading exporter of renewable energy.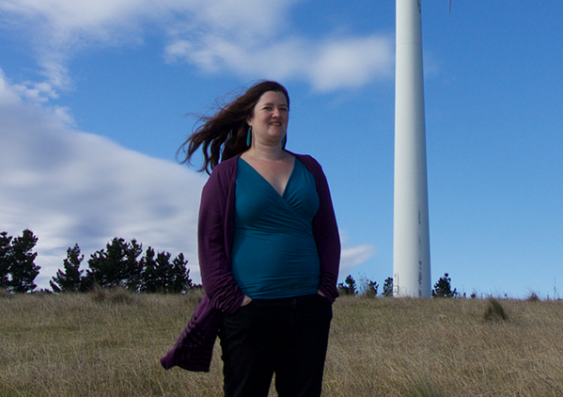 Nicky Ison is now the Energy Transition Manager at WWF-Australia and is on a mission to position Australia as a leading exporter of renewable energy.
Nicky Ison is without doubt one of the most positive and future-focused alumnae of UNSW Engineering. From the start, her career has been marked by her passion to raise awareness about and implement practical solutions for climate change. A phenomenally hard vocation – not just from a technical perspective but a mental health perspective too, given the barrage of terrible news we so often hear on this front.
Her career so far has been exemplary. She was a Founding Director of the Community Power Agency – established in 2011 to help community groups navigate the complex process of setting up community owned renewable energy projects; she has been a Strategist at Climate Action Network Australia – who support members and their allies to take action to create a fair, clean, healthy Australia; and, she continues to be a Research Associate at the Institute for Sustainable Futures (ISF) at the University of Technology Sydney.
Today, with almost two decades of quality, change-making work under her belt, and widely recognised as a national expert and commentator in the fields of energy policy, community energy, new energy business models and the transition away from coal, she hopes her latest role will be her most impactful yet.
"In November 2019, I became the Energy Transition Manager at WWF-Australia. The purpose of this brand-new role is to develop a campaign and program of work that accelerates Australia towards becoming the world's leading exporter of renewable energy by 2030," she says. "It's an ambitious mission, but eminently possible."
Nicky says that for too long Australians have been fed the line that we have to choose between a prosperous economy and a healthy environment. She says this black/white, either/or choice is completely erroneous and she is determined to change the narrative.
"The truth is we can thrive as an economy while acting on climate change. In fact, it is becoming increasingly obvious that there are monumental risks to the economy if we don't act on climate change, just look at the economic impacts of the Australian bushfires this summer," she says.
To achieve her goal, Nicky has developed a typology of renewable exports that Australia can harness, in addition to exploring the policy mechanisms that need to be put in place for this to happen. Then she plans a huge public awareness raising campaign to create this win-win 'clean energy+thriving economy' narrative.
"Australia has some of the best renewable resources in the world and we are well trusted internationally. The technology is there for us to start exporting renewable hydrogen and solar power. We can also export our renewable energy expertise and new hardware and software solutions for decentralised energy and microgrids," Nicky explains.
"There are huge opportunities to create new onshore manufacturing industries for what I call 'solar-powered products.' This means using cheap renewable hydrogen to transform Australia's abundant raw materials into high value commodities, such as steel, for export. Other new manufacturing industries could create the component parts of the global clean energy supply chain, such as lithium batteries and wind turbine blades."
Nicky says her double degree in Environmental Engineering and Arts (Environmental Studies) at UNSW, plus a year off halfway through to work at ISF, gave her an incredibly solid foundation with which to pursue the interests that have since defined her career.
"I saw engineering as the best way of combining my concern about what was happening in the world with the skills needed to create solutions," she continues.
"I learned about renewable energy, supply chains, life-cycle assessment and making judgements around the market opportunities for particular technologies. Having that underlying technical understanding has made all the roles I've taken on much easier."
At the beginning of 2019, Nicky was approached by UNSW Engineering to become a Women in Engineering (WIE) Ambassador for the WIE Can campaign which is designed to showcase UNSW alumna who are role models within the engineering profession.
"I have been passionate about promoting equity, diversity and inclusion in the engineering profession for a long time and was honoured to be asked to do the role. It's really important to support women into the engineering professions," she says.
Despite the engineering and energy sectors remaining white-male-dominated, Nicky says there is a groundswell of women working, not just in renewable energy but supporting industries, such as finance, too.
"There is a global call for equity and diversity across all professions, and we now have some very powerful female voices and leaders, fantastic role models who are pushing for greater action. People like Audrey Zibelman, Managing Director and CEO of the Australian Energy Market Operator," continues Nicky.
"It is wonderful that there is now a global recognition that the creation of appropriate solutions depends on having multiple perspectives of the problem you seek to solve."
Disclaimer: These articles are not intended to provide medical advice, diagnosis or treatment. Views expressed here do not necessarily reflect those of Pittwater Online News or its staff.