Inbox and Environment News: Issue 440
March 1 - 7, 2020: Issue 440
Pittwater's Fledglings 2020: A Late Summer - Early Autumn Annual Bird Fest In A Spotted Gum Tree Cathedral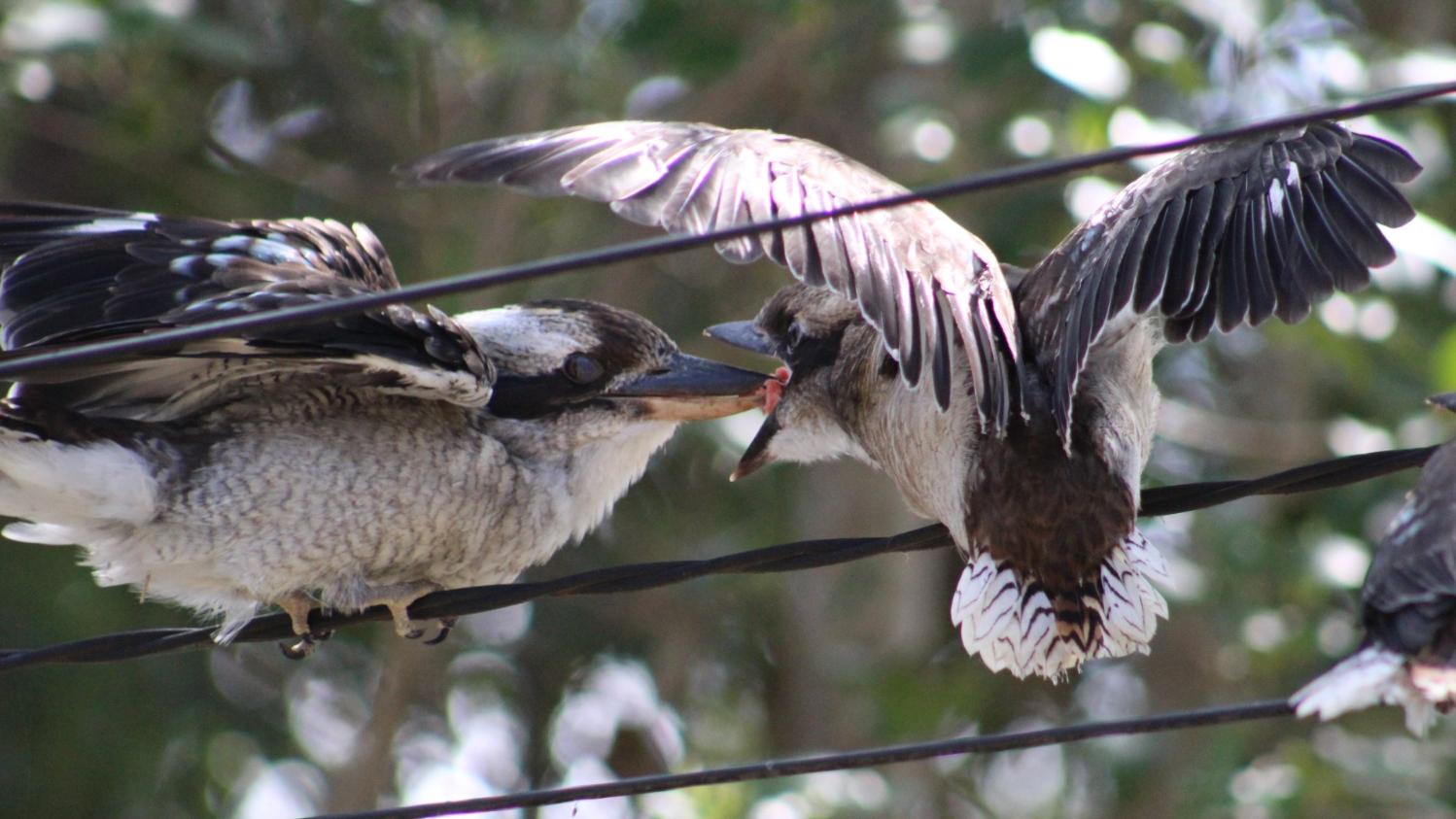 Late Summer and early Autumn are a time when many a local garden is filled with the raucous sounds of fledgling birds calling out for food. This week two new kookaburra fledglings, photographed at Careel Bay, have been making themselves heard. This particular family has been a resident of Pittwater Spotted Gums for at least 20 years and generations of young birds have been seen during those decades. The whole extended family group has been finding bugs and feeding the two youngsters. They are a great reminder of how parents and sometimes siblings will fight for every mouthful to help youngsters grow big and strong.
Although it is not recommended to feed wild birds as they become dependant and lose their ability to forage in the wild, a neighbour had put out a small amount of mincemeat for the family - this is not the best food for meat-eating birds as the mince can get stuck on their beaks and cause infections - experts state dried dog biscuits are better, if you must feed them, better yet plant out your garden with bird-attracting shrubs and trees or look after the dirt so it gets filled with what they like to eat. This particular family of kookaburras will perch on a low branch of one eucalypt when we're gardening, ready to swoop down over the shoulder and grab any insects dislodged during digging. That certainly wakes you up!
Watching them this week, and their precarious balancing on wires, or being quite at home on a slim tree branch, has been a delight for residents and visitors alike. Some sequences showing you this tipping back and forth on a wire runs below. The two youngsters soon grew tired of this swaying, which their shorter tail feathers may have helped cause, and moved to a rooftop and then back into the Spotted Gum trees.
Their parents and last year's siblings loudly warned any coming too near to get away, making that territorial echoing 'laugh' song loudly.
The laughing kookaburra (Dacelo novaeguineae) is a bird in the kingfisher subfamily Halcyoninae. It is a large robust kingfisher with a whitish head and a dark eye-stripe. The upperparts are mostly dark brown but there is a mottled light-blue patch on the wing coverts. The underparts are white and the tail is barred with rufous and black. The plumage of the male and female birds is similar. The territorial call is a distinctive laugh that is often delivered by several birds at the same time, and is widely used as a stock sound effect in situations that involve a jungle setting.
Being amongst a Tree Cathedral, a Grove of Spotted Gums affords many such encounters as the fledling kookaburras are among a host of birds spotted being fed - everything from new Magpies to Rainbow Lorikeets, Butcher Birds and Currawongs are making its way out of the cosy nests provided, some of which have been captured this week for your pictorial enjoyment.
Hot Days Forecast: Please Keep Your Bird Baths Topped Up Or Put Out Shallow Dishes Of Water In The Shade For Local Fauna
During this January break please be mindful of our local native animals and
place shallow dishes in the shade
with sticks or twigs to climb on. With BOM weather forecasts predicting soaring heat over the next few weeks we need to look out for and care for the original residents.
Please Help Sydney Wildlife Rescue: Donate Your Cans And Bottles And Nominate SW As Recipient
You can Help Sydney Wildlife help Wildlife. Sydney Wildlife Rescue is now listed as a charity partner on the return and earn machines in these locations:
Pittwater RSL Mona Vale
Northern Beaches Indoor Sports Centre NBISC Warriewood
Woolworths Balgowlah
Belrose Super centre
Coles Manly Vale
Westfield Warringah Mall
Strathfield Council Carpark
Paddy's Markets Flemington Homebush West
Woolworths Homebush West
Caltex Concord road Concord West
Bondi Campbell pde behind Beach Pavilion
Westfield Bondi Junction car park level 2 eastern end Woolworths side under ramp
UNSW Kensington
Enviro Pak McEvoy street Alexandria.
Every bottle, can, or eligible container that is returned could be 10c donated to Sydney Wildlife.
Every item returned will make a difference by removing these items from landfill and raising funds for our 100% volunteer wildlife carers. All funds raised go to support wildlife.
It is easy to DONATE, just feed the items into the machine select DONATE and choose Sydney Wildlife Rescue.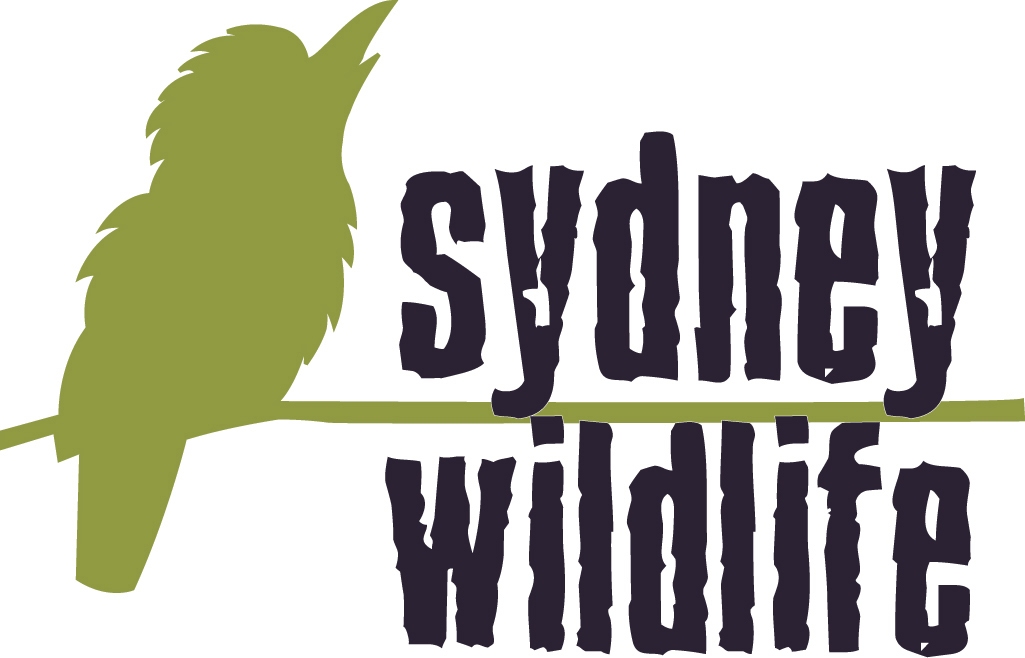 Friends Of Narrabeen Lagoon Catchment: Bushwalks 2020
Sun 1/3/2020 walk & plant identification
Meet 8am near 27 Morgan Rd for Narrabeen Lagoon Catchment Transverse.
Carpooling required as we finish at Deep Creek.
Sun 26/4/2020 Cromer Circle
Cromer Circle with 1 hr for weeding grasses along the track of Aboriginal carvings. Fabulous views over the lagoon and its valleys, and viewing of carvings.
10am - 3pm. Limited numbers.
Sat 23/5/2020 Explorative Walk
9am explorative walk from Morgan Rd to N/W catchment corner.
Sun 21/6/2020 walk & weed.
Meet 9am at Deep Creek near dog training area; walk 1hr next to Deep Creek and contributory creek. Weeding 1hr—crofton weed, Ludwigia peruviana etc. Continue walk to Baha'i temple and carpool back ~ 2pm.
North Narrabeen Beach Clean: March 1- Legends Cleaning Beach Vol. 6.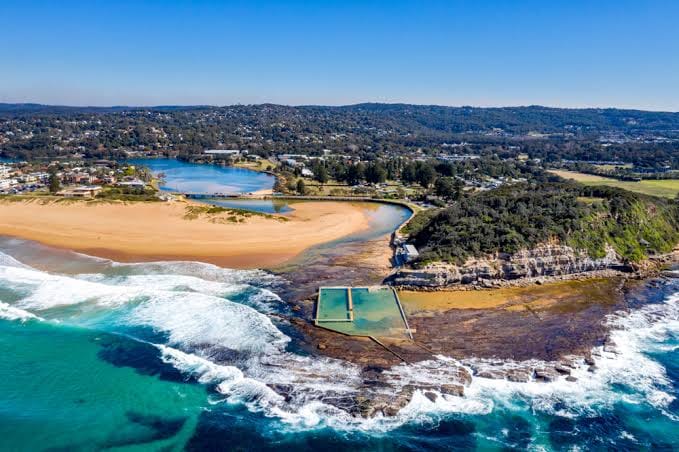 Hosted by Legend Element
Sunday, March 1, 2020 at 9 AM – 11 AM
North Narrabeen Beach: Malcolm St.
The 6th official BEACH-CLEANUP BY LEGEND ELEMENT! In total we have already collected about 300 kg of trash, join us to do something good again. This time you can help us clean up Nort Narrabeen Beach and lagoon our beloved surfing and spearfishing spot.
Why do we think beach cleanups are helpful? It is opportunity to raise awareness of the trash problem among local #communities. We believe that such cleanups are as important for the impact they have in our heads as that which they have on the environment.
Meeting point at North Narrabeen beach car park on Sunday 1.3. 2020 at 9am
We will provide rubbish bags, bins and some refreshment. We will also take care of the rubbish afterwards.
Please bring your protective glove, thanks!
Legend Element is a lifestyle brand that transpired from a love of adventure sports, particularly a passion for kiteboarding. It is about passion, good vibes and an active lifestyle.
2019 THE YEAR OF LEGEND ELEMENT
At the beginning of 2019 we realised, that more of us are connected not only by kitesurfing but also by different kind of outdoor adventure sports like freediving, spearfishing, rockclimbing, mountaineering, snowkiting .... and the idea started to grow. We have transformed our group LEGEND KITEBOARDING into a lifestyle brand LEGEND ELEMENT. We believe that everyone is unique in their own way, everyone has different passions and it's this special element that is the Legend Element.
Bush Regeneration Dinner
Friday, March 13, 2020 at 7 PM – 10 PM
5 Darley Street East Mona Vale
Hosted by Ruby Lane Wholefoods
Tickets: HERE - Single; $75, Deuce 2 x Single; $145, 4 pack 4 x Single; $280
Become part of the solutuion:- Help us plant trees by having dinner with us!
2020 has been a year already marked by great tragedy, we've heard the stories, seen the images and many of us know someone directly effected. The community spirit of Australia has been alive and well through these challenging times and has restored my faith in the future of the environment.
Here at Ruby Lane we've helped donate over $2000 thus far to the Red Cross disaster relief fund. But now we start to wonder, what's next, is this going to happen again, what about the animals, the trees etc… One thing is for sure - we'd love to be part of the solution.
There is an incredibly lovely and generous group of families who recently lost their homes at Surf Beach on the south coast of NSW in Batemans Bay... and what's unique about their story is that they've spent the last 25 years regenerating bush land around their properties all in the name of the re-enriching the environment, which is such an amazing selfless act to which we take our hats off to.
However, as you can guess, along with losing their precious homes, all their hard work of regenerating the bush around them has been undone with the fires leaving nothing behind but charred earth.
We've reached out to them to lend a hand and will be helping to regenerate the land in Mid March by way of planting LOADS of oxygen providing, life giving trees...and we need your help.
We want to plant LOTS more trees, will you help us? Come to our Dinner for the Bush and proceeds will go to this great cause. We will have one event in Manly on Friday March 6th and one in Mona Vale on Friday March 13th.
Our speciality is food, so join us for an Australian inspired dinner where all the proceeds will go towards purchasing trees and the supplies required for planting them. To book yourself in for this awesome dinner simply purchase a ticket above.
We'll also be heading down to lend them a hand. You too can join us in getting our hands dirty. If you'd like to learn more about coming down, please email Phil on marketing@rubylane.com.au.
Amuse bouche
Earth crackers and plant based dips (gf df v)
Entree
Heirloom carrots 3 ways, almond ricotta, wild fennel (gf df v)
Main (choice of)
Fermented mushroom, parsnip gnocchi, charred tomatoes (gf df v)
or
Pork, apple, kakadu plum, potato mille feuilles, beach mustard (gf df)
Dessert
Coconut wattleseed biscuit, passionfruit curd, mango gel, mint gelly (gf df v)
ALL SERVED WITH MATCHING NATURAL AUSTRALIAN WINES FROM OUR FRIENDS AT TAMBURLAINE OR A MATCHING KOMBUCHA (other drinks available on request).
So share this event with a date, or grab a bunch of friends and join us for this gluten free Australian feel good dinner.
Or if you can't make it to the dinner but would like to donate you can buy a ticket and we'll use it as a prize or donation to a local environmental hero.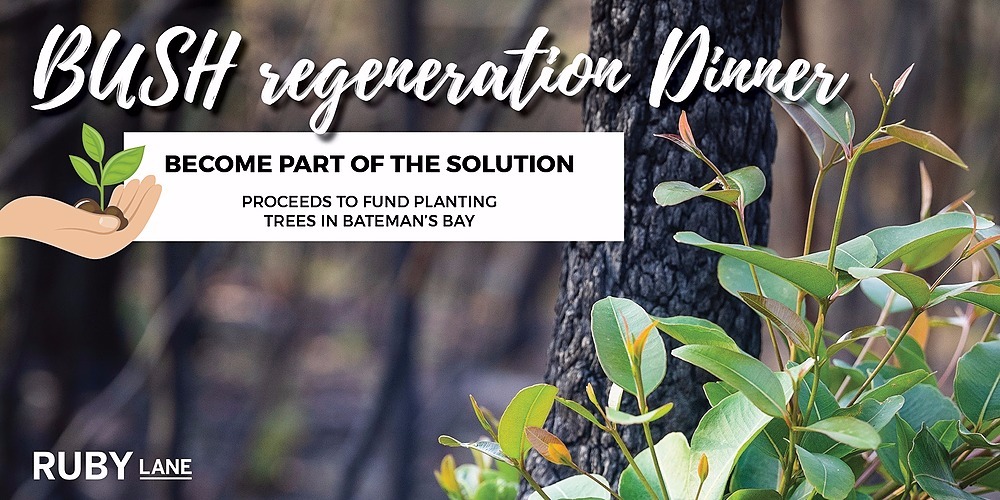 Climate Action Now: What Will It Take To Make It Happen?
Are you worried about climate change?
Do you want government action to cut greenhouse gases?
Come and ask the politicians yourself at a Q&A style forum Chaired by Peter Hannam, Environment Editor of The Sydney Morning Herald featuring:
Zali Stegall (Independent MP for Warringah
Kristina Keneally (Labor Senator for NSW)
David Shoebridge (Greens NSW Upper House MP)
Vivienne Paduch (School Strike 4 Climate Activist)
Pittwater RSL Club, 82 Mona Vale Road, Mona Vale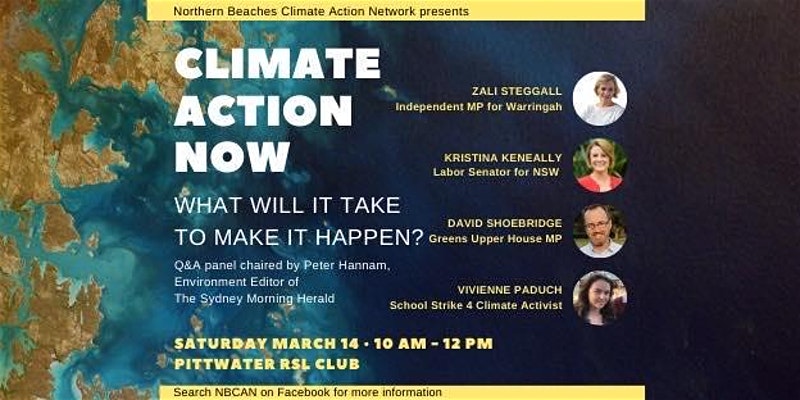 Rock Platform Tour
Hosted by Coastal Environment Centre
Saturday, March 21, 2020 at 1:30 PM – 3:30 PM
Coastal Environment Centre
1 Lake Park Road -Pelican Path, North Narrabeen
Come and join one of our educators and discover the weird and wonderful creatures that live on our rock platforms. Fun for all ages, there is so much to see if you know where to look!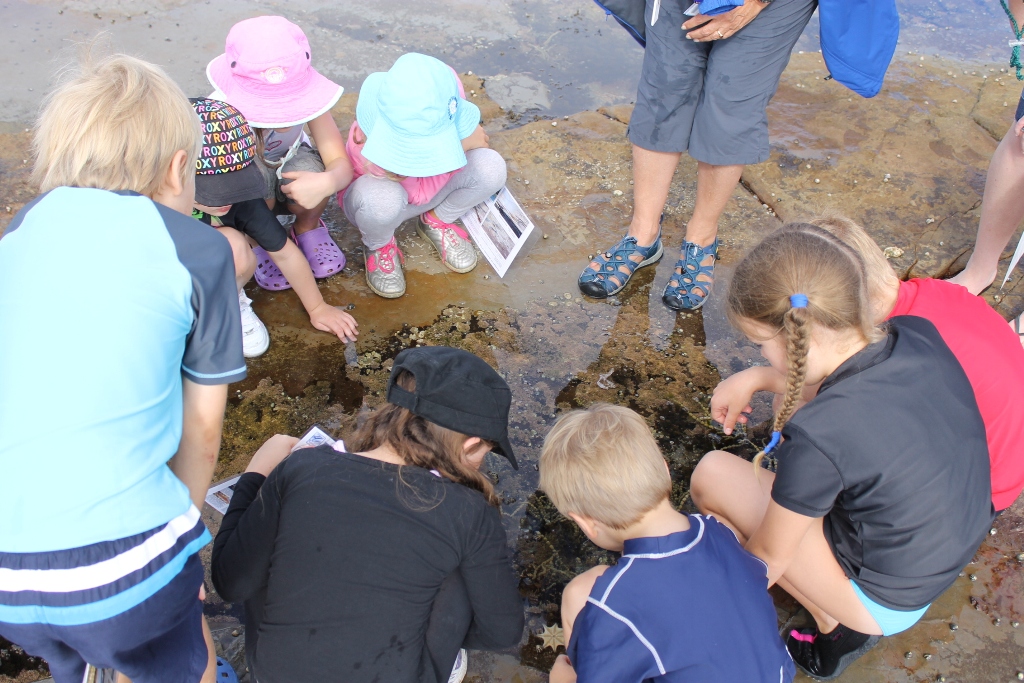 Bushcare In Pittwater
For further information or to confirm the meeting details for below groups, please contact Council's Bushcare Officer on 9970 1367
BUSHCARE SCHEDULES
Where we work Which day What time
Avalon
Angophora Reserve 3rd Sunday 8:30 - 11:30am
Avalon Dunes 1st Sunday 8:30 - 11:30am
Avalon Golf Course 2nd Wednesday 3 - 5:30pm
Careel Creek 4th Saturday 8:30 - 11:30am
Toongari Reserve 3rd Saturday 9 - 12noon (8 - 11am in summer)
Bangalley Headland 2nd Sunday 9 to 12noon
Bayview
Winnererremy Bay 4th Sunday 9 to 12noon
Bilgola
North Bilgola Beach 3rd Monday 9 - 12noon
Algona Reserve 1st Saturday 9 - 12noon
Plateau Park 1st Friday 8:30 - 11:30am
Church Point
Browns Bay Reserve 1st Tuesday 9 - 12noon
McCarrs Creek Reserve Contact Bushcare Officer To be confirmed
Clareville
Old Wharf Reserve 3rd Saturday 8 - 11am
Elanora
Kundibah Reserve 4th Sunday 8:30 - 11:30am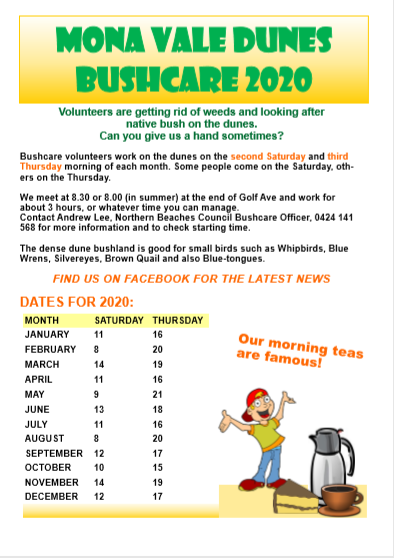 Mona Vale
Mona Vale Beach Basin 1st Saturday 8 - 11am
Mona Vale Dunes 2nd Saturday +3rd Thursday 8:30 - 11:30am
Newport
Bungan Beach 4th Sunday 9 - 12noon
Crescent Reserve 3rd Sunday 9 - 12noon
North Newport Beach 4th Saturday 8:30 - 11:30am
Porter Reserve 2nd Saturday 8 - 11am
North Narrabeen
Irrawong Reserve 2nd Saturday 2 - 5pm
Palm Beach
North Palm Beach Dunes 3rd Saturday 9 - 12noon
Scotland Island
Catherine Park 2nd Sunday 10 - 12:30pm
Elizabeth Park 1st Saturday 9 - 12noon
Pathilda Reserve 3rd Saturday 9 - 12noon
Warriewood
Warriewood Wetlands 1st Sunday 8:30 - 11:30am
Whale Beach
Norma Park 1st Friday 9 - 12noon
Western Foreshores
Coopers Point, Elvina Bay 2nd Sunday 10 - 1pm
Rocky Point, Elvina Bay 1st Monday 9 - 12noon

Gardens And Environment Groups And Organisations In Pittwater
Australian Waterbird Slaughter Season To Go Ahead In Victoria Despite Billions Of Animals Killed Through Fire And Drought
The Victorian government has announced this week the 2020 slaughter of waterbirds will go ahead again this year. Although Victoria's Environment Minister Lily D'Ambrosio was said to be considering cancelling the season, Agriculture Minister Jaclyn Symes wanted it to go ahead, as did Member for Eastern Victoria Melina Bath, who called on the state government to confirm this year's duck season, as the shooters "are incredibly important to Gippsland's regional economy".
Sean Dooley, from Birdlife Australia, was hopeful there was debate going on within the Government about the viability of this year's hunt, earlier in February 2020. On Wednesday, politics won and the birds lost.
"There's been a 90 per cent reduction in waterbird numbers since the 1980s, and we've had an incredibly dry year this year, to the extent where pretty much the only standing water in eastern Australia is in Victoria," Mr Dooley said earlier in February.
"Those wetlands that are left will have larger numbers of birds … many of the refugees [from drought] from further north.
"And [the ducks] just don't need this now, not after the dry conditions we've seen and not after the recent devastating fires. And for the psyche of Victorians, we don't need to see more wildlife killed."
It is estimated there were about a million waterbirds in eastern Australia in the early 1980s, but recent figures show numbers have dwindled to roughly 200,000. A recent Aerial Survey of Wetland Birds in Eastern Australia showed wetland habitat was at its lowest level since surveys began in 1982. Researchers from the University of NSW believe this has led to a decline in the number of ducks and their ability to breed.
Despite all this, the 2020 Bird Slaughter Season dates have been announced with the killing to begin before dawn and continue until dusk, so any birds waking to leave their nests, or return to them, cannot escape the killing.
The Coalition Against Duck Shooting campaign director Laurie Levy had said it would have a "shocking impact" on the region's waterbirds if a duck season went ahead prior to this week.
"The Victorian public will be outraged if a few shooters could get their thrill kills by shooting native water birds. There are so few birds left, they can't take it anymore," Mr Levy said. "We've lost two or three billion animals in bushfires and Ms Bath wants people to kill more native animals just for fun."
Mr Levy had expected the Victorian government to call a moratorium on duck shooting this year due to seasonal conditions.
"We will be out there in force if it goes ahead with our rescue teams to treat wounded water birds, and we will be laying out shot protected species out the front of the Premier's office," he said.
In recent years the bodies of dead, so called 'protected' birds have lined the pavements of Victorian streets - most of them intact, despite one of the 'conditions' of the slaughter requiring the 'hunters' to at least slice off the breast meat for use after they have murdered a bird.
From May 2nd, 2020 the big tough hunters with their killing sticks will have an open season on Pacific Black Duck, Mountain Duck, Chestnut Teal, Grey Teal, Pink-eared Duck, Wood Duck and Hardhead, and as the Coalition Against Duck Shooting has found in every year this happens, anything else that flaps a wing near them, protected or not.
Tasmania is also still locked into the dark age of men and it too will allow the murder of birds again this year in its own Bird Slaughtering Season.
Koala Crossing Signs In Western Sydney Disappear And Reappear
Strange doings have been reported by the good people at Campbelltown this week - Koala Signs that were once on Moorebank Avenue right near the Intermodal Development have recently disappeared. On Thursday, February 27th this was reported to the Liverpool City Council Australia who were unaware of this. The day after, one was put back again - in part.
Before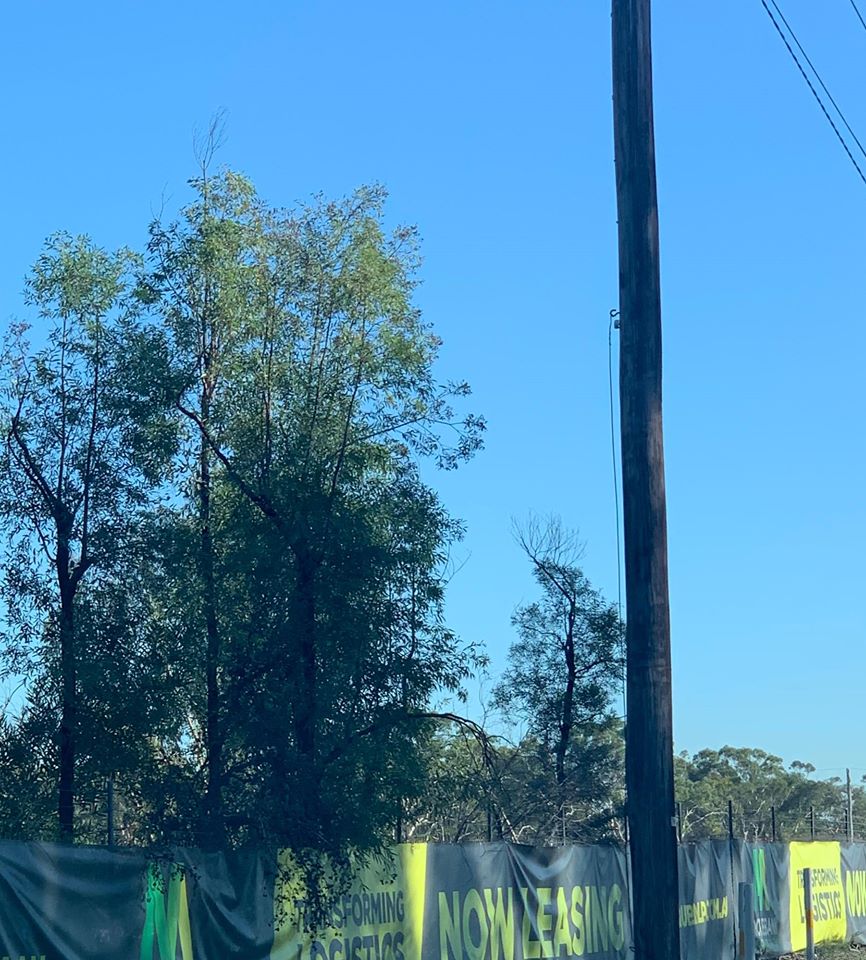 After - Feb 27, 2020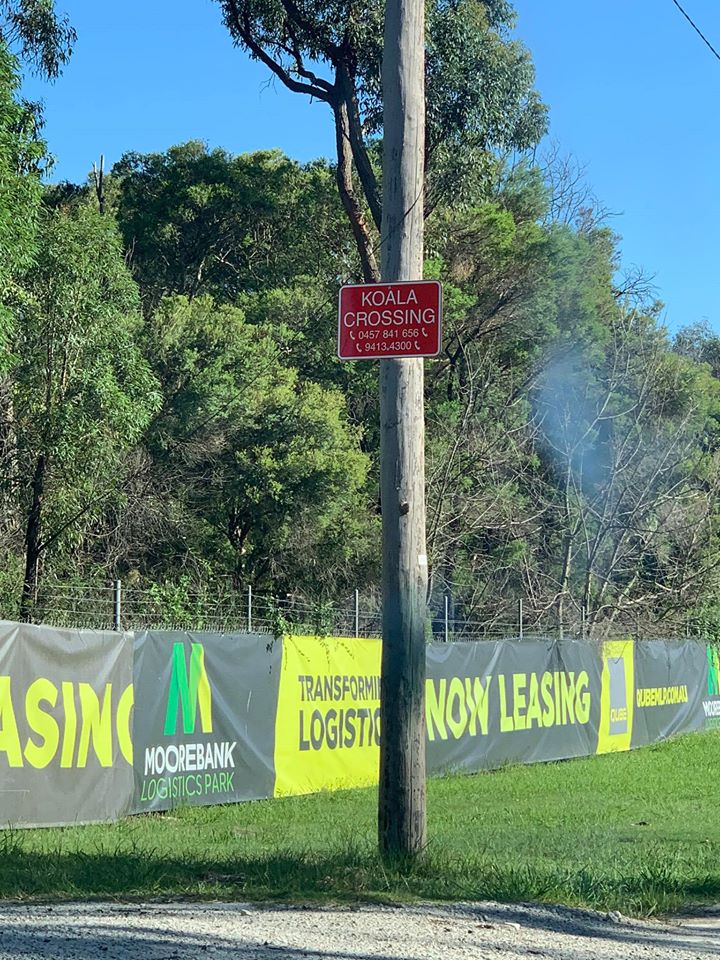 After Friday Feb. 28th, 2020
Those who continue to do their utmost to save the koalas still resident in the area have opined that the signs were taken down because the development has destroyed koala habitat and a koala and wildlife thoroughfare and the 'powers that be' may have been a tad embarrassed by their 'we're for koalas' stance being undermined by the factual and actual reality of their very own 'translocations to facilitate developments' and developments proceeding despite the obvious long-term 'costs'.
The Moorebank Intermodal Company (MIC) is a wholly owned Australian Government entity established to facilitate the development of an intermodal terminal at Moorebank.
Liverpool City Council did not approve the Moorebank Intermodal.
The Planning Assessment Commission (PAC) approved the early stages of the project.
Liverpool Council has advised residents that;
During the construction phases, there are likely to be some impacts on the local environment and community.
That council also advises residents to report environmental incidents to the Department of Planning & Environment 1300 305 695 or email: compliance@planning.nsw.gov.au.
When reporting an incident you should provide the following details:
Time
Date
Location
Details of your concern (including photos/video where applicable)
If only the wee soft furry doe eyed sentient beings could talk, make a phone call, send an email.....
Only when the last soft sound of the last soft pad through the also felled forest has died away will you know what you have lost.
One Little Bandicoot Can Dig Up An Elephant's Worth Of Soil A Year – And Our Ecosystem Loves It
February 28, 2020 by
Euan Ritchie; Associate Professor in Wildlife Ecology and Conservation, Centre for Integrative Ecology, School of Life & Environmental Sciences, Deakin University
Amy Coetsee; Threatened Species Biologist, University of Melbourne
Anthony Rendall; Associate Lecturer in Conservation Biology, Deakin University
Duncan Sutherland; Deputy Director of Research, Phillip Island Nature Parks; Research Fellow, University of Melbourne
Leonie Valentine; Research Associate, School of Plant Biology, University of Western Australia
On Churchill Island, southeast of Melbourne, small cone-shaped, shallow holes (digs) puncture the grass. They're widespread, and reveal moist soil below the surface. A soil heap at the entrance of a dig is a sign it was made recently.
Older digs are filled with leaves, grass, spiders, beetles and other invertebrates. They are made by hungry eastern barred bandicoots – small, roughly rabbit-sized digging marsupials – looking for a juicy worm or grub.
It turns out these bandicoot digs are far from just environmental curiosities - they can improve the properties and health of soils, and even reduce fire risk.
But eastern barred bandicoots are under threat from introduced predators like foxes and cats. In fact, they're considered extinct in the wild on mainland Australia, so conservation biologists are releasing them on fox-free islands to help establish new populations and ensure the species is conserved long-term.
Our recent research on Churchill Island put a number on just how much the eastern barred bandicoot digs - and the results were staggering, showing how important they are for the ecosystem. But more on that later.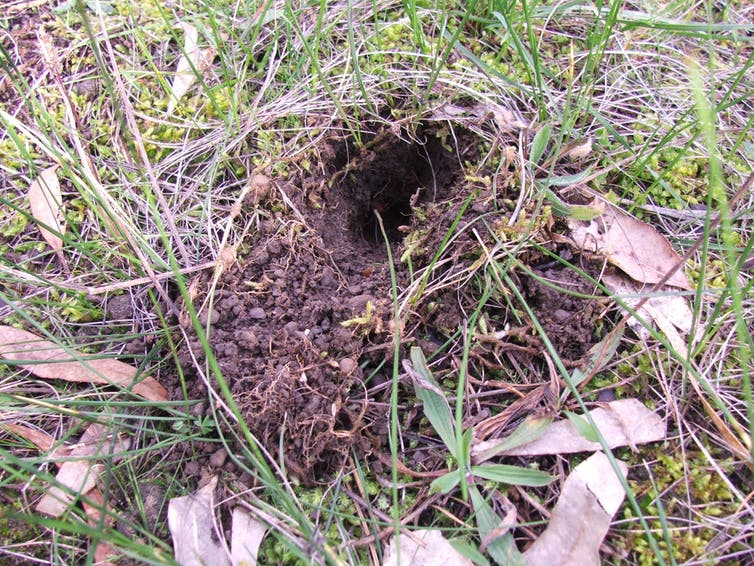 A dig from an eastern barred bandicoot. Amy Coetsee
Why you should dig marsupial diggers
Digging mammals – such as bettongs, potoroos, bilbies and bandicoots – were once abundant and widespread across Australia, turning over large amounts of soil every night with their strong front legs as they dig for food or create burrows for shelter.
Their digs improve soil health, increase soil moisture and nutrient content, and decrease soil compaction and erosion. Digs also provide habitat for invertebrates and improve seed germination.
What's more, by digging fuel loads (dry, flammable vegetation, such as leaves) into the soil, they can help bring down the risk of fire.
Rather than leaves and other plant matter accumulating on the soil surface and drying out, this material is turned over faster, entering the soil when the badicoots dig, which speeds up its decay. Research from 2016 showed there's less plant material covering the soil surface when digging mammals are about. Without diggers, models show fire spread and flame height are bigger.
In fact, all their functions are so important ecologists have dubbed these mighty diggers "ecosystem engineers".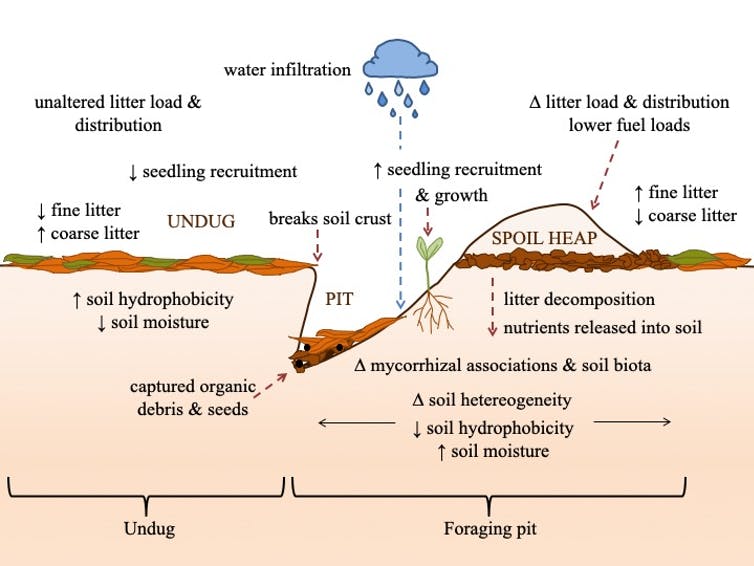 How bandicoot digs affect soil. Leonie Valentine, Author provided
Losing diggers leads to poorer soil health
Of Australia's 29 digging mammals, 23 are between 100 grams and 5 kilograms. Most are at risk of cat and fox predation, and many of these are officially listed as threatened species by the International Union for Conservation of Nature.
Since European settlement, six of Australia's digging mammals have gone extinct, including the lesser bilby, desert rat kangaroo and pig-footed bandicoots. Many others have suffered marked population declines and extensive range contraction through habitat destruction and the introduction of foxes and cats.
Tragically, the widespread decline and extinction of many digging mammals means soil and ecosystem health has suffered as well.
Soils that were once soft textured, easy to crumble, rich and fertile are now often compact, repel water and nutrient poor, impeding seed germination and plant growth. Fuel loads are also likely to be much higher now than in the past, as less organic matter is dug into the soil.
To date, most research on digging mammals has focused on arid environments, with much less known about how digging influences wetter (mesic) environments. But our recently published study on eastern barred bandicoots provides new insights.
Just how much do bandicoots dig anyway?
In 2015, 20 mainland eastern barred bandicoots were released onto Churchill Island in Victoria's Westernport Bay.
On mainland Australia, fox predation has driven this species to near extinction, and it's classified as extinct in the wild. All Victoria's islands are beyond the historic range of eastern barred bandicoots, but fox-free islands could be how we recover them.
Introducing bandicoots on Churchill Island presented the perfect opportunity to quantify how they influence soil properties when digging for food.
To do this we recorded the number of digs bandicoots made each night and measured the volume of soil they displaced through digging. We also compared soil moisture and compaction within the digs, versus un-dug soil – and we didn't expect what we found.
In one night on Churchill Island, one bandicoot can make 41 digs an hour. That's nearly 500 digs a night, equating to around 13 kilograms of soil being turned over every night, or 4.8 tonnes a year. That's almost as much as the average weight of a male African elephant.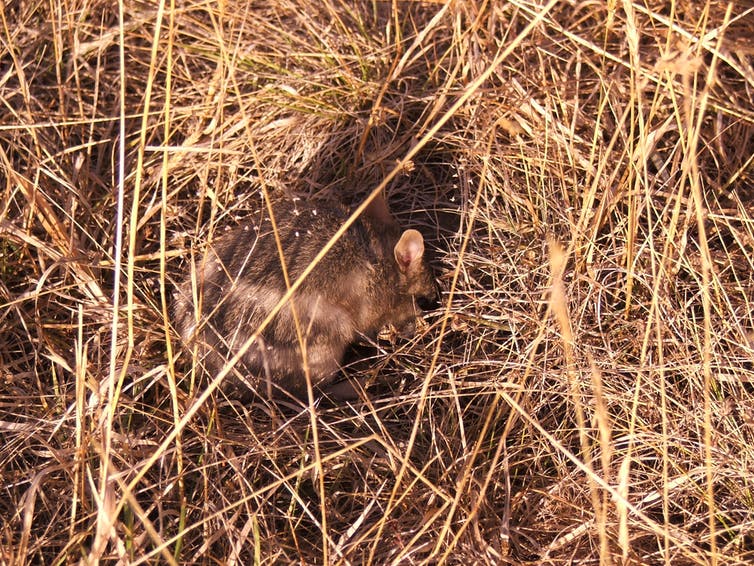 Bandicoots turn over huge amounts of soil in their search for food. Amy Coetsee
So, an astonishing amount of soil is being turned over, especially considering these bandicoots typically weigh around 750 grams.
If you multiply this by the number of bandicoots on Churchill Island (up from 20 in 2015 to around 130 at the time of our study in 2017), there's a staggering 1,690 kilos of soil being dug up every night. That's some major earthworks!
However, we should note our study was conducted during the wetter months, when soils are typically easier to dig.
In summer, as soil becomes harder and drier on Churchill Island, digging may become more difficult. And bandicoots, being great generalists, feed more on surface invertebrates like beetles and crickets, resulting in fewer digs. So we expect in summer that soil is less disturbed.
Bandicoots might help agriculture too
All this digging was found to boost soil health on Churchill Island. This means eastern barred bandicoots may not only play an important role in ecosystem health and regeneration, but also potentially in agriculture by assisting pasture growth and condition, reducing topsoil runoff, and mitigating the effects of trampling and soil compaction from livestock.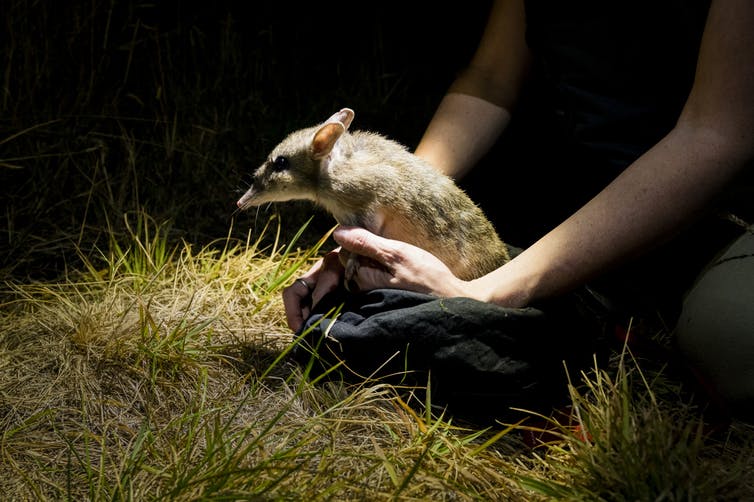 One of 20 eastern barred bandicoots being released on Churchill Island. Zoos Victoria
The benefits bandicoot digs have across agricultural land is of particular importance now that eastern barred bandicoots have also been released on Phillip Island and French Island, and are expected to extensively use pasture for foraging.
These island releases could not just help to ensure eastern barred bandicoots avoid extinction, but also promote productive agricultural land for farmers.
So, given the important ecological roles ecosystem engineers like bandicoots perform, it's also important we try to reestablish their wild populations on the mainland and outside of fenced sanctuaries so we can all benefit from their digging, not just on islands.
Lauren Halstead is the lead author of the study reported, which stemmed from her honours research at Deakin University. She also contributed to the writing of this article.
This report was published first in The Conversation - republished under a Creative Commons licence, click here to read the original article.
A Plan To Save Earth's Oceans: UQ
February 24, 2020: University of Queensland
At least 26 per cent of our oceans need urgent conservation attention to preserve Earth's marine biodiversity, a University of Queensland-led international study has found.
Dr Kendall Jones said the international community needed to rapidly increase marine conservation efforts to maintain the health of the world's oceans.
"Preserving a portion of habitat for all marine species would require 8.5 million square kilometres of new conservation areas," Dr Jones said.
"Currently one-third of all marine species have less than 10 per cent of their range covered by protected areas.
"Conserving the areas we've identified in our study would give all marine species a reasonable amount of space to live free from human impacts like fishing, commercial shipping or pesticide runoff."
The authors mapped more than 22,000 marine species habitats and applied a mathematical approach to identify the minimum area required to capture a portion of each species range.
They also included areas of international importance for biodiversity (known as Key Biodiversity Areas), and areas where human impacts on the ocean are extremely low (known as marine wildernesses).
They found that the total ocean area required for conservation varied from 26-41 per cent, depending on the proportion of each species range conserved.
Key regions for conservation included the Northern Pacific Ocean near China and Japan, and the Atlantic between West Africa and the Americas.
Director of Science at the Wildlife Conservation Society and UQ scientist Professor James Watson said the findings demonstrated the need for greater worldwide conservation efforts.
"The world's nations will be coming together in China this year to sign an agreement that will guide global conservation for the next ten years," Professor Watson said.
"This science shows that governments must act boldly, as they did for the Paris Agreement on climate change, if we are to stop the extinction crisis facing many marine species."
Professor Watson said it was crucial that global conservation strategies involved rapid action to protect endangered species and ecosystems, combined with approaches to sustainably manage the ocean in its entirety.
"This isn't just about strict marine protected areas," he said.
"We need to use a broad range of strategies such as no-fishing zones, community marine reserves and broad-scale policies to put an end to illegal and unsustainable commercial fishing operations."
The authors stress that ocean conservation was essential for people and biodiversity.
"Millions of people around the world depend on marine biodiversity as a crucial source of food and income," Professor Watson said.
"A well-designed global conservation agreement will help preserve these livelihoods into the future."
Kendall R. Jones, Carissa J. Klein, Hedley S. Grantham, Hugh P. Possingham, Benjamin S. Halpern, Neil D. Burgess, Stuart H.M. Butchart, John G. Robinson, Naomi Kingston, Nina Bhola, James E.M. Watson.
Area Requirements to Safeguard Earth's Marine Species.
One Earth, 2020; 2 (2): 188 DOI:
10.1016/j.oneear.2020.01.010
UK Scientists Call On Government To Increase Ambition To Save Our Ocean
February 25, 2020: University of Plymouth
In the last decade there has been rapid expansion in the area of ocean designated as a Marine Protected Area (MPA).

Despite this progress, marine biodiversity continues to decline, placing at risk the health of our oceans and the critical role the oceans have in supporting human well-being.
Now a team of marine scientists from across the UK, led by the Marine Conservation Research Group at the University of Plymouth, has called on the Government to increase its ambition to save the oceans by overhauling its approach to marine conservation management.
The researchers have worked at the sharp end of conservation and fisheries management for several decades, and draw on their research and wider expertise to make four key recommendations to Government ministers. They are:
Enable the repair and renewal of marine habitats rather than managing degraded or altered habitats in their reduced state;
Unite conservation policy and fisheries management as the two are critically dependent on each other rather than competing interests;
Establish improved processes for understanding the benefits from ocean protection in a format that leaves in no doubt the links between ocean protection and human lives and livelihoods;
Develop a smarter approach to managing the health of the entire ocean that moves beyond MPAs and enables links to be made across sectors towards sustainability.
The recommendations are published in the journal Marine Policy, and scientists say addressing these issues would enable the UK it to meet its target of becoming a global leader in fisheries management and marine conservation.
Dr Sian Rees, Senior Research Fellow in the University's School of Biological and Marine Sciences and the paper's lead author, said: "2020 is a critical year for ocean protection as we build towards the UN Decade of Ocean Science, and a year where Governments have been invited to step up and support action to halt the global decline in marine biodiversity. In this 'super year' for the ocean it is within the gift of UK Government to set an increased ambition for ocean conservation. This would support the Governments ambition to be 'the first generation that leaves the environment in a better state than that in which we inherited it' and establish the UK as a global leader in fisheries management and marine conservation."
Dr Bryce Beukers-Stewart, from the Department of Environment and Geography at the University of York, added: "There is now substantial evidence that well managed and strategically placed marine protected areas (MPAs) can provide benefits for not only conservation, but also fisheries and human well-being. Unfortunately, many of the MPAs around the UK are not currently managed in a way that delivers their full potential. It is also important that MPAs become better integrated with other marine management measures, if we really want to ensure the long-term future of the benefits provided to us by the ocean."
Jean-Luc Solandt, Principal Specialist in MPAs at the Marine Conservation Society, said: "There has been good progress between many people and organisations to bring effective management for our seas, but this is not enough. More resources and focus on recovery of entire ecosystems has not been forthcoming and we are making the case for stricter management over wider areas of our MPAs."
Siân E. Rees, Emma V. Sheehan, Bryce D. Stewart, Robert Clark, Thomas Appleby, Martin J. Attrill, Peter J.S. Jones, David Johnson, Natasha Bradshaw, Simon Pittman, Jenny Oates, Jean-Luc Solandt.
Emerging themes to support ambitious UK marine biodiversity conservation.
Marine Policy, 2020; 103864 DOI:
10.1016/j.marpol.2020.103864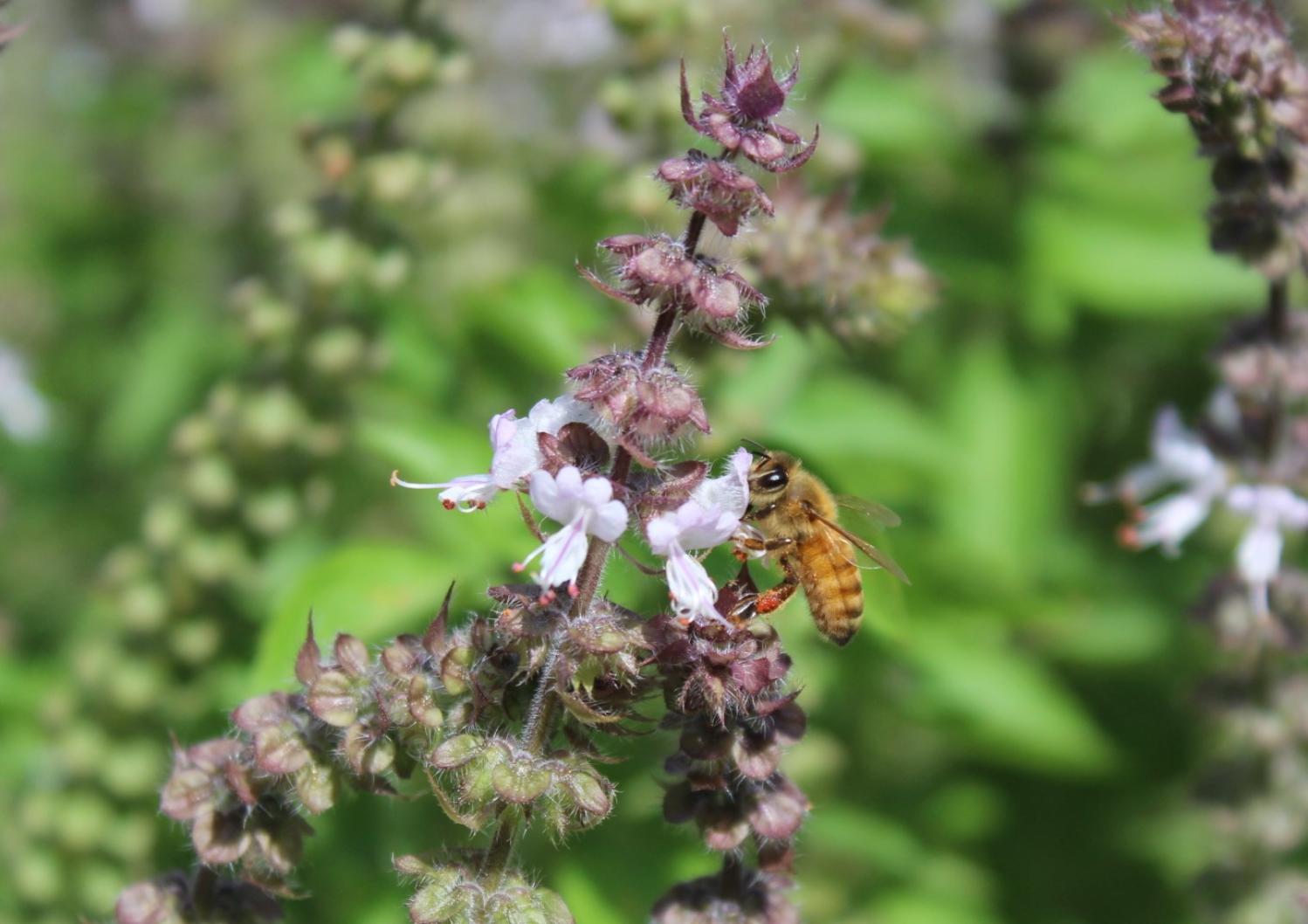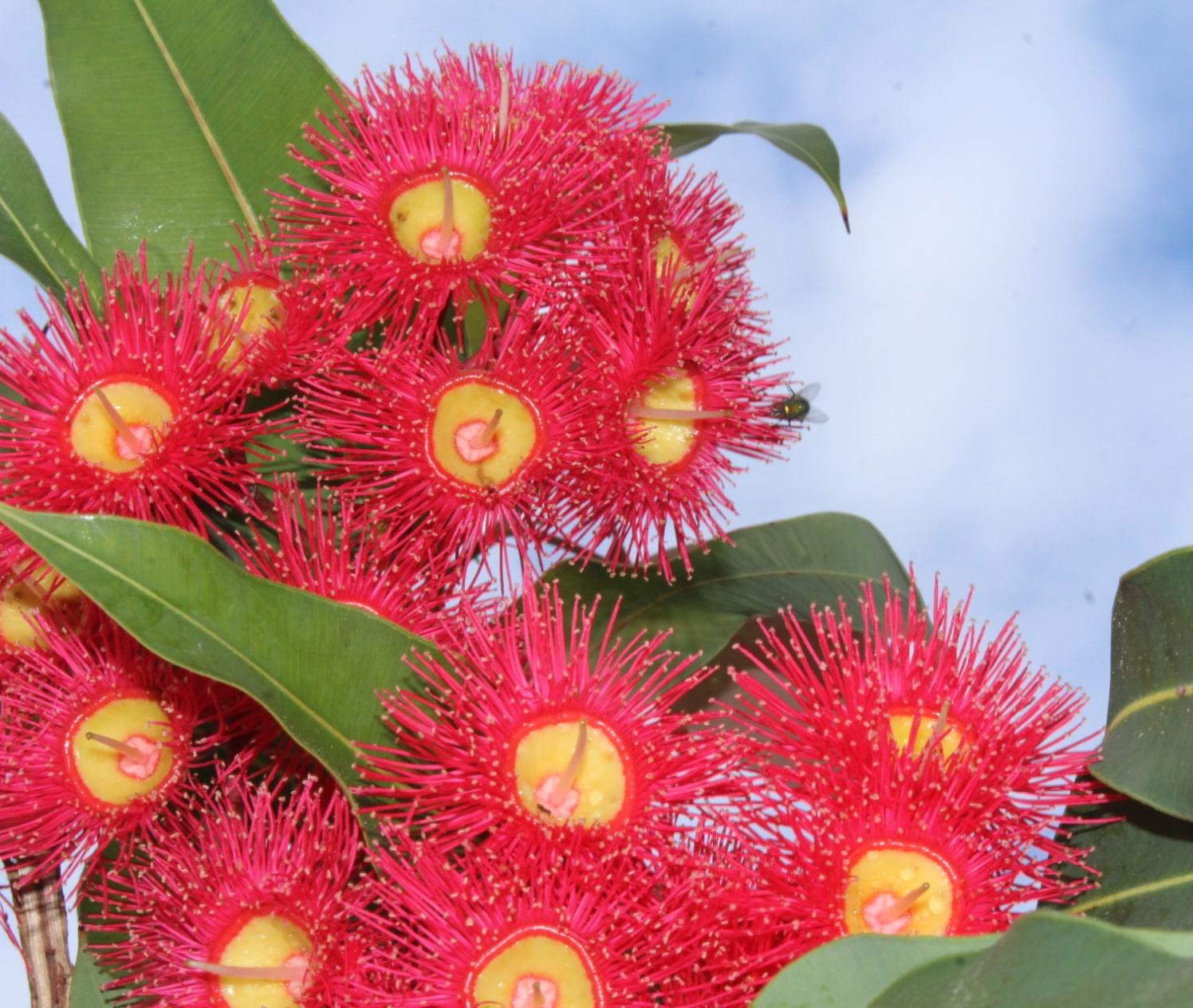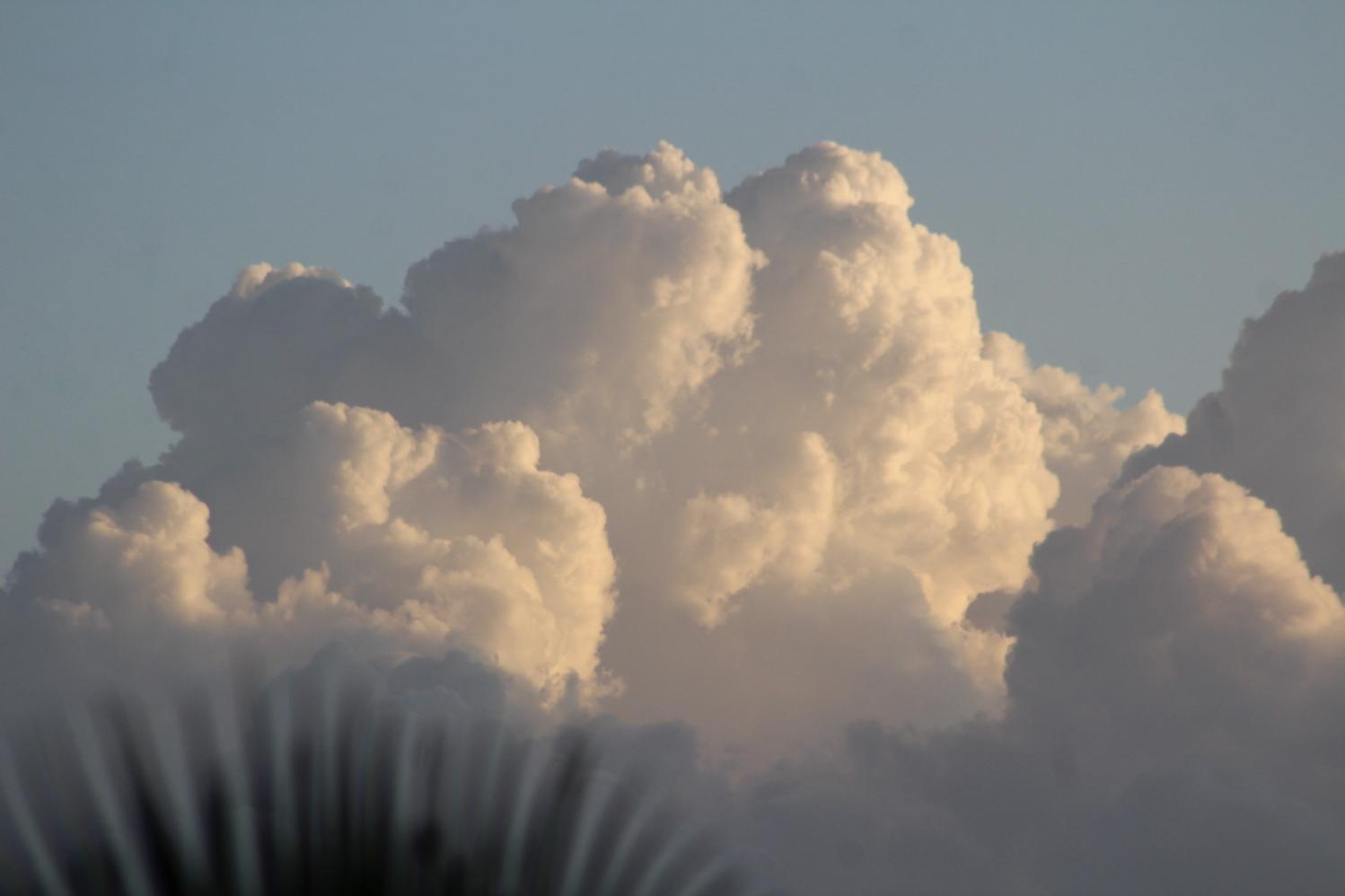 Clouds over Newport this week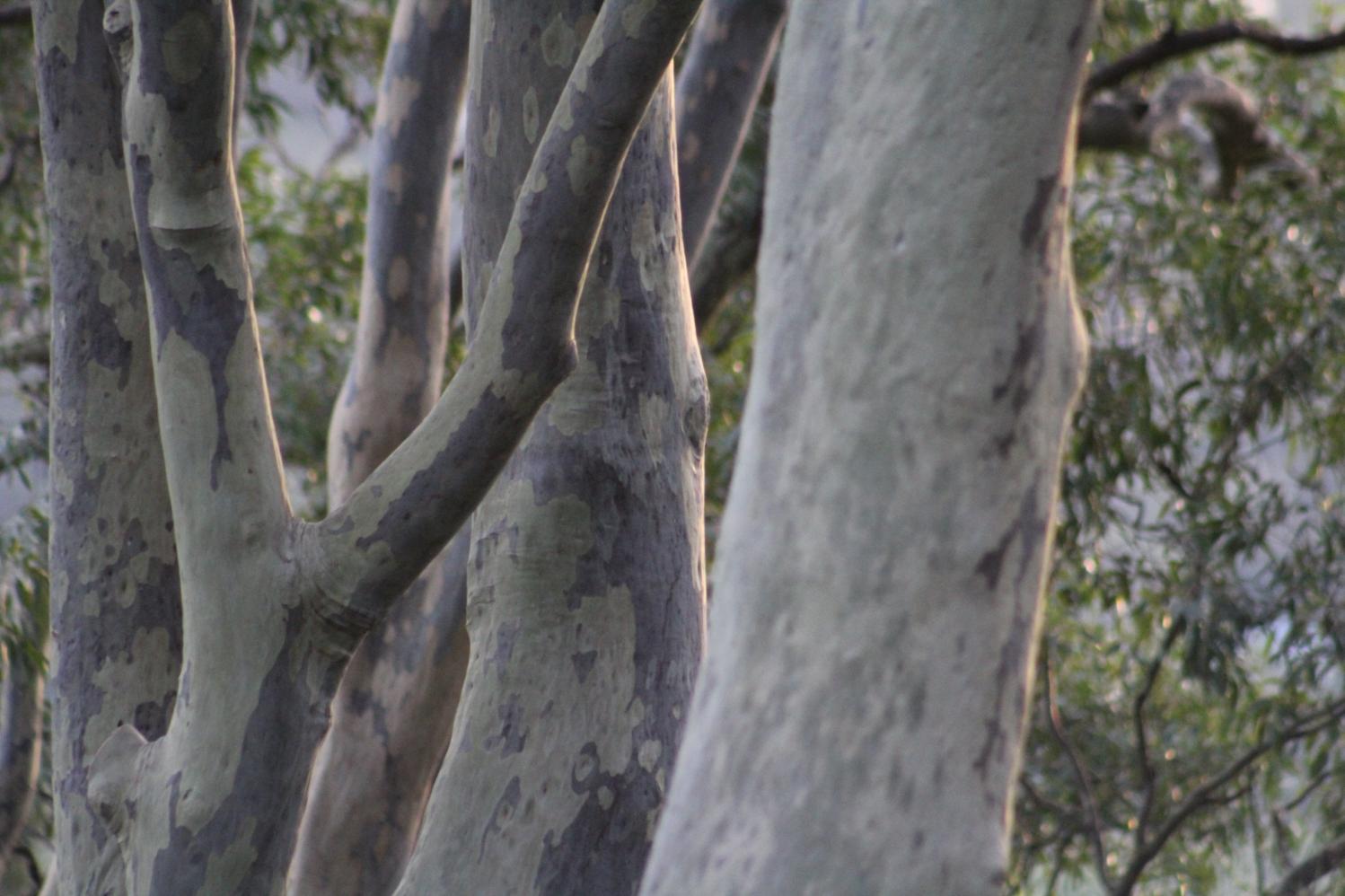 Aussie Bread Tags Collection Points
Collecting bread tags enables us to provide wheelchairs that change the life of disabled people in need, as well as keeping the tags out of landfill to help to preserve the environment.
Bread Tags for Wheelchairs was started in South Africa in 2006 by Mary Honeybun. It is a community program where individuals and organisations collect bread tags, which are sold to recyclers. The money raised pays for wheelchairs for the less fortunate which are purchased through a local pharmacy. Currently about 500kg of bread tags are collected a month in South Africa, funding 2-3 wheelchairs.
We have been collecting bread tags nationally in Australia since September 2018 and now have more than 100 collection points across the country. In February 2019 we started local recycling through Transmutation - Reduce, Reuse and Recycle in Robe, SA, where our tags are recycled into products such as door knobs and bowls. Tags from some states are still sent to South Africa where a plastics company called Zibo recycles them into seedling trays.
These humble bits of polystyrene can make a real difference so get your friends, family, school, workplace and church involved. Ask school tuck shops and boarding school kitchens, child care centres, aged care facilities, hospitals, cafes and fast food outlets to collect for you - they get through a lot of bread!
All the information and signage for collecting or setting up a public collection point is
on our website
.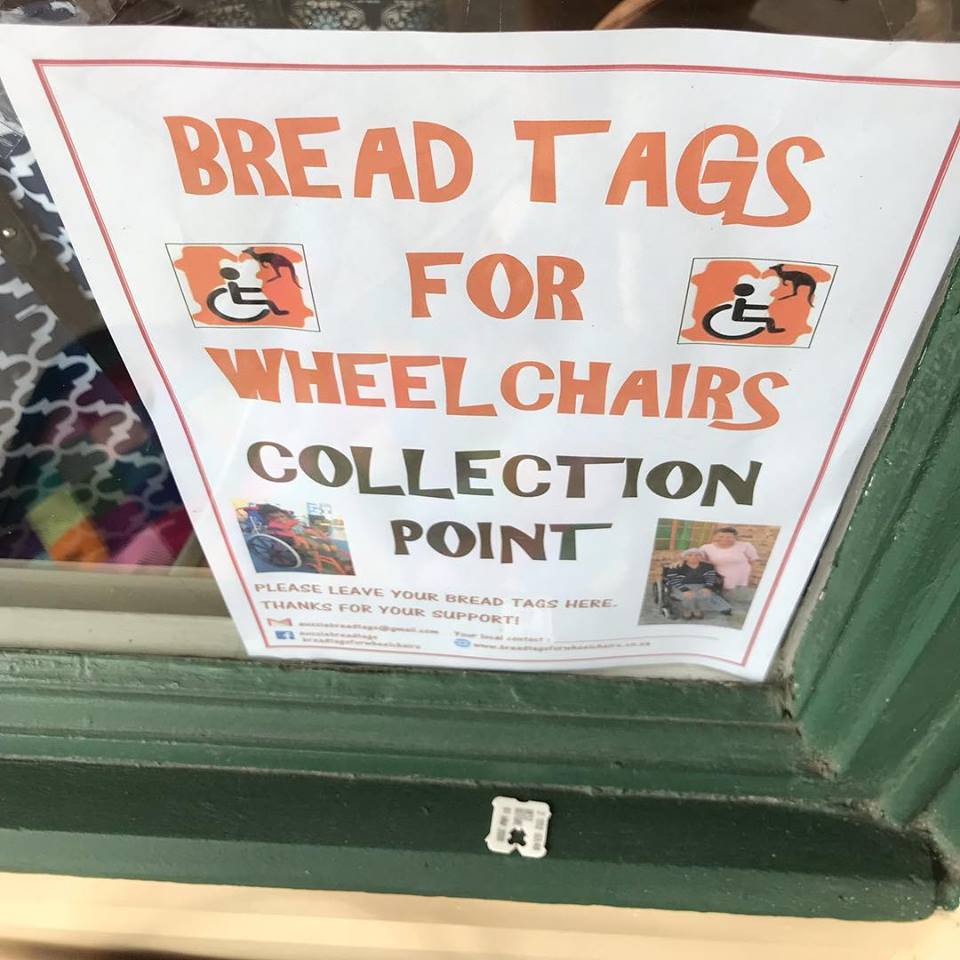 Time For Action On Aged Care Crisis
The AMA has called on the Federal Government to act immediately to fix the crisis in the aged care workforce, following the recommendations of the Counsel Assisting the Royal Commission into Aged Care Quality and Safety.
"Care can't wait," AMA President, Dr Tony Bartone, said today.
"The submission by the Counsel Assisting clearly identifies the need for minimum staff-to-resident ratios, 24/7 nurse availability, and mandatory minimum qualifications for personal care workers.
"The AMA has long been calling for these measures. We cannot wait until the Royal Commission concludes to begin fixing the crisis.
"The proportion of nurses in residential aged care facilities has declined significantly, while older people's clinical needs are only increasing. This does not make sense.
"The AMA has consistently warned that the health and aged care systems are not equipped to deal with the growing ageing population, as Australians are living longer and with multiple chronic illnesses."
The AMA also notes the Counsel Assisting's concern of a lack of leadership and action on aged care issues by the Department of Health, despite clear policy recommendations to act upon from multiple inquiries and reports.
"The Australian people expect their aged care system to be staffed appropriately, so that older Australians receive the high quality care that they deserve," Dr Bartone said.
The Counsel Assisting recommendations include:
Mandating minimum staff-to resident ratios, and availability of registered nurses 24/7 in residential aged care facilities,
Disclosure and reporting on staffing levels, with greater transparency for consumers,
Minimum mandatory qualifications and a registration scheme for personal care workers, and
The Commonwealth taking the lead on aged care workforce planning.
"The AMA supports the recommendation for mandatory minimum qualification requirements for personal care workers. Personal care assistants are crucial to aged care provision, but are not always equipped with the skills to perform their roles," Dr Bartone said.
"Doctors, registered nurses, and other health professionals with the responsibility of caring for people must have minimum mandatory qualifications and are regulated by the Australian Health Practitioner Regulation Agency (AHPRA). There should therefore be appropriate regulation of personal care workers.
"The AMA also welcomes the recommendation for minimum levels of English language proficiency as a registration requirement for personal care workers. AMA members who work in aged care have been calling for this for some time.
"Employing workers with culturally and linguistically diverse (CALD) backgrounds can have benefits to aged care residents, particularly those from a CALD background themselves. Employers should support those workers to further develop and improve their English language skills.
"The AMA welcomes the Counsel Assisting's specific calls for the Government to work with the AMA on a range of key workforce issues in its recommendations. As always, we stand ready to work to improve care for older Australians."
As part of the Care Can't Wait Campaign, the AMA and the Australian Nursing and Midwifery Federation (ANMF) are advocating for immediate action on:
mandatory minimum staff-to-resident ratios, including ensuring sufficient skilled nurses in residential aged care facilities (RACFs),
increased GP aged care Medicare rebates for patients to facilitate enhanced medical practitioner care of aged care residents, and
expanded home care investment to allow more older people to stay longer in their own homes and relieve pressure on residential aged care services.
Hearing Aids May Delay Cognitive Decline
February 26, 2020: University of Melbourne
Wearing hearing aids may delay cognitive decline in older adults and improve brain function, according to promising new research.
Cognitive decline is associated with hearing loss, which affects about 32 per cent of people aged 55 years, and more than 70 per cent of people aged over 70 years. Hearing loss has been identified as a modifiable risk factor for dementia.
University of Melbourne researchers have tested the use of hearing aids in almost 100 adults aged 62-82 years with hearing loss.
Participants were assessed before and 18 months after having hearing aids fitted on their hearing, cognitive function, speech perception, quality of life, physical activity, loneliness, mood and medical health.
After 18 months of hearing aid use, researchers found speech perception, self-reported listening disability and quality of life had significantly improved for participants.
Most notably, 97.3 per cent of participants in this study showed either clinically significant improvement or stability in executive function -- their mental ability to plan, organise information and initiate tasks.
Women, in particular, showed significant improvements in working memory -- used for reasoning and decision-making -- as well as most other cognitive functions assessed.
The study also found more frequent use of hearing aids was associated with greater improvements in cognitive function, and women were much more diligent at wearing the devices than men.
University of Melbourne Associate Professor and Chief Investigator of the study, Julia Sarant, said improvement in cognitive function is something that is not usually seen in older adults.
"Although there are successful treatments for hearing loss, there is currently no successful treatment for cognitive decline or dementia," Associate Professor Sarant said.
"This research is a positive step in investigating the treatment of hearing aids to delay cognitive decline.
"Further research is underway to compare cognitive outcomes from a larger sample size with those of a healthy aging comparison group of older Australians with typical hearing for their age."
Julia Sarant, David Harris, Peter Busby, Paul Maruff, Adrian Schembri, Ulrike Lemke, Stefan Launer.
The Effect of Hearing Aid Use on Cognition in Older Adults: Can We Delay Decline or Even Improve Cognitive Function?
Journal of Clinical Medicine, 2020; 9 (1): 254 DOI:
10.3390/jcm9010254
1 In 15 Hospitalisations Could Be Prevented Through Early Health Interventions
Your likelihood of having a preventable hospitalisation varies by where you live, and your individual circumstances, according to a new report from the Australian Institute of Health and Welfare (AIHW).
The report, Disparities in potentially preventable hospitalisations across Australia 2012–13 to 2017–18, shows that 748,000 (1 in 15 or 6.6%) hospital admissions were classified as potentially preventable in 2017–18.
'Nationally, the rate of potentially preventable hospitalisations in 2017–18 was around 2,800 per 100,000 people. Rates were highest in the Northern Territory (around 5,800 per 100,000), and lowest in the Australian Capital Territory (around 2,150 per 100,000),' said AIHW spokesperson Mr. Richard Juckes.
Potentially preventable hospitalisations (PPH) are admissions to hospital that could potentially have been avoided through preventive care (such as vaccination), or appropriate disease management (such as treatment of infections or management of chronic conditions) in the community.
The most common cause (10%) of potentially preventable hospitalisations was chronic obstructive pulmonary disease (COPD). Vaccine-preventable pneumonia and influenza, and congestive cardiac failure accounted for the most days of hospital care.
People aged 65 years and over accounted for almost half (46%) of all potentially preventable hospitalisations,
and children (aged 0–14) made up 13% (1 in 8).
The report shows Aboriginal and/or Torres Strait Islander people experienced potentially preventable hospitalisations at a rate 3 times as high as other Australians.
'There were about 45,000 potentially preventable hospitalisations for Indigenous Australians in 2017–18, an increase of 25% between 2012–13 and 2017–18,' Mr Juckes said.
PPH rates often increase with increasing remoteness and socioeconomic disadvantage. The gap between people living in very remote areas and major cities widened between 2012–13 and 2017–18. Similarly, the gap between people living in the lowest and highest socioeconomic areas widened for a number of conditions.
'Classifying a hospitalisation as "potentially preventable" does not mean that the hospitalisation itself was unnecessary, however, it indicates that management at an earlier stage may have prevented the patient's condition worsening to the point of hospitalisation,' Mr Juckes said.
'It's important to note that a higher rate of PPH doesn't always indicate a less effective health system, but PPH are useful for identifying variations between different groups, and understanding health inequalities.'
In the future, the use of linked data sets could allow for a better understanding of the complex relationships between PPH and disease prevalence, use of primary health care, use of medicines and health outcomes.
Read the report:
Downsizing Report Focus On Older Australians
New research shows that people who want to downsize from the family home either do, but not as expected, or don't because of a shortage of suitable alternatives.
Meanwhile, those struggling to make ends meet can't rent because there's nowhere affordable in the big cities.
Housing policymakers typically see downsizing as a way to use housing stock more efficiently and have downsizers (i.e. older Australians) reduce the number of bedrooms in their dwelling.
However, most downsizers still want space and regard spare bedrooms as necessary in a dwelling.
The researchers concluded older Australians perceive downsizing as more than just a reduction in dwelling size. Rather, it refers to internal and external spaces becoming more manageable, and a reduction in belongings.
Older Australians who had downsized did so for the following reasons:
to achieve a particular lifestyle (27 per cent)
for financial outcomes (27%)
because their garden or property required too much maintenance (18%)
because they were forced to do so (15%).
Perceived benefits of downsizing for those who had not yet downsized included a reduction in property maintenance and household running costs.
Many of those who were surveyed by AHURI downsized away from their community.
This could indicate a lack of suitable housing stock, forcing them to live elsewhere.
The study found a large variation in the availability of established dwellings that suit the size and tenure aspirations of older Australians.
Forty per cent of potential downsizers said they would be likely to move if there were suitable housing in their preferred locations.
The report recommends government focus on delivering diverse and affordable housing options in metropolitan and regional locations. It wants new dwelling designs to be suitable for older people.
This includes having shopping, medical, recreational and public transport services within walking distance.
Eighty per cent of very low-income renters pay unaffordable rents and there is a shortage of 173,000 affordable and available rental properties for low-income renters.
In Sydney, for the first time, there's a severe shortage of affordable dwellings for low-income households.
The Australian Housing and Urban Research Institute says there is an urgent need for policies to address this issue.
National Seniors are calling on government to increase the maximum rate of the Commonwealth Rent Assistance (CRA) to a proportion of average housing costs in a specific region.
Housing costs in highly urbanised areas are much higher than in other areas.
The maximum rate of CRA should be set by the Independent Pension Tribunal.
Pensioners who rent should receive enough income to meet reasonable living costs, no matter where they live.
An Ageing Population - It's Not All Doom And Gloom
While some commentators paint a negative picture of our future prospects, it's important to understand our fortunes are quite positive compared to other OECD countries.
Just like you, National Seniors is irked by unhelpful language painting Australia as facing an "ageing crisis" and an "economic time bomb" in debates about the economy.
While life expectancy and fertility rates are important markers used to foretell our future fiscal situation, these statistics shouldn't be used in isolation. Alone, they paint an unrealistic and negative picture of the economy.
These statistics must be put into context with other variables, including:
the increasing wealth of retirees
the contribution of older people to informal care and volunteering
increased labour market participation among older Australians
the overall decline in pension spending as a proportion of GDP.
With the Budget and next Intergenerational Report just around the corner, our submission to the Retirement Income Review took the opportunity to counter this hyperbole by investigating some key statistics.
Here's an extract.
No country for old men (and women)
The old-age to working-age ratio is often quoted as a key economic indicator.
This is the number of people aged 65 and over for every 100 persons of working age.
A lower ratio is said to indicate higher revenue and lower spending. A higher ratio indicates lower revenue and higher spending. Yet it's not that simple.
In Australia the ratio is predicted to increase from 27.7 in 2020 to 41.6 in 2050. While this means more people in retirement and less working in the future, this isn't as bad as you might think.
For a start, our projected increase is far less than the OECD average which is expected to hit 53.4 in 2050.
According to the OECD's
Pensions at a Glance report
, one reason Australia's rate is tracking lower is the high levels of immigration of young adults into Australia, which is blunting some of the impacts of increased life expectancy and declining fertility.
There are other factors we need to keep in mind.
One factor that serves to undermine the predictive importance of the old-age to working-age ratio is the growing wealth of older Australians.
Thanks to our strong economy and the compulsory superannuation system, the wealth of older Australians is predicted to increase over time with retirees holding more wealth and a greater proportion being self-funded.
This is supported by evidence from a recent National Seniors survey of older Australians which showed the expected value of savings in retirement from a sample of 4,861 respondents.
It found that of older Australians able to estimate the expected the value of their savings in retirement, around 40 per cent expected this to be more than $500,000.
This wealth will provide older Australians with relatively high incomes to help generate consumption and spending in the economy, as many regional towns on the grey nomad circuit can attest.
Estimated value of savings at retirement (Source: National Seniors Australia 2019)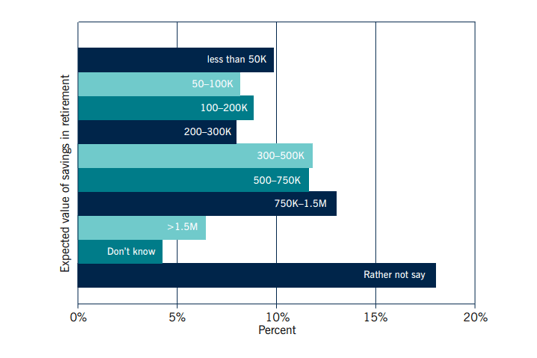 Informal care and volunteering
Another factor lessening the predictive power of the old-age to working-age ratio relates to retiree's contribution to informal care and volunteering.
As past National Seniors research has shown, older Australians make a significant contribution to the economy through the provision of unpaid care and volunteering.
For example, older Australians often provide significant amounts of unpaid grandparent care and balance this with their work responsibilities.
Another National Seniors research paper estimated older Australians aged 45 years and over provided an annual informal care contribution of $22 billion per annum and an annual volunteering contribution of $16.3 billion.
Informal care includes assistance to persons with profound or severe core limitations; assistance for people with moderate or mild limitations; and the provision of grandparent care – all of which would require costly formal assistance if this care was withdrawn.
Labour market participation
Another important contextual consideration is labour market participation.
While Australia's workforce participation rates among older Australians could be better and is only slightly ahead of the OECD average, workforce participation among older Australians has increased over time.
Changes to the eligibility age for the pension to 67 on 1 July 2023 will undoubtedly further encourage workforce participation, however the effect of this is yet to be seen.
While we lag countries like New Zealand, which boasts one of the highest workforce participation rates in the OECD, this could be rectified by reforming our pension means testing arrangements to stop penalising those who need to work.
Such reforms will support people with limited career histories and private savings to help boost their savings and income and improve their wellbeing in retirement.
Employment rates of workers aged 55-59, 60-64 and 65-69 in 2018 (Source: OECD 2019)
Another important consideration is pension spending.
Pension spending in Australia is falling as a proportion of total government expenditure.
Australia is one of ten OECD countries that are projected to spend less on pensions as a proportion of GDP by 2050 under our current arrangements.
According to OECD estimates, the cost of the pension in Australia is expected to fall from 4 per cent of GDP in 2015-16 to 3.7 per cent of GDP in 2060.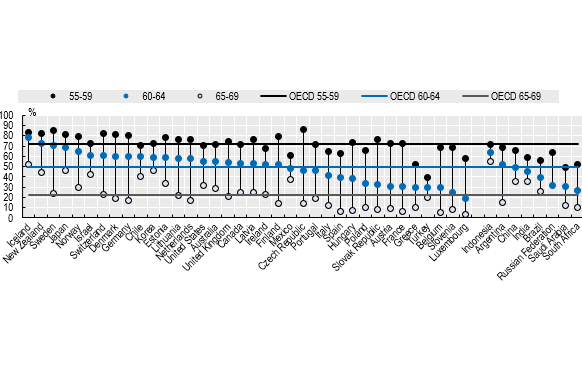 Estimates from Rice Warner show an even better outcome but with a similar trajectory.
According to Rice Warner, Age Pension expenditure as a proportion of GDP is only 2.7% in 2018 and is projected to fall to 2.5% by 2038.
In comparison, the cost of the pension in New Zealand is expected to increase as a proportion of GDP from 4.8 per cent in 2015 to 6.3 per cent in 2030 and 7.9 per cent in 2060.
We don't for one second suggest the system is perfect – far from it.
Poverty rates are clearly too high and not everyone is benefiting from compulsory superannuation.
There are economic challenges ahead, thanks to the increasing cost of quality aged care.
However, as the statistics above show, it's not all doom and gloom.
All Australians deserve a better life in old age, both now and in the future.
We can and should make the system better.
Australian Law Says The Media Can't Spin Lies – 'Entertainment Magazines' Aren't An Exception
February 24, 2020
By Andrew Dodd, Director of the Centre for Advancing Journalism, University of Melbourne
In a recent ruling the Australian Press Council has given a signal to gossip magazines it is OK to make up and publish rubbish about people, so long as the stories aren't "blatantly incorrect".
This is despite the council's own guidelines stating all member publications must strive for accuracy and avoid being misleading.
The council, which adjudicates complaints against the print media, has also suggested it's OK to have less rigorous standards when reporting on royalty and celebrities.
And all this happened in a ruling against a magazine for publishing falsehoods.
A confused adjudication
The council has upheld a complaint about an article published in Woman's Day on May 27 2019. The cover declared: "Palace confirms the marriage is over! Why Harry was left with no choice but to end it."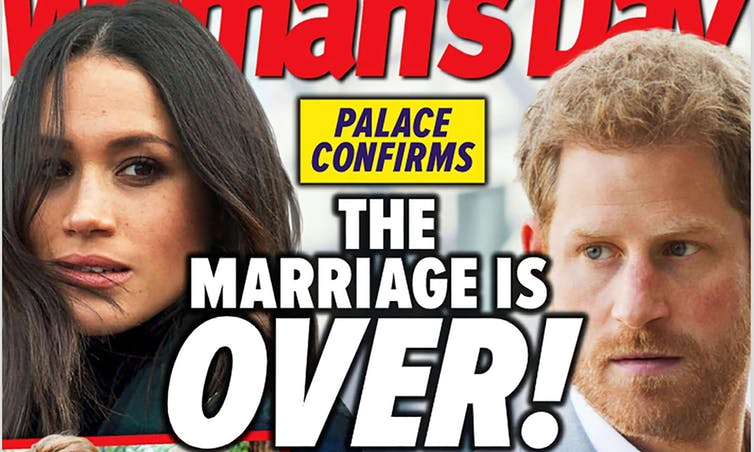 The Woman's Day from May 27 2019 at the centre of this ruling. Woman's Day
The inside story was titled "This is the final straw" and claimed: "Prince Harry has been left enraged and humiliated by a series of shock revelations about his wife's past" and he "has finally reached breaking point".
In upholding the complaint, the Press Council said the headline was "blatantly incorrect" and not supported by the article's contents. It also ruled the headline "was more than just an exaggeration […] it was misleading"."
But the council has sent a strong signal it will be lenient with publications that exaggerate.
It said: "[A]n entertainment publication can be expected to use some exaggeration" and "celebrity and gossip magazines are purchased for light entertainment, with readers not necessarily assuming that everything presented is factual".
The phrase "not necessarily" suggests some people might believe what's presented is factual. But, that aside, why is the Press Council making rulings at odds with its own general principles?
The first principle says publications should "ensure that factual material in news reports and elsewhere is accurate and not misleading and is distinguishable from other material such as opinion".
How does it reconcile these two contradictory ideas? It's a question Marcus Strom, the president of the journalists' union, MEAA Media, has been considering. He told The Conversation:
The Press Council guidelines are clear that all member publications must strive to be factual and not misleading. I'm surprised that falsehoods – where not "everything presented is factual" – are allowed within that definition.
If you've walked past a rack of magazines in the supermarket and wondered just how many times the same celebrity can become pregnant, you may have asked yourself why these publications can print falsehoods on an almost industrial scale. You might have concluded they're just gossip magazines and no one takes them seriously.
That same thinking seems to be driving the Press Council's comments. But is that good enough?
The idea these publications have a special exemption from journalistic standards is a concept with almost no foundation in law. There is no special provision under Australia's defamation laws for this class of magazines.
There is no "celebrity" defence that allows the media to make up lies about people. Even the defamation law's defence of "triviality" offers very little protection. The Rebel Wilson case made that perfectly clear.
Lawyer Dougal Hurley, of Minter Ellison, tells The Conversation gossip magazines trade on light entertainment, and readers "can and do expect a level of hyperbole that they would not in news media".
However, he concludes:
This does not mean that the defence of triviality will succeed if these magazines are sued for defamation. Indeed, the rejection of triviality defences by the jury [in the case of] Wilson is evidence of this. Gossip magazines that have not already changed their editorial practices risk being liable for significant defamation payouts.
Out-of-step thinking
The other controversial suggestion in the ruling is that the media can apply less rigorous standards when reporting on the royal family and celebrities.
The Council also acknowledges that the reasonable steps required to be accurate and not misleading in an article concerning royalty and celebrities can, depending on the circumstances, be different to those required in respect of other persons, particularly those who are not usually in the public eye.
The council offers little reasoning for this, but is no doubt assuming that, as public figures, they should expect incursions on their privacy and sensationalised coverage. Again, the council's thinking is looking out of step with the increased use of the courts to combat inaccurate reporting and false gossip.
Hurley says: "Although in many respects gossip magazines are as they ever were, it is also true that they are bearing more risk in circumstances where they purport to report news and publish to a global audience instantaneously."
He continues:
While international celebrities may appear to be easy targets for gossip magazines, our notoriously plaintiff-friendly defamation laws mean that these celebrities can and will sue in Australia. Only a major overhaul of Australia's defamation laws will prevent the libel tourism that has contributed to Australia becoming the defamation capital of the world.
Perhaps in these circumstances, the Press Council might do its members – and the public – a greater service by insisting proper standards apply to all reporting, and that accuracy and fact checking be the norm, even for the magazines at the supermarket checkout.
This article was first published in The Conversation, republished under a Creative Commons Licence, visit here to read the original report.
Hundreds Of Gifted Children Flock To UNSW Campus
February 21st, 2020
By Rachel Gray
UNSW opens its doors to children across Australia as part of its GERRIC workshops to prevent gifted underachievers becoming lost in the school system.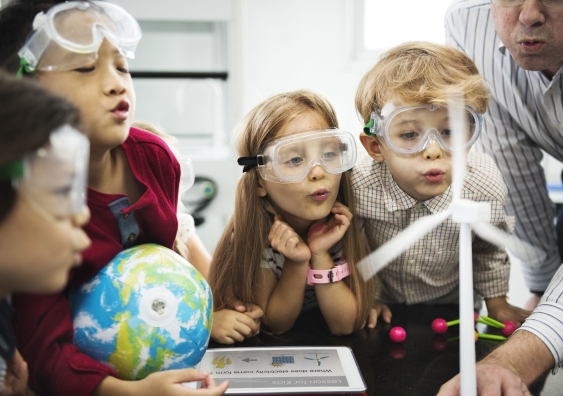 UNSW GERRIC offers programs for gifted children from years 3 to 10
Archie loves to read and has just started Ranger's Apprentice, a series of teenage medieval fantasy books by Australian author John Flanagan. The 12-year-old from the outback NSW town of Dubbo has an aptitude for the written word and recently won $50 in a poetry writing contest at the local RSL.
"I enjoy English, poetry, story writing and reading," Archie says.
But when asked what he wants to be when he grows up, the precocious kid is quick to say "a cricket player."
"It'd be my dream to play cricket for Australia," he says.
"And when I retire, or if I get dropped from the team, if I do end up playing, then I'd like to either be a policeman or an international pilot."
Archie is one of 335 children from across Australia who attended UNSW's unique and highly specialised GERRIC Student Programs for gifted children last month.
GERRIC holds exclusive three-day programs in January and July for kids from years three to 10 at UNSW's Kensington campus in Sydney.
It's a place where kids who outperform in the top 10 per cent for their age group get to learn everything from history, to the arts, mathematics, technology, communication skills, music and more.
This year, Archie has been enrolled in the Spatial Storytelling workshop, taught by UNSW lecturer Dean Utian.
The workshop explores the deeper meaning of architecture and spaces in films, and students get to make their own short video as a result.
Mr Utian, who has nurtured gifted kids at GERRIC for 20 years, says Archie and his newfound friend, Manuel, paired-up to make a two-minute satirical political news report.
"Archie is a sweet student, very motivated, focused, self-directed, engaged and enthusiastic," Mr Utian says.
It is these traits that often characterise gifted kids, he says. "They can pick up on things very quickly, you can introduce something and they'll take it a lot further without much direction."
Archie says he has had fun making the video using editing suite Premiere Pro, a skill which he is excited about developing when he returns to school in Dubbo.
"For the news, we've covered Donald Trump and his impeachment, climate change, the Hong Kong protests and the unsocial balance in society," Archie says of his collaborative effort with his classmate.
"We've also got a green screen and this dude is sitting in a car and he's looking out a window where we've put Greta Thunberg saying; "how dare you?"
Archie's grandmother says her grandson began spelling his own name before his first birthday. But, she says, his giftedness has only been identified in the last 12 months or so.
"So before that," she says, looking adoringly at her grandson sitting beside her, "Arch was having lots of different difficulties at school in some of his social interactions."
"And he's a bit of a gifted underachiever," she says of her grandson who also has Autism Spectrum Disorder.
GERRIC Director, Associate Professor Jae Jung, says that teaching needs to be appropriately pitched to the specific needs of gifted students.
"Typically, this will mean that the teaching needs to be at a faster pace and needs to cover material that is at a greater level of complexity and depth," A/Prof Jae Jung says.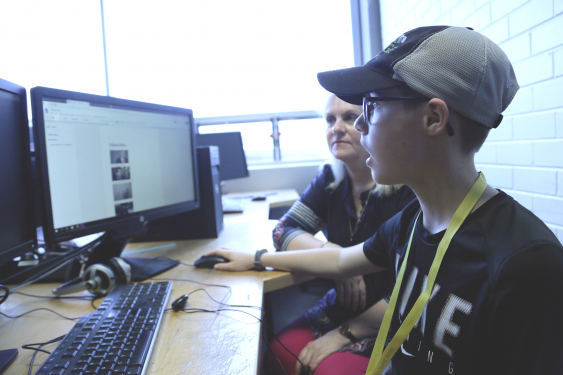 Archie beside his grandma at UNSW GERRIC in Sydney (photo: Rachel Gray)
And UNSW is one of only three universities in Australia that specialise in gifted education as a compulsory part of teacher training programs.
UNSW student Rachel Wilton assisted during the January workshops and is on her way to completing the Responding to Gifted and Talented Students course as part of her teaching degree.
She says being able to identify students who are gifted but are underachieving is a really important skill to prevent them from falling behind in the school system.
"Some of the students grew bored and became distracting to other students if their minds weren't being stimulated enough," she says of the GERRIC workshop she assisted with.
"What I had learnt in theory certainly informed how I prepared, managed behaviour, spoke and explained instructions in the classroom."
Children who attend the GERRIC workshops are often from humble backgrounds and not identified as gifted because of expensive out-of-school tutoring.
And many children from low-income households go unrecognised as gifted because the specialised IQ test costs a pocket-draining $1000.
Archie is the eldest of four and his parents are struggling to maintain their family business during the drought.
"The river," Archie says. "Dad and I used to go fishing heaps but we haven't fished for over a year now because there is no fish in the river. Huge algae has started to grow."
With all this going on in his hometown, the boy from outback Dubbo was even more heartbroken to hear he missed out on one of only very few scholarships on offer.
Thankfully, when teachers attending the monthly Gifted Education workshops heard about Archie's story, they snapped into action by pitching in five, 10 or 20 dollars each.
It was just enough to pay for him to attend the Spatial Storytelling workshop.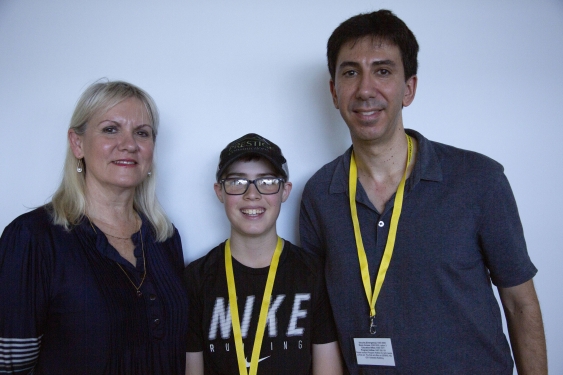 Archie stands between his grandmother and UNSW GERRIC teacher Dean Utian
Archie says he is a "really big fan" of GERRIC and it has given him something to look forward to as he envisions life at UNSW after high-school.
"Dean is a really good teacher," he says.
"And I love the atmosphere - it's really good the way kids respect teachers, and teachers respect kids."
Archie's grandmother says he "finds his people" at GERRIC because he receives the stimulation he craves.
"It's almost like you can see his head expand," she says. "The first night he couldn't get to sleep because he was thinking about what he was going to do tomorrow."
Why Do Whales Migrate? They Return To The Tropics To Shed Their Skin
February 21, 2020: NOAA Fisheries West Coast Region
Whales undertake some of the longest migrations on earth, often swimming many thousands of miles, over many months, to breed in the tropics. The question is why -- is it to find food, or to give birth?
In a research paper in Marine Mammal Science, scientists propose that whales that forage in polar waters migrate to low latitudes to maintain healthy skin.
"I think people have not given skin moult due consideration when it comes to whales, but it is an important physiological need that could be met by migrating to warmer waters," said Robert Pitman, lead author of the new paper and marine ecologist with Oregon State University's Marine Mammal Institute. He was formerly with NOAA Fisheries' Southwest Fisheries Science Center in La Jolla, California.
More than a century ago, whalers recognised that most whales that forage in high latitudes migrate to the tropics for calving. Scientists have never agreed on why. Because of their size, large whales should be able to successfully give birth in frigid polar waters. Due to reduced feeding opportunities in the tropics, most whales fast during their months-long migrations.
So why go to the trouble?
Warm Water Speeds Moulting
All birds and mammals regularly shed their skin, fur, or feathers in a process known as moulting. Pitman and his coauthors propose that whales foraging in the freezing waters of Antarctica conserve body heat by diverting blood flow away from their skin. That would reduce regeneration of skin cells and halt the normal sloughing of skin.
Migrating to warmer water would allow whales to revive their skin metabolism and moult in an environment that does not sap their body heat. The authors suggest that this drives their migrations.
The two lead authors on the study first proposed in 2011 that skin moult could drive the migration for certain Antarctic killer whales. With new data, they now propose the same for all Antarctic killer whales and possibly all whales that migrate to the tropics.
Coauthors on the paper include scientists from NOAA Fisheries; SeaLife Response, Rehabilitation, and Research; and the Italian National Institute for Environmental Protection and Research.
Over eight years, scientists deployed 62 satellite tags on killer whales. They found that all four types that feed in frigid Antarctic waters migrated as far as 11,000 kilometres (almost 7,000 miles) round trip. Most migrations were fast, non-stop, and largely straight north and back. One whale completed two such migrations in 5.5 months. Researchers also photographed newborn killer whale calves in Antarctica, indicating the whales don't need to migrate to warmer waters to give birth.
They suggest that larger whales that migrate to the tropics to moult may have begun giving birth in those same warmer waters. "Instead of whales migrating to the tropics or subtropics for calving, whales could be traveling to warm waters for skin maintenance and perhaps find it adaptive to bear their calves while they are there," the scientists wrote. The warm water could speed the growth of calves in an environment with far fewer killer whales, their main predator.
Much like humans, whales and dolphins normally shed outer skin cells continuously. Scientists observed that whales in frigid Antarctic waters are often discoloured by a thick yellow film of microscopic diatoms. This indicated that they were not experiencing their normal, "self-cleaning" skin moult.
Early whalers referred to blue whales with a heavy coating of diatoms on their white bellies as "sulfur-bottoms." They also assumed that whales without a diatom coating were likely recent arrivals from the tropics. When whales shed their skin, they also shed the diatoms.
Moulting Jettisons Harmful Bacteria
Recent studies have found that high concentrations of diatoms on the skin of Antarctic killer whales may also accumulate potentially harmful bacteria.
"Basically, the feeding is so good in productive Antarctic waters that the relatively small, warm-blooded killer whale has evolved a remarkable migration behaviour. This enables it to exploit these resources and still maintain healthy skin function," said John Durban, coauthor of the research, formerly with the science center and now a senior scientist at SEA Inc.
In another example, beluga whales in the Arctic are known for gathering in summer in river estuaries. The water there is warmer, fresher, and shallower than their typical habitat. At first, scientists assumed that they gathered there to give birth and that the warmer temperatures boosted calf survival.
It turned out that belugas do not calve or feed in the estuaries but go there to moult. In an earlier study, an Inuit hunter pointed out that "Belugas go to the rivers for warmth. And like seals they moult their skins. They moult in the warm water."
The annual (versus continuous) moult cycle of the beluga was long thought to be unique among cetaceans. But, if whales are migrating to the tropics to moult, annual moult "may prove to be the rule among all high-latitude cetaceans," the authors wrote.
In terms of biomass, whales complete the largest annual migrations on earth. They transport millions of tons of animals thousands of miles, with significant impact on local ecosystems, the scientists say. They also call for further testing of their hypothesis by assessing skin growth of migratory and non-migratory whales, at high and low latitudes, throughout the year.
Robert L. Pitman, John W. Durban, Trevor Joyce, Holly Fearnbach, Simone Panigada, Giancarlo Lauriano.
Skin in the game: Epidermal molt as a driver of long‐distance migration in whales.
Marine Mammal Science, 2019; DOI:
10.1111/mms.12661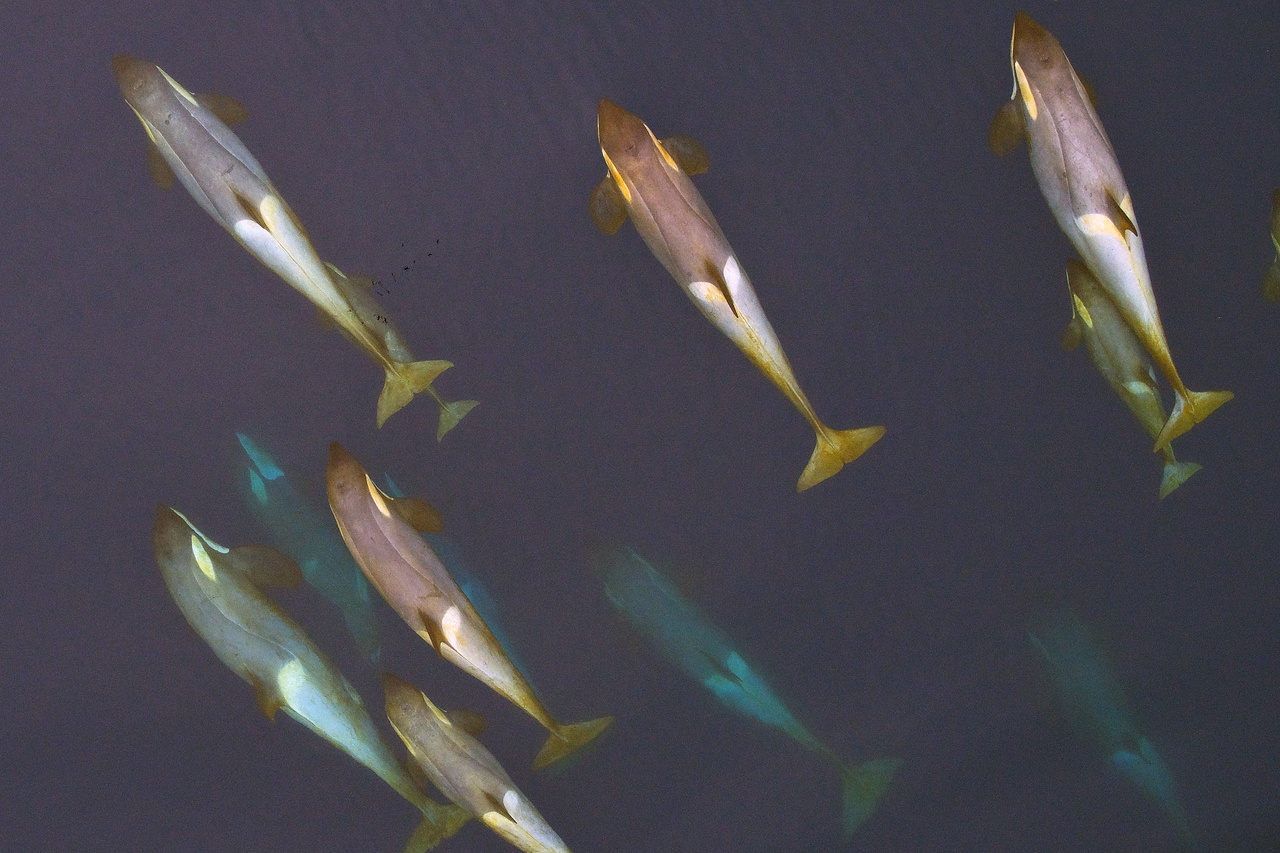 Killer whales in Antarctica, as shown here, often display a yellow coloration due to diatom accumulation on their skin, evidence that they are not sloughing skin in frigid waters. Image collected by John Durban (NOAA) and Holly Fearnbach (SR3) using a remotely controlled hexacopter drone at 100ft altitude, authorized by NMFS research permit 19091 and Antarctic Conservation Act Permit 2017-029. Photo credit: SR3/NOAA Fisheries.

New Front Opened In Fight Against Common Cancer Driver
Walter and Eliza Hall Institute researchers have revealed a new vulnerability in lymphomas that are driven by one of the most common cancer-causing changes in cells.
The team revealed that the protein MNT is required for the survival of lymphoma cells that are driven by the protein MYC. Up to 70 per cent of human cancers -- including many blood cancers -- have high levels of MYC, a protein which forces cells into abnormally rapid growth.
The research, led by Professor Suzanne Cory, Dr Hai Vu Nguyen and Dr Cassandra Vandenberg, suggests that potential therapies targeting MNT could be effective new treatments for MYC-driven cancers.
The majority of human cancers are driven by high levels of the protein MYC, but it has been challenging to develop new medicines that directly inhibit MYC.
Our researchers revealed that MYC-driven lymphoma cells rely on the protein MNT for their survival, and without MNT the cells rapidly die.
The results suggest that inhibiting MNT might be an effective new approach for treating MYC-driven cancers.
High levels of the MYC protein are found in up to 70 per cent of human cancers. MYC controls hundreds of genes, driving rapid cell production, said Professor Cory, who has studied MYC-driven cancers since the early 1980s.
"For many years we hoped for a drug that could directly target MYC as a potential cancer treatment, but to date such inhibitors have been disappointing in the clinic," she said. "It became clear we needed to look for other vulnerabilities in MYC-driven cancers."
The team successfully identified a new target for tackling MYC-driven cancers by homing in on the role of a protein related to MYC, called MNT. Their research was published in the journal Blood.
By deleting the gene encoding MNT from MYC-driven lymphocytes -- the type of immune cell from which lymphomas arise -- the team found that MNT played a significant role in MYC-driven lymphoma development, Dr Vandenberg said.
"In our laboratory models, the incidence of MYC-driven lymphomas was greatly reduced when MNT was absent. This showed us that MNT had a vital role at some stage during lymphoma development," she said.
"That role became clear when we found that pre-cancerous cells lacking MNT had high levels of apoptotic cell death," said Dr Nguyen. "Thus, MNT is required to keep MYC-driven cells alive."
Towards better treatments
Dr Nguyen said that the team went on to examine the impact of depleting MNT from fully malignant MYC-driven lymphomas. "When we did this, we saw that the tumour cells rapidly died," he said. "This suggests MNT could well be a promising new therapeutic target for MYC-driven lymphomas."
Professor Cory said the researchers would now look at whether MNT was important in other MYC-driven cancers.
"Inhibiting MNT may also make tumours more susceptible to other drugs such a BH3-mimetics which directly target the cell's death machinery.
"Although a lot of work remains to be done to develop and test a new MNT-inhibiting therapy, our discovery opens up a new front in tackling MYC-driven cancers," Professor Cory said.
The research was supported by the Australian National Health and Medical Research Council, the US-based Leukemia and Lymphoma Society, philanthropic support to the Walter and Eliza Hall Institute and the Victoria Government.
Hai Vu Nguyen, Cassandra J Vandenberg, Ashley P Ng, Mikara R Robati, Natasha S Anstee, Joel Rimes, Edwin Hawkins, Suzanne Cory.
Development and Survival of MYC-driven Lymphomas Requires MYC-Antagonist MNT to Curb MYC-induced Apoptosis
. Blood, 2020; DOI:
10.1182/blood.2019003014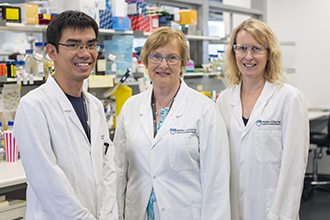 A new vulnerability in lymphomas driven by MYC has been discovered by (from left) Dr Hai Vu Nguyen, Professor Suzanne Cory and Dr Cassandra Vandenberg.

Unique Non-Oxygen Breathing Animal Discovered
February 25, 2020: American Friends of Tel Aviv University
Researchers at Tel Aviv University (TAU) have discovered a non-oxygen breathing animal. The unexpected finding changes one of science's assumptions about the animal world.
A study on the finding was published on February 25 in the Proceedings of the National Academy of Sciences by TAU researchers led by Prof. Dorothee Huchon of the School of Zoology at TAU's Faculty of Life Sciences and Steinhardt Museum of Natural History.
The tiny, less than 10-celled parasite Henneguya salminicola lives in salmon muscle. As it evolved, the animal, which is a myxozoan relative of jellyfish and corals, gave up breathing and consuming oxygen to produce energy.
"Aerobic respiration was thought to be ubiquitous in animals, but now we confirmed that this is not the case," Prof. Huchon explains. "Our discovery shows that evolution can go in strange directions. Aerobic respiration is a major source of energy, and yet we found an animal that gave up this critical pathway."
Some other organisms like fungi, amoebas or ciliate lineages in anaerobic environments have lost the ability to breathe over time. The new study demonstrates that the same can happen to an animal -- possibly because the parasite happens to live in an anaerobic environment.
Its genome was sequenced, along with those of other myxozoan fish parasites, as part of research supported by the U.S.-Israel Binational Science Foundation and conducted with Prof. Paulyn Cartwright of the University of Kansas, and Prof. Jerri Bartholomew and Dr. Stephen Atkinson of Oregon State University.
The parasite's anaerobic nature was an accidental discovery. While assembling the Henneguya genome, Prof. Huchon found that it did not include a mitochondrial genome. The mitochondria is the powerhouse of the cell where oxygen is captured to make energy, so its absence indicated that the animal was not breathing oxygen.
Until the new discovery, there was debate regarding the possibility that organisms belonging to the animal kingdom could survive in anaerobic environments. The assumption that all animals are breathing oxygen was based, among other things, on the fact that animals are multicellular, highly developed organisms, which first appeared on Earth when oxygen levels rose.
"It's not yet clear to us how the parasite generates energy," Prof. Huchon says. "It may be drawing it from the surrounding fish cells, or it may have a different type of respiration such as oxygen-free breathing, which typically characterizes anaerobic non-animal organisms."
According to Prof. Huchon, the discovery bears enormous significance for evolutionary research.
"It is generally thought that during evolution, organisms become more and more complex, and that simple single-celled or few-celled organisms are the ancestors of complex organisms," she concludes. "But here, right before us, is an animal whose evolutionary process is the opposite. Living in an oxygen-free environment, it has shed unnecessary genes responsible for aerobic respiration and become an even simpler organism."
TEM image of H. salminicola mitochondrion-related organelle with few cristae.

Dayana Yahalomi, Stephen D. Atkinson, Moran Neuhof, E. Sally Chang, Hervé Philippe, Paulyn Cartwright, Jerri L. Bartholomew, Dorothée Huchon.
A cnidarian parasite of salmon (Myxozoa: Henneguya) lacks a mitochondrial genome.
Proceedings of the National Academy of Sciences, 2020; 201909907 DOI:
10.1073/pnas.1909907117
Still A Fan Of The Golden Tan?: Tune In To Social Media And Tone Down Your Risk Of Skin Cancer
February 26, 2020: University of South Australia
Social media smarts could make you less susceptible to skin cancer as new research shows that media literacy skills can help change people's attitudes about what is believed to be the 'tanned ideal'.
Conducted by the University of South Australia, the research tested the ability of social media to influence people's perceptions of tanning, finding that the greater an individual's ability to critically access and evaluate social media posts, the less likely they were to idealise a golden tan.
The world-first study found that individuals with higher media literacy capabilities were much less likely to embrace or compare themselves to a tanned ideal, yet the opposite was true for those with fewer media literacy skills.
Lead researcher, UniSA's Dr John Mingoia, says the findings highlight the importance of incorporating media literacy into sun safe education initiatives.
"The desire for tanned skin has long been part of Australian culture, yet despite everything we know about the dangers of tanning and the risk of skin cancer, people are still engaging in unsafe sun behaviour in the quest for what they consider a healthy golden glow," Dr Mingoia says.
"In Australia, where we're exposed to some of the highest levels of UV radiation in the world (and correspondingly, have one of the highest rates of skin cancer in the world), the desire for tanned skin is undeniably dangerous.
"The challenge is that people are exposed to images of the 'tanned ideal' on social media platforms -- Instagram, Facebook, Snapchat and YouTube -- where their perceptions of attractiveness are shaped and reinforced by images from advertisers, influencers, bloggers, and friends, many of which have been artificially enhanced or manipulated.
"It's this kind of everyday organic content that we're trying to combat, so that young adults can more easily identify the pervasive way that social media can influence their knowledge, attitudes and behaviours.
The study tested the responses of 151 young Australian adults (61 male and 90 females, aged 18-29) after exposure to a series of social media posts that featured either tanned or paler-skinned models. The most common skin type in the study was Fitzpatrick skin Type III (45 per cent) -- people whose skin reacts to the sun by possibly freckling, burning on occasion, and sometimes tanning. Media literacy was assessed using the Media Attitudes Questionnaire (MAQ), a Likert-type ranking scale, that was adapted to test media literacy in relation to the tanned ideal.
The study showed that, on average, participants used social media for close to 173 minutes (three hours) a day, splitting their time between Facebook (96.7 per cent), YouTube (84.8 per cent), Instagram (69.5 per cent) and SnapChat (69.5 per cent).
Dr Mingoia says that social media presents additional barriers to healthy sun behaviours.
"Increasing people's knowledge of how social media messages are constructed, manipulated and altered, as well as their capacity to impact cognition and attitudes, will improve awareness and scepticism of content on social media," Dr Mingoia says.
"What we're looking to do is add a complementary layer to existing sun safe education which we hope will lead to a reduced acceptance of what people see relating to tanned ideals on social media and consequently, better health outcomes.
"With more than 90 per cent of young adults regularly using social media, it's a space we cannot afford to overlook in the battle to combat skin cancer."
John Mingoia, Amanda D. Hutchinson, David H. Gleaves, Carlene Wilson.
Does Better Media Literacy Protect Against the Desire for Tanned Skin and Propensity for Making Appearance Comparisons?
Social Media Society, 2020; 6 (1): 205630512090536 DOI:
10.1177/2056305120905366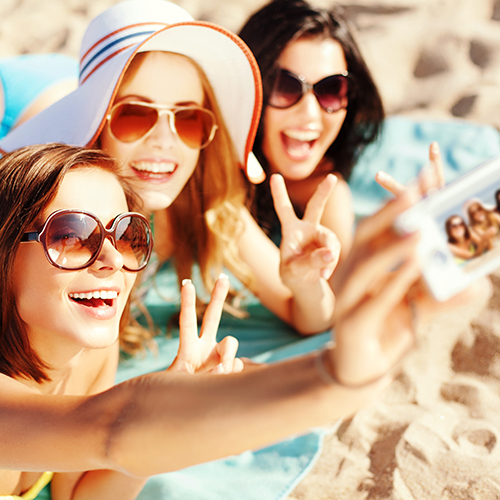 Turbulent Times Revealed On Asteroid 4 Vesta
Planetary scientists at Curtin University have shed some light on the tumultuous early days of the largely preserved protoplanet Asteroid 4 Vesta, the second largest asteroid in our Solar System.
Research lead Professor Fred Jourdan, from Curtin University's school of Earth and Planetary Sciences, said Vesta is of tremendous interest to scientists trying to understand more about what planets are made of, and how they evolved.
"Vesta is the only largely intact asteroid which shows complete differentiation with a metallic core, a silicate mantle and a thin basaltic crust, and it's also very small, with a diameter of only about 525 kilometres," Professor Jourdan said.
"In a sense it's like a baby planet, and therefore it is easier for scientists to understand it than say, a fully developed, large, rocky planet."
To give you an idea of its size, you could squeeze at least three Vesta-size asteroids side by side in the state of New South Wales, Australia.
Vesta was visited by the NASA Dawn spacecraft in 2011, when it was observed that the asteroid had a more complex geological history than previously thought. With the aim of hoping to understand more about the asteroid, the Curtin research team analysed well-preserved samples of volcanic meteorites found in Antarctica that were identified as having fallen to Earth from Vesta.
"Using an argon-argon dating technique, we obtained a series of very precise ages for the meteorites, which gave us four very important pieces of new information about timelines on Vesta," Professor Jourdan said.
"Firstly, the data showed that Vesta was volcanically active for at least 30 million years after its original formation, which happened 4,565 million years ago. While this may seem short, it is in fact significantly longer than what most other numerical models predicted, and was unexpected for such a small asteroid.
"Considering that all the heat-providing radioactive elements such as aluminium 26 would have completely decayed by that time, our research suggests pockets of magmas must have survived on Vesta, and were potentially related to a slow-cooling partial magma ocean located inside the asteroid's crust."
Co-researcher Dr Trudi Kennedy, also from Curtin's School of Earth and Planetary Sciences, said the research also showed the timeframes when very large impacts from asteroids striking Vesta were carving out craters of ten or more kilometres deep from the asteroid's volcanically active crust.
"To put this into perspective, imagine a large asteroid smashing into the main volcanic island of Hawaii and excavating a crater 15 kilometres deep -- that gives you an idea of what tumultuous activity was happening on Vesta in the early days of our Solar System," Dr Kennedy said.
Scientists further explored the data to understand what was happening deeper in the asteroid by calculating how long it took for Vesta's deep crustal layer to cool down. Some of these rocks were located too deep in the crust to be affected by asteroid impacts, and yet, being relatively close to the mantle, they were strongly affected by the natural heat gradient of the protoplanet and were metamorphosed as a result.
"What makes this interesting is that our data further confirms the suggestion that the first flows of erupted lava on Vesta were buried deep into its crust by more recent lava flows, essentially layering them on top of each other. They were then 'cooked' by the heat of the protoplanet's mantle, modifying the rocks," Dr Kennedy said.
The team also concluded that the meteorites they analysed were excavated from Vesta during a large impact, possibly 3.5 billion years ago, and were agglomerated deep into a rubble pile asteroid, where they were protected from any subsequent impacts.
A rubble pile asteroid is formed when a group of ejected rocks assemble under their own gravity, creating an asteroid that is essentially a pile of rocks clumped together.
"This is very exciting for us because our new data brings lots of new information about the first 50 million years or so of Vesta's early history, which any future models will now have to take in to account," Dr Kennedy said.
"It also raises the point that if volcanism could last longer than previously thought on the protoplanet, then maybe volcanism on the early Earth itself might have been more energetic than we currently think."
F. Jourdan, T. Kennedy, G.K. Benedix, E. Eroglu, C. Mayer.
Timing of the magmatic activity and upper crustal cooling of differentiated asteroid 4 Vesta.
Geochimica et Cosmochimica Acta, 2020; 273: 205 DOI:
10.1016/j.gca.2020.01.036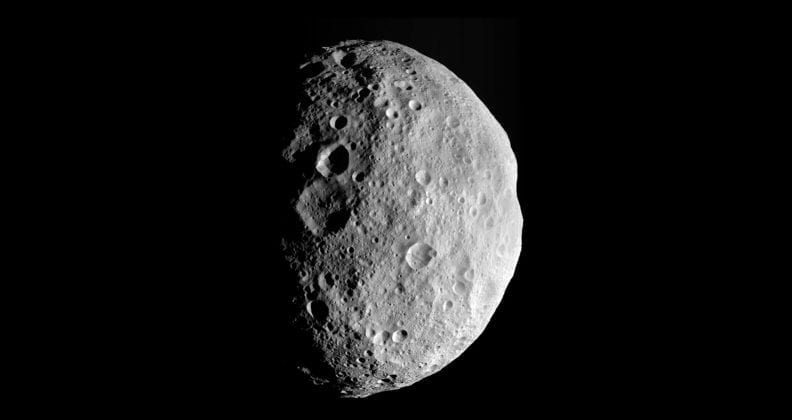 A last look back at Vesta: This image is from the last sequence of images the NASA Dawn spacecraft obtained of the giant asteroid Vesta, looking down at Vesta's north pole as it was departing. Photo Credit: NASA

New Strategy To Protect Wine Grapes From Smoke-Taint
February 24, 2020: University of British Columbia Okanagan campus
It's a problem plaguing grape-growers worldwide -- in an ever-changing climate, how can they protect their crops from the undesirable effects of wildfire smoke exposure.
A recent study by a team of UBC Okanagan researchers has led to the development of a preventative strategy for protecting grapes from volatile phenols -- flavoured compounds present in smoke that may be absorbed into ripening grapes and subsequently impact wine flavour.
"It's definitely one of, if not the biggest concern wine-making communities are facing today," says Wesley Zandberg, assistant professor in chemistry at UBC Okanagan and study author.
"When you look at the catastrophic wildfire seasons California and the Okanagan Valley have experienced in recent years, and the season Australia is experiencing now, I don't think a solution can come quickly enough," he says. "Winemakers are under a lot of pressure to find a way to protect their crops."
Zandberg and his team tested multiple substances and found that applying an agricultural spray composed of phospholipids -- typically used to prevent cracking in cherries -- to wine grapes one week before exposing them to simulated forest fire smoke significantly reduced the levels of volatile phenols measured in smoke-exposed grapes at commercial maturity.
"The results are encouraging," says Zandberg. "This strategy has shown potential in its ability to protect crops."
According to Zandberg, when wine grapes absorb compounds from smoke, the grapes react by coating the compounds in sugar using their enzymes. This sugar coating masks the smoky odour and taste of volatile phenols until it's released again by yeast during the fermentation process.
"Many grape-growers don't have the means to pay to test their crops, so since smoke-taint can't be reliably detected until grapes are fermented, producers have to wait weeks to know whether their plants are suitable or not," explains Zandberg. "Meanwhile, costs and risks mount as their crops sit on the vine."
Zandberg adds that smoke-tainted crops can have a more devastating effect for some wine producers than others.
"A lot of wineries in the Okanagan Valley only use local grapes, so they don't have the option of purchasing grapes from Washington or Oregon, as they wouldn't be considered local," explains Zandberg. "When your whole business model is fermenting what you produce, you're in big trouble if your grapes are tainted."
For Zandberg, it's the people and their livelihoods that keep him determined to find a solution.
"In 2003, the wildfires in Australia cost their wine industry $300 million dollars in lost revenue, and I imagine they'll experience a similar loss this year, if not more," he says.
"Our team has developed a strategy that's proven to be successful, but there's still a long way to go," admits Zandberg. "Now, we need to work on replicating and refining these results to alleviate crop losses experienced globally by the wine industry."
The study was published recently in the Journal of Agricultural and Food Chemistry.
James W. Favell, Matthew Noestheden, Sarah M. Lyons, Wesley F. Zandberg.
Development and Evaluation of a Vineyard-Based Strategy To Mitigate Smoke-Taint in Wine Grapes.
Journal of Agricultural and Food Chemistry, 2019; 67 (51): 14137 DOI:
10.1021/acs.jafc.9b05859
Disclaimer: These articles are not intended to provide medical advice, diagnosis or treatment. Views expressed here do not necessarily reflect those of Pittwater Online News or its staff.