Inbox and Environment News: Issue 435
January 26 - February 1, 2020: Issue 435
Hot Days Forecast: Please Keep Your Bird Baths Topped Up Or Put Out Shallow Dishes Of Water In The Shade For Local Fauna
During this January break please be mindful of our local native animals and
place shallow dishes in the shade
with sticks or twigs to climb on. With BOM weather forecasts predicting soaring heat over the next few weeks we need to look out for and care for the original residents.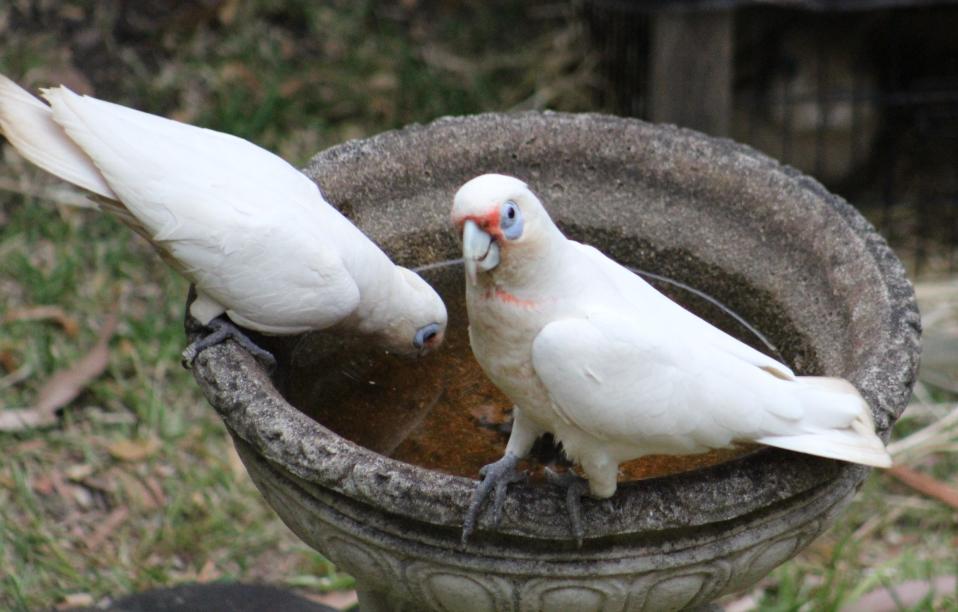 PNHA Bushcare Grants For Mona Vale Dunes And Avalon Golf Course: A Great Option For Duke Of Ed. 2020 Aspirants
In mid December 2019 the Pittwater Natural Heritage Association (PNHA) received a grant of $12 215 for bush regeneration on Mona Vale Dunes. This comes from the Federal electorates Communities Environment Program and will pay for contract bush regenerators to tackle more of the awful weeds on the dunes. Work will begin in February 2020. Northern Beaches Council will provide about 800 native plants to speed revegetation of the very degraded site.
The grant is very welcome to the volunteers of the Mona Vale Bushcare group who have been planting and weeding on the dunes near the end of Golf Ave since 2005 and seen huge improvements. The Yellow area on photo shows where first work will begin. The volunteers have been working north of this area toward Golf Ave. All hands are welcome to join this bushcare group - they meet on the
2nd Saturday +3rd Thursday each month 8:30 - 11:30am - they're morning teas have become the stuff of
legends
- find out more in:
Mona Vale Beach Dunes Bushcare
Just before Christmas 2019 PNHA, on behalf of Avalon Preservation Association, received a very welcome grant of $10 000 for bush regeneration in the bushland of Avalon Golf Course.
Over 120 native species, including some unusual ones in the Pittwater area, grow on this land. The project will be managed in partnership with Northern Beaches Council; work will probably start in early February.
The grant comes from the Communities Environment Program, through the Federal Electorates. More hands are welcome here too,
Duke
of Ed. 2020 aspirants; maybe this could be for you?
Photos: Flannel Flowers and the shrub Jacksonia scoparia, or Dogwood (from its strong odour when burning, not tested by us!!) -
Narrabeen Beach & Lagoon Clean Up 2020
Sunday, January 26, 2020 at 10 AM – 12:15 PM
Hosted by Northern Beaches Clean Up Crew
Our clean ups are always the last Sunday of every month at 10am and our next clean up is in Narrabeen. All welcome to this family friendly event! (We just ask you to leave your political messages at home) The more the merrier. We start on time and clean for about an hour and then we count all the rubbish and submit the data o a marine debris research data base. We have gloves, bags and buckets. Do a good deed for the planet and make new friends at the same time. No need to bring anything but a smile!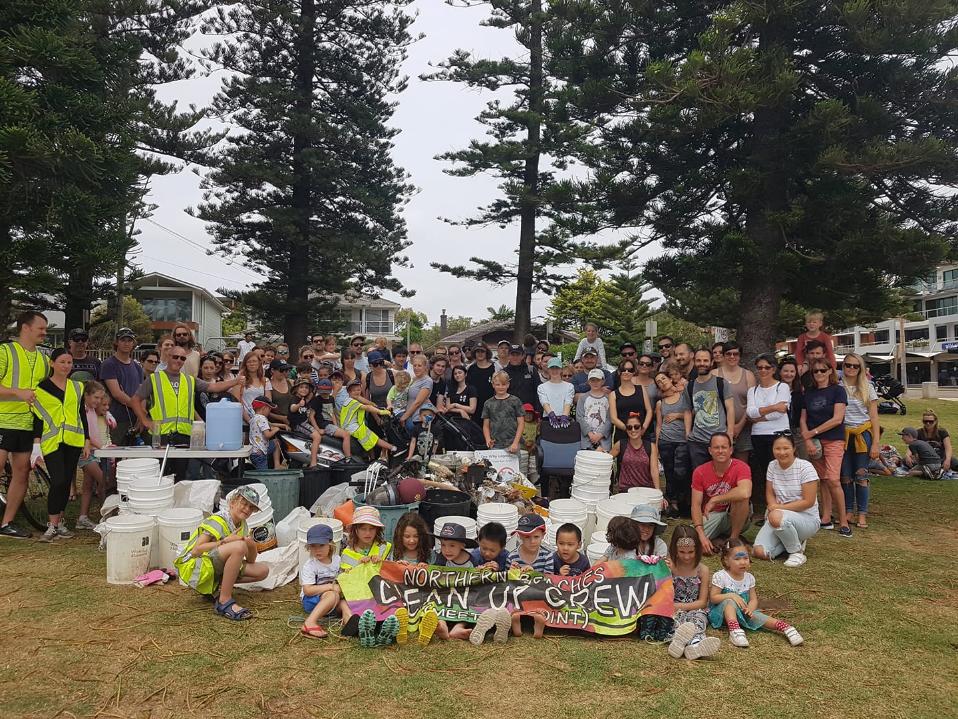 Avalon Boomerang Bags Summer Time 2020: Workshops Resume January 28th
Workshops resume for 2020:

Tuesday 28th January 11.30am - 3.30pm
Avalon Recreation Centre
Come for an hour or more, there plenty of cutting, pinning, ironing and of course sewing. Enjoy a cuppa and fabulous company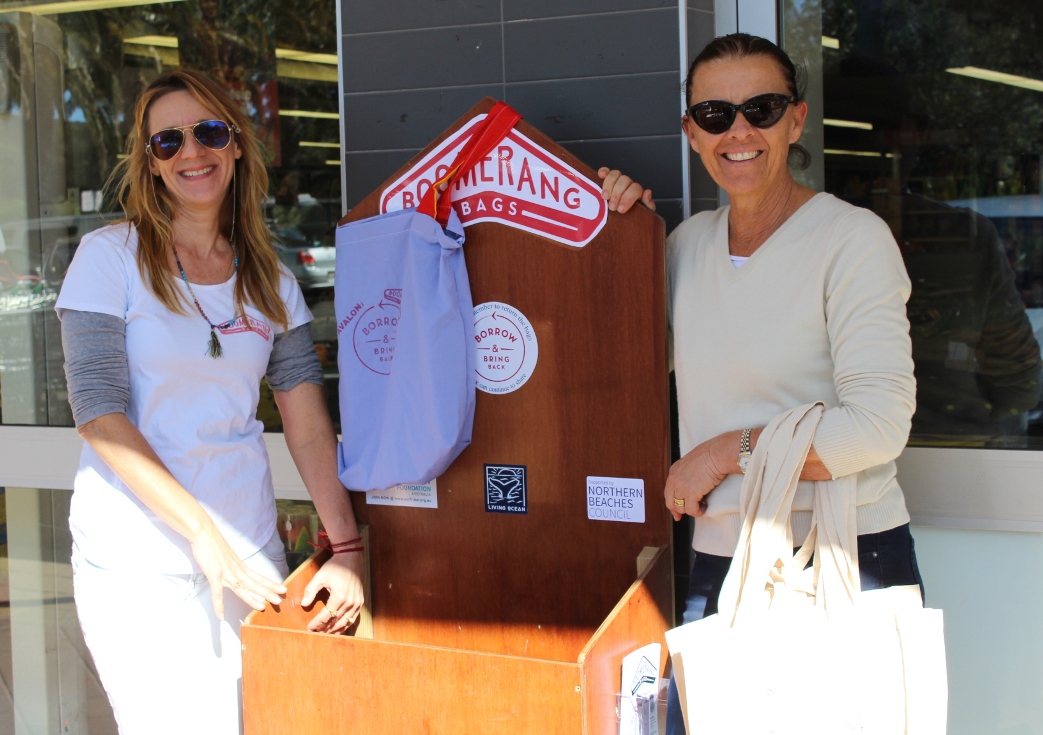 Warriewood Wetlands Twilight Walk
Hosted by Dragonfly Environmental
Sunday February 2nd, 2020 at 6:30 PM – 8:30 PM
Katoa Close, North Narrabeen
Details: It is a magical time of the evening to listen and watch Warriewood Wetlands come alive as the sun sets and the creatures of the night come out to play.
Geraldene Dalby-Ball, one of Australia's leading experts in ecological restoration, will be guiding you through the underground and freshwater systems of the wetlands whilst sharing her knowledge from the Original Peoples of Australia.It will be an evening not to miss.
This is a free event and suitable for all ages.
Pack a water bottle and feel free to bring your camera and binoculars. Meet at Katoa Close at 6.15pm to start the walk at 6.30pm.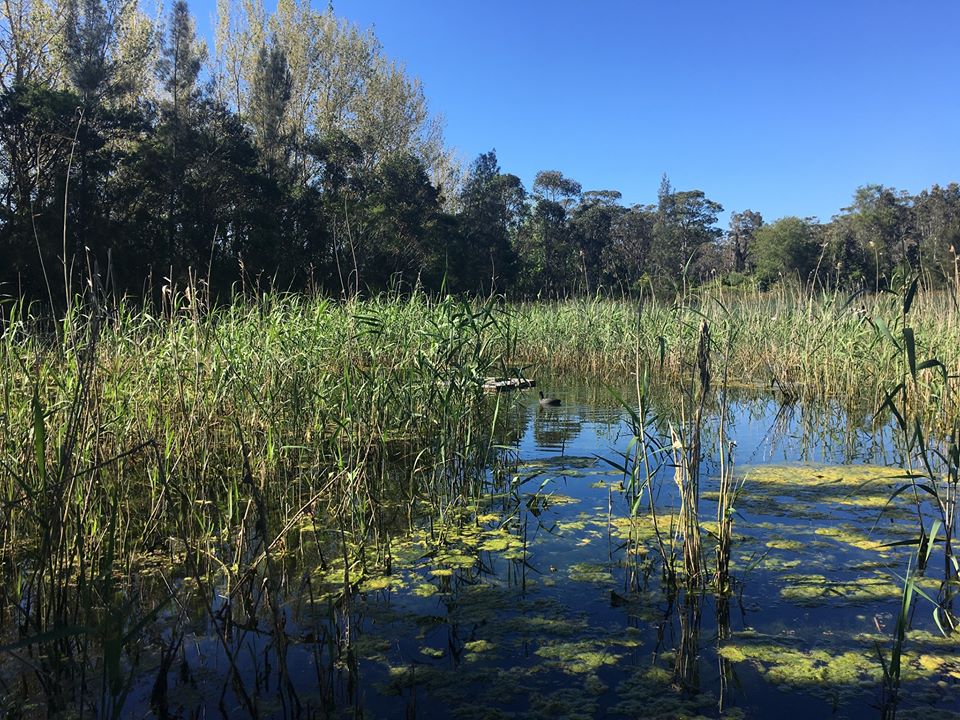 Save The Northern Beaches From Blasting And Drilling For Gas Event In Manly: Zali Steggal MP & Abigail Boyd MP Speakers
Hosted by Save Our Coast / Stop Seismic Testing
Sunday February 2nd, 2020
UPDATE: ZALI STEGGAL MP and ABIGAIL BOYD MP as guest speakers!
An afternoon of Information, inspiring speakers and a free film screening, to save our coast, save our climate and save the Australia we all love.
In the wake of the catastrophic fires that have decimated wildlife, instead of plans to reduce emissions to protect climate, plans are afoot for devastating seismic blasting and drilling for gas within PEP 11 (Petroleum Exploration Permit 11 - 4,500 square km of ocean from Manly to Newcastle). Blasting and drilling for fossil fuels off our beautiful coast in a climate emergency? Further damage to our climate, increasing bushfire risk, harming marine animals and risking destroying our coast that we all share a deep connection to?
As extreme weather caused by climate damage exacerbates drought, rises temperatures and worsens bushfires, please join us in the spirit of hope, for a Sunday afternoon of information and community action to help us Save Our Coast, save our climate and save the Australia we all love. (cuppa and cake provided)
Friends Of Narrabeen Lagoon February 2020 Forum -
Catchment Secrets Of Narrabeen Lagoon Catchment: Discoveries So Far In The 21st Century

Next Forum: 7pm Monday Feb 24, 2020
Coastal Environment Centre, Pelican Path
Lake Park Road, Narrabeen
Catchment Secrets of Narrabeen Lagoon Catchment: Discoveries so far in the 21st Century
Jayden is always inspiring, telling us about finding various creatures in the wild. He will describe and show images of some of the very special wildlife that is in the catchment of Narrabeen Lagoon, especially recent sightings.
As of the time of writing this, bushfire has not impacted the catchment. Here's hoping this remains the case for the sake of the wildlife. Check that February 24 is in your diary and, so that you don't miss out,
book your ticket early by emailing Judith Bennett email@narrabeenlagoon.org.au
Jayden Walsh is offering a special guided night walk at Katoa close
from 7:30 to 9:30pm on Friday, the 28th February,
at Warriewood Wetlands to meet some of the creatures that he will talk about on the previous Monday. (See item above bout the Forum.)
Friends Of Narrabeen Lagoon Catchment: Bushwalks 2020
Sat 8/2/ 2020 Walk & Weed.
If dry conditions: Meet 7.30am at Deep Creek near dog training area; walk 1hr next to Deep Creek and contributory creek. Weeding (2hrs):small leaved privet, Crofton weed, Ludwigia peruviana and possibly some grass. Walk back and finish at 11:30am.
If wet, but not too wet: Terrey Hills to Morgan Road, with some weeding along 5 Mile Creek track.
Sun 1/3/2020 walk & plant identification
Meet 8am near 27 Morgan Rd for Narrabeen Lagoon Catchment Transverse.
Carpooling required as we finish at Deep Creek.
Sun 26/4/2020 Cromer Circle
Cromer Circle with 1 hr for weeding grasses along the track of Aboriginal carvings. Fabulous views over the lagoon and its valleys, and viewing of carvings.
10am - 3pm. Limited numbers.
Sat 23/5/2020 Explorative Walk
9am explorative walk from Morgan Rd to N/W catchment corner.
Sun 21/6/2020 walk & weed.
Meet 9am at Deep Creek near dog training area; walk 1hr next to Deep Creek and contributory creek. Weeding 1hr—crofton weed, Ludwigia peruviana etc. Continue walk to Baha'i temple and carpool back ~ 2pm.
PNB 1st Meeting For 2020:
Habitat Protection
Thursday, February 27, 2020: 7:30pm – 9:00pm
Transhed Art and Community Centre
1395 Pittwater Road, Narrabeen
Our first meeting of 2020 focuses on protecting our bushland, eco-systems and habitats.
Permaculture Northern Beaches (PNB) is an active local group based on Sydney's Northern Beaches. We are an independent organisation registered as an association in NSW.
PNB hold monthly permaculture related events on the last Thursday of each month at the Tramshed Community Arts Centre, Lakeview Room, 1395A Pittwater Road, Narrabeen. Buses stop directly at the Centre and there is also car parking. Doors open at 7:15 pm. Meetings are February to November.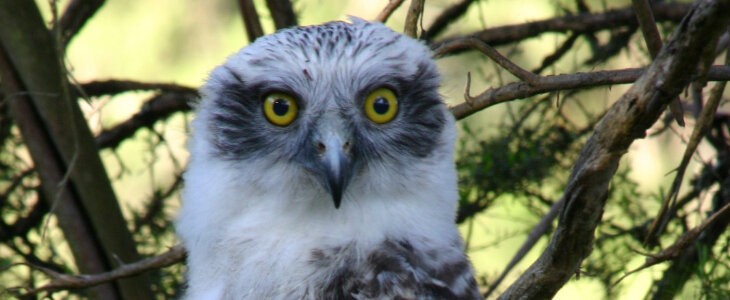 Bushcare In Pittwater
For further information or to confirm the meeting details for below groups, please contact Council's Bushcare Officer on 9970 1367
BUSHCARE SCHEDULES
Where we work Which day What time
Avalon
Angophora Reserve 3rd Sunday 8:30 - 11:30am
Avalon Dunes 1st Sunday 8:30 - 11:30am
Avalon Golf Course 2nd Wednesday 3 - 5:30pm
Careel Creek 4th Saturday 8:30 - 11:30am
Toongari Reserve 3rd Saturday 9 - 12noon (8 - 11am in summer)
Bangalley Headland 2nd Sunday 9 to 12noon
Bayview
Winnererremy Bay 4th Sunday 9 to 12noon
Bilgola
North Bilgola Beach 3rd Monday 9 - 12noon
Algona Reserve 1st Saturday 9 - 12noon
Plateau Park 1st Friday 8:30 - 11:30am
Church Point
Browns Bay Reserve 1st Tuesday 9 - 12noon
McCarrs Creek Reserve Contact Bushcare Officer To be confirmed
Clareville
Old Wharf Reserve 3rd Saturday 8 - 11am
Elanora
Kundibah Reserve 4th Sunday 8:30 - 11:30am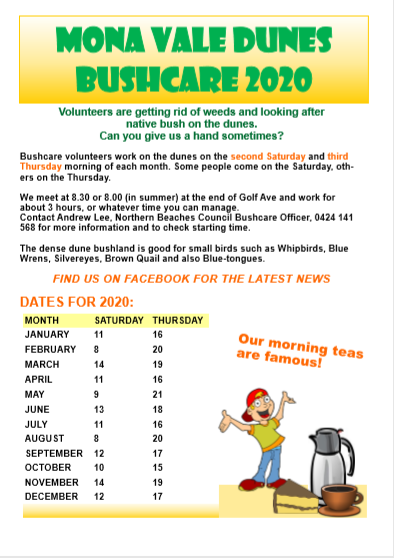 Mona Vale
Mona Vale Beach Basin 1st Saturday 8 - 11am
Mona Vale Dunes 2nd Saturday +3rd Thursday 8:30 - 11:30am
Newport
Bungan Beach 4th Sunday 9 - 12noon
Crescent Reserve 3rd Sunday 9 - 12noon
North Newport Beach 4th Saturday 8:30 - 11:30am
Porter Reserve 2nd Saturday 8 - 11am
North Narrabeen
Irrawong Reserve 2nd Saturday 2 - 5pm
Palm Beach
North Palm Beach Dunes 3rd Saturday 9 - 12noon
Scotland Island
Catherine Park 2nd Sunday 10 - 12:30pm
Elizabeth Park 1st Saturday 9 - 12noon
Pathilda Reserve 3rd Saturday 9 - 12noon
Warriewood
Warriewood Wetlands 1st Sunday 8:30 - 11:30am
Whale Beach
Norma Park 1st Friday 9 - 12noon
Western Foreshores
Coopers Point, Elvina Bay 2nd Sunday 10 - 1pm
Rocky Point, Elvina Bay 1st Monday 9 - 12noon

Gardens And Environment Groups And Organisations In Pittwater
A Keynote Speech Delivered By HRH The Prince Of Wales At The World Economic Forum In Davos, Switzerland
Do we want to go down in history as the people who did nothing to bring the world back from the brink in time to restore the balance when we could have done? I don't want to. And just think for a moment – what good is all the extra wealth in the world, gained from "business as usual", if you can do nothing with it except watch it burn in catastrophic conditions?
Ladies and Gentlemen, I am most touched that Professor Klaus Schwab should have invited me to be with you as we mark the 50th Anniversary of the World Economic Forum and its mission to "improve the state of the world". It is this mission, and the urgent need to shape the next fifty years, that has inspired me to be with you here today, after an absence of 30 years I hate to tell you.
We are in the midst of a crisis that is now, I hope, well understood. Global warming, climate change, and the devastating loss of biodiversity are the greatest threats humanity has ever faced – and one largely of our own creation.
I have dedicated much of my life to the restoration of harmony between humanity, Nature and the environment, and to the encouragement of corporate social and environmental responsibility. Quite frankly, it has been a bit of an uphill struggle. But, now, it is time to take it to the next level.
In order to secure our future and to prosper, we need to evolve our economic model. Having been engaged in these issues since I suppose 1968, when I made my first speech on the environment, and having talked to countless experts across the globe over those decades, I have come to realize that it is not a lack of capital that is holding us back, but rather the way in which we deploy it. Therefore, to move forward, we need nothing short of a paradigm shift, one that inspires action at revolutionary levels and pace. With this in mind, I am delighted to be launching a Sustainable Markets Initiative, with the generous support of the World Economic Forum.
For me, Sustainable Markets offer a new systems-level framework which ground markets in a higher purpose mission – in other words, putting people and planet at the heart of global value creation.
Sustainable markets generate long-term value through the balance of natural, social, human and financial capital. Systems-level change within sustainable markets is driven by consumer and investor demand, access to sustainable alternatives and an enhanced partnership between the public, private and philanthropic sectors. Sustainable markets can also inspire the technology, innovation and scale that we so urgently need.
The past decade has shown us just how quickly industry transformation can happen when you reimagine and re-engineer the business model - we need only look to mobile technology, electric vehicles, the space industry, e-commerce and online streaming for inspiration. Looking forward, new employment opportunities, entire new industries and markets rooted in sustainability are within our grasp, with the potential for unprecedented economic growth.
Changing our current trajectory will require bold and imaginative action, together with determination and decisive leadership. We all know the problem, and increasingly we agree on the direction. 2020 is the time for solutions and practical action. With our S.D.G. and Paris commitments in mind, - and the good news is that they are well within our reach if, Ladies and Gentlemen, we all pull together in a coordinated global initiative to tackle the greatest global threat -
I would like to outline ten practical actions that will drive forward the sustainable markets approach.
First
of all -
shifting our default setting to "sustainable"
. For sustainable markets this means everyone in a leadership role putting genuine sustainability at the centre of our business models, our analysis, our decisions and our actions. In other words, put simply, we need to put Nature, and the protection of Nature's capital – from which we draw an annual return – at the heart of how we operate. It also means further defining and developing the discipline and framework of sustainable markets and sustainable industries.
Second
- outlining
responsible transition pathways to decarbonize and move to net zero
. It is time for businesses, industries and countries alike to design and implement how they will decarbonize and transition to net zero. Moving together, with clear roadmaps, will create efficiencies and economies of scale that will allow us to leapfrog our collective progress and accelerate our transition. A little competition in this area could go a long way.
Third
-
reimagining industries through the lens of sustainable markets
. Using a sustainable markets framework, we have an incredible opportunity to create entirely new sustainable industries, products, services and supply chains, based on a circular bioeconomy, while in parallel helping to transition our existing systems. To do this we must look at our markets using a business model approach to revenue generation and system operations.
Fourth
-
identifying game-changers and barriers to transition
. We need to identify, showcase and invest in the game-changing technologies and solutions that are emerging around the world. To accelerate, we must also identify the barriers to progress, be it policy, regulation, infrastructure, investment or the wider enabling environment. Often, I have found, it is simply about bringing the right people together to help lift those roadblocks out of the way. This convening role is, I hope, at least one practical contribution my Sustainable Markets Initiative can make. Because it is only by seeking out these game-changers and barriers that we will be able to make tangible progress.
Fifth - reversing perverse subsidies and improving incentives for sustainable alternatives
. To achieve scale within sustainable markets we must not be afraid to adapt our long-standing incentive structures if we are to reap the benefits afforded by a more sustainable world. Re-orientating economic subsidies, financial incentives and regulations can have a dramatic and transformative effect on our market systems. It is time to level the playing field and to think about how we properly deploy taxes, policies and regulation in a way that catalyses sustainable markets. For instance, for many years I have tried to encourage the adoption of the "polluter pays" principle in order to provide the necessary incentives. Public policy, therefore, has a critical role to play.
Sixth - investing in STEM, innovation and R&D
. Whether it is AI (where that does not seek to challenge or replace unique human characteristics and intuition), or indeed nuclear fusion, 3-D printing, energy storage, electric transportation, carbon capture, renewables or biotech. We are on the verge of catalytic breakthroughs that will alter our view of what is possible – and profitable – within the framework of a sustainable future. To move forward, we must acknowledge that sustainability and profitability are no longer mutually exclusive. Effective solutions must ensure that sustainable technologies and alternatives are competitively priced.
Seventh - investing in Nature as the true engine of our economy
. Beyond major innovations and technologies, we must also look to invest in Nature-based solutions in sectors like agriculture, forestry and fisheries – indeed, for all the resources that we take from the Earth. Nature's contribution to the global economy is estimated to be worth more than $125 trillion annually – greater than the entire world's annual G.D.P., estimated at $85.91 Trillion in 2018. Building conservation and nature-based solutions into our asset base and supply chains can, therefore, offer significant economic growth opportunities for countries and businesses alike – including in areas such as the circular bioeconomy, ecotourism and green public infrastructure. If, Ladies and Gentlemen, we valued our natural capital properly (as I have been trying to say for quite a long time), our national and individual balance sheets might look very different indeed!
Eighth - adopting common metrics and standards
. An increasing number of corporations are adopting E.S.G. methodologies and highlighting their S.D.G.-aligned investments. However, it is time to move to unified metrics and global standards. People want to trust that the goods and services they buy are socially, environmentally and ethically produced. Through new technologies we have the ability to tag, track and trace supply chains in unprecedented ways – so it is time to make this level of supply chain transparency the norm.
Ninth - making the sustainable options the trusted and attainable options for consumers
. With consumers controlling an estimated 60% of global G.D.P., people around the world have the power to drive the transformation to sustainable markets. Yet, we cannot expect consumers to make sustainable choices if these choices are not clearly laid before them. As consumers increasingly demand sustainable products, they deserve to be told more about product lifecycles, supply chains and production methods. For a transition to take place, being socially and environmentally conscious cannot only be for those who can afford it. If all the true costs are taken into account, being socially and environmentally responsible should be the least expensive option because it leaves the smallest footprint behind. We must communicate better with consumers about the sustainability of the goods, services and investments we offer.
Tenth - connecting investments to investables using platforms that can rapidly scale solutions
. On every pressing issue we face, there are solutions that are not just available, but increasingly cost effective. At the same time there are trillions of dollars in sovereign wealth funds, pension funds, insurance, and asset portfolios looking for investible and sustainable projects with good long-term value and rates of return. It is time to align sustainable solutions with funding in a way that can transform the market place. This requires not only showcasing high potential investments, but that we reimagine financial analysis, structuring and models of return.
Now if we all accept that a profitable, yet sustainable, future is the desired end state – the questions we must ask are: How quickly can we get there and who are the leaders who will drive us forward?
I submit that we are, in fact, far further ahead than we might think, making it critical that we leverage the vital work already underway. I would therefore like to highlight just a few examples to demonstrate that in nearly every industry we are seeing progress that we can build on.
To start with, despite great efforts over the past 35 years, I have found that we could never convince financial and capital markets of the overwhelming need to invest in ways that truly benefit people and planet. Yet, in the last two or three years, we have seen a dramatic increase in sustainable investing. Investment managers frequently tell me that the demand for these investments far outstrip supply. At the same time, returns on sustainable investments are increasingly out-performing traditional portfolios.
In the financial sector, many central banks and financial institutions have committed to integrating climate risk into stress-testing, supervision and disclosure. With this progress there are now growing calls from financial institutions and companies alike to make disclosure mandatory.
In aviation, there are opportunities to develop commercially viable, hydrogen-powered and electric aircraft within the decade. In the interim, many in the industry are ready to adopt Sustainable Aviation Fuel made from waste material that can reduce carbon emissions - starting today.
In shipping, the manufacturers of ship engines are proposing it may take two to three years to build engines that run on green ammonia and methanol made from solar and wind power. These ships could start operations in the middle of the decade and become the norm around 2030. This hasn't all been certified and tested, but if the industry and the regulators make a real effort, we can make it work – creating a real tipping point.
In renewable energy, we are witnessing breakthroughs in the cost of solar that have the potential to revolutionise almost every industry. We are rapidly approaching a time when renewable energy will be an order of magnitude cheaper than fossil fuels.
In carbon capture and storage, there are a growing number of initiatives that might just buy us vital time as we make our transition to sustainable markets and a net zero economy.
In forestry, Ladies and Gentlemen, we can now transform wood, the most versatile natural material on the planet, into a new generation of wood-based products capable of offering alternatives to plastics, chemicals, textiles, transport and construction. Increasingly, we are seeing that the bioeconomy has the potential to ignite new industries and fuel sustainable markets – thus providing, at last, the economic incentive to value the vastly important eco-system services provided by the immense biodiversity and carbon-capture potential of restored and expanded forests, along with huge opportunities in integrated agro-forestry systems.
When the right sustainable goods and services are developed, proved and affordable, the choice to adopt them will become obvious. Truly to seize these opportunities, we need to visualize the future and have the confidence to invest in it.
If there is one critical lesson we have to learn from this crisis it is that Nature, Ladies and Gentlemen, is not a separate asset class. Nature is, in fact, the life blood of our financial markets and, as such, we must – rapidly – re-align our own economy to mimic Nature's economy and work in harmony with it.
After nearly fifty years of trying to champion this cause, I cannot help but feel that, finally, we are ready to change our trajectory.
For my part, I have made Sustainable Markets my priority for 2020 and actually beyond – for however long it takes. I have instructed my teams and my organisations similarly to align with this effort – and I expect them to contribute. With the stakes this high, I would challenge you to do the same.
And, critically, we must foster innovation - and here, if you will allow me, I would like to acknowledge the new Earthshot initiative of my son, The Duke of Cambridge, which seems to me to extol the sort of horizon-lifting approach we need in order to give us hope.
Beginning here at Davos, and throughout the year – and in order to identify game-changers, investments and barriers to transition - I will be convening a broad range of industry and issue roundtables including, but not limited to: aviation; water; carbon capture and storage; shipping; forestry; plastics; financing; digital technology; the bioeconomy; nature-based solutions; renewable energy; batteries, storage and electric vehicles; fisheries; integrated healthcare; cement; steel; traceability and labelling; and agriculture – at the end of which I shall probably be dead. So Ladies and Gentlemen, as we look to design and create sustainable markets and industries, these roundtables will bring together system innovators, investors and decision-makers to start designing and charting the course.
I believe profoundly in the critical importance, at this juncture, of forming an unprecedented global alliance of investors which can genuinely mobilise the kind of trillions of dollars needed to put our economy on the correct path. This would be the most dramatic act of responsible leadership ever seen by the global private sector and would at once provide a catalytic incentive for the public sector to follow.
With 2020 being seen as the "super year", kick-starting a decade of action for people and planet, there is also an opportunity to bring sustainable markets into focus in each of this year's major global meetings. While it will be a bit of a challenge for me to get to them all, I intend to do my utmost to ensure that the message of urgency, systemic change, collaboration and integration is heard.
After all, Ladies and Gentlemen, do we want to go down in history as the people who did nothing to bring the world back from the brink in time to restore the balance when we could have done? I don't want to. And just think for a moment – what good is all the extra wealth in the world, gained from "business as usual", if you can do nothing with it except watch it burn in catastrophic conditions?
This is why I need your help, your ingenuity and your practical skills to ensure that the private sector leads the world out of the approaching catastrophe into which we have engineered ourselves.
It is my greatest possible hope that you will join me this year in accelerating the transition to sustainable markets and rapid decarbonisation – Ladies and Gentlemen, you all have a seat at the table as this must be the year that we put ourselves on the right track.
Everything I have tried to do, and urge, over the past fifty years has been done with our children and grandchildren in mind, because I did not want to be accused by them of doing nothing except prevaricate and deny the problem. Now of course, they are accusing us of exactly that. Put yourselves in their position, Ladies and Gentlemen. We simply cannot waste any more time – the only limit is our willingness to act, and the time to act is now.
Thank you, Ladies and Gentlemen.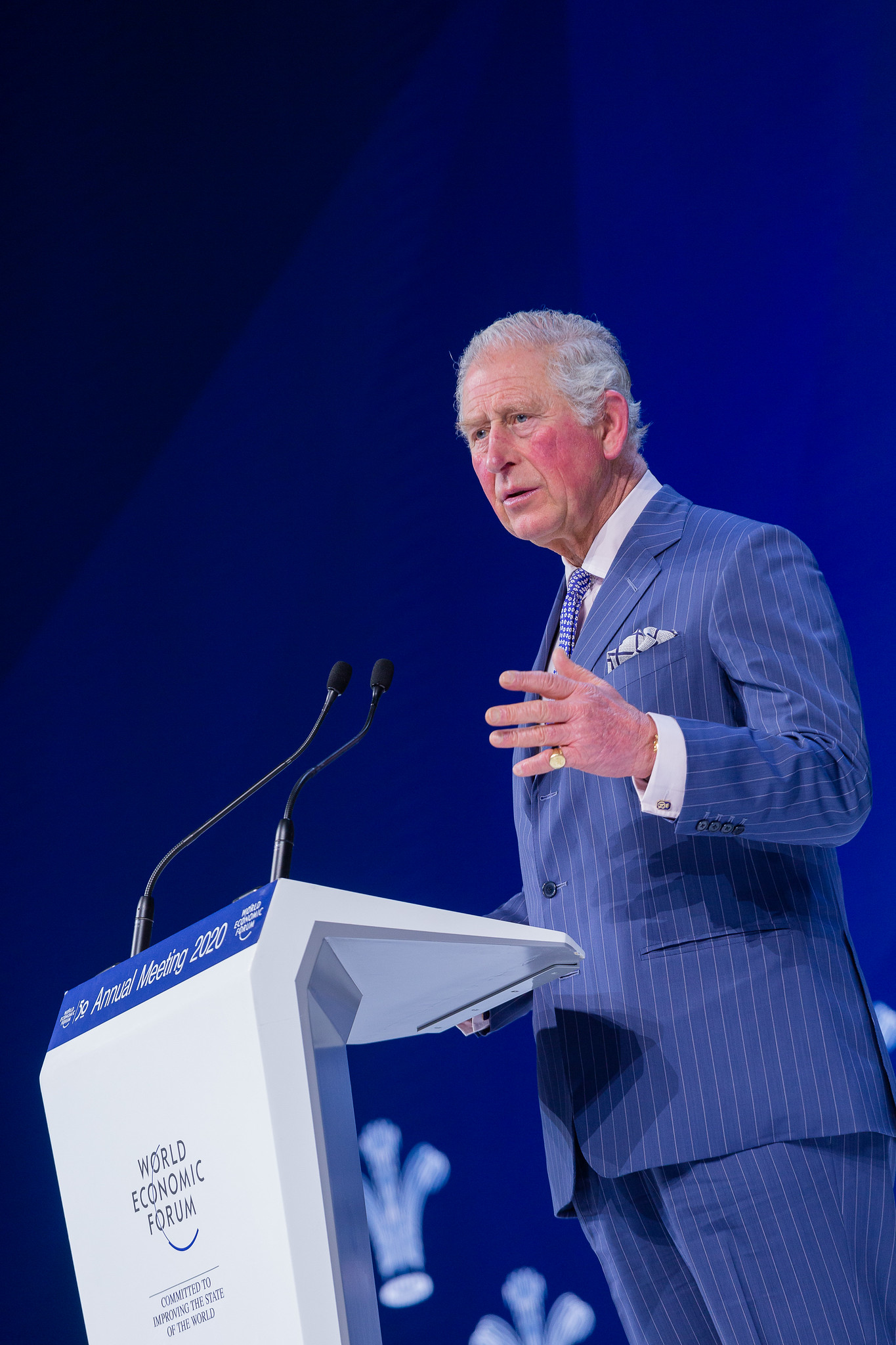 Photo:
H.R.H. The Prince of Wales, The Prince of Wales, speaking at the World Economic Forum Annual Meeting 2020 in Davos-Klosters, Switzerland, 22 January. Congress Center - Congress Hall.
Copyright by World Economic Forum / Christian Clavadetscher
Grants Available To Reduce Climate Change Impacts
NSW communities are invited to apply for grants that will assist them reduce climate change impacts such as heatwaves, bush fires or floods.
The Increasing Resilience to Climate Change (IRCC) community grants program is providing $600,000 in the first round of grants. Grants between $10,000 and $30,000 are available for individual projects.
Community groups can partner with local councils in their applications for funding under the IRCC.
The grants are funded through the Climate Change Fund, which allows the NSW Government to better support the community in its response to the effects of climate change.
Environment Minister Matt Kean said these grants will help local communities plan, coordinate and take action to increase their resilience and adapt.
"IRCC grant funding has already benefited Western Sydney Regional Organisation of Councils for a cool suburbs rating tool and Bega Valley Shire Council to upgrade community halls to be more climate-resilient during extreme heat events," Mr Kean said.
Apply for round one funding by 31 January 2020
HERE
Foundation For National Parks & Wildlife Community Conservation Grants Are Now Open For Applications
If you are working to preserve a piece of Australian cultural heritage, helping to restore a patch of habitat, connecting more people with our national parks or doing research on a threatened Aussie species you can apply for a Community Conservation Grant from the Foundation for National Parks & Wildlife.
"Organisations and individuals from all across Australia are eligible to receive funding through these grants" said Kylie Piper, Projects & Education Manager for the Foundation for National Parks & Wildlife. "We would love to get applications from every state so we can really understand the type of community conservation work that is happening and help fund essential projects that restore habitat and species, preserve our cultural treasures and improve our National Parks for everyone to enjoy".
The small grants round will be open for applications from 14 December, 2019
until 14 February, 2020.
Key areas of focus for this year's grants are:
Land and Water - Protection, restoration, rehabilitation and revegetation of degraded habitats to ensure their ability to sustain native species.
Threatened Species - Scientific research with tangible conservation outcomes and on-ground works to conserve Australia's threatened species.
Cultural Heritage - Conserving and celebrating Australia's cultural heritage as part of the gift we leave to future generations.
Parks for People - Improving National Park facilities for the enjoyment of all, to foster and encourage the appreciation of nature.
Applications for FNPW's Community Conservation Grants can now be made online and individuals, NGOs or government departments working in these areas are all encouraged to apply for funding for projects commencing in 2020.
Koala Sightings On The Central Coast
With all the fires that have destroyed much of the koala habitat in recent months it isn't surprising that there are more koala sightings in the Central Coast region. Koalas that survived the fires could be looking to migrate to forests that are remaining. The South Korean Government backed mining company KORES will be clearing a lot of this remaining bushland for the coal mine (Wallarah 2).
Rare koala sightings are being reported around Cedar Brush Creek in Yarramalong.
Yarramalong resident Mark Davis has captured images of koalas at his Yarramalong property as recently as October 2019.
Central Coast environmentalist Jake Cassar said he had heard from Yarramalong locals that there had been many sightings over the past few years.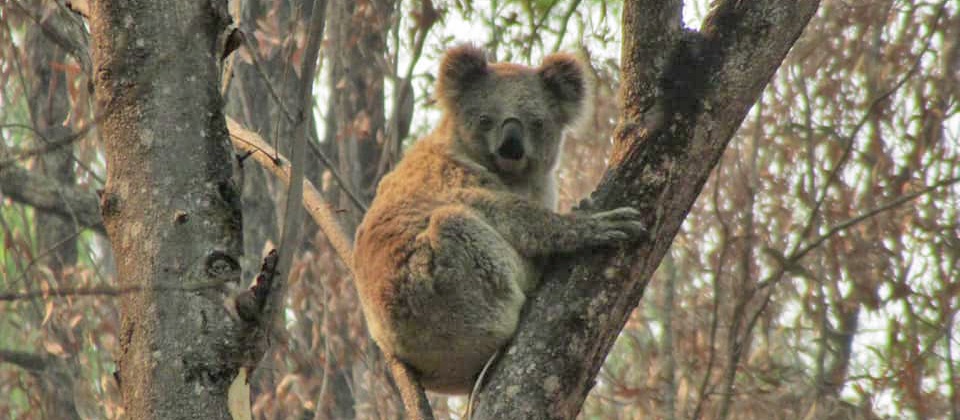 Yarramalong resident and environmental writer Libby Keating said koalas had been in and around Yarramalong since 2012/13.
"They have been here for a long time, they are in the high regions of the valley in the Cedar Brush Creek area," she said.
"People who are seeing them are on properties remote from the roads."
Koalas have been thought to be extinct for decades on the Central Coast, however there have been a reported sightings in Mogo Creek and one in Rumbulara Reserve in Gosford.
In 2017, two koalas were captured on night-vision cameras in Dharug National Park. The park has since been decimated by the recent Three Mile bushfire which covers 45,944 hectares.
The recent images from Yarramalong have prompted Mr Cassar, the founding member of Coast Environmental Alliance (CEA), to continue calls for an urgent halt to the Wallarah 2 Coal Mine which is set to be built under the Yarramalong and Dooralong valleys.
CEA wants Federal Environment Minister, Sussan Ley, to step up and stop the Korean owned Wallarah 2 coal mine which is set to go ahead only five minutes from Wyong CBD. Conservationist and founding member of CEA, Jake Cassar, said "the discovery of a koala population so close to the proposed mine is not only a significant development, but should be considered a game changer".
"Locals have told me that they have known about the koala colonies in the area for some time, but have kept quiet in order to protect them," he said. "After this sighting only weeks ago, and in light of Wallarah 2 recently getting one of the final approvals, I spoke with some local residents who understand how important it is to make this knowledge public.
"With the Environment Minister recently stating that around 30 percent of our already dwindling koala populations have been lost to the fires, the survival of koalas should be a national priority. "The massive clearing of native forests in this area to establish the mine and to construct a new train line will be devastating to this koala colony, not to mention the impact on the water supply for over 200,000 Central Coast residents.
"Sensible Central Coast locals are not opposed to sustainable development, but a giant coal mine should not even be considered in the middle of a koala colony, right below our water catchment, and amidst this terrible drought and unprecedented bushfires. "Then, adding insult to injury, there's the fact that over the 28 year life of this mine, 90 percent of the coal will be sent overseas.
"It just makes no sense that the government has given this the green light."
Cassar said that unless the koala habitat was protected they would likely, in the not too distant future, become functionally extinct in the wild. "You don't need to be a "greenie" or an activist type to want to protect these national treasures, you just need to have a brain and a heart," he said. "Where there's one koala, there are more.
"Our group has photographic evidence of koalas at Mangrove Mountain, the Watagan State Forest, and even in Gosford. "These populations, and others across the Central Coast, can play a vital role in the survival of this iconic Australian species. "The area around the mine site obviously has the exact Eucalyptus trees that these koalas rely on for their daily subsistence.
"The area to be mined may be one of the last bastions that can sustain this colony and it needs to be urgently protected before the mining company gets in and starts bulldozing." Cassar said that Minister Ley recently asked for urgent koala habitat mapping to identify the worst affected areas from the recent bushfires in Queensland and Northern NSW.
"In Brisbane last week, Ms Ley met with a panel of federal and state bureaucrats to determine where to spend the $6M allocated in the May federal budget to protect koalas", Cassar said.
"The government has the full power to gazette the surrounding Jilliby State Recreation area into the National Park, and in turn put a stop to this foreign monstrosity of a coal mine," he said. "CEA is calling on our local, state and federal representatives and environmental advocacy groups to urgently contact Ms Ley to see that our local koala populations are not only destined to survive, but to thrive well into the future."
Rain Enables Myall Lakes National Park To Reopen
January 20, 2020: NSW Government - Dept. of Environment
After being temporarily closed due to fire risk Myall Lakes National Park has reopened following recent widespread rainfall.
Campgrounds, day use areas, beaches and roads in the National Park are now accessible by the public.
Rainfall in the area since Thursday (Jan. 16th) has moderately alleviated the dry conditions in the national park reducing the immediate risk of bush fire.
All NPWS campgrounds, day use areas, 4WD beaches and roads in Myall Lakes National Park have re-opened.
NPWS managed roads, including Mungo Brush road and Violet Hill road, are now accessible.
Waterways are open and boat-based access to land is now permitted.
Tracks and trails located in Myall Lakes National Park are open except for:
the Mining Road fire trail
the Mungo walking track.
Despite the rain a park fire-ban remains in place.
During park fire ban periods, all campfire and solid fuel (wood, heat beads, charcoal, briquettes, hexamine) barbecues and stoves are prohibited. Fireworks are not permitted in the park.
For updates on alerts and closures for Myall Lakes National Park and other national parks in NSW visit National Parks and Wildlife Service. For up-to-date fire information, including on total fire bans (TOBANs) visit the NSW Rural Fire Service: Fires Near Me website and app. For full details and updates on all road closures check with Live Traffic NSW before travelling through any National Park and generally avoid driving in any bushland.
Phone enquiries: NPWS Manning Great Lakes Area office, (02) 6591 0300
National Parks And Wildlife Service Re-Opens Key Tourist Sites Over The Weekend
Key visitor attractions in the fire-affected Blue Mountain National Park and other key sites in the Greater Blue Mountains World Heritage Area have re-opened to help attract visitors back to the mountains.
Govetts Leap and Evans lookouts both in Blackheath, top attractions in Blue Mountains National Park are open along with other key lookouts, walking tracks, campsites and mountain bike routes.
National Parks and Wildlife Service (NPWS) Blue Mountains Branch Director David Crust said now the rain has dampened fire activity the huge task of checking fire affected areas across the Blue Mountains World Heritage Area is underway to have them reopen as quickly as it is safe to do so.
"With hundreds of kilometres of walking tracks and fire trails to be checked, we have prioritised high visitation areas," Mr Crust said.
"Before areas can be opened NPWS crews need to check fire affected areas for dangerous trees that can fall or drop limbs at any time.
"There may be trees, branches and debris on tracks or trails and infrastructure such as steps or hand-rails may be damaged.
"Visitors should only enter areas that have been re-opened, which is why it is so important for us to ensure visitors' favourite spots are open as quickly as possible.
"
Visitors are reminded to be aware that even though tracks have been cleared of fallen trees and re-opened, there may still be a risk of falling branches or trees especially in windy weather. Please stay alert on newly opened tracks.
"The NPWS is encouraging visitors back to NSW's most visited national park."
"A great way to help the local businesses is to book an experience with one of our Park Eco Pass licensed operators," Mr Crust said.
Key sites in Blue Mountains National Park now open, include:
Govetts Leap lookout and the Blue Mountains Heritage Centre
Fairfax Track
Evans Leap lookout
Katoomba, Leura and Wentworth Falls walking tracks including Federal Pass between Scenic World and Fern Bower
Empress Falls and canyon
Glenbrook precinct and the Euroka campground
Victoria Falls Road fire trail
Faulconbridge Point
Blue Gum Swamp
Ingar and Murphys Glen campgrounds
Woodford-Oaks track
Narrow Neck (Glenraphael Drive as far as the locked gate only – not safe beyond this point)
Braeside fire trail (not walk)
Nellies Glen
Other areas to be opened soon include:
Grand Canyon walk
Clifftop walks between Evans, Govetts and Pulpit Rock including Braeside walk and fire trail
Burramoko (Hanging Rock) fire trail
Other areas of the Blue Mountains will continue to be assessed over the coming months.
Please check Alerts for NSW National Parks for up to date information on what is open or closed. You can also call 13000 PARKS
National Parks Reopen In Time For Australia Day Weekend
The National Parks and Wildlife Service (NPWS) is pleased to announce the reopening of large sections of Bald Rock and Boonoo Boonoo National Parks along with several other locations being opened in time for the Australia Day long weekend.
A full list of reopening parks include:
Bald Rock National Park (sections reopening)
Boonoo Boonoo National Park (sections reopening)
Kwiambal National Park
Basket Swamp National Park
Kings Plain National Park
Mount MacKenzie Nature Reserve
Little Llangothlin Nature Reserve
NPWS Area Manager, Darren Pitt said some of these locations have been closed for some time and we are delighted to reopen them to the public to appreciate once more.
"Residents should be aware that the landscapes may look different to what they expect and signage within some national parks may be missing. Therefore, we ask visitors to remain on known walking tracks."
"Our NPWS staff in the region are working tirelessly to ensure areas can be reopened as soon as possible."
"The safety of our visitor is paramount and therefore in the coming weeks and months, we will continue to review our park closures and visitor safety".
In the meantime, please abide by the existing park closure as they are there for your own safety," Mr Pitt said.
Conservation Scientists Are Grieving After The Bushfires – But We Must Not Give Up
Stephen Garnett - Professor of Conservation and Sustainable Livelihoods, Charles Darwin University
Brendan Wintle - Professor Conservation Ecology, University of Melbourne
David Lindenmayer - Professor, The Fenner School of Environment and Society, Australian National University
John Woinarski - Professor (conservation biology), Charles Darwin University
Martine Maron - ARC Future Fellow and Professor of Environmental Management, The University of Queensland
Sarah Legge - Professor, Australian National University
That a billion animals may die as a result of this summer's fires has horrified the world. For many conservation biologists and land managers, however, the unprecedented extent and ferocity of the fires has incinerated much more than koalas and their kin.
The scale of the destruction has challenged what is fundamentally an optimistic worldview held by conservationists: that with sufficient time and money, every species threatened by Australia's 250 years of colonial transformation cannot just be saved from extinction, but can flourish once again.
The nation's silent, apocalyptic firescapes have left many conservation biologists grieving – for the animals, the species, their optimism, and for some, lifetimes of diligent work.
So many of us are wondering: have lives spent furthering conservation been wasted? Should we give up on conservation work, when destruction can be wrought on the environment at such unprecedented scales?
The answer is, simply, no.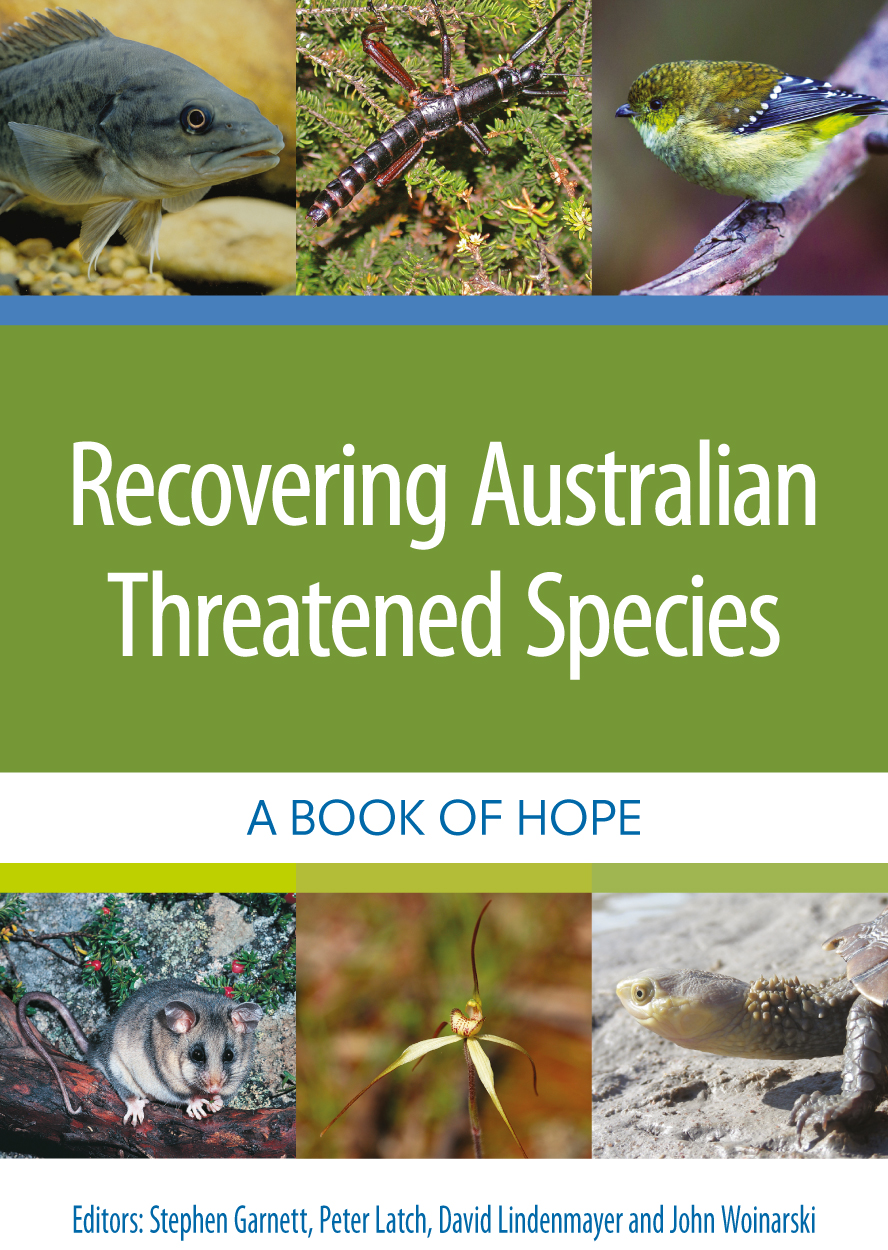 Federal government figures released on Monday showed more than half of the area occupied by about 115 threatened species has been affected by fire. Some of these species will now be at significantly greater threat of extinction. They include the long-footed potoroo, Kangaroo Island's glossy black-cockatoo and the East Lynne midge orchid.
Some field ecologists lost study populations of species that had been researched and monitored for decades. Anecdotally, the fires have affected the best known population of the northern corroboree frog. Others lost substantial amounts of field equipment such as long-established automatic cameras needed to monitor wildlife responses to fire.
Of course, action is an effective therapy for grief. There is plenty to do: assess the extent of damage, find and nurture the unburned fragments, feed the survivors, and limit further damage to burned but recovering areas of native vegetation.
The official recovery response has been swift. Victoria, New South Wales and now the Commonwealth have all issued clear statements about what's happened and how they're responding. The determination and unity among government agencies, researchers and conservation groups has been remarkable.
However, busyness may just be postponing the grief. Many universities have rightly offered counselling to affected staff – as, presumably, have other institutions. Many researchers are bereft and questioning their chosen vocation.
But as we grieve, we must also remember that decades of conservation work has not been in vain.
Some populations and species may indeed have been lost in the recent fires – we shall not know until long after the smoke clears. But the
conservation efforts of the past mean fewer species have been lost than would have been the case otherwise.
Take the subspecies of glossy black cockatoos endemic to Kangaroo Island. Up to 80% of the area the cockatoos occupy has been burnt – but some survivors have been sighted.
Decades of work by researchers, conservation managers and the community had reportedly brought the cockatoos' numbers from about 150 to 400. Without this extraordinary effort, there would have been no cockatoos to worry about during these fires, no knowledge of how to help survivors and no community of cockatoo lovers to pick up the work again.
Or take the southern corroboree frog. At Melbourne Zoo, a giant black and yellow frog guards the entrance to a facility where the species is being bred for release. This success is the result of decades of research into this highly imperilled species.
The captive colony was established exactly because a catastrophic event could overwhelm the species in the wild. This fire season is the latest in a sequence of existential threats.
This hard-won knowledge of threats is also improving the nature and speed of fire response. For example, there is now far greater awareness of the damage introduced predators can wreak, especially after severe fires when animals are exposed and vulnerable in a burnt landscape. Control of feral cats and foxes will be critical. Effective fox control immediately following fires in 2003 was likely to have been critical in the persistence and then recovery of the endangered Eastern Bristlebird.
Introduced herbivores such as deer and horses will remove food resources for native herbivores, damage fire-sensitive soils, and weeds will take advantage of the cleared ground. Managing these threats at large scale soon after fires have been extinguished will be needed.
The conservation focus of late has, understandably, been on areas burnt. But it is also critical to continue conservation efforts away from the fire zones.
A recent analysis of the 20 species of mammals and birds most likely to become extinct in the next 20 years showed they are scattered across the
country, mostly in places far from those recently burnt.
The bushfires require large-scale urgent action. But we must not withdraw attention and resources from species elsewhere that need saving. If anything, now we know the unprecedented scale of threats such as fire, more conservation funds are required across the board to prepare for similar events.
Biodiversity loss is mounting across the world. If this generation is to pass on its biological inheritance to the next, more conservation science and management is urgently needed.
History does not have to repeat itself. Conservation programs have been severely set back, and people are right to mourn the severe impacts on biodiversity. But they should also take solace that their earlier efforts have not been wasted, and should recommit to the fight for recovery.
In future fire seasons, the emergency response is likely to be better prepared to protect natural assets, as well as life and property.
For example, the extraordinary emergency operation to protect the Wollemi pine in NSW could be carried out for multiple species.
Those involved in conservation should lose neither hope nor ambition. We should learn from these fires and ensure that losses are fewer next time.
Aussie Bread Tags Collection Points
Collecting bread tags enables us to provide wheelchairs that change the life of disabled people in need, as well as keeping the tags out of landfill to help to preserve the environment.
Bread Tags for Wheelchairs was started in South Africa in 2006 by Mary Honeybun. It is a community program where individuals and organisations collect bread tags, which are sold to recyclers. The money raised pays for wheelchairs for the less fortunate which are purchased through a local pharmacy. Currently about 500kg of bread tags are collected a month in South Africa, funding 2-3 wheelchairs.
We have been collecting bread tags nationally in Australia since September 2018 and now have more than 100 collection points across the country. In February 2019 we started local recycling through Transmutation - Reduce, Reuse and Recycle in Robe, SA, where our tags are recycled into products such as door knobs and bowls. Tags from some states are still sent to South Africa where a plastics company called Zibo recycles them into seedling trays.
These humble bits of polystyrene can make a real difference so get your friends, family, school, workplace and church involved. Ask school tuck shops and boarding school kitchens, child care centres, aged care facilities, hospitals, cafes and fast food outlets to collect for you - they get through a lot of bread!
All the information and signage for collecting or setting up a public collection point is
on our website
.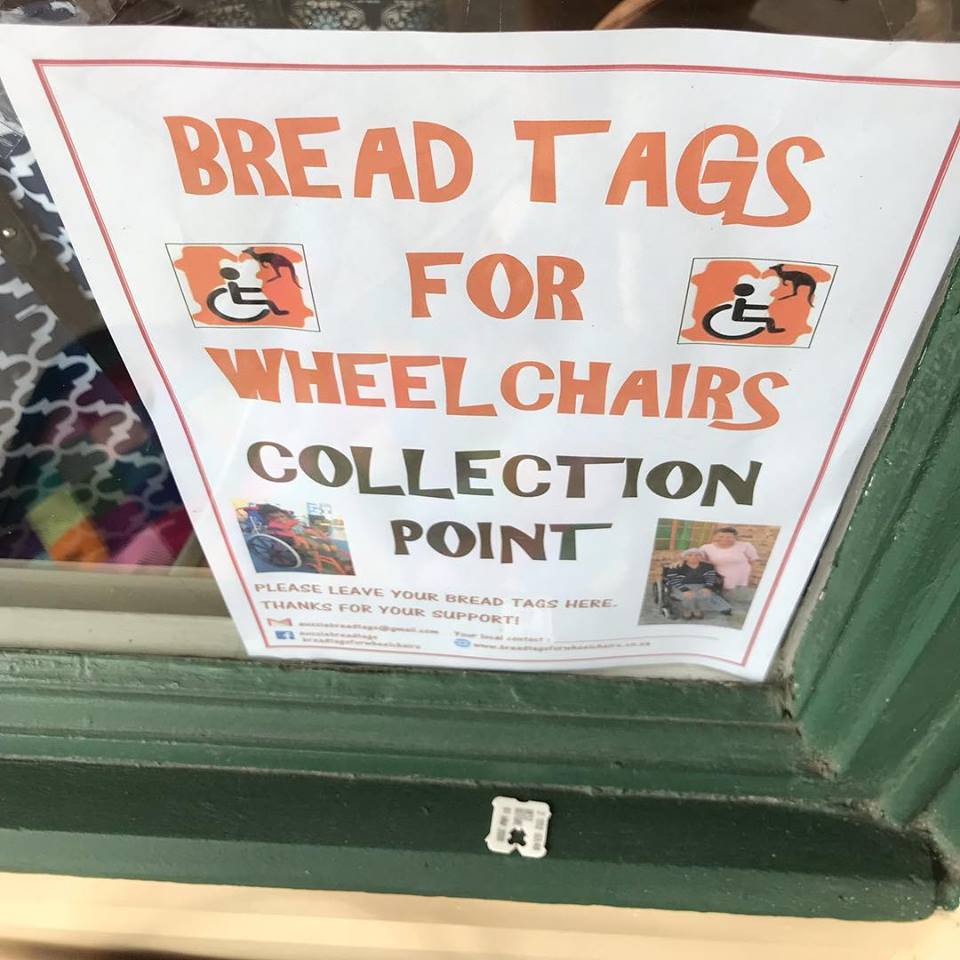 Discover Seven Worlds, One Planet In VR360
Published by BBC Earth, January 23rd, 2020
Immerse yourself in an incredible artist's visualisation of our seven continents. Best experienced with headphones and Google Cardboard, or a similar VR device.
Curious Kids: Why Does Reading In The Back Seat Make You Feel Sick?
Answered by Wayne Wilson, Associate Professor in Audiology, The University of Queensland
Why does reading in the back seat make you feel sick? – Jane, aged 10, from Coburg North, Australia.



Hi Jane, your question about why reading in the back seat makes you feel sick is a very good one. The answer has to do with our eyes, our ears and our brain.
Reading in the back seat can make you feel sick because your eyes and ears are having an argument that your brain is trying to settle!
When you're reading in the back seat, your eyes see that your book is still. Your eyes then tell your brain you are still.
But your ears feel the car is moving. Your ears then tell your brain you're moving.
How can your ears tell you're moving?
Your ears don't just hear, they help with your balance too.
Your ear has three main parts:
the outer ear is the bit you can see on the side of someone's head
the middle ear is your eardrum and some tiny bones and muscles
the inner ear is the part of your ear that can help with your balance.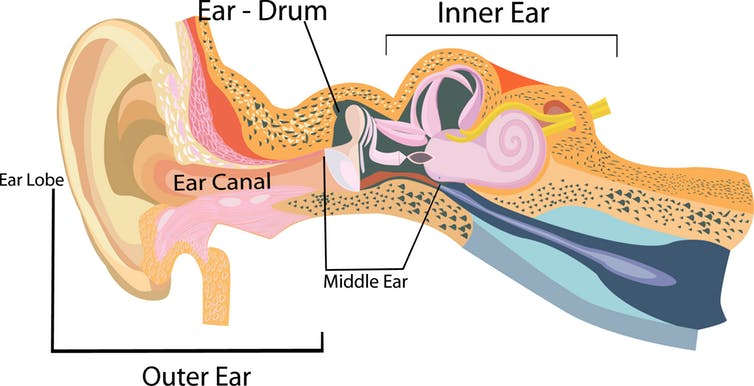 The ear includes more than what you see on the outside. sanjayart/Shutterstock
Your inner ear contains cells that have hairs sticking out the top. Scientists call these "hair cells".
Some of these hair cells help us to hear. When sound hits those hair cells, the hairs move and the cells send signals to the brain. Our brains use those signals to hear.
Other hair cells help us to keep our balance. When the car we're sitting in moves, that movement makes the hairs on those hair cells move too, and they send different signals to the brain. Our brain uses those different signals to tell we're moving.
Why doesn't the brain like this?
Some people's brains don't like it when their eyes say they're still but their ears say they're moving.
When eyes and ears argue like this, the brain can think that something dangerous might be about to happen.
If this happens, the brain can get the body ready to fight or run away (scientists call this the "fight or flight" response).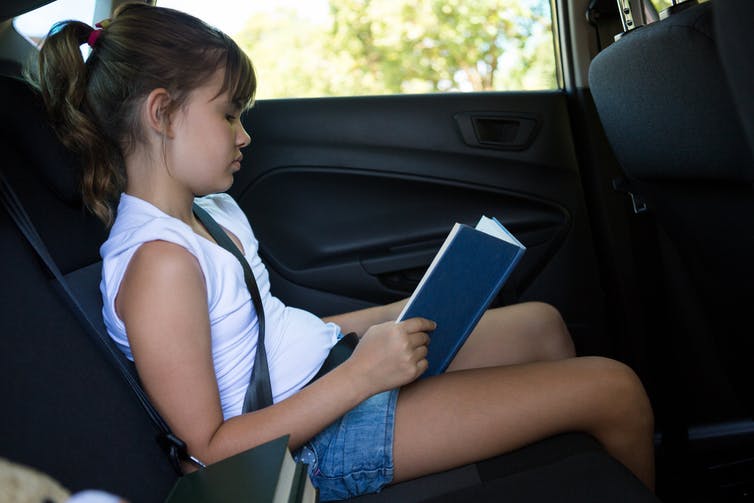 The conflict between our eyes and ears make the brain think something dangerous might happen. wavebreakmedia/Shutterstock
One of the things the brain can do is take blood away from the stomach to give to the muscles.
Giving blood to the muscles can help us to fight or run away. But taking blood away from the stomach can make us feel sick.
What can you do about it?
If reading in the back seat makes you feel sick, you might need to settle the argument between your eyes and your ears.
One way to do this is to stop reading and to look out the car window. This could help your eyes to tell your brain that you're moving as you see the world whizz by, and your ears to tell your brain that you are moving as you feel the car moving.
But this suggestion won't work for everyone. Some people will still feel sick when they ride in a car, even if they aren't reading.
This is because while our eyes and our ears help us to balance, so do our skin and our muscles. This creates many opportunities for arguments that our brain has to settle!
This Curious Kids article originally was published in The Conversation. Read the original article
here
. Republished under Creative Commons licence.
Setting Controlled Fires To Avoid Wildfires
January 20, 2020: Stanford University
Australians desperate for solutions to raging wildfires might find them 8,000 miles away, where a new Stanford-led study proposes ways of overcoming barriers to prescribed burns -- fires purposefully set under controlled conditions to clear ground fuels. The paper, published Jan. 20 in Nature Sustainability, outlines a range of approaches to significantly increase the deployment of prescribed burns in California and potentially in other regions, including Australia, that share similar climate, landscape and policy challenges.
"We need a colossal expansion of fuel treatments," said study lead author Rebecca Miller, a PhD student in the Emmett Interdisciplinary Program in Environment and Resources within the Stanford School of Earth, Energy & Environmental Sciences.
"Prescribed burns are effective and safe," said study co-author Chris Field, the Perry L. McCarty Director of the Stanford Woods Institute for the Environment and Melvin and Joan Lane Professor for Interdisciplinary Environmental Studies. "California needs to remove obstacles to their use so we can avoid more devastating wildfires."
Years of fire suppression in California have led to massive accumulations of wood and plant fuels in forests. Hotter, drier conditions have exacerbated the situation. Prescribed burns, in combination with thinning of vegetation that allows fire to climb into the tree canopy, have proven effective at reducing wildfire risks. They rarely escape their set boundaries and have ecological benefits that mimic the effects of naturally occurring fires, such as reducing the spread of disease and insects and increasing species diversity.
To put a meaningful dent in wildfire numbers, California needs fuel treatments -- whether prescribed burns or vegetation thinning -- on about 20 million acres or nearly 20 percent of the state's land area, according to the researchers. While ambitions for prescribed burns in California have been rising -- private, state and federal acres planned for the approach more than doubled between 2013 and 2018 -- up to half of that acreage has gone unburned due to concerns about risks like the resulting smoky air, outdated regulations and limited resources.
To better understand these barriers, the researchers interviewed federal and state government employees, state legislative staff and nonprofit representatives involved with wildfire management, as well as academics who study the field. They also analysed legislative policies and combed through prescribed burn data to identify barriers and ultimately propose solutions.
Just about everyone the researchers interviewed described a risk-averse culture in the shadow of liability laws that place financial and legal responsibility for any prescribed burn that escapes on the burners. Private landowners explained how fears of bankruptcy swayed them to avoid burning on their property. Federal agency employees pointed to an absence of praise or rewards for doing prescribed burns, but punishment for any fires that escape. Federal and state employees claimed that negative public opinion -- fear of fires escaping into developed areas and smoke damaging health -- remains a challenge.
Limited finances, complex regulations and a lack of qualified burners also get in the way. For example, wildfire suppression has historically diverted funding from wildfire prevention, many state fire crews are seasonal employees hired during the worst wildfire months rather than the months when conditions are best for prescribed burn and burners who receive federal or state funds must undergo potentially expensive and time-consuming environmental reviews.
California has taken some meaningful steps to make prescribed burning easier. Recent legislation makes private landowners who enroll in a certification and training program or take appropriate precautions before burning exempt from financial liability for any prescribed burns that escape. And new public education programs are improving public opinion of the practice.
To go further, stakeholders interviewed for the study suggested a range of improvements. They pointed to the need for consistent funding for wildfire prevention (rather than a primary focus on suppression), federal workforce rebuilding and training programs to bolster prescribed burn crews and standardization of regional air boards' burn evaluation and approval processes. Changing certain emissions calculations -- prescribed burn smoke is currently considered human-caused, whereas wildfires count as natural emissions -- may also incentivise treatments.
Making these changes will require a multi-year commitment by the executive and legislative branches, according to the researchers. The magnitude of the 2017 and 2018 wildfires prompted new wildfire-related policy proposals, but maintaining that focus during lighter fire seasons will be critical to protecting California's communities and managing its ecosystems.
"As catastrophic climate impacts intensify, societies increasingly need to innovate to keep people safe," said study co-author Katharine Mach, an associate professor at the University of Miami who was director of the Stanford Environment Assessment Facility and senior research scientist in the Stanford School of Earth, Energy & Environmental Sciences at the time of the research. "Much of this innovation is conceptually simple: making sure the full portfolio of responses, prescribed burns and beyond, can be deployed."
Rebecca K. Miller, Christopher B. Field & Katharine J. Mach.
Barriers and enablers for prescribed burns for wildfire management in California
. Nature Sustainability, 2020 DOI:
10.1038/s41893-019-0451-7
Dwindling Inflows Into Catchment Areas – A Water Supply Disaster In The Making?
January 23, 2020: Lachlan Gilbert, UNSW Media
A study by UNSW engineers suggests we should get used to water restrictions as modelling predicts inflows into natural reservoirs are set to decrease.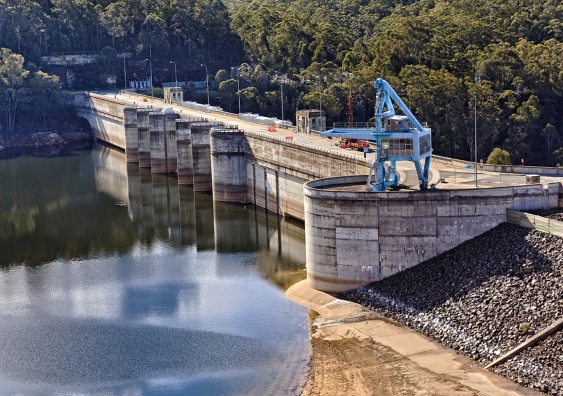 Warragamba Dam supplies to 3.7 million people in Sydney and the lower Blue Mountains and is currently sitting at 42.6% full. Picture: Shutterstock
The frequency of water restrictions in Australia is set to treble by the end of the century after modelling by UNSW Sydney engineers showed climate change will significantly reduce inflows into catchment areas.
Researchers from the University's School of Civil and Environmental Engineering say reservoir reliability – or the frequency with which a reservoir can supply surrounding urban or rural populations without invoking water restrictions – will fall across the country as we head towards the end of the century. In other words, if a current reservoir is designed to face water restrictions 10% of the time today, by the end of this century this figure will rise to 30%
"In our previous research we found that for each degree rise in temperature, you have roughly 10 to 15% reduction in the flood peak," Professor Sharma says. "This is despite the fact that with increased temperature, you store more moisture in the sky and hence cause more intense storms."
"Why this happens is because the higher temperatures are drying out the soils faster than before. So now when it rains, a lot of the water that would have previously ended up in the dams is now being absorbed into the parched soil. And so these frequent flood events are now delivering less water to natural reservoirs."
Professor Sharma says the earlier paper speculated that the reduced flood peaks would translate into water insecurity as the demand of rising urban populations and intensive agricultural irrigation threatened to outstrip supply.
"To use the example of Sydney, when Warragamba Dam was built in 1960, Sydney's population was a lot smaller, but they had designed the capacity of the dam taking into account how big the population might get.
"So Sydney's demand has been increasing, as predicted. But what they had not speculated was that the supply into the dam may decrease. While our research is not focused on Sydney's water supply, it clearly indicates inflows are likely to reduce across the country and our current water supply infrastructure is unsustainable as temperatures continue to rise."
The knock-on effect of a growing population in a drying climate leading to more pressure on water reserves has led us to the Level 2 water restrictions – something we should now get used to, Professor Sharma says.
"The current Level 2 and higher restrictions that apply to most supply areas used to be viewed as extreme measures. But the modelling tells us that it's not that extreme, but rather, a sign of things to come," he says.
The current study examined what the modelling projected for the years 2070 to 2100 in Australia after temperature rise and changed rainfall patterns were factored in. Professor Sharma says governments need start planning now to mitigate the effects of more water restrictions and dwindling water inflows.
"Water restrictions will not be able to sustain the dams on their own, we need to approach this from many directions.
"For the big cities near the sea we can use desalination plants, while more can be done to recycle water and incentivise installation of rainwater tanks.
"But farmers can't be supplied water from a desalination plant, and they're the ones who are facing the brunt of it because the soils are getting dry. So we may need to think about crop management – for example, looking at growing more water-hungry crops in wetter parts of Australia as well as water transfers to drier parts, where these are viable.
"All of this is by no means easy, these are complex decisions. We need to put all the options on the table and assess which ones make the most socio-economic sense.
"But we need to at least start the assessment process now."
Most Rehabilitating Sea Turtles With Infectious Tumours Don't Survive
January 22, 2020: Florida Atlantic University
Caused by a herpesvirus, fibropapillomatosis (FP) is the most significant infectious disease affecting sea turtle populations worldwide. It is widespread in warmer climates like Florida, where almost 70 percent of sea turtles in a population have FP in some places; it has been documented in the Caribbean, South America, Hawaii, Japan, Australia, and beyond. The disease leads to the formation of tumors on the turtles' eyes, flippers and internal organs, which often debilitate them by inhibiting feeding and movement, obscuring vision, and/or leading to organ failure.
FP is of major concern in sea turtle rehabilitation facilities and requires extensive quarantine measures to accommodate infected turtles. Even after surgical removal, there is still potential for tumour regrowth since the underlying associated herpesvirus infection remains dormant. These clinical factors, along with the infectious and potentially life-threatening nature of FP, complicate prognoses and extend rehabilitation times of sea turtles diagnosed with this disease.
Annie Page-Karjian, D.V.M., Ph.D., a researcher from Florida Atlantic University's Harbor Branch Oceanographic Institute and collaborators, conducted a large-scale, retrospective case series review evaluating tumour score, removal and regrowth in rehabilitating green sea turtles with FP in four rehabilitation facilities in the southeastern United States from 2009 to 2017.
The objective was to assess FP tumour score and regrowth and provide information on tumour regrowth and survival in turtles with different tumor scores. Applying a standardised method for quantifying and qualifying the extent of the disease is necessary to objectively understand the various clinical manifestations of the disease.
Results of the study, published in the journal Diseases of Aquatic Organisms, showed that the majority (75 percent) of the turtles with FP did not survive following admission into a rehabilitation facility, irrespective of whether or not tumour regrowth occurred following surgery. FP is of greatest concern in juvenile sea turtles in nearshore habitats. All of the green turtles with FP in this study were classified as juveniles.
Of the 756 cases, 312 (41 percent) underwent tumor removal surgery, 155 (50 percent) of those had tumour regrowth within an average of 46 days, and 85 (27 percent) had multiple (more than one) regrowth events. Of the 756 turtles with FP, 283 (37 percent) were euthanized and 280 (37 percent) died without euthanasia. Of the 756 turtles with FP, 193 survived, including 186 (25 percent) that were released and seven (1 percent) that were placed in permanent captive care.
"Evaluating cases of rehabilitating wildlife can be an extremely valuable approach for improving our understanding of pathogen activity in both captive and free-ranging wildlife, and for developing recommendations for treatment and management of important wildlife diseases," said Page-Karjian, senior author, an assistant research professor and clinical veterinarian at FAU's Harbor Branch. "Results from our study could help guide clinical decision-making and determine prognoses for rehabilitating sea turtles with fibropapillomatosis."
Tumour removal surgery increased the odds of tumour regrowth, but also enhanced survivorship, whereas tumour regrowth was not a significant predictor of case outcome. Three FP tumour-scoring systems were used to assign tumor scores to 449 cases, and differing results emphasise that tumour-scoring systems should be applied to the situations and/or location(s) for which they were intended. FP tumour score was not a significant predictor for the event or extent of FP tumour regrowth after surgical excision.
"Internal tumours or severe fibropapillomatosis irreversibly diminishes an animal's well-being and ability to survive," said Page-Karjian. "Application of the appropriate scoring system coupled with rigorous triage and admission criteria for stranded turtles with this disease can effectively help reduce facilities' burden in terms of rehabilitating fewer turtles with poor prognoses."
In situations of limited resources, and taking into account any co-morbid conditions, focusing rehabilitation efforts on turtles with lower tumour scores (i.e. one to two) will help further streamline admission and triage of turtles with FP in rehabilitation facilities, and lead to higher rehabilitation success rates.
Pe'e, a green sea turtle with fibropapillomatosis was rehabilitated and successfully released by The Turtle Hospital (Photo credit: The Turtle Hospital)

Study collaborators represent Loggerhead Marinelife Center in Juno Beach; The Turtle Hospital, in Marathon; Clearwater Marine Aquarium in Clearwater;
the Sea Turtle Healing Center at Brevard Zoo in Melbourne
; and Georgia Sea Turtle Center/Jekyll Island Authority, in Jekyll Island, Georgia.
This project was funded in part by a grant awarded from the Sea Turtle Grants Program, which is funded from proceeds from the sale of the Florida Sea Turtle License Plate.
A Page-Karjian, JR Perrault, B Zirkelbach, J Pescatore, R Riley, M Stadler, TT Zachariah, W Marks, TM Norton.
Tumor re-growth, case outcome, and tumor scoring systems in rehabilitated green turtles with fibropapillomatosis
. Diseases of Aquatic Organisms, 2019; 137 (2): 101 DOI:
10.3354/dao03426
Dozens Of Non-Oncology Drugs Can Kill Cancer Cells
January 20, 2020: Broad Institute of MIT and Harvard
Drugs for diabetes, inflammation, alcoholism -- and even for treating arthritis in dogs -- can also kill cancer cells in the lab, according to a study by scientists at the Broad Institute of MIT and Harvard and Dana-Farber Cancer Institute.
The researchers systematically analysed thousands of already developed drug compounds and found nearly 50 that have previously unrecognised anti-cancer activity. The surprising findings, which also revealed novel drug mechanisms and targets, suggest a possible way to accelerate the development of new cancer drugs or re purpose existing drugs to treat cancer.
"We thought we'd be lucky if we found even a single compound with anti-cancer properties, but we were surprised to find so many," said Todd Golub, chief scientific officer and director of the Cancer Program at the Broad, Charles A. Dana Investigator in Human Cancer Genetics at Dana-Farber, and professor of paediatrics at Harvard Medical School.
The new work appears in the journal Nature Cancer. It is the largest study yet to employ the Broad's Drug Repurposing Hub, a collection that currently comprises more than 6,000 existing drugs and compounds that are either FDA-approved or have been proven safe in clinical trials (at the time of the study, the Hub contained 4,518 drugs). The study also marks the first time researchers screened the entire collection of mostly non-cancer drugs for their anti-cancer capabilities.
Historically, scientists have stumbled upon new uses for a few existing medicines, such as the discovery of aspirin's cardiovascular benefits. "We created the re-purposing hub to enable researchers to make these kinds of serendipitous discoveries in a more deliberate way," said study first author Steven Corsello, an oncologist at Dana-Farber, a member of the Golub lab, and founder of the Drug Repurposing Hub.
The researchers tested all the compounds in the Drug Repurposing Hub on 578 human cancer cell lines from the Broad's Cancer Cell Line Encyclopedia (CCLE). Using a molecular barcoding method known as PRISM, which was developed in the Golub lab, the researchers tagged each cell line with a DNA barcode, allowing them to pool several cell lines together in each dish and more quickly conduct a larger experiment. The team then exposed each pool of barcoded cells to a single compound from the repurposing library, and measured the survival rate of the cancer cells.
They found nearly 50 non-cancer drugs -- including those initially developed to lower cholesterol or reduce inflammation -- that killed some cancer cells while leaving others alone.
Some of the compounds killed cancer cells in unexpected ways. "Most existing cancer drugs work by blocking proteins, but we're finding that compounds can act through other mechanisms," said Corsello. Some of the four-dozen drugs he and his colleagues identified appear to act not by inhibiting a protein but by activating a protein or stabilising a protein-protein interaction. For example, the team found that nearly a dozen non-oncology drugs killed cancer cells that express a protein called PDE3A by stabilising the interaction between PDE3A and another protein called SLFN12 -- a previously unknown mechanism for some of these drugs.
These unexpected drug mechanisms were easier to find using the study's cell-based approach, which measures cell survival, than through traditional non-cell-based high-throughput screening methods, Corsello said.
Most of the non-oncology drugs that killed cancer cells in the study did so by interacting with a previously unrecognised molecular target. For example, the anti-inflammatory drug tepoxalin, originally developed for use in people but approved for treating osteoarthritis in dogs, killed cancer cells by hitting an unknown target in cells that overexpress the protein MDR1, which commonly drives resistance to chemotherapy drugs.
The researchers were also able to predict whether certain drugs could kill each cell line by looking at the cell line's genomic features, such as mutations and methylation levels, which were included in the CCLE database. This suggests that these features could one day be used as biomarkers to identify patients who will most likely benefit from certain drugs. For example, the alcohol dependence drug disulfiram (Antabuse) killed cell lines carrying mutations that cause depletion of metallothionein proteins. Compounds containing vanadium, originally developed to treat diabetes, killed cancer cells that expressed the sulfate transporter SLC26A2.
"The genomic features gave us some initial hypotheses about how the drugs could be acting, which we can then take back to study in the lab," said Corsello. "Our understanding of how these drugs kill cancer cells gives us a starting point for developing new therapies."
The researchers hope to study the repurposing library compounds in more cancer cell lines and to grow the hub to include even more compounds that have been tested in humans. The team will also continue to analyze the trove of data from this study, which have been shared openly (https://depmap.org) with the scientific community, to better understand what's driving the compounds' selective activity.
"This is a great initial dataset, but certainly there will be a great benefit to expanding this approach in the future," said Corsello.
This collaboration involved the Broad's Center for the Development of Therapeutics, the PRISM team, the Cancer Data Sciences team, and the labs of Todd Golub and Matthew Meyerson. The work was funded in part by SIGMA (Carlos Slim Foundation, Slim Initiative in Genomic Medicine for the Americas), the National Institutes of Health, and an anonymous donor.
Steven M. Corsello, Rohith T. Nagari, Ryan D. Spangler, Jordan Rossen, Mustafa Kocak, Jordan G. Bryan, Ranad Humeidi, David Peck, Xiaoyun Wu, Andrew A. Tang, Vickie M. Wang, Samantha A. Bender, Evan Lemire, Rajiv Narayan, Philip Montgomery, Uri Ben-David, Colin W. Garvie, Yejia Chen, Matthew G. Rees, Nicholas J. Lyons, James M. McFarland, Bang T. Wong, Li Wang, Nancy Dumont, Patrick J. O'Hearn, Eric Stefan, John G. Doench, Caitlin N. Harrington, Heidi Greulich, Matthew Meyerson, Francisca Vazquez, Aravind Subramanian, Jennifer A. Roth, Joshua A. Bittker, Jesse S. Boehm, Christopher C. Mader, Aviad Tsherniak, Todd R. Golub.
Discovering the anticancer potential of non-oncology drugs by systematic viability profiling.
Nature Cancer, 2020; DOI:
10.1038/s43018-019-0018-6
Disclaimer: These articles are not intended to provide medical advice, diagnosis or treatment. Views expressed here do not necessarily reflect those of Pittwater Online News or its staff.