Community News: September 2016
September 25 - October 1, 2016: Issue 282
September 18 - 25, 2016: Issue 281
September 11 - 17, 2016: Issue 280
September 4 - 10, 2016: Issue 279
Search Pittwater Online News:
Extra School Zone Flashing Lights
30 August 2016
Member for Pittwater Rob Stokes today announced five local schools will receive an additional set of school zone flashing lights.
The NSW Government has allocated a further $5 million to help improve pedestrian safety at schools across NSW that have multiple entrances and potentially higher safety risks.
The initiative builds upon an earlier NSW Government commitment to provide at least one set of school zone flashing lights at all eligible schools across NSW and is being funded by revenue generated from speed and red light camera infringements.
Schools in Pittwater to receive an additional set of school zone flashing lights include;
Avalon Public School;

Pittwater High School;

Maria Regina Primary School;

Terrey Hills Primary School / German International School; and

Narrabeen Lakes Primary School
"It's fantastic to see additional funds being allocated towards pedestrian safety around local schools," Rob Stokes said today.
"Flashing lights are an effective reminder to motorists to slow down in school zones and remain extra vigilant.
"We must keep reinforcing the message about school zones and the heightened risks to children.
"The next stage of the initiative is aimed at providing an extra level of protection for schools with multiple busy entrances, higher traffic volumes or specific road safety issues.
"All school zone flashing lights are being directly funded by speed and red light camera fines.
"I look forward to these additional sets of flashing lights being installed throughout our community and the benefits they'll provide," Rob Stokes said.
____________________________
The roads extra Flashing Lights have been funded for are:
Avalon Primary – Bellevue Avenue
Maria Regina Primary - Central Road
Pittwater High School – Mona Street
Terrey Hills PS / German International – Cooyong Road
Narrabeen Lakes Primary – Ocean Street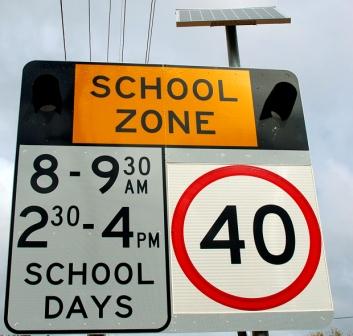 Dan And Liesl Fly Out
On September 12th the Sailing Events in the 2016 Rio Paralympics begin.
The medal races will be run on Saturday September 17th
On Wednesday local gold parlympians Daniel Fitzgibbon and Liesl Tesch flew out, messaging on Saturday(Sept. 3) they've arrived, been accredited, settled where they're staying and have taken their favourite boat out on the water.
Happy days!
Good luck Dan and Liesl - you will hear us cheering!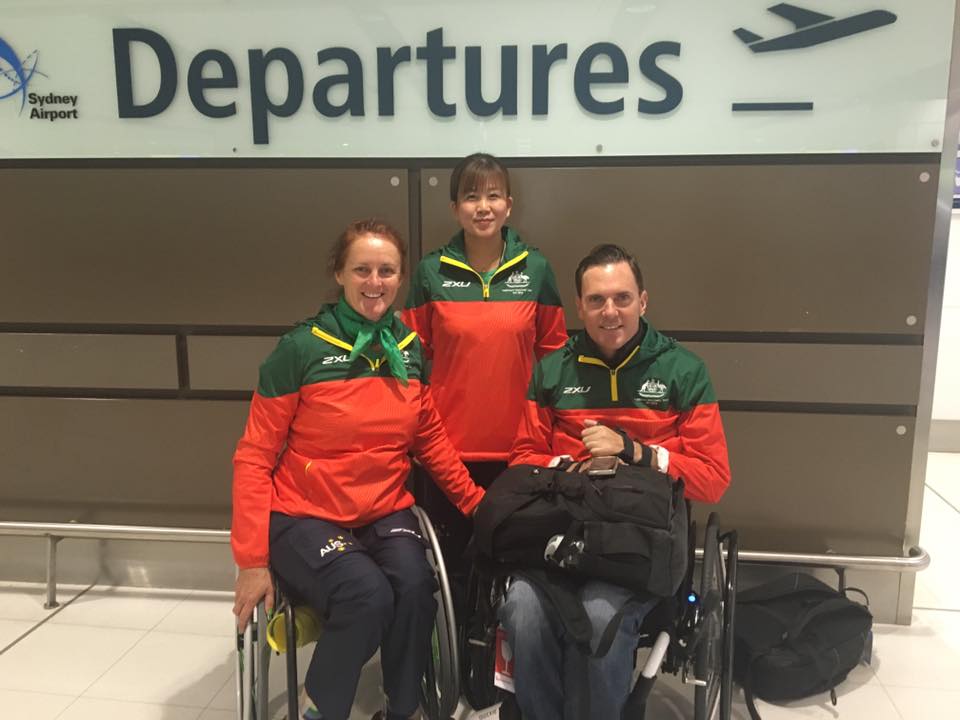 All the training done, and now it's our time.
Rio here we come!
Fitzgibbon/Tesch Rio 2016
Pasadena Plans
Those who read the Pittwater Offshore Newsletter will find concerns expressed regarding the DA lodged for a refurbished Pasadena - The Architects Drawings contain 13 Rooms + Managers Accommodation, a Day Spa and plans to seat 138 Patrons in the Restaurant - with 9 Car Spaces on site.
There are also concerns over access to and privacy on Thomas Stephens Reserve.
People may provide feedback until September 8
See all DA documents and link to contact Council at Application Number:
N0313/16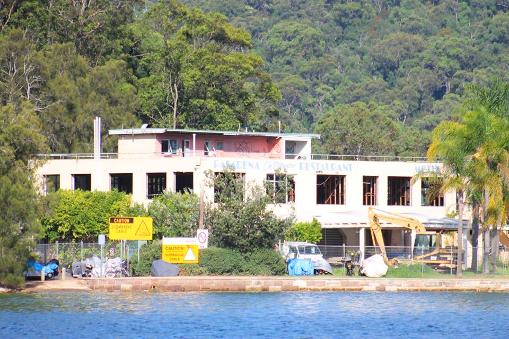 Bert Payne Playground Upgrade
Council has announced this week that Bert Payne Reserve, Newport, is the next playground to be refurbished to include an 'inclusive' design that will engage children of all ages, abilities and disabilities.
Construction of the refurbished playground commences in September and will be completed in November.
World Suicide Prevention Day: September 10, 2016
'Connect, communicate, care
' is the theme of the 2016 World Suicide Prevention Day (10 September). These three words are at the heart of suicide prevention and complement the efforts of
R U OK? Day (8 September)
to raise public awareness about the importance of having a conversation and, most importantly, how.
A big focus this WSPD is a research project with UNE to help us understand the magnitude of suicide in Australia and its impact on our communities. The survey has now closed with results will be launched on 10 September.
The World Health Organization estimates that over 800,000 people die by suicide each year – that's one person every 40 seconds.
In Australia more than 2500 people die each year with latest figures (2014) telling us that 2,864 Australians took their own life. Research also tells us that some 65,000 people attempt suicide each year. This tragic ripple effect means that there are many, many more people who are impacted by or exposed to suicide and the pain it brings when… it touches our lives.
This World Suicide Prevention Day we'd like you to help us create a positive ripple effect, with as many suicide prevention awareness raising events as possible being held in Australia on or around World Suicide Prevention Day.
Why we need to notice the small things as leaders
"It's actually a role of ours, as leaders, to make the time for people and make sure they feel like they can come and speak to us."
Bonnie Boezeman AO To Be Guest Speaker At Zonta "Empowering Women" Dinner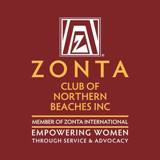 The Zonta Club of Northern Beaches Inc, with the Mackellar Girls ZClub, will host the annual "Empowering Women" Dinner on Thursday 20 October at the Dee Why RSL Club. The guest speaker will be Bonnie Boezeman AO.
Bonnie has an impressive CV highlighting her career in the corporate world and, more recently, on many boards as a non-executive director. She has extensive experience in philanthropic boards and committees and has been responsible for raising funds for many varied organizations. Bonnie was awarded the Order of Australia in 2003 for her contributions to business and philanthropy. She received a knighthood from Pope Benedict XVI in 2009.
The dinner is a fundraiser to support Zonta projects for local women in need. The Zonta Club of Northern Beaches currently supports the local 'Women's Refuge' by supply of kitchen kits for women when they restablish themselves. Zonta has also equipped the six new kitchens at the recently renovated Refuge. Study grants at tertiary level, are made to local women in financial difficulty and several high school girls are supported to enable them to be included in extended school programs. There are also other local Zonta programs including assembly of birthing kits for women in developing countries, and making and distributing breast care cushions for women after breast surgery. A very successful Birthing Kit Packing Day was recently hosted at Barrenjoey High School.
The "Empowering Women" dinner will be held in the Oaks Room at Dee Why RSL Club, Pittwater Rd, Dee Why at 6.45pm for 7pm on Thursday 20 October 2016.
Come by yourself, bring a friend or make up a table of 10. Seating will be arranged.
Cost is $70 with an early bird special of $65 to 4 October.
School students $50. All enquiries to Margaret at 9918 2393.
Avalon Tattoo
It is with great regret that I have to announce on behalf of the Avalon Beach RSL Sub Branch Tattoo Committee that the Avalon Beach RSL Sub Branch has decided "all future Tattoos be cancelled".
A number of factors have led to this decision:
• The founder of the Avalon Tattoo and its capable Director for ten years, Commodore Graham Sloper, AM RAN (Ret'd), can no longer continue.
• Budgetary constraints at the Defence Department have limited the flexibility of service units to respond to our requests, yet the limitations on the Sub Branch's funding require a substantial military involvement.
• We cannot charge admission, and would not wish to, given our focus to engage with the community.
Our participants have volunteered their time and borne their own expenses in the past. With time, costs have increased, and some have wished to have their expenses remunerated, yet donations have not increased sufficiently, so the costs of the Tattoo have become beyond the Sub Branch's resources.
Perhaps some other function might arise phoenix-like from the ashes. We do not know at this stage.
for the Avalon Tattoo Committee
Avalon Beach RSL Sub Branch.
Dear Pittwater Marine Enterprise,

Marine Rescue Broken Bay has two rescue vessels: a rigid inflatable boat (rib) and a 28ft Steber. The Steber is in good condition at the moment but is expected to need to be replaced in three years time. To this end we need to raise $100,000 in three years. Whilst we will continue to sell raffle tickets to support our ongoing running expenses we need to find sponsors for the replacement funds.
The purpose of this is not to ask you to be a sponsor, although we would not reject an offer from you. The purpose of this is to make you aware of our situation. Below is a copy of the bulletin entitled "Rescue Review". This bulletin comprises the last month's "assists".
I hope to publish this bulletin monthly through this News Service. We would be grateful if you showed these to your customers. Also and more important, if you think there is anyone who we should contact about being a sponsor for some of the funds we would be most grateful.
In the meantime please note the quantity of assists that we have performed during the past month.
Broken Bay Unit of Marine Rescue NSW
RESCUE REVUE FOR THE MONTH OF AUGUST 2016
Below are the records of rescues 'assists' for the month of August.
1. Late in the afternoon of Saturday 6th August Marine Rescue Broken Bay Unit received a call from the owner of a 10m yacht to say that they had run aground at the southern end of Pittwater. There were two people on board. The yacht was valued at about $50,000. Rescue Vessel BB20 offered to pull them off but rather than cause damage to the hull the owner elected to wait for the next high tide.
2. On the morning of 7th of August 2016 an 11.5 m Mustang, Sports Cruiser valued at about $300,000 with three people on board had trouble starting its engine due to a flat battery. Rescue Vessel Broken Bay BB20 attended the vessel near Bayview and passed over jumper leads with which the engine was started.
3. On 13th August at 4:30pm Marine Rescue Broken Bay were informed that a 12 m yacht with three people on board were two miles east of Terrigal at "Cape three points" and needed assistance. Apparently, they had experienced problems earlier with their sails and when the wind dropped, they went to start the engine they had suspected fuel problems. Broken Bay Rescue vessel BB20 went to their assistance and towed them into Royal Prince Alfred Yacht club. By this time, it was 8:20pm and dark.
4. On 14th August Broken Bay were phoned to say that there was a yacht in Refuge Bay with two people on board that had engine problems and because the wind had now died it needed a
tow to Clareville. Unfortunately, whilst the owner was retrieving the anchor he cut his hand badly and so the crew of Broken Bay 20 now had to administer first aid before commencing the tow. They finished the assist at 6pm. Once again it was dark when they finished.
Mona Vale SLSC Springs Into Spring

MONA VALE ALES - FRIDAY SEPTEMBER 23
The Mona Vale Surf Club bar is re-opening in grand style.
Save, the date, tell your mates and bring your family and friends.
We are giving the old girl a bit of a spruce up and the bar will be open from 4.30pm every Friday for evermore...
The BBQ will be on upstairs with a new menu available for kids and adults alike.
The footy or cricket will be on and $5 will get you an ice cold schooner as yes - TAP BEER IS COMING!
Call in and check it out...
MEMBER OR NOT - ABSOLUTELY EVERYONE IS WELCOME
Ephemeral Art Workshop
Shona Wilson's
ephemeral art workshop will take place in Wendy Whiteley's Secret Garden on September 30, 2016.
Bookings are through Cilla Campbell who hosts a number of different art workshops in Sydney.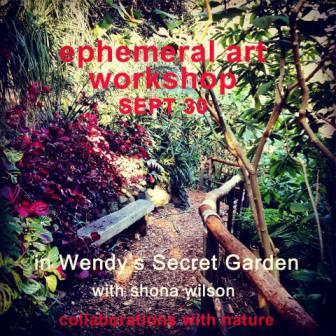 Midget Farrelly Memorial Paddle Out
Sunday, September 11 at 11 AM
31-32 Ocean Rd, Palm Beach
Following the sad news of Midget's passing, we are organising a paddle out and memorial in his memory on Sunday 11th of September at 11am. All are welcome, and feel free to invite those who might like to pay their respects.
Midget's family had their own private ceremony a couple of weeks ago, but will also be scattering part of his ashes on this day at one of his spiritual homes - Palmy.
We expect there to be a lot of people as he was a man who touched so many lives, so parking is likely to be an issue. I would encourage you to consider taking the L90 bus, and/or car pooling. Council has kindly agreed to suspend parking restrictions on the south side of the SLSC for this time too.
If you are bringing craft, please aim to arrive by 10/10.30am.
I would love to gather some photos of him to display on the day, and give to Bev, so if you have any good ones, please feel free to share on this
event page
.
Further information is coming soon, but put the dates in your diaries.
Pittwater Offshore Newsletter Update 1/9/2016
click on Logo:

To contact Julian: editor@scotlandisland.org.au
Community Grants In Excess Of $1M To Build A Stronger Northern Beaches
2 September 2016:

Northern Beaches Council
Northern Beaches Council invites community groups to apply for two grants programs with available funding in excess of $1 million.
Applications open Monday 5 September.
Northern Beaches Council is holding free workshops and info sessions this month to assist not for profit community groups.
The
Stronger Communities Fund
offers grant funding up to $50,000 from a total of $1 million for projects to develop a more vibrant, sustainable and inclusive community. Round one closes Friday 28 October. Round two will open 3 April 2017.
The
Northern Beaches
Small Grants Program
will enrich Northern Beaches' cultural or community life, and will offer individual projects grant funding of up to $2,000 from a total $50K.
The closing date for this grant is 26 September 2016.
Community groups can apply for both grants.
For further information and help
please book into the following sessions:
Stronger Communities Fund Info Session:
This session will walk you through the guidelines and frequently asked questions (FAQs). There will also be time to ask questions about the program and your project proposals. Please give an overview of your project when you book into an info session.
Mon 12 Sep 6-8pm – Dee Why Council Chambers
Tues 13 Sep 6-8pm – Coastal Environment Centre
Wed 14 Sep 6-8pm – Manly Council Chambers
Introductory Grant Workshop:
Learn about funding options, including grants, how to seek crowd funding and even sponsorship. This is a general session, not focused on Stronger Communities Fund, but will be valuable if you are new to the grant seeking process.
Wed 14 Sep 6-8pm – Coastal Environment Centre, Narrabeen
Advice On Grant Writing & Community Projects:
Drop in session for specialist advice on your project and grant applications from former Grant Assessor. Bring your project information and questions for tips on how to frame your proposal to increase your chances of securing funding.
Thurs 15 Sep 5-8pm – Coastal Environment Centre,
__________________________
Northern Beaches Council Establishes New Team
2 September 2016:
Northern Beaches Council
The Northern Beaches Council's new leadership team has come together for the first time, marking the next phase in the establishment of the newly amalgamated Council.
"It is essential the organisation invests in the leadership skills of our management teams and to achieve this we have undertaken a comprehensive training program," said Mark Ferguson, General Manager, Northern Beaches Council.
Staff took part in team work sessions and programs facilitating the merger integration program, future service design, change management and leadership development to meet the milestones set by Council and the Department of Premier and Cabinet.
Training and staff development is covered by the $10 million transition fund provided by the State Government to amalgamated councils which is to be spent on the delivery of new systems, processes and the development of people within the new organisation.
"Three councils with three different cultures clearly represent some challenges. The Northern Beaches Council has just completed an important milestone in selecting its third level managers. I fully support the General Manager in bringing together the group during this important and formative stage," said, Dick Persson AM, Administrator, Northern Beaches Council.​
New Rezoning Review Process
The NSW Department of Planning and Environment has launched a new approach to the Pre-Gateway Review process for planning proposals.
The new process, called 'Rezoning Review', began on September 1st, 2016
. Under the new process, reviews will be undertaken directly by the independent Regional Planning Panels, the Planning Assessment Commission in the case of City of Sydney, and the Sydney Planning Panels under the Greater Sydney Commission Act.
Palm Beach Clean Up
August 31, 2016: Living Ocean
It was another awesome day cleaning up the beautiful area of Palm Beach. Thank you so much to everyone that came, and a massive thank you to The Boathouse Palm Beach for the delicious fruit, bacon and egg rolls and coffee. Everyone did such a fantastic job cleaning up AND doing so with a big smile on their faces whilst carrying a lot of positive energy.
The community we live in is truly amazing, and we feel so stoked to be apart of it and it's so special when we are able come together to support the health of our oceans and the marine life in them.
The next clean up is on the 18th of September at Warriewood.
Here is a short tally of some of the rubbish we collected from the day;
Cigarette Butts -1840
Plastic Bottles - 233
Bottle Lids - 244
Food Containers - 1013
Parking Tickets -196
Straws - 96
Plastic Bags -318
Rope - 42 metres
(AND MUCH MUCH MORE!).... :/
As you can see there is a whole lot of rubbish floating around our beaches and a lot of this is causing horrific damage to our ocean marine life... SO get involved in this clean up if you keen to help, and say NO PLASTIC PLEASE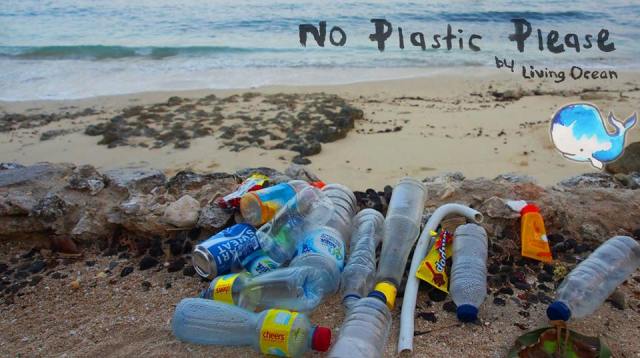 PopulatioNSW Update August
Published September 2nd, 2016: NSW Dept. Planning & Enviornment
This update looks at what the creation of new jobs means for NSW. We also look at ageing across NSW with new population data released by the ABS this month.

Where is NSW's oldest population?
Comparing Sydney and regional NSW ignores a lot of differences across the State. Our oldest community, which is officially also Australia's oldest, is Tea Gardens-Haws Nest, near Port Stephens. Half of all its residents were at least 61 years of age. Our two oldest council areas, Great Lakes and Eurobodalla (Table 1) have been popular retirement spots, which has sped up ageing in coastal areas.
Table 1. Oldest LGAs in Metropolitan Sydney and regional NSW, 30 June 2015
METROPOLITAN SYDNEY
REGIONAL NSW (OUTSIDE SYDNEY)
Median age of population (years)1
Blue Mountains 43.5
Great Lakes 54.7
Pittwater 42.9
Eurobodalla 52.2
Ku-ring-gai 41.7
Urana 52.1
Mosman 41.2
Tenterfield 51.8
Hunters Hill 40.4
Gloucester 51.4
Percentage of population aged 65+ years
Pittwater 18.6
Great Lakes 33.5
Hunters Hill 18.2
Eurobodalla 29.1
Blue Mountains 18.1
Gloucester 28.4
Woollahra 17.8
Urana 28.1
Ku-ring-gai 17.7
Murray 27.6
(
1
) Age at which half of the population is younger and half is older.
Data source: ABS Cat. 3235.0 - Population by Age and Sex, Regions of Australia, 2015.
By comparison, our younger populations are generally found in Metropolitan Sydney. The youngest parts of the city are suburbs around the University of NSW, and western areas including Auburn and Strathfield (see Table 2). In these places, half of the population is under 32 years of age, compared with the Blue Mountains, where the average age is almost 44 years.
The youngest areas of regional NSW are the larger regional centres, often with regional universities and TAFEs, or places with large indigenous populations, for example, Brewarrina.
Table 2. Youngest LGAs in Metropolitan Sydney and Regional NSW, 30 June 2015
METROPOLITAN SYDNEY
REGIONAL NSW (OUTSIDE SYDNEY)
Median age of population (years)1
Auburn 32.3
Brewarrina 32.3
Strathfield 32.9
Armidale Dumaresq 34.1
Blacktown 33.2
Muswellbrook 34.4
Liverpool 33.4
Wagga Wagga 34.6
Percentage of population under 15 years
Camden 23.7
Brewarrina 27.6
Blacktown 22.9
Bourke 24.7
Liverpool 22.3
Narromine 24.1
Wollondilly 21.8
Cobar 23.3
Bankstown 21.7
Conargo 22.6
(
1
) Age at which half of the population is younger and half is older.
Data source: ABS Cat. 3235.0 - Population by Age and Sex, Regions of Australia, 2015.
The age patterns that we see are the combined result of the drivers of population change – births, deaths and migration. Population movement has the greatest impact on the age profiles of regional communities, with the loss of workers and young families from many locations. They move to regional centres, or Sydney. With larger numbers of young adults in these places, we also see more children.
Have Your Say On New Container Deposit Scheme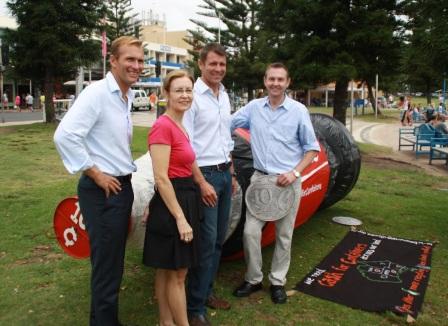 Member for Pittwater Rob Stokes has welcomed the opportunity for local residents to comment on the introduction of the NSW Government's new 10 cent container deposit scheme.
The NSW Government has announced the new initiative will commence from July next year and will provide a 10 cent refund for all eligible drink containers between 150ml and 3 litres.
The scheme will be similar to those operating in South Australia and the Northern Territory and is expected to involve a variety of collection points ranging from large depots through to reverse vending machines and pop-up sites.
The draft legislation and discussion paper have now been placed on public exhibition and feedback is being sought on the best ways for the scheme to operate to help maximise results.
"This is the largest initiative ever undertaken across NSW to help reduce litter," Rob Stokes said today.
"Millions of drink containers are inappropriately disposed of every year and make their way into our natural environment.
"A container deposit scheme will help clean up litter from along our creeks, waterways and beaches and provide a financial incentive for people to look at litter in a completely different way.
"Most people do the right thing – but with more and more drink containers entering circulation it's clear we must do more to help change people's attitudes.
"One of the key considerations before the scheme commences is how it can work alongside existing kerbside recycling programs conducted by local councils.
"Feedback on the operation of the new scheme is being welcomed until 21 September, 2016.
"Copies of the documents on exhibition and details on how to provide feedback is available by visiting www.epa.nsw.gov.au/waste/cds-draft-bill-consultation.htm
"This is a fantastic initiative which I encourage everyone to get involved in," Rob Stokes said.
___________
Top: Member for Pittwater, Rob Stokes, Member for Vaucluse Gabrielle Upton, Member for Manly, NSW Premier Mike Baird MP for Manly and Bruce Notley-Smith - Member for Coogee - picture supplied
2016 Manly Arts Festival PROGRAMS Now Available
The 2016 Manly Arts Festival will be launched on Friday 16 September, 6 - 8pm, at the Manly Art Gallery & Museum by Richard Tognetti AO, the world acclaimed violinist, composer and conductor.
Mr. Tognetti will also launch Manly Art Gallery & Museum's two feature exhibitions, 'Northern Light and Manly' (focusing on contemporary photo media) and 'Art from the Vault' (drawn from Manly Art Gallery & Museum's extensive collection).
Richard Tognetti is director and leader of the Australian Chamber Orchestra (widely hailed as 'the finest chamber orchestra on Earth') and Artistic Director of the Maribor Festival in Maribor, Slovenia.
The 2016 Manly Arts Festival will feature a swathe of exciting, inclusive and energised family-friendly cultural events, including exhibitions, concerts, talks, dance, films and creative workshops.
A highlight of the 2016 Festival will be Manly Art Gallery & Museum's exhibition 'Northern Lights' examining contemporary photo-media by pre-eminent and emerging artists from Sydney's Northern Beaches - reflecting on environment, culture and identity through local, national and international 'lenses'.
'Northern Lights' will include photography by Cameron Bloom, James Brickwood, Tim Hixson, Sally Mayman, Trent Mitchell, Cade Turner and Louise Whelan.
Manly: Art from the Vault
Companion exhibition 'Manly: Art from the Vault' will draw from Manly Art Gallery & Museum's extensive collection of paintings, photographs, works on paper and museum objects which reveal Manly in a new light and showcase the gallery's recent key acquisitions. These range from early works by Ethel Carrick Fox, A.H. Fullwood and Tom Peerless to Anne Zahalka's photographic reinterpretation of Nancy Kilgour's painting Figures on Manly Beach (c1930).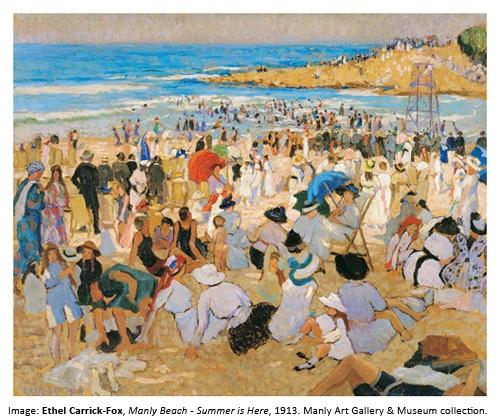 Other 2016 Manly Arts Festival highlights include:
• Cameron Bloom will host a special talk about his evocative photographs of 'Penguin' the magpie, featured in his captivating new book 'Penguin Bloom', a poignant story of hope and healing published by ABC Books and featuring a narrative by New York Times best-selling author Bradley Trevor Greive (Sunday 18 September).
• Author and art critic Ashleigh Wilson will be along to discuss his new book about Brett Whiteley.
• Powerful creative forces will unite for a concert by Australia Chamber Orchestra violinist Satu Vänskä, Midnight Oil and Electric Guitar Orchestra's Jim Moginie and Brian Ritchie, bass guitarist for rock band Violent Femmes (Saturday 17 September).
• The Sydney Chamber Music Festival Concerts will be underway in Manly on 24-25 September, too.
• There will be a Creative Women's Circle event featuring artist Fiona Chandler, photographer Louise Whelan and others (Tuesday 20 September).
• Manly's Big Draw led by artist Lilly Blue where families and artists are invited to participate in the creation of an interactive community installation (Sunday 18 September, 10am – 2pm)
• Great Wall of Manly
• Kids Art Adventures
• Red Room Poetry event
• Art & Soul Collective exhibition at Warringah Creative Space
• Manly Panto performances with Christine Heard, and
• Mango Dance School performances
- and much, much more!
A free, full-colour festival program will also be available.
For advance event information, call the Festival Info Line at Manly Art Gallery & Museum 9976 1421.
Throughout the 14-day festival, programs will be available from Manly Art Gallery & Museum, Manly Library, Manly Visitor Information Centre and other venues throughout Manly.
Manly Arts Festival began in 1994 and has since grown into one of the State's leading community-based arts festivals.
The Manly Arts Festival attracts over 15,000 visitors each year.
Follow the Manly Arts Festival on Twitter - http://twitter.com/manlyartsfest

Mona Vale Hospital Auxiliary Fundraising Dates 2016
Meetings
First Tuesday of every month at Pittwater RSL Club from 10.30am to 12 noon
Membership is $5.00 per year
2016: 6th September, 4th October, 1st November, 6th December
New Members and visitors always welcome
Ring us on 9979 5115 ... or just turn up
September 2nd: Father's Day stall, outside ANZ, Avalon Parade,Avalon Sewing, craft, knitting

September 3rd: Stall, Pittwater Place, Mona Vale Craft, knitting, books
September 16th: Stall, Mona Vale Hospital foyer Baking, craft, knitting, books
September 18th: Sausage sizzle, Narrabeen Bunnings car park
October 1st: Stall, Pittwater Place, Mona Vale Craft, knitting, books

October 1st: Sausage sizzle, Narrabeen Bunnings car park
Tuesday, October 18th, 2016. Fundraising fashion parade at Newport Bowling Club, cnr Palm and Barrenjoey Roads. Morning tea is at 10.30am followed by a Donna Lou affordable fashions parade. Raffles and lucky door prizes. $10 entry and all are welcome. Funds raised will purchase equipment for the Mona Vale Hospital and Rehabilitation centres.
October 21st: Mona Vale Hospital foyer Baking, craft, knitting, books
October 28th: Stall, Warriewood Square, Warriewood Knitting, craft, sewing
November 5th: Stall, Pittwater Place, Mona Vale Craft, knitting, books
November 13th: Sausage sizzle, Narrabeen Bunnings car park
November 18th: Stall, Mona Vale Hospital foyer Baking, craft, knitting, books
December 3rd: Stall, Pittwater Place, Mona Vale Craft, knitting, books
December 3rd: Sausage sizzle, Narrabeen Bunnings car park
December 9th: Stall, Warriewood Square, Warriewood Knitting, craft, sewing
December 9th: Stall, Mona Vale Hospital foyer Baking, craft, knitting, books
Avalon Beach Youth Arts Mapping Project
By Eramboo World Studies Centre Pty Ltd
Innovation in community planning
Avalon Beach is a creative community on Sydney's Northern Beaches. In 2016 with the encouragement of the Avalon Preservation Association and support from Eramboo Artistic directors, a small team of skilled locals took the initiative and launched a unique mapping project to document the suburb's cultural assets and also uncover gaps. The Cultural Mapping Project will provide an evidence base for future planning and is unique in Australia.
Include the voice of youth
The Cultural Mapping Project is a grass roots initiative and the voices of Avalon's young people are critical to building the cultural map. Eramboo Artist Environment is lead host of the Youth Mapping Project, encouraging artistic expression of Avalon youth. The Youth Project will work with the faculty and students of the local high school to nurture their creative talent and at the same time encourage their input and ideas. The Mapping Project will be launched at Avalon Market Day in November 2016 and will showcase the students creative art works.
Here's what we're doing about it
We have planned a Youth Cultural Mapping Project with Year 9 and 10 students at Barrenjoey High School. The Youth Mapping Project places 4 professional artists as mentors alongside the students to work with them to create artworks which celebrate Avalon's cultural assets. The student works will be ready for exhibition at the November Mapping Project launch.
But we have no budget for the Youth Mapping Project to pay for the artists, or for art supplies or for the 1 day exhibition. This is a future oriented Project which will be made more credible with the input of youth voices. The opportunity to encourage local emerging talent via education and the arts, working under the leadership of Eramboo Artist Environment will build memorable building blocks for Avalon Beach's future economic and community development.
How to be part of the Project
We think artists deserve to be paid and that the student exhibition should be expertly curated so we need $8500 to deliver the Project. Our modest budget provides for 4 artists at $1500 each to mentor approximately 20 students; $500 for student art supplies and $2000 to workshop, curate and market the Launch Exhibition. Give a voice to young creatives and contribute towards the $8500 target!!
What memorable experiences you will receive for supporting us
- Special Preview Meet the Mentors and Students prior to the Launch
- Pre-exhibition chance to preview and purchase student artworks
- Invitation to the Launch Exhibition and
- Your copy of the Avalon Beach Cultural Mapping Project Report
Next Generation $5 Banknote Enters Circulation
September 1st 2016 – Media Release – Reserve Bank of Australia
Australia's new $5 banknote enters circulation today. Issuance is being supported by an information campaign to ensure that the Australian public is able to identify the new banknote and its security features.
The Governor, Glenn Stevens, said:
'The new $5 banknote has a range of security features that have not previously been used on an Australian banknote and that will help to keep our banknotes secure against counterfeiting into the future. New features include a world-first clear top-to-bottom window and a number of dynamic features that change as the banknote is tilted.
The new banknotes are the culmination of many years of research and trial and extensive consultation with subject-matter experts and the cash-handling industry, as well as qualitative research involving focus groups.'
The $5 banknote is the first in a new series and other denominations will be upgraded over coming years. Each banknote in the series will incorporate the same security features. Additionally, they will each feature a different species of Australian wattle and a native bird within a number of distinctive elements. The new $5 banknote features the Prickly Moses wattle and the Eastern Spinebill.
The new series also includes a 'tactile' feature to help the vision-impaired community distinguish between different banknote denominations. The tactile feature on the $5 banknote is one raised bump on each of the long edges of the banknote next to the top-to-bottom window.
Key design aspects of the existing series of banknotes, such as the colour, size and people portrayed on each denomination, have been maintained. This will help the public recognise the new banknotes as they come into circulation.
The existing $5 banknote will be progressively withdrawn from circulation but can continue to be used as usual. All previously issued banknotes remain legal tender. It will take some time for the new banknotes to be widely circulated.
Next generation of Australian banknotes: New $5
This video provides an introduction to the new $5 banknote and its security features. More information is available at
http://banknotes.rba.gov.au
Join The Pittwater Artists Trail
Applications are now open for Trail membership in 2017.
The Pittwater Artists Trail is an alliance of artists who collectively open their studios to the public on the first full weekend of each season creating a Trail for art lovers.
Visitors can engage with the artists, see how they work and what inspires them, buy beautiful, original artworks or perhaps enrol in one of the courses offered by a number of artists on the Trail.
The inaugural Open Studio weekend was held in 2011 and the Pittwater Artists Trail has been going from strength to strength ever since.
The Pittwater Artists Trail currently holds three open studio events each year on the first full weekend of March, September and December.
A group exhibition is held on the first weekend of June.
If you are an artist who lives in Pittwater, have visited the Trail and would like to apply to join please read the charter which provides all the details of the Trail and membership.
Applications close mid September.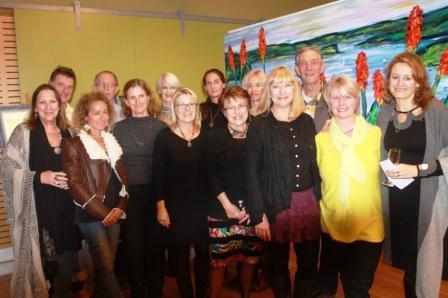 Above: Pittwater Artists Trail Winter Exhibition – photo by A J Guesdon
Spring Concert 2016
Rotary Club of Upper Northern Beaches
Local favourite Tom Burlinson joins Northern Beaches Orchestra for Rotary concert
The Rotary Club of Upper Northern Beaches is proud to present the internationally-acclaimed Australian vocalist Tom Burlinson, performing with the Northern Beaches Orchestra (NBO) in the Northern Beaches Spring Concert.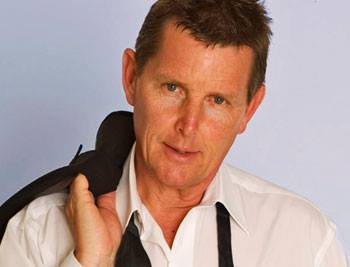 This year's event, on Wednesday 21 September, is the seventh annual concert presented by Upper Northern Beaches Rotary in partnership with United Cinemas and will again be held in the Grand Theatre at United Cinemas, 4 Vuko Place, Warriewood.
Tom Burlinson and the NBO have created an exciting musical program called Swing with Strings, an eclectic selection of enduring songs from the swing era and beyond, with popular melodies like "Unforgettable", "I Get a Kick Out of You", "Anything Goes" and "Mr Bojangles", plus a special tribute to Frank Sinatra, featuring "Come Fly With Me", "That's Life", "New York, New York" and many more.
It's a unique combination -- popular music interpreted by an Australian musical legend accompanied by the power and richness of a symphonic orchestra.
Formed in 2008, the NBO is a not-for-profit organisation created to provide opportunities for musicians on the Northern Beaches to excel musically as well as to enhance the cultural life of the local community.
Tom Burlinson has enjoyed a stellar career as an actor and singer in Australian show business for almost 40 years. His shows celebrating Frank Sinatra and other greats of vocal swing are loved throughout the country. A Northern Beaches resident, Mr Burlinson is a regular cinema-goer at United Cinemas Warriewood. "I'm really looking forward to performing in the main theatre there," he said. "I'm hoping the concert will be a very special and memorable one."
"It's great that we can showcase the amazing local talents of the Northern Beaches Orchestra again this year," said Upper Northern Beaches Rotary President Kailas Chidambaram. "And we are especially pleased to present Tom Burlinson as our vocal headliner for the first time."
Concert proceeds will go to the projects of Upper Northern Beaches Rotary.
The event has attracted an impressive group of sponsors, including Wiseberry Mona Vale, Ann Wilson Funerals and Blackmores.
For more information call Upper Northern Beaches Rotary on 0427 517 732
It's a great opportunity to enjoy a memorable evening of fine music featuring talented local musicians and an Australian superstar, while helping to support the work of Rotary in the Northern Beaches.
Sydney Wildlife:
Critter of the Month September 2016
Spring-Time = Snake-Time
Spring is upon us And this means that our beautiful reptiles will be emerging for all the good things that the warm weather has to offer - sunshine, food and… love!
Of all the glorious reptiles we have here on the Northern Beaches, snakes would have to be the most feared and the most misunderstood of all. We often get called out to remove a "6-foot brown snake" but when we get to the site, it's invariably a swamp snake or a whip snake or a snake that isn't even brown at all!
We've decided to dedicate this article to two little species of snakes that are local to our area and that are often confused with the infamous eastern brown snake (Pseudonaja textilis). They are, in fact, relatively harmless to humans and can be very useful in eradicating pests from our gardens.
The species we will be focussing on this month are:
Yellow-faced whip snakes (Demansia psammophis) and
Black-bellied swamp snakes/marsh snakes (Hemiaspis signata)
Let's start with the gorgeous little swamp snake. They are referred to as a black-bellied swamp snake or a marsh snake. We often refer to them, fondly, as 'marshies':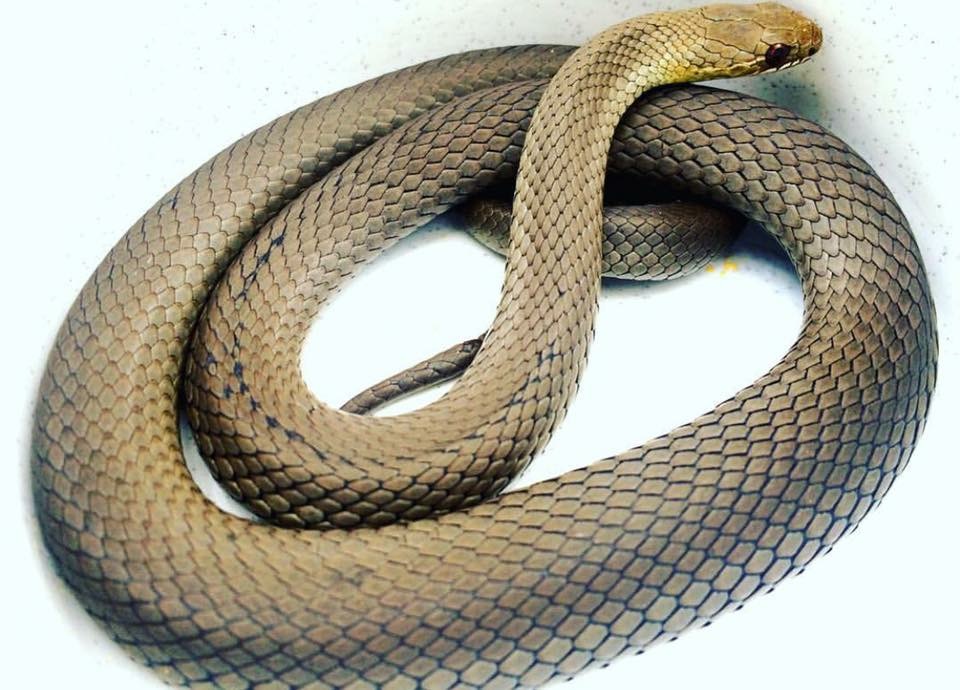 Photograph by Lisa Wynn
The black-bellied swamp snake (Hemiaspis signata) can vary greatly in colour and size, depending on the area in which they are found. Their most distinguishable features are their white facial 'racing stripes' - one behind each eye and one above the lip on either side of their heads. As their name suggests, they live in moist areas adjacent to swamps and lagoons and creek-side vegetation. They also like well-watered gardens. Their diet consists mainly of skinks and frogs.
Whilst they are mildly venomous, they are not considered dangerous. Their venom is used primarily to subdue their prey.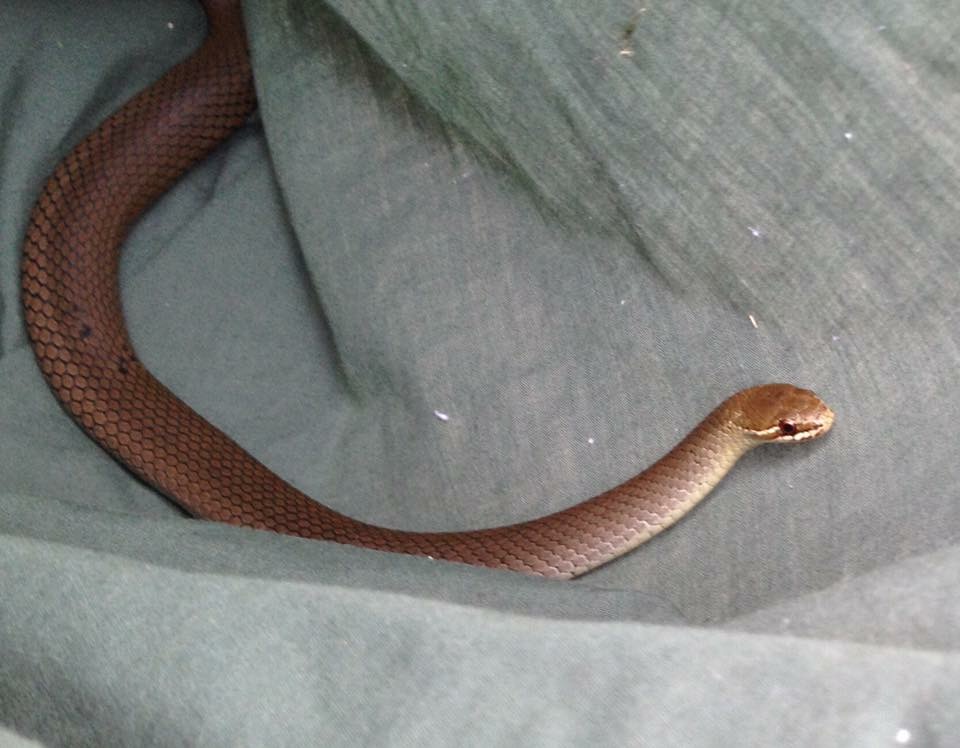 This photo of a marsh snake shows the beautiful white stripes on its face. The member of the public that called us to rescue this snake was convinced she was an eastern brown snake (Pseudonaja textilis) until we pointed out the facial markings and black belly - visible in the next photo: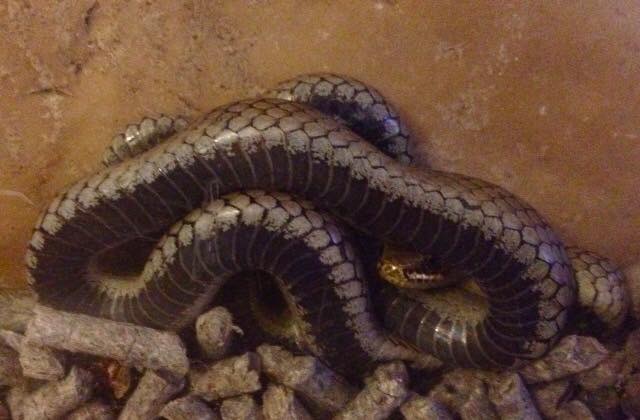 Our second focus species is the very beautiful Yellow-faced whip snake (Demansia psammophis):
Photo by Lisa Wynn
This photo of the amazingly beautiful yellow-faced whip snake (Demansia psammophis) clearly shows the 'comma-shape' around its eye. In the sunshine, their body can often appear to have a rainbow sheen (leading to their nickname of rainbow ribbons/rainbow worms).
These little snakes can appear to be very brown in colour but they can also look olive green.
The most noticeable difference between these little guys and eastern brown snakes is the pretty comma-shape around the eye area. They have a mild venom which they use to subdue their prey.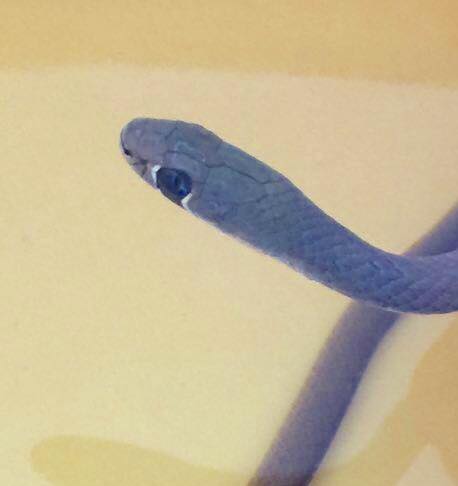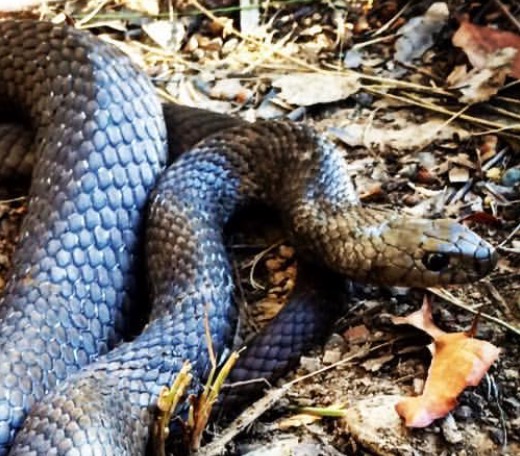 Can you see the difference between the whip snake's face and the eastern brown snake's face?
The eastern brown snake (Pseudonaja textilis) can also vary greatly in colour and size. The one pictured above is fairly dark. The one pictured below is quite light in colour: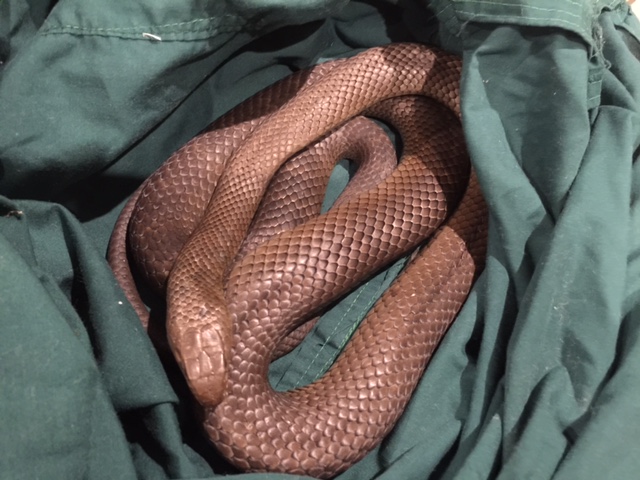 As you can see, it's fairly easy to see the facial markings on the marsh snakes and whip snakes. The eastern brown snakes won't have these markings.
Many snakes are needlessly killed each year - just because they happen to be brown in colour. Trying to kill a snake puts you in much greater danger than leaving it in peace, as you are entering their strike zone to kill them.
What to do if a snake enters your house:
Don't panic

Remove pets and children from the room

Close the door to the room or keep a close eye on it until help arrives

Call for advice:
Sydney Wildlife 9413 4300

Wires 1300 094 737

Sydney Snake Catchers (fees apply) 1300 599 938
2107 To Extend Into 2108!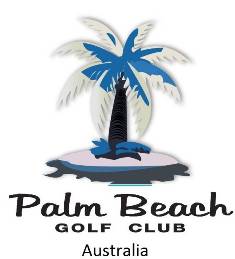 The Palm Beach Golf Club is pleased to announce that Andrew & Amy Towner and their team from The 2107 Restaurant in Avalon is coming to Palm Beach and to Beach Road Dining from October 2016.
The 2107 Restaurant was recently awarded "Most Outstanding" Restaurant at the 2016 Local Business awards and will be bringing its Modern Australian themed menu to Palm Beach!
There will be a multitude of menu options available from a Café style menu during the week to a Al a carte dining menu on Friday nights and a Pub style bar menu with all the classics on weekends.
This will allow you plenty of opportunities to come and to enjoy our iconic beach side suburb, enjoying the views across the Golf Course out to Lion Island.
Australian Mogul Championships 2016
James 'Jimmy' Matheson came 6th in the Subaru Australian Mogul Championships!
World #1 Mikael Kingsbury (Canada) won the gold. Mosman boy Rohan Chapman-Davies came 3rd! Our World #2 Matt Graham came 5th.
MWNA In Grand Final
On Saturday August 27th the MWNB held their Grand Finals for local netball clubs.
This coming Monday, September 5th, Manly Warringah will play in the 2016 DOOLEYS Metro League Grand Final in Division 4 against Randwick. The match will take place at Netball Central, Olympic Park.
Below: Manly's Jean Hay AM, Pittwater's Kylie Ferguson and Warringah's Vincent De Luca OAM attended the Grand Finals Day Matches and presentations.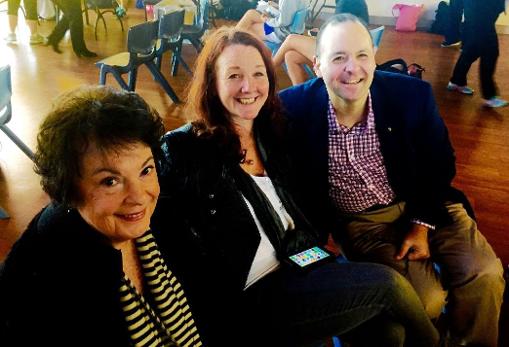 Operation Beard Off!!
Has anyone else noticed that RPAYC Club Coach Tom Spithill has started to resemble a Mountain Man?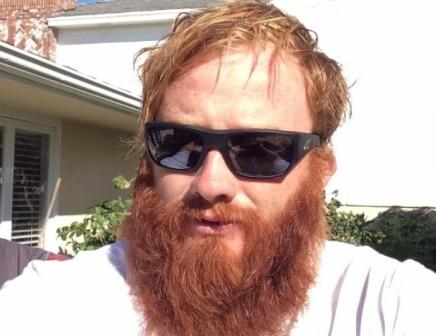 We have decided that it's time for the beard to go and so Tom has agreed to shave his beard for a great cause. Tommy will be raising money to go towards the IdS Program (Integrated disAbled Sailing) at the RPAYC who in turn support Soldier On. Tom has been involved with getting the Soldier On Team out sailing each month, it has been a very humbling experience for him and the Club to support such a great community programme.
Sailing has been one of Soldier On's greatest integration programmes, that has seen many ex service men, women and their families re-unite with fellow service persons, the community and best of all learn and develop new skills in the sport of sailing.
We will have Nathan Vardanega who is the Reintegration Officer from Solider On here to start proceedings. If anyone has a large blade we are going to need it.
For those local, DONATE NOW & join us at the RPAYC on Saturday 10th September @ 4.30pm for Operation Beard Off.
For those unable to attend be sure to DONATE to the cause & we will update you with pictures.
Soldier On's mission is to achieve the best reintegrated generation of serving and ex-serving men and women in Australia's history. To achieve this, Soldier On supports those who have served by focusing on their physical and mental health, their family, their community, and their future. 72,000 Australians have served in the Australian Defence Force since 1990, and thousands will be effected by their service, be it physically or psychologically. Soldier On supports anyone who has served Australia and their families. This includes those who have served as part of the Army, Navy, Air Force, the Department of Foreign Affairs and Trade, the Australian Federal Police, and the Department of Immigration and Border Protection, which includes Australian Border Force.
In 2013 The RPAYC furthered its commitment to disabled sailing by formalising a program called Integrated disAbled Sailing (IdS). The program provides financial and volunteer support to integrate sailors with disabilities into the Club's regular sailing program and provides support for Sailability Crystal Bay which is based out of the Club's Crystal Bay hardstand. In 2015 the Club was proud to win a national award for this program from the Marina Industries Association.
APBBC September Business Breakfast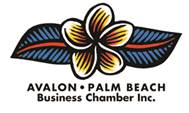 Avalon Palm Beach Business Chamber Invites you to join us for our 6 September 2016 Business Networking Breakfast
Our Breakfasts are your opportunity to showcase your business.
Guest Speaker: Our meetings now feature 10 minute presentations from two attendees from our past meetings.