September 11 - 17, 2016: Issue 280
Opening of Mona Vale Skate park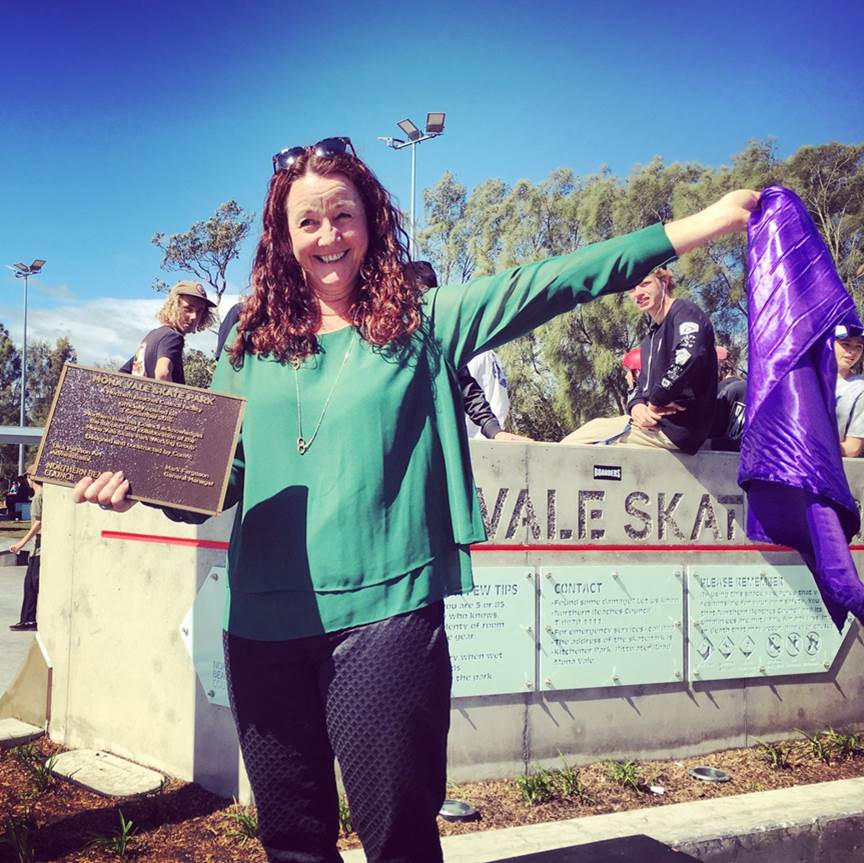 Former Deputy Mayor Kylie Ferguson has the pleasure of officially unveiling the plaque.
The Northern Beaches' newest and most awaited facility, Mona Vale Skate Park, was ready ahead of schedule, and was officially opened on Saturday 3rd of September.
The family-friendly open day featured demos from pro skaters, a number of clinics run by Volcom's Rider Convergence Crew for young skaters. Following the formalities there was free skating, competitions with prizes, outdoor games and lots more. Board Riders donated boards for people to create their own art on - a very popular activity!
Families and skaters alike were kept entertained with vibes from local DJ Adam Russo while Council provided a free BBQ for those needing more fuel to get active.
What a fantastic day for the opening of Mona Vale Skate Park!!

Well I have to admit to having some nerves after the weather the previous 24 hours, but Saturday dawned, the rain had ceased and the sun came out shining.
This Skate Park has been a long time coming and so thank you all for your patience, but the day of the opening is finally here and now it is time to enjoy it.
Some history; in December 2015, the former Pittwater Council selected Convic as the preferred tenderer for construction of the skate park.
Convic was one of three firms that tendered for construction. The design for the skate park was produced in collaboration with a working group of community members from June to September 2014, including lots of input from our community's younger members.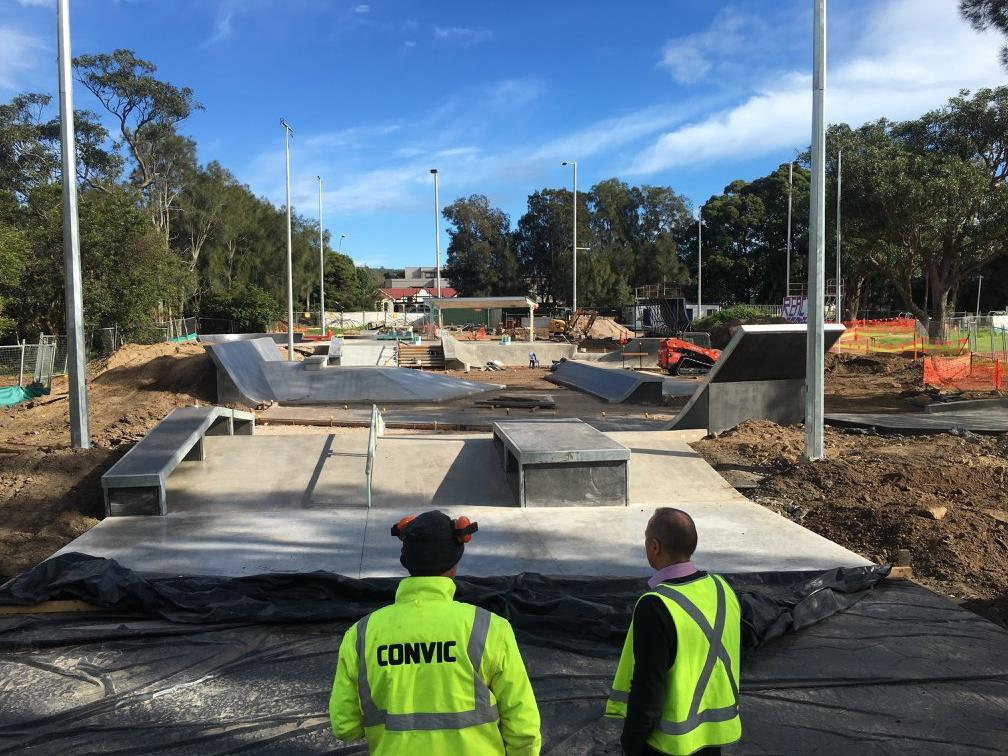 The Skate Park taking shape

The skate park caters for the interests, needs and safety of current and future generations of skate facility users including skateboarders, BMX, scooter users and even rollerskaters!
Today we will be celebrating the day with feature demos from pro skaters: Chima Ferguson, Sammy Winter, Bo Reid, Nik Stipanovic, Reece Warren, Shane Azar, Cody Riley, Poppy Starr, Bjorn Johnston and Jake Smyth.
We have free skating, competitions with prizes, outdoor games, a free BBQ and many other activities.
Local well-known artist Ben Brown will help you revamp your deck with your own amazing artwork.
Well I had a fabulous day celebrating this wonderful new Skate Park, with the help of former Councillors Townsend, Millar, and White.
I am so proud of the former Pittwater Council and staff for everything they have done to realise this dream for so many.
The feedback has been constant and unbelievably positive. Children have been putting down their phones and ipads and are out skating from 6am!! They are skating together more often and forming even greater friendships. It is amazing to see the ages of those enjoying it.
The saying, 'If you build it, they will come' is alive and well at Mona Vale Skate Park!!
By Kylie Ferguson
Mona Vale Skate Park Design highlights include:
• Renovating the existing vert ramp
• Beginner skate pool which includes a long skateable ledge to accommodate level change
• Addition of new shared entry skate pool
• Bowl design to include hip and corner extension
• Central diamond pyramid
• An entry plaza, central refuge and viewing area.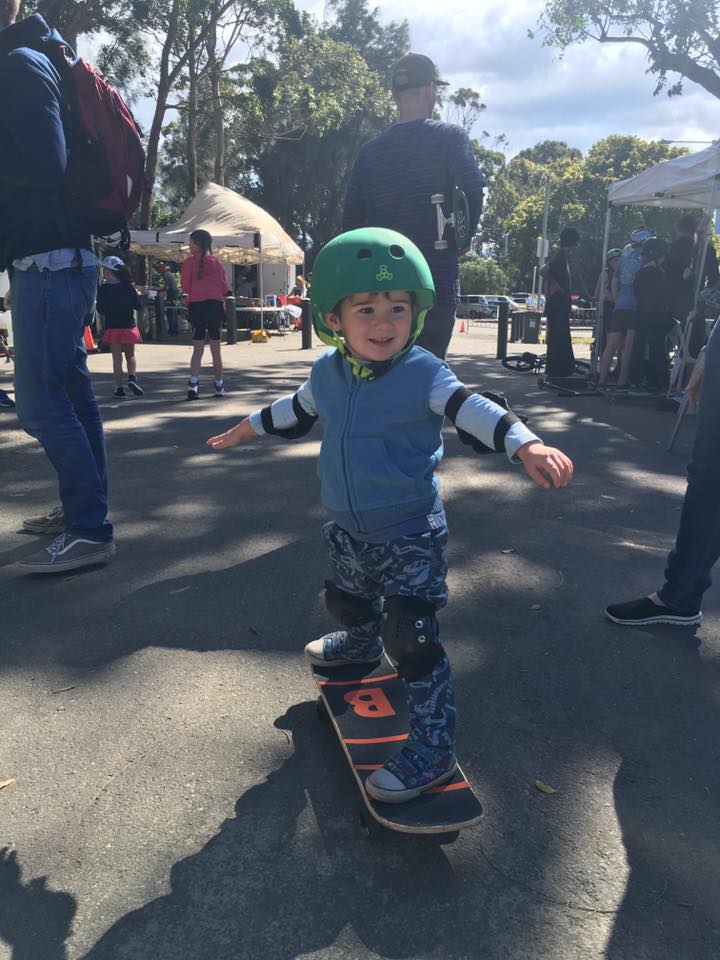 Carving it up!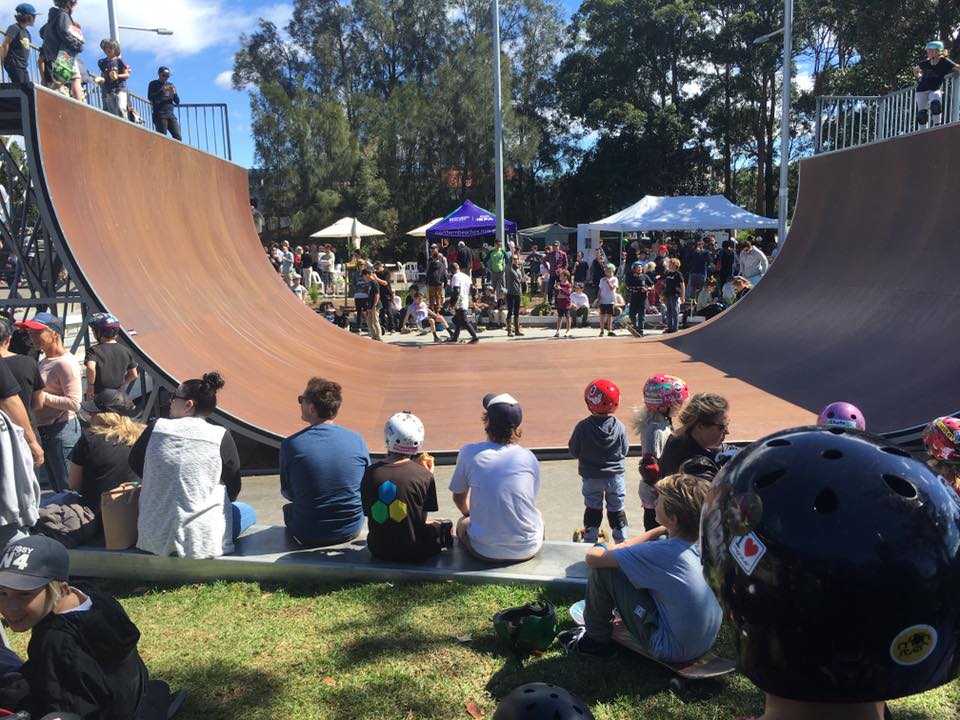 Opening day crowds enjoying the fun