September 25 - October 1, 2016: Issue 282
Josh Kerr Wins Three Medals At National Swimming Championships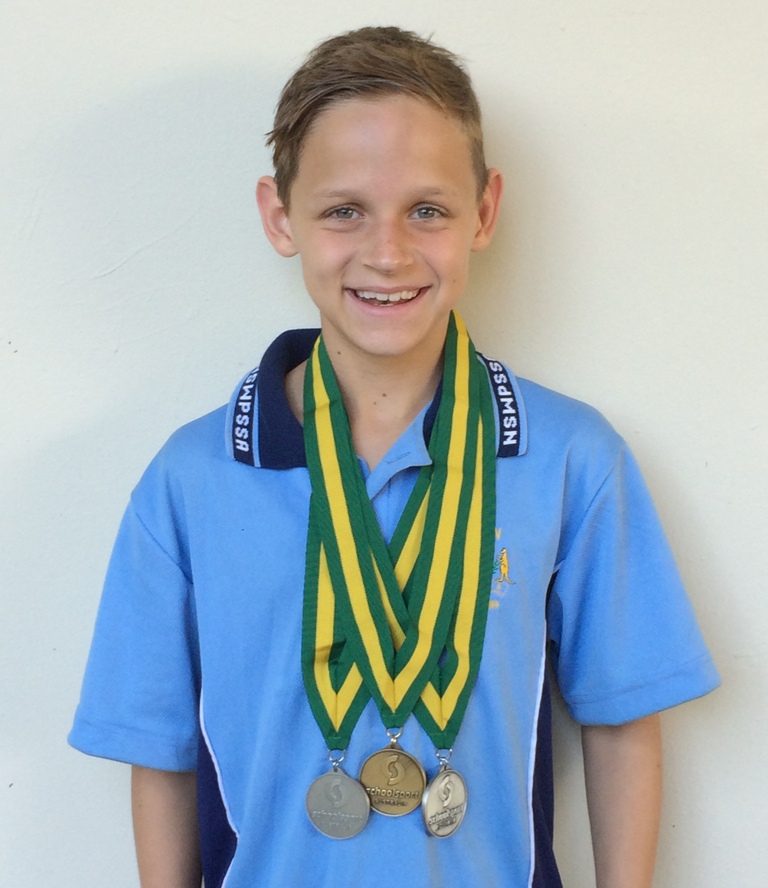 Josh with his three medals - photo courtesy David Kerr
Joshua Kerr is 10 years old and in Year 4 at Maria Regina Catholic School at Avalon Beach. He recently represented Maria Regina as part of the New South Wales team for the School Sports Australia National Swimming Championships in Darwin. The event was help over 15-21 September at the Casuarina Swimming Pool in Darwin.
To get to this level Josh competed in five carnivals being the school carnival, peninsula cluster, Broken Bay diocese and Polding Championships and was the fastest in NSW for Catholic Schools. He then competed at PSSA (Primary School Sport Association) State Championships where he placed 2nd and booked his place in the NSW team for the National Schools Championships.
Josh competed in three events for NSW in Darwin and Breaststroke is his favourite stroke. The following are his results;
In the 10 years 50m Medley relay, Josh combined with three other boys to win a silver medal for NSW
In the 10 years 100m Breaststroke, Josh placed second in the final for a silver medal and swam a personal best time.
In the 10 years 50m Breaststroke, Josh placed first in the final and became the first ever Australian Swimming Champion from Maria Regina. He managed a personal best time of 39.24 seconds and was ecstatic with the result.
The photo above shows Josh with his three medals.
Also as part of the team atmosphere the NSW students were taken on an excursion to see the jumping Crocodiles in the Adelaide River and all students were cheering for all their teammates over the 6 days of Competition at the pool.
Josh made some great new friends from the other states and also has now become strong friends with the other NSW team members. He loved Darwin, including the heat and humidity, swimming races at night in an outdoor pool and the red dust.
Josh hopes one day to reach the Olympics in Breaststroke and is competing and training very hard with the Carlile Swimming Club at Narrabeen at least 4 times a week.
In his spare time Josh also is an Avalon Nipper, plays Soccer for Avalon and AFL for the Pittwater Tigers. He has also recently been accepted into the Sydney Swans Academy for AFL.
It's also worth noting that Josh learned to swim in Avalon with Lisa Hewitt, then moved on to Cheryl. These two ladies deserve credit for starting Josh on his journey to becoming a national champion. Both are still running home based swim schools in Avalon.
Joshua started racing at the Avalon-Bilgola Swimming Club when he was 4 years old and loves the Saturday morning races.
Congratulations Josh - what a great effort and wonderful result!