September 4 - 10, 2016: Issue 279
Extra School Zone Flashing Lights
Extra School Zone Flashing Lights
30 August 2016
Member for Pittwater Rob Stokes today announced five local schools will receive an additional set of school zone flashing lights.
The NSW Government has allocated a further $5 million to help improve pedestrian safety at schools across NSW that have multiple entrances and potentially higher safety risks.
The initiative builds upon an earlier NSW Government commitment to provide at least one set of school zone flashing lights at all eligible schools across NSW and is being funded by revenue generated from speed and red light camera infringements.
Schools in Pittwater to receive an additional set of school zone flashing lights include;
Avalon Public School;

Pittwater High School;

Maria Regina Primary School;

Terrey Hills Primary School / German International School; and

Narrabeen Lakes Primary School
"It's fantastic to see additional funds being allocated towards pedestrian safety around local schools," Rob Stokes said today.
"Flashing lights are an effective reminder to motorists to slow down in school zones and remain extra vigilant.
"We must keep reinforcing the message about school zones and the heightened risks to children.
"The next stage of the initiative is aimed at providing an extra level of protection for schools with multiple busy entrances, higher traffic volumes or specific road safety issues.
"All school zone flashing lights are being directly funded by speed and red light camera fines.
"I look forward to these additional sets of flashing lights being installed throughout our community and the benefits they'll provide," Rob Stokes said.
____________________________
The roads extra Flashing Lights have been funded for are:
Avalon Primary – Bellevue Avenue
Maria Regina Primary - Central Road
Pittwater High School – Mona Street
Terrey Hills PS / German International – Cooyong Road
Narrabeen Lakes Primary – Ocean Street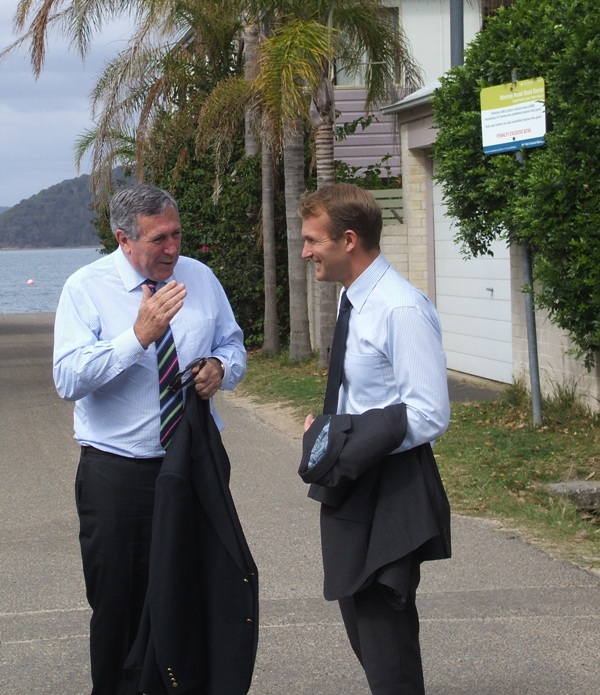 Minister for Roads, Maritime and Freight, Hon. Duncan Gay with MP for Pittwater and Minister for Planning & Environment, Hon. Rob Stokes