September 25 - October 1, 2016: Issue 282
MC38 fleet spring into 2016/17 season‏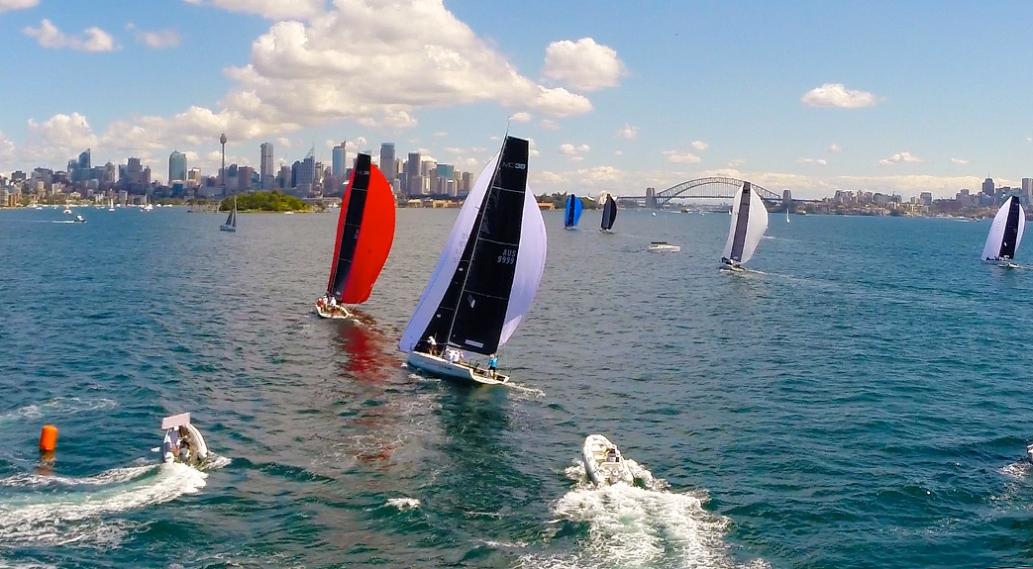 MC38 Spring Regatta on Sydney Harbour - photo by Bob Fowler
Ginger's early lead at MC38 Spring Regatta
24 September 2016

Eight MC38s took to Sydney Harbour in light winds on the magic opening day of the CYCA Spring Regatta. An hour and a half delay due to insufficient breeze eventually transitioned to an 8-9 knot easterly and consecutive starts were run off Garden Island's naval base on the harbour's southern shoreline.
Four races in to the seven-race series, Leslie Green's Ginger already has a seven point advantage, their 2,1,1,2 scores easily giving them top billing and the North Sails 'boat of the day' battle flag.
Neville Crichton's Maserati is running second and John Bacon's Dark Star third, and both will carry costly 7 and 9 point results respectively, given the Spring Regatta is a no discard pointscore.
The fleet was jolted from the suspended start of the spring racing program when a different Sydney yacht club laid marks in the same vicinity as the MC38's bottom gate, causing confusion in race one.
The three leading boats, Dark Star, Menace and Assassin, unknowingly sailed an incorrect course and were later scored DNF. Others realised the leaders' error and were able to adjust in time. Two of the three penalised with a DNF applied for redress back at the dock but were denied by the jury.
Ginger's mainsail and spinnaker trimmer, Richie Allanson, said they came close to sailing the wrong course and getting smacked when tactician David Chapman recognised the error and corrected, giving them a few bonus points. "It was a hard day to string four good results together, tricky with the tide and the other traffic but a beautiful day on the harbour," Allanson elaborated. "One of the great things about these boats is you can race them in eight knots."
In the off-season Green had Ginger's rigging renewed and the team went sailing on Wednesday, their first sail together in two months, to trial the new set-up. "Leslie said going sailing during the week was the best thing that had happened to him the last eight weeks. When the owner is enthusiastic, he does a nice job driving his boat," Allanson added.
CYCA Spring Regatta - Ginger boat of the day. Photo by Bob Fowler

Maserati and Ross Hennessy's Ghost Rider's scored a bullet apiece and all crews other than Ginger collected mixed results.
Dark Star had Katie Spithill on the helm representing Bacon, who was interstate but will be back for day two. On her first-ever drive of an MC38 Spithill said, "It was really good fun. I've been in the tactical role but not the driving role – it's a very different focus, making sure the boat's going fast. I had zero practice, on the way to the start line was it. Stepping on with a competent crew makes it easy; it was like old times as I've sailed with a lot of the guys before. If I win Lotto I'll buy an MC38 and join the fleet," she added.
Spithill's husband Grantley Pellew was also on board Dark Star, as a guest trimmer.
The Cruising Yacht Club of Australia's Principal Race Officer Steve Kidson originally set up a course off Taronga Zoo, anticipating the forecast southerly. When an easterly breeze settled in Kidson's team moved the operation and reset, starting with one mile upwind legs in race one then shortening to .85nm, to keep individual races within the class' preferred timeframe.
West to north-westerly winds below 10 knots are anticipated to turn south-westerly on Sunday September 25 in the middle of the day then tend southerly 10-15 knots in the early afternoon.
Race five is scheduled to begin at 1000hrs and like Saturday it will be a matter of Kidson sticking his head out of the boat and setting up based on what's actually happening on the track.
Series Results [MC38] up to Race 4
Place Ties Sail No Boat Name Skipper Sers Score Race 4 Race 3 Race 2 Race 1
1 AUS38011 GINGER Leslie Green 6.0 2.0 1.0 1.0 2.0
2 NZL80 MASERATI Neville Crichton 13.0 1.0 2.0 7.0 3.0
3 AUS38002 DARK STAR John Bacon 19.0 5.0 3.0 2.0 9.0F
4 3.0S NZL38014 MENACE Howard Spencer 20.0 3.0 5.0 3.0 9.0F
5 AUS521 HOOLIGAN Marcus Blackmore 20.0 7.0 4.0 4.0 5.0
6 403 GHOST RIDER Ross Hennessy 22.0 8.0 8.0 5.0 1.0
7 HI101 VINO Christopher Hancock 23.0 4.0 7.0 8.0 4.0
8 9999 ASSASSIN Robin Crawford 27.0 6.0 6.0 6.0 9.0F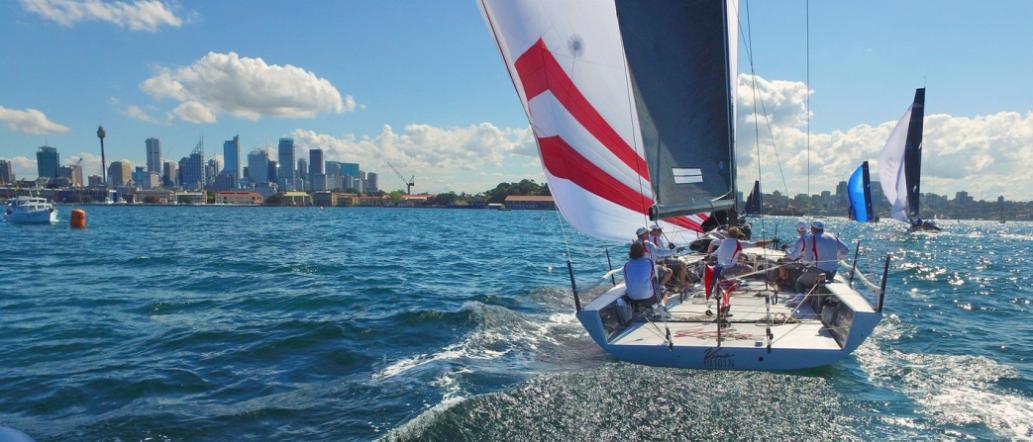 Vino CYCA Spring Regatta 2016- photo by Bob Fowler
Ginger overpowers MC38 Spring Regatta field
25 September 2016
Event: MC38 CYCA Spring Regatta, 24-25, 2016 September on Sydney Harbour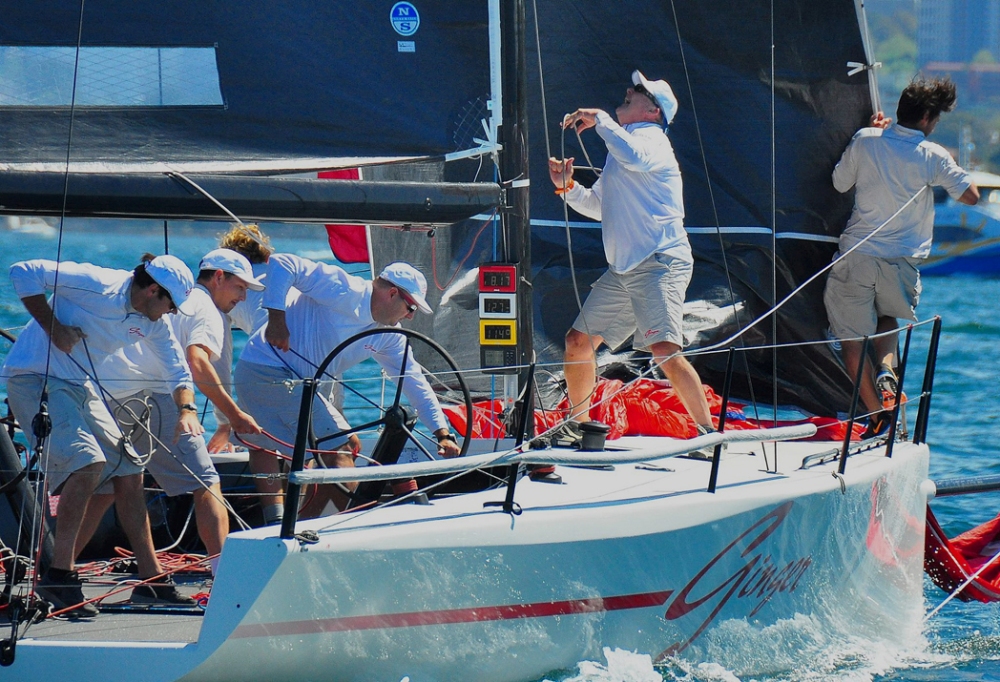 Ginger Spring Regatta winner 2016
- photo by Bob Fowler
The dominance of the MC38 class by Leslie Green's Ginger continues with yet another triumph, this time the CYCA Spring Regatta sailed on Sydney Harbour over the weekend of September 24-25, 2016.
Over seven races Neville Crichton's Maserati came within five points of the supreme Ginger racing team. Crichton reckons they can be beaten, but no one has figured out how since the full class competed at the MC38 Winter Regatta in June last year, when Howard Spencer's Menace set up a Kiwi victory.
New Ginger crewman, Mick O'Brien, who has "a mast and middle of the boat grunt role" says the team has a 'never give up' attitude. "We had a dream day on Saturday; it wasn't always easy… a couple of those races we were fourth and fifth around the top mark and we managed to grind away downwind. Our two wins…one was by five seconds and the other by two seconds. We worked really hard and got them on the line."
At 80 something, Green is an inspiration to the class and wider sailing family for his ability and endurance on the helm of these touchy grand prix racing machines. To his own team he's a motivating leader. "It's definitely a team; no egos, they just do it for the boat, and for Leslie," O'Brien added.
Green particularly enjoyed the Spring Regatta win representing the host club, the Cruising Yacht Club of Australia, where he's a 60-year member. In his usual light-hearted spirit he took the opportunity at the end of series trophy presentation to acknowledge his crew one-by-one and joke with the crowd.
Speaking on Ginger's performance, runner-up skipper Crichton had these comments, "Leslie does a fantastic job, there's no argument his is the best team out there, but he's beatable…he's beatable. We weren't that far off the pace."
If Menace hadn't collected a DNF points give-away in race one after sailing the wrong course, their story would have had a different ending.
Commenting on a redeeming second day that moved them to third overall, Menace's tactician Ray Davies said, "We had a much better day; we went around all the correct marks and ended up boat of the day. Neville Crichton's boys did a good job of holding onto second and Ginger sailed a fantastic regatta. Hats off to Leslie, it's very inspiring he can be the oldest guy in the fleet and still so good."
Though Chris Hancock's MC38 Vino is "more or less for sale" he's gearing up for the four-part 2016/17 season pointscore which starts in a fortnight on Pittwater. "We are back on the horse; we've only been together for four weeks with some of the original guys and a few new ones."
Hancock is excited to announce that Peter 'Billy' Merrington is joining the Vino program as tactician.
John Bacon thanked Clare Crawford (Assassin) for the organisation of the CYCA Spring Regatta which was sailed in easterlies on Saturday and W-WSW winds on Sunday, averaging seven knots gusting to 13 knots and down to 2 knots as the boats inched to the finish of the closing race seven, just before the rain came down and soaked crews and officials.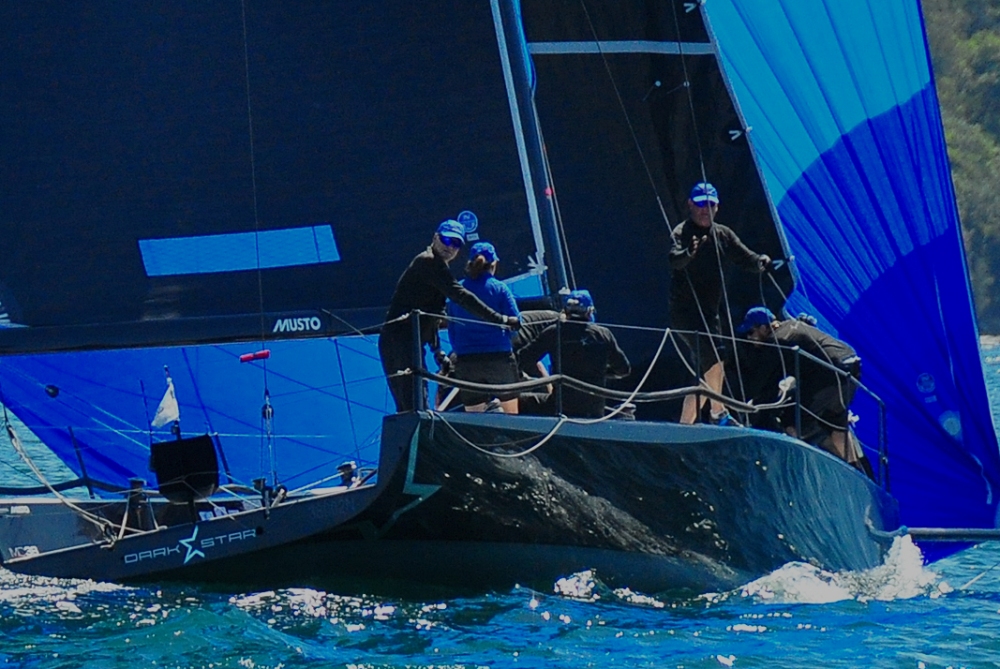 Dark Star Spring Regatta 2016 - photo by Bob Fowler

Royal Prince Alfred Yacht Club will host the first act of the 2016/17 Summer Series Championship on the weekend of October 8-9 on Pittwater.
Series Results [MC38] up to Race 7
Place Ties Sail No Boat Name Skipper Sers Score Race 7 Race 6 Race 5 Race 4 Race 3 Race 2 Race 1
1 AUS38011 GINGER Leslie Green 16.0 7.0 2 .0 1.0 2.0 1.0 1.0 2.0
2 NZL80 MASERATI Neville Crichton 21.0 2.0 3.0 3.0 1.0 2.0 7.0 3.0
3 AUS38002 DARK STAR John Bacon 24.0 1.0 1.0 2.0 5.0 3.0 2.0 9.0F
4 3.0S NZL38014 MENACE Howard Spencer 35.0 3.0 8.0 4.0 3.0 5.0 3.0 9.0F
5 AUS521 HOOLIGAN Marcus Blackmore 38.0 9.0F 4.0 6.0 7.0 4.0 4.0 5.0
6 403 GHOST RIDER Ross Hennessy 40.0 4.0 7.0 7.0 8.0 8.0 5.0 1.0
7 HI101 VINO Christopher Hancock 40.0 6.0 6.0 5.0 4.0 7.0 8.0 4.0
8 9999 ASSASSIN Robin Crawford 45.0 5.0 5.0 8.0 6.0 6.0 6.0 9.0F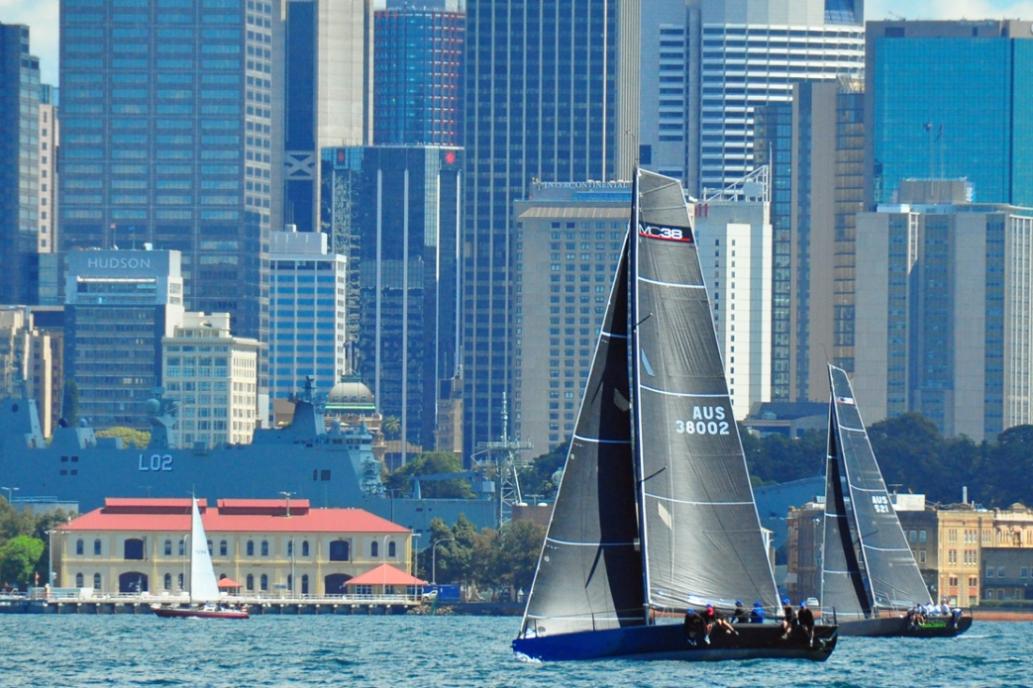 CYCA Spring Regatta Dark Star and Hooligan- Photo by Bob Fowler
MC38 fleet spring into 2016/17 season
Event: MC38 CYCA Spring Regatta, 24-25 September, four-part MC38 Summer Series Championship and MC38 Australian Championship, 3-5 March 2017

Spring days are getting longer and the MC38 crews are warming up for another season on Pittwater and Sydney Harbour starting with this weekend's opening Spring Regatta at a new host club, then easing into a four-part summer championship.
The one design class' model of circulating weekend regattas between the Sydney clubs plus on-water umpiring is serving the committed owner's group well. The same core set has fronted up for the past three seasons without a single protest going to the jury room.
As MC38 Australian Association president John Bacon says, "We've got a great bunch of owners, crew and supporters that make these events really fun. We are all doing our own thing club racing then we come together for close and clean sprints where the fleet is so compact that the seven or eight boats going around a mark feels more like 20.
"We are incredibly grateful to our world-class umpires Richard Slater and David Tallis for keeping the racing efficient and friendly. We are all pushing hard but we know the umpires are sitting in boats watching and we have to sail clean, and that's a really good thing."
Bacon says a two-year program has been mapped out and distributed to all teams, giving owners certainty when it comes to planning calendars and refining boats and crew for familiar and semi-predictable conditions either on Sydney Harbour or Pittwater.
"The strength of the class is the fact we capitalise on a really tight bunch of dedicated owners who love racing against each other, plus some owners really push the envelope and that standard then filters through the fleet so we are forever improving and getting more out of these thrilling high performance boats."
The sail program for Bacon's Royal Prince Alfred Yacht Club based Dark Star is unrecognisable compared to when he first launched. During the latest off season he's continued developing his wardrobe with North Sails, trying to squeeze the last couple of speed percentages out of the boat.
Robin Crawford's Assassin used the downtime to switch from tiller to dual wheel steerage. Daughter Clare, who is assisting the association to arrange the Cruising Yacht Club of Australia standalone Spring Regatta, says a wheel hasn't hurt three-time Australian champion Leslie Green. "Leslie steers Ginger using a wheel and keeps winning, so we thought we'd have a go."
Taking her physiotherapist's advice Clare will sit out the seven-race CYCA Spring Regatta this weekend, September 24-25, after a medial ligament injury sustained at the snow. Against instruction she's planning to be back driving Assassin for the October 8-9 weekend out of RPAYC, act one of the MC38 Summer Series Championship. "My physio doesn't want me to sail for six weeks – I reckon in three I'll be right!"
Marcus Blackmore's return means Assassin will lose the experienced head of Peter 'Billy' Merrington back to Hooligan. Clare reckons MC38 crews are likely to notice an improvement in Hooligan's straight-line speed: "Billy's taking knowledge of our rig settings with him so don't be surprised if Hooligan is faster than last season," she jested.
With regular tactician Evan Walker still off conquering the world Michael Coxon returns as Assassin's tactician. For the summer championship's opening weekend in October Assassin may be in Coxon's loving care, plus have Walker back from overseas. "If that lines up, we'll be unstoppable!" Clare cautioned with a grin.
The fleet of Australian boats plus Howard Spencer's New Zealand based Menace will race from the CYCA for the first time at the MC38 Spring Regatta this weekend. Racing is due to start under PRO Steve Kidson on Sydney Harbour at 1000hrs for entered teams: Ghost Rider, Ginger, Dark Star, Maserati, Assassin, Menace and Hooligan.
Two weeks' later the four-part 2016/17 MC38 Summer Series Championship commences. Between the third act in February 2017 and fourth in April owners will come to blows at the event everyone wants to win - the 2017 MC38 Australian Championship, timetabled to be part of Middle Harbour Yacht Club's established Sydney Harbour Regatta.
MC38 2016/17 season calendar dates:
CYCA Spring Regatta (standalone), 24 - 25 September 2016, CYCA

Act 1 2016/17 MC38 Summer Series Championship, 8 - 9 October 2016, RPAYC

Act 2 2016/17 MC38 Summer Series Championship, 5 - 6 November 2016, venue TBC

Act 3 2016/17 MC38 Summer Series Championship, 18 - 19 February 2017, venue TBC

2017 MC38 Australian National Championship, 3 - 5 March 2017, MHYC

Act 4 2016/17 MC38 Summer Series Championship, 8 - 9 April 2017, venue TBC
by Lisa Ratcliff
MC38 Australian Champships - Ghost Rider photo by Saltwater Images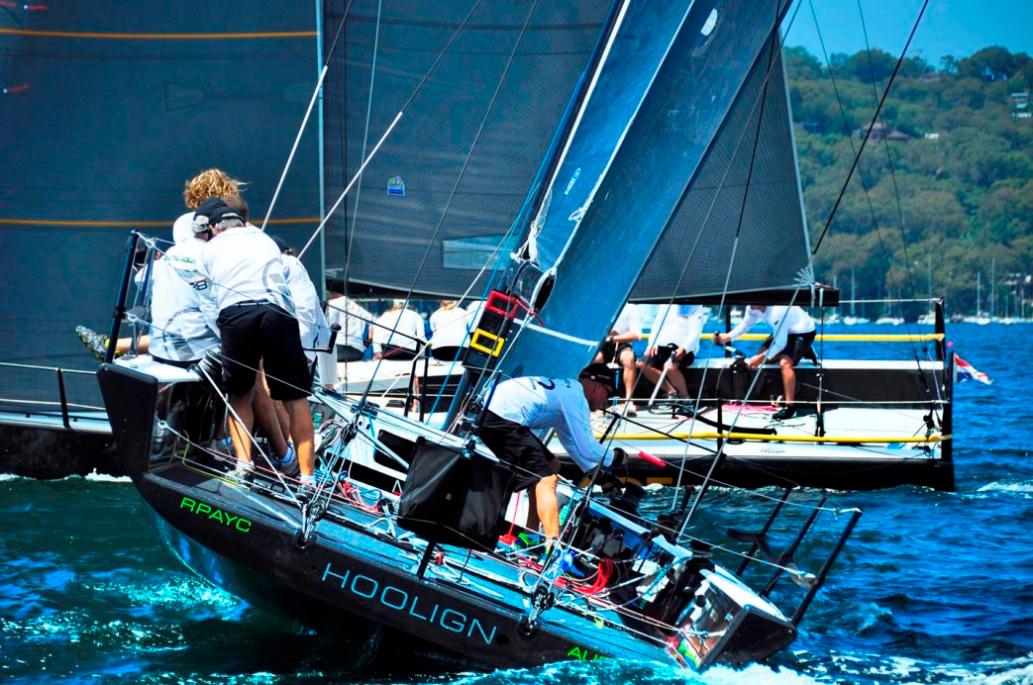 Hooligan & Menace (background) - photo by Bob Fowler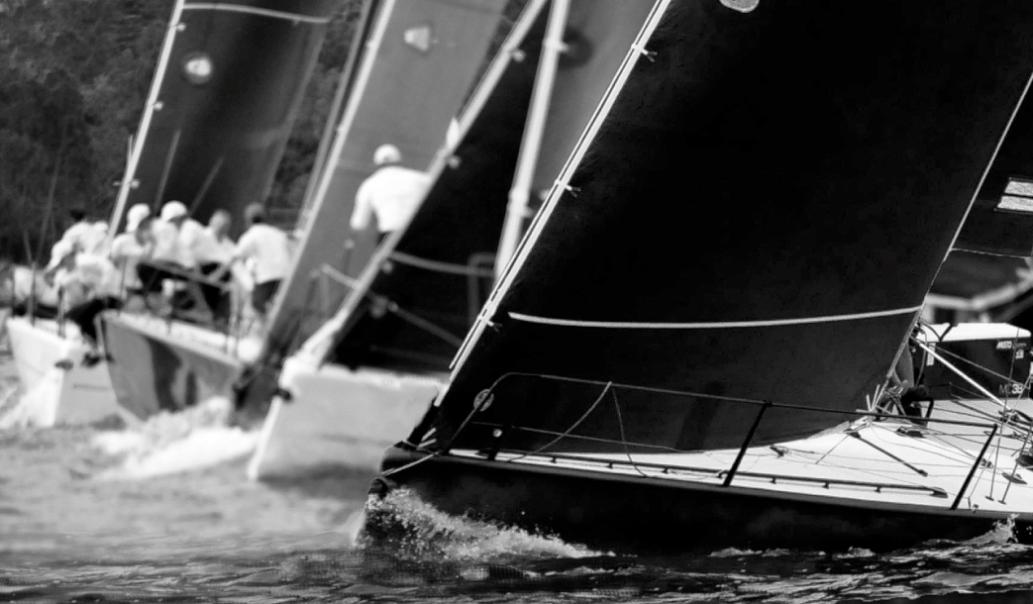 MC38 2016 Winter Regatta start - photo by Bob Fowler