September 18 - 25, 2016: Issue 281
Jim Somerville Bridge and Graham Jones Track Opened At Narrabeen Lagoon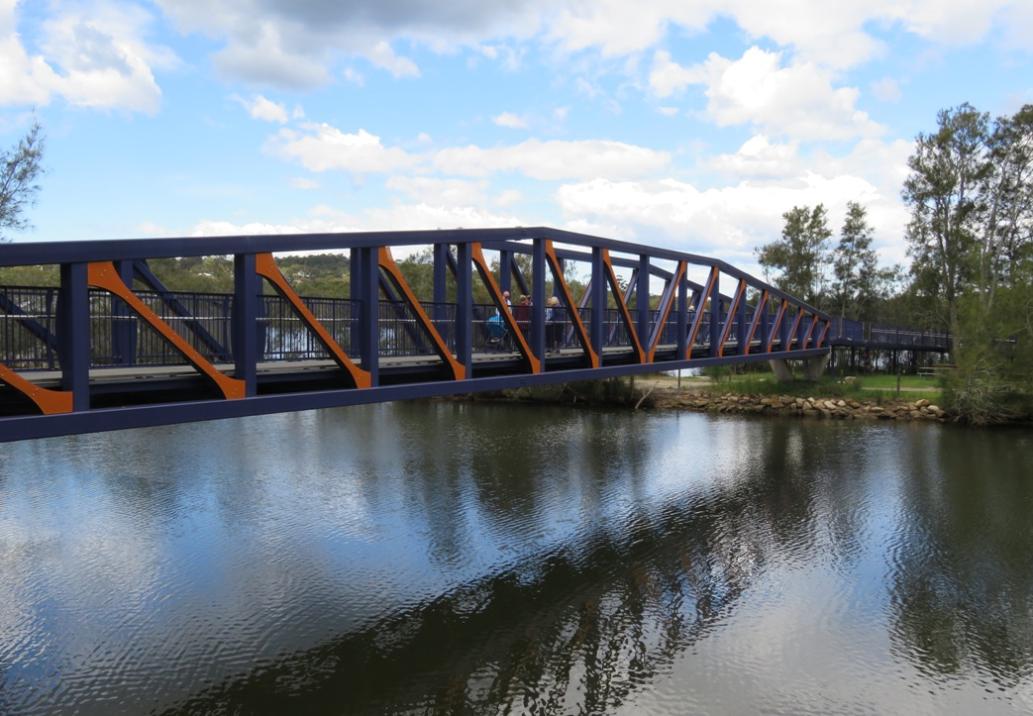 Jim Somerville Bridge at Middle Creek, Narrabeen Lagoon
Jim Somerville Bridge and Graham Jones Track Opened at Narrabeen Lagoon
Friday, September 16th, 2016
Over 40 people gathered on Friday at Middle Creek to see two plaques unveiled to officially open the Graham Jones Track as part of the Narrabeen Lagoon Trail and the Jim Somerville Bridge over Middle Creek.
Late in 2014 the former Warringah Council announced these gentlemen had been nominated:
'The Middle Creek Bridge will be dedicated to Mr Jim Somerville for his tireless contributions to a trail being completed around the Lagoon.
The section of trail immediately west of the Deep Creek Bridge will be dedicated to Mr Graham Jones for his early vision of a trail that would circumnavigate this waterway.'
'Avid cyclist and Council draughtsman, Graham Jones, had the idea for the Narrabeen Lagoon Trail after visiting Lake Burley Griffin in Canberra in 1987. A great believer in physical fitness through cycling, Mr Jones started work on planning a track around the foreshore of Narrabeen Lagoon.
One of the main challenges was solving access problems through land occupied by the Sydney Academy of Sport and Recreation. Local resident Jim Somerville was instrumental in lobbying local and State politicians for a solution to the impasse and in 2008 an agreement was reached which allowed the project to gain momentum.' - from Warringah Council's Bluett Submission, 2015
Jim's son Lindsay and daughter Jan Phillips and grandchildren, Emily, Kate, Ian and Andrew and Jim's great grandson Robert were all at the ceremony.
Rob Stokes spoke of the untiring work Jim had done in approaching all involved to get the trail finished and how Jim had said to Rob that 'roads divide a community and paths and trails bring communities together'.
Dick Persson, Administrator for the Northern Beaches Council, also knew Jim for over 20 years in battles for the Border Ranges National Park in northern NSW.
David James [ex Pittwater Mayor and councillor] read a section from 'The Narrabeen Lagoon Trail' book written by Jim Somerville highlighting the battles with Cromer Golf Course and the Department of Sport and Recreation. It was Jim's gentle persistence that brought about the granting of funds for and eventually the building of the Trail.
After the bridge ceremony David James presented each family member with an Australian native flower to toss into the lagoon from the Jim Somerville Bridge.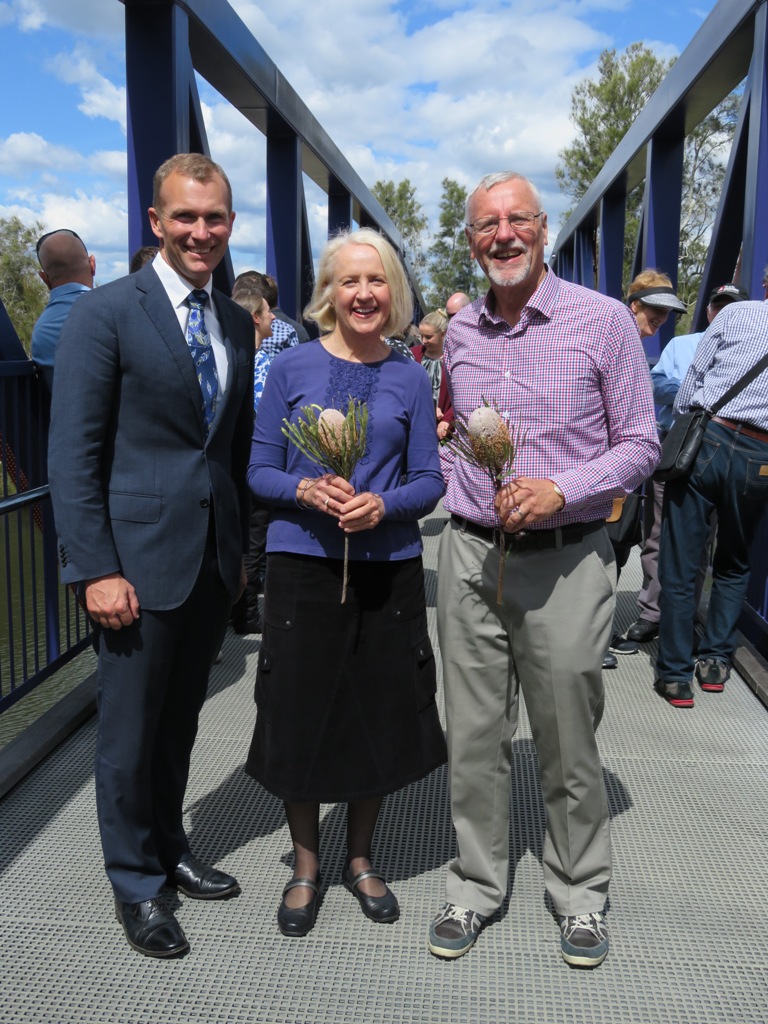 Hon. Rob Stokes, MP for Pittwater, with Jan Phillips and Lindsay Somerville – Jim Somerville's children

Lindsay told of a phone call from someone suggesting that the bridge be named after Jim one Sunday afternoon when the family were visiting Jim at Narrabeen. All they could hear from Jim was 'no, no. no'. We endeavoured to assure him that the grandchildren and the family would be honoured to have a section named for Jim. So after he died it all came to pass.
As each ceremony progressed numerous walkers, bike riders, runners and some with prams being pushed by athletic parents moved along the trail, making use of these newly installed features to enhance their enjoyment of the lagoon.
More on Jim Somerville in James G Somerville Memorial Service - A Celebration of A Munificent Life
Narrabeen Lagoon Circuit - A History by Jim Somerville (November 2012) at: http://www.narrabeenlagoon.org.au/Progress/Narrabeen%20Lagoon%20Circuit_Jim%20Somerville%20Nov12.pdf (1.33MB)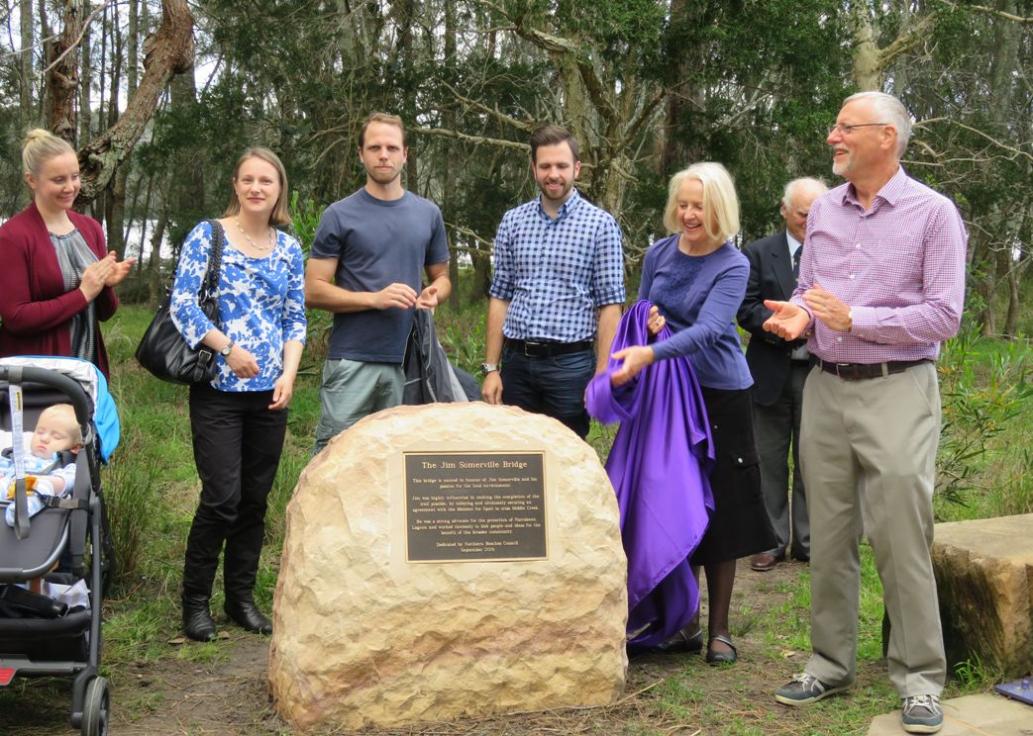 Somerville family unveiling plaque -
L to r: Great grandson Robert, Kate, Emily, Ian, Andrew, Jan Phillips, Lindsay Somerville