Inbox and Environment News: Issue 369
July 29 - August 4, 2018: Issue 369
Women Under-Treated For Heart Attack Die At Twice The Rate Of Men
July 23, 2018: University of Sydney
University of Sydney research reveals that women admitted to Australian hospitals with serious heart attacks are half as likely as men to get proper treatment and to die at twice the rate of men six months after discharge.
Published in today's
Medical Journal of Australia
, the study of 2898 patients (2183 men, 715 women) reveals that women admitted to 41 Australian hospitals with ST-Elevation Myocardial Infarction (STEMI) in the past decade were half as likely as men to receive appropriate diagnostic tests and treatment, and less likely to be referred for cardiac rehabilitation and prescribed preventive medications at discharge.
Six months after hospital discharge, death rates and serious adverse cardiovascular events among these women were more than double the rates seen in men.
Sex differences in the management and outcomes of patients with acute coronary syndromes such as STEMI have been reported in the medical literature, but most studies fail to adjust for 'confounding' factors that can affect the accuracy of findings.
This new study, authored by leading cardiac specialists and researchers from across Australia, offers robust insights into this life-threatening condition by adjusting for factors that could affect treatment and health outcomes.
"We focused on patients with ST-Elevation Myocardial Infarction because the clinical presentation and diagnosis of this condition is fairly consistent, and patients should receive a standardised management plan," said the University of Sydney's Professor Clara Chow who is a cardiologist at Westmead hospital, the study's senior author.
"The reasons for the under-treatment and management of women compared to men in Australian hospitals aren't clear.
"It might be due to poor awareness that women with STEMI are generally at higher risk, or by a preference for subjectively assessing risk rather than applying more reliable, objective risk prediction tools.
"Whatever the cause, these differences aren't justified. We need to do more research to discover why women suffering serious heart attacks are being under-investigated by health services and urgently identify ways to redress the disparity in treatment and health outcomes."
Professor David Brieger, co-author of the study and leader of the CONCORDANCE registry from which the findings were extracted, agrees: "While we have long recognised that older patients and those with other complicating illnesses are less likely to receive evidence based treatment, this study will prompt us to refocus our attention on women with STEMI."
What is STEMI or ST-elevation myocardial infarction?
A STEMI or ST-elevation myocardial infarction (heart attack) happens when a fatty deposit on an arterial wall causes a sudden and complete blockage of blood to the heart, starving it of oxygen and causing damage to the heart muscle.
A STEMI diagnosis is typically made initially by administering an electrocardiogram (ECG) that reveals a tell-tale ECG signature (see image above). These heart attacks can cause sudden death due to ventricular fibrillation (a serious heart rhythm disturbance) or acute heart failure (when the heart can't pump enough blood to properly supply the body).
STEMI represents about 20 percent of all heart attack presentations. In 2016, an average of 22 Australians died from a heart attack each day.
Researchers collected data from 41 hospitals across all Australian states and territories between February 2009 and May 2016. Twenty-eight hospitals (68 percent) are in metropolitan regions and 13 are in rural locations.
Data was sourced from the CONCORDANCE (Cooperative National Registry of Acute Coronary care, Guideline Adherence and Clinical Events) registry, intended for use by clinicians to help improve the quality of patient care in line with treatment guidelines.
Main outcome measures: the primary outcome was total revascularisation, a composite endpoint encompassing patients receiving PCI (percutaneous coronary intervention), thrombolysis, or coronary artery bypass grafting (CABG) during the index admission.
Secondary outcomes: timely vascularisation rates; major adverse cardiac event rates; clinical outcomes and preventive treatments at discharge; mortality in hospital and 6 months after admission.
The average age of women presenting with STEMI was 66.6 years; the average age of men was 60.5 years.
More women than men had hypertension, diabetes, a history of prior stroke, chronic kidney disease, chronic heart failure, or dementia. Fewer had a history of previous coronary artery disease or myocardial infarction, or of prior PCI or CABG.
Dr Clara Chow is Professor of Medicine at Sydney Medical School, a Consultant Cardiologist at Westmead Hospital and Academic Director of the Westmead Applied Research Centre (WARC). Her principal research interests are in cardiovascular disease prevention in Australia and internationally.
Differences in management and outcomes for men and women with ST-elevation myocardial infarction
.
Ehsan Khan, David Brieger, John Amerena, John J Atherton, Derek P Chew, Ahmad Farshid, Marcus Ilton, Craig P Juergens, Nadarajah Kangaharan, Rohan Rajaratnam, Amy Sweeny, Darren L Walters and Clara K Chow.
Med J Aust || doi: 10.5694/mja17.01109 Published online: 23 July 2018
Top UNSW Academic To Head National Endometriosis Action Plan
July 27, 2018: by Lucy Carroll, UNSW
Professor Jason Abbott will lead a major clinical trial program as part of Australia's first national action plan on a condition that affects 1 in 10 women.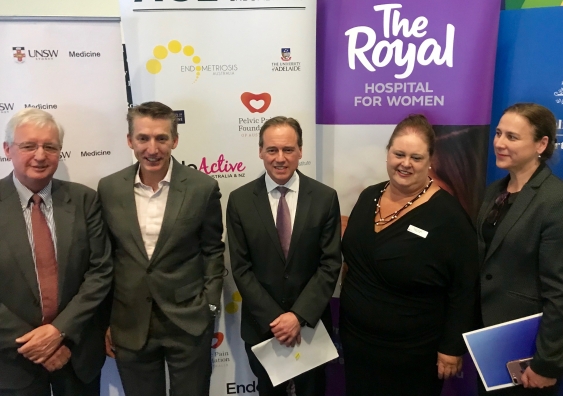 Michael Still, Chair of the South Eastern Sydney Local Health District (SESLHD) board, Professor Jason Abbott, Health Minister Greg Hunt, Kim Olesen, Acting Chief Executive SESLHD, and Vanessa Madunic, General Manager of the Royal Hospital for Women.
UNSW Sydney's Professor of Gynaecological Surgery Jason Abbott will chair the first National Endometriosis Steering Group in Australia over the next five years, following a major funding boost for debilitating disease announced yesterday.
Health Minister Greg Hunt has released Australia's first National Action Plan for Endometriosis to improve the quality of life of patients through better treatment, diagnosis and providing an outline for the path to ultimately find a cure.
The government yesterday committed a further $1.2 million in funding to the plan, taking the total investment to $4.7 million. Of the funding, $2.5 million will be dedicated to rolling out the National Endometriosis Clinical and Scientific Trials Network (NECST network), allowing patients to take part in a coordinated national research program to improve diagnosis and treatment plans. Professor Abbott will lead the national trials network, which will include an online capability, matching biological samples and databases to facilitate the roll out of large-scale clinical trials.
"Ten percent of women have endometriosis. It is a substantial cause of morbidity and lost productivity," Professor Abbott said.
"It has a major impact on fertility and often occurs when women are establishing careers, further education and family. One of the most difficult things is it can stop women reaching their full potential. The spotlight on the disease makes it easier for women to talk about and helps debunk the myth that endometriosis is just bad period pain."
Professor Abbott said endometriosis patients often endured pain worse than women who had cancer, and many frontline primary carers "don't know enough about it to clock it as a substantial disease".
Endometriosis is an inflammatory menstrual health disorder that affects around 700,000 Australian women and girls. It occurs when tissue that normally lines the uterus grows in other parts of the body. It can cause severe abdominal pain and organ damage, and can lead to mental health complications, social and economic stress and infertility.
Professor Abbott, from School of Women's and Children's Health at UNSW Medicine, said the National Endometriosis Steering Group will oversee the implementation of the action plan, which includes awareness and education, clinical management and the implementation of personal plans and clinical trial research.
"The illness costs the community up to $6 billion a year. At the moment the only way to diagnose endometriosis is to undergo a laparoscopy and have a biopsy taken.
"It's absolutely imperative that we have a better way to diagnose it and do not have to go to that invasive stage," Professor Abbott said at a joint press conference with Mr Hunt.
Professor Abbott is the director of Endometriosis Australia, an associate editor for ANZJOG, Human Reproduction and the Journal of Minimally Invasive Gynaecology and has more than 120 publications including textbooks, book chapters and large-scale RCTs in gynaecological surgery.
A release by Mr Hunt said that $1 million had already been committed to supporting GPs and other frontline health professionals through better access to educational resources about endometriosis, to help reduce diagnostic delay, and ensure that the right clinical care is provided to the right patients at the right time. This will include the development of a short course in endometriosis for primary healthcare professionals.
Software Cuts Through Costly Hospital Pharmaceutical Procurement
July 24, 2018: University of Sydney
The University of Sydney has developed a software program which could significantly reduce the amount spent by the nation's hospitals currently estimated at more than three billion dollars a year.
The ground-breaking software, which streamlines the pharmaceutical purchasing process, is also expected to free up hospital staff for activities more closely related to patient care.
The software was developed in conjunction with Sydney's Westmead Hospital by Dr Aldo Saavedra, a Senior Research Scientist with the University's Faculty of Health Sciences, and Dr Erick Li, a senior lecturer in the Business School's Discipline of Business Analytics.
The new system will replace a laborious and time consuming process of selecting the most cost effective pharmaceuticals by manually comparing spreadsheet information on thousands of products with prices that sometimes vary on a monthly basis.
"There are several thousand lines of pharmaceuticals that are procured and managed across Westmead, and pricing for each is influenced by market dynamics i.e. competition, patent expiry, supply chain and government policy," said the hospital's head pharmacist, David Ng.
"With a monthly spend of around $ 3 million, the objective of our pharmaceutical procurement is to ensure that essential medicines are available uninterrupted and at the most cost-efficient price," Dr Ng said. "Given the number of product lines and pricing variances, we needed a decision support tool."
Dr Ng and his team turned to the University of Sydney because of its established business, technical and analytical expertise as well as its commitment to the development of what has become known as the Westmead precinct.
The University's Dr Saavedra and Dr Li, found a manual purchasing process made highly complex by constantly changing supplier discounts, government subsidies and competing branded and generic products.
As an example of this complexity, Dr Li pointed to the trade-offs staff were forced to make when choosing between rebate brands and the non-rebate brands. "In some cases, the hospital stayed with the rebate brand to avoid losing an accumulated rebate reward; whereas in other cases, the hospital was able to capitalise on low prices offered by non-rebate brands."
"Our system is able to organise all the information from the wholesaler's price books, quickly run the data for a particular medication and determine the lowest price on the market," Dr Li said. "Importantly, we can take into consideration the complexity of the rebate contracts."
One estimate puts Westmead's cost savings at nearly 5 per cent.
The University team sees the new system as an example of how data can be better utilised in hospitals for the benefit of patients and staff.
"This project became a good flagship for showing how we can actually use data to improve something very simple like choosing the best medication, which was very laborious with a procurement officer literally sitting there and comparing excel spreadsheets to find the best value," said Dr Saavedra.
"When I started working at the hospital everyone talked about keeping the lights on. That's all the budget allowed for. Nobody was trying to introduce better practices. So with our little tool we have been able to show the value of data," he said.
With some modification, Dr Saavedra and Dr Li say that their procurement software could be installed in any hospital in the country potentially saving Australian taxpayers many millions of dollars.
Disclaimer: These articles are not intended to provide medical advice, diagnosis or treatment. Views expressed here do not necessarily reflect those of Pittwater Online News or its staff.