July 16-22 2023: Issue 590
Mona Vale Road East Upgrade Update: July 2023 Pictures
Work continues on the Mona vale Road Upgrade (East) with a shortened travel time already obvious by those commuting along the sections now being finalised. The shortened sections becomes apparent in this July 2023 Pictorial Update as there are far less photos to take than were needed to show the progress of works from the last update in April 2023.
Unfortunately an accident occurred in late April. Contractors for the MVR East Upgrade stated then the works at a dangerous roundabout at the intersection with Ponderosa Pde. and Samuel St. will be completed by June 2023. Residents had been stating for months the intersection is dangerous and any works proposed there should have been prioritised.
On Thursday April 27th two trucks collided on Mona Vale Rd at the intersection with Ponderosa Pde and Samuel St. One of the vehicle's occupants was injured and trapped in the cab for a period of time. A man in his 50s complained of pain in his chest and knee. Another man, in his 60s, was not injured. Both were taken by ambulance to Royal North Shore Hospital.




Traffic was diverted for hours while the trucks were cleared.




Northern Beaches Police Area Command was appealing for dashcam footage of the accident - details in NBPAC graphic below.




Photos/Graphics: NBPAC and Sharon Ignacio

The Mona Vale Road Upgrade (East) Project Webpage has not been updated since January 2022 for Project Notifications, March 2022 for Construction Updates, and January 2016 for Community Updates, although an out of hours work notice was posted in February 2023.

Nor is the Live Traffic maps, app or webpages updated for any works or road closures associated with the build that may impact residents - leaving people to figure out what may be going on by taking their eyes off the road to read lit signs alongside it alike this photographed on Saturday July 8th:



In May 2023 runoff alike that reported by Bayview Golf Club on January 1st 2023 recurred. Although this was not confirmed as associated with the roadworks, the colour, grade and scale of the amount of clay running down through local creeks and into the golf course creek and then into Pittwater had to be associated with a large building project. Council stated to inquiries, that they would refer this to the EPA (as this is a state road, even though running through/polluting sensitive areas in the LGA), which had placed the contractor on a month to month assessment of potential site hazards following an earlier runoff flow of pollutants through the Warriewood-Narrabeen creeks and into Narrabeen Lagoon.
The May 2023 report is available in: Clay Stormwater Still Polluting Bayview Golf Course, Pittwater Estuary: Bayview GC's 3 Year Battle To Save The Environment and Waterways 'Like Banging Your Head Against A Brick Wall' - The polluting of Warriewood/Narrabeen is in: Sediment Flowing Into Warriewood Creek System Reported To EPA - July 2021 and follows on from a report by residents who recorded from the outset sediment runoff problems during rain events associated with the build.
The EPA had issued a Penalty Notice to the contractors on June 22nd 2022. None has been issued since, with a now established EPA requirement for a monthly report and publicly available documents on the EPA website listing the MVR East upgrade requirements by the licence granted to the contractors.

The fauna overpass has progressed with the sections to the west and east now in place, as seen when travelling west in this photo taken by Margaret G Woods on Friday July 7th 2023: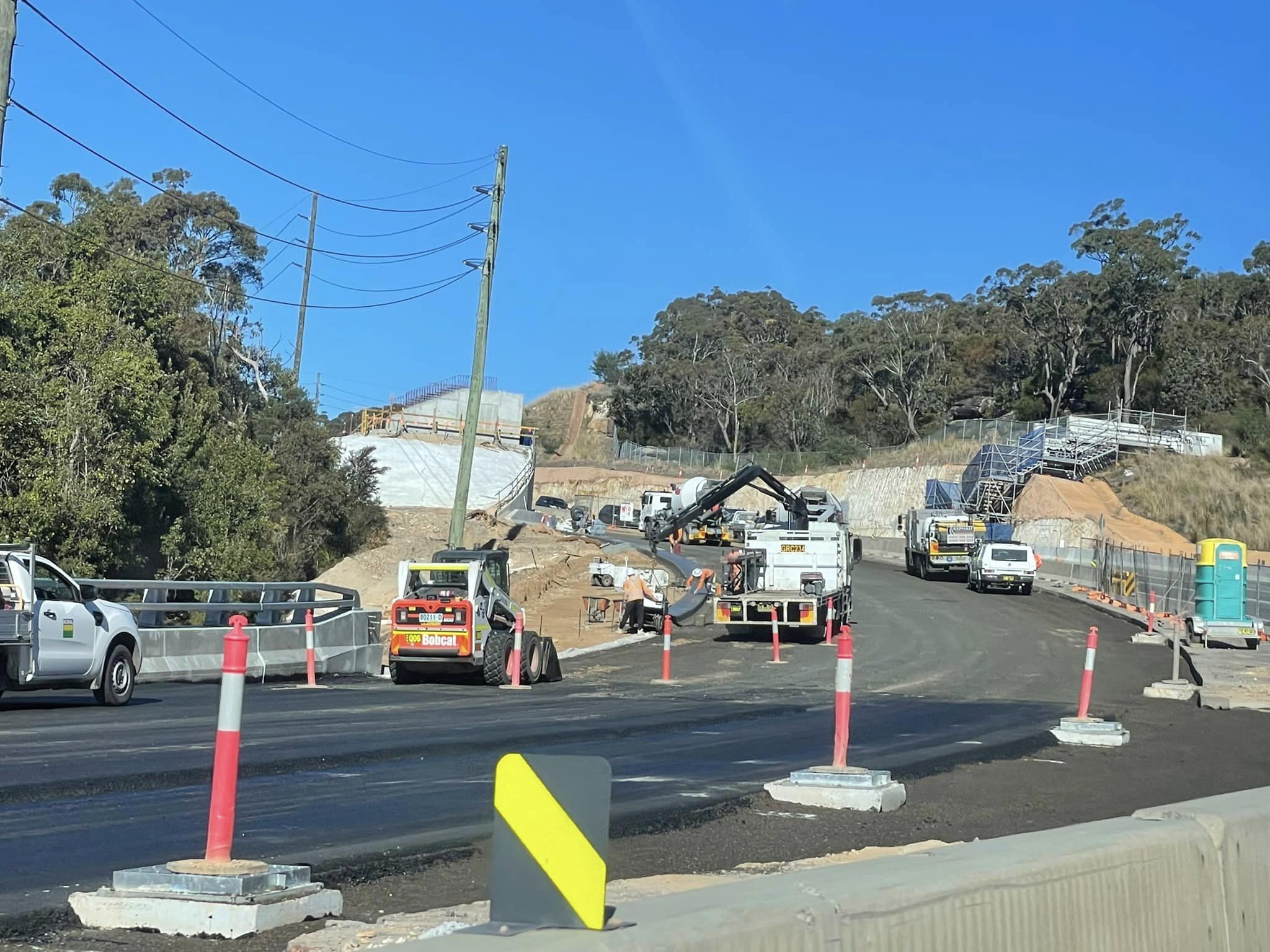 As reported earlier, the budget for the project has increased substantially.
The previous Coalition Government announced in June 2022;
$340 million

over the next 4 years to upgrade Mona Vale Road West. Work on the $250 million Mona Vale Road East project is expected to be completed within the next 12 months.

$11 million

to continue

upgrading

Mona Vale Public School

(total project cost $52.8 million).

$15.5 million

to

commence the upgrade of the Narrabeen Education Campus

(total cost subject to tender).

$40 million

for

safety and capacity improvements on Wakehurst Parkway

(total project cost $150 million over next 3 years).

$2.4 million

for the

construction of a dedicated pedestrian/cycling link between Newport Beach and Bilgola Beach.

$1.09 million

for

ongoing campus configuration improvements at Mona Vale Hospital

.
The $100 million increase in costs can be attributed in part to the increase in costs of all construction post-Covid, see; Increases In Building Materials Costs Adds Pressure To Fixed Price Contracts - Construction Industry and may even be costs associated with modifying the Truck Arrestor bed. However, this significant cost increase which has never been officially explained in any detail.
Further, the signage that was installed when the project commenced is still in place as of July 8th 2023 and continues to state the project cost is $140 million: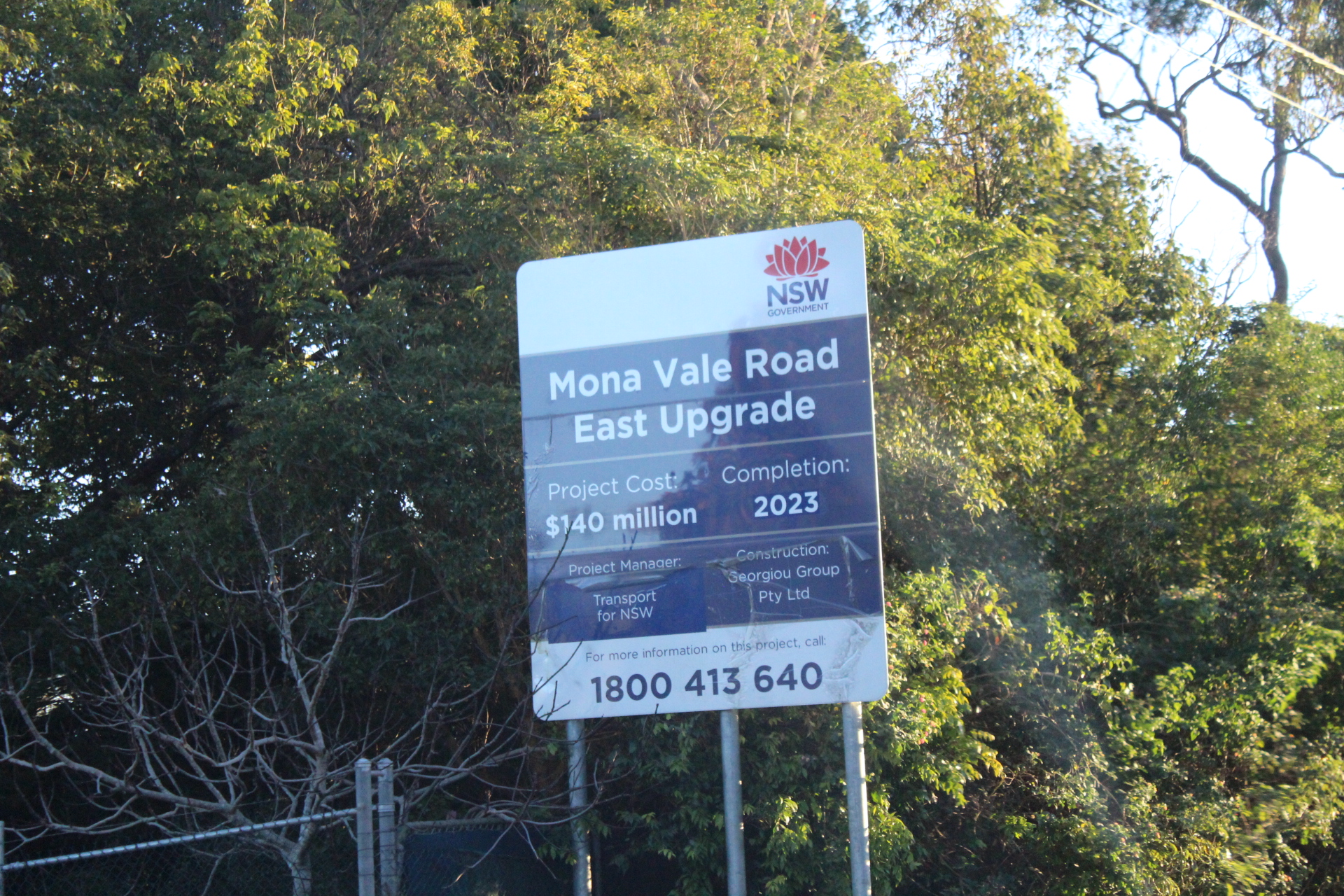 The Mona Vale Road upgrade project comprises changing the road sections from two lanes to four lanes between Terrey Hills and Mona Vale. The upgrades are being planned in stages and are aimed at improving safety and traffic efficiency.
The projects include the:
Mona Vale Road East upgrade; Upgrade of 3.2 kilometres of Mona Vale Road from two lanes to four lanes between Manor Road, Ingleside and Foley Street, Mona Vale. The NSW Government had allocated $140m to complete the project, and the then named Roads and Maritime Department appointed Georgiou Group to construct the road upgrade.
Mona Vale Road West upgrade; Upgrade of 3.4 kilometres of Mona Vale Road from two lanes to four lanes between McCarrs Creek Road, Terrey Hills and Powder Works Road, Ingleside.
The latest batch of mages run below.
Photos Taken Saturday July 8 2023
Travelling East from Kimbriki to Mona Vale: AJG pics.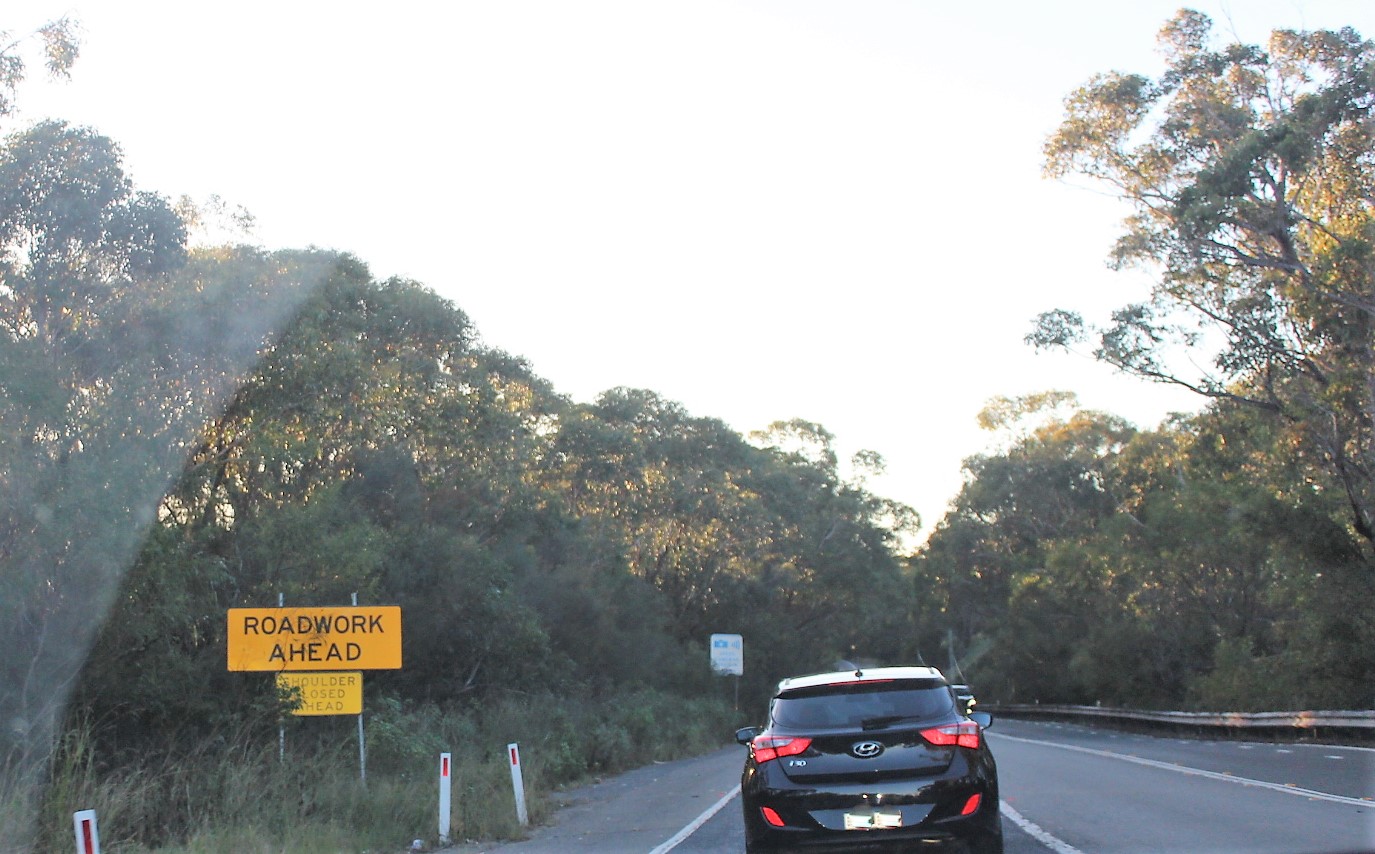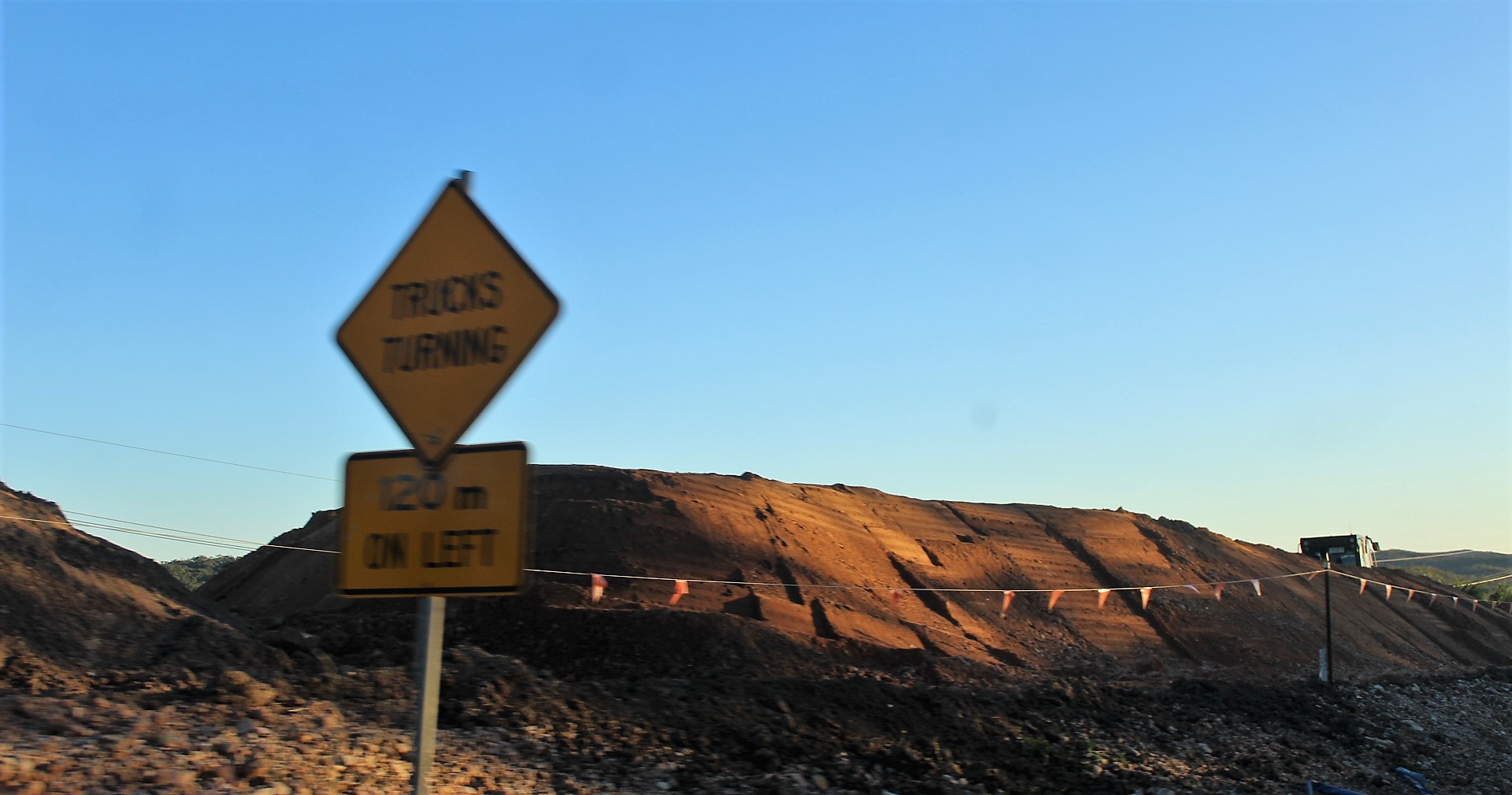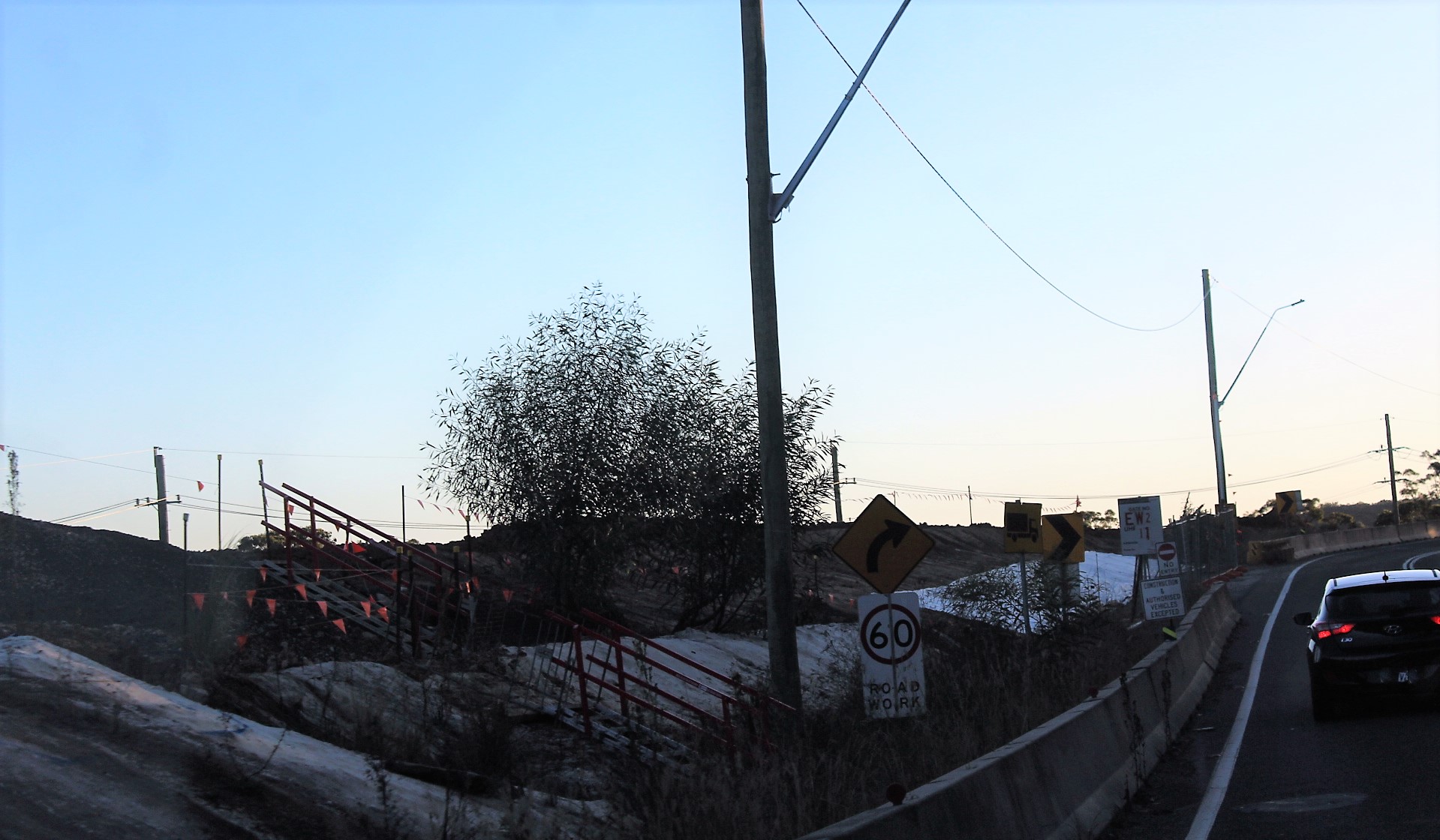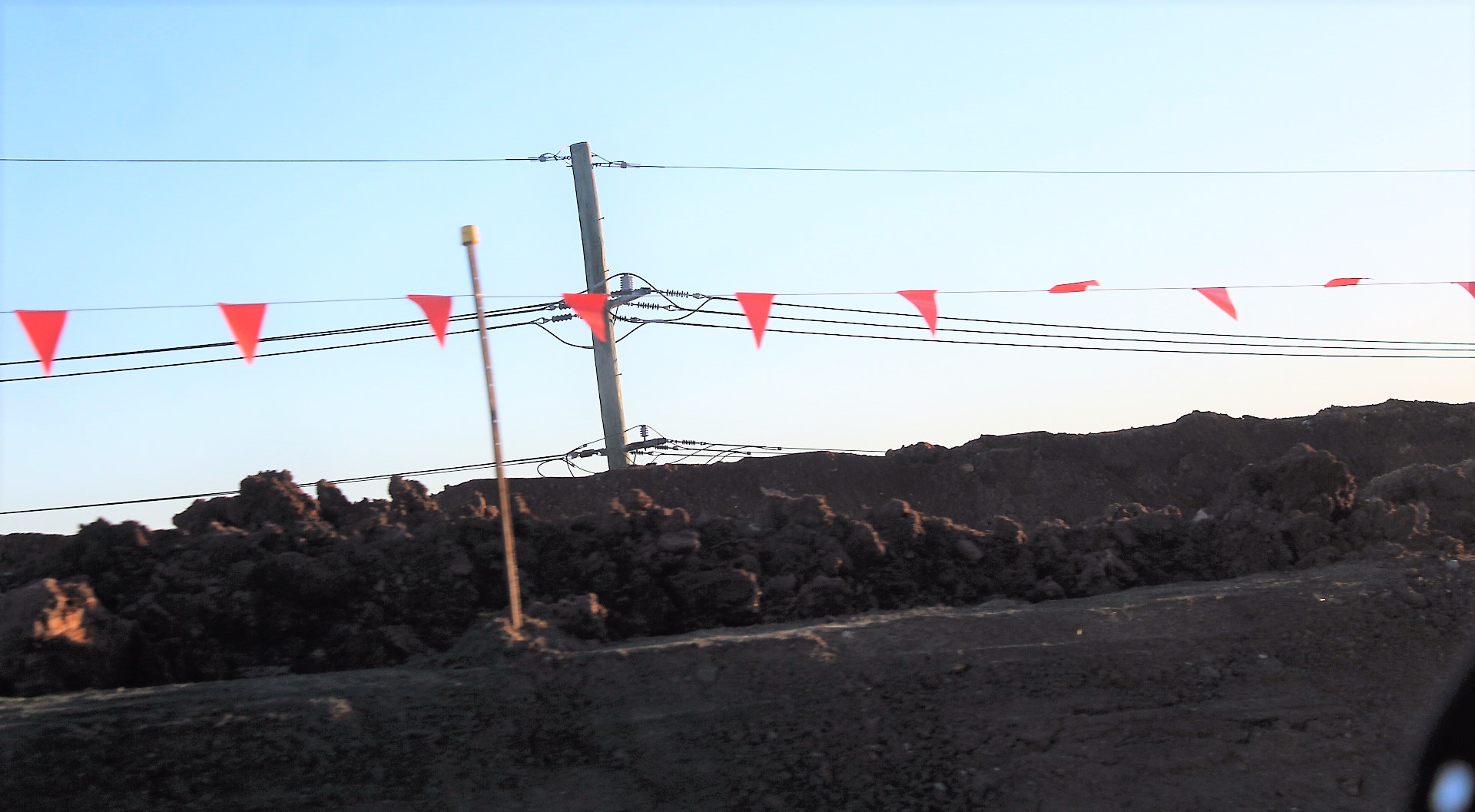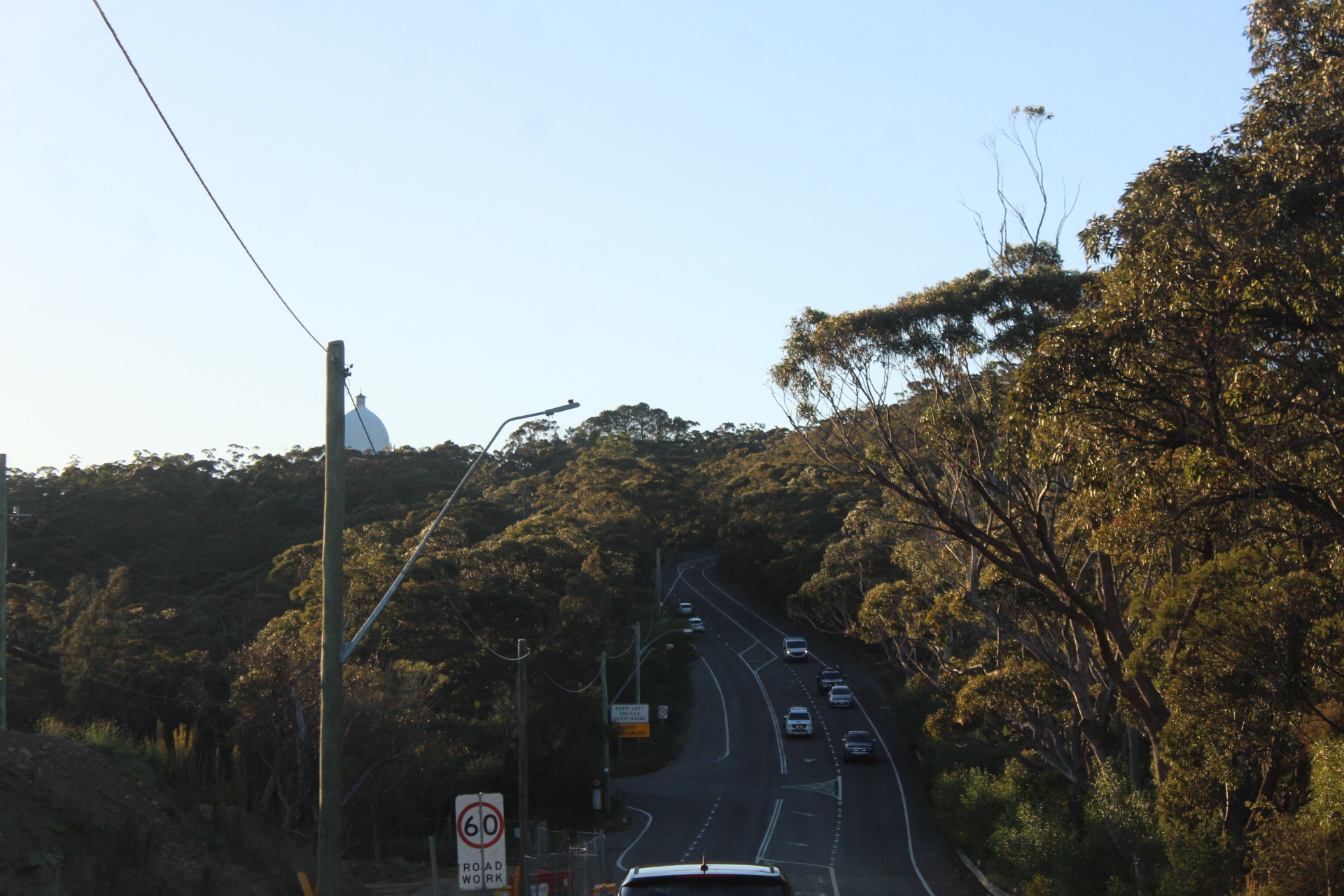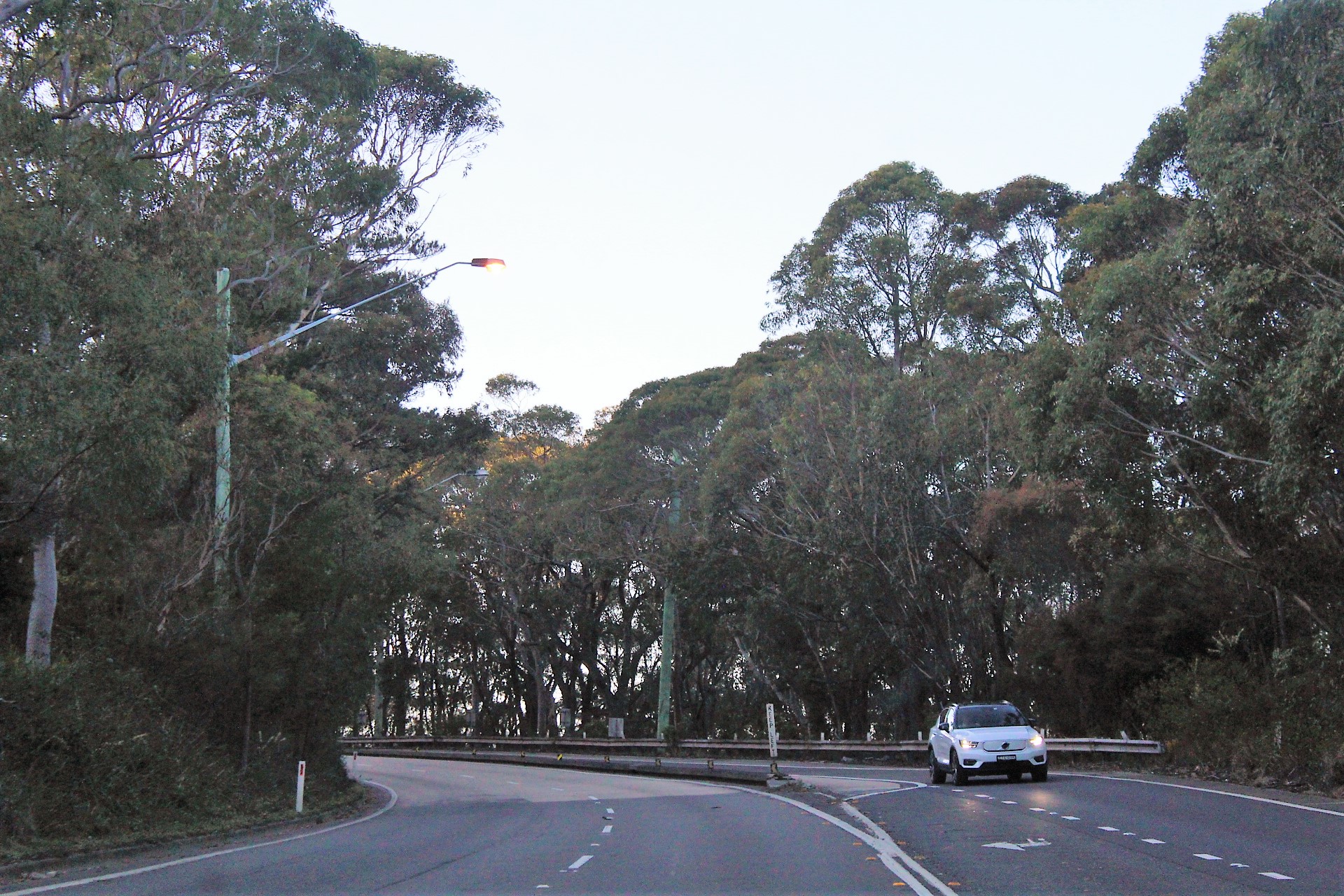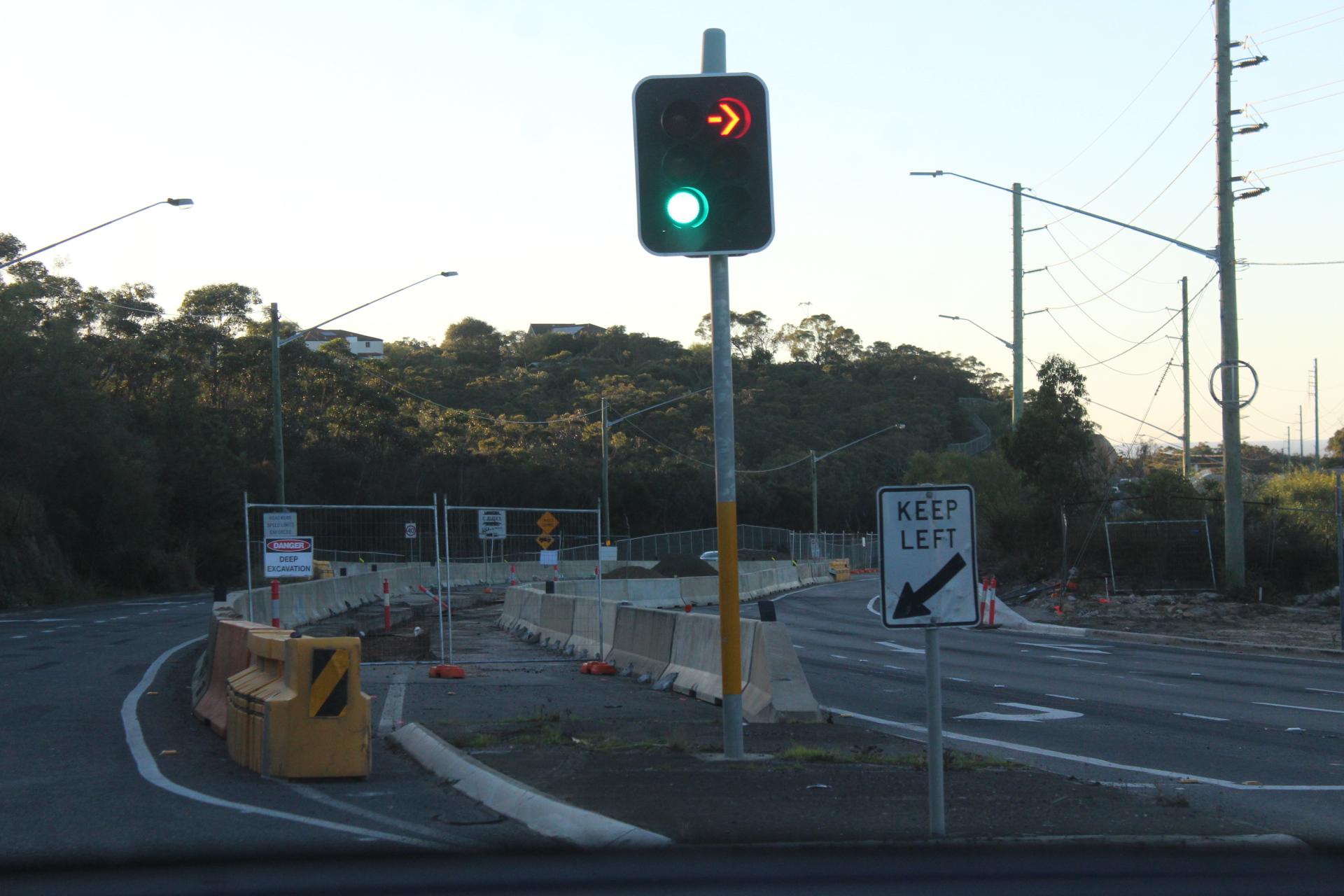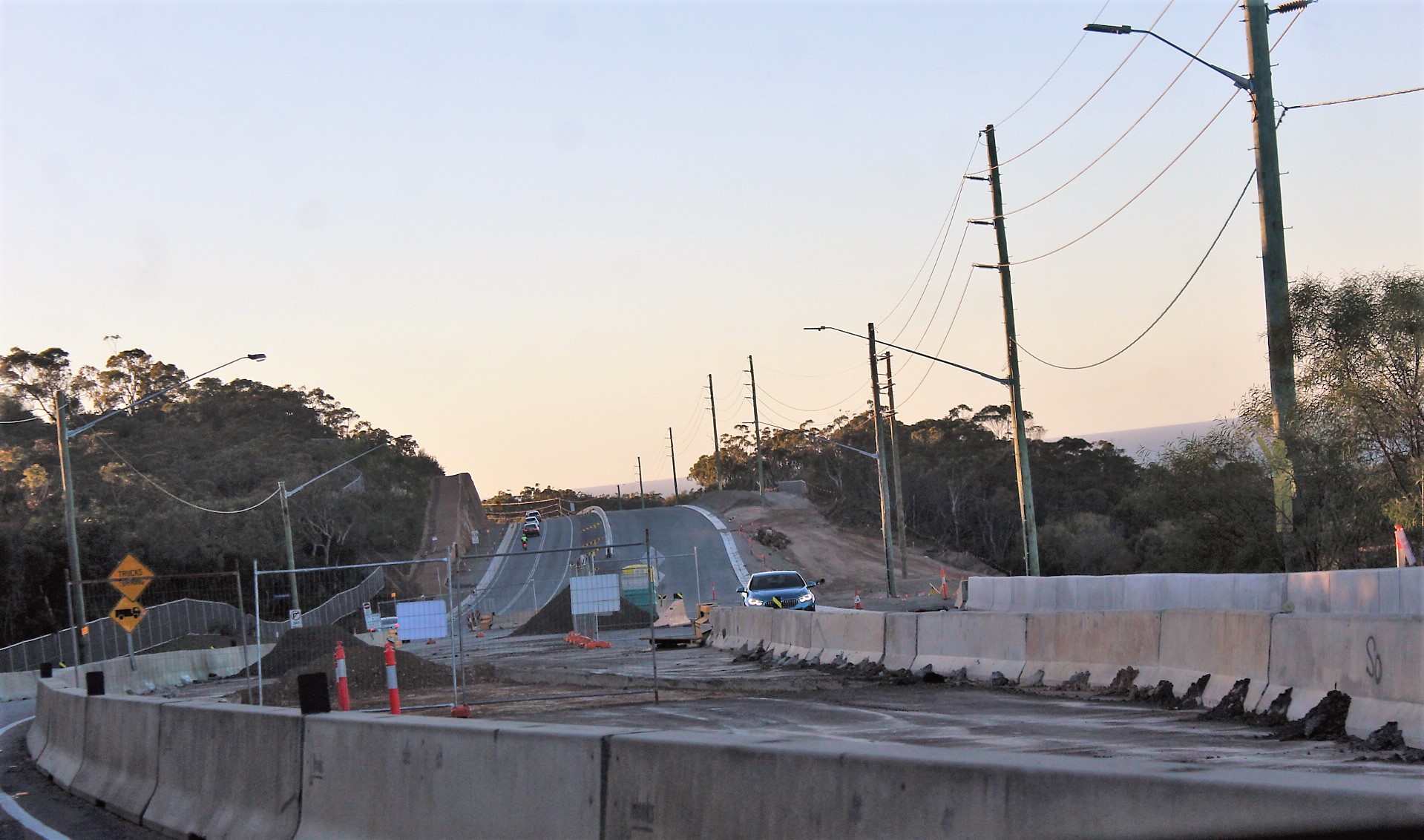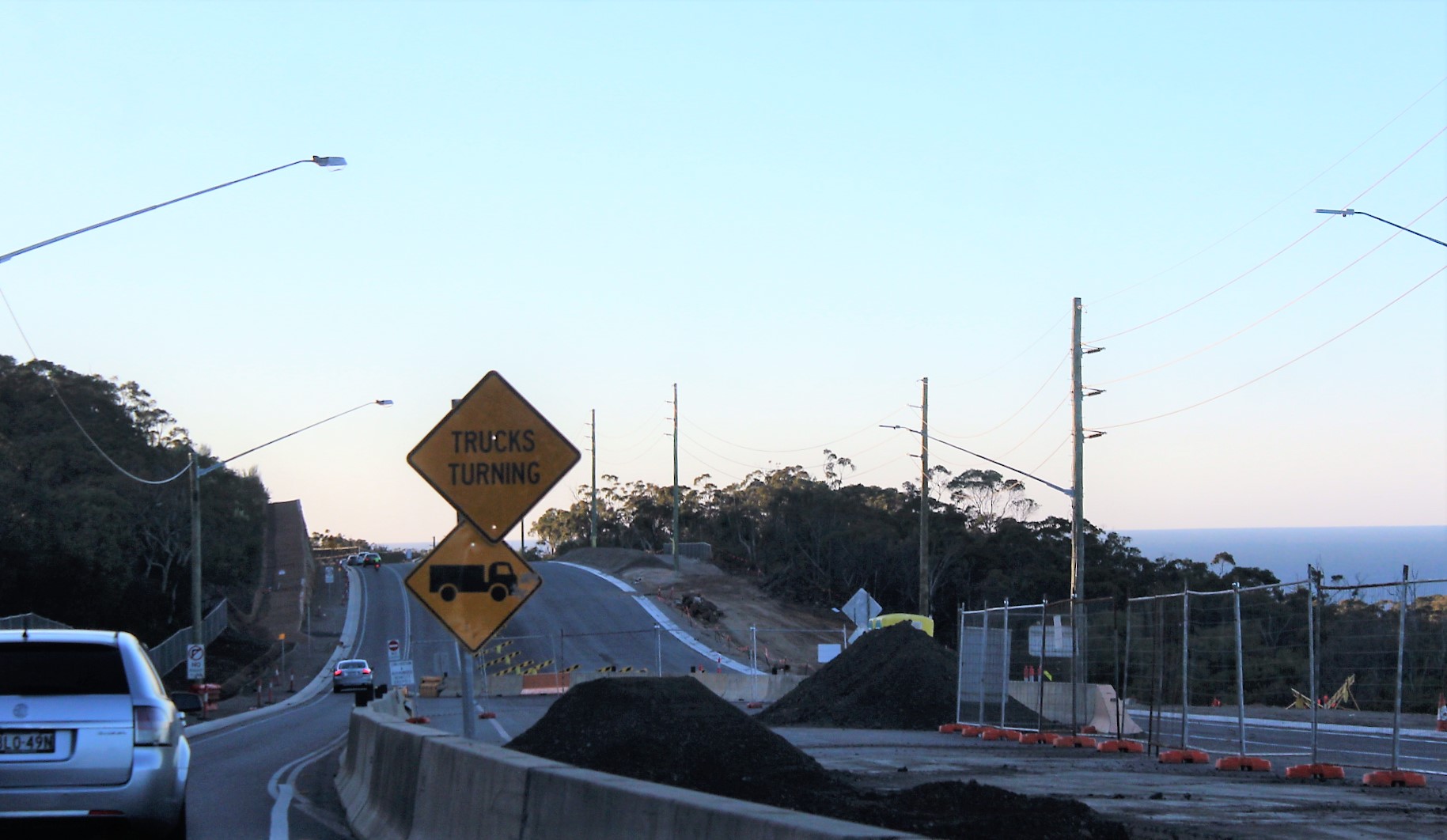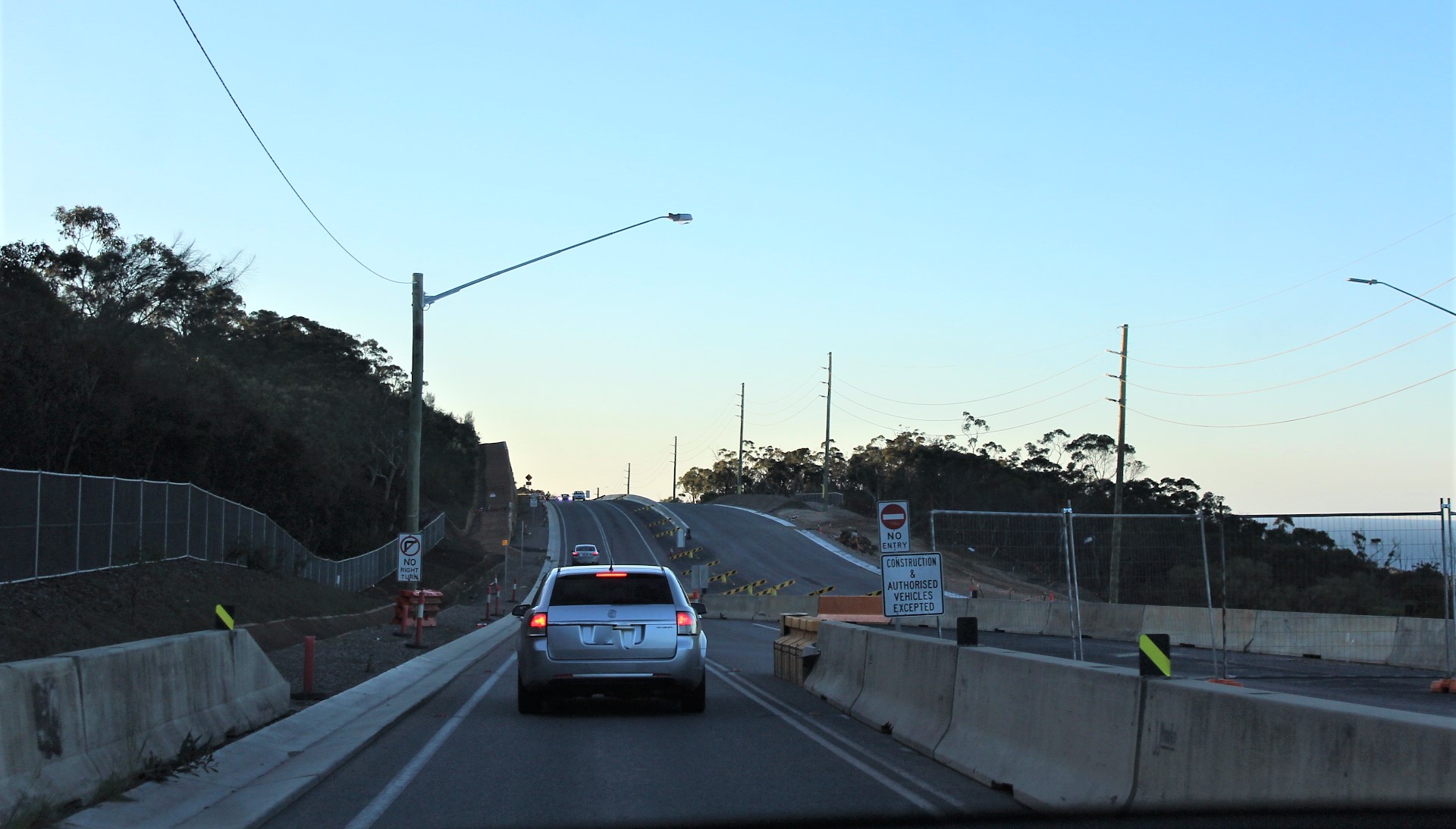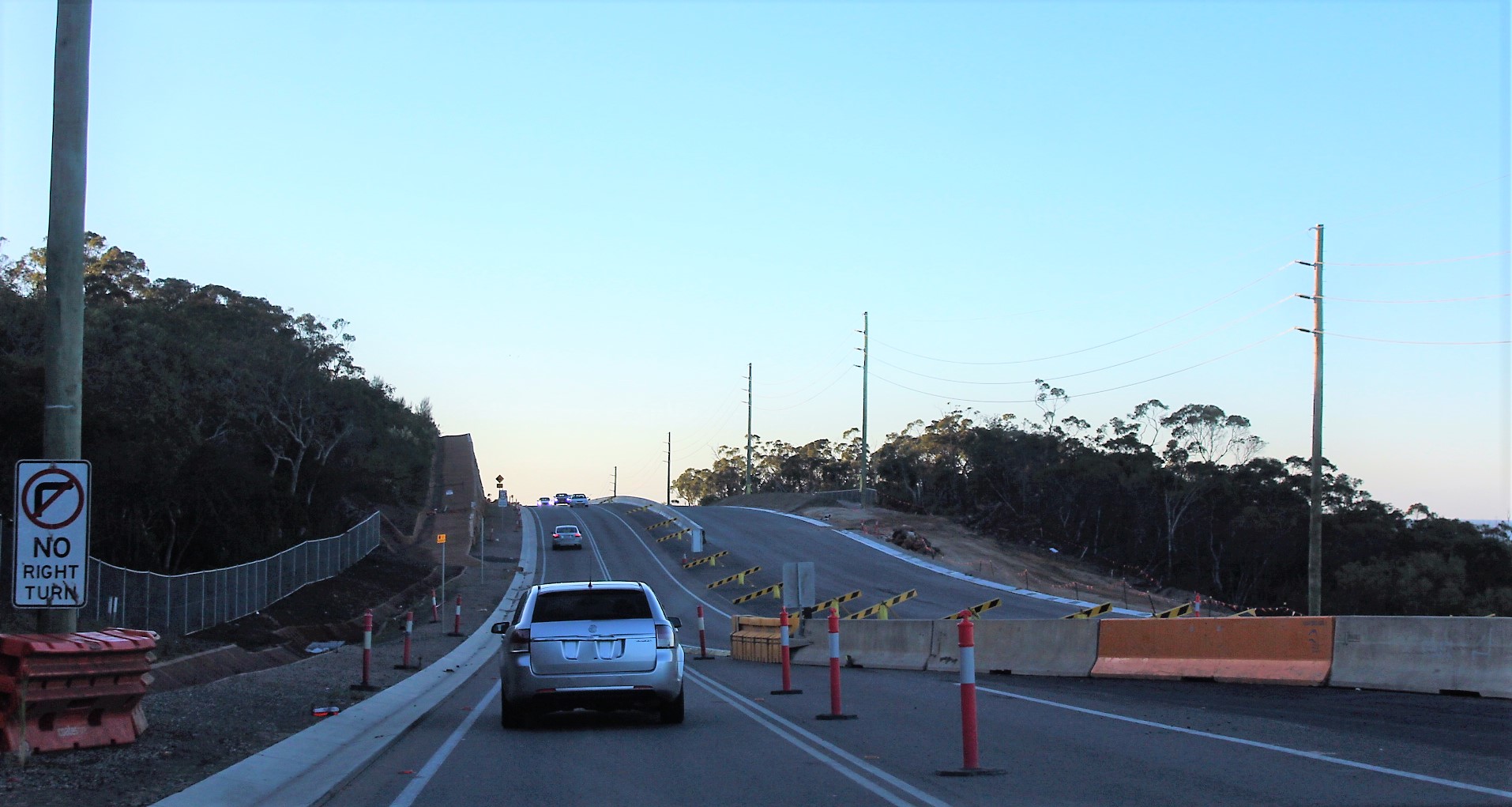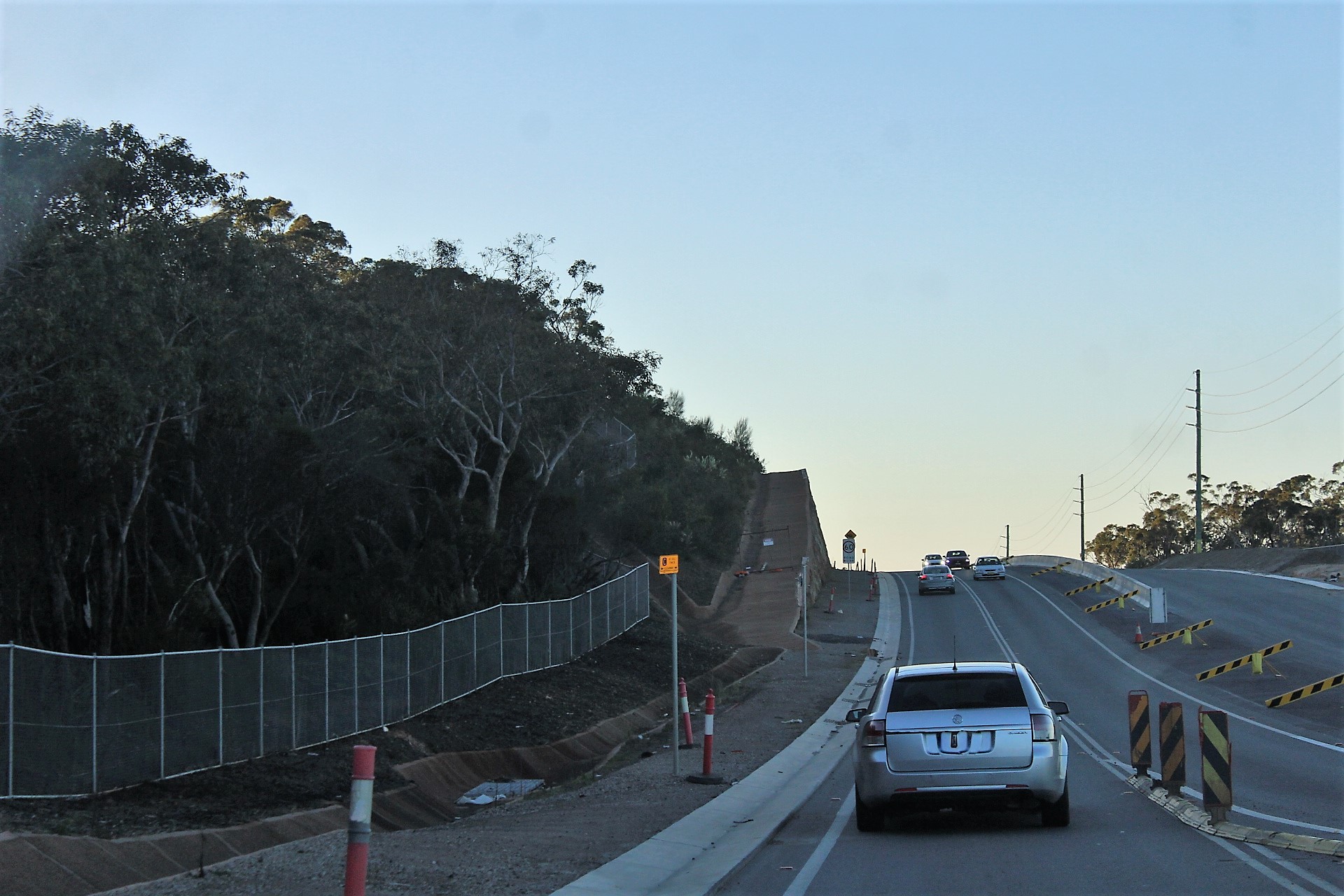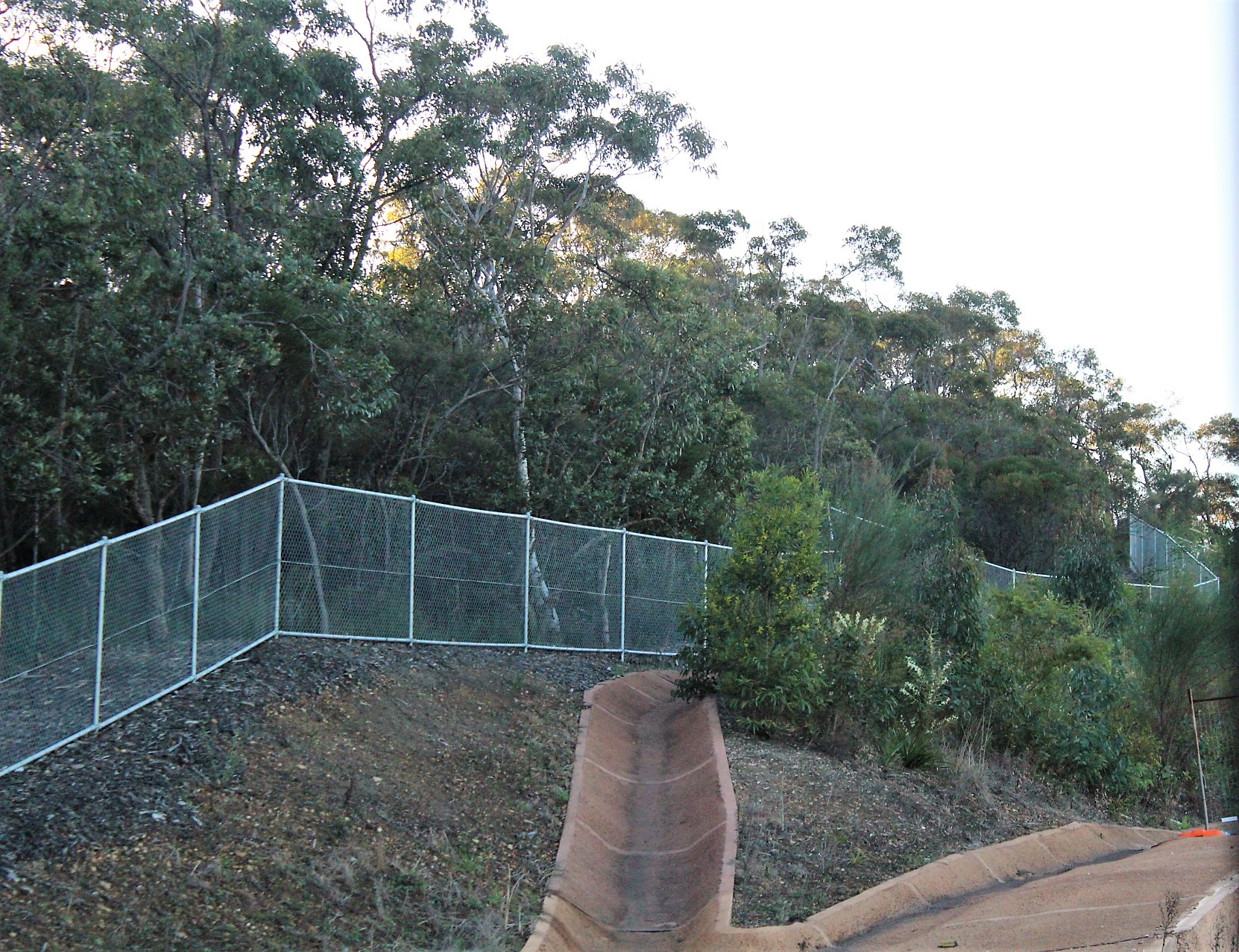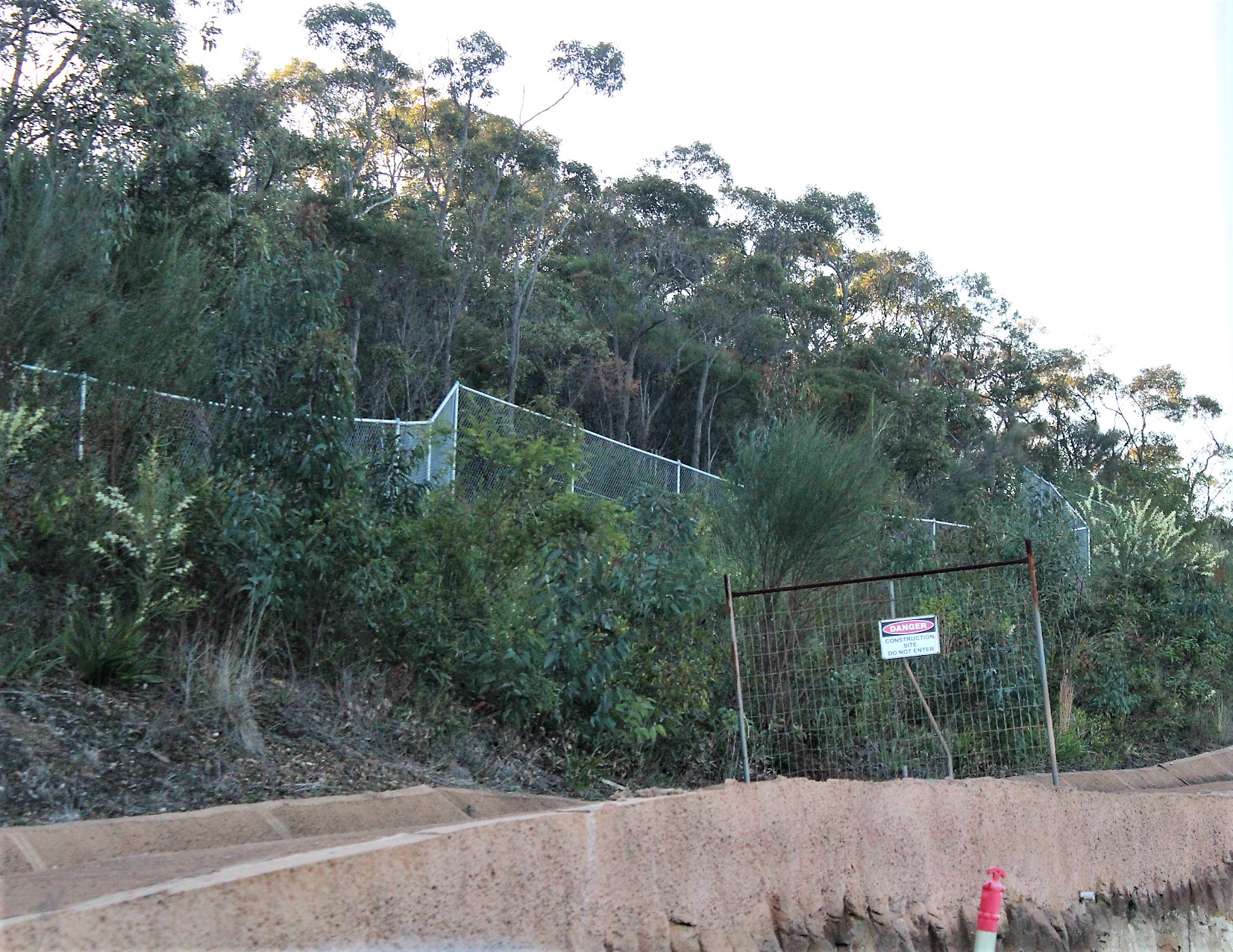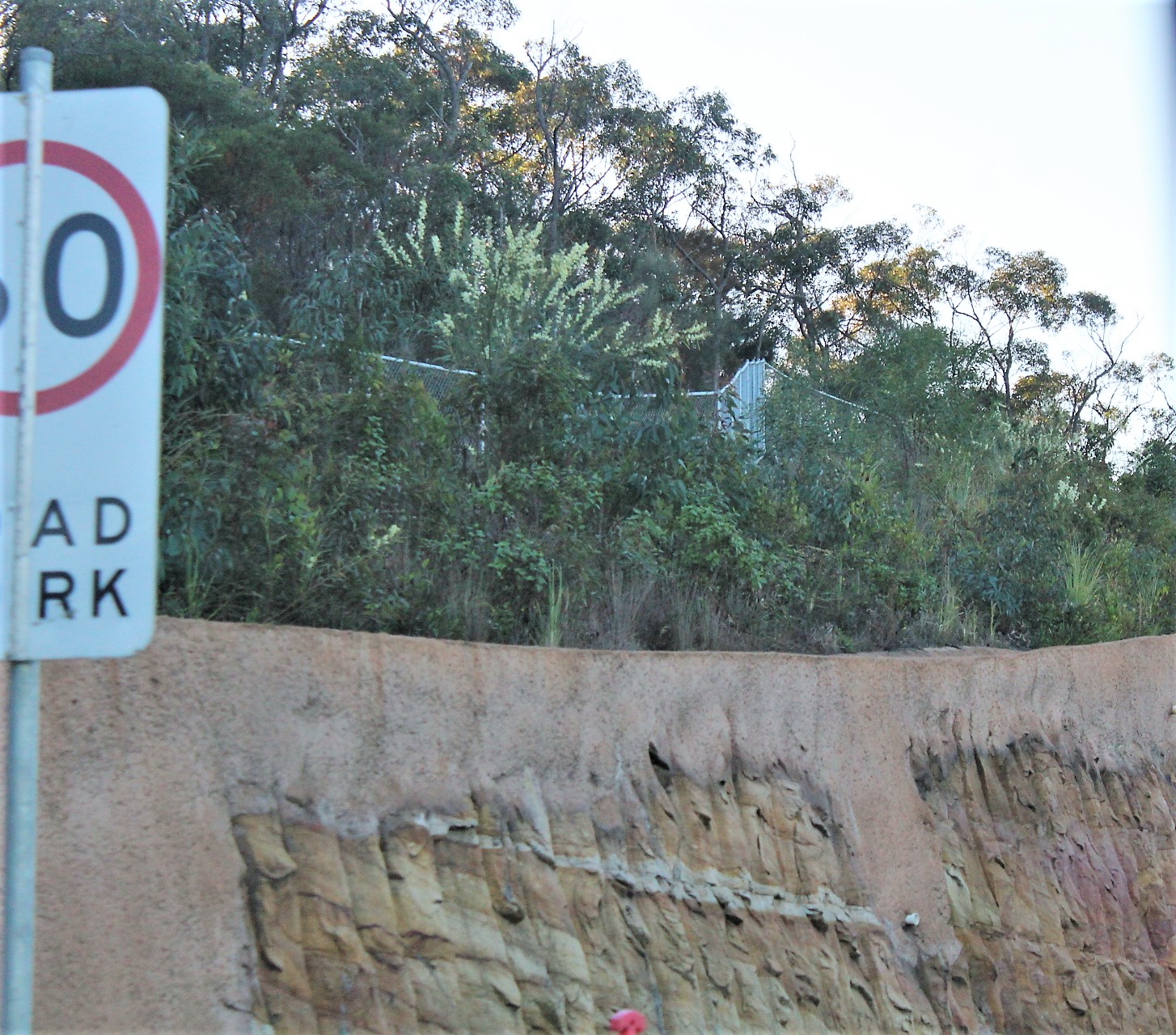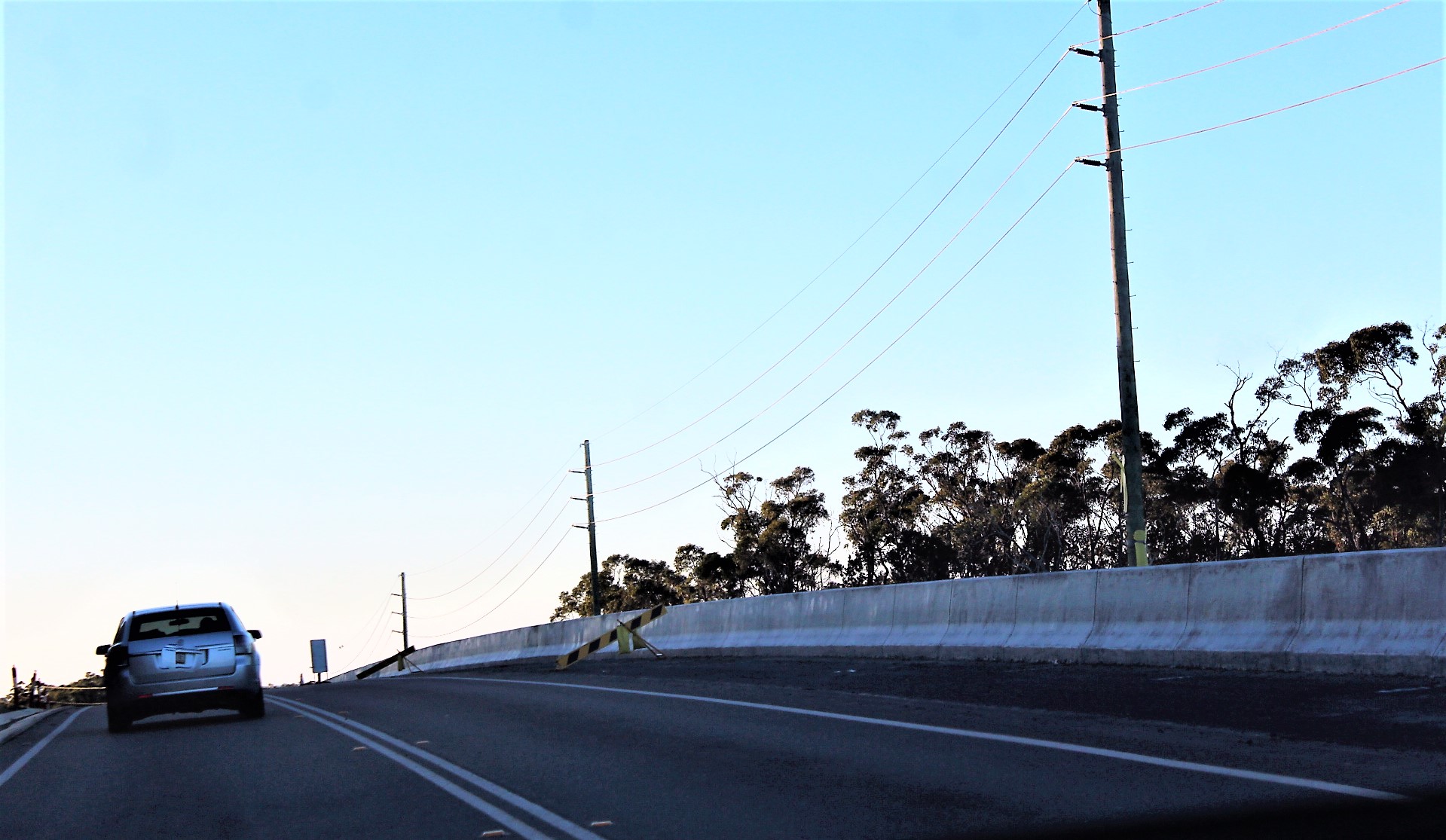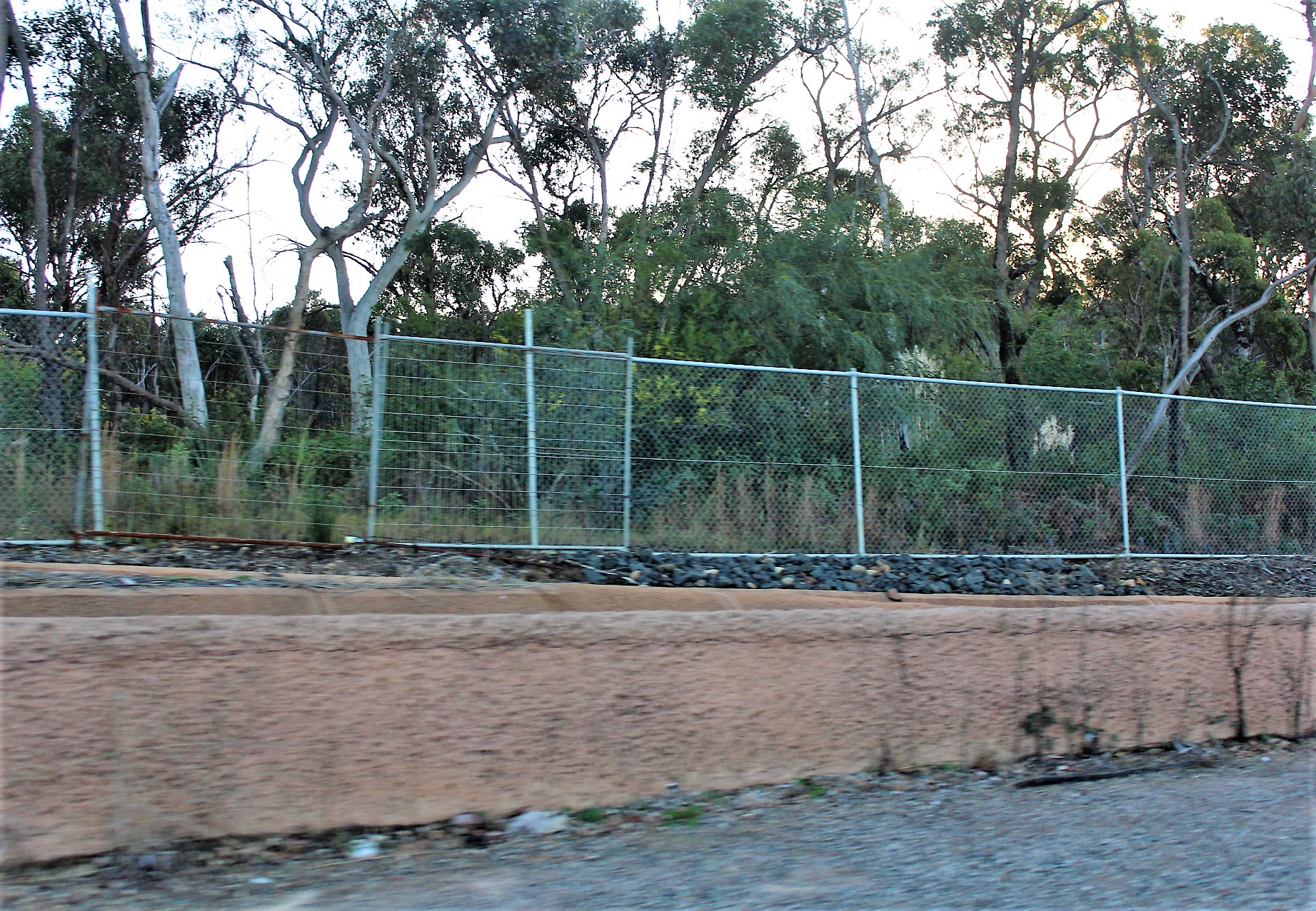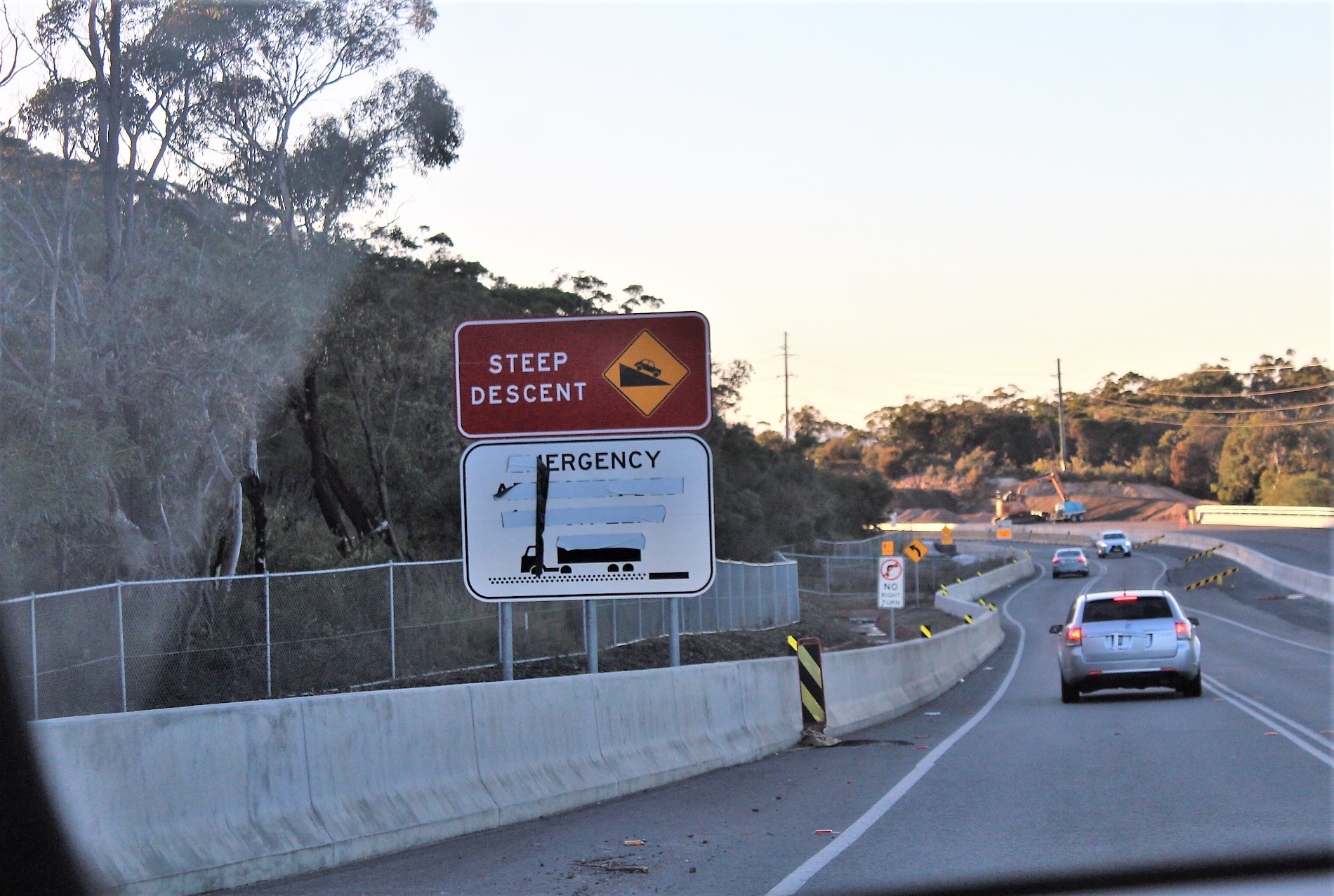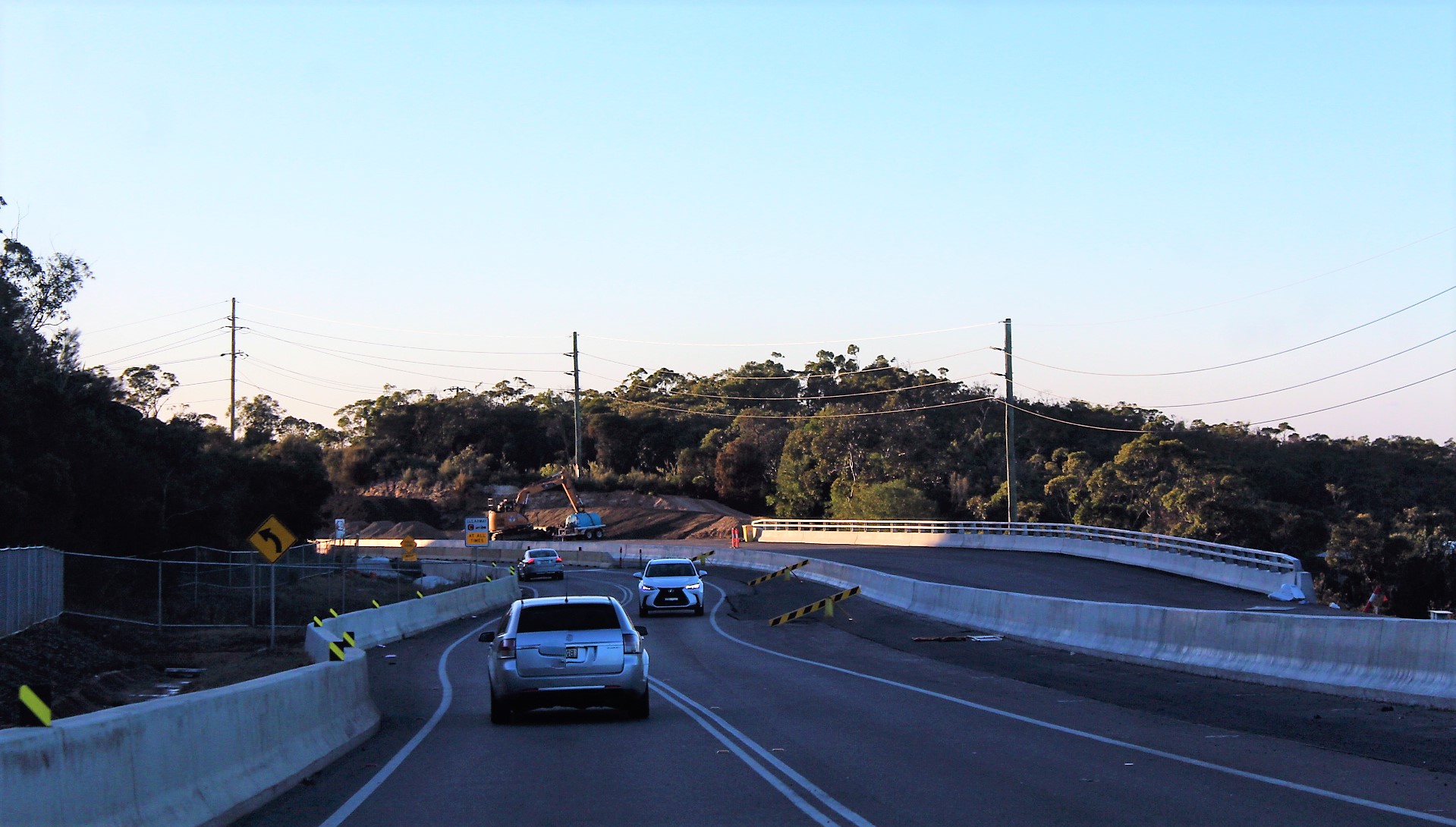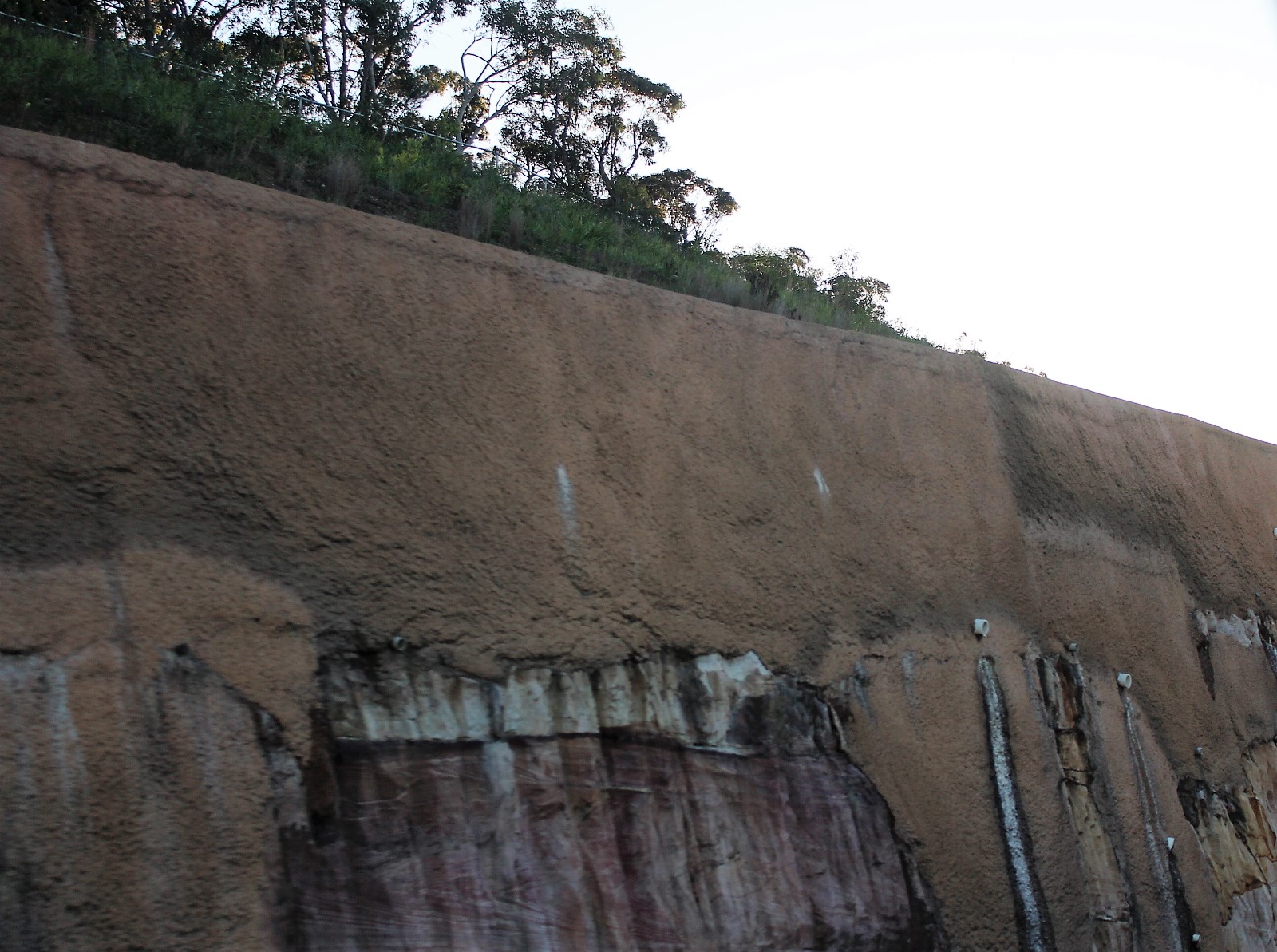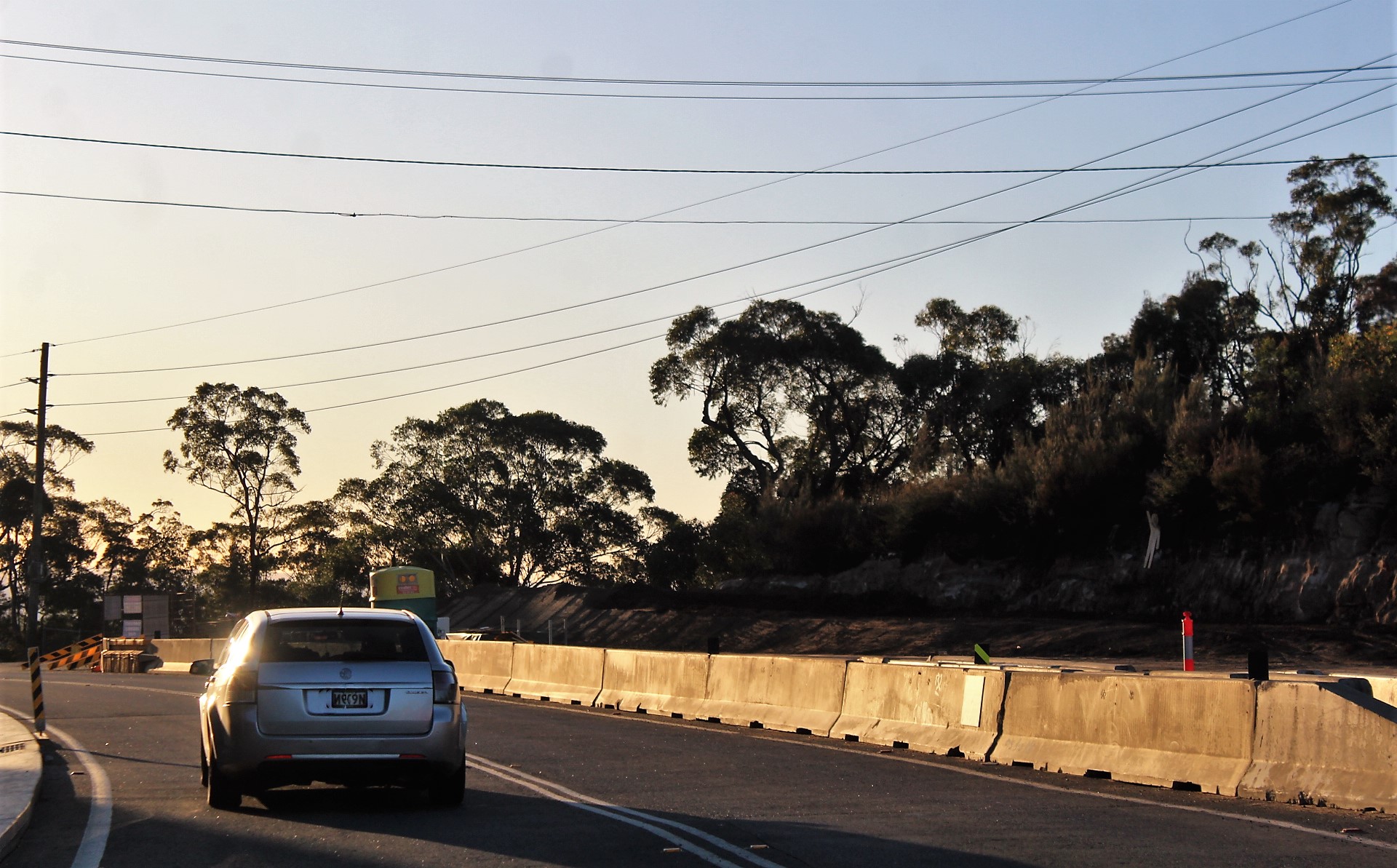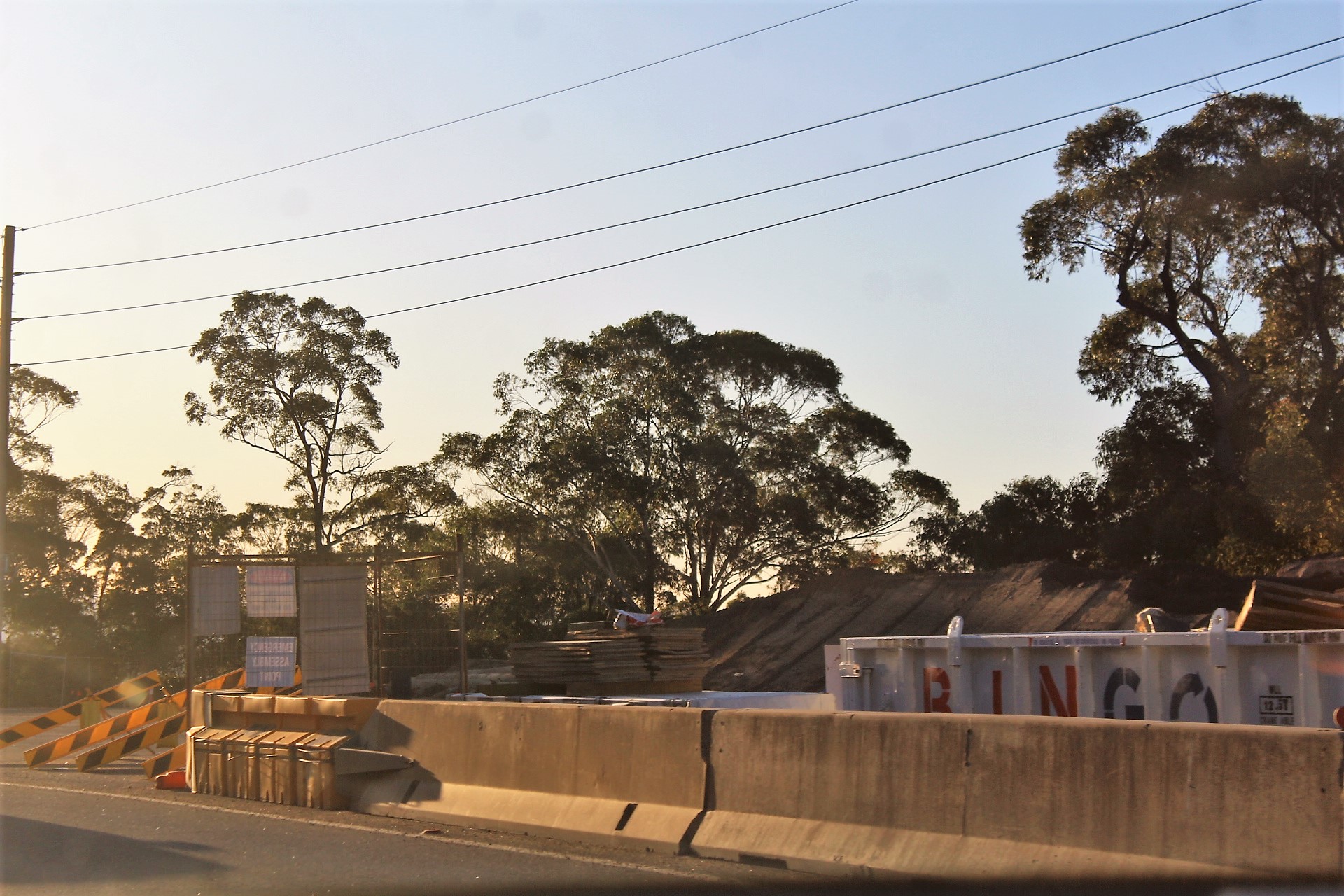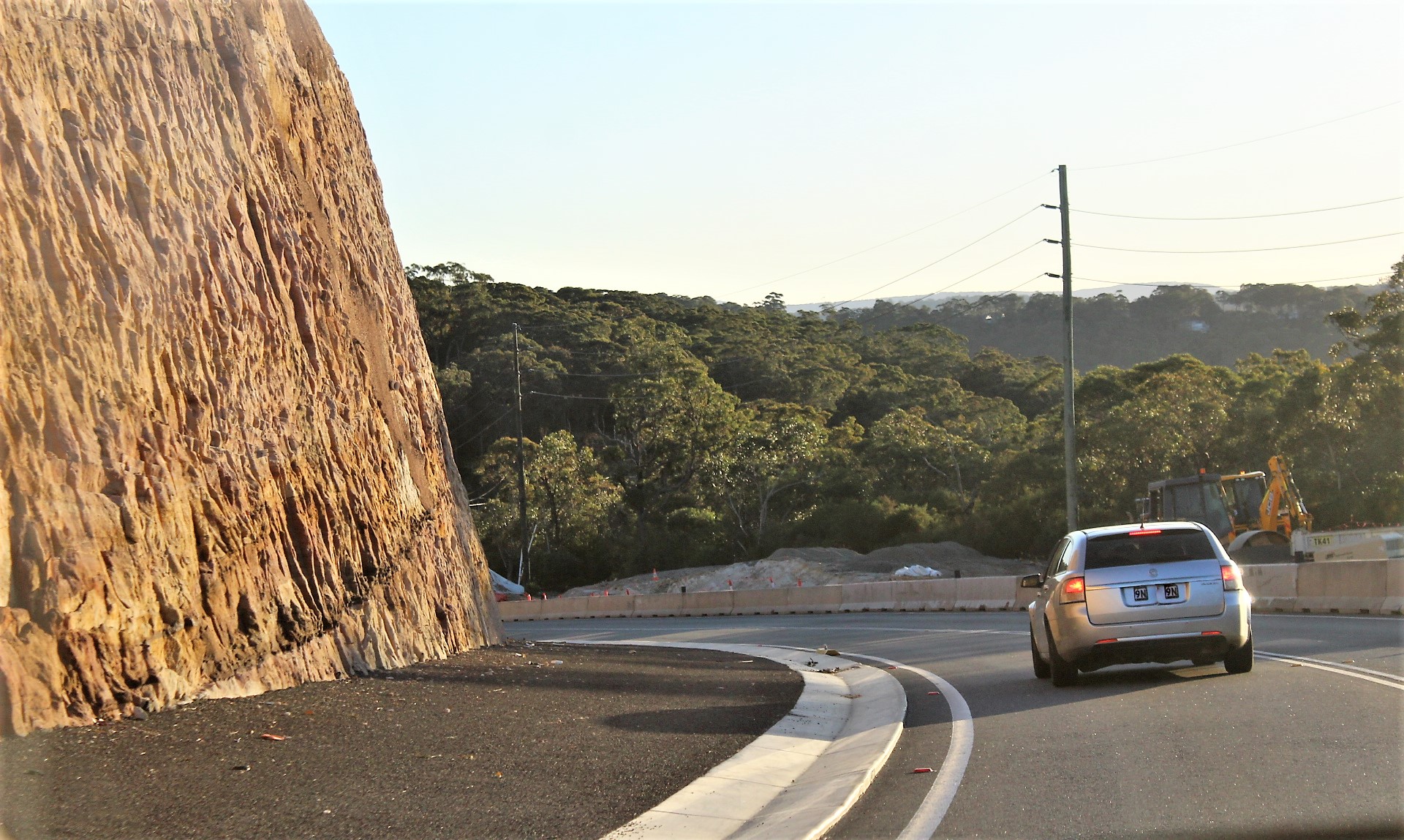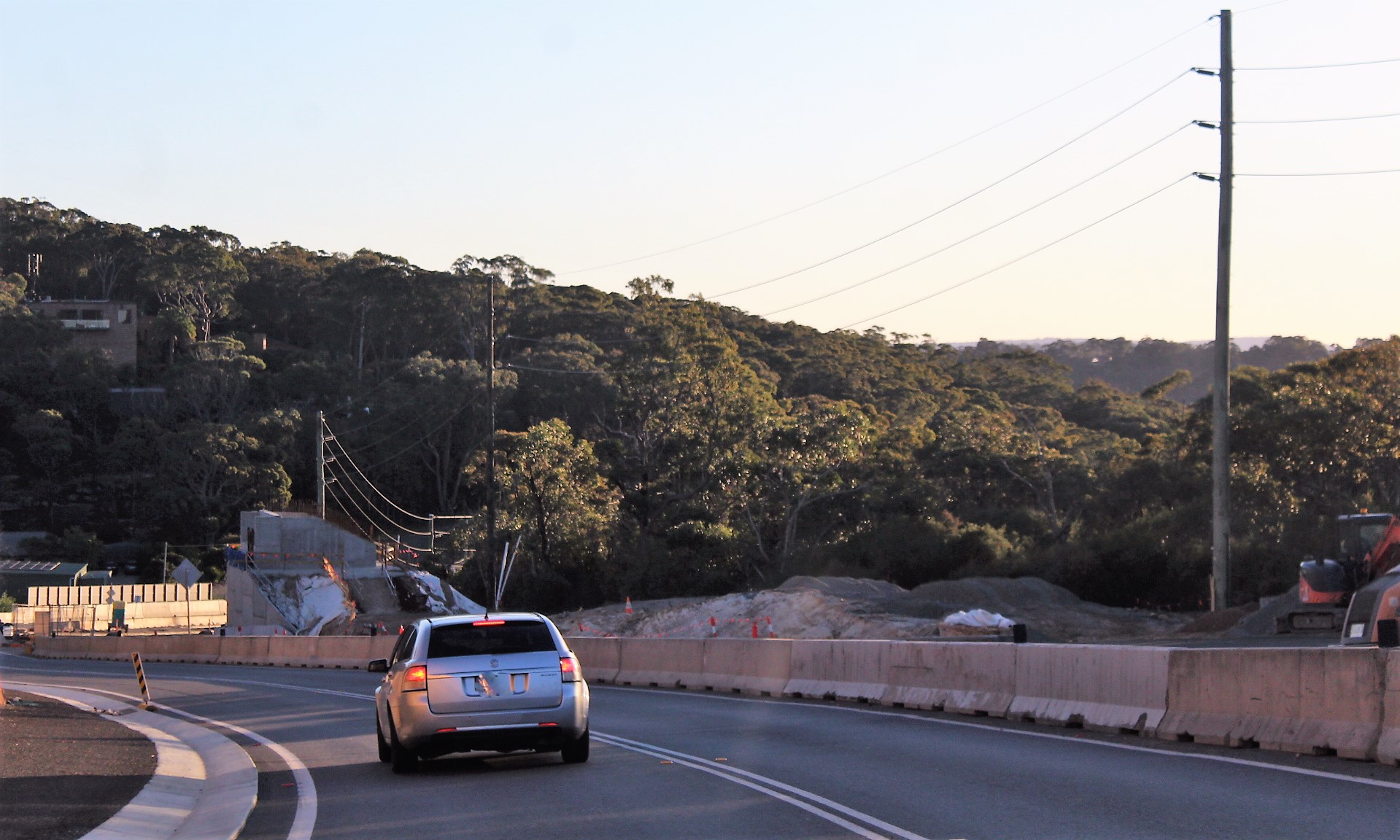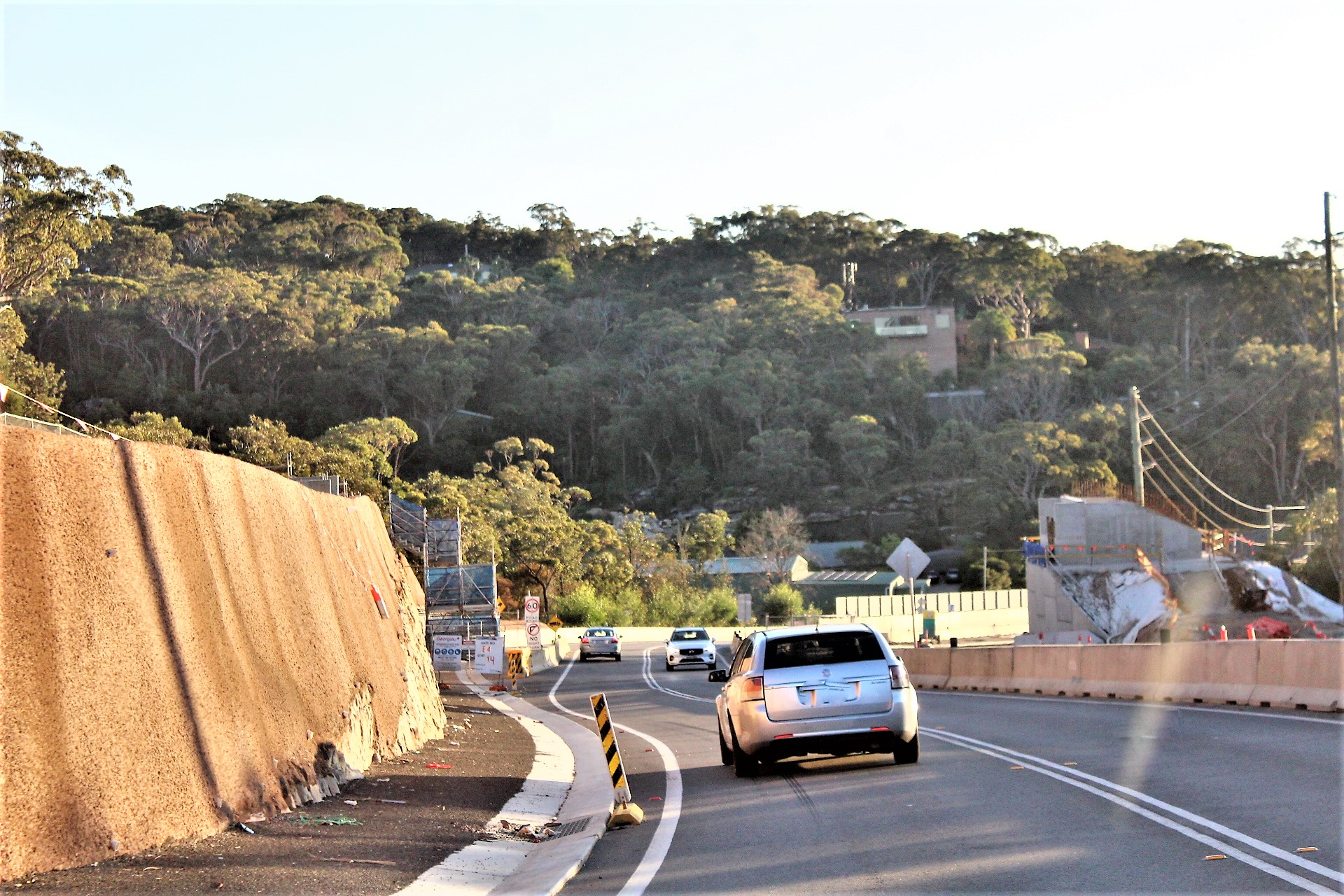 both sides of the fauna overpass pylons now in place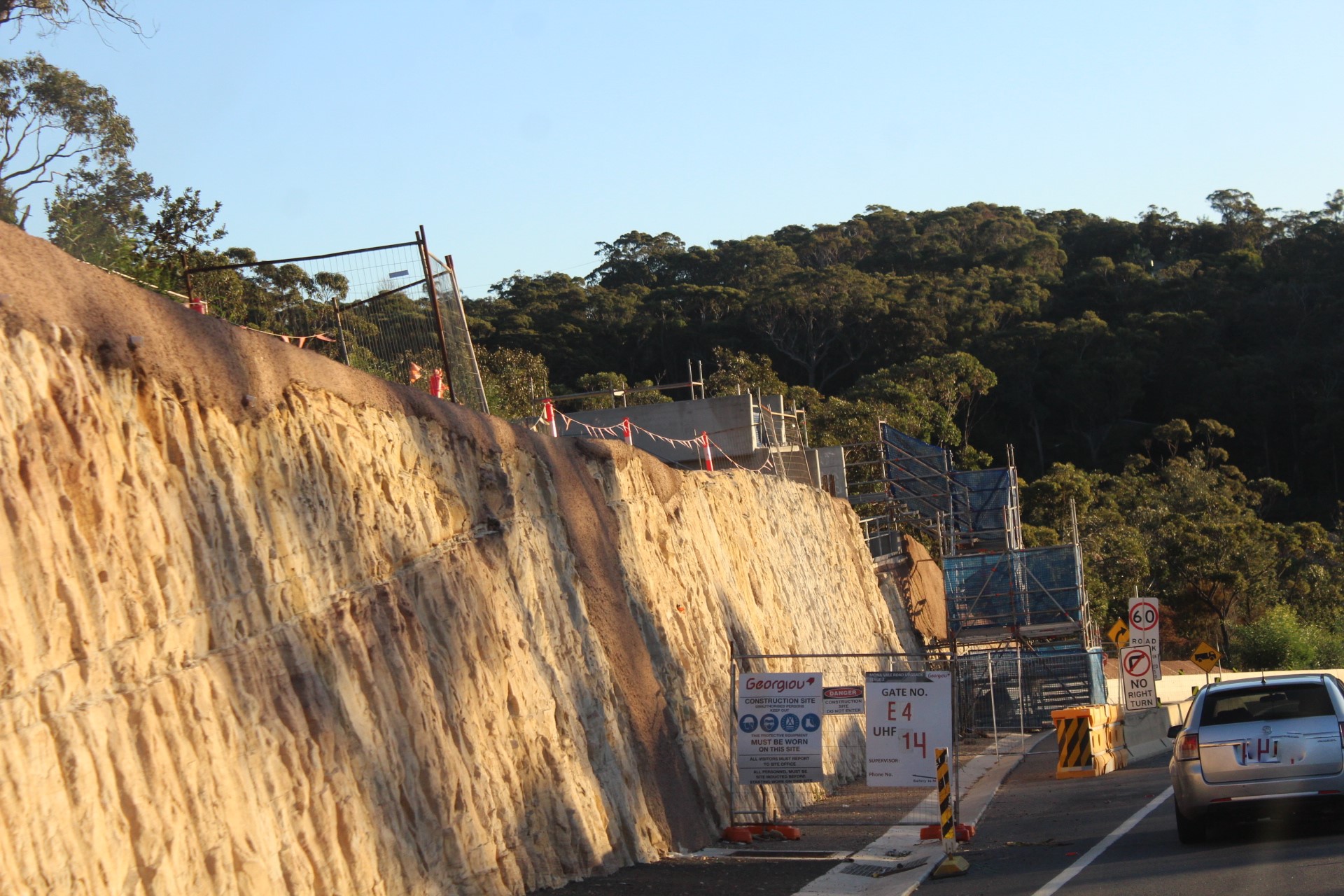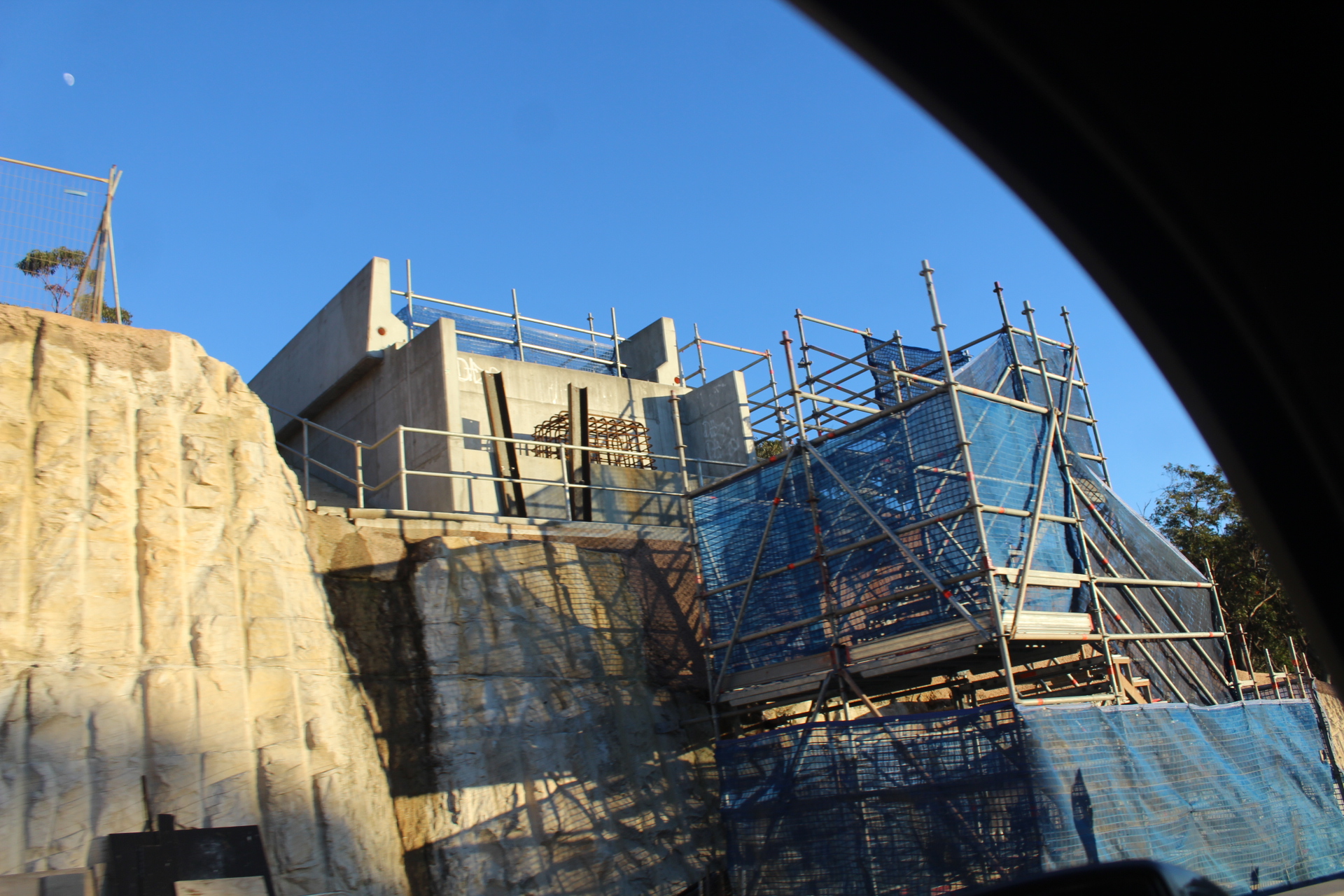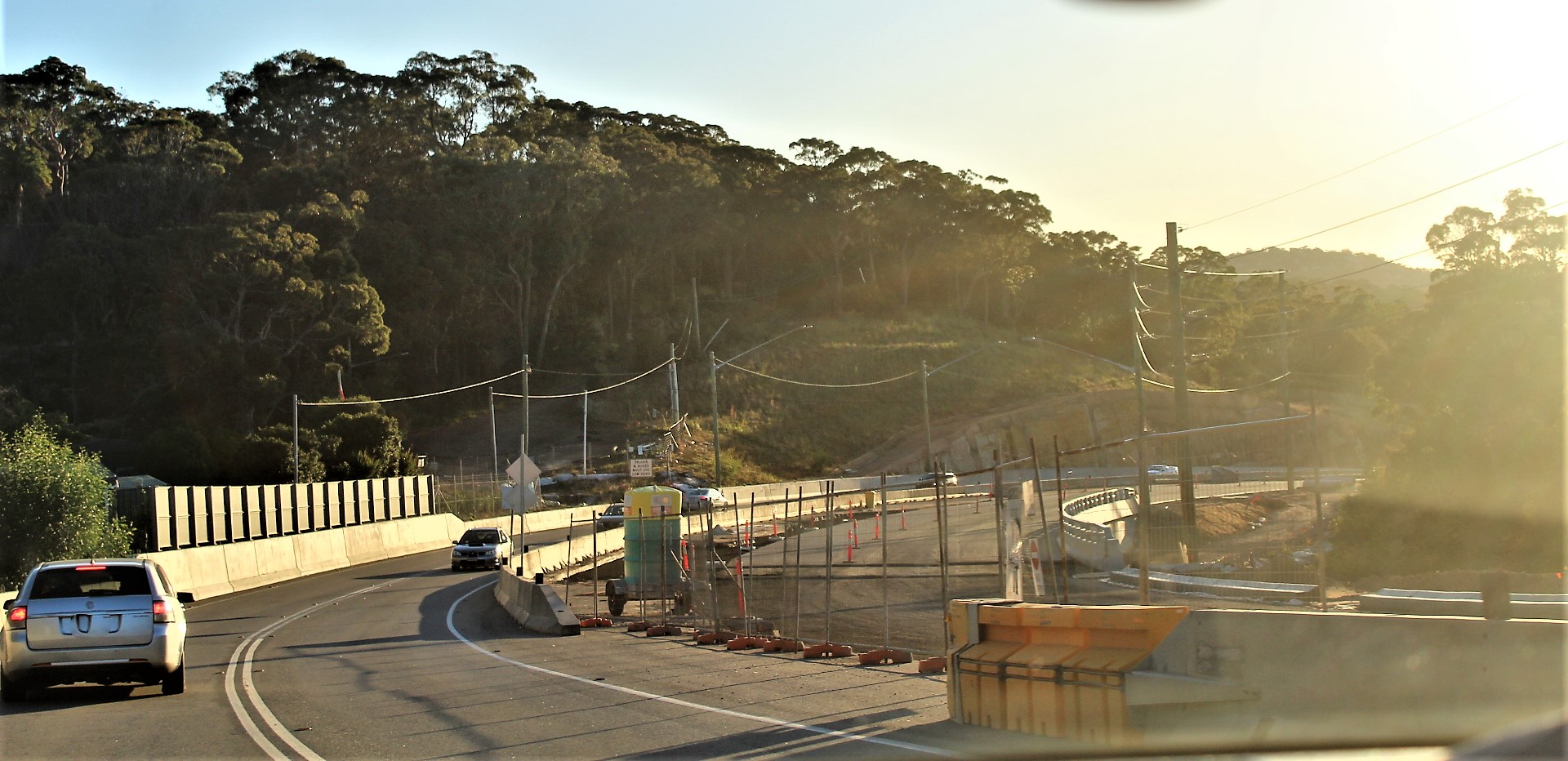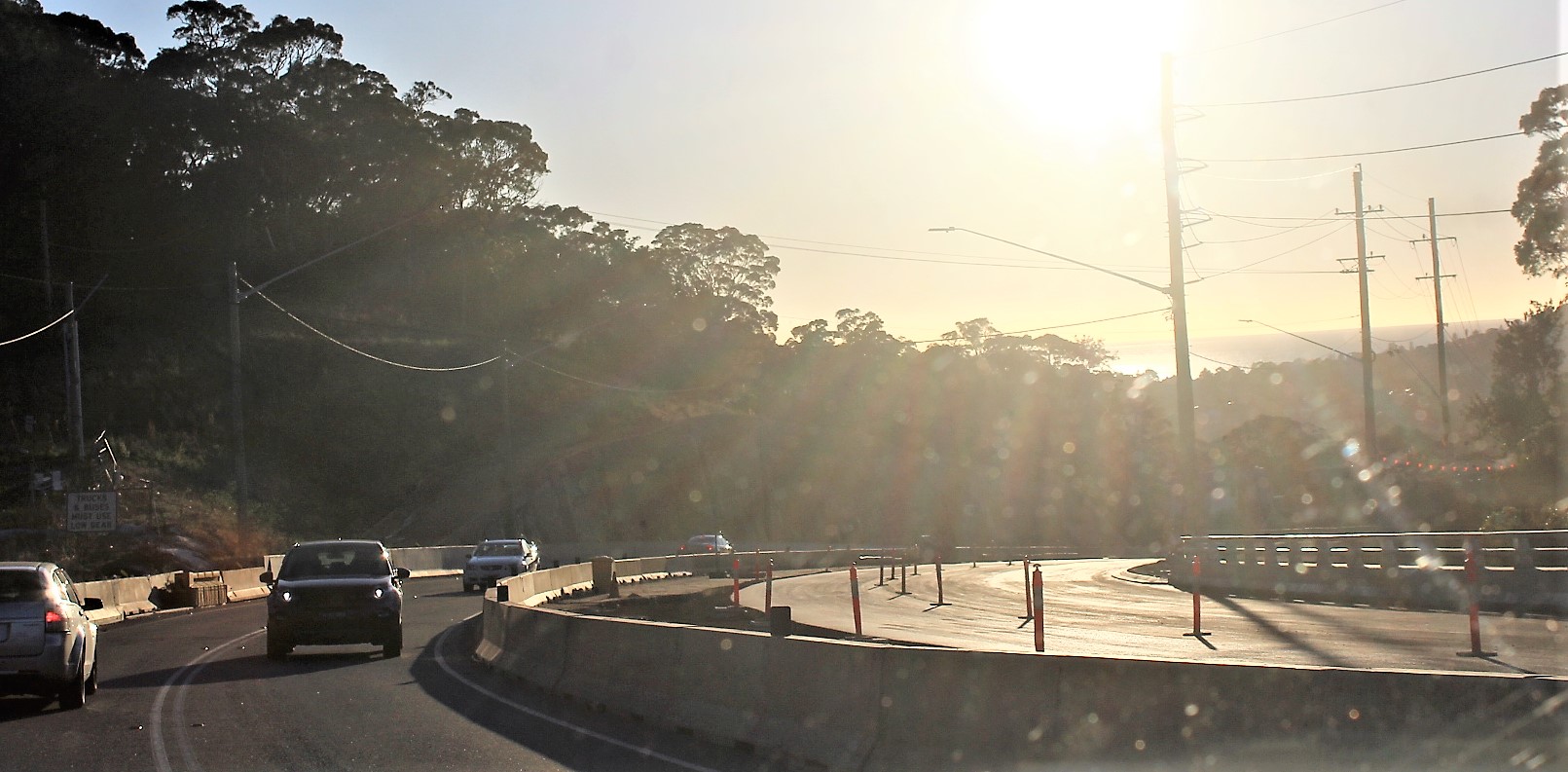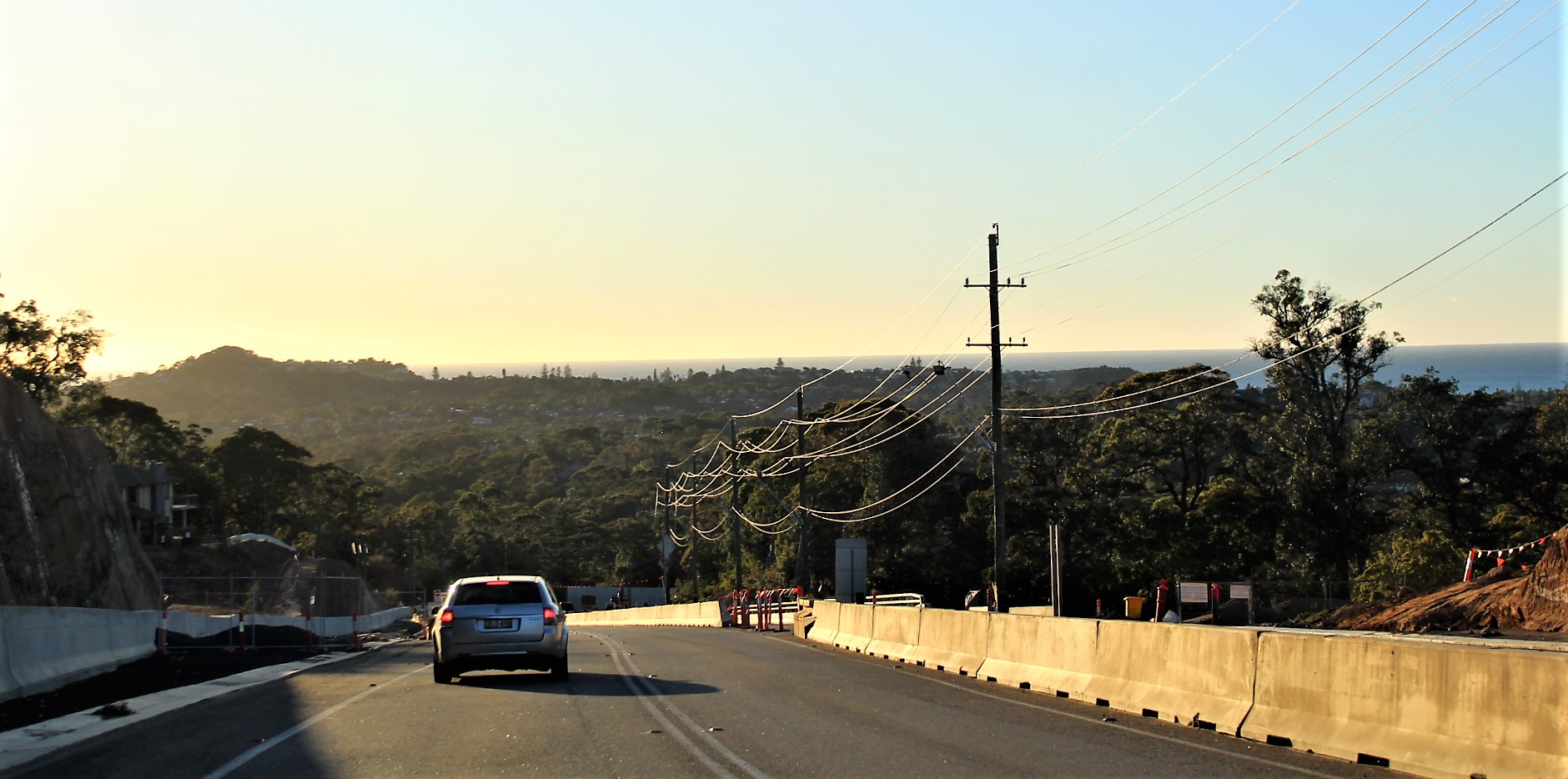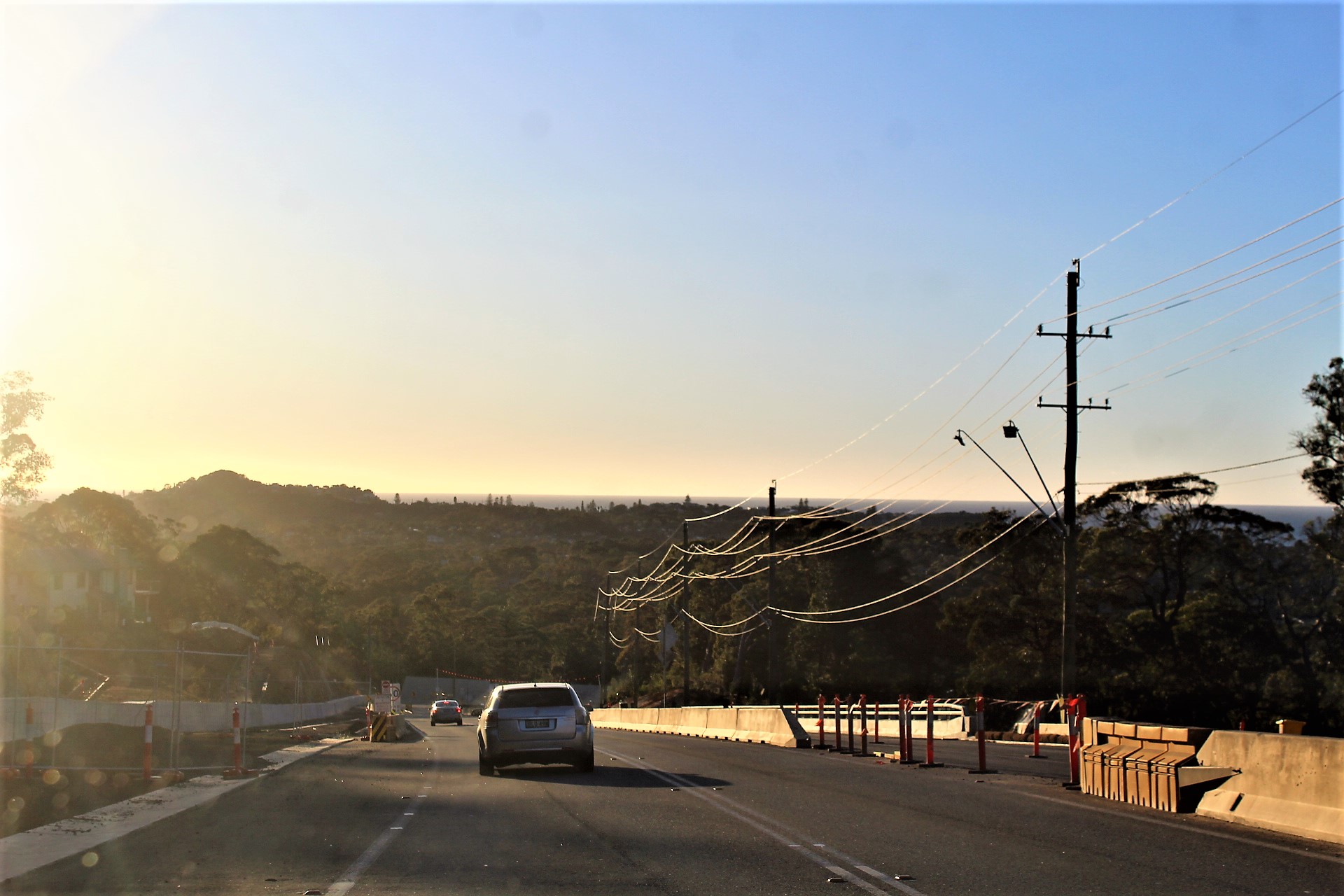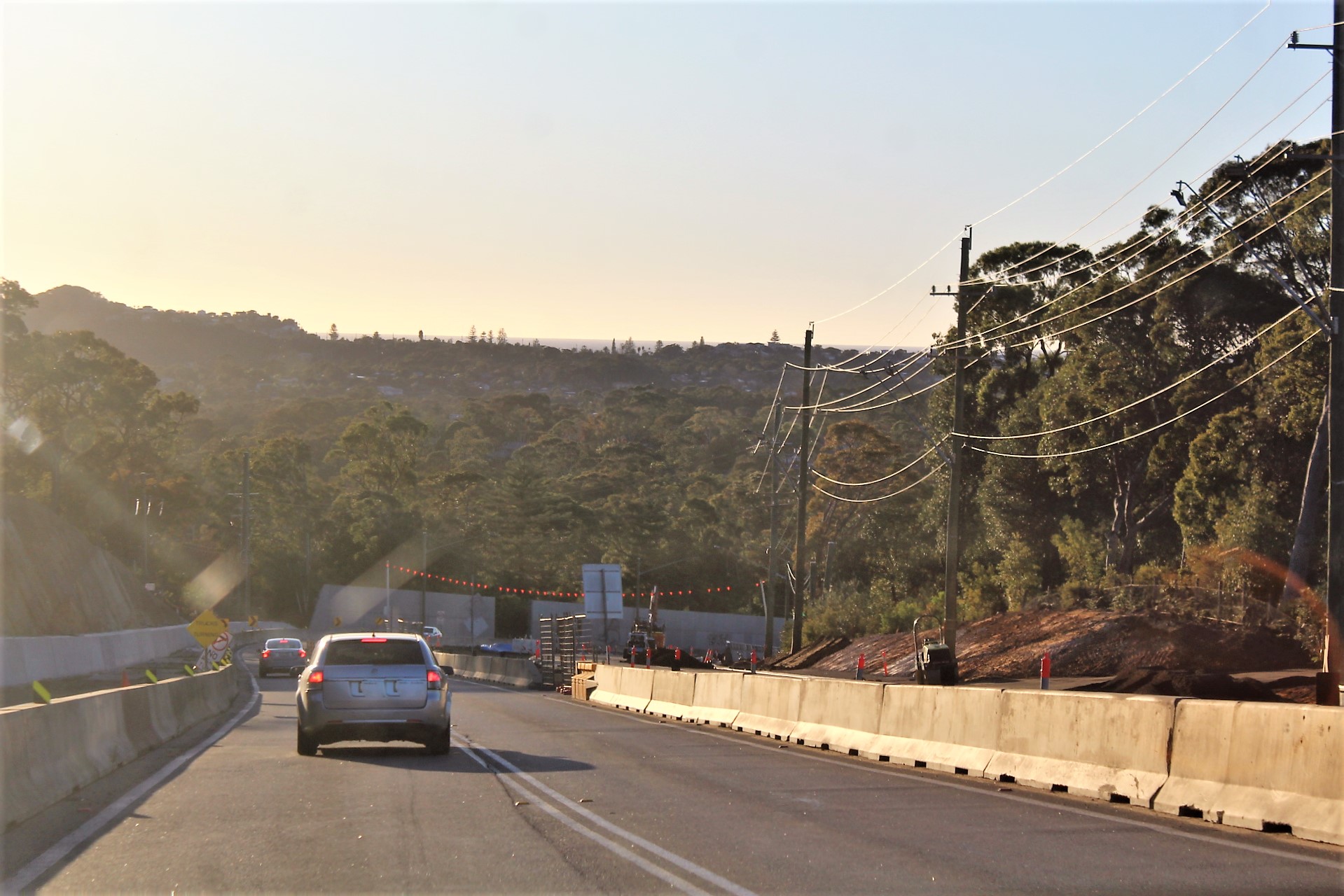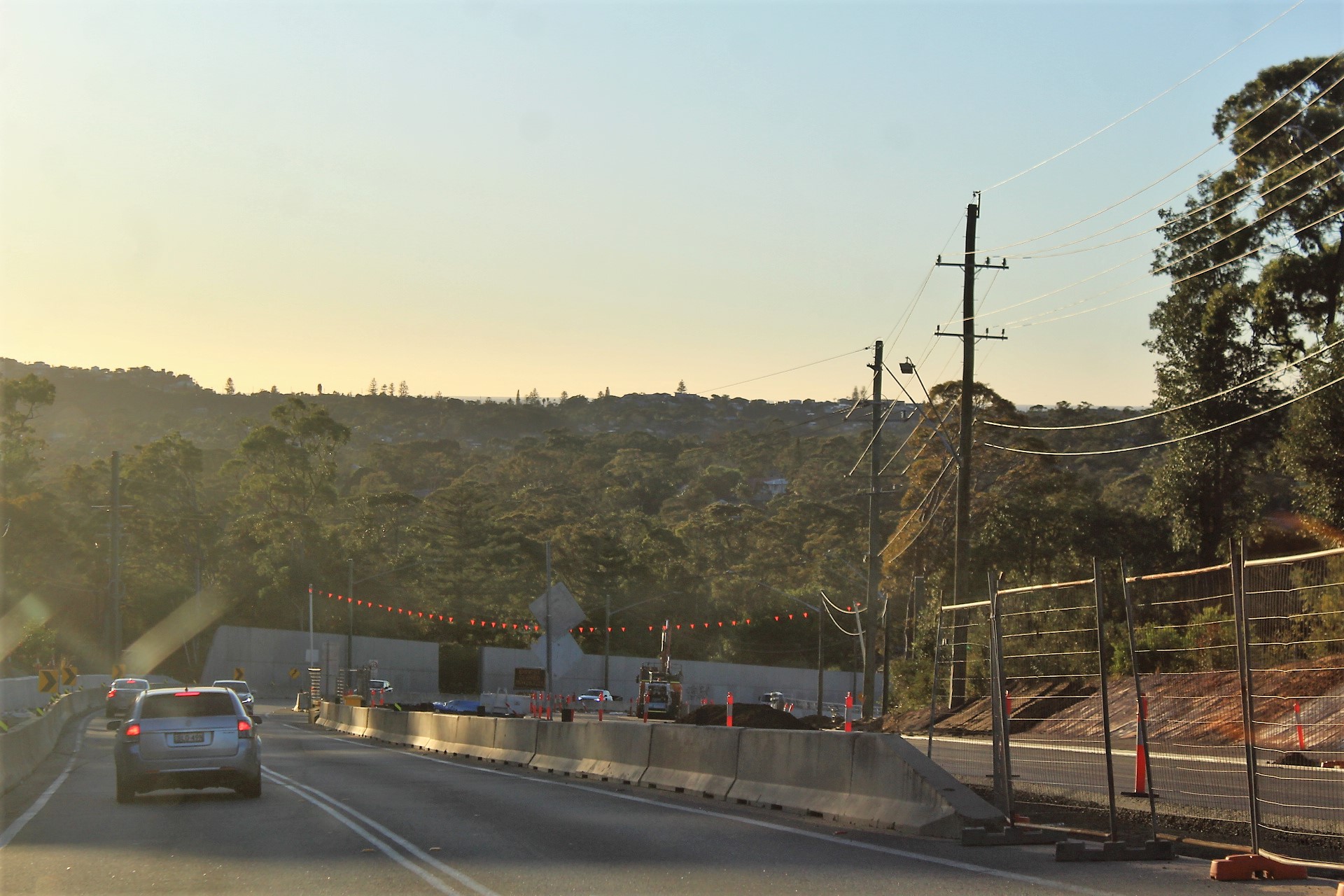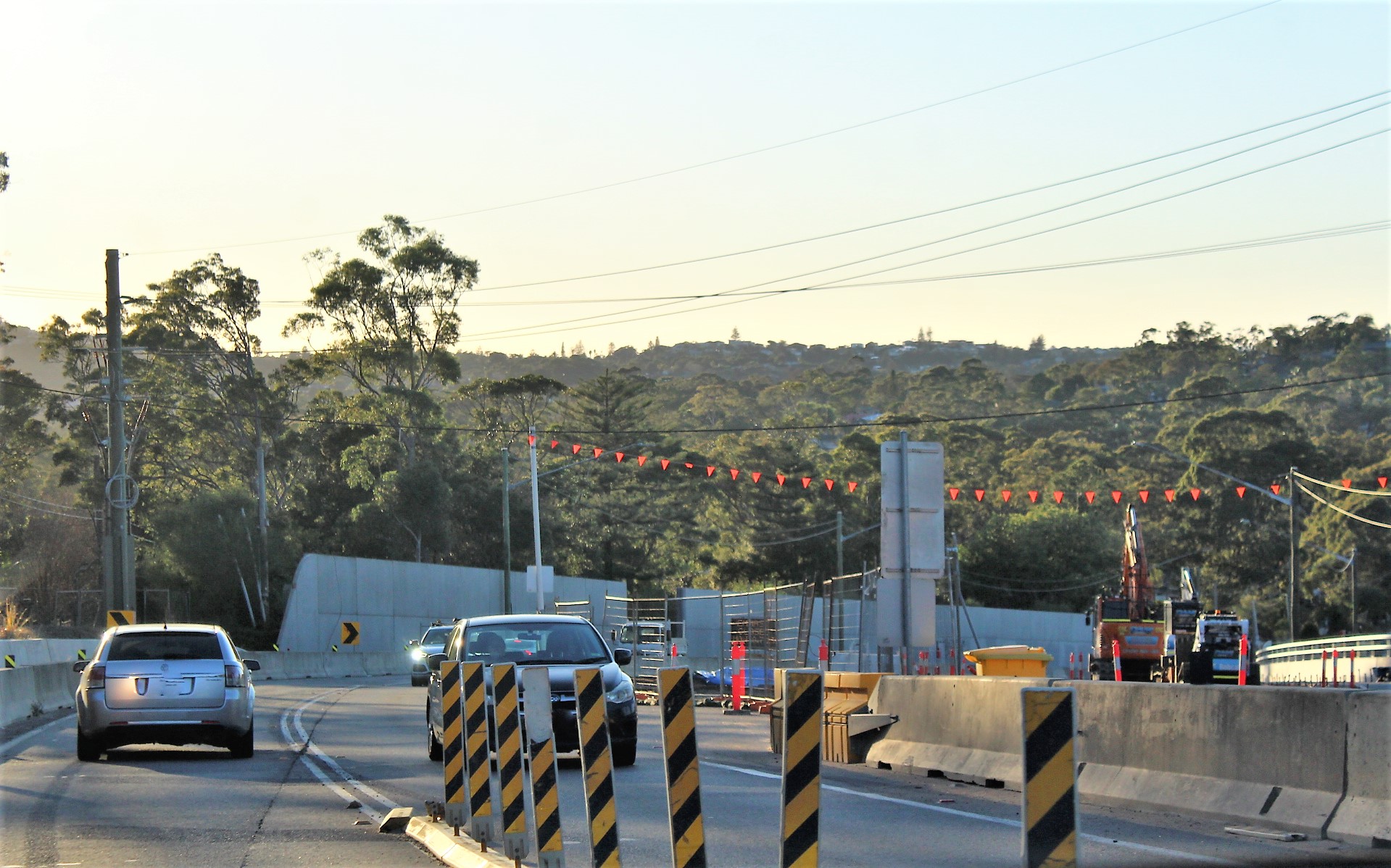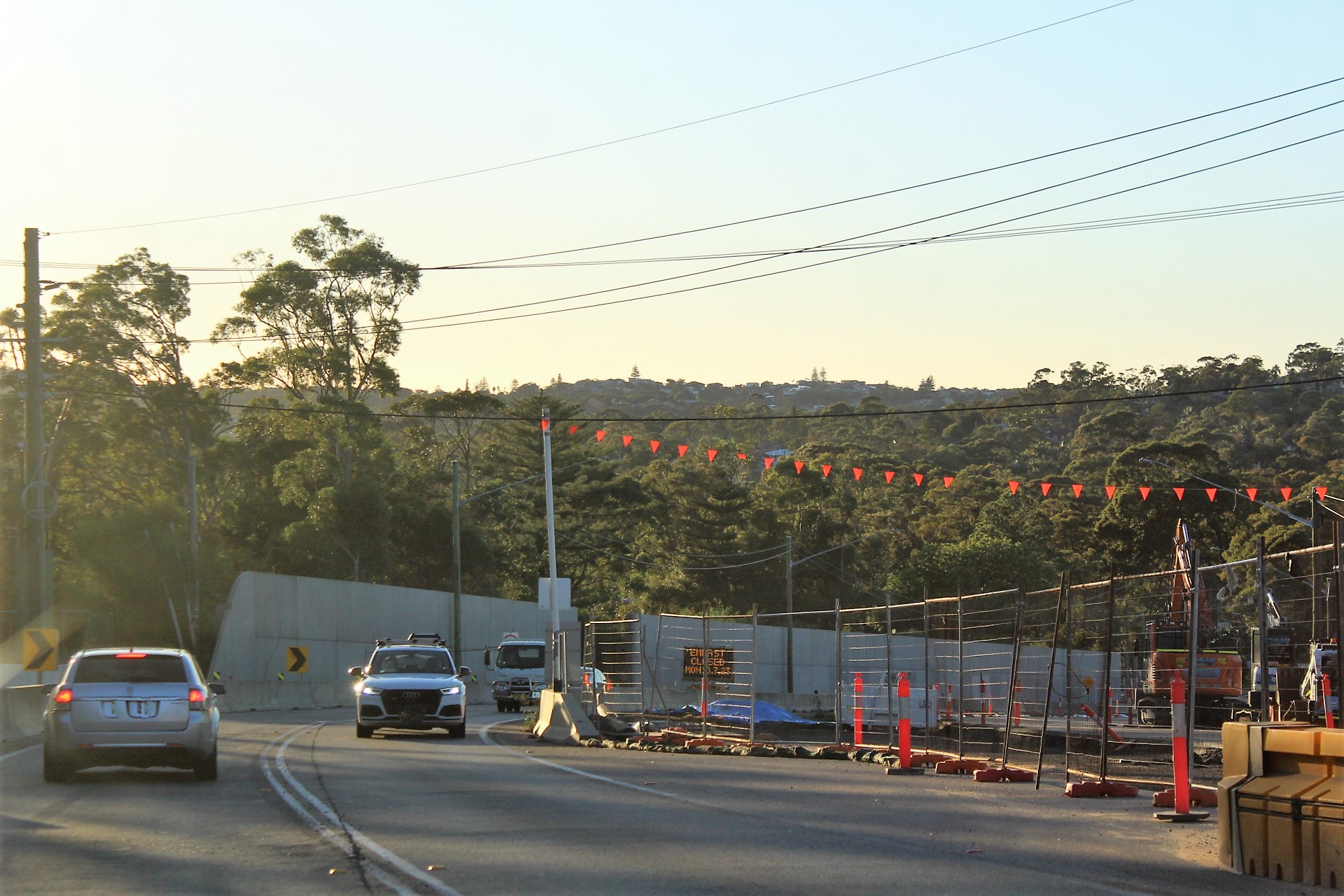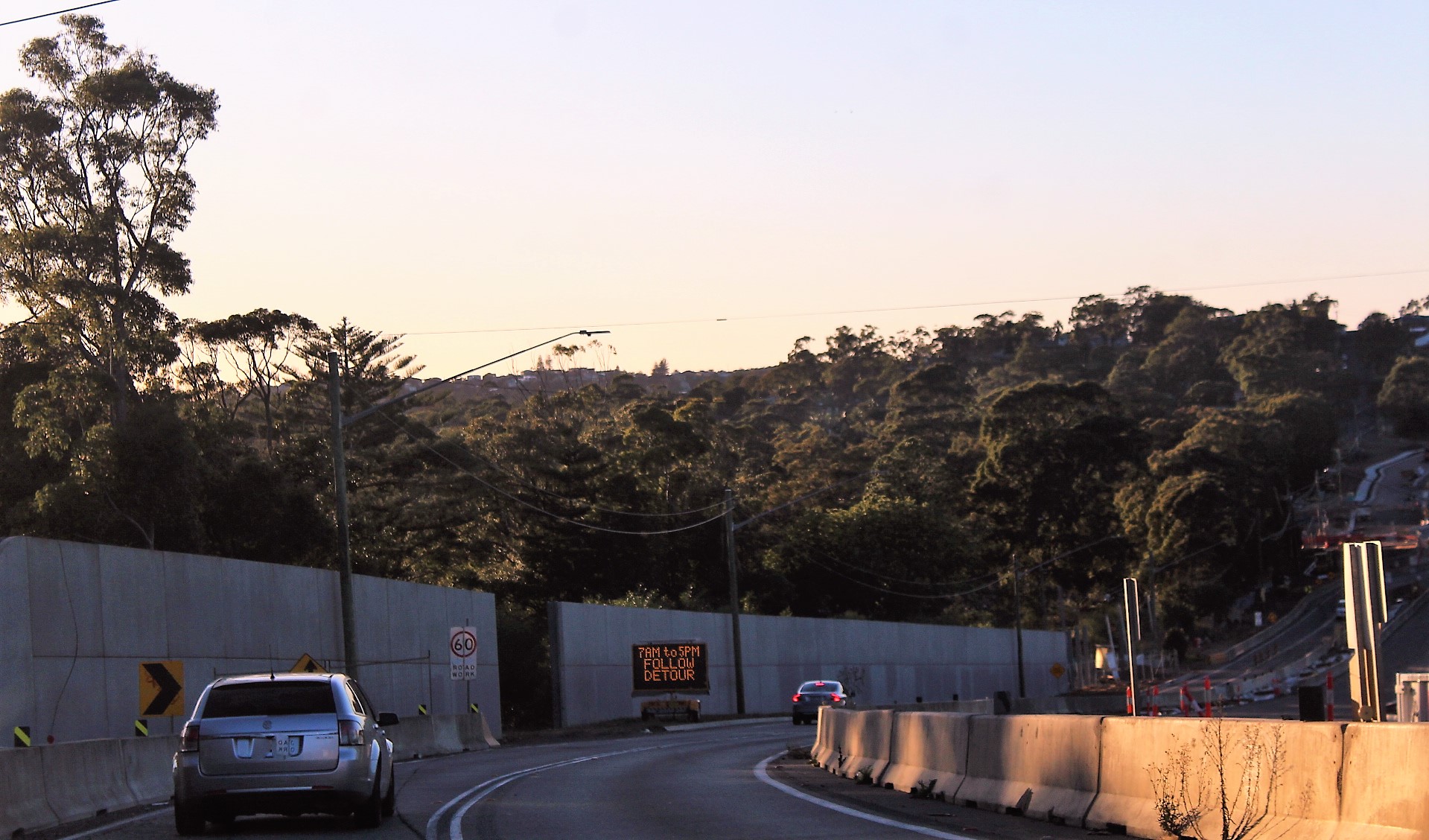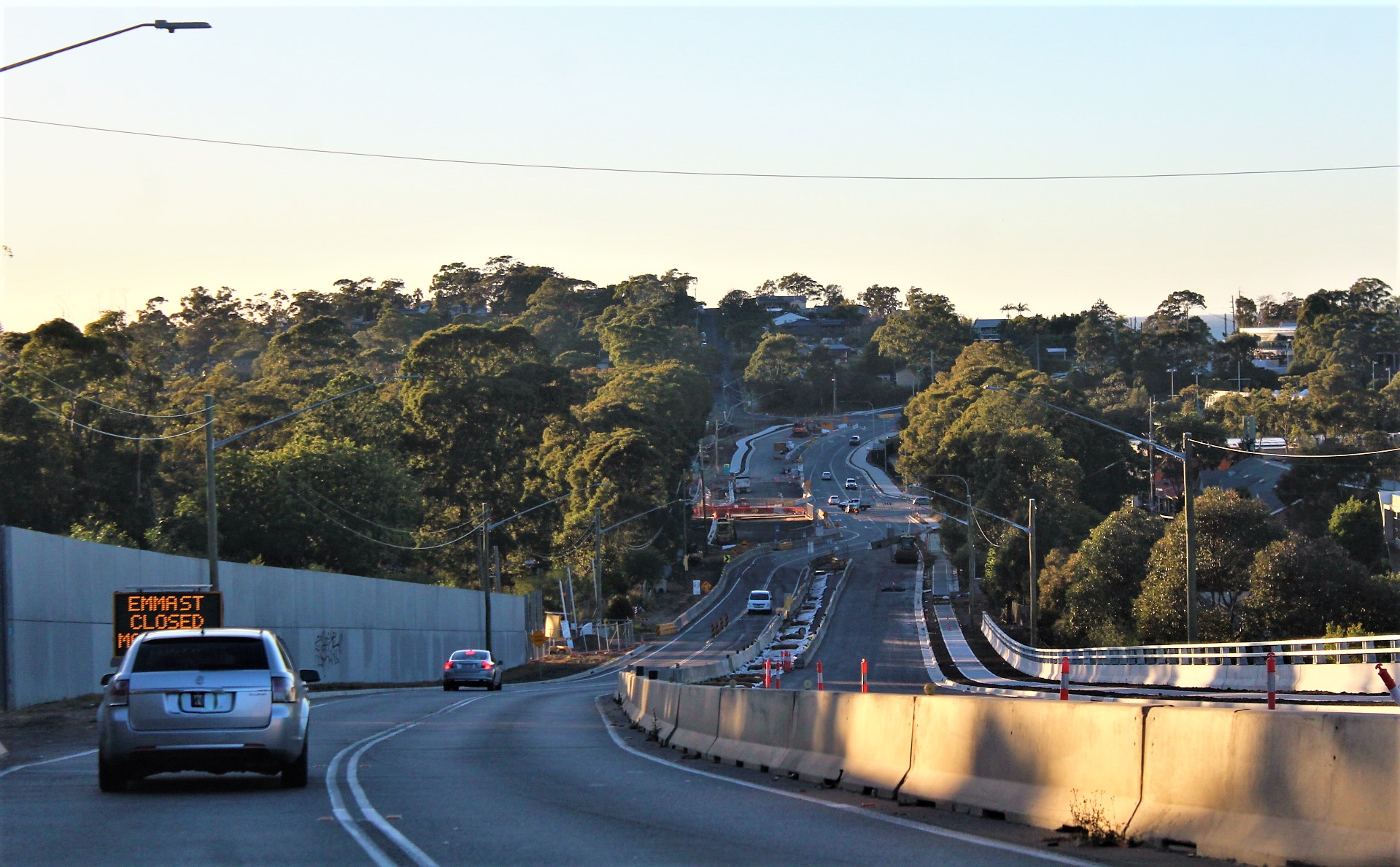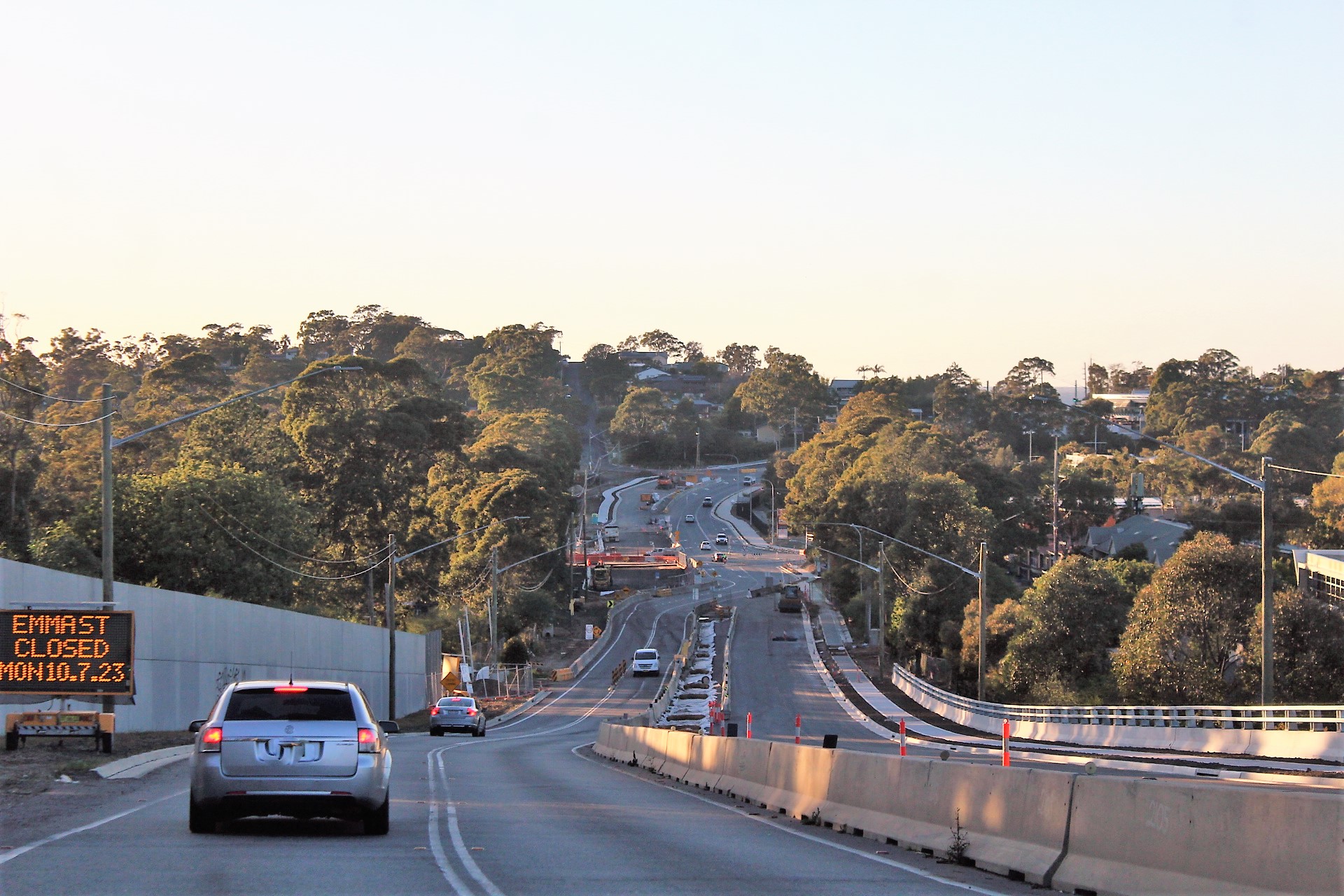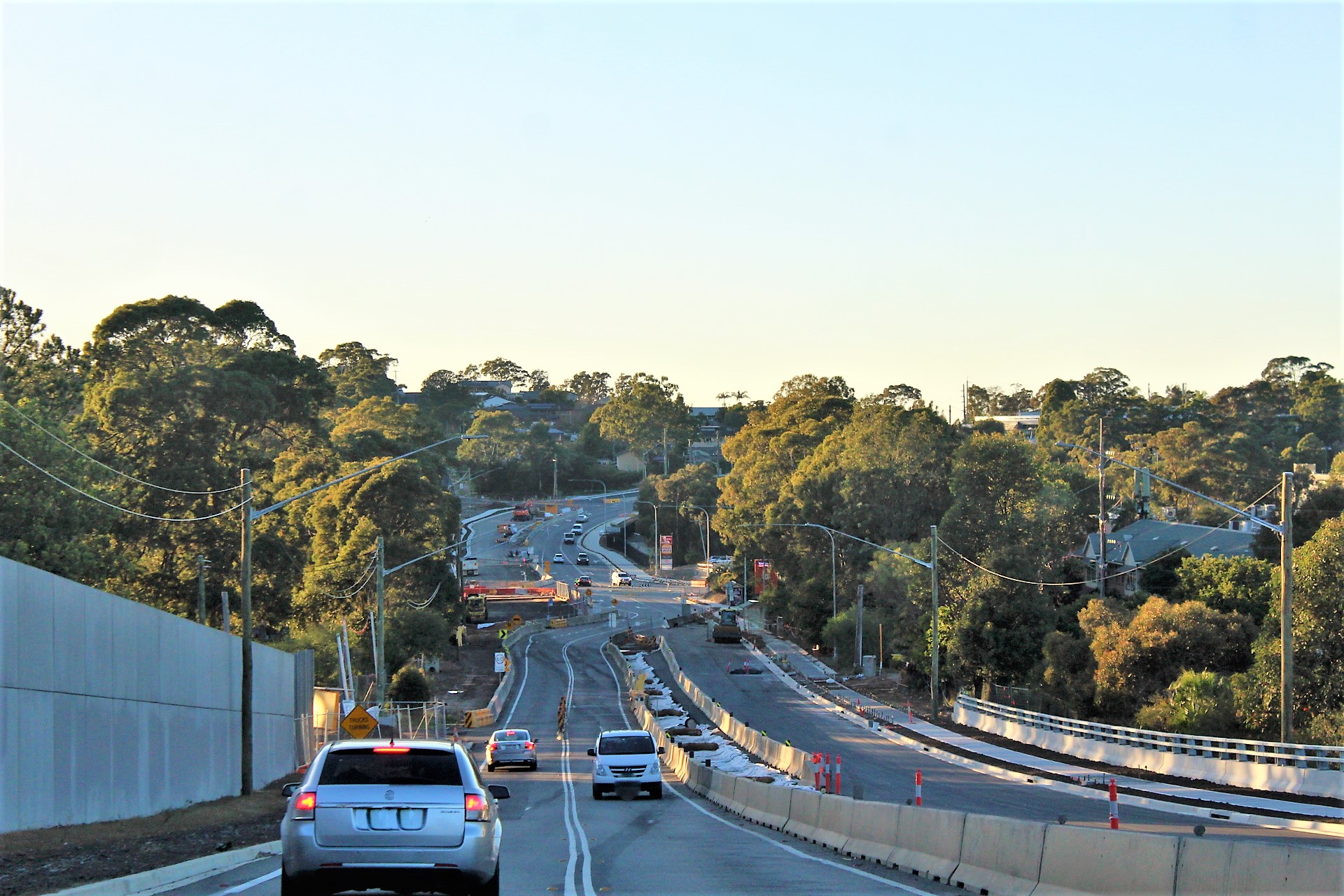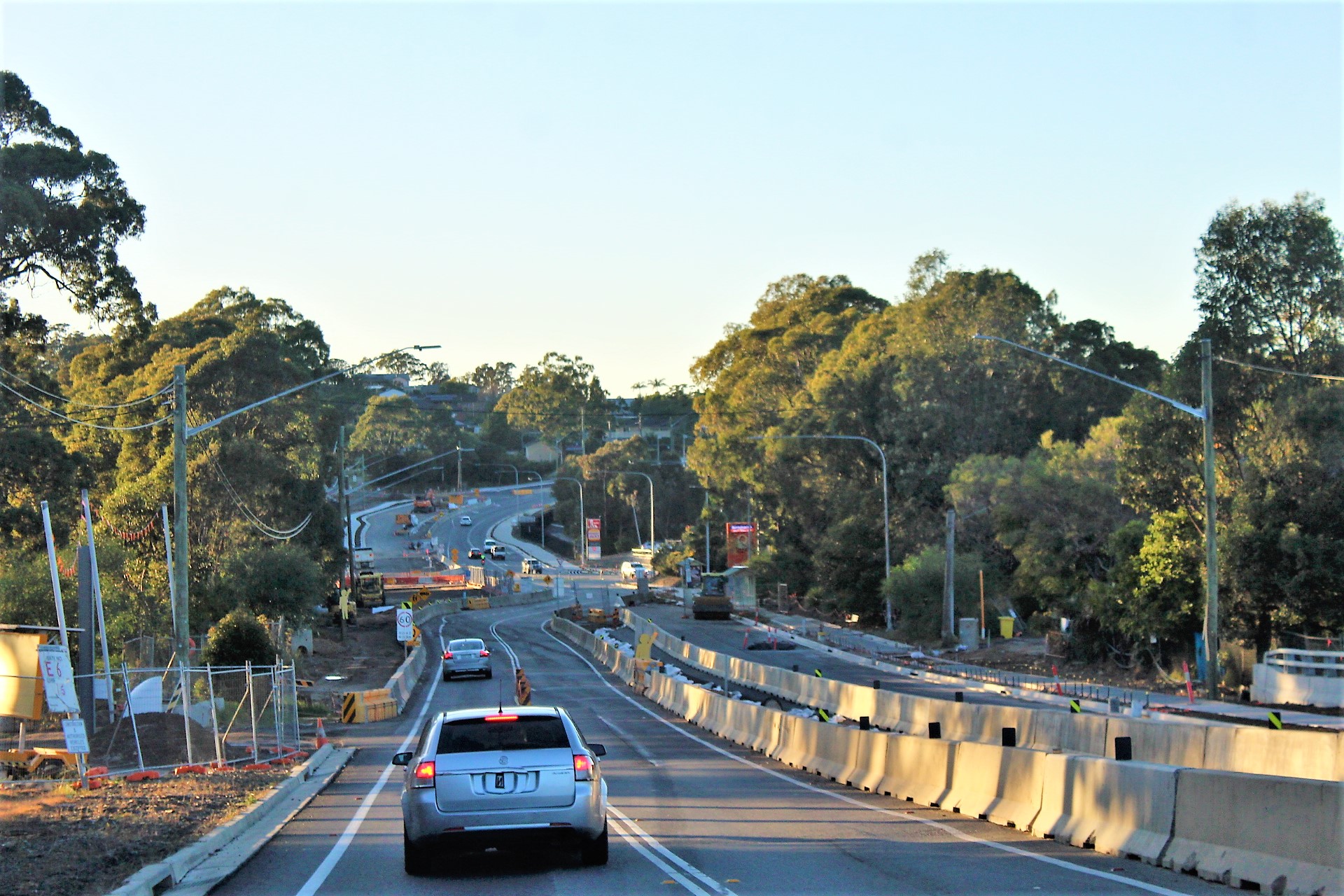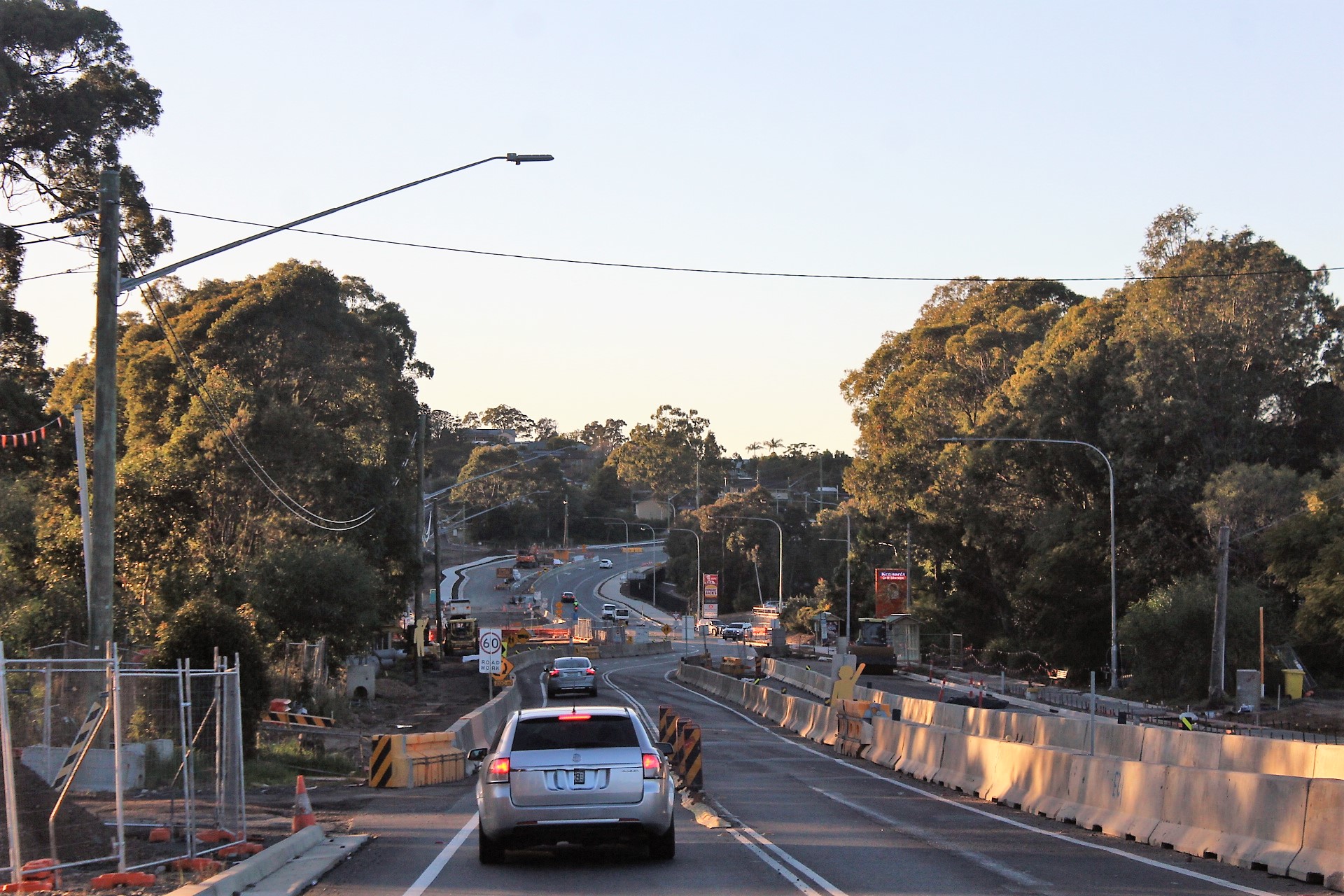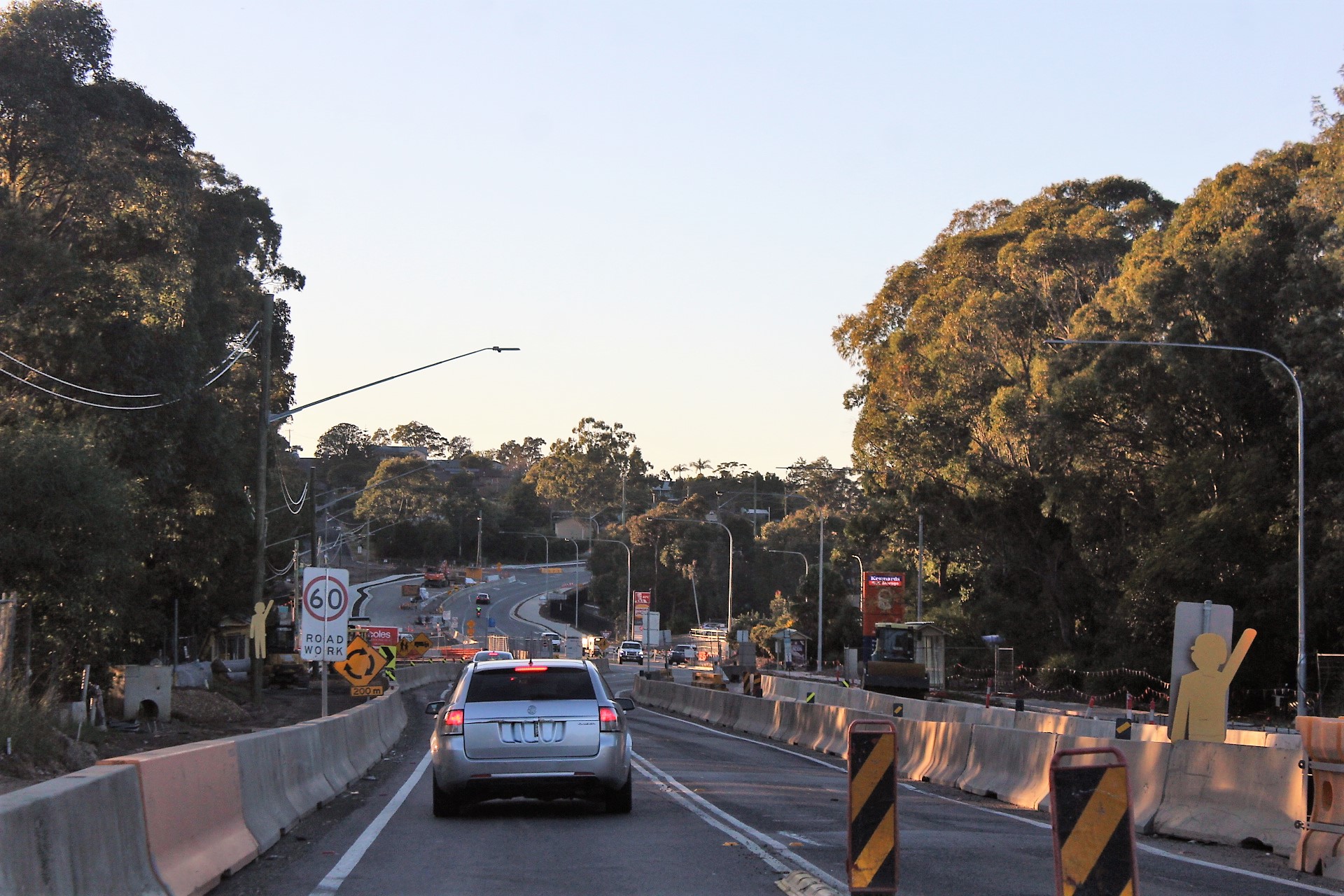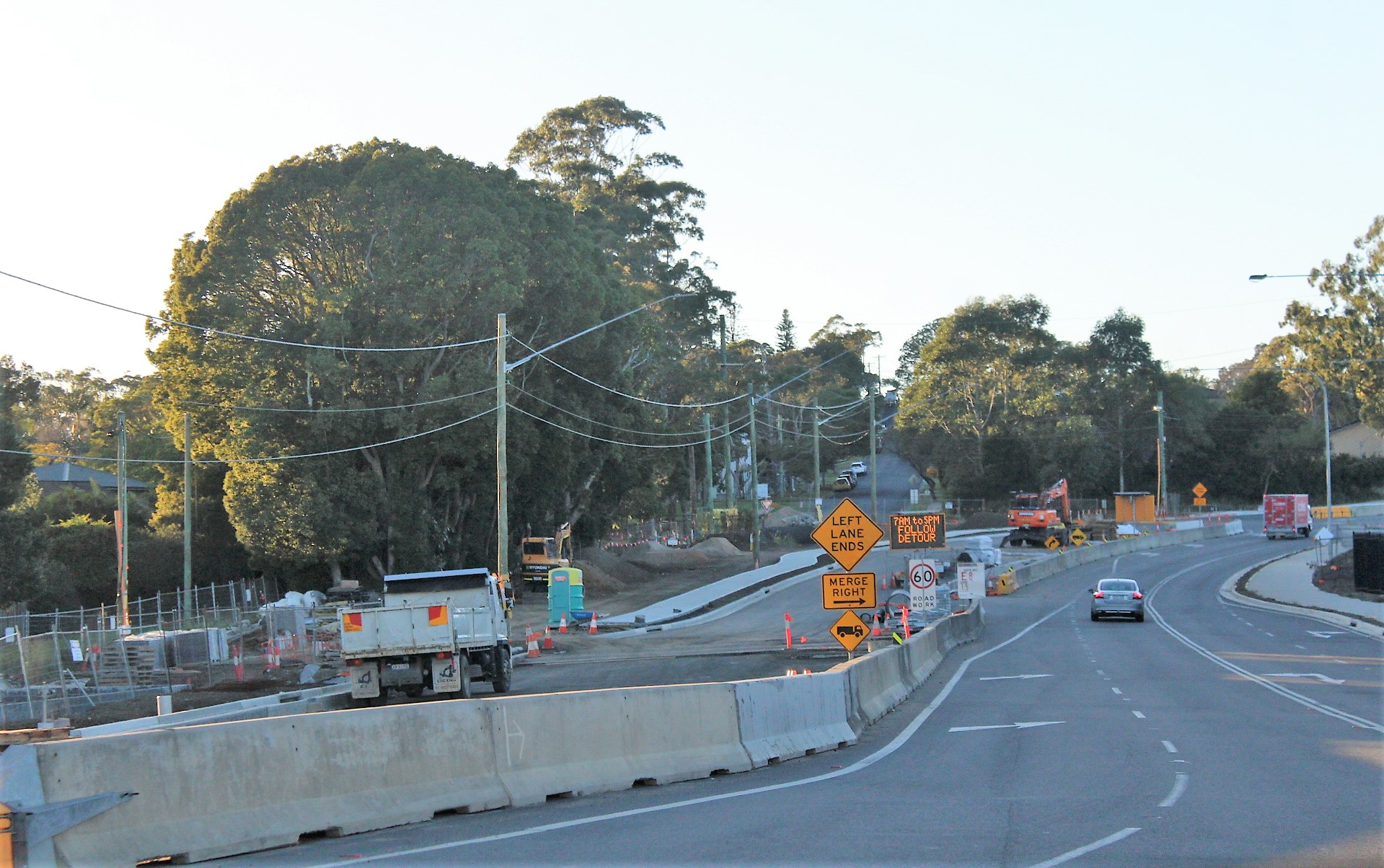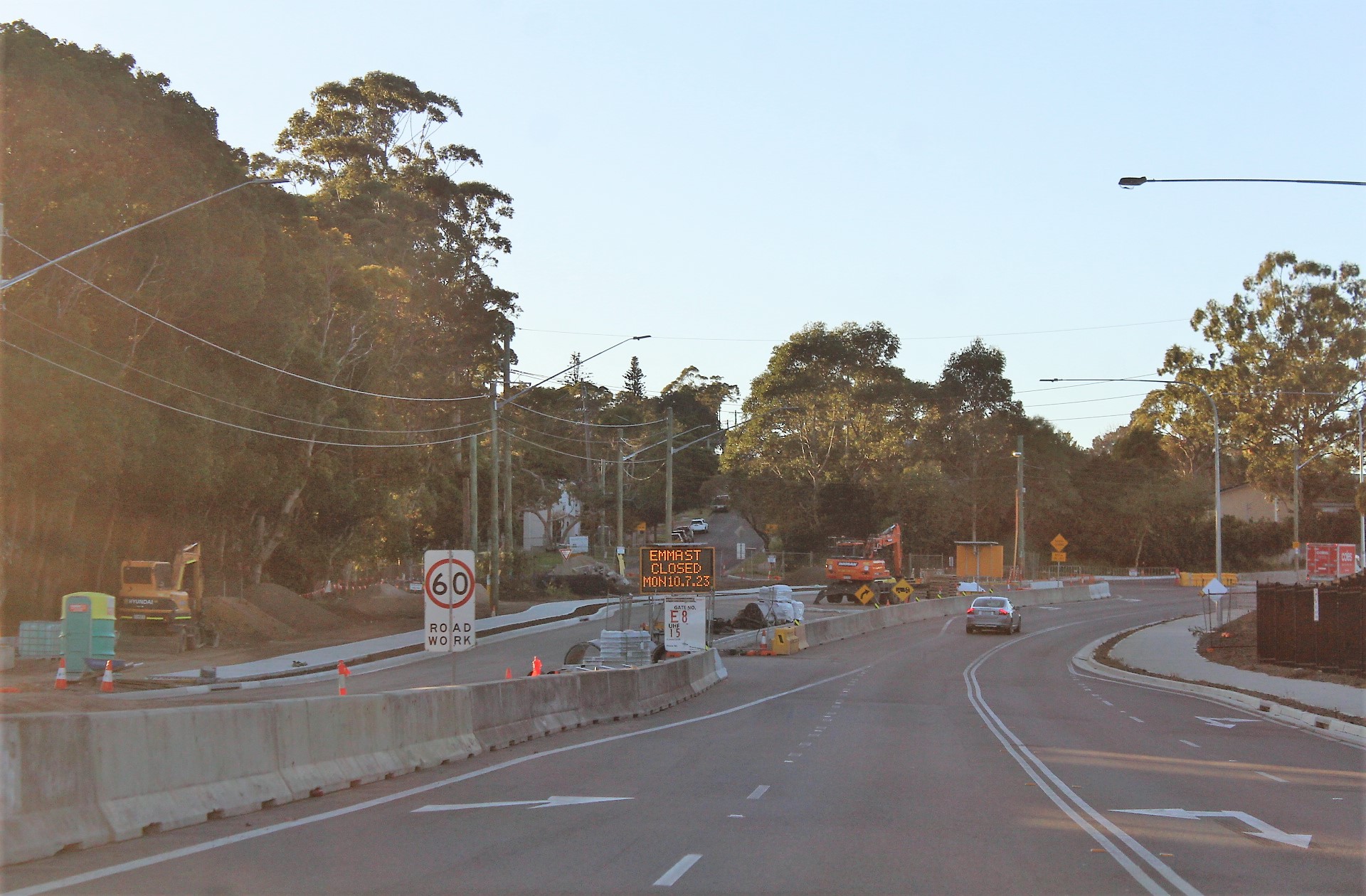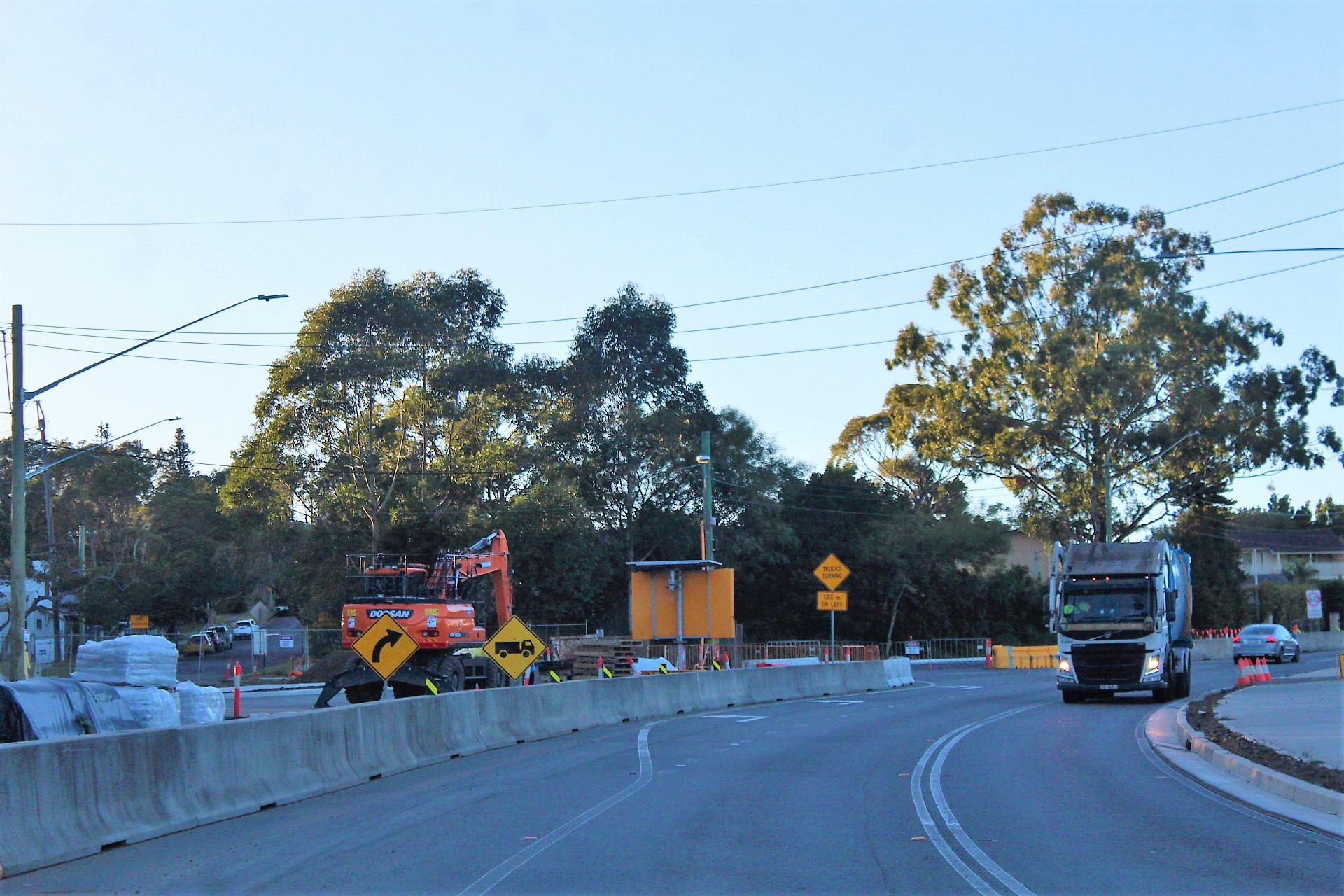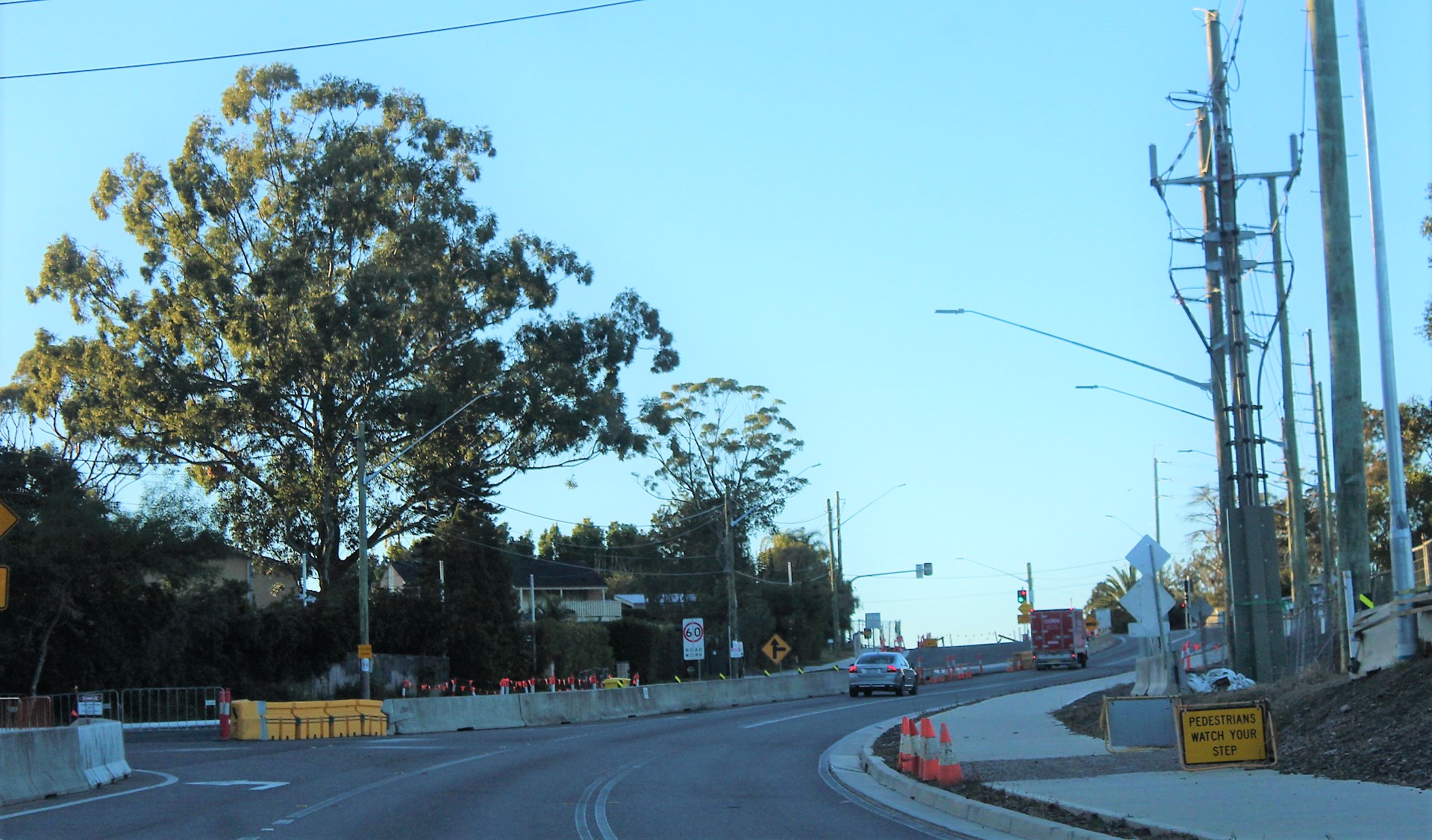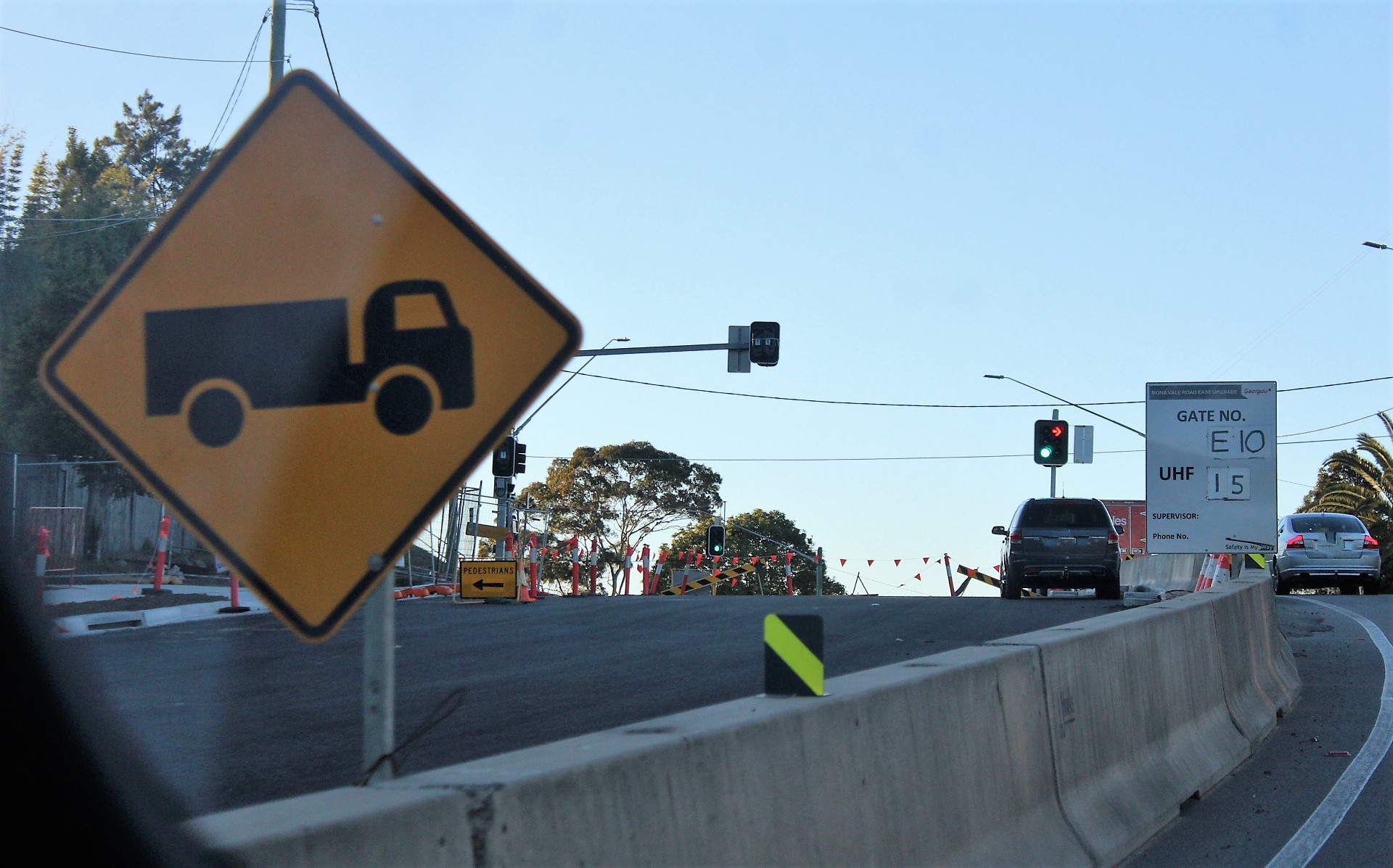 Previously:
Clay Stormwater Still Polluting Bayview Golf Course, Pittwater Estuary: Bayview GC's 3 Year Battle To Save The Environment and Waterways 'Like Banging Your Head Against A Brick Wall' -

May 2023



Mural Proposed For Mona Vale Road Sound Barrier: Celebration Of Our Area Better Than Graffitied Long Grey Wall Locals State - May 2023
NSW Government's Budget 2022-2023: Funds Allocated Towards Local Roads, Schools, Mental Health Support Services - Record 400 Million Dollar Budget Boost For Pittwater - June 2022

Mona Vale Road East Upgrade: April 2022 Pictorial Update + Construction Update: published March 2022

Mona Vale Road East Upgrade

: Proposed Extended Weekend Work + Road Closure For Large Boulder Removal Works -

Georgiou Group is talking to the community about closing Mona Vale Road to all traffic from Manor Road to the Mona Vale Road, Ponderosa Parade and Samuel Street intersection

from 7pm Friday 24 July to 5am Monday 27 July 2020

, weather permitting.

If there is wet weather, the closure will occur on the following weekend from 7pm Friday 31 July to 5am 3 August 2020.

Mona Vale Road Upgrade: The Machines Helping Build The Road

–

For Younger Readers:

This is a story about the road-building machines we included in last Issues' Pictorial. Some of our younger Readers have asked us 'but what's that one and what is it used for?' so it seems best to put it all in a page for you. We didn't get ALL the machines being used – but here's some insights into those we did, and a bit more, for those who want to know more

- June 2020

Mona Vale Road East Upgrade: Mid to Late February Notice and Pictorial Record of Works and Changes - February 2020
Mona Vale Road East Upgrade Update - To December 2019

: Our last day of work for 2019 will be Friday 20 December and we will return to work on Monday 6 January 2020

Mona Vale Road East Upgrade Calls In Sydney Wildlife Volunteer To Relocate Lapwing Plovers Nest: Eggs Hatch!

- October to November 2019

Mona Vale Road East Upgrade

:

October 2019

Update In Pictures

Mona Vale Road Upgrade Update: Fauna Fencing To Be Installed During Construction + June Night Works

- June 2019

Mona Vale Road Truck Arrestor Bed Miscalculation? - report by Phil Walker and John Illingsworth/Pittwater Pathways -

June 2019

Mona Vale Road East Upgrade: Some Progress Photos -

May 2019 Record

Mona Vale Road Upgrade - Changed Traffic Conditions Reminder

- from Office of Rob Stokes, MP for Pittwater -

March 2019

Upgrade Of Mona Vale Road East To Commence This Month

- an overview of what to expect -

January 2019

Contract Awarded For Mona Vale Road Upgrade

- from Office of the Hon. Rob Stokes, MP for Pittwater

- November 2018

Roads To Pittwater: The Mona Vale Road

(History page) -

September 2018

Plans Accelerate For Mona Vale Road East Upgrade

- June 2018

Plans Accelerate For Mona Vale Road East Upgrade

- from Office of The Hon. Rob Stokes, MP for Pittwater -

March 2018

Sydney's First Fauna Overpass To Be Installed On Mona Vale Road + RMS

March 2018

Mona Vale Road update
Mona Vale Road East Upgrade: Proposed Lease Of Land To Roads And Maritime Services (RMS) - Council Invites You to Have Your Say

- November 2017

Reducing Roadkill On Mona Vale Road

by David Palmer, Pittwater Natural Heritage Association -

September 2017

Front Page Issue 330

:

Jumping For Joy: Fauna Crossing For Mona Vale Road Confirmed

-

September 2017

Bill To Facilitate Mona Vale Road Upgrades Passes

:

Vital Fauna Bridge Discussed - Stage 3, Mona Vale Road Upgrade- West, one step closer -

June 2016

Angus's Onion Orchid at Ingleside?? by David Palmer, PNHA -

October 2015

Community Feedback Sought On Mona Vale Road Upgrade - November 2014

Once Was Barrenjoey - Can Community Reduce Fauna Road Deaths

- Community Consultation on stage 2 (between Mona Vale and Ingleside) for Mona Vale Road upgrades is expected to begin later this year and will also include fauna connectivity options: if you too are distressed by the growing numbers of wallabies, possums and bandicoot road deaths, supporting a few other locals may help -

August 2014

Upgrades To Start on Mona Vale Road - June 2014
Delivering Infrastructure - Upgrading Mona Vale Road

- March 2014