January 27 - February 2, 2019: Issue 391
upgrade of Mona Vale Road East to Commence this Month
Mona Vale Road East animation - NSW Roads: Published on 20 Jan 2019
In November 2018
Member for Pittwater Rob Stokes announced the NSW Government has awarded the construction contract for the upgrade of Mona Vale Road East.
The contract was awarded to Georgiou Group Pty Ltd and onsite works are expected to commence in February next year, after the summer holiday period. The project is expected to be completed in 2022.
On Tuesday January 29th the contractor will commence preliminary works such as installing traffic controls, such as barriers, signs, linemarking, setting up the site compound for the project team and delivering materials and equipment to site.
Preliminary works also include removing trees, shrubs and other vegetation on both sides of Mona Vale Road between Daydream Street, Mona Vale, and Lane Cove Road, Ingleside.

The $140 million project, between Foley Street at Mona Vale and Manor Road at Ingleside, will involve building additional climbing and descending lanes to improve travel times, and the introduction of median separation and a heavy vehicle arrester bed to help address the road's tragic crash history.
A RMS January 2019 Update provides the following information:
What can you expect during construction?
During construction, Roads and Maritime will aim to minimise the impact on businesses, residents and the community. However, this is a significant project and there will be disruptions including:
• noise and dust from rock cuttings
• traffic changes such as contra-flows and detours
• traffic delays, including additional heavy vehicles on the roads
• night work
• driveway realignment for several residents on Mona Vale Road
• major utility relocations in and around Ponderosa Parade, Samuel Street and Foley Street.
Our working hours
Standard working hours on the project will be between 7am and 6pm from Monday to Friday and 8am to 1pm on Saturdays.
Mona Vale Road and Ponderosa Parade intersection
As part of the upgrade, the intersection of Mona Vale Road and Ponderosa Parade will be changed to a traffic light intersection.
Features of the new intersection include:
• replacing the existing roundabout with new traffic lights and pedestrian signal crossings in all directions
• new bus priority lanes on Mona Vale Road on the approaches to and departures from the intersection
• relocating the eastbound bus stop on Mona Vale Road further east to the departure side of the intersection
• dedicated right-hand turn lanes on all approaches to the intersection
• left-hand slip lanes on all approaches to the intersection.
The upgraded intersection will significantly improve safety at this location, and improve traffic flow entering and exiting the commercial area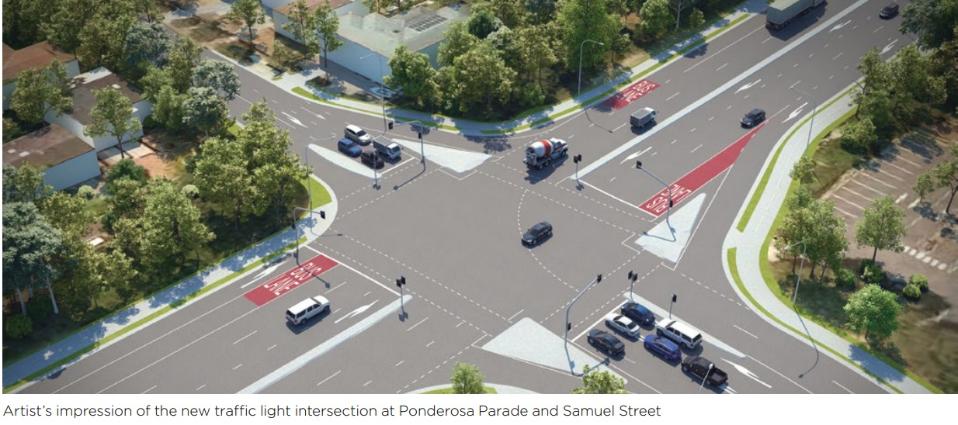 Vegetation removal
Roads and Maritime will remove trees, shrubs and other vegetation from both sides of Mona Vale Road, to prepare for the construction work. This work will take place initially between Daydream Street, Mona Vale, and Lane Cove Road, Ingleside, and between Wirreanda Road and Mona Vale Road, Ingleside (see map below).
The work is expected to take up to 16 weeks to complete, with some work carried out at night for the safety of workers and motorists. Affected residents will be notified in advance of all work, and notifications are available on our website and via email distribution.
During clearing, an independent ecologist is on site to ensure no animals are harmed and any found are relocated to a safe habitat.
The project's Construction Flora and Fauna Management Plan will be in place to ensure appropriate measures are in place to protect the environment during construction, including establishing exclusion zones and regular monitoring.
Reducing our carbon footprint
To build the Mona Vale Road East upgrade, we need to excavate large volumes of soil and rock. We have planned a way to reuse some of this excess material to prepare for the Mona Vale Road West upgrade.
We will take some excess material to the Mona Vale Road West section where it will be used to build an embankment in readiness for the future widening work on the West project. Work will include relocating power poles, drainage and removing vegetation.
The two projects have been designed to ensure a minimum amount of material is removed from the projects combined. This will reduce the number of truck movements along the corridor, overall cost for both projects, and reduce our carbon footprint.
The work to build this embankment will form part of the early work for the Mona Vale Road West upgrade, and will start from the first quarter 2019. The work will cover around 850 square metres on the northern side of Mona Vale Road, between Kimbriki Road and Tumburra Street, Ingleside.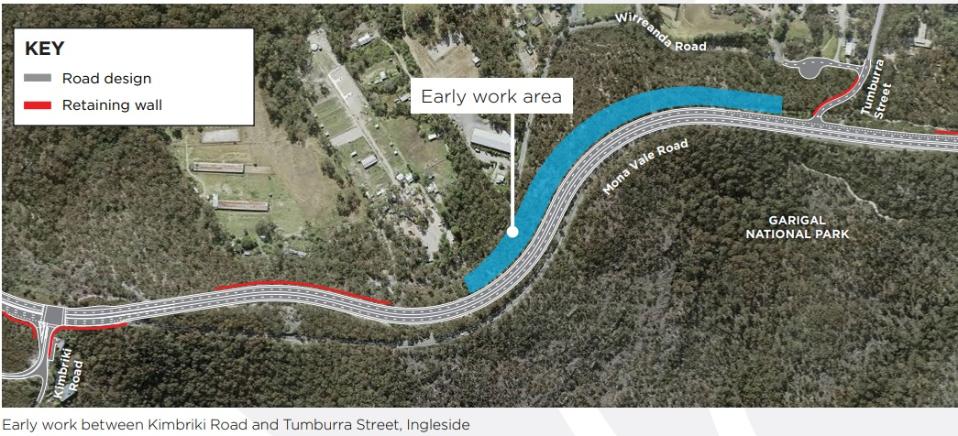 Mona Vale Road West update
We are continuing to prepare the detailed design for Mona Vale Road West, between McCarrs Creek Road, Terrey Hills, and Powder Works Road, Ingleside.
Construction is expected to commence in 2021, subject to funding.
Contact us
If you have any questions please contact the project team.
Phone: 1800 413 640
Email Mona Vale Road East: monavaleroad@georgiou.com.au
Email Mona Vale Road West: monavaleroad@rms.nsw.gov.au
By Post: Mona Vale Road Upgrade
PO Box 973, Parramatta, NSW, 2124
Webpage: www.rms.nsw.gov.au/mvr