May 19 - 25, 2019: Issue 405
Mona Vale Road East Upgrade: Some Progress Photos - may 2019 record
The scope and shape of the Mona Vale Road East upgrade is becoming more apparent to commuters along the section of road between Mona Vale's Foley Hill and Ingleside at present. The January 2019 Update run a few months back stated that preliminary works included removing trees, shrubs and other vegetation on both sides of Mona Vale Road between Daydream Street, Mona Vale, and Lane Cove Road, Ingleside. This part of the project is estimated to take 16 weeks.

A reference in all community updates being sent out from the RMS at the moment that reads - 'During clearing, an independent ecologist is on site to ensure no animals are harmed and any found are relocated to a safe habitat'.
The fauna bridge construction will take place as part of the road construction.
The April 2019 Update states
As mentioned in our January update, some of the excess soil and rock from the Mona Vale Road East construction site will be reused at the Mona Wale Road West site. The excess material will be used to build an embankment in readiness for the future widening work on the Mona Vale Road West project.
The two projects have been designed to ensure a minimum amount of material is removed from the projects combined. This will reduce the number of truck movements along the corridor, overall cost for both projects, and reduce our carbon footprint. The work will cover area on the northern side of Mona Vale Road, between Kimbriki Road and Tumburra Street, Ingleside.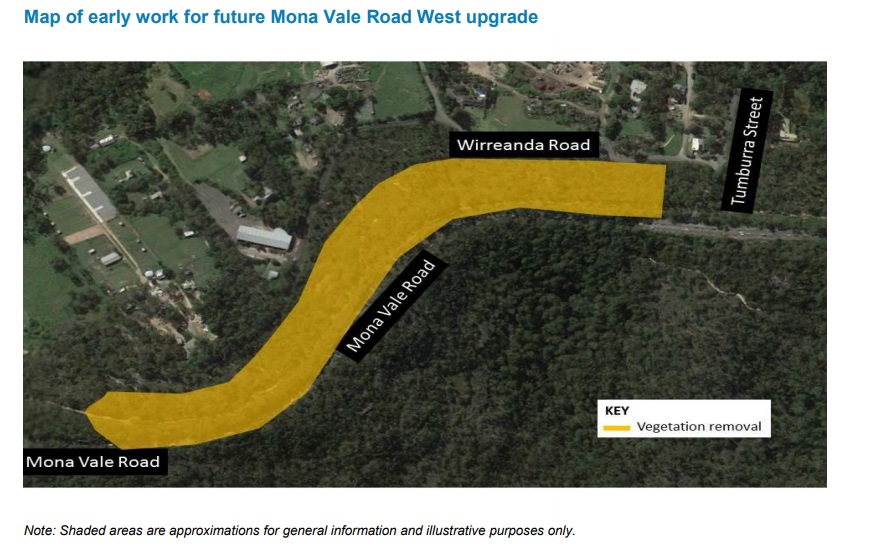 Our work program
Work will include installing erosion and sedimentation controls, removing vegetation, relocating services and building an embankment for the future road alignment.
Surveying the area, setting out the work zone and installing signage is being undertaken.
From Monday 29 April we will begin clearing vegetation and establishing the site's foundations. This work should be completed by the end of May, 2019. Utilities relocations will then take place from mid-2019. The area will be used to stockpile the extra soil and rock later in 2019. Our work hours will be 7am to 6pm from Monday to Friday and 8am to 1pm on Saturdays. There will also be up to three nightshifts (Monday, Tuesday and Thursday) each week from 9pm to 5am.
How will the work affect you?
There will be noise and dust as vegetation is removed and fencing is installed. There will be changed traffic conditions during the day and at night with temporary lane closures required.
Equipment to be used includes excavators, saws, water carts to suppress dust, lighting and small tools.
We will make every effort to minimise the impact by using noise shields to dampen noise where possible, and ensuring equipment and vehicles are turned off when not in use.
Please keep to speed limits and follow the direction of traffic controllers and signs. For the latest traffic updates, contact 132 701, visit livetraffic.com or download the Live Traffic NSW App.
Contact
We are committed to minimising the impact of construction on the community and will continue to keep you informed as the project progresses. If you have any questions, or would like to sign up for our emailing list, please contact our delivery partner, Georgiou Group.
Call: 1800 413 640 (during business hours)
Email: monavaleroad@georgiou.com.au
Website: rms.work/mvreast
With just over three months of the project elapsed, a photographic record of these initial changes runs below. The project is expected to be completed in 2022.
For those interested in these projects, and for History buffs, you may like to do a comparison with the development of Mona Vale Road from a bush track to a dirt road and beyond in: Roads To Pittwater: The Mona Vale Road
There is also a photographic record of the small birds who once inhabited the trees in Tiny Tiny Birds of Ingleside, and the Flora that covered those sections in Ingleside Wildflowers - 1st Of August, 2013
It should be noted that landscaping over the length of the proposal is part of this project.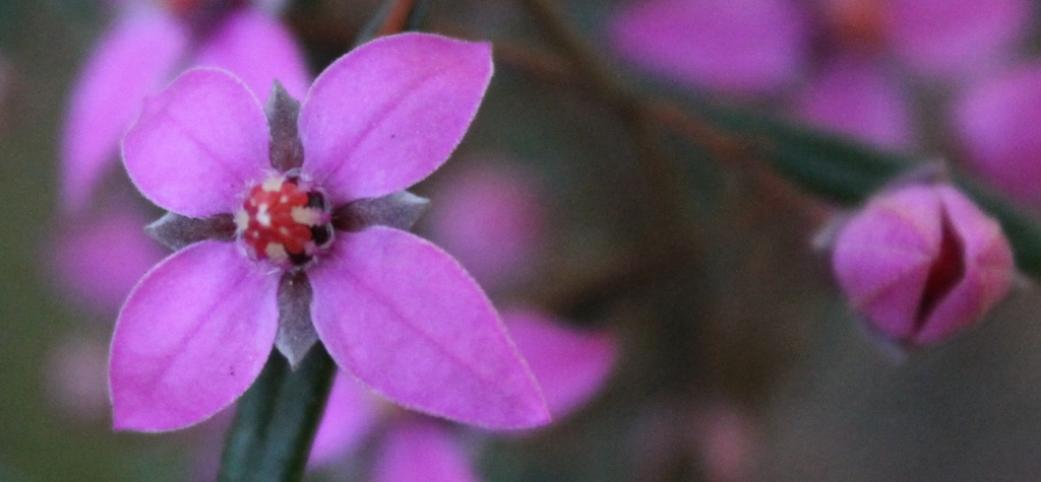 Boronia ledifolia - Sydney Boronia - photographed on the bend that leads down Foley's Hill on the verge of Spring 2013
The key features of the Mona Vale Road East upgrade include:
Widening Mona Vale Road between Manor Road, Ingleside and Foley Street, Mona Vale from two lanes to four lanes with a central concrete safety barrier. The concrete safety barrier would be located from east of Manor Road to west of Daydream Street
Providing three metre wide shoulders along Mona Vale Road between Manor Road and Daydream Street to allow a safer area for breakdowns and on-road cyclists
Replacing the existing roundabout on Mona Vale Road at the intersection of Ponderosa Parade and Samuel Street with new traffic lights and signalised pedestrian crossings on all legs
Providing new bus priority lanes on Mona Vale Road on the approaches to and departures from the intersection of Ponderosa Parade and Samuel Street
Relocating the eastbound bus stop on Mona Vale Road near the Ponderosa Parade and Samuel Street intersection further east to the departure side of the intersection
Providing a three metre wide shared path along the northern side of Mona Vale Road between the eastern end of the Lane Cove Road cul-de-sac and Samuel Street for pedestrians and cyclists
Providing a three metre wide shared path along the southern side of Mona Vale Road between Ponderosa Parade and Foley Street for pedestrians and cyclists
Changing the speed limit from 70km/h to 80 km/h once the road upgrade work is complete
Implementing a 60km/h truck and bus speed limit for the downhill descent from Ingleside Road to the base of the escarpment
Providing a truck arrester bed, about 180 metres long, for eastbound vehicles next to Walana Crescent
Building six fill retaining walls up to six metres in height and five cuttings up to 16 metres in height along the length of Mona Vale Road due to the local terrain
Providing fauna connectivity measures
Upgrading the existing road and cross drainage systems including the construction, reconstruction and extension of the road drainage network
Establishing temporary site compounds and stockpile locations during construction
Landscaping over the length of the proposal
Installing traffic monitoring cameras at all signalised intersections to assist with traffic management
Photos taken Monday May 13th, 2019 by A J Guesdon: