August 10 - 16, 2014: Issue 175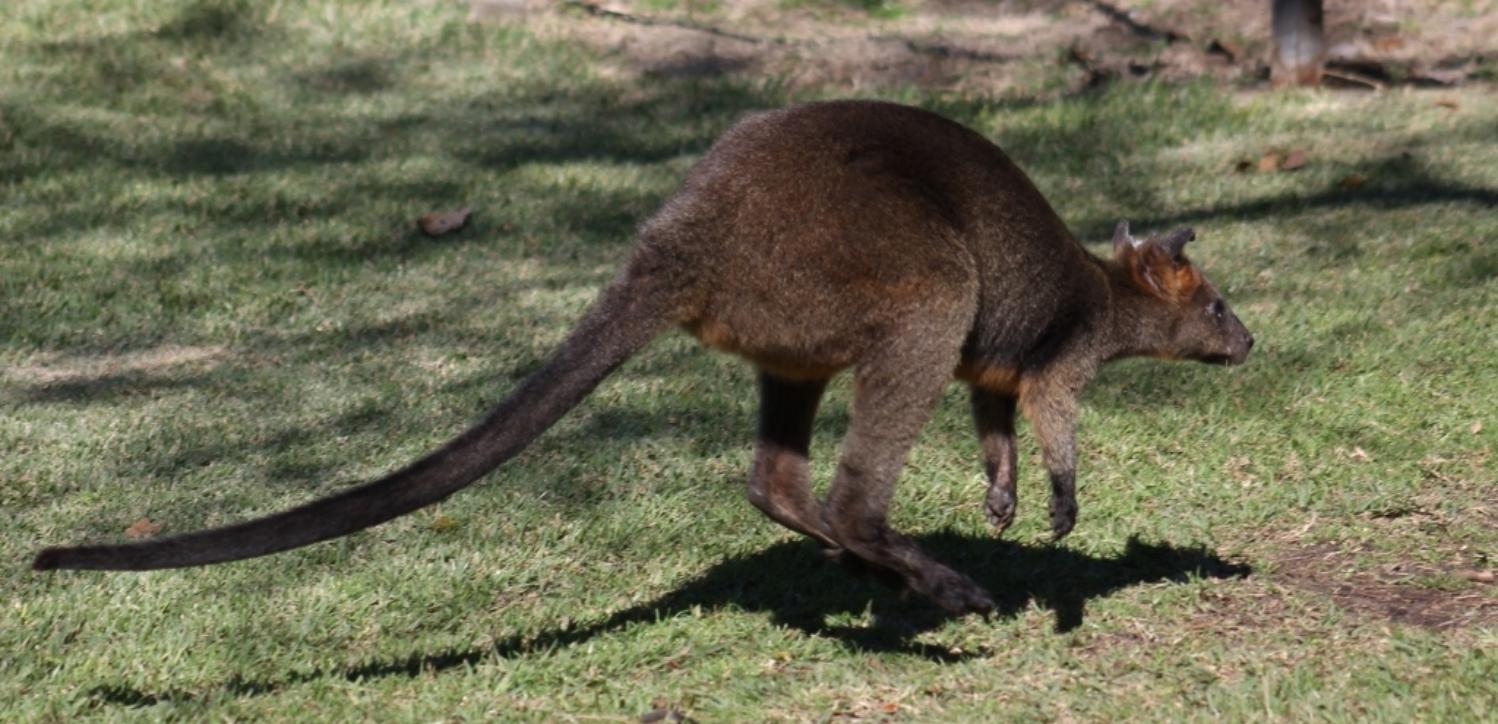 Once Was Barrenjoey - Barrenjui
'Little Kangaroo - Wallaby'
When visiting Currawong or the Youth Hostel at Morning Bay you are aware that these road free areas are safe for all living there - wallabies, bush turkeys, all take you in without fear, allow you to be in their world.
A few weeks ago on a clear blue Sunday while returning to Pittwater from a lovely family lunch the good cheer in our car failed as we saw a Swamp Wallaby alongside the road, just near where it cuts through those huge rocks towards Ingleside and south of Kimbriki. It wasn't there on our way up the hill. We had, however, spotted another larger male with lighter coloured fur on the hill crest leading down from Ingleside that morning. Although this wallaby was dead too, it had been marked with paint and had either been moved from the tar or had managed to get that far on its own before passing away.
Good Samaritan
Soon after we passed the wallaby caught in the thin strip of tar between rock and lane for cars we saw a gentleman had pulled over and was making his way back with grim determination, and an air of sad resignation, to check the pouch for young ones.
This made us wonder how long it had been since we drove through this part of Mona Vale road and had NOT seen a wallaby, possum or some other native animal dead or dying alongside the road.
Why aren't others extending this hand to any babies that may be left in pouches? And what will it take for people to slow down in this strip of road that meets bush.
Statistics show that these animals cross roads such as these at dawn and dusk to feed. On Mona Vale road though, even though applying the same principals now in place for slowing drivers around schools and during school start and finish times may help reduce the decimation, those already sitting in dawn and dusk traffic jams in this same stretch of bitumen are clearly not those striking these animals with their cars. They are stopped or not at a speed that will kill.
Having travelled this stretch of this road just after dawn, when yet more new bodies are visible, you begin to realise these animals are being struck by cars and trucks in the middle of the day, after dark and during pre-dawn and post-dusk hours, when poor visibility which would cause common sense slowing down is just not happening.
As many people know the upgrades of Mona Vale Road have been divided into three stages. Stage One is currently underway (between Foley Street and Daydream Street). Both Stage Two and Stage Three have fauna connectivity considerations and various options including fauna overpasses and underpasses are being examined as part of the concept design processes. Mr. Stoke's office informed us a few weeks ago that Community Consultation on Stage Two (between Mona Vale and Ingleside) is expected to begin later this year and will also include fauna connectivity options.
Stage 2 – Mona Vale Road East Upgrade:
Upgrade of 3.2km of Mona Vale Road from two lanes to four lanes between Manor Road, Ingleside and Foley Street, Mona Vale.
Stage 3 – Mona Vale Road West upgrade:
Upgrade of 3.2km of Mona Vale Road from two lanes to four lanes between McCarrs Creeks Road, Terrey Hills and Powder Works Road, Ingleside.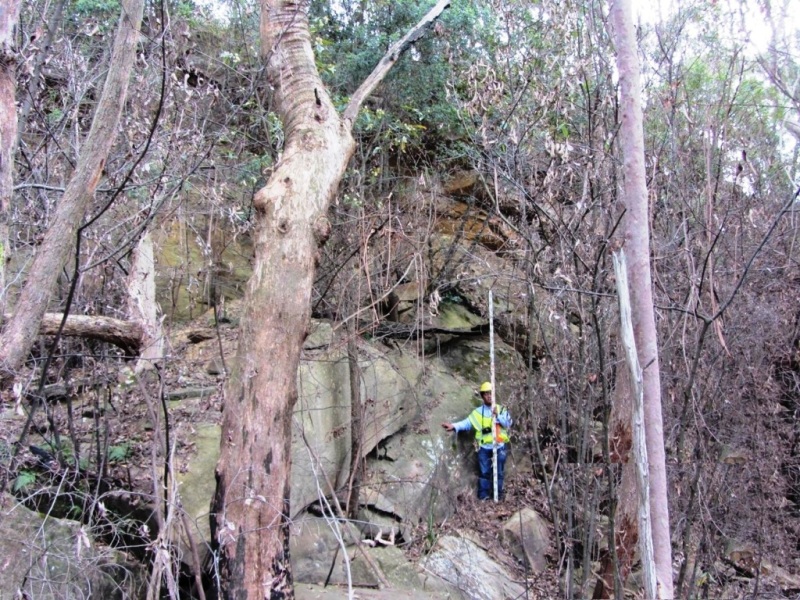 Image taken by those undertaking the geotechnical investigations throughout the very steep bush terrain surrounding the corridor - courtesy Rob Stokes office.
We have also spoken with members of the Pittwater Natural Heritage Association, which petitioned for a fauna corridor at 122 Mona Vale Road, land Pittwater Council subsequently acquired, and Northern Beaches Roadkill Prevention Committee, an organisation that has now become Wildlife Roadkill Prevention Association. These organisations are currently preparing submissions to help identify hotspots along these upgrade routes and what measures may be taken to prevent this daily slaughter on Pittwater's roads.
Our community may help them through a number of ways:
The Wildlife Roadkill Prevention Association is dedicated to the prevention of wildlife being killed on our Northern Beaches roads.
We are trying to change driver attitudes towards wildlife on our roads by education and information
We are involved in working with local and state government authorities to reduce roadkill by installation of fauna mitigation measures eg fencing, overpasses
On Facebook: facebook.com/pages/Wildlife-Roadkill-Prevention-Association Website: http://wildliferoadkill.org/
The Roadkill Prevention Association (formerly the NB Roadkill Prevention Committee) are looking for new members, only $10 to join, and this will be one way to have some input and updates on how we may all contribute to keep the wildlife in our bush reserves and part of our unique environment.
You can submit statistics online here: wildliferoadkill.org/index2.php How to make a report: http://wildliferoadkill.org/index
One small insight from the Roadkill Prevention Association:
A close call for Lucky, the Brush Tail Possum:
A Brush Tail Possum had a close brush with death. In mid May 2012, Lucky was struck on Mona Vale Road at Ingleside by a motorist that didn't stop. Fortunately, another did and called the Northern Beaches Roadkill Prevention Committee. The rescue wasn't particularly easy as Lucky was severely injured. He managed to climb a tree before being eventually rescued with the assistance of a pool scoop.
Lucky's injuries included compound fractures of the skull and forearm and severe brusing of the pelvis. Mona Vale vet, Doctor Howard Ralph treated him and is recovering well. Lucky was successfully released back into the wild recently.
If you do hit an animal while driving, please call either WIRES on 1300 094 737 or Sydney Wildlife on (02) 9413 4300.
Our final note is similar to our opening plea – please remember that we live in an area now 'lit' by a tower atop a peninsula originally named 'Barrenjoey' – which in itself is a semblance of an original word that has a meaning of either 'little/young kangaroo' or 'wallaby' – so if you do drive instead of walk, and drive through beautiful bushland admiring and appreciating what it is to live in a parkland city as part of Sydney and wild Pittwater, remember this place once was Barrenjoey and that we don't hunt Swamp wallabies anymore – with a spear, a gun, or cars.
Slow down and stick to the speed limit – which is 60, from Manly to Barrenjoey – and be aware when you're travelling along Mona Vale road that there are most definitely other creatures on this planet beside humans – and perhaps choose to arrive five minutes later, and without having killed any of our Native Wildlife.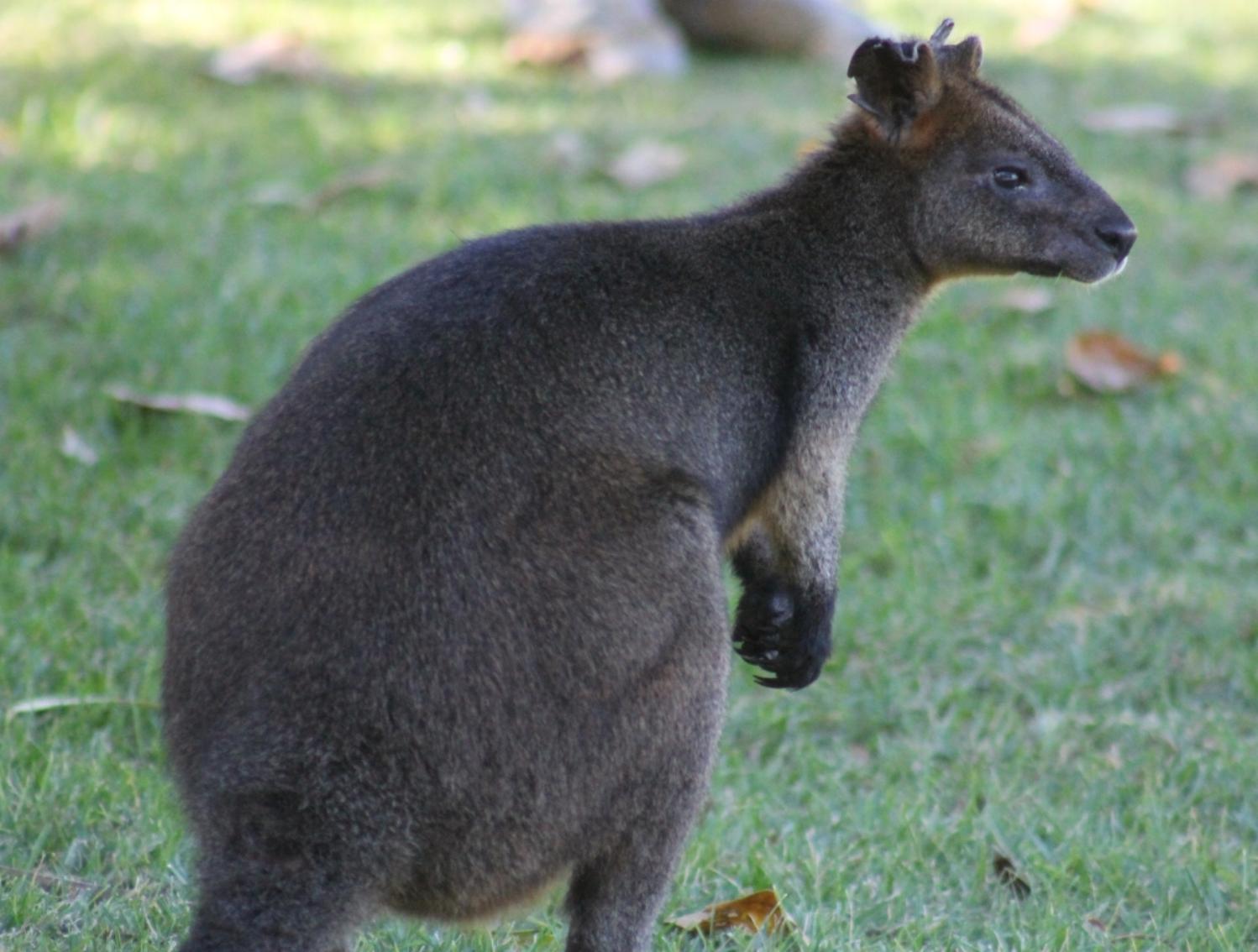 Words and Swamp Wallaby pictures by A J Guesdon, 2014.