August 20 - 26, 2023: Issue 595
Mona Vale Road (East) Upgrade: Fauna Bridge Supports Installed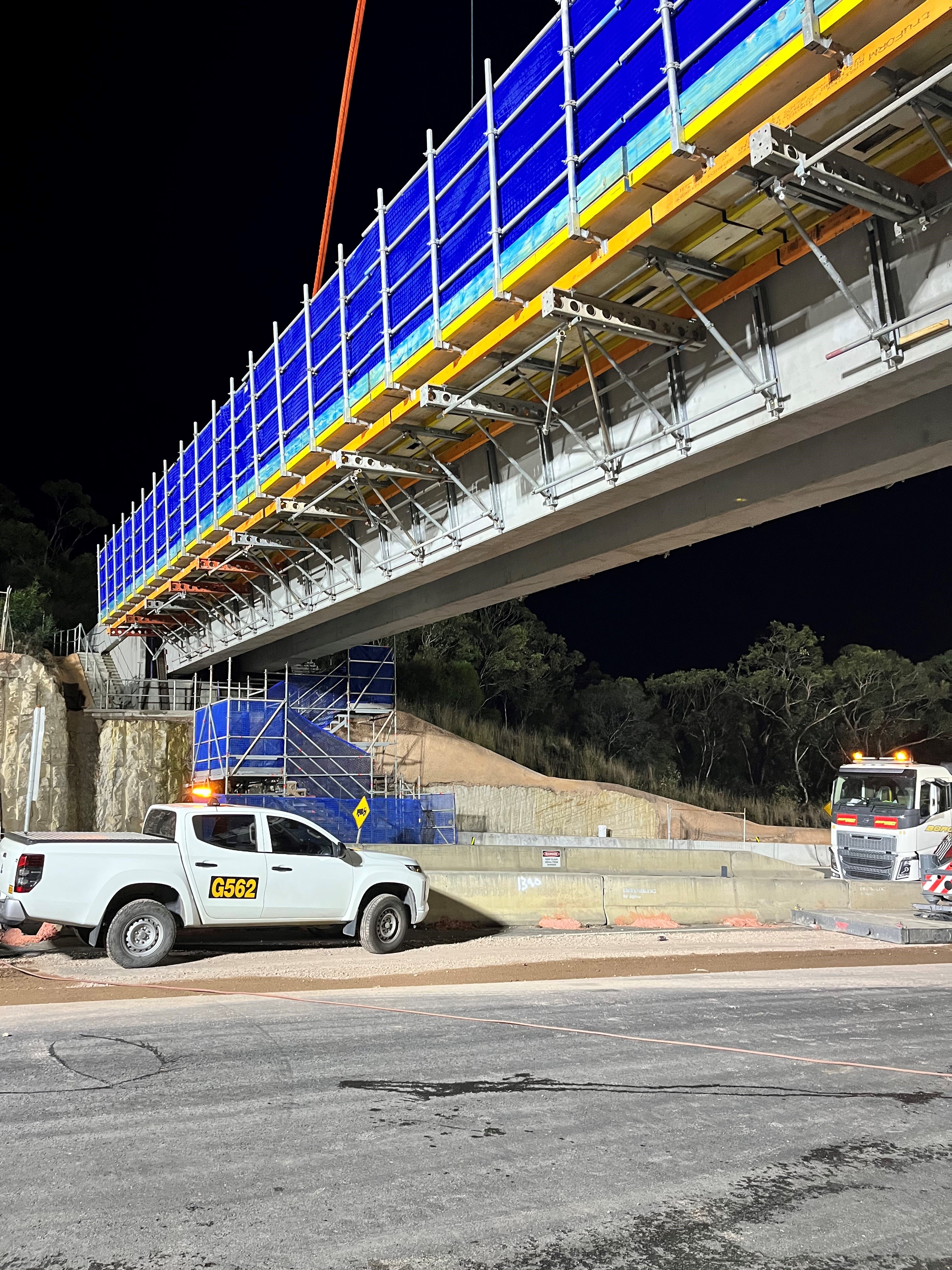 4am Friday August 18 2023, the fauna bridge installation works completed successfully. Photo: courtesy Transport for NSW/RMS (and Lorraine; who has rescued so many wallabies along this section)
On Friday morning, at 4am in the freezing cold, the supports for the new Fauna Bridge overpass were installed.
This is the first dedicated wildlife overpass in Greater Sydney.
Contractors, the Georgiou Group, advised they had scheduled the fauna bridge overpass supports installation and partial and full closure of Mona Vale Road between Manor Road and Ponderosa Parade on Thursday 17 August and Friday 18 August, weather permitting.

They needed to carry out this work at night to;
safely install the fauna bridge supports
minimise traffic disruptions
reduce safety risks to workers and

motorists.
There was to be a partial and full closure of
Mona Vale Road over two nights;
Thursday 17 August from 9pm to 6am,
westbound lane closure for bridge
support delivery and
Friday 18 August
from 9pm to 10:30pm westbound lane
closure and
from 10:30pm to 5am full closure of
Mona Vale Road.
The overpass is one of 4 fauna passes announced for the upgrade - one bridge and an underpass for the East upgrade and the same again for the West upgrade.
In 2014
Pittwater Natural Heritage Association, Wildlife Roadkill
Prevention Association (Northern Beaches) and Katandra Bushland Sanctuary Trust began campaigning to connect threatened bushland reserves in the Pittwater area in a bid to help stop the decline of our native fauna.
According to information gathered by local wildlife volunteers in 2015 – 2016 over 53 wallabies died on Mona Vale Road between Terrey Hills and Mona Vale. Although Wallabies were counted as an indicator species, many other native species have also died on Mona Vale Road, including possums and echidnas. These distressing statistics sparked members of these community groups into calling for action to reduce roadkill on this road.

In
May 2016
, when the
National Parks and Wildlife Amendment (Adjustment of Areas) Bill 2016
was passed on Tuesday, May 31st, 2016 p
art of the speeches during the Reading of this Bill focused on the necessity to make provision for a fauna bridge or bridges.
In September 2017,
after years of lobbying NSW Roads and Maritime Services to get more fauna underpasses and overpasses included in the upgrade of Mona Vale Road East, Jacqui Marlow, Marita Macrae and David Palmer of Pittwater Natural Heritage Association were told at a meeting with NSW Roads and Maritime Services that the fauna crossings they had been campaigning for were now included in the final plans for the eastern section of the road upgrade.
This completed the suite of fauna road crossings that have been planned for the upgraded Mona Vale Road between Mona Vale and Terrey Hills. This included both sides of the road being fenced along its entire length to guide native animals to the crossing sites.

The MVR East upgrade fauna pass locations (per 2018 project documents):

Placement of West upgrade fauna passes (these were identified as places where our wildlife crosses through the data collected by wildlife rescuers and carers and the Wildlife Roadkill Prevention Association, along with local wildlife rescuers in WIRES and Sydney Wildlife Rescue) per 2-18 documents:

In November 2018
Member for Pittwater Rob Stokes
announced
the NSW Government has awarded the construction contract for the upgrade of Mona Vale Road East. The contract was awarded to Georgiou Group Pty Ltd and onsite works were expected to commence in February 2019, after the summer holiday period.
The Pittwater Natural Heritage Association and Wildlife Roadkill
Prevention Association also asked for fauna fences to be placed alongside the works sites to prevent wildlife
deaths
before the project commenced. The cutting into bush to widen the footprint of the build was creating more exposed access to this dangerous road, and
likely
to lead to more
wildlife
injuries and deaths.
The campaign was led by Jacqui Marlow of the Wildlife Roadkill Prevention Association.
The groups involved were also advised that nest boxes had been installed to compensate for loss of nest sites within the construction zone. Forty boxes were said to have been installed around Mona Vale Road East and another forty around Mona Vale Road West.

In May and then June 2019 confirmation these would be installed was
received, an announcement that had been worked towards as part of the pre-commencement mitigation against wildlife deaths
.
However,
reports were coming in
from residents that local fauna was being killed - three wallabies were killed on Mona Vale road, a Monday night, on June 3rd 2019 alone.
Pittwater Online
also received reports from residents of Warriewood, one lady stating a wallaby was bounding down their street in the middle of the day, 'looking very distressed and scared'.
Wallabies are usually out at dusk, night and dawn to feed - not bounding down a suburban road in the middle of the day.

Three months later, on Friday September 20, 2019 a
Transport for NSW spokesperson stated:
''Fauna fencing is now being installed along the Mona Vale Road East upgrade corridor.
Fencing is also being installed opposite the Mona Vale Road West upgrade as part of early work, on the southern side of the road between Kimbriki Road and Tumburra Street at Ingleside.
The fauna fencing is being progressively installed as road work continues and will aim to minimise the likelihood of fauna crossing Mona Vale Road.
The fencing will be 1.8 metres high and dug into the ground to ensure all fauna cannot make their way under the fence.''
The fences were finally beginning to be installed in late
September 2019
.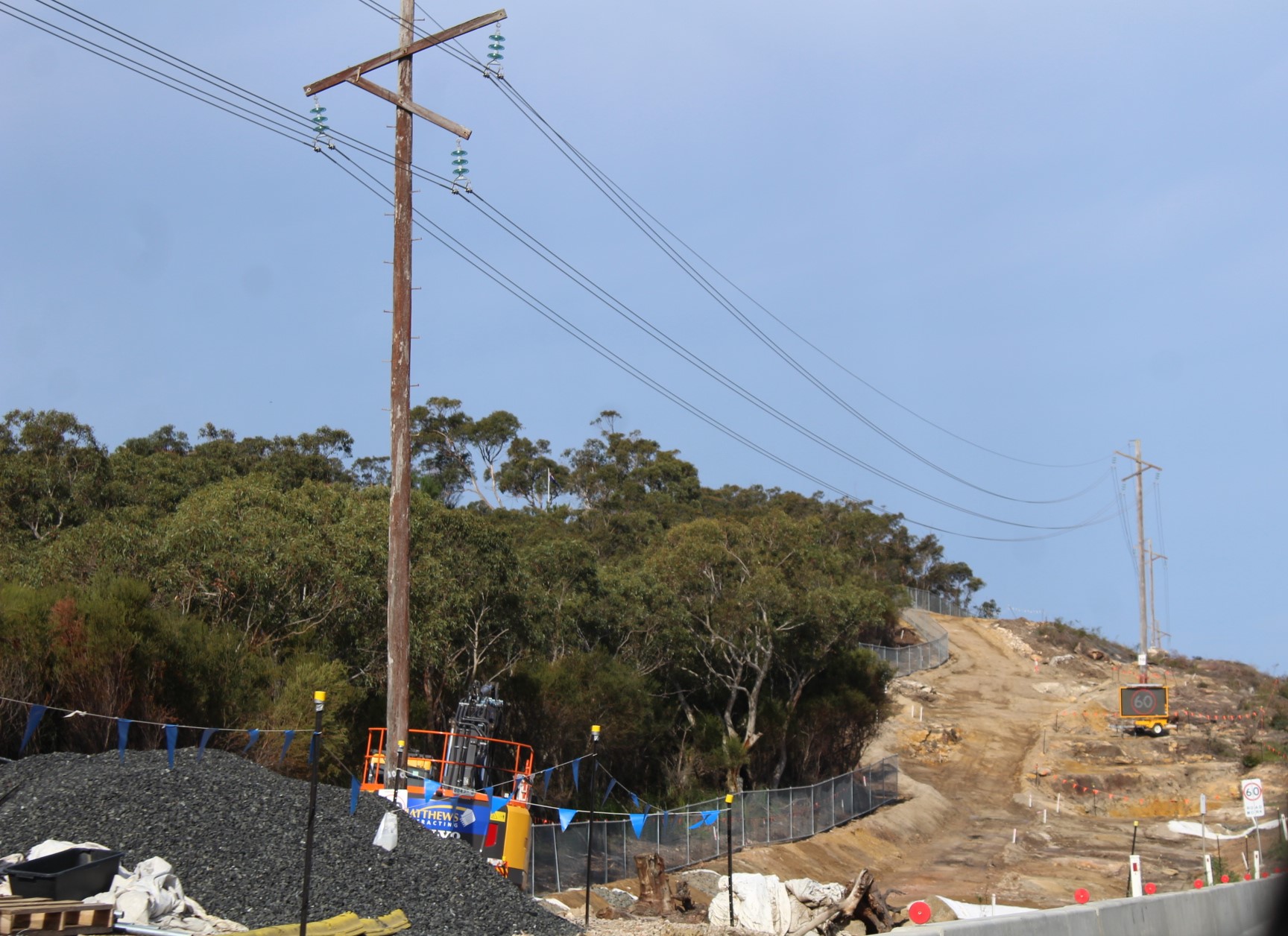 It's important to remember that all the people in all these groups are volunteers who have put in years towards this result - countless studies and papers were written or cited, data collected and shared - and unwavering support by former Pittwater MP Rob Stokes along with a core group of great people at Transport for NSW and the contractors made this happen.
Readers may recall workers from the Mona Vale Road East upgrade calling in Sydney Wildlife Rescue volunteers to
save a nest of plover eggs
in Spring 2019 and move these, and their parents, to where they would be safe.
PNHA member Marita Macrae attended the installation, sharing;
''The main girder arrived about 10pm and by about 11.20 it was in place across the road. From a huge mobile crane in the middle of the road a cable was attached to each end of the girder which was slowly lifted. It was turned at right angles so that its ends were above the foundations on each side of the road. Then it was lowered into place.
The event was illuminated by very bright lights.
The bridge will planted with local native vegetation. As the road edges will be fenced, fauna wishing to move from bushland on each side of the road will be directed to the bridge. Fauna roadkill will be prevented and traffic safety ensured as animals on roads can cause accidents.
PNHA and others campaigned hard for this bridge so we are delighted to see it becoming a reality. ''
Jacqui Marlow was also thrilled, as can be seen below!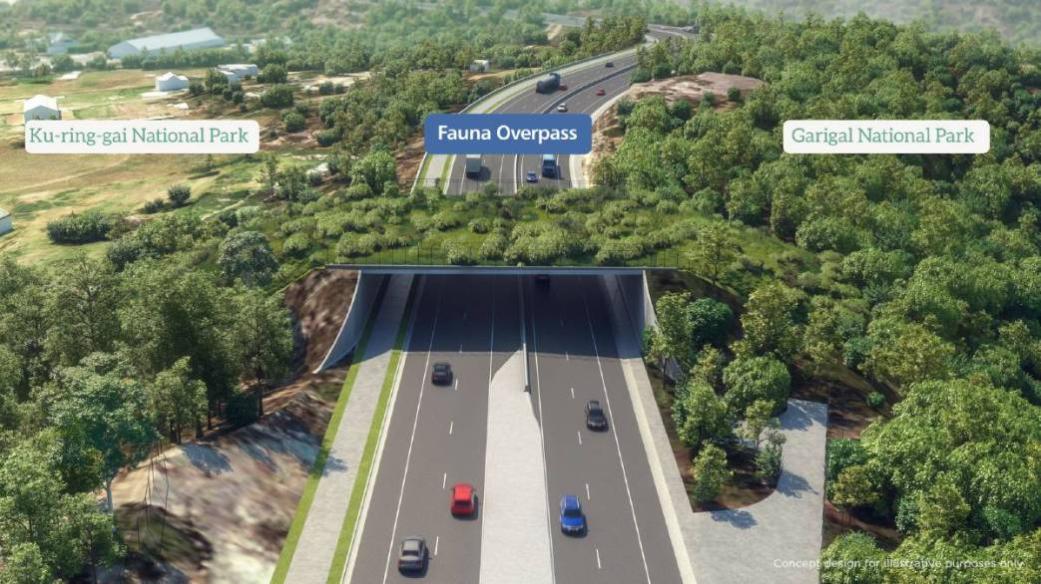 Overpass: An artist's impression of an animal overpass that will be build along Mona Vale Road West. Picture: courtesy NSW Government
Marita also shared the photos she took of the installation - very interesting and an insight into how this is done and why the road was closed: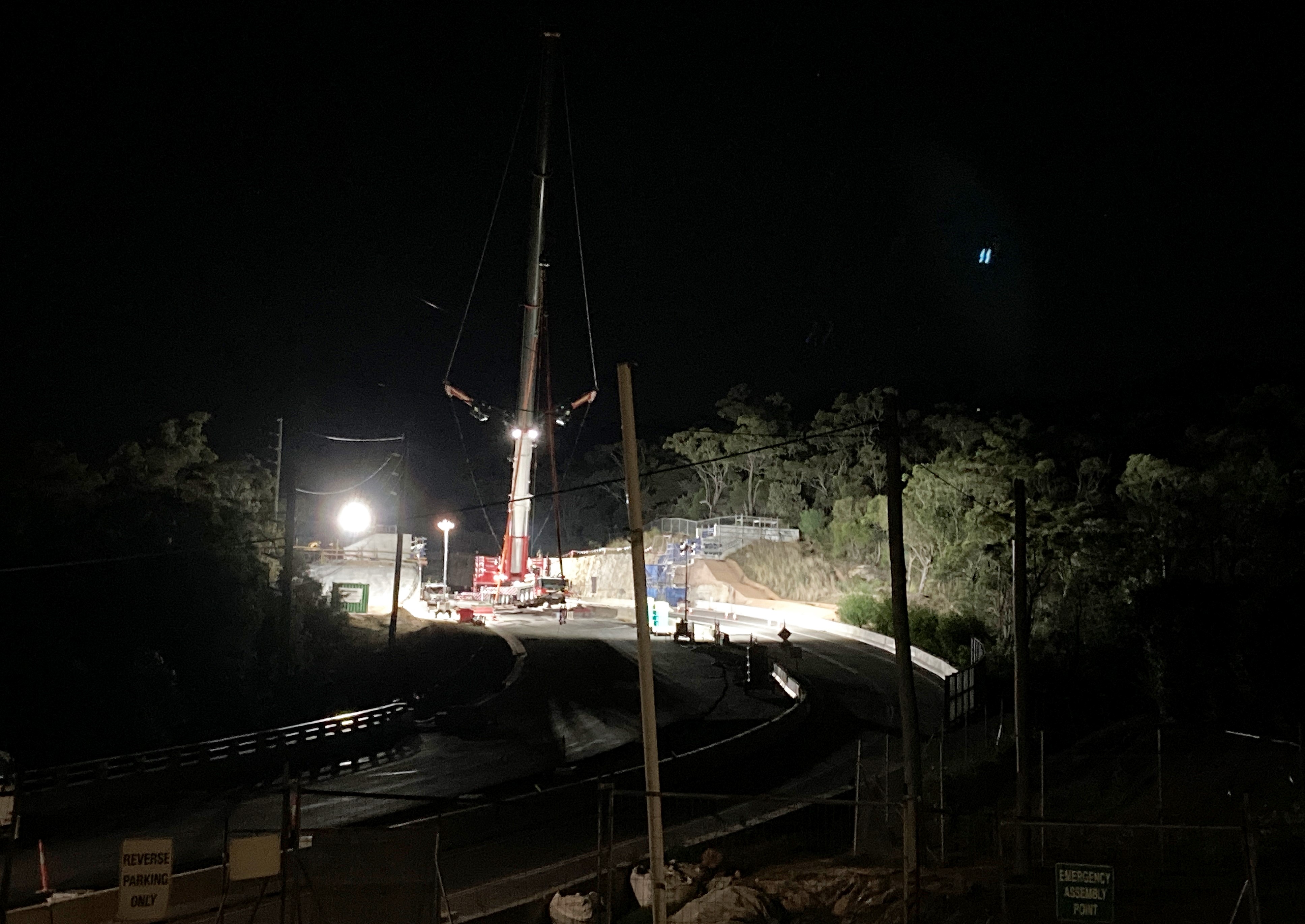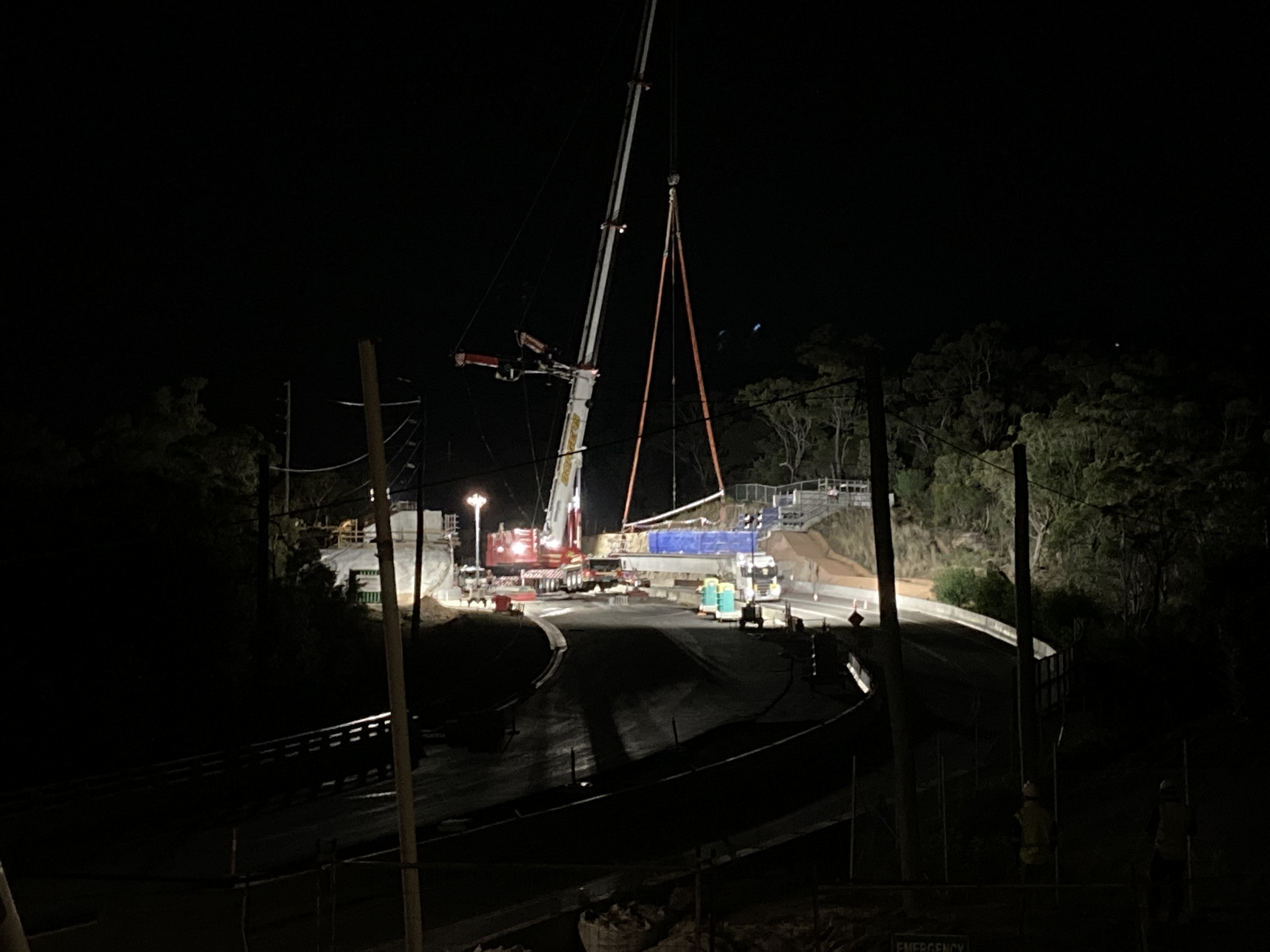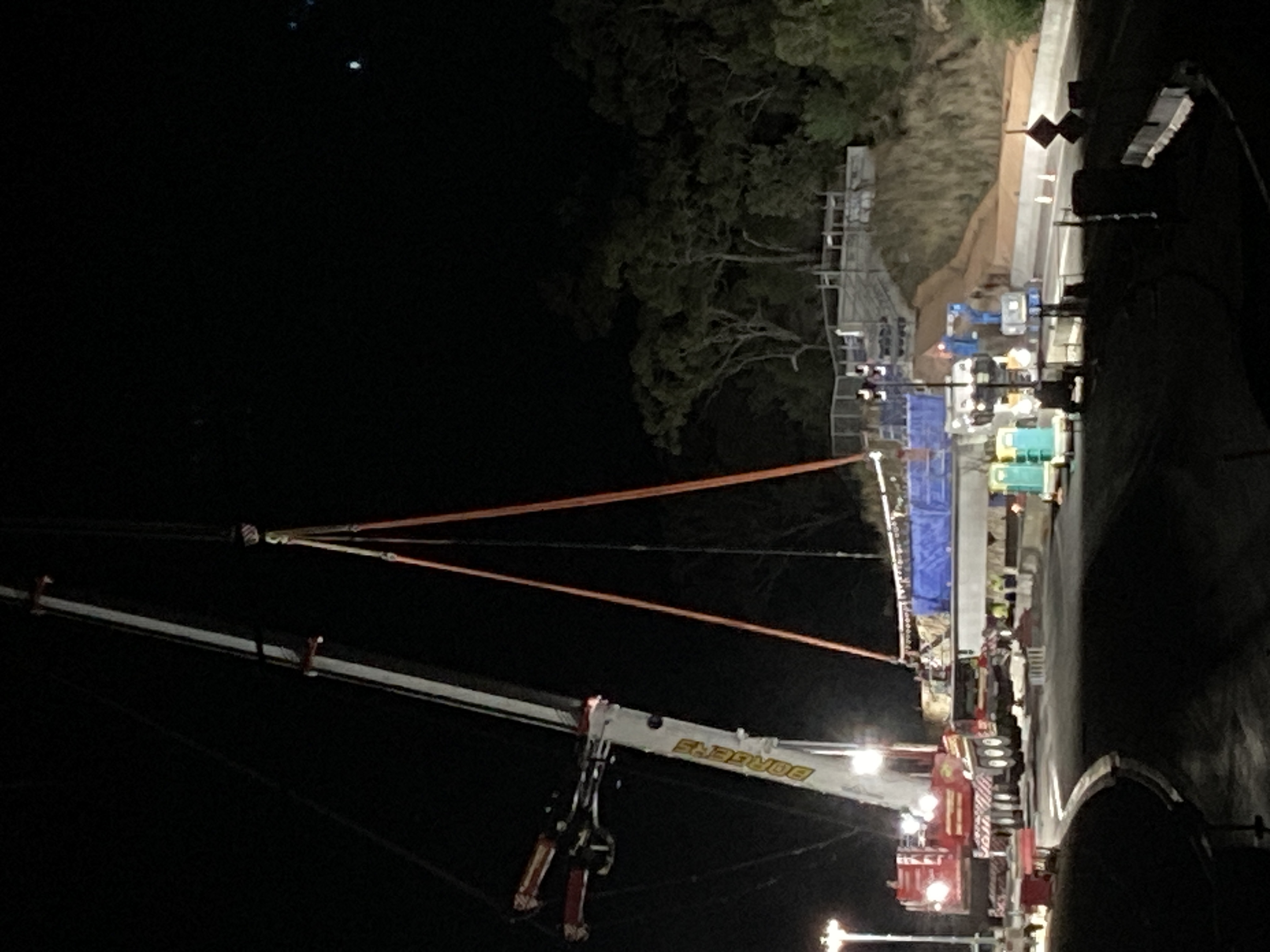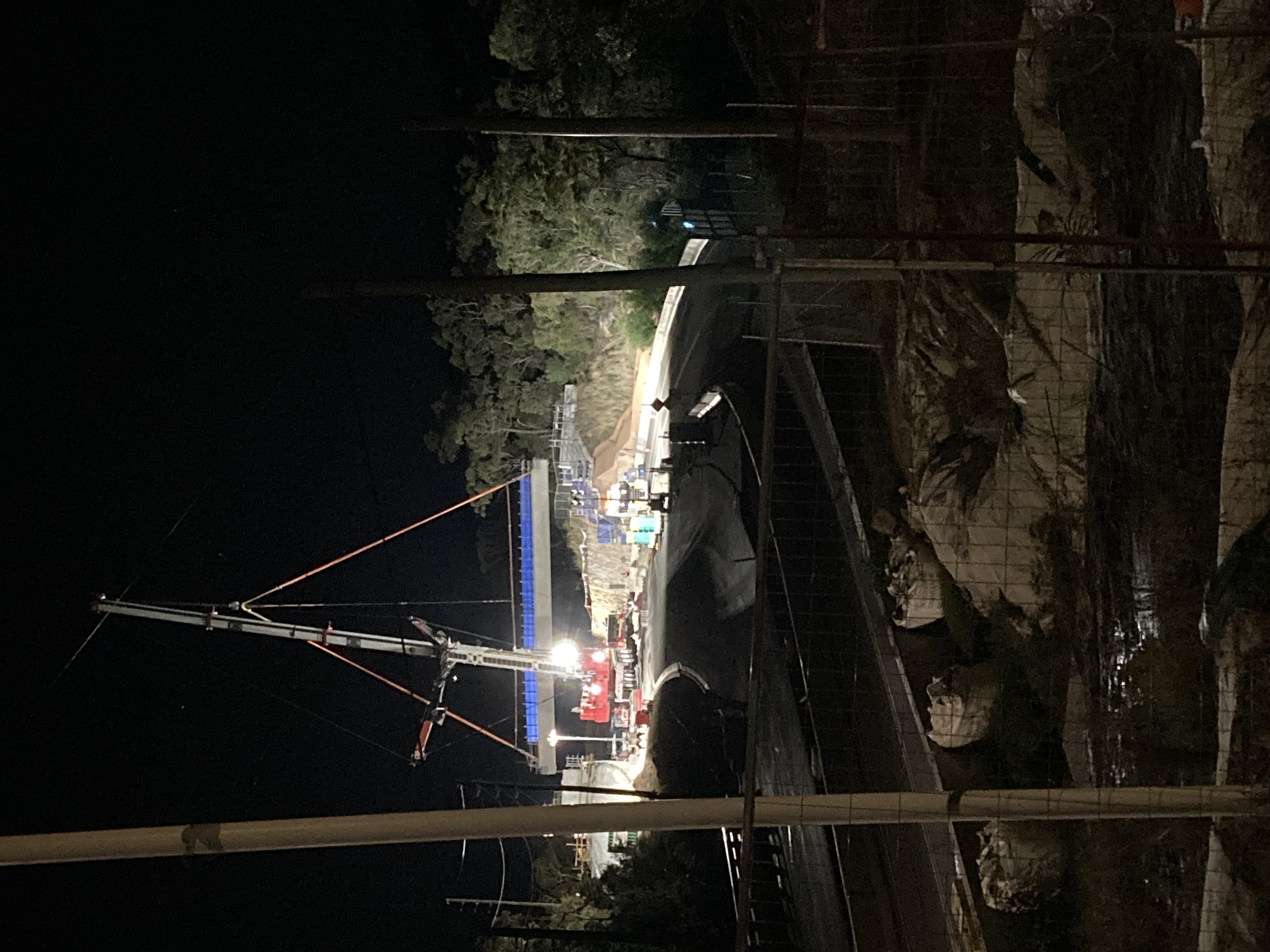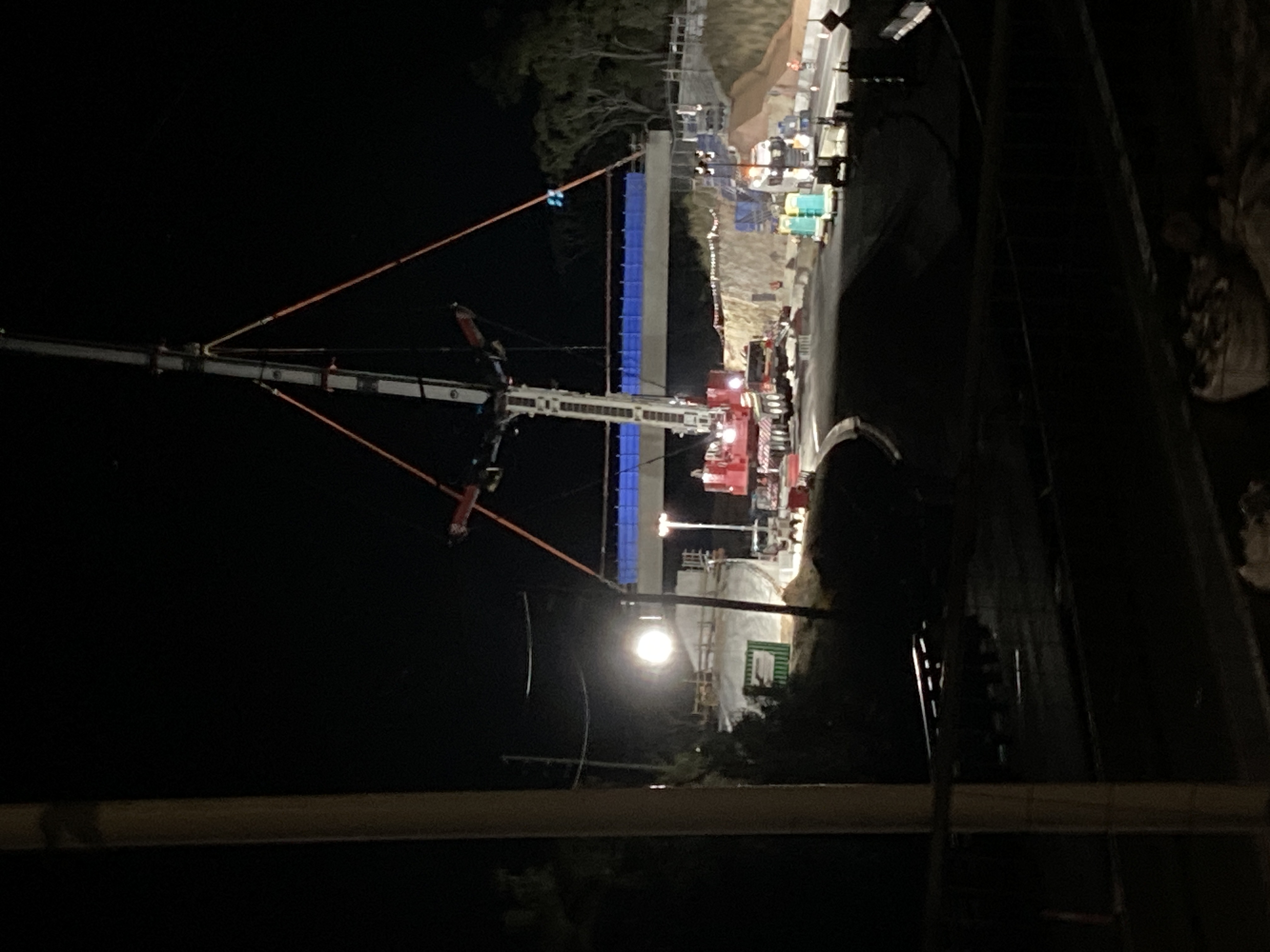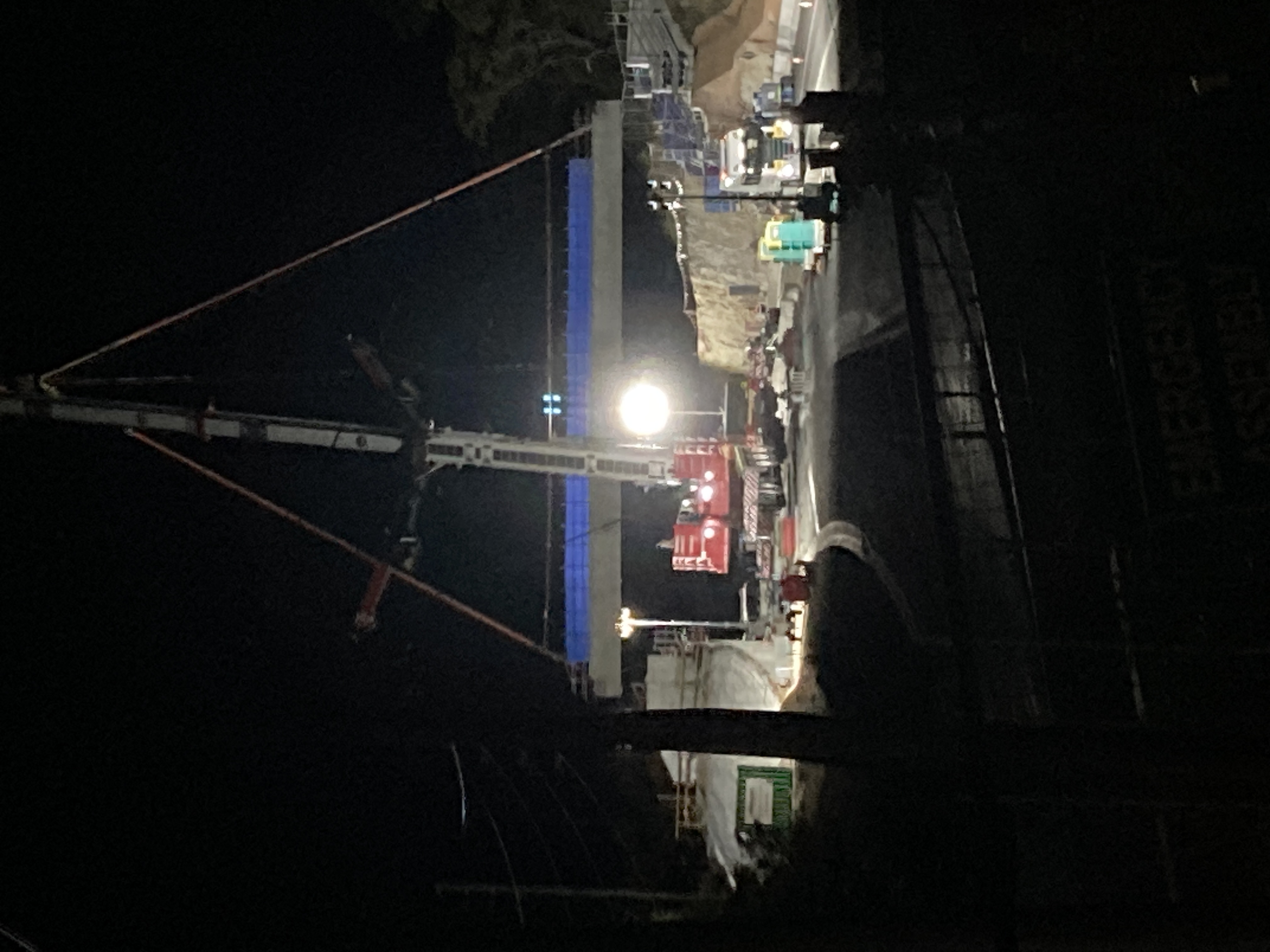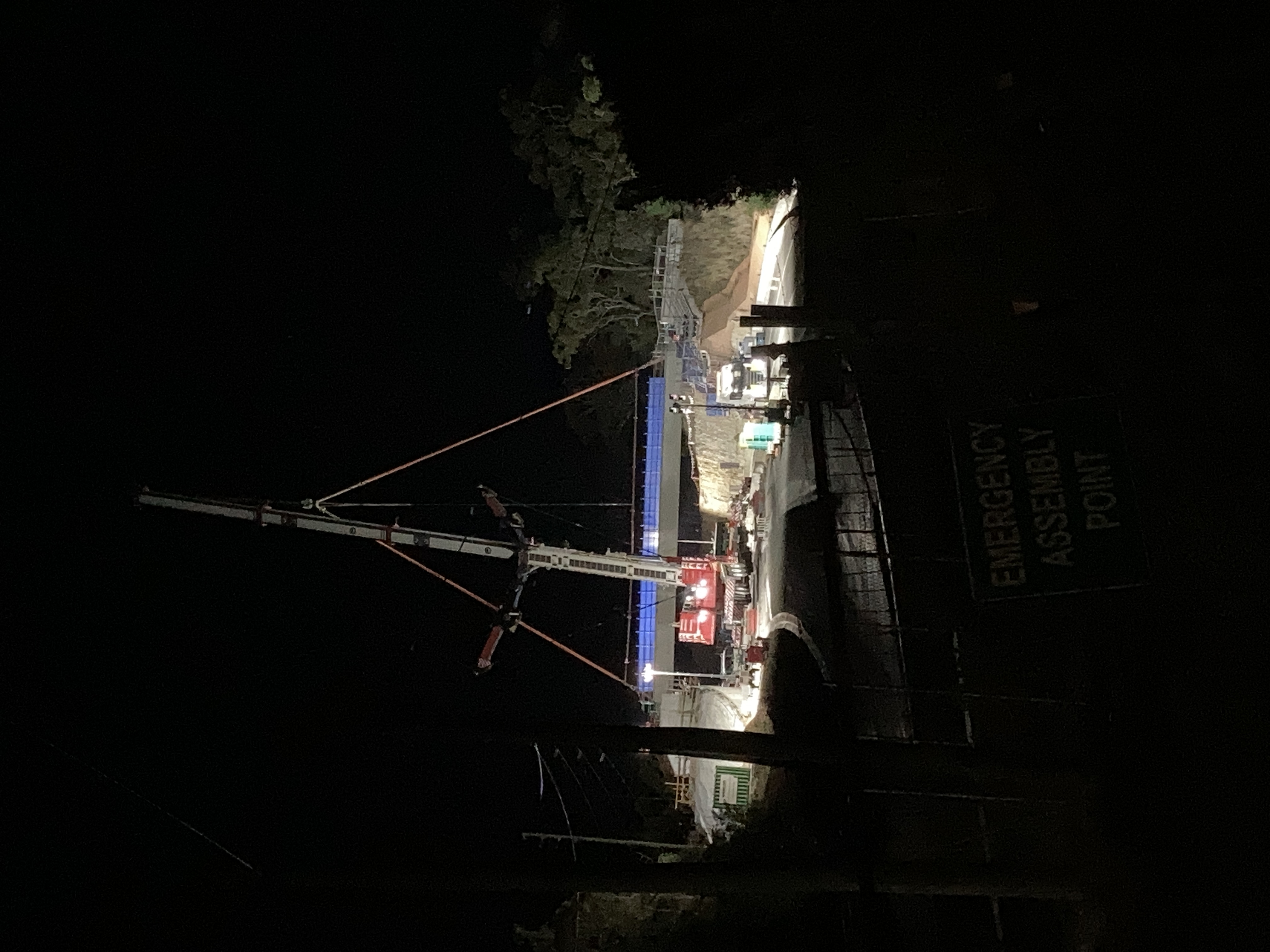 The work done on Thursday and Friday is great news for our local wildlife and an indication of how much locals care for these other locals. Determined to turn the tide on the loss of these wonderful urban wallabies and kangaroos, urban echidnas, urban pythons, urban koalas, urban turtles, eastern pygmy possums, brushtail possums, bandicoots and ringtail possums, this realised safety bridge signals a big step in the right direction after heading the other way for much too long.
HUGE thanks are due to PNHA and WRPA, especially the three pictured below - and thank you Mr. Stokes, Transport for NSW, RMS and
Georgiou
- there are no words that express how ecstatic the many who look out for and after these lovelies and their homes now feel.
The silence still reigning in the bush after the 2019/20 fires, the sound of chainsaws that are next door or down the street and also 'out of sight', razing 85 hectares of habitat, of homes, every single hour by 2019 studies, has had one note sounded back into that destruction this past week - can you hear what it says?;
'Put it back - put it all back now; and take much much better care once all is restored'.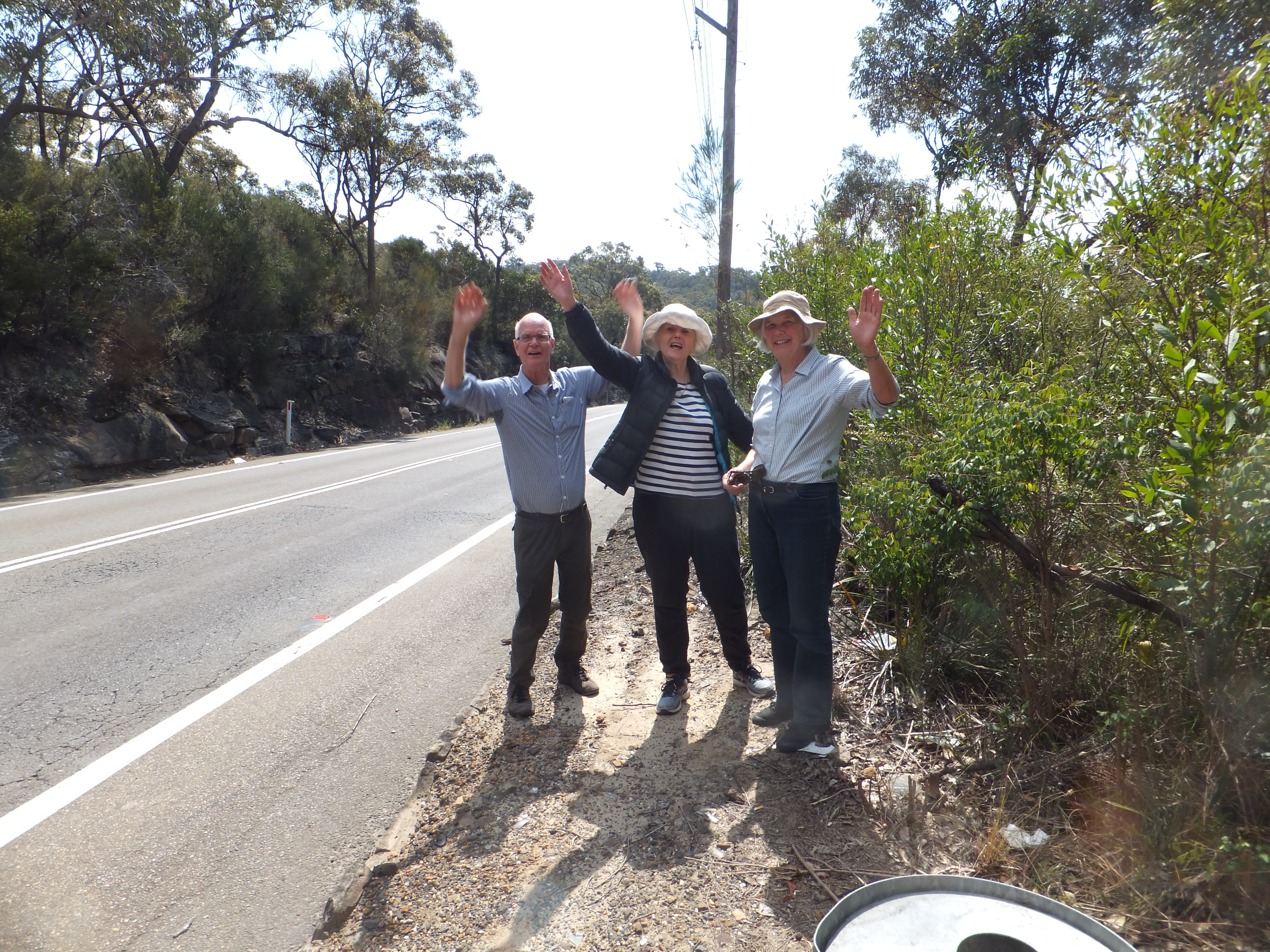 Photo: David Palmer, Jacqui Marlow and Marita Macrae celebrate the June 2019 announcement of a fauna bridge to be built over Mona Vale Rd East.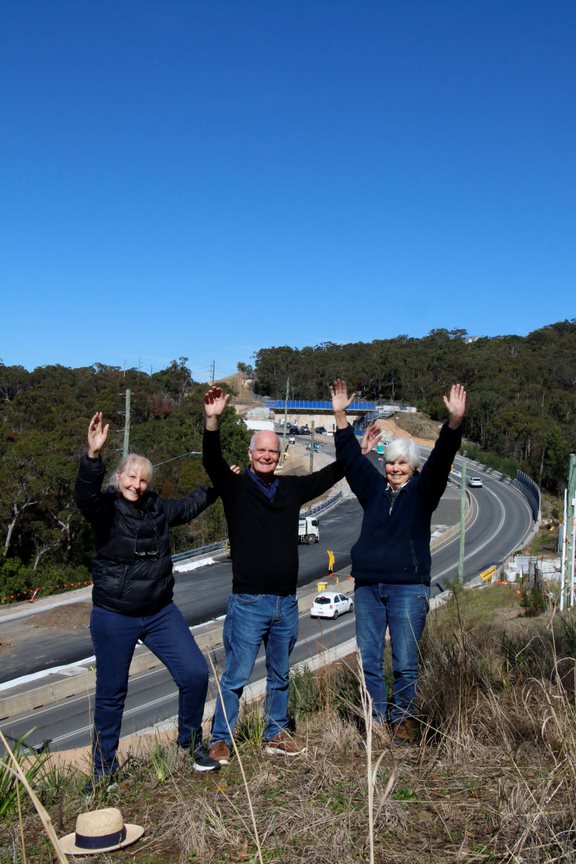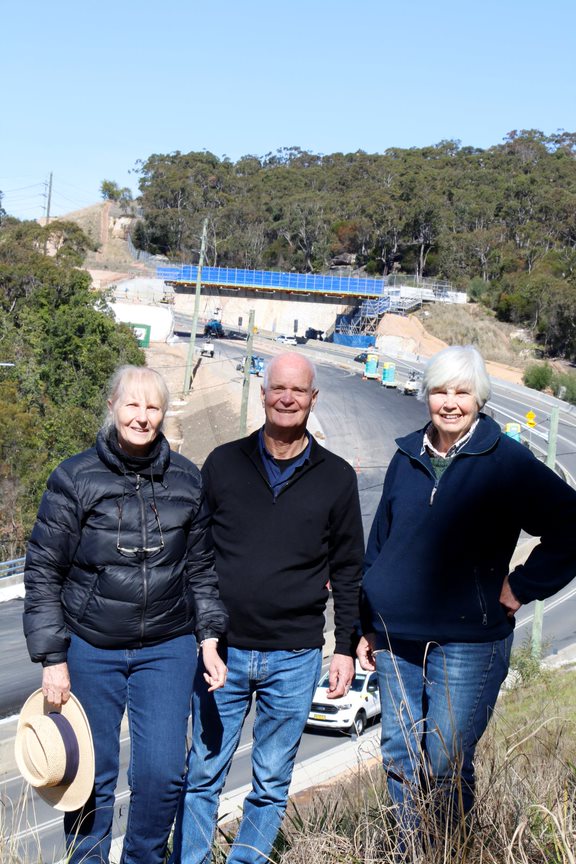 Photo: August 19 2023 - Jacqui Marlow, David Palmer and Marita Macrae celebrate the installation of the MVR East Upgrade fauna bridge supports.
The Wildlife Roadkill Prevention Association aims to reduce the roadkill of native animals on the Northern Beaches of Sydney, Australia. In 2005, the association was formed to address wildlife roadkill and raise awareness of broader conservation issues for our area.
The Pittwater Natural Heritage Association was formed to act to protect and preserve the Pittwater areas major and most valuable asset - its natural heritage.
Pittwater Natural Heritage Association seeks to raise awareness and provide information and advice to members on issues such as:
Native Tree Canopy
Identification of trees local to your particular area. What to plant to replace dead or dying trees, and how to care for trees. The characteristic form of the native tree canopy is a major contributor to Pittwater's sense of place.
"Bush Friendly" Gardens
Selecting plants for your garden that will live in harmony with nearby bushland and provide habitat for native animals and birds.
Building and Landscaping
Promoting practices which preserve and protect the visual qualities of the landform, preserve soil stability and prevent erosion of steep slopes and siltation of waterways.
Weed Infestation
Information on noxious and environmental weeds, weed identification and methods of control and eradication.
Living with Wildlife
Maintaining habitat and wildlife corridors for our rich and diverse native fauna. Understanding the impacts of introduced birds and animals and uncontrolled domestic pets.
Keeping our Waterways Healthy
Using and enjoying our waterways and estuaries whilst maintaining appropriate water quality and habitat for aquatic creatures. Caring for the streams, wetlands, saltmarsh and mangrove systems that are an integral part of our waterways.
Rock Platforms, Beaches and Dunes
Protecting and preserving the plant and animal communities on rock platforms. Restoration and regeneration of dune systems and maintenance of their stability.
Find out more and become a member at: https://pnha.org.au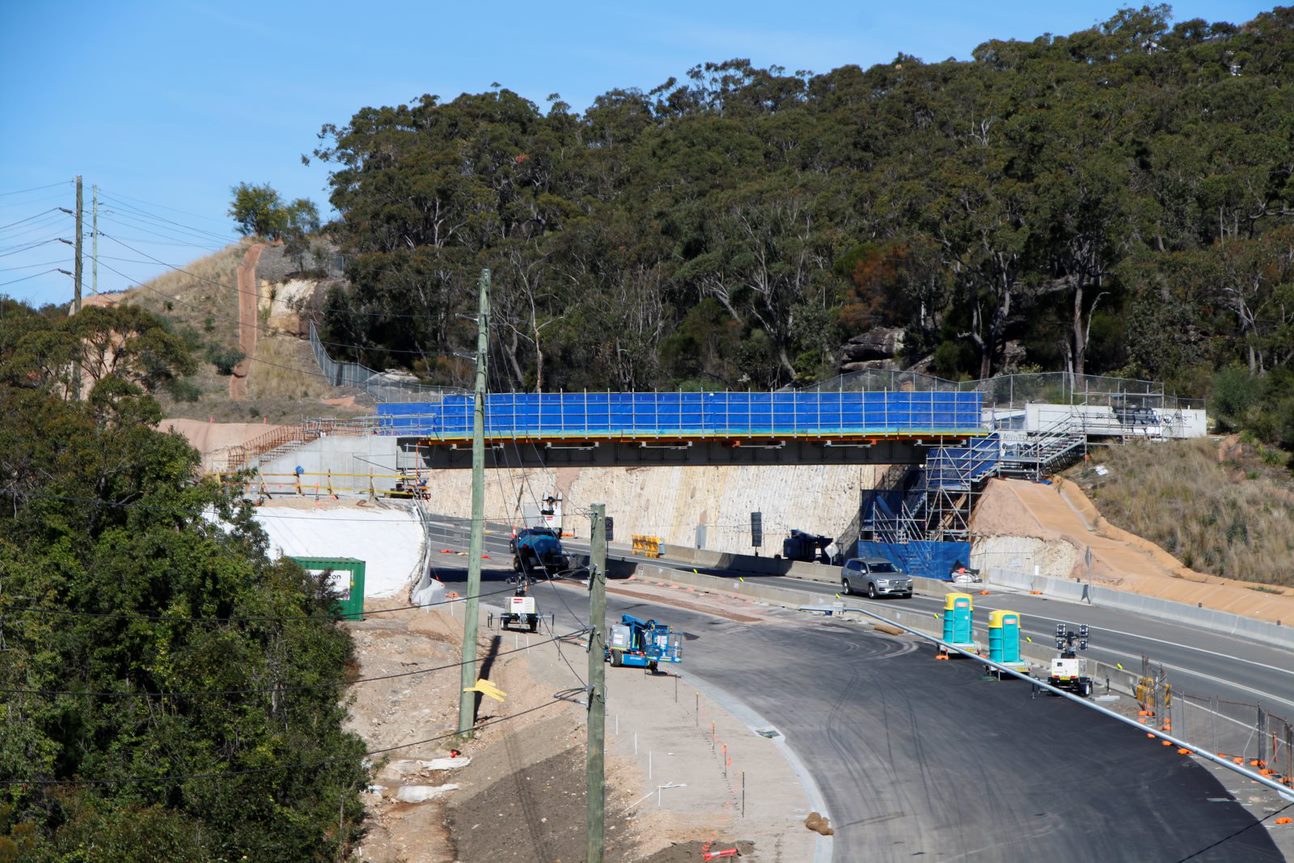 Above and below: how the fauna overpass looked on Saturday morning. Photos by Jacqui Marlow.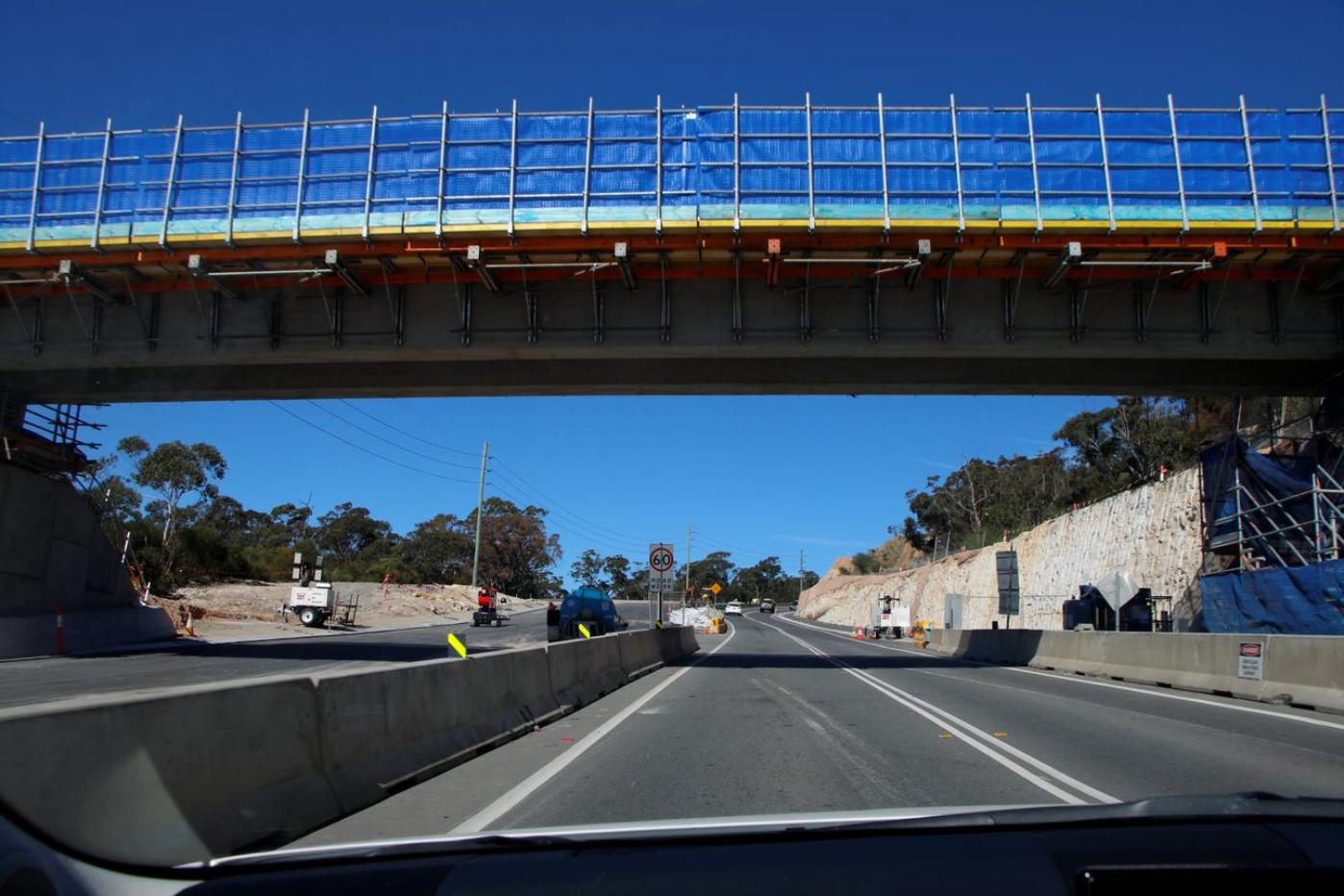 Previous reports:
Clay Stormwater Still Polluting Bayview Golf Course, Pittwater Estuary: Bayview GC's 3 Year Battle To Save The Environment and Waterways 'Like Banging Your Head Against A Brick Wall' -

May 2023



Mural Proposed For Mona Vale Road Sound Barrier: Celebration Of Our Area Better Than Graffitied Long Grey Wall Locals State - May 2023
NSW Government's Budget 2022-2023: Funds Allocated Towards Local Roads, Schools, Mental Health Support Services - Record 400 Million Dollar Budget Boost For Pittwater - June 2022

Mona Vale Road East Upgrade: April 2022 Pictorial Update + Construction Update: published March 2022

Mona Vale Road East Upgrade

: Proposed Extended Weekend Work + Road Closure For Large Boulder Removal Works -

Georgiou Group is talking to the community about closing Mona Vale Road to all traffic from Manor Road to the Mona Vale Road, Ponderosa Parade and Samuel Street intersection

from 7pm Friday 24 July to 5am Monday 27 July 2020

, weather permitting.

If there is wet weather, the closure will occur on the following weekend from 7pm Friday 31 July to 5am 3 August 2020.

Mona Vale Road Upgrade: The Machines Helping Build The Road

–

For Younger Readers:

This is a story about the road-building machines we included in last Issues' Pictorial. Some of our younger Readers have asked us 'but what's that one and what is it used for?' so it seems best to put it all in a page for you. We didn't get ALL the machines being used – but here's some insights into those we did, and a bit more, for those who want to know more

- June 2020

Mona Vale Road East Upgrade: Mid to Late February Notice and Pictorial Record of Works and Changes - February 2020
Mona Vale Road East Upgrade Update - To December 2019

: Our last day of work for 2019 will be Friday 20 December and we will return to work on Monday 6 January 2020

Mona Vale Road East Upgrade Calls In Sydney Wildlife Volunteer To Relocate Lapwing Plovers Nest: Eggs Hatch!

- October to November 2019

Mona Vale Road East Upgrade

:

October 2019

Update In Pictures

Mona Vale Road Upgrade Update: Fauna Fencing To Be Installed During Construction + June Night Works

- June 2019

Mona Vale Road Truck Arrestor Bed Miscalculation? - report by Phil Walker and John Illingsworth/Pittwater Pathways -

June 2019

Mona Vale Road East Upgrade: Some Progress Photos -

May 2019 Record

Mona Vale Road Upgrade - Changed Traffic Conditions Reminder

- from Office of Rob Stokes, MP for Pittwater -

March 2019

Upgrade Of Mona Vale Road East To Commence This Month

- an overview of what to expect -

January 2019

Contract Awarded For Mona Vale Road Upgrade

- from Office of the Hon. Rob Stokes, MP for Pittwater

- November 2018

Roads To Pittwater: The Mona Vale Road

(History page) -

September 2018

Plans Accelerate For Mona Vale Road East Upgrade

- June 2018

Plans Accelerate For Mona Vale Road East Upgrade

- from Office of The Hon. Rob Stokes, MP for Pittwater -

March 2018

Sydney's First Fauna Overpass To Be Installed On Mona Vale Road + RMS

March 2018

Mona Vale Road update
Mona Vale Road East Upgrade: Proposed Lease Of Land To Roads And Maritime Services (RMS) - Council Invites You to Have Your Say

- November 2017

Reducing Roadkill On Mona Vale Road

by David Palmer, Pittwater Natural Heritage Association -

September 2017

Front Page Issue 330

:

Jumping For Joy: Fauna Crossing For Mona Vale Road Confirmed

-

September 2017

Bill To Facilitate Mona Vale Road Upgrades Passes

:

Vital Fauna Bridge Discussed - Stage 3, Mona Vale Road Upgrade- West, one step closer -

June 2016

Angus's Onion Orchid at Ingleside?? by David Palmer, PNHA -

October 2015

Community Feedback Sought On Mona Vale Road Upgrade - November 2014

Once Was Barrenjoey - Can Community Reduce Fauna Road Deaths

- Community Consultation on stage 2 (between Mona Vale and Ingleside) for Mona Vale Road upgrades is expected to begin later this year and will also include fauna connectivity options: if you too are distressed by the growing numbers of wallabies, possums and bandicoot road deaths, supporting a few other locals may help -

August 2014

Upgrades To Start on Mona Vale Road - June 2014
Delivering Infrastructure - Upgrading Mona Vale Road

- March 2014