August 20 - 26, 2023: Issue 595
NSW Government releases first Bus Industry Taskforce Report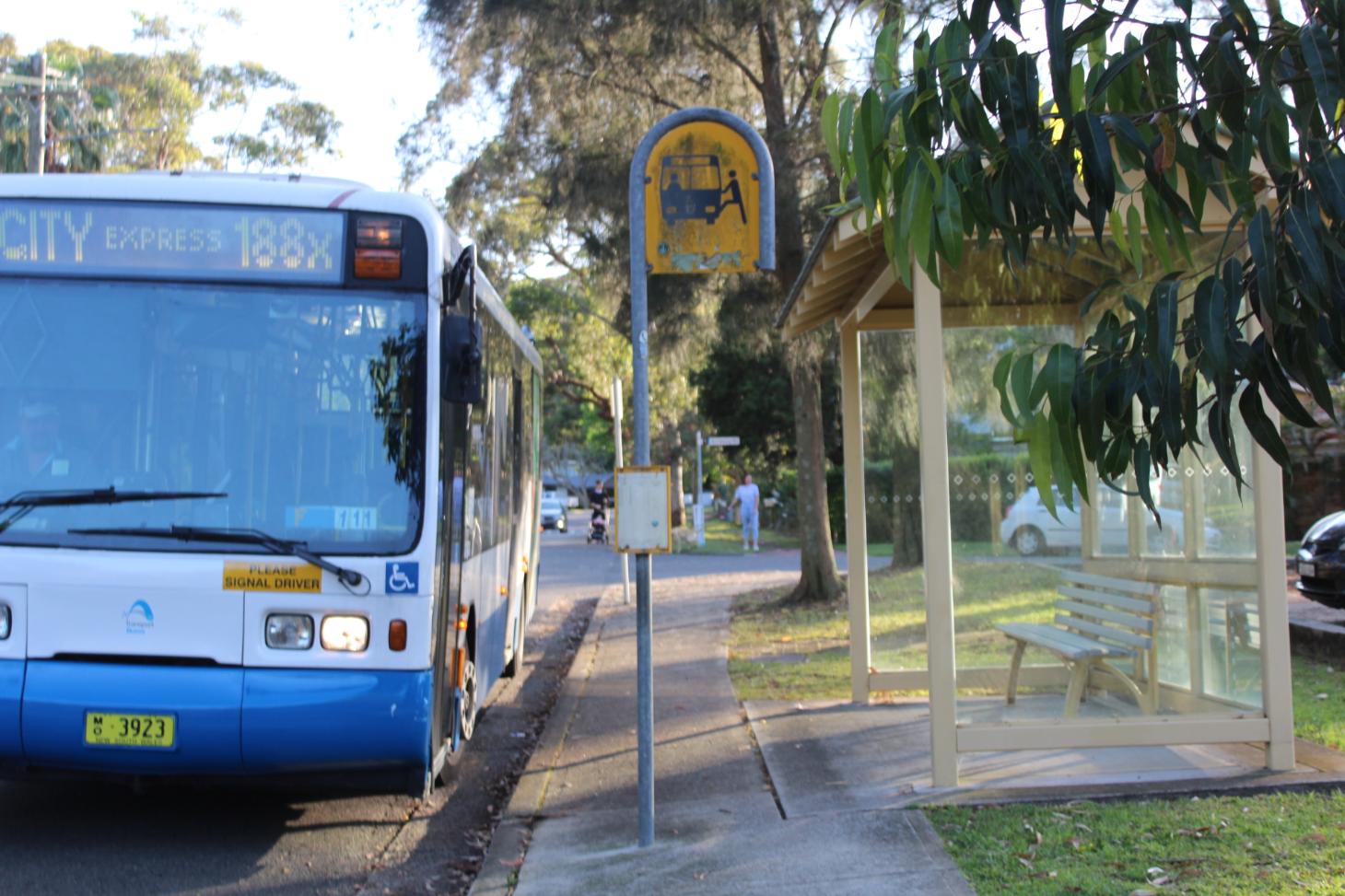 The 188X from North Avalon to the City - gone - but replaced with a 190X from same start in July 2023.
The NSW Government has given in-principle support to 7 key recommendations made by the Bus Industry Taskforce with its First Report into the industry released on Monday August 14, 2023.
The taskforce, chaired by John Lee, was established on 1 May 2023 to make recommendations to improve the quality and reliability of services, and to ensure that bus networks across NSW meet community expectations. These included hosting community forums to hear about the issues, the first of which was held in our area on June 24.
The first report reveals service quality in relation to on-time running and reliability has deteriorated, most notably in recently privatised regions where driver shortages and widespread cancellations are being acutely felt.
''Unfortunately, service quality, particularly in relation to on time running and service reliability, has deteriorated in recent times. In Greater Sydney operators in the regions privatised by the former Government have presided over the worst driver shortages and are failing to meet contract KPIs for service cancellations and on time running.'' the report states

Passengers have told the Taskforce of their frustrations with buses being cancelled, others just not showing up, and many running late and missing connections. Driver shortages are a key factor –if drivers are not available, vehicles cannot be put on the road. Unions and drivers have told the Taskforce the variability of conditions across the workforce, as well as the impact of privatising the last of the STA regions, has undermined the reputation and attractiveness of bus driving as an occupation.

The first report notes driver shortages should have been predicted and better managed and that the lack of basic driver facilities at layover areas is unacceptable.
It also highlights a focus on other transport infrastructure and capital investment has come at the expense of basic bus service requirements, such as digital infrastructure including real-time bus tracking, leading to over 10% of buses not being visible to passengers – widely known as 'ghost buses'.
The 76-page reports also notes a focus on savings during the latest re-tendering has led to a loss of operators with local knowledge.
Prior to starting the final privatisation of the State Transit Authority, the then Transport Minister promised: "Bus customers will receive additional services and innovative on demand options under new contracts to lift the standard of transport across Sydney."
He acknowledged that, "Bus patronage has increased by more than 50 per cent over the past six years. This rate of growth outstrips that of all other forms of public transport and we need to address this increasing demand as a matter of urgency."
It was stated that a competitive tender of all Sydney metropolitan bus contracts would enable the NSW Government to reinvest more into delivering better services to commuters.
The Taskforce has found that this commitment was not fulfilled. Rather, there have been some all too predictable failures to properly support the current and future bus needs of the community:
''The promise of growth funding has not been delivered, even as Sydney and some of the regional cities and other areas of the State continue to grow. More than $375 million was made in operational savings on the privatisation of the last three STA regions (sometimes referred to as franchising) –these funds were used to partially offset the costs of previously unfunded promises, not to fund new growth.'' the report states
In May 2021 Transport for New South Wales announced Keolis Downer was awarded a $900 million contract to operate and maintain bus services in Region 8; the Northern Beaches and the lower North Shore, for eight years, commencing from Sunday October 31st 2021.

When the contract was announced for the local area it was simultaneously announced that Pittwater will be at the forefront of the NSW Government's transition to modern and clean public transport technology.
"In an Australian first for a bus network contract, all future buses procured for our community will be electric and zero emission," Pittwater MP Rob Stokes said. "I'm delighted our community will be leading the way with the introduction and roll out of modern, quiet and clean public transport technologies for our local streets.
"New electric buses also mean there's exciting opportunities for solar charging infrastructure at Mona Vale Bus Depot.''
The then NSW Minister for Transport Andrew Constance announced on Thursday, October 24th, 2019 that public bus services for the northern beaches (and Pittwater) will be privatised.

In May 2021 Mr. Constance stated Keolis Downer will deliver more than 1.2 million services a year for customers, while also saving taxpayers more than $100 million over the eight-year contract.
The contract was meant to deliver 125 electric buses over those eight years, delivering more sustainable transport options for the local community from two newly electrified depots in Brookvale and Mona Vale.
Keolis Downer were to be responsible for delivering around 24,000 services each week, including the 24-hour B-Line and all day express services between Dee Why and Chatswood via Frenchs Forest, which were introduced as part of '2,000 additional weekly services' in 2020.
However, on January 29 2023 the then NSW State Government announced 'Temporary Bus service changes' due to a shortage of drivers, with no mention of our area, 'Region 8', being impacted, despite already ongoing cancelled buses, buses that drove straight past those waiting at bus stops in order to meet time requirements, or buses that simply did not turn up, leaving commuters and students on their way to school stranded.
In briefings soon after taking over the portfolio, the new Minister for Transport Jo Haylen learned that when the previous government sold public bus services off to private operators they created contracts that gave these companies financial incentives to cancel services. The contracts imposed financial penalties on the companies for failing to meet 'on time running' targets, while bus services that are cancelled do not count as late. There are penalties for cancellations also, but only up to a certain number. Once that threshold is reached the companies make more money if they cancel a bus that might run late.
A 2022 NSW Parliamentary Inquiry into the Privatisation of bus services in NSW had already found the change had resulted in more limited service delivery, higher costs for passengers and worse pay and conditions for bus drivers. That Report stated that recent changes to bus services in Sydney and Newcastle, including location of stops, frequency of services and changes to routes, have at times occurred without comprehensive community consultation. One submission read; ''Conducting surveys during the height of the Covid-19 pandemic and using these figures to rationalise decisions is false.''
This refers to the Covid-19 October 2020 announced cancellation of 'or reconfigured' 154X, 183X, 185X, 188X and 189X routes. The 188, no X, is now a Green Hills Shopping Centre to Woodlands Estate via Maitland Hospital route.
That Report, released September 20th, 2022, recommended the then NSW Government give consideration to taking action to revert bus services to being publicly-owned-and-operated bus services in the four recently privatised Contract Regions in metropolitan Sydney (Contract Regions 6, 7, 8 and 9) that were previously operated by the State Transit Authority.
The just released Bus taskforce report has found responsibility for bus-related issues is scattered across Transport for NSW, with a lack of focus on working together with operators to deliver the transport needs of their communities.
Further, the report found that in 2019, buses provided more than 1 million trips on most weekdays across the Opal network (Greater Sydney, the Central Coast, the Hunter, Blue Mountains and Illawarra) on most weekdays. In March 2023, the daily average trips delivered across these areas has reduced to approximately 770,000 on weekdays.
''While some of this reduction may be due to hybrid working arrangements for many workers across NSW, operators have been challenged in their ability of operators to deliver a full scope of bus services has been challenged over the last 12 months.'' the report states
''Many areas are underserviced compared to others, some significantly so. In large parts of west and south-west Sydney, for example, buses are the only available form of public transport –and service coverage and frequency are poor.
These areas have the highest levels of socioeconomic disadvantage in Greater Sydney and even the state. Groups disproportionately impacted include people with disabilities, Aboriginal and Torres Strait Islanders, people from culturally and linguistically diverse (CALD) backgrounds, people who are unemployed, single parent households and a growing number of people in the private rental market.
Levels of economic disadvantage are generally higher in rural and regional NSW, particularly for young people, the unemployed and those paying off a mortgage. Many of the regional areas with the deepest levels of poverty are poorly served by public transport.
Public transport is an essential service for people in low-income households or living below the poverty line. Access to reliable and affordable public transport, such as bus services, can improve quality of life and wellbeing by providing access to employment opportunities, healthcare, support services and other amenities, and social connections.'' the report states
Work is already well underway to address some of the issues identified, the Government states, with immediate action in June to tackle the driver shortage. This included slashing red tape to make it cheaper and easier to get a driver authority; holding a bus industry summit with more than 100 industry leaders and working with bus companies to improve the reliability of timetables.
The new State Government also announced changes to commence from July 17 2023 for our area.
"We know that our services are not meeting passenger expectations and we are working hard to get more drivers safely on to the road to return services to where they need to be," a Keolis Downer spokesperson said.
"The changes are focused on high-frequency route corridors and mainly affect peak hour routes to the CBD and North Sydney. The adjusted timetable also allows us to shift services during peak hour, so our passengers will have a more reliable frequency."
In addition to the temporary changes being introduced across the network, there were also be some permanent changes to services in Avalon in response to recent road and traffic upgrades. These included routes 191, 192, 190X and the 199 and the restarting of a 190X service from and to Careel Head road, with 11 services into and from commencing at 5:46 am for the trip inwards, and running every 20 minutes until 8:34 and from 4:17 pm to 8:17 to return.
A comprehensive bus driver recruitment campaign is underway to help attract new drivers to the industry which is dealing with up to 370 vacant roles across Greater Sydney.
Following the Hunter Valley bus crash tragedy on June 11, the NSW Government urgently expanded the taskforce's terms of reference with the scope of work to include safety management, seat belt use and regulatory arrangements for buses.
After considering the findings of the first report, the NSW Minister for Transport Jo Haylen has instructed Transport for NSW to begin developing a plan on how best to implement the remaining recommendations, which include:
Transport for NSW working more collaboratively with industry to improve service delivery, including by consulting with bus operators, the workforce and unions.
Establishing a long-term growth funding program to improve bus services to underserved communities around the state.
Transport for NSW undertaking activities to improve rural and regional contracting, including engaging with industry to develop a modern, fit-for-purpose contract model.
Transport for NSW undertaking organisational change to become more focused on delivering services by mode, including the agency creating a division headed by a coordinator-general accountable for bus, ferry, and light rail, reporting directly to the secretary.
Consideration of further measures to improve bus driver recruitment and retention, including that Transport for NSW prepare a proposal for consideration by the minister to provide a free Opal card to bus drivers and other operational staff.
Transport for NSW investigating ways to better use technology and training so that staff in the Transport Management Centre, marshals and station staff can better coordinate public transport service disruptions.
Transport for NSW reconsidering the way it manages replacement and emergency bussing and, within 6 months, establishing a team that has the accountability, authority, and capability to deliver contingent buses for major events, planned replacement services and unplanned incidents.
The taskforce will provide a second report on Tuesday 10 October 2023 with a final report and recommendations due by 1 May 2024.
View the Bus Industry Taskforce First Report (PDF: 1.75 MB)
The taskforce is chaired by a former CEO of the State Transit Authority and multiple private bus companies, Mr John Lee. Its members are Matt Threlkeld, Executive Director, BusNSW; David Babineau, Rail Tram and Bus Union; Mick Pieri, Transport Workers Union; Joanna Quilty, CEO of NSW Council of Social Services; Darriea Turley, Local Government NSW; and Darren Lane, an independent safety expert.
Minister for Transport Jo Haylen said:
"The taskforce report is clear that on-time running and reliability has deteriorated over recent years and passengers expect and demand a better service.
"We promised the people of NSW we would take decisive action to help deliver better bus services for our communities and this Bus Industry Taskforce First Report provides a clear roadmap on what we need to do.
"We want better contract and performance management, better service planning and a thriving industry that will attract new bus drivers – ultimately this will give the hundreds of thousands of people who rely on our buses the service they deserve."
Bus Industry Taskforce Chair John Lee said:
"The taskforce clearly sets out where the problems are with the running of bus services, we have identified why this occurred and laid out our first set of recommendations to fix this mess.
"I was disappointed to learn that only 2% of the capital budget is allocated to buses when they move over 40% of public transport passengers.
"To take matter worse the former government failed to reinvest the millions of dollars made from privatising Sydney Buses back into vital services, especially in underserviced areas.
"There's an opportunity to deliver some quick wins and turn things around. Basic facilities for drivers have been neglected and just some small improvements will make a big difference for this essential workforce and help attract new drivers into the system.
"People within Transport for NSW understand the challenge but struggle with an organisational structure that makes it hard to know who is accountable for improving services for passengers. They need a bus champion who can take responsibility for getting things back on track."
Independent Member for Wakehurst Michael Regan stated on Monday, August 14:
''I welcome the first report from the Bus Industry Taskforce which has been released today. My electorate of Wakehurst has been severely impacted by delays, disruptions and cancellations to our bus services and I have been working with both the new Government and our local operator to ensure we can find smart solutions to fix bus services here on the Northern Beaches.
''The fact that NSW Minister for Transport Jo Haylen has instructed Transport for NSW to begin implementing the Taskforce's recommendations immediately is pleasing, however there is much more the Government must do to improve bus services in our state.
''There are also questions around the privatisation of bus services that need to be answered. For example, the Taskforce notes that bus services across NSW are seriously underfunded when compared to the passenger load buses move daily. The Taskforce Chair's John Lee stated just 2% of the capital budget is allocated to bus services, despite the fact buses move over 40% of public transport passengers in the state. How did the former Liberal-led Government allow this funding imbalance to occur? For most people in Wakehurst and on the Northern Beaches, buses are our only form of public transport, and the fact that previous governments severely defunded our bus services needs to be addressed.
There are also questions to answer around the motives behind the privatisation of our bus services. For example, it has been reported the privatisation of services on the Northern Beaches was forecast to lead to $100 million in savings. The Government needs to be transparent and confirm if these savings have been realised, and if they have, commit to immediately reinvesting these savings into our local bus network and community. This could, for example, come in the form of affordable housing initiatives to ensure bus drivers servicing the Northern Beaches can afford to live locally.
It's also becoming increasingly clear some of the anticipated cost savings the former Liberal-led Government expected may have come at the expense of the local bus workforce – with Keolis Downer reporting significant job losses locally and telling me they are having issues finding replacement drivers. The former Government has questions to answer around why they prioritised profits over our community, over people, and over the local bus workforce.
Despite the challenges facing our local bus services, I have been heartened that both Keolis Downer and Transport for NSW have reacted positively to the deadline I set them to resume normal bus services on the Northern Beaches before Christmas. I will continue to work constructively with Transport for NSW, Keolis Downer and the new Government to ensure the people of Wakehurst and the Northern Beaches get access to the bus network we need and deserve.'' Mr. Regan said.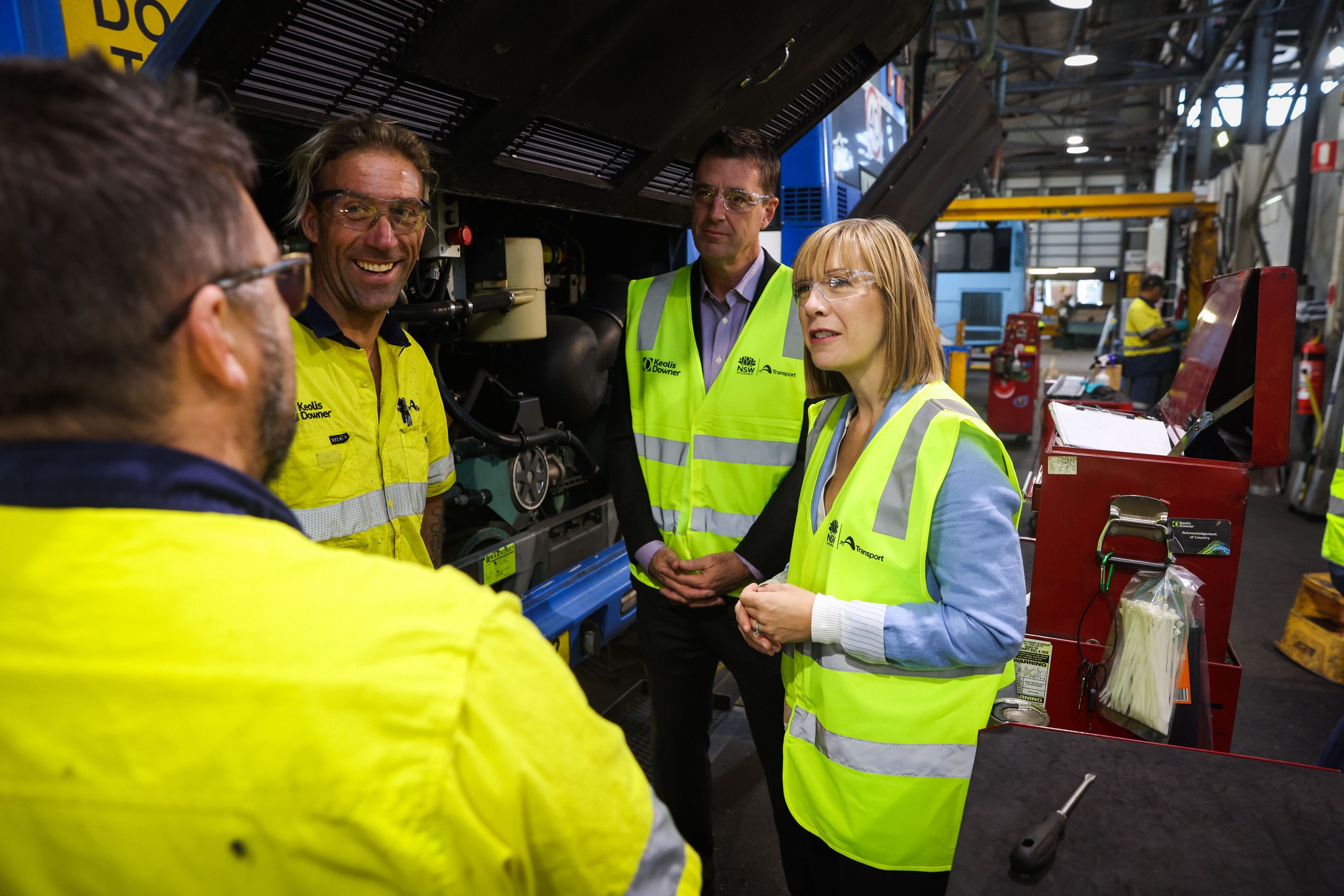 NSW Minister for Transport Jo Haylen with Wakehurst MP Michael Regan at Brookvale Depot early in May 2023. Photo: NSW Gov.
KPI stands for key performance indicator, a quantifiable measure of performance over time for a specific objective. KPIs provide targets to be realised, milestones to gauge progress, and insights that help people across an organisation make better decisions.