October 31 - November 6, 2021: Issue 516
keolis downer commences as northern beaches bus operator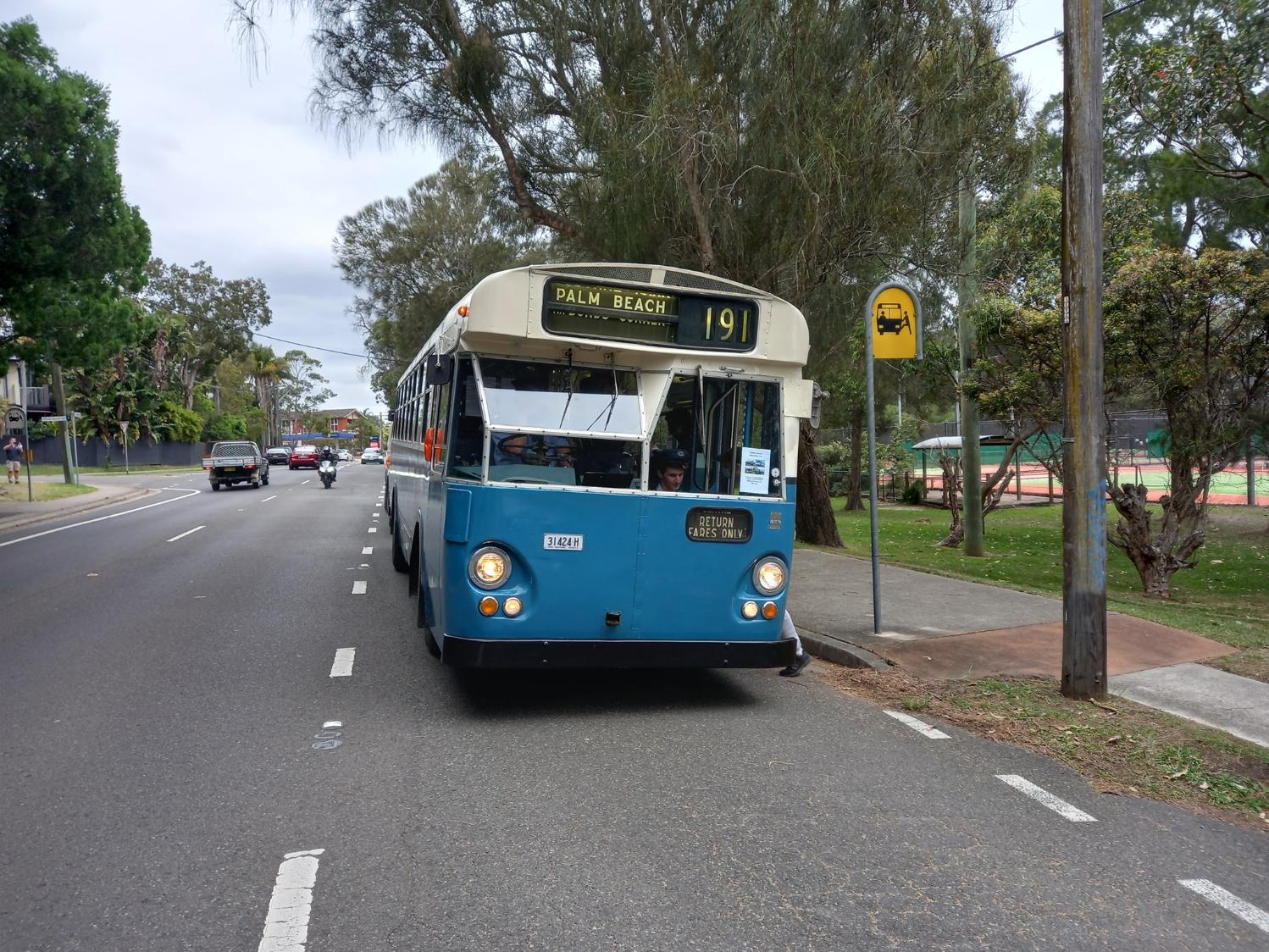 A scene common in the seventies is recreated as 1750 Mk2 Leyland Leopard stops at the
Hitchcock Park
bus stop on Barrenjoey Road, Avalon on Saturday October 30, 2021. Image: Ben Summers
Saturday October 30th was the final day of Government bus services on the Northern Beaches after eighty eight years before the new operator takes over, and the Sydney Road Transport Museum ran a tour to mark the occasion. Three vintage buses, 2199 Mercedes O305 Mk2, 3350 Leyland ERT and 2817 Mercedes O305 Mk4, made a run through their old thoroughfares.
In May 2021 Transport for New South Wales announced Keolis Downer was awarded a $900 million contract to operate and maintain bus services in the Northern Beaches and the lower North Shore for eight years, from Sunday October 31st 2021.
An On Demand trial by the same company commenced in Pittwater in 2017.

Keolis Downer will work closely with Transport for NSW to deliver a range of initiatives to further enhance the journey experience of customers, across all aspects of the service. The contract will see the introduction of 125 electric buses over the next eight years, delivering more sustainable transport options for the local community from two newly electrified depots in Brookvale and Mona Vale.
On October 21st the Australian Government announced it is backing the nation's largest fleet of electric buses through a new pilot program that will see 40 new vehicles deployed across Sydney. The project will be an Australian first, transitioning diesel buses to electric, in addition to upgrading the charging infrastructure and retrofitting the bus depot in Leichhardt, NSW.
The Government is supporting the pilot with a $29.5 million investment, including $24.5 million from the Clean Energy Finance Corporation (CEFC) and $5 million from the Australian Renewable Energy Agency (ARENA). The project is being delivered through a joint venture between Transgrid and Zenobe, with support from Transit Systems and Transport for NSW.
Industry, Energy and Emissions Reduction Minister Angus Taylor said the Morrison and Perrottet Governments are working together to reduce emissions through a focus on technology and testing innovative commercial models.
"This project demonstrates the importance of governments and industry working together to reduce emissions in hard to abate sectors like road and transport," Minister Taylor said. "The aim of the pilot is to show the technical and commercial viability of using electric buses travelling a full route without the need to stop to recharge along the way.
"This significant investment will establish the nation's first fully-integrated electric bus depot, allowing other fleet operators to better understand commercial implications and make informed choices about new technologies.
NSW Minister for Transport Rob Stokes said NSW is leading the way with the largest fleet of electric buses in Australia.
"We've set an ambitious target to transition our fleet of 8,000 buses to Zero Emission technology by 2030 and this project is a huge step in that direction," Rob Stokes said. "The innovative financing model adopted means we're able to deliver 40 new electric buses for the Inner West quickly, at no extra cost to the NSW taxpayer.
"We will also upgrade the infrastructure at the Leichhardt depot, shifting from diesel pumps to smart charging stations, solar panels and large scale energy storage."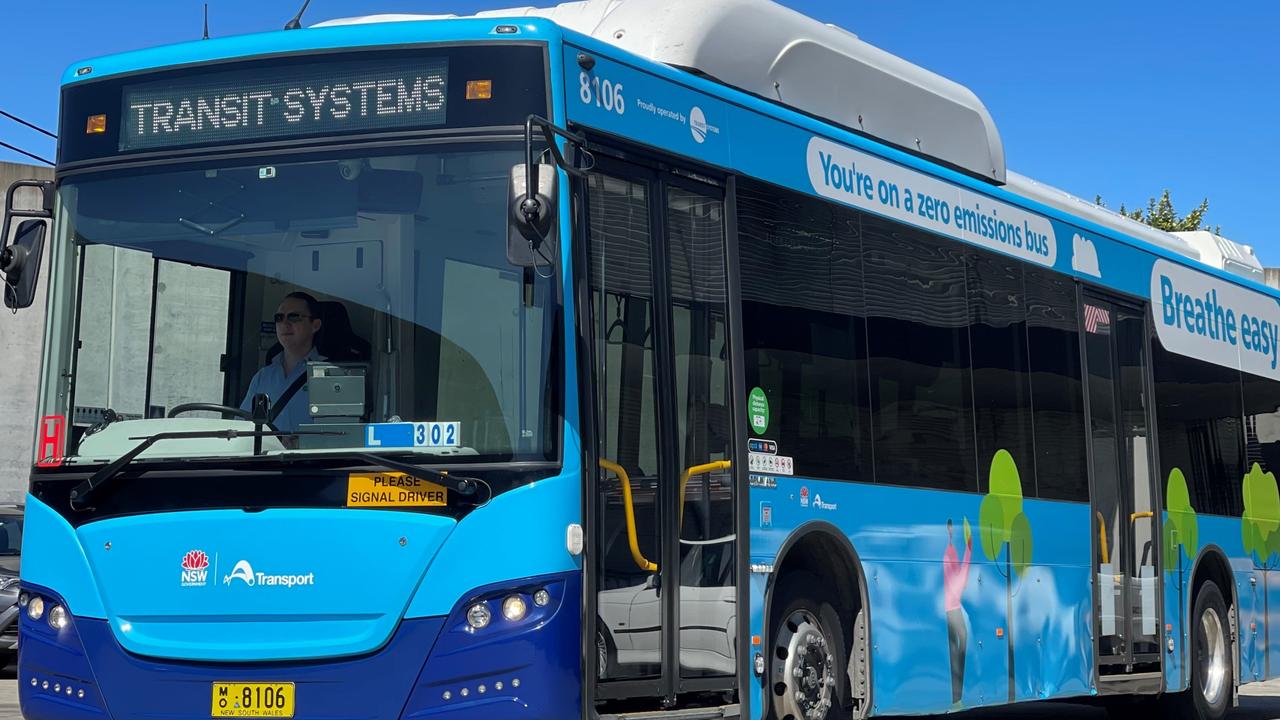 NSW Treasurer and Minister for Energy and the Environment Matt Kean said he was looking forward to more innovative projects focused on driving a cleaner future for public transport.
"Transport is one of the major sources of carbon emissions which is why we need to forge ahead with initiatives that reduce our reliance on fossil fuels and drive us towards a cleaner and greener future," NSW Minister Kean said.
The Leichhardt depot retrofit will include a combination of 324 kWh and 422 kWh batteries, 5x120 kW electric bus chargers - capable of charging two buses at a time and 31x 80 kW electric bus chargers, 2.5 MW / 4.9 MWh of stationary battery storage, and 388 kW of rooftop solar PV.
The first 12 of the 40 new electric buses will start entering service this month, with the rest of the fleet arriving over the next 6 months.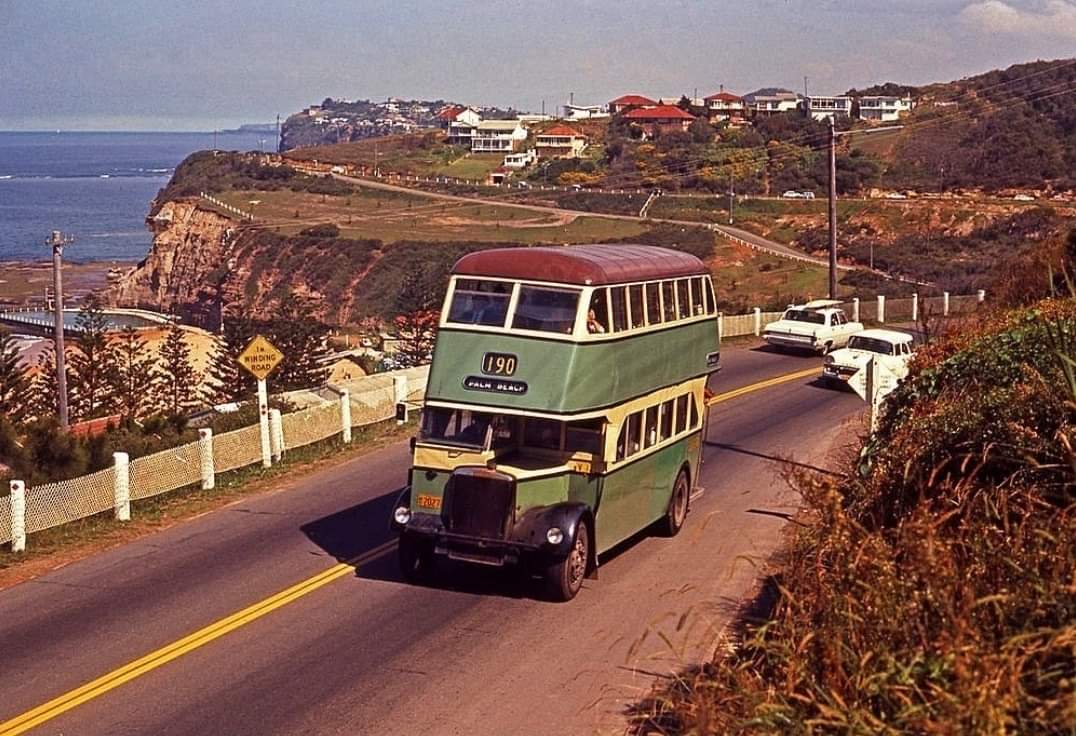 Leyland OPD2/1 2027 winds through Bilgola Bends in 1969. Photo credit: John Ward - City of Sydney Archives. Visit The Bus To Palm Beach: Some History

Keoride becomes wheelchair and pram friendly
On Thursday October 28, Member for Pittwater and Minister for Transport and Roads Rob Stokes announced the Keoride fleet will be boosted to enable wheelchair and pram access.
New vehicles, called Ponchos, will commence operating with the existing Keoride fleet this week. The Ponchos will feature innovative kerb-kneeling technology, providing level entry for all passengers.
"Pittwater's Keoride is the most successful on-demand public transport service in Australia – and it's now getting even better," Rob Stokes.
"These improvements not only make Keoride wheelchair and pram friendly – but the new vehicles are still compact enough to negotiate our narrow local streets.
"Keoride is well-suited to Pittwater's challenging geography – and the service has unlocked the transport independence of many residents living in areas not accessible by traditional buses.
"More than half a million trips have been delivered locally on Keoride since its launch by the NSW Government in November 2017.
"Thank you to all our local Keoride team members for your service to our community," Rob Stokes said.
The accessible Keoride vehicles can be selected as an option when booking from 31 October. More information is available by calling Keoride on 1800 536 743.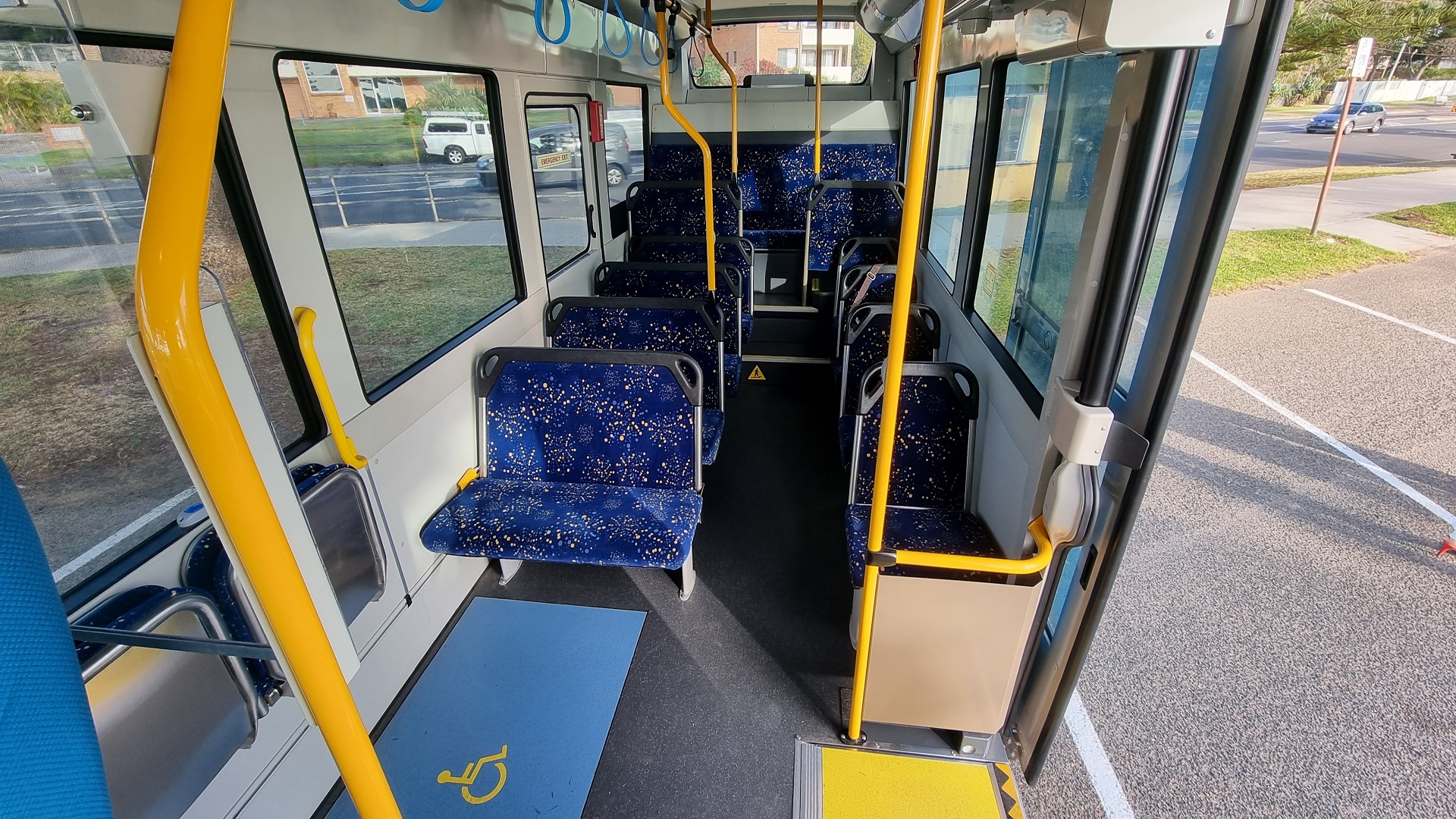 Keolis Downer will also introduce innovative headway technology to further increase the reliability and quality of service of the successful B-Line.
The popular On Demand transport service known as Keoride will also become a permanent part of the network.
The company said in a statement that Keolis Downer is delighted to partner with Transport for New South Wales (TfNSW) to deliver positive public transport outcomes to the local communities in the Northern beaches and the lower North Shore.
'Keolis Downer's first priority is to ensure a smooth transition of all the employees and maintain high standards of customer experience and operations. Additionally, we are focused on introducing global innovations like headway services, new electric buses, and wayfinding improvements that will deliver more connected and sustainable journeys.'
"We are very proud to partner with TfNSW to support the future growth and transformation of the Northern Beaches. Drawing on our experience locally and globally, we will launch a range of new initiatives to enhance the customer experience building from the already excellent bus services in the area" comments David Franks, Keolis Downer CEO. "We will introduce new service technology to enable staff to actively manage routes and monitor bus running times, improving the frequency of bus services.
"We are also very excited to continue to deliver the highly successful On Demand transport service, which we have been operating in the area since 2017. We look forward to further engaging with the community to deliver a safe, efficient and reliable transport system that supports the liveability and future prosperity of this vibrant, growing region".
New Bus Operator Begins Services
October 31, 2021
Thousands of local bus services on Sydney's Lower North Shore and Northern Beaches will be delivered by operator Keolis Downer from today. 24,000 services each week will run in the region, including the 24-hour B-Line and all day express services between Dee Why and Chatswood via Frenchs Forest.
Minister for Transport Rob Stokes said customers will benefit from a new fleet of electric buses and permanent On-Demand services.
"Keolis Downer will deliver more than 1.2 million services a year for customers, while generating savings which will be invested into new electric buses," Mr Stokes said.
"As diesel buses are retired from the fleet Keolis Downer will replace these with electric buses, with more than 100 new zero-emission buses to be introduced to the area over the next eight years.
"The popular Keoride On-Demand service, which operates between Palm Beach and North Narrabeen will be made permanent under the new operators. Around 540 customers use this service each day to connect to bus routes like the B-Line."
Mark Dunlop, Managing Director of Keolis Downer Northern Beaches, said the operator was proud to be partnering with Transport for NSW to operate bus services in the Northern Beaches and Lower North Shore.
"Over the last four years we had the opportunity to get to know the local community with the successful operation of Keoride On Demand transport and we are thrilled this service is now a permanent and integral part of the bus network," Mr Dunlop said.
"Some of our bus operators have been driving local bus routes for years. They know the network and are committed to delivering high quality customer service while getting passengers safely to and from their destinations."
All State Transit bus drivers and maintenance staff have been offered a two-year job guarantee under the new operator. Nearly 900 people have accepted roles to transfer across to Keolis Downer.
Keolis Downer is a leading operator of public transport services in Australia. With 4,900 employees and a presence in five states, Keolis Downer enables 250 million passenger journeys per year. We operate and maintain the integrated network in Newcastle, the largest tram network in the world in Melbourne (Yarra Trams), the light rail network on the Gold Coast (G:link), and 1,000 buses in NSW, Western Australia, South Australia and Queensland. We also operate and maintain the Adelaide Metro train services.
Established in 2009, Keolis Downer is a joint venture between Keolis, a leading public transport operator established in 15 countries, and Downer, the leading provider of integrated services in Australia and New Zealand.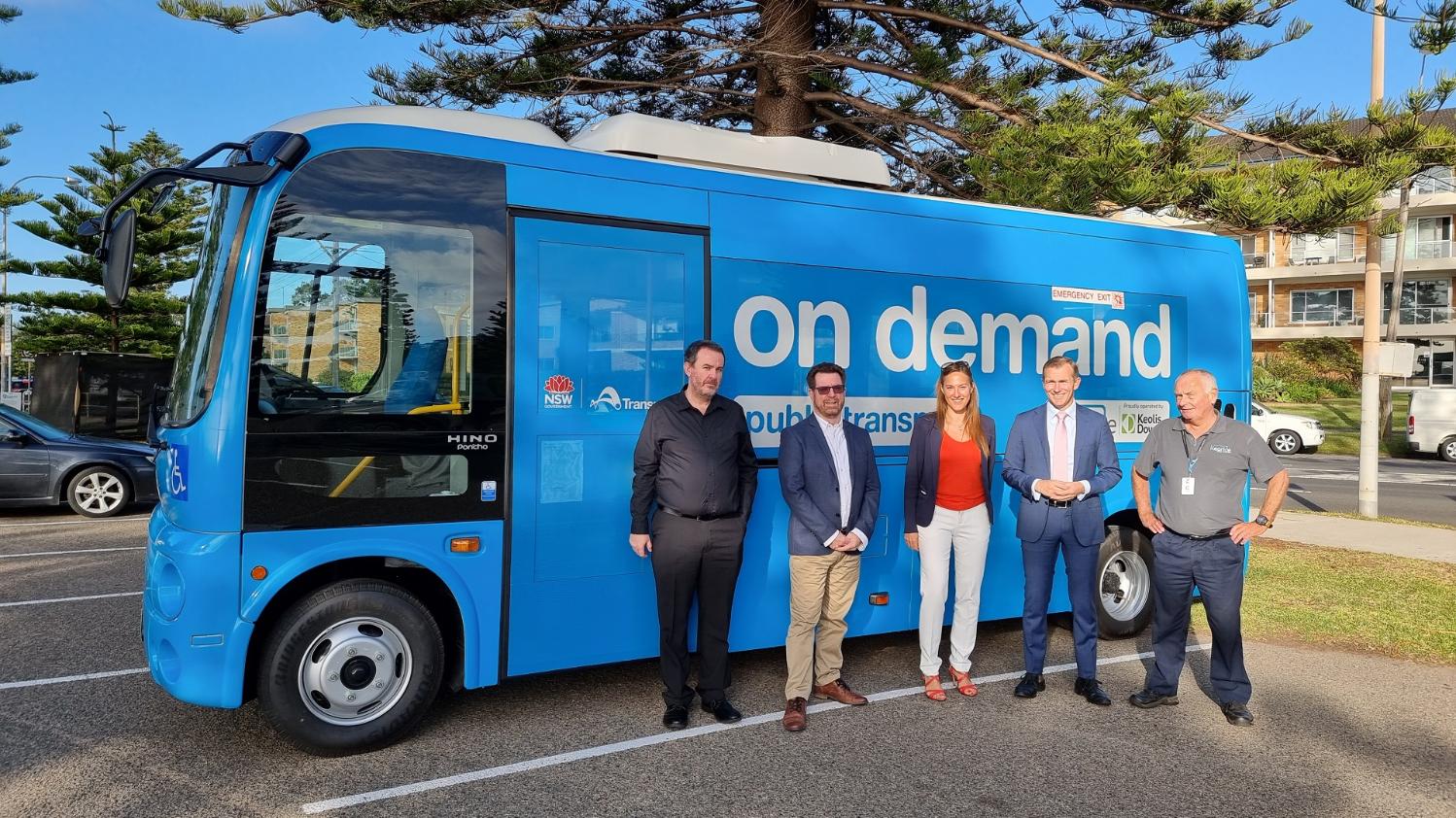 The Hon. Rob Stokes, Mark Dunlop, Managing Director of Keolis Downer Northern Beaches, with Keolis Downer's new Poncho at Newport this week. Image supplied
KD welcome to new employees from Keolis and Downer
A video from Bernard Tabary, International CEO at Keolis, Grant Fenn, Chief Executive at Downer and Mark Dunlop, Managing Director of Keolis Downer Northern Beaches to welcome our new employees, as we start operating bus services in Sydney's Northern Beaches and Lower North Shore.
We feel very grateful to start operating in this area, and welcoming so many employees who have a great safety and customer service culture. Welcome to the Keolis family!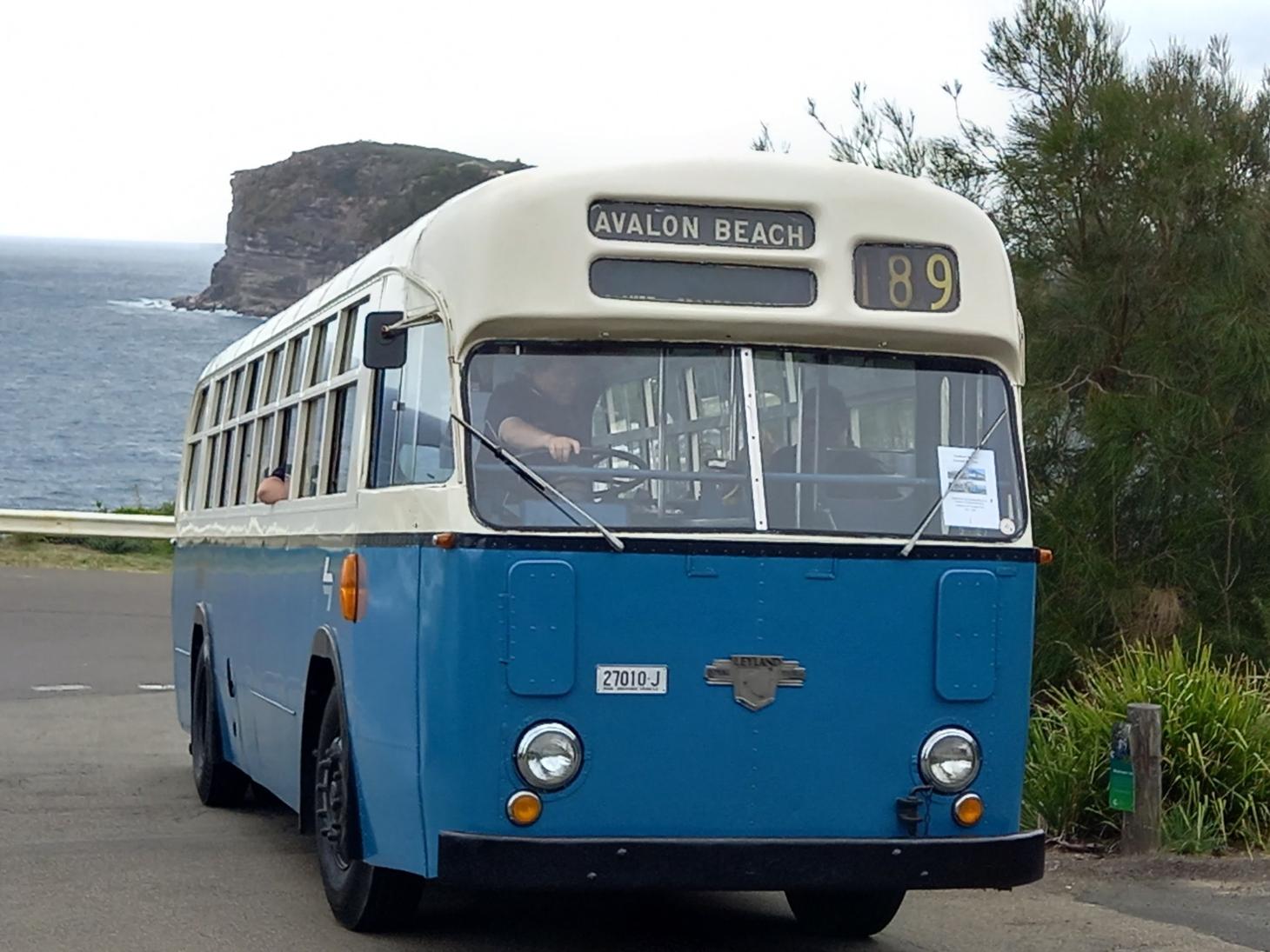 Another of Ben Summers great photos from Saturday's tour marking the end of Government buses in Pittwater, before the new operator assumed responsibility. 3350 Leyland ERT (supplied by The Sydney Road Transport Museum) rounds the corner and climbs up Norma Road, Whale Beach.
Ben says; ''Our little convoy attracted significant interest from the general public, with many waves exchanged.''